Happy Tuesday lovelies, I hope you're set to take this four-day week by storm after a wonderful long weekend. I'm not enjoying coming down off my fluffy little wedding planning cloud after choosing our weddings rings on Saturday, but I've got an abundance of luscious lace and beautiful Scottish surroundings to share with you – sure to ease the descent.
On 18th July 2015, Emma, the Head of Marketing in a music company married her Film Producer beau, Finn, in a nature-inspired celebration in stunning Skipness in Scotland. Their day was full of poignant family history and relaxed details.
"We wanted things to be natural, rustic and not too styled – so lots of wood, wildflowers, hessian, bakers twine – things inspired by nature and the stunning surroundings of Skipness. We didn't have a particular inspiration or style that we were aiming for; we just picked things we liked and hoped that it would all come together on the day.
Finn's grandparents live on Skipness Estate and we got married in the grounds. We always knew we'd like to get married here because of the emotional connection and family history of the place, not to mention the fact we both think it's one of the most beautiful places in the world. We were lucky enough to have The Travelling Barn Company involved, run by Joe, our 'cousin in law'.  This is a completely unique concept, which uses moveable timber frames and canvas, offering the flexibility of a marquee with the look and feel of a barn." 
There's a pervading sense of calm serenity and warmth emanating from these photographs, and while Emma and Finn were relaxed in their approach to wedding planning, they made very sure to get their photography just right. Our Little Book for Brides triumphs yet again in highlighting one of the very best in the business; these appropriately divine images are the handiwork of the lovely Lisa Devine.
"Lisa was nothing short of incredible. I wrote her a review after the wedding for her new website and I don't think I can comment in any better way than this; 'The photographer you book for your nuptials is hands down the most important wedding related decision you'll make.' This was reaffirmed to me when I realised how quickly the day itself flew by and how many of my memories have started to fade after only two months. This is why I am so infinitely happy that I found Lisa. Lisa doesn't go in for staged, stale and posed photos; she wants to capture the essence of a couple and of their day in a natural and real way and this is exactly how she photographed our wedding.'" 
"I felt that Lisa had surpassed all my expectations before I even received the photos. When they landed in my inbox I was brought to tears. She photographed our wedding in the most creative and sensitive way, capturing the smallest but most meaningful moments and somehow encapsulating all the feelings and emotions I had about the whole affair. Through her photographs Lisa painted a beautiful picture of our day and told it's story in an unusually thoughtful and observant way. Her style is creative and clever, she uses light inventively and frames her images in unexpected ways."
"The result is a collection of images that are pieces of art, which their recipient will treasure forever. To any prospective brides and grooms: don't hesitate for a second – if Lisa is available on the date of your wedding, book her now. If she isn't, consider changing the date."
I've got a real soft spot for wildflowers and naturally occurring blooms; my soon to be mother-in-law beautifully documents the changing seasons around her Tuscan home by chronicling the flowers smattered liberally in the fields and hedgerows. Emma and Finn's floral accents celebrate the wild beauty of nature in a way that captured my heart immediately.
"In choosing flowers and colours, we were inspired by the Scottish Highlands as well as Sweden, which is where I am from. I wanted a wild and natural look that didn't feel too 'put together'; I wanted everything to look like it might if you picked flowers whilst out on a walk.
Finn's cousin, Clemmie, who runs a floristry company, did our flowers; bouquets, button holes and table centres. I ordered the bulk of the flowers from Flowers For Florists as this seemed to be the most cost-effective way of doing things. Clemmie also picked flowers from around the estate and added these into the arrangements. I wanted the bouquets and table centres to look really natural and rustic and we used Kilner clip-top jars for the tables. I also hung big jars of gypsophelia from the frame of the barn."
The soft clouds of blue, purple and white blooms so beautifully compliment the intricate lace detailing of Emma's beautiful Temperley London lace dress, which she purchased in a sample sale at the Mayfair boutique.
"I didn't really know what kind of dress I wanted but what I did know was that I didn't want to spend weeks trying on hundreds of dresses. So I tried on five in the sample sale and picked the one I liked the best. I loved its elegant simplicity and that fact it was quite lace-heavy. I tried on a veil but felt it made everything feel too fussy so decided against it."
The softly scalloped edges of Emma's gown are so romantic, and I love the way the demure neckline and long sleeves contrast with the dramatic open back. Our bride manages to look perfectly elegant and naturally 'undone' at the same time and her dress looks like it was made for her.
Emma finished off her ensemble with a pair of simple, comfortable Office sandals, a spritz of her delicious everyday Jo Malone, Blue Agava & Cacao perfume and a last minute flower crown crafted by one of her best girls.
"One of my bridesmaids made a headpiece about thirty minutes before we set off for the church, just using some floristry wire, tape and some leftover gysophelia along with some paper roses from an old hair clip. So a bit it was a bit of a last-minute unplanned decision but I was really happy with it. I decided against any further accessories as I just wanted to keep things simple and natural." 
Flower crowns have become so synonymous with weddings and the history behind them is fascinating; stretching from Ancient Greece, when they were wrought and worn to honour the Gods, to their modern-day bohemian incarnation. These pretty circlets are particularly important during Swedish Midsummer; the wreathing of crowns is said to be a way of harnessing nature's power to ensure good health. Another romantic Swedish tradition tells of young women picking blooms at Midsummer to place under their pillows, in order to encourage dreams of their future husbands. I wonder if lovely Emma set any stock by this amorous tale?
"Everyone did their own hair and make-up. I was a little nervous of doing my own hair as I'm generally terrible with hair but I just bought hundreds of hair grips and went to town – it worked out ok in the end. I love make-up and treated myself to a few products I'd never normally allow myself to buy, such as a really good foundation. I essentially did the make-up I do every day but with a bit of extra attention to detail."
"My best friend and bridesmaid Cicely played piano as I walked down the aisle: Debussy's Girl With The Flaxen Hair. She very kindly did some research for me and sent me ten or so tracks to listen to; when I heard this song I immediately knew it was the one I wanted – I thought it was gentle and elegant and it made me feel calm. My sister Ndella sung in the church, a cover of Little Dragon's Twice, accompanied on piano by Cicely. They created an original arrangement of the song, which they have since recorded.
Finn's auntie Melissa read a poem that Finn's father wrote over thirty years ago. She added two of her own verses to it, which made it really special. We decided we'd only have a reading if it was something very personal so when Melissa came to use with this idea, we thought it was perfect."
Emma and Finn exchanged traditional vows and wedding bands bought from the same place as Emma's engagement ring. Finn's Christmas Day proposal in 2012 came after over a decade of love and history; having met at college at the tender age of seventeen, the couple have been together ever since.
Handsome Finn wore a bespoke A. Sauvage suit and was flanked by his two brothers as best men and no fewer than ten ushers. Quite the entourage!
Emma's bridesmaids chose a varied array of navy dresses in styles to suit each of them; the bride was keen for her girls to feel comfortable and happy.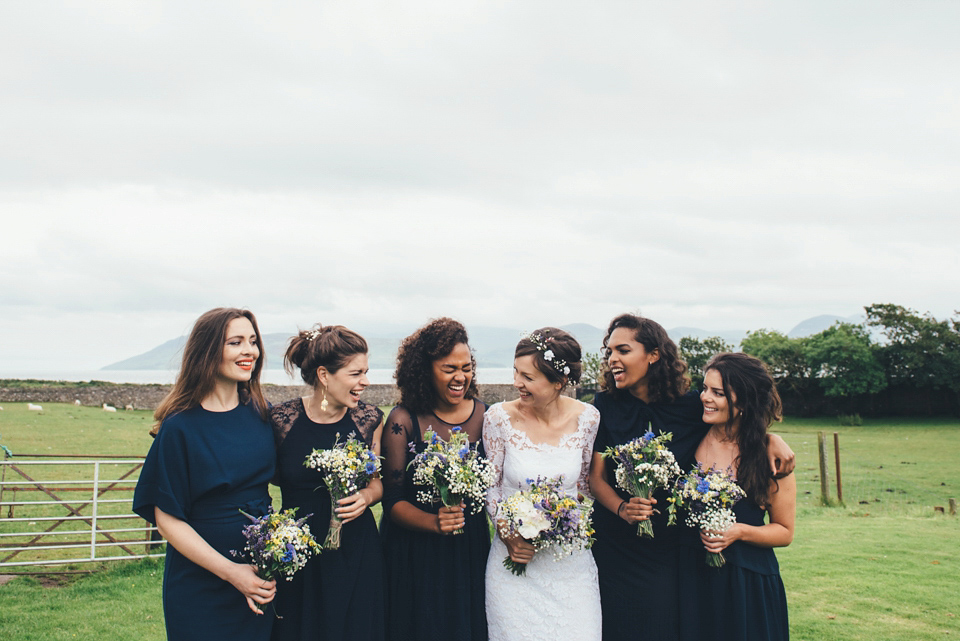 A short, bagpipe-led walk later, the newlyweds arrived at their rustic reception. The catering was undertaken by a combination of businesses, many of which are run by Finn's family, and guests enjoyed a delicious range of seafood and smokehouse produce.
That has to be hands down the fanciest, prettiest marquee I've ever seen. Doesn't the addition of festoon lighting instantly just make anything more magical and atmospheric? Emma and Finn were keen to have a relaxed, fuss-free wedding and so the planning process only really started in earnest a few months before the big day and was brought together in a real family effort.
"We relied heavily on the amazing help and support of our friends and family, so many of whom were hugely instrumental in bringing it all together. In this sense, the wedding felt really collaborative and that was just what we wanted. We also left a lot of the 'order of the day' to unfold organically on the day itself."
"Reagan did the main bulk of the food. She is a friend of Finn's cousin and we were so happy we came across her. We wanted big hearty bowls of tasty food and Reagan delivered just that. She was amazing from start to finish and slotted right into our relaxed approach." 
"We supplemented Reagan's food with oysters for guests when they arrived at the barn from the church as well as the starter, which was three types of salmon from Creelers. Finn's cousin Eliza made the cake; having never made a wedding cake before she baked, assembled and decorated it herself and the result was amazing."
Wanting to leave the beautiful fir and oak beams of The Travelling Barn exposed, the couple simply ran festoon lighting down the length of the construction and added some homemade bunting. Pretty paper lanterns hung from the beams amongst the lights, creating a beautiful soft atmosphere.
"My sisters made the table plan and signs, named after places we've visited – we kept this really simple. There were lots of things we decided to just not spend time and money on: place cards, table plans and invitations. We created a wedding website and emailed all our guests with the website address by way of invitation – they could RSVP on the website, plan their trip and inform us of arrival times. It worked really well." 
Family members Chloe and Will DJ'd the party and played an amazing mixture of soul, funk and reggae. Emma and Chris chose not to have a first dance, preferring to eschew some traditions and let the day unfold naturally.
"As Skipness is so remote and there is little to no accommodation in the local area, most of our guests stayed over thirty minutes drive away. We organised two coaches to pick people up and take them to the church, and one coach made two journeys back at the end of the night – not that many people got onto those coaches! We found most guests weren't ready to leave when the coaches came so lots of guests ended up camping out on the estate, which has a number of holiday cottages. I honestly couldn't pick a favourite part. From getting ready in the morning to dancing into the early hours, it was all my favourite."
Words of Wedded Wisdom
"I spent some time looking at Pinterest, especially for inspiration on flowers and I loved reading the stories of real weddings on Love My Dress – I think the best way to get an idea of how you want your wedding to be is to hear stories of other weddings. I love the way the features go into detail about all the different elements of the day; it really helps you imagine how your own might pan out.
Try not to lose sight of what a wedding is actually about – a celebration of your love and a perfect excuse to get all the people you love in one place. At the end of the day, this is all that matters. Whether the food arrives on time, whether your hair looks exactly the way you want it, whether the cake tastes as good as you'd hoped – none of this actually matters, and years after your wedding these are not the things you will remember. You'll remember how amazing it felt to have all those people there celebrating with you, you'll remember how it felt to be pronounced husband and wife, you'll remember the dancing and the fun you had. So don't focus too much on the smaller details; don't get stressed if things don't go exactly to plan.
And if you're going to invest time and money into anything, make it the photographer. They are the person who is going to help you remember your wedding in years to come. When the memories start fading, it's the photographs that will bring it all back; they are what you'll take with you into the rest of your life."
Those words from Emma (who you can find in Instagram right here) are so incredibly true and very very wise. I'm all for crafty DIY and penny-saving solutions but photography just cannot be skimped on – find the right photographer for you and you won't regret a single penny.
That just leaves me to say thank you ever so much to the beautiful newlyweds, Emma and Finn, for allowing us an insight into your gorgeous day, and the lovely Lisa Devine Photography for the beautiful love-filled images. For more weddings shot by Lisa simply follow this link and daydream to your heart's content.
Em x
Photographer – Lisa Devine Photography
Venue – The Travelling Barn Company on Skipness Estate
Wedding Dress – Temperley London
Shoes – Office
Perfume – Jo Malone, Blue Agava & Cacao
Groom – A. Sauvage suit
Florist – Theatre of Flowers
Catering – Reagan Hallett Catering + The Seafood Cabin + Creelers