A very happy, beautiful bank holiday good morning to you our bridal darlings. I hope this extra day finds you well, whether you're making the most of an extra 24 hours for wedmin, spending time with your loved ones or binge watching Netflix. We've all been there – today's beautiful bride handmade her stunning veil devouring back to back episodes of Lost. All six series.
Emma wed Chris in a nature-inspired humanist ceremony in the forest-filled grounds of Errol Park in Scotland on 26th of September 2015. I will openly admit to weeping while watching their incredibly emotional wedding video, beautifully created by Sugar8 Wedding Films, (my fiancé can always tell when I've been writing; he comes home to find me with puffy eyes, covered in skittles wrappers) and I'm certain many of you will instantly shortlist The Cinematic Orchestra track which opens this film as wedding playlist worthy.
"We were inspired by Victorian cabinets of curiosities, art history, botanical science and one of my all-time favourite novels, Wuthering Heights – to name but a few things. We knew from the beginning we didn't want a venue that came with a 'readymade' wedding package. It needed to be somewhere relaxed with a quirkiness and character of its own, which would complement the vision we wanted to create. Being close to nature was equally important because of my Finnish roots and having grown up in a place surrounded by endless forests and wilderness."
I'd been very quickly falling irrevocably in love with this wedding while writing this feature, so when I discovered that the incredible talent behind these beautiful images was none other than Caro Weiss, one of our Little Book for Brides photographers, I was officially smitten. Caro has so beautiful captured the love emanating from Emma, Chris and their loved ones.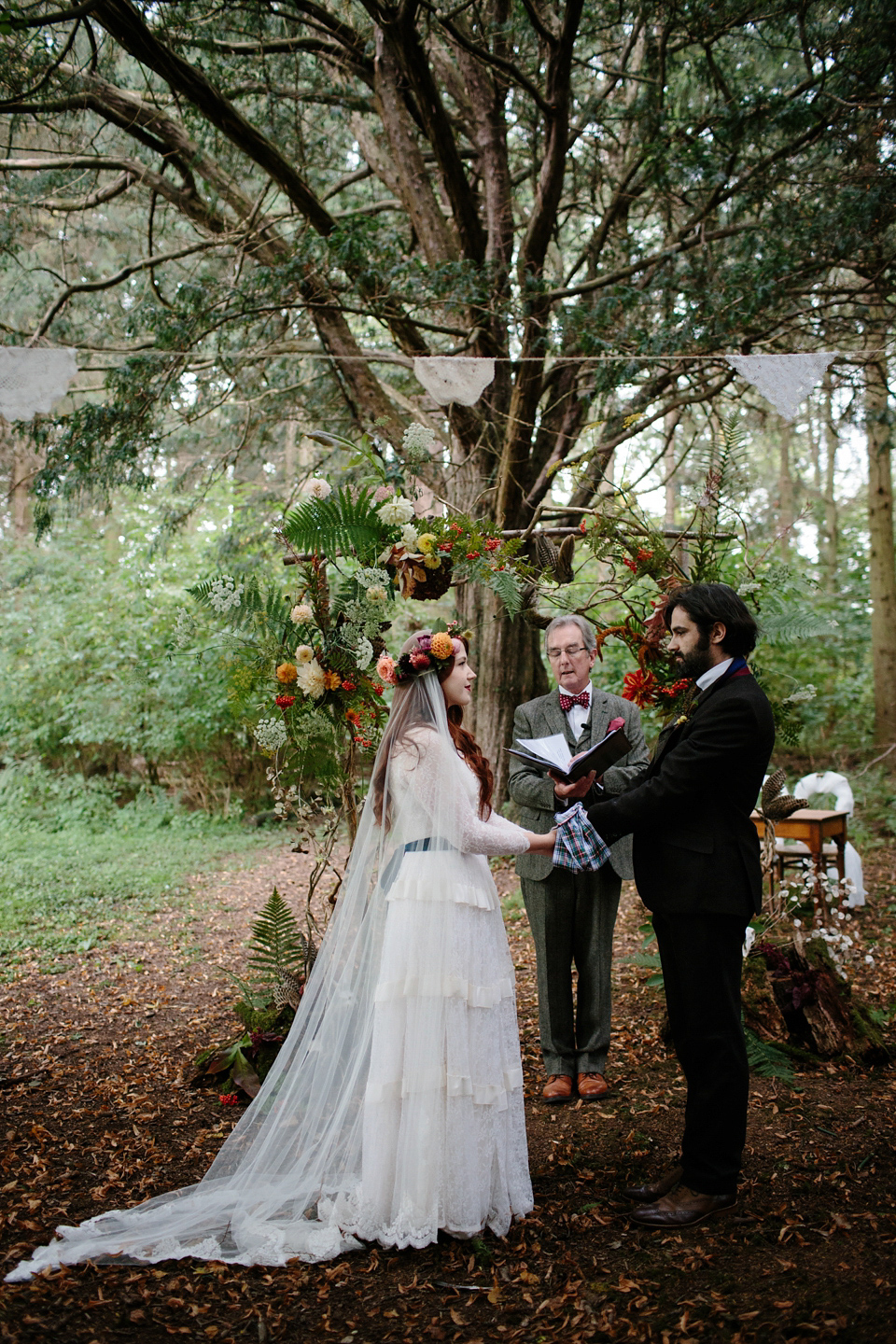 "Caro Weiss, what can we say? You need this lady in your life! She is a true talent who has the ability to capture the world in the most beautiful, subtle ways. It's hard to put into words how magical everything was on the day itself, but Caro's photographs truly bring the wedding and all the emotions back to life every time we look at them (which is about every other day)."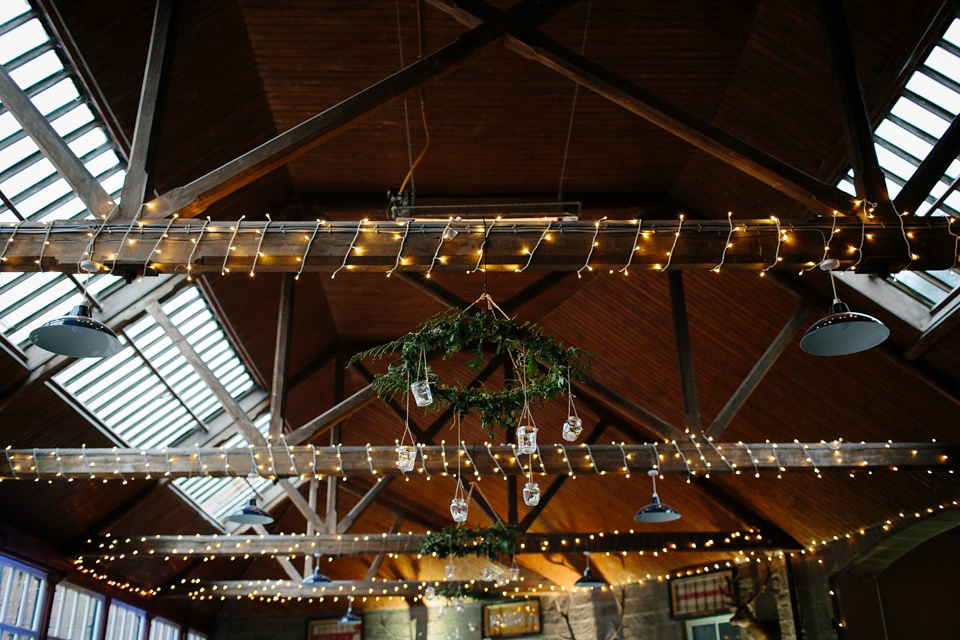 "Caro captured all the little details and special moments we didn't even notice because we were too busy concentrating on each other. Before the wedding, she took the time to talk to us on several occasions, and on the day itself made us feel calm and relaxed – we barely knew she was there."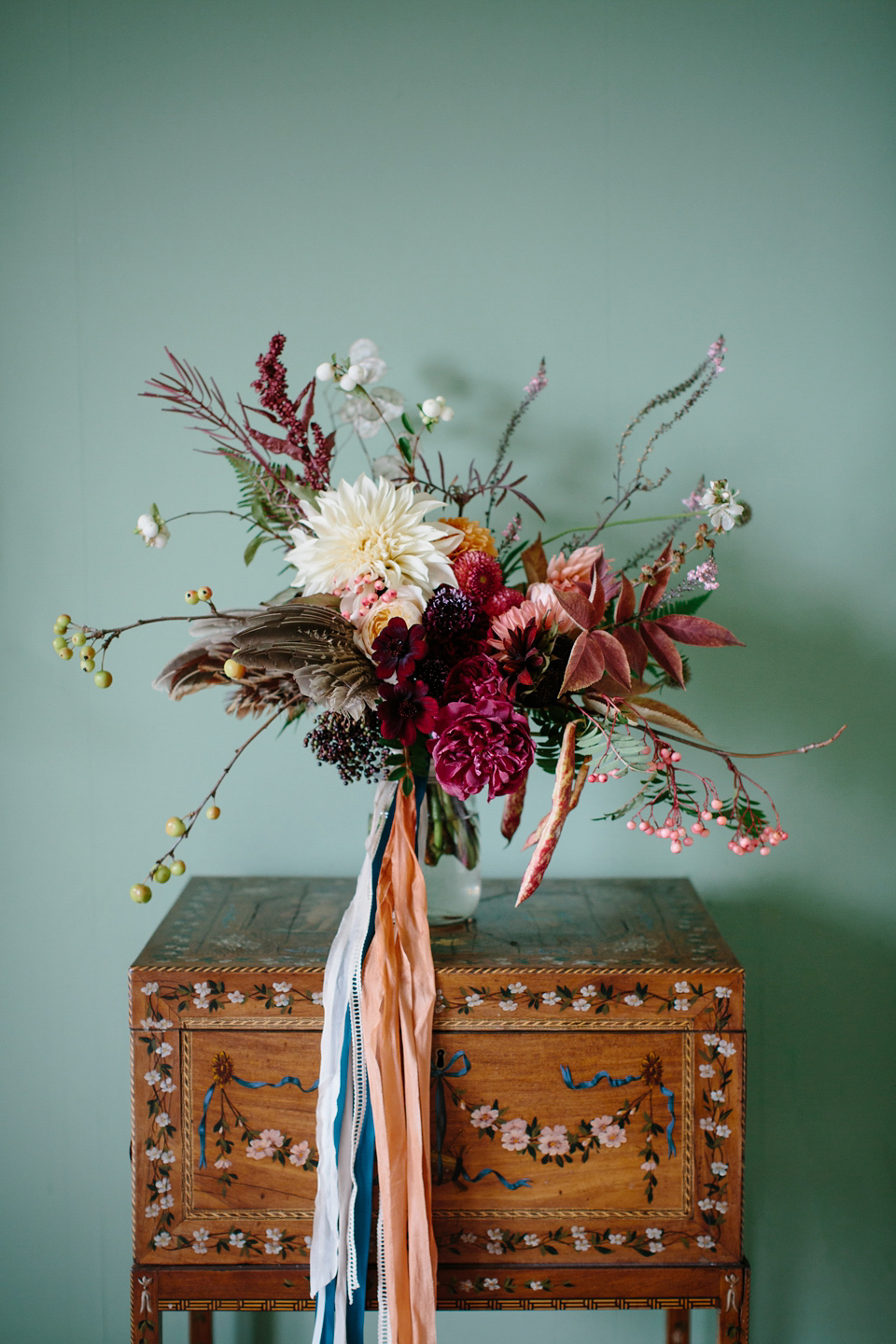 Emma stumbled across her ethereal, long-sleeved, 1940s dress in a serendipitous fashion at a tiny vintage fair in St Andrews. It was the very first dress Emma tried on and her concern in making such a monumental decision without her mum or friends by her side was reassuringly soothed by Doreen and Mike of Gladrags.
"I expected finding my dream dress to be a long and complicated process. I had a clear vision of how I wanted to look on my wedding day; I call it the 'ethereal apparition in the forest' look. Little did I know that I would end up finding my dress before I even officially started searching for one (a good 18 months before the wedding to be exact). Or perhaps the dress found me."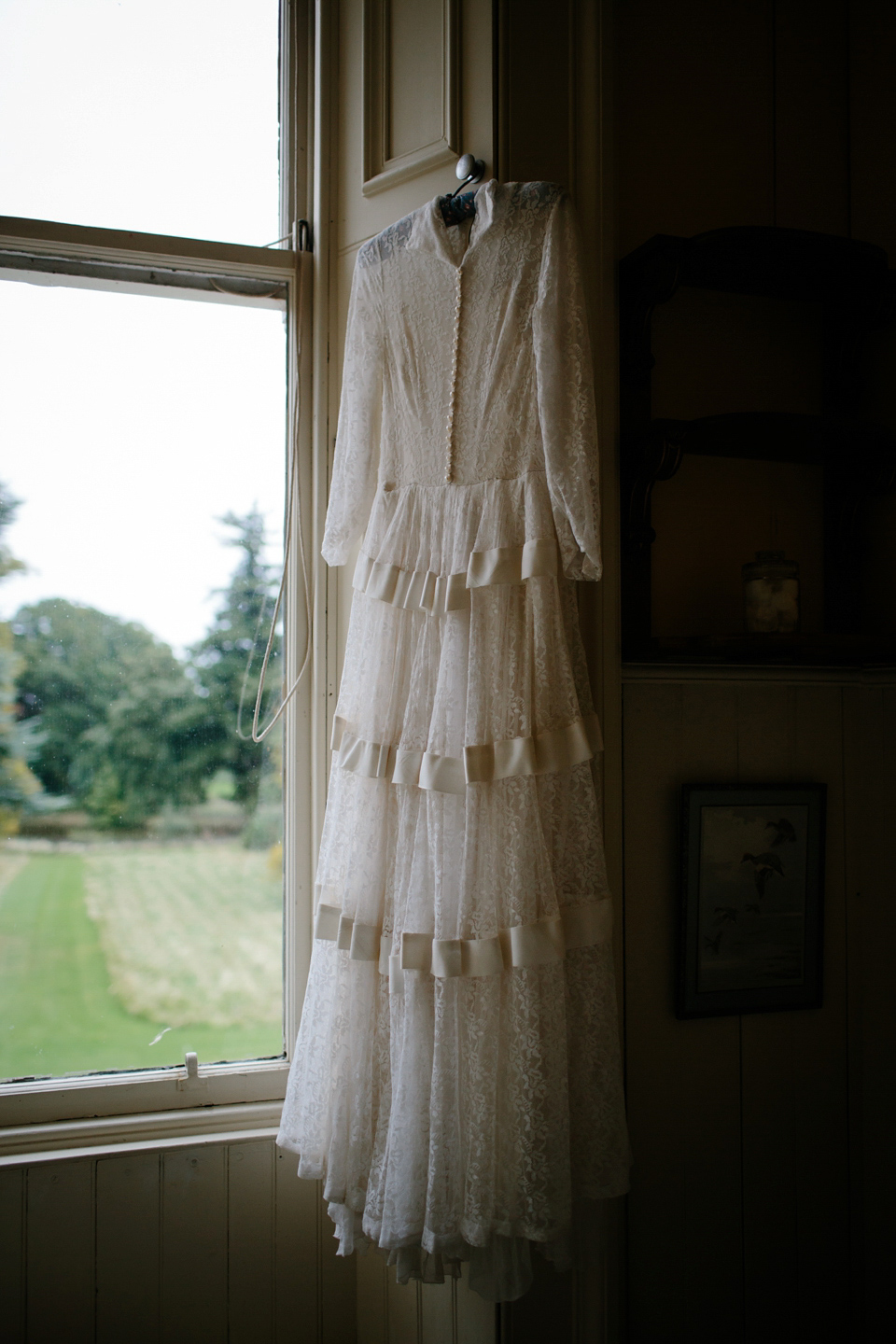 "Walking past a rack of clothing, a long lace dress with a row of mother-of-pearl buttons caught my eye, and I somehow knew I had to try it on. To my surprise, the dress fit like a glove, as if it had been made for me. Staring at my own stunned reflection on the mirror, all I could think of was: 'I truly feel like a bride', and got all teary-eyed.
Most importantly, I didn't just feel like a beautiful bride; I felt like myself. Doreen and Mike were incredibly helpful and offered to take a picture of the dress so I could show it to my mother there and then. My mother cried, we both did, and so I walked away with my beautiful dress. It was everything I wanted and more."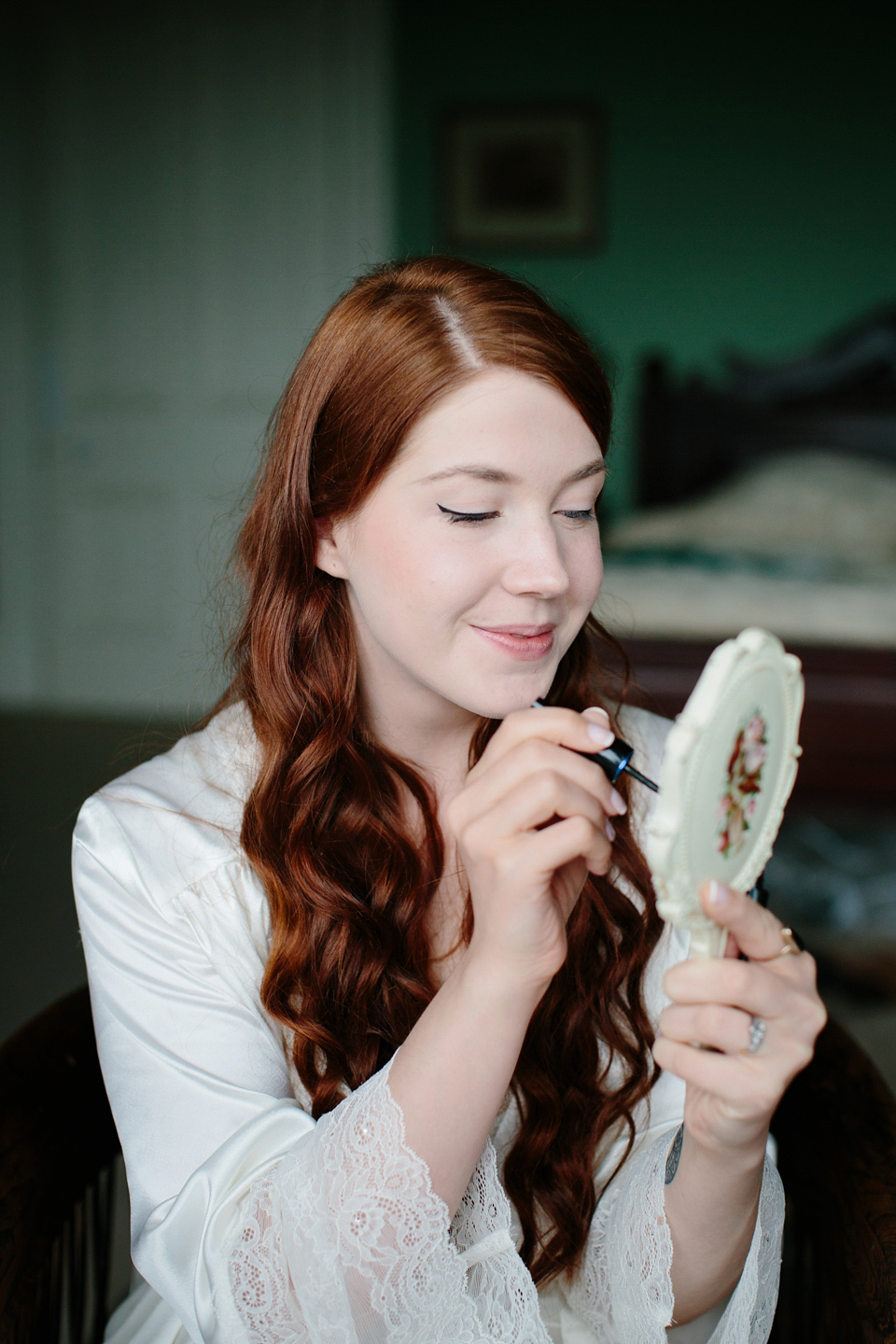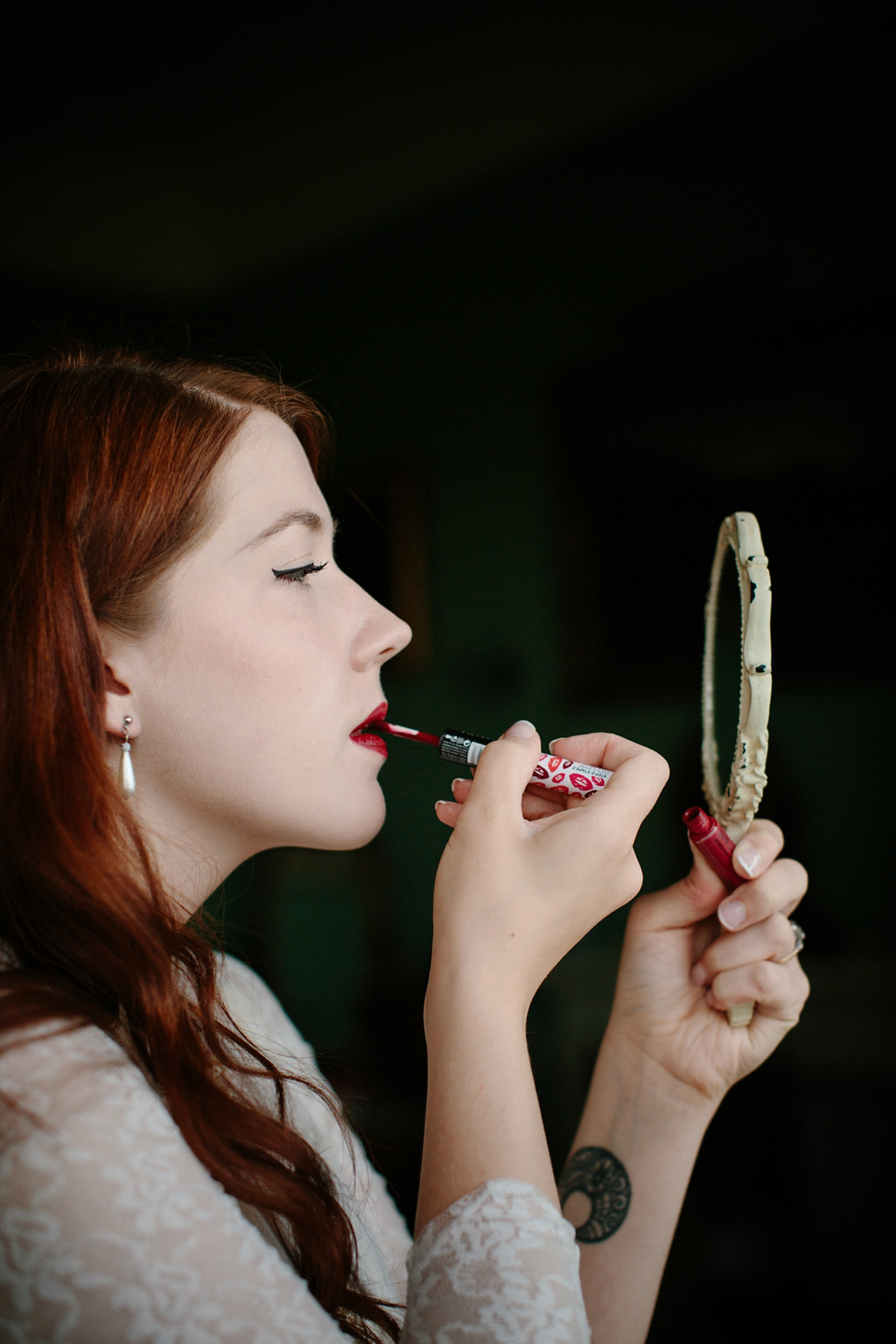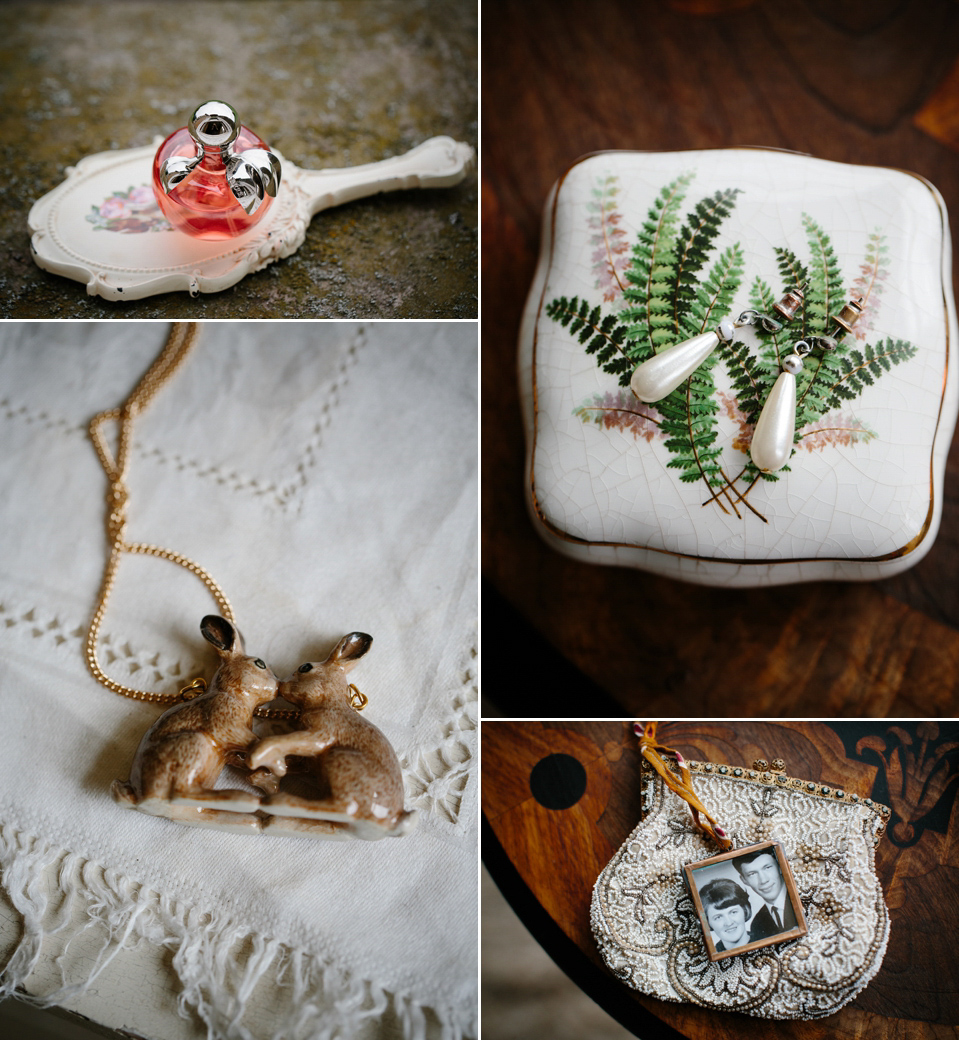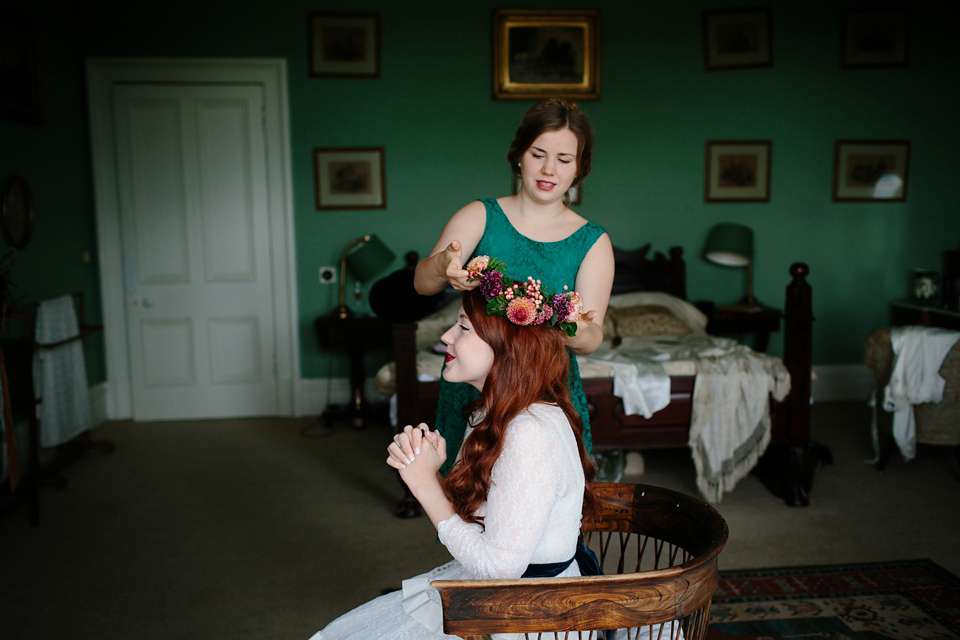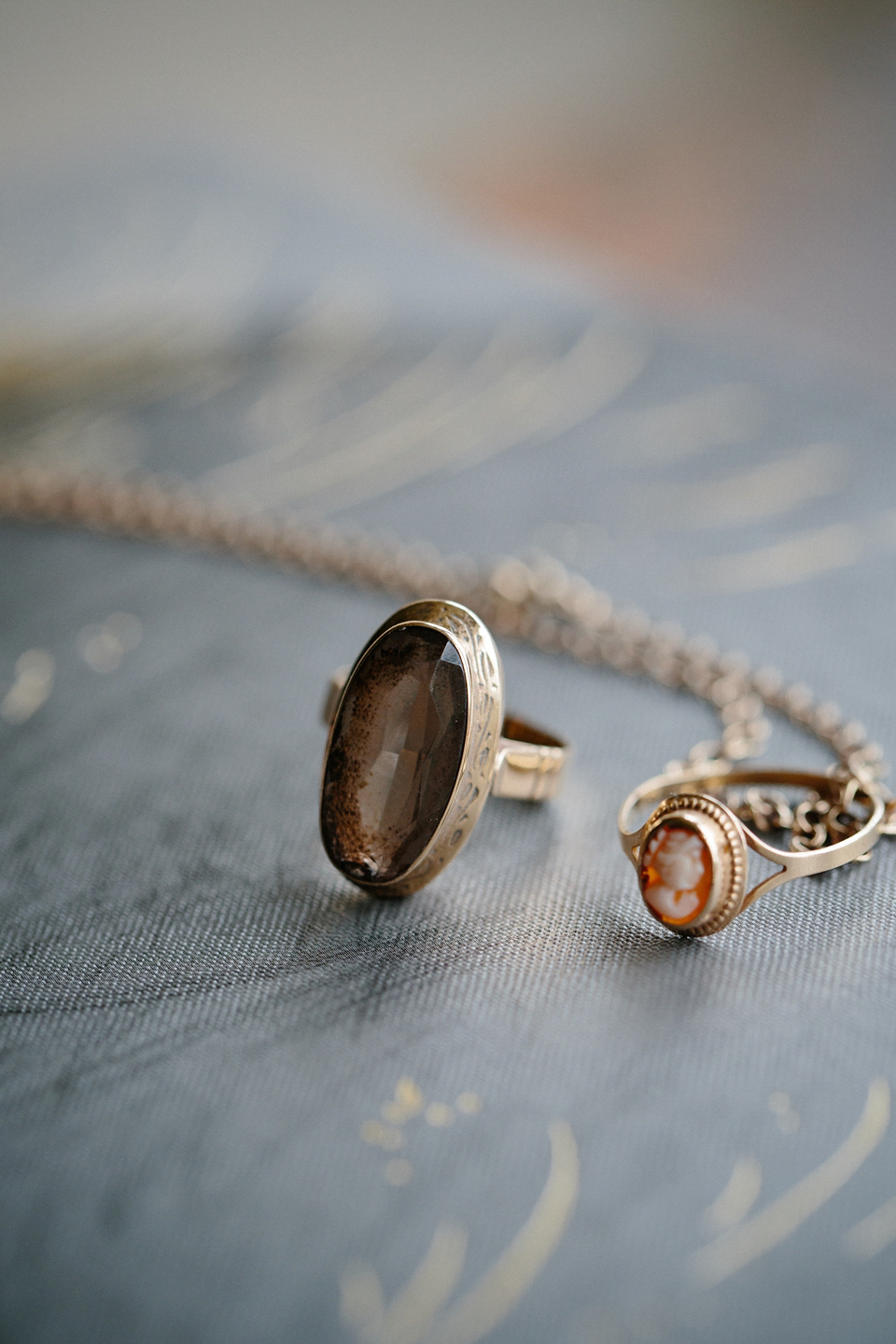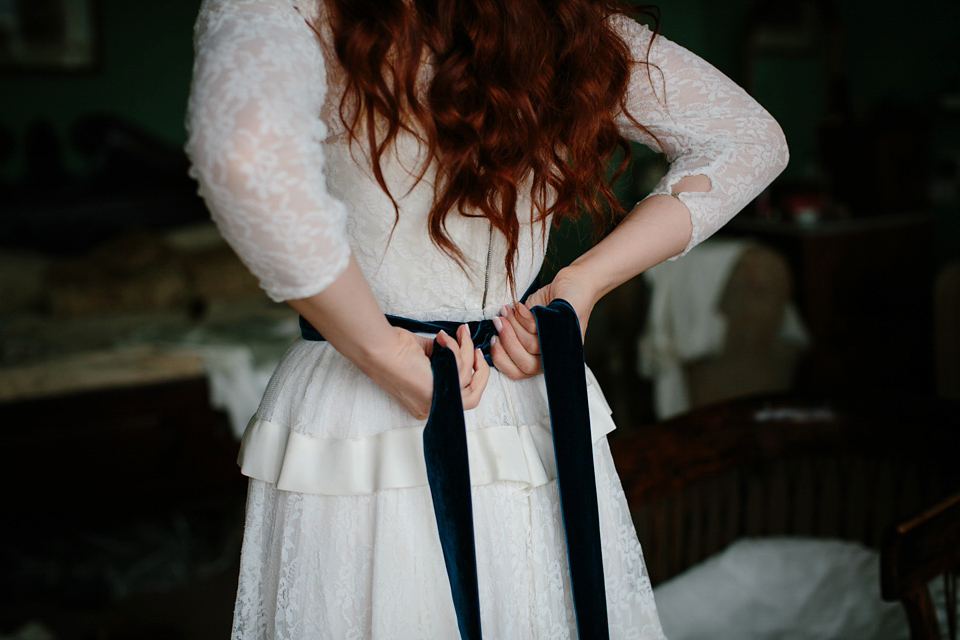 Emma wore a pair of autumnal oxblood Clarks shoes and Nina Ricci, Nina perfume, adding pearl earrings and a green stone ring belonging to each of her grandmothers. Her sumptuous velvet belt, which so perfectly compliments the flowing tiers of her dress, was sourced from VV Rouleaux and Emma's striking flame-red tresses were crowned with one of the most beautiful floral circlets I've ever laid eyes on. I absolutely adore the combination of the bride's tumbling auburn waves with cat-flick liner and a bold red lip.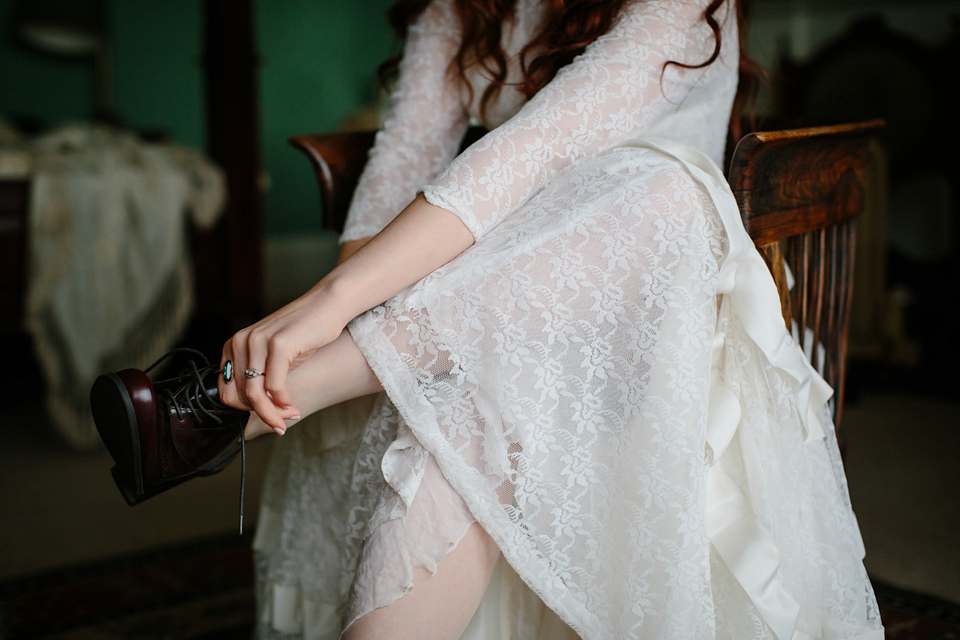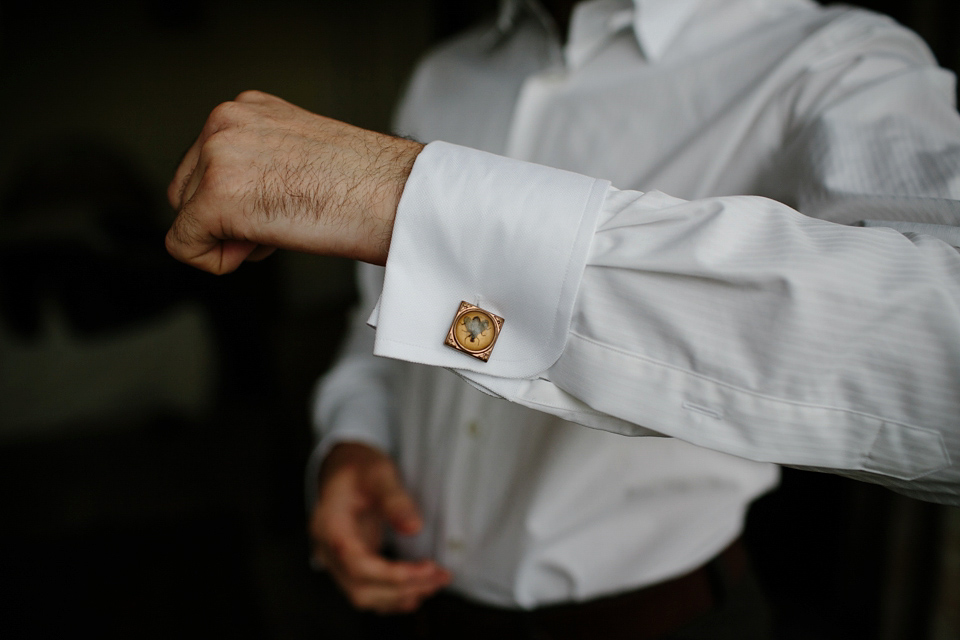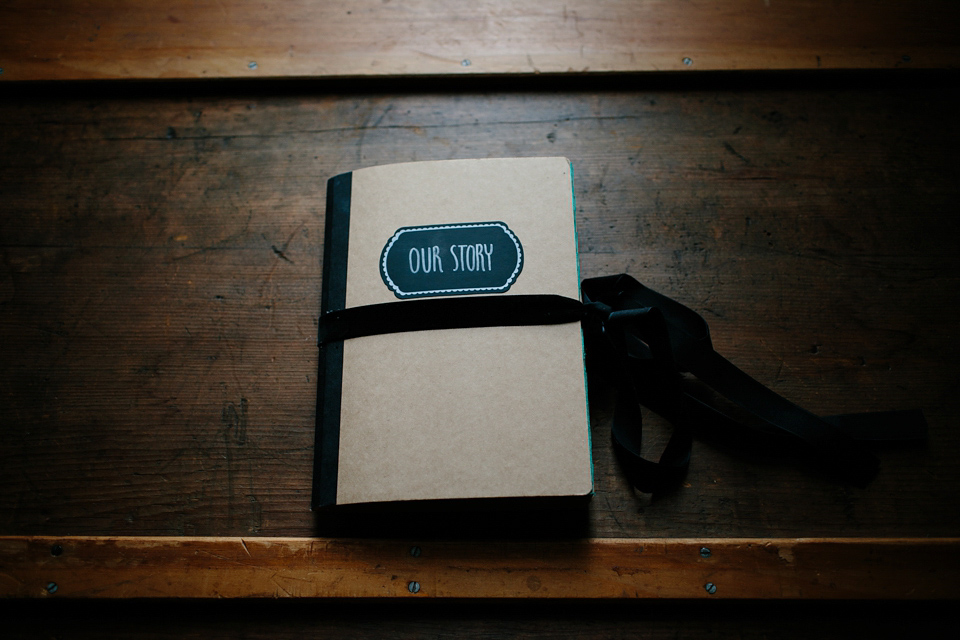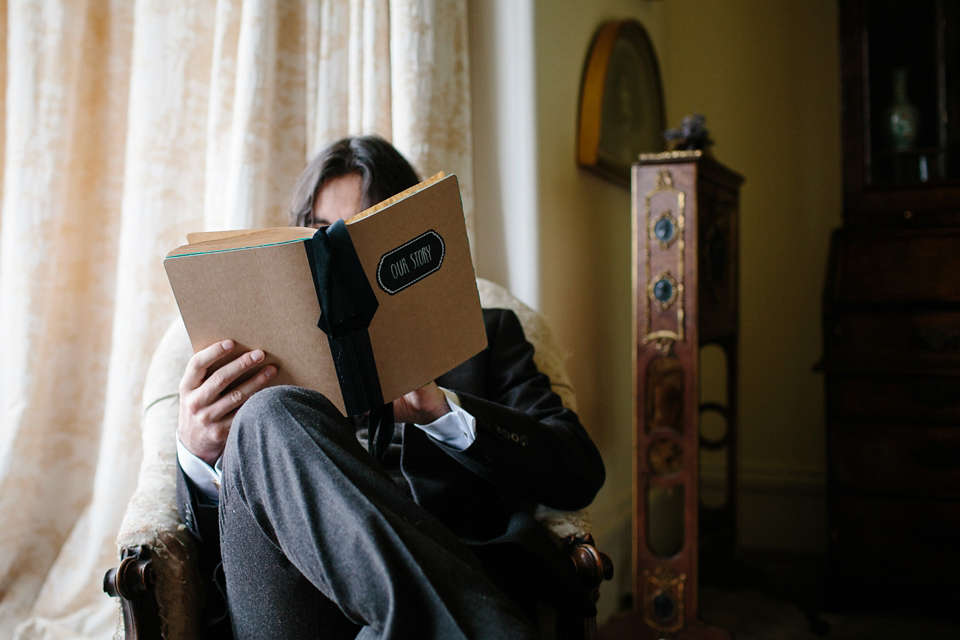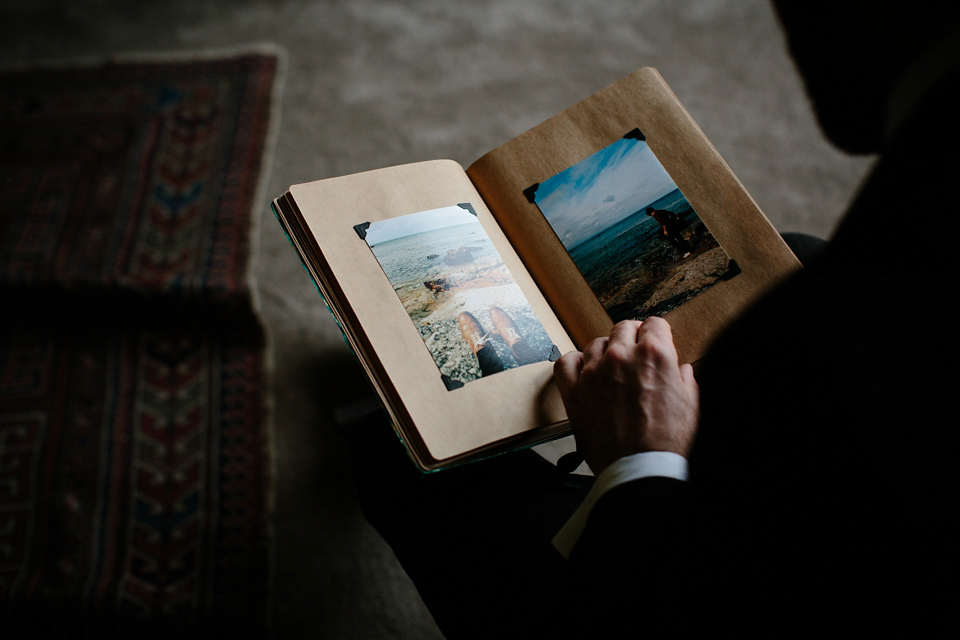 "My flower crown, the bouquets, boutonnieres, our ceremony arch and the top table backdrop were all created by the incredibly talented ladies behind PYRUS. The flowers were like nothing we had ever seen before and perfectly captured the look and atmosphere we wanted to create."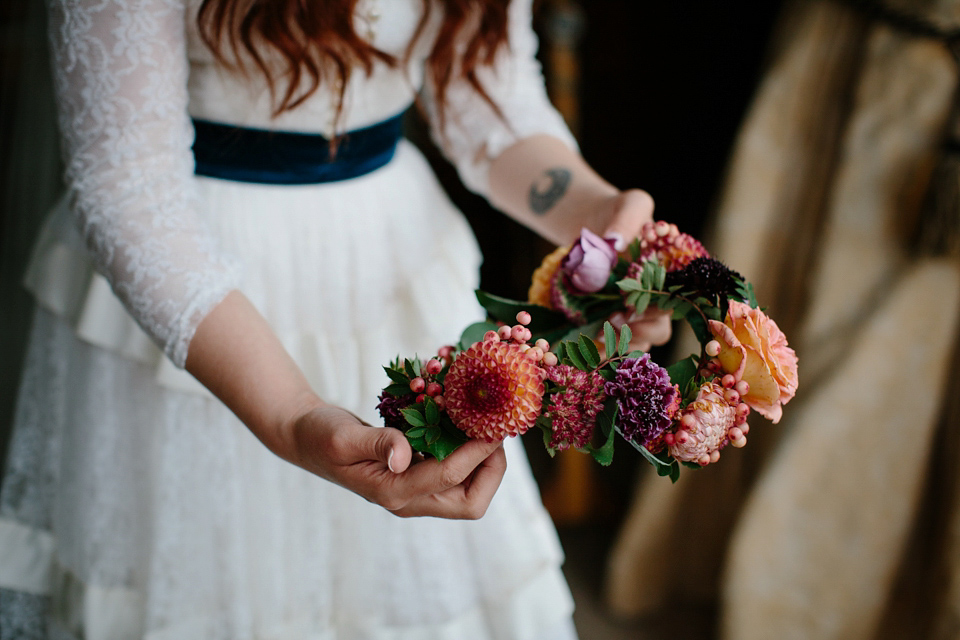 "We were amazed by the incredibly complex, bold and subtle mixtures of textures and colours. We wanted the colours to reflect the surrounding September woodlands and have a bit of a wild romantic flair to them. Natalya and Fiona were immediately on board with our 'Victoriana meets Wuthering Heights' inspiration and they are such an inspiration and an absolute pleasure to work with. The flowers were one of our favourite details about our wedding day; we only wish we could have kept them longer."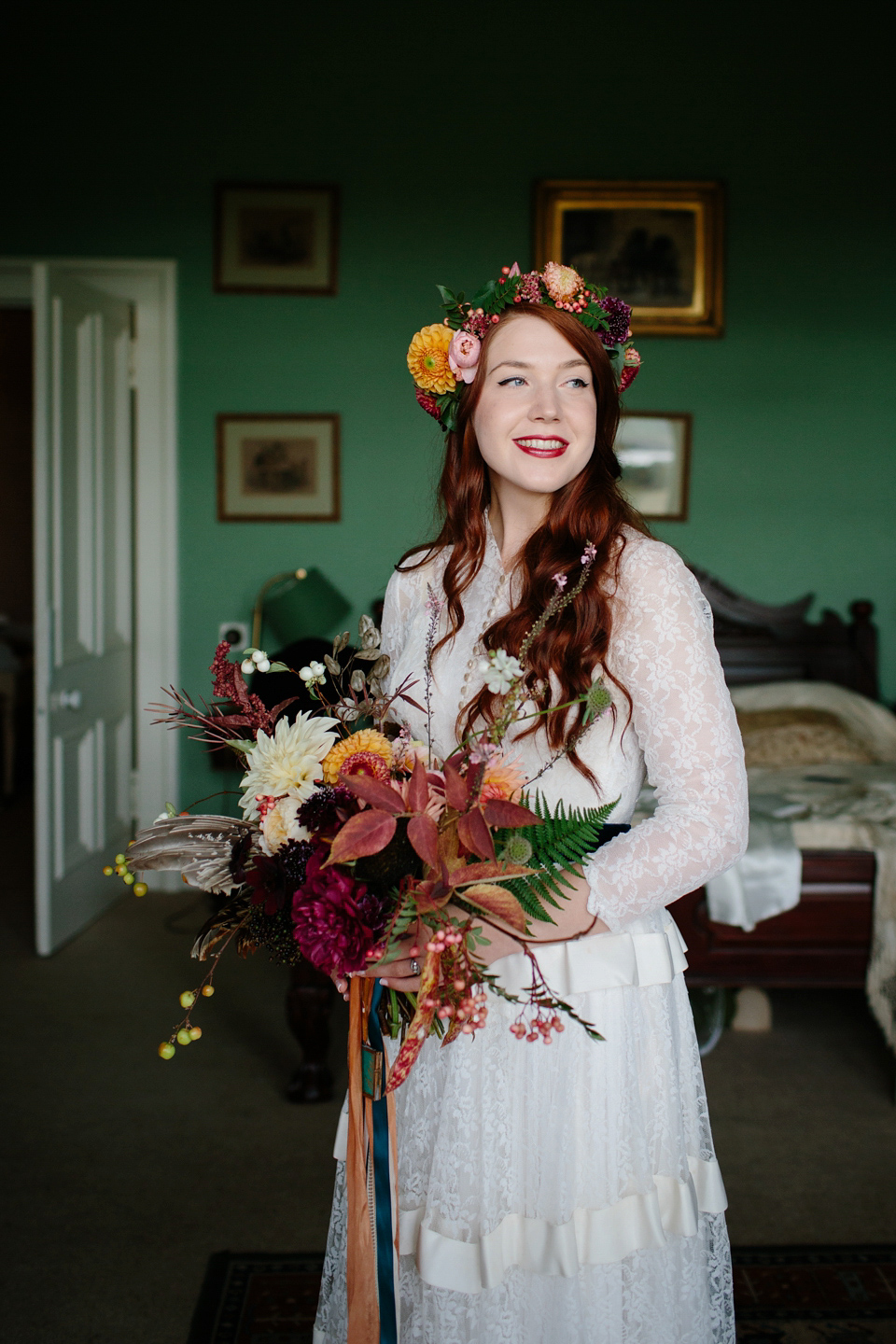 Reading Emma's moving description of their first encounter with their venue, let alone about how she and Chris met at a fateful Art Society party (she unfashionably and Finnish-ly early, he broodingly Irish) felt like submerging myself in a particularly atmospheric novel.
"It was a gloomy, soggy day in February when we first walked through the old wrought iron gates leading to Errol Park. The air was thick with mist and rain, permeated by the kind of chill that goes straight to your bones.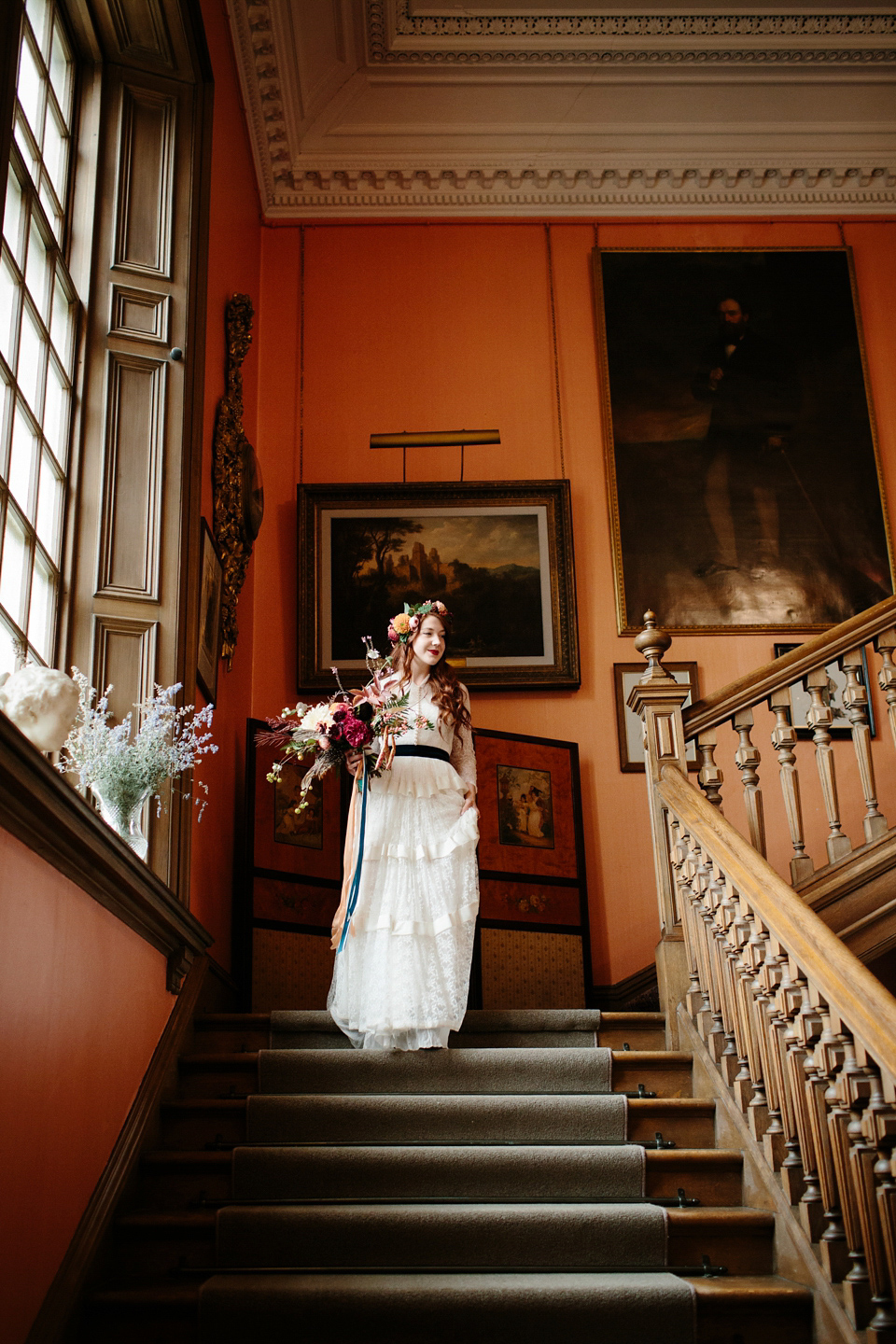 "Walking around the vast grounds under the watchful gaze of the colossal Californian redwoods, trembling in the bitter cold, I remember looking at Chris and knowing we both agreed; despite feeling like we had entered some sort of a Gothic novel, we had found somewhere very special indeed, and there was no going back."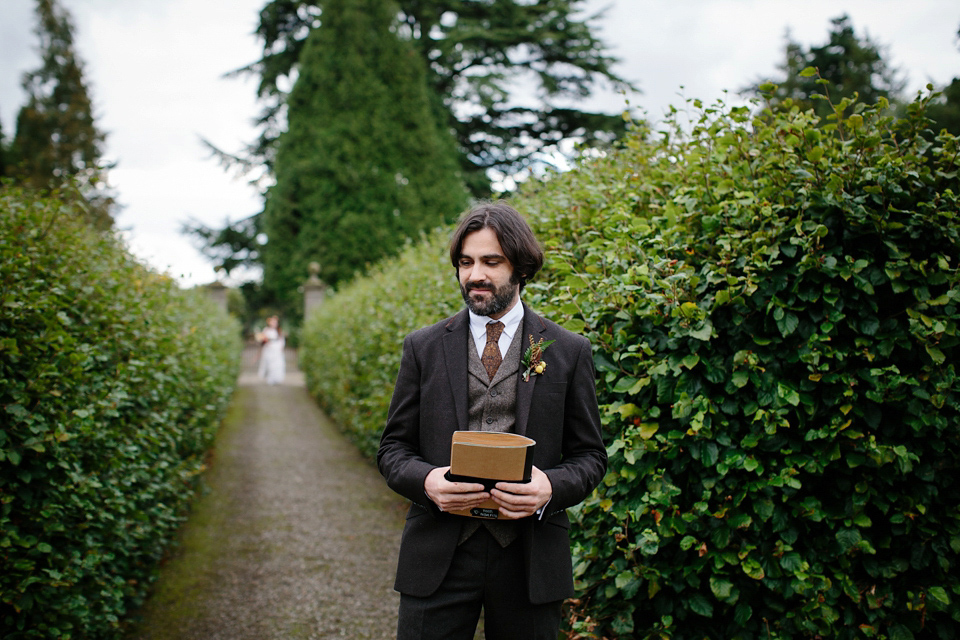 "Errol Park is not just a stately home; it has a charm and character that we found both intriguing and comforting. It feels like home; well-loved, magical. Once we learned that we could get married in the forest at the estate overlooking a Victorian folly, we knew there was no going back. Errol Park was the only venue we visited."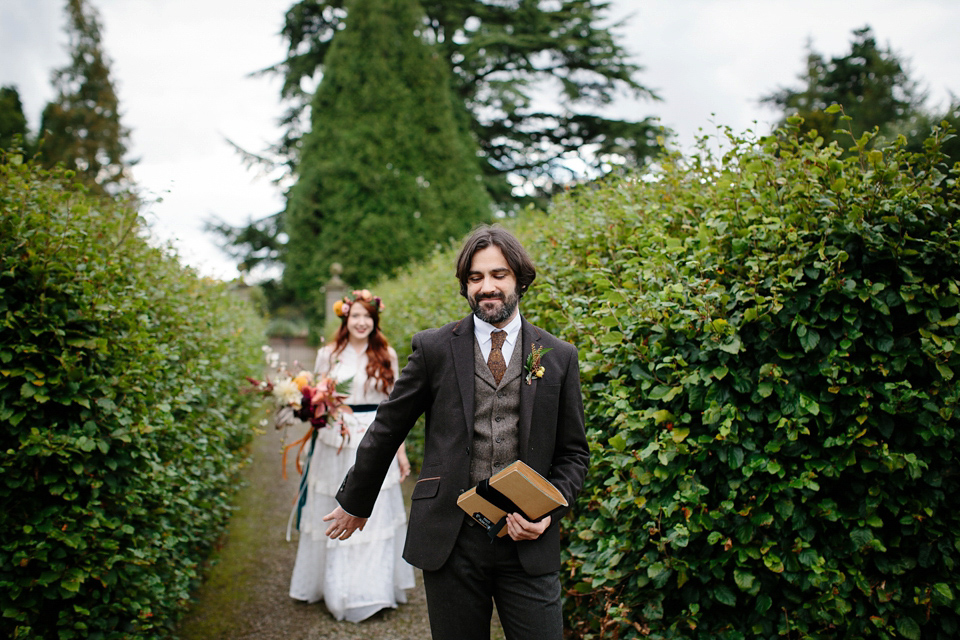 Chris revealed his favourite moment of the day and it's just too touching not to share with you.
"I had been waiting to see Emma's dress for a good 18 months so getting to finally see it during our first look was very special. Emma almost showed a picture of the dress to me several times during the planning process by accident, and I'm surprised she managed to keep it a secret for such a long time because I could tell how much she wanted me to see it."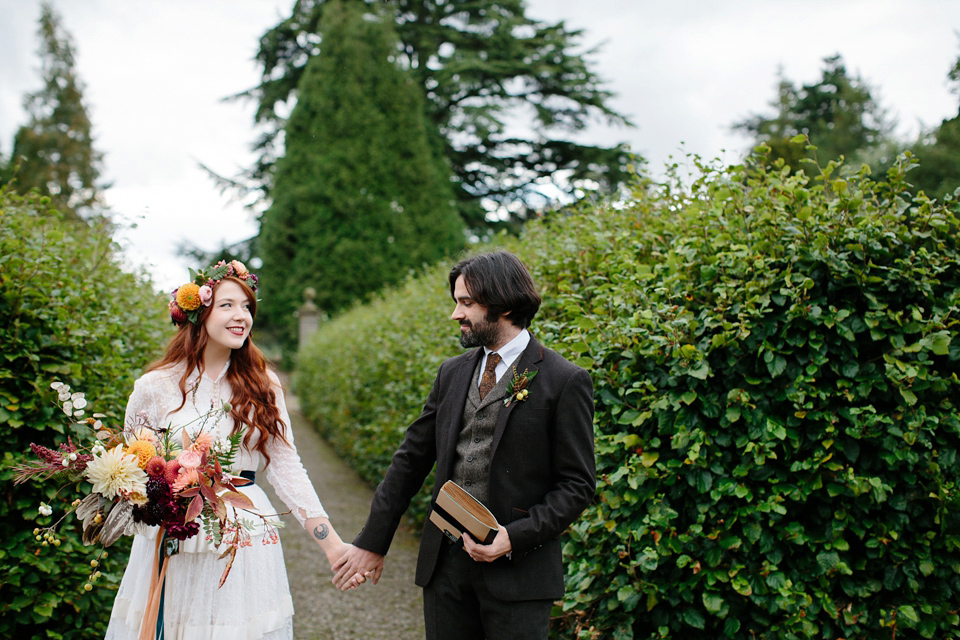 "Even after having a lot of time to imagine what the dress would look like, it topped all my expectations and I got quite emotional seeing my beautiful bride. It was very special getting to spend that alone time with Emma before the ceremony and to take a moment to fully appreciate the adventure we were about to embark on."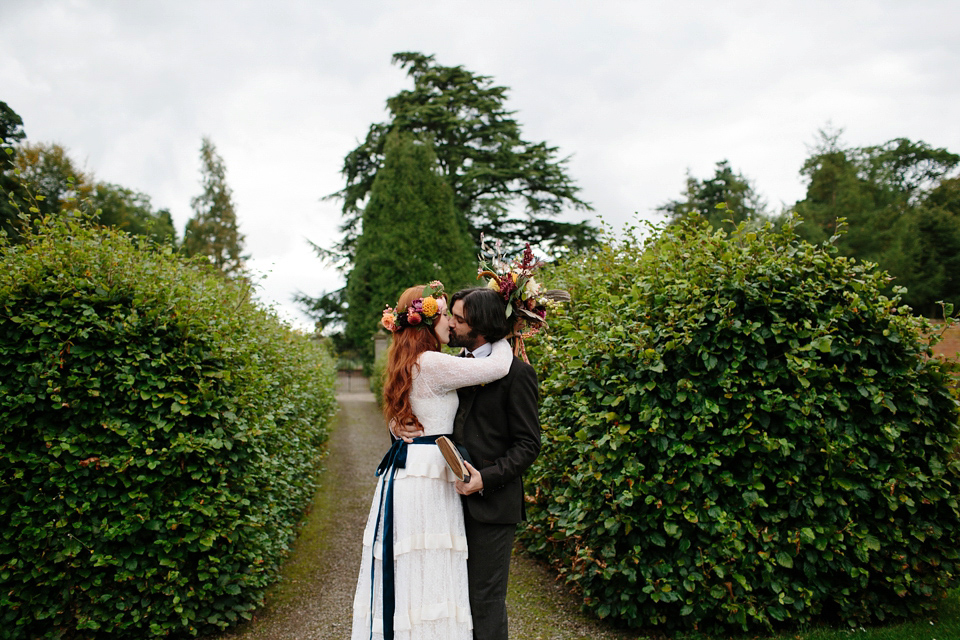 The couple were able to access Errol Park several days before the wedding to start decorating; with the exception of the wildly beautiful flowers, all of the decor was orchestrated by Emma, Chris and their families.
"The night before the wedding, my friends and I were hanging up the lace bunting that our mum's sewed together over our ceremony spot. It was pitch dark and we could barely see what we were doing, the bunting got tangled on several occasions and the tall stepladder nearly fell over a few times, but in the end, it all worked out."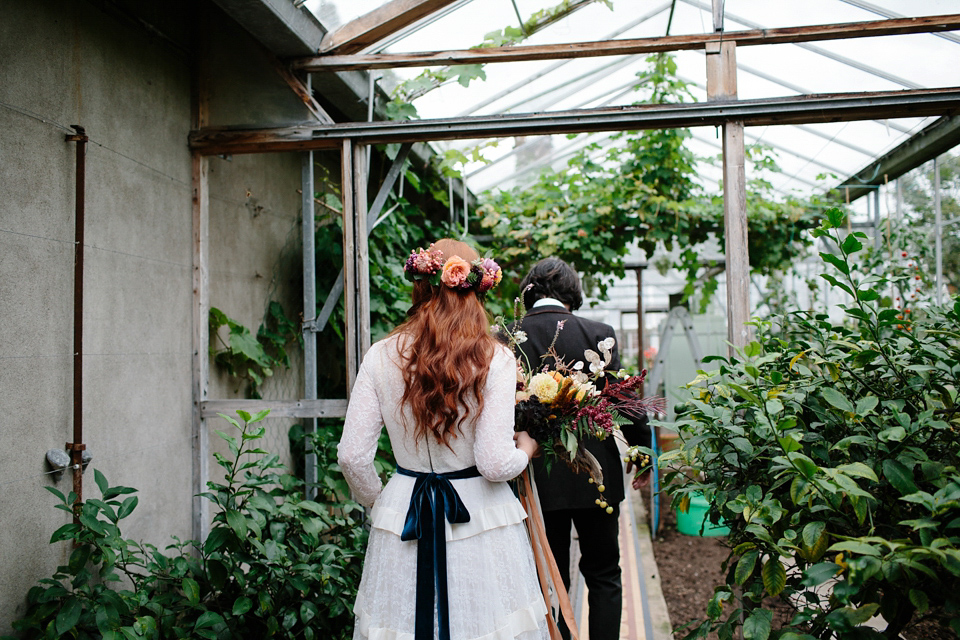 "Our family and friends put their hearts and souls into the decoration. Part of the beauty of the wedding was being able to share some of the preparations with the people we love, and seeing how excited and happy they were to be there for us."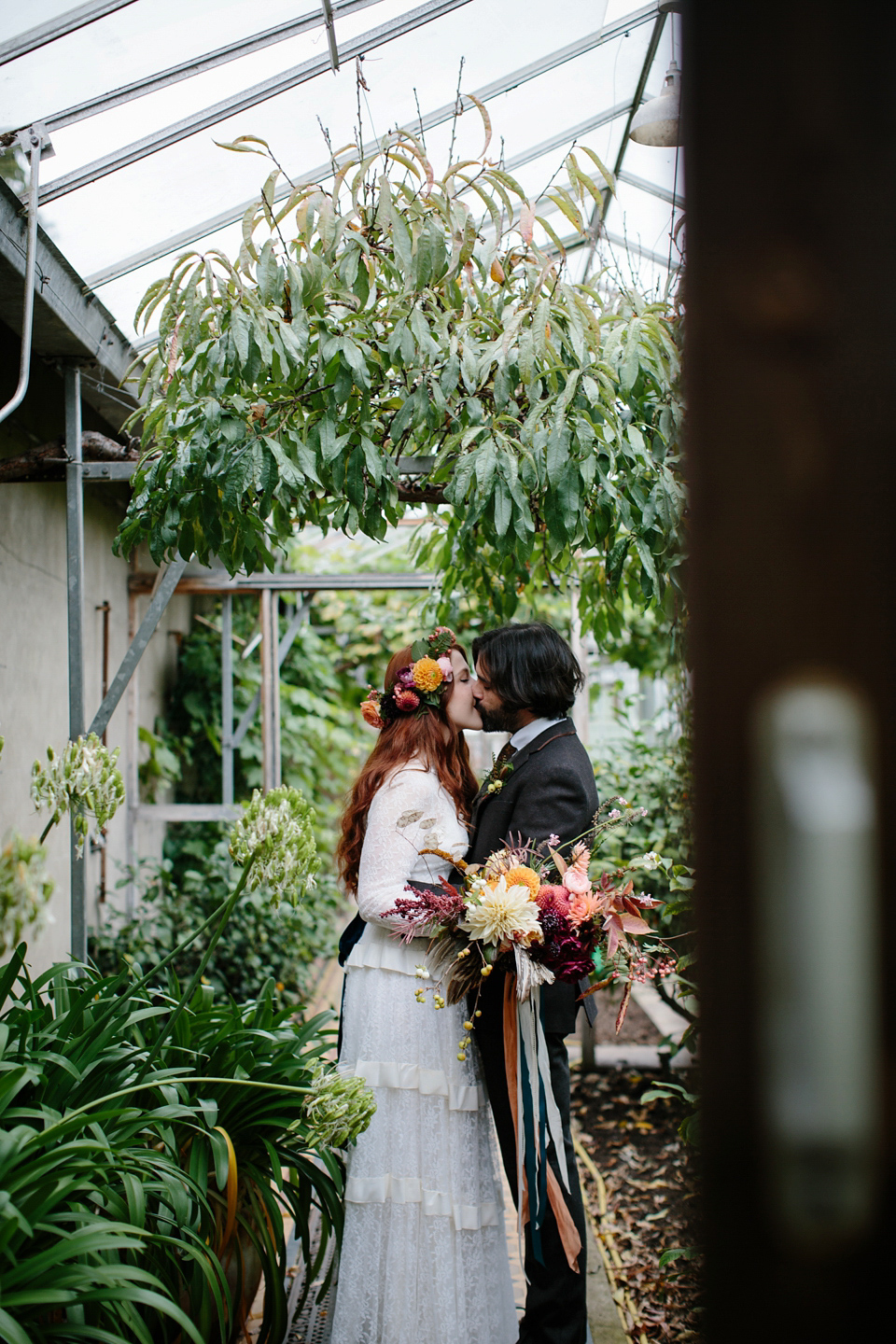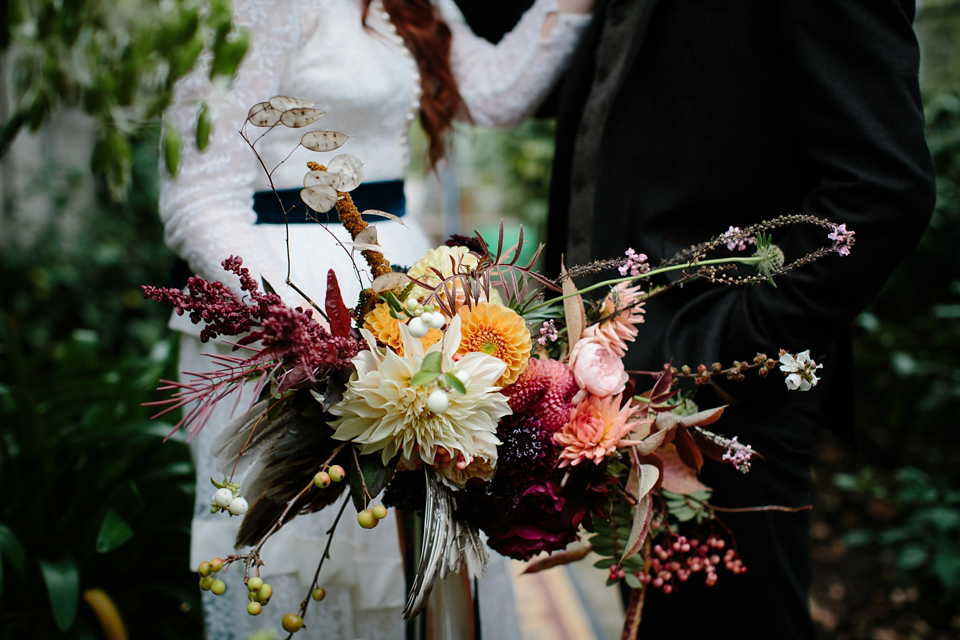 After their initial fated meet at a University party, Emma and Chris' romance blossomed over a mutual love of walks by the stormy sea and endless cups of coffee so it seems only right that Chris' proposal was during fittingly tempestuous weather.
"It had been a perfectly lovely sunny day, so we decided to walk up Arthur's Seat. On our way up, the sun suddenly disappeared and we were presented with an out-of-nowhere hailstorm with crazy winds that swept away my hat and forced us to hang on to the cliffs. The exact details of what happened next are a bit blurry but I remember Chris trying to protect me from the hailstones; wrapping his arms around me. I will never forget the look in his eyes when he lifted my soggy, miserable face towards his and said with the most solemn voice I have ever heard: 'Emma, I want you to marry me."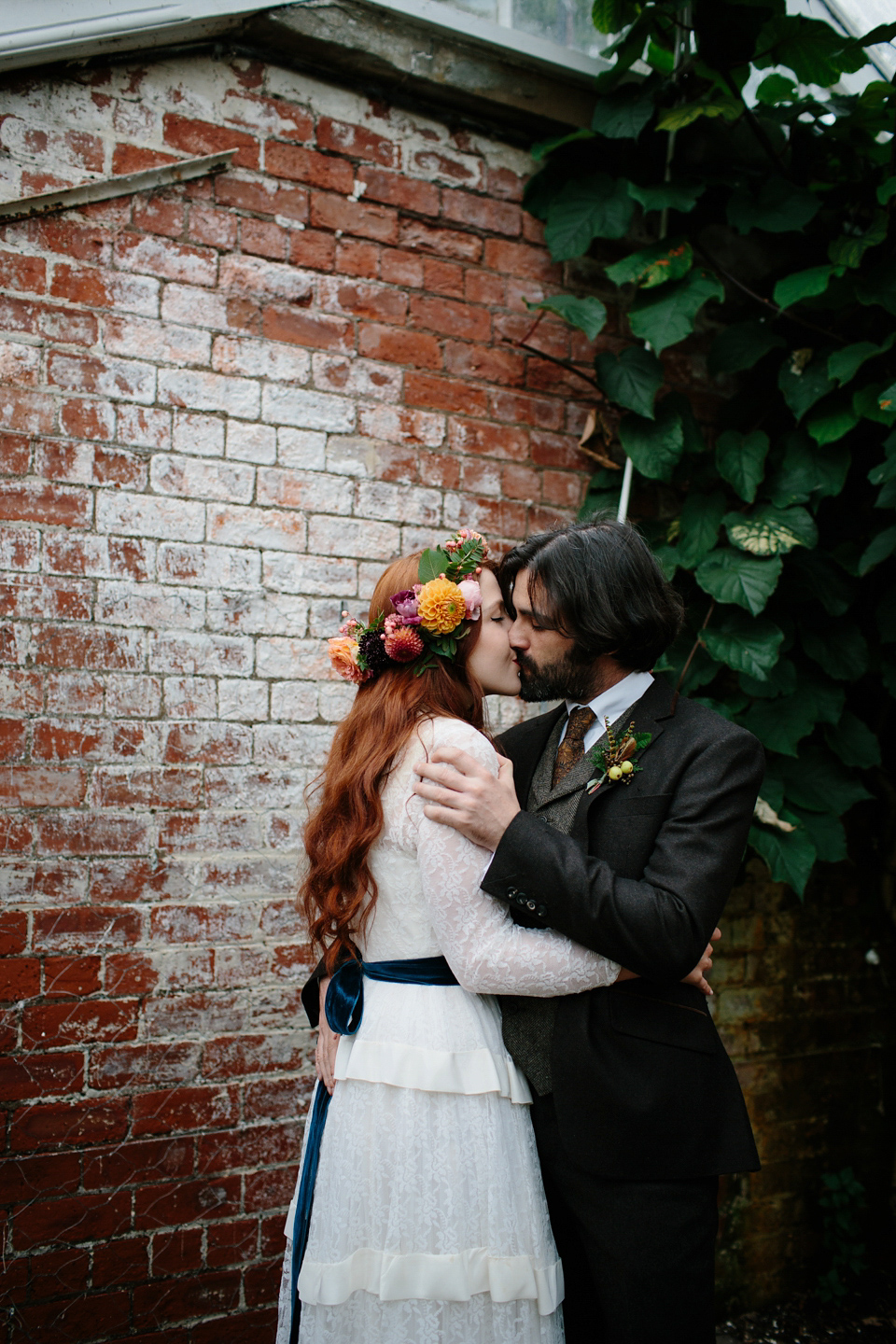 "I was so confused by all the drama of the scene that I didn't understand if he was actually asking me. Finally, I managed to utter: 'I want to marry you', at which point – like in a Disney movie – the hail storm disappeared and we were presented with the most beautiful sunset over Edinburgh, with light misty clouds floating above the hills, and a white light so bright we could barely keep our eyes open. It was perfect; wild, exhilarating and totally unreal."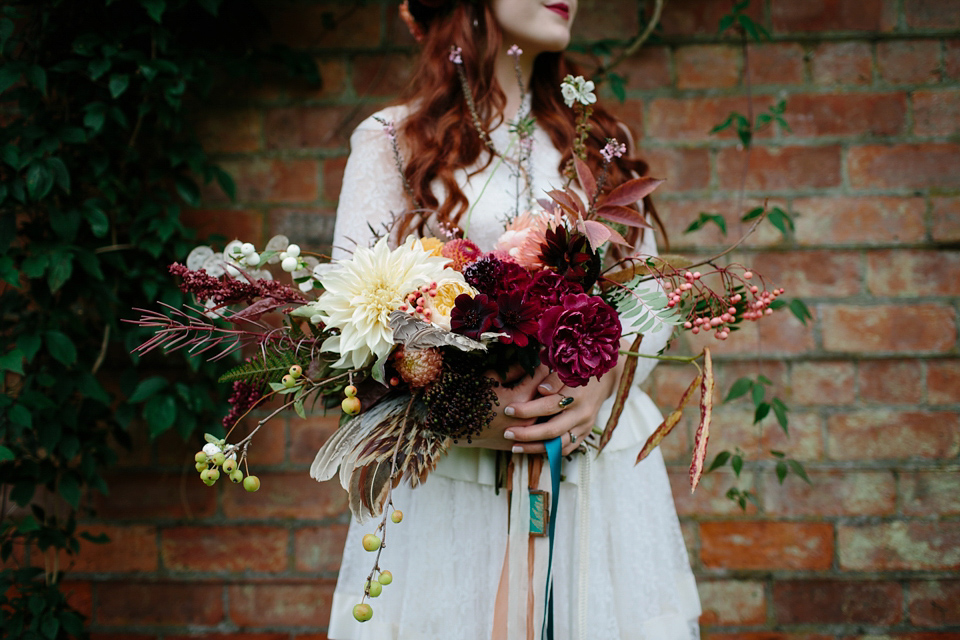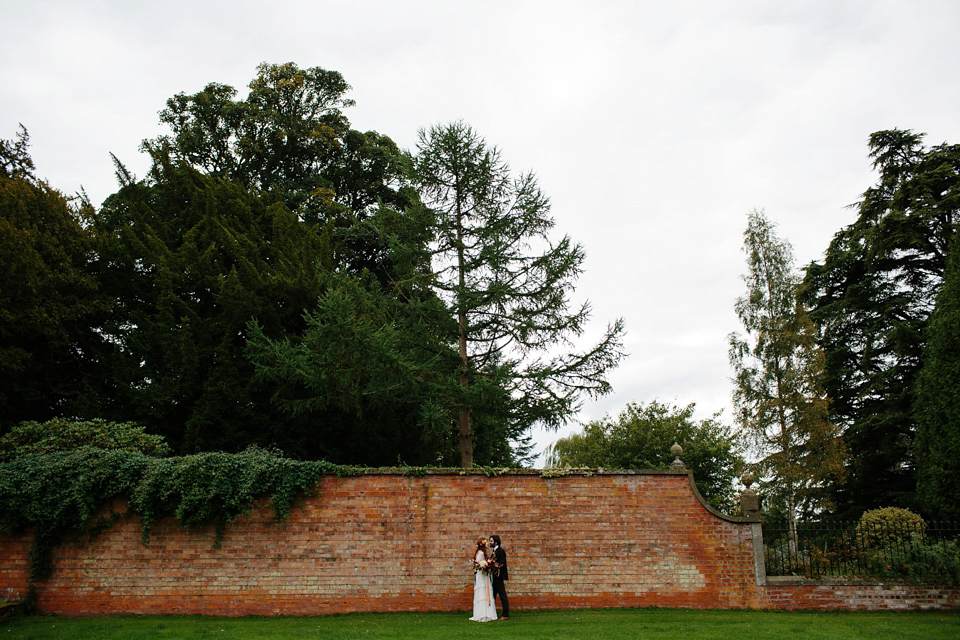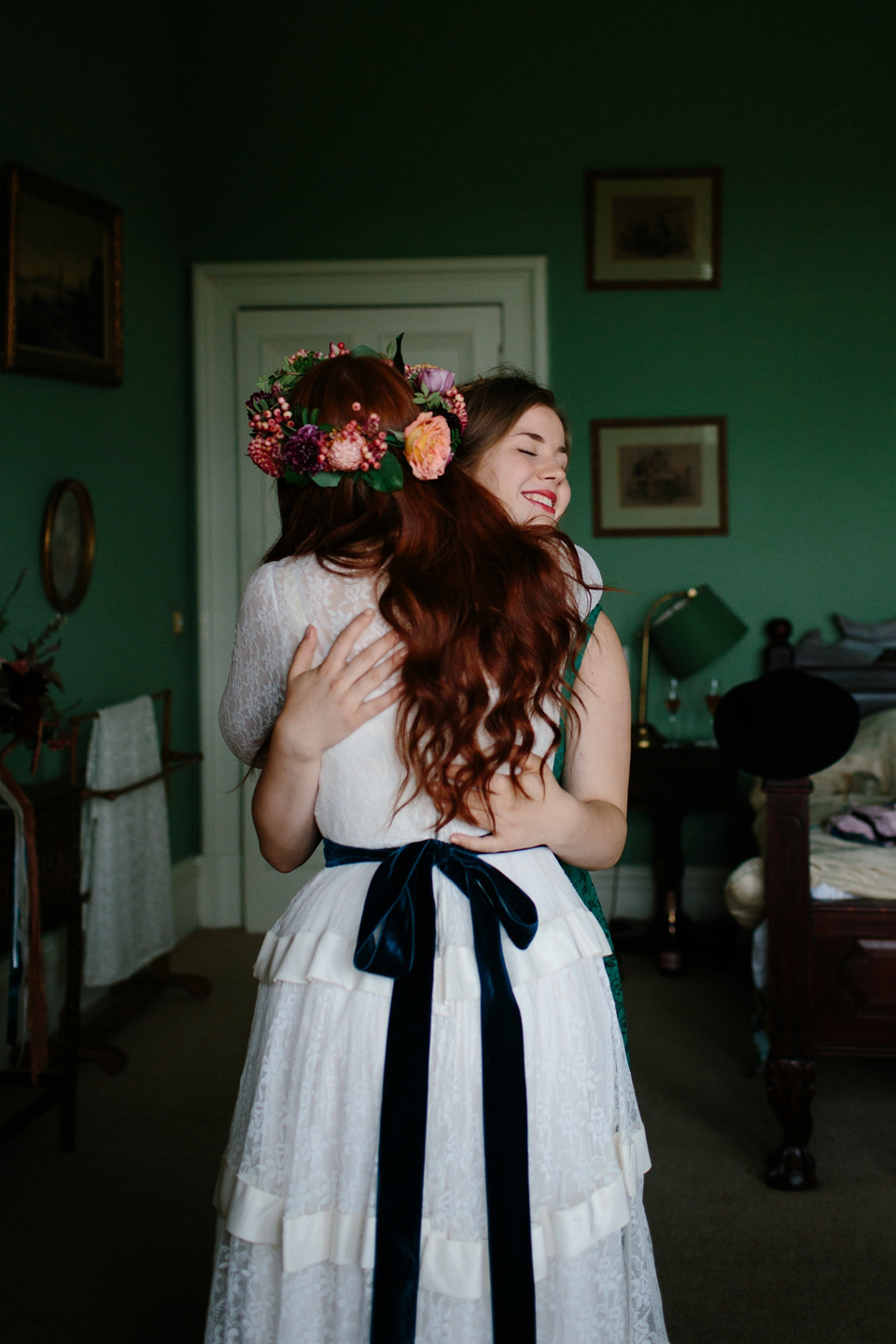 After their first look, Emma popped back to her getting ready room to put in her veil beneath her glorious floral crown.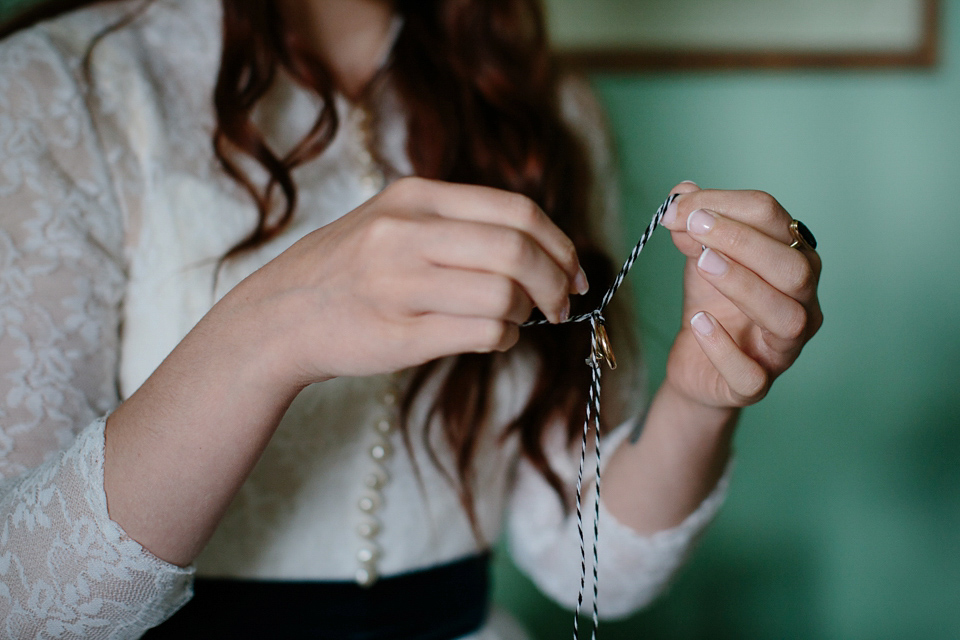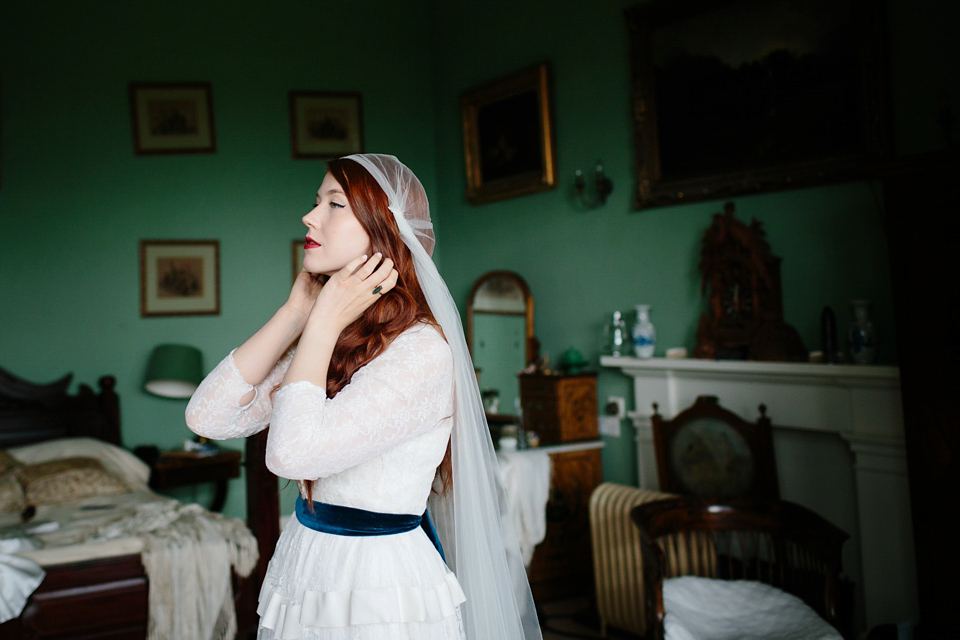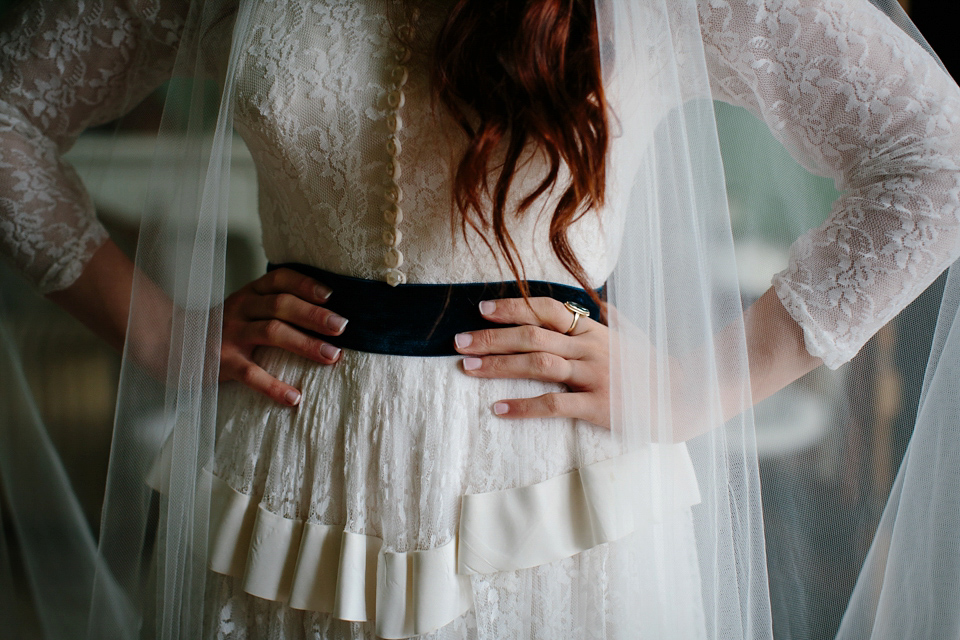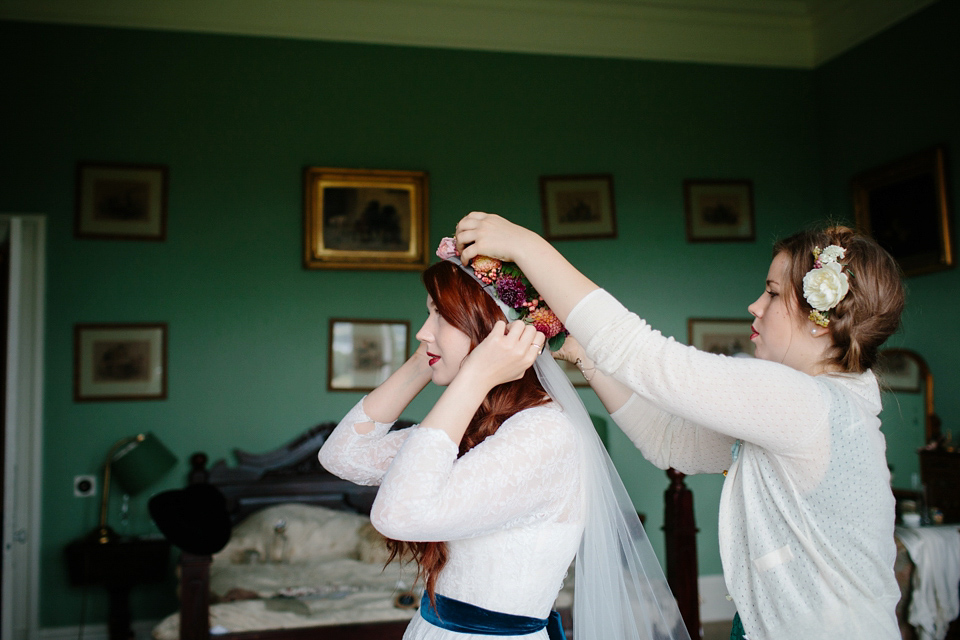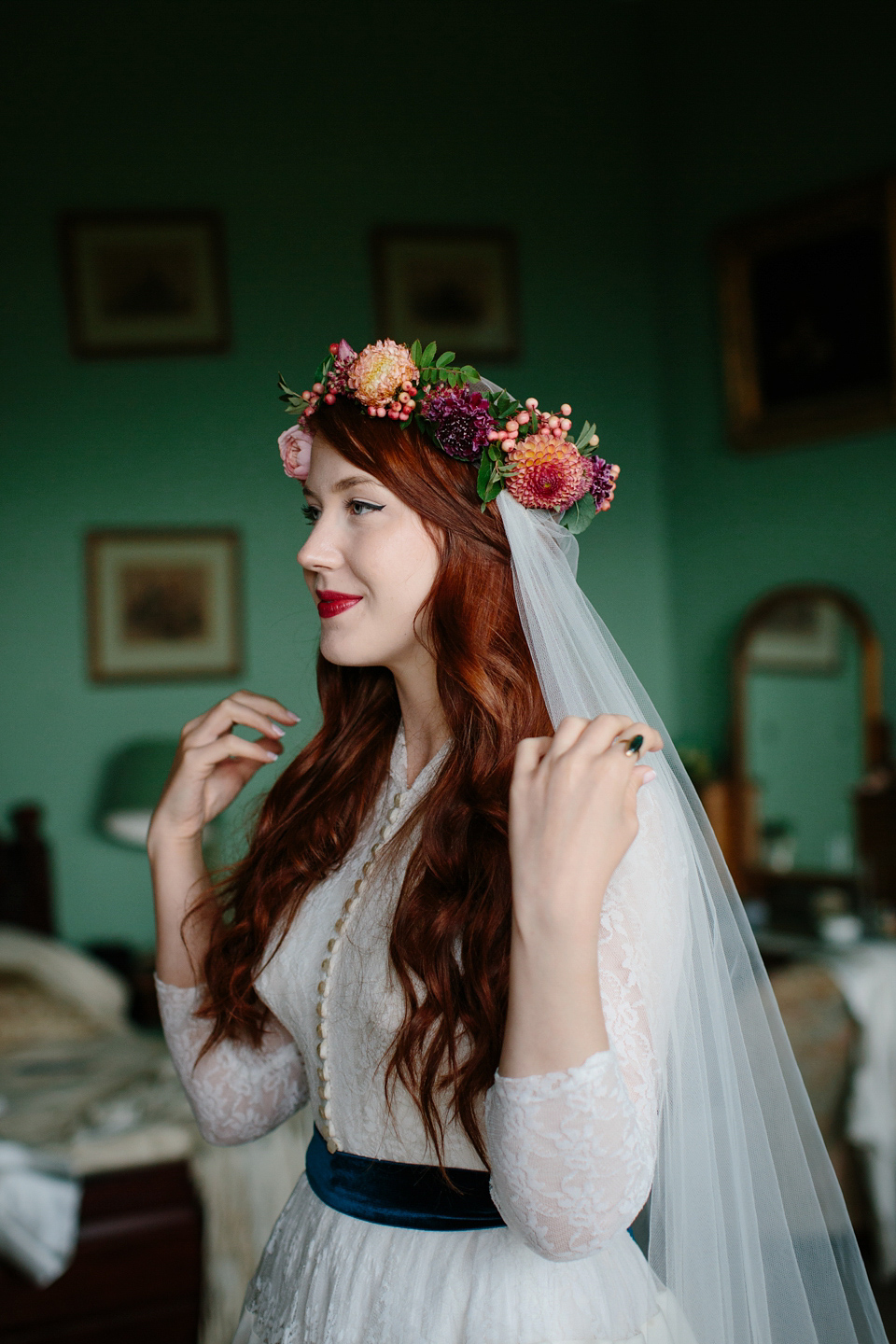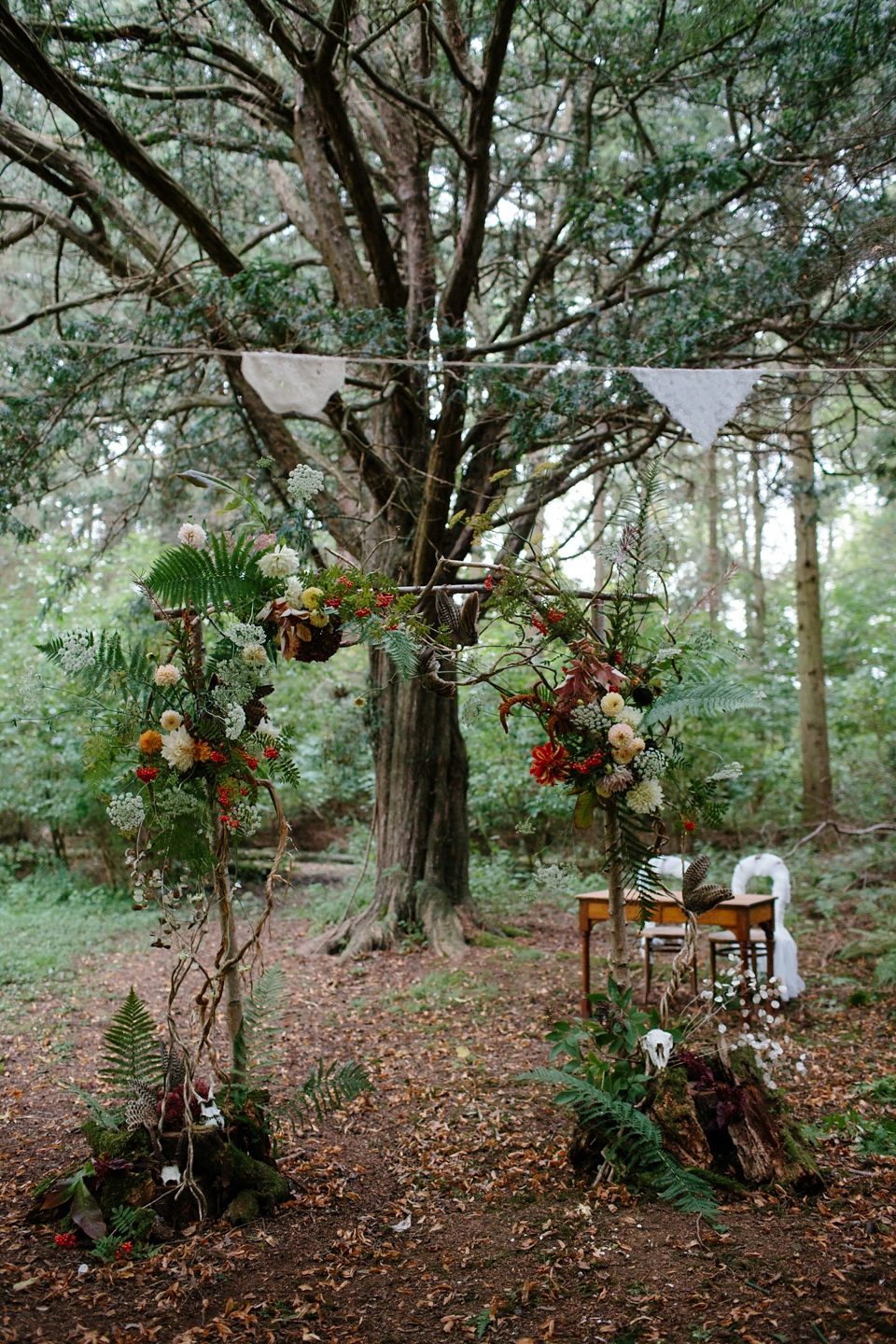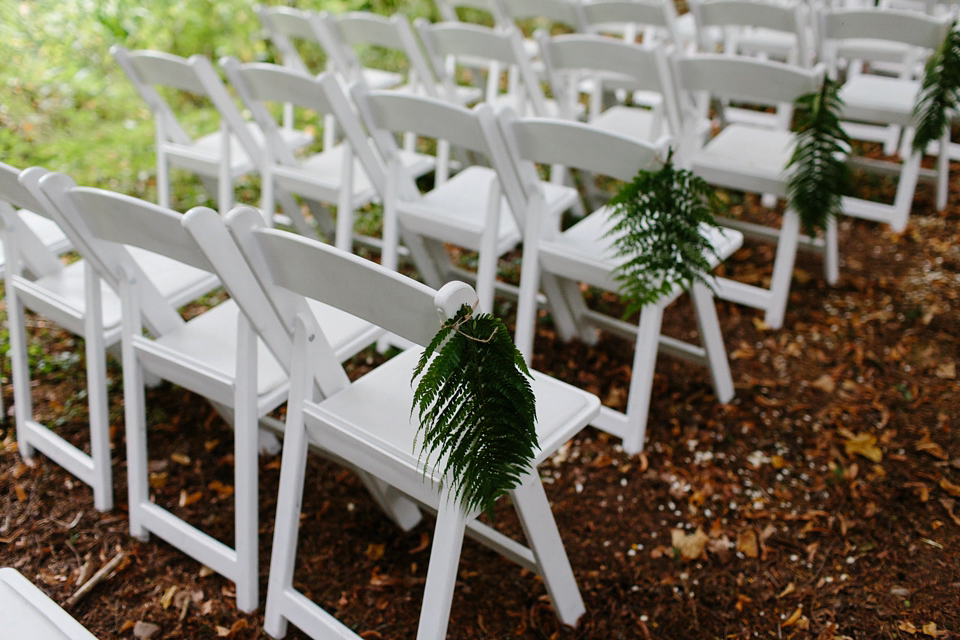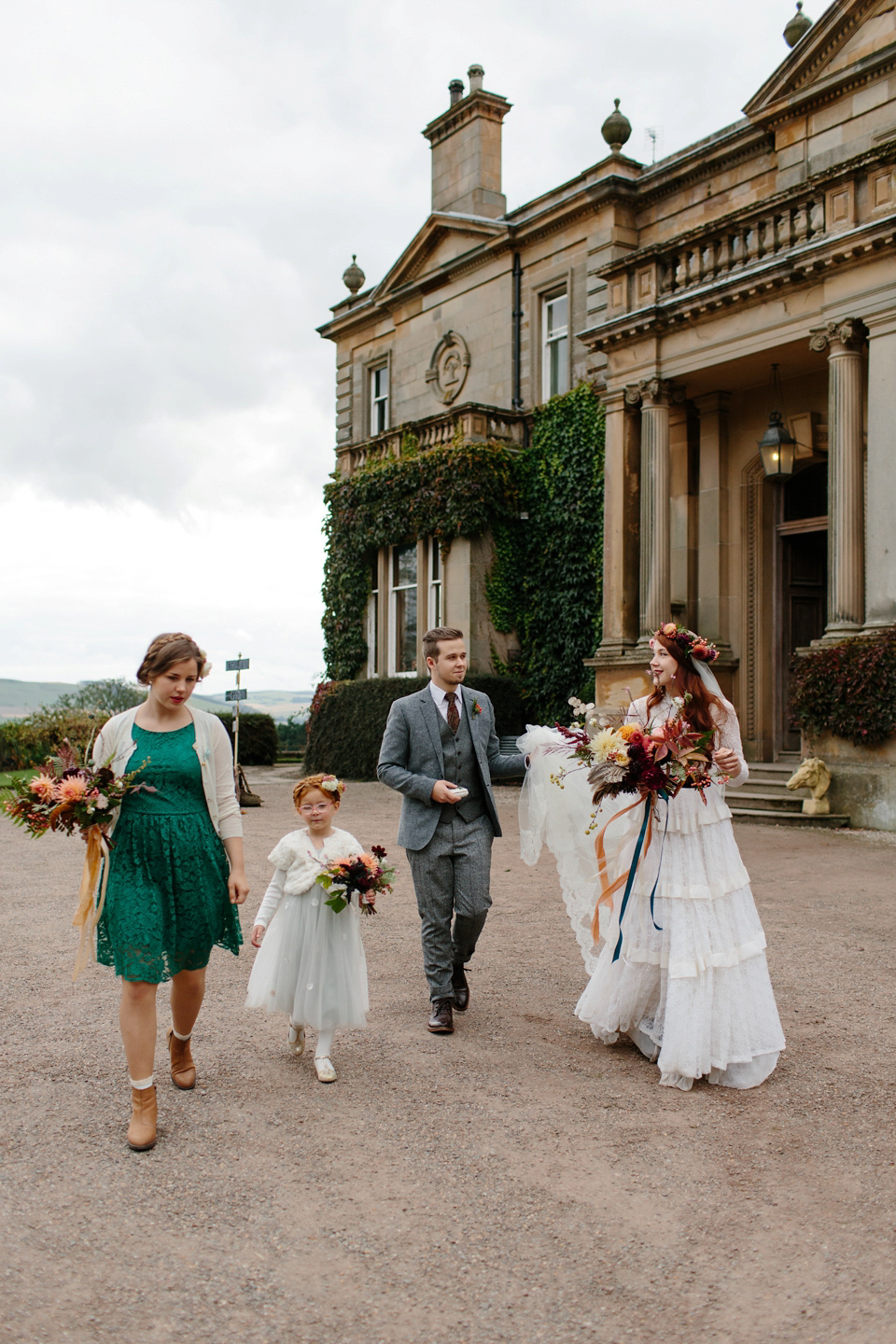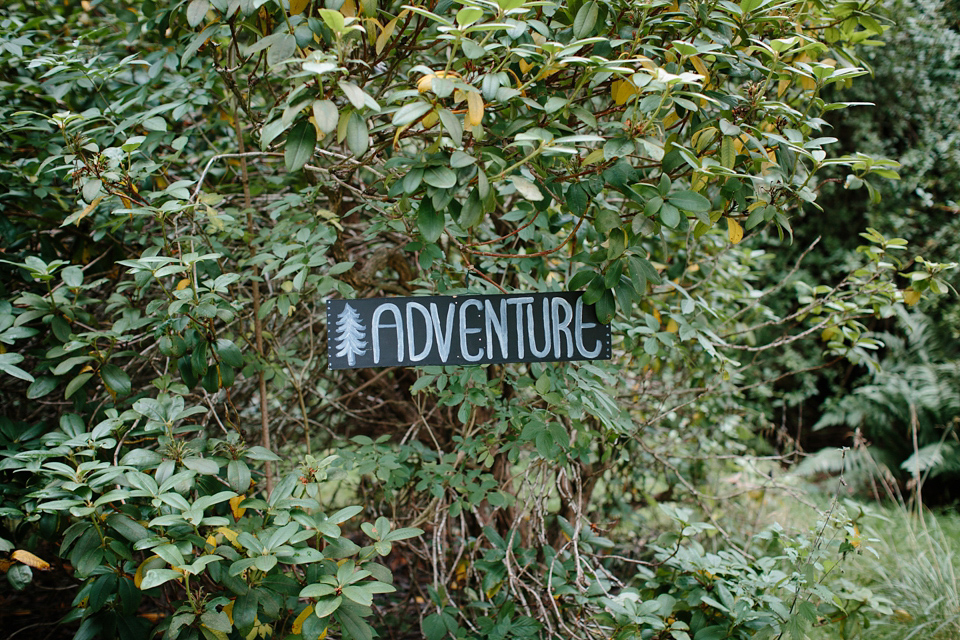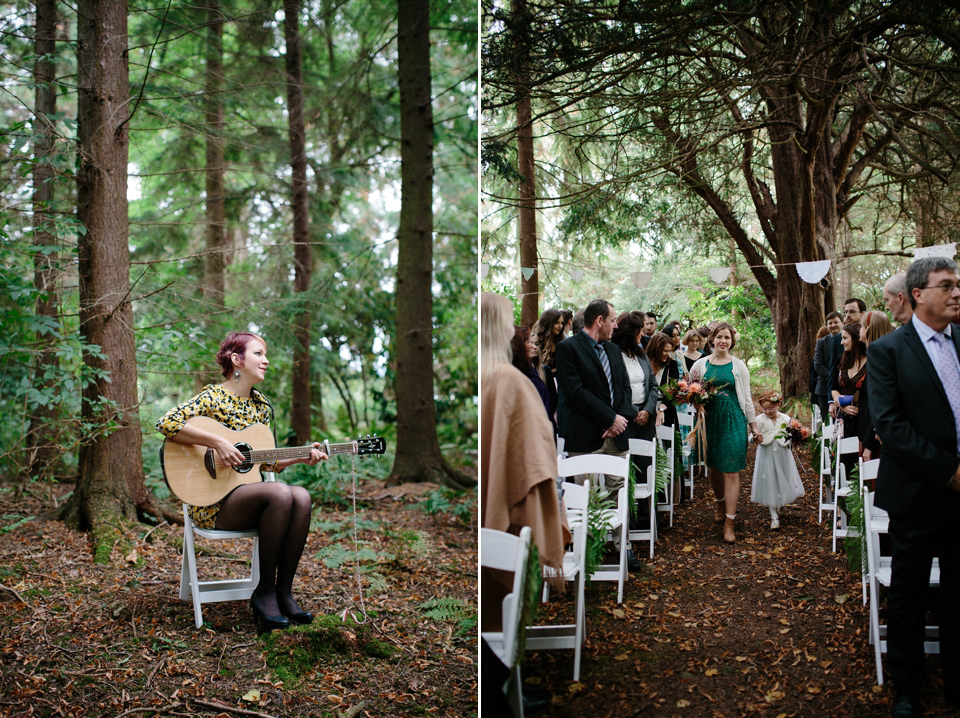 Emma and Chris exchanged vintage wedding rings and chose to have an entirely tailored and personal Humanist ceremony, conducted brilliantly by Brian Hawkins.
"We wanted to involve friends and family as much as possible so we chose a ring warming ceremony where all of our guests had a moment to hold our rings and bless them with their good wishes. We had prepared our vows weeks before the ceremony but both of us ended up rewriting them pretty much on the spot because it seemed more natural to say whatever felt right in the moment.
I asked my 'little' brother to walk me down the aisle. For me, it was not about being 'given away', but about being able to share a special moment with someone I love. I wanted to involve my brother and sister in the wedding as much as possible, because we all now live in different countries and rarely have the chance to spend time together."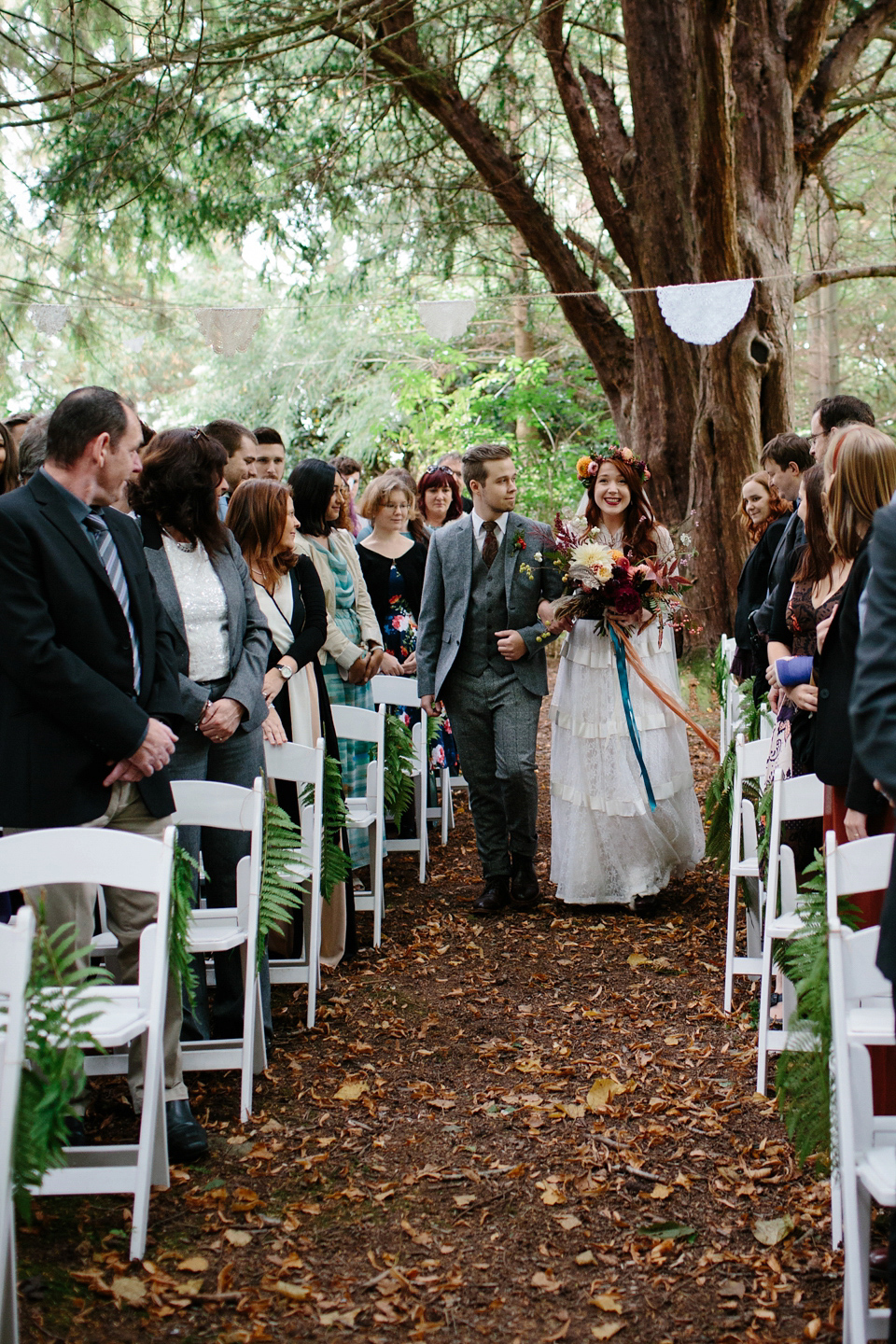 Emma walked down the woodland aisle to 'Home' by Edward Sharpe and the Magnetic Zeros, a favourite from the time she and Chris got together, sung and played by her friend Ugne. Emma describes Ugne's angelic voice echoing through the forest, harmonising with birdsong, as truly magical. It must have been amazingly atmospheric.
"We chose one reading each and asked our sisters to read them. My reading was from my childhood favourite book 'Who Will Comfort Toffle' by Tove Jansson, the creator of the Moomins, which my sister read in Finnish. It's a story about having to face one's fears in order to find love, friendship and adventure. Chris quite spontaneously chose a poem he liked by Laurie Lee; 'April Rise;' which is quite appropriate as we were both born in April. It worked beautifully in the woodland setting."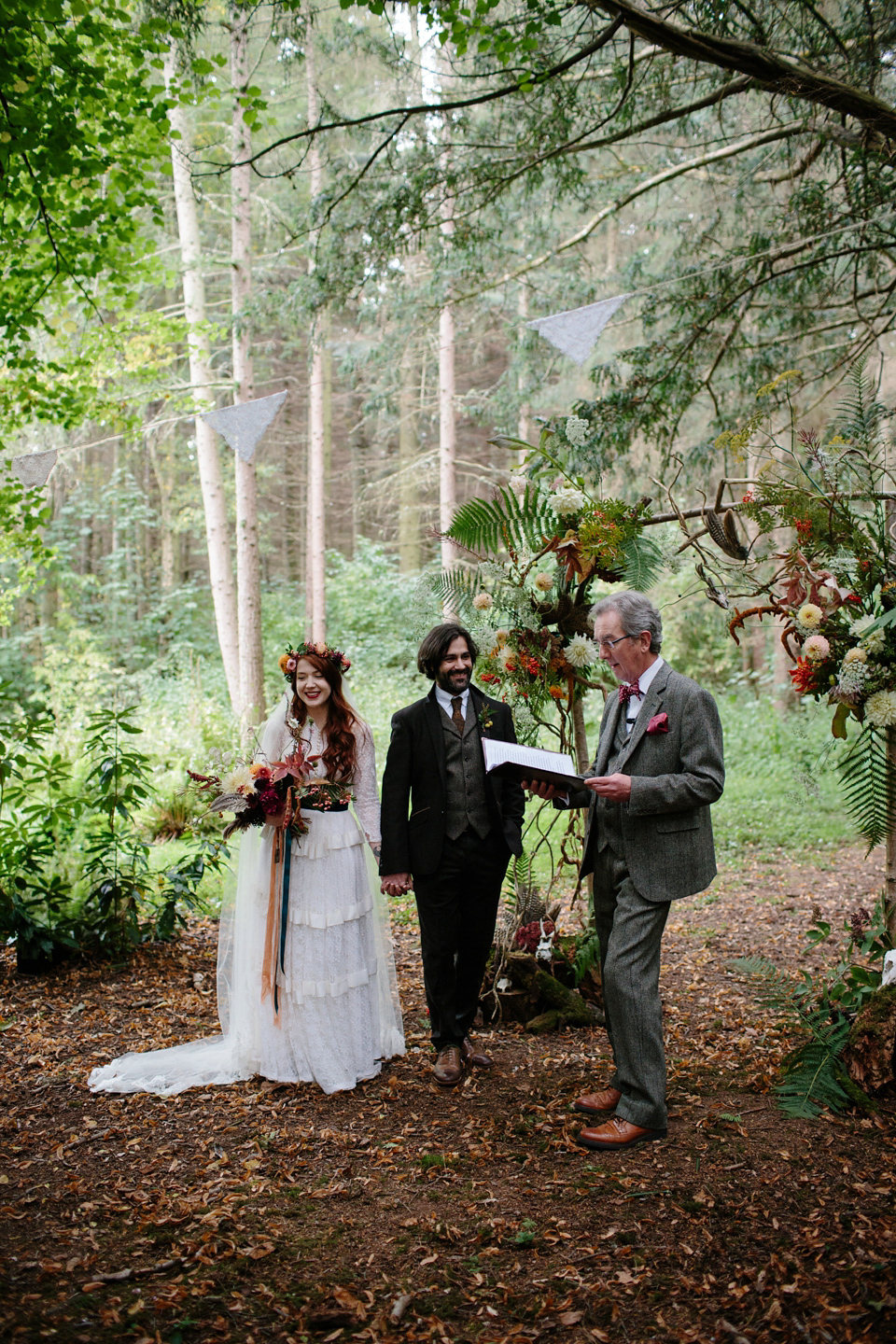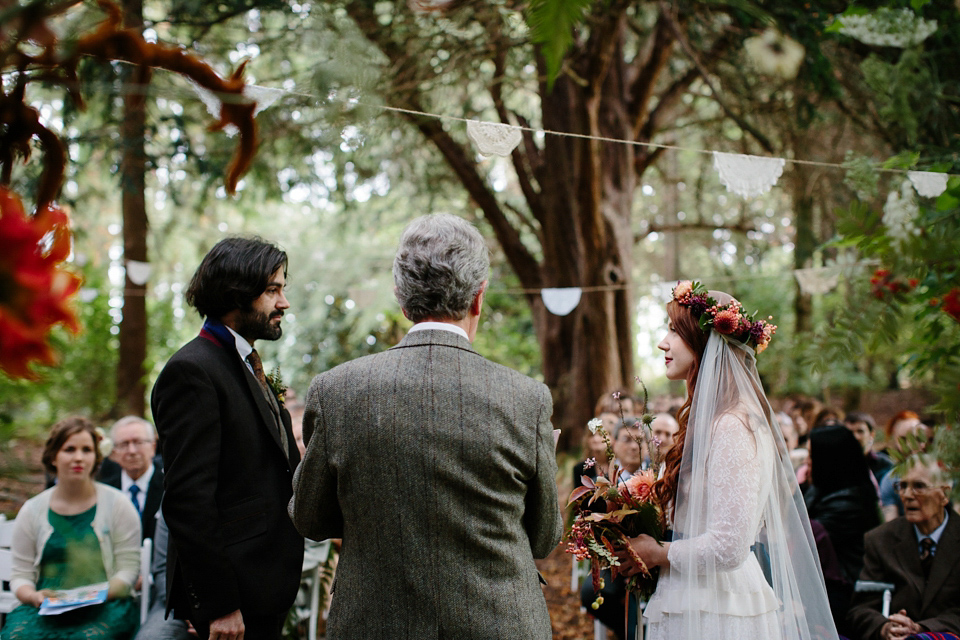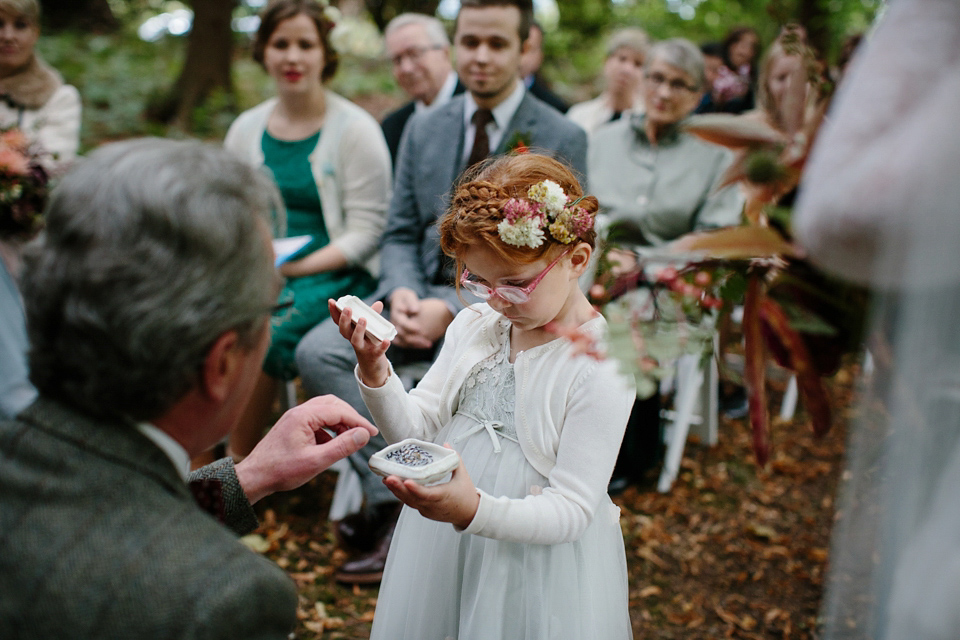 Chris, who is now very high on my list of loveliest grooms ever, wore a curated array of modern and vintage, including a Linea jacket bought from House of Fraser and a vintage bow tie and cufflinks. His look works beautifully with his bride's dress and their natural surroundings.
"Funnily enough, it was Chris who took the longest putting together his outfit. We chose heavier, textured materials, tweeds and wools, to go with the season and the country estate setting. The William Morris silk tie brought the look together and added some colour."
Wild Rover Food provided Emma and Chris' wedding catering in conjunction with a whole host of vintage hires ranging from glassware to mismatched plates.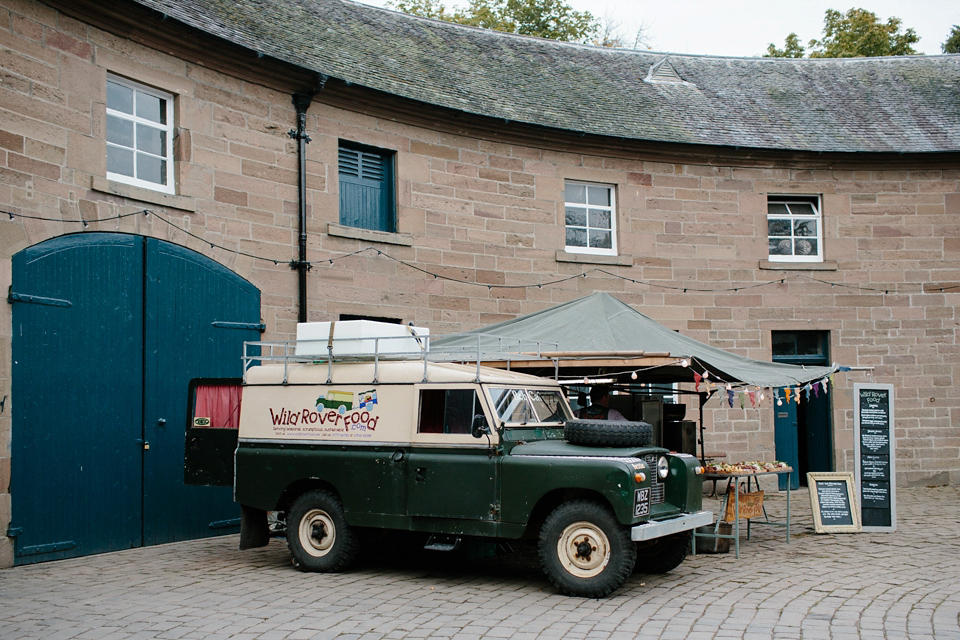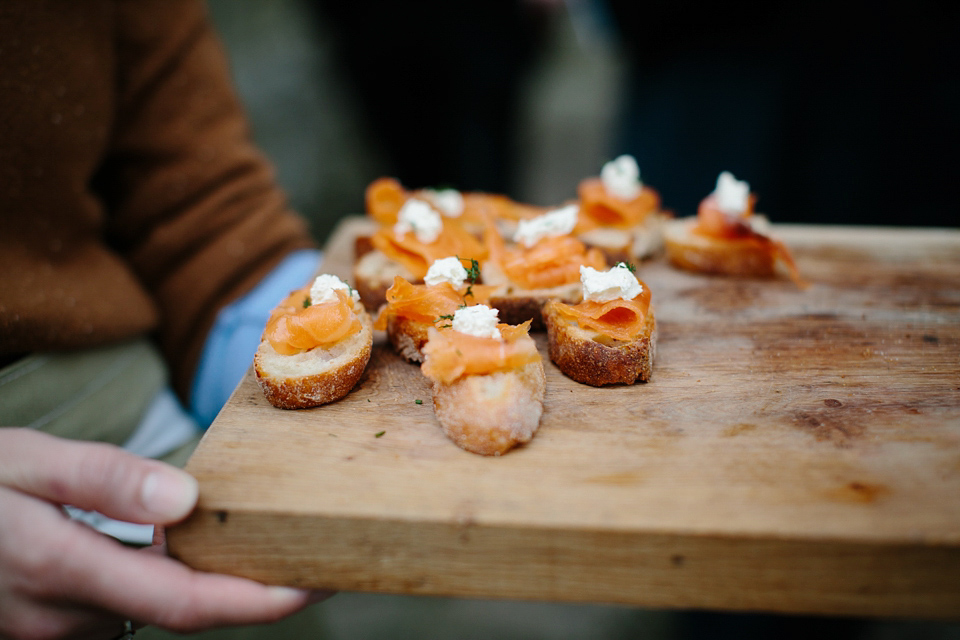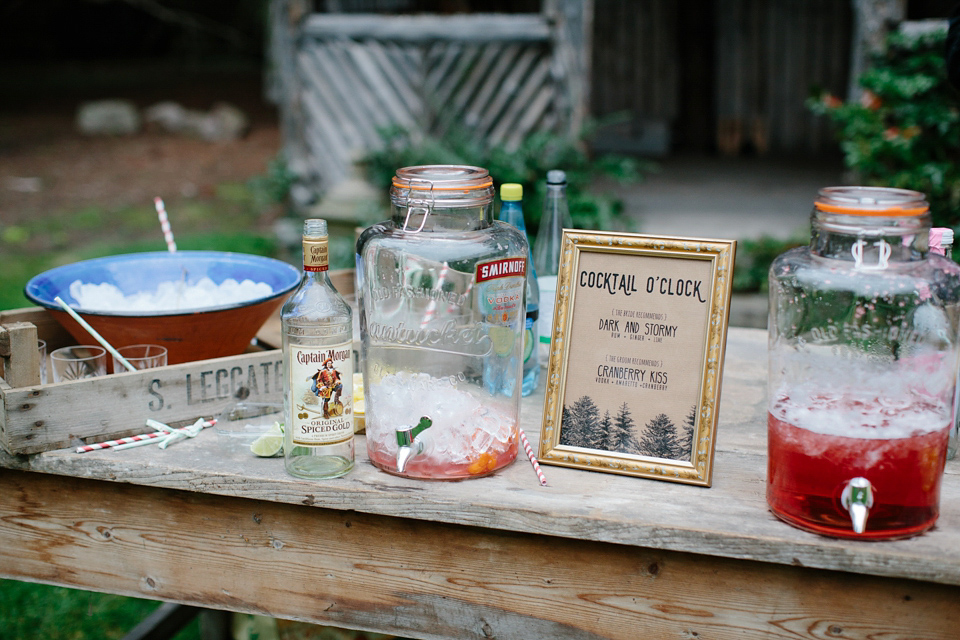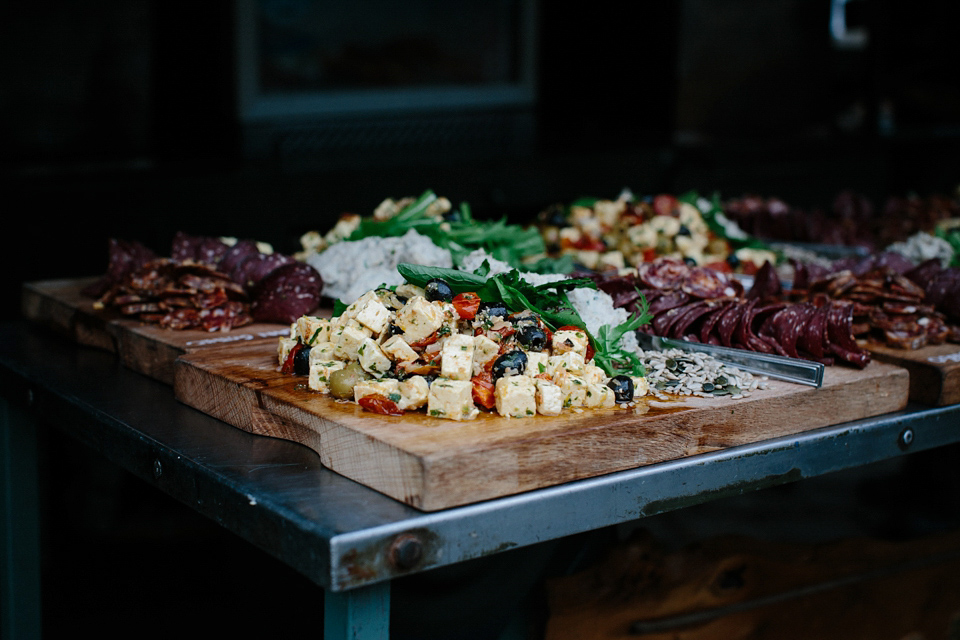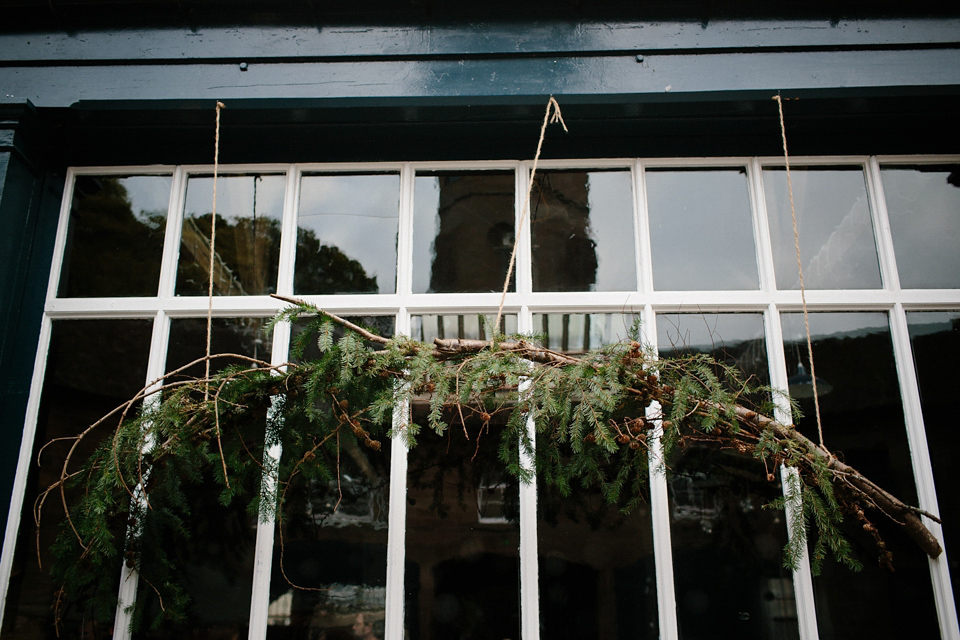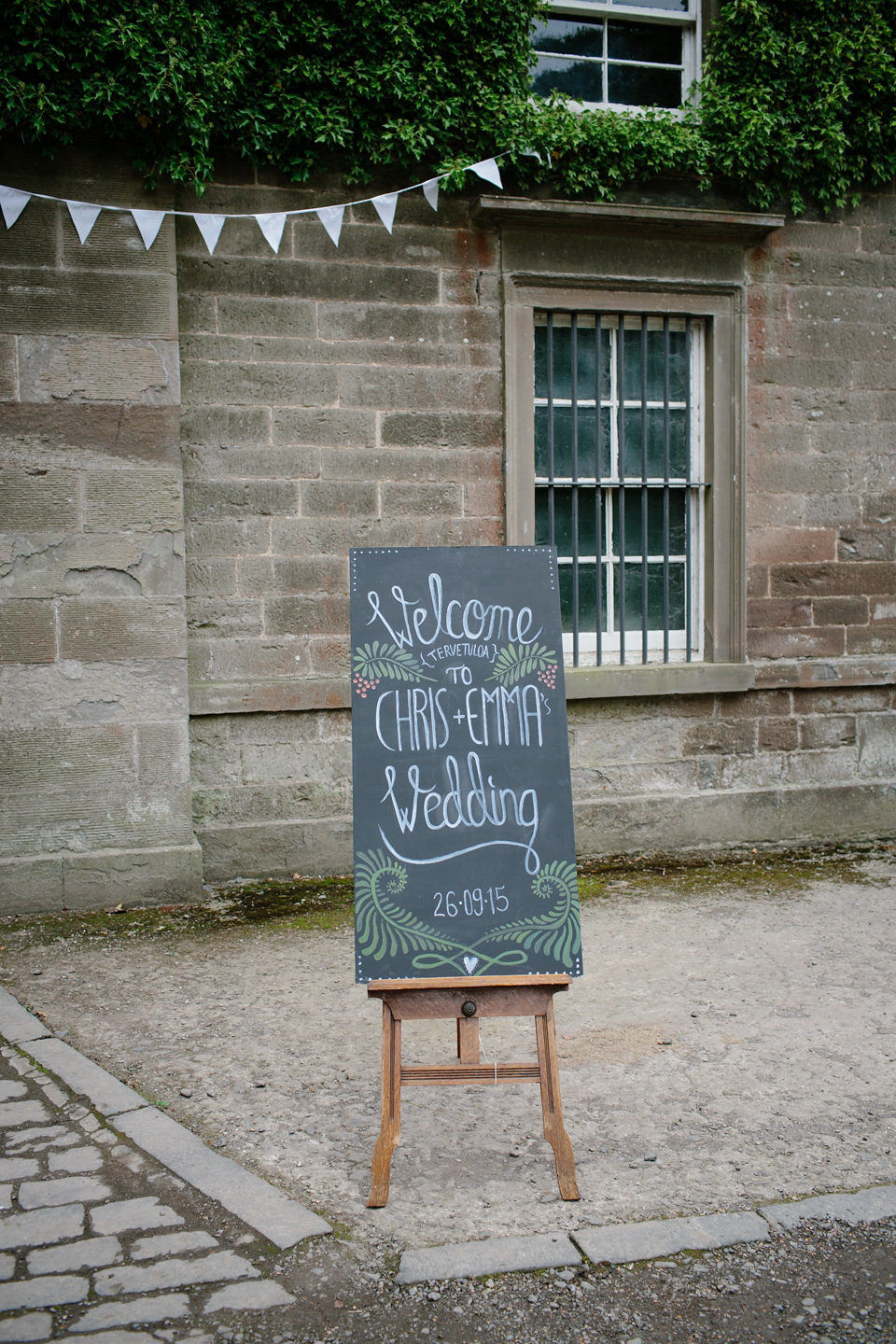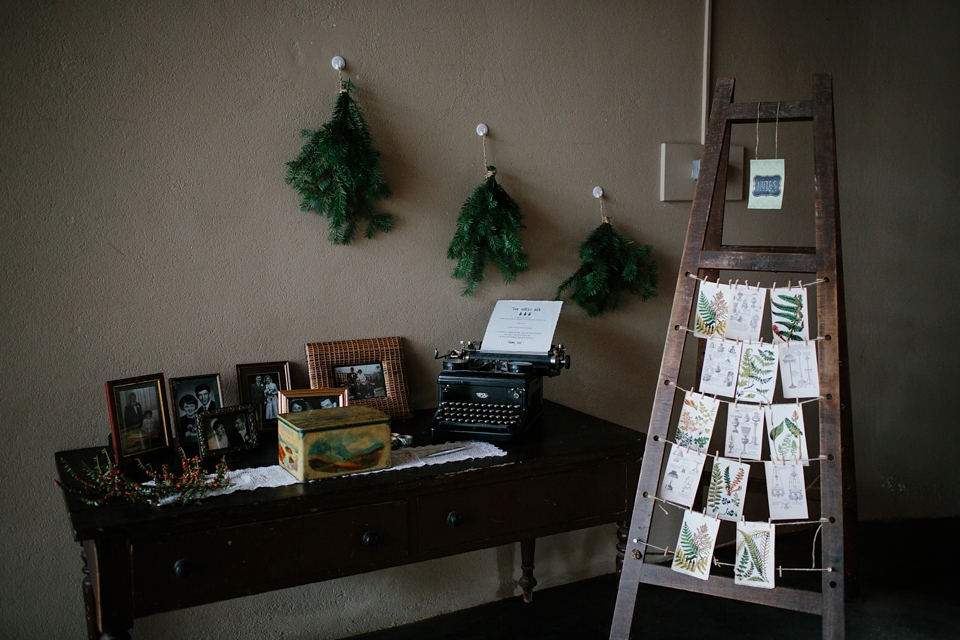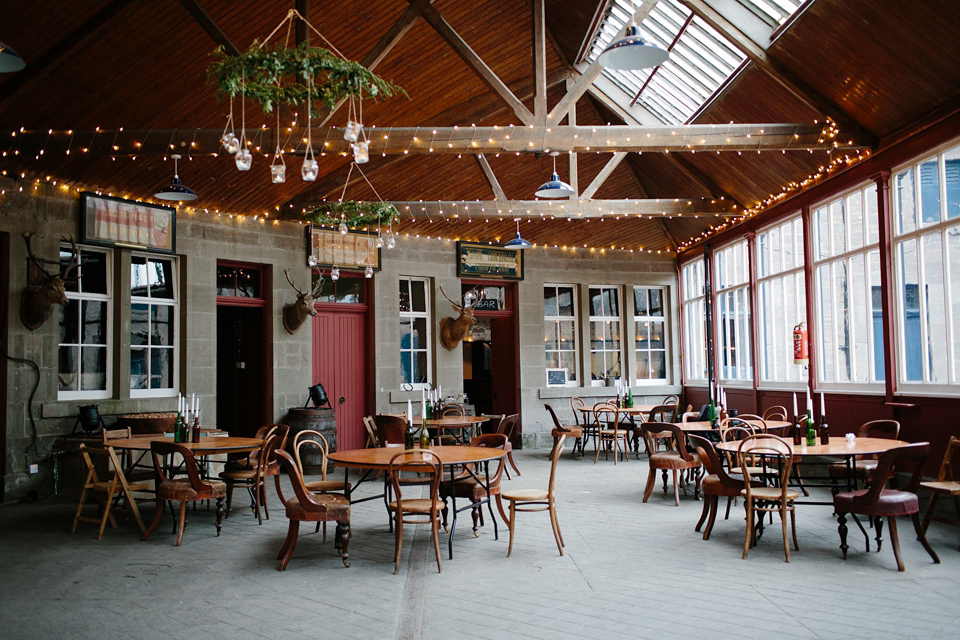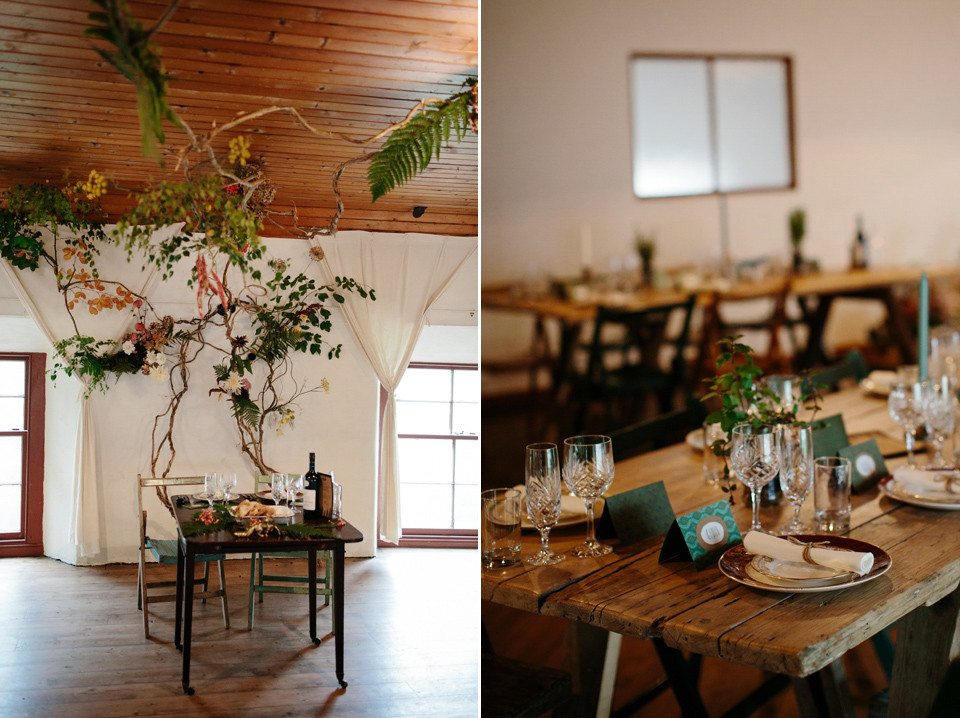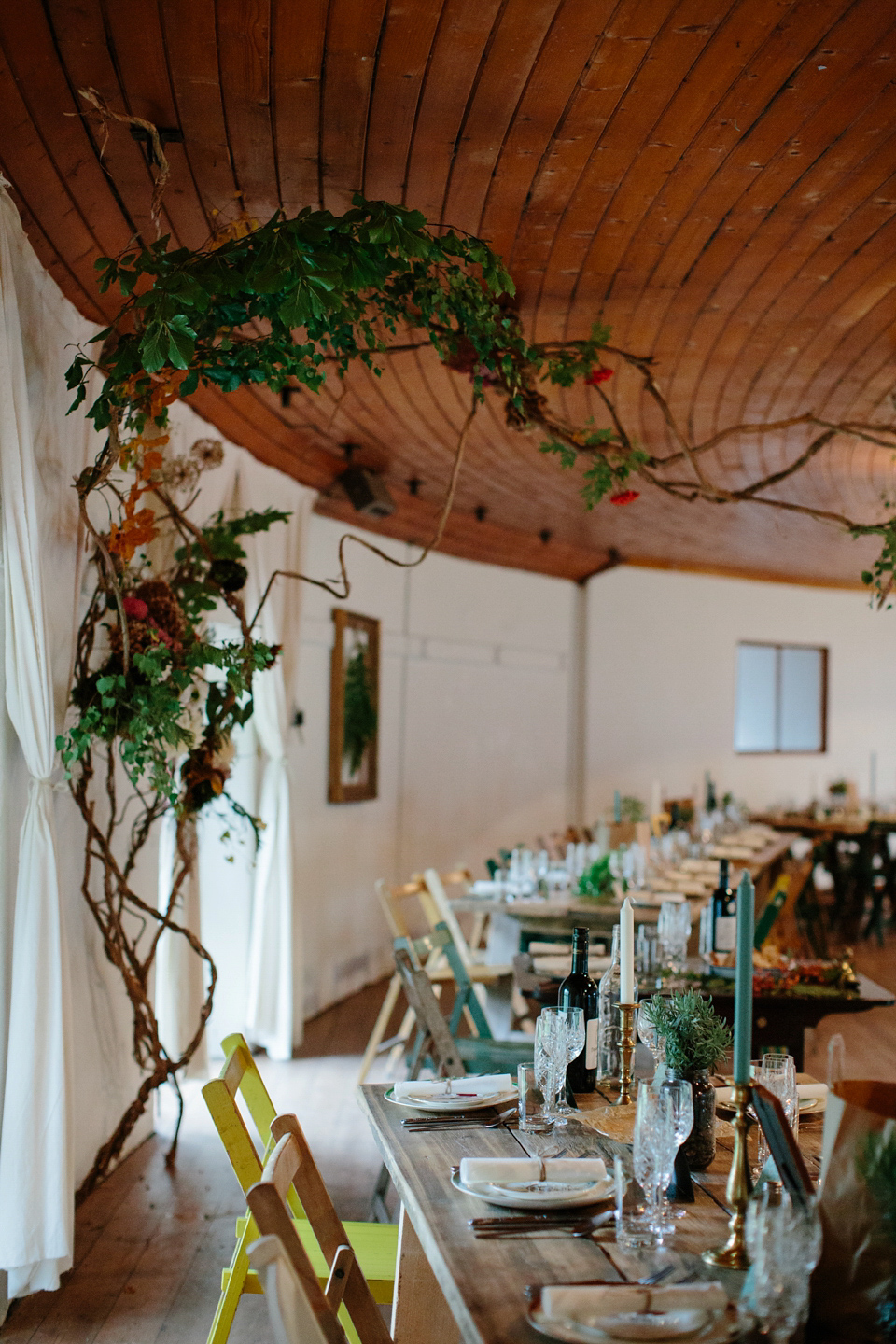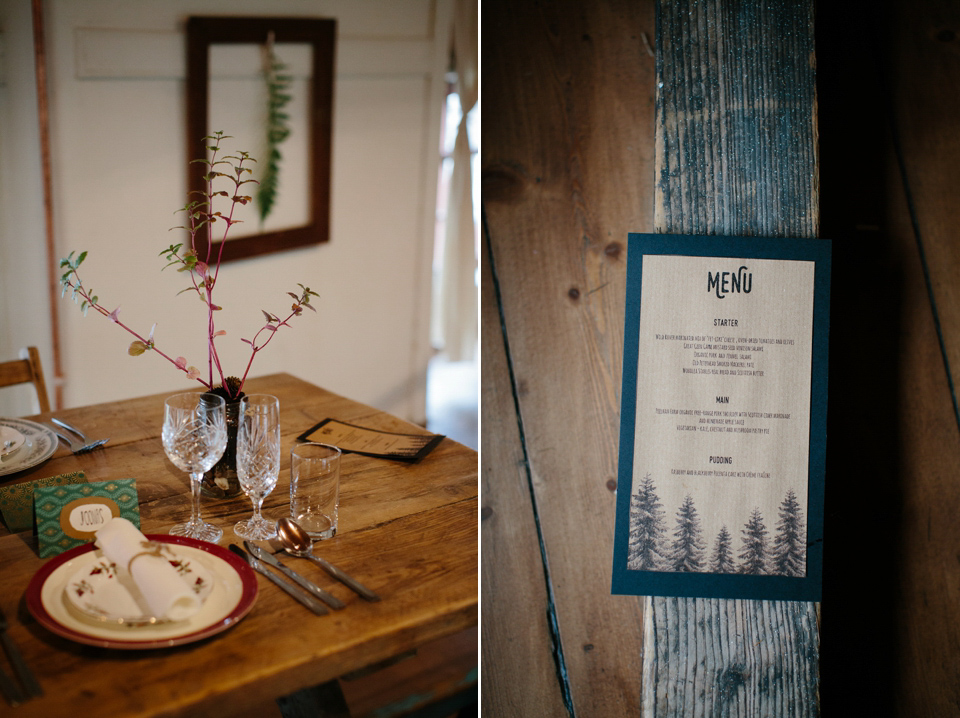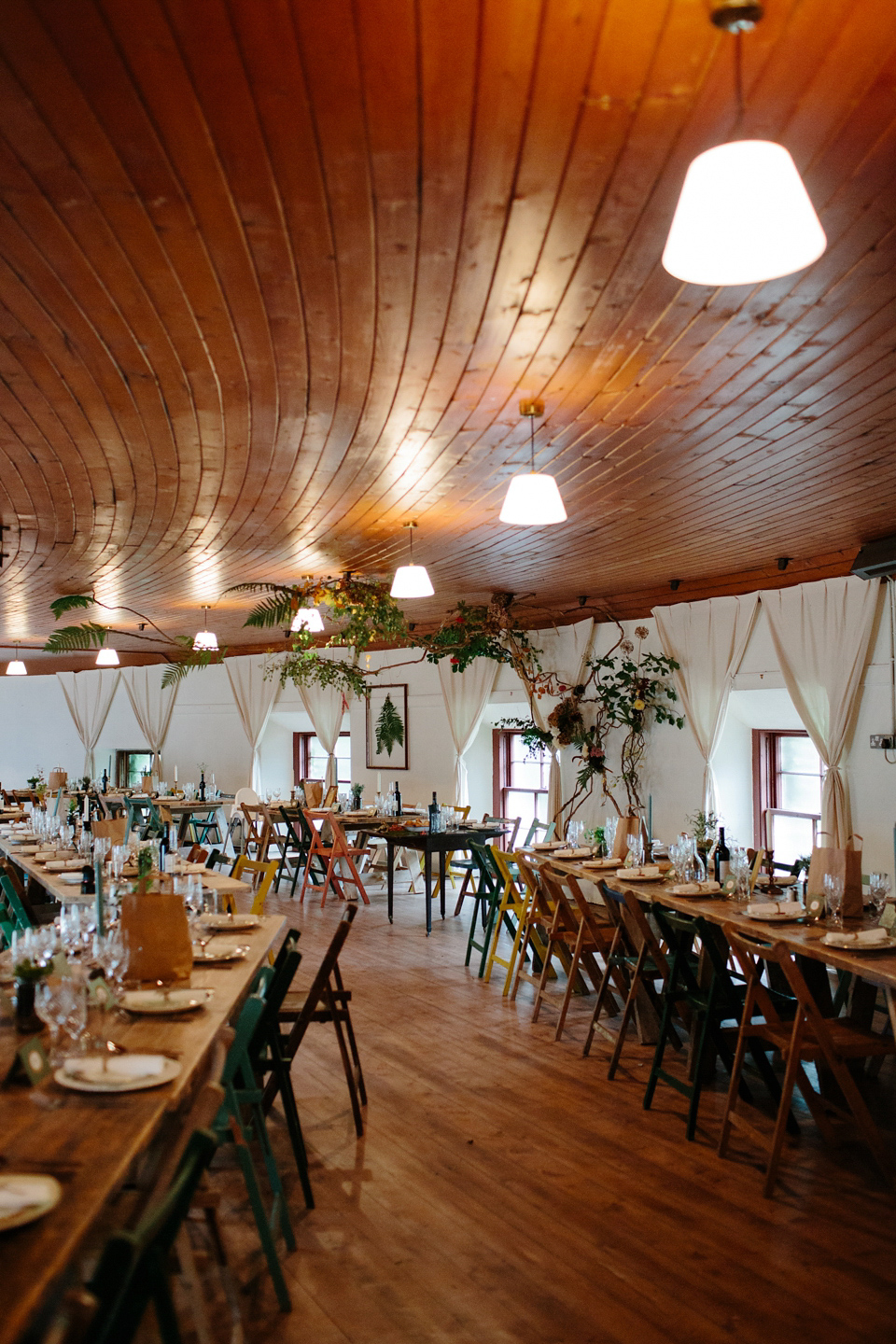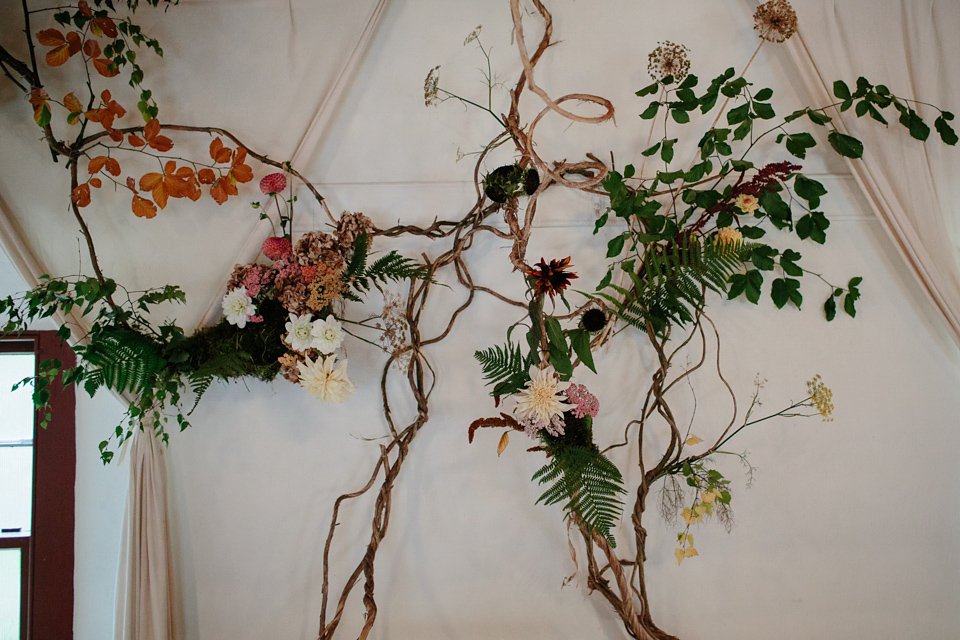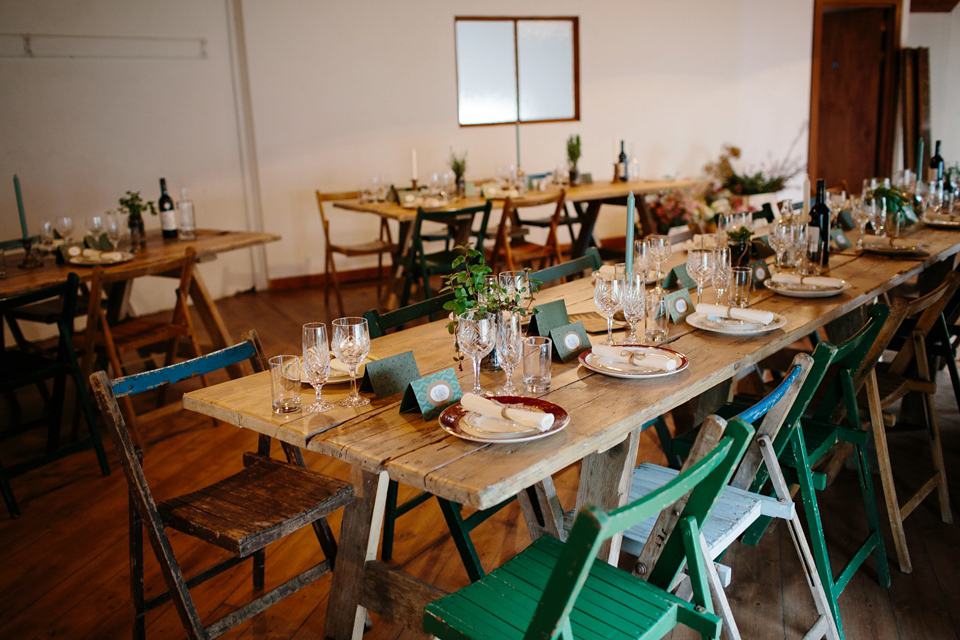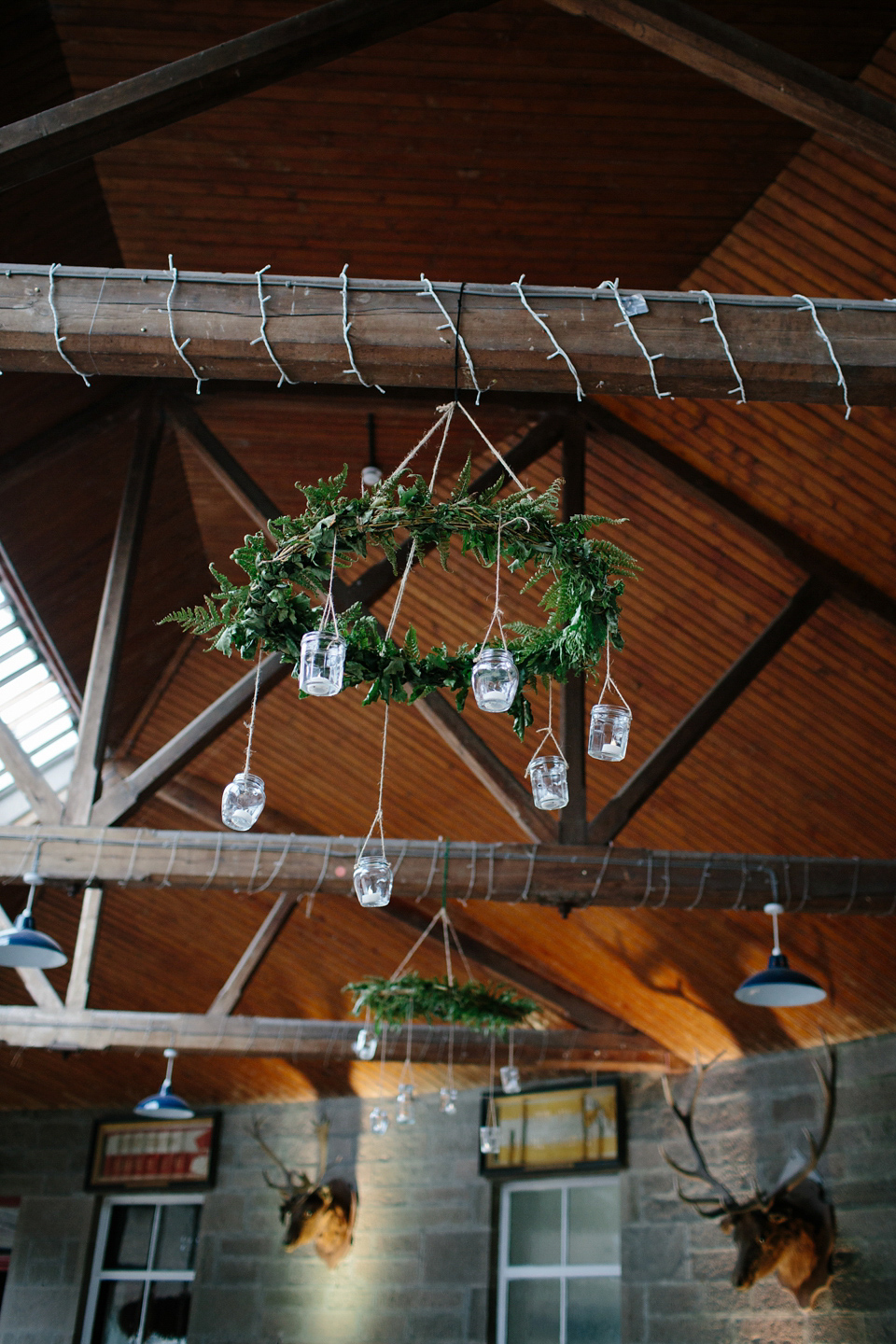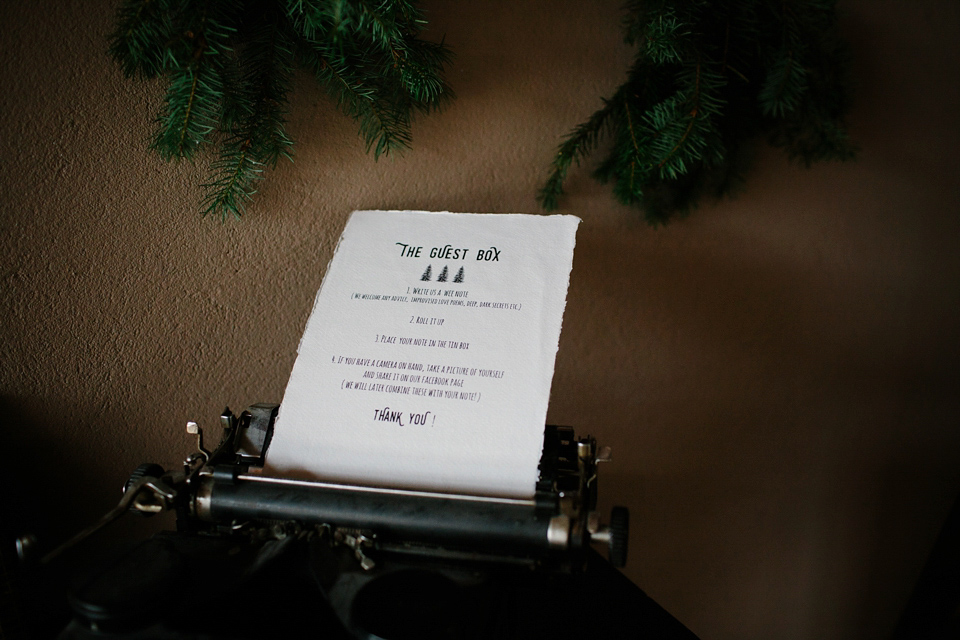 "Instead of a traditional wedding cake, we went for a tower of cheese, sourced by Wild Rover Food, and a mix of Finnish desserts such as cinnamon buns, berry pies and a selection of candy. We also share a deep, passionate love for cheese, so it was not a hard decision to make. Sadly (or luckily) a lot of our guests somehow missed the presence of the cheese tower, and we ended up having to take a mountain of cheese back home with us."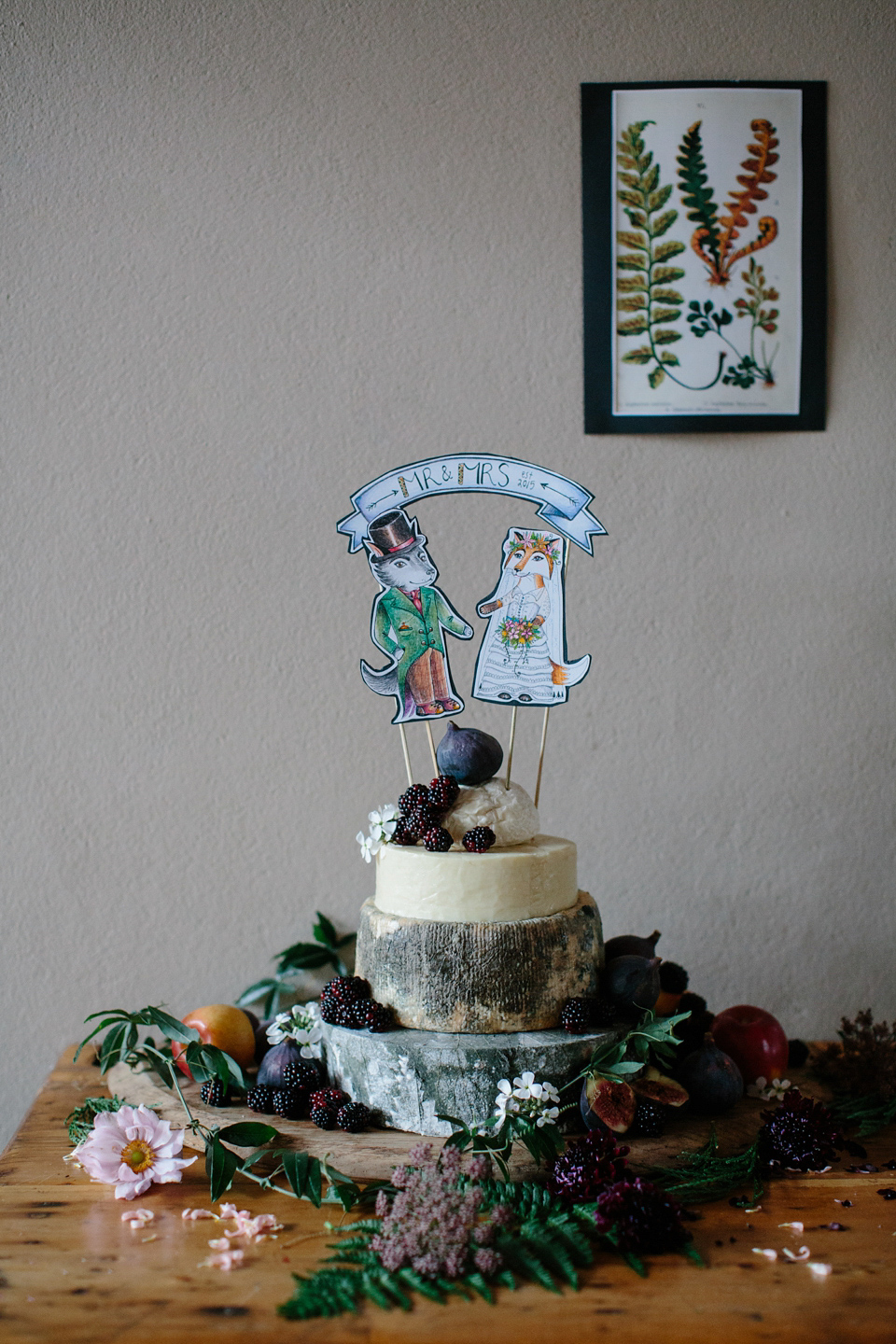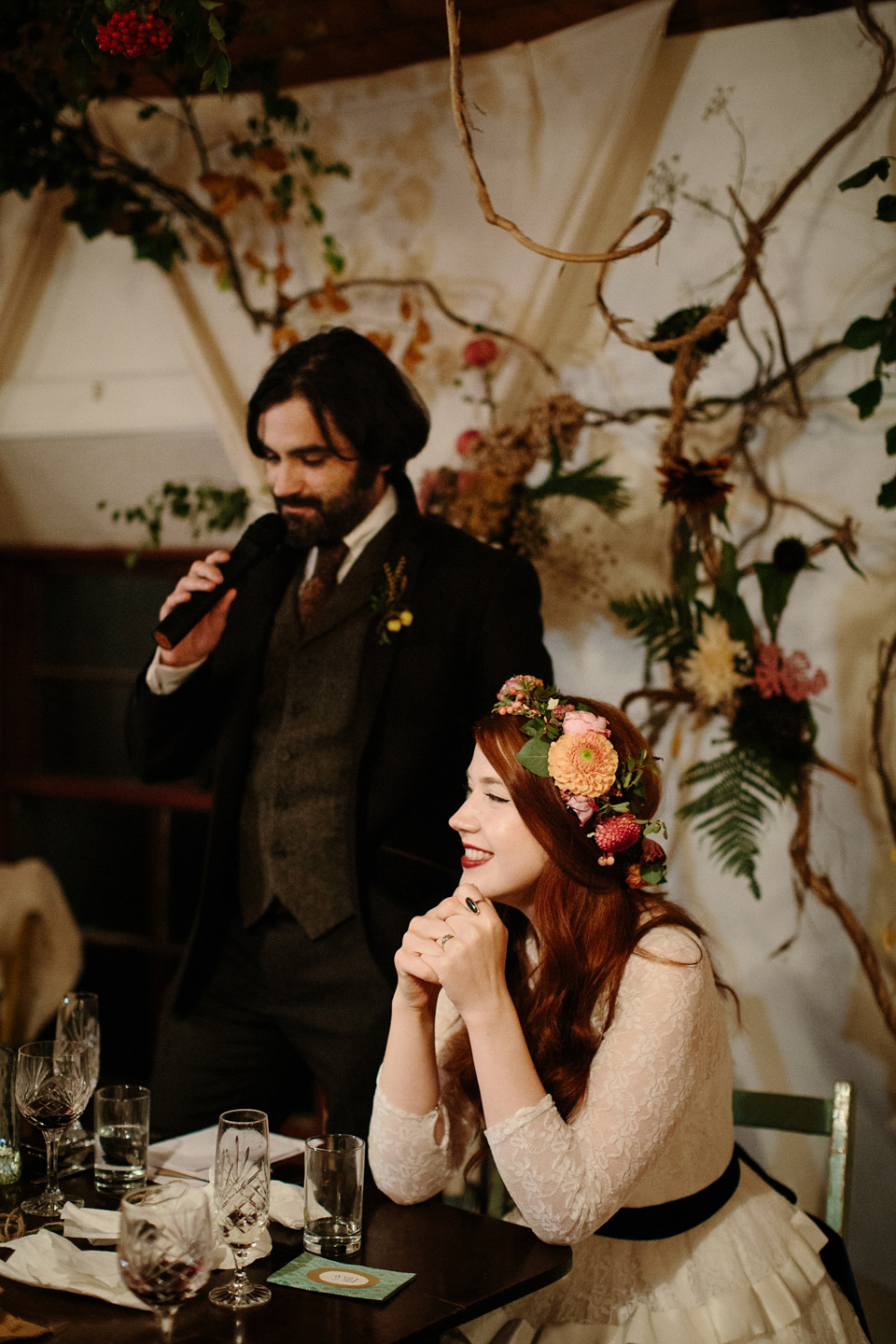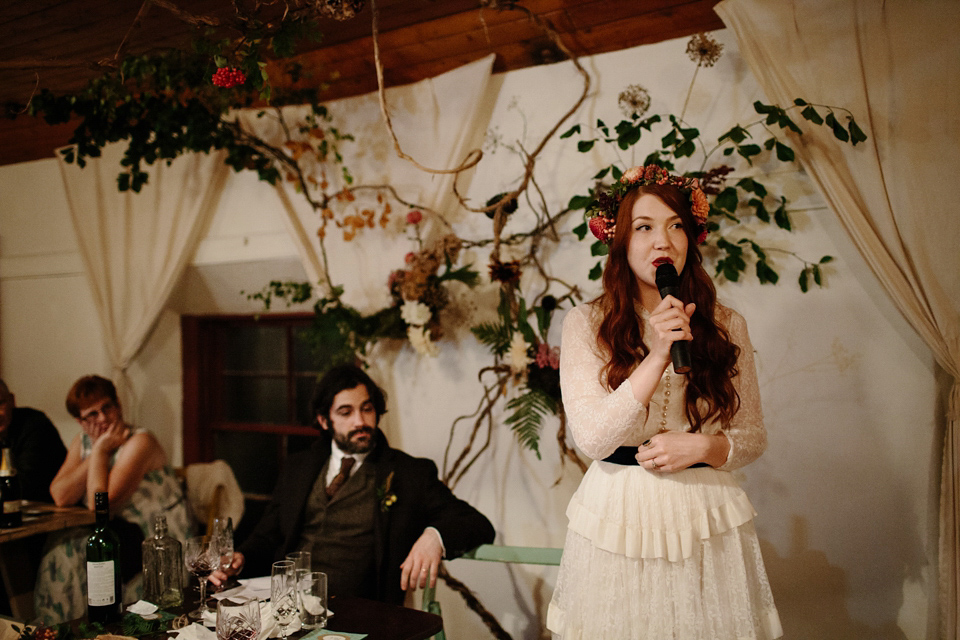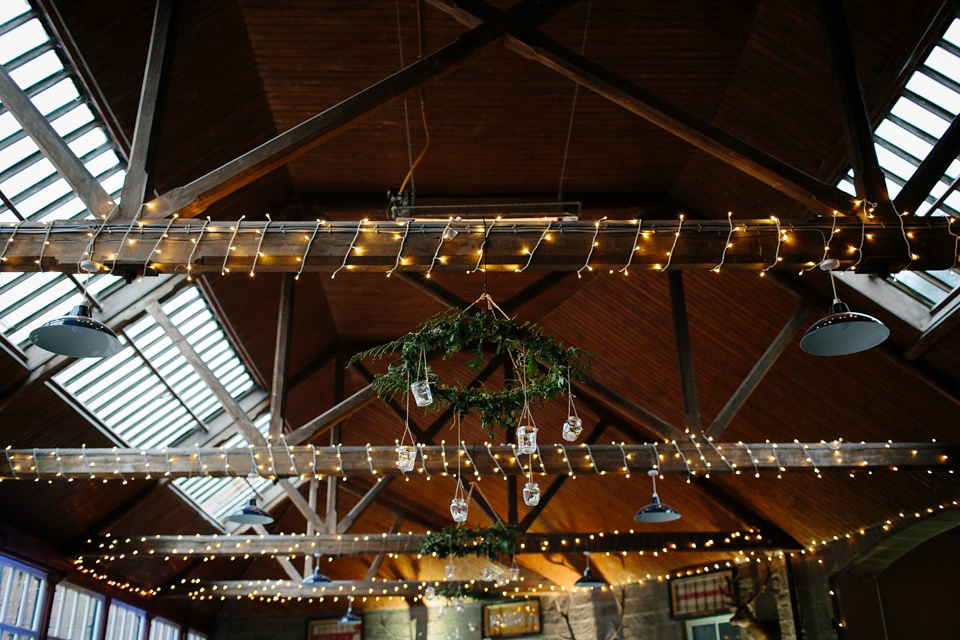 The Live Band entertained guests at the reception under atmospheric festoon lighting and wildly organic floral features. Emma and Chris chose '40 Day Dream' by Edward Sharpe and the Magnetic Zeros for their first dance which their band learned especially for them.
"We still struggle to comprehend how beautiful the day was, and there is nothing at all we would do differently. The entire day was like a too-good-to-be-true kind of dream. There was something very special about walking down the forest aisle to meet Chris and seeing all my family and friends. I felt such perfect happiness and calm knowing that I was about to marry the love of my life surrounded by the people who have always been there for us along the way."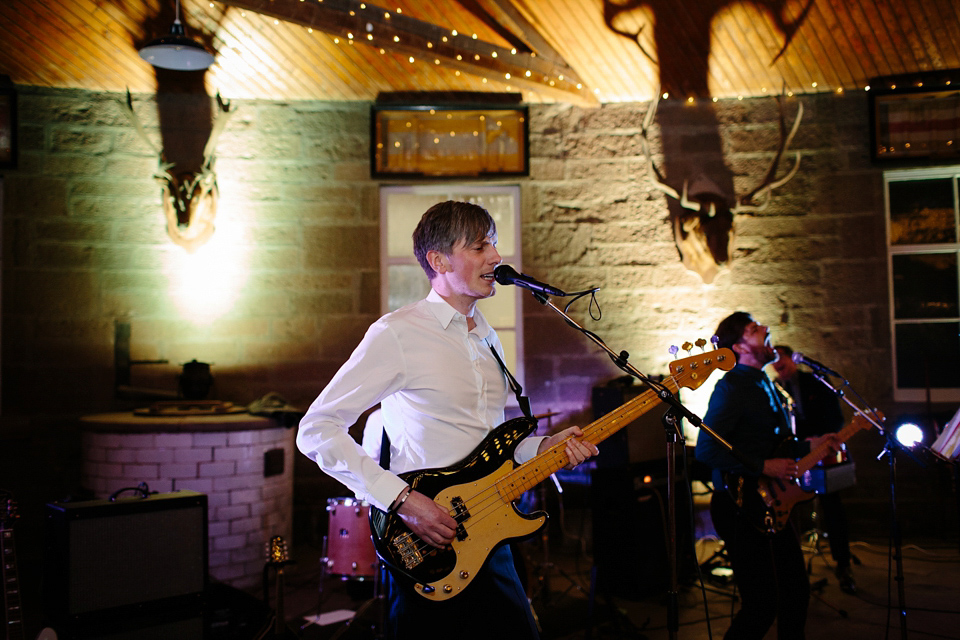 Words of Wedded Wisdom
"You cannot start planning too early; especially if you are likely to embrace a lot of crafty projects.  Everything takes so much longer than you think, and you truly don't want to be hanging 30 meters of lace bunting in a cold, dark forest the night before your wedding (even though it was quite funny in the end). Also, make sure you start looking for your vendors early on. We were quite surprised by how far in advance you need to book to make sure you get the ones you want.
Accept help if it is available. I admit I found it quite challenging to delegate and let go because I wanted to be involved in every little detail of the day. Our wedding could not have happened without all the help from our friends and family; it's so rewarding seeing all the hard work come together when you have created something beautiful with the people you love.
Most importantly, stay true to who you are as a couple. Don't compromise on your vision because somebody tells you it's not how 'things are done'. Weddings can sometimes make people go a bit mad; just remember that the day is about marrying the person you want to spend the rest of your life with, and the colour of your napkins is not going to ruin the day for anyone."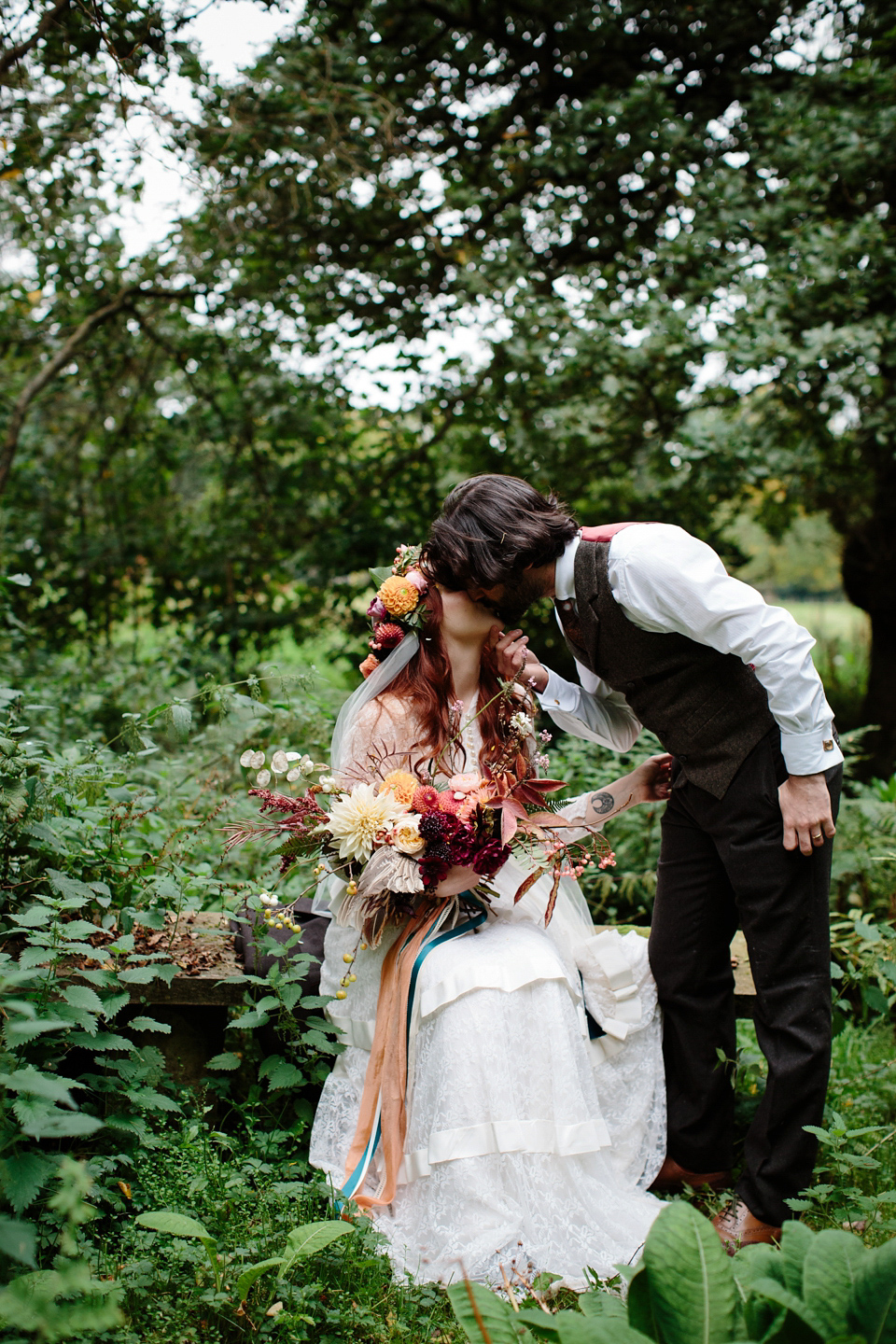 I was delighted to learn that Emma had been an avid reader of Love My Dress during the wedding planning process, and was touched by the brave and beautiful couples we feature. Emma and Chris, please consider yourselves well and truly part of these hallowed halls. I'm so grateful to the newlyweds for allowing us to share their woodland wedding, it truly moved me to tears.
Our eternal thanks as always to the immensely talented Caro Weiss Photography for these breath-taking images – ladies allow me to plan your next couple of hours (days) exploring more of this incredible lady's work right here.
Love as always,
Em x
Photographer – Caro Weiss Photography
Videographer – Sugar8 Wedding Films
Venue – Errol Park
Wedding Dress – 1940s vintage dress via Gladrags
Accessories – VV Rouleaux velvet belt
Shoes – Clarks
Perfume – Nina Ricci, Nina
Bridesmaids – ModCloth dresses
Flower girl – Monsoon
Groom – Linea jacket via House of Fraser + Hackett London shirt + Next trousers + Walker Slater waistcoat +Clarks shoes
Florist – PYRUS Botanicals
Catering – Wild Rover Food
Décor – Virginia's Vintage Hire tables and chairs + The Green Cockatoo vintage plates + Gordon's Cater Hire glassware + AM Lighting Ltd festoon lights