Sometimes I open a file of wedding photos and the love and emotion just jumps out from the very first image- this is definitely one of them and I am completely smitten with it.  Meet artists Xaviere and Alan, who married on a clifftop on the Moray Firth on the 29th of July 2016, pledging their continued love and commitment to one another after sixteen years together.  I just adore this day and the beautiful photographic record, lovingly created by Dominique Bader.
"We chose to marry standing on the edge of a cliff near the ancient ruin of Findlater Castle, Banff.   The Moray Firth is a very special place for us as we visited the castle when we first met and the whole coast line is exceptionally beautiful, wild and underdeveloped.   We come here on every holiday with our children and spend time with Alan's family who live in the area."
Photography by Dominique Bader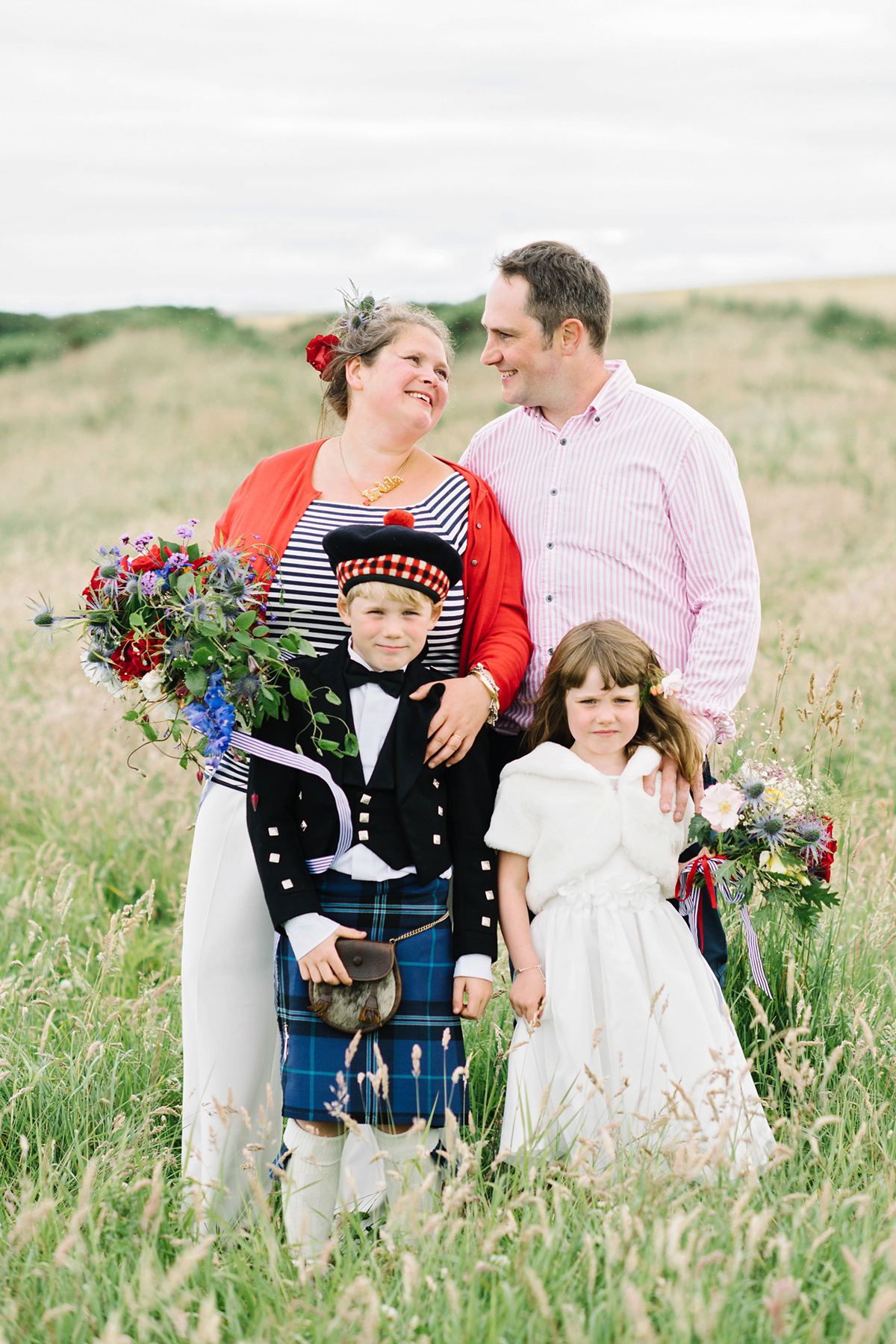 Xaviere looked beautiful in a completely non-traditional outfit, but one which suited her down to the ground, which, at the end of the day, is what its all about really.  She certainly proves that you don't need a white dress (or a dress at all in fact) to be a beautiful bride.
"Stripes have been my daily uniform for as long as I can remember and so it felt only right to go with a traditional navy and white sailor striped top from Boden– fitting with the nautical coastline location.  I have always enjoyed red, white and blue as a colour scheme and so decided on a red cashmere cardigan teamed with White sailor trousers from John Lewis.
I wanted for everyone to feel comfortable and relaxed and knew that I wouldn't feel that way in a dress as I haven't worn a dress since I was a child.  I also felt very strongly that I wanted us to 'recognise' each other – we have been together for fifteen years, have two children and our home so we just wanted for our outfits to reflect that reality with no illusions."
"Alan is Scottish and we chose to be married in Scotland where the licence is with the person not the place, therefore it meant that we were actually married then and there by the edge of the cliff. The northern light is always exceptional whether sunshine or storm clouds and the grass track down to the sea was a perfect aisle to walk down."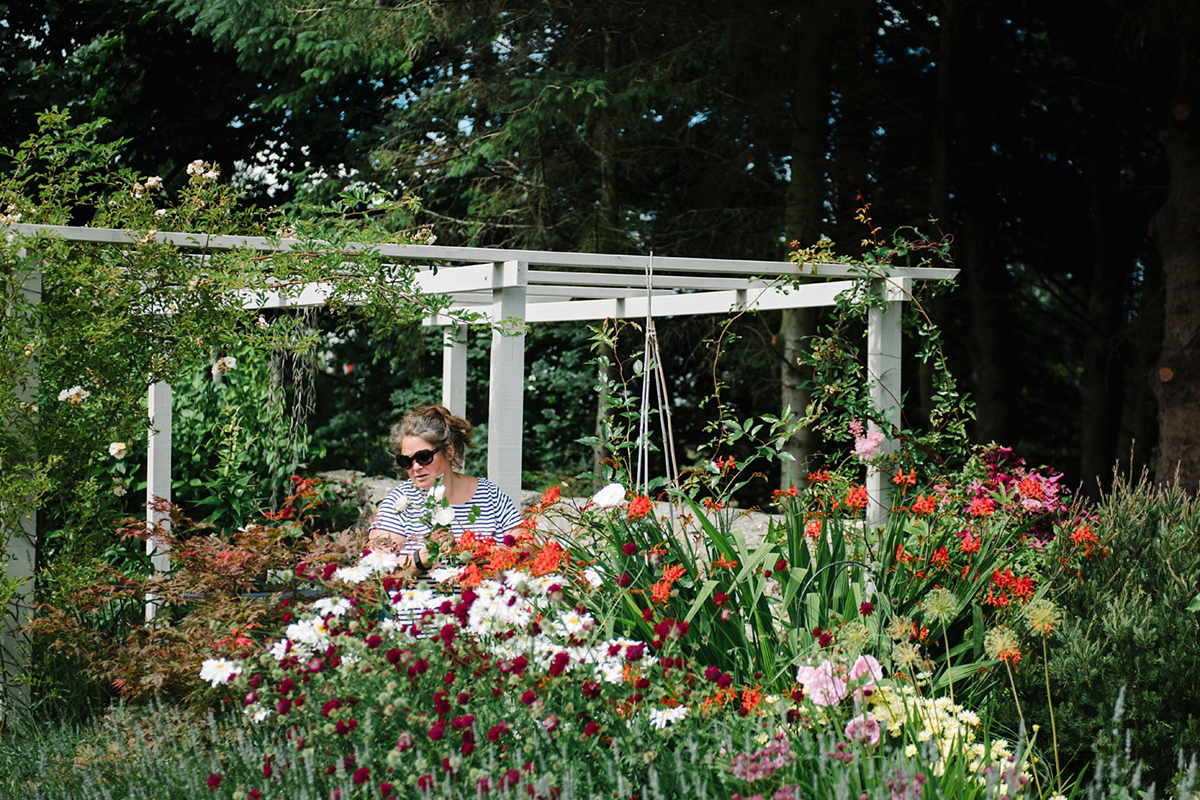 "Our wedding was a great group effort and we were very lucky to have so many creative and willing friends to help us out.  We wanted the whole wedding to be really fresh and to reflect the local environment and with an outdoor wedding we also had to be prepared for the Scottish weather and so knew that formality couldn't really work."
"Our main hope was that all of our guests felt comfortable and relaxed and like they were at a really good party."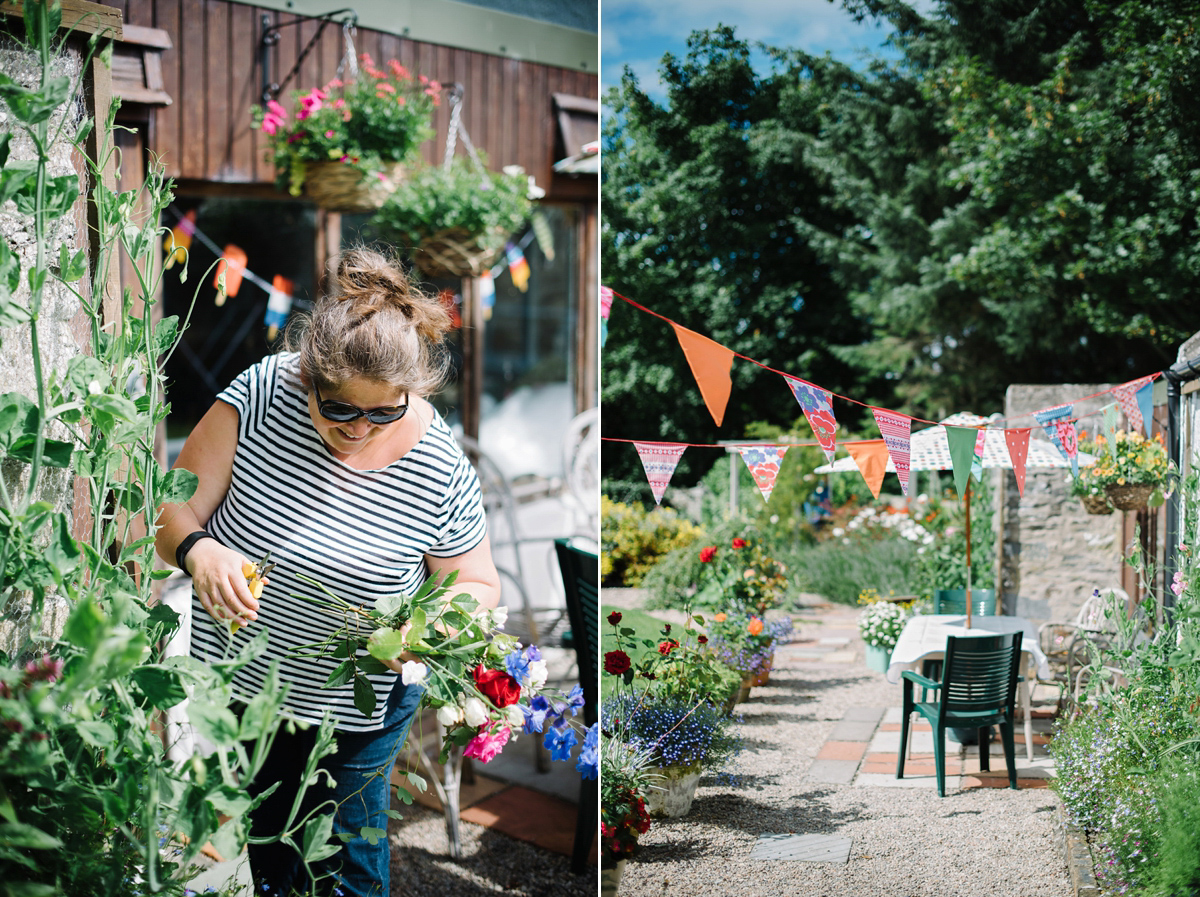 The beautiful flowers were a real family effort- grown by Alan's mum and put together by Xaviere and her sister.
"Alan's Mum grew roses, thistles, dahlias, clematis, lavender and heather and we picked foliage, barley, grasses and wild thistles from the fields early in the morning.   Like all things creative, making floral arrangements that are appropriate for the people and the day is a tricky business and so a few months before the wedding my sister and I visited Tammy at Wild Bunch Flowers who grows seasonal flowers in Herefordshire and offers workshop days to learn and practice every aspect of flower work."
"Our day with Tammy was exceptional, from the delicious lunch to the take home bunches.  We were able to pass on the skills that we learned on the day to two more amazing friends who offered to make the button holes."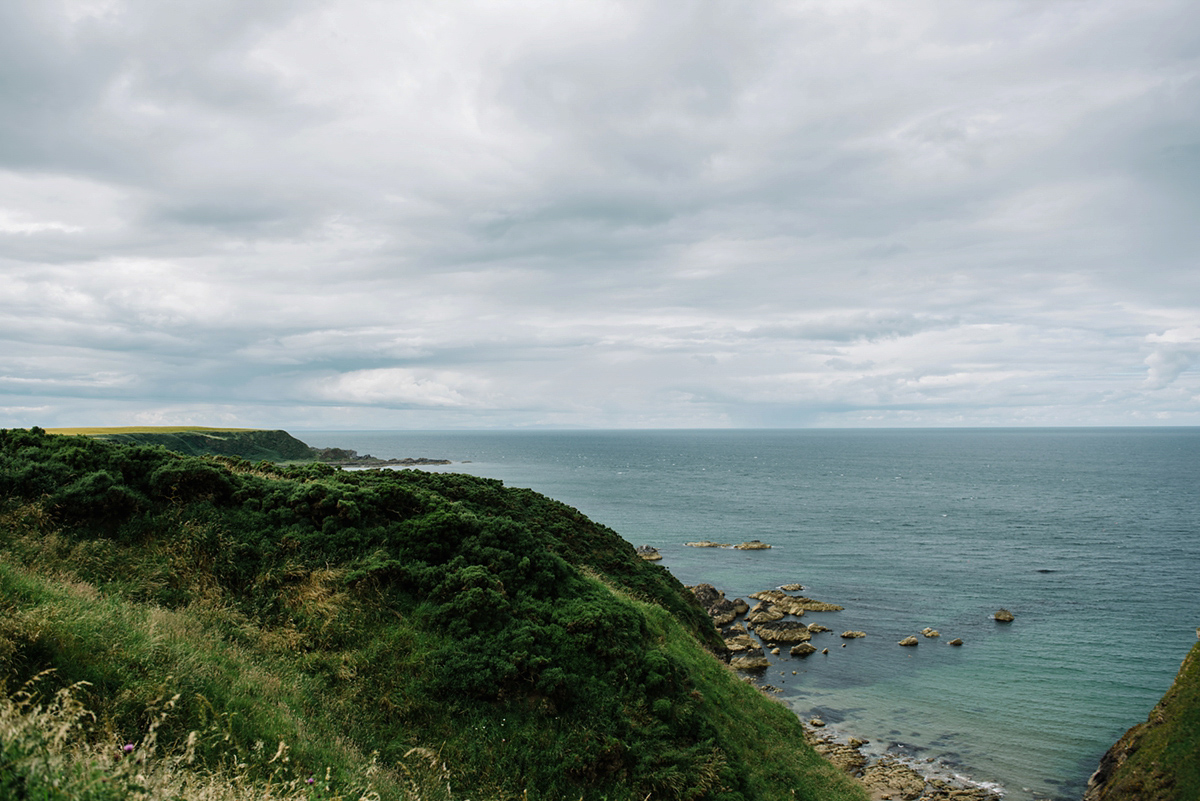 "In the invitation we welcomed all of the children to be 'flower children' and so made lots of additional bunches of flowers.  We had about twelve in total, including our three special nieces and our photographer's daughter."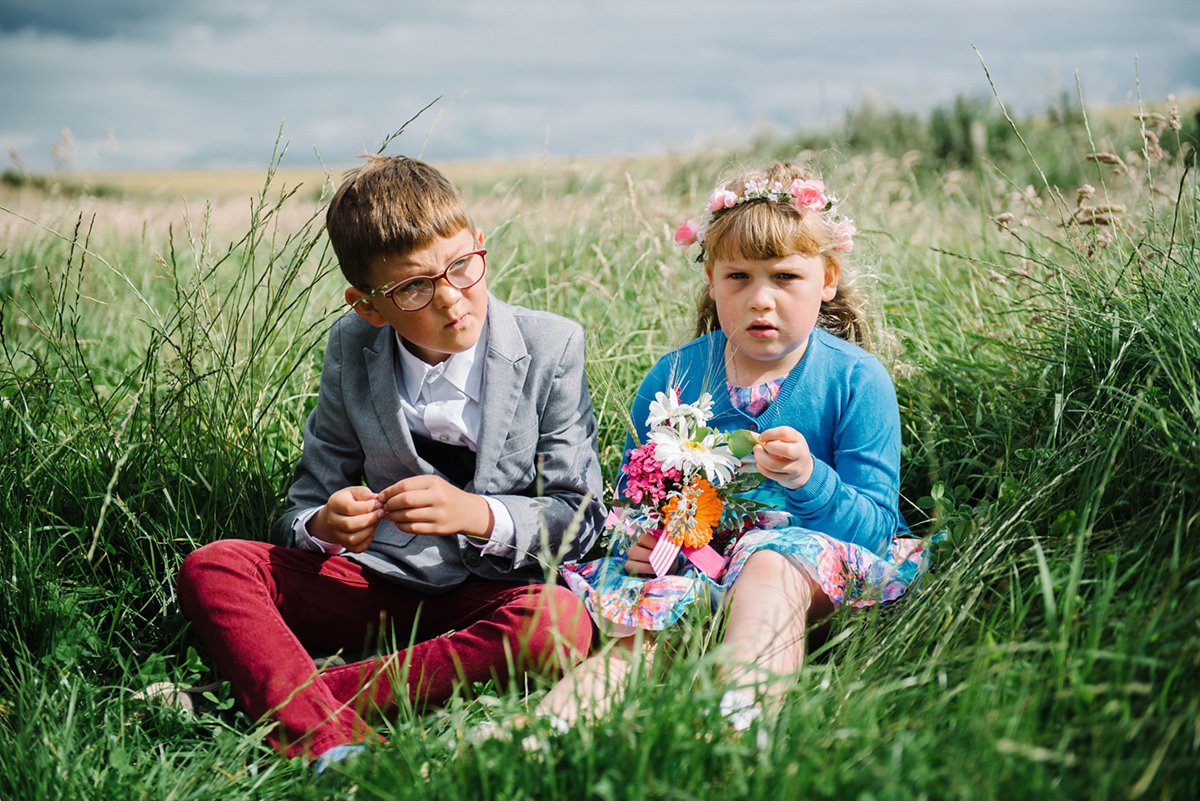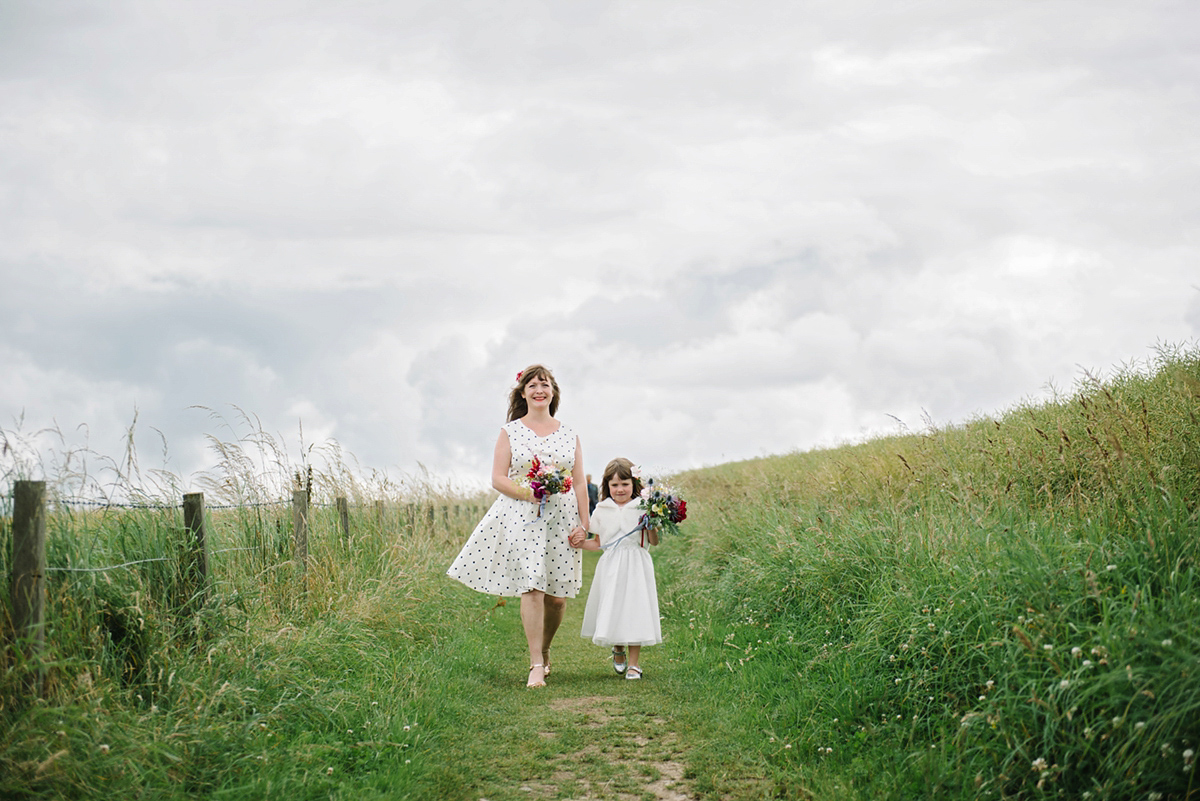 Xaviere walked down the grassy aisle on her Dad's arm to the evocative sound of the Scottish bagpipes, played by Alan's uncle.
The tune was 'Mhari's Wedding', a traditional song I personally adore- so cheerful and upbeat.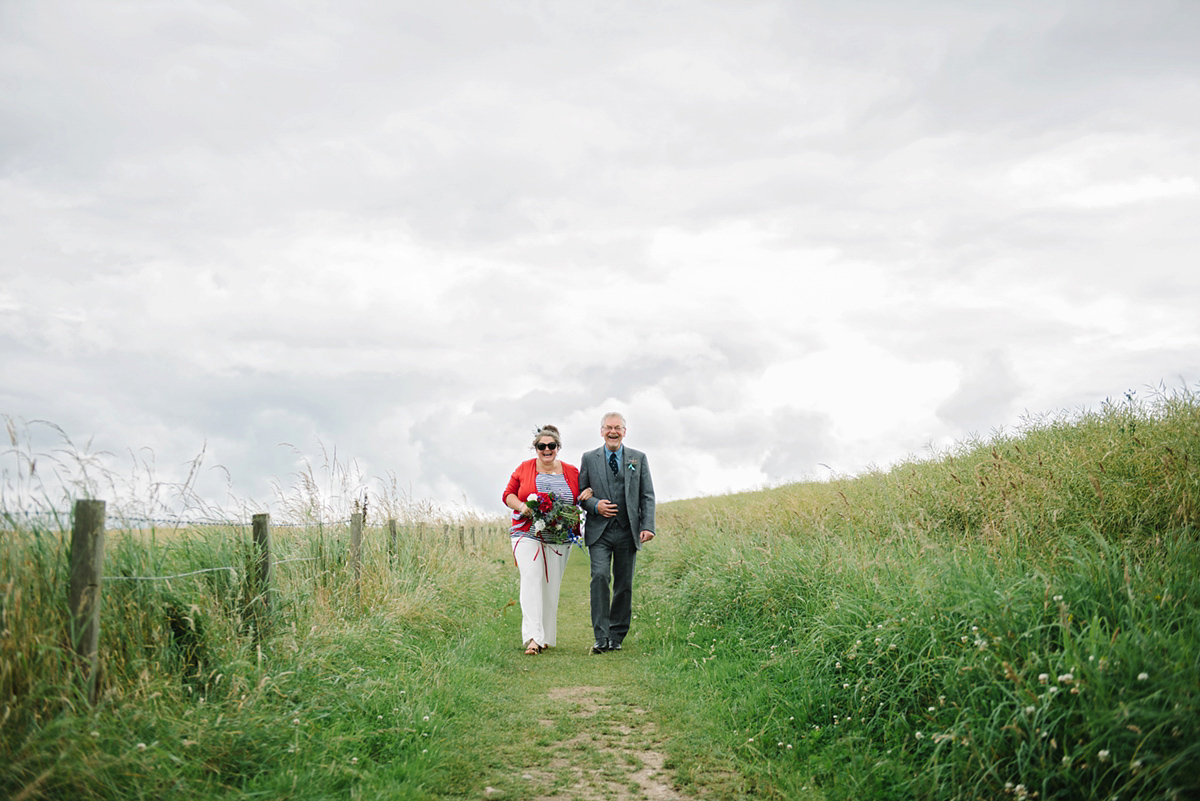 "It was really lovely following the bagpiper down the grassy aisle to the sea with my dad followed by my sister and daughter; a really special memory."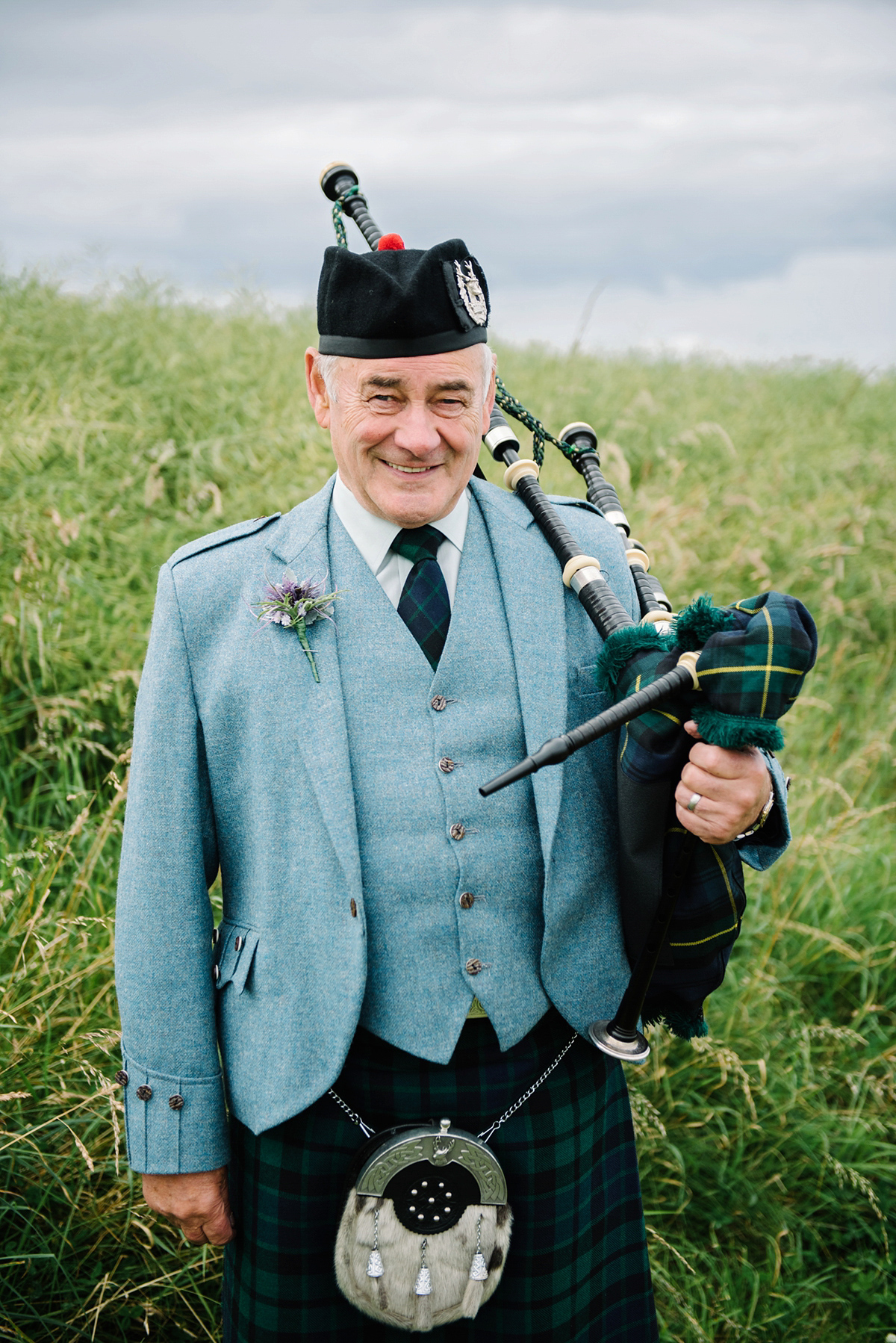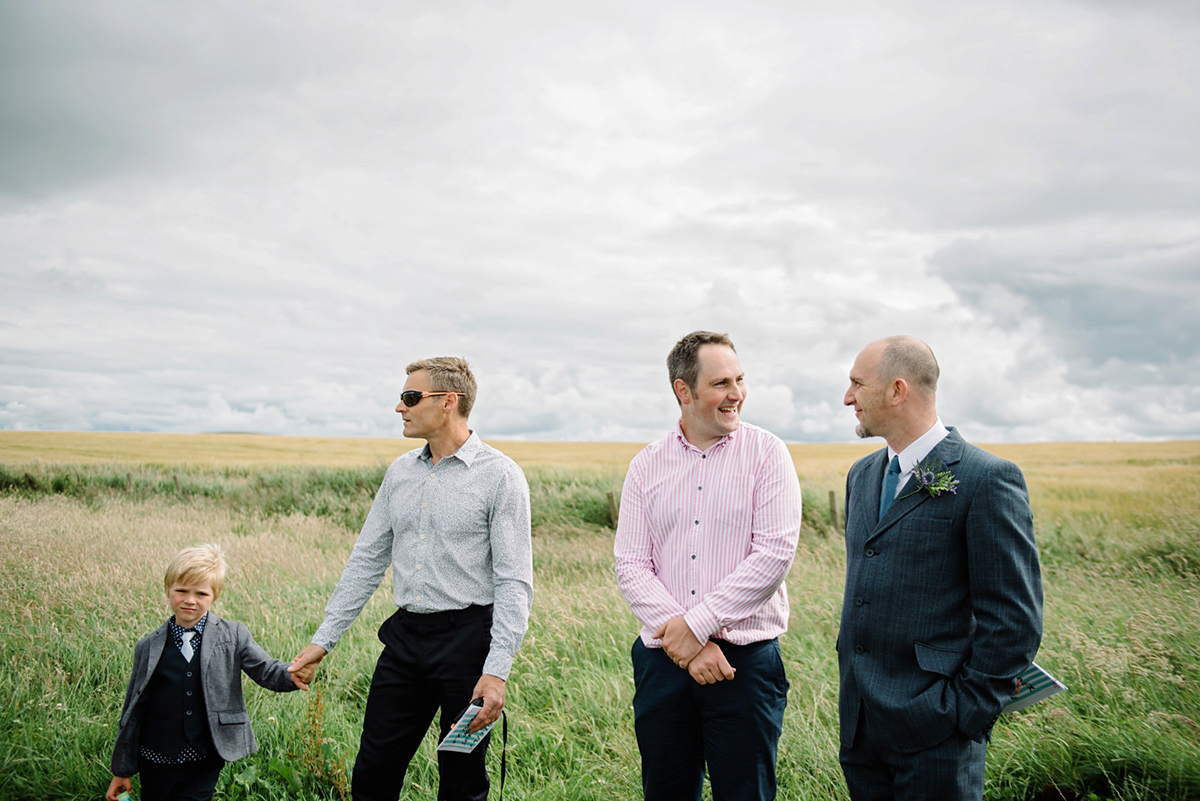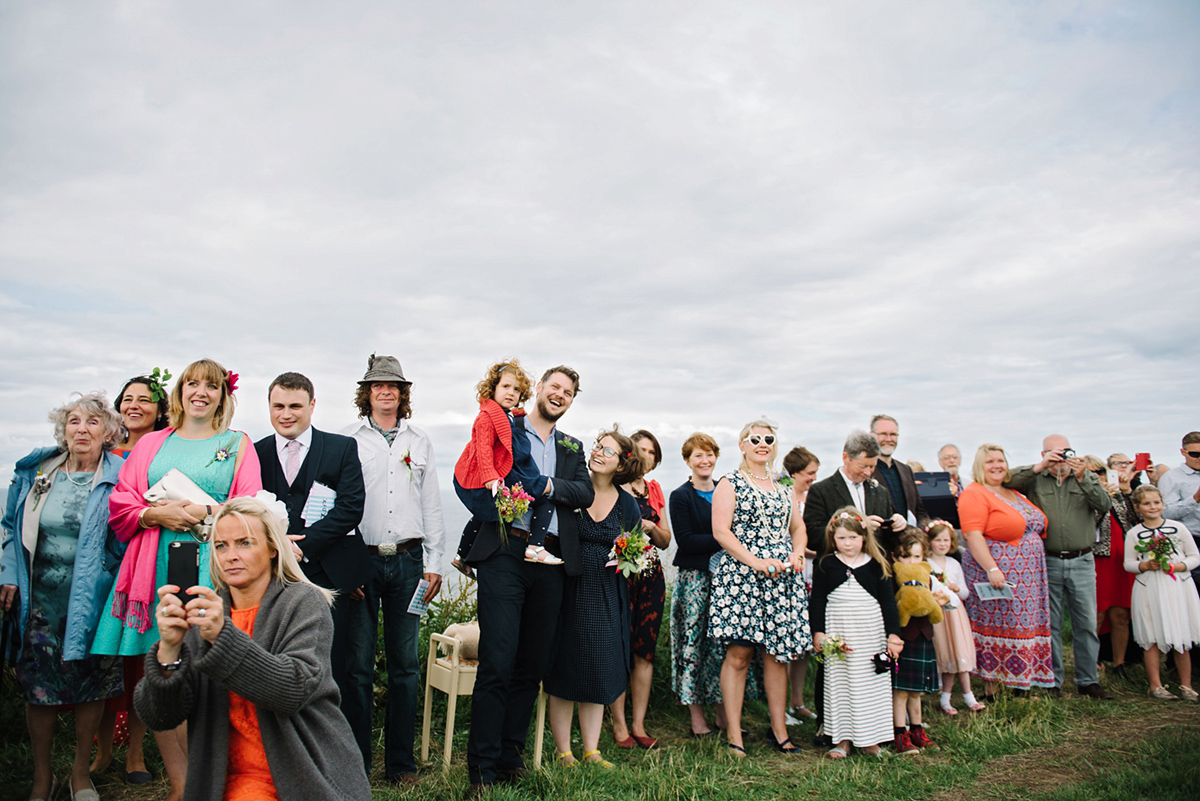 "The vows were really difficult to select.  We wanted them to be straightforward and simple as well as meaningful and so our vows were basic, honest and to the point."
One of Claire's brothers (who happens to be an actor so has the perfect reading voice) read a poem by contemporary poet Clare Shaw.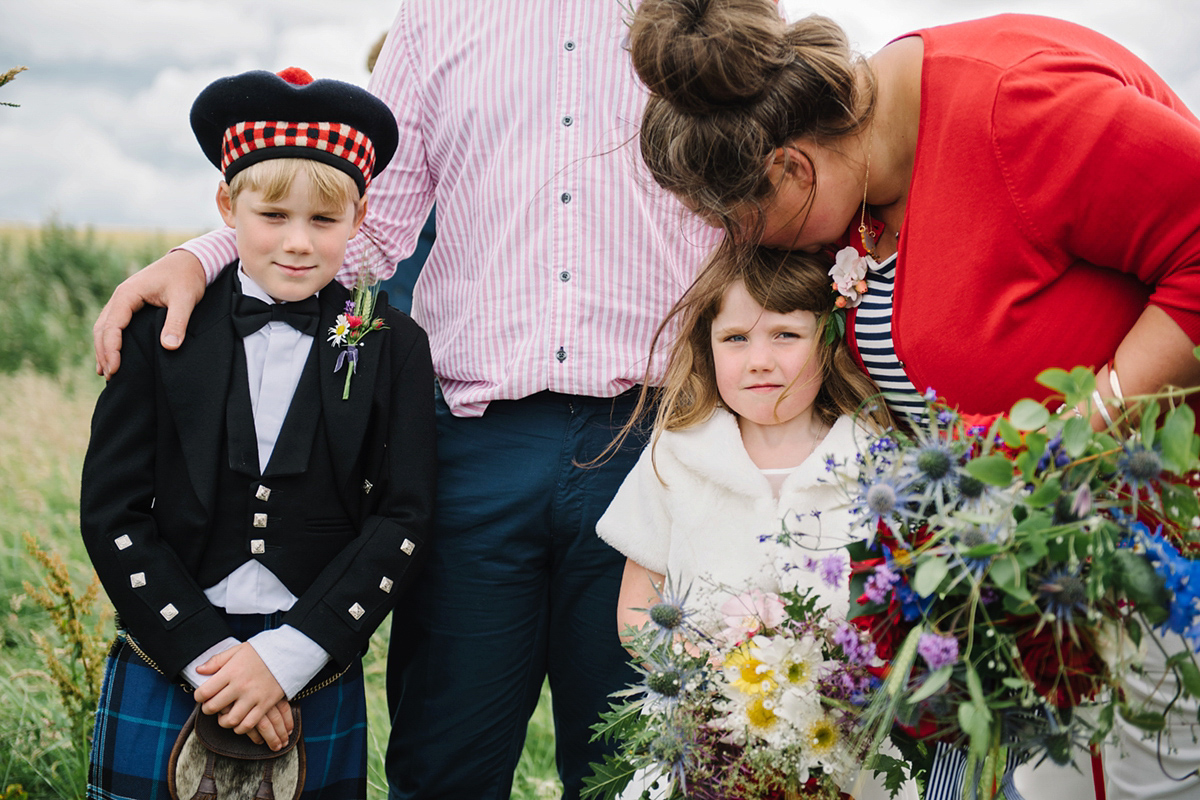 "I asked Herefordshire jeweller Mike Gell to make me a plain gold wedding band – my engagement ring is super shiny and so I just wanted a very simple and understated wedding ring and was keen to use a local artisan firm."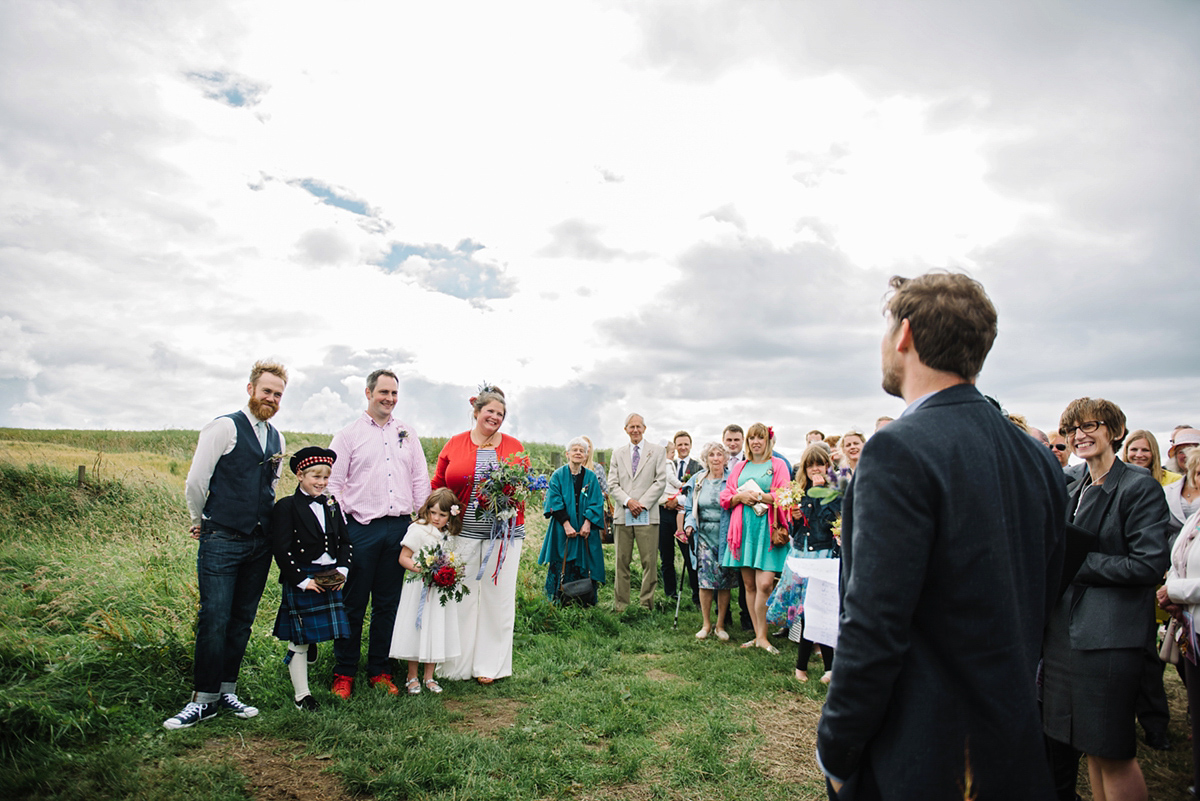 Alan looked happy and relaxed in red Stan Smith Adidas trainers and a pink and white cotton shirt, paired with Farah navy trousers, while the couple's son selected an outfit in 'Modern Grampian' from a traditional kilt makers in the local town of Portsoy, Soy Kilts.
He paired this with trainers and a vintage tam o'shanter which has been in Alan's family for generations.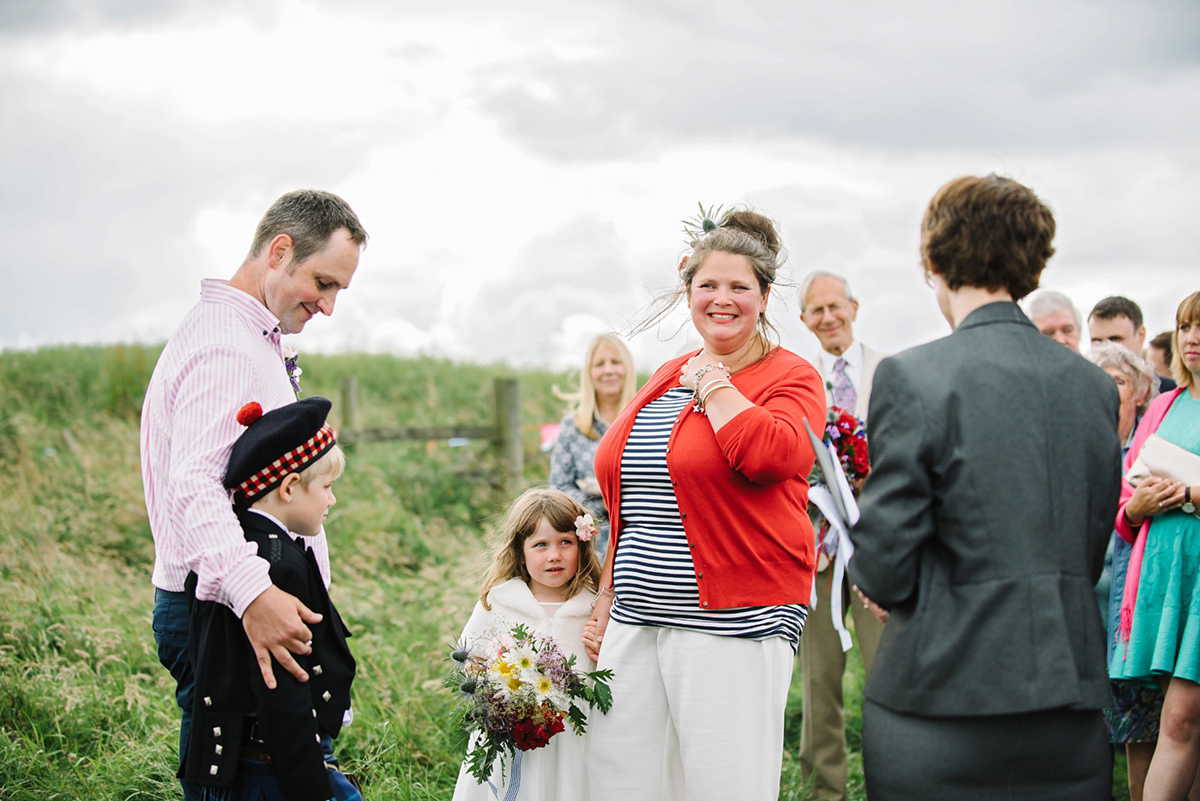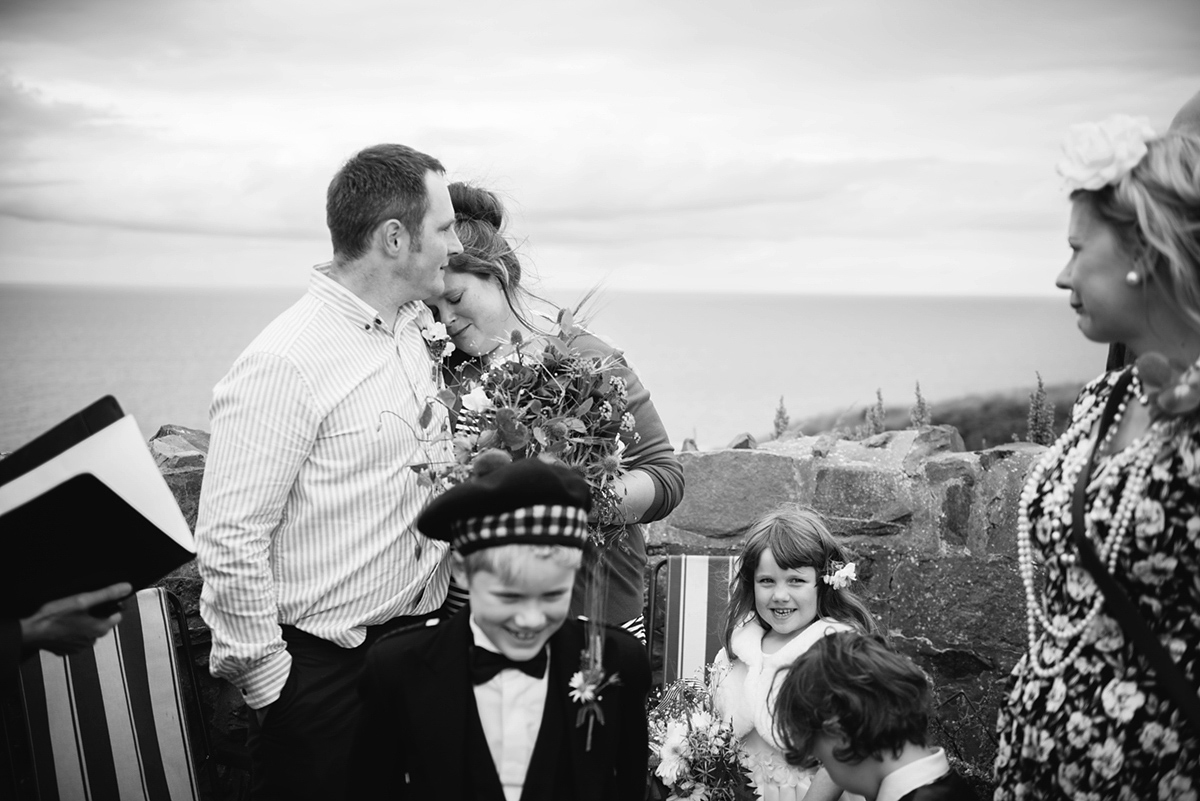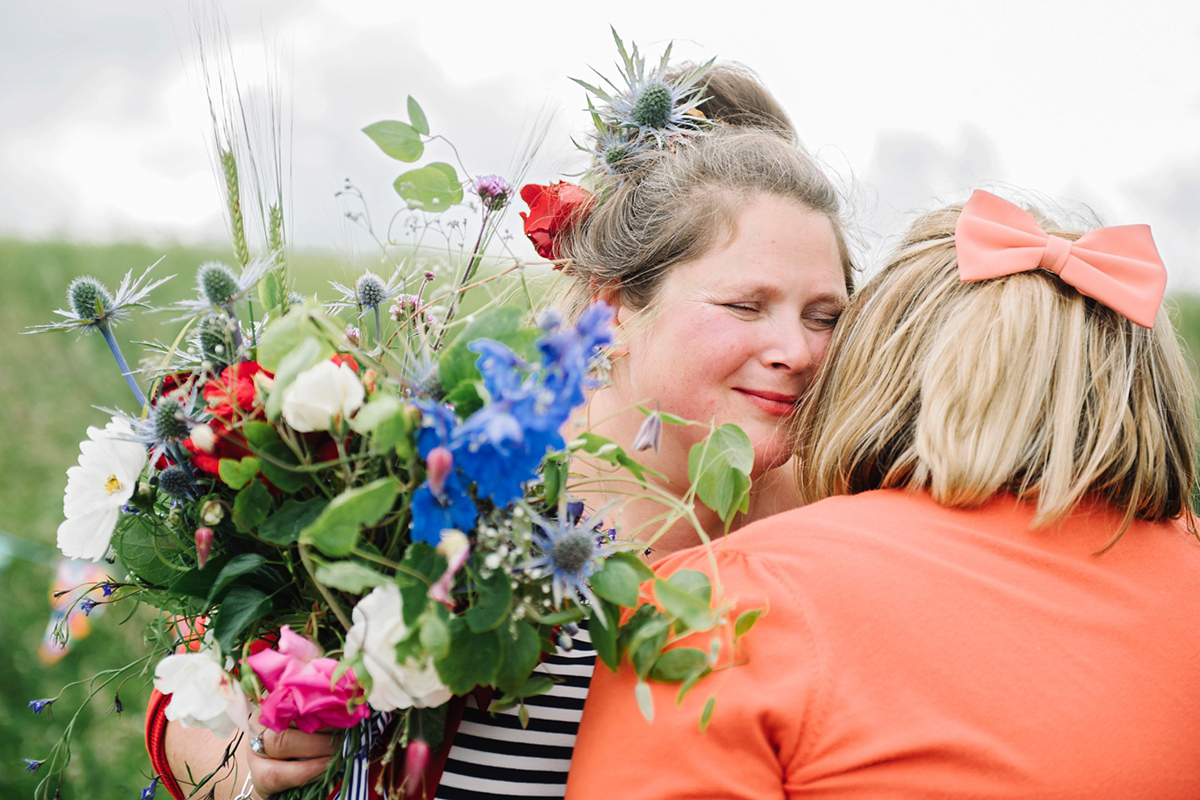 Dominique of Dominique Bader Photography was the talented lady behind today's glorious images.
"Dominique was perfect in so many ways; understanding what we wanted in terms of informality, cheerful and funny and putting everyone at ease whilst also mastering the art of being completely invisible."
"She has an exceptional eye for capturing situations and experiences, has real focus on colour and composition and above all is reassuring.  As you can see from the photographs, she produces results that really captured the little details that meant so much."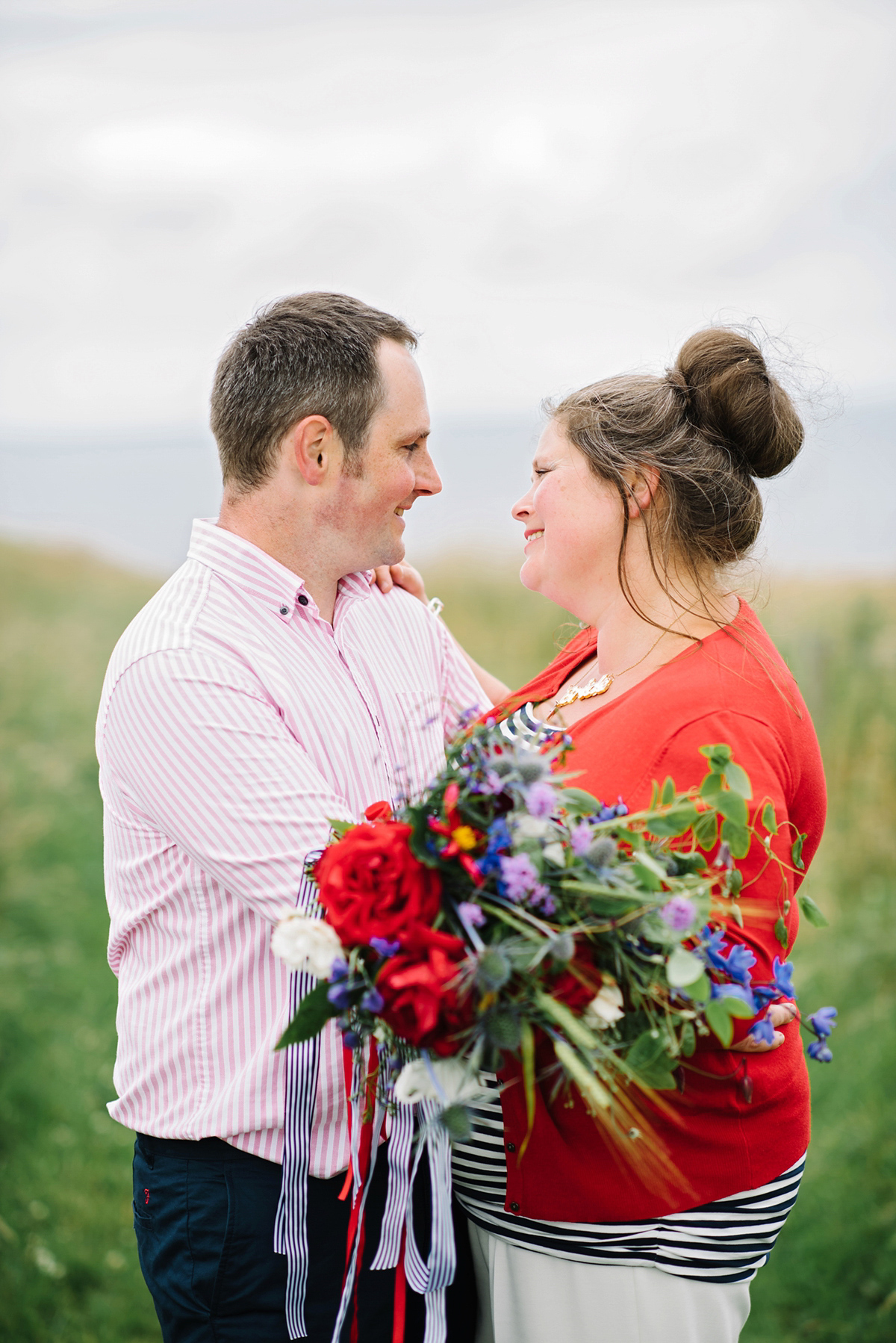 "I have known Dominique all of her life, and so it felt extra special to have with us for the day.  The images are such a precious record of our wedding and we cannot recommend her highly enough."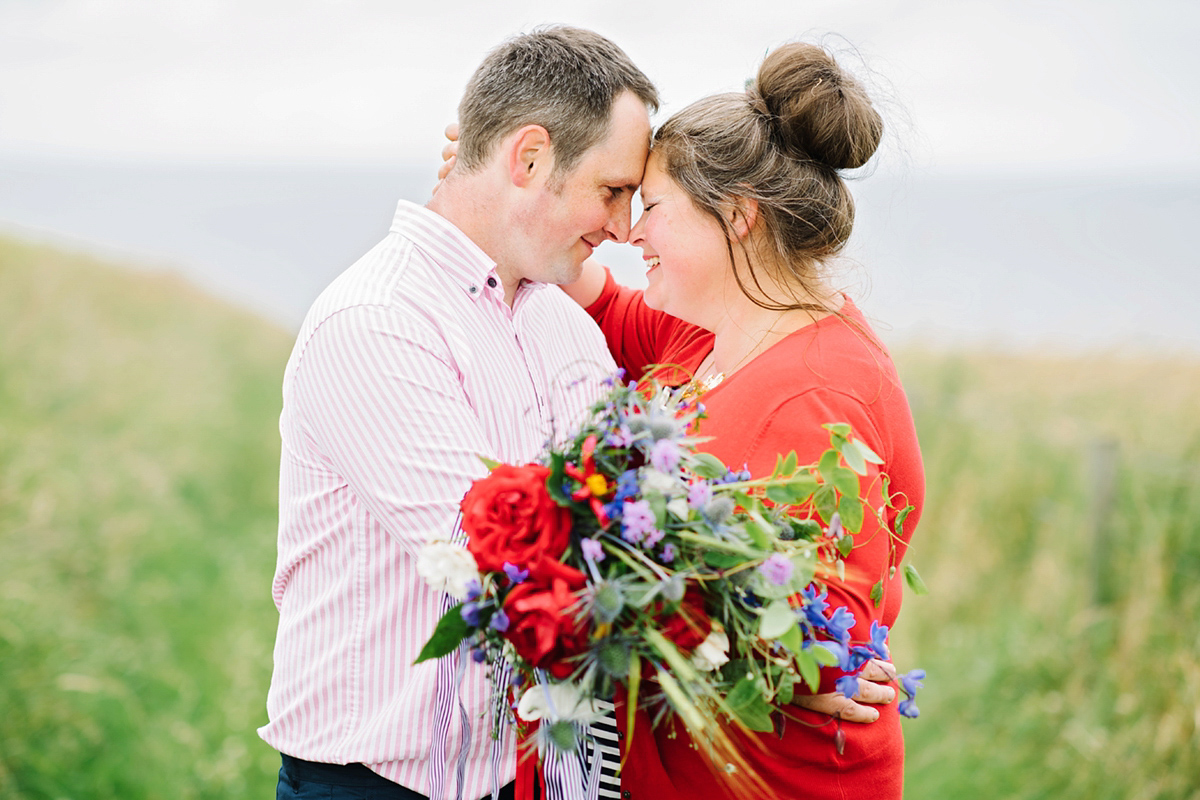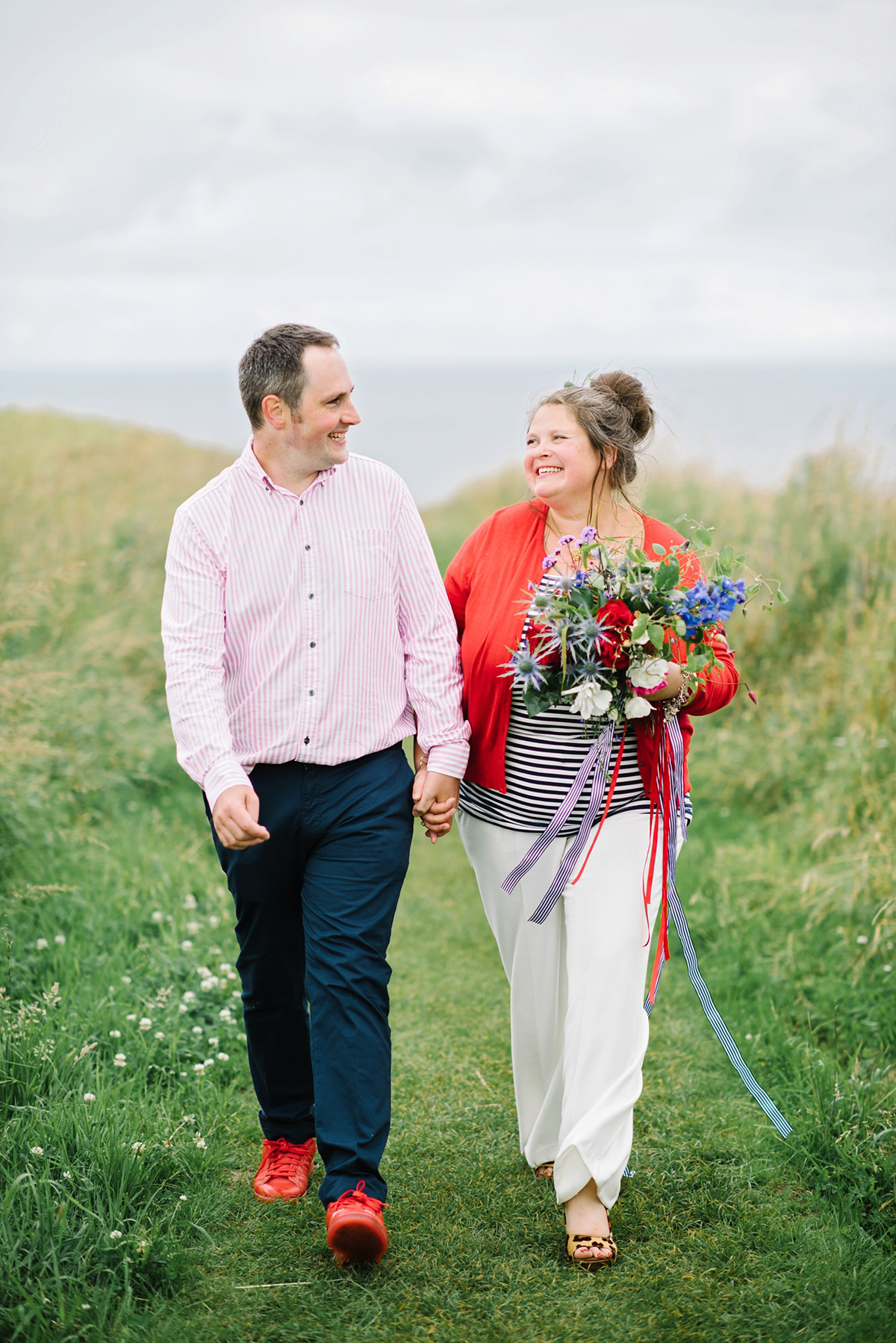 "As we have two children, it was clear that they would be a huge part of our day and so we agreed that our daughter would be our only bridesmaid and our son the only page boy (or best boy). 
Our daughter selected a very pretty and simple white flower girl dress from the John Rocha collection at Debenhams and a friend gave her a beautiful white faux fur shrug.  My sister accompanied her down the aisle in a polka dot dress from Joules which looked amazing with her early baby bump."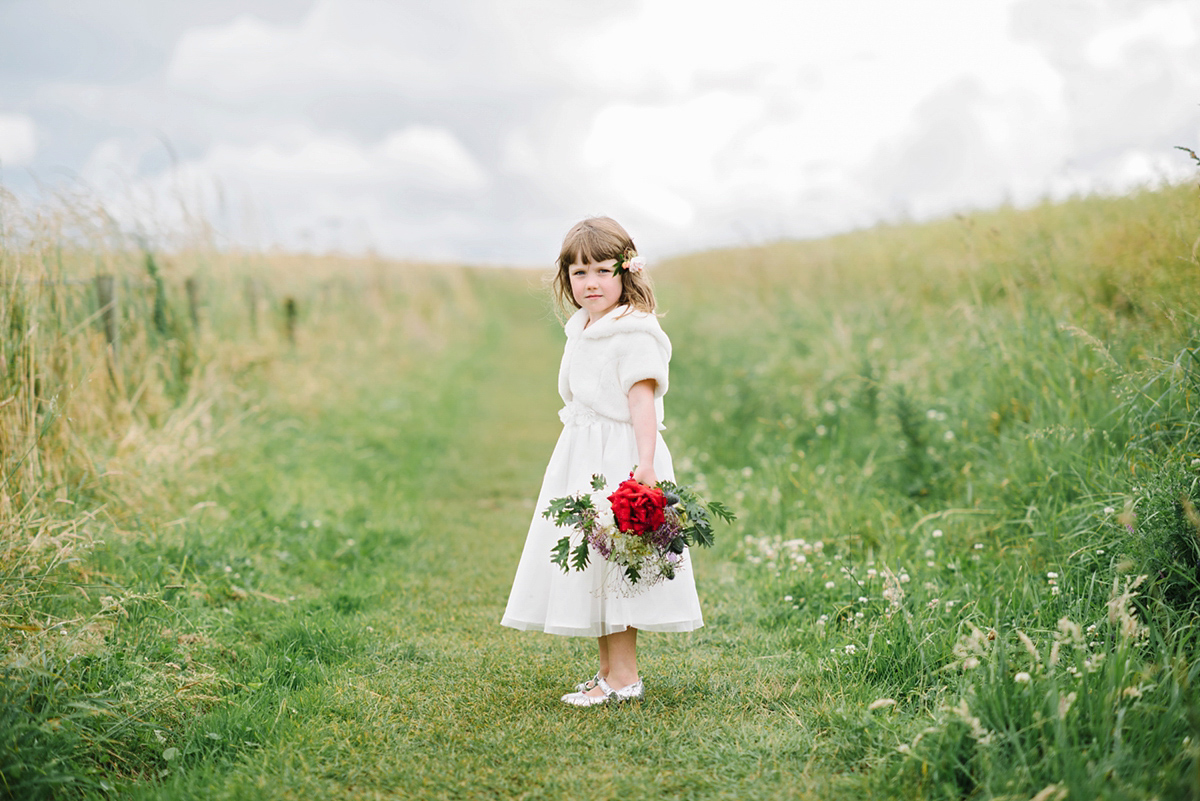 On her feet Xaviere wore peep-toe leopard print shoes from Boden (with gold and leopard Boden flats for dancing in the evening) while in her hair she sported a fresh flower comb she made herself- a combination of a red rose and thistle. For scent she chose her favourite Jo Malone 'Vebenas of Provence', which is now sadly discontinued.
[ADS-PREMIU]
For jewellery she chose a gold mirrored acrylic name necklace saying 'bride' from Tatty Devine, a simple gold bangle borrowed from her Mum, which has special sentimental value, a solid silver paperclip bracelet by Maripol, her aquamarine engagement ring and a vintage charm bracelet.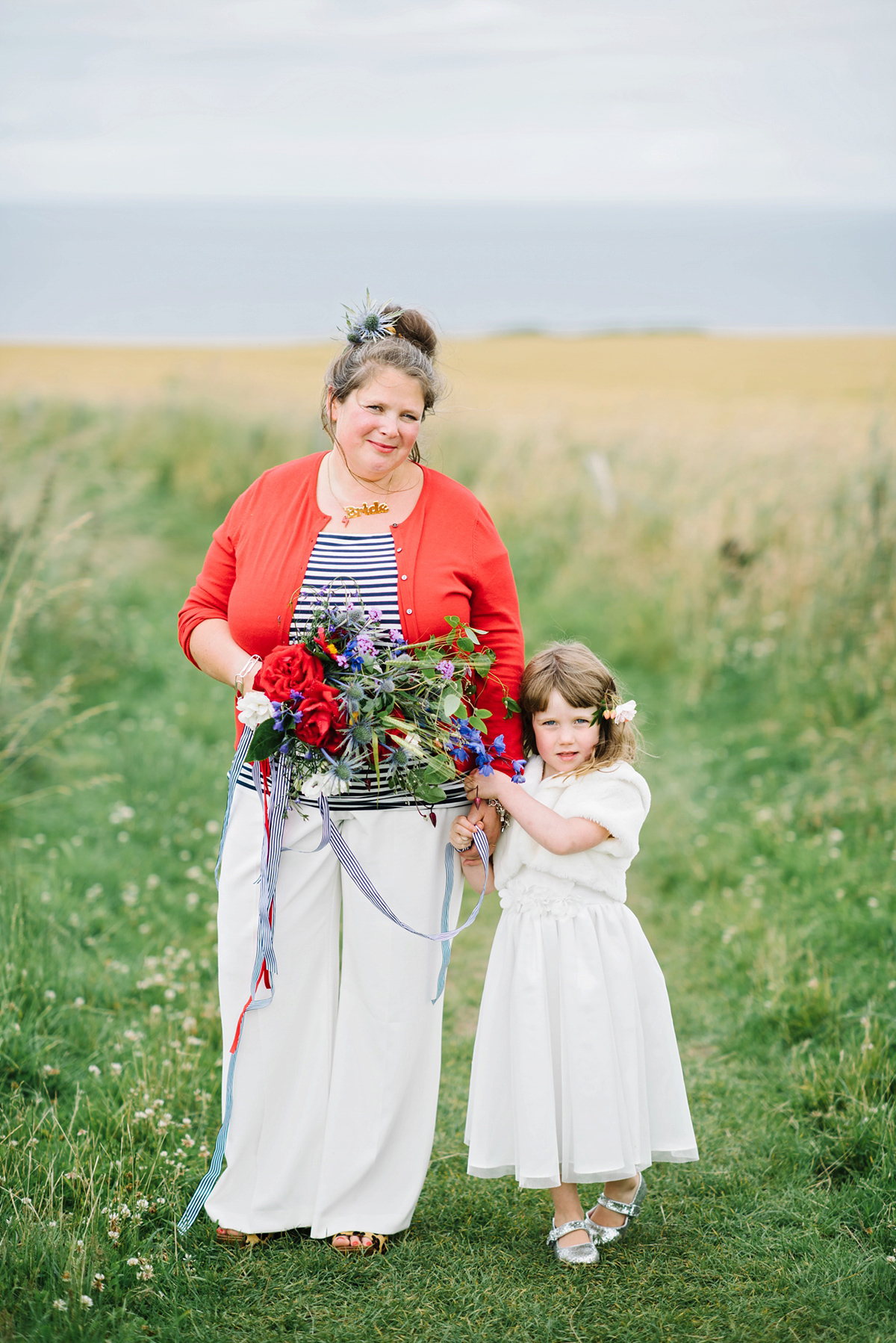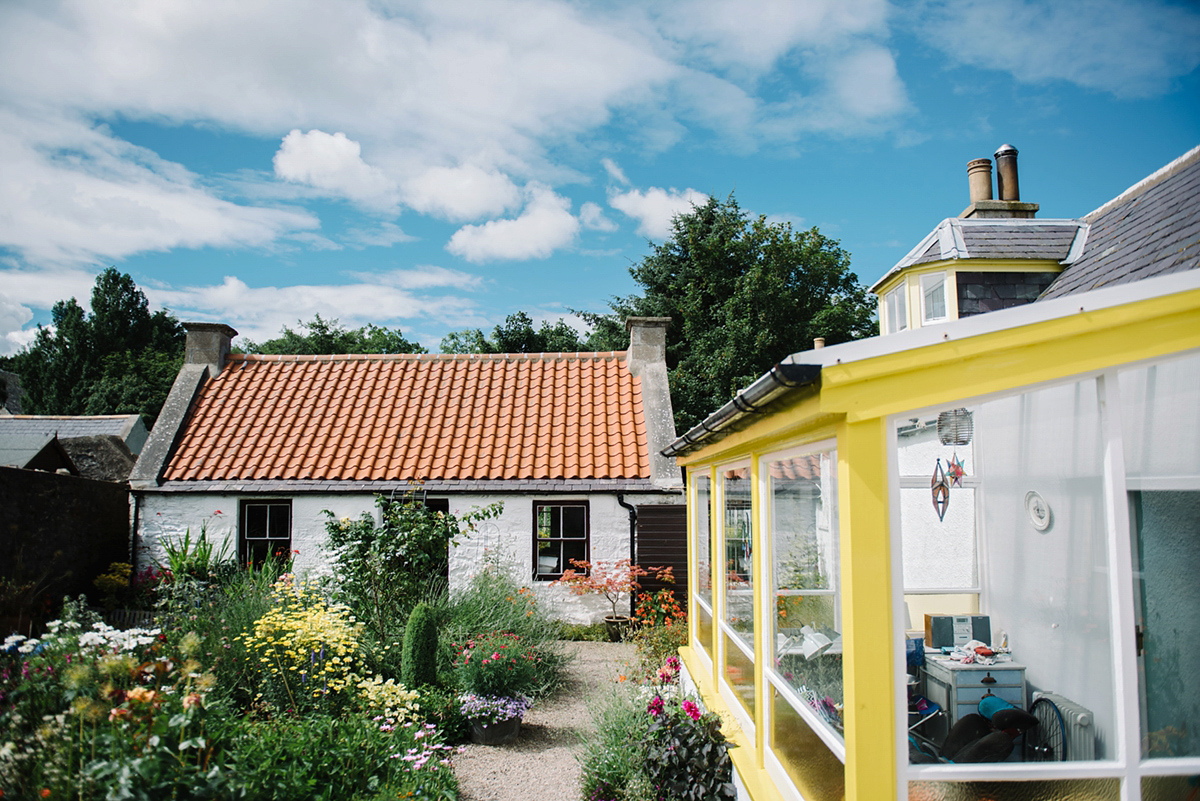 For the reception, the party moved indoors to a local hall, beautifully decorated in every colour of the rainbow.
"We went crazy with festoon and fairy lights, paper and fabric bunting, paper pompoms and confetti and also bought some lovely cupcake Ferris wheels for the children from Berry Red and stocked them up with Tunnocks Tea Cakes."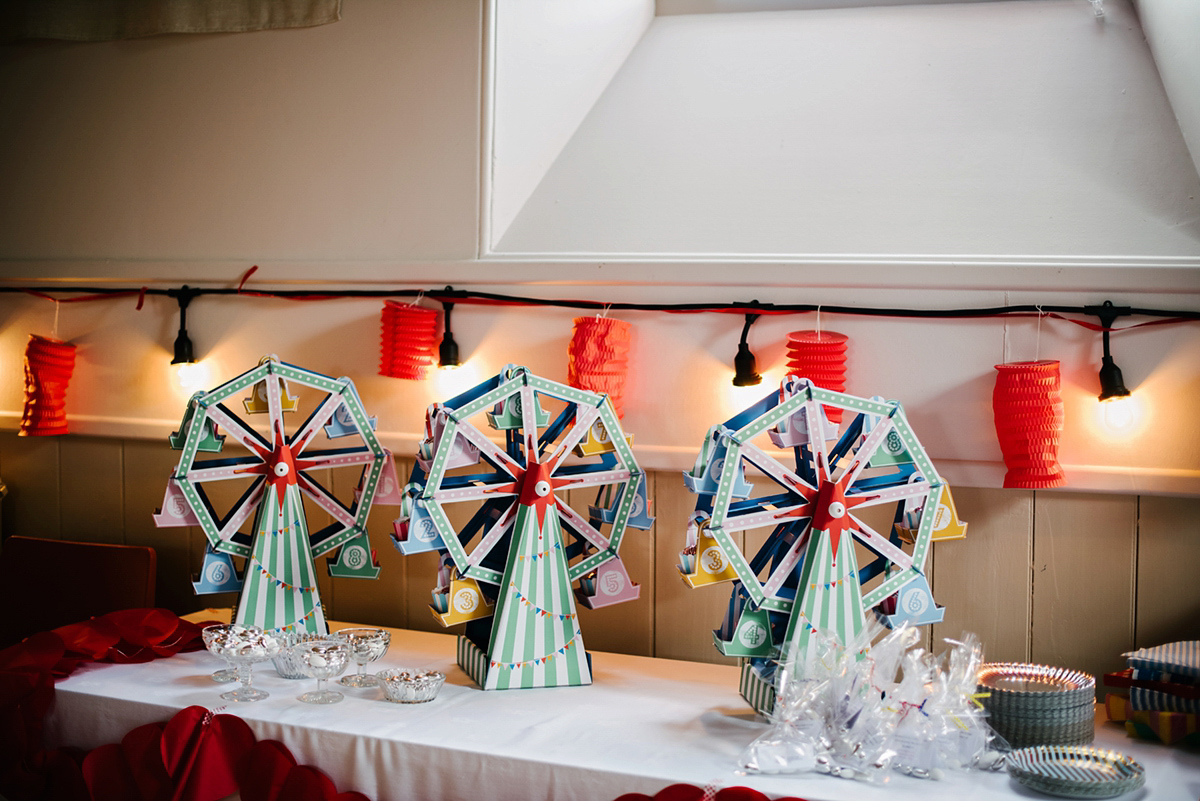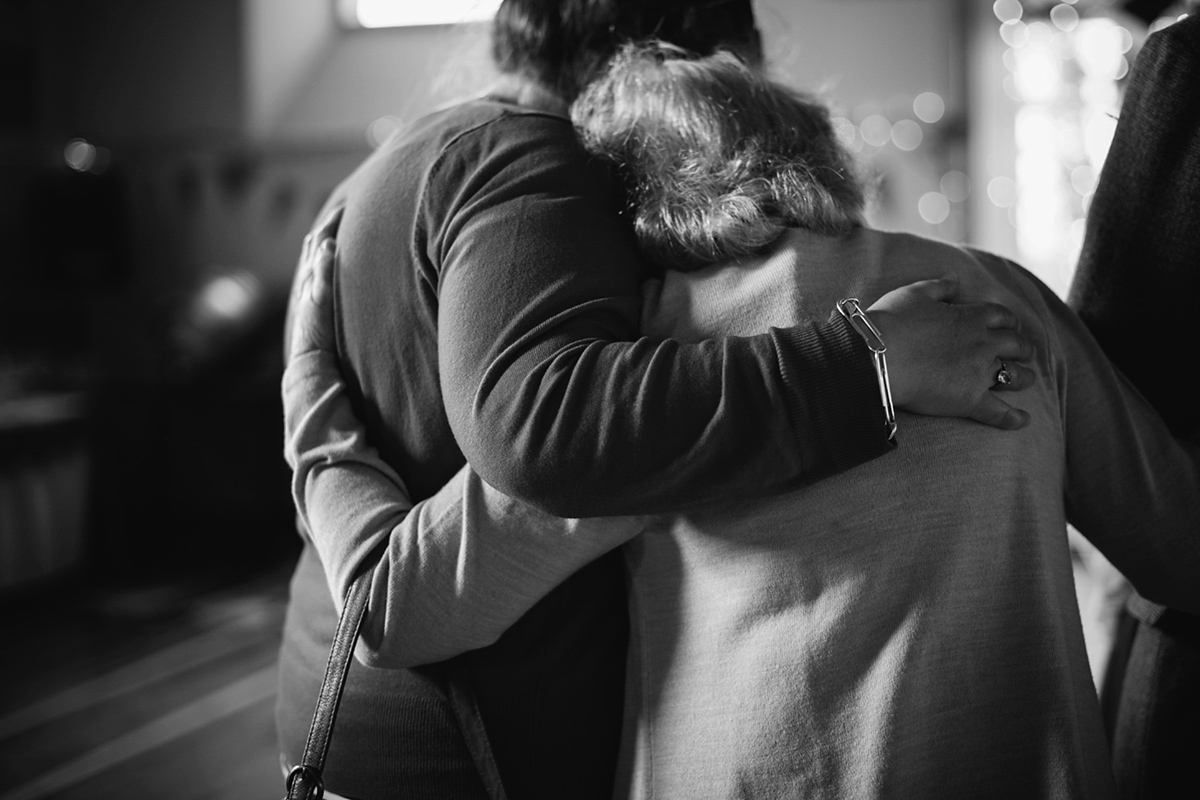 Catering was by a local fish and chip shop- The Mobile Codfather– just perfect for a coastal celebration, while the cake was made by Xaviere herself, on the morning of the wedding!  She also made one hundred meringues, which the guests ate with local ice cream, strawberries and raspberries.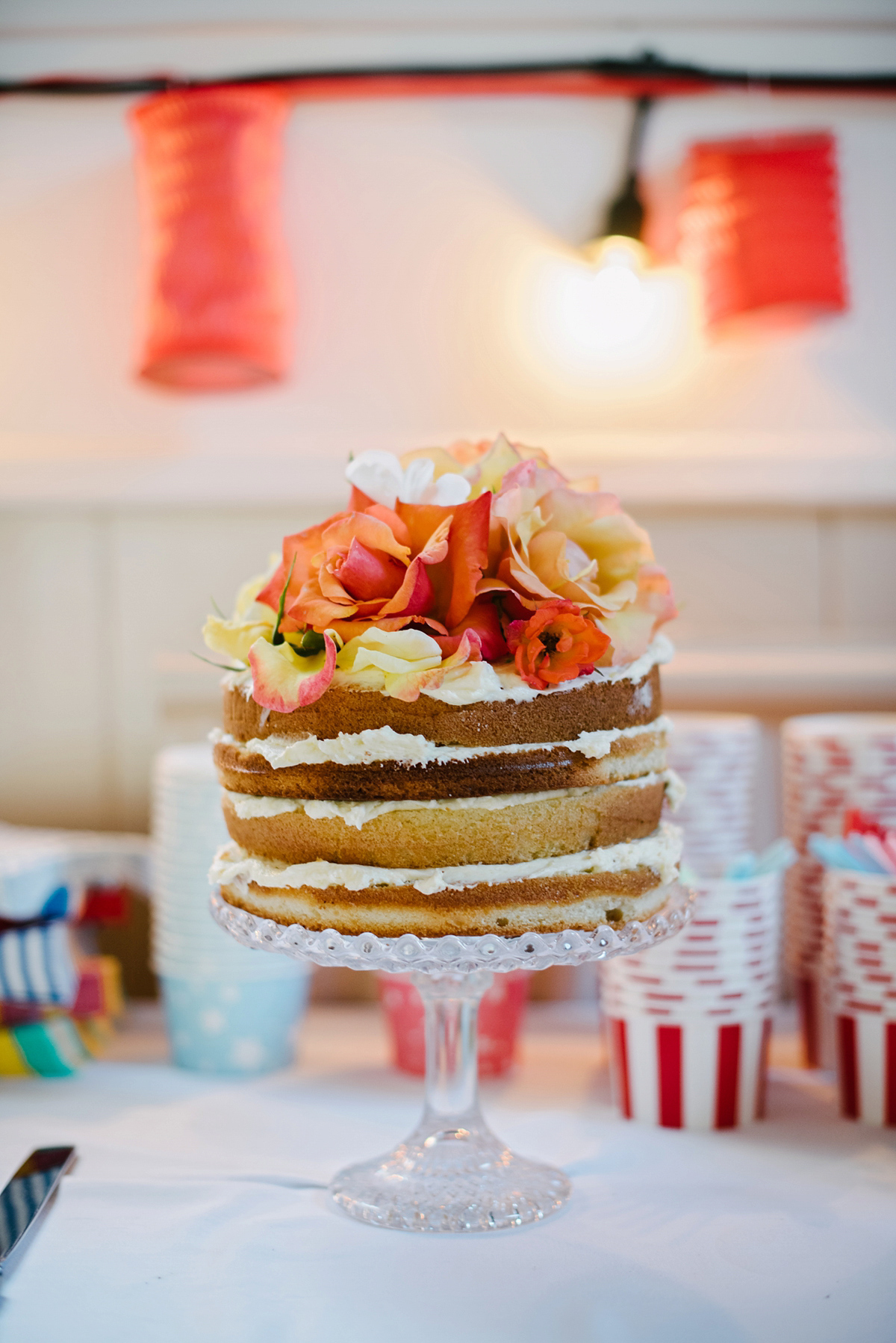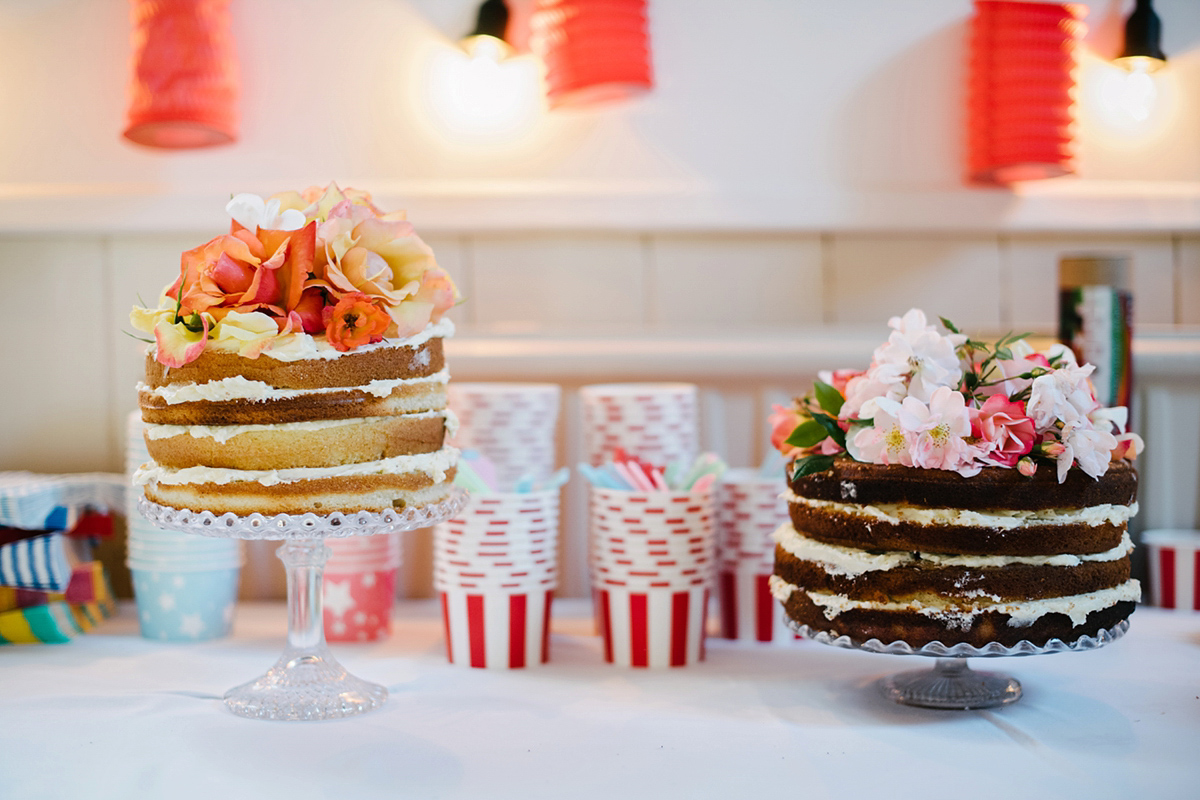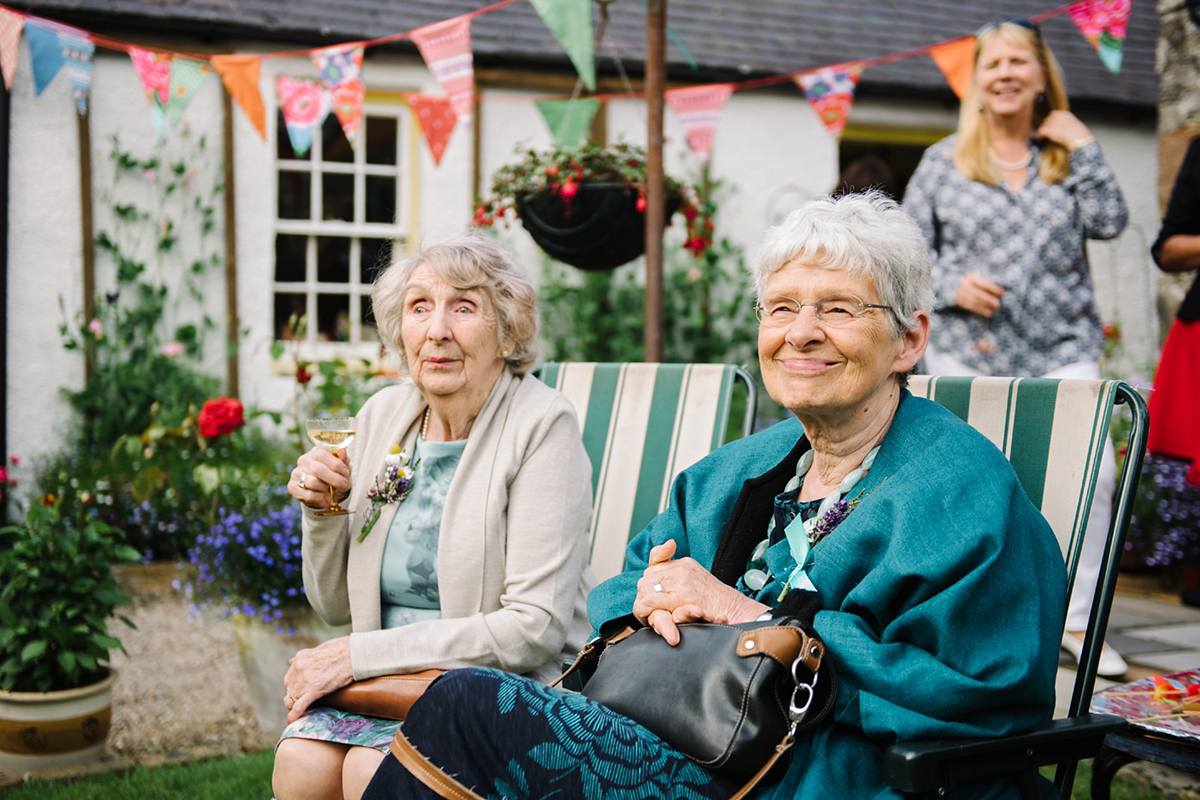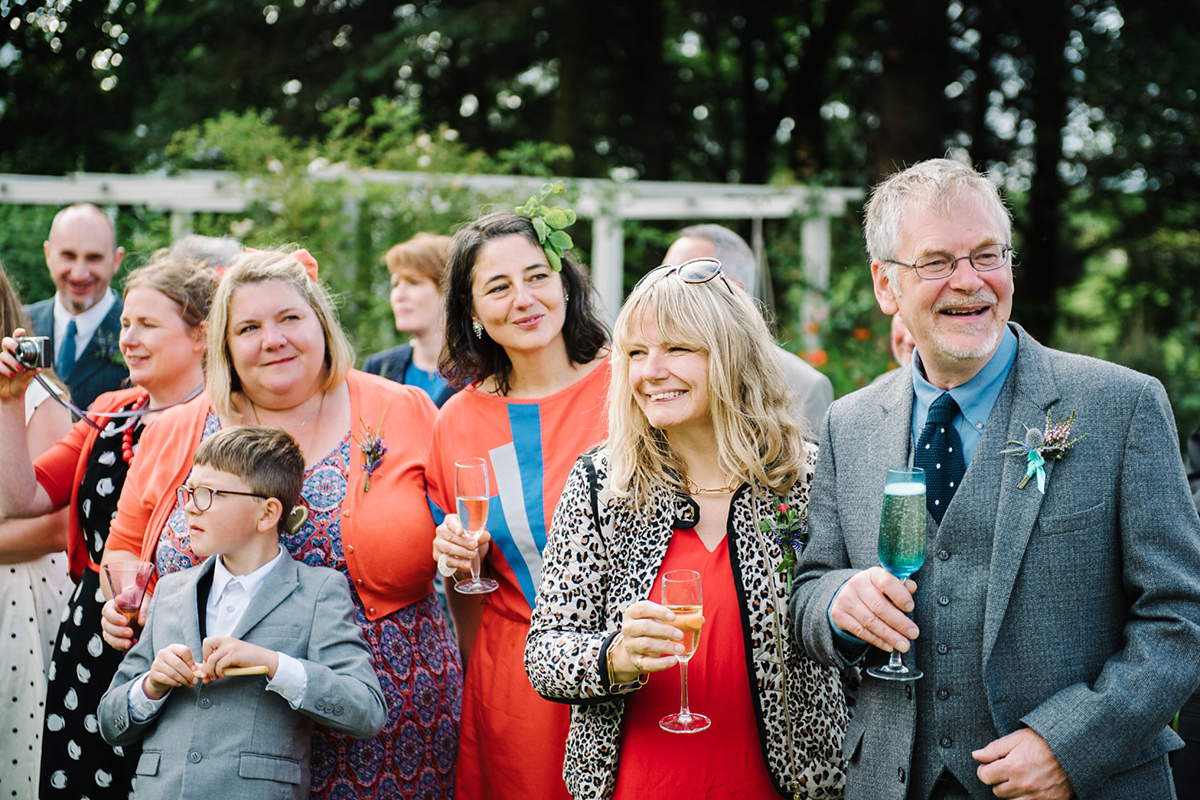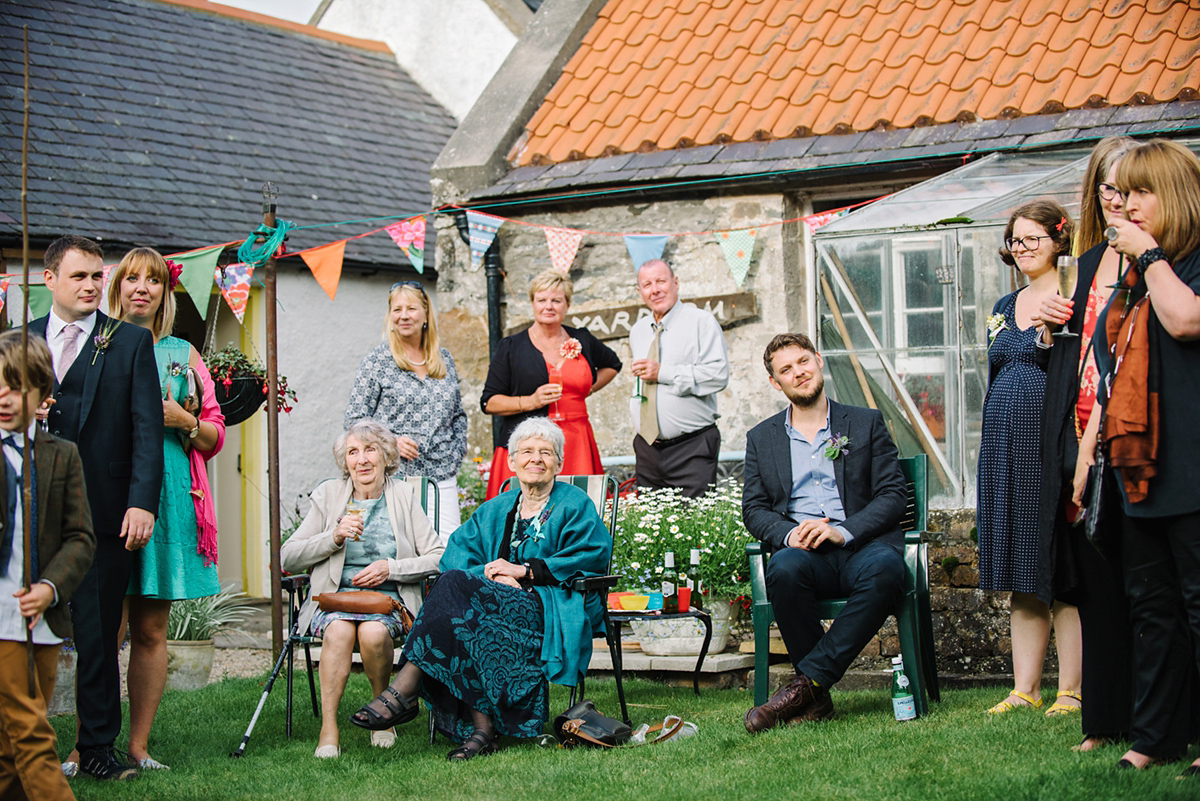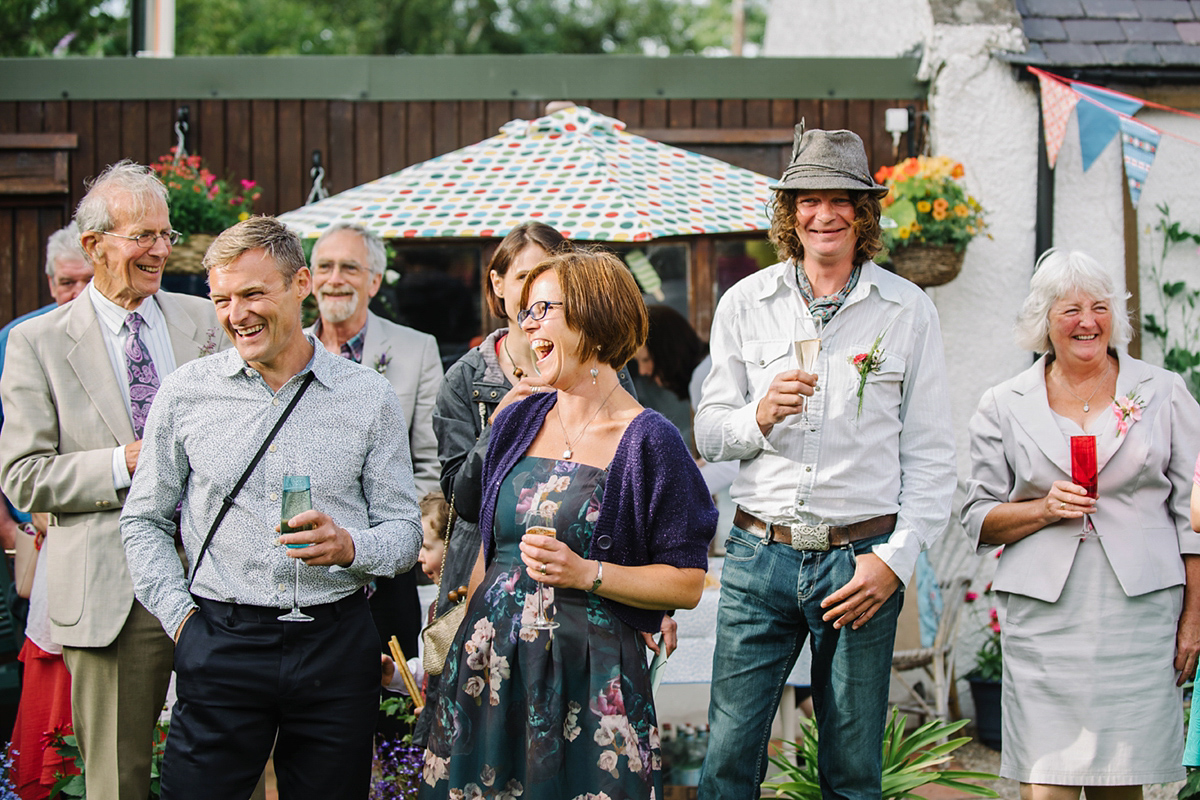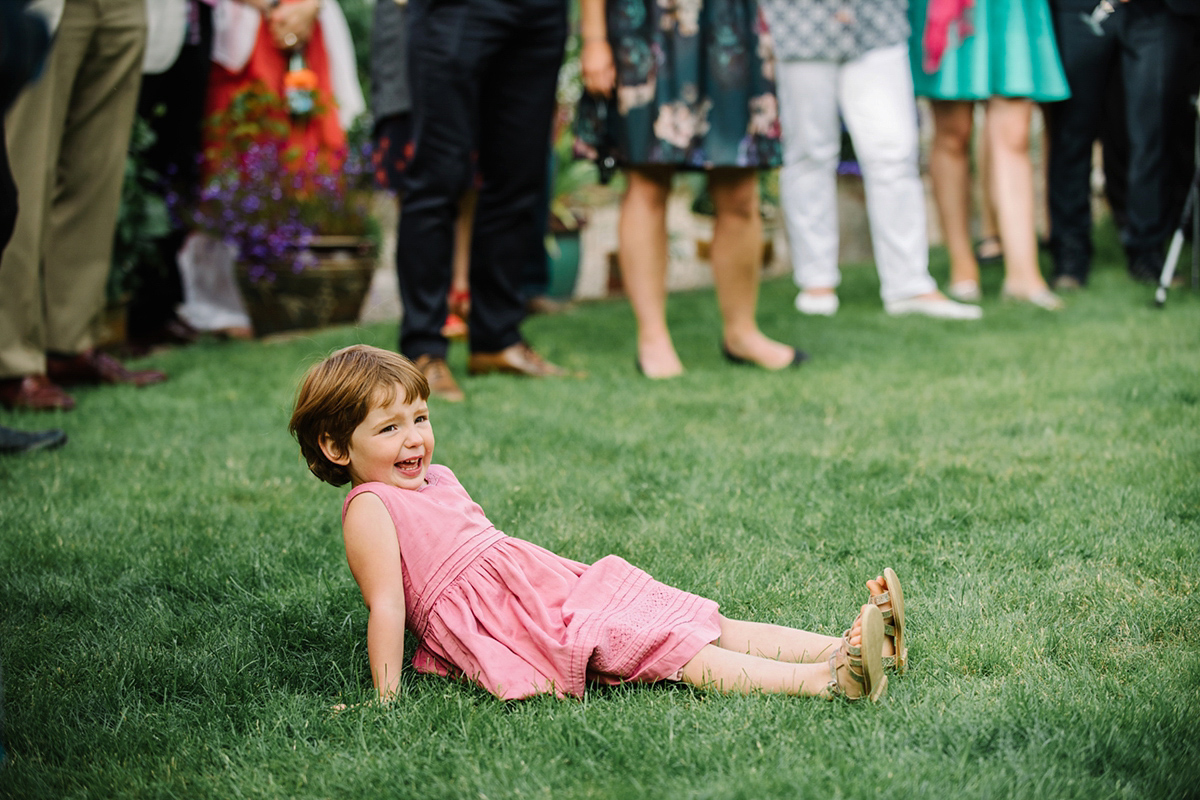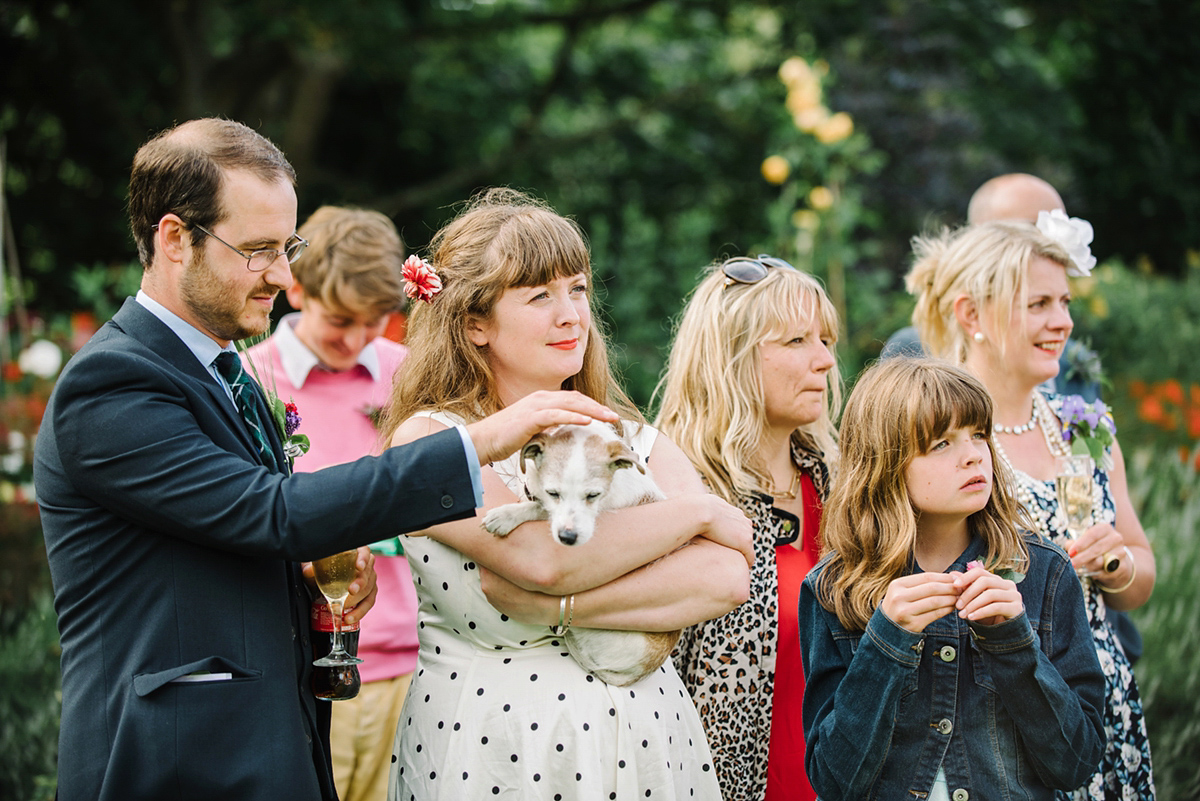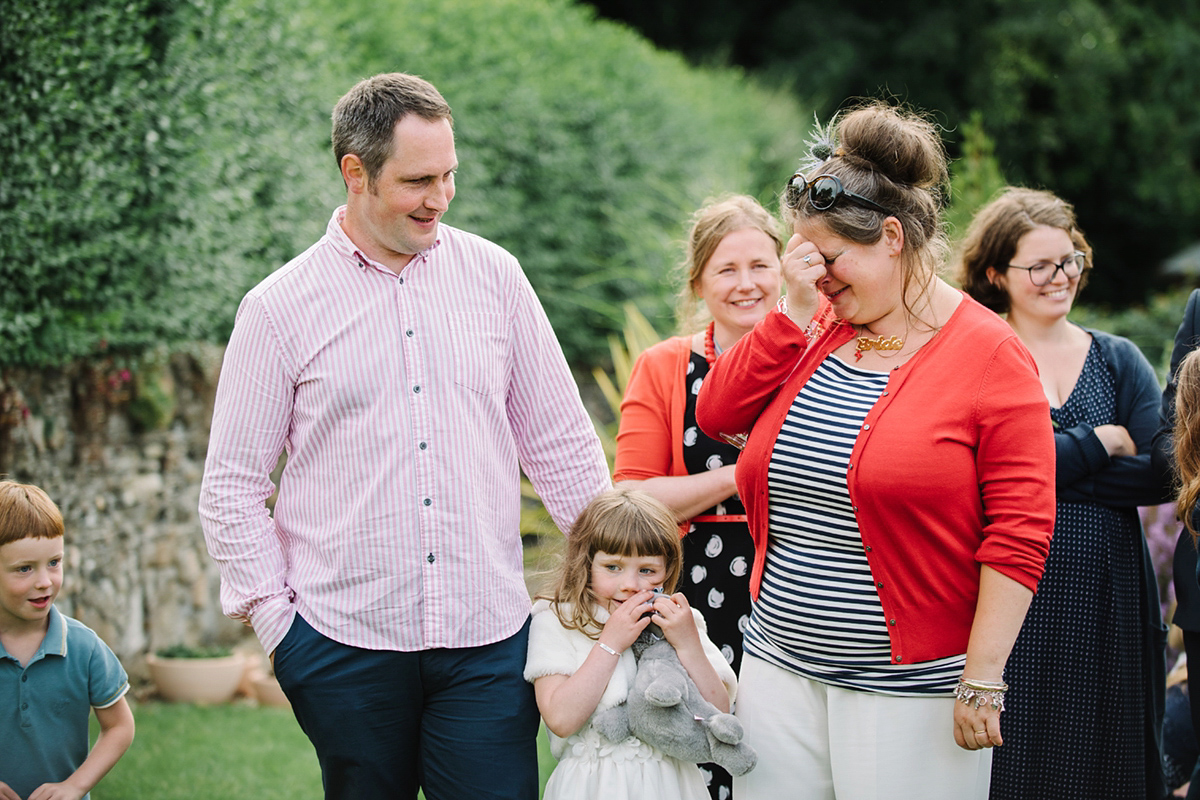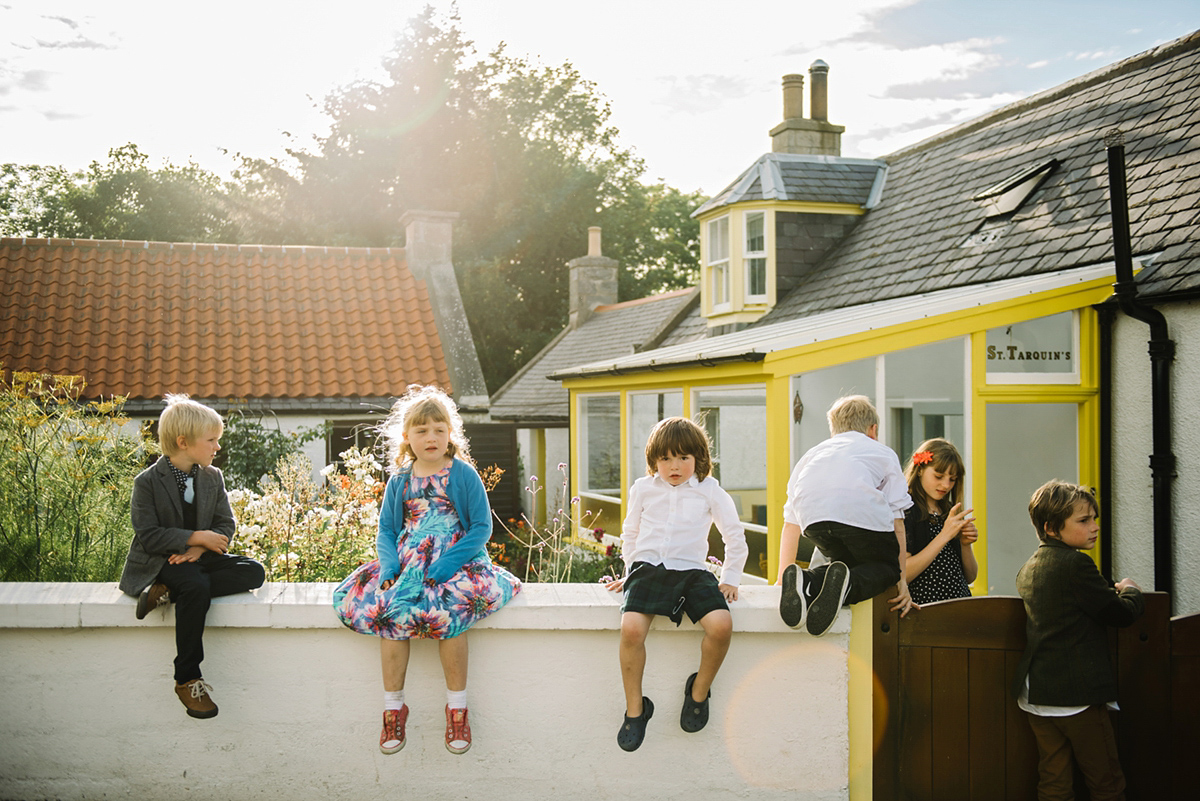 "The community in which we live and work in Hereford is teaming with incredible artists and designers and so we commissioned a Herefordshire jeweller, Bronwen Tyler Jones, to make a commemorative bracelet for our daughter."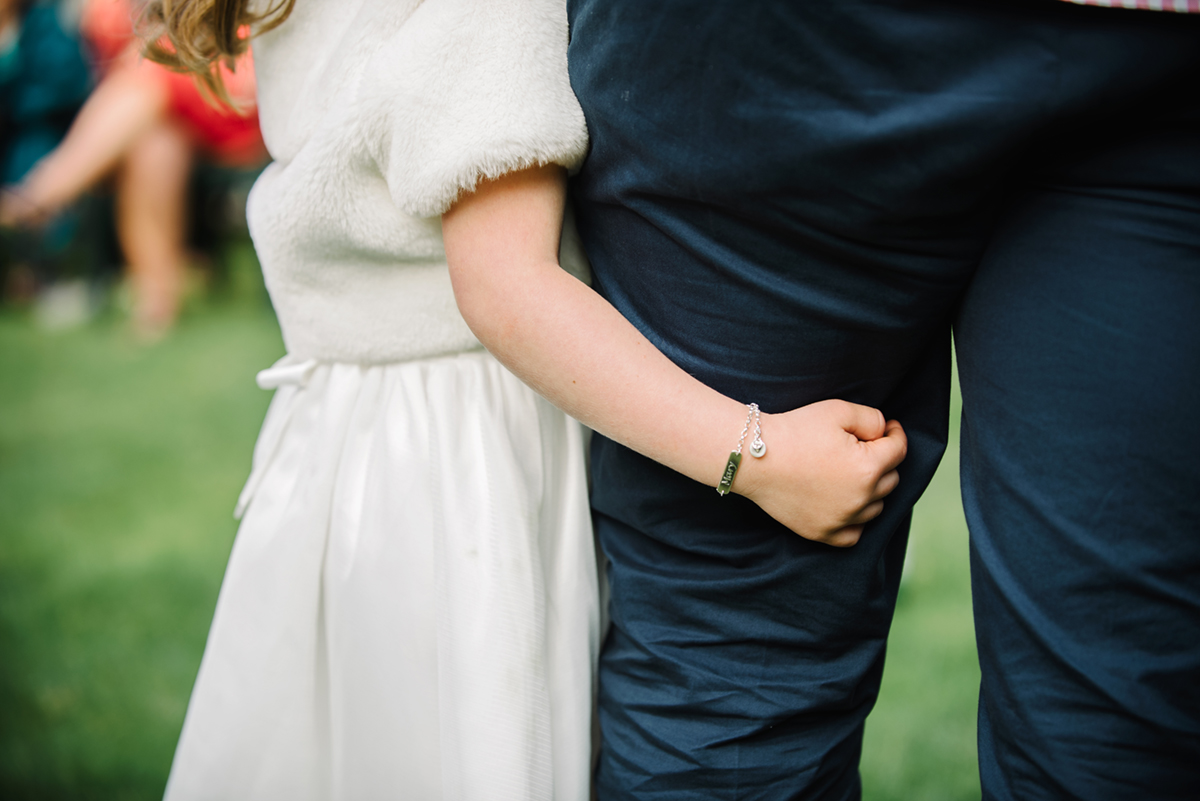 "Bronwen cut out her name in gold and stamped 'July 2016' to mark the date.  I also wore a bracelet made by Bronwen that has both of our children's names and dates of birth stamped into it – it is a favourite piece of jewellery and I wear it every day."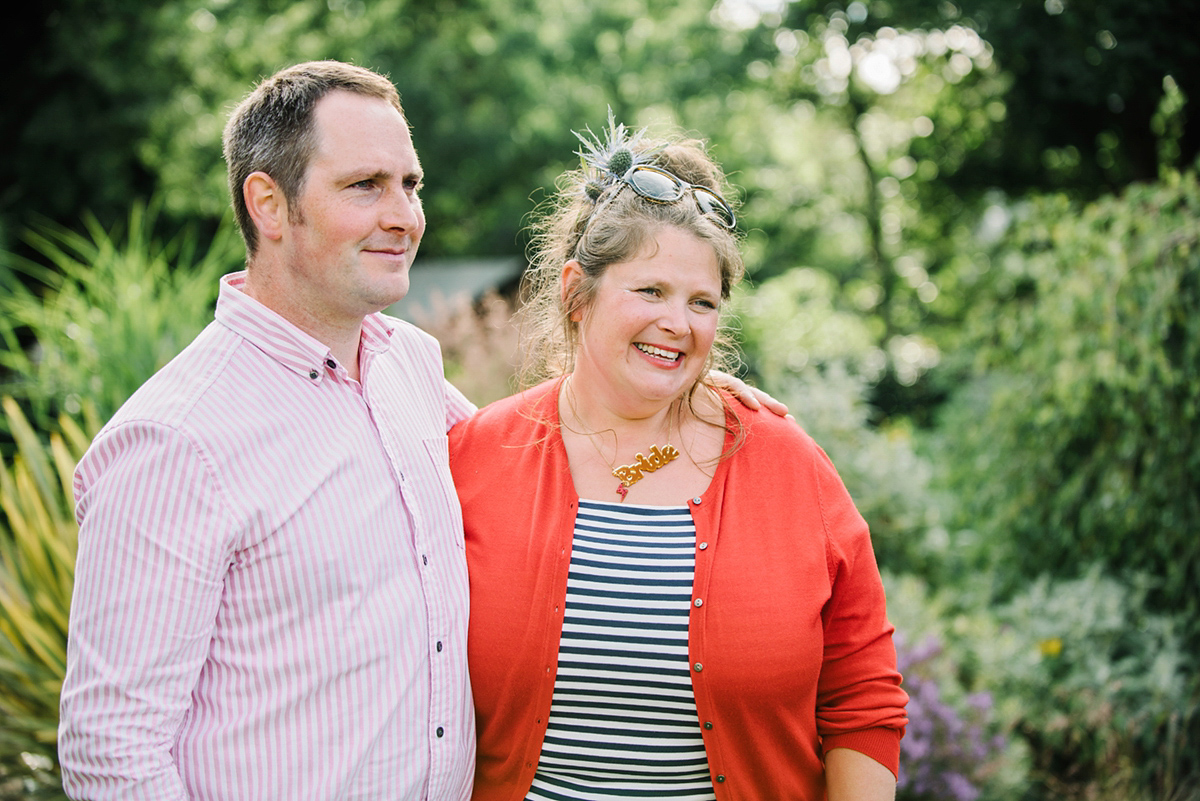 Words of Wedded Wisdom
"Sometimes you have to make compromises to have the perfect day that YOU want, but you only do it once so go with your own ideas and don't let anyone tell you what to do! 
The day goes so fast, the only way to be able to truly recollect and reflect on those precious moments is to invest in a really amazing photographer who is prepared to completely get on board with you, your personalities and vision."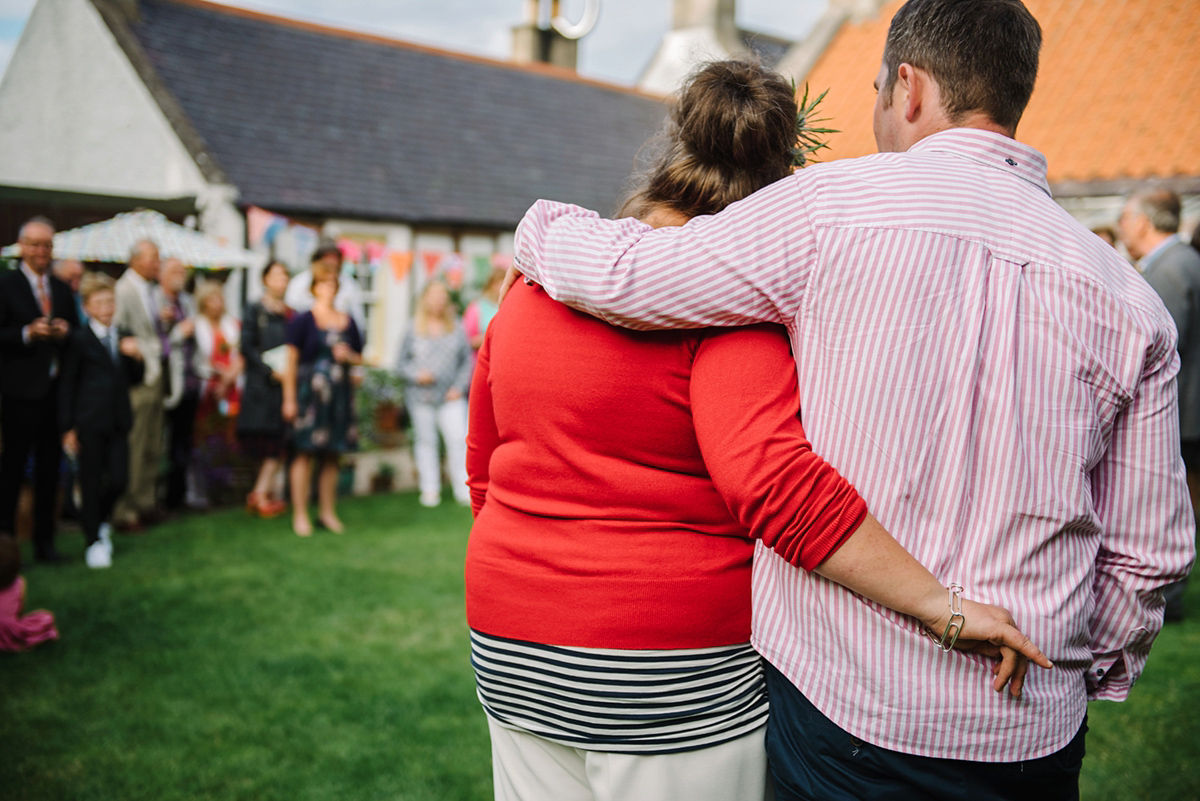 So many thanks to Xaviere and Alan for sharing their fabulously personal day.  Huge thanks also to Dominique Bader.  Take a peek here for some more of her work.
Much love,
Shona x