Hello everyone – we're kick starting our week with a lovely, lovely North Yorkshire wedding which is full to bursting with smiles, laughter and joy. It's always such a pleasure to work on a real wedding feature with the images are as full of celebration as these ones are.  Vic and Alex live in Brighton, but wanted to tie the knot in North Yorkshire on 31st July last year, choosing Ox Pasture Hall in Scarborough as their venue. Their photographer, Tony of Photography 34, took full advantage of the beauty in the surrounding area. Their wedding was inspired by the couple's love of books and photography.
Vic found her lovely Etienne dress, by our Little Book For Brides wedding directory member,  Charlotte Balbier at the Little Pearl Bridal Boutique.
"I had fallen in love with the romantic and timeless style of Charlotte's dresses before I went to try them. As soon as I tried Etienne no other dress compared. I did try a few more but I just had to put it back on and when I didn't want to stop dancing around in it I knew I had the one."
Photography by Photography 34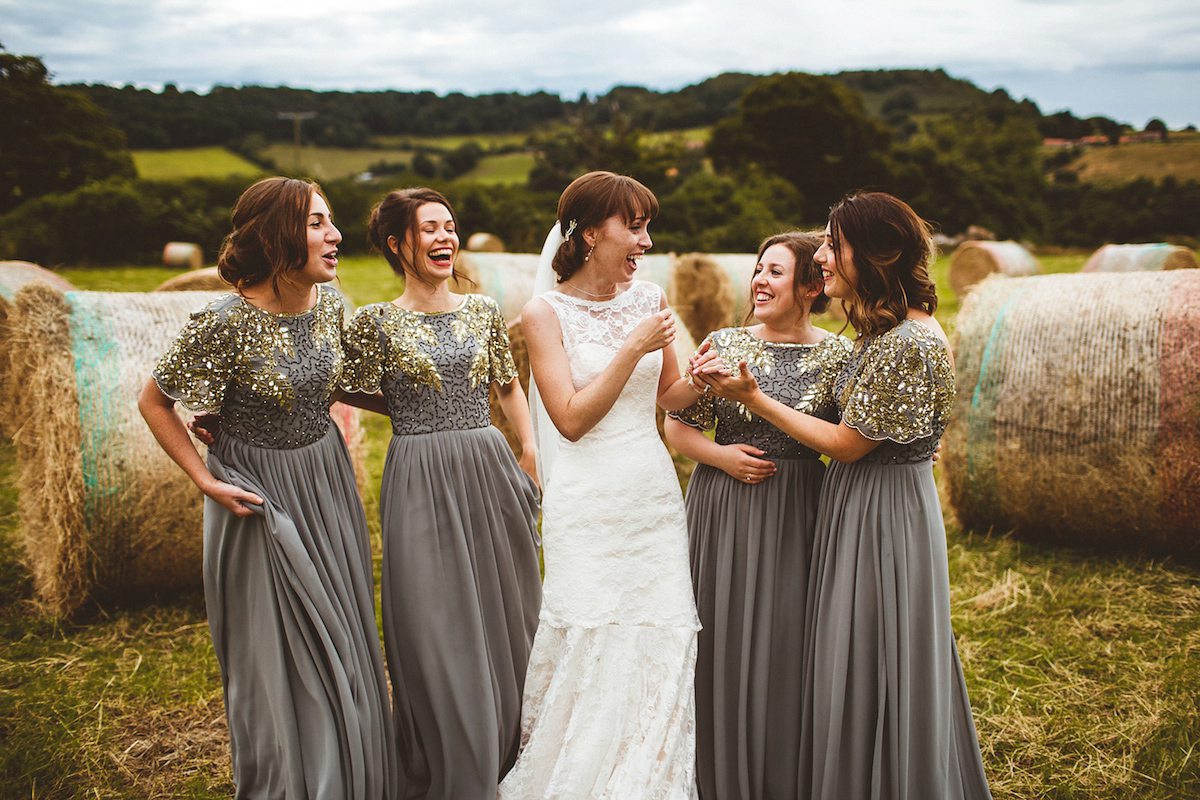 "I love literature and Alex is a keen amateur photographer. He has collected old cameras for many years so it seemed perfect to tie these together for our theme. We named our tables with the first few years of our childhoods and displayed photos of us in those years. I cross-stitched all the table names and also made a bride and groom for the top table, then I thought it would be nice to make one for my mum. This then spiralled into me being determined to make a personalised one for each bridesmaid. I was so pleased with how they turned out though. Our wedding certainly ended up taking on a 'vintage' style, without being too prescriptive."
"I loved how my dress flattered my figure and the soft blush colour worked perfectly with my fair skin. I always knew I wanted lace and this just ticked all the boxes. I was also drawn to the gorgeous back detail and Diana at Little Pearl Bridal Boutique helped me to style the dress beautifully with a dainty back necklace.
Their seamstress was amazing, making the dress fit me like a glove. It felt incredible. I am never the girl to boast about myself but this made me feel better than ever before and I knew I looked great in it."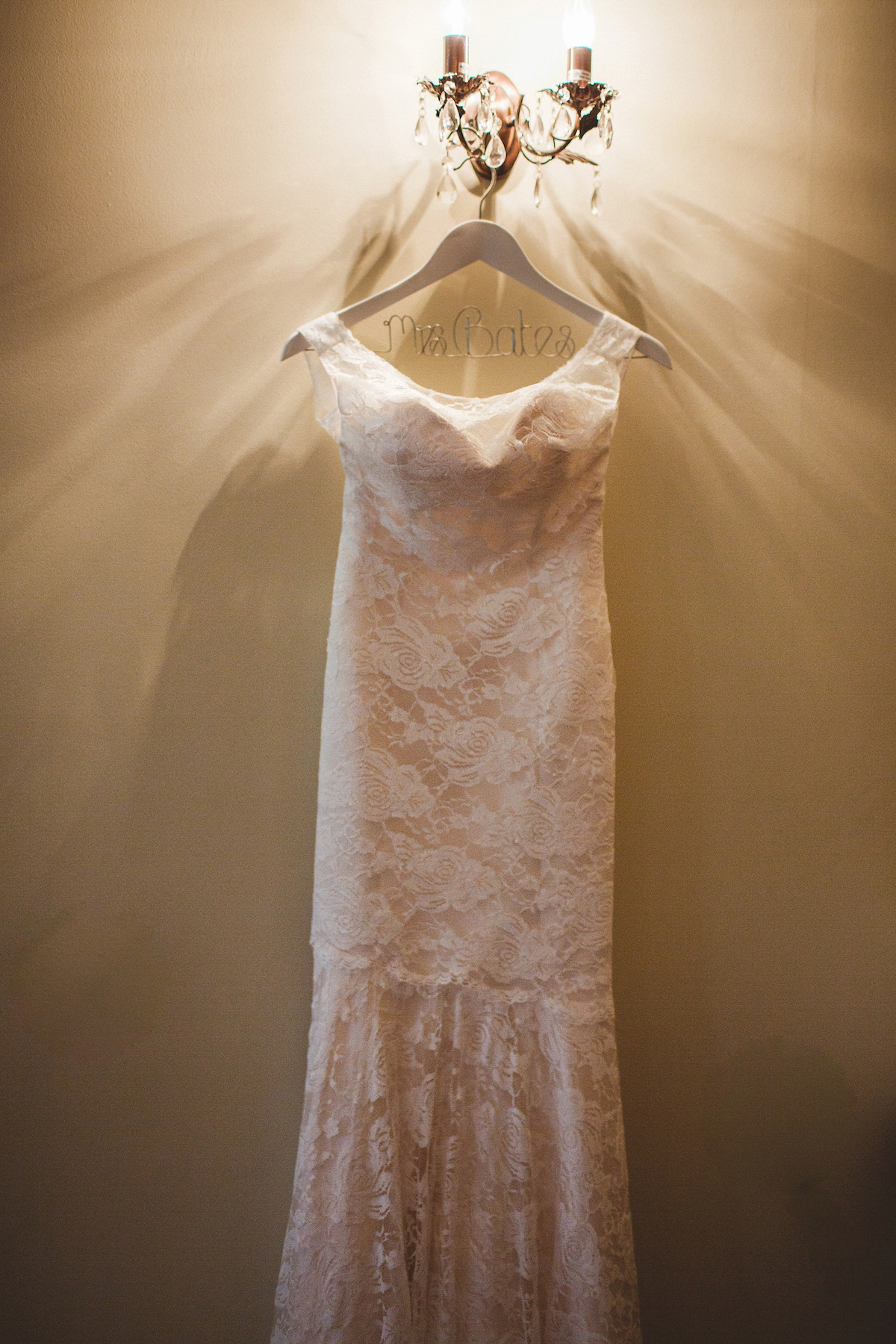 Vic chose to wear the loveliest pair of Rachel Simpson shoes beneath her gown.
We are *huge* fans of these beautiful wedding shoes – many of Rachel's designs can go on to be worn after the wedding.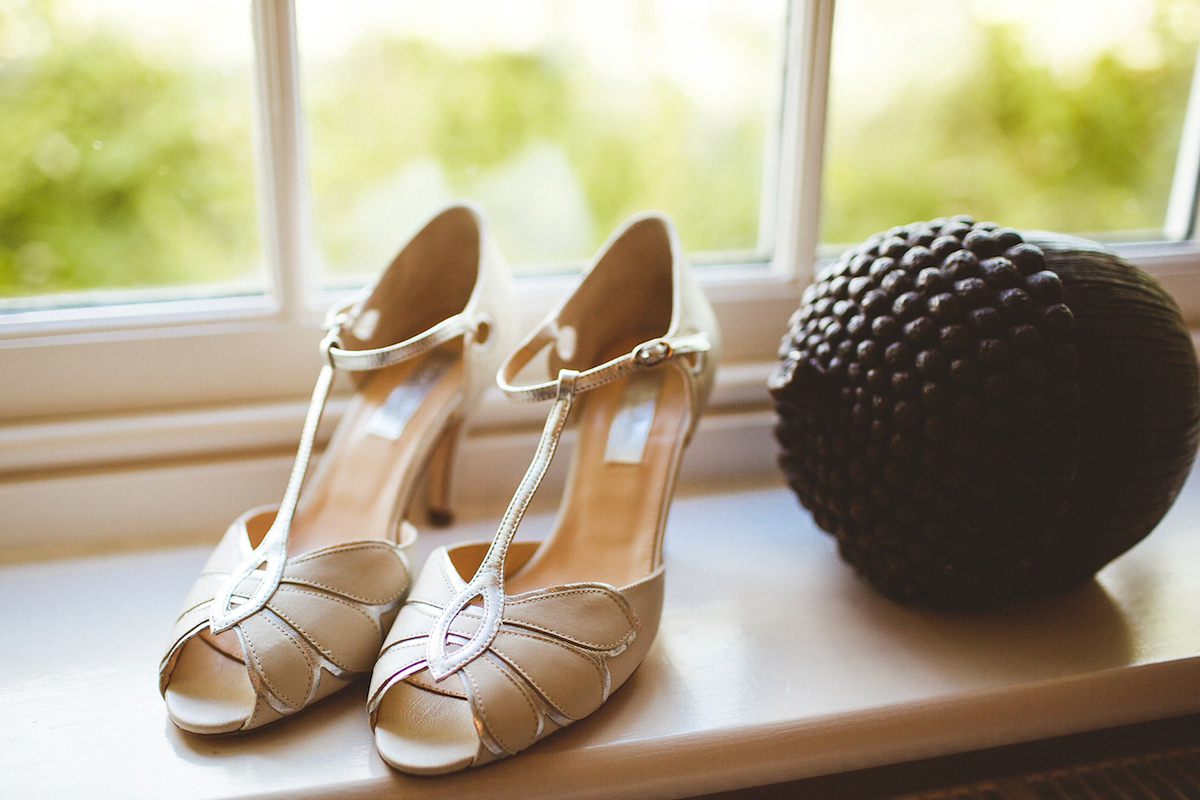 Vic was delighted with her make up artist Victoria Farr, whom she wholeheartedly recommends.
"Victoria is a truly lovely lady inside and out. She was a great addition to the bridal party on the morning and helped me to feel calm whilst getting ready. I would urge any bride to contact her, as she is so incredibly talented."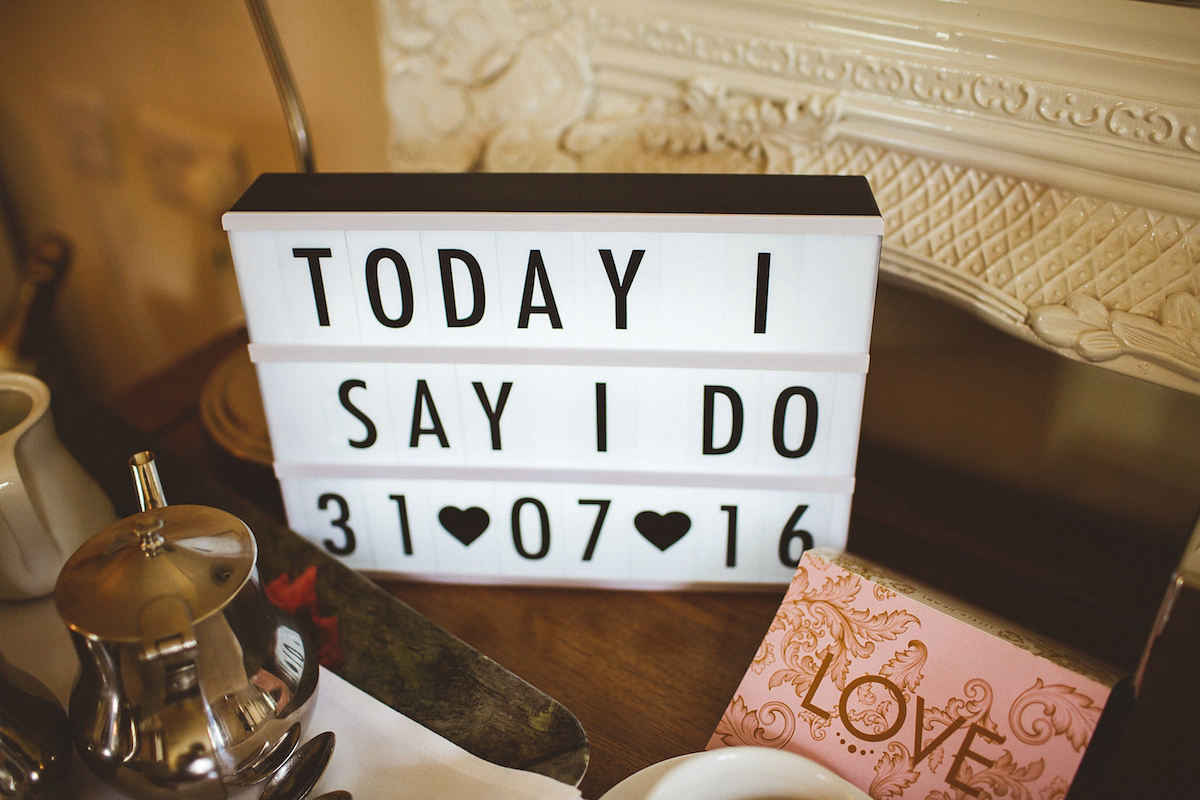 Vic's beautiful back necklace and accessories were also sourced from Little Pearl Bridal Boutique and were by designer Chez Bec.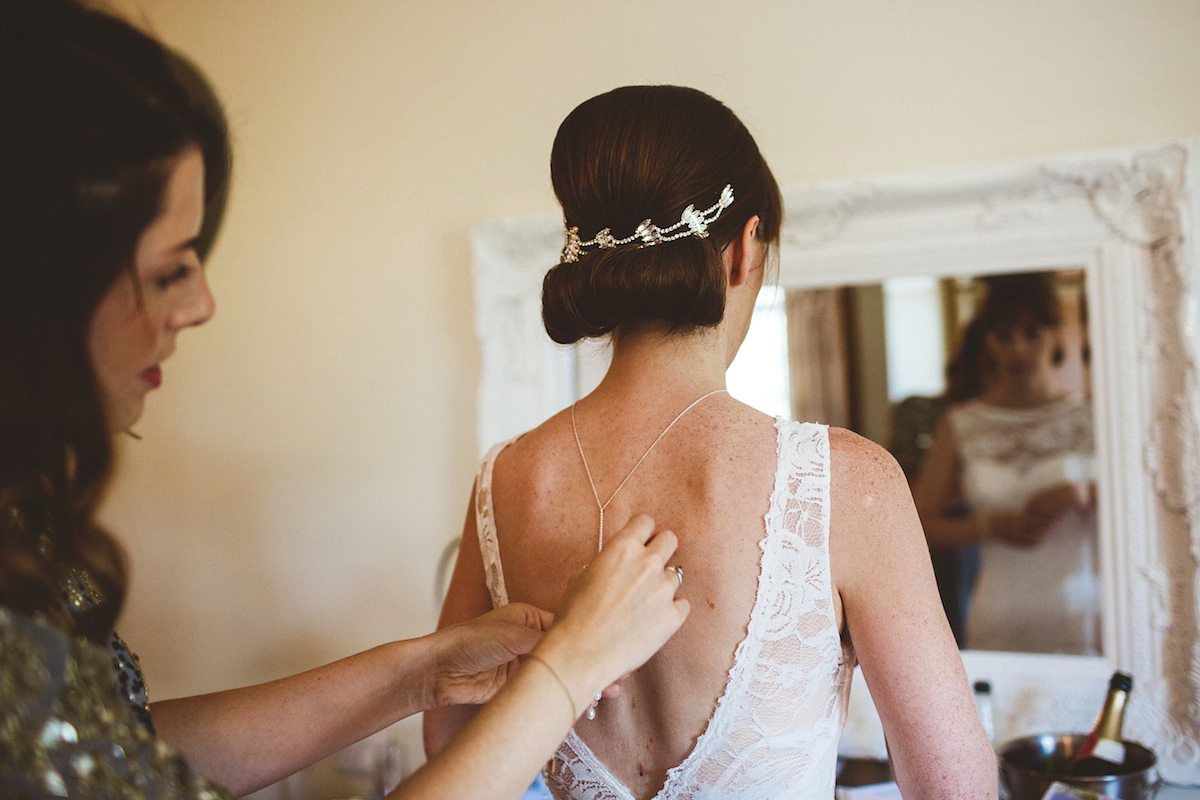 She wore her mum's pearl necklace, fastened with a ribbon around her wrist.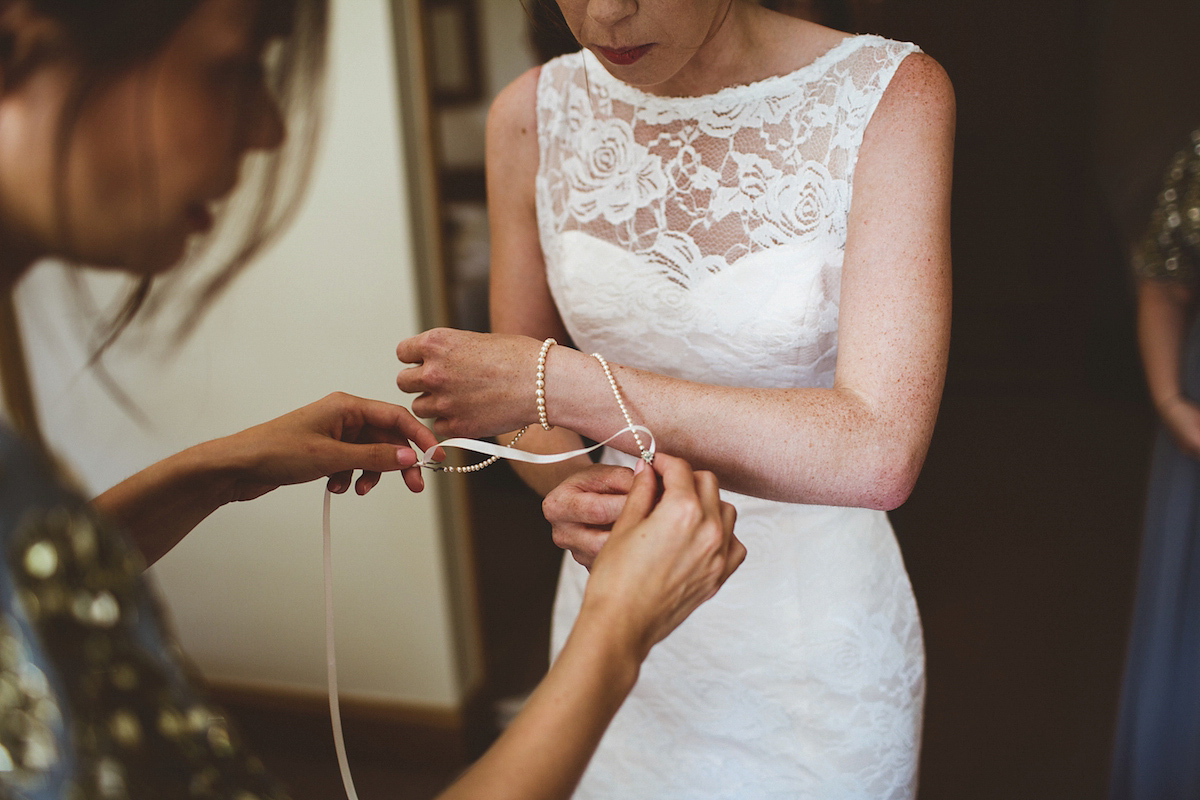 As it turned out, being based in Brighton with bridesmaids scattered across the country made finding dresses one of the biggest challenges of wedding planning for Vic. Luckily she spotted Virgo's Lounge dresses on these very pages and knew they would suit everyone. They also complimented her own dress beautifully.
"As my dress was blush and Alex chose a teal suit, these two colours naturally became part of the colour scheme. I then opted for grey bridesmaid dresses, as I knew that grey would work really well with the other colours."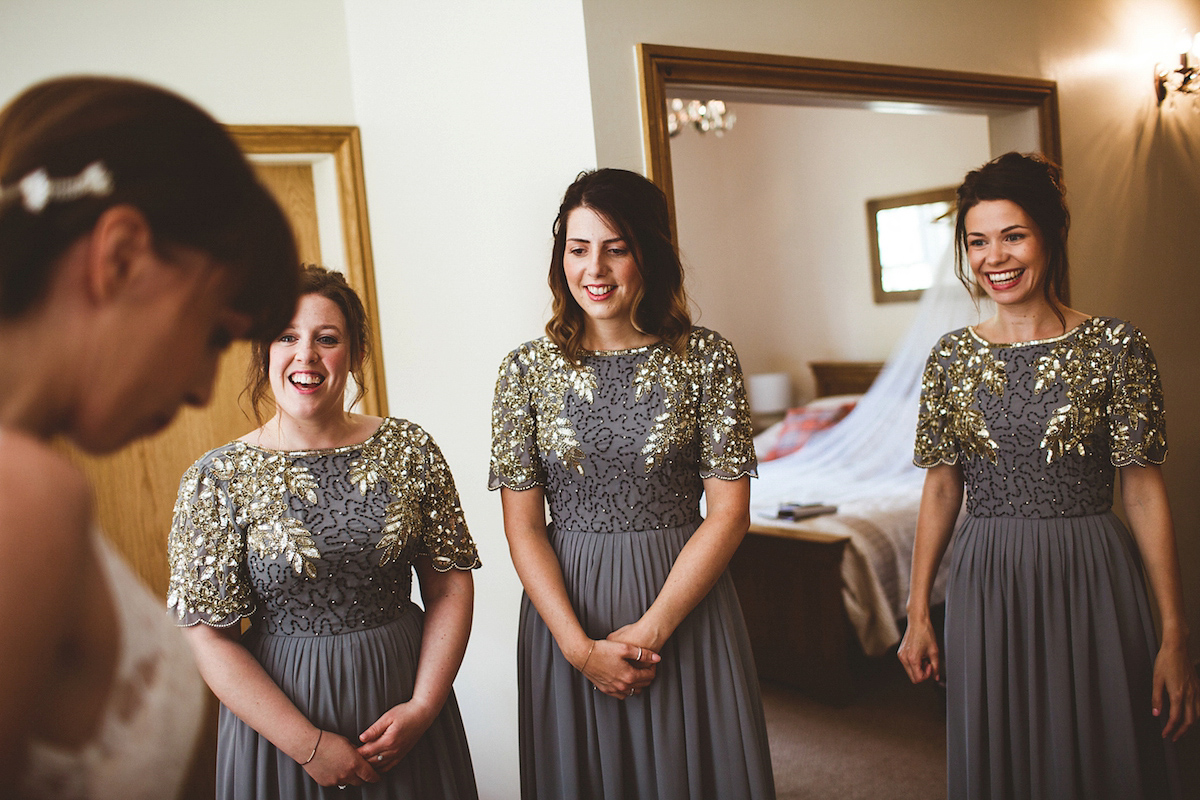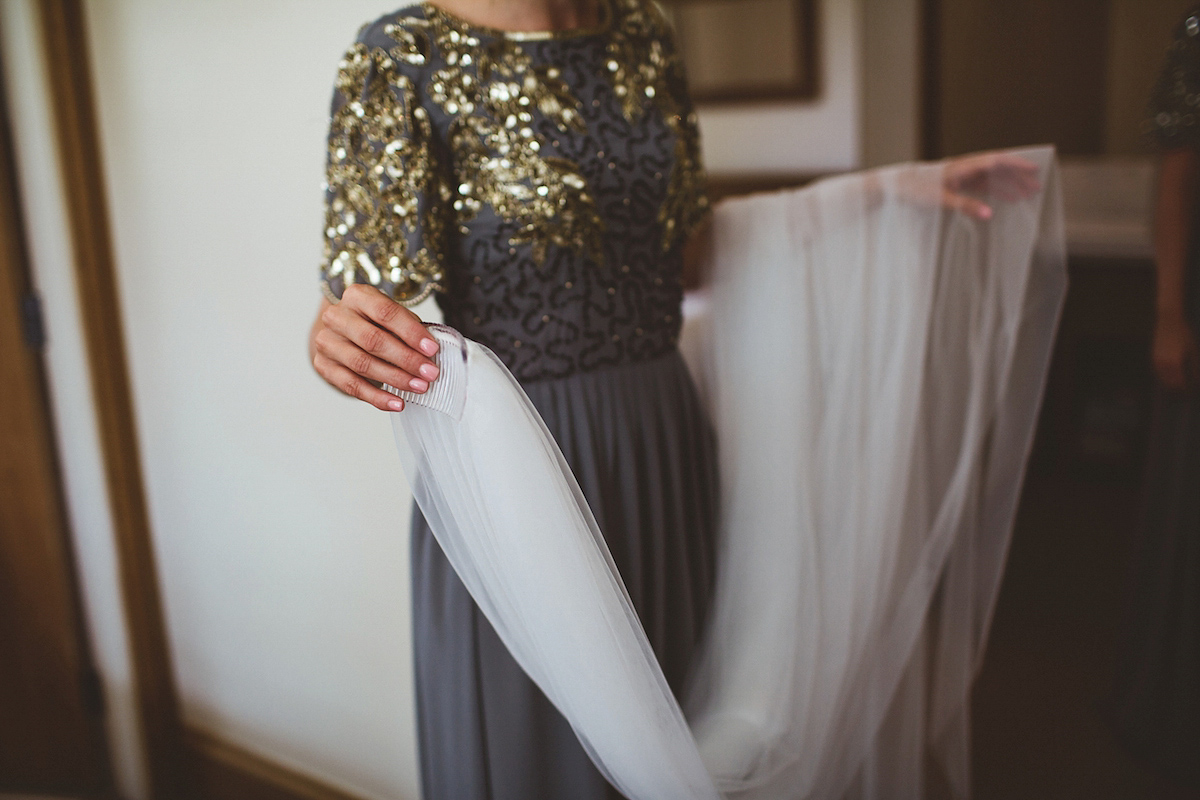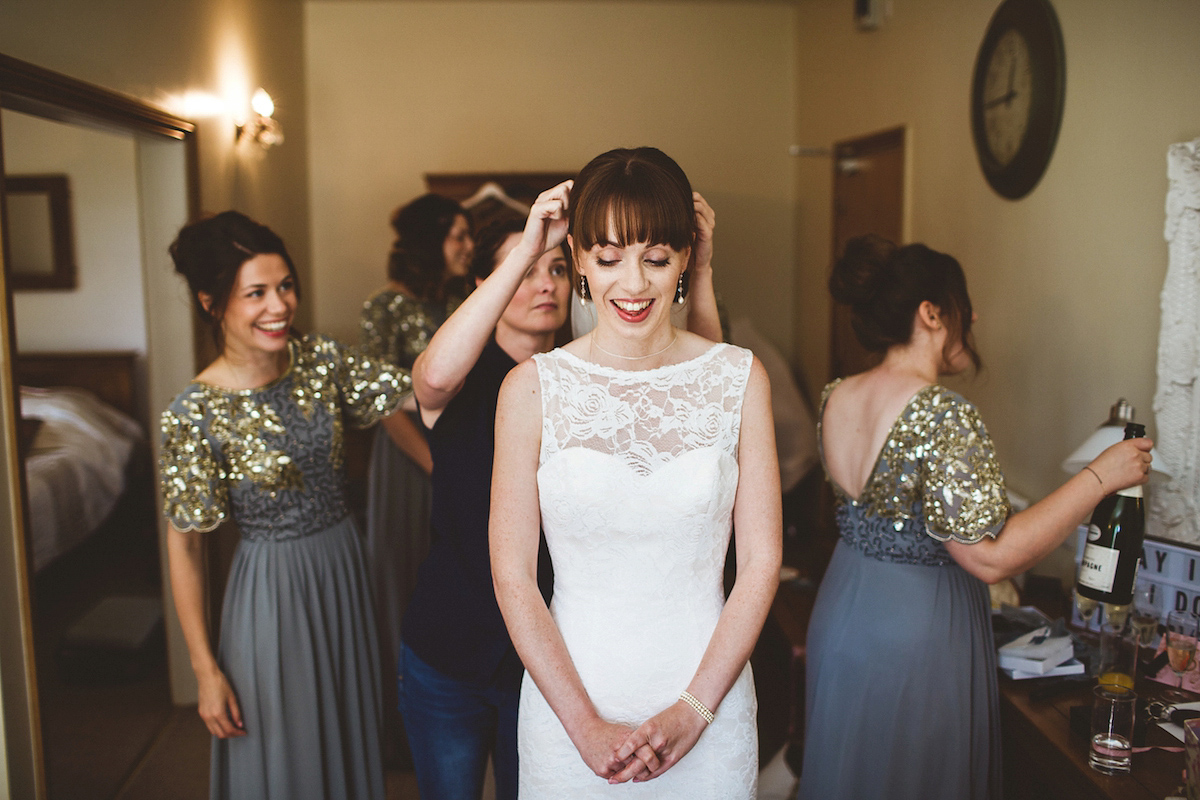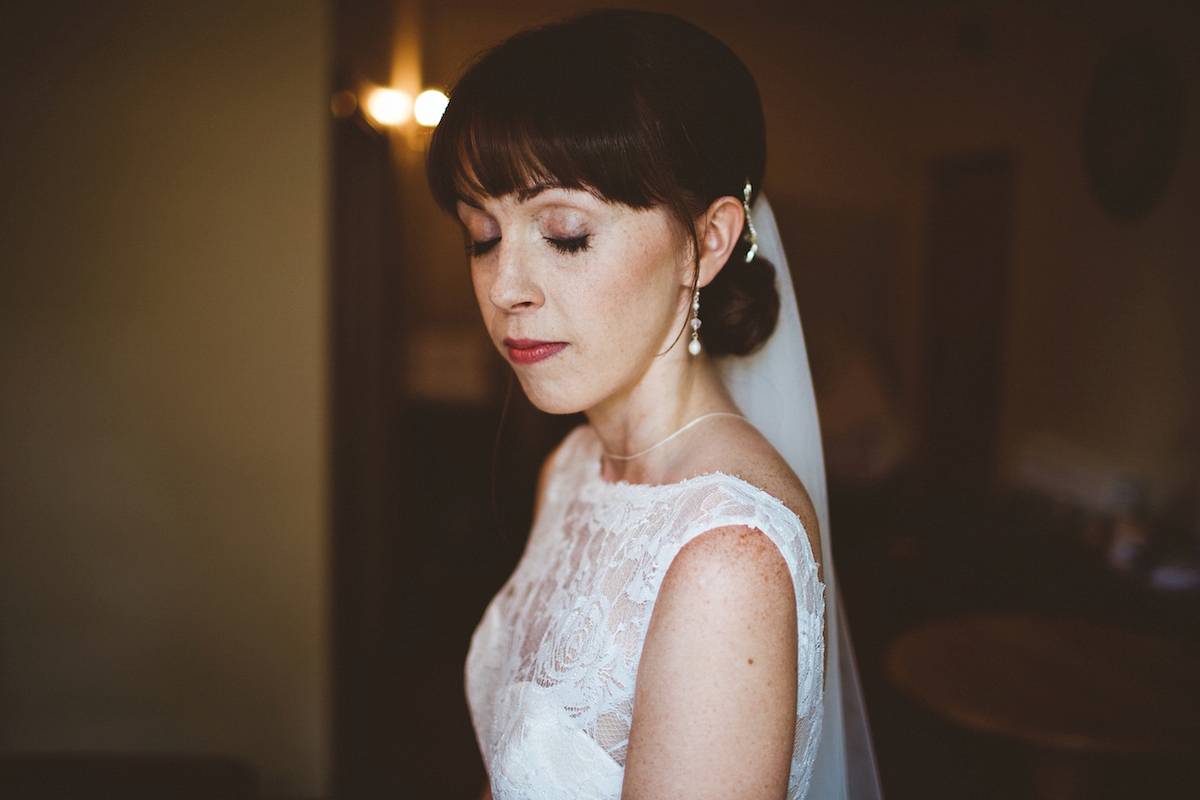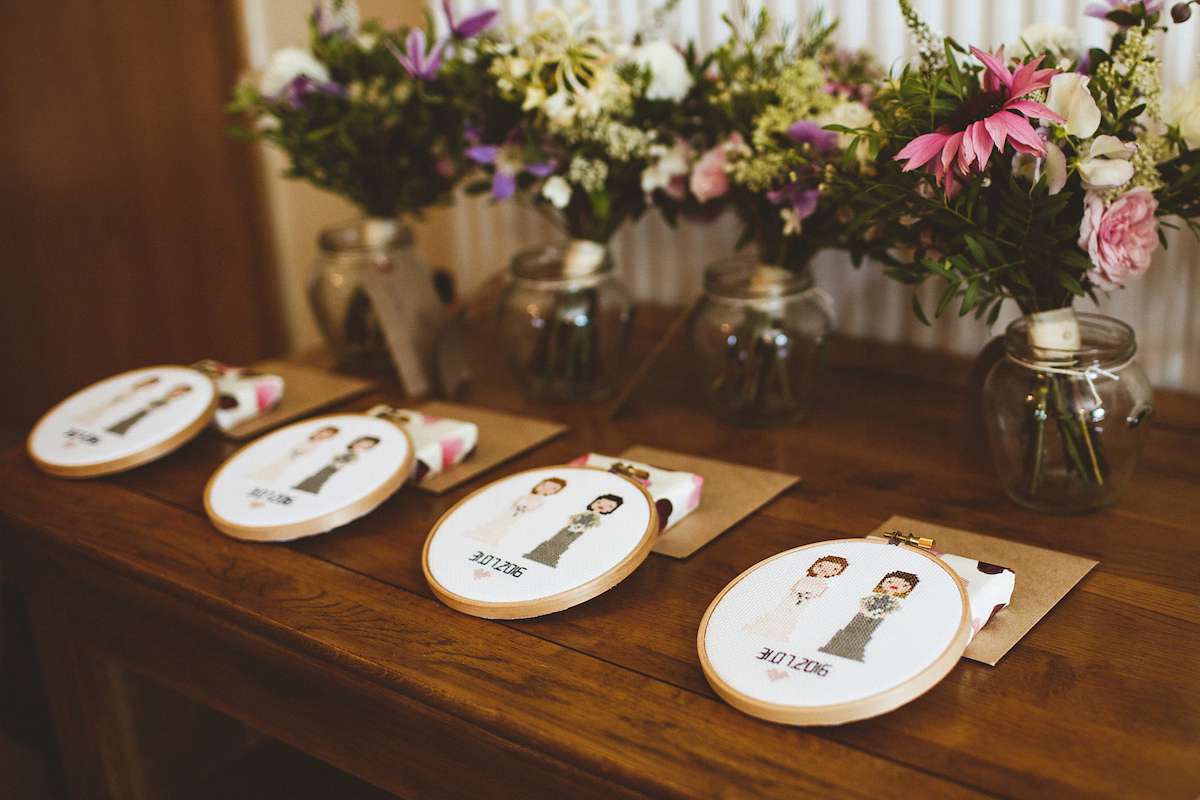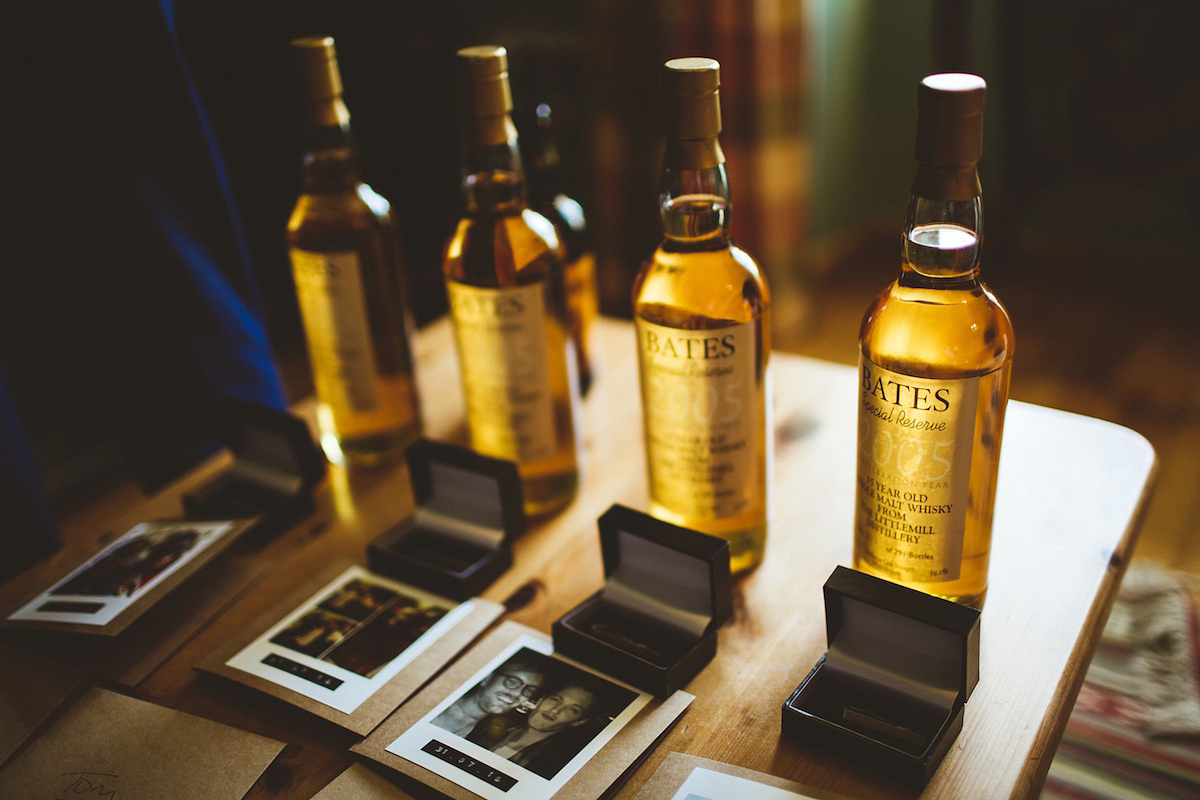 Alex got his teal suit from Next and had it tailored to fit locally. He was looking for something a bit special, with an edge about it and little did he know that it complimented the blush tones Vic was working with.
Alex also wore a beautiful pocket watch, inherited from his father and his scent on the day was a 'Oceanic Expedition' by Issey Miyake. His groomsmen wore deep blue Ted Baker suits from Moss Bros, ties from eBay and Alex gave each of them a tie clip hand stamped with their own initials and the wedding date.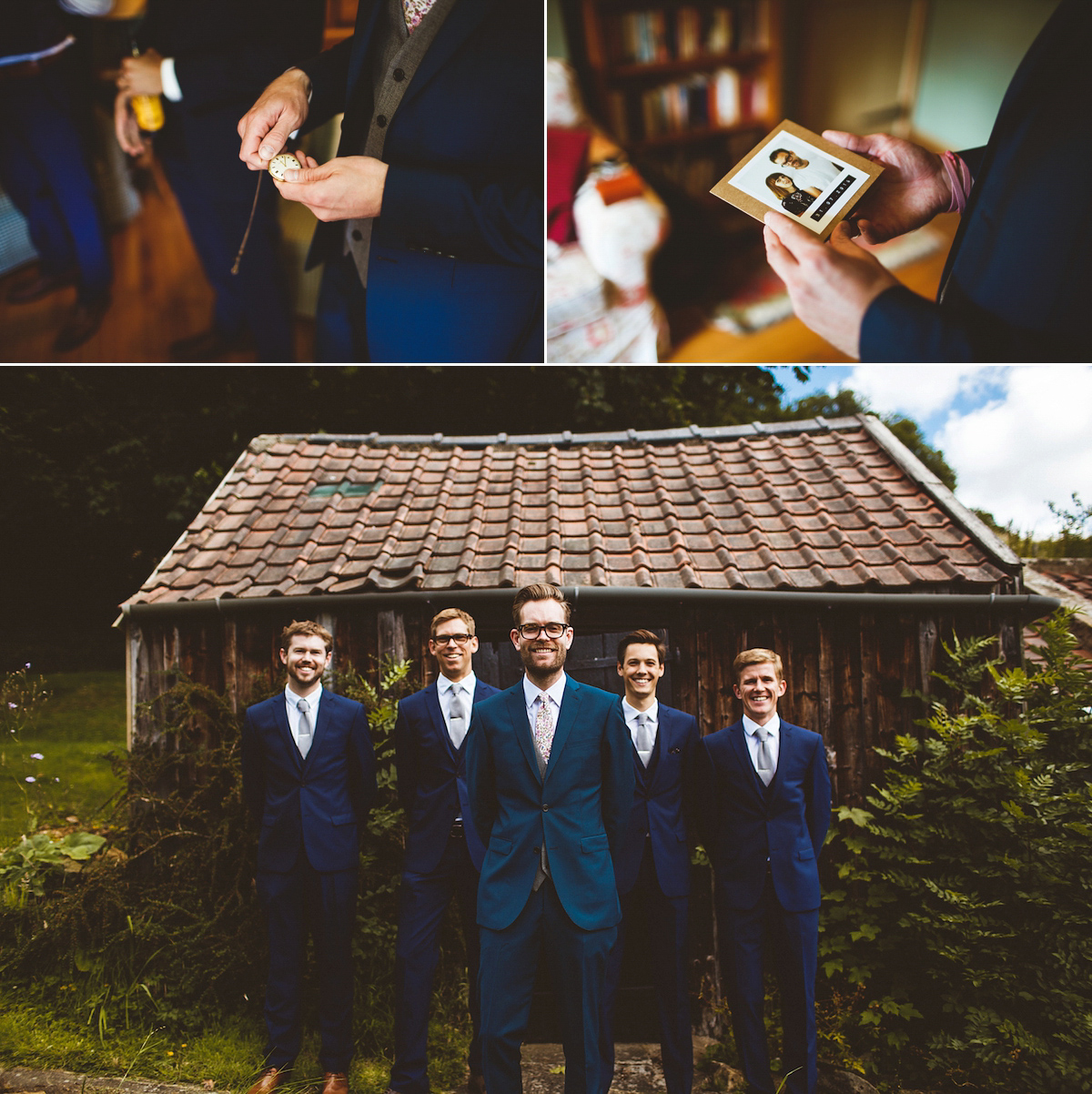 "A close friend, Sean, designed our invites using a vintage camera image. We then used this to create order of service cards with an 'I Spy' activity on the back, and the rest of the stationery."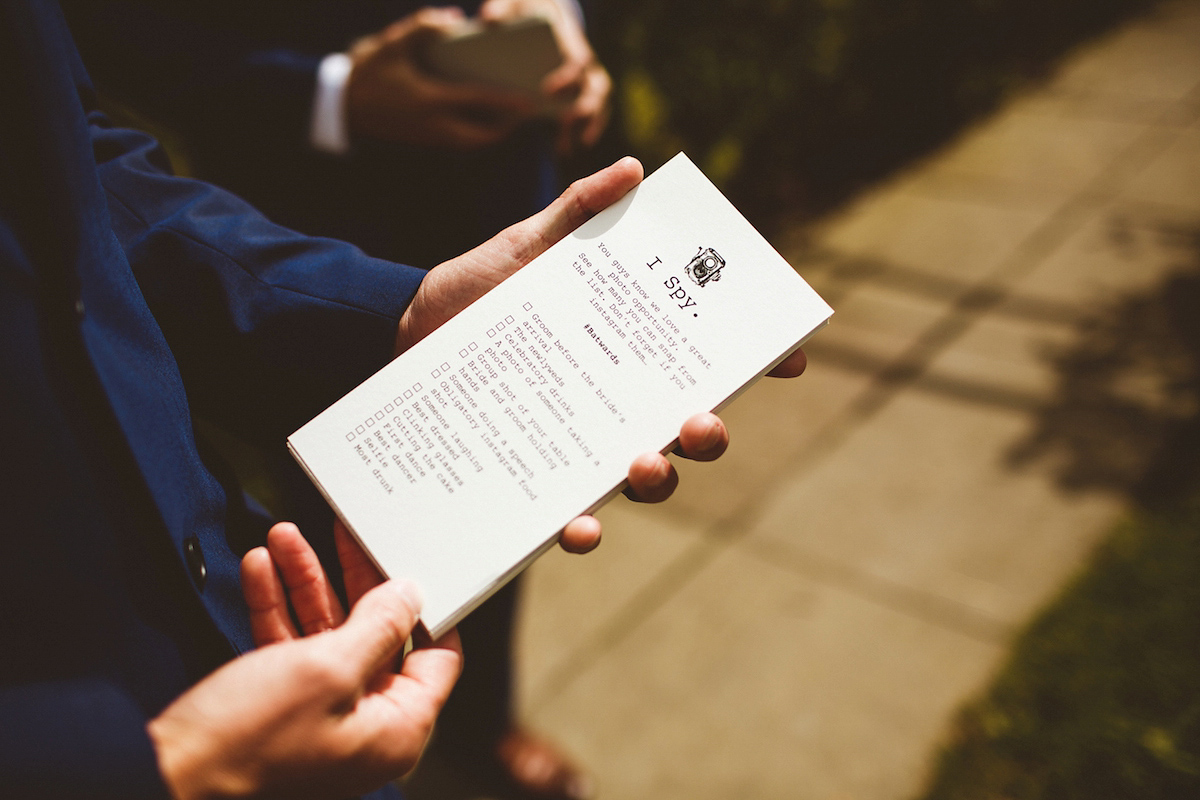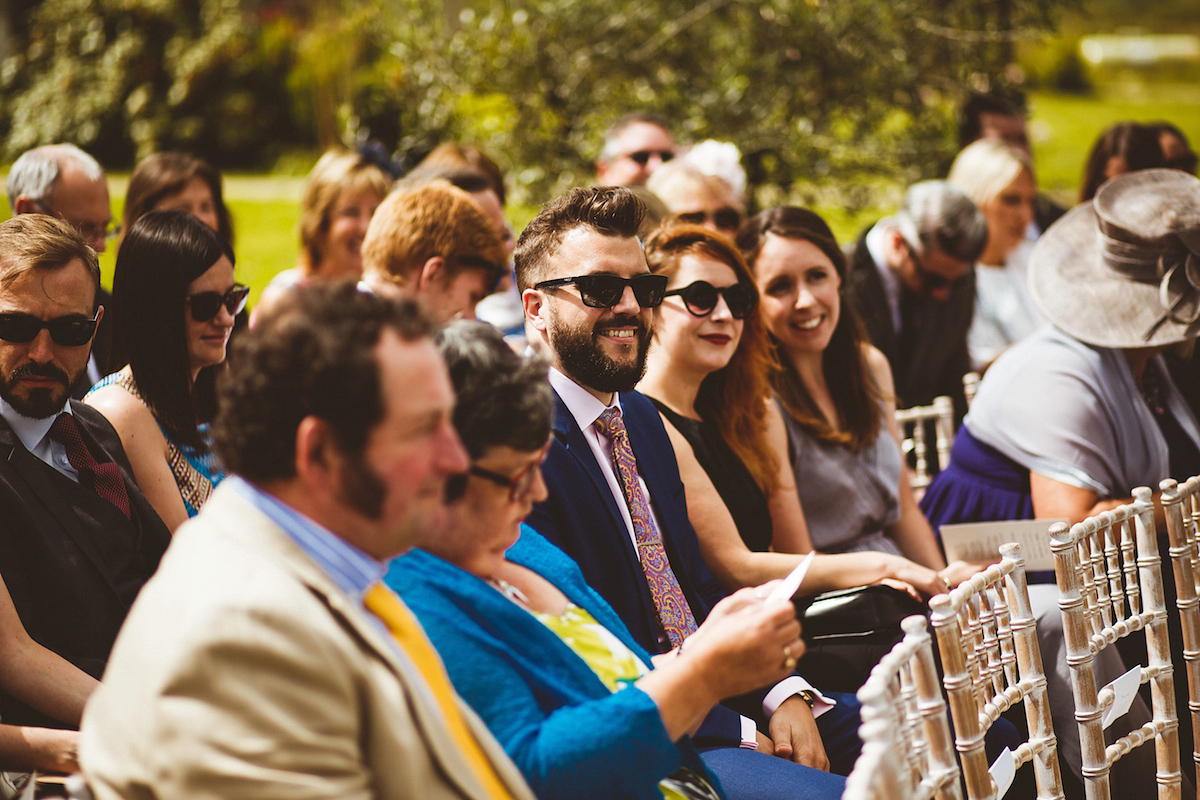 "My dad walked down the aisle with me. We chose 'Heartbeats' by José Gonzalez as it was one of the tracks Alex put on a mix tape for me, the first Christmas we were together."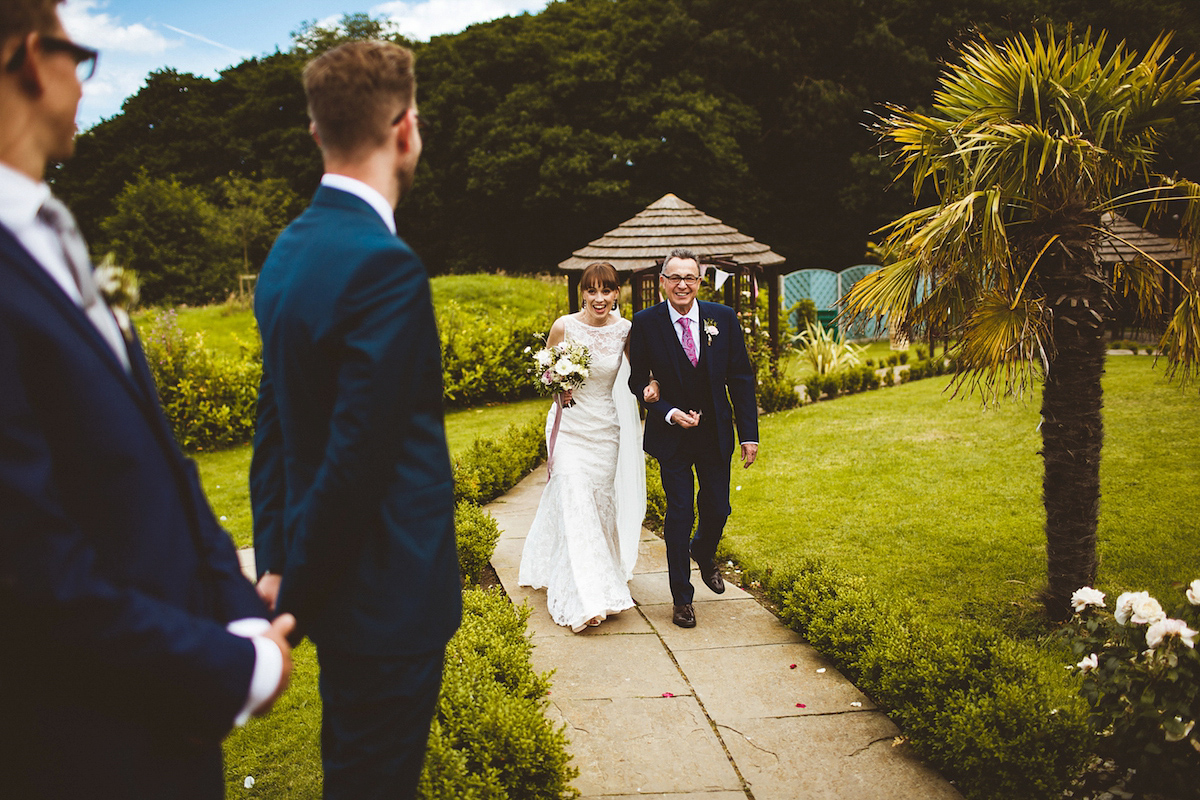 "Alex proposed early one Saturday morning at home after an impromptu night out in Brighton. He got my ring absolutely spot on with a gorgeous emerald and diamond ring. It certainly shook off my sore head."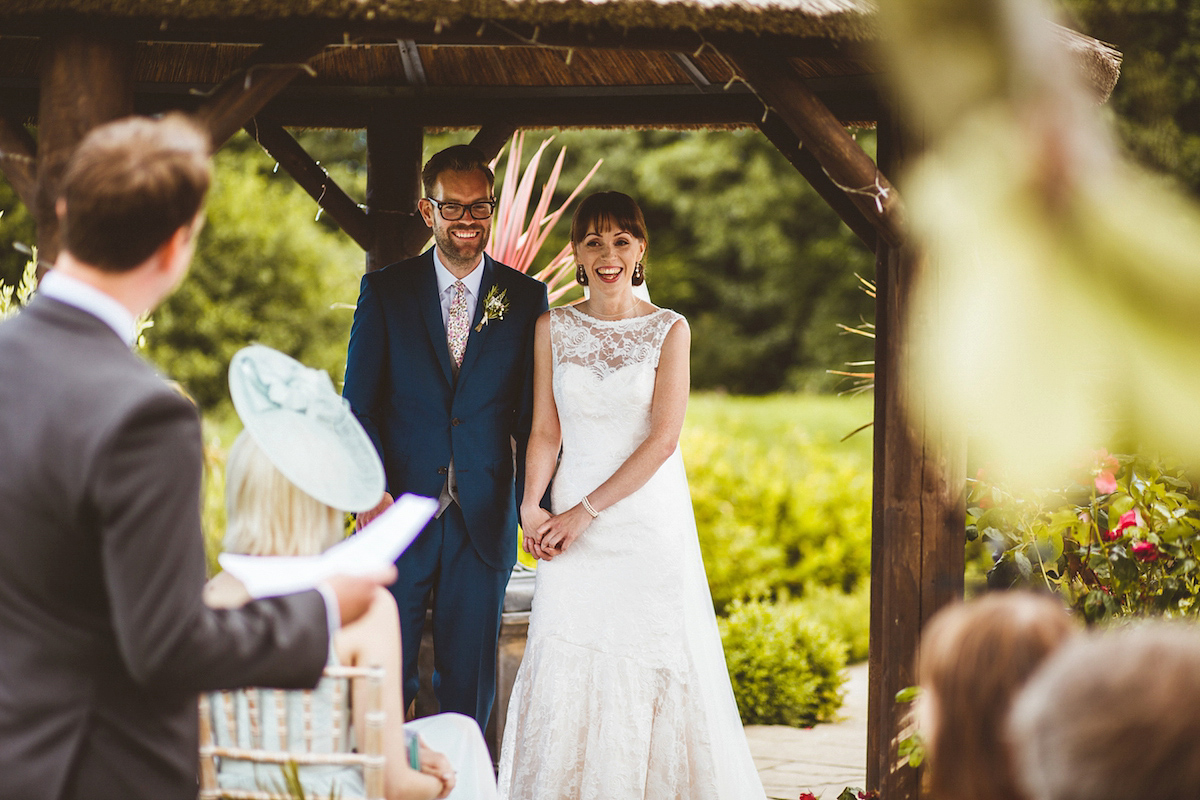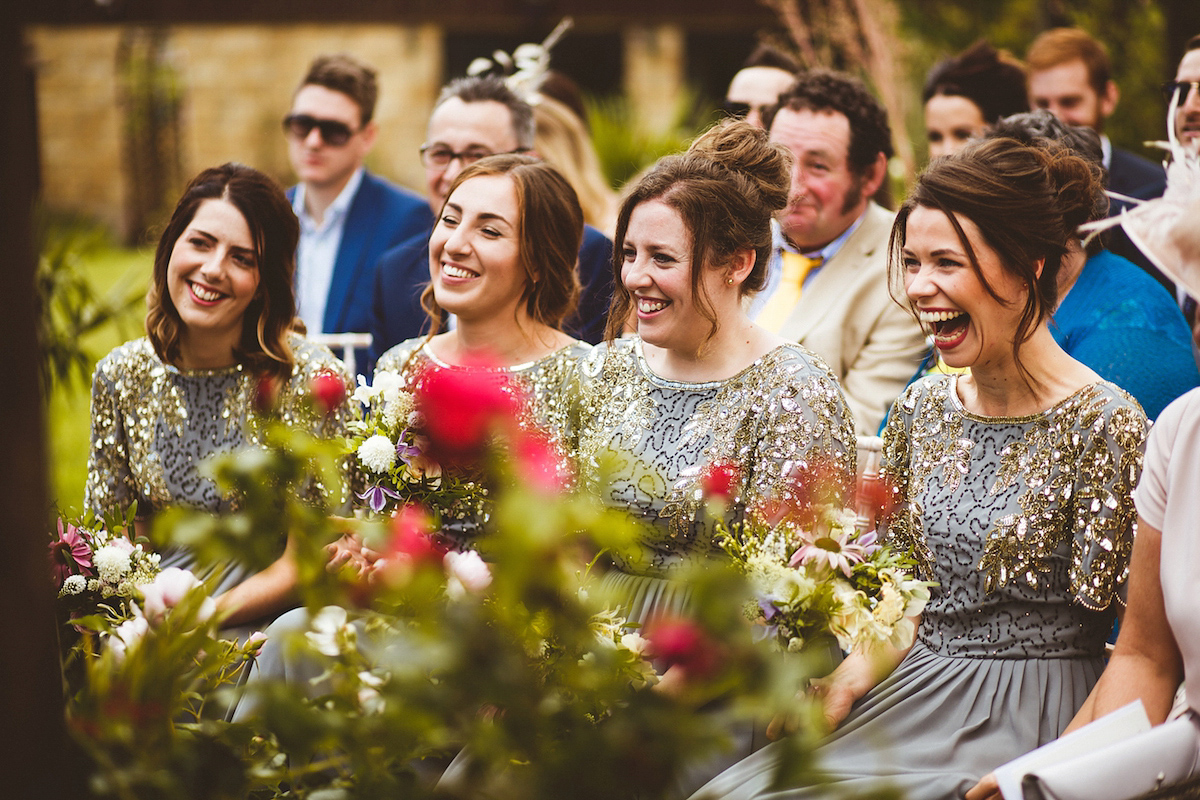 "We wanted a relaxed and light-hearted reading so we chose 'A Lovely Love Story' By Edward Monkton, read by Alex's close friend, Tom."
The fierce Dinosaur was trapped inside his cage of ice.
Although it was cold he was happy in there. It was, after all, his cage.
Then along came the Lovely Other Dinosaur.
The Lovely Other Dinosaur melted the Dinosaur's cage with kind words and loving thoughts.
I like this Dinosaur thought the Lovely Other Dinosaur.
Although he is fierce he is also tender and he is funny.
He is also quite clever though I will not tell him this for now.
I like this Lovely Other Dinosaur, thought the Dinosaur…

…Together they stand on the hill telling each other stories and feeling the warmth of
the sun on their backs.
And that, my friends, is how it is with love.
Let us all be Dinosaurs and Lovely Other Dinosaurs together.
For the sun is warm.
And the world is a beautiful place.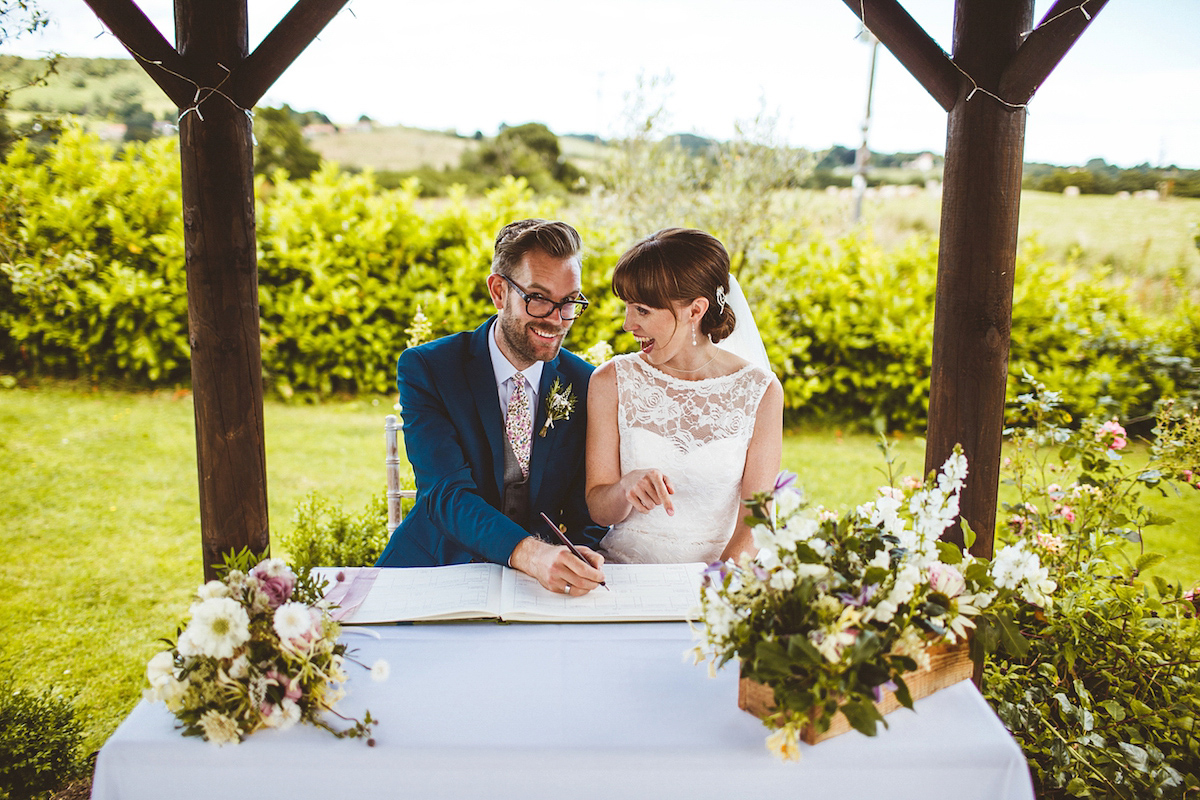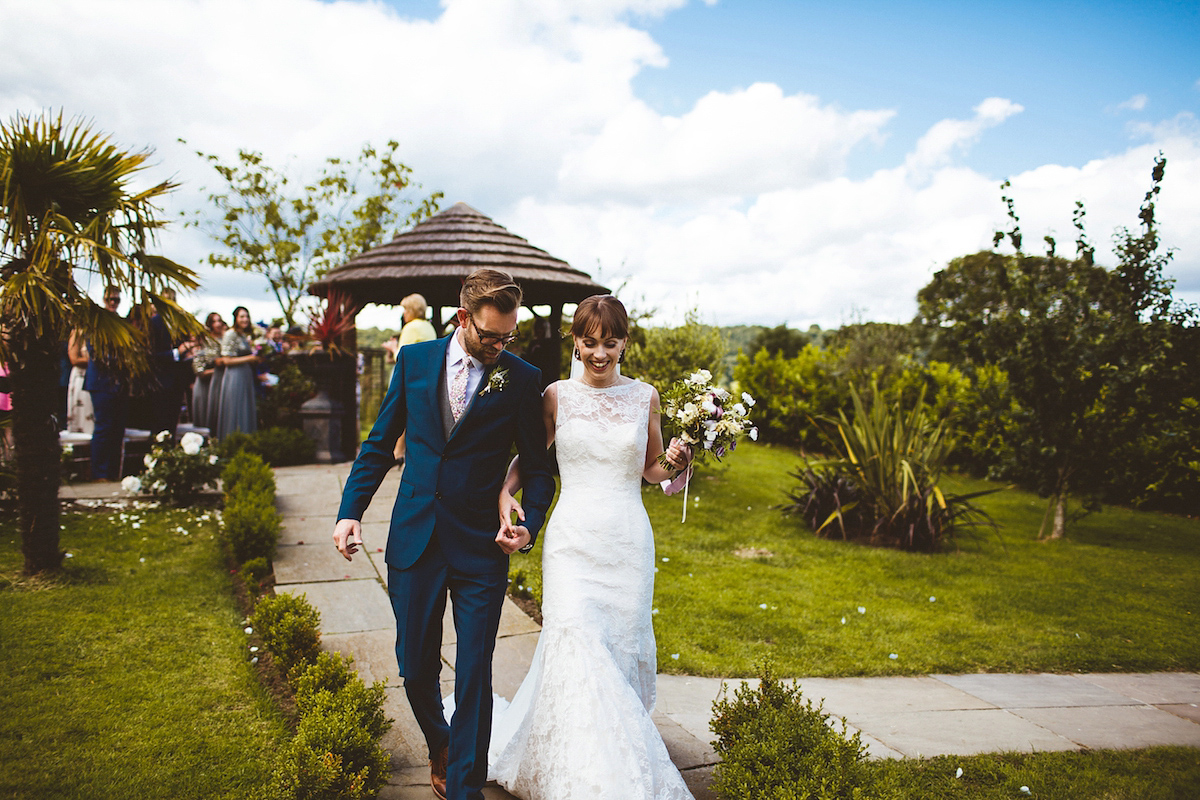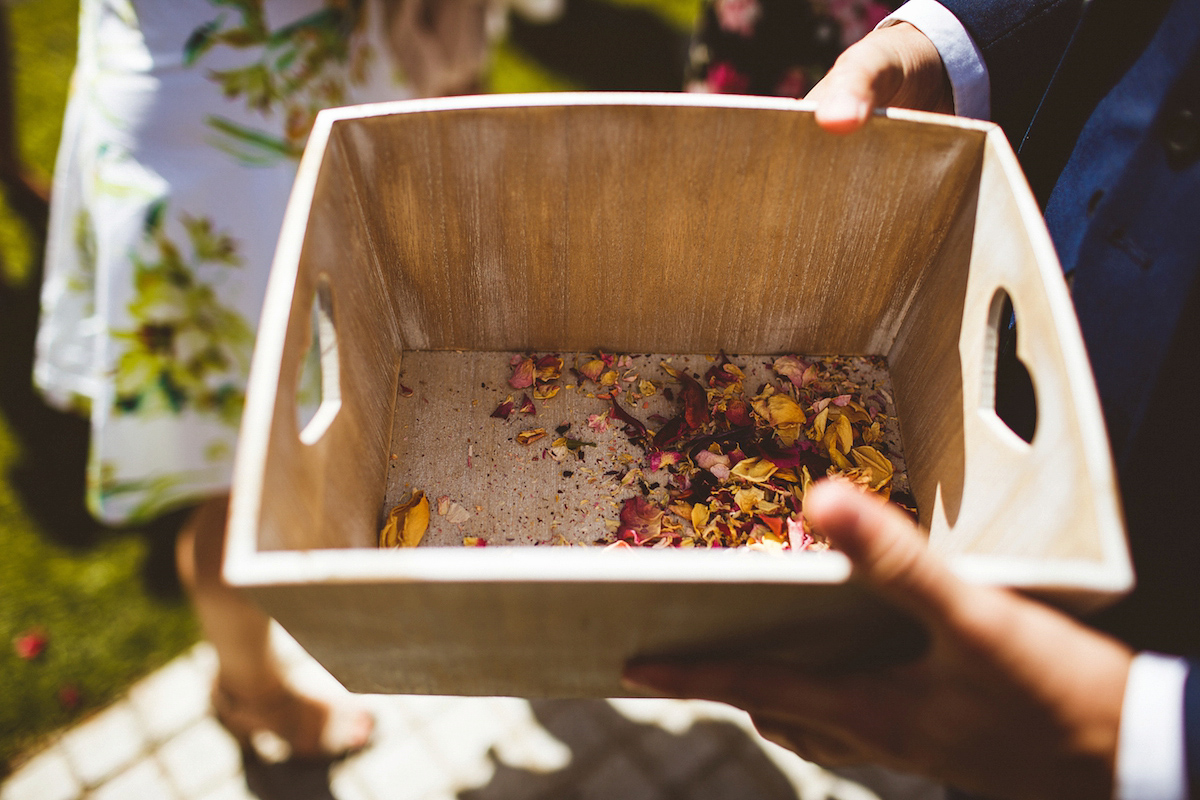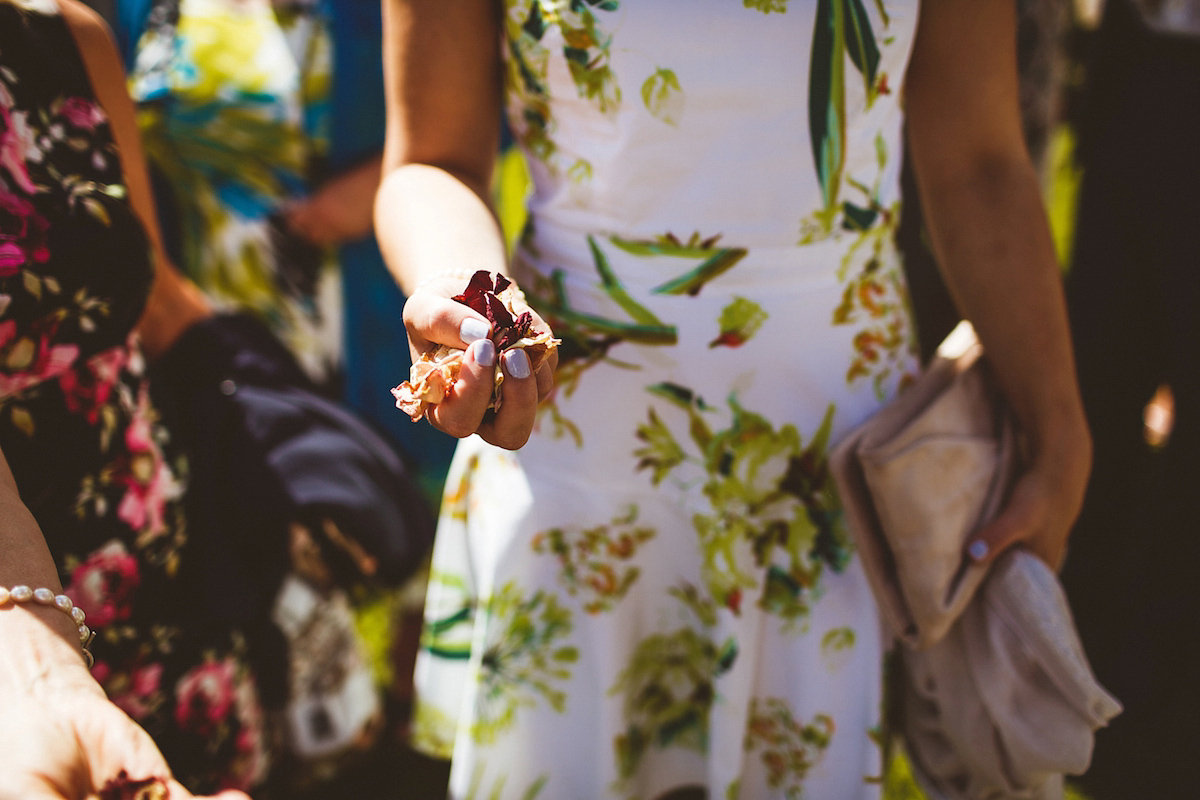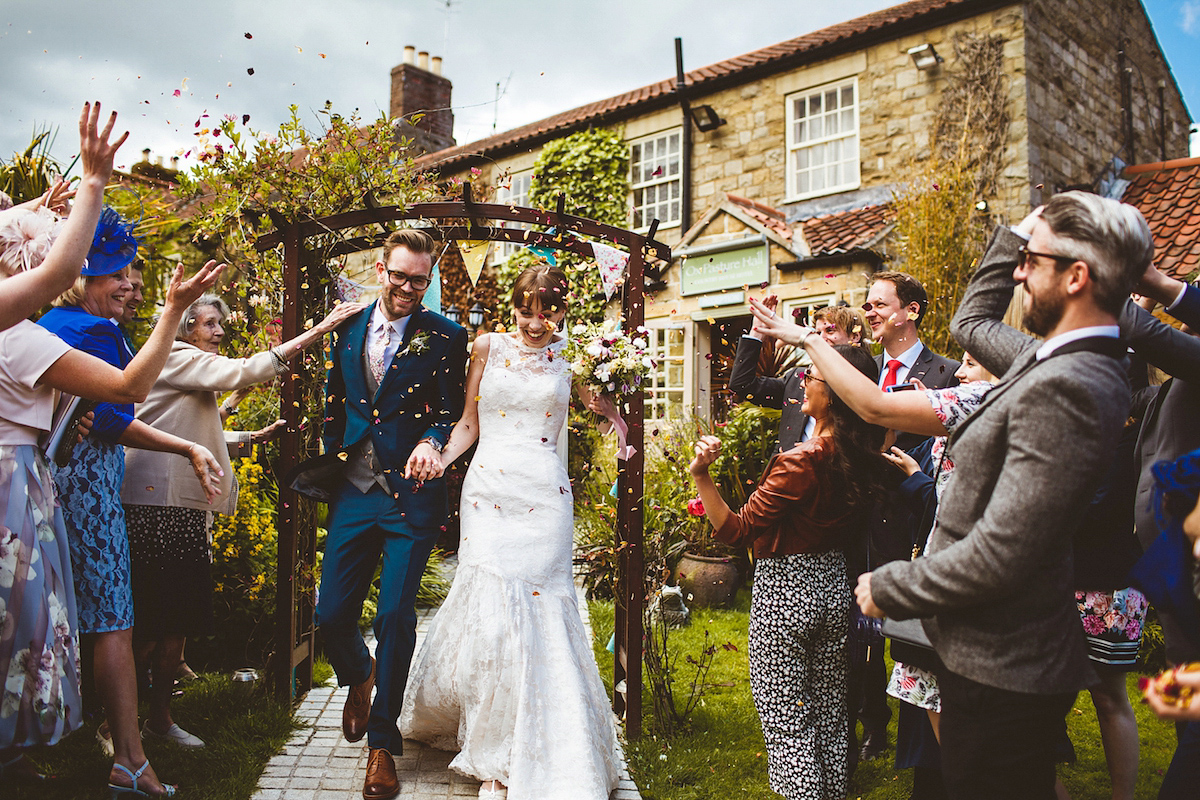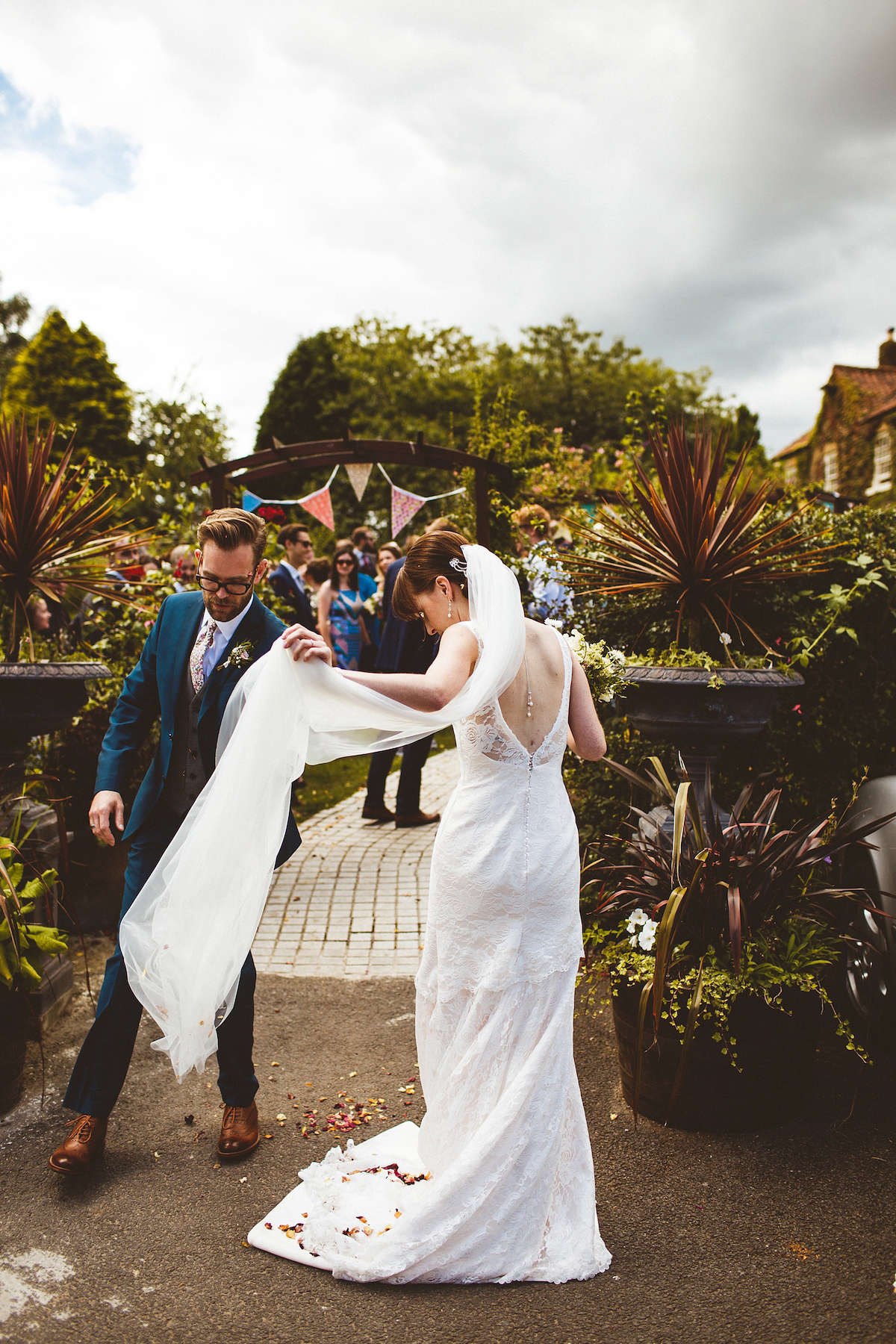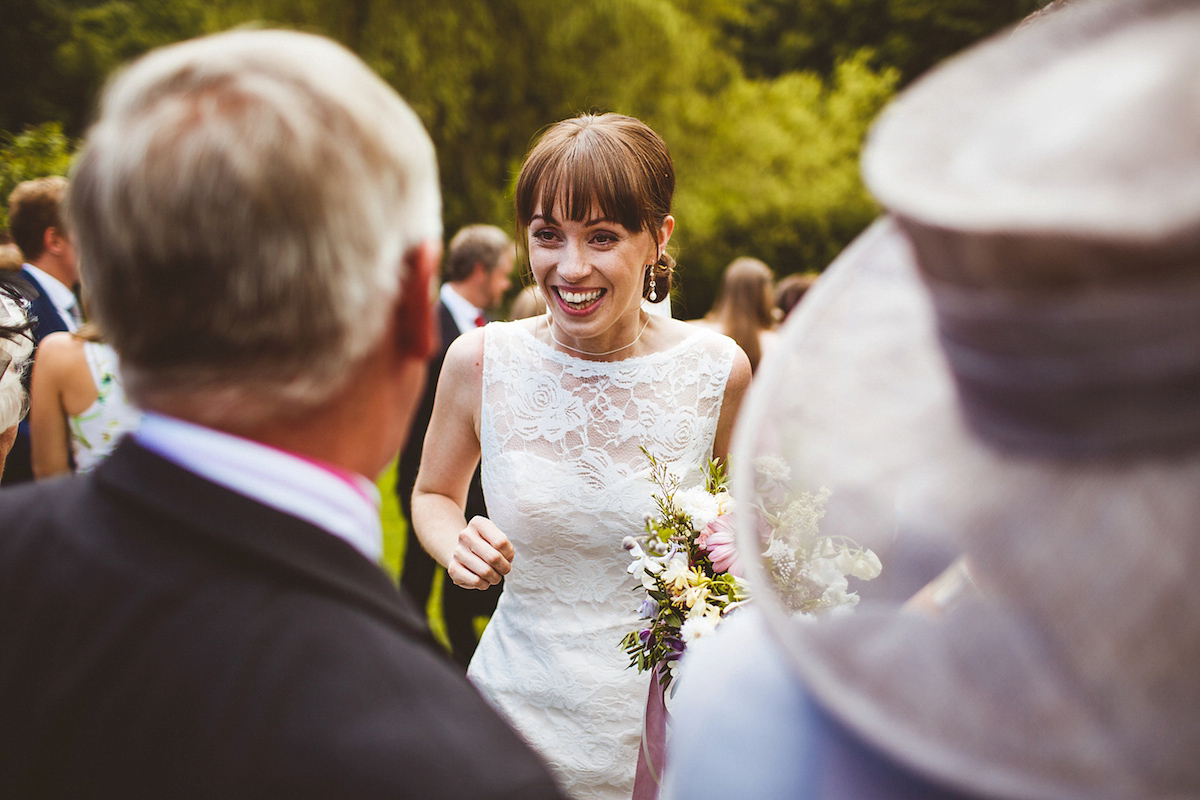 "We found Colour Blue at a close friend's wedding and loved their style. They played in the gardens straight after the ceremony. They were fantastic and the guests absolutely loved them. A real highlight was a sing-along to 'Teenage Dirtbag' after a guest request."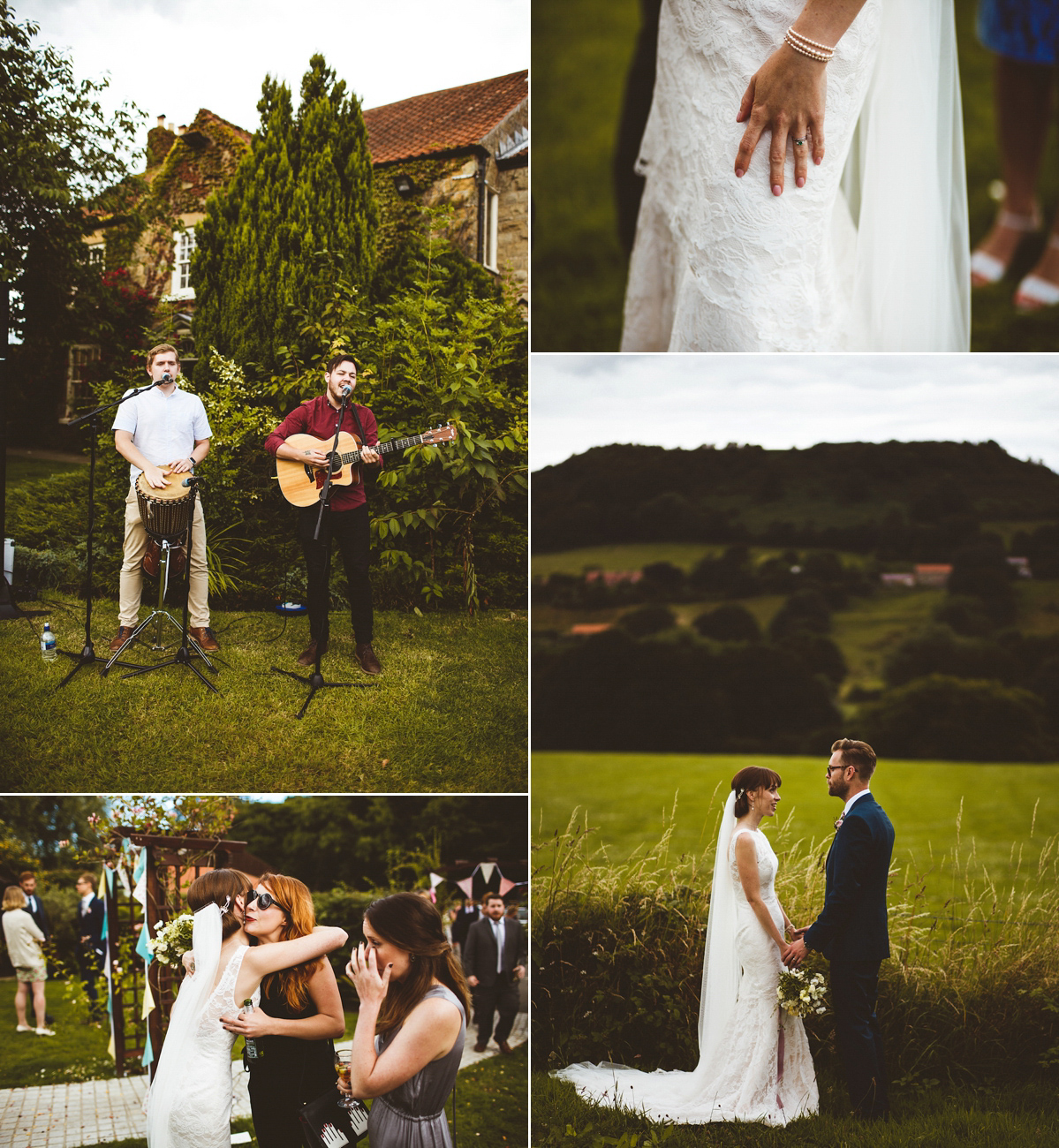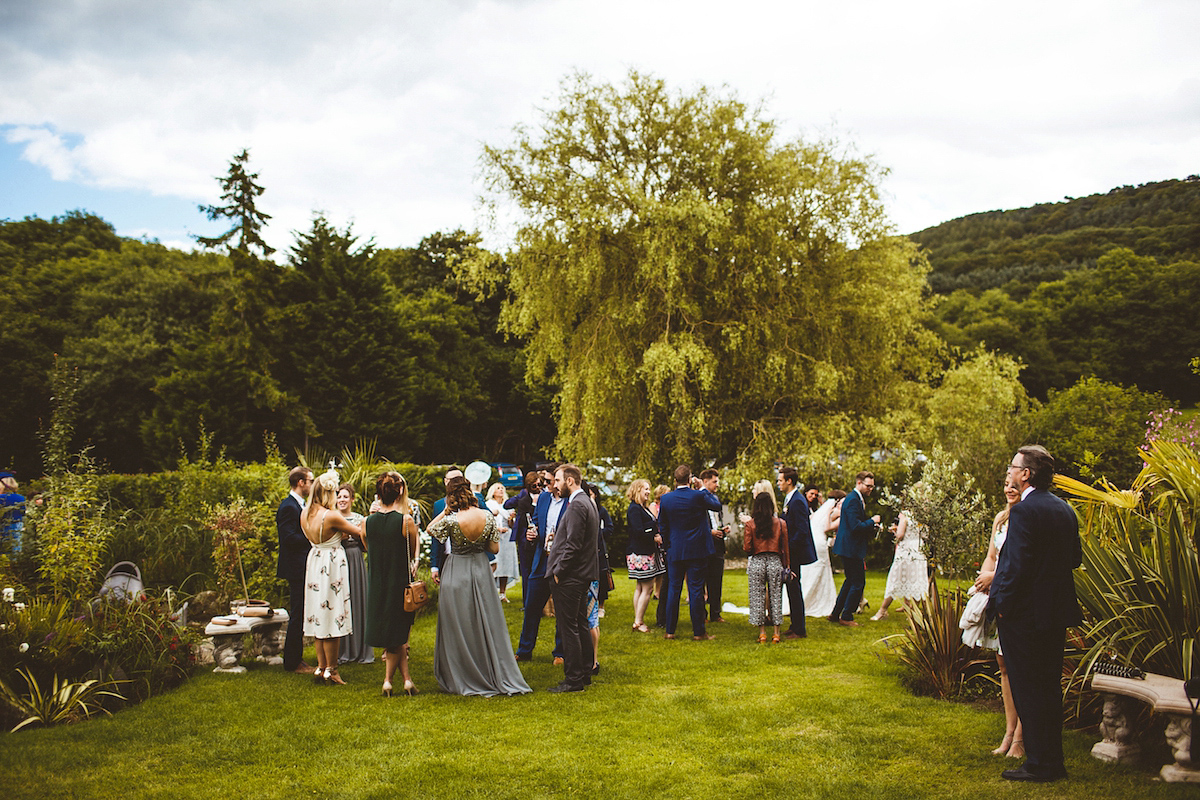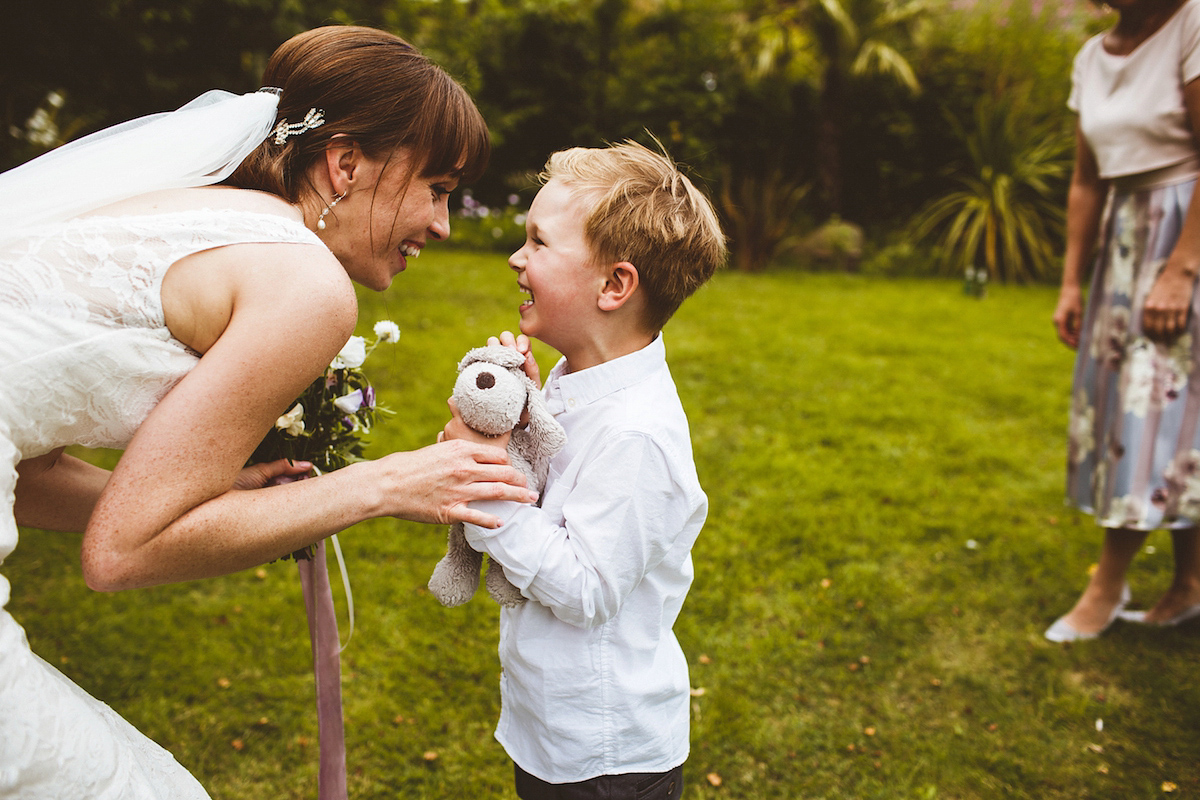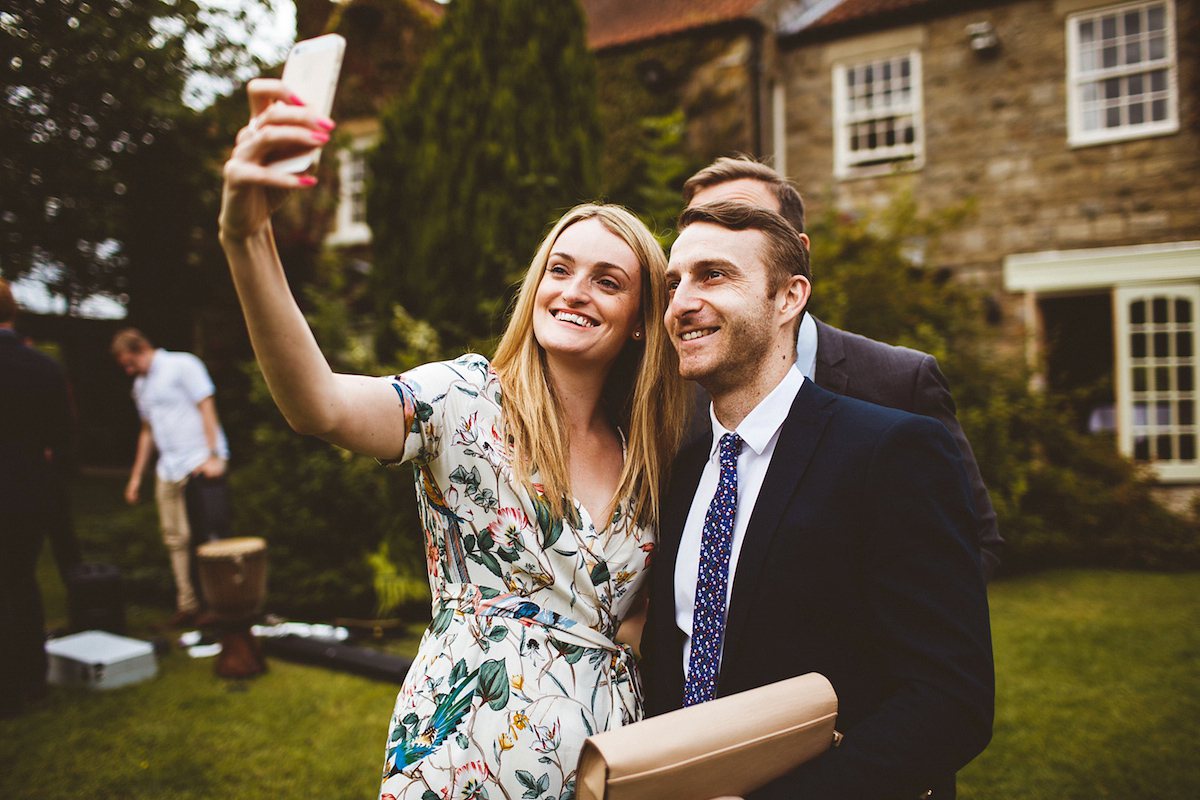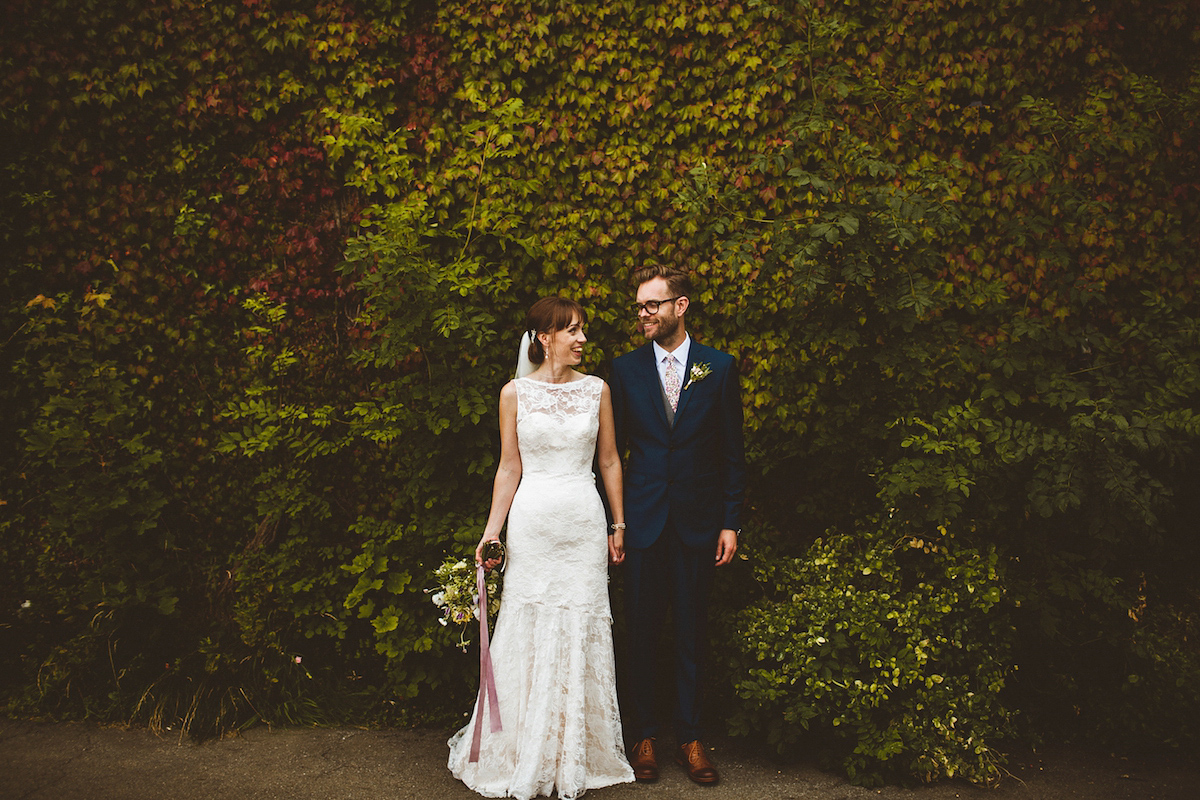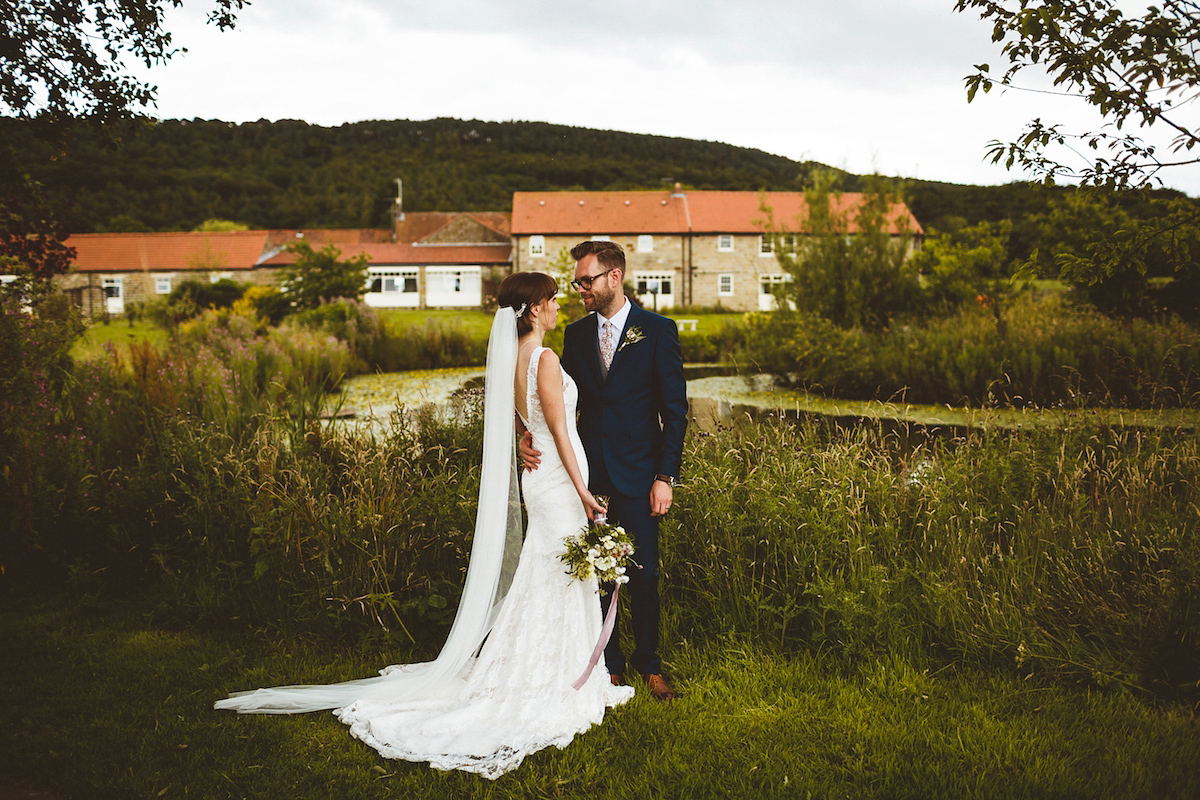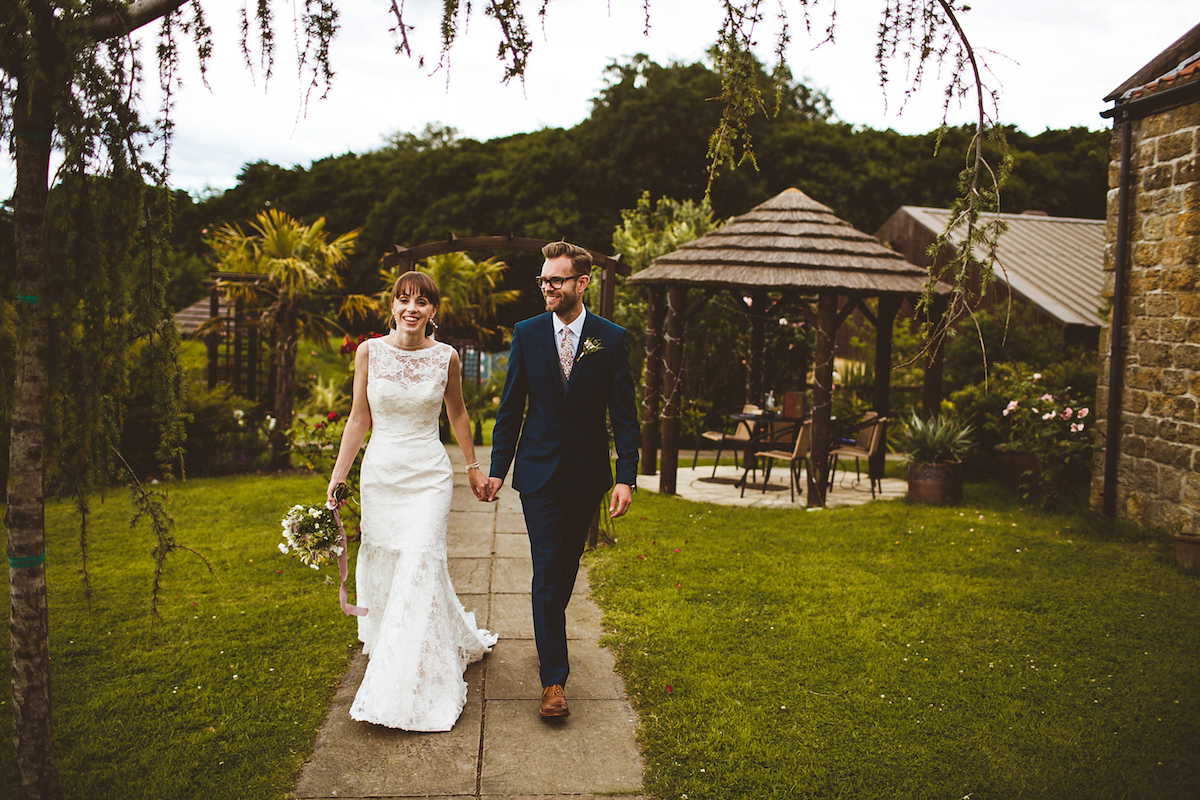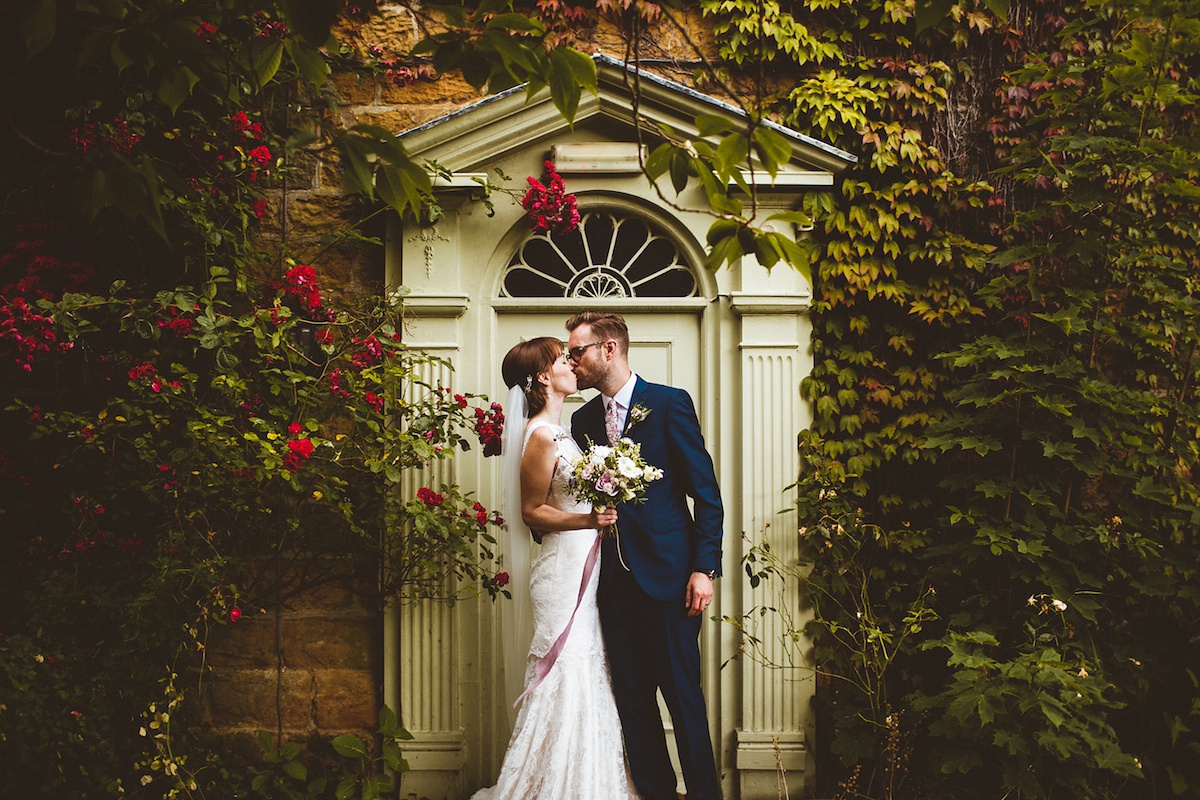 Alice at Forage and Blossom did a beautiful job of the flowers. Vic was keen to pick up the hint of blush in her dress and the teal of Alex's suit with muted colours and soft pinks.
"I wanted a very natural feel to the flowers. Alice sourced some beautiful hand dyed ribbons for my bouquet and also helped to attach Alex's wedding gift to me; a pendant linked to our first dance."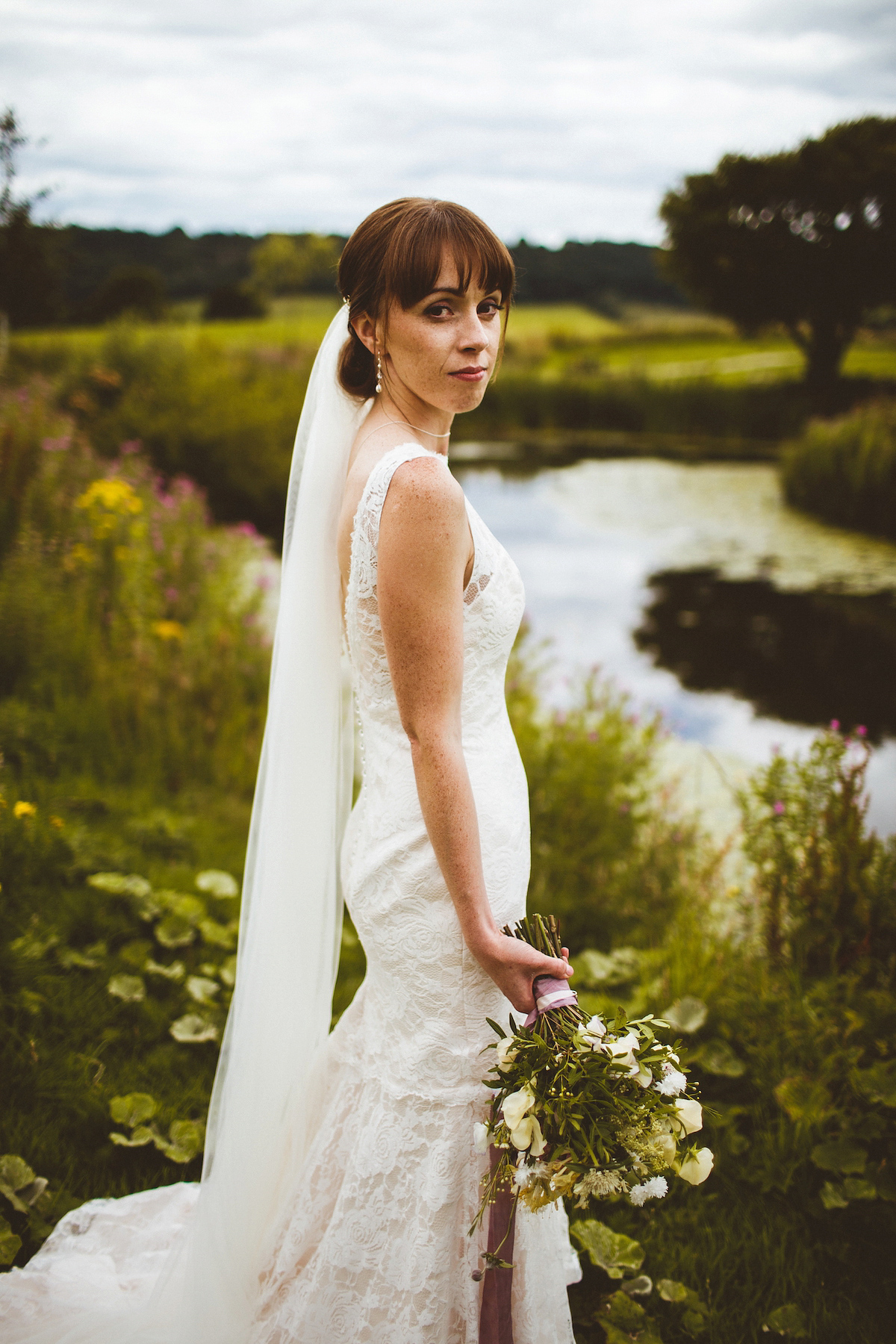 "There was a wedding the day before us and we could only gain access at 8am the morning of the wedding so we hired Perfectly You Events to help set up and make sure the day ran smoothly."
"The perfectionist in me would have liked to have set everything up myself but when I saw everything, I loved it."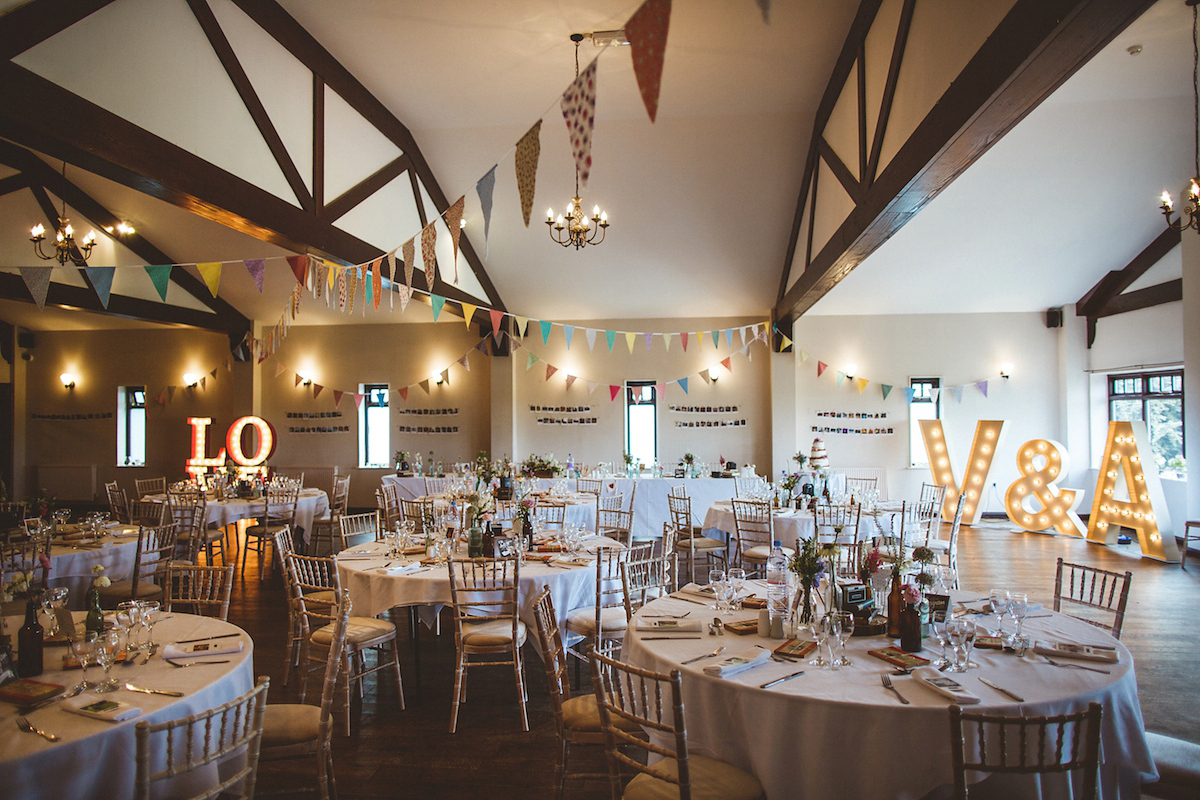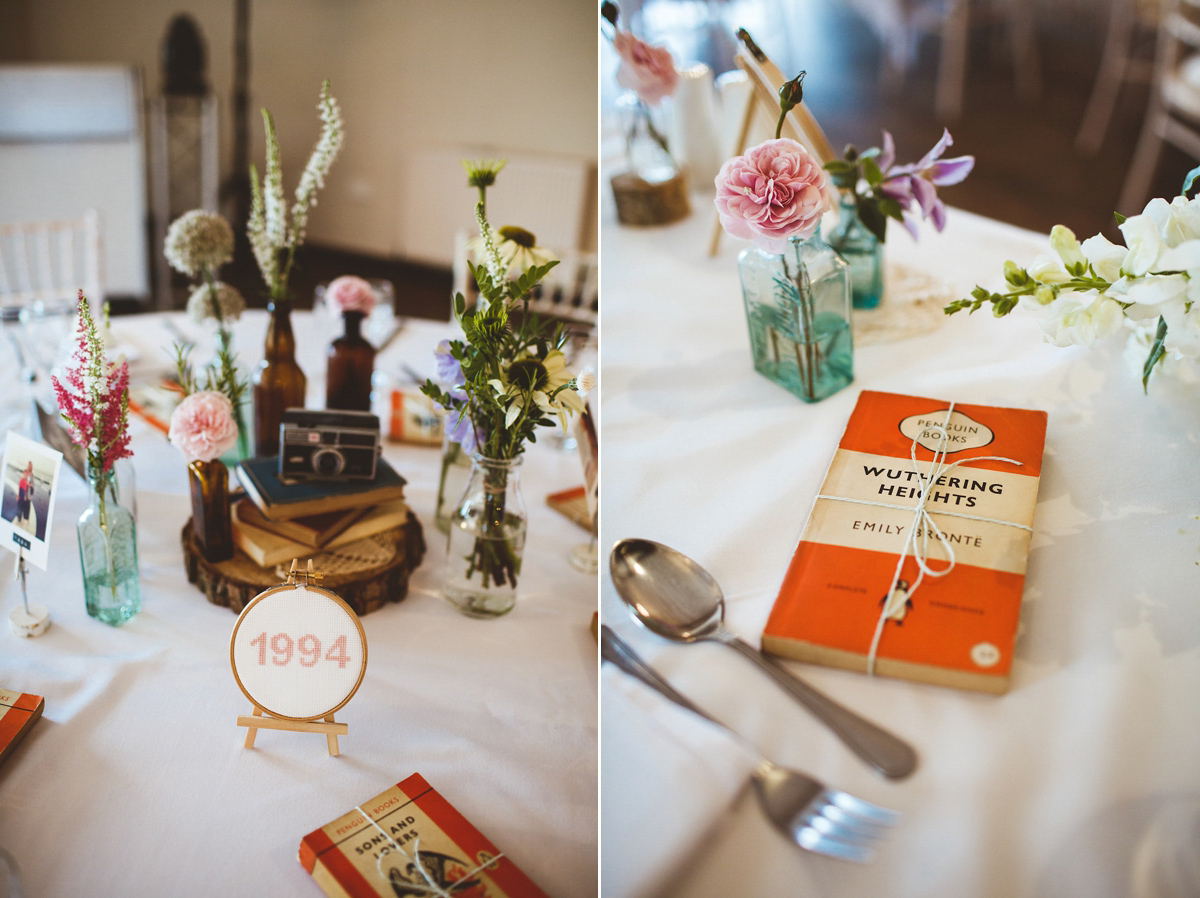 "I ordered hundreds of Polaroid style cards with pictures from our childhoods and with our guests, to use as place cards and on each table, labelling each individually. Other photos were displayed in an old frame and around the room. Our seating plan was created using an old gold frame, embroidery hoops, fabric and lots of patience! Lastly, we made our own guestbook using two of our favourite childhood photos (hilariously, we have matching hair cuts)."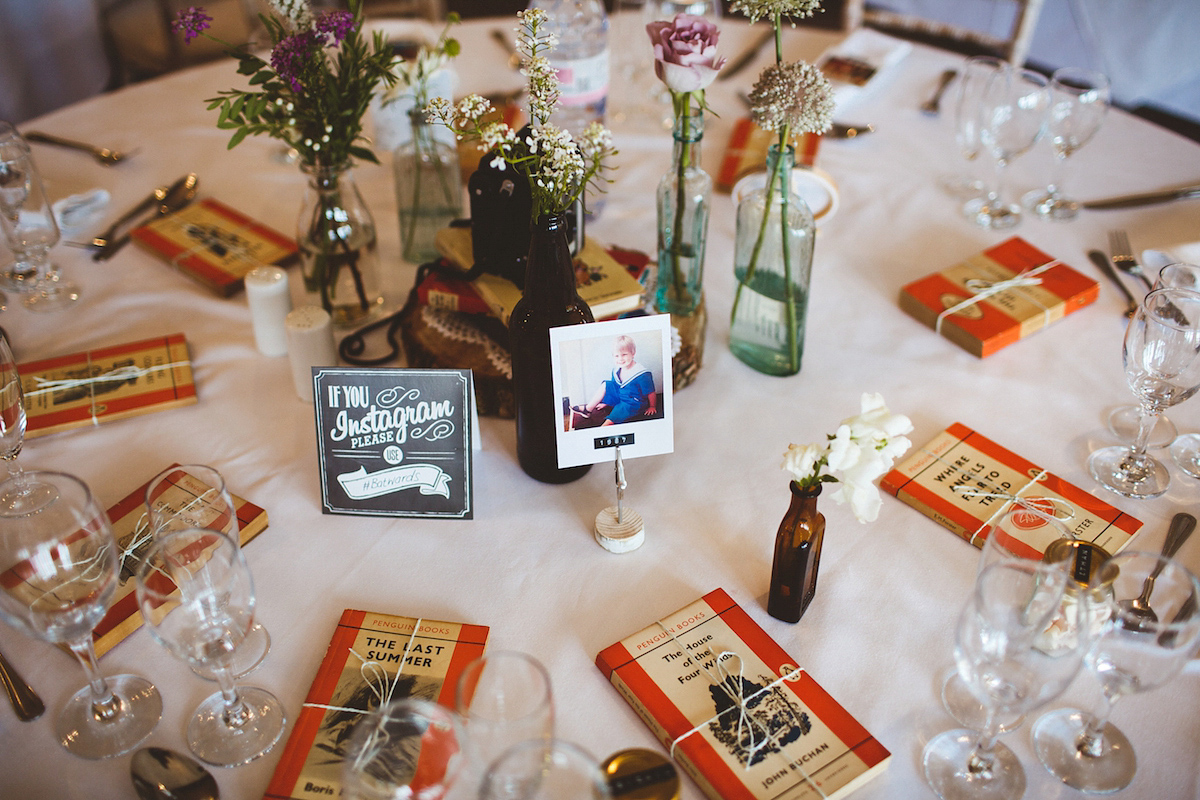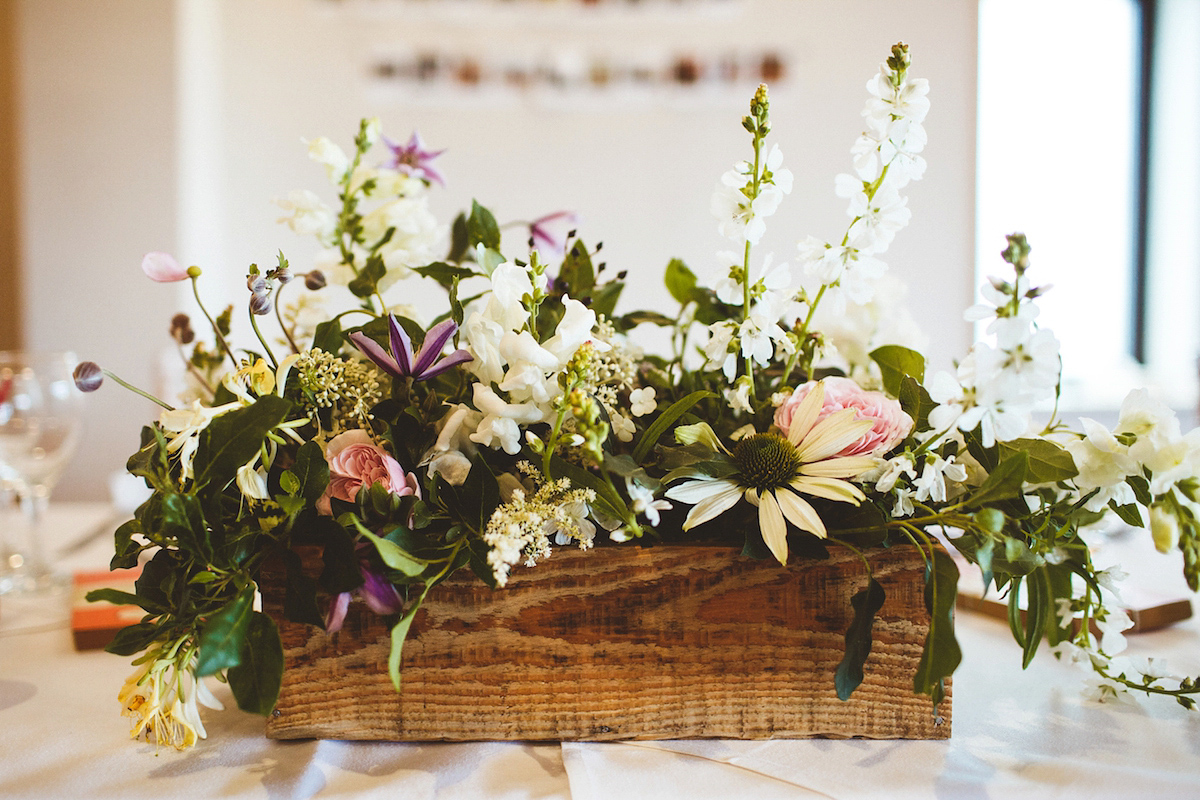 "Blush Cake Company made our semi naked cake dressed with fresh fruit and flowers. We also organised for Sarah to make us our own miniature wedding cake just in case we didn't get chance to enjoy any on the day."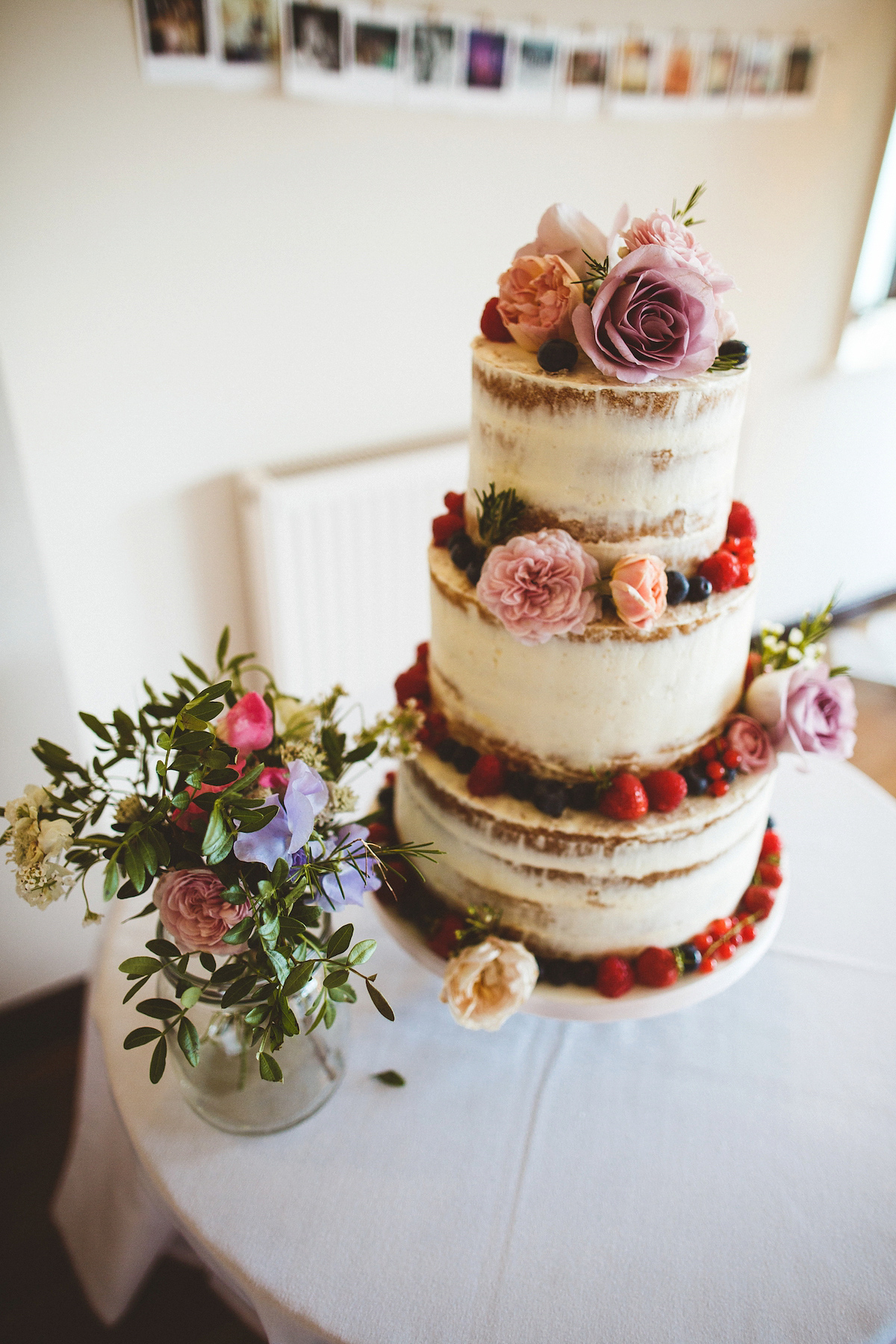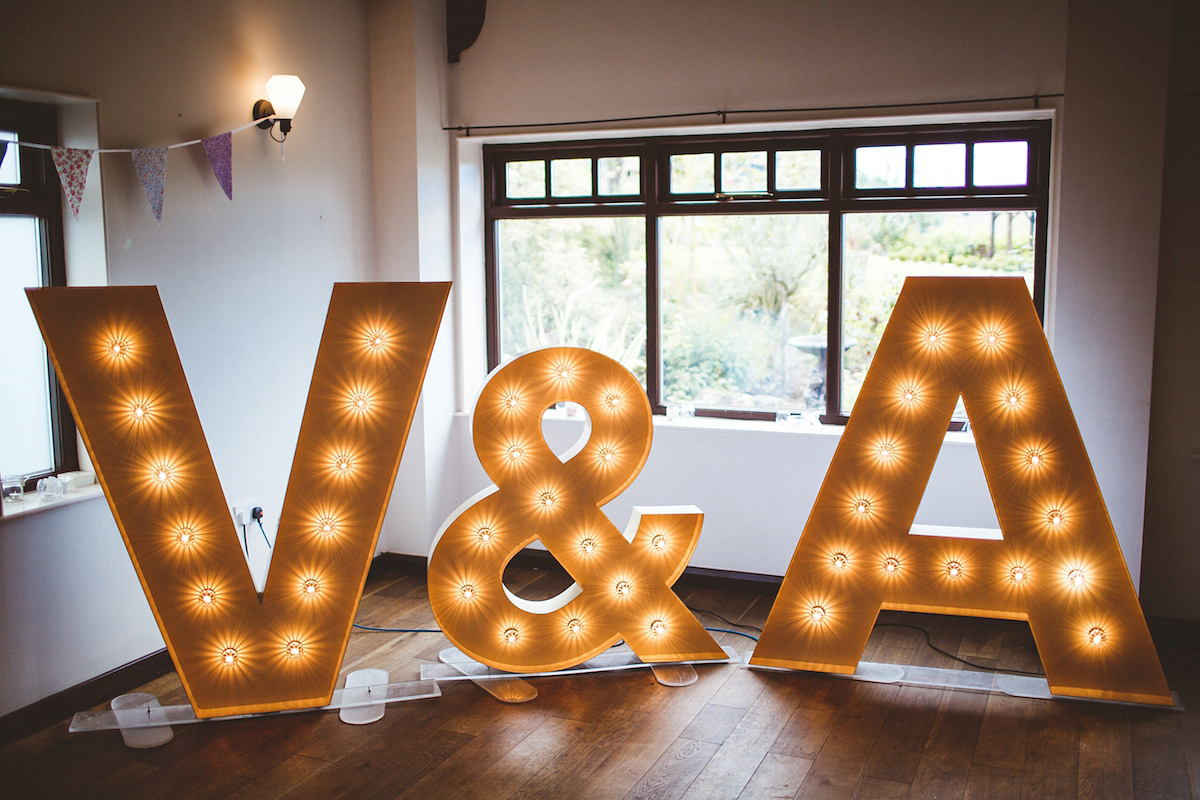 "To keep guests entertained during the reception we had an Instax camera that was passed around the tables and each table had a pack of film to use as they wished."
"It fast became a bit of a table challenge. The best being a table of guests making a human pyramid and getting Alex on top!"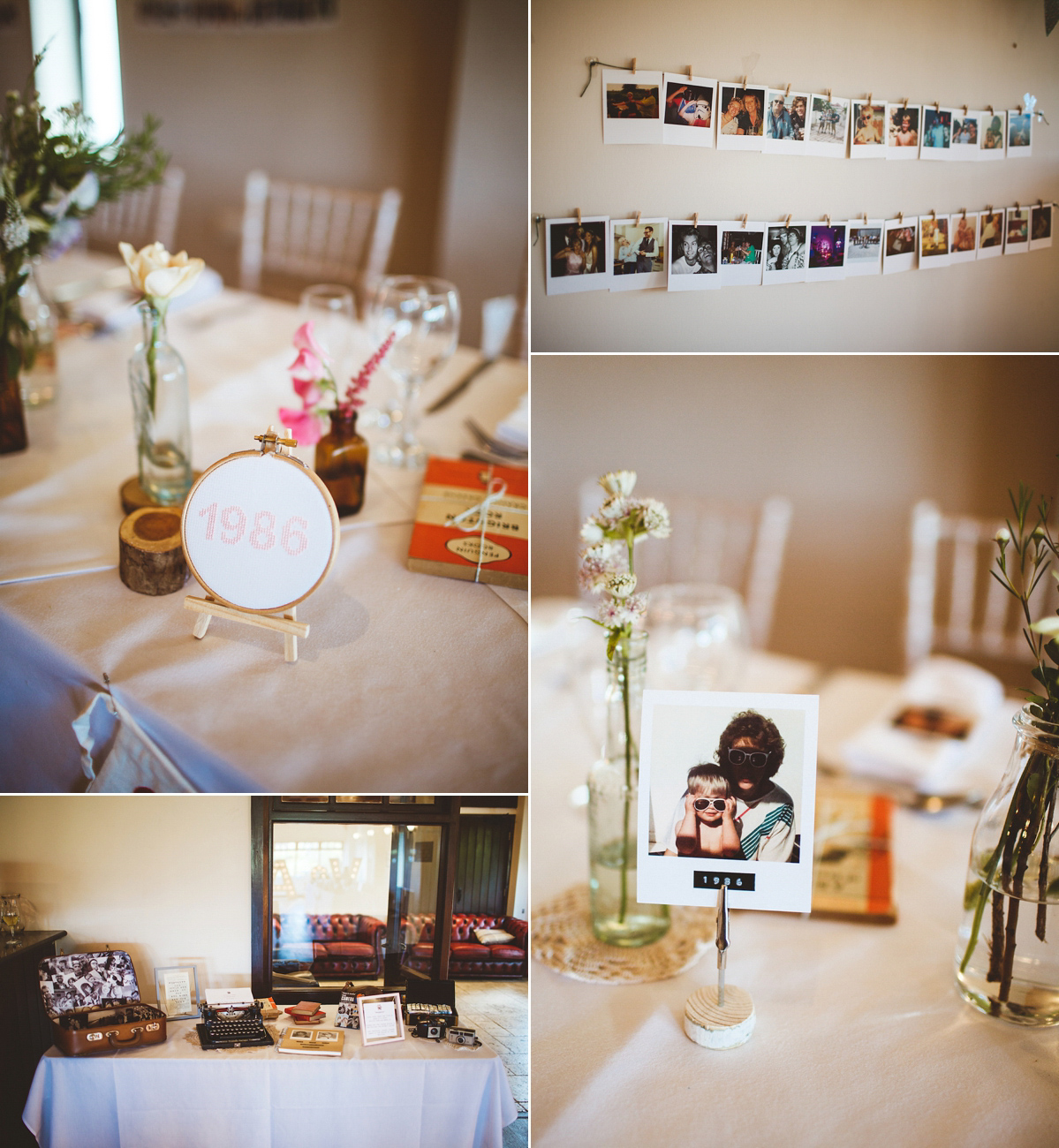 "Alex and I fell in love with the old-fashioned photo booths during a mini-break in Berlin so we decided to get one. Three strips were printed per session so some went into the guestbook along with a message. We didn't look through them until after the honeymoon and it really helped to keep any post-wedding blues at bay."
"We gave penguin books as wedding favours and matched the titles to our guests as best we could. Each book was stamped inside with our names and wedding date and wrapped with raffia."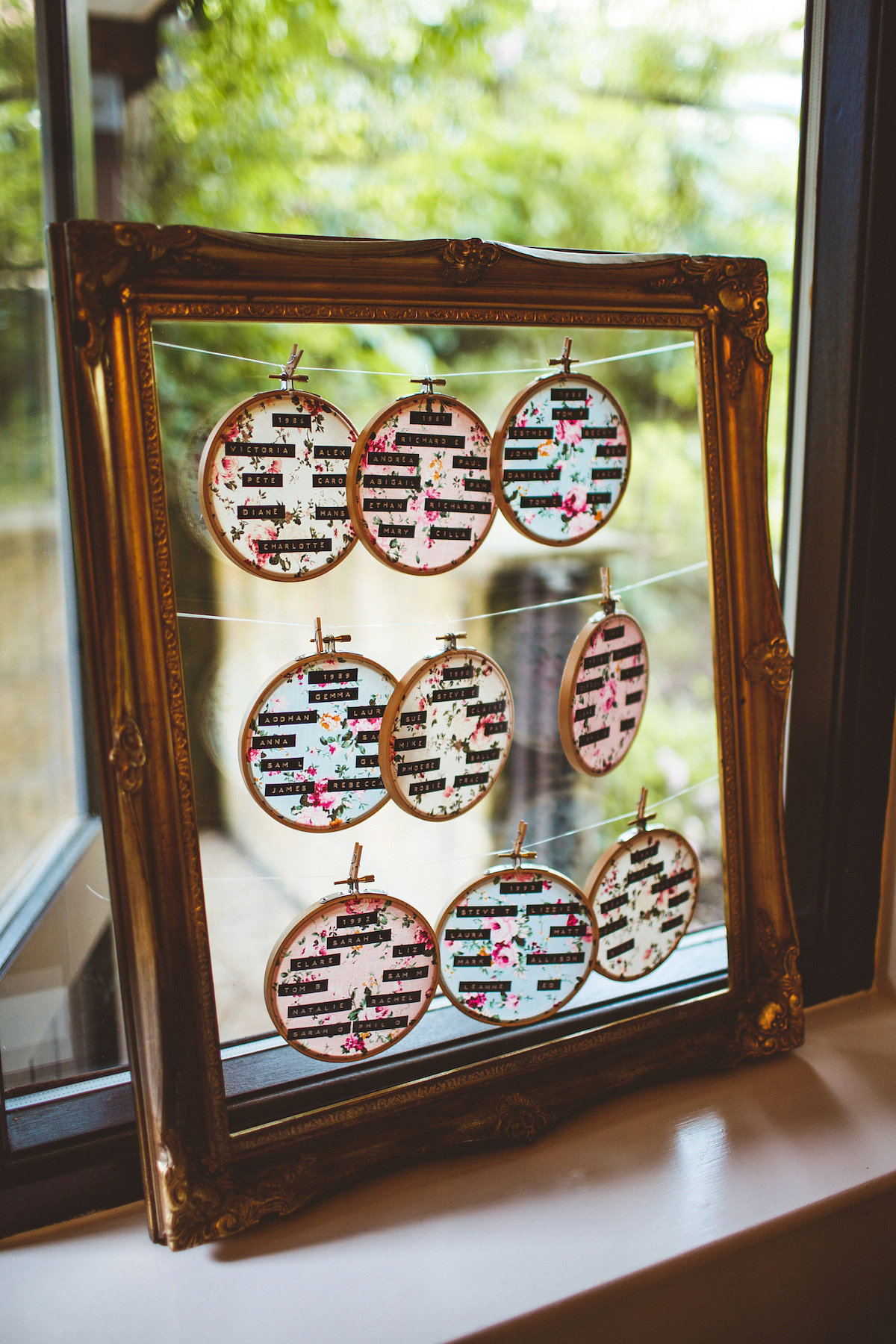 "We scoured car boot sales, eBay and charity shops for vintage cameras and books to put on the tables. We also purchased an old suitcase for 50p and collaged photos of ourselves inside to use as a card box. I bought some beautiful frames in pink, grey and teal to display messages, we had bunting both indoors, along with lots of jars for candles and light up letters by the dance floor. We decided to hire our own chairs for the venue as we felt they worked better with our style."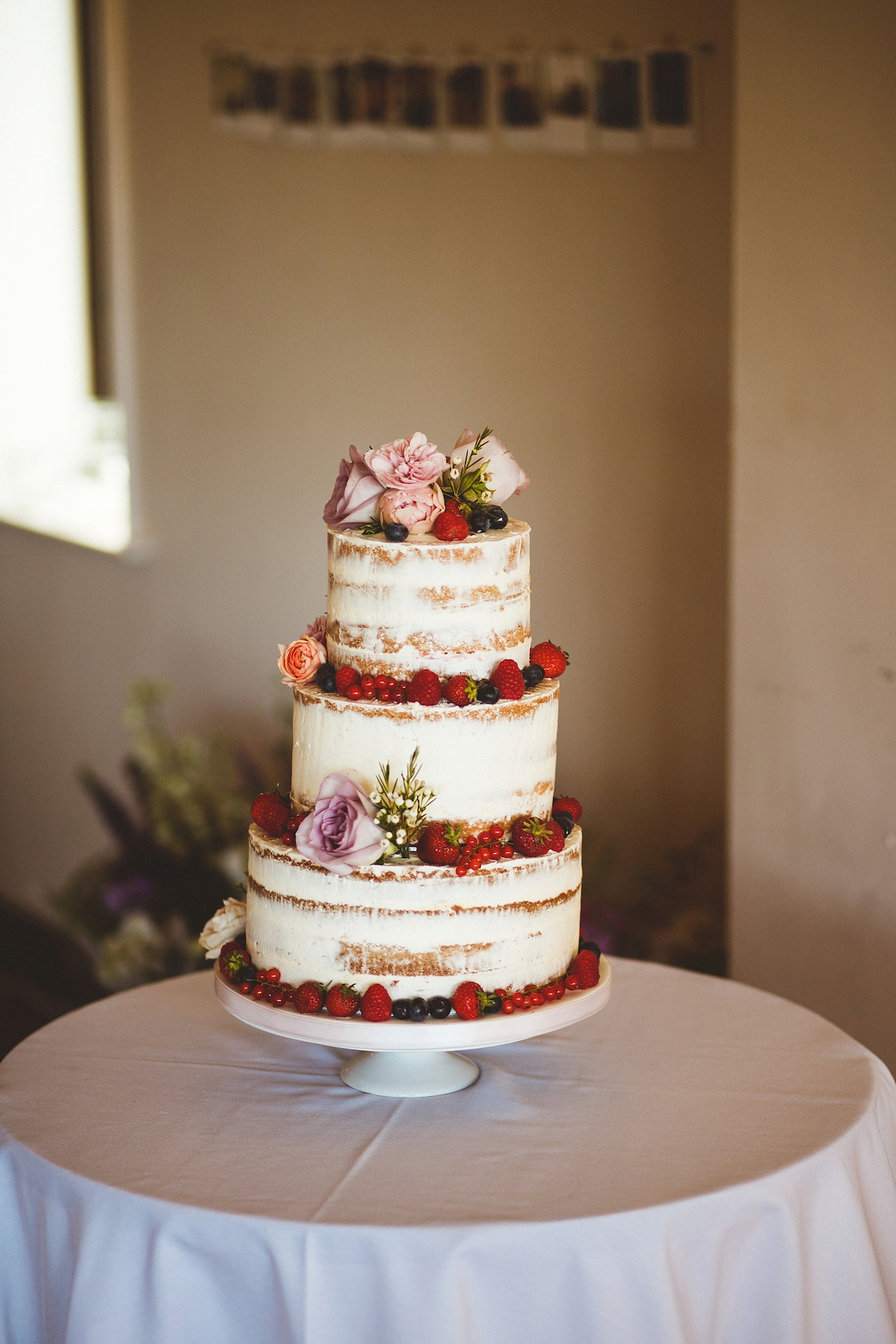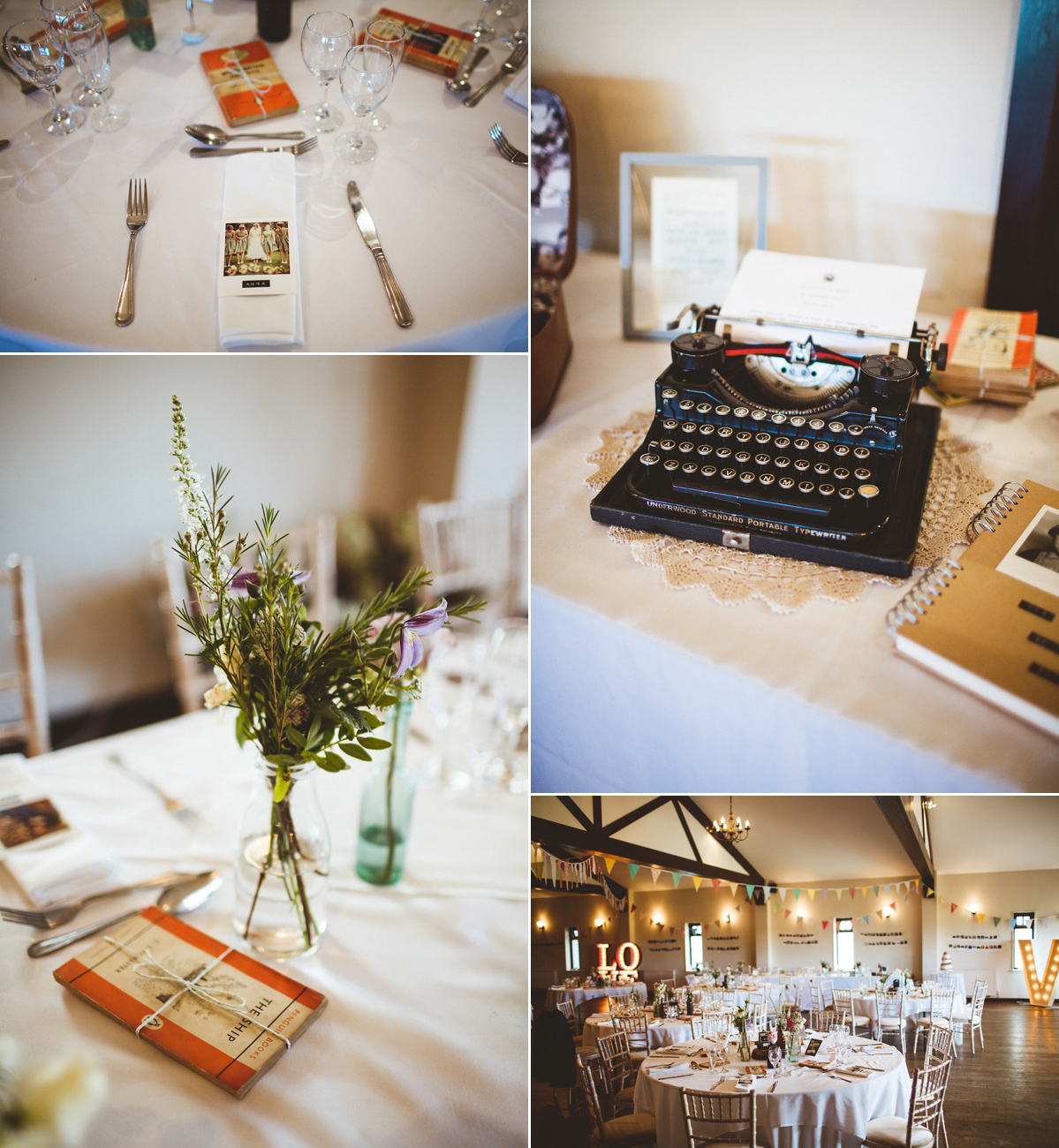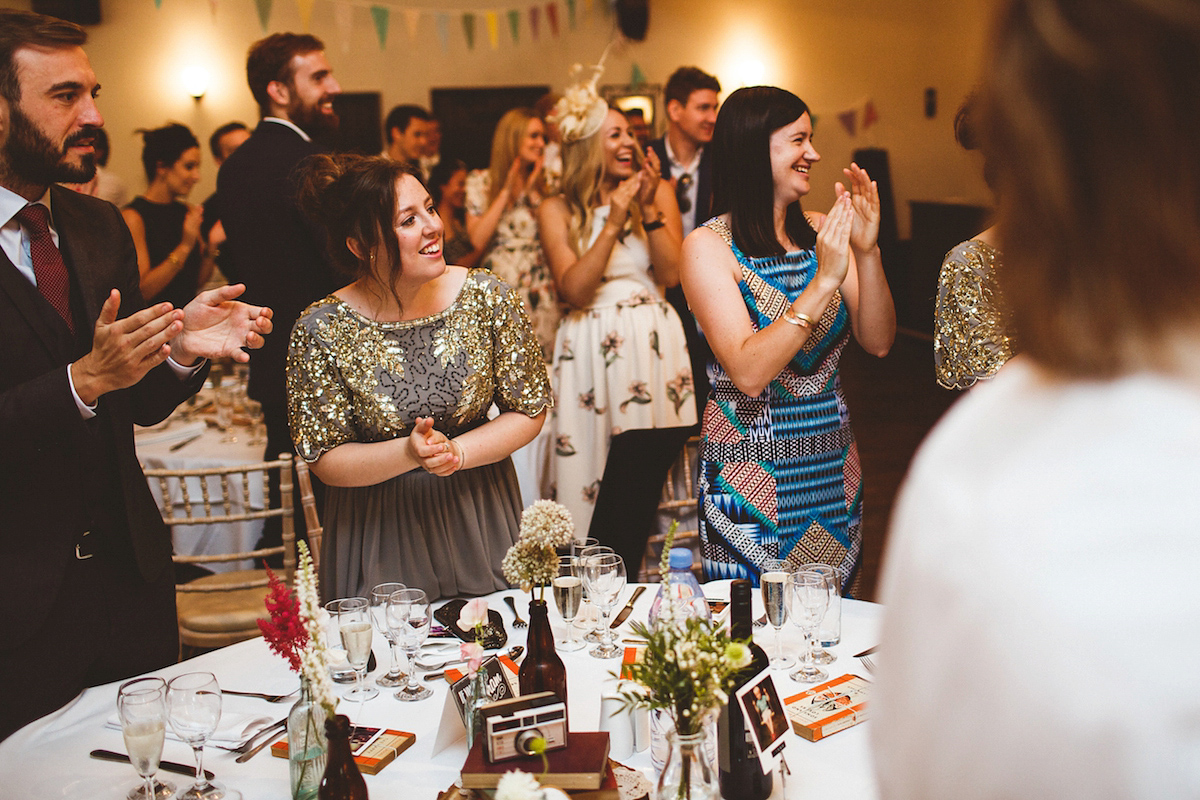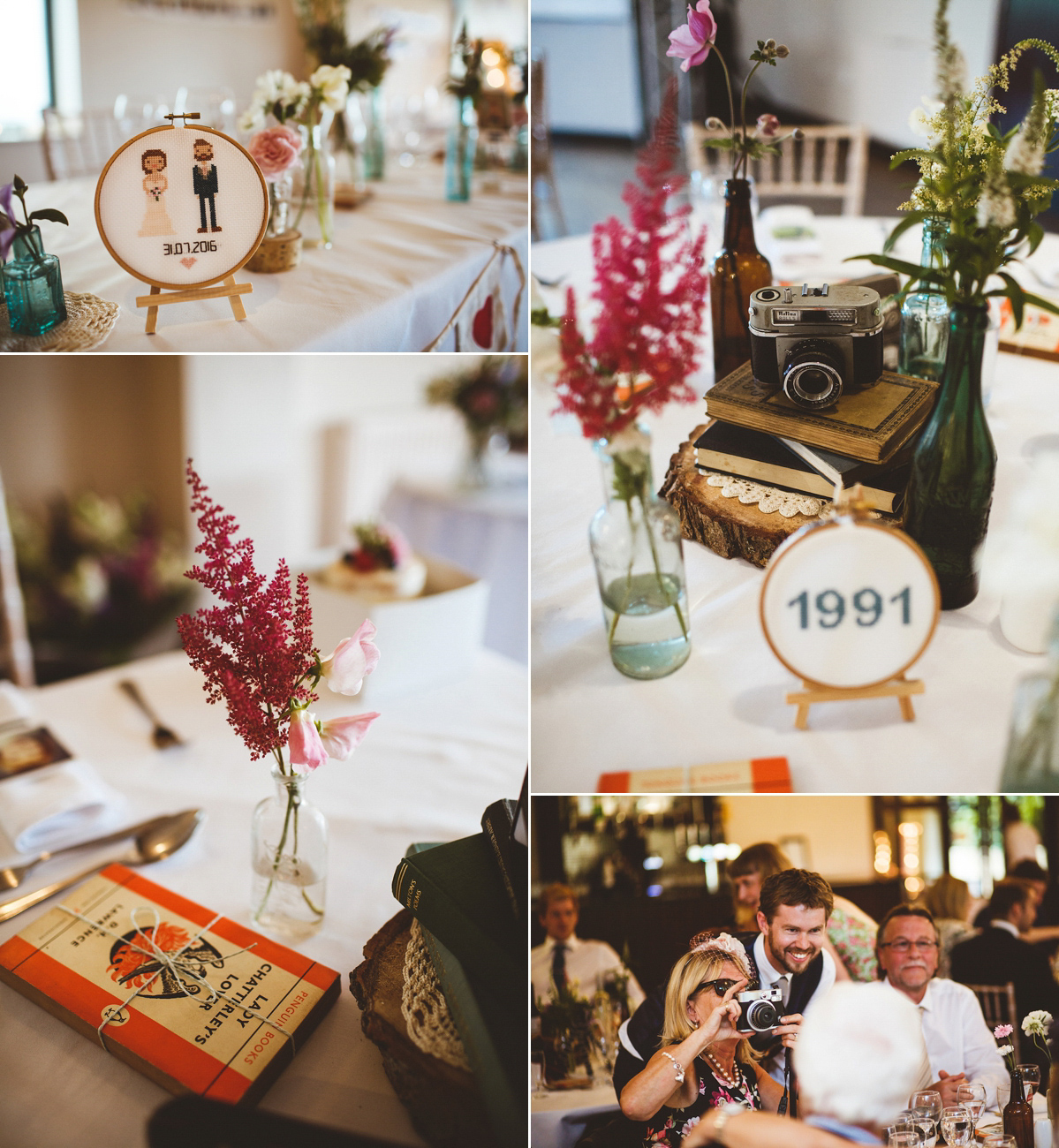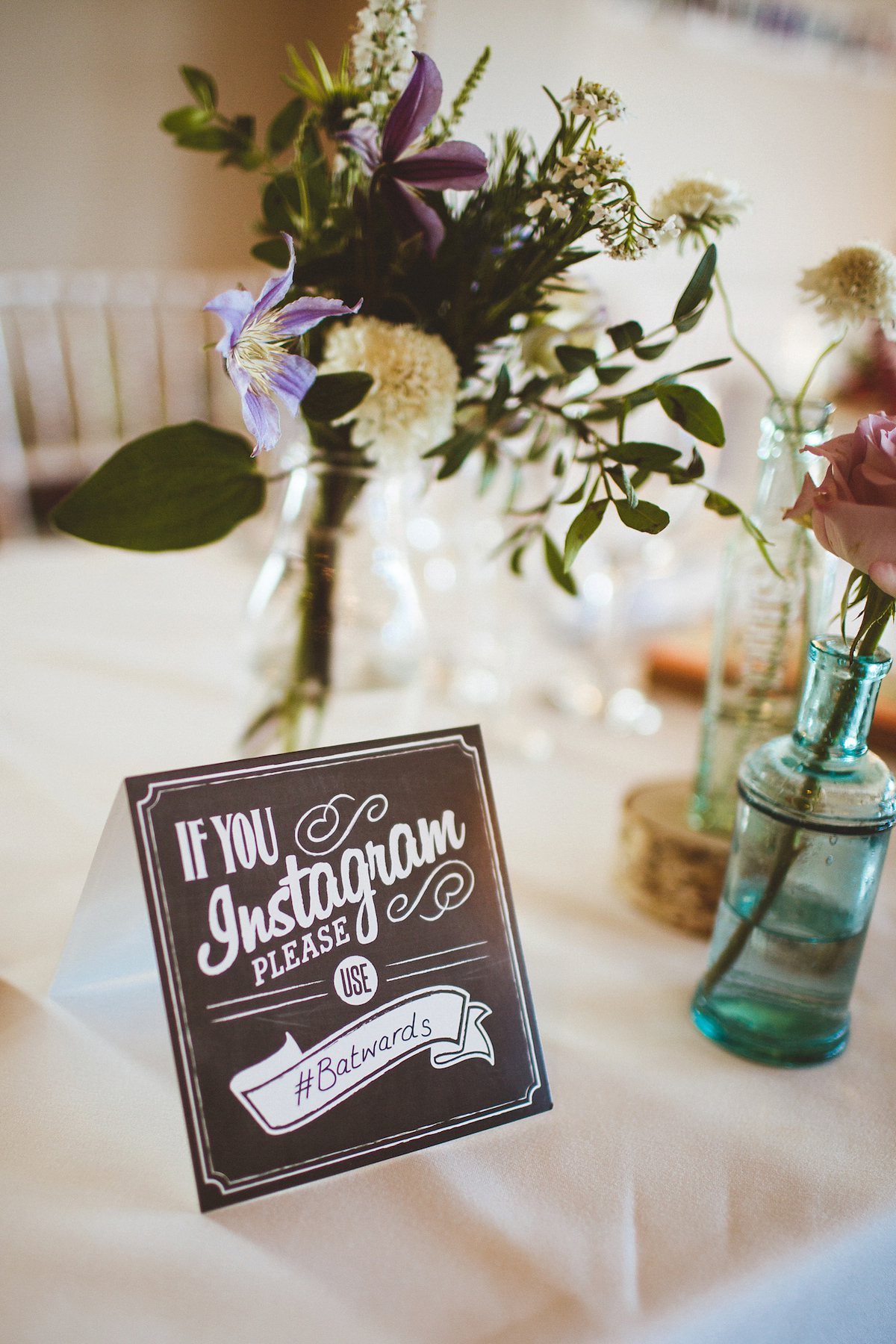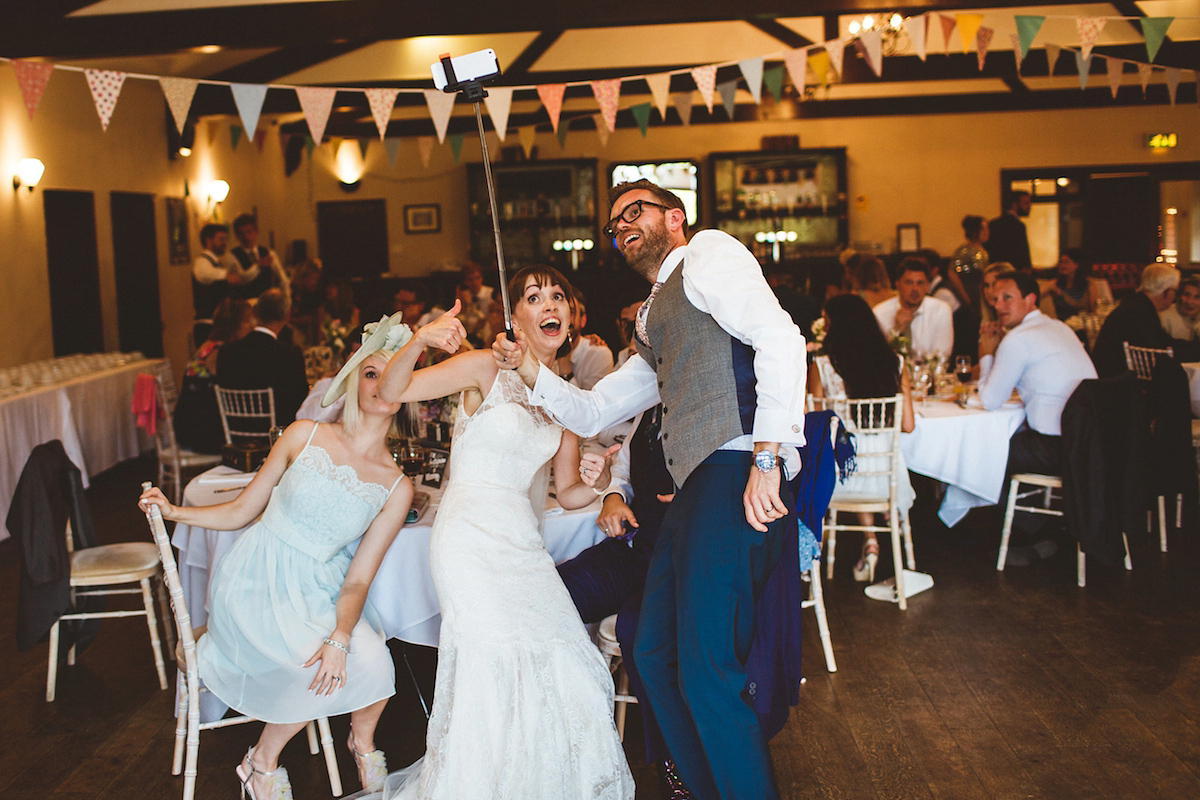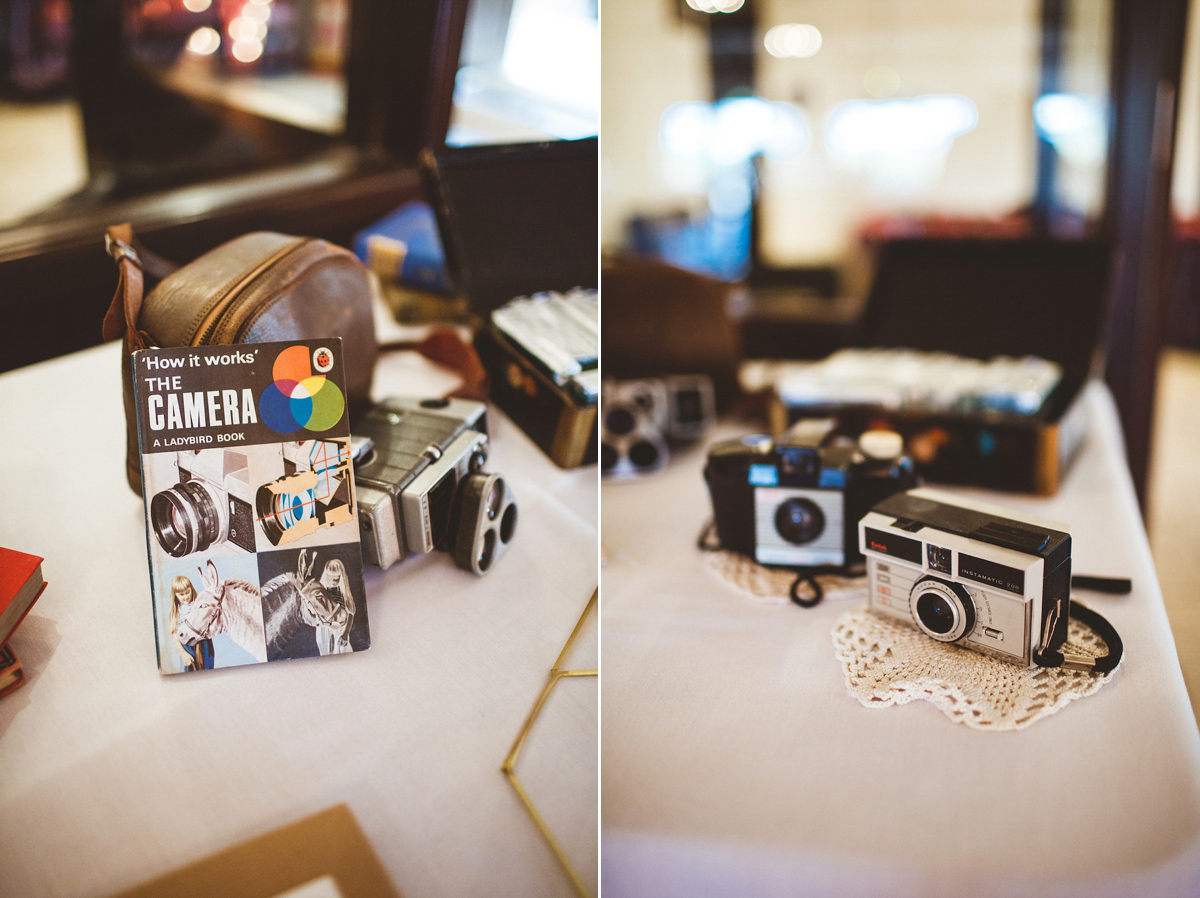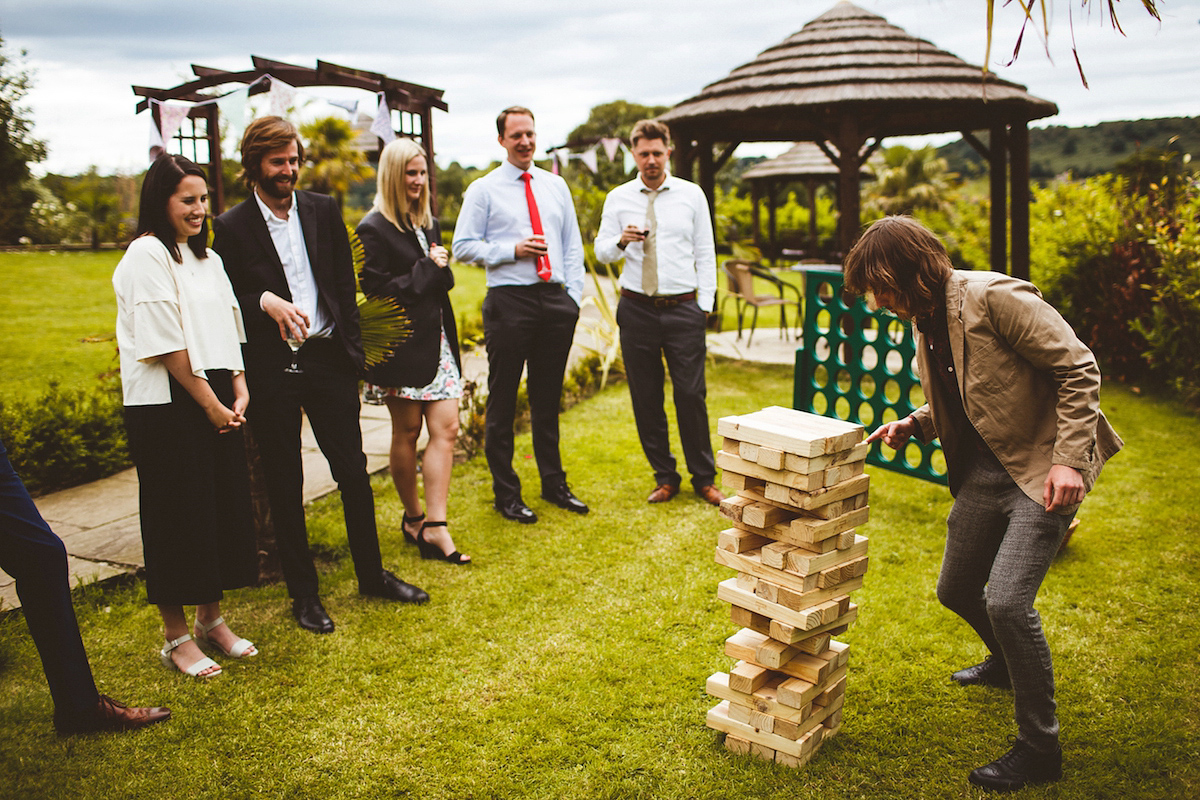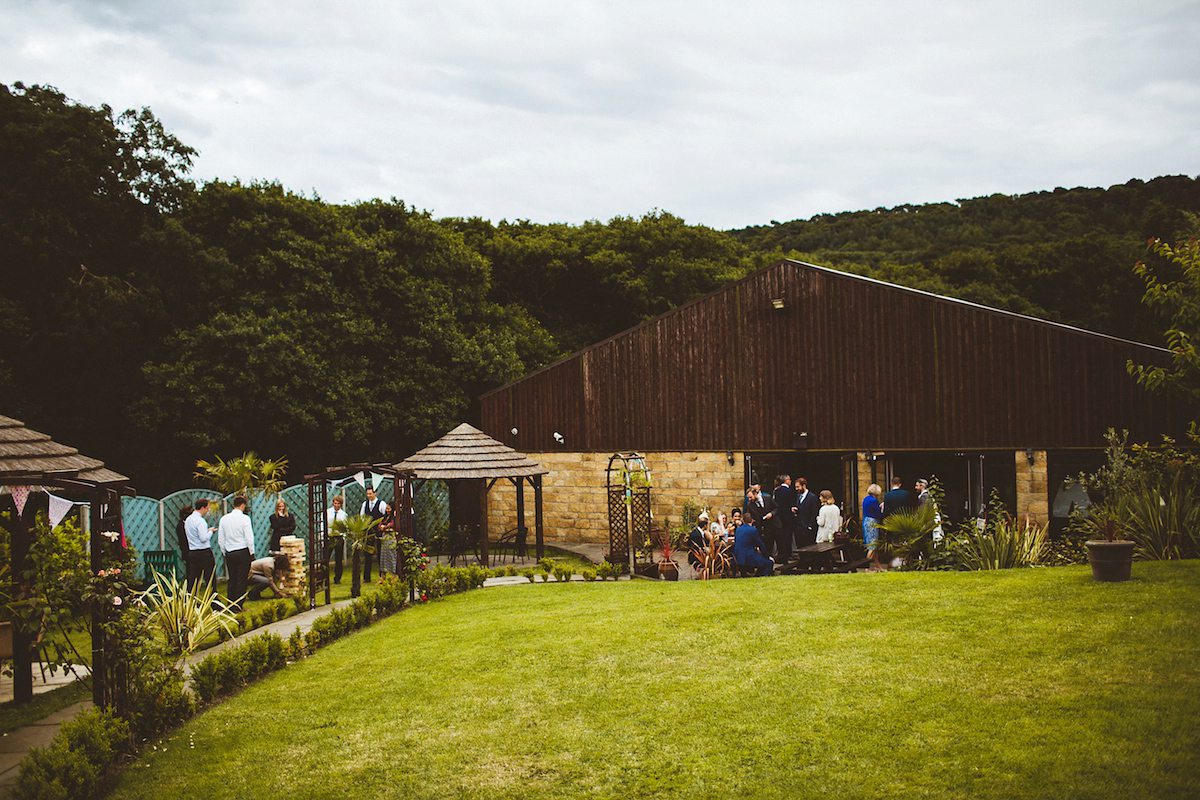 The couple enlisted Tony at Photography 34 to capture their wedding.
"We found Tony online and instantly fell in love with his style of photography. He has such a great ability to capture natural moments, helping to tell a story."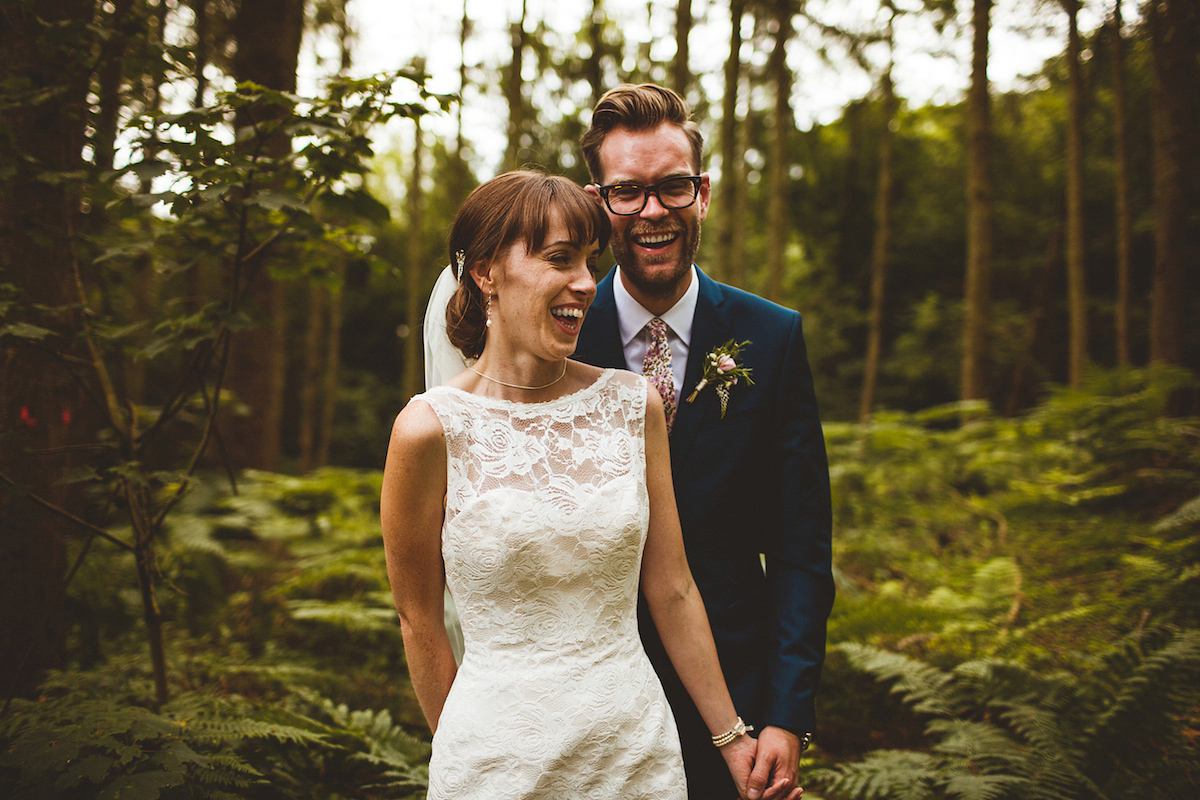 "He also takes some epic couple shots, making the most of the landscape around him. Tony takes the time to get to know the area around the venue and told us we would go for a walk at some point in the evening and he did not disappoint."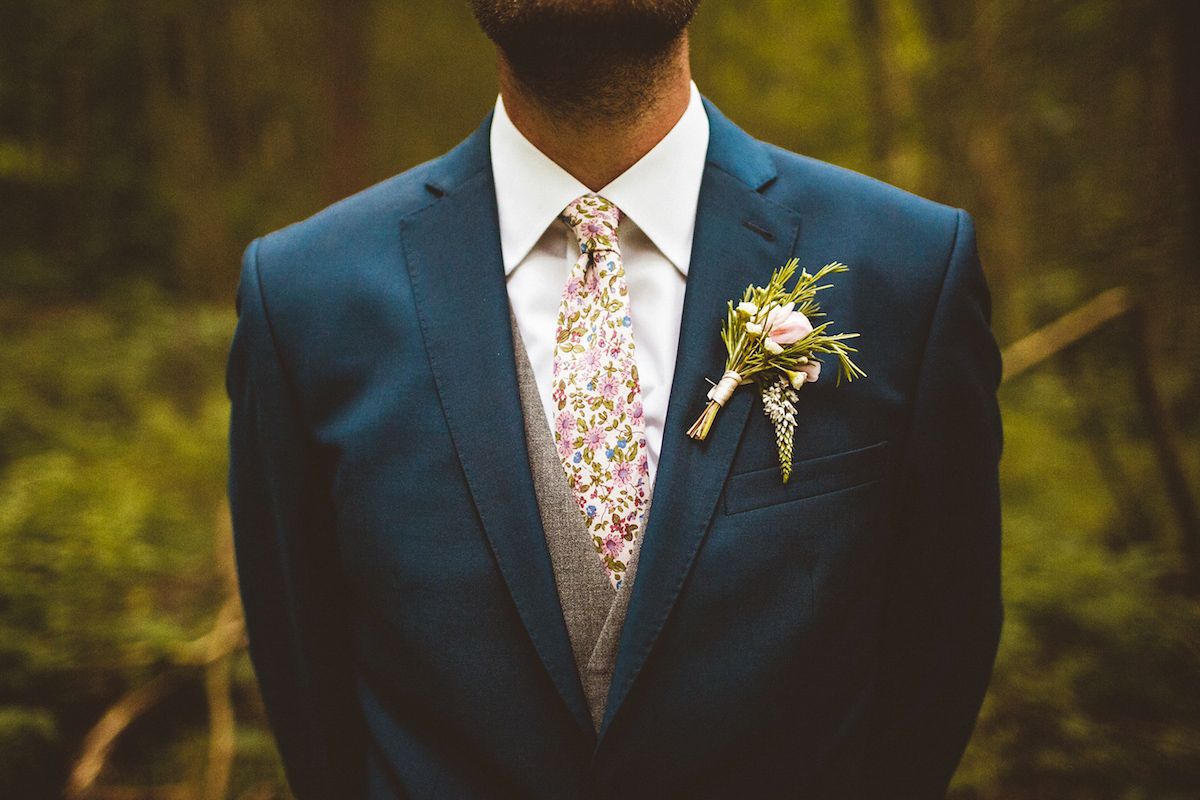 "The photos of us in the woods took my breath away. The pre wedding shoot was really important for me, as I'm not the most confident in front of the camera but we got some fantastic images in a city we have grown to love over the years. They make a perfect contrast against the rural setting of our wedding. On top of everything Tony is a really brilliant guy and fitted in perfectly on our day. He is easy to get along with and our guests loved him."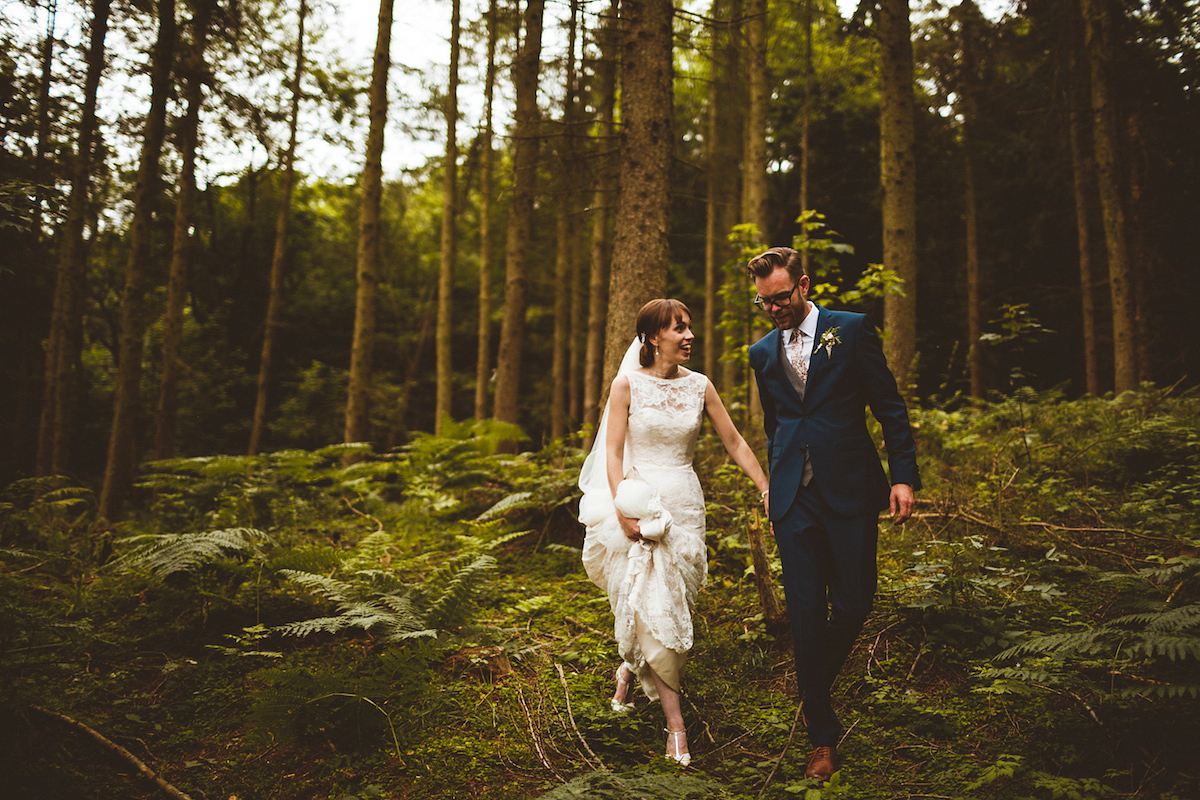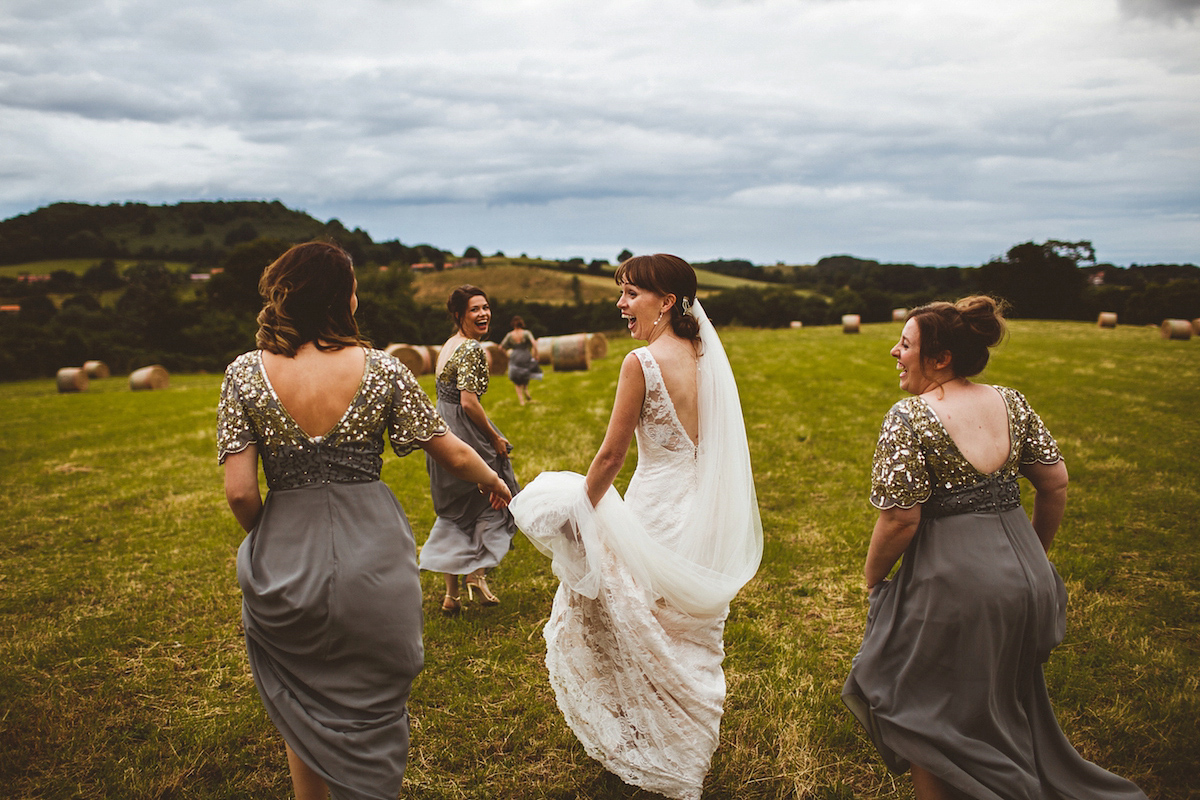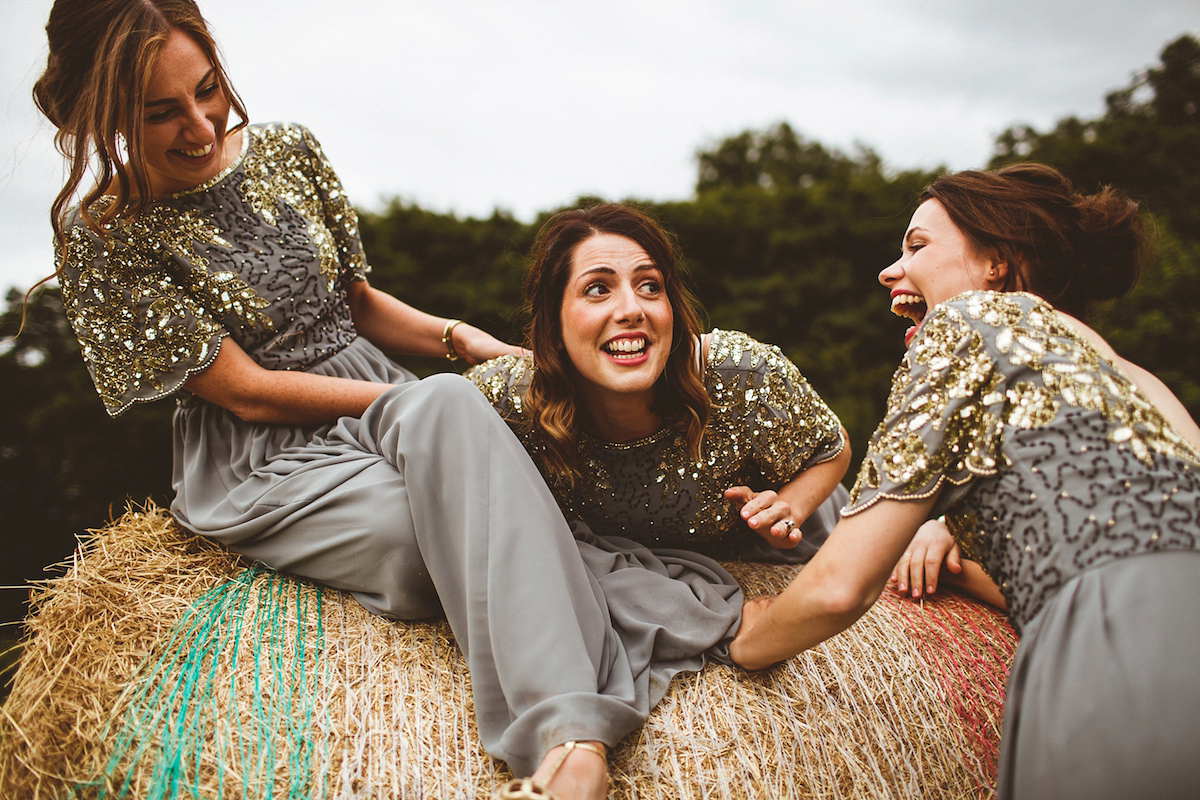 We asked Vic what her favourite moments of the day were.
"The moment I saw Alex, the first word he uttered was 'Wow'. That was very special. Later, when we went off for photos, just the two of us, we had time to take in the magic of the day and appreciate all the hard work and love that had gone into everything. I also absolutely loved the moment my bridesmaids and I headed out for some photos. Tony captured some hilarious moments and I will never forget laughing so hard with those very special ladies."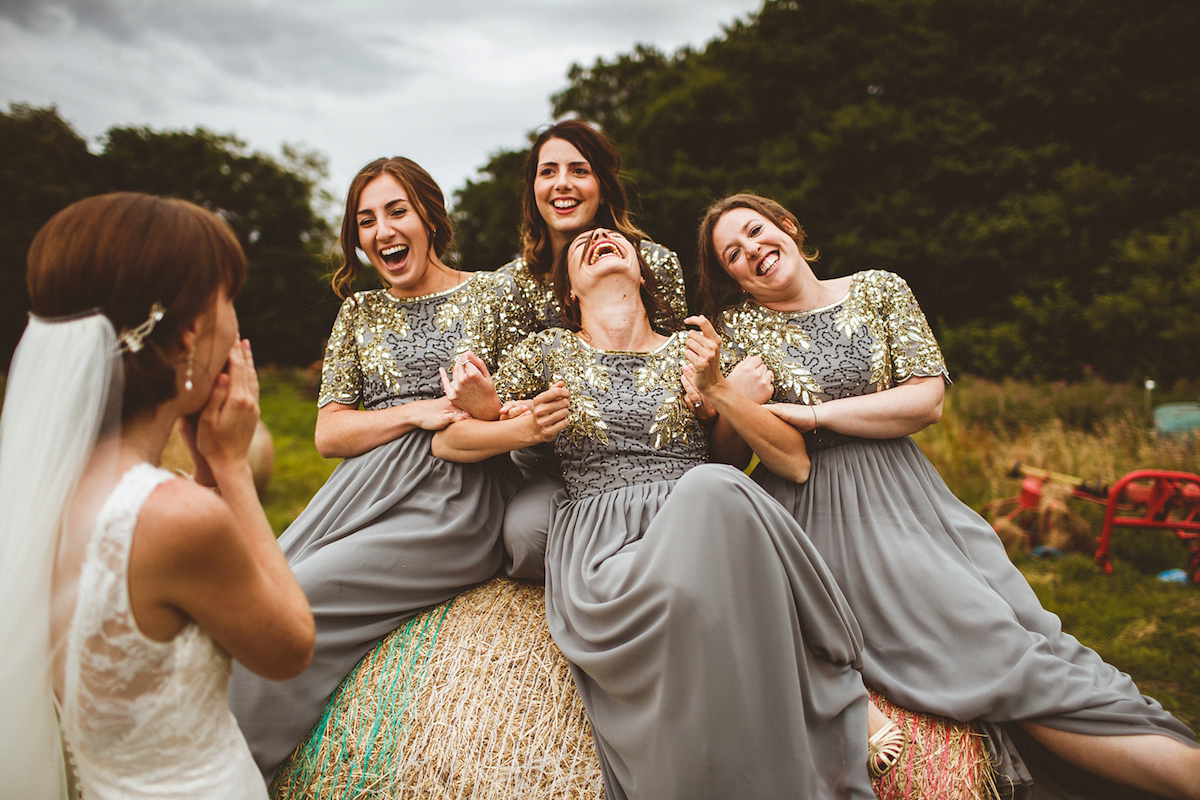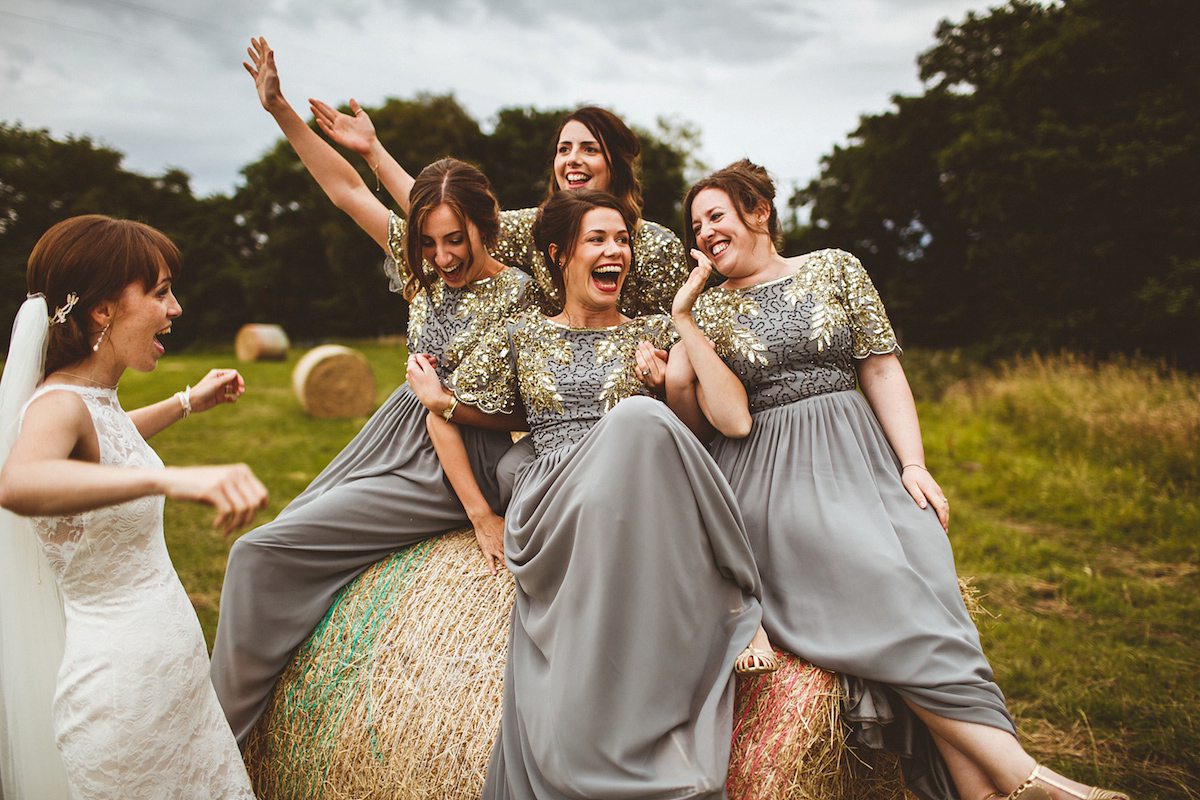 =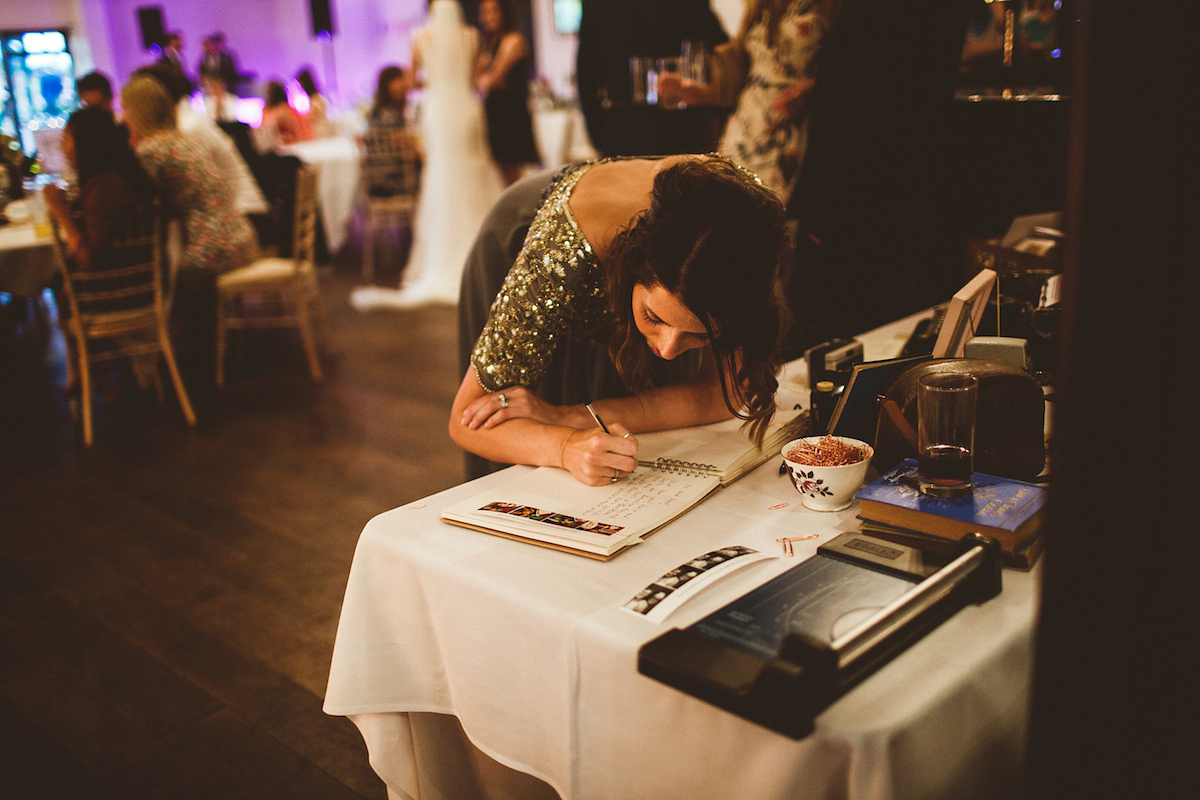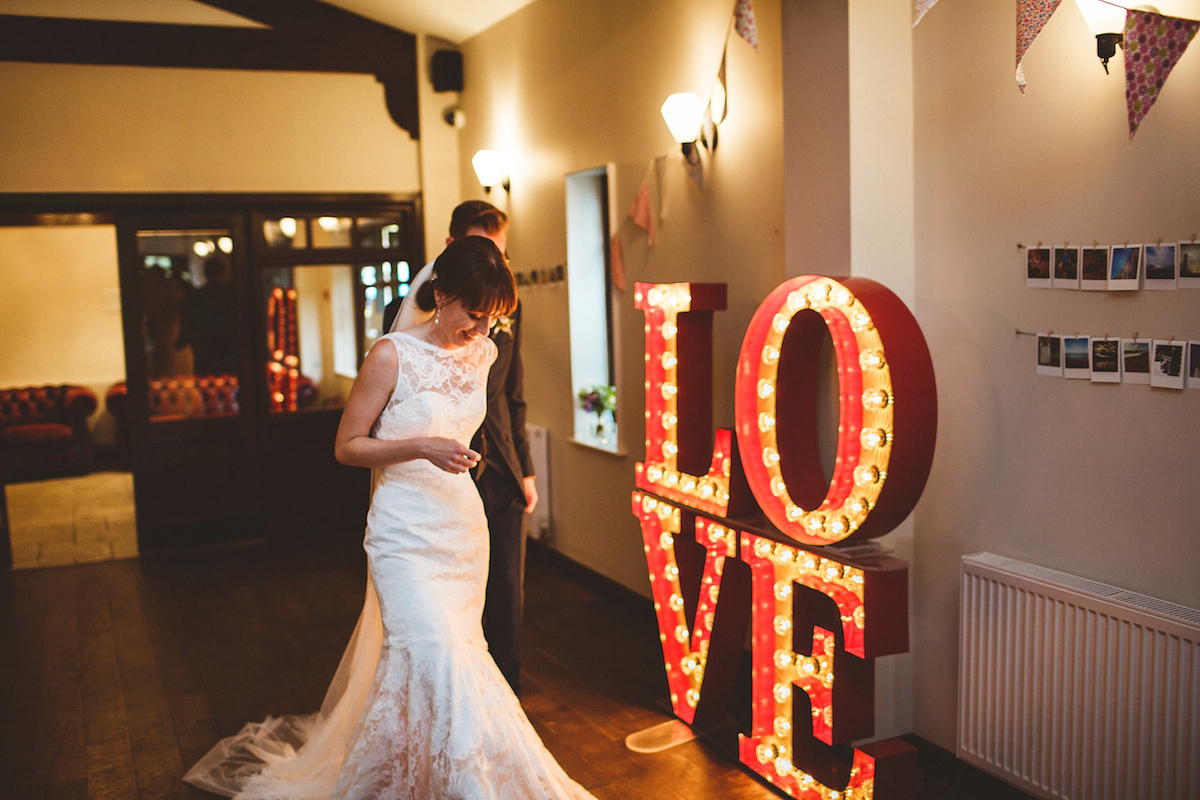 "Our first dance song was 'Toothpaste Kisses' by The Maccabees. The lyrics just say it all. Straight after our first dance was pretty amazing, everyone was on the dance floor just having a brilliant time."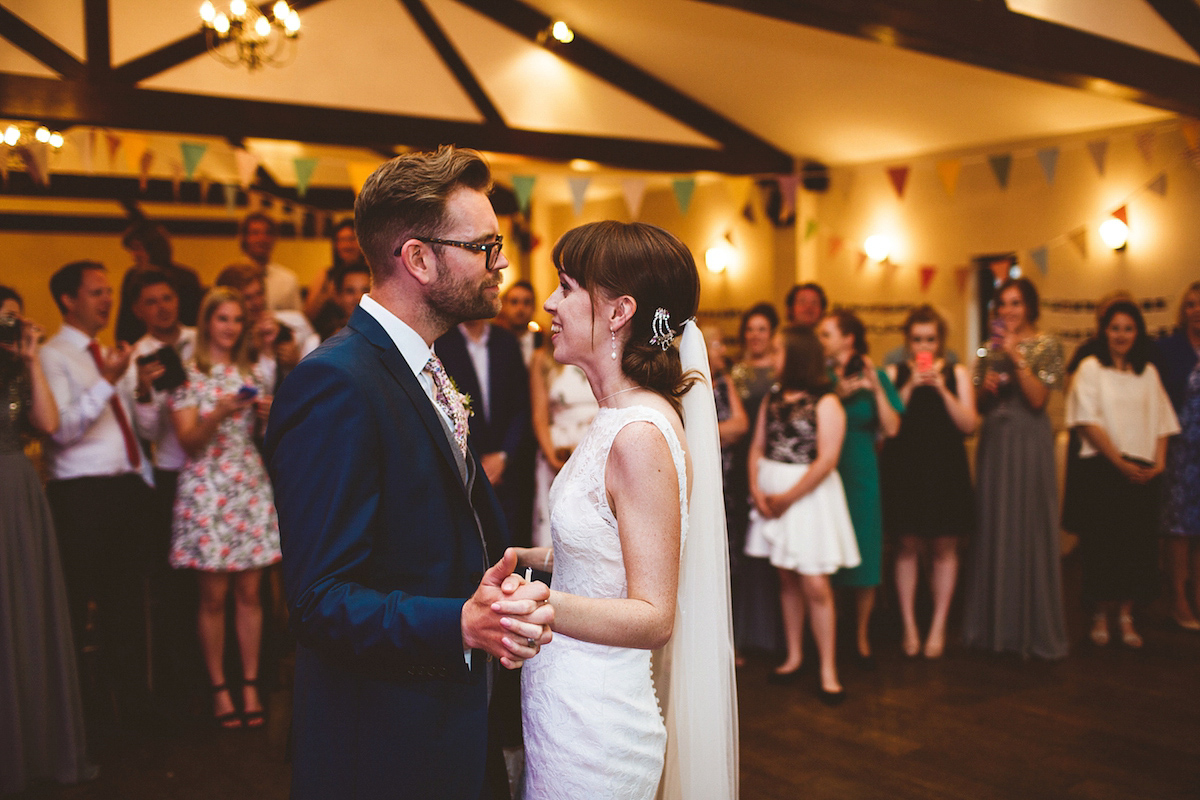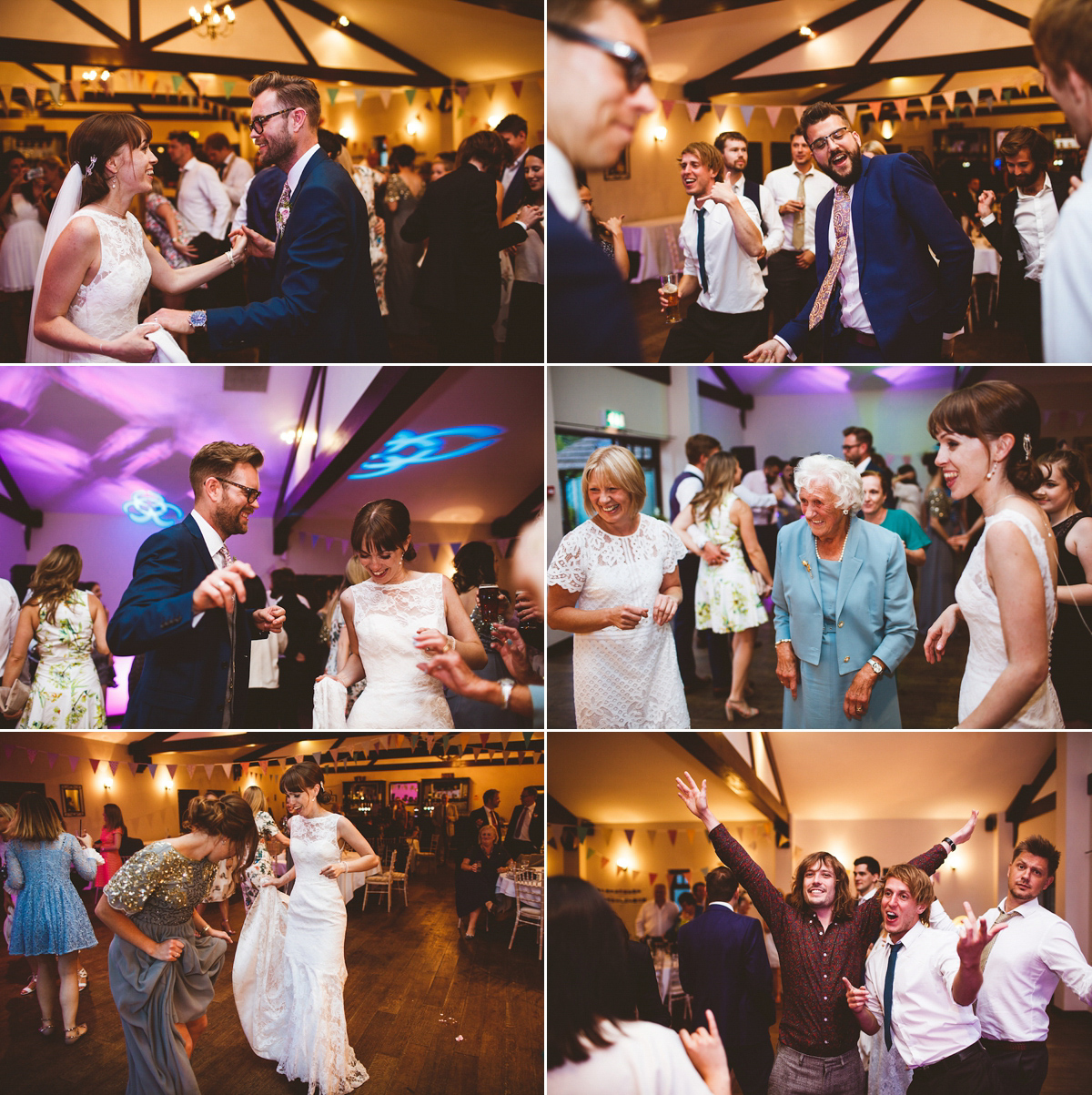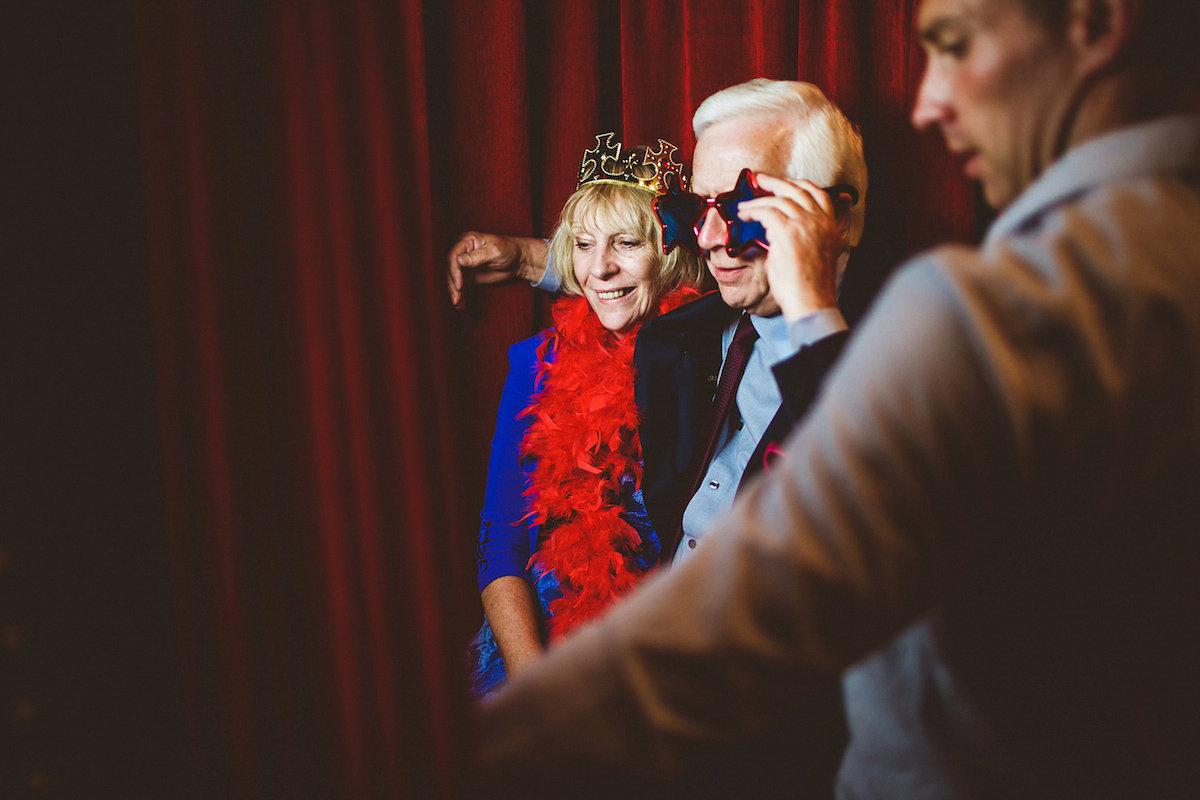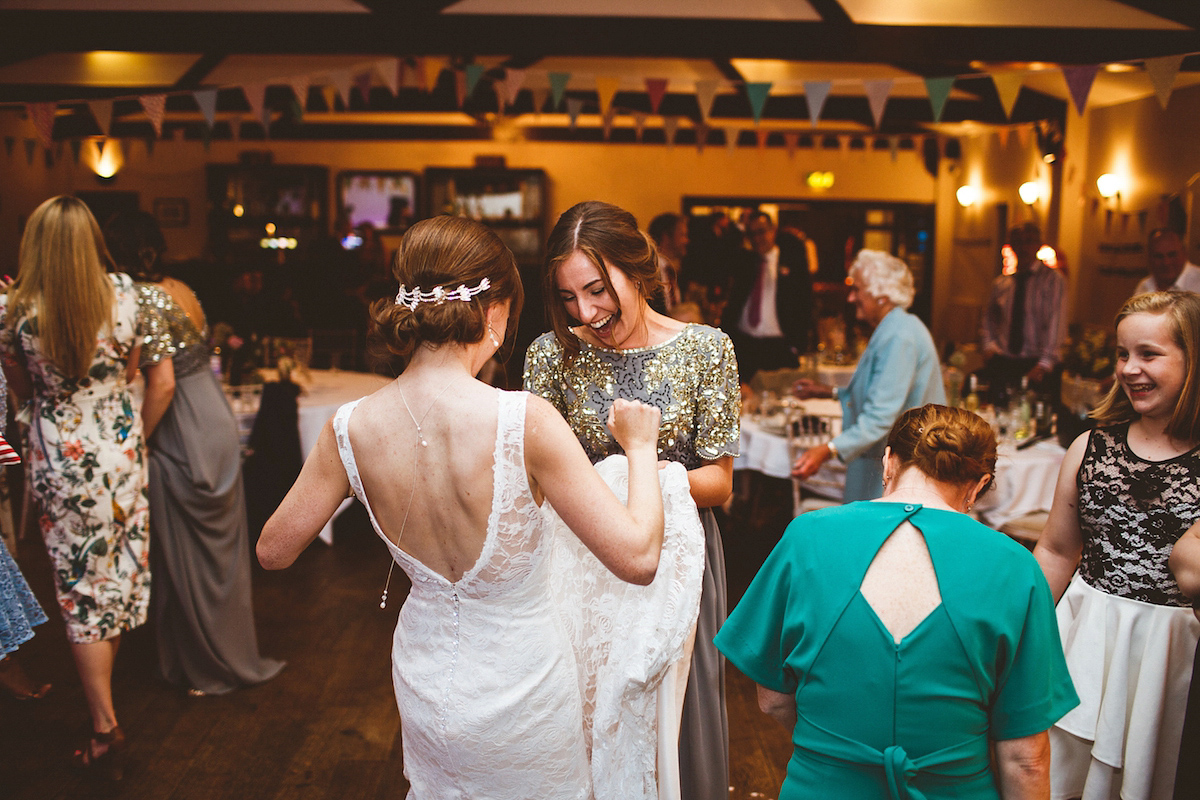 Words of Wedded Wisdom
"Make sure your day is for you and the one you love. If it is truly about you, your passions and your love for one another then it will feel like the most magical day.
Try not to become bogged down by trying to make everything perfect for everyone else. Your guests care about you dearly so will have an amazing day anyway. Many of our guests commented on how relaxed and heartfelt our day was.
We didn't change our music tastes for the service even though they were not completely traditional and all the little details were truly 'us'. Even though I know it wouldn't suit everyone it felt perfect on our day. You shouldn't have to change your style for your wedding. It's yours!"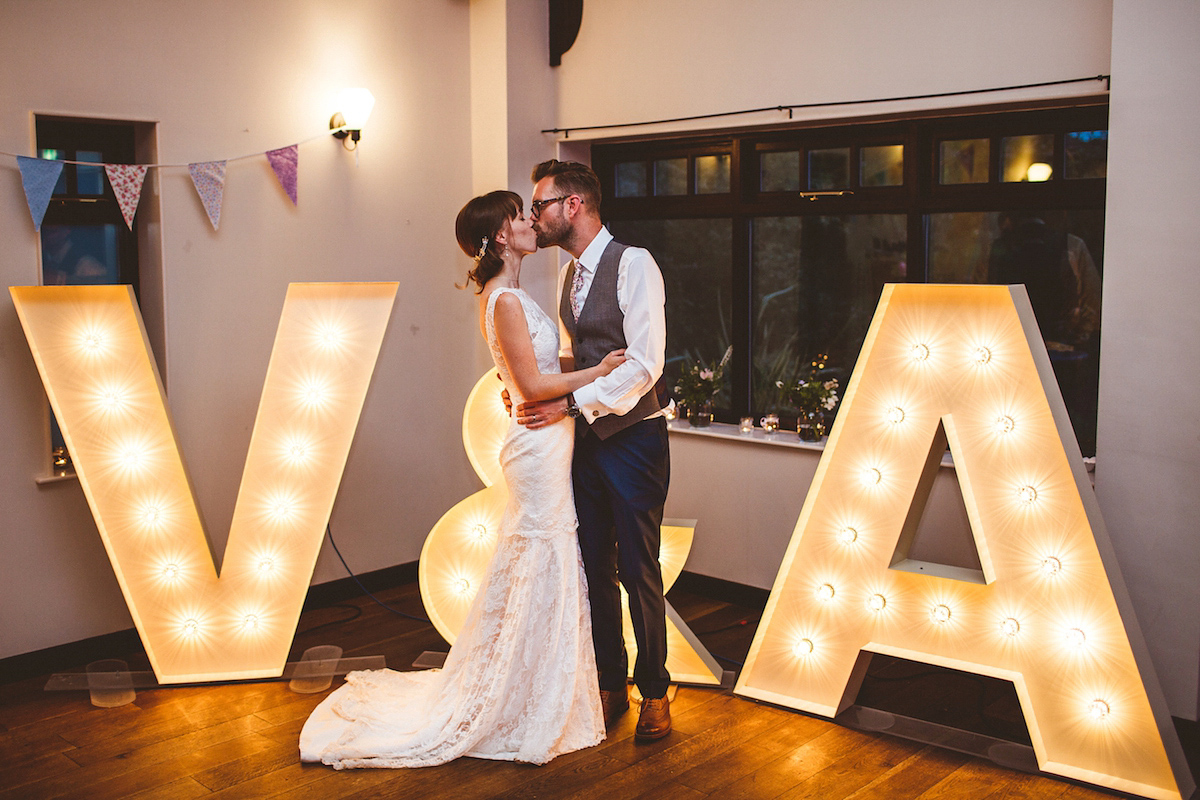 Big love to Vic and Alex, it has been a pleasure to share your wedding day with our readers. Huge thanks also to to Tony, the images have been a delight to peruse.
Love Caoimhe xx