One of the coolest London wedding venues is The Asylum in Peckham – a venue we've featured a number of times on Love My Dress already.  Today's real wedding brought it's own unique sense of style to this glorious and charismatic decommissioned old chapel; Claire – founder of 'Ballad Of…' magazine married Greg, Creative Director of Brutus, on 28th May last year, taking their guests along to celebrate London pub style at Harrild & Sons in Farringdon in the evening.
I fell hard for this wedding – not just because it was photographed by my favourite fellow North East of England dwellers, The Twins, who shot with photographer Paul Santos, or because of that divine Laure de Sagazan gown and sumptuous Delphine Manivet veil, but because of the couple's refreshing approach to celebrating the history of their wedding venue. As a popular venue, they wanted to make their own mark in the space and chose to celebrate it's history and the history of the Peckham area they both live in. Their approach to doing so is inventive and creative – but more on that soon.
"We got engaged at the scene of our second date – The Gherkin in London. It was 3 years after we had originally met there. We had originally wanted to have a short engagement and get married quickly, but when we saw the Asylum we knew it had to be there, so, because of limited availability, we waited until the following year when a spring date was available. We know what we like and we just went with it. I know that I kept using the phrase 'not too weddingy', which my Grandma just did not get ('but sweet heart, it's a wedding!')"
Photography by The Twins + Paul Santos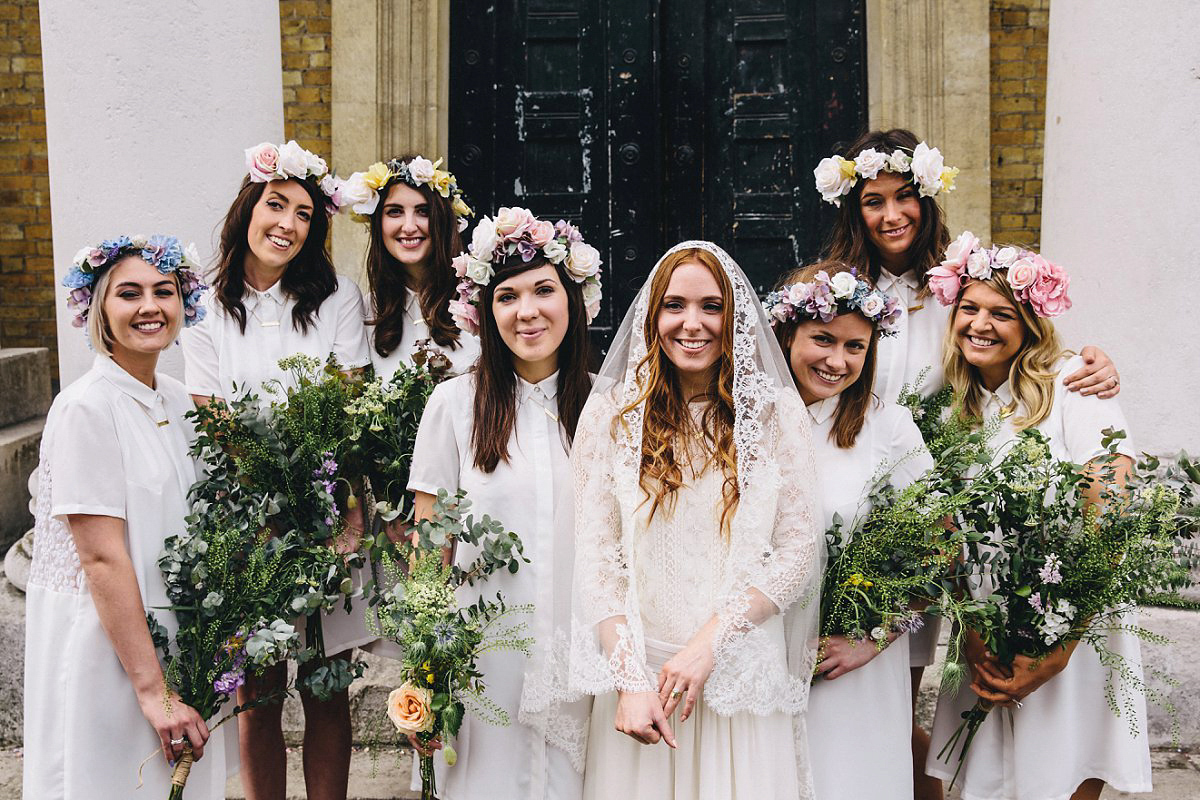 The couple commissioned two of our Little Book For Brides members to capture their wedding in photographs, The Twins and Paul Santos. We recommend both these photographers most highly – these images speak for themselves in that respect.
"As very visual people and photography lovers – the photographers were the first thing we booked. As a magazine editor, I spend my life working with images. It was so important to us to get that right. Once we started talking about our wedding on social media, asking for advice etc lots of photographers got in touch to offer their services. I roped in my bridesmaid and co-editor Lindsey at Ballad Of… to come up with a short list, and do a bit of her own research and when she found The Twins work we knew they were the ones. For a start, there are two of them, so they can capture the full day. They are also from my home town, Newcastle, and we just got on immediately."
"On the day they were so professional, but helpful. They knew the score more than we did – they've done it a million times, it was great having that influence there on the day. They obviously had that Geordie charm and warmness too that is an essential part of their job – I cannot sing their praises highly enough, they were just wonderful."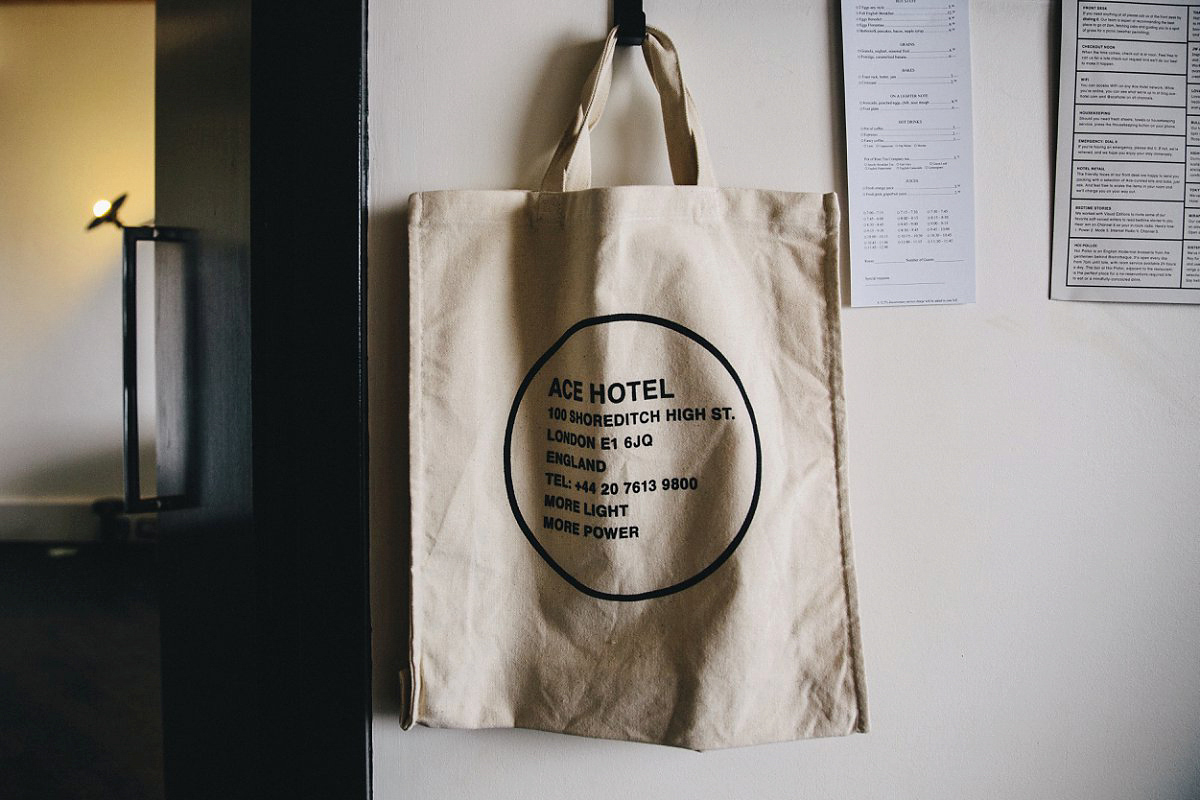 The bride and her maids got ready at The Ace Hotel in Shoreditch – a fave stopover of mine when staying in London (quite pricey, but so damn cool – you'll find turntables and a random selection of 70's soul and disco records in your bedroom which are always brilliant fun).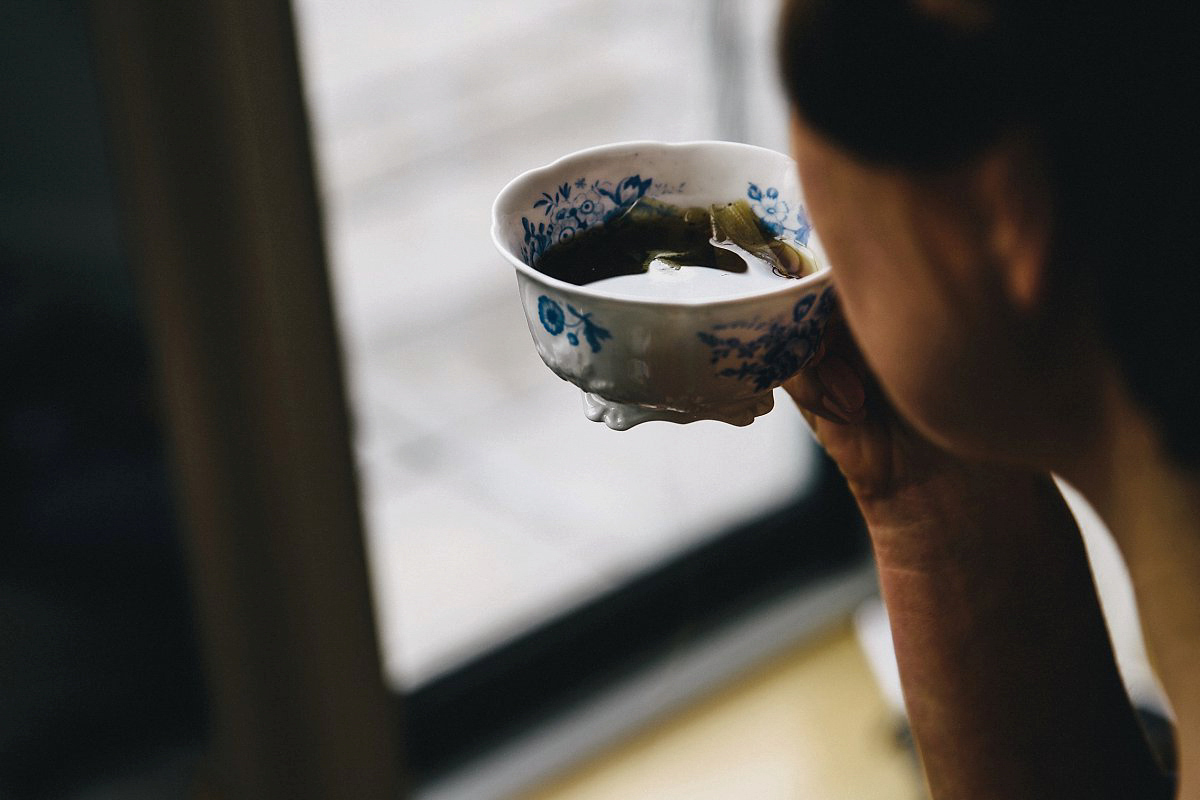 Clogs to kill and die for, by Free People…
We've featured several brides of late who have all purchased their gowns from The Mews Notting Hill, which I think says a lot about the reputation of this lovely boutique. You might want to arrange a visit yourself to try one of the many exquisite gowns they stock by sought after French bridal fashion designers.
"Greg got me a wedding morning gift of a Samantha Wills necklace, which luckily was also my something blue – as I had nothing else! It is a beautiful Lapis crystal, and I wear it every day."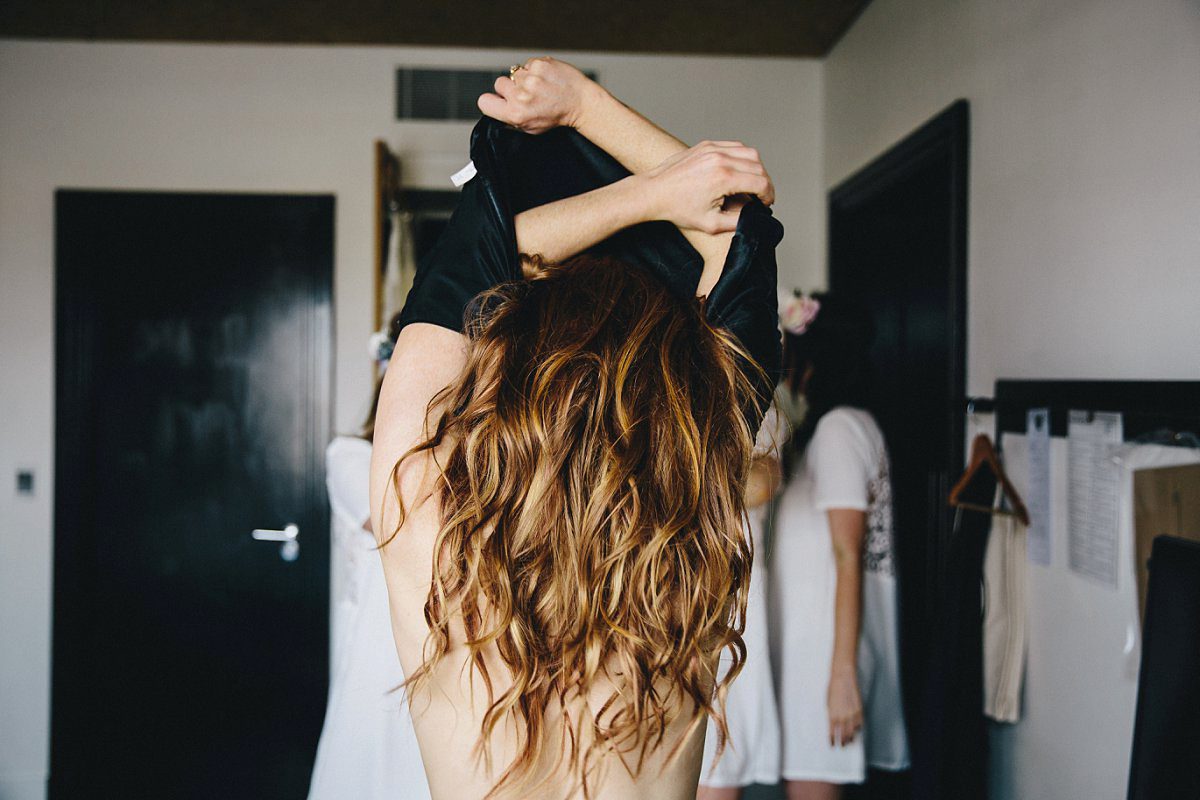 "I was really quick at wedding dress shopping, I knew immediately if it was a maybe or a no. And there was only one yes. My Laure de Sagazan dress was so relaxed and comfortable and loose, it encapsulated exactly the feel I imagined for our day."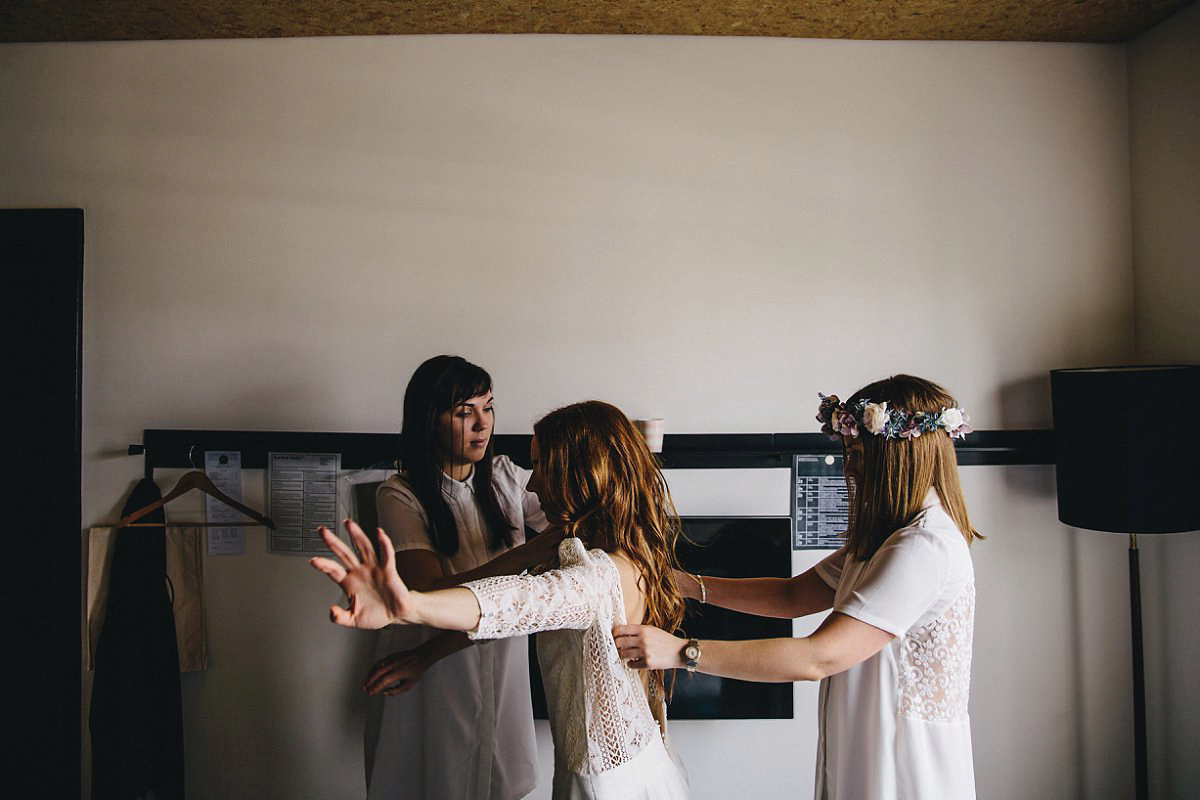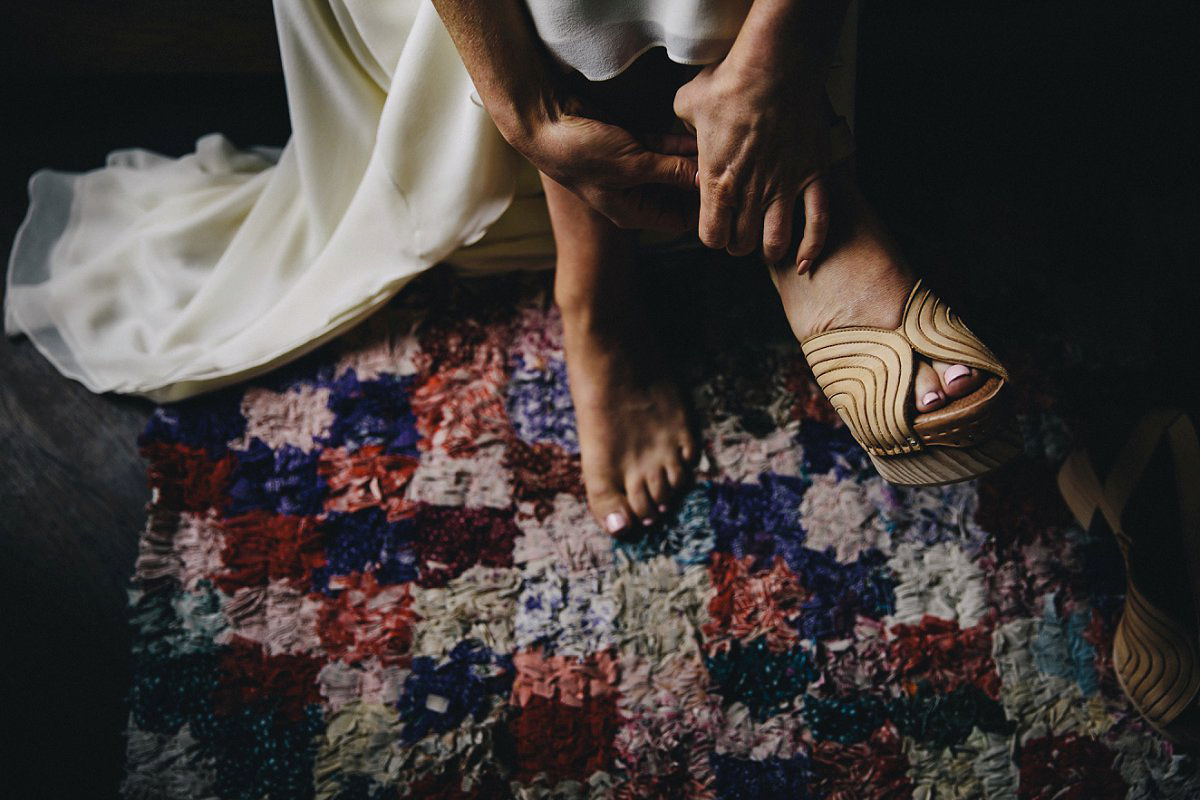 Claire's divine veil was by Delphine Manivet and was another purchase from The Mews Notting Hill. Her headpiece – seen more clearly later in the feature, was by designer Rosie Weisencrantz.
Claire's bridesmaids wore loose, shift style dresses in white cotton from French Connection  – along with their own choice of shoes (mostly wedge sandals).
"The Range in Newcastle has an incredible selection of ridiculously realistic faux flowers, I made the girls crowns myself."
"The girls accessorised themselves, we weren't very precious about that, as they all have such great taste we knew it would work."
"As part of their Bridesmaid's gifts I got them all a gold bar necklace with their initials on, which they all wore on the day, I didn't notice until I was stood in the Chapel, they looked so sweet with their dresses."
"I did my own make up, and my friend Ellis did my hair. The right foundation was one thing I was really fretting about – I went for YSL Touche Eclat Blur Primer and Touche Eclat Liquid Foundation for a natural look, but with great coverage that I could build on throughout the day (which didn't happen!)"
"Jam Jar Flowers  is just around the corner from our house, and lucky because we adored their work before we knew where they were based!
For my bouquet I wanted really big, eclectic flowers – really natural. For the boys we went for a thistle buttonhole. We were really lead by the guys at Jam Jar Flowers."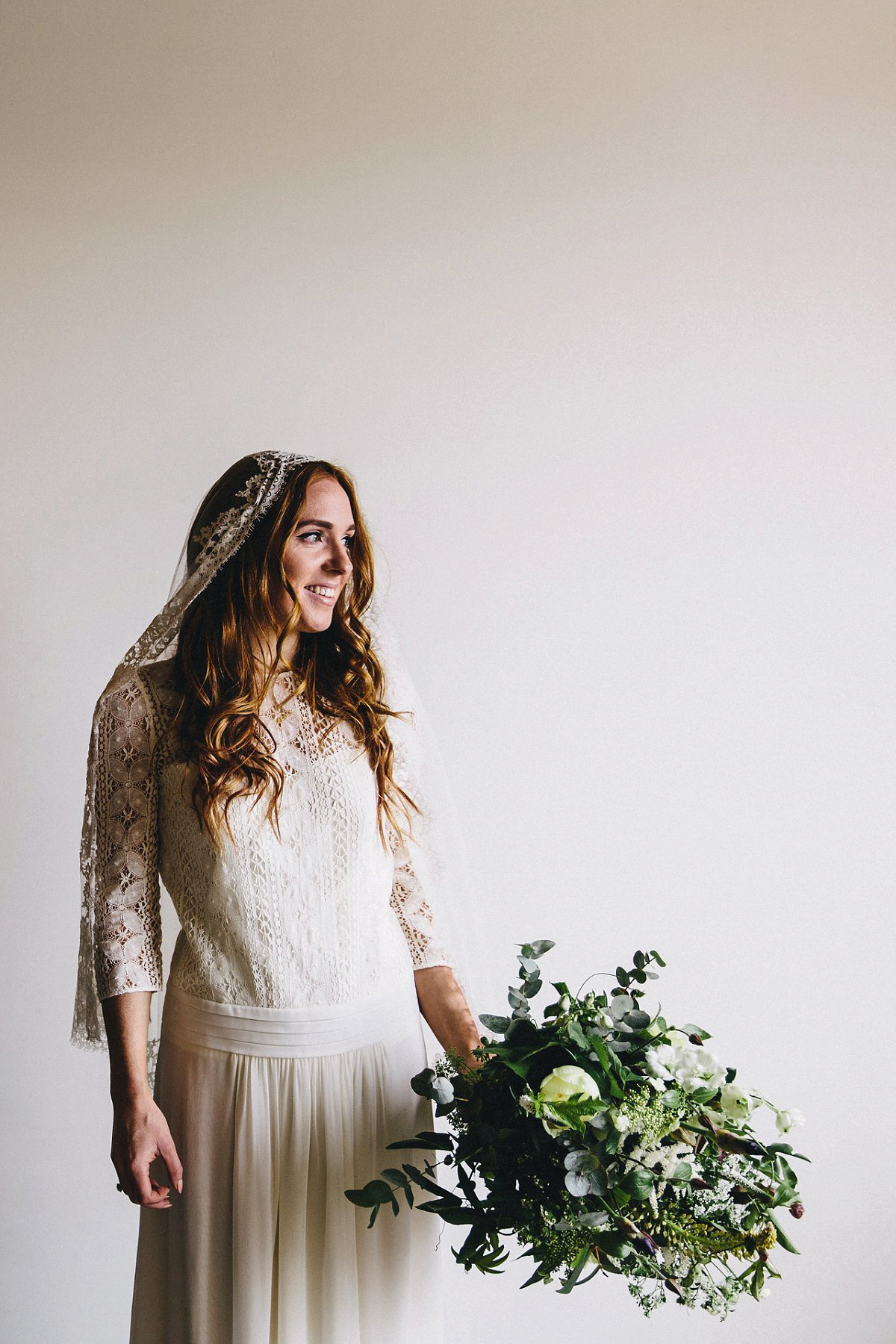 "The boys wore their own suits and shoes with a Brutus shirts and pocket squares. Greg spent a good year finding vintage tie pins for the pocket squares as part of the groomsmen's gifts."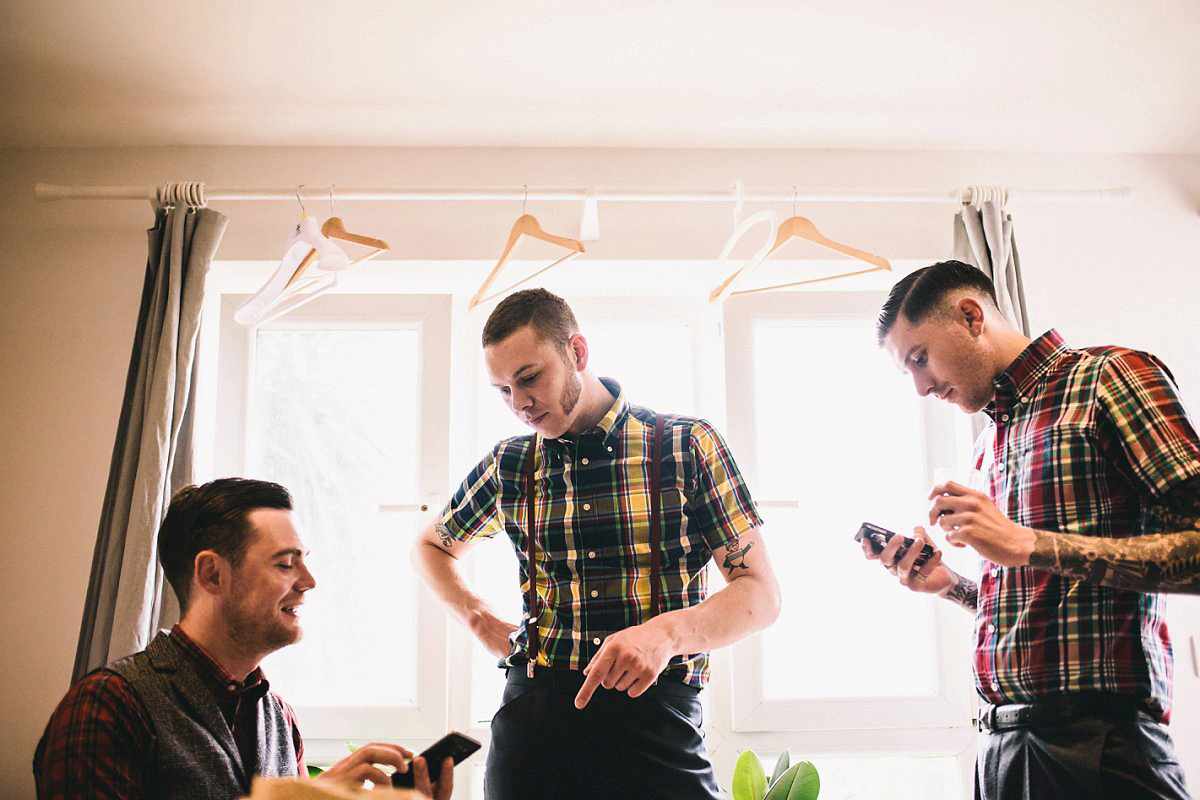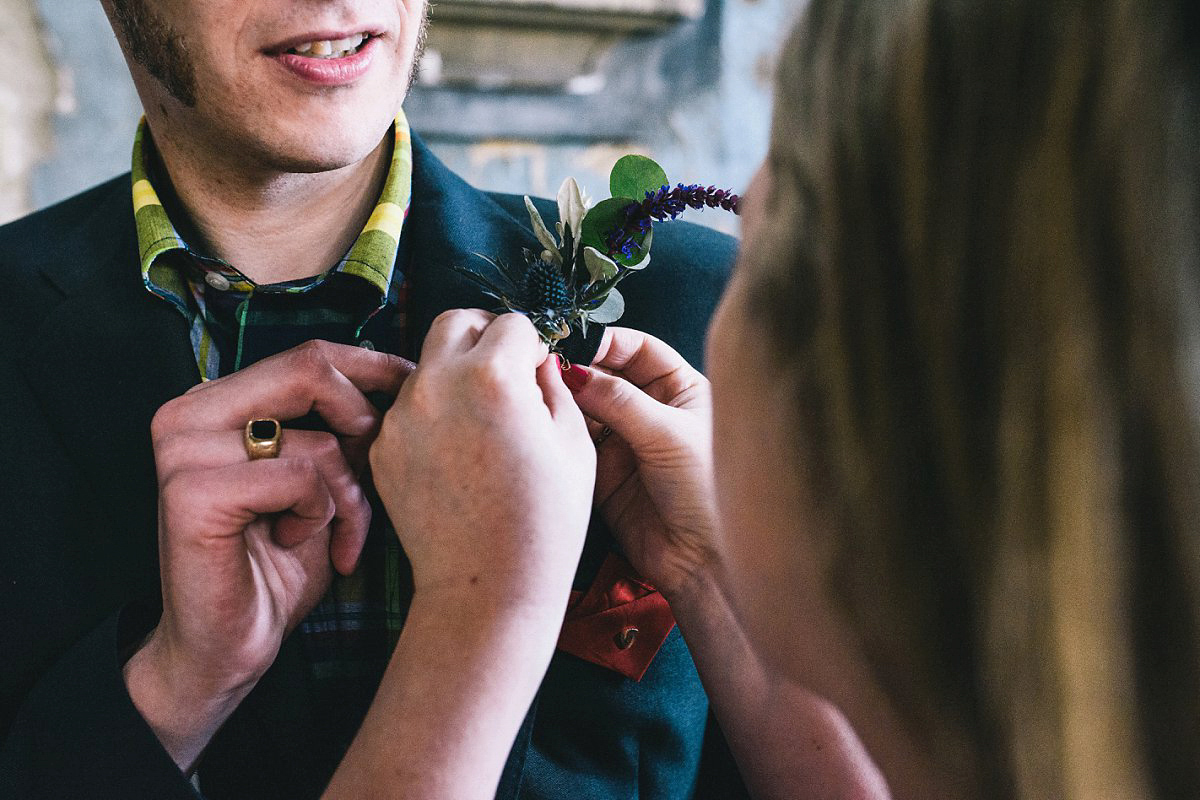 "My Grandma arranged the girls bouquets at the hotel the morning of the wedding. I knew I wanted lots of eucalyptus to tie the ceremony and the reception but the florist didn't have enough."
"It was ok though, that's the beauty of having seven bridesmaids, they just ran round and grabbed up what they could from wherever they could."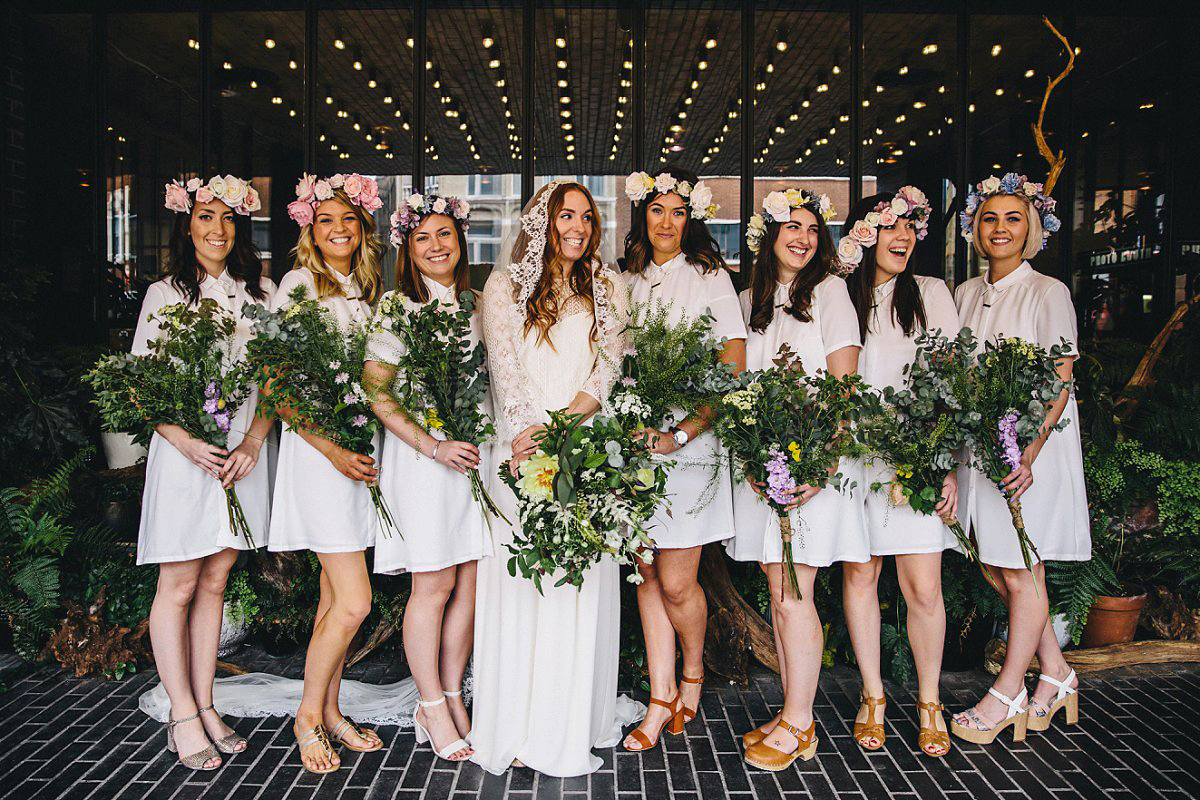 "We added some blooms from The Ace and my Grandma did an incredible job – their bouquets looked fantastic."
"The Asylum doesn't really need anything in terms of decor – it's beautiful exactly how it is. We just had really simple urn of Eucalyptus and hung some ivy."
"We wanted quite a Victorian, bohemian, dusty, masculine feel for the reception. Is that a theme?! 🙂 To that end, I spent a year drying the eucalyptus from our office flowers!! And to be honest, anything that caught my eye from the weekly offerings. When eucalyptus dried it has that beautiful heavy menthol fragrance, the office smelt incredible all year through!"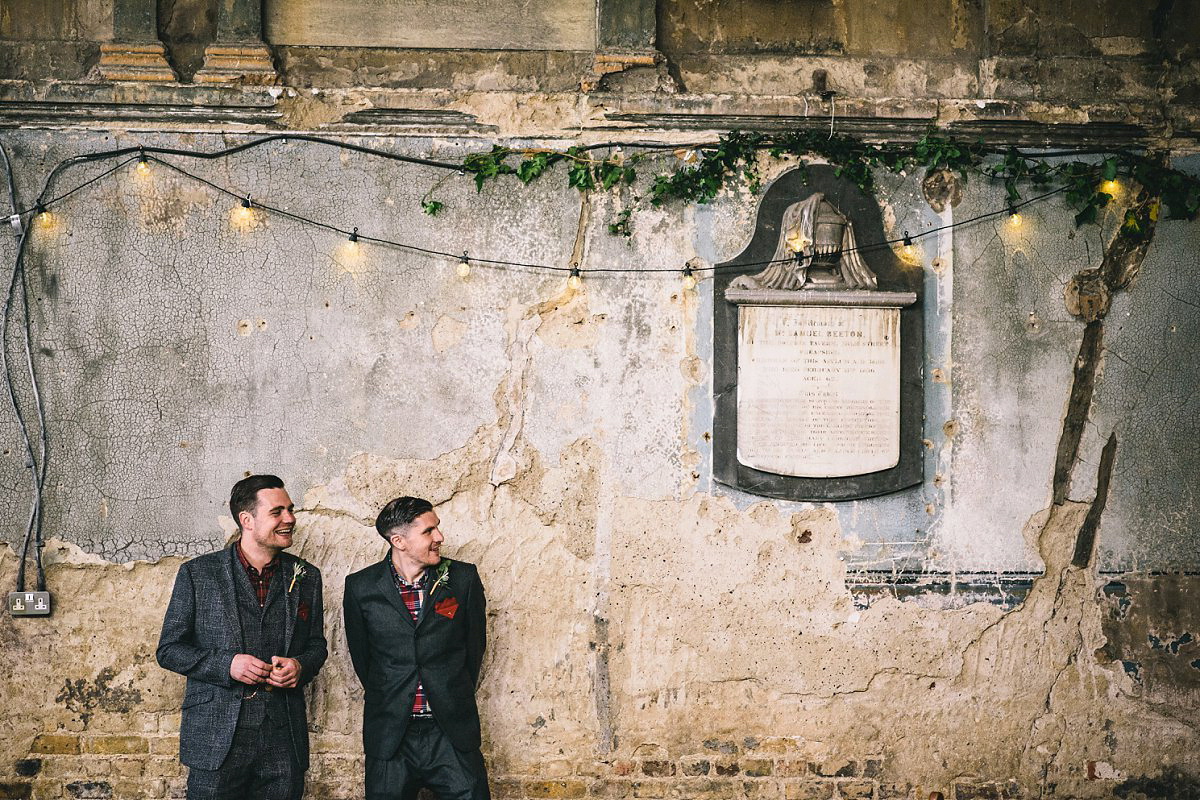 "Greg's suit was made to measure from the tailor's Peckham Rye."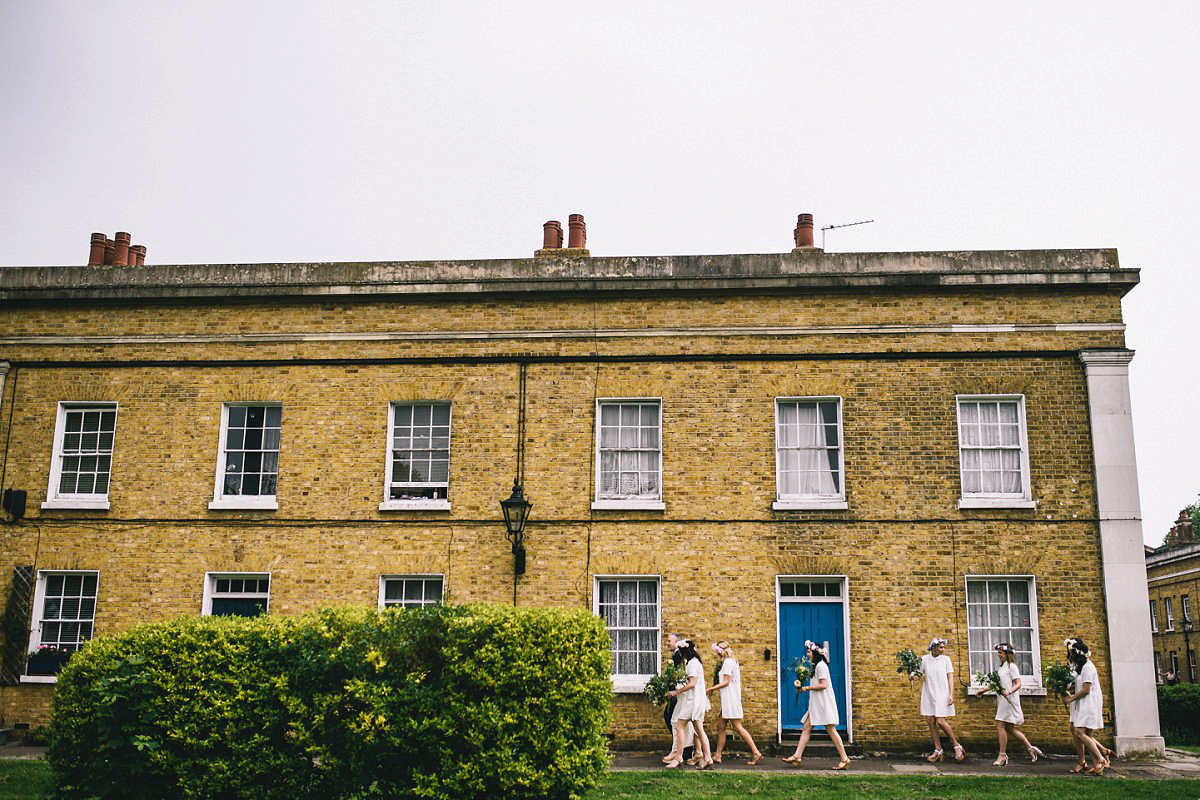 "My lovely dad and I walked down the aisle first, followed by my seven bridesmaids, one at a time, like a catwalk, to the sound of Bach's 'Air'. I'm not one of those girls who has always dreamed of their wedding, but I do have a very vivid memory of watching Father of the Bride, and being really in love with that moment, and also terrified of it! Of how powerful that father daughter moment is."
"They have that song in that film and it just brings a lump to my throat! How embarrassing that that is my reference hahah!"
"We were both really passionate about keeping our ceremony quite traditional. Saying those age-old vows, a version of which have been repeated over and over again for centuries feels really magical, and connects us to our parents wedding days, their parents and so on."
"We included a lot of meaningful references in our service – more than we were ideally allowed, but Southwark Registrars were so accommodating – as long as we promised to be on time (oops) and keep it moving, then we could squeeze it all in. Because of this, we brought our record player and all the records for the service.
As I was stood at the door ready to walk down the aisle with my dad the record player, which had worked perfectly moments before, wouldn't play. So we had had to revert to Youtube! (sans adverts, thank God!)"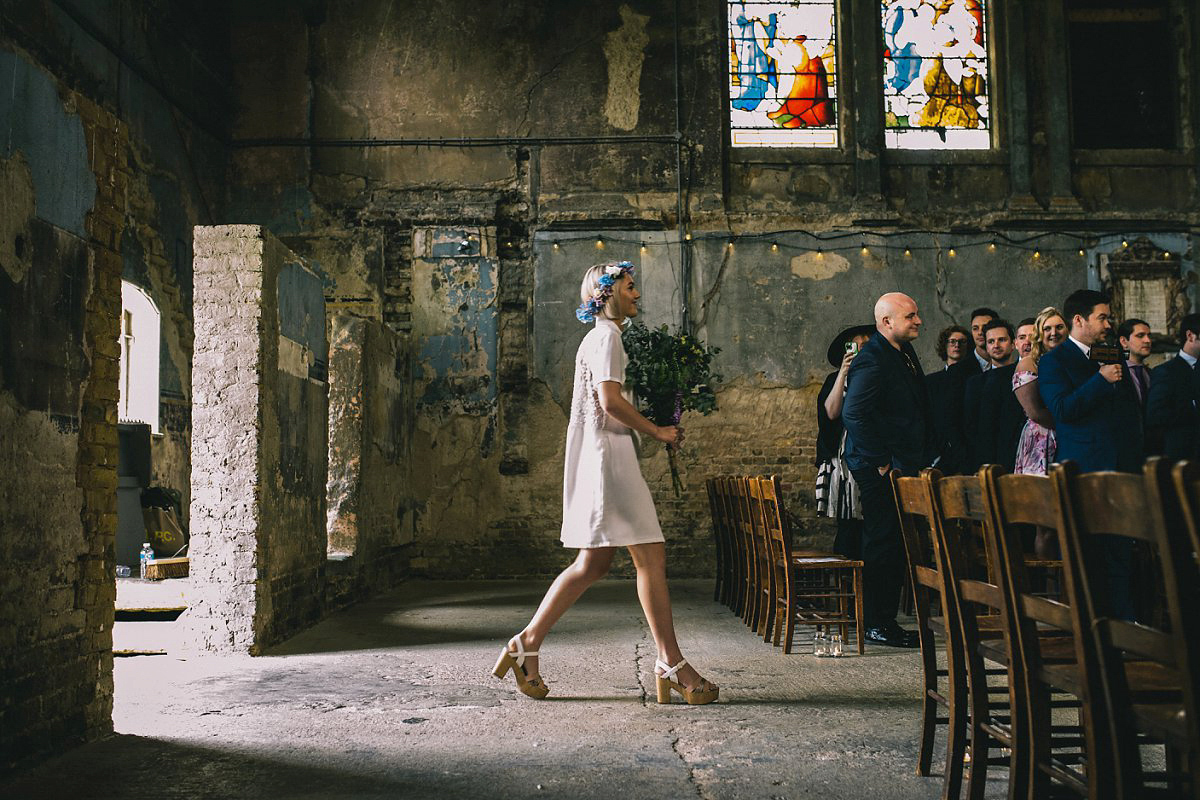 "When I was standing outside the Asylum with my dad and girls, just before I was about to walk down the aisle was amazing. It was a really bright day, and when the doors opened and everyone turned round I couldn't see a thing inside, but there was this really dramatic sense that whatever was in there waiting for me was so incredibly important, like I was literally standing on the edge of the rest of my life.
That moment lasted for ages – not just because it was going in slow motion for me, but because that is the moment the record player broke! My dad was all nervous, trying to drag me down the aisle, I was like, 'Dad! We need to wait for the song!'"
"We had a reading 'Having a Coke with you', by Frank O'Hara. We love the comparisons that are made between the small things and the masterpieces and references to the small details of love. 
Our second reading was Roberta Flack's 'First time ever I saw your face' – because it's so beautiful, and means a lot to us. The song just gives you goose bumps! Unfortunately, the record we bought was a nice short version, and awkwardly, the Youtube version that was found in a blind panic, was a good 8-9 minutes long! I vocalised the error as it was all getting a bit weird, but it marked a lovely shift in the ceremony, where everyone went from wailing, to laughing. Our final reading was 'I Wanna Be Yours', by John Cooper Clarke – because it's perfect."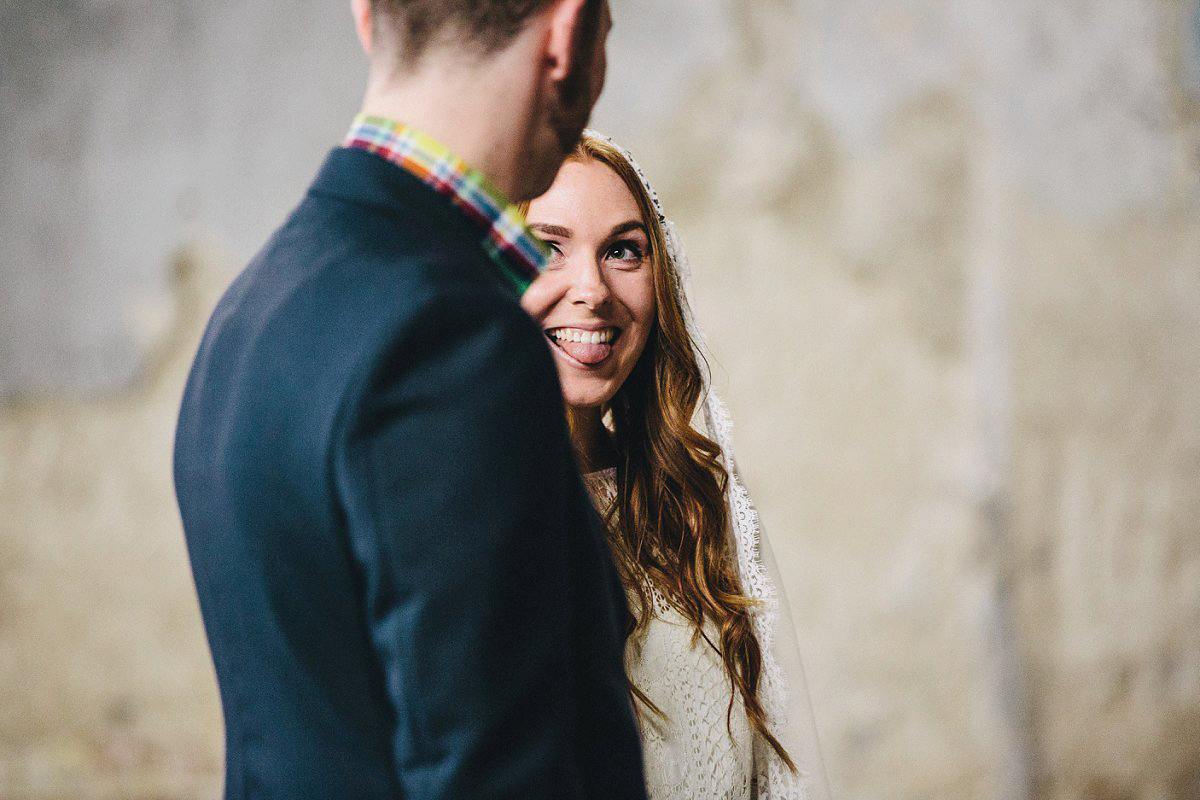 "We sang two become 1 in the Chapel. I was SO proud of myself for keeping this a secret, as I knew the reaction I would get on the day if I managed to keep my mouth shut!"
"We had our wedding party facing us on the day, and obviously the girls wouldn't get to read the order of service before the ceremony, so they only found out as the intro played, they were thrilled, and full of energy singing it which was so contagious for the whole venue. I loved that moment, it was so beautiful."
"We had 'This Must Be The Place' by Talking Heads play whilst we were signing the register and left the church to The Ronettes' 'Baby I Love You'. We played wedding bells while leaving the church too."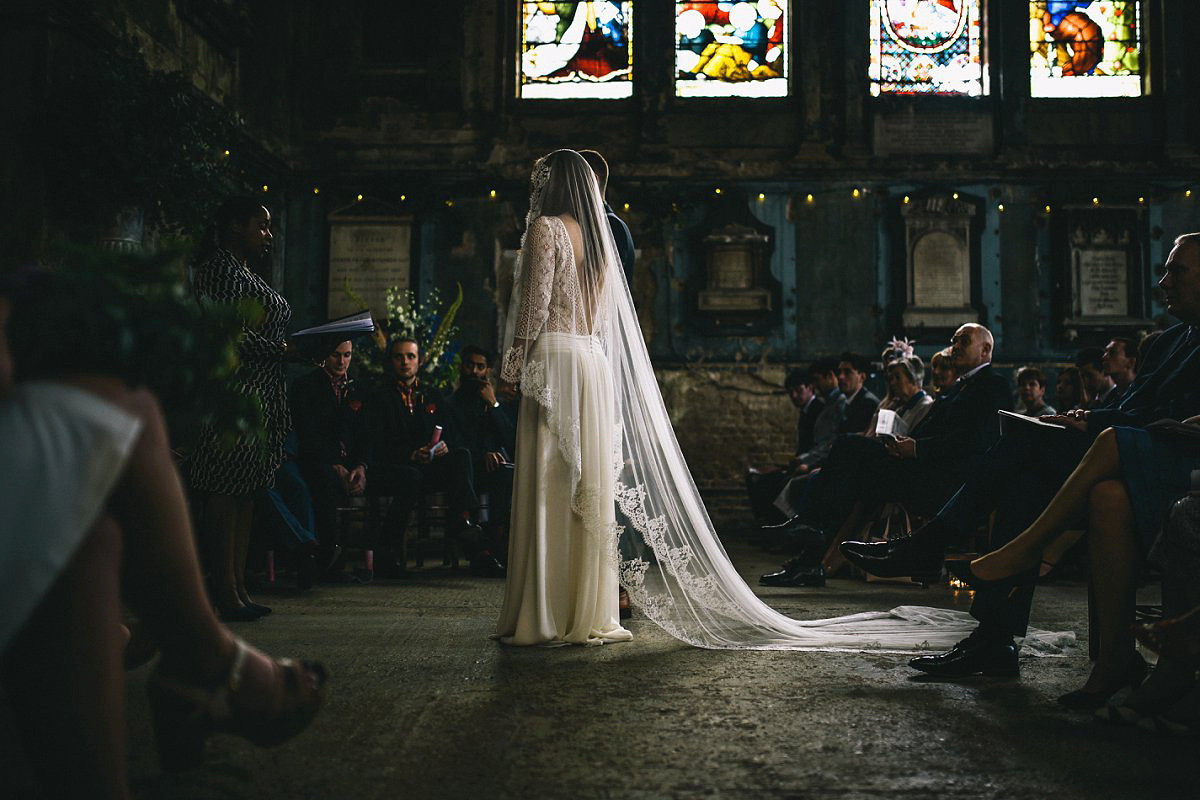 "A friend, Andrew Geoghegan, made my wedding ring. We designed it together to hug my Victorian engagement ring, and he was able to use gold that was from both our families. It's so special; I've never seen anything like it. Every time I look at my hand I can't believe how lucky I am to own such an incredible and truly unique piece."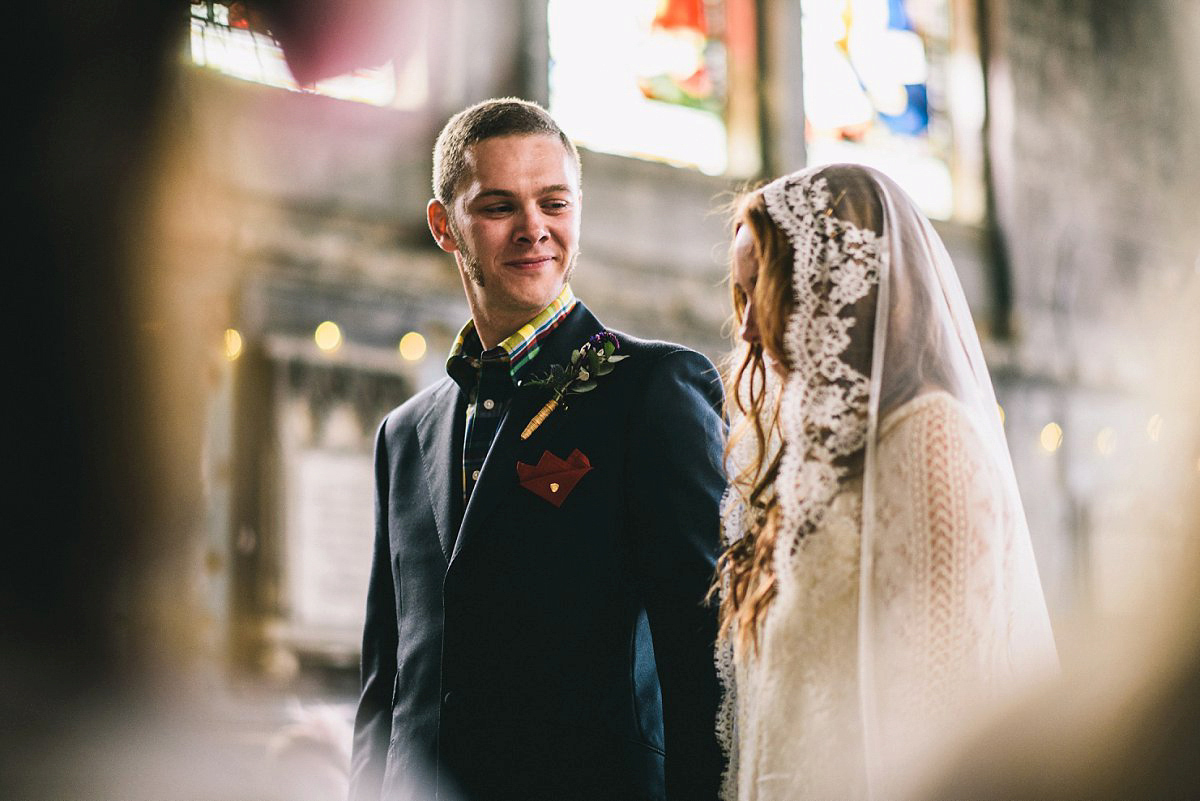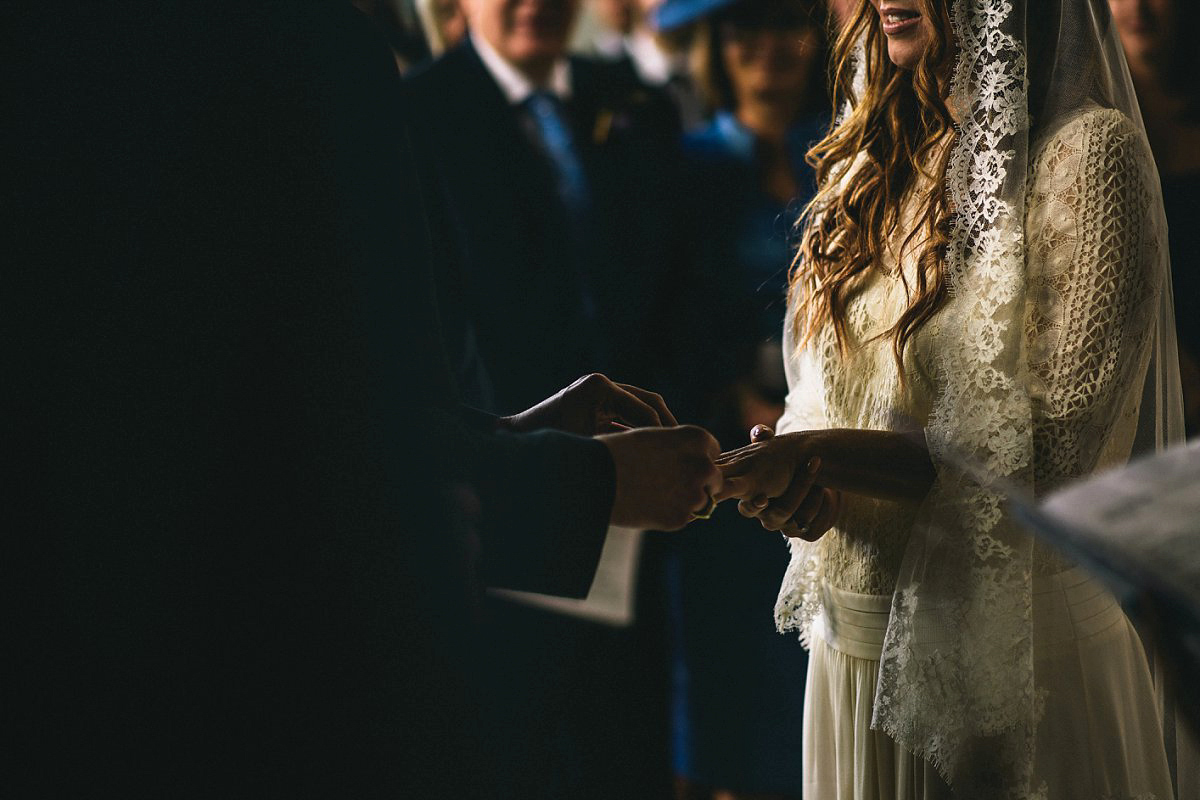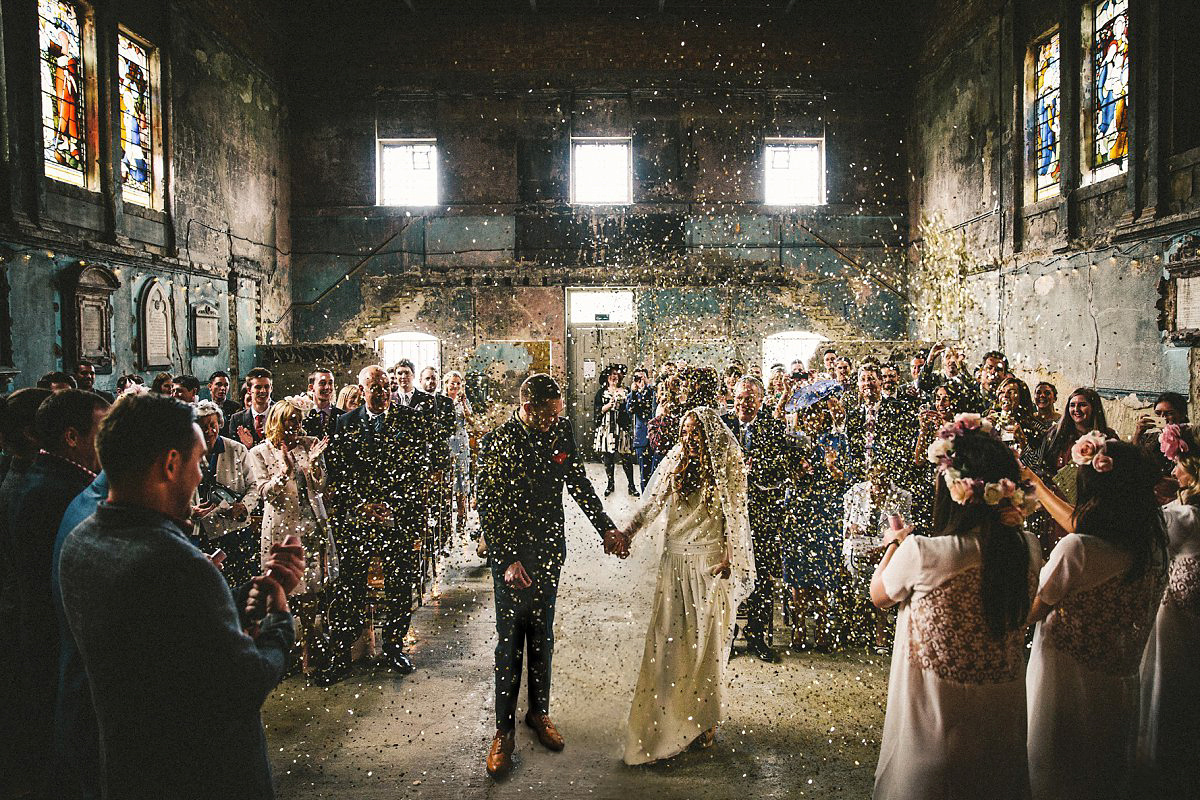 "At the service, we had a newspaper for the order of service, something for guests to read while they waited. The story of how we met, a vintage Kodak advert encouraging guests to take more pictures, the history of our Chapel, order of service and words to our song. I was worried about it rustling through the service, but everyone was very well behaved, it worked really well."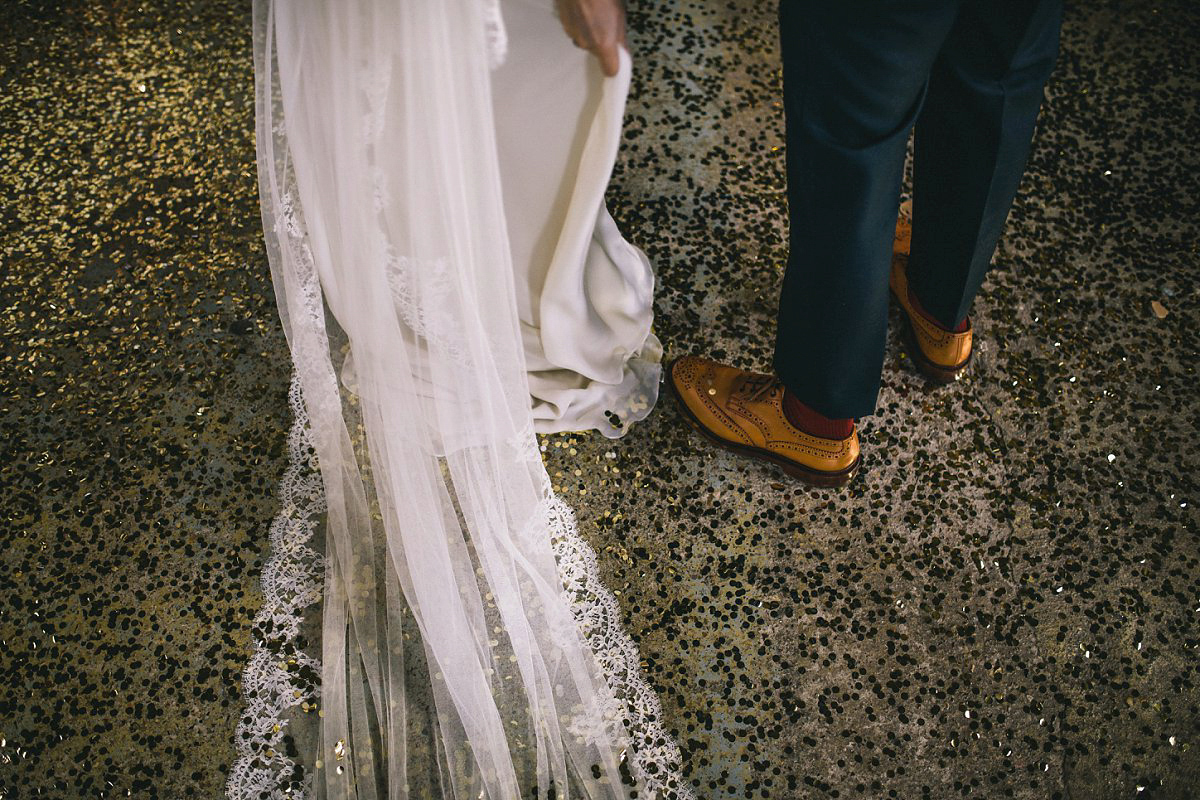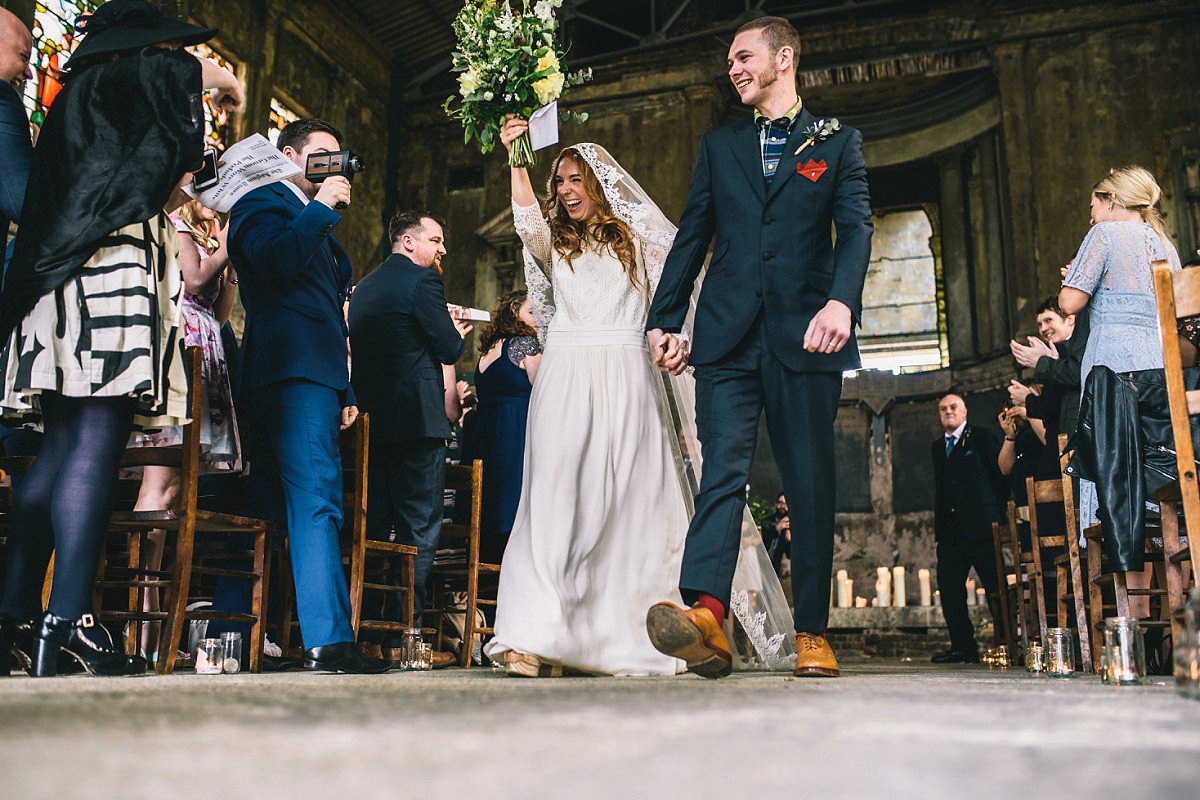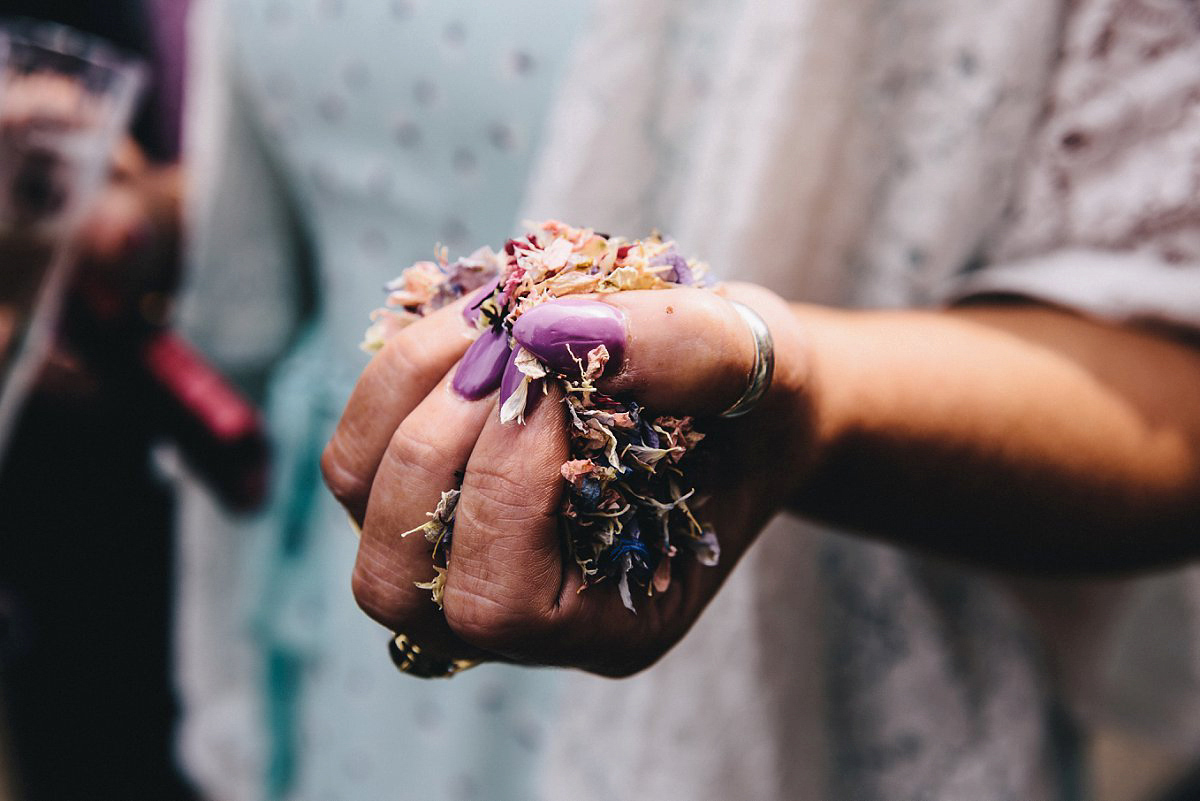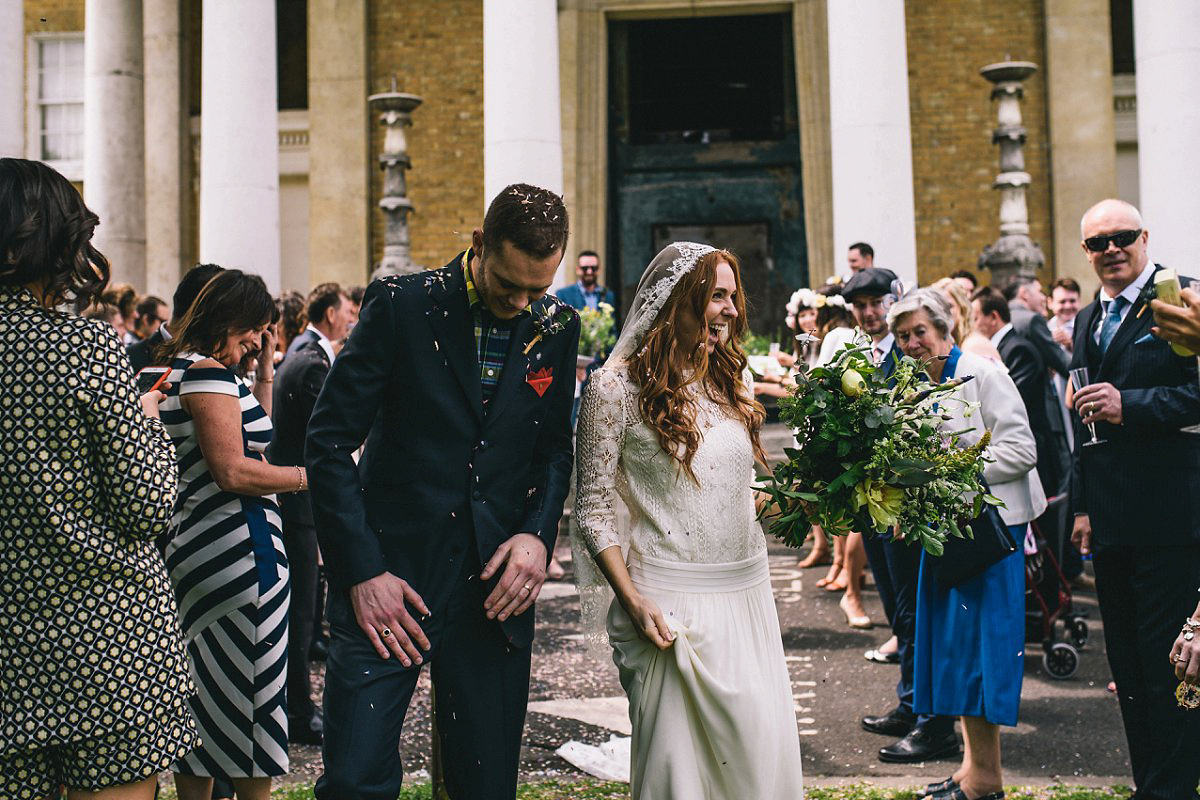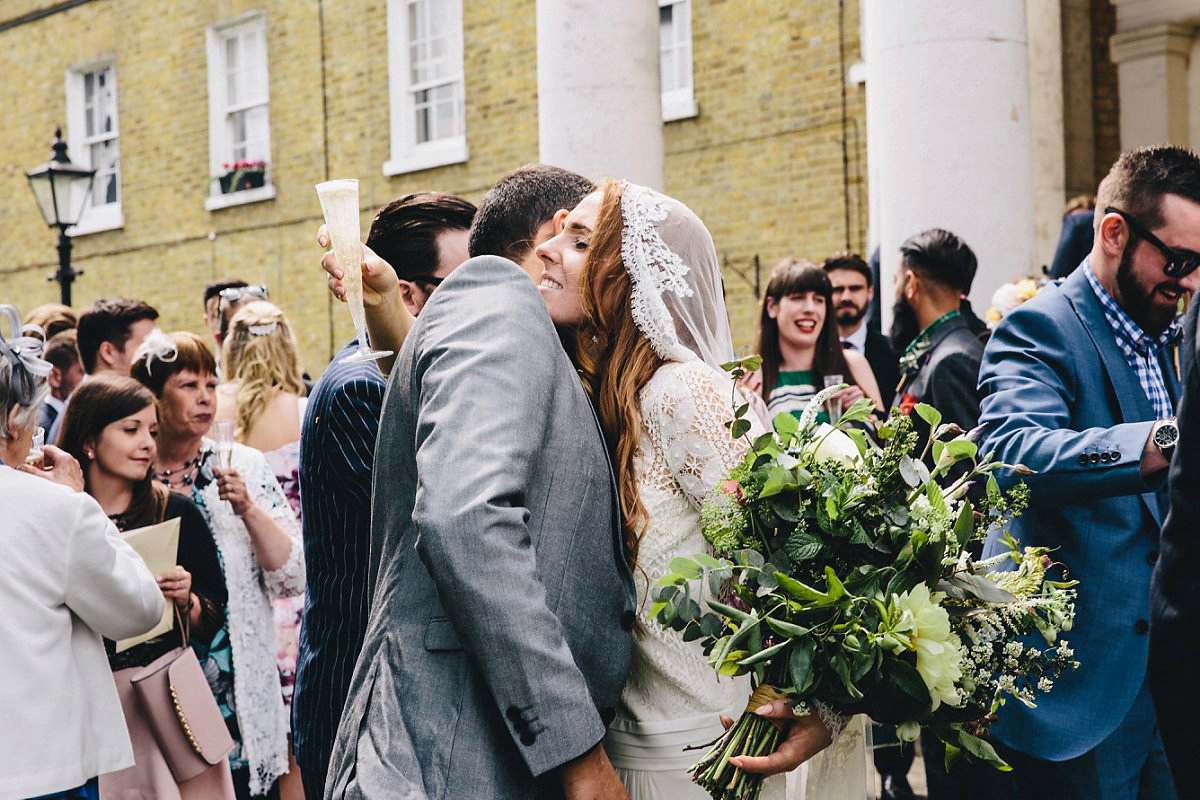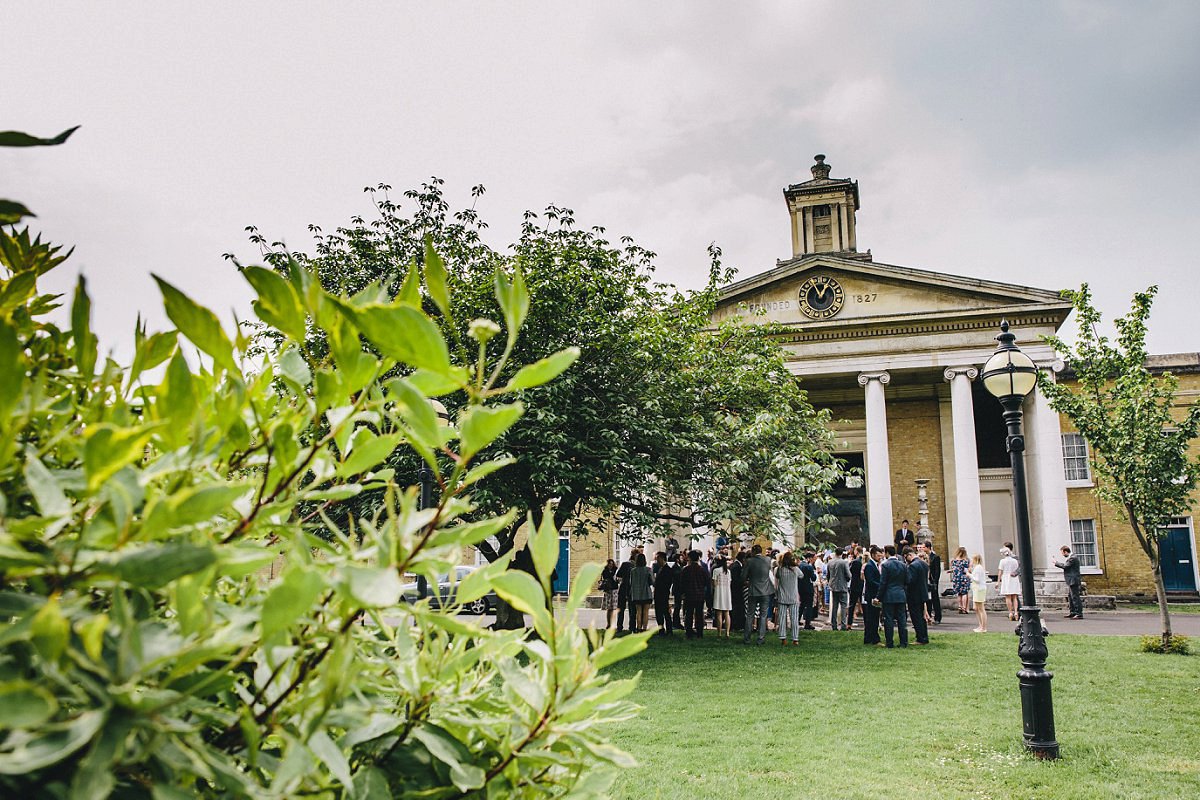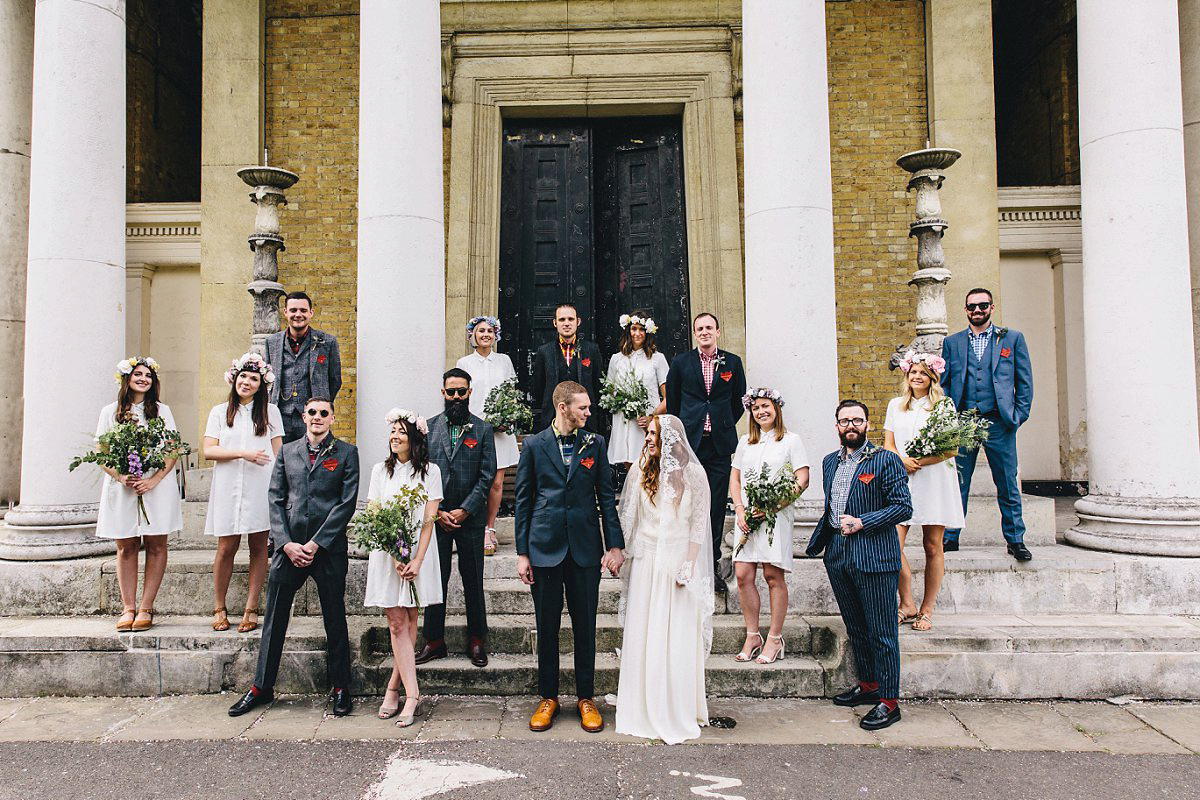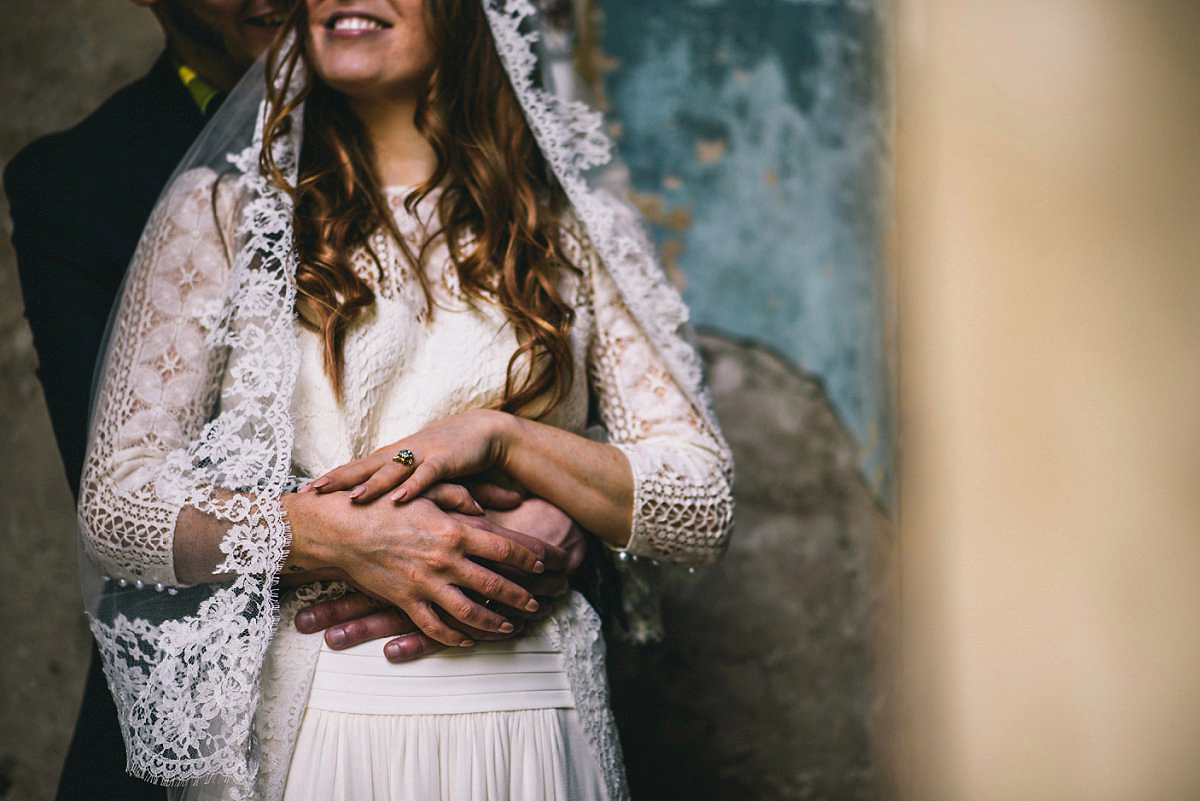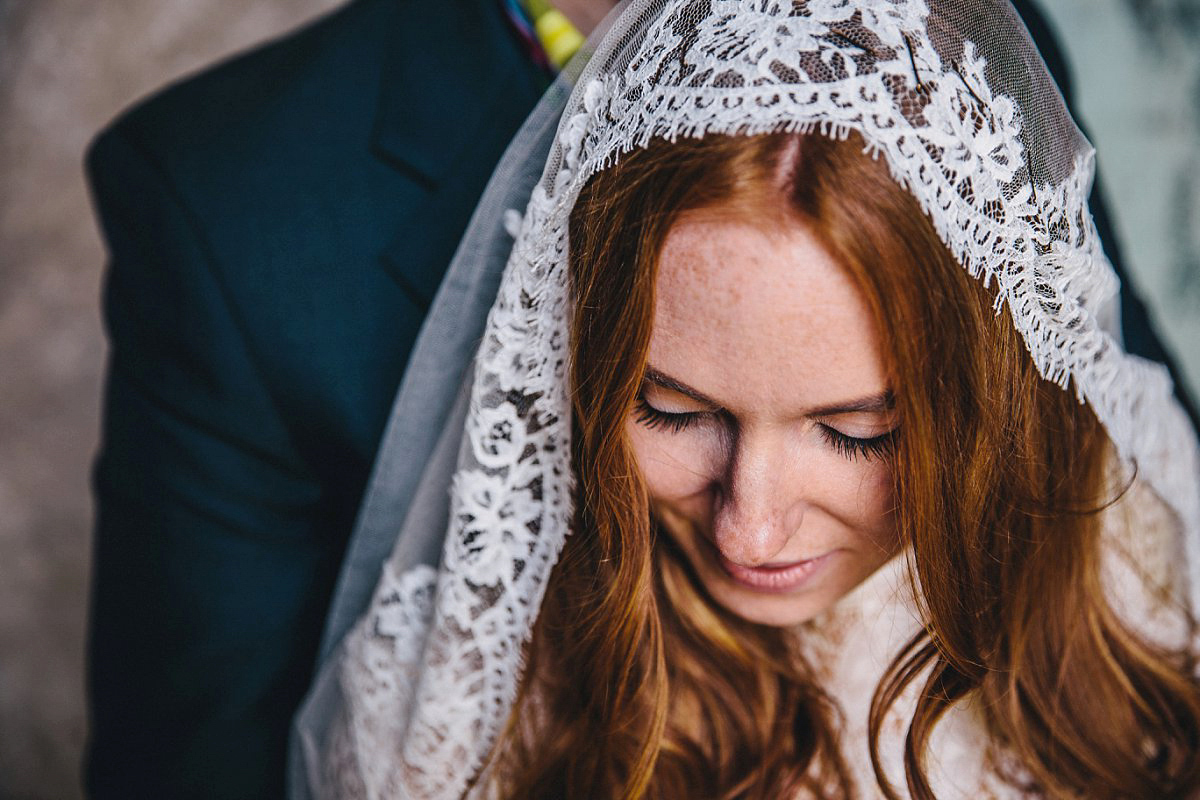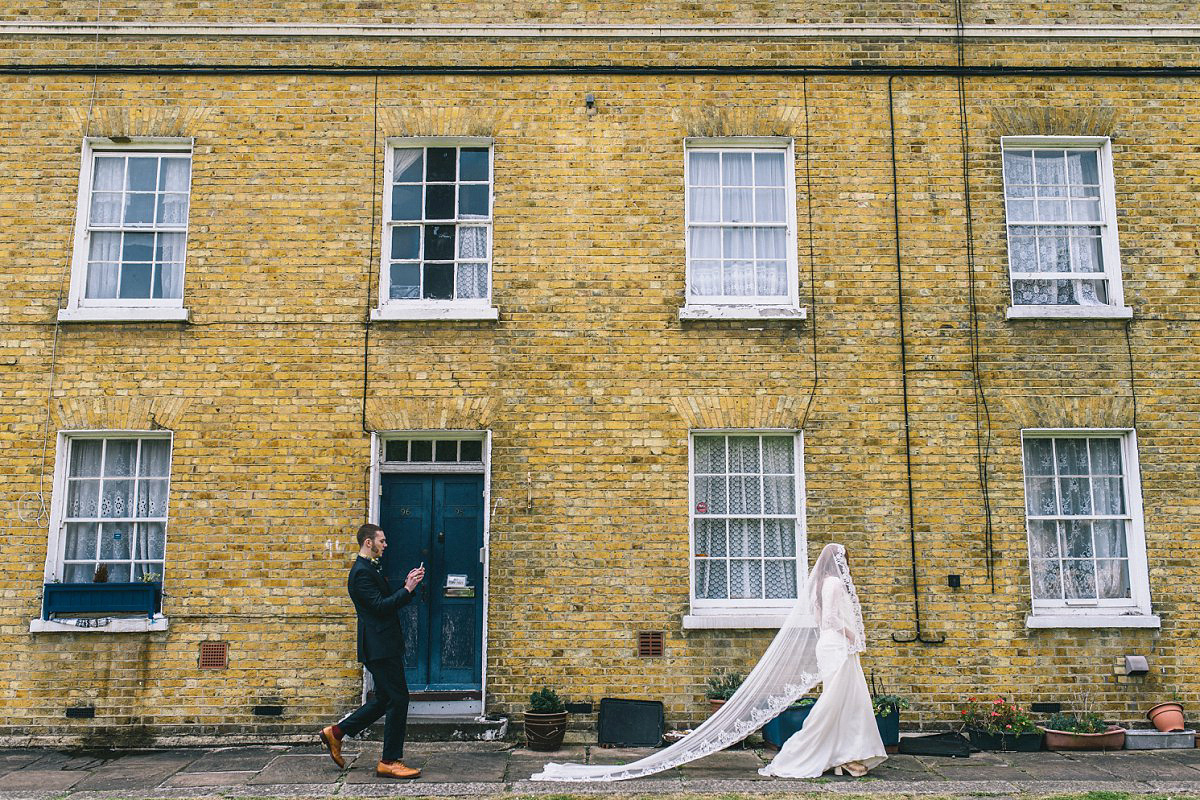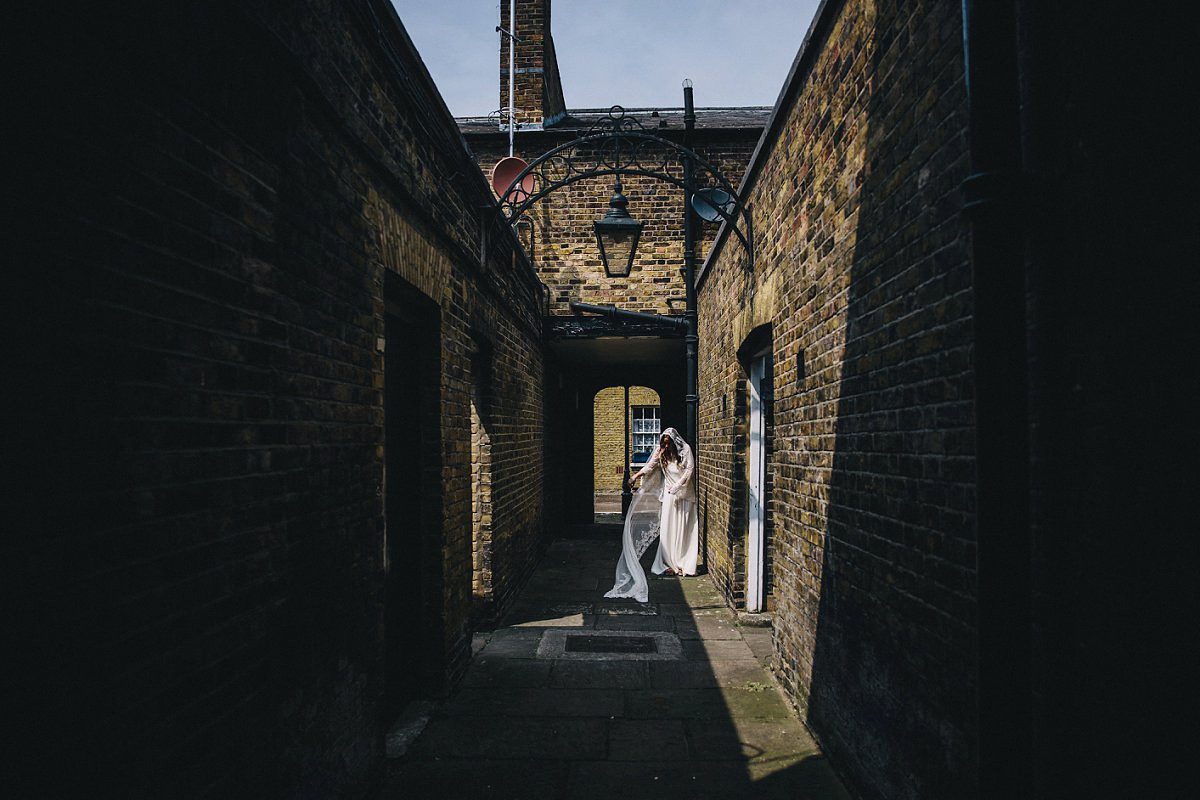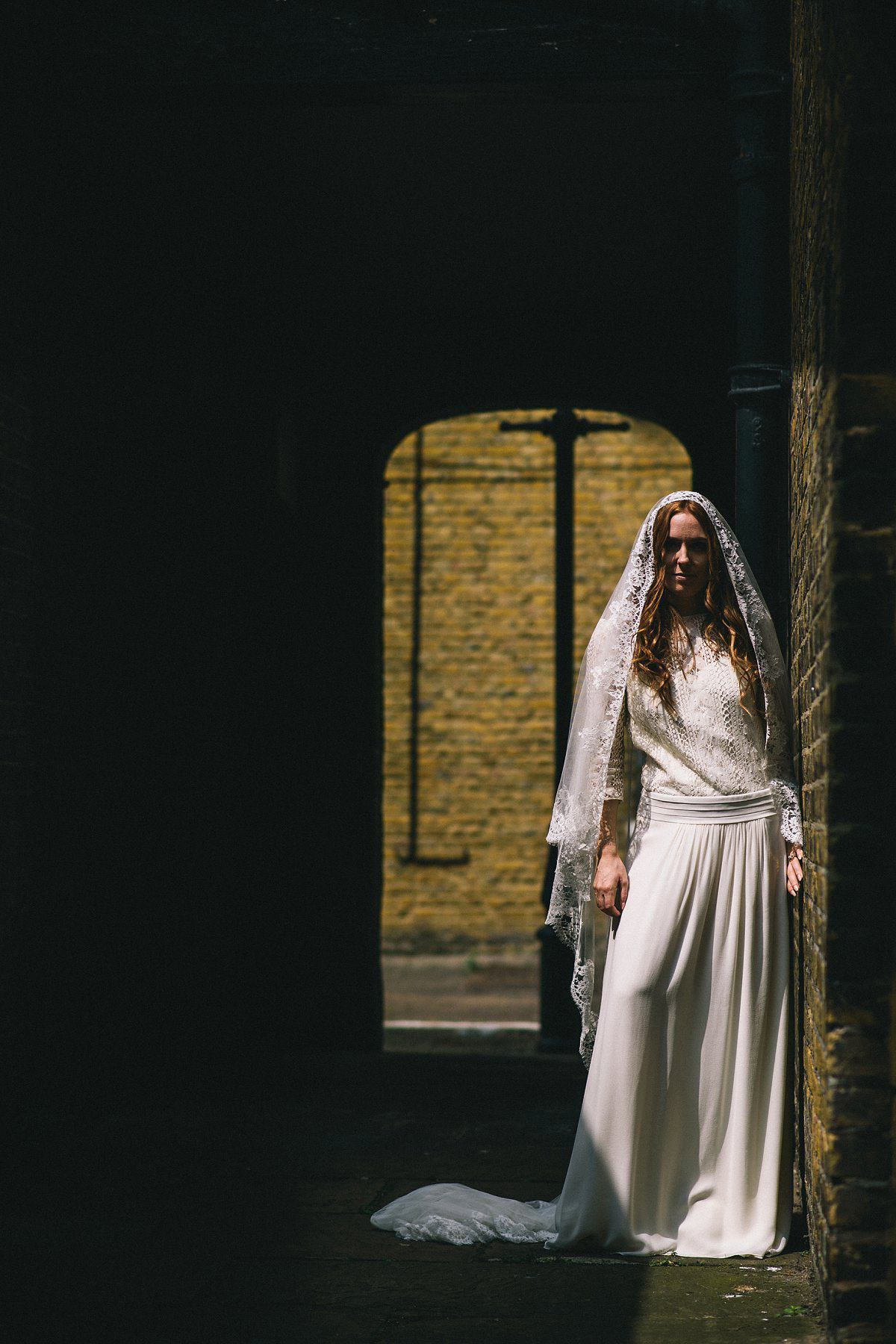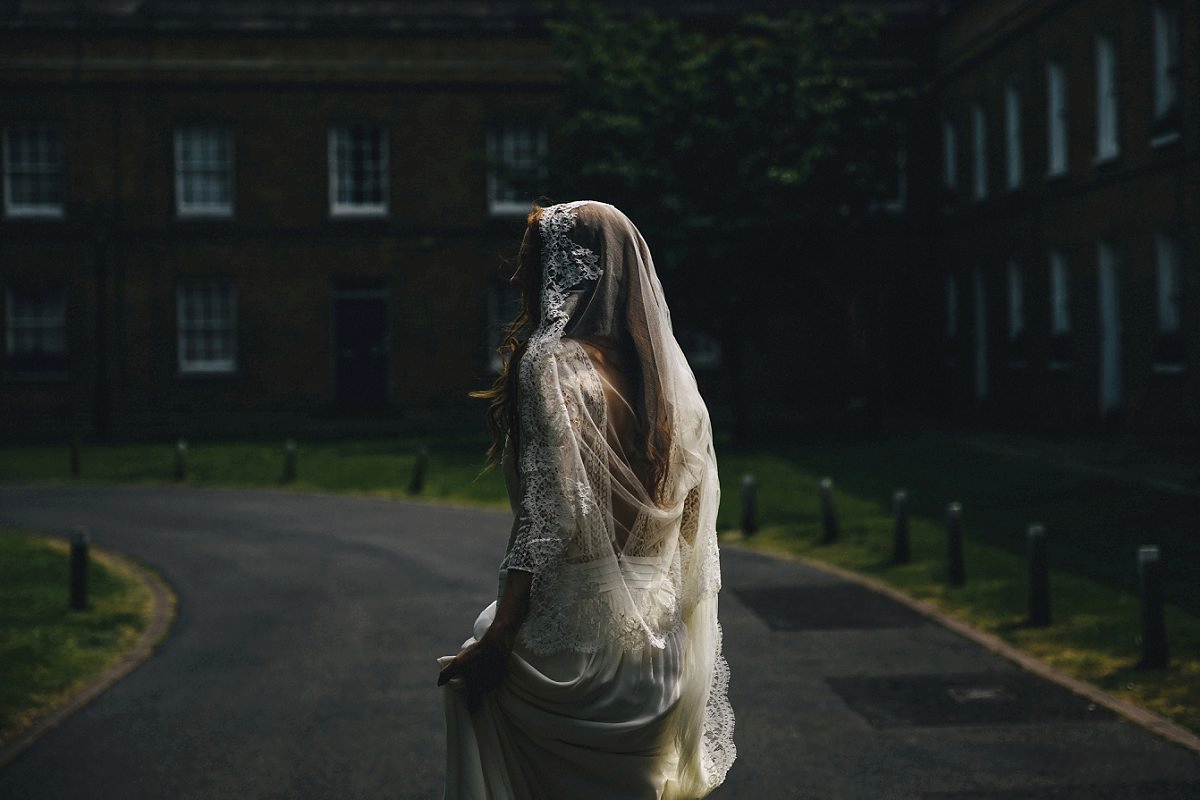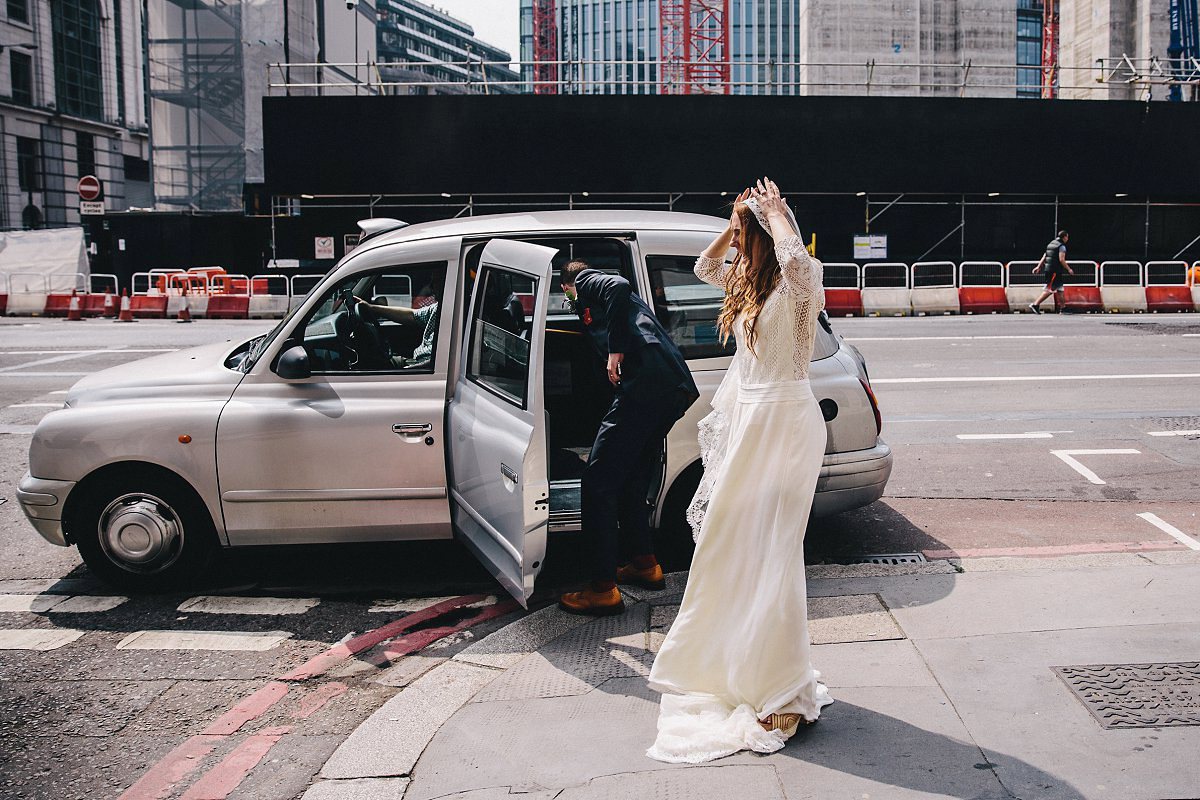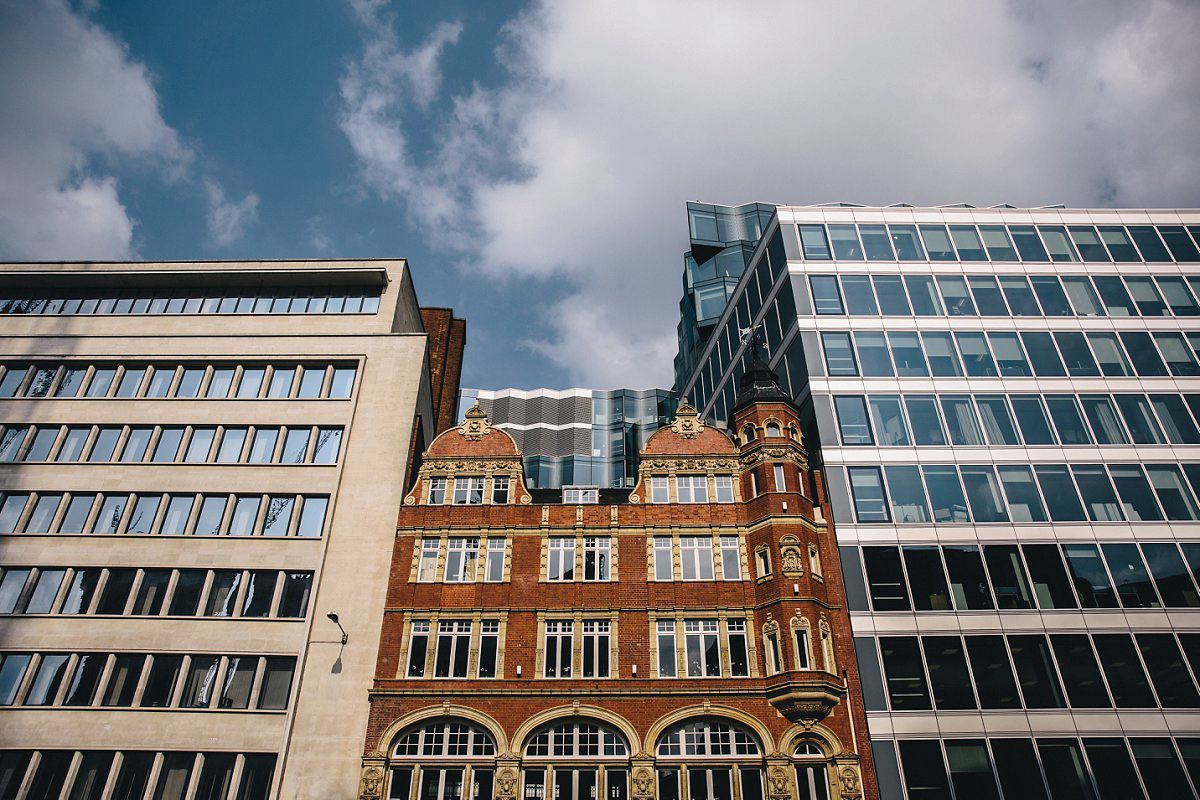 "We had the obvious Big Red London bus and a little 1950s gold bus to transport guests from The Asylum to Harrild & Sons. The bus picked me and the girls up from Ace Hotel in the morning (it picked up all the boys too, making logistics tricky!) and waited through the service to take the guests."
"It was great, I think that's where most alcohol damage was done, guests had the record player, speakers and urns from the service with them on the bus – and pretty much a bottle of prosecco per head!"
"We made all the stationery items ourselves. Our engagement party invite was a wax sealed origami heart in brown paper with a hand drawn map so we took that vibe throughout the postal stationary; our Save The Date was a beer mat with that beautiful wall of The Asylum in a brown wax sealed envelope. Our wedding invite was a (very detailed) hand illustrated London tour guide."
"The part I was most proud of was the seat places and the seating plan. We are obsessed with history and really wanted to pay homage to Peckham, our lives here and the origin of the place we are making these vows. It's easy to see our venue is a beautiful ruin. It's history is clear to see, but it has been seen over and over again as a wedding venue and shoot setting, which we are all too familiar with.
We wanted to really look at it's history. Peckham at the time The Asylum was being built was villages, fields and babbling brooks – so we used that agricultural beauty, Constable's 'The Hay Wain', as our table plan backdrop. This masterpiece had been painted five years before the Asylum had been built so was of the era. (It wasn't painted in Peckham, but we allowed ourselves a little artistic license there!).
The table plan is now hanging above our bed as a lovely daily memento."
"I really wanted pineapples on the table like Queen Victoria, so we hollowed them out and had them as palate cleansers between courses. I got our my trusty label maker again and typed 'pineapple palate cleanser' across Ambrosius Bosschaert the Elder, 'A Still Life of Flowers in a Wan-Li ' – post cards which fit perfectly with the scene. The pineapples looked awesome, and some of our amazing friends ended up using them as cups throughout the night (yuck!).
My married name is now Farmer – to this end I sprayed a load of farm animals gold which we dotted throughout the tables."
"Like the Asylum, the reception venue was very Victorian and also quite masculine with brass and wood décor. To compliment this and stick with the aesthetics of the space, we used the dried flowers in brown bottles of varying sizes that we (and everyone we have ever met) collected over the year."
"My dad made some of his famous limonchello which doubled up as the place names."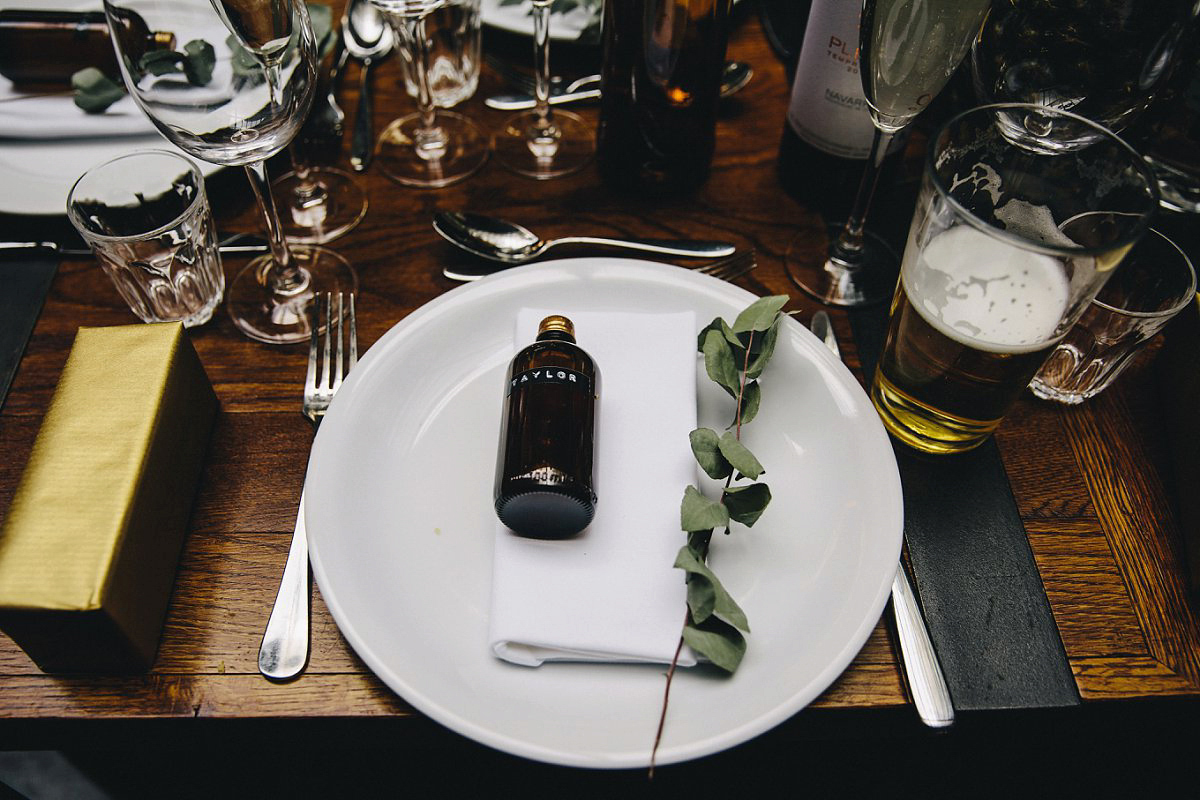 "The food at Harrild & Sons is amazing. We originally had another venue booked – a pub in Peckham, who unfortunately went bust. They served Pieminister pies at the original venue, which we love, and really had our heart set on serving pie and mash. Harrild & Sons kindly let us bring Pieminister in, which was perfect."
"They really made that part of the day so great. The thing about Pieminister is that they sell gift boxed pies! We can re-live the wedding breakfast whenever we want AND that's parents stocking fillers sorted for life!"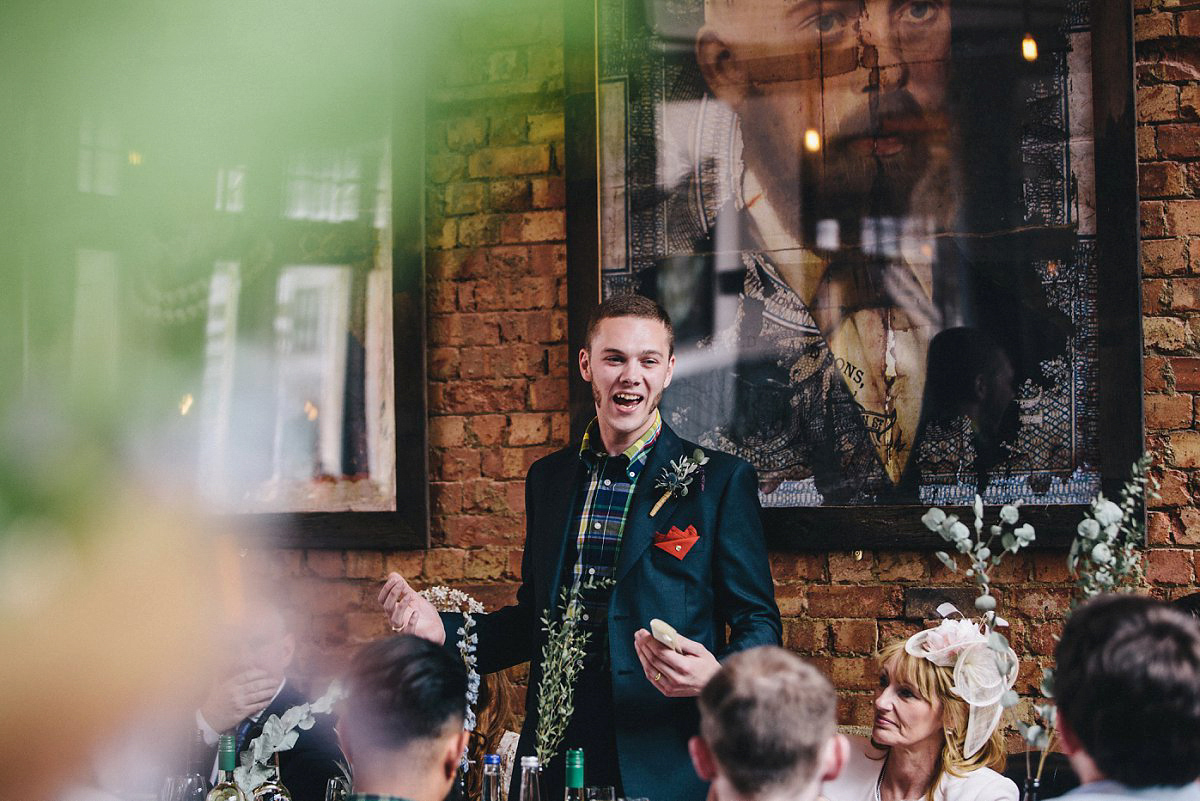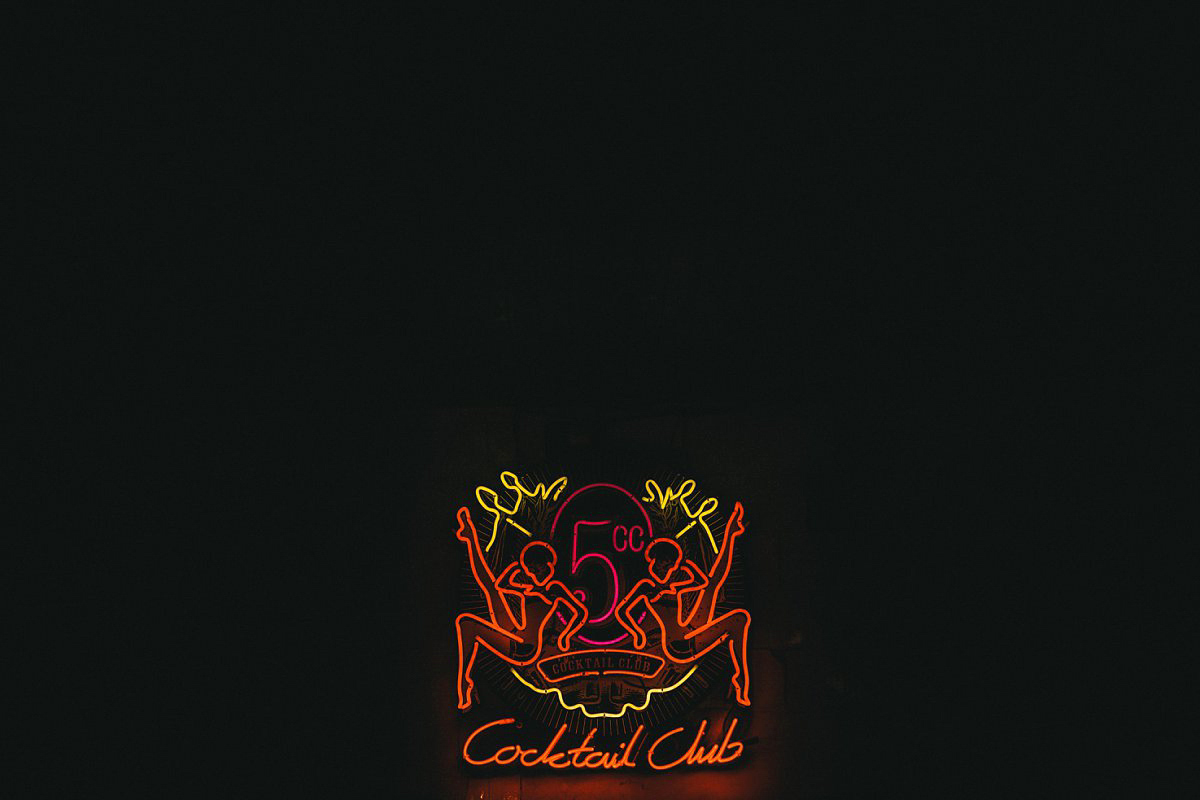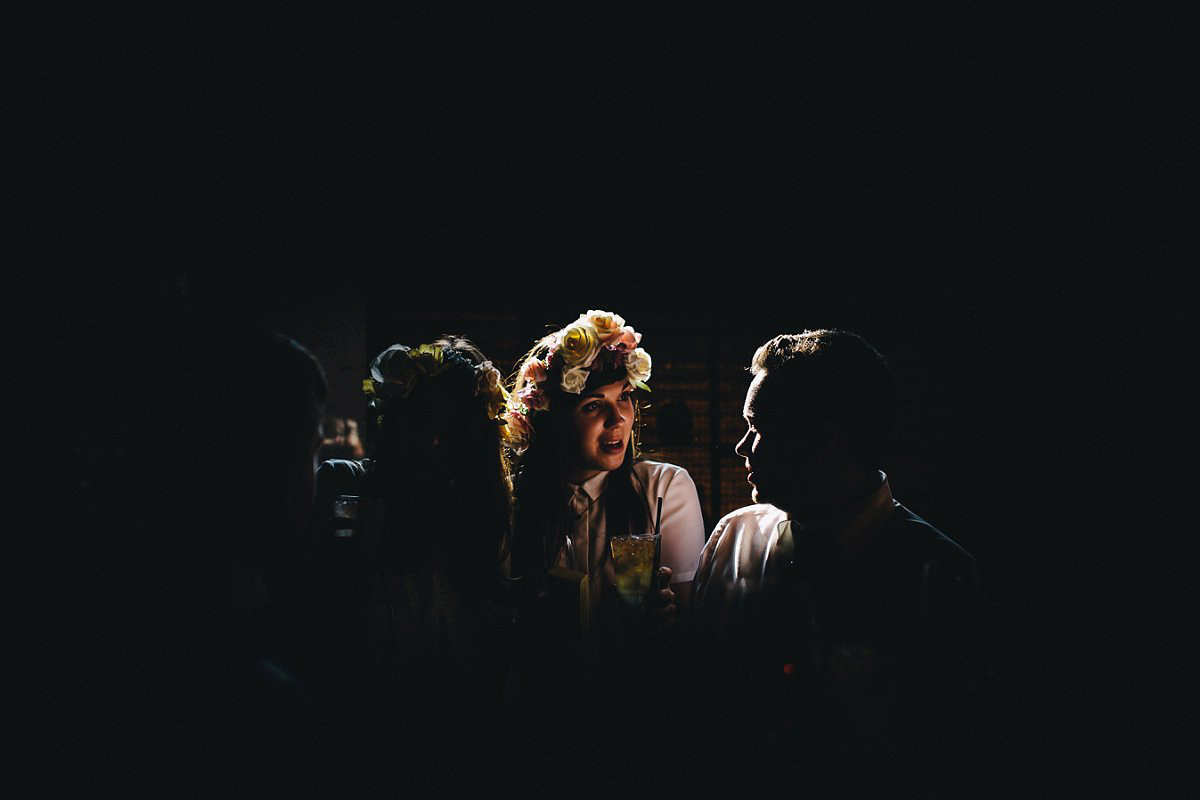 "Our Usher, Charley, made the cake. He is insane about baking and cooking. He and my Sister made our cake as our wedding gift – it was amazing."
"For our first dance we had 'You & Me', by Penny & the Quarters, just because it's beautiful. The words really speak to us."
Words of Wedded Wisdom
"Accept that things aren't going to go the way that you expect. You can't control it, and you won't want to, you'll be so busy and so (*merry) that it won't matter. Venues/suppliers/record players are going to do what they want, or what they think is best – and you're not going to be able to do anything about it no matter how prepared you are. So many things went wrong on our day, nothing life or death serious – but at every turn, in every part, something went upsettingly wrong. You can't let it get to you. It's annoying, but a year down the line it makes it the day that it is.
Make sure that someone bossy – an events manager, sister, or a sober pregnant chic, or your mum knows anything that would really upset you if it doesn't come off, and make sure they know how to fix it so that you don't get bothered with anything.
Also, make sure you slip off throughout the day to get some time just the two of you.  Every few hours we got to go and have a chill out and a reflection on it all.
I started getting sad as people started saying goodbye, so we ducked out on a high at around midnight so that the party was still in full swing. I'm really glad we did that.
I don't think there is anything we would have done differently. Anything that I wished had gone differently was out of our control."
Utterly gorgeous. My love and thanks to Caroline of The Twins and Paul Santos for sharing their beautiful images. You can see more beautiful brides wearing Laure de Sagazan here on Love My Dress and you might also wish to explore more of The Twins and Paul Santos weddings also.
Love Annabel x