We're about halfway through February lovelies! I'm looking forward to a weekend in Cornwall at the end of the month visiting fellow writer Emily Colwill and her wonderful husband – I'm still reminiscing and obsessing over their gorgeously colourful wedding, which we featured on the blog last month. I hope you have some lovely plans lined up for the coming weeks (other than scary legal paperwork for your impeding nuptials abroad…why did we decide to get married in Italy again!?)
Today I'm honoured to be sharing the wedding of the gorgeous Emma, a Primary School Teacher, who wed her Solicitor husband, Tom, on 9th April 2016 in stunning YolanCris separates purchased from our revered Little Book for Brides member, the truly brilliant Miss Bush Bridal.
Emma and Tom made their vows in Christ Church in Brockham Green and held their reception a mere stone's throw away in a marquee at Tom's family home. Their day was all about a relaxed garden atmosphere and an abundance of spring blooms, all orchestrated in just four months with help from planners and caterers, Two Many Cooks.
"We wanted a super relaxed, informal family day. There was no theme or colour scheme, just a focus on 'less is more' – straight forward. It was a marquee garden party reception with lots of flowers, spring blossom and an inside/outside Victorian garden feel with herbs and pots galore. Plus cake, sweets and giant balloons."
Photography by James Darling
Emma chose the Castello separates by YolanCris, which she paired with a flowing veil, all purchased at Miss Bush Bridal. We are self-confessed fangirls of Miss Bush here at Love My Dress, boutique-owner Emma provides the most amazing, down-to-earth service and stocks some of the most gorgeous bridal designs around.
By the way, just in case you missed it, Annabel featured Emma's secret Brighton wedding just a few days ago where Emma provided a hilariously funny and searingly honest account of her day and her experiences as bride – you have to read it."My sister Victoria came to my appointment at Miss Bush Bridal with me. She told me to try my YolanCris dress – it was the first one I put on. We knew instantly. The feeling and the look was like nothing I had ever seen on a bride and I felt amazing in it.
"I fell in love with the lace and silk and the totally unique style. I loved the fact it was a blouse and a skirt; no tight corsets or restrictions, it was so comfortable."
I love the high neck of Emma's blouse and the intricately intertwining detail of both skirt and top – somehow both gorgeously Edwardian and strikingly modern. Our bride chose a pair of metallic platform court shoes from L.K. Bennett and opted for a sleek, minimal, low bun and simple glowing make-up, all scented with divine Chanel No. 5.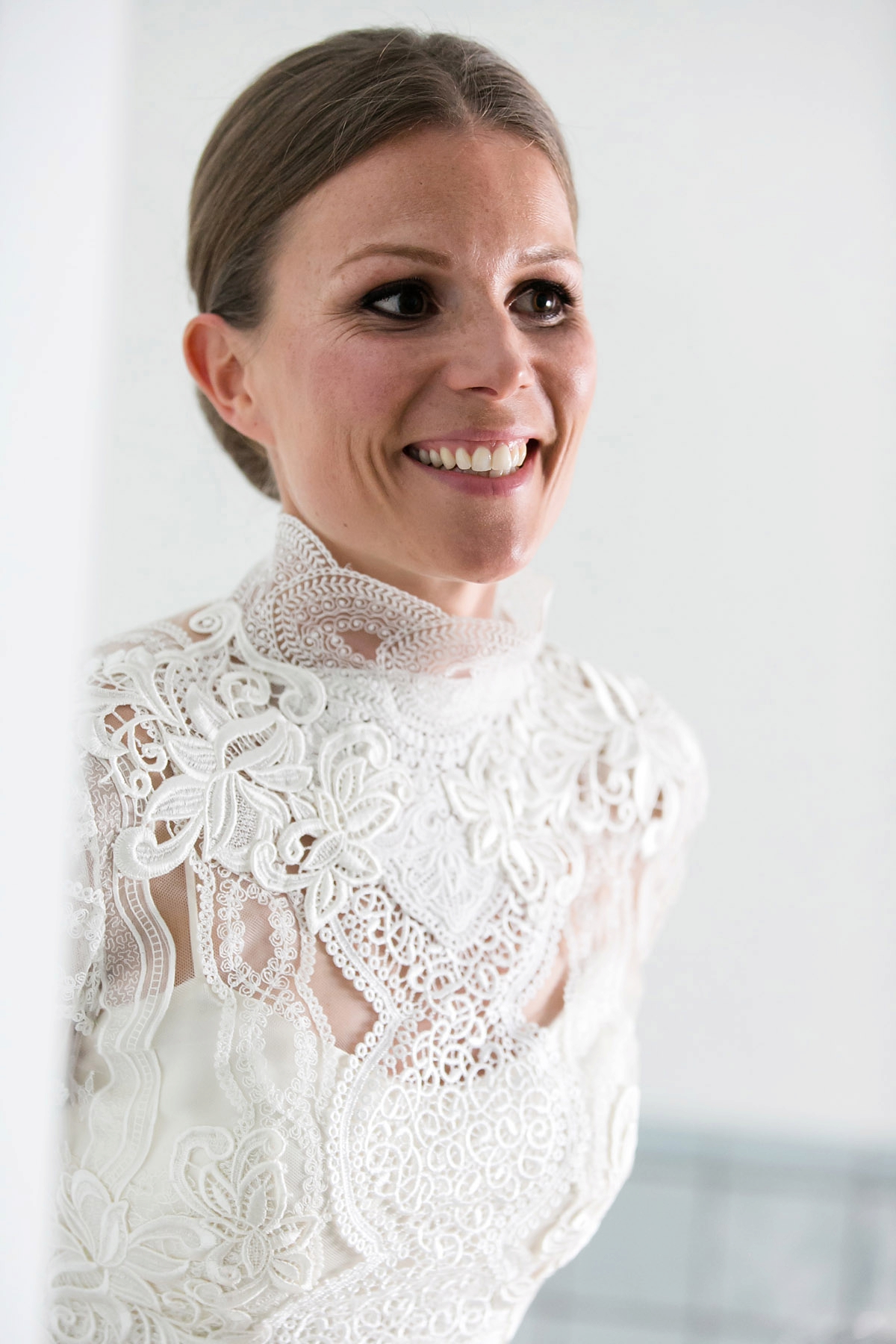 "My accessories amounted to a doughnut ring! My hair was done by Jo Irving at Lovehair & Co and my make-up by Clare Read. They are two incredibly talented and calm ladies to have around you on the morning of your wedding. I could not recommend them more highly."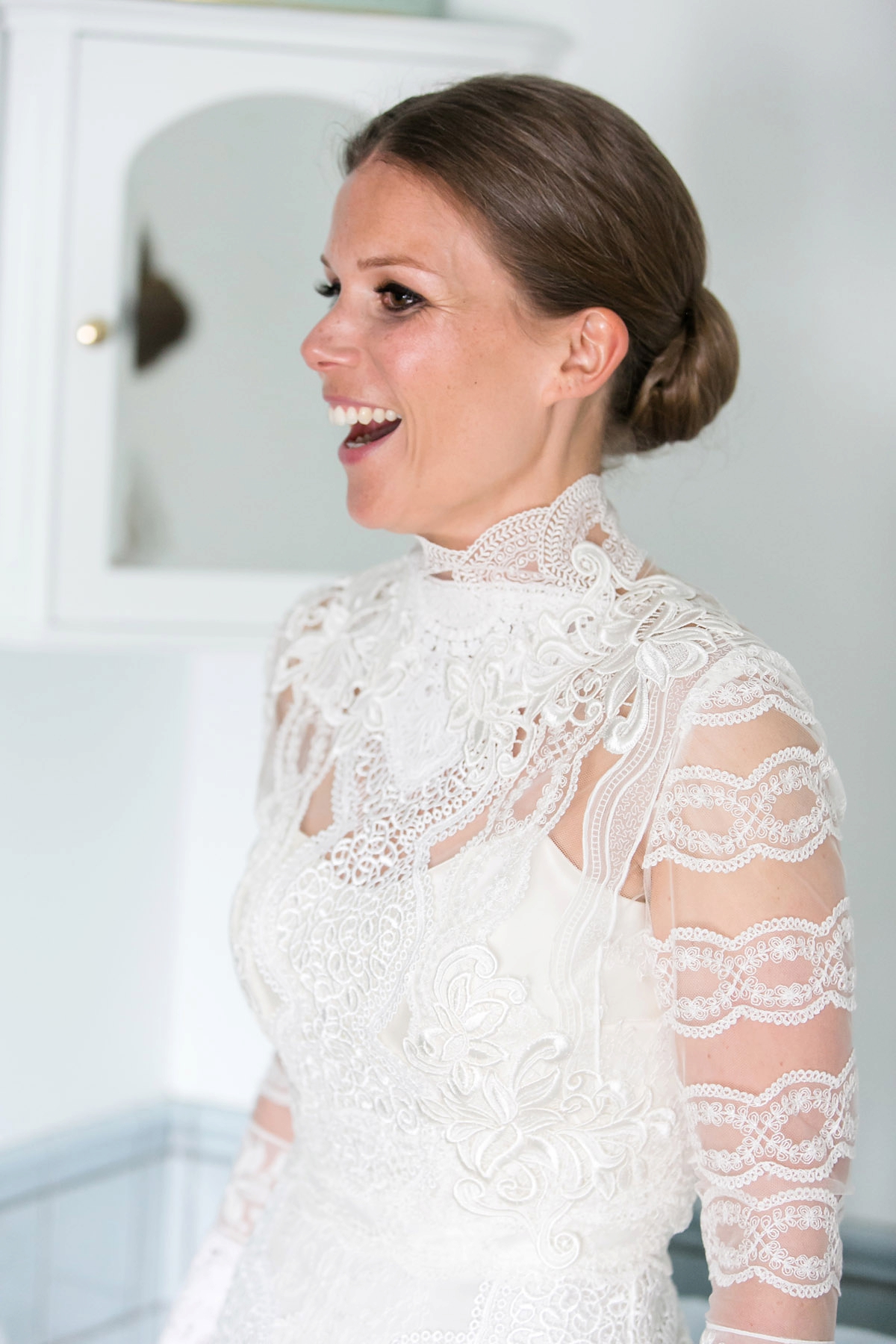 Gorgeously fresh blooms were supplied by Marion at Kingfisher Farm Shop – I just love the simple, pretty aesthetic these arrangements create, tying in the indoor/outdoor springtime feel Emma and Tom had in mind and the simple, minimal design of the stationery by Gee Brothers. Anemones have to be one of my all-time favourite flowers.
"Marion was amazing, she just got it. I walked in clutching 'Vintage Wedding Flowers' by Vic Brotherson and she said, 'I love that book'. I knew she was the one! We met a couple of times, shared images on Pinterest and that was it – match made in heaven."
"She had a solution for everything and every time she mocked something up it was like she was in my head. She's a wonderfully calm, incredibly creative lady."
Emma walked to the church with her father, John, sister, Victoria and baby Ruby (who was just two weeks old) as well as Victoria's partner, Alan and her cousin Lucy. Purcell's Trumpet Tune played her down the aisle towards her waiting fiancé.
The couple chose Sonnet 116 by William Shakespeare and extracts from the Song of Solomon for their readings before exchanging rings bought from Prins & Prins in Cape Town.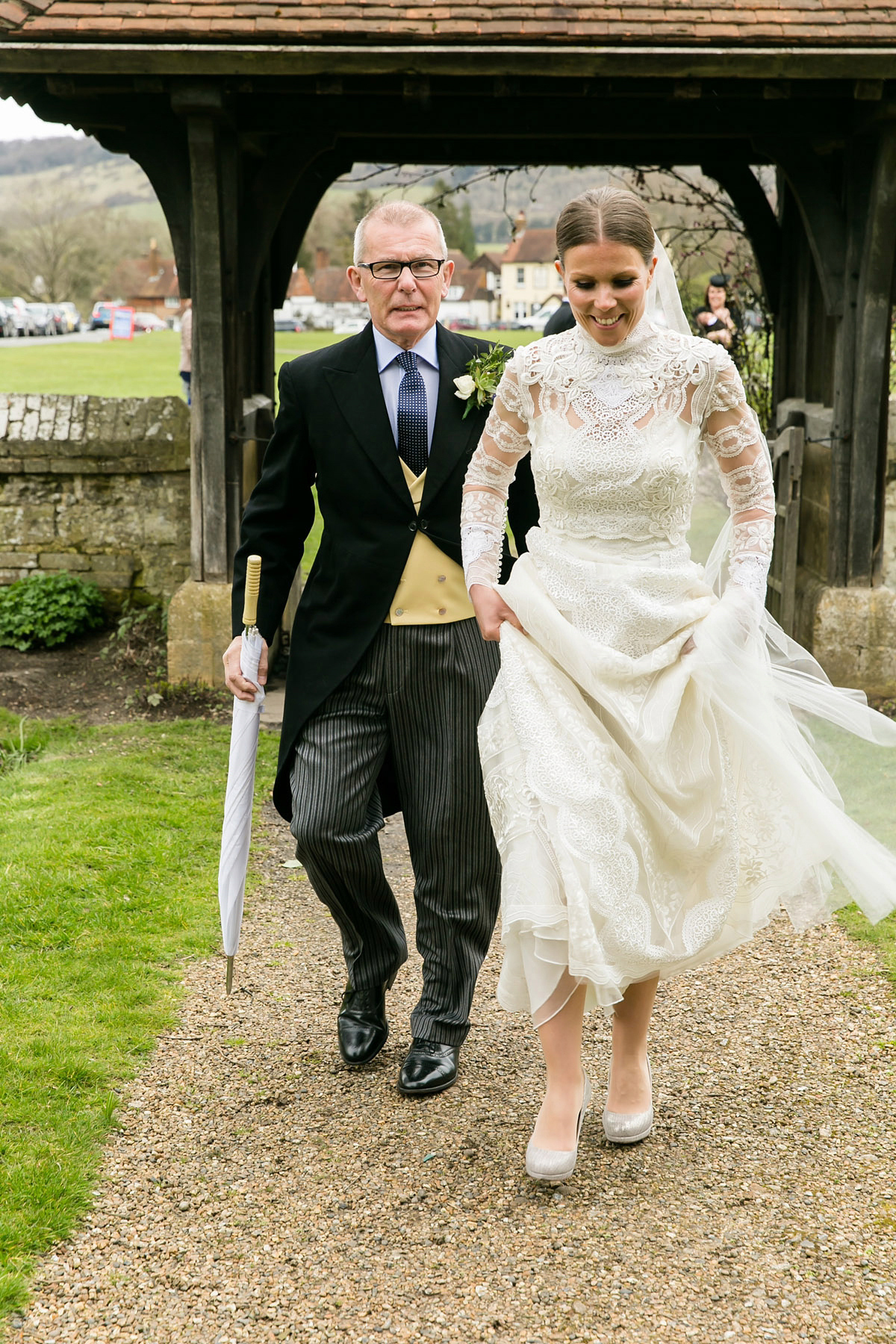 "We chose Song of Solomon because of the 'spring' feeling it had, a new beginning; 'The winter is past; the rains are over and gone. Flowers appear on the earth; the season of singing has come, the cooing of doves is heard in our land.'"
"My engagement ring is from Cry For The Moon in Guildford; a beautiful sapphire and diamond target ring. It's vintage and classically beautiful and we both fell in love with it. Our wedding rings were from Prins & Prins; simple platinum bands. We go to Cape Town every year with family and we both love South Africa. We decided it was the perfect place to have the rings made. They made them in 5 days – incredible service!"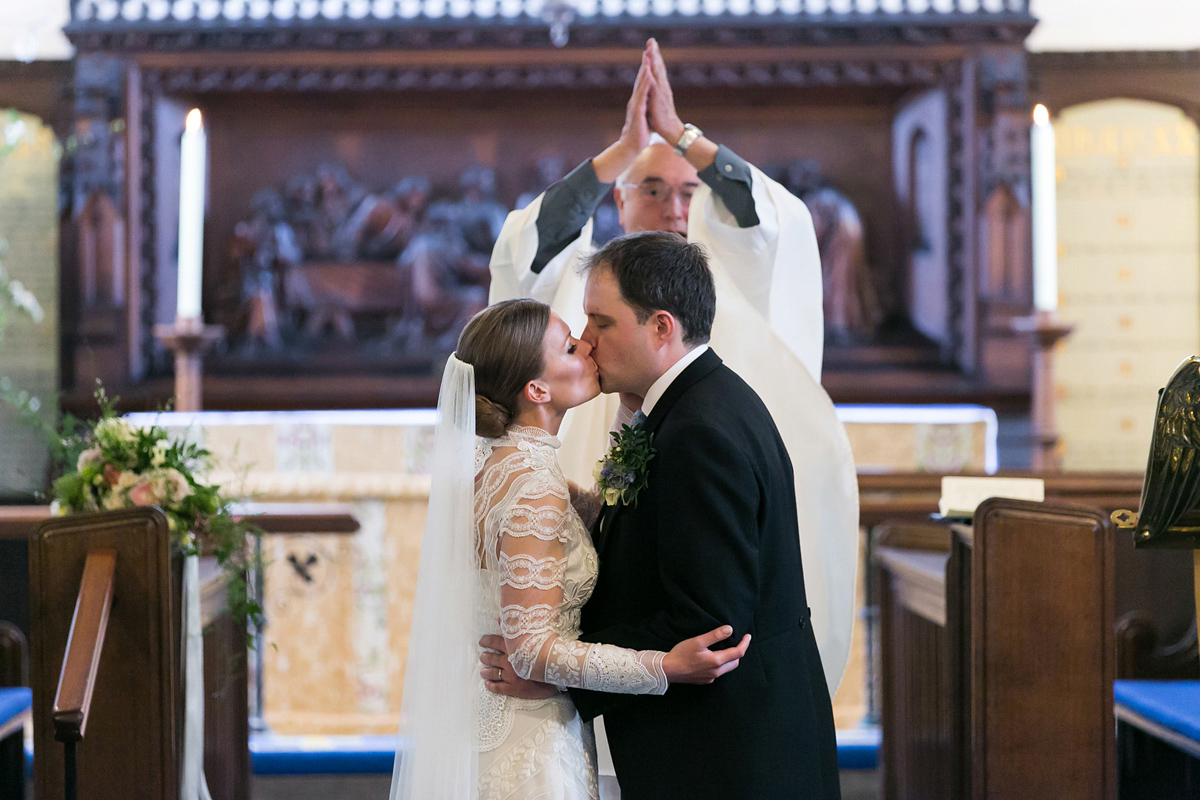 "Tom and I met at Law School in 2003. We celebrated our twelve year anniversary in December 2015 and Tom proposed in his anniversary card with 'PS. Will you marry me?' We had a long courtship but a short engagement – we were married less than four months later!"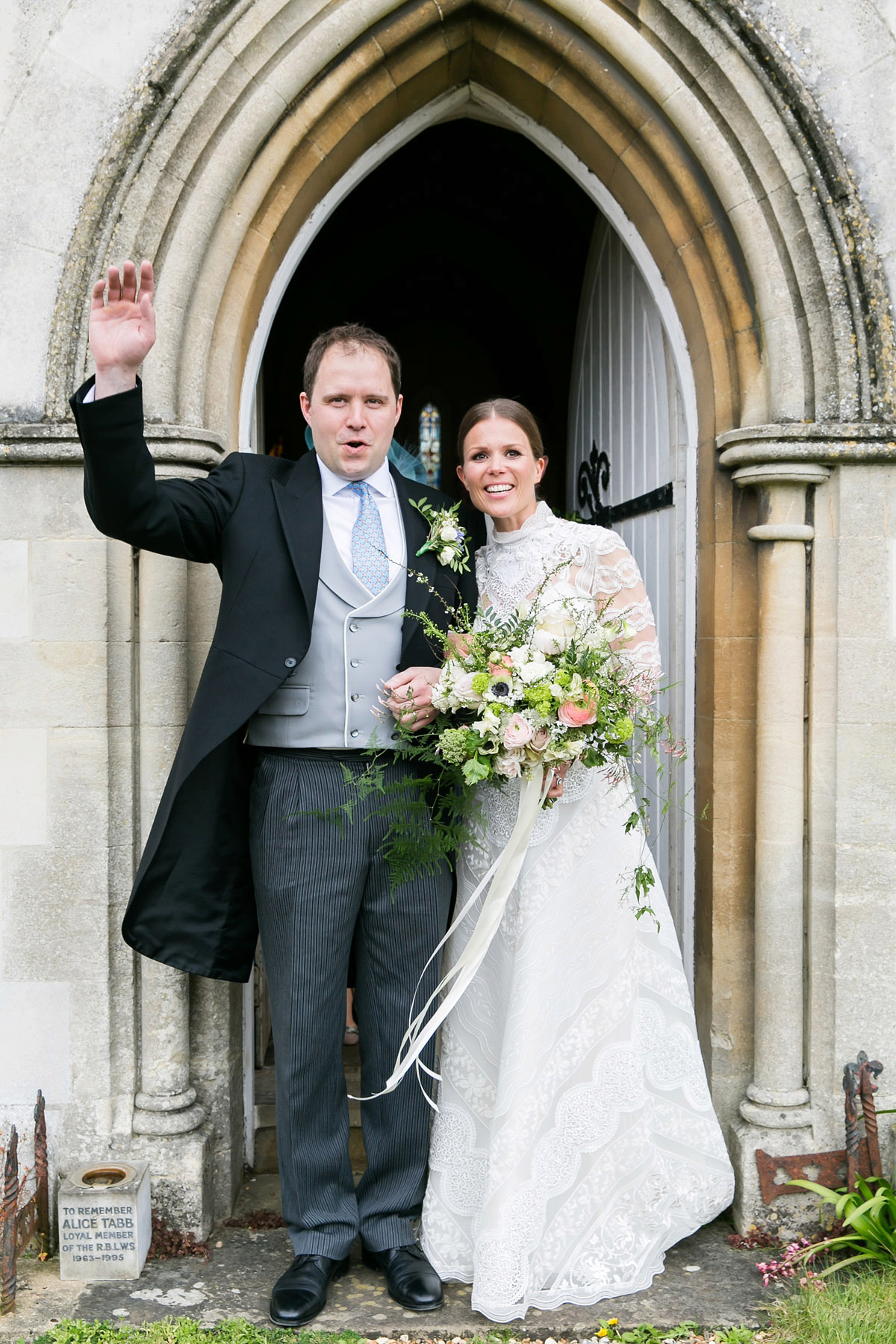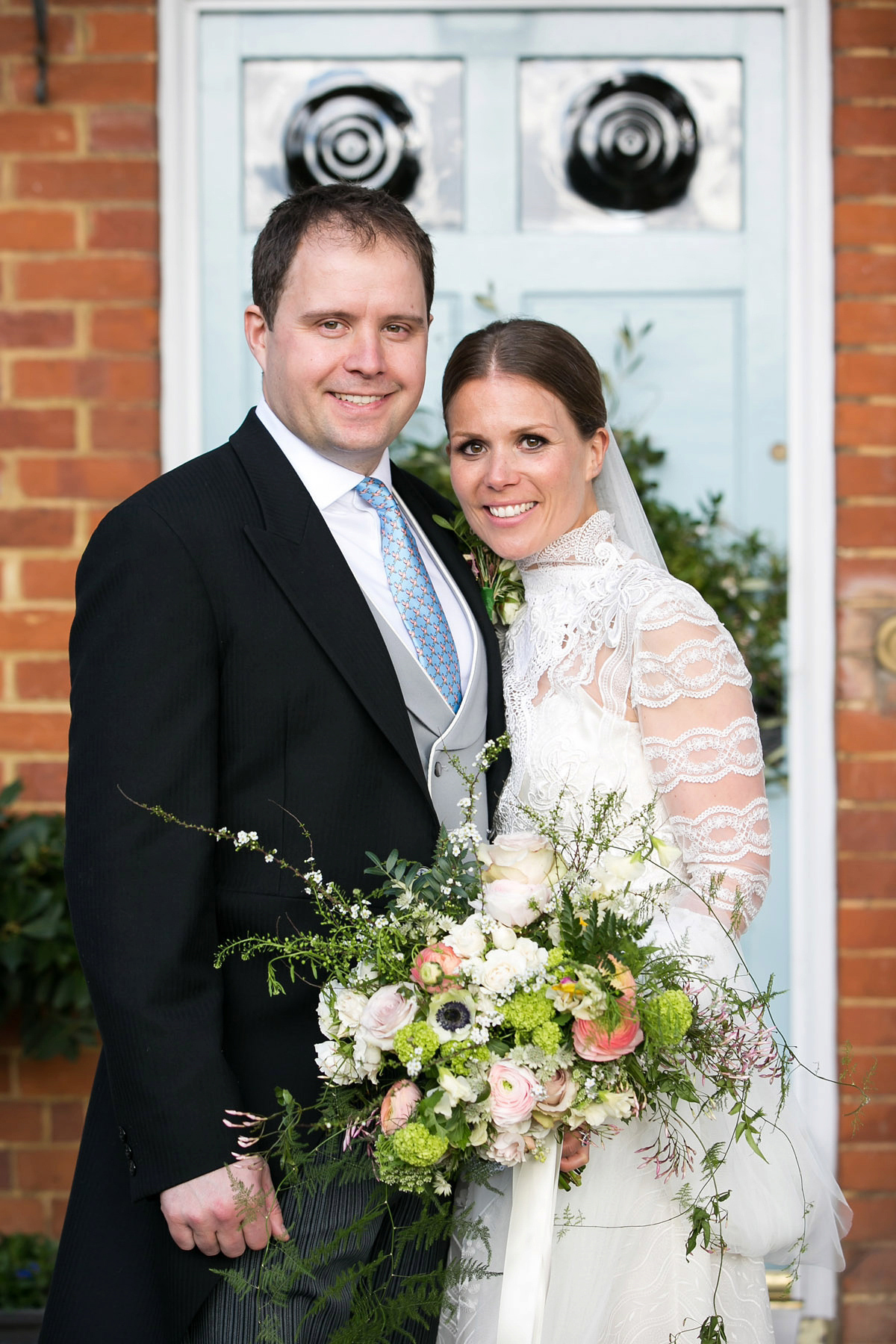 Emma and Tom chose James Darling to document their day, and also opted to catalogue every wonderful second on film, for which Ed Schofield at Cedar Film Co was responsible.
"The amazing James Darling is a true hero! He was an absolute pleasure to have with us on the day. He briefed and guided us brilliantly. Book him and trust him; our photos are stunning and the 'feel' of the day was truly captured. We could not recommend him more highly."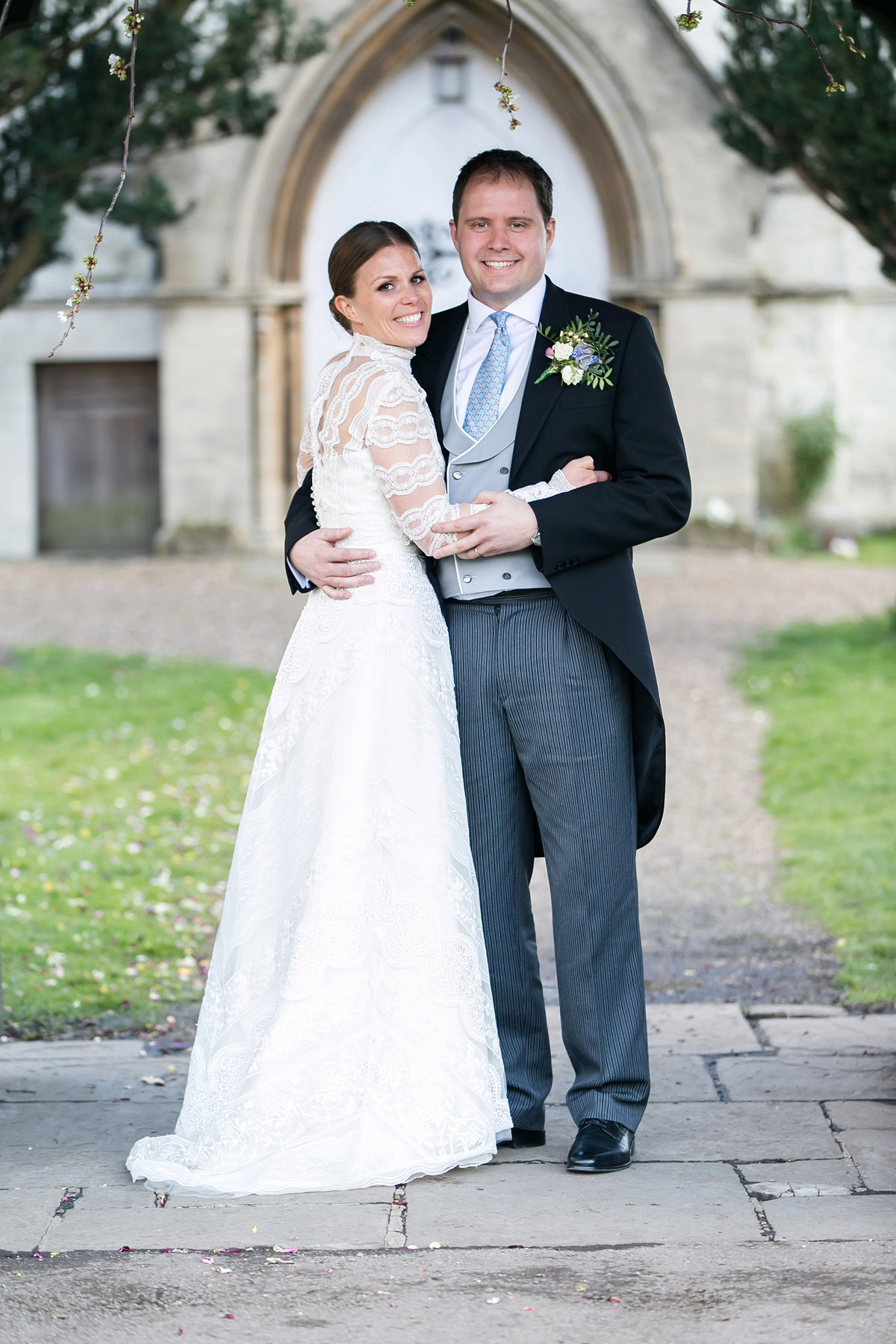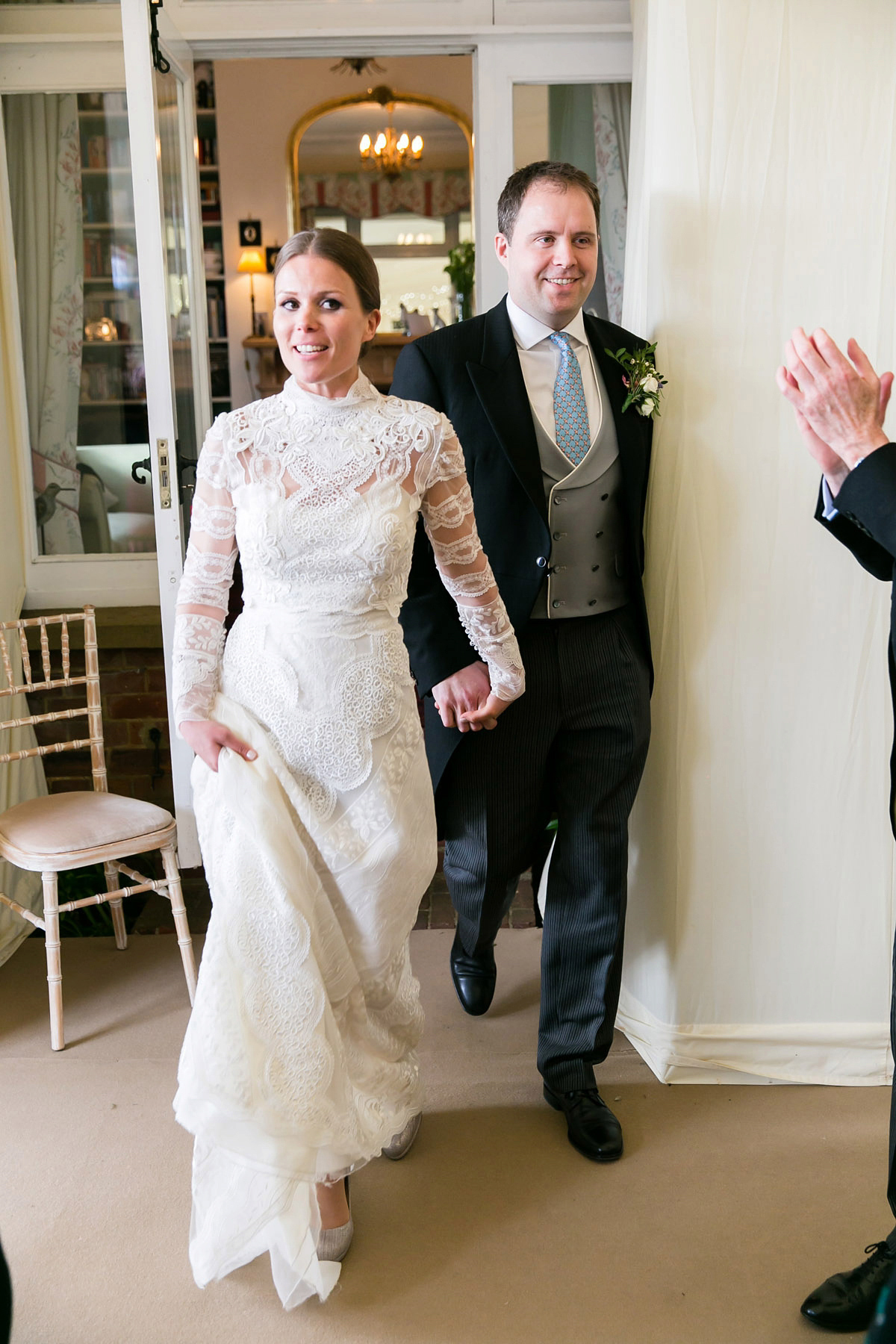 After the ceremony, the newlyweds and their guests formed a meandering line of joy from the church to Tom's family home across the green, where a gorgeous marquee reception awaited, catered by Emma and Tom's 'secret weapon' – wedding planners and caterers Joanna and Emily of Two Many Cooks.
"Joanna Rowlands and Emily Jones are the most amazing duo. Emily and her team's attention to detail is insane – she really is the most caring person to have around you before and on the day – she really does want the day to be as perfect as you do. The food was simply amazing; the flavours were so crisp and clean and the presentation just stunning. We chose a selection of canapés, making sure there was something for everyone and put together the perfect bespoke seasonal menu."
"Nothing was too hard or too tricky for Two Many Cooks and we were guided through to make sure we were both happy with every choice. The thank you letters were testimony to the guest's opinions – it's no exaggeration to say every single one mentioned them! There is no way we would have been able to plan and put together the wedding we had in less than four months without Two Many Cooks."
"Everything was done with excitement, professionalism and a huge smile. On the day the wonderful Clare managed the catering team – she was a complete hero. We just switched off and enjoyed our greatest day."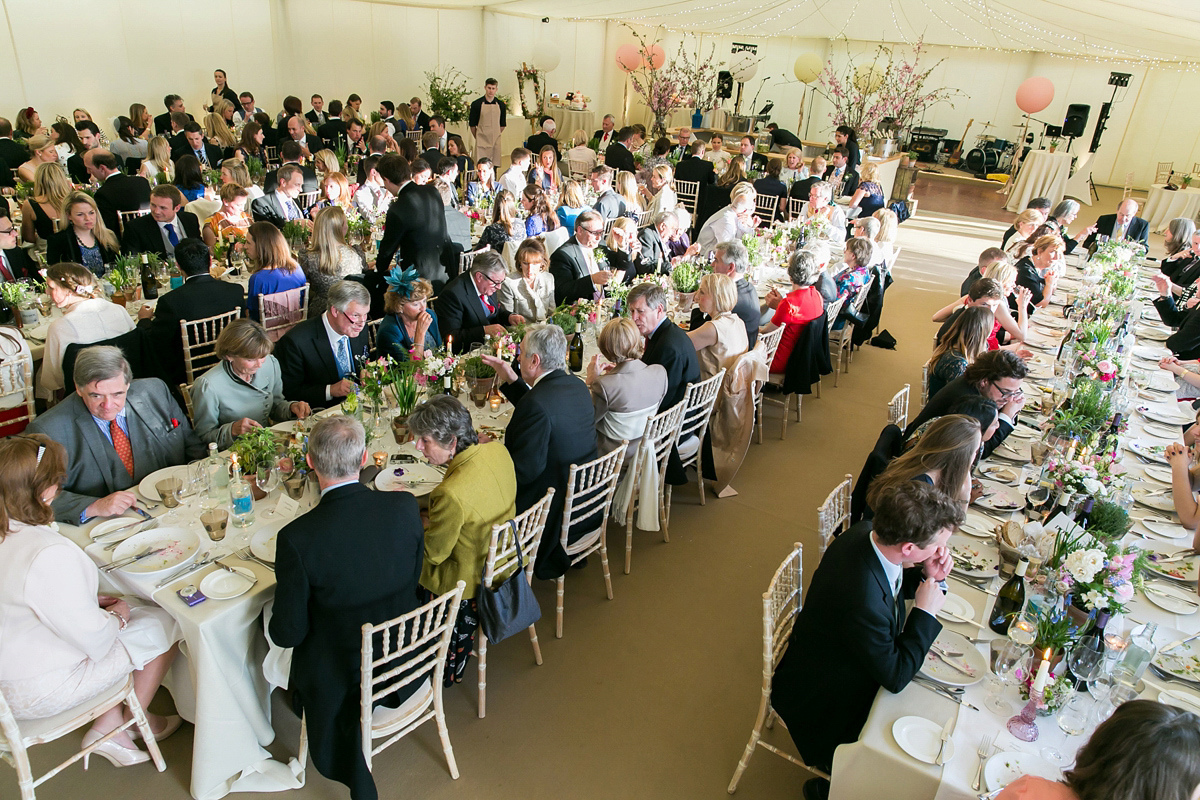 "Getting married somewhere so familiar, surrounded by family and friends, we had so many special moments. After the starter, our photographer James said 'let's go for a walk and take some photos' – we were both a bit reluctant but so so happy that we did – we walked across the green, together, alone as Mr and Mrs and just kept saying 'this is amazing'. The fact we had five minutes time out was so special. We reflected, took a breath and then went back in to truly enjoy the day. Those photos are our favourite, we both look so relaxed."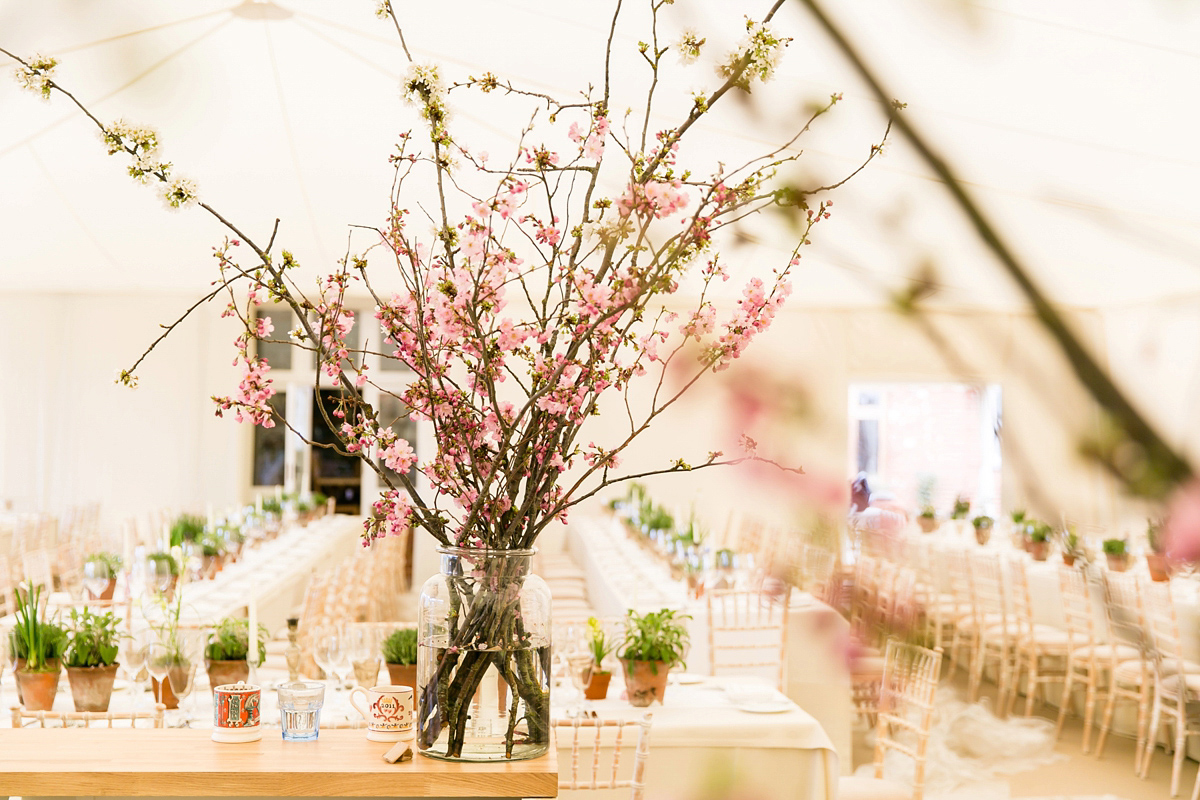 Two Many Cooks also supplied a classic three-tier wedding cake, which was supplemented with further sweet treats baked by Emma and Tom's mums. Add to that five more cakes and there truly was something for everyone – each flavour a special nod to a guest present at the wedding.
"We went for Victoria Sponge, chocolate biscuit, chocolate, carrot and Red Velvet – you can NEVER have enough cake. If ever there was a day to embrace the sweet tooth it was then! We had an old school sweetie table too with pink and white striped bags."
Giant balloons from Bubblegum Balloons, candles, pots and a ladder supplied by Marion at Kingfisher Farm Shop and a disco ball and firepit (uh, wow?!) from Lighting With Intent decorated the spring marquee hired from Inside Outside. I adore the fresh simplicity of this styling – no fuss, no frills, just pretty, springtime charm.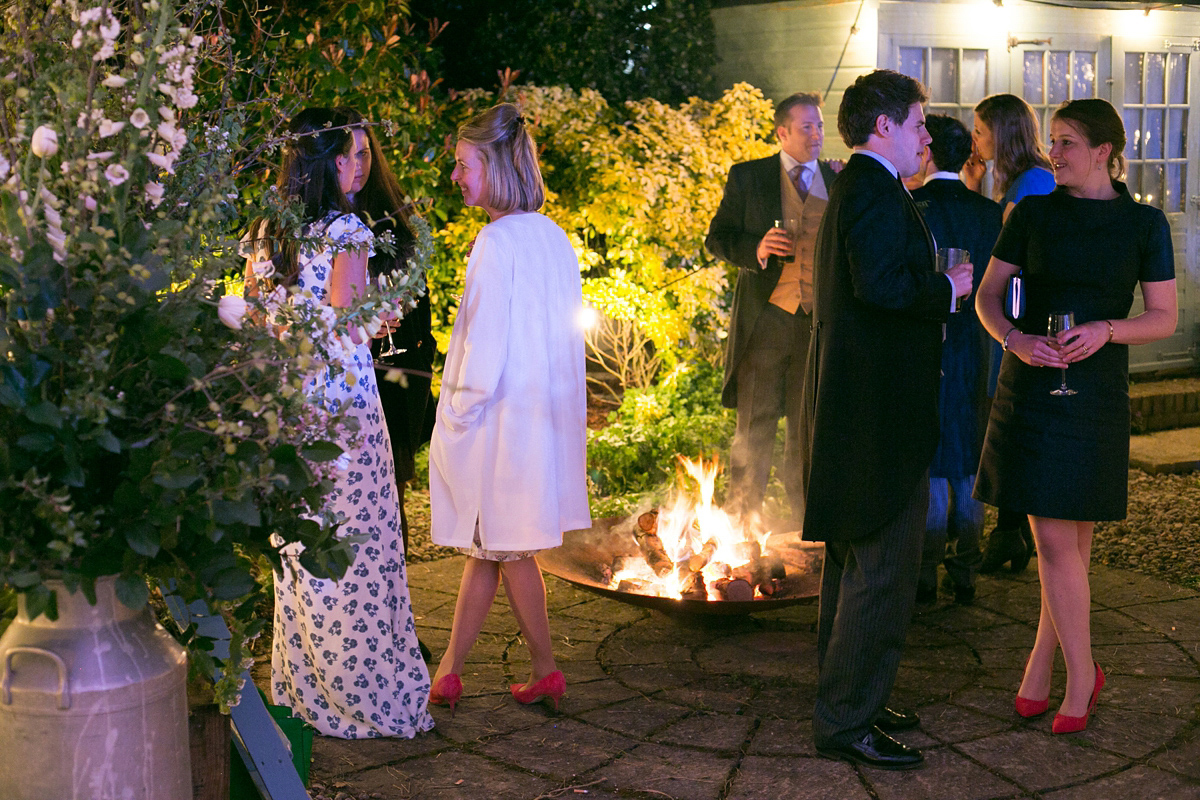 "We hired Rollercoaster Band for our reception. 'Poprock with a Celtic Twist' – their website says it all. They are quite simply the best band we have ever heard at a wedding and so the choice was simple. We called them the morning after we got engaged, chatted for about twenty minutes and that was it, booked. There was no play list, no crazy compilations; we just said do what you do and they did. They have played at all three family weddings in the last twelve months. I'm half Irish, that's all we had to tell them, and the classic Celtic tracks were dropped in at the perfect time. The dance floor was never empty – enough said!"
"Our first dance was to The Pretenders' '500 miles' – Rollercoaster did the most beautiful slowed-down, stripped-back version and then the tempo cranked up and everyone joined in! The lyrics are beautiful, we had never slowed them down and listened to them and when we did, that was our decision made. It is a party track but also a beautiful song – go and listen to it you will see what we mean."
Words of Wedded Wisdom
"Don't sweat the small stuff, there is so much that really does not matter. You don't want to look back and cringe at the way you behaved or the things you worried about. Keep calm and don't lose sight of the important bit – the marriage.
There isn't much that can go wrong if you have a good team and make decisions together. Trust the professionals, they really know what they're talking about, particularly Emma at Miss Bush and Emily at Two Many Cooks, for just about everything else.
Oh and have a notebook and a Pinterest board, write everything down, make a list and a mood board!"
I'm off to peruse the scores of seriously stylish Miss Bush brides nestled glamorously in our glorious real wedding archives so that just leaves me to say a huge thank you to Emma, Tom and James Darling Photography for sharing this sublime day with us all. Good Lord, I do love that YolanCris dress!
Love, Em x