Something I love about writing up weddings here on Love My Dress is that I have never ever written a real wedding feature without enjoying it- it's a real testament to the originality and style of our brides and grooms that each and every wedding is beautiful and special.  Sometimes though, like today, I fall absolutely head over heels and want to be part of it all immediately.  I was even more thrilled to discover that today's celebrations took place at the beautiful East Riddlesden Hall, which is only a few miles away from my own humble abode.  Meet Matt, a web developer and Fiona, a primary school teacher, who married on Sunday 7th August 2016, surrounded by their family and friends.
Fiona looked beautiful and ethereal in 'Emma' by Maggie Sottero in light gold over ivory, which she purchased from The Harrogate Wedding Lounge, a most beautiful boutique that we're delighted to recommend through our Little Book For Brides.
"I saw this dress on The Harrogate Wedding Lounge's Instagram and instantly loved it.  I thought the shape was beautiful and it looked like the perfect combination of all my favourite bits from other dresses: a sweetheart neckline, twinkly bits and lace."
Photography by Natalie Pluck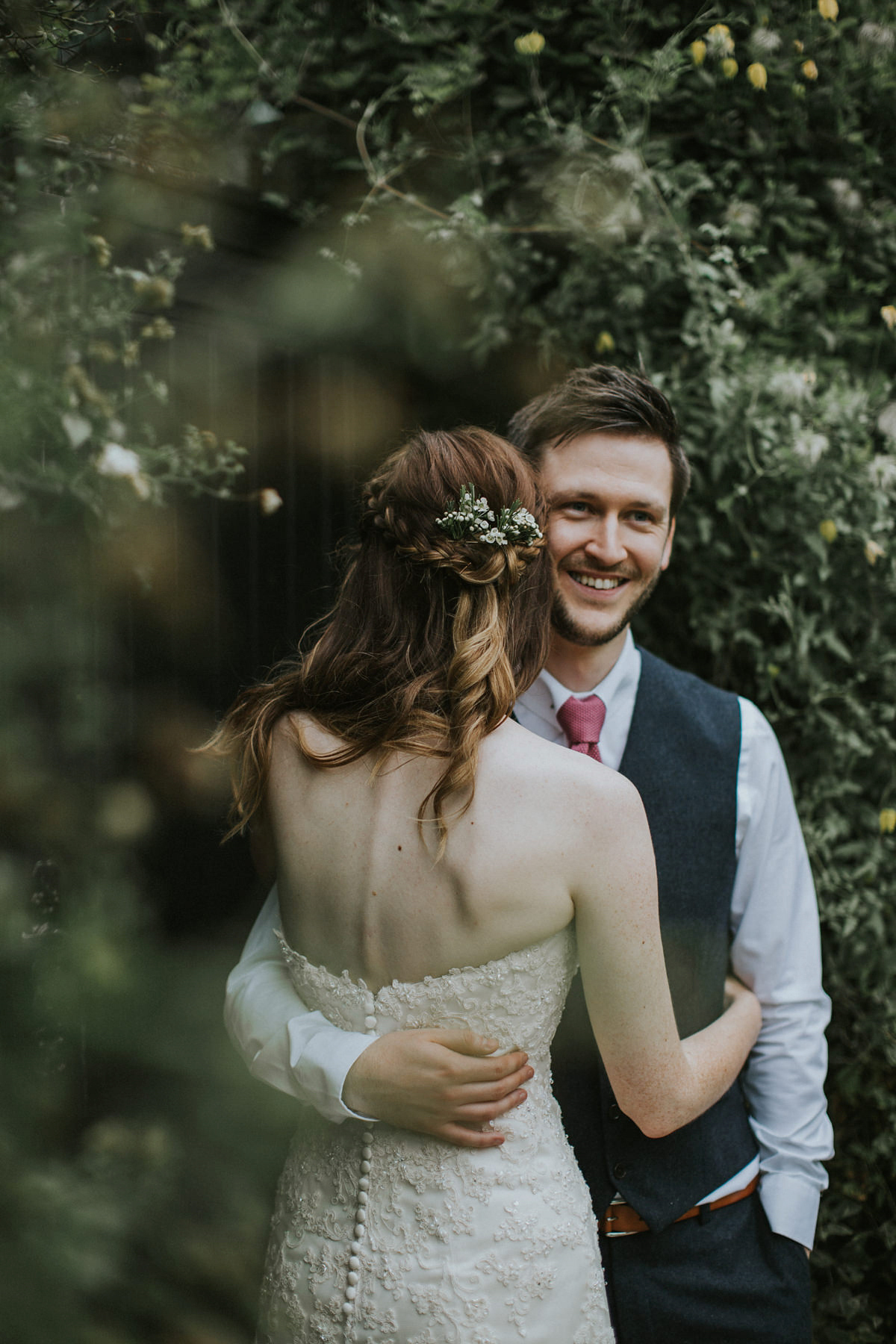 "We had been to a few weddings which, although beautiful, were too formal for us and we felt more comfortable with a relaxed and rustic style.  Matt was amazing and gave me free reign to choose all the pretty bits, knowing how much I obsess over flowers and stationery.  Having said that, we felt the styling was a good balance of us both; we used Matt's favourite drinks bottles and garlic jars as vases and incorporated a little Italian here and there as a nod to our upcoming honeymoon."
The florist was the amazingly talented Lynnie from Stems Design.
"I really loved the more unstructured type of bouquet and Lynnie completely understood the informal look I was after.  The foliage was a mix of olive, seeded eucalyptus and jasmine and the flowers were astrantia, astilbe, waxflower and gorgeous 'quicksand' roses.  I chose these as I think each one is beautiful and a little bit different; the astrantia are my absolute favourite with their pretty star shape."
"Our amazing bridesmaid Amy, did all of our hair.  After several disasters at make-up counters I decided to do my own make-up on the day. "
"A lovely lady at Clarins talked some sense into me after I was panicking about looking too 'natural' – she said that a bride would look beautiful without even a scrap of make-up on as she would be absolutely beaming from the happiness she was feeling on the day and that this is true bridal beauty."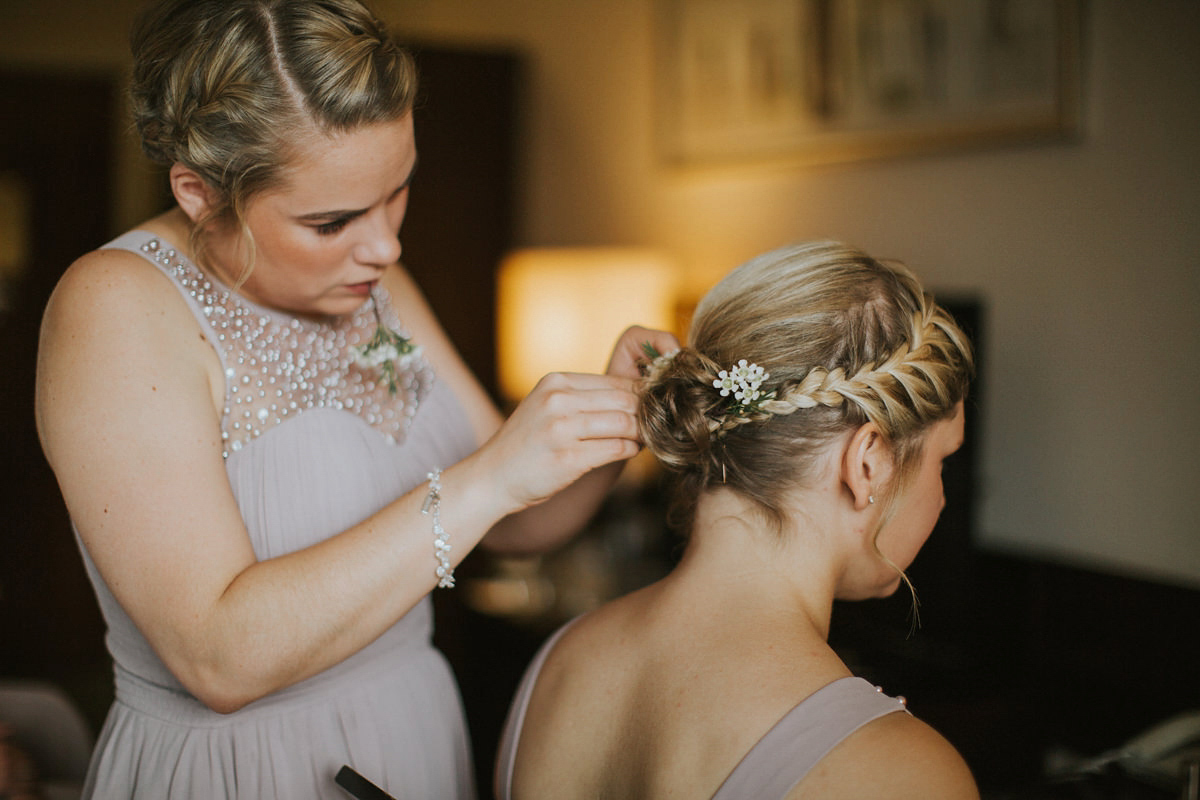 The bridesmaids looked lovely in embellished maxi dresses from Little Mistress in 'mink', also worn with flowers in their hair and their own shoes and jewellery.
On her feet, Fi wore 'Martha' by Rainbow Club and in her hair, fresh waxflowers.  For perfume she chose her favourite (and mine!) – English Pear and Freesia from Jo Malone.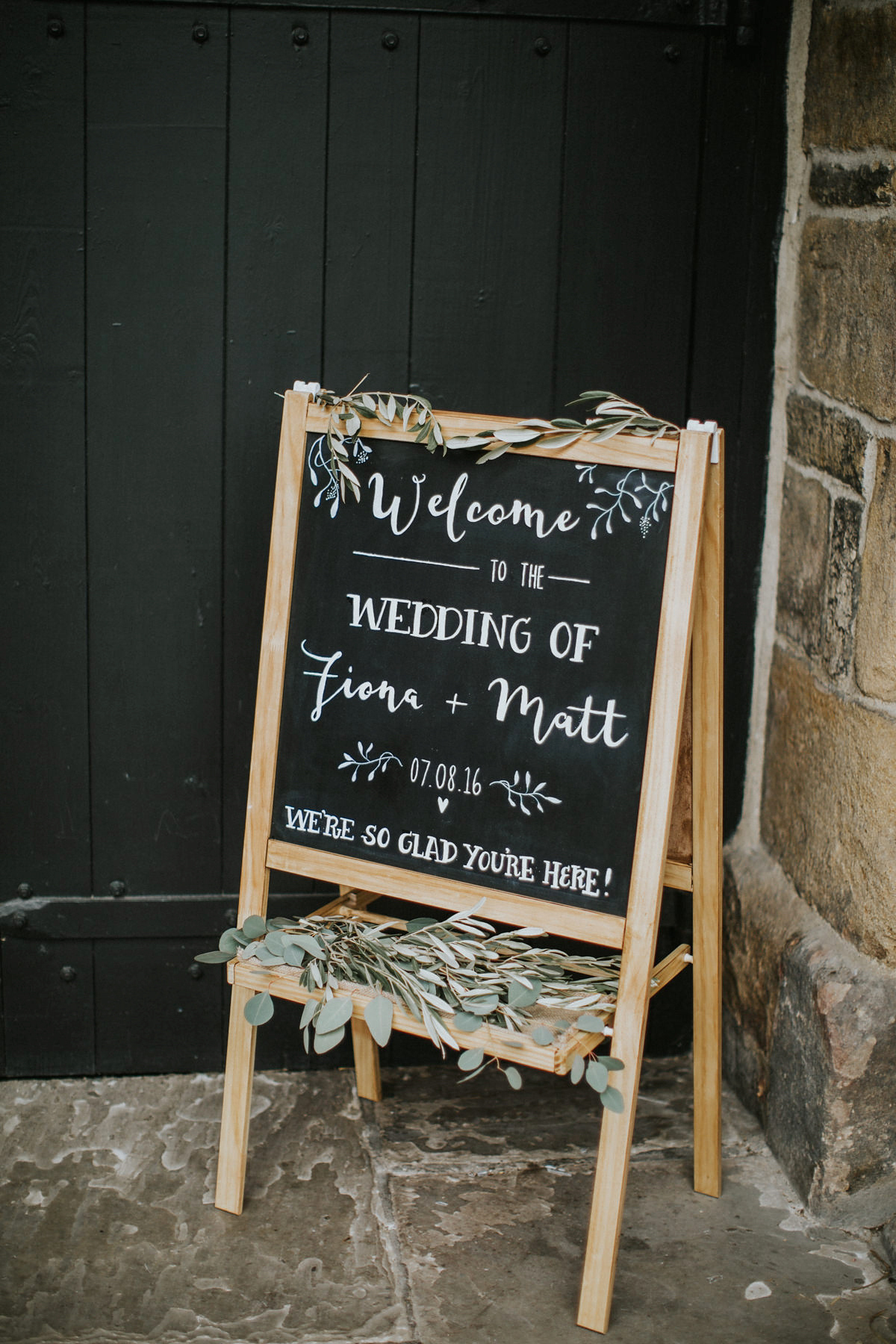 Matt looked very smart indeed in a blue, Italian styled suit from Next.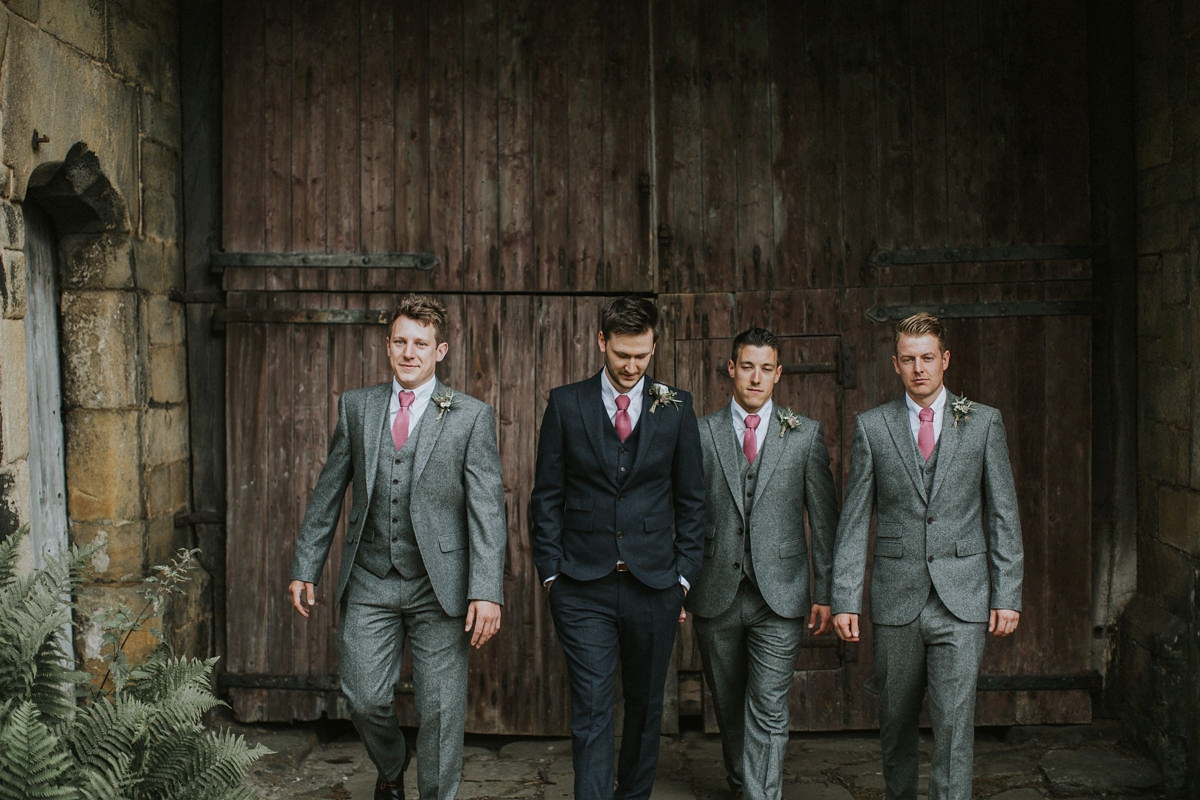 Fi and her (incredibly glamorous) Mum, walked down to an acoustic version of 'Latch' by Sam Smith.
"My lovely mum walked me down the aisle; we are very close and it really meant a lot to me that she was the one who I could hold on to (completely terrified and overwhelmingly excited) as I walked down the aisle towards Matt."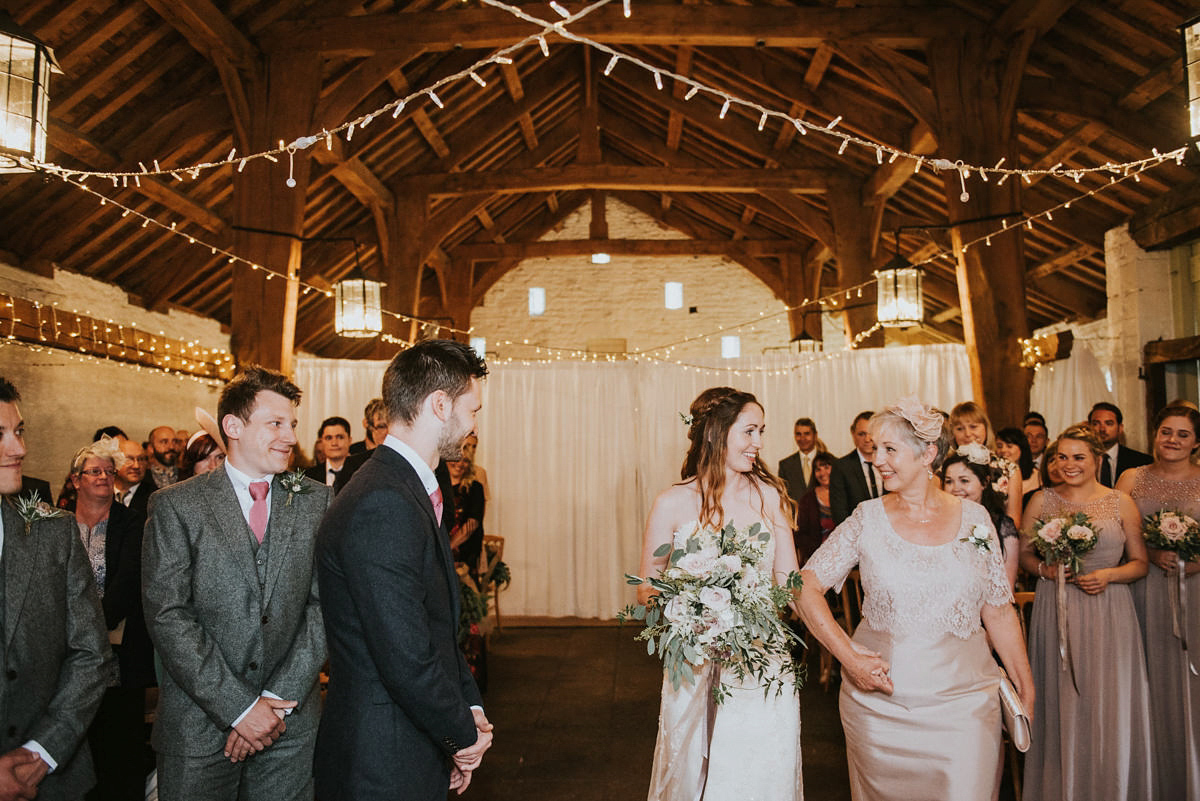 "We were introduced by friends about five years ago on a Christmas night out and have been together ever since. Matt proposed when we were on holiday in Majorca.  It was a complete surprise. In fact, I almost ruined the whole thing with my whining observations that it was freezing and we should head back from our beach walk early."
"I thought Matt was acting strangely, wandering off along the rocks on his own, but it turns out he was looking for the perfect proposal spot.  It was lovely though – I had told him once that I would love to get engaged when we were away somewhere and could keep it as our secret for a few days – and he had remembered."
For readings, the couple chose Union by Robert Fulgham and then an extract from Captain Corelli's Mandolin by Louis de Bernieres, both beautiful choices.  The couple also exchanged rings from Phillip Stoner, where Fi's engagement ring was also purchased.
"We didn't write our own vows, but we were given a choice from the registrar – we went with the ones which made most sense to us personally and talked about being best friends."
"We are so used to sharing things with the world instantly, it was nice to keep our engagement off social media and enjoy telling loved ones our news the old fashioned way."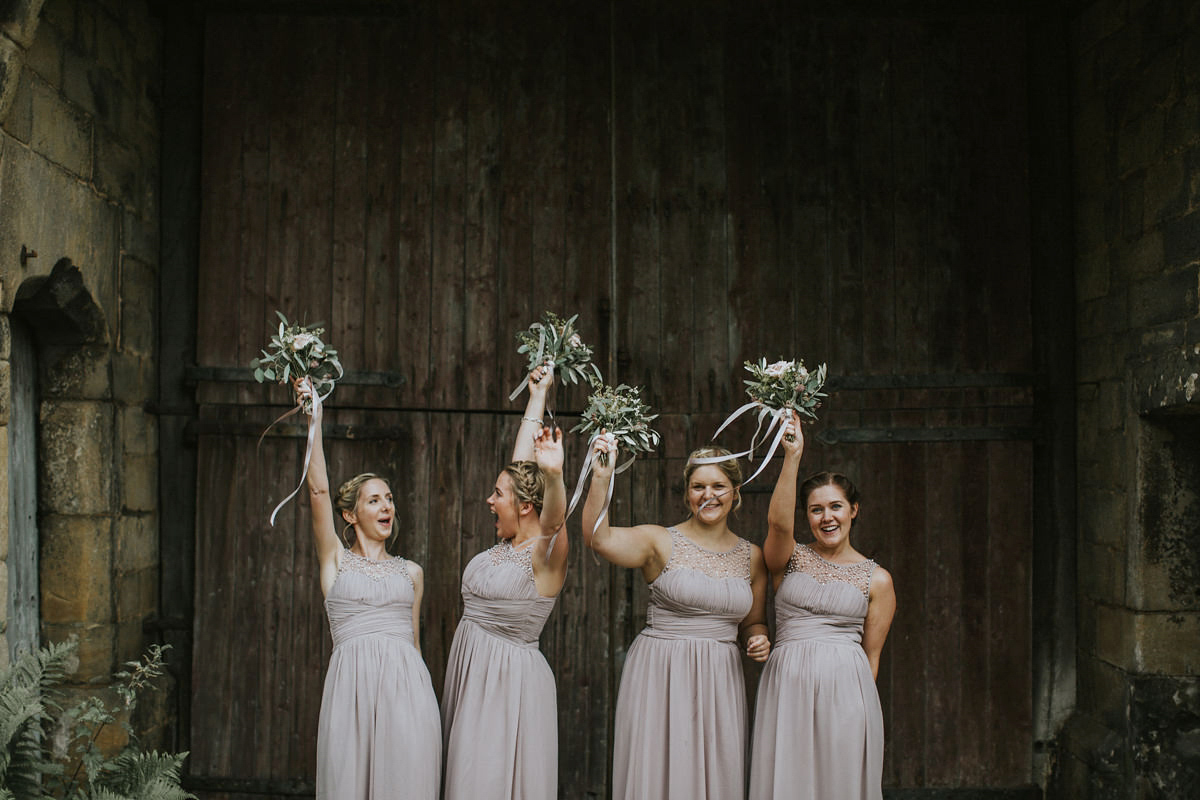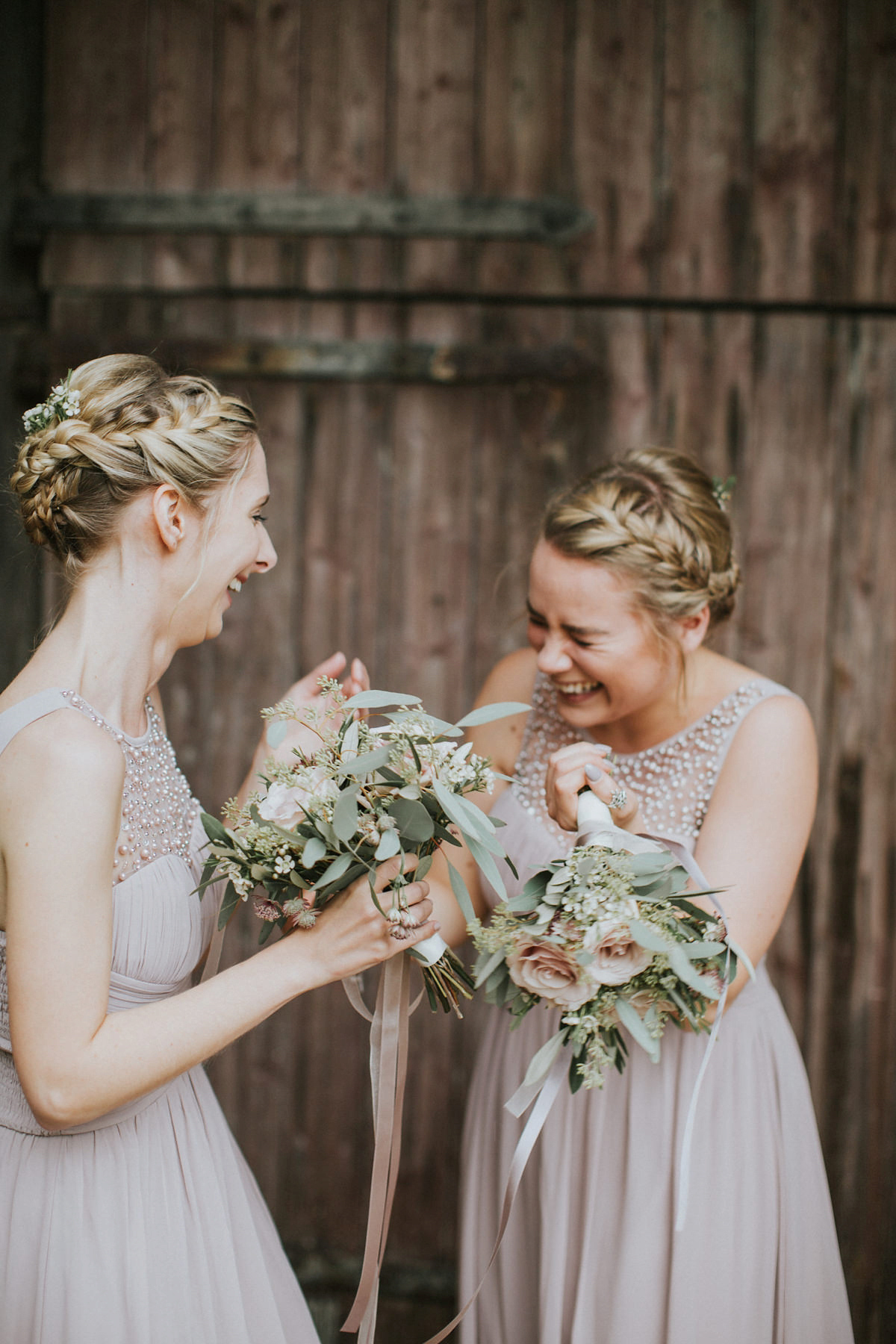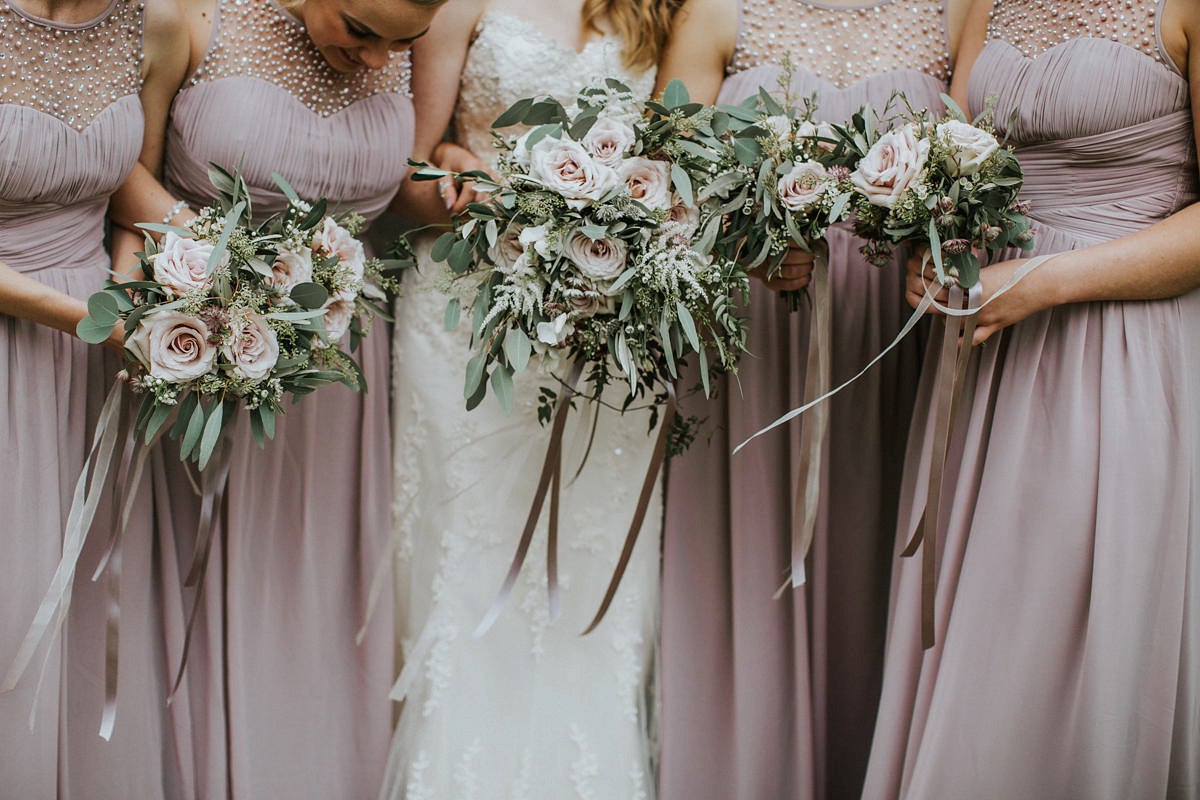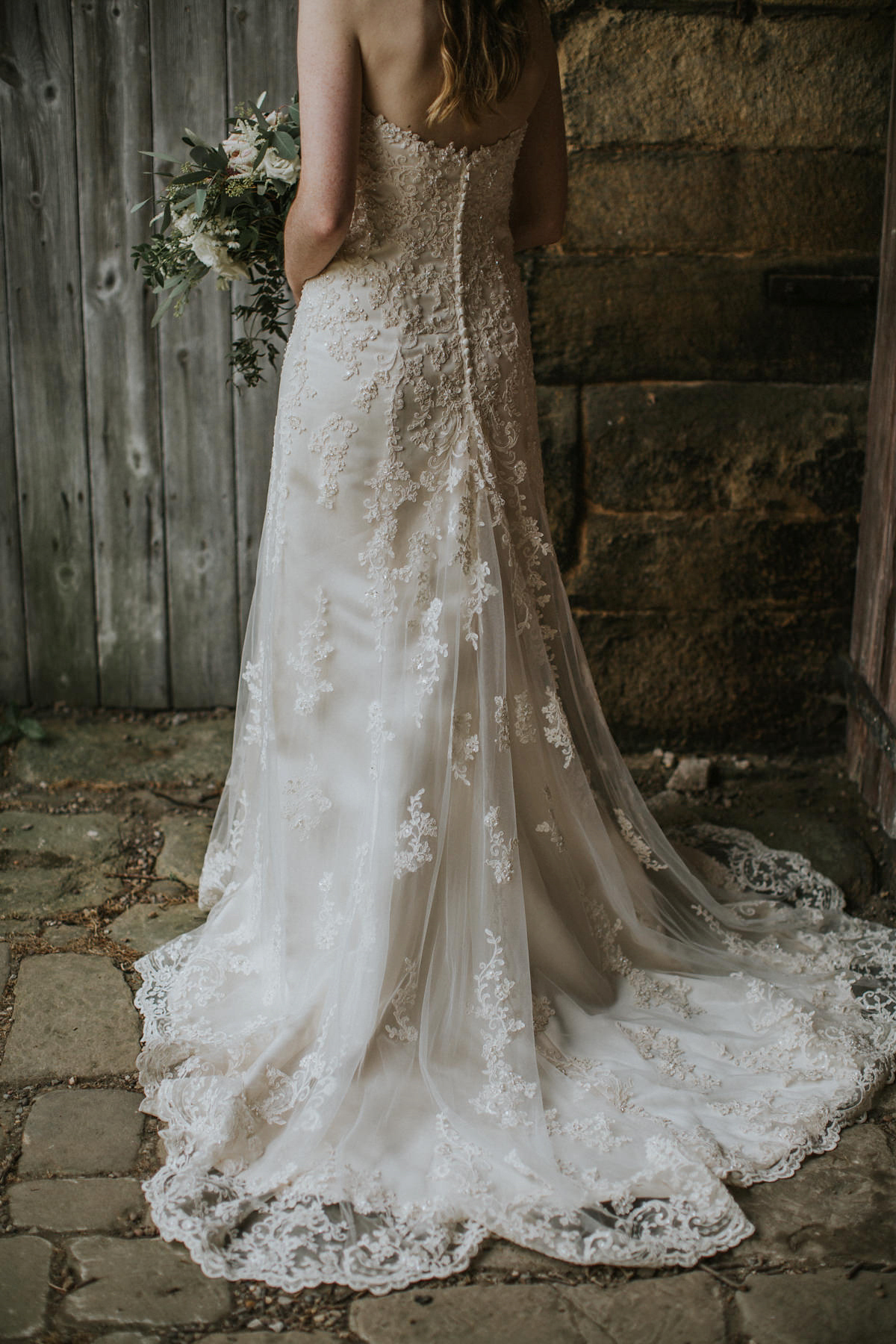 "Our photographer was Natalie Pluck.  We found her whilst looking through photos of previous weddings held at East Riddlesden Hall and instantly fell in love with the soft, romantic style of her work."
"With both of us being quite camera shy we felt awkward at the thought of an engagement shoot, but she completely put us at ease and was so lovely to work with."
"Natalie perfectly captured the emotions and details of our wedding day with the natural style of photography that we love.  She is a very talented lady who has created such beautiful images that we will treasure forever."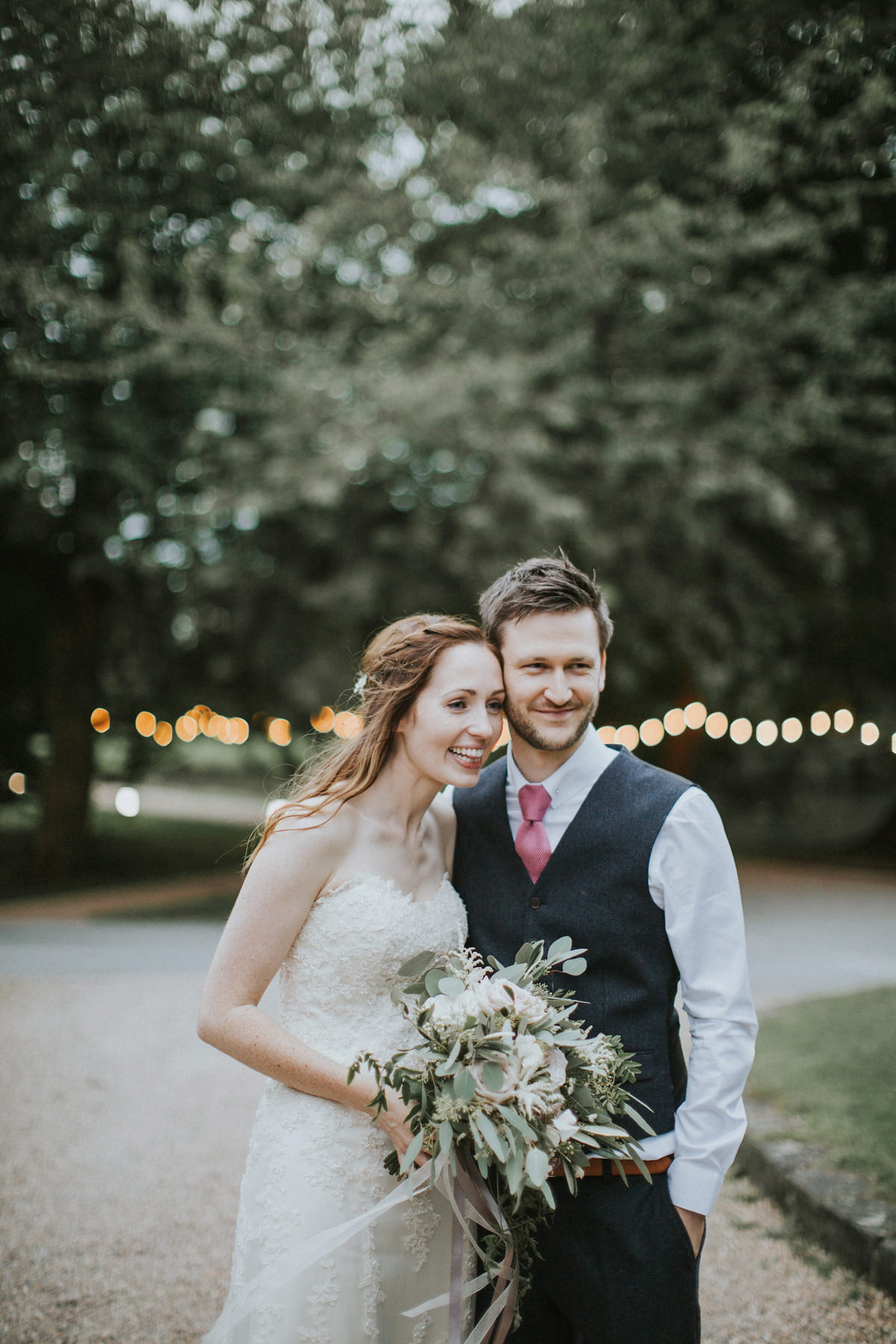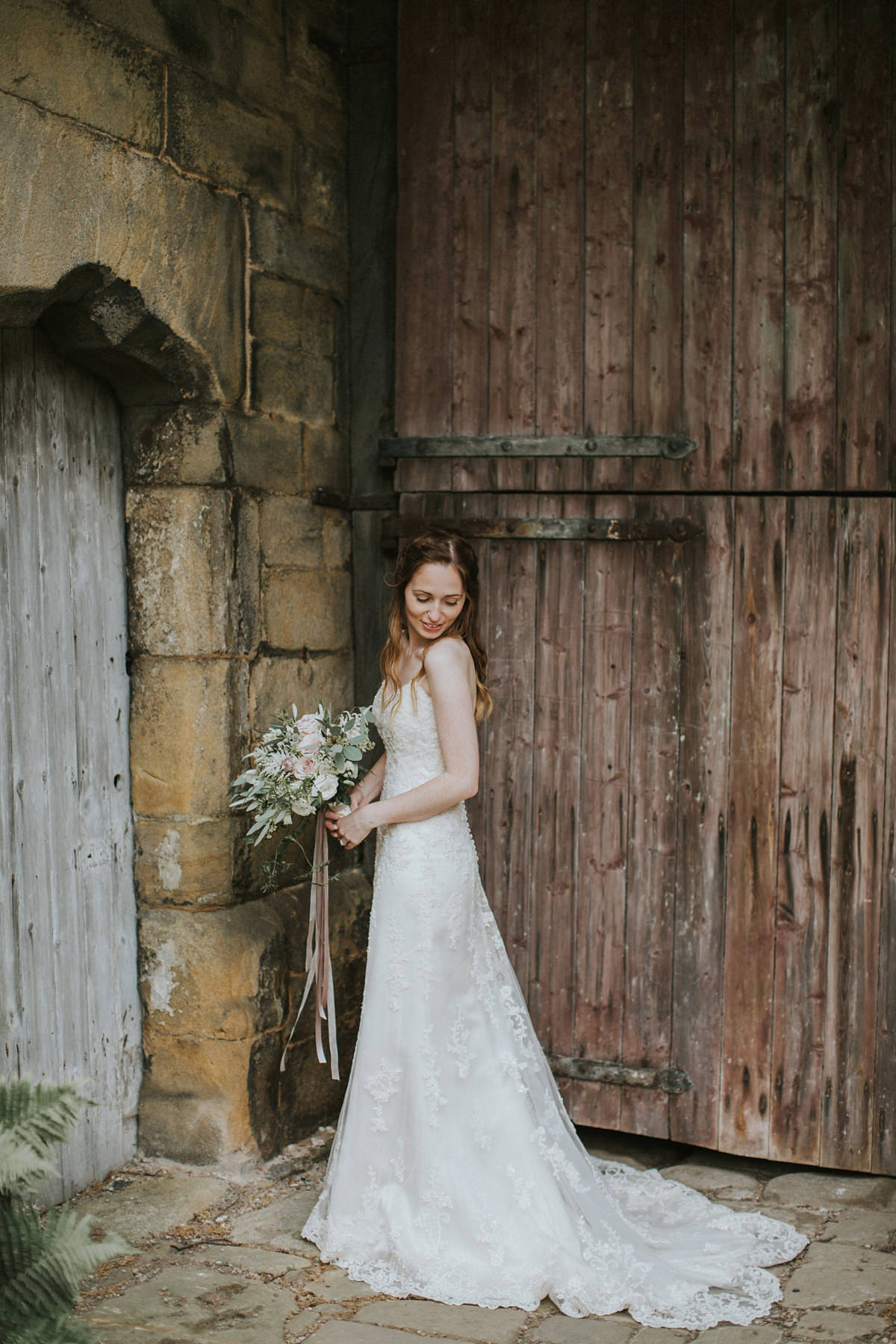 "We chose East Riddlesden Hall as it was just stunning and the barn has an honest beauty to it that was so different to the other venues we'd looked at, plus the wedding team there are so genuine and lovely – they completely put us at ease and were really helpful answering my millions of questions."
The barn looked incredible, lit up with hundred of fairy lights and Fiona and Matt also hung tealight baubles from the windows and the tree outside, added candles and foliage to the alcoves and hired festoon lights from Typical Type to light the path by the pond.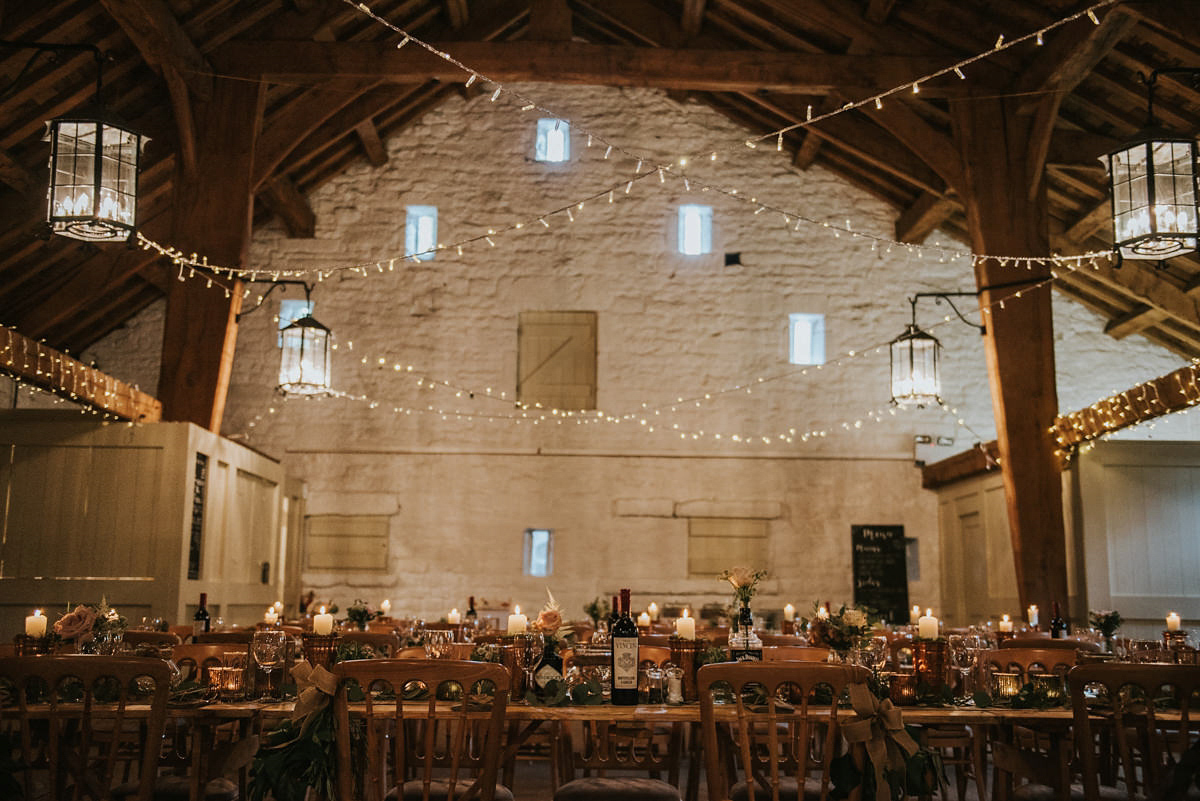 "We opted for three large, bare wood tables to create more of an informal atmosphere for the meal and Matt made a brilliant playlist of our favourite songs to accompany the day."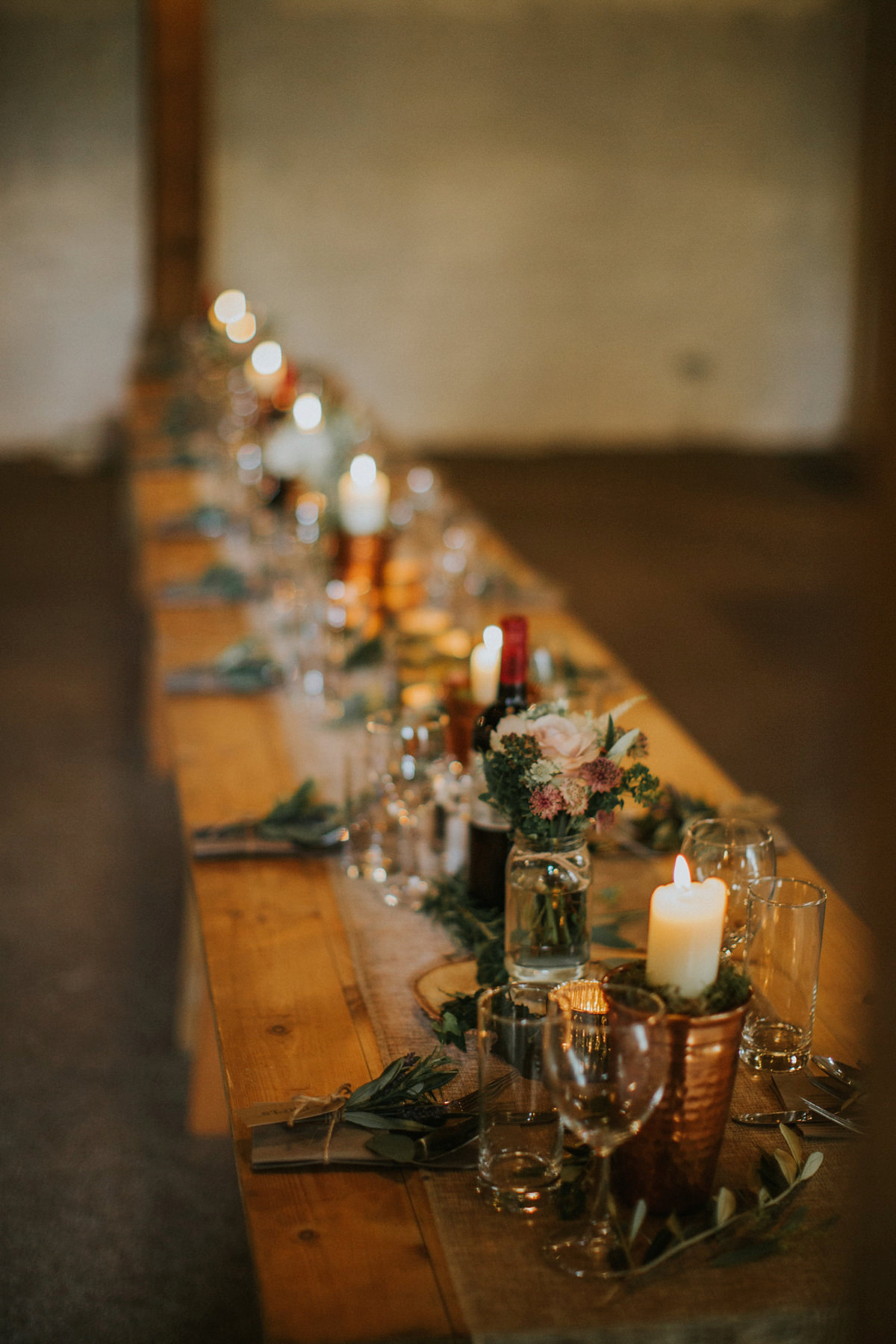 "It was hard to imagine how everything would come together, making bits and pieces over the course of the year, but it looked so beautiful on the day I honestly cried when I stepped into the barn and saw it all twinkly and gorgeous!"
James Brown Catering provided the delicious BBQ, while the wedding cake was a family collaboration, topped with flowers and a topper by Sophia Victoria Joy of Not on the High Street.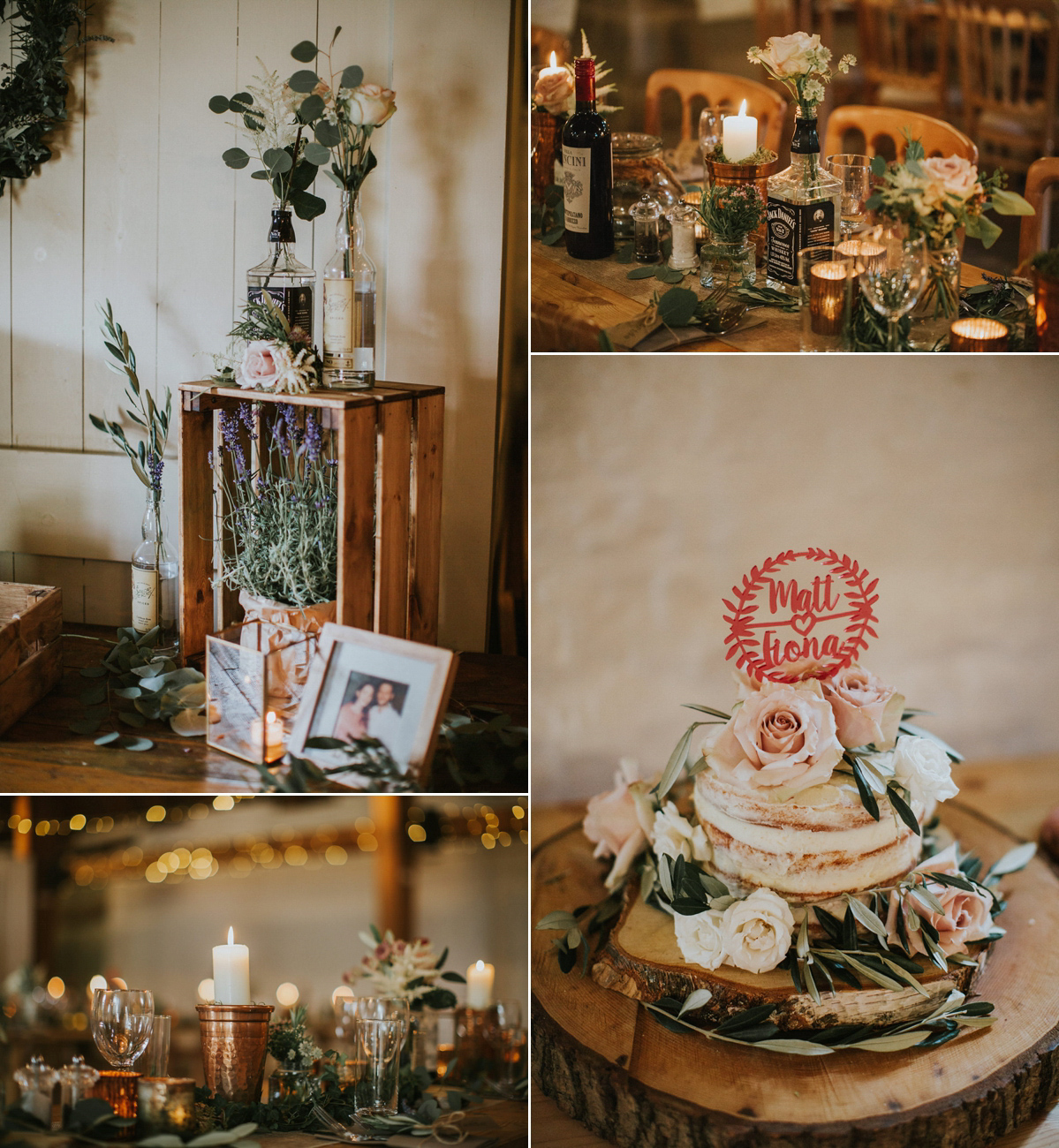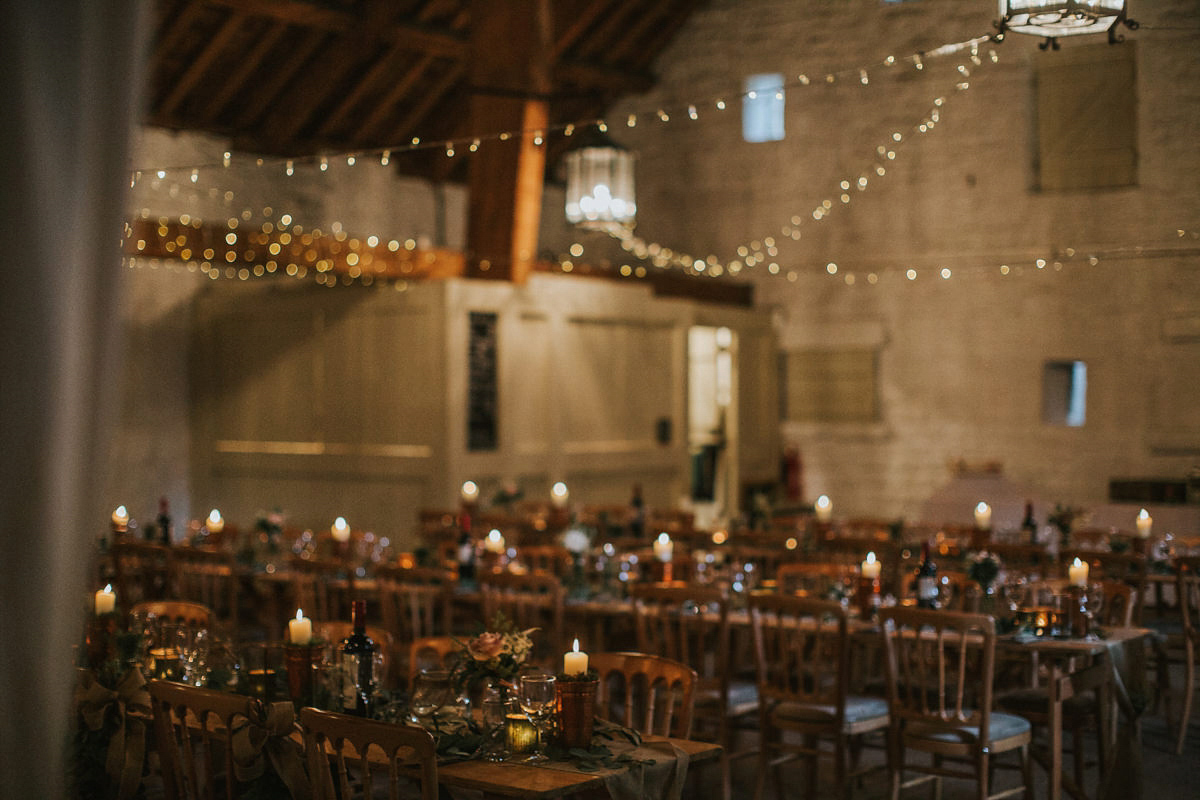 "I couldn't choose one favourite part of the day; I loved every minute of it.  It's an incredible experience to be surrounded by everyone you care about and them all be so happy to celebrate with you; we felt so much love."
At the end of the day, darling readers, it is people who make the day what it is and the love we have for our partner, our family and our friends, that makes a wedding so very special.  Fiona's following words about Matt's mum bring that firmly to the fore.
"Matt's mum had cancer. She was diagnosed the summer we got engaged and given three months if she didn't have chemo. She is a true fighter and was bloody determined to make it to our wedding, which she did. A truly amazing woman; Matt had everyone sobbing their hearts out when he thanked her in his speech for not giving up. It has set me off just typing this and remembering it all! Typical Matt, his speech was peppered with profanities but it was really special hearing him speak so honestly and from the heart."
"For our reception, we wanted to show the wood of the tables and so just kept things simple with natural coloured runners.  Our florist added flowers to our garlic jars and drinks bottles, as well as sprigs of herbs to our napkins.  My mum also surprised us by booking the large 'LOVE' letters (from Jonny Ross Music) to go on the dance floor; these looked stunning and really highlighted what the day was all about."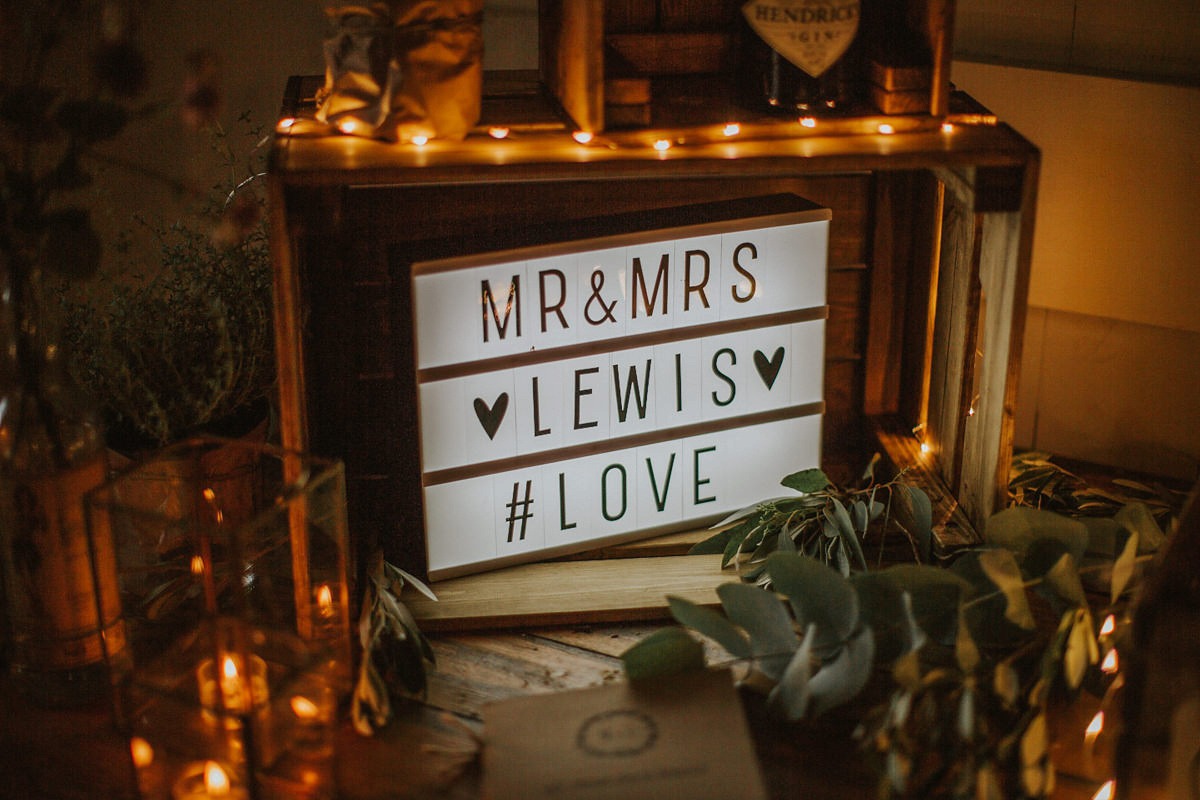 Guests danced the night away to Electric Idols and Fiona and Matt's own chosen music.  The newlyweds had their first dance to an acoustic version of 'All About You'  by Mcfly.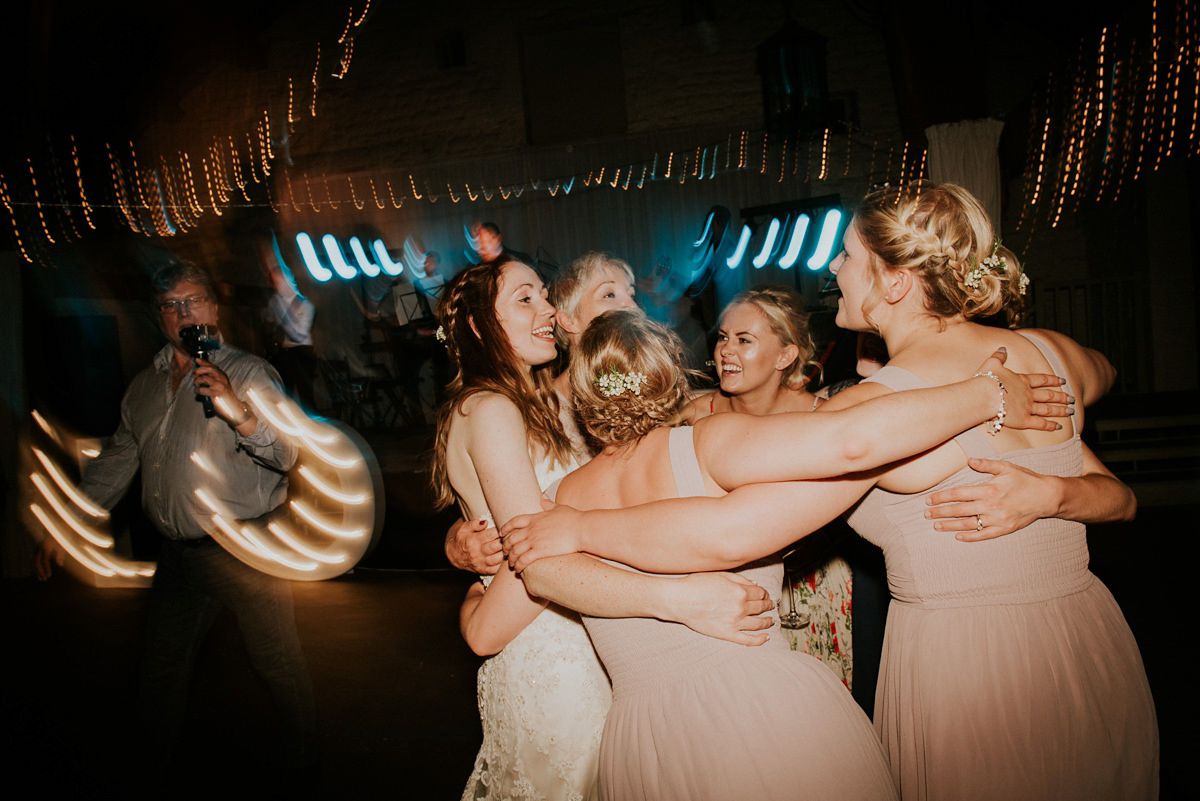 Fiona was a reader of the blog while planning her wedding, and had some lovely words to say:
"I was drawn to Love My Dress because of its honesty and because it features beautiful weddings of real people.  I love the private Facebook group too; it is so refreshing to be part of a network of genuine, caring, inspirational ladies who support each other through every step of wedding planning and beyond."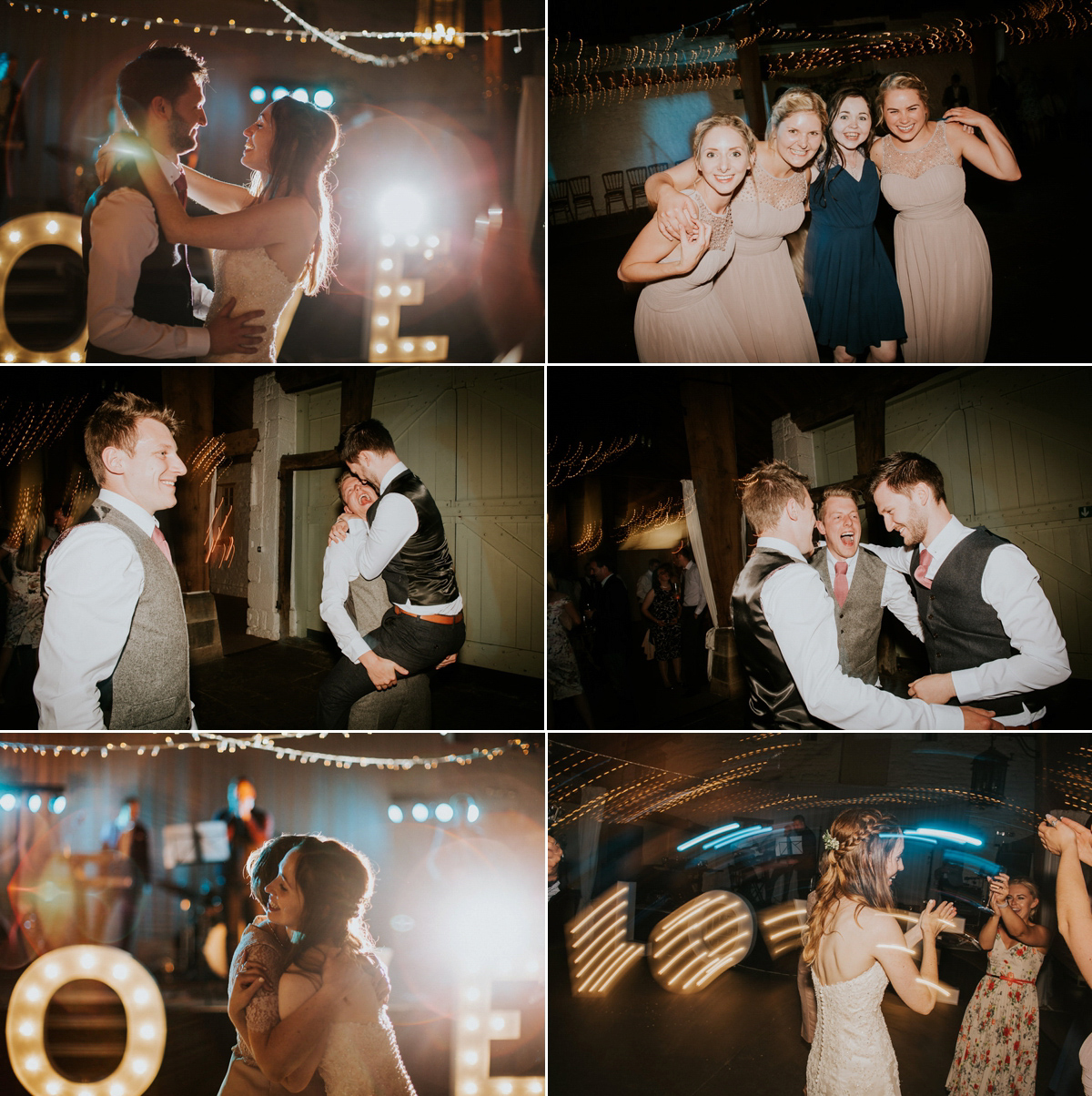 Words of Wedded Wisdom
"Keep in mind what the day is all about; you two and your love for each other. Try and make your day personal to you both and don't feel like you have to do what is expected and traditional.  One of the things I loved about our wedding was that we chose every single song that was played throughout the day – a collection of all of our favourites.  This really made the day feel like ours."
Huge congratulations Matt and Fi – thank you so much for sharing your day.  Huge thanks also due to Natalie Pluck of course, for allowing us to feature her beautiful photographs.
I'm just longing for summer now and the chance to sit outdoors in the evening…
Much love,
Shona x