Hello loves, I hope you're all revelling in the gorgeous spring weather? I'm certainly lusting after creme eggs and getting chilly ankles from optimistically wearing one of my many pairs of culottes all of the time. Today I'm taking us back to the dusky beauty of autumn to share with you the dreamy, nature inspired wedding of Hannah and Simon. Hannah, a Journalist, wed Simon, a Property Manager, at Oxford Town Hall on 17th September last year, in a utterly gorgeous humanist celebration laced with luscious deep tones and textures, and beauty styling by our absolute girl crush and Little Book for Brides gems, Portraits Bridal. To top it all off, this divine day was captured on film by a second Little Book for Brides recommended supplier, Wagtail Productions.
"We took quite a late decision to have a videographer and were quite worried we wouldn't be able to find someone who's work we loved and who was available. When we found Ayla's work, we both fell in love with her style – fresh and modern, but also personal, no soft-focus or cheesy moments, but plenty of heart and soul. And although we had a nail-biting weekend while she waited on another couple who were also interested in our date, they decided not to go with Ayla, and we felt like the luckiest pair in the world. Ayla and her assistant were incredible, and such a pleasure to have with us; always professional and so non-obtrusive."
"We both love nature, and were guided by an earthy palette with lots of trailing foliage, some dark autumnal colours and some dusty, muted pastels to set them off against. Texture was also important to us – tweeds, beading, subtle sequins, my hair braids. We both love autumn – the light and the colours of the leaves, and that quiet, dreamy time of seasons shifting and autumnal abundance was something we both had at the back of our minds."
Photography byGarazi
Hannah wore a drop waisted, pale gold creation by Charlie Brear with her Rachel Simpson Shoes 'Emmeline' shoes, yet another wonderful lady who we're proud to support through our curated directory; Rachel's designs are über-feminine and oh-so pretty. A gorgeously detailed Agnes Hart veil, custom-crafted to suit our petite bride, floated ethereally over flower-studded braids, crafted by Zara of Portraits Bridal.
"I was so incredibly lucky to find my dress. I had actually already bought a dress online, it was very inexpensive dress, but I absolutely loved it. It was vintage, and quite tiny, and I had the horrific experience of trying it on in January (in hindsight, a bad idea post-Christmas), and not being able to zip it up. I really didn't want the extra pressure of feeling like I had to lose weight to fit into my wedding dress, and a few weeks earlier I had come across the dress I ended up wearing at a Charlie Brear sample sale, where I'd hoped to find some accessories.""I emailed them to see if by any chance they still had it, and miraculously they did, so I made an appointment to go and try it on again with my bridesmaids and my mum. Luckily Mandi at Charlie Brear was just amazing. She really understood why I was so nervous about trying the dress on, and helped me pick out some other options too but it was clear this was the one."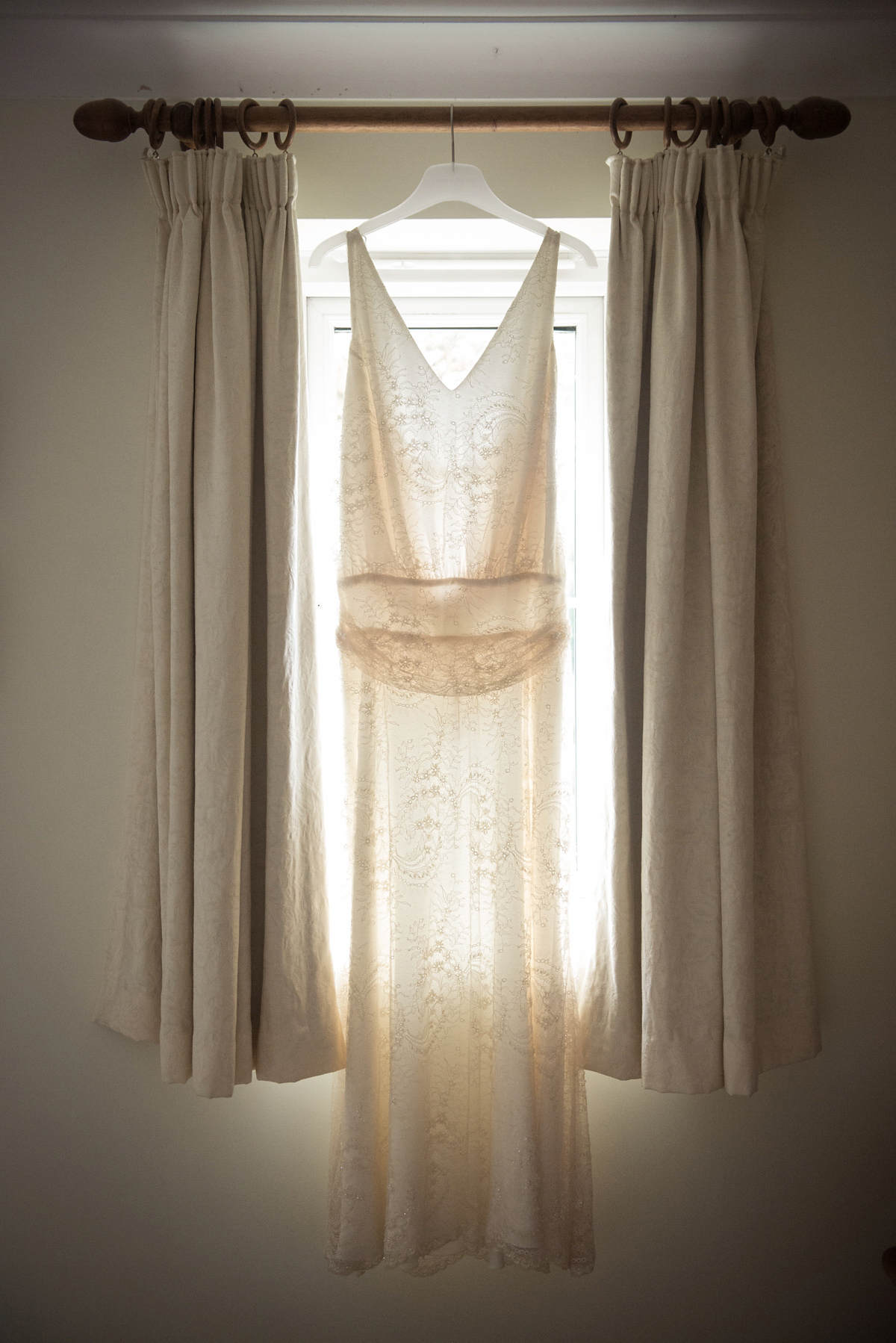 "I never wanted a white dress, and this one was a one off sample of Charlie Brear's beautiful Catroux dress in a pale gold champagne colour."
"The beautiful beading, the low back, the deceptive simplicity of it, the way it was relaxed and soft and not at all fussy, while at the same time being completely individual, grown up and glamorous, with a vintage feel, without feeling too replica, I could go on…it had my heart completely. I just wish I could wear it again."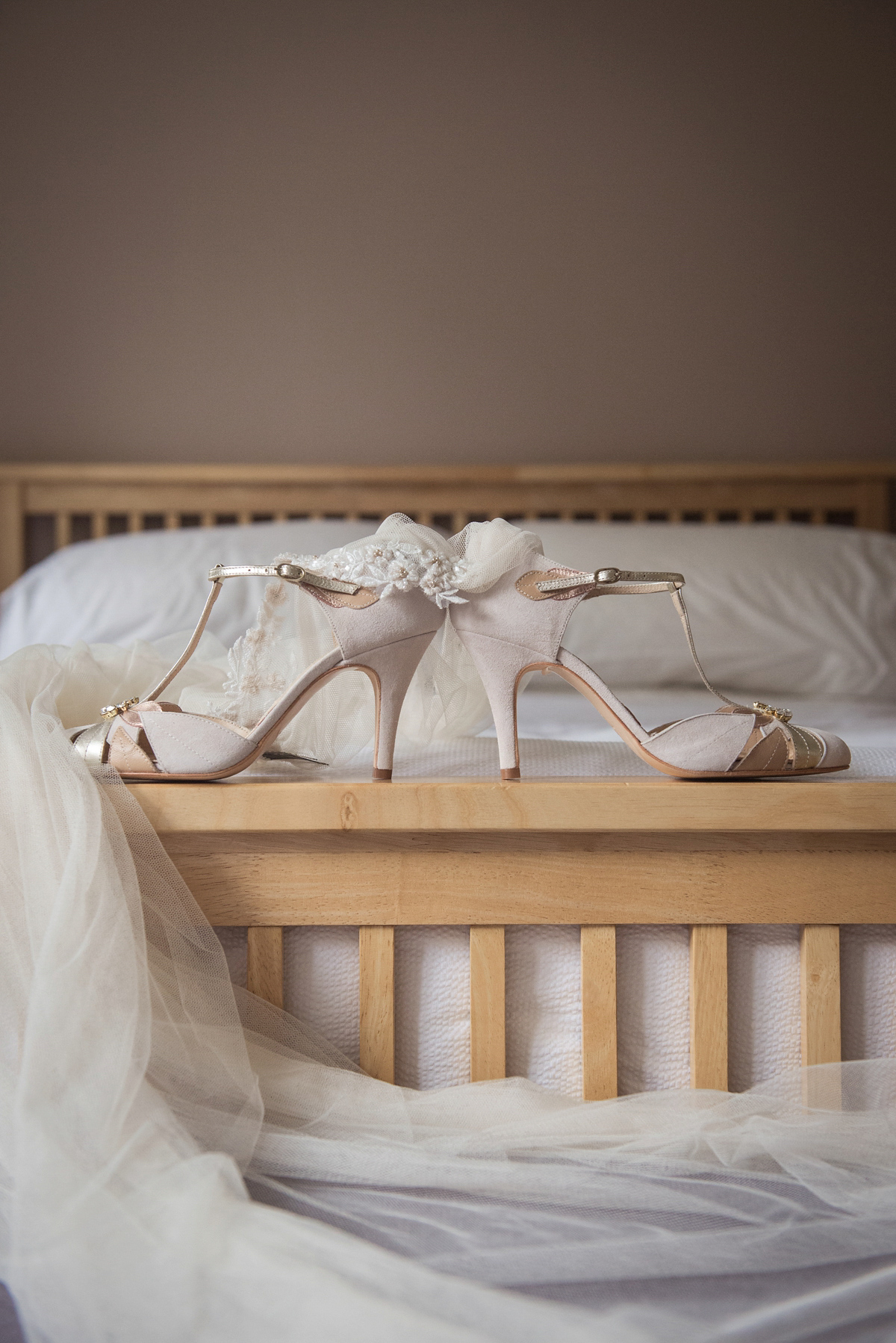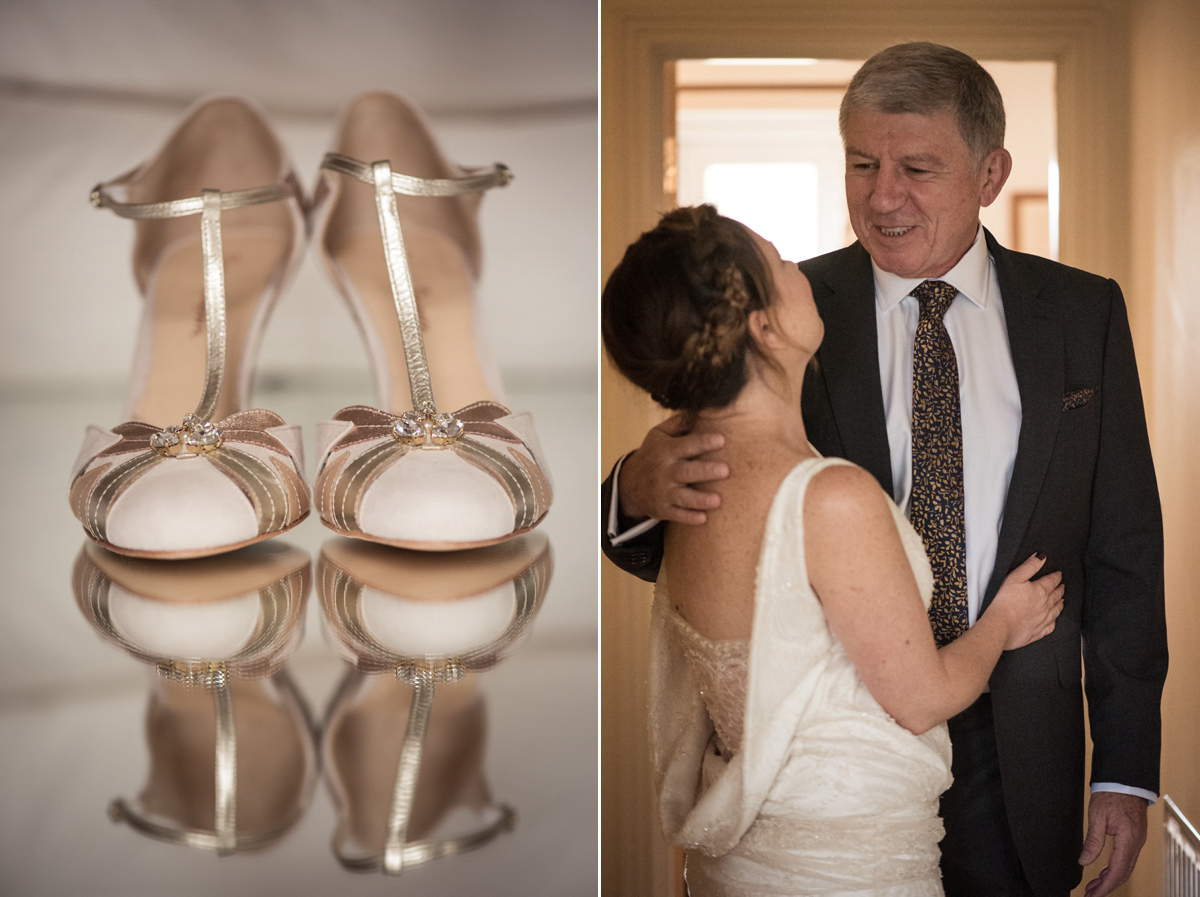 "Rachel at Green and Gorgeous is very cool, and runs a flower farm in Oxfordshire, so we knew everything would be locally grown and seasonal. We met with her at her beautifully rustic farm, where her pretty grey whippets made us feel welcome, and immediately felt that she was right for us."
"As total non-florists, we found it hard to describe exactly what we wanted, but when she started using words like 'hedgerow' and 'foraged' and lit up as we asked if we could have berries, grasses and sticks, we felt like she'd got it, despite our terrible vocabulary."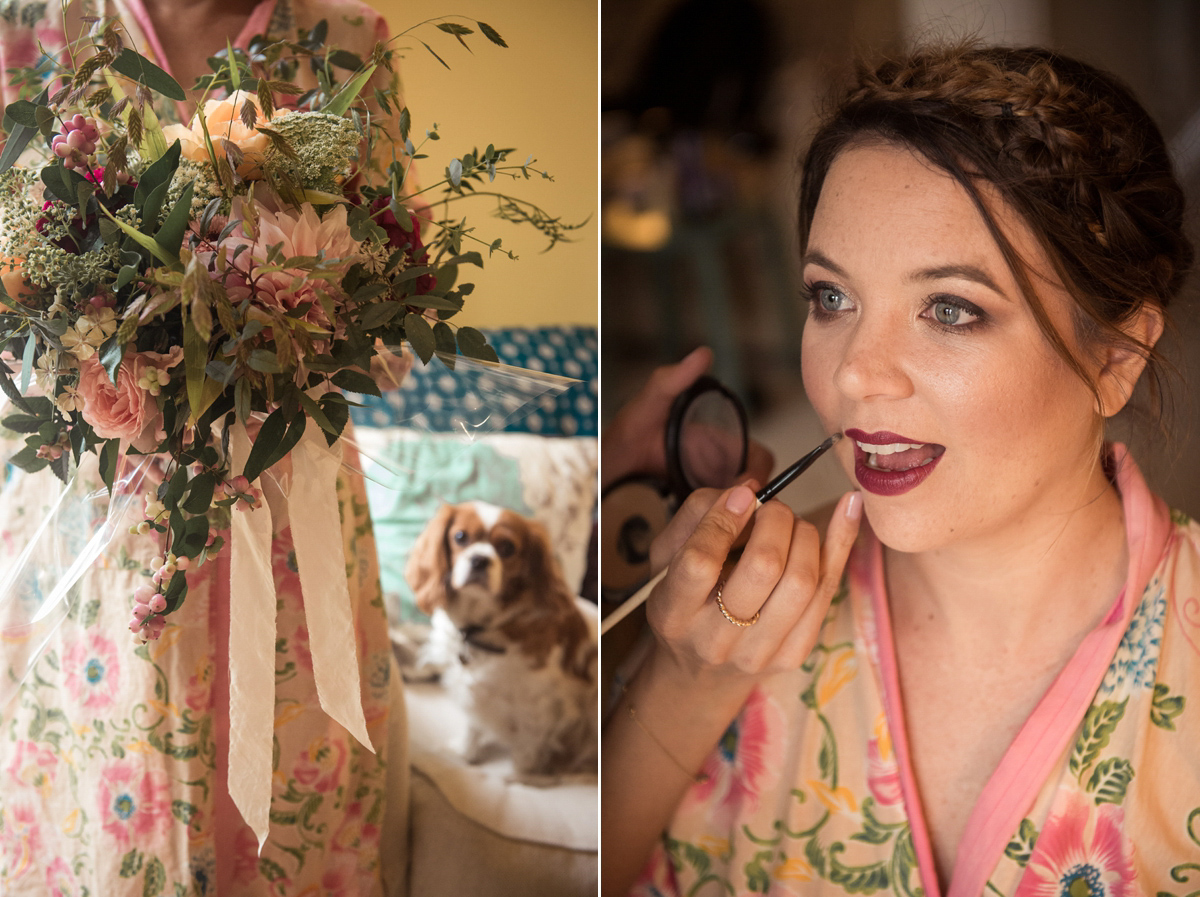 "A week before the wedding, we paid her another visit, and got to trail round her farm, picking out wine-red dahlias, and pale anemones, which was a real pleasure. I covet her super-stylish Toast apron, and her Instagram is a thing of beauty – definitely follow her for pictures of a very beauteous nature which will definitely make you want to pack it all in and be a flower farmer."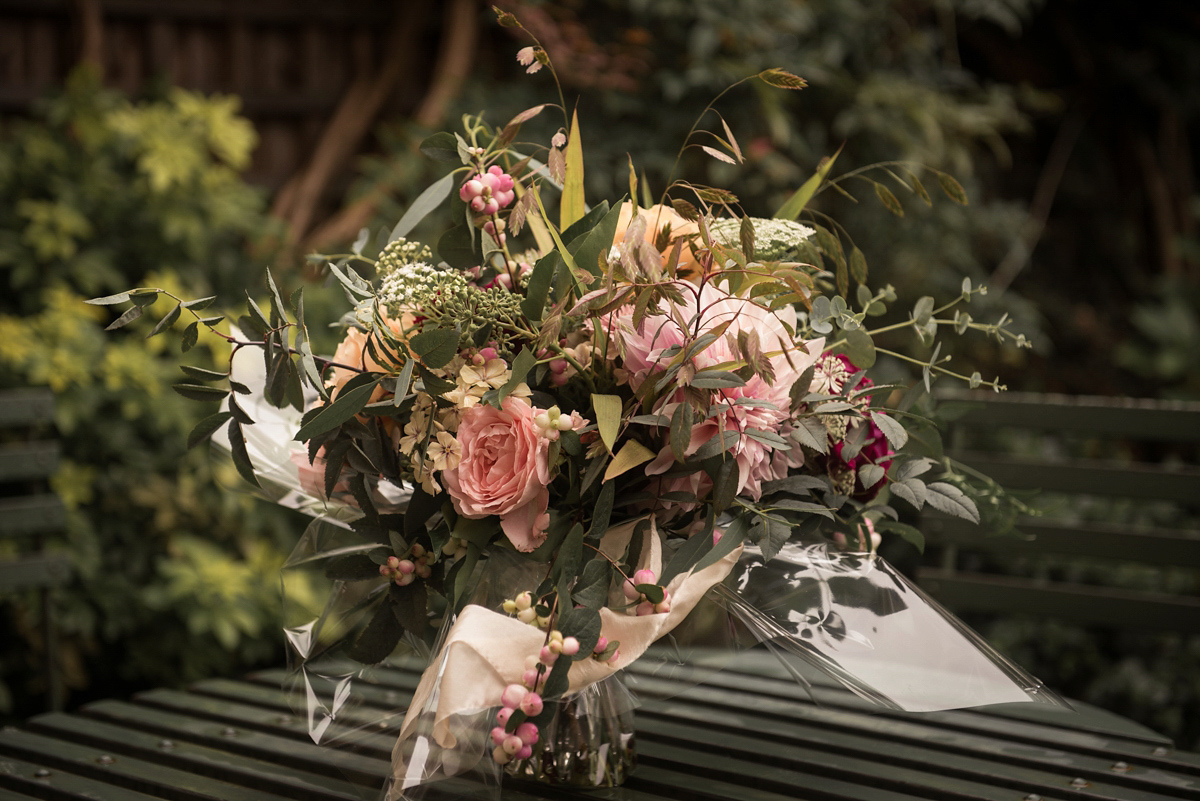 Hannah wore a necklace and earrings featuring garnet, pearl and rose gold, bought from Reginald Davis in Oxford, a present from her mother. She added her mum's borrowed gold bangle as a sentimental finishing touch, all layered with the divine scent of Jo Malone's Rose and Oud cologne.
"Different people seem to remember events through different senses – for Simon, it's definitely smell so I wanted to get him a scent as a present for that morning. With this in mind, I went to Jo Malone in Selfridges, London to pick us both scents that would combine and create a beautiful way to remember the day. I chose Blackberry and Bay for him, to remind us of days spent foraging hedgerow fruit, and cooking up delicious meals at home in our kitchen, and Rose and Oud for me – I love rose scents, and the two blended really beautifully. Whenever we wear the scents together, it evokes a lovely, happy feeling and memories of our wedding day."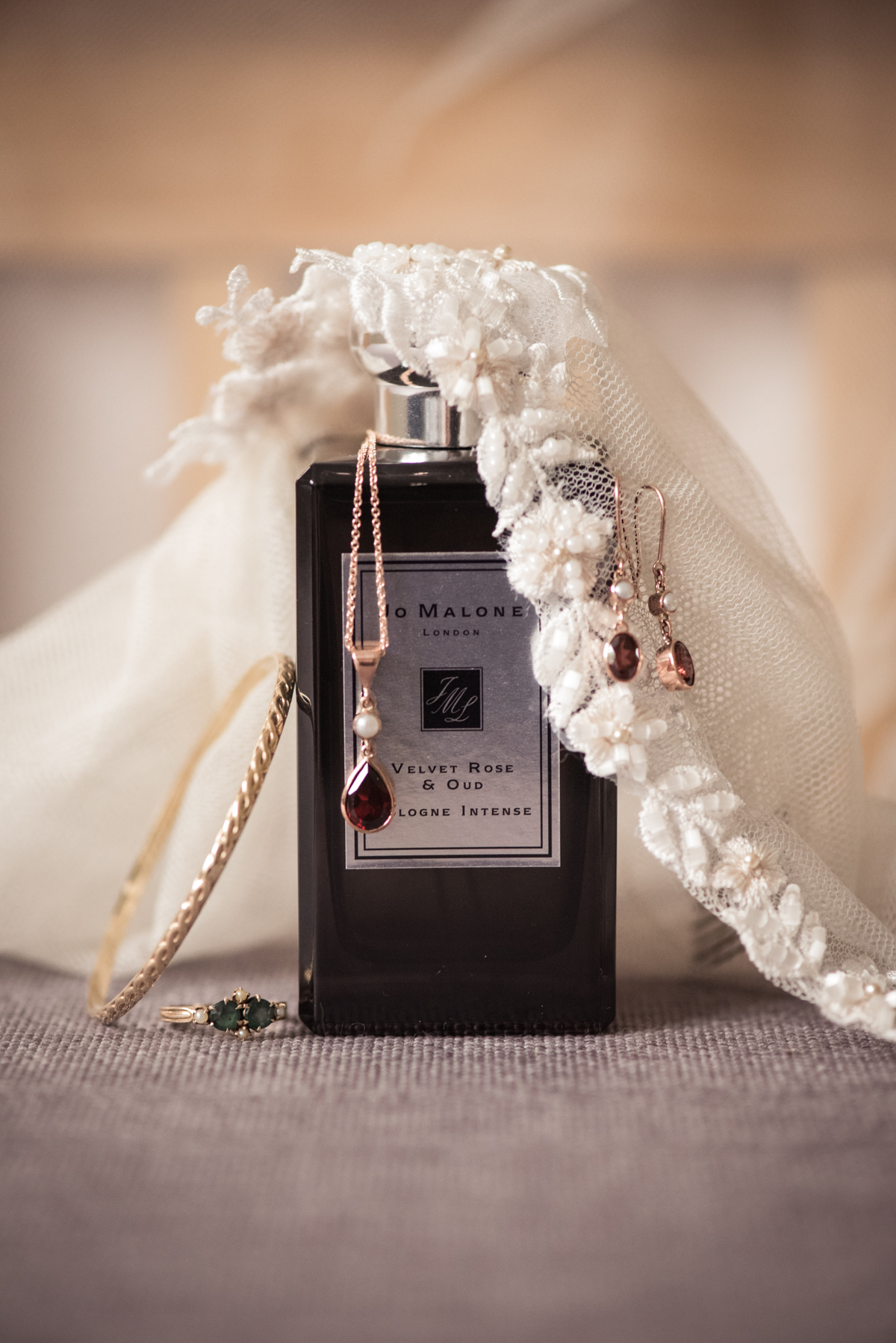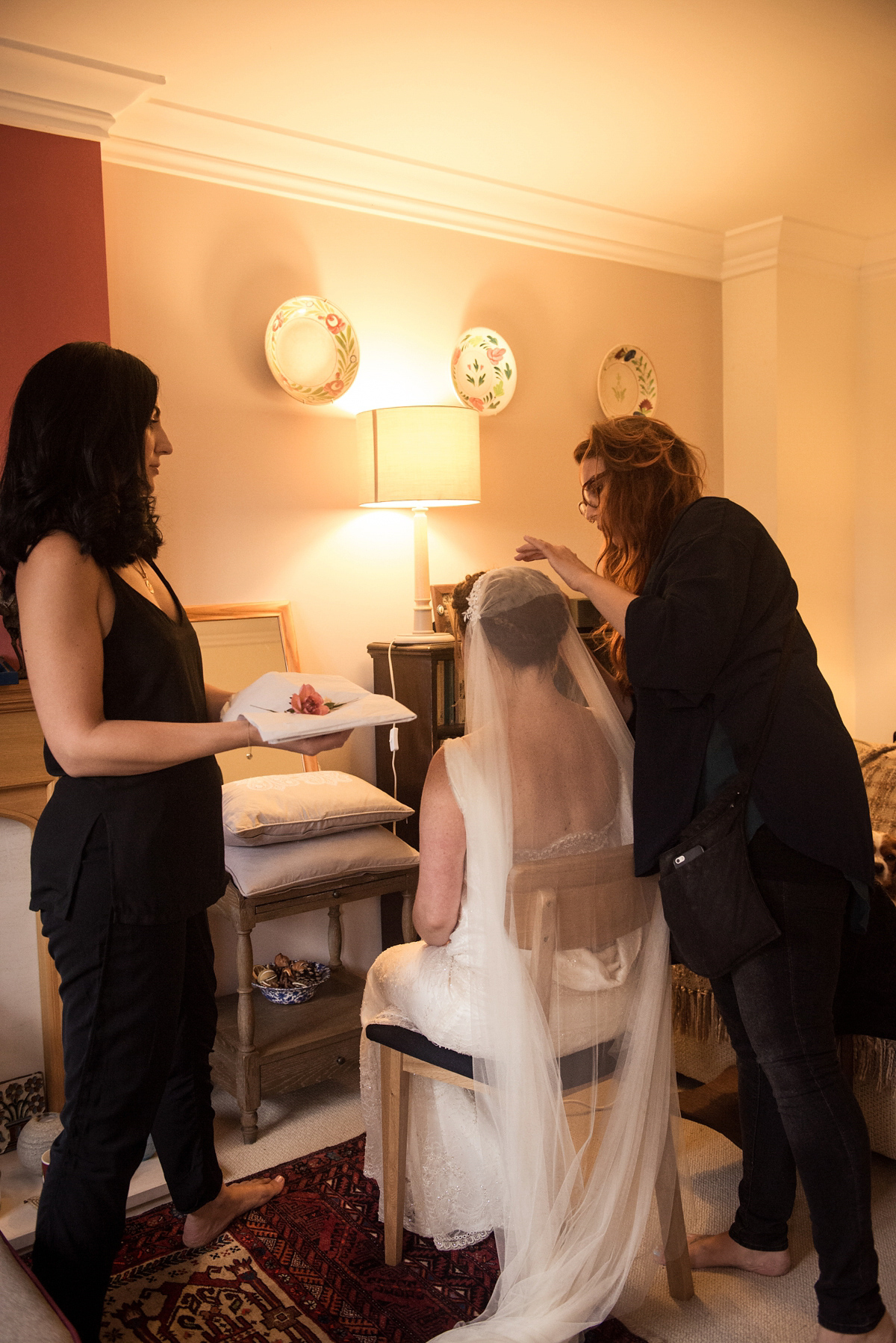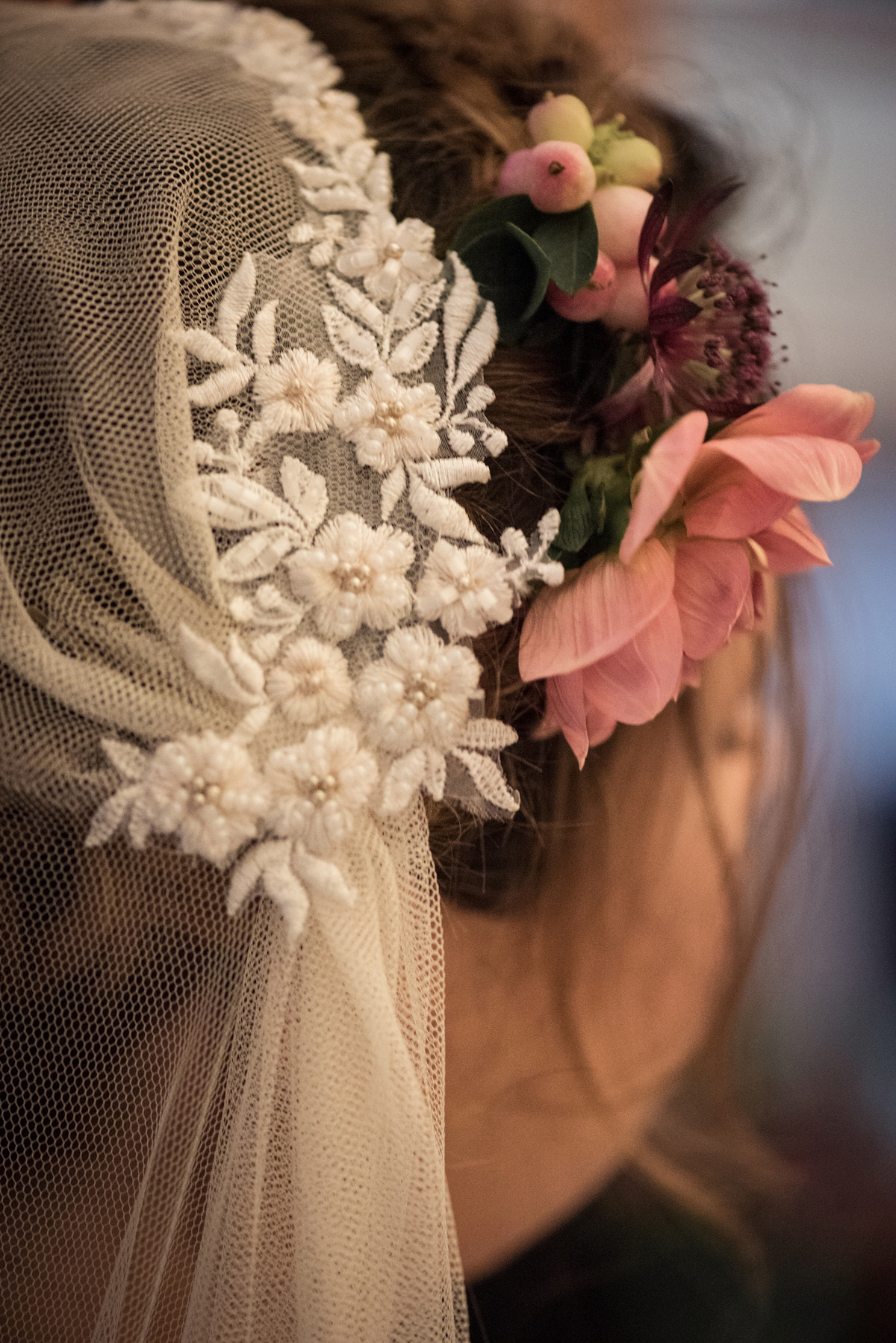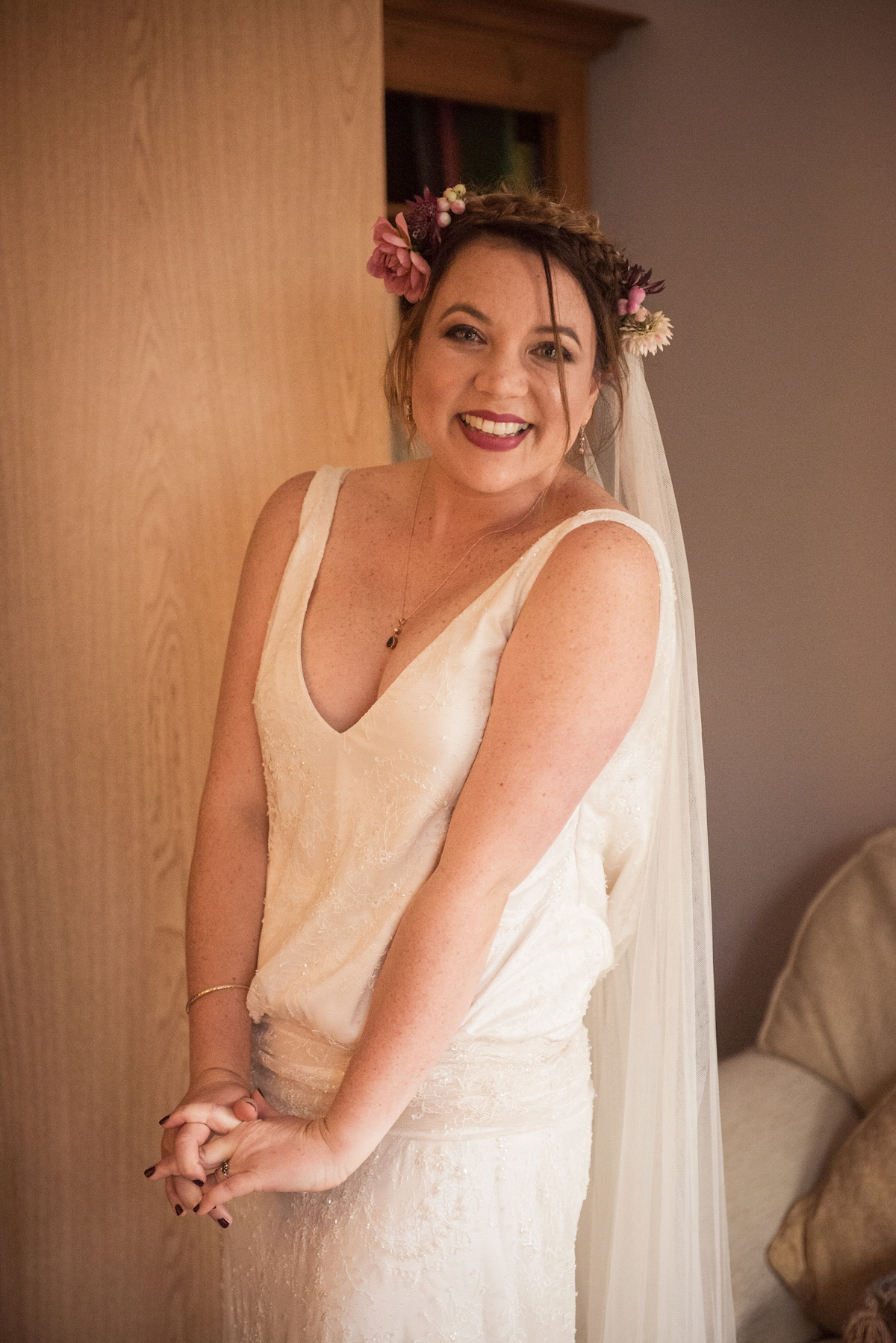 Hannah's best girls complemented the soft shade of her gown in a gorgeously tonal mix of dresses from Monsoon, Adrianna Papell and ASOS, with floral hair accessories from Gypsy Rose Vintage. I so adore the rich autumnal colours incorporated into Hannah's blooms, so evocative of the dreamy, atmospheric season.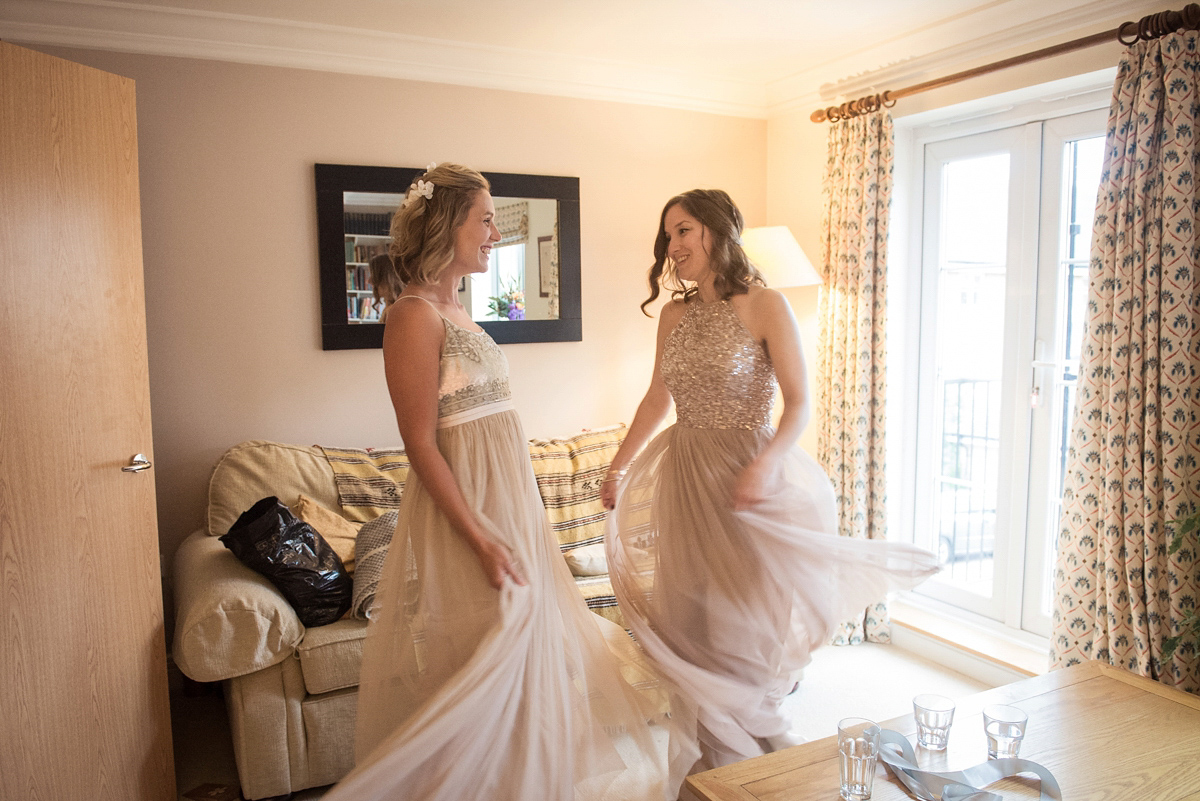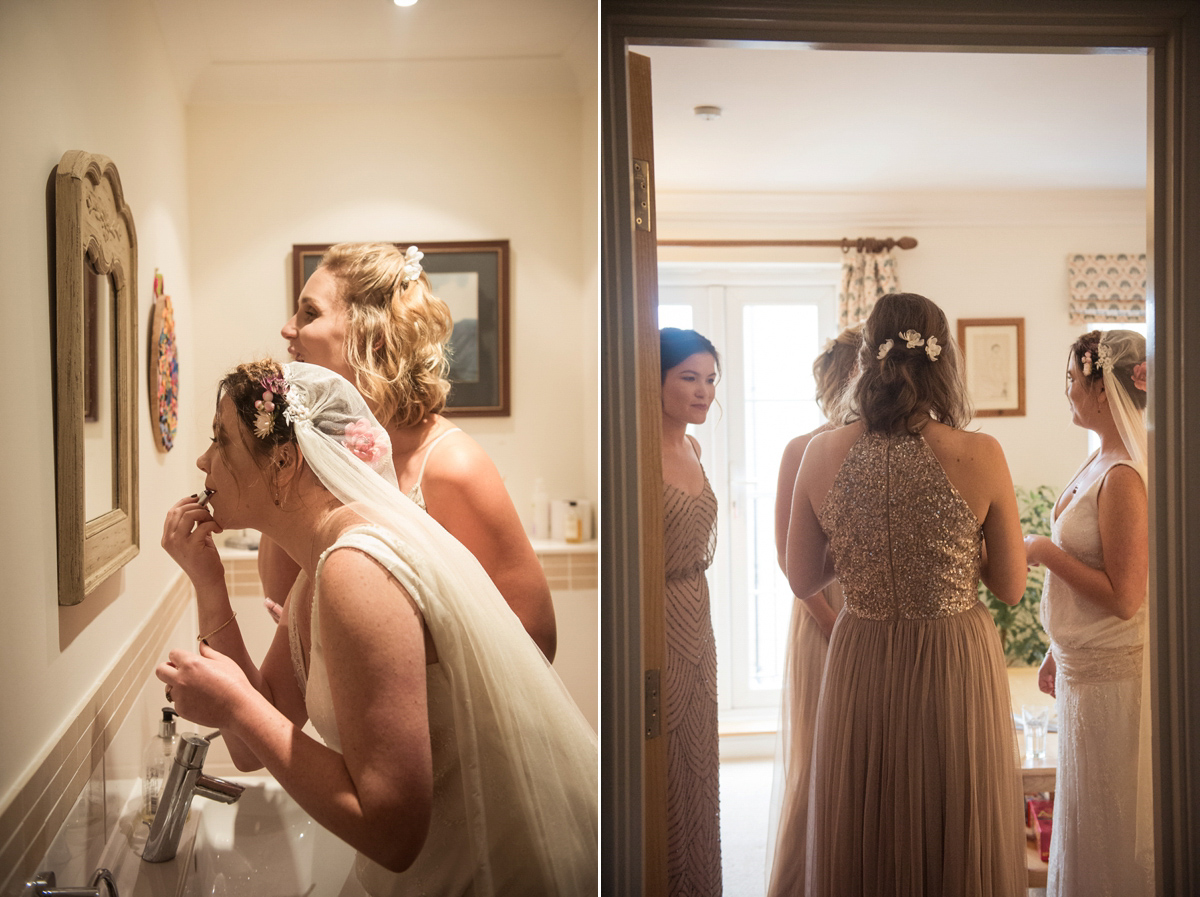 Hannah travelled to Oxford Town Hall with her dad in a lovely little cream Morris Minor, poignantly the same model of car he used to drive her around in as a baby in order to get her off to sleep. There Simon stood waiting, resplendent in his Walker Slater suit, to promise his forever to his love in an emotional and personal humanist ceremony, officiated by Liz Harwood.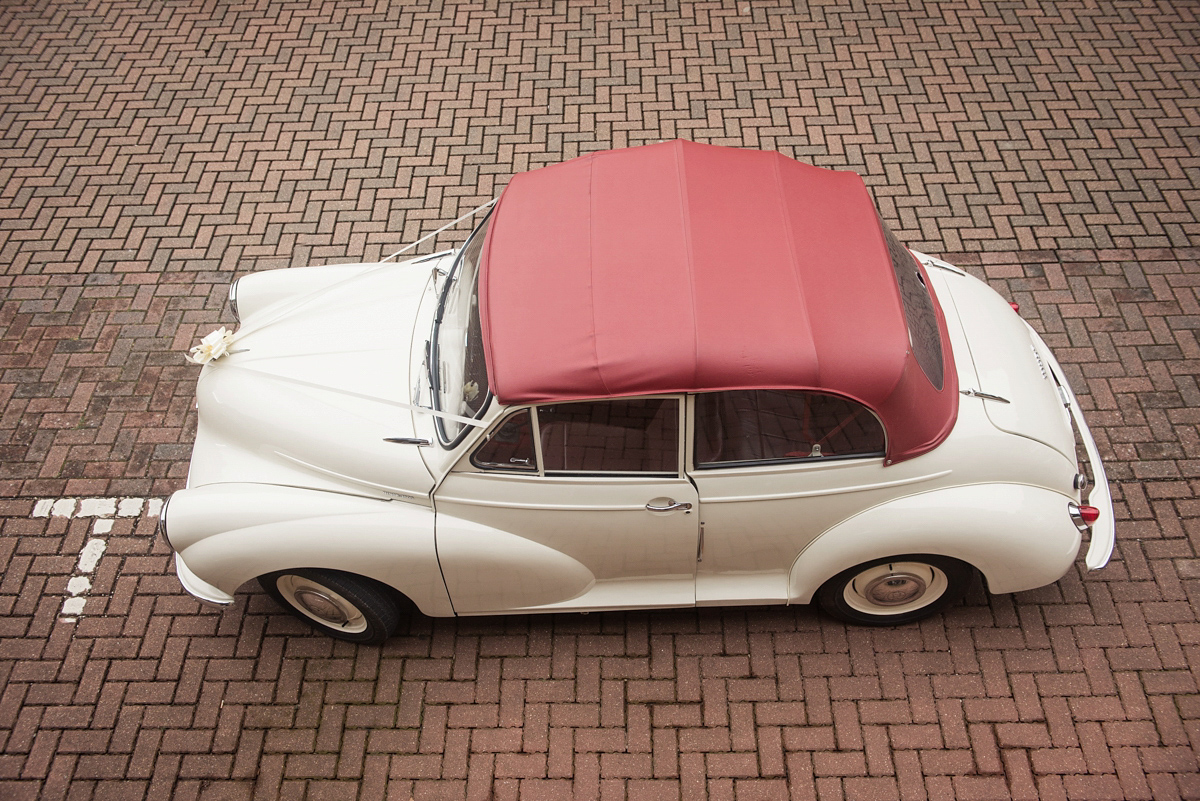 "Simon and I met when I was working as a journalist, covering arts, music and culture for a regional paper. I interviewed Simon, who was working as a musician at that point. His band, who'd been pretty successful, were playing a big farewell gig having announced their break up."
"As a rule, interviews are not where I usually pick up men but the heart wants what it wants, and we struck up an immediate bond and stayed loosely in touch, although it was a little while before we went on our official first date."
"We got engaged on my birthday, 17th July, in 2015. I was caught completely by surprise for two reasons. Firstly, I'd been planning on proposing to Simon myself, and had failed to factor in the idea that he may have had plans of his own. Secondly, we have a tradition of treating each other to a day of surprises, culminating in eating at a lovely restaurant (we're both big food lovers) on each others' birthdays, so any nerves or weird behaviour from his end was masked by that."
"After a trip round a David Hockney exhibition, cocktails and 12 courses of absolute deliciousness at the Clove Club, Simon mentioned that he had one more present for me and slipped a small box across the table. In it was a ring that I'd coveted through the window of an antique jewellery shop in Oxford (Norah's Antiques), but which had disappeared one day (unbeknown to me, into Simon's pocket). It has green garnets called Tsavorites, which come from Kenya, like me."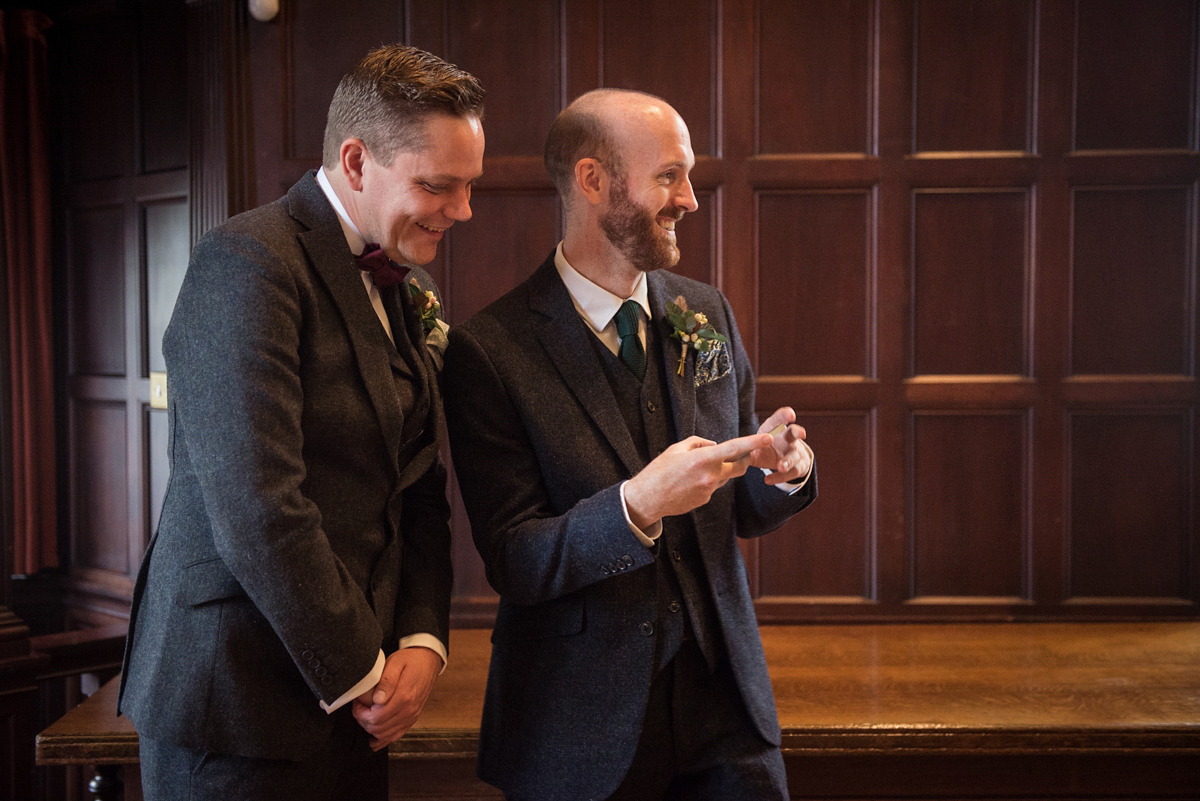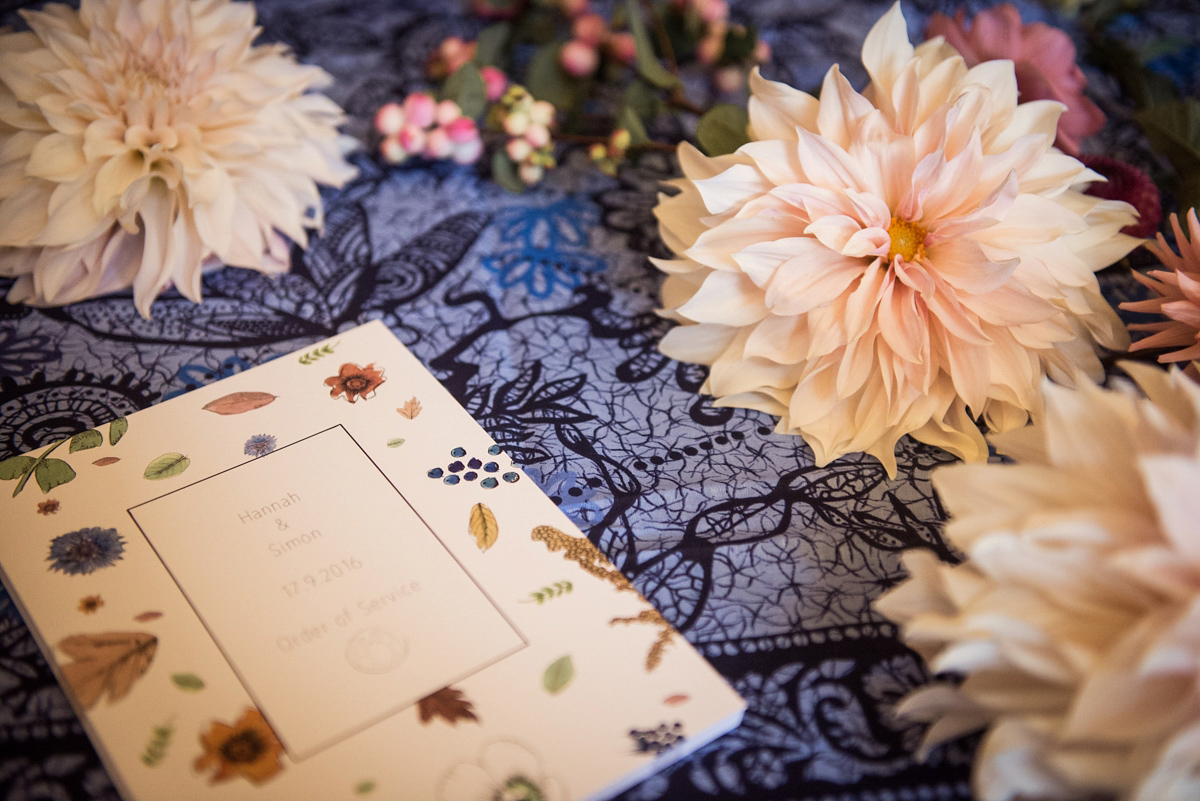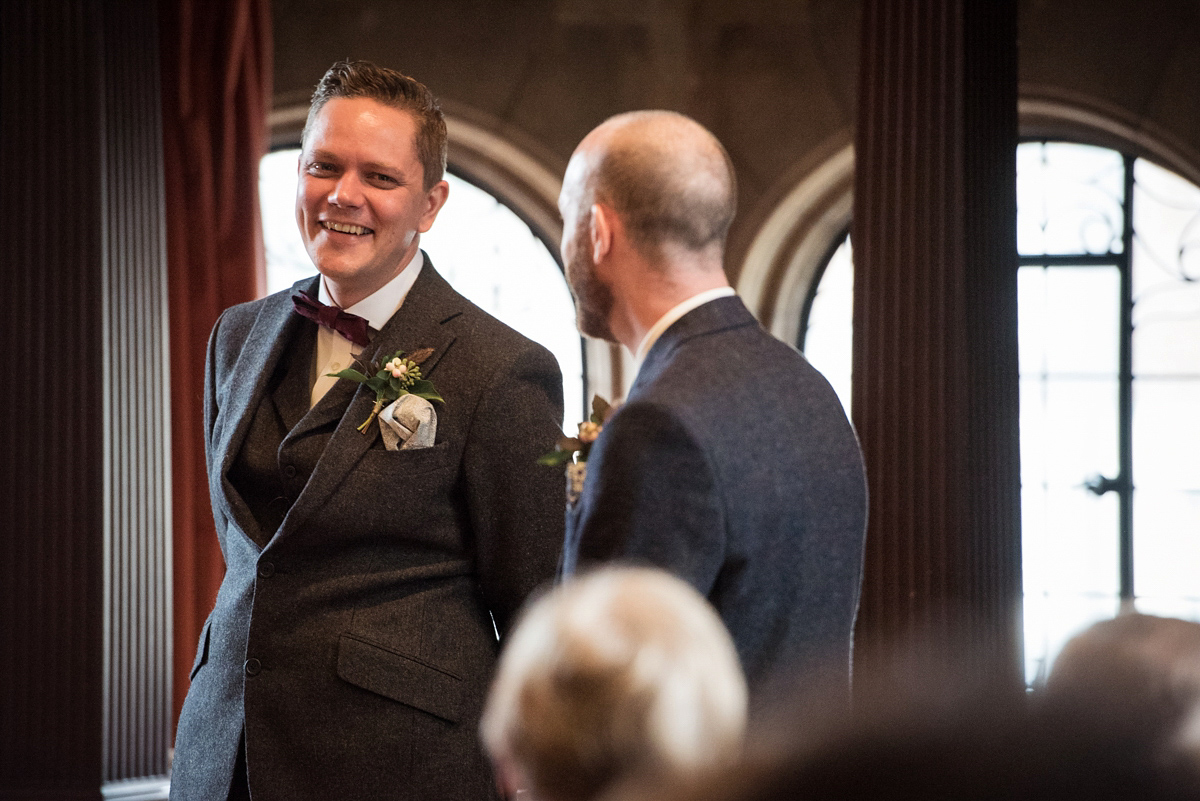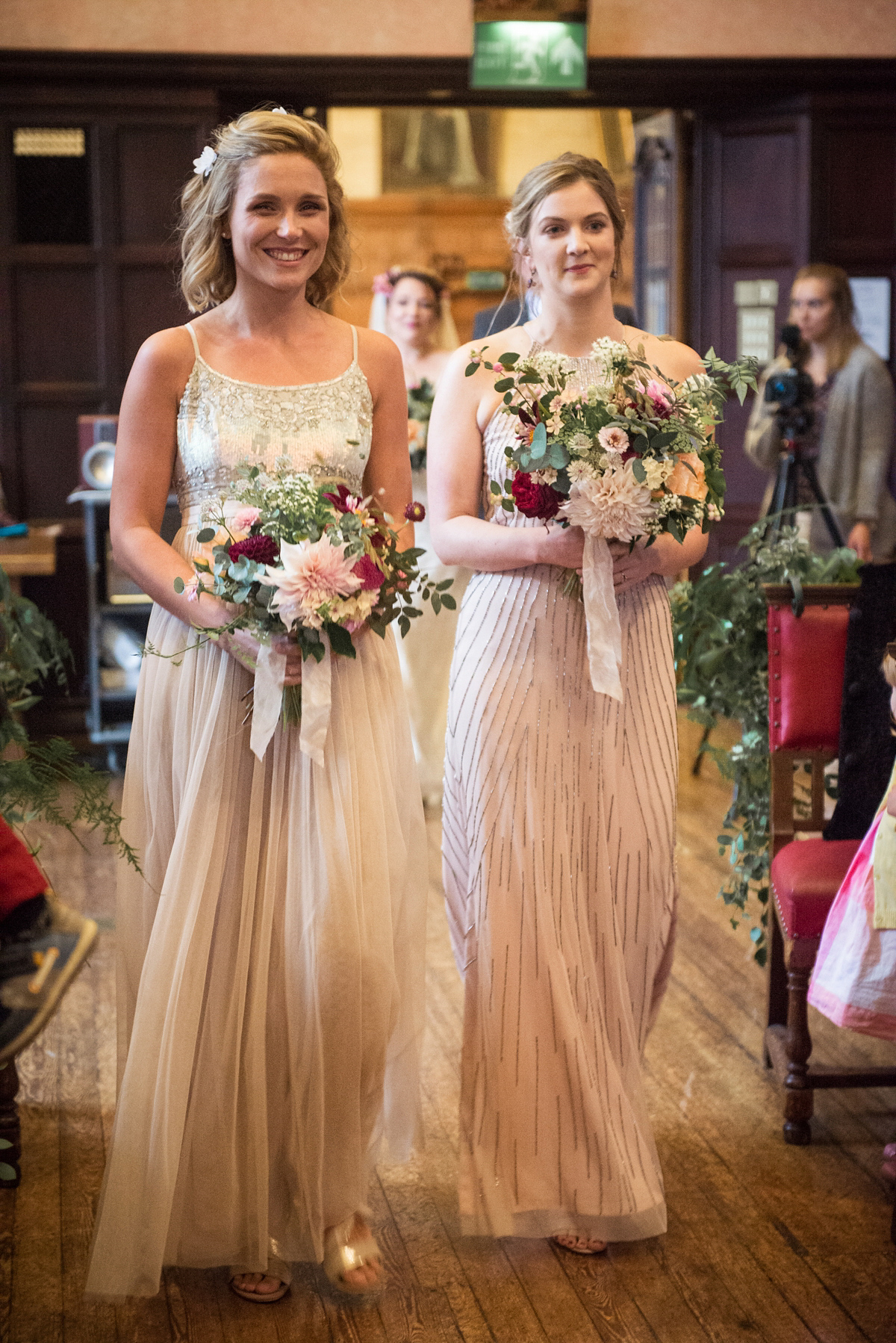 Hannah walked down the aisle with her father to Toothpaste Kisses by The Maccabees, beaming the whole way. The couple chose to hold their humanist ceremony in Oxford, a place where they'd lived together happily, and a central point for their families from all over the world.
They followed up their celebrations with a tiny legal ceremony at the Lower Barns in Cornwall two weeks later, with two friends and their toddler as witnesses, as well as two 'brides-dogs'. Cornwall, much like Oxford, holds a dear place in their nature-loving hearts.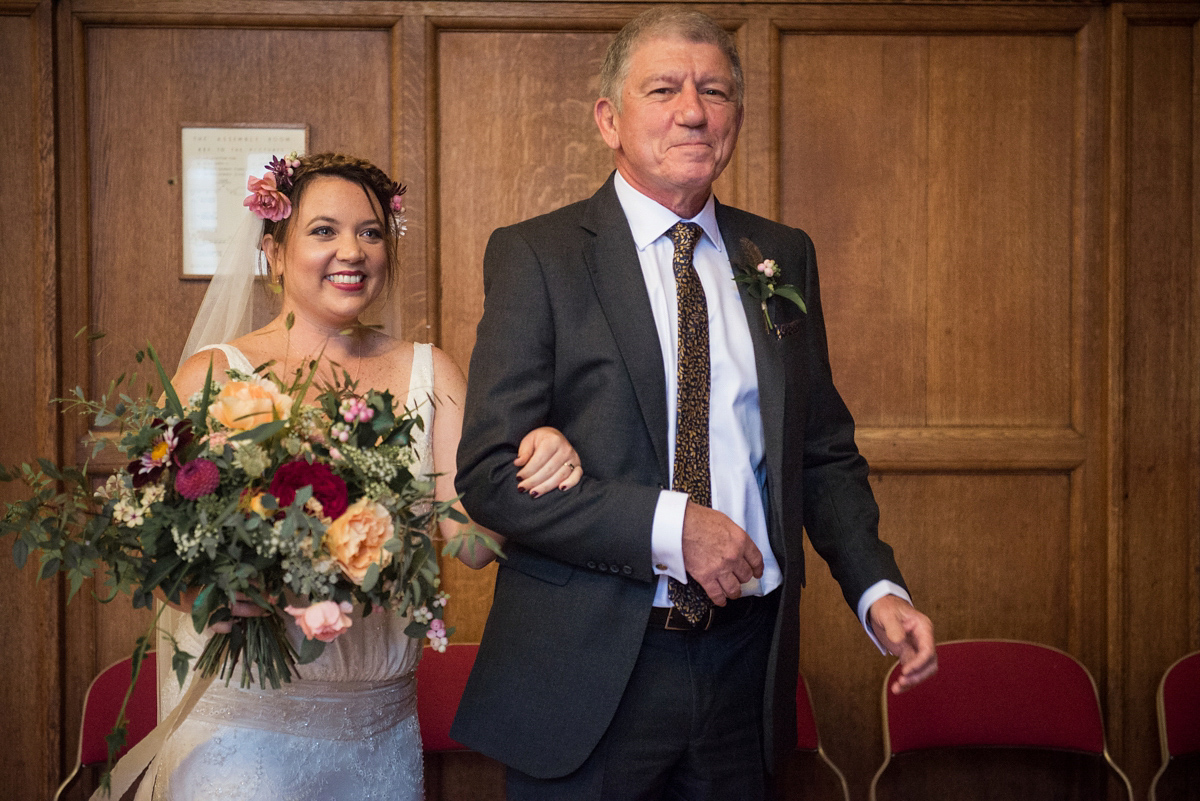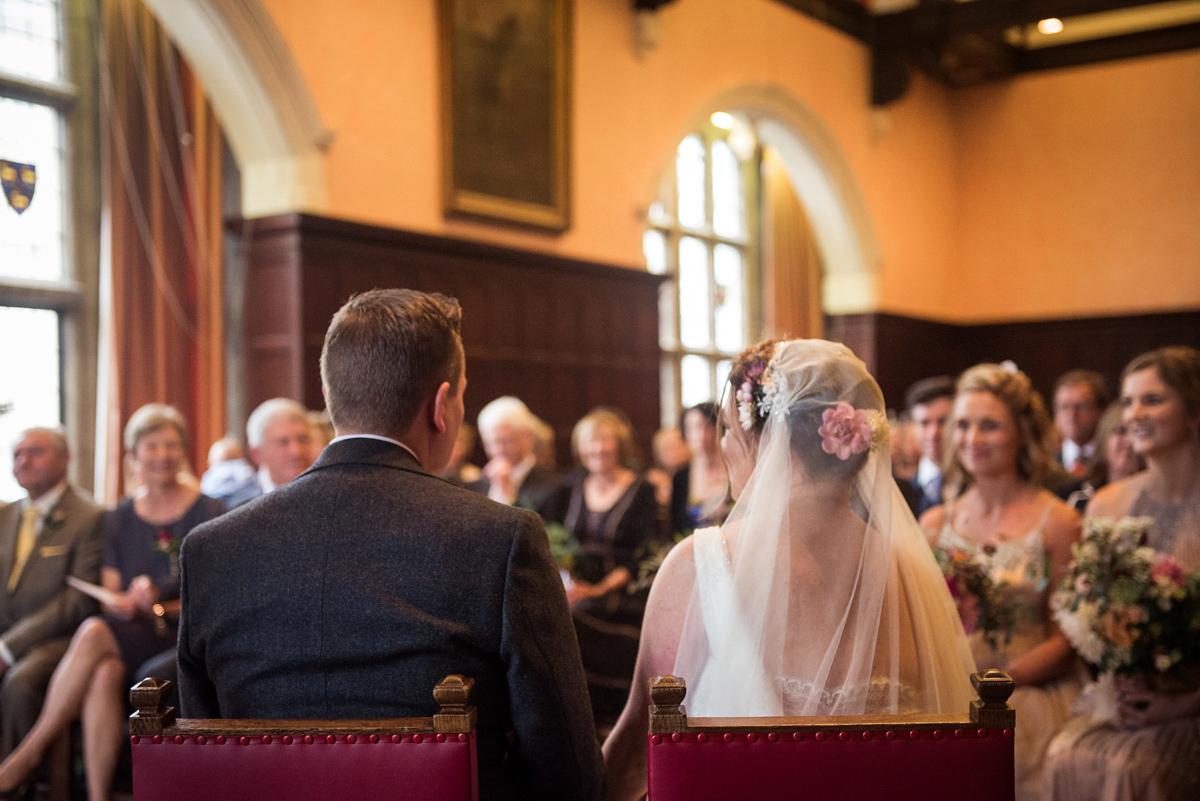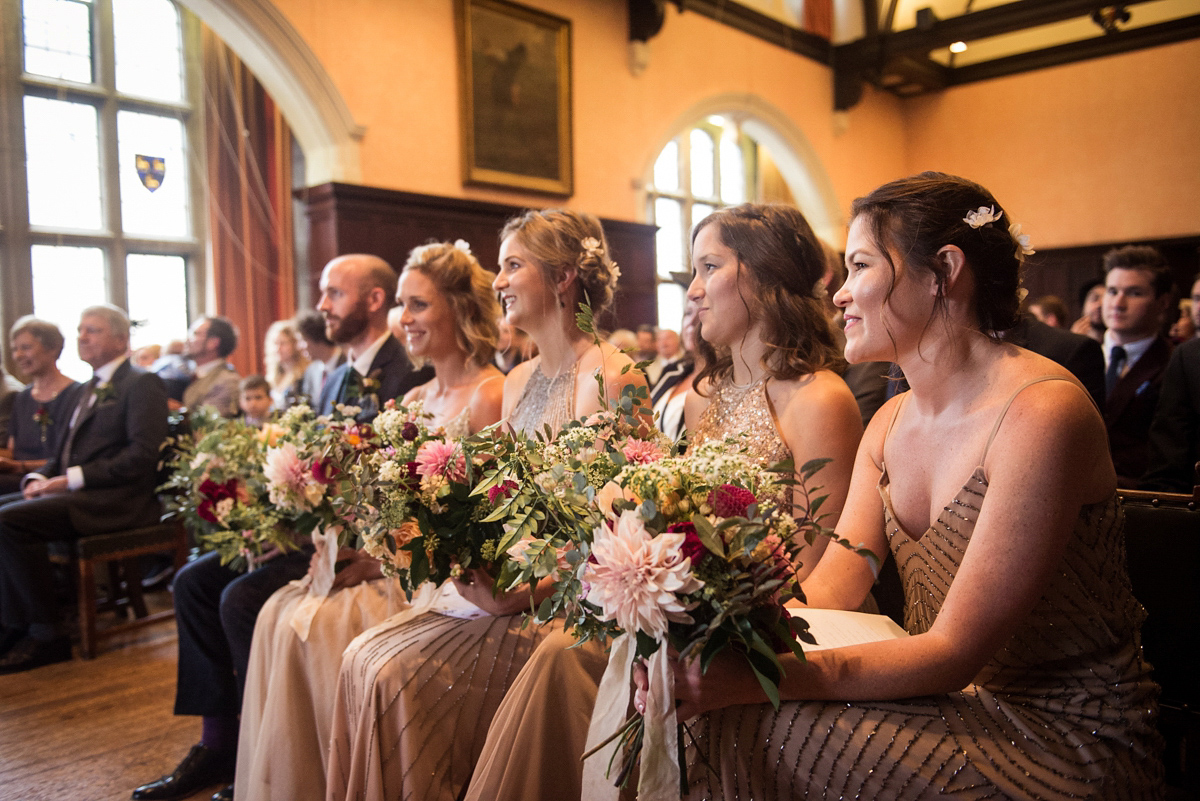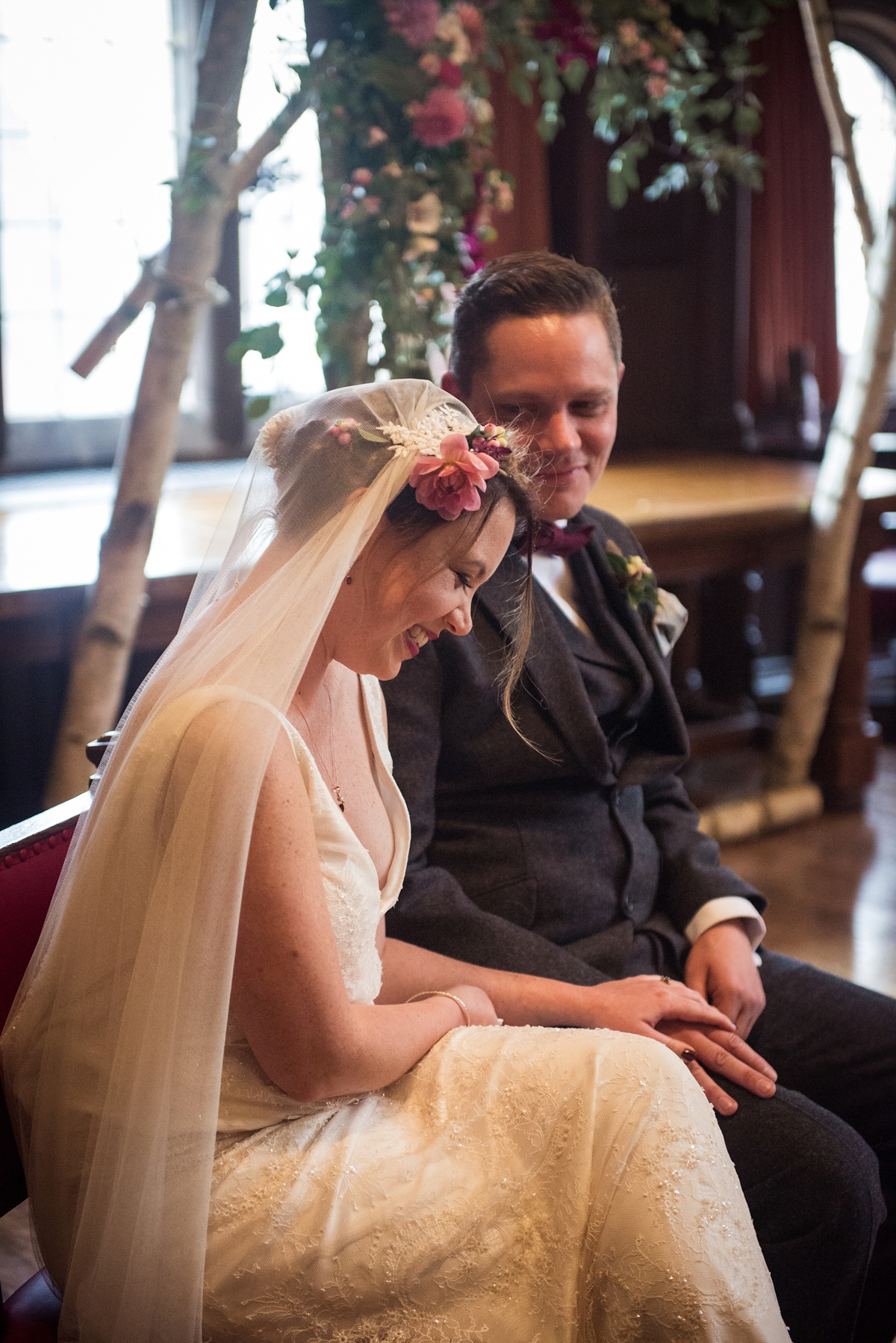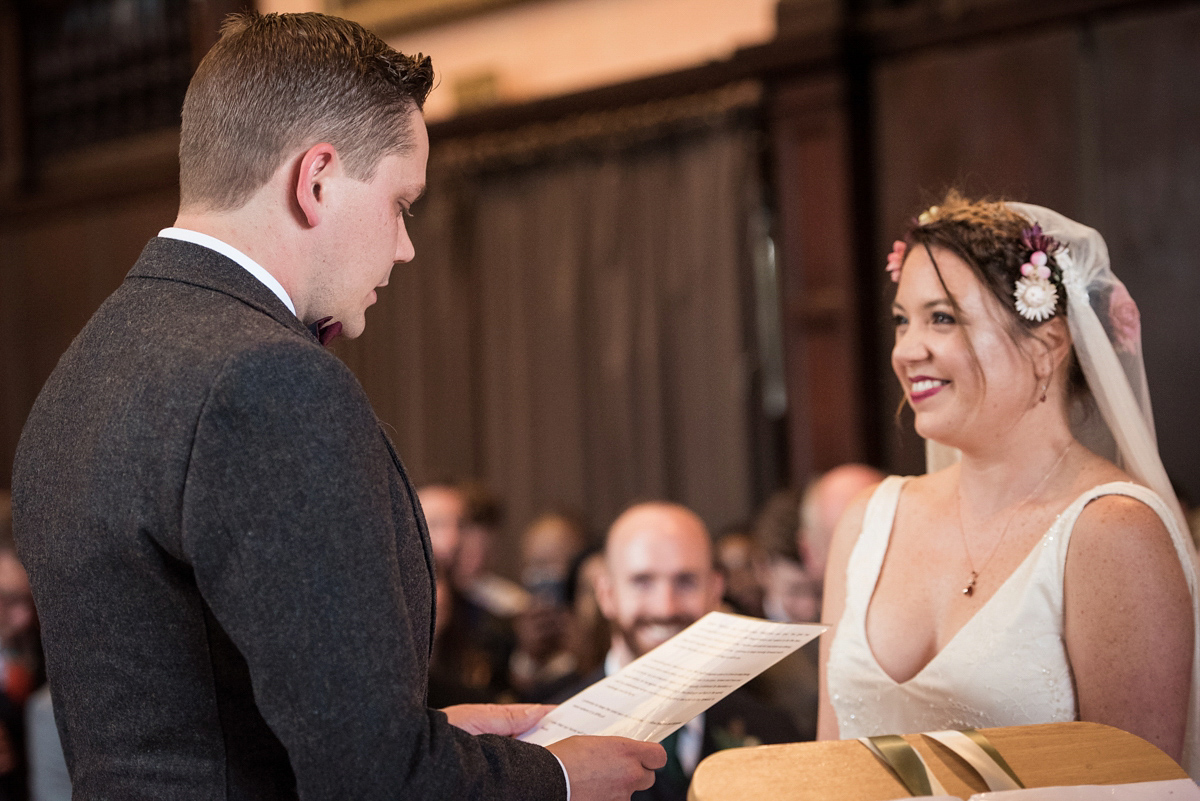 Hannah and Simon had three readings during their ceremony; Love by Roy Croft, I carry your heart with me, I carry it in by E.E. Cummings and Pathways by Rainer Maria Rilke, which Hannah's sister shared with the couple – a short passage, but entirely perfect for them. The couple made their weddings rings at The Quarter Workshop, which sounds like such a lovely experience, and something I'd whole-heartedly encourage you to read more about on Victoria's Little Book for Brides listing.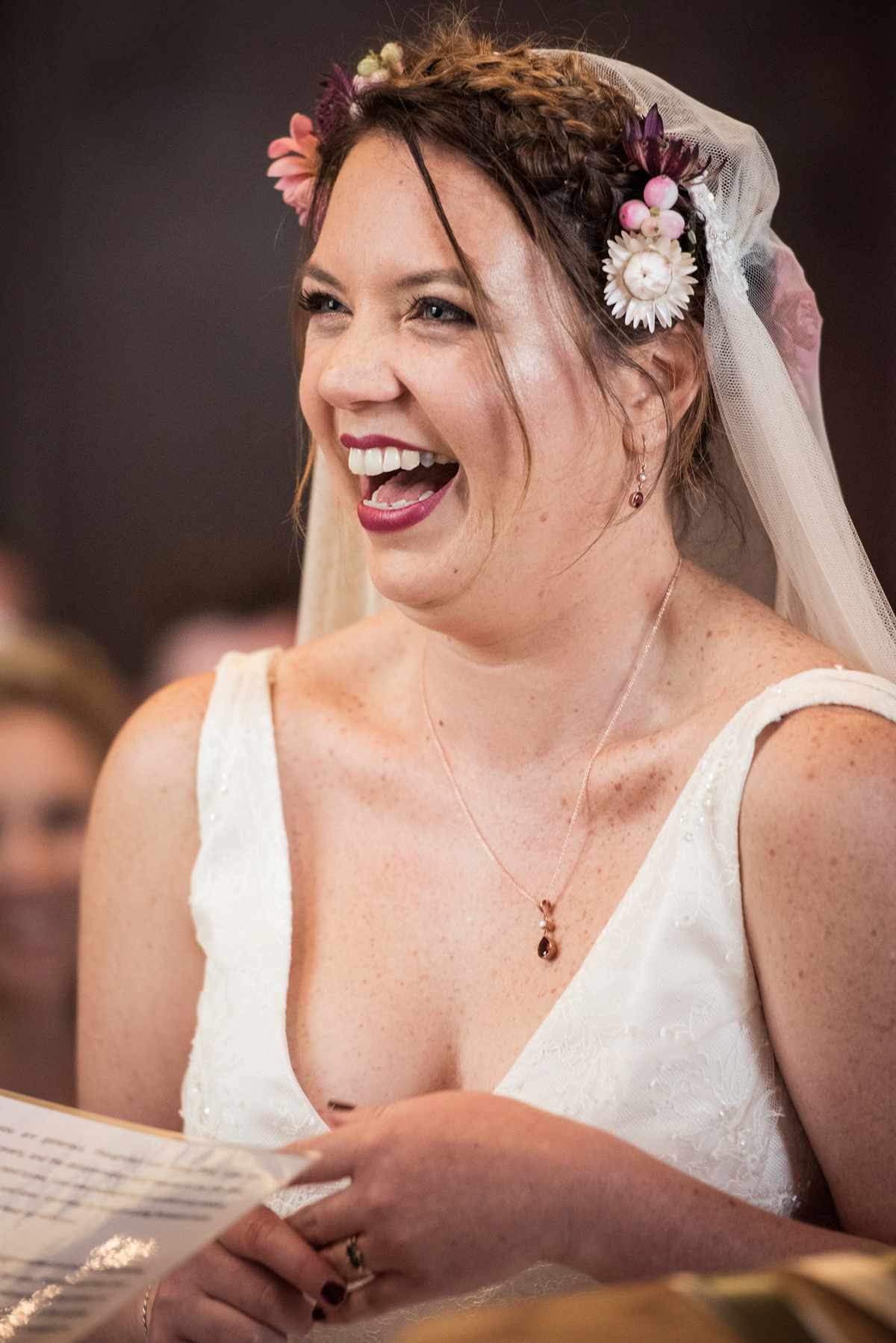 "We made our rings at with the lovely Victoria at The Quarter Workshop in Birmingham. I can honestly say it was the best day we had leading up to the wedding. At a time when all else was chaos and stress, tasks piling up, lists ever-growing, this was one whole day where nothing else took over, and we basked in Victoria's calm, beautiful studio under her gentle instruction."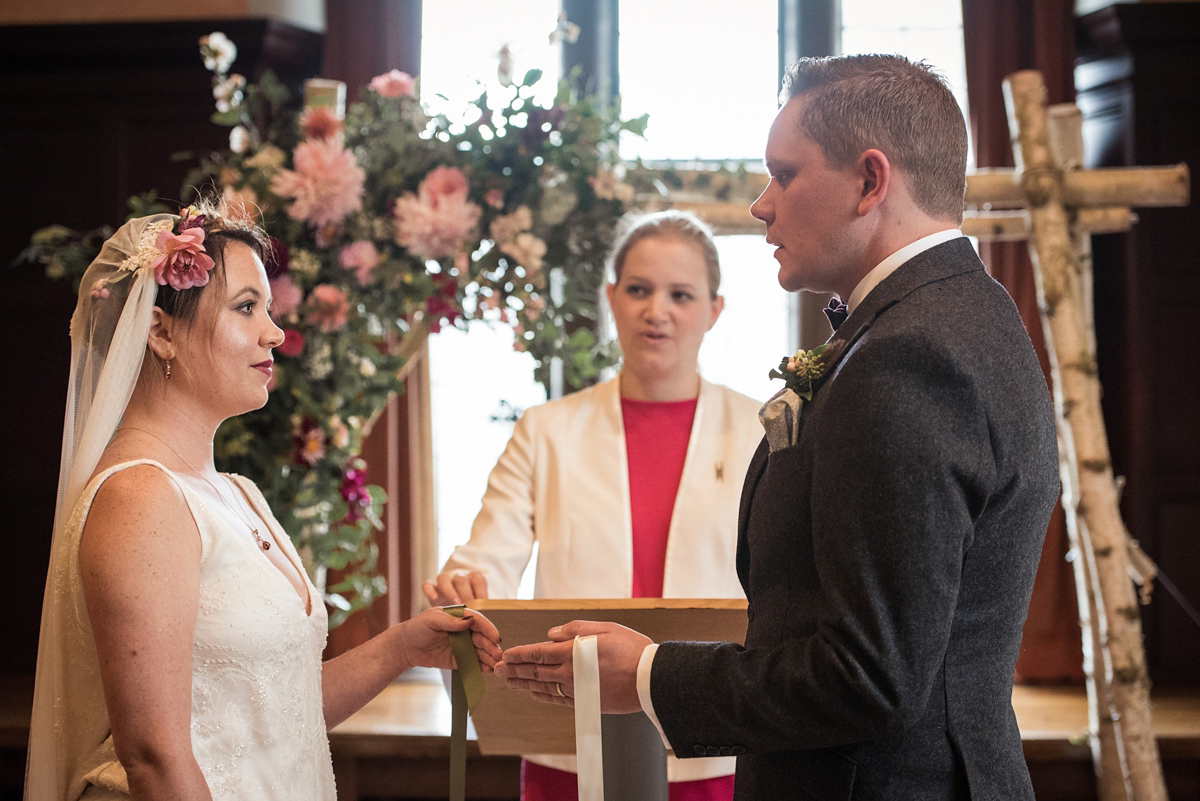 "She was such a lovely person to spend a day with, and it was really lovely to have a whole day together. Victoria said that she thinks handmade items always have a sense to them that the human eye picks up, that it doesn't recognise in machine-made things, and I totally agree. It feels very special to look at my ring finger each day and remember a happy day together, crafting alongside each other, and forging something so precious."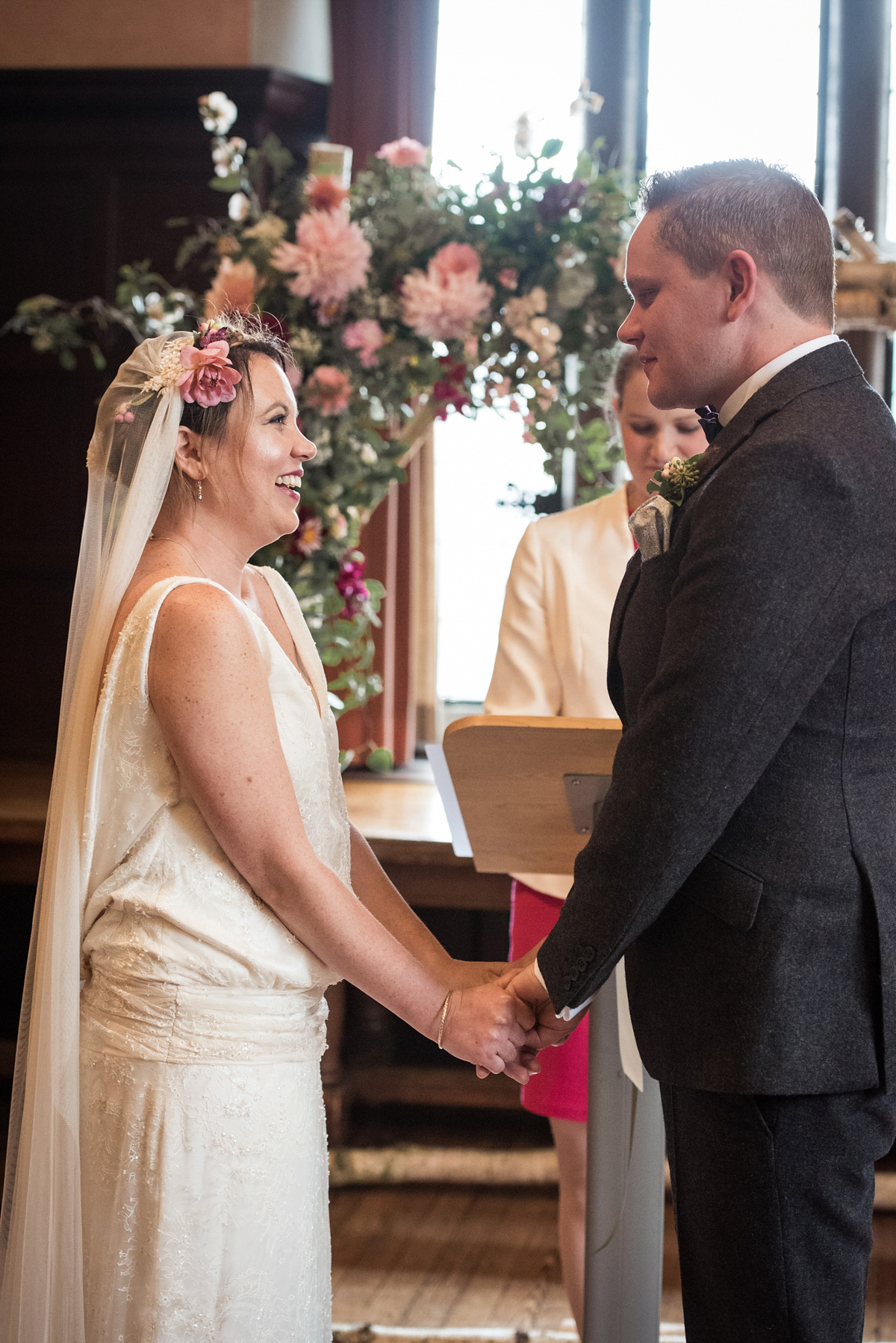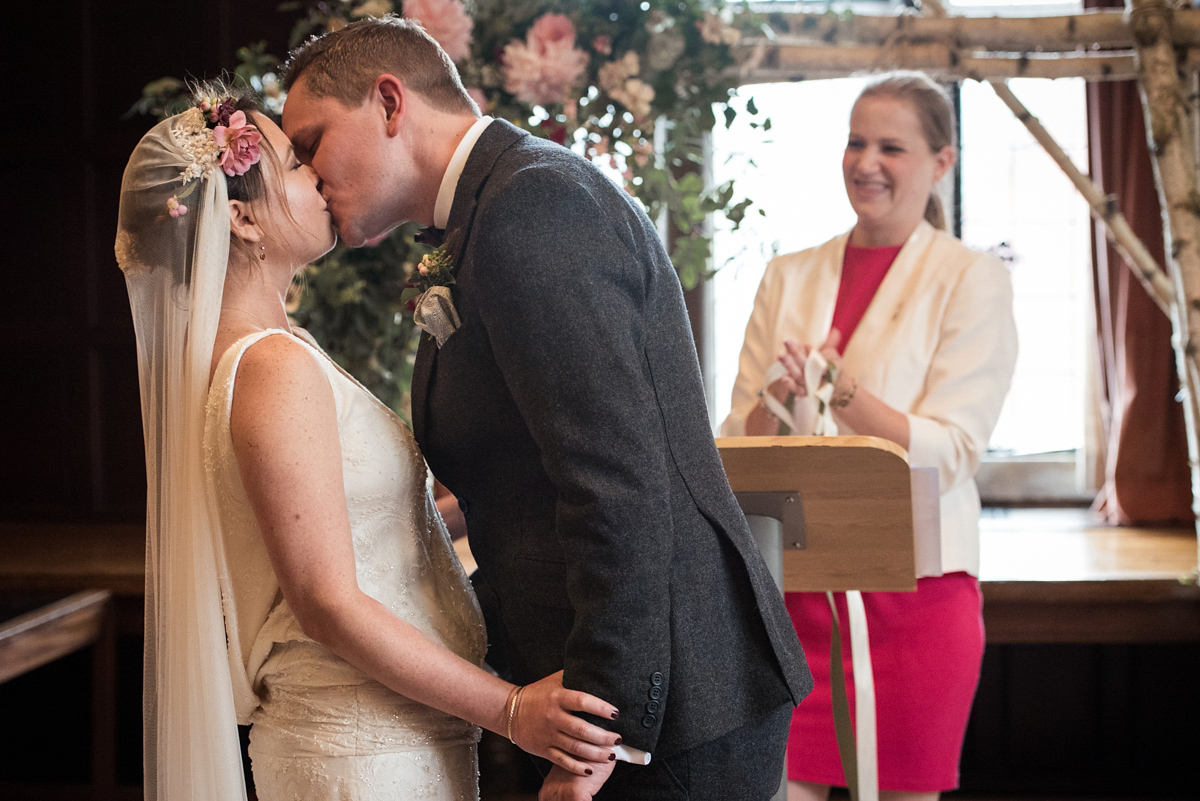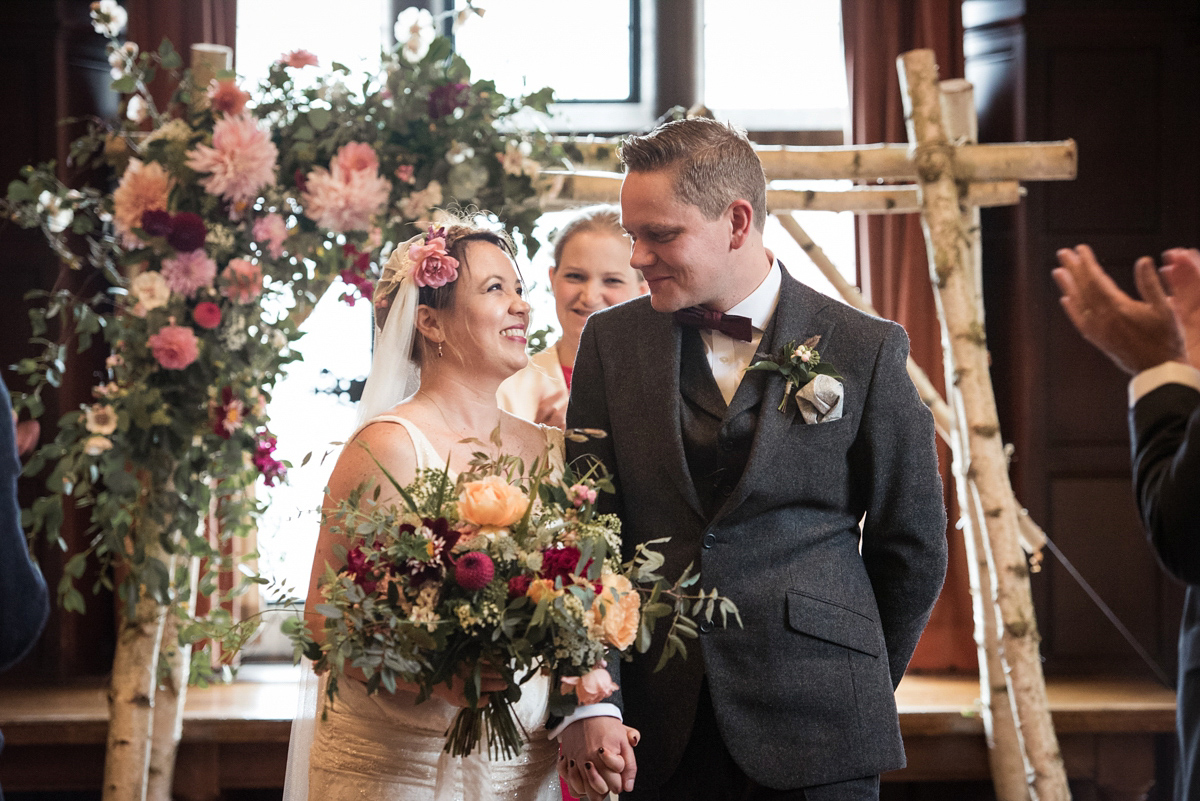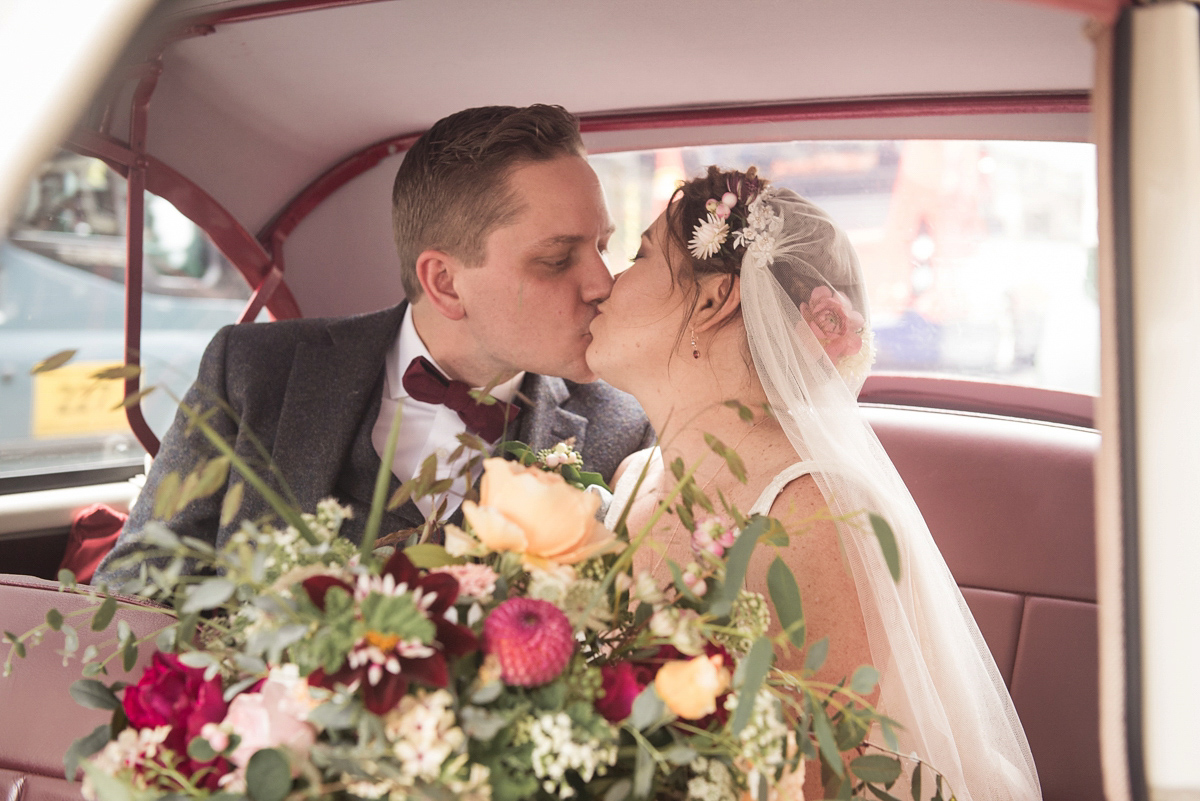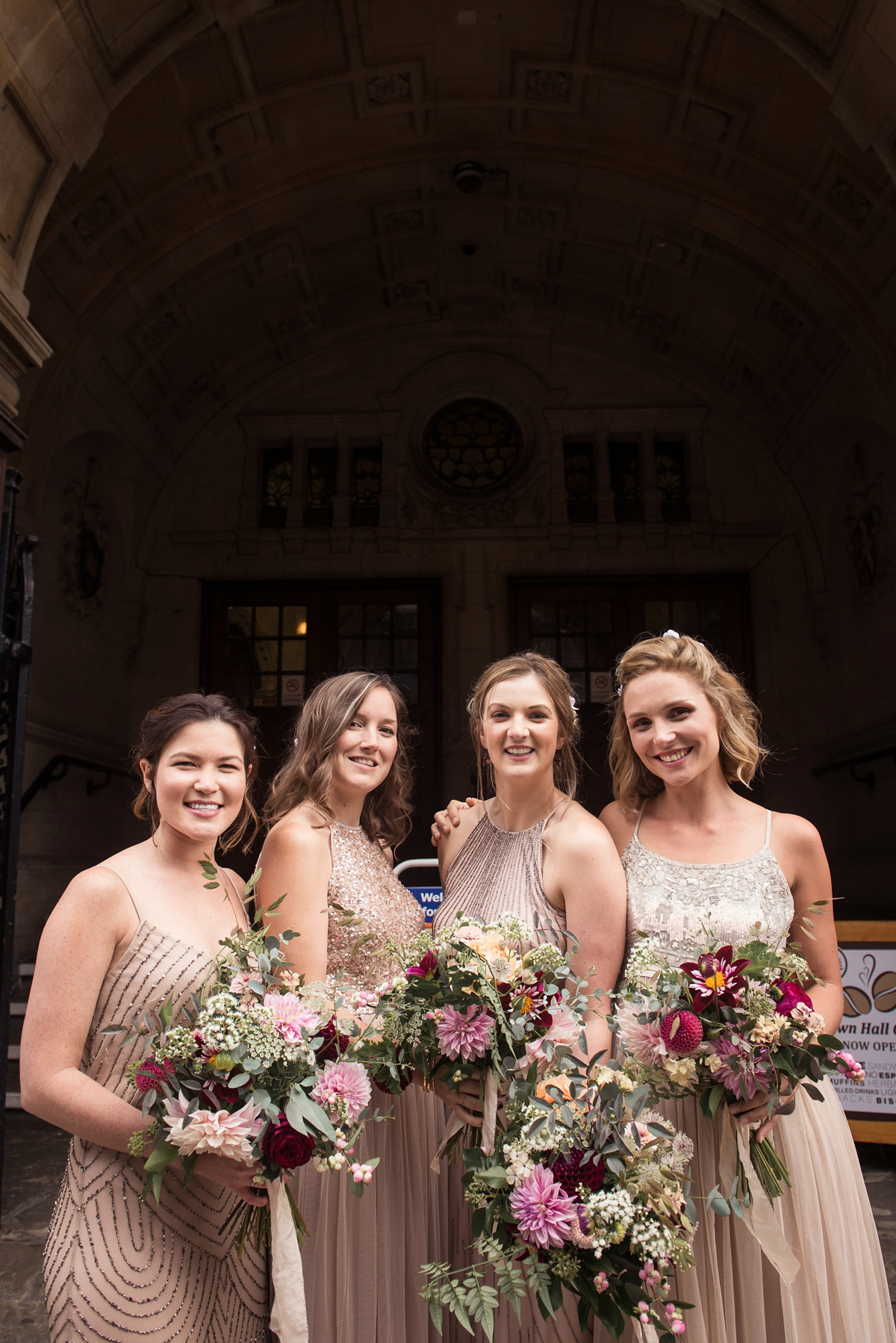 The newlyweds booked a vintage bus from Nostalgia Travel to take their guests to their reception at The Perch, but travelled, along with their families and bridal party, by boat along the river, booked through Oxford River Cruises. How utterly sublime! These images are hands down my favourite of the day; so full of love, joy and contentment.
"It was such a lovely time, drinking champagne and enjoying a little quiet away from the excitement, and time to process the ceremony as we floated by Oxford's lovely Port Meadow. It also meant that we got to disembark at The Perch's jetty, where our guests had lined up to meet us."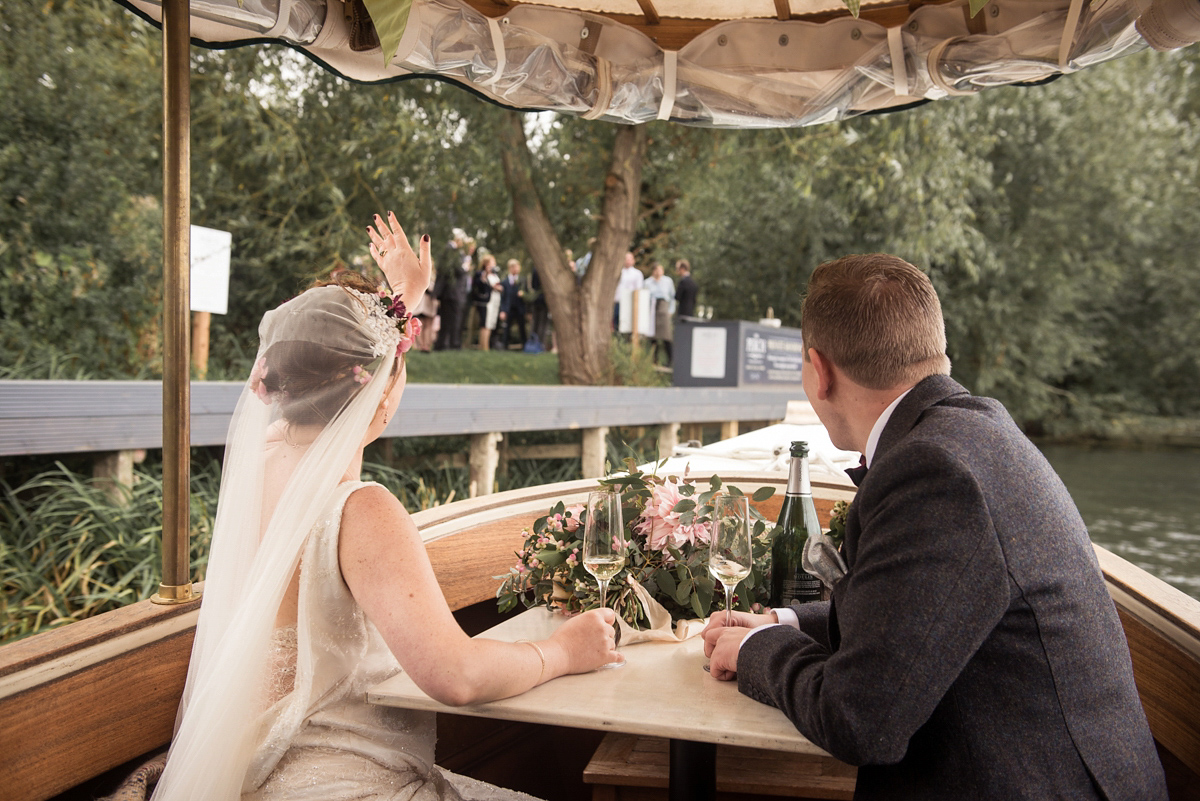 "I know it's a cliché, but really, all of it was just amazing. Having so many of our precious friends with us to celebrate such an important day was wonderful. If I had to pick one moment, it would probably be the boat ride, having that time and space, with a small group of family and close friends, looking out as the river stretched ahead of us, and having a moment to reflect on our ceremony was so special."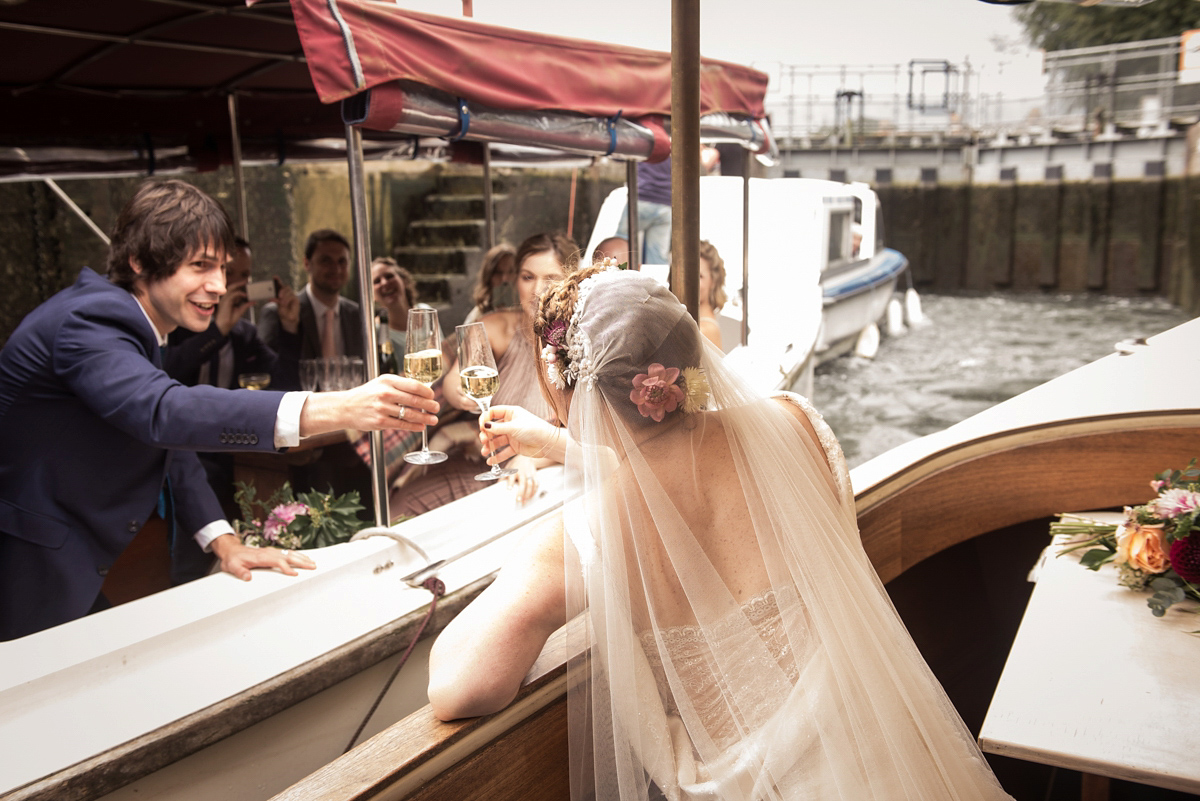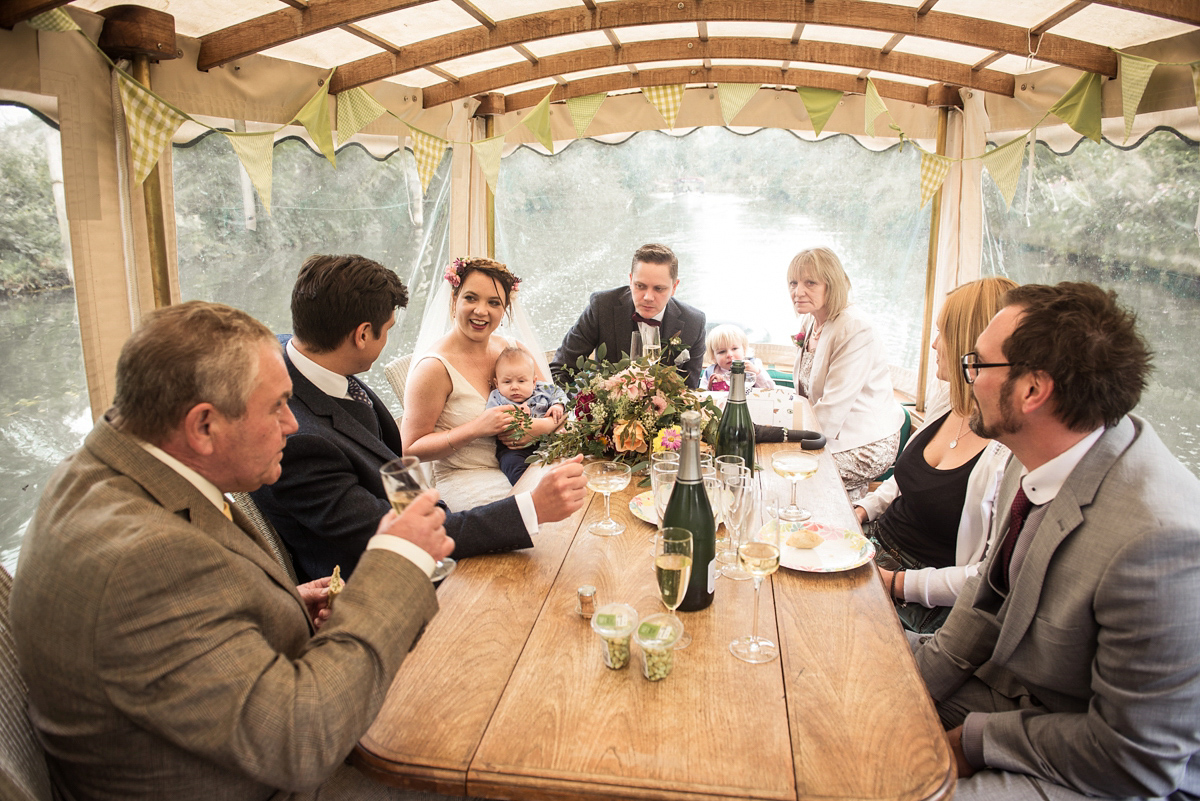 Hannah and Simon were lucky enough to work with several talented friends to bring their big day vision to life; from the stunning photographic style of byGarazi, to the artistic stylings of artist Natalie Hough, the couple's celebration was placed in hands of some of those most dear to them. And boy did they deliver.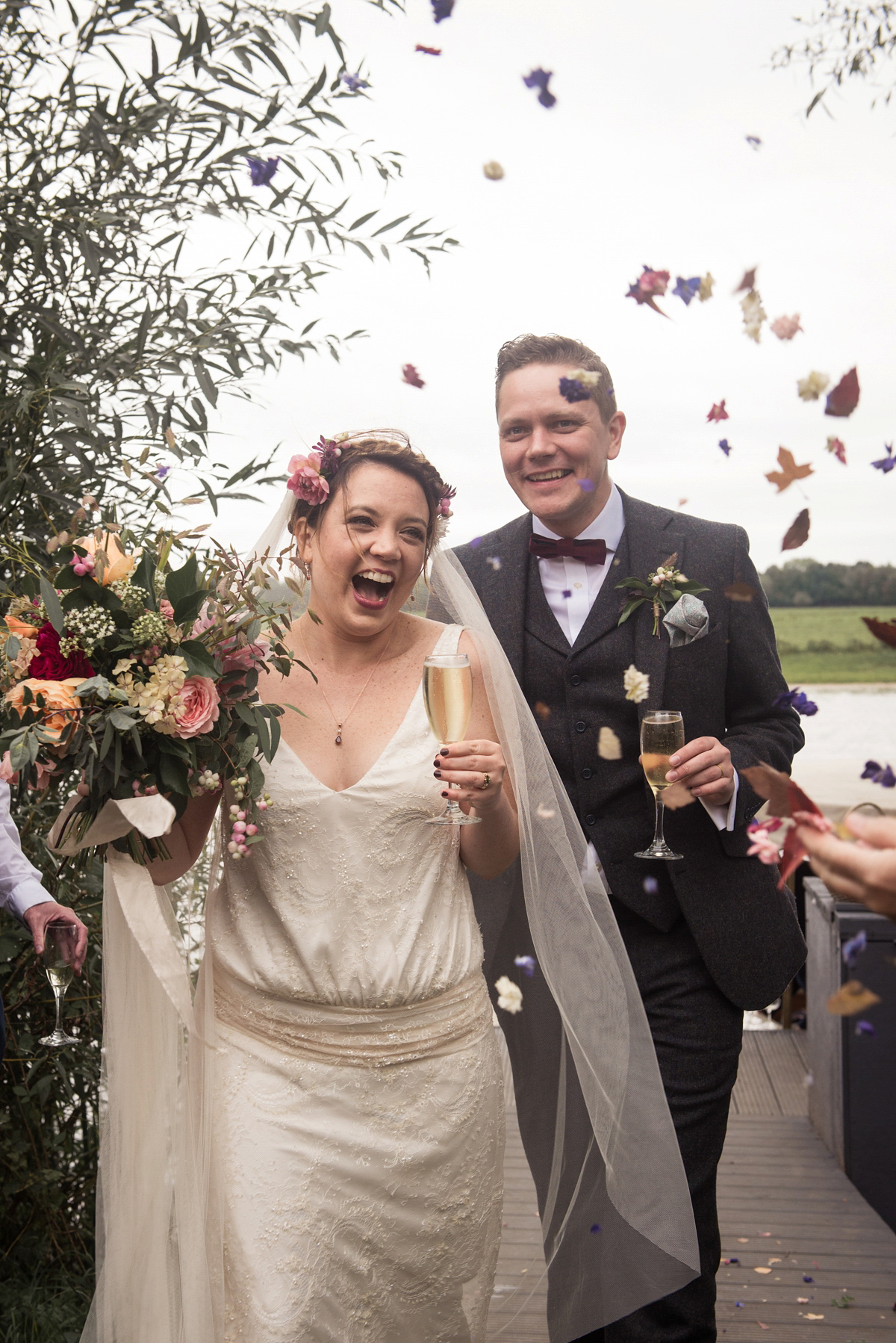 "I feel so lucky to have some extremely talented and creative friends. Garazi is a very longstanding friend, and really the only person we considered for our wedding photography. She caught the colours and the feel of the day perfectly and I love how relaxed our formal shots feel. Her work is so beautiful – I love the way she captures the special little moments as well as the bigger shots in such a gorgeous fashion."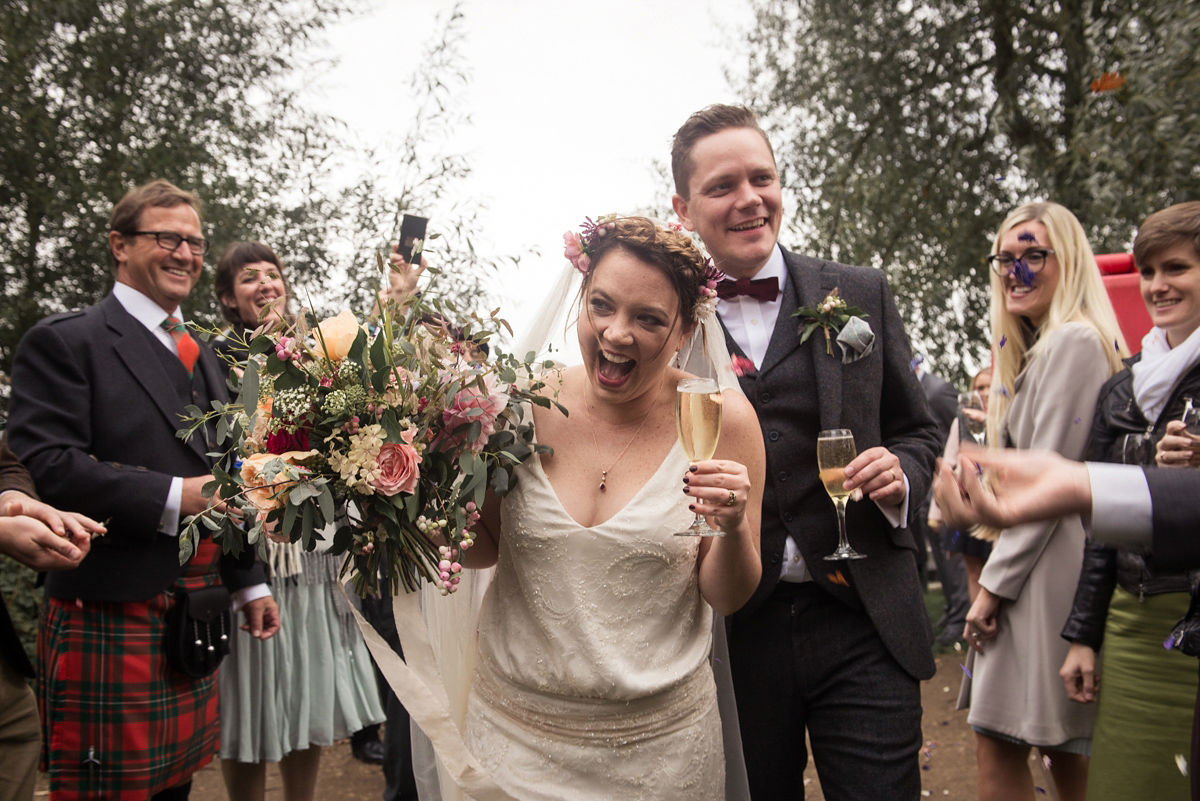 "I was actually very calm on the morning of the wedding, it was only when Garazi turned up, having been at our house shooting the boys beforehand, that I suddenly got quite overwhelmed and had a little tear – having a good friend in that key role was both reassuring and unexpectedly moving."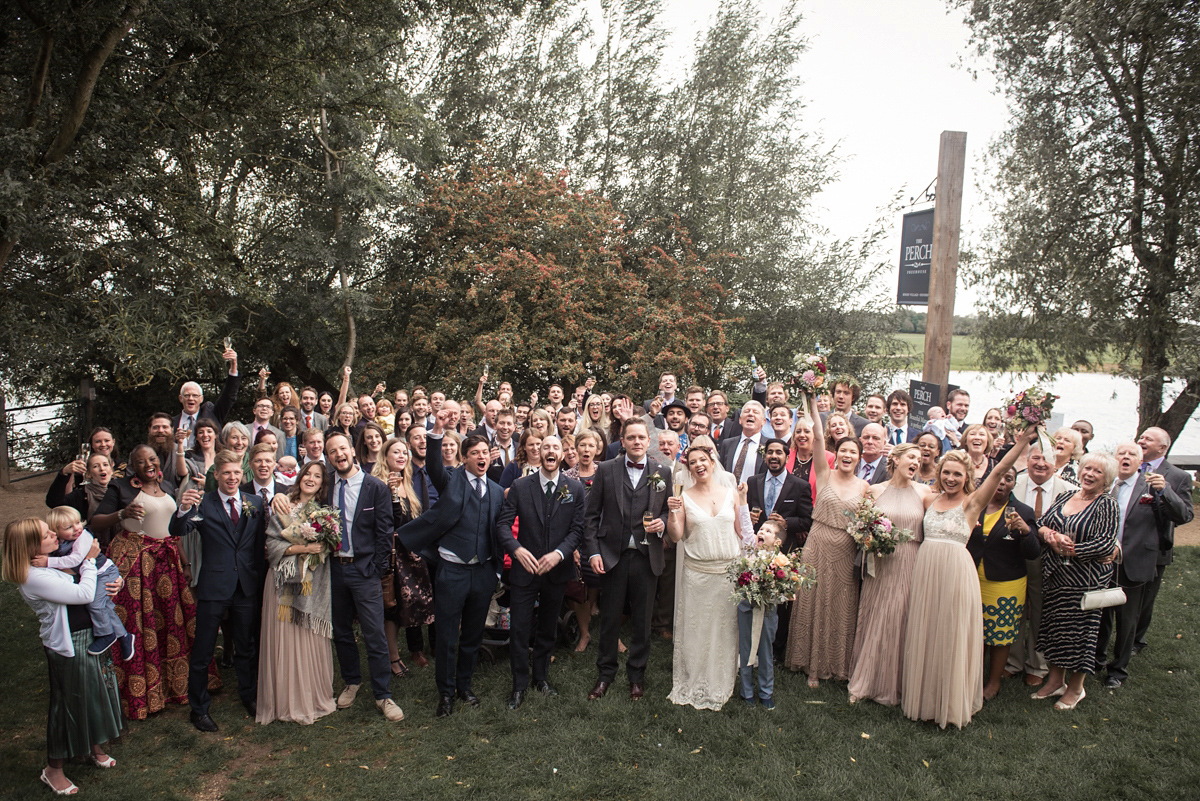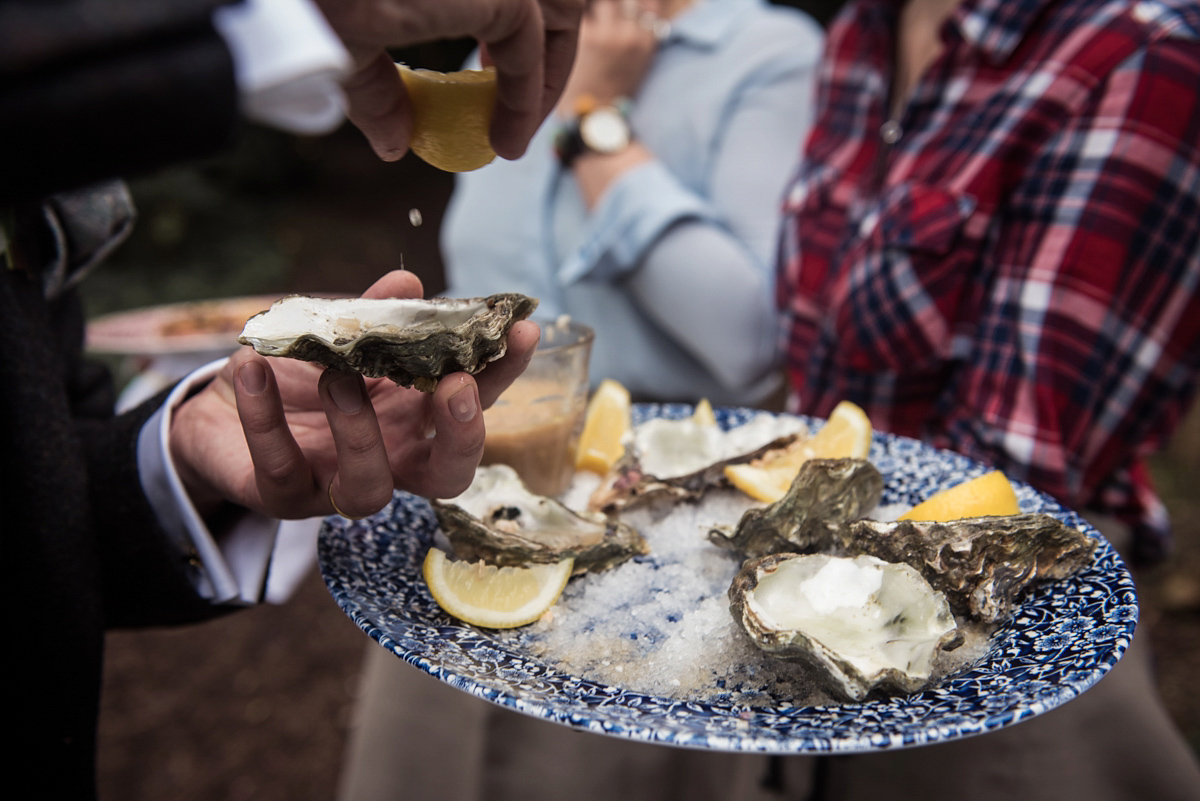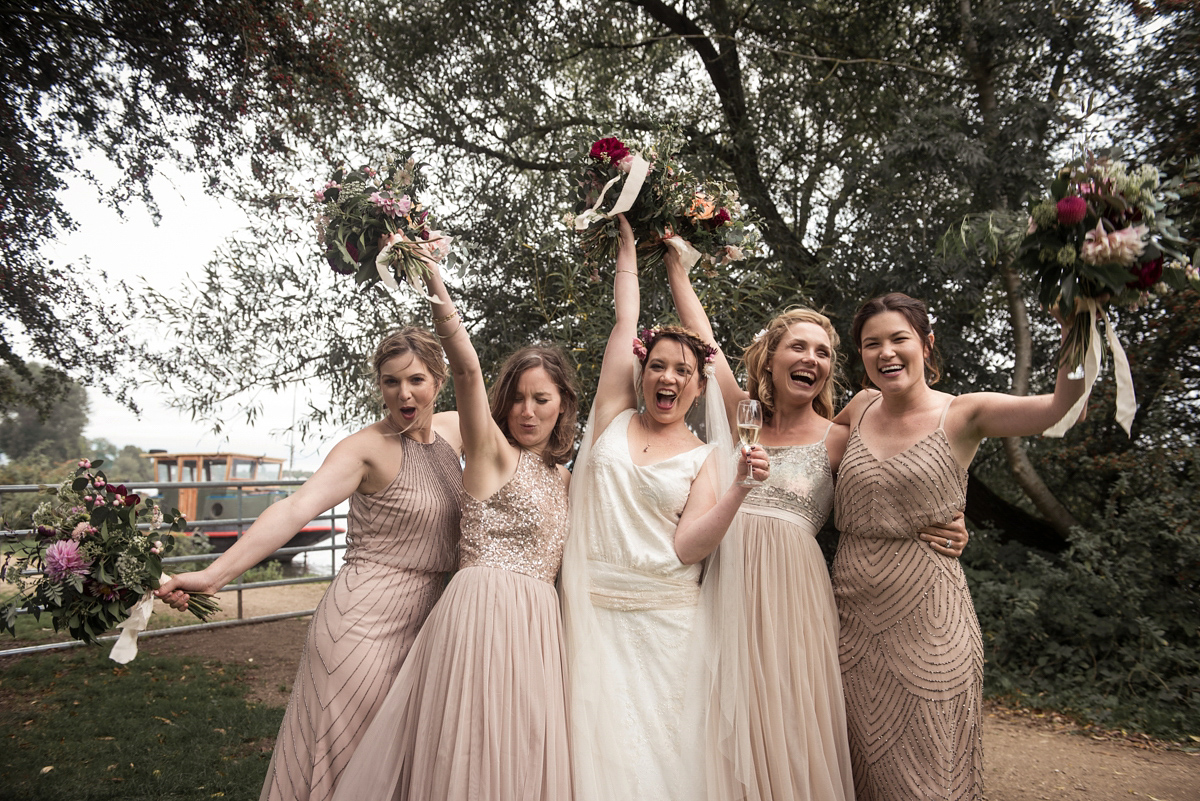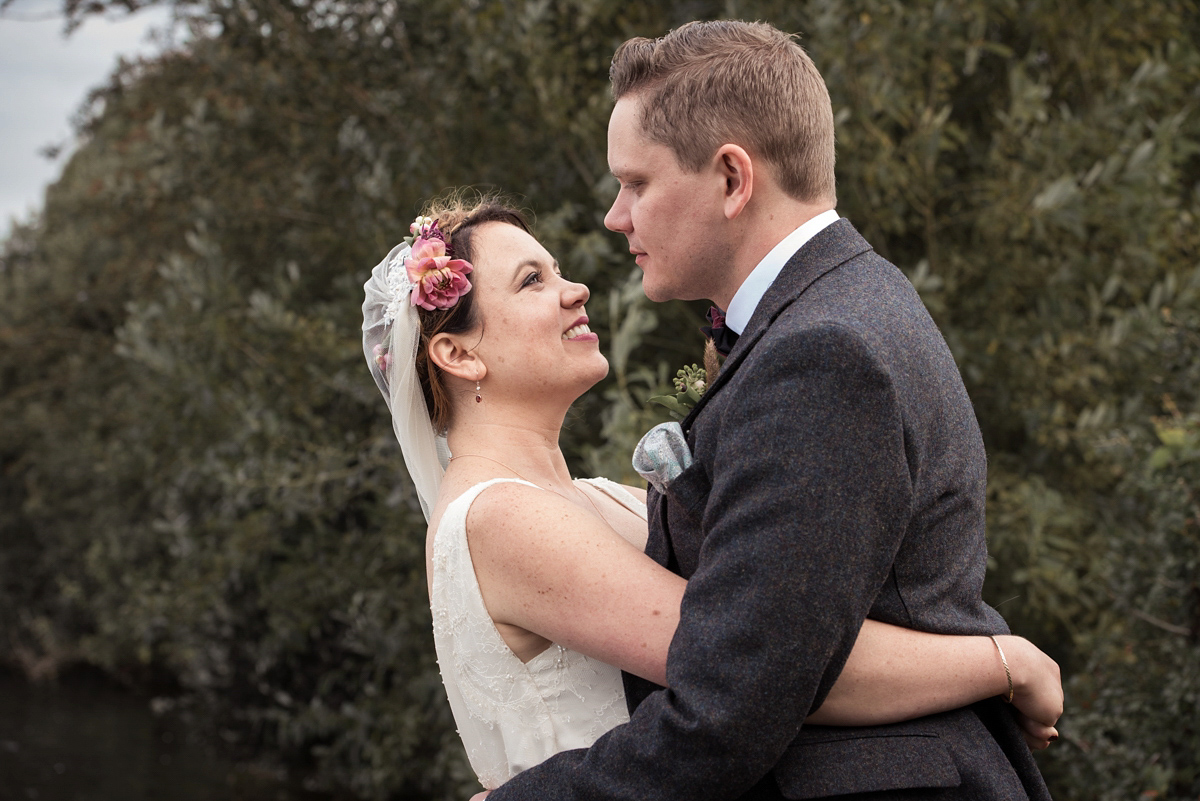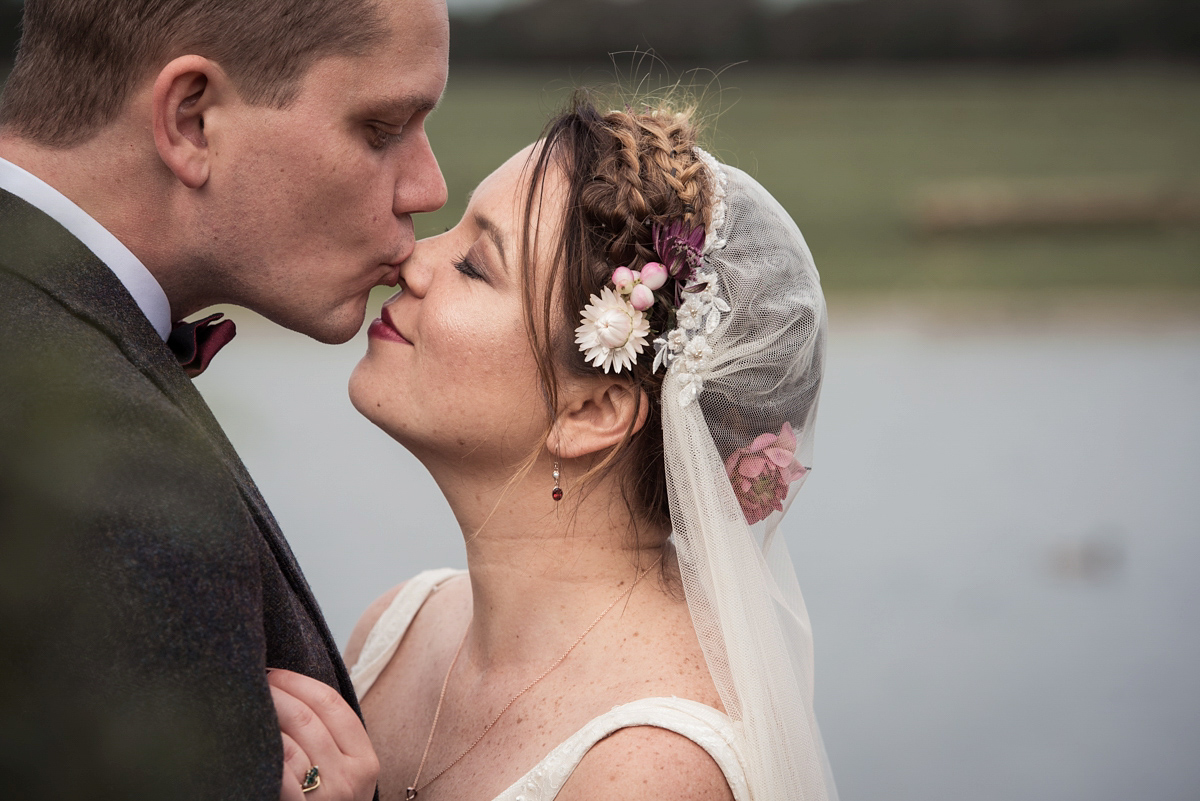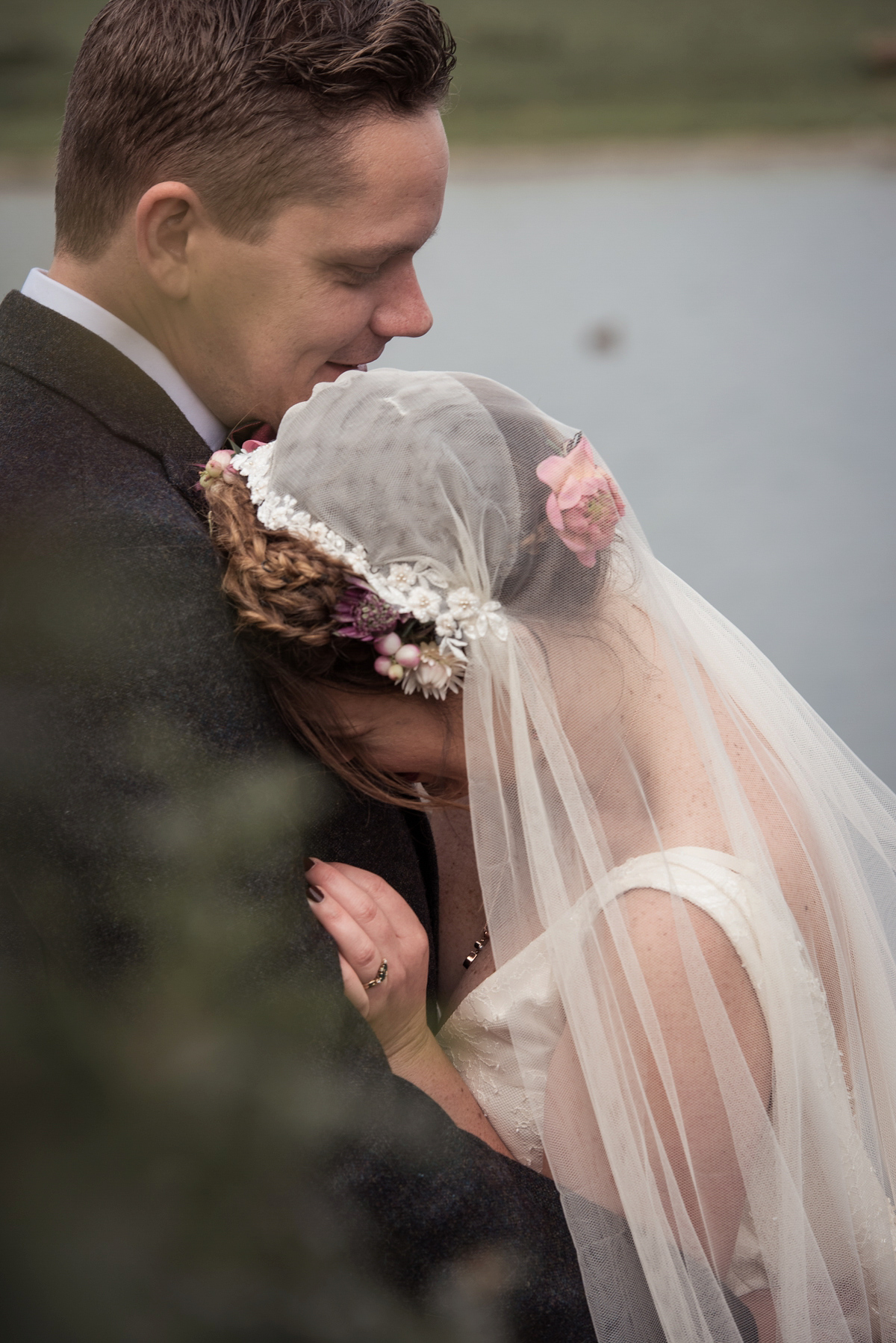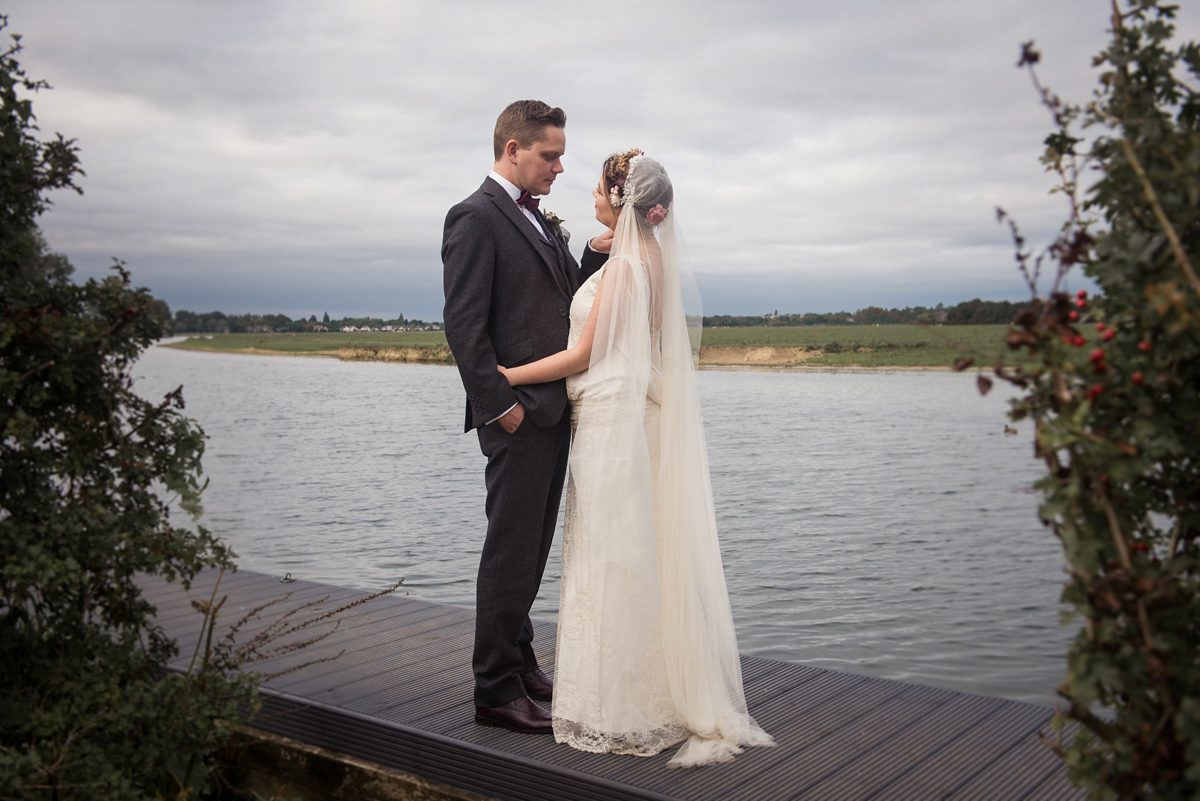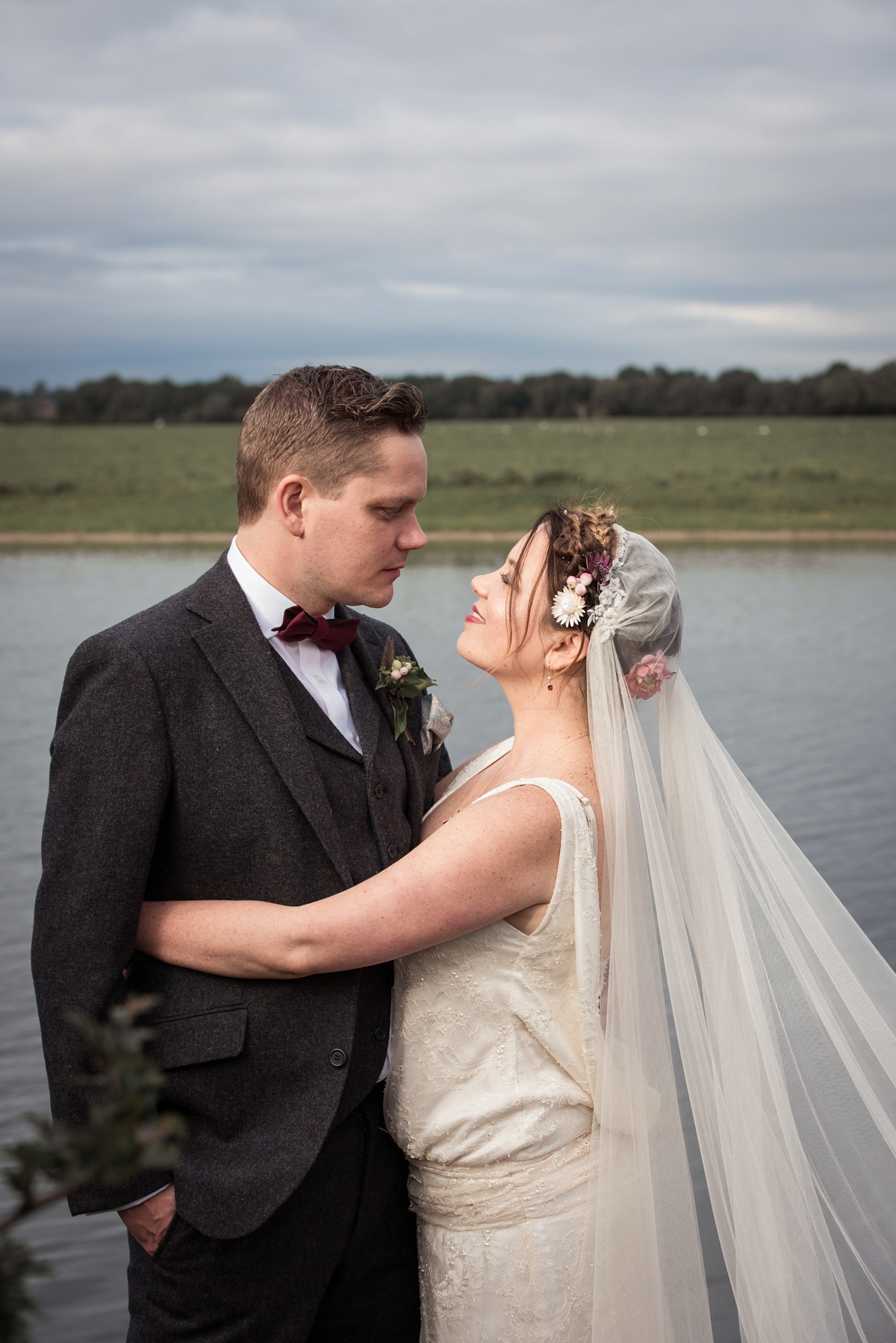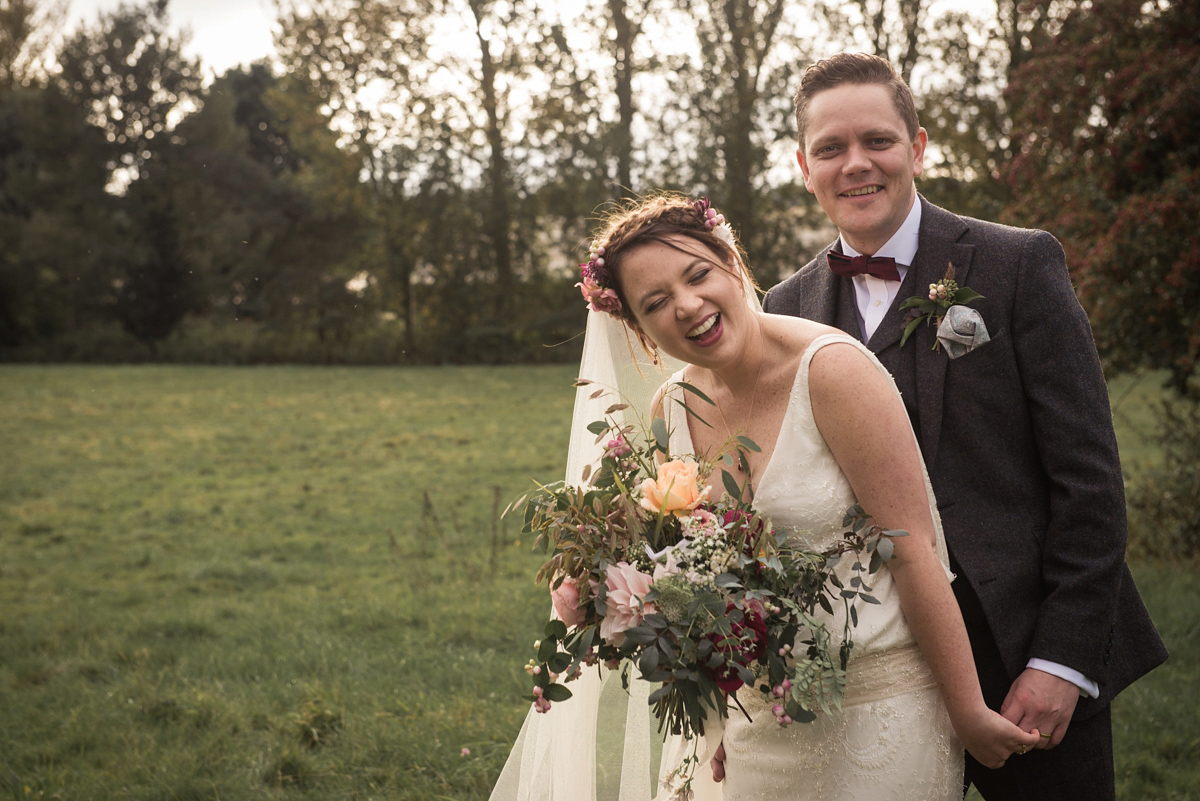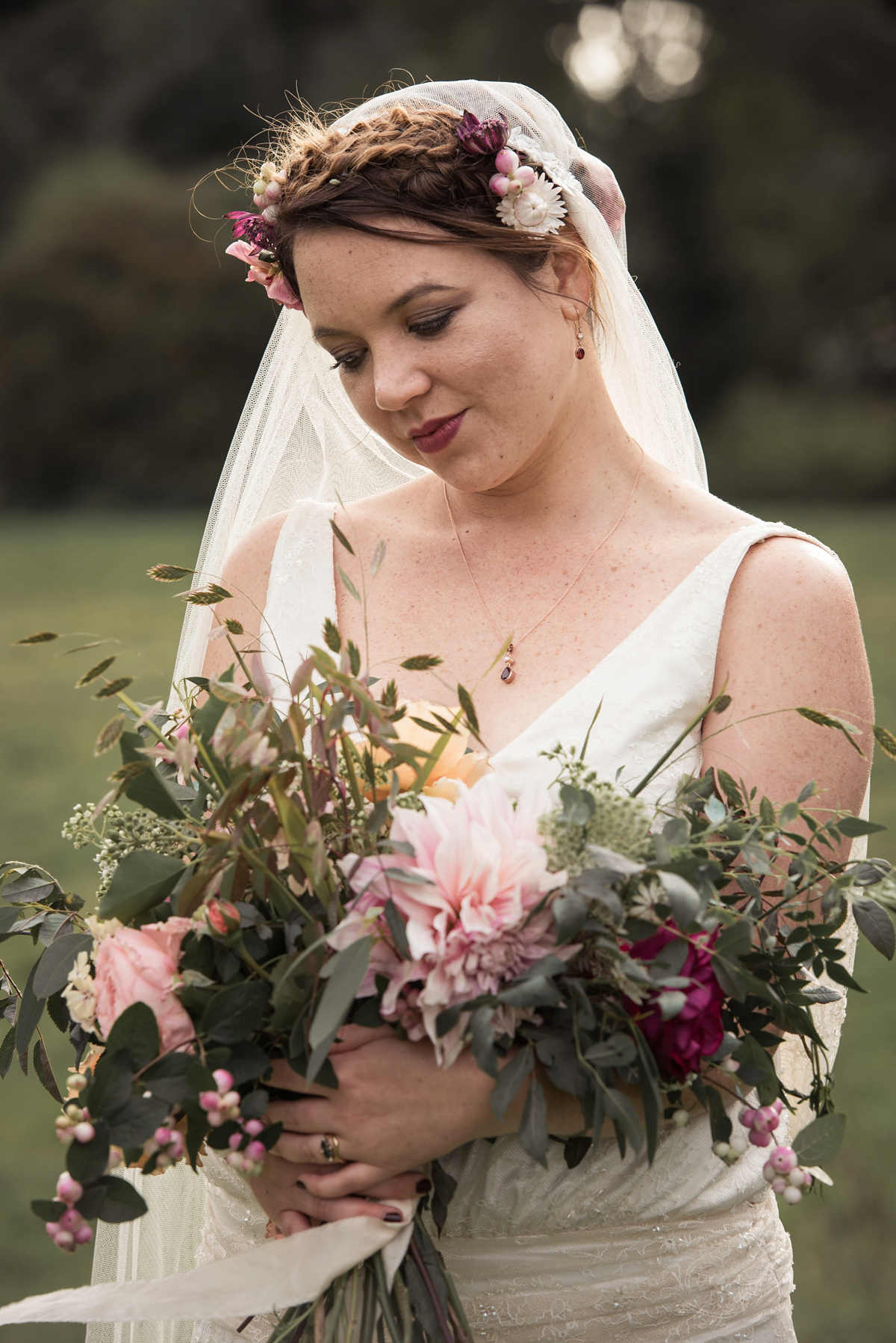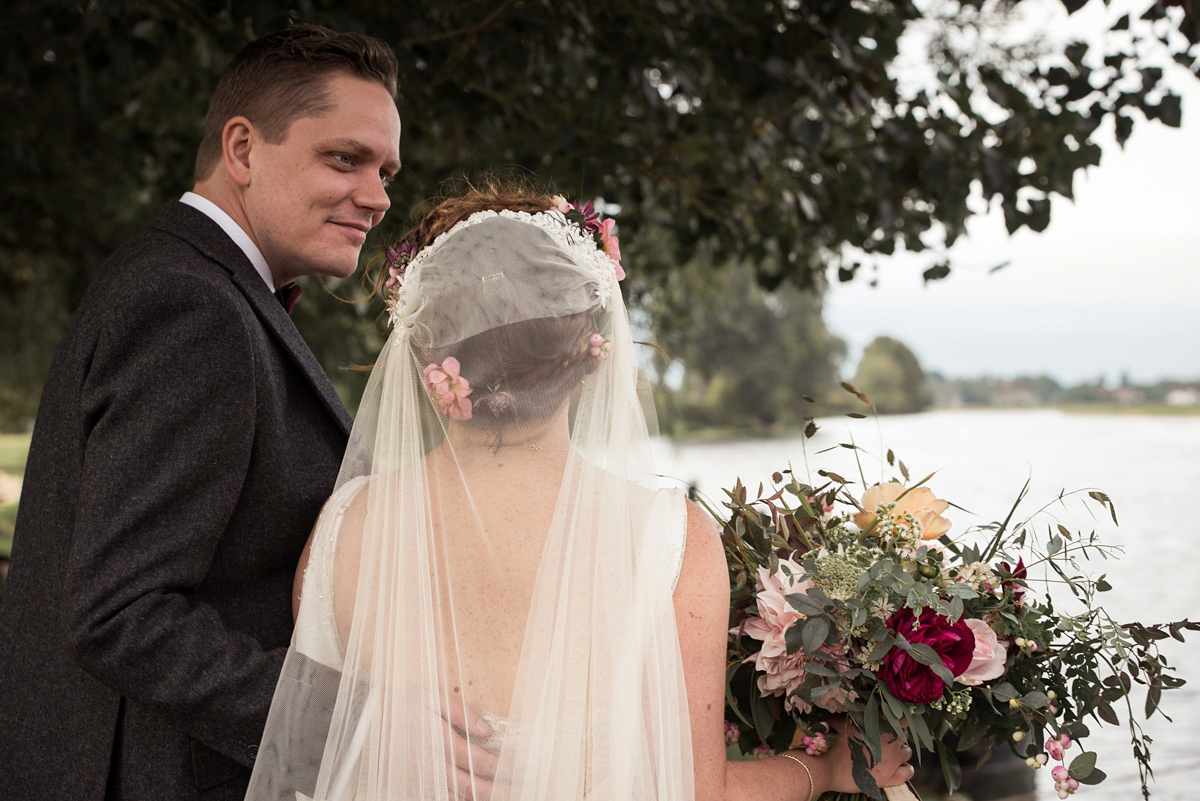 Hannah and Simon chose The Perch to host their reception with their natural, autumn-toned aesthetic in mind. They both loved its homely, relaxed atmosphere, allowing them to party with their nearest and dearest in a delightful riverside setting, the pretty arches strewn with fairy lights, striking weeping willows, and a long sharing-table set up for their meal, catered by The Perch. Oh, and there's the small matter of a scrumptious cake by Barefoot Oxford.
Hannah's mum organised lengths of bunting made out of kanga material – a traditional, colourful Kenyan fabric, and a spray-painted a collection of safari animals roamed down the tables in honour of the bride's Kenyan roots. Foliage chandeliers by Green and Gorgeous, and table settings hand-tied by Hannah and her bridesmaids also decorated The Perch's marquee, topped off with a beautiful Kenyan basket filled with blankets for chilly guests, cast aside when Hannah and Simon took to the dance floor to True Love Ways by Buddy Holly as husband and wife.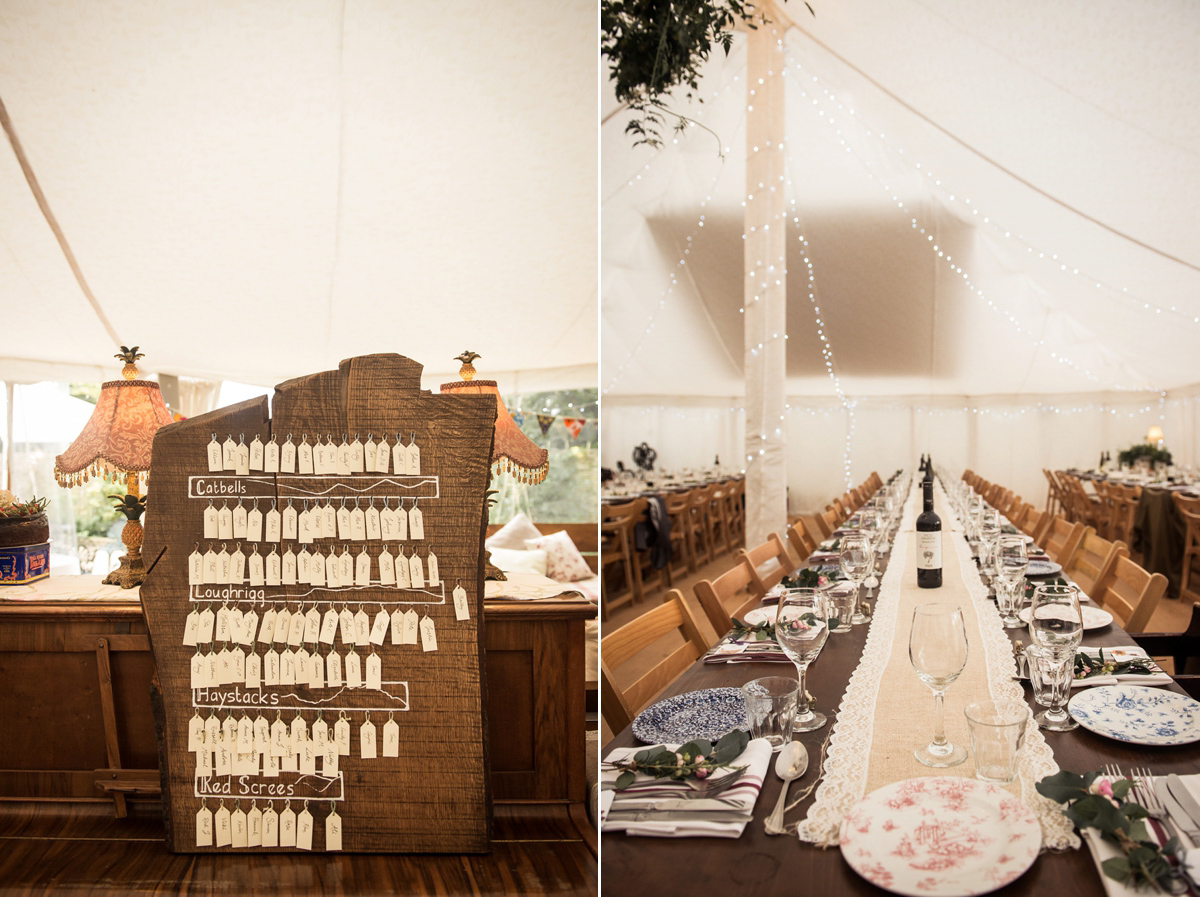 "Oh lord, we love this place. When Barefoot first started up, they supplied other places, and their salted caramel brownies were something we bought each other as treats and presents, or when we had guests to visit. Then, just as we moved back to Oxford and were wedding planning in earnest, they opened a shop of their own, with a window full of billowing, flower-strewn cakes, squishy and beautiful, topped with curls of dried apples, blackberries and figs. We marched straight in, before they'd even really started doing wedding cakes – they were exactly what we wanted. Of course now they're very popular and in demand, so we were lucky to get in there."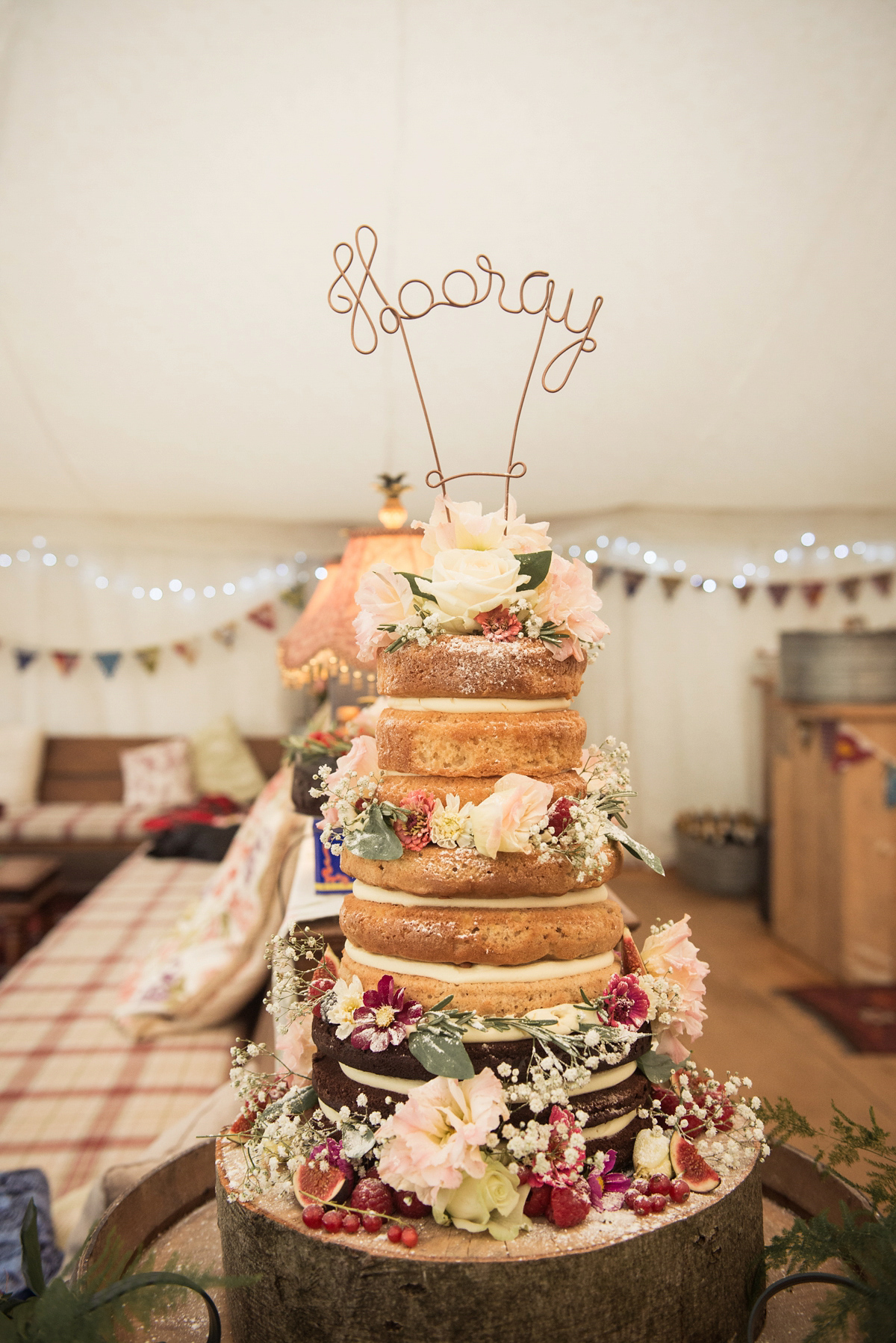 "Luckily Natalie Hough a talented artist, one of my oldest and most darling friends and also one of my bridesmaids, generously offered to do all of our stationary, and her beautiful work, also very inspired by nature, worked really well with our loose, and slightly eclectic feel."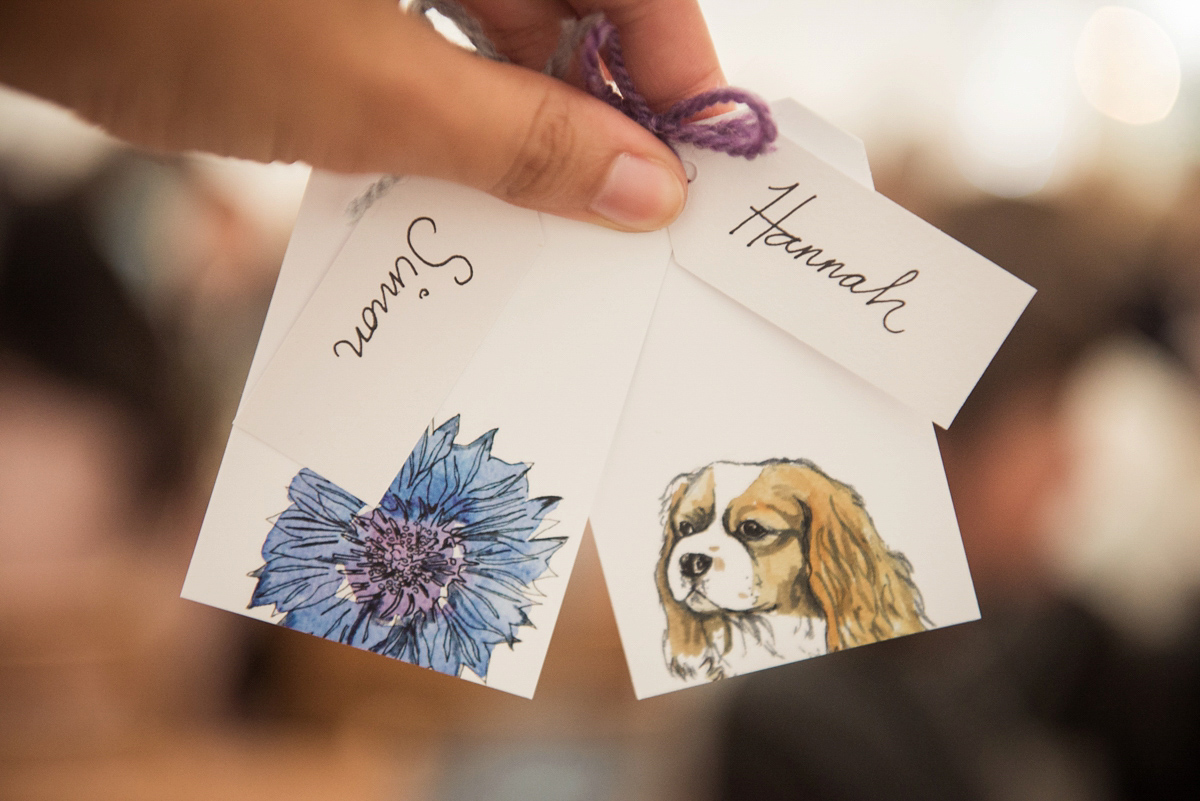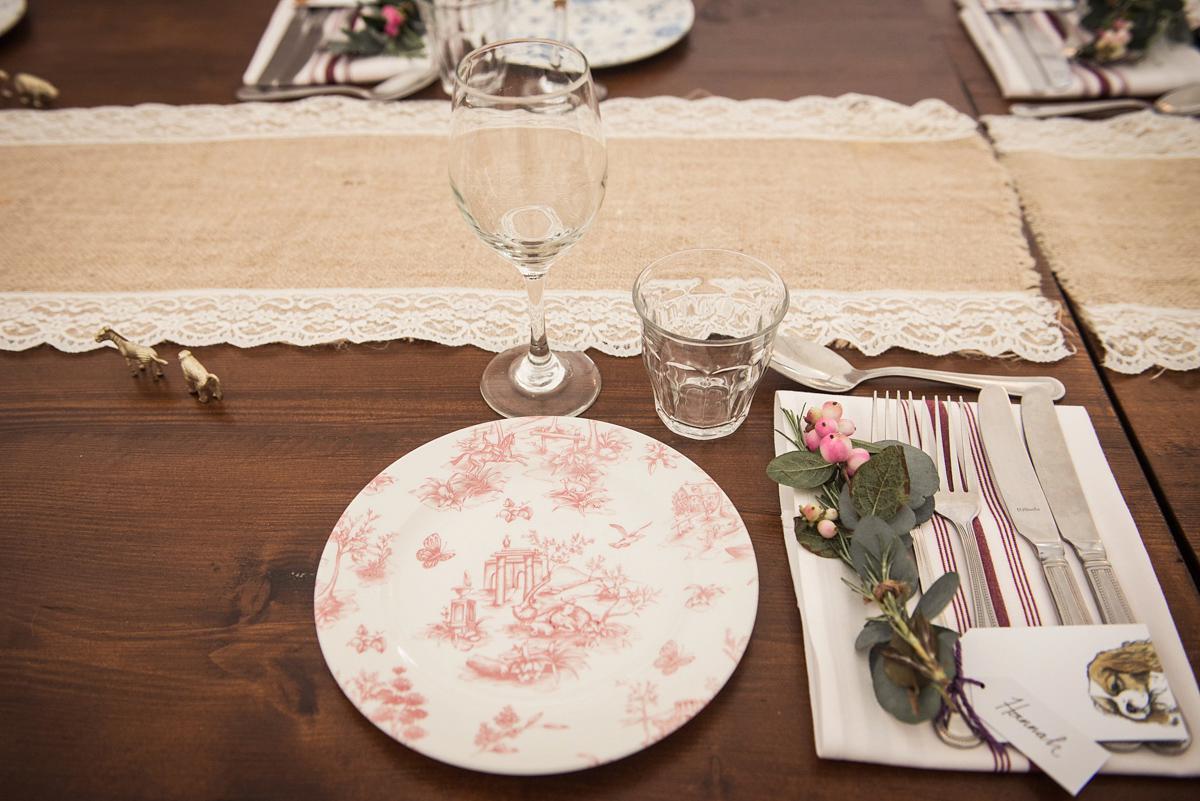 "For our favours we contacted The Apple Pie Bakery in Ambleside, a place we visit often, and asked whether they could send us a box of their wonderful gingerbread. It really is extremely special. It's seen us through long walks in the Lakes, even longer car journeys home, and is best enjoyed with a flask of Baileys-laced hot chocolate on a cold night. They were amazingly obliging, and sent us a big box. We actually left our wedding favours at home (doh!), and an absolute hero of a friend had to take a taxi back and track down our dog sitter to let him in to rescue them! But when they arrived, they went down a storm."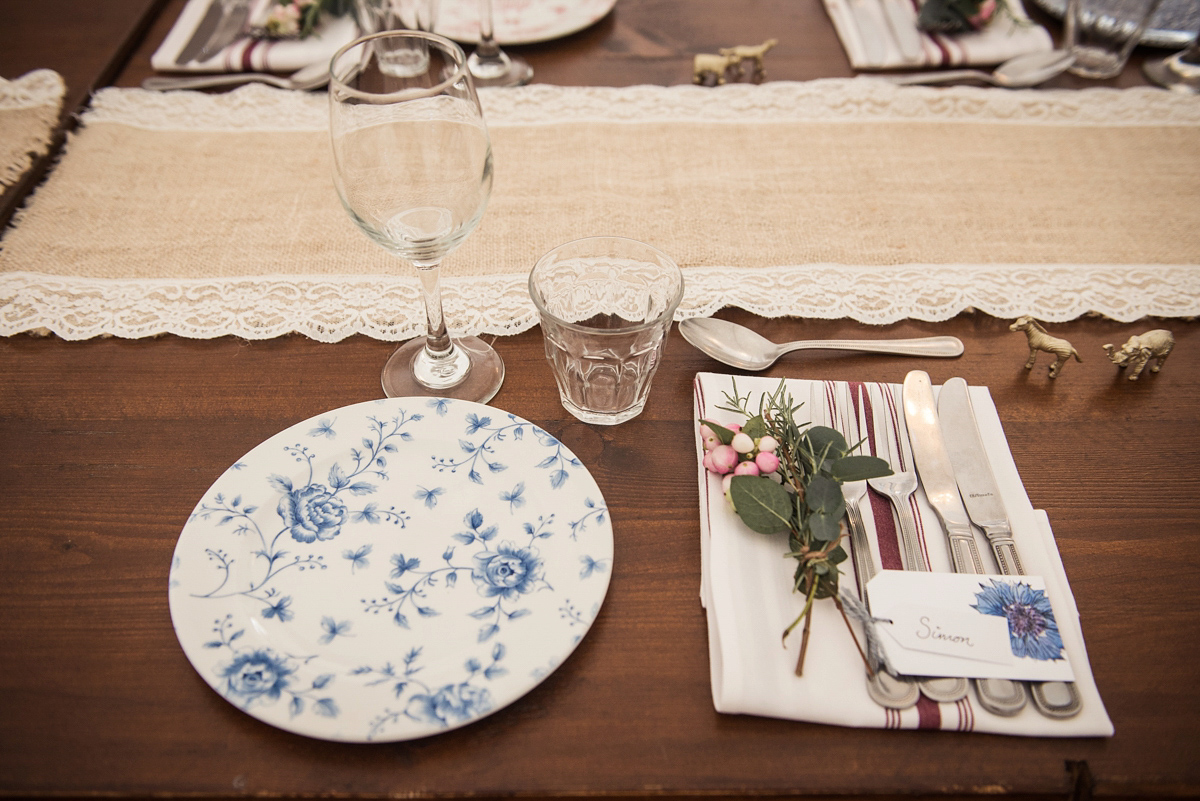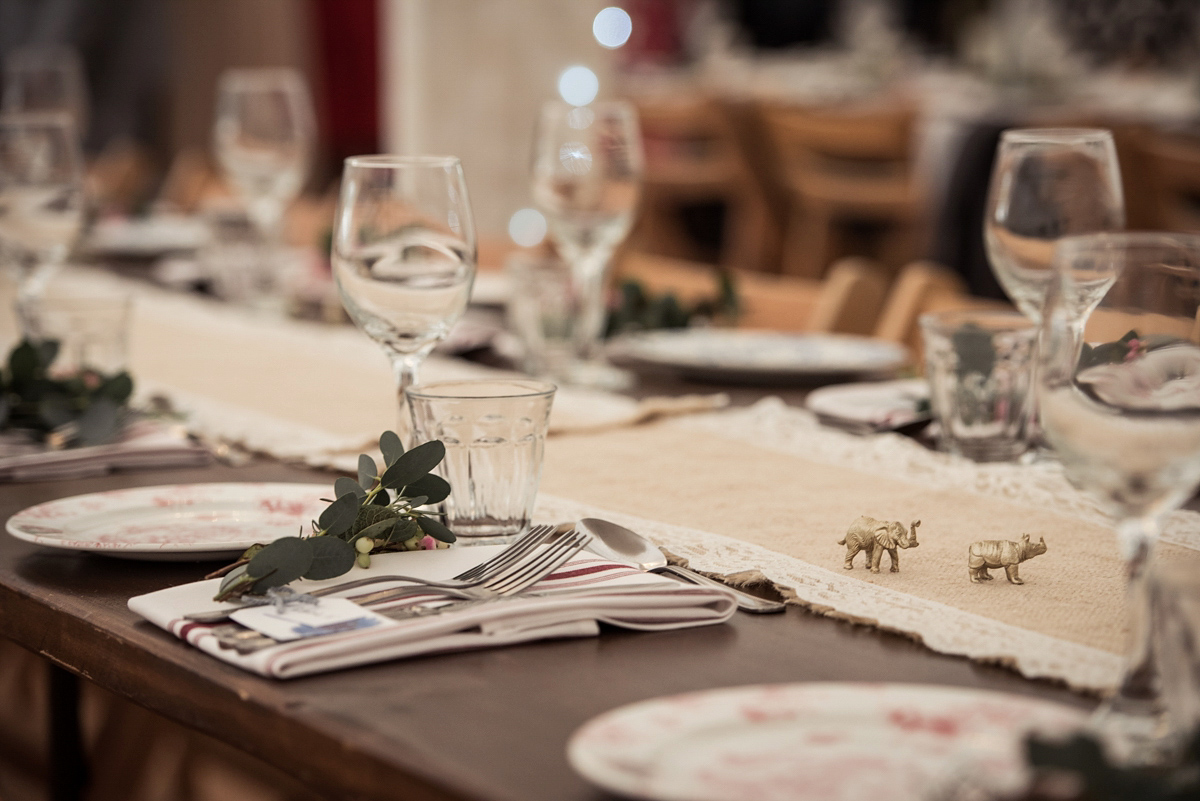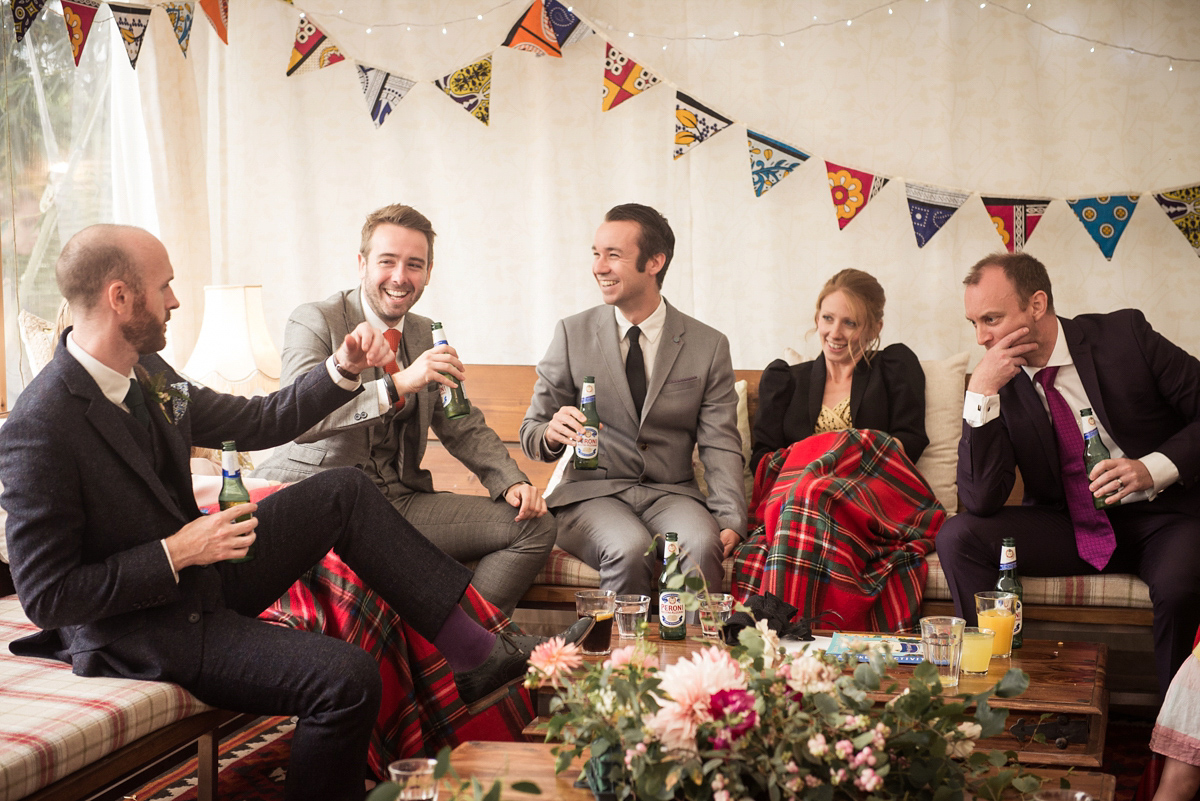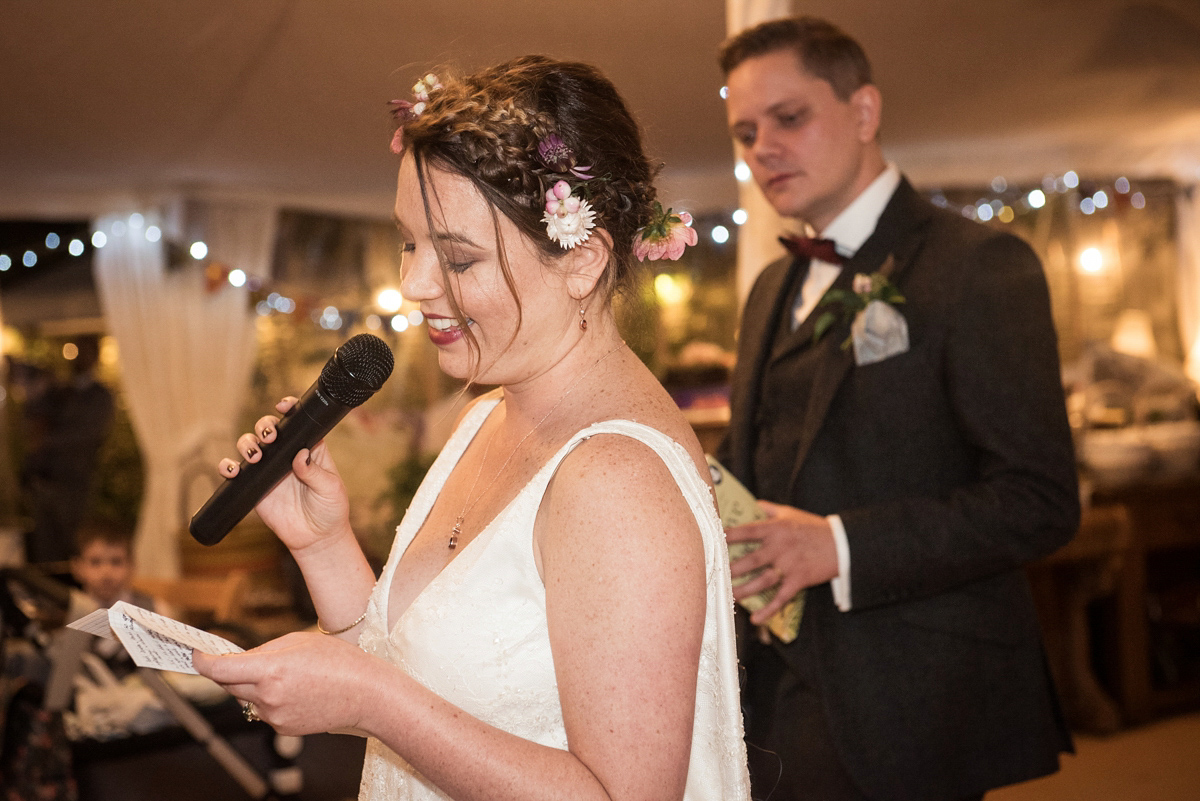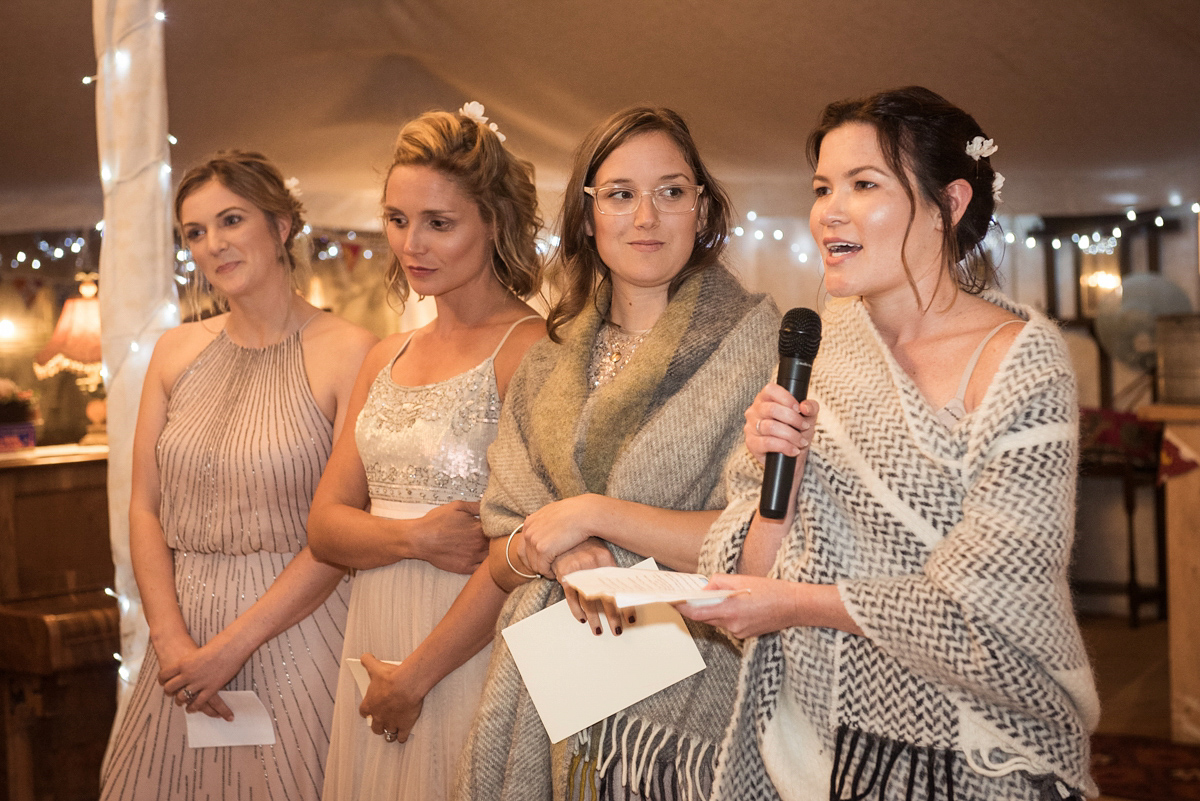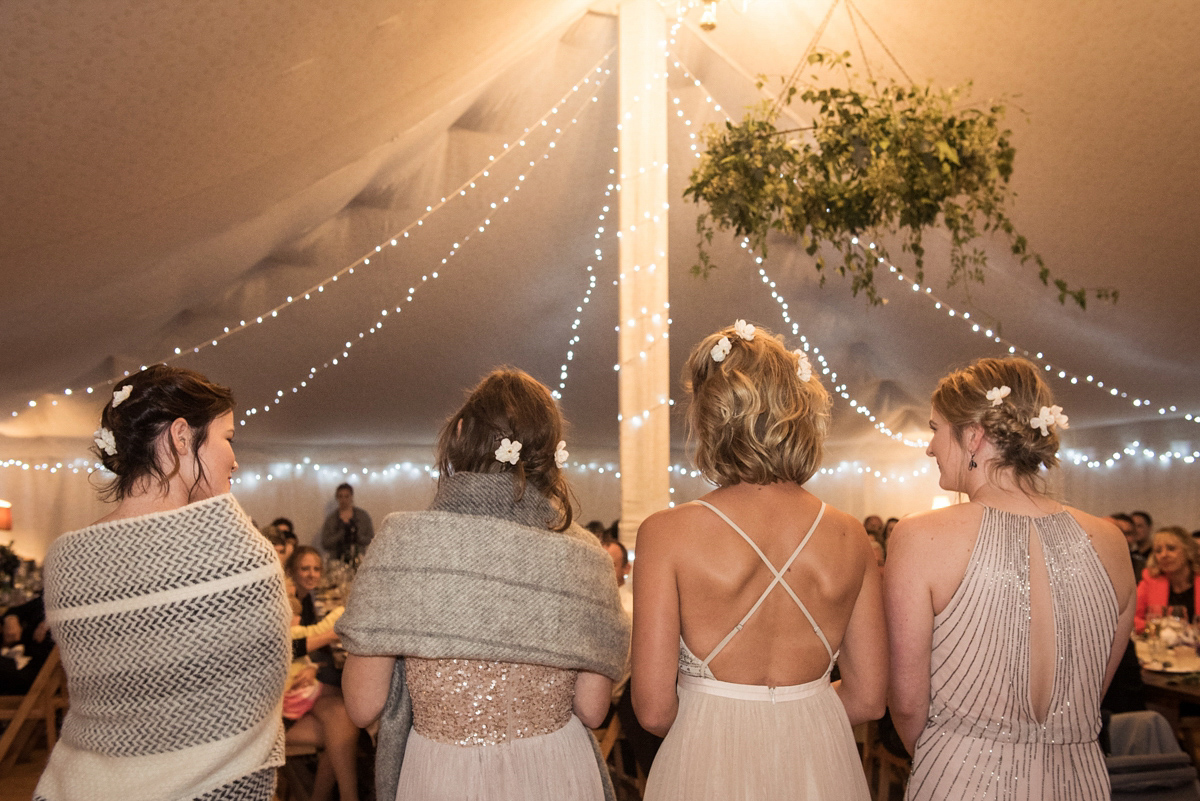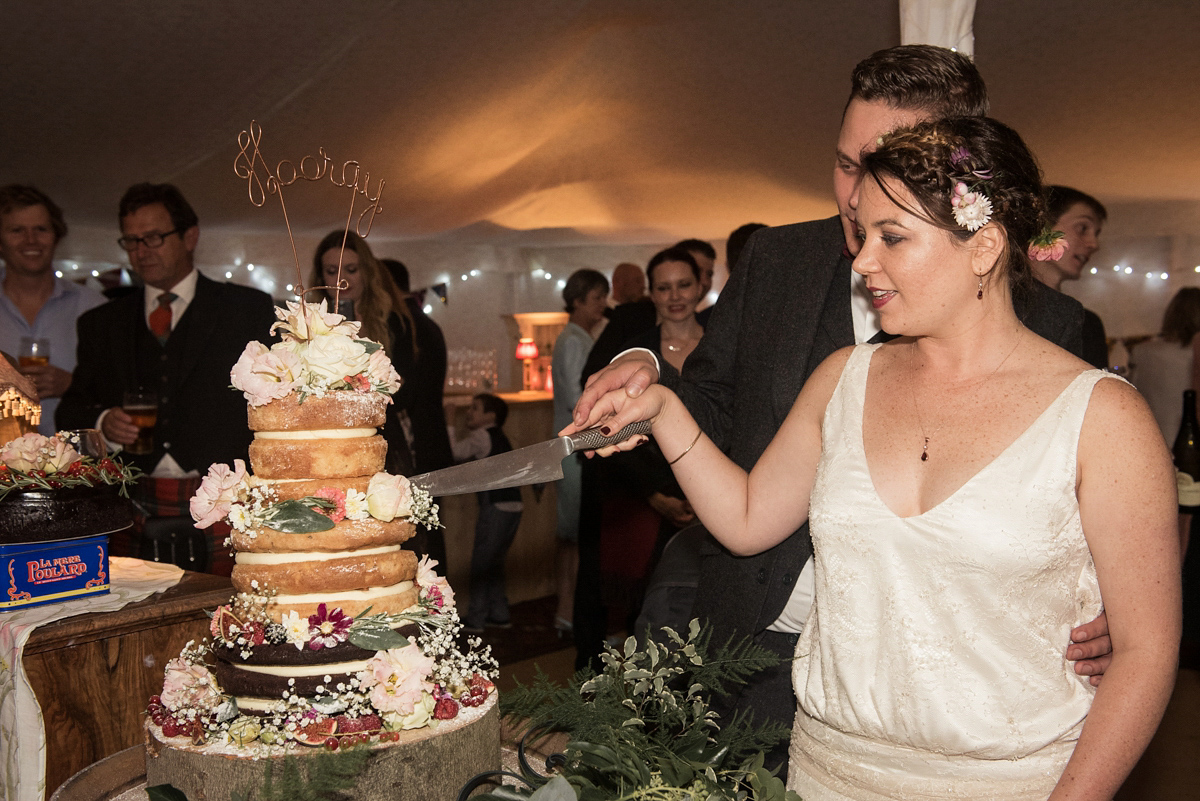 "The Swing Ninjas played at a 1930s themed 30th birthday party, and having been round the houses trying to find a band who matched what we wanted, we realised we already knew the perfect outfit, and got in touch – luckily they were free. I don't know why we even looked elsewhere, they're the perfect mix of lively jazz/blues with a vintage-sound, a brassy, New-Orleans influence, and a gypsy/swing feel. Nobody could resist hitting the dance floor when they played! They're such a lovely bunch of guys as well; super friendly, extremely professional and all round superstars."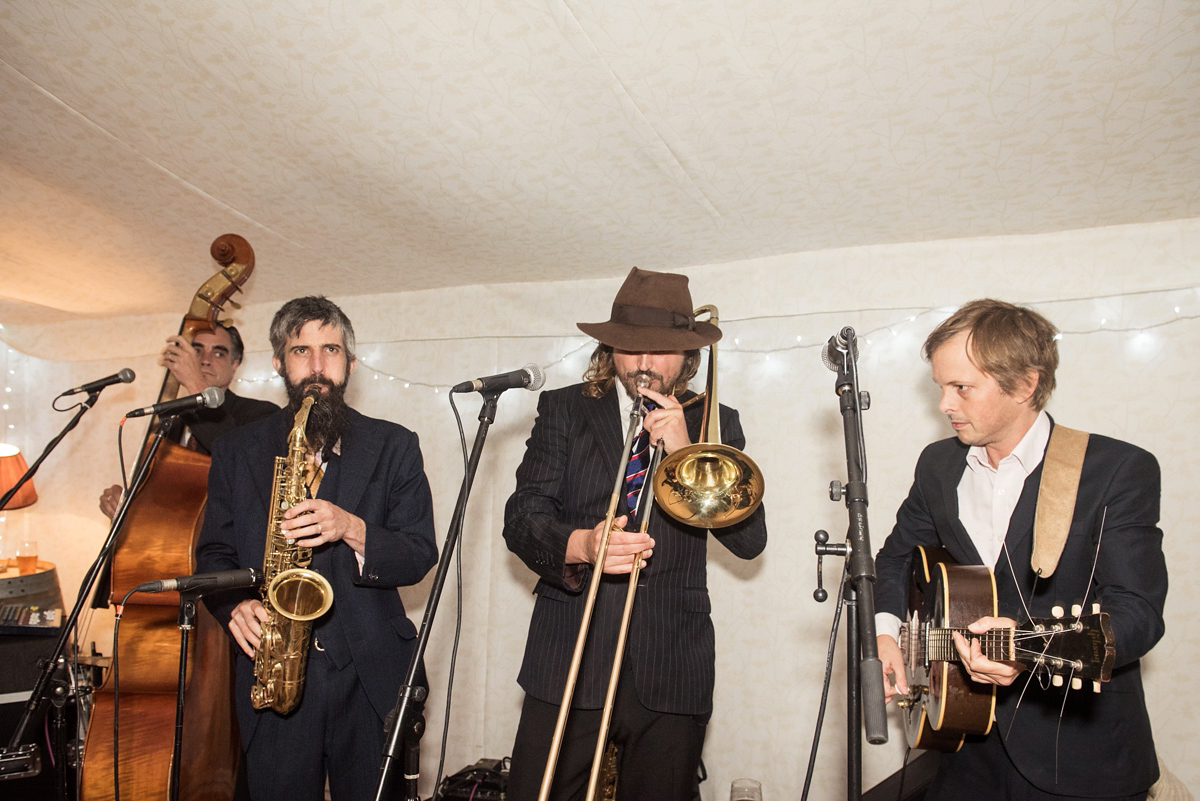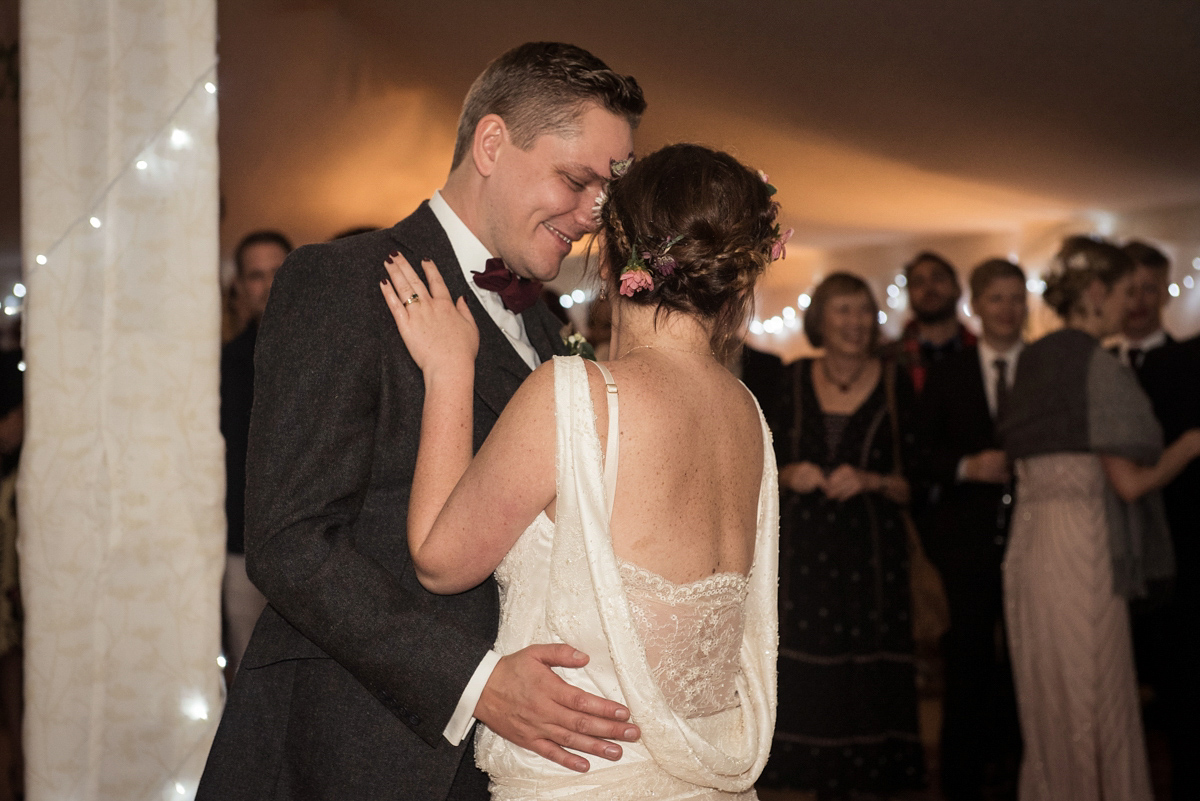 Words of Wedded Wisdom
"It's very hard to do, but try not to get swept up in other peoples' weddings and styled shoots on Pinterest. I didn't manage to do this very well, and as a result, I really did find parts of the planning process very stressful. We started out making clear, and quick decisions – our attitude was that if it felt right, just go for it. But I gradually started to compare everything we were doing to other weddings I saw, other brides who were thinner than me, and other weddings that were just so beautiful I felt like ours couldn't compare."
"In the end, it couldn't have been more perfect. We had the most wonderful day, and I just wish someone had warned me what a slippery slope it is when you start creating beautiful boards on Pinterest and comparing your plans to other peoples'. It's your wedding, and no one else's, and if the two of you make the choices that are true to your own values, then it will be perfect."
"Secondly – have two weddings! It was amazing having our wonderful, emotion-filled, party of a humanist ceremony and big wedding with all our family and friends there alongside us. But it was a beautiful full stop to the end of our honeymoon to make our vows legal, and an incredibly relaxed, low-key and private day of formally marking what we'd already promised each other."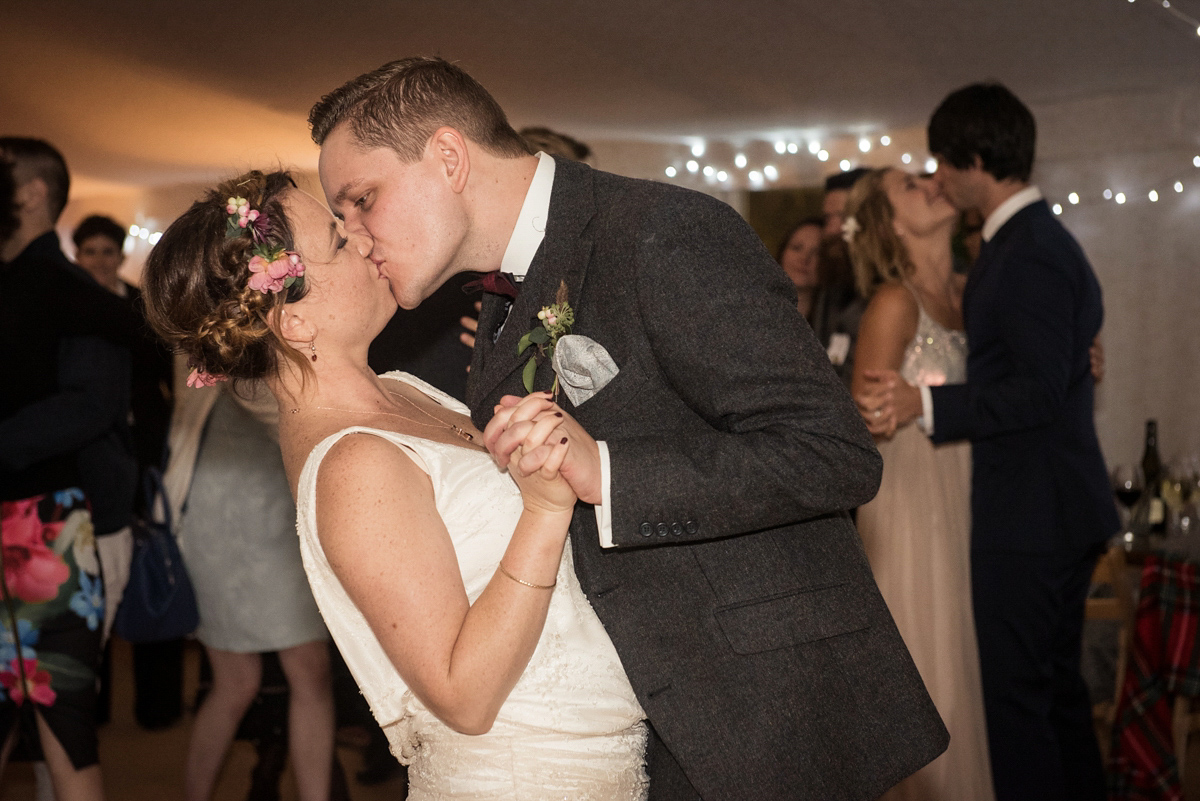 I truly can't thank Hannah and Simon enough for allowing us this intimate insight into their day. And there's a whole host of Little Book for Brides suppliers who I'm a little bit in awe of for their part in creating this glorious celebration. Finally, our hugest thanks to byGarazi for these sublime images, so evocative of this love-filled, autumn-inspired wedding.
Love, Em x