Hello lovely ones. While spring is now finally upon us, I'm temporarily taking you back to the 28th of December, a beautifully, bright and sunny winter's day, just three months ago when Jo and Jeff married. Their intimate seaside celebration with just 23 guests took place in Whitby, a place close to their hearts, they have often visited the town together during their relationship. They met most of their  guests at La Rosa Hotel and walked together down to Whitby Registry Office for the ceremony before returning to La Rosa for drinks, nibbles and speeches. They then walked to the White Horse and Griffin for a three course meal, and on to the Shepherd's Purse Courtyard where they had a bell cast ceremony by Ore and Ingot. The rest of the evening was spent celebrating in the basement bar at La Rosa. Little Book for Brides member Shutter Go Click was the perfect choice to capture this beautiful wedding.
"It was important to us to get married in Whitby. It was in Whitby for New Year 2014 when we first started talking about the possibility of getting married, so as Jeff says it's somewhat a landmark in our relationship. We had stayed at La Rosa before and didn't want a traditional venue, but one that was significant and relaxed for us, meaning we were able to share the day with the people who really mean the most to us."
Photography by Shutter Go Click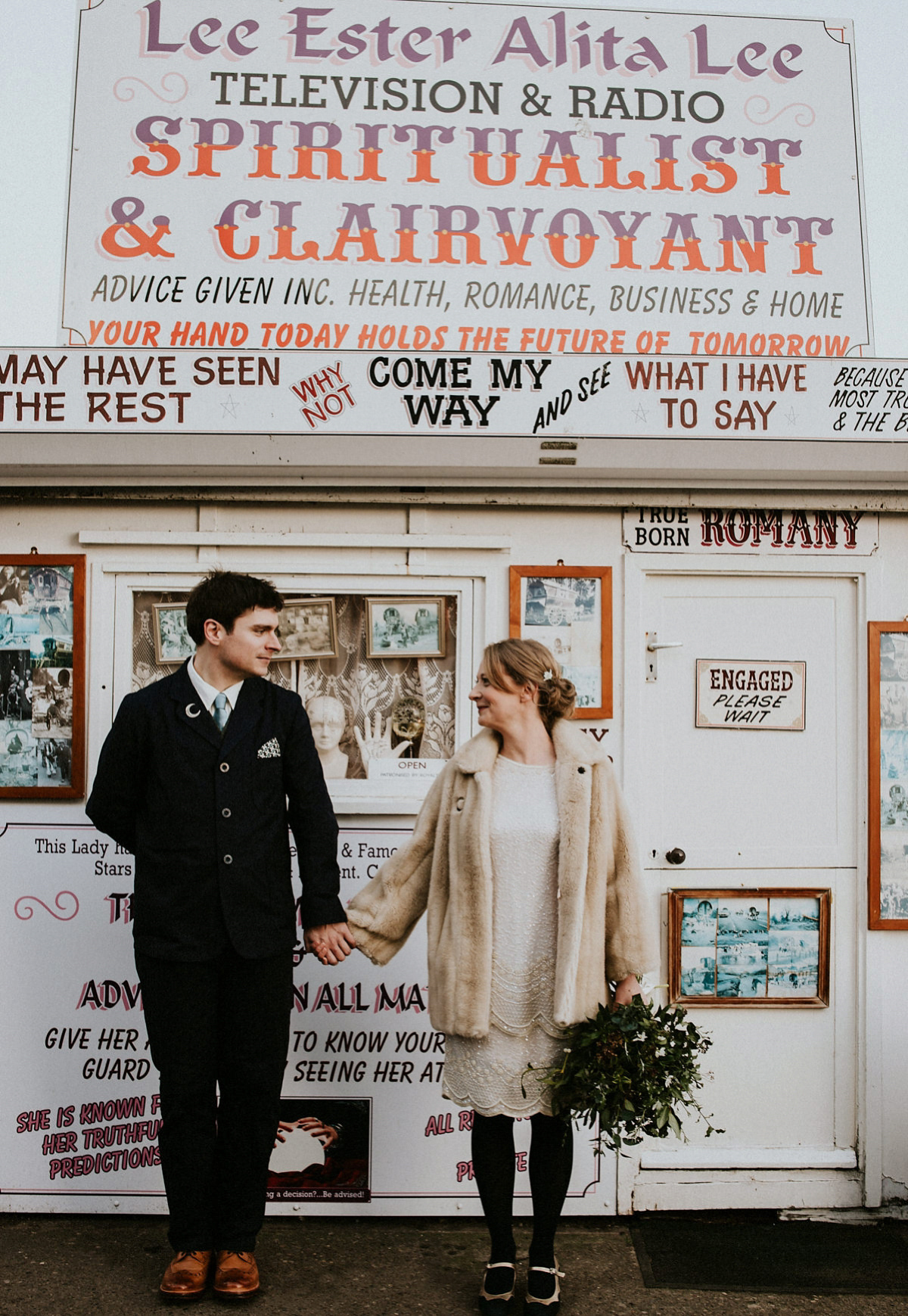 Jo wore a beautiful vintage beaded and sequin 1920's dress from Glory Days in York. I love that she has added black tights and a faux fur jacket over the top.
"The main thing was that I wanted to feel comfortable in the dress and still feel like me. Glory Days is amazing as there is a room filled with dresses from all eras and you can really get a feel for what works for you. Although I tried quite a few, I ended up choosing the first that had caught my eye. I loved how it felt on me, that it worked for the time of year and our quite informal gathering. I also enjoyed being able to make up the outfit and it wasn't just about the dress but how it worked all together.""We met four and a half years ago, at the launch of an exhibition for a project that Jeff was part of, in Nottingham. We had both studied the same course at university but I left just as Jeff started, and have had many of the same friends for several years but hadn't met until that point."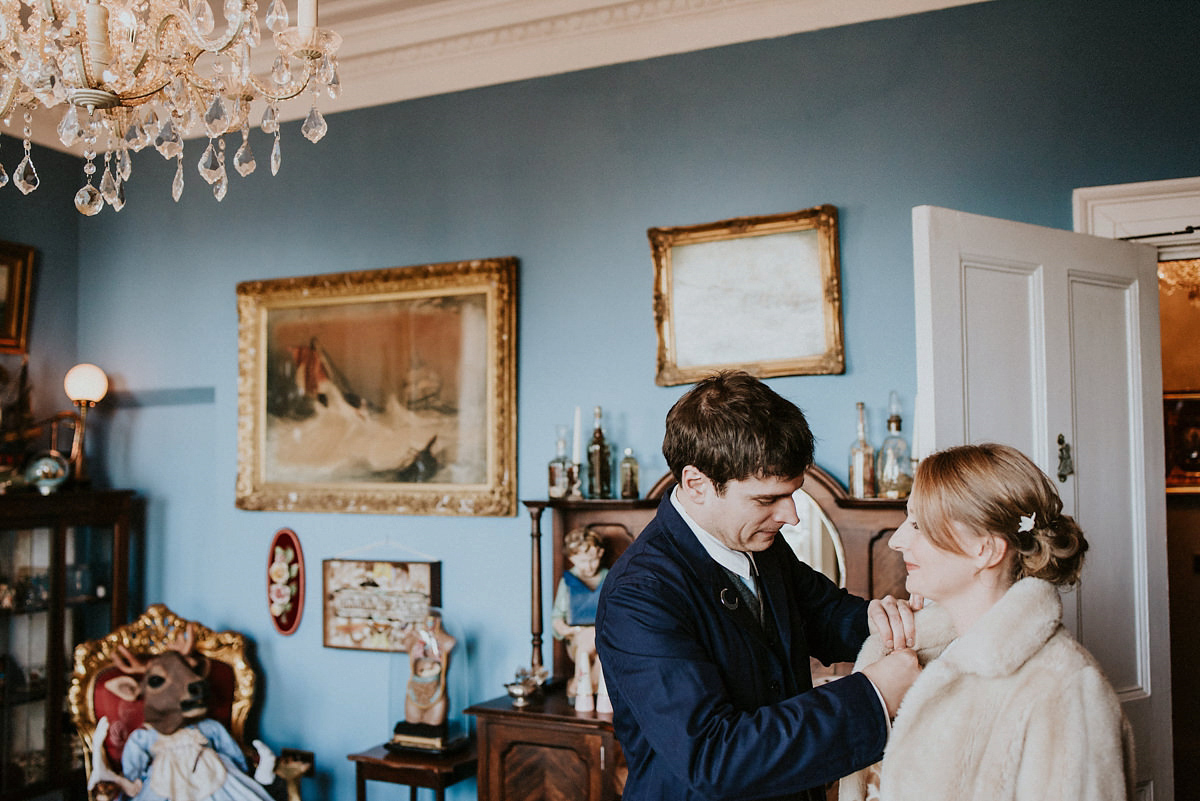 "I proposed to Jeff on Boxing Day 2015 with a Christmas Cracker and the question inside – instead of a joke! Both of our families were there as well as my daughter, Amber. This is one of the reasons I proposed in the way that I did hoping that Amber would enjoy it. Inside the cracker was also a pair of Whitby Jet Cufflinks."
"We weren't inspired by any specific styles but instead tried to take inspiration from our relationship, the things that are important to us, that make us strong and that we both feel passionate about."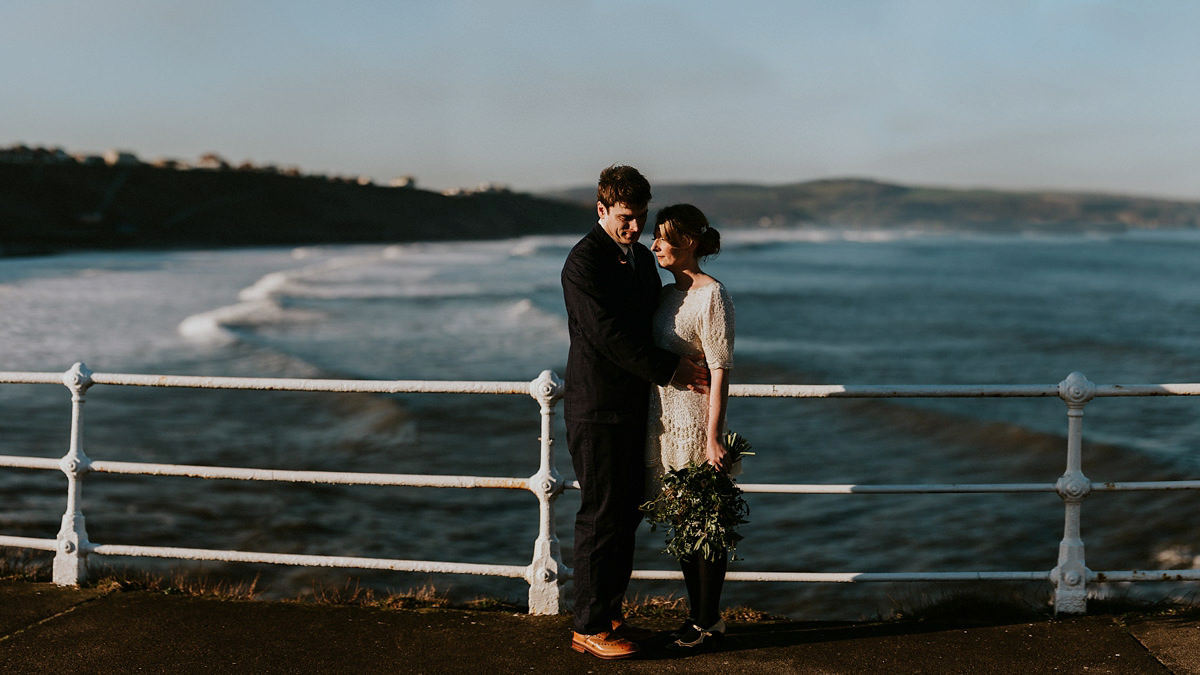 "It was really important to both of us that all aspects of the day reflected the importance of mutuality to us and our relationship and not the wedding traditions of 'obedience', 'loyalty' or 'ownership'."
"We wanted our marriage to reflect our intent to share our lives equally. This was also especially important for us to set an example and inspire Amber as she grows up.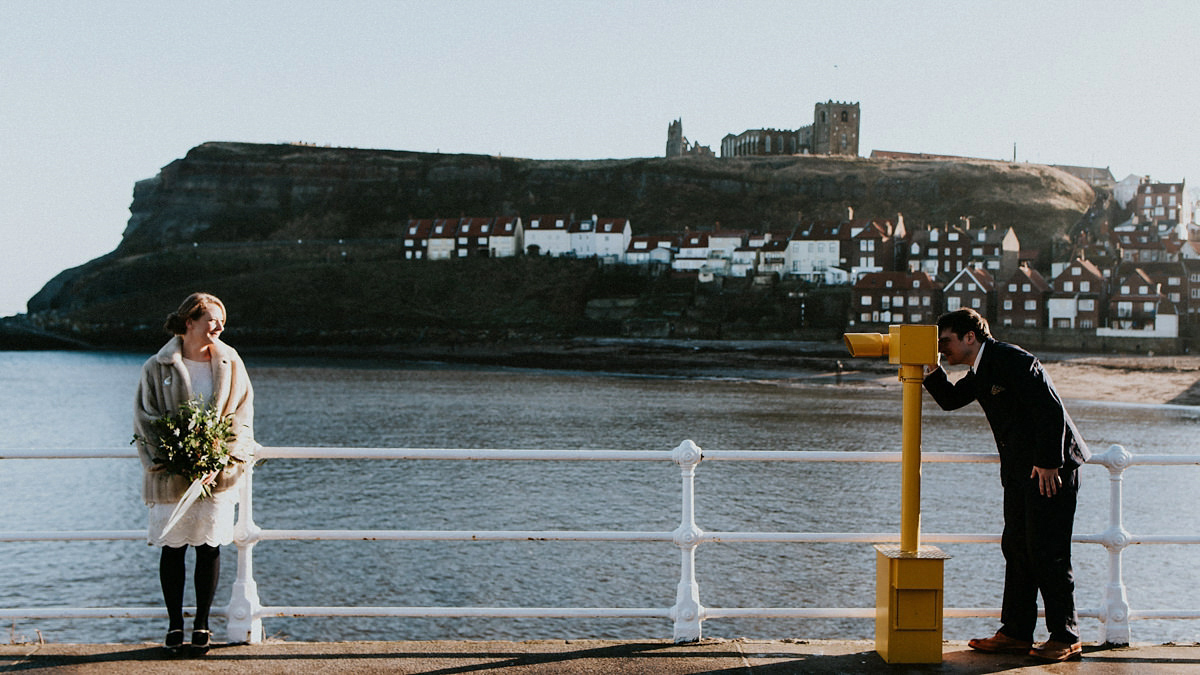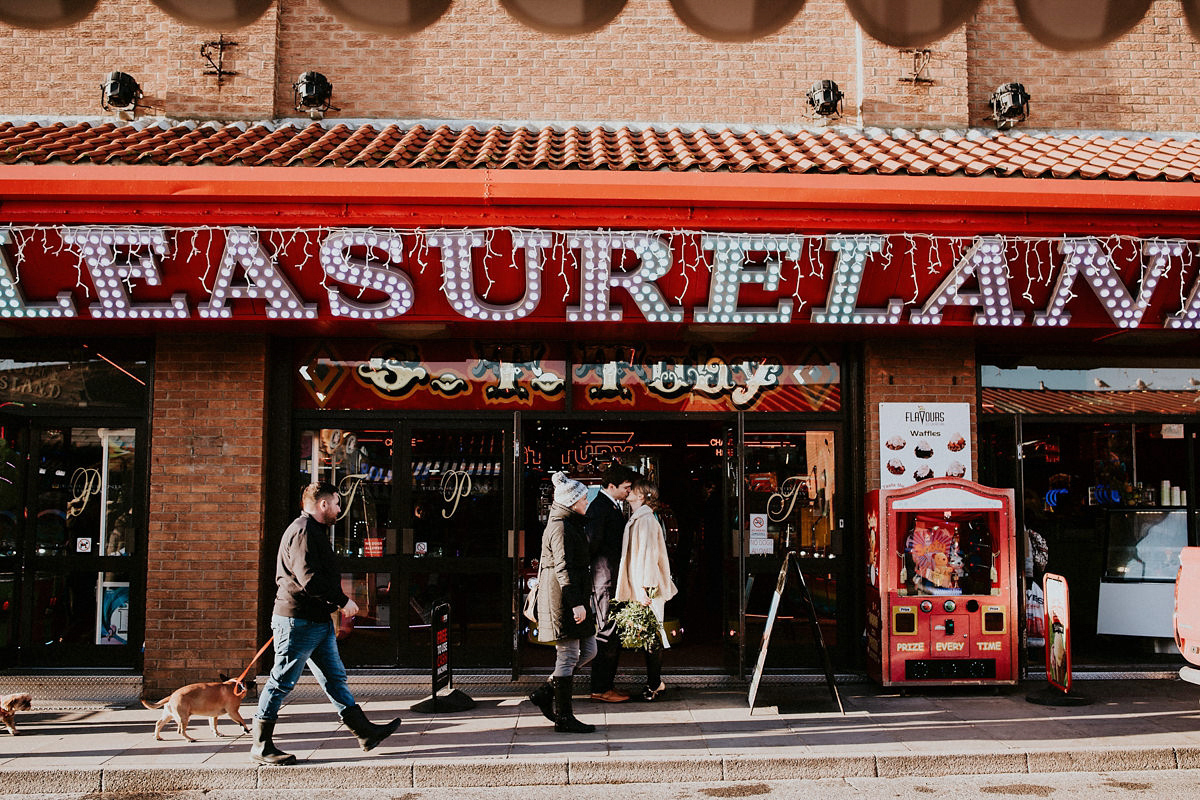 "I was especially pleased with my Lindy shoes. They were hand made by Swingz Begoña Cervera in Spain. I tried a lot of 1920's style shoes but was having trouble finding the right thing so I started researching Lindy shoes and came across the Swingz website."
"They are really reasonably priced, especially for hand made, and you get to select the style you want from a wide range of  colours and materials. They even sent me a couple of shoes to try in advance to get the right size and heel."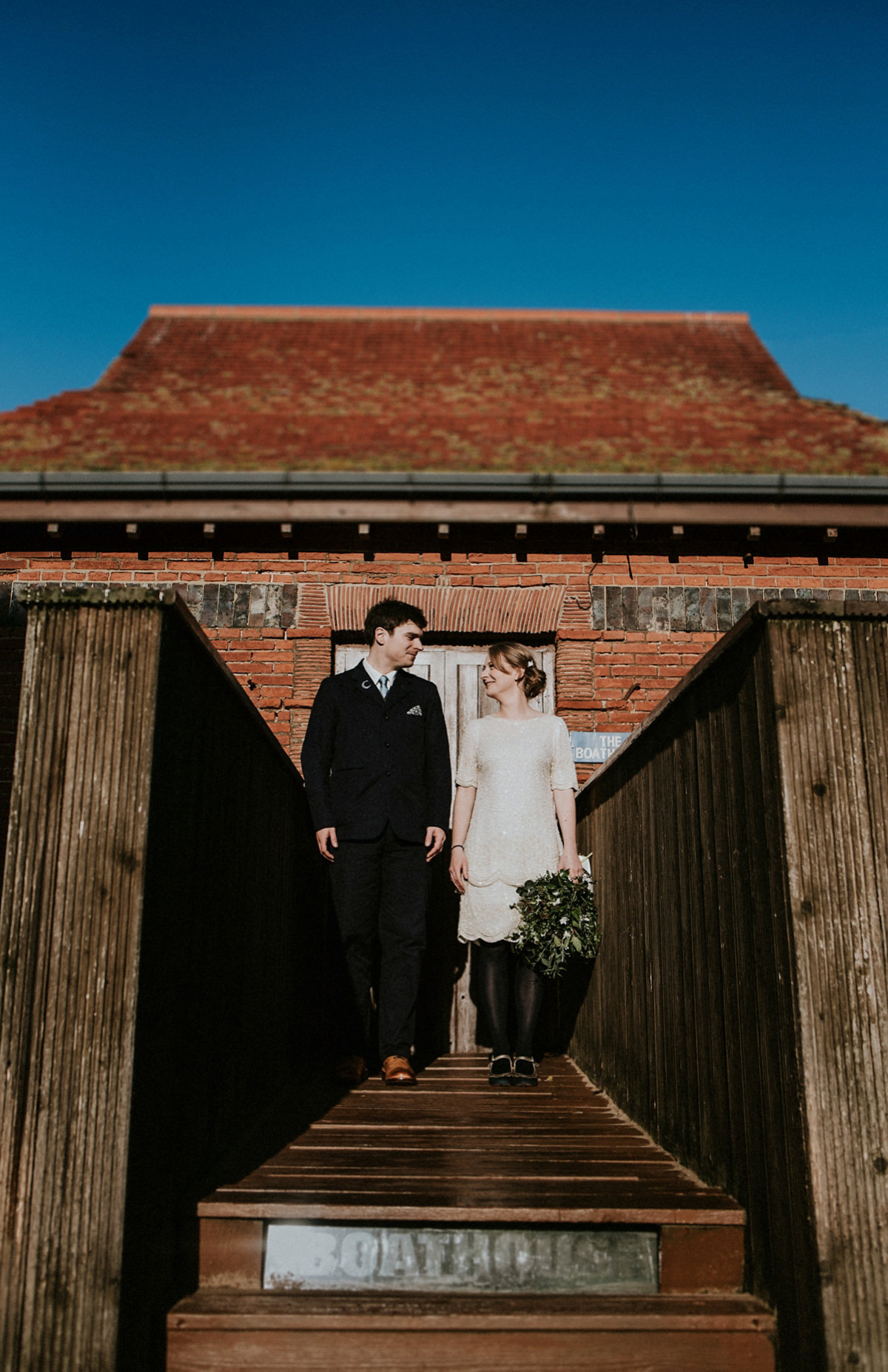 Jo wore Gorse by Laboratory Perfumes, a Whitby Jet Star Pin (a gift from Jeff) and a crescent moon badge from DOHM worn by both the bride and groom on their jackets.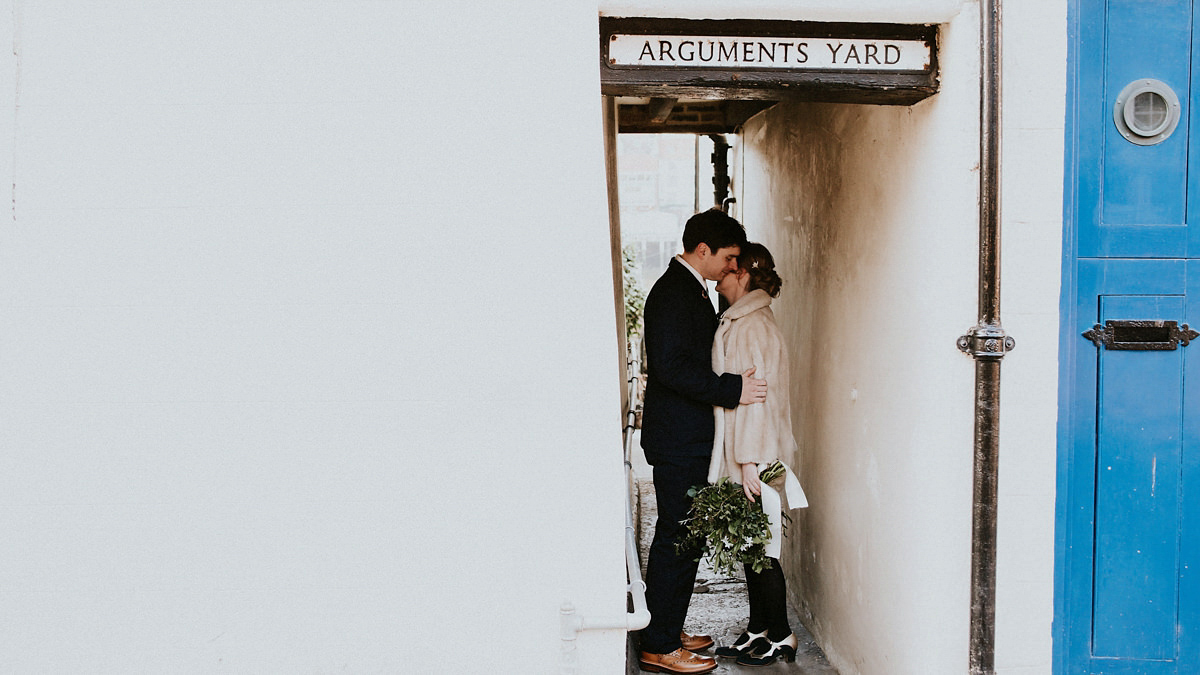 "My makeup artist Becca Hunton was also brilliant. I visited her a few months before for a trial, and it was even better on the day. Becca was great company – which considering I spent most of my wedding morning with her, is really important."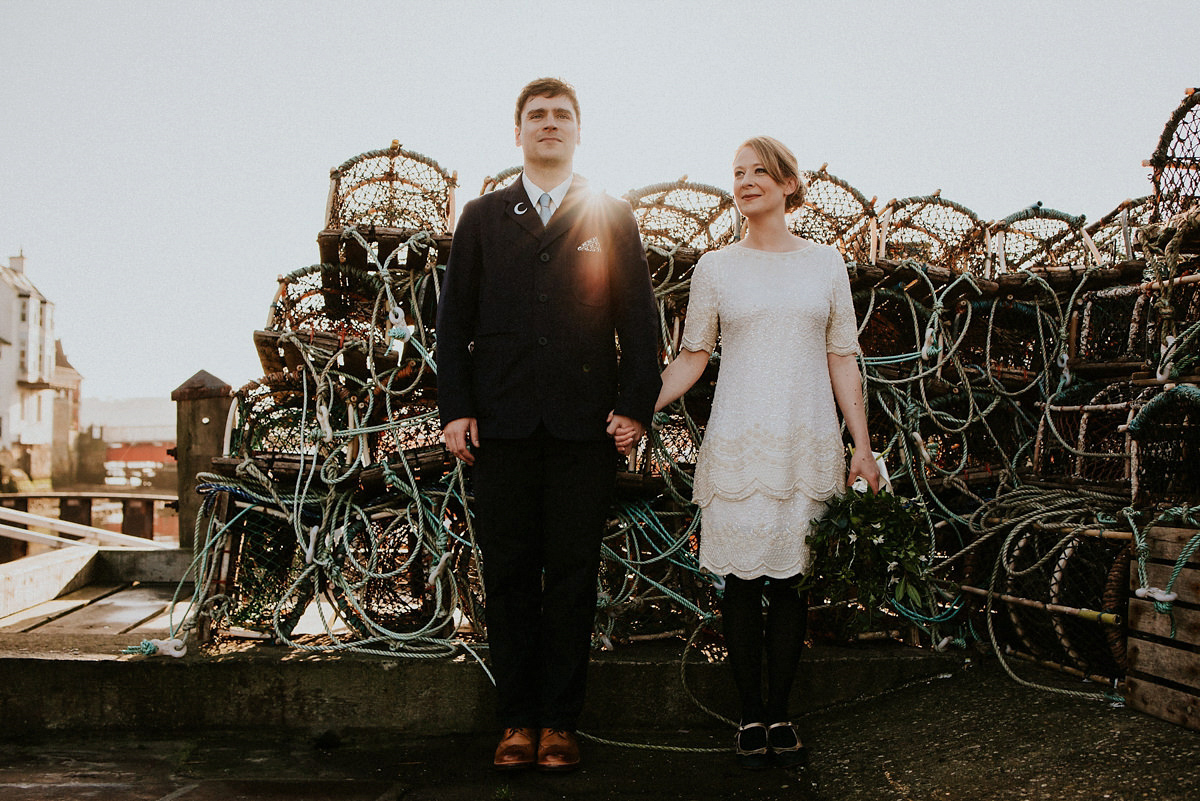 Jo and Jeff decided to have the photos of the two of them taken in the morning, before the ceremony. I adore these images, the winter sun shines down on them as they stroll around Whitby, in anticipation of their ceremony.
"We had Ryan Leoroyd of Shutter Go Click, photograph the day. Ryan was recommended to us by Glory Days and we couldn't have had a better photographer. Not only are his photographs absolutely stunning, but he was just so lovely to spend time with on the day."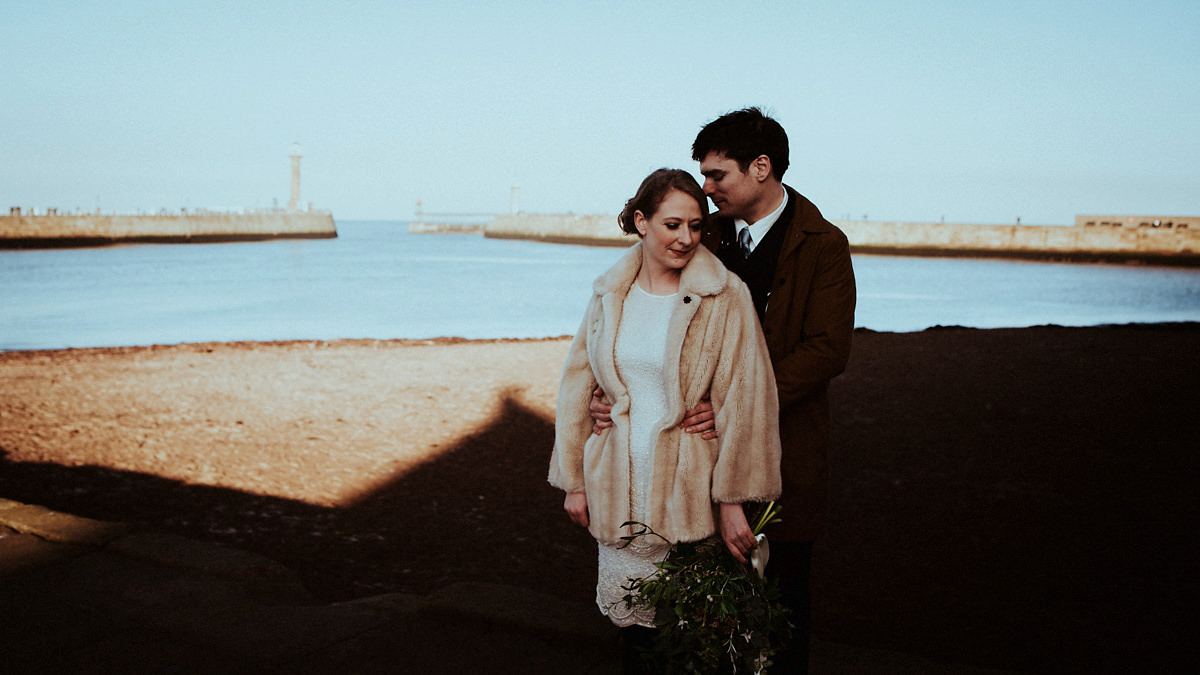 "Ryan put us both at ease straight away, which was quite a big ask as neither of us are that keen on having our photos taken generally and doing the shoot was just really enjoyable. The morning was the best time of day weather wise and it was such a great start to it all."
"Ryan had pre-planned locations in advance and whipped us around Whitby, from the whale bone arch on the East Terrace, right up the 199 steps to the Abbey on the other side."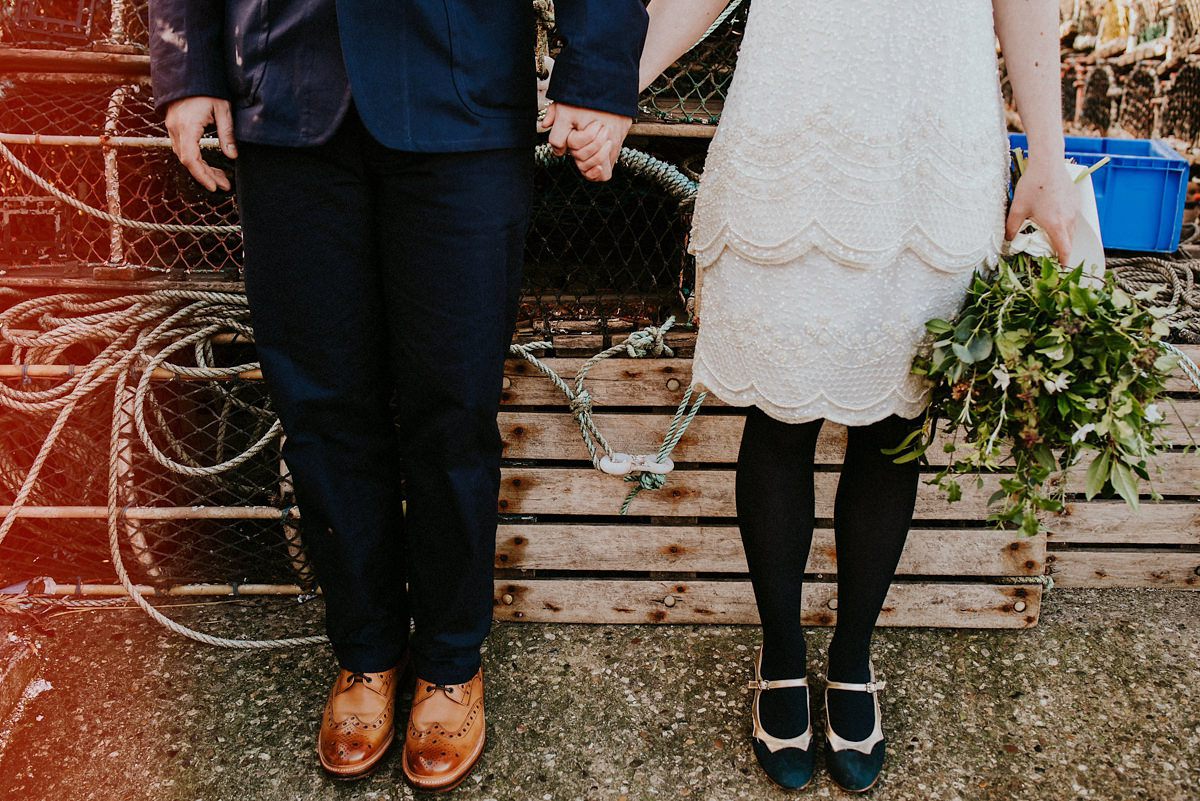 "Jeff doesn't wear suits for work but appreciates well made clothes so after looking at more conventional suit options he opted for a herringbone navy drill cotton jacket and trousers with grey wool waistcoat from Old Town in Holt, Norfolk. He liked the heritage work wear style and felt that it could be worn on a day to day basis after the wedding but that it would look great on the day."
The groom added a Paul Smith necktie with embroidered birds – a Nottingham design classic, and bought some Grenson Boots in Leeds. He wore the same moon pin badge as his wife and the Whitby Jet cufflinks she had proposed with.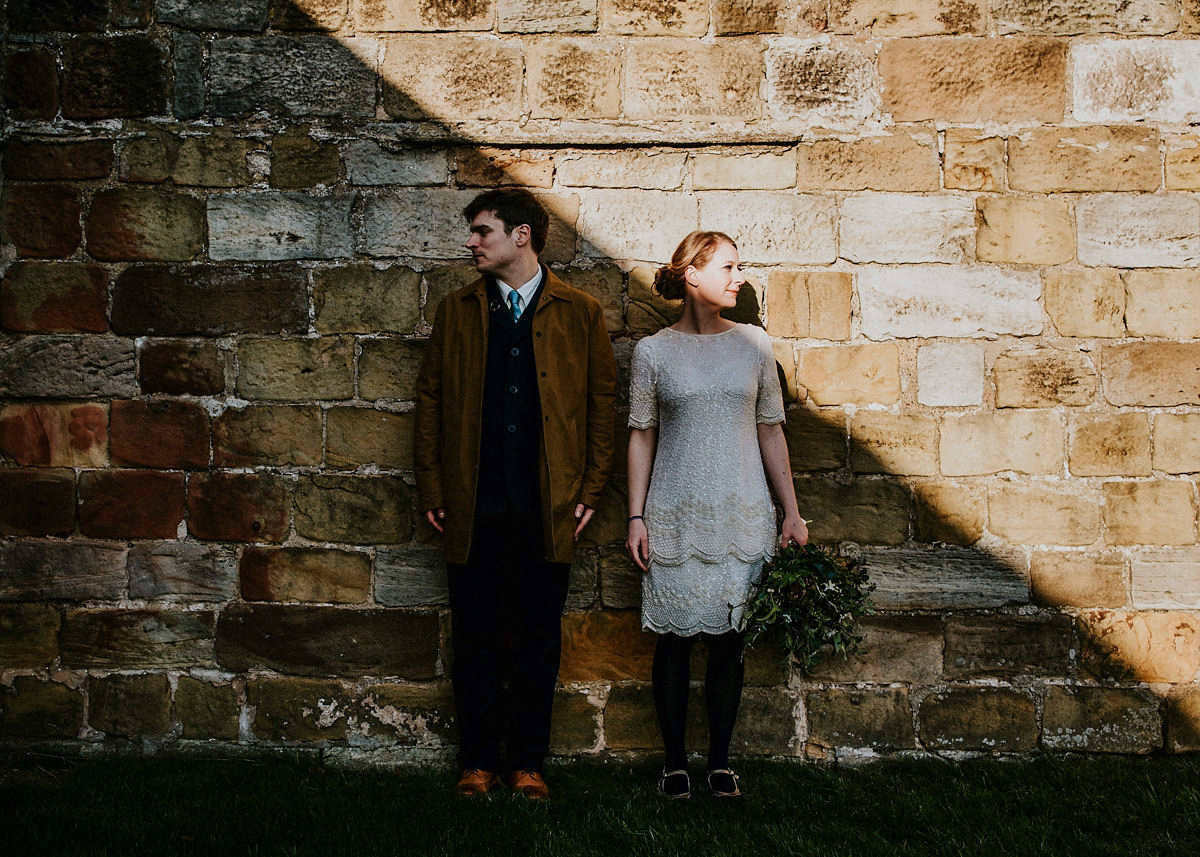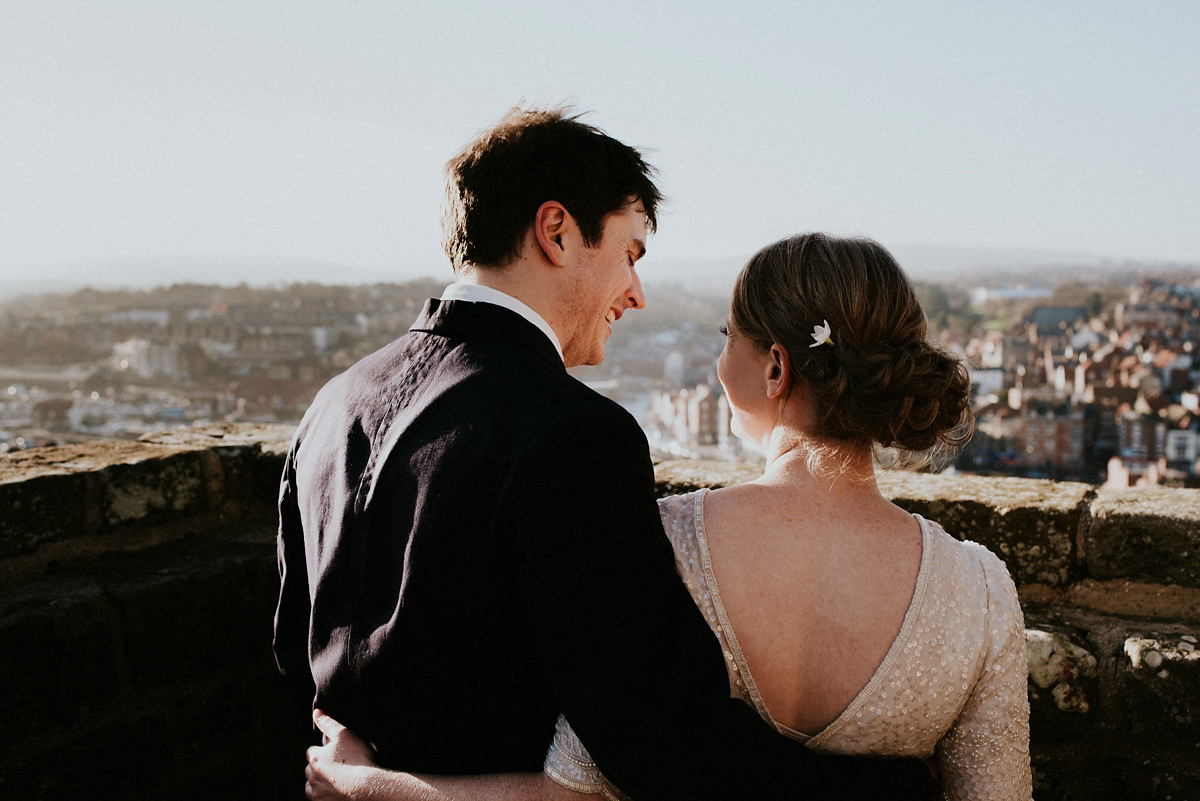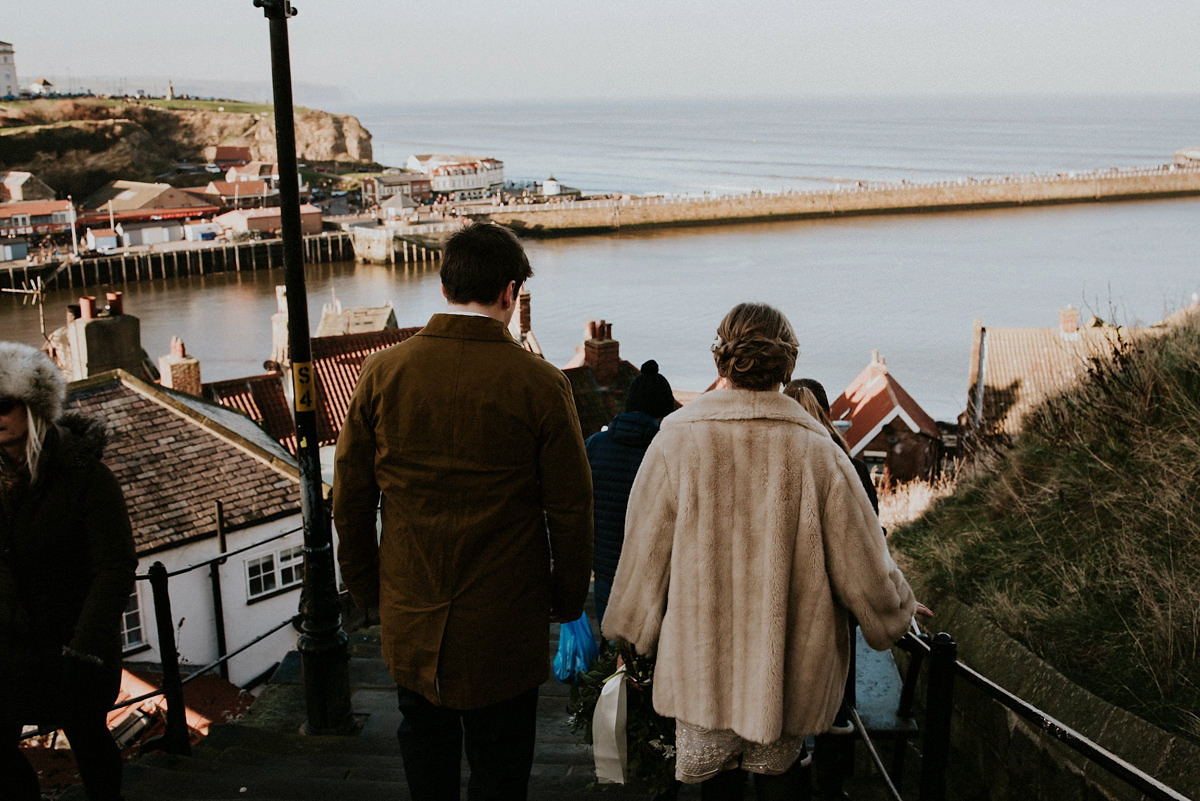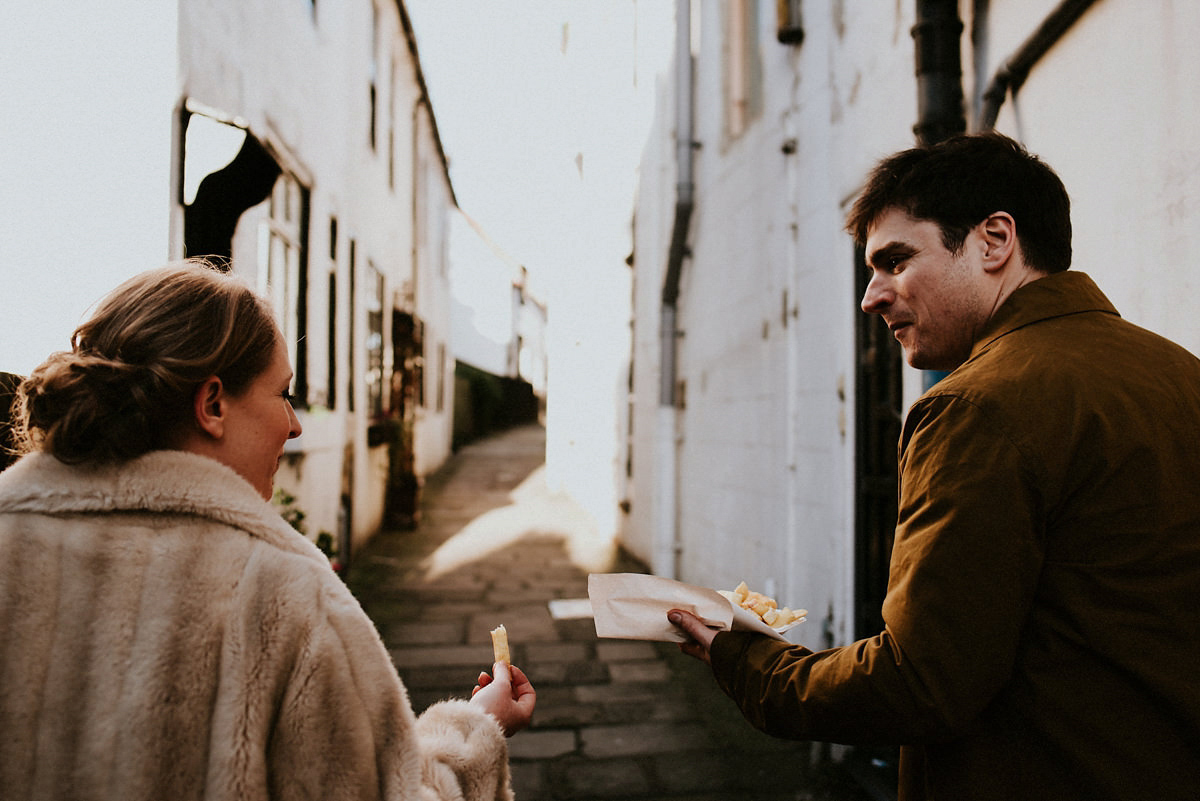 Jo's daughter Amber was bridesmaid for her mum in a gorgeous ivory lace and tulle dress from John Lewis. She wore a short pink cardigan on top with a faux fur jacket from M&S, a glittery bag and sparkly pink and gold shoes from Monsoon.
"Finding a florist who could provide seasonal British flowers between Christmas and New Year was quite tricky, fortunately we found Rachel at Ducks and Daffodils. My bouquet had lots of evergreen foliage including eucalyptus, ivy, rosemary and mistletoe with paperwhite flowers. Amber had a similar smaller version."
The couple made their rings with Little Book for Bride member, The Quarterworkshop in Birmingham. "We spent a day in November with Victoria making the rings from 9ct White Gold. It was a really fun and memorable day getting to try out different processes and making our rings together."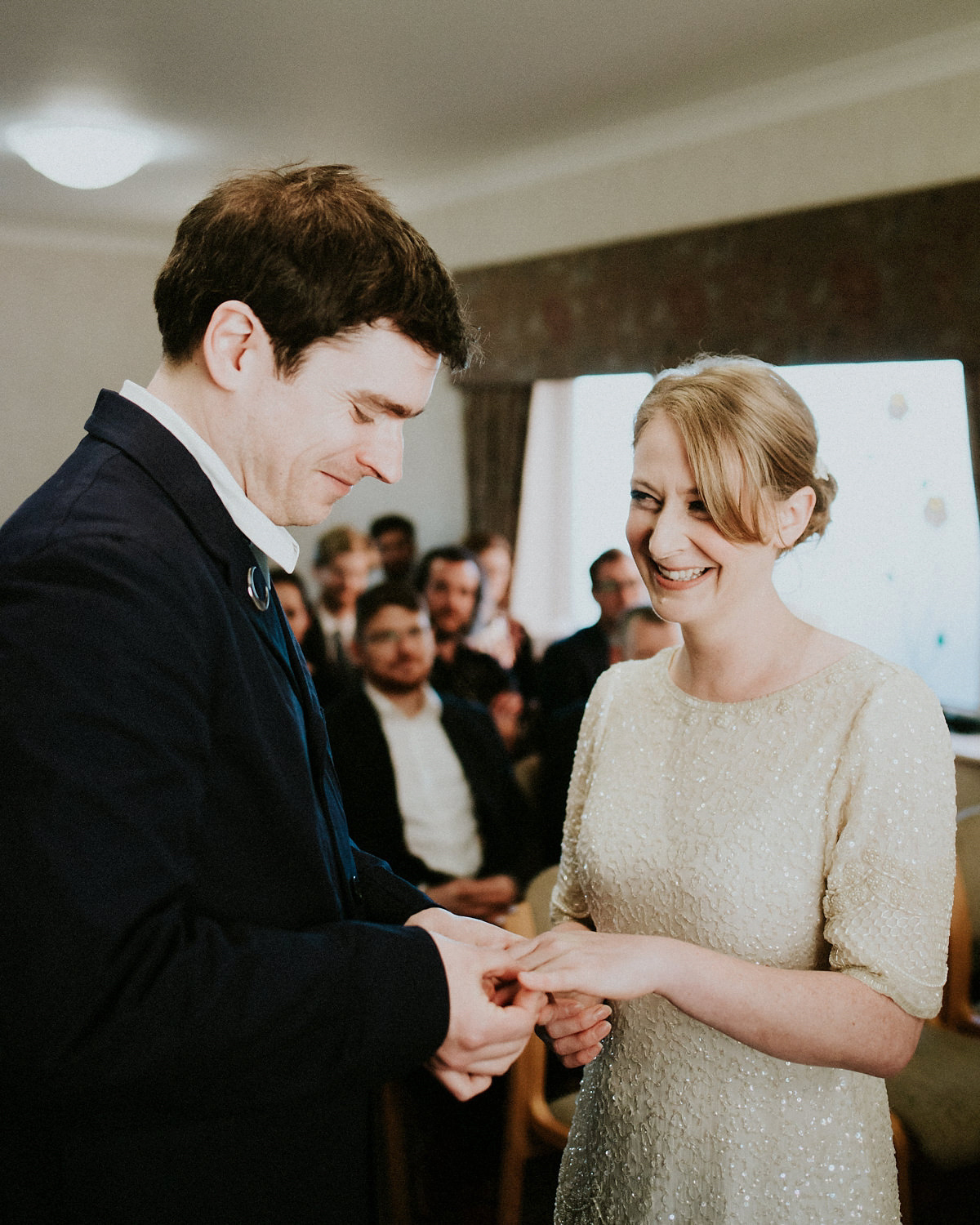 The couple forwent readings and chose simple vows expressing mutuality but made sure they had some stellar music choices throughout their ceremony.
"We walked to the registry office with family and friends. While everyone gathered and took their seats, 'Fast Car' by Tracy Chapman and 'The Times They are A Changin" by Bob Dylan played, then Jeff and I walked down the aisle together once everyone was seated to 'Khala My Friend' by Amanaz. 'Starfish and Coffee' by Prince and 'Tom's Diner' by Suzanne Vega played whilst we signed the register and we walked out of the ceremony to 'Up Around the Bend' by Credence Clearwater Revival."
"The only thing we had designed were our wedding invitations. We used the motif from the cufflinks that I gave to Jeff and had an embossing stamp made by Bolsons for the front of the invitations. We got cards and envelopes from G.F. Smith."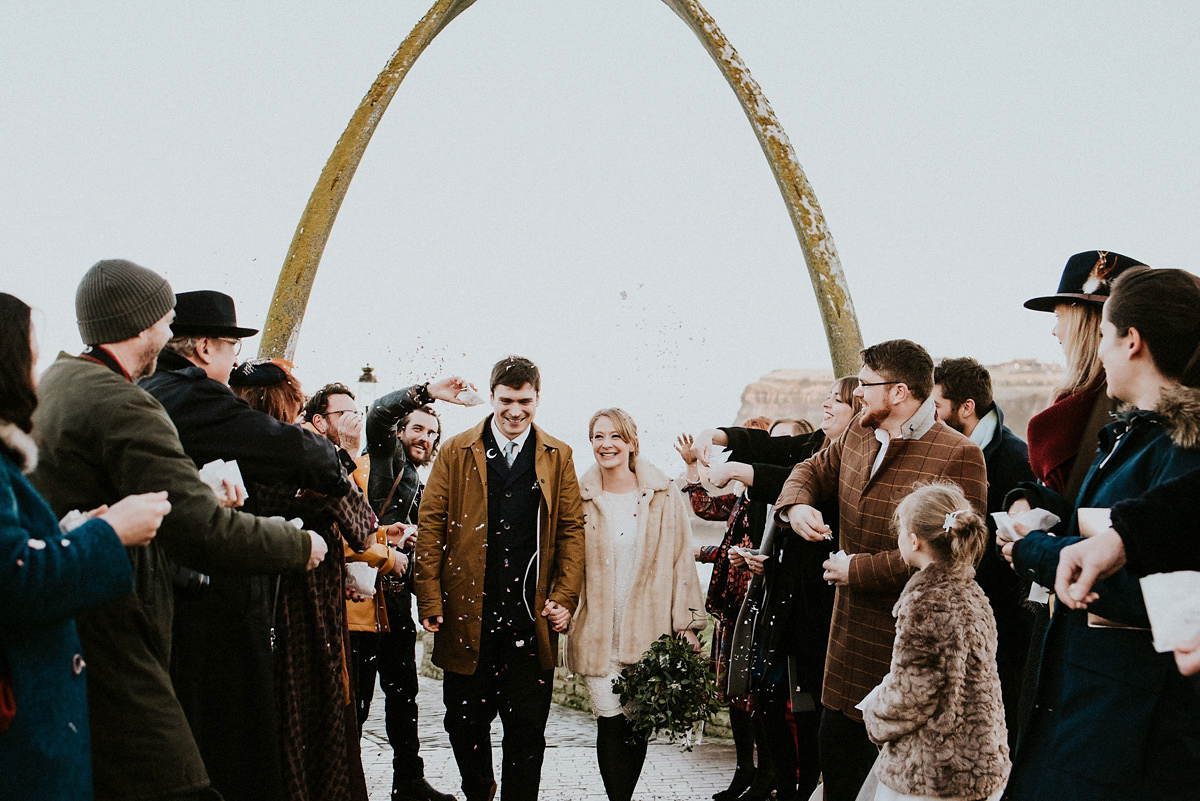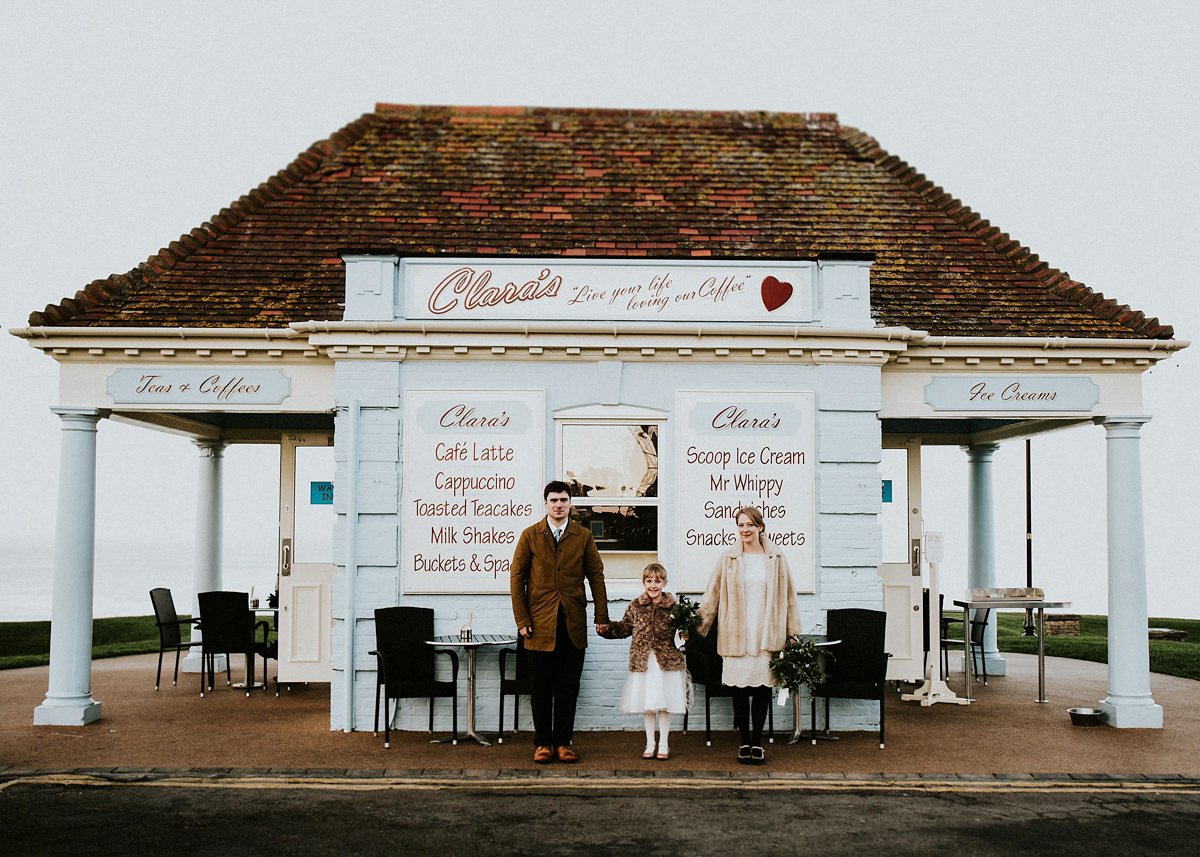 A major part of the day for Jo and Jeff was a bell casting by Ore and Ingot. Jo became aware of them through an art project and they thought it would make a wonderful addition to the day.
"Dave and Jo from Ore and Ingot were really brilliant, the casting mixed the reverence of a performance or ceremony with the informative explanation of a demonstration throughout. The ceremony started with them ringing a bell before explaining the process and equipment they would use."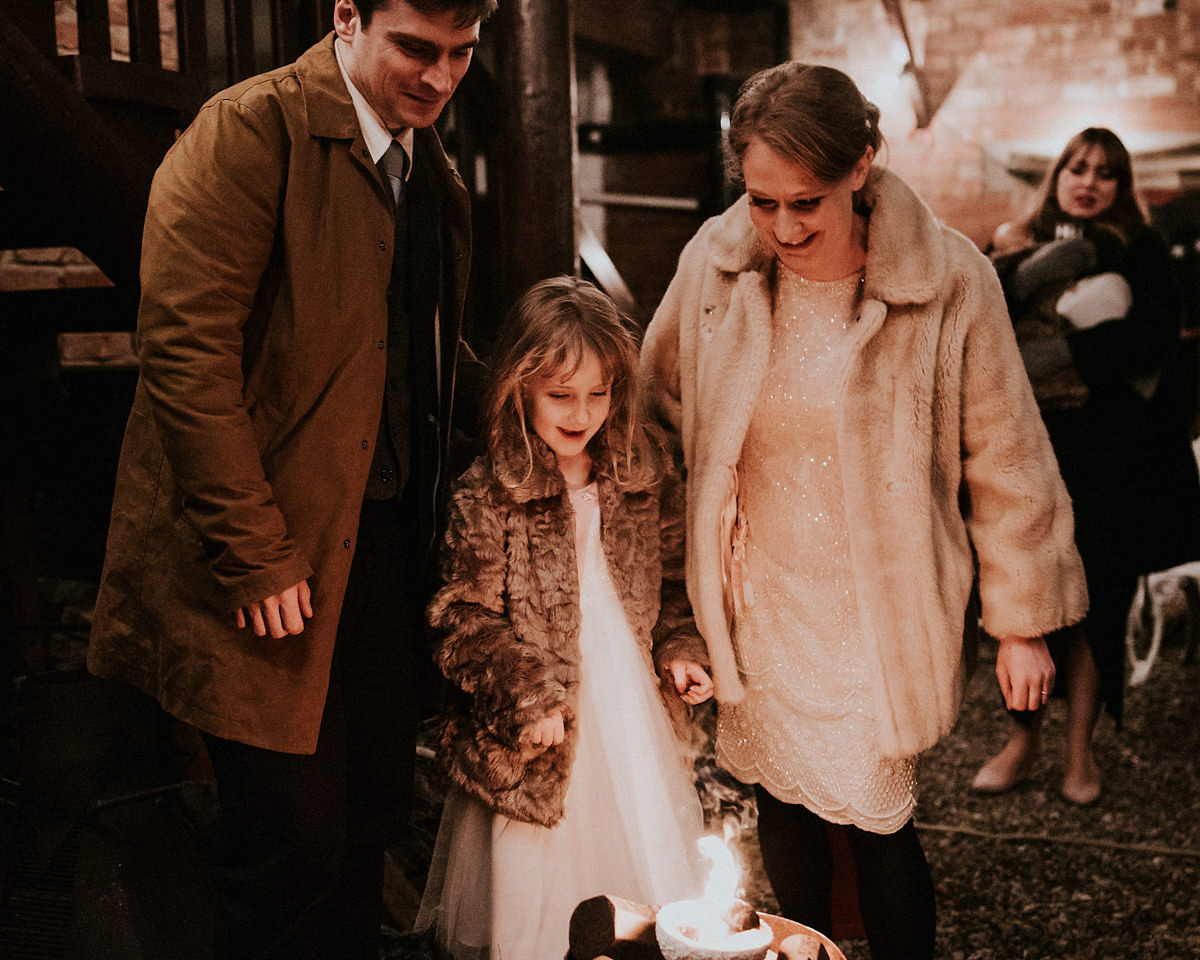 "We had invited our guests to bring something to contribute to the bell alloy as the brass ingot was being melted down, something Ore and Ingot have borrowed from the historic tradition of church/town bell making. We had some incredible contributions, including Jeff's grandmother's brass coat buttons and one of our friend's favourite badges from his collection."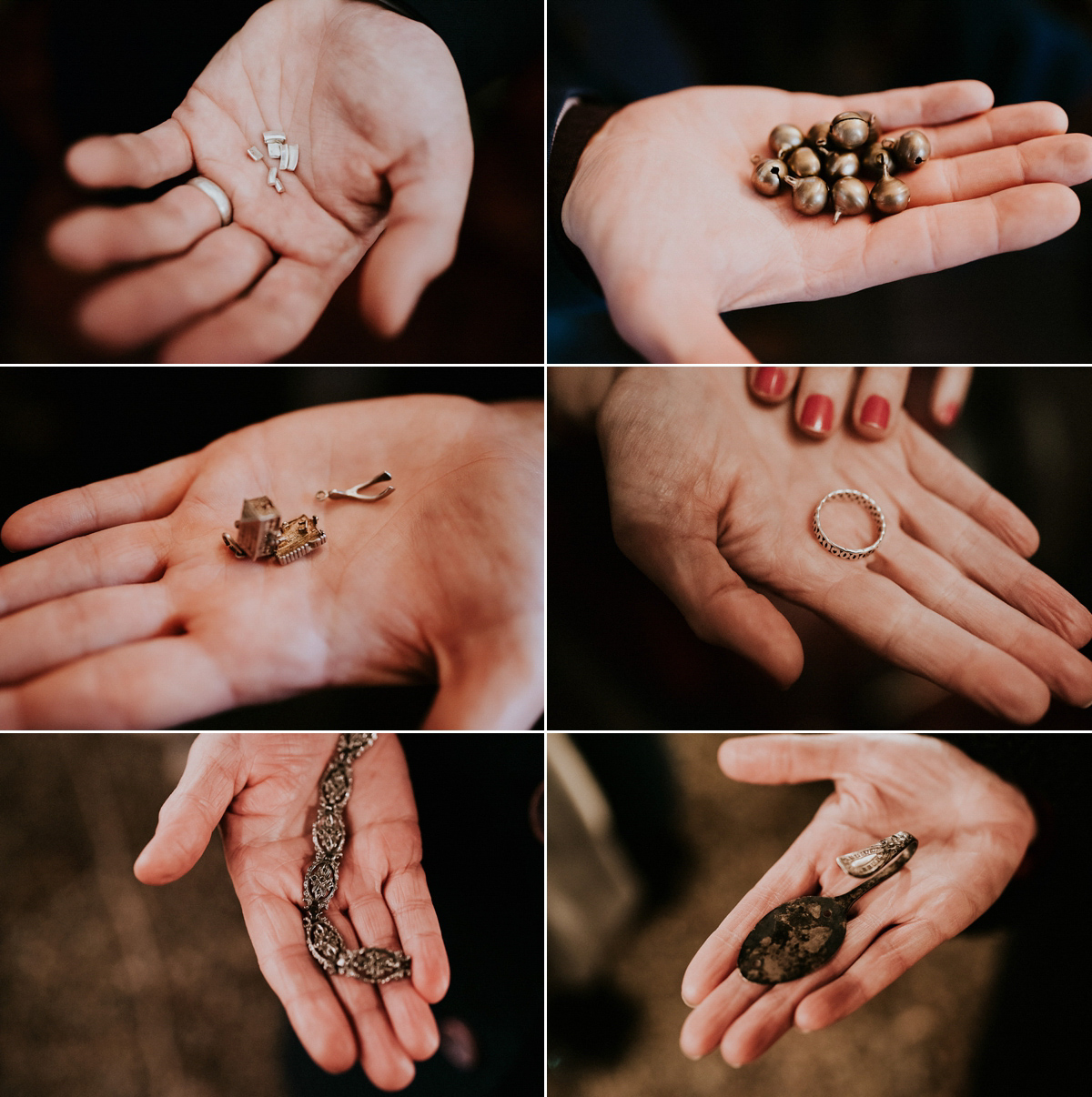 "We had designed the bell in collaboration with Dave and Jo, including some of the design elements from the motif on Jeff's cufflinks, our new surname and our wedding date inscribed on the inside. We are intending to use the bell as a doorbell so the memories and signification it carries can become part of our day to day lives."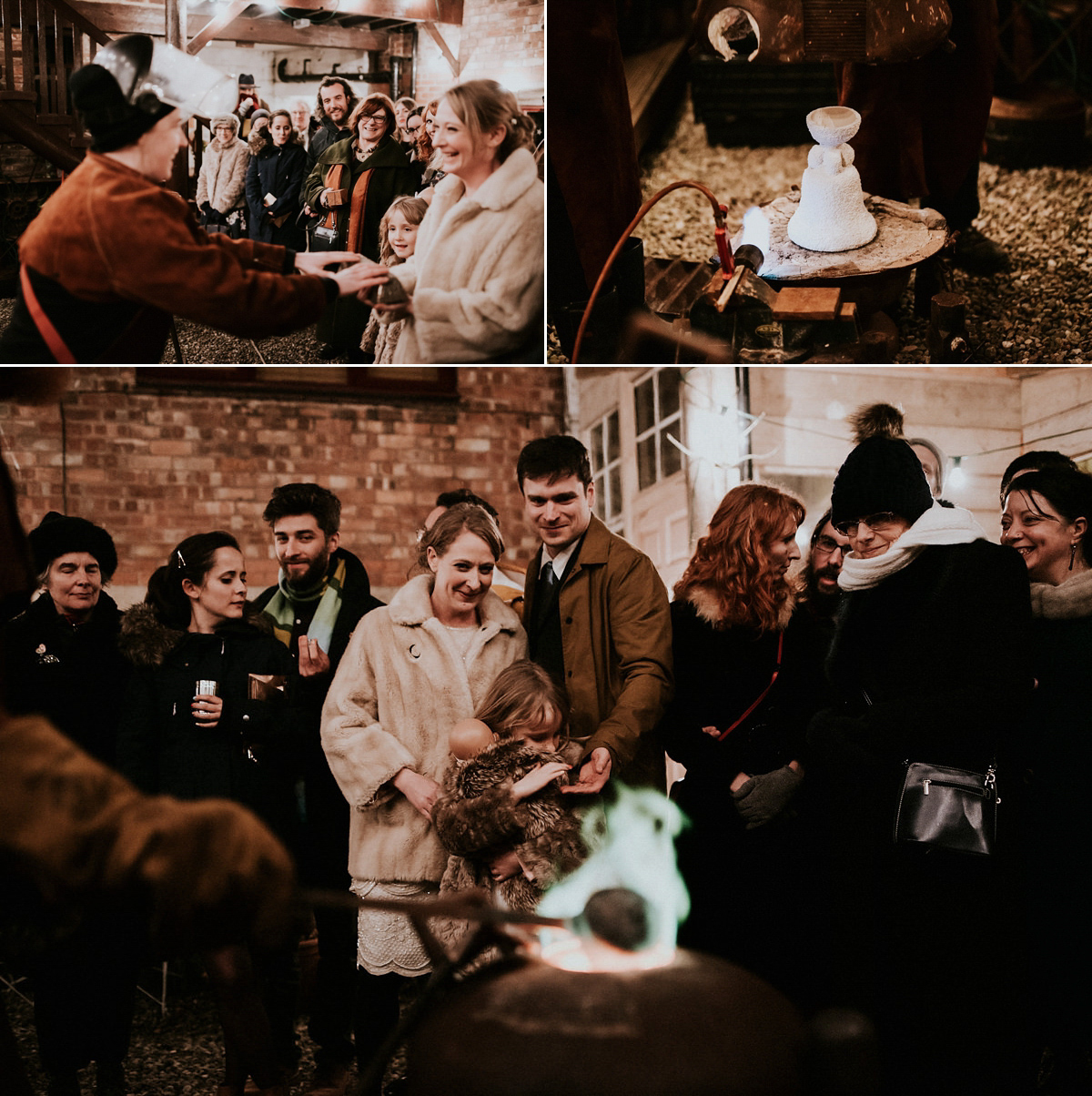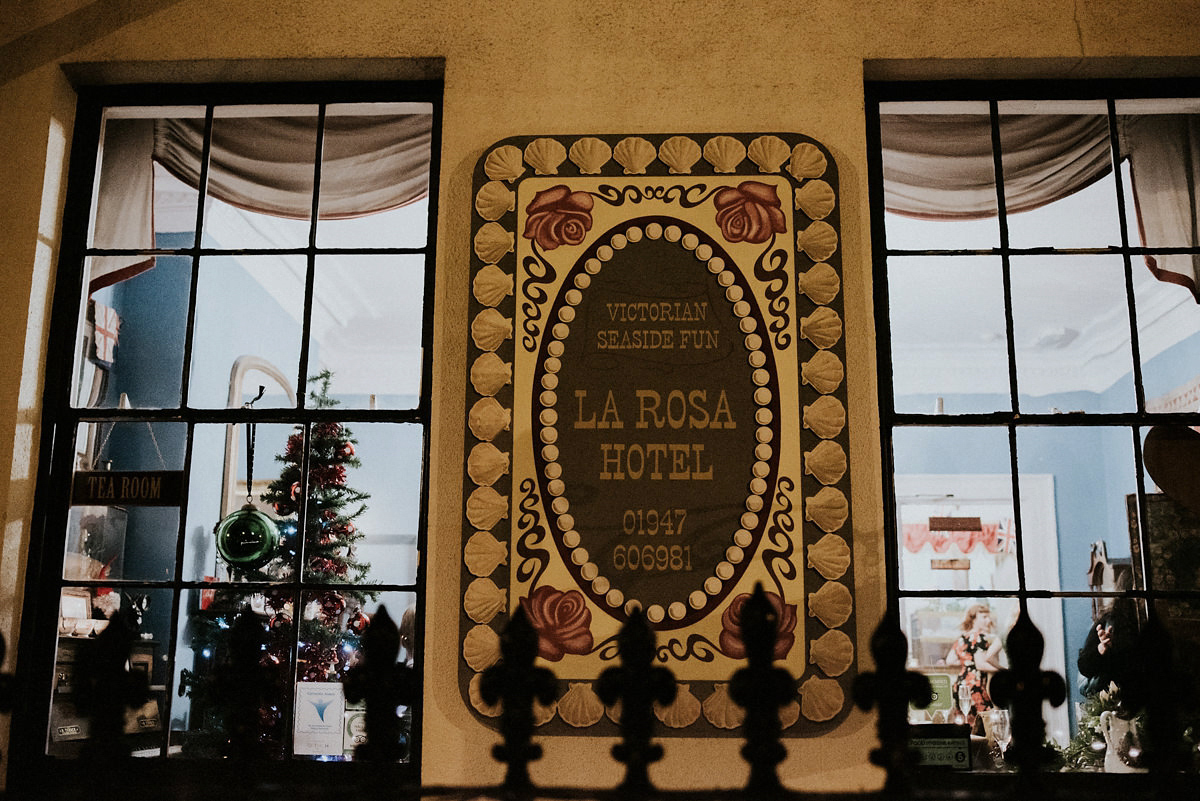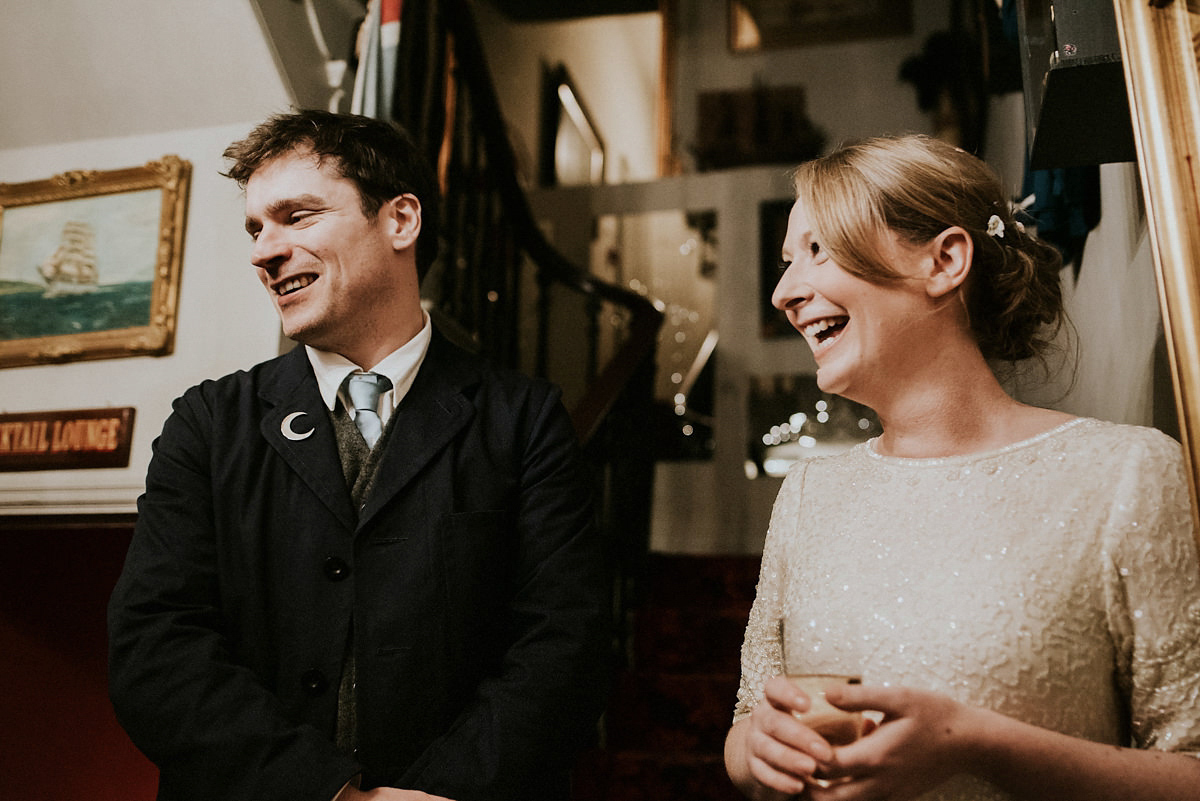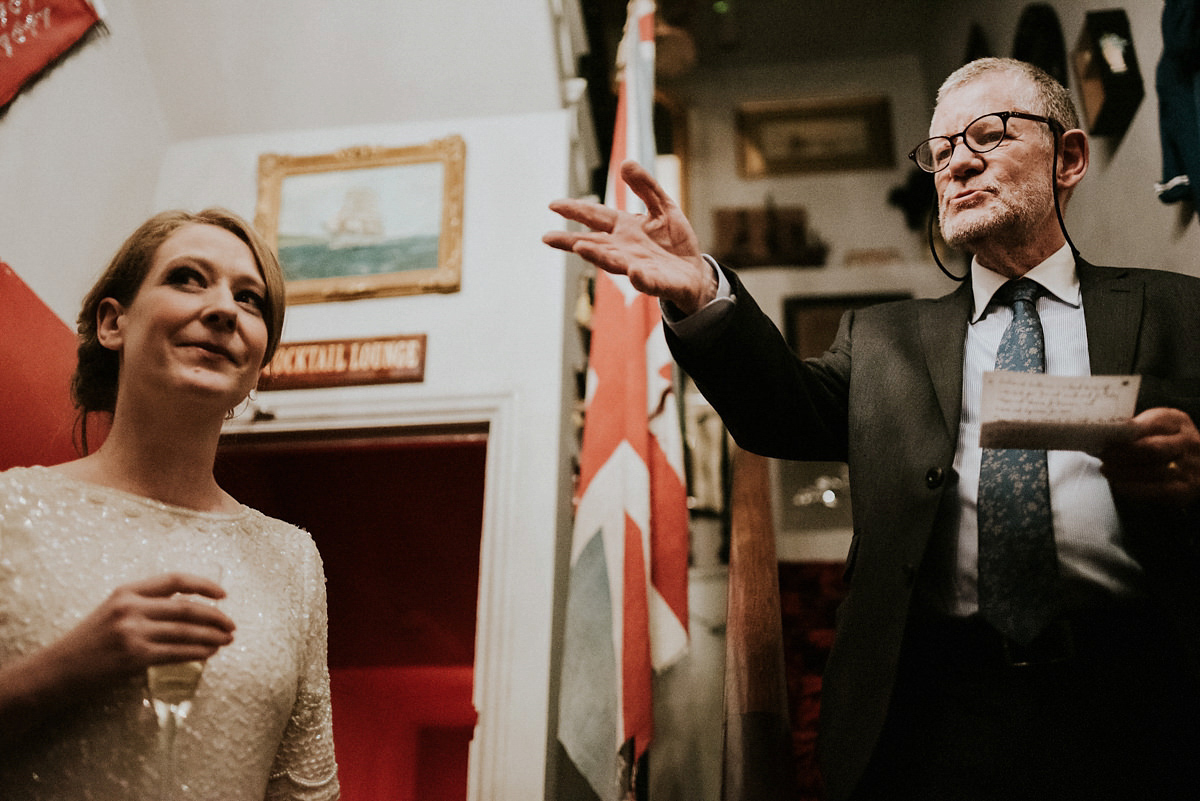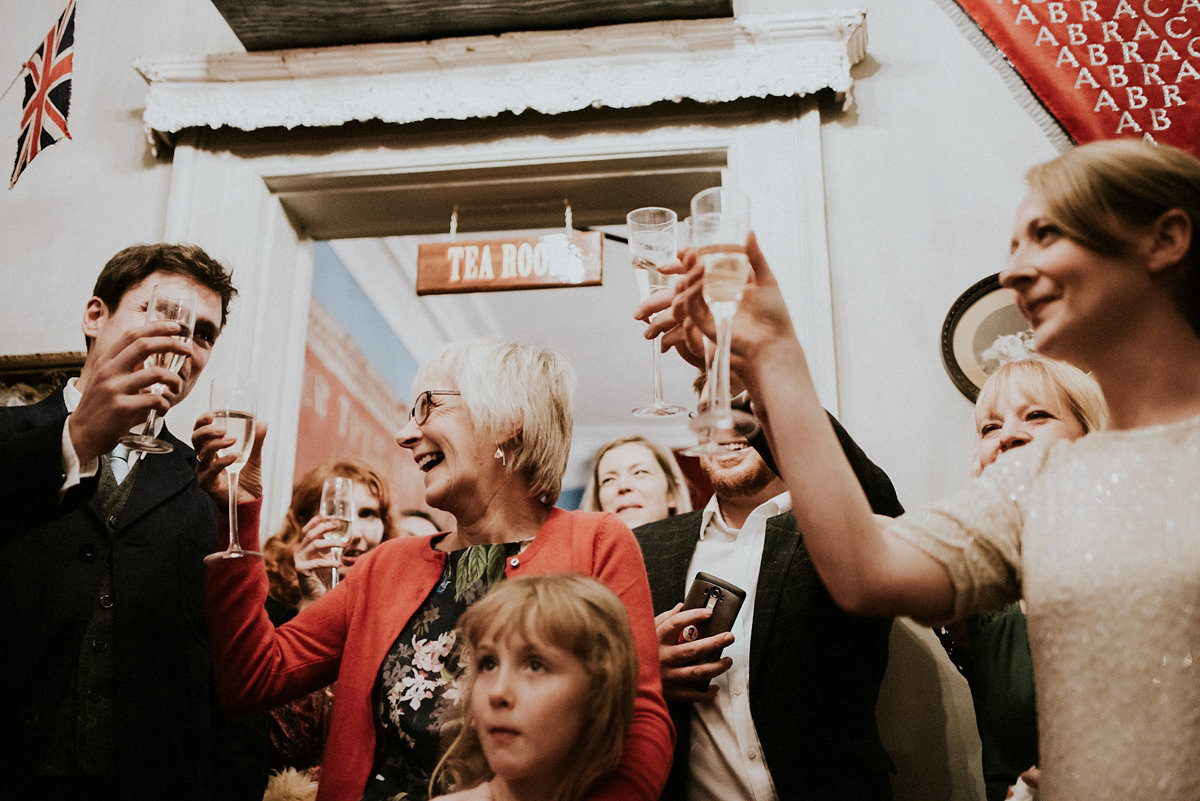 "We had the cakes along with savoury nibbles after the ceremony. We were keen that this would be informal and not involve a big 'cutting the cake' thing. The Pudding Pantry in Nottingham made Parkin topped with honeycomb which we chose as it's a Yorkshire cake and felt well suited to the time of year. We also had slices of Carluccio Prosecco Panetoni."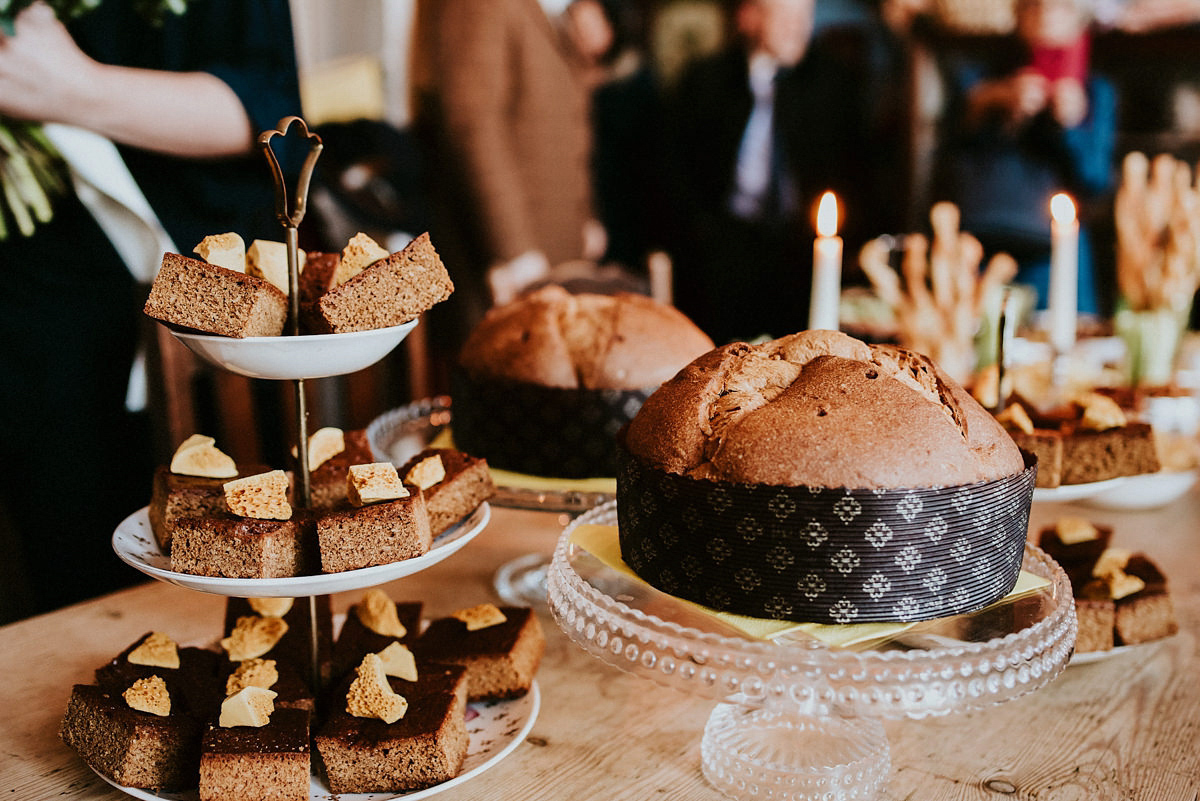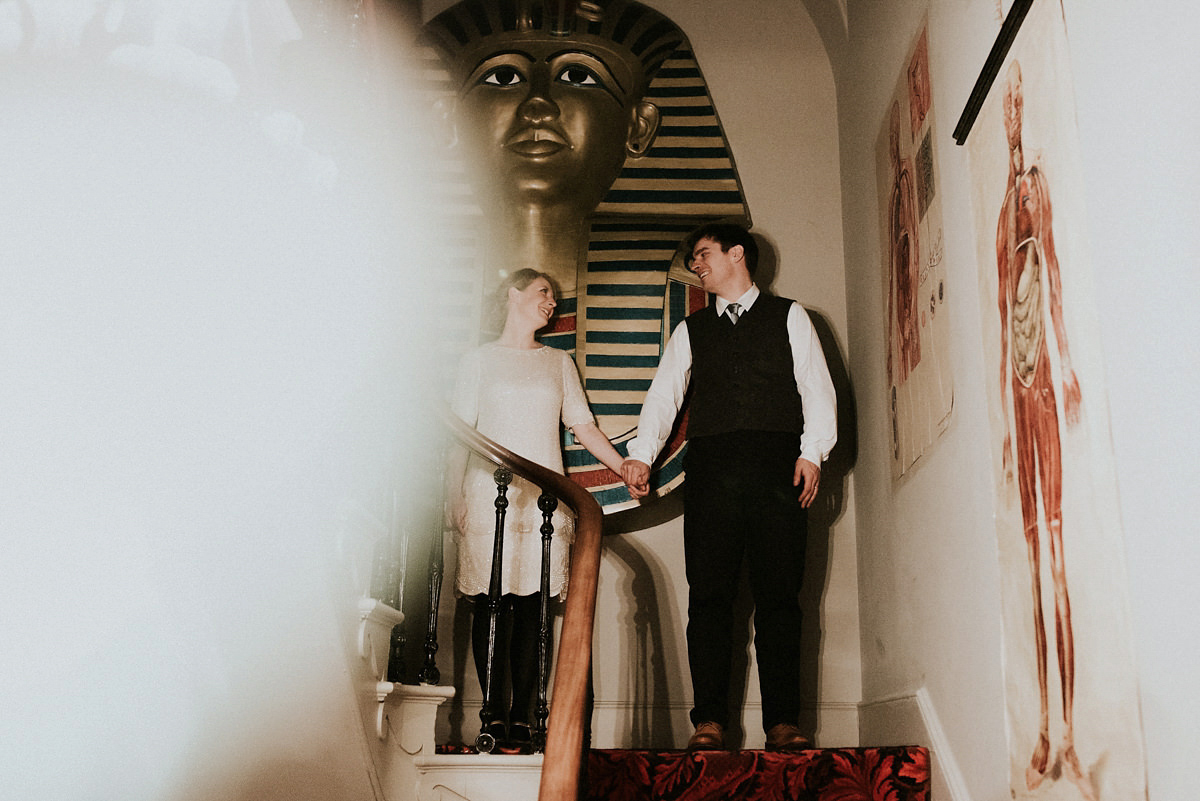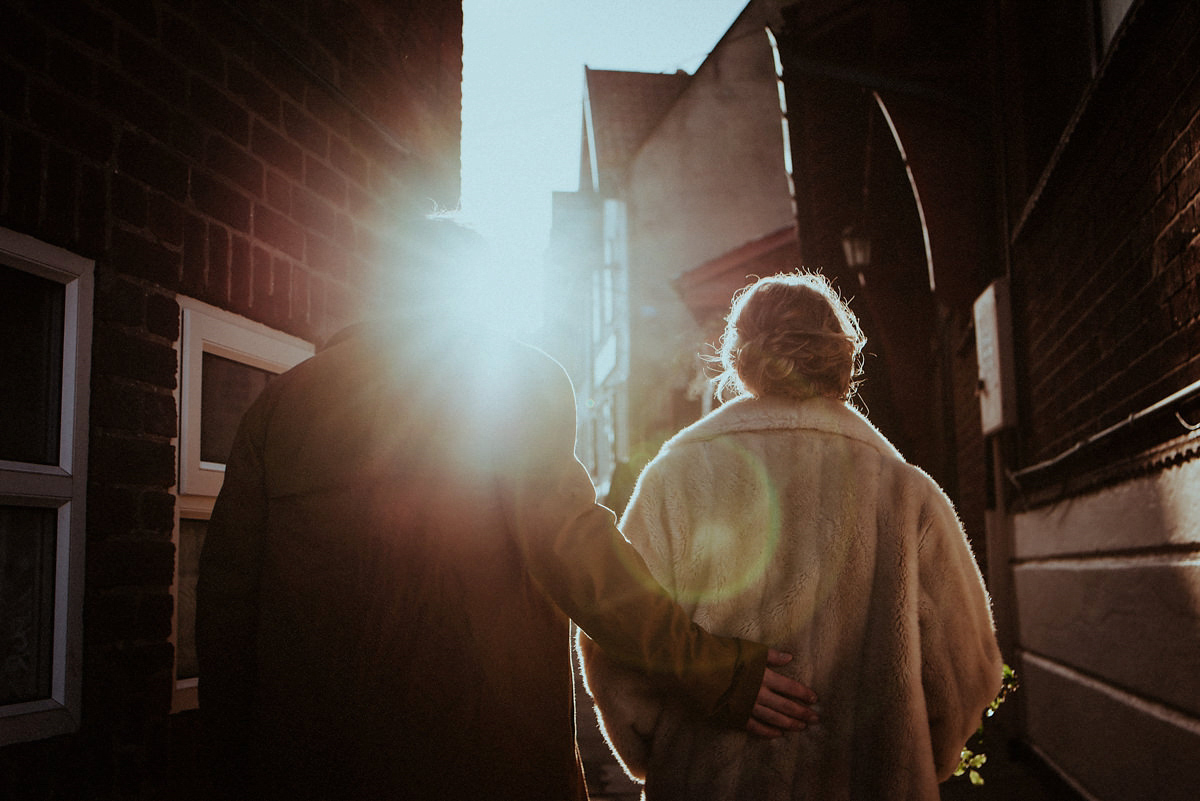 Words of Wedded Wisdom
"Focus on what you want from the day as a couple and build it around things that express the two of you. Do it as big or as small as you want. Don't feel like you have to stick to any of the things that are typically done at weddings if you don't want to – go with whatever you are comfortable with. For us doing the photos in the morning worked perfectly as we could focus on this whilst everyone else was getting ready and not feel like we were away from guests for too long. It was also just a great way to start the day and made us more relaxed for the ceremony.
We decided to merge our surnames together to become Mr and Mrs Maker because we wanted a name that belonged equally to both of us and one which reflected our own family heritage as well as our joint interests and future. We also liked that this brings back a tradition of the way in which surnames have evolved and developed in the past.
We didn't do a first dance together. The first time we danced that evening was each with our best friends which happened spontaneously.
A common one – take someone with you when trying on dresses. Jeff and Amber were with me when I chose mine but I went back for a fitting on my own and could have done with someone else there for that too."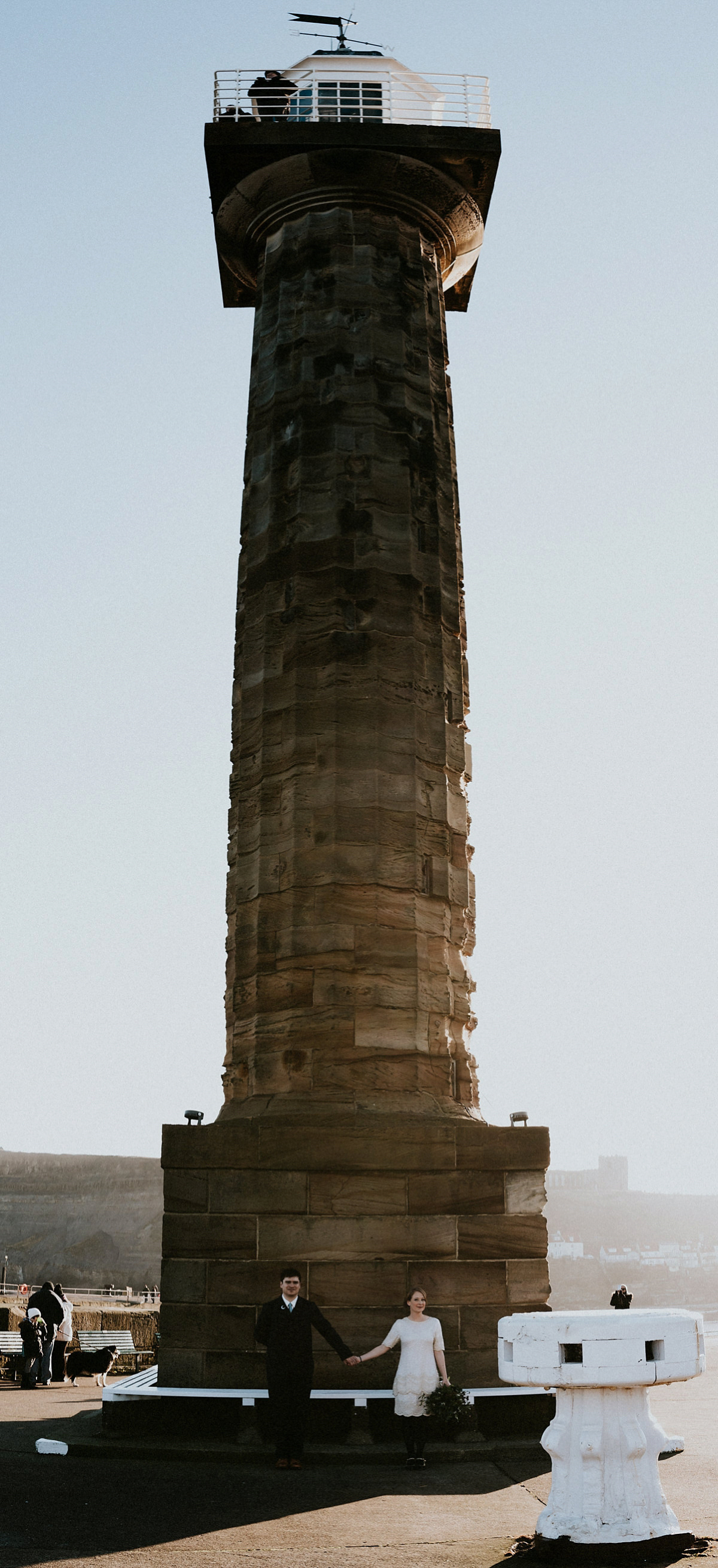 Congratulations to Mr and Mrs Maker. Your wedding has been an absolute delight to share. Thanks also to Ryan of Shutter Go Click, for the beautiful images, a favourite on these pages, you can see more of his work here.
Love Caoimhe xx