What are you up to this weekend, if you're in London and able to attend The Most Curious Wedding Fair, YOU MUST! I attended the press evening last night and it was such a stunning exhibition. I'll be there for most of today too – if you spot me, please come and say hello!  If you can't make it, I'll be sharing lots of Instagram stories – follow on @lovemydress and @annabelbeeforth.
This morning's wedding is all consumingly gorgeous and I'm so delighted to see that the bride wore a Belle & Bunty gown (The Belle & Bunty girls are exhibiting at The Most Curious Wedding Fair, by the way!). Rae, a freelance design writer and part-time potter married Saulo, a Retail Operations Director for The Mint Company on Saturday 8th October last year at the Hacienda de Anzo, Gáldar in Gran Canaria.
"We wanted to get married in Gran Canaria – one, because Saulo is from here; but mostly, as a great excuse for a party under pretty-much-guaranteed sunshine. When we chose the venue, we didn't realise a year later we'd have up sticks and moved to the island. By the time the wedding came around, the venue meant even more to us; a happy place; a metaphor for a new chapter starting our lives together. Saulo and I had just moved to Gran Canaria in September, a month before the wedding, after living collectively 23 years in London."
Photography by Pablo Beglez
"In the back of my mind, I always saw myself veering towards a vintage or vintage-inspired dress. Saying that, I kept my mind open, as my sister advised me before dress shopping: 'Try lots of different styles on; you never know which might surprisingly catch your eye'. Belle & Bunty was the third dress fitting of the day. I'd spotted the Petal dress on the rail and before even trying it on had an unexplainably good gut feeling about it.""When I came out of the fitting room, my mum cried – as sure a sign as any, that it was sold right there and then. I love the floor-length, slim fit and the low, scooped back – a modern nod to 1940's glamour. Rather than the Ivory, I opted for a Blush colour in satin silk."
"A little more unusual, it had this wonderful champagne-like shimmer, which caught the light beautifully and looked great for an evening wedding, especially one in a cave.
Belle & Bunty were able to make a Blush veil to match."
"I wore Liz Earle's Botanical Essence™ No.15. It's an everyday favourite. Seductive and slightly spicy, it retains a sensual freshness. I feel great in it."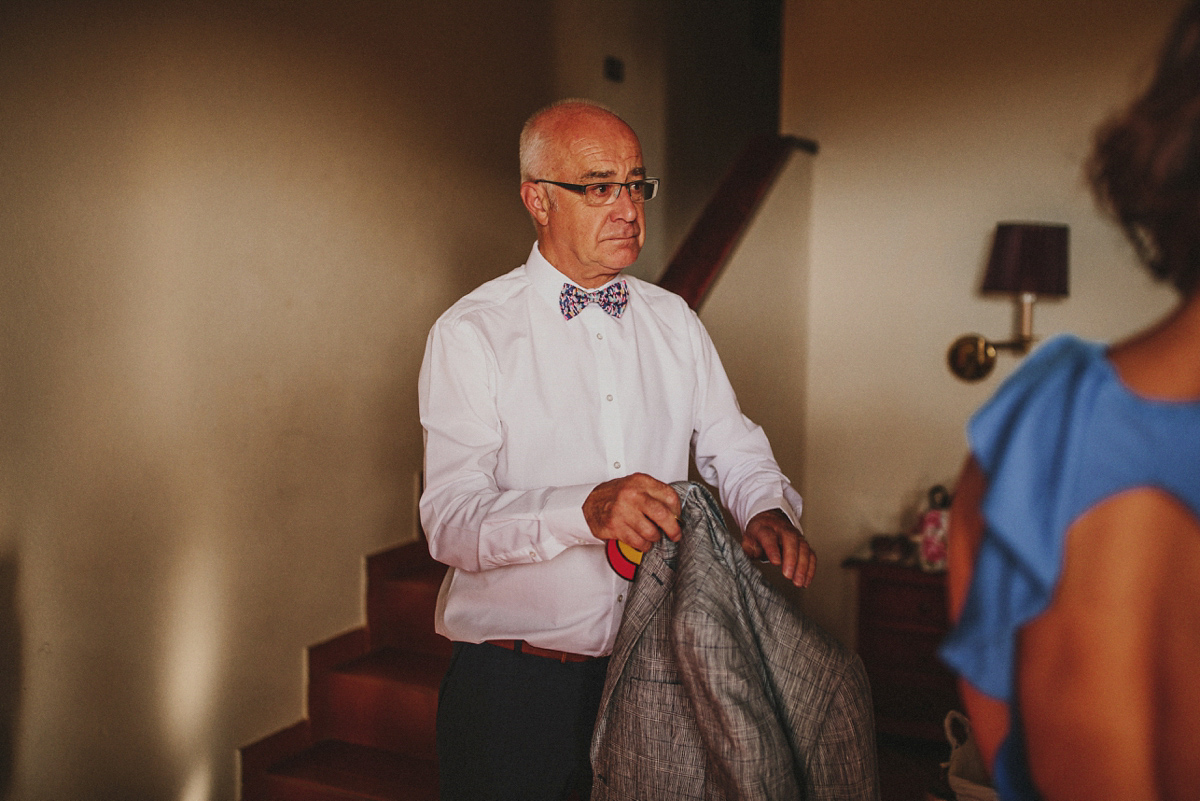 "I didn't wear much jewellery – pearl earrings from Jimmy Martín (as above), and my grandma's Blue Topaz ring."
"Wearing the ring meant much more than ticking the 'something old, something new, something borrowed, something blue' rhyme… my grandma's 91 and sadly couldn't make it to the wedding so it was a way of having her there and being part of the celebration."
"We looked at another two venues in the island; this was the third of three. As soon as we saw the setting: the colonial hotel; the idyllic grounds, and the extraordinary cave, we knew it was the one. Also, how many people can say they've been to a wedding party in a cave?"
"We needn't look far for inspiration on styling the day – it was pretty much in place owing to the Hacienda's natural setting and surrounding colours. Saulo's from Gran Canaria originally, and I from Yorkshire, so we wanted a colourful blend of the two regions: Hockney postcards and table settings set against the colonial-style hotel, palm tree-laden grounds and the centuries old cave.
It was exciting for us to maintain Canarian cultures in terms of the food and drink, particularly for our UK guests to sample. The menu included typically Canarian cuisine and we had various local craft beers."
"My dad accompanied me down the aisle – there's no better man, on this entire Earth. I'm sure. We had 'God Only Knows', by the Beach Boys. We love this song with it's heart-warming Beach Boys harmonies but listening to the opening lyrics ("I may not always love you, but as long as there are stars above you…") got me tearful in the run up to the big day, I think both from the nerves but also the anticipation of marrying my best friend in front of all our loved ones.
In the end we opted for the string instrumental version, so there'd be no walking-down-the-aisle tears and minimise any mascara-on-the-dress moments."
"We met at the pub (ha, where else?) – The Prince George near Dalston – for our friend Bea's birthday. This was June 2009. Saulo proposed to me in Scotland, at a beautiful, little village called Kenmore on August 16th, 2014."
"We were there having a week's break there with my parents. For a summer's day, it was absolutely freezing: cold and miserable, the kind of weather where you don't take off the thermals or the waterproofs. Saulo had suggested we go skim stones by the loch, and as I found a heart-ish shaped one, he told me to 'keep it.'"
After a quick (and agitated on his behalf) half-pint at the pub, we headed home for dinner. En route back, Saulo stopped us on the bridge crossing the lake, making a promise for us to come back to the village later in our lives, 'signing' the deal by dropping the heart-shaped rock in the loch."
"At that point he got down on one knee. I'd love to say I was cool, calm and witty in response but recollect a couple of expletives and 'aren't those your best jeans? Get up off the floor!' coming out."
"We individually wrote our own vows. Saulo wrote his first. I'd wake up in the middle of the night and find him jotting down things that came to his mind. He let me read his before I'd started mine and I was balling mess."
"It was beautiful, honest and unreserved; I suddenly realised, that the day (although bound to be fantastic) wasn't just about our commitment to each other, but what this new leap of faith of moving country symbolised – one that was scary, but exciting and stronger together."
"We are here to declare that love has no passport… it's not restricted by language or geographical distance… but that love is universal and strong enough to overcome any obstacles life throws our way.
"As my dress was a blush colour, and my sister's dress a soft pink, I opted for complementary tonal colours: nudes, blushes and champagnes. Something small and a little rustic were also adjectives in mind, ideally including roses, ranunculus, lisianthus and dahlias."
"I'd seen the arch decorated with gorgeous bougainvillea and eucalyptus (both of which grow in abundance here) at the venue from a previous wedding, so we really wanted to have the arch and the swing decorated also – with some more autumnal oranges, that were also picked out in the bouquets."
"Being in Gran Canaria, you're a little limited with what flowers can make the distance from Holland, but I was so happy with all the flowers – the table flowers, bouquets and the gorgeous flower crowns for the bridesmaids and flower girls."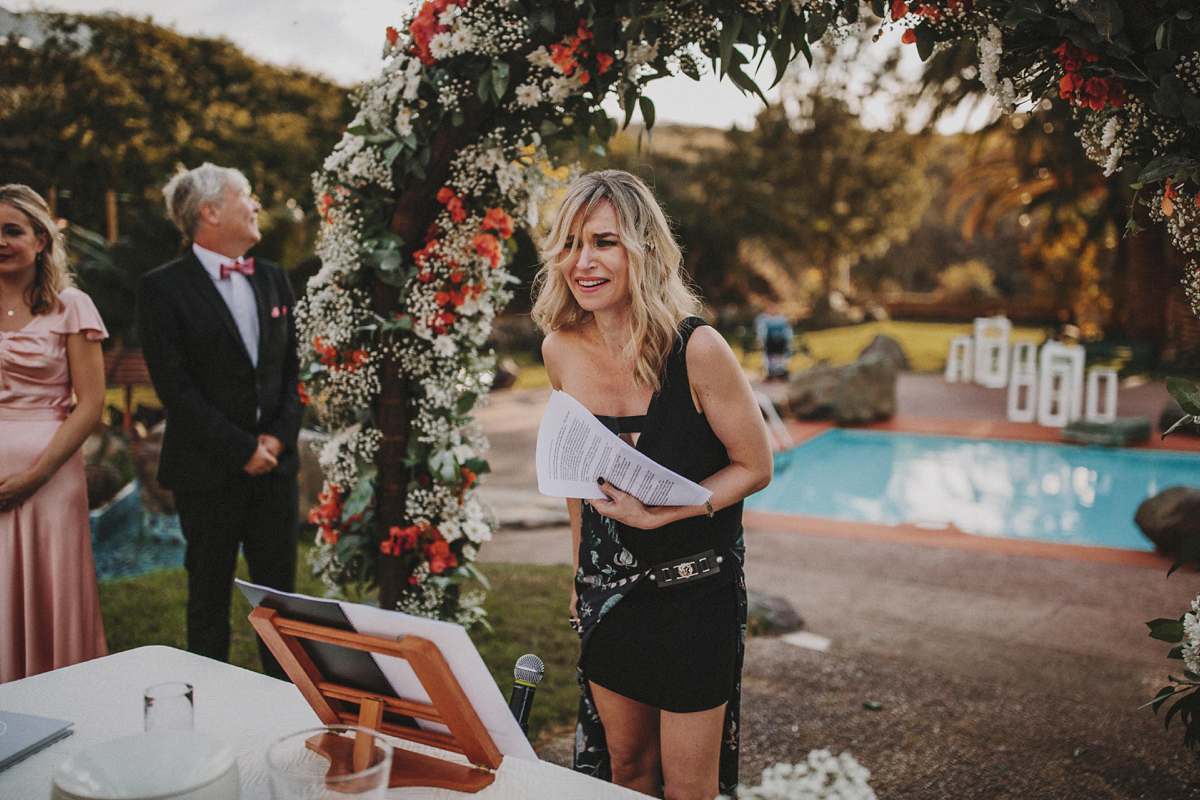 "Before exchanging rings, we had two elements to our ceremony: readings and the mixing of earth. Both Saulo's and my sister read at the ceremony and our dear friend Bea, who we have to thank for us meeting – all of them wrote or chose what they wished to read. We really didn't mind, and they all ended up being so personal and beautiful. Natalia, Saulo's sister (in Spanish) recalled lovely memories of them growing up; my sister Hannah (in English) wrote a poem about our relationship – incredibly moving; and Bea (in Spanish and English) regaled stories of us meeting and joyous episodes in London, which had us and the guests in laughter and tears.'"
"The mixing of the Earth was a nice metaphor for the joining of our Yorkshire and Canarian roots. Saulo poured in sand; I, soil from home. It was a lovely ritual that brought together our individual elemental loves also: my dad's love of Geology and my background in ceramics – the porcelain pot we poured the earth into is also hand-thrown by a talented friend Ben Sutton."
"The music meant to play as we walked back down the aisle was wrong; the sound technician skipped forwarded to Bob Marley's Could You Be Love. What else to do, but go with it… we danced back down the path!"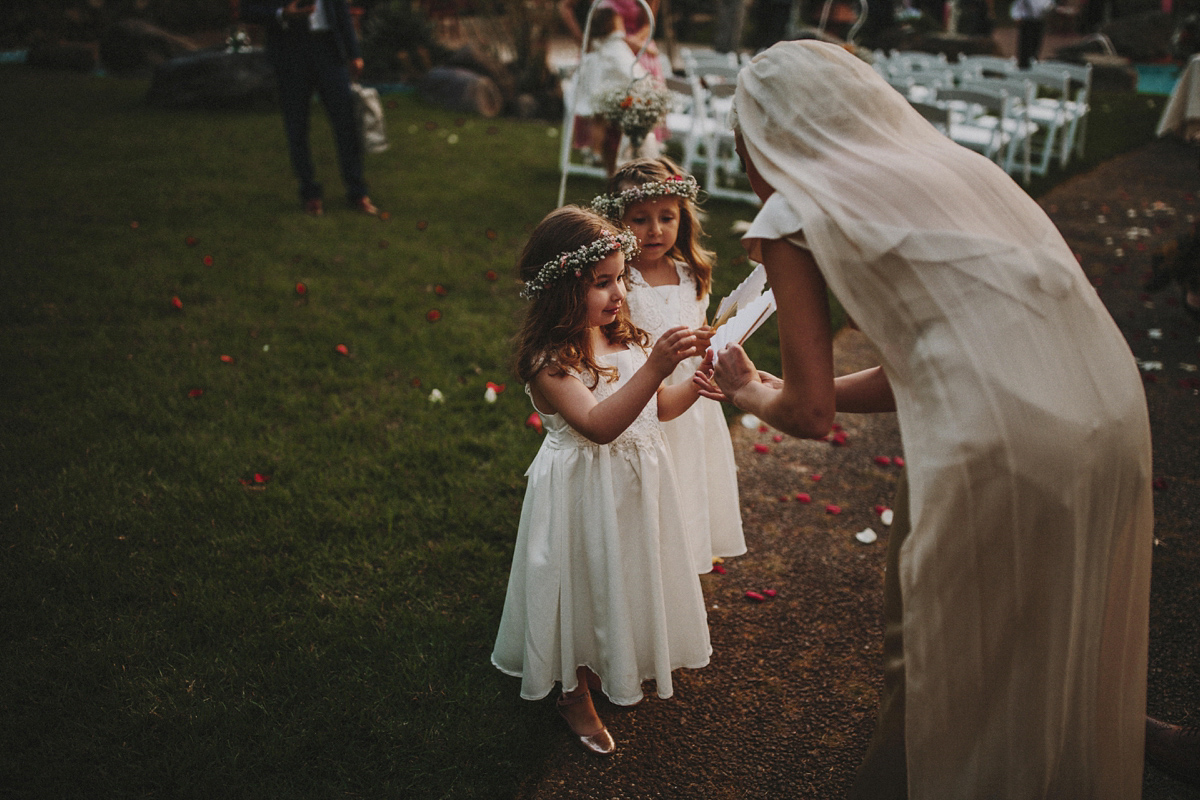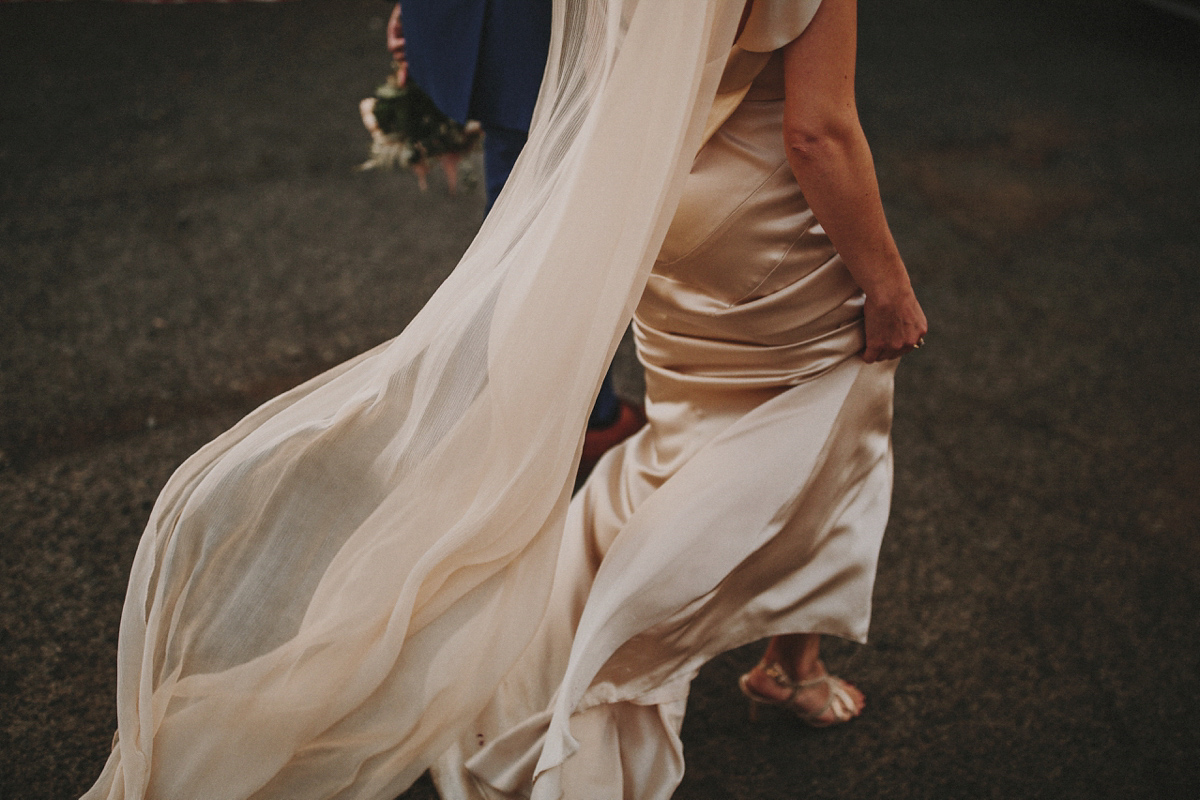 "Our photographer was the fantastic Pablo Beglez. Looking at his website, (which I have to admit was originally a case of Googling 'Gran Canarian photographers – he came out top of the search results), we knew there was no need to look at any others. Pablo travels the world capturing the most beautiful weddings; so we were so lucky that he was free and happy to take ours, as well the convenience of him being based in nearby Las Palmas."
"Pablo is as charismatic as his pictures: warm, professional and so charming. The luminosity he's managed to capture in ours leaves me looking at them and believing they're something celestial."
"Saulo wore a suit by Mango – his shirt and waistcoat was from Roes, Las Palma. His cufflinks were from Tiffany. were a 40th birthday present from his brothers and sisters. Monogrammed with his initials."
"The table plans and number designs were born out of these postcards, bringing the Yorkshire element together. In the run up to the wedding, one of the small things I got anxious about – and in hindsight, non-proportionally so in terms of what the day actually comes to represent (love, family and friends), was the wedding favours and table plans. Prior to emigrating, it was proving to be a bit of a logistical nightmare – 'how could I make 100+ favours and get them in my suitcase from London, or what could I make in the given time beforehand in Gran Canaria?'"
"Whilst at Salts Mill with my parents, I found a gorgeous, colourful collection of David Hockney's postcards based on his iPad paintings of East Yorkshire. We decided to use these as name cards, and I wrote messages individual messages on the back to double-up as take-away favours. Flat-pack problems solved!"
"All the paper goods and stationery – I took on myself – it was a bit stressful with relocation to consider and not having a reliable Paperchase on your doorstep."
"With some additional floral details, the venue really didn't need much décor. In the cave, the venue provided lighting to highlight the steps when we descended, and the waterfall area. We added some gold foil balloons – the erection of which involved my dad, brother in-law, two of Saulo's friends, a hammer and lots of sweat – above the band/dance area. A 'all hands to the deck' comedic moment that worked its way into my dad's Father of the Bride speech."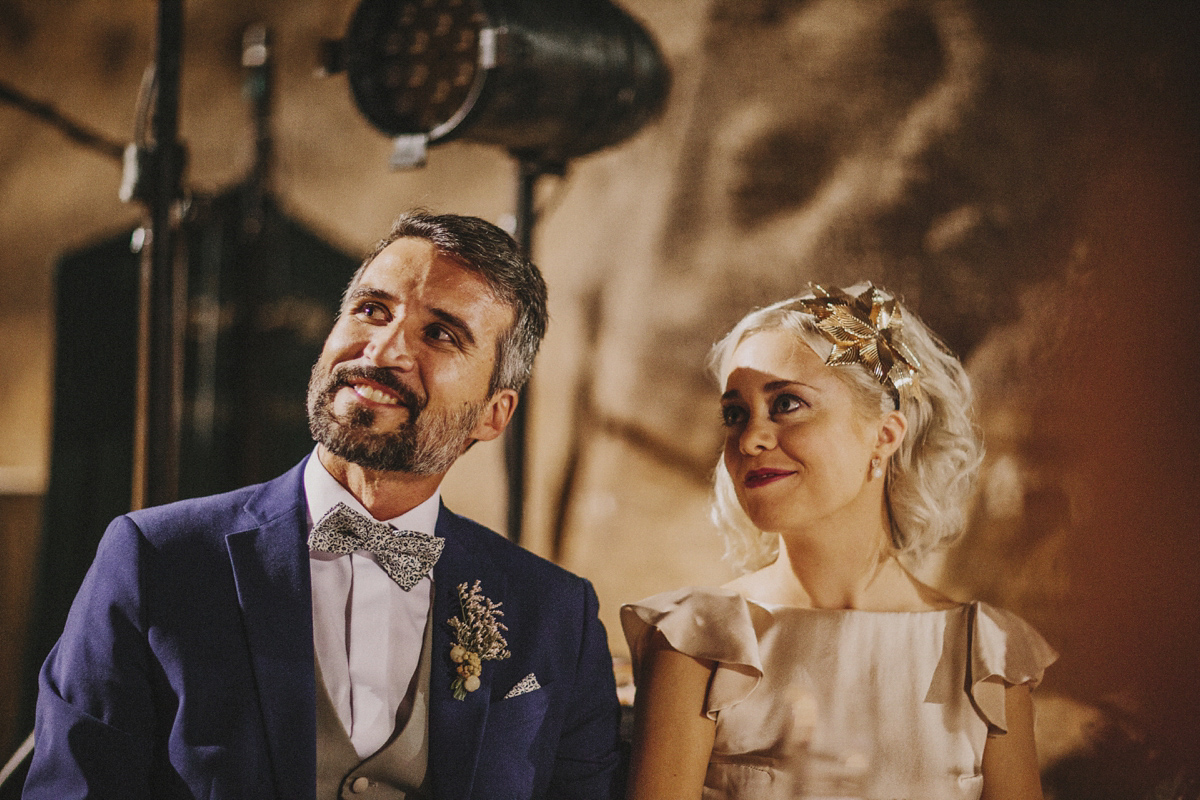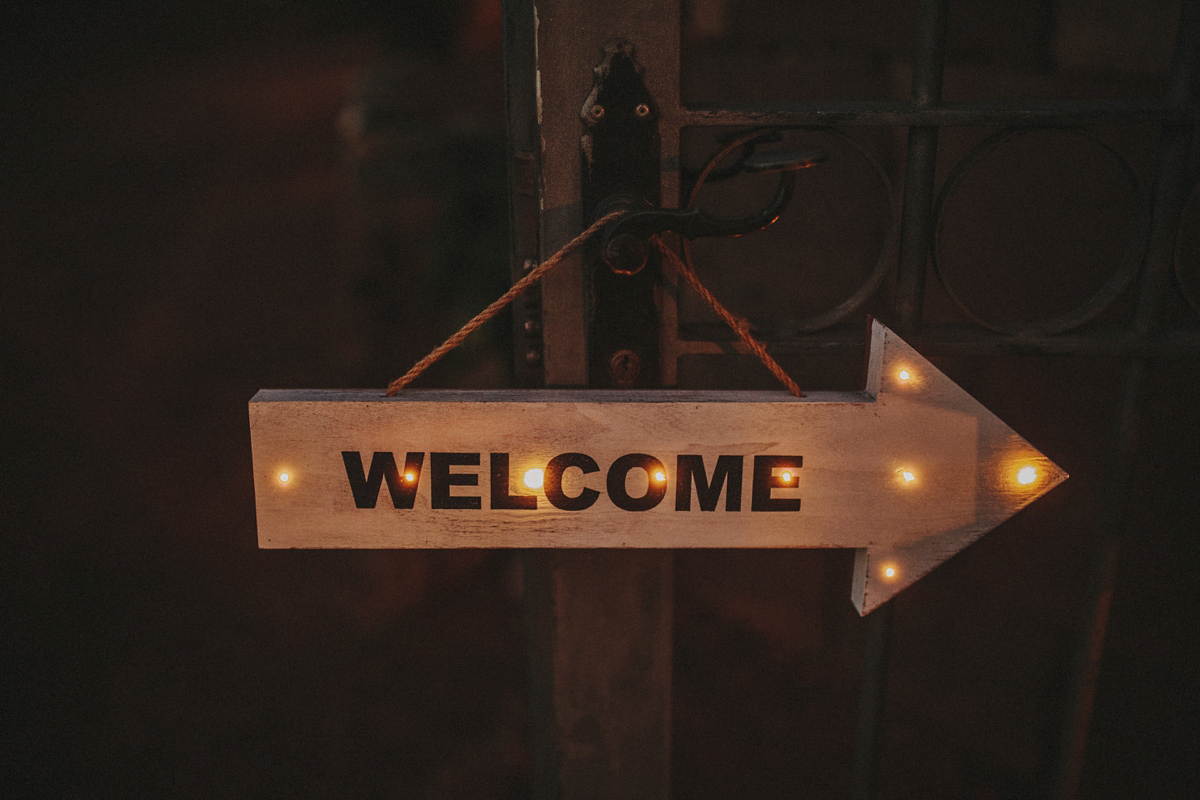 "Our cake was made and brought by catering company. We didn't choose to do a cutting of the cake moment. It didn't really feel 'us'… Saulo was much more excited to ensure the band and the playlist was central to the evening's entertainment. We apprehended LOTS of dancing."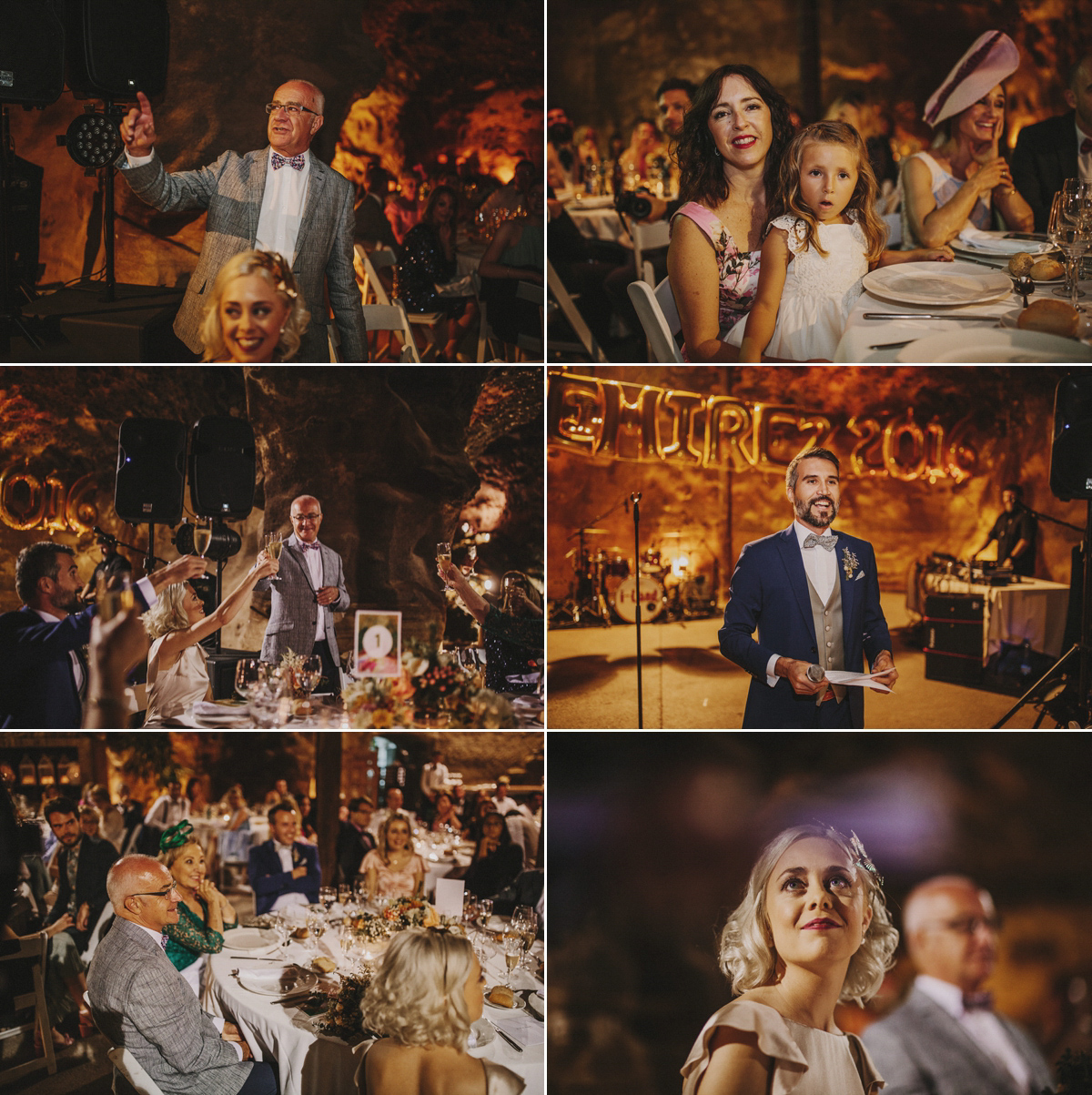 "We had a local band Macaronesia played fantastic rock covers (both Spanish and English) that had everybody performing their best air guitars.
Our first dance was to 'All of Me' by Billie Holiday – we both love Billie. So many artists have recorded this song, but it's Billie's version that is charged with such moving emotion and a sad torment; it's beautiful. After this we cut to Tainted Love by Gloria Jones, and took the slow dance up a notch, and got everyone else shimmying up onto the stage."
"We choreographed our first dance, which might sound a little neurotic, but we loved the excuse to steal an hour or two the week before the wedding, to goof around and practice some moves. Both of us love music and a good boogie, so we hoped to set a good dancing tone for the remainder of the night.
"Saulo also played with his best man, Nigel and friend Alex in their old band. A five-set spectacular (including a whoop-inducing two drum solo) sandwiched between the  band and eventual disco. Getting the band back together for the wedding was high on the priority list for Saulo, as a drummer and musician, music was high on the agenda. And looking back at the pictures really does make us realise, everyone had such a great time and danced SO much."
Words of Wedded Wisdom
"Wow. I know it's one of the oldest clichés – I got told it umpteen times by numerous people – and at times I was even desperate to defy the cliché, but it's true; 'Just enjoy the day, because it does go by so quickly.' The moment you wake the next morning, you want to do it all again. I remember reading a great piece of advice on the Love My Dress blog that resonated with me and I put to test on the day, which was to make sure Saulo and I took odd moments together, to stand back and take in everything – to soak up all the love and happiness in the room.
Oh and really, don't sweat the small stuff: no one's going to remember the fact you spent two whole days making confetti cones like a crazed craft lunatic. They remember you and your partner; how happy you both looked and how happy they were to be part of your special day. If there were no flowers, décor, band, music or food, there'd still be there to witness you declare your love for each other. In the end, that's really what counts."
"The potency and power of the photographs: when we received ours, we were blown away! I was secretly conscious that on every 'natural' one I have my mouth open laughing or was crying. 'Good Lord, is that what my face does!?' But as I go back to them, time and time again, that consciousness dissipates, and am so delighted because Pablo's caught the emotion of the day – it was one of (good) tears, joy and happiness – I love the fact I'd cried off my make-up before having chance to re-apply before the coupley photographs. Although we can't go back and do it again, we'll be looking at them in years to come and be able to relive those feelings. The photo Pablo caught of the moment my Dad came into the room; when had both caught sight of each other and cried, I've forever hold to my heart. It's priceless and sets us off crying just to look at it now.
I could pull out a few, minor things that didn't go right, but I really wouldn't change them. Of the people I've mentioned these to, they've all said 'we didn't notice it', 'we loved it', 'it doesn't matter'."
Absolutely gorgeous, all of it.
Annabel x