Hi ladies, I hope Monday is being kind to you? I realised over the weekend that I've been writing for Love My Dress for one whole year. Absolute crazy town! And what a year it's been; I've met some of the most incredible women, and I found myself wondering, when these gorgeous girls get engaged, how do they feel about planning their own big day? How will anyone ever measure up to their own exacting standards? Our wonderful photographer, Amy Shore, for example – I remember the moment she announced her engagement, followed with the question, 'anyone know a good wedding photographer?'
Today's couple were in just that position. Photographers, Vicki and Daniel, who specialise in fashion and in commercial and portraiture photography respectively, married on 23rd July 2016 at St Andrews Church in Newton Tony. They wisely chose the incredibly talented Tom Ravenshear Photography to capture their day, documenting precious memories in Vicki's dad's Wiltshire village. In fact this savvy pair picked a whole host of our beloved Little Book for Brides suppliers to play a starring role in their celebrations, from the brilliant Tom Ravenshear to a sublime Claire Pettibone dress, bought from Blackburn Bridal Couture.
"I fell in love with the 'Kristene' dress after finding it online while searching for wedding venues. I followed the links on the site and found Claire's dresses – it was love at first sight and suited my style perfectly. I had no idea if it would look good on me but I knew I had to try it on anyway. I tracked the dress down at Blackburn Bridal Couture and absolutely loved it. It was the first dress I tried on and I went on to try only three others, then rushed back to the shop to order it. I knew it was the one, everything about it was perfect. I felt wonderful in it on the day and it was so comfortable and fun to wear. I loved the movement in it when I walked and danced."
Photography by Tom Ravenshear Photography
"We always knew we wanted a relaxed feeling to the day, and a country fete ambience leant itself to this. I am a lover of vintage so there was a nod to the era of my engagement ring, which is from 1935, and a strong lean towards vintage botanicals and floral design. 'The Country Diary of an Edwardian Lady' was a great reference point for me, my step mum had this book when I was growing up and it was the first thing I brought as soon as I got engaged – I love the beautiful floral drawings and poetry. And Love my Dress was my number one go to site, I would check in every week."Our bride's make-up was applied by her lovely bridesmaid, Isobel Kennedy. It was such a relief to Vicki to have a trusted friend by her side to lend an experienced hand, and of course to keep an eye on topping up that gorgeous red lipstick throughout the day.
Vicki's divine Claire Pettibone gown was paired with a pair of sparkly shoes from Miu Miu – totally gorgeous and incredibly comfortable – a winning combination if I've ever heard of one. Have you discovered our Style Files yet by the way? I've just spent a good hour lusting over Claire Pettibone's stunning designs.
A further touch of sparkle arrived in the form of earrings gifted to the bride by her loving fiancé on the morning of the wedding. So perfect a match with Vicki's dress were these beauties, that she thought Daniel might have had a sneaky peek at her gown!
"The extremely talented Sofia of Lila Accessories made my beautiful hairpiece, I was introduced to her by my friend Tassilia Varda who did my hair for the day. Sofia also made my mum a corsage to match my headdress. Her pieces are so exquisite – the tiny ceramic flowers are so light you can't even feel the piece in your hair. And I loved the way the leaves on the piece matched the detail in my dress."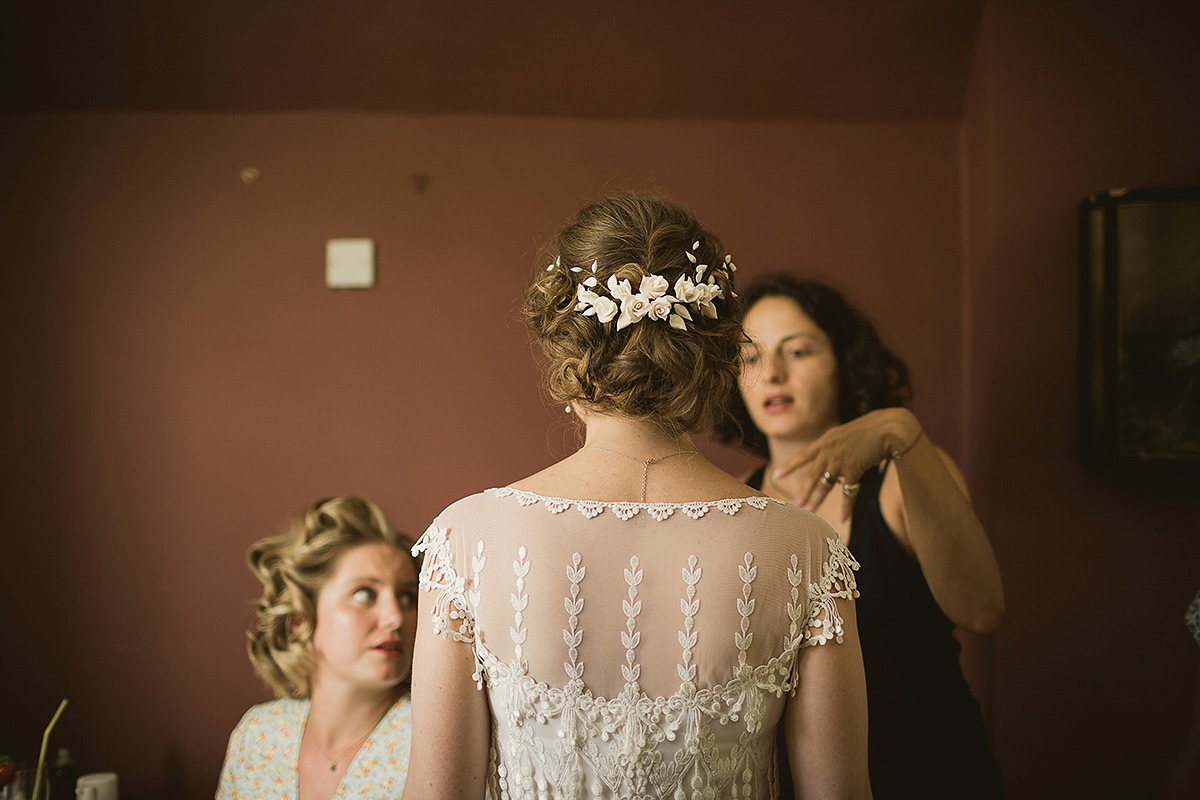 "I wore Chanel Mademoiselle on the day, it's the perfume I wore all the time when Daniel and myself started dating. He always comments when I wear that particular scent so I knew it needed to be that perfume. I wore my Alex Monroe swallow necklace that I wear every day; it's almost a lucky charm for me, so I couldn't have walked down the aisle without it."
"My maid of honour Vicki also presented me with a cross of hers to borrow on the day, which I attached to my bouquet."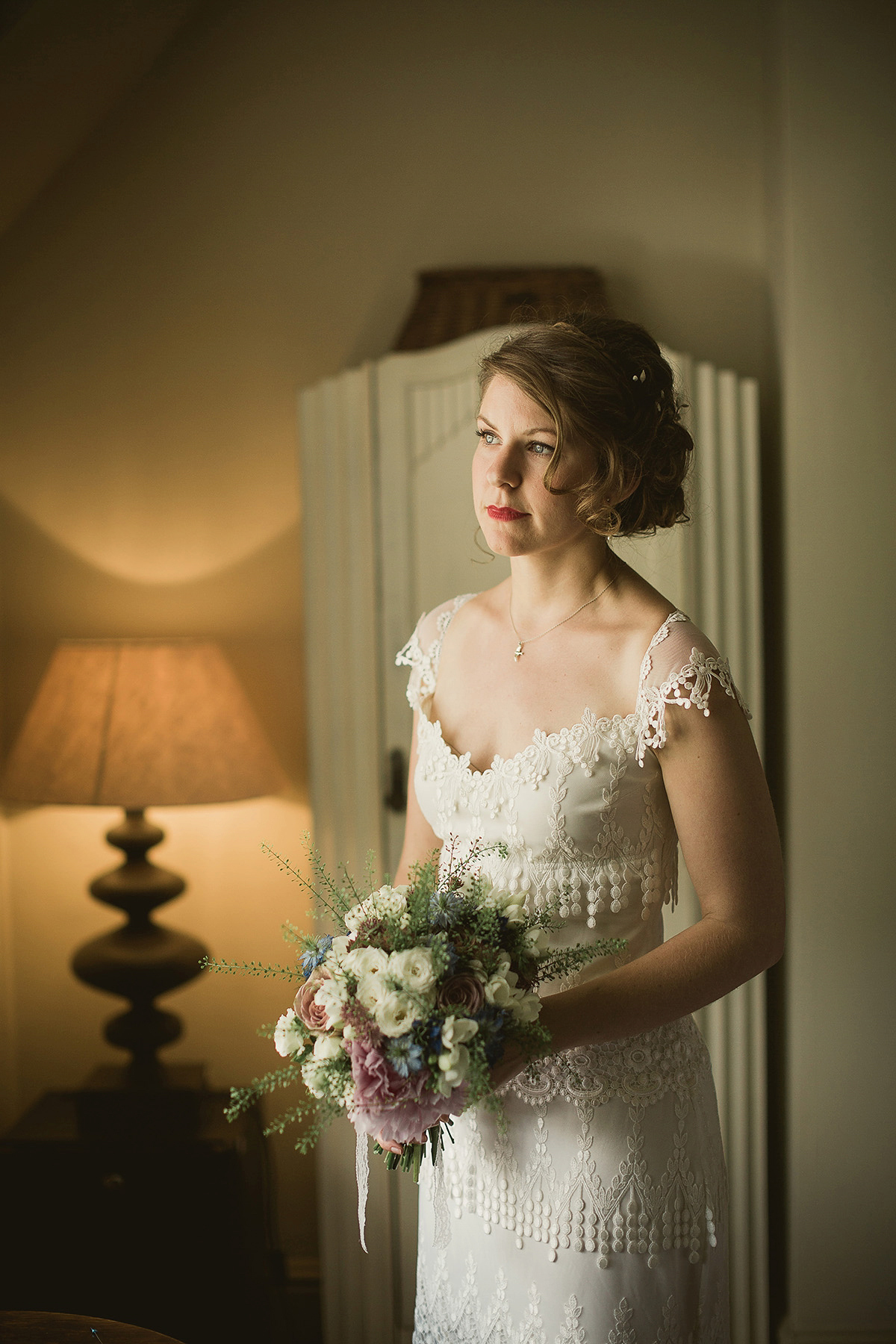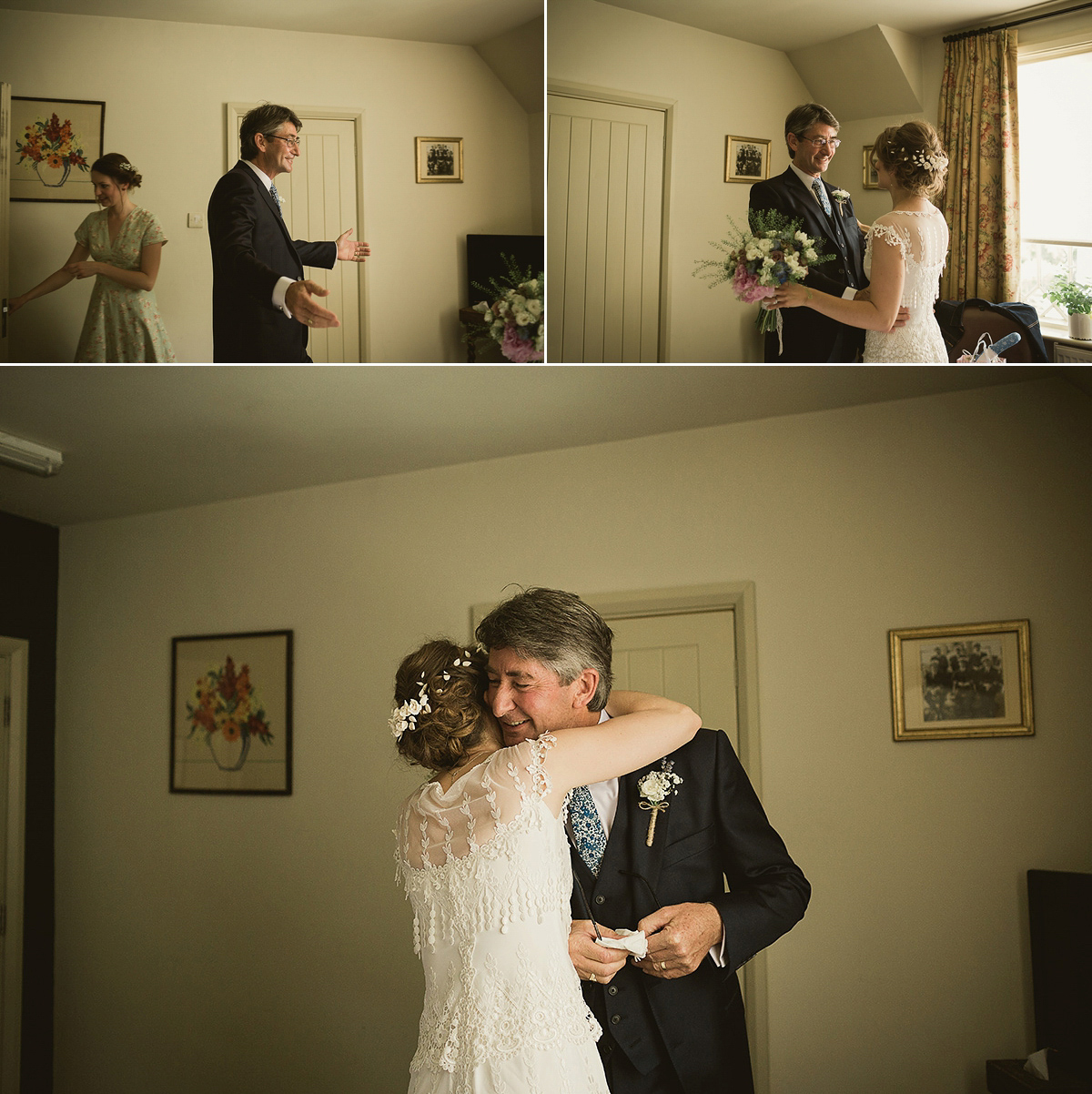 "Daniel and I originally met at Salisbury College as photography students in 2001, but didn't become an item until years later when we had moved to London in 2008. We got engaged in July 2014 in our beloved, adopted London home of Putney."
"We planned for a two-year engagement as it gave us time to save and also time to create all the wonderful ideas we had. The lengthy engagement also meant we had a good amount of choice when it came to our suppliers."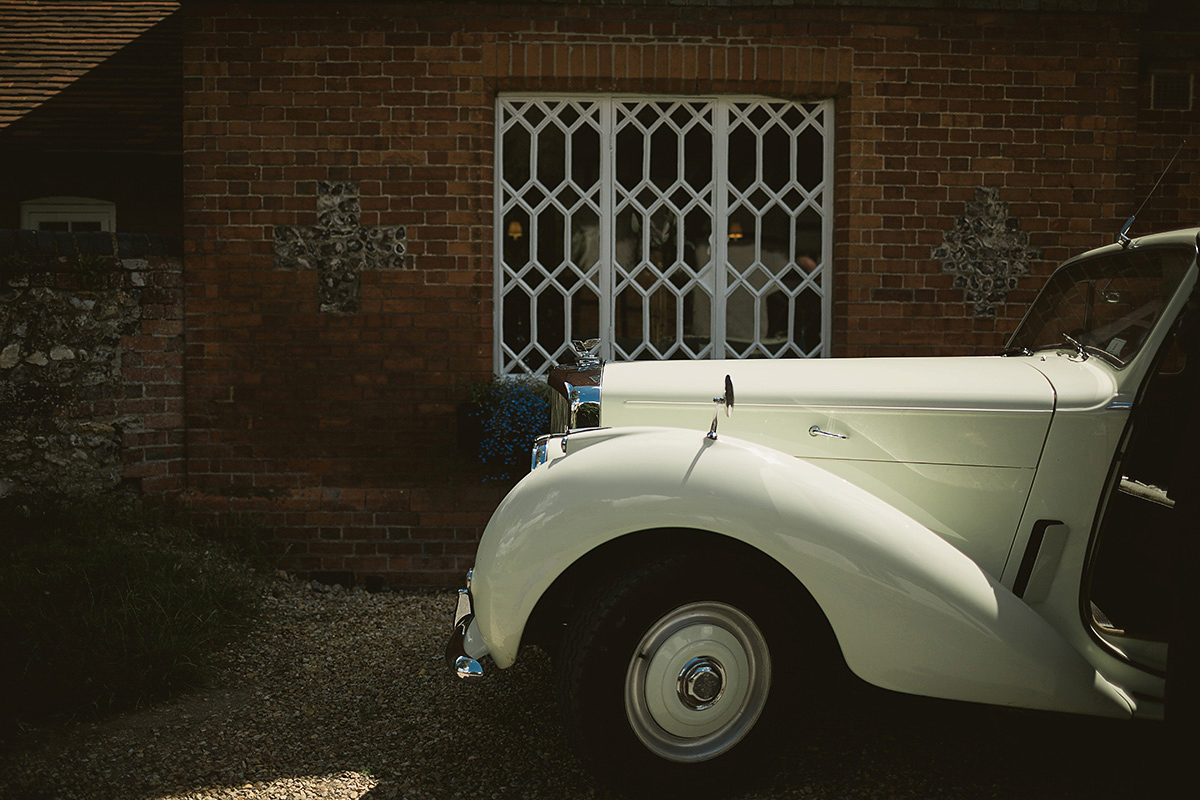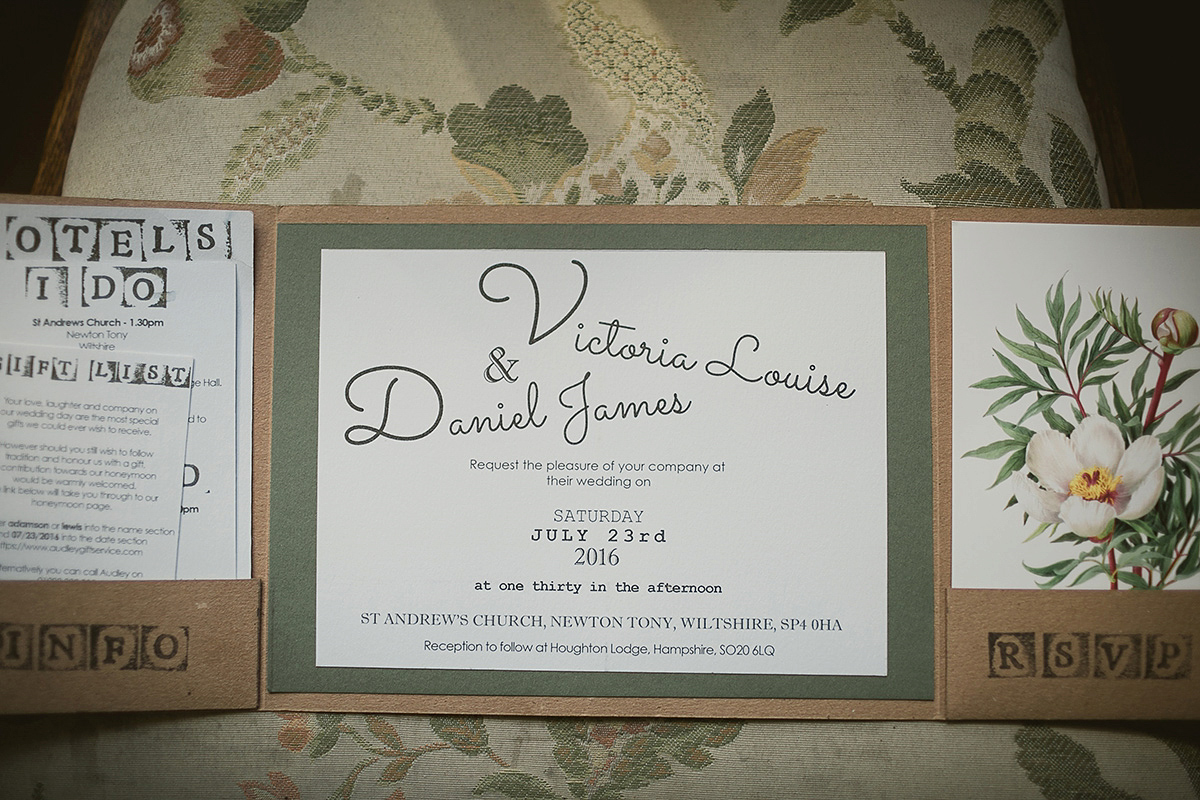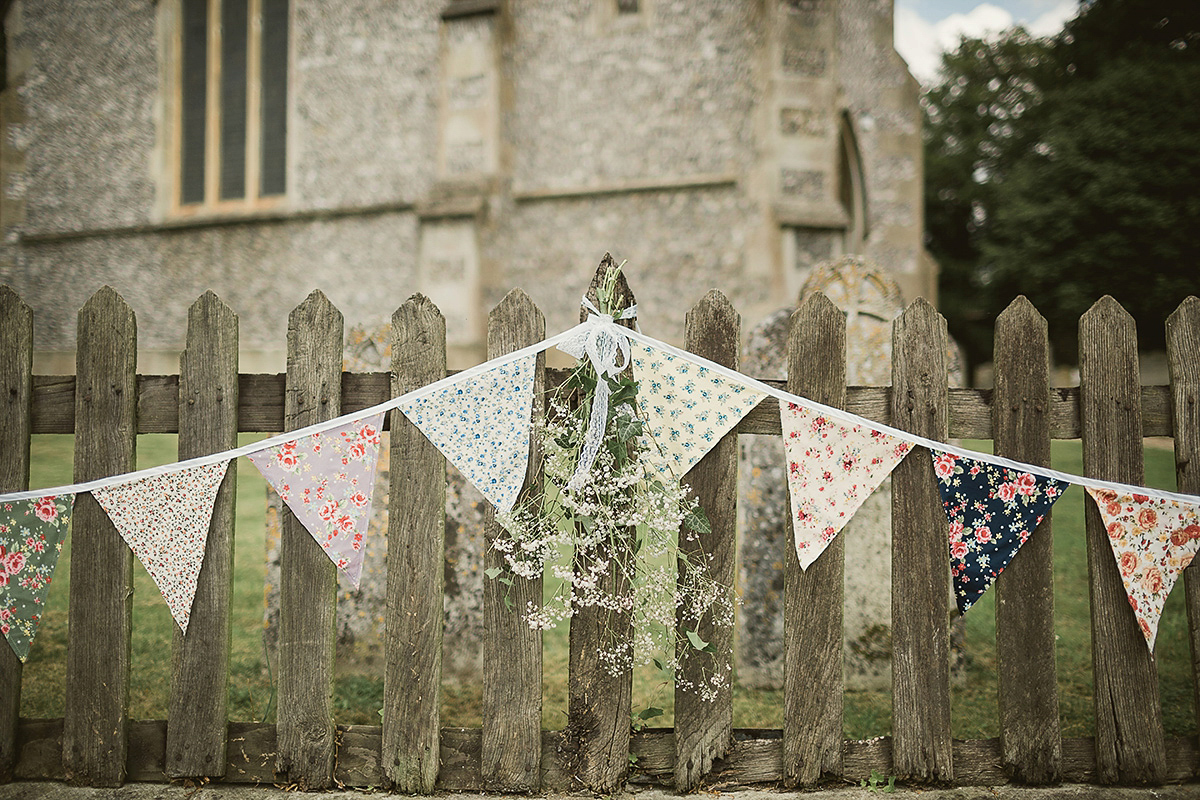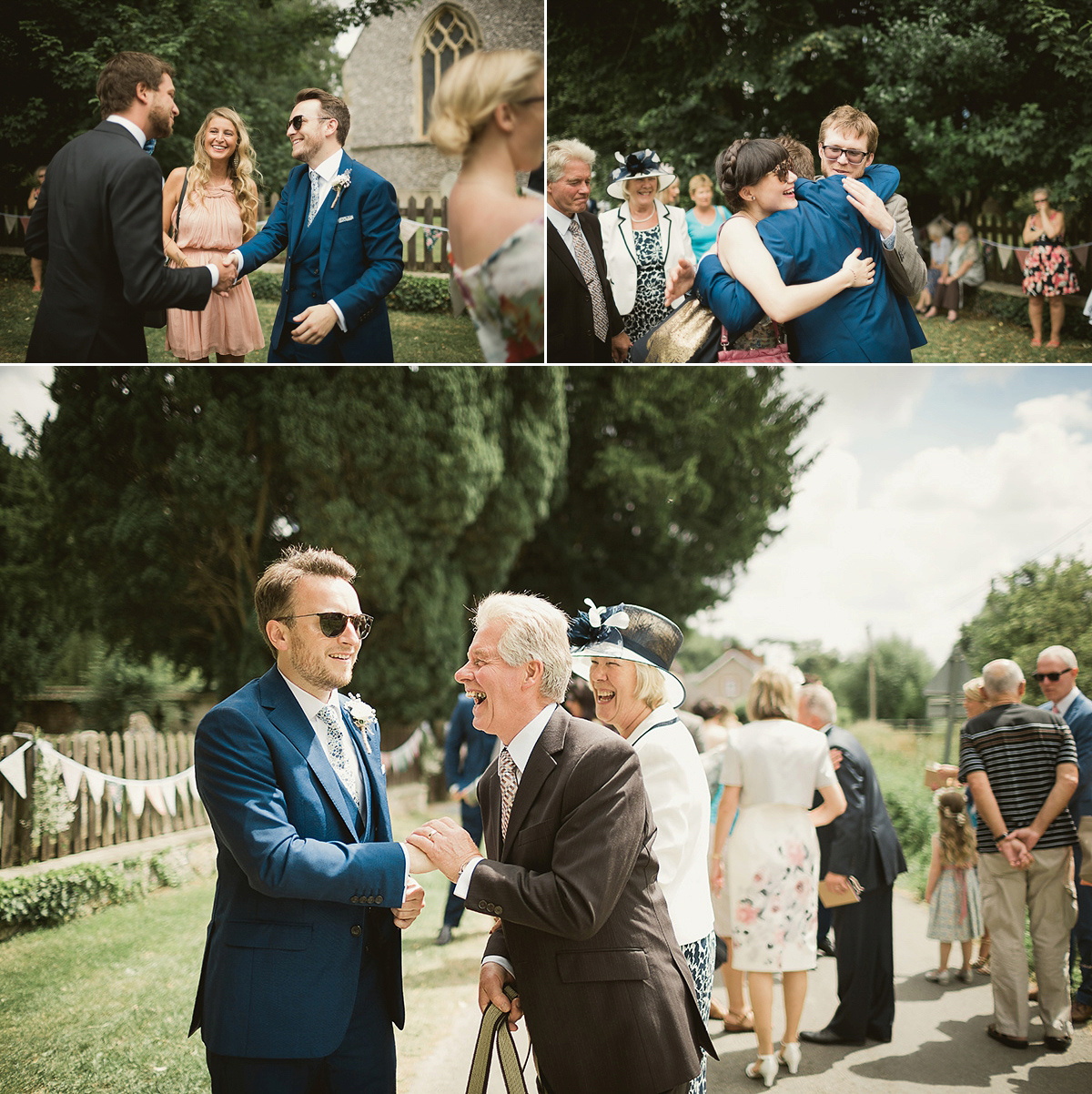 Vicki's talented friend, Eve Herbert of Made by Eve, created the gorgeous floral tea dresses for the bridesmaids as a wedding present – exactly the 30s/40s vintage nod Vicki was after. Eve crafted these gorgeous frocks from a mixture of vintage fabrics and modern ditsy prints found online.
Combined with the pop of colour from their kitsch heart clutches and bow-detailed shoes from ASOS, and the sweet addition of a necklace gifted to them by the bride, the pastel tones of the best girls' dresses look stunning in the summer sunshine, especially in the dreamy wildflower meadow at the couples' reception venue, Houghton Lodge.
"My flower girl Ania's dress was made from vintage liberty print fabric by Gabrielle Murray of Tinker & Belle, Gabby was wonderful throughout the process and Ania's dress was perfect and tied in with the bridesmaids beautifully. The girls all wore little sprigs of gypsophila in their hair, while Ania wore an Accessorize flower crown with added butterflies."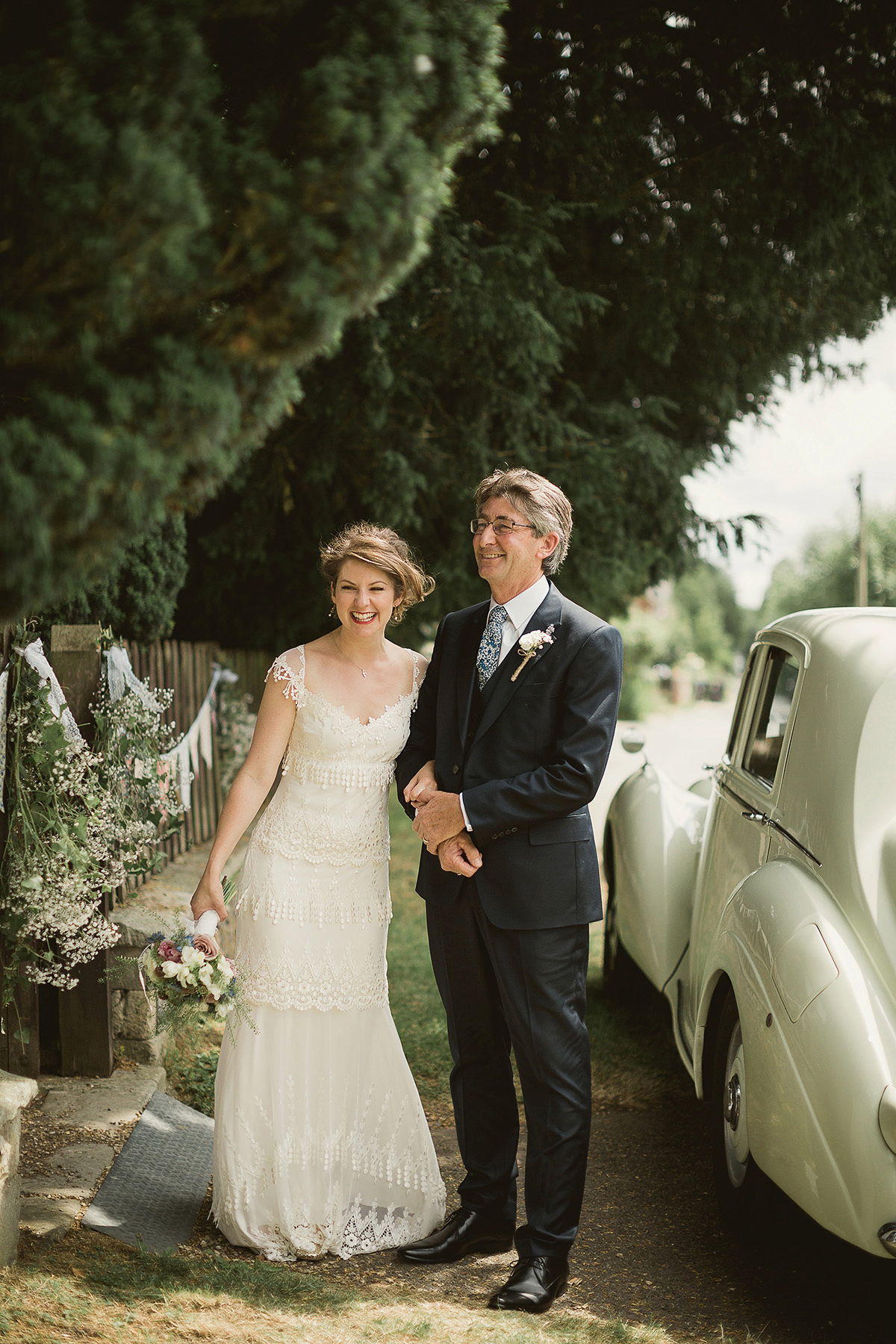 "My step mum Alison and her team of local friends created all of our wonderful floral displays. They did an incredible job of creating a vintage feel in the church in white and green with lots of ivy. Alison also created my gorgeous bouquet, the bridesmaids' bouquets and all the boys' button holes."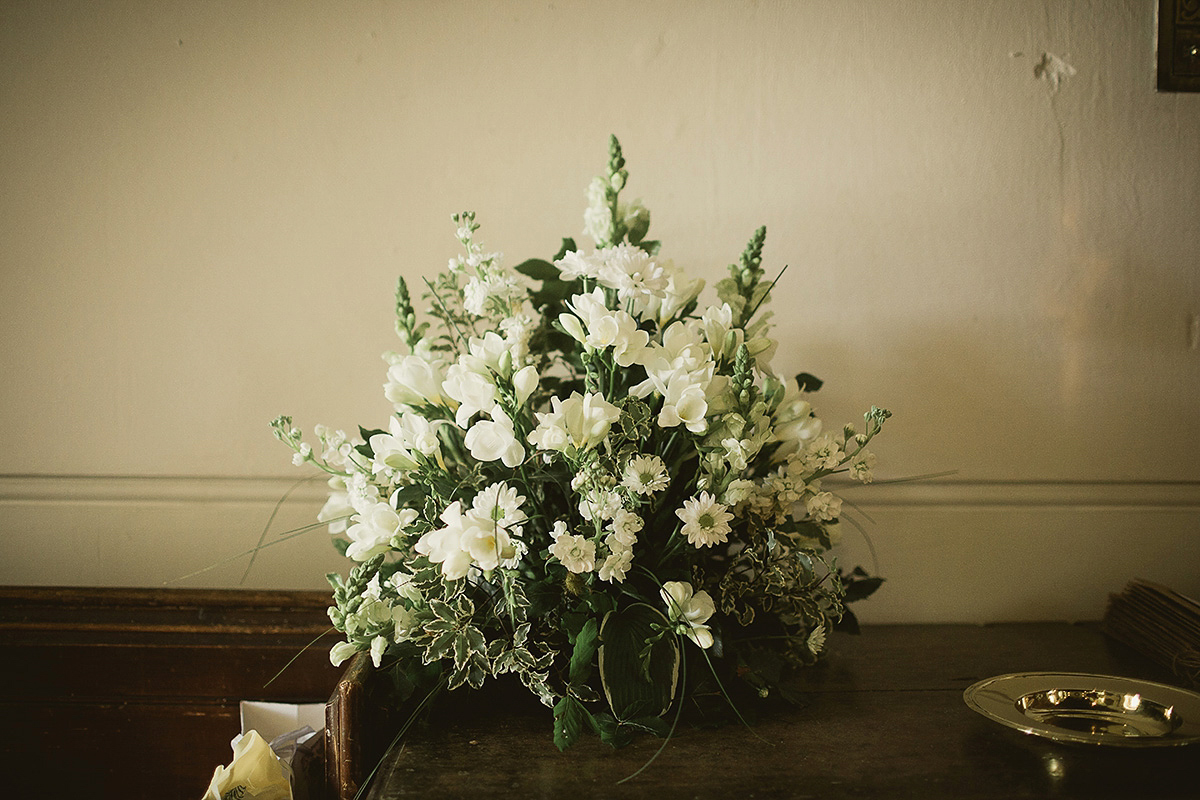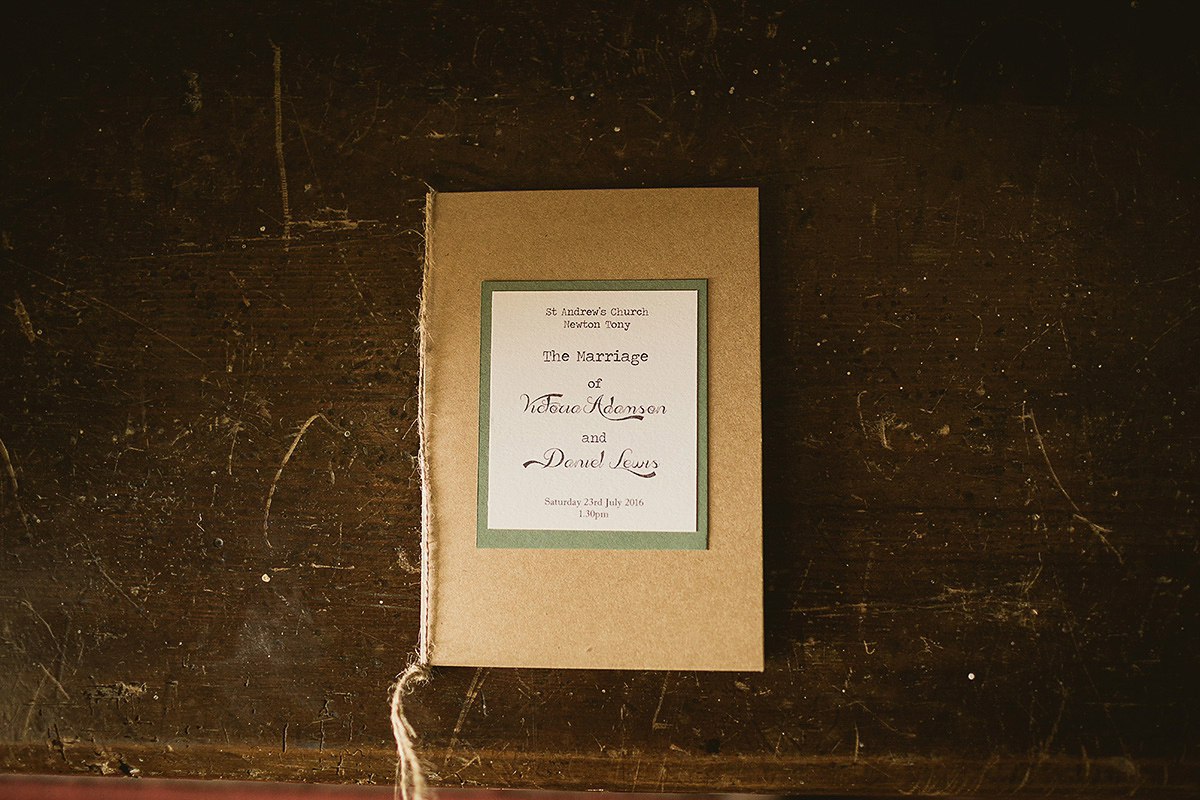 "My dad Trevor walked me down the aisle to 'The Entrance of the Queen of Sheba' played by my his friend, Ian, on the organ. We opted for traditional vows and had one traditional reading ' A love poem between two lovers.' Our second reading was from Jane Eyre – we just loved the words, it speaks for itself, it is passionate and so loving:"
"I have for the first time found what I can truly love–I have found you. You are my sympathy–my better self–my good angel–I am bound to you with a strong attachment. I think you good, gifted, lovely: a fervent, a solemn passion is conceived in my heart; it leans to you, draws you to my centre and spring of life, wrap my existence about you–and, kindling in pure, powerful flame, fuses you and me in one."
The couple bought wedding bands from Pravins in Southampton during the Christmas sales; two rings that just seemed perfect for them. Daniel looks so smart in his Brooks Brothers suit and double breasted waistcoat, paired with Barker shoes.
He added a pair of cufflinks gifted to him by his bride and a vintage 1930s watch, matching the era of Vicki's engagement ring.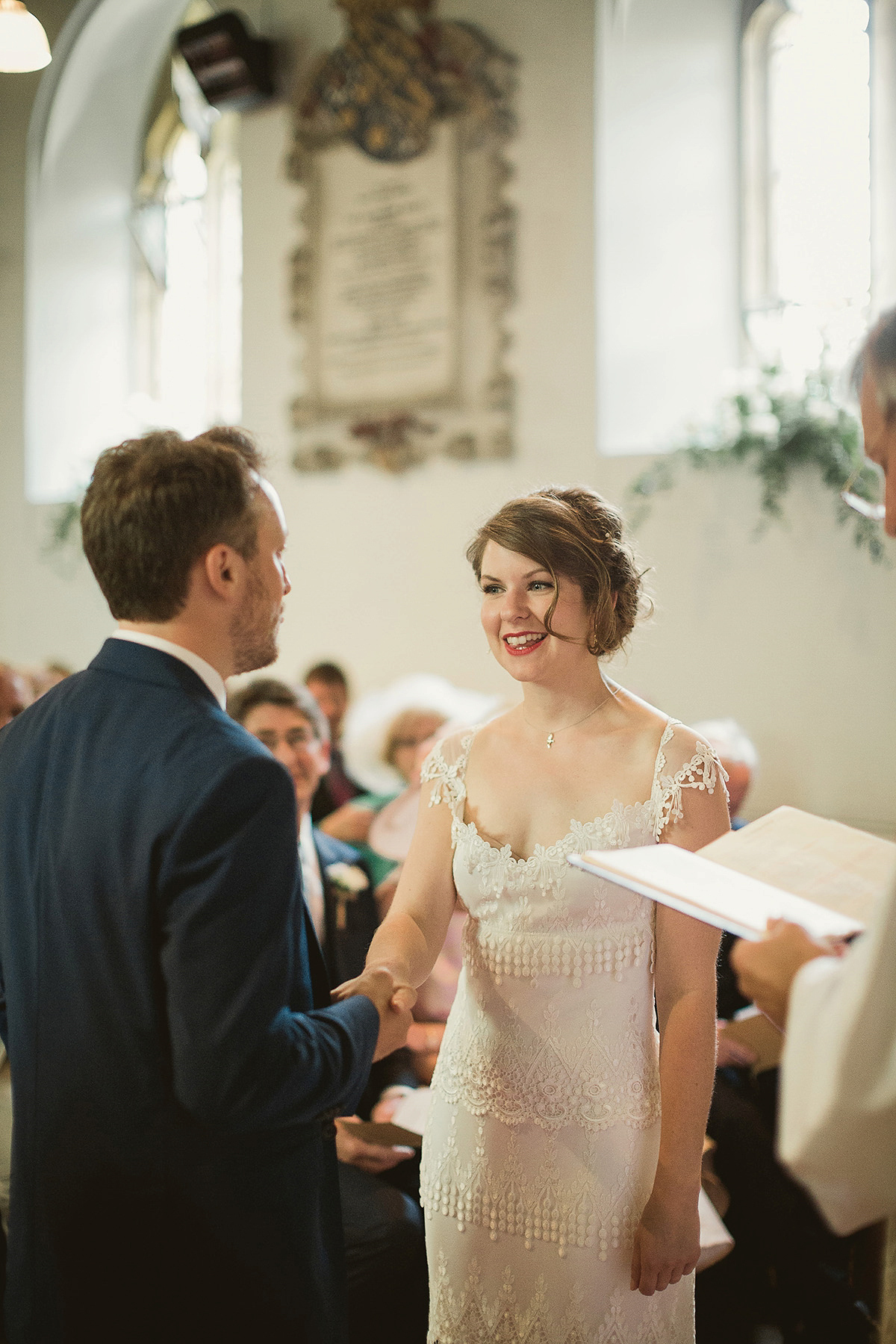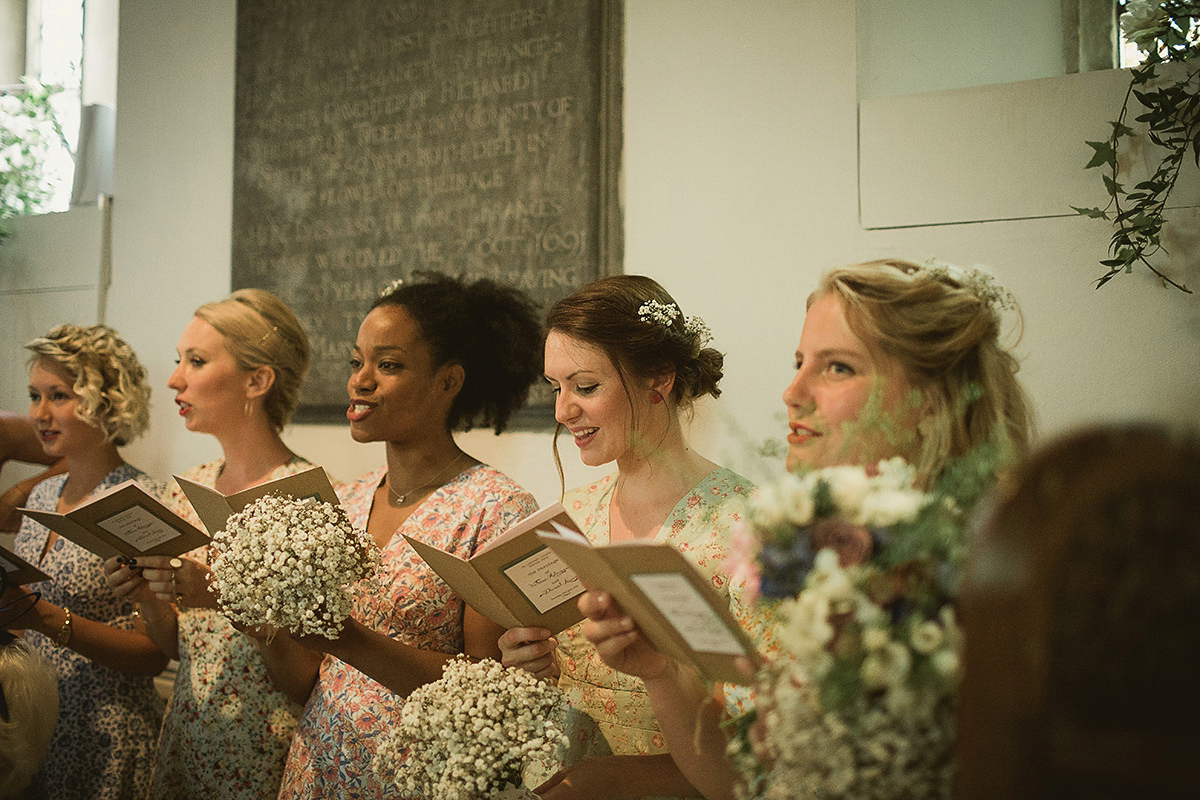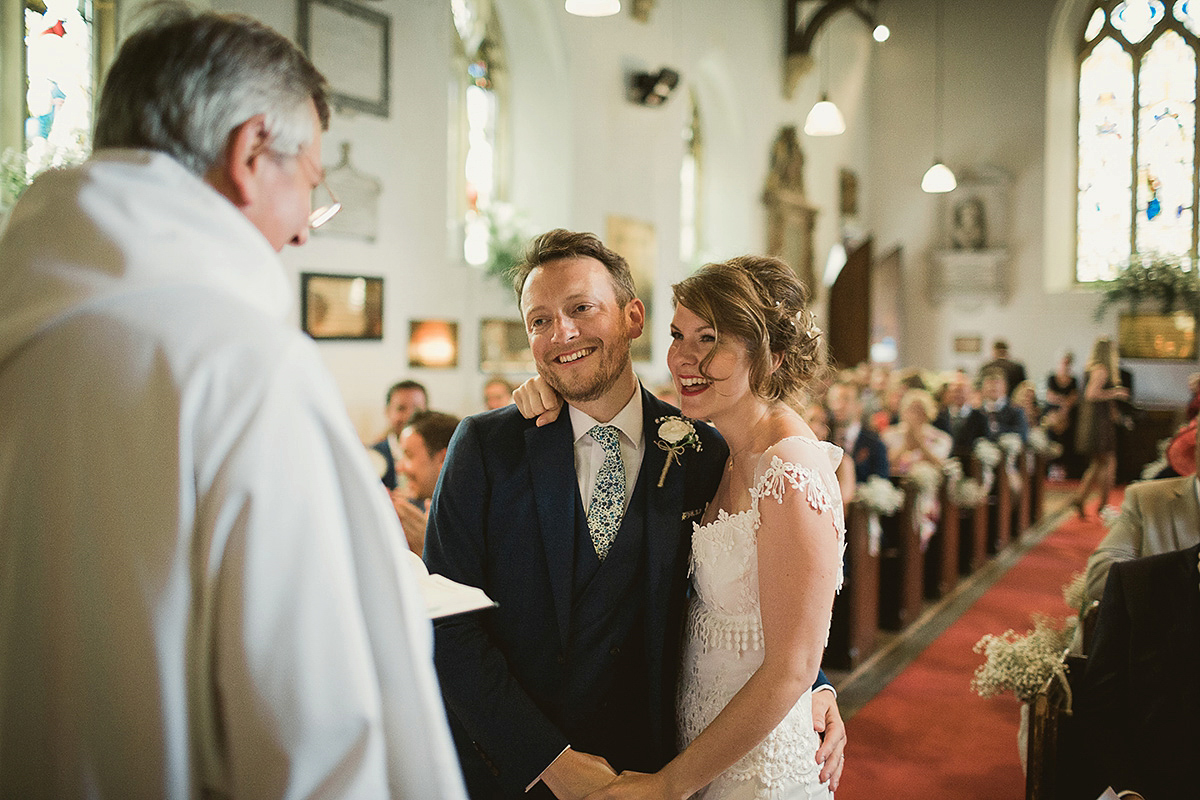 "We always knew we wanted Tom Ravenshear as our wedding photographer; we love the way he captures the soul of the day and felt comfortable with him taking or photos. Both being photographers ourselves we knew we wanted somebody we got on with and whose style fitted with the feel and flow of our day."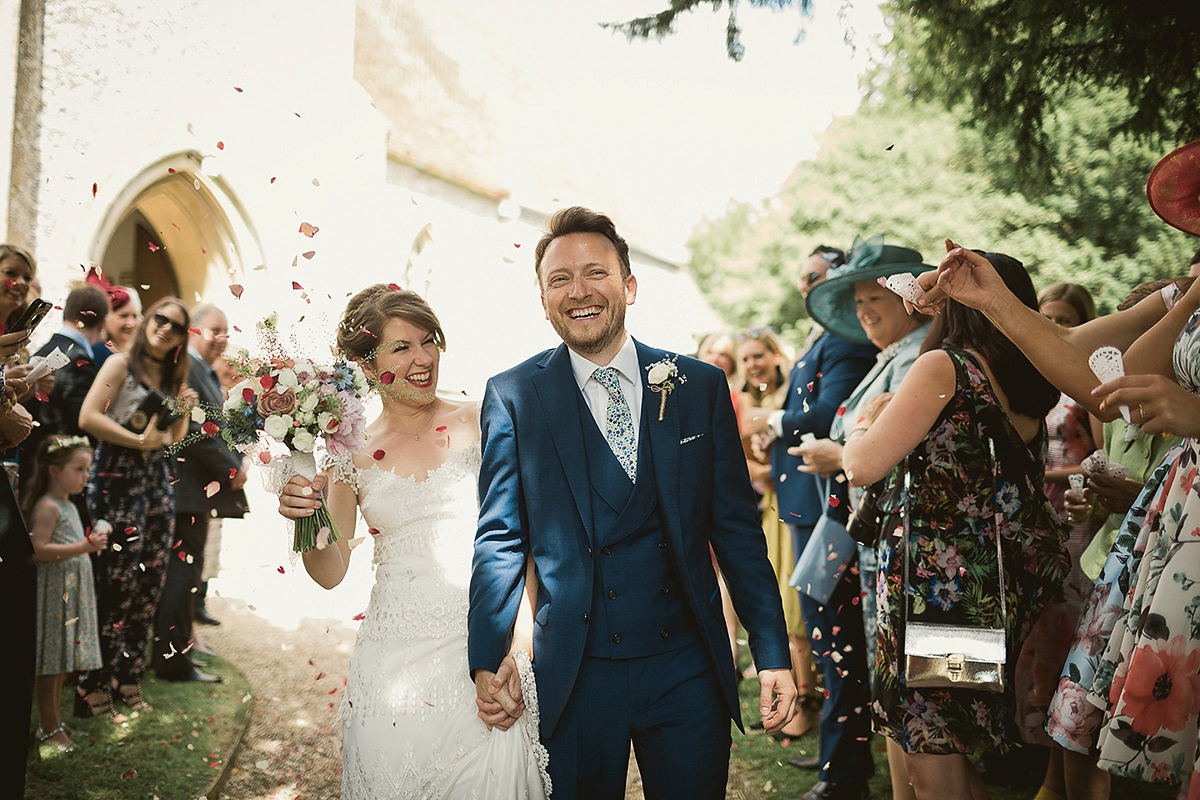 "We didn't have the budget for a videographer so decided to try out our old Super 8 film camera. We took a gamble and brought a couple of rolls of film to run through it. Our lovely friend, and fellow photographer, Helen, kindly shot the footage for us and I can happily say the results were successful. We have a wonderful four-minute video that truly captures our day beautifully."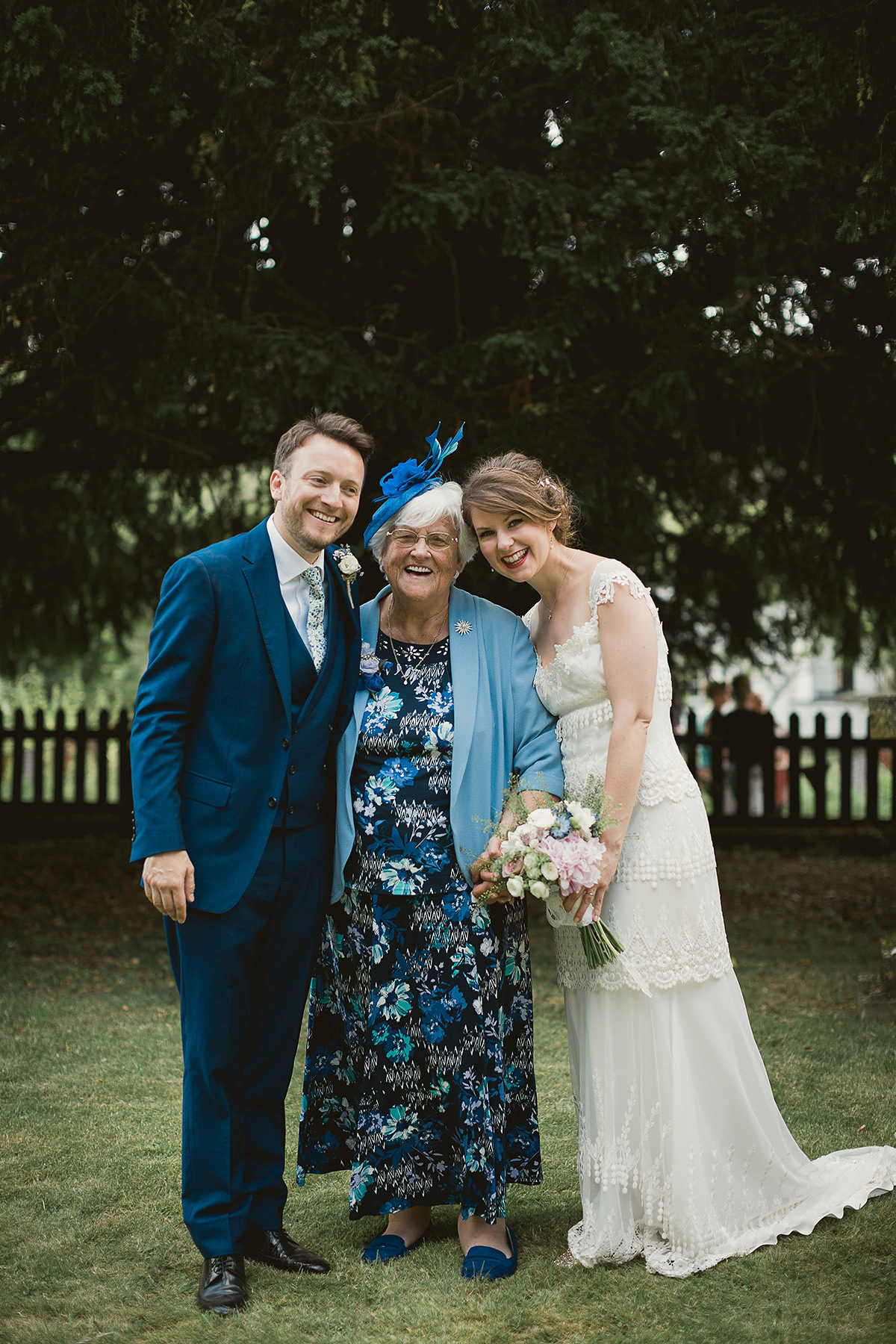 The big day transportation was a restoration project taken on by Vicki's stepdad, John. He bought the Morris Minor with the day of their wedding in mind as his completion date, so he could whisk them away from St Andrews Church as newlyweds. Vicki was driven to church in a vintage Bentley, while her Uncle Brian escorted the bridesmaids and the bride's mum in his restored Daimler.
"Houghton Lodge is in a beautiful location on the River Test and perfectly suited our vision for the day. It also happens to be close to where Daniel grew up. We wanted a marquee and beautiful grounds, and I knew I wanted lots of flowers on the day, and Houghton did not fail us, the walled garden was absolutely stunning. We even got to take photos in the glorious wild flower meadow."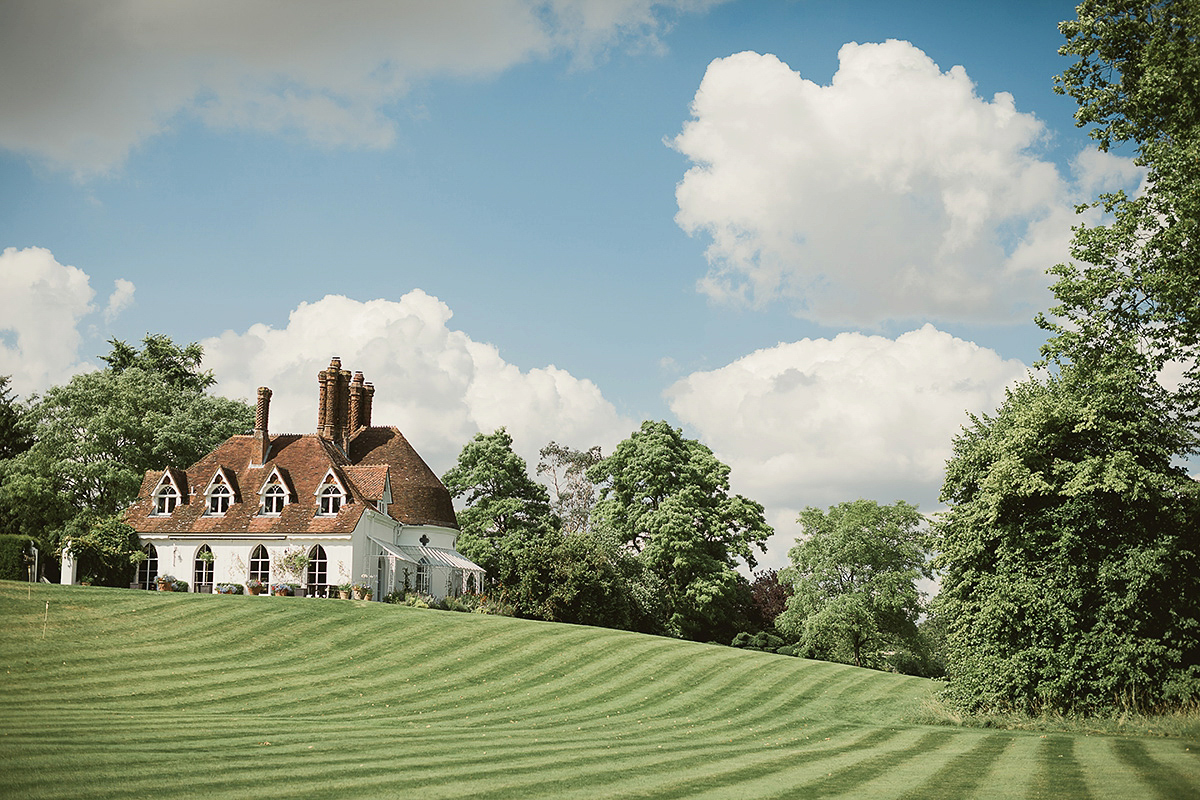 "We were able to create two receptions, keeping the marquee part of our day tucked away and a big surprise for everyone after the welcome drinks in the walled garden. Walking everyone across the grounds to the marquee was one of my favourite parts of the day. Our contact, Sophie, was wonderful she did everything she could to accommodate all of our ideas."
Archers Marquees also supplied the rustic, wooden trestle tables and chairs, perfectly tying into the summer fete feel. This lovely supplier were a great help to Vicki and her talented group of family and friends when measuring up for bunting and a whole host of other lovingly crafted, handmade decorations.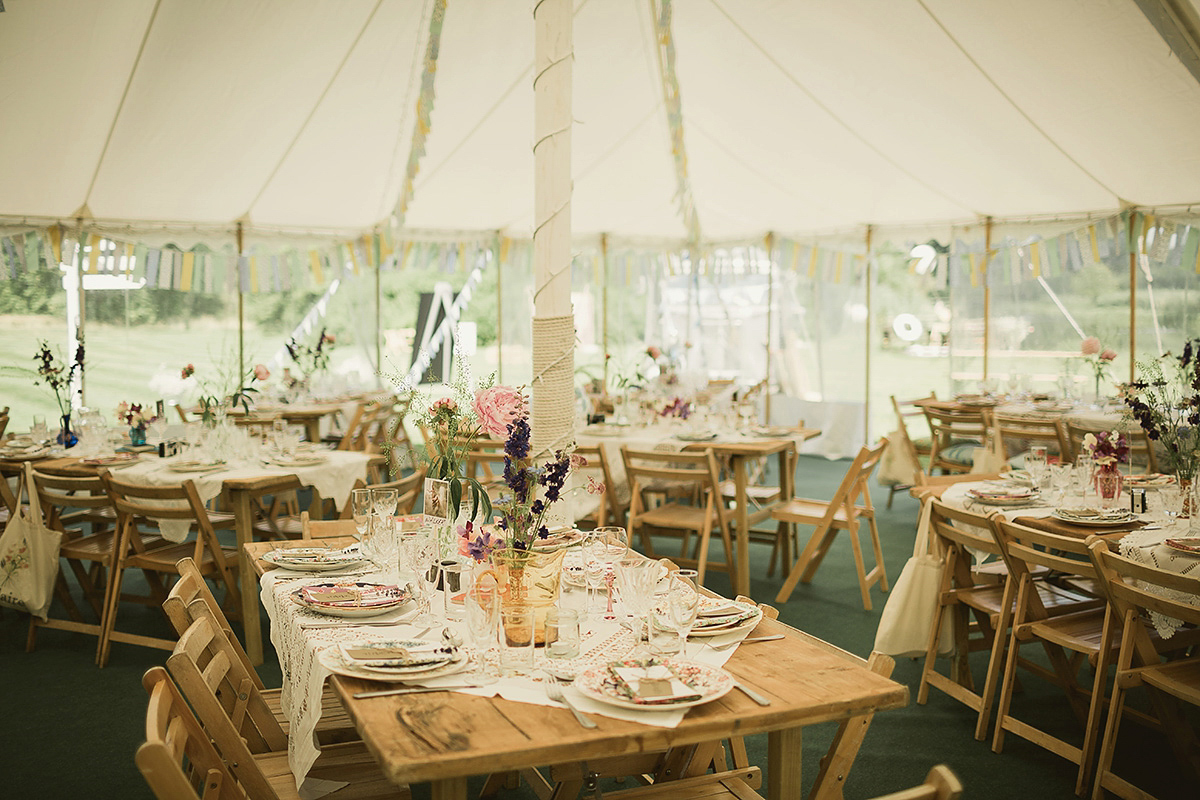 "We did everything ourselves with the extraordinary talented help of our friends, family and two amazing maids of honour; Vicki and Claire. From creating 160 metres of bunting with my Mum, to painstakingly creating all of our own stationery (with some arguments along the way), the involvement of our family was so important to us, and was part of what made the build up so much more enjoyable. Getting to spend so much time planning and crafting with all of them is something I will always remember."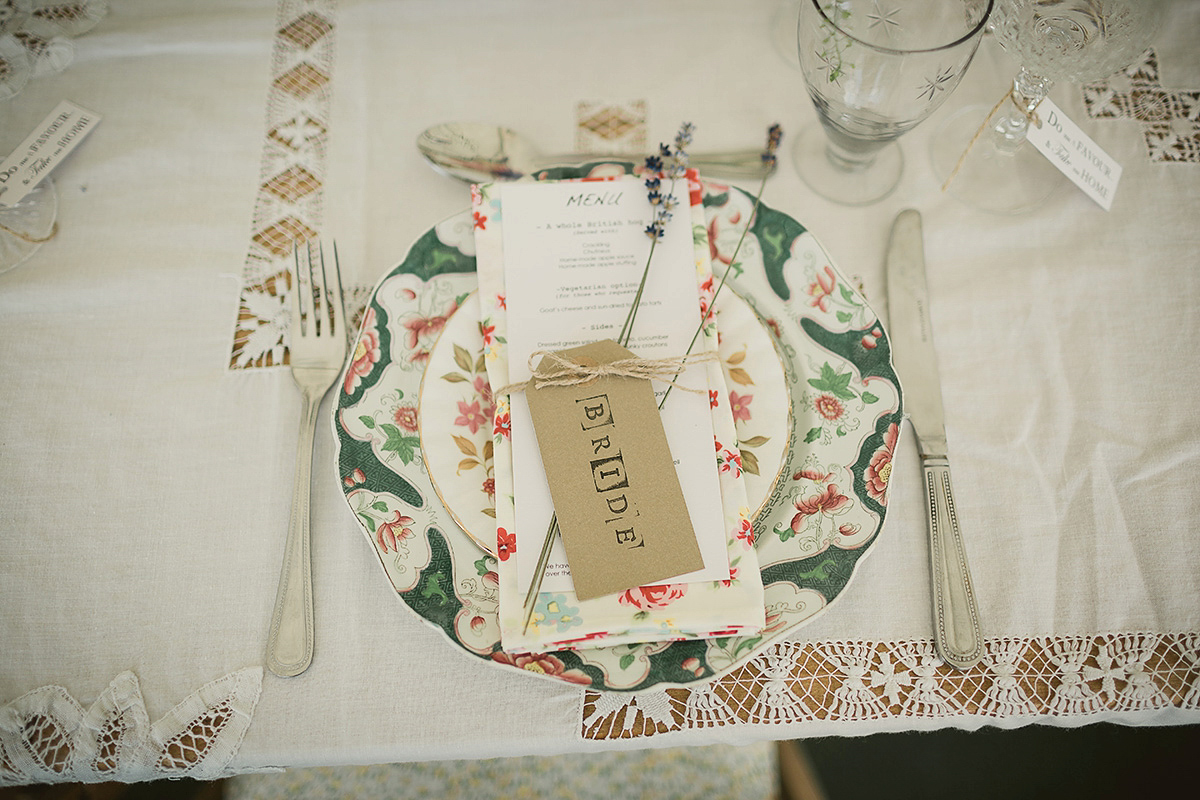 Bridesmaids Isobel and Michaela arranged all of the reception flowers in a collection of decanters, glass jars and ceramic jugs amassed by the newlyweds and their families. Combined with the fragrant sweetpeas, which conjure such fond memories of Vicki's grandad, and the wild flowers from the bride's father's garden, the effect is simply beautiful.
"We used Fat Hog & Big Pan Catering – Rob did a great job. We wanted relaxed food and big portions so we had delicious hog roast and salads with lashings of coleslaw. In the evening he made chilli con carne in a big pan in front of all the guests, which smelled and tasted wonderful."
"Roz at Three Gingers Box Bar supplied our drinks. We knew we wanted a van bar and found Roz locally; her Citroen was so perfect and Roz was a dream, decorating the van with bunting, lights and flowers to fit in with our aesthetic. We even had our very own bride and groom cocktails."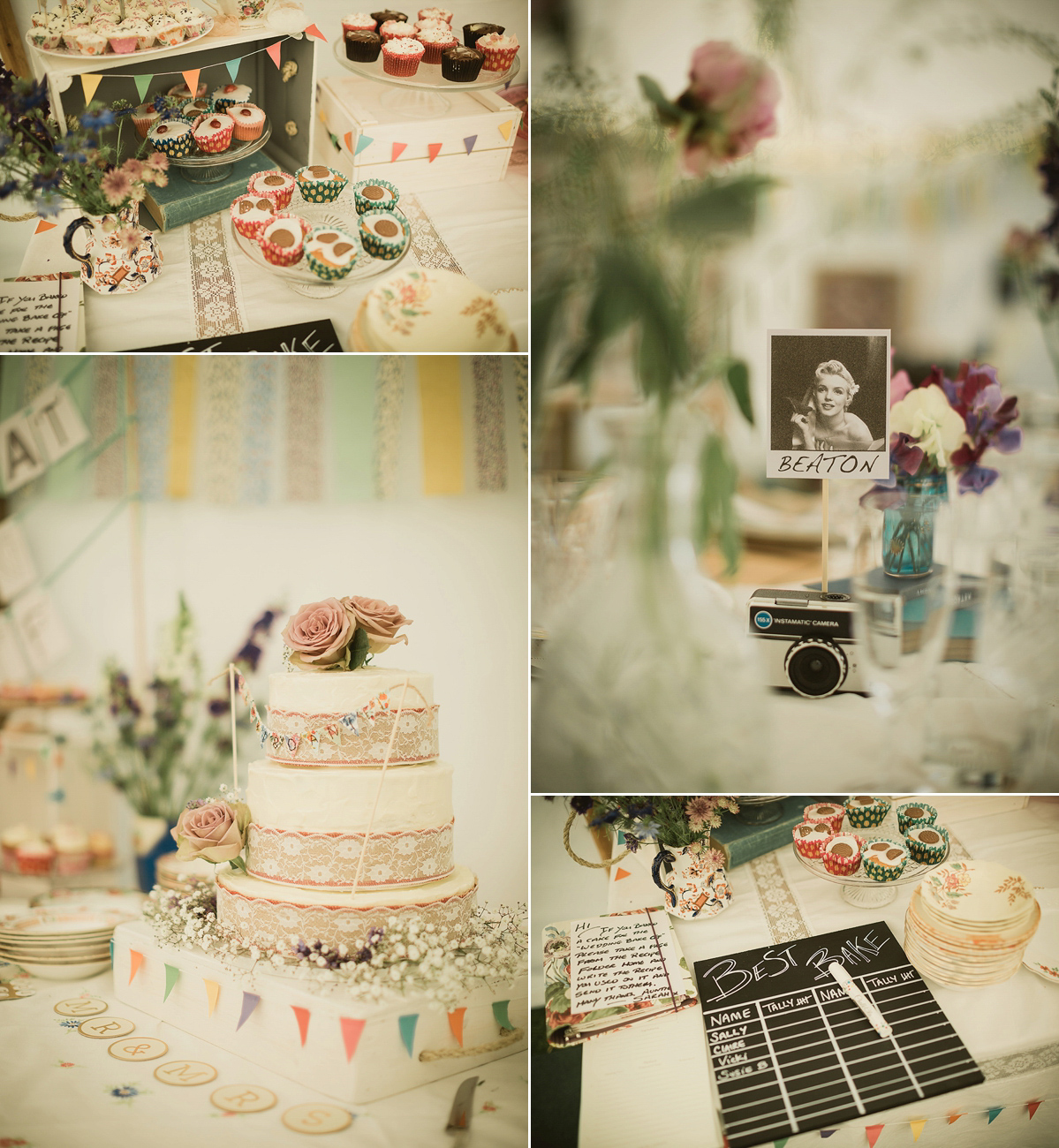 Vicki and Dan invited their guests to contribute to a rather scrumptious looking bake off table, which so many people got very on board with. Maid of honour Claire created the couple's wedding cake – a masterful concoction of Red Velvet, lemon and elderflower and chocolate and orange, all topped off with a rustic butter cream finish.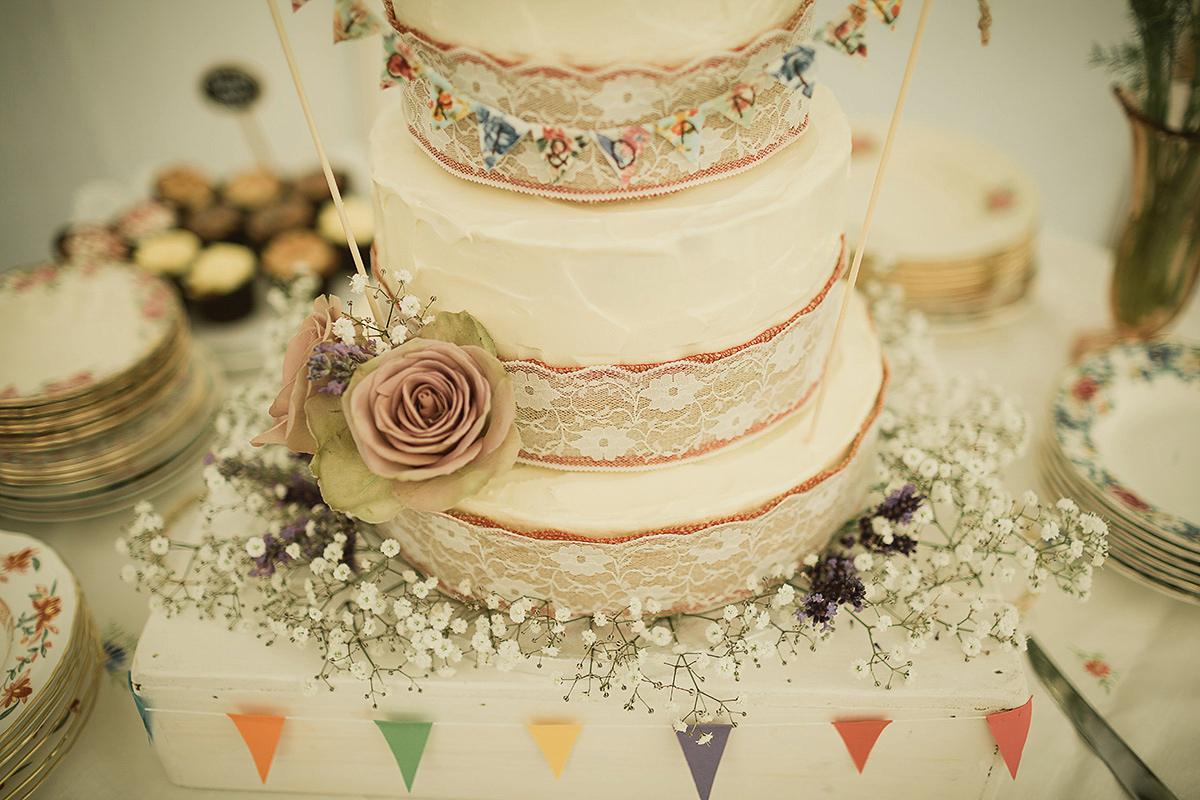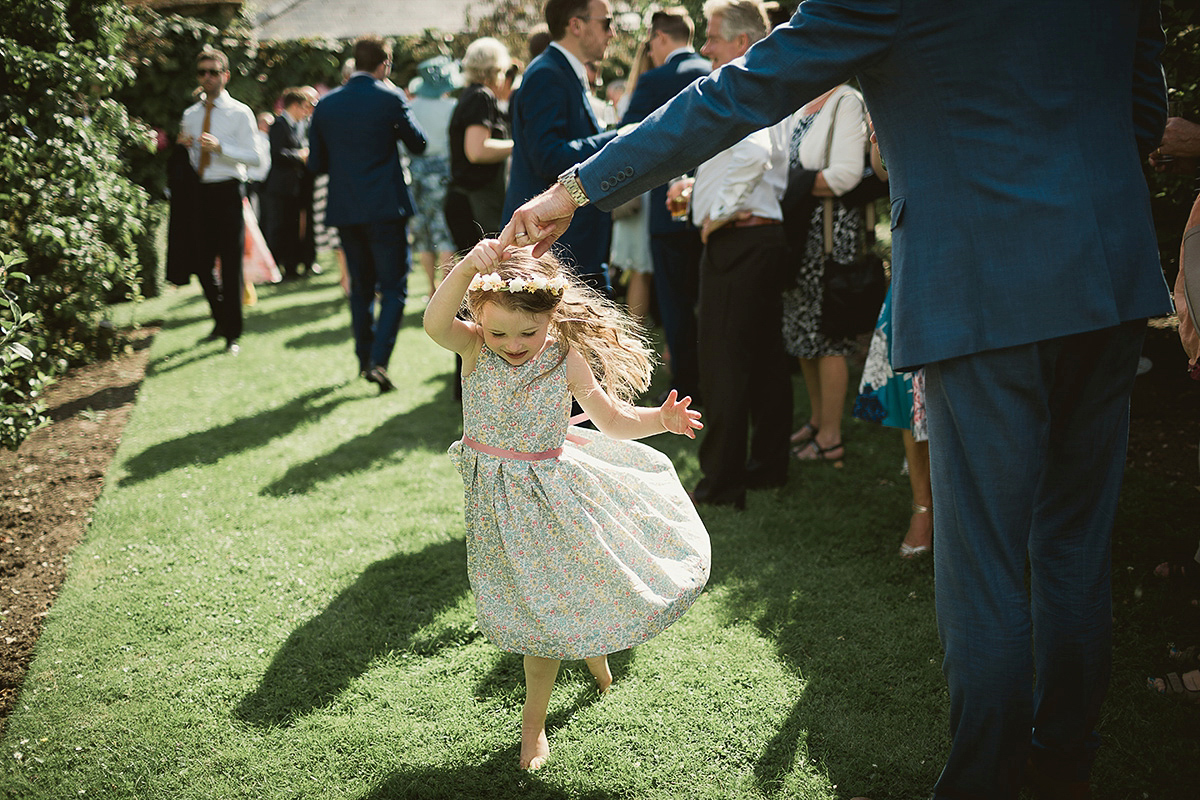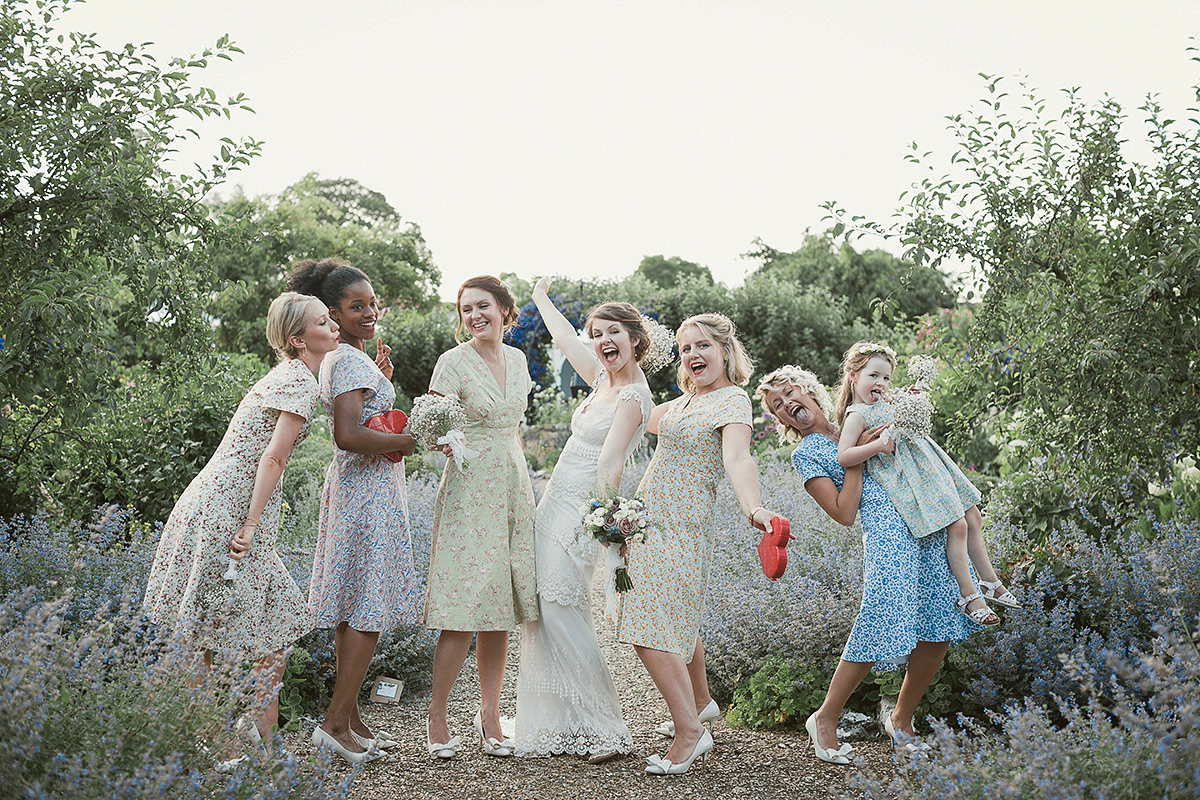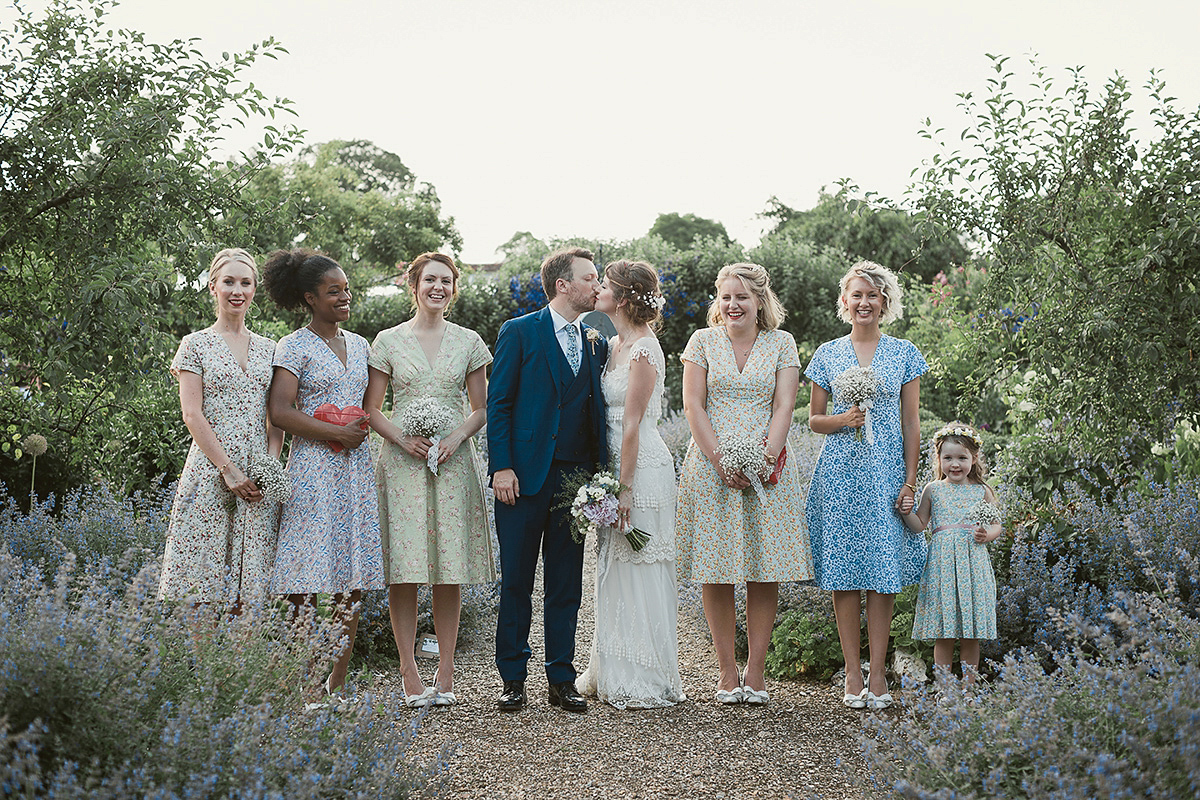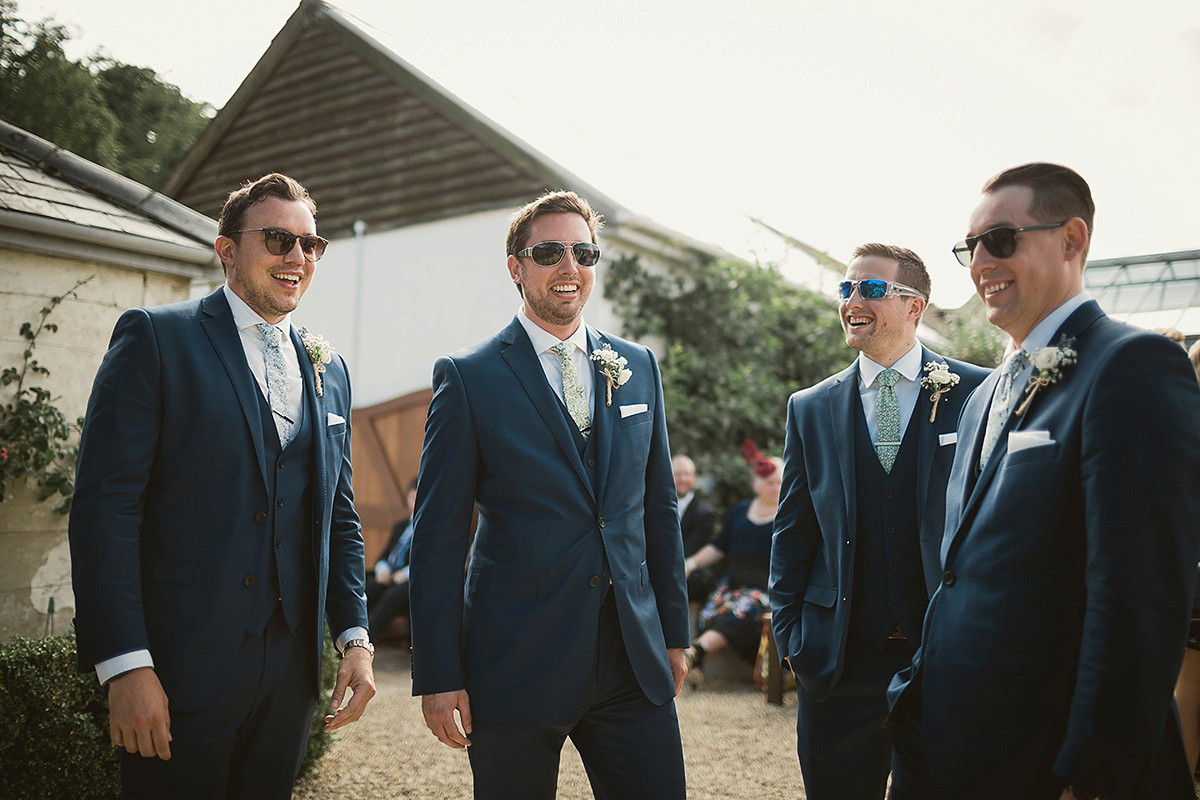 "My step dad created games for us; a coconut shy, 4-foot light up letters and our very own connect four and draughts board. My dad created a beautiful easel for our chalkboard table plan, crates for our bake off table, flip flops and blankets and a fabulous vintage floral backdrop for our photo booth.
He also, along with my step mum, collected all of our beautiful vintage plates for the dinner, glasses, (which we gave away as favours after collecting all 130 of them over the two years leading up to our wedding) and of course grew all of our amazing sweetpeas."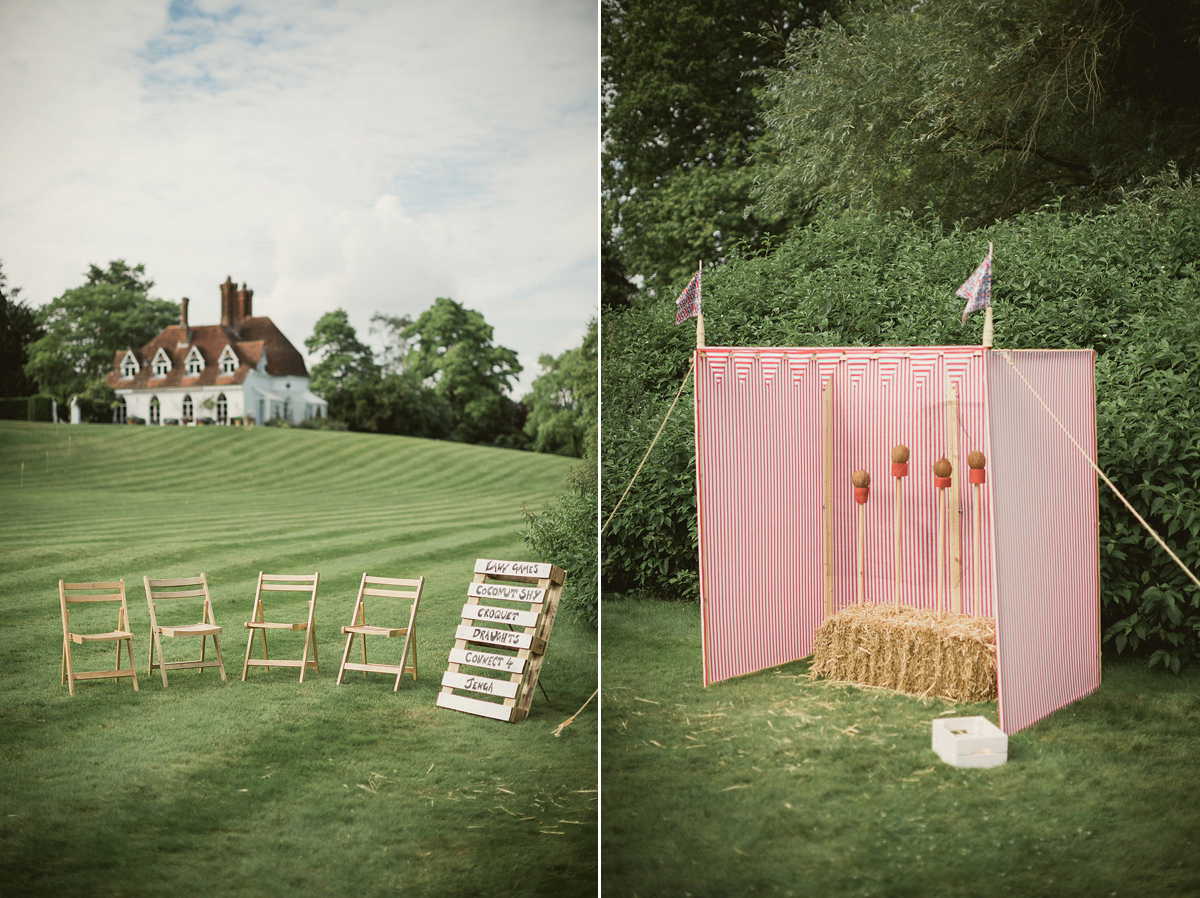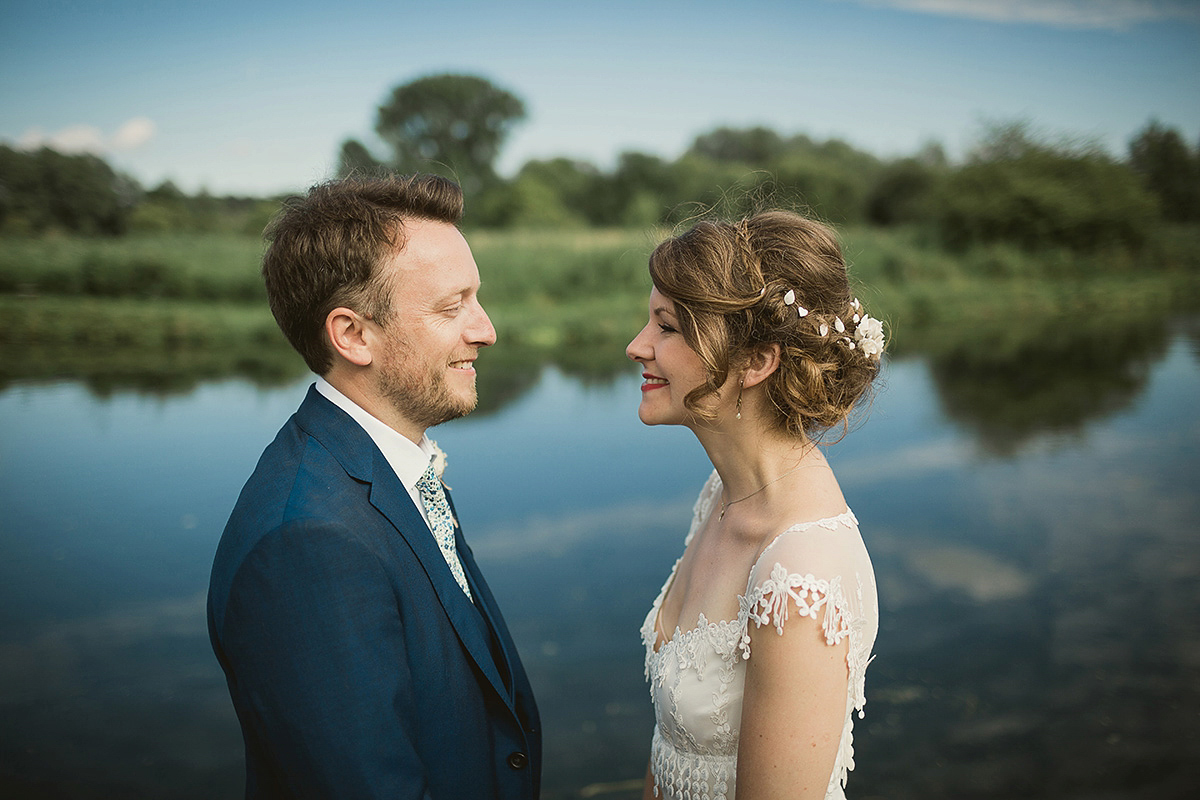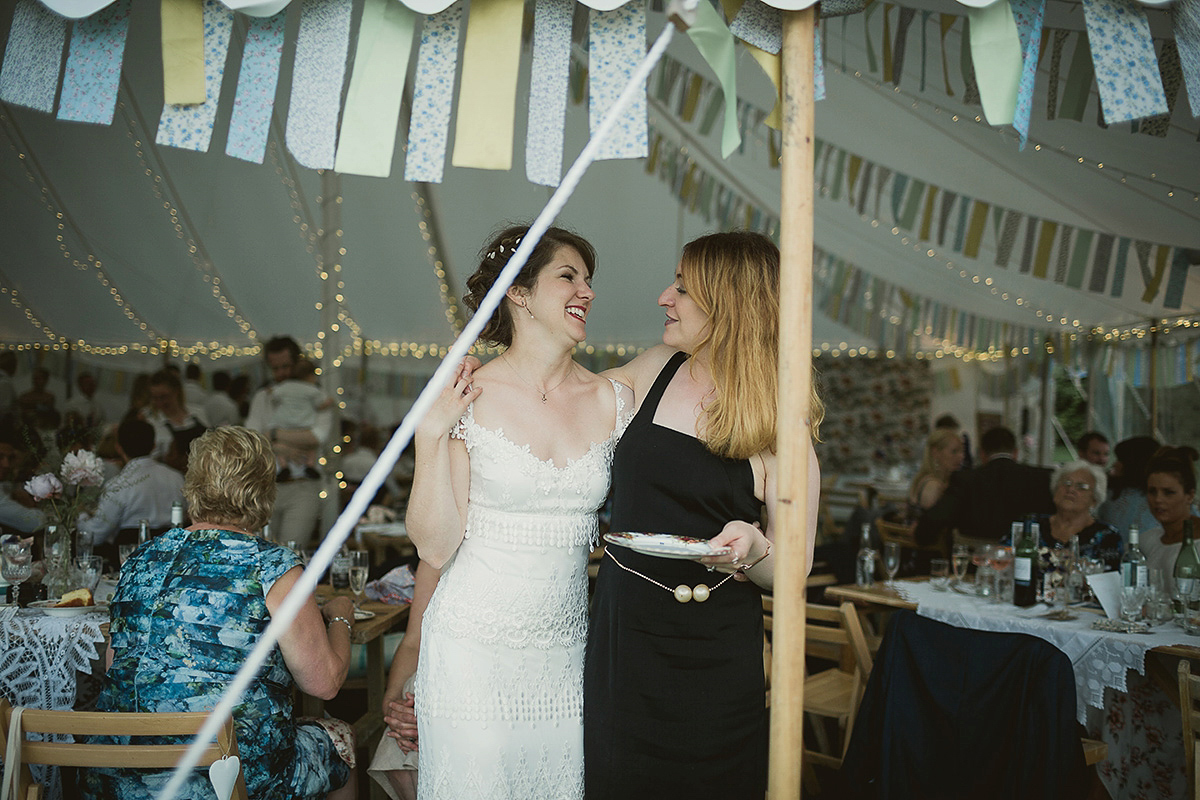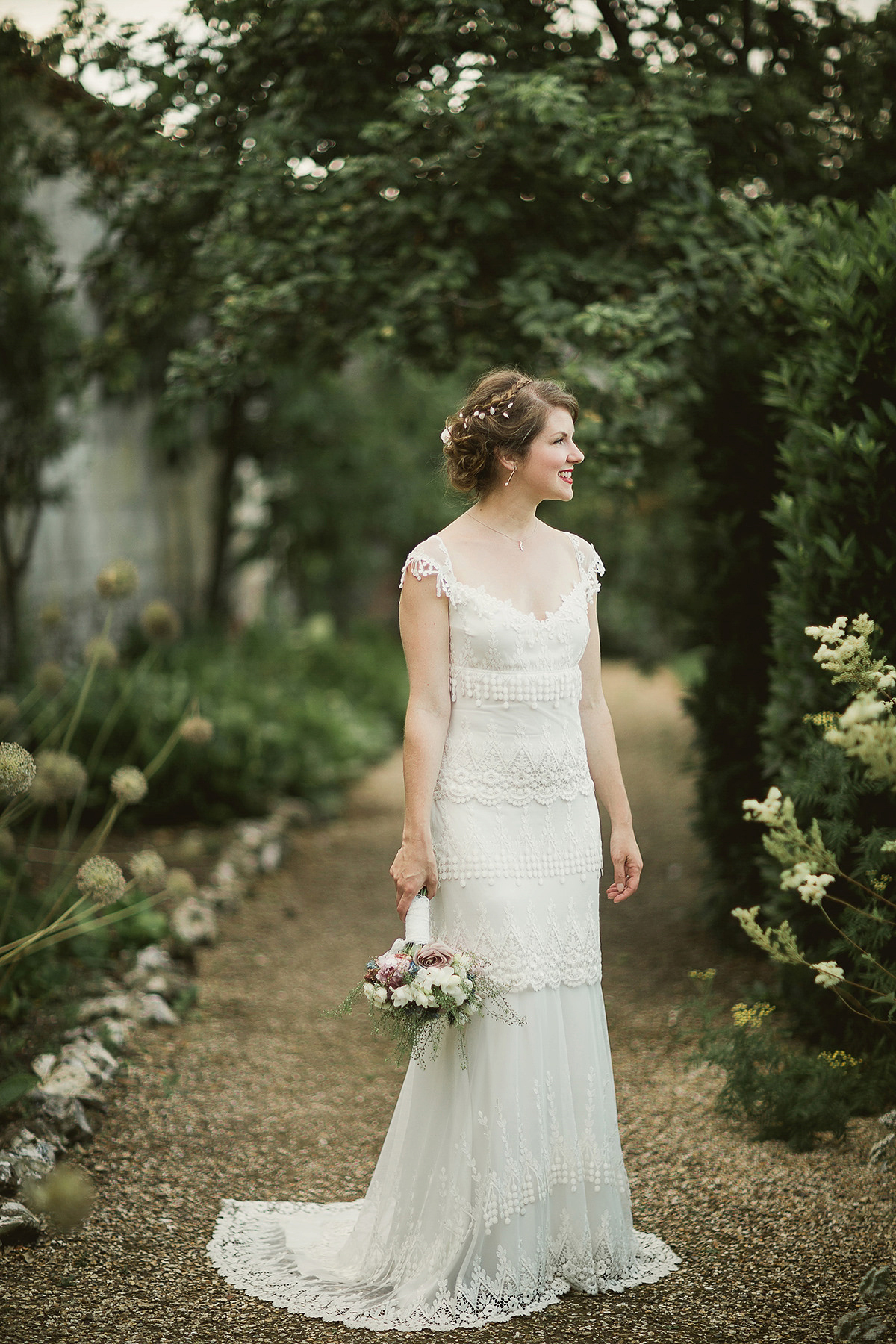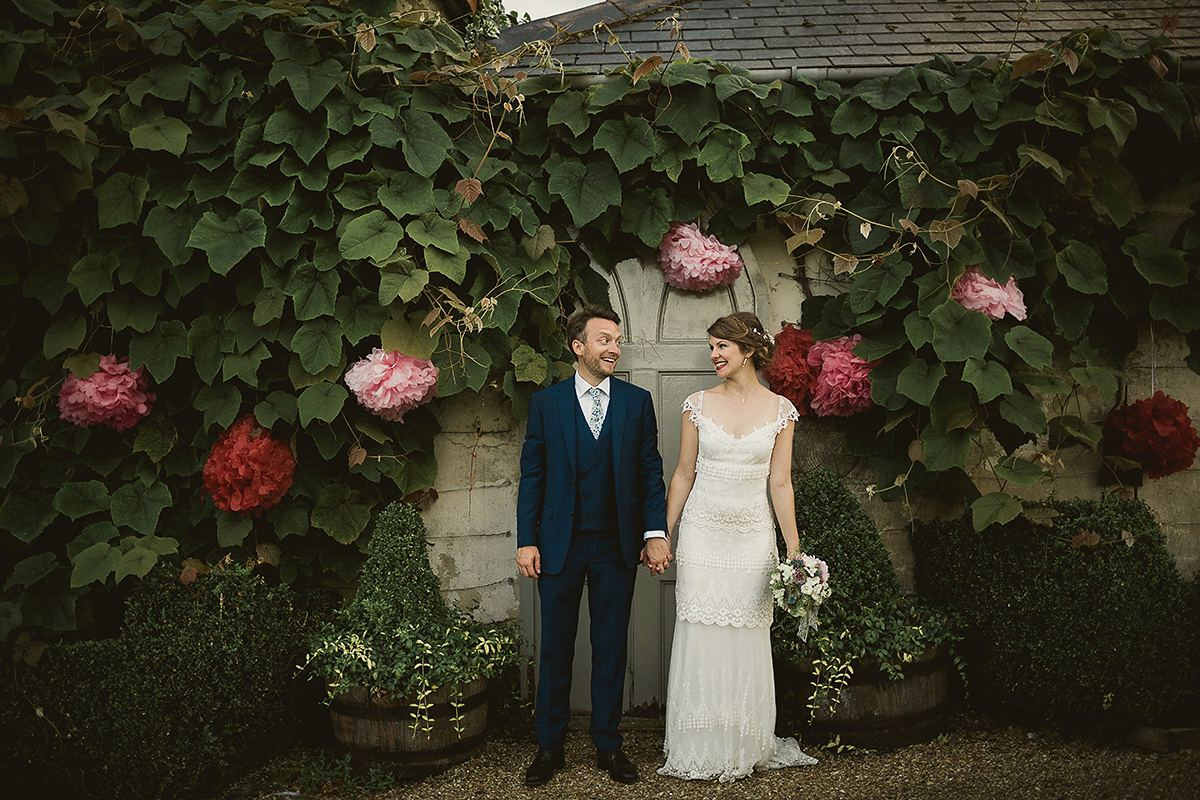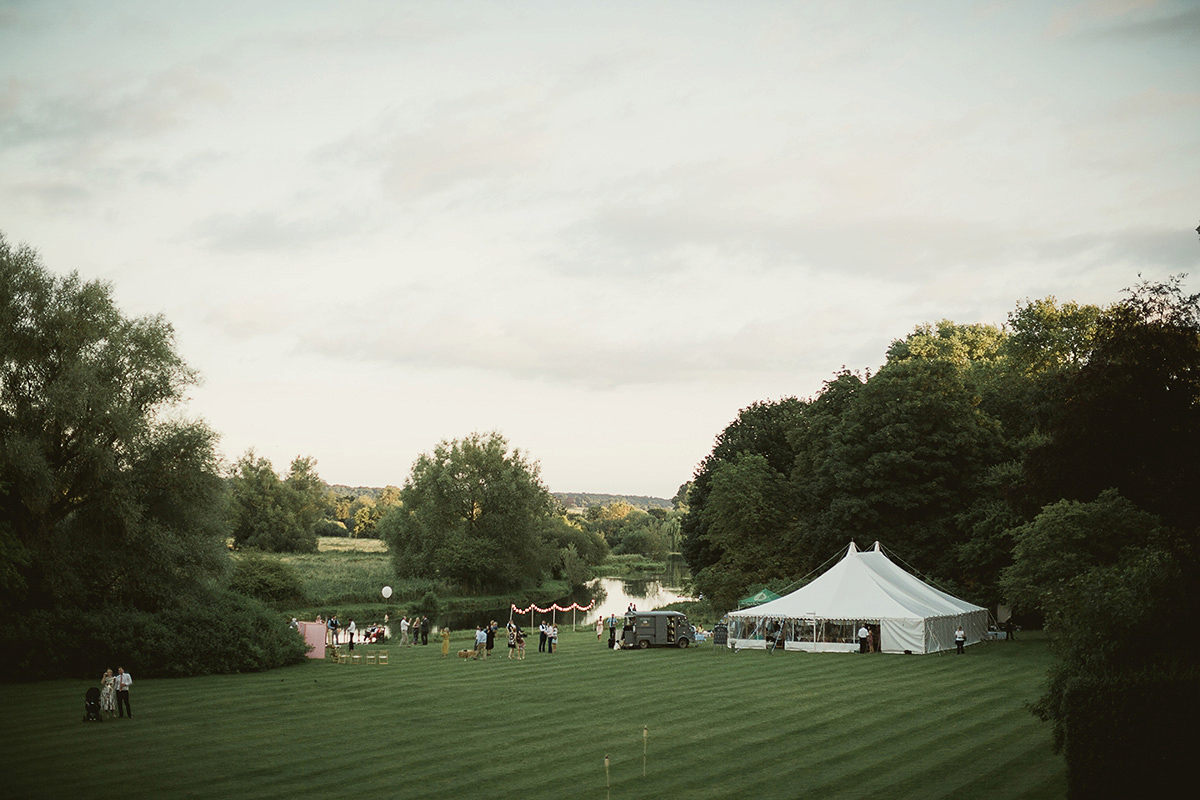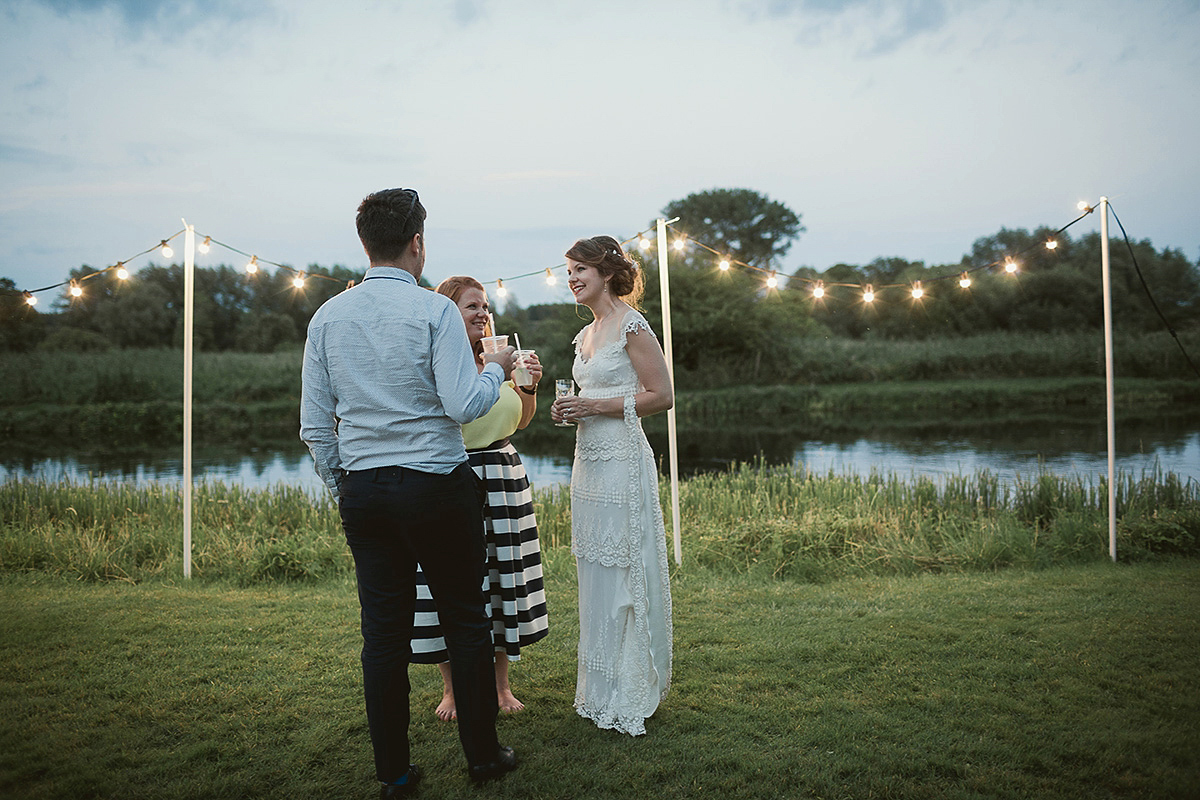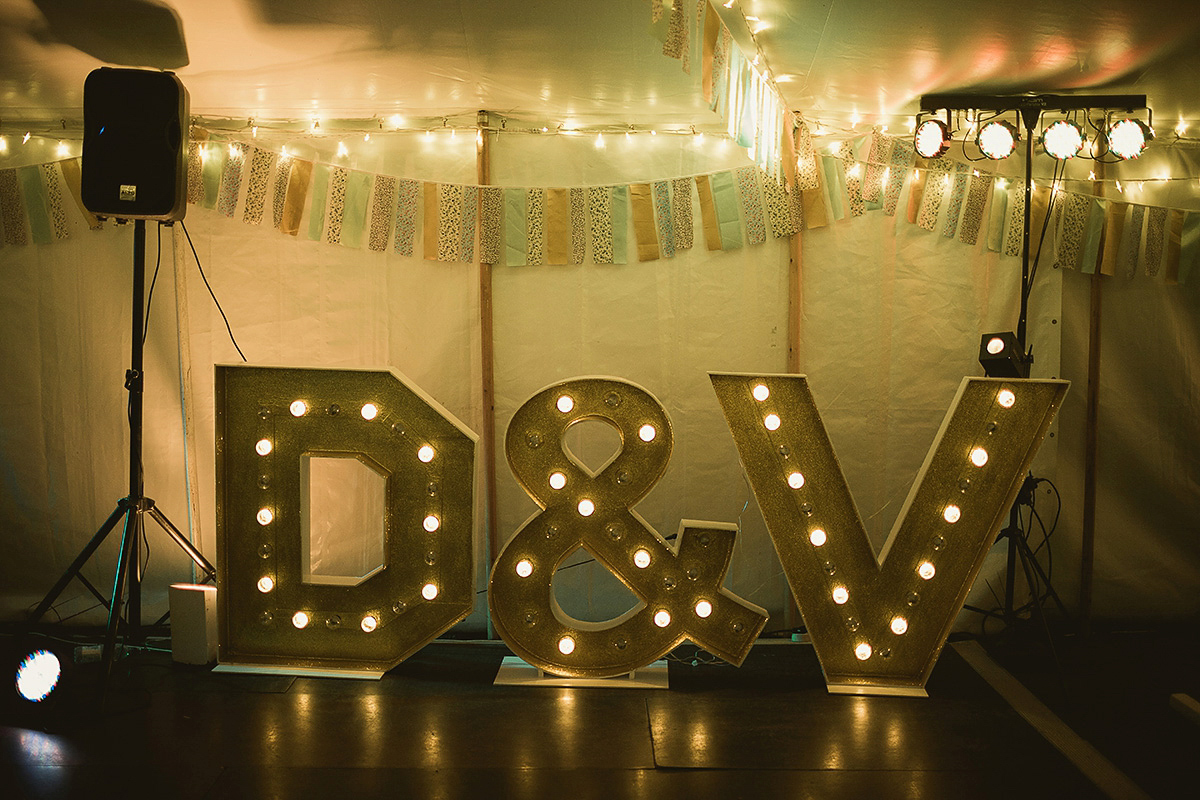 "Our band, The Jumping 5, were found via Warble Entertainment. We wanted a swing band and these boys did a great job, they played a fantastic garden set while our guests arrived then two sets in the evening that got everyone dancing. I couldn't recommend them enough, they were the loveliest guys and just did such a great job."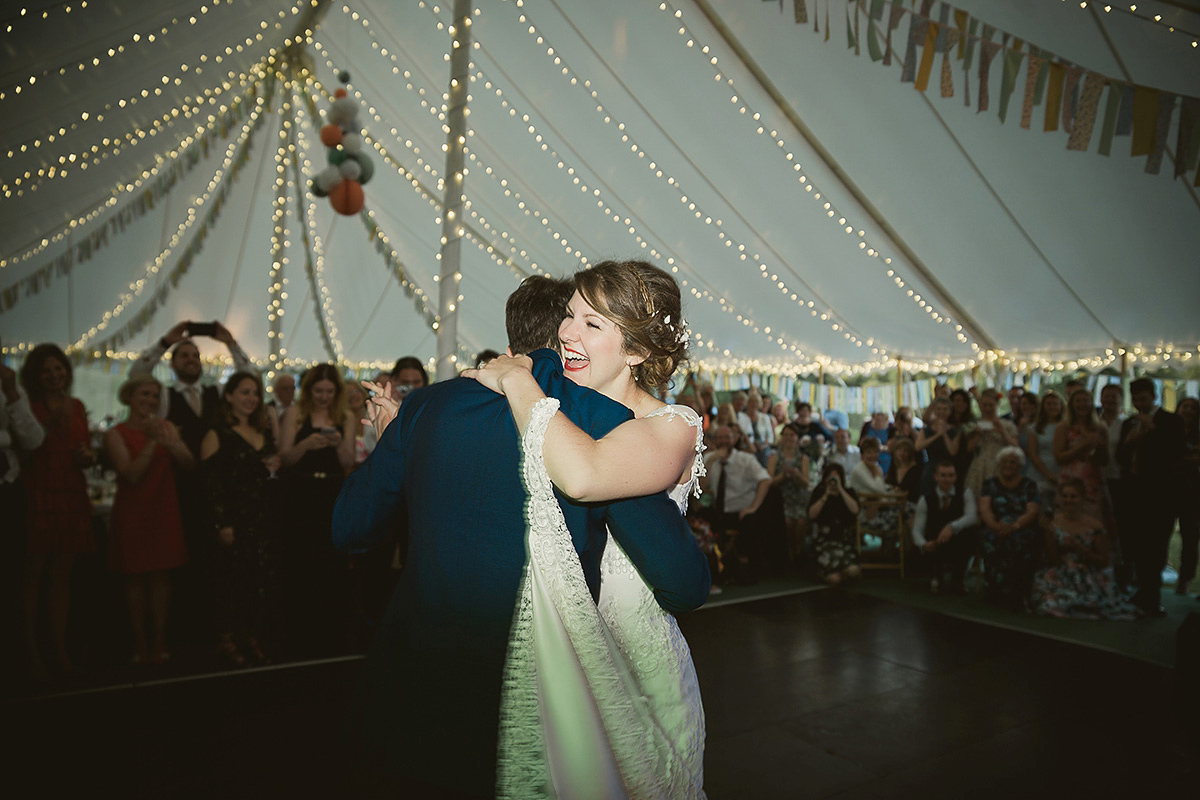 "Our first dance was Elton John's 'The Way You Look Tonight;' we always knew we wanted Elton as we are both huge fans. We really relaxed after dinner and started to take everything in and spend time with friends and family enjoying the music and the wonderful Hampshire countryside."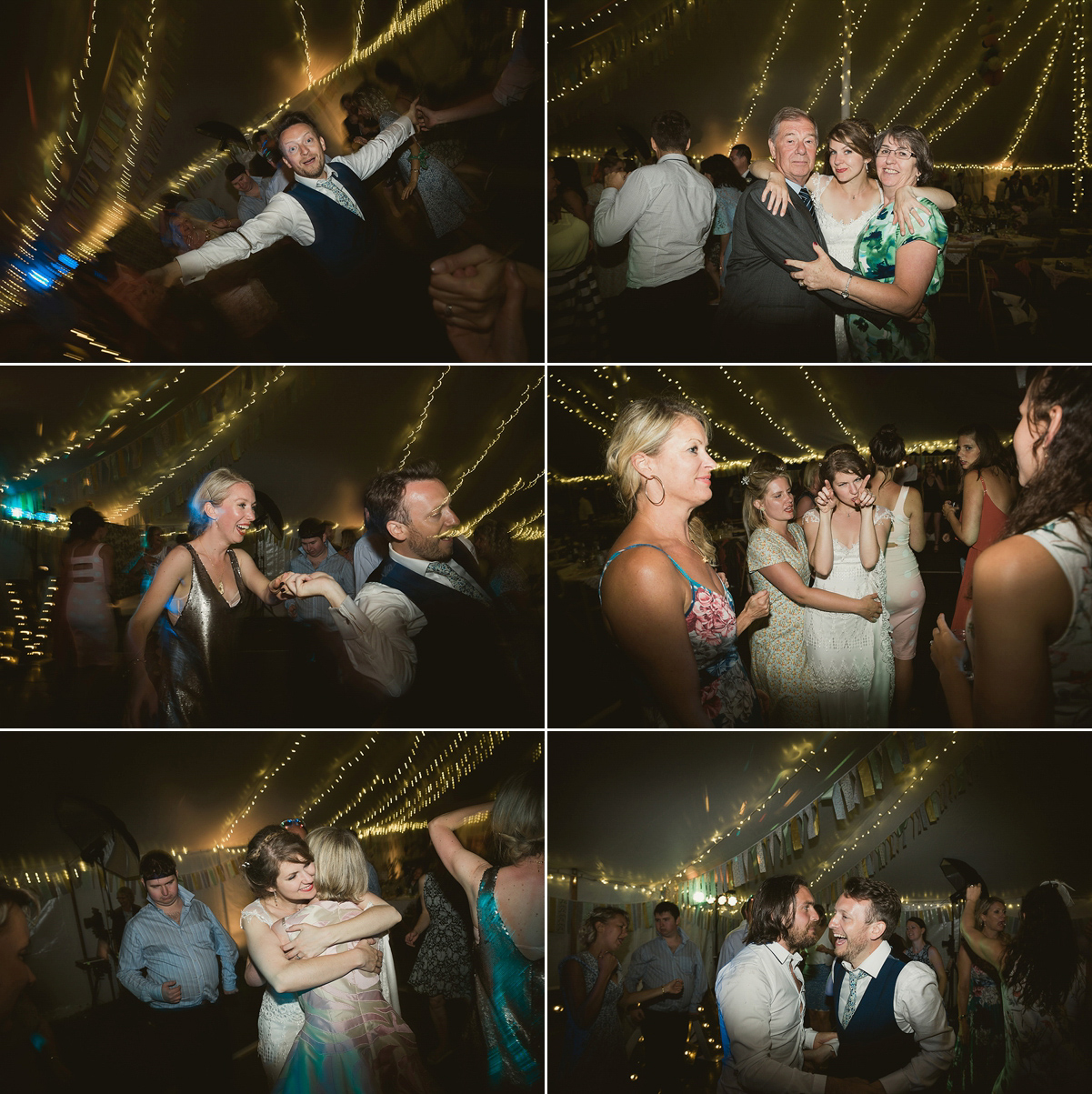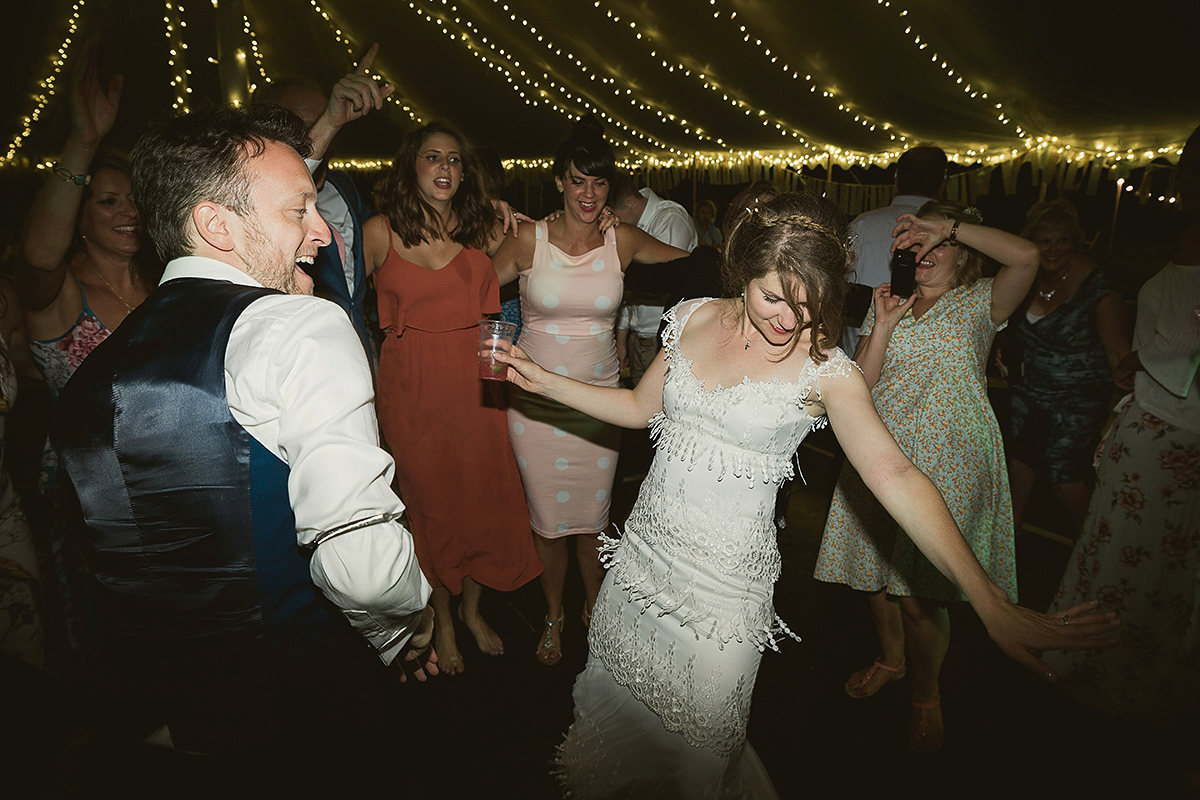 Words of Wedded Wisdom
"Please take the time to stop and look around you. We were given that advice and as obvious as it sounds, you do forget to do it. Just a few times during the day stop together and take everything in – when will you ever have all the people that love you all together in the same room again?"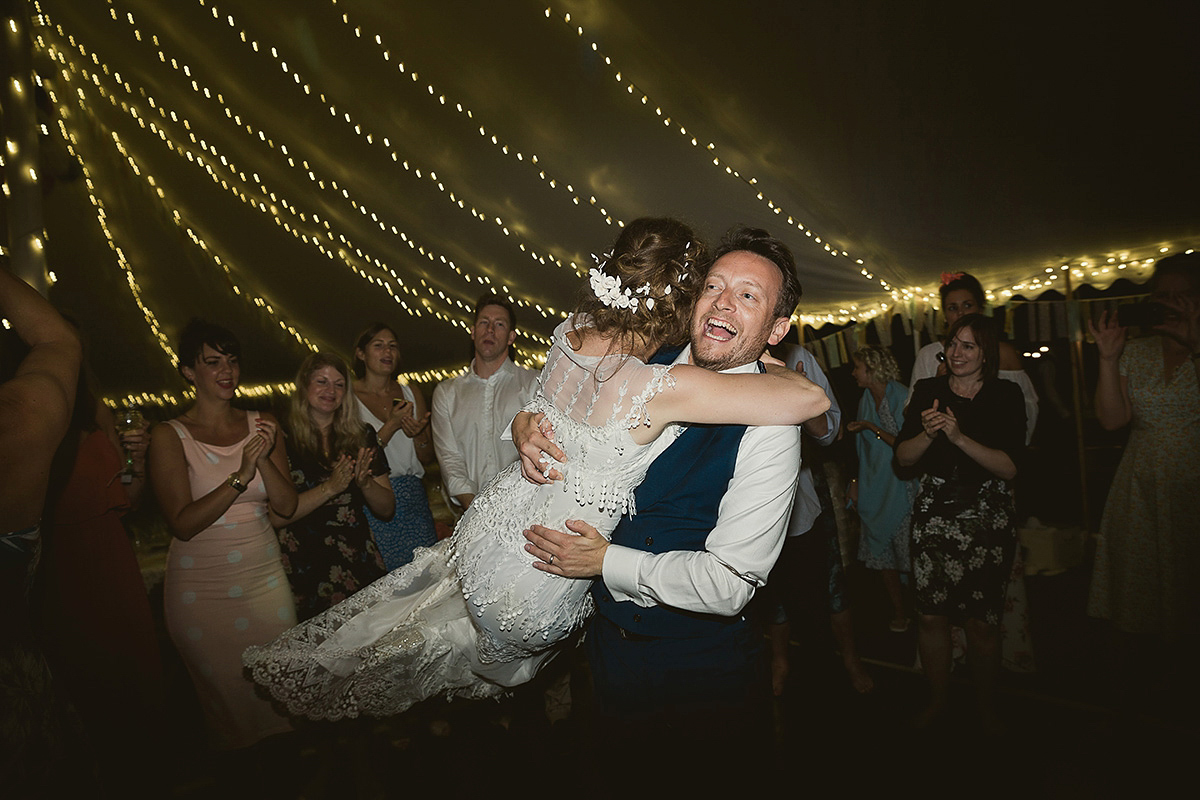 My oh my, what a day! We can't thank Vicki and Daniel enough for allowing us to share their gorgeous day, and of course a huuuuge thank you goes to Tom Ravenshear Photography for these sublime images. You can find the lovely Vicki on both Twitter and Instagram at @vickiphoto, while Daniel can also be found on Instagram and on Twitter.
I'm off to peruse more fabulous brides who've tied the knot in Claire Pettibone, and make myself very very excited that I get to wear one of these gorgeous creations myself in just under three months time!
Em x