Good morning loves – how are you all feeling this fine Thursday? I'm off to the chiropractor again at lunch time today – a session that also involves a spot of acupuncture, all in an effort to help rid me of my terrible migraines. I'll be heading off with a smile however, because this morning's wedding fills me with absolute delight. The bride, Katy, is a huge fan of Love My Dress and not only wrote some beautiful words of appreciation and thanks for the blog in her questionnaire, she also found several of her suppliers through Love My Dress and our wedding directory, Little Book For Brides. She also just happens to look drop dead gorgeous in her divine Catherine Deane gown, a purchase form our highly recommended bridal boutique, Agape Bridal. A Love My Dress bride through and through – and proud of it!
Katy, a Data Operations Supervisor for a North West based Social Enterprise, married David, a National Accounts Executive at a soft drinks company on 11th November last year with a ceremony at St Mary's Church, followed by a reception at Thornton Manor, both in Wirral. If she wasn't quite so lovely, Katy's dress and flowers might have stolen the show. These images were beautifully captured by our Little Book For Brides member Paulo Santos, who was supported by our fellow highly recommended supplier, The Twins
"Dave and I weren't led by any particular style, we just tended to pick things that we liked, so the overall look of the day sort of developed over time. Sian of The Flower Lounge is a creative genius and is incredibly enthusiastic and passionate about what she does. She made choosing the flowers one of the most enjoyable parts of our planning journey. We opted for wild unstructured arrangements packed with foliage and texture."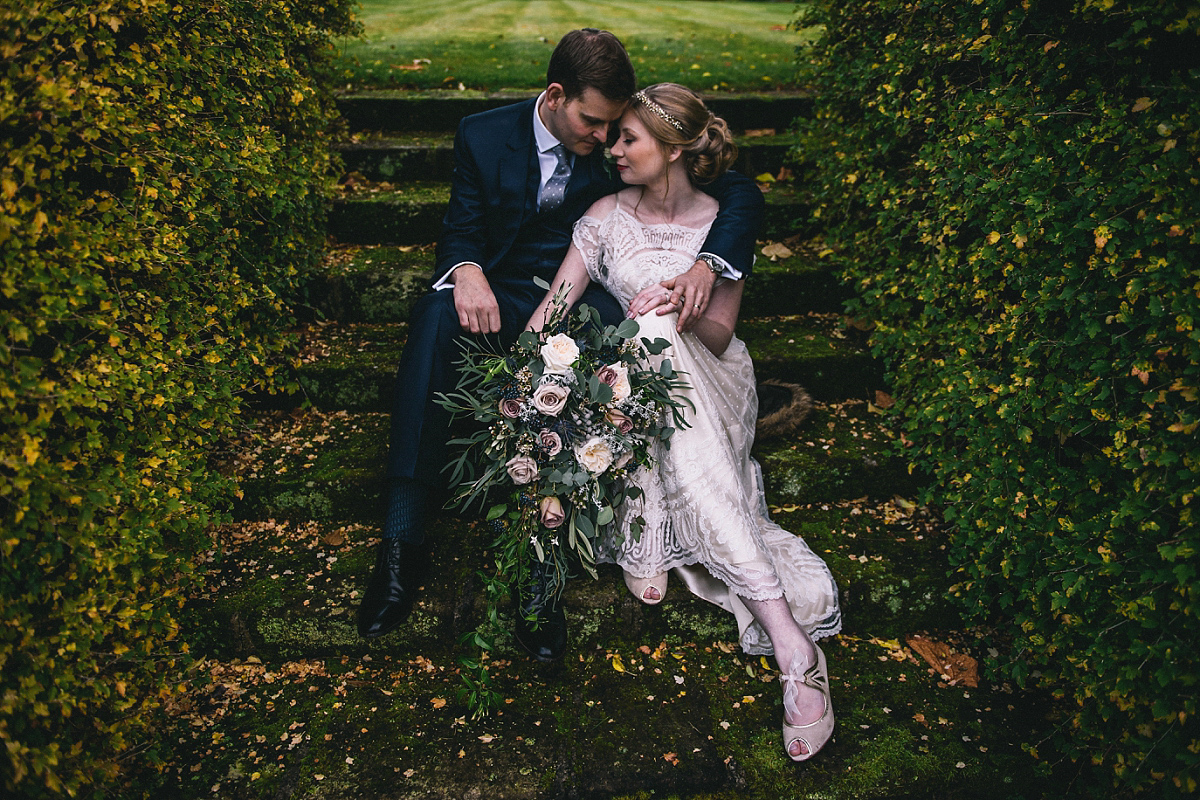 "I have been a reader of Love My Dress for many years even prior to any hint of an engagement. It's wonderful and I love the diversity of weddings that are featured. I have read other blogs a little, but I found that they focused too much on one particular type of wedding, so didn't keep my interest. The diversity of weddings on Love My Dress is the reason that I love the blog so much.""As a reader, it doesn't make you feel as though there is a type of wedding that is the 'ideal' or 'trend', nor does it advertise that only a big budget will create a wedding worthy of mention. It's great to see a cool tipi affair featured alongside a traditional day, and then followed by a bride wearing trousers and a stripy t-shirt – one of my personal favourites!"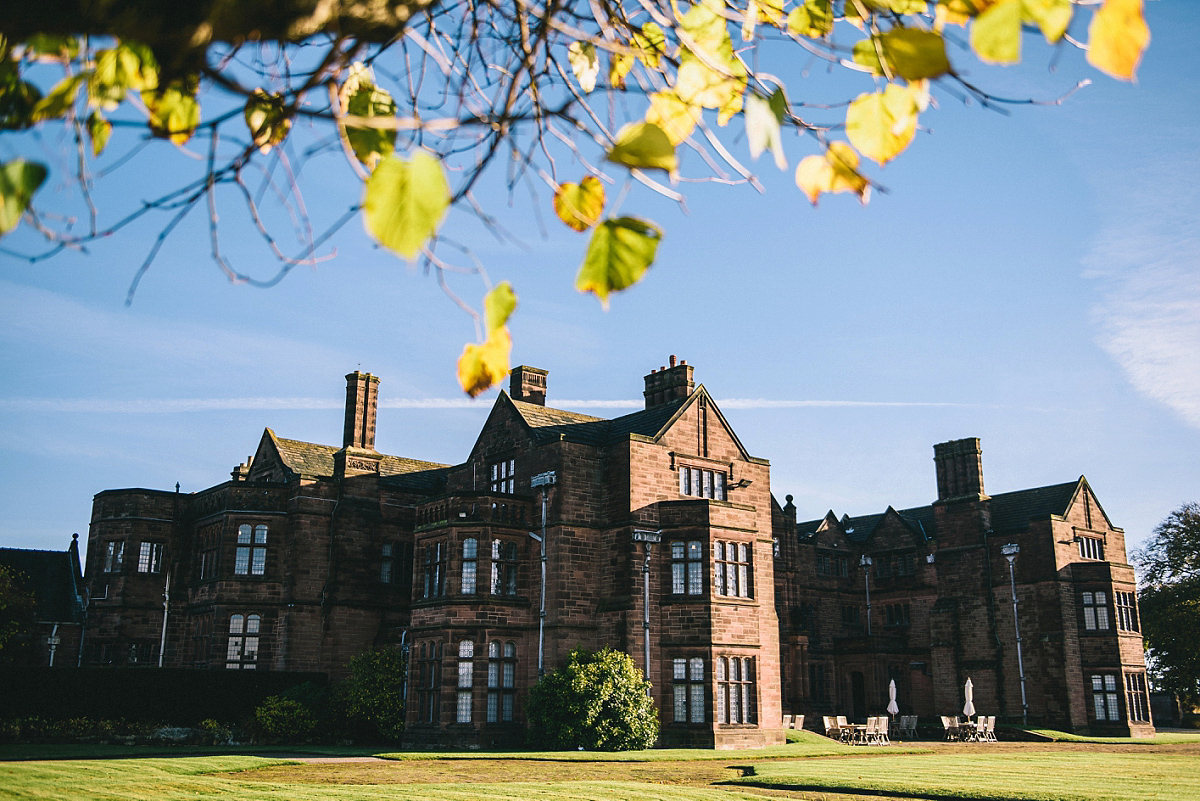 Katy discovered the Agape Bridal Boutique through our wonderful Little Book For Brides, where she fell in love with her Catherine Deane 'Omelia' gown.
"I found my dress at Agape Bridal Boutique in Bowden, Cheshire. The shop is gorgeous and the lovely Chloe looked after me so well. She took the time to take me around the shop explaining all of the different designers that they stocked which was so helpful."
"As soon as I put on the first Catherine Deane dress in Agape, I knew that I had found my designer and tried on pretty much every Catherine Deane dress in the shop."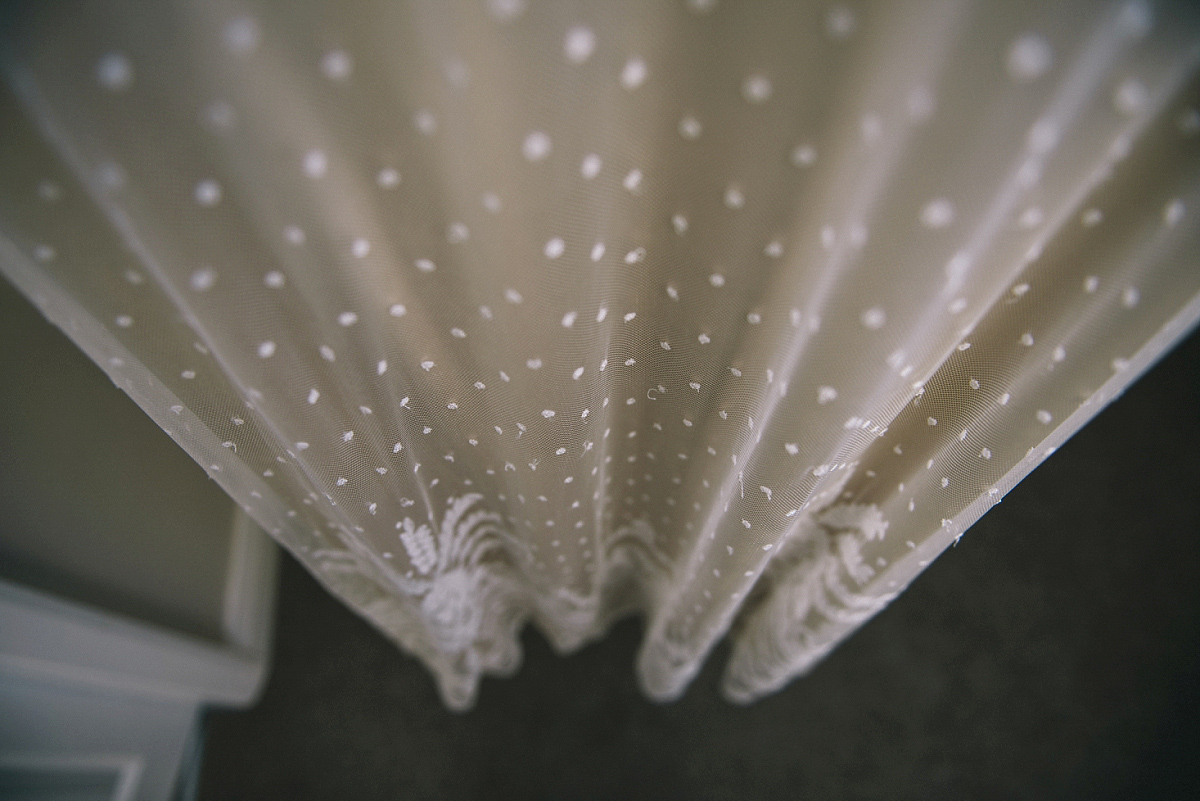 "I love how her designs look so vintage and yet contemporary at the same time. I was in my element trying on so many beautiful dresses, but finally settled on Omelia."
"I just loved the amazing detail on the lace paired with the gold silk underneath which felt super luxurious."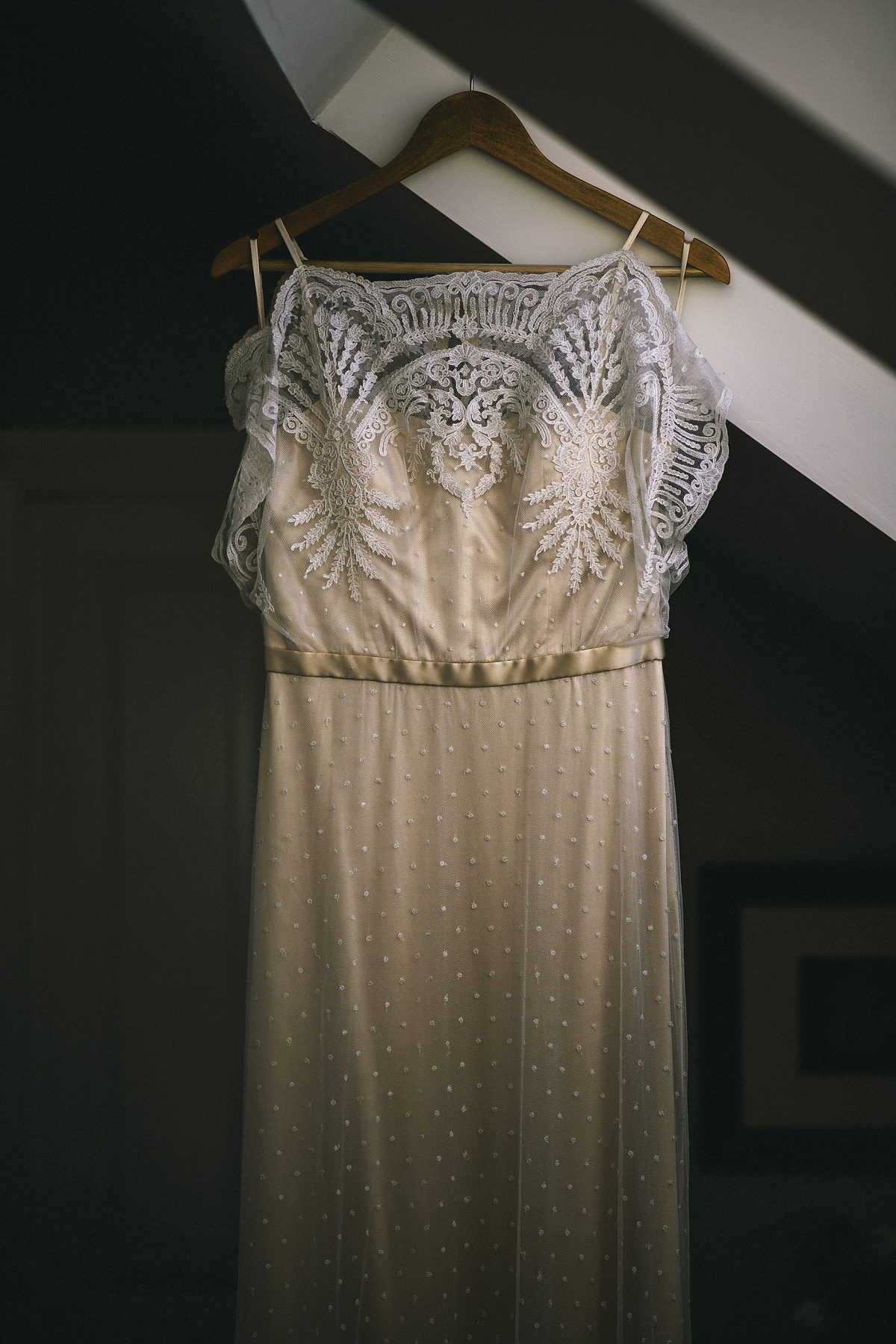 "But mostly I loved it because I felt myself in it, rather than someone trying to look like a bride, which is how I felt is most other dresses!"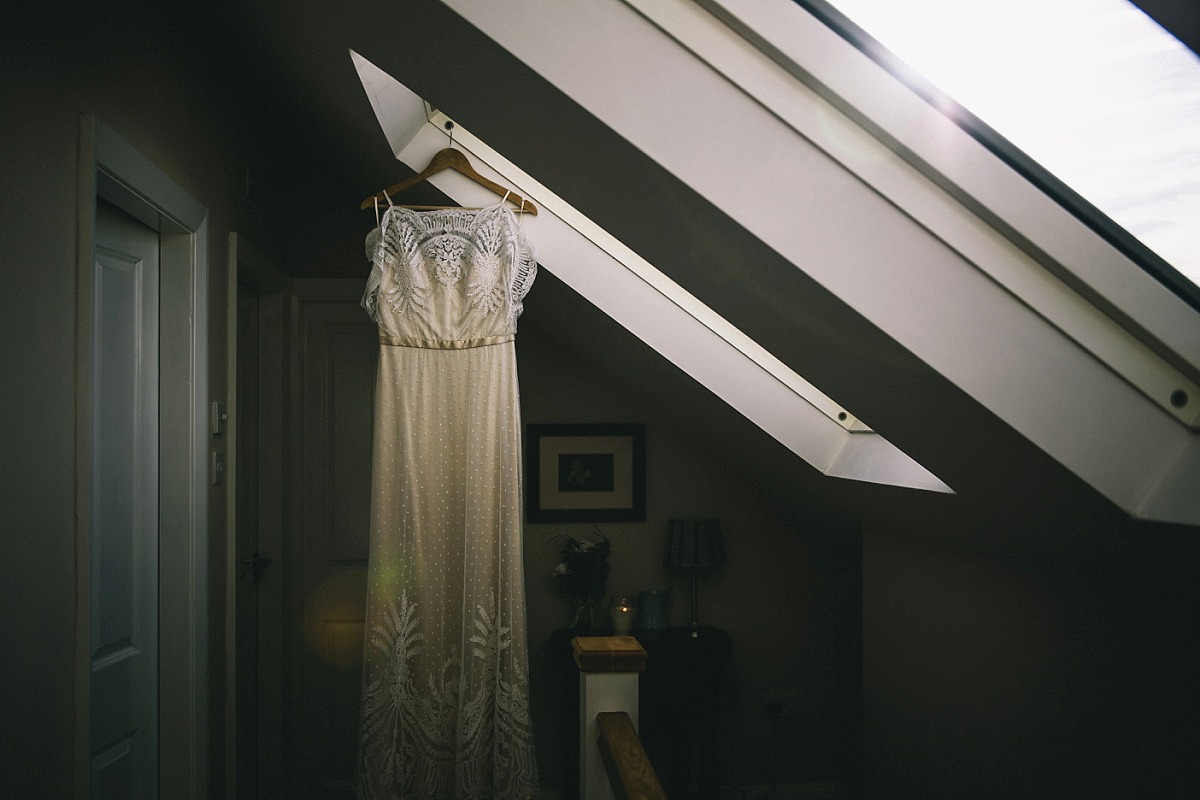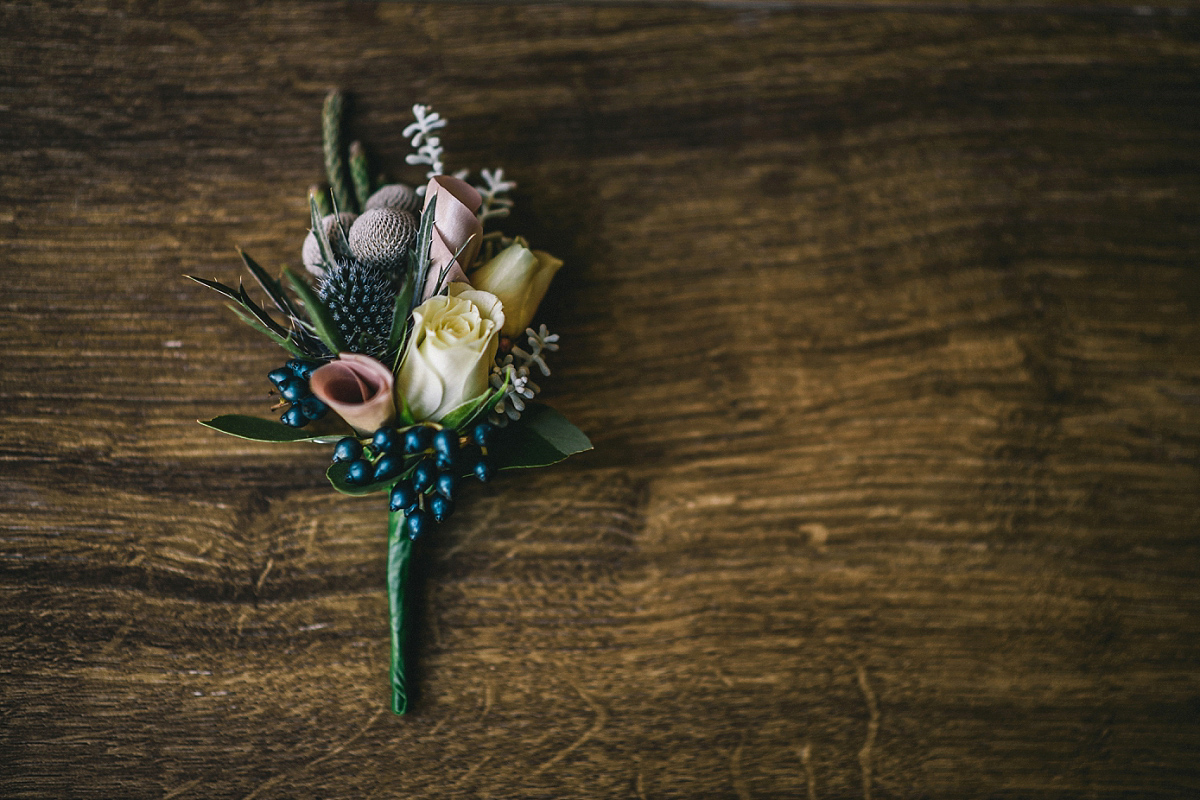 "I wore the Catherine Deane 'Lita' veil, which was also purchased from Agape Bridal Boutique."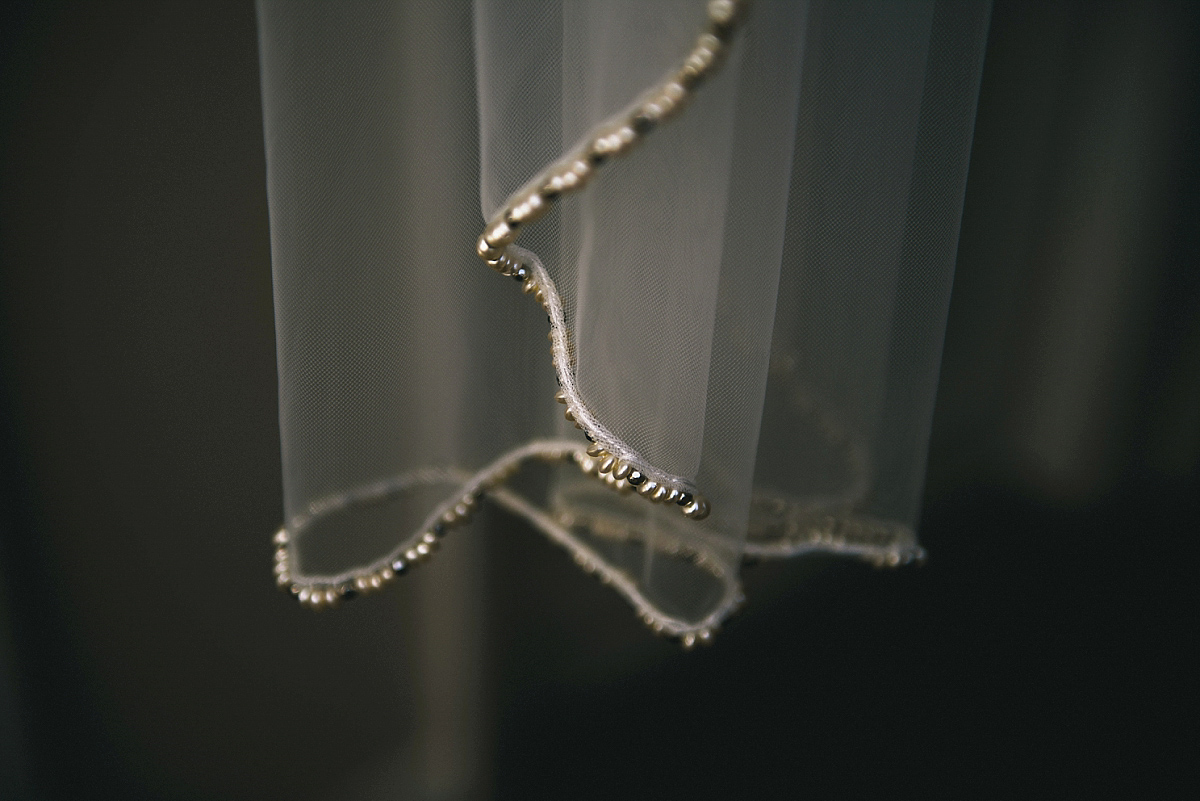 "I only wore my veil for the ceremony as I felt that it was a bit too much out of the context of a church. Plus it was beaded around the edge and was getting a bit heavy."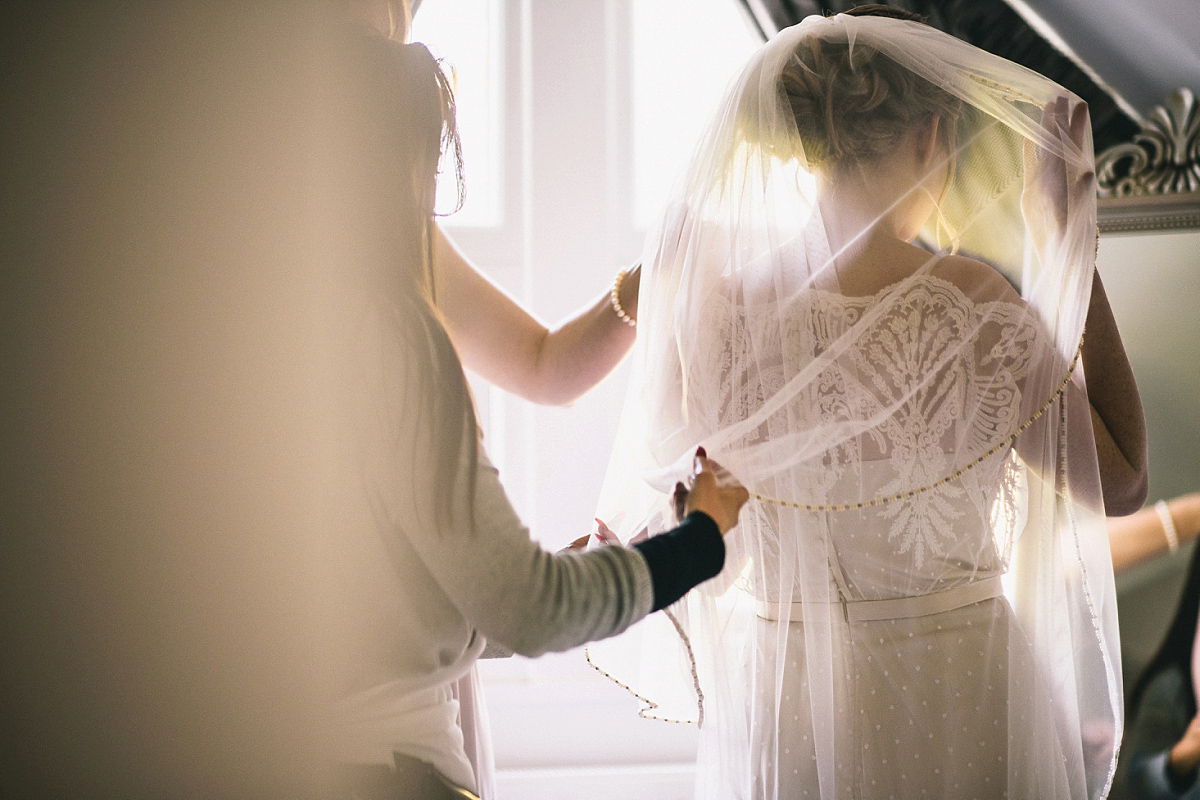 Katy's beautiful Rachel Simpson 'Agnes' shoes were ex-display and found via Ebay.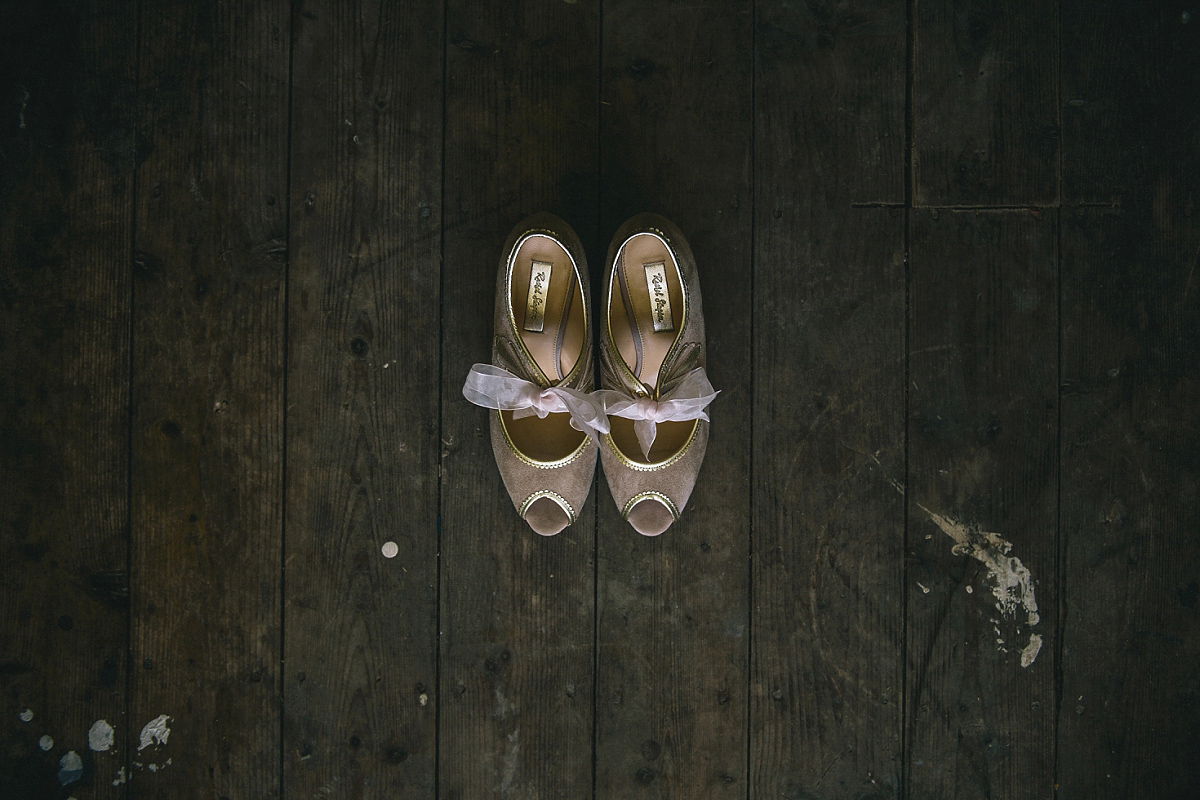 We are huge fans of Rachel Simpson and here beautiful, re-wearable wedding shoes. Take a look through Rachel's Style File pages on Love My Dress to find out more.
"My chosen scent was 'Flora', by Gucci. I wore it because David bought it for me, so I figured he must like it."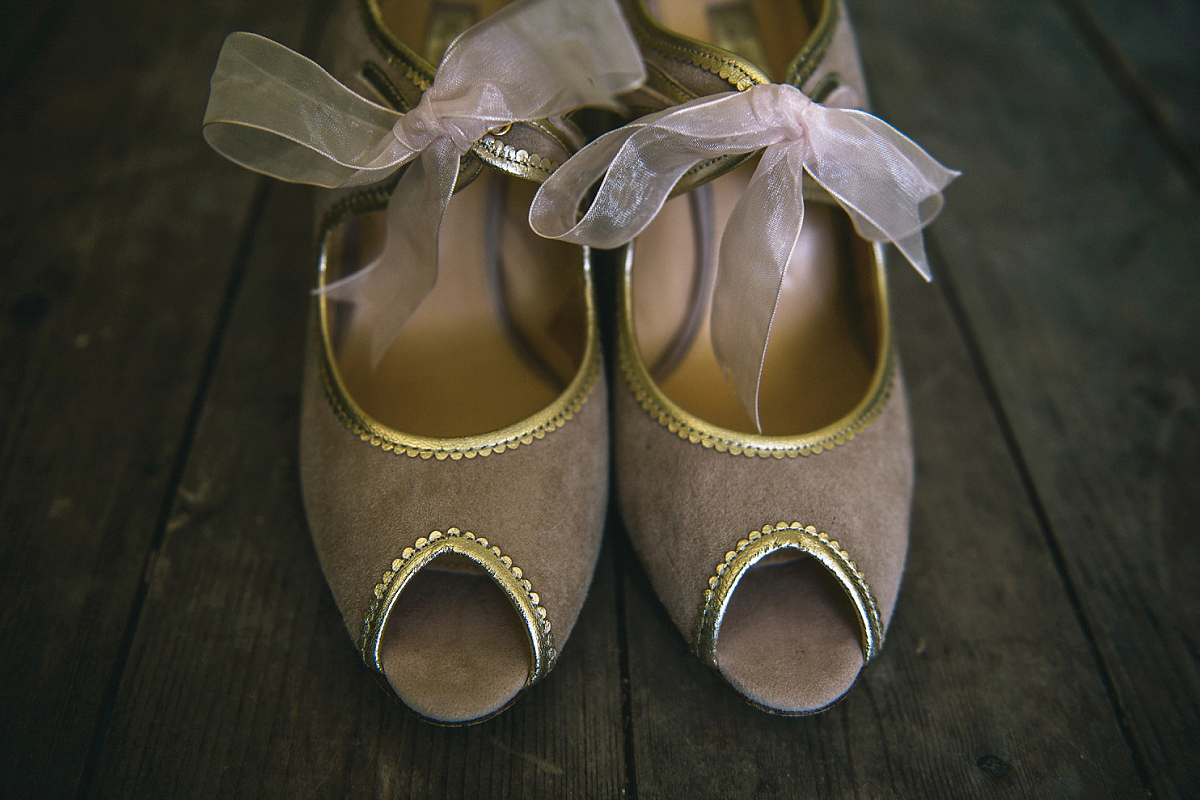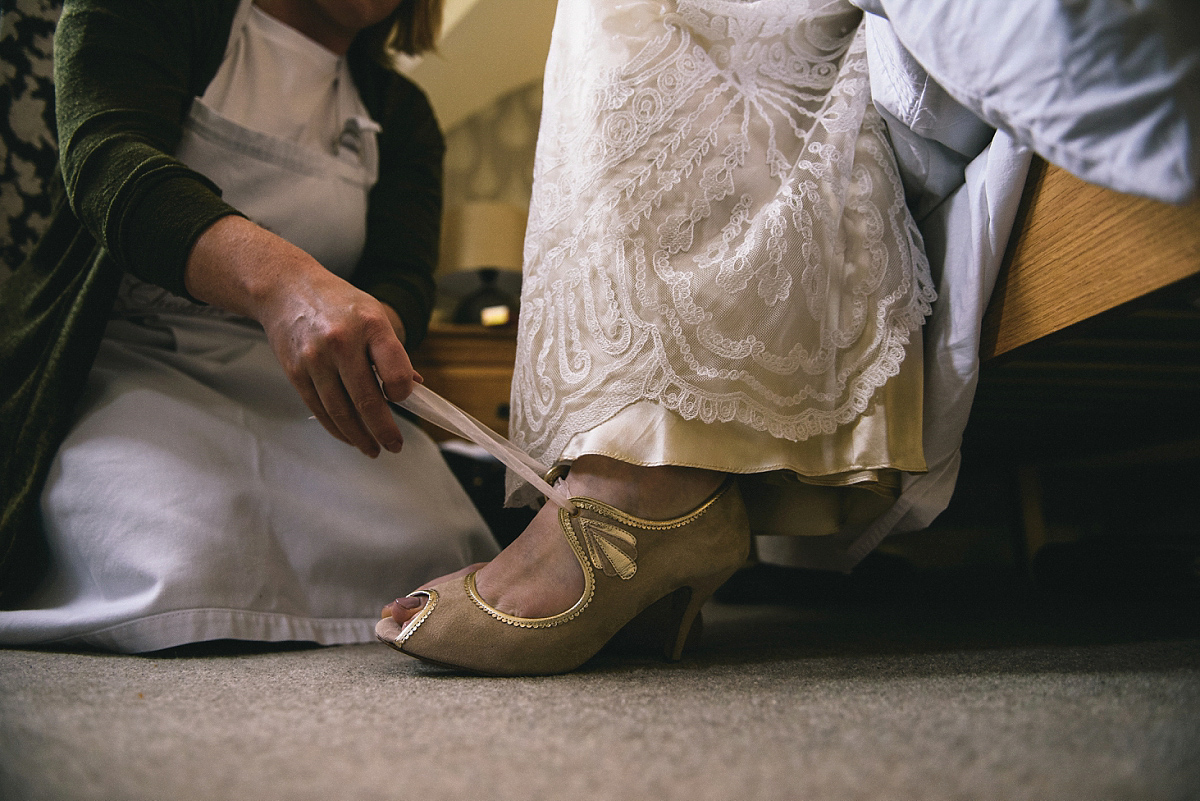 "My hair vine was a bespoke piece made by Emma at Irene & Ozzy. I had seen a lot of hair vines that I loved, but they were all in silver and my dress was crying out for gold, so I got in touch with Emma who made a gold, slightly tweaked version of one that I had seen."
"I wore a Pearl Bracelet that David gave to me on my 21st Birthday. I don't get to wear it very often as it's pretty fancy, so I was really keen to wear it on the day. I also wore a pair of my Mum's plain crystal stud earrings as I had forgotten to buy a pair of earrings, but they were my something borrowed, so it all worked out well!"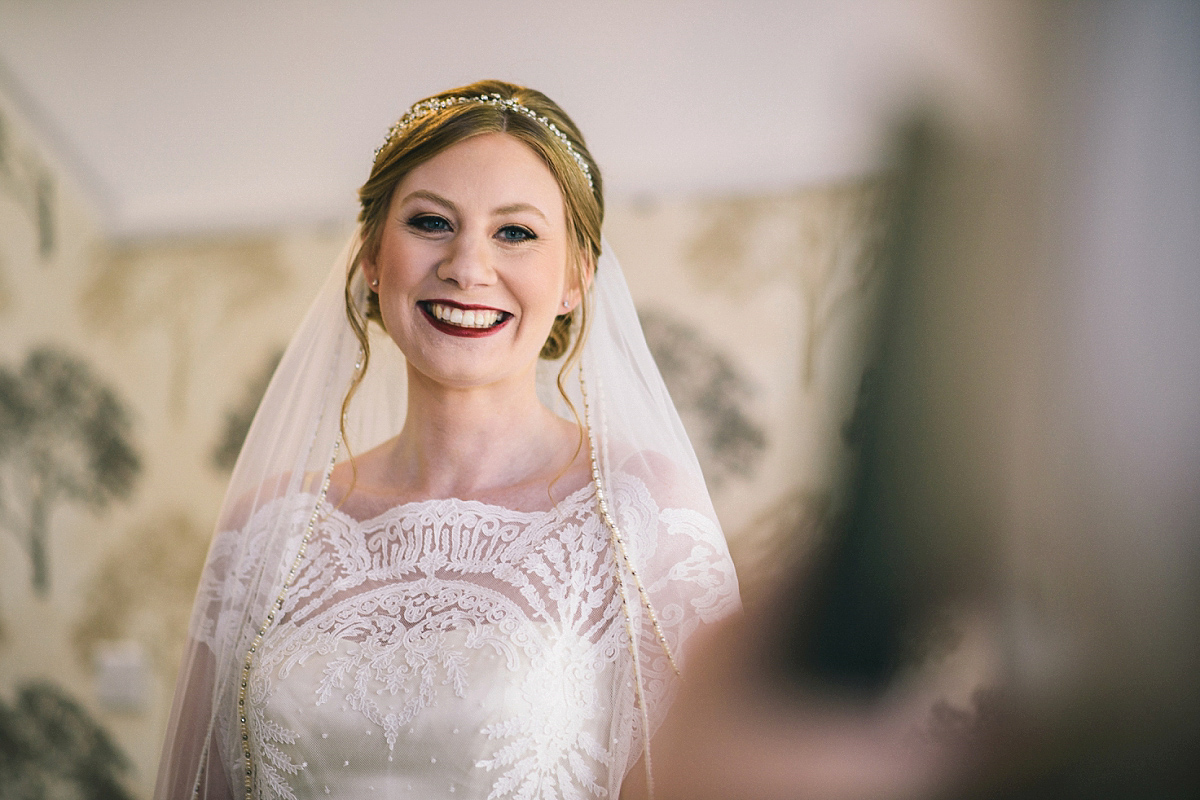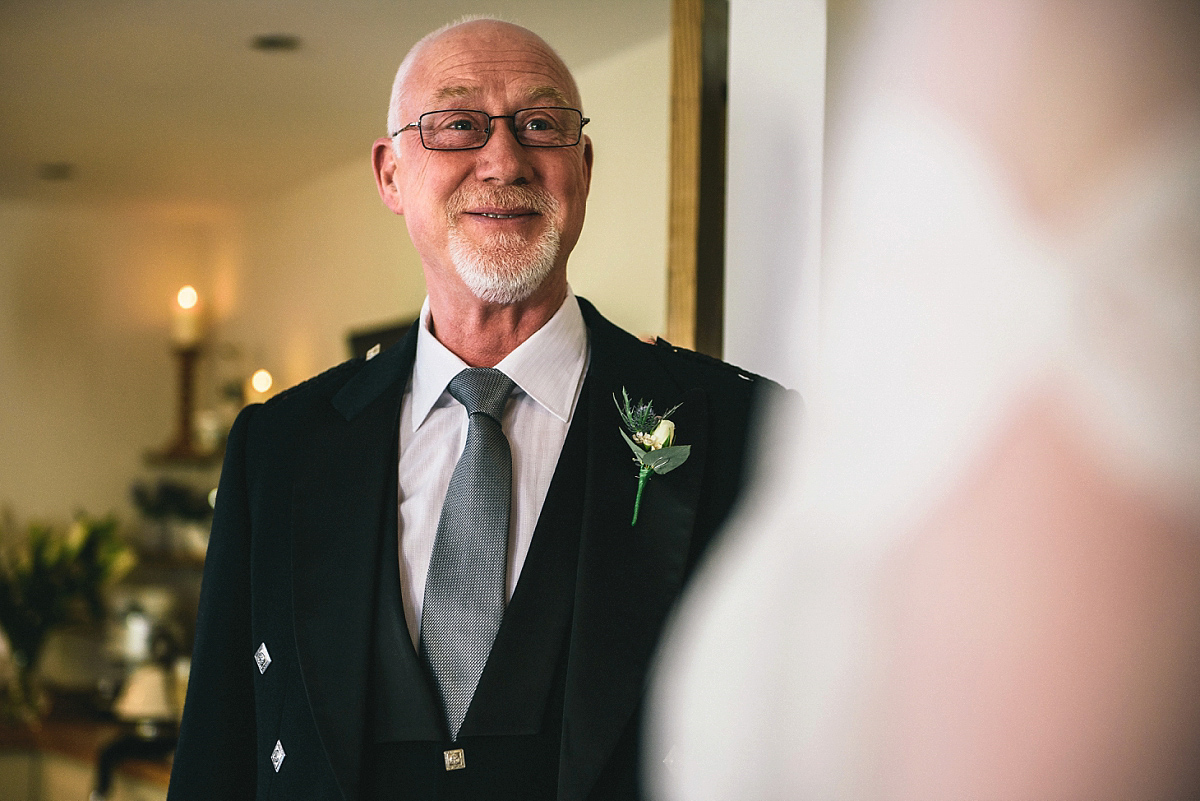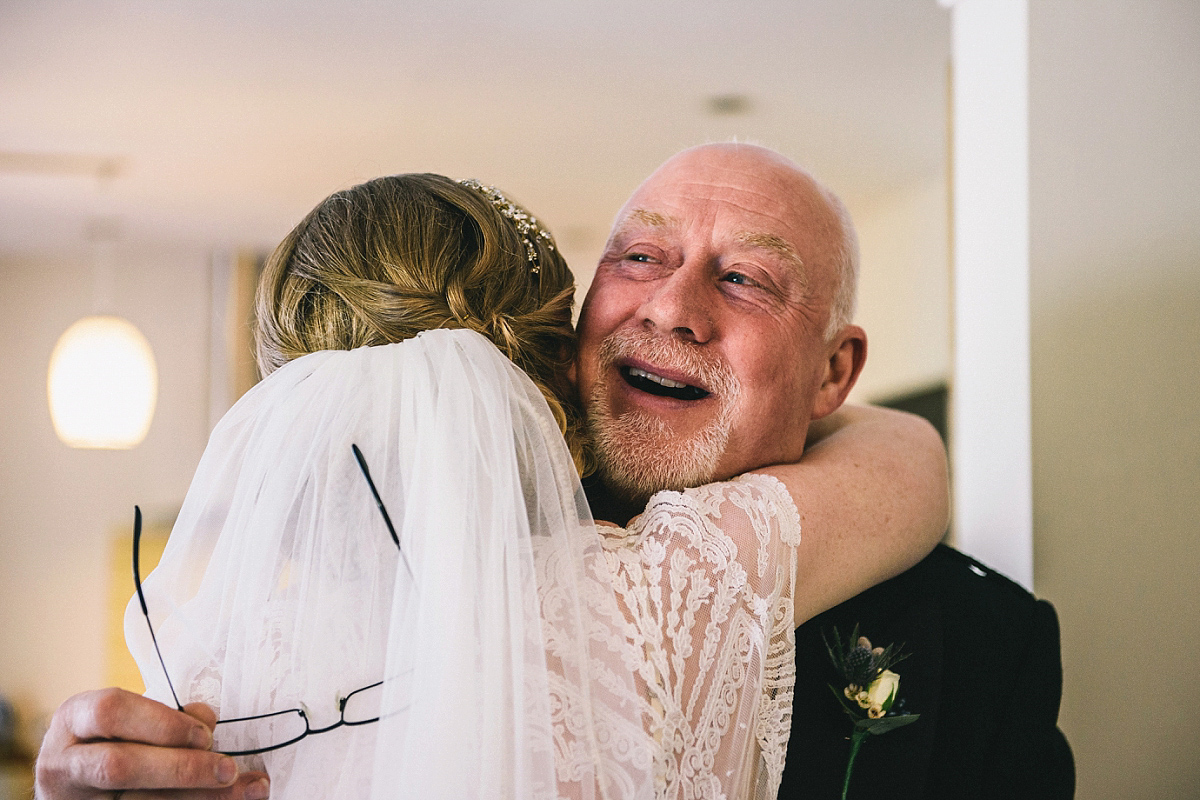 "When I go to weddings, I get just as excited to see the bride's bouquet as I do her dress, so I wanted my bouquet to be a real statement piece. My bouquet was the centre of inspiration when deciding on the rest of the flowers for the day."
"For the reception, Sian of The Flower Lounge created stunning candelabra designs that teamed with lots of candlelight and sequin linen to continue the 'rustic glamour' theme."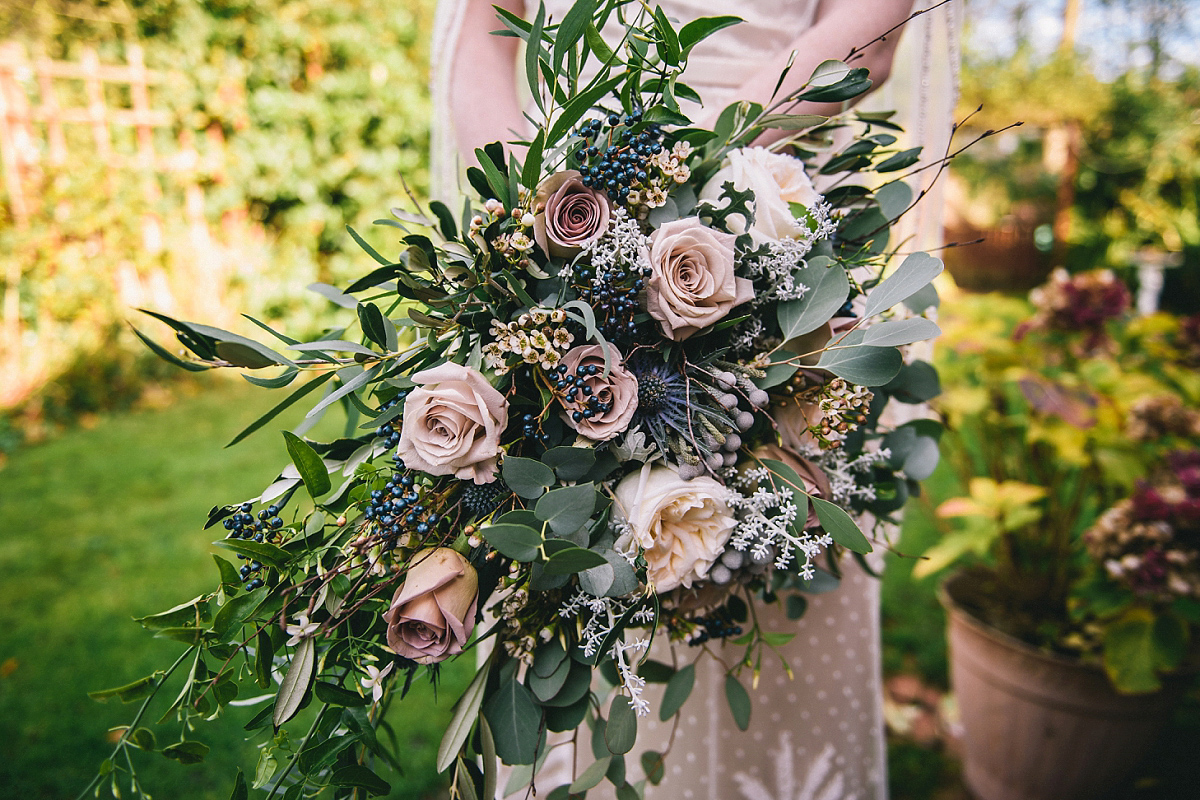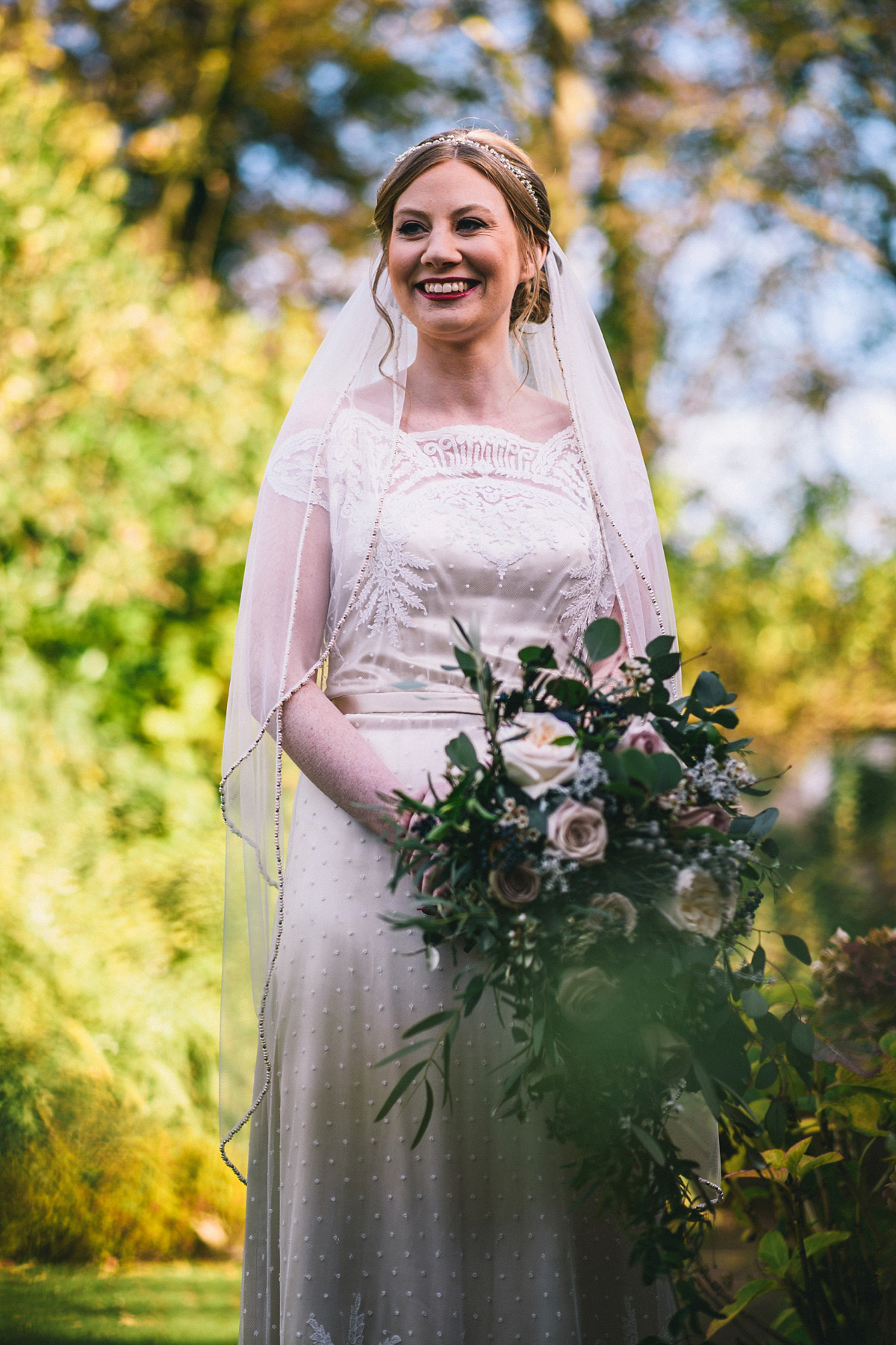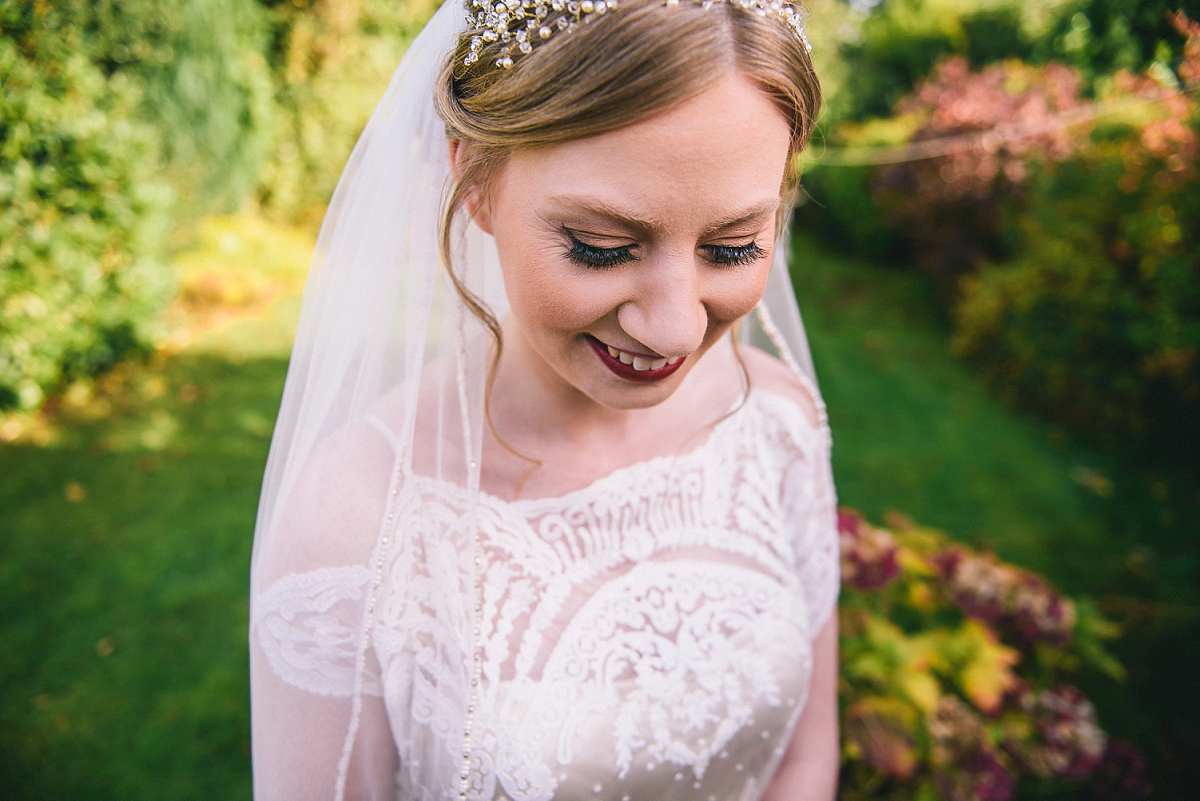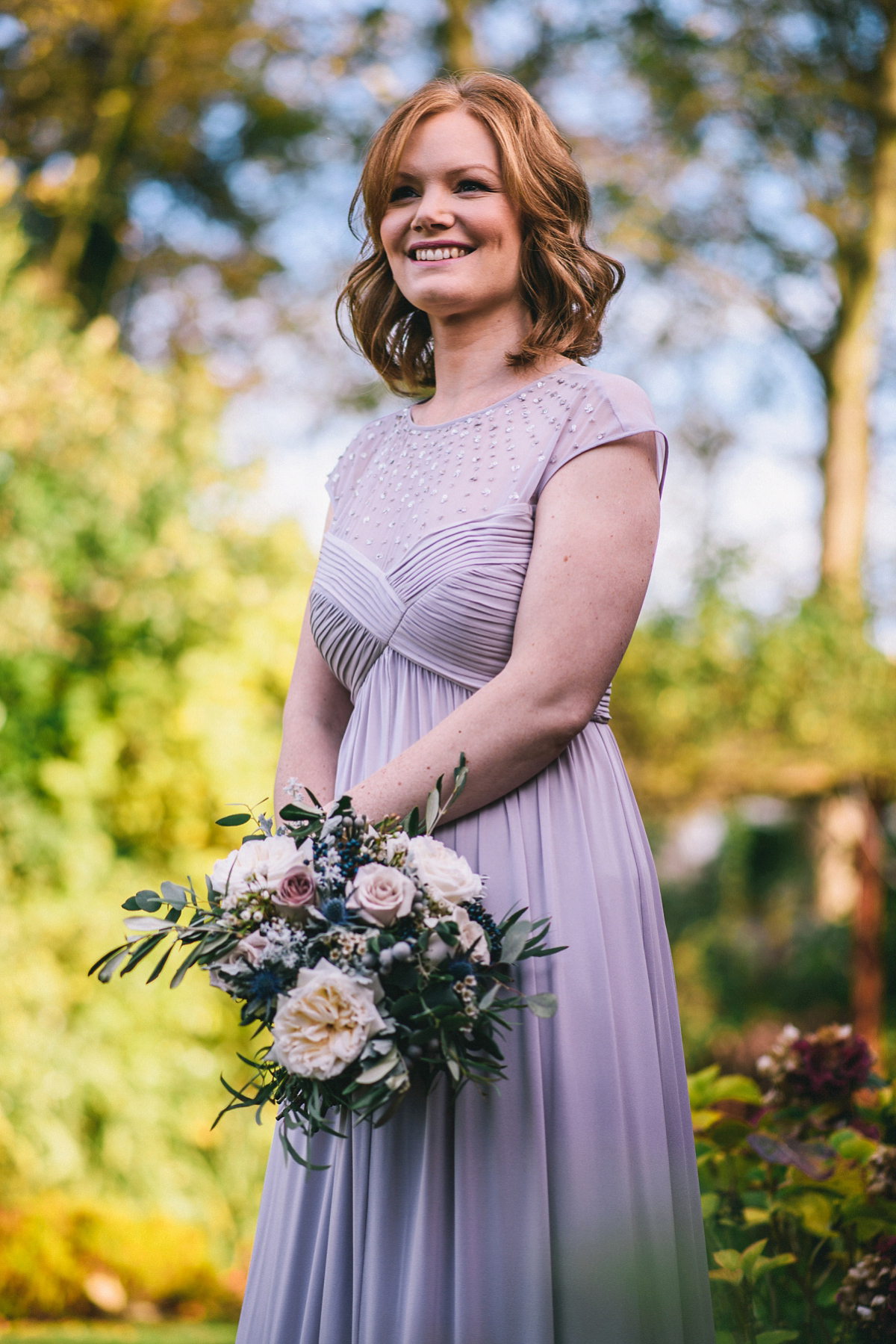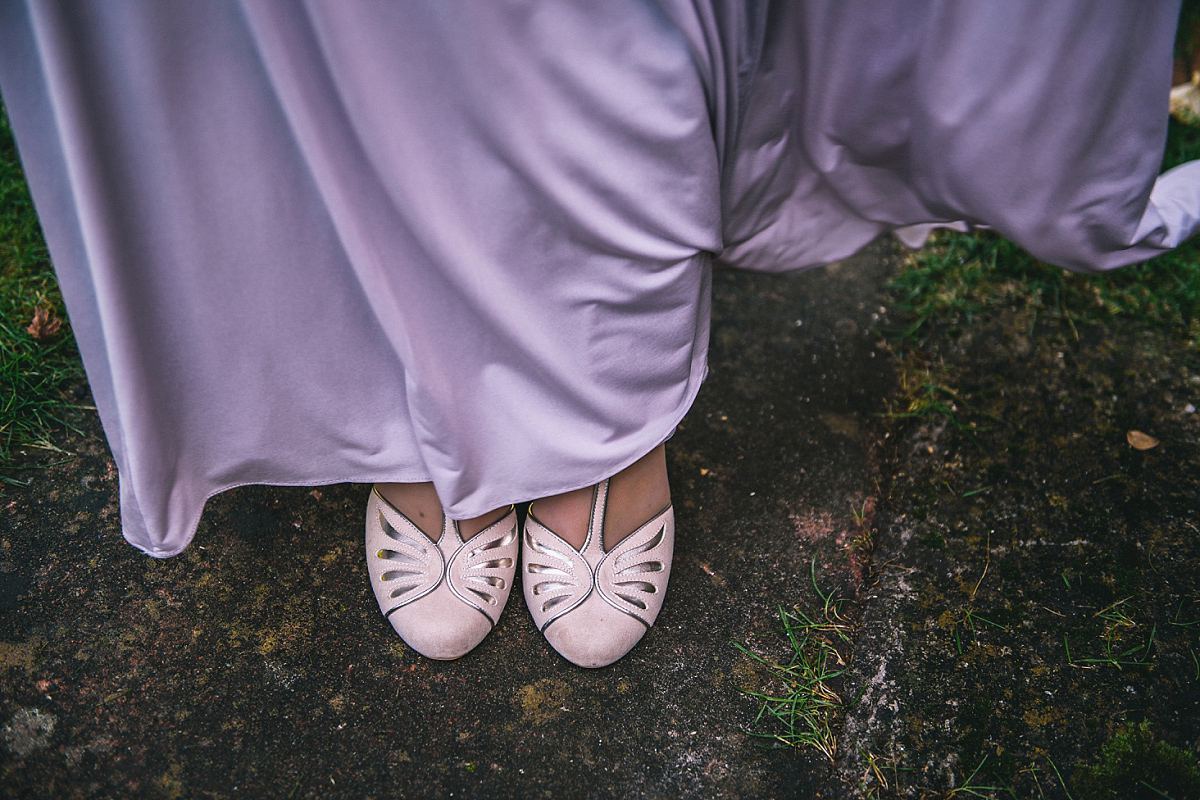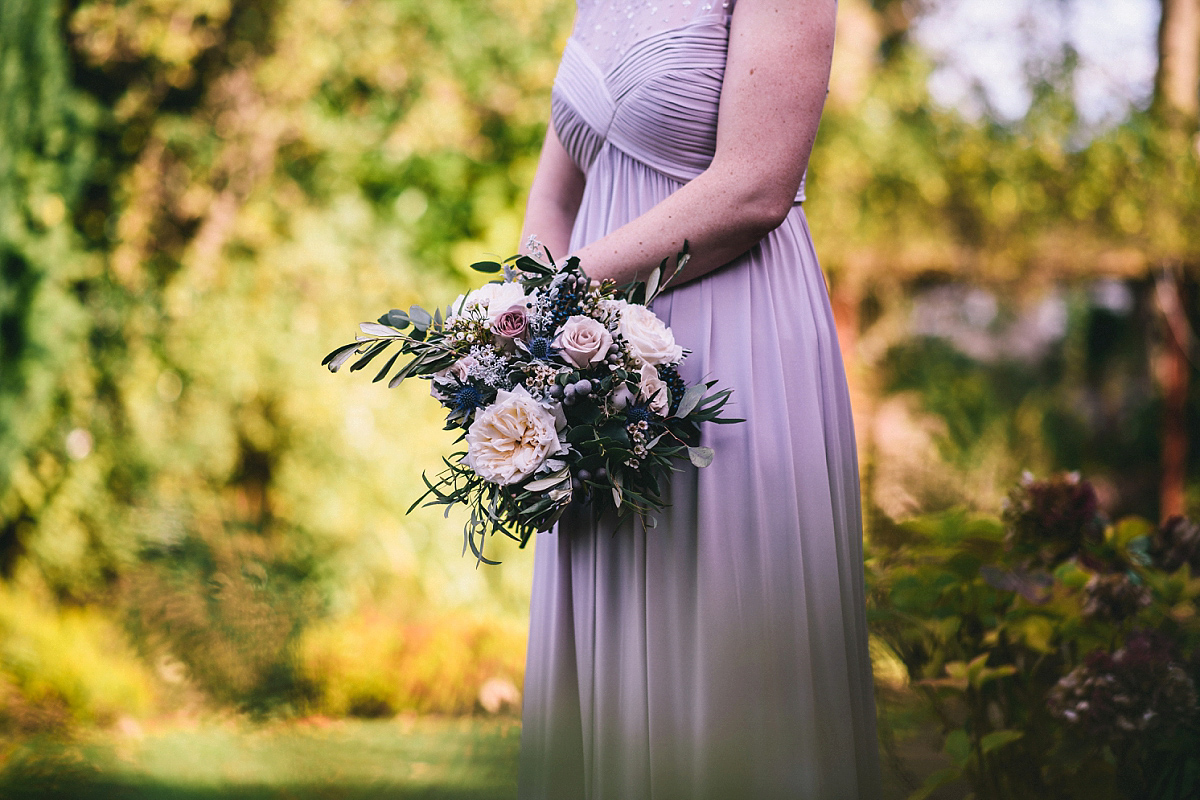 "Dave and I met in 2005 when we both had Saturday jobs at Currys. We were together for nine and a half years before we got engaged. In March 2015 we were on holiday in Vietnam and had just arrived at the beautiful ancient town of Hoi An."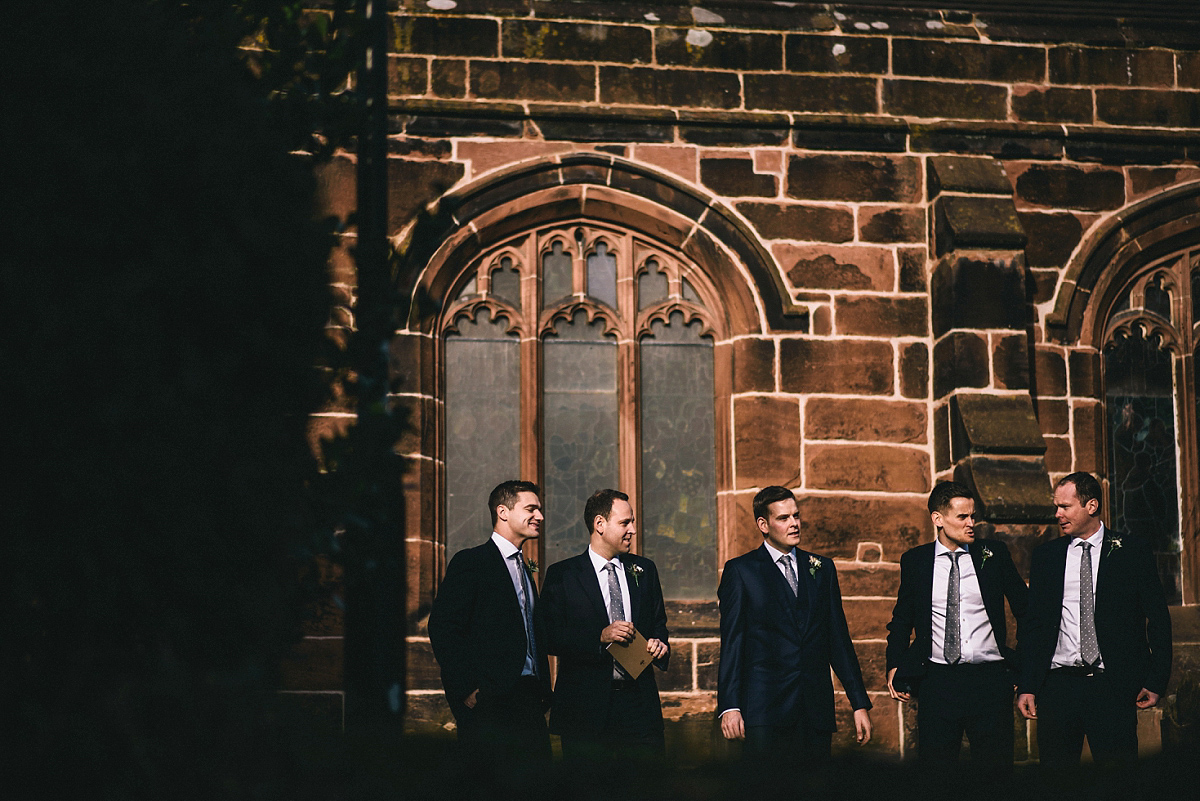 "Dave had arranged a private sunset dinner on a converted fishing boat to take us in to the town for the first time. We had a whole crew of staff to look after us, and after the sun had set, a lady in a little wooden boat rowed out in front of us and set 100 paper lanterns floating past us down the river."
"Dave is one of the most practical people you could ever meet, so as soon as I stepped on to the boat and saw how much trouble he had gone to, I knew something was going on as he would never go to any such expense just for the sake of it! When he did eventually pop the question, I burst out laughing before awkwardly saying 'Yes please thank you for asking' – I just wasn't prepared for how awkward that moment was going to be! We were engaged for a little over 18 months before getting married."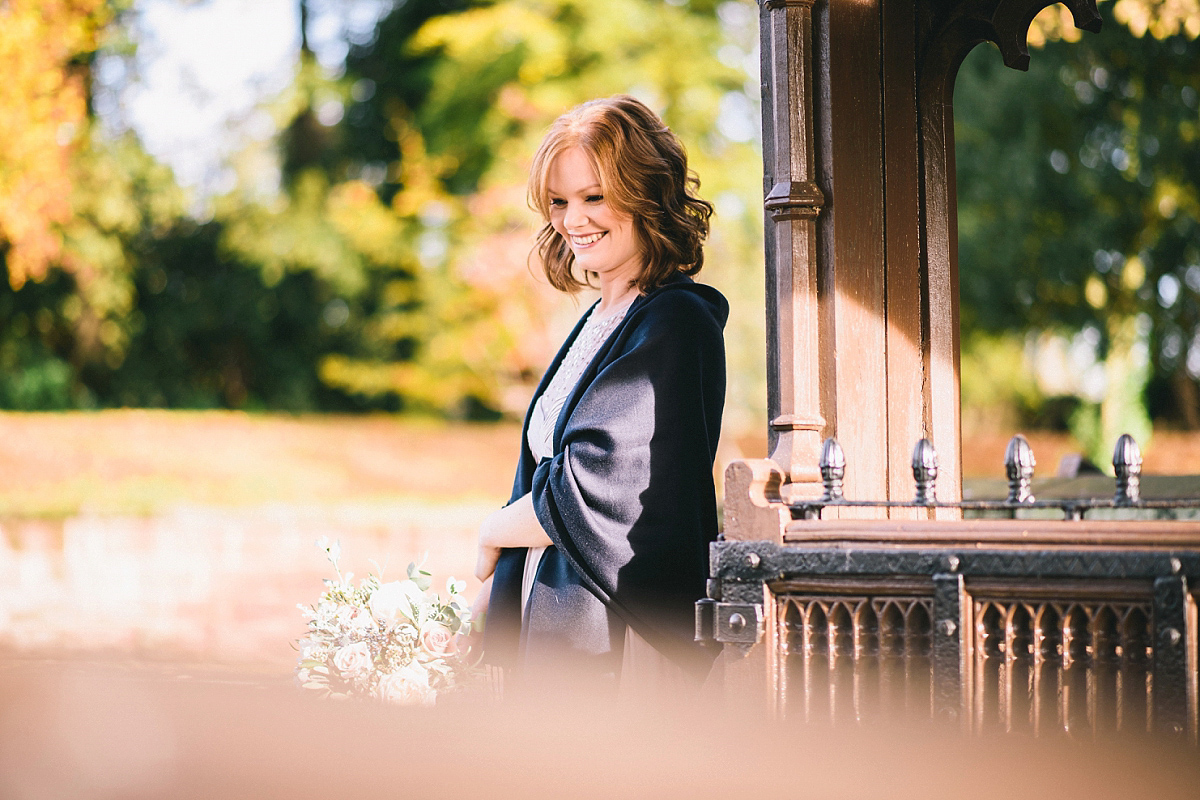 "I didn't really care what I got transported in, as long as I got there in something that was nicer than my own car – I drive a 15 year old Honda Jazz, so this wasn't going to be too difficult to find – so I just booked an executive car through Wirral Chauffeurs to save on costs. They sent an Audi A8L which was pretty nice!"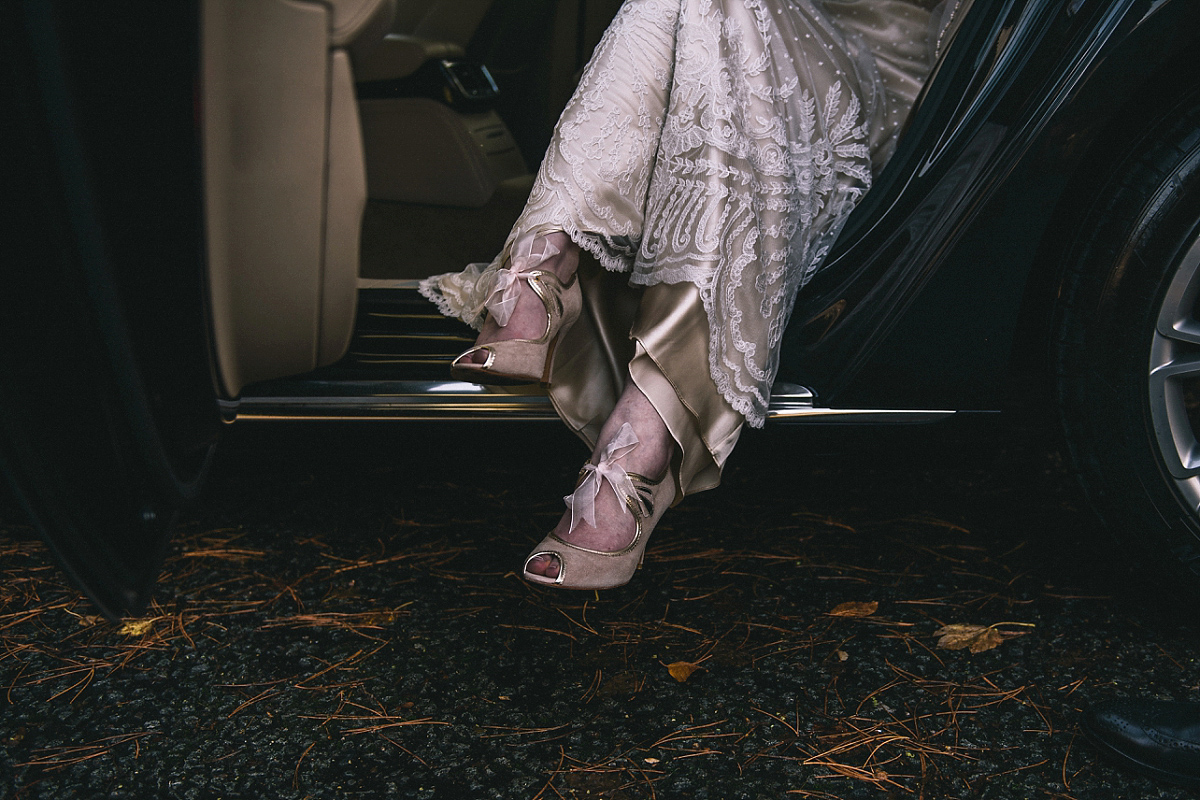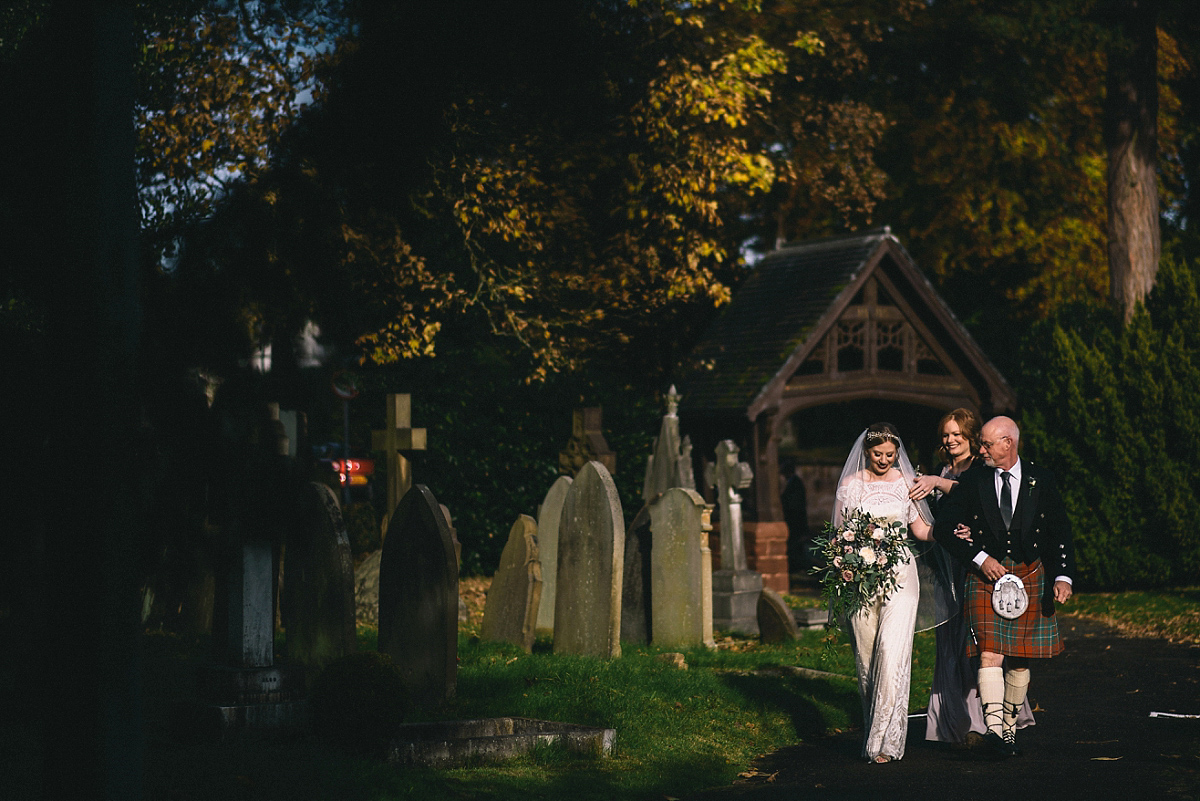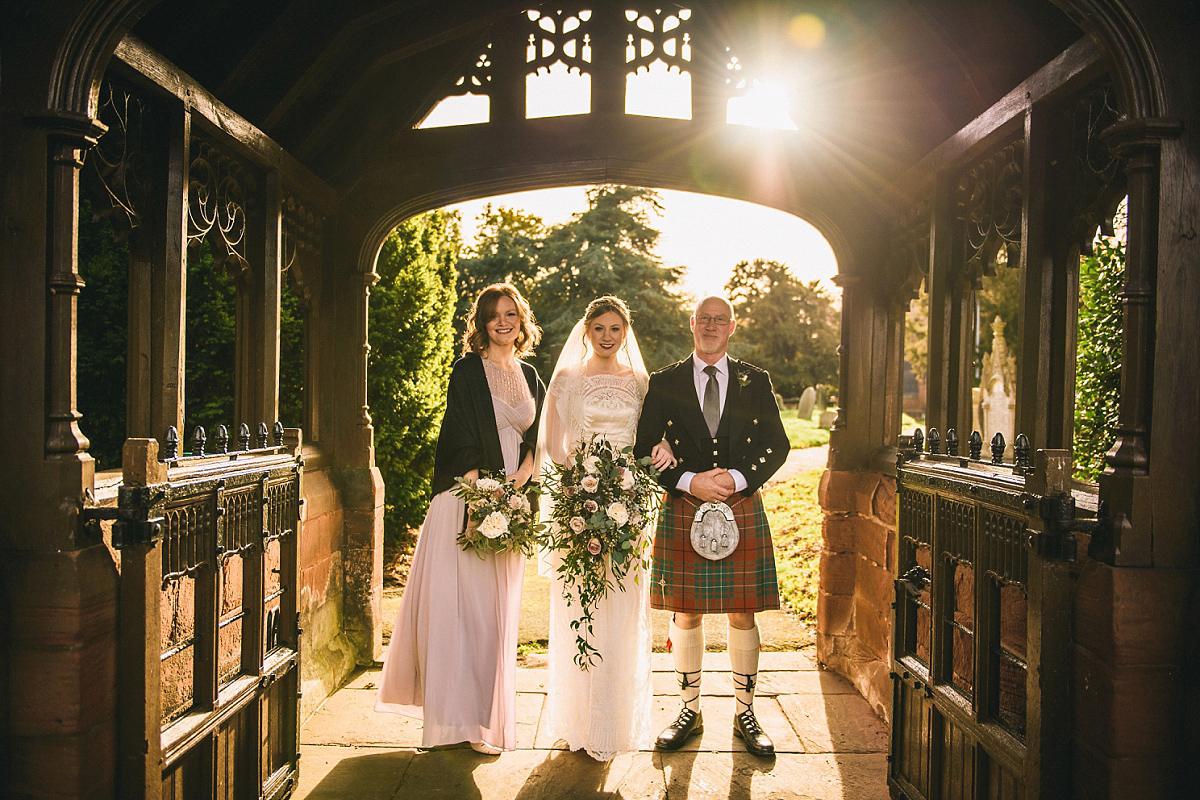 "My Dad accompanied me down the aisle. He wore my Grandad's kilt which is in the family tartan. We lost my Grandad in 2010, so it was lovely to involve him in the day in this way. I walked down the aisle to 'Nothing but Love' by James. James are regulars on our Spotify soundtrack, which we have on in the kitchen when we are making dinner together. We were hammering their new album, Girl at the end of the world, when I settled on this track."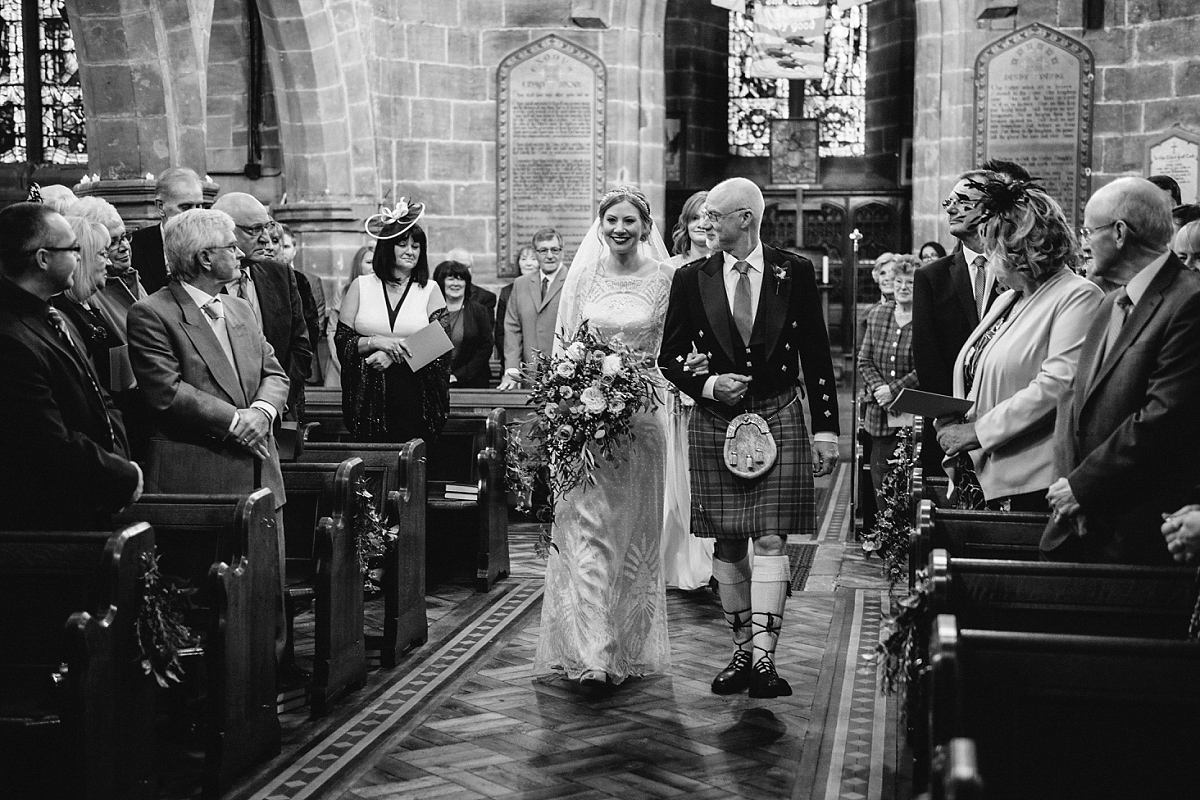 "A church has stood on the site of St Mary's since Celtic times, and so we included Celtic vows and the lighting of a unity candle, alongside traditional vows. We omitted the traditional 'giving away' part of the service, as I just didn't feel comfortable with the concept. My Dad knows how independent I am, so he understood."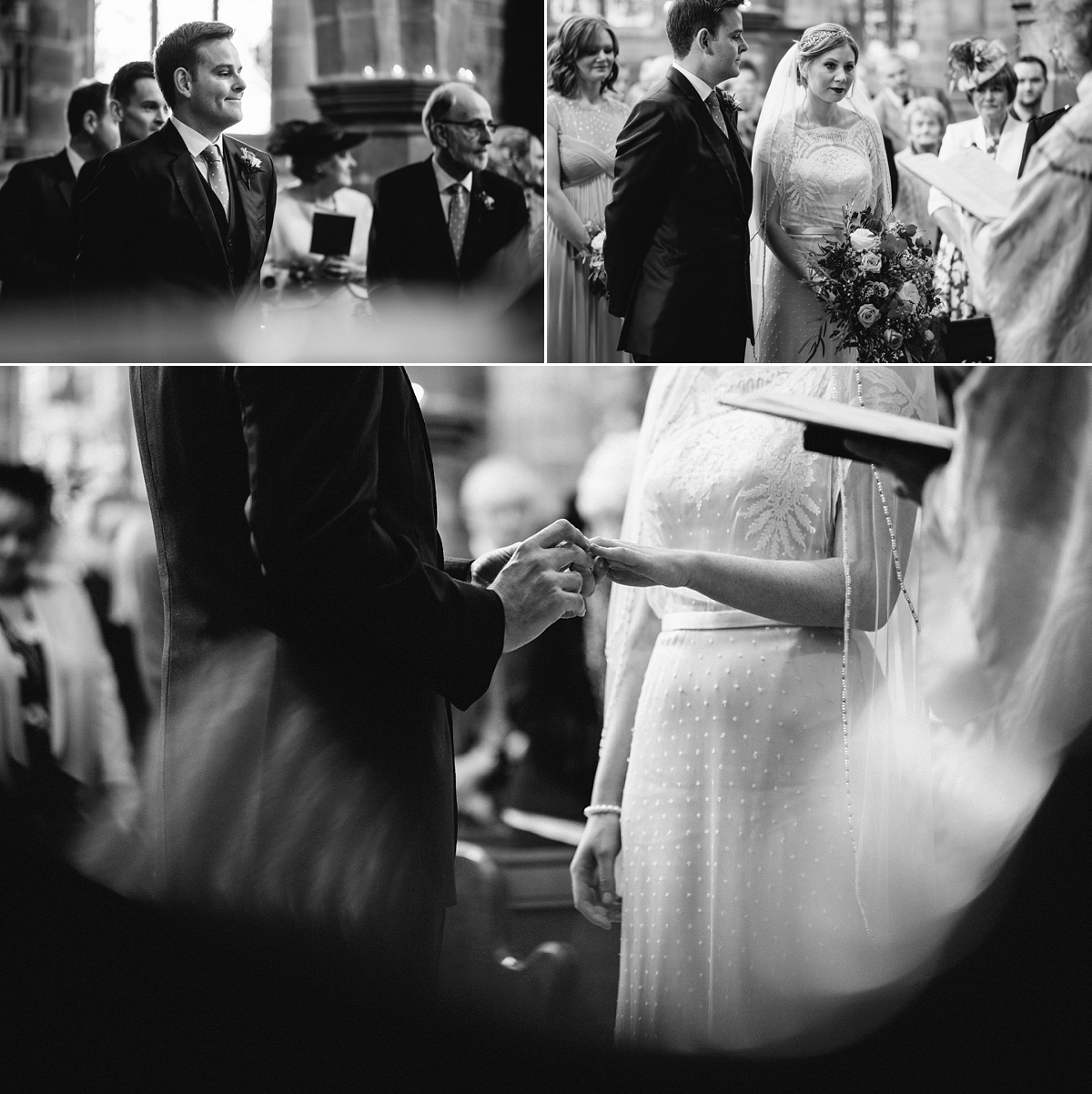 "Our readings included 'To Love Is Not To Possess', by James Kavanaugh, read by our close friend Markos.  We had a Bible Reading too; Colossians Chapter 3, Verses 12- 17, read by David's Dad. 
I found choosing the non-religious reading really difficult. We wanted something meaningful to us, but didn't want anything too soppy and romantic. We eventually settled on 'To Love In Not To Possess', as it met the 'Not too soppy' criteria, and because we hadn't heard it read at any other weddings that we had been to."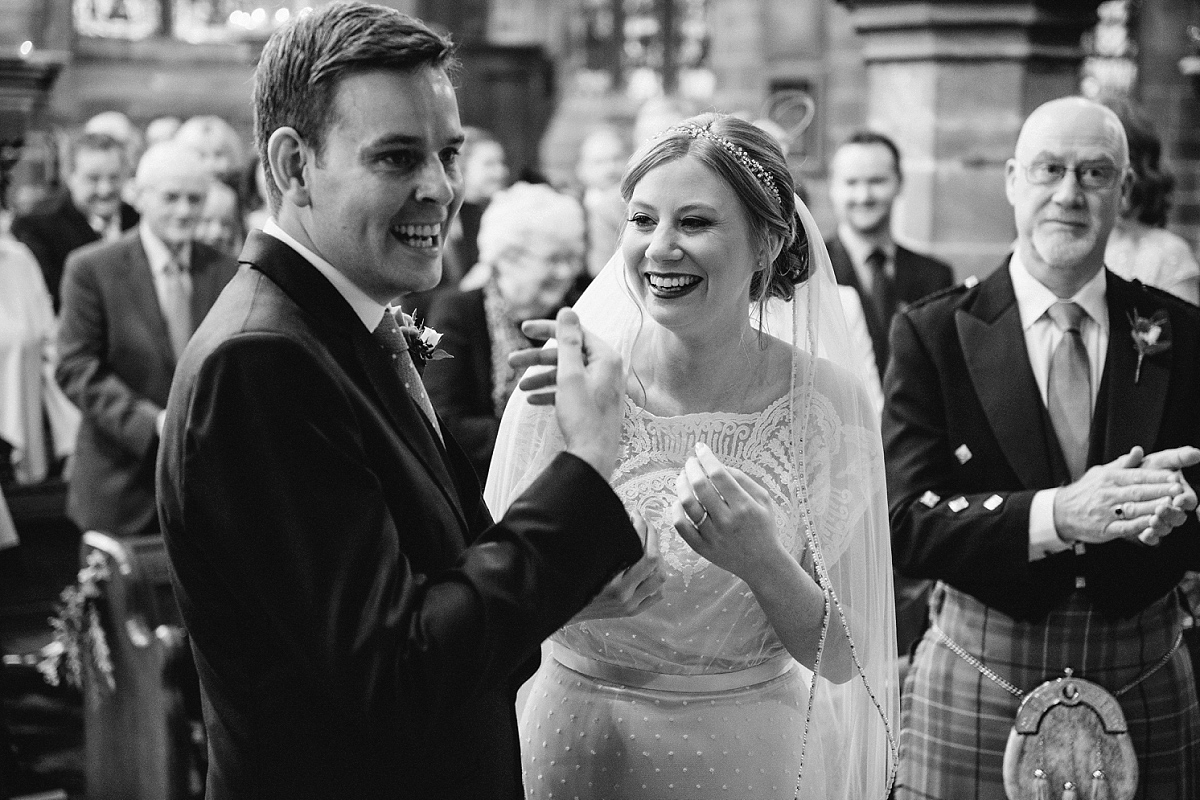 "Our wedding rings (and my engagement ring) were from Catherine Caddick in Crosby, Liverpool. The owner is a close family friend and was a brilliant source of advice when choosing our rings.
We both wanted simple and classic rings that would stand the test of time. David chose a plain platinum wedding band and I opted for a simple diamond band which complemented my engagement ring."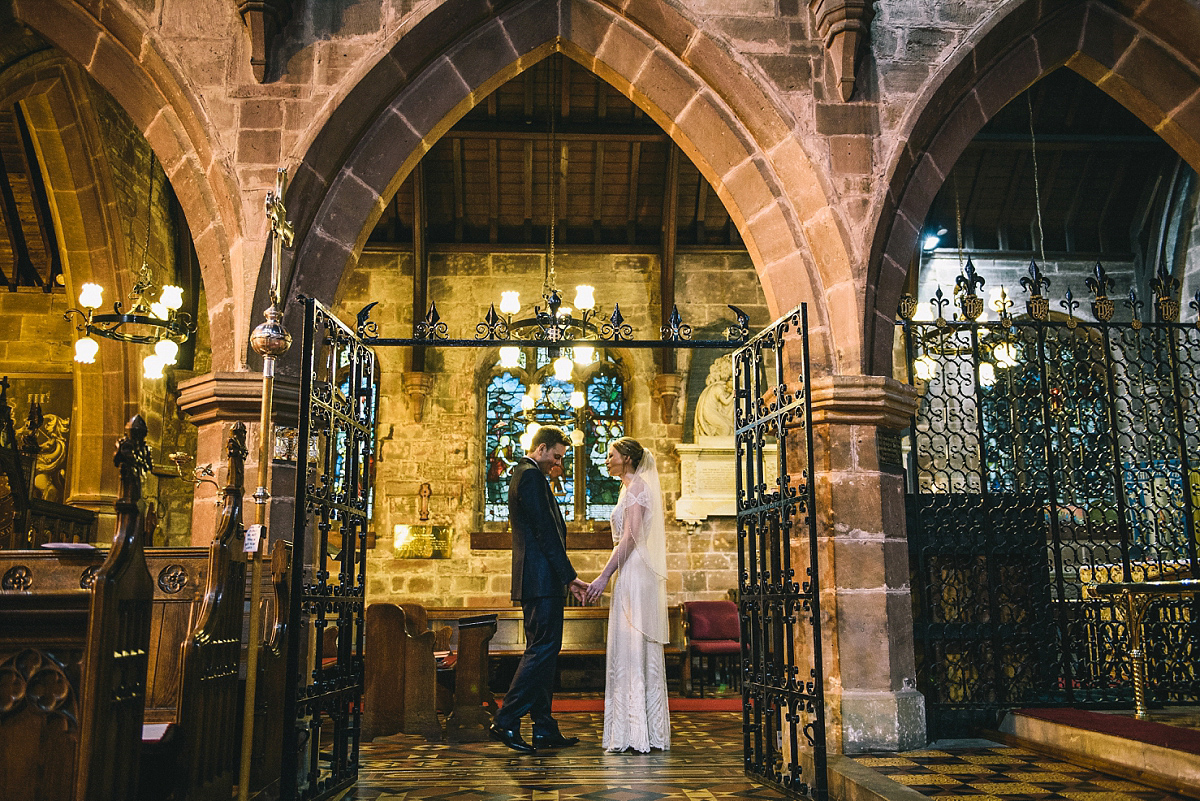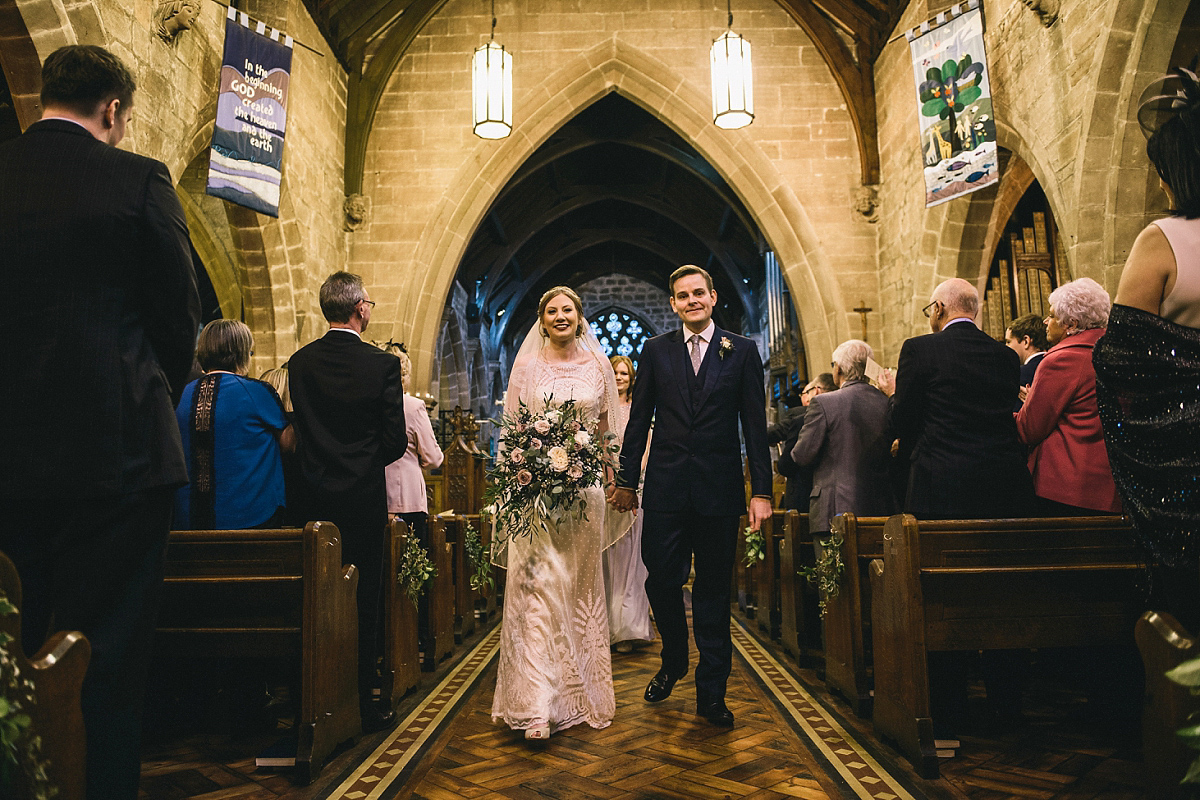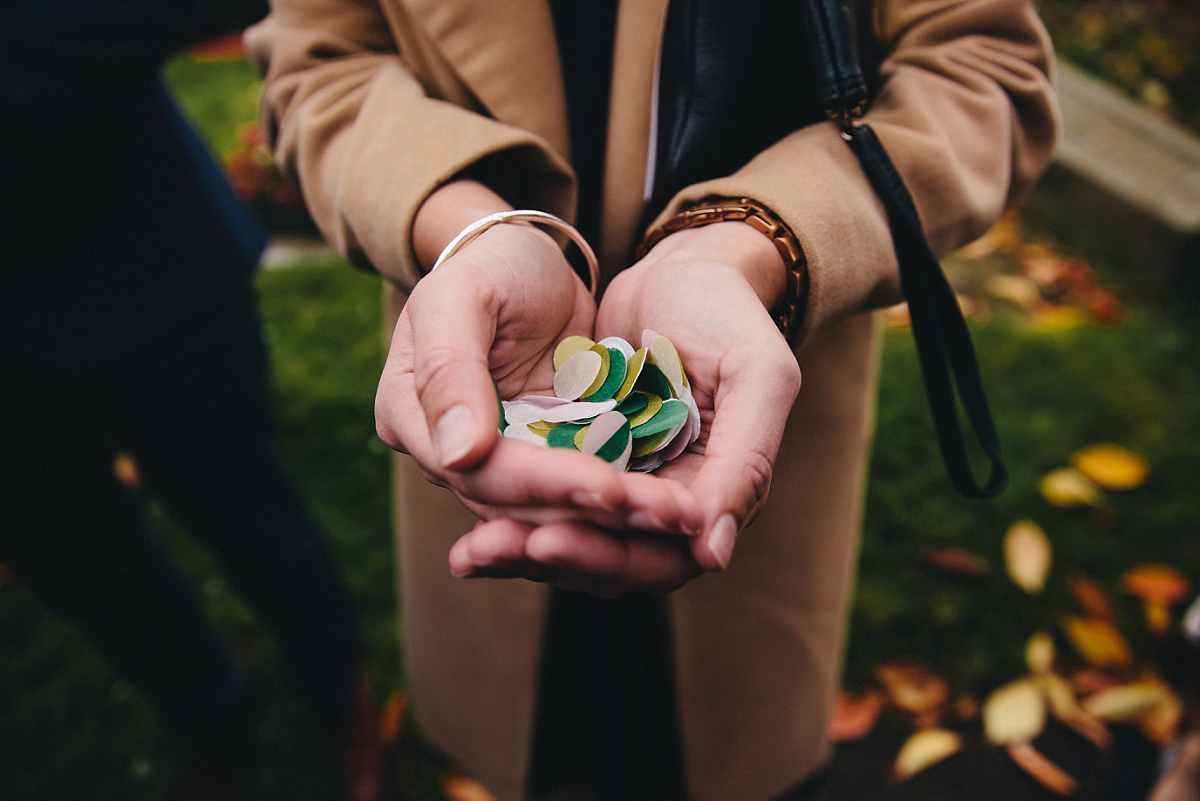 "I really enjoyed that time immediately after the ceremony, when I could properly greet all of our guests for the first time. I know that it has been said many times before, but there is something incredibly special and unique about having all of your loved ones all together in one place."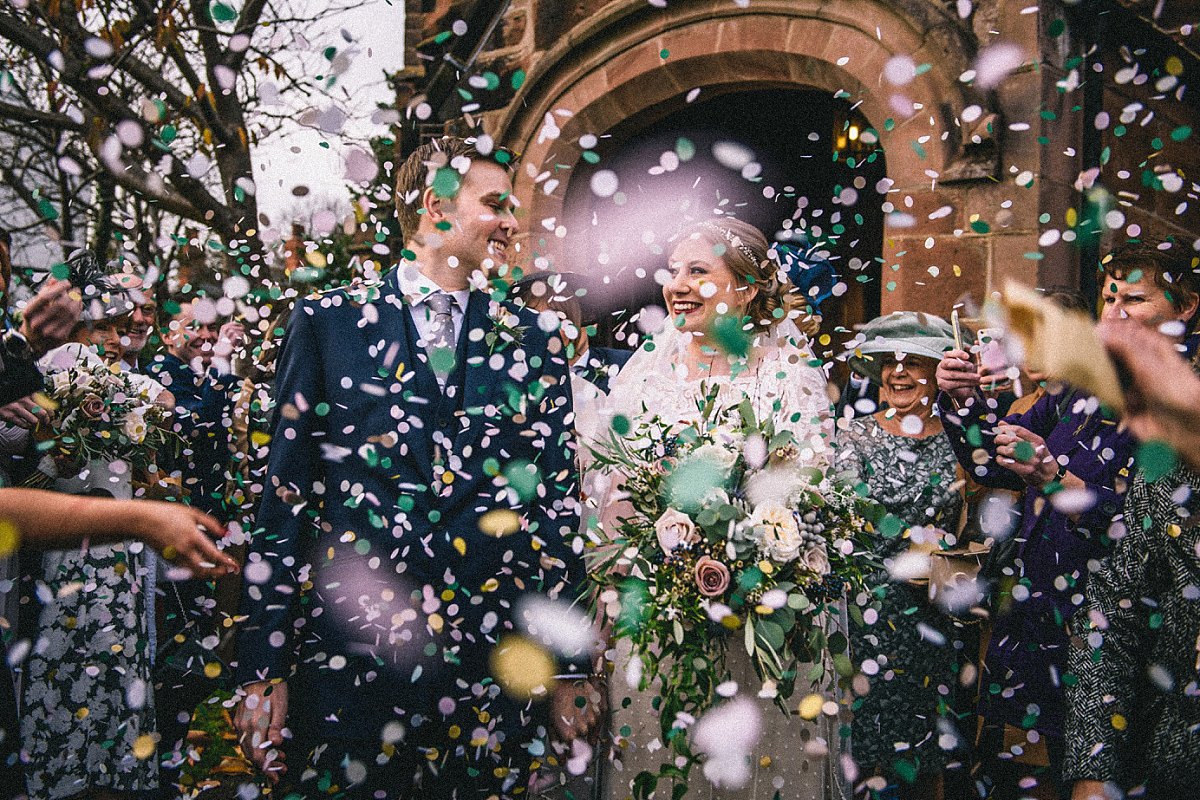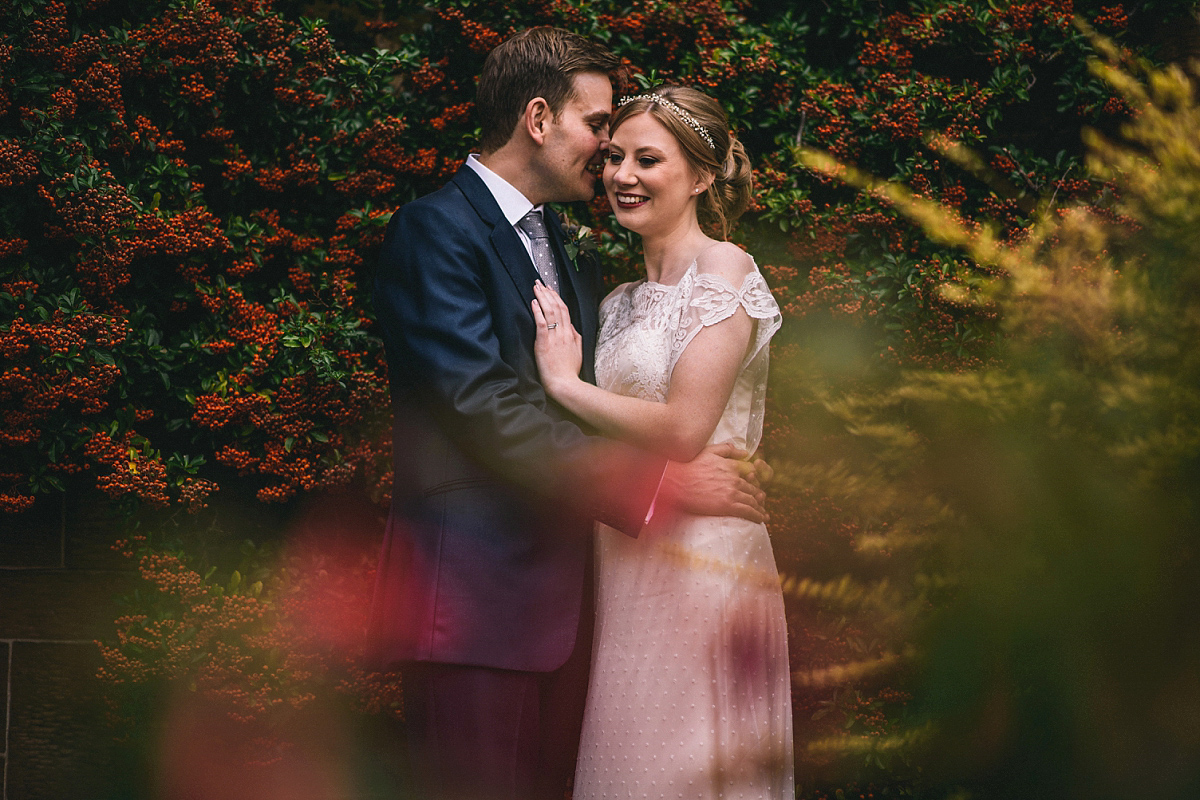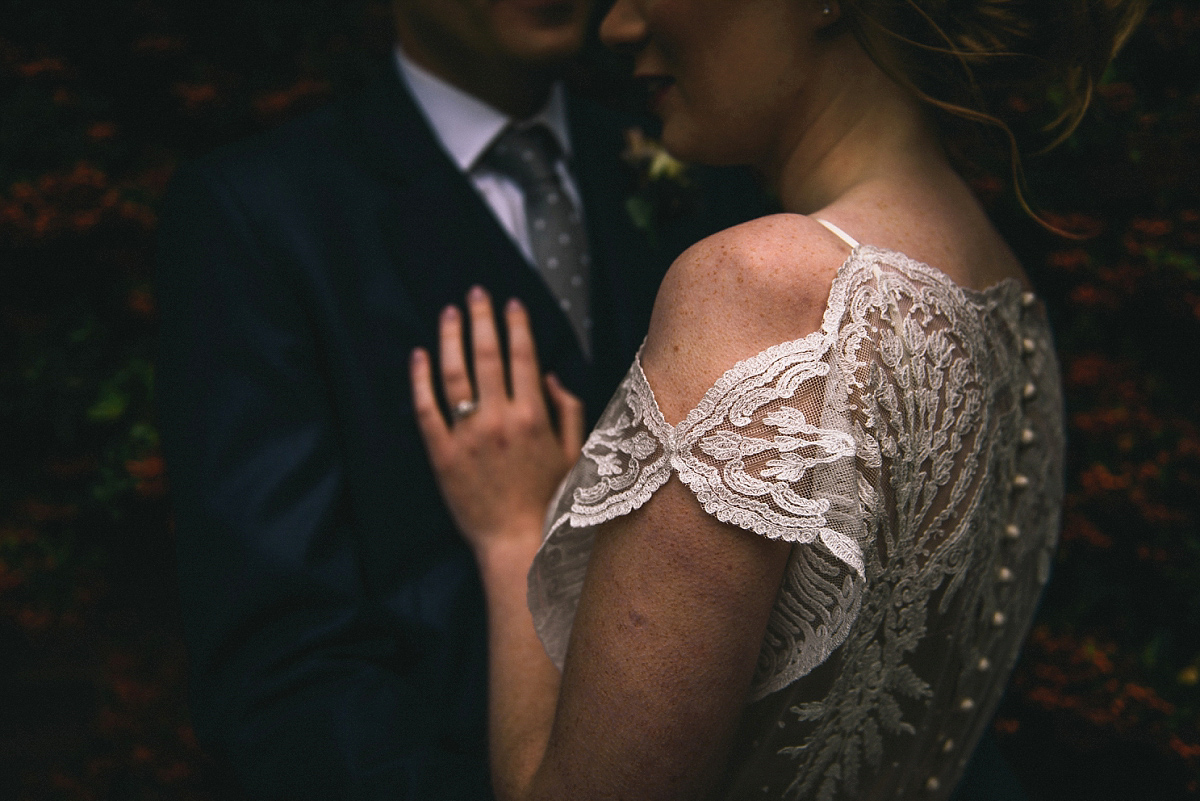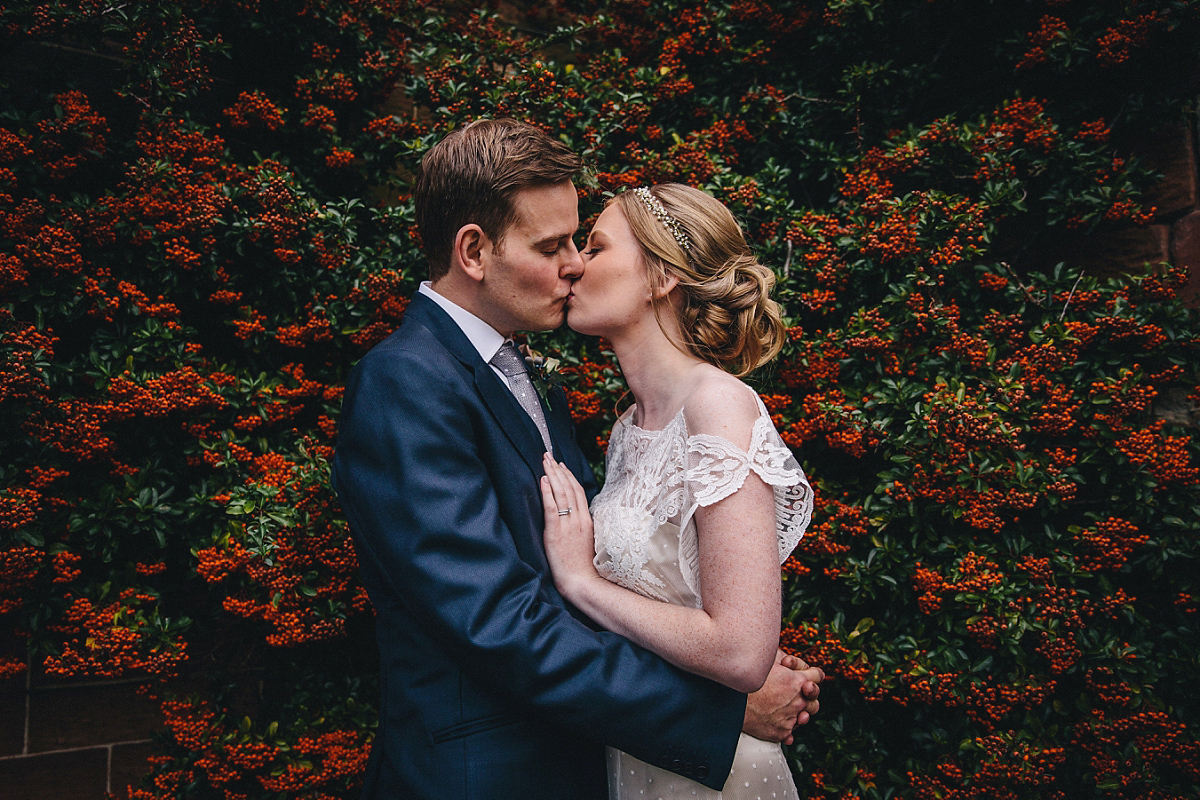 "David wore a bespoke suit from James Personal Tailor & Son of Manchester.  I gave Dave silver cufflinks as a gift on the Wedding Day. They were made with real sixpences, which you could choose the year of and were  from Hersey Silversmiths. As neither of us were alive during the circulation of sixpences, there wasn't any particular year that really meant something to us as a couple, so I chose 1964, the year Bill Shankley became Manager of Liverpool.
I think that David appreciated the thought, although he is most unimpressed that they didn't bring the luck to the team's season that he thought they would!"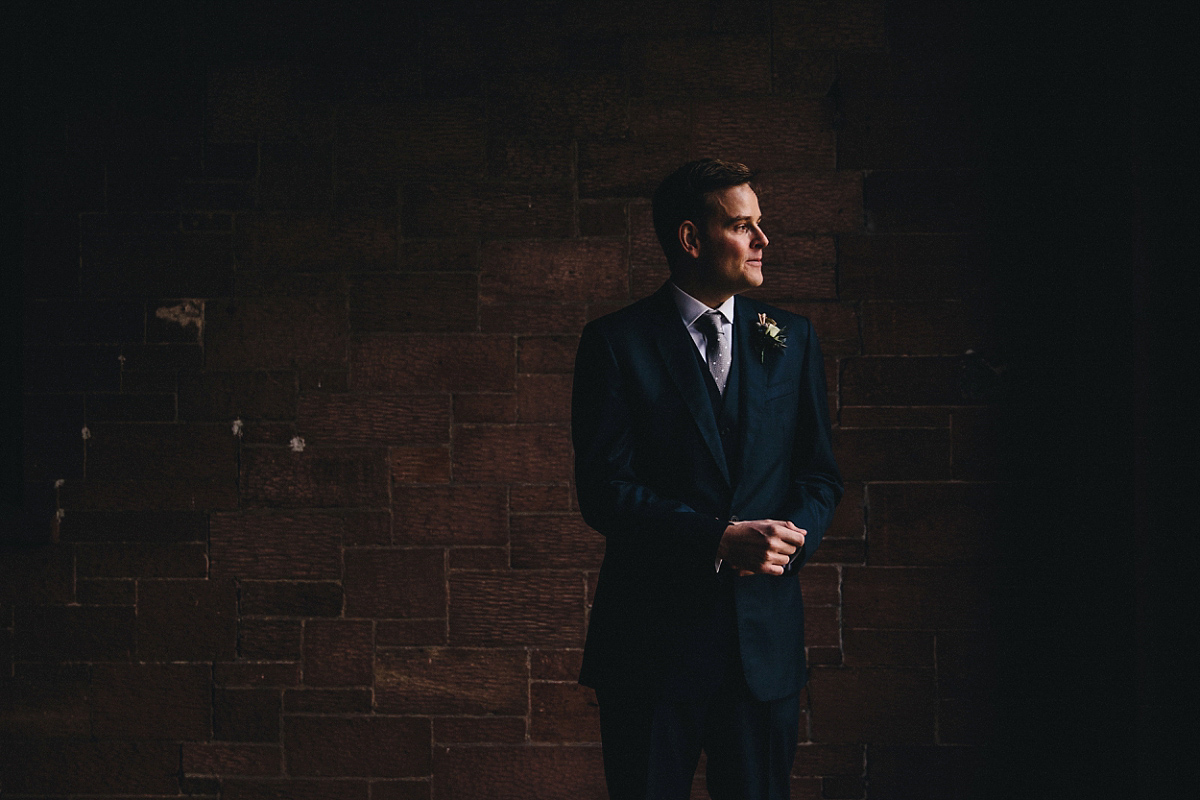 "Finding the right photographer was one of my top priorities when we first started planning the wedding (as a reader of Love My Dress for many years prior to becoming engaged, I had very high standards!), and I spent months scouring blogs to find a photographer that suited our style and personalities."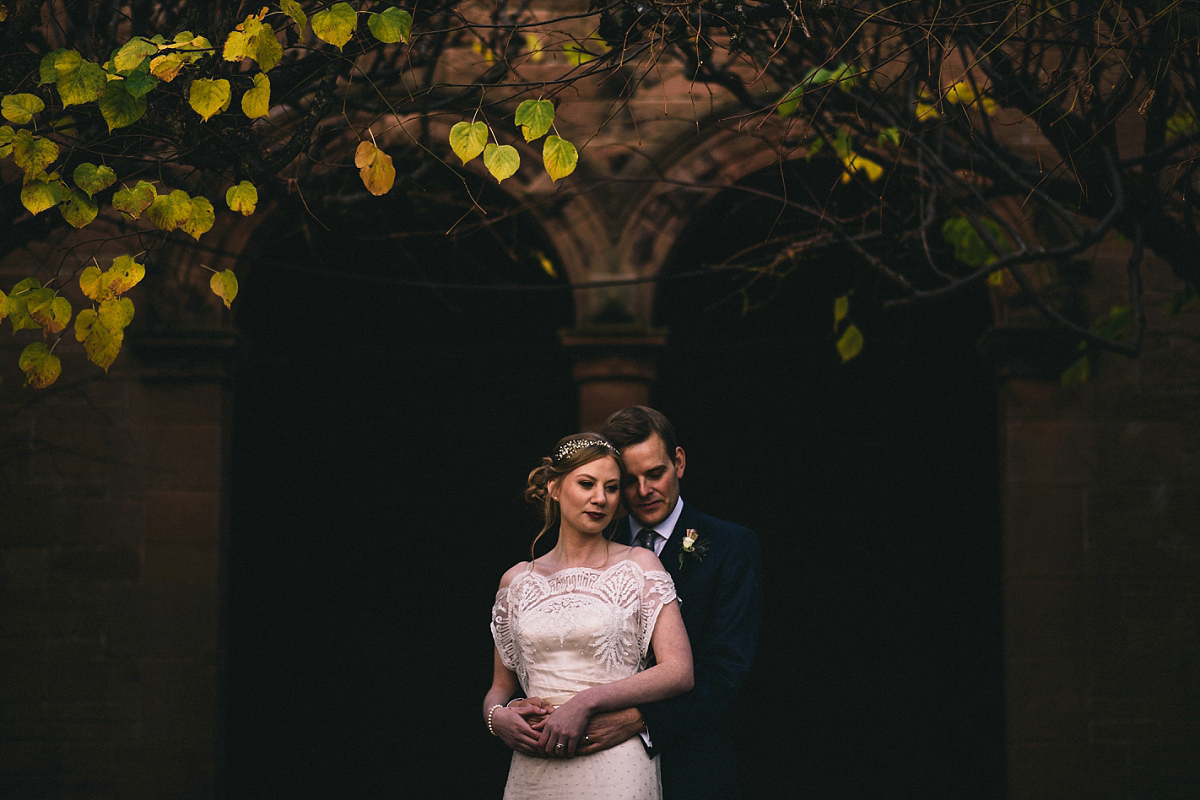 "David and I are both fairly reserved, so we needed a photographer that would be able to work with that, and could make us look fabulous without us having to pose too much! Paulo's photographs are so natural and incredibly stylish, so after having a chat over the phone and finding that he was super laid back and a really cool dude who clearly loved what he did, I booked him straight away."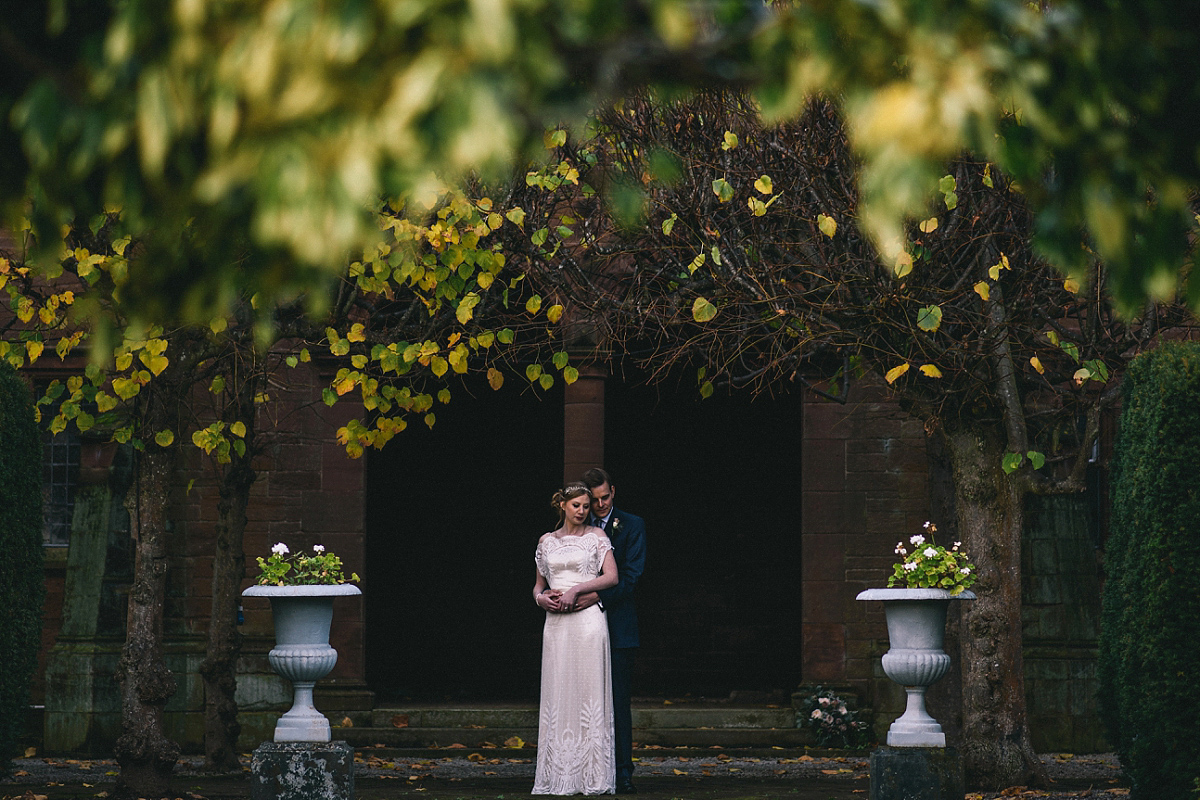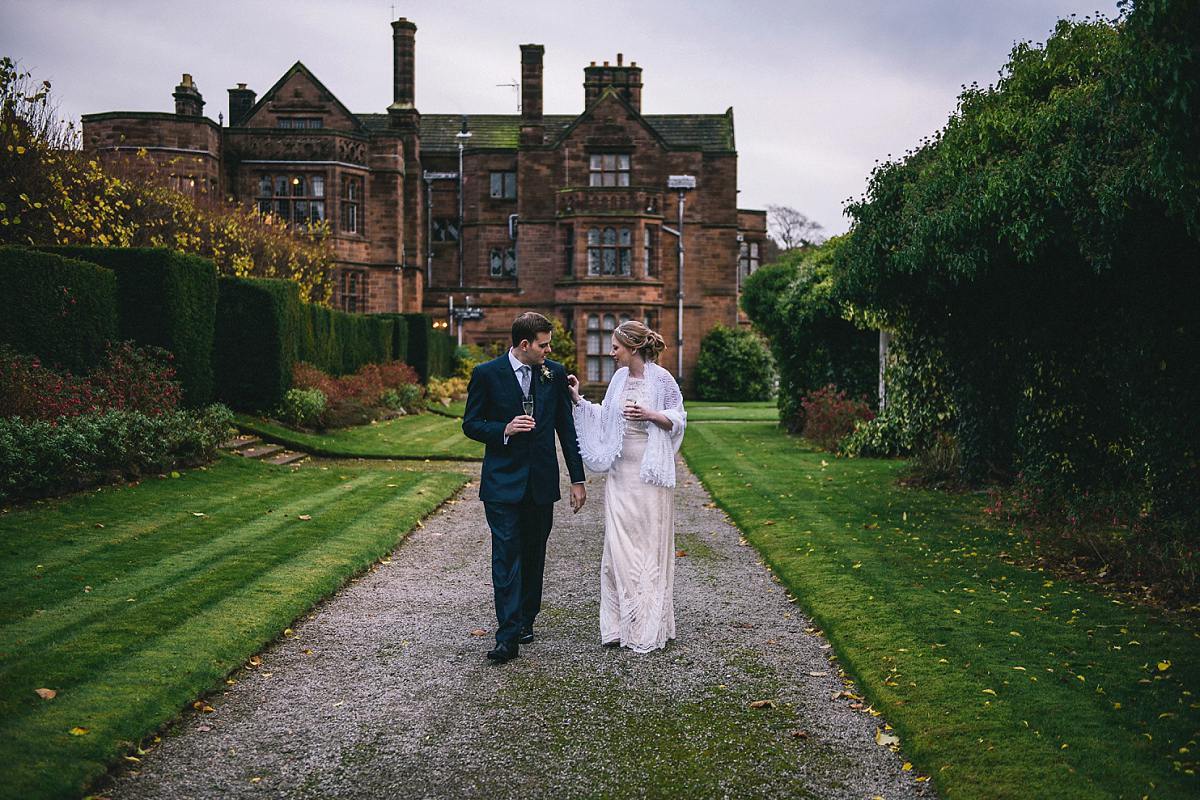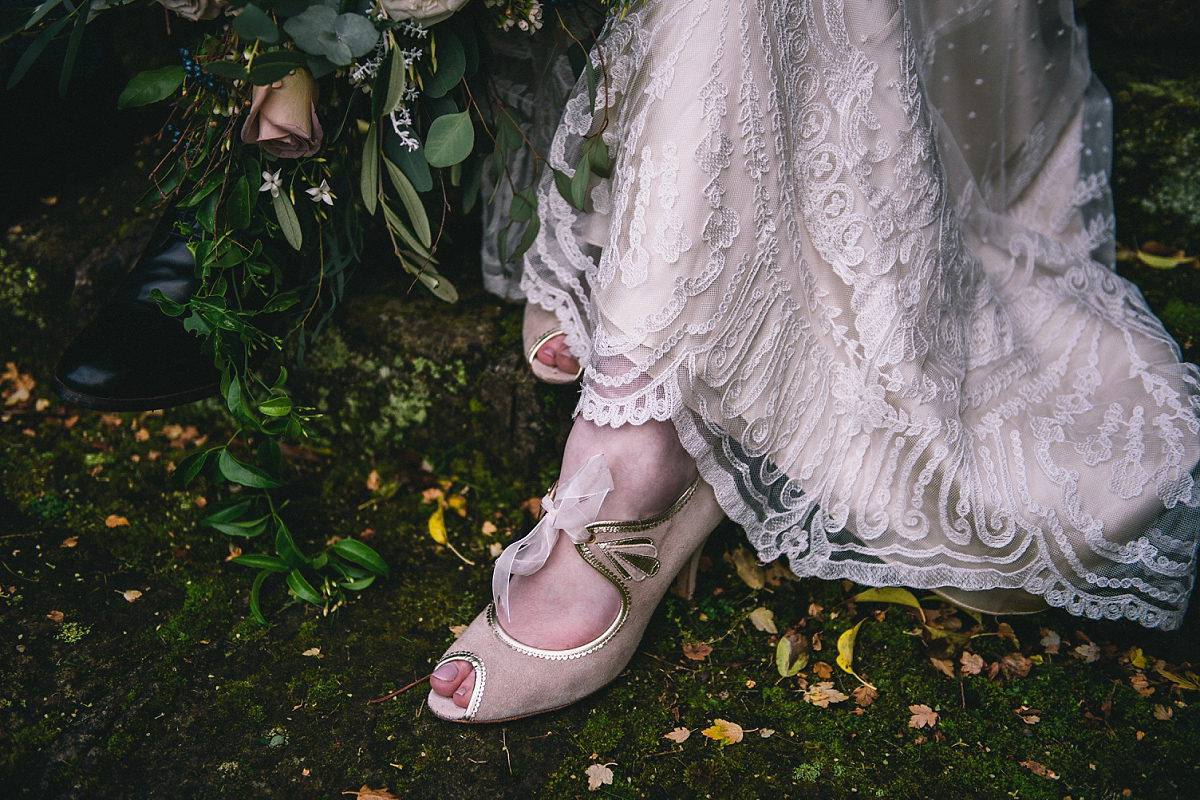 "Paulo was supported by Kelly from The Twins Photography. They were great fun on the day and it was a real pleasure to have them around. We are completely in love with our photographs, every one of them is a work of art."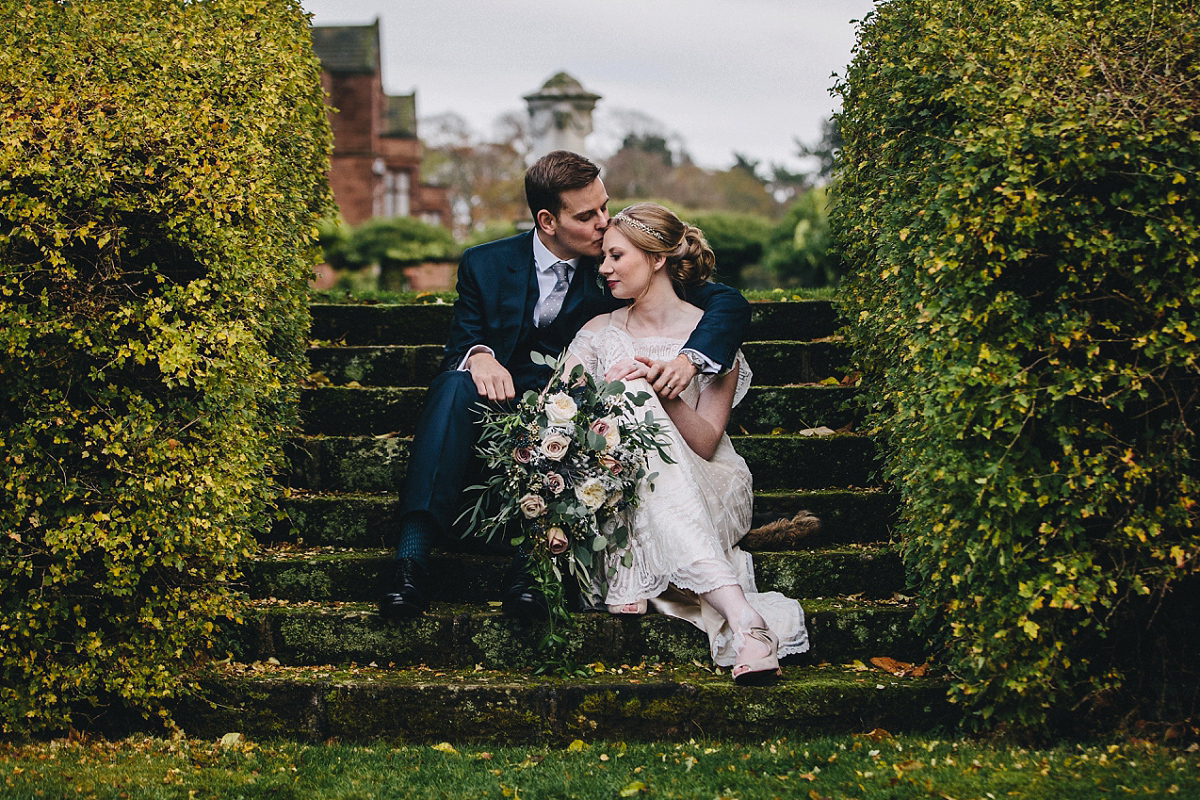 "We chose not to have a video made. This was partly a budget-based decision, but I also didn't like the idea of having so many cameras following me around all day, especially with us already having two photographers."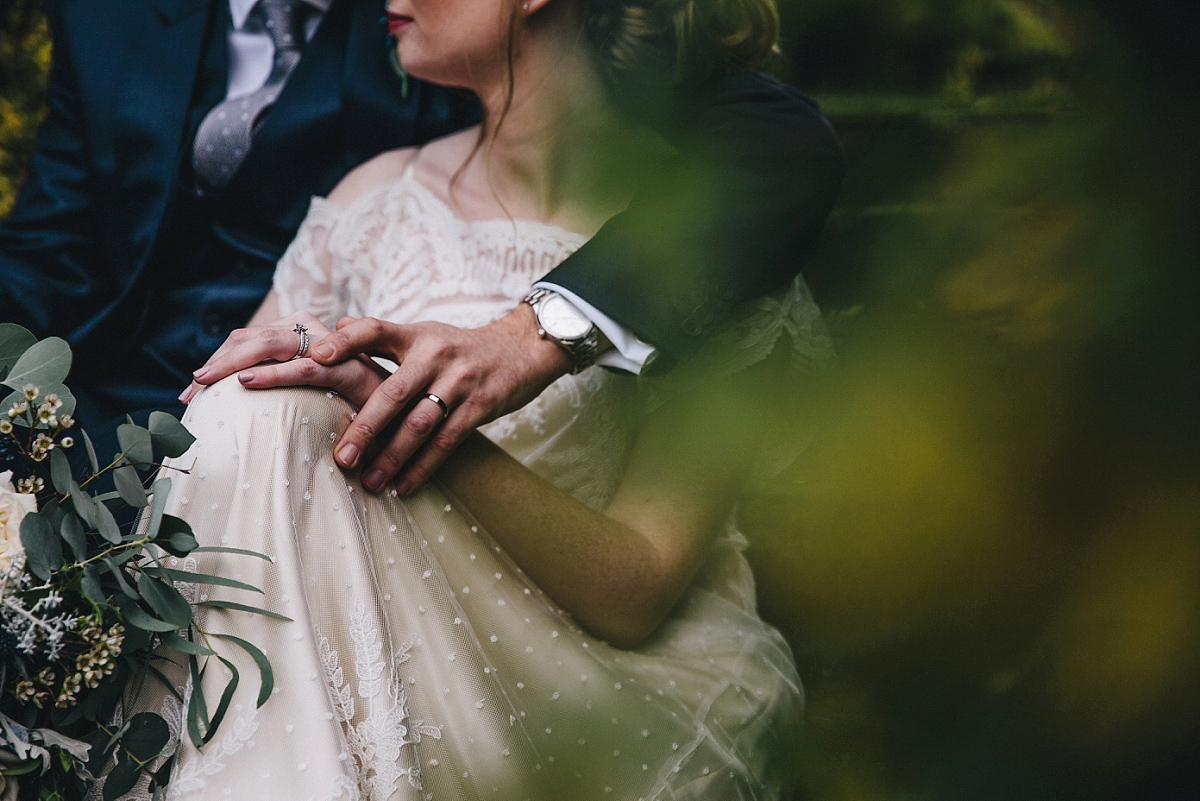 "We instead opted to bring our go-pro along, and asked Nick, one of the groomsmen, to capture some footage of the day along with video messages from our guests. We are yet to review the footage in full, but we have had a sneak peek and early signs are that it will be a hilarious watch!"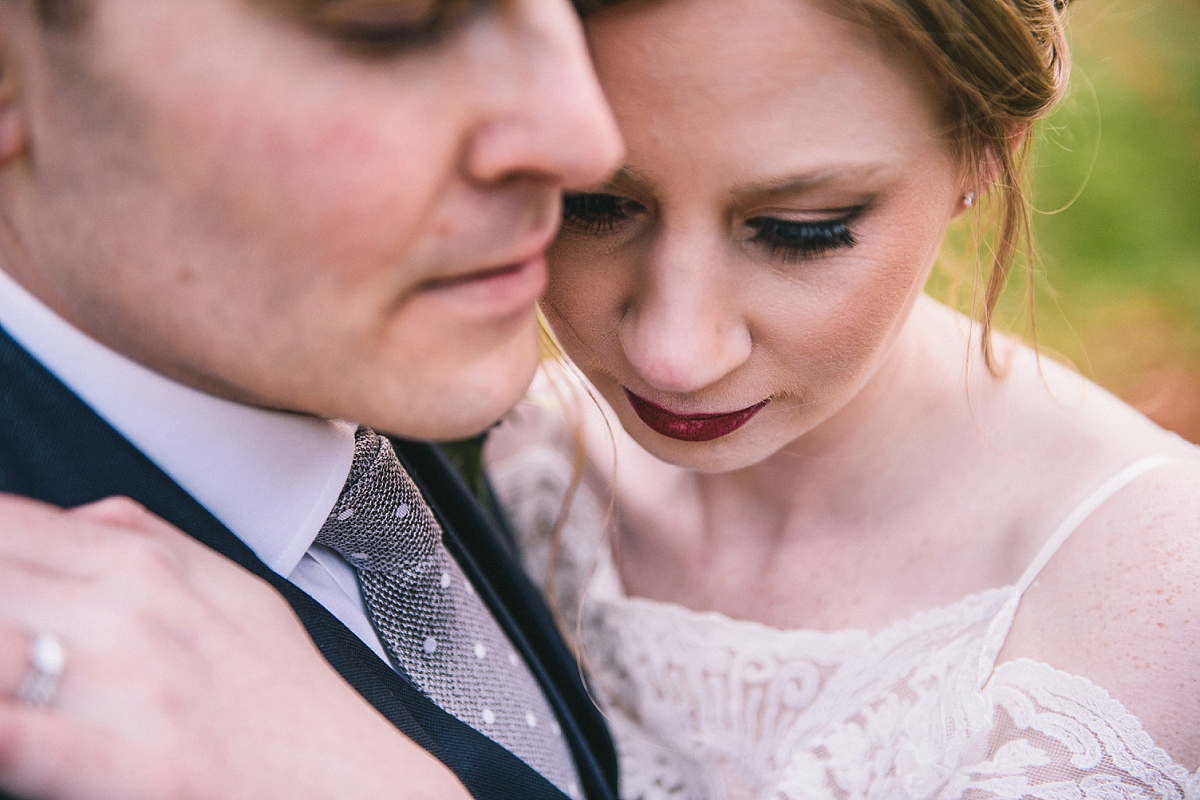 "Thornton Manor doesn't need an awful lot of decoration as it's so beautiful just as it is, but we wanted our wedding day to feel classic and glamorous without being ostentatious. We picked things that we felt would add a bit of wow factor to the day – different shades of gold and sequins paired with statement flower arrangements – and then toned them down with subtle rustic touches."
"When we arrived at the reception venue after the ceremony, we casually abandoned our guests and headed straight for the music room where our wedding breakfast was to be held, as we were so excited to see the flowers. We were not disappointed."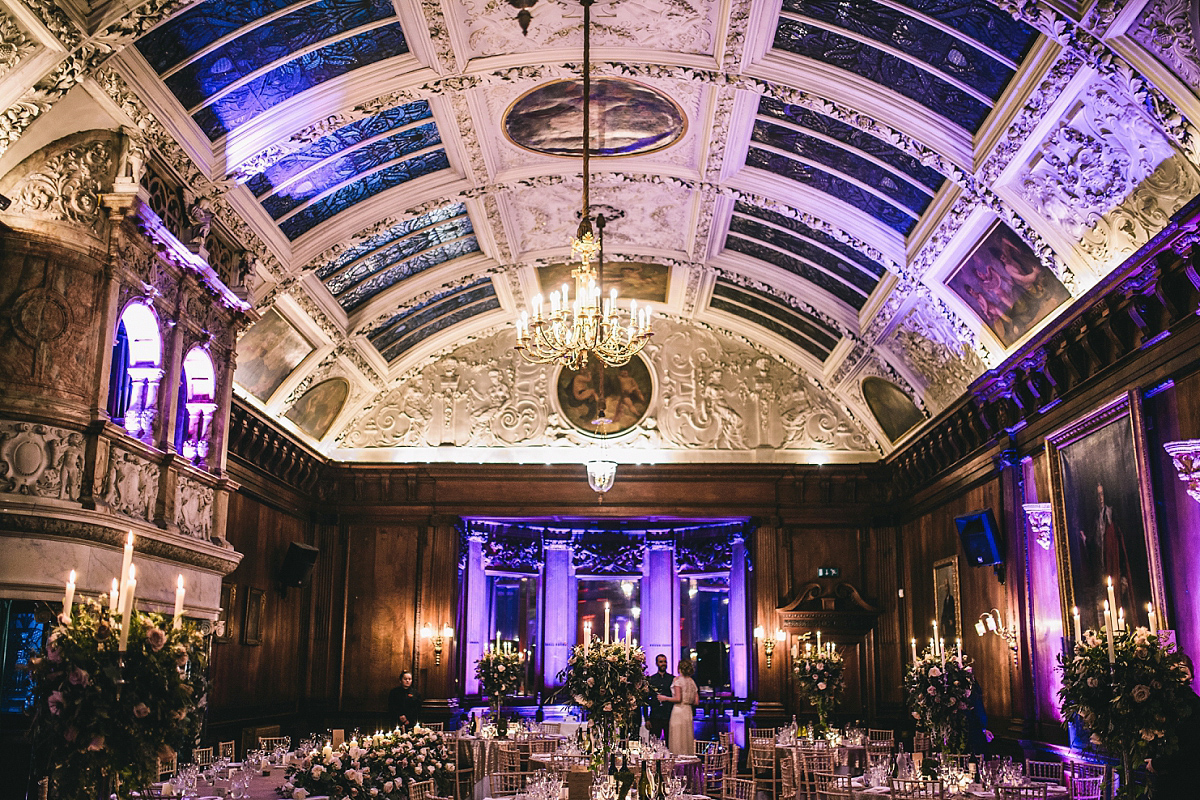 "I don't consider myself to be particularly crafty or creative, but I rather impressed myself with my creations. My table plan was my biggest triumph. I was really pleased with how that turned out – special credit to the 'Belles' on the Love My Dress closed Facebook group for their help with that project!"
"I designed all of the stationery myself and had it printed by printed.com, who I discovered through Love My Dress."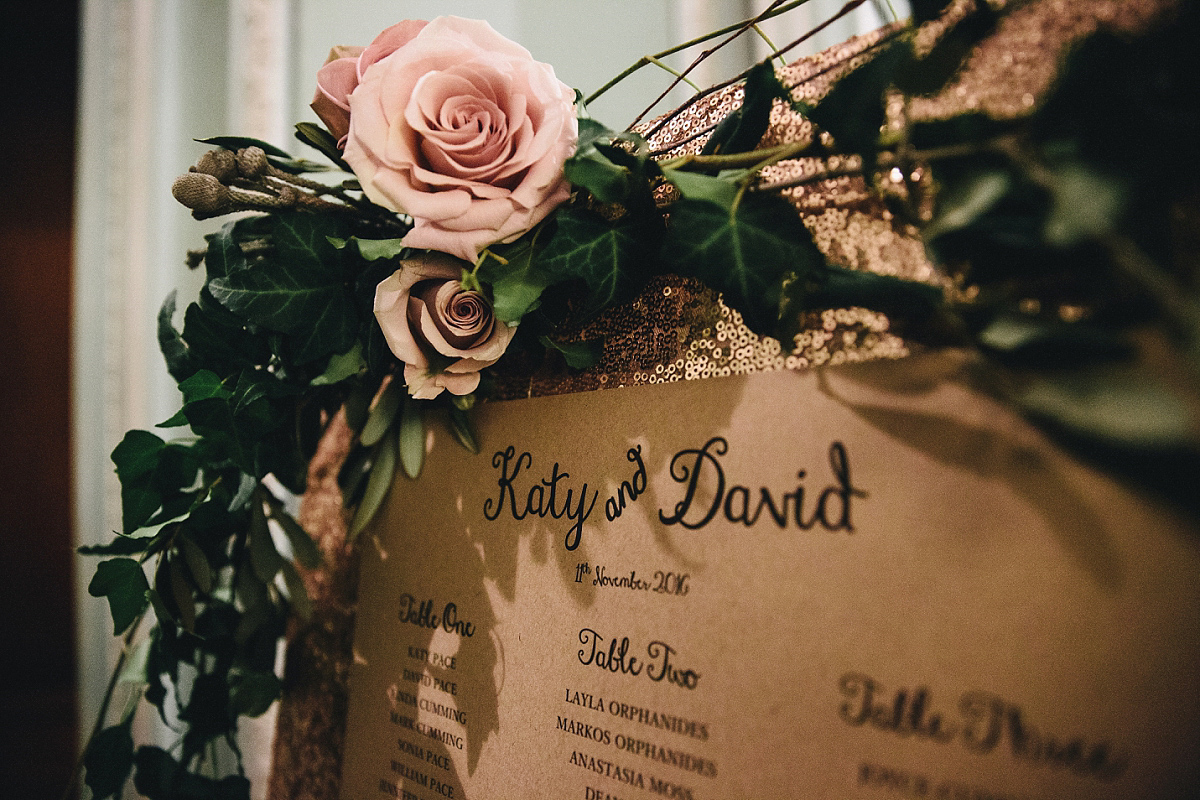 "We had Dogs Trust wedding favours. We love dogs, and having had rescue dogs in the family most of my life, I wanted to take the opportunity to support the charity.|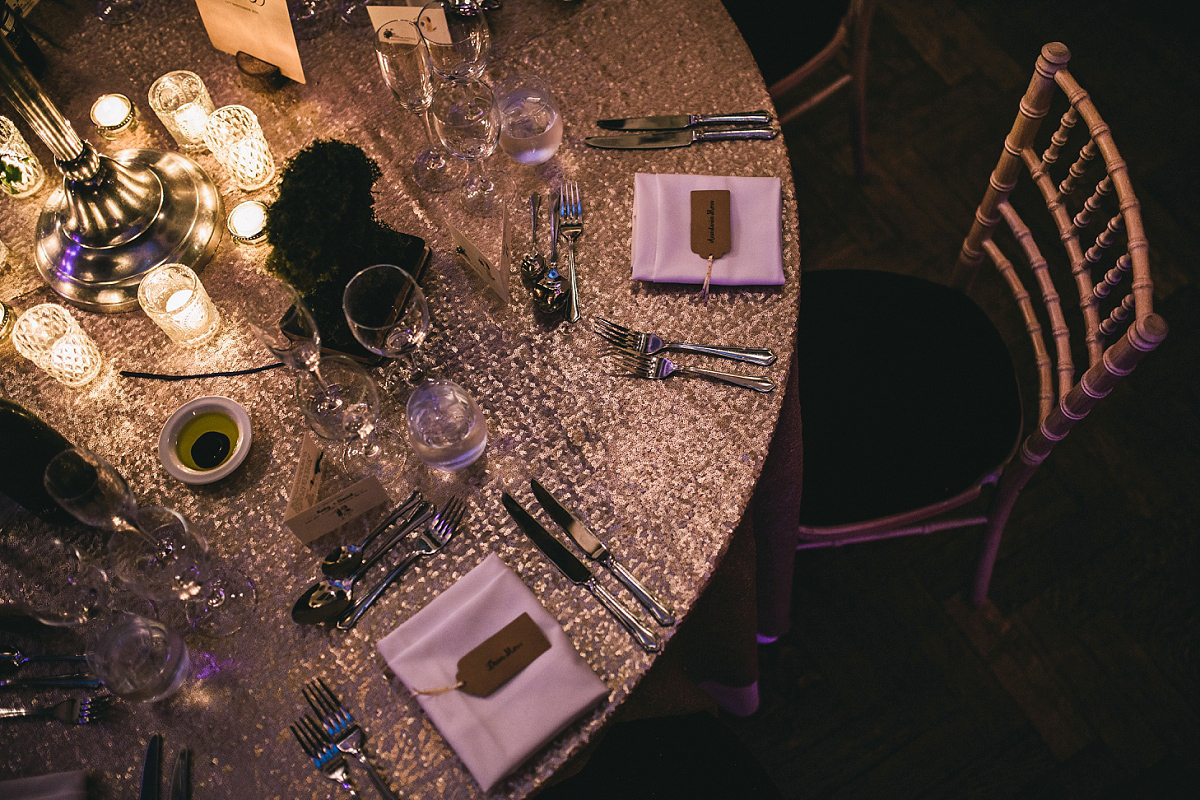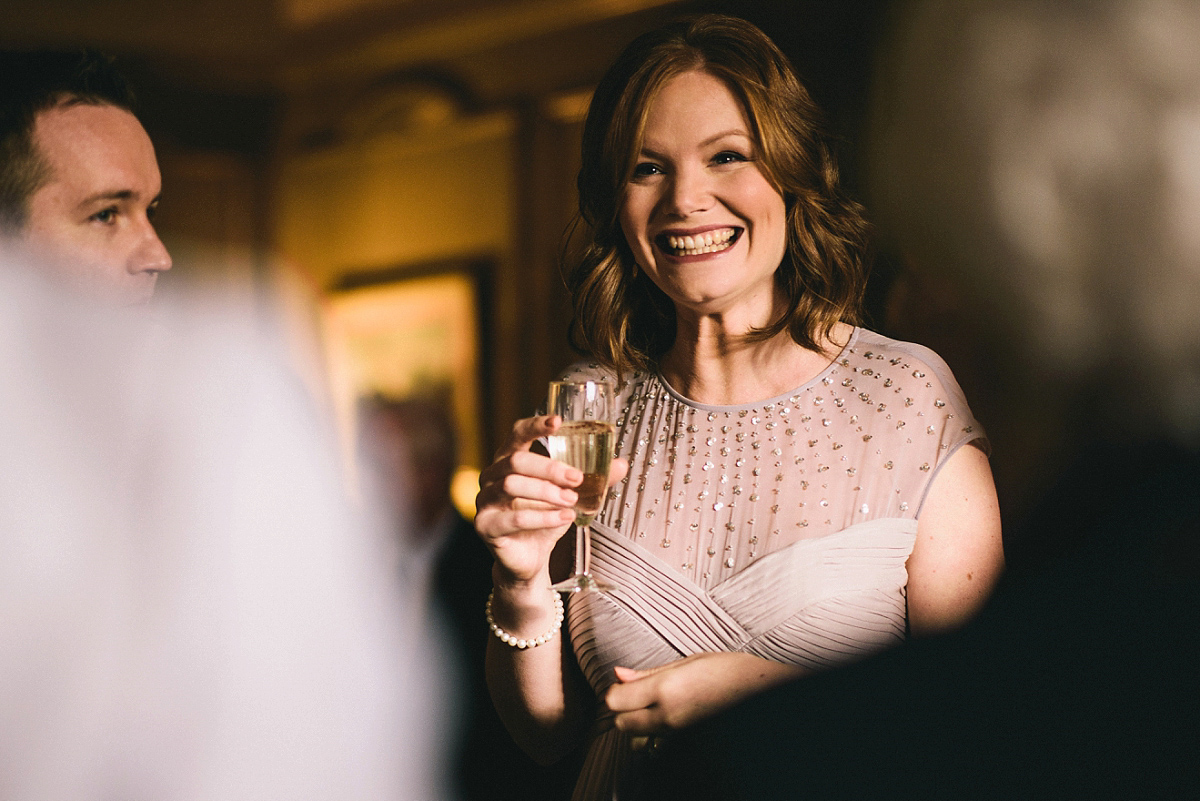 "One of our reasons for choosing Thornton Manor was that we could pick our own caterers. We chose Barretts Event Caterers simply because their food was delicious and the service was top notch. They were such brilliant hosts on the day and did a fantastic job of looking after our guests and making sure that they always had a drink in hand and didn't go hungry!"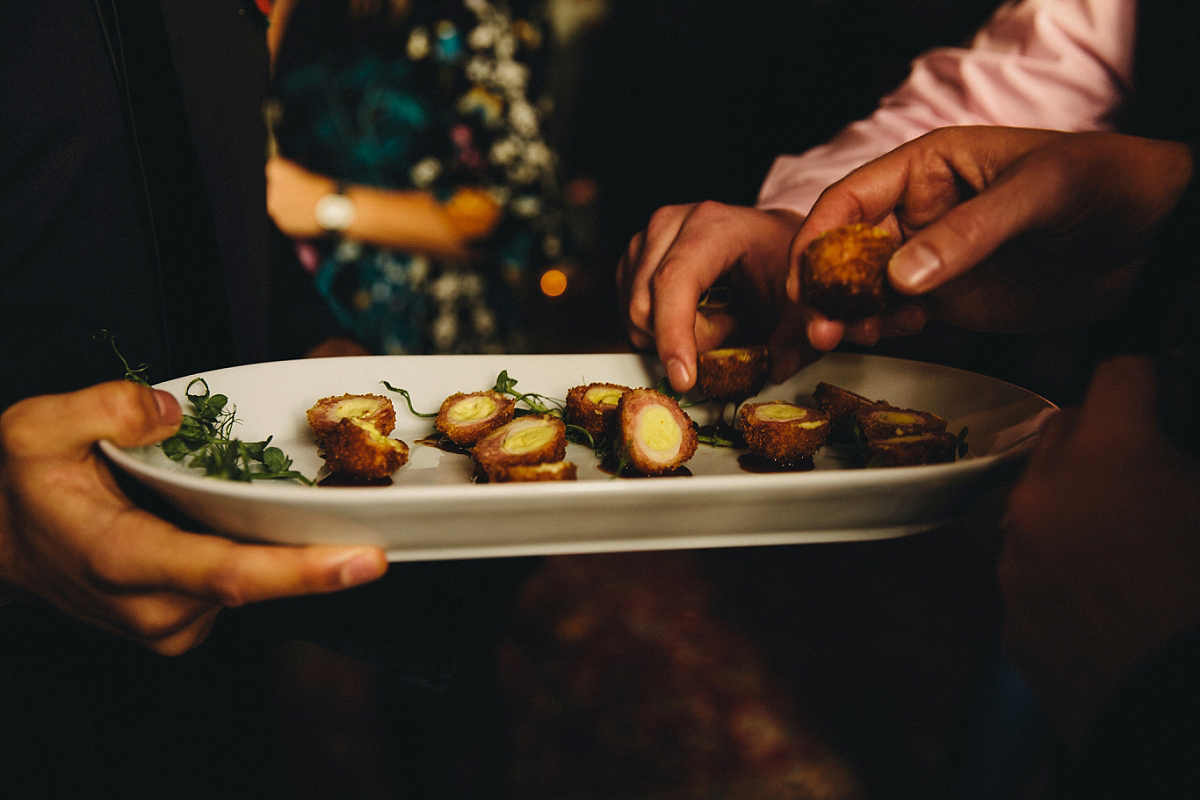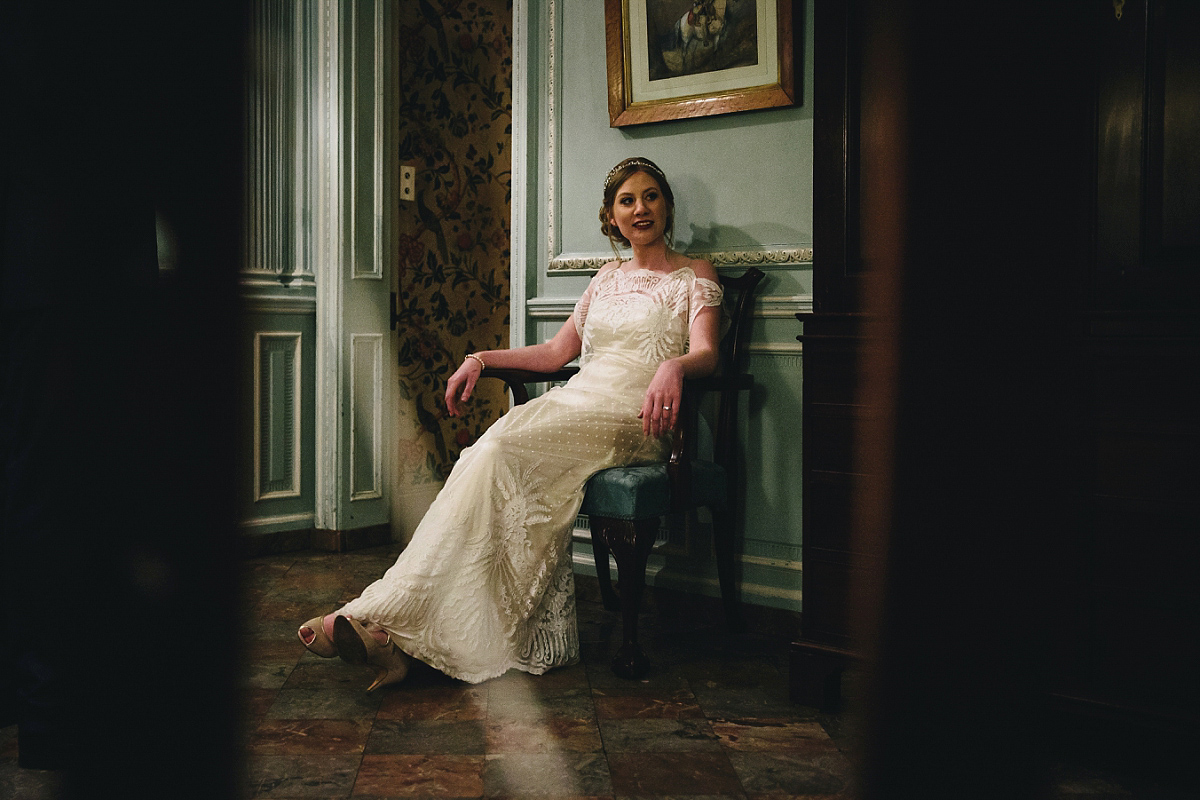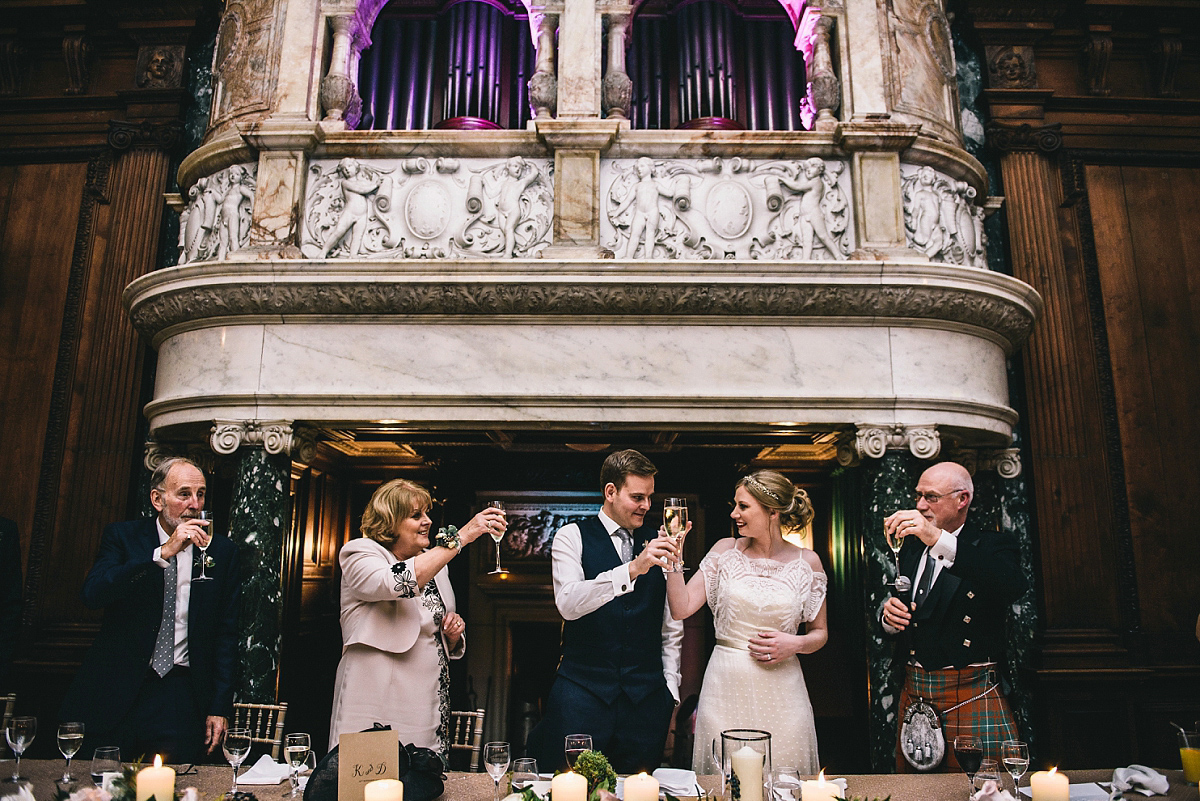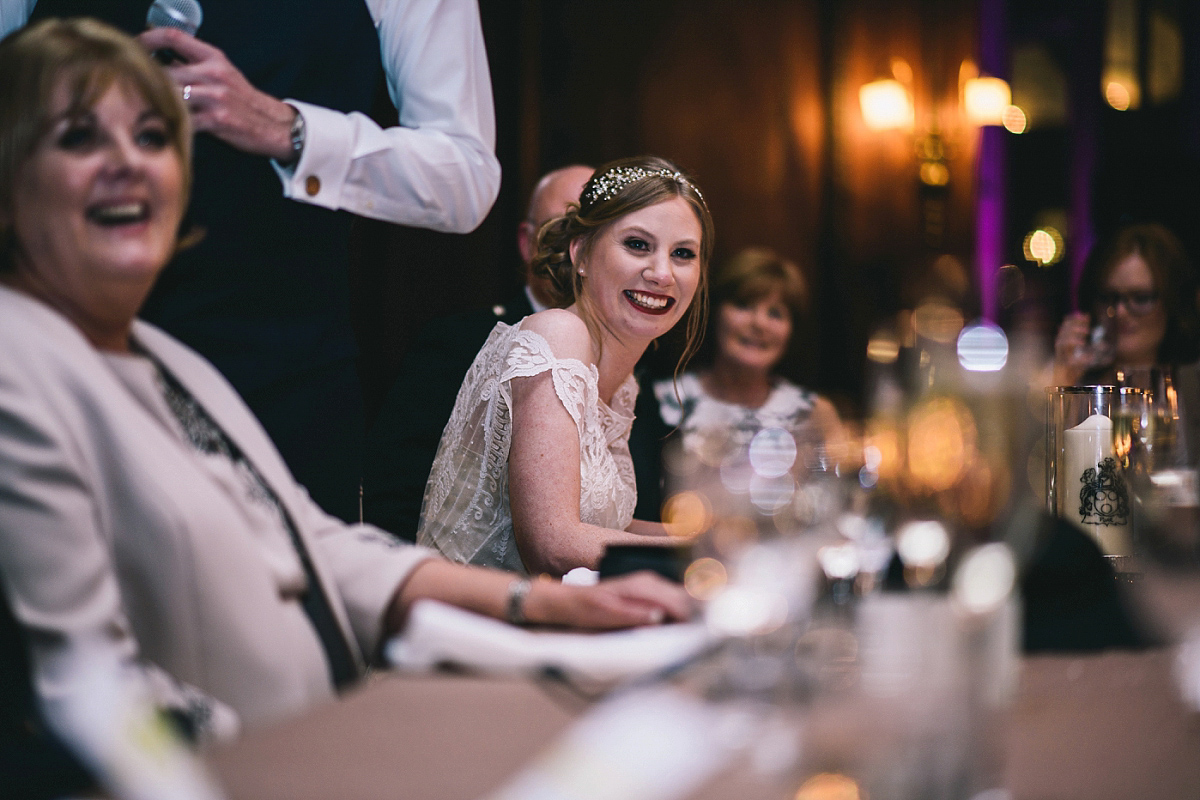 "My very talented Dad made our wedding cake. It was a simple 4-tier cake with alternating plain and gold leaf finishes. Sian, our florist, finished it off with some simple roses and foliage, which complemented the rest of the flowers. It looked fab and tasted amazing."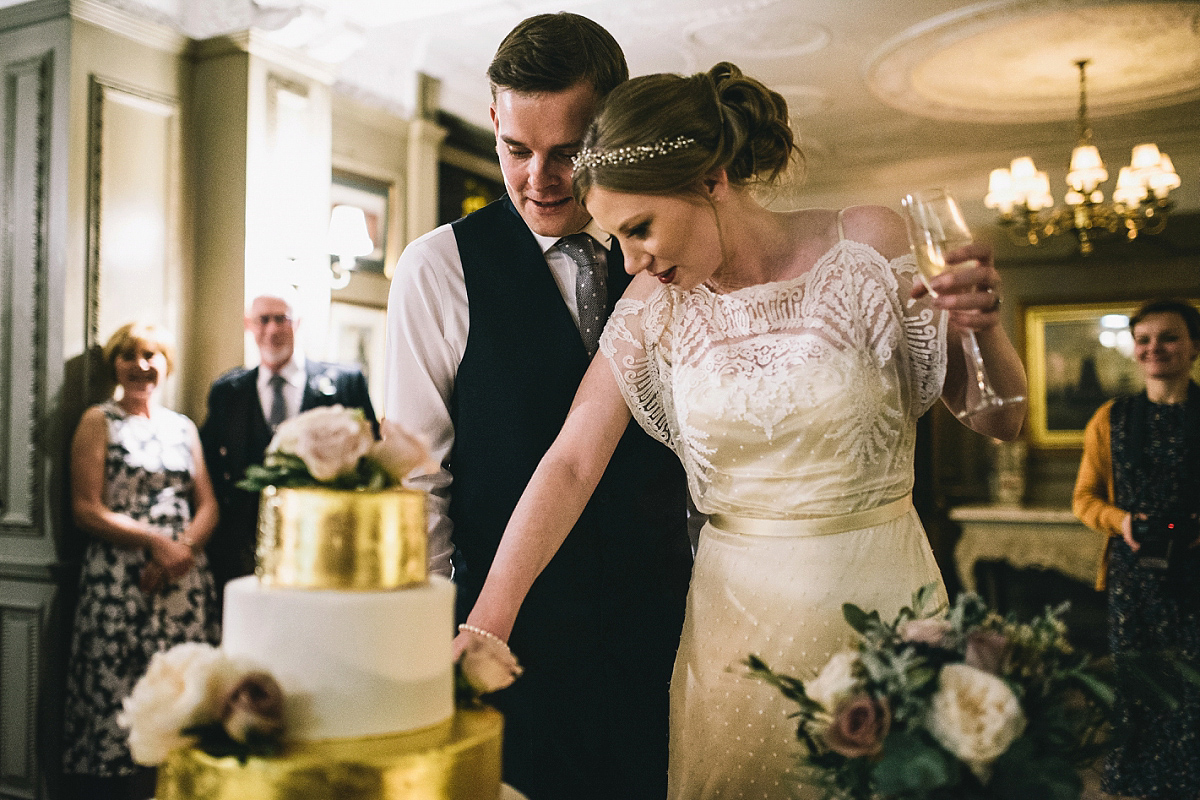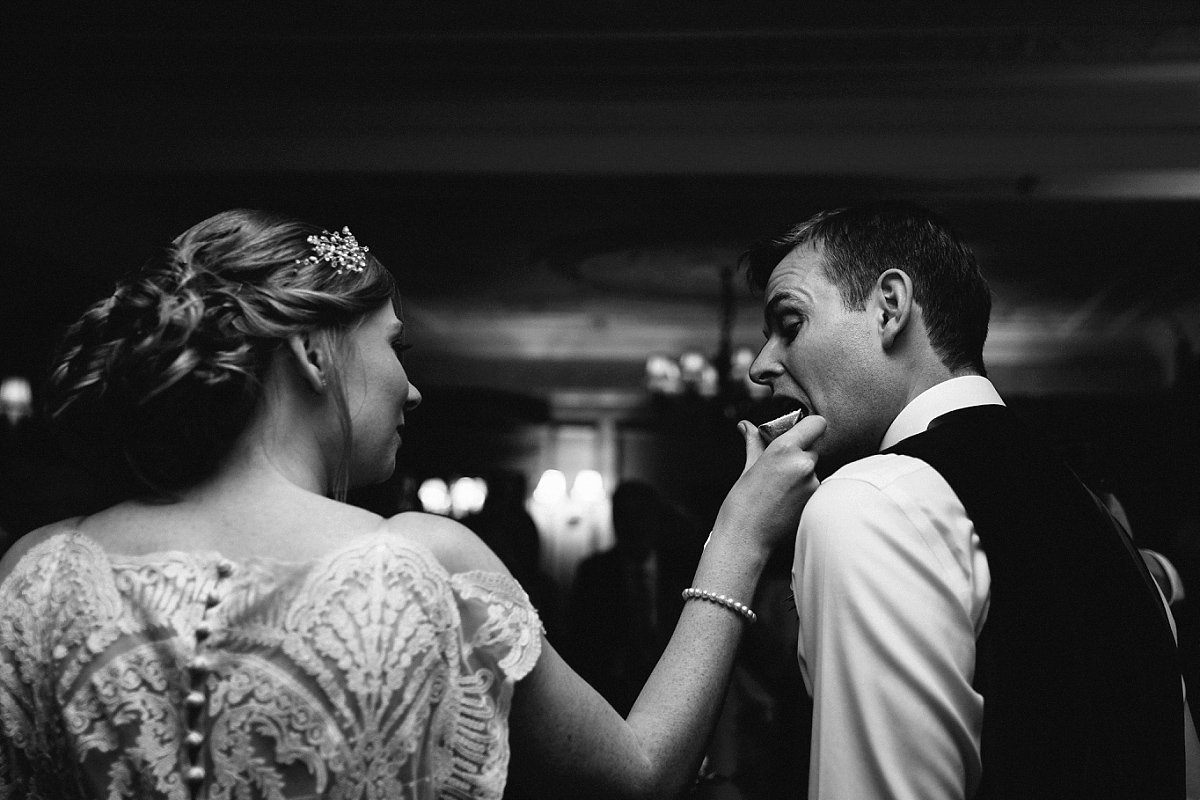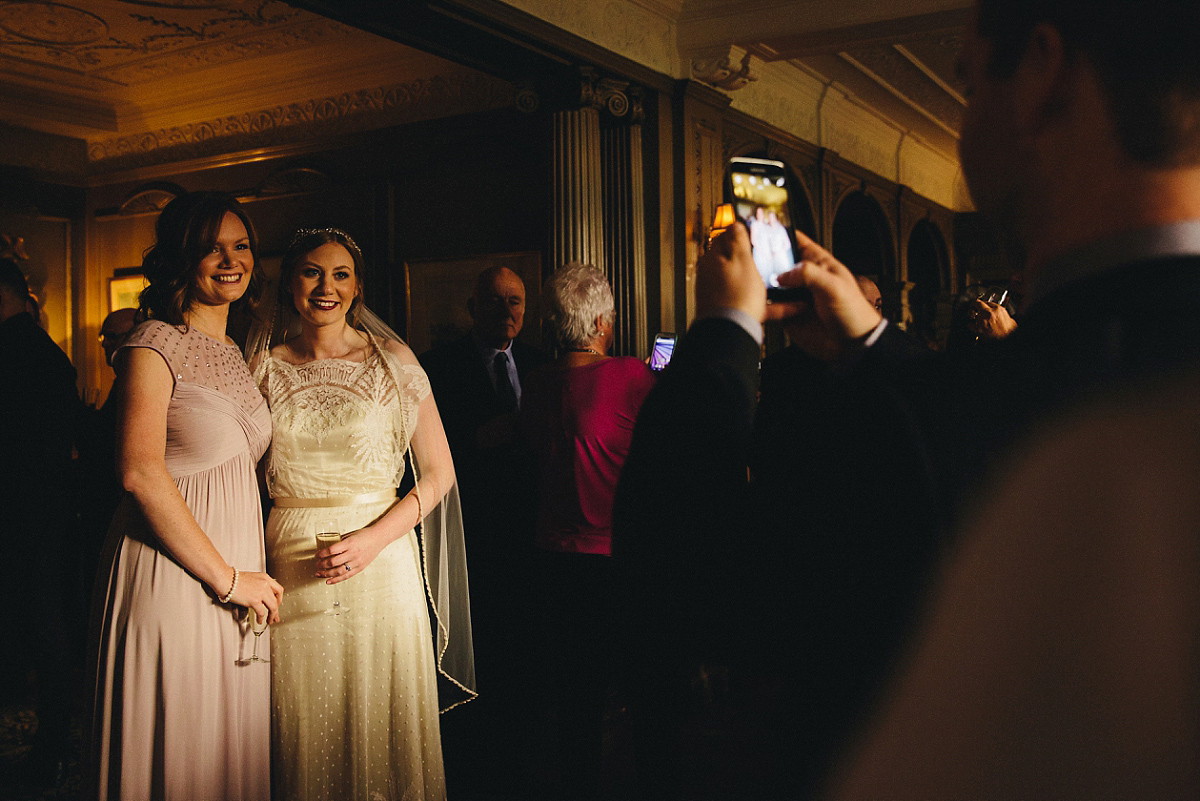 "We love festivals and live music, so having a live band at our wedding was something that we really couldn't have done without. We booked the Hope Street Band. Our first dance was to Mardy Bum by the Arctic Monkeys. We could not think of anything worse that doing a romantic slow dance in front of our nearest and dearest, so we instead opted for a song that we both loved that we could just rock out to and enjoy."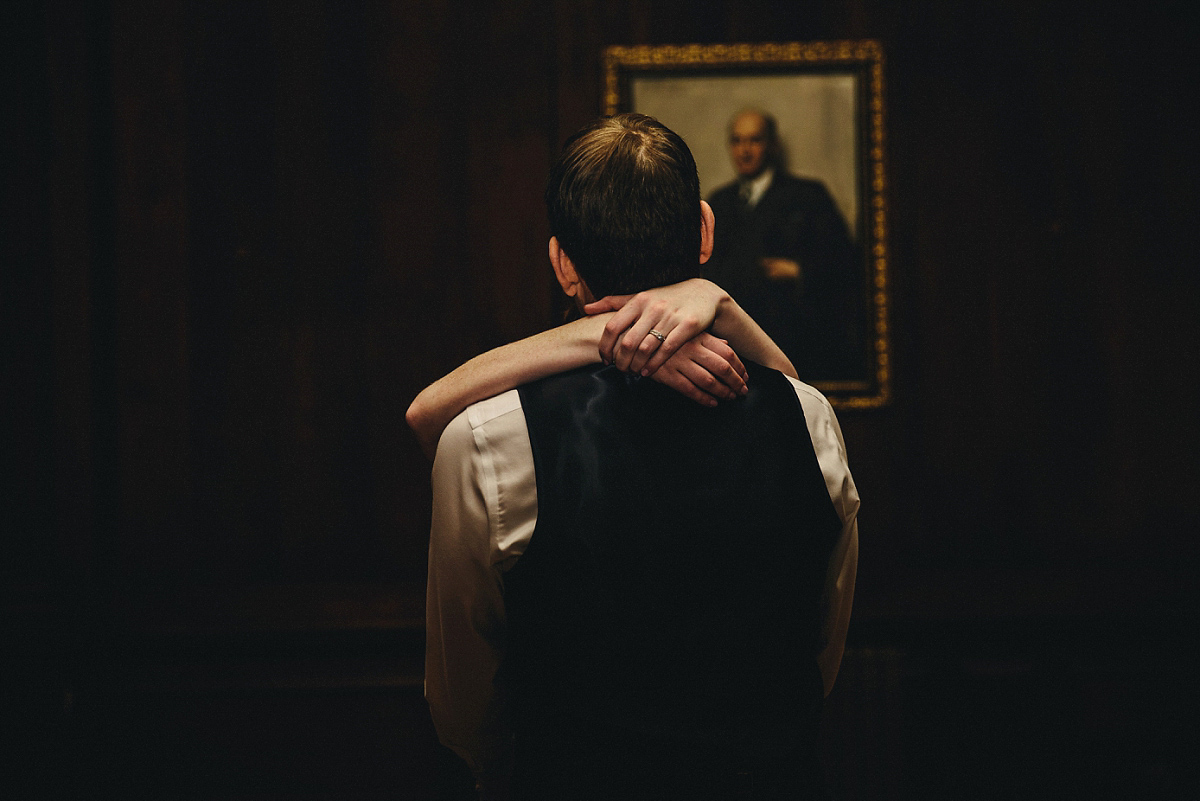 Words of Wedded Wisdom
"My biggest piece of advice would be not to put too much pressure on your wedding being 'the best day ever'. Sure, our wedding day will forever be a wonderful memory, but I'm only 29 and the thought that the best day of my life has been and gone is a pretty grim one! Seriously though, I hadn't realised how much pressure I had put on myself to host the perfect wedding day, until I spent the first week of our honeymoon with the constant nagging worry of, 'did everyone enjoy themselves?', 'did I enjoy myself enough?', and 'I didn't speak to any of our evening guests!'. Three months on and with a much clearer perspective, I know that everyone enjoyed themselves, I'm confident that our evening guests understood, and of course I enjoyed myself enough. Sure I didn't cry or become overwhelmed by the uncontrollable amount of joy that I was experiencing, but I'm not the sort of person that does that, so it's fine. And after all David and I got married, which was the overall goal of the day, so all in all it was a roaring success!
We did set a budget early on in the planning, but we well exceeded it as our expectations grew when started to look around at ideas and what was available. Also, when we first got engaged, we had no clue how much everything was going to cost, and as is often the case with these sorts of things, we underestimated the cost of most things!
Our main priority with the budget was to make sure that we could afford the wedding and didn't end up going in to debt – even if it did mean 18 months without any luxuries!
Looking back on the day, my only regret is that I didn't do a speech. I had considered this in the lead up to the wedding, but allowed thoughts of, '4 speeches will be too much' and 'I just don't have time to write a speech', to creep in and stop me from following through on the idea, instead sticking to the traditional set up. I think more women should speak at weddings, whether it be the Bride speaking, Mums, or a bridesmaid toast, and I would encourage other brides who may be considering giving a speech not to allow pre-equality traditions, or other factors, from stopping them."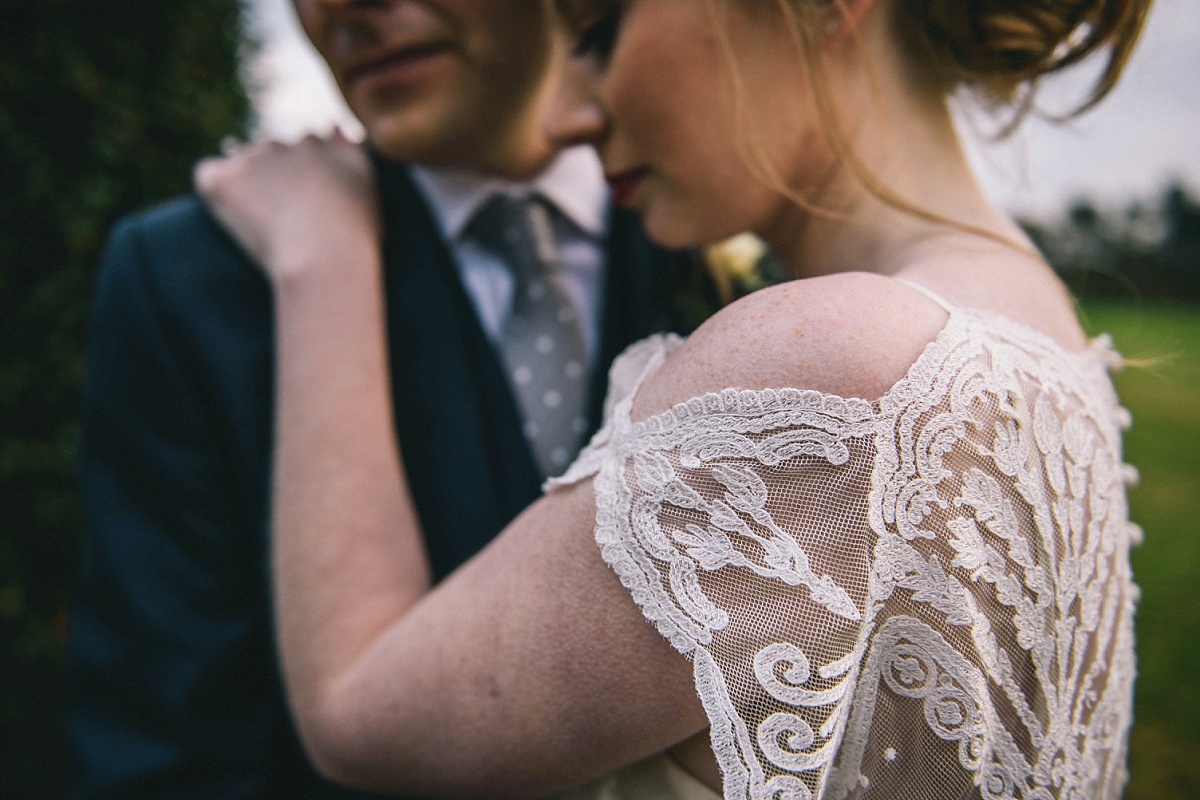 Beautiful work, as always, by photographers Paulo Santos  and  The Twins and such an incredibly lovely wedding and warm recollection of her day, by lovely bride Katy (thank you so very much Katy for your gorgeous kind words!).
I hope you have loved this wedding as much as I have. You can see more brides wearing Catherine Deane gowns here and explore more work from Paul Santos on Love My Dress here.
Love Annabel x