Does anyone have a really dodgy middle name they feel up to sharing in the comments box at the bottom of this feature? Oh go on, it is Friday! I'll tell you mine if you tell me yours? It's Jordan. Yep, not even kidding. I'm named after Jordan Baker of The Great Gatsby. I'm half in love with the idea that my dad wanted to name me (seriously, this was nearly my first name) after this feisty, sporty, glamorous woman (even if she was on occasion, a bit of a cow), half furious with him that I spent my childhood years loudly protesting that it was NOT a boy's name. I'm owning it now you'll be pleased to know, in all its full-blown roaring twenties glory.
On that note, allow me to introduce you to the lovely Claire, a freelance Pilates Instructor, who married her beau Ed, a freelance Property Developer, on Friday 2nd September 2016 at West Dean Estate in Chichester. Their day was an opulent, fun-filled celebration inspired by Fitzgerald's famous novel, based on a sublime colour scheme of gold, navy and blush.
"I'm a big fan of the 1920's with the Great Gastby being a favourite book of mine. When we first saw the inside of West Dean it just seemed like the perfect match. The colour theme was gold, navy and blush pink, inspired by the 1920's and our guests loved a good excuse to get really glammed up."
Photography by Helen Cawte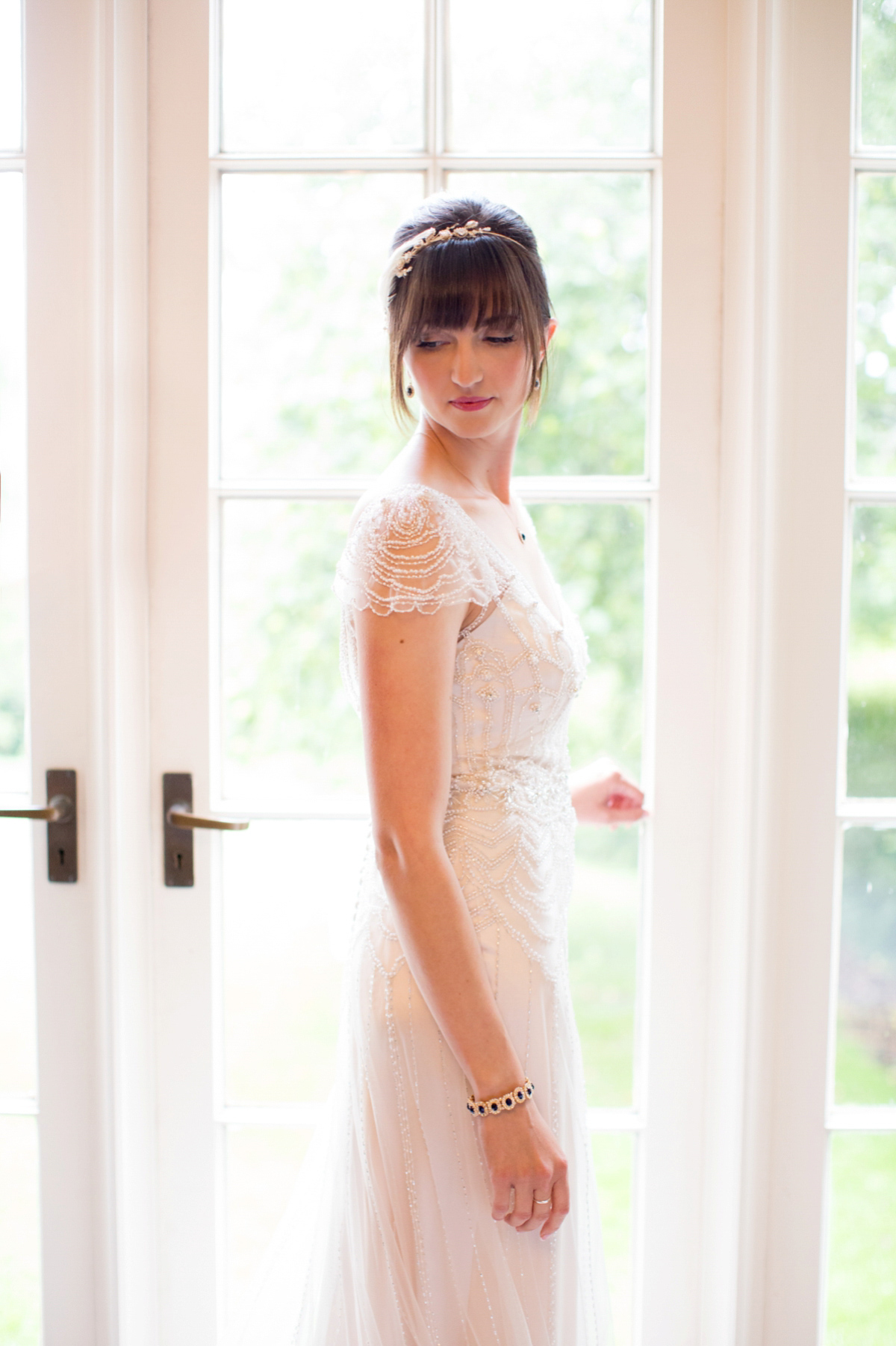 Claire chose a delightfully whimsical, beautifully beaded Maggie Sottero gown in the softest shade of pink, to which she added a pair of über-comfy Rainbow Club heels. Her big day scent was Chanel Chance and she accessorised with a necklace, earrings and a bracelet all bought from Accessorize. Accessorize also came in handy for her bridesmaids' jewellery, which they wore with sequinned blue Quiz dresses and M&S shoes."I bought my Maggie Sottero dress from Proposals Wedding Boutique in Chichester. It was a little bit unusual, classic yet vintage. It was also the most comfortable dress I had ever tried on, the silk was so soft and the intricate beading exquisite. Philippa-Jane Newell of Obsession Hair & Beauty did my hair and make-up and I added a beaded and feathered headpiece in rose gold and ivory from Richard Designs."
Claire's very talented auntie, Gillian White, was responsible for these sugar-sweet blooms; roses in varying shades of vintage pink nestled alongside soft asparagus fern, sumptuous pearls, feathers and gold-painted calla lilies. Don't they just ooze decadence in true 20s style?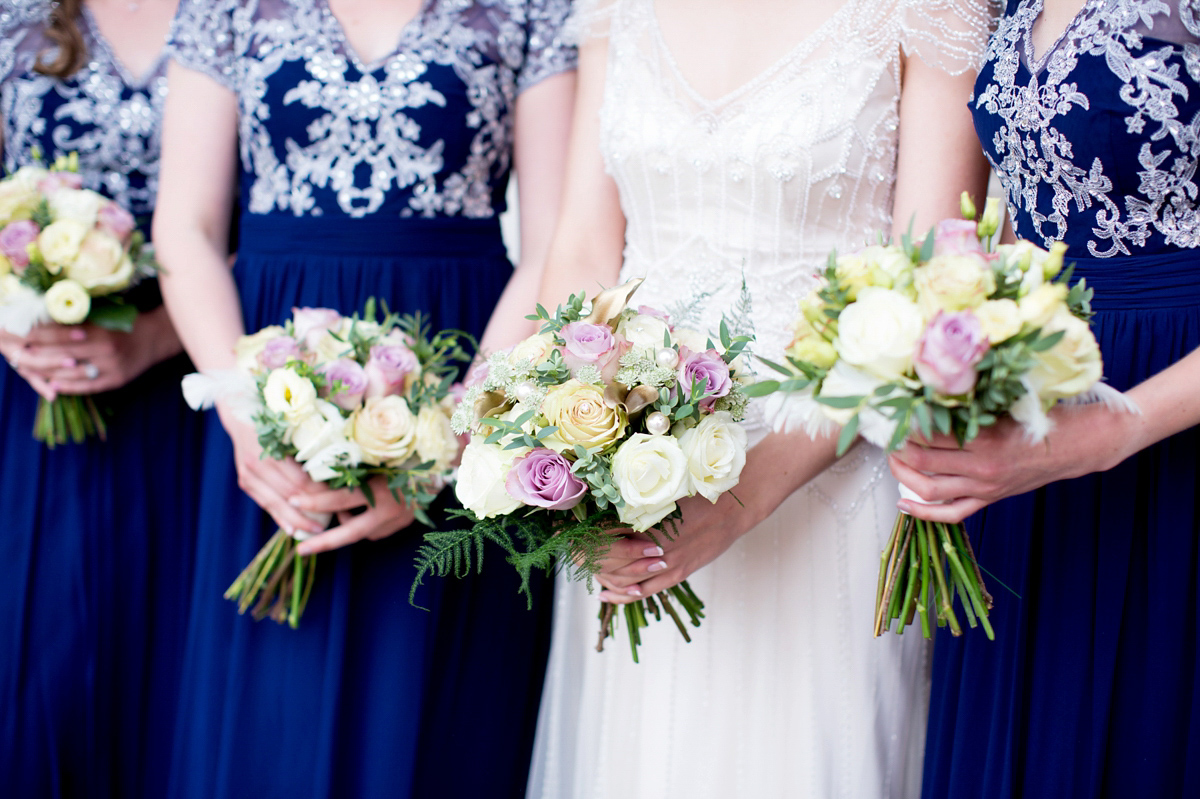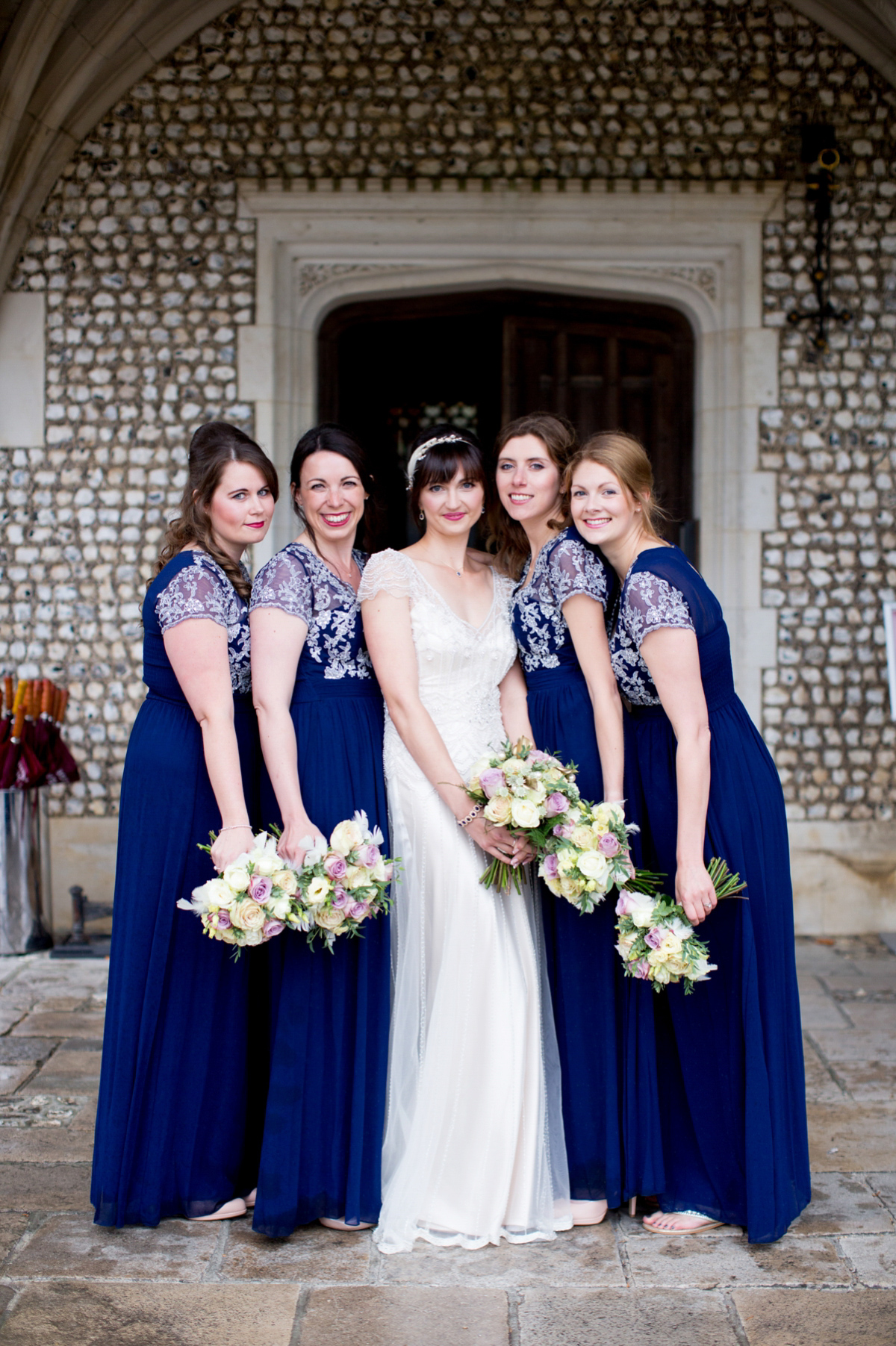 Ed purchased his dapper ensemble from Hugo Morris in Brighton, who the couple most highly recommend. I love that his yellow-gold tie so beautifully complements the tones of his bride's pretty bouquet.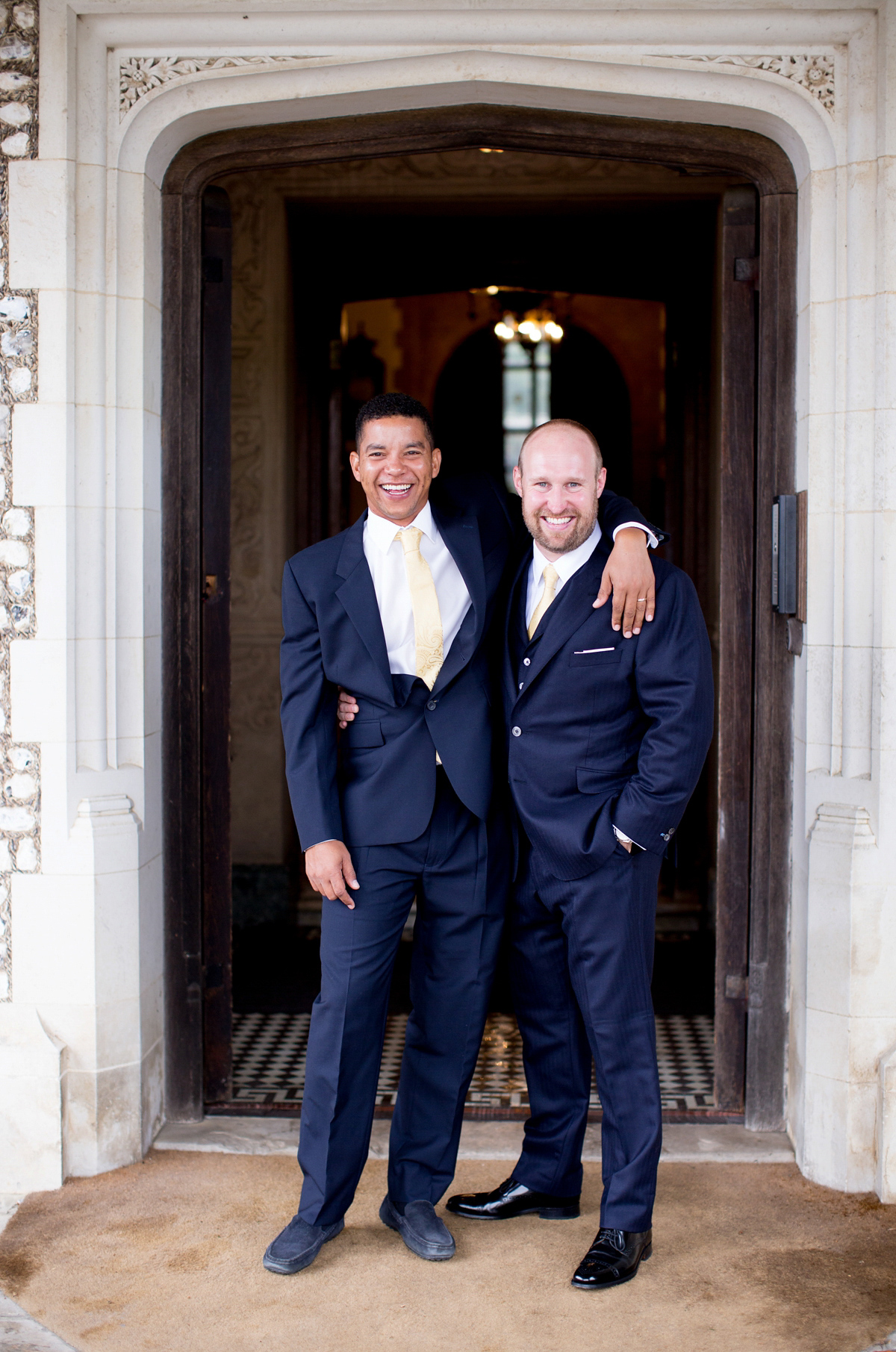 "Ed and I met through mysinglefriend.com. His smile was what intitially attracted me to him. Our first date was an afternoon tea at the Old Petworth Railway Station."
"Ed proposed to me on Chichester canal at the spot where William Turner had supposedly painted his famous 'Chichester Canal'. It is one of my favourite paintings and locations in Chichester, and somewhere we hope to bring children one day. We were engaged for a year and a half before tying the knot."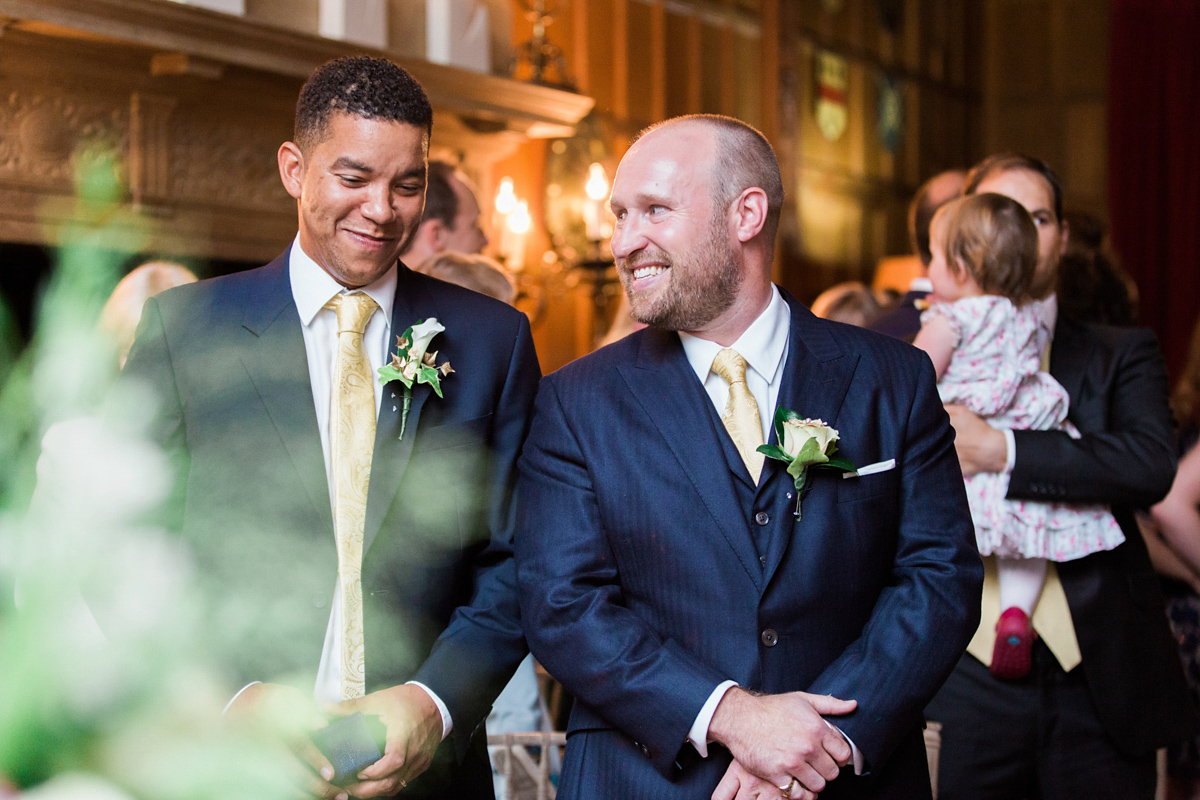 Claire walked down the aisle on the arm of her father, David Pattison, to the sounds of One Day Like This by Elbow. The soft lighting in the ceremony space is just gorgeous, the room has a real sense of cosy intimacy. When booking West Dean, events managers Emma and Jordan came as part of the wedding package, and according to our lovely bride they were worth their weight in gold.
The couple exchanged personal vows, inspired by extracts they spotted in Pinterest, with a little bit of their own humour mixed in for very good measure.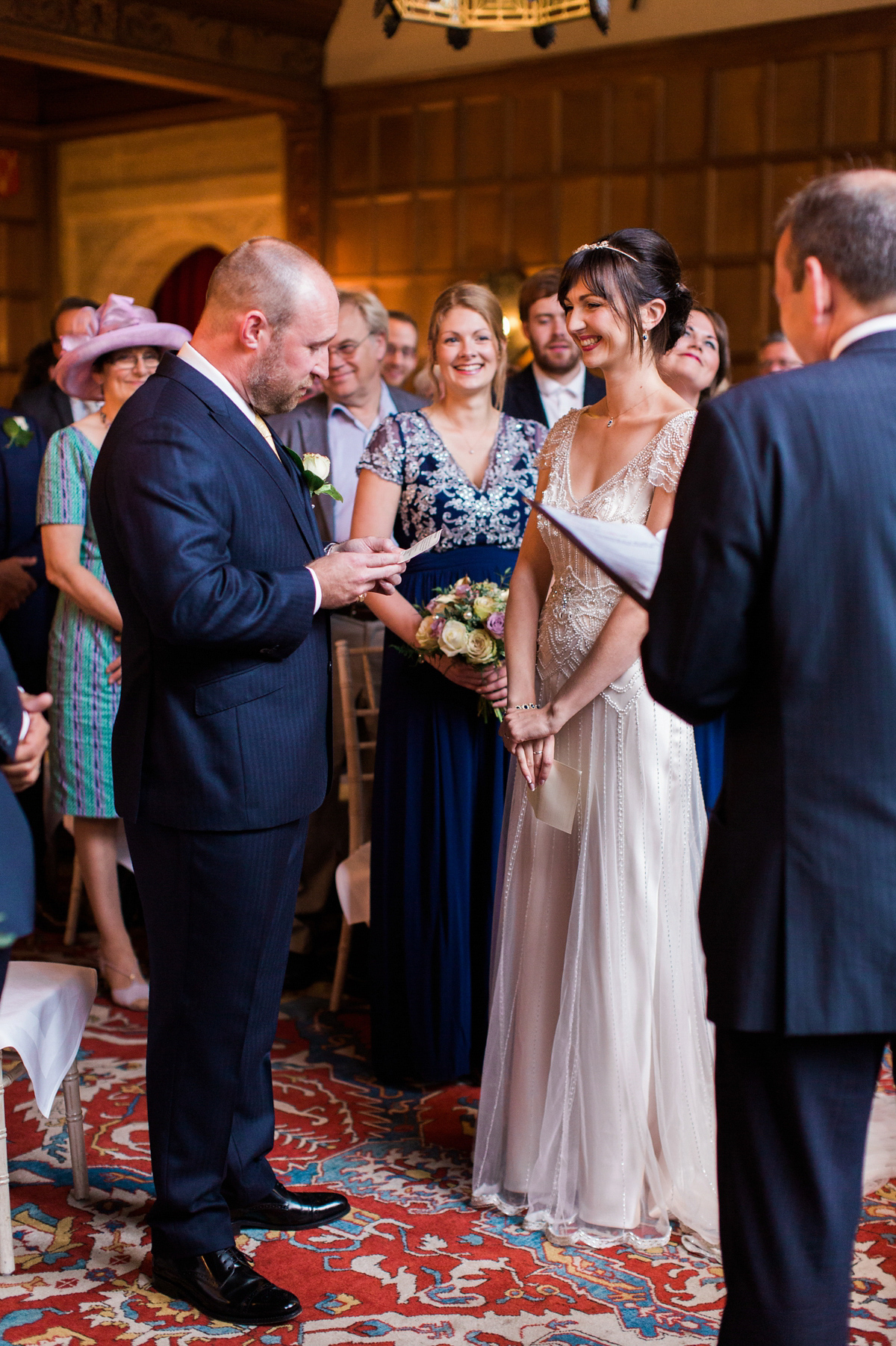 Claire's engagement ring was made the couples' dear friend, Mimi MacCaw, and during their ceremony, Ed and Claire exchanged weddings bands bought from Timothy Roe Fine Jewellery in Chichester. Claire's mum, Susan Pattison, recited a sweet reading called On Your Wedding Day – such a sweet passage encapsulating the journey of joy that marriage presented to the newlyweds.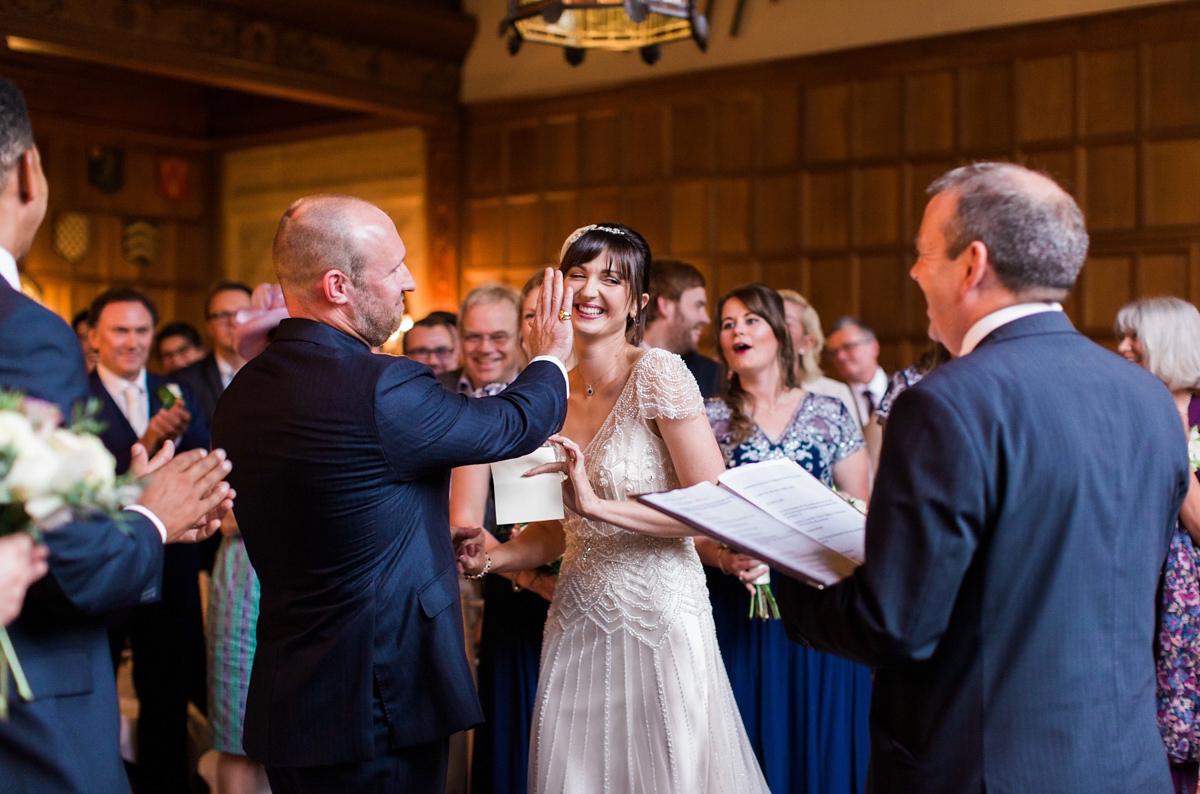 For both Ed and Claire, their very favourite part of their day was the ceremony. Claire's description of seeing Ed for the first time just gives me all the feels and catapulted me three months forward to my own wedding day when I hope I'll experience that same heady rush of euphoria.
Today is a day you will always remember
The greatest in anyone's life
You'll start off the day just two people in love
And end it as Husband and Wife.

It's a brand new beginning the start of a journey
With moments to cherish and treasure
And although there'll be times when you both disagree
These will surely be outweighed by pleasure.

You'll have heard many words of advice in the past
When the secrets of marriage were spoken
But you know that the answers lie hidden inside
Where the bond of true love lies unbroken.

So live happy forever as lovers and friends
It's the dawn of a new life for you
As you stand there together with love in your eyes
From the moment you whisper 'I do.'

And with luck, all your hopes, and your dreams can be real
May success find it's way to your hearts
Tomorrow can bring you the greatest of joys
But today is the day it all starts.
"My favourite moment was during the ceremony. It was that moment when everything around you becomes a blur and all that you see is each other. We felt the love and warmth of our family and close friends surrounding us – it was one of the most magical moments of our lives."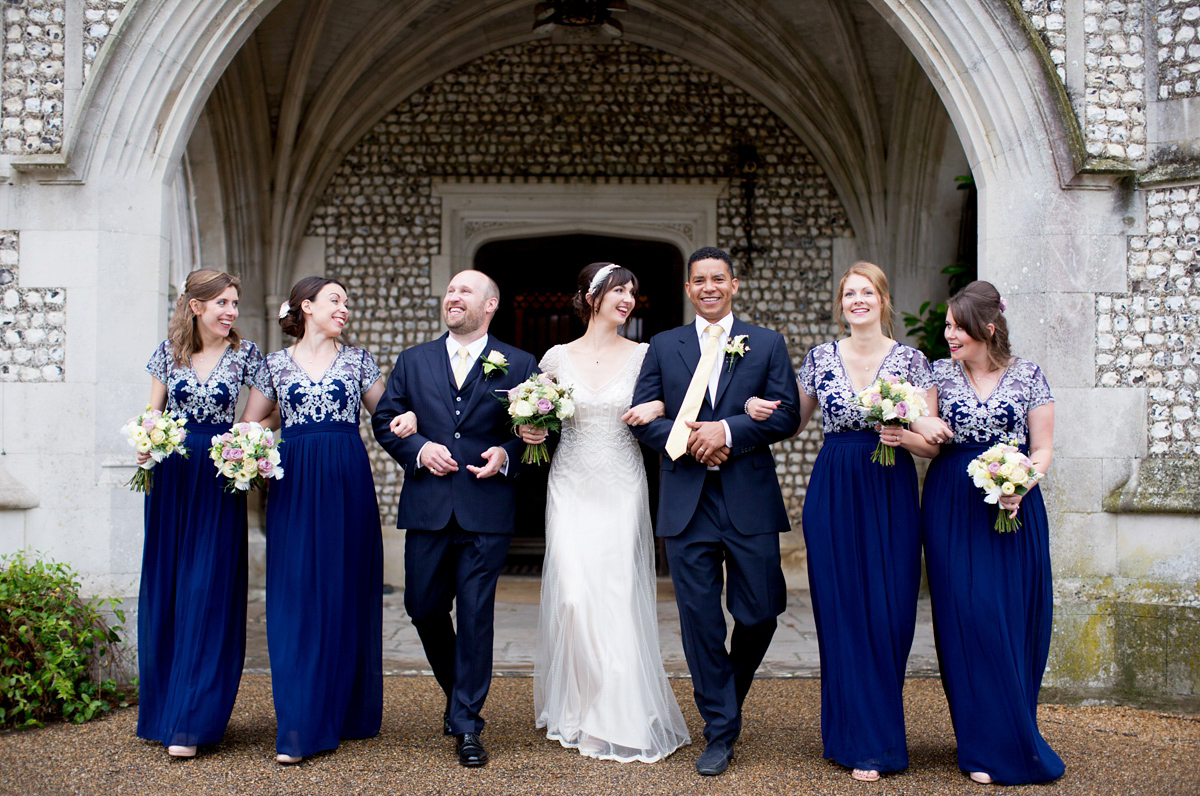 Mercifully the sun put his hat on long enough for the dizzyingly happy newlyweds to take a stroll in the delightful West Dean Gardens with their photographer, Helen Cawte.
Helen has documented a number of gorgeous weddings, which you can find nestled in our glorious archives – I just love the way natural light seems to radiant from her images.
"Helen was a dream come true. She was there every step of the way and captured each special moment beautifully – her photos are stunning. Every time we met for coffee to discuss plans she listened to everything we wanted and more. She has become one of my favourite people in the whole world, and someone who I now consider a close friend. We cannot praise her talent enough. Everyone deserves a wedding photographer like Helen."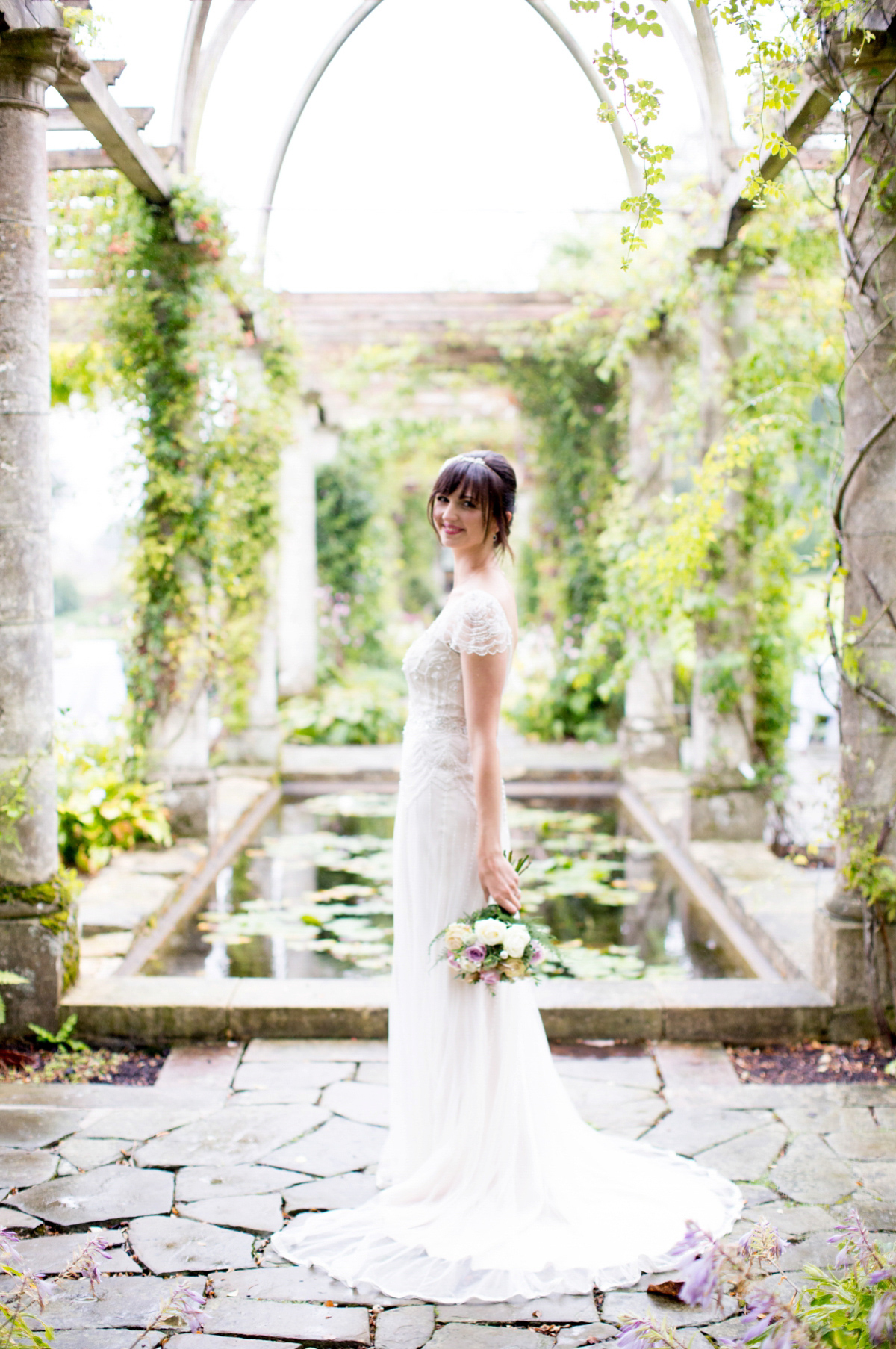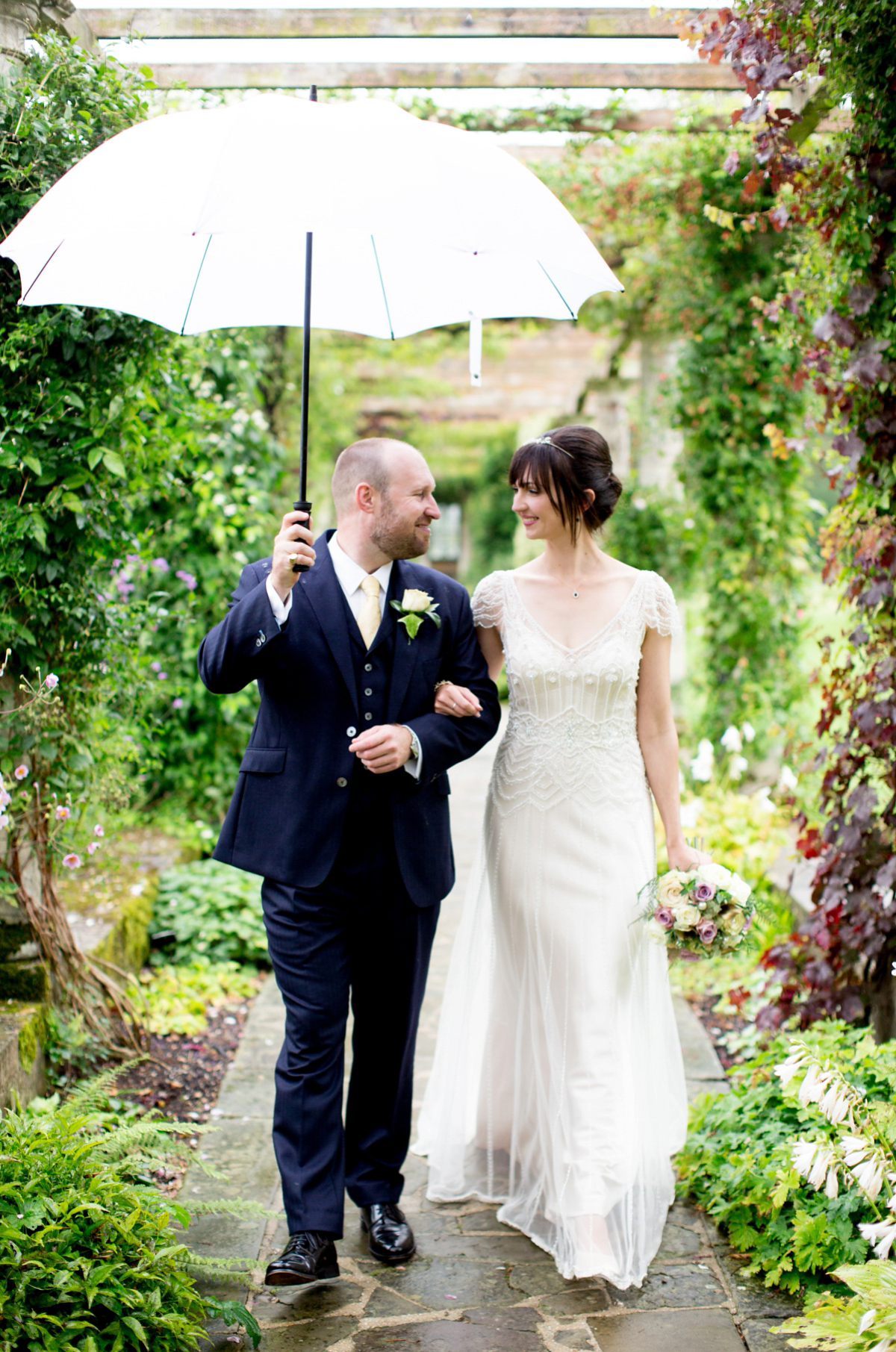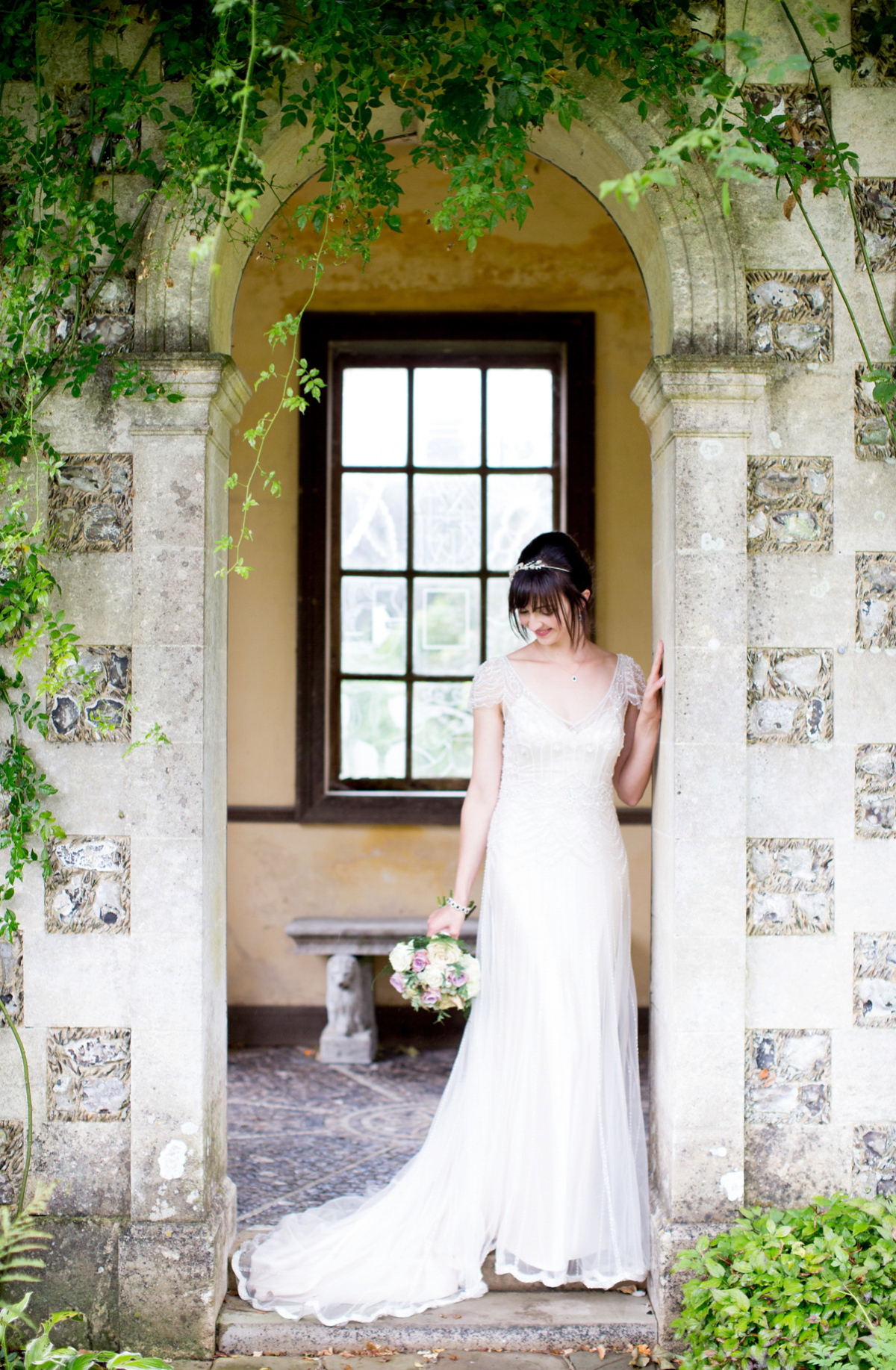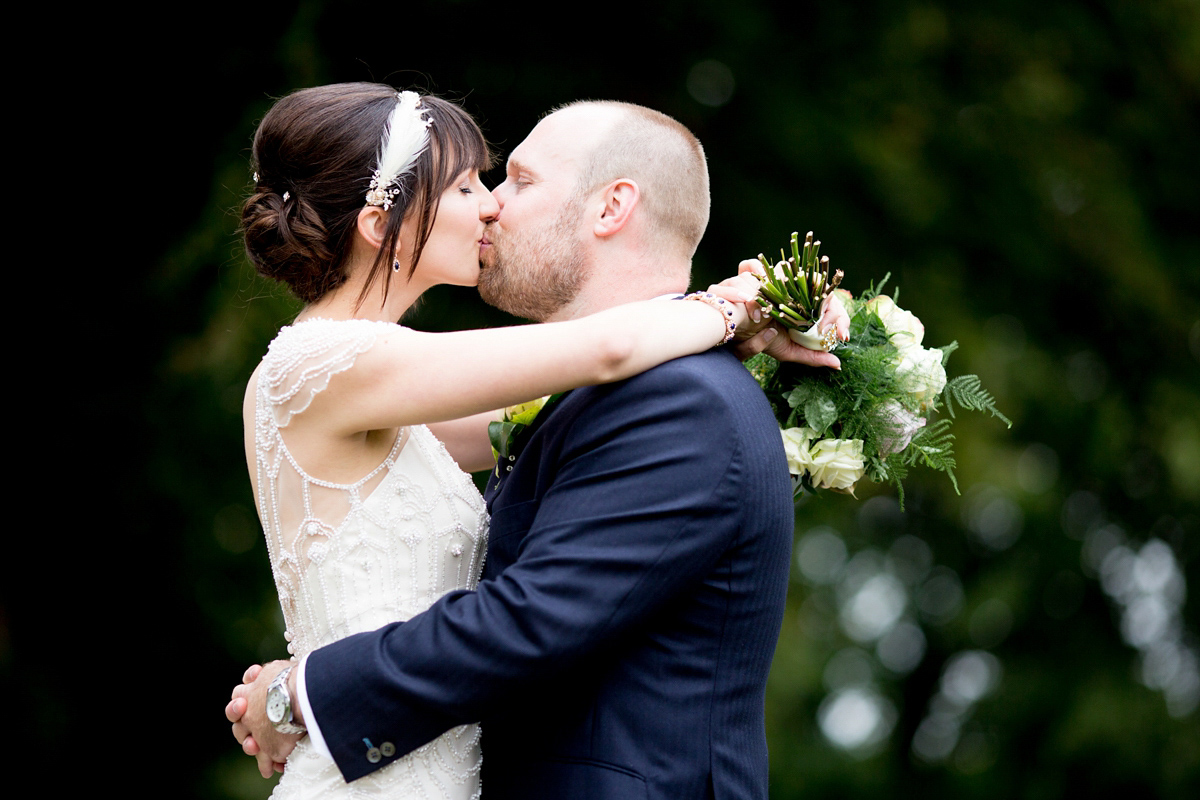 Safely ensconced in the glamorous surroundings of their venue once more, the newlyweds and their guests sat down to a wedding breakfast catered by West Dean, all topped off with a rather glorious cake crafted by a family and friend – a gorgeous tiered beauty reminiscent of a Fred and Ginger movie.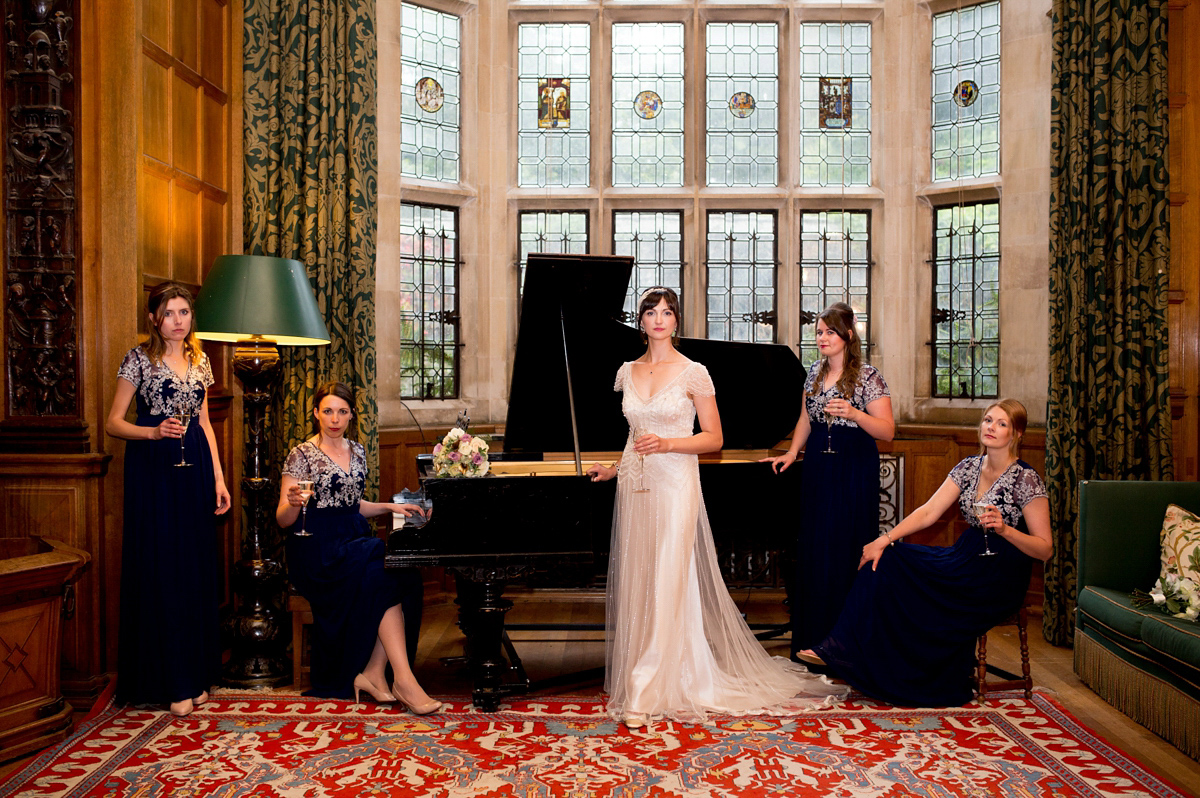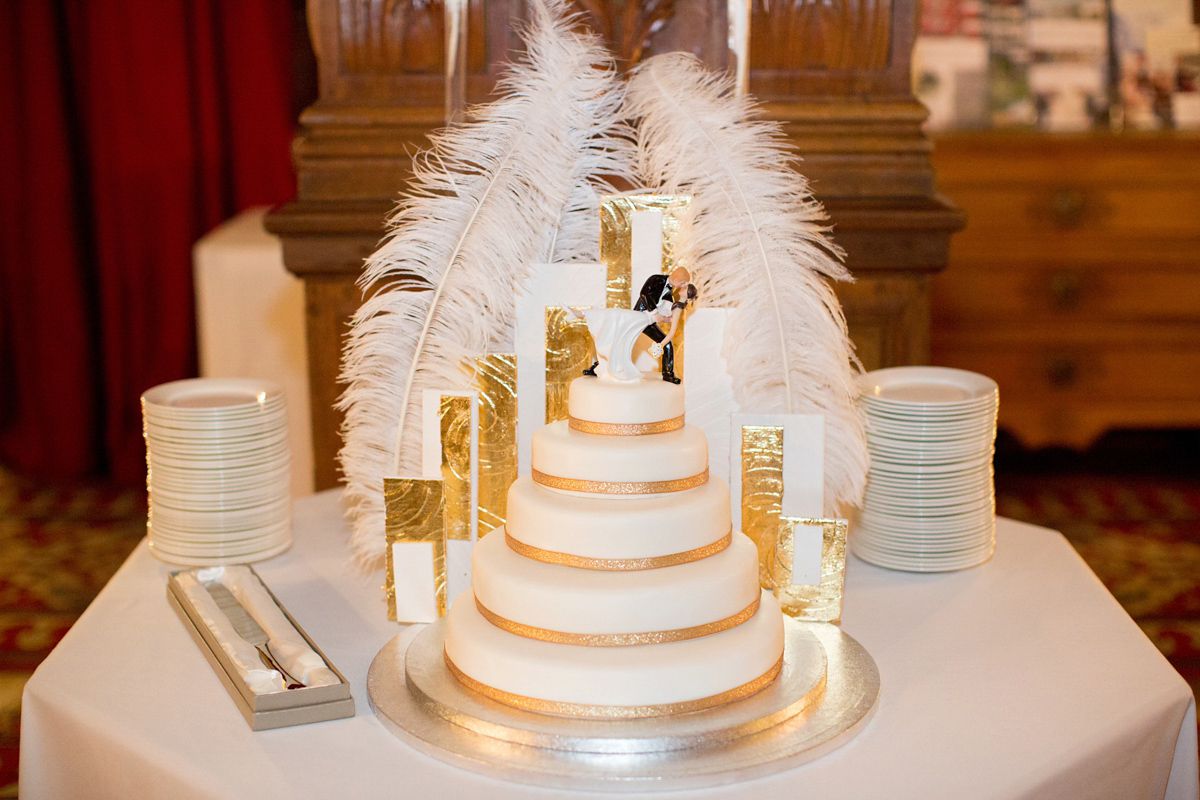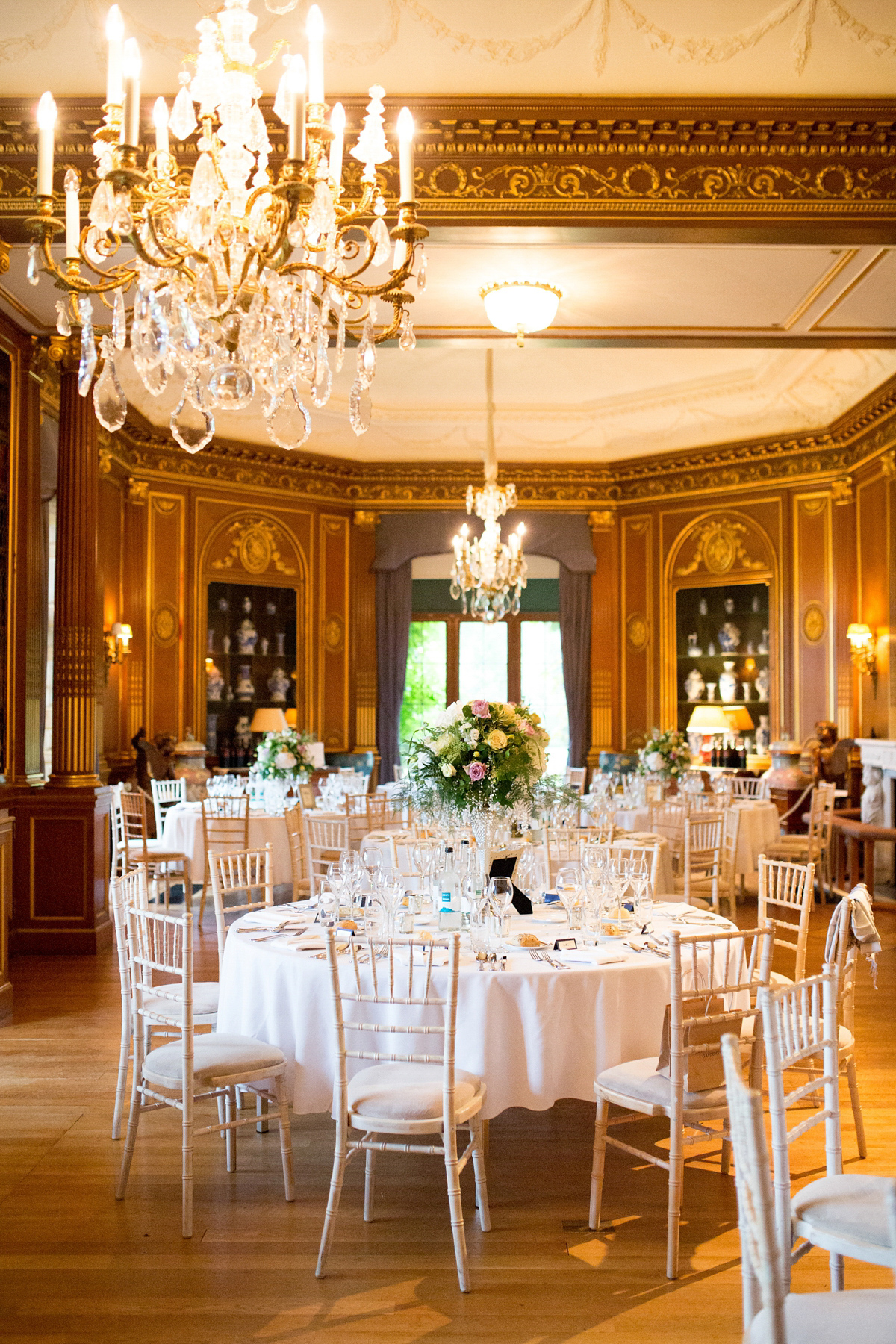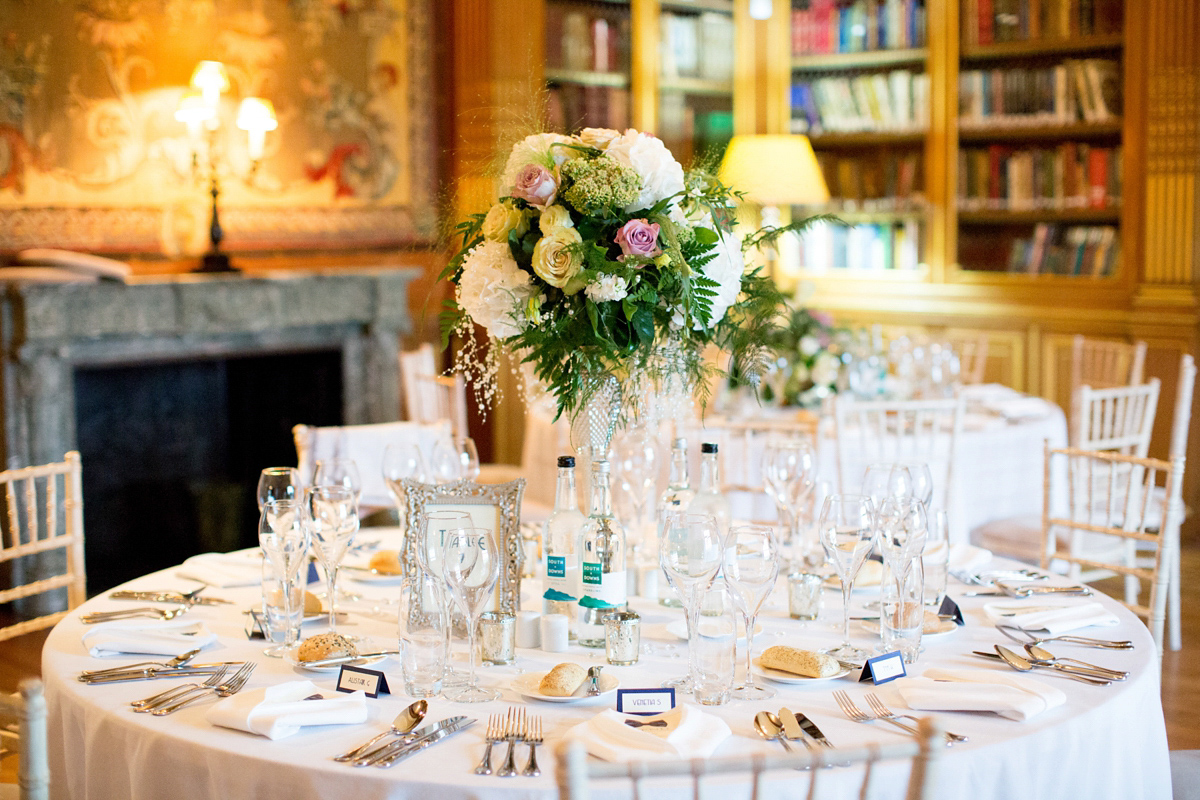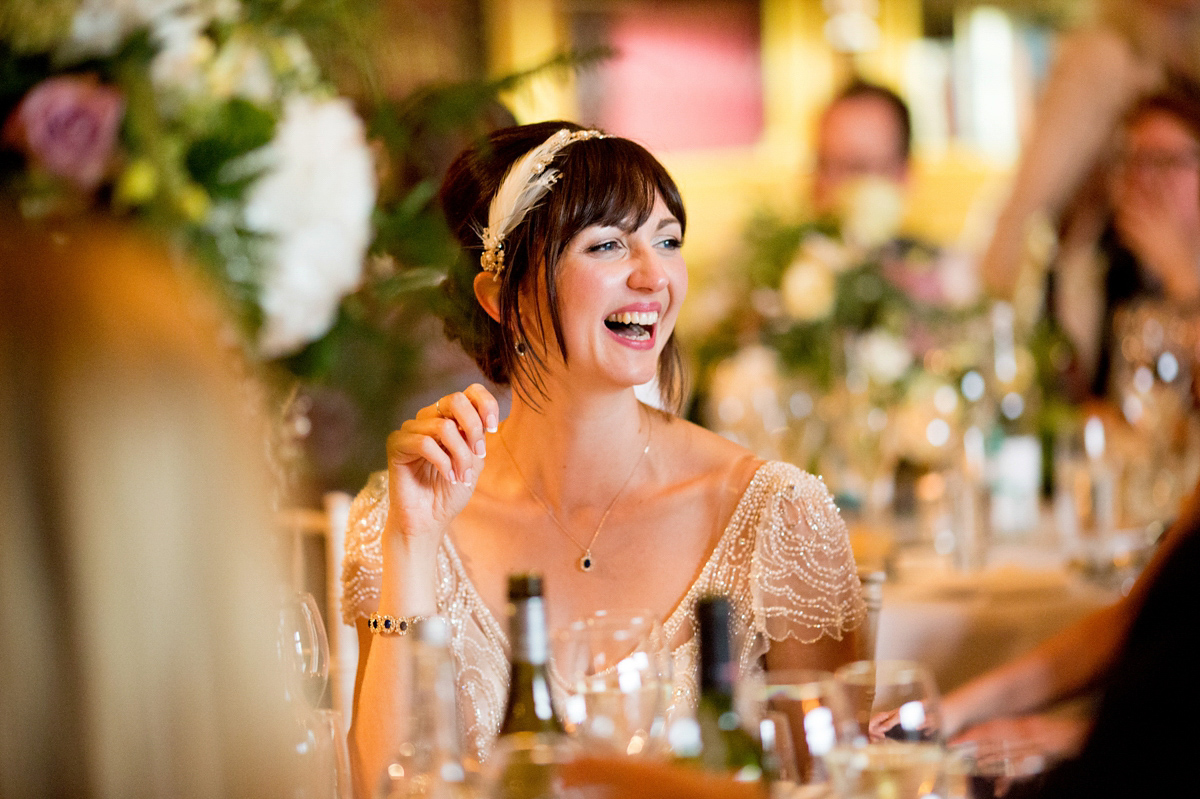 "We had a song written for us by a dear friend but decided not to have a first dance on our wedding day. We saved it for the following night when we celebrated in Brighton with our larger friendship group."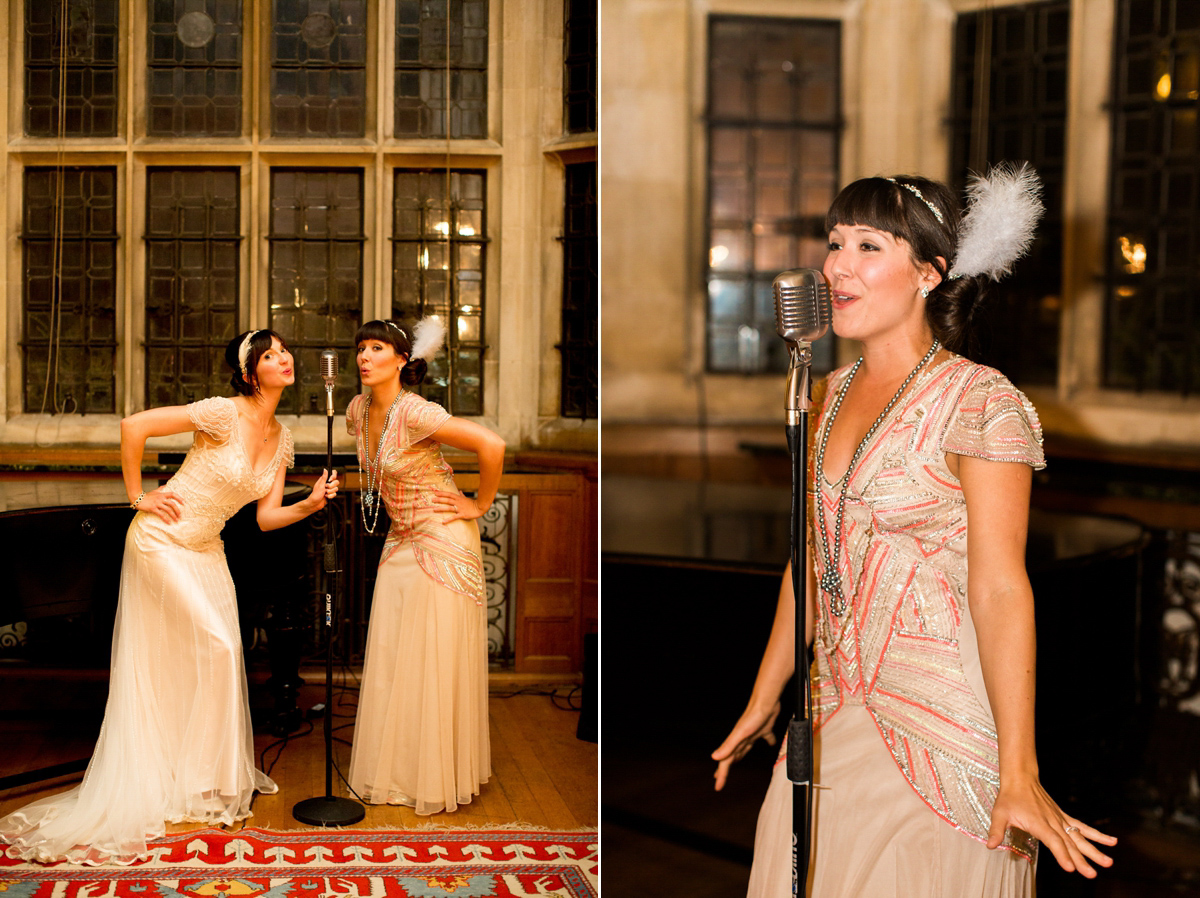 Ed and Claire hired casino tables from Mock Vegas to entertain their guests while the totally fabulous Thoroughly Modern Millie serenaded the wedding party in divine 1920's style.
There's just so much joy on the faces in these images – it's utterly delightful to see every single person letting go and having a truly great time.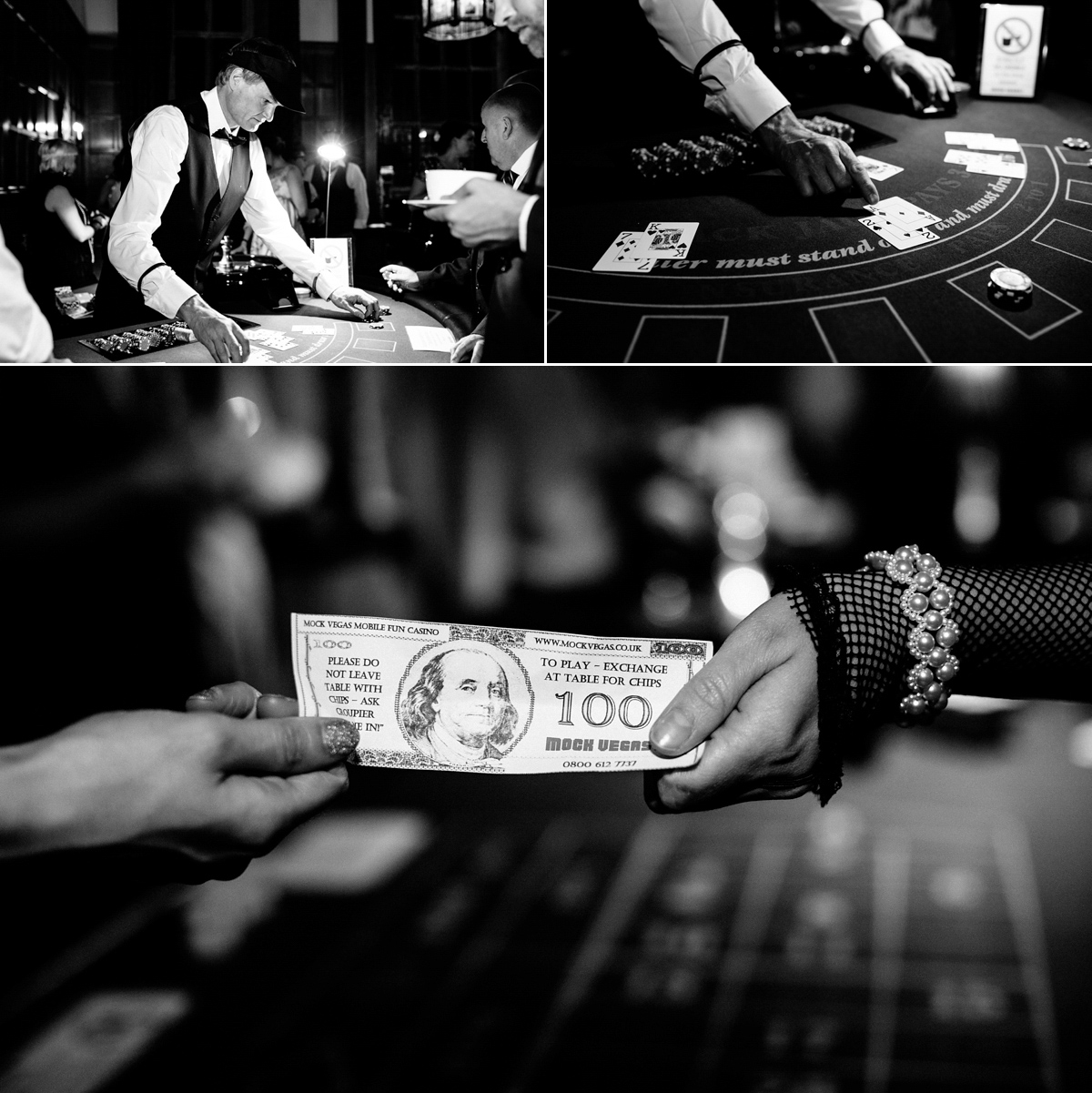 Words of Wedded Wisdom
"Don't worry about stuff, it seems important at the time but it really isn't. Don't forget your guests are there for you and will drop everything to help you when you need it most. Plan every detail and then on the day, just go with the flow.
Be kind, be patient and remember what is important. Plan for British weather, embrace it and let it be a part of your day. It rained very heavily on our day but it was spectacular, romantic, and magical because we were warm and cozy inside, together."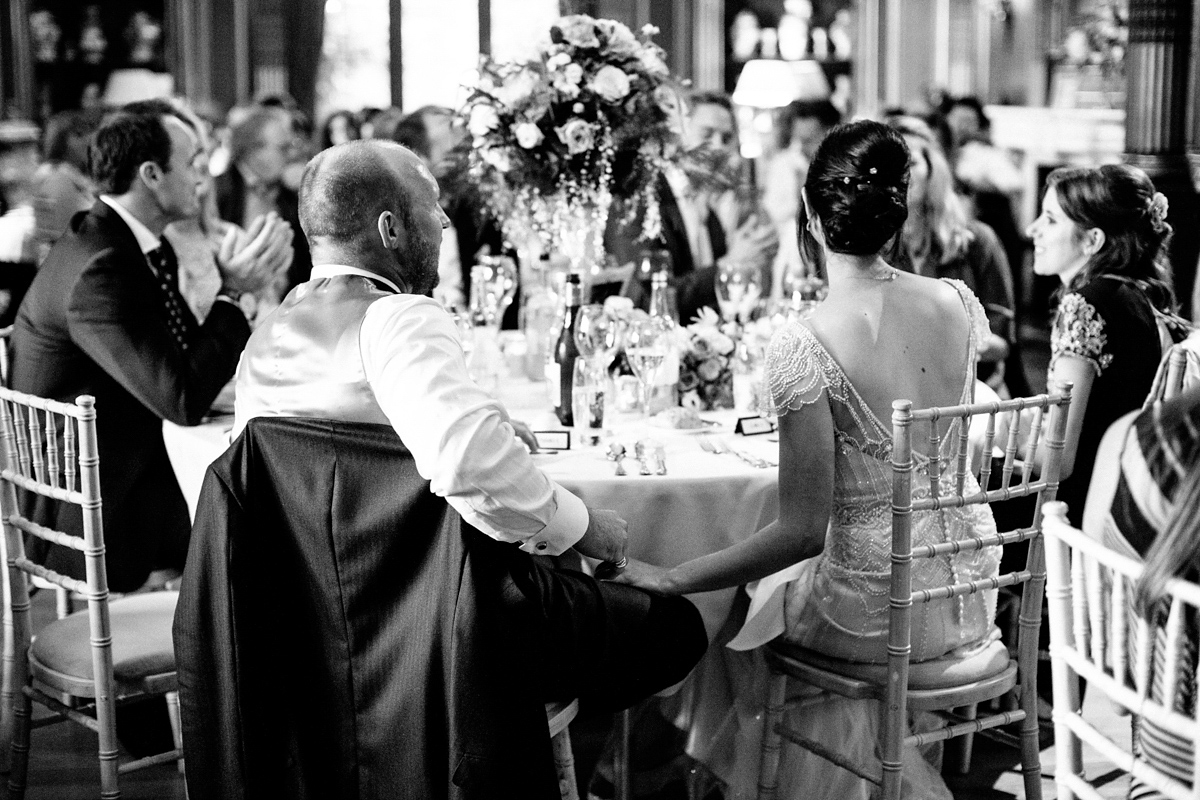 A huge thank you to Ed, Claire and the talented Helen Cawte Photography for sharing this gorgeously glamorous day to kickstart our weekends. I'll just leave you with a little more 1920's inspiration while I fantasise about feathers, beads and prohibition parties…
Em x