I'm constantly blown away about the amount of work, effort and originality that goes into the weddings we feature on our lovely blog.  Today's is a real feat of event planning and makes for the most fabulous festival-feel celebration (plus, the winners of the 'longest ever suppliers list' competition).  I can't wait to share it with you.  Meet Selina, a freelance exhibitions and events project manager for the museums and heritage sector and Nick, an operations manager for Transport for London, who married on the 27th August 2016 at White Dove Barns, Suffolk.
"We are both laid back and non-traditional and wanted something fun and colourful. This is the party we would have had in our own back garden, if we had one large enough.  We wanted food, colour, entertainment and a relaxed feel of hosting our friends and family on a summer's evening."
Photography by Jess Soper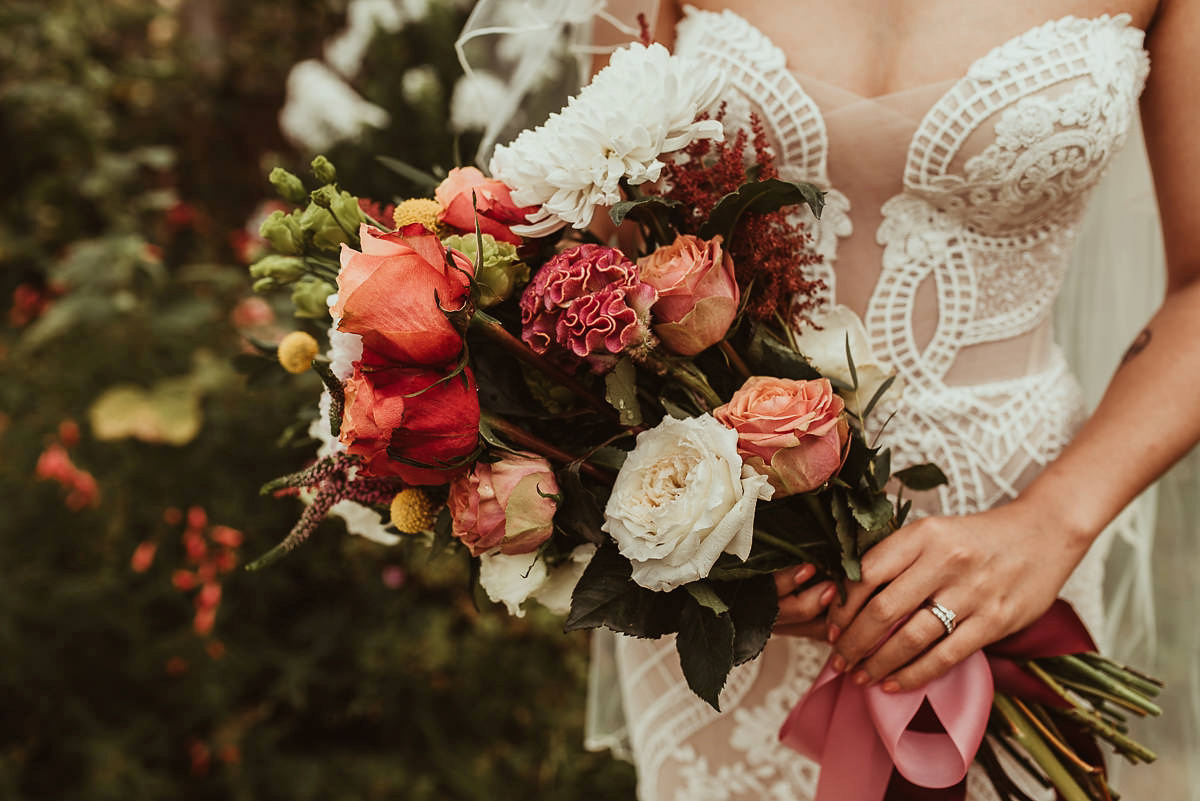 Selina wore the beautiful and contemporary 'Camille' by Pallas Couture, purchased from Morgan Davies Bridal in London.
"I originally went to Morgan Davies looking to buy an Inbal Dror dress. I am a huge fan of  Israeli wedding dress designers in general – their use of lace and form is exquisite, high fashion and light to wear and yet usually styled in a relaxed way.  By chance, my consultant Siobhan suggested I try the Pallas and I fell in love with it immediately.  It had all the same features I was looking for but the lace was more contemporary, lighter to wear and like nothing I had seen before.  I've never been one to dream about a wedding dress, but after seeing this, I caught myself looking at pictures of it over and over again.""My bridal party and I all had gold peeptoe shoes from ASOS for the ceremony and matching Superga rose gold metallic trainers for the rest of the day.  The boys wore all white Superga Cotu Classics, so the whole wedding party matched."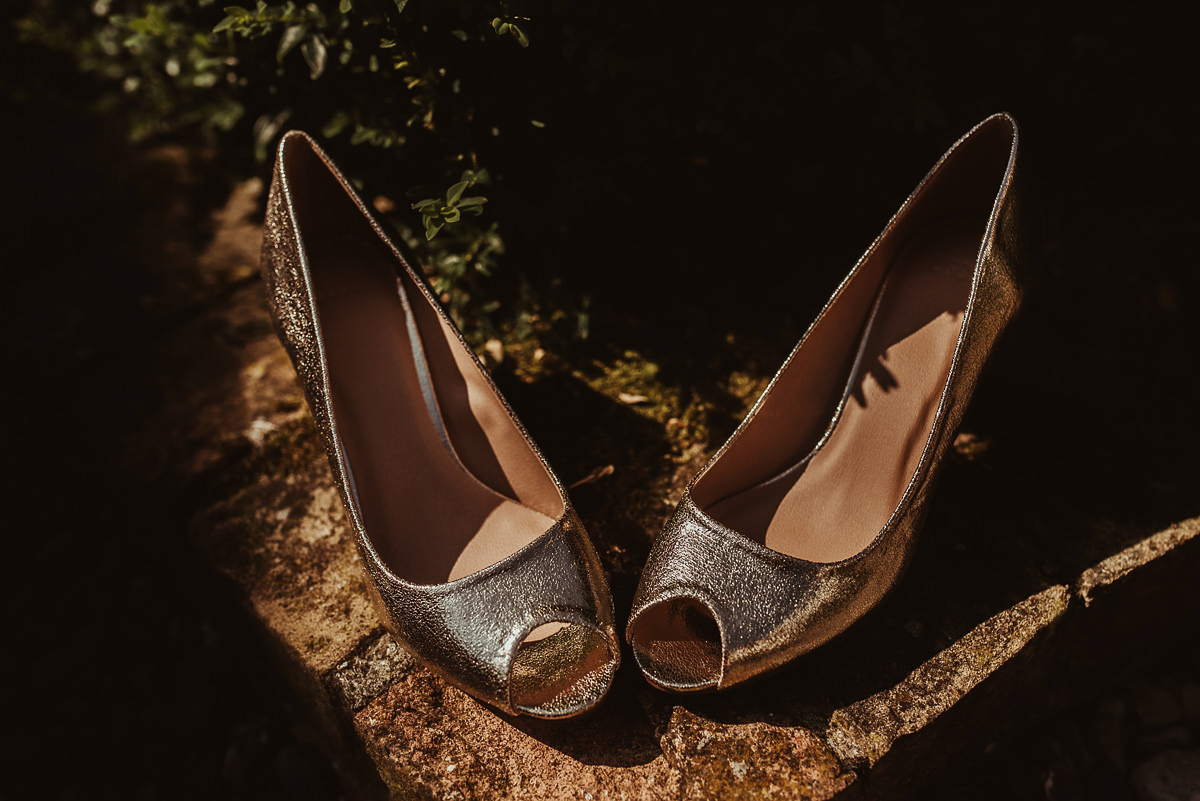 In her hair Selina wore fresh flowers and veil from Morgan Davies Bridal, while for jewellery she chose a pearl necklace borrowed from her mum, simple diamond studs and a silver name bracelet which was a gift from an aunt who couldn't make it to the wedding.  She finished her look with a cardigan from Hobbs and a spray of Chanel Coco Mademoiselle.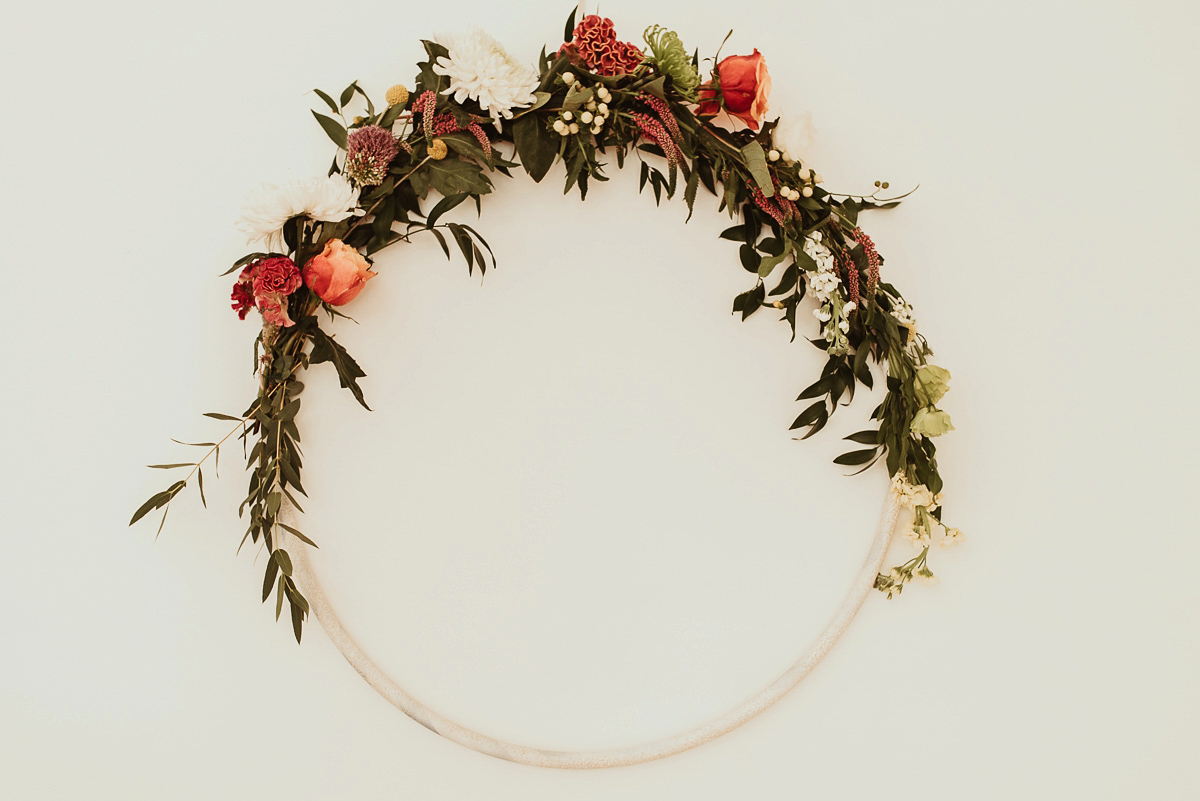 The bridesmaids looked splendid in gowns made by Selina's mum, who is a fashion technician at Hertfordshire University.  She also made her own jumpsuit, in which she looks fantastic!  The ladies wore fresh flowers in their hair and each wore her own jewellery, while the flower girl looked sweet in a dress from Next.
The gowns were hung on customised hangers from Two Stories Gifts on Etsy.
"Claire and Steve at The Flower Monger ordered all our flowers and the arrangements, bouquets, hair accessories and buttonholes were made by the Mother of the Bride."
"I was inspired by large, colourful and mismatched arrangements, using unusual flowers like celosia and craspedia to make the arrangements contemporary rather than bohemian."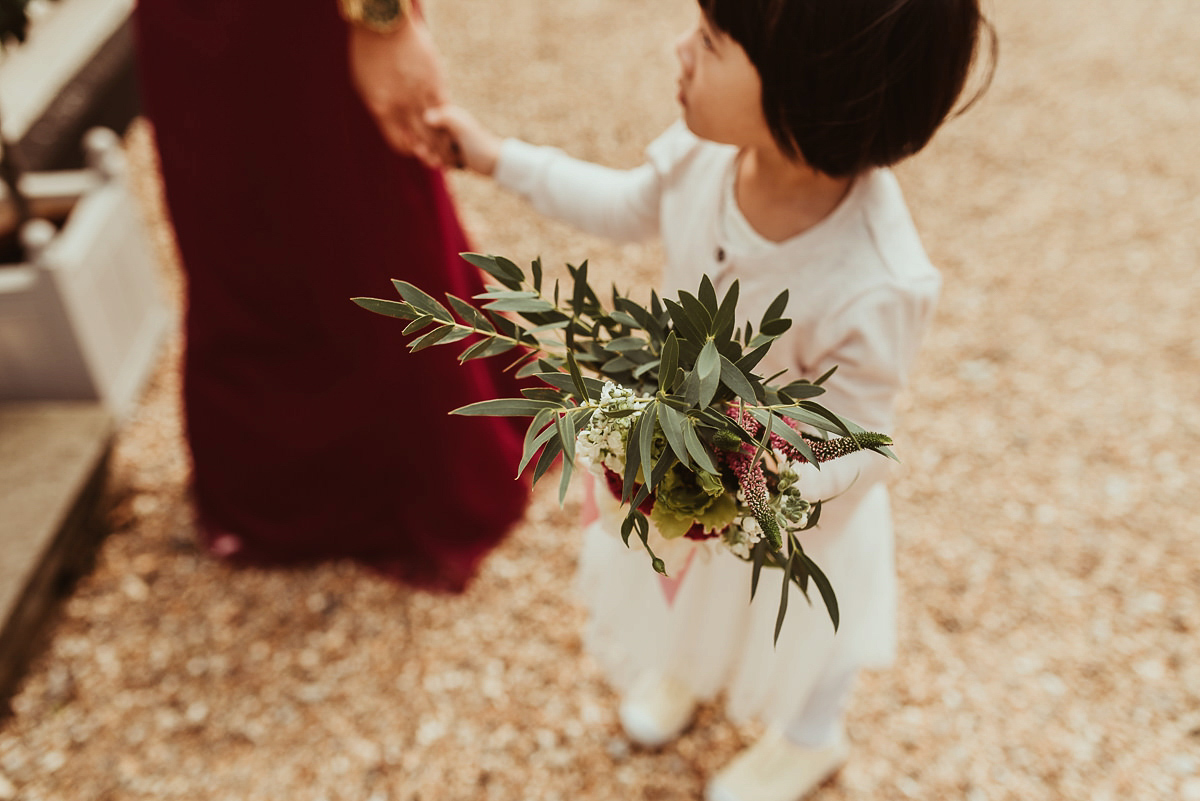 Nick looked dashing in a blue three-piece suit from Next, worn with a shirt by French Connection, a yellow bowtie from Tangled Ties on Etsy and a pair of white Superga Cotu Classics. 
Selina walked down the aisle with her father to 'Chasing Cars' by Snow Patrol.  She and Nick signed the registry to 'Heroes' by David Bowie and left the ceremony room to 'Dog Days are Over' by Florence and the Machine.
"We said the same vows and wrote them ourselves, inspired by vows we found online.  They were based on our foundation of friendship and support.  In recent years we have both been diagnosed with chronic health issues and we have pulled each other through the toughest of times as our health has presented challenges, and will continue to do so for the rest of our lives."
"Our vows were a representation of our strength and support."
You are my best friend,
my faithful partner,
and my one true love.

I promise to encourage you,
inspire you and support you
in all life's adversities and its joys.
I will love you truly
through the good times and bad.

I will forever be there
to laugh with you,
to care for you,
to lift you up when you are down,
and to love you unconditionally,
for the rest of our lives together.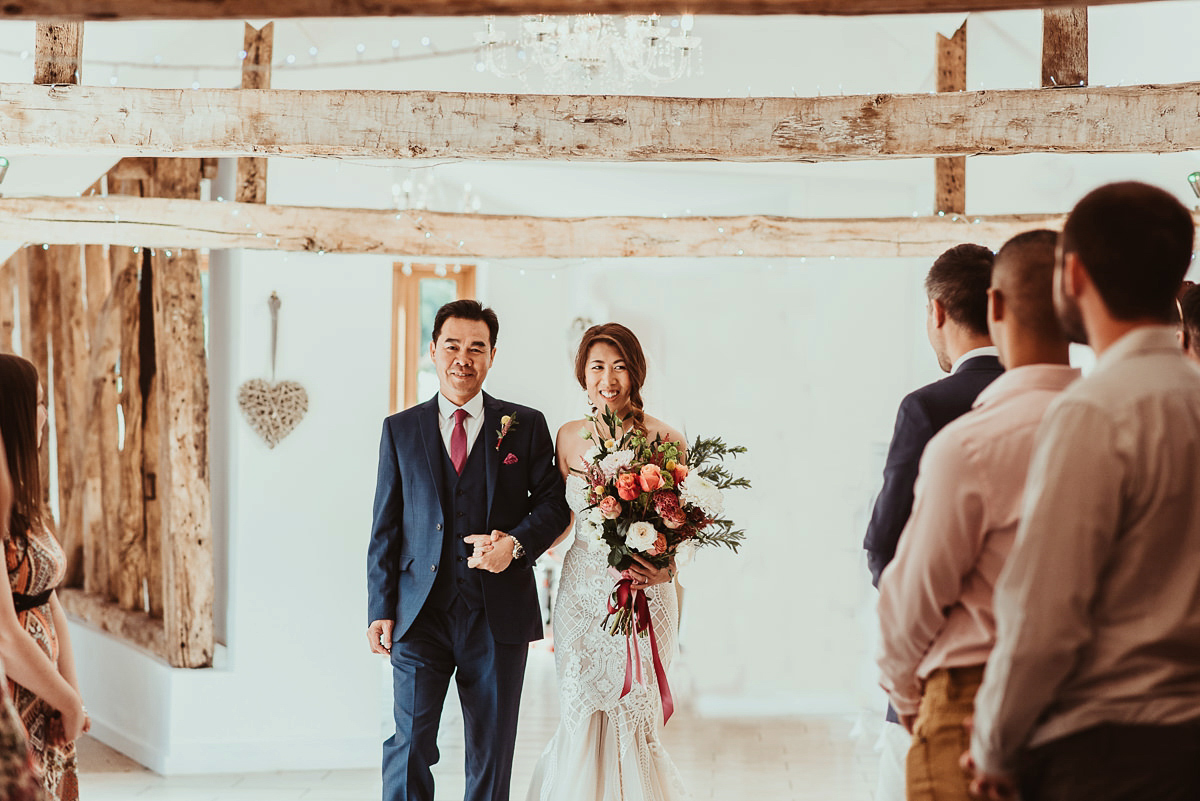 The couple exchanged rings purchased from Quality Jewellers, Barnet.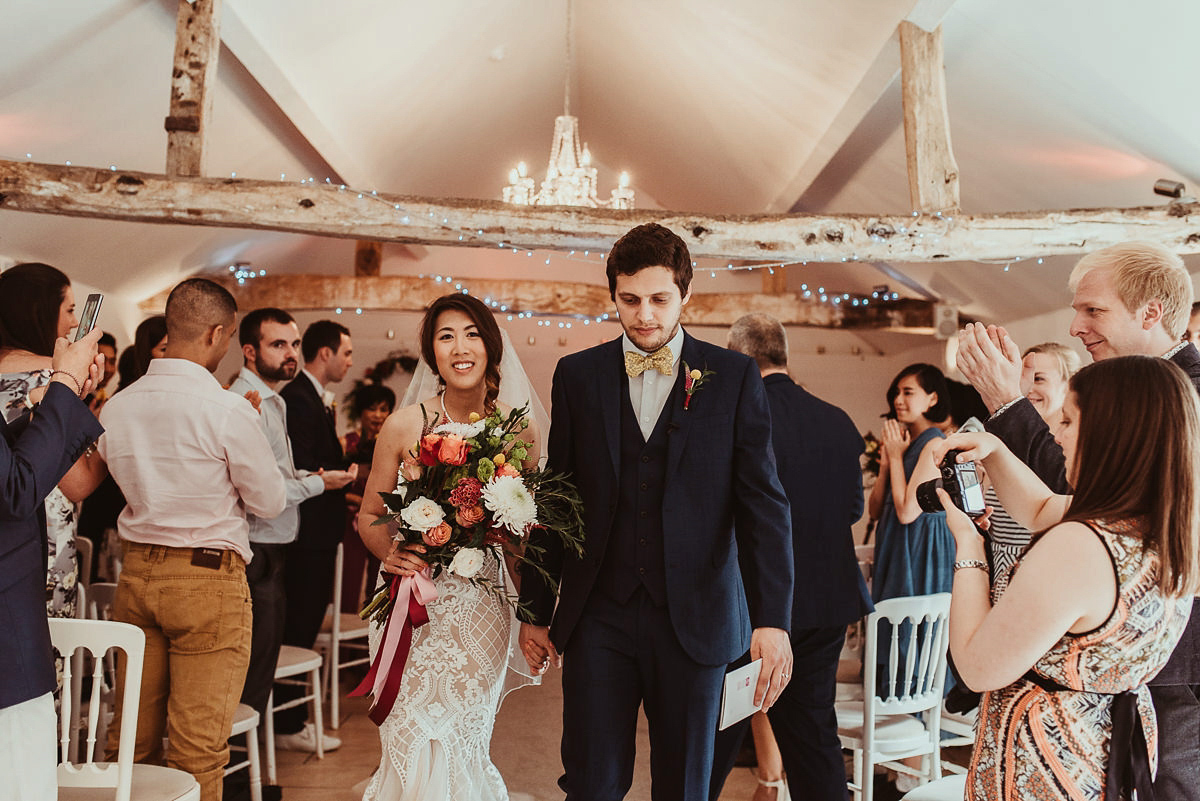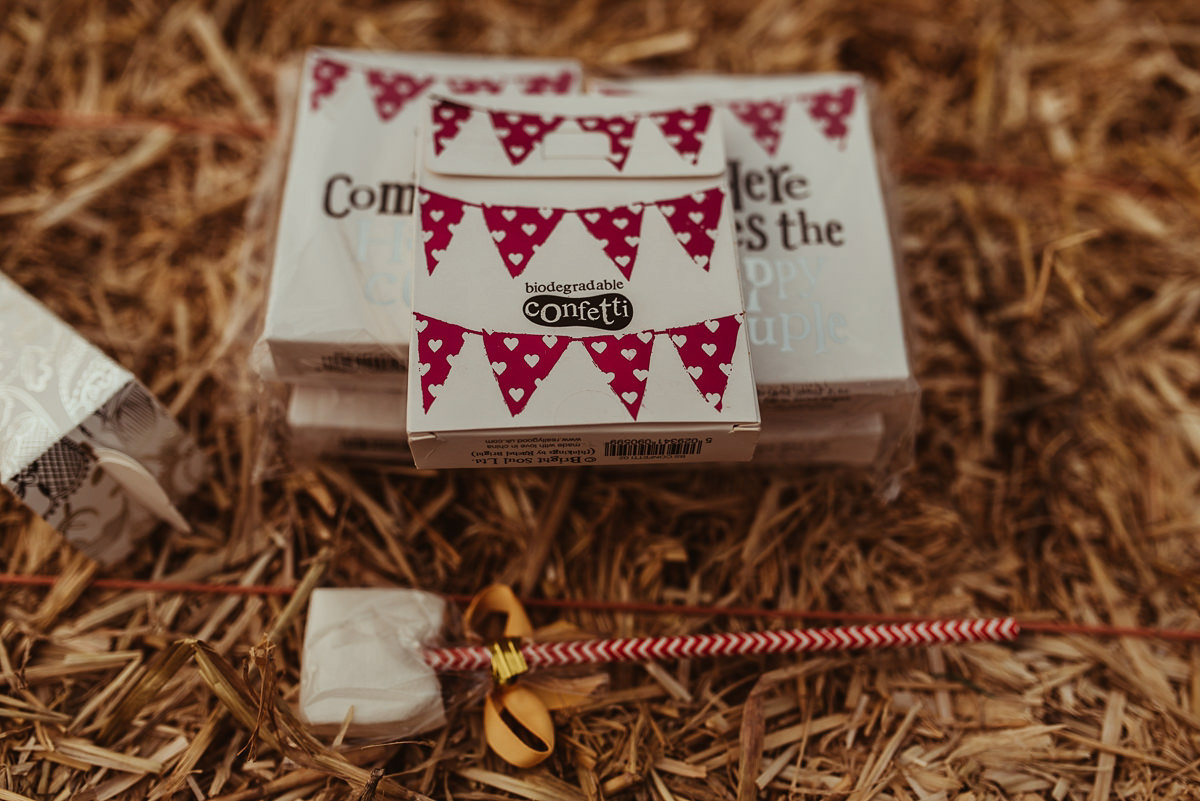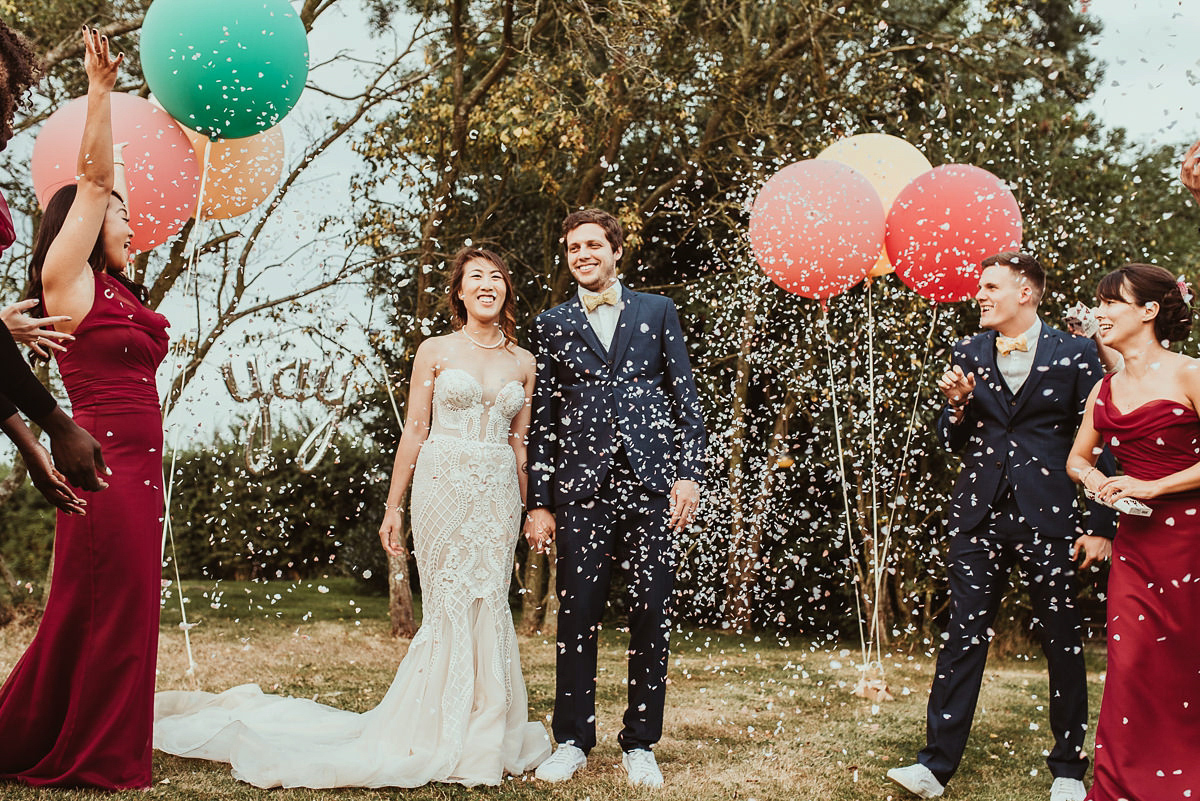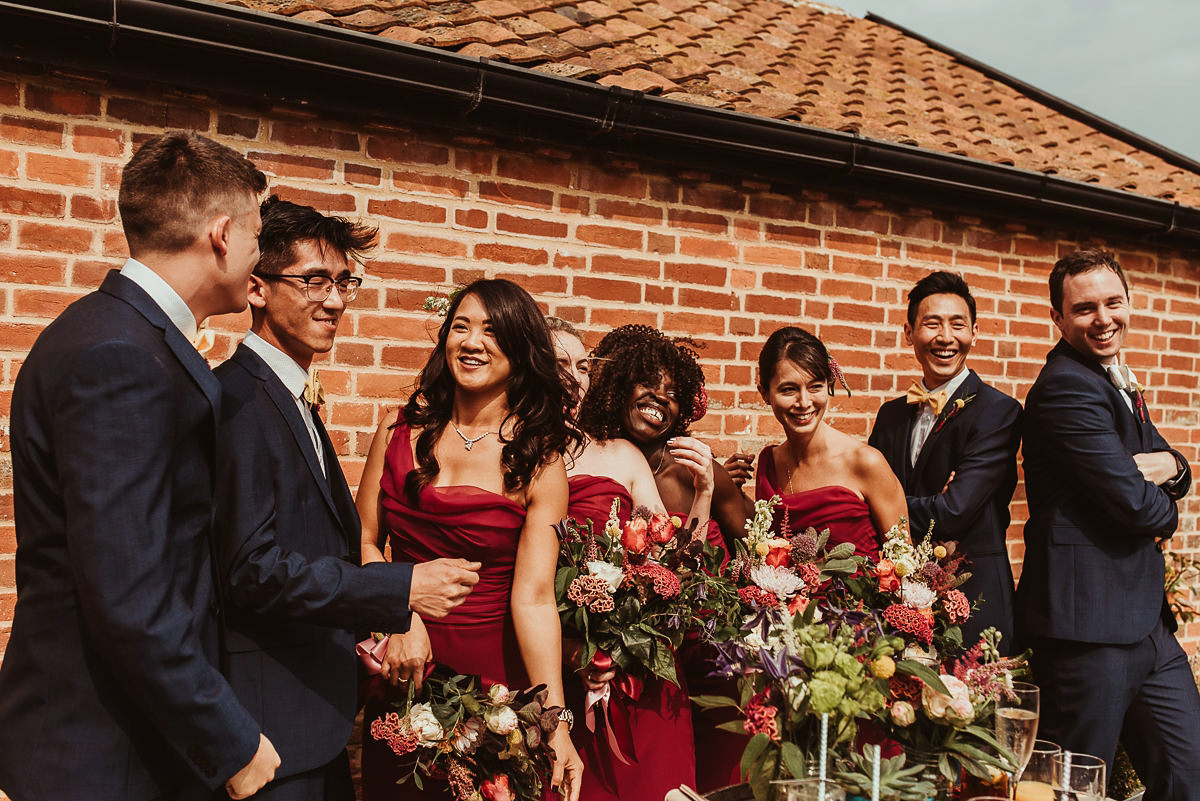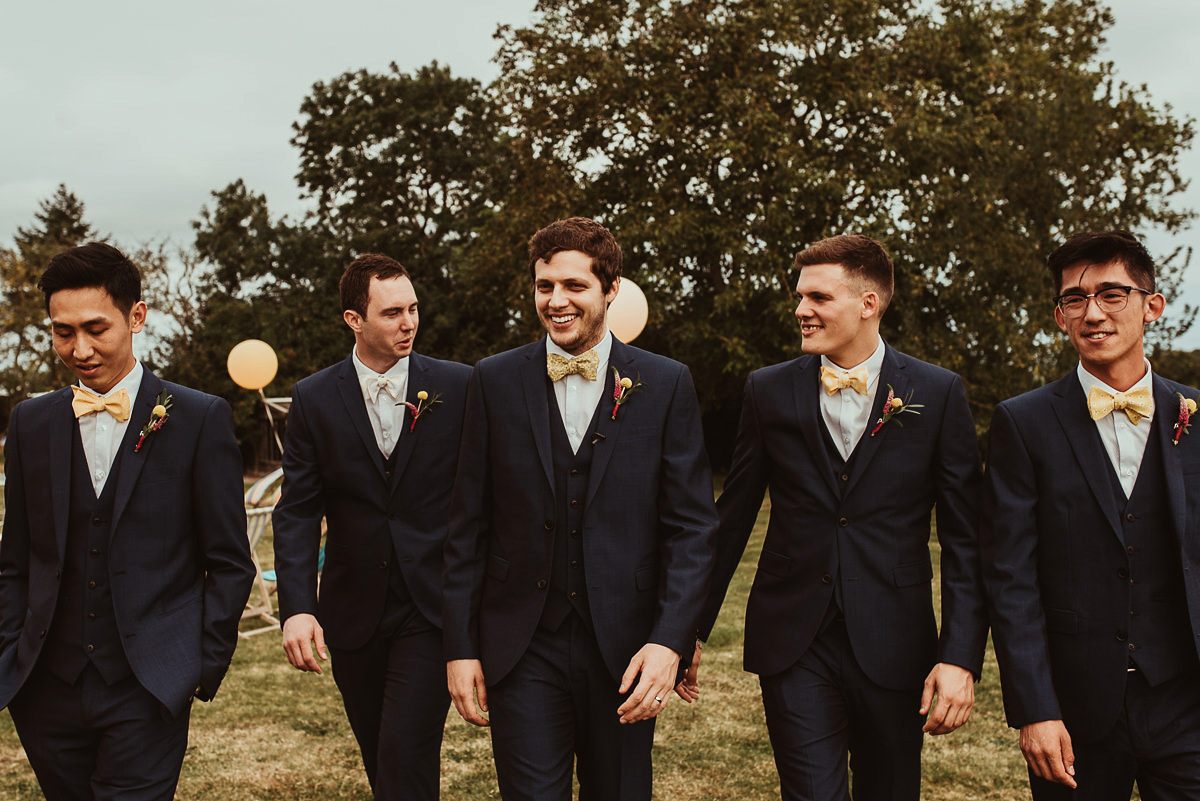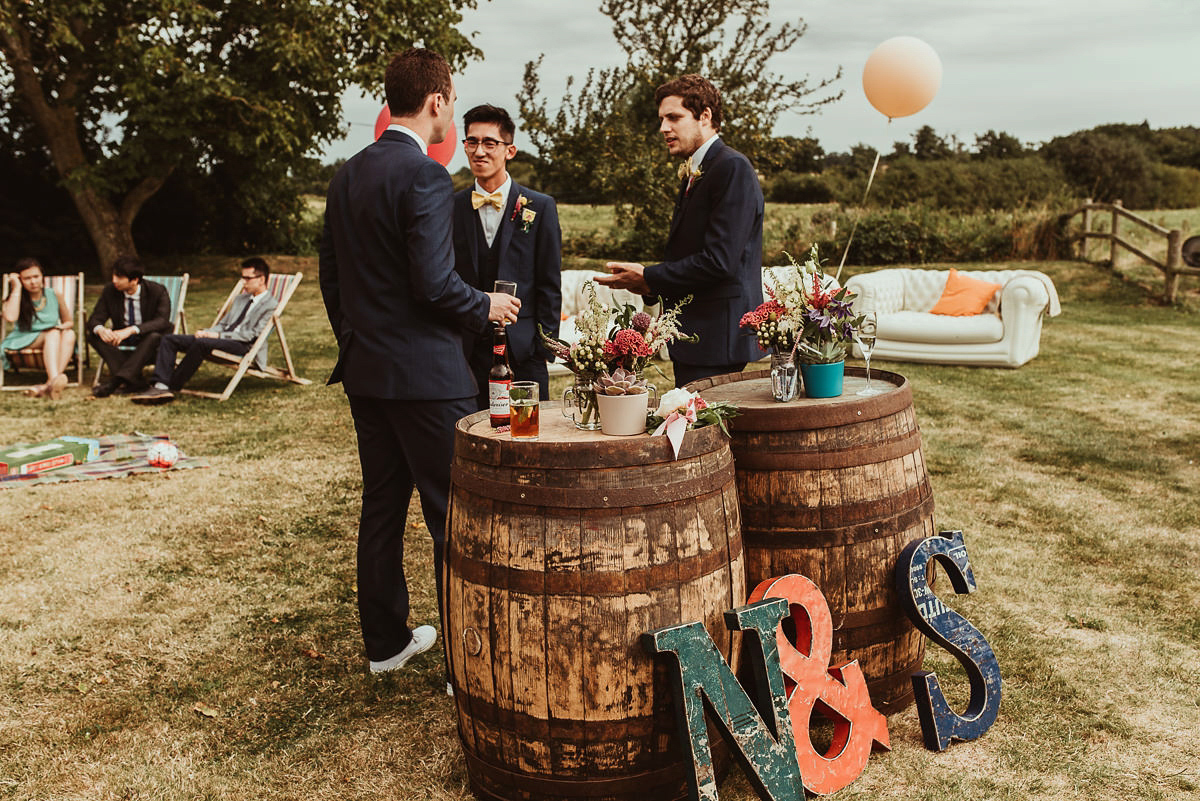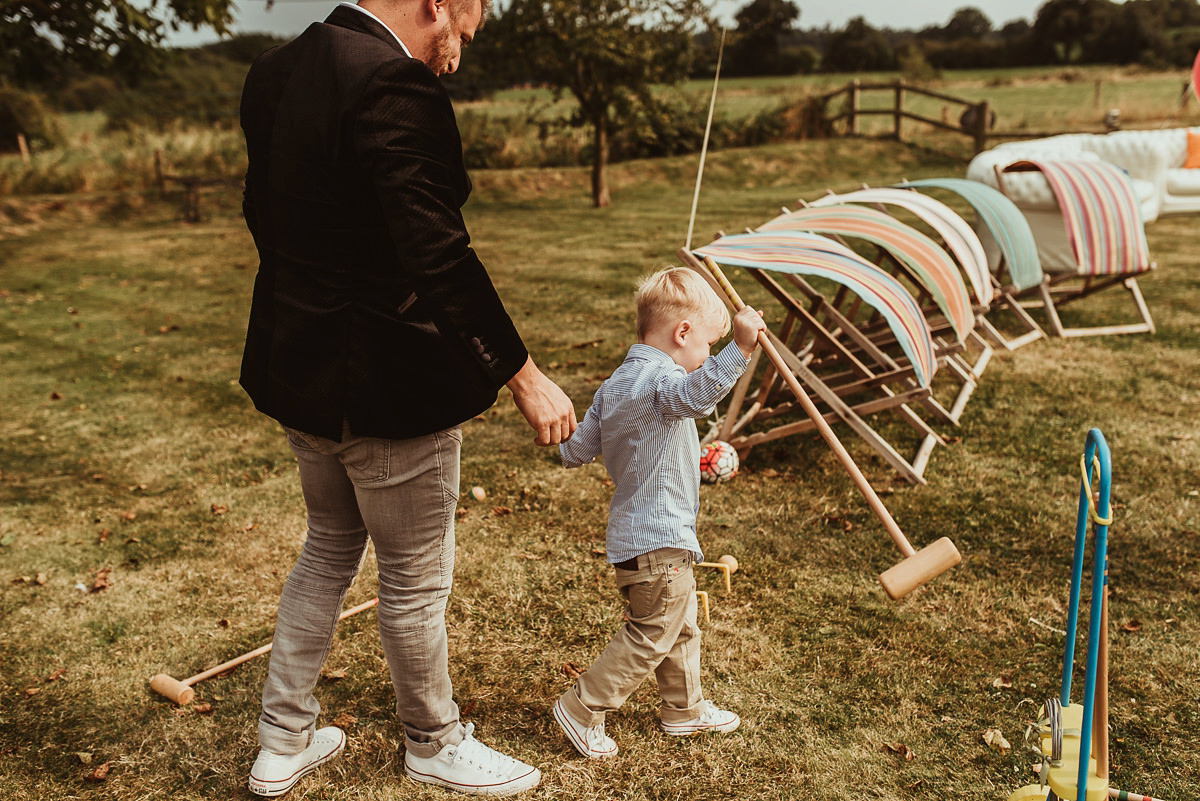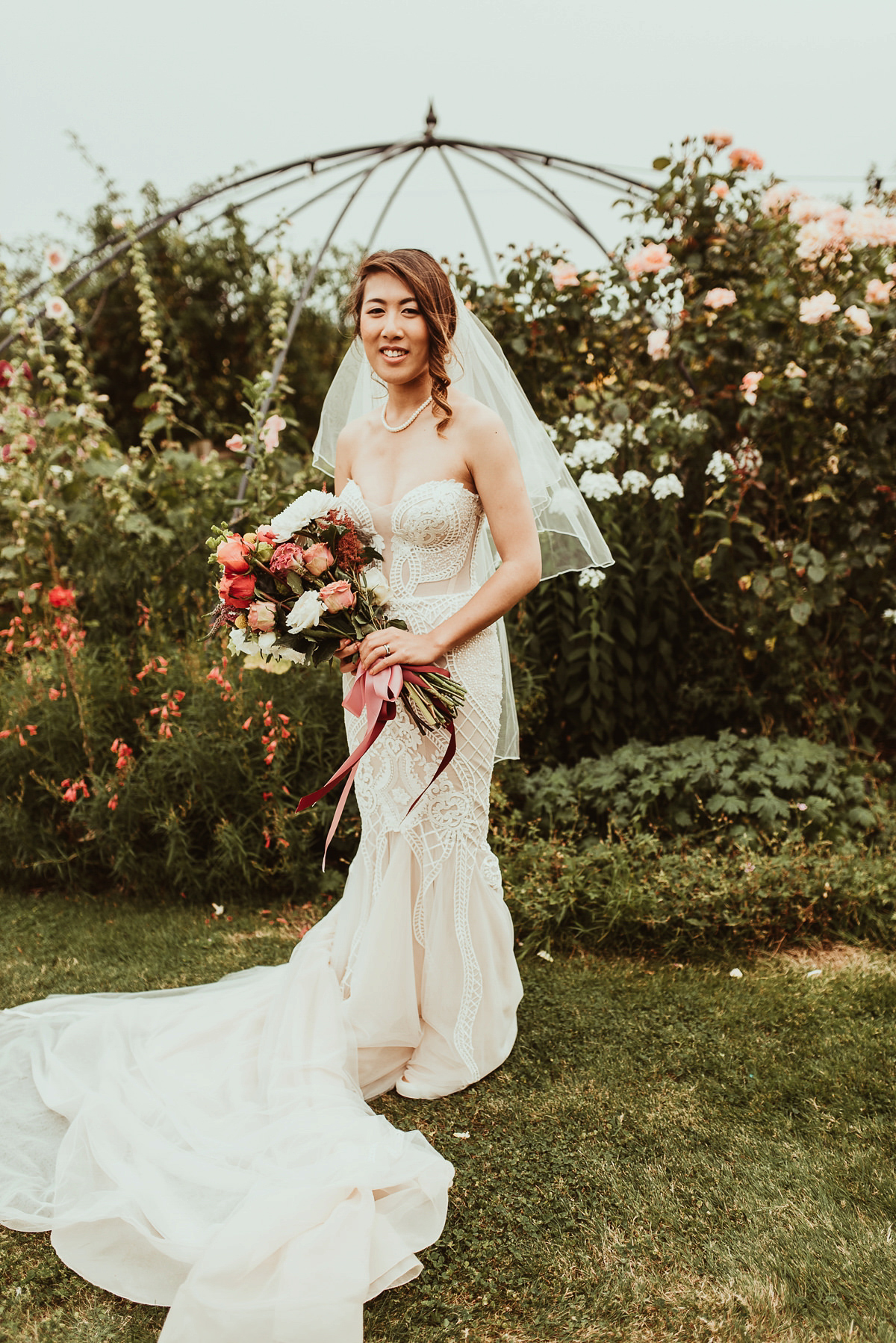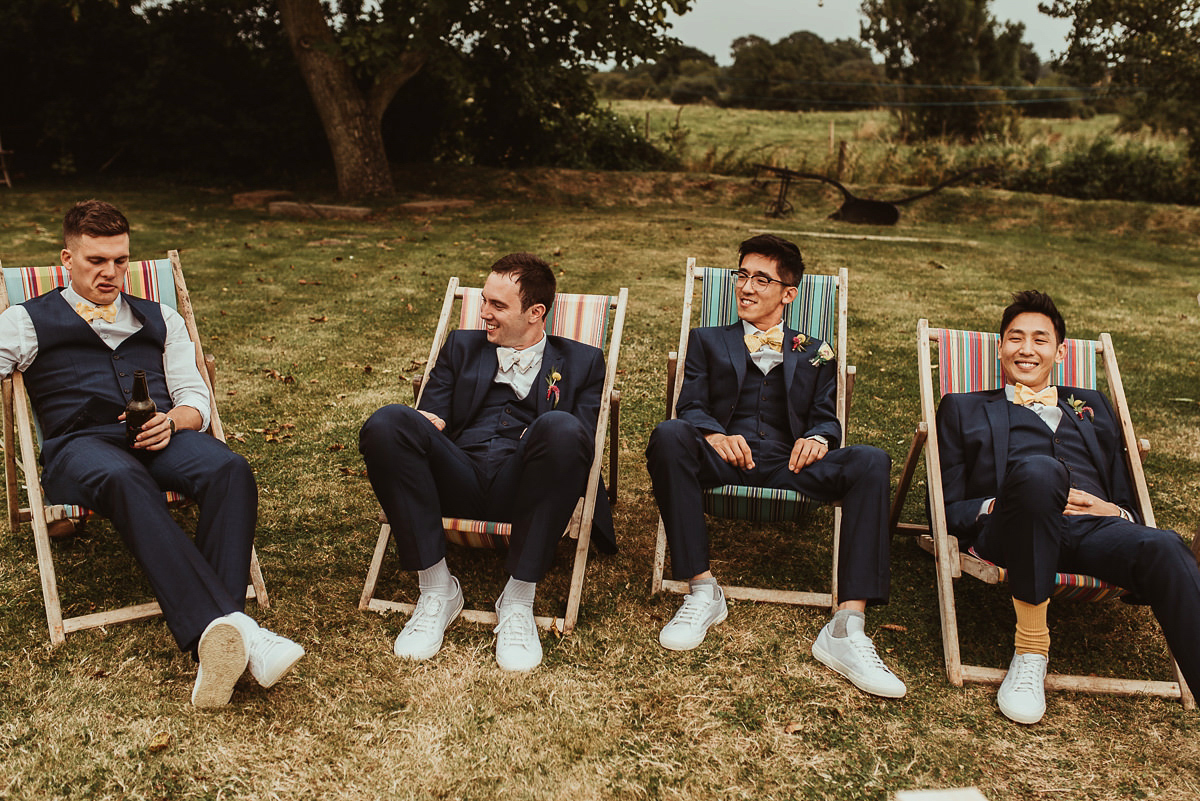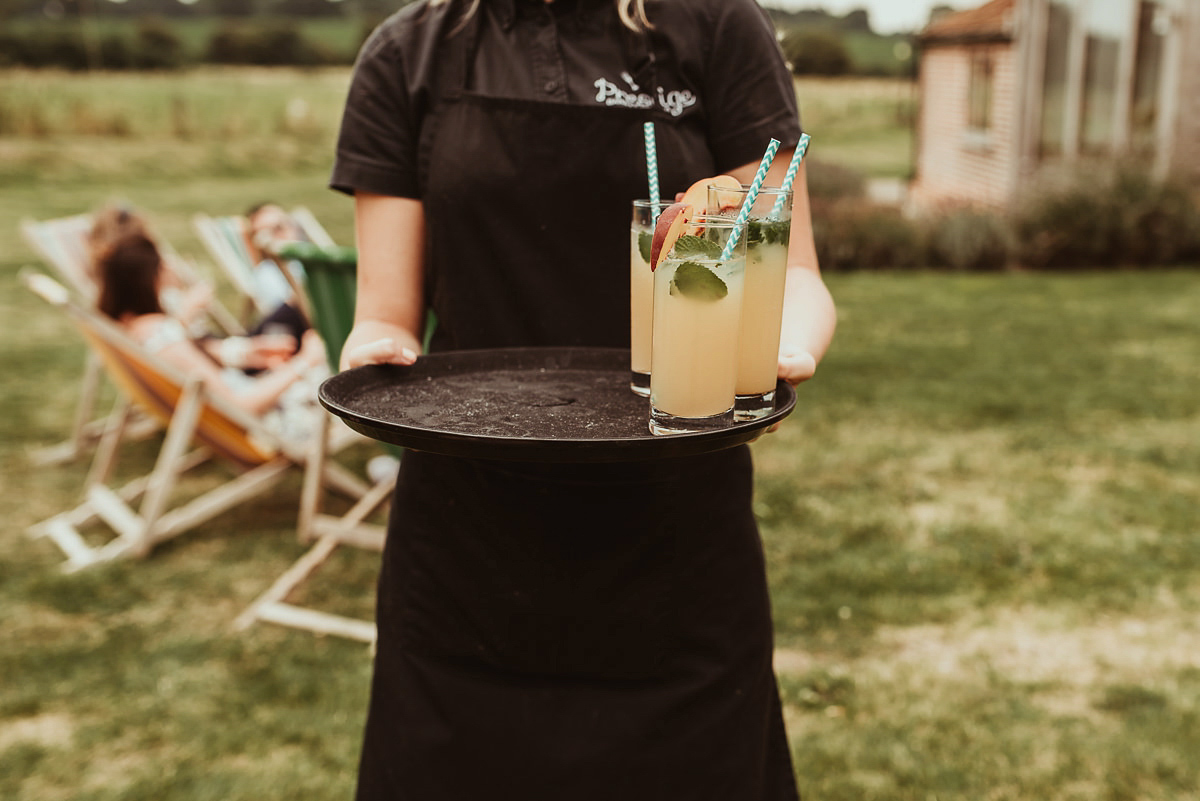 For entertainment, guests were spoiled for choice!  The couple had a really unique photobooth idea- the marital bed, which Selina put together and designed the custom duvet and pillows for (printed by All Personalised Blankets).  High school friends James and Sam, who run a production company, brought it to life with an overhead camera.
"We showed some of our favourite films as part of an outdoor cinema, provided by  The Village Green Events Co., all accompanied by hot water bottles, hot chocolate and popcorn."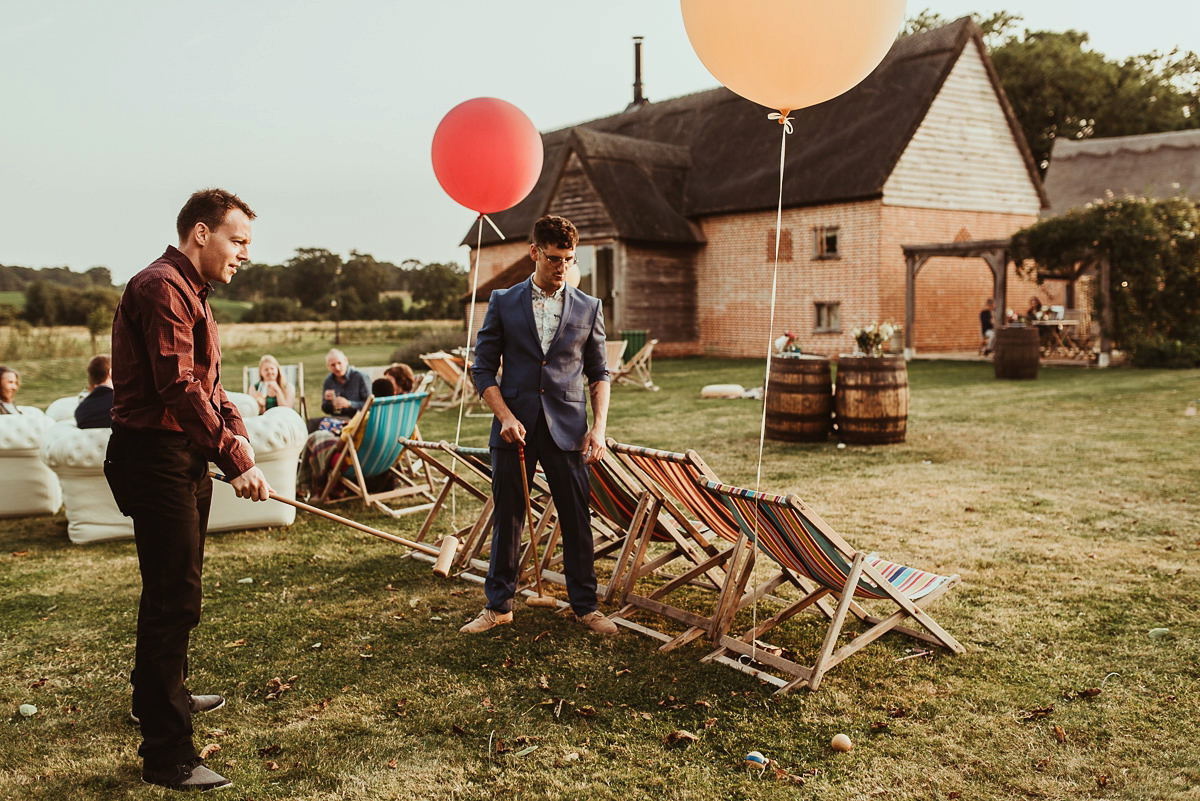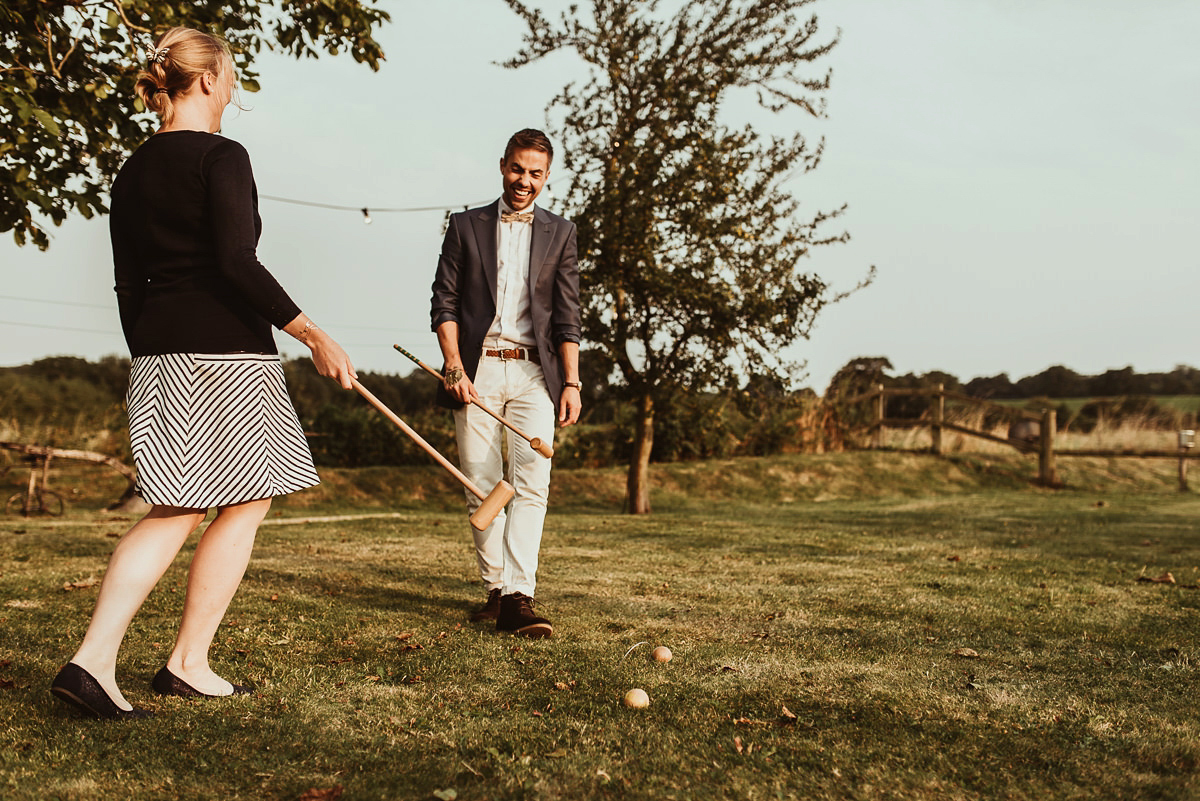 Today's wonderful photos are the work of the talented Jess Soper.
"I really couldn't recommend Jess highly enough.  From our first Skype call she made us feel like old friends. We were super comfortable in her company and she put us at ease. Our engagement shoot was lovely and we couldn't ask for anything more from our wedding pictures."
"Jess's style is soft and relaxedand she has a great eye for detail and framing. I can honestly say I haven't ever found a single thing to criticise about Jess's work – it is all incredible."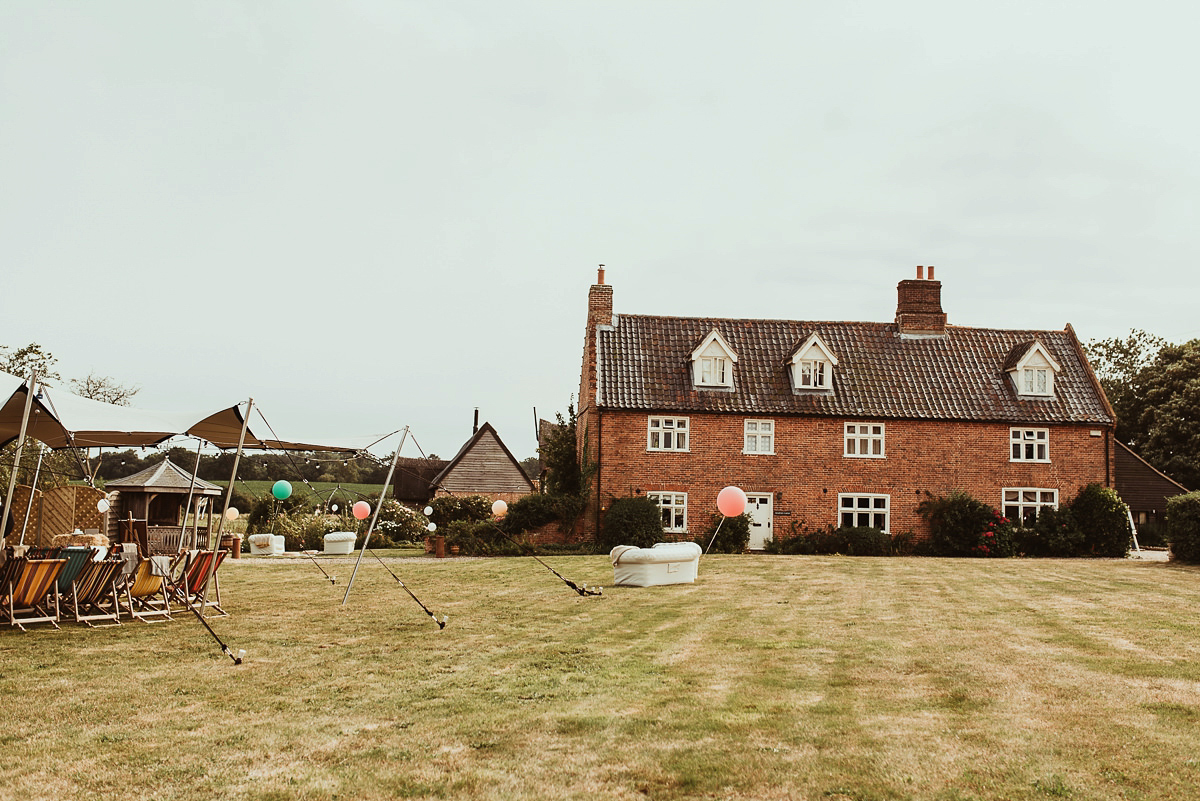 "We're so glad that we asked friends, family and known contacts to contribute to our wedding. Our friends and family wanted to be involved and it was nice to have them contributing to different areas, big and small, whether it was blowing up balloons or making dresses.
We're lucky in that Selina's job means she has lots of event contacts and almost every supplier was also a guest at the wedding.  It made the whole thing more enjoyable and personal."
Inflatable Chesterfield sofas were hired from Ta Dah Furniture, while for those who wanted to be more active, the couple provided garden games of jenga, beer pong and croquet.  Music was provided by the ReCover Band and for a final festival touch, the couple provided hundreds of temporary tattoos from Tattly.
"Some of our guests camped out in the garden overnight in true festival style.  The next morning we had a post-event breakfast and a day trip out by the beach followed by fish and chips."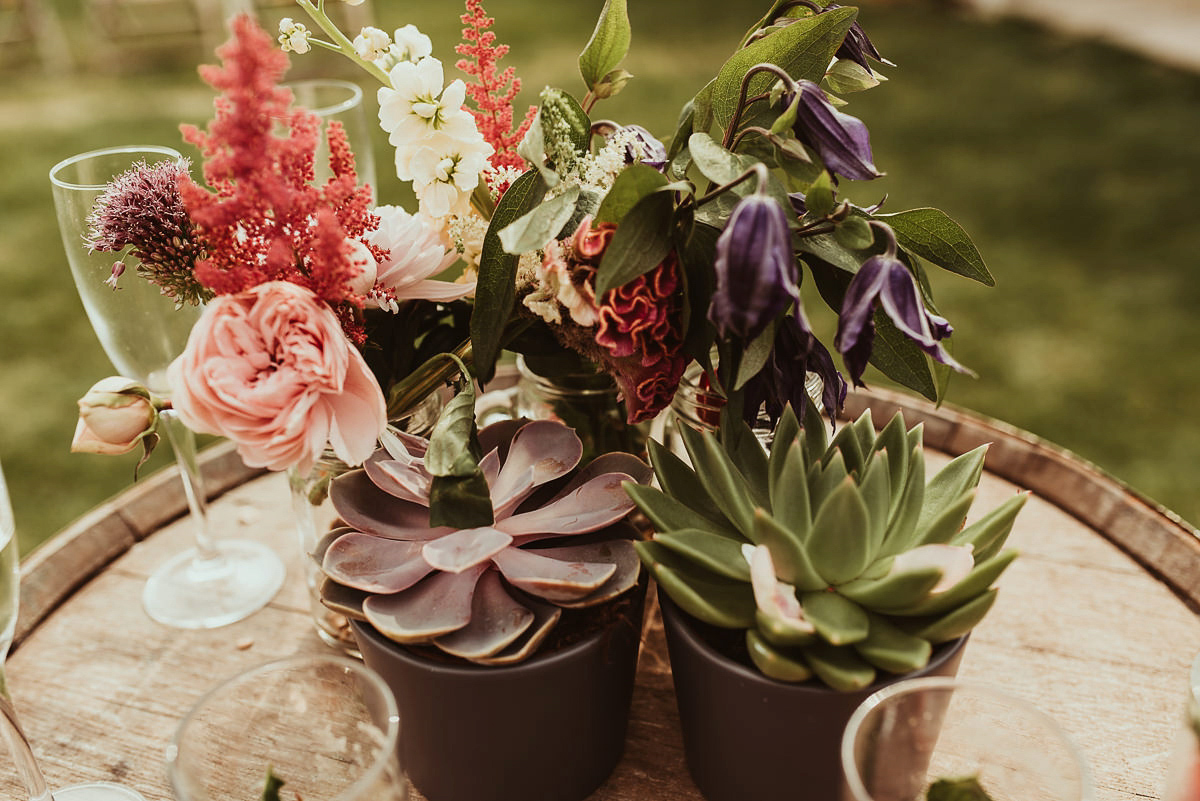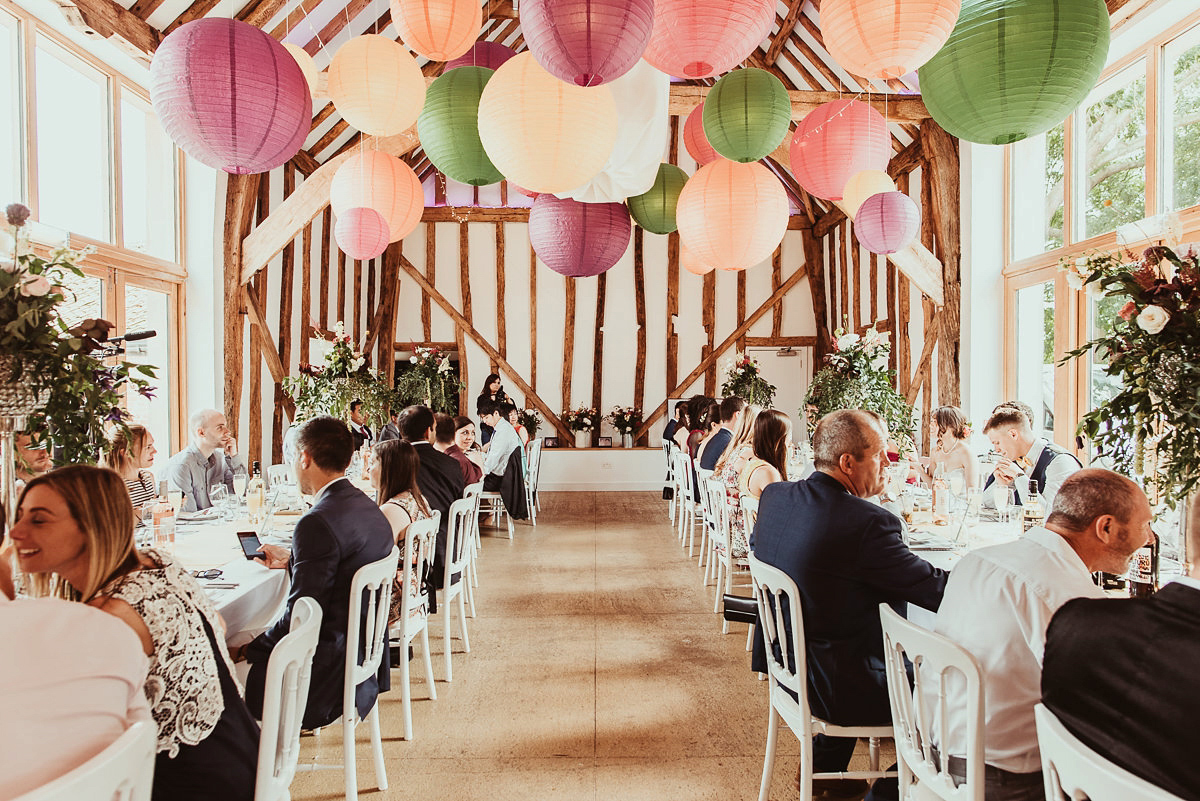 Favours were packs of colourful paper straws by the bride's company The Kind Rat Co. and custom marshmallow pops by Boomf.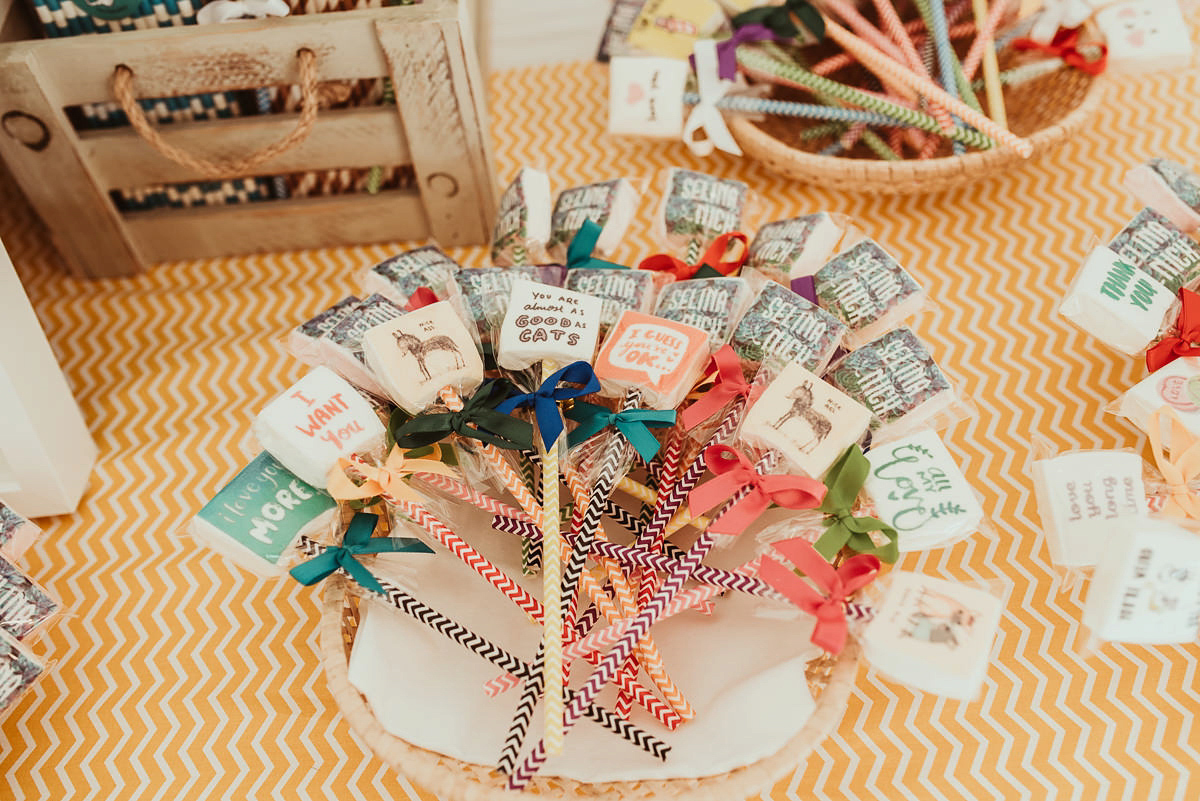 Decor included paper straws and popcorn boxes from The Kind Rat Co, paper lanterns, deckchairs and festival lighting by The Village Green Events Co, giant balloons and mason jars purchased on eBay, wool rugs from KEW, rattan pouffes, garden cushions and poster frames from IKEA, hay bales from a local farmer and  reclaimed signs from a bric-a-brac store in East London.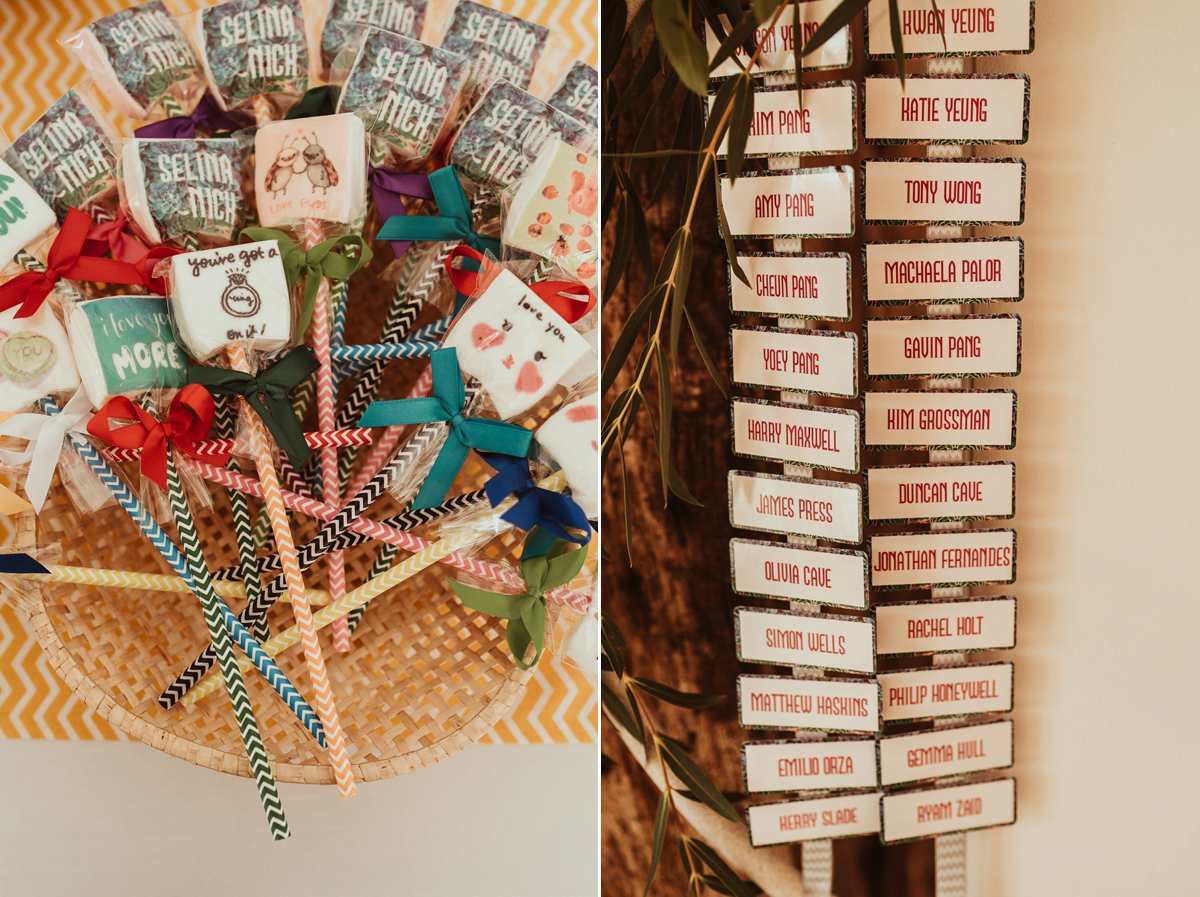 All stationery design was done by Selina and printed on instantprint or Moo.com, while the thank you newspaper was printed by the Newspaper Club.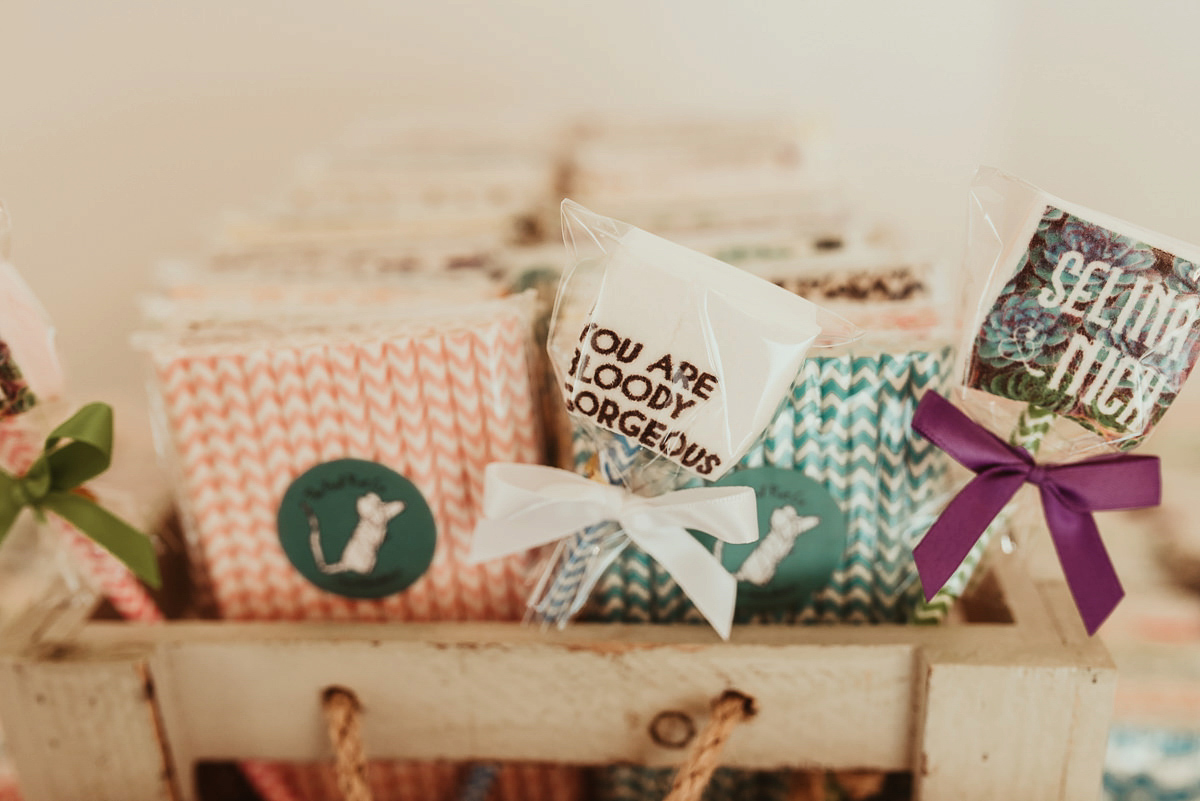 The wedding cake was made by Selina's sister Francesca Pang, who runs a food blog in her spare time and was a Masterchef contestant on the 2016 UK series.  The wedding cake was decorated by Selina herself, with supplies from Cake Craft Shop.
Catering was done in house, while the cheese and charcuterie came via Une Normande a Londres.
"Quentin at Une Norman de a Londres was incredible at putting together a package of delicious treats for all our guests within our budget and everything was packed and delivered to our venue with styling and serving details."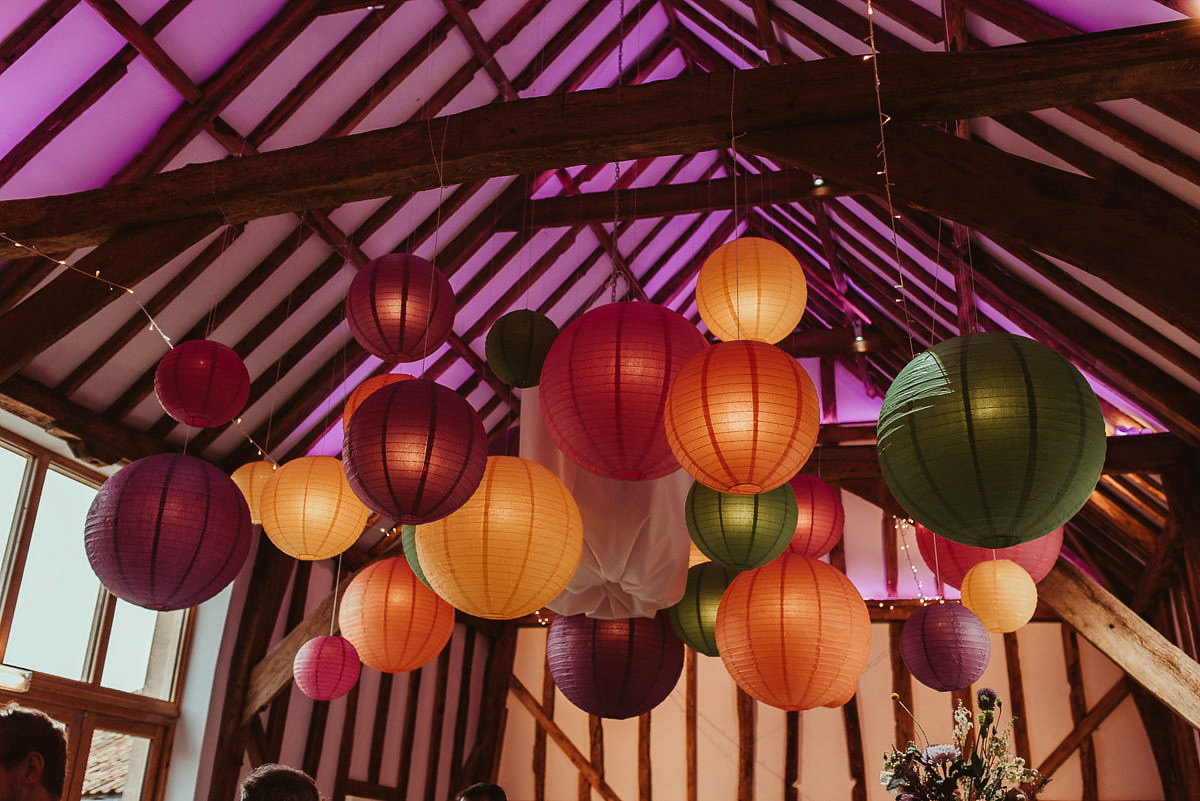 Words of Wedded Wisdom
"Don't stress out and surround yourself with people you trust.  Once you put your trust in them to deliver your vision, let go, and just enjoy it.  If it doesn't quite turn out as you expected, don't worry about it – everyone else probably won't notice and will still enjoy what you've created and planned anyway.
The day will fly by, so make sure you take the time to just sit back and watch everyone enjoying it – they're all there for you!
Instead of wedding cards and gifts, we asked our friends and family to make small donations to our charities instead. We created a team page on JustGiving with the stories of our conditions to create awareness of Crohns and Lupus."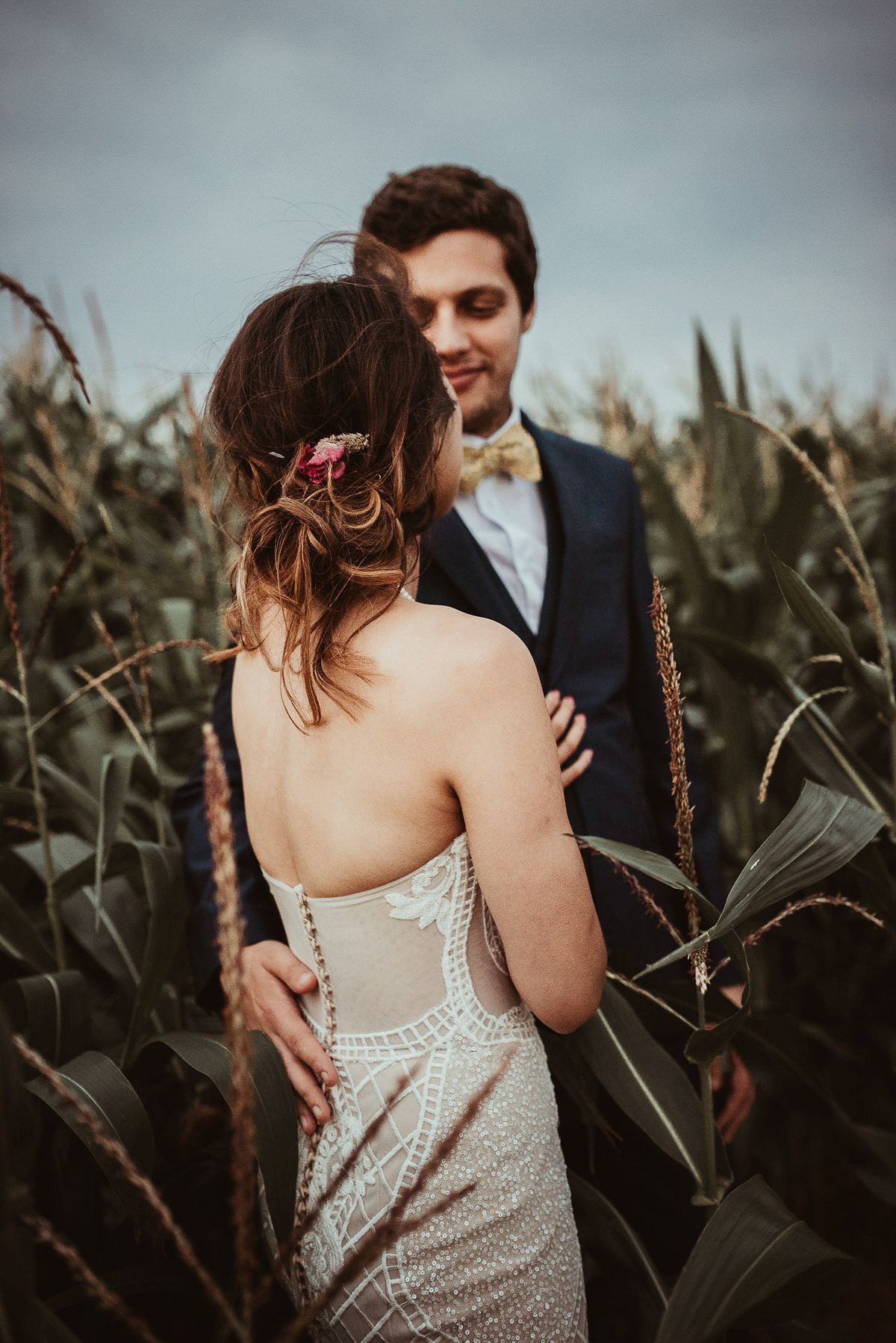 So many thanks and congratulations to Nick and Selina and thanks to Jess Soper for allowing us to share these colour-filled photographs.  Does this colourful festival style inspire you?  Take a peek here for some past festival- themed days, each one different and fabulous.
Much love,
S x
Credits & Thanks
Photographer - Jess Soper Photography
Film - James Kar Productions
Venue - White Dove Barns, Suffolk
Bride's Dress - Camille by Pallas Couture, purchased from Morgan Davies Bridal, London
Veil - Morgan Davies Bridal
Scent - Chanel Coco Mademoiselle
Accessories - Cardigan, Hobbs
Bridesmaid dresses - Made by bride's mum
Flower girl dress - Next
Custom hangers - Two Stories Gifts on Etsy
Groom's Outfit - Suit, Next; shirt, French Connection; bowtie, Tangled Ties; shoes, Superga Cotu Classics
Rings – Quality Jewellers, Barnet
Flowers - The Flower Monger
Cake - Made by bride's sister with supplies from Cake Craft Shop
Cheese + charcuterie - Une Normande a Londres
Custom marshmallow pops - Boomf
Personalised blankets - All Personalised Blankets
Outdoor cinema - The Village Green Events Co.
Inflatable sofas - Ta Dah Furniture
Music - ReCover Band
Temporary tattoos - Tattly
Paper straws and popcorn boxes  The Kind Rat Co
Paper lanterns, deckchairs + festival lighting - The Village Green Events Co
Giant balloons - eBay
Wool rugs - KEW
Rattan pouffes, garden cushions and poster frames - IKEA
Stationery printing - instantprint + Moo.com
Thank you newspaper - Newspaper Club
Transport for guests - Anderson Travel