Something lovely for a Friday lunch time, before we share our second wedding feature of the day – a collection of images that came about when the lovely florist, Lily & May, collaborated with a small team of fellow wedding suppliers on creating something 'green'. We've been supporting Lily & May for a number of years now and recommend her floral design services most highly. I also share Claire of Lily & May's  fondness for all things green and those classy, elegant wedding bouquets that only feature green or white – something I think we'll be seeing a fair bit more of over the coming months.  Claire explains more below. There are some lovely, achievable ideas in this feature for styling your wedding, so, enjoy!
"Greens are big for this year as confirmed by the Pantone colour of the year, 'Greenery'.  I have always loved featuring foliage and leaves in my designs, which are often overlooked in the wedding world in favour of flashier,  more colourful blooms, so this shoot was my opportunity to allow the greenery itself to take centre stage."
Photography by Tarik
"The setting for the shoot took place at That Amazing Place. Nestled in the Essex countryside. Also known as 'Hubbards Hall', That Amazing Place was originally built in the 15th century as a monastery. Cosy and intimate, with breath-taking views from every window, stunning light floods into every room, perfect for gorgeous photographs, like capturing a couple in those moments that follow their wedding ceremony.""The leaf wall makes a fabulous backdrop  and wow-factor focal point for any wedding ceremony or reception and would compliment most spaces. Packed full of luxurious leaves such as Monstera, palms and ferns with subtle touches of olive and ivy for texture and depth. The aisle is framed with vertical foliage runners with splashes of soft apricot and cream snapdragons."
"The focus is still all about the greens with the bridal bouquet, adding gorgeous lime green Viburnum Roseum's along with the softest shade of pink Ranunculus finished with Kate Cullen silk ribbons."
The gowns used in this feature are by designer Lucy Can't Dance, who specialise in quirky wedding dresses for non-traditional brides. Working with bold laces and colourful details to give you a unique dress to compliment your individual style. The gowns featured on this page today are brand new dress designs 'Jungle Fever' and 'American Woman'. The dresses are a sneak peak at the brand new collection coming out in May 2017. I picked these full lace dresses to compliment the leafy style of the shoot.
"'Jungle Fever' has the most amazing lace! The jungle leaf print lace is very unique and refreshing. It's the complete opposite to the delicate laces you would usually see on wedding dresses. The low back and ¾ length sleeves give the dress a stylish and bohemian feel. When I was told about the theme of this photo shoot I knew this dress would be perfect!"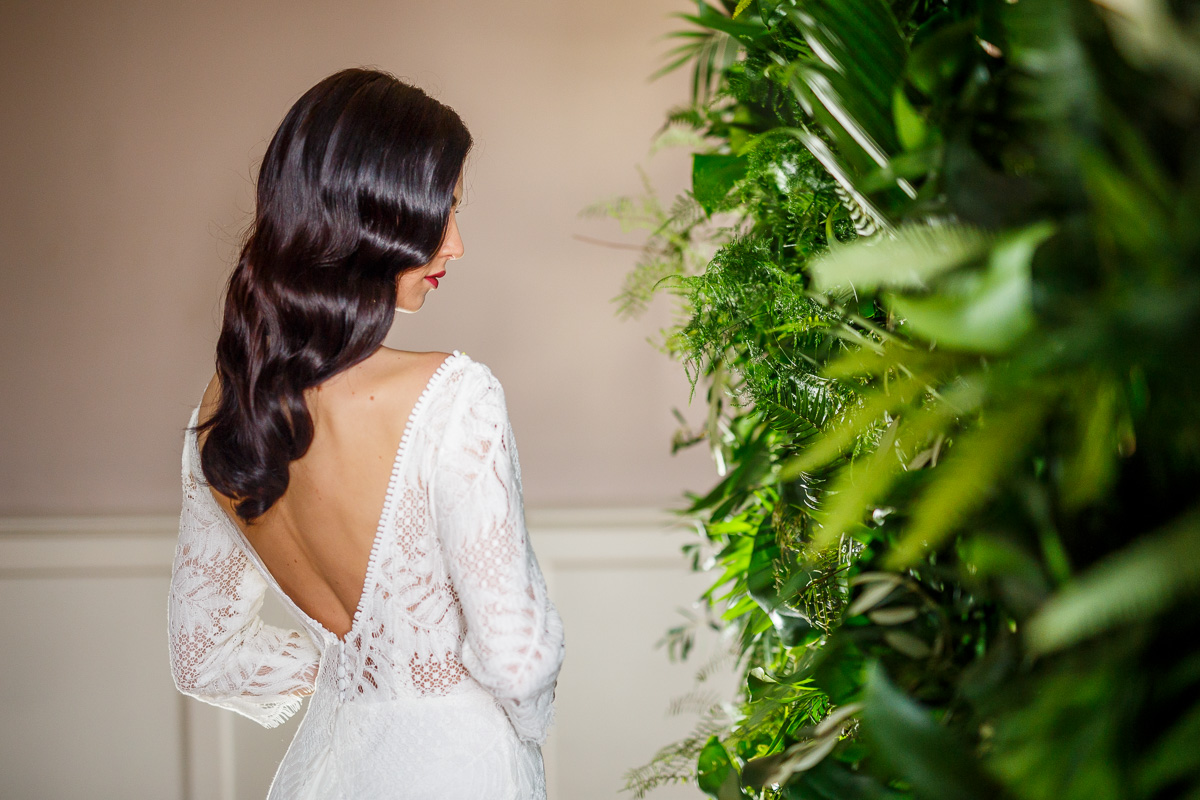 I absolutely adore the 1930's inspired long, glamorous waves in this models hair – it's a look that works so well for those with medium to long hair which they don't want to have tied up on their wedding day. Lisa Alger, who was the hair and makeup artist on this shoot tells us a little about the looks she created…
"For the first look on our gorgeous model, Kerry Ann, I kept the makeup and hair simple yet glamorous. Soft, Hollywood waves are a trend which will definitely stay for 2017 and looked amazing with Kerry Ann's glossy, brunette hair. To compliment the amazing setting created by Lily and May Floristry I created a subtle winged liner eye look, with a deep peach lip using Caked Makeup liquid lip, in 'Low Key'."
I adore the simplicity of the olive garland in the model's hair below. I'm all for a colourful, bold floral crown, but equally love these simpler, more low-key style headpieces.
"To change Kerry Ann's look to compliment the second dress by Lucy Can't Dance, I simply twisted the models hair and ruched before pinning. This was accessories beautifully with a flower crown made of Olive, again made by Lily and May. For this makeup look I simply darkened the eyes slightly to create a smokier look and, again, using a Caked Makeup liquid lip, I lighted the lips by using the shade QT."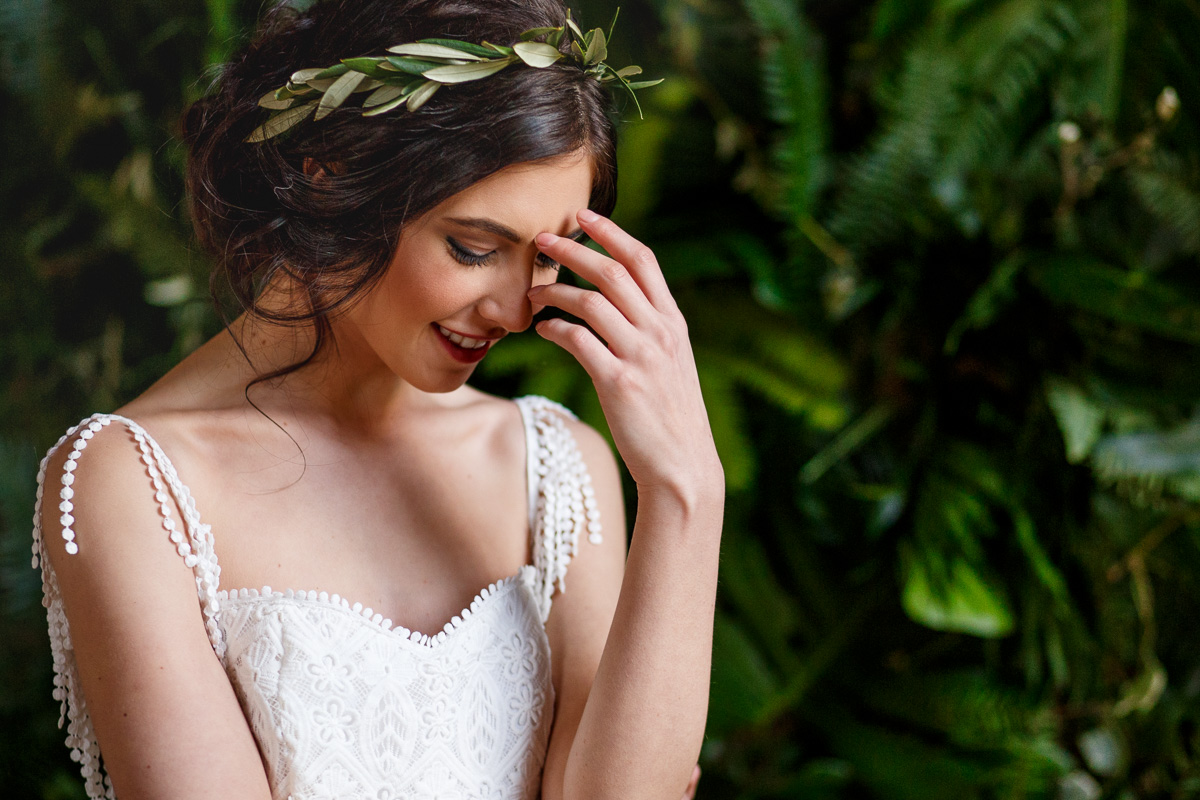 "'American Woman' also has a bold and interesting lace pattern. This dress has a beautiful train with scalloped edging. The most exciting feature on this dress is the unique tassel sleeves and back details."
Stationery was supplied by Russet & Gray…
"Getting the right feel of card was important, so a luxury, soft and tactile card was selected to compliment the botanical greenery. A natural watercolour wash in tones of green were used to give a sense of being at one with nature, coupled with gold effect text and modern brush script typography the tone became modern and luxurious."
"Green textured glasses are mixed with clear glass on the table along with copper cutlery. This is a great way to pull a colour scheme together and flow throughout the wedding day. Olive leave garlands are used along the centre with apricot chrysanthemum blooms adding pops of colour. Statement palm leaves are placed on each place setting along with fresh mint lollipops as a fun little favour."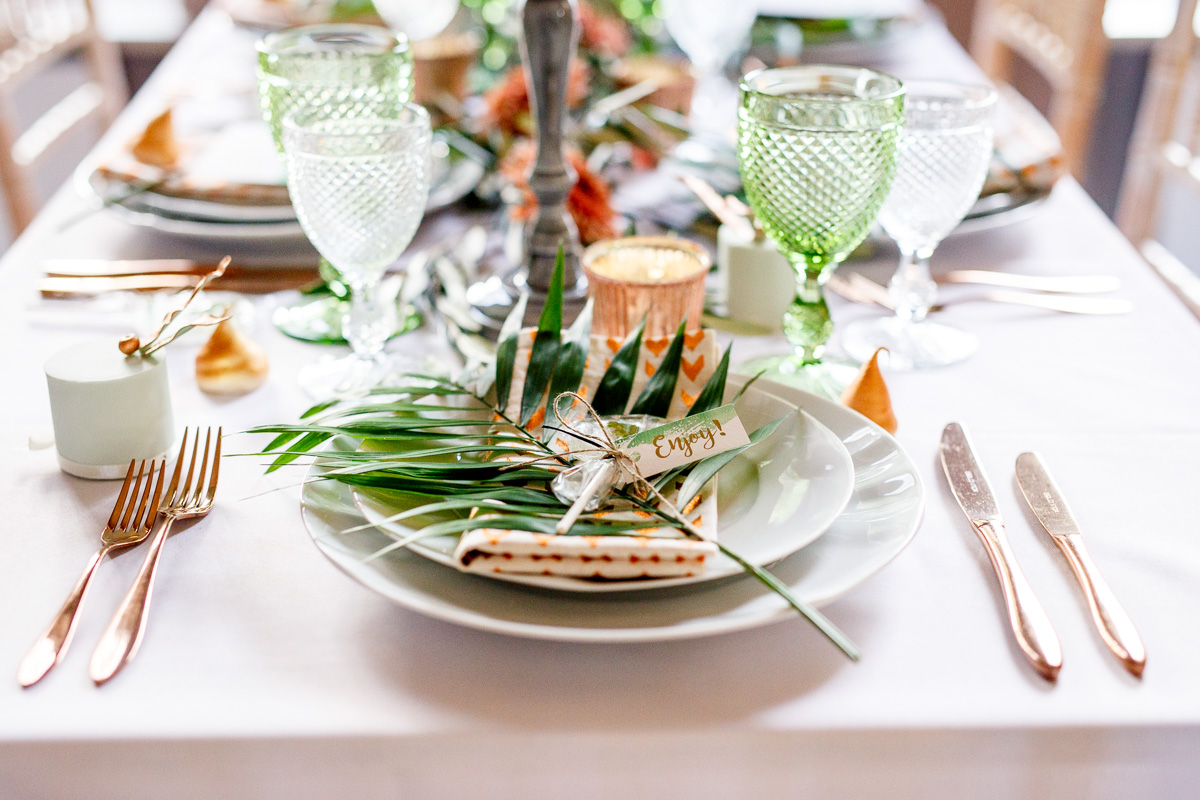 And that beautiful cake is the work of cake maker Egg & Moos.
"I was so excited to work with this beautiful rich palette of greens and bronze. I chose to create a simple but elegant look, designing a tiered cake with garlands of sugar olive leaves and incorporating the bronze through the little olives. I teamed the look with pretty meringue kisses, cake pops, macarons and mini cakes to carry the bronze accents through."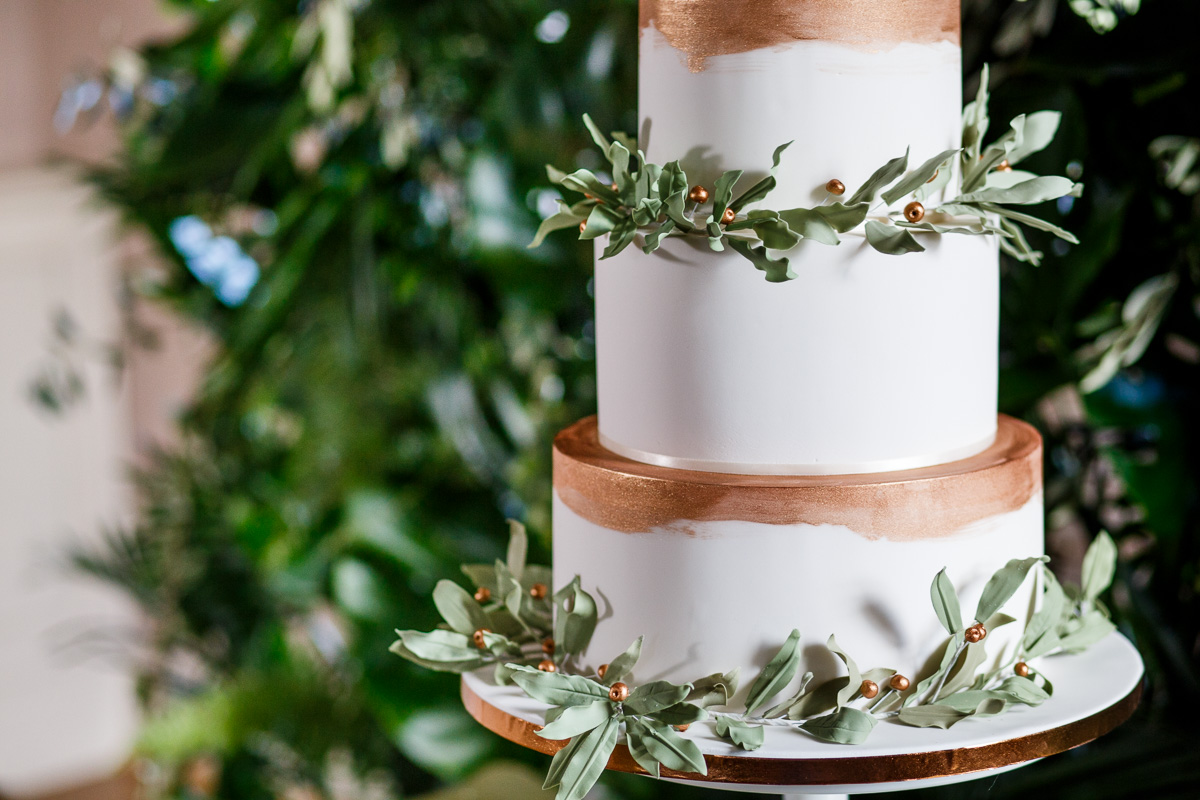 The shoes that feature in this shoot are by British designers, Merle & Morris.
Designed in the UK and made in Spain – both design comfort were at the fore-front of Merle & Morris founder Shelley's mind when creating her wedding/party shoe line.
"The collection is handmade in gorgeous leathers and silks to reflect the latest trends. Each style has unique super-soft foam padding under the foot which has had great reviews from brides wearing them all night long."
I'd like to thank Claire of Lily & May for sharing these images today. You can find out more about Claire's wedding day floristry services by visiting her website at www.lilyandmay.co.uk.
Annabel x