How on earth is it Monday again!? Is time slipping away from you too at the moment? There are suddenly somehow less than two months to go until I fly to Italy and become a wife and that realisation is both headily exciting and making me strangely nervous for the first time.
Today I'm honoured to be sharing the gorgeous, velvet-rich, industrial inspired wedding of Amy and Dave with you all. Now those are adjectives I never thought I'd be using the in the same sentence, but the vibe of this wedding just works, combing a edgy feel with soft, feminine textures. Amy, a quality manager in post-16 education, wed her steel worker beau, Dave on 12th December 2015 in Sheffield and the couple were inspired by their incredibly atmospheric venue and the crisp, cold month of their union.
"We were married in December so we were inspired by winter and the rustic feel of our reception venue. We got married at Sacred Heart Church, which we chose as it's our local Catholic church and it where Isaac, our son, was baptised. We chose Kelham Island Museum for our reception because we wanted an alternative venue, and it showcases Sheffield's steel heritage and industrial past, which is something we are both proud of. Dave works in one of the last remaining steel works in the city."
Images by Photography 34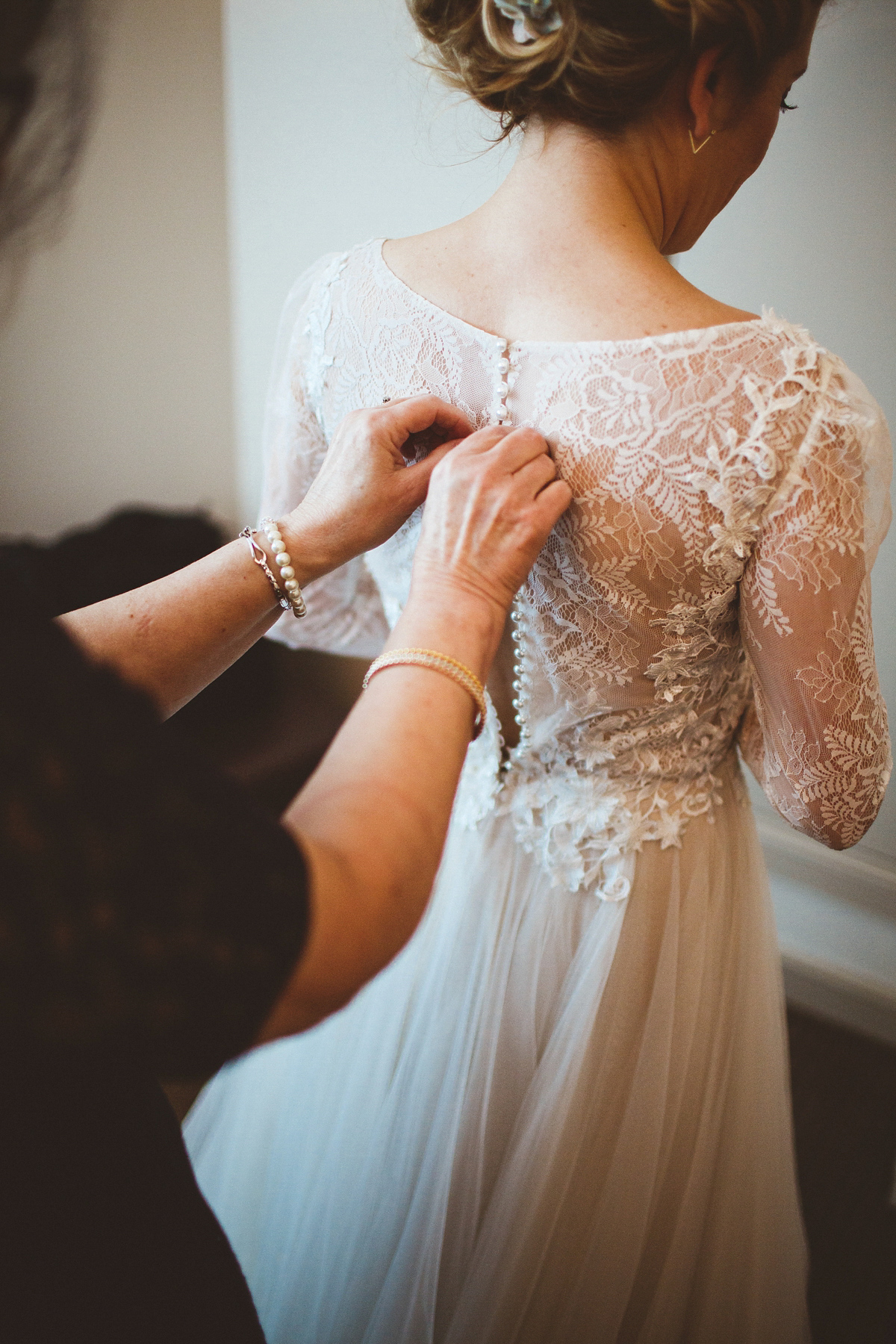 Amy rocked the Amelie gown by Love Marley, which she purchased online from BHLDN. This is one of those all to familiar instances when it seems a dress really has been crafted for the bride and her alone – what a gorgeous look. Our beauty also wore the most divine velvet crown by The Shepherd's Purse, who I may now be more than a tiny bit obsessed with.
"I instantly fell in love with my dress whilst searching for inspiration on Pinterest. I scoured the internet for a bridal shop that stocked it near me but to no avail. I eventually tracked it down in a bridal shop in London so went to try it on, I couldn't contemplate trying on another dress until I had tried on this one. I adored it, it was just as perfect in real life."Amy's longterm hairdresser and friend of over ten years, Jennie Copley of Volt Salon, crafted her locks into an informal up do with delicate plaits. It looks like Amy and her girls just had the best time getting pampered in the salon on the morning of the wedding, sipping fizz and having their make-up applied by artist, Janeane Hodgson.
"I wore a beautiful velvet half flower crown made by my very talented cousin Michelle McHugh Budd of The Shepherd's Purse. I loved wearing it, it was the perfect accessory for my hair. It arrived so beautifully packaged with ribbons, petals and a tiny pot of glitter – simply beautiful."
"I wore my mum's pearl earrings and ivory lace veil that she wore when she married my dad. It was still packaged in the original 1970s box she bought it in and was in perfect condition. I feel so happy and honoured that I got to wear it. I wore a gorgeous pair of No. 1 Jenny Packham jewel-embellished ivory sandals from Debenhams – they were comfy until the point of dancing, when I changed into my white Nike Air Force One trainers."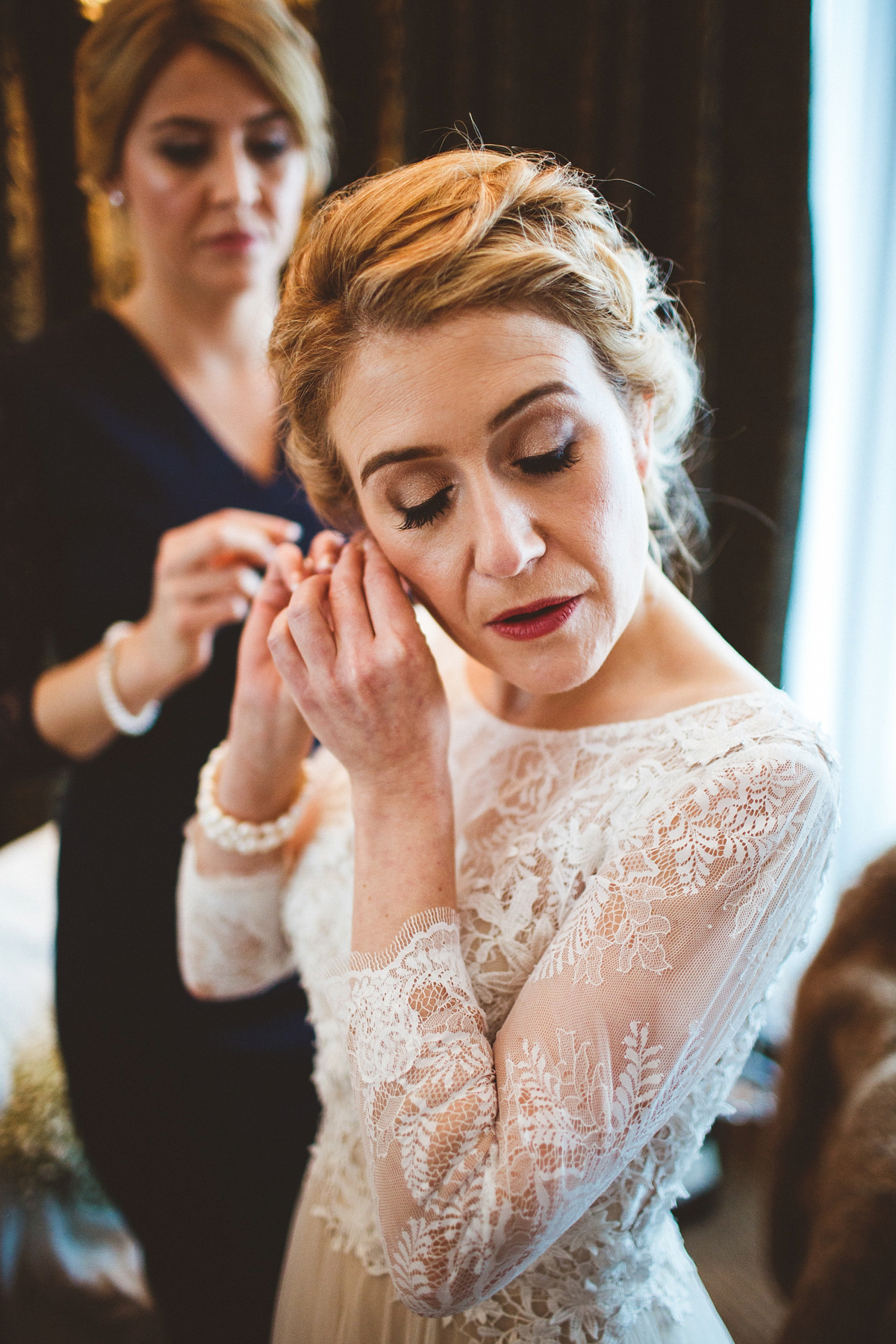 Amy's hand tied, unstructured bouquet featured pale, neutral tones with a natural textured feel, including Quicksand and Ambassador roses, white anemone, ranunculus, astrantia and lilac. The addition of blue thistles, eucalyptus, foliage and jasmine is heavenly, and this gorgeous arrangement dripped with ribbons in shades of champagne and ivory.
"My beautiful bouquet was from Swallows & Damsons. I have always adored their unique way of styling flowers and just love their cute little treasure trove of a shop. Unfortunately, they had another wedding already booked on the same day as ours but they agreed to still do my bouquet, the bridesmaids and the button holes for the groomsmen. I already had a vision for how I wanted the flower arrangements for the tables, so just ordered a lot of beautiful loose stems and greenery that we then placed in rose bowls, vintage tea caddies and bud vases."
The bridal party were whisked away to the church in a vintage VW Beetle named Jenny and a camper van called Harry. The girls loved every second of travelling in vintage style and the service provided by Vintage VolksWeddings was reportedly outstanding.
"Dave and I met in 2011 through mutual friends, although we had known of each other for many years from going to the same pubs and clubs. Dave is also a DJ and we have a mutual appreciation for good music and good times…we hit it off instantly and spent the first year of our relationship mainly on the dance floor in clubs or dancing in the kitchen at parties.  Tragically a year after we met, my dad died suddenly and my whole world was turned upside down."
"Dave was my rock throughout it all and helped to build me back up – we literally went from having the time of our lives to total and utter devastation. Four months after that tragic time we unexpectedly found out we were going to have a baby. Our lives were turned upside down again, but for a happy reason this time."
"Isaac was born in June 2013 and helped to heal our broken hearts, then in September whilst pushing the pram through the park one afternoon, Dave got down on one knee and asked me to marry him. We were engaged for 2 (sleepless) years with our new addition."
Amy's best girls look so incredibly elegant alongside her and her new husband in their floor length gowns, designed and made by the bride's talented cousin, Anna Roberts.
"The girls wore ballroom dancing shoes from eBay – they wanted comfort as knew they would be dancing all night. They had individual handmade velvet flower hair clips made by The Shepherd's Purse and thank you gift pearl bracelets that matched my jewellery. The flower girls wore navy blue tutu dress from Debenhams and full flower crowns, while Isaac had a navy blue crushed velvet 3-piece suit and bow tie from John Lewis."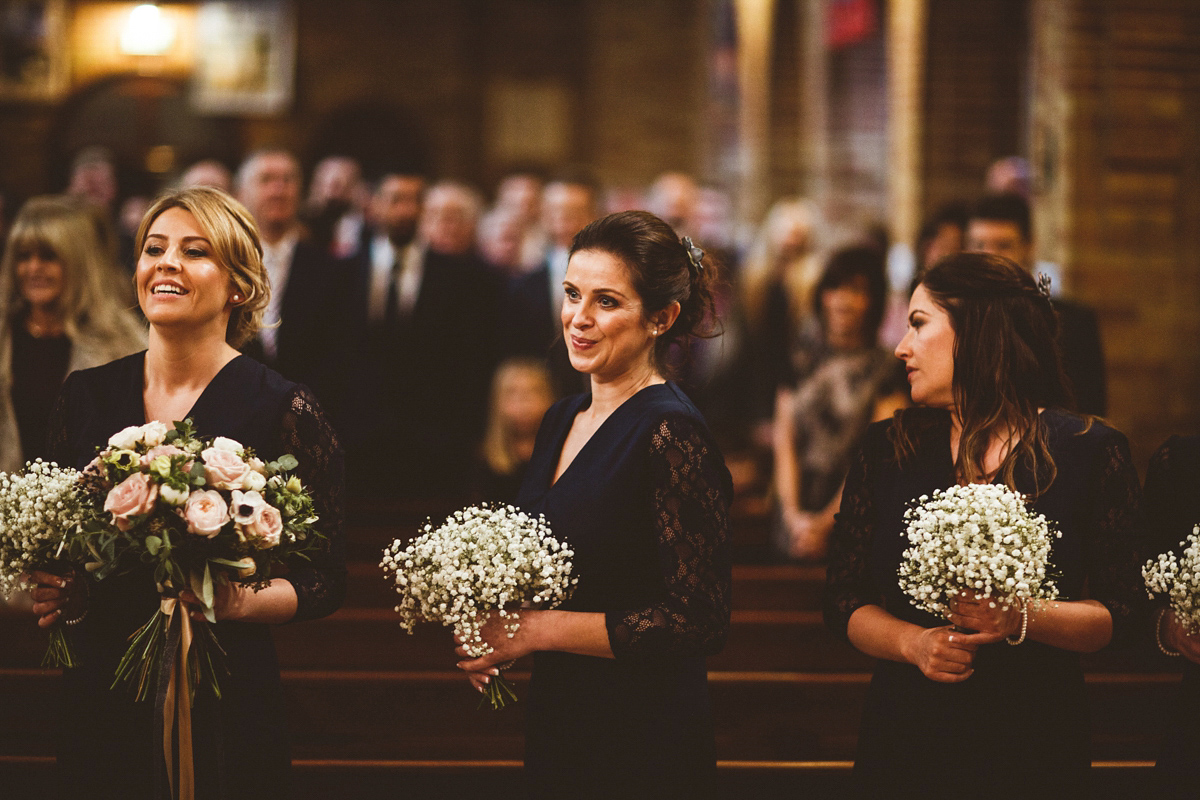 "My bridesmaids had simple bouquets of gypsophila and my friend Hannah kindly offered to help and made the most beautiful wreaths for the church. I had a photo of my dad in a miniature brass frame tied onto my bouquet so that I felt he was with me as I walked down the aisle. My younger brother had big shoes to fill, but he did both my dad and me proud."
Amy and Dave opted for a Catholic ceremony with traditional vows, and a string quartet performed at the church, playing Amy and her brother down the aisle to Wagner's Bridal Chorus.
"During the signing of the register the quarter played 'My Girl' by The Temptations and 'God Only Knows' by The Beach Boys. We then walked out of the church to them playing 'Happy' by Pharrell – our little boy's favourite song. We had religious readings and one non-religious one; Becalmed Bedazzled Bewitched Besotted by Nick Williams. I spent a long time scouring the internet for readings that struck a chord, and as soon as I read this one it made me smile and Dave loved it also."
Amy chose a simple white gold band while Dave opted for a titanium wedding ring, both bought from a local jeweller. The newlyweds hopped back into their vintage wedding transport to giggle and sip champagne as they were carried off to their über-cool reception.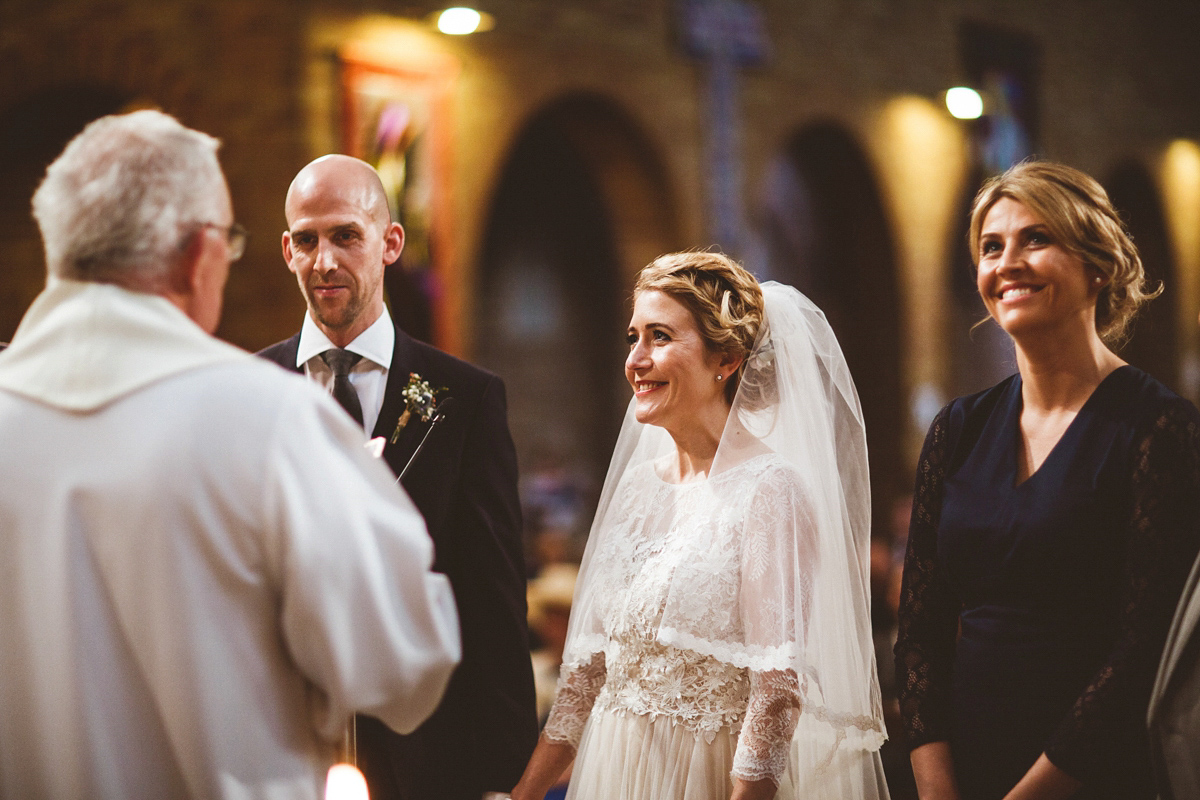 A spritz of the bride's favourite Coco Chanel perfume was the finishing touch, while Dave donned his extremely dapper navy blue 3-piece suit by Hugo Boss, which he paired with a grey tie and Loake brogues. The groomsmen also scrubbed up very nicely indeed in grey suits and navy ties, which the couple hired from Reece Ford Suit Hire. Amy informs us that the service was second to none.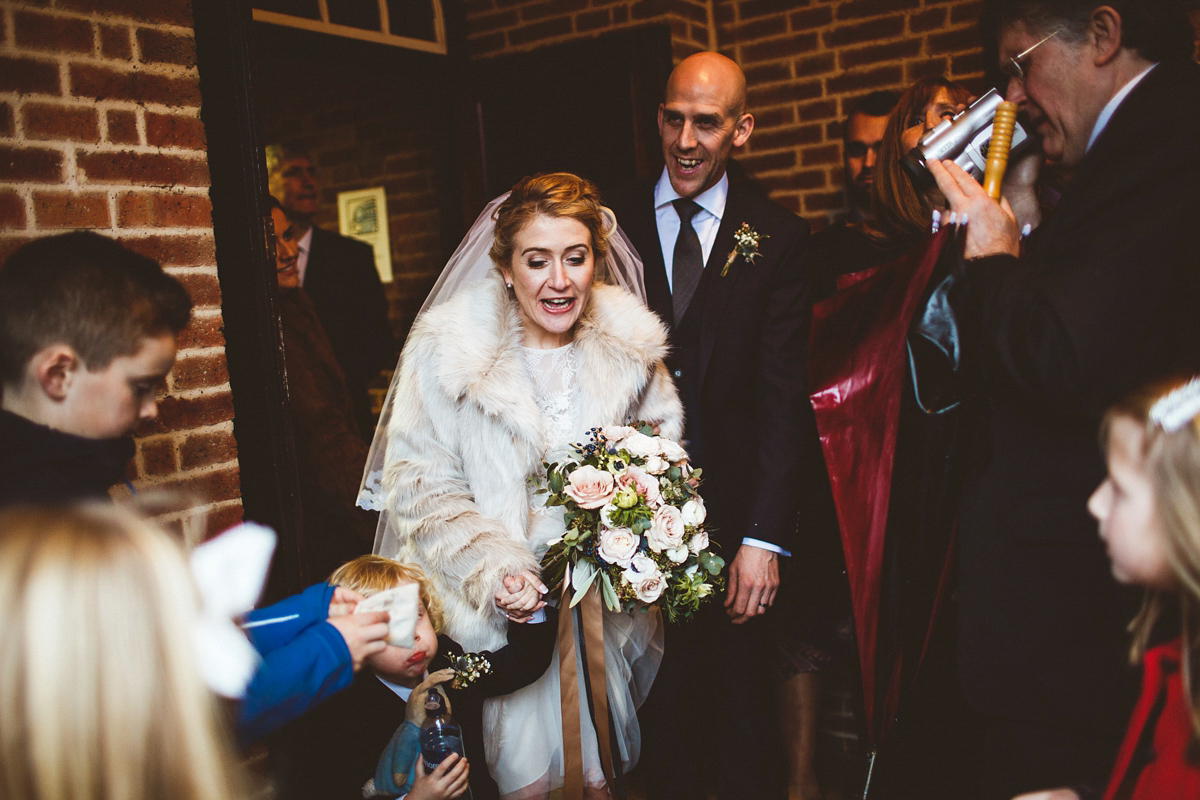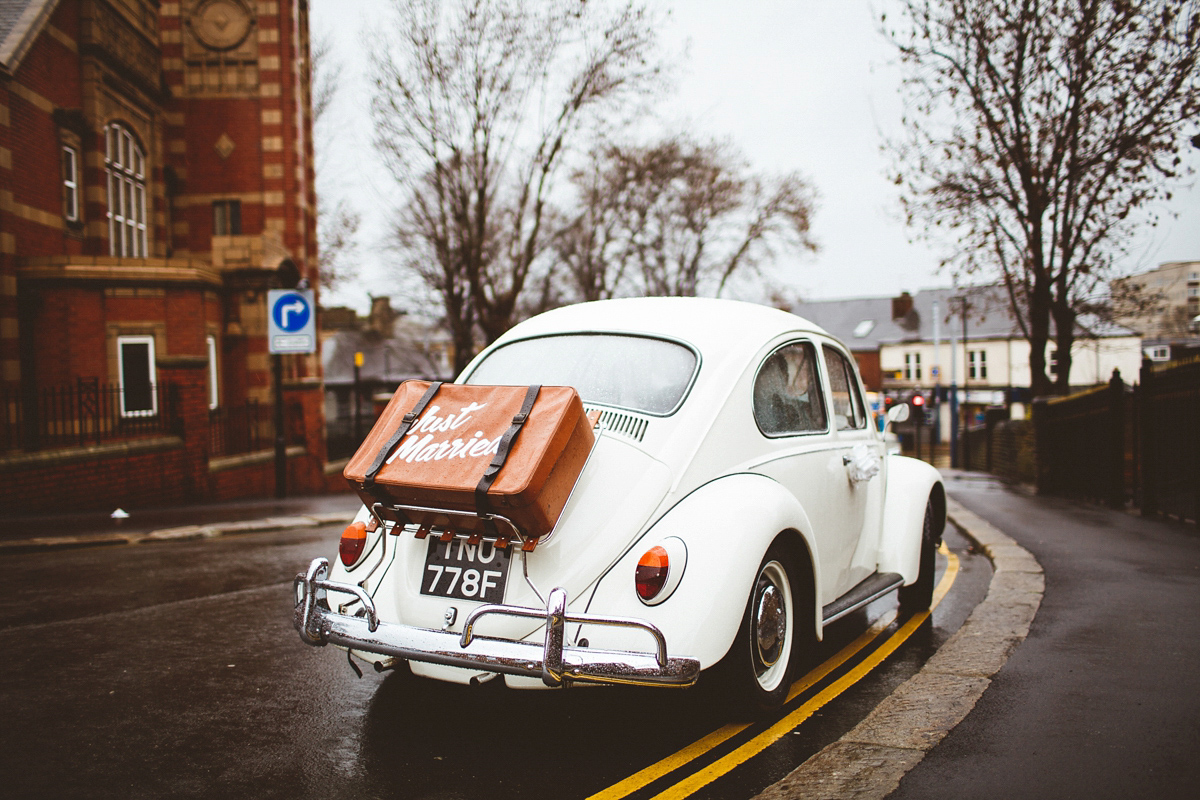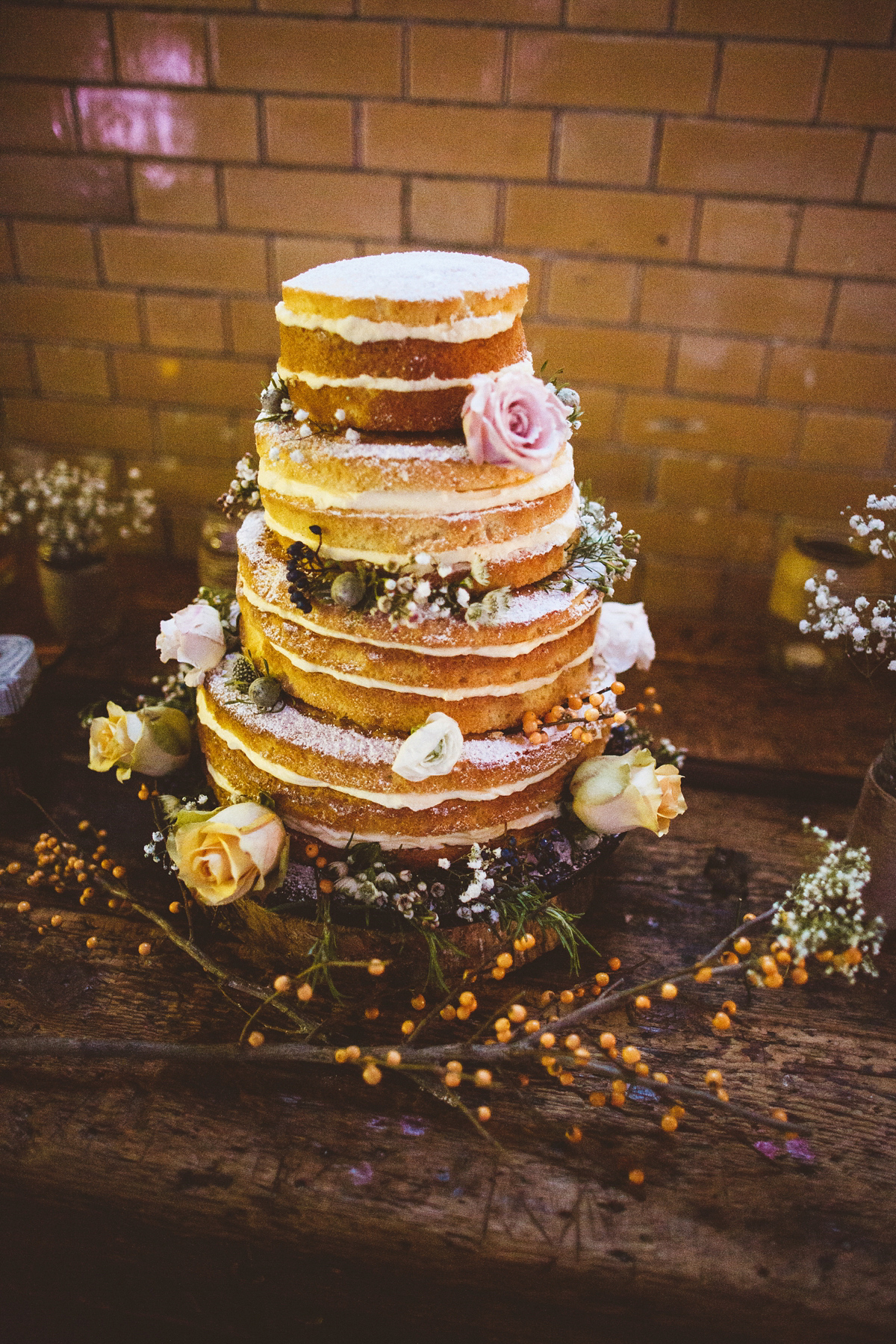 I can imagine when your little one is involved in your day, capturing those precious memories takes on a whole extra layer of importance. Photography 34 documented the day perfectly, and Amy and Dave couldn't be happier with the love-filled stills that they get to treasure forever.
"There are not enough words to describe how amazing our photographer Tony was. He captured our day so perfectly.  We are so thankful to him as the whole day kind of passed us by in a blur, so it was so good to sit and look through the photos after the wedding and remember our day. He exceeded our expectations (and they were set pretty high) and basically took our breath away."
With the help of her lovely mum, who guided Amy through every step of her journey, our bride also teamed up with her friend, Hannah Stubbs of Bonny & Clyde Design Studio, to create her wedding stationery and style the incredibly unique venue.
"We are so very lucky to have such super talented friends and family, two of them are the extremely lovely wedding stationery designers Hannah and Toby Stubbs. I met with them both one sunny afternoon in their garden to discuss our vague ideas – I knew we wanted a rustic feel to our stationery and showed them a few ideas I had seen on Pinterest, but knew that I could leave it in their very capable hands."
"I didn't know however that they would surprise us in the way that they did. They emailed me a proof of our invitations and I sobbed tears of happiness…they had listened to what I wanted and then added some magic. They created a stag's head as our emblem that became the theme, and knowing how much my dad would be missed, they decided to adorn the stag with a tie around its head. My dad was renowned for wearing a tie around his head at family parties – it had become his trademark. We were so overwhelmed by the thought that had gone into this and the subtlety of it was so powerful and fitting."
Amy collected vintage rose bowls which Anne, from Swallows & Damsons, suggested be used to pot succulents – I just love the outcome. The couple also planted two succulents in Amy's late dad's old gardening boots, which they displayed next to his old wheelbarrow, repurposed to hold bottles of beer during the reception.
"The reception venue was very industrial – basically a big room in a museum with exposed brick walls. We had round tables which were covered in white table cloths and hired chair coverings with a mix of hessian and vintage lace sashes. The museum provided three long, antique tables that we used to display the cake, an old vintage suitcase (borrowed from Hannah) for cards, and a table devoted to the family that were no longer with us."
PJ Taste catered an informal wedding breakfast of pie and peas, made from locally sourced ingredients and served with big bowls of mashed potatoes and jugs of gravy. Dessert consisted of plates piled high with brownies and jugs of pouring cream, which poor Amy actually missed out on as she was busy chatting with her guests.
"I asked my super talented friend Vicky Cotton to make our cake. She doesn't bake professionally, but she always makes the most amazingly weird and wonderful creations for her family's birthdays that I knew she would do us proud. We had a three-layered naked lemon sponge cake that she decorated with flowers from Swallows & Damsons. It was the prettiest and most amazing cake I have ever seen, she's a super star baker."
"We ummed and ahed about wedding favours for ages, we wanted it to be something that our family and friends could take away and keep and enjoy, so decided to utilise Dave's record collection and make a 'wedding cd mix' of our favourite songs. Poor Dave had the task of making sure the best of the best were on the CD and then making 100 copies."
"Two of Sheffield's finest DJs, who happen to be our friends, provided the music that filled the dance floor all night, and Dave even played a few records."
"We wanted the venue to be dimly lit to complement the industrial feel, so we hung paper lanterns in various sizes across the ceiling lit with LED lights, and strung festoon lights across the walls. We hired a photo booth which provided lots of entertainment and laughter for our guests, all dressed up in silly props, striking poses."
The newlyweds chose Al Green's Let's Stay Together for their first dance track – it came on the radio one day before the wedding and they both instantly knew it was the one – the lyrics, the tempo and sentiment of the song were just perfect.
"If we had to pick a favourite part of our day, it would be the fact that we got to share it all with our favourite people in the whole wide world. I wish we had taken the time to speak to our friends and family more – many people advised me before the wedding to take time to take it all in, but everything just went SO fast and we were having such a good time. That's what it's all about I guess, but I do wish we had taken some time to step back and absorb."
Words of Wedded Wisdom
"Don't stress too much about the finer details, your guests will be none the wiser and you will look back and kick yourself for staying up too late and stressing about it, when you should have been getting beauty sleep. It will all come together in the end. And don't stress about the weather. We were hoping for bright blue sky and a cold winter's day and instead we got torrential rain, but it didn't matter one bit, in fact it added to the day."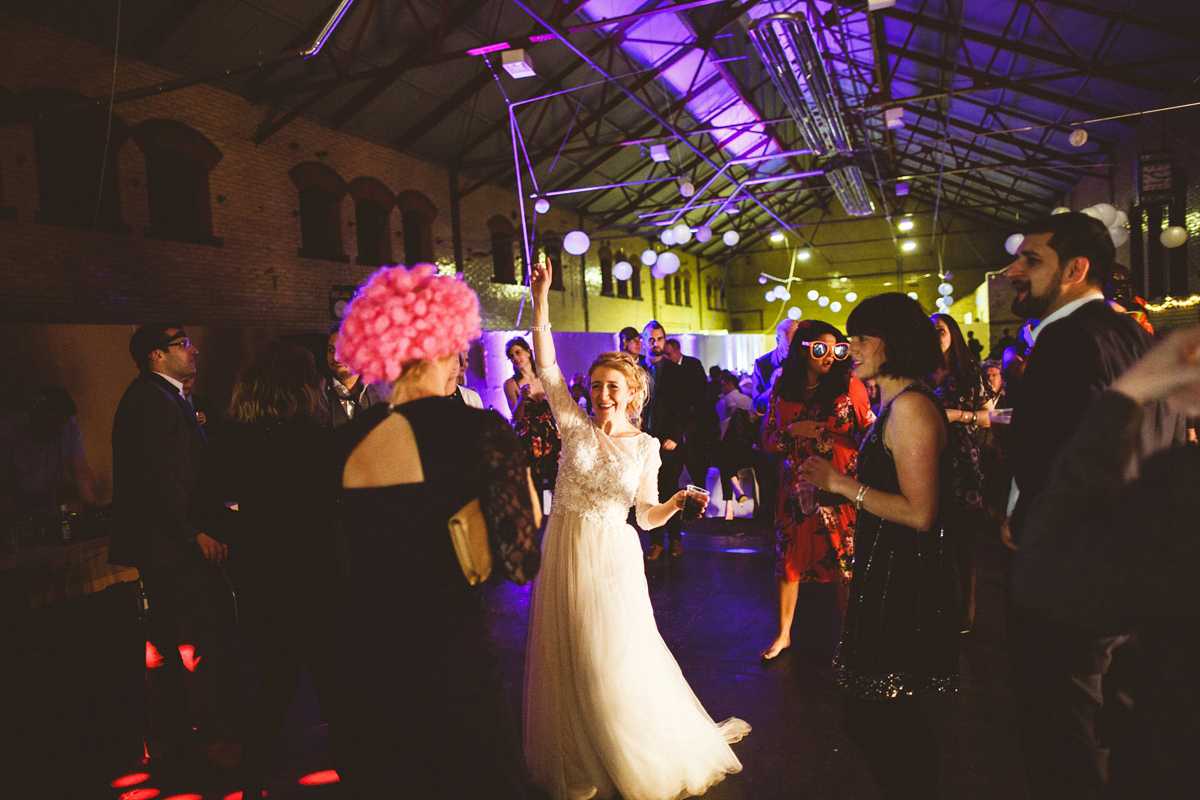 A humungous thank you to Amy, Dave and the very talented Photography 34 for sharing this beautiful winter celebration with us all, I'm suddenly wondering how many days to go until Christmas…
With love, Em x