Happy Easter lovely readers- whether you celebrate the Easter festival or not, I hope you're getting time to spend with family and friends this weekend.  We have a lovely city wedding for you today, full of laughter and music.  Meet Alex and Ian, who married at Trinity House, London on Saturday 8th October 2016, followed by a reception at The Oyster Shed.
"Our shared love of music has been a constant in our relationship – from meeting at a music festival, to sharing our favourite songs via emails during the long-distance part of our relationship, to trips away to watch bands and DJs and an annual pilgrimage to Glastonbury. Given the central locations of our wedding venues, there was also a strong London theme to the day – our venues looked out to the Tower of London and Shard respectively, and we had a red routemaster to transport guests between locations.  We also had red bus models for the children at the wedding to keep them busy during dinner."
Photography by Tom Biddle
Alex looked lovely in beautifully modern separates (a silk underdress with lace bolero) by Charlie Brear.
"I had initially been quite sceptical about dress shopping and finding 'the one'. A friend had recommended the Charlie Brear showroom and I fell in love with the simplicity and elegance of the designs.  I liked the idea of separates too, to take the dress from day to night and I was lucky enough to find what I was looking for on the samples rail."Hair and make up were the work of Tracy Mead, via The Bridal Stylists.
"We met at Benicassim music festival in Spain in July 2011, at 2am, in the middle of a crowd watching The Streets.  There was an instant connection and we met up again over the weekend, but as Ian lived in Manchester, and I in London, we both assumed it was just a holiday romance.  Once home, however, we continued to stay in touch, and met up again for our first date at the Big Chill Festival the month after.  From then on, we made the distance work, seeing each other every other weekend (which soon became every week) before Ian made the move to South East London in September 2012."
"Last April (2016), on a weekend break to Sorrento, Ian proposed in front of a church in the main square and we got married less than six months later."
"I manage events as part of my job, so I knew it was possible to organise in the time frame, plus I am super impatient and couldn't bear to wait longer."
Alex walked down the aisle with her Dad to a live string arrangement of 'Mardy Bum' by the Arctic Monkeys, who she and Ian saw perform at Glastonbury in 2013.
"In keeping with our loose music theme, we opted for 'I Wanna Be Yours' by John Cooper Clarke and 'He's not Perfect' by Bob Marley as readings.  The John Cooper Clarke  poem is the lyrics for an Arctic Monkeys song (one of our favourite bands), and also a nod to Ian's Mancunian roots, while the other by Bob Marley we just thought was very honest and real and very us."
Ian looked super smart in a black three piece suit from Next, worn with a shirt from Reiss, a pale blue tie from Burton and brown shoes from Oliver Sweeney.
"Flowers weren't really high on our priority list, but we wanted to have bouquets and buttonholes and I therefore opted for a local but not-too-traditional supplier.  Rowan at Wildabout was really helpful – I have no knowledge about flowers at all and she guided us to what was in season and would work visually.  I loved the end result – especially the beautiful blush Juliet roses."
Alex and Ian exchanged rings engraved with a lyric from 'Toothpaste Kisses' by the Maccabees ('I'll be yours / You'll be mine') and the date of the wedding, which they purchased from Jade Jewellers in Hatton Garden.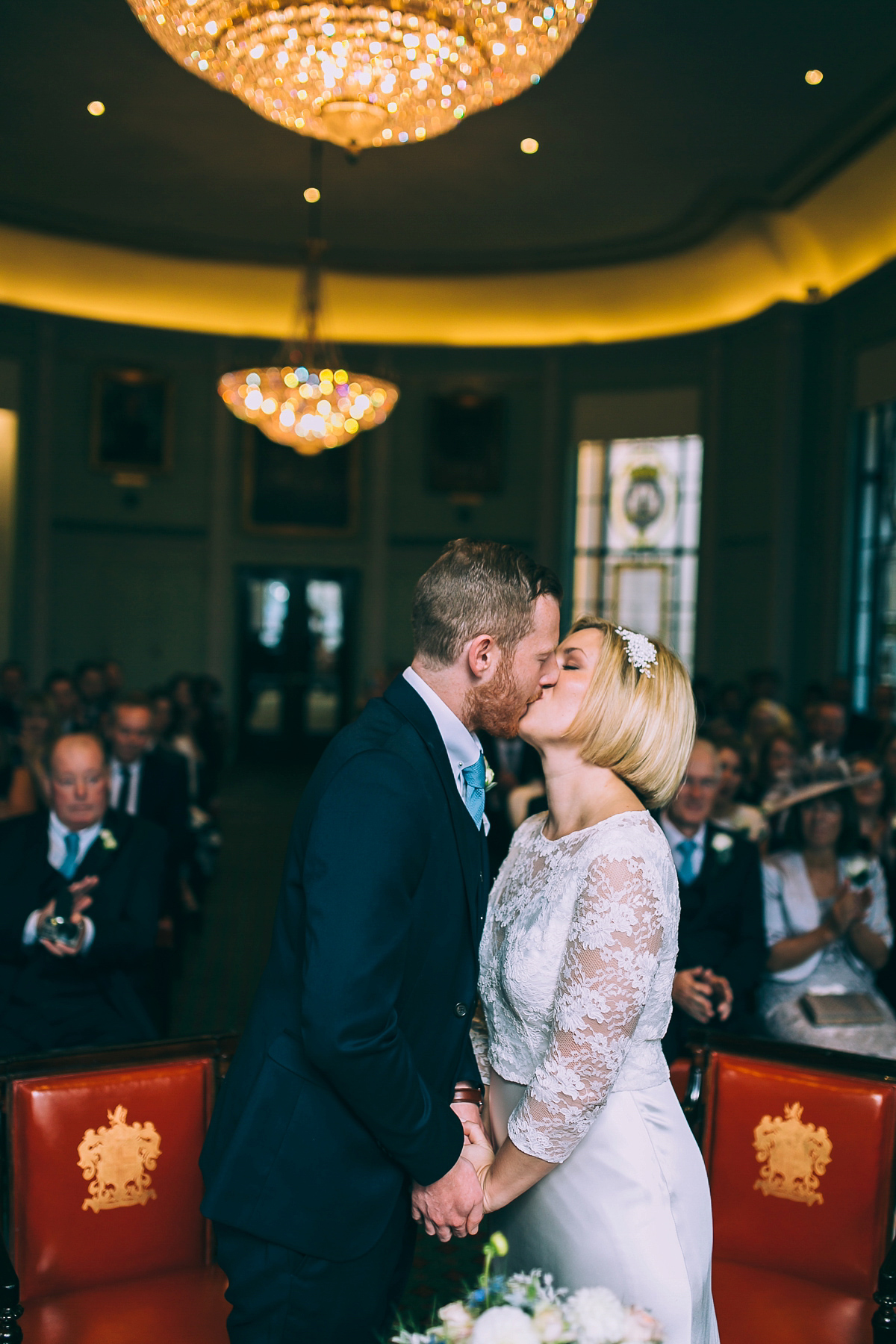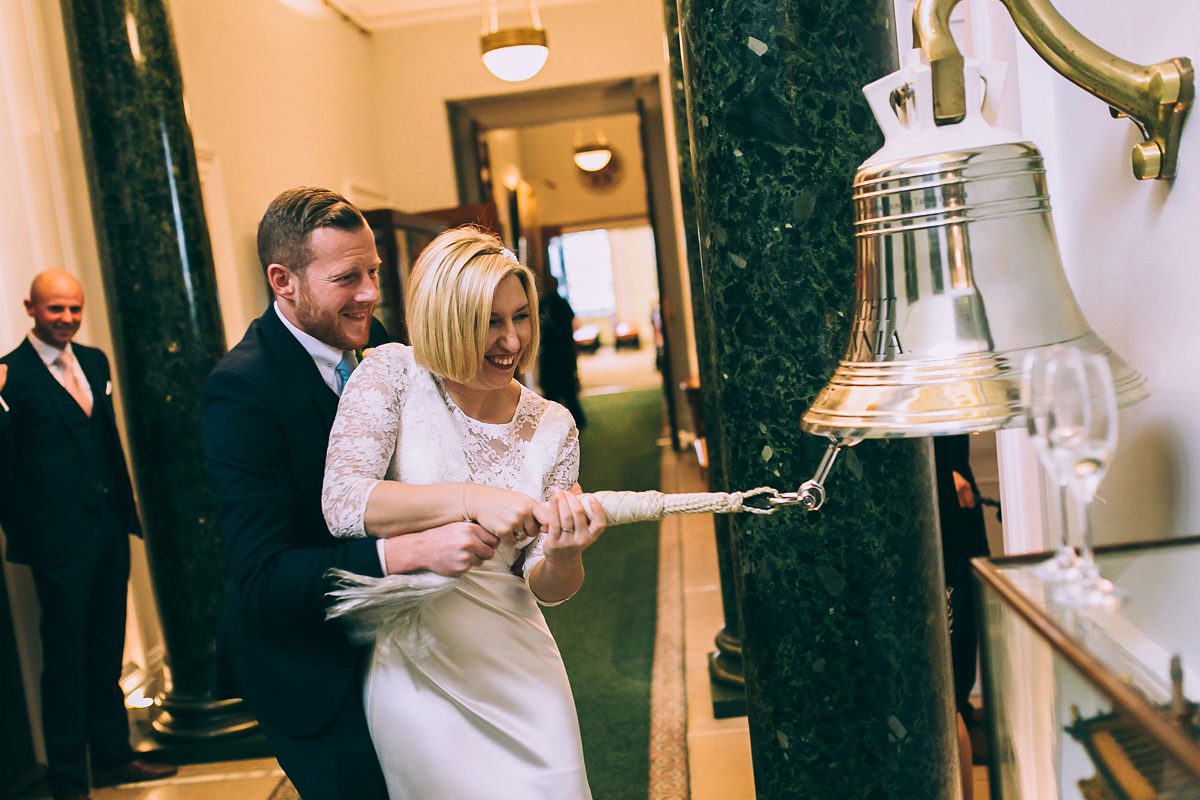 Guest were transported between the ceremony and reception venues by a red Routemaster, hired through Traditional Travel– a nod to the London theme.
The flower girls wore dresses from Marks & Spencer (altered by Alex's mum to incorporate a sash in the same blue as the older bridesmaid's dresses) with shoes from Accessorize, while the page boys wore suits from Next, with round-collared shirts from Marks and Spencer.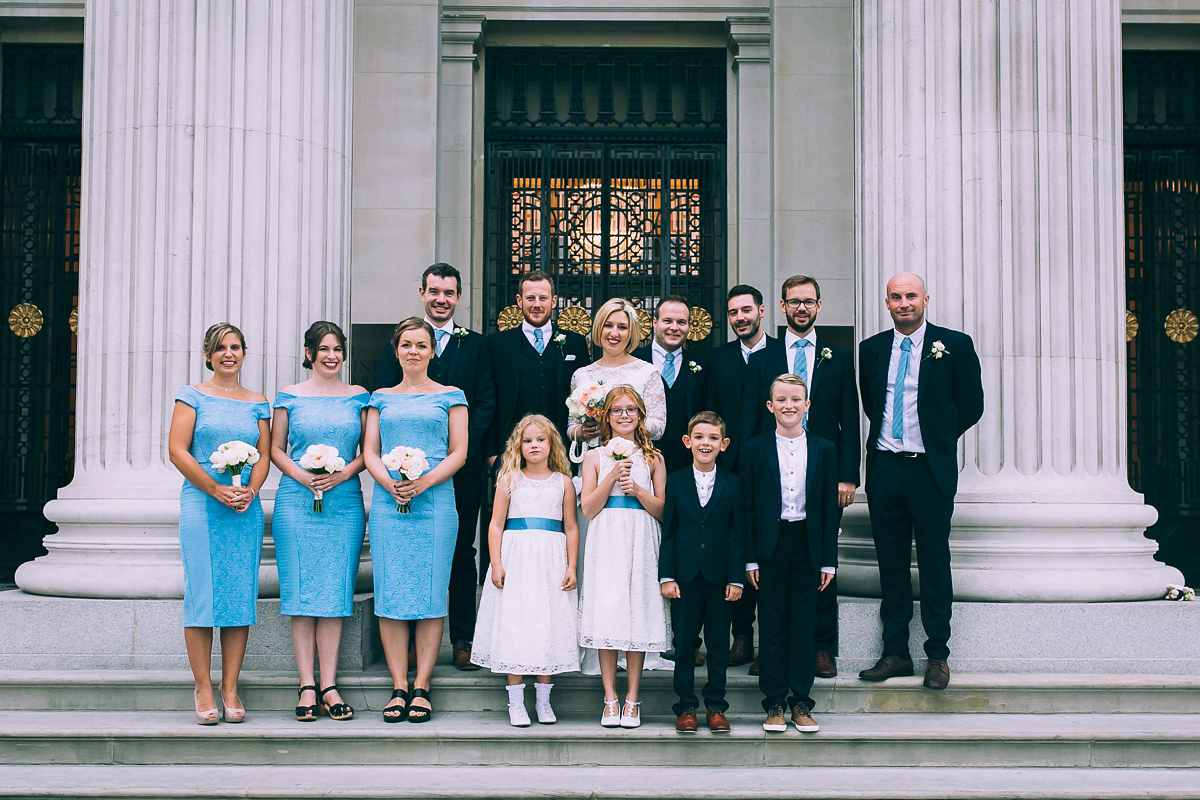 The photographer for today's wedding was Tom Biddle.  I love the realistic, almost gritty style of his work.
"Tom is a very talented friend who took up wedding photography a few years ago.  He has a fantastic relaxed, reportage style and we'd seen him deliver some beautiful and unique images of other weddings, so he was a natural choice for us."
"It was amazing for Ian and me to both have a friend there in the morning as we were getting ready (also to get the gossip on how the other was getting on) and Tom did a fabulous job of organising our guests to get the key shots we were after, as well as using his creativity to provide images that we could never have dreamed of.  His photographs collectively tell the story of our day and we are over the moon at the results."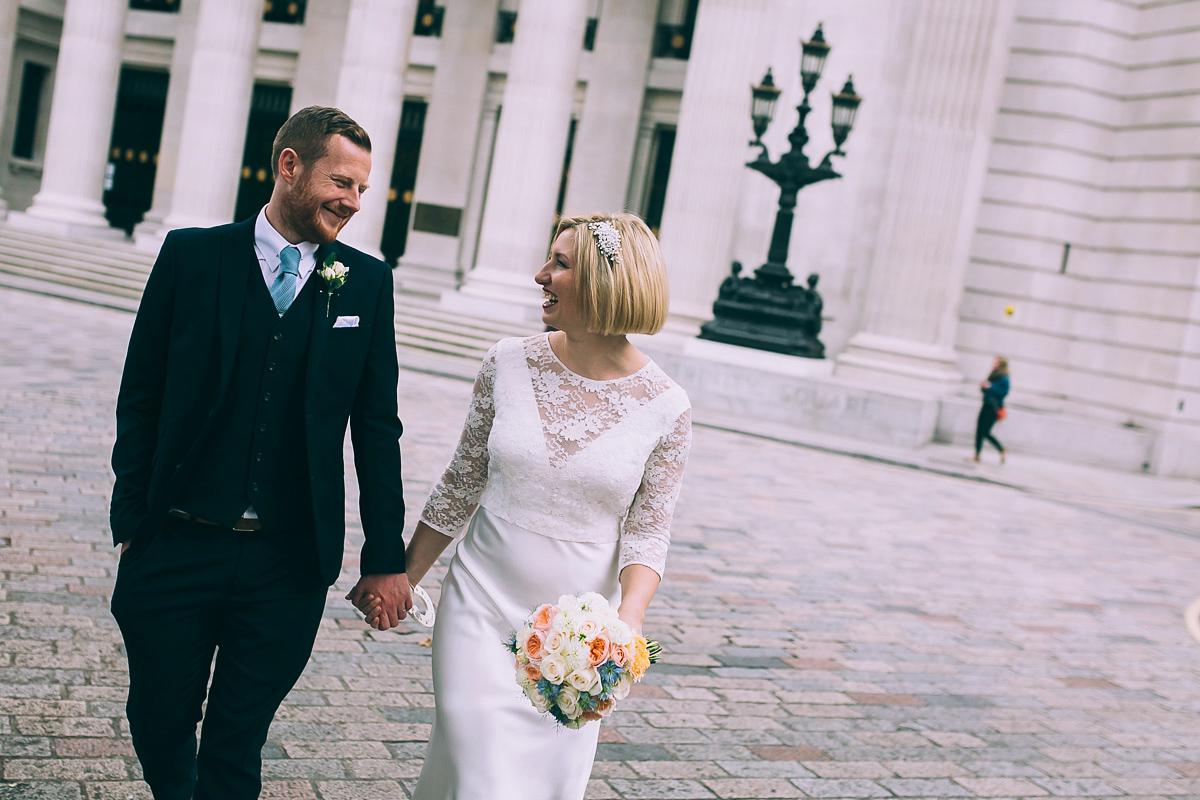 The bridesmaids wore sophisticated blue bardot dresses from Warehouse, paired with their own shoes and necklaces from Oliver Bonas, which were gifts from Alex that morning.
"My bridesmaids are based in New York, London and Cornwall so it was quite tricky coordinating this element – I spent weeks buying sets of dresses and trying them on before we settled on this one."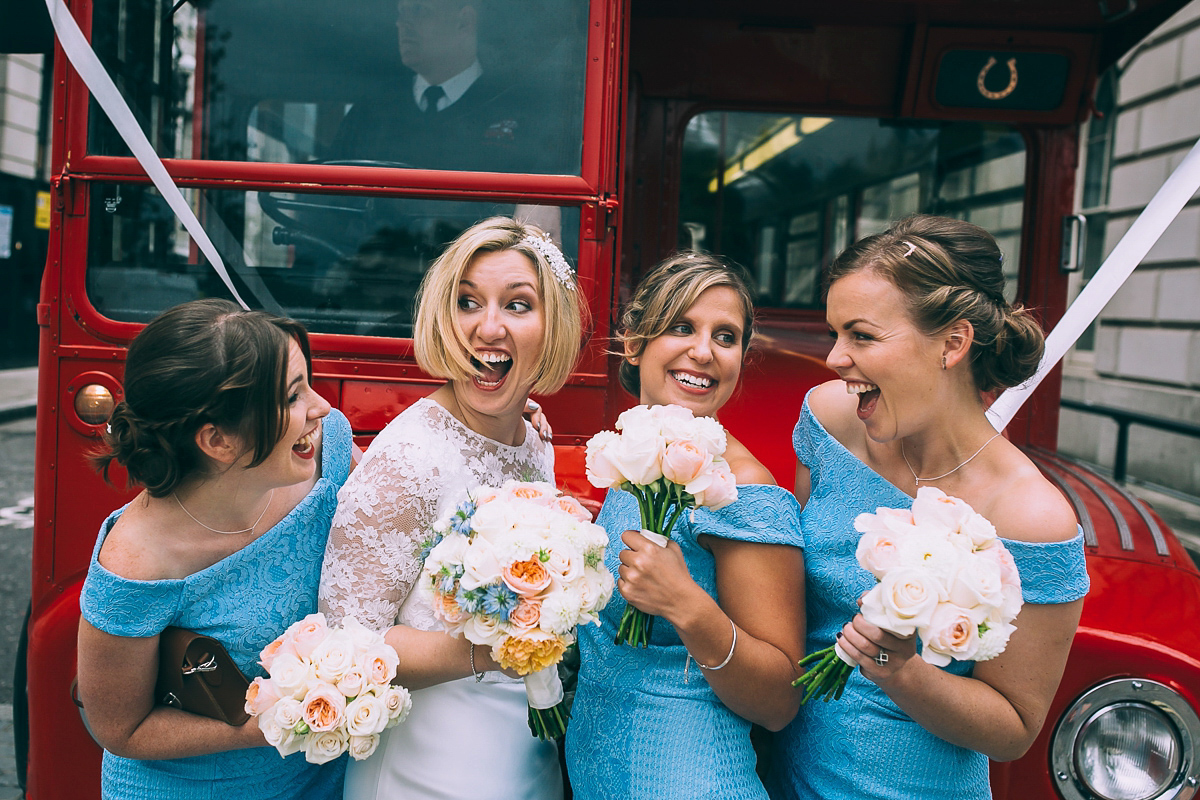 Alex and Ian skipped the traditional cake and instead chose wheels of cheese from The Cheese Shed– a perfect choice for those with less of a sweet tooth.
"We lent on our love of music and vinyl when it came to styling our wedding – our invitations that were 7 inch vinyls with personalised sleeves and on the day, we had a string quartet playing contemporary songs and our readings were written by Bob Marley and John Cooper Clark."
"Our venues required minimal styling, but for the reception, we strung vinyls with the table plan from wires and my mum created our centrepieces.  A talented friend also made us a lighthouse (Trinity House is home to the UK lighthouse charity) as our post box."
"At the reception, we used vinyls as the table plan, and table names were songs/bands at gigs and festivals where we had seen them together. We continued our love of music into the evening with a live gospel choir who sang our first dance and provided backing for our guests to do karaoke."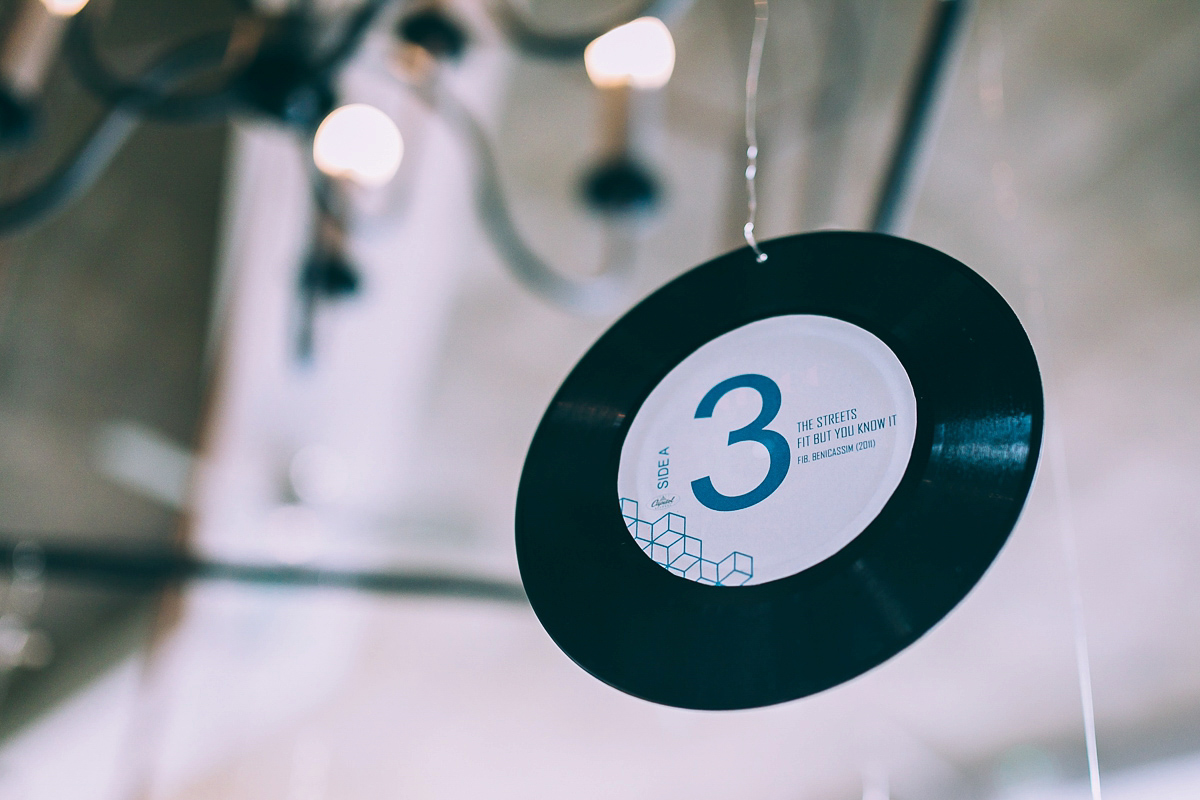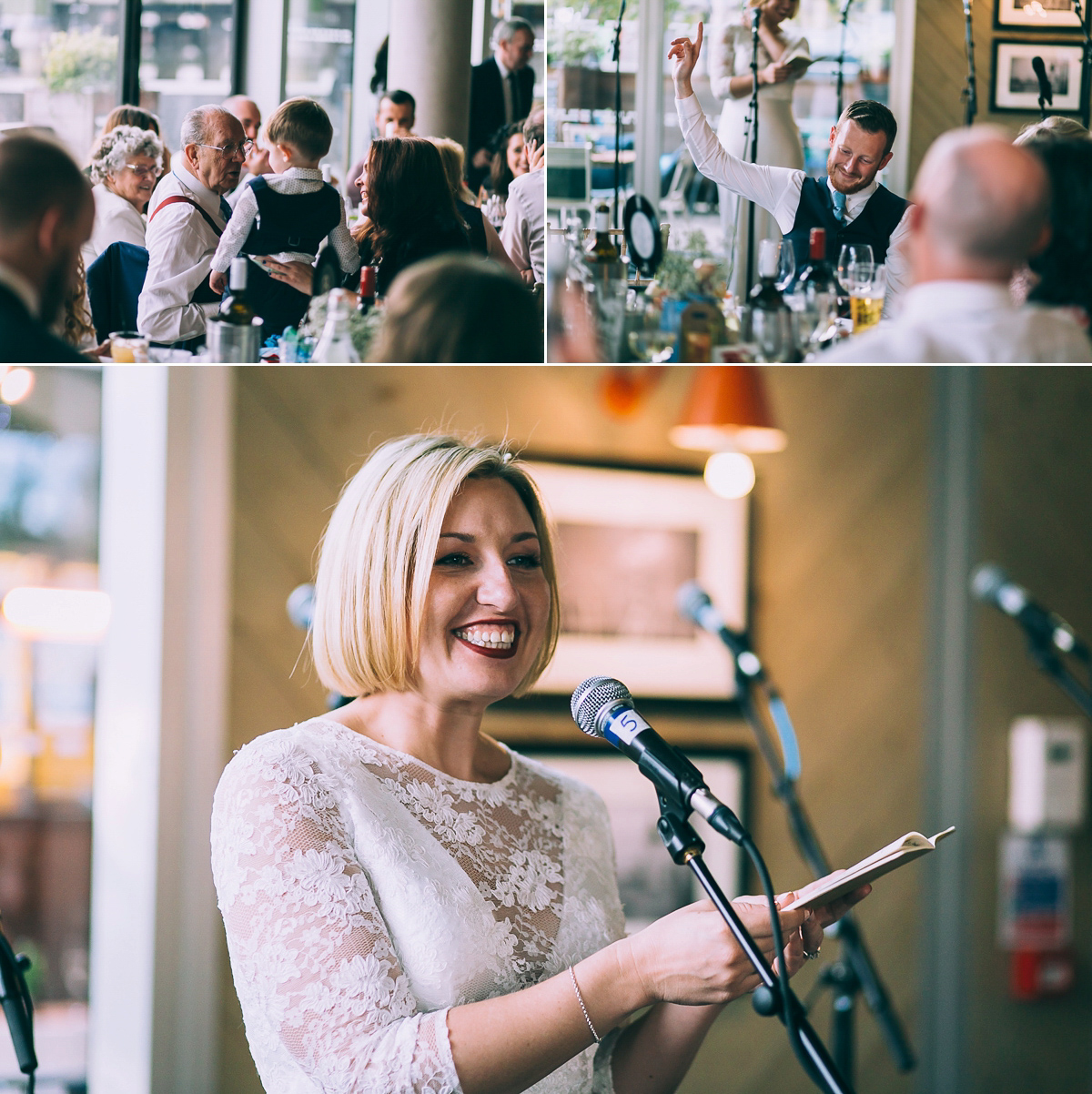 "We wanted a surprise talking point for our guests, so for entertainment we hired Gospeloke (karaoke with a live gospel choir) through Jonny at It's Unknown.  They sang our first dance (Elbow's 'One Day Like This'), a rendition of Happy Birthday for our best man and my nan and then provided backing for our guests to belt out some classic songs from the stage.  My brother also compered musical bingo in between courses at dinner."
"The day was full of lots of lovely, special, little moments which all added up to creating a really memorable day which felt very 'us'."
"I think the nicest thing was seeing all our guests enjoy the day so much and appreciate the elements which we had planned for them."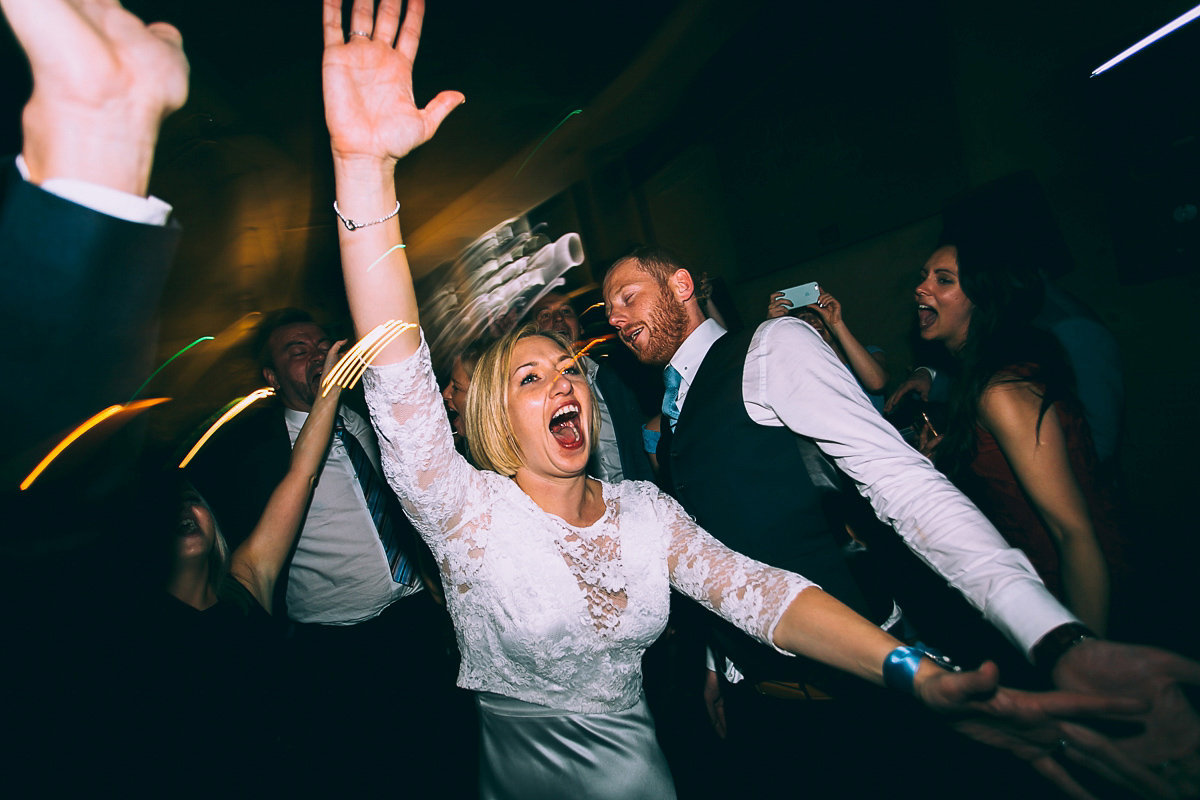 Words of Wedded Wisdom
"I know it's a cliché, but plan the day that you want.  I'd also recommend creating a list of priorities from the outset and using this to help you make tricky trade-offs when the budget simply won't stretch.  In all reality, there will be some elements or detail that you will need to cut back on (or find an alternative approach to make your budget work) and it's good to have priorities agreed with each other from the outset to make this easier to decide on."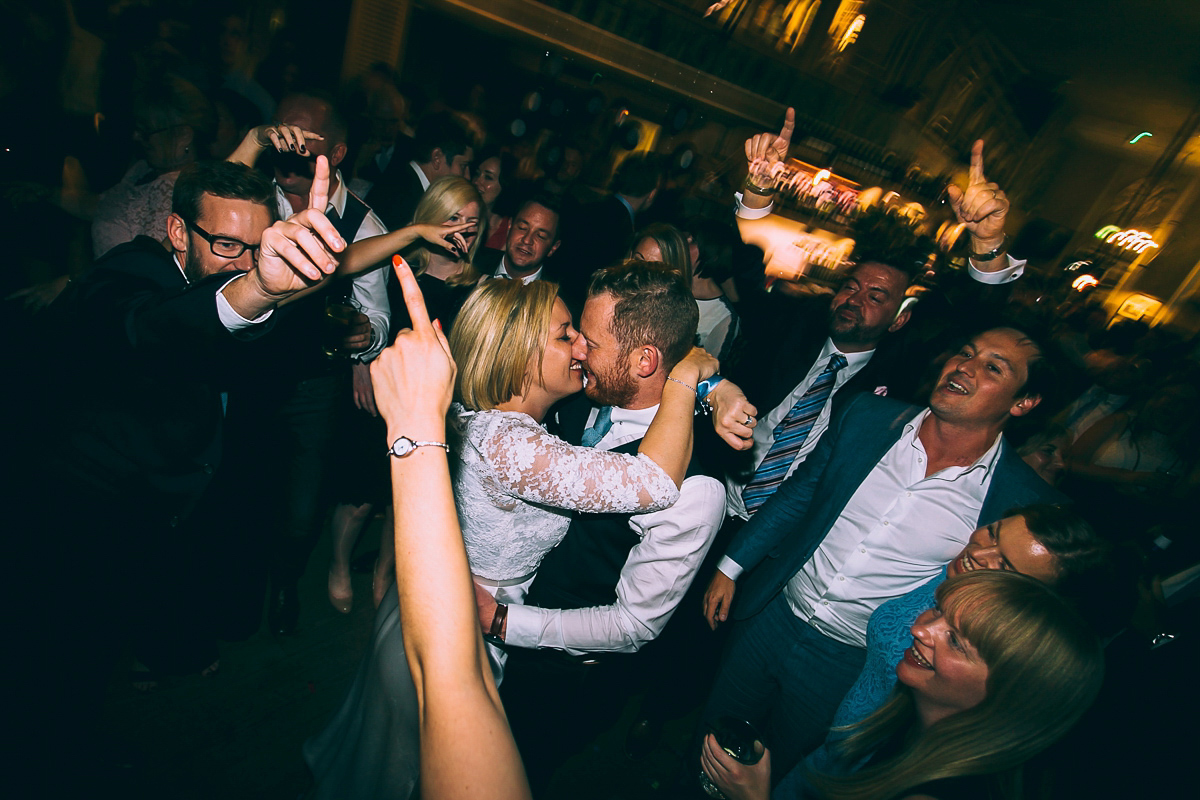 Huge thanks to Alex, Ian, and Tom Biddle Photography– its been such a pleasure to feature this wedding today.  Love Alex's Charlie Brear gown, or the idea of separates?  Take a look here and here for some further inspiration.
Much love,
Shona x
Credits & Thanks
Photographer - Tom Biddle Photography
Venue - Trinity House, London and The Oyster Shed
Bride's Dress - Charlie Brear, purchased from the Charlie Brear showroom, London
Headpiece - Ivy and Pearl Bridal, Etsy
Shoes - Hobbs
Scent - 'Chloe' by Chloe
Bridesmaid dresses - Warehouse
Jewellery - Oliver Bonas
Flowergirl dresses - Marks & Spencer
Hair stylist and make up artist - Tracy Mead, via The Bridal Stylists
Groom's Outfit - Suit, Next; shirt, Reiss; tie, Burton; shoes, Oliver Sweeney
Pageboy outfits - Suits, Next; shirts Marks & Spencer
Flowers - Wildabout
Cake - The Cheese Shed
Stationery -
Entertainment - Gospeloke, booked through It's Unknown
Rings - Jade Jewellers, Hatton Garden
Routemaster bus hire - Traditional Travel