Hello and a very Happy Easter holiday to you. I hope that you're all getting a chance to relax and enjoy a break. Today's wedding is a teaser for the lovely weather we got a glimpse of last week. The 23rd of July was a perfect summer's day, and the day Sarah, a horticultural manager married web developer, Lee in an outdoor ceremony at Pennard House in Somerset. I adore the pops of coral in Sarah's flower crown and even matching her arm tattoo. Simon Biffen is the wonderful photographer behind the lens and we are delighted to be showcasing his work again.
"We were instantly attracted to the 'English stately home' charm that Pennard had, being big fans of National Trust properties and places with plenty of heritage. We also wanted to be married in a place where we could be completely free to put our own stamp on things and Pennard allowed us to do that. It's such a beautiful house set in perfect countryside and they looked after us brilliantly."
Photography by Simon Biffen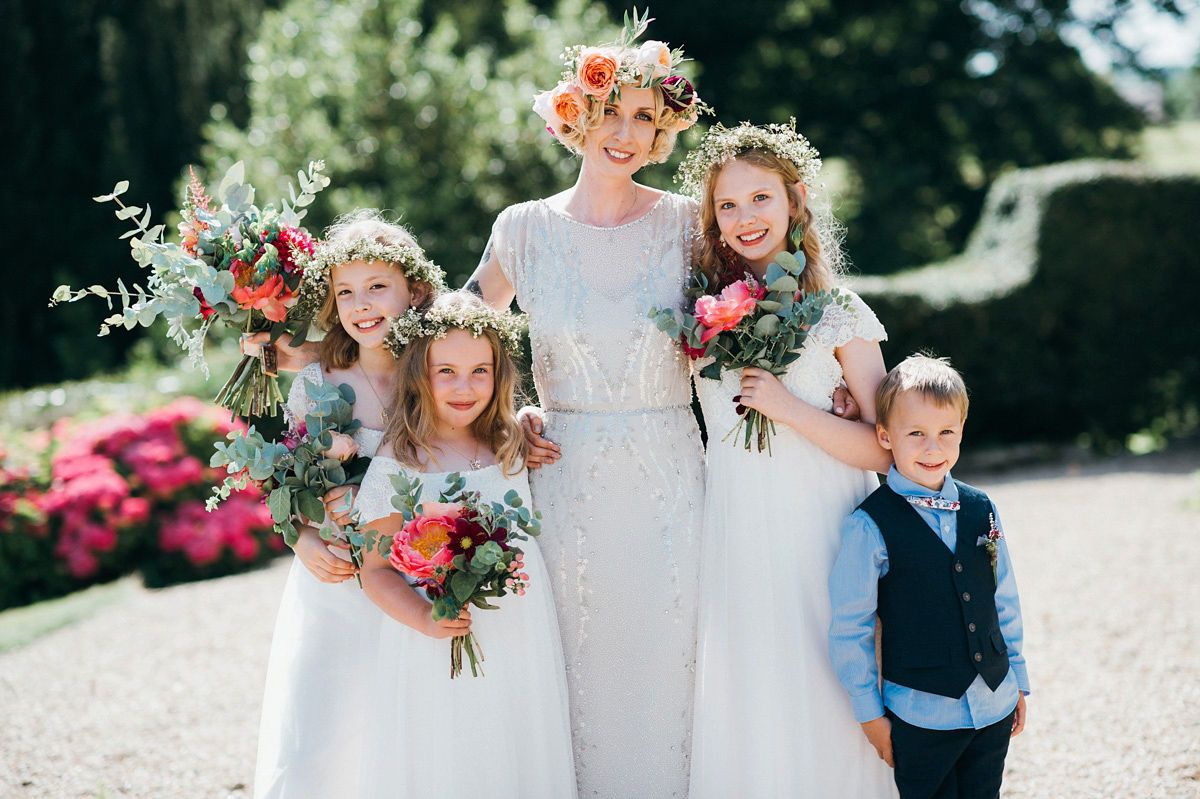 Sarah chose the gorgeous 'Simone' dress by Jenny Packham at Emily Eve Bridal in Birmingham.
"I had been admiring Jenny Packham dresses from the moment we got engaged, they were so elegant and beautiful and I set my heart on one that I had seen in the window of my local bridal shop. I knew the moment I put it on that it was right, even though it was 2 sizes too big at the time."
"I've always been a fan of the 1920's fashions and wanted the day to reflect a bit of that Downton Abbey glamour but with a big focus on flowers. Being a passionate horticulturalist, I felt the day wouldn't be right without an indecent amount of flora."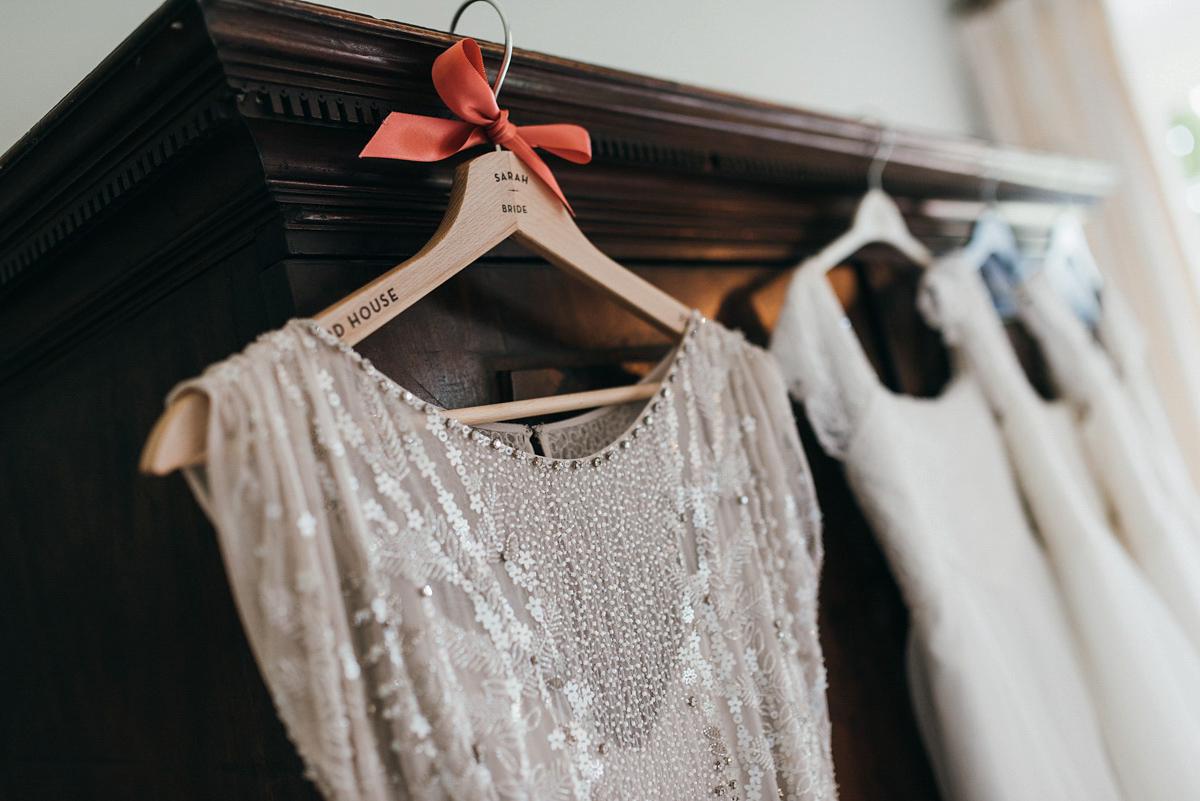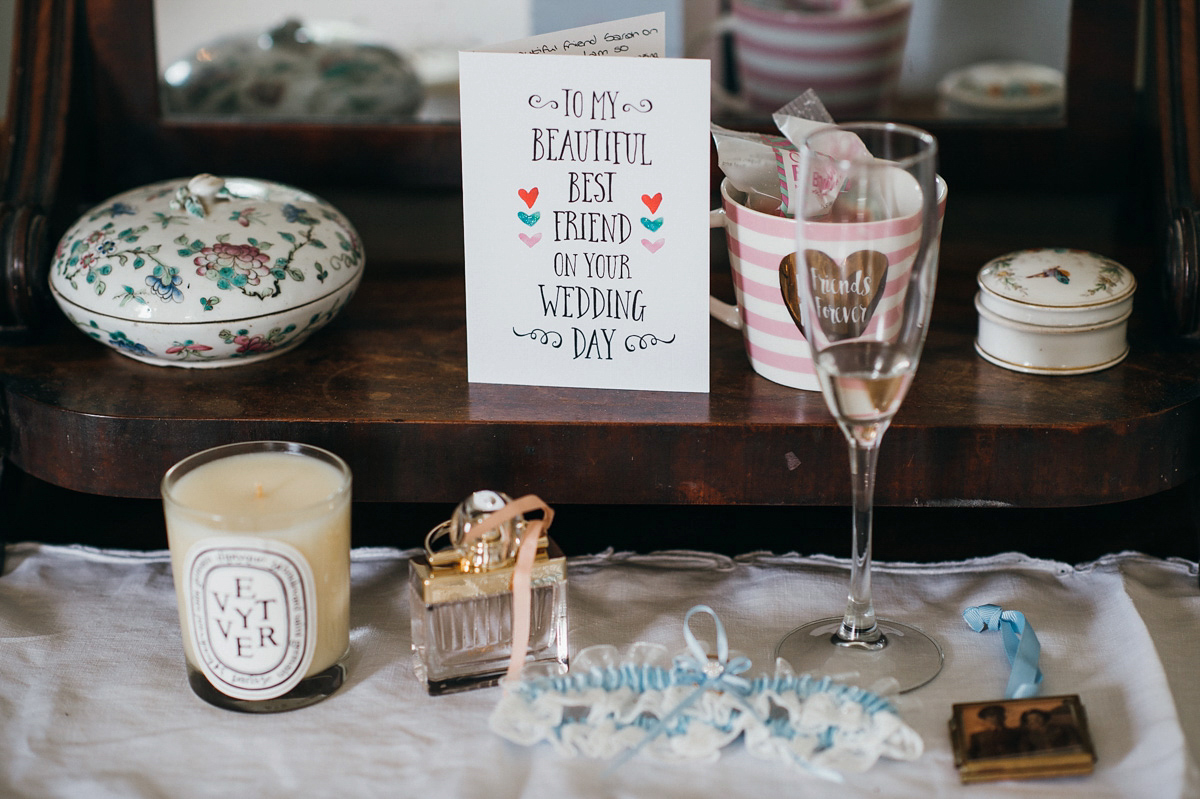 "A really special moment on the day was when my aunty Jane gave me a ring that had belonged to my great great grandmother who I was named after."
"It was a gorgeous turquoise and gold ring that had been given to her on her wedding day over 100 years ago. It really meant a lot and I wore it for the rest of the day."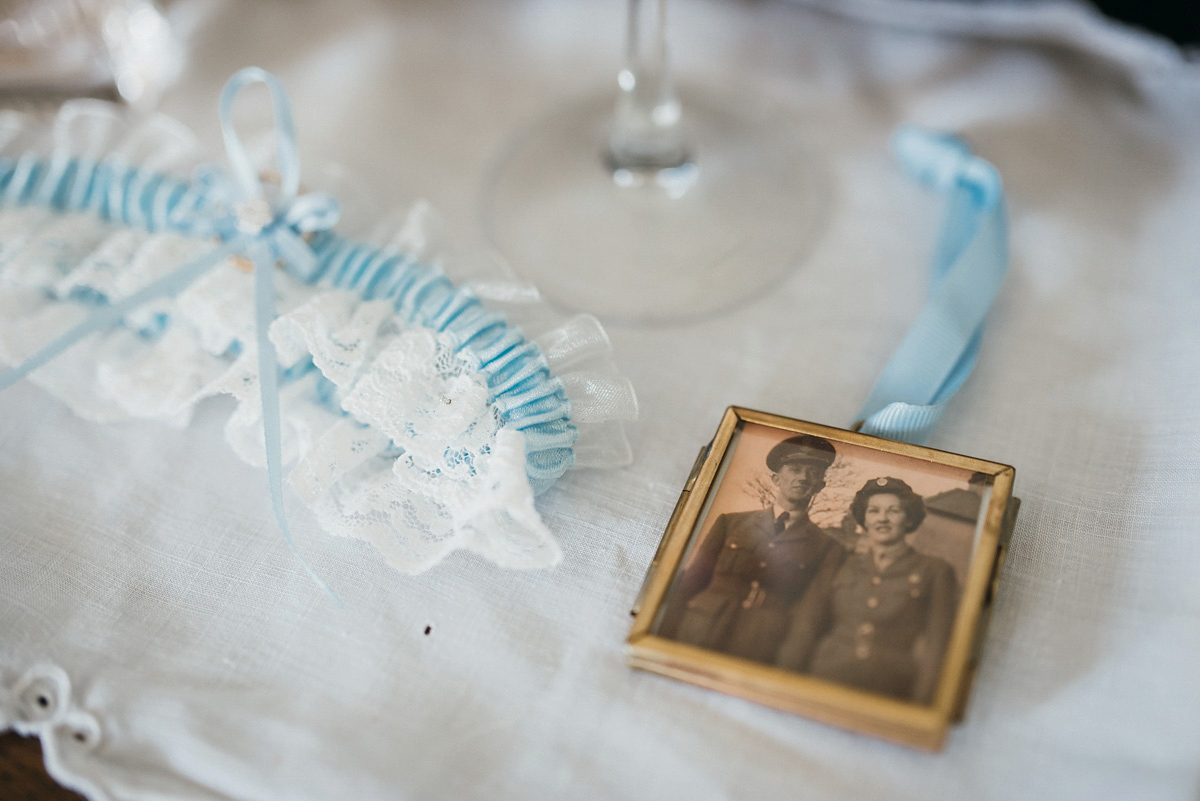 "Gemma at Lipstick & Curls was so friendly and calming, she totally eased me into the day. I'm never really happy with my appearance, but Gemma created a vintage look which helped me to feel comfortable and not overdone. I hadn't originally planned to have hair and makeup but decided in the end I wanted something a bit more special and it was definitely the right decision."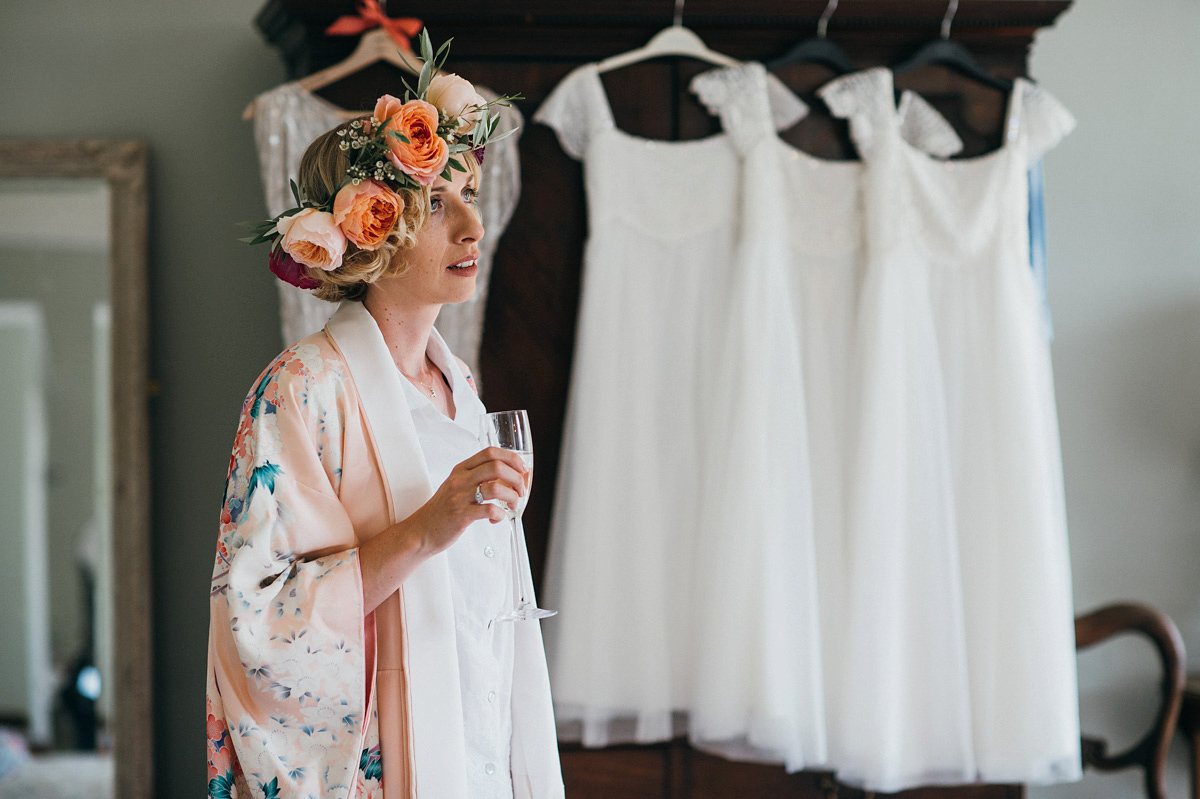 The bride added 'Ginger' sandals by Rachel Simpson, pearl drop earrings from a Vintage Styler and a beautiful flower crown with roses, dahlias and eucalyptus from The Walled Garden.
We adore Rachel Simpson and her beautiful wedding shoes – many, many of our brides do too.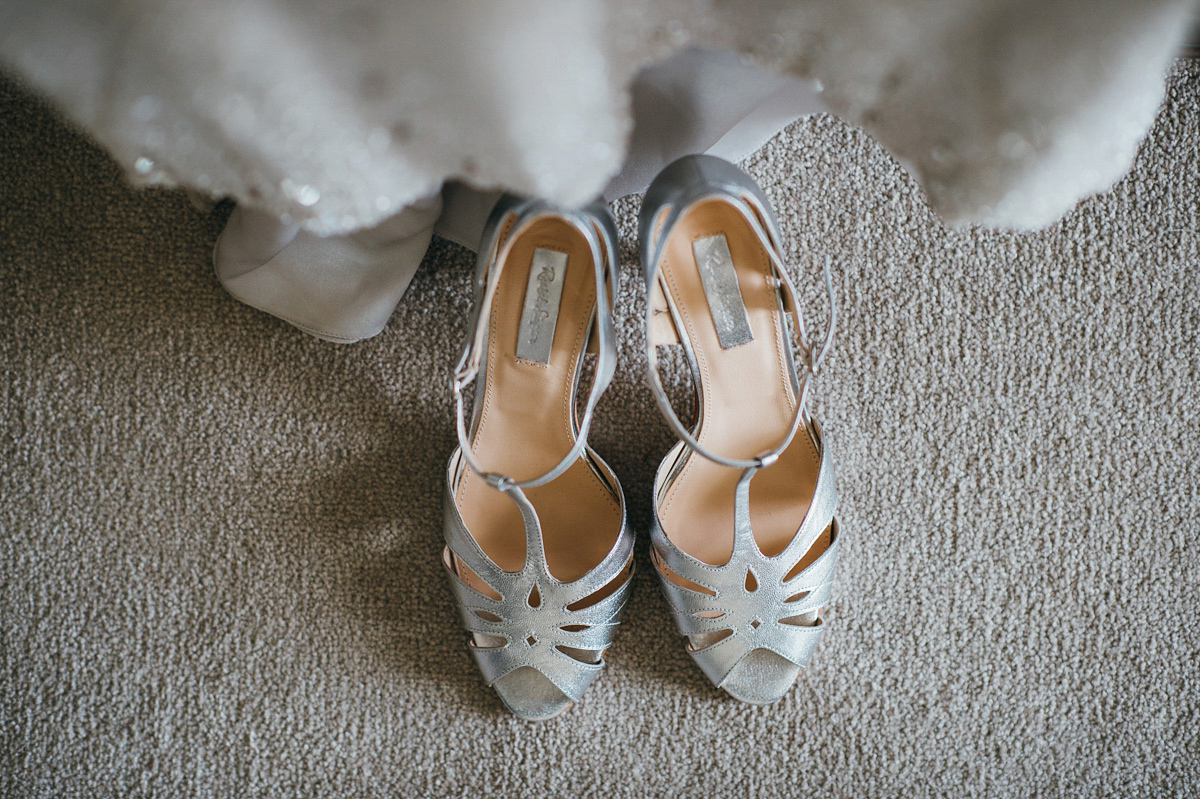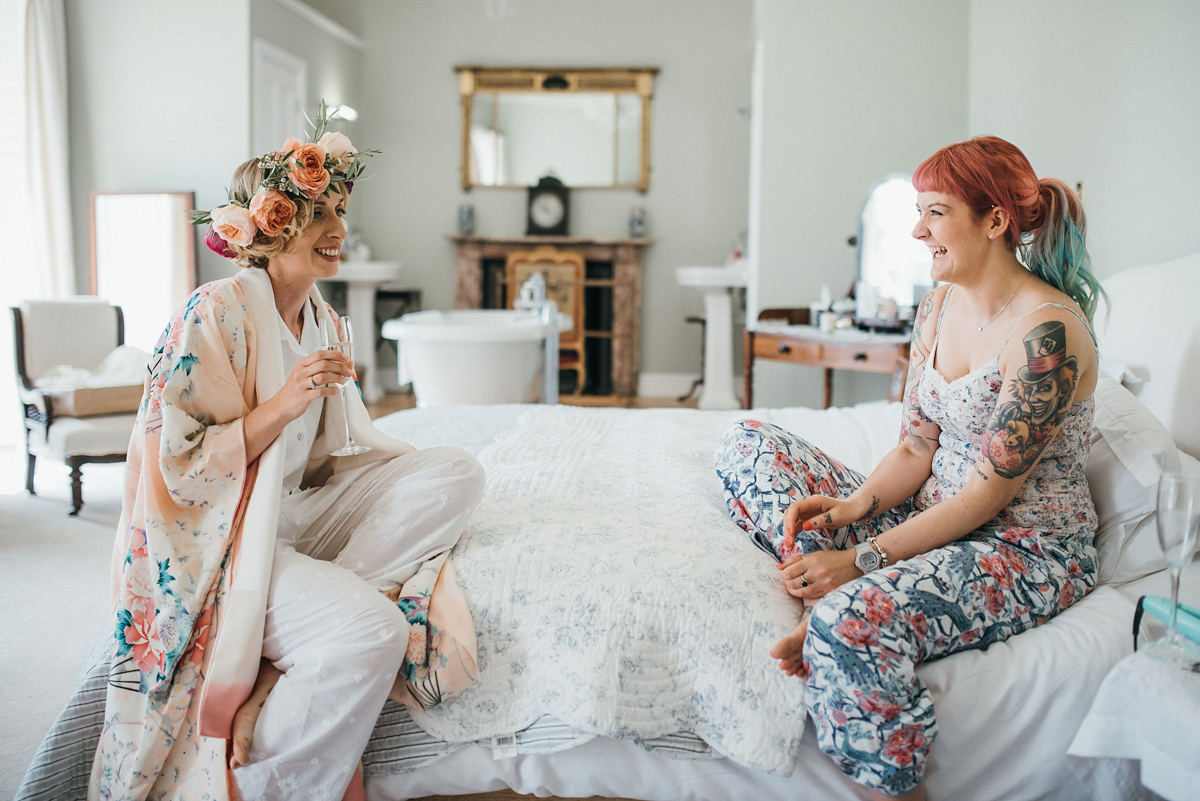 "My nieces Alice, Harriet and Evie wore Monsoon dresses and our page boy Jim wore a suit from Monsoon with little brown brogues. I loved how angelic they all looked."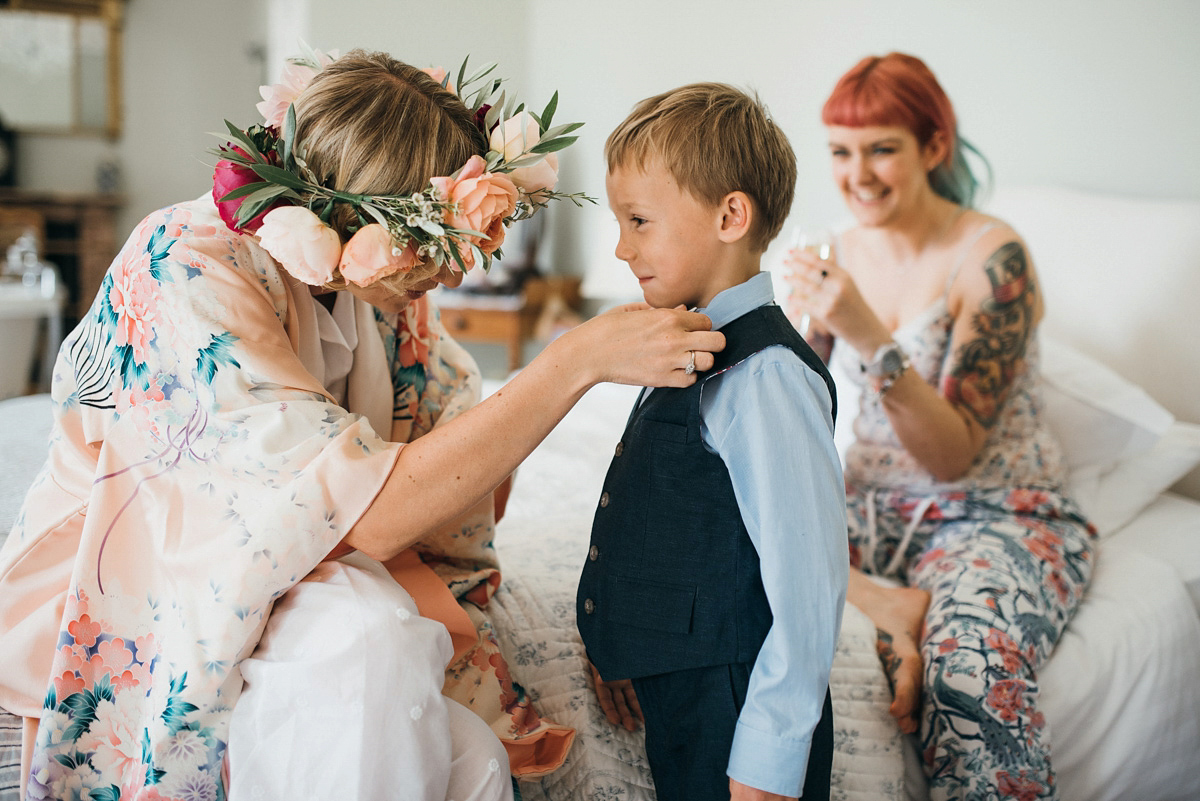 "Lee bought me a bottle of 'Love Story' by Chloé as a pre-wedding gift. It's so fresh and light and was perfect for the day."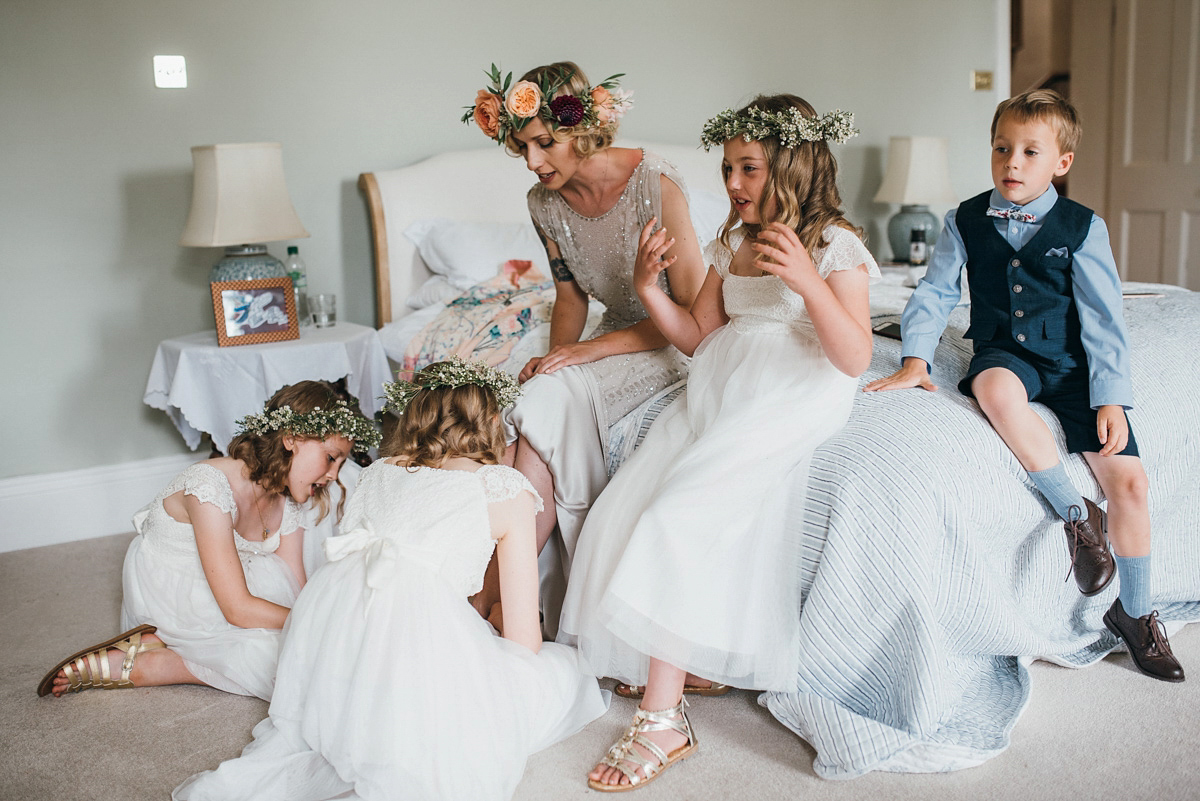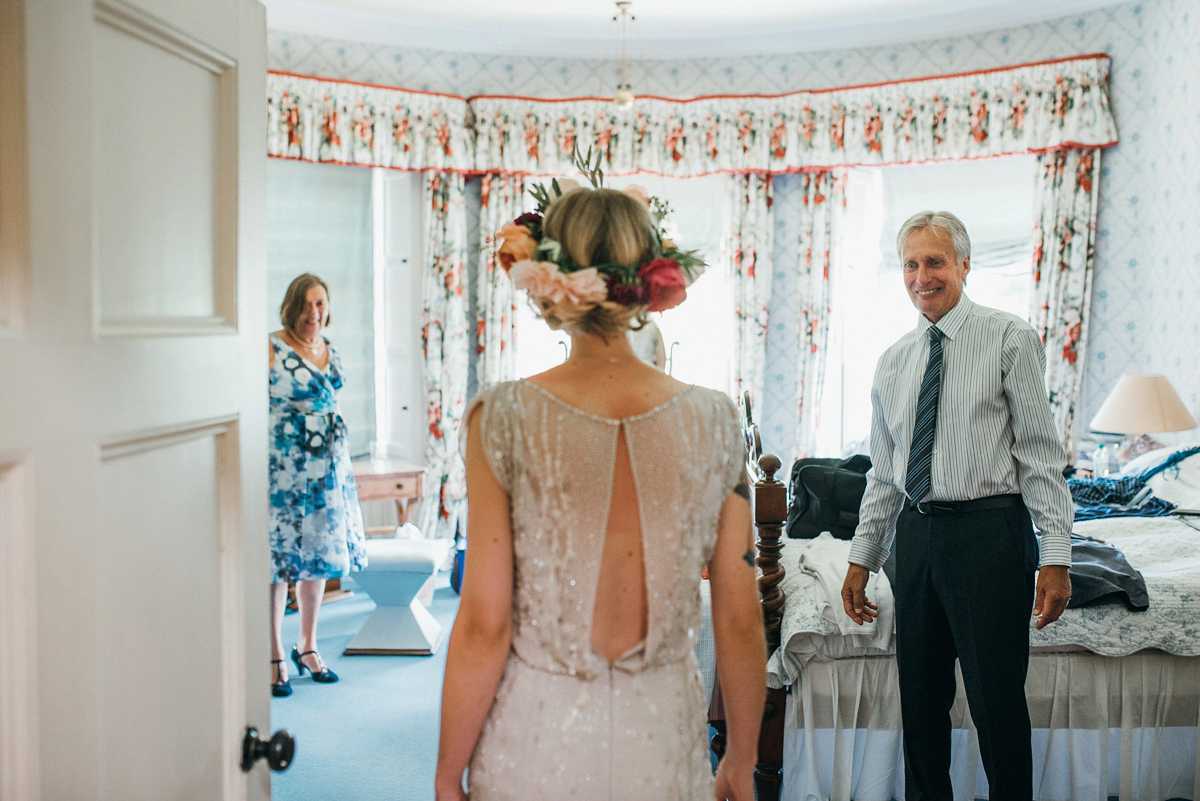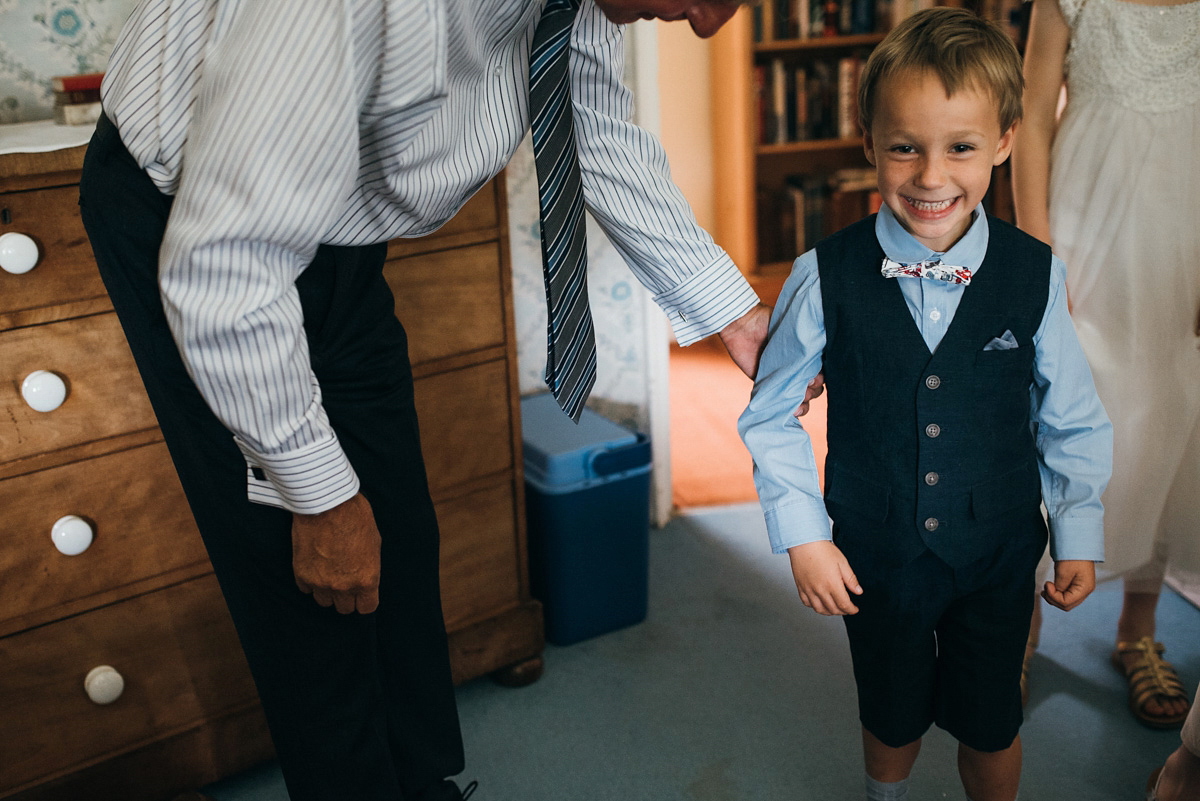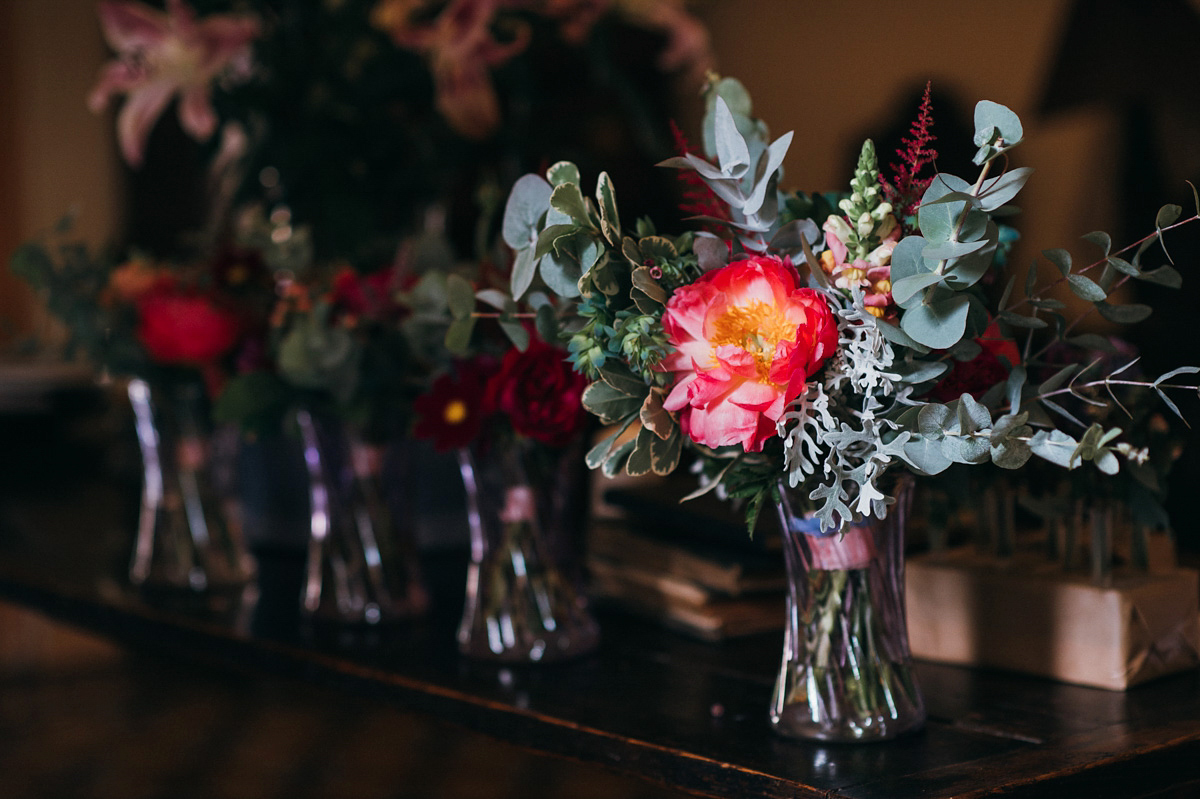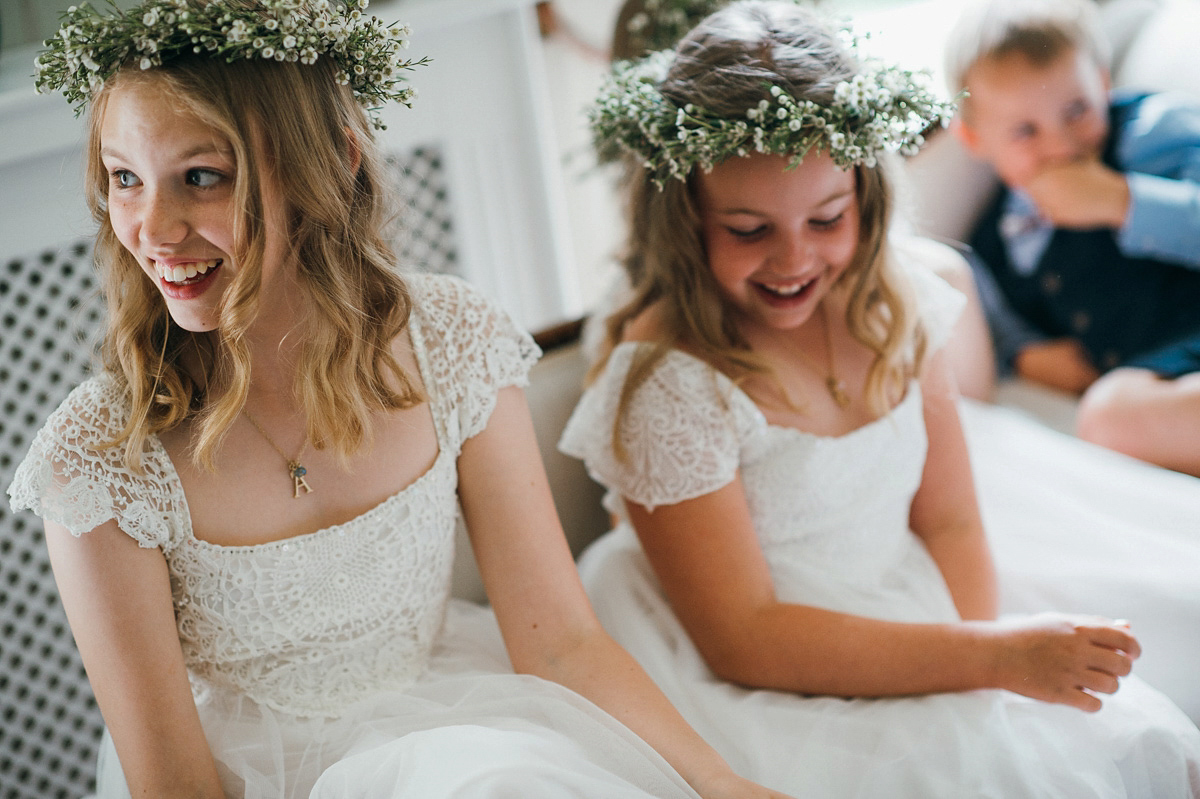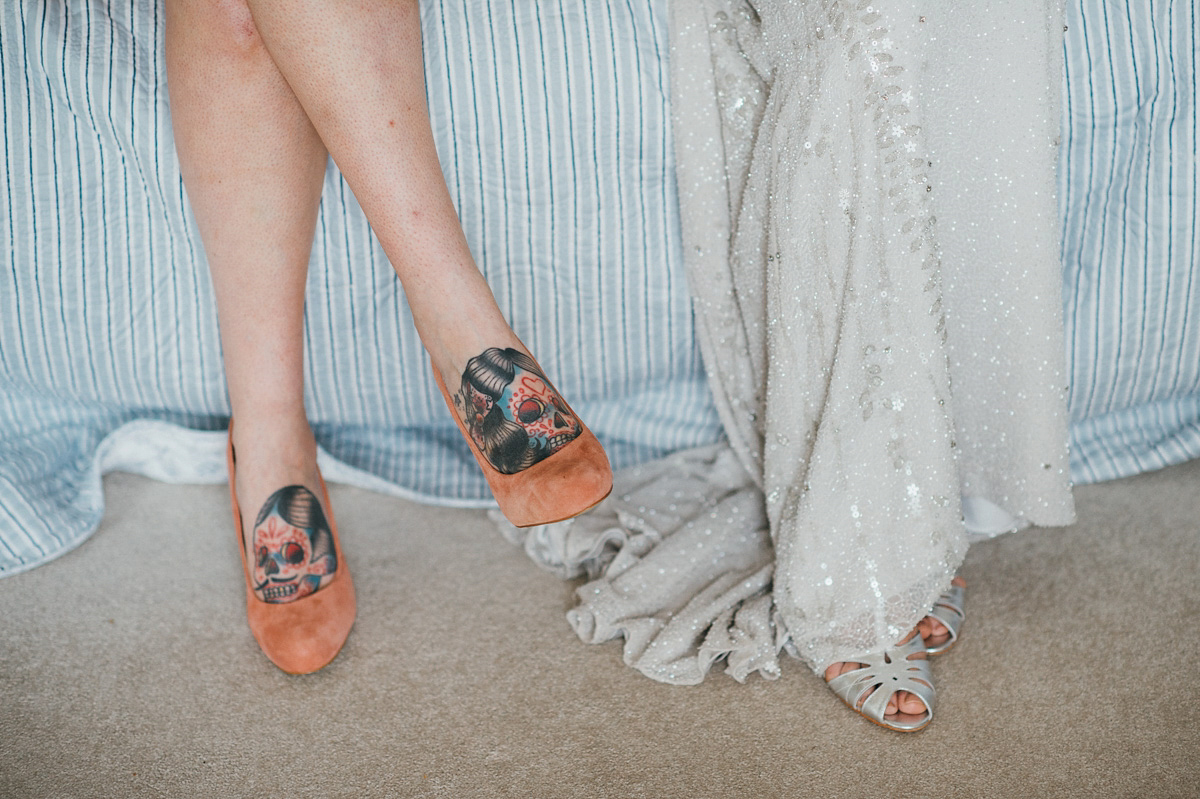 "The super lovely ladies at The Walled Garden did our flowers and I nearly cried with joy when I saw them on the day. The most stunning flowers I had ever seen, and all grown in their incredible walled garden a few miles away, I was over the moon. I had seen the coral charm Peony in some arrangements they had made for the open day at Pennard and asked them to create our arrangements around that flower in particular. The last thing I wanted was to reel off a list of all the flowers I loved and insist on a random mix that may not work."
"I think the most important thing is to decide on one or two of your favourites, and trust the florist with the rest. They know what works, and I was so unbelievably happy with the result."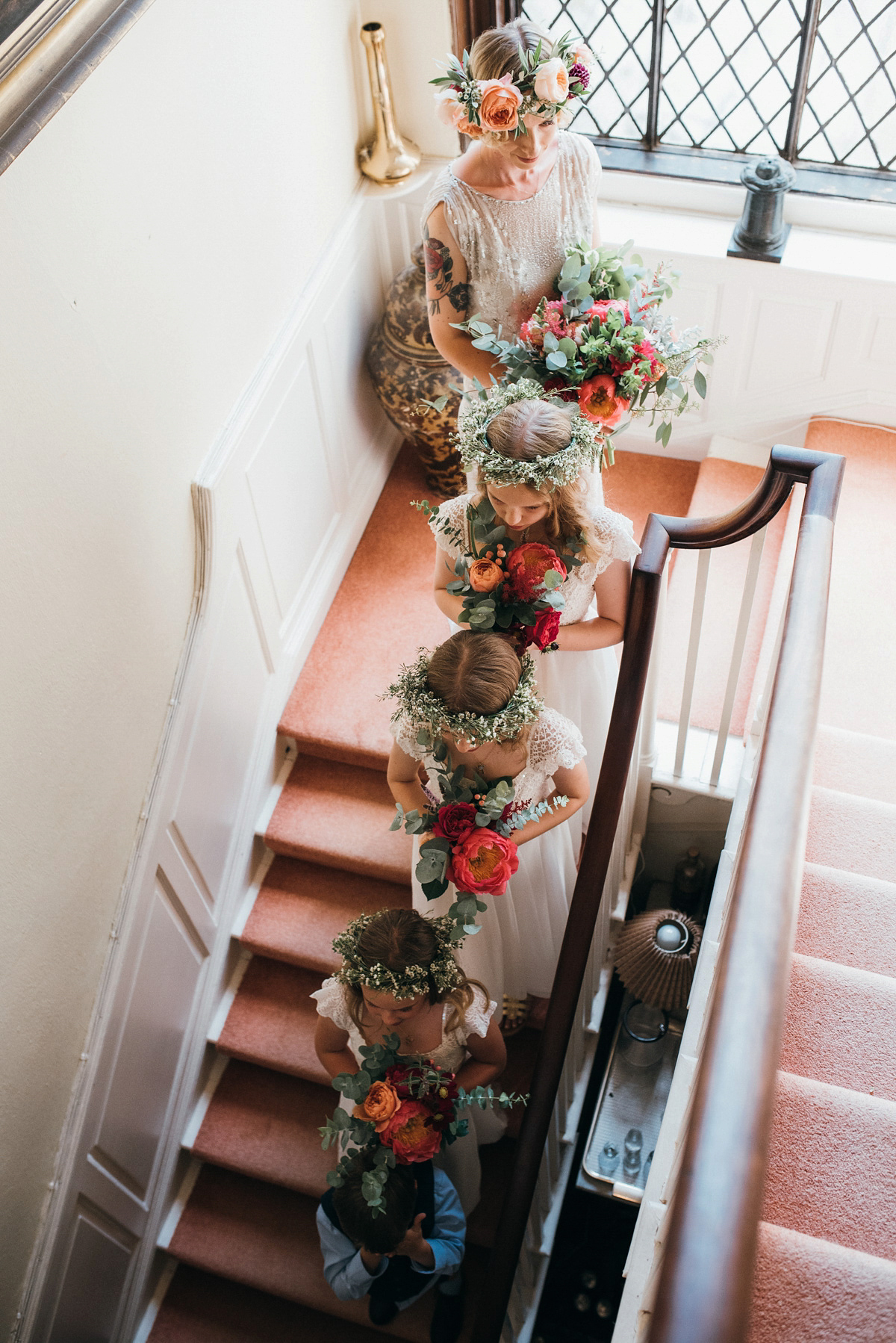 Sarah got Lee's light blue suit from Topman. His brothers wore their own suits, all with ties from Mrs Bow Tie.
The groom says: "I wanted a suit that would make me feel comfortable and relaxed and not self conscious. I'm usually a very casual dresser and never have the need to wear a suit so I was a little concerned when Sarah unzipped the bag on a suit she had seen in the sale at Topman and I saw the light blue. After trying it on I realised it was a great fit and just right for me."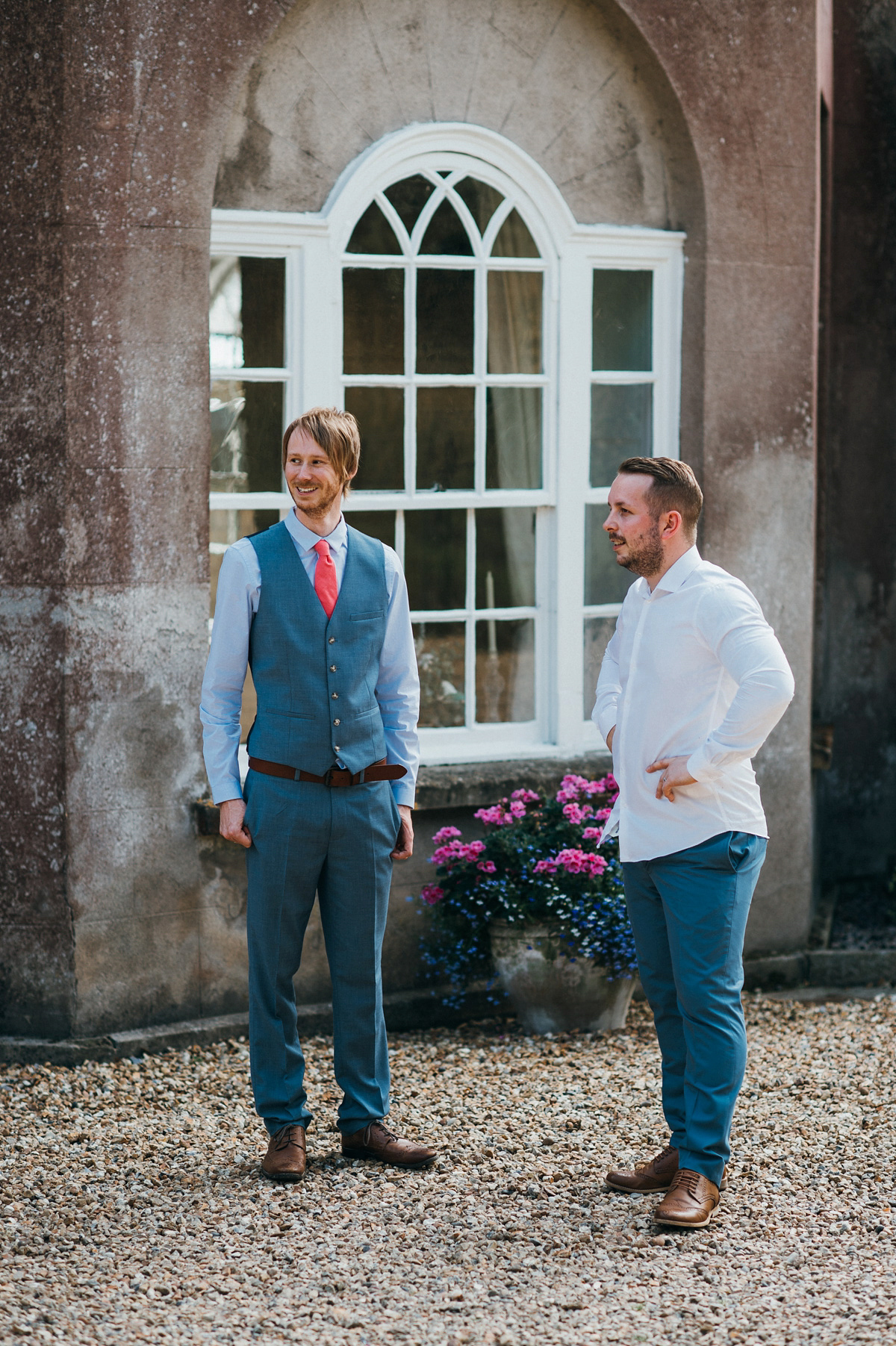 "Lee and I met way back in 2006 on Myspace. He lived In Birmingham and I in Hereford, but I moved to Brum in 2010 so we could give it a proper shot. We got engaged in Edinburgh, one of our favourite places, in 2015 and spent the next year planning for the big day."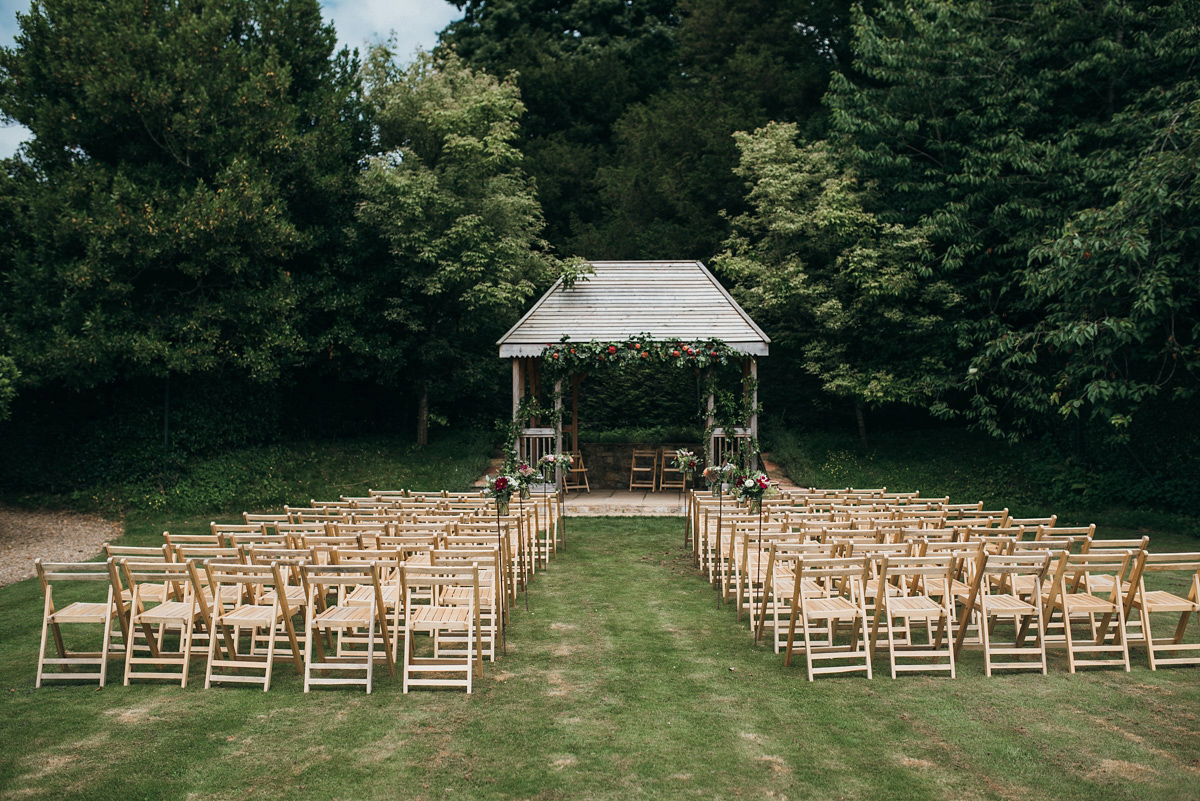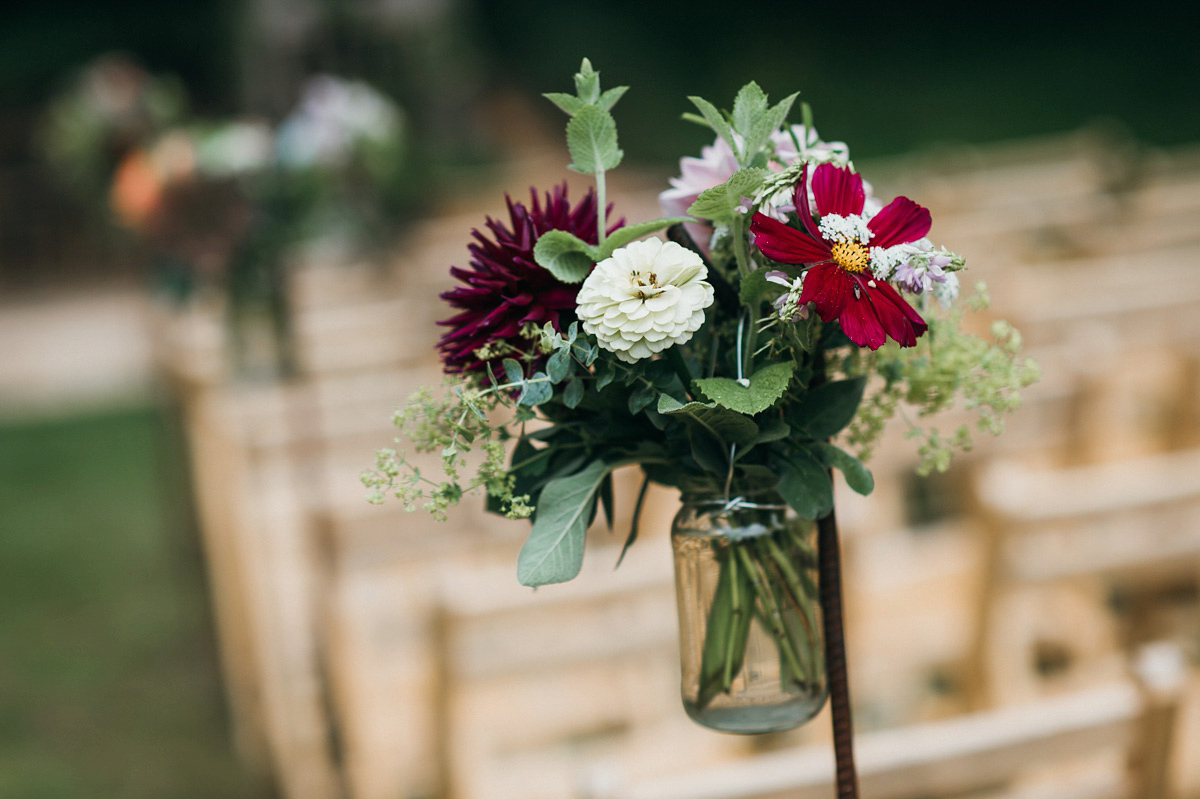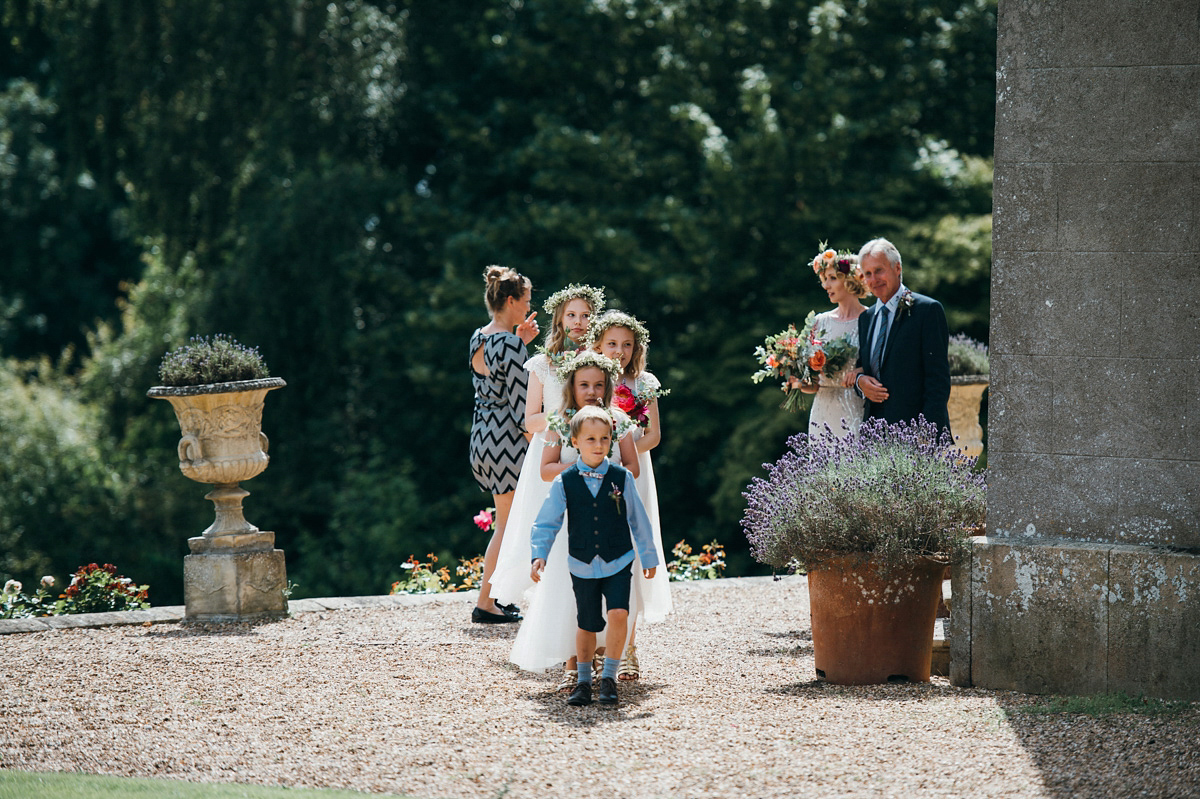 Sarah's dad, David walked her down the aisle while 'Avril 14th' by Aphex Twin played.
"We don't like anything too slushy and overly romantic, but we wanted a meaningful reading which felt appropriate for us so I asked my big sisters to read 'I Will Be Here' by Steven Curtis Chapman.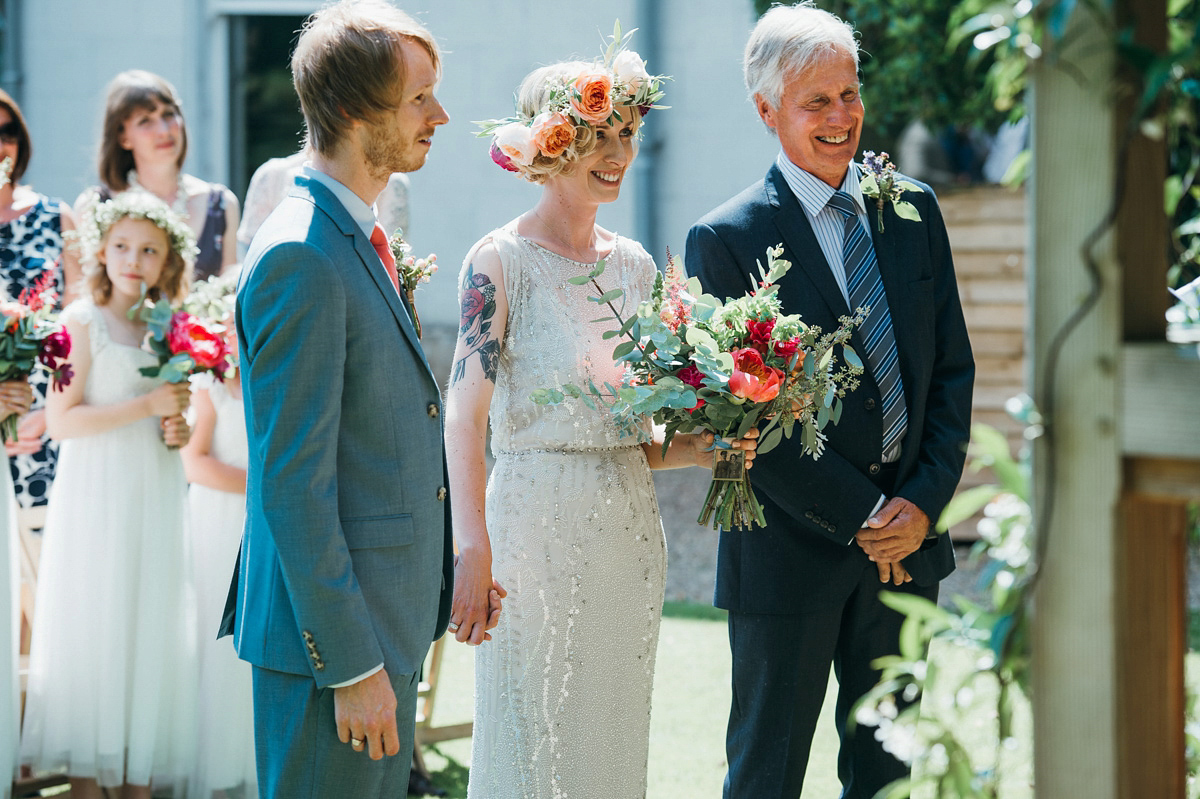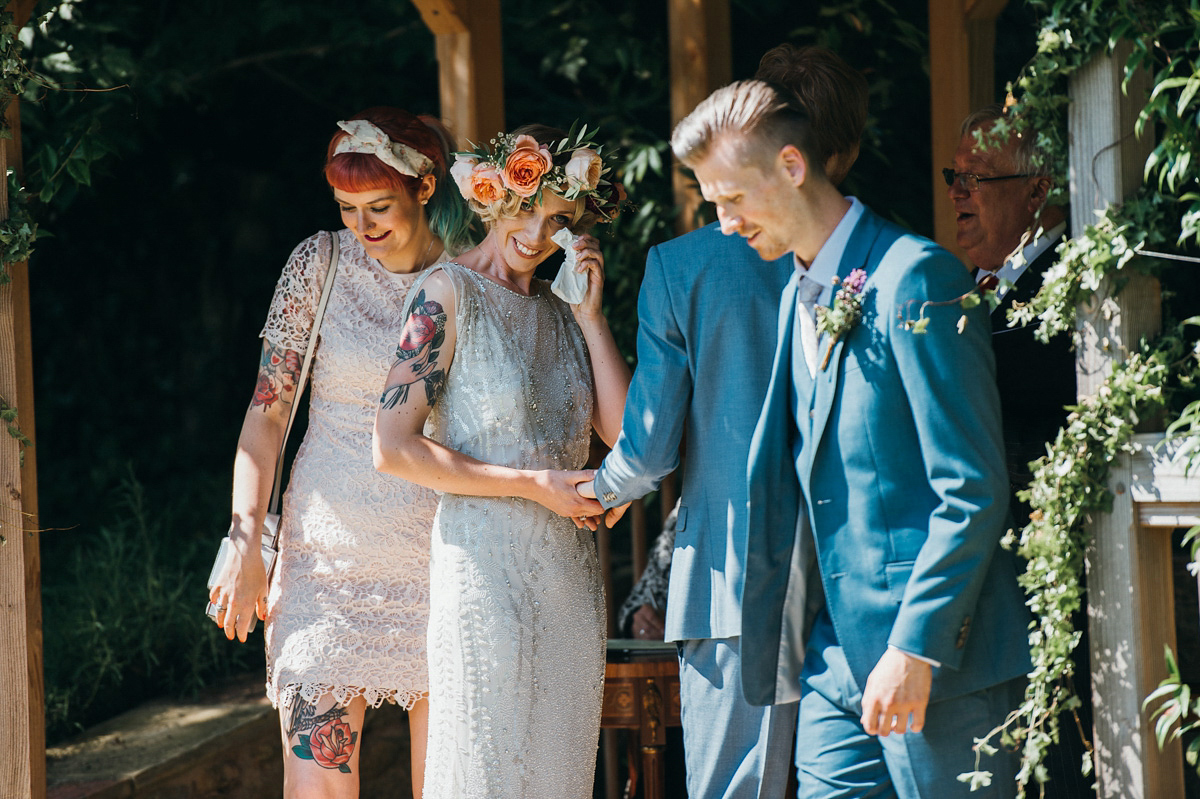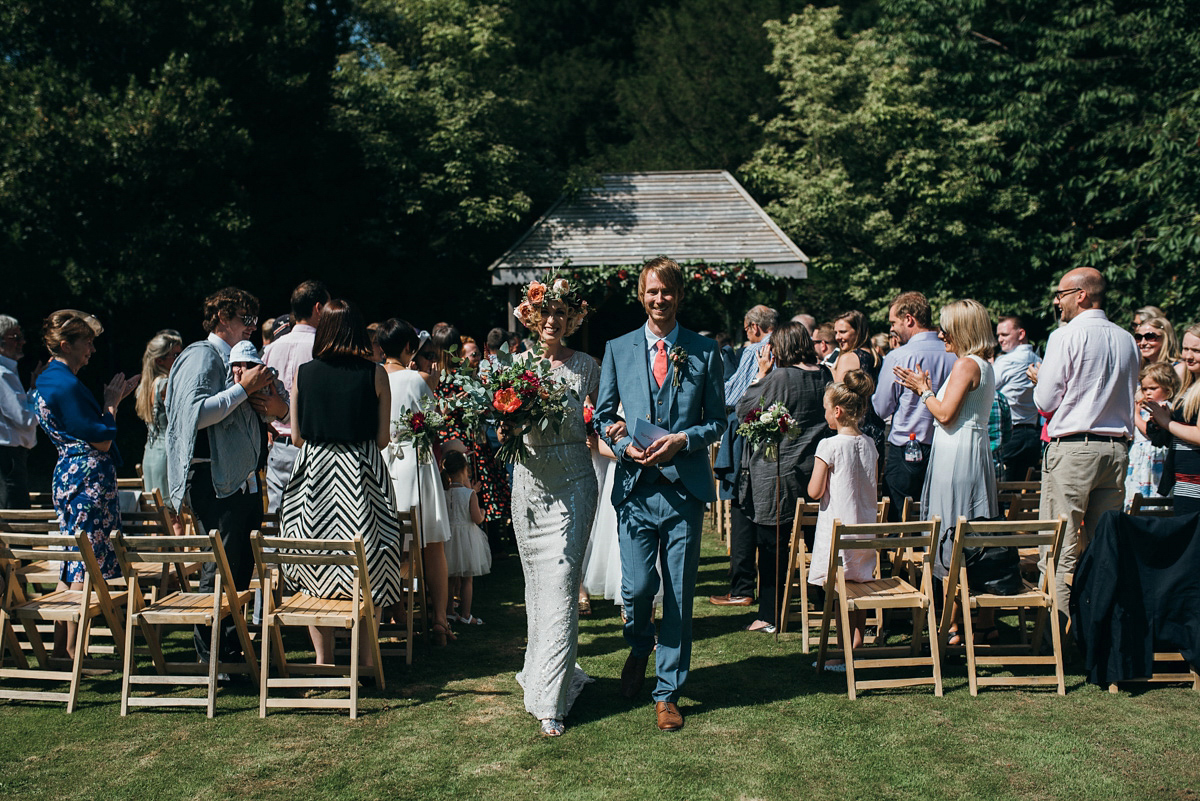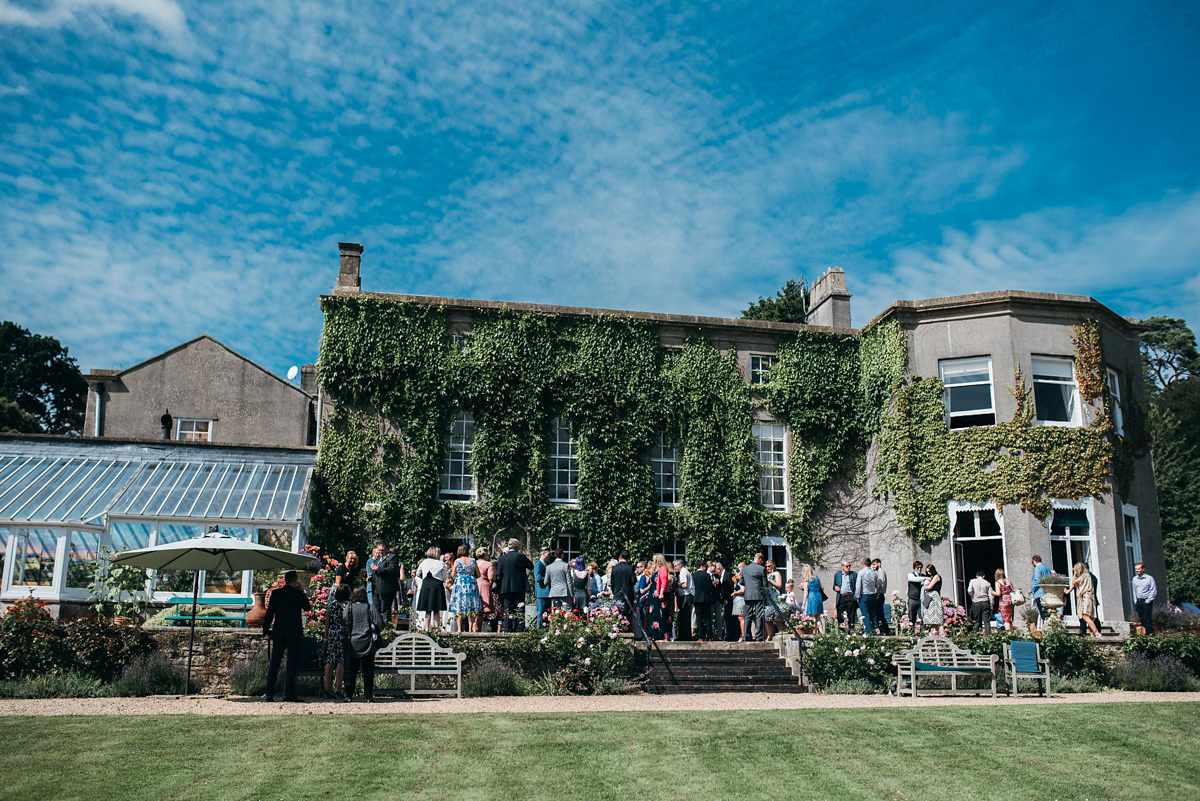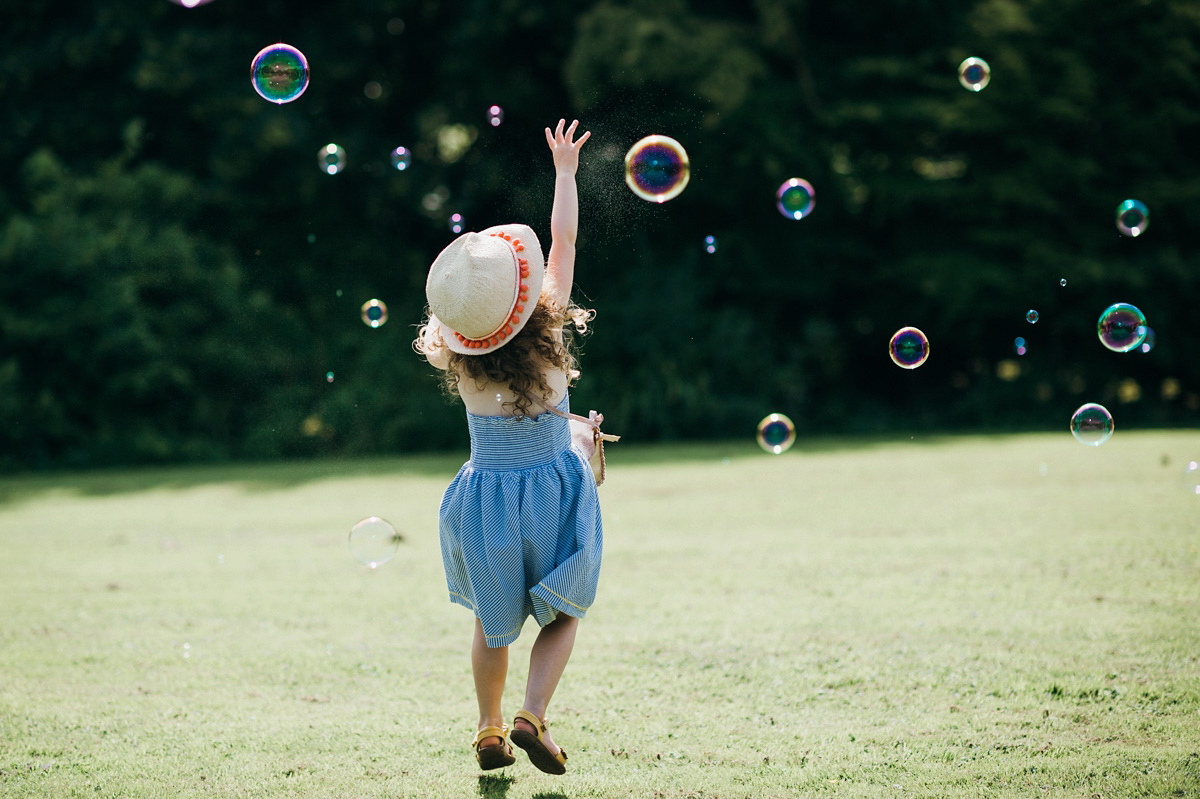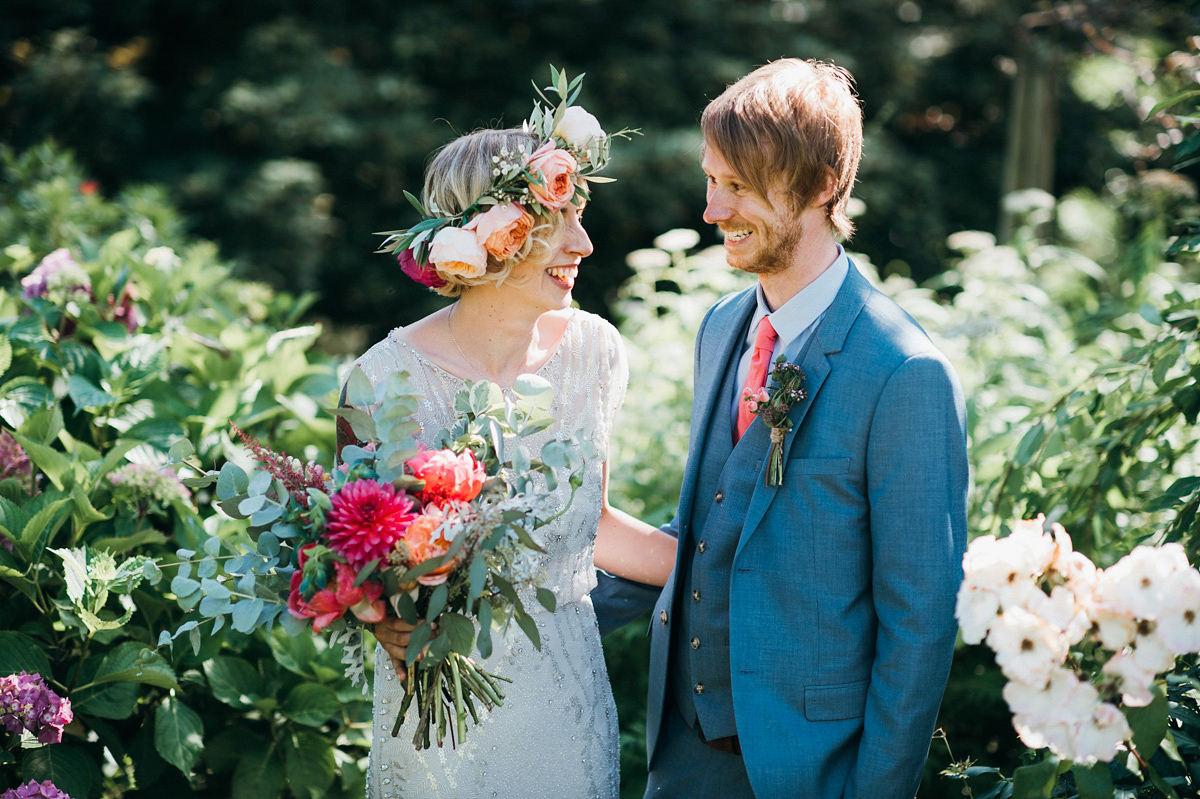 Sarah and Lee chose Simon Biffen Photography to capture their wedding day. These images are truly beautiful and really catch the relaxed and hazy summertime feel of the day.
"Our photographer, Simon, was an absolute dream, he made us feel so comfortable and relaxed and wasn't obtrusive in the slightest. We were so pleased with how our pictures came out, and how quickly we got them back. I can honestly say he was the best investment we made."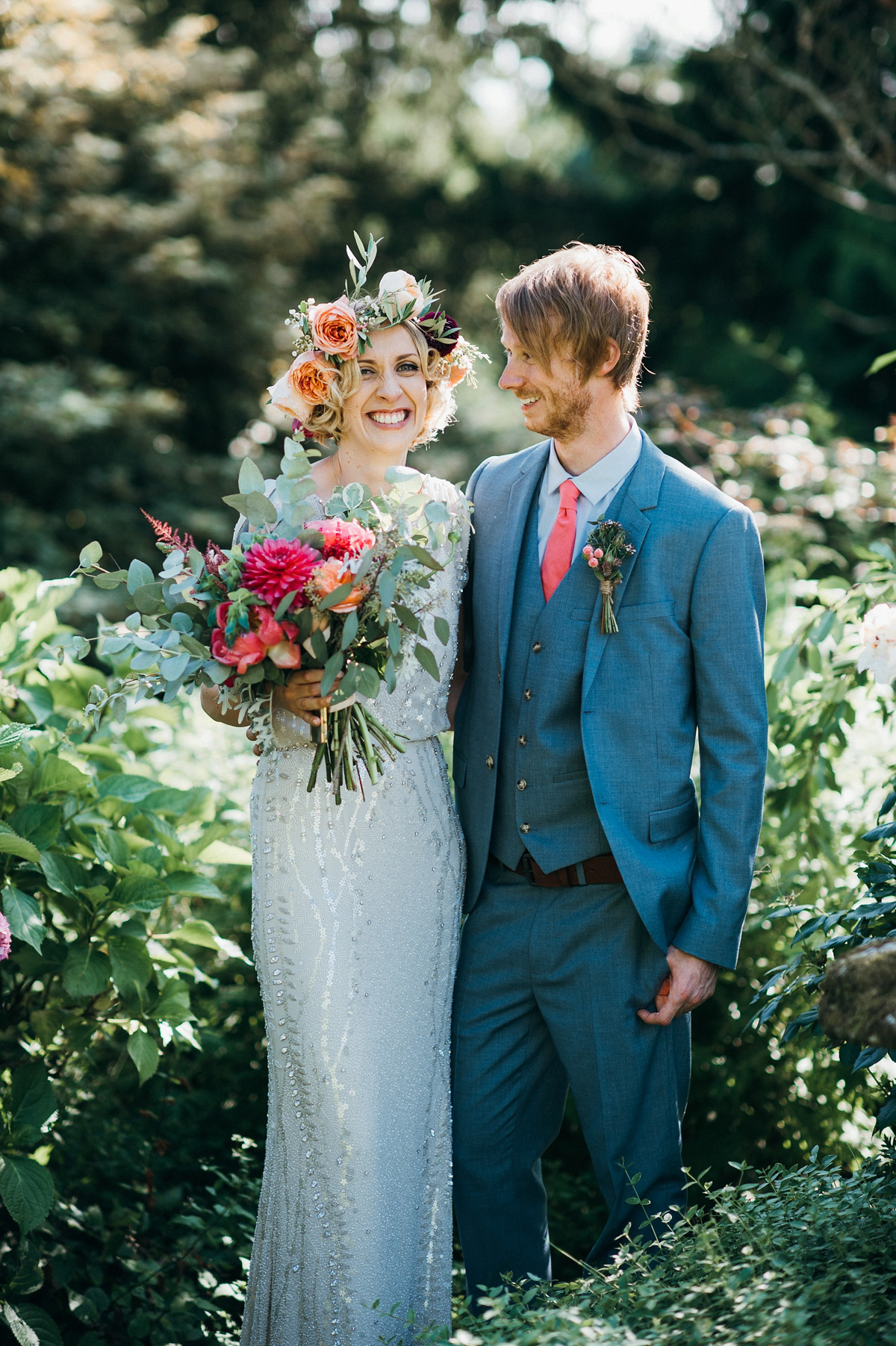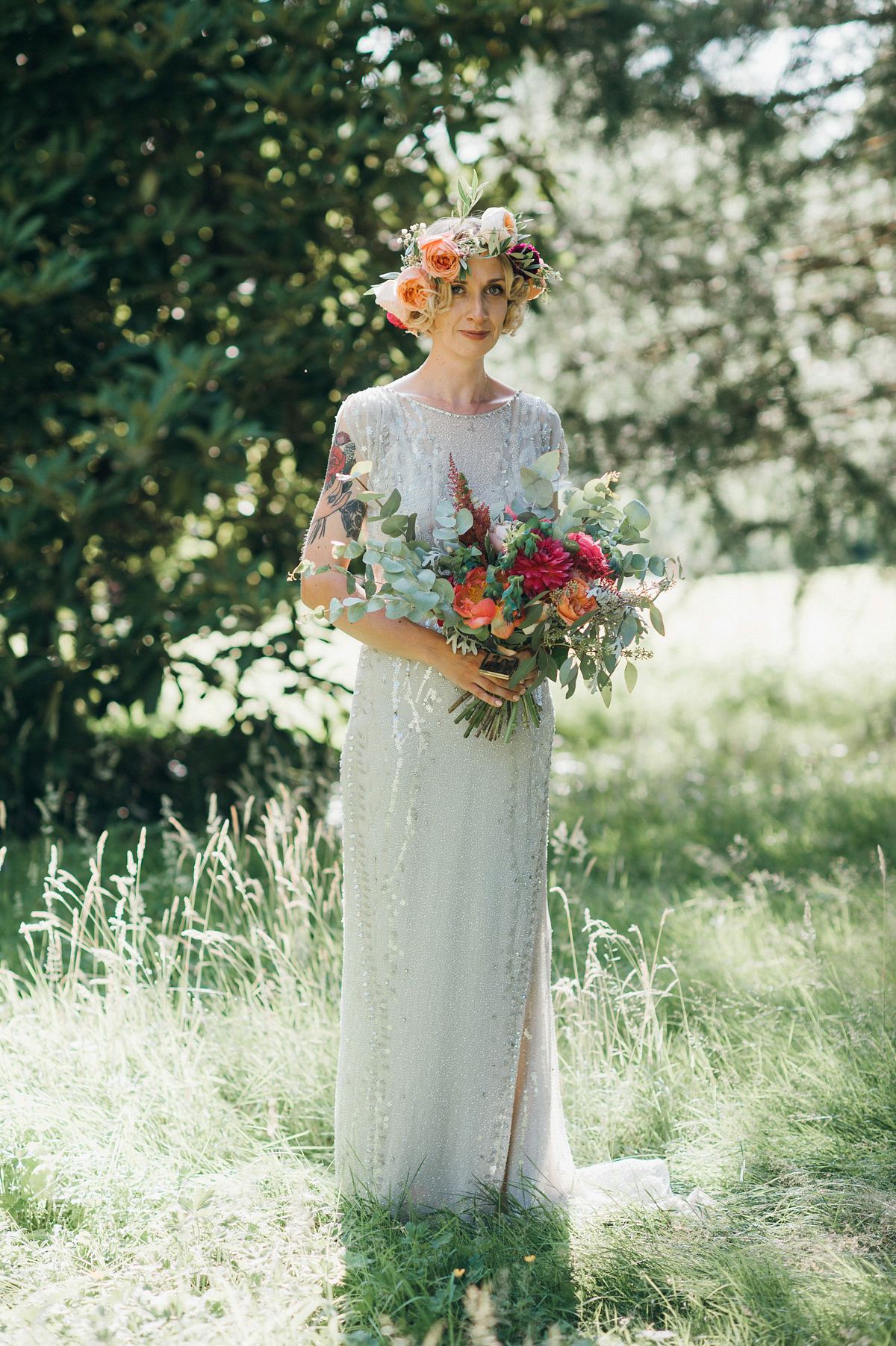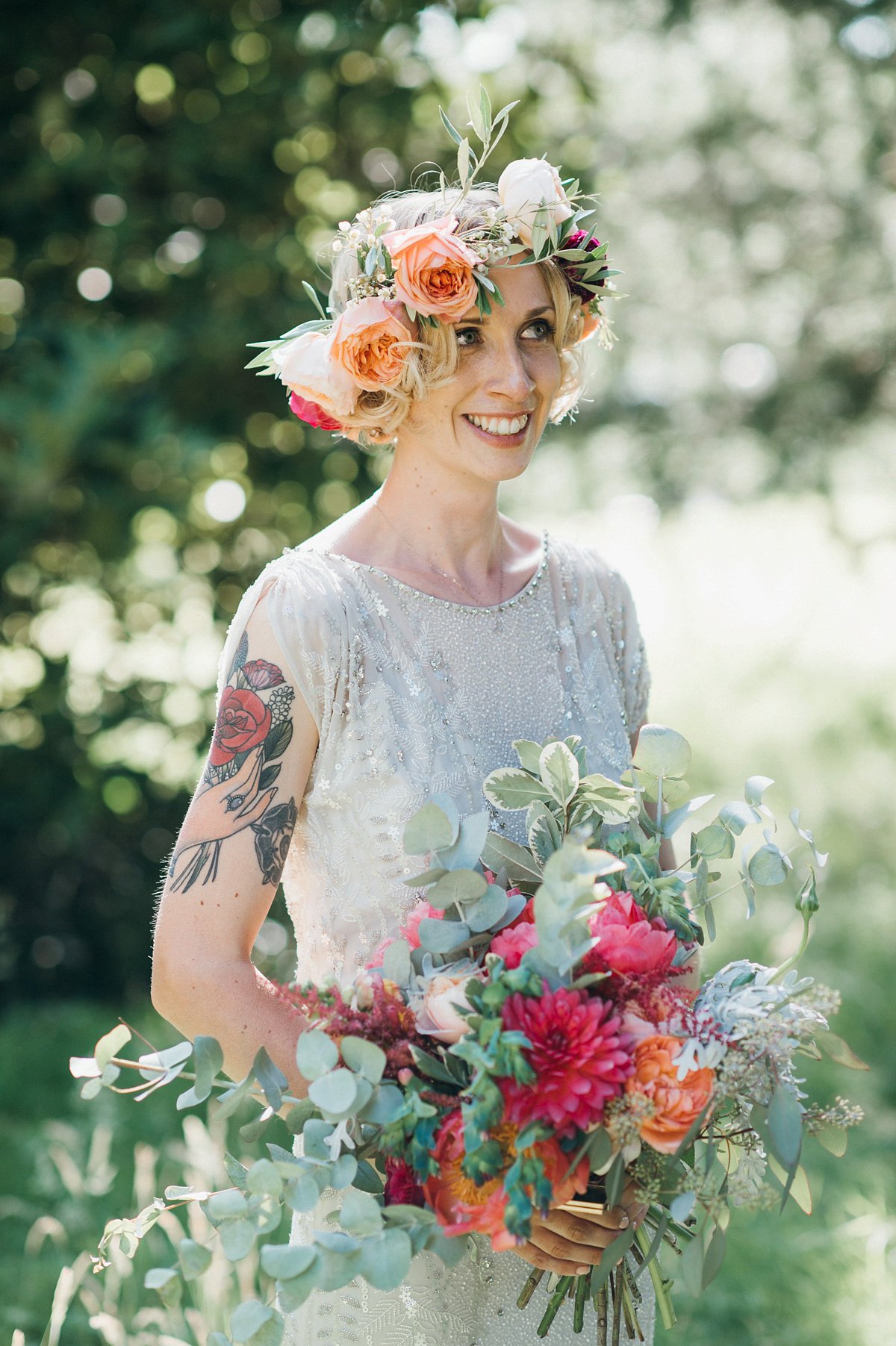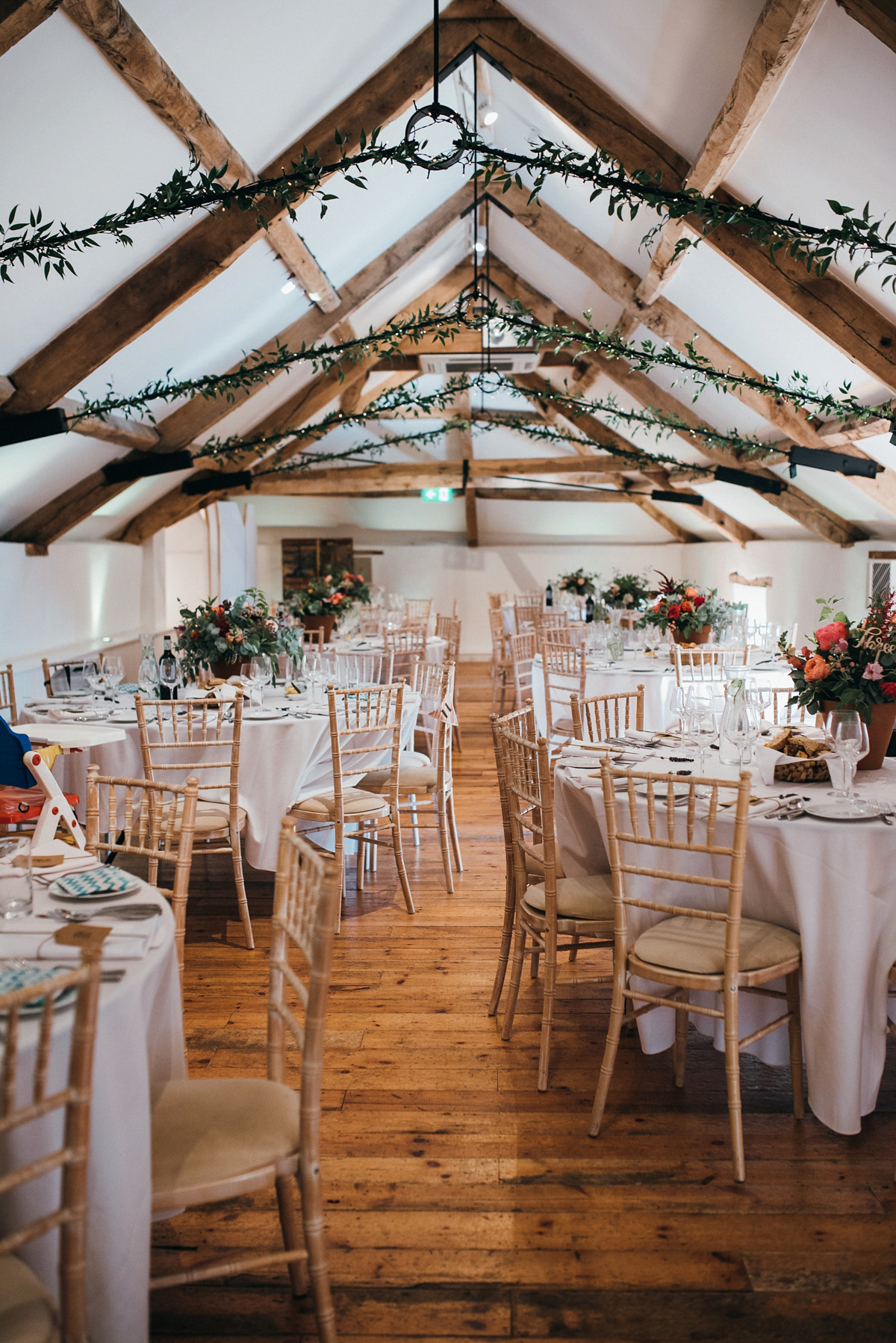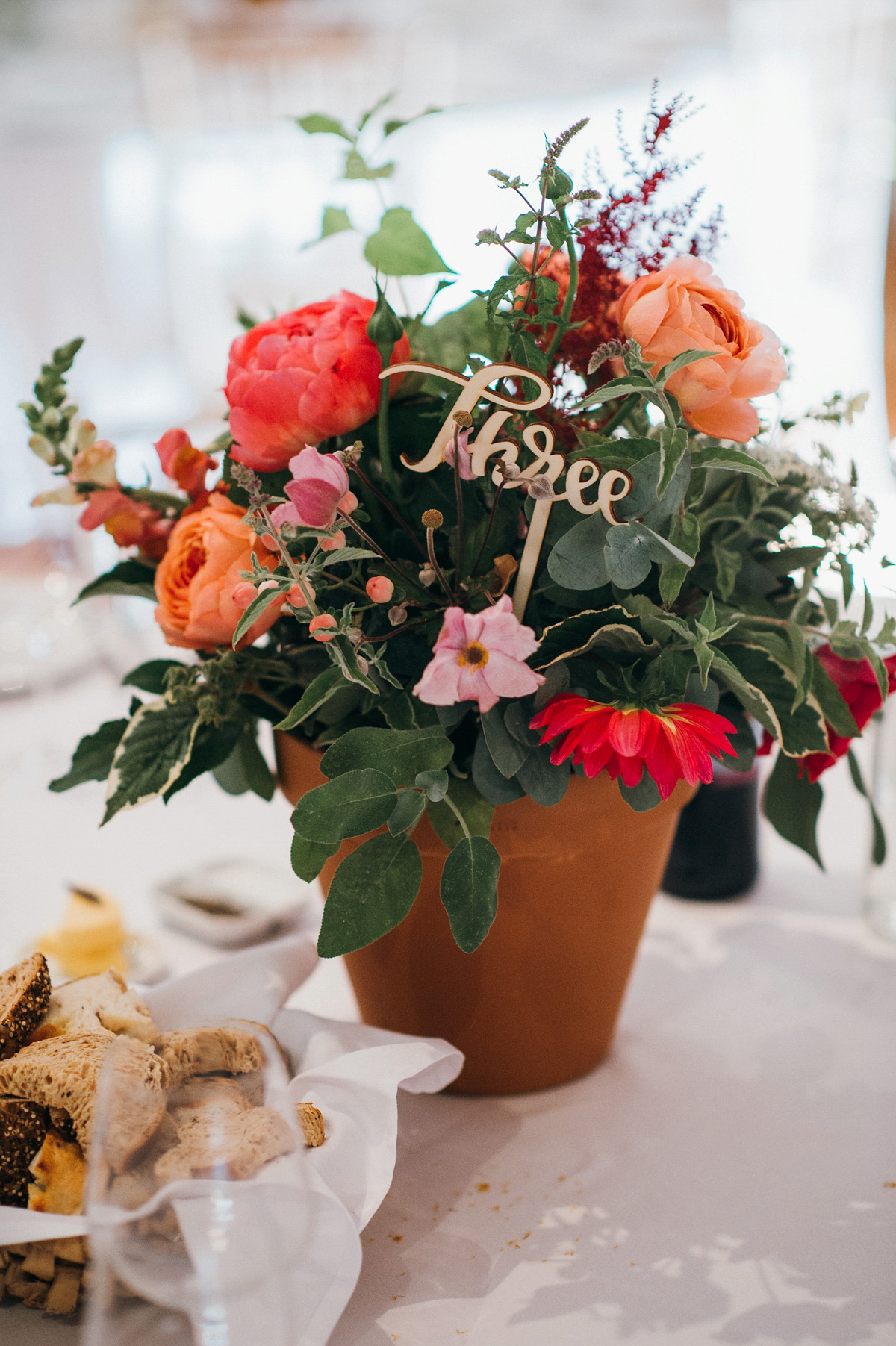 "The cake was made by Emily at Queen Bee Cakes. I had seen pictures of Emily's breathtaking cakes online and knew she had to be a part of our day."
"It was one of the most delicious cakes I've ever eaten and my jaw hit the floor when I saw it for the first time in all its glory. Best cake ever."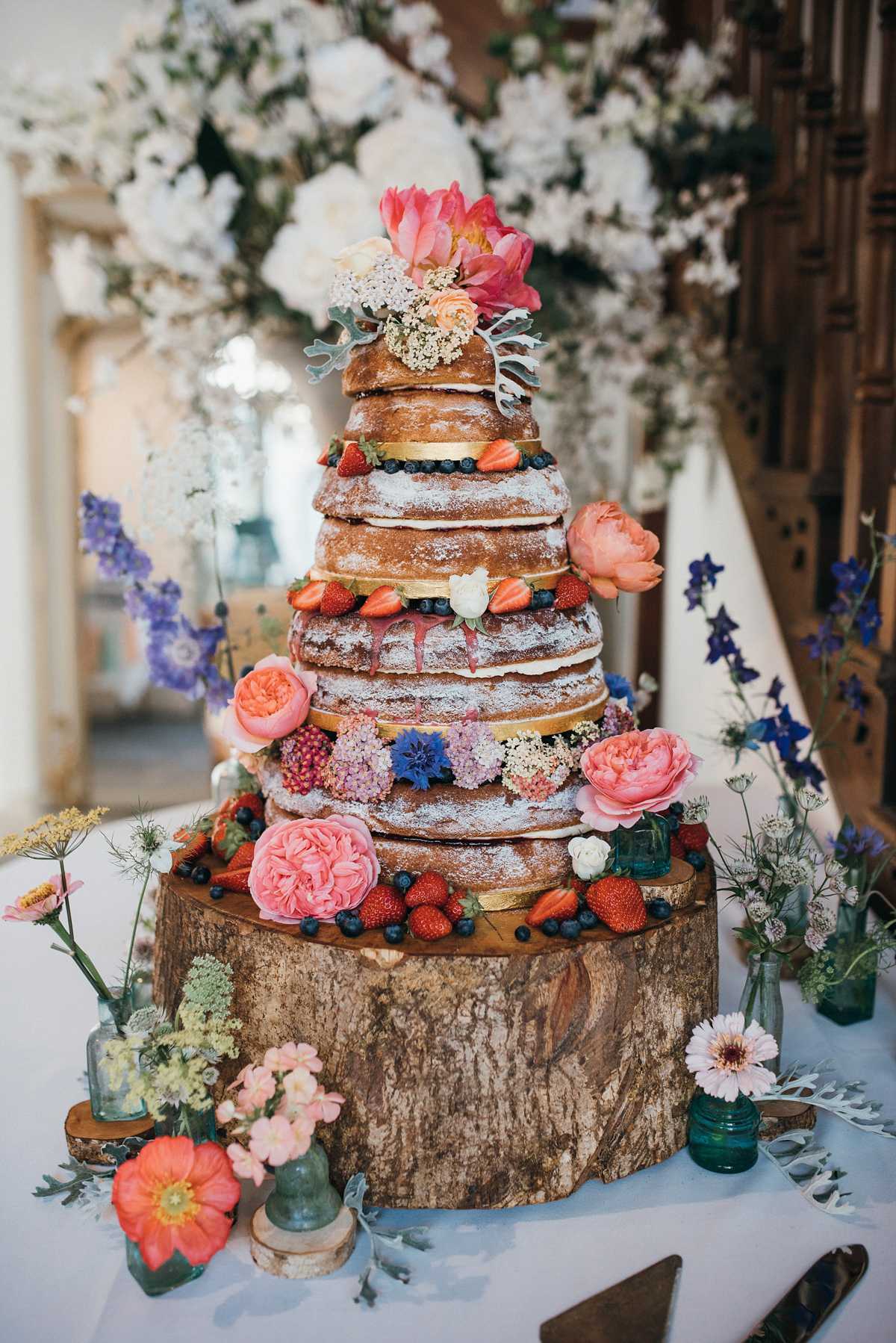 The couple gave packets of wildflower seeds as favours and used big terracotta plant pots filled with flowers as centrepieces.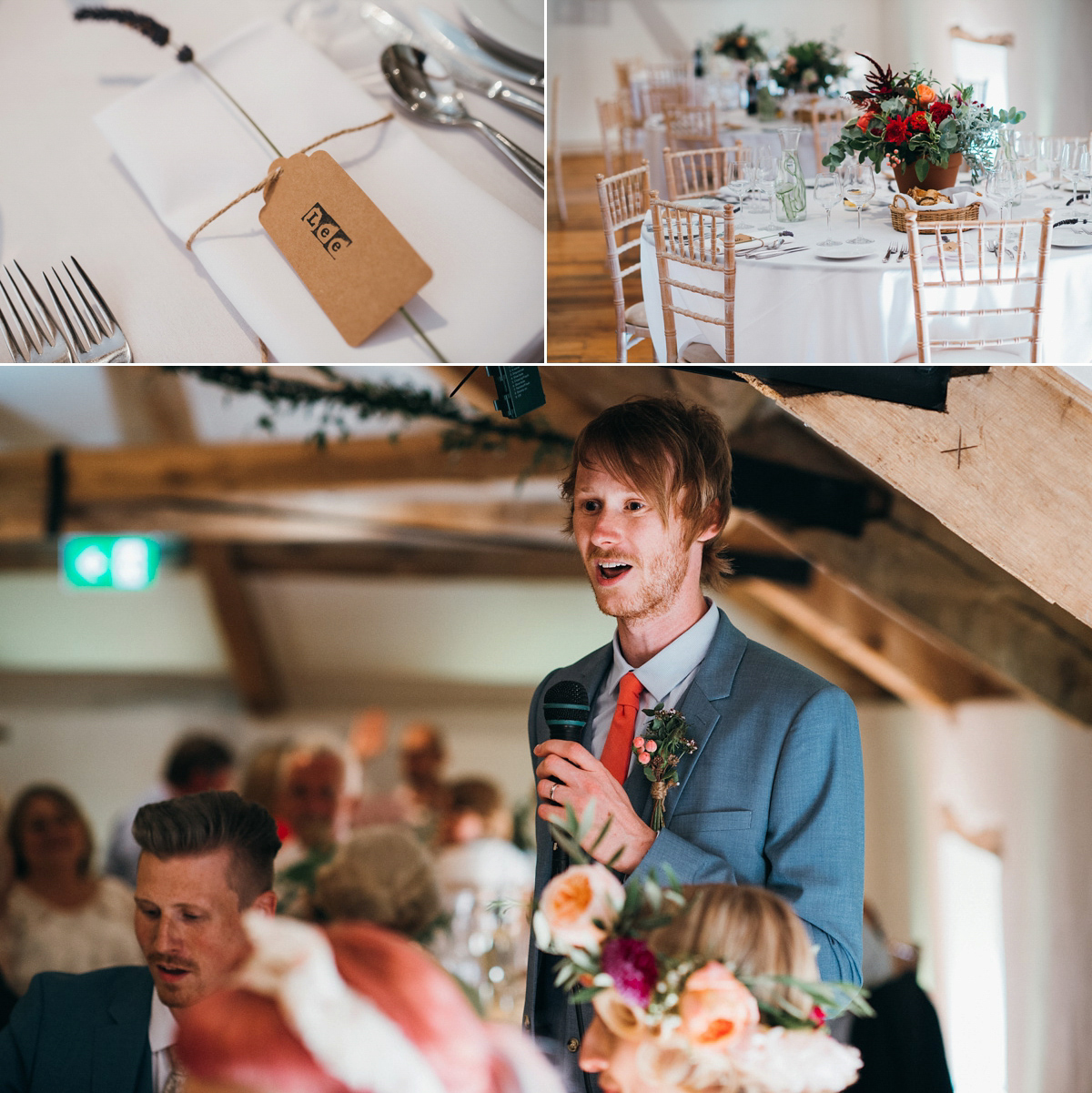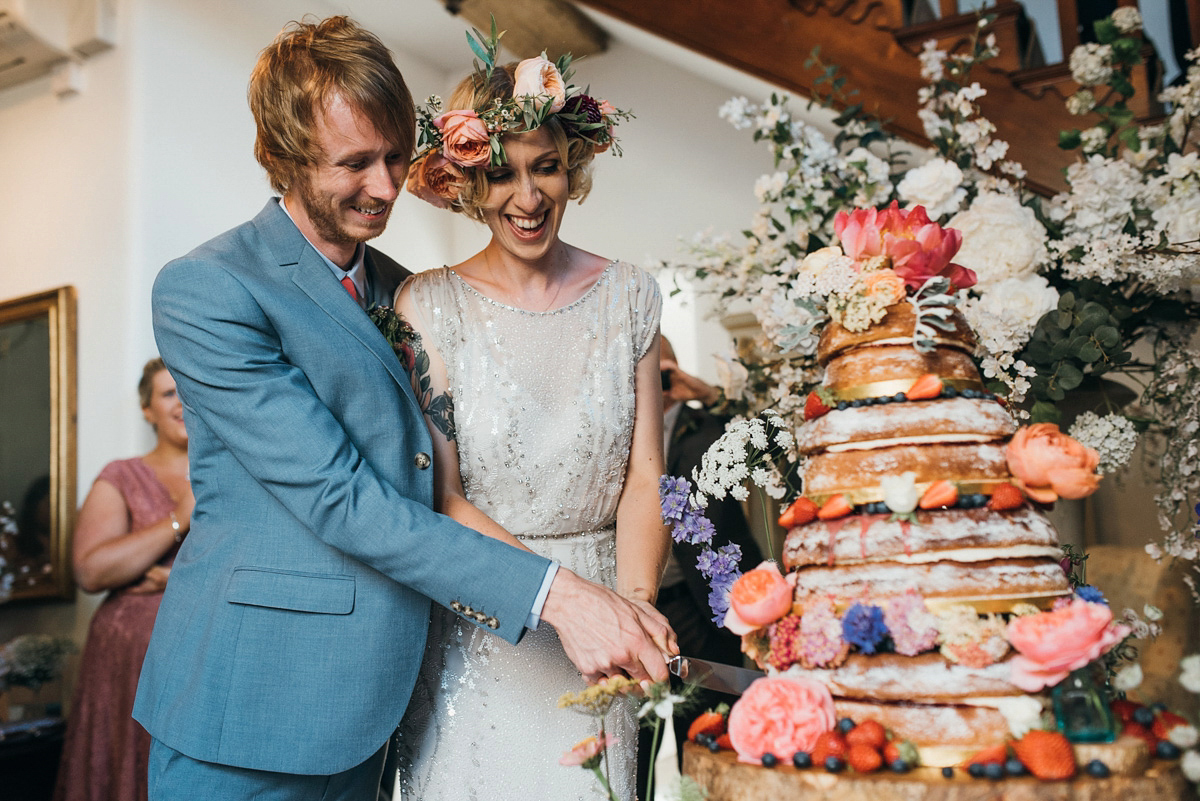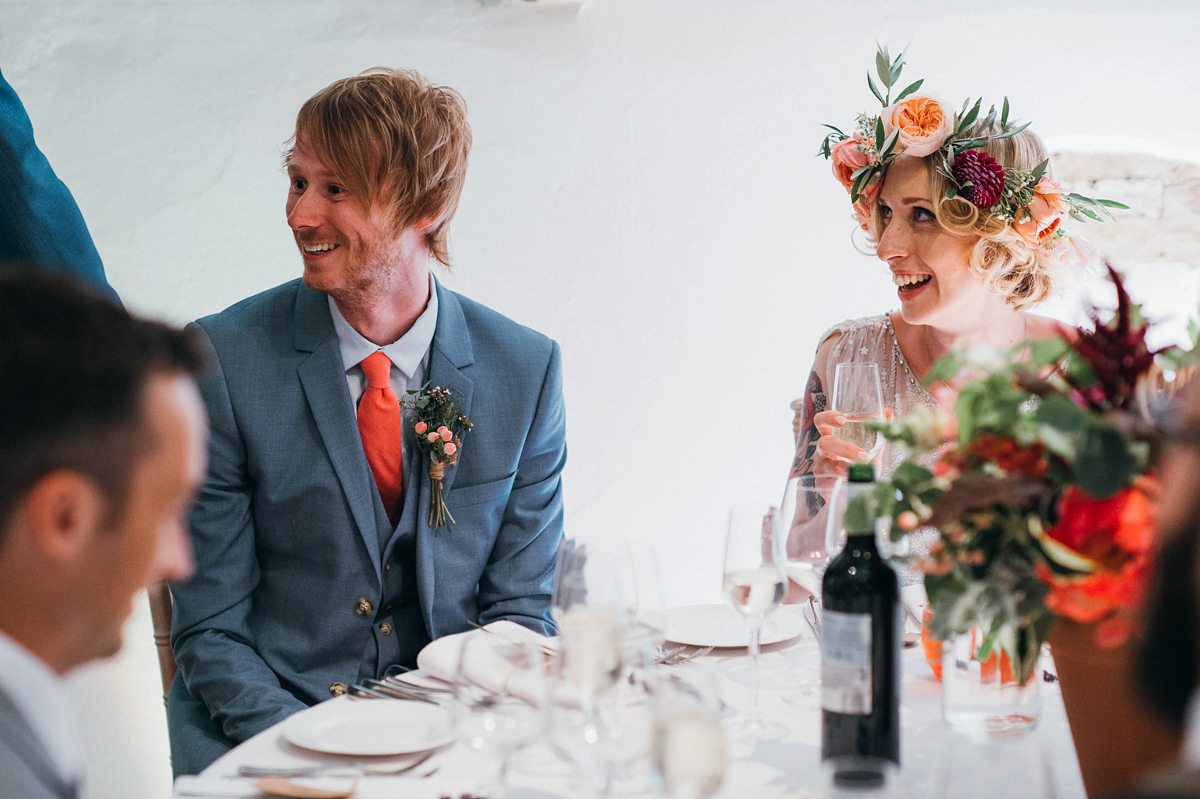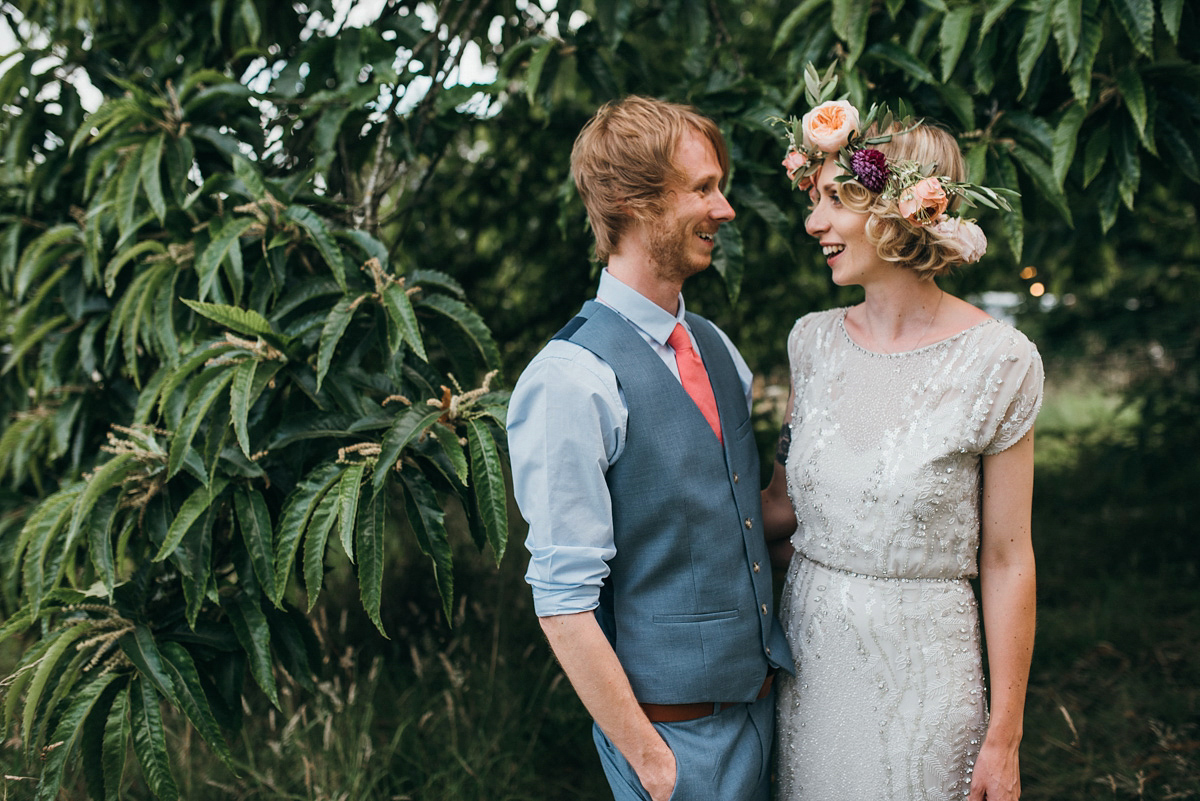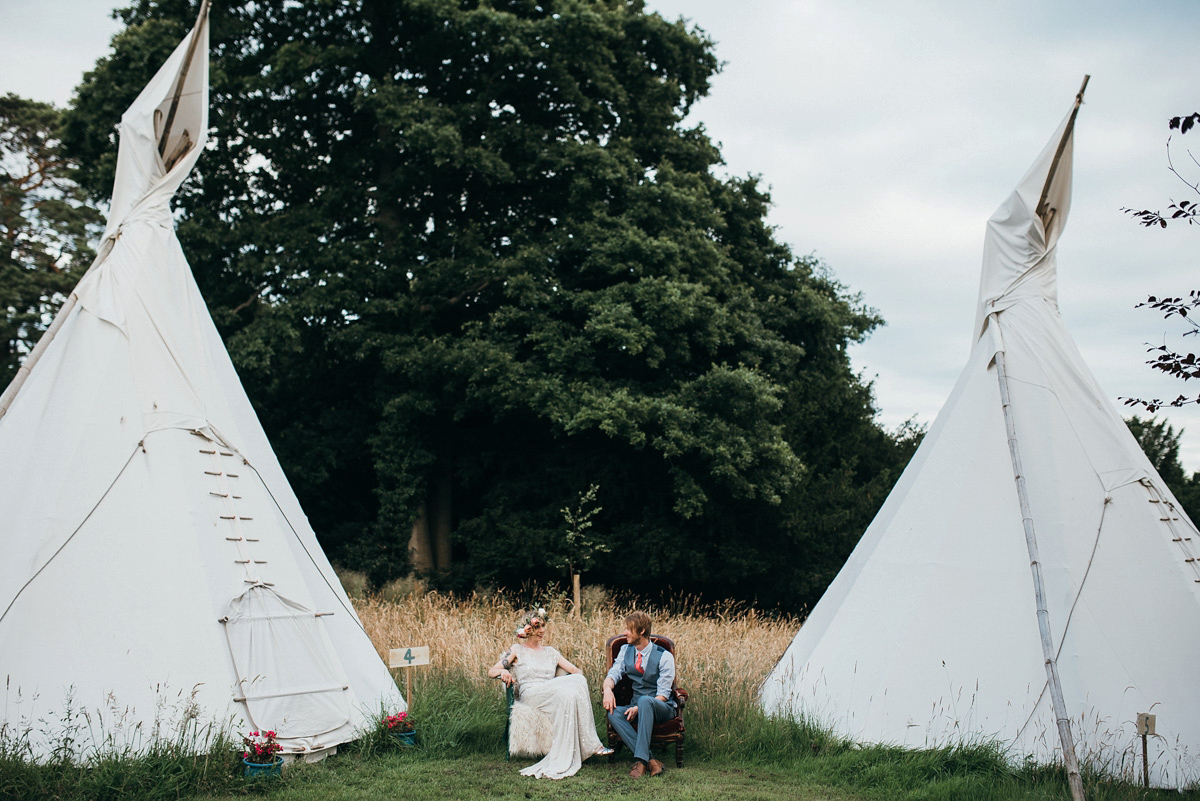 "Looking back, there are so many moments that I loved. My nieces and nephew all dressed up and taking care of me when I was a nervous wreck, my dad telling me he loved me moments before I walked out of the house and nearly making me cry my makeup off, seeing Lee's face when he turned to see me walking down the aisle, blowing bubbles in the fields as the sun went down… The list is endless. I think what I loved the most was seeing all our collective family and friends together, some of whom I hadn't seen in far too long. It was overwhelming and wonderful."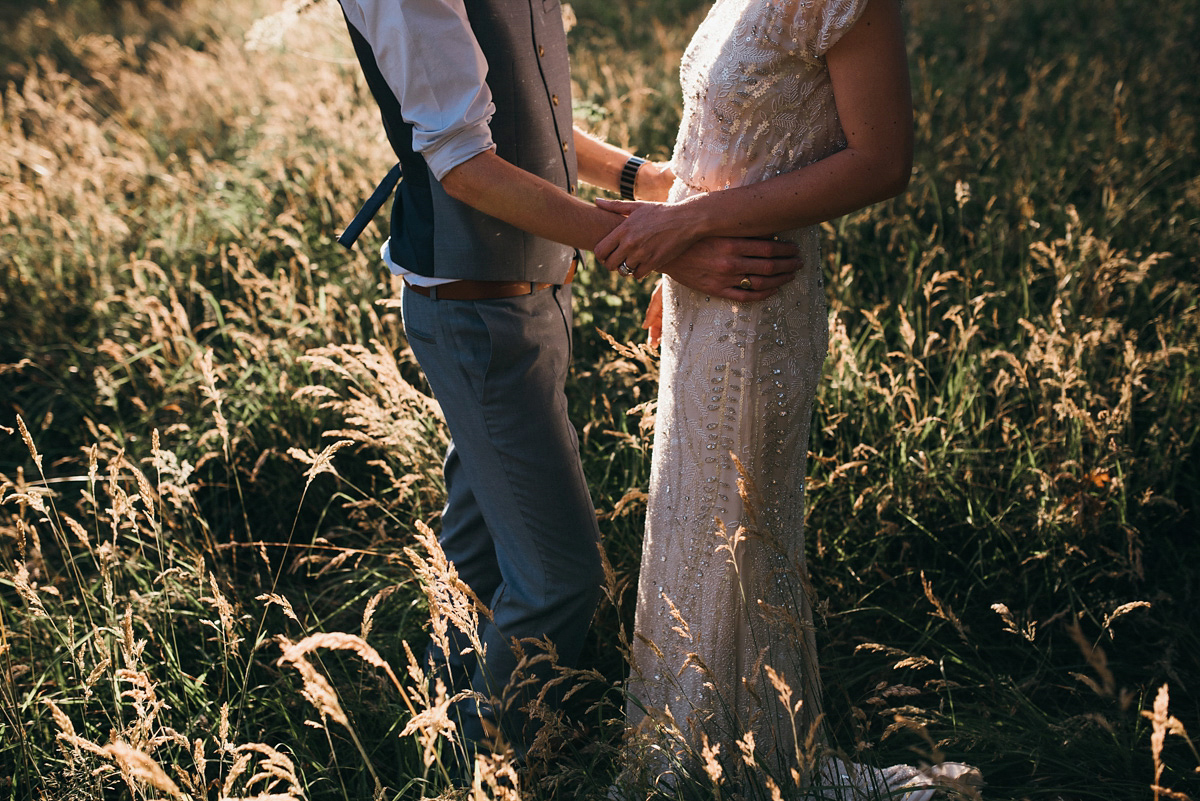 "Our first dance song was 'Northern Sky' by Nick Drake. This was the part of the day I knew Lee was dreading most but as soon as we started to dance he was fine and we just laughed through it."
Words of Wedded Wisdom
"Enjoy it and don't fret about small things. I spent so long in the run up to the wedding worrying about tiny unimportant details. Just trust that on the day things will work out. Try and be present, you've put all that time, effort and money into that moment so just relax and drink it all in. No one there has noticed that the Fentimans you bought have not been presented perfectly in that antique crate, opened and with straws in like on Pinterest. They are probably after the drink with the booze in anyway. Oh, and wear sun cream.
If I could go back and change one thing, I would wear sun cream. My guests spent most of our scorching hot July wedding day telling me how burnt I was getting. Glowing red shoulders are not what I had envisioned on my wedding day."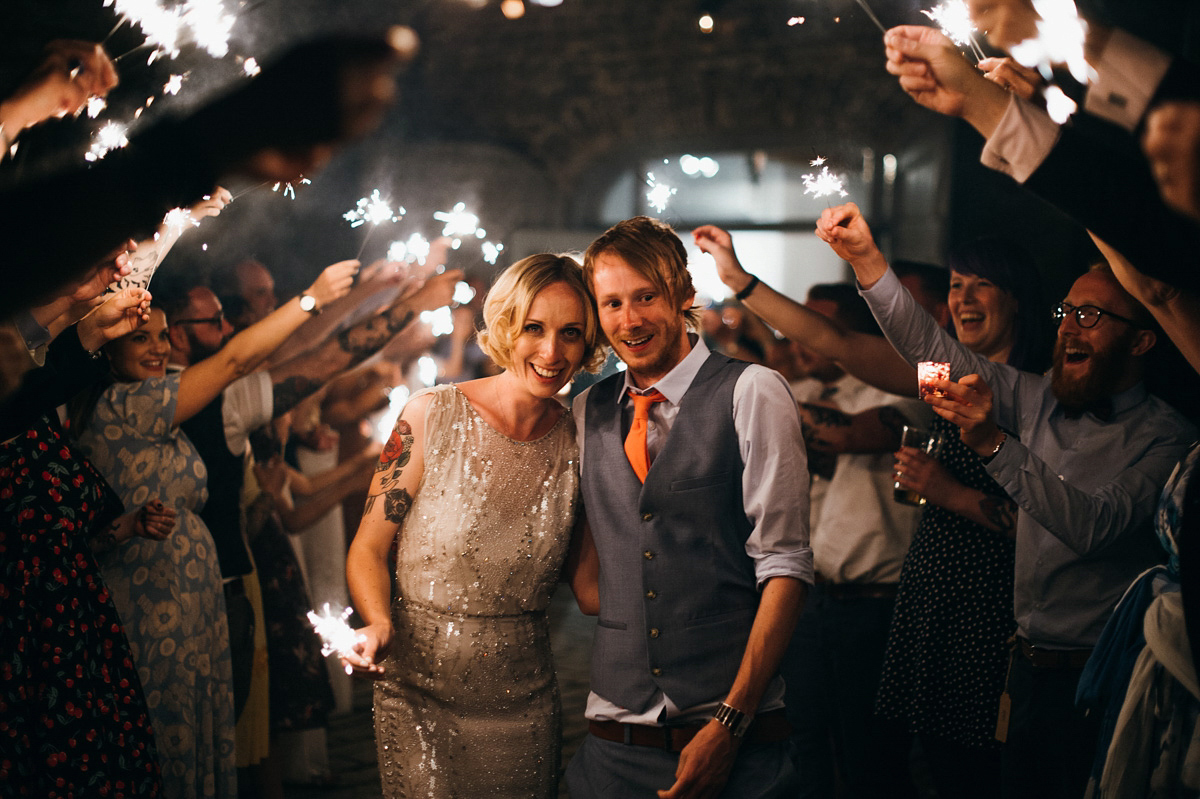 Thank you so much to the bride and groom Sarah and Lee and to photographer Simon Biffen for the superb images of such a gorgeous day.
Love Caoimhe xx