Every now and again, a wedding comes along that is so original and unique that it genuinely stops me in my tracks and reminds me of everything that is important in this crazy, amazing, emotional journey we call wedding planning; marriage. The beautiful union of Rachel, who works in early years education, and Jon, a software product manager, took place by the sea on 21st June 2015 at The Old Lighthouse in Dungeness, not far from where Jon grew up in Deal on the East Kent coast. Their little boy, Seb, played a very important role in their intimate, stripped back day.
"It was important to us that the day was for all three of us in our little family and Dungeness is a place we all love; beautiful, surreal, and unique, it's Britain's only desert! It has the sea, it's wild and remote and a bit bleak. It has little trains and level crossings (Sebastian is a big fan of both). We rented a cottage close by, just for the three of us, which made a nice base for everyone on the day and also meant we had a beautiful few days just for the three of us."
Photography by Emma Case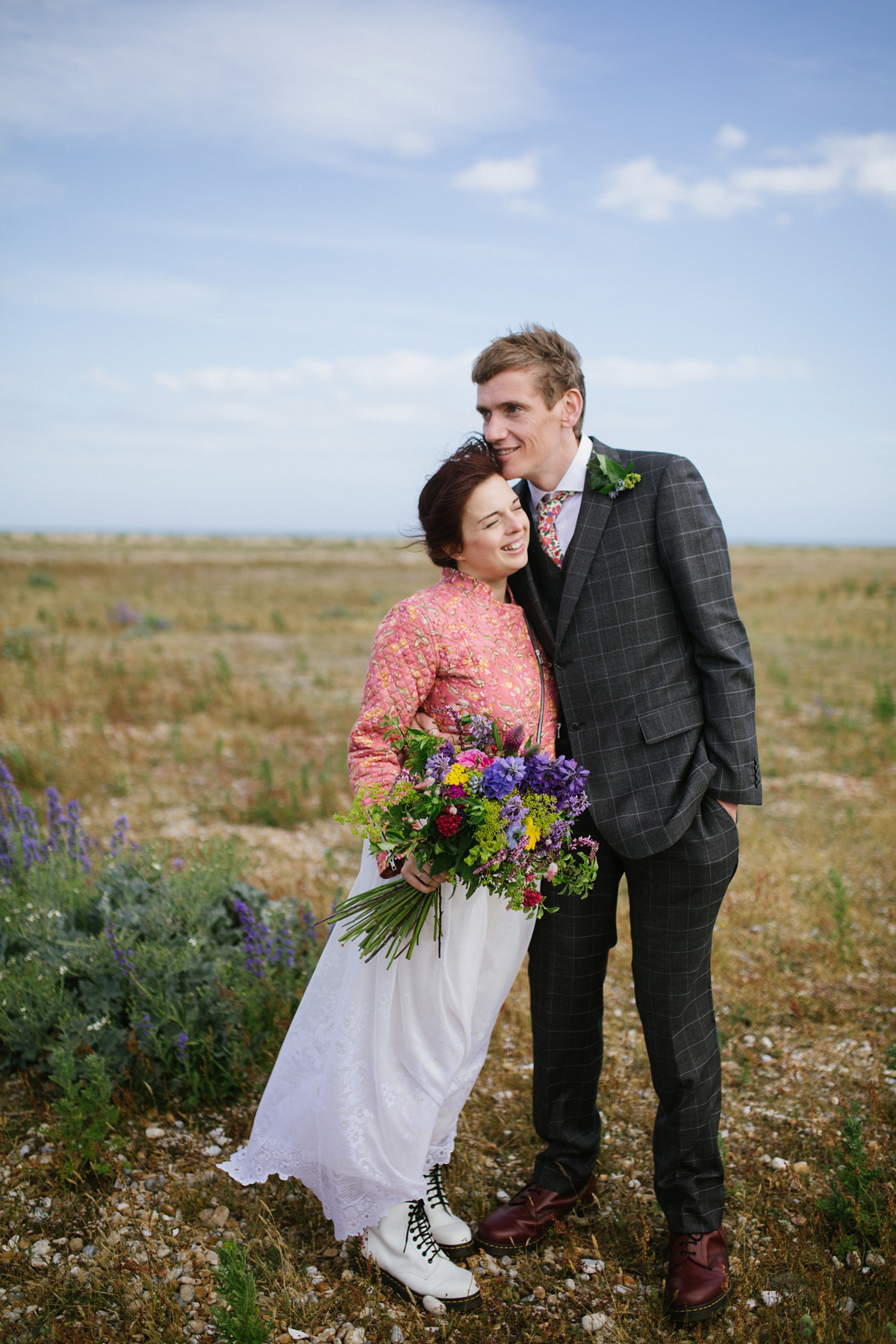 I simply cannot think of anyone better to capture the raw beauty and emotion of this day than the unbelievably talented Emma Case Photography. Emma has captured some of my most favourite weddings ever to grace the pages of our blog – take a look, you'll quickly see why.
"Photography was an area where we really looked for the best. Our wedding was not particularly conventional and the location is unusual and amazing. We wanted people who would understand our family and our day, and make the best of the setting. Emma and Pete were wonderful. It was like having an extra pair of close friends there. Their shots of our wedding, and of our family and friends, were amazing. They made the day even better.""The day was intended to be personal and simple, and certainly not commercial. Just something for close family and our very closest friends to share. We had 
a bigger party for a wider group of friends the following weekend, near our (then) home in Reading."
"We used Blooming Green Flowers in Kent. They were perfect for us: a local supplier who specialise in local, seasonal flowers."
"We described our wedding and venue and our only request was 'colourful'. They did such a good job of choosing flowers to suit the event that one Dungeness local was concerned we might have taken the flowers from the shingle there."
Rachel wore a glorious gown made by Jada Dreaming, which she purchased via Etsy, comprised entirely of reclaimed materials. Our lovely bride decided to forgo a veil due to the windy nature of Dungeness and rocked a pair of white Dr. Martens boots, which coped oh-so-coolly with the rugged terrain. A vintage pearl comb, also found on Etsy, completed Rachel's look.
"A friend who knows me well, sent me a link to the Jada Dreaming dresses on Pinterest. I never saw myself as a swishy skirt and lace kind of girl, but I instantly fell in love. I loved the fact it was original, a one off and, because it was made of recycled fabrics, ethical too."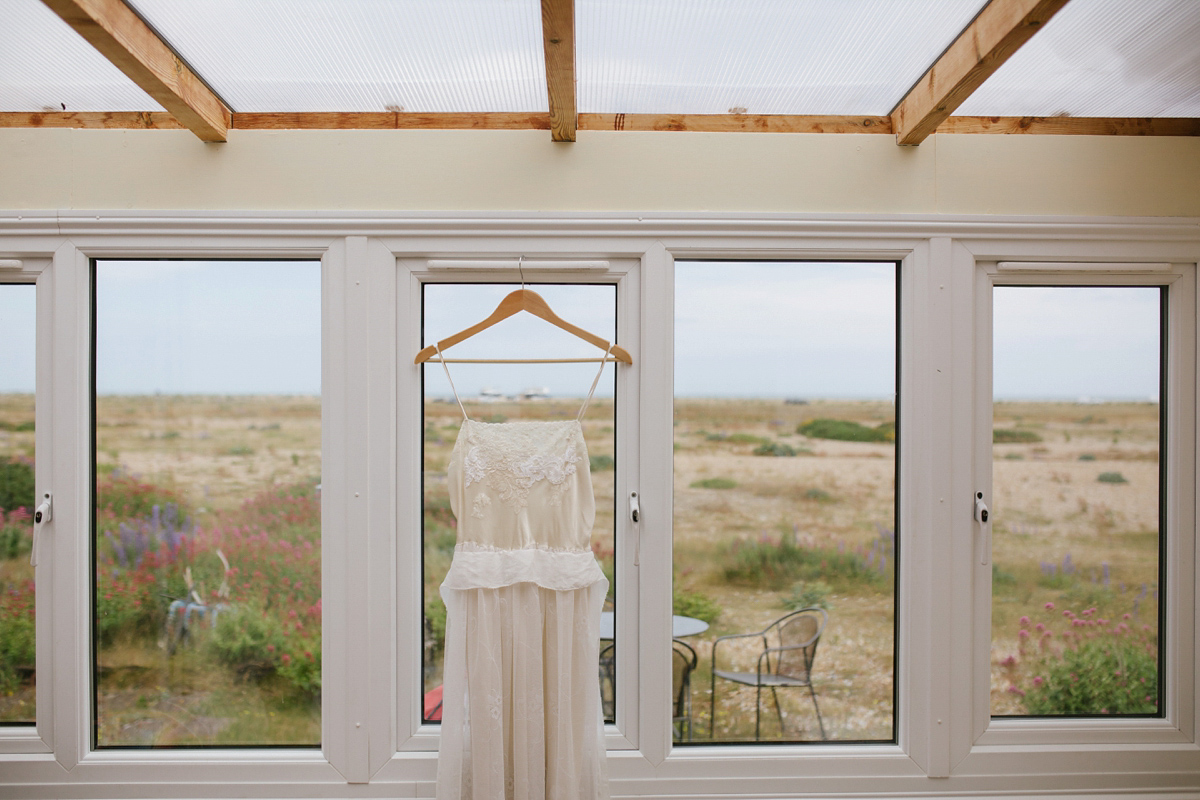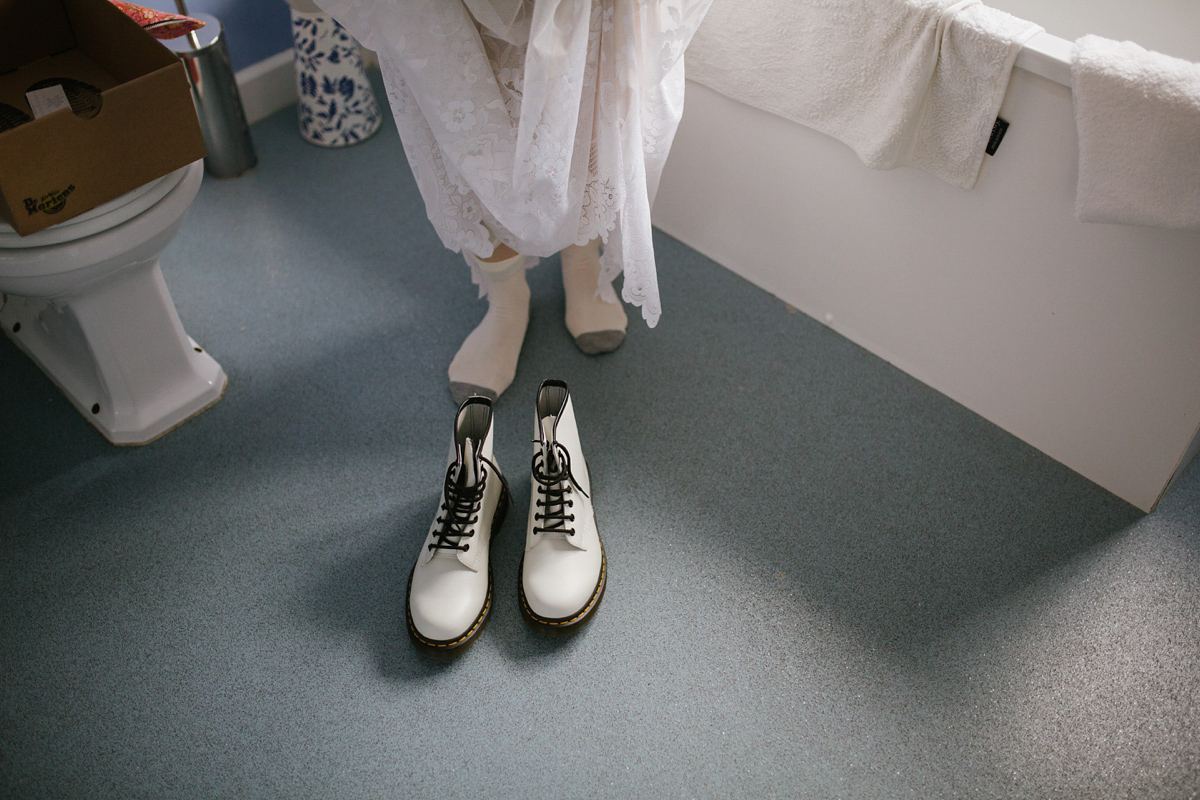 Rachel did her own make-up and decided to sweep her hair up at the last minute to cope with the wind. I'm lusting after her pretty floral biker jacket from East, purchased the day before the couple left for Dungeness, and so treasured by our bride on the day.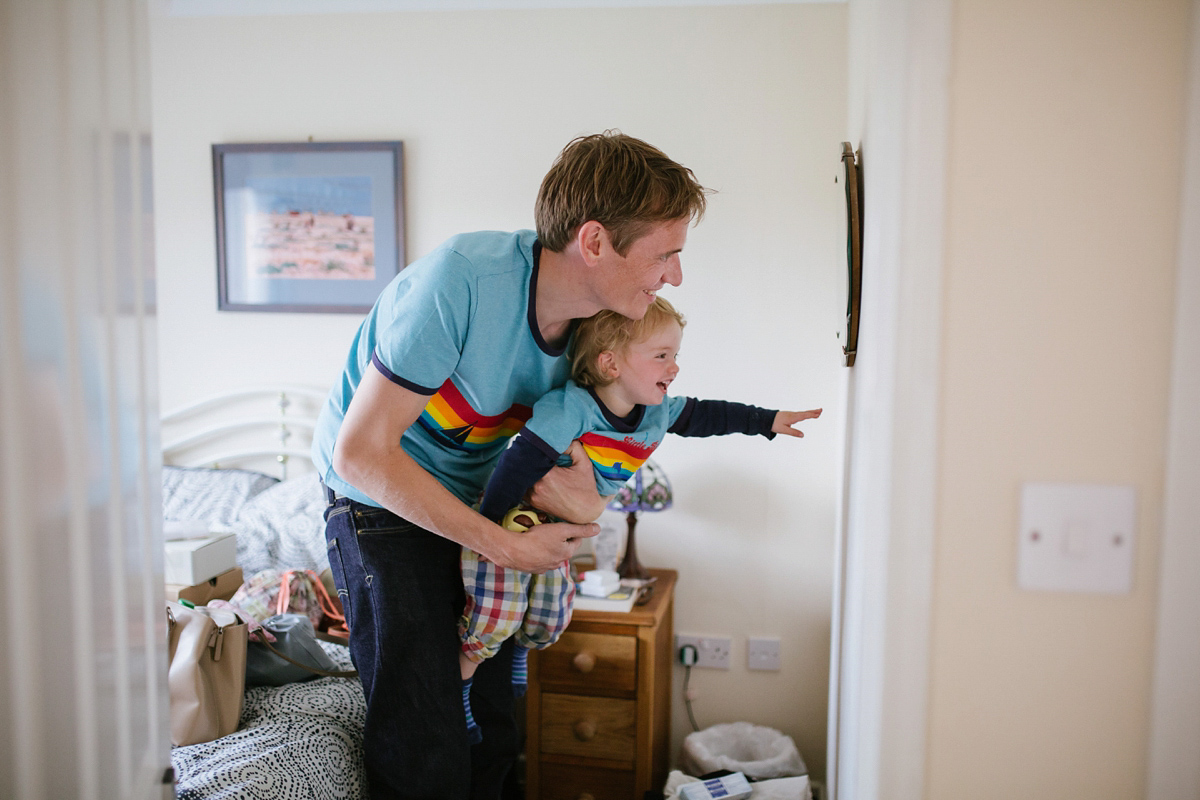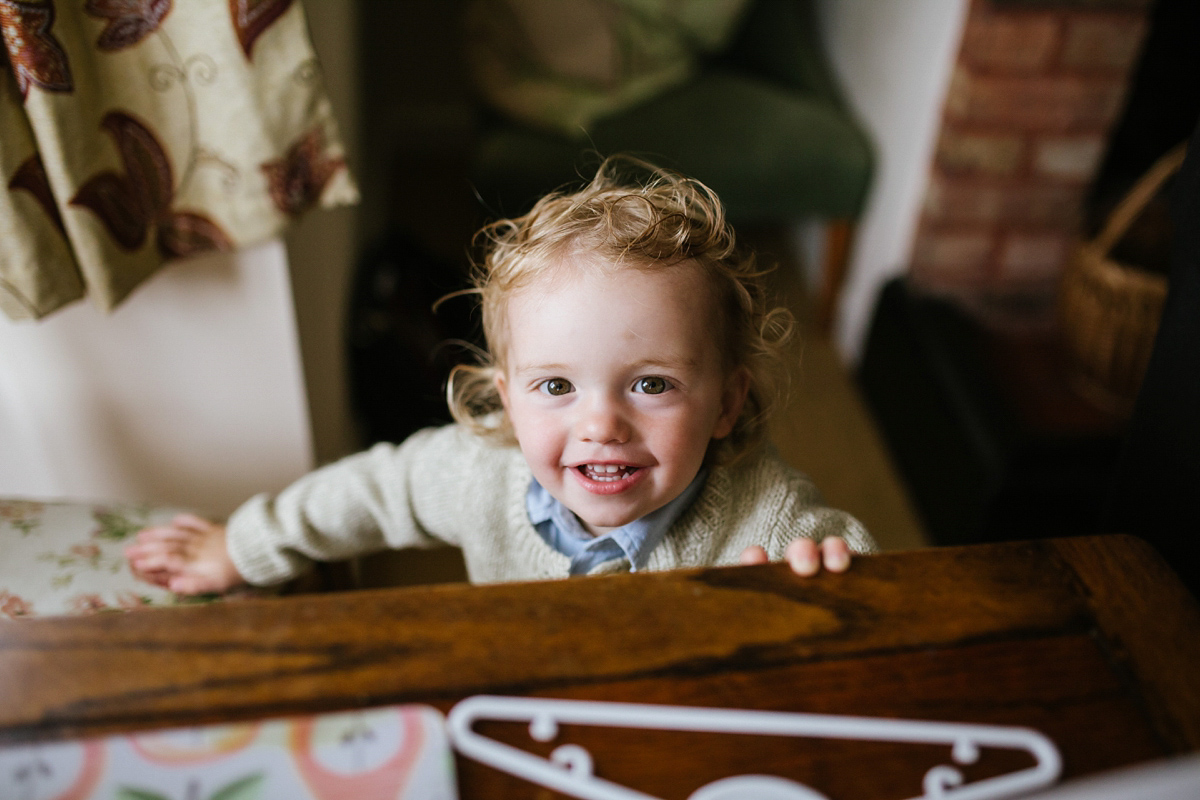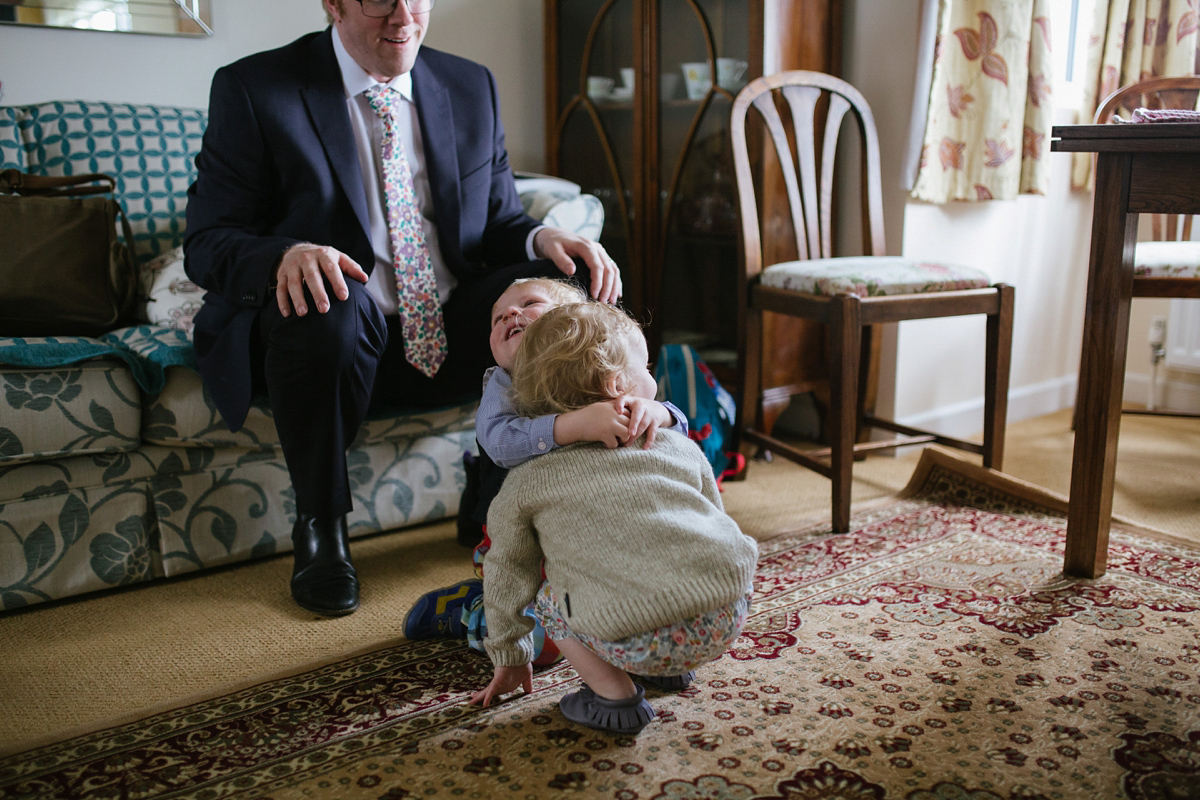 Rachel and Jon exchanged rings from Rust Jewellery, a small artisan company that makes the most charming hand-crafted jewellery. Rachel's engagement ring also came from the same jeweller.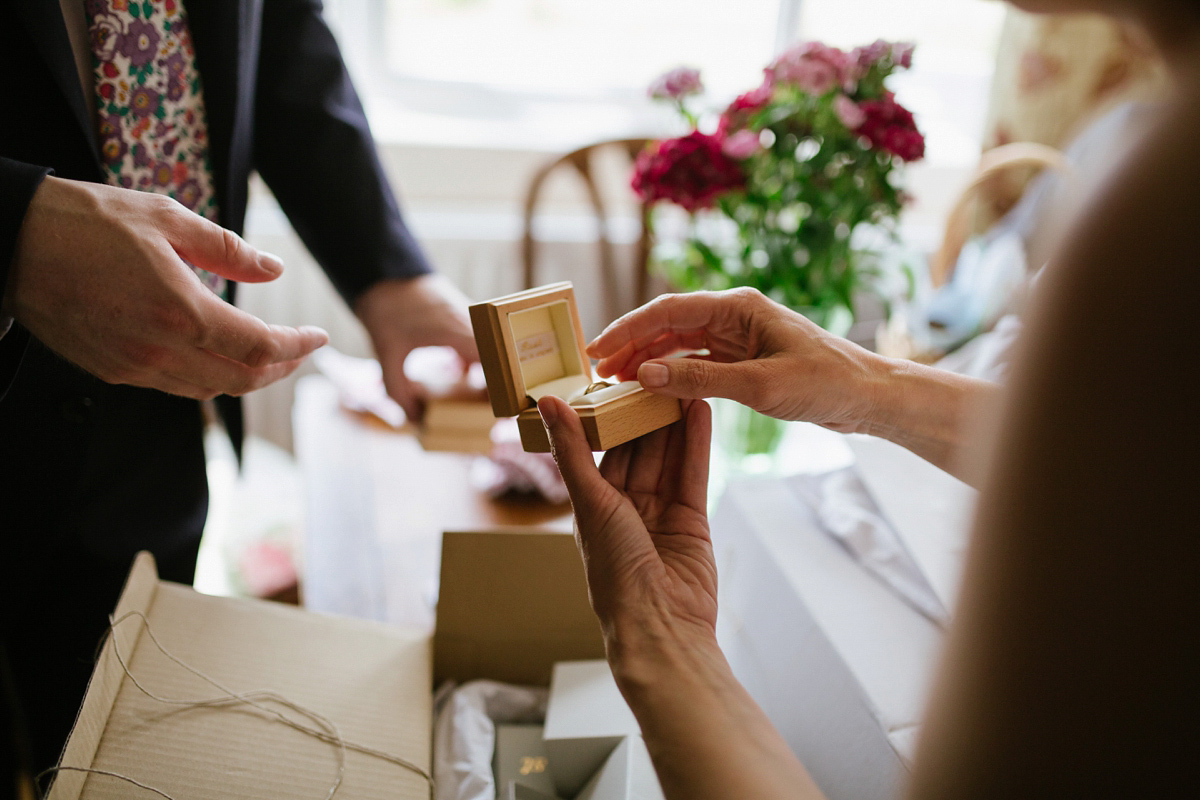 "We didn't have officially have bridesmaids. Our close friends Ian and Lucy were our witnesses and there all day for us. Ian wore a Liberty 'Betsy' print tie, by Catkin Jane on Etsy, that matched Jon's."
"He wore a grey suit with a light check from the Jasper Conran range at Debenhams; it just seemed to work nicely for a simple wedding. He also wore cherry red Dr. Martens boots."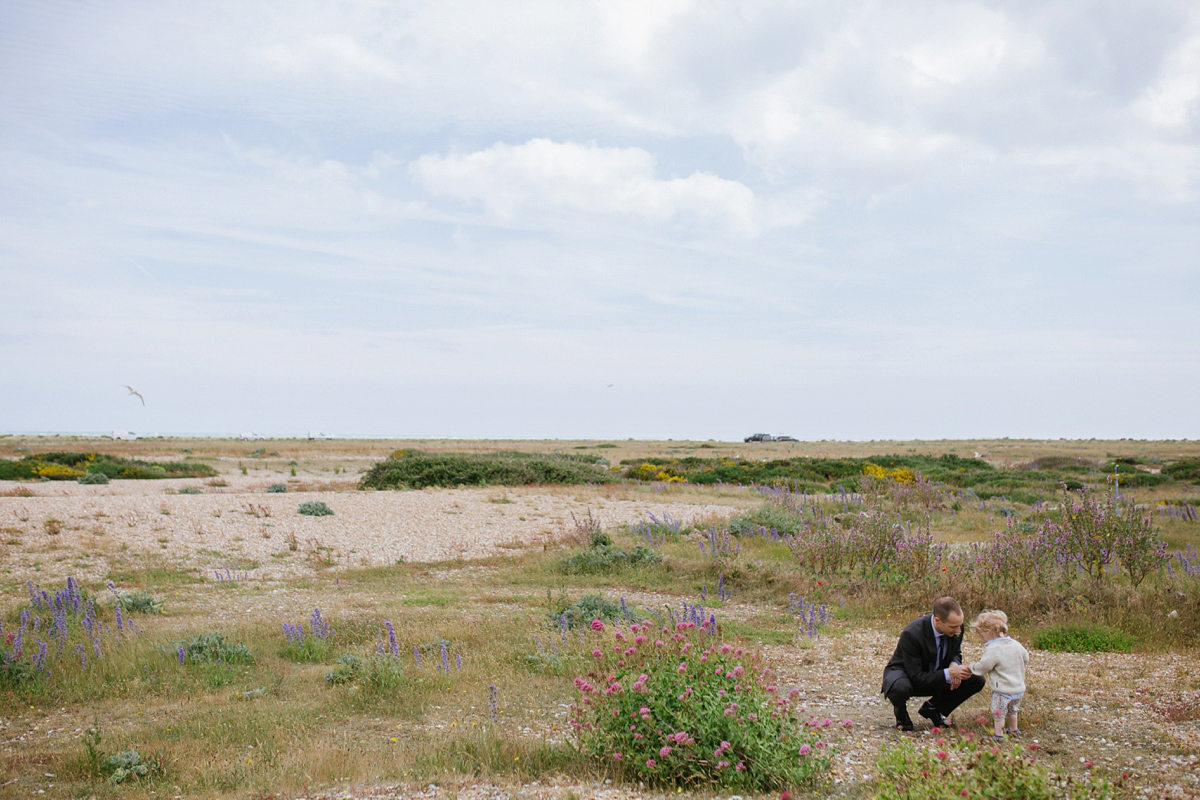 Little cutie Seb played the role of 'flower boy', with his own posy. At the tender age of one, his mummy and daddy wanted his outfit to be as practical and comfortable as possible. He wore Liberty 'Betsy' print shorts by Coco & Wolf, a blue linen shirt found in a charity shop, and a Polarn O. Pyret cardigan. His gorgeous moccasin shoes were from Amy & Ivor.
"We all walked from the cottage to the lighthouse and Seb rode in his buggy. We've been together a long time and have had a baby, so we decided the time for being 'given away' had probably passed for us. There wasn't really an aisle to walk down at the lighthouse, so our guests made their way in to 'Baby I Love You' by The Ramones."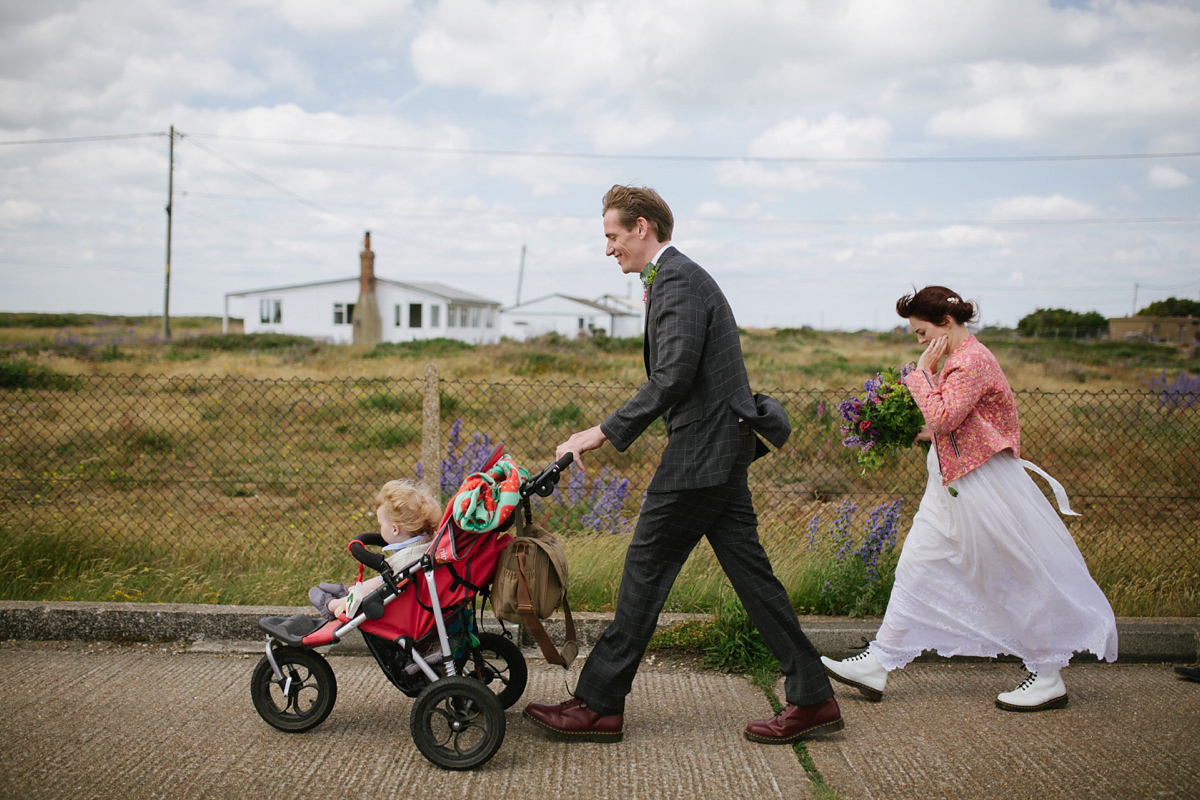 "We met watching Fulham Football Club play. Our son Sebastian was born in 2013 and we got engaged the following April, at the source of the Thames in Gloucestershire. The wedding was fourteen months later on midsummer's day."
"The Thames was a connection for us; I was born in London and Jon spent a lot of his adult life living close to the river in Reading, which is where we lived at the time of the wedding (we have since moved to the seaside!)"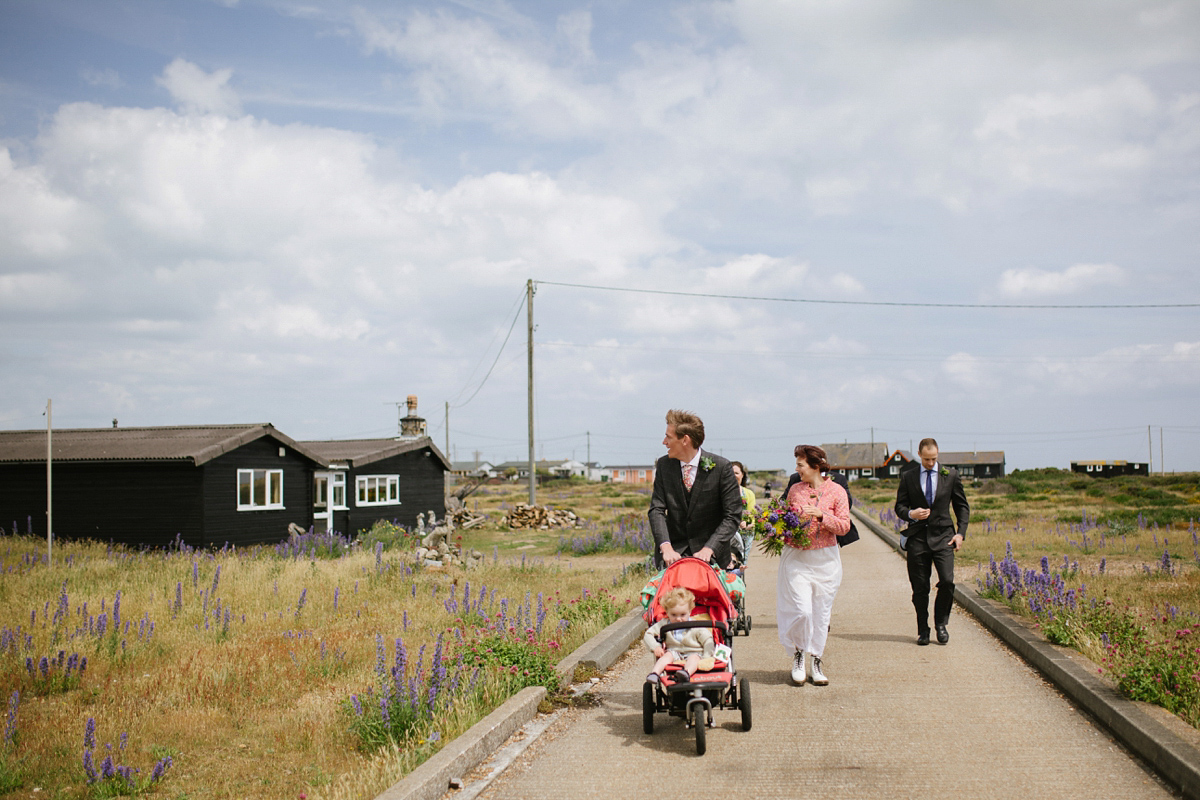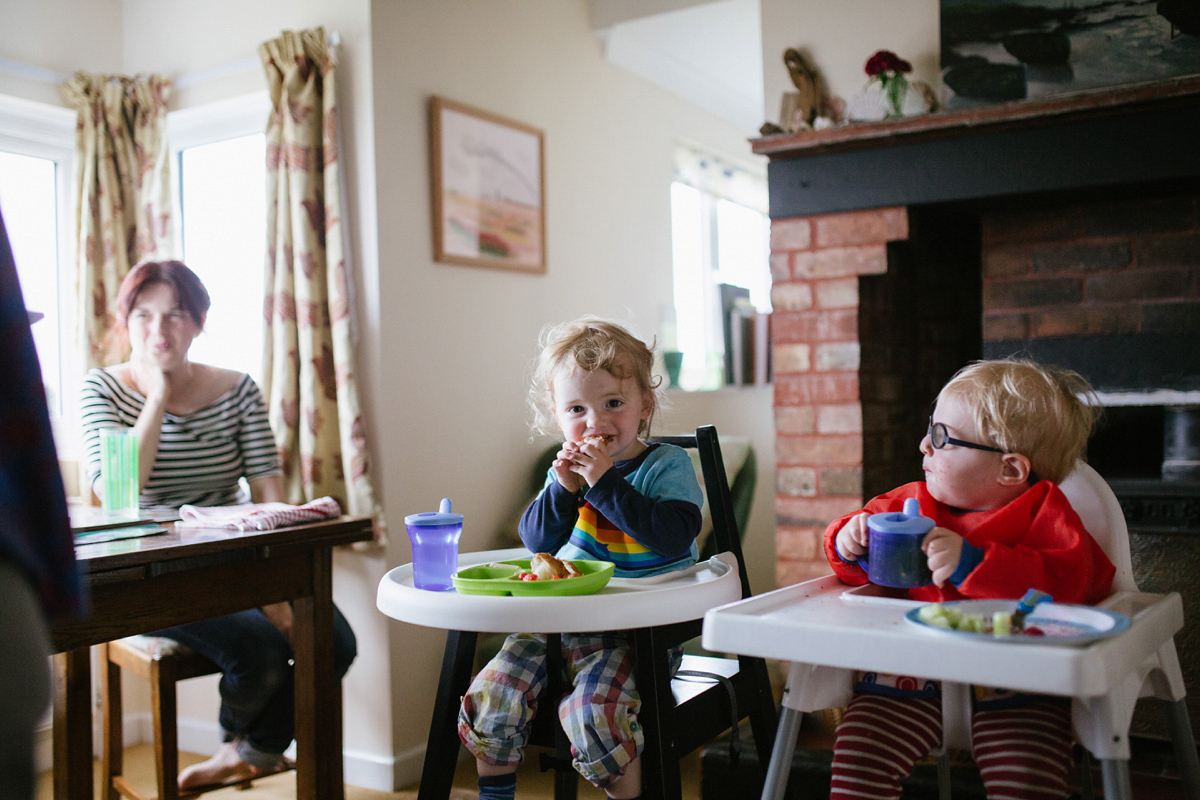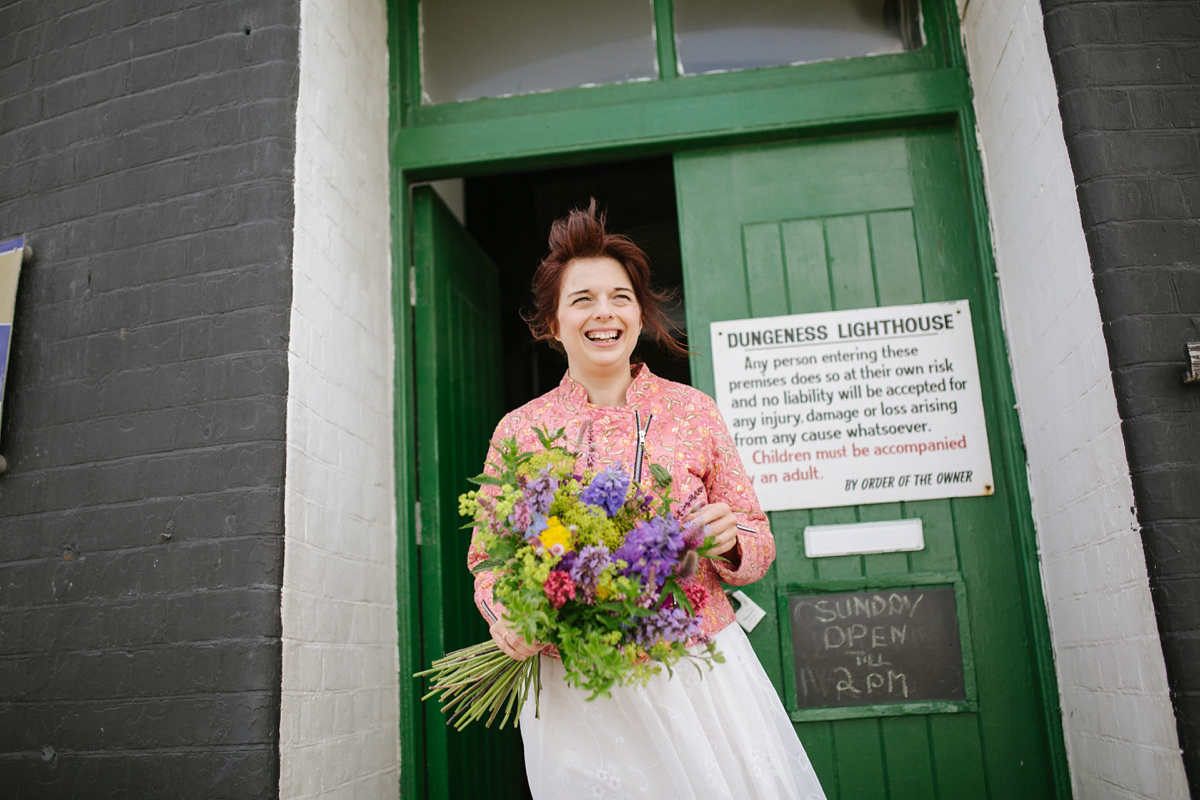 Rachel's brother, Chris, kindly read a passage from Douglas Adams's 'So Long and Thanks For All The Fish' –  fun and quirky, a lovely bit of writing which the couple felt was right for the day.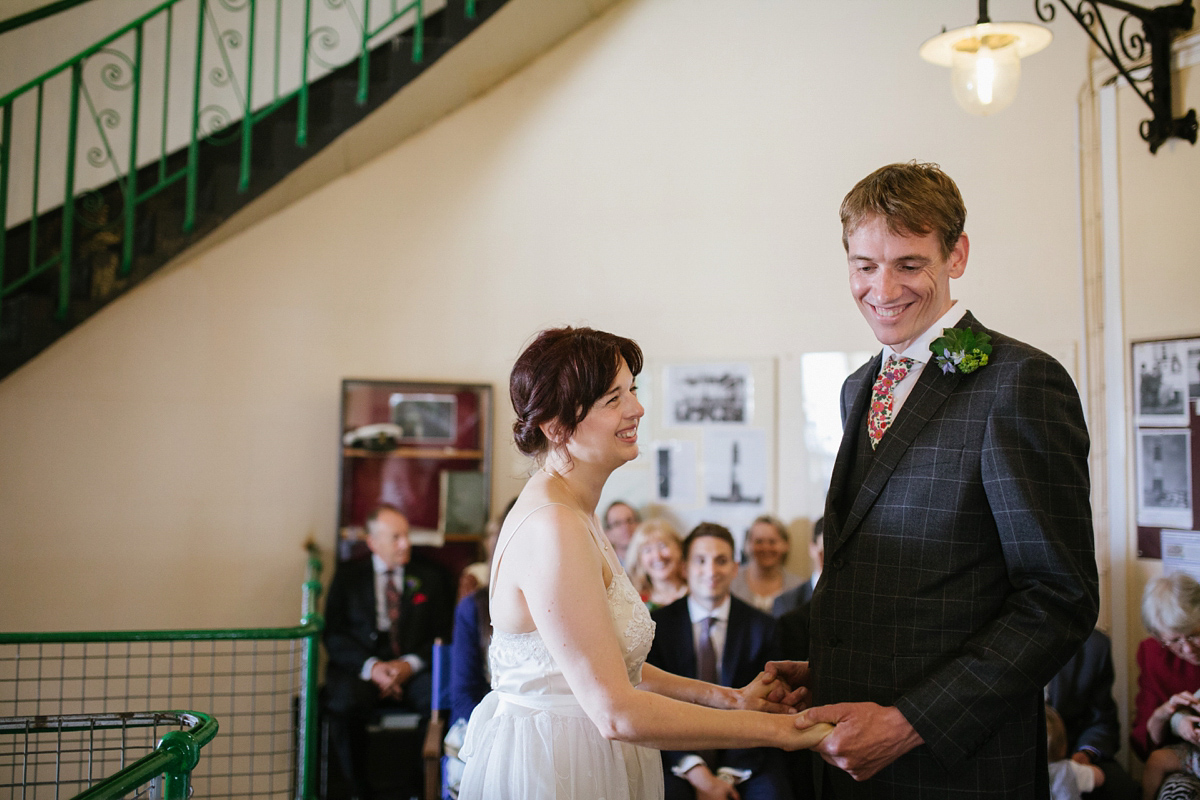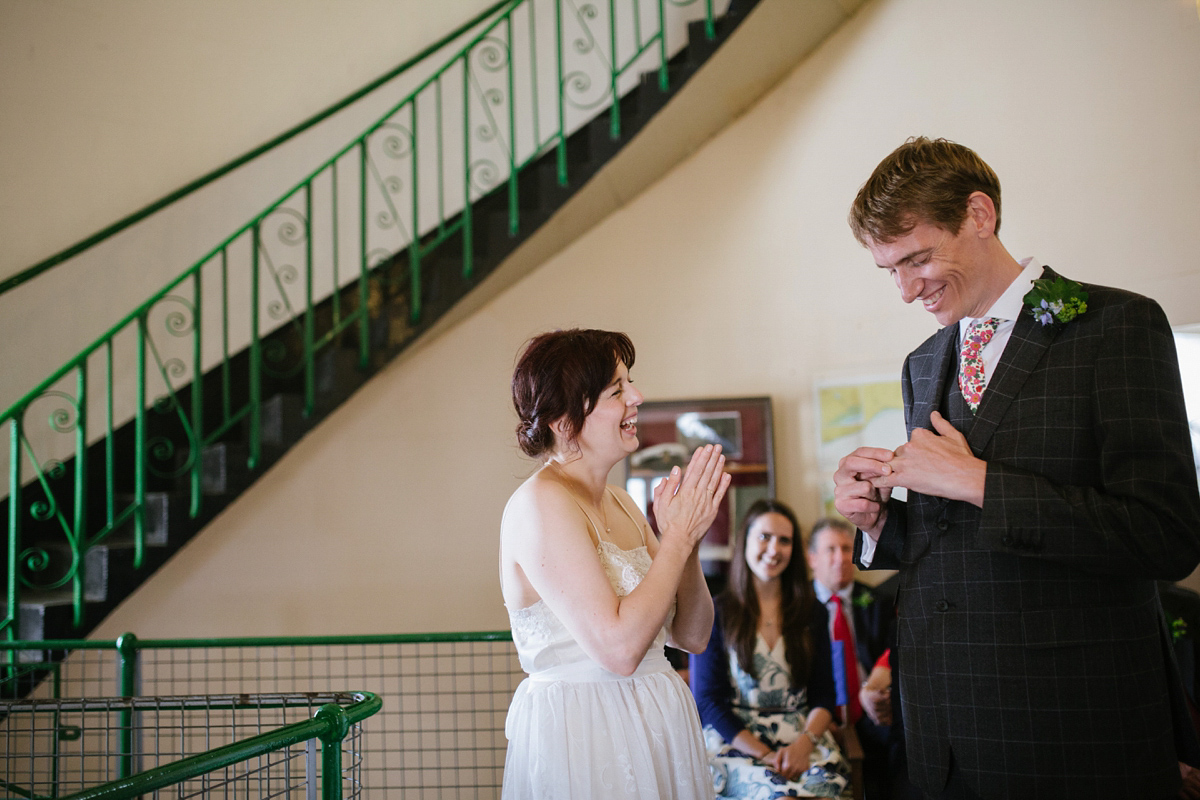 We so love it when we get a little insight from the groom into his favourite moment of the day, and Jon's recollection is such a sweet and touching account of his love for his beautiful wife and son.
"It's hard to call a favourite moment as the whole day was wonderful,  but the moment I looked into Rachel's eyes and knew I was now married to my best friend and the wonderful mother of my beautiful boy…nothing is quite as good as that."
"Exiting and walking down the lighthouse's spiral staircase to Rudimental's 'Feel the Love' was a highlight of the day. The sight of our photographer Emma pumping her fists to it at the bottom of the stairs still makes us laugh."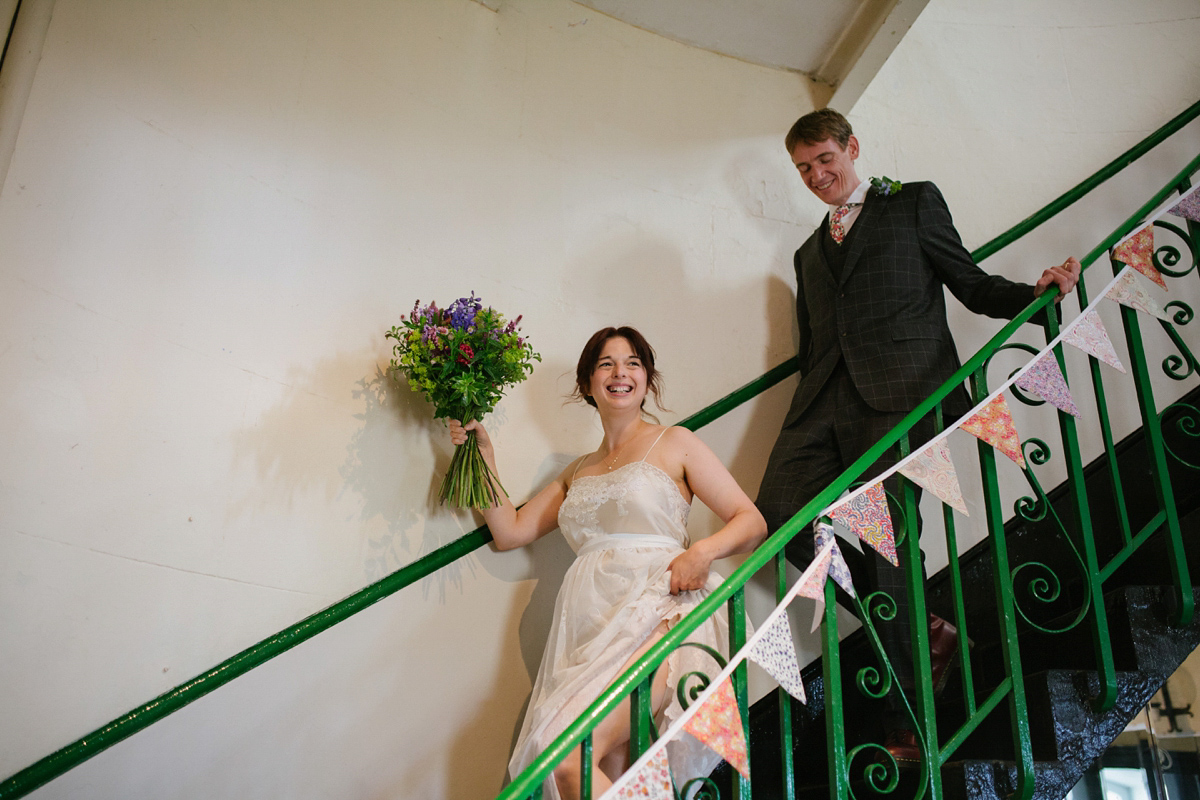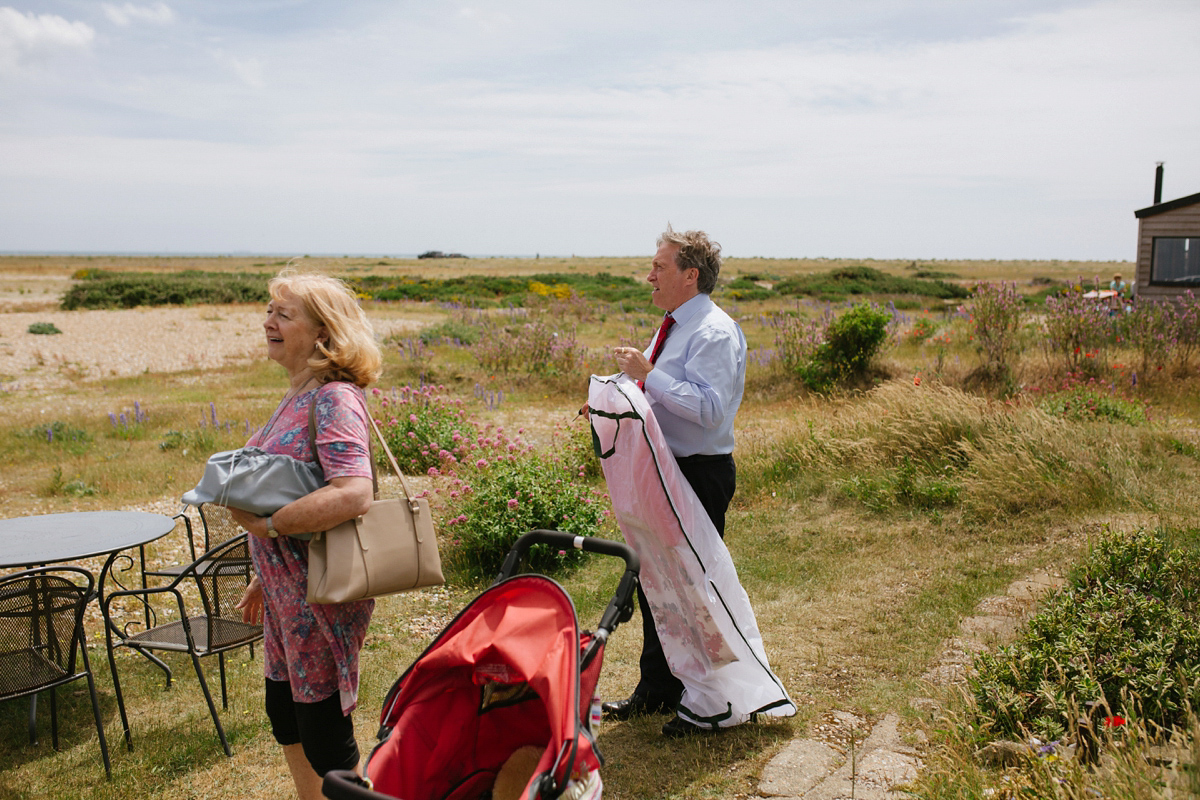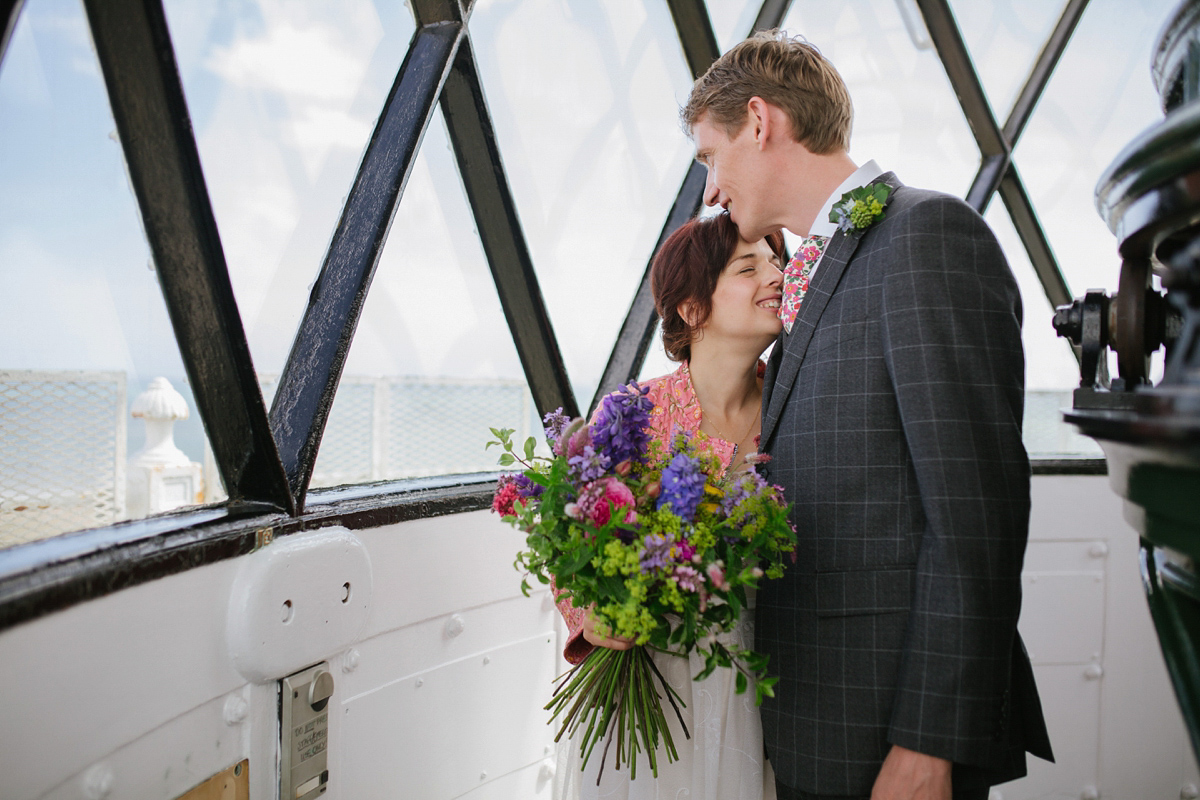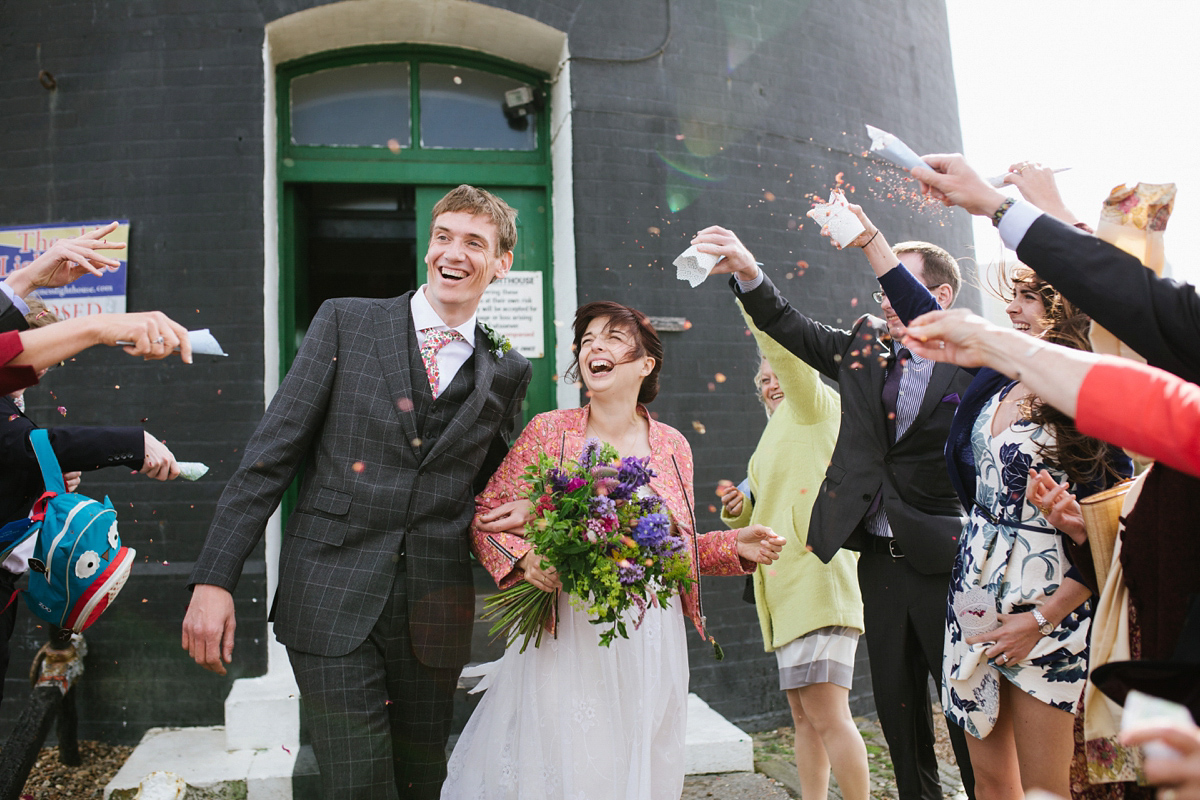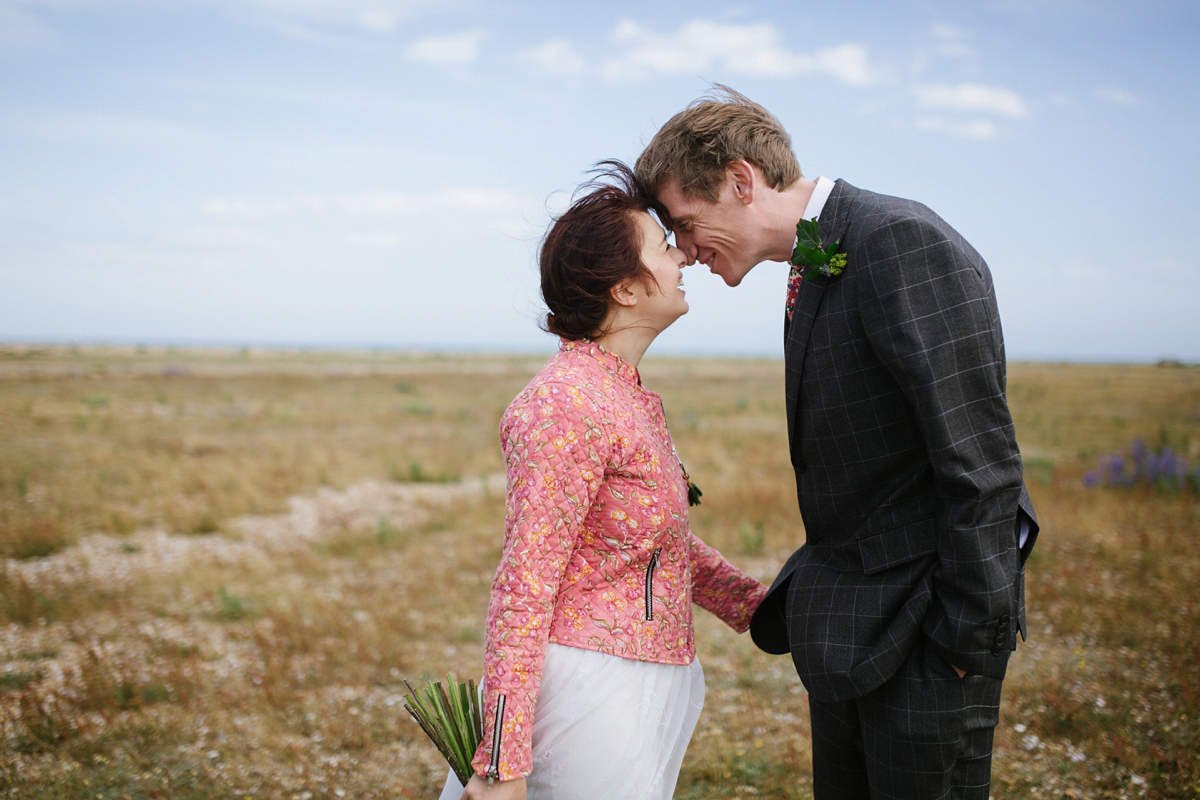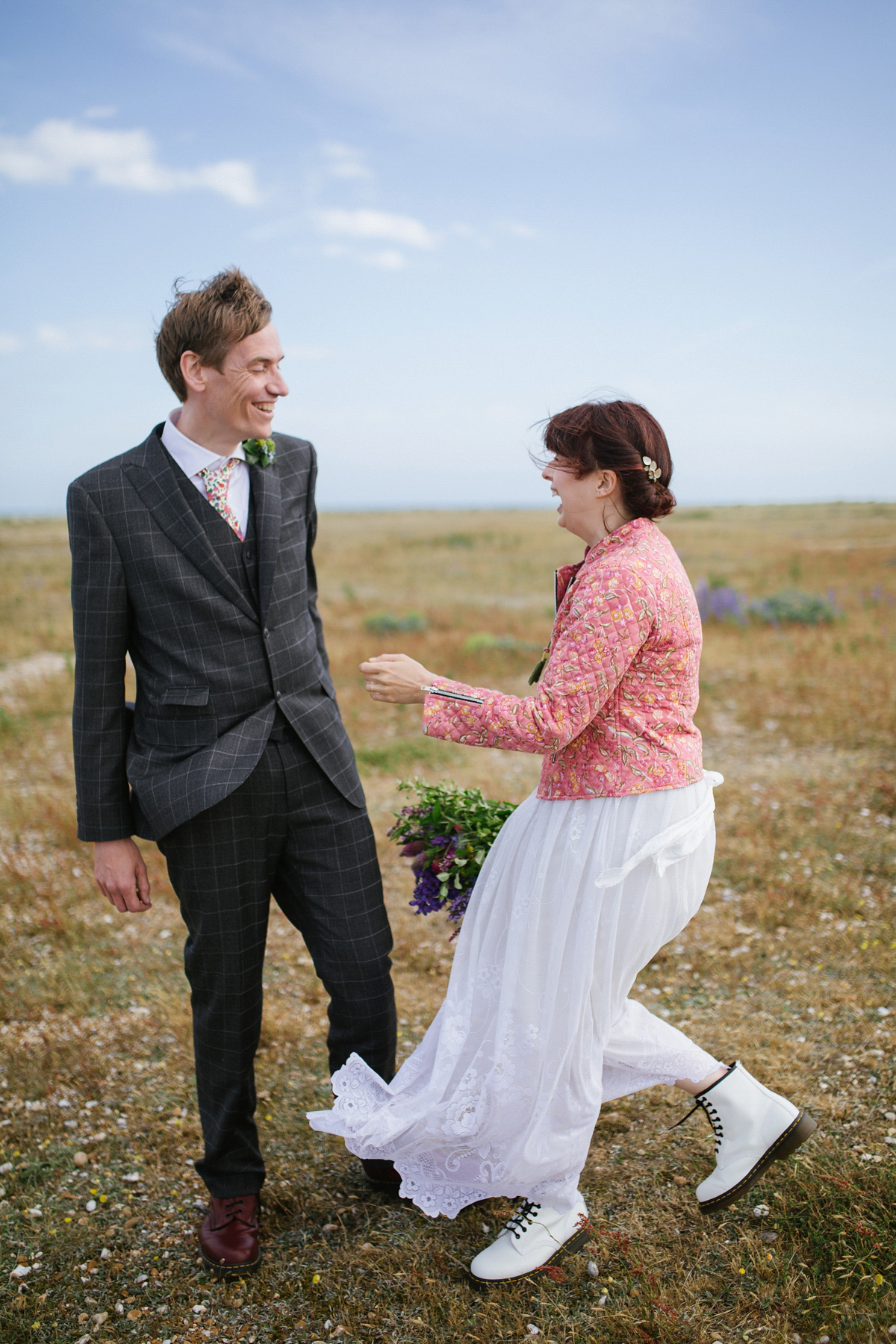 After their intimate ceremony, the family of three journeyed to The Pilot Inn in their trusty old Ford Freda camper van to enjoy a wedding breakfast of fish and chips with their guests. At their party the following week, the newlyweds asked their guests not to buy them gifts, but instead to bring food. Apparently the resulting buffet was superb!
"There were some lovely funny moments during the day. The wind was blowing so hard across Dungeness that Seb's buggy didn't need pushing back to the cottage – it just rolled by itself ahead of us. Honestly, we stuck to our guns and believed in how, why and where we were getting married. It was a little unconventional, but we wouldn't change a thing."
"We made little activity bags out of hessian tote bags for the children attending. I appliquéd on their initials using Liberty print fabric and with the help of Sandra, Jon's mum, I made Liberty print bunting from reclaimed materials that went up the lighthouse stairs."
"Otherwise we felt the venue really spoke for itself and didn't need any decorating. Champagne was provided by Sandra and David, Jon's parents."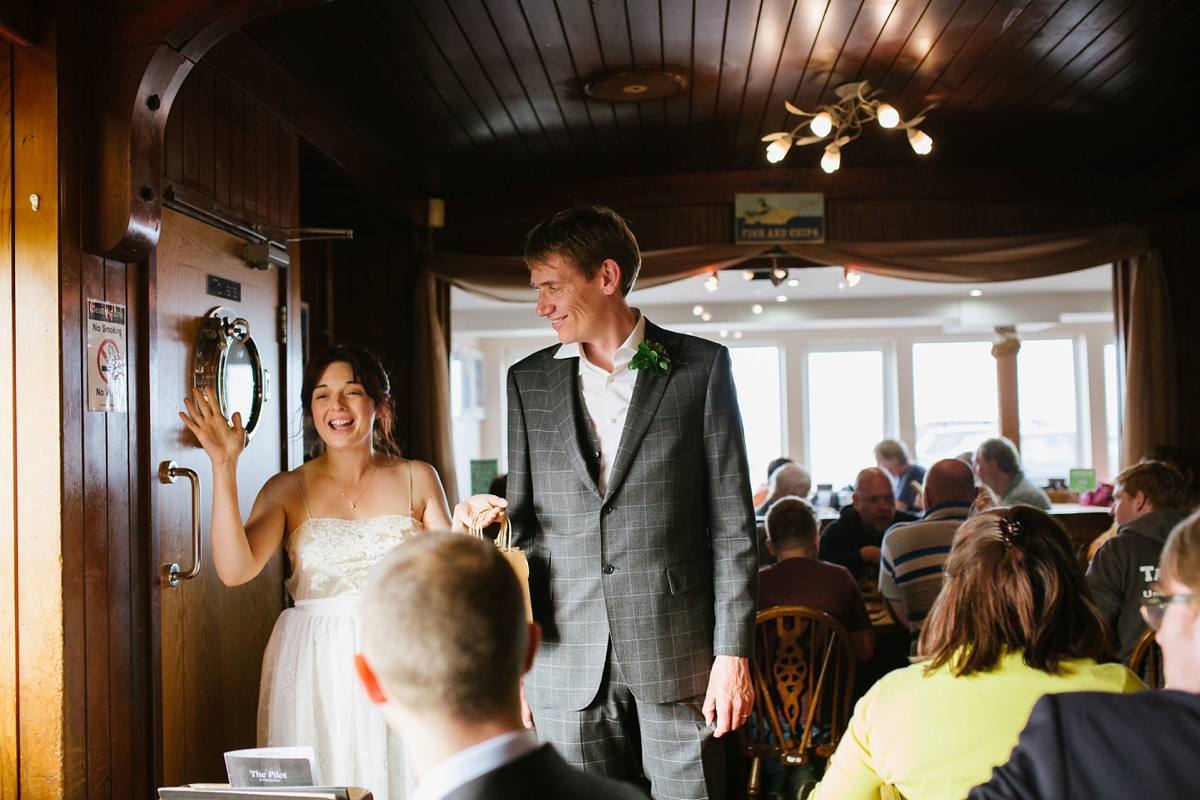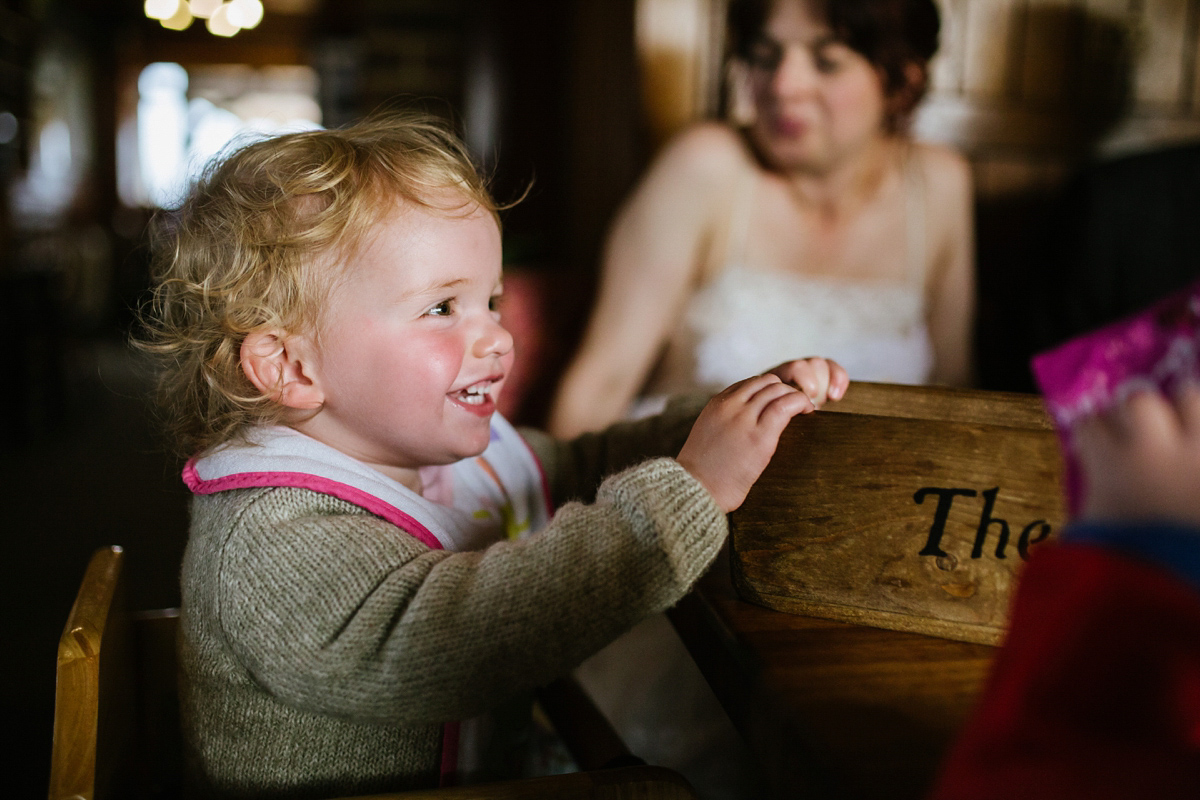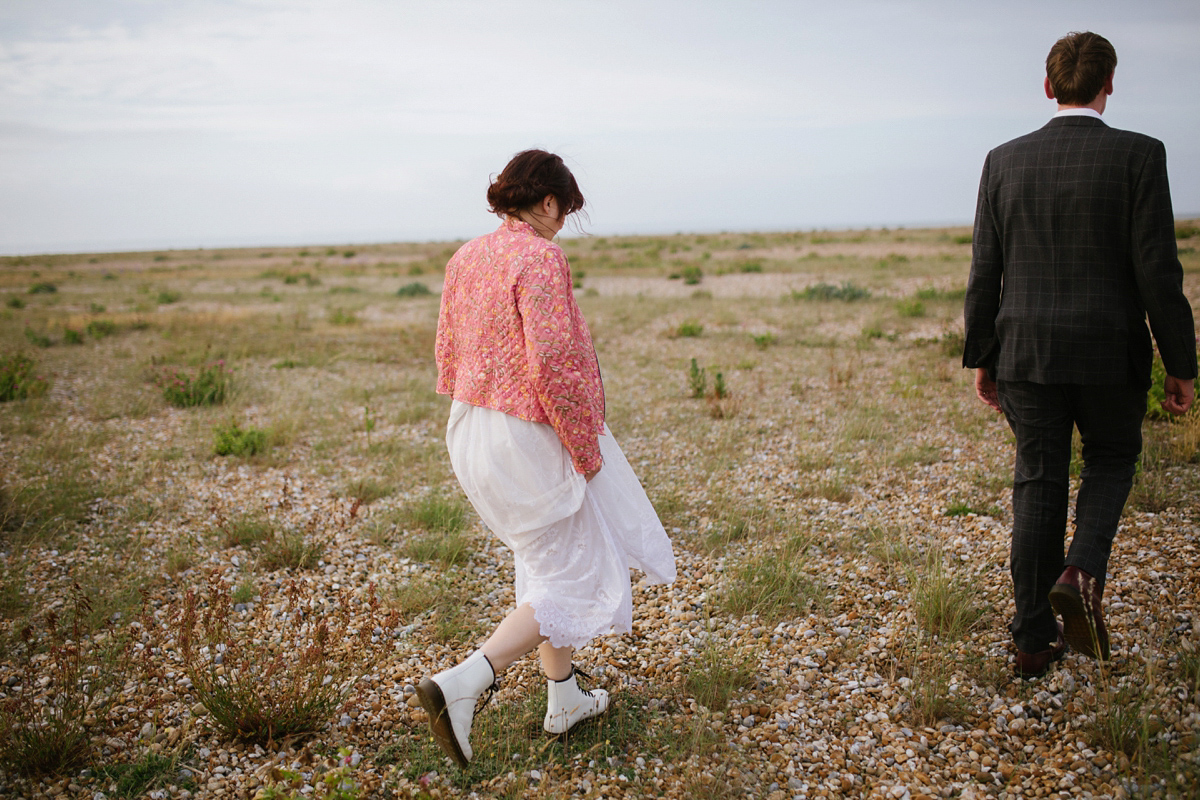 Words of Wedded Wisdom
"There's not a 'right way' to do weddings. Big or small, fancy or simple –  just do something that's you."
Short, sweet and totally totally true. I can't tell you how grateful we are to the lovely Rachel, Jon and Seb for allowing us to share their beautifully intimate day. I've become quite taken with the idea of a lighthouse wedding, so was delighted to discover that we have quite the lovely little collection in our fabulous archives.
That just leaves me to say a huge thank you to the wonderful Emma Case Photography for these stunning images. Just a tiny girl crush going on over here…
Em x