I do love a wedding which brings together all the favourite things of the bride and groom- it makes it so very personal and today's lovely wedding is certainly that. Meet Judith, a project manager at Victim Support and Aidan, a software developer, who married on the 3rd September 2016 at All Saints Church, Newchurch, followed by a reception at Northcourt Manor, Isle of Wight. Judith wore the beautiful 'Emme' by the fabulous Grace Loves Lace (with rock n roll belt) – a purchase she made from  a designer trunk show.
"I've followed Grace Loves Lace on Instagram for a number of years and dreamed of wearing one of their beautiful dresses on my wedding day.  They announced their first London Trunk Show scheduled for August 2015 and I knew the 'Emme' was for me; trying it on just solidified this and my teary maid of honour also helped.  I loved how simple it was and how I felt totally comfortable in it."
Images by Abigail Steed Photography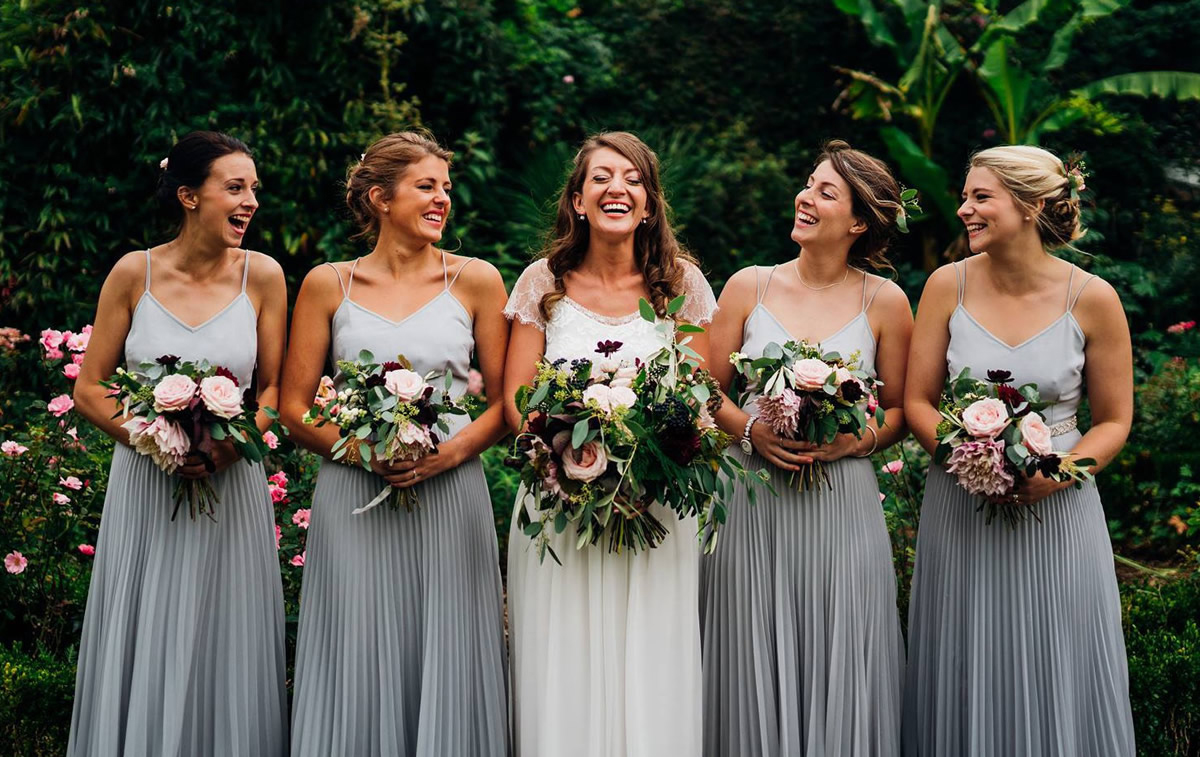 The bridesmaids looked lovely in pale grey, pleated dresses from ASOS, worn with their own shoes and fresh flowers in their hair, while the flower girl looked gorgeous in a dress from Debenhams– a miniature version of Judith's own gown.
"I'm so incredibly lucky that one of my darling friends (and bridesmaid) just happens to be an exceptionally talented florist.  Naturally there was no question in my mind that Clare, of Bembridge Flower Shop, would create the beautiful displays for our wedding."Hair and make up were the work of Lynsey-Marie Lamothe of Isle of Wight Beauty.
"I couldn't have been happier.  Our morning was so relaxed and I really treasured that time with my best girls – Lynsey was very much a part of that."
"I had a very clear idea of what I wanted when it came to flowers; deep raspberry pinks, grey-green foliage (and a lot of it) and a wild and unstructured look.  Clare 100% brought my vision to life and totally exceeded my expectations."
"I might be biased but my bridal bouquet was the most beautiful I've ever seen – the black and café au lait dahlias were a particular highlight; just heaven.  In addition to the bridal flowers and table displays, Clare crafted a stunning display on the fireplace mantelpiece in the main hall.  It was a real masterpiece and truly made the room."
"I bought all of the bridesmaids silver earrings as a thank you gift from Honeybourne Jewellery.  Sophie is the most fantastic jeweller and a lovely person to boot."
"She made my engagement ring, our wedding rings and a darling friend also commissioned her for a beautiful wedding present for us."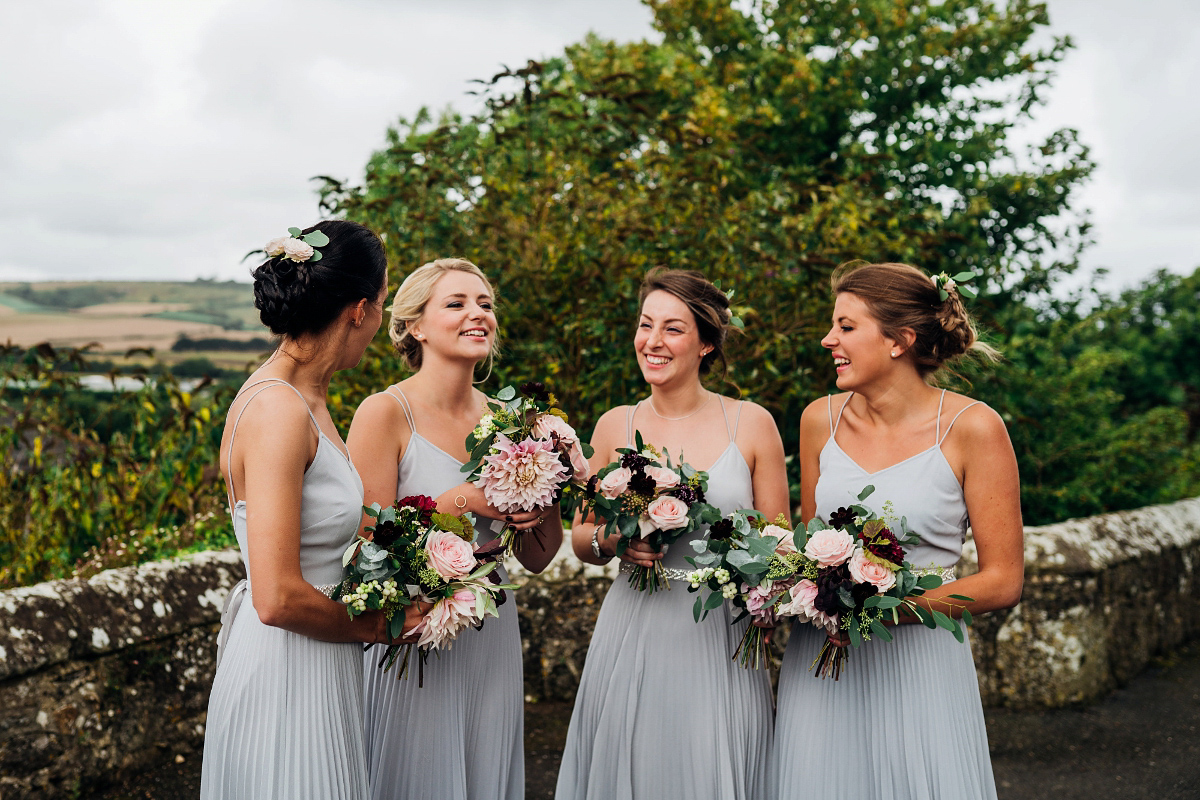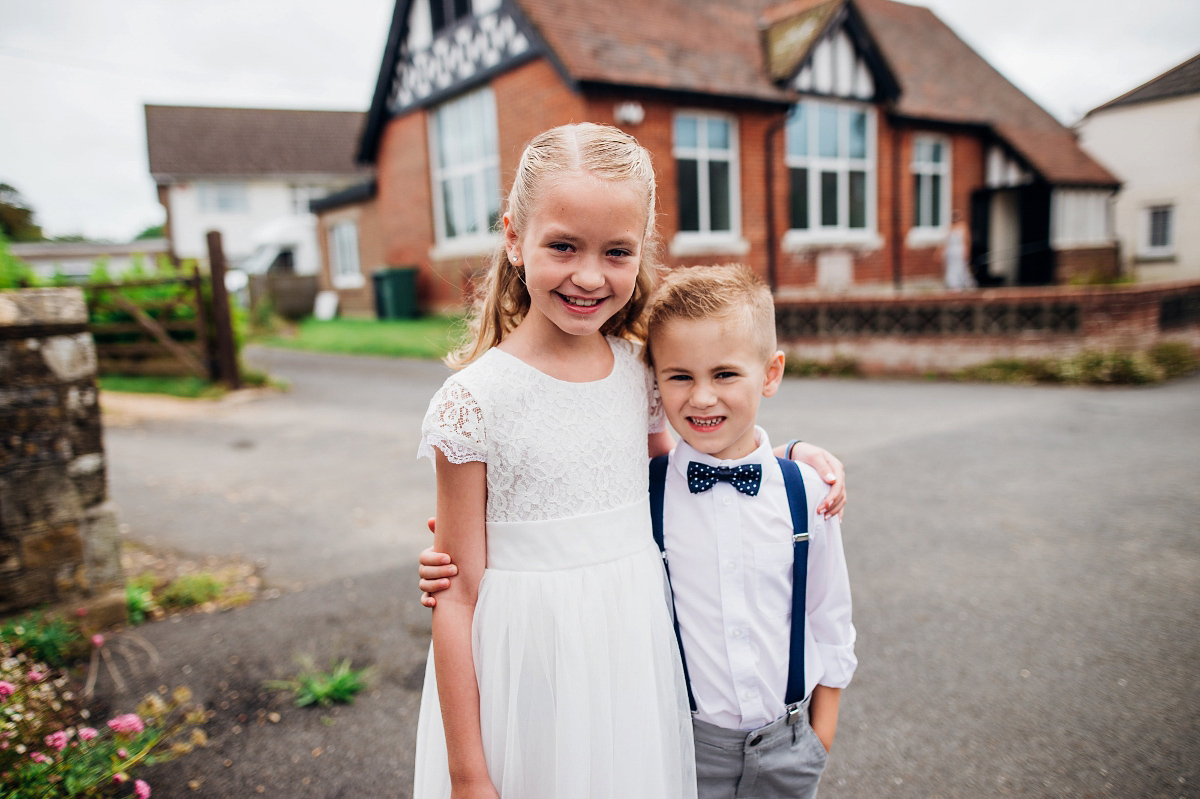 "Aidan and I grew up on the Isle of Wight before moving to London two years ago, so it was only natural to marry on our beloved island.  For the reception we chose Northcourt Manor, which is a hidden gem and only hosts a couple of weddings a year.  When I was a child I used to visit the gardens every summer and although it was the ideal location for us I never thought it would become reality."
Judith entered here ceremony to the sound of  'Comptine D'un Autre Ete' by Yann Tiersen, from the soundtrack of the film Amelie, a favourite film.  She and Aidan walked out to Jackie Wilson's '(Your love keeps lifting me) Higher and higher', played on the church organ.
"My dad walked with me down the aisle.  I wanted both my parents but the aisle simply wasn't wide enough.  As the only daughter, I think my Papa really enjoyed his moment in the spotlight."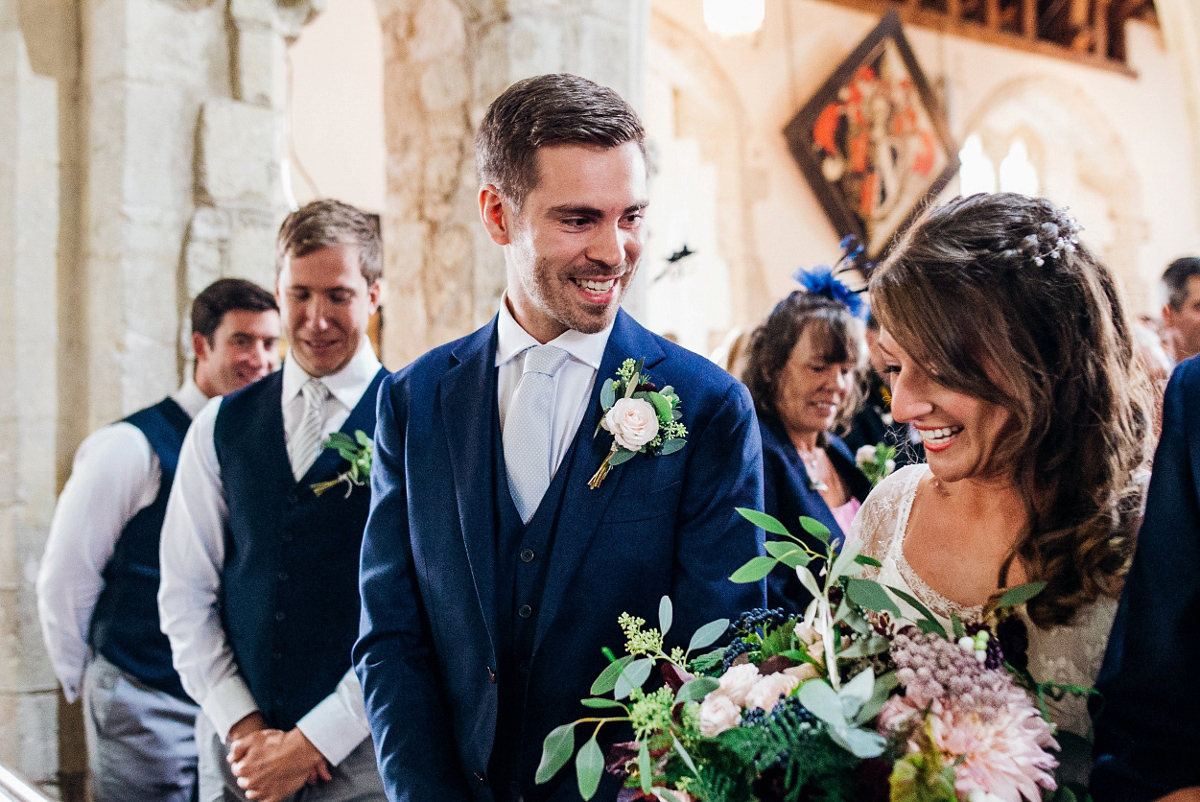 "We had four readings during our ceremony; Louis de Bernieres is my favourite author and I always knew I wanted a reading from 'Captain Corelli's Mandolin'.  It's such a perfect description of love and life – it's not too mushy: just practical and real and even more special when read by a darling friend.  We also picked Shakespeare's Sonnet 116 to be read by my Mama, a close friend read an extract from the book of Ruth, and finally when we were signing the register, one of my brothers read 'So it will be love' by Pablo Neruda."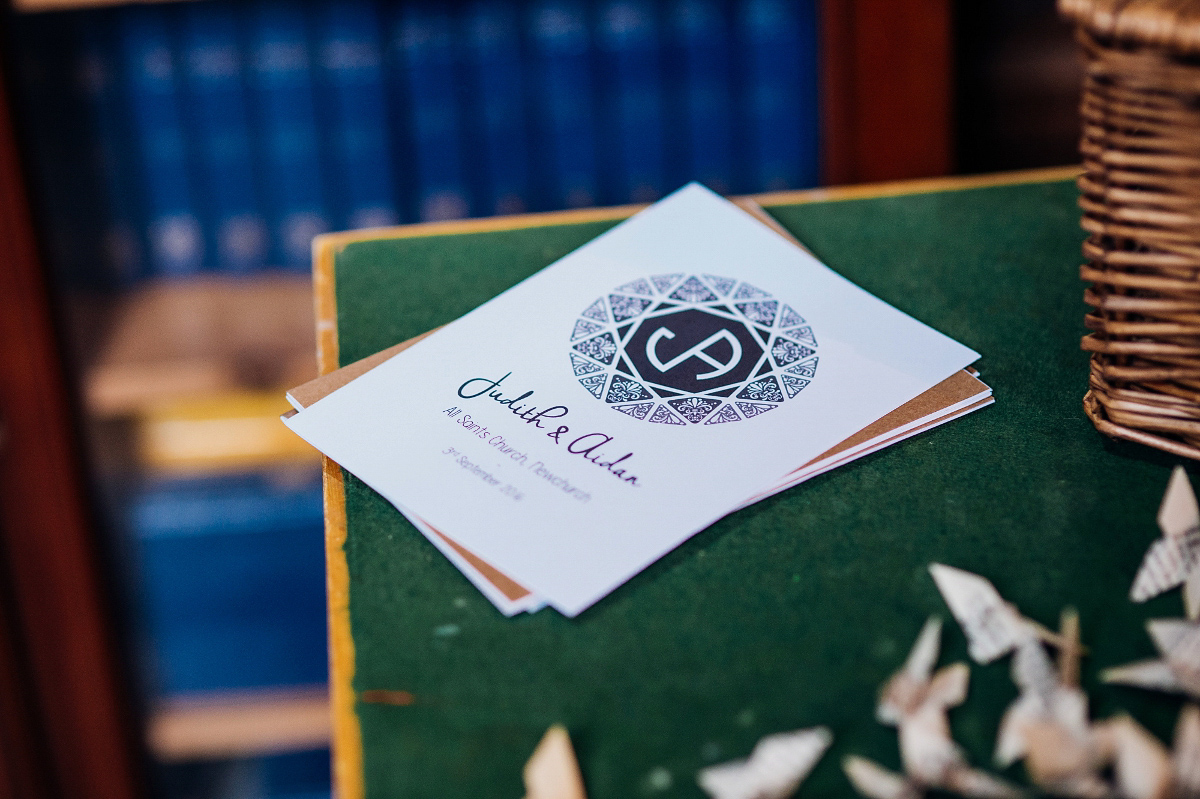 Aidan looked very smart in a three-piece suit from SuitSupply, paired with grey suede brogues from Office and a tie from Mrs Bowtie, which was a wedding present from Judith.
"We got a call from Mrs Bowtie on the Thursday before the wedding apologising profusely that they'd had an order backlog and the tie wasn't expected to arrive until Monday.  When I politely pointed out that our wedding was on Saturday, they pulled out all of the stops to ensure it arrived on time – I really can't fault their customer service."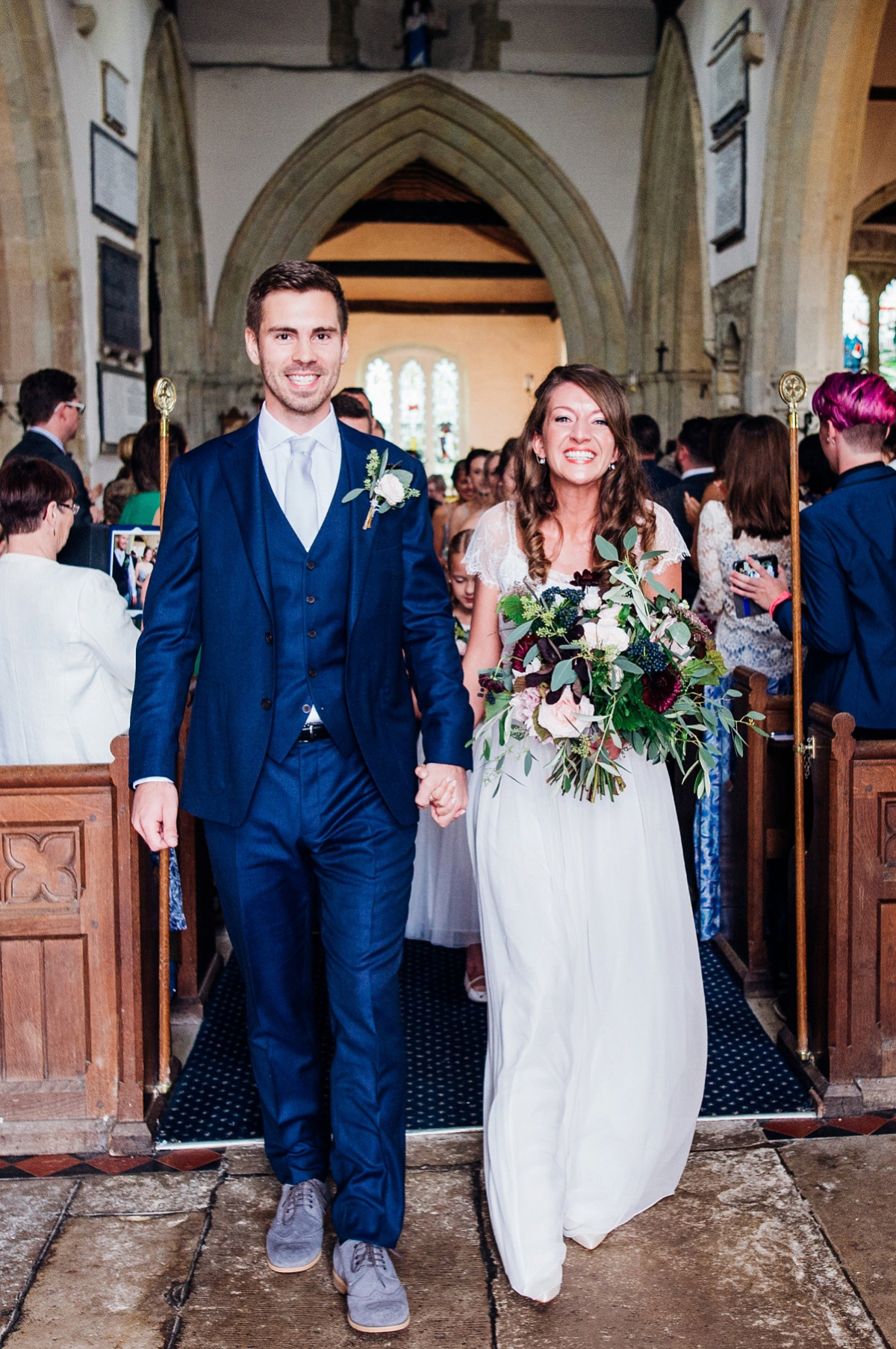 Photography was by the talented Abigail Steed.  I love her reportage style.
"Abigail was fantastic from start to finish. We had great fun at Kew Gardens for our engagement shoot earlier in the year, so I knew the wedding photos would be marvellous.  Abigail is super relaxed and blended perfectly into the chilled-out atmosphere we had on the day.  Some of our favourite pictures are of the speeches."
"Abigail captured all of the emotions so perfectly, from the tear-jerking moments right through to Aidan's mortification with the funniest best man's speeches I've ever had the joy to hear."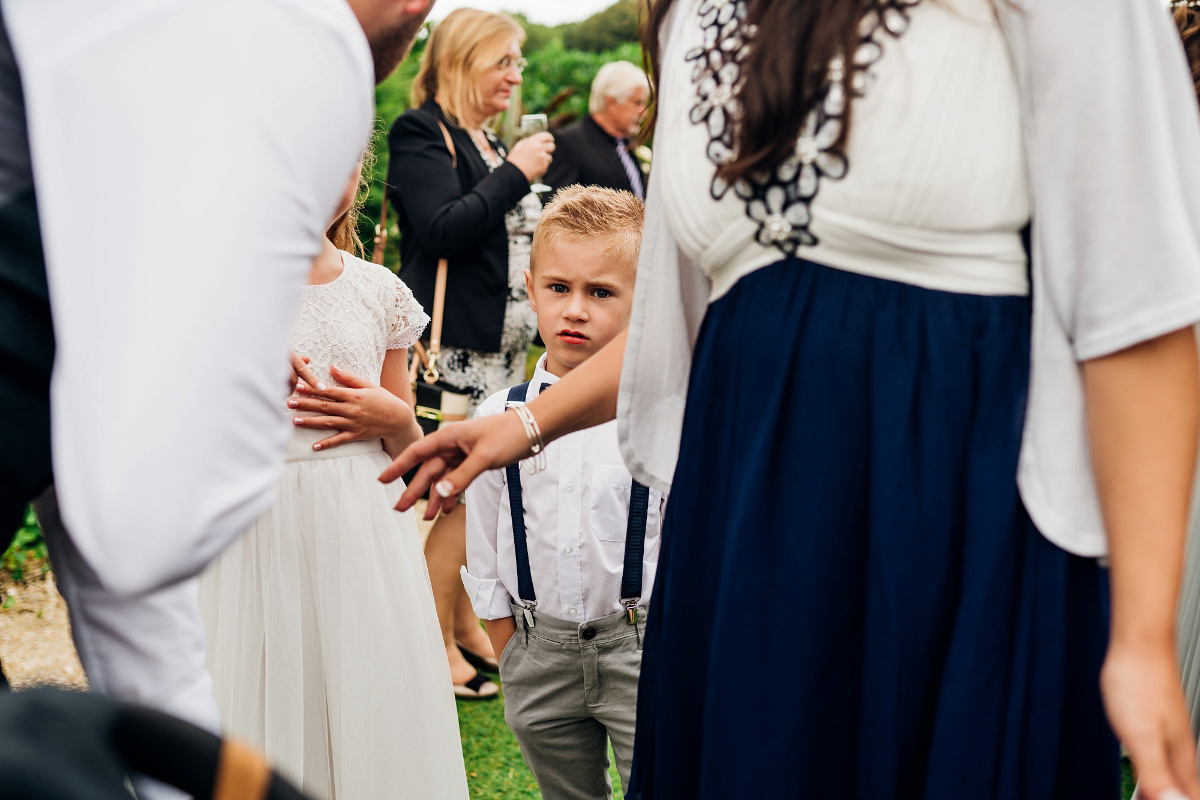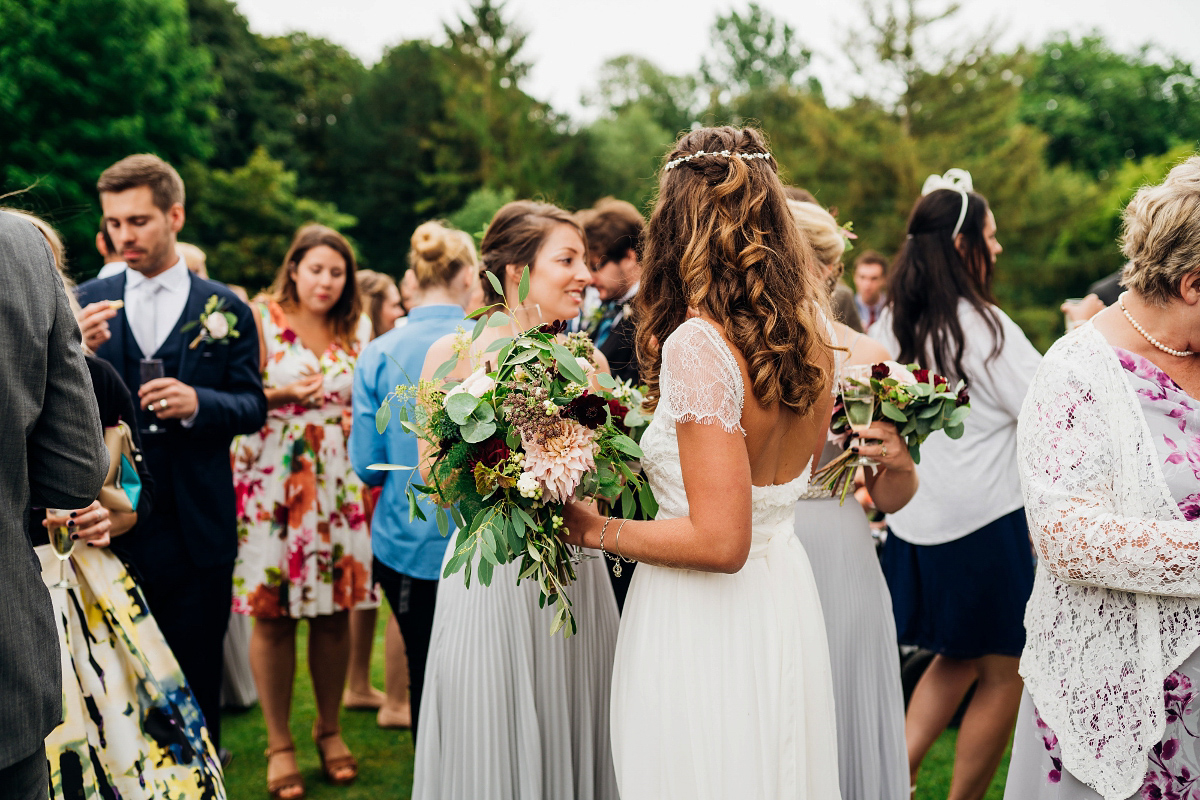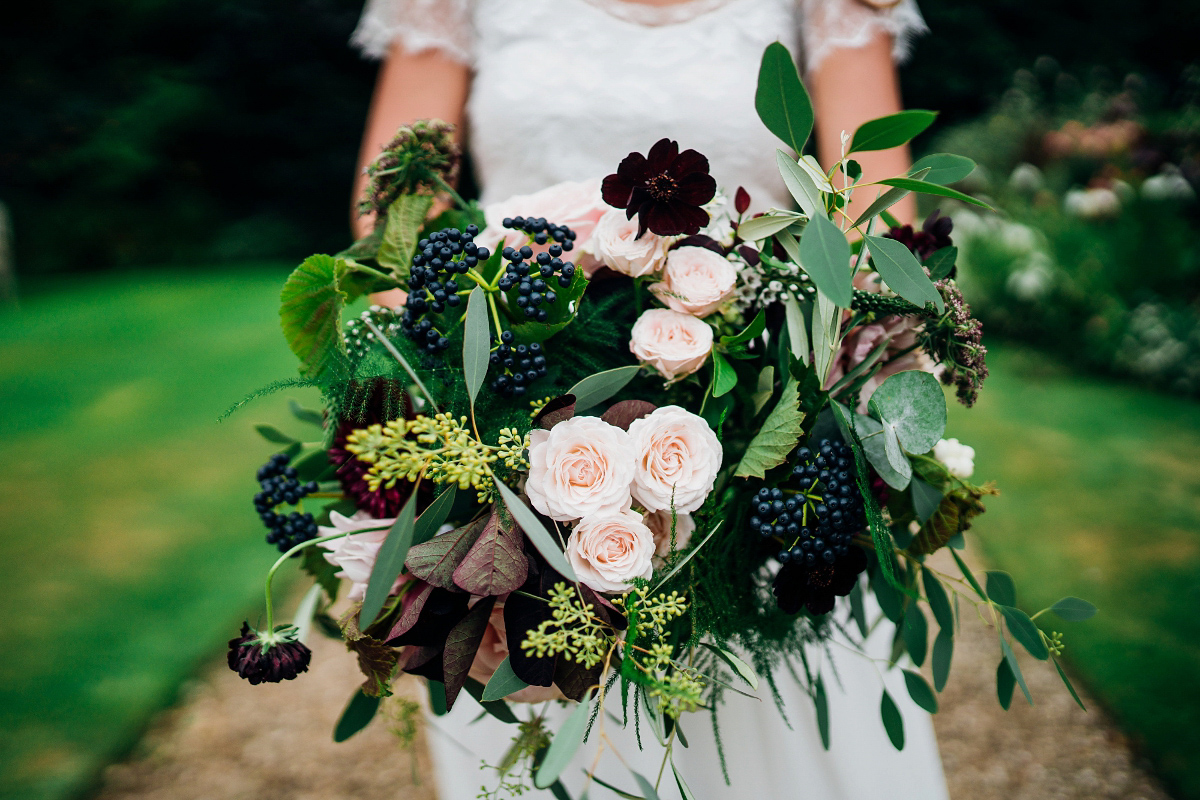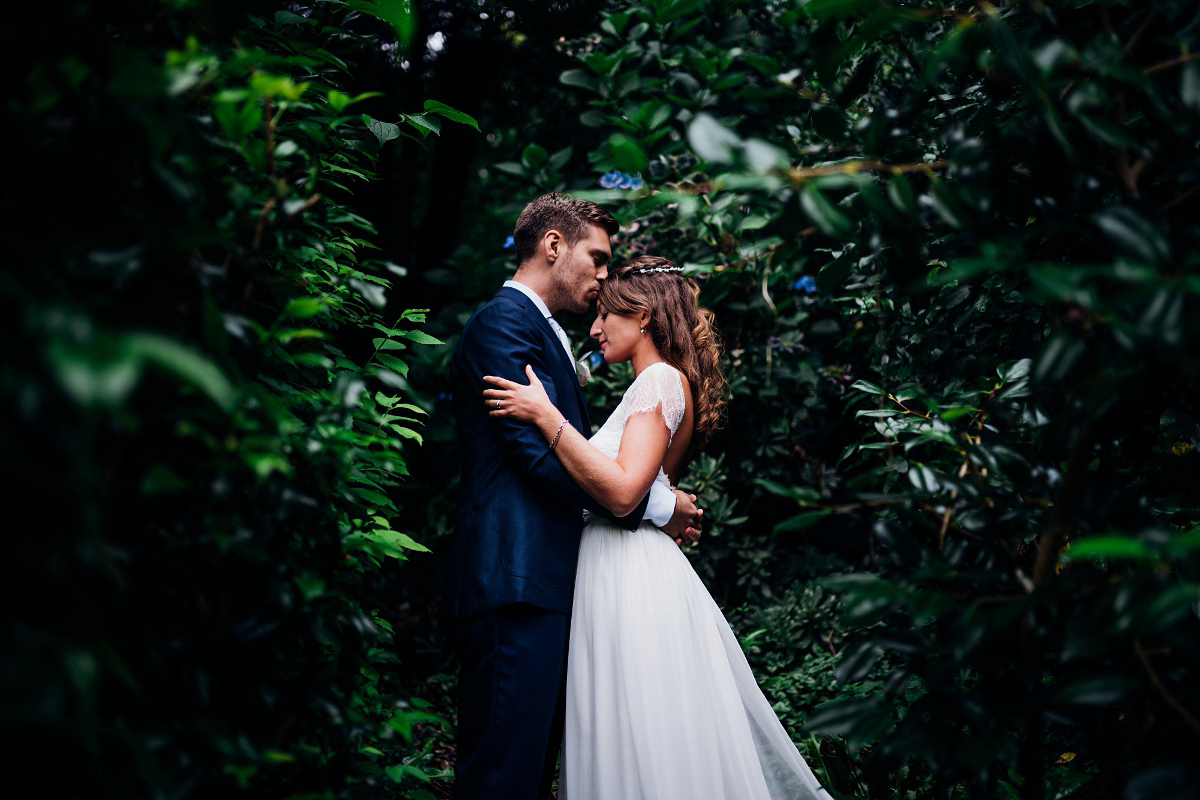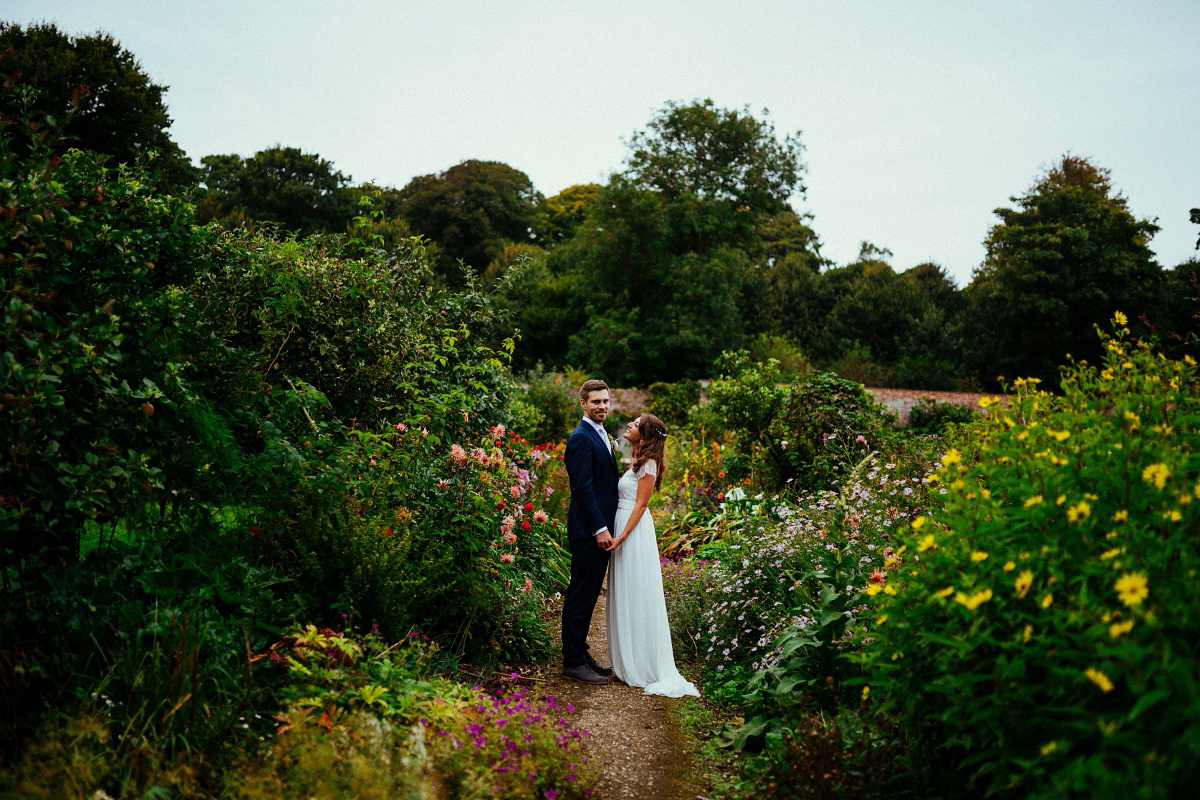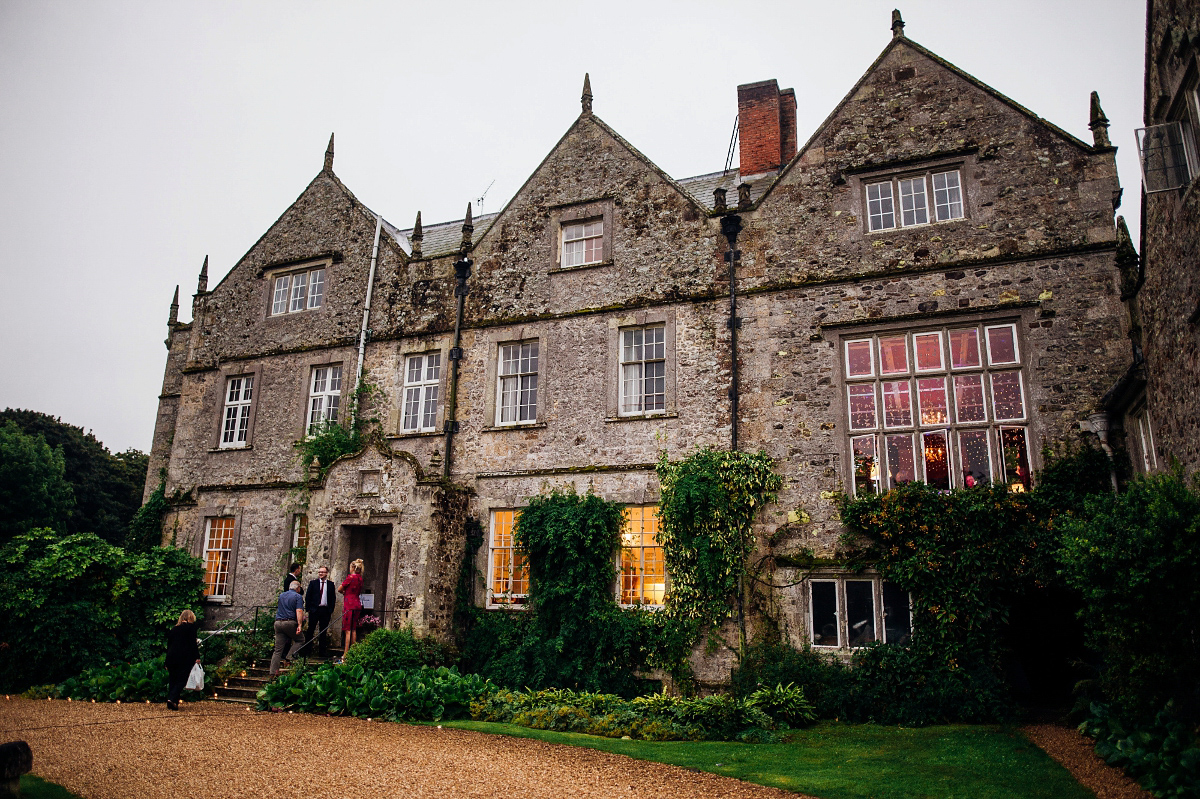 "Northcourt Manor is a wonderful Jacobean house so the style of the day was dictated by the features there.  The main aspects we wanted to include were personal to us: brown paper, our favourite books, origami butterflies, dahlias and grey."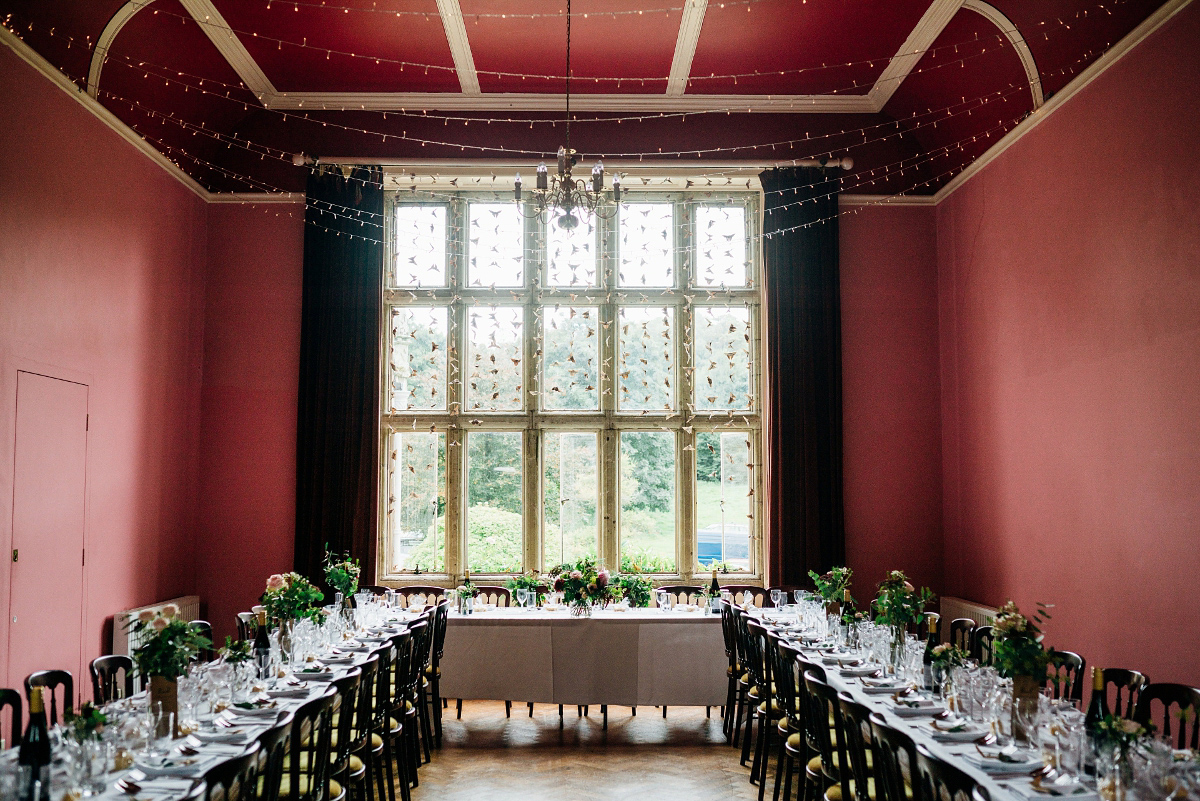 Canapes and the wedding breakfast were by Oasis Catering, who provided a Thai green curry as a nod to Alex and Aidan's love of Thailand (also their honeymoon destination).  For the evening food, the Isle of Wight Bacon Company (owned by friends of the newlyweds) provided a delicious hog roast.
The cupcakes were the work of Aidan's cousin Ellie, of Frostbite Bakery, while Aidan made fudge as favours.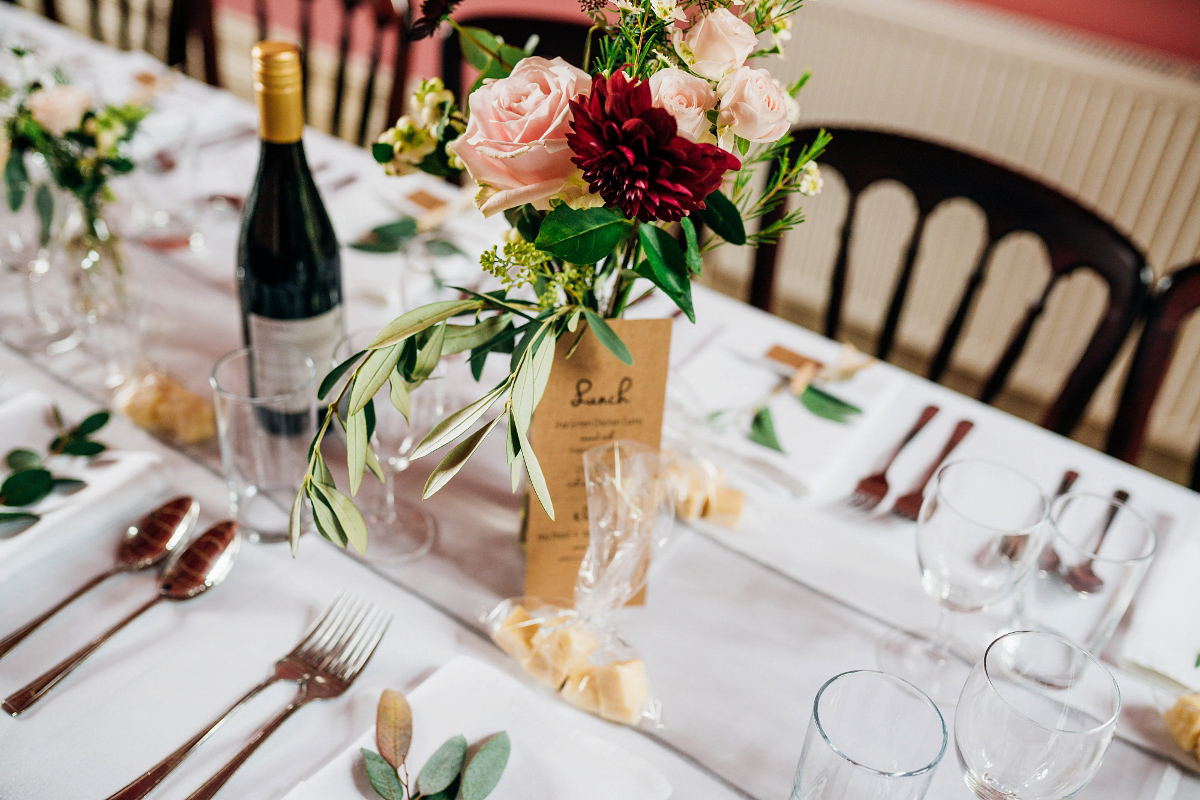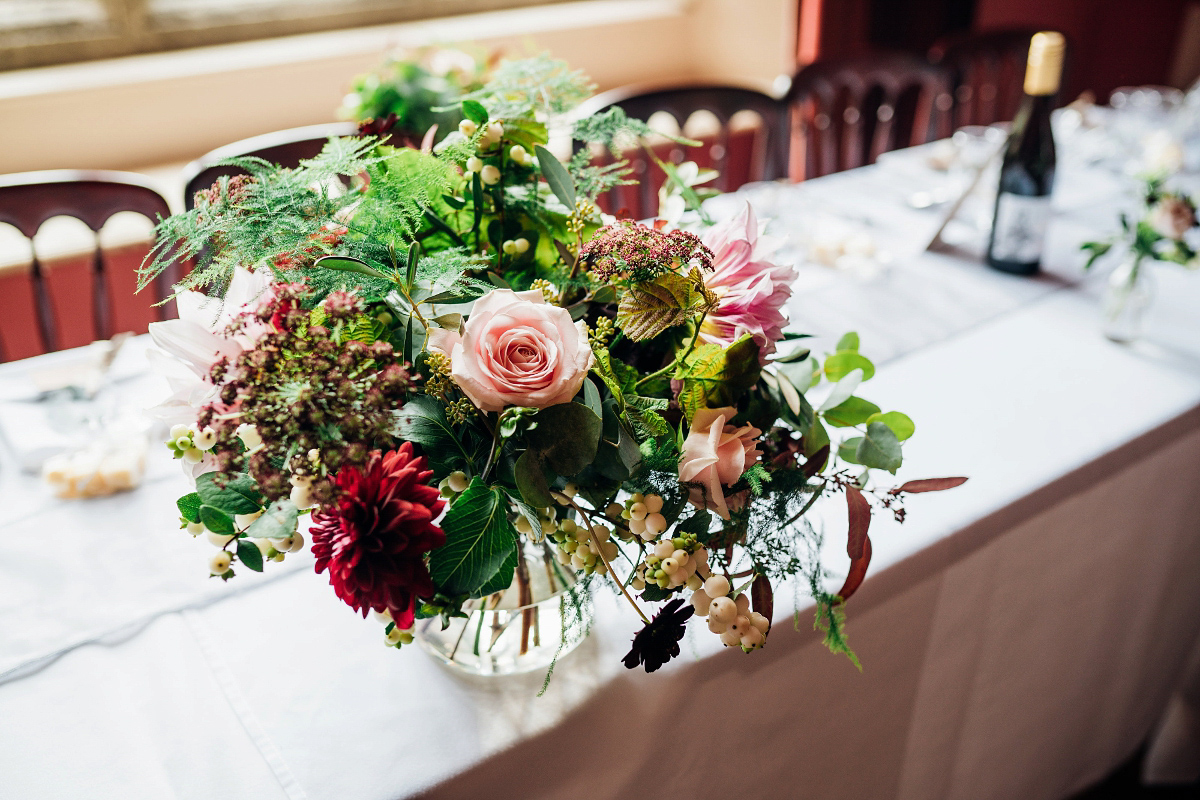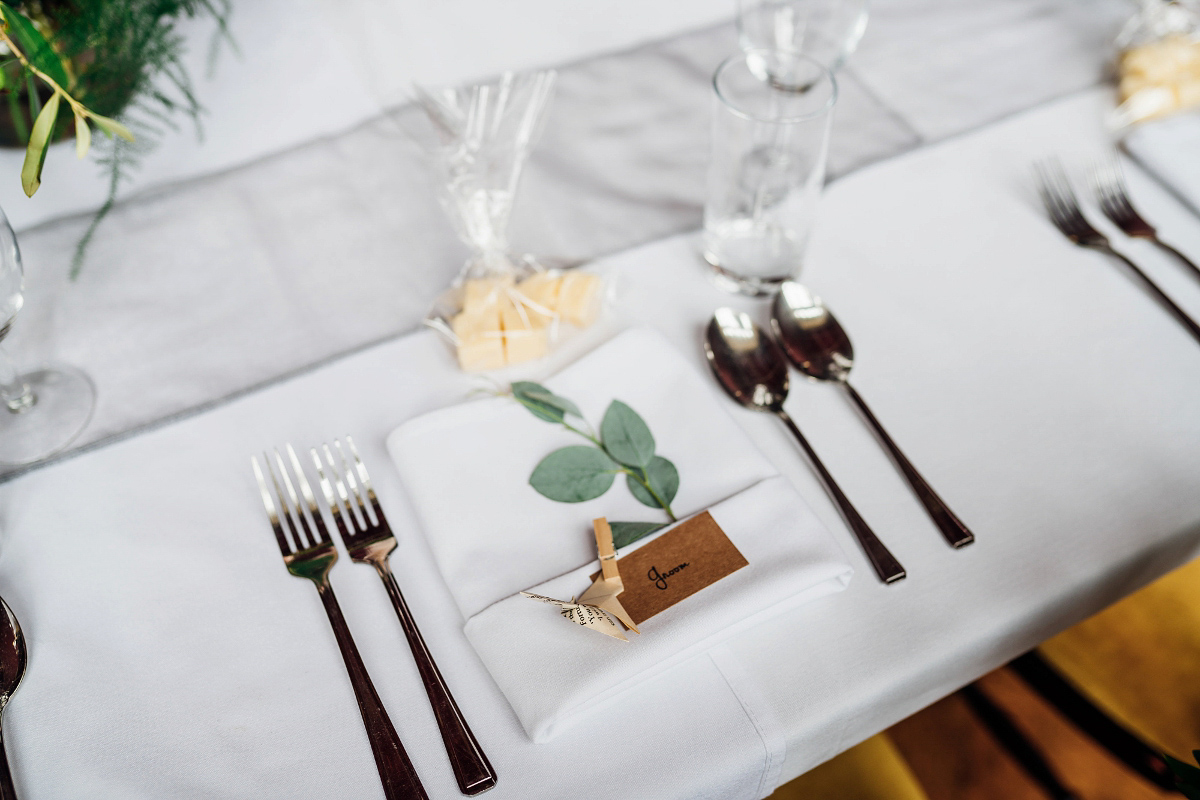 "We decorated the venue with origami paper butterflies made from the pages of our favourite books (Captain Corelli's Mandolin and 'The Hitchhiker's Guide to the Galaxy).  Aidan made me a batch at university to decorate my room so we wanted to incorporate them somewhere- it also seemed like a personal and unique twist on the Japanese crane tradition.  The butterflies were truly a labour of love, folded over the course of a number of months.
I had a last minute idea to give every guest a butterfly and a pin on arrival at the church and it truly made my heart sing to see everyone's 'buttonholes'."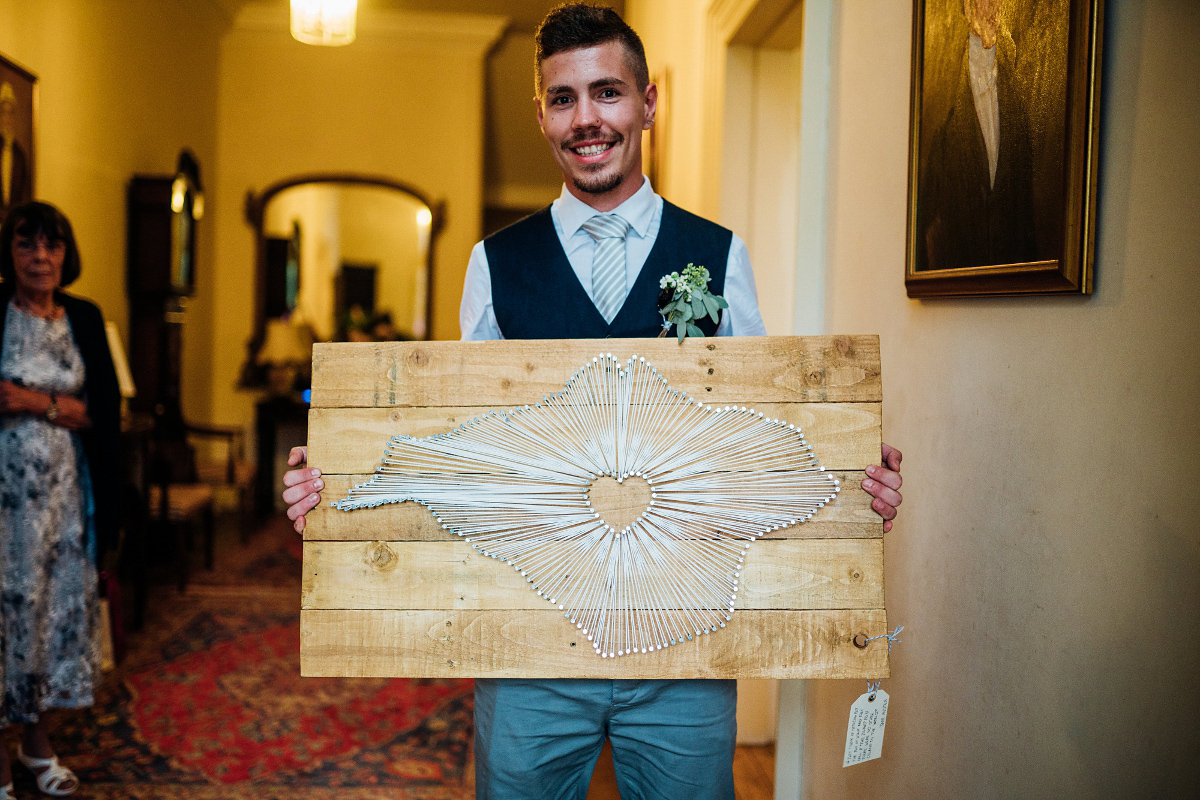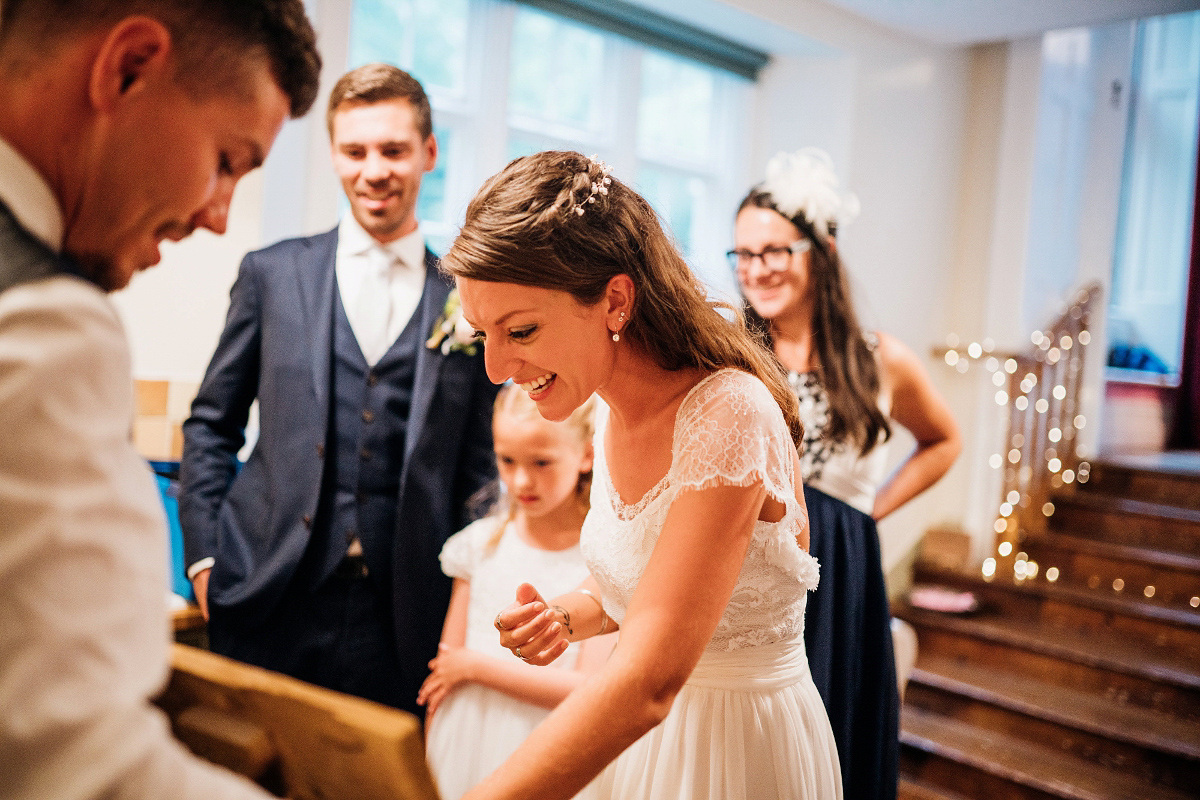 For entertainment, the couple hired ceilidh band Slainte Va to get everyone on the dance floor.  Their first dance was to 'Lay Lady Lady' by Bob Dylan, which was first performed live at one of the very first Isle of Wight festivals.
"I can't pinpoint one favourite part of the day – I loved it all.  It was so surreal and wonderful to be surrounded by all of the people we love the most; I've never felt so blessed."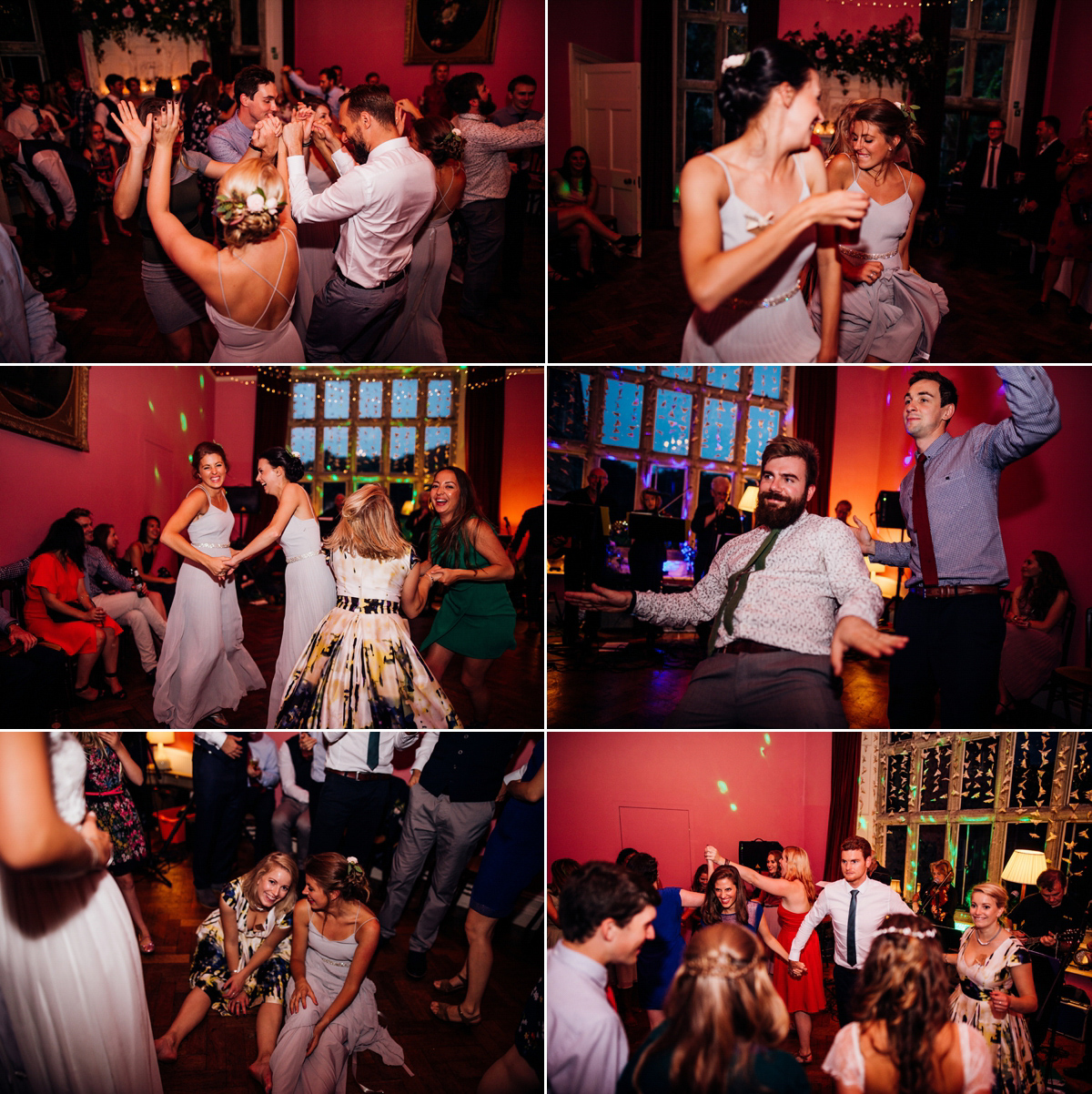 Words of Wedded Wisdom
Judith: "I have two main pieces of advice: remember to live your life and set aside non-wedding time and don't worry if you never feel 'bridal'.  I don't think I ever felt like a bride – not even on the day.  I kept expecting to feel different in some undefined way.  Cut yourself some slack and don't expect to feel any particular way at all, just enjoy and treasure the collection of hilarious, poignant and truly loved moments that make up this most wonderful day."
Aidan: "Relax, take a deep breath and have fun.  It's unlikely that everything will go to plan, so rather than stress about mishaps, just try to take them in your stride and see the funny side."
So many thanks to Judith, Aidan and Abigail Steed for sharing this gorgeous heartfelt day with us.  I would love to finish with some gorgeous words from Judith.
"I absolutely love 'Love My Dress' and to have our wedding featured is a dream come true.  I love how each and every wedding showcased is a reflection of the couples' unique and varying personalities.  In a world of uncertainty and often overwhelming negativity there's nothing more heart-warming than seeing two people come together in love. Love My Dress channels all of that emotion in the most wonderful way."
Thank you Judith!  It is our absolute and most sincere pleasure.
Much love,
S x