Hello lovely ones. I'm back again with a fabulous wedding to feast your eyes on, at none other than The Asylum (our second Asylum wedding this week). I have a soft spot for a good London wedding anyway but it's such a unique venue, yet so typically 'London'. Ashleigh, the bride is a seamstress and the groom, James is a silk screen printer and skateboarder. They both know a little something about style, and this is evident from their gorgeous 9th of September wedding, not only is it stunning to look at, it looks like it was immense fun. The Hendrys did a wonderful job of capturing every moment possible.
"I'm a bit obsessed with medieval history, and wanted to bring a kind of tudor banquet feel to the day. We loved the decadence and dreaminess that you see in old oil paintings and the gilded candlelight you imagine filled palaces. We didn't want to go too over the top, so I put back my crown! We used red, pink and gold. A bit Dolce and Gabbana, a bit rock'n'roll. Tudors in a pink cadillac. We called the day Baroque'n'roll."
Photography by The Hendrys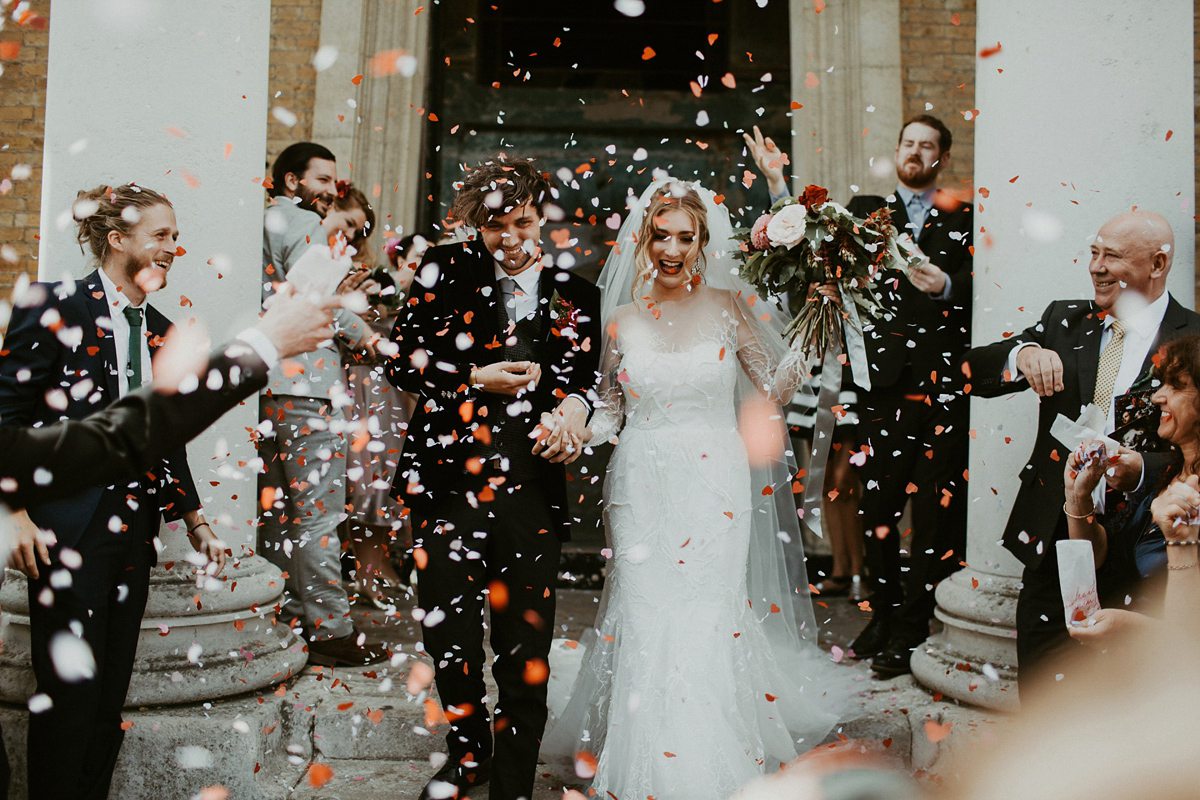 "We held the ceremony at The Asylum in Peckham, London. It's an old chapel that was bombed in the war and basically left as a shell. It is such a beautiful building, with a kind of faded majesty, and filled with candles. The reception was at the East Dulwich Tavern. It's a Georgian room above the pub with lovely chandeliers and a bit of grit."I adore the detail of the beading on Ashleigh's Tarik Ediz dress from Perfection in Bromley. She added a plain full length chapel veil and a pair of studded BCBG Max Azria shoes that she found on eBay.
"My mother-in-law actually picked it out. It was so unusual, it was a sample that had been in the shop for ages because it was so unlike all the other dresses in the shop, and this also meant that it was really cheap, less than a quarter of the original sample price. I tried it on and my mum and friend cried so I had to get it."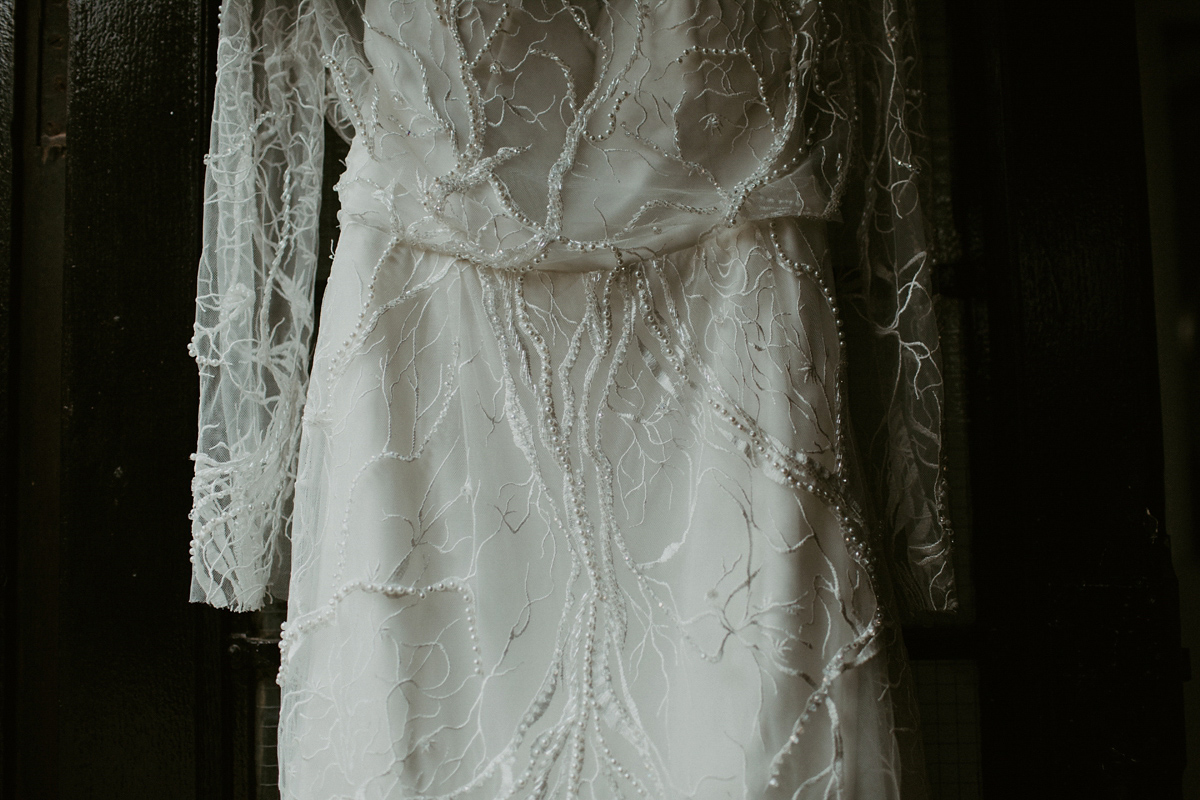 "It was beaded in a pattern that looked like climbing tree roots and I thought it looked like something the queen from 'Snow White' would wear. After I bought it we went to Wetherspoons to have a drink (I was feeling a bit worried, I hadn't tried many on), and on the next table was a little girl dressed as Snow White, so I felt it was meant to be."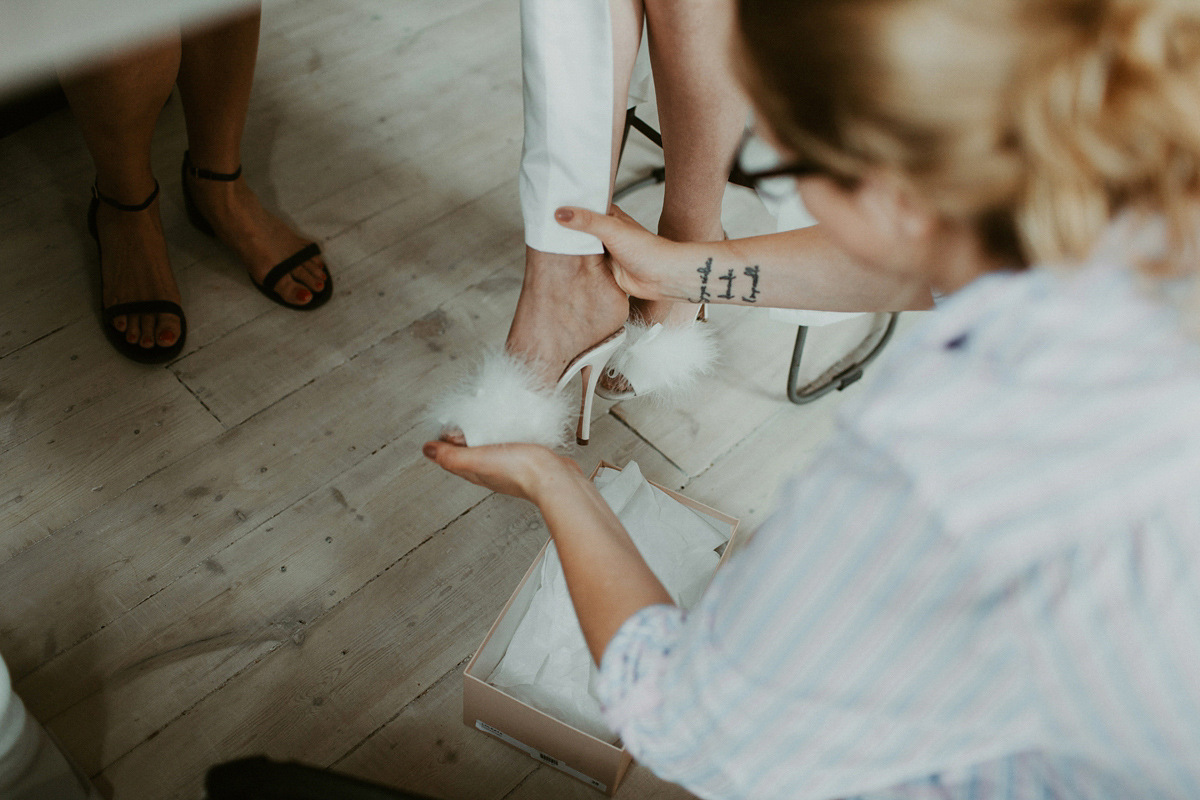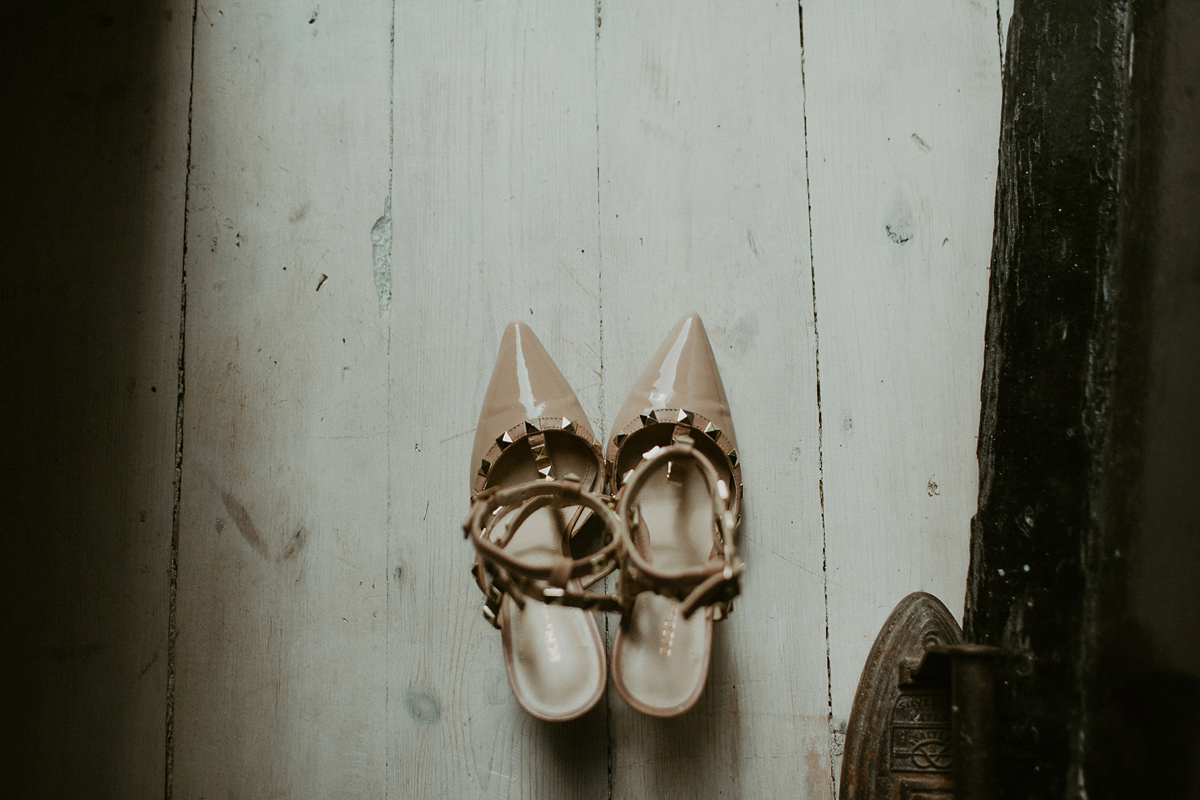 "My bouquet was made by Rebel Rebel. I chose them purely because of their name and I love David Bowie. They made me a beautiful rose and peony bouquet in a slightly wild, undone style, as if I'd gone to the woods and picked them myself. Floral Jems made the bridesmaid's bouquets, a foliage table runner for the top table (re-used from the chapel) and arrangements for the tables."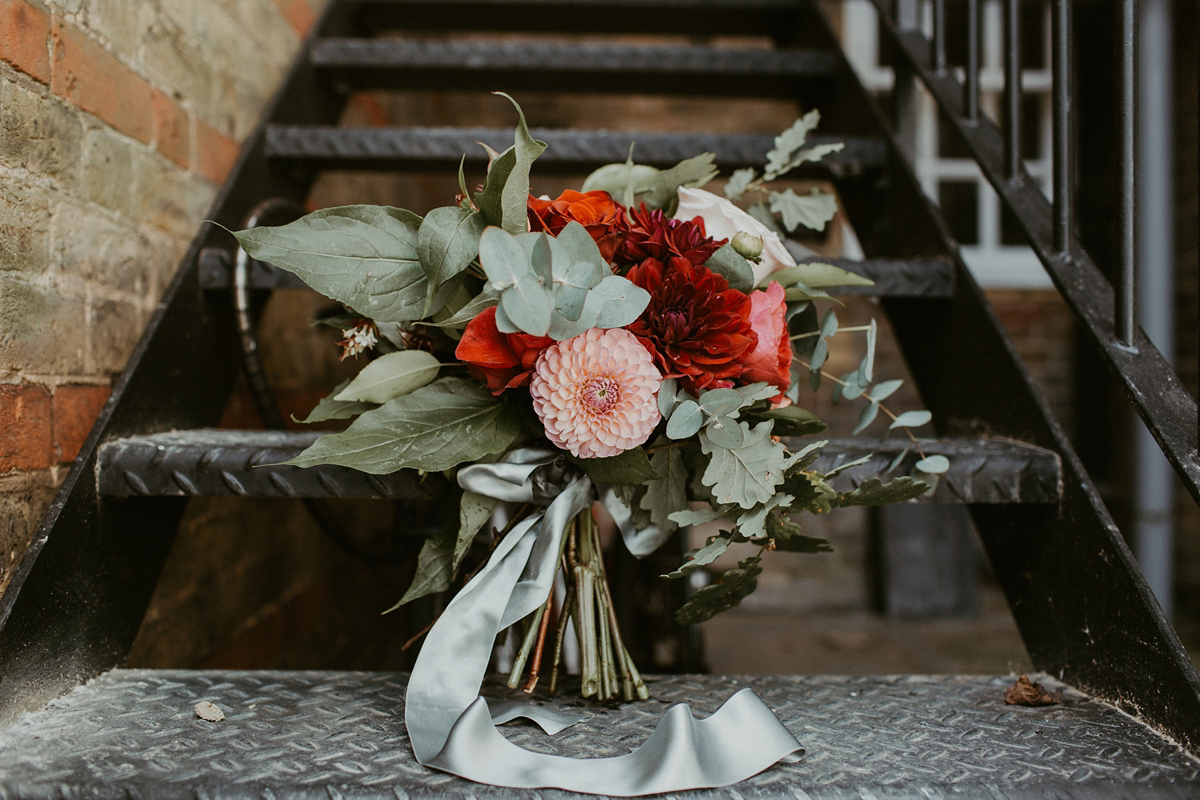 "We've been together since we were 15. We're both from Weymouth in Dorset, and met at a yearly event called 'Victorian Night' where the town opens late, people dress up as Victorians, have roasted chestnuts and you get to stay out late on a school night."
"We were engaged for about a year before the wedding, James proposed on our 10 year anniversary at Hampton Court Palace, my favourite place."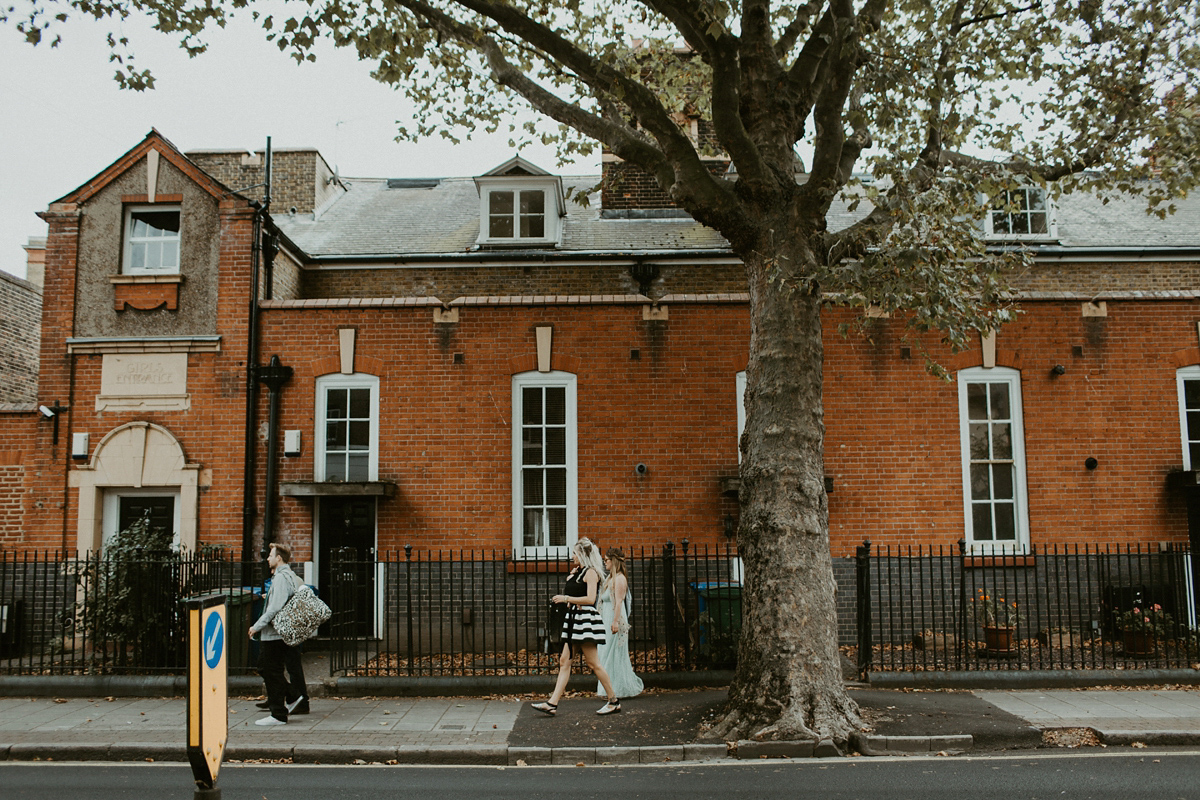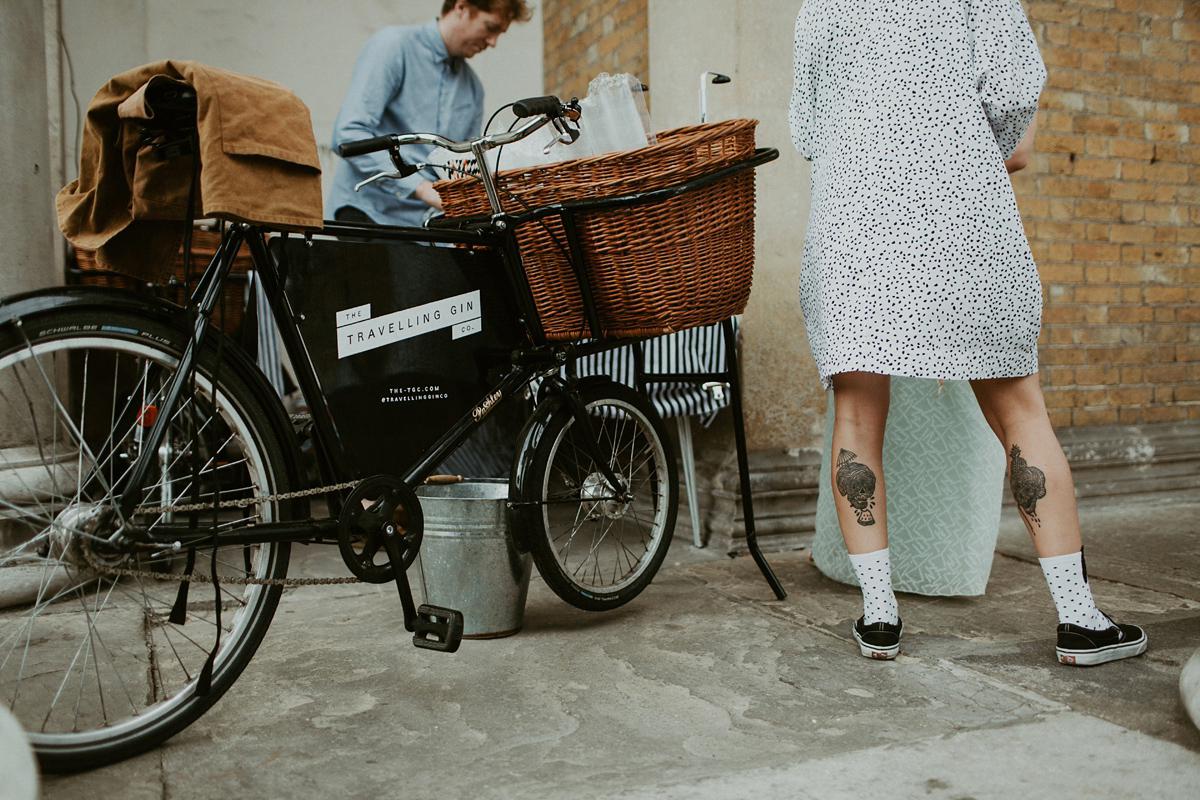 "My bridesmaids all wore different dresses from Needle & Thread, Phase Eight, and Lindy Bop, with silk flower hair pieces, handmade by me."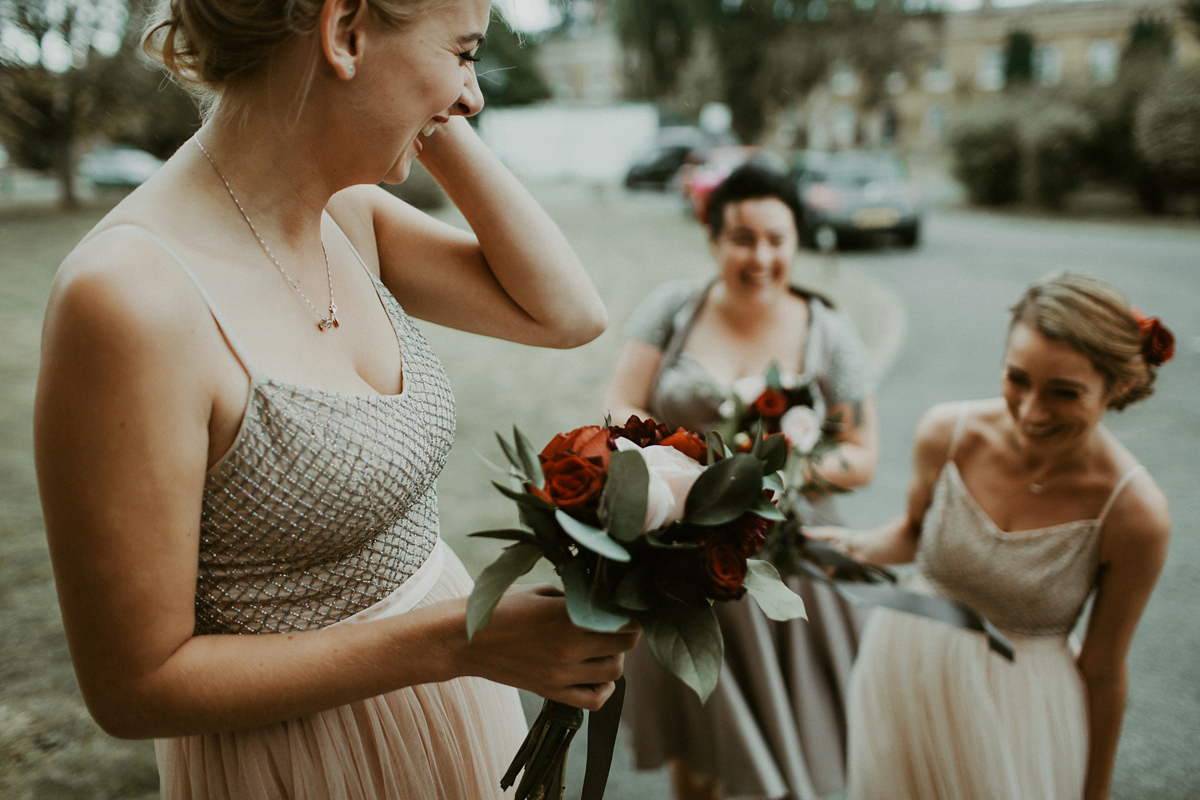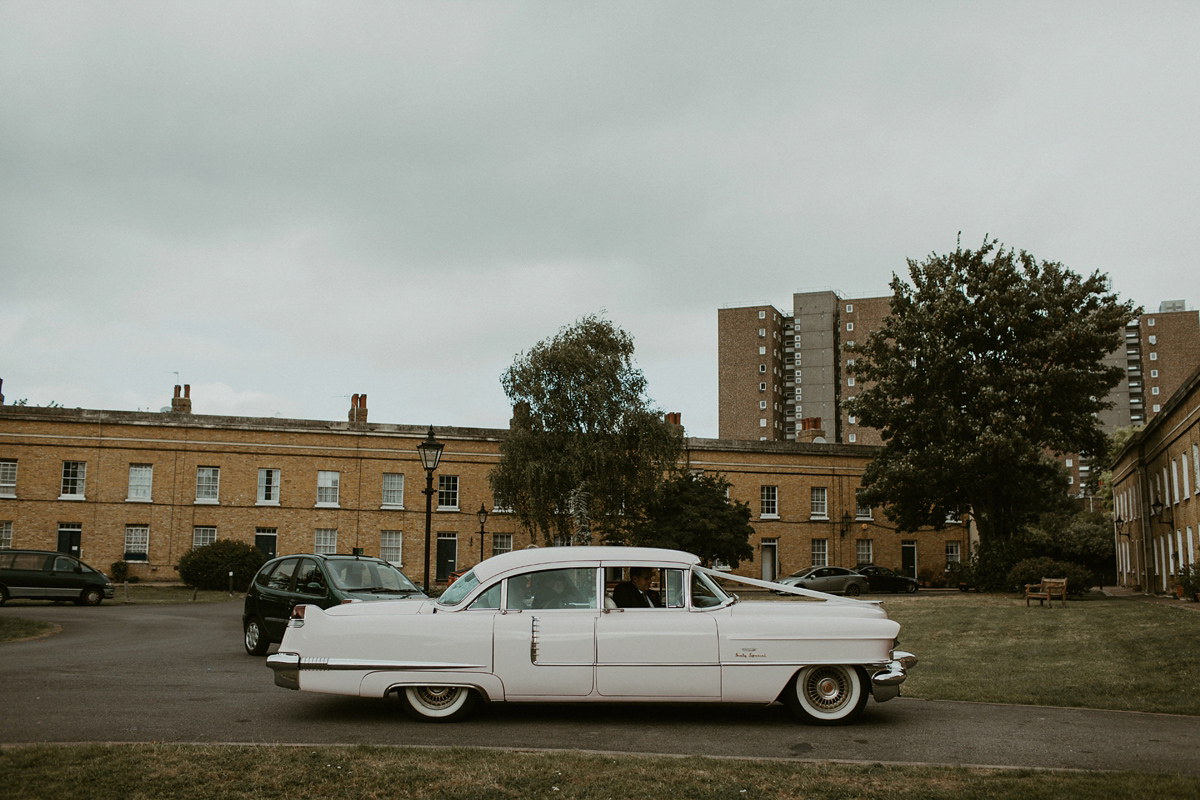 "I wore handmade gold and pearl flower clips from Mignonne Handmade in my hair and had two pairs of earrings. My pink rose earrings were from MAWI and in the afternoon I changed to a pair of 1940's gold and pearl byzantine style by Miriam Haskell. My perfume was Jo Malone's Tuberose Angelica Intense. It smells ancient."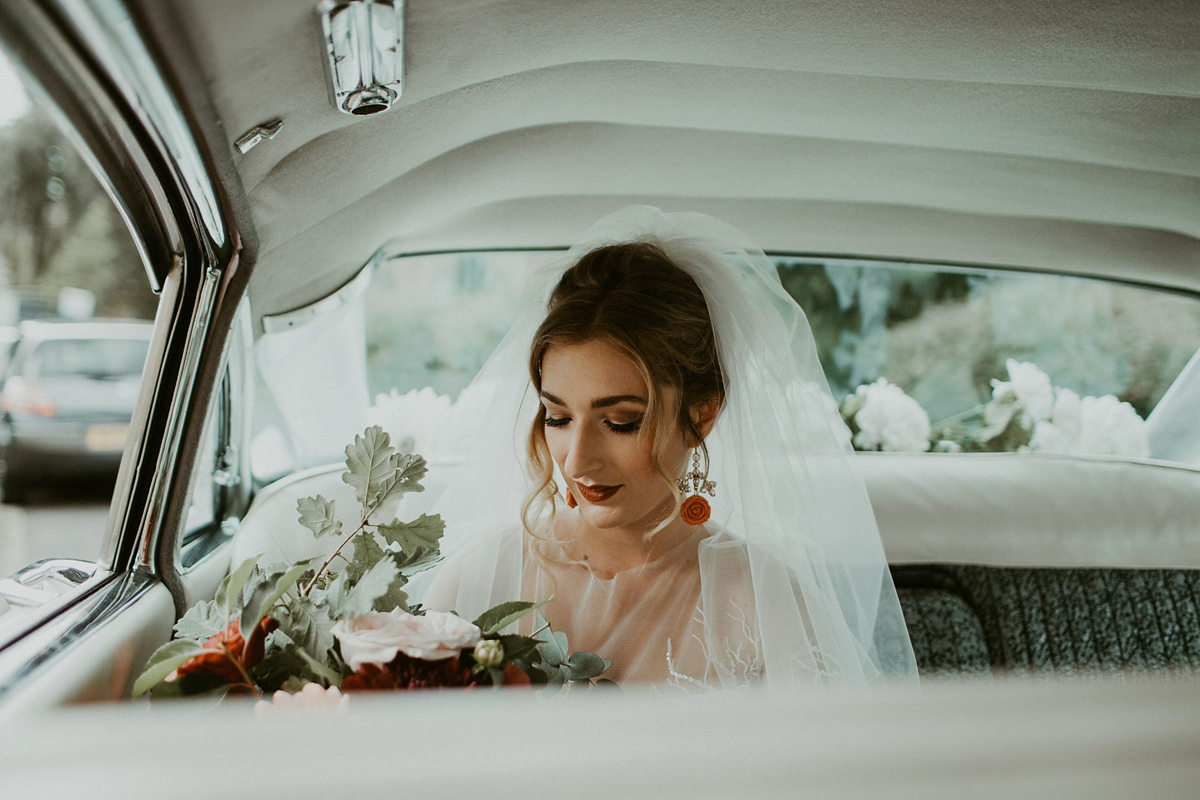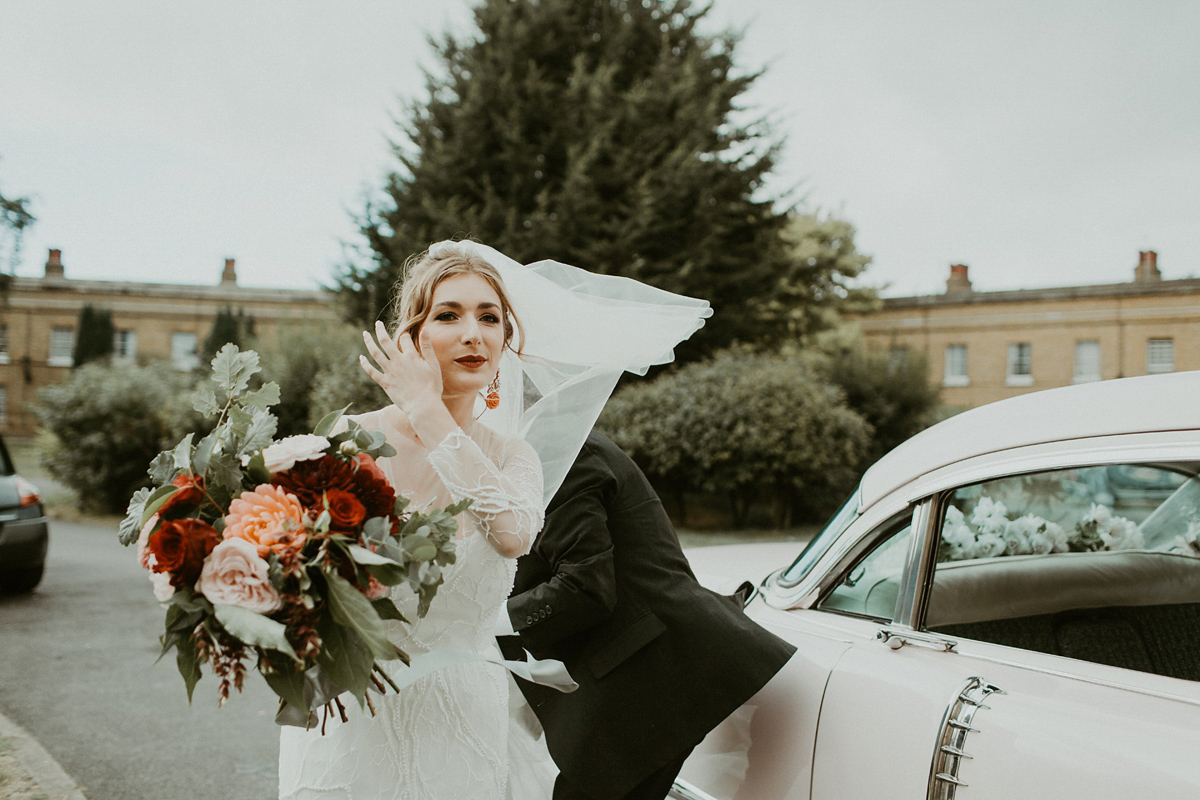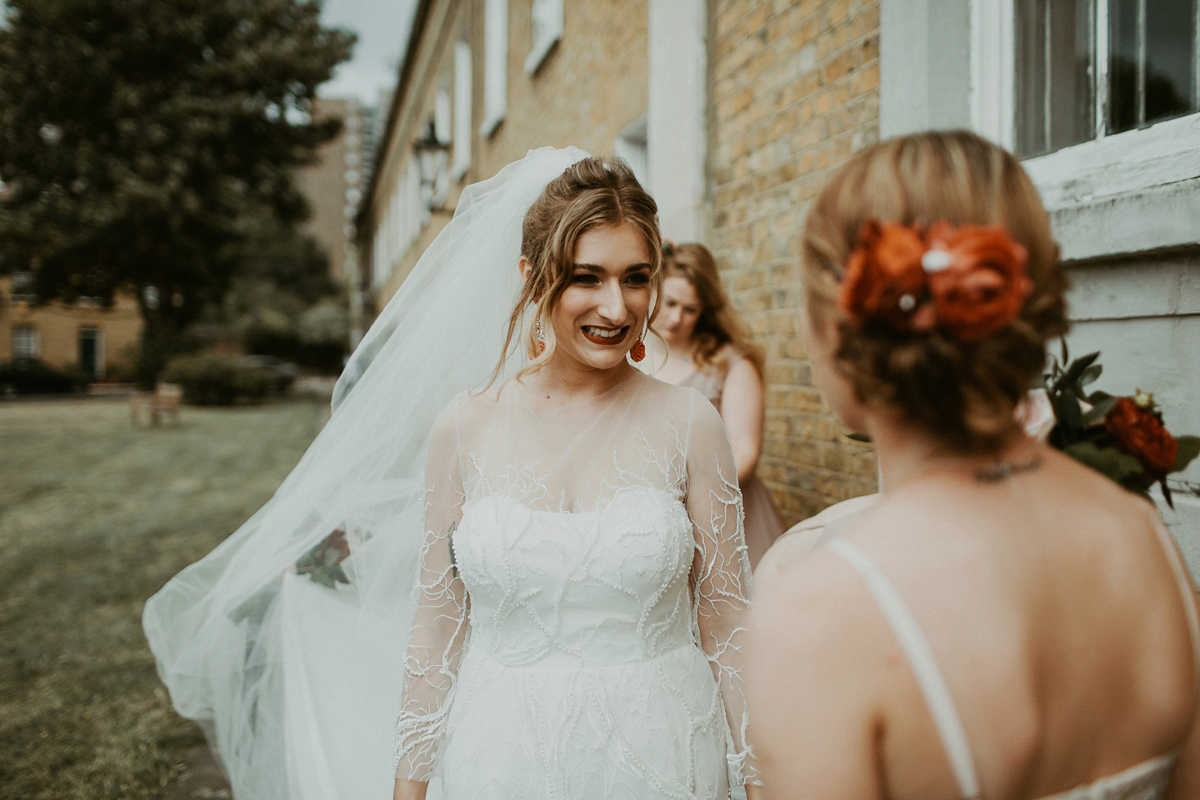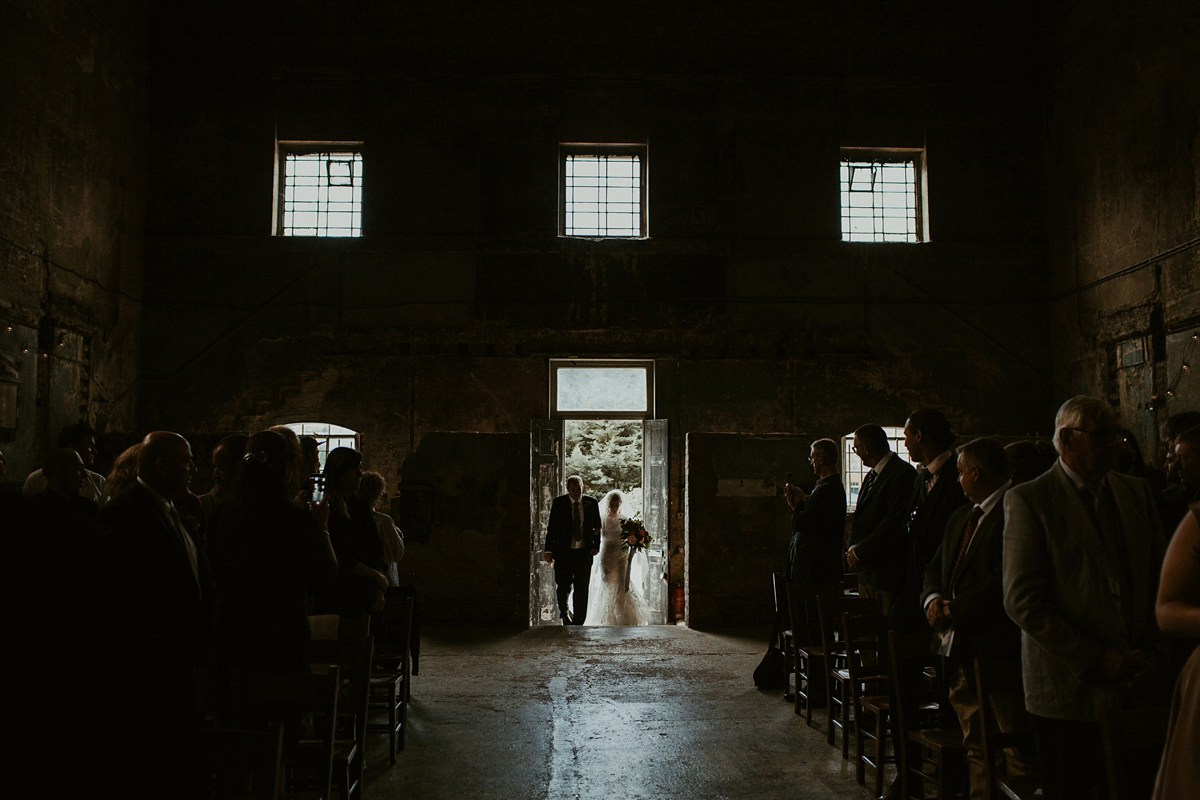 "My step dad and the Velvet Underground's 'I'll Be Your Mirror' walked me down the aisle. James and I exited to 'She's My Cherry Pie' by Warrant, which was amazing."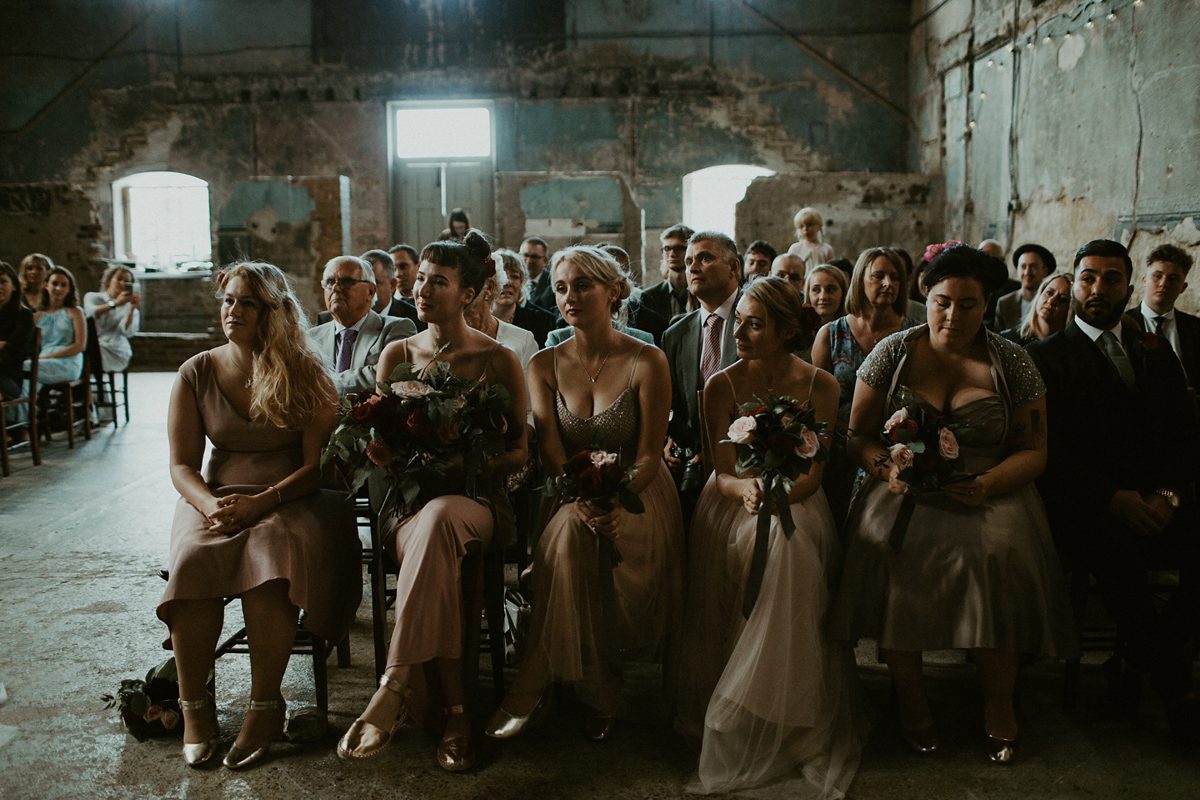 James opted for a luxurious velvet jacket from Teddyboy in Camden Market, a waistcoat and trousers from ASOS and Vivienne Westwood shoes.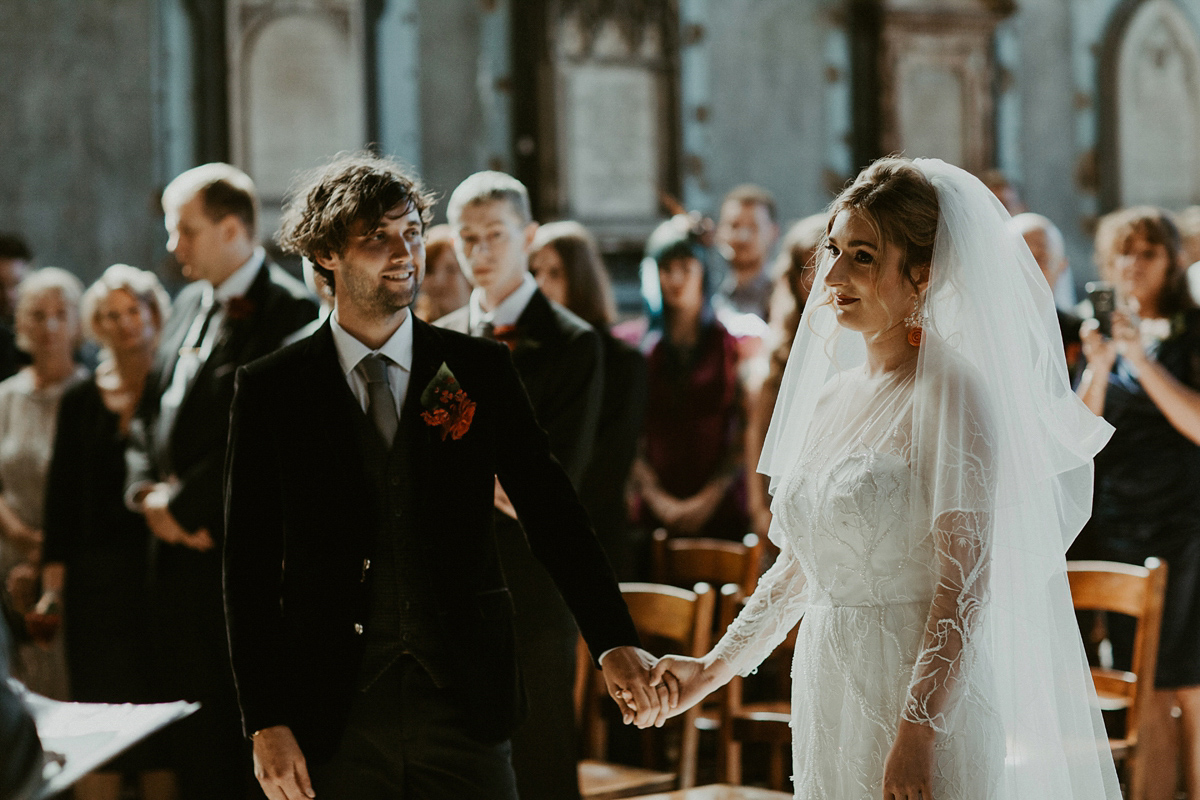 "I had my late dad's wedding ring recast, and James had his Grandad's. We both secretly had them inscribed and we had both had 'I'll be your mirror', engraved, the Velvet Underground song I walked down the aisle to. I know, it's enough to make you sick!"
"The vows included a lot of crying, by me and all the guests. My friend Elly read 'The Marriage' by Rumi, and Lucy, my maid of honour read Christina Rossetti's 'A Birthday', which still brings me to tears every time I read it."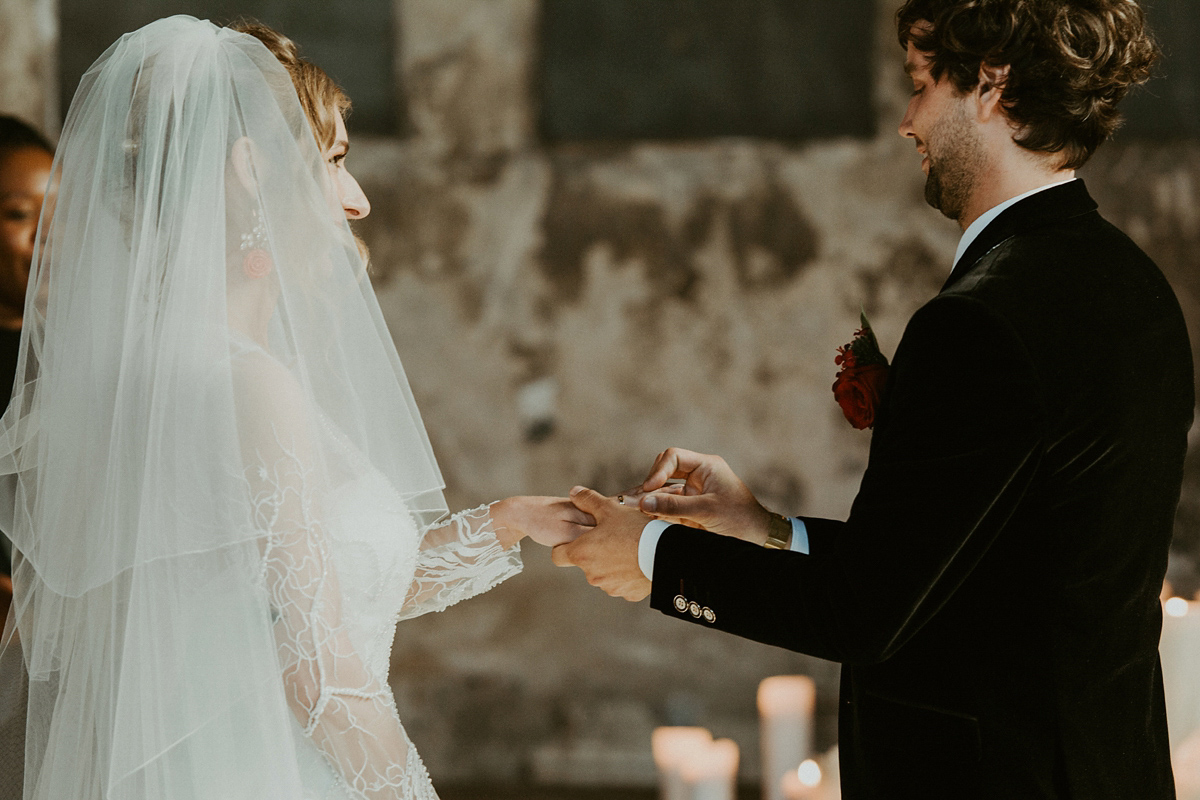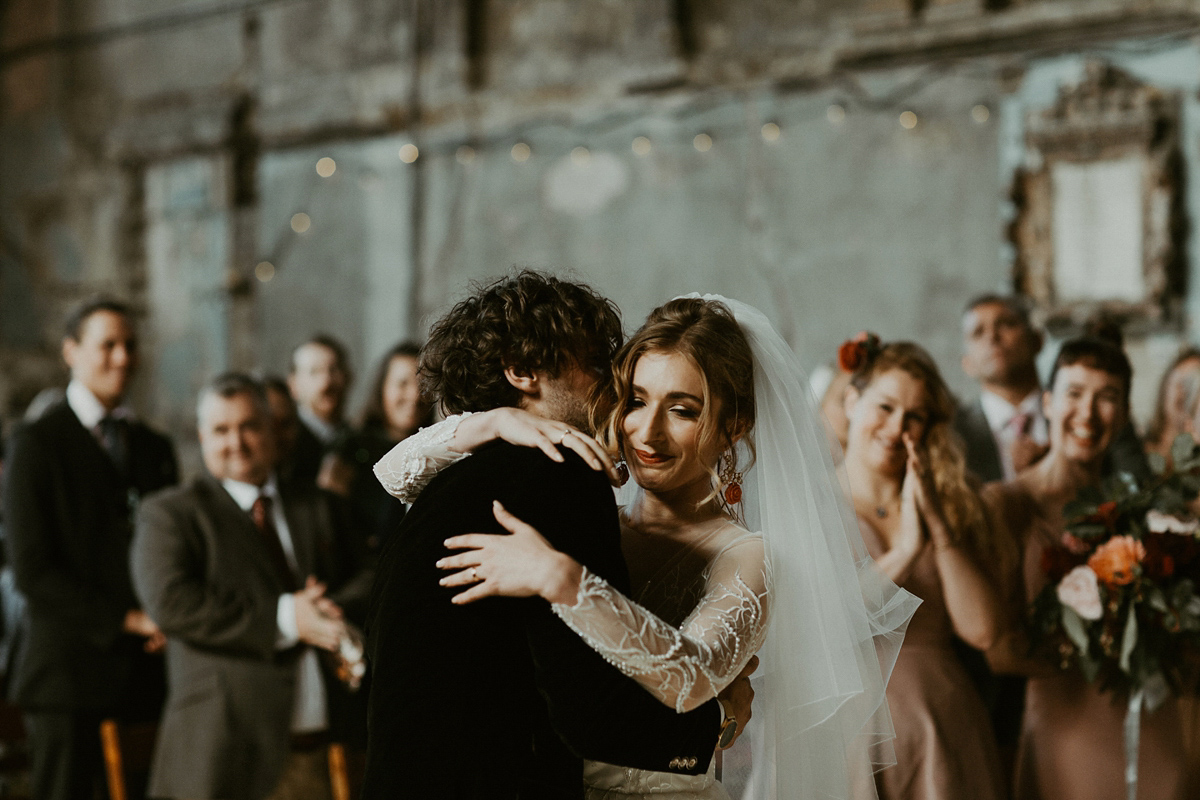 "James loved the moment when we left the chapel, and were by ourselves for a little bit, it all felt so surreal. And obviously marrying me!"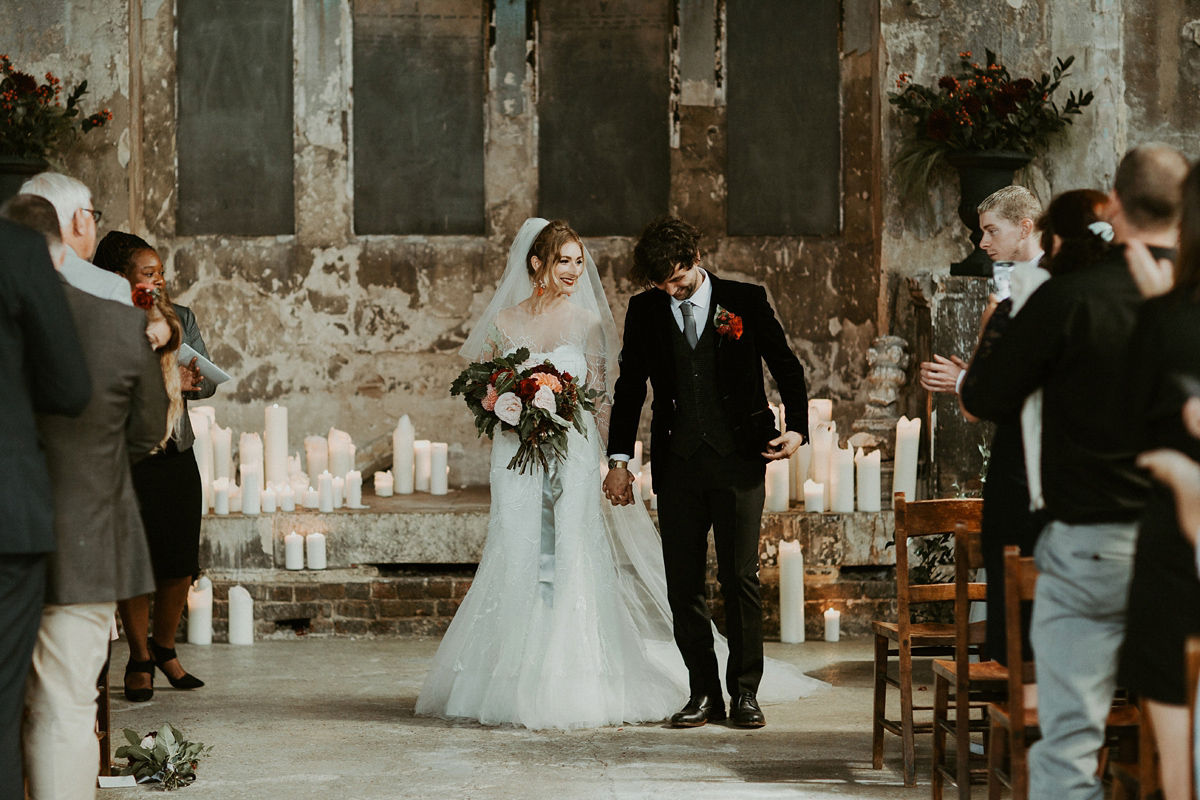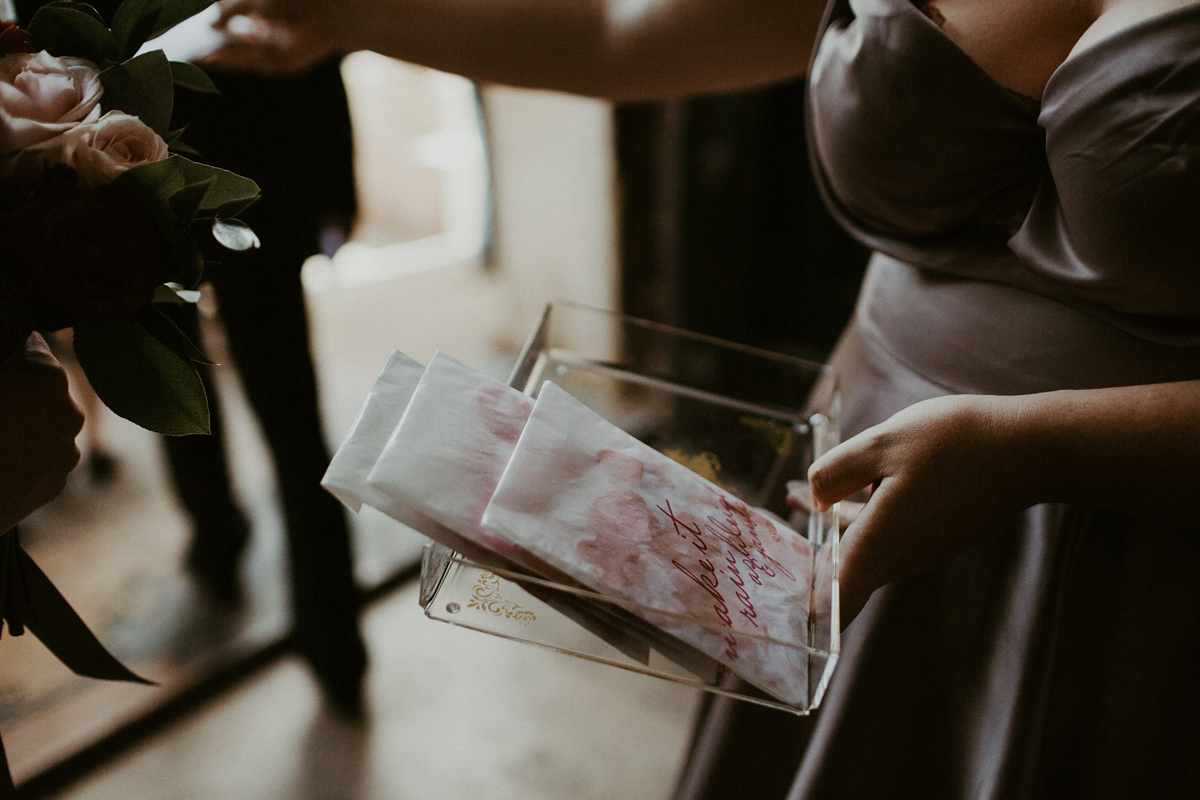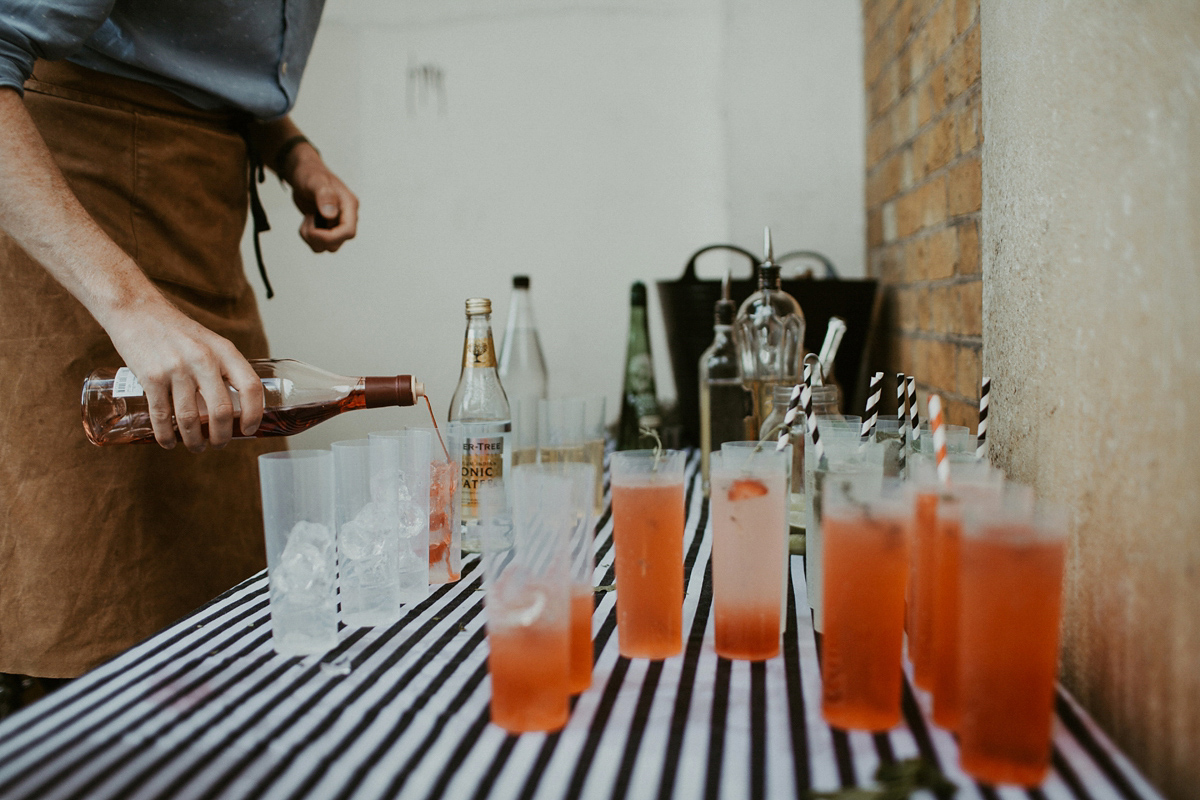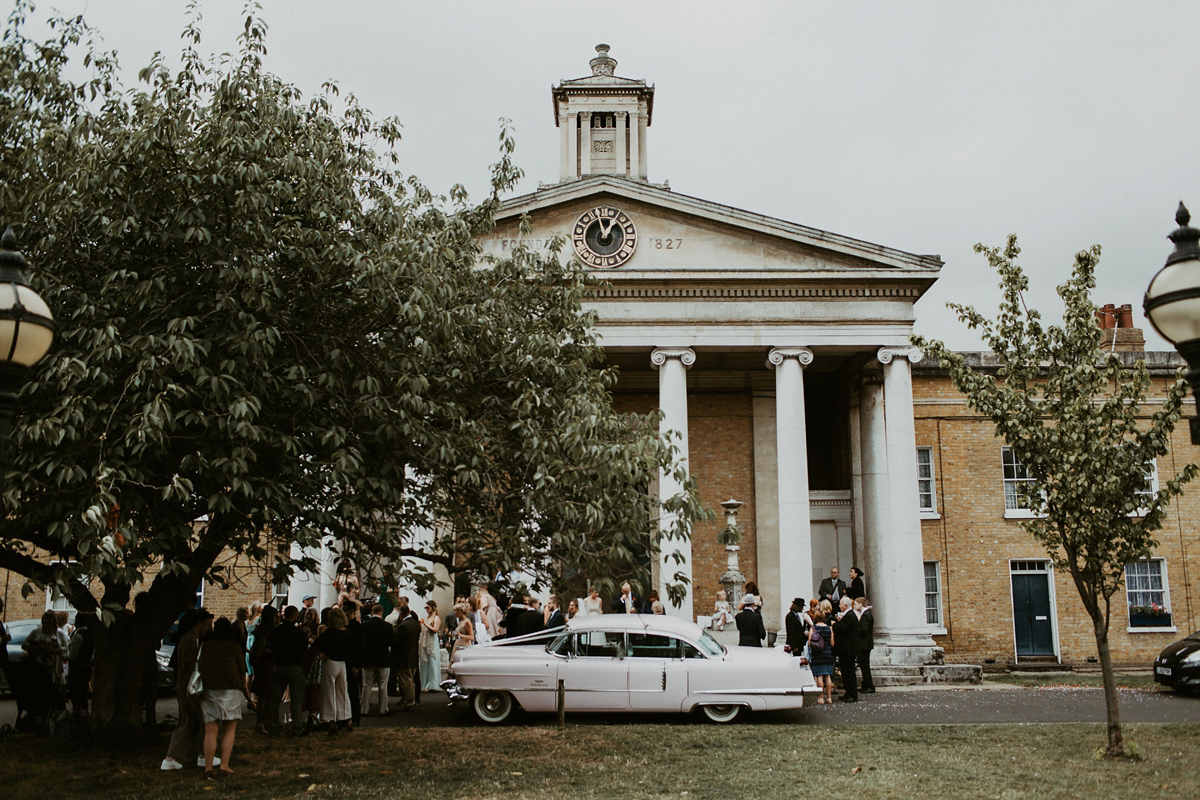 The Hendrys were the perfect choice to shoot this stunning wedding. There is a slightly ethereal feel to the images of the ceremony and the reception just looks like the best fun.
"Amazing fine art style photography. We were so lucky to have them, they are really really nice. And they're married too."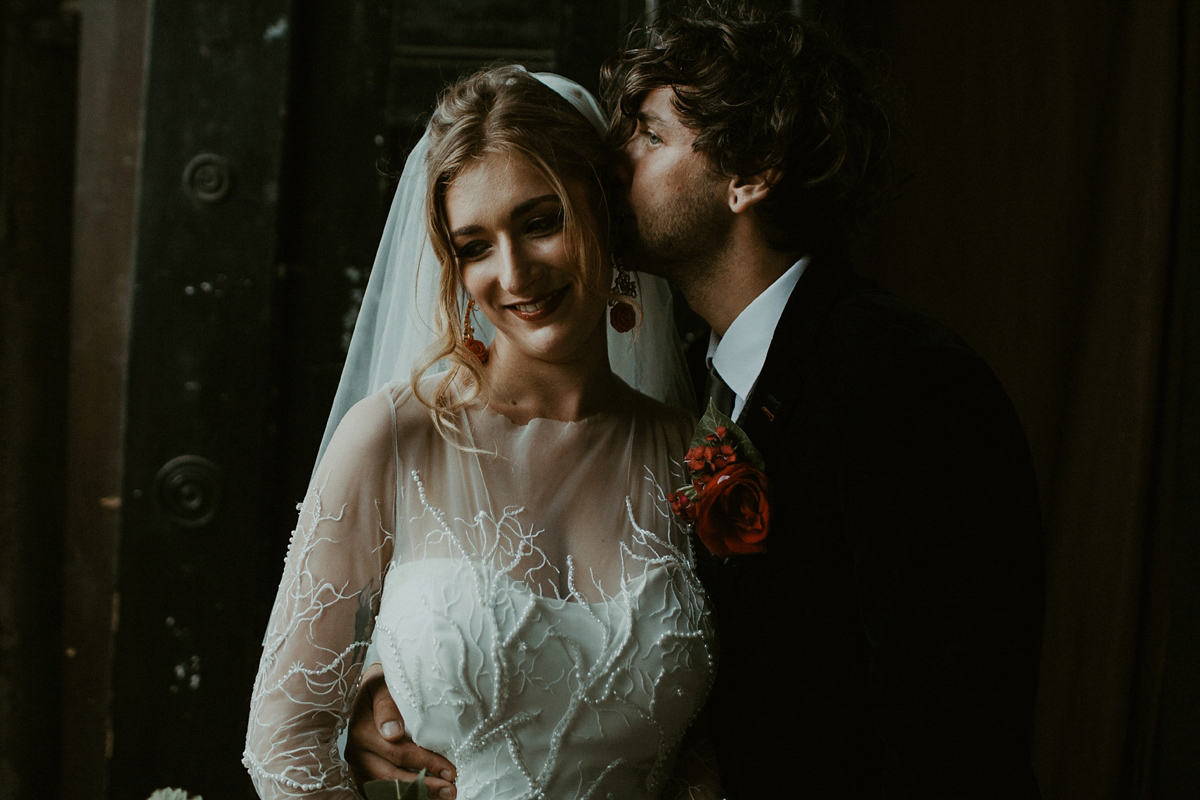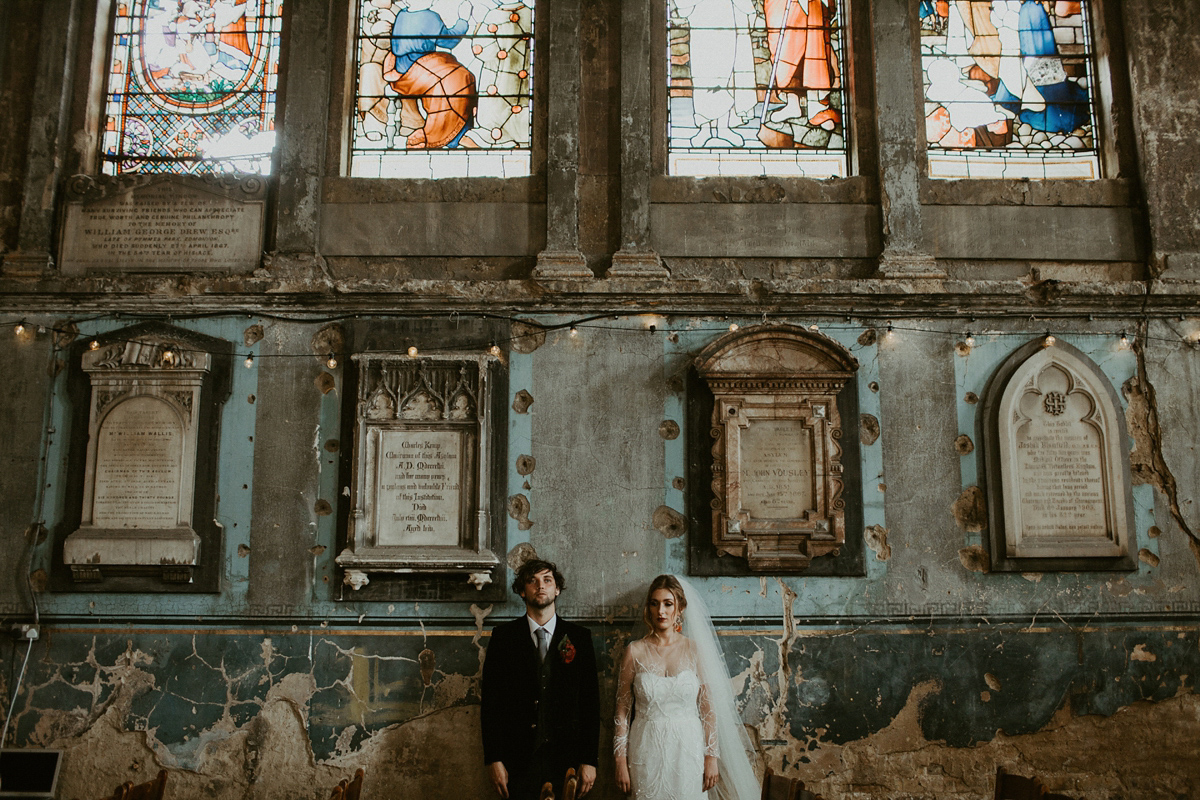 Ashleigh travelled to the ceremony in great style, in a 1940's pink Cadillac with a driver who looked like Robert DeNiro.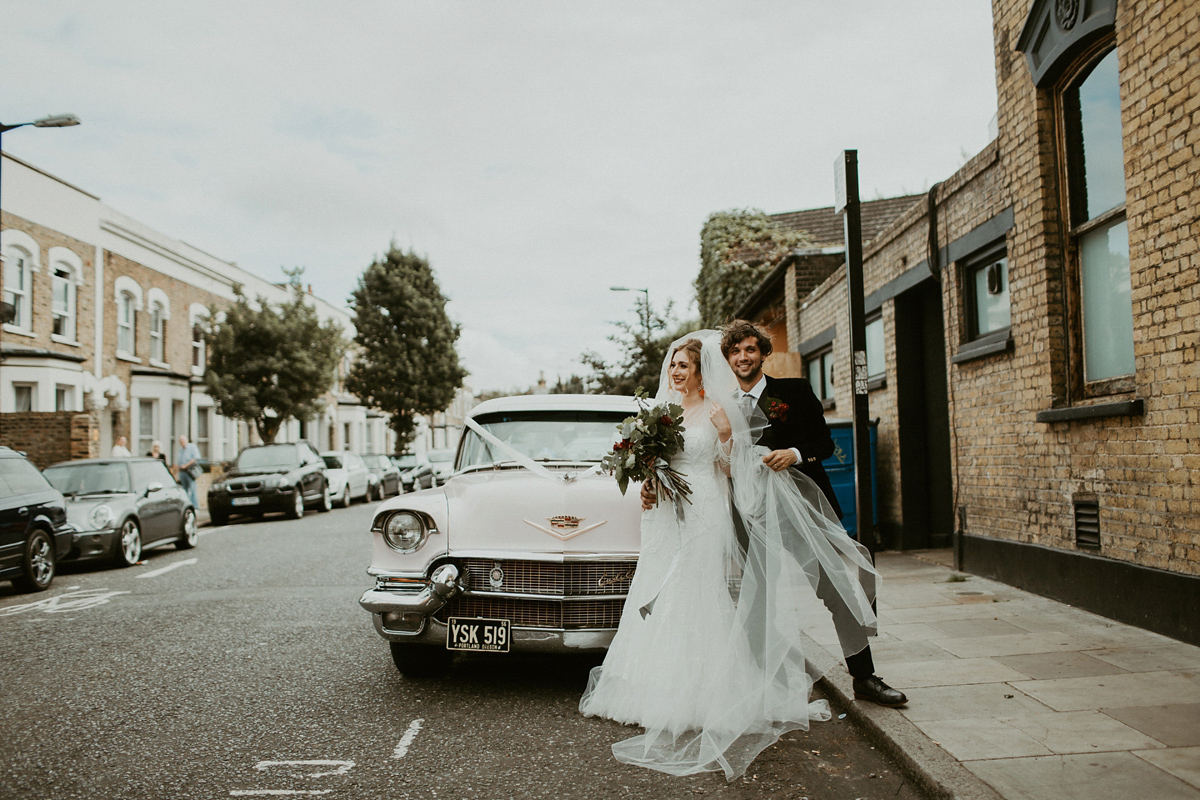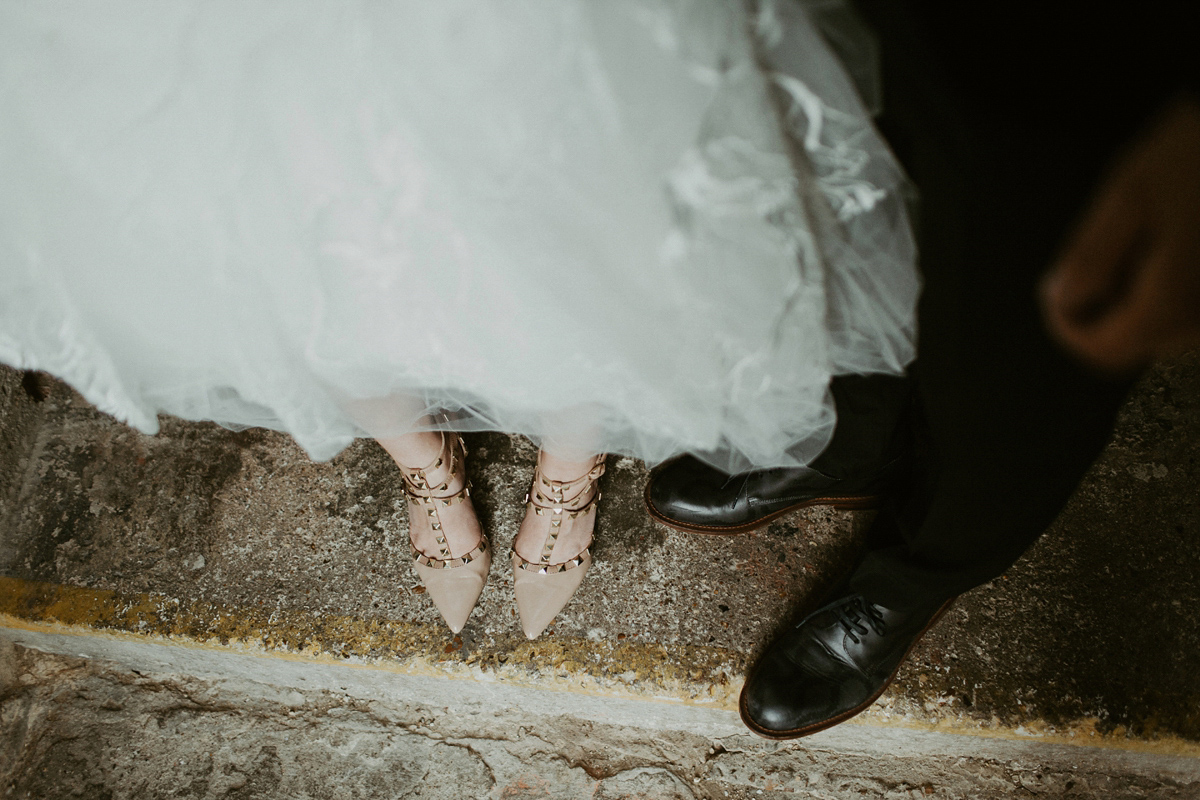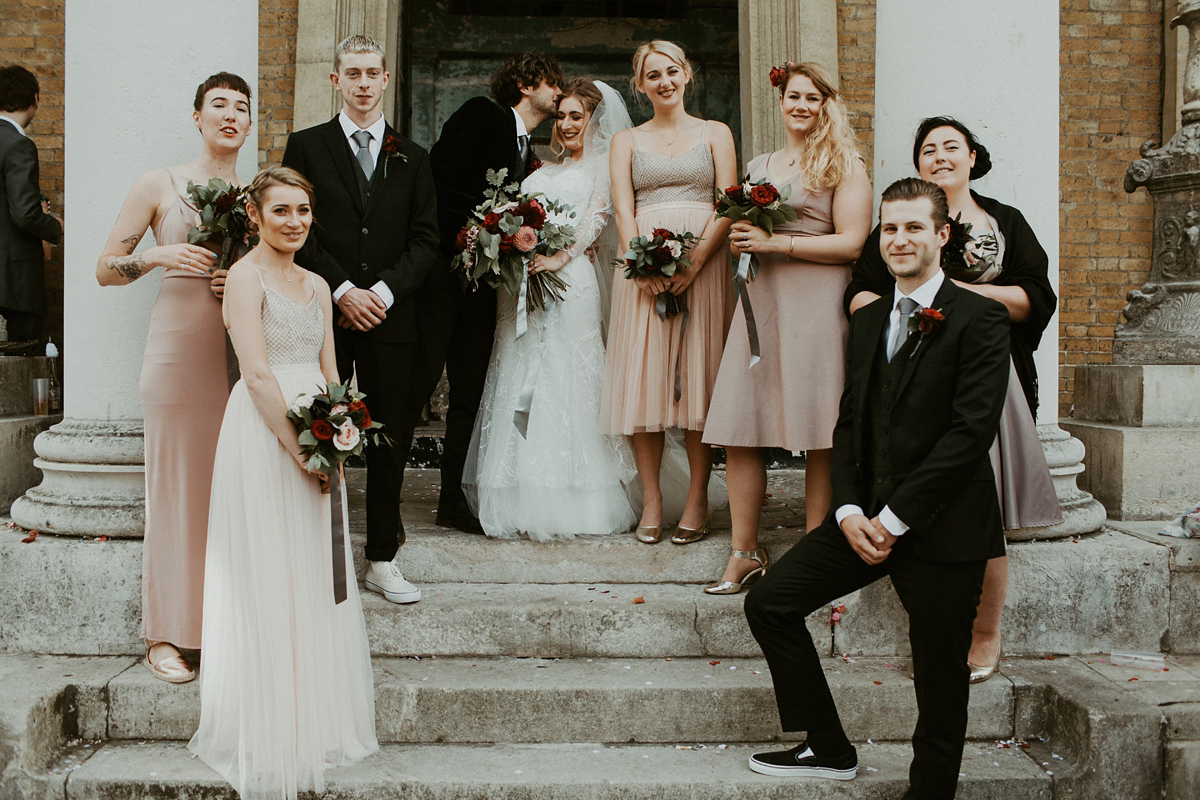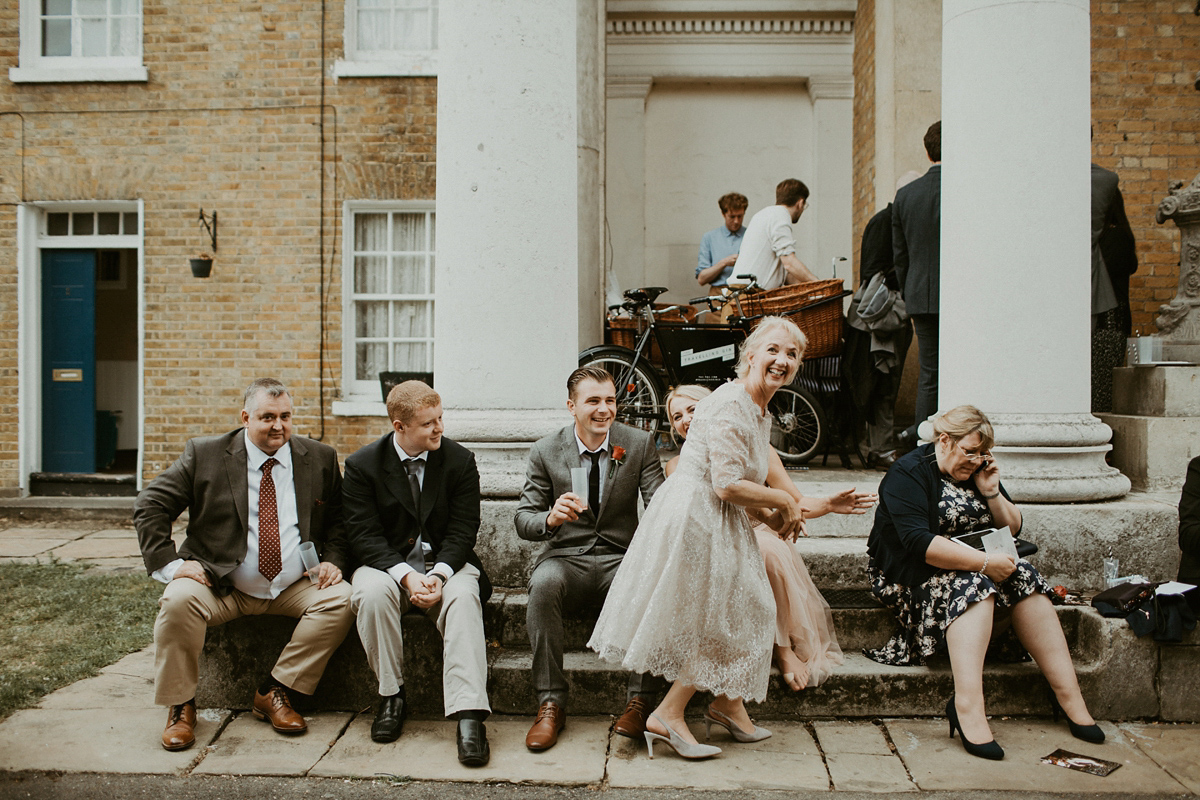 "My favourite part of the day was after all the serious stuff, after the ceremony and the meal, when the music had started and 'Don't You Want Me Baby' by Human League came on."
"Everyone was crowded together and singing at the top of their voices. It was this moment when I realised that everyone was there because they loved us. Oh, and the confetti, I loved that too."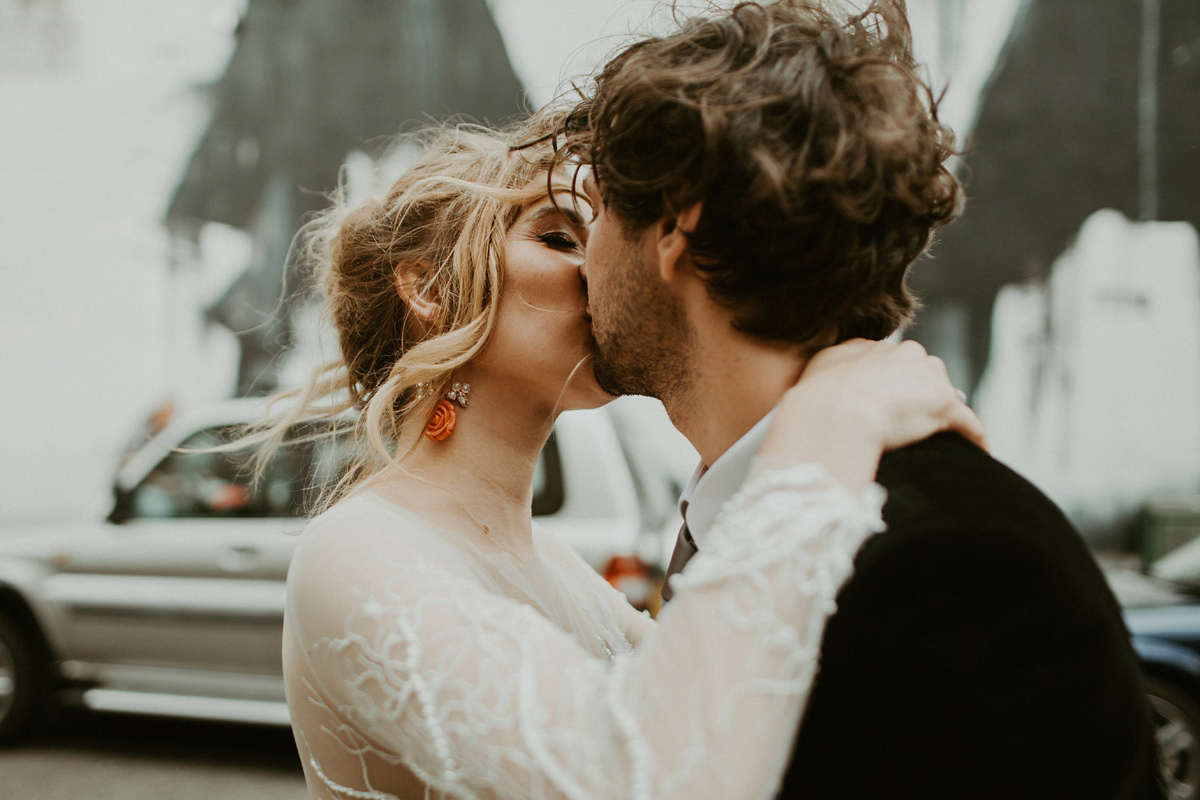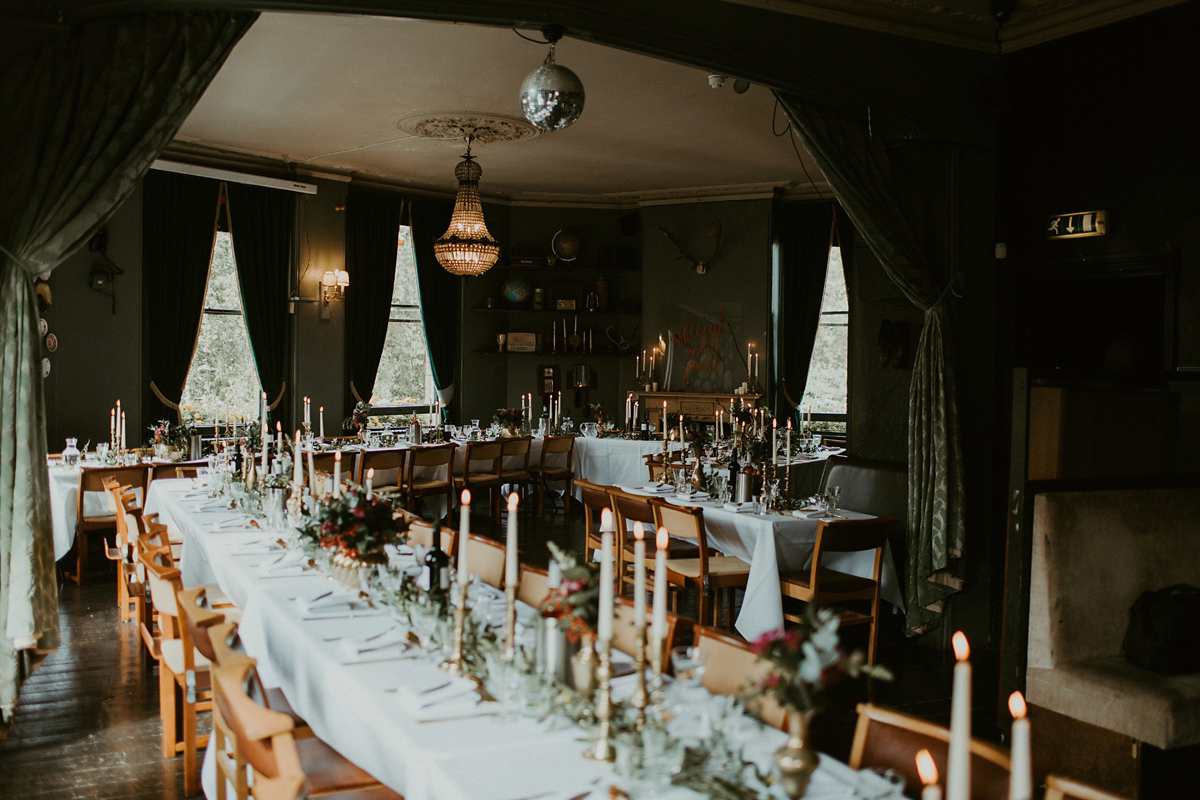 "We sourced gold and brass vases, bowls for the flowers and as many candlesticks as we could get our hands on. We also hired gold embossed cutlery which made everything else look really fancy.
My maid of honour Lucy's mum let us borrow her crystal glass collection. We set the table up in 2 rows so it was like a banquet and we could see everyone."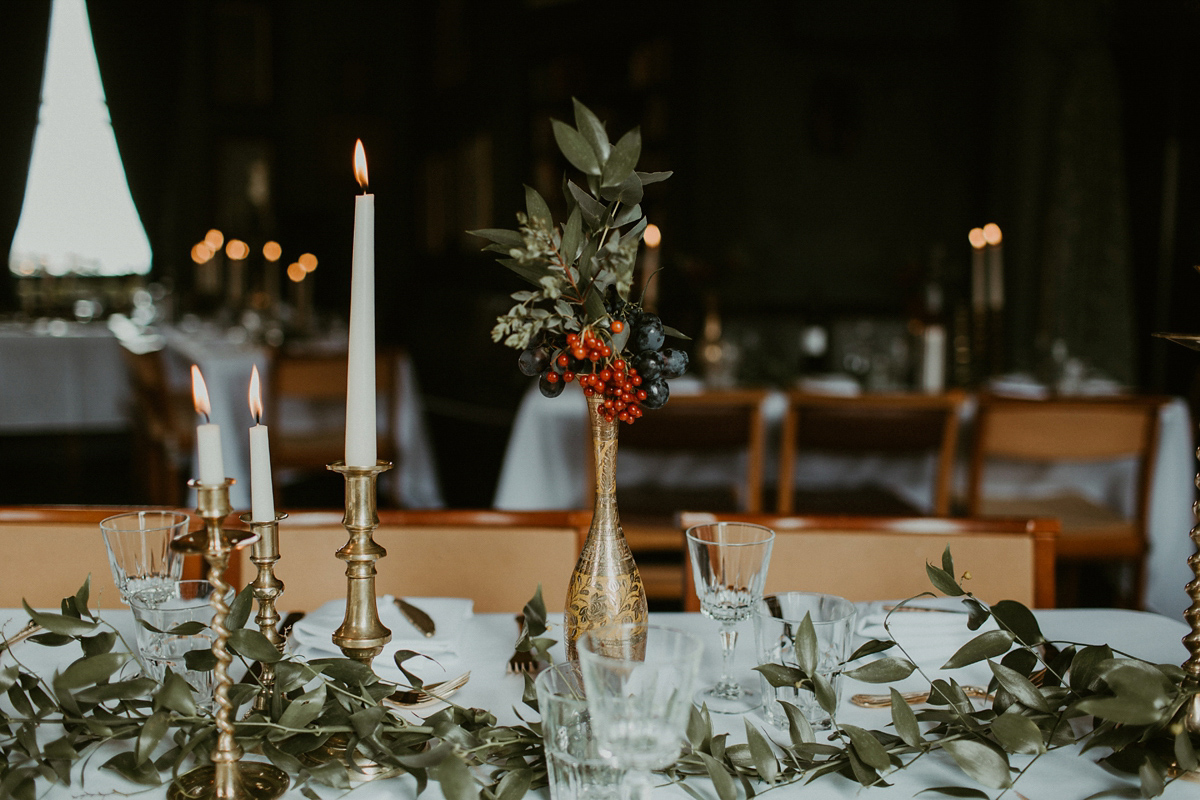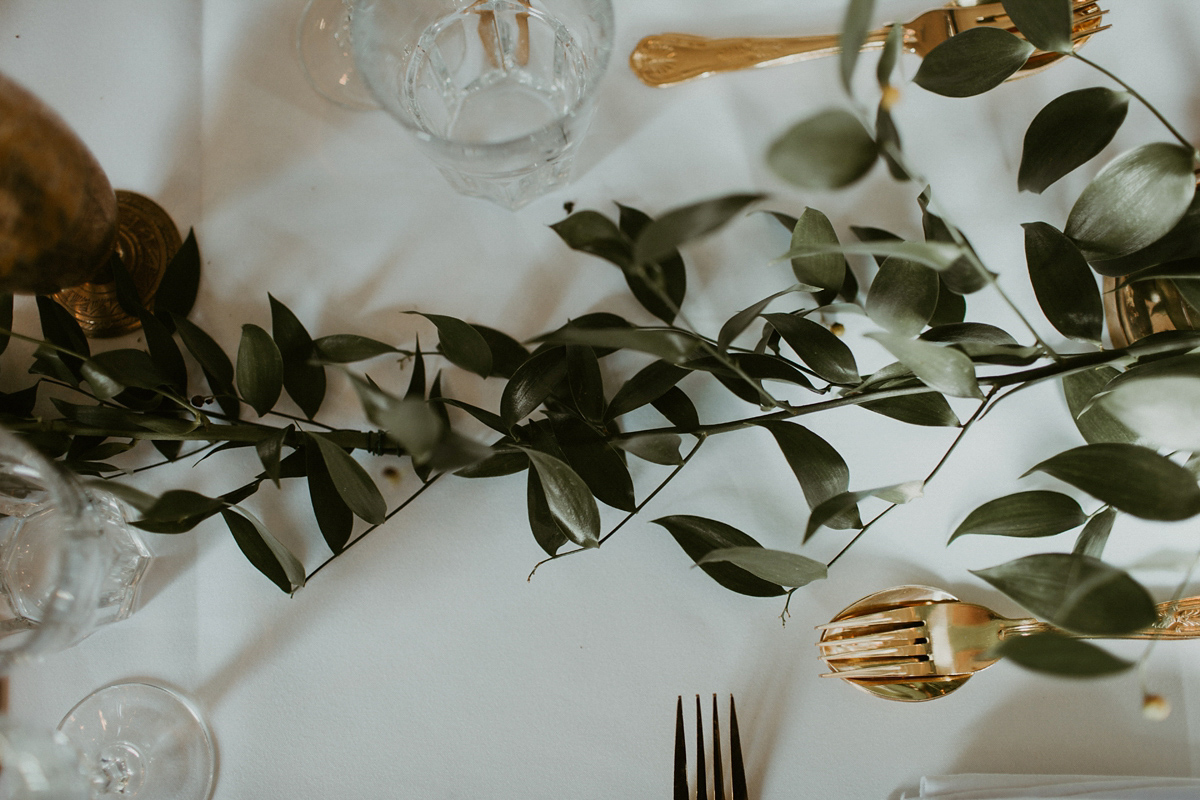 "I made all the invitations, order of service, maps, menus, place cards and photo booth backdrop. Even the confetti. I also made golden feathers out of polymer clay for the favours and added names so they doubled up as place cards."
"We made playlists of our favourite music, and asked our guests for theirs on the invitations and just played them on the laptop."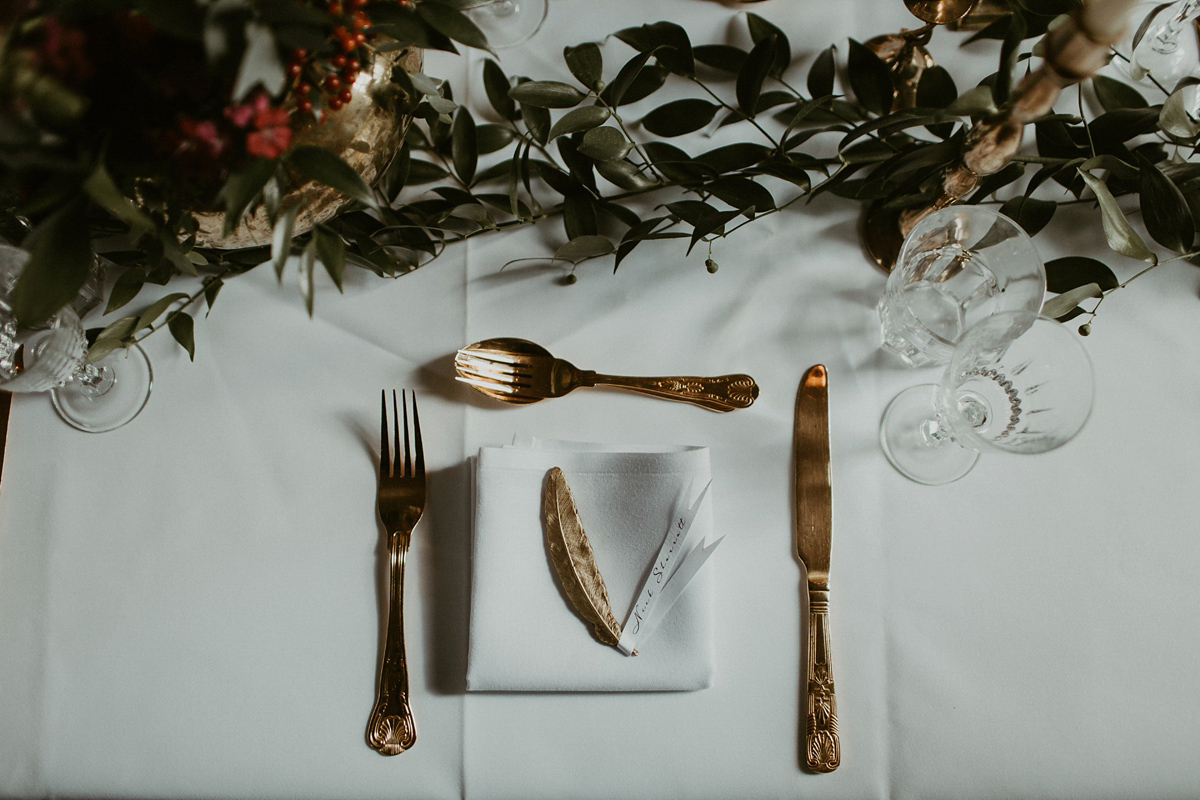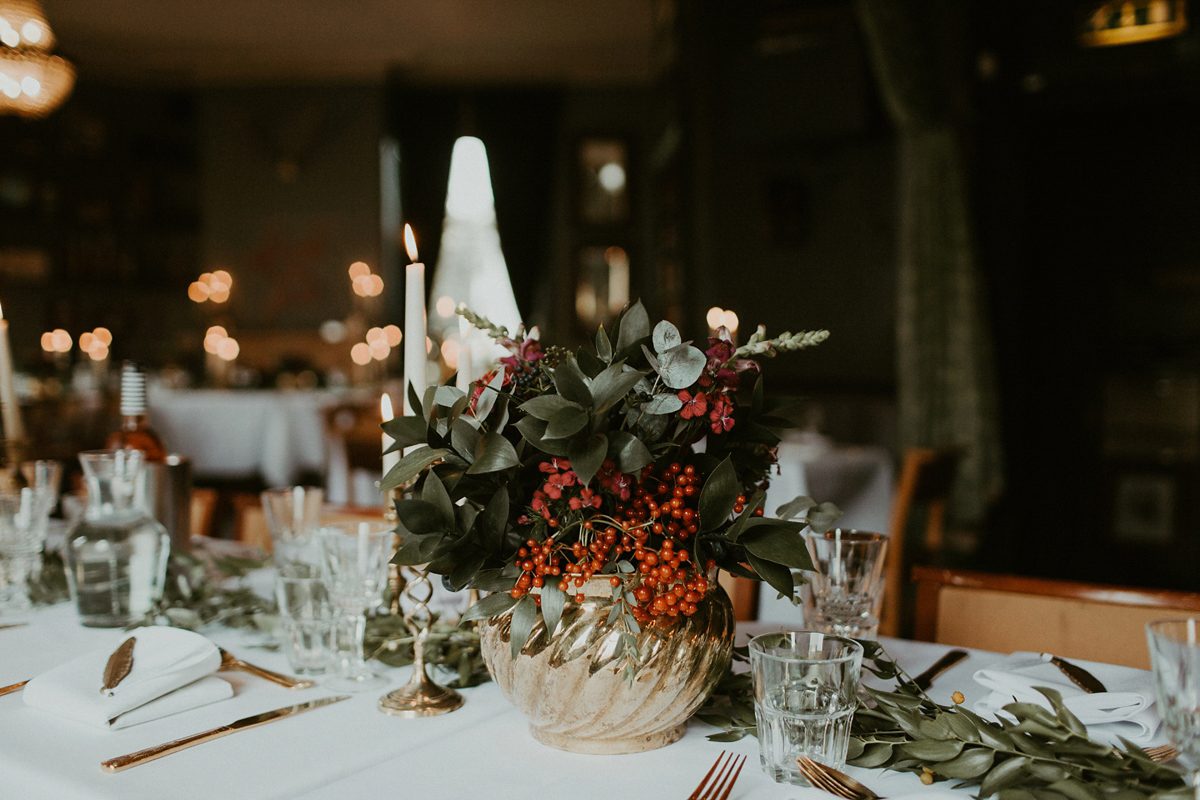 "We had a very deep two tiered cake, dressed in gold, made by the Brixton Cake Shop. The bottom layer was red velvet and the top was lemon."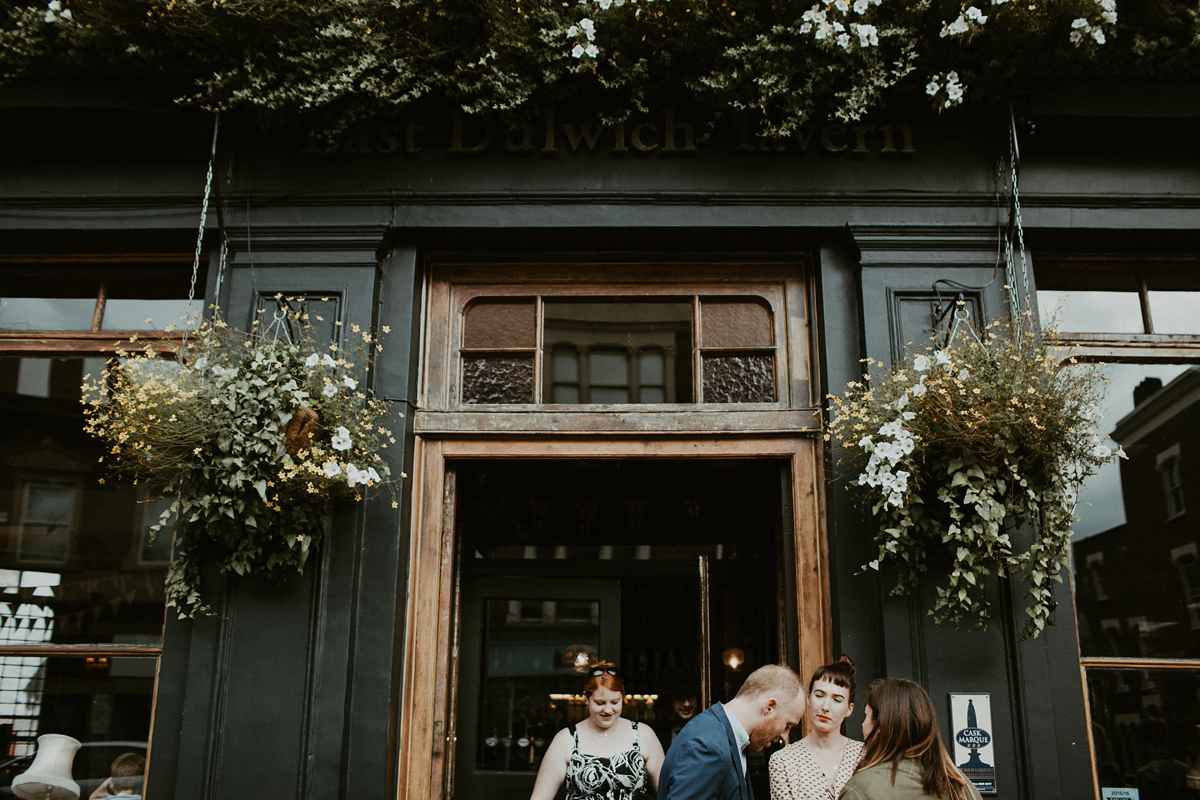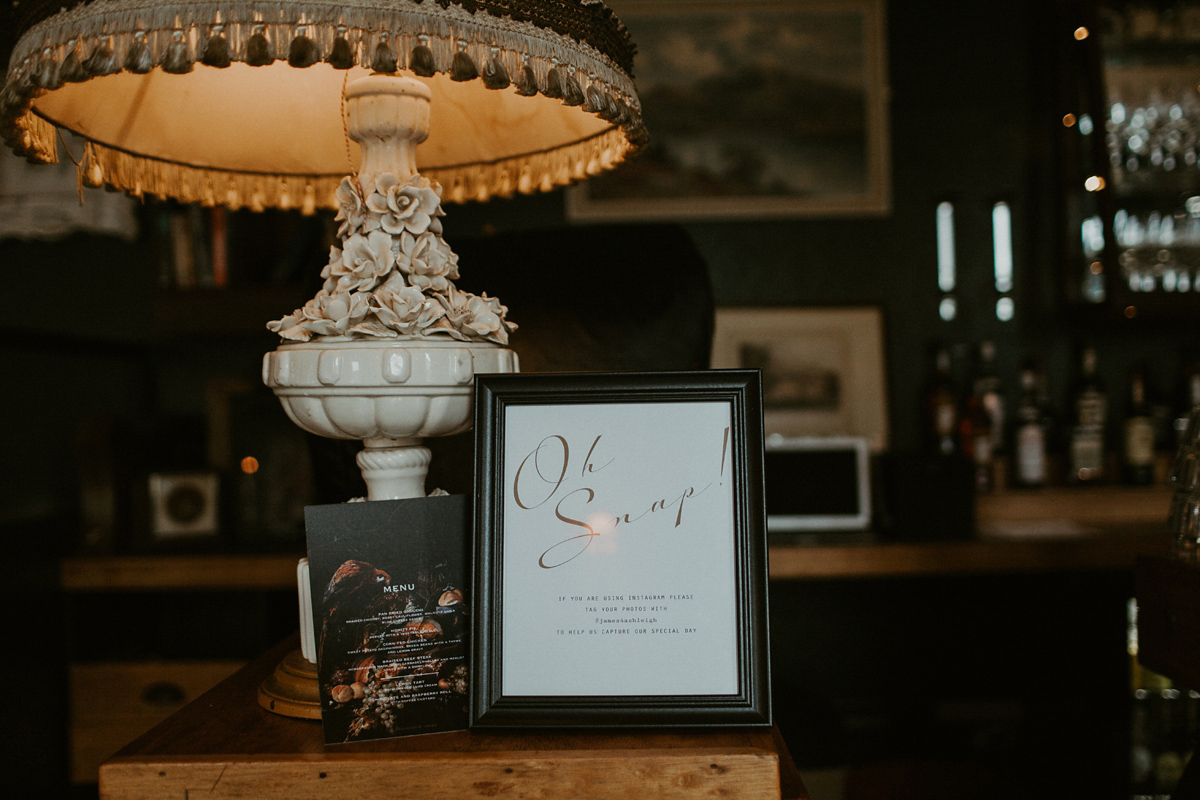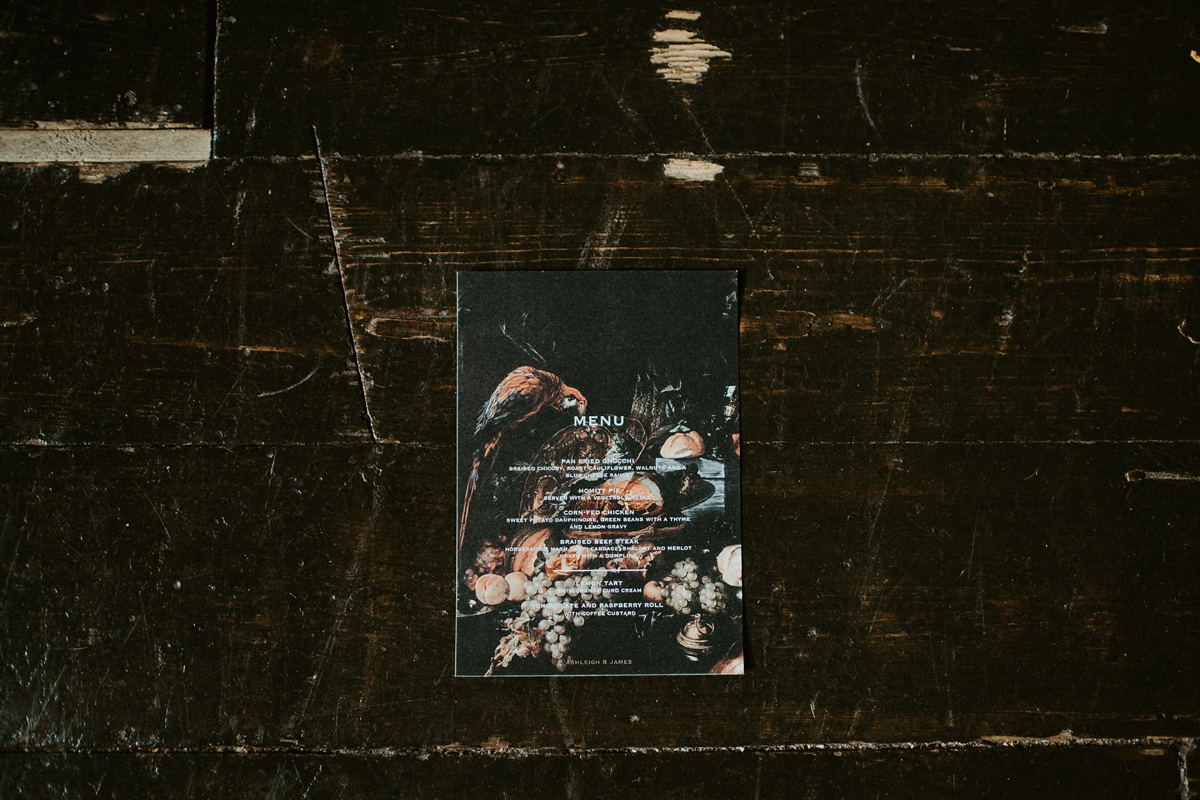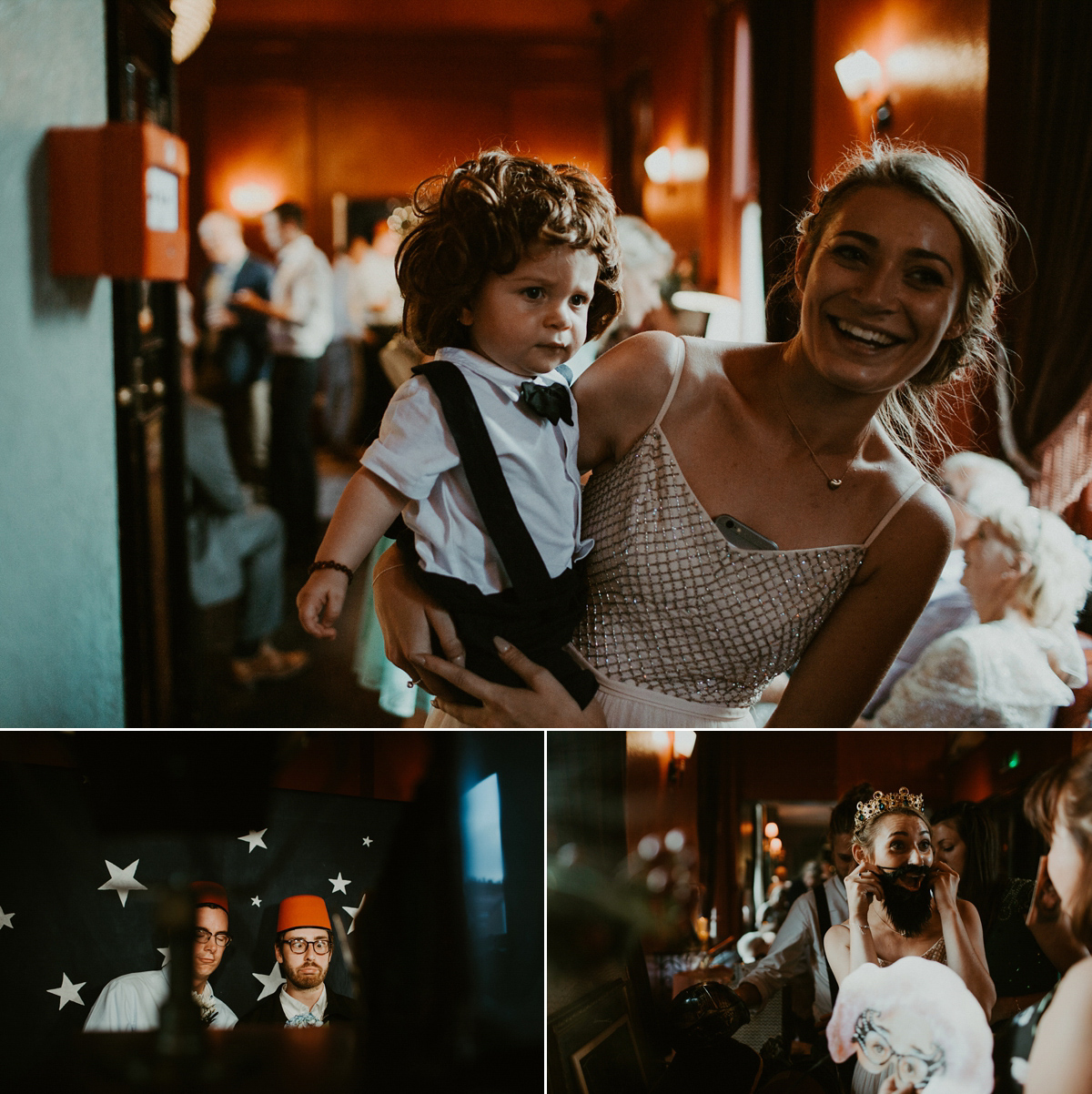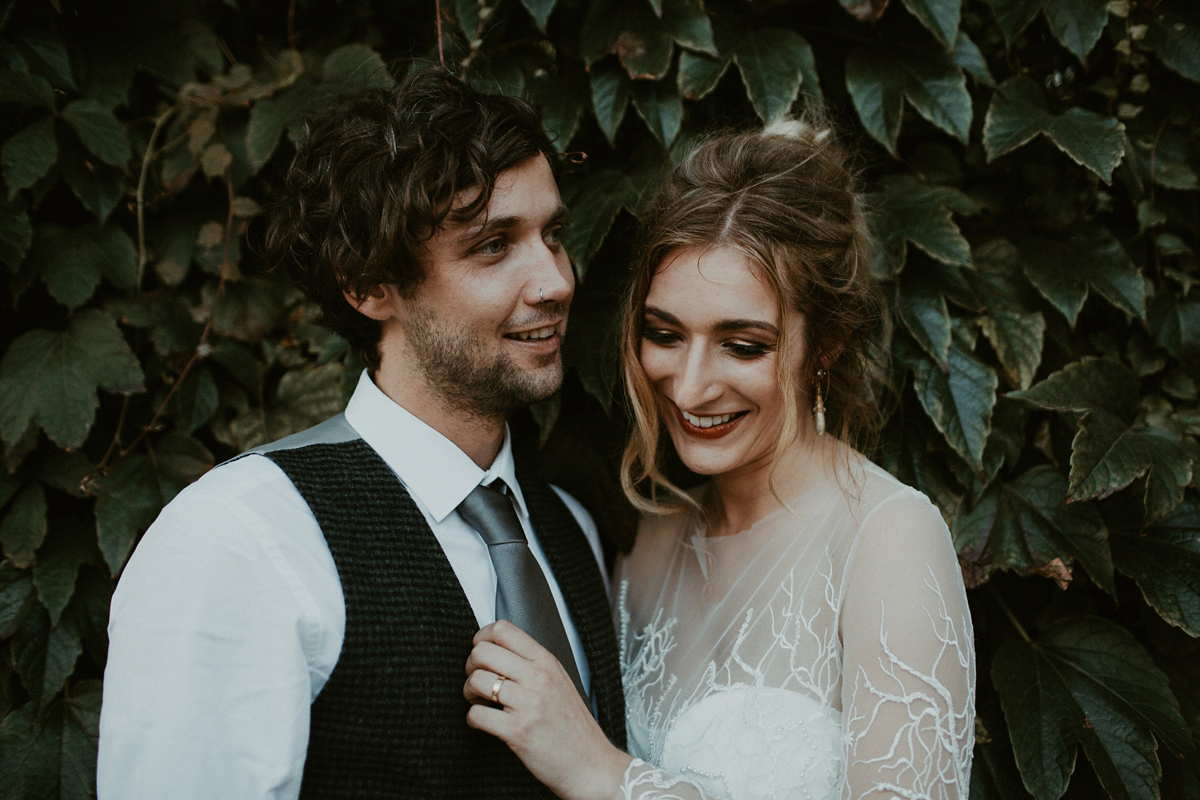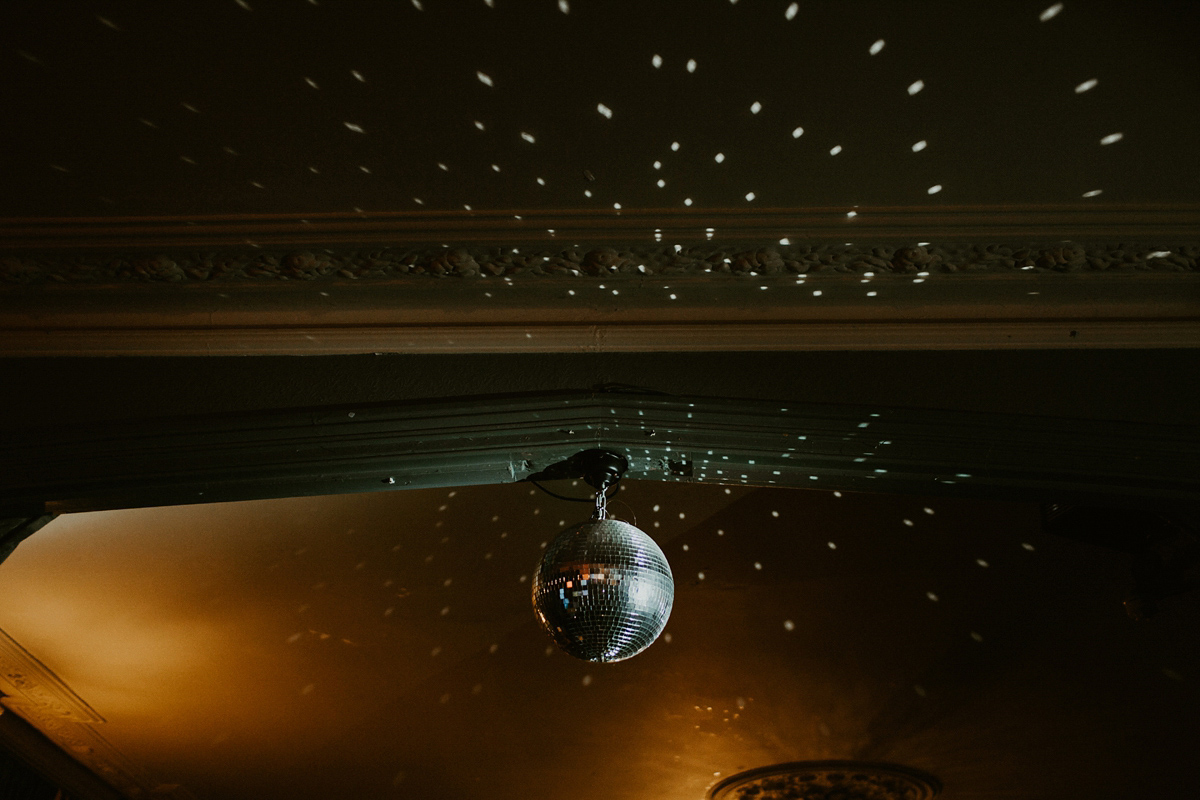 "'Our Song' is 'Golden Years' by David Bowie. There could be no other first dance song."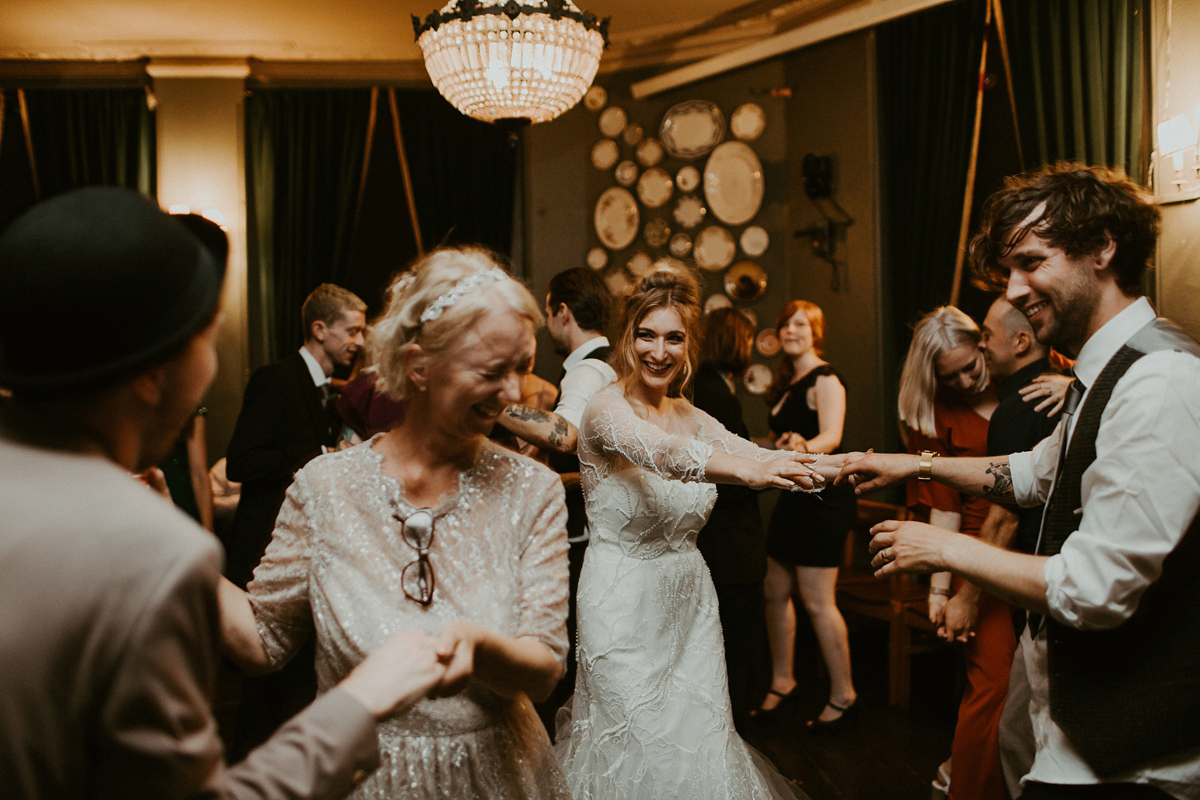 Words of Wedded Wisdom
"I know everyone says it but all the small things that seem so big and stress you out when they go wrong don't matter. You are the only one who will know when something doesn't go right so try to enjoy it. In the end, when you walk out with your hand in theirs, you know you are exactly where you are supposed to be."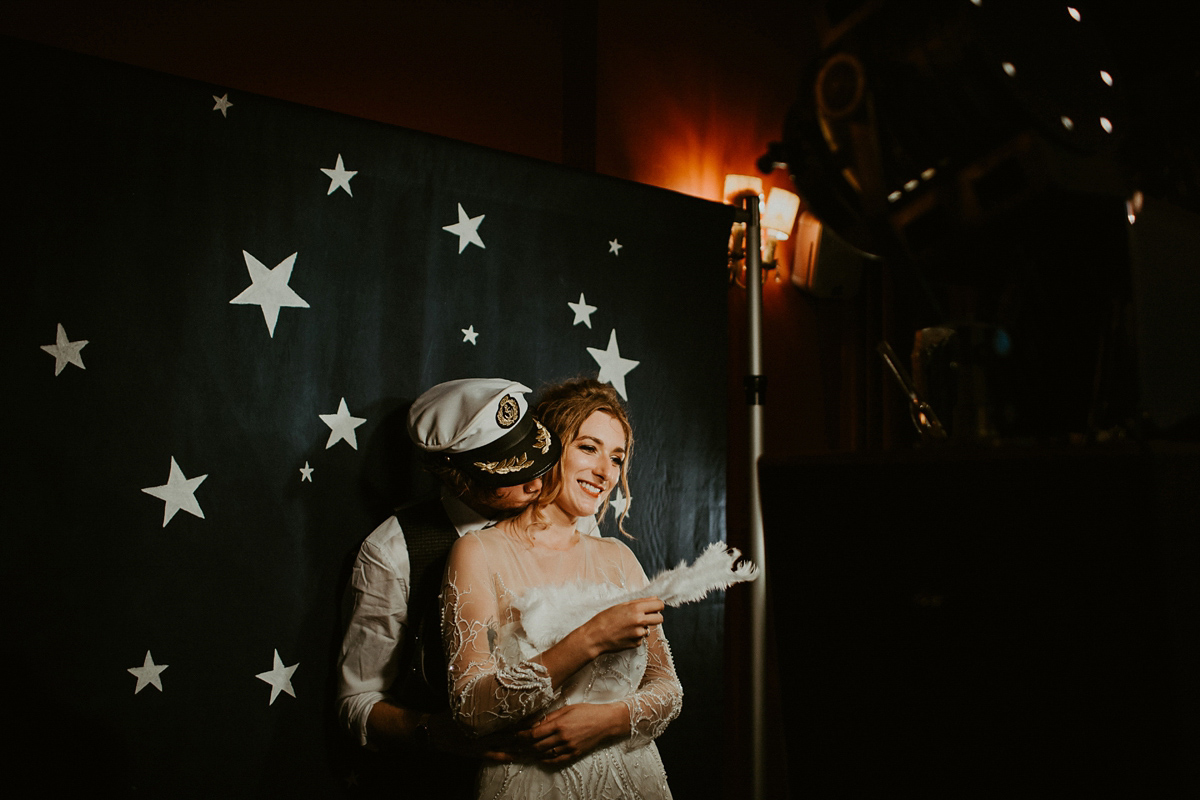 Thank you so much to Ashleigh and James, and to The Hendrys too. It has been a delight to see how this beautiful day came together. The Asylum is a venue that lends itself to many different styles and if you loved what you saw here, do have a look at the other weddings we have featured there.
Caoimhe x