Hello everyone, and Happy Easter Saturday!  How are you all today? I hope that you are thoroughly enjoying the long weekend, and that the weather has been kind to you where you are.  Even if it rains on Easter Sunday, my sister and I have a tradition of each creating an outdoor Easter treasure hunt for our family complete with rhymes, riddles, clues and chocolate eggs.  We are both most definitely children at heart, despite being in our thirties, and lay out our trails with total and utter glee before 'making' the family take part.
Today's bride and groom, Georgie and Mark, married in the height of summer, in leafy Kent. A sunshiny outdoor forest ceremony, whispy foliage and bright, bold sunflowers and such a glamorous Temperley gown, I'm sure that this wedding will bring a ray of sunshine in to your day. Georgie is a chartered surveyer and Mark owns an audio-visual company. The pair first met through mutual friends when they were teenagers and came across each other again a few years later.
Photography by Razia N Jukes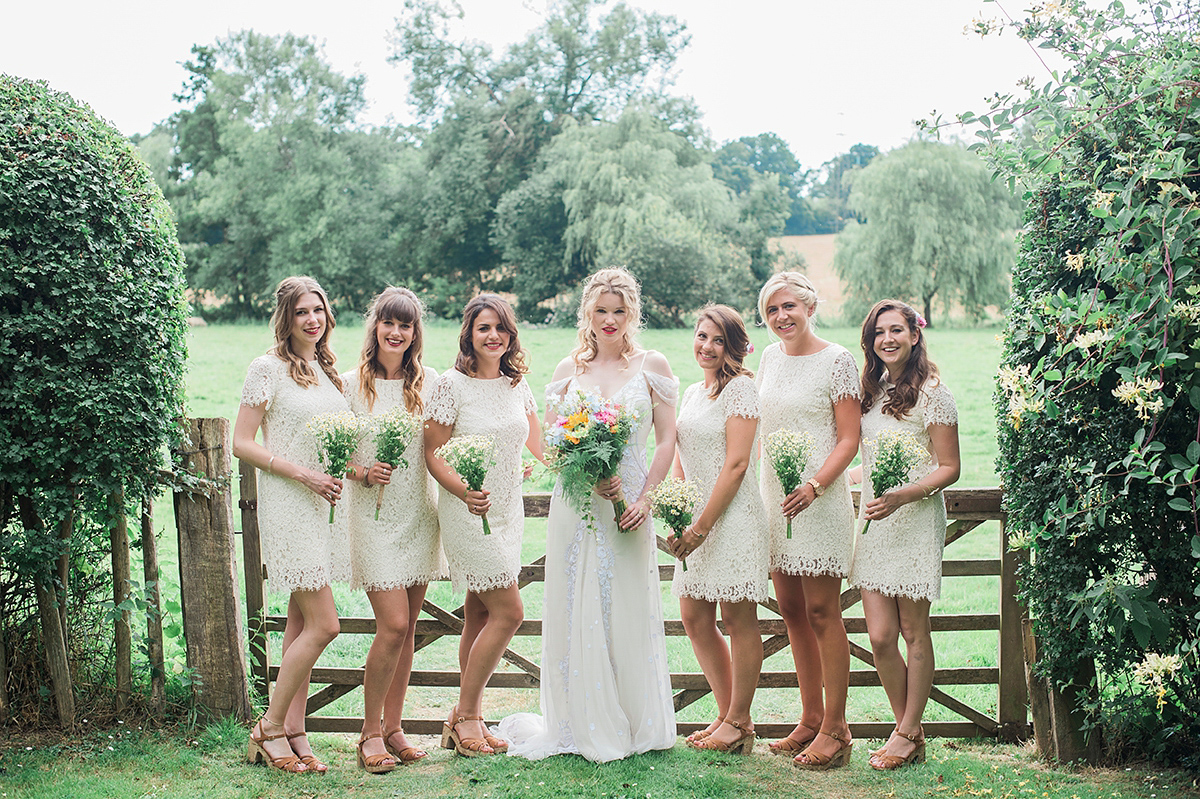 These beautiful images are the work of wedding photographer Razia N Jukes, who nails the art of telling stories through her stylish and emotive images, and who we are very proud to support on Little Book for Brides.
"Razia came highly recommended to us and I am so glad that she was free for our wedding as she was absolutely everything that we could have hoped for in a photographer. She is an extremely talented lady and shot our wedding photos in exactly the style that we wanted. In addition to this she has a very relaxing personality, which is so important on the day when you may be feeling anxious and that you need to be in several different places all at once. Prior to the wedding she spent a lot of time speaking to us to fully understand what we wanted out of our wedding photos and we are over the moon with the photos she produced."
"Our florist was the amazingly talented Sophie who owns Astilbe and Sorrel located in Hawkhurst, Kent. Mark and I both love sunflowers and wanted them to feature heavily in our day, however we were also keen to have a wide range of brightly coloured flowers to go with them, so as to introduce as much colour as possible and to create random wildflower meadow feeling."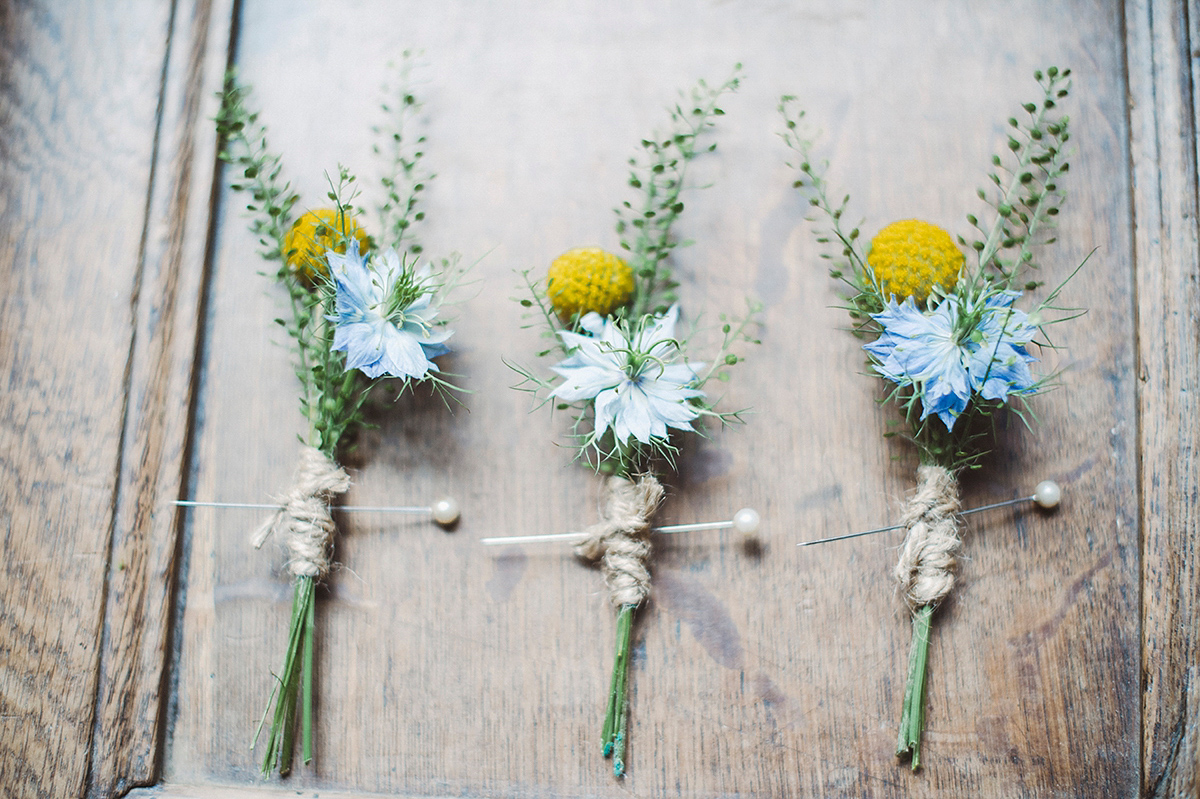 "We wanted to use flowers as a key way of decorating both our ceremony and back at our reception too. Sophie totally delivered on the flowers and completely matched the theme that we were trying to achieve both at the ceremony and the reception. Looking back the flowers are still one of my favourite details of our wedding."
The majority of the planning and styling was done by the bride, groom, their family and friends, but they enlisted extra help to help the day run super-smoothly.
"We didn't have an event planner. However our caterer recommended an amazing lady called Jackie who helped us set up the marquee the day before and run the wedding on the day. This was invaluable to us, as being held at my parents' house there were lots of parts of the day which we were responsible for. Jackie looked after all of this which meant that everything ran smoothly and we could focus on enjoying our day and spending time with our guests."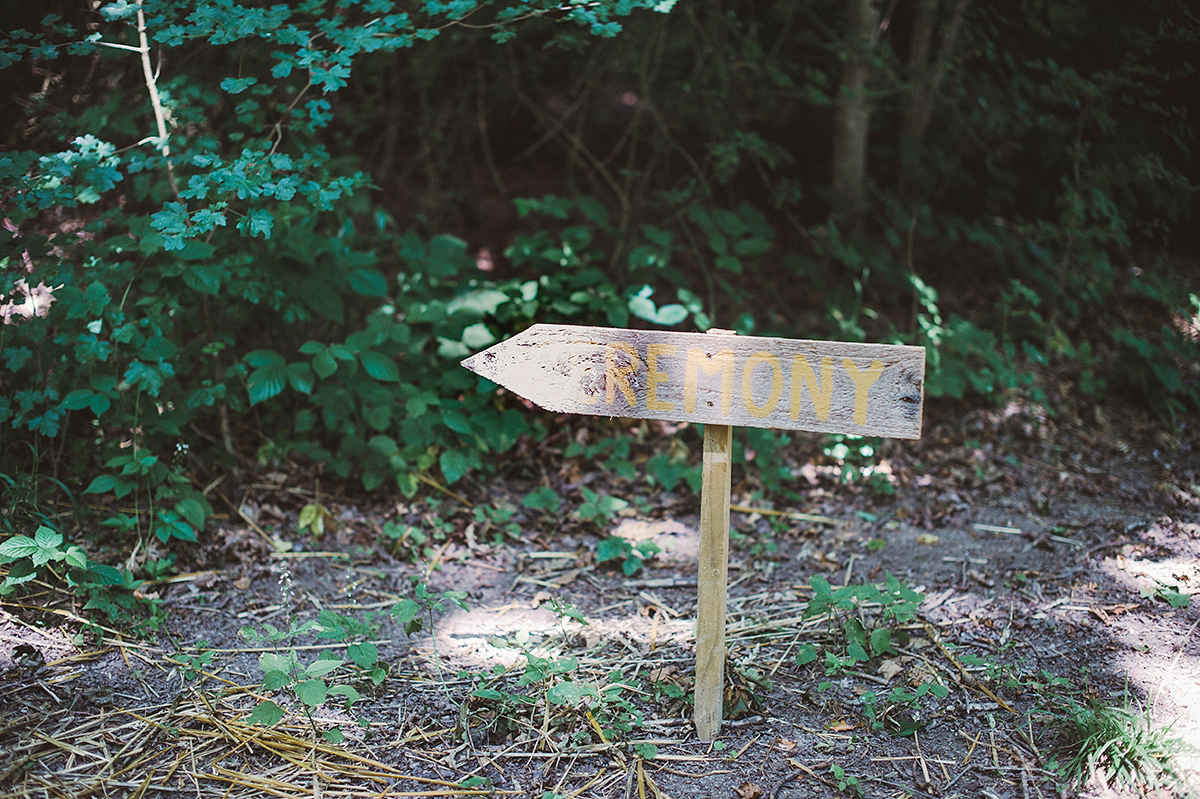 The bride wore the embroidered Peri gown by Temperley Bridal, which looked both romantic and glamorous with its off-the-shoulder sleeves. Its style was the perfect choice given the venue; take a close look at the appliquéd motifs.
"My dress was the Peri Dress by Temperley Bridal, purchased from Isabella Grace in Tunbridge Wells. It was altered to fit me perfectly by an amazing seamstress call Miss K, also from Tunbridge Wells. I was open minded about my wedding dress and I tried on a couple that I really liked. However when I saw my dress I fell in love with the unique pattern and detail on the dress which included foxgloves and other floral patterns set against a bold Art Deco style print. Given the location of our wedding I thought the details of nature on the dress and the slightly bohemian cut suited the day perfectly."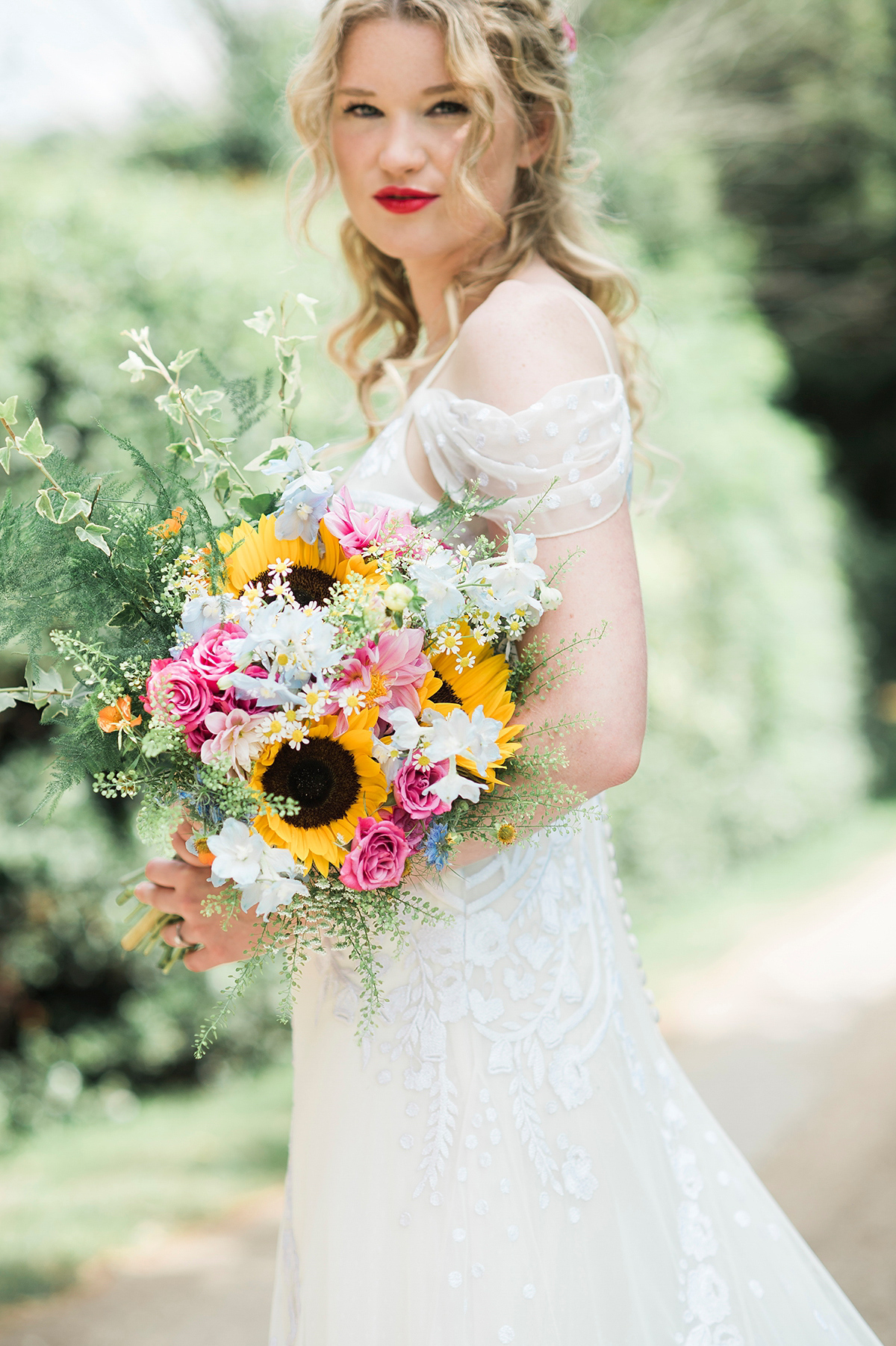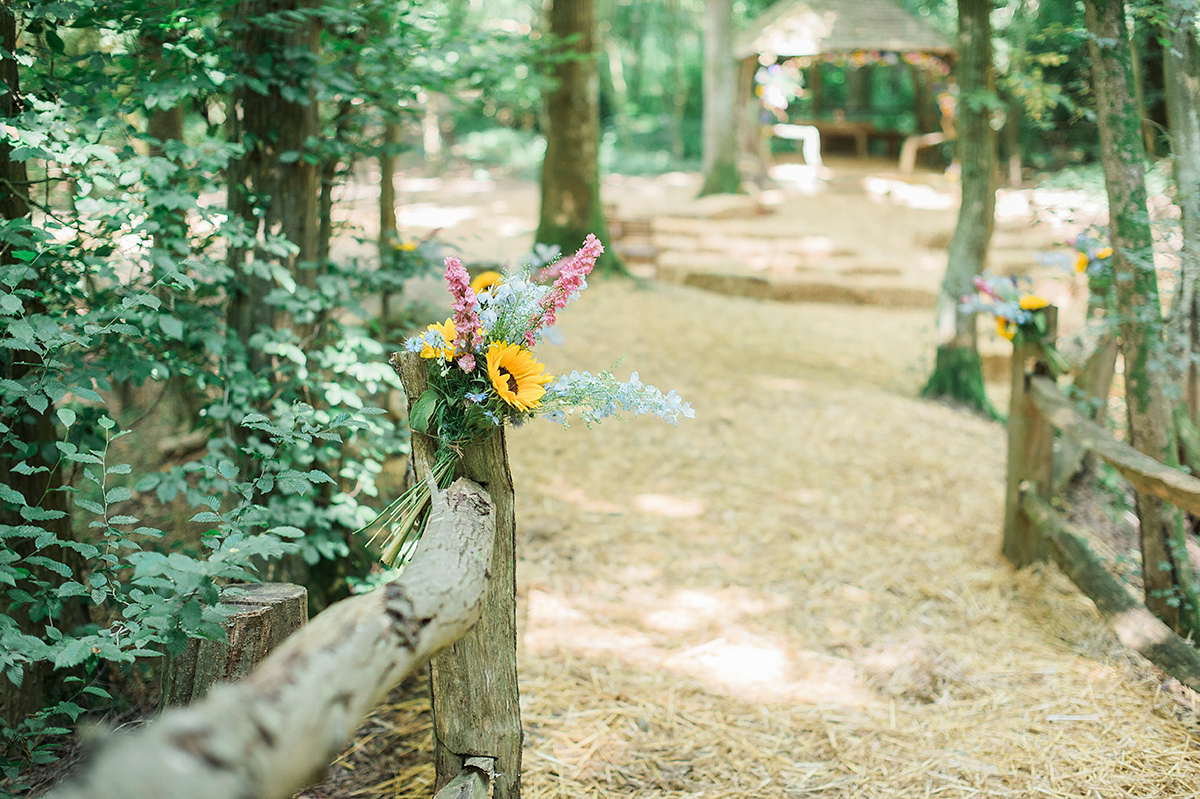 Georgie chose a new fragrance, La Vie Est Belle by Lancôme, for her wedding day, and I love how she purposefully did so that the memory would be evoked whenever she smelt it.
"I wanted to wear a perfume that was new to me and that would remind of our wedding day when I smelt it over years to come. I loved the classic scent of this perfume and I felt that the name which translates from French to 'Life Is Beautiful' was very fitting for our beautiful woodland wedding."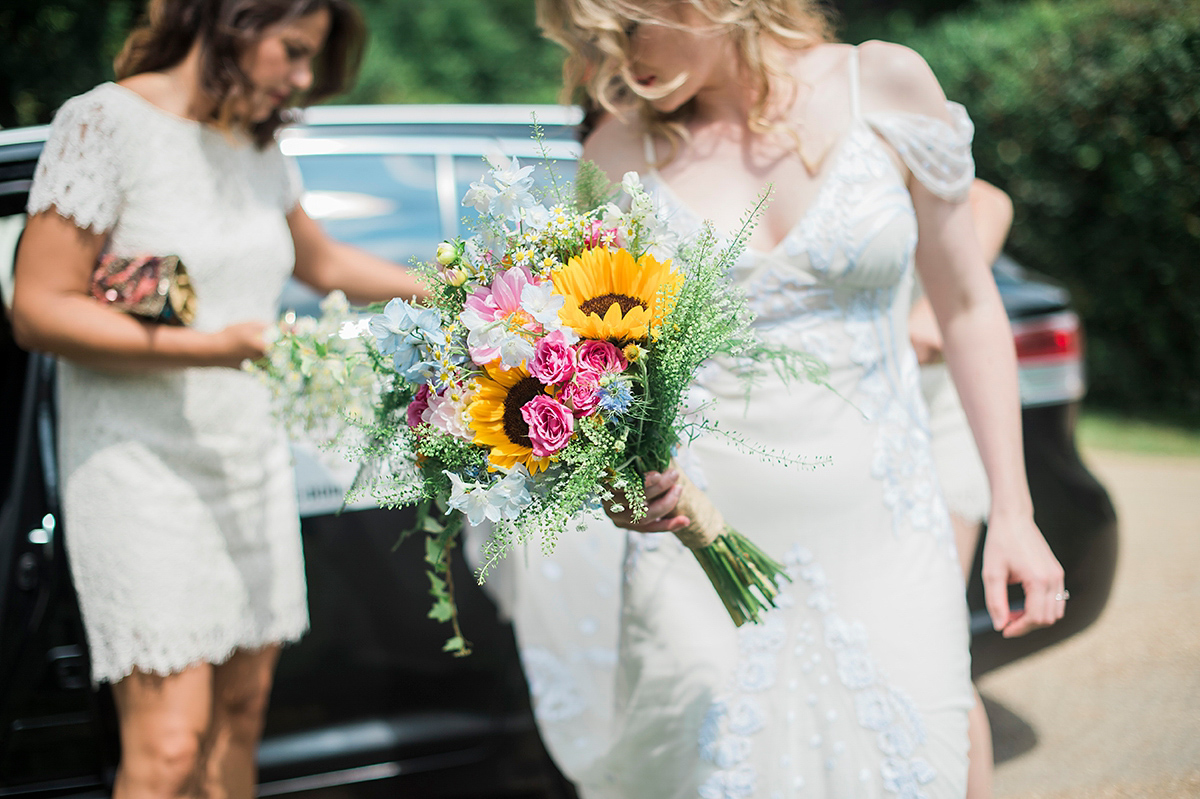 It's always so refreshing to see bridesmaids wearing something slightly different, and these cute mini-dresses from Zara look fresh, crisp and modern paired with wedges from New Look.
"I was always keen for my bridesmaids to wear quite simple cream dresses that they would all feel really comfortable in. I was really lucky to find the perfect dress in Zara, which they all looked gorgeous in."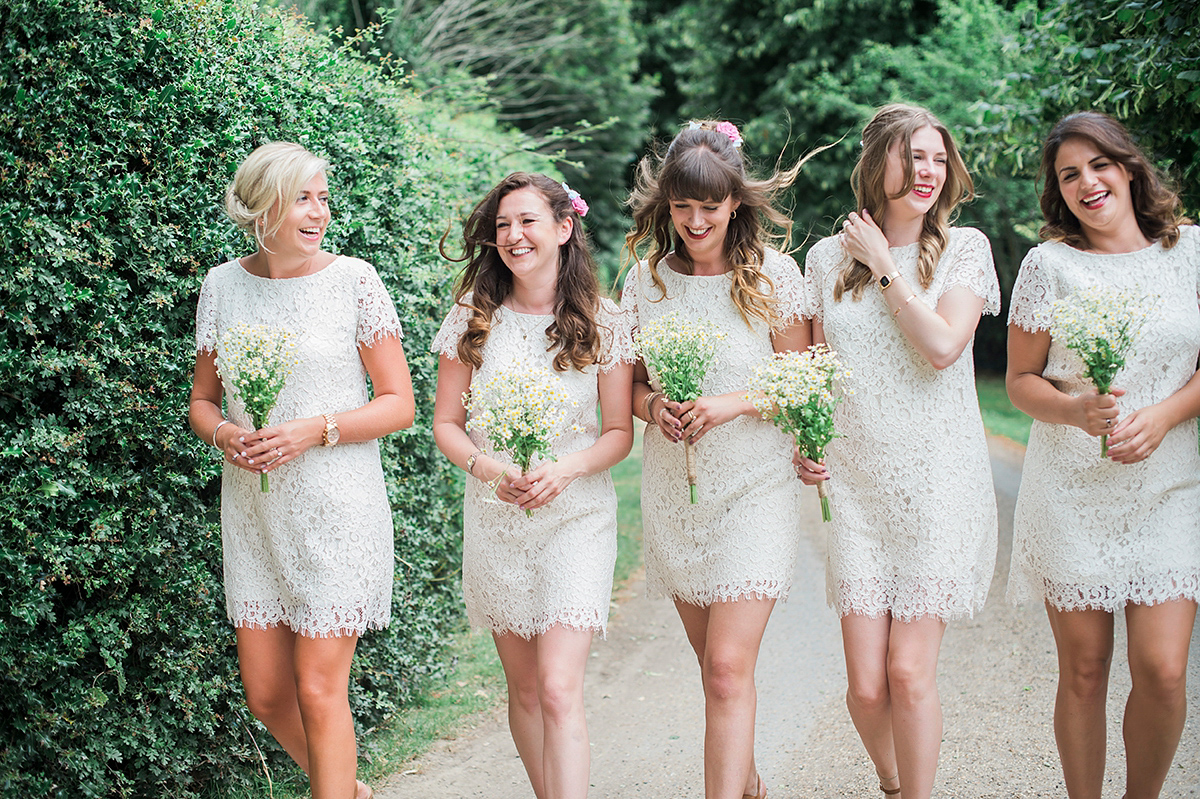 The focus was firmly on the flowing gown, as Georgie wore just fresh flowers in her hair and a silver bracelet borrowed from one of her sisters. Her tumbling curls added to her romantic, natural look but she really is a modern bride – just look at the beautifully strong orange-red lipstick. Her relaxed style is reflected in her bouquet, which is so natural and undone, as if someone has just scooped up an armful of wild flowers.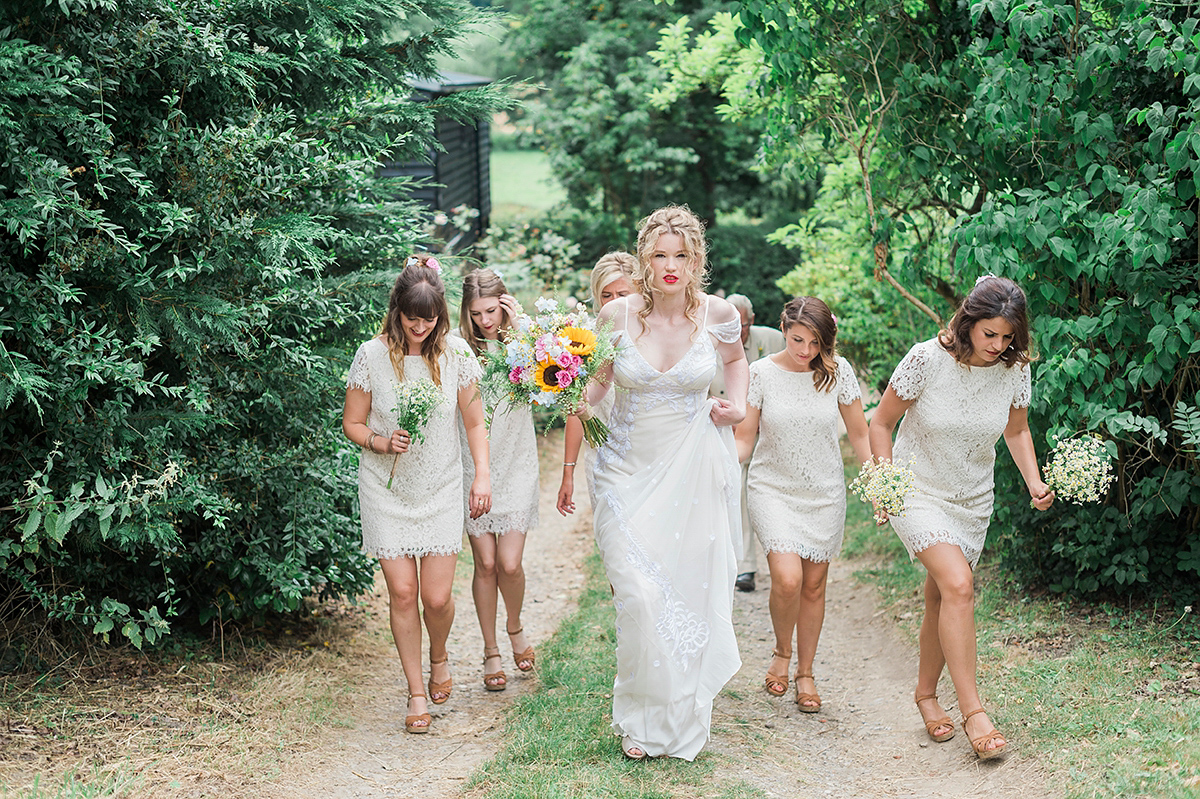 "Whilst I was at University in Bristol and Mark was working in Kent, we saw each other at a house party. After this we got back in contact and soon after started going out. The first two years of our relationship were long distance whilst I was still at University, then after I graduated we went backpacking round the world together for six months, and then moved to London together in 2010. Mark proposed on a beautiful day back in June 2015.
He surprised me with a room at St Martin͛s Lane Hotel and tickets to a concert in Hyde Park, proposing to me later that evening back at the hotel."
The clearing was decorated with simple jars of sunflowers and wildflowers, and I love the signage to lead their guests through the trees. The guests sat on simple hay bales and the focus was on the wooden bower with its sublime garland of sunflowers, foliage and roses created by florist Astilbe and Sorrel. The smattering of pink roses and blue flowers really makes the yellow of the sunflowers pop.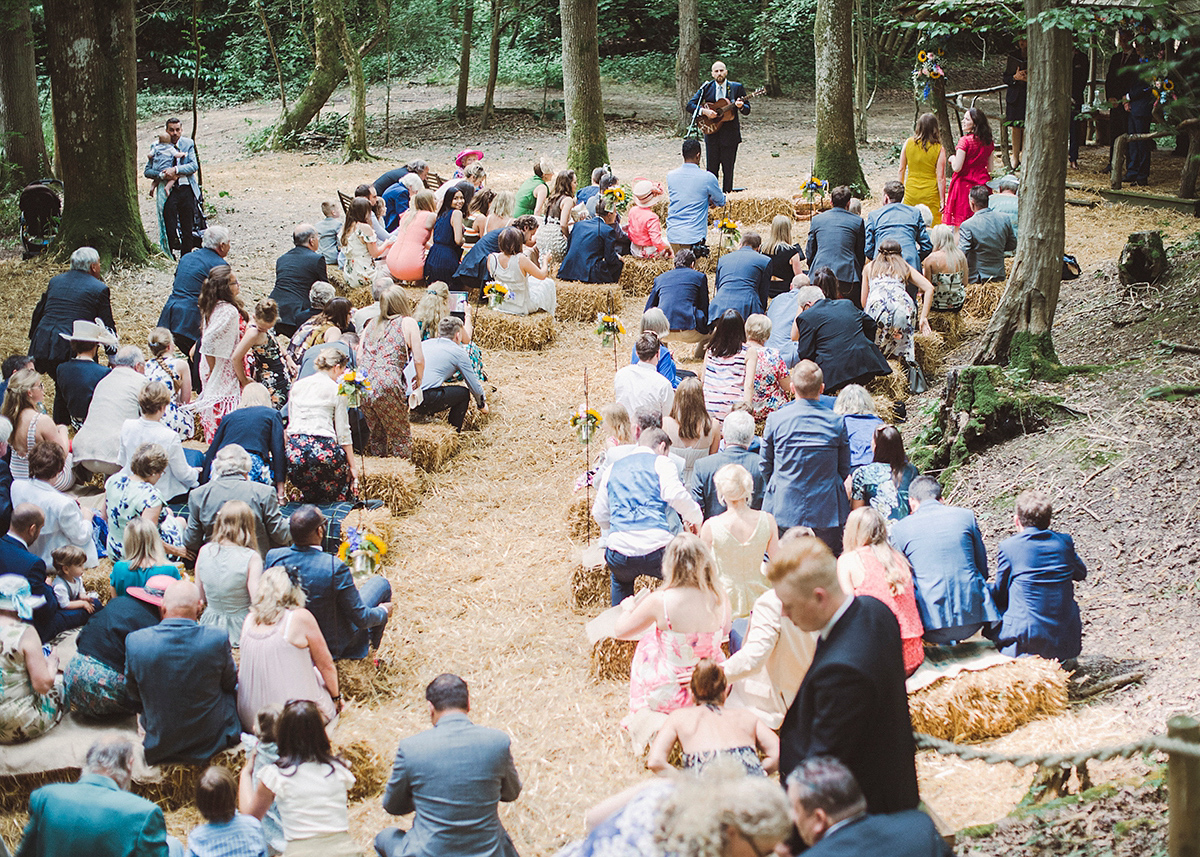 The botanical, outdoor feeling was even translated over to the groom's attire; Mark wore a Hugo Boss suit and a hand-made Liberty Print tie, made using the same fabric as the dress made especially for the adorable little flowergirl, by Sue Hill. The page-boys' outfits were personalised too, with pockets of the same material stitched on by Georgie's grandmother. Don't they look striking?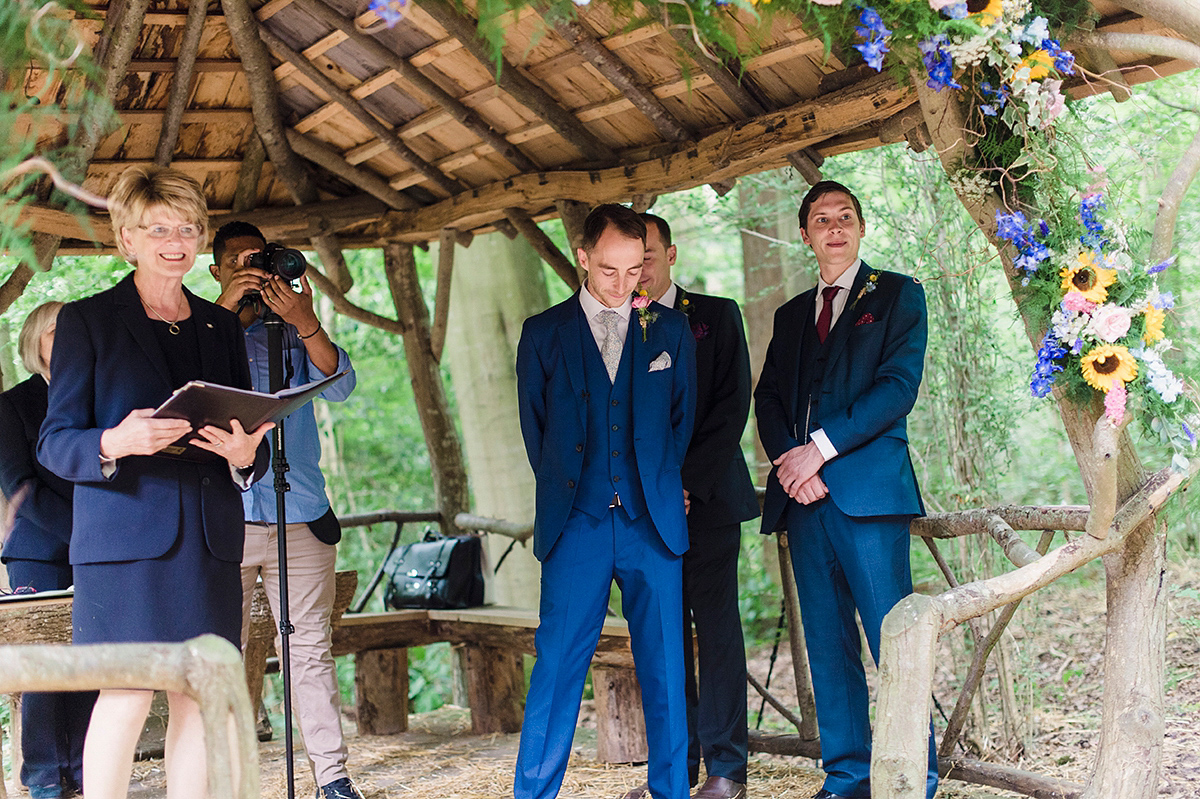 I love the light and airy photos of the woodland venue, and how Razia has captured the detail of the beautiful flowers and foliage. There was no overt 'theme' but Georgie had always wanted an outdoor wedding that celebrated sunflowers, which both she and Mark love, and they wanted the outdoorsy, relaxed feel to carry through the whole day.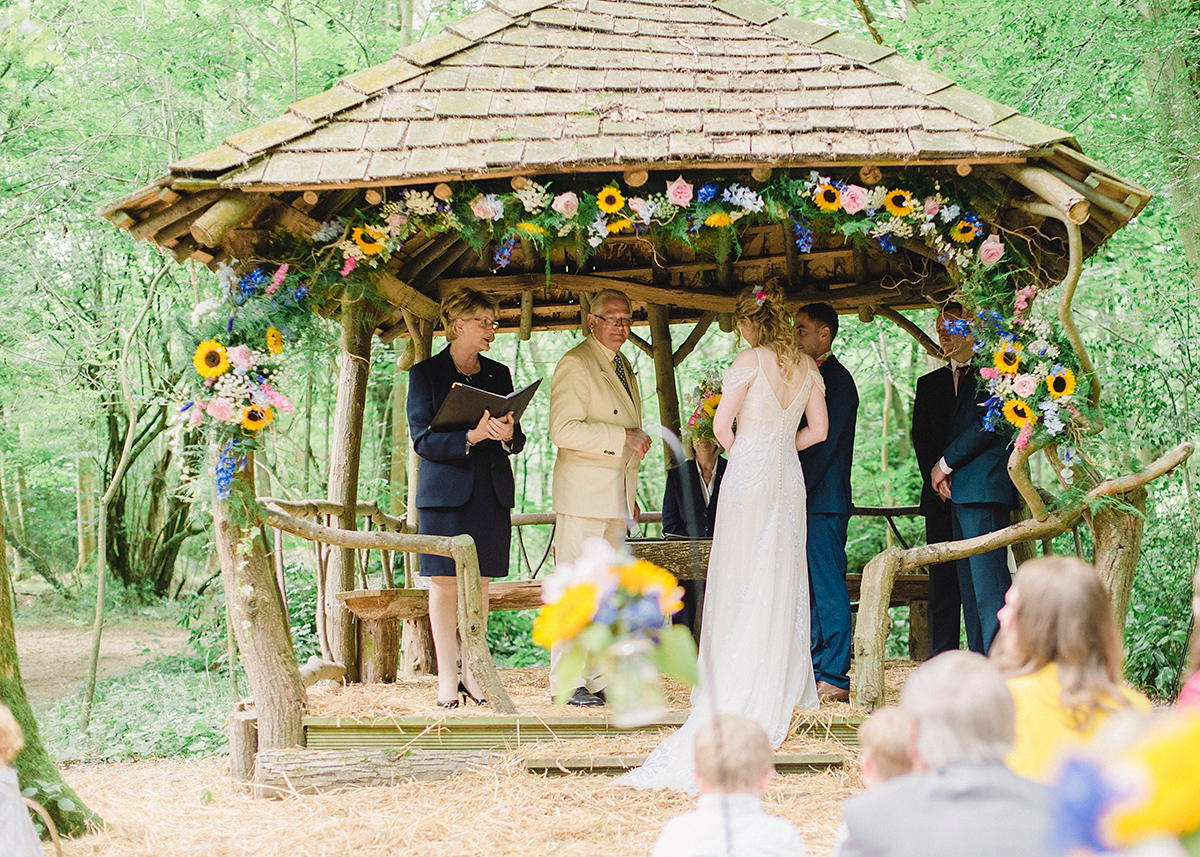 "The ceremony was held in a woodland clearing at The Paper Mill in Benenden, Kent and the reception was held in a field at my parents' house in the neighbouring village of Hawkhurst. Once we saw the ceremony site at The Paper Mill we knew that it was perfect for us. It was very local to where we both grew up and offered us a gorgeous outdoor woodland wedding, which I had always imagined having since watching the wedding scene in the Robin Hood film many years ago."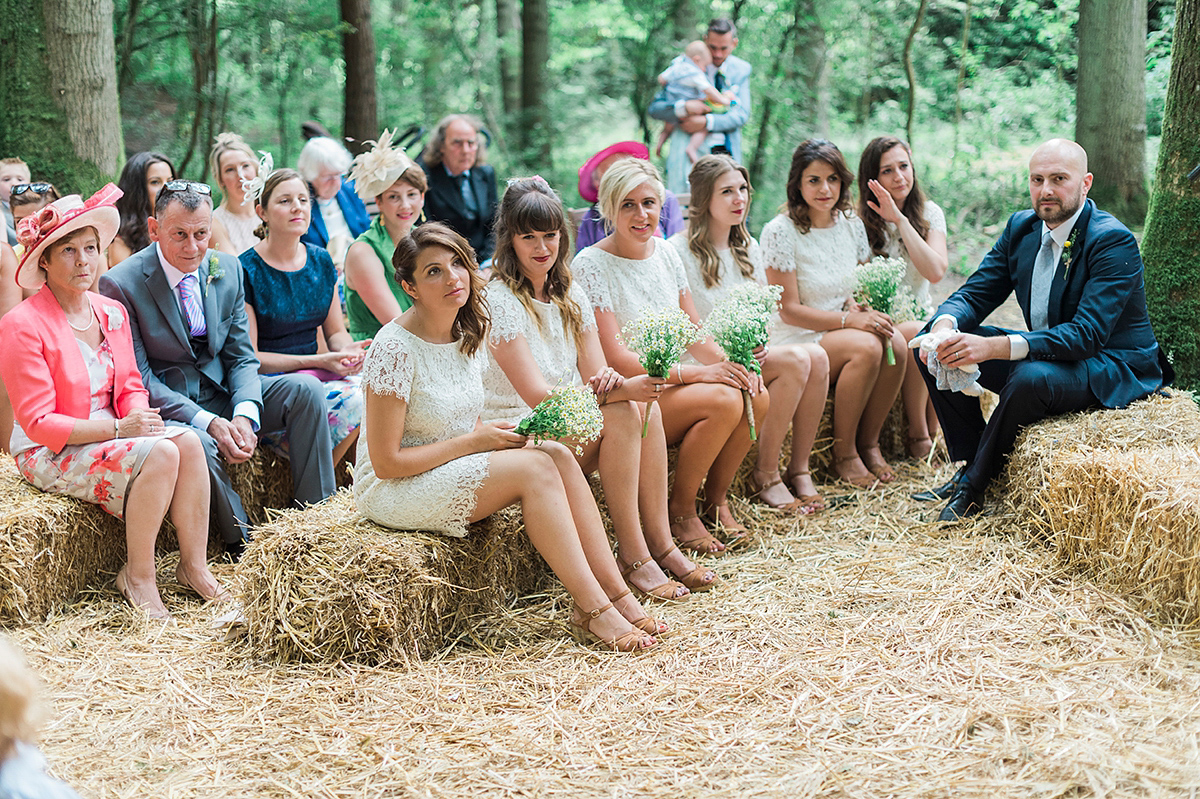 Georgie walked down the aisle to 'Can't Help Falling in Love' by Elvis Presley, which her brother-in-law Rob sang and performed on acoustic guitar. She names this as her favourite moment of the day.
"I think for both of us it was when we saw each other when I was walking down the aisle. It can be a pretty nerve wracking experience, so to see your other half smiling on at you is the most reassuring feeling in the world and such a great reminder as to why they are the perfect person for you to say your vows to. After all, ultimately that is the whole point of the day."
The civil ceremony was held in a true wood bower – even the table is crafted from logs. Georgie's sisters both did a reading, and it's lovely to see that the choice was left to them.
"We left it up to our sisters to decide what to read so that it would be more personal for them. My sister Leo read 'For Once in Your Life' by Bob Marley and my sister Rosie read from 'Brambly Hedge', which was our favourite book growing up. The extract was about a mouse wedding which sounds random but is beautiful and really fitted our wedding. Mark͛s sister Kelly wrote a beautiful poem about Mark and I which very touching for both of us."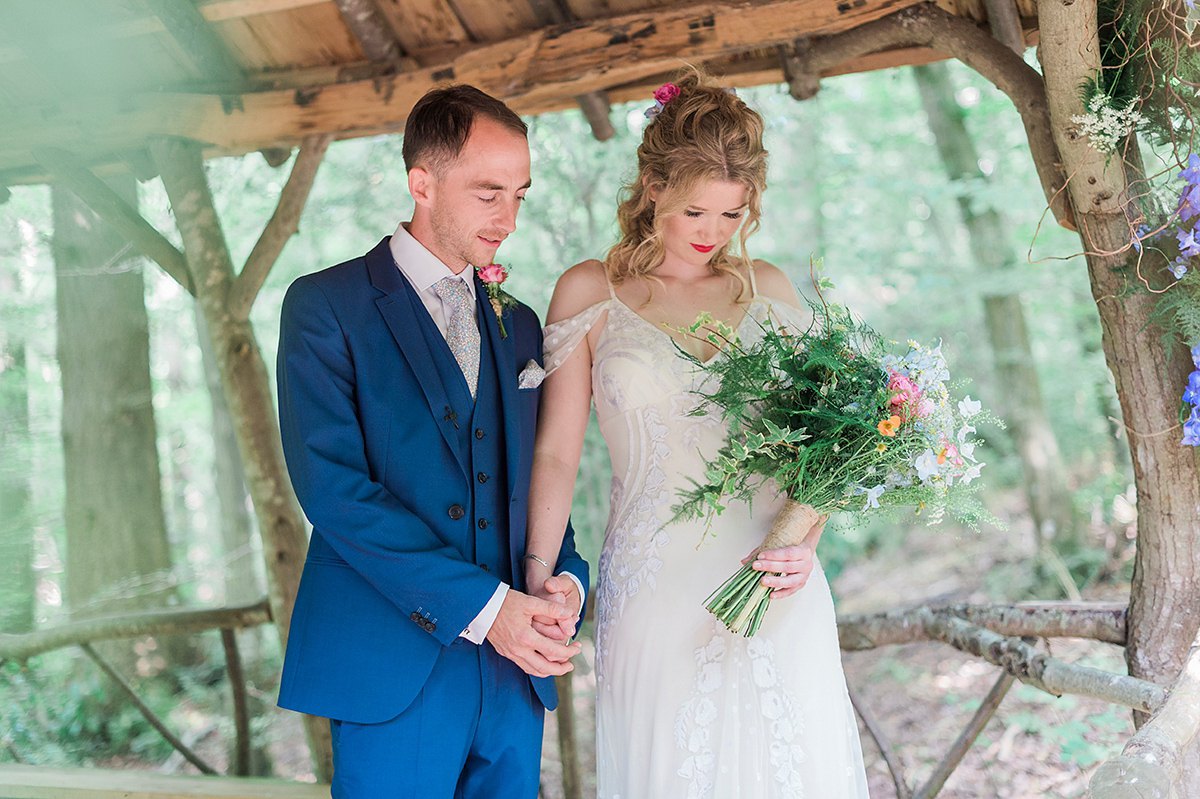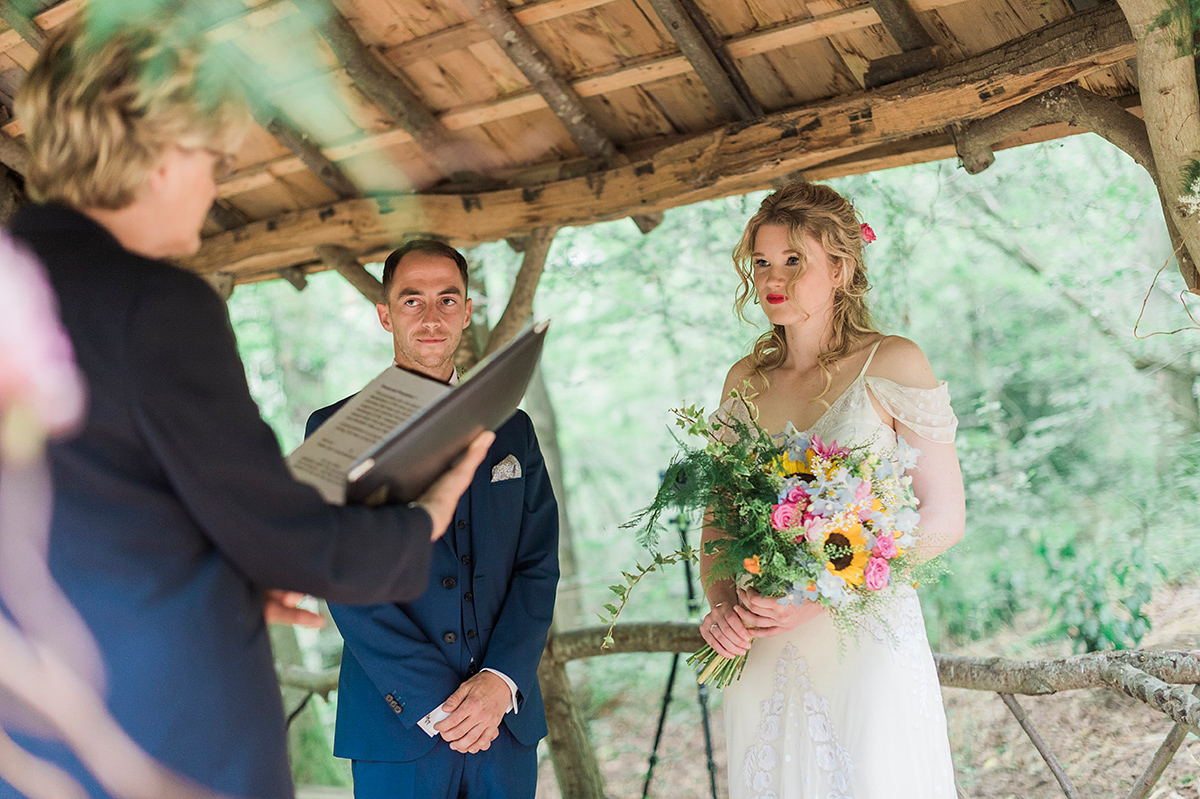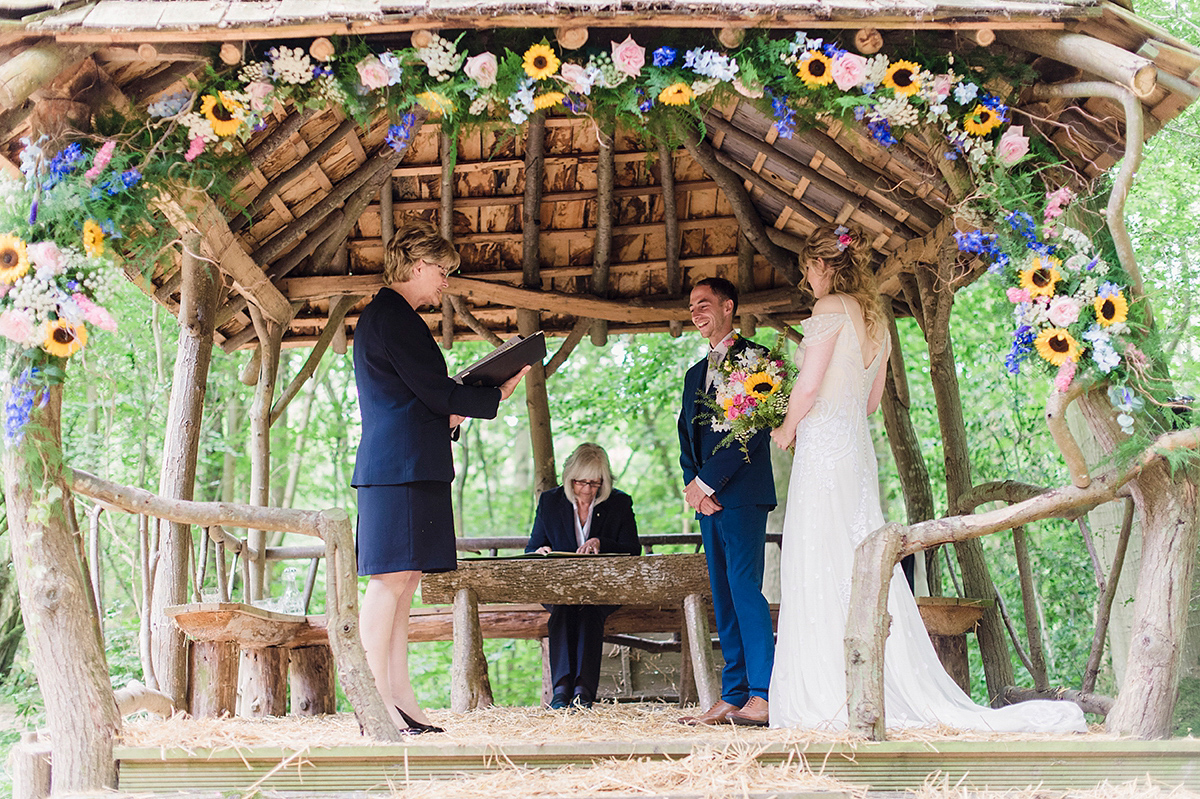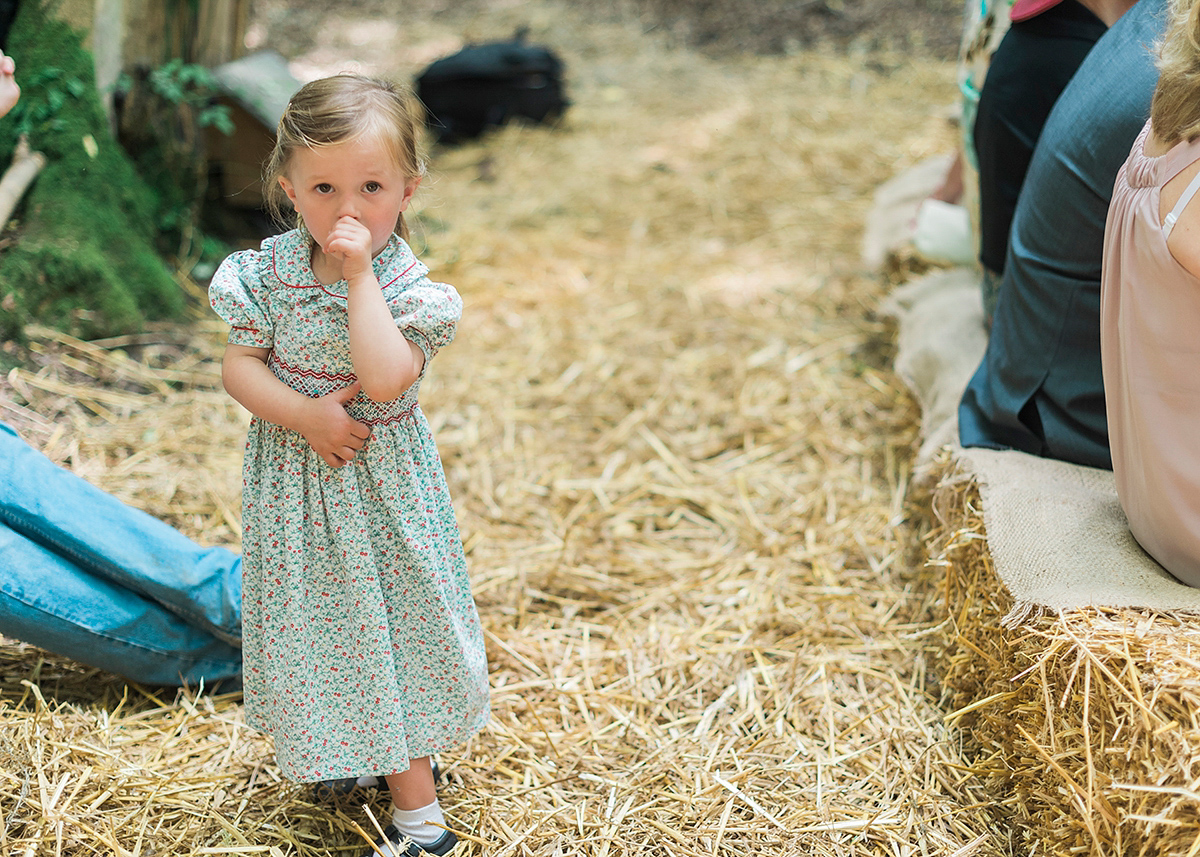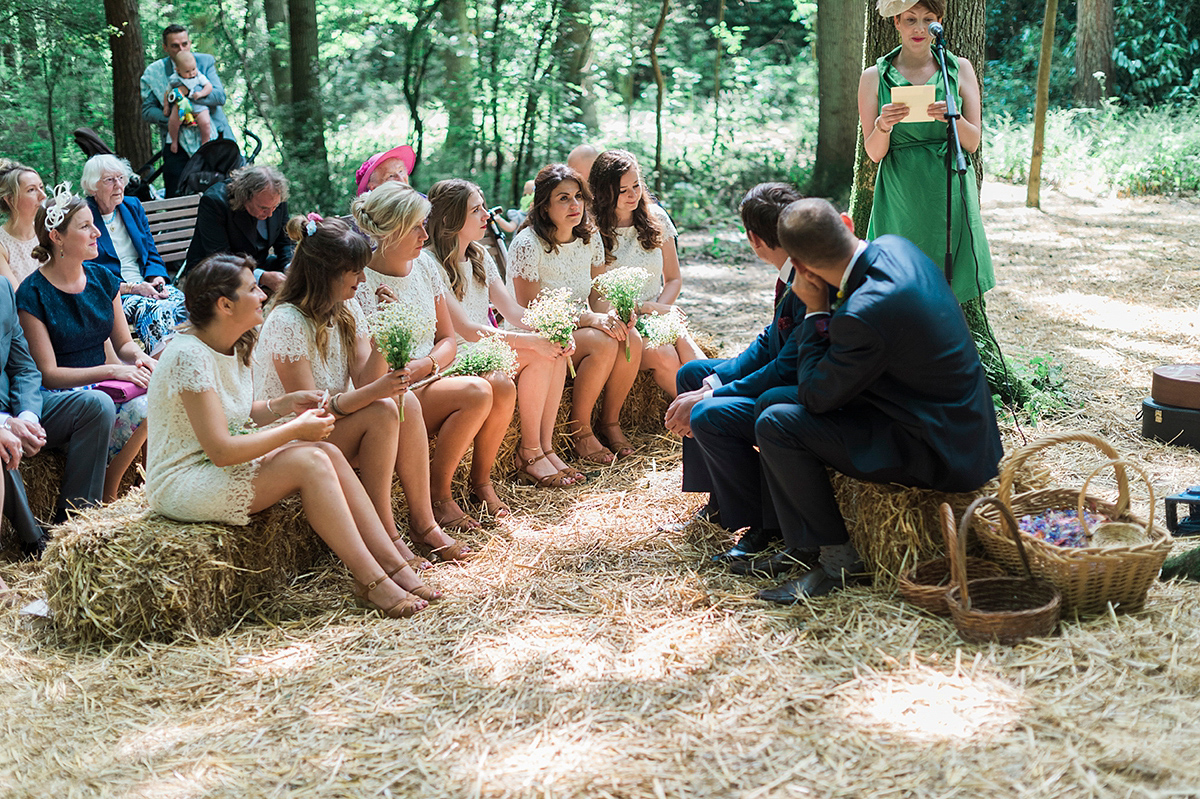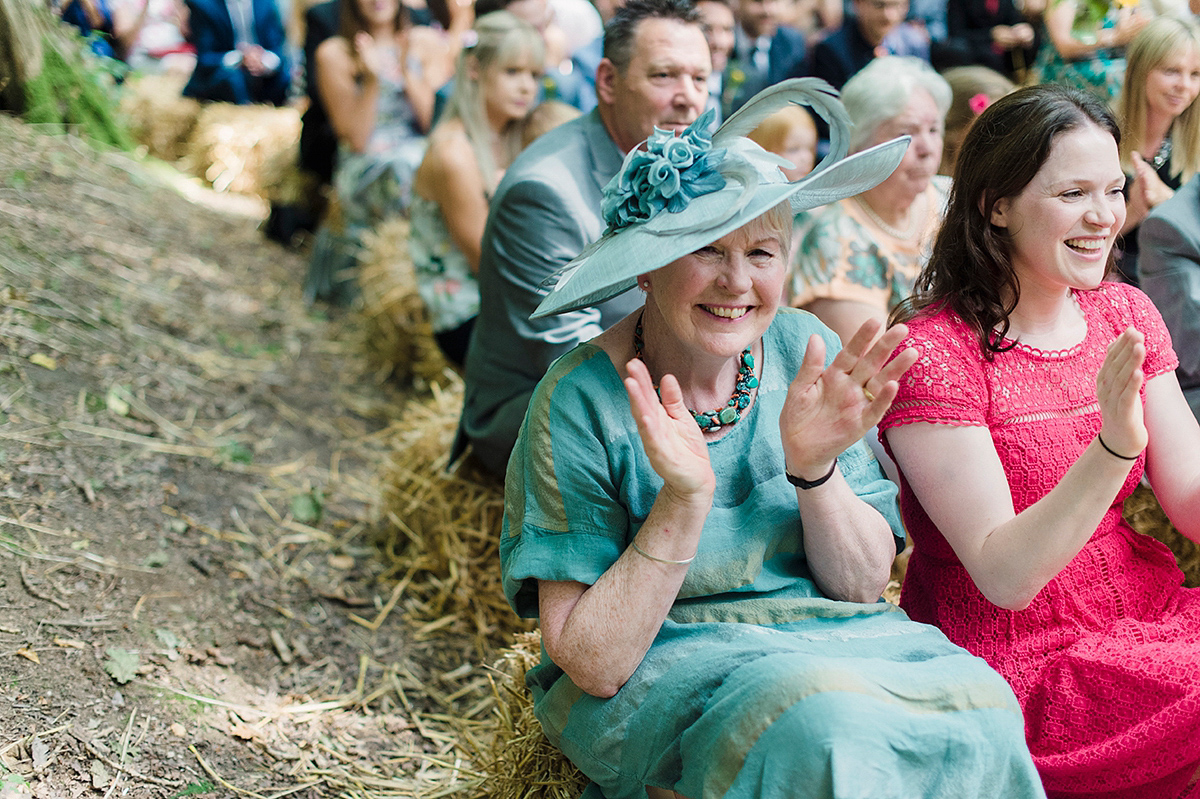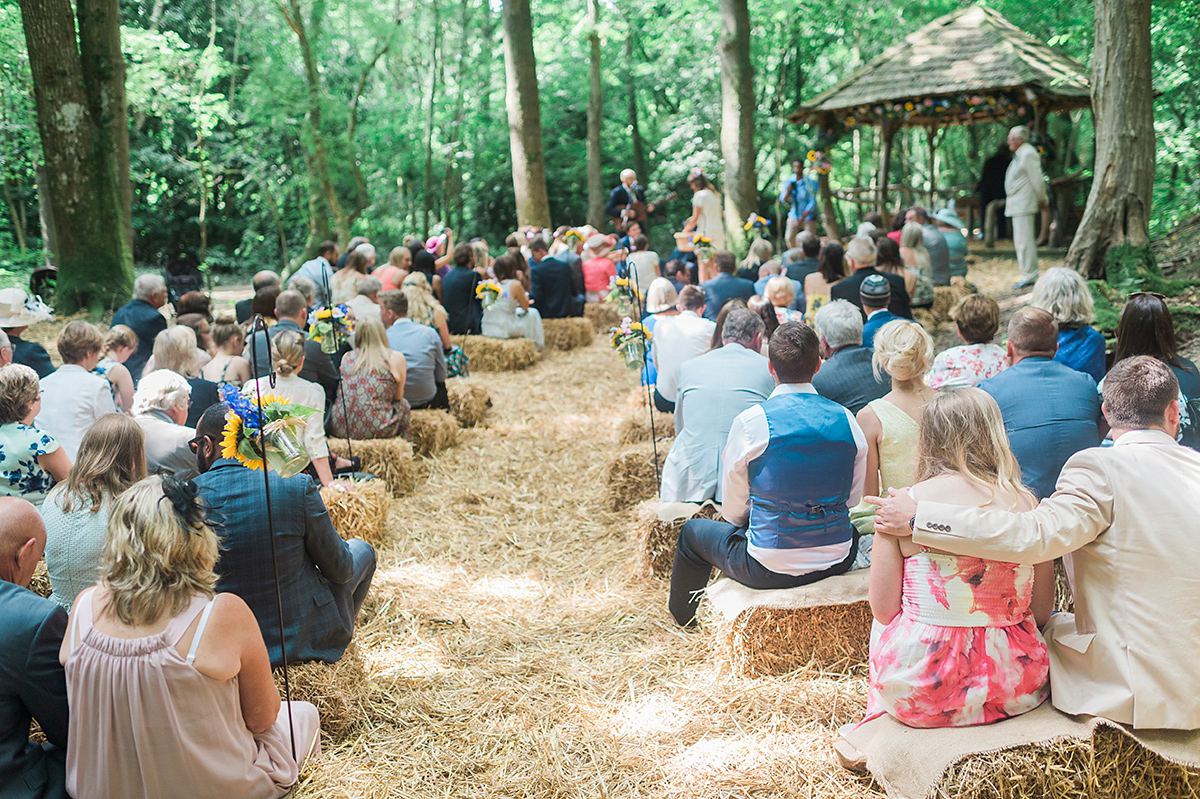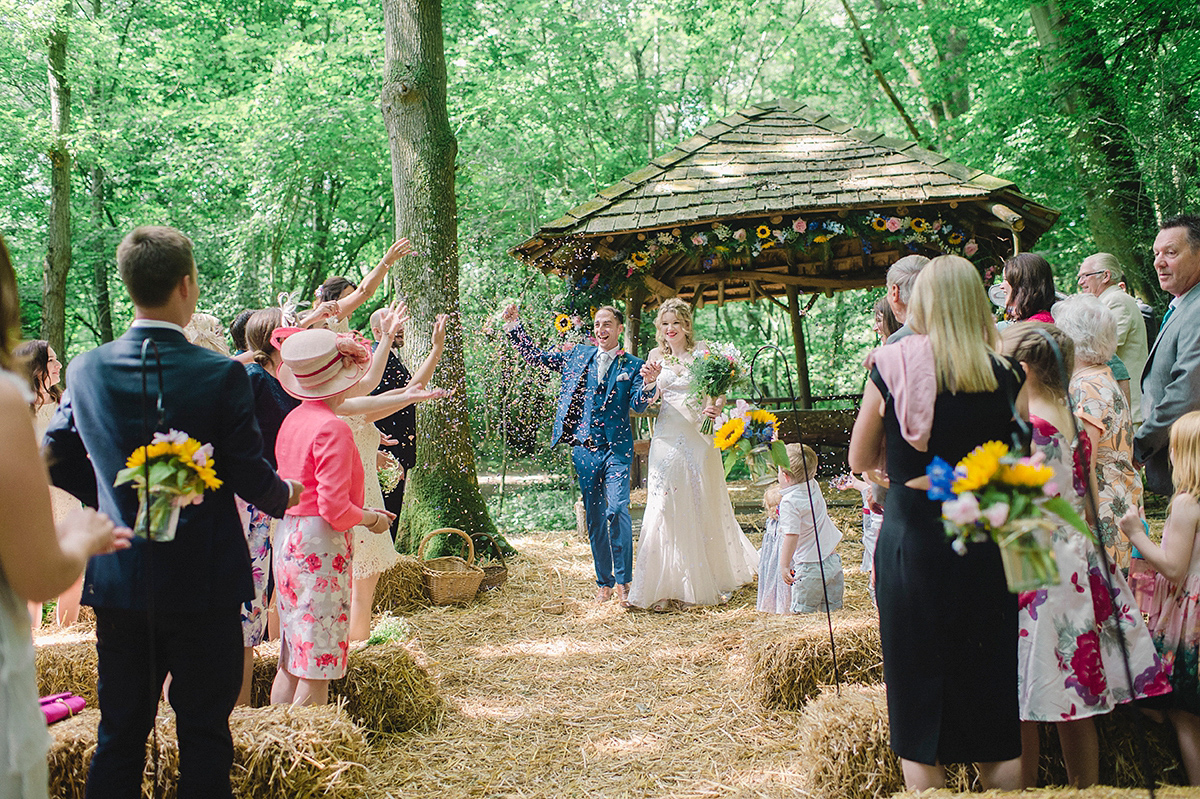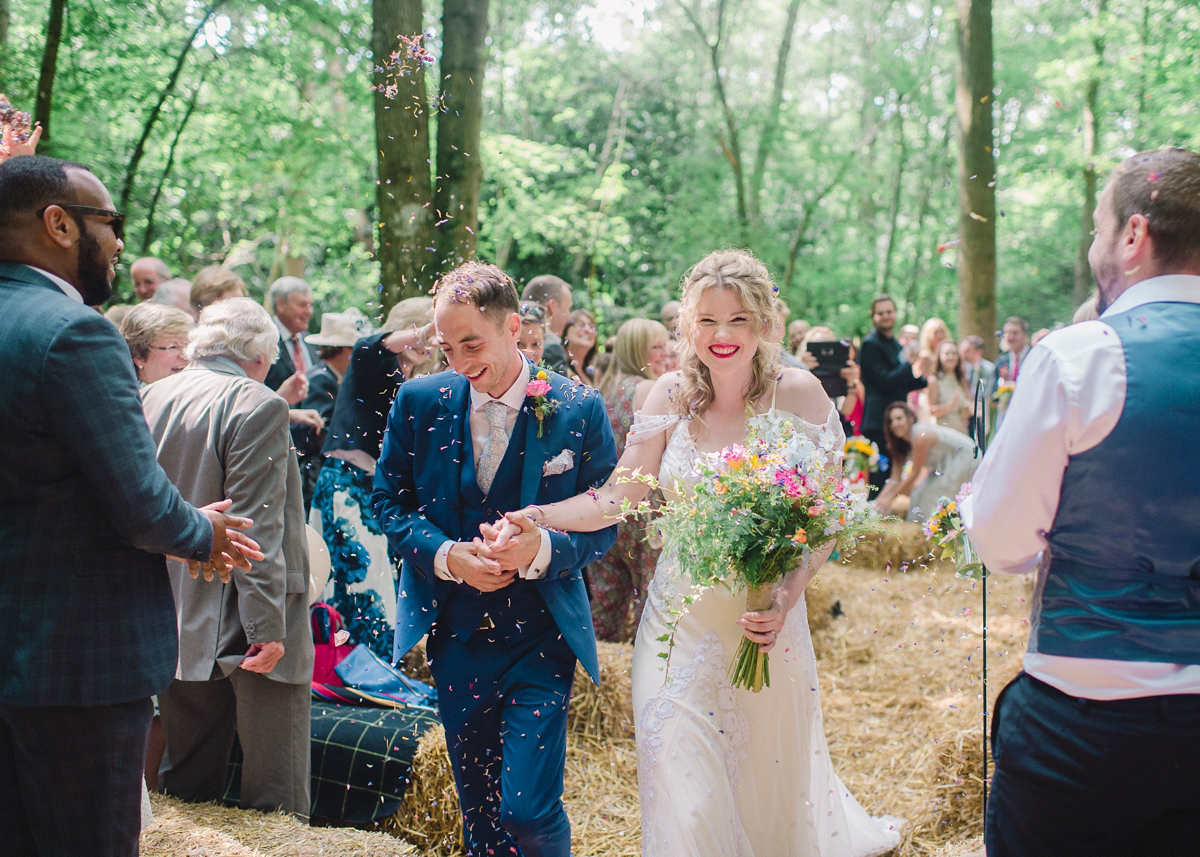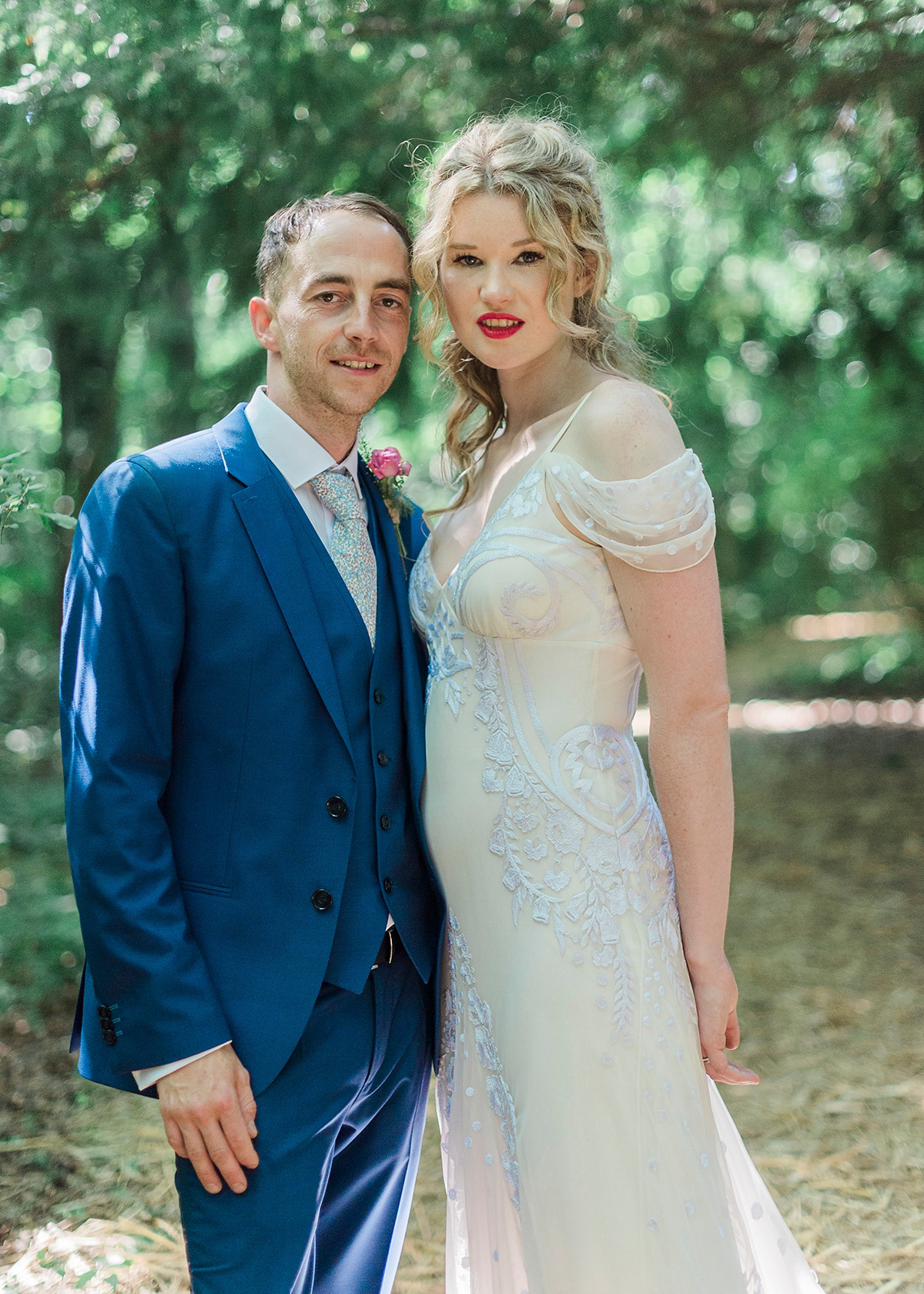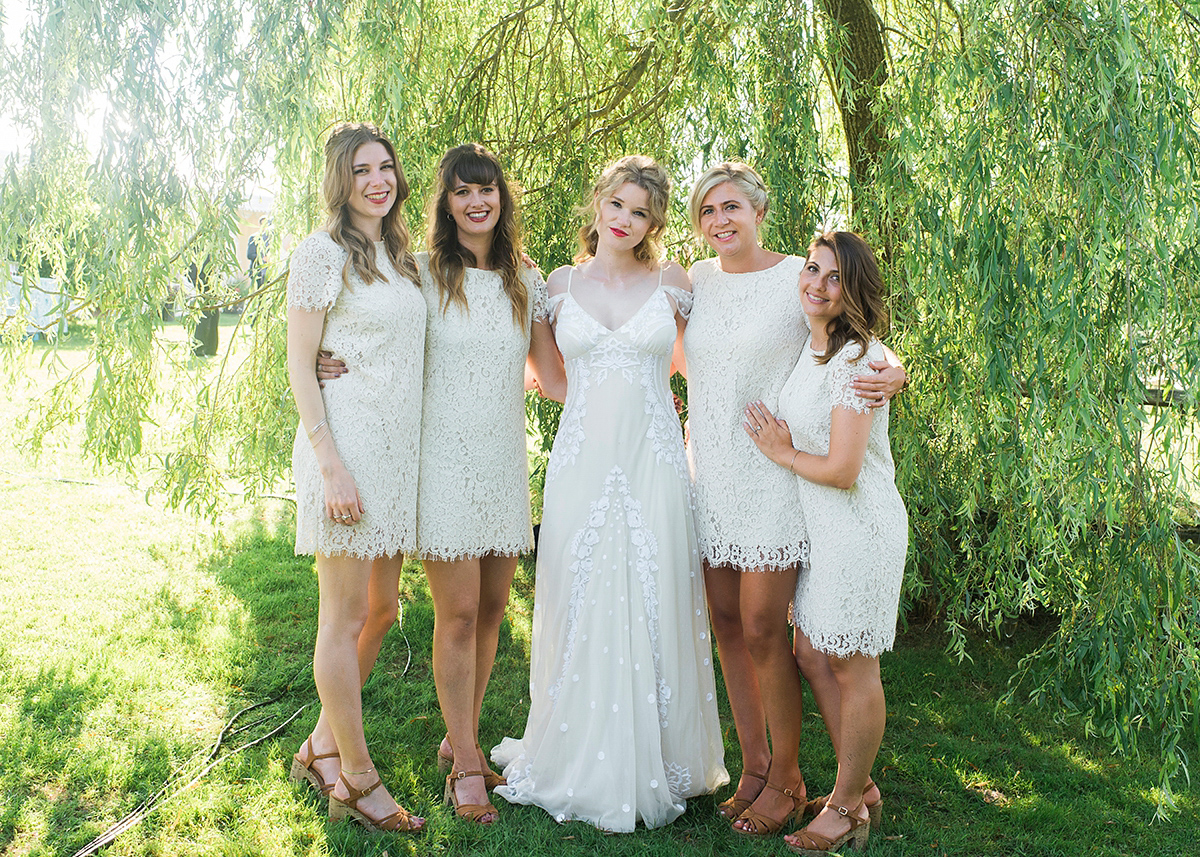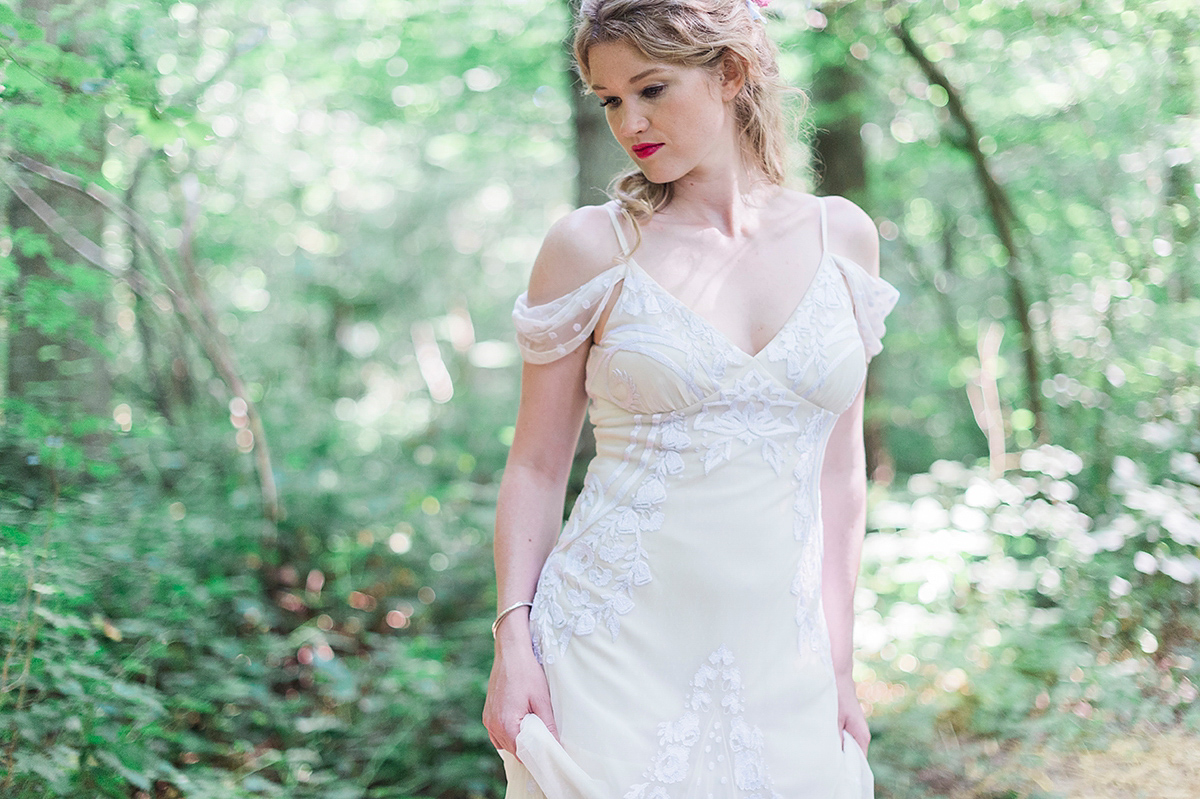 Instead of table numbers, Georgie and Mark continued the woodland feel with 'table pictures' drawn by one of their bridesmaids and transformed into a unique table plan.
"The wedding stationery is another highlight for us as it was created by one of my very talented bridesmaids Kate Jeram. I was unsure about how to do our table numbering and seating plans, but wanted to see if we could continue the slight nature theme running through the wedding. Kate very kindly drew us twelve beautiful pictures of woodland animals, which we used in place of table numbers. I had the pictures copied several times on to good quality card and spent one long weekend creating animal table picture cards, in place of more traditional numbers. I then used the remaining copy of the picture to create individual table plans, with the animal on one side and a list of the people sitting at that table grouping on the other. Finally I pierced holes in these so that the table plans could be hung individually on a tree, which was located just outside the entrance to the marquee."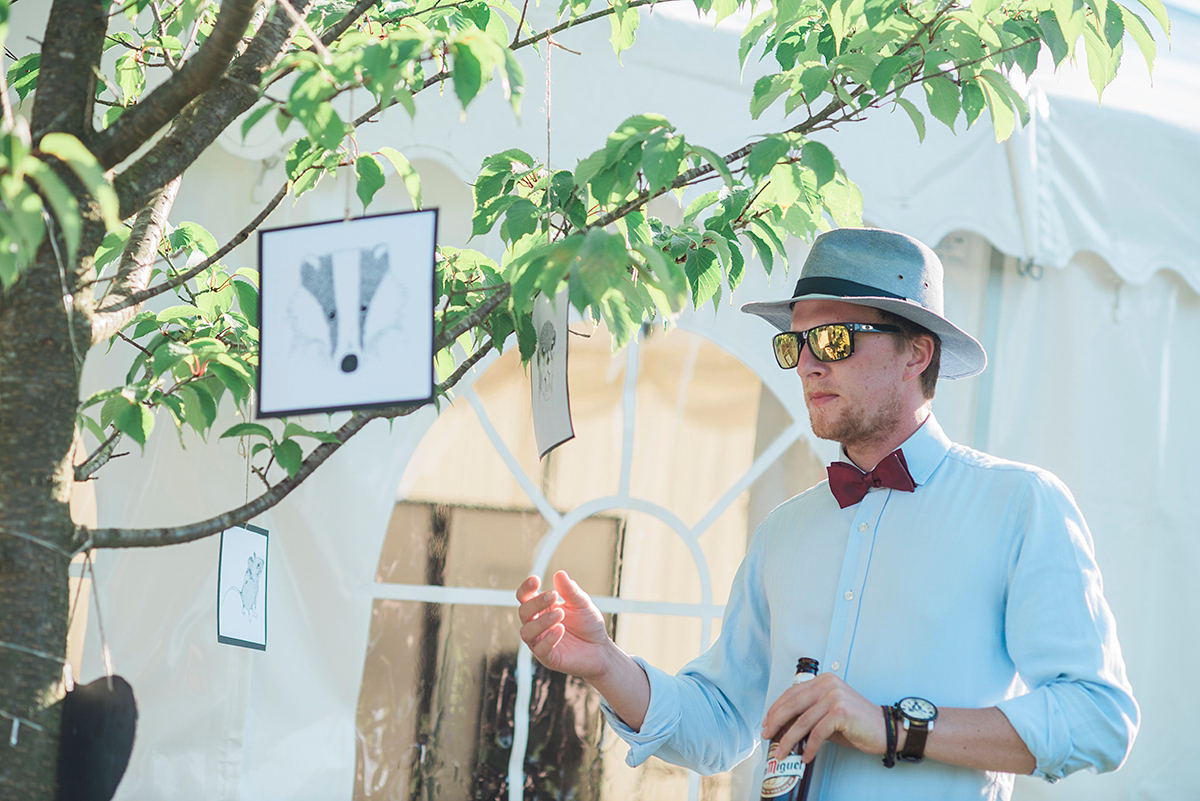 After the ceremony, the couple and their guests took taxis to the marquee, again wonderfully decorated by the florist with swathes of whispy green foliage, more joyous sunflowers and a spectacular foliage 'chandelier'.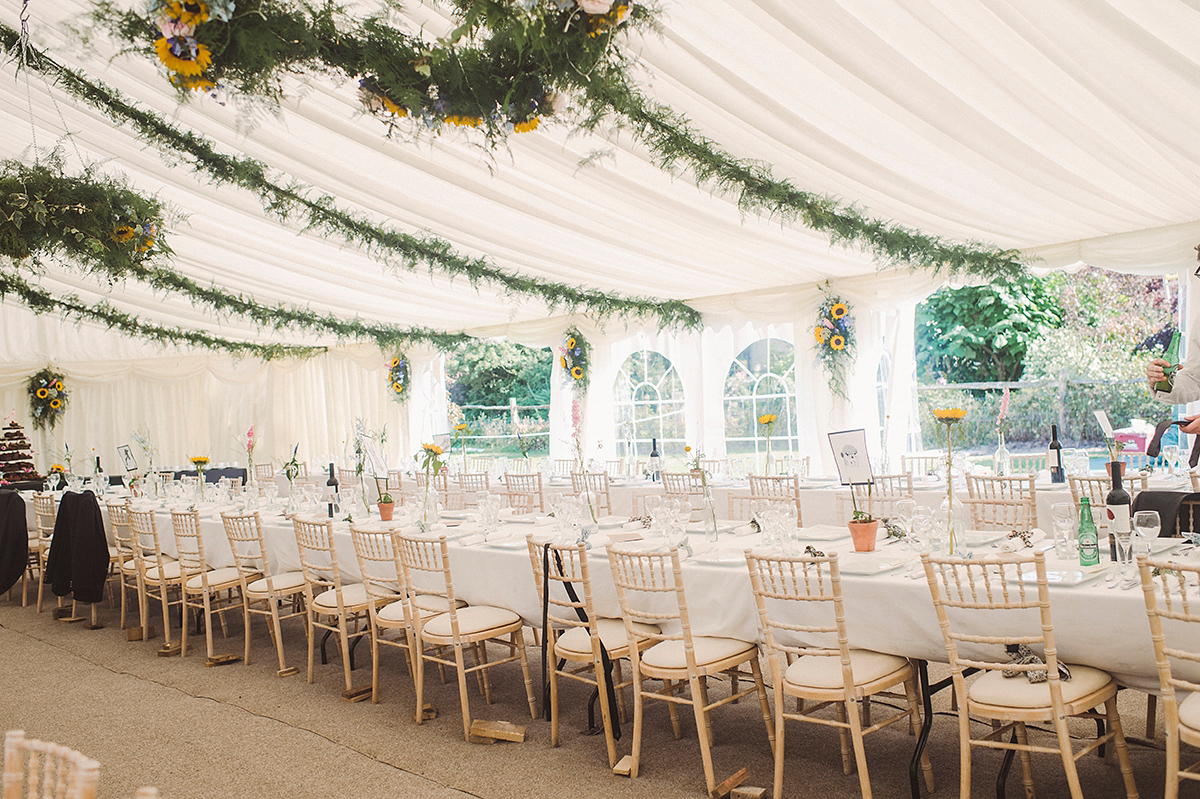 As the marquee was actually built around a tree, it became a key element in the styling.
"Flowers played a large part in decorating our venue and asides from that we relied heavily on lighting which I had always wanted to use in various ways to add to decoration and atmosphere. For example outside the marquee we strung up festoon lights and to fence posts we attached tin cans with holes drilled into them and tea lights places inside, later in the evening when it go dark these all looked beautiful. Because of the layout of my parents' field we had no choice but to build the marquee around a tree, which became quite a big feature of the wedding. The tree was beautiful in itself but I also used the branches to hang glass baubles with tea lights inside which looked magical later on in the evening."
This is the second couple I've written about who have chosen something other than a traditional wedding cake. This time, it's a decadent tower of brownies. Oh my.
"We didn't want a traditional cake and instead opted for a stack of chocolate brownies, which were delicious. These were made by Maxine at Extreme Chocolate and decorated with flowers from my mum's garden and a bride and groom flamingo cake topper I bought from Etsy, which make me laugh every time I see them."
Local company
Juliets
 was recruited for the wedding breakfast, which was served on sharing platters at the long trestle tables for a relaxed feel.
"Our catering company was Juliets who run an amazing café in Tunbridge Wells. As soon as we realised that they also catered for events we were desperate for them to cater our wedding. We had always hoped that the food would be a big feature of our day and that not only would it taste amazing but it would look amazing too. The team at Juliet's delivered this perfectly and created beautiful platters of food for our guests to share. We took a slight risk as all our food was served cold but it really paid off especially as it was a really warm day."
It sounds as if Georgie had a lot of fun playing around with the decor, allowing the theme to evolve naturally.
"We really didn't intend to have any theme at all, but after we got the flamingo wedding cake topper without realising it I started to collect a couple more flamingo items including flamingo straws for our rum punch, a large tropical flamingo paper umbrella to go on our bar, and my mum even snuck some flamingo watering cans to continue the theme at our wedding venue.
Another big part of our decoration was our rum shack-style bar, which Mark had designed and built especially for the wedding. It was really fun and colourful and added a great bit of our personality into the wedding. I had asked my bridesmaids to take a polaroid camera around the wedding reception throughout the afternoon and evening and get pictures of the guests enjoying themselves in place of a guestbook. My dad built an amazing wooden frame which the polaroid pictures could be attached to. The later it got the more the frame became filled with pictures and in itself created extra decoration."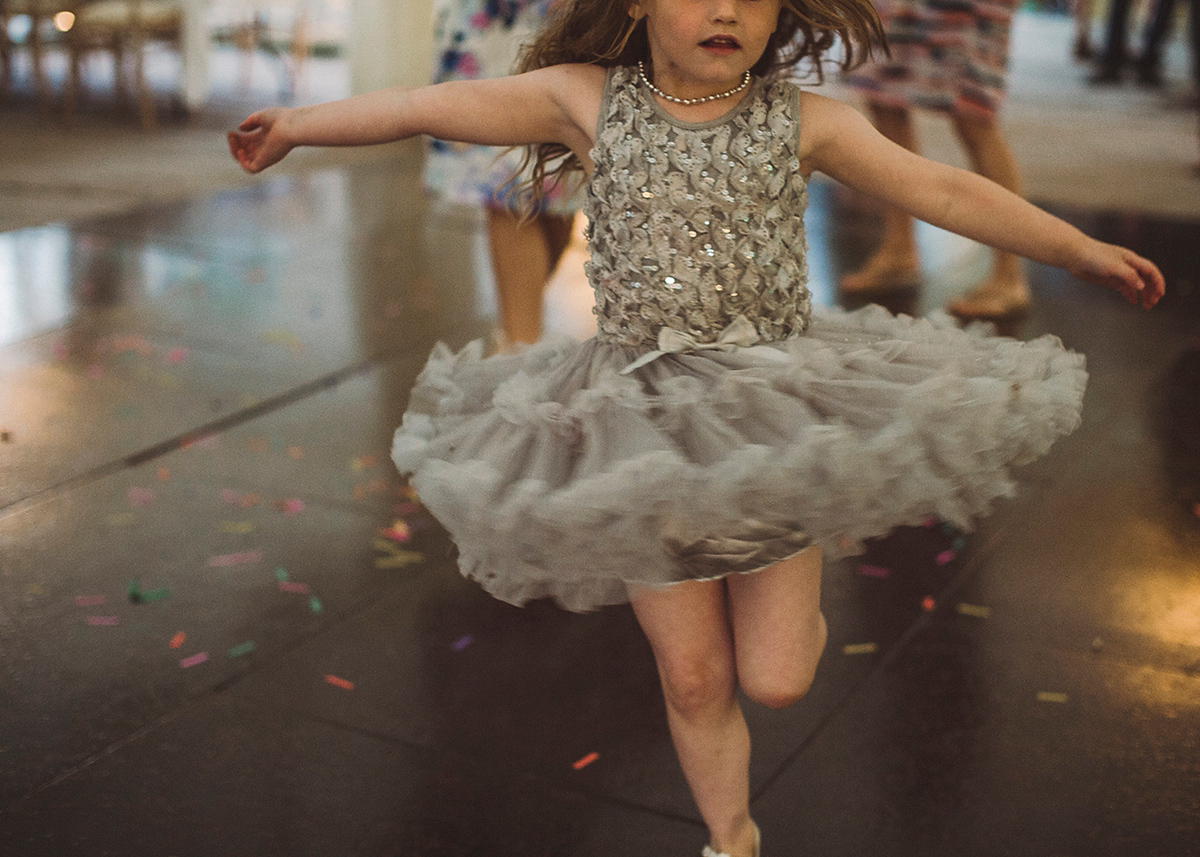 Their wedding video was filmed by Little Book for Brides member, award-winning Gione da Silva who was recommended to them. If you love this video then please make time to visit his listing here to see some more of his work.
"Gione is a very talented videographer who goes above and beyond to make sure that he films all the best bits of the day. His film was beautifully edited and perfectly captured the atmosphere of the day. Everyone says it but weddings that you have spent so long planning do fly far too quickly and so I am really pleased that we will always have his video as a reminder of all the happy moments from our day."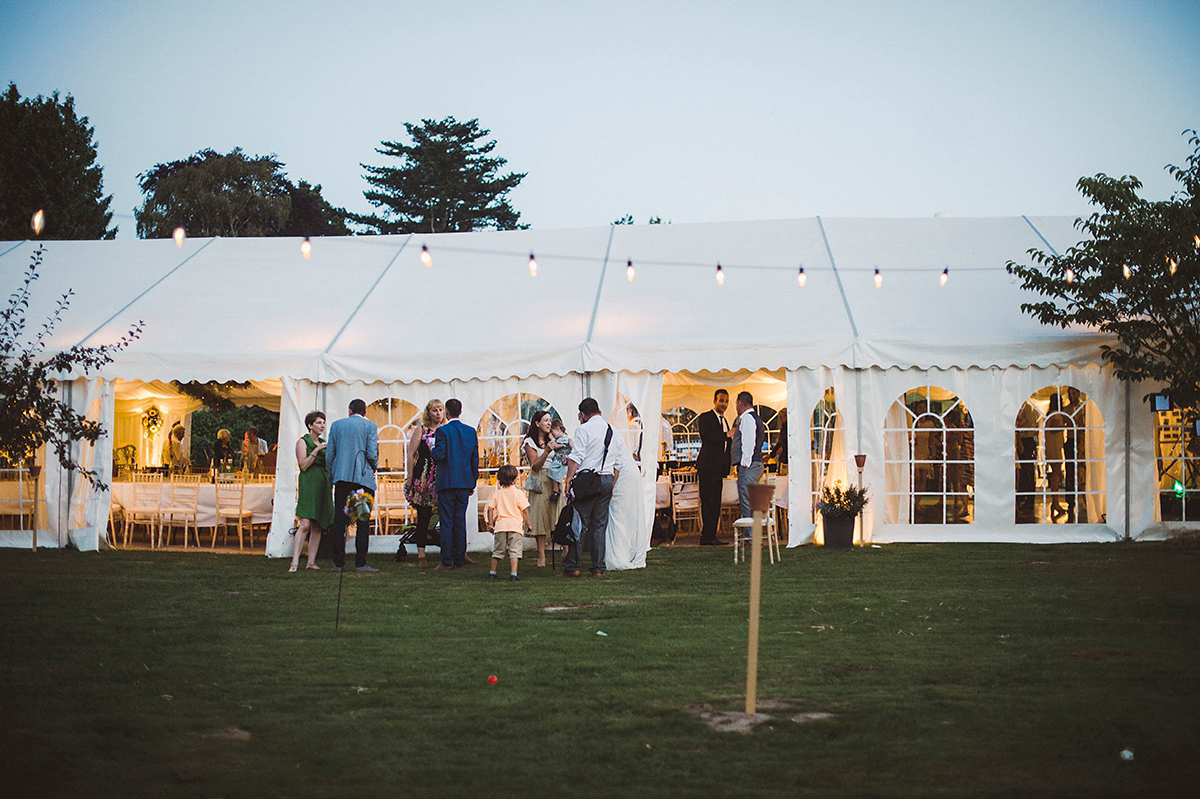 Words of Wedded Wisdom
"Don't sweat the small stuff. Instead choose a couple of things that are really important to you both for the look and feel of your day. For example, for me it was lighting, food and flowers. Make these your priority and put greater energy into planning these details, instead of spreading yourself thinly across all elements. I think this is the best way to inject your style and personality in to the day and you will really enjoy seeing your hard work pay off with the details that matter to you on the day.
I am not a particularly organised person so sometimes I wish that I had been a bit more organised about certain 'wedmin' tasks such as writing all the information that needed to go in our invitations. I found this quite a painful job and kept on putting it off which meant that our invites went out much later than I would have liked which then adds additional stress as I started panicking that everyone would already have plans.
As I was quite restricted on annual leave, I only took two days off before our wedding. I am sure that this would be totally fine if you are holding the whole thing at a venue but if, like me, you are organising the majority of it yourself, I think you would be better to take more than two days off before as I was exhausted on the night of my wedding and didn't really have any time to relax beforehand.
Finally, if like us you are having an outdoor wedding try not to become obsessed with weather forecasts, especially not those that claim to provide you with a weather prediction a month in advance. These are never accurate and really you can only rely on weather forecasts a couple of days in advance. I can't even begin to count the number of hours of my life that I wasted staring at weather forecasts last summer…"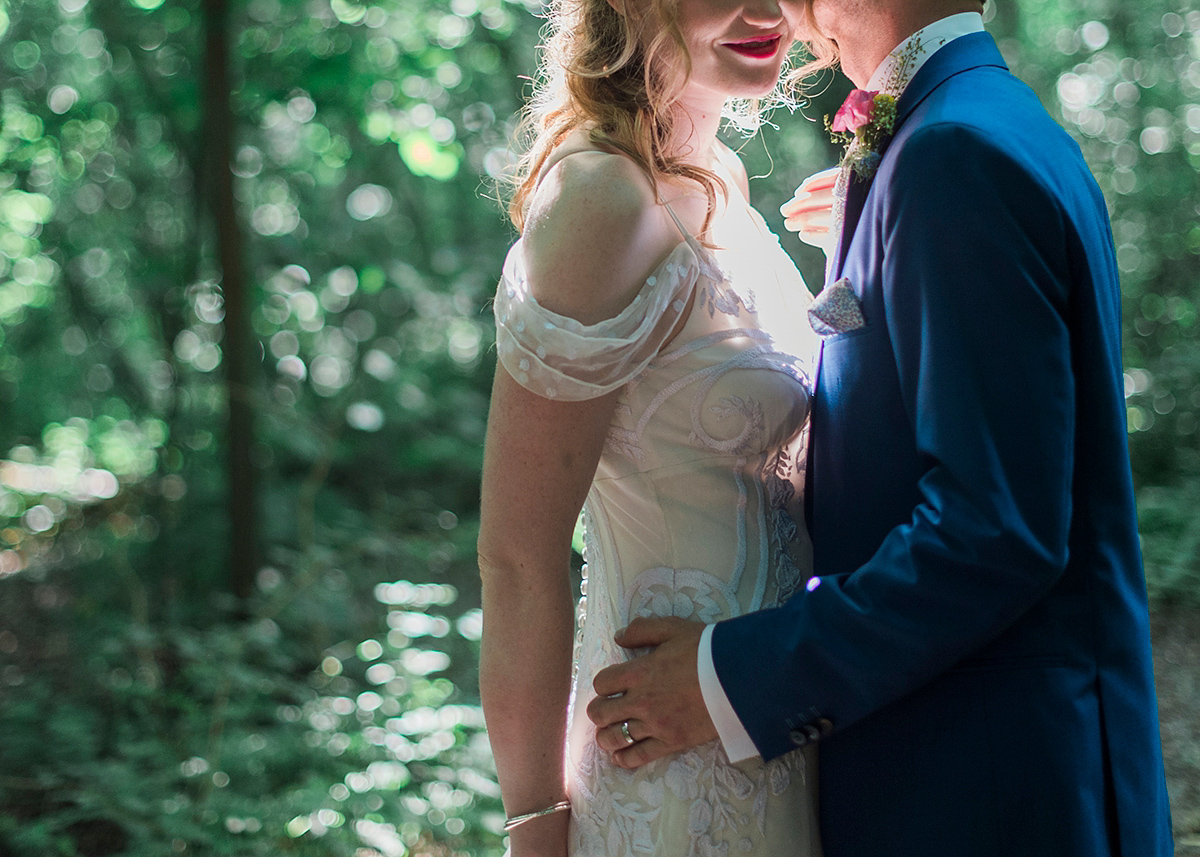 Well there we are. I really do hope that this wedding has made you look at different ways to incorporate sunflowers in wedding flowers. Very often they are paired with other bright flowers but they create such a romantic feel with pastels and fronds of greenery. Thank you, and congratulations to Georgie and Mark, and to Razia N Jukes for these beautiful images.
Wishing you all a peaceful and happy remainder of the long weekend.
Ele xx