Happy Easter lovely ones! We're absolutely delighted to be sharing this particular wedding today, the couple, Gail and David, are the talented duo behind Rooftop Mosaic, whose sublime wedding photography we have had the pleasure of featuring a number of times. You could say that when it comes to weddings therefore, these two know what they are doing – so much so in fact, that they planned their entire July wedding in just six weeks. The stunning Drygate Brewery in Glasgow was a great venue choice and they condensed the speeches into the ceremony, making it very personal and maximising drinking/socialising/dancing time later on.  This is an absolute corker of a wedding – I recommend grabbing a cuppa and enjoying a moment to take it all in over your collection of Easter chocolate and mini eggs.
Caro Weiss was the photographer of choice for these two wedding photographers, which says a lot about Caro's reputation and talent (I often wonder how a wedding photorapher goes about choosing a wedding photographer). Caro is a much loved member of our wedding directory, which you'll find over at Little Book For Brides.
"We've been a massive Caro Weiss fan for many years. We had the pleasure of meeting her when we were all working together at a wedding and got on really well with her. We thought she was great fun and very discreet whilst still being able to create these amazing images. Photography was really important to us and it felt good to have someone who was fun and fitted in really well with our guests. We felt really comfortable with Caro and we love every single image. Caro was incredible. She's the nicest person and her photos are amazing."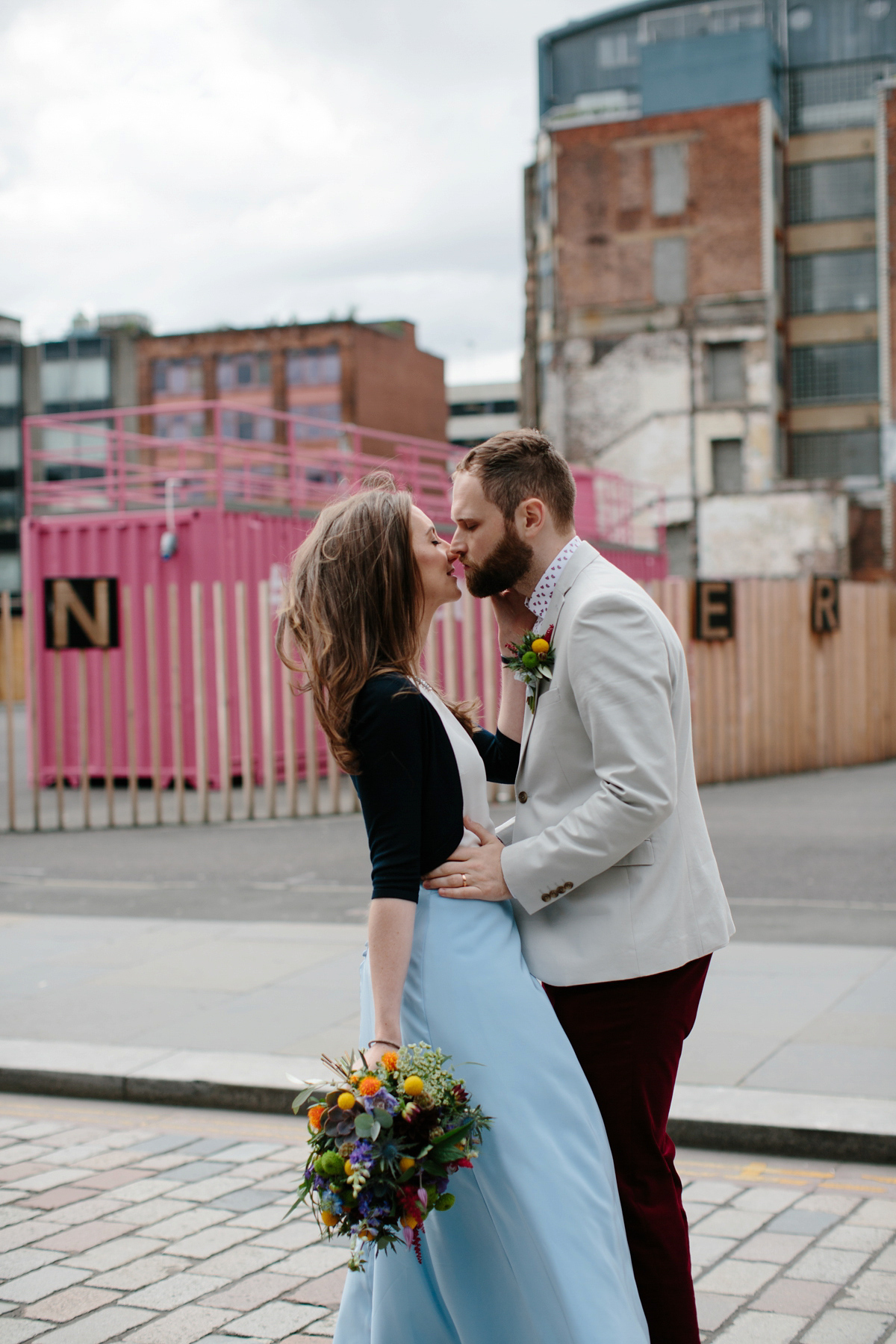 "We're very lucky to have loads of photographer friends but it was important for them to be guests. Caro was amazing and absolutely blew away our expectations. We did our pre-wedding shoot around Glasgow city centre and then the three of us just hopped into a taxi to get to the ceremony. Pete Cotter (Pete the meat!), her second shooter who was totally amazing also.
We were engaged for six whole weeks before our wedding! Truthfully however, we've been surrounded by weddings for years and we spent much of the last three years together planning what we'd do for our wedding. This might sound totally odd but it's an occupational hazard of shooting weddings together – so we already had our dream team in mind, months in fact, before we even got engaged."
The couple, who met in 2013, fell in love after David hired Gail to shoot a wedding video with him…
"David proposed at the end of May. We'd been away for the weekend shooting a wedding and it had been a beautiful weekend weather wise so we decided to take a detour on the way home and go to Anstruther for some fish and chips. After sitting in the sun eating our fish and chips and taking a walk along the harbour we headed home."
"When we got home David ushered me out the way before ushering me into the living room where there were some beautiful flowers, along with champagne and two glasses."
"He sat me down on the sofa and then played a video that he had made to propose with! It was quite simply the best way to propose, we'd had a wonderful day and now I was watching a little movie of our lives that featured all our family too! We laughed and cried watching it together and then David got down on one knee and proposed."
Gail and her sister had their hair and make up done by Laura Gray. Having worked with her before, she knew that they were in safe hands. Laura also kindly agreed to do some last minute touch ups for the ceremony, after getting a bit windswept during the first look.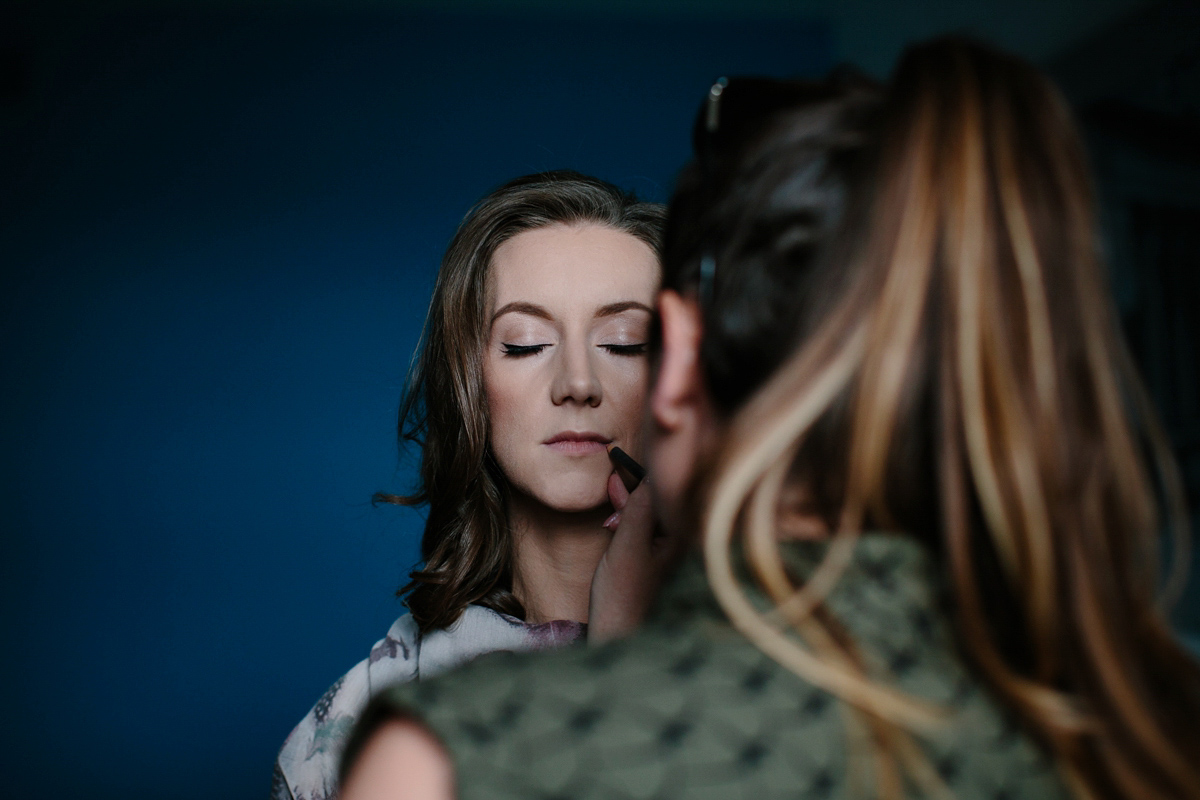 "I kept my jewellery pretty simple too. I wore a pale blue pearl necklace that I bought years ago at a craft fair, a silver bracelet from Timothy Sharp, a birthday gift from my sister, and I treated myself to a new Mondaine Helvetica watch."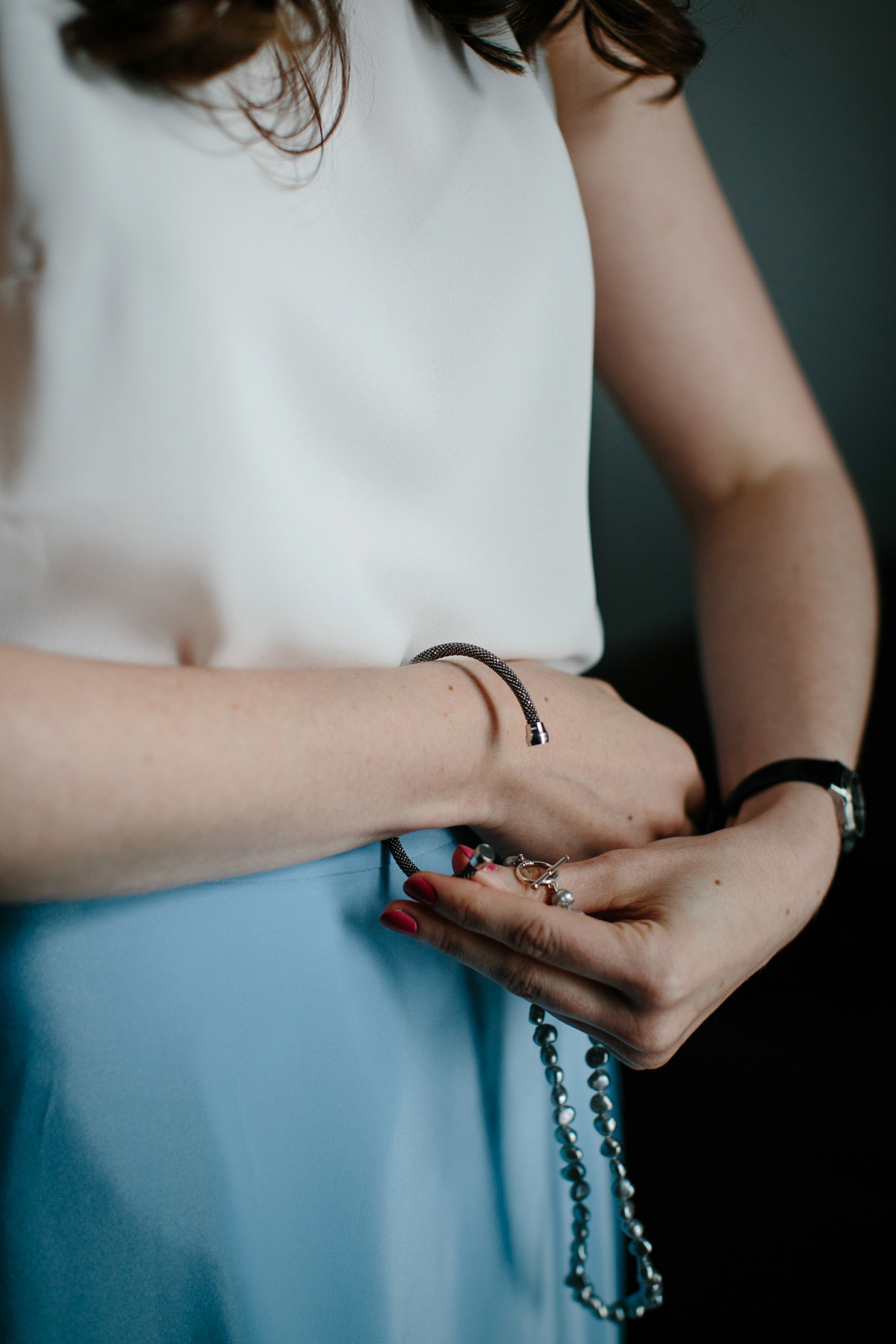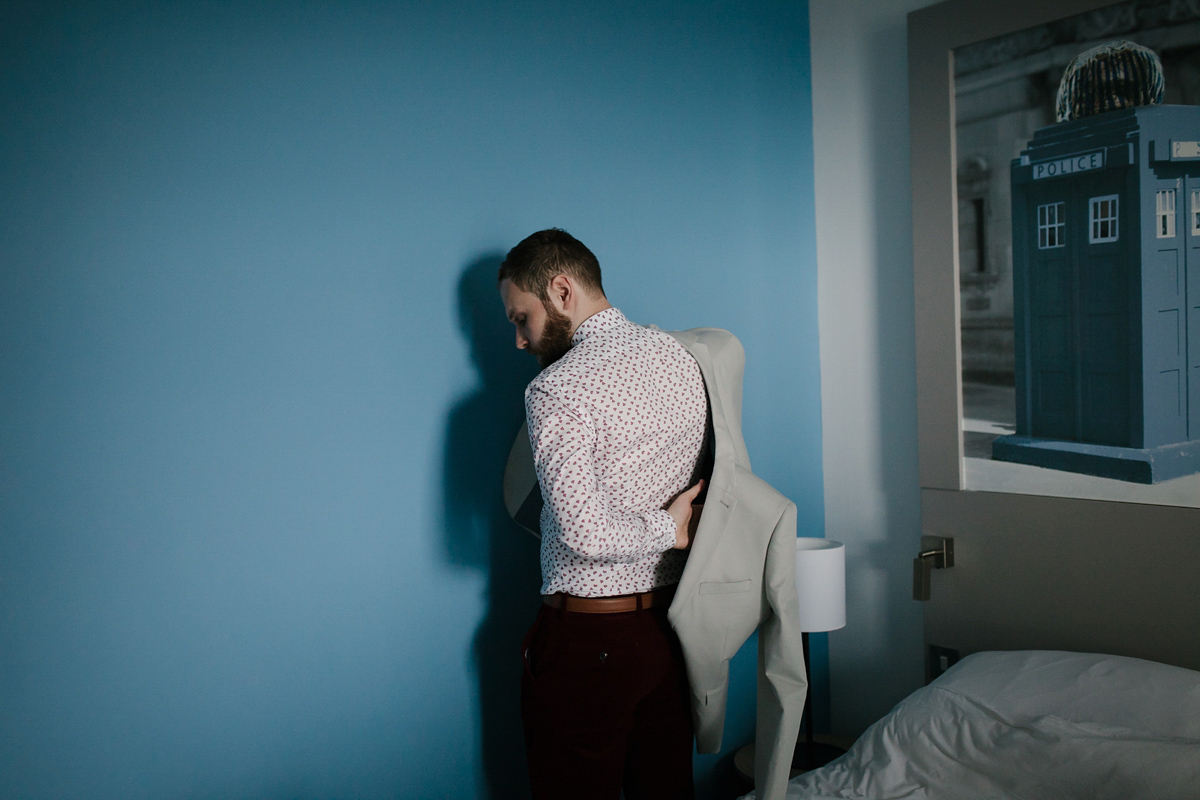 David wore a pair of burgundy cords from TM Lewin, with a watermelon-print shirt from Moss Bros, and a sort of minty cream blazer from Next, with tan half-brogues, a generous spray of Jose by Eisenberg and his dad's watch.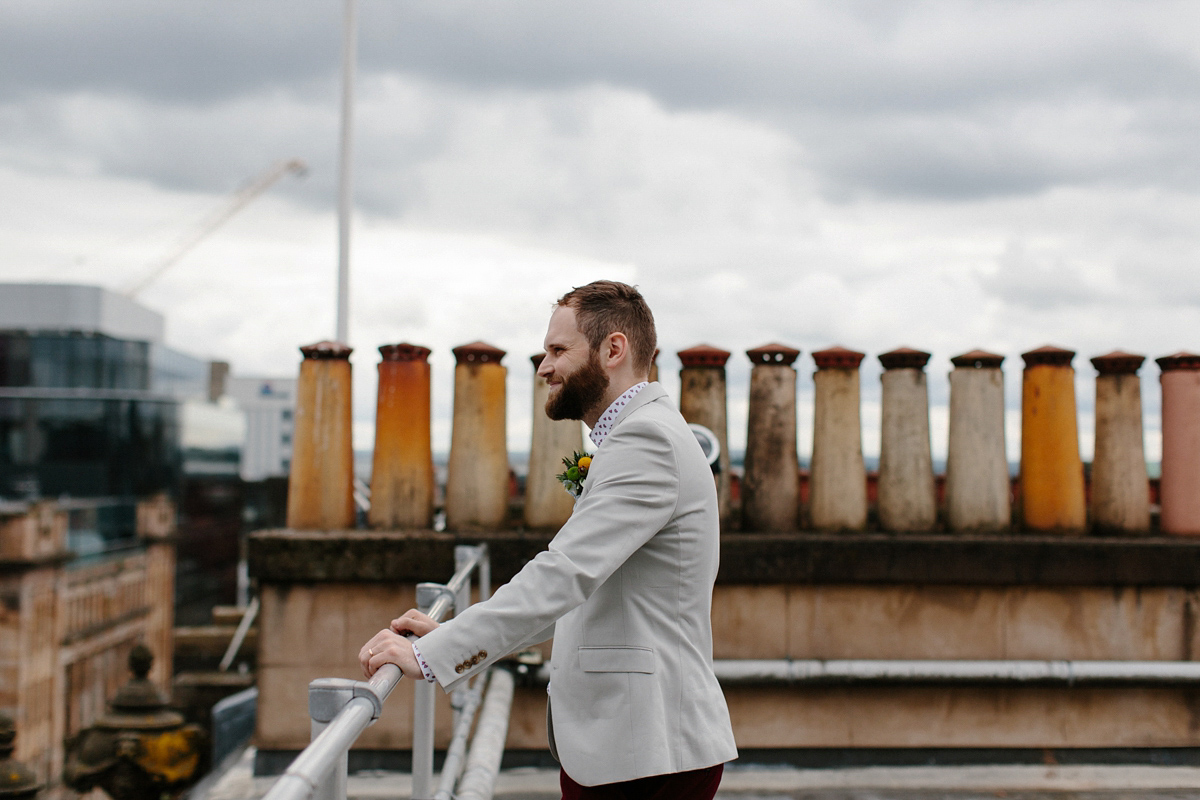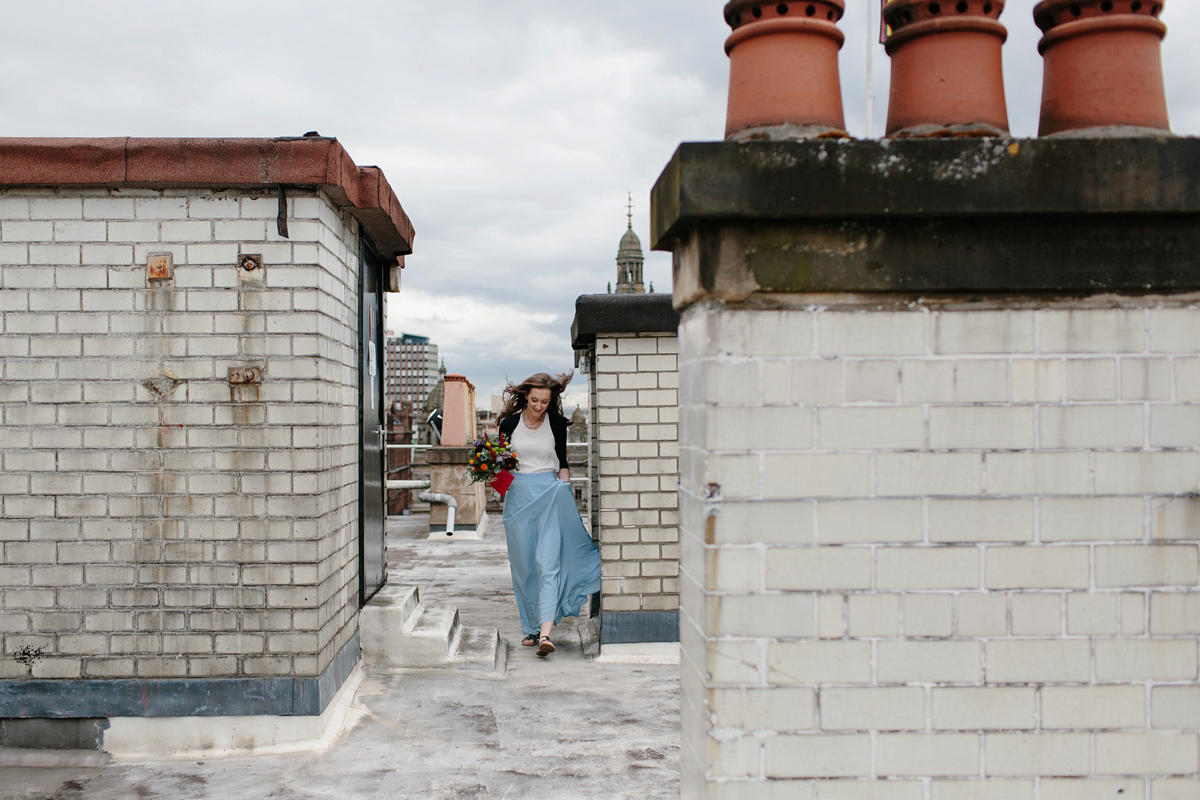 Neither Gail, nor David wanted to fit into the traditional roles of 'Bride' and 'Groom' with regards to their choice of clothing so they both went for complimenting separates.
"I didn't want to spend a lot of money on a wedding dress and I'm also a big fan of brides wearing colour on their wedding day so was open minded about wearing something other than white. I tried on various high street wedding and evening dresses but decided they were all a bit too fancy and sparkly for me so I put an outfit together instead, with a skirt made by the fabulous RowanJoy."
"Rowan was amazing throughout the whole process, fitting me in with only a month's notice till the wedding. She sourced the most beautiful blue crêpe silk fabric and I managed to find a plain white top in Reiss and a cropped navy blue cardigan from Hobbs to finish it off. I felt so comfortable and I can't imagine having worn anything else."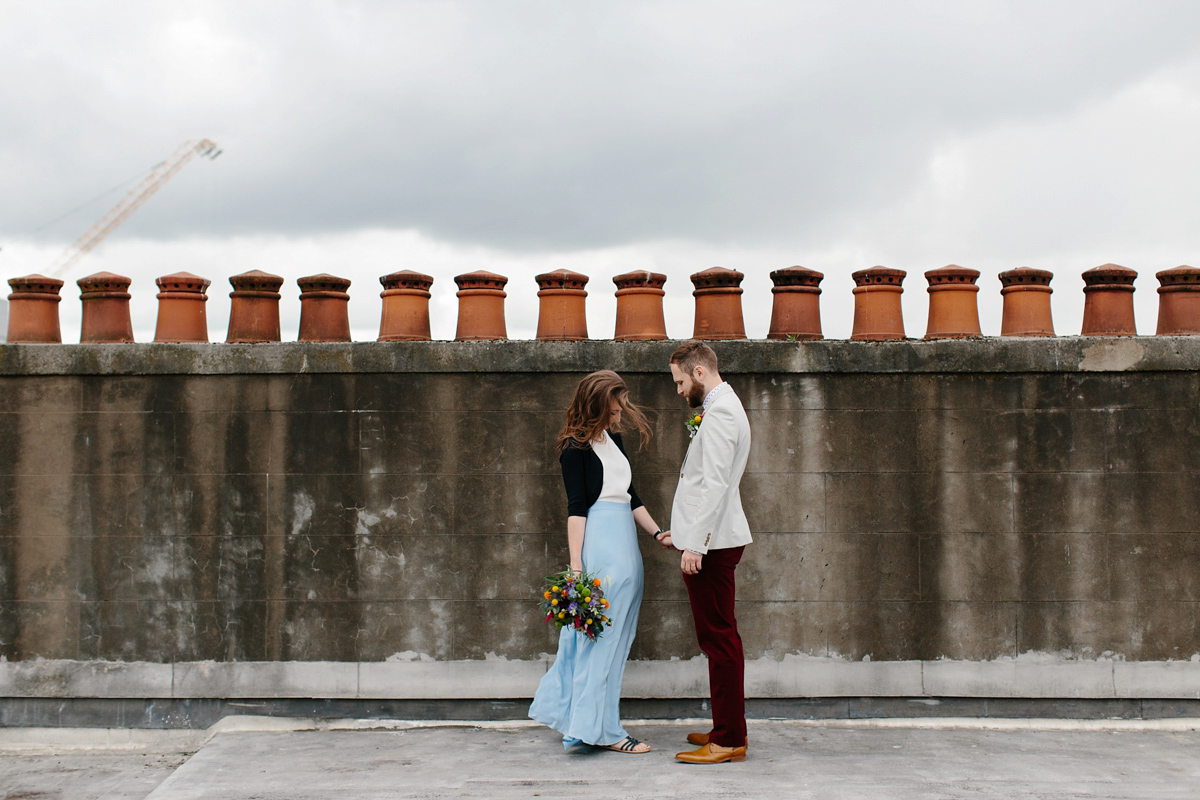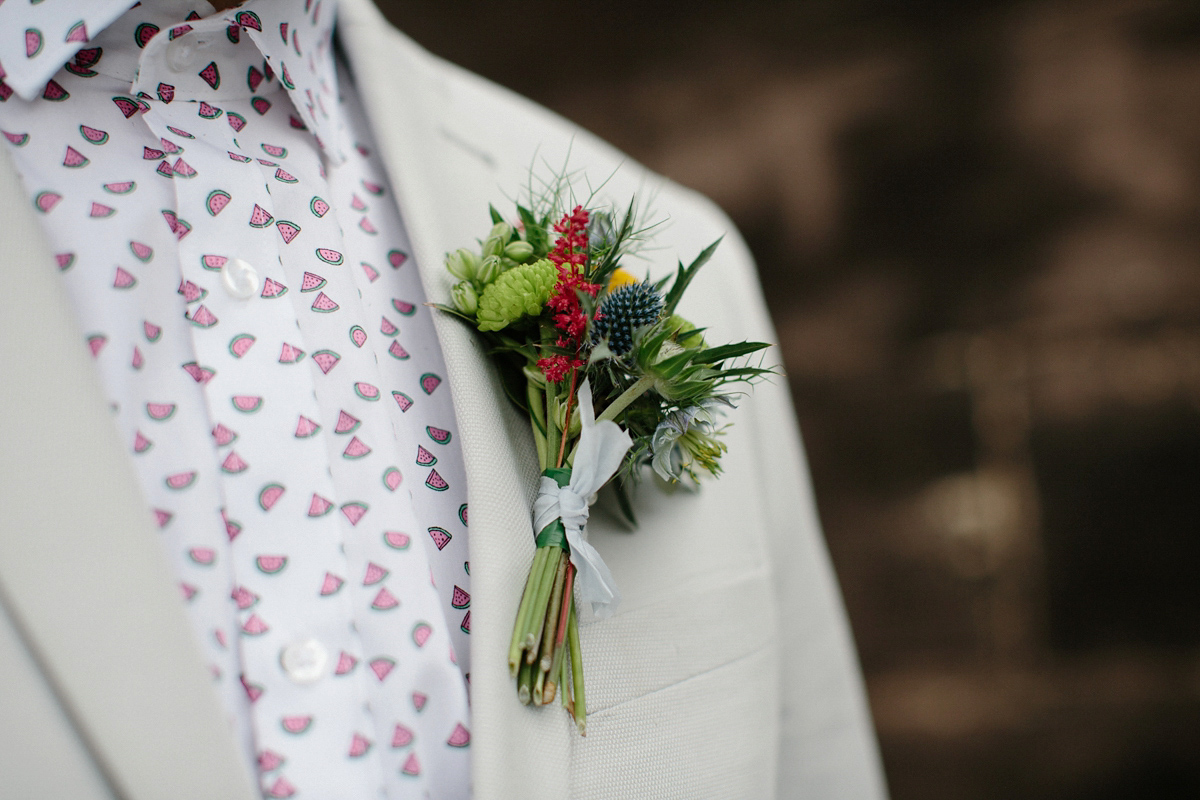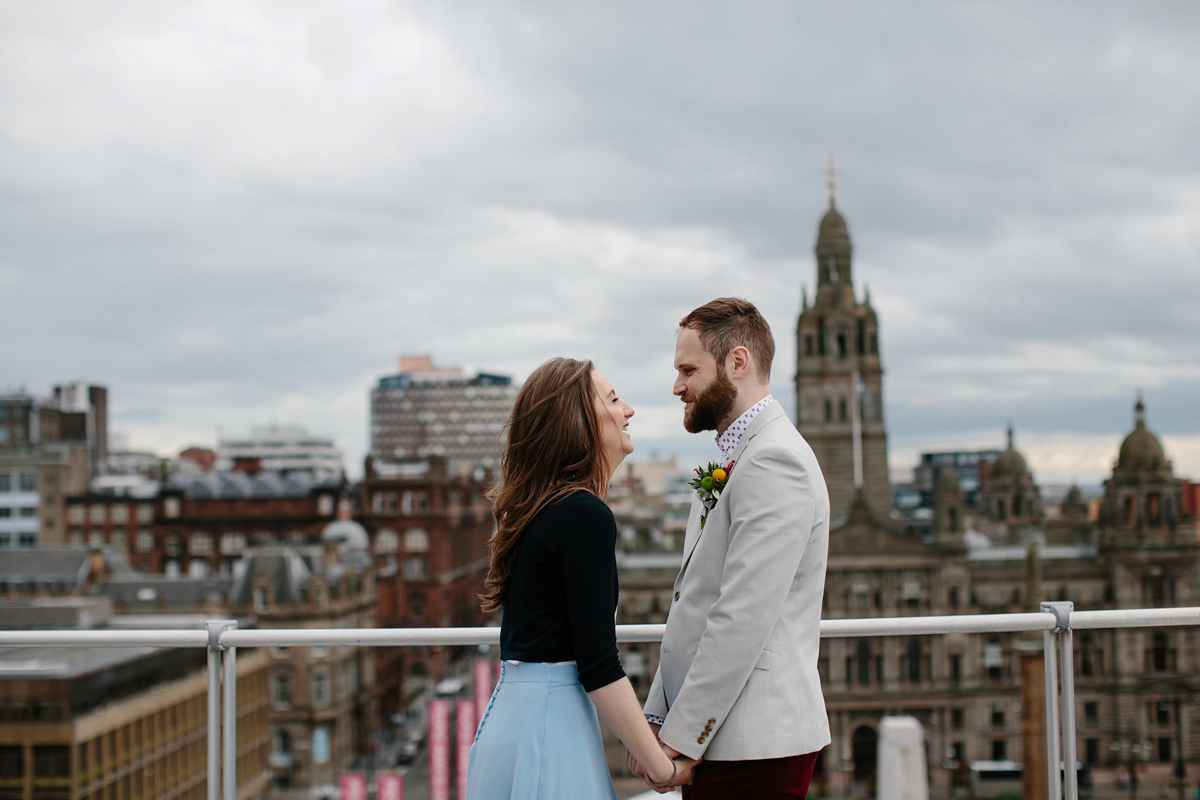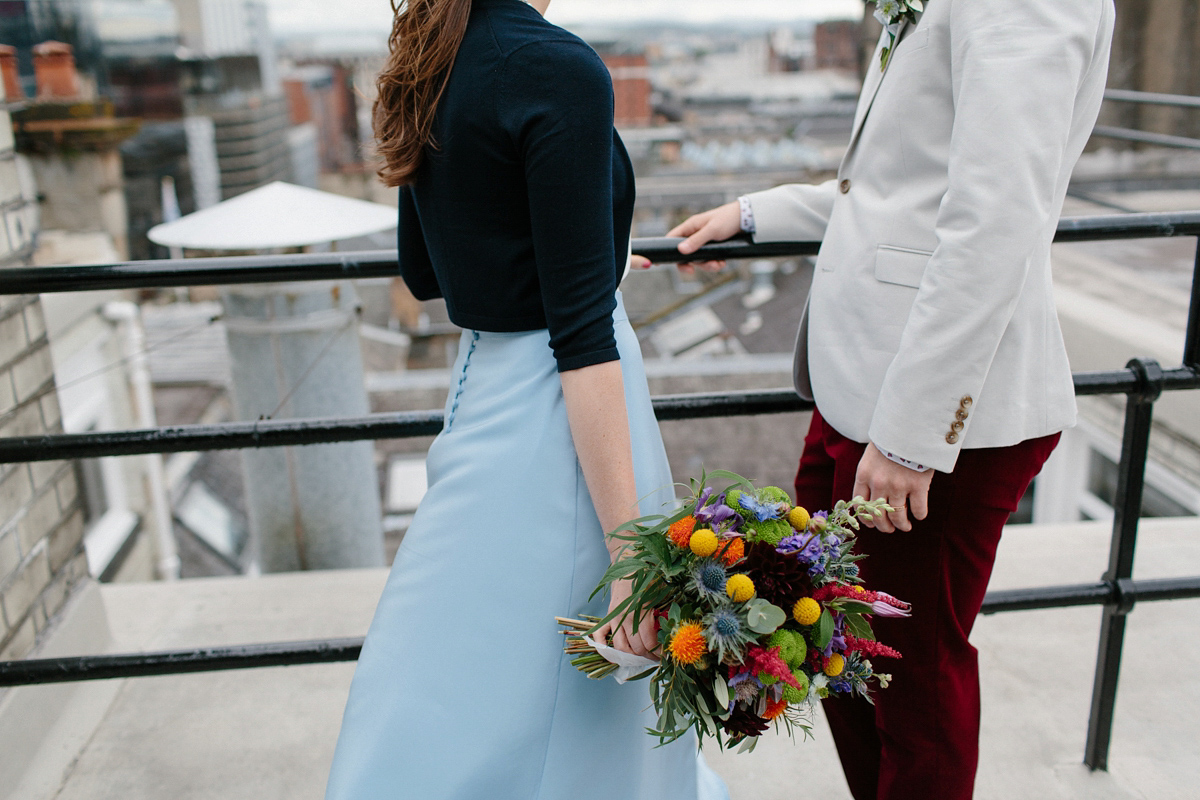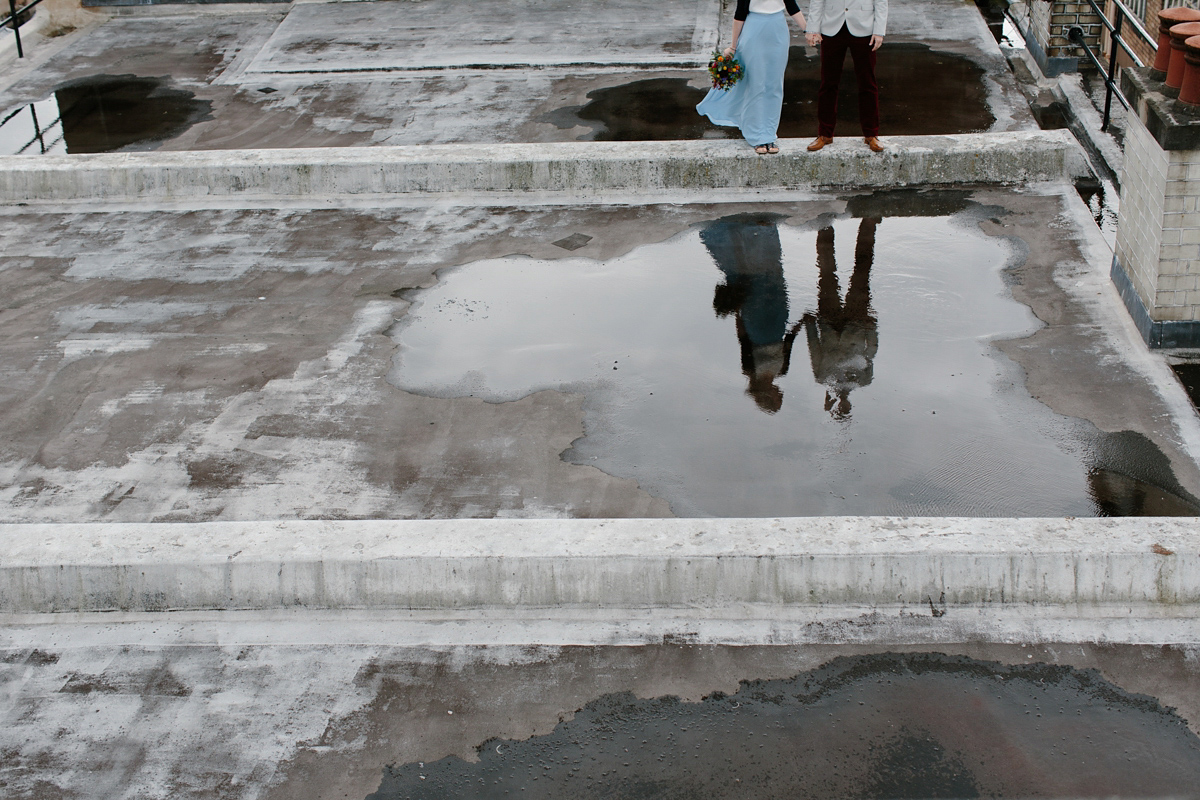 Gail and David knew that there was only one florist in the running to do their wedding. In fact David describes her as a 'Wedding Don', as she took on a lot of the styling and room setting up alongside Gail.
"Emma from Betty Bluebell nailed our flowers. We've known Emma for a long time, she and her husband are good friends of ours – it was always her gig. We had a meeting where I showed her some photos of flowers that I liked and she put together the most amazing bouquets for me and my sister, a little bunch of Craspedia for my niece and an epic buttonhole for David. Emma set up all the spirit and beer bottles with various flower arrangements the night before and hung an amazing arch above the ceremony area. We were blown away the place looked amazing."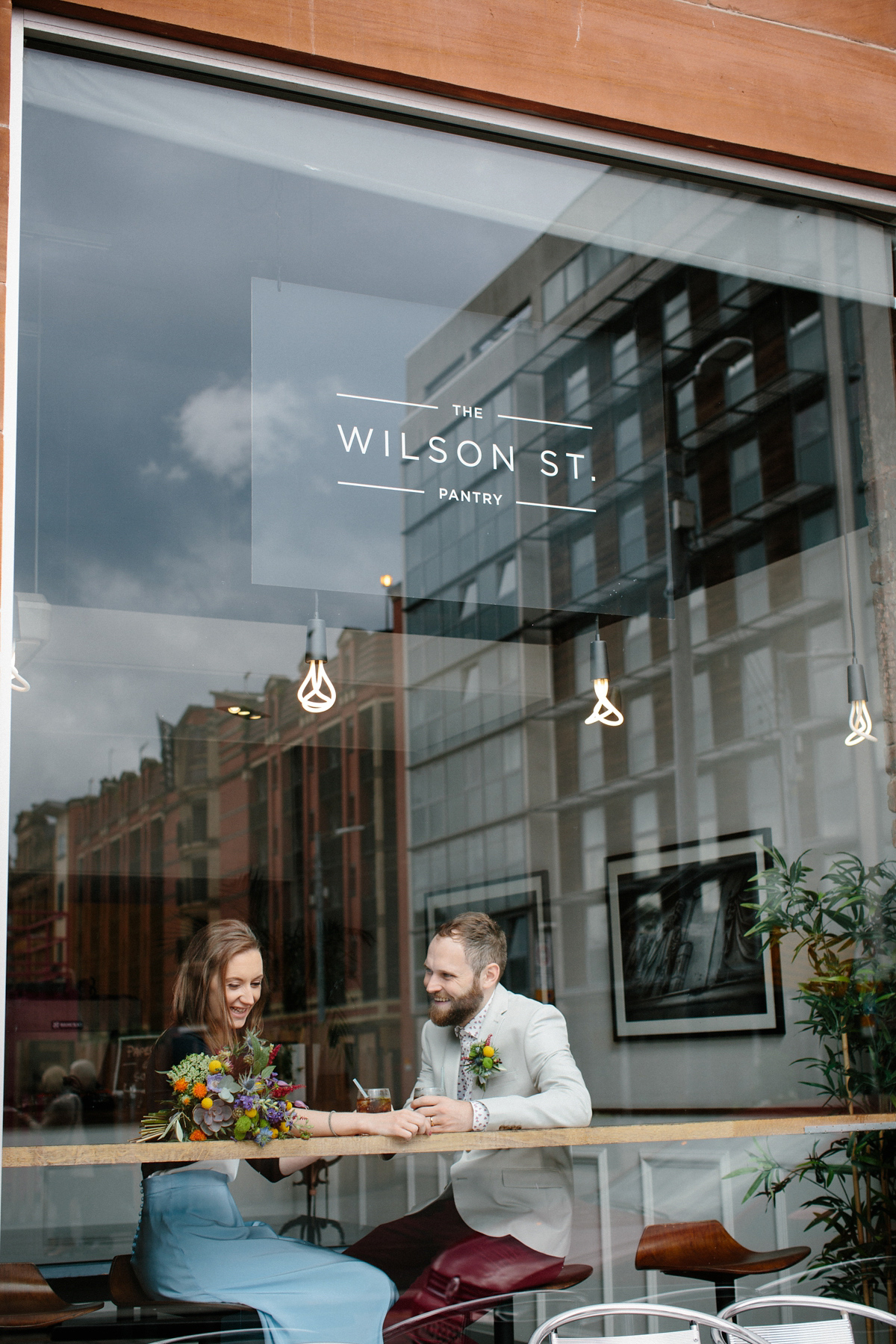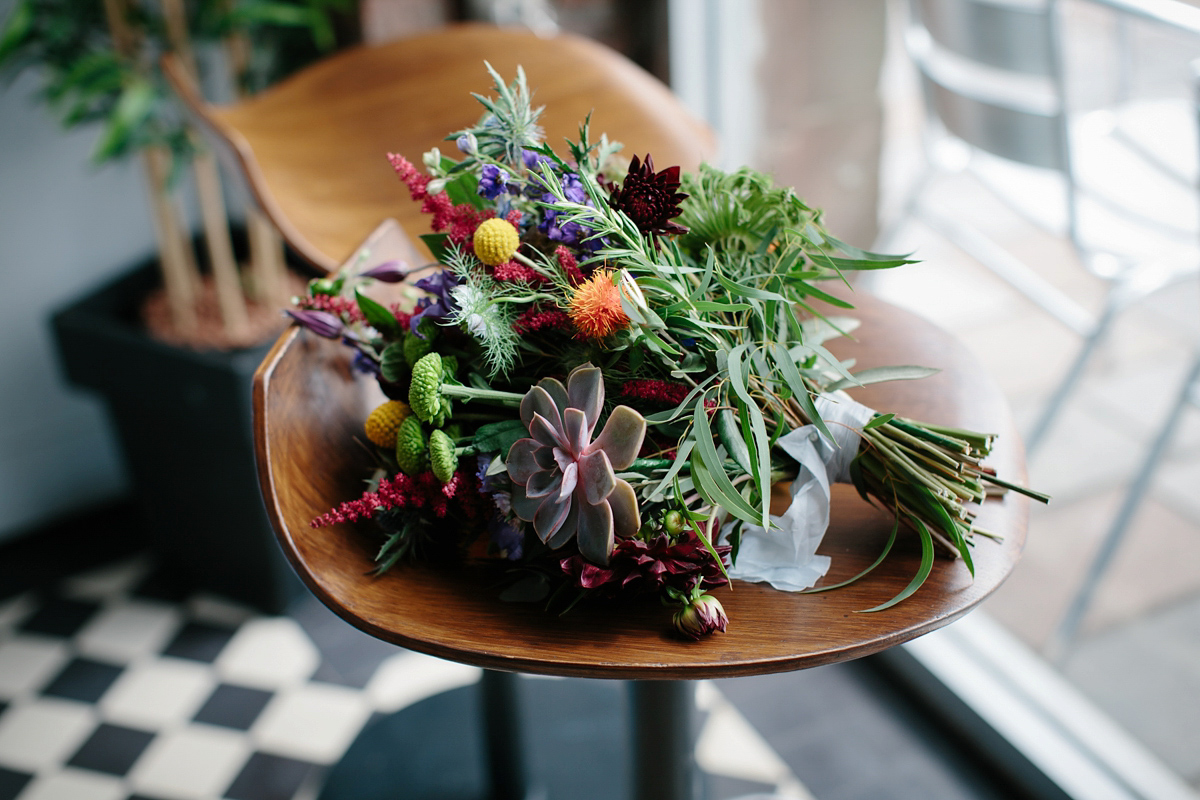 "In our three years of shooting weddings and making a 'yes' and 'no' list in our heads, wedding cars was just always in our 'no' list and it seemed an easy way to save money. We stayed at the Ibis Styles Hotel in Glasgow so we were close to the venue anyway."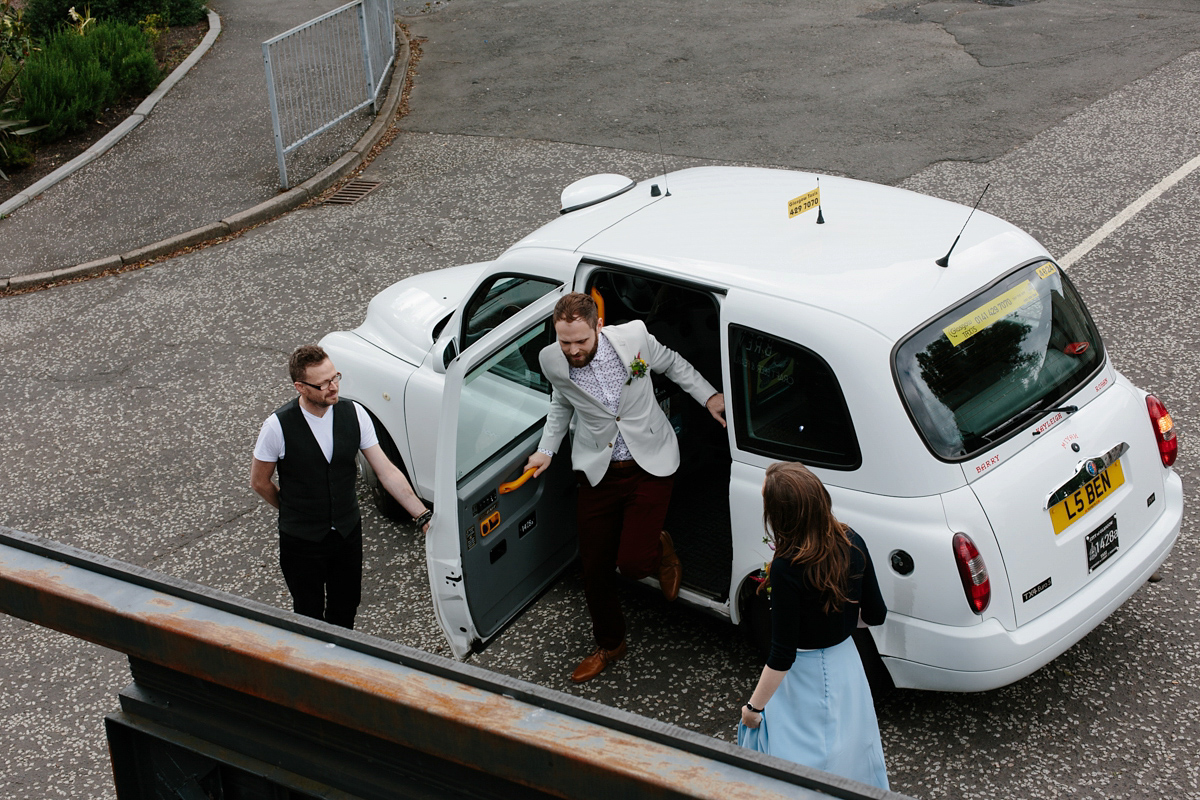 Gail had two Bridesmaids. Her sister wore a navy Phase Eight dress with mustard yellow and tan 1930s inspired t-bar shoes from Hotter and a matching clutch.
Her niece's tropical print dress is from Monsoon with the coral cardigan and hair clasps from John Lewis. She also got some gorgeous yellow Converse.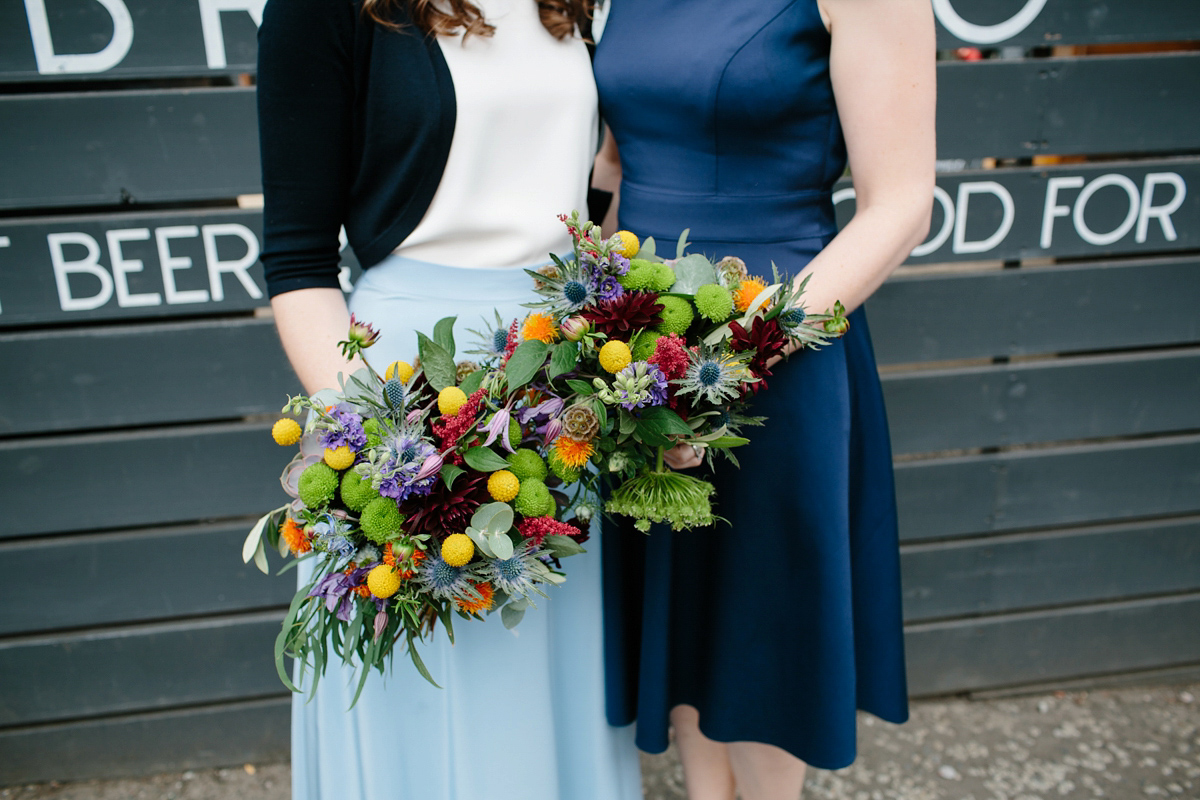 "We knew we'd get married in Glasgow for so many reasons – it's convenient for most of our friends and family; we love urban weddings, the romantic alongside the industrial. It was also important. that we get married somewhere that we didn't have lots of memories of working. We were at Drygate one Sunday for a market and we really loved the feel of the place. It looks amazing and is full of awesome design touches. We actually enquired about getting married there before we were even engaged!"
"Drygate pretty much served as our inspiration. We loved the clean, modern typography-led branding and design, and the bold colours behind the bar and on the murals around the venue. Mixing photography with illustration and using bright colours, we were guided by our love of the city and a desire to have a very relaxed wedding day."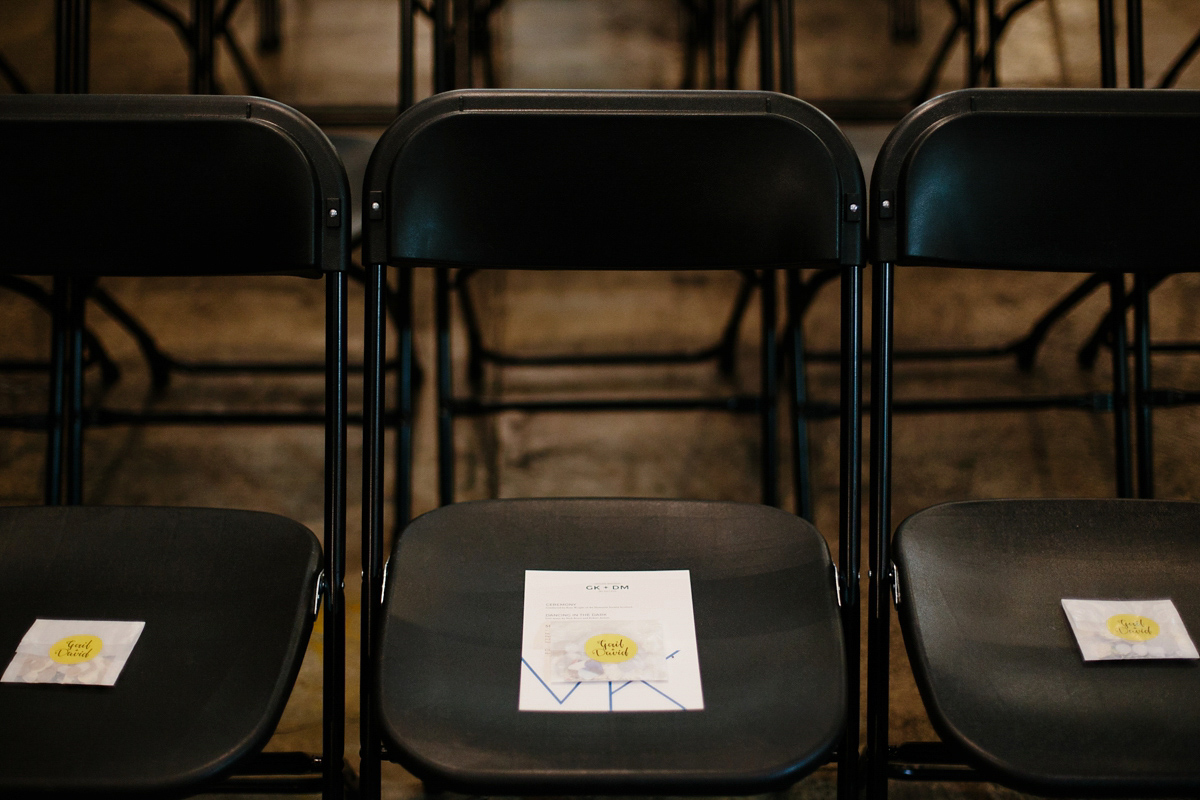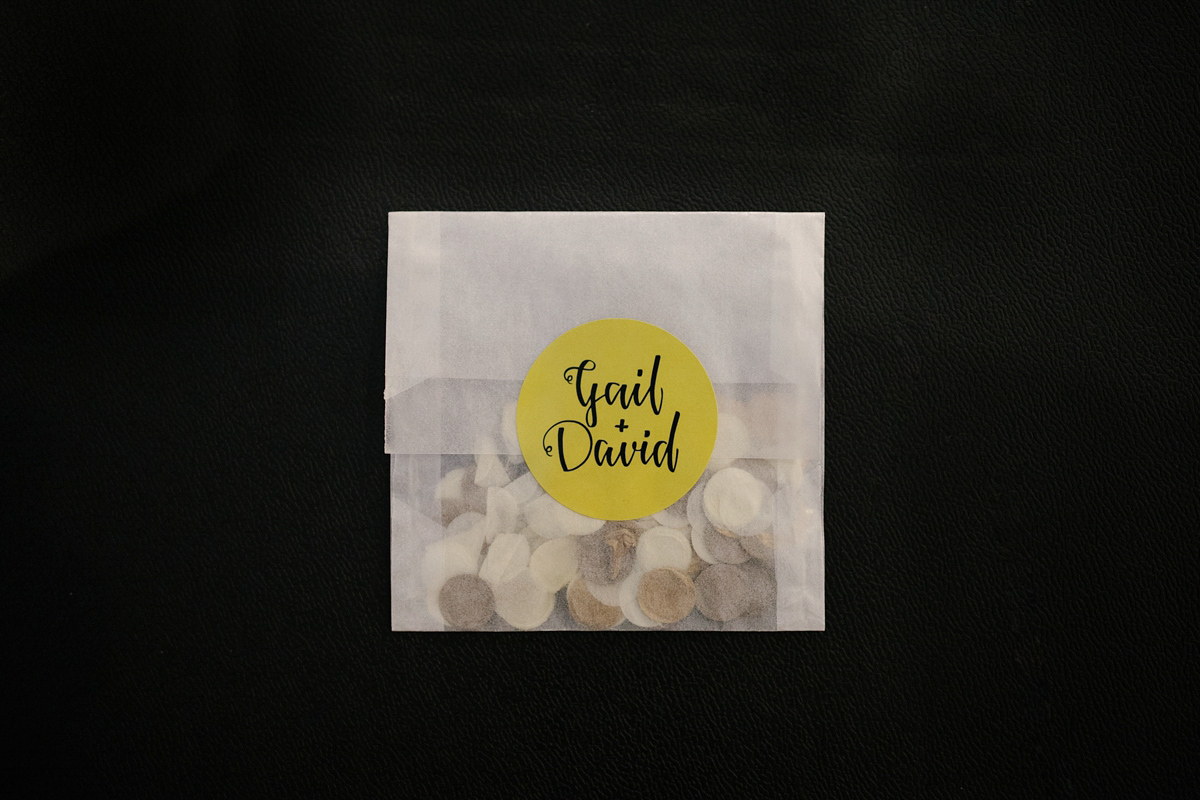 "Our illustrator colleague Daisy Bisley did a lovely calligraphy rendering of our names which became like the branding of the wedding. From there, Gail treated it like a branding job, with a colour scheme and typefaces. Due to the quick turnaround, our invites were in the form of a Squarespace website that we made together."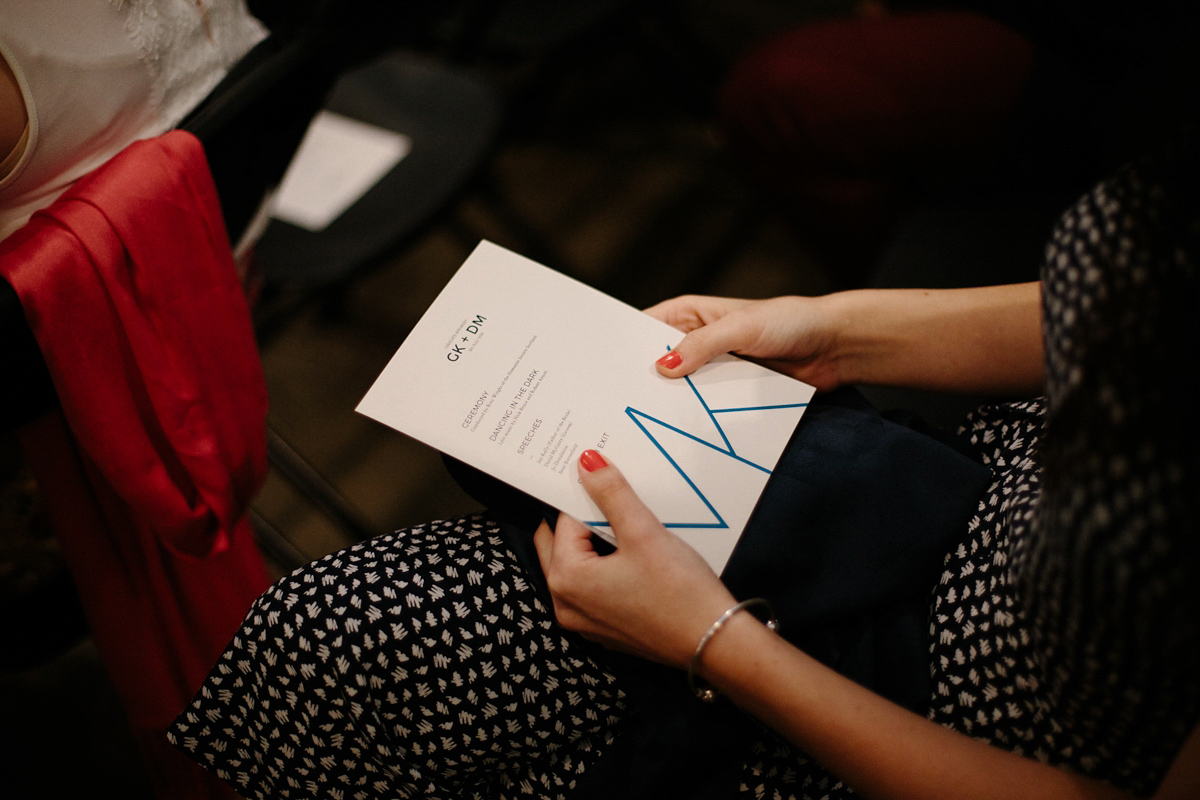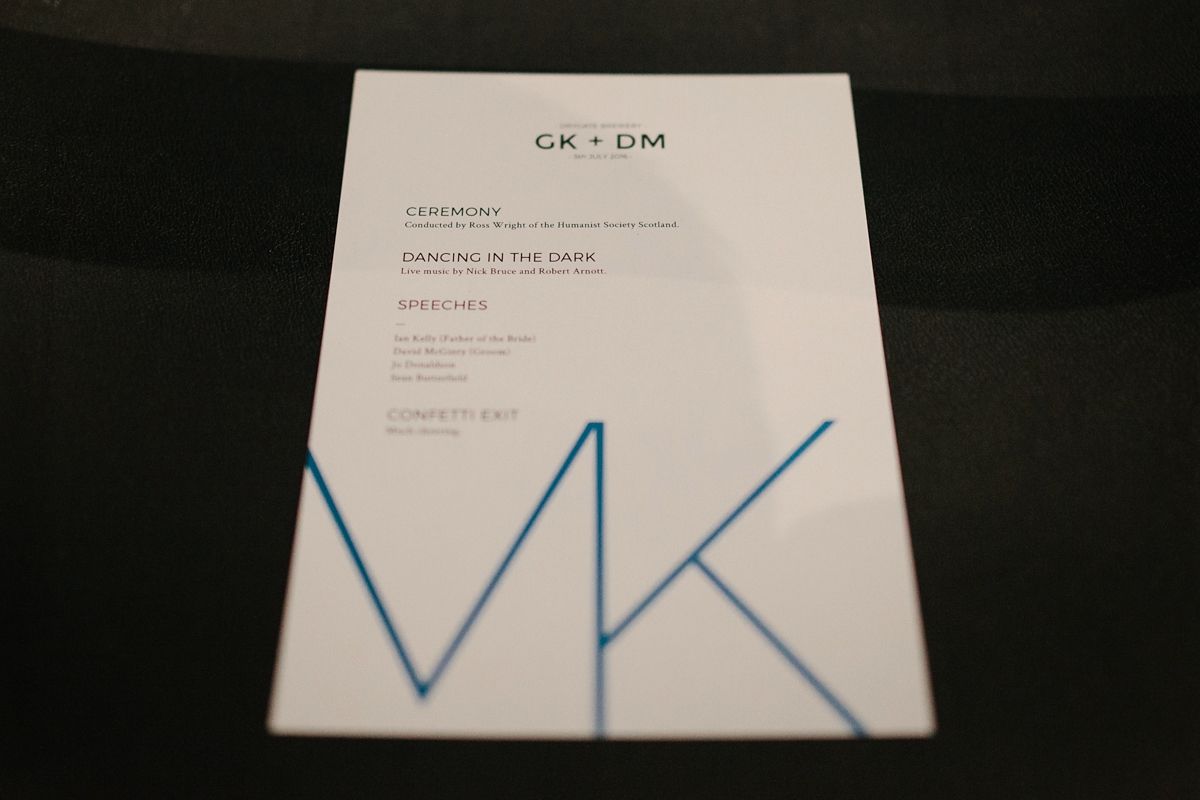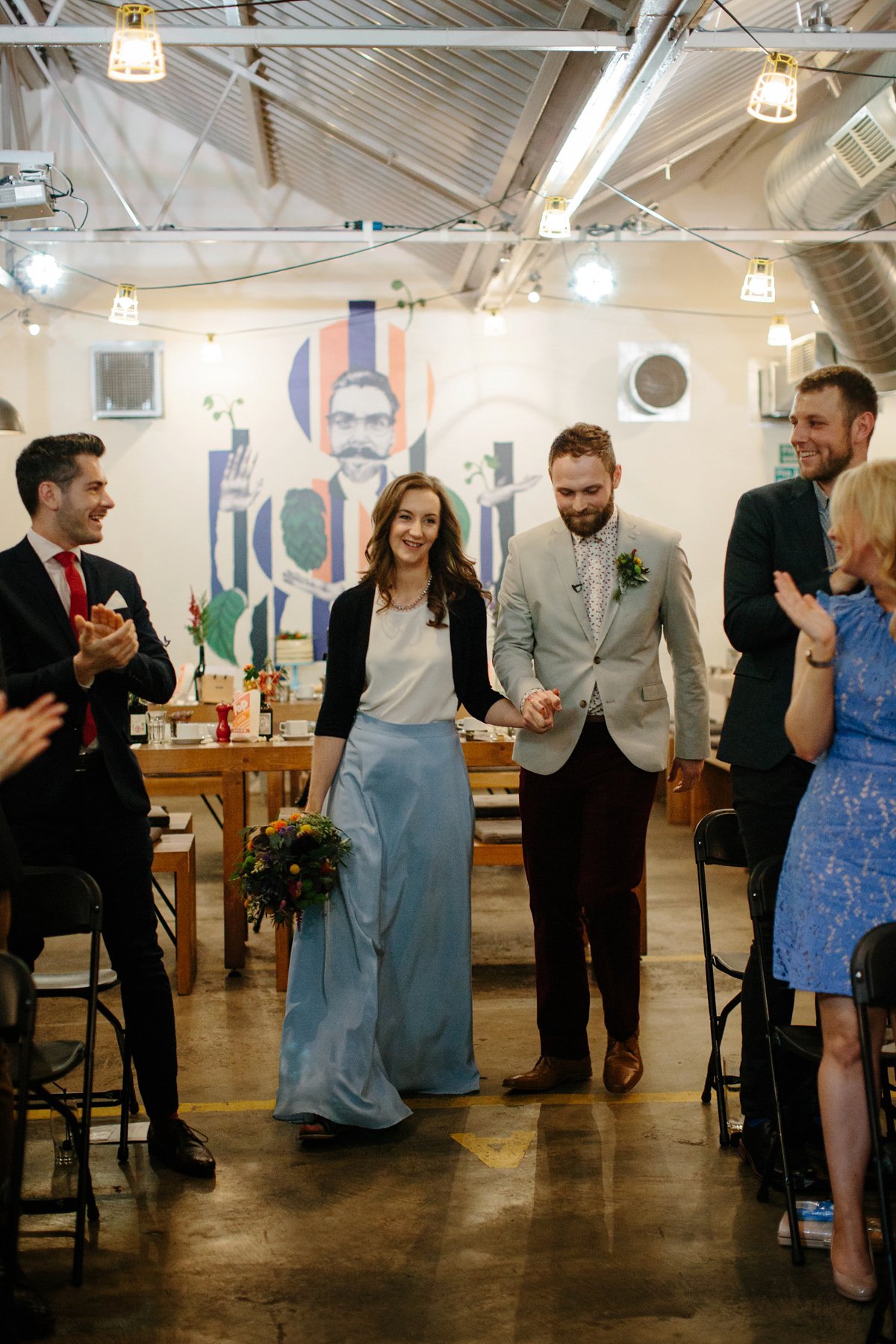 "We were married by Ross Wright, a Humanist celebrant who really threw down the gauntlet for us to customise the ceremony as much as we wanted. We basically jammed the ceremony and the speeches together into one compact set-up with our speakers telling the story of the day."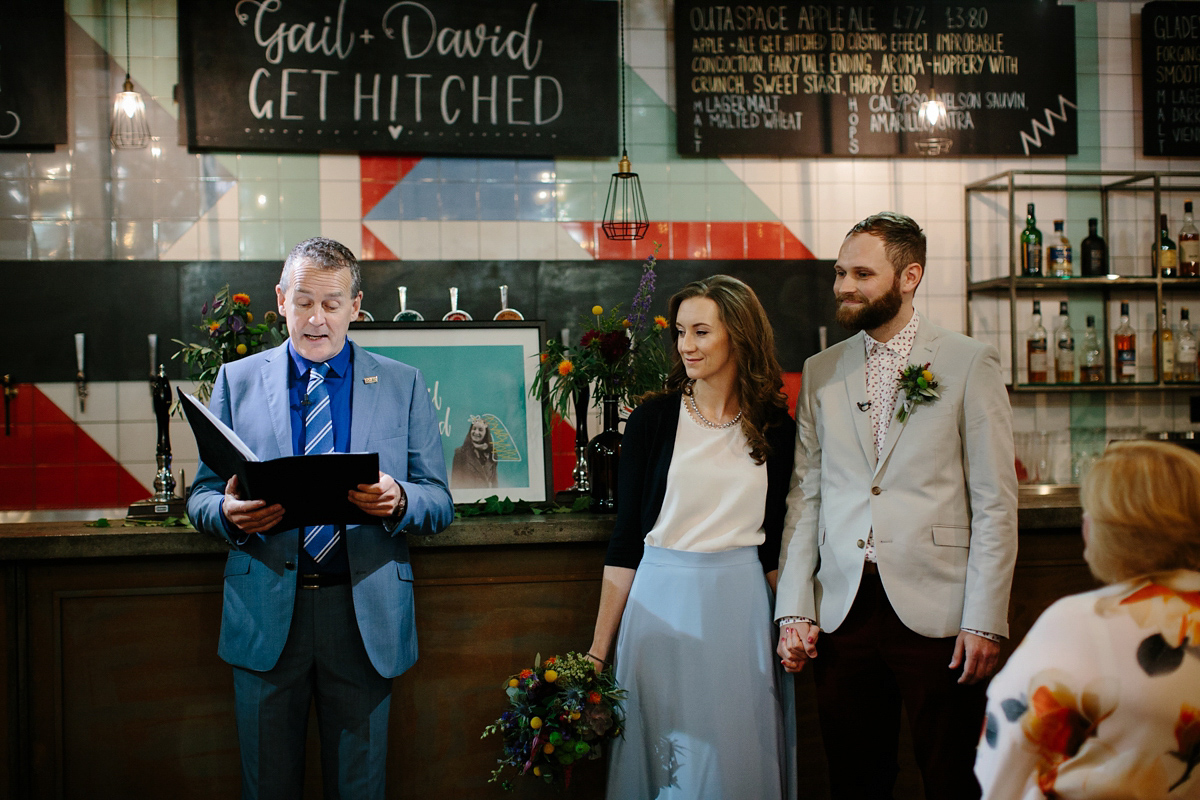 "We also arrived at the wedding together, and in an attempt to reduce the crazy amount of nerves that we had, we both went in and greeted our guests ahead of the ceremony, then came down the aisle together to applause. Nick and Rob performed 'Dancing in the Dark' by Bruce Springsteen during the ceremony, and we came back up the aisle to 'Ain't No Mountain High Enough'.
"I was really nervous about speaking during the ceremony in case I would be really emotional so we opted to keep our vows short and a mixture of sincere and light hearted to help relieve any emotions. It worked perfectly and I made it through with only a few tears. Ross was an absolute pleasure to work with, he was incredibly friendly and made us feel at ease. He also suggested the most beautiful reading for our ceremony. I wasn't keen on having any readings but Ross suggested having an extract from a Massachusetts marriage equality court ruling, – Goodridge (2003), said to be the birth of marriage equality in the USA to set the tone for the vows…"
Because it fulfils yearnings for security, safe haven, and connection that express our common humanity, marriage is an esteemed institution, and the decision whether and whom to marry is among life's momentous acts of self-definition.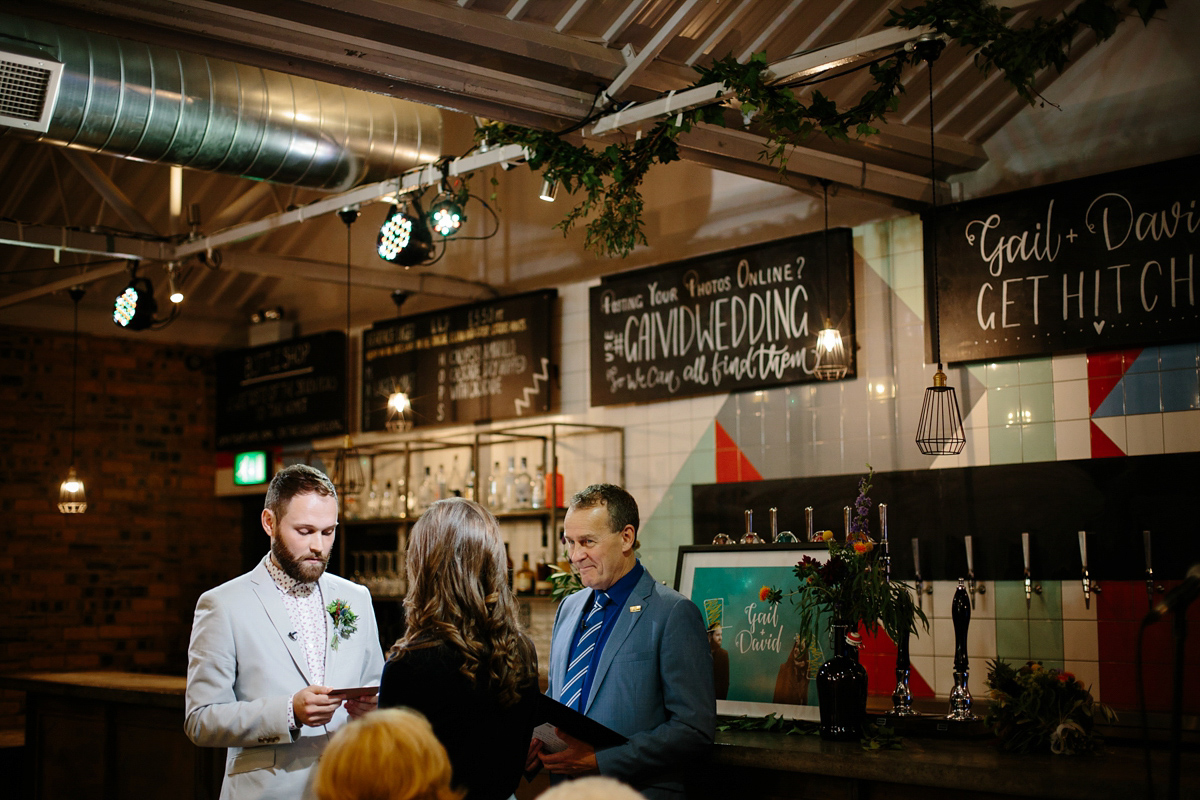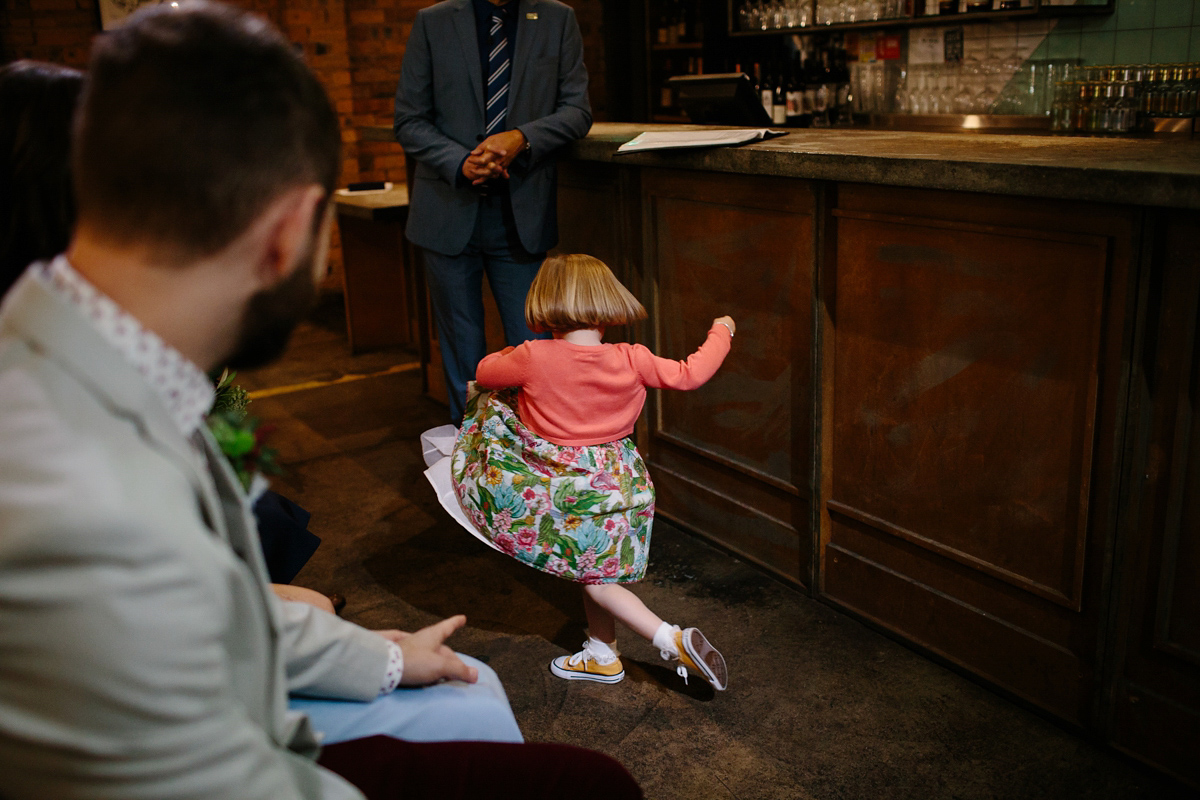 "We got our rings from James Brown Jewellers in Glasgow. Ewan is a family friend and has been making beautiful pieces of jewellery for my family my whole life. We chatted through what we wanted for our rings and Ewan showed us some beautiful stones."
"I chose white opals because I love them and when I saw the blue opal I had to have that too. I had three stacking rings made; white gold with a blue opal, yellow gold with three white opals and a hammered finish rose gold band. David got a hammered finish rose gold band in a thicker shank size to compliment mine."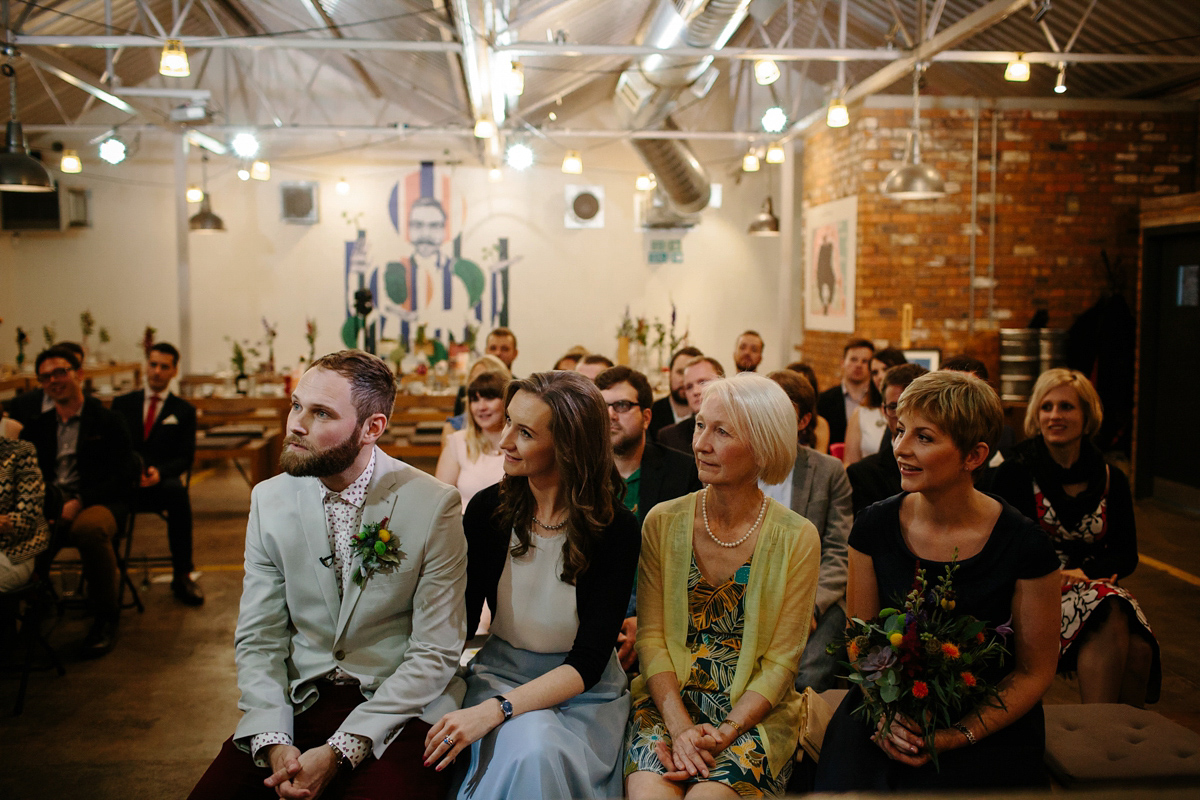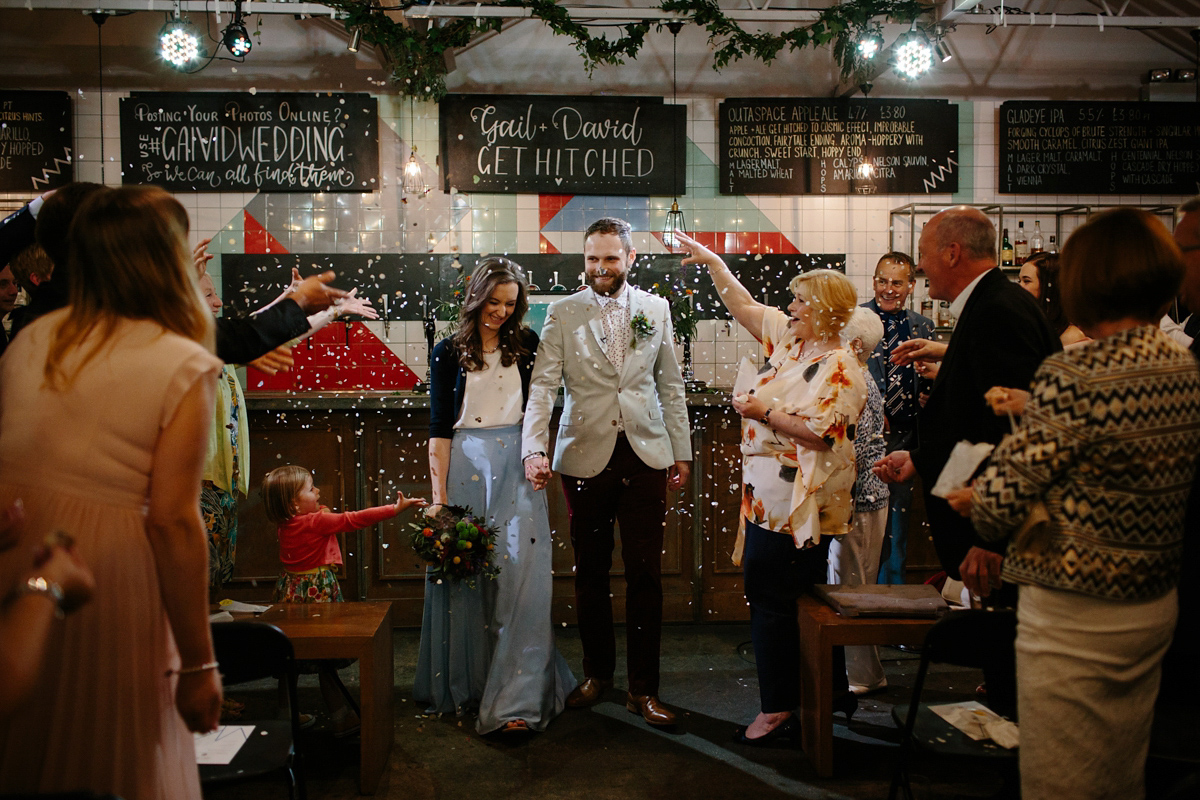 "Drygate is such a cool space with some amazing décor so we didn't have to do much. We used the space a bit differently to other weddings they've had there and that really helped to make our wedding styling feel a bit different. The furniture is pretty cool too so we made use of that as much as possible and created a relaxed feel to our evening reception with sofas and smaller tables and chairs to create a very homely feel to the evening. Daisy Bisley decorated the chalkboards with our wedding 'branding'."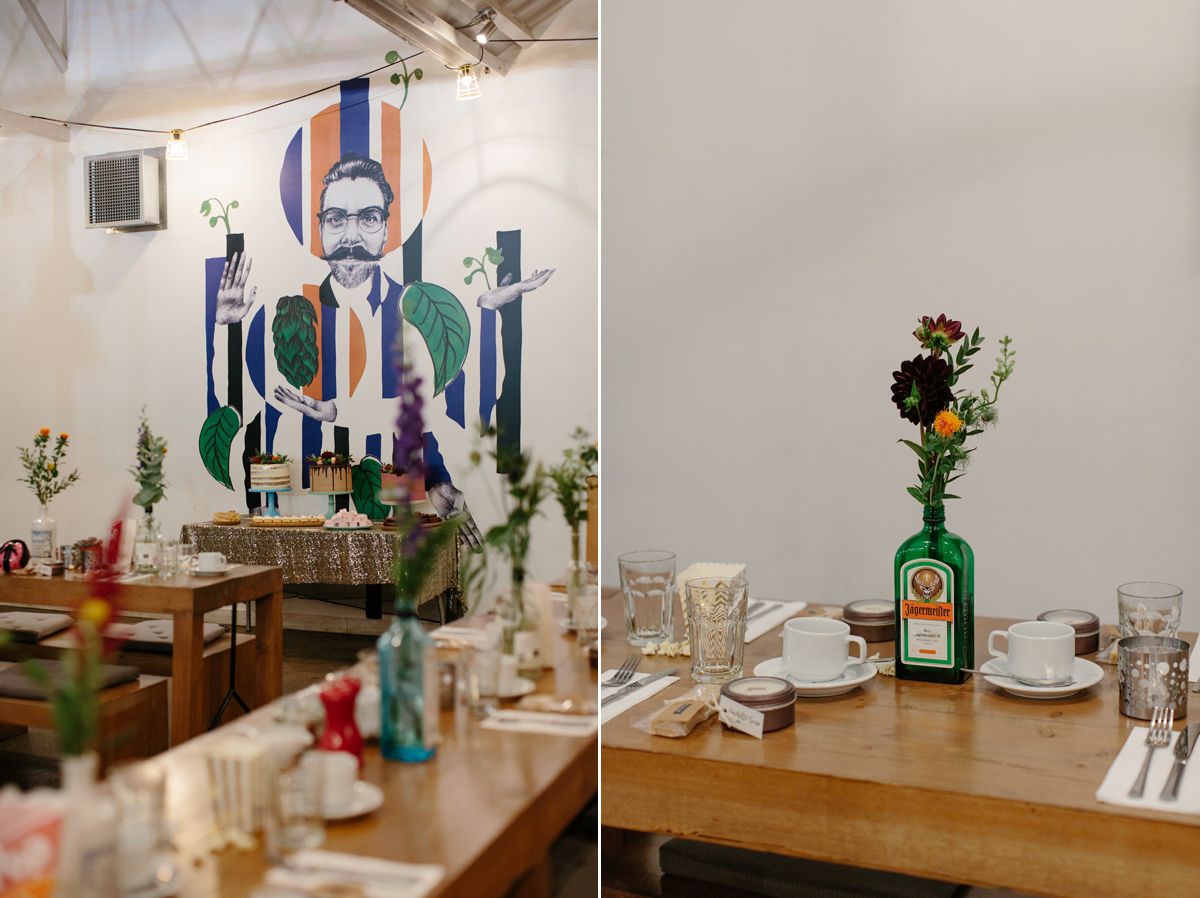 "The favours were homemade Ameretto Sour  100% soy, wood wick candles, made by my mum. Amaretto Sour was the first drink that Gail and I shared on our first date. My mum also made a whole batch to light around the reception room at night, and people kept commenting on how awesome the wedding smelled! She runs a candle business called The Neatly Wrapped Aromatics Co., and offers bespoke wedding fragrance design as a service."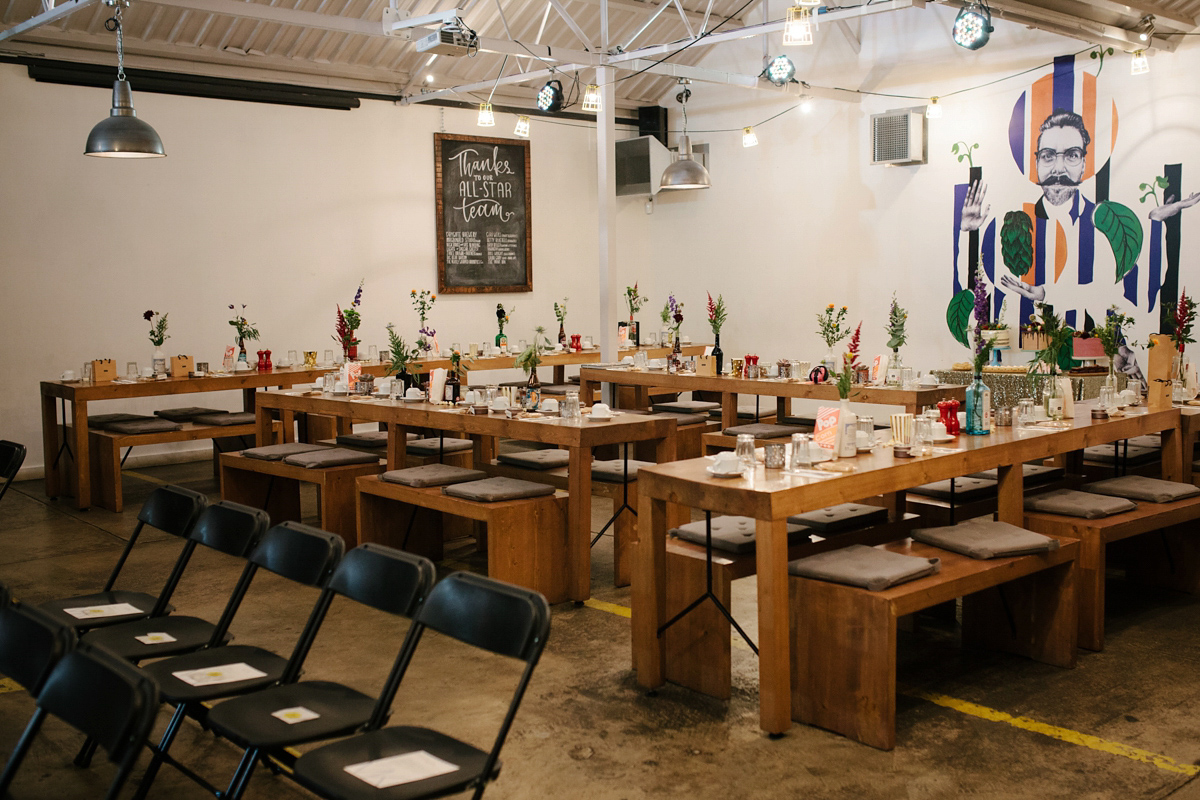 "Our cake was phenomenal! We had a cake table from Big Bear Bakery – everything tasted brilliant, and it was honestly such good value as well. Gail is cake obsessed, and most of the six week planning process went into selecting cake."
"My highlight was the carrot and pistachio cake.  Dominique, our cake-maker, was so wonderful to work with and she also did an amazing job of decorating the cakes and the cake table with the fresh florals that our florist left for her at the venue."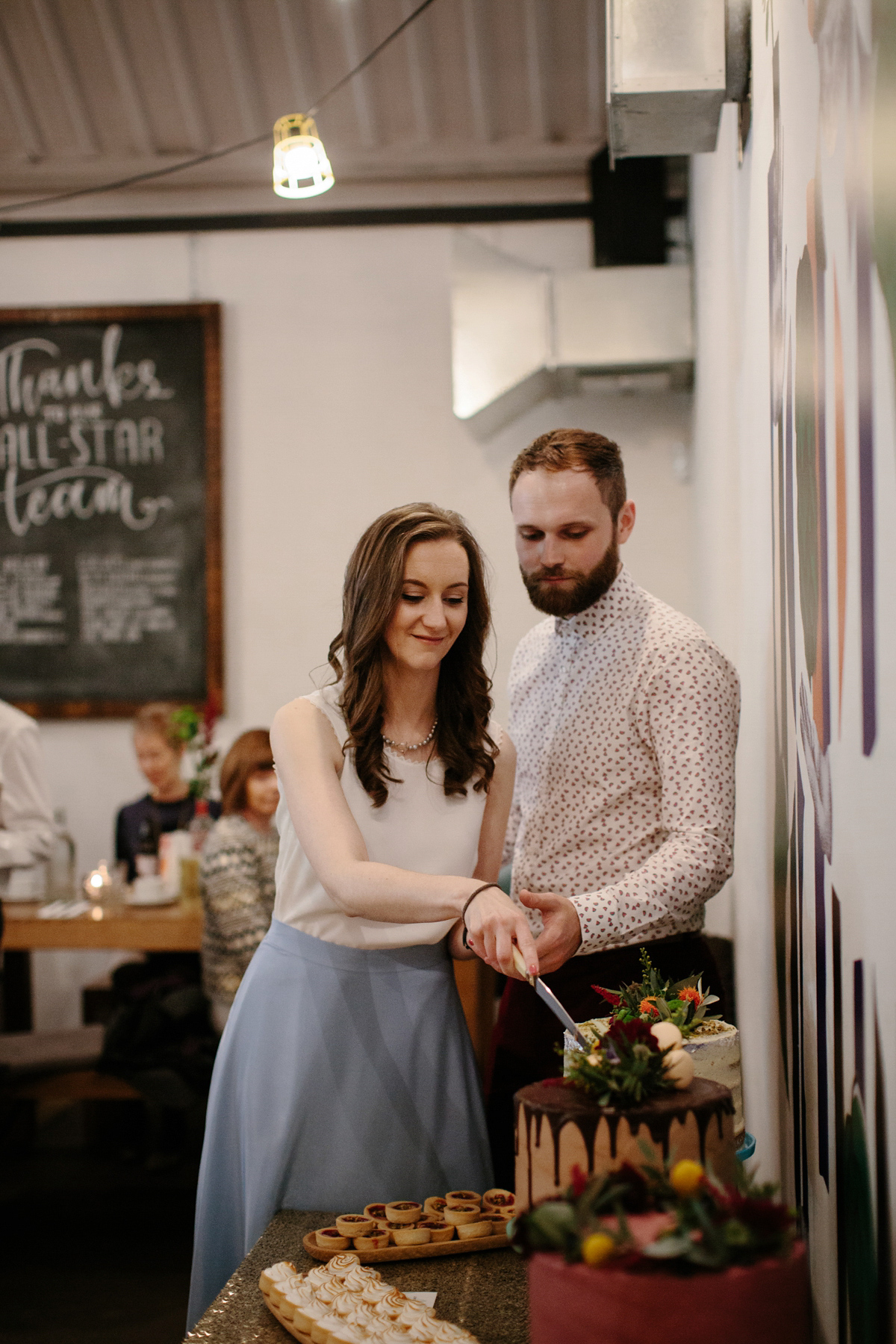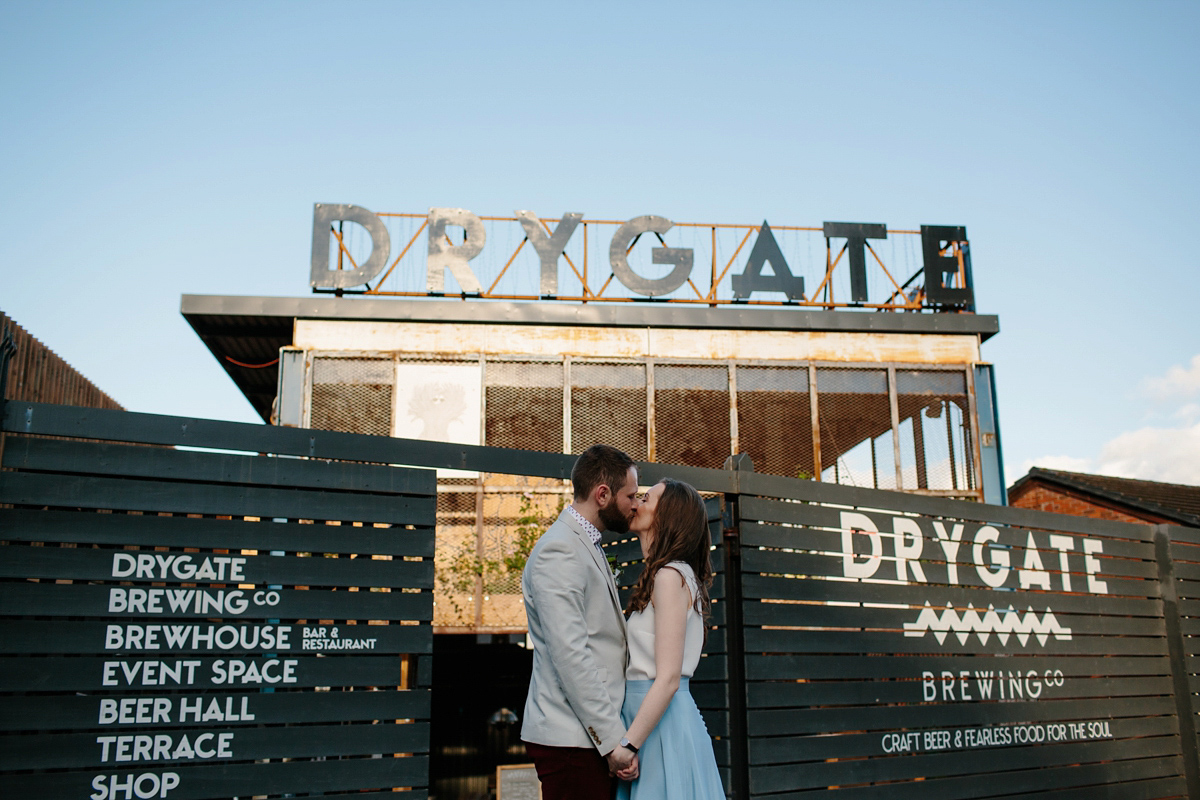 "Our first dance was 'You Can Call Me Al' by Paul Simon. We became 'official' whilst shooting a gig by the Paul Simon Treatment, an Edinburgh-based musical celebration of Paul Simon. So it was appropriate, but also an awesome tune."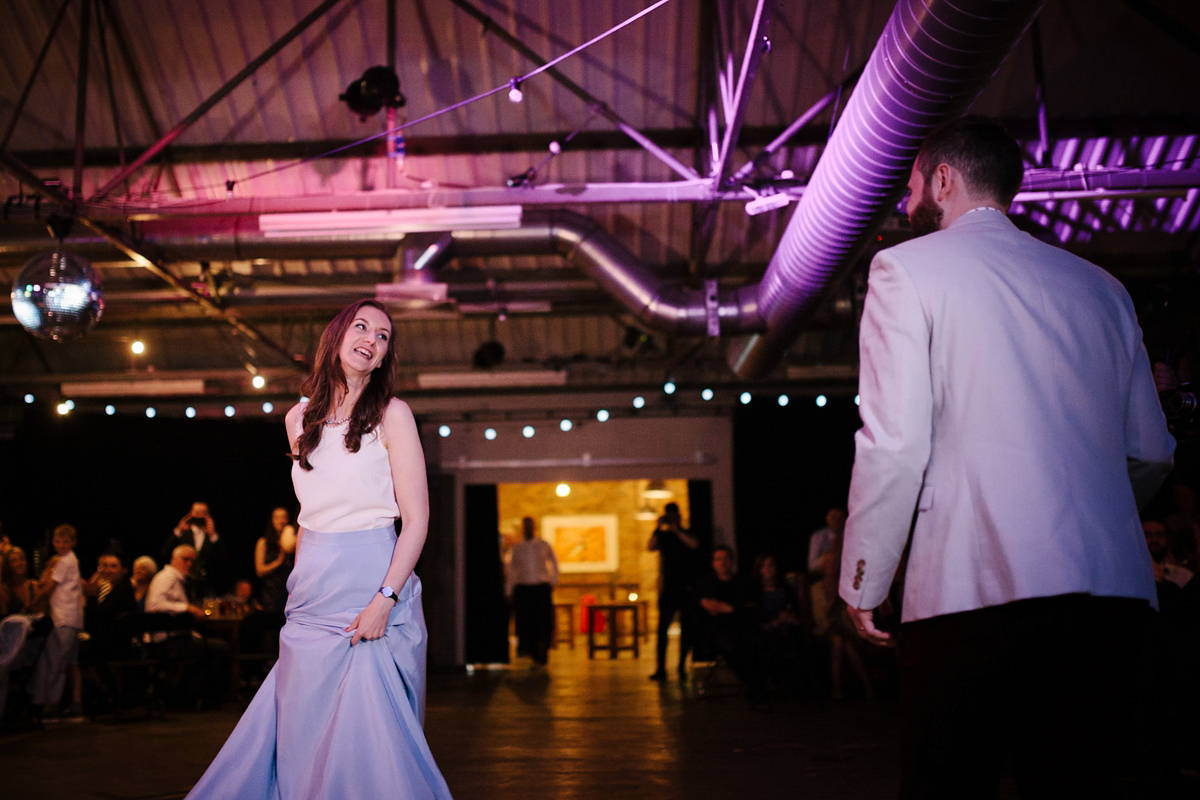 The bride and groom reflect on their favourite moments of the day, David says "…weirdly, doing my speech was a crazy, cathartic experience that I thoroughly enjoyed. I hadn't been looking forward to it but I ended up going at least fifteen minutes. I was a sobbing wreck and I took down at least half of the guests with me. I also loved our evening couple shoot at golden hour, and the party was incredibly ridiculous fun."
"What I loved about the day was having all our family and friends in one room. Greeting our guests before the wedding ceremony started was so great and it really helped to calm my nerves. A friend told me on the morning of the wedding, 'you'll never get all those people under the same roof at the same time again, they're all there for you and that's a pretty amazing feeling! Look at everyone there'. It made total sense and I tried to spend as much of the day as possible chatting to everyone and enjoying the fact they were all there."
"Ideally if we'd had a little more time to plan then the actual planning itself might not have felt so rushed or stressful but I did enjoy the fact that it allowed us to make decisions quickly and without too much hesitation. We put thought and effort and time into the big stuff but with everything else we just trusted our instincts and trusted our suppliers to create something awesome. We would like to extend a special thanks to all our suppliers for working within the incredibly tight timeframe!"
David plays in a funk/soul band called Nick Bruce and His Blinding Lights so he called in some favours and the band played a set. The groom had a stand-in but he did end up playing for a bit on the night.
"The band went down a storm and Nick was on fire. He was like a Glaswegian Prince. We got a bit of it on video and it takes me back to that night. I'm biased but I think it was the best wedding band performance featuring a groom cameo in postwar British history."
Words of Wedded Wisdom
"Spending money on the stuff that lasts was one of our key principles. We spent about a quarter of our budget on photography and videography and now we have an amazing time capsule of the day. Beyond that, we knew from years of experience of photographing weddings, that it's important to schedule the day to minimise stress. We had our couple shoot ahead of the ceremony so that once we arrived we could hang out with our guests all day; we had the ceremony and reception all at one venue and we stayed nearby; we left loads of time for the photography and the dinner. And it helped a lot to just not have to go anywhere. My last one is – I think it's fine to stress about the details but on the wedding day itself, the details don't really matter anymore so just enjoy the wedding.
Since we were planning the wedding in such a short time, I pinned a small collection of ideas onto a Pinterest board it and then I stopped looking for ideas, instead spending that time researching things I actually needed to buy for the wedding. Being a designer I'd always worried that I'd really struggle to stop looking at stuff but I was very strict with myself. Don't be afraid to do things how you want them and don't think too much about what's 'normal' or 'the done thing'. Plan a day that suits you and reflects you as a couple. I wanted to greet our guests before the ceremony, not hide away to make a big entrance! The more people I chatted to all morning the more relaxed I felt."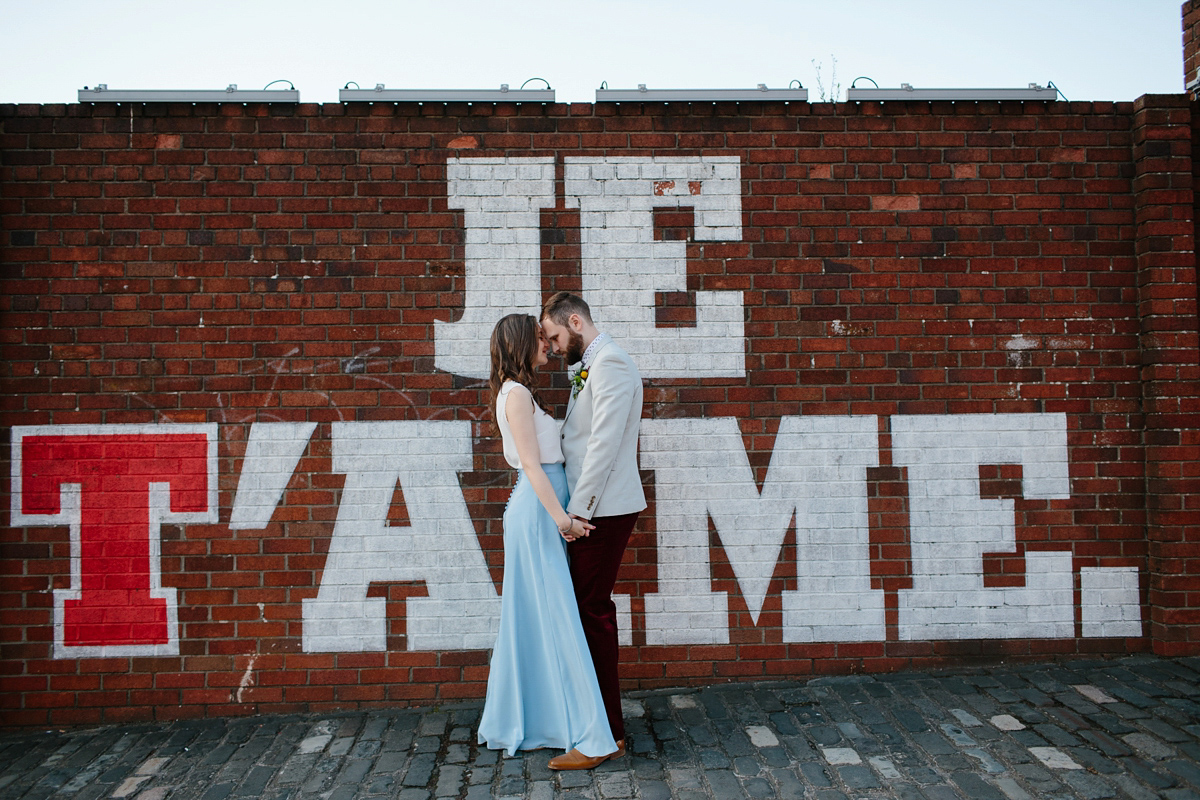 Planning any wedding in six weeks is no mean feat, never mind one as gorgeous as this one. Thank you so much to Gail and David for allowing us a glimpse into your wonderful day, and to Caro for these divine images.
Love Caoimhe xx