Happy Monday my loves, I hope you're all enjoying the bank holiday? I have a hearty dose of wanderlust-inducing romance for you today in the form of the colourful union of Sammy, a menswear designer and founder of Sammy Aki The Groom Style Consultant, and Anaël, a quantitative analyst. On 27th August 2016 this lovely couple wed at La Gentilhommière in Ardèche, France, a hotel which has been in Anaël's family since 1936 and where the groom grew up.
"I really wanted our wedding to be a big celebration of who we are and our heritage. Especially as we come from totally different worlds; the city life of London versus the French countryside. I also wanted to reflect my Ghanaian heritage and the wedding was a great time to learn and explore traditions and customs on both sides. As I work in events and with the close relationship I have with Anaël's family, we could achieve everything we desired."
Film by Brice Blondel
"When I say we had three weddings, it's because we not only had a catholic ceremony in France, we also had a civil ceremony at Islington Town Hall, which we followed with the Ghanaian traditional engagement and wedding ceremony. This was when Anaël's family officially came to my home to ask for my hand in marriage."
Photography by Aki Akiwumi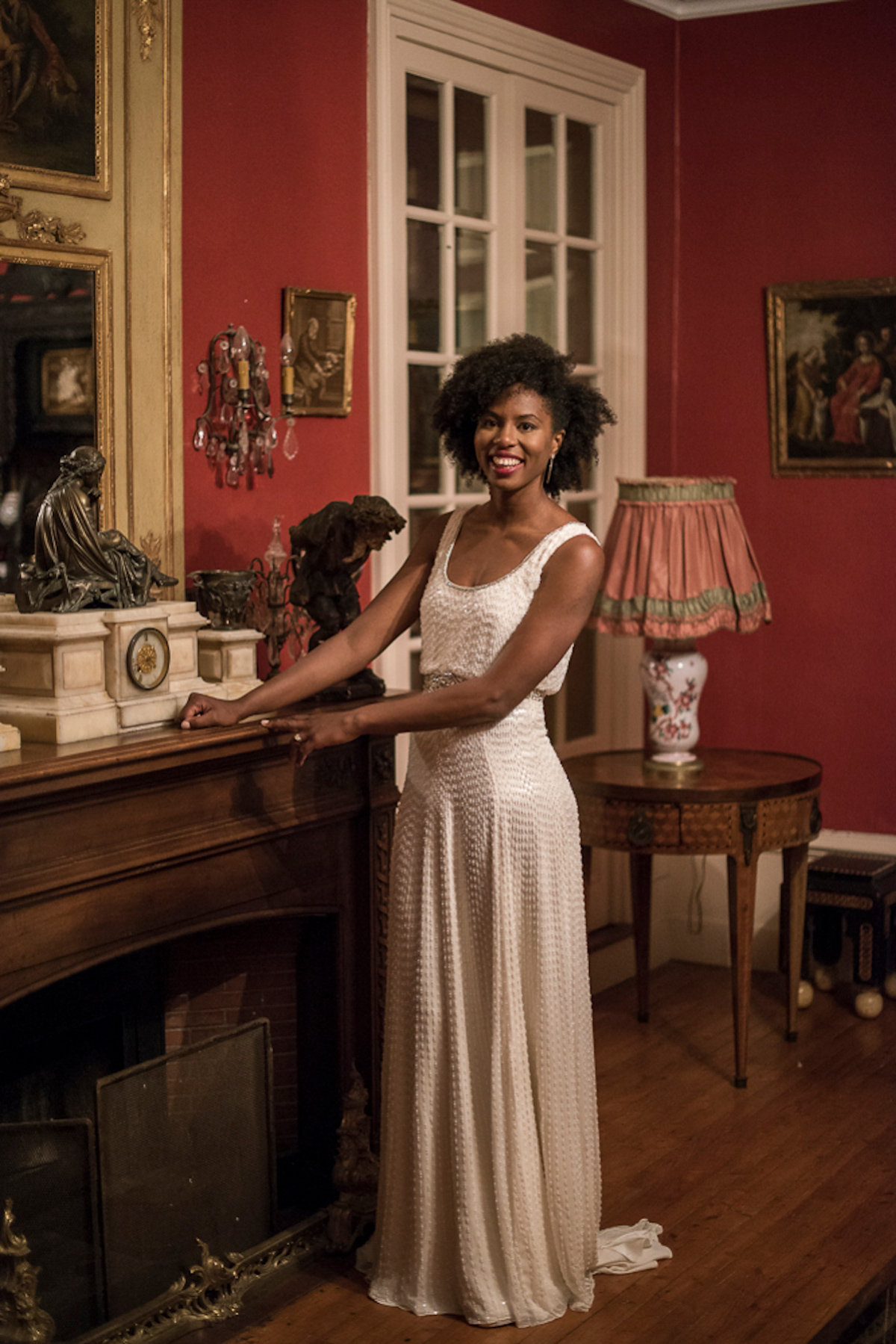 Sammy wore a duo of stunning gowns in the course of the day, a full-skirted and romantic number from Ellis Bridals for the ceremony and reception, followed by a slinky, shimmering Jenny Packham beauty to dance the night away in (pictured above).
"For the dinner and dance I changed into a 1920's inspired beaded dress. Sleek sophisticated with plenty of sparkle. This was possibly my easiest purchase as it was 100% me with no interference (sorry mum). I wanted to feel chic and dare I say it comfortable when I (pretended to eat) and got my groove on the dancefloor and this dress spoke volumes in the evening light."Two playful pairs of Miu Miu heels, sparkling with Swarovski crystals complimented Sammy's gorgeous gowns and she spritzed on her regular floral scent, Amaryllis Eau de Parfum by Floris. When our bride's make-up artist fell ill a few days before the wedding, she valiantly rallied and raided the make-up bags of her friends and family to create her own style.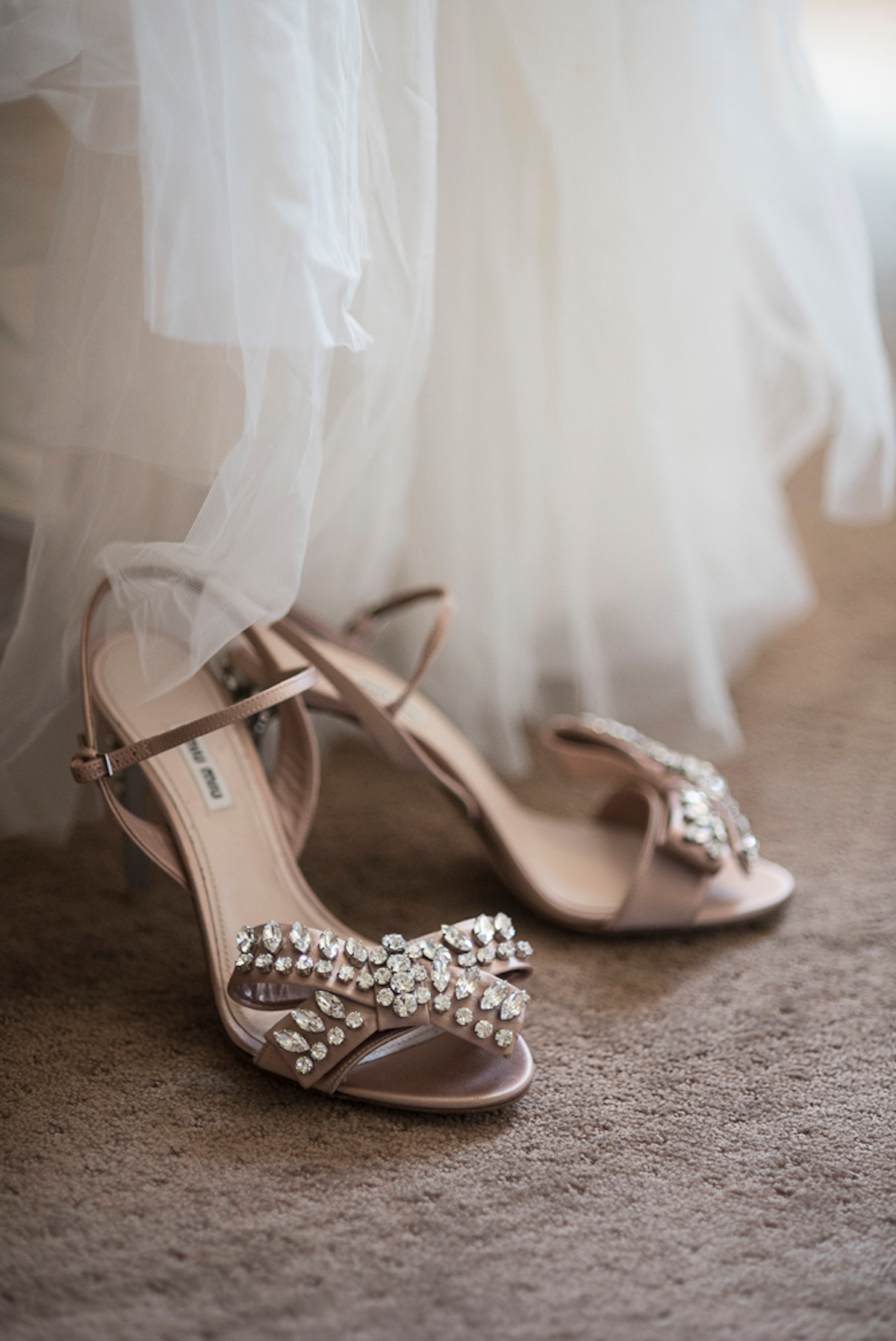 When I first devoured these images, I was beyond delighted to spot the instantly recognisable work of our Little Book for Brides darling, the incredibly talented and absolutely bloomin' lovely Tilly Thomas Lux. Sammy commissioned a bespoke head piece incorporating jewel-bright tones and motifs evocative of both the French countryside and her Ghanaian heritage. I can think of noone better to turn Sammy's ideas into a reality than Sally, she has an inherent ability to gently tease out a bride's inspirations and desires, creating the most beautiful, high quality pieces I've ever seen.
"My accessories could possibly have been more important to me than my dress. I think it's the only part I researched for the whole wedding and I realised I had to do what I know best and go bespoke. Anaël met me wearing a headpiece and always loves it when my hair is in its natural afro or scraped back, so I knew I needed something great to compliment this style."
"I found Tilly Thomas Lux on Instagram and fell for her art deco inspired pieces. We had a brief chat on the phone and I decided to see her in her studio. We instantly clicked and within a few hours we decided on a very unique piece incorporating the countryside setting with jewelled insects in sapphires and hot pink. As I was wearing a princess gown I wanted it to feel like me and I knew the accessories would do just that."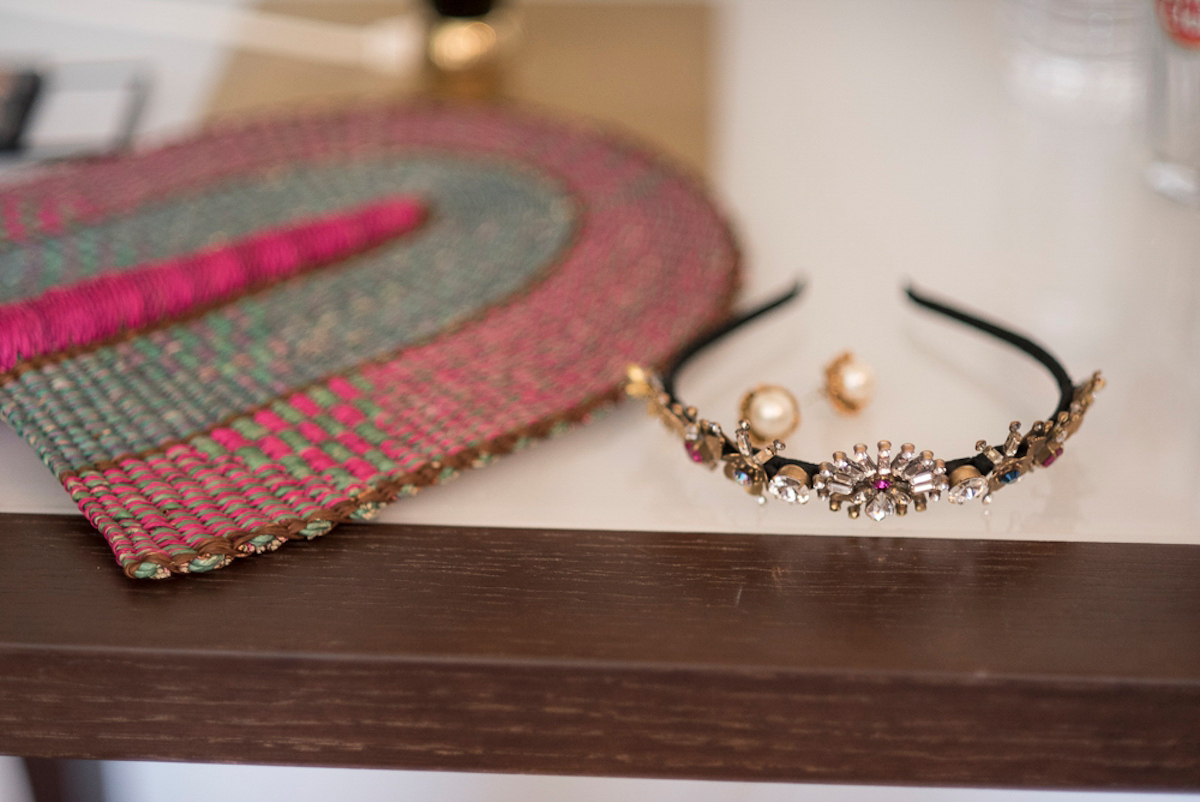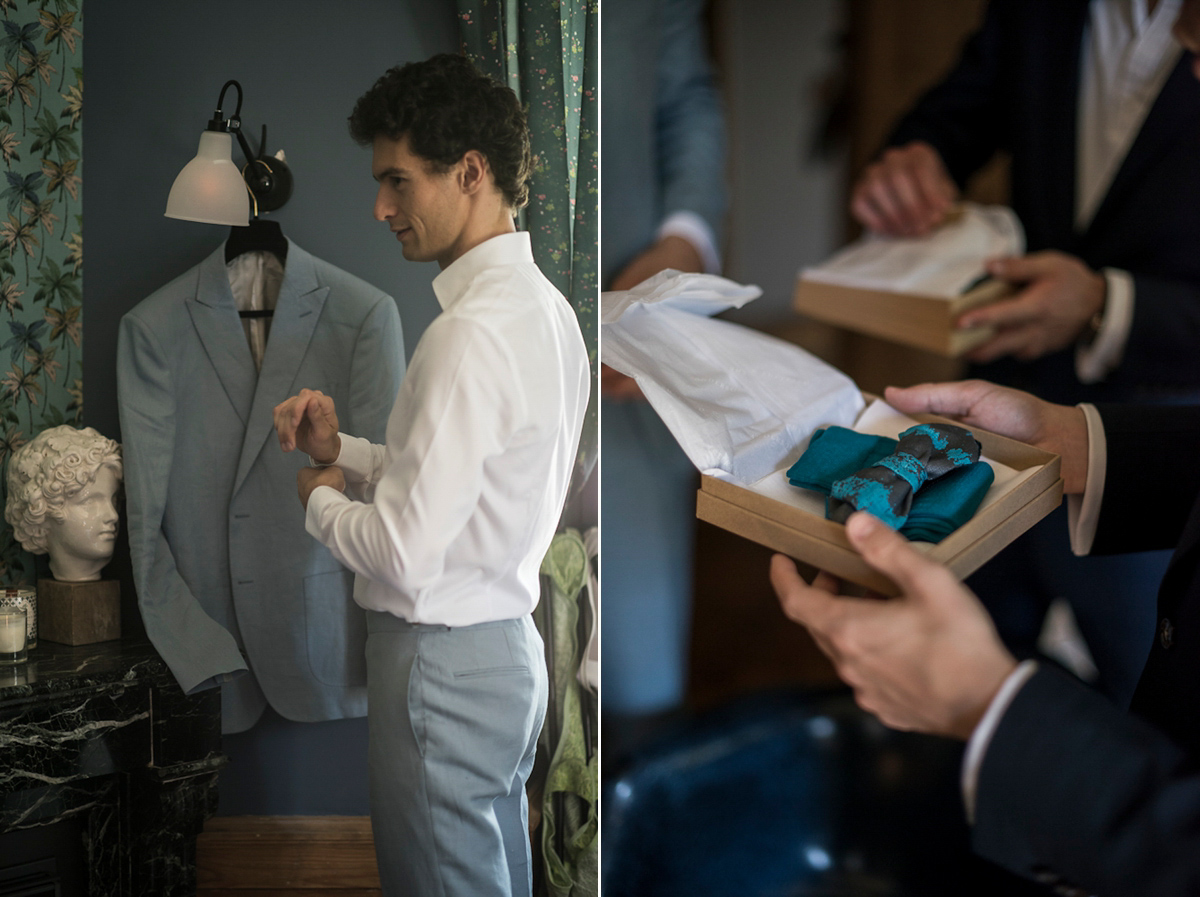 Sammy gifted Anaël gold dress studs and cufflinks on the morning of the wedding to finish off his evening look, perfect against his black grosgrain bow tie and patent dress shoes. For the ceremony, Anaël wore a tie which reflected his bride's Ghanian heritage, lovingly made in collaboration with AMWA Designs.
"I wanted our groomsmen and Anaël to have something special from us, so I approached Chrissa Amuah from AMWA Designs to see if she would be interested in collaborating. She has a fantastic company making gorgeous soft furnishings and furniture incorporating design elements from her Ghanaian heritage. I selected 'Kete pa' an Adinkra symbol which means 'happy marriage.'"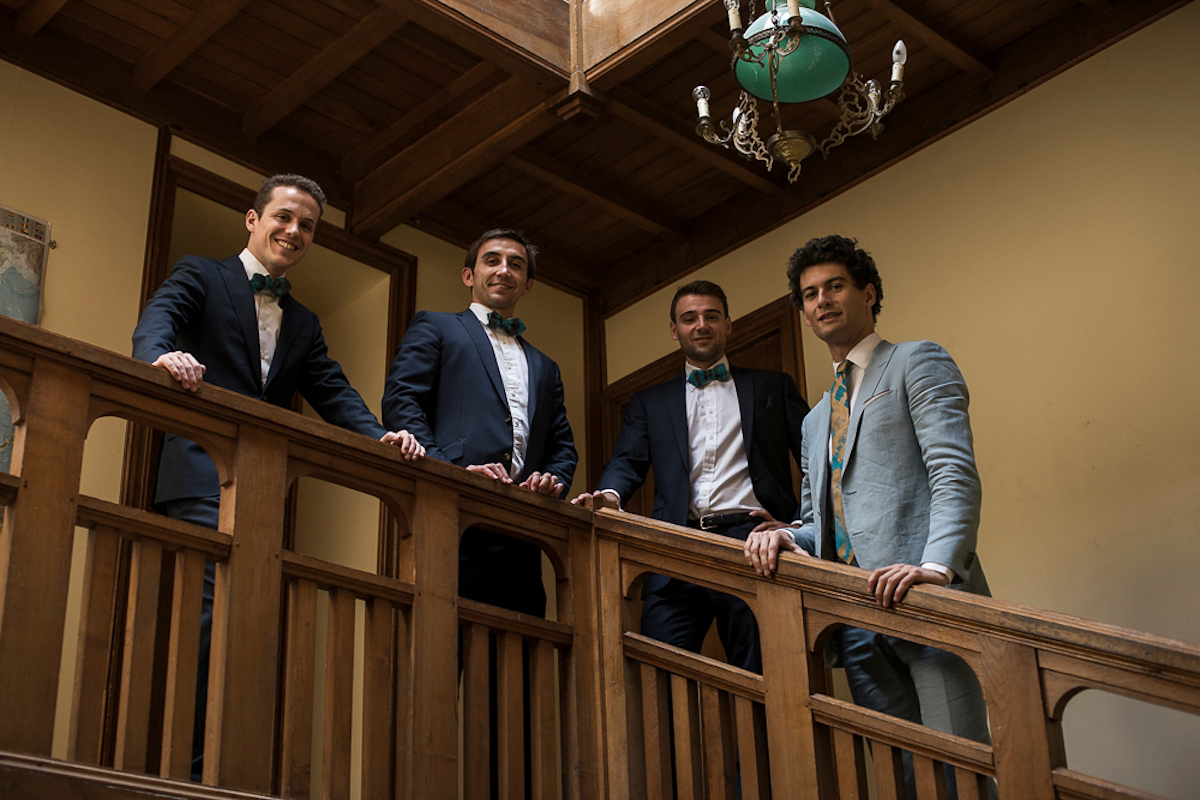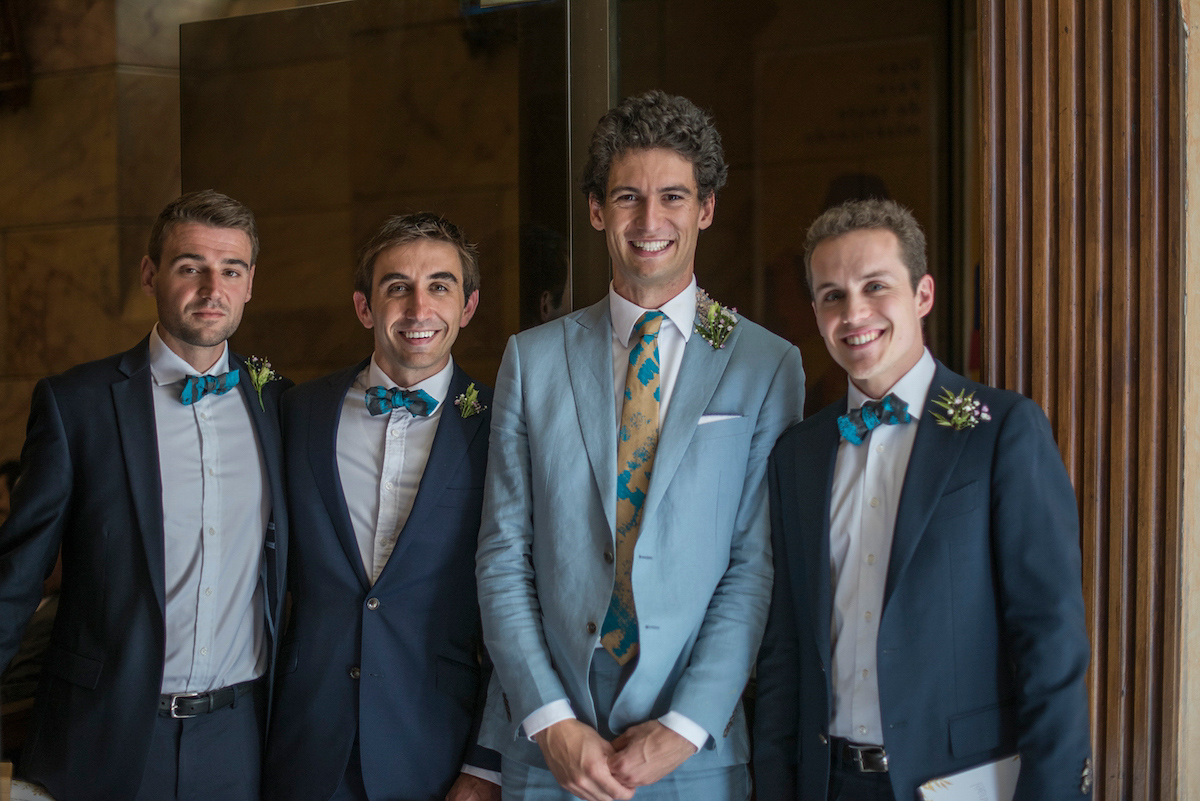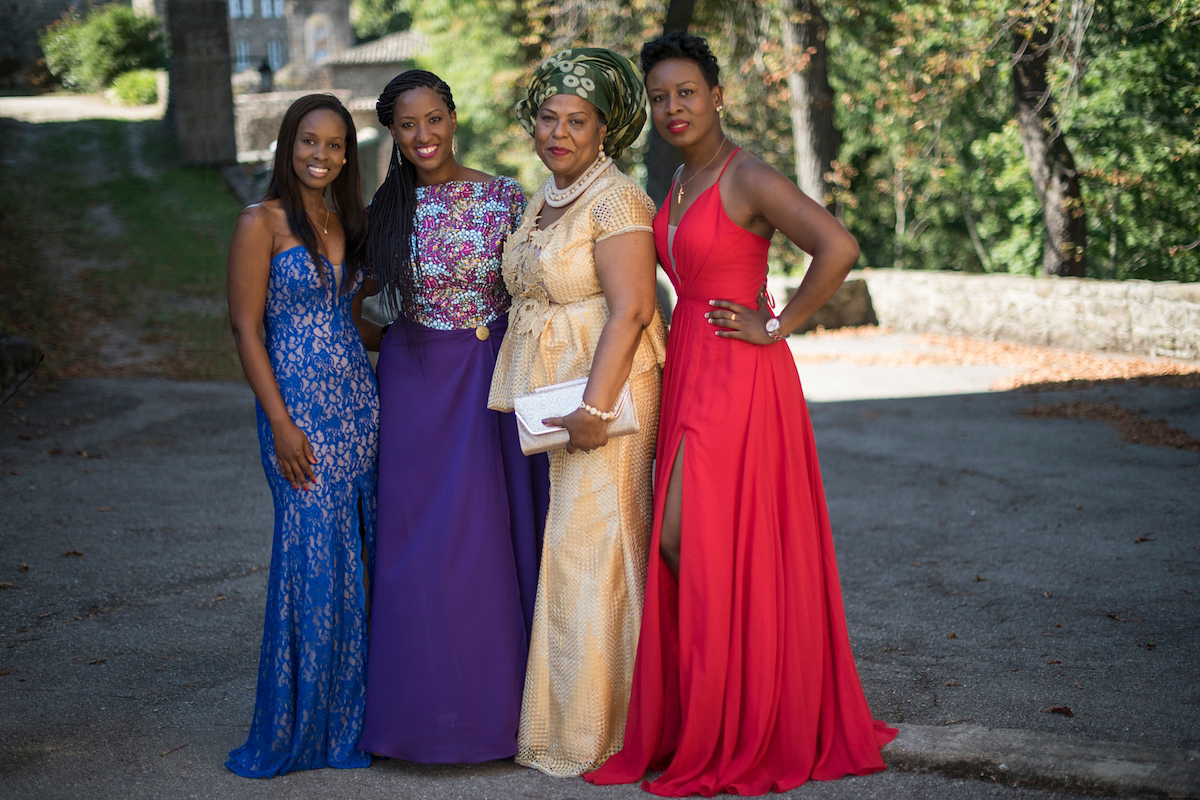 "The grandson of the founder, James Ellis, is a dear friend of mine. I love heritage and learning about families and their histories. I am very drawn to family businesses and Ellis Bridals is over 100 years old and never forgets the romance of marriage in their designs."
"I was extremely privileged to choose my dress even before they had finished signing off the design, and it was absolutely perfect for the church and cocktail reception. The silhouette was full yet light, so I honestly felt like I was gliding on clouds all day. I fell in love with the bold yet delicate floral details of the dress, the perfect balance for the French countryside."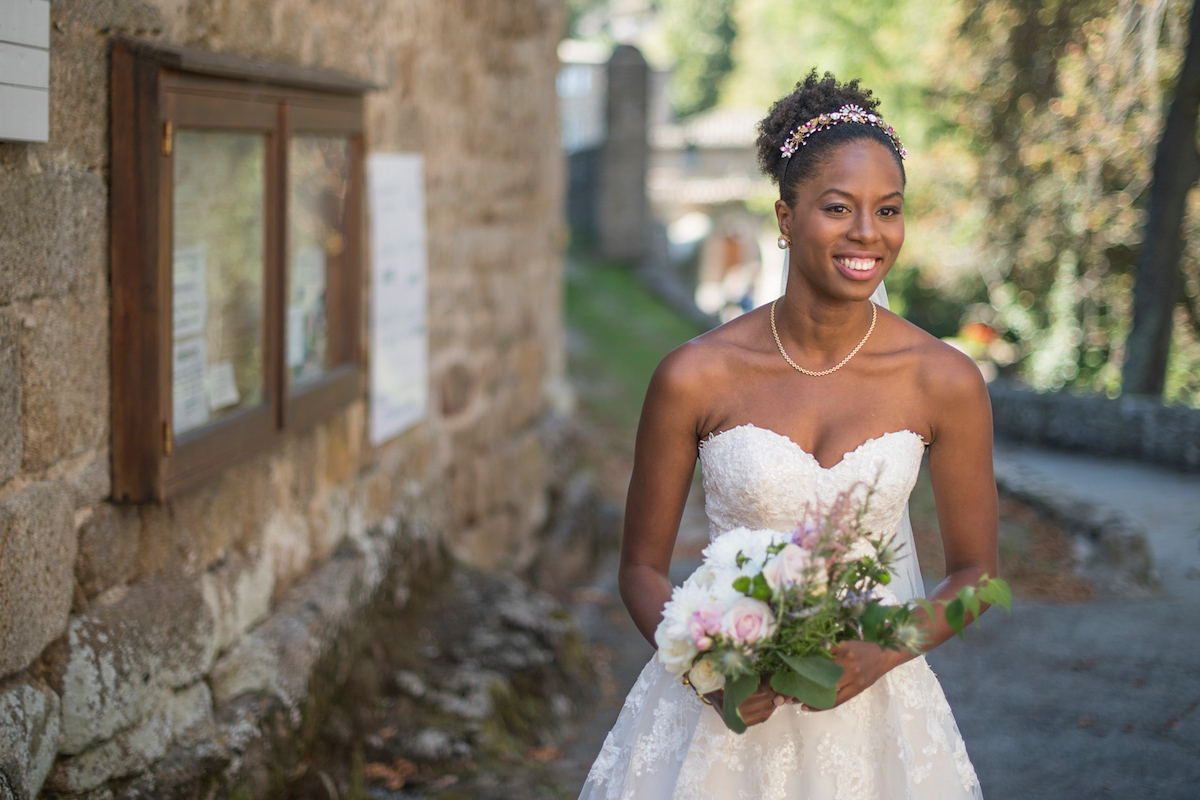 Sammy and Anaël decided to have three weddings in order to celebrate with their expansive families, culminating with their union in France at Anaël's family home. The couple wed in an catholic chapel within a monastery, the ceremony conducted in two languages, Sammy trying out her French in front of a nerve-wracking 300 people!
"My younger brother accompanied me down the aisle, which was fantastic. In France, the groom walks down the aisle first with his mother, then the mother of the bride with the grooms father. As a child I had always struggled with who would walk me down the aisle as I grew up with two fathers. It turns out that some things you can't really visualise or plan ahead and with time, my ten year old irritating brother became a strapping young man in a three piece suit holding my arm and keeping me calm."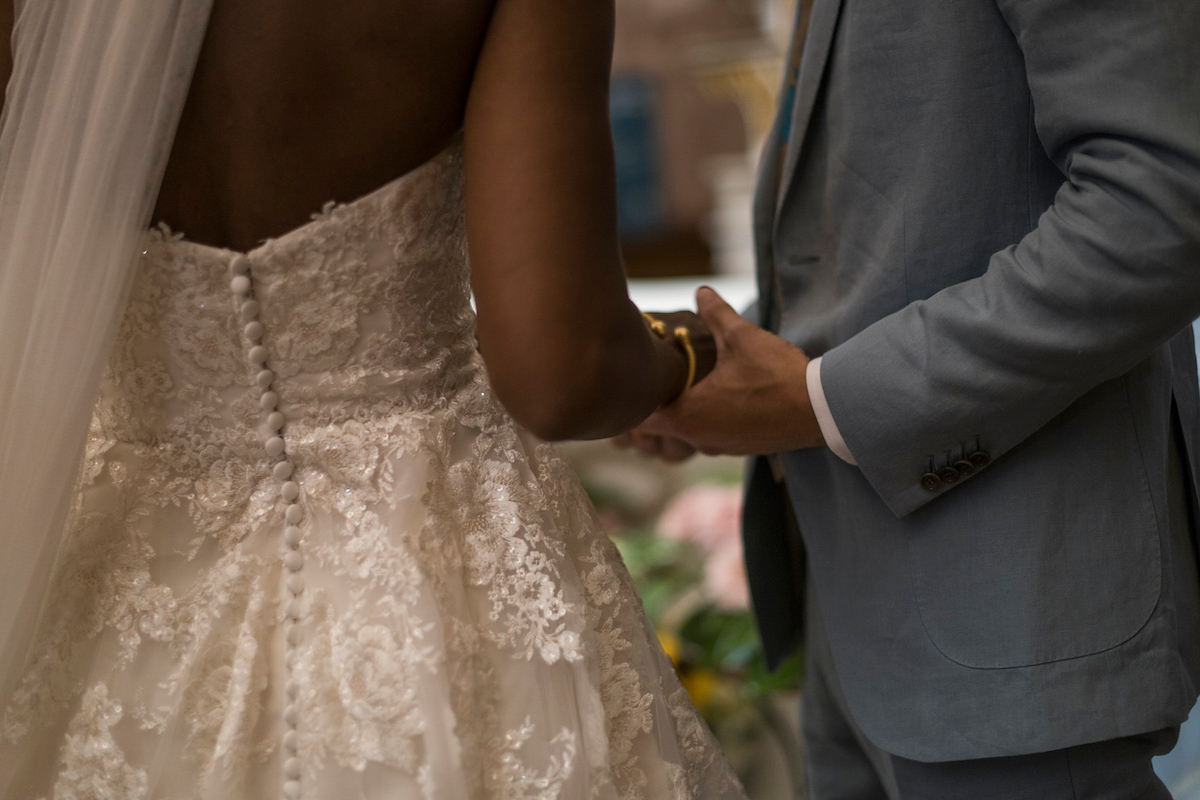 Sammy and Anaël whole-heartedly recommend having an order of service in both languages if you plan on having a bilingual ceremony, enabling all your guests to follow the proceedings and join in. The couple chose religious readings which speak of love and faith including a French passage from the letter of Saint Paul to the Corinthians.
The couple were supported by their extremely stylish wedding party at the altar, Sammy's sister and new sister-in-law gorgeous in hot pink Victoria Beckham dresses and the flower girls looking very cute in their bespoke dresses and pink flower crowns.
"I designed and made each of the flower girl dresses incorporating silk and silk tulle with the ancient traditional hand dyed indigo fabric from Nigeria. My great-grandfather was Yoruba and I wanted to also reflect this part of my heritage in our wedding. The pageboys wore Marks & Spencer cream linen waistcoats and trousers which I turned into shorts. I knew it was going to be a hot day and I wanted them to feel at ease and run around."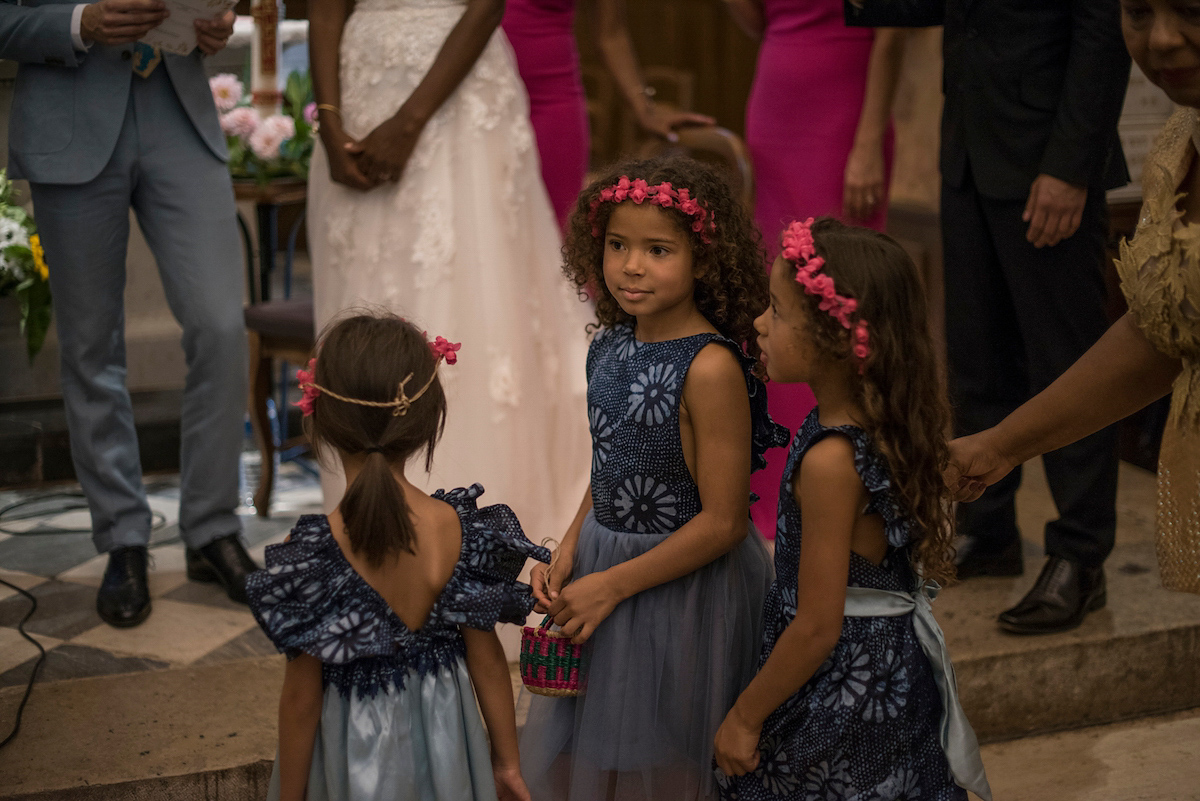 "I wore delicate gold necklace, which was a gift from Anaël as part of my Ghanaian bridal dowry, and an antique gold bracelet which was a gift from my aunties on my father's side and has been in the family since the 17th century. It's an heirloom I will cherish forever. My earrings were by a very talented jewellery designer, Alighieri; each piece of her work has a compelling story."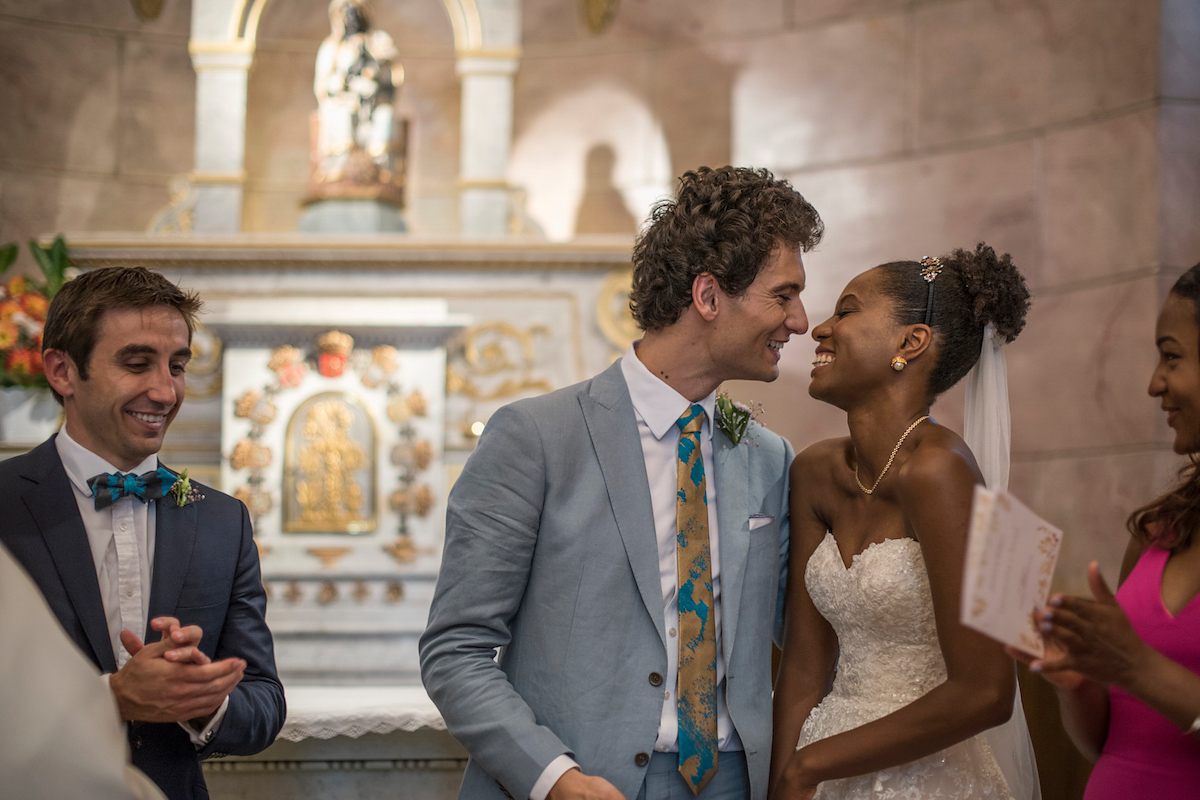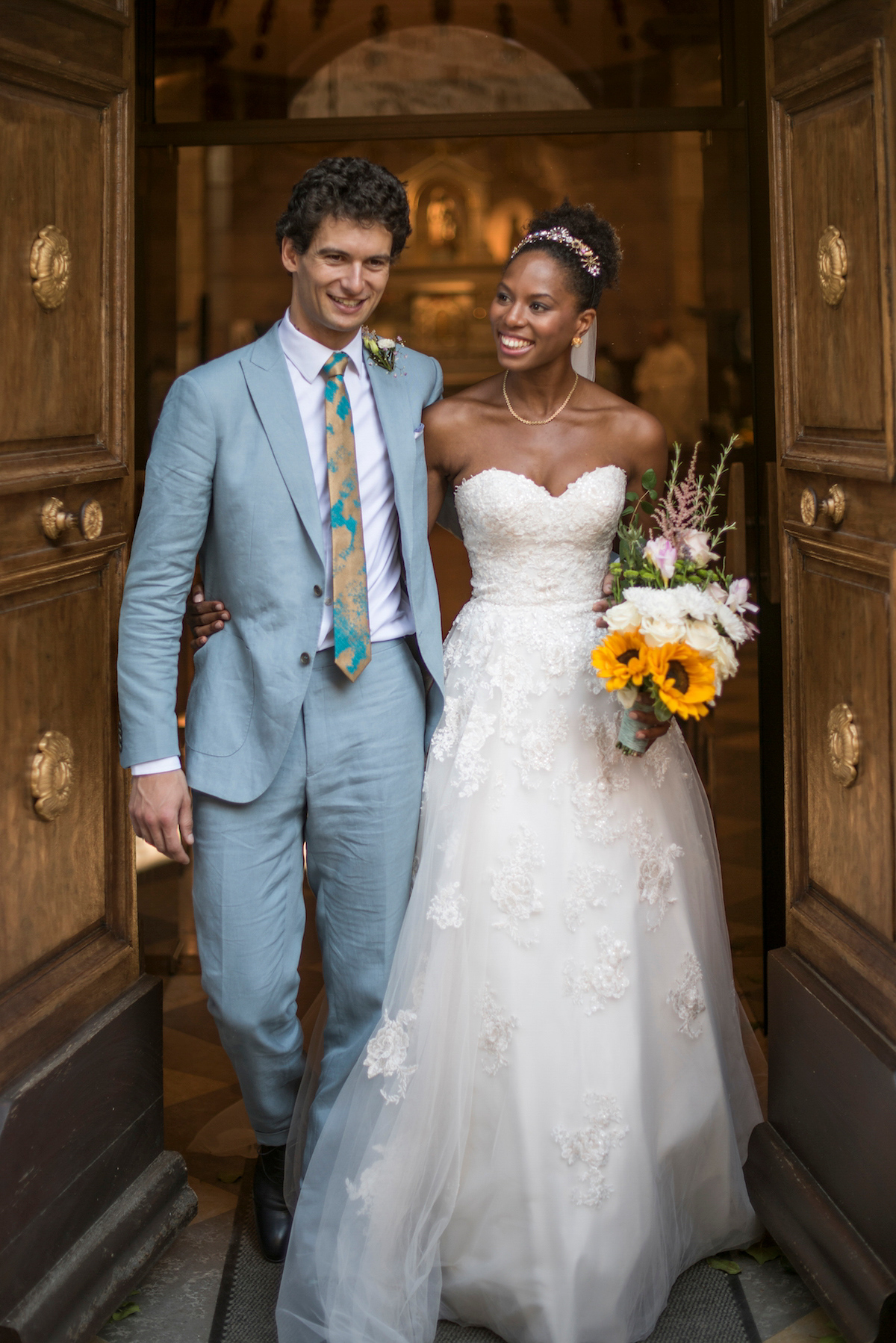 "Anaël  and I met at a prohibition themed party at Bloomsbury Ballroom in 2012. I was there taking pictures of men with moustaches as it was the end of Movember and I think Anaēl may have been the only one there without one. He asked me to dance and literally swept me off my feet, and at 5ft 9 that's no easy feat."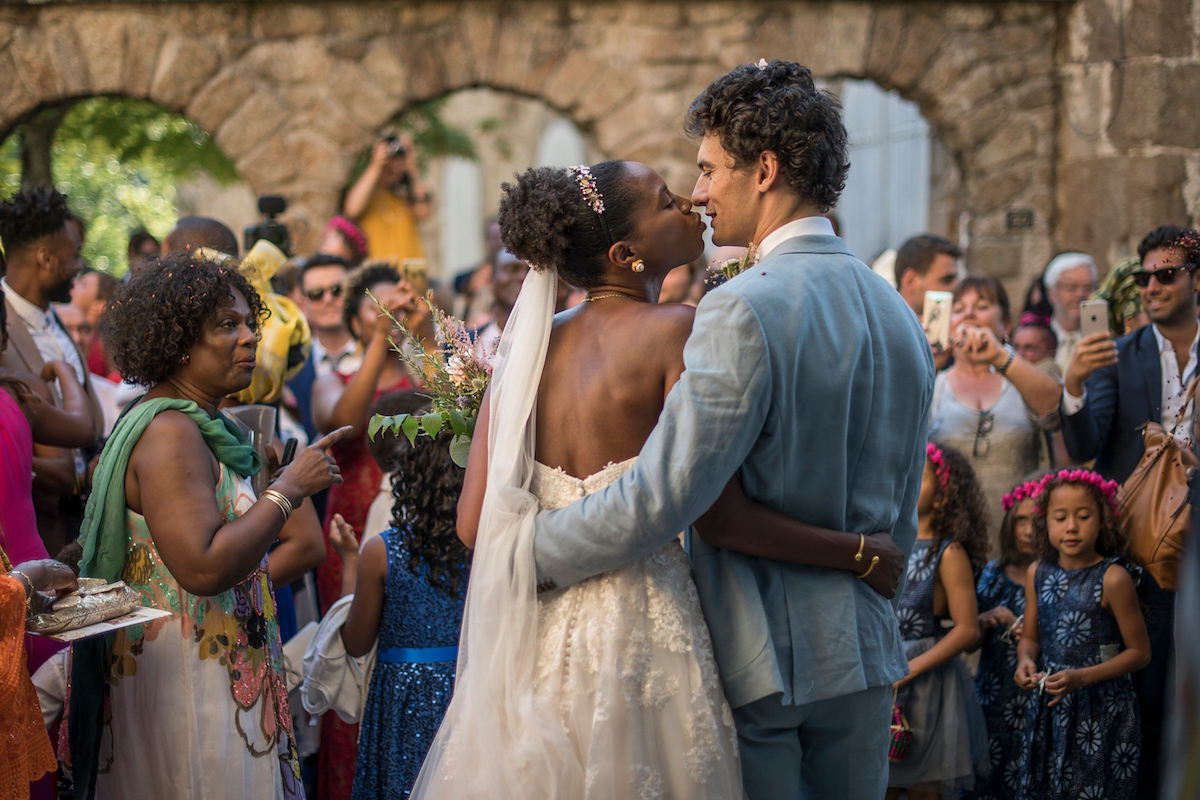 "Anaël managed to surprise me in the most romantic and personal way. We had gone to visit his family home in France for a huge reunion. He suggested we have a light lunch in a bistro and visit the new spa the day before, and it turned out that lunch was only light for me, as he actually proposed at the magical 3 Michelin starred restaurant Régis et Jacques Marcon. I was so shocked I could barely eat the fantastic food."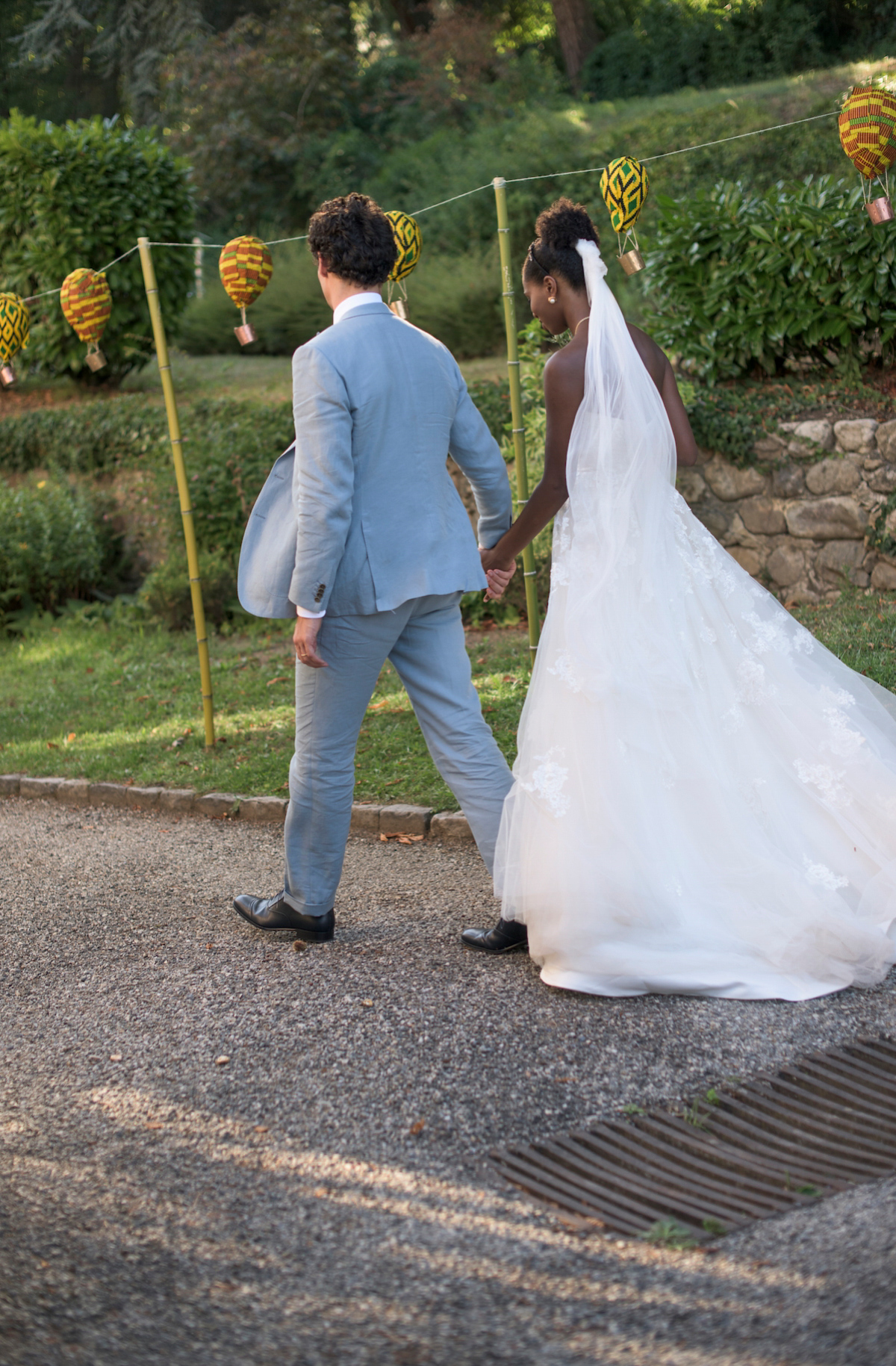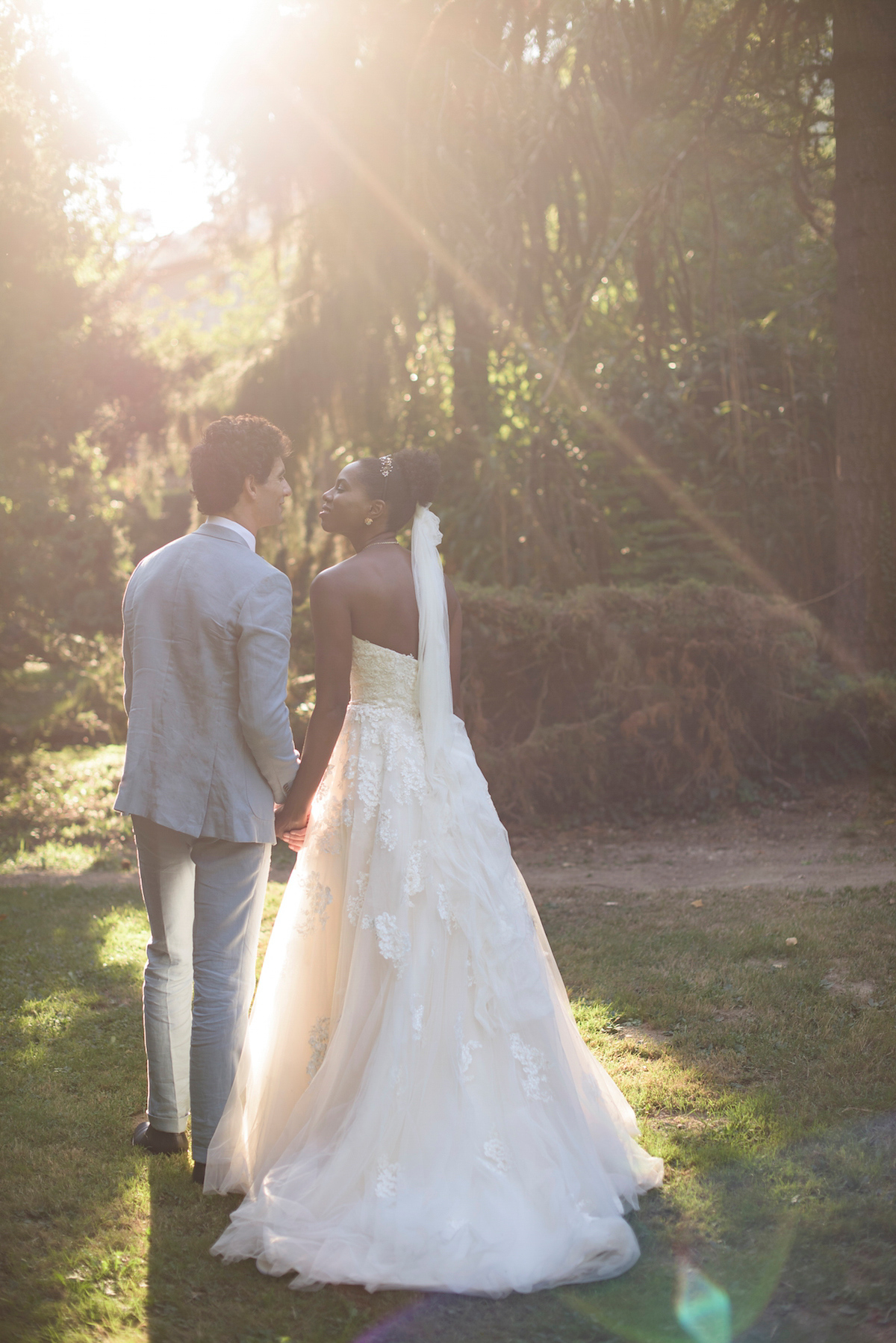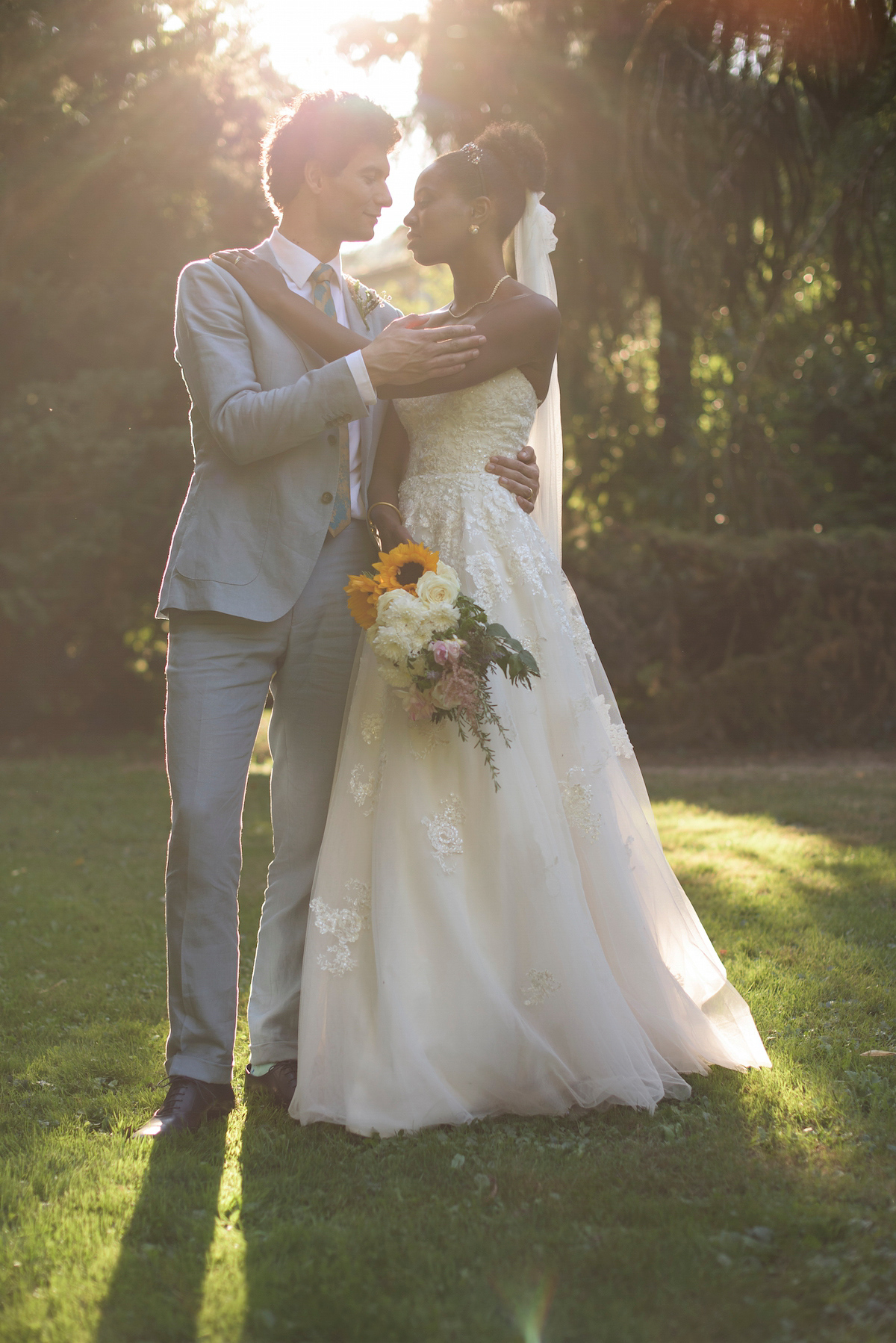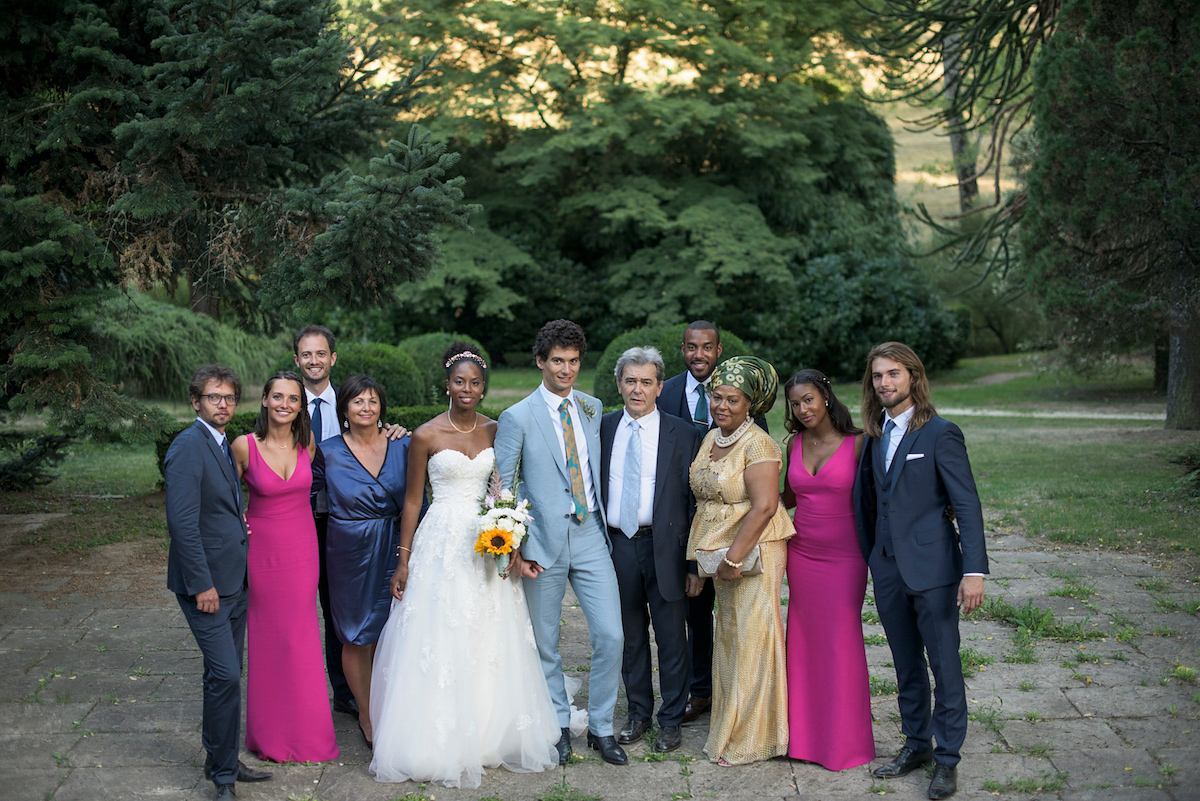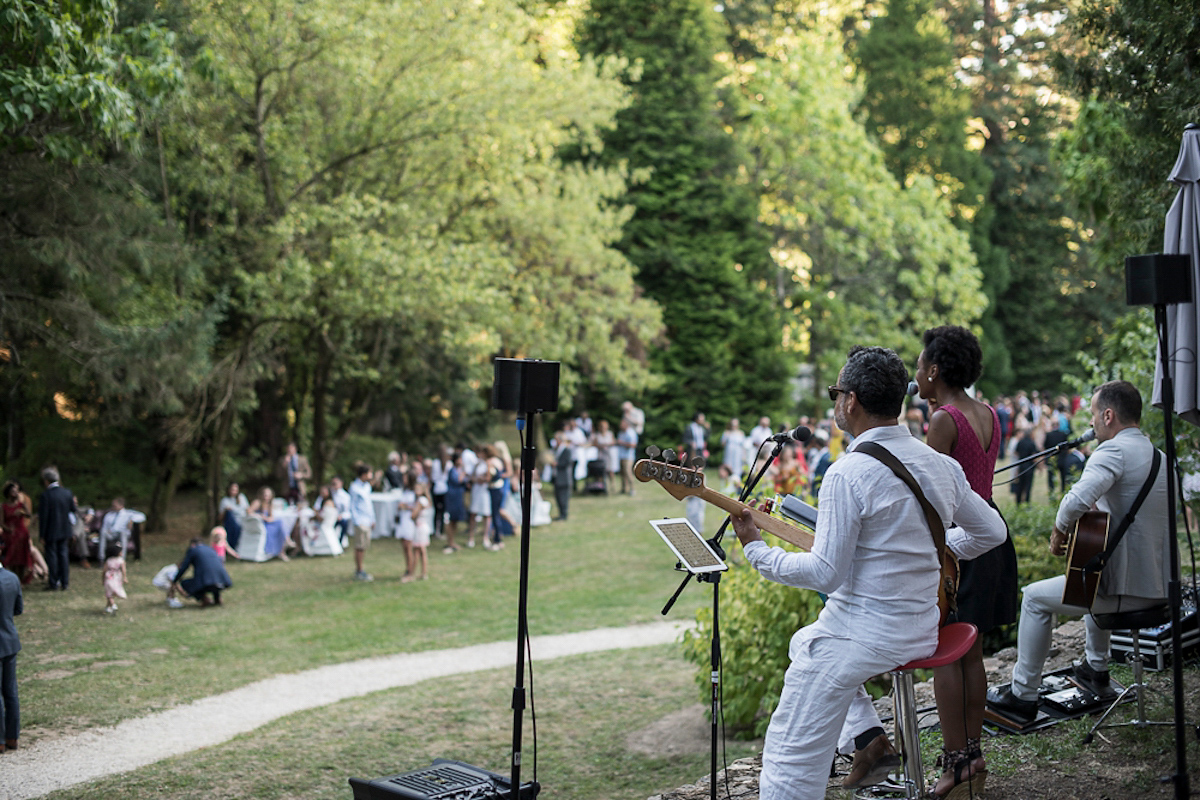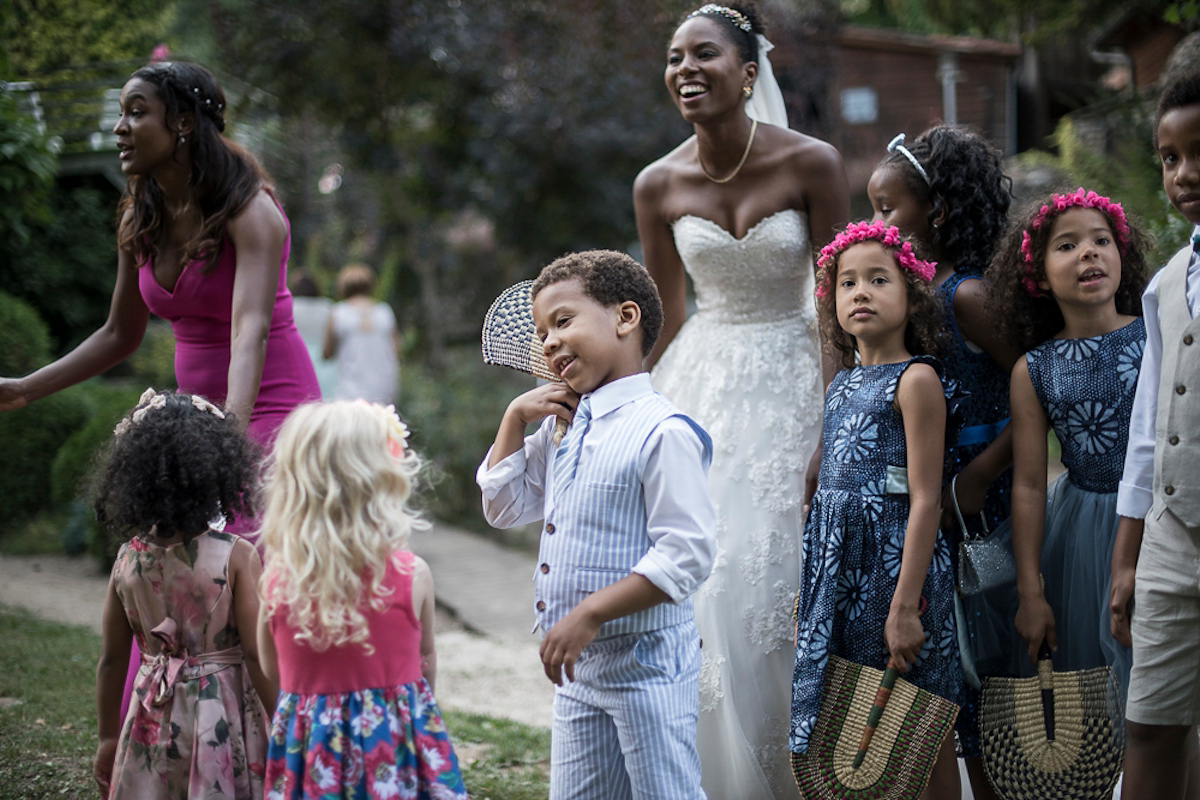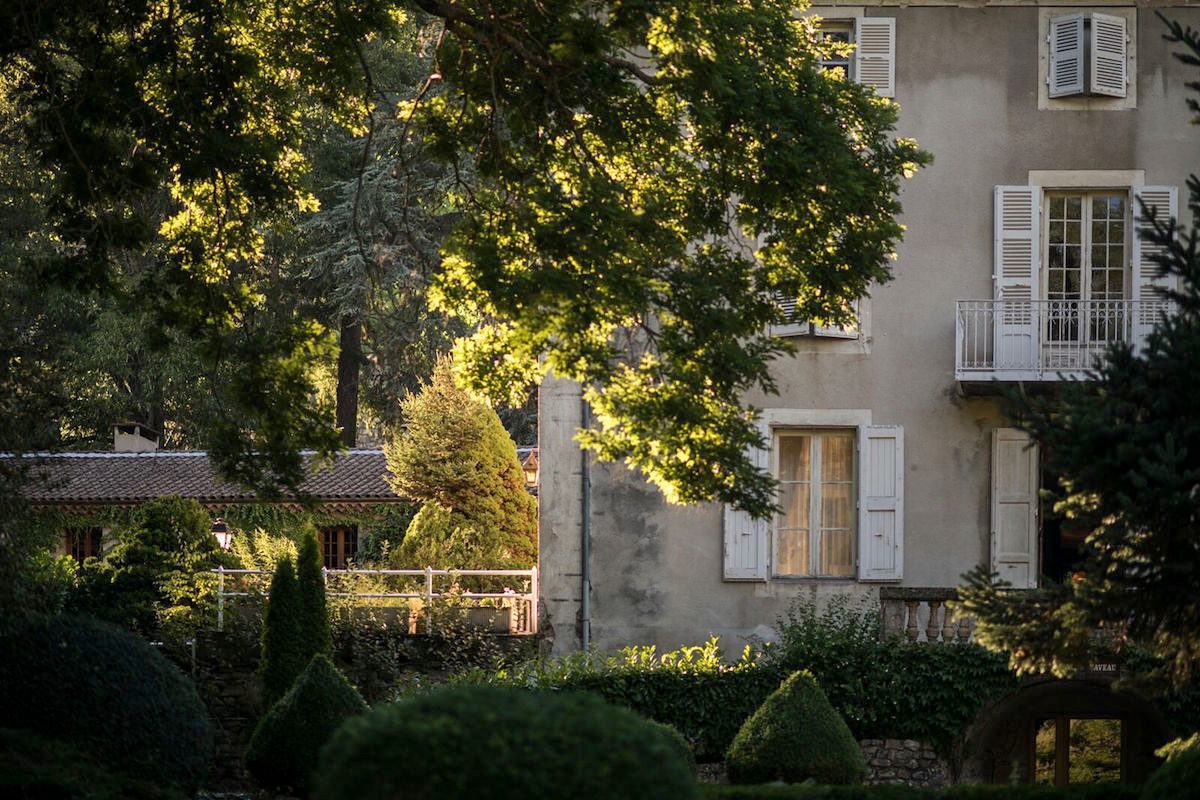 Sammy and Anaël interspersed their whole day with references to their cultural heritages. They took the idea of Montgolfier balloons to celebrate Anaël's French roots and combined it with with Sammy's Ghanian background in a most beautiful and colourful way.
"Our heritage and where we came from and where we are going is very important to us. I had three large 'balloons' woven in Ghana, which we suspended from a tree as guests entered the gardens and received water and their fan. Within the dining room we had over forty Conran Store (our British side) hot pink paper balloons suspended from the ceiling, with individual Ghanaian baskets to form a hot air balloon."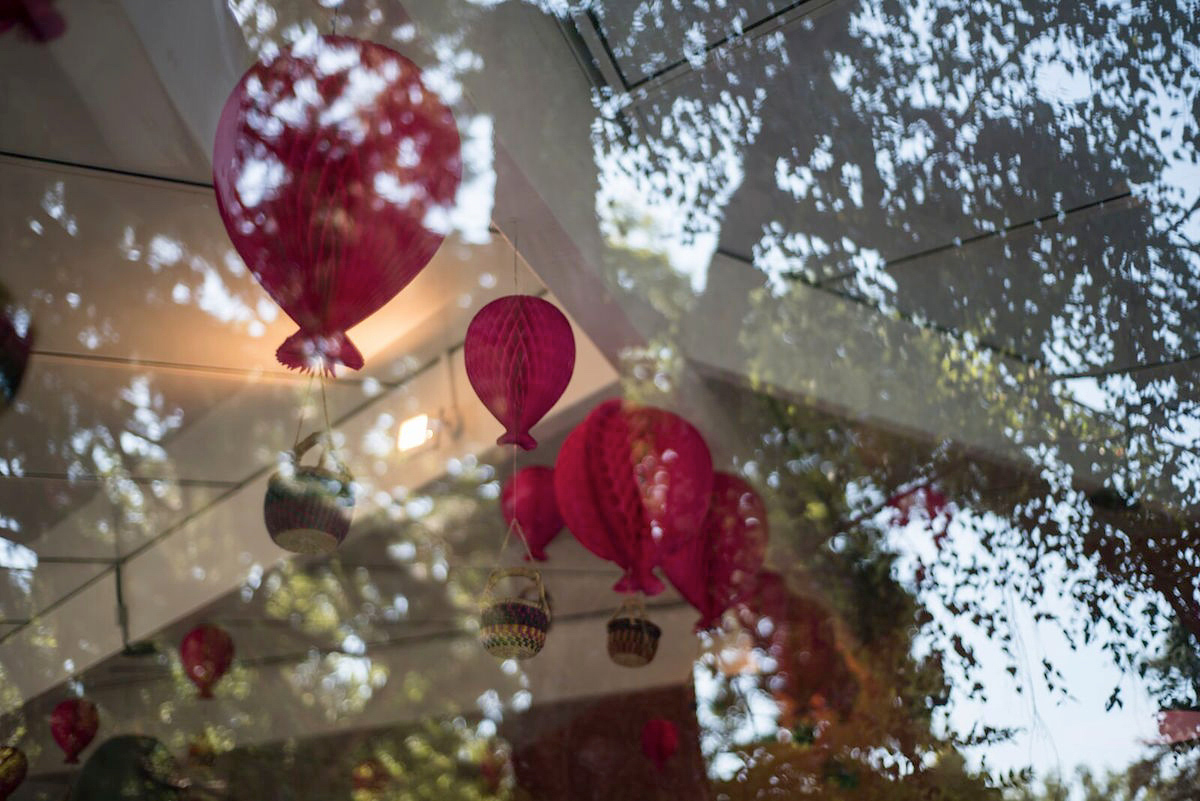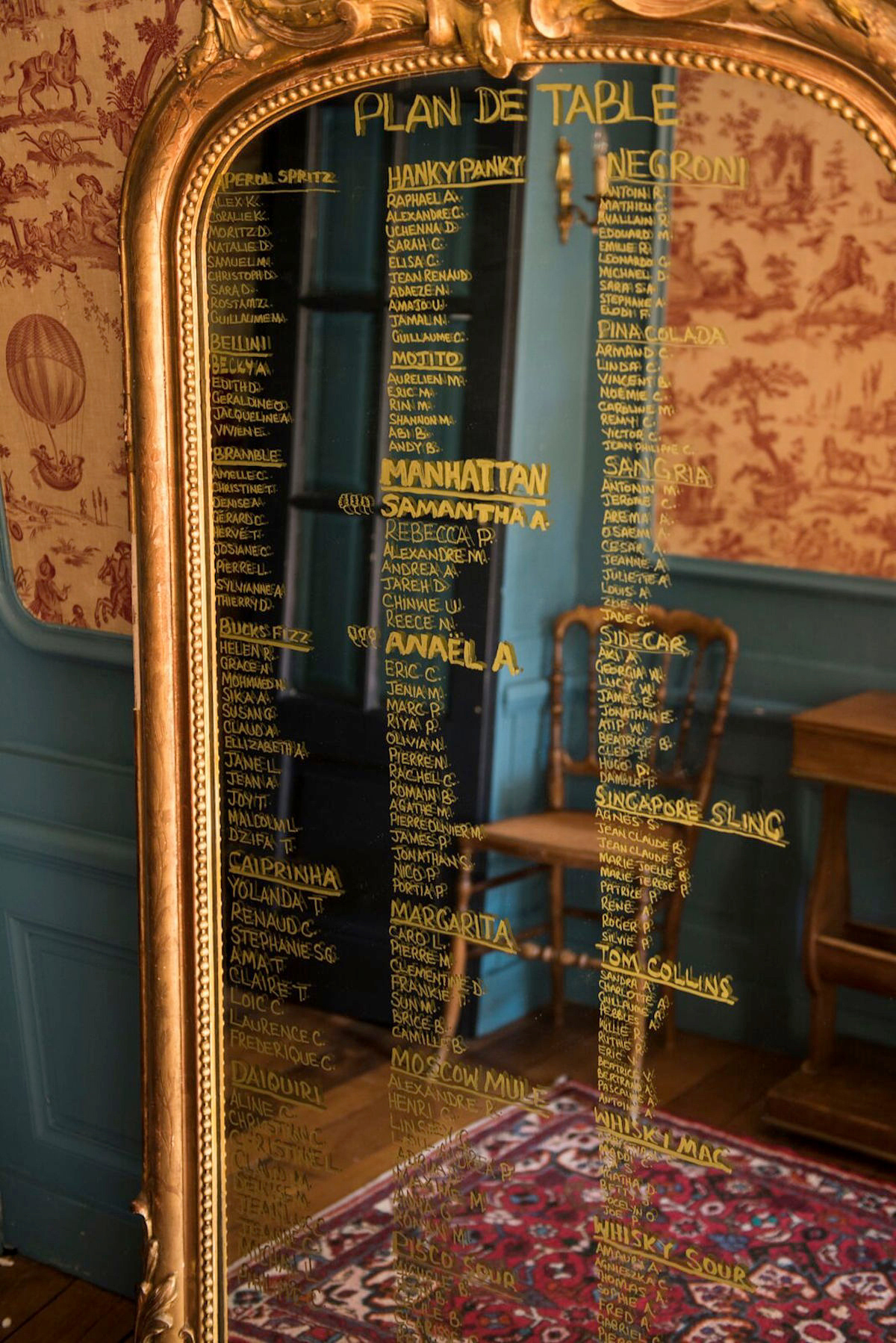 "Everything was prepared in house at La Gentilhommière. The hotel originally started as a restaurant and food is very important to them. We combined all the food we loved and they also surprised me by including some Ghanaian canapés. The dessert was actually my first vision. We both have a sweet tooth and have possibly visited every French patisserie in Paris, London and New York. I wanted this part to stand out, so I spent time with Anaël's mum showing her my ideas. After the meal and the first dance we made our way outside and under sparkling lights we had two huge farmhouse tables filled with French desserts."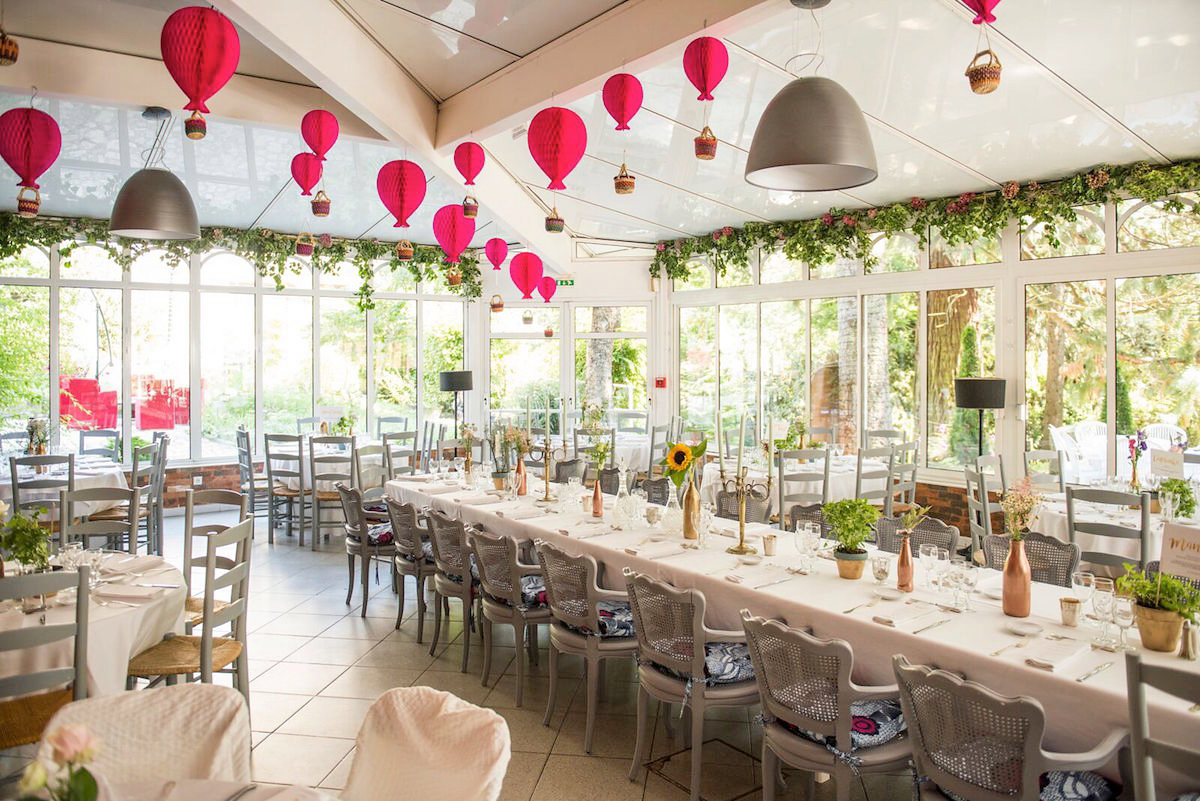 The newlyweds gifted their loved ones with handmade fans, celebrating the Ghanian tradition of weaving, a practical present and a beautifully colourful reminder of the day. They also gave bespoke macaroons as favours, made by Anaël's talented cousin, decorated with flamingo and pineapple motifs.
Sammy and Anaël chose flowers to be grown on the grounds of the hotel and enjoyed a delicious feast catered by La Gentilhommière with their guests. I adore that their table plan was drawn onto a huge antique gold mirror taken from Anaël's grandmother's house – such an opulent yet sentimental touch.
"We wanted to use the flowers and foliage around us and we were able to select what flowers would be planted around the hotel. We also ordered in flowers for my bouquet and tables, which were arranged by my best friend and keen florist, Jareh Das. I'm very particular with colour and how it works to complement surroundings, so I really enjoyed this part. We also grew fresh herbs, which we then potted in sprayed and painted pots."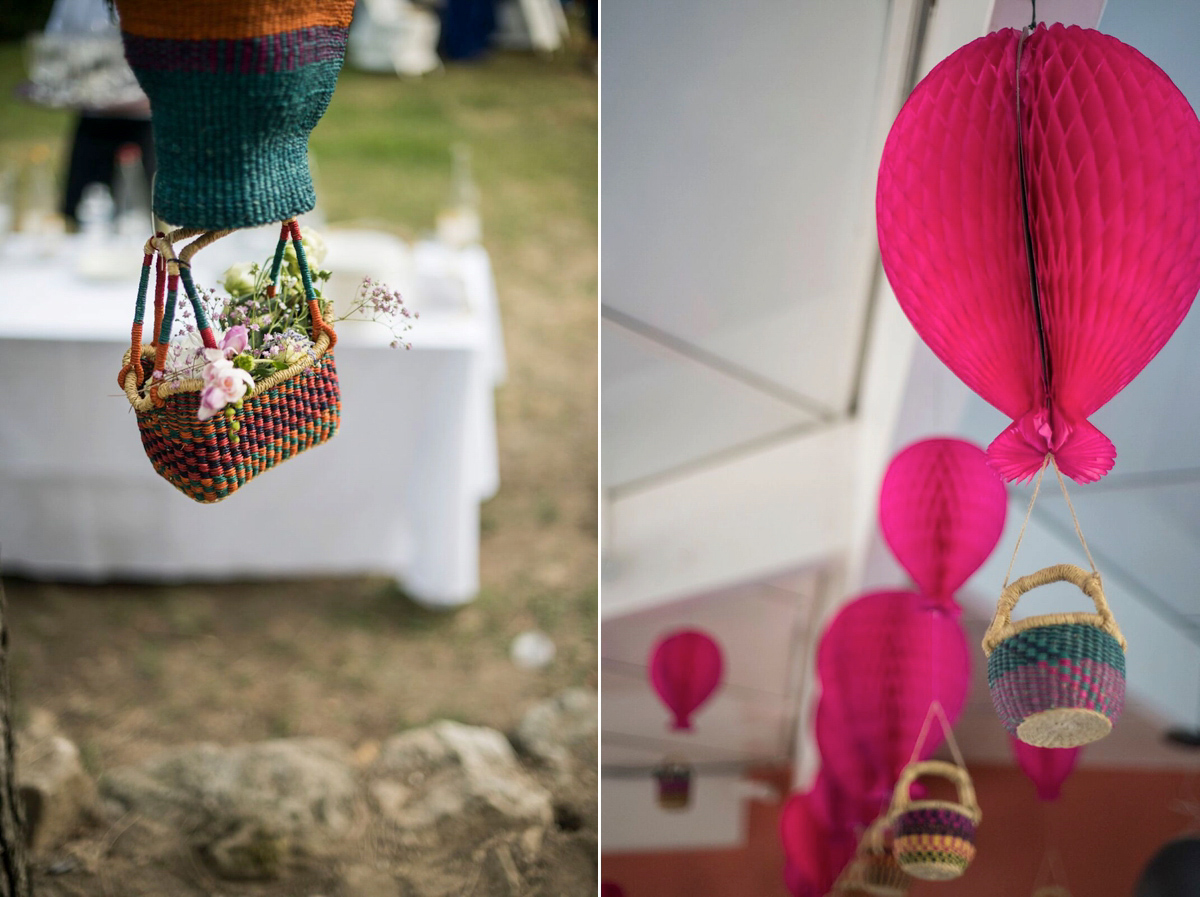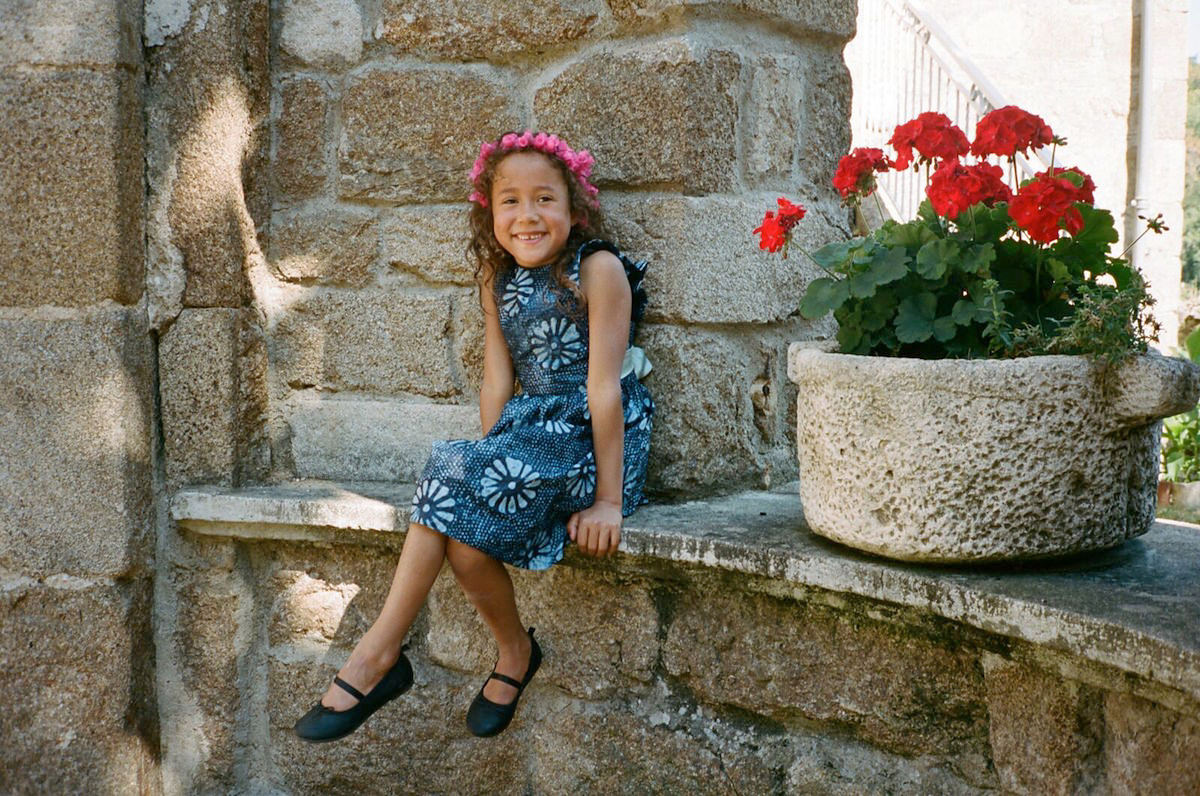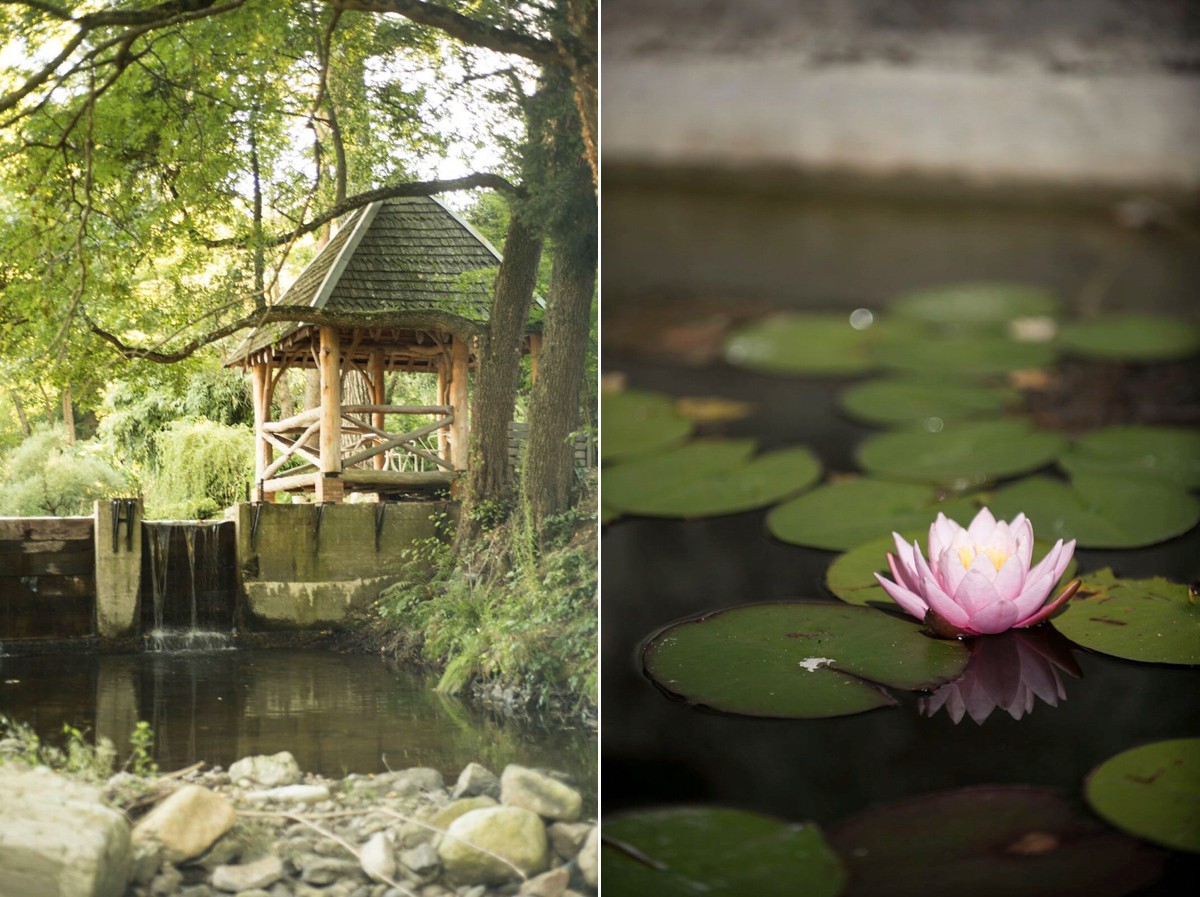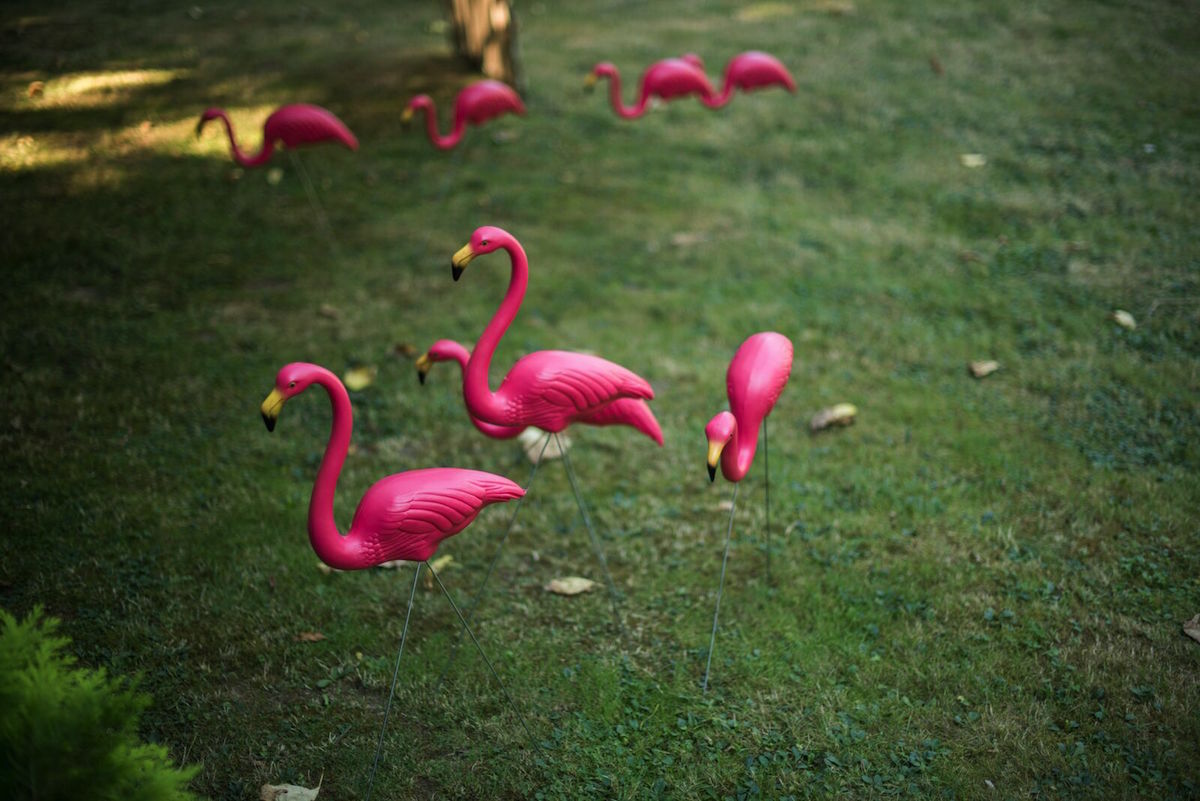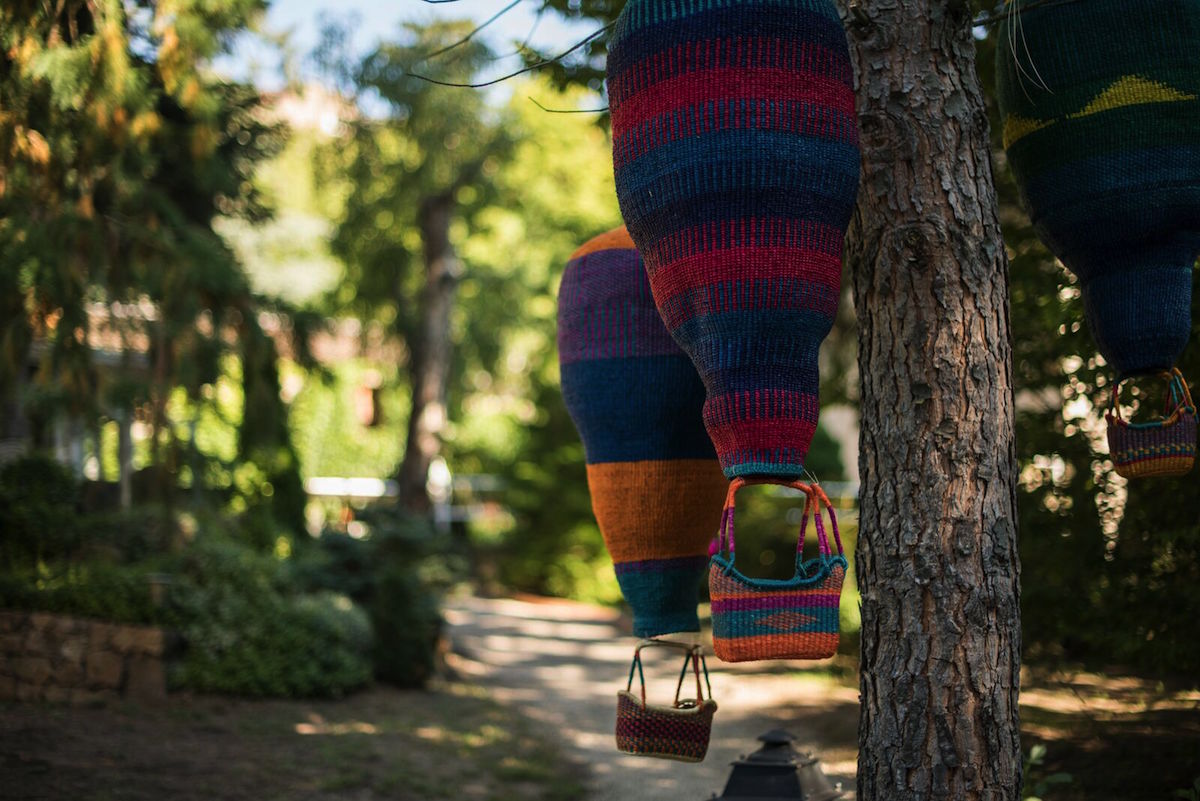 I just loved Sammy's description of her favourite moment of the day and had to share it with you as the closing thought for this feature. I can really feel the nostalgic joy that she explains as though I was there alongside her.
"Annonay is where the Montgolfier brothers invented the hot air balloon and Anaël and his father surprised me by having one at the end of the reception, just before sunset. I couldn't stop giggling, it was like I was a child again. I will never forget the feeling. I think it all slowed down and I felt 'in the room' when I spotted the hot air balloon. Then it was the two of us with nothing planned. We then changed and made our way to dinner hand in hand and immediately felt at ease."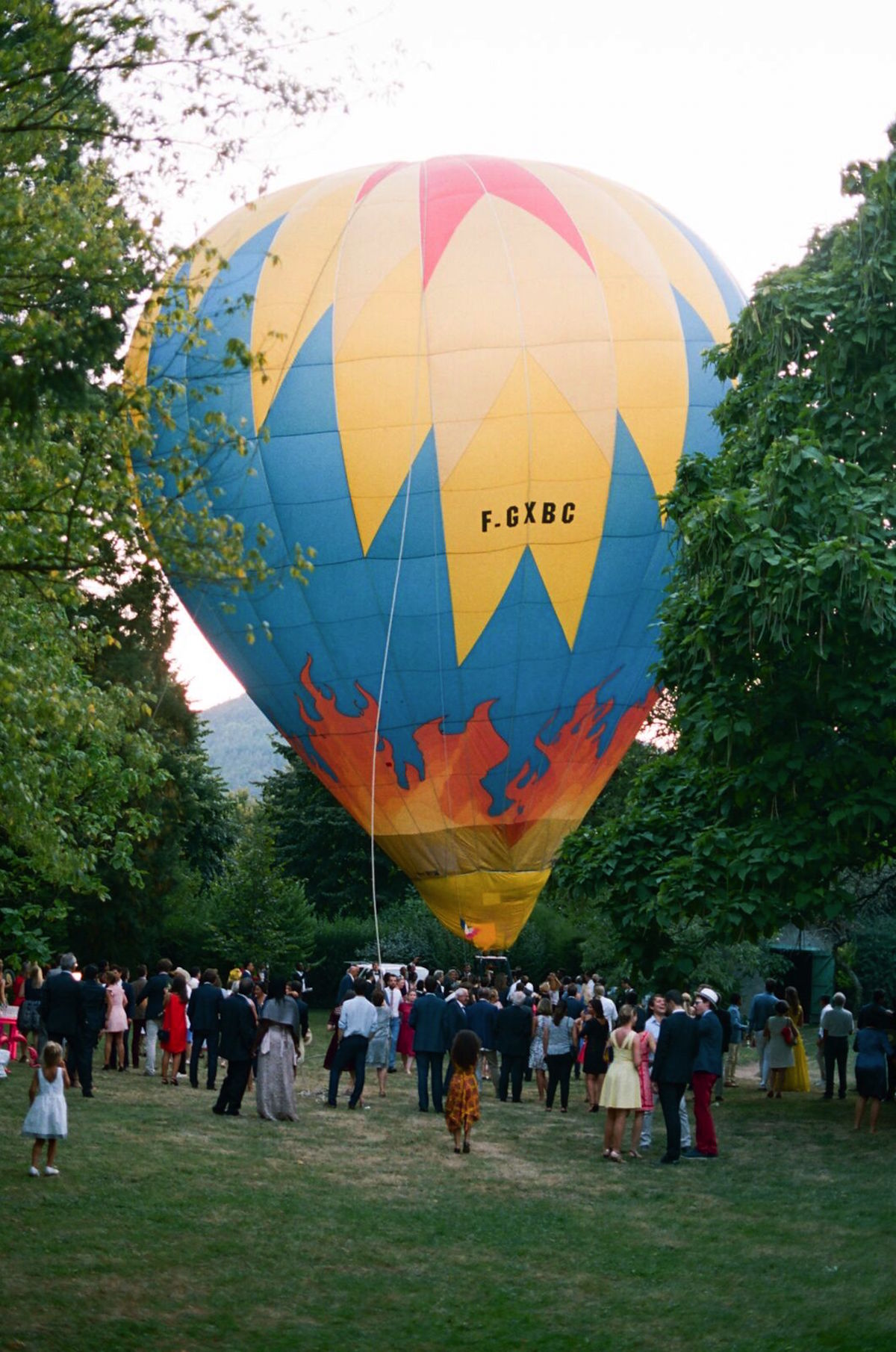 "My groom is my muse and my masterpiece. I wore two dresses because Anaël and I really wanted two looks for him. We wanted to create something new, yet classic and totally in keeping with our surroundings and the 33 degree heat! We went through a selection of fabric swatches I had put together based on our colour palette of teal and navy. The fabric is linen from the finest mill in the world, Holland & Sherry, who are celebrating 180 years of excellence this year. It was a joy working with it."
"The details are very important for us. I only work with the best in tailoring and craftsmanship when it comes to my clients. Having produced world-renowned events for the houses of Savile Row and Jermyn Street, Anaël has come to know these companies very well and understands the beauty, history and work behind the menswear pieces we create. So it was only natural to reflect this on his wedding day."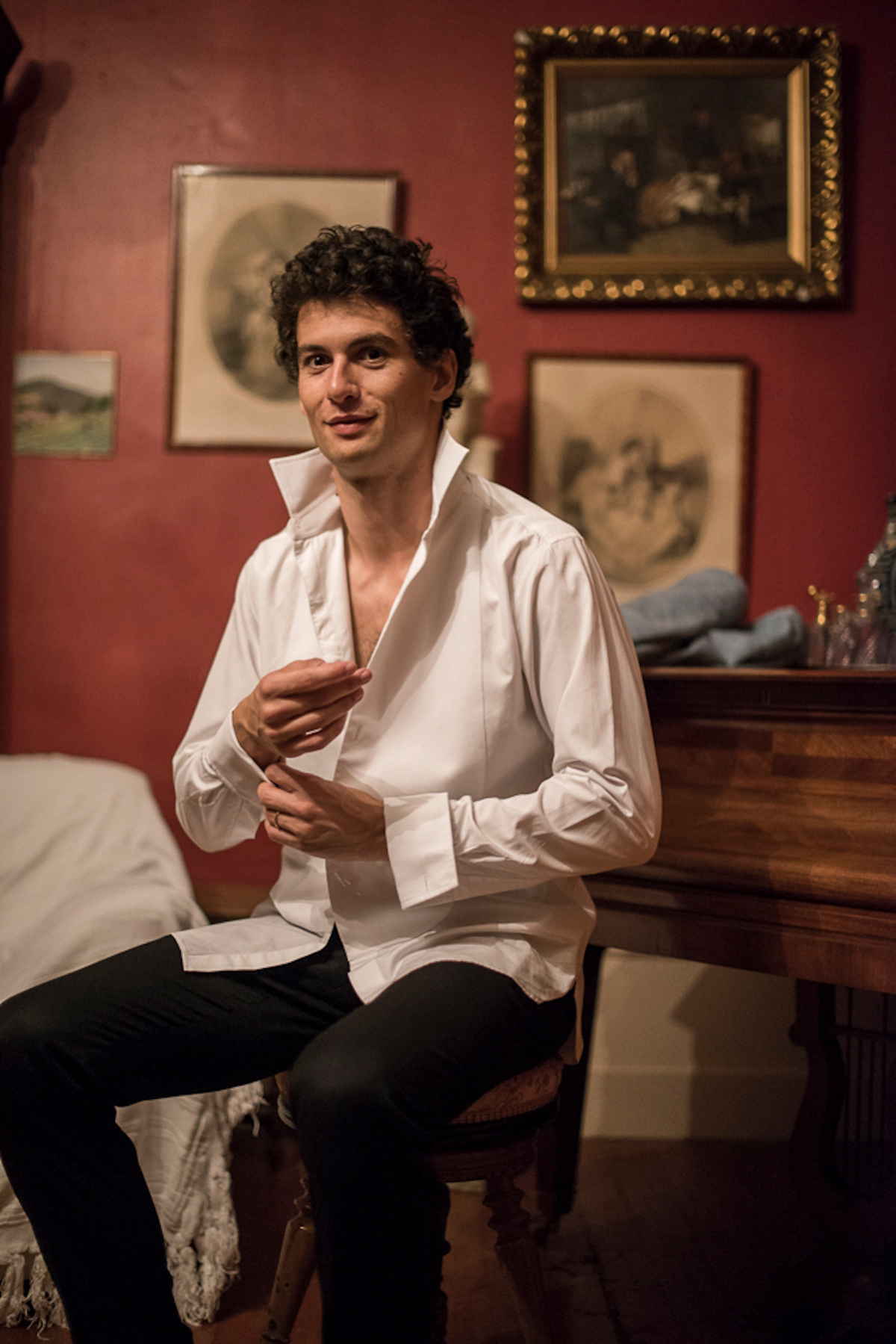 "For the evening we really wanted to go back in time, to when people really dressed up for an occasion. Midnight blue could well be my favourite colour and I fell in love with a Holland & Sherry velvet, it felt amazing. This suit fit him perfectly; we really did transport ourselves whilst being true to our personal taste and style."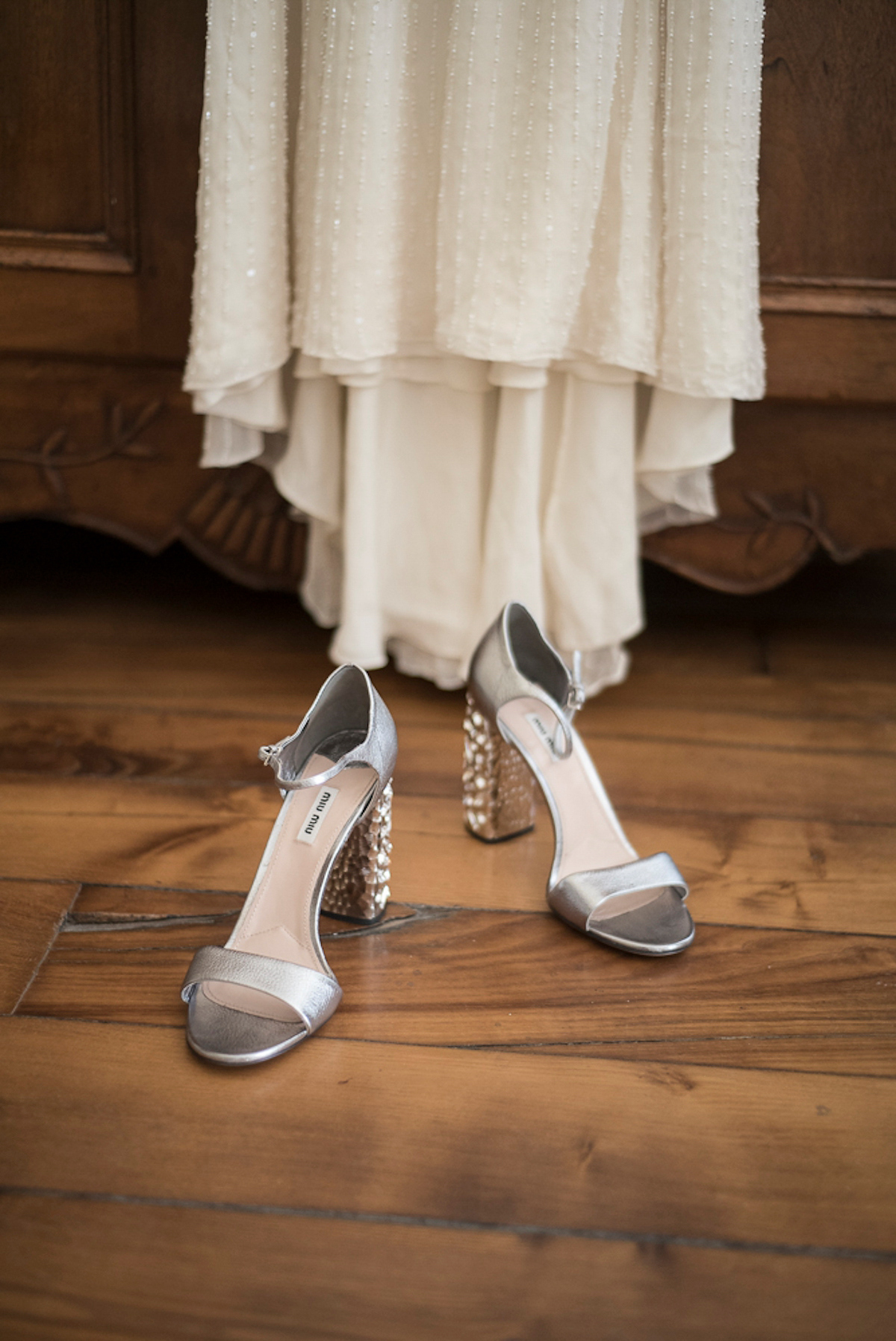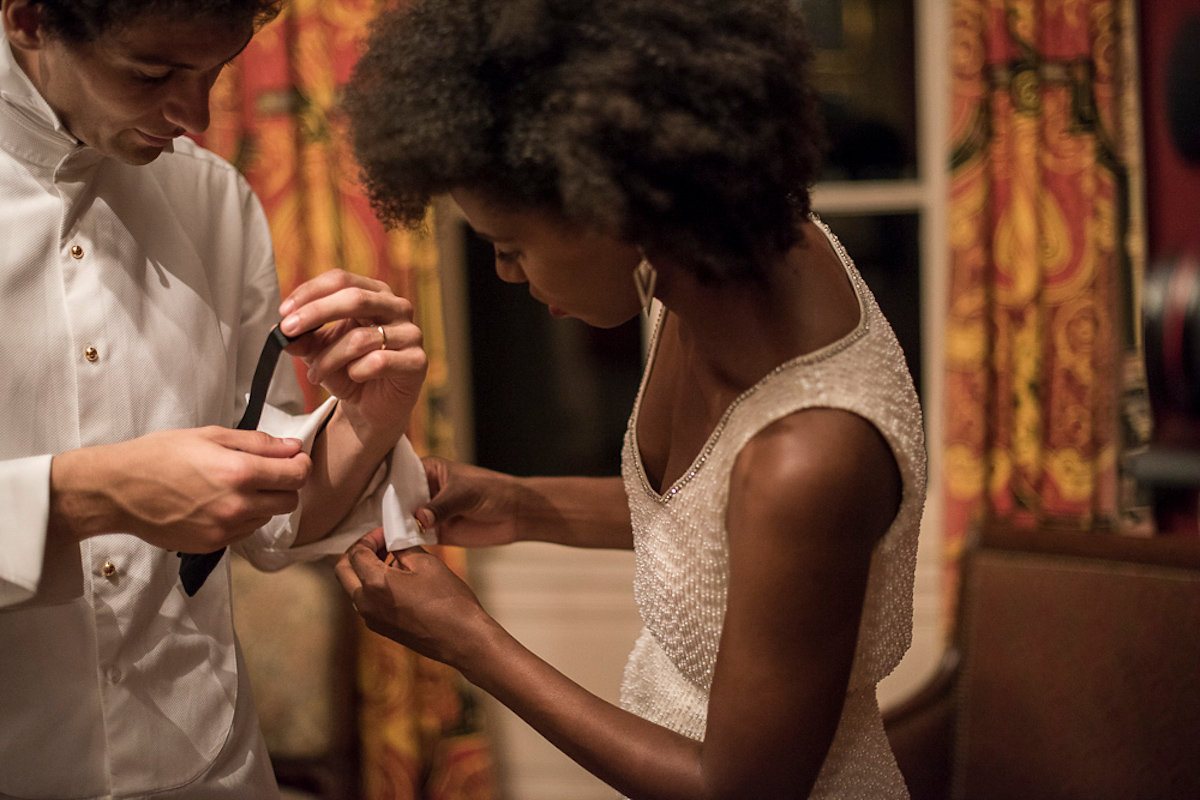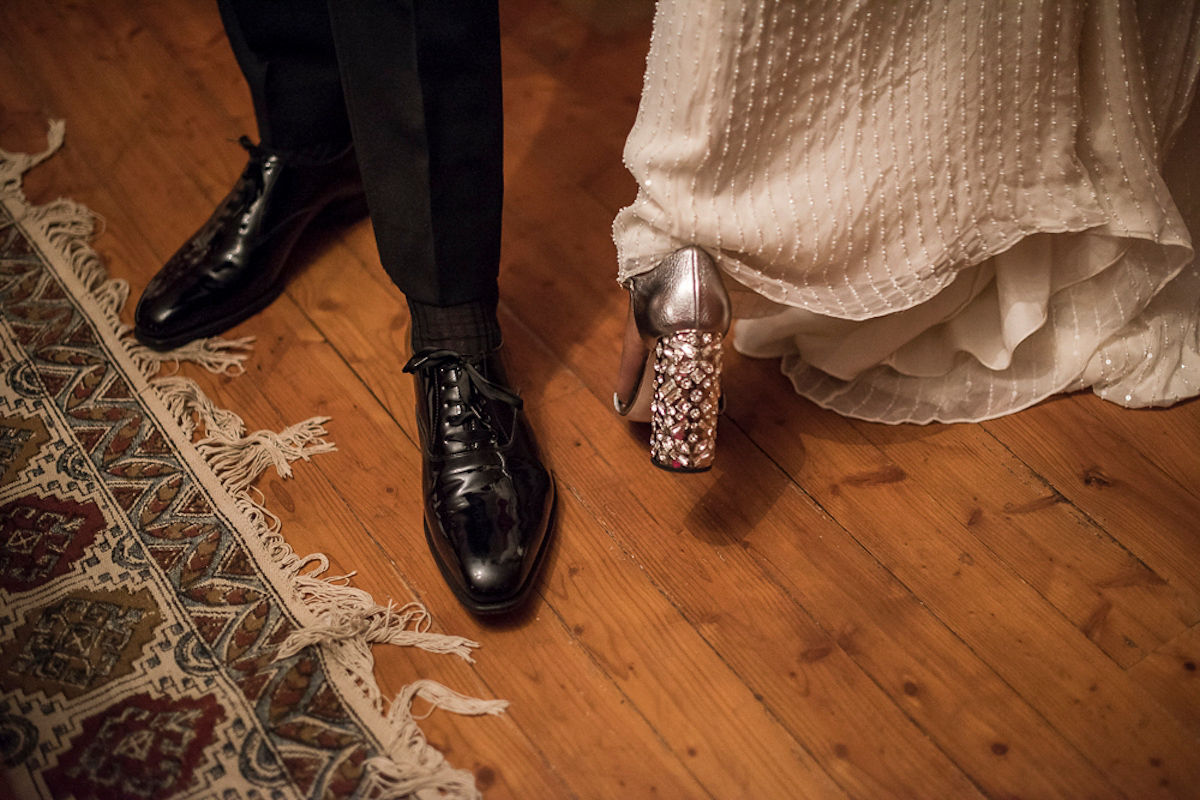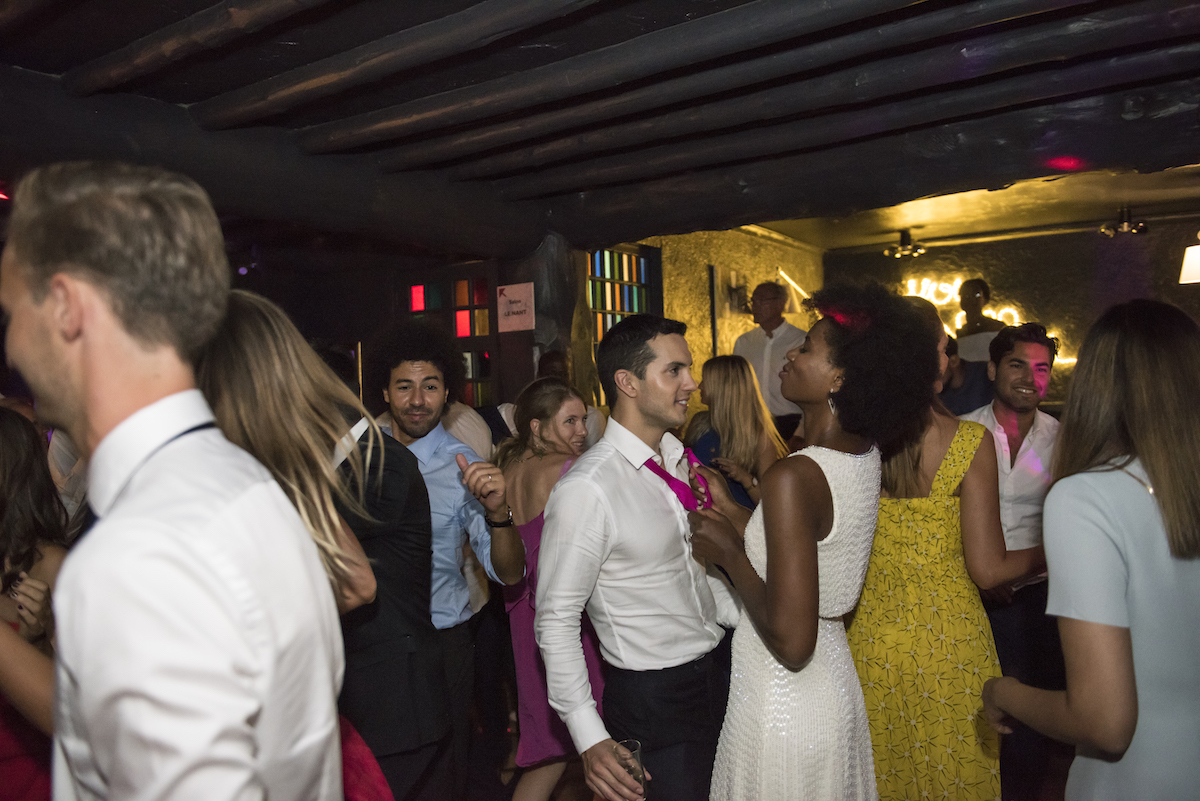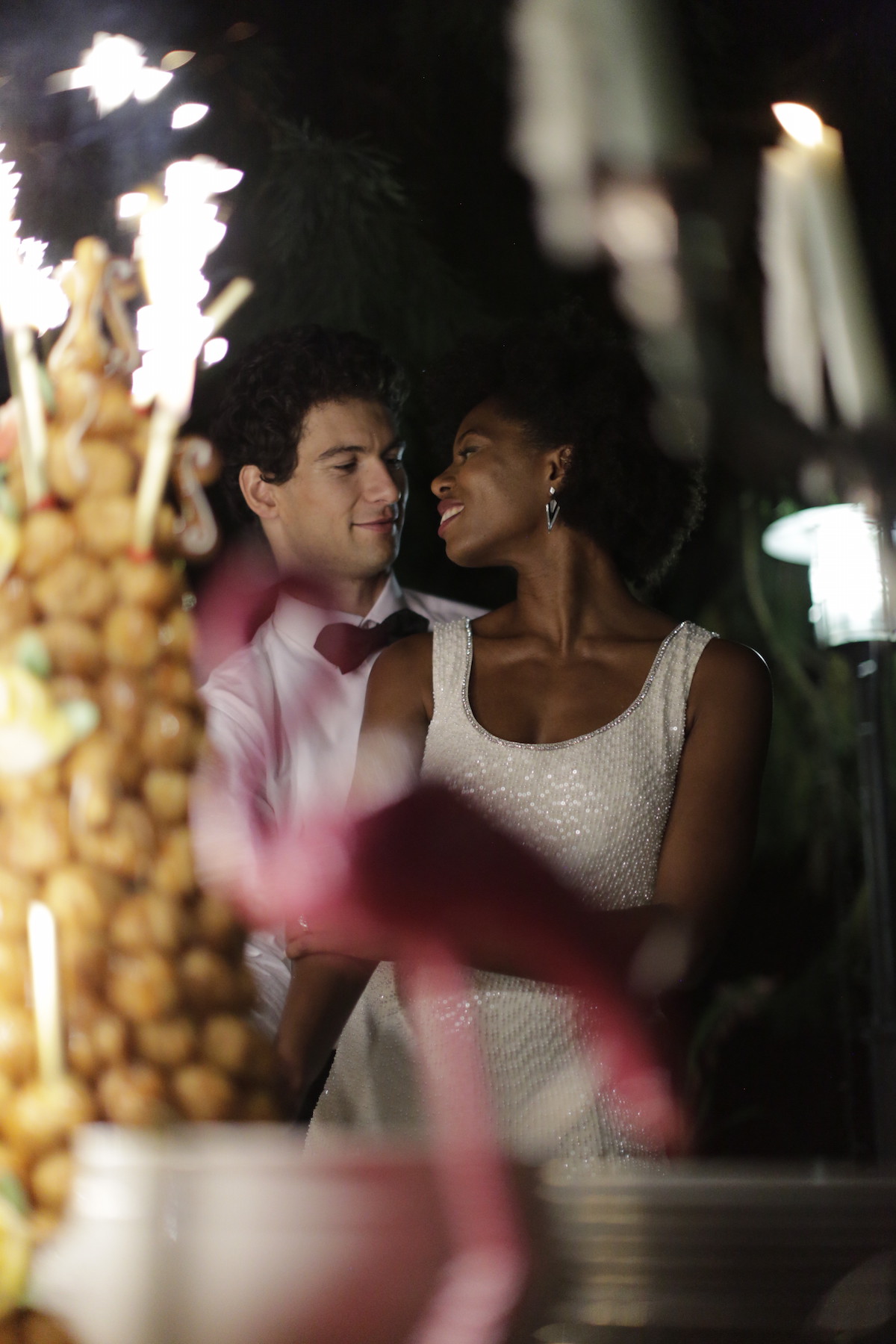 The couple learned from a professional ahead of their first dance.
"My dearest friend Ama Rouge is a professional dancer, so I thought what better way to spend time together and have her create something for us. We met up one or two times a week in different parks in London, finding secret spots and having the best time while learning how to move together. The choreography was based on jive and tango steps and in the final days we went to a dance studio and could then use the mirrors and see what was happening. We both loved it."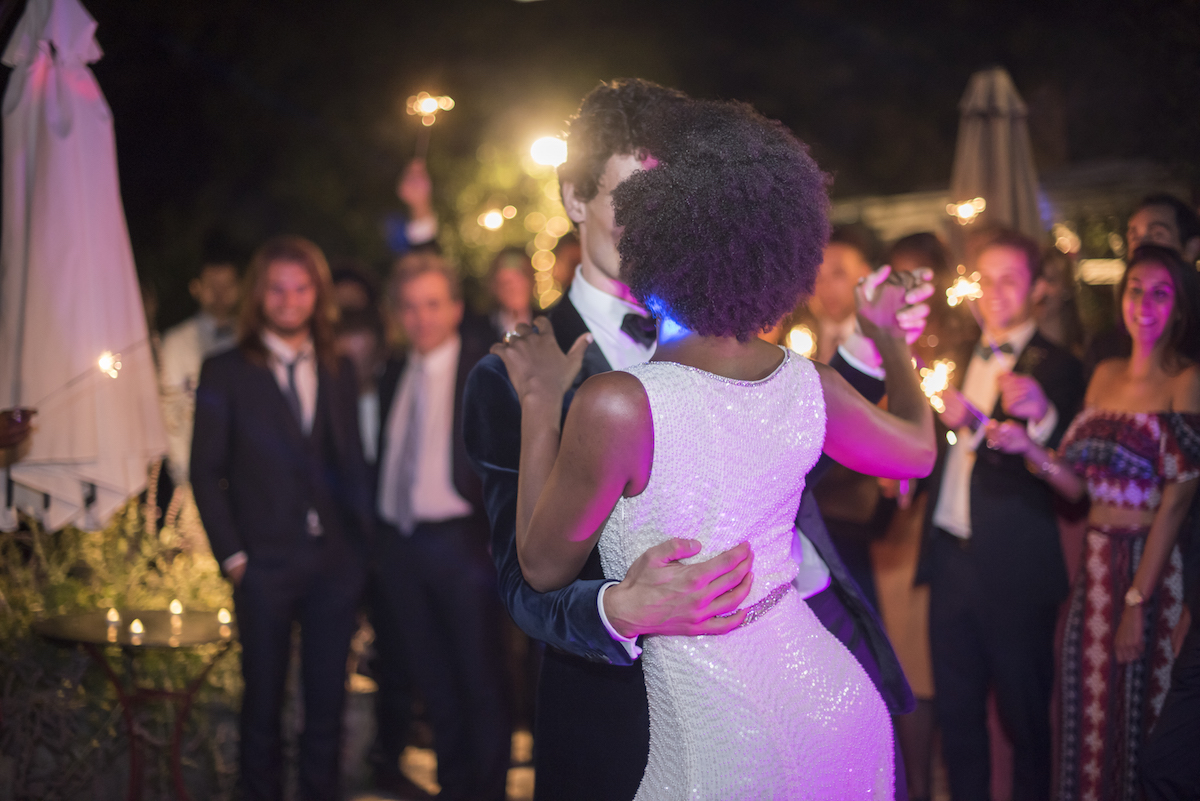 "During the cocktail reception Les Ruby's performed for our guests. Astrid is a beautifully talented lady inside and out. Their sound really transports you and I listen to their music around the house most weeks. She sings perfectly in English, French and Spanish, you can't get more romantic than that."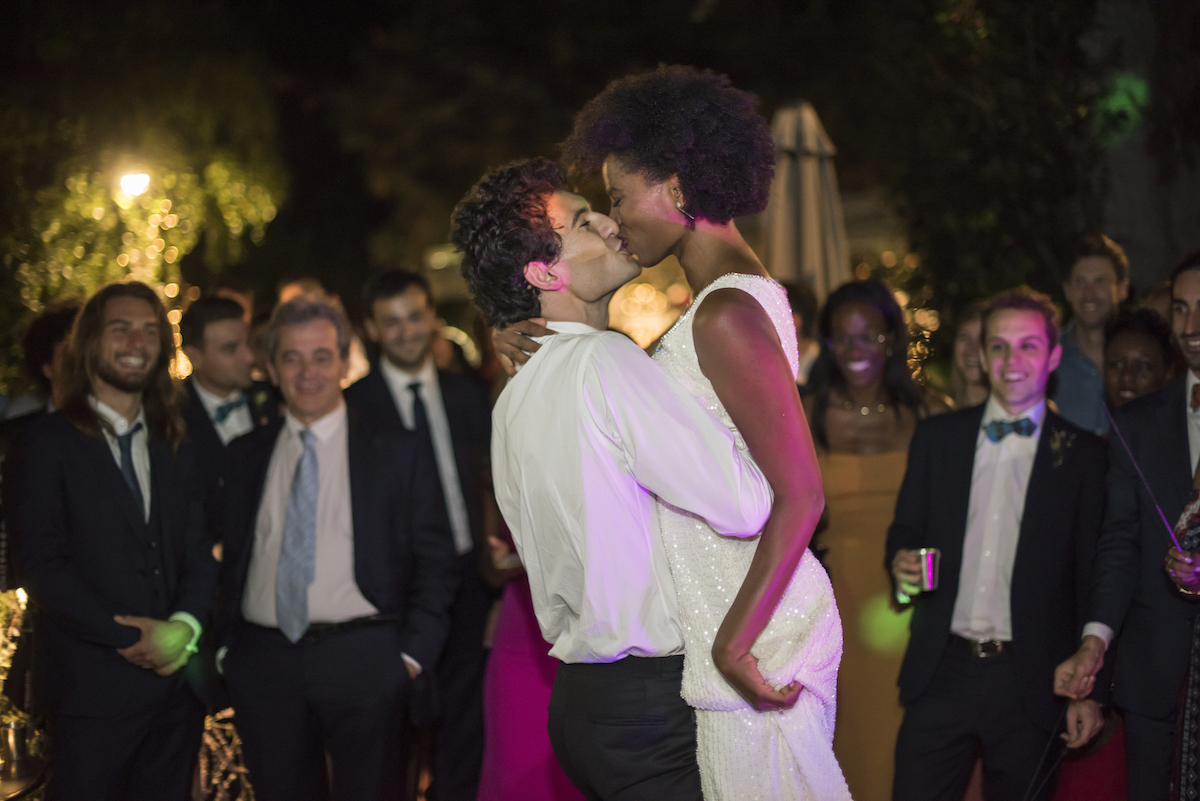 A photo booth kept guests entertained and encouraged some informal and candid group shots, while the forty (yep, forty) children present at the wedding explored the grounds of the hotel, complete with playgrounds and resident animals, under the supervision of nannies.
"In the evening we had René Moreno come and play for us. He has great taste in music, playing everything from Afrobeats to James Brown, evoking a great sense of nostalgia. We were listening to songs trying to work out what our song was and we couldn't agree. However when James Brown's 'I Feel Good' came on, we couldn't stop dancing and laughing in our bedroom. I then had the idea to combine it with Nina Simone's 'Feeling Good' as it too is beautiful, and it would give us the opportunity to start slow and build up."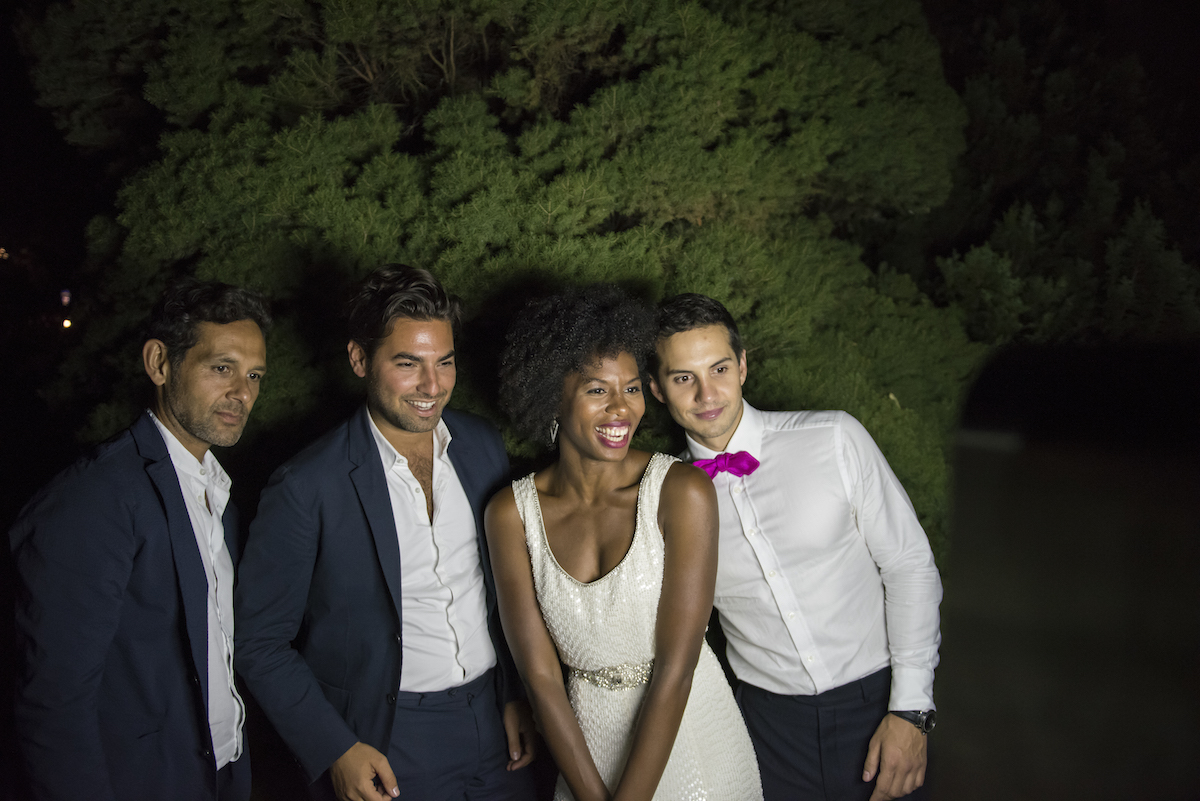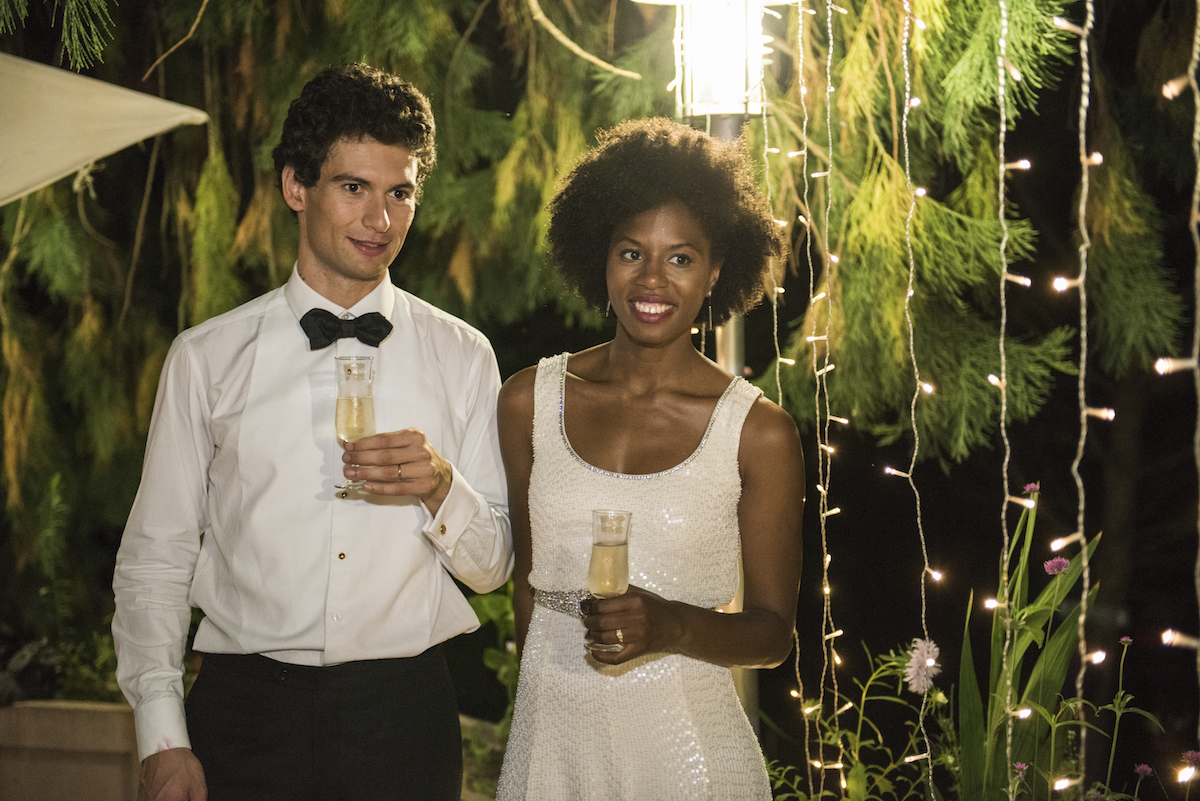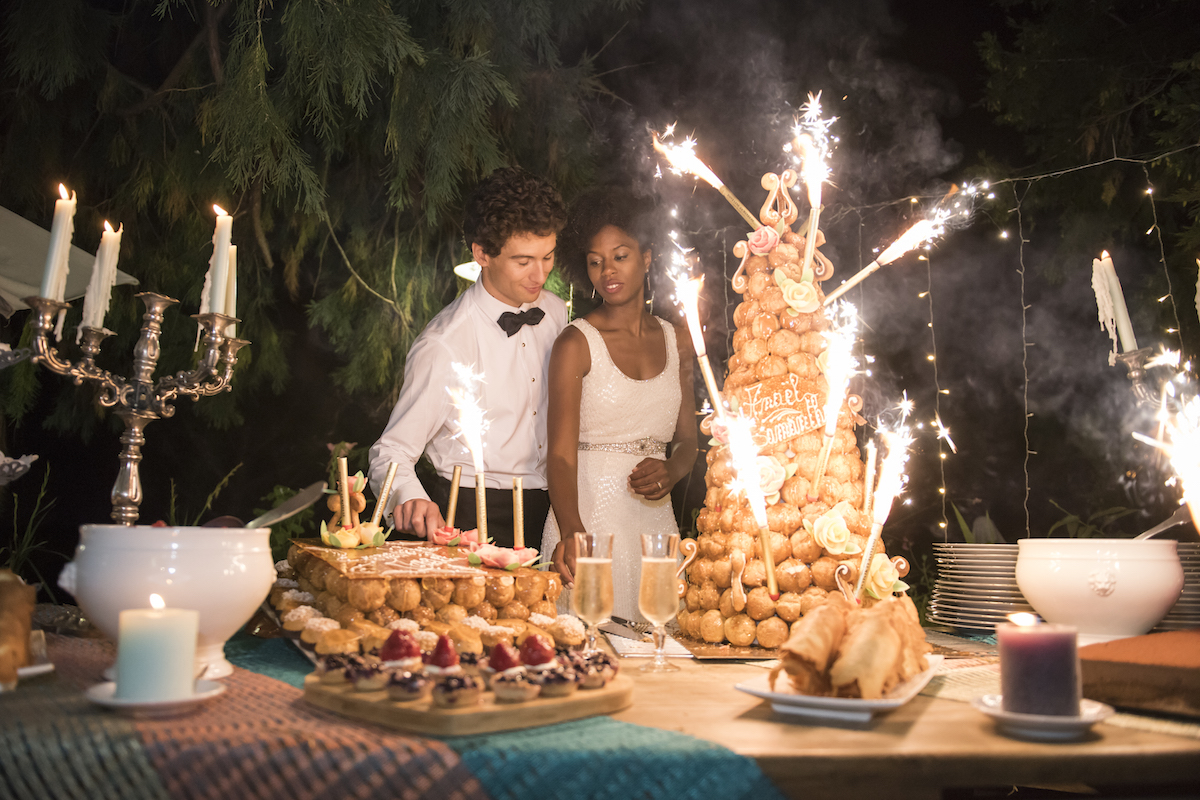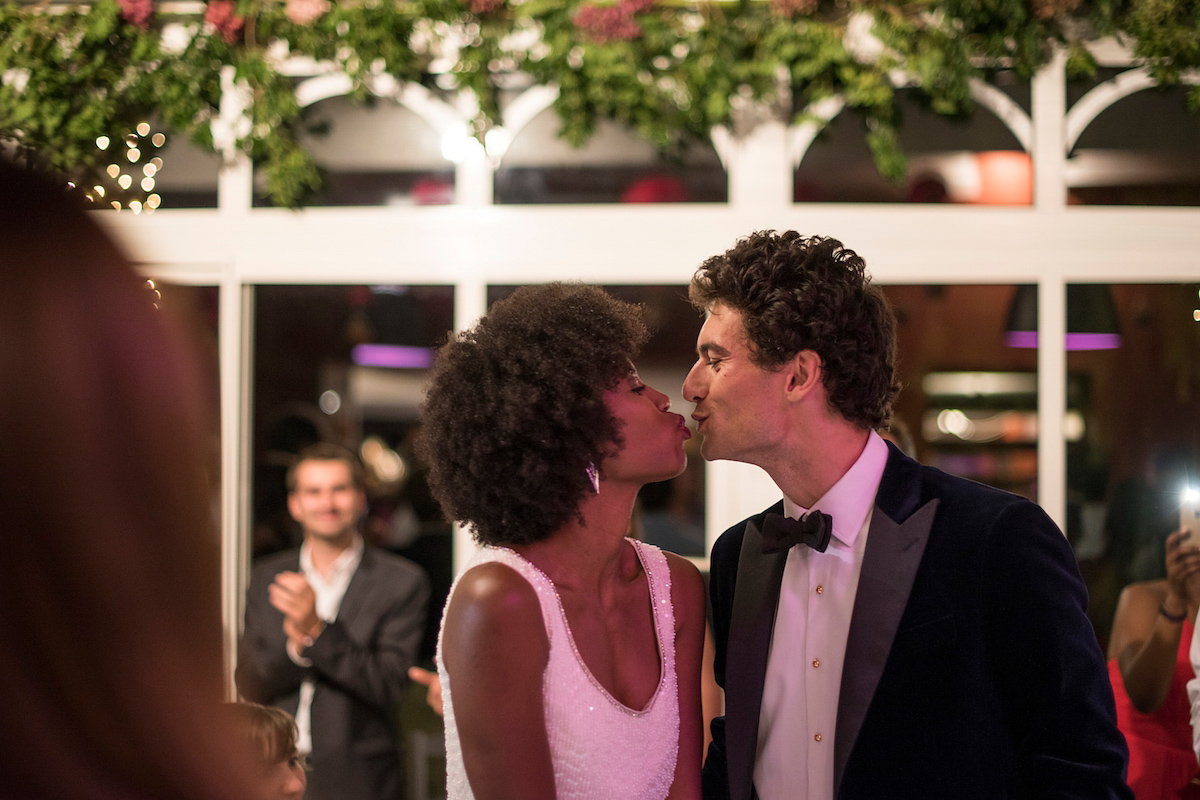 "I'm very fortunate to have a talented number of professional photographers in my family. However, I wanted them to enjoy themselves and if they got an epic shot, great, but if not I had a very talented photographer to capture it all. Luca is a fantastic fashion and event photographer who I have worked with on a number of my menswear events so I knew he could handle the sheer vastness of our weddings. Everyone looks relaxed and happy and that is all we could ask for."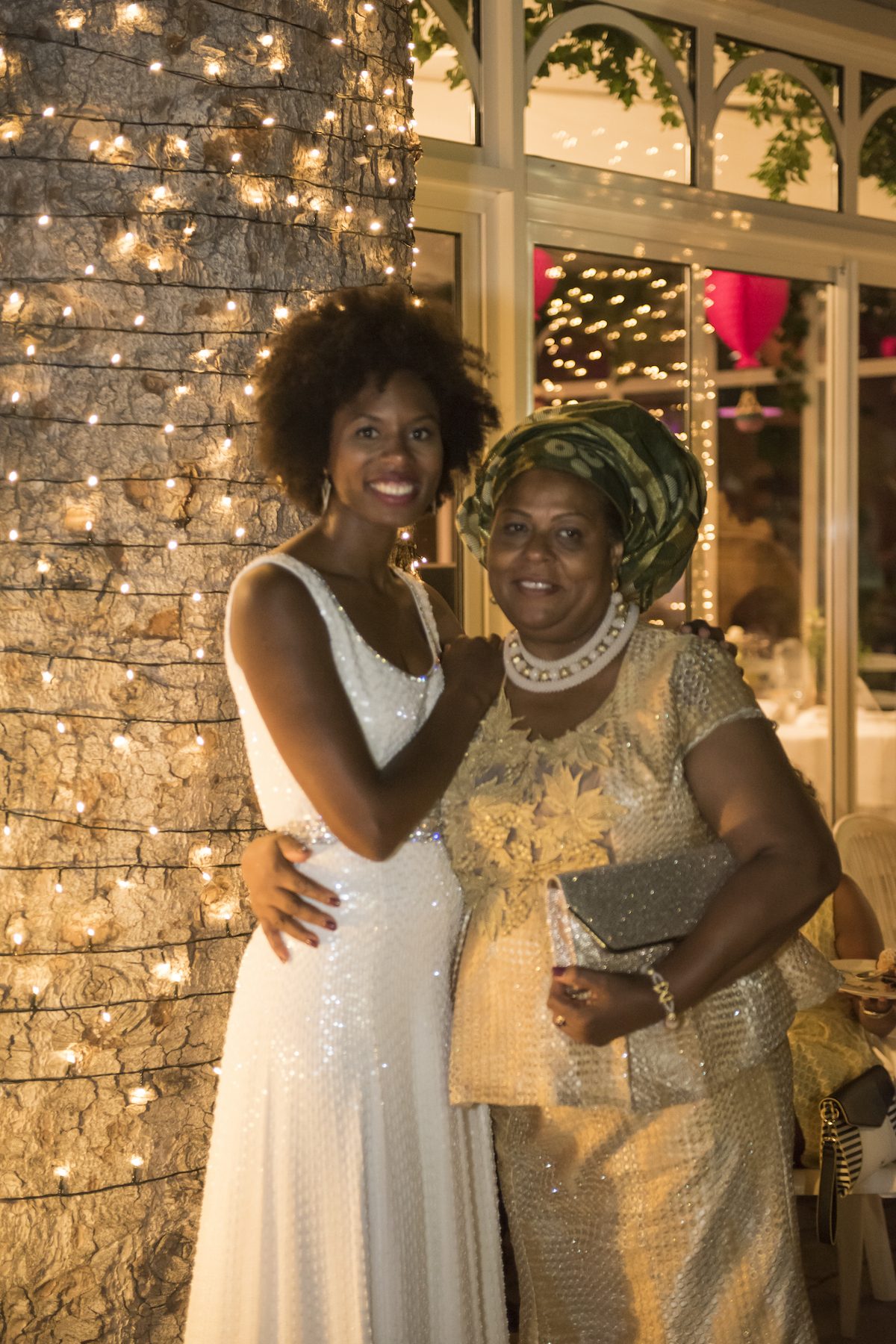 All of this colourful, joyful beauty was captured on film by videographer Brice Blondel and also on camera by Luca Meneghel and Aki Akiwumi. I love the way these images are redolent with the jewel-bright tones running through the day; hot pinks and luscious greens, dusky blues and golden light.
"Our wedding video makes me so happy. We left London to move to NYC a week after getting married and in all honesty this video saved me from homesickness. It's great to watch everyone all smiling, simply bliss for me. Brice is an award-winning documentary film maker and you can tell."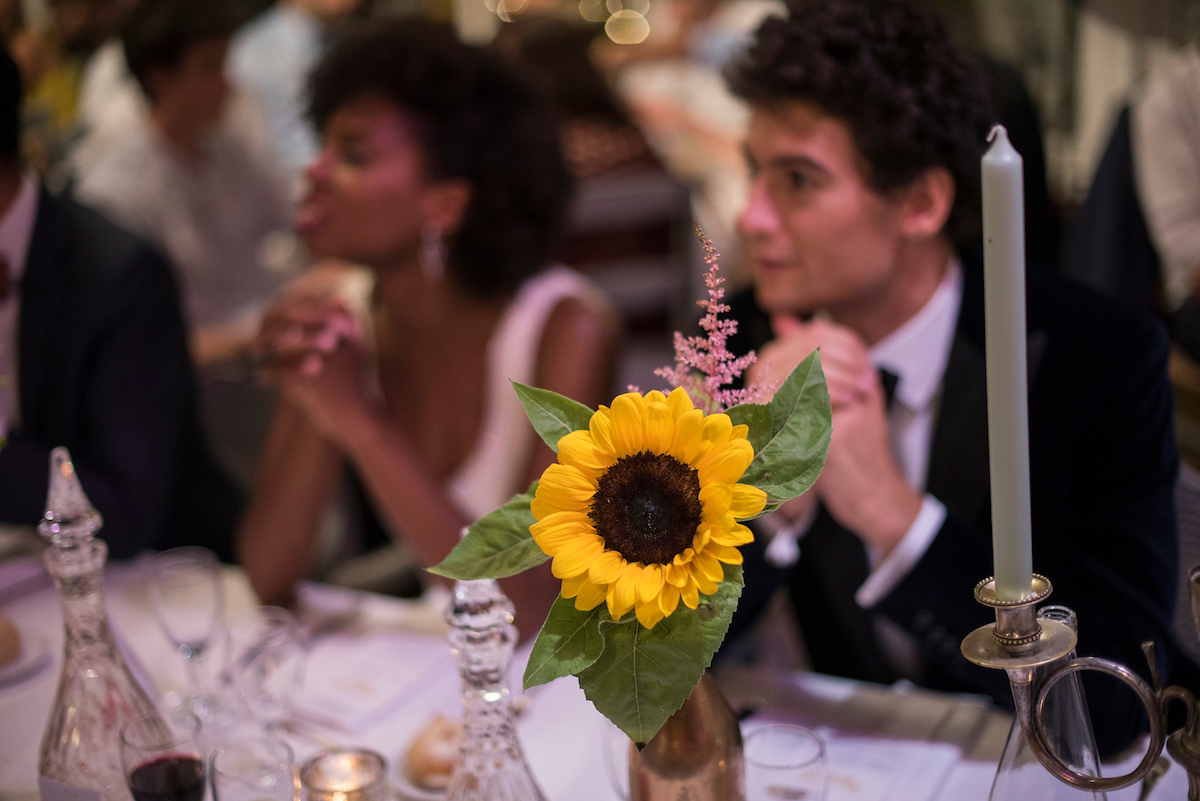 Words of Wedded Wisdom
"We were all very hands on with the wedding but actually that's what I enjoyed the most. I love the preparation of events, however I think I did forget I was the one getting married at some points; it may have been nice to spend a few more hours drinking champagne with my friends. So when it comes to those tick lists, make sure you enjoy each and every bit before you tick it."
"'Together.' I tried to hold this at the forefront of all of our decisions and planning. Anaël was so excited for us to be getting married at his home and I love and respected what he wanted to be involved in and eventually what he didn't. I had my fair share of tantrums but quickly realised I wasn't listening and needed to trust the experts around me. I worked with and involved both our families in everything and it makes me so proud to see what we could achieve as a new unit. So if you can listen and work out how you can work together you will set yourself up for what I believe is a lifetime of happiness."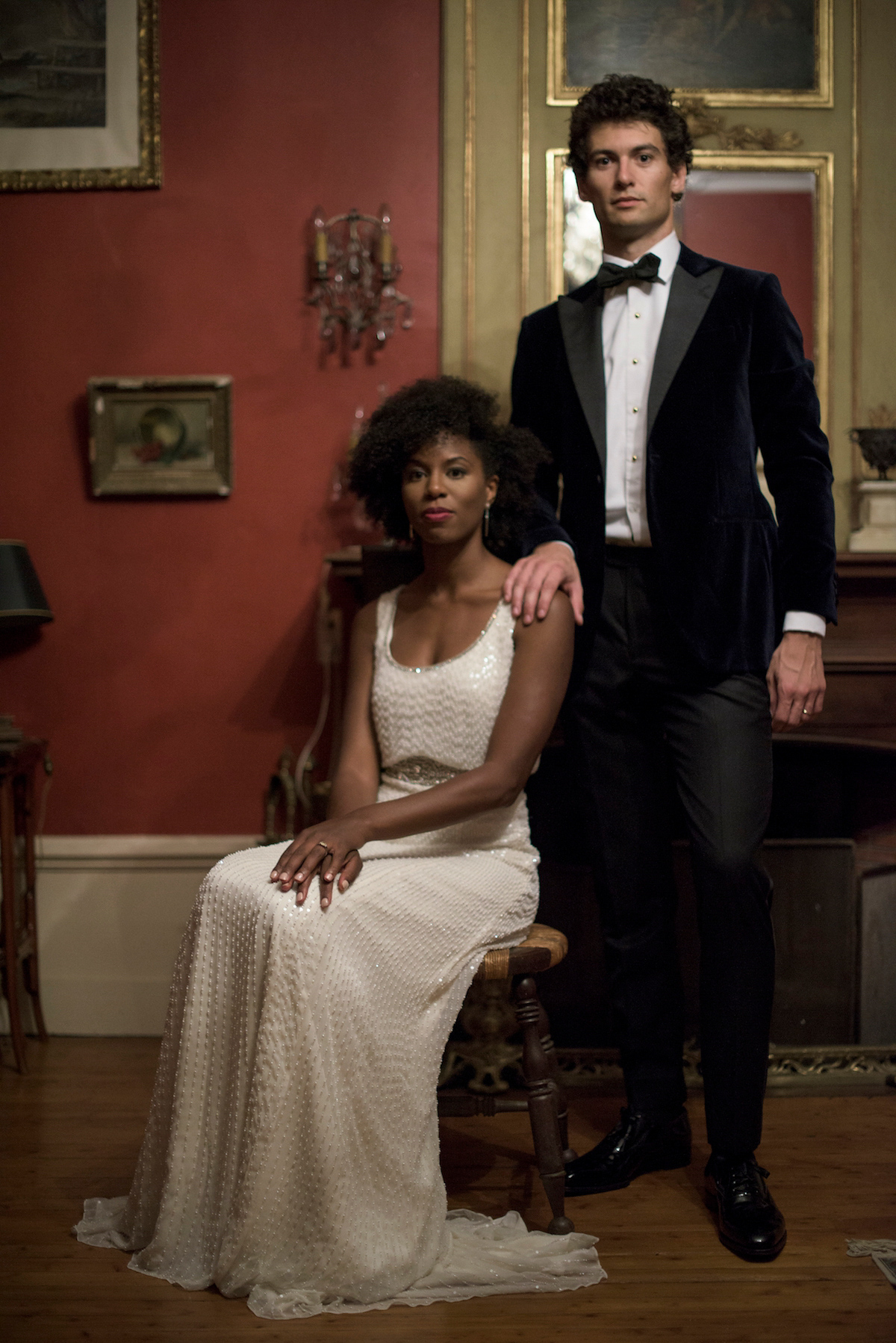 I can't tell you how grateful I am to Sammy and Anaël for allowing us to share their stunning celebration. I love weddings that celebrate family and heritage, combining traditions and styles in a unique and beautiful way. A big thank you too to Luca Meneghel and Aki Akiwumi Photography for these images, capturing the essence of this colourful and joy-filled union.
With love,
Em x