Happy Easter Monday lovelies.  Today I have the perfect wedding for you to read with a cup of tea (and perhaps just one more bag of mini eggs…)  Alice, a designer and Fraser, an architect, married at St Peter's Church, Palgrave, Norfolk on Saturday 6th August 2016, followed by a reception in a yurt (supplied by Little Book for Brides members, Wedding Yurts) at Fraser's family home.  I am so completely in love with this wedding- I'm sure you will be too.
Alice wore the most gorgeous gown by another wonderful Little Book for Brides member, Naomi Neoh, to which she added a lace top which she designed herself, all from Mirror Mirror in London.
"I chose my Naomi Neoh dress because it's so elegant and the line and cut is just so flattering.  Having studied fashion design at university the fabric was very important to me and as soon as I saw and touched the silk I fell in love and knew it would pair perfectly with the French lace top I had designed."
Images by JMA photography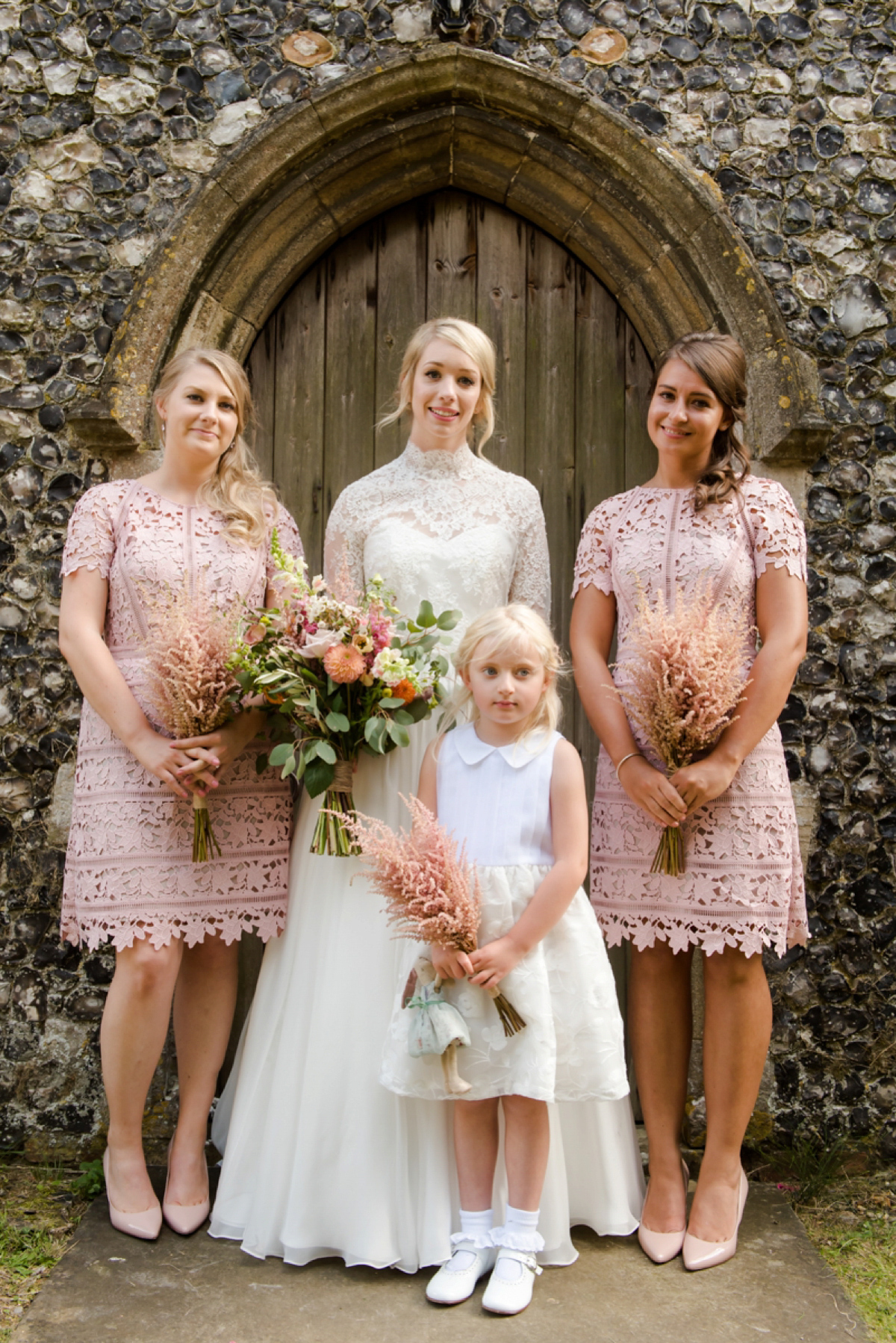 The bridesmaids looked gorgeously summery in lace dresses from Reiss, worn with Stila court shoes from LK Bennett, while the flower girls looked very cute in dresses from Hucklebones with shoes from Panache Kids.  Alice's three nephews wore shirts, bow ties and navy chinos from John Lewis.Today's fabulous images are the work of Jemma Mickleborough of JMA photography, a newcomer to Love My Dress but one I hope to see much more of in the future.
"Jemma was an absolute delight to work with from our very first meeting to the last and I can honestly say I have never met anyone with so much enthusiasm and energy.  Jemma is full of creativity and we are so pleased with all the photographs- they really do tell the story of our wedding, which is just what we wanted.  We cannot recommend her enough."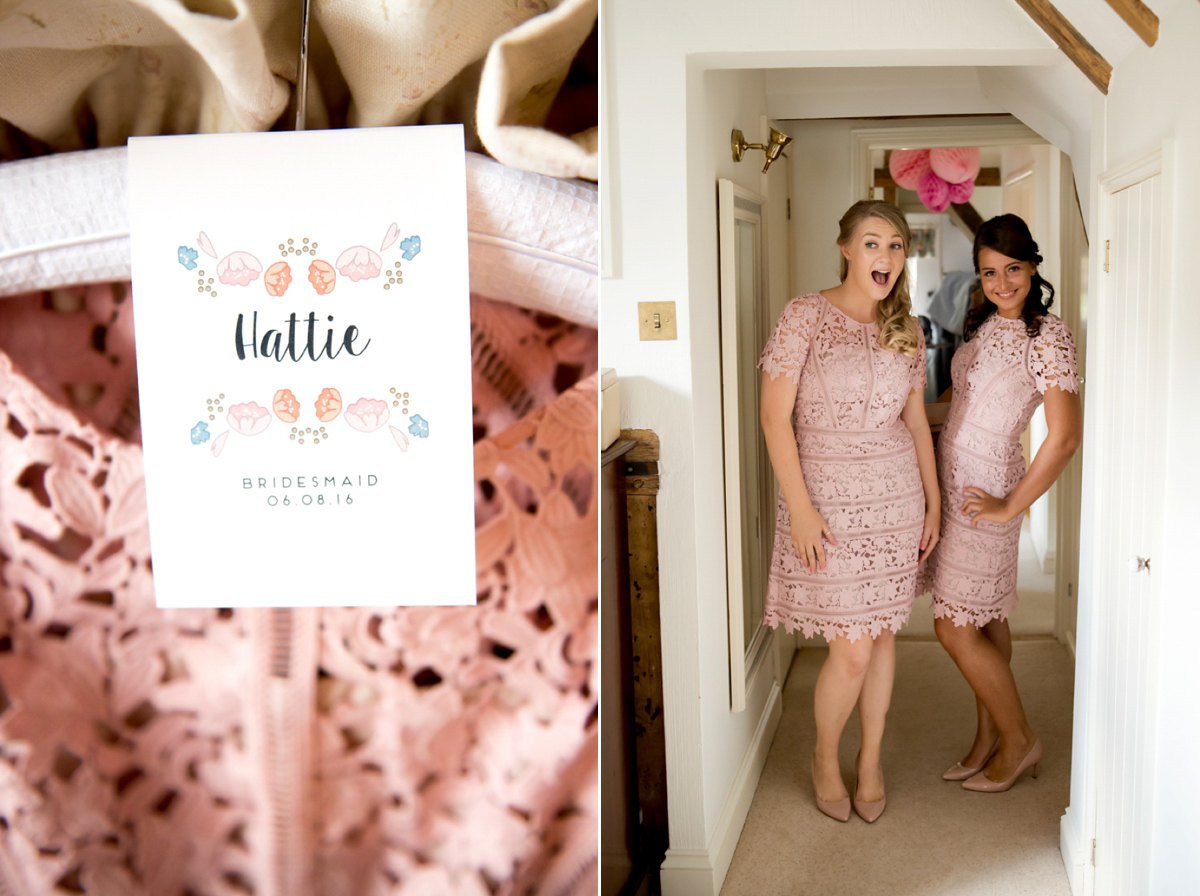 On her feet, Alice wore a beautiful pair of blue court shoes by yet another Little Book for Brides member, Emmy London, called 'Olivia' in Duck Egg, while for jewellery she chose her Grandmother's diamond ring and a pair of diamond earrings loaned by Fraser's Mother.  In her hair she wore fresh flowers and for scent, she chose her favourite Coco Mademoiselle by Chanel.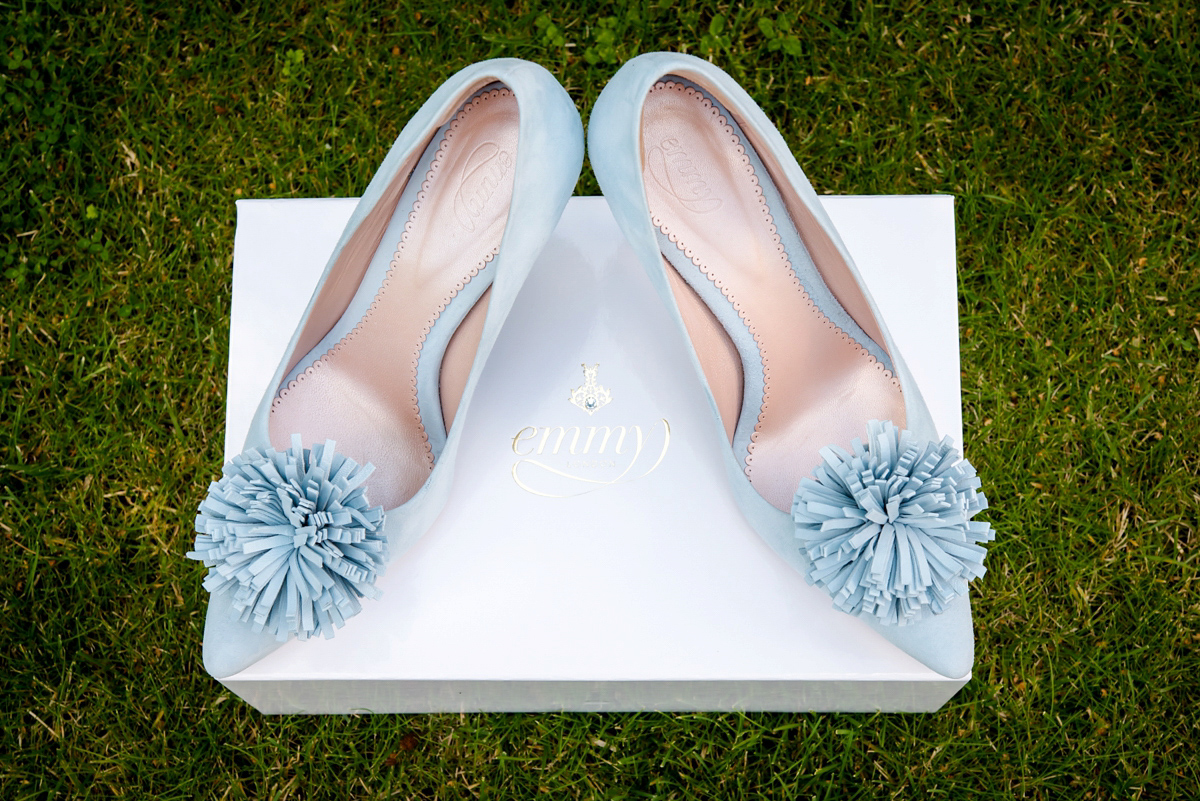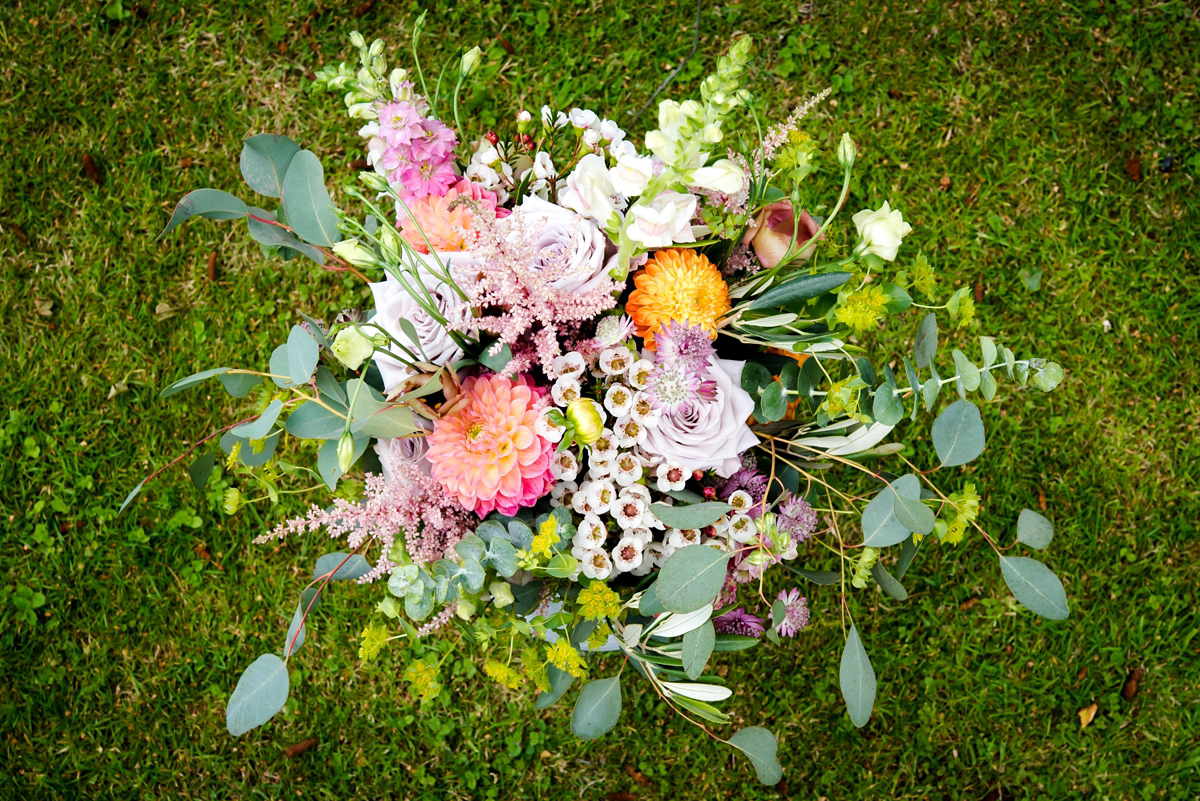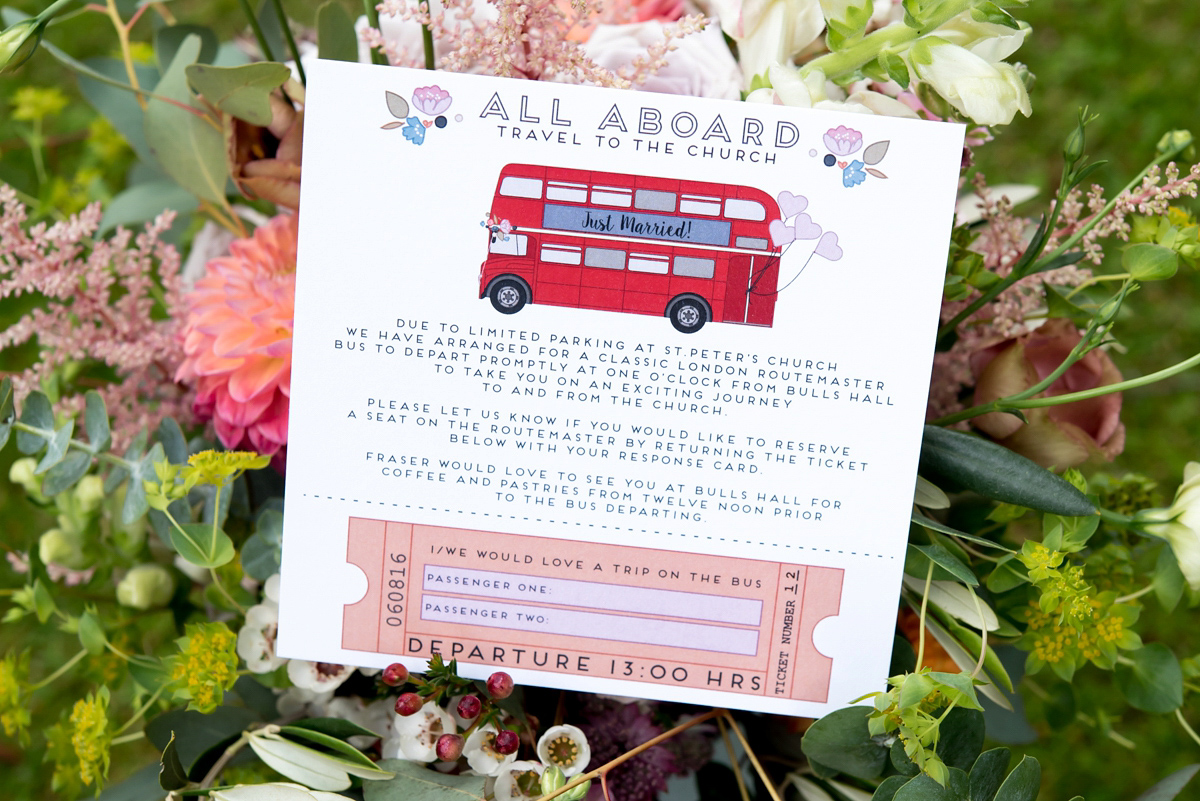 Hair and make up were the work of Amy Taylor of Flamingo Amy.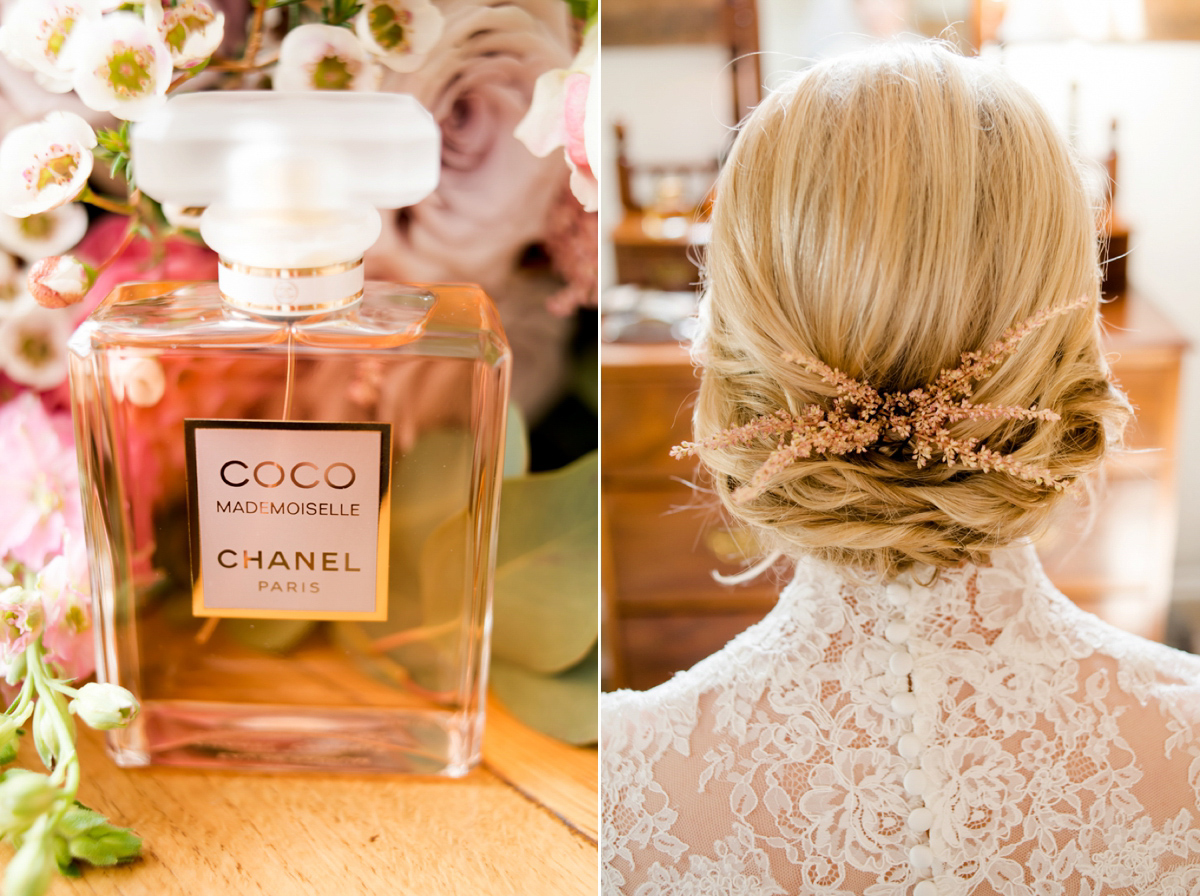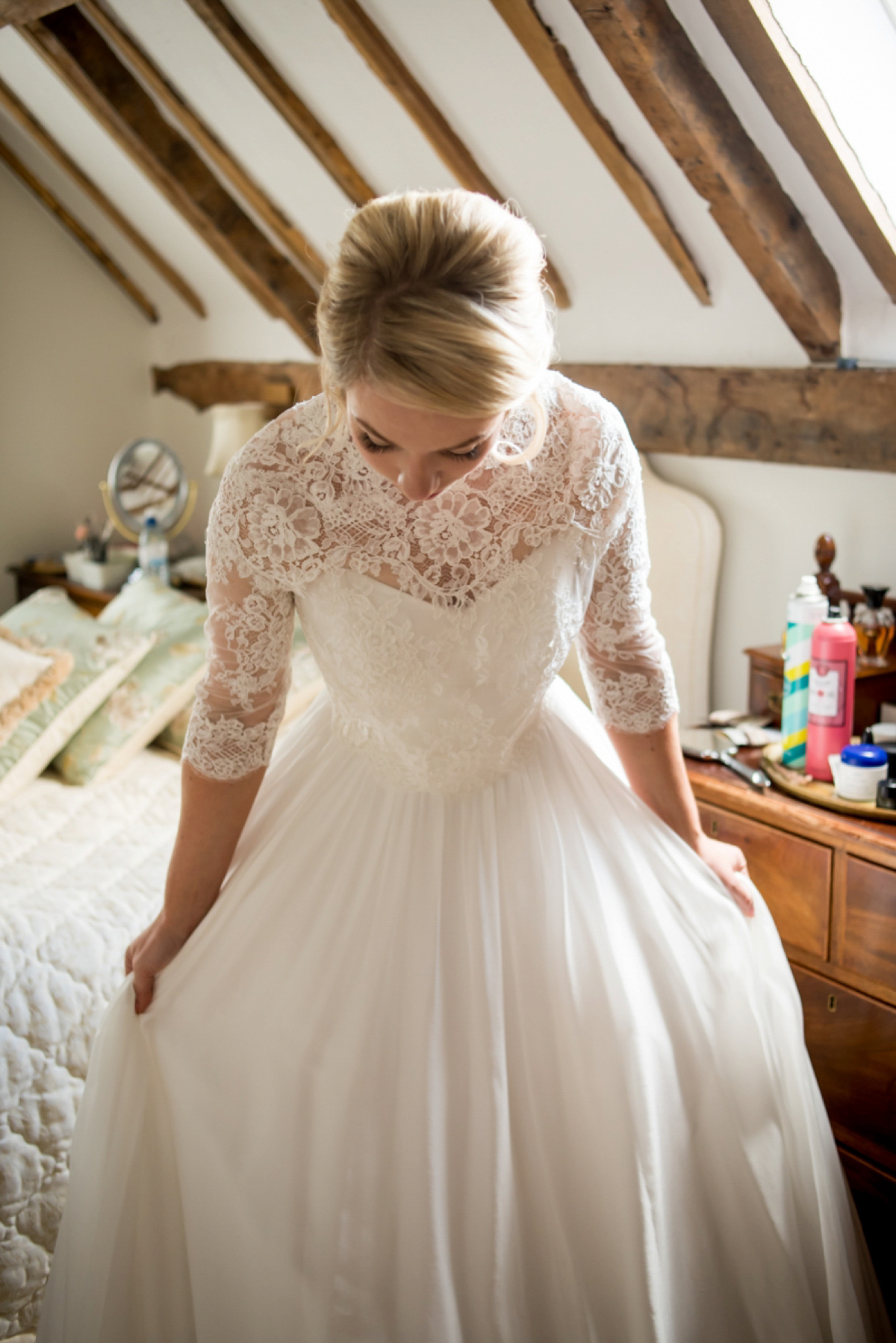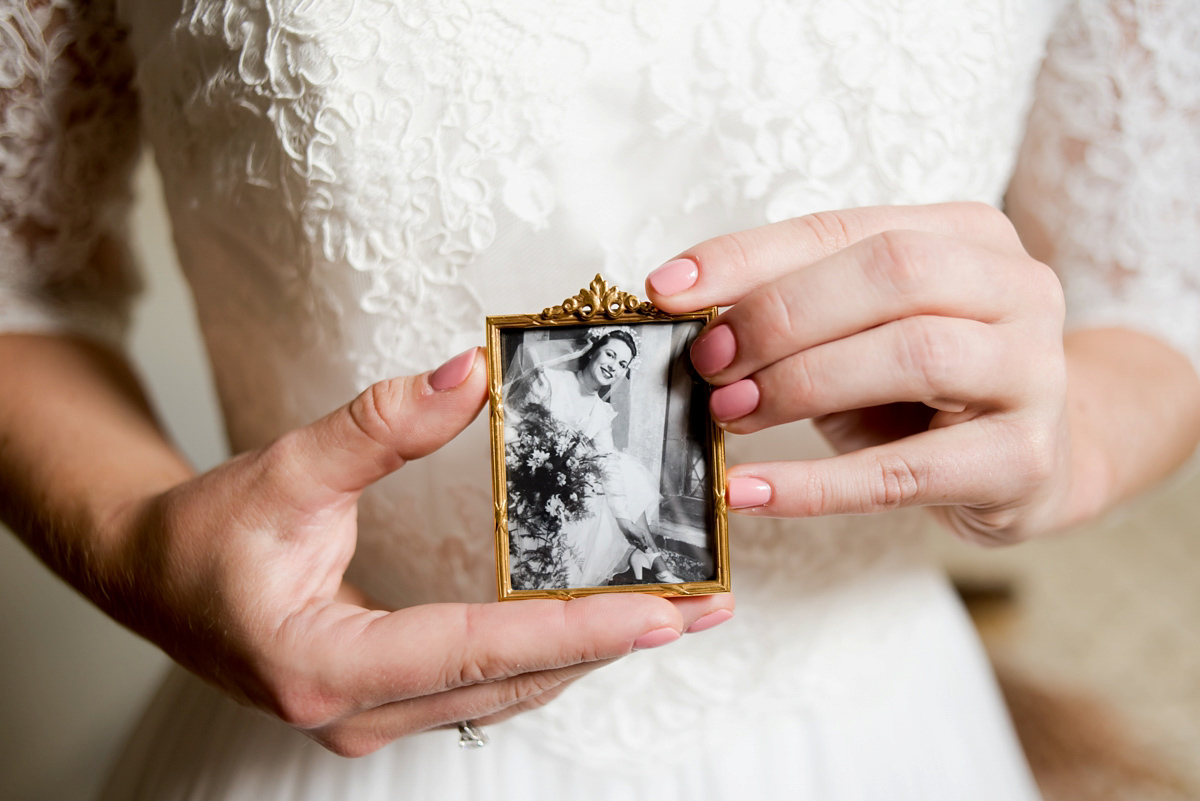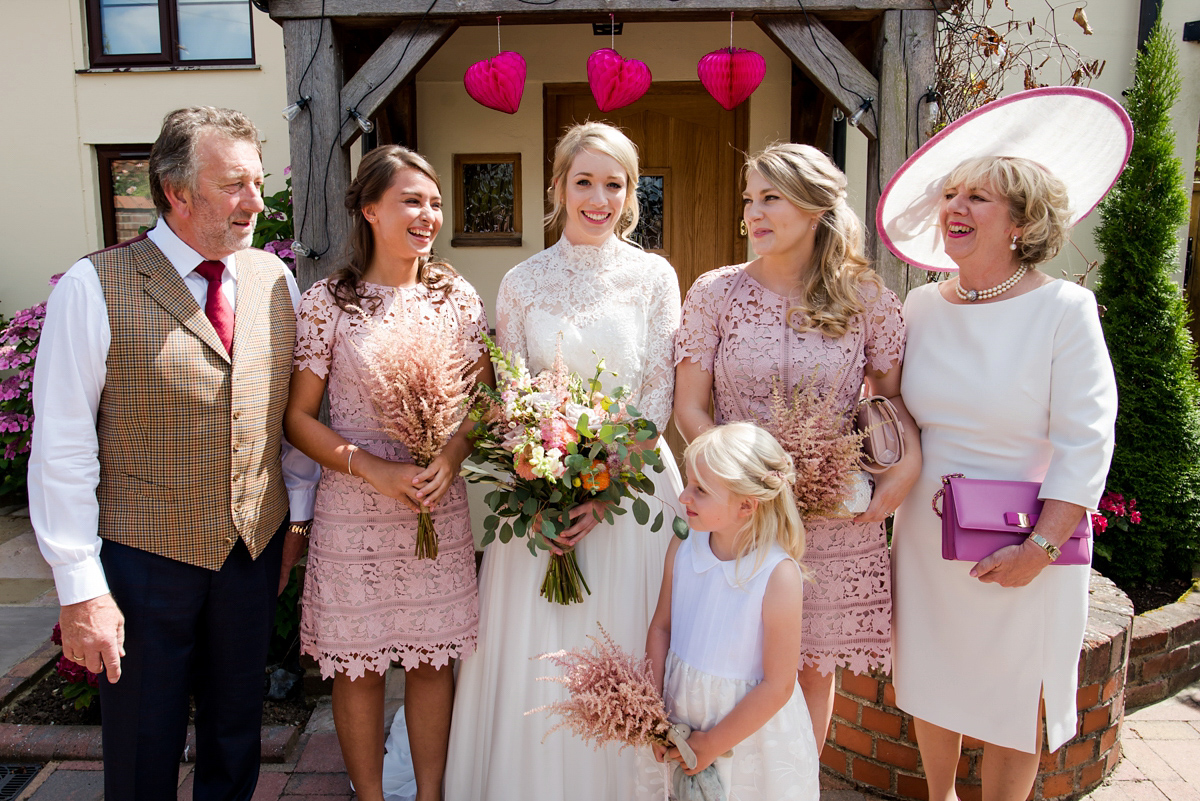 The absolute beautiful florals were the work of The Flower Hut in Botesdale and were designed to look freshly picked from the garden, using seasonal flowers.
Fraser and his best man looked very handsome in a bespoke suit, bow tie and pocket square from Dapper Fox in Bury St Edmunds, worn with shoes from Loake.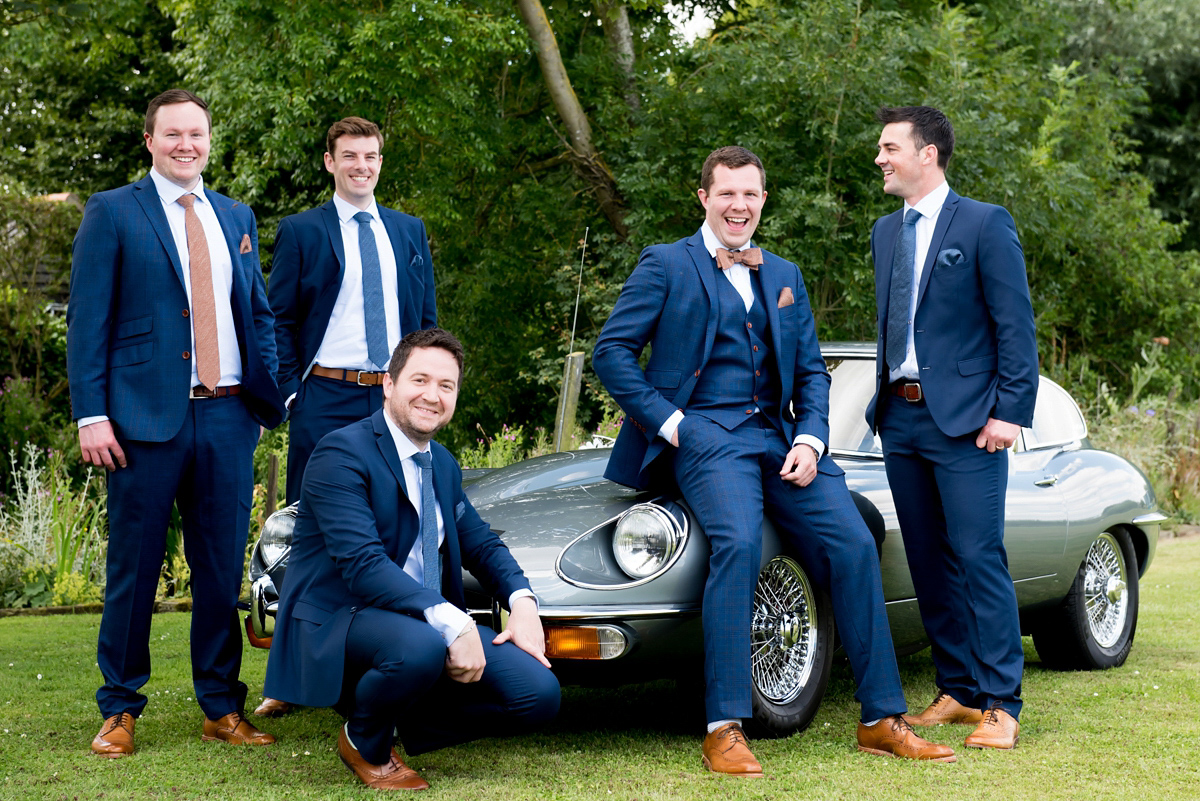 Transport for the day came in a very classic form- two vintage Jaguars owned and renovated by Alice's father and a vintage routemaster London bus, hired for the occasion.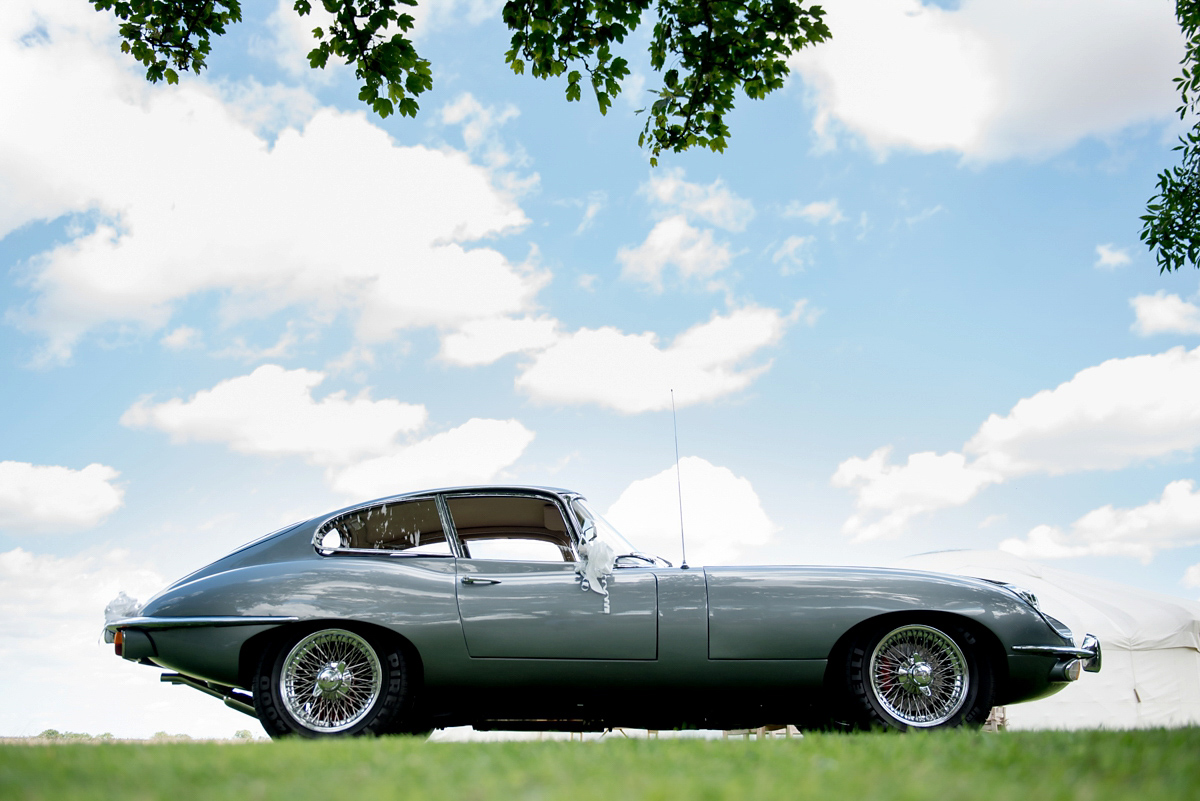 "We chose the church in the village where I grew up; I was christened there and my elder sister married.""When you are as lucky as Fraser is to have grown up in a period home amongst such beautiful countryside it seemed absolutely the only option to have the reception there as it was the perfect setting, we were at home and isn't that where the heart is?"
Alice walked down the aisle with her father to the Bridal Chorus from "Lohengrin" by Wagner.  I just adore that photo of them entering the church- its the absolute picture of anticipation.
For readings, Alice and Fraser chose '1 Corinthians 13' and Song of Solomon 2.10-13; 8.8-7.
"We choose these readings as they are both classic and very traditional and we wanted to keep this part of the wedding that way."
After exchanging vows, the couple swapped rings, which they purchased from London's Hatton Garden.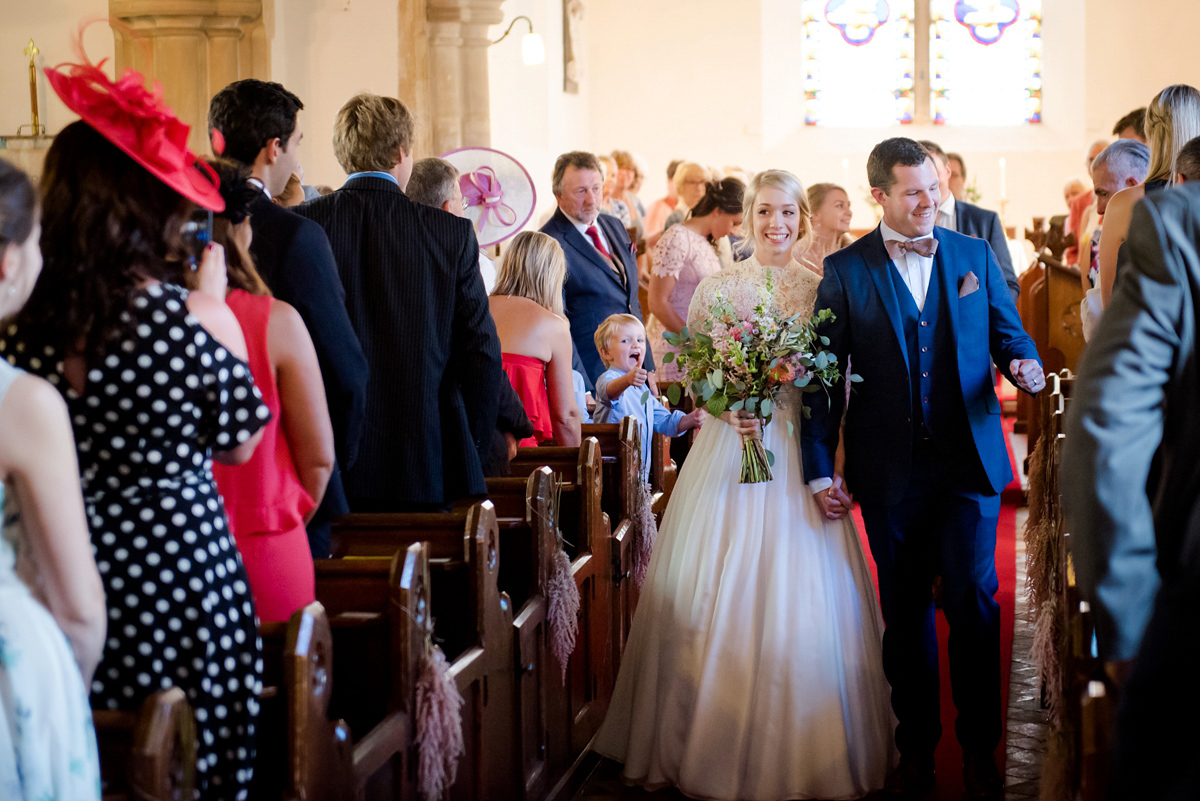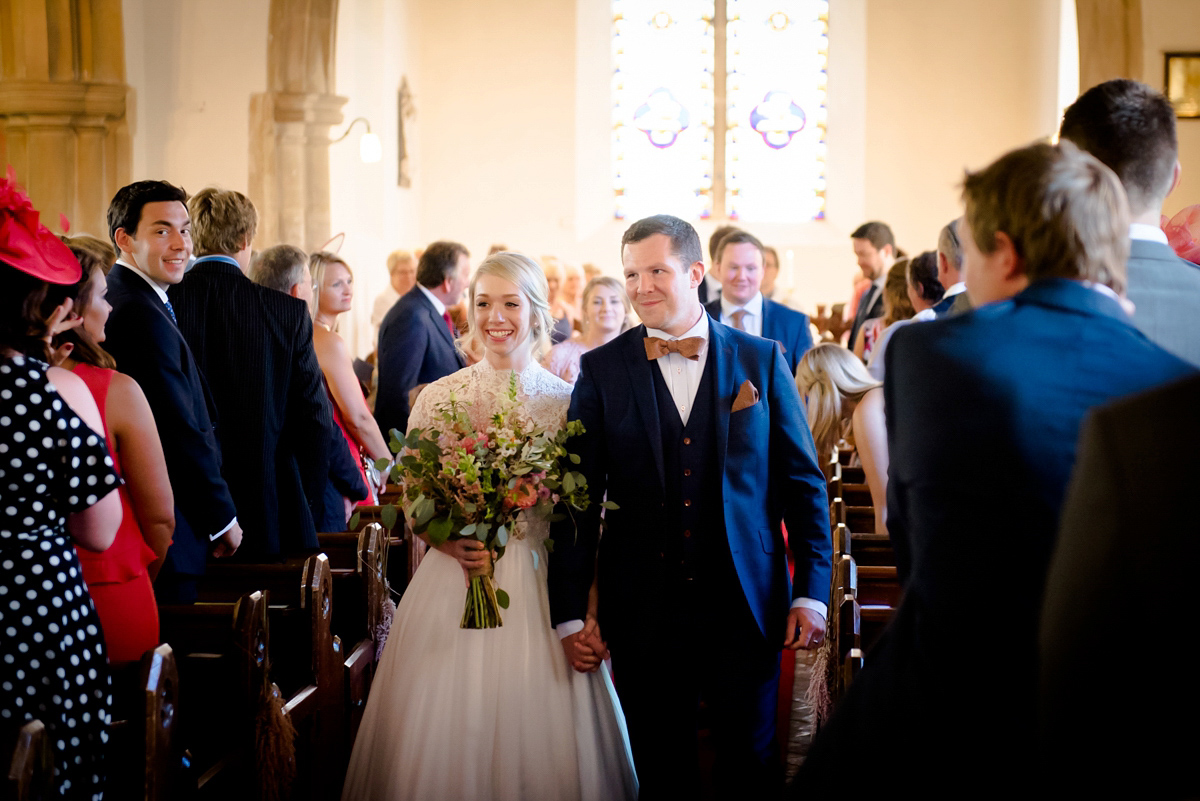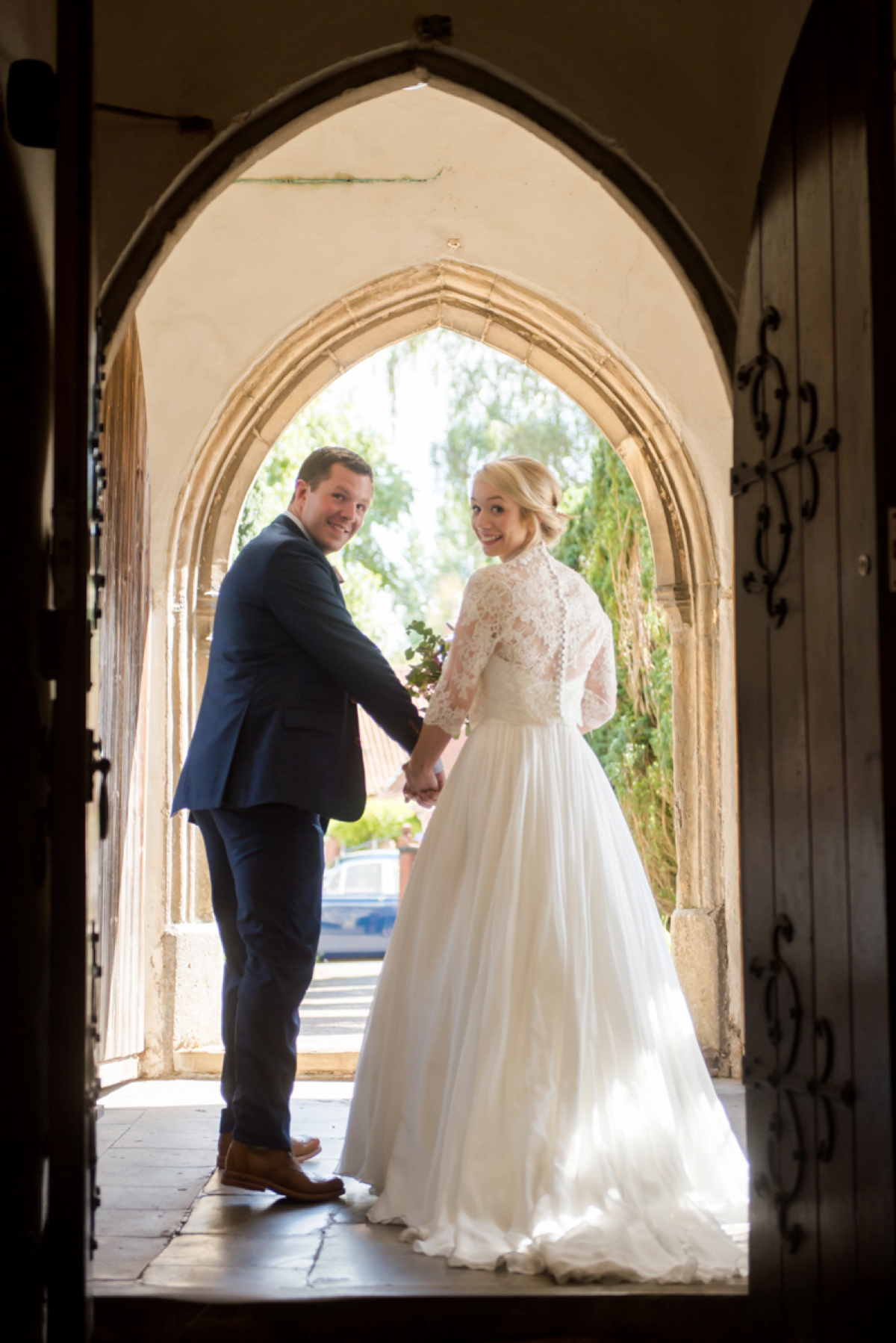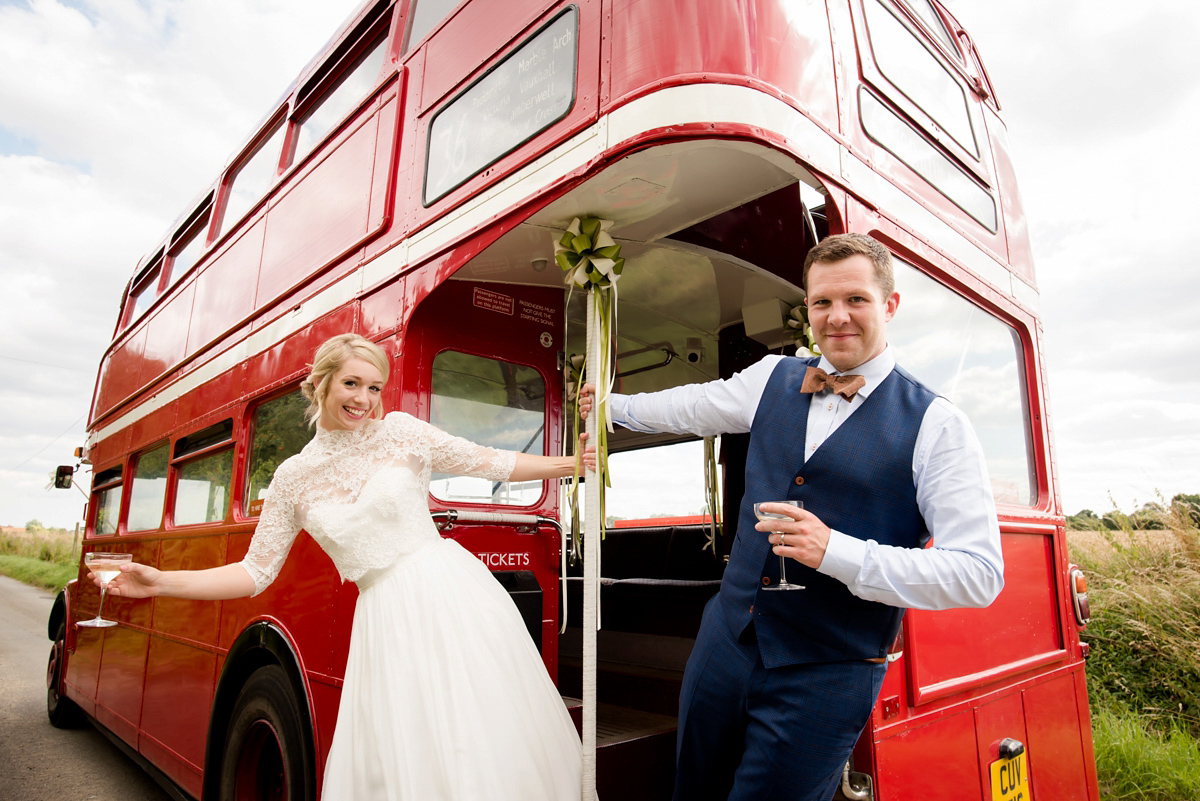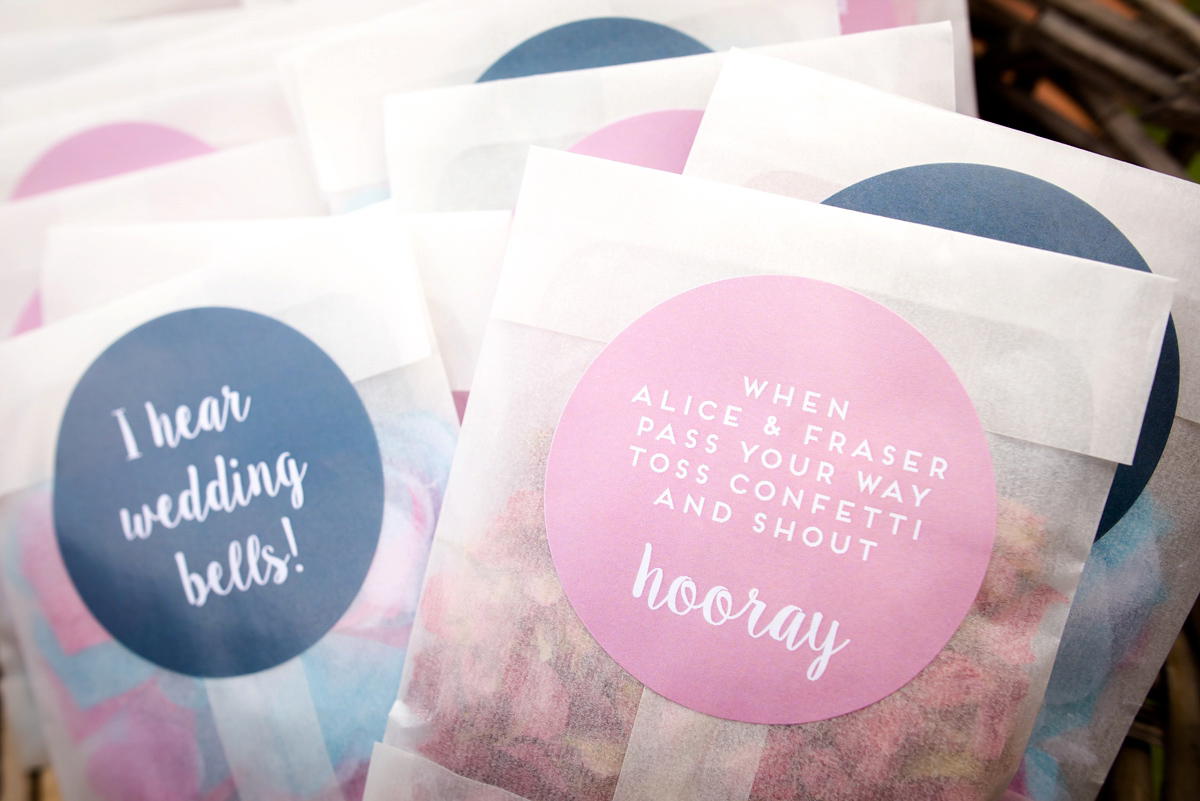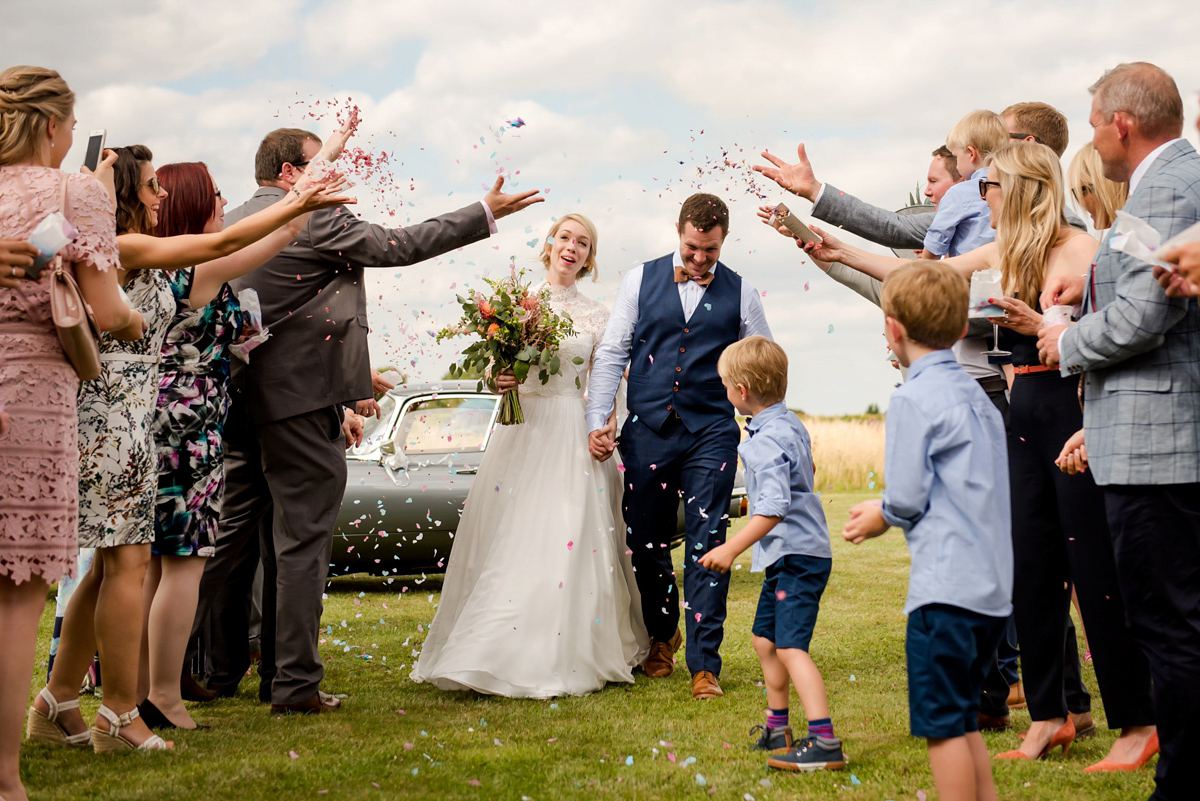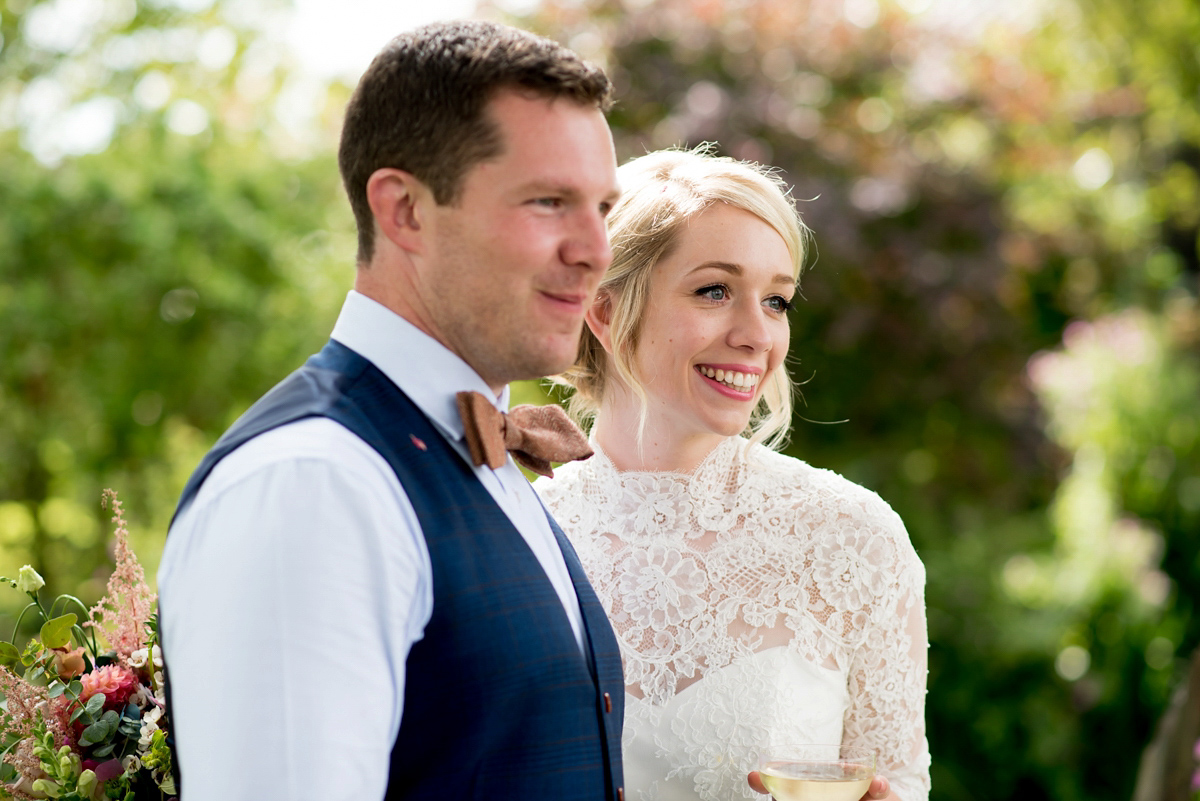 "We are both creatives and designers and we are very lucky that we have extremely talented friends and family who helped with preparations for the day.  Everyone has a skill or talent so it felt right and very personal to have friends and family help.  We have very stylish Mummies too so their ideas, guidance and enthusiasm for our day was always welcome."
"Everything we could design, print or make ourselves we did.  Our favourite touch though was the guestbook poster and this print of self-portraits and autographs is now on our lounge wall to be cherished always."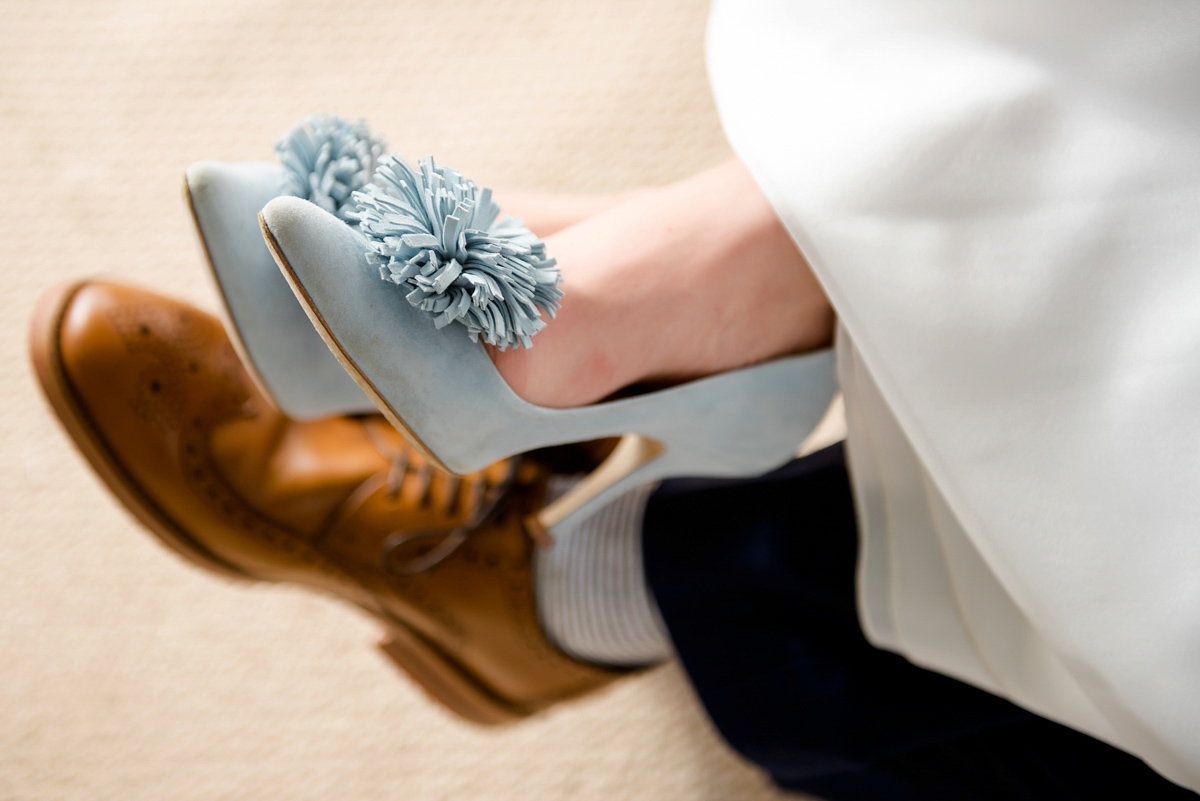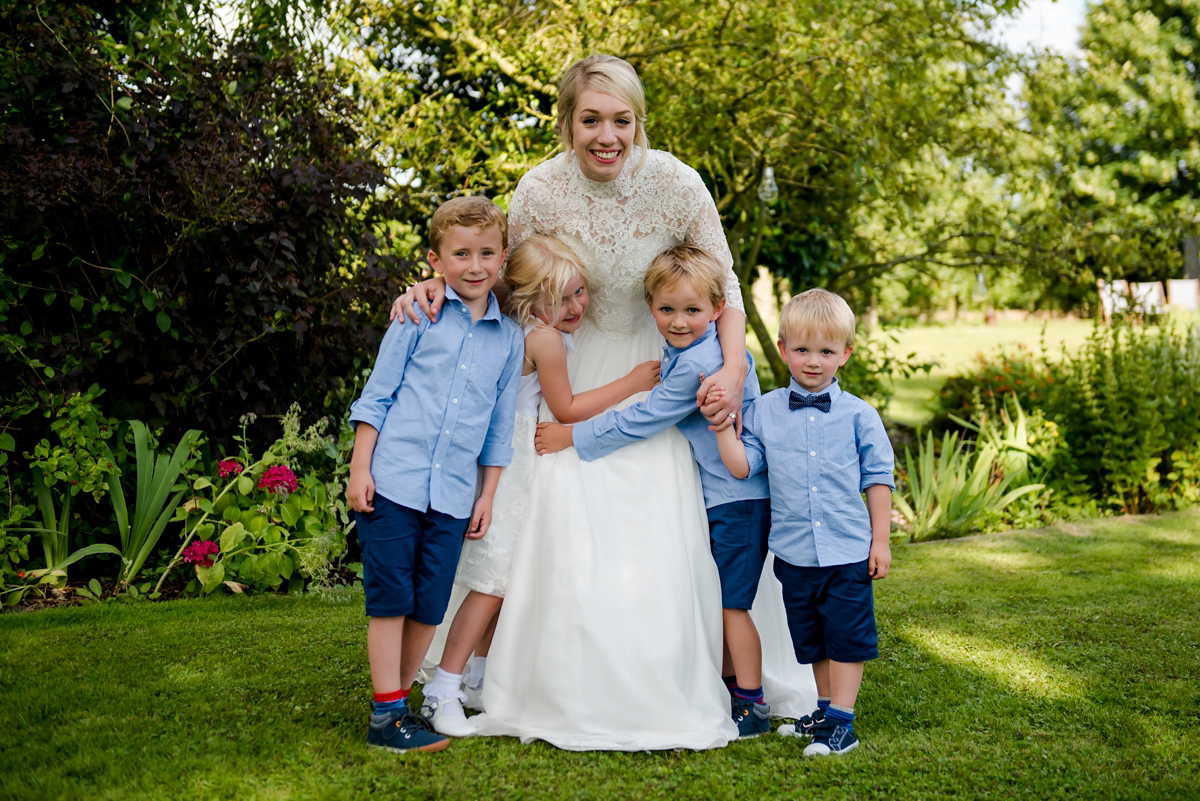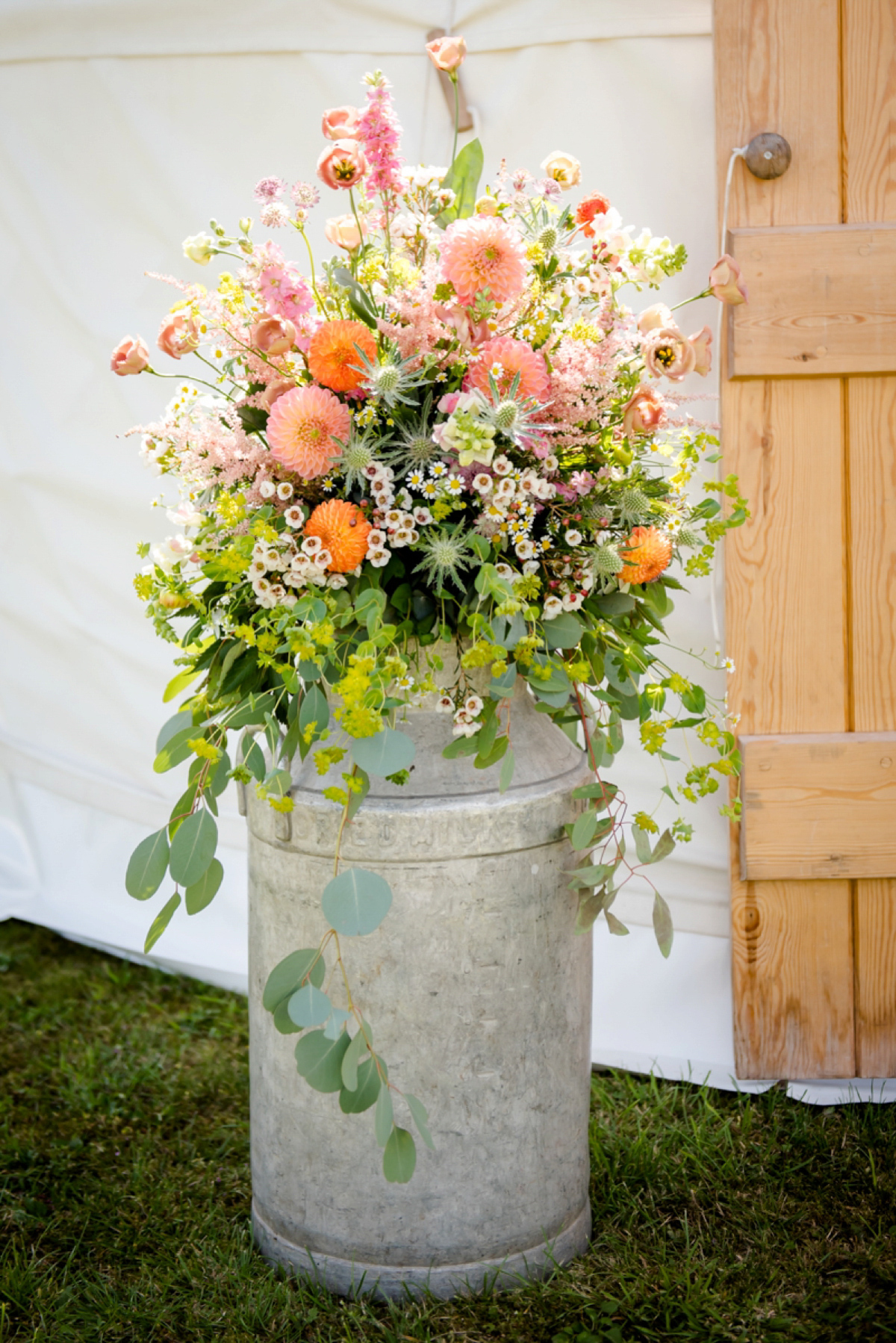 "We chose to hold the reception in the garden in yurts provided by Wedding Yurts, which are beautifully designed and crafted. Our aim was to compliment these so chose an elegant garden party style with seasonal garden flowers and a vintage-inspired colour palette of dusky pink, sage green, pale blue and nude."
As I was looking for the photographs for this wedding (which I usually do before I read the questionnaire from the bride and groom, to get a feel for the day), I noticed that the stationery was really quite stunning and resolved to make sure I looked up the designer.  Well, that designer was the bride herself, who owns her own stationery and greeting card company, Maurice and Maude.
"I designed our 'save the date' cards, invitations, order of service, table plan, menu, places cards and other things here and there.  It was quite a pressure and I must say the thought of designing everything was a little nerving but once I started I couldn't stop. We decided to concentrate on illustrations rather than traditional text as Fraser and I wanted to have something a little different and we wanted these to wow our guests and get them excited for our big day.  We decided to have a slightly unusual RSVP card too- our guests were asked to draw a self-portrait if they could attend – these were so much fun to receive in the post."
Catering was the work of local chef Peter Harrison and looks absolutely sublime.
"Our menu was sourced locally which was very important to Fraser and I.  Fraser is a real foodie so this part of the planning was very exciting for him.  The food was outstanding not only in taste but colour and style too – totally complimentary to our surroundings.  Friends and family are still talking about it."
The cake, by Vanilla Patisserie, is a thing of beauty!
"The plan for the cake was to taste delicious (of course), be simple and clean in design and to be surrounded by freshly picked flowers.  To display it we sourced the most incredible vintage dressing table which was in serious need of renovation (which my fabulous father did). The idea was to showcase the cake in a different way and I think we did just that – the flowers cascading from the bottom drawer were certainly an eye catcher."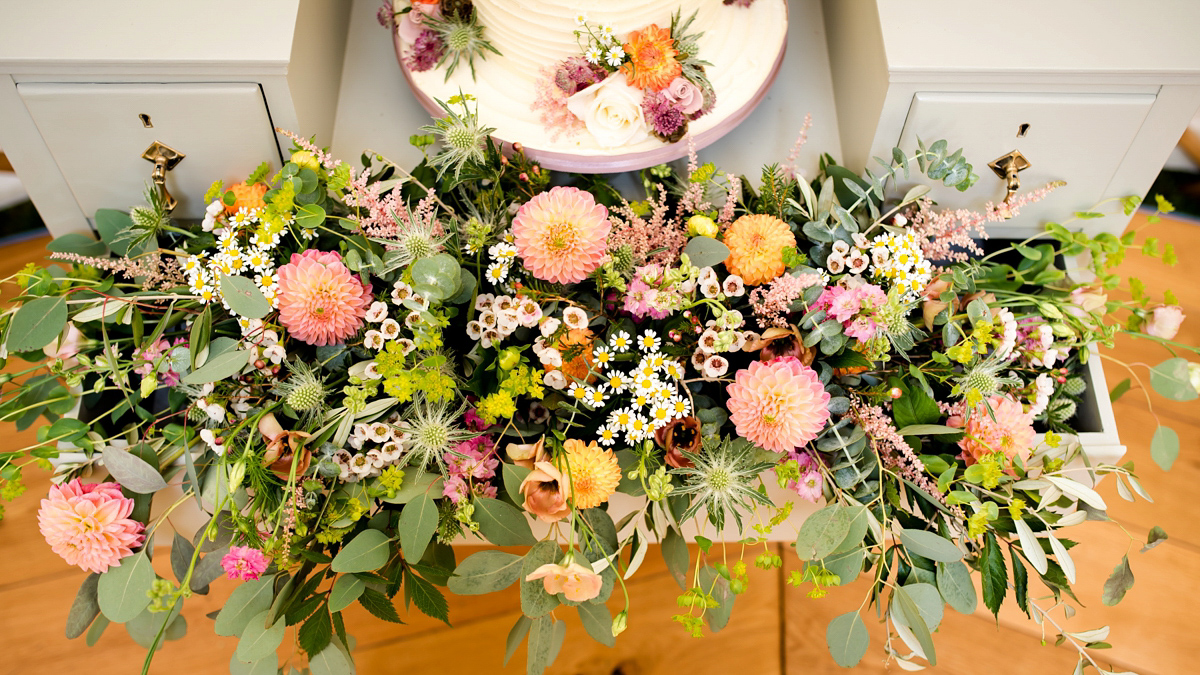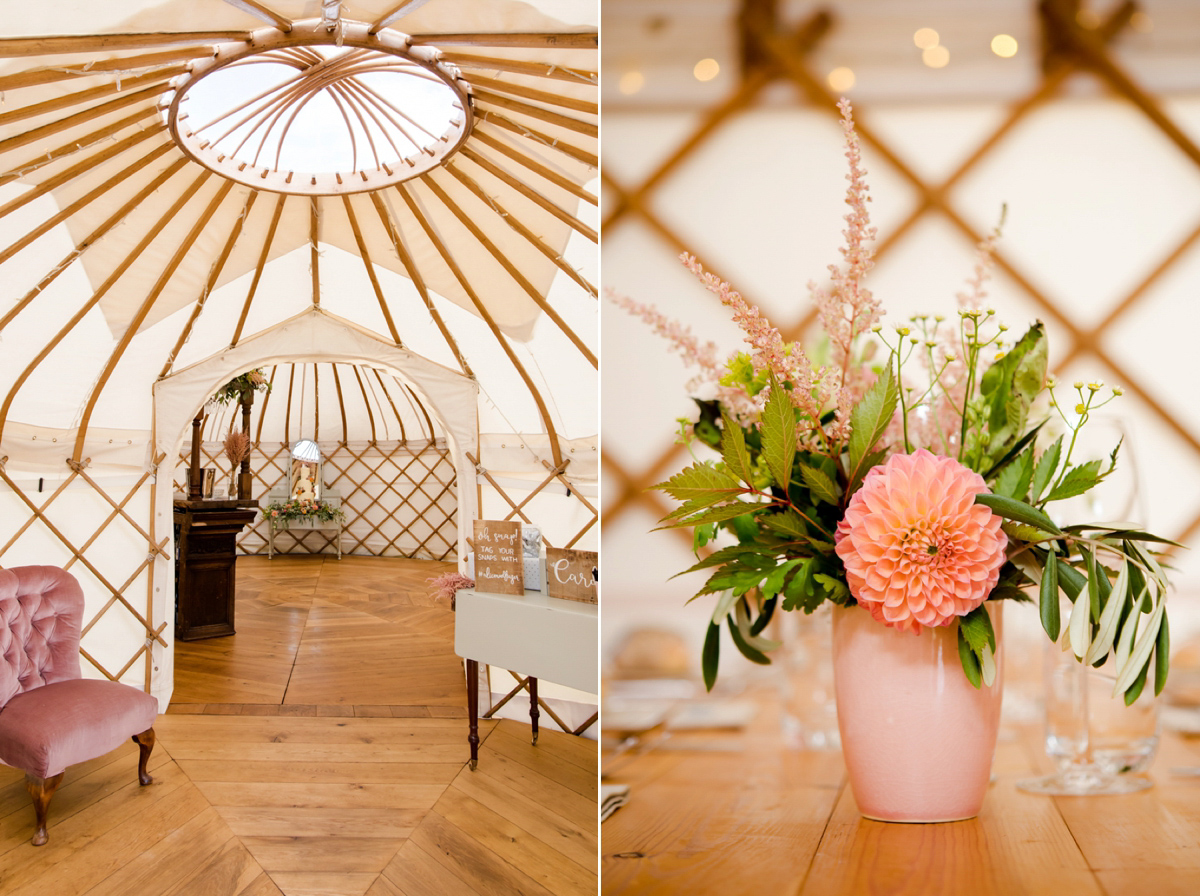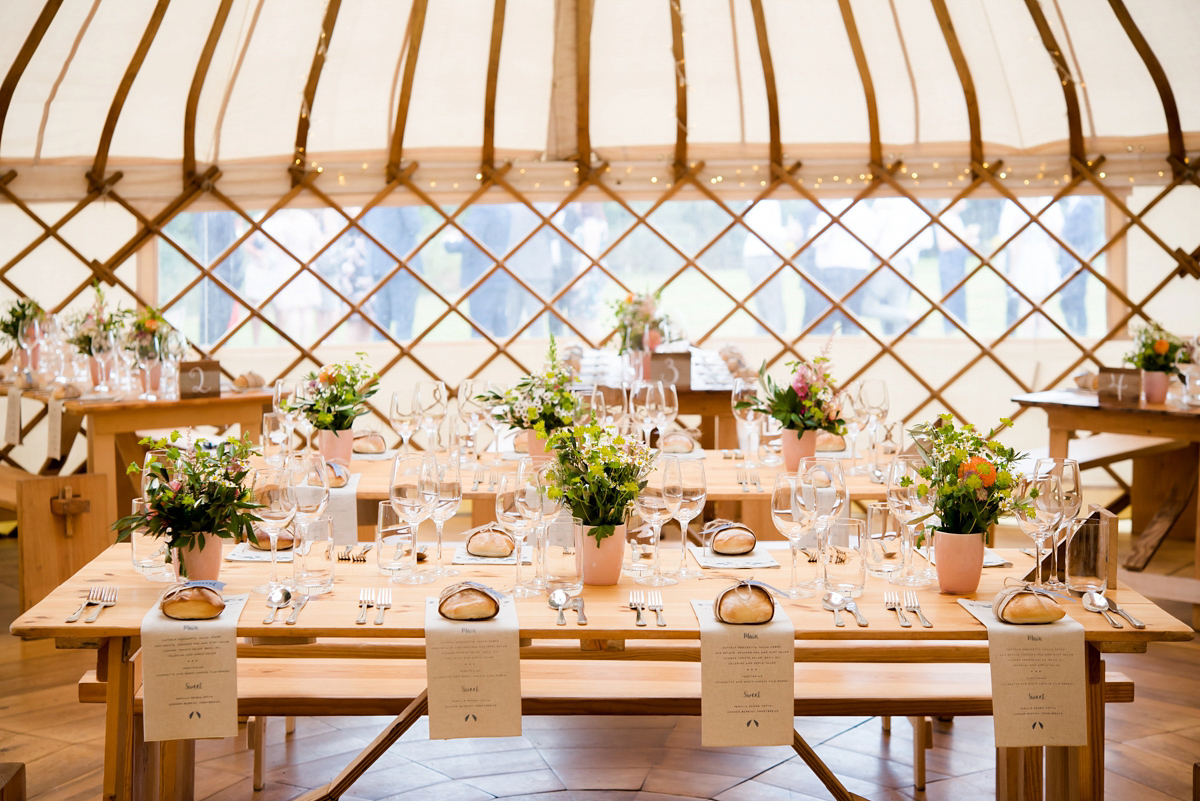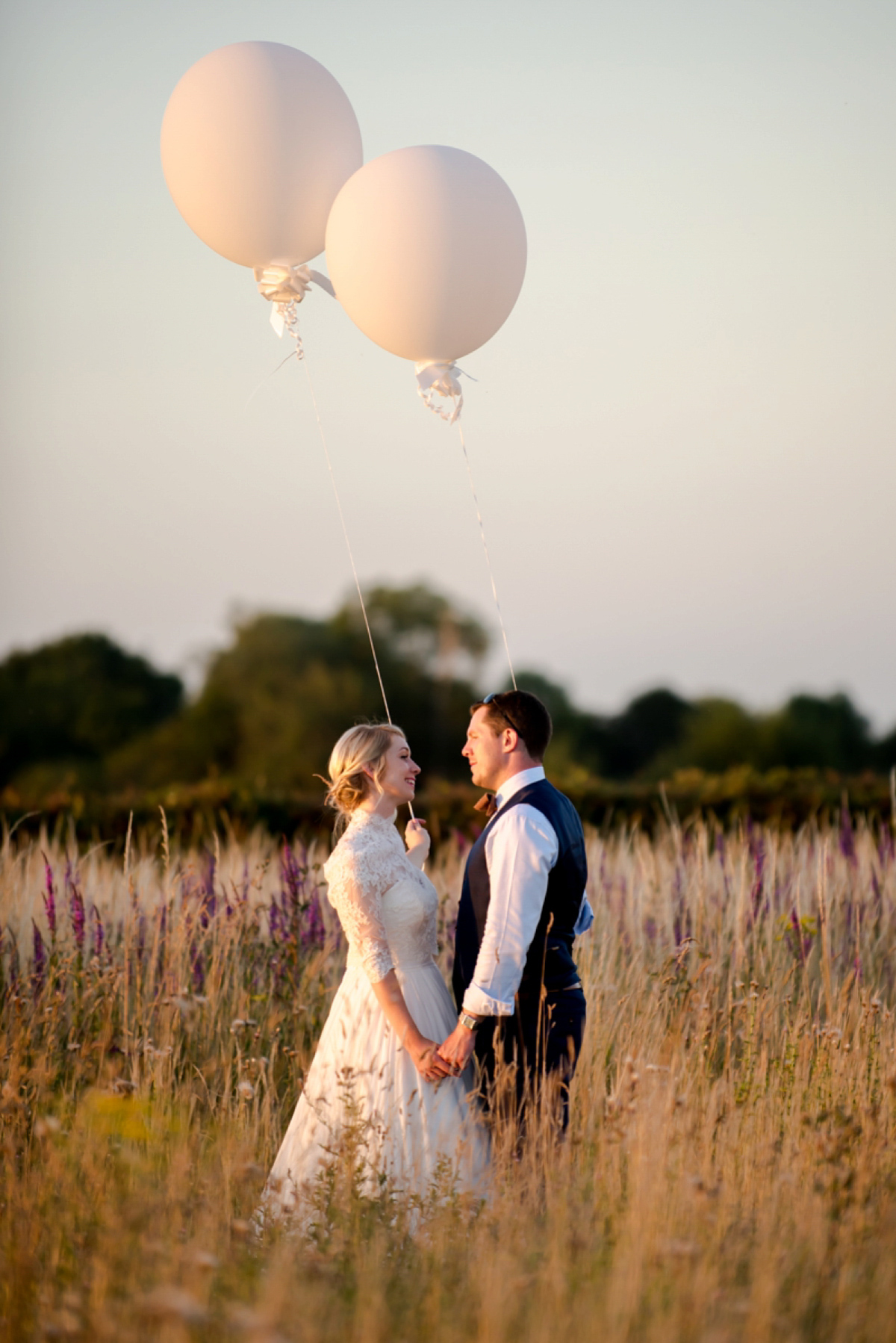 For entertainment, Fraser and Alice booked The Connectors (no details), who kept the dance floor packed the entire evening.
"My favourite part of the day was walking into the yurts having just been announced as the new Mr and Mrs Hall.  Smiles and happiness oozed from every family member and friend and the whoops and clapping made us tingle from head to toe."
Words of Wedded Wisdom
"I know everybody says this and I was told time and time again but make sure you enjoy every single second as the day goes by so quickly.  Take a moment with your new husband to take in the pure love and joy that surrounds you as it really is the most incredible feeling that everybody you both love are all in the same room. 
With regard to the preparation keep calm, take your time and enjoy the experience. After all you're just creating a party for your best of friends and family – not the Queen! (I had to be reminded of this a few times)"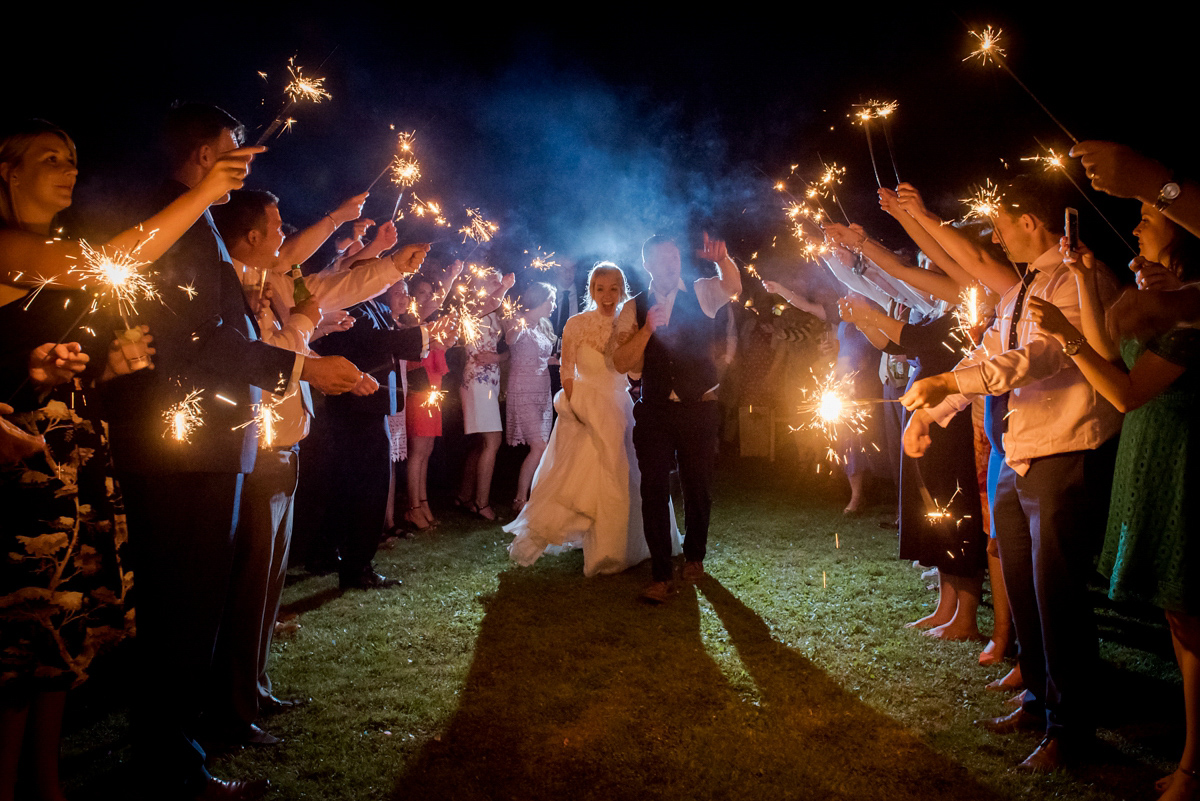 So many thanks to Alice, Fraser and JMA photography.  What a gorgeous gorgeous day.  I adore a yurt and have holidayed in several (although never been to a wedding in one, in case anyone fancies an additional wedding guest…) and we've featured a few beautiful weddings in these wonderful structures over the years- take a peek here to see.
Shona x