Our apologies that our first post of today is a little late – we're preparing to launch our brand new blog redesign in the next few days and have had a little testing to undertake this morning lovely ones. I know a lot of you will be back to work today after a lovely long weekend. I ate far too much chocolate but we need to indulge a little sometimes, don't we? This wedding will ease you nicely into the week, we'll have you dreaming of beautiful flower crowns before you know it. The beautiful bride Sarah, a marketing executive married her beau Tom, an events & student member services specialist on the 1oth of September 2016 at Merriscourt in Chipping Norton, Oxfordshire. Sarah and Tom wanted to get married in the Cotswolds, where Sarah grew up. Merriscourt blew them away when they visited and knew straight away that it was the perfect venue for them.
They combined a little of Australia, the place they met with some Scottish touches (Tom is half Scottish) and came up with a wedding that feels elegant but very natural and real rustic at the same time. The flowers are absolutely gorgeous and photographer Frances Sales has captured the heartfelt moments of the day perfectly.
Photography by Frances Sales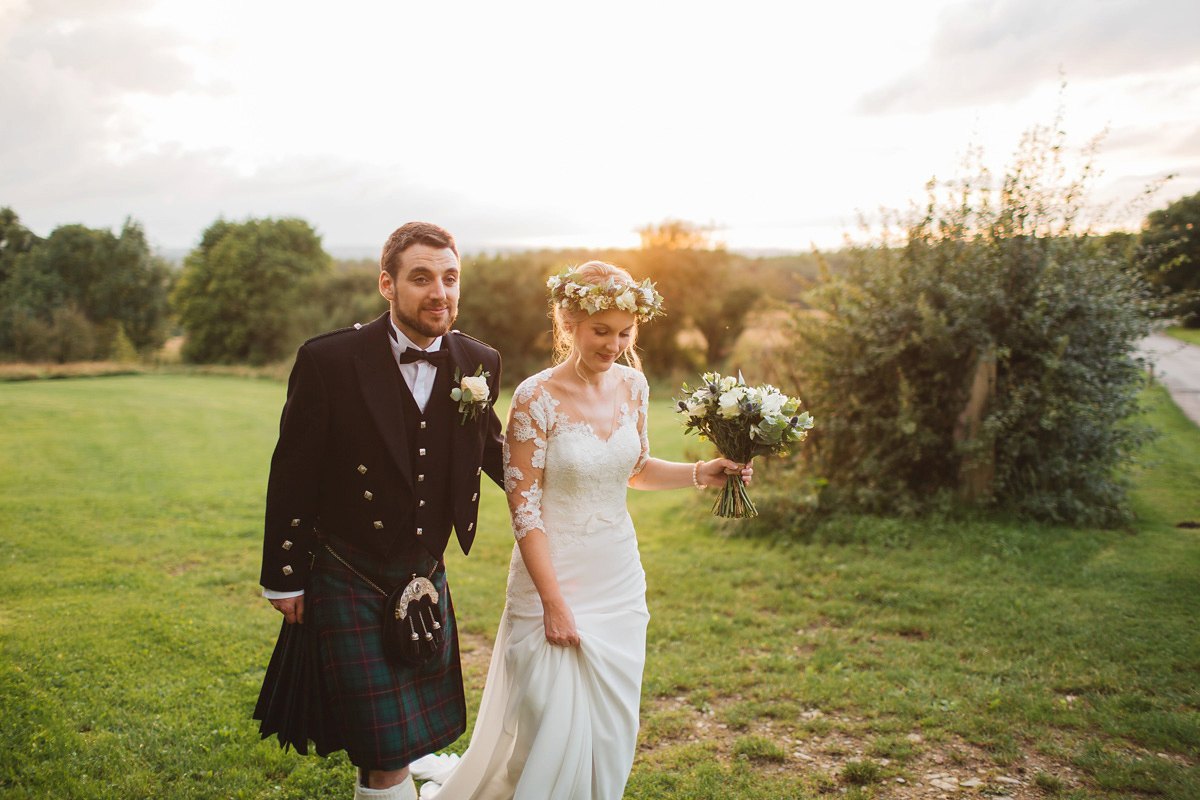 Sarah's St Patrick by Pronovias gown from Belle en Blanc gown has such an elegant shape…
"My dress was so different from anything else that I had seen and I loved the illusion lace sleeves and back. I didn't have a veil as I didn't want to hide the back of the dress which was such a main feature. Instead I wore a beautiful flower crown which suited the feel of the day. I kept it on all day and even wore it to the pub the next day."I adore the natural feel of these images by Frances Sales Photography. They tell the story of the day beautifully.
"We found Frances through a recommendation from another photographer and couldn't have wished for a better photographer. Such a lovely person, very unobtrusive and takes beautifully natural photos."
Sarah's Pronovias from Belle en Blanc has me all weak the knees, it's such an elegant shape and the skirt moves beautifully around her delicate Rainbow Club shoes.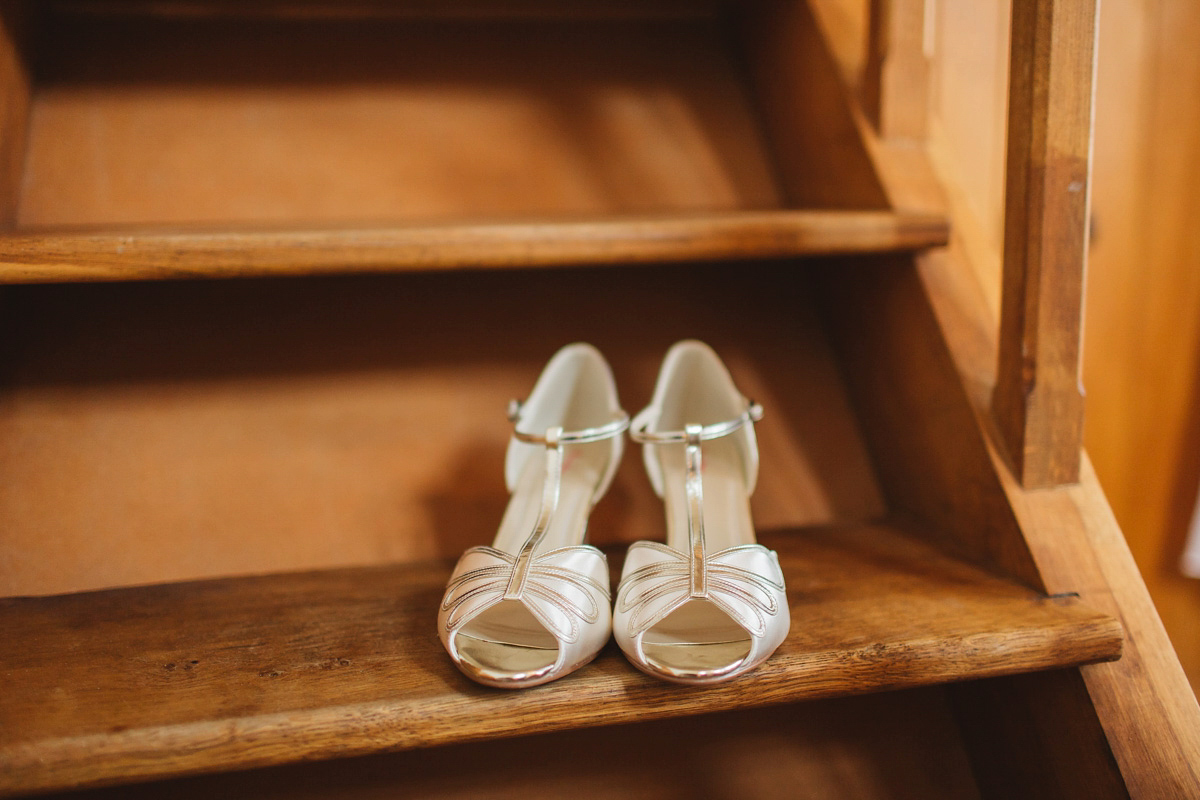 Anna White styled the bride's hair in a soft plait around her beautiful flower crown and Emily Tarrant created the perfect natural look for Sarah and her bridesmaids.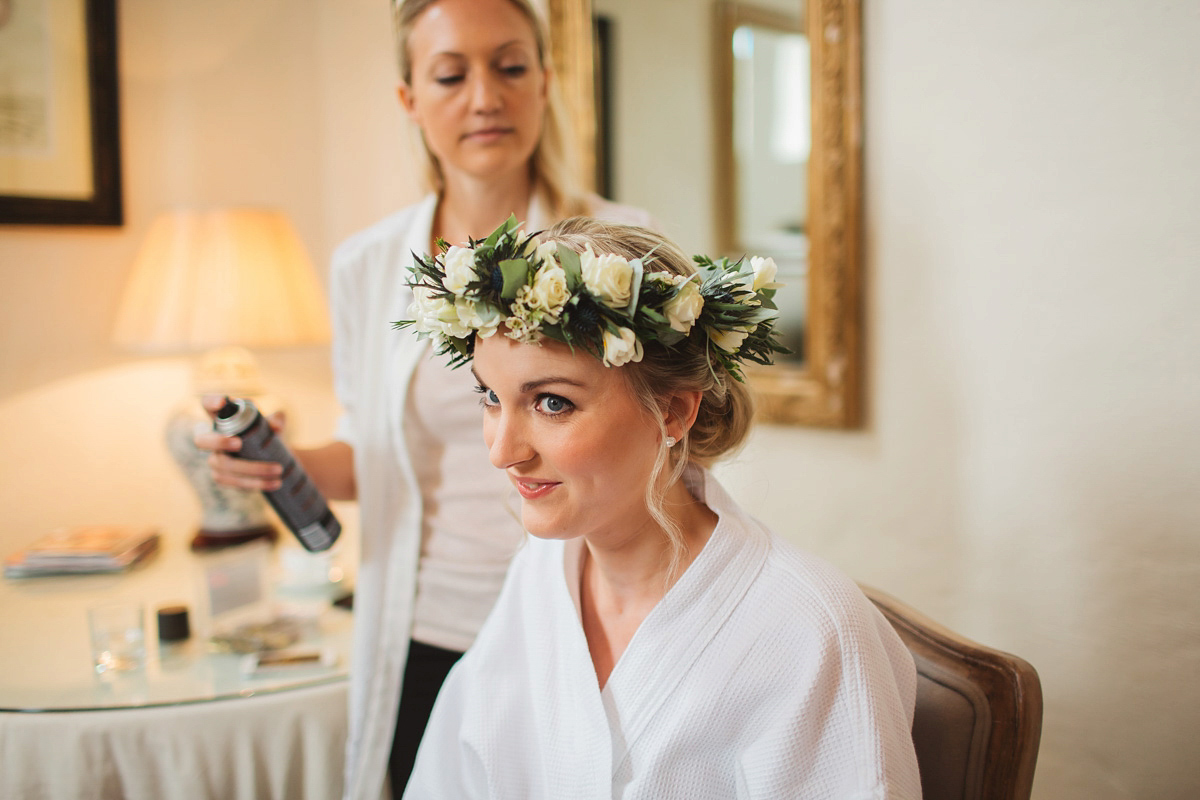 "I wore Coco Mademoiselle by Chanel, my signature scent, pearl and sparkle earrings from Not on the High Street and a pearl bracelet from The Pearl Company."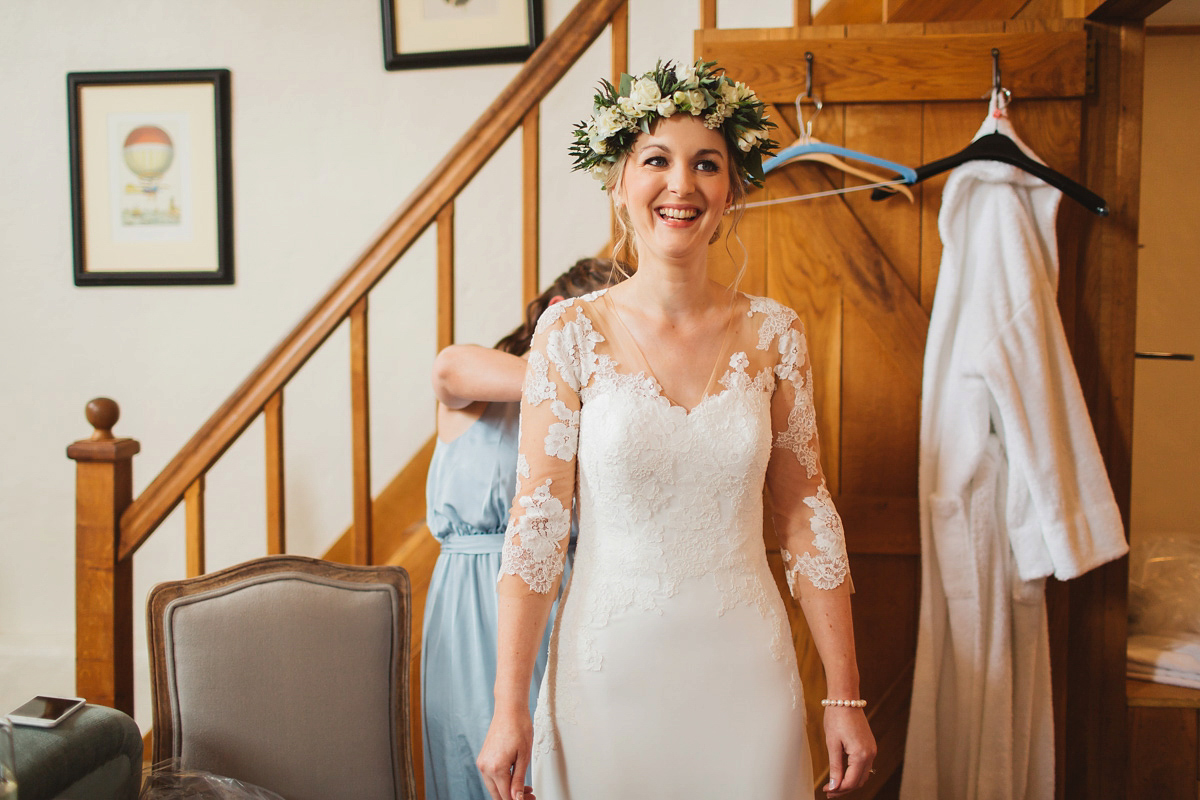 Sarah attends weekly floristry classes and so the obvious choice for our florist was her teacher Sue Billington.
"All the bouquets, my flower crown and the table arrangements were predominately white flowers with lots of greenery. The eucalyptus leaves were a nod to Australia and the thistles to Scotland."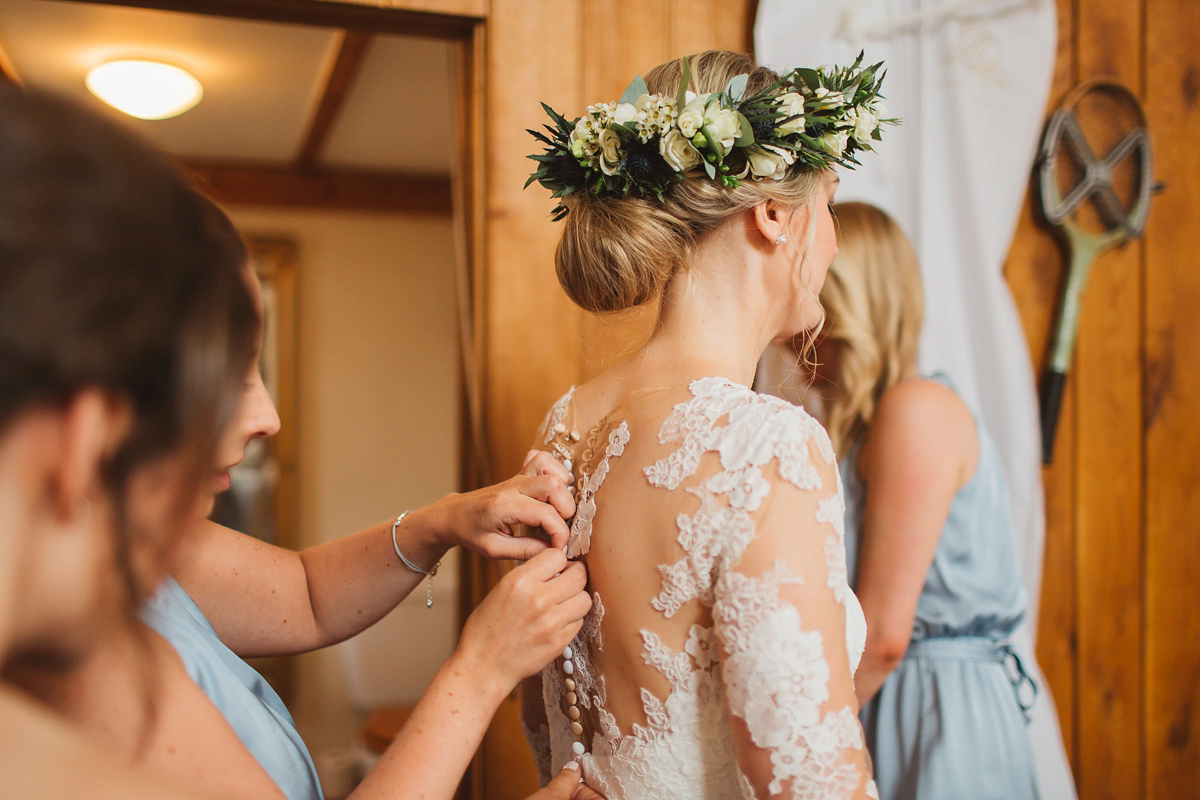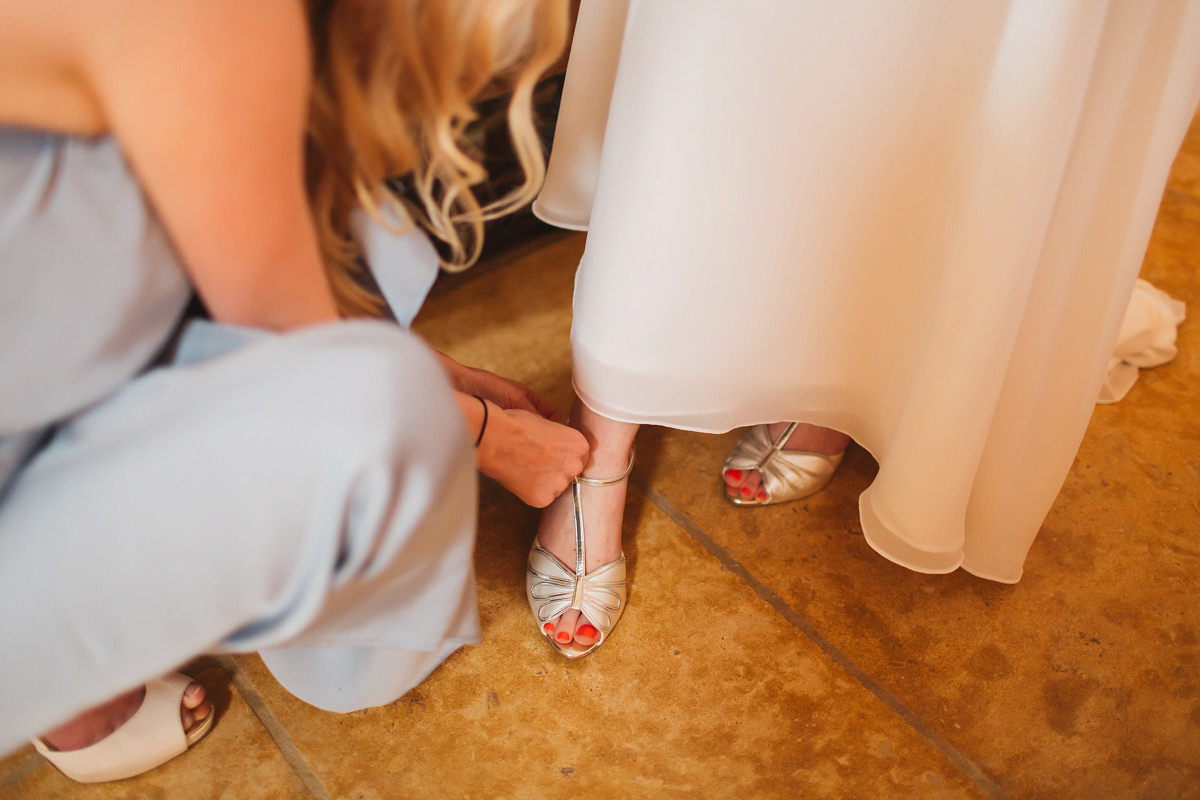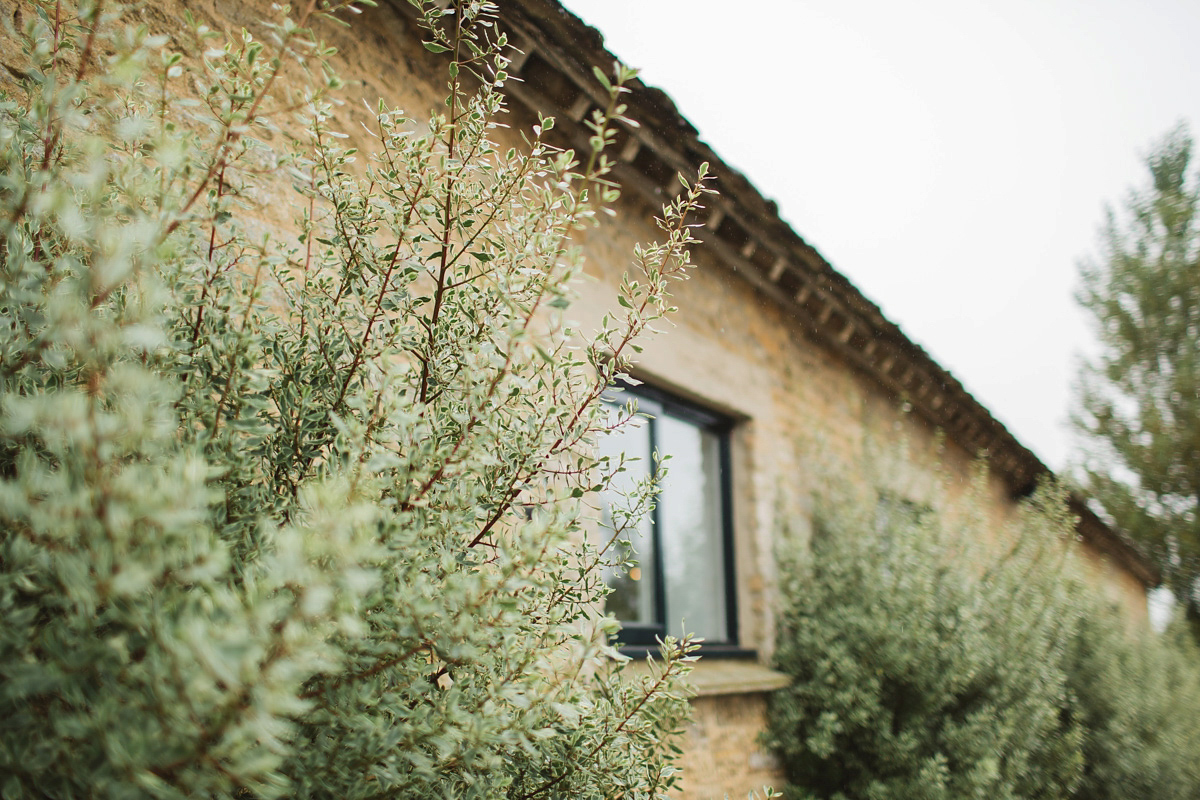 "We met in Sydney whilst both travelling in Australia. We were together six and a half years before we went back to Australia for a holiday and Tom proposed in front of the opera house in Sydney. We were engaged eighteen months before getting married."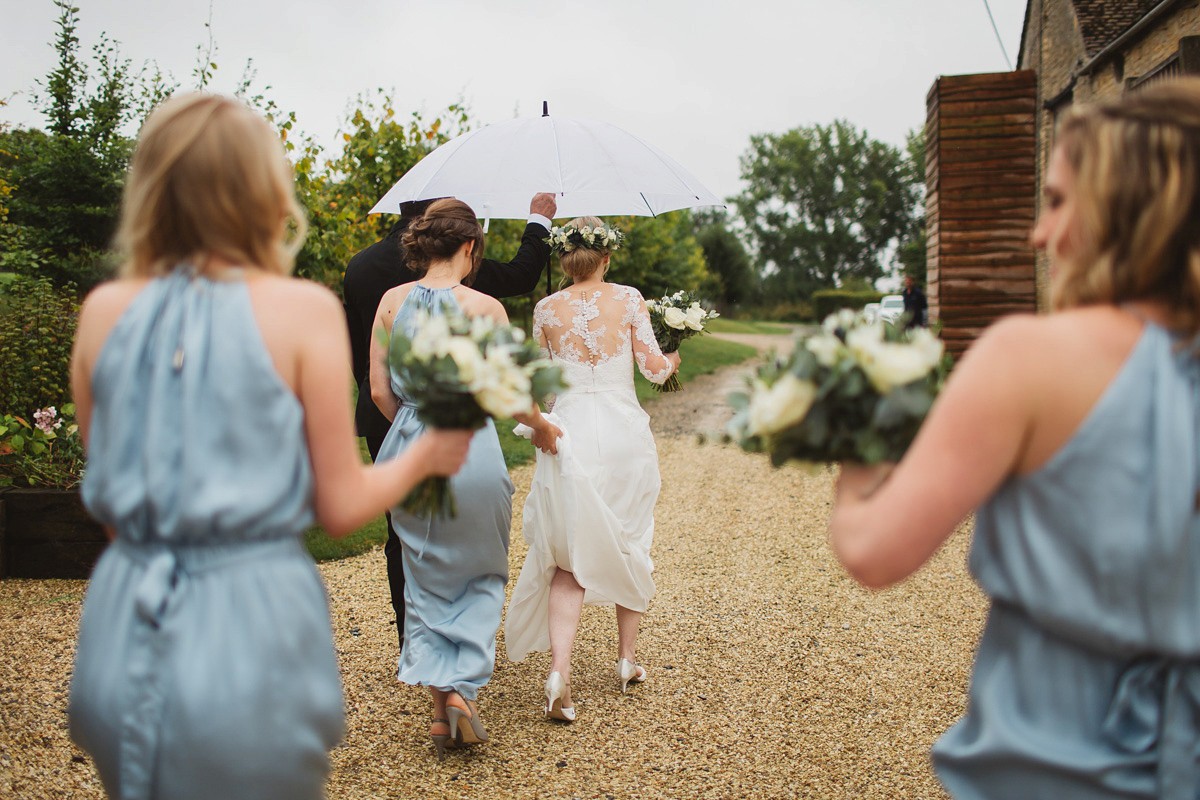 As a (half) Scotsman, Tom couldn't pass up the opportunity to wear his family clan tartan.
His kilt was made especially for him by The English Kilt Company and his groomsmen hired theirs from Suitors in Buckingham.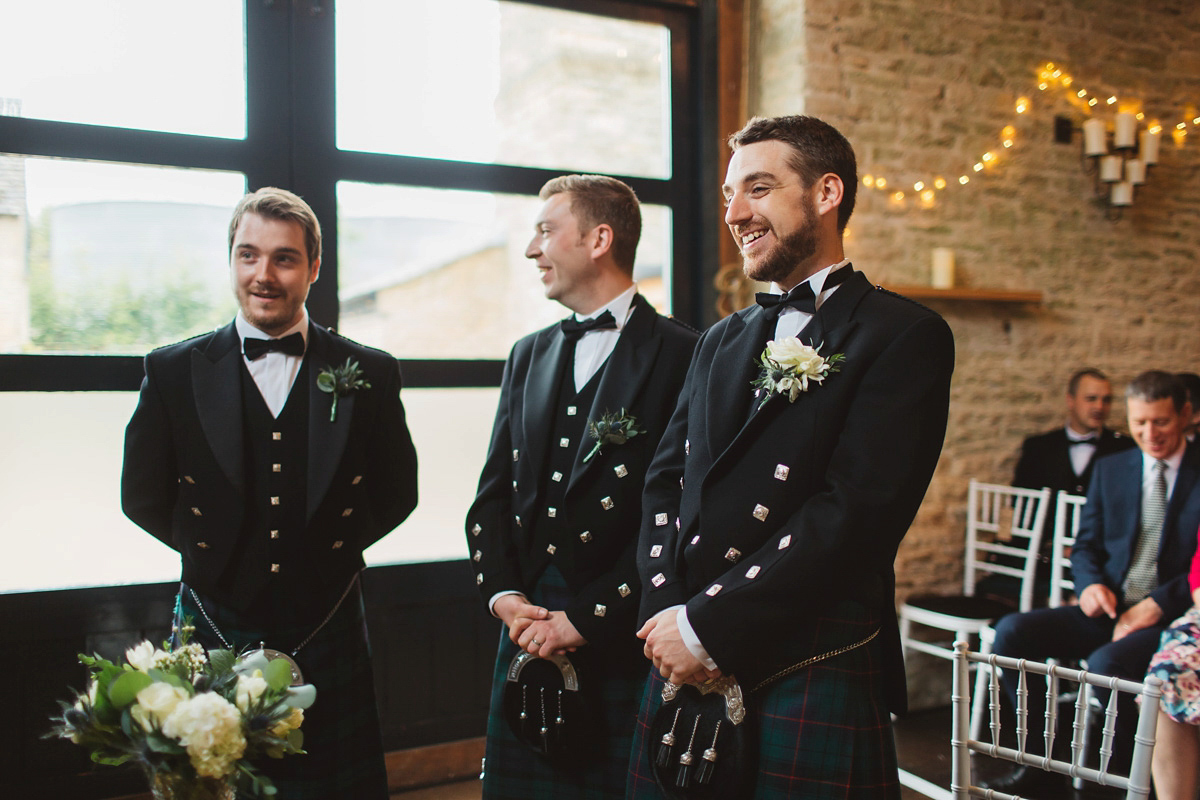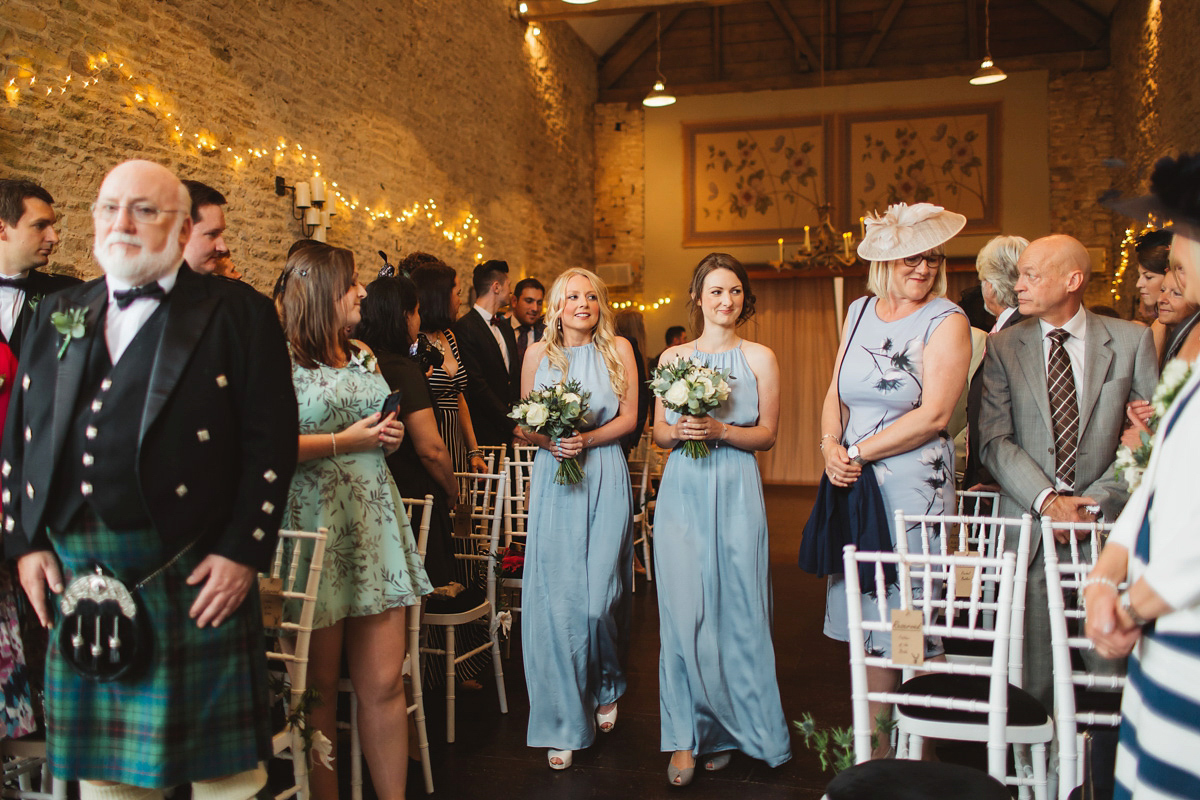 Sarah's father accompanied her down the aisle to 'Circle of Life' from The Lion King Musical.
"Tom's cousin from Singapore did a beautiful reading that we found online. We don't know the name or the author but the words were very honest, true and sentimental."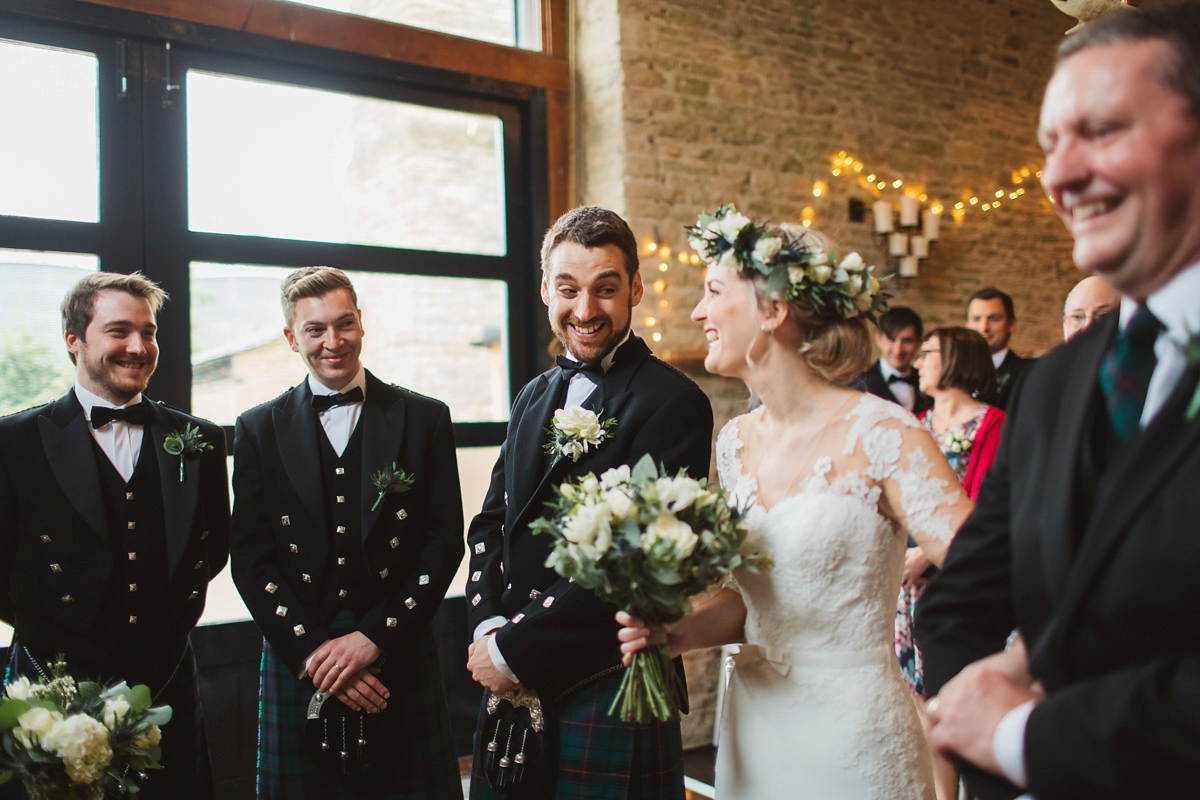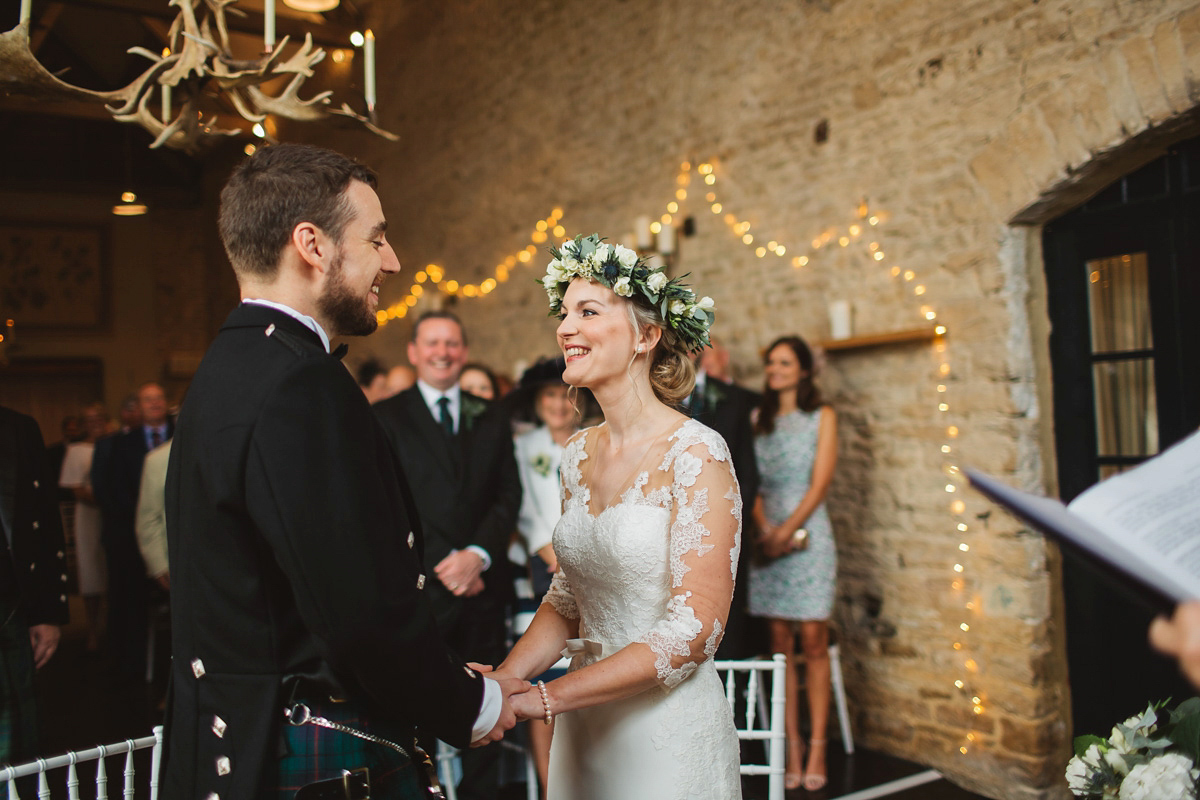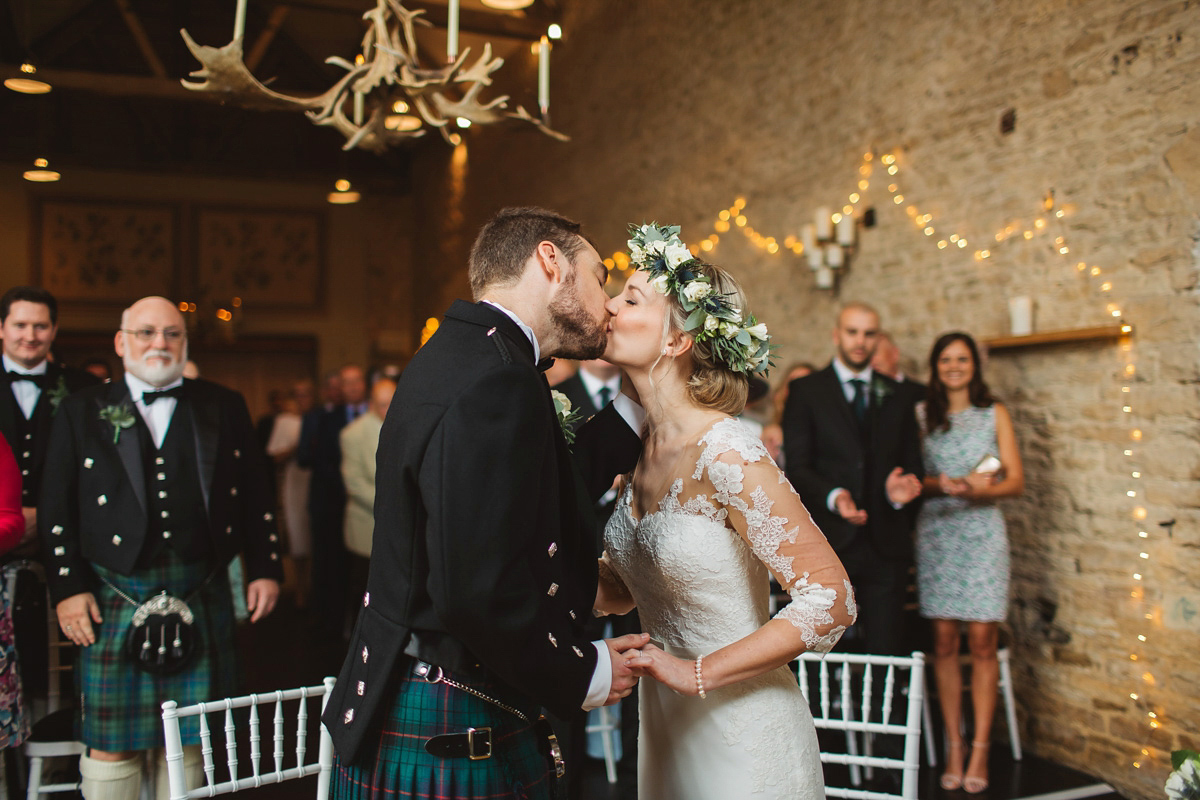 Sarah's bridesmaids donned gorgeous blue/grey toned maxi dresses from Monsoon. They wore their own shoes and jewellery plus an eternity bracelet they were all given as gifts.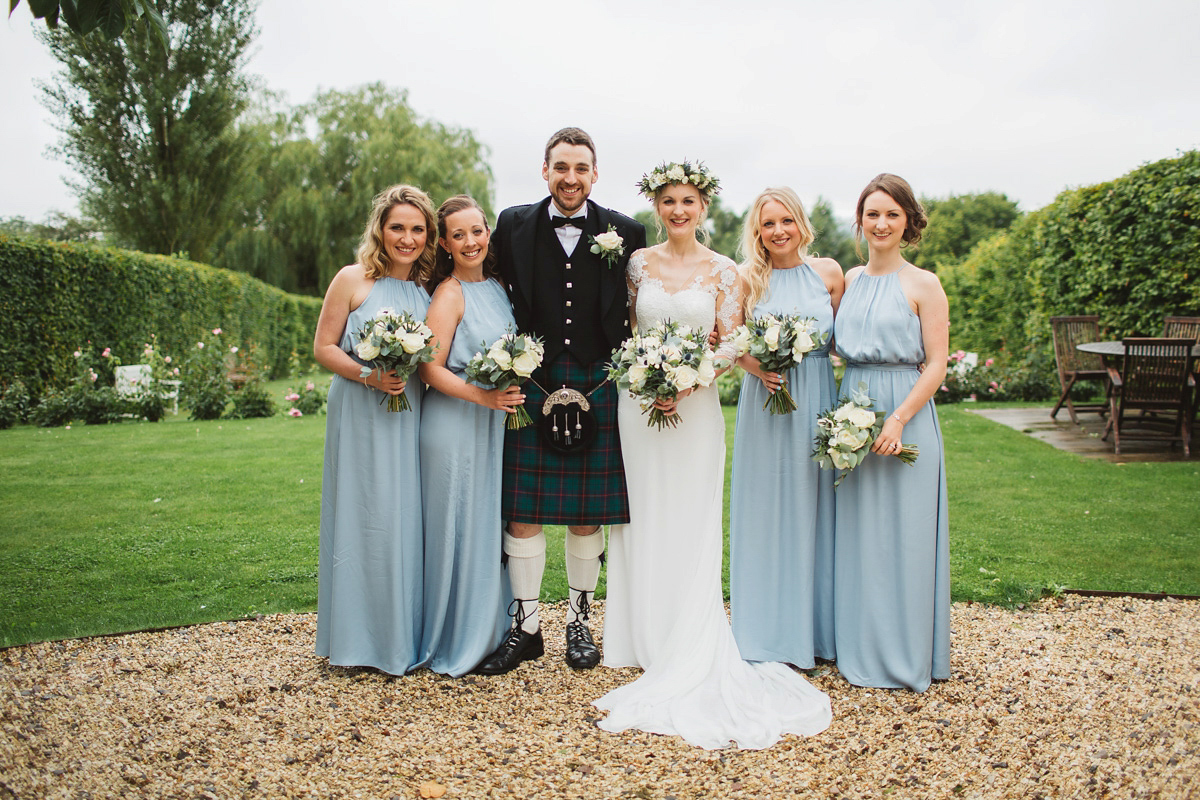 "The venue is beautiful in itself so we didn't want to over do it with decorations. Fairy lights, festoon lights, candles and flowers complemented the rustic, natural feel perfectly."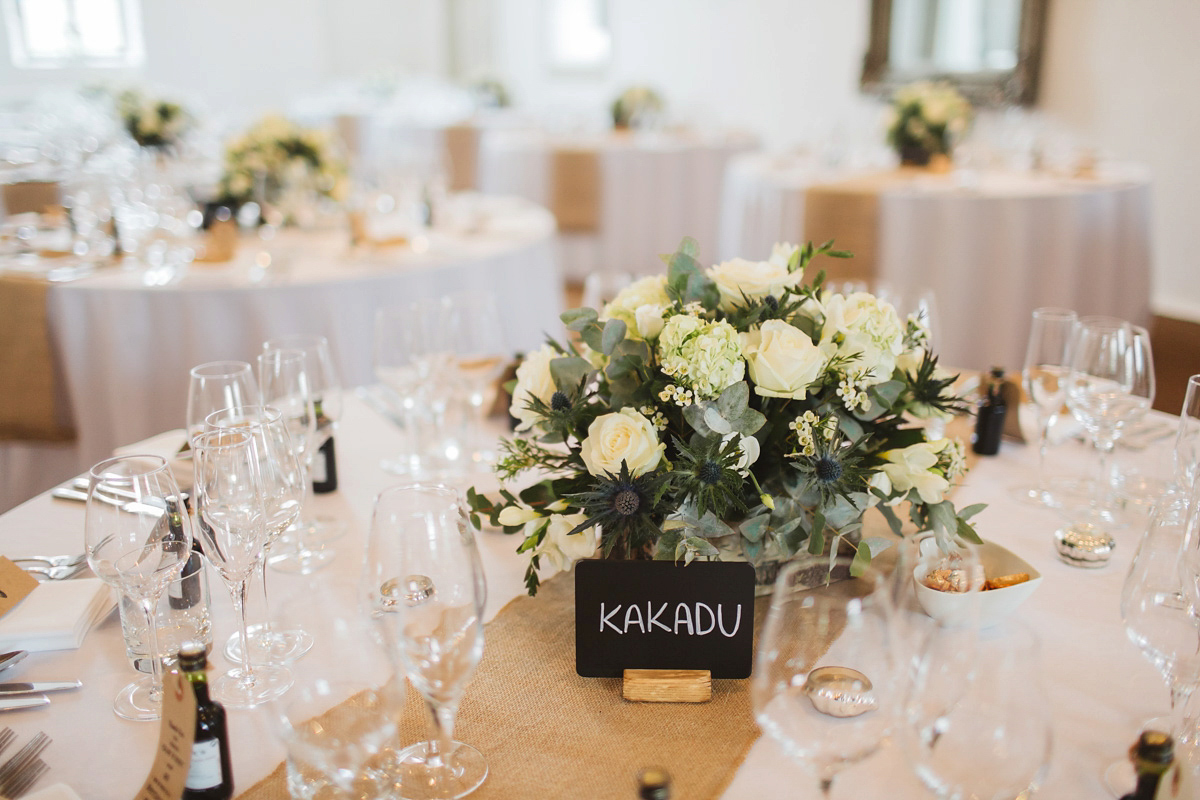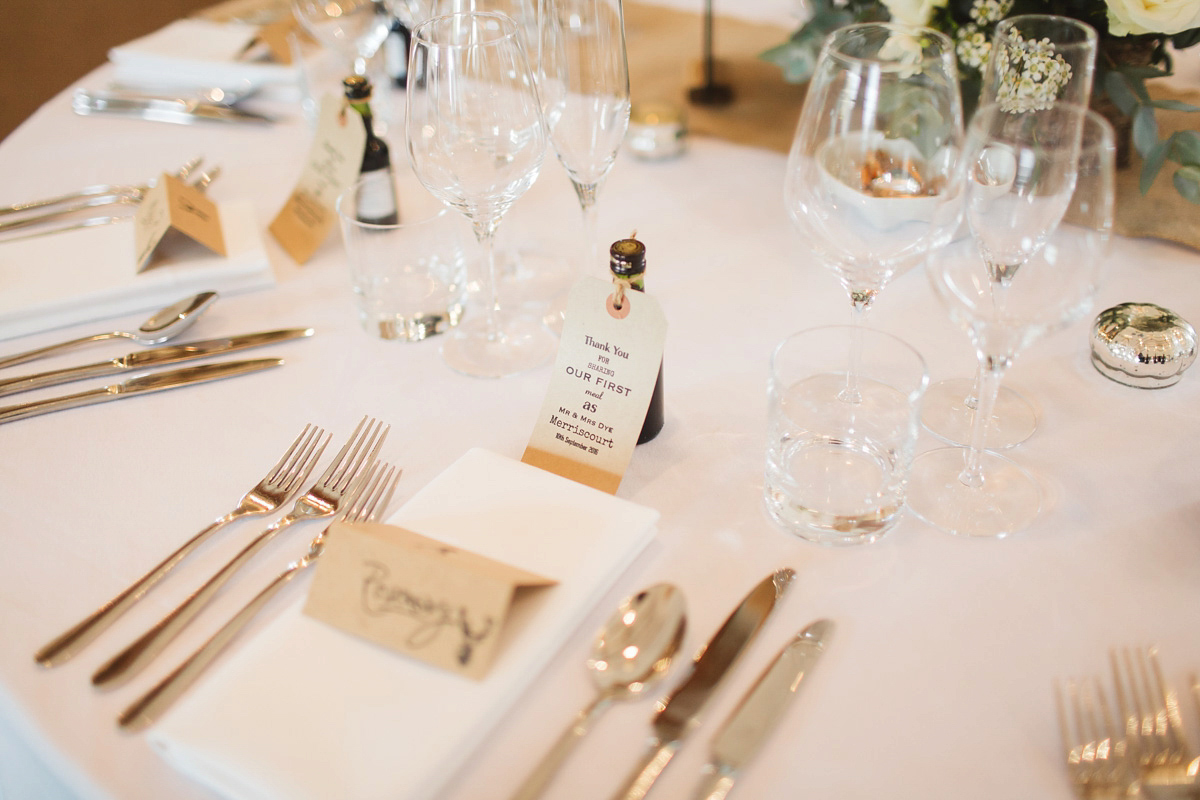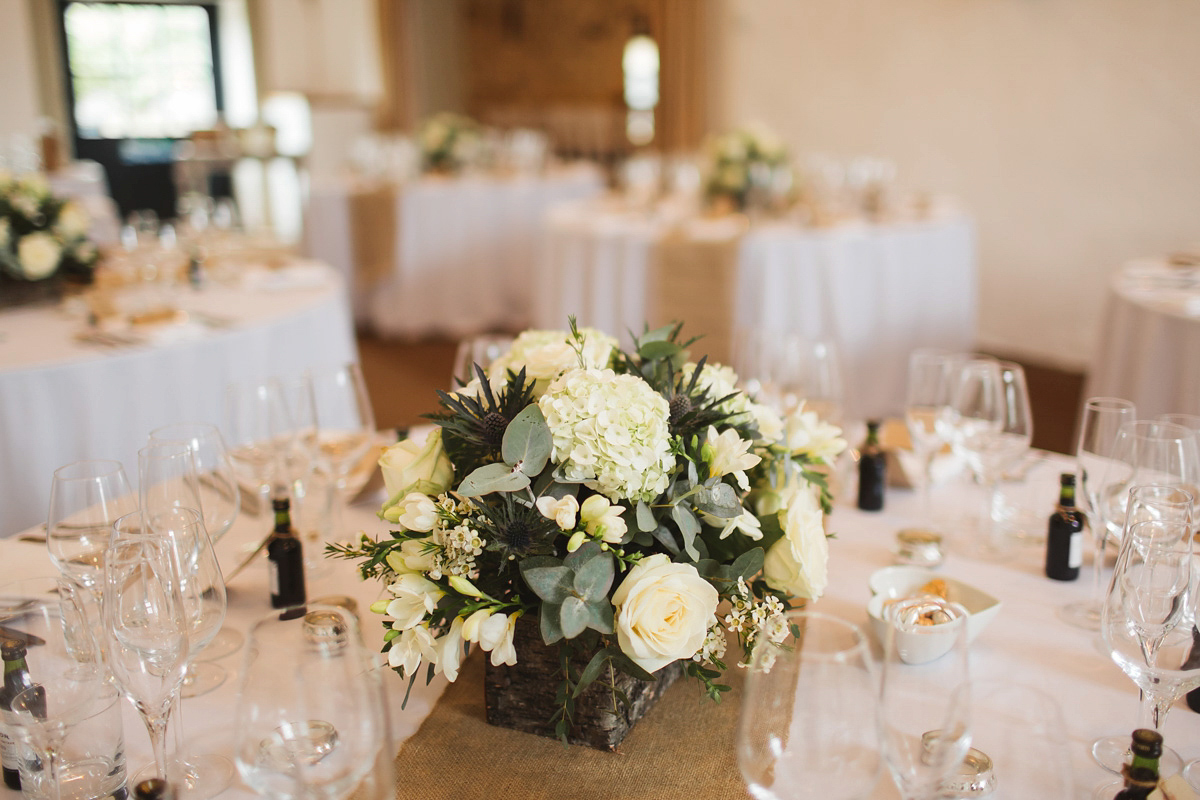 "Tom's dad kindly organised our table plan which was a giant map of Australia with the table names as our favourite places."
"We now have this up on the wall in our spare bedroom as a great reminder. A friend did the name place cards and one of our talented bridesmaids did the artwork on the large blackboards."
"We had a polaroid camera and a guest book for guests to stick the pictures into with a message. They made for funny reading the following day."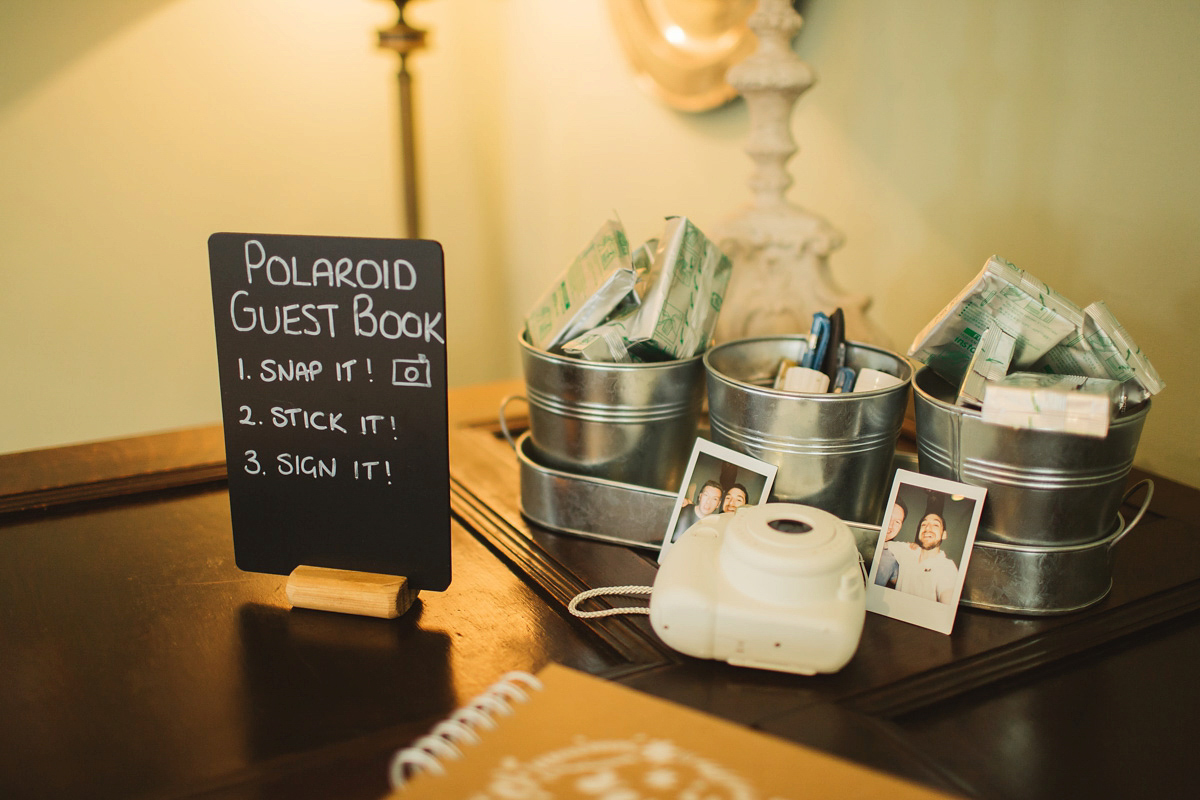 "We opted for a Cheese Tower from The Cotswold Cheese Company as our wedding cake. We both love cheese and it also served as our evening food. We gave everyone a miniature bottles of port from Just Miniatures to go with it."
"Bellini Strings played during the ceremony and reception drinks. Their interpretation of modern songs was excellent."
"For the evening we had Roxy and the Rhythms, a live band who were incredible – the dancefloor was full all night."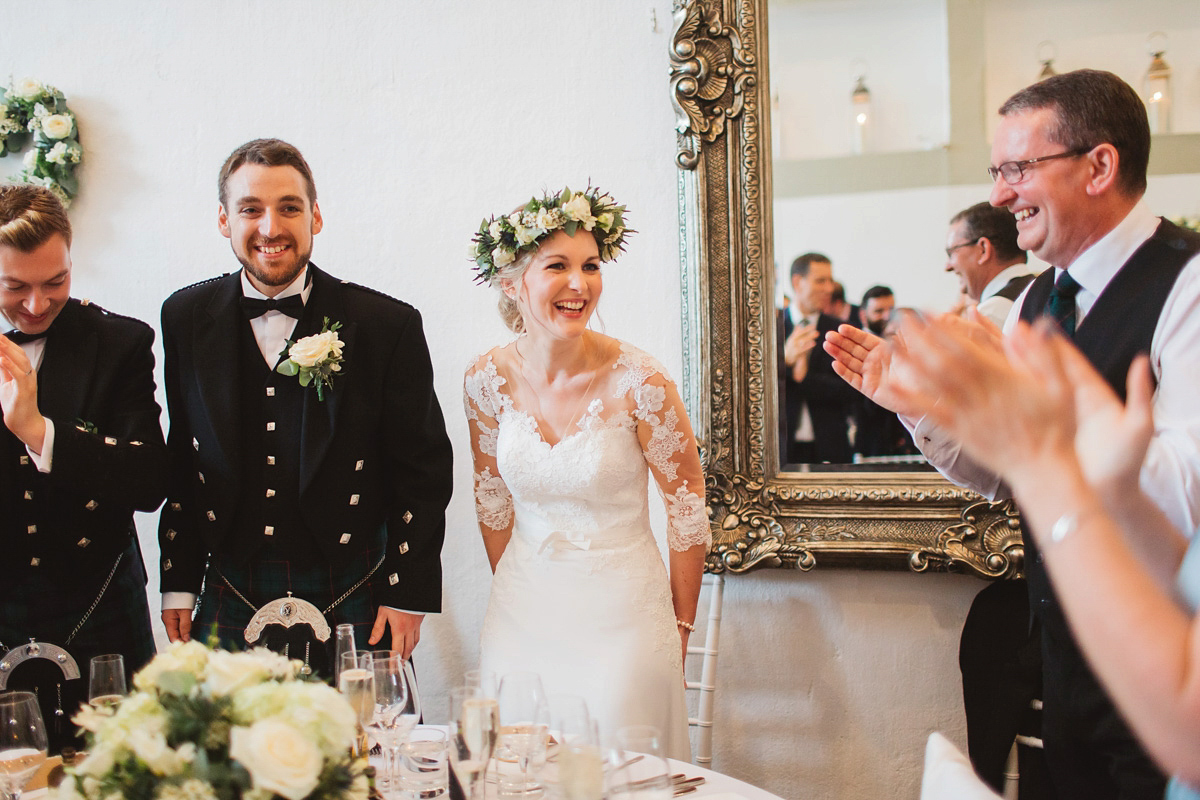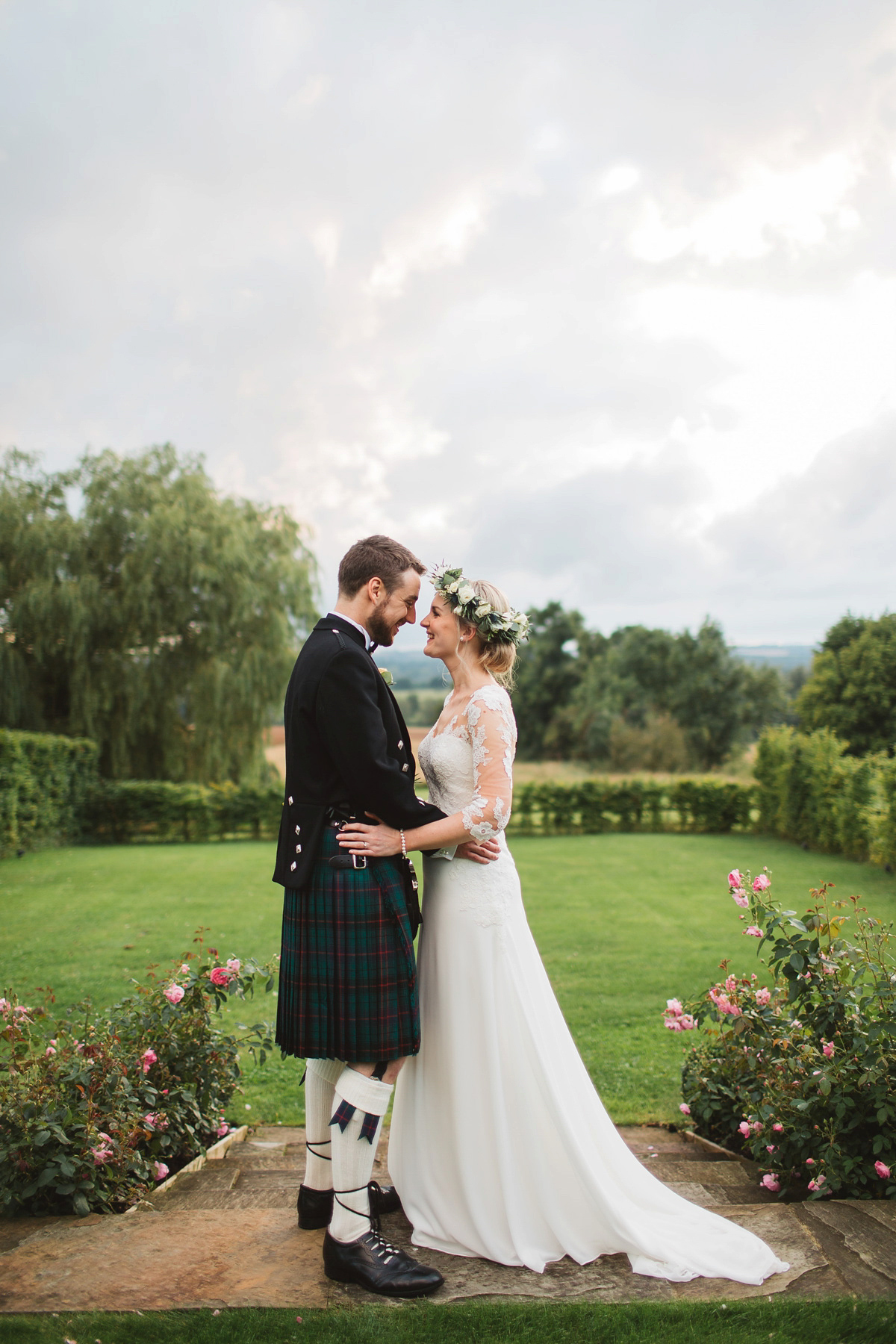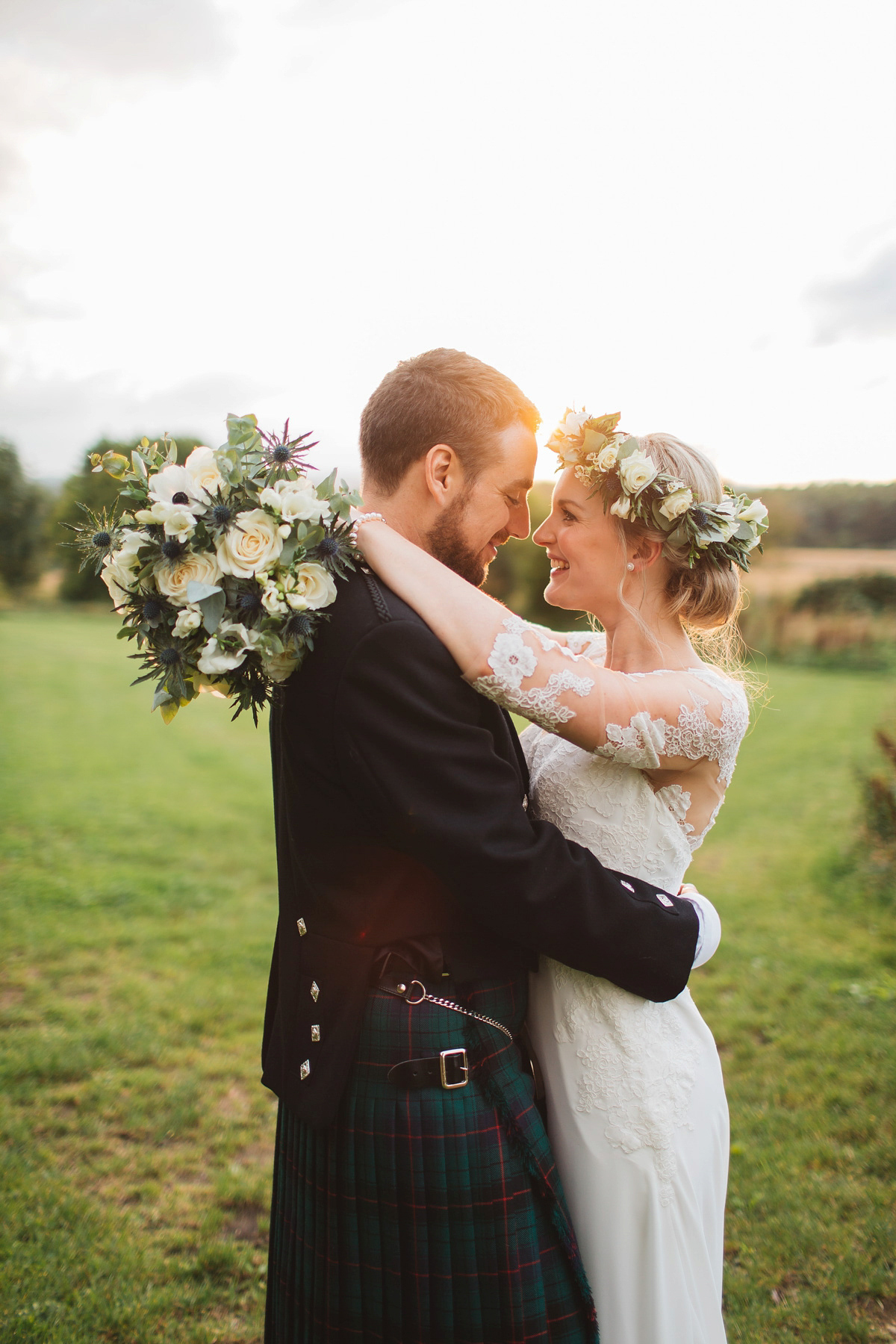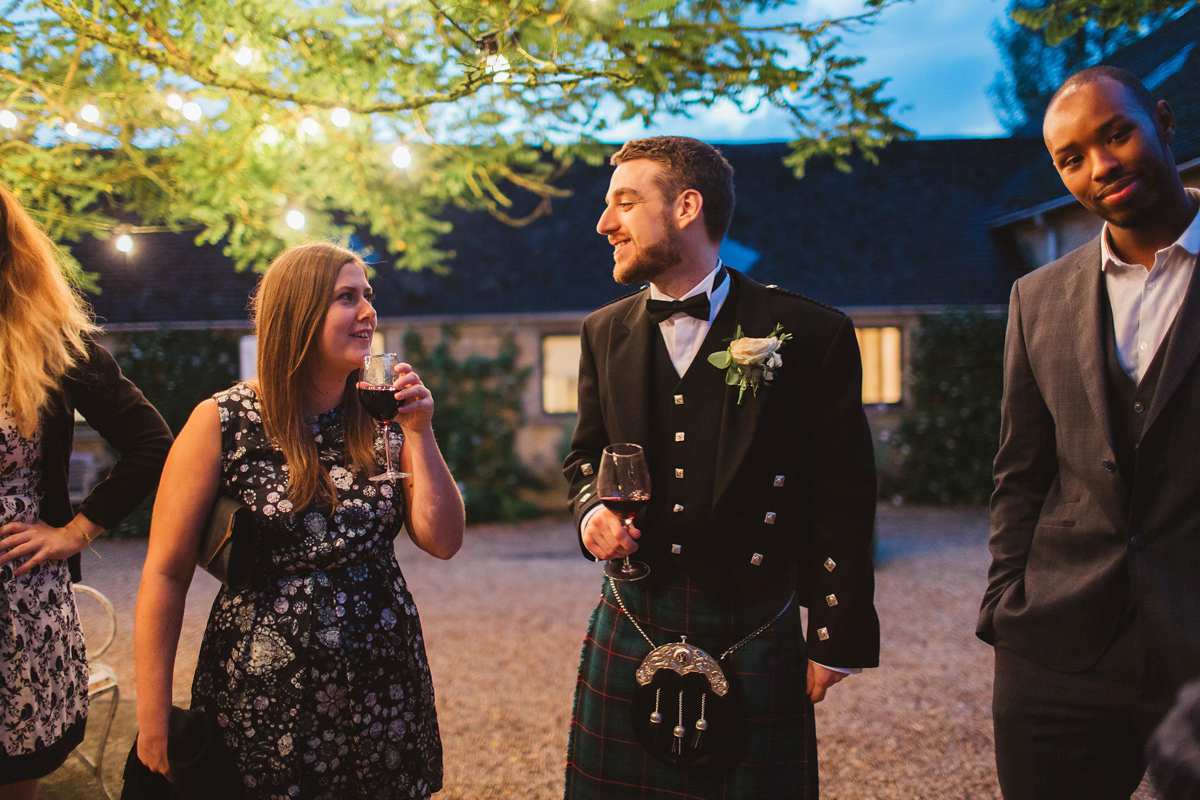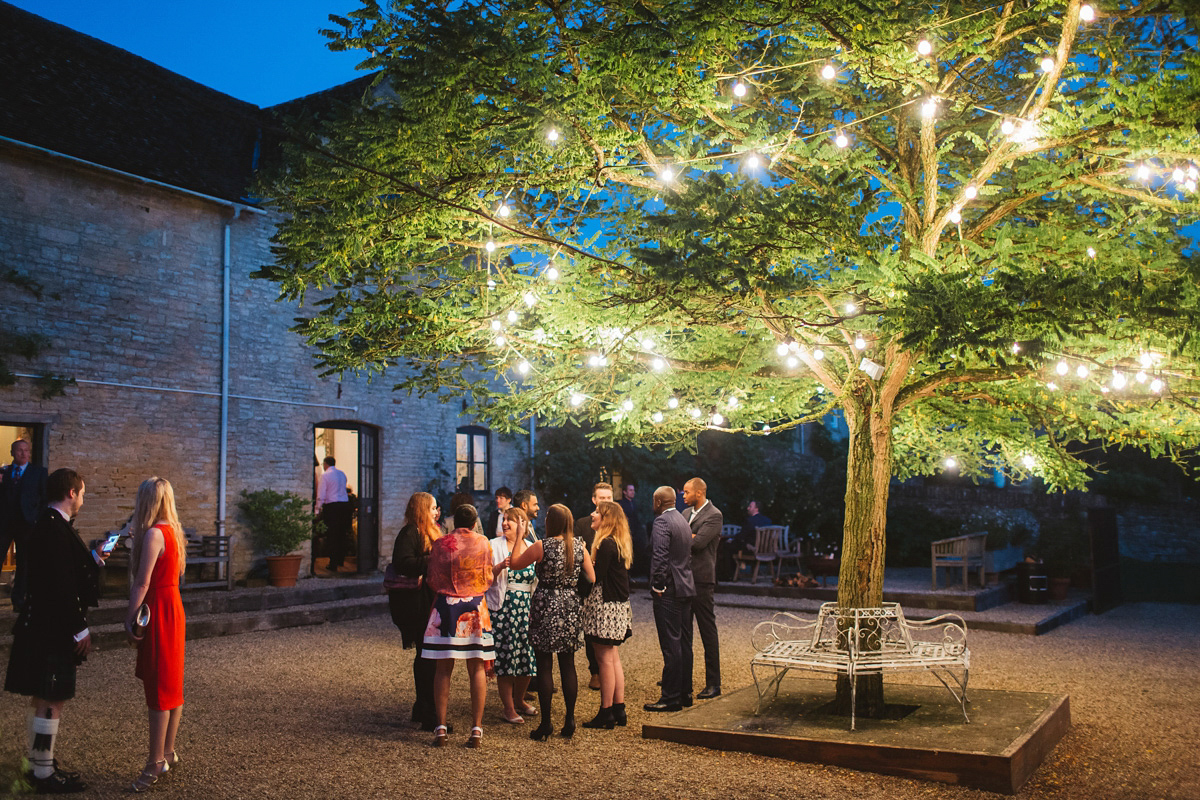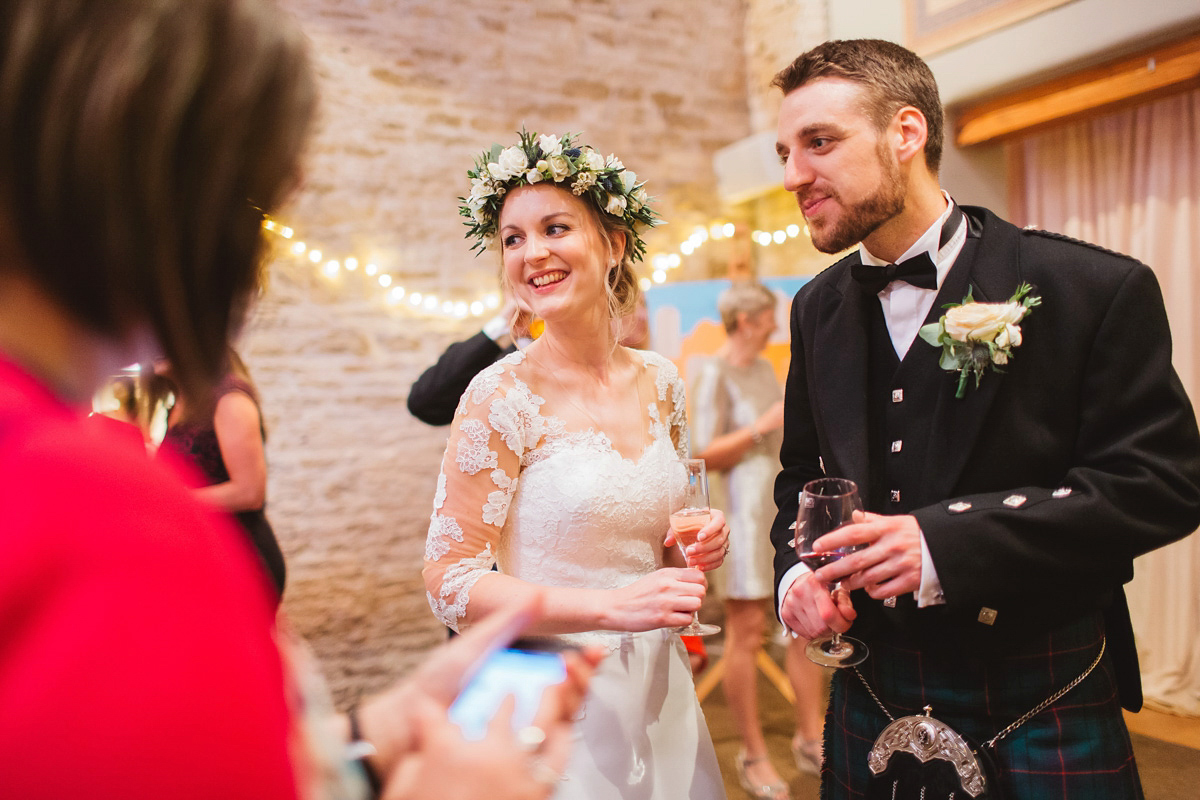 "We had our first dance to 'Tenerife Sea' by Ed Sheeran. We were both conscious of not having a 'typical' wedding song. We both like Ed Sheeran as an artist and the lyrics were lovely and appropriate."
"Experiencing so much love and happiness from having all of our family and friends together and seeing all our hard work planning the day pay off was amazing."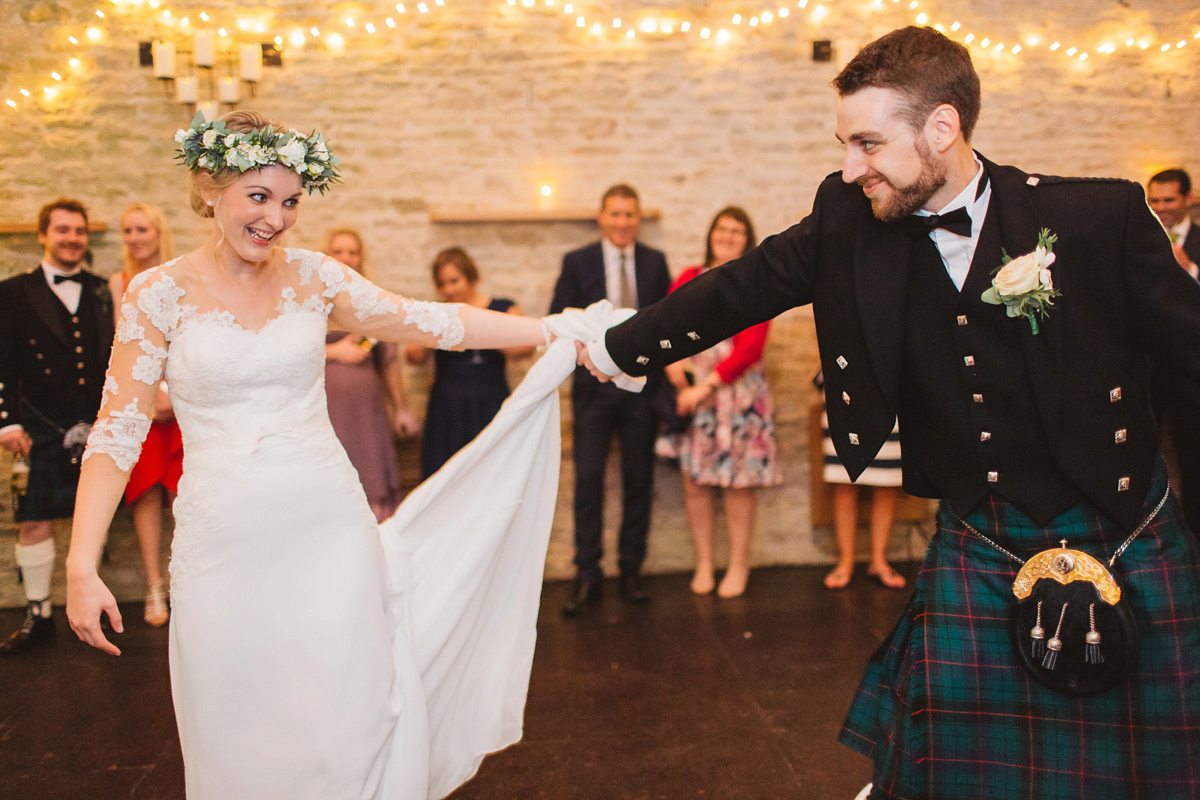 Words of Wedded Wisdom
"Don't get caught up in the tiny details. At the end of the day your guests won't notice the little details and decorations, as long as there is enough food, drink and good music they'll have a great day. A good wedding photographer is essential. Your photos will be the biggest memory so it's worth spending time and money getting it right. Don't feel that you have to follow all traditions, it's your day so do what you want."
Thank you so very much to Sarah and Tom. It has been a pleasure to share your wedding day with our readers. Our thanks also to Frances Sales for the gorgeous images.
Love Caoimhe x