One of the things I most wish I had chosen for my own wedding three years ago is some sort of flower crown- I just love them, but they weren't really something on my radar at the time.  They always make me think of wonderful summery, outdoorsy weddings like this one we're sharing today (although wouldn't something made from greenery and berries and twigs for a midwinter wedding also be fabulous?), with a lovely high street dress, a rather fab pair of shoes and a completely dry hire venue.  Meet Ella, a risk analyst and Chris, a mechanic, who married on the 30th July 2016 at Hargate Hall, near Buxton.
"We chose Hargate Hall, because it is a complete DIY venue.  We were also able to hire it for the whole weekend which meant that we saw no-one except for our wedding guests all weekend (with the exception of the catering staff).  It is set in seven acres of ground which meant we could really be in the middle of nowhere.  We wanted a venue in the Peaks because we spend a lot of time outdoors with our dogs and on holiday in our little caravan.  The Peak District was where Chris proposed but is also a beautiful area of the UK and was a fantastic backdrop to our outdoorsy style wedding."
Photography by Lisa Webb Photography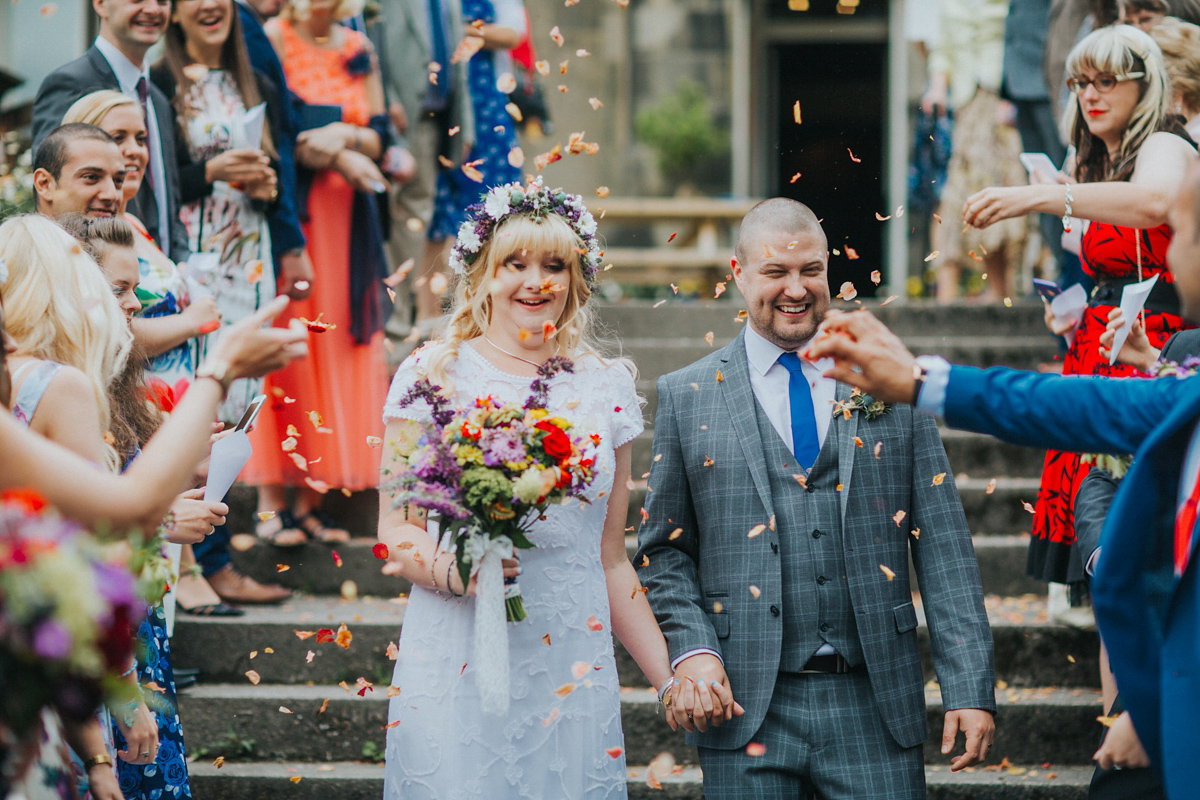 Ella wore a beautiful lace gown from Phase Eight. Many brides are attached to their gowns and like to keep them safely stored away after the wedding. Not Ella! She had other ideas entirely…
"It was so simple, but with the lace overlay it was still elegant without being over the top.  It was light and floaty for a mid-summer wedding and also had small cap sleeves which I was looking for.  I had put a plan in place in secret, to 'trash my dress' the day after our wedding.  We still had the venue on the Sunday so organised with the owner an area of land which I could use.  I waited until the speeches to announce to everyone that I was going to ask them to help trash my dress in honour of my grandma who couldn't be at the wedding and has now sadly passed away from Alzheimers.  They used coloured holi powder, water guns and silly string to trash my dress completely and I am thrilled that I was able to raise over £1000 for charity in doing so!"The bridesmaids looked lovely in full length blue gowns from Little Mistress, worn with floral crowns to match Ella and their own shoes.
Hair and make up were the work of Beau Hair and Make-up.
"I chose Zara Reid to do our flowers because I had seen some of her beautiful bouquets which were inspired by the amazing countryside and area of Derbyshire in which she lives and works and her ethos fitted in perfectly with the theme of countryside/wildflower/English country garden. I gave Zara a really broad brief (purples and blues and all the bouquets slightly different) and she didn't disappoint."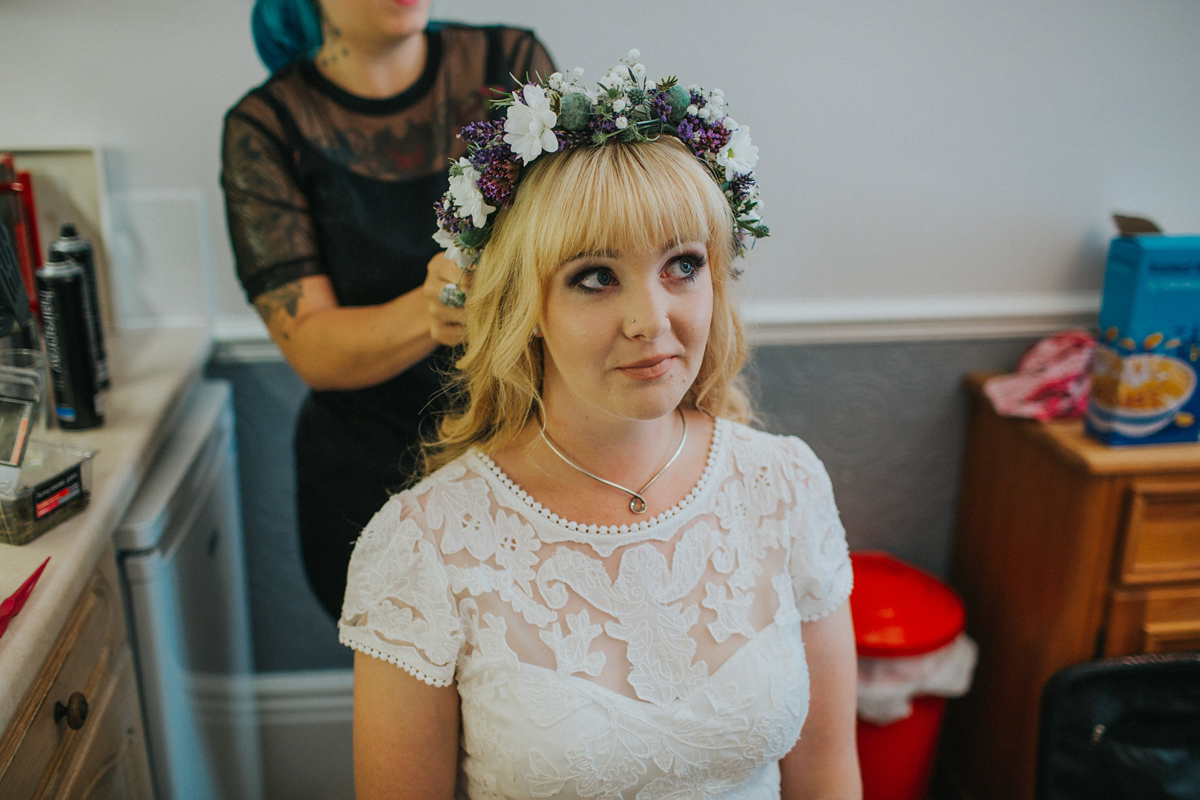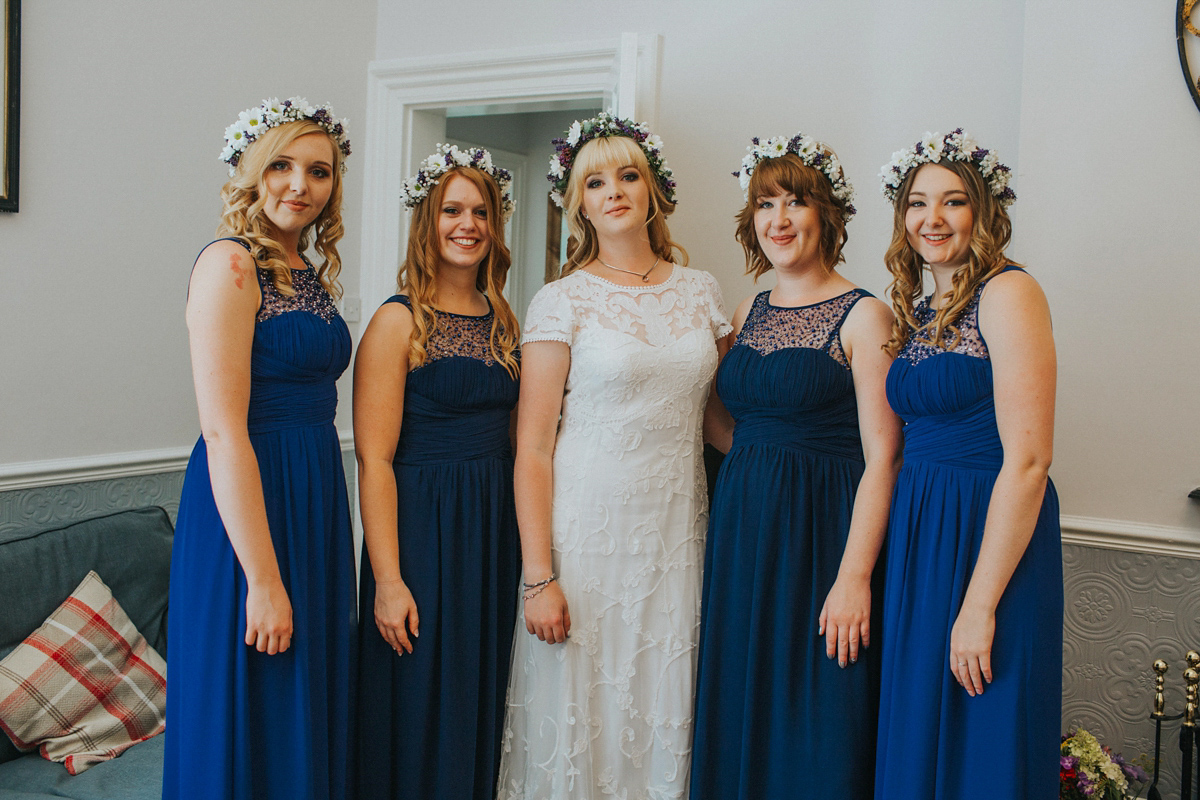 "We met through a mutual friend and were engaged near Dovedale in the Peak district around two years later on my (Ella's) birthday. We were engaged for four years and were married on the same weekend we had met, exactly six years earlier."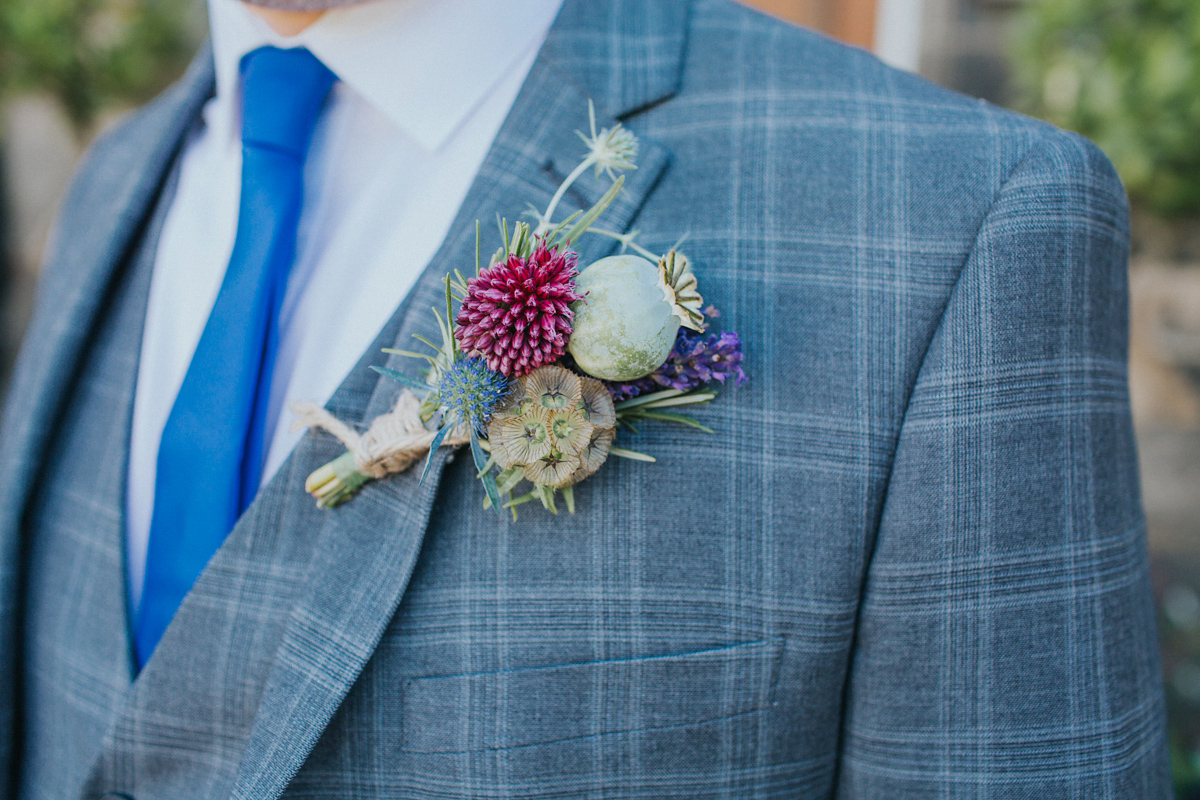 Chris looked very smart in a checked suit from Slaters, paired with a cobalt tie from Debenhams and motorbike cufflinks from Etsy.
Ella also made him a pin with a small picture of his grandad hanging from it for him to pin to the inside of his suit jacket- a lovely twist on the portrait tokens you sometimes see on the bride's bouquet.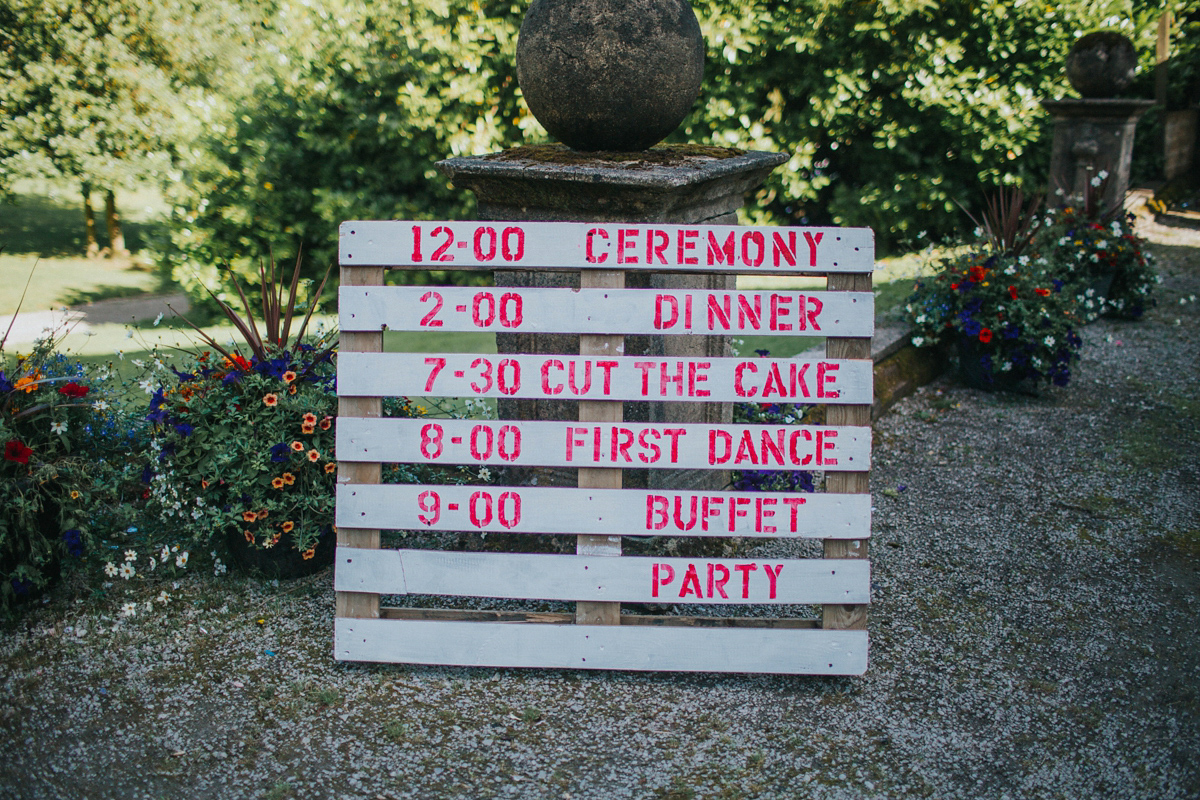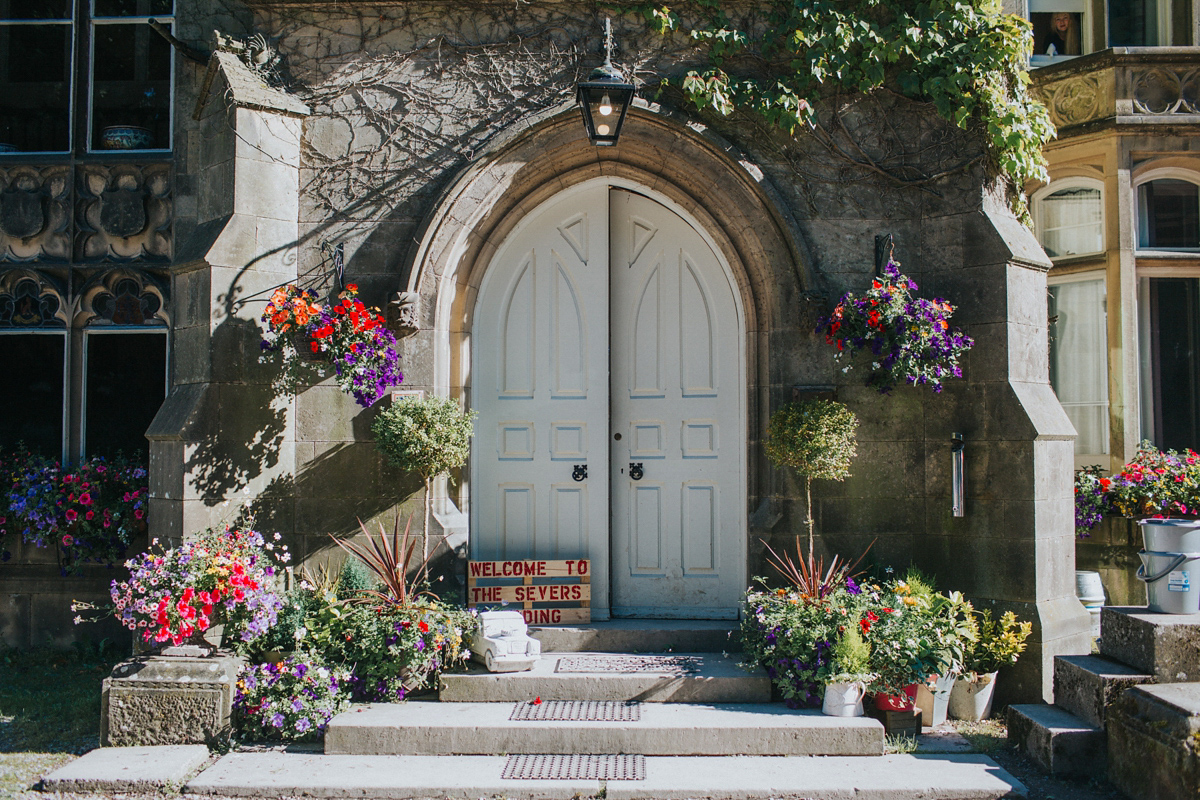 Ella and her Dad followed the four bridesmaids down the aisle to an instrumental version of 'Can't help falling in love with you' by Elvis, performed by the Vitamin String Quartet.
"My sister performed a poem she had written for us.  It was so wonderful because it was our personal story told by someone who knows us better than anyone.  It had all our family and friends both laughing and in tears."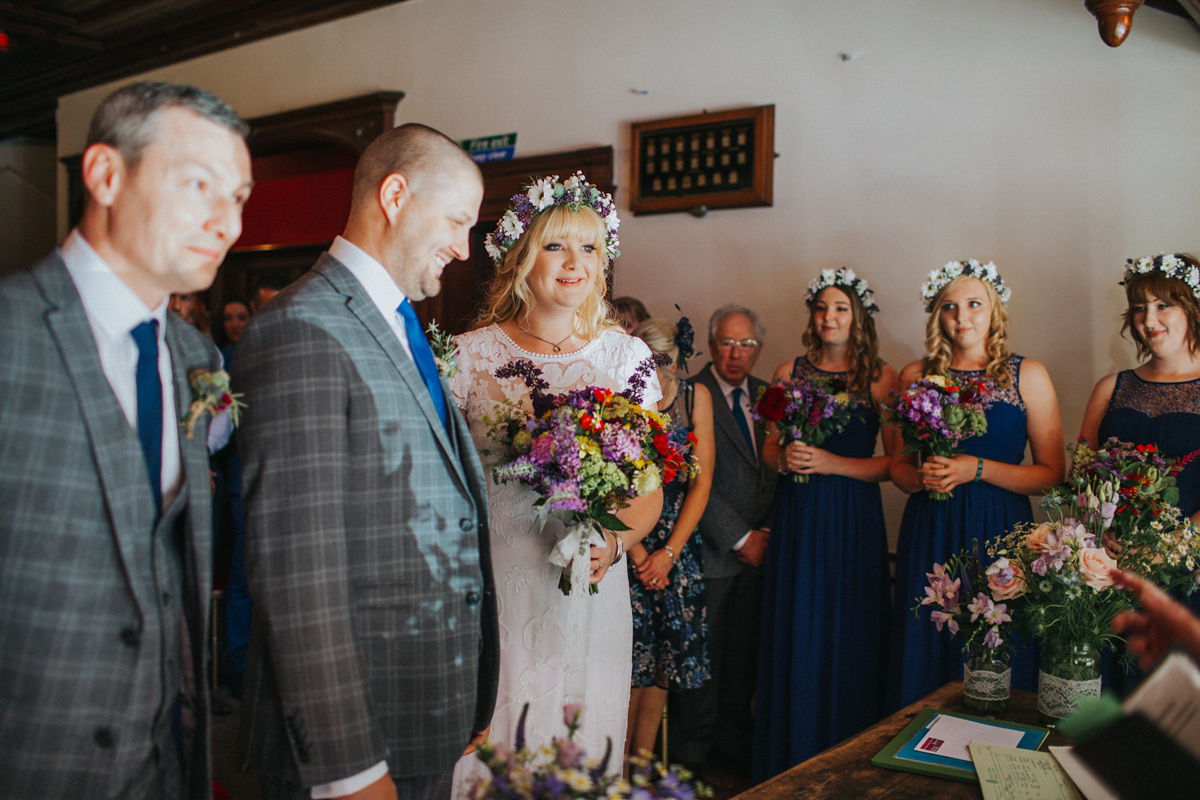 After exchanging vows, the couple also exchanged rings. Ella's from Aspell & Co in Coventry like her engagement ring and Chris' from H Samuel in a hardwearing titanium due to his work.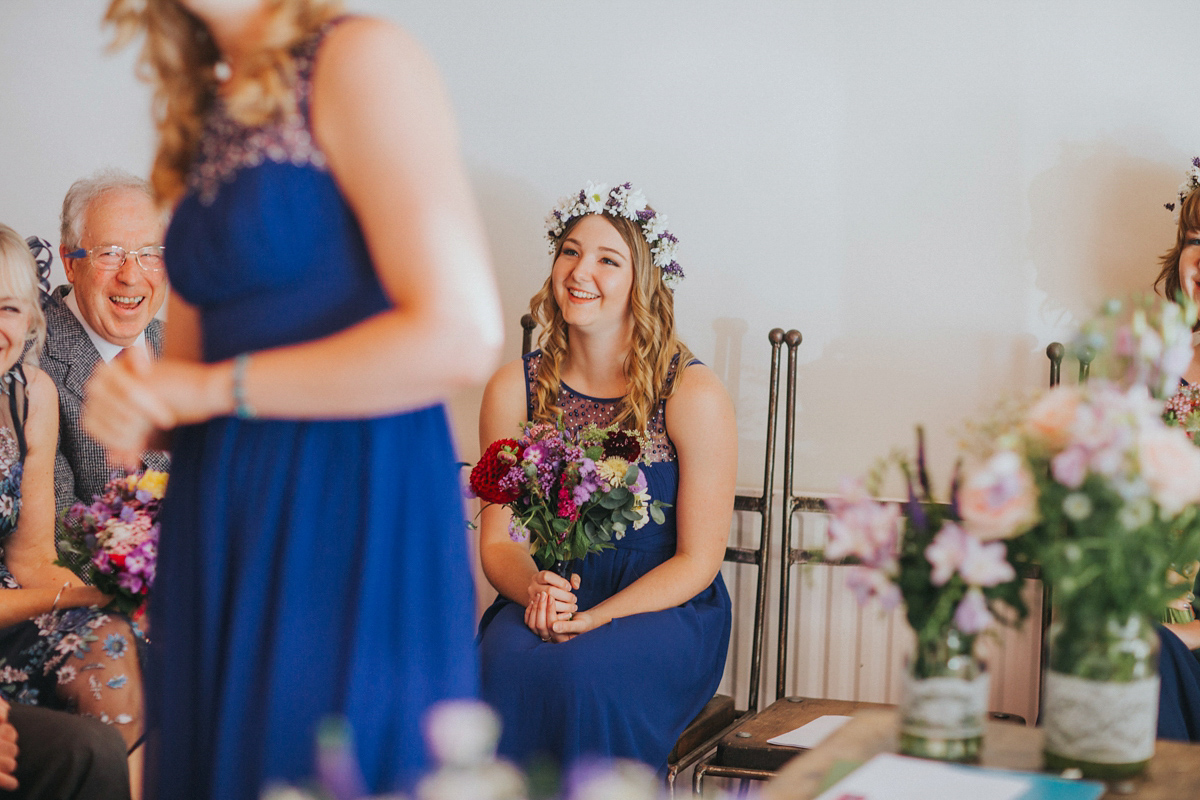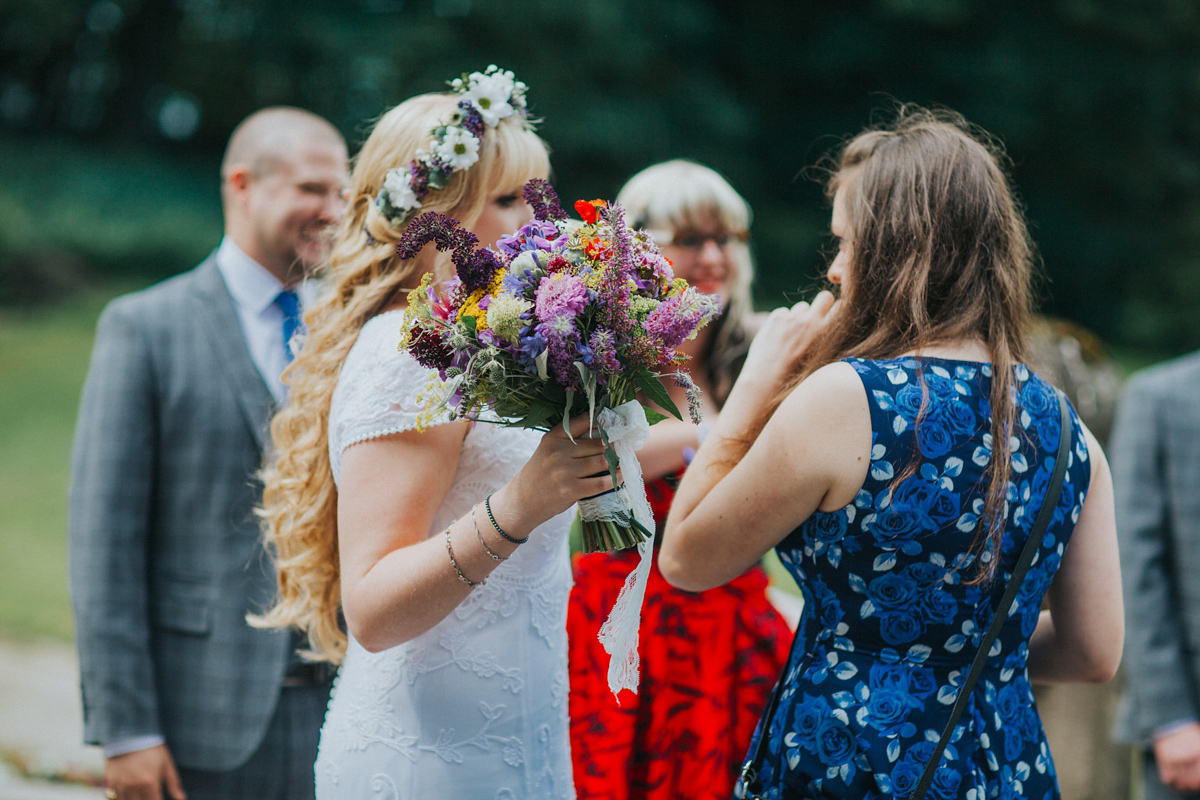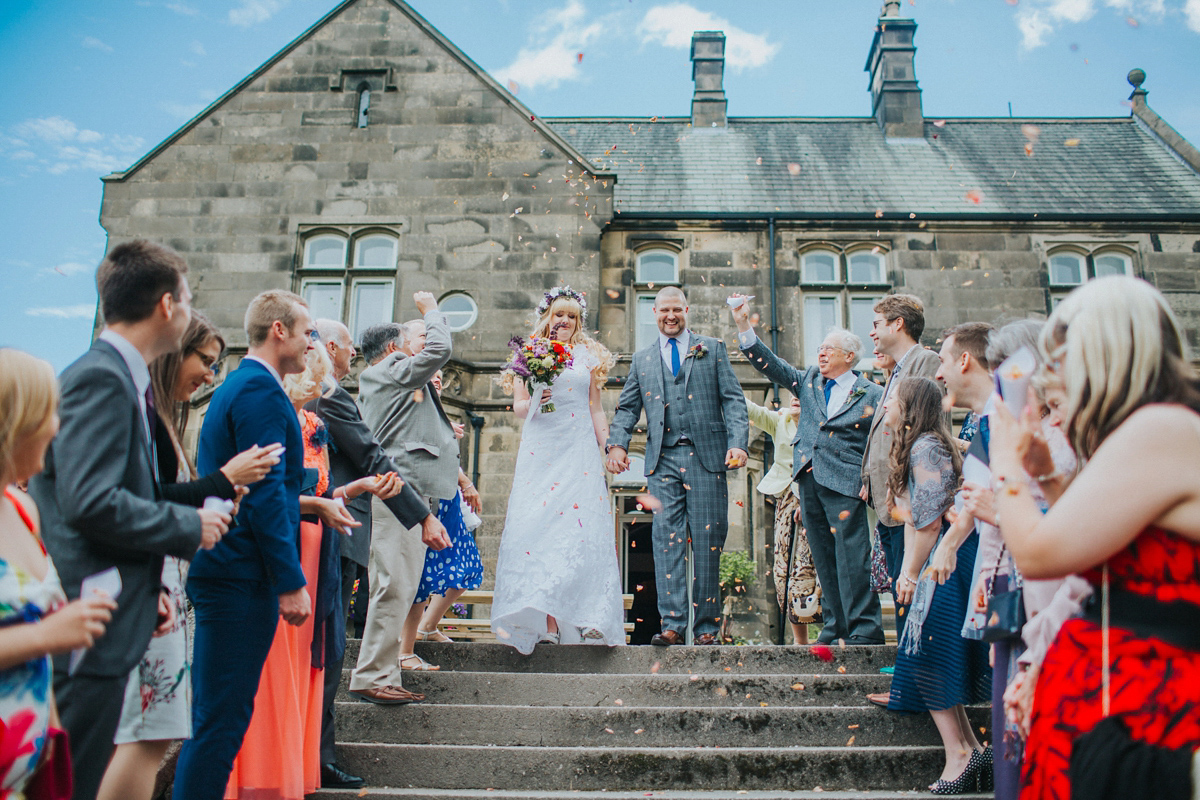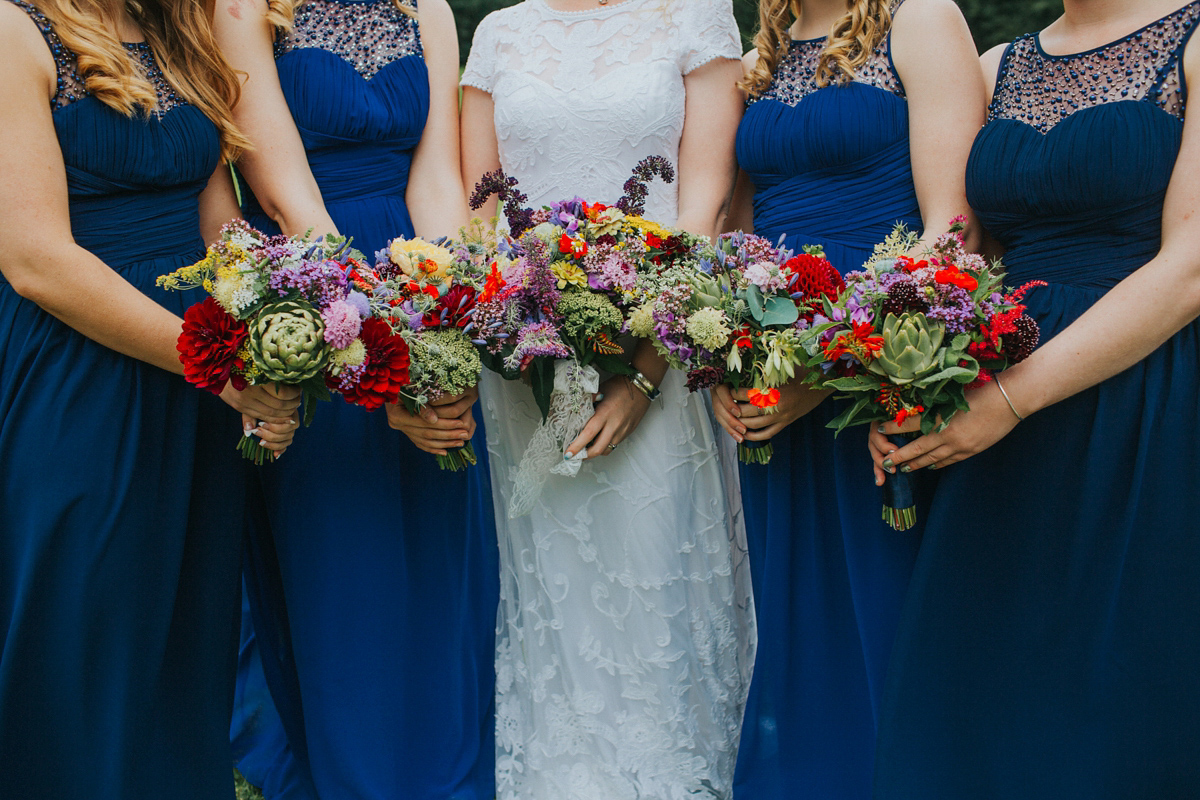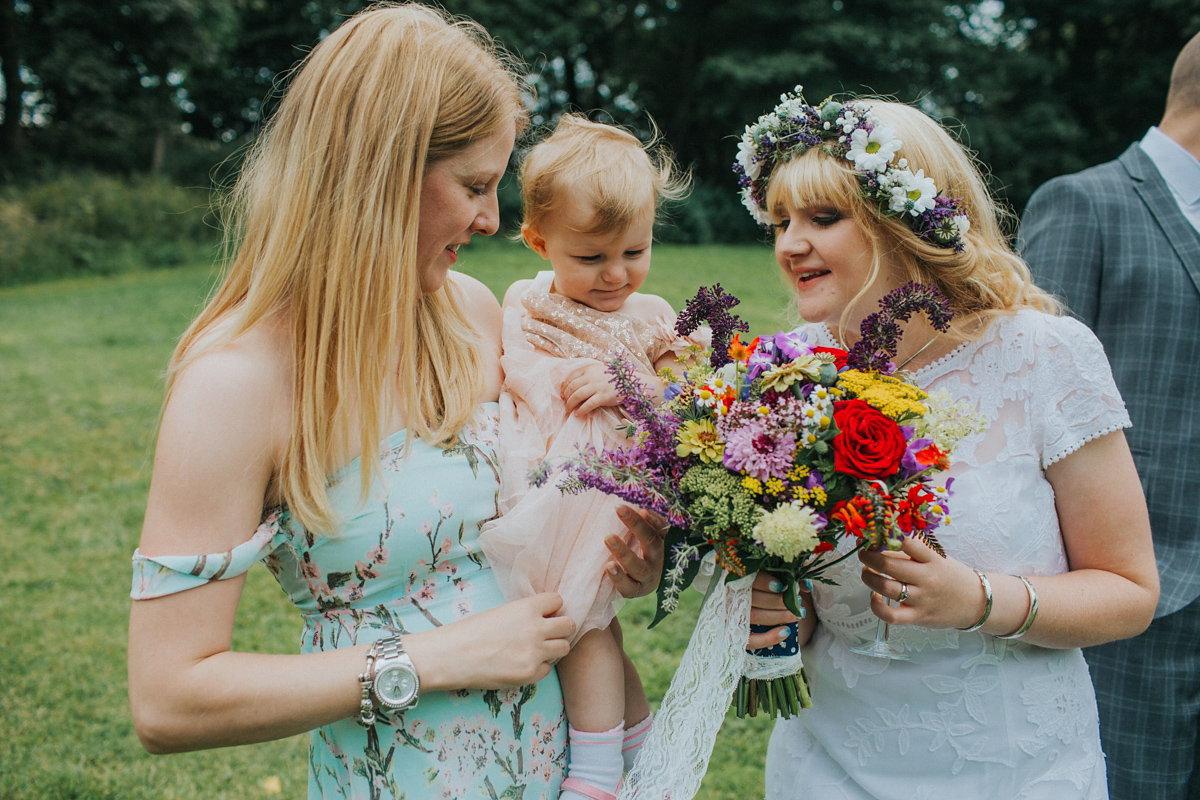 Today's images are by Lisa Webb Photography, who is new to Love My Dress.  I look forward to seeing more of her work.
"Lisa was incredible; she captured the day so perfectly for us as we didn't want a lot of staged photographs, we just wanted natural shots which told the story of our wedding day.  Lisa wasn't intrusive and our guests barely knew she was there.  Having her in the room with the girls getting ready was lovely and such a laugh as she was so down-to-earth and understood completely the theme of our day."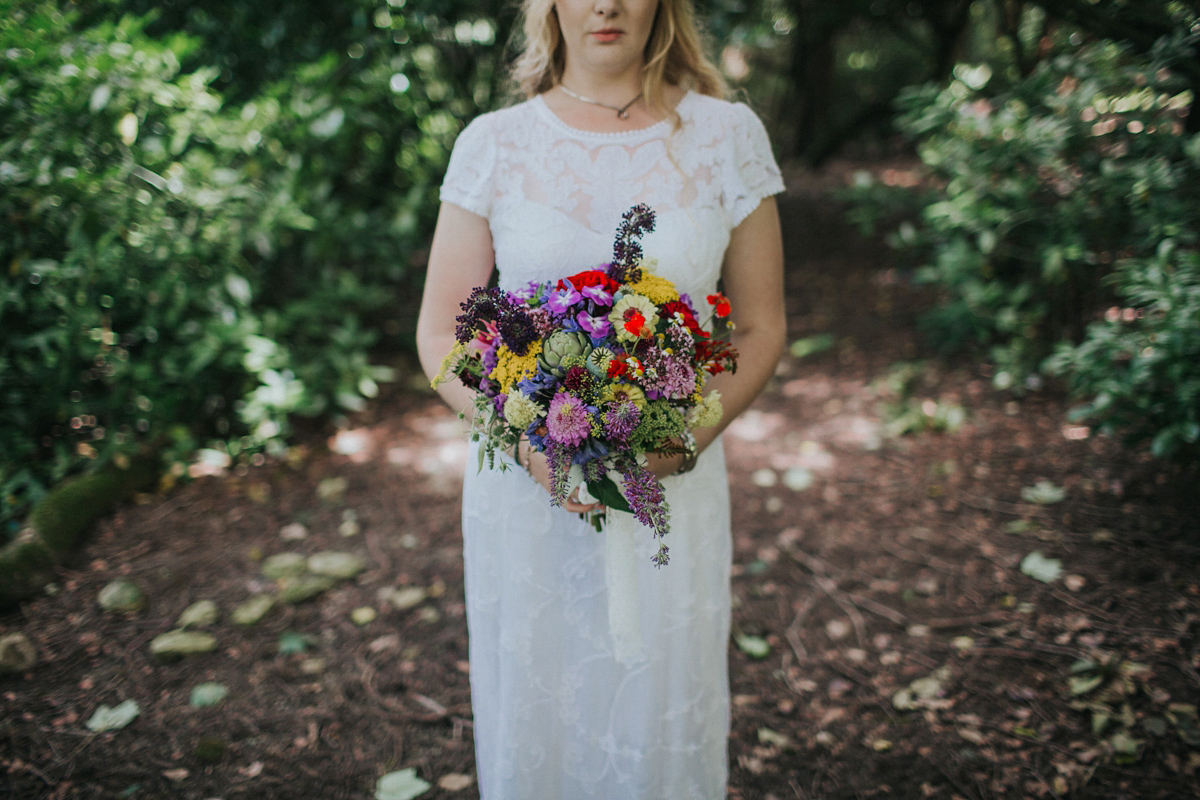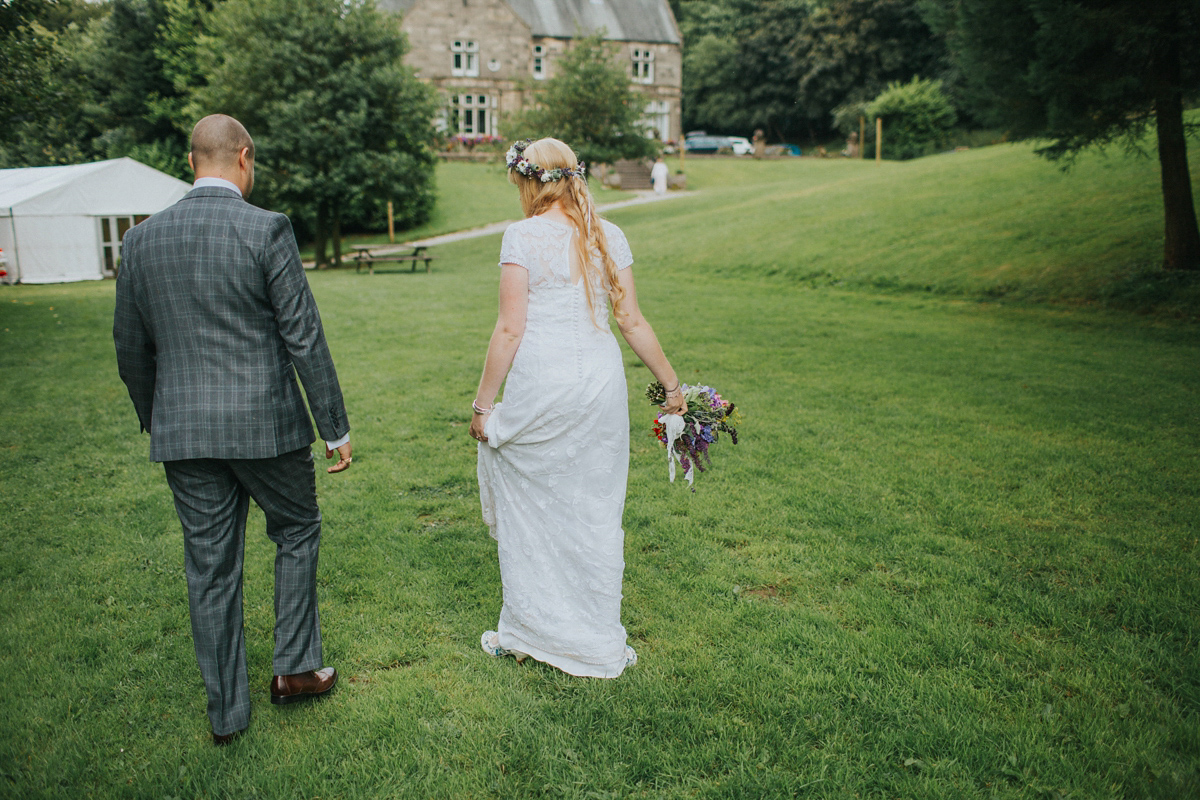 "In the marquee (which was where we had the wedding breakfast) we had around one hundred multicoloured paper poms poms hung along the middle of the ceiling.  We also had bunting along the walls and our centre pieces were different types of fresh flowers, which also gave each table their name.  In the main hall we used fresh flowers in jars dotted around the room and decorated the stairs with fairy lights and my sister and her partner helped to create for us a guestbook poster.  The poster, which had space for any messages, could also be coloured in by our guests.  It was a great talking point and also gave our guests a different way to record their thoughts and well-wishes for us."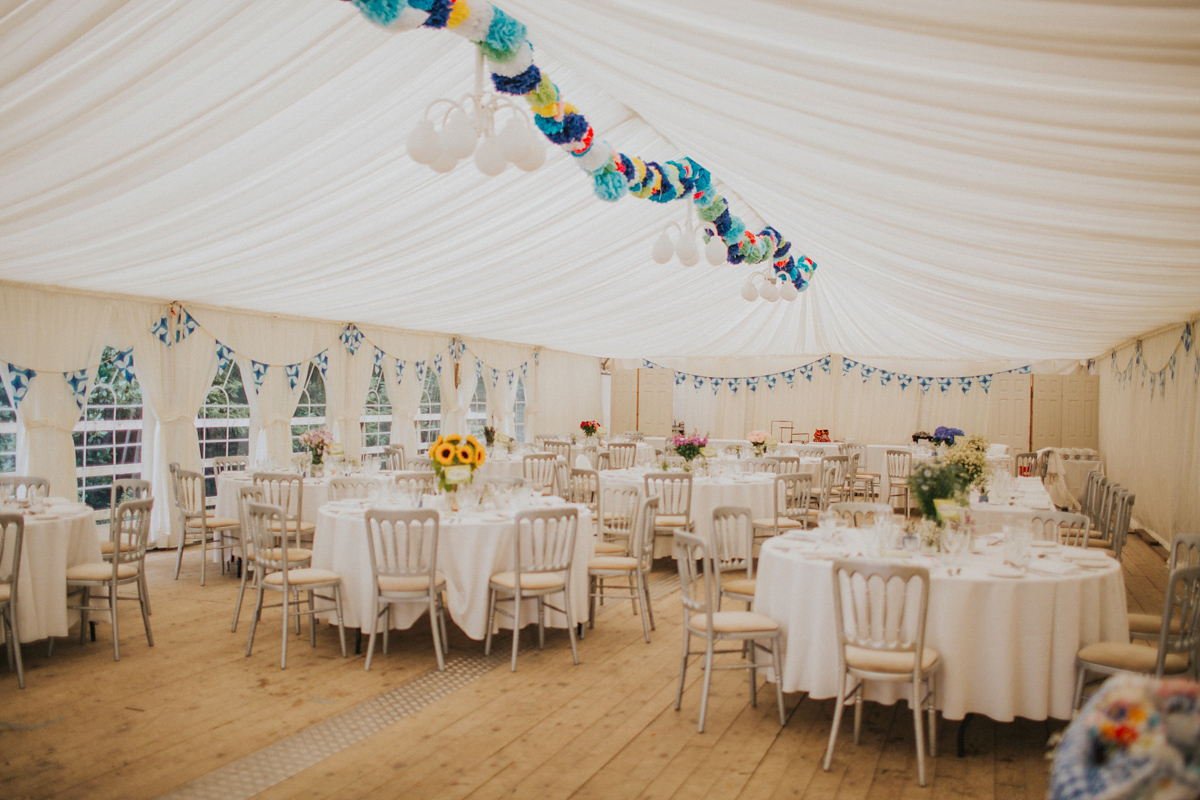 "My mum, sisters and I made our own jam as wedding favours because my nan was renowned for her jam making.  We also had little packets of wildflower seeds to tie in with the table names which were all English wild and garden flowers.  I loved that our favours could go home with people and actually have a use."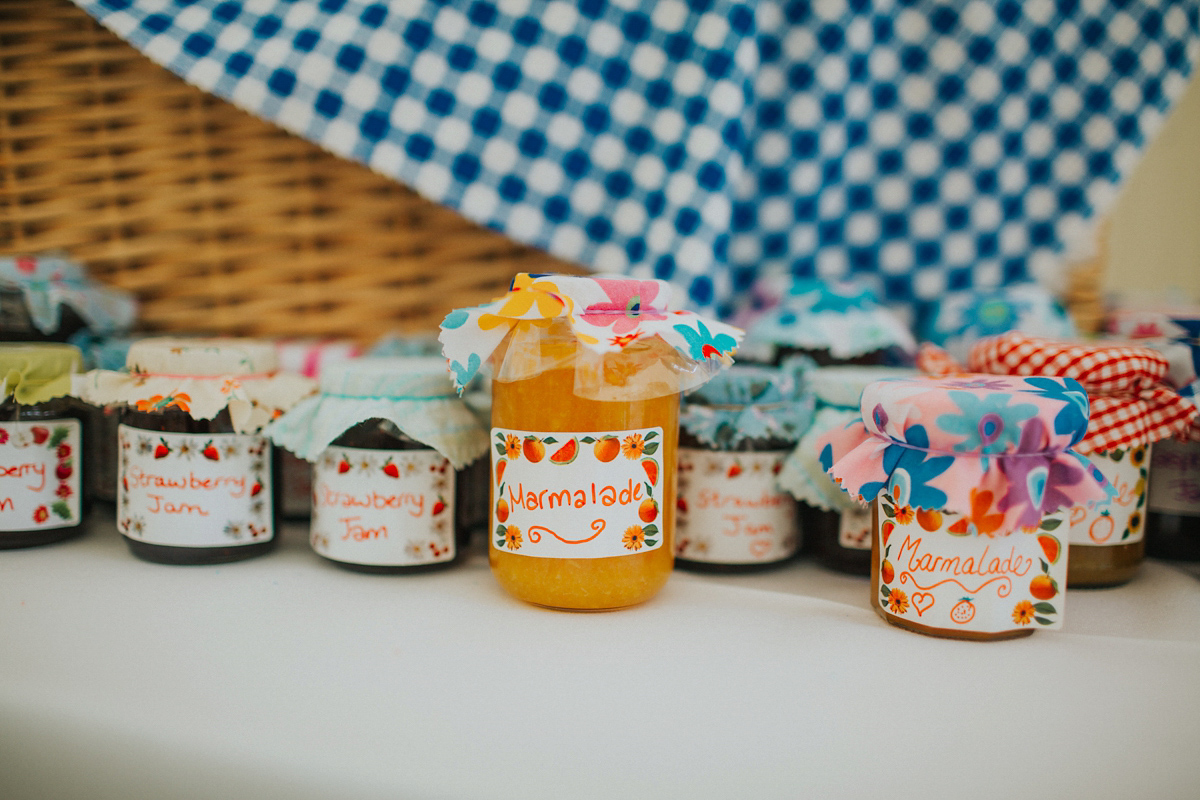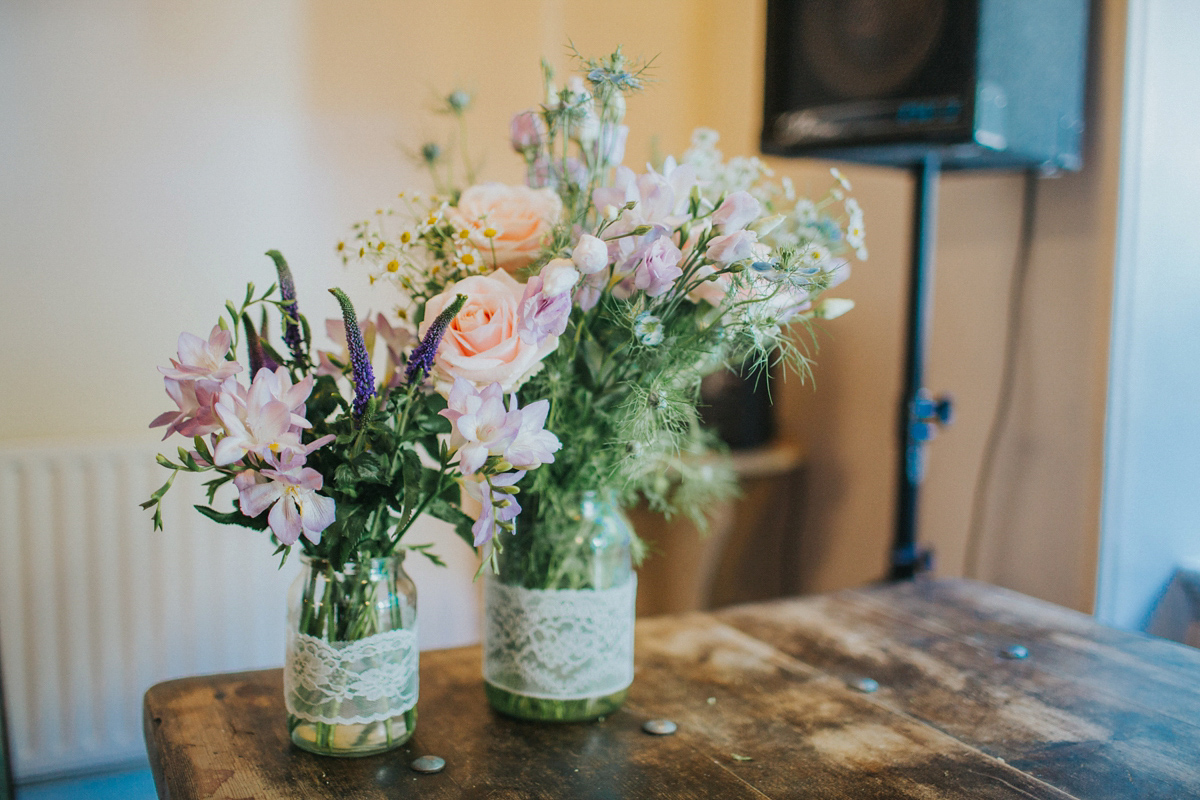 "My mum made the cakes and did all the cake decoration, including more than sixty handmade sugar crafted flowers.  She also made Chris a cake, which was a nod to his love of motorbikes.  It had a topper of a bride dragging her groom in a suit covered in oil, a full garage scene and a replica model of his own motorbike."
Catering was by Pauline Hindle, The Creative Chef, who is based in Chesterfield.
"My favourite part of the day was during the evening. We were all in the hall and most people had changed out of their 'fancy' clothes and into their pjs.  We were still all partying, dancing and drinking and it was just so incredible to have our own venue until whatever time we wanted."
In the end, the couple and their guests stayed up until 4am, dancing to music by DJ Dan Barratt-Davis.
Words of Wedded Wisdom
"If you are planning a DIY wedding, expect the unexpected and be prepared to deviate from the original plan.  When planning be prepared to accept some things may not go according to plan but when it comes to the day itself you will not care if you end up with an empty chair at a table or if you can see a few jars which could have done with a bit more lace, because you will be filled with such amazing memories and have such an incredible day that the minor details won't matter."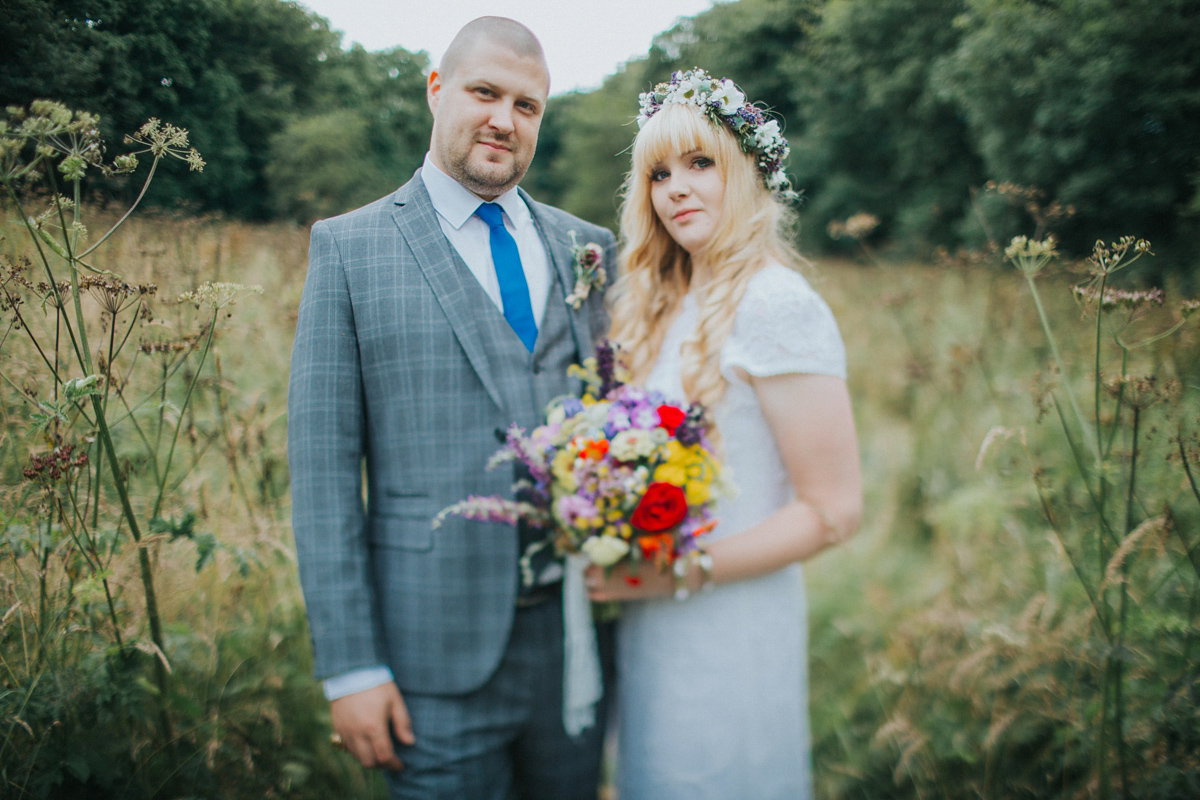 Huge thanks to Ella and Chris for sharing their day with us, as well as Lisa Webb Photography for the images.  Are you as taken by the idea of floral crowns as me?  Take a look here for some more varied and gorgeous inspiration.
Much love,
S x