Get out the confetti lovelies, as it's almost the first anniversary of this lovely couple's wonderful wedding! Mark is a solicitor and Charlotte is a senior product developer for an outdoor clothing company and they tied the knot on the 20th of May 2016 at Manchester Town Hall, and held their reception at Quarry Bank Mill in Styal, Cheshire. For her dress, Charlotte chose a stunning Annasul Y design from The White Closet.
"I turned to show my mum the dress and as I turned she said nothing but had tears in her eyes and I knew then that this was the dress for me. I felt so glamorous in the dress and it was everything I was looking for with the combination of lace and beading."
Images by Emilie May Photography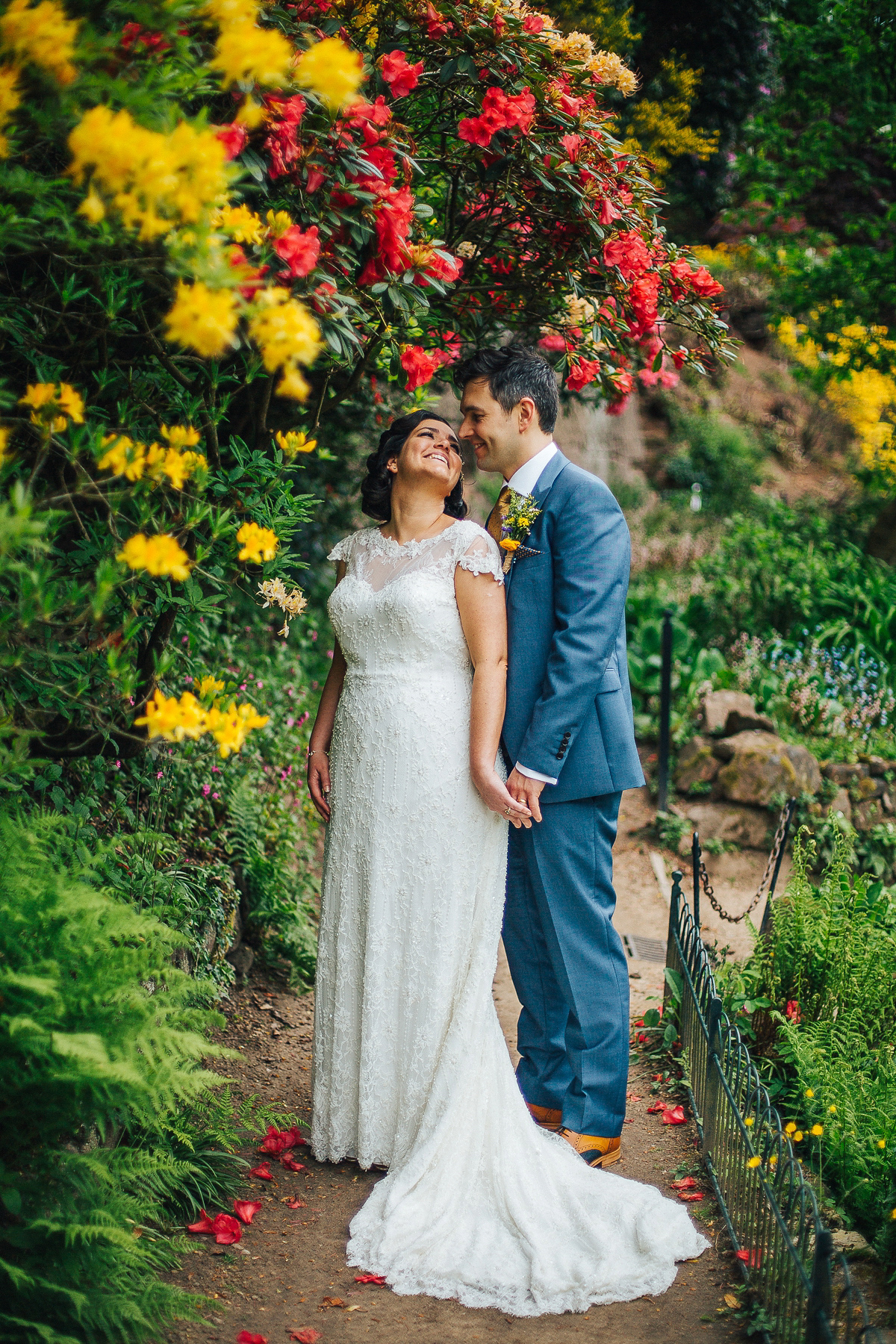 "We wanted a vintage-rustic feel to the wedding. I found 1950's inspired printed bridesmaid dresses. I loved the colour combination of the printed fabric and used this as my colour palette with a highlight of gold to reflect my antique gold engagement ring."
The beautiful bride chose one of our favourite Little Book for Bride's members – the lovely Debbie Carlisle – for her exquisite hair-piece (see her listing here).
"In the front of my hair I wore a Debbie Carlisle head-piece and in the back, and hidden, I wore an antique hair slide that my grandma had bought from Harrods for my mum when she was young."
Charlotte's scent was 'Love' by Chloe, one of her favourites Mark had bought for her one birthday. She found her whispy veil on ebay and donned a beautiful pair of gold heels.
"I wanted shoes that were inspired by dancing shoes, the type that my grandma would have once worn when she went to the tea dances. I found the T-bar peep toe shoes from a website in America that had limited edition Rachel Simpson gold shoes with gold glitter panels, as I love anything that sparkles."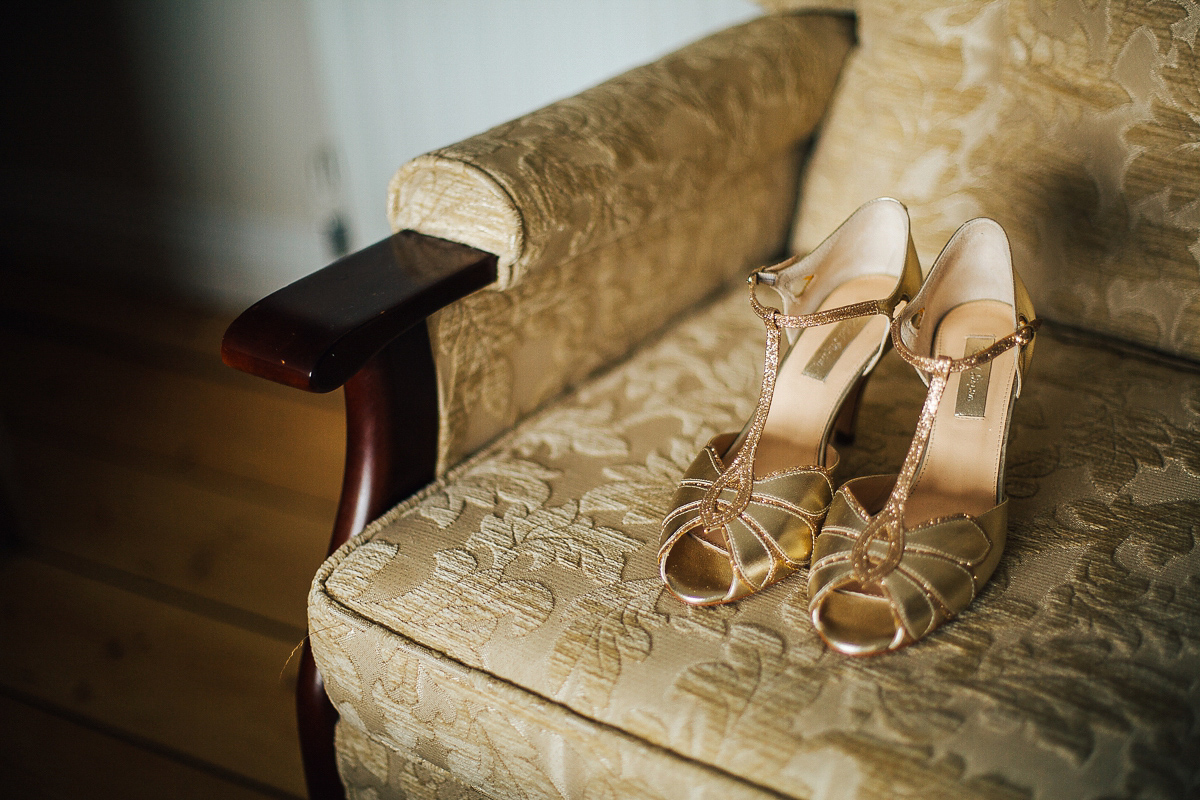 Mark looked dashing in a Whitfield & Ward suit with a vest, a tie and pocket square from Hammond & Co via Debenhams, Thomas Pink socks and groovy bee cufflinks via notonthehighstreet.com. His groomsmen donned stylish Next suits, together with ties and pocket squares from Hammond & Co via Debenhams.
"We met in 2006 in a pub called the Queen of Hearts in Fallowfield Manchester, I had returned to vniversity after a work placement in New York to finish my final year and Mark had moved to Manchester to start his first job in a solicitors office. One of Marks friends stopped me in the pub and told me there was someone he thought I would like to talk to and introduced me to Mark as it seemed that neither of us would make the first move to chat to each other but had spent most of the night looking at each other!"
"For my 30th birthday Mark took me to Reykjavik to celebrate. He told me after the holiday that he was waiting until we went on a trip to try and see the Northern Lights to propose but unfortunately it was cloudy with snow most evenings while we were there. As it was nearing the end of the holiday he was running out of time so decided one morning to write a message in the snow outside the hotel. He then rushed up seven flights of stairs to grab me telling me that he needed to show me something out of the hallway window. As I turned to look at him once I'd seen the message he was on one knee holding a ring. Of course I said yes between the tears of happiness!"
"Later that day we celebrated at the Blue Lagoon and even managed the trip out for the Northern Lights. It didn't snow for the rest of the time we were there so every time I looked out of the window I could see the message he had written in the snow. We got married two years after we got engaged as we were renovating a house we had bought and needed to save for the wedding as we had spent all our money on the house."
The House of Foxy, who make vintage-inspired clothing, were the suppliers of the bridesmaid's fabulous 50's green frocks. They added their own shoes, hair accessories and antique brooches from ebay, bracelets from notonthehighstreet.com, and white shawls from Primark. Gorgeous!
Did you know there is a beautiful range of flower girl dresses at Monsoon, another of our trusty LBFB members (view the listing here).  I love the sweet flower girl's pretty dress here and how adorable are the page boys in their Marks & Spencer suits, with cute bow-ties made by Charlotte's friend Josie Overton?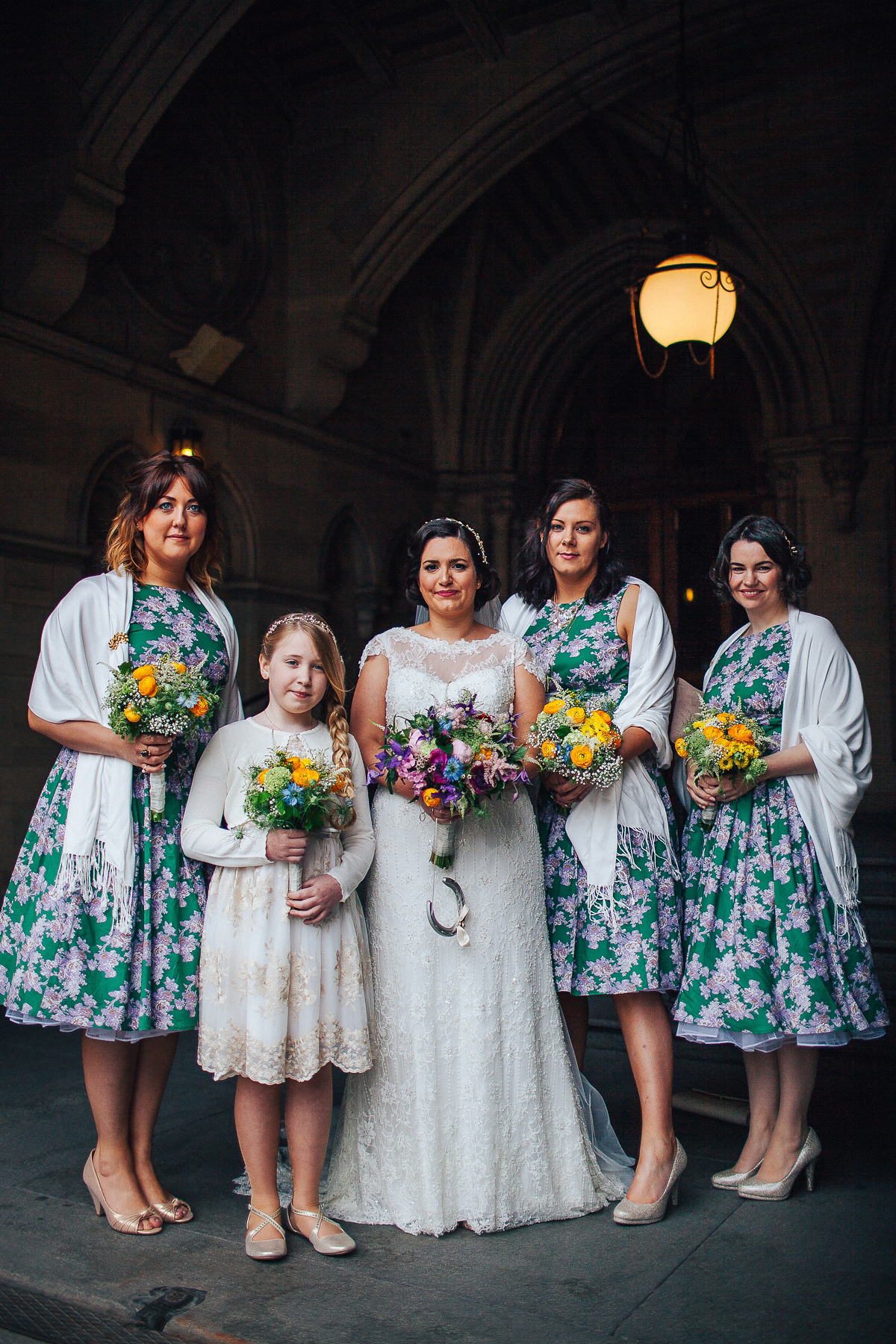 "I wore diamond studs that my parents had bought for me for my 30th birthday. Unfortunately a week after we got engaged our house was burgled and all my jewellery was taken and included items that I would have worn for the wedding. Luckily I had decided to wear the earrings that day for work. The bracelet I wore was from Links of London with a silver ring and the first piece of jewellery that Mark bought me that didn't get taken."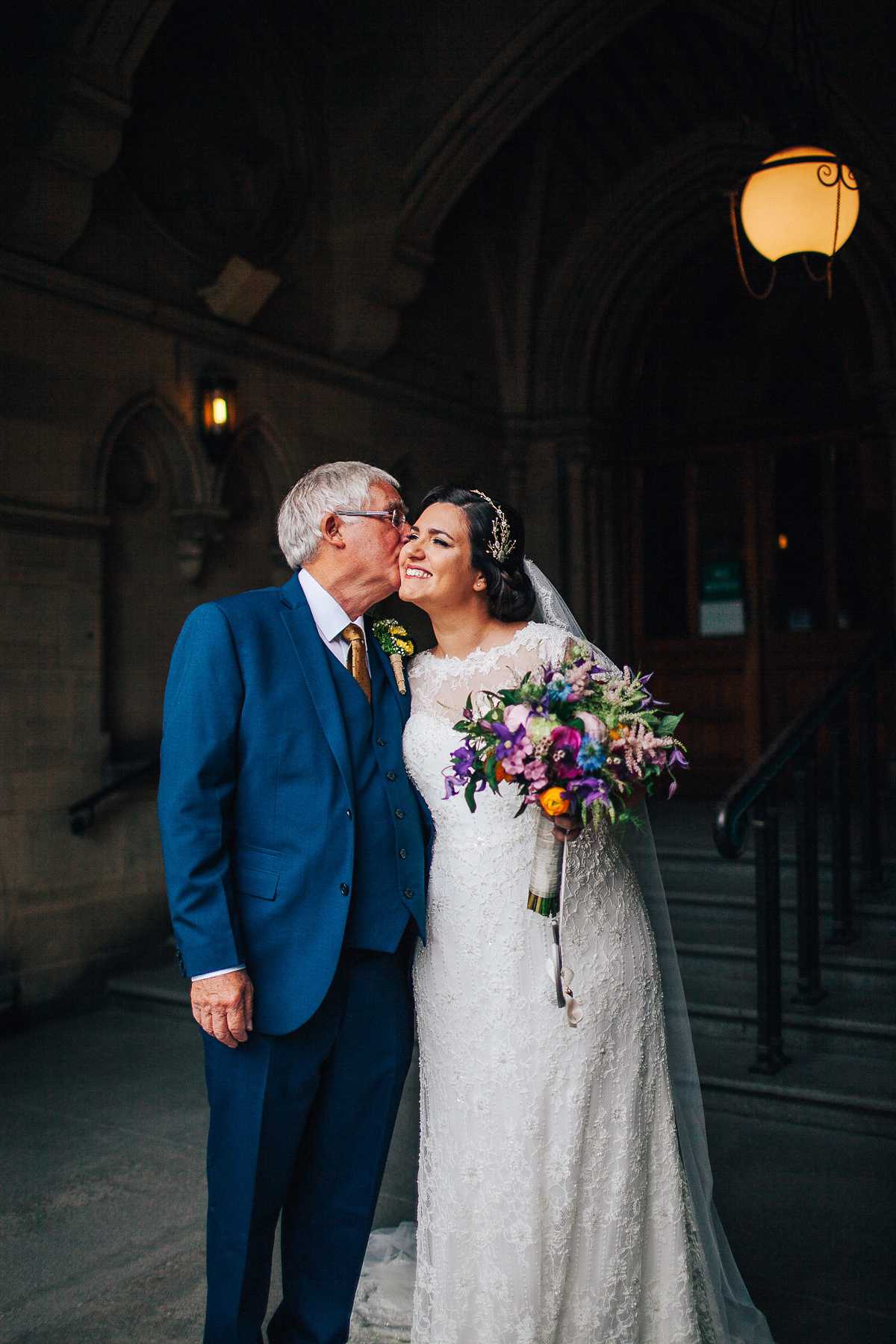 "We decided that we wanted to get married in Manchester as its where we met and live together. We checked out loads of venues and in the end decided on the Town Hall. It sits in the heart of Manchester and we have walked passed it so many times and everytime since the wedding we have walked pass it we think of our wonderful day there. It's such a beautiful building inside and out."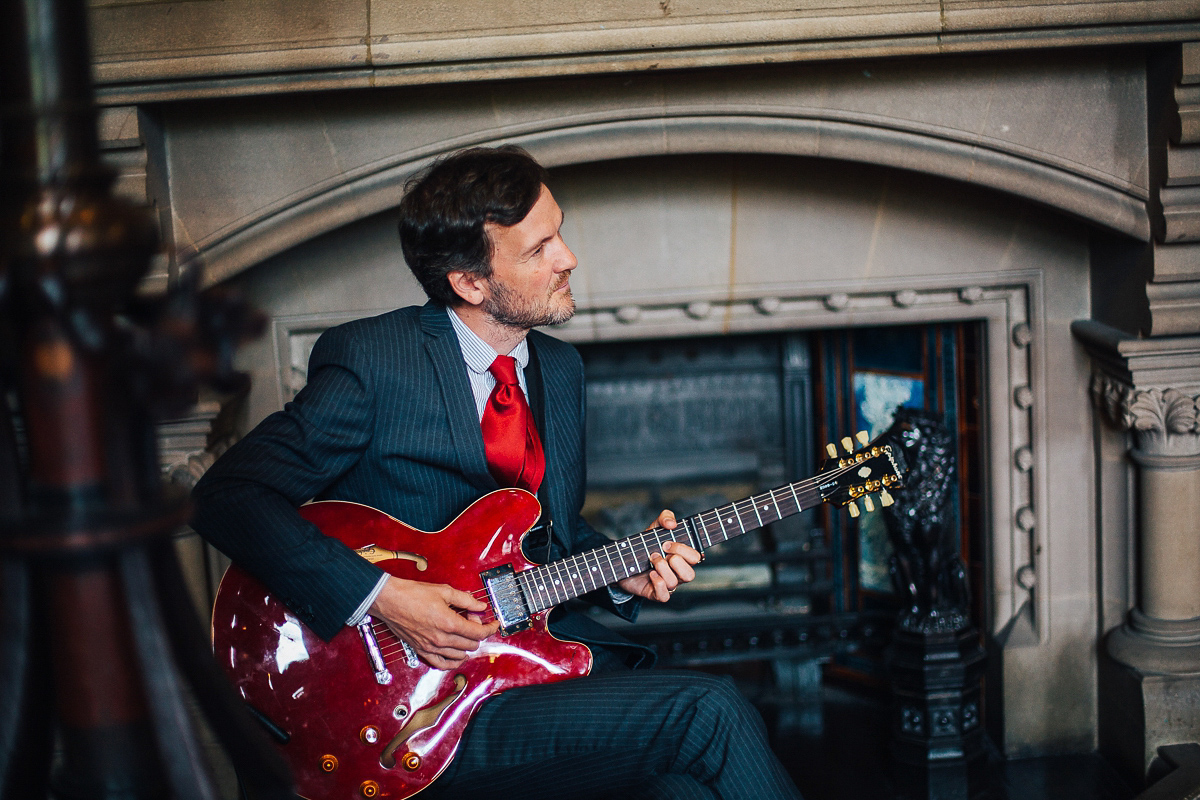 "My step dad accompanied me down the aisle. We deliberated over the song for a while until a moment a year before the wedding made my mind up to have this song – Louis Armstrong's 'la vie en rose'. My grandma became very ill a year before the wedding and on the day I went to the hospital to say my last goodbye, I walked into the hospital to an accordion player playing this song."
"At first it made me sad to hear the song but it reminded me of my grandma and it had this connection to her. I wanted it to remind me of her on the day, I know she would have loved the song and the happy memories we made that day. One of our friends also played an acoustic version of Labi Siffre's 'It Must Be Love', although more popularly known as a hit by Madness. During the ceremony we had a sing along with him to this song."
"We both wrote our vows to each other, as we wanted to make it personal to us. It's the one time you get to say the things you have always wanted to say to each other."
"We had two readings: William Shakespeare's 'Sonnet 116' and 'Us Two' by AA Milne. My choice was the sonnet as I'm a Jane Austen fan and Sense and Sensibility is one of my favourite books. This sonnet is not in the book but does feature in the film which I also love and the paper flowers I made for the table and wall decorations were made from pages of this book. Mark chose 'Us Two' – not only is it a touching reading, it also relates to an in-joke between us and on the day some of our friends and family realised, so there were a few giggles when this poem was read."
"The designer from Two Become One Jewellery was amazing throughout the process of designing and making our rings. He works from a small studio, which appealed to us and we wanted to support a local business. His attention to detail was amazing, he was so helpful and nothing was too much trouble. He also helped me to design a ring that replaced some of the jewellery that I had stolen."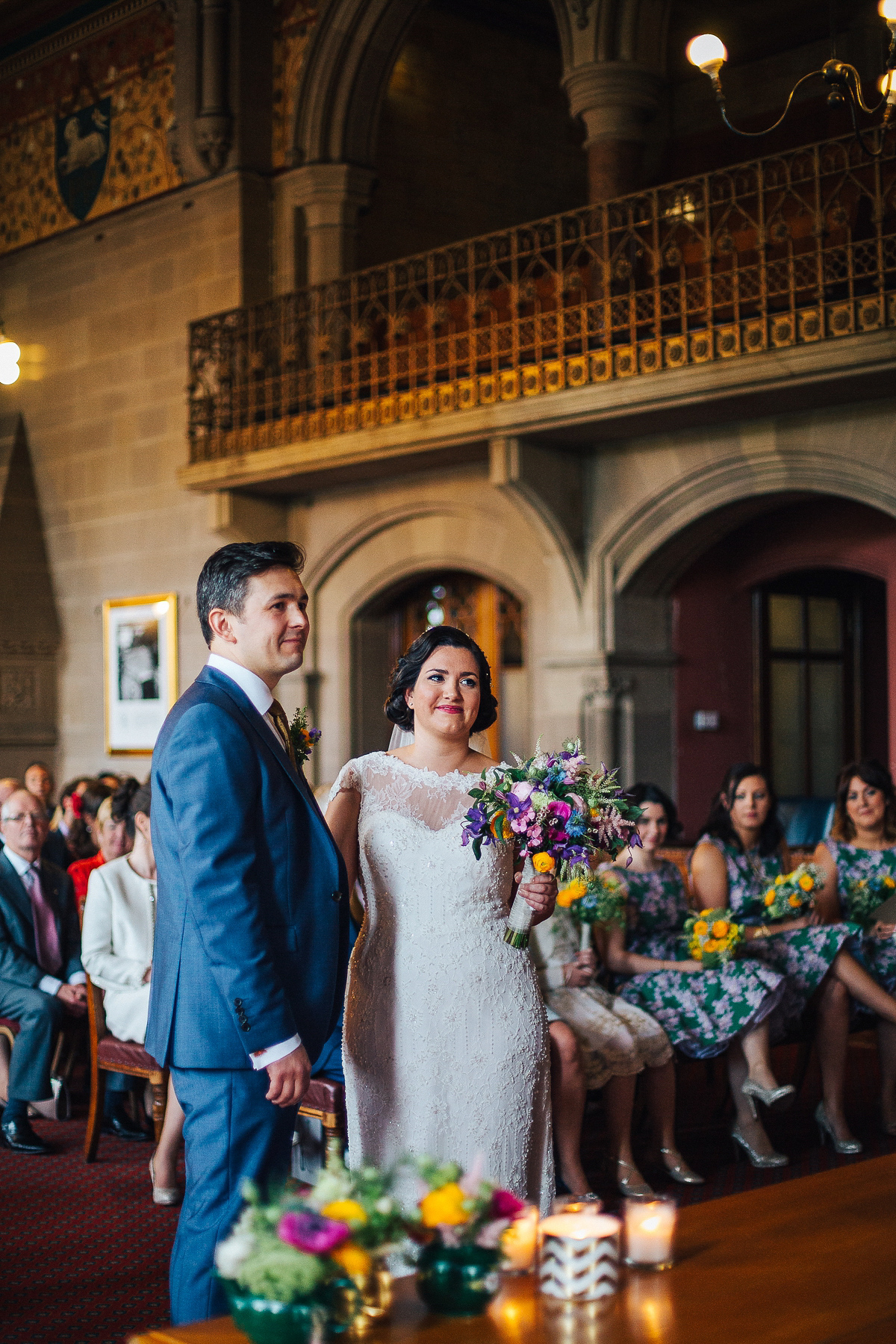 "The day after the wedding, we asked each other what our favourite part of the day was and we both agreed it was the ceremony. I think sometimes you can concentrate on the party aspect with the food, music and decorations and not consider how the ceremony will feel. One of my most vivid memories of the day is seeing Mark's face as I walked down the aisle and just how happy I felt. Its such an amazing feeling to stand in front of all your friends and family and declare your love for each other."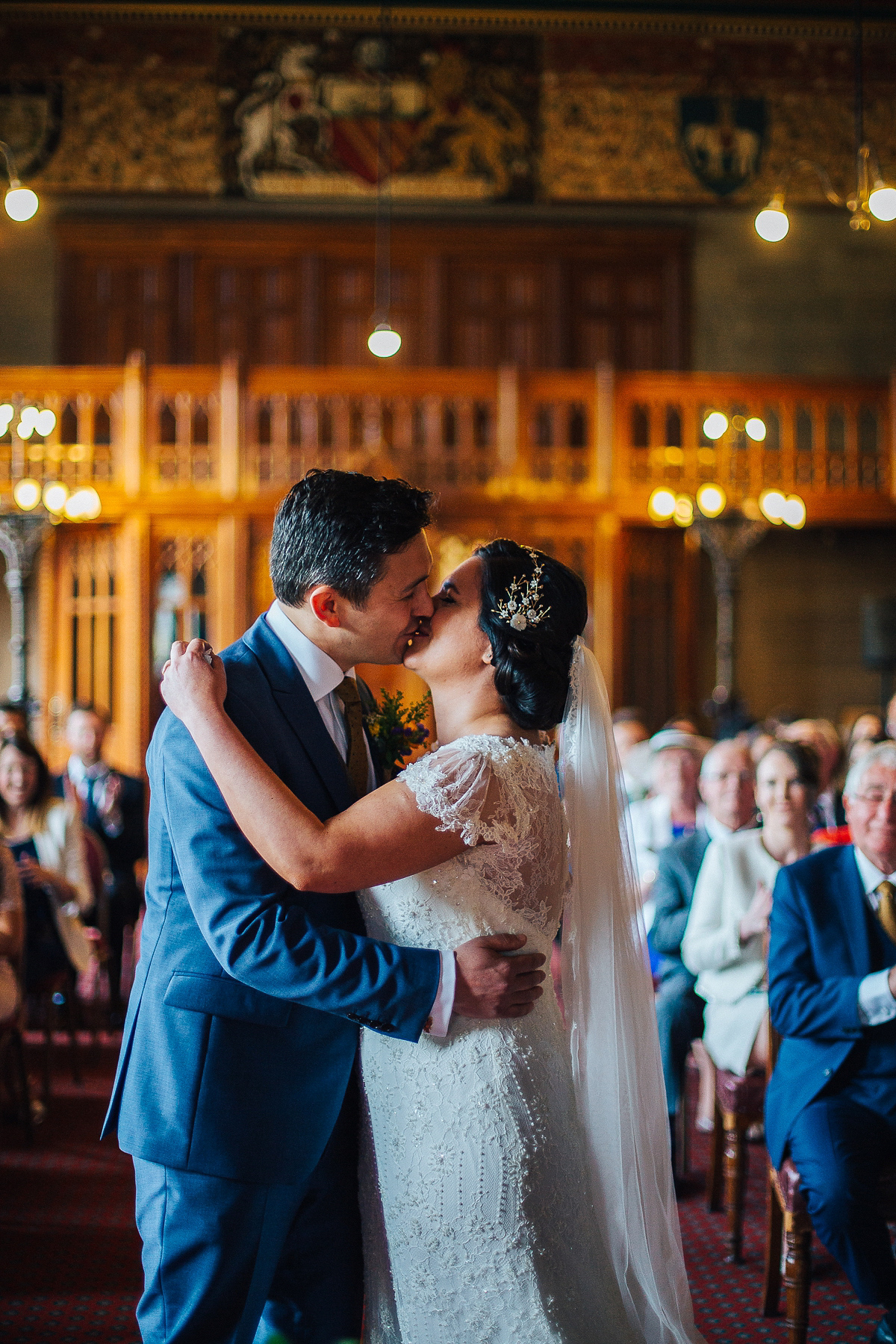 Emilie of Emilie May Photography caught these delightful images of the gorgeous couple and all of their sweet, heartfelt moments.
"Emilie did the photos for my best friend's wedding and when I saw the photo album and the beauty of the photos of the day, it brought tears to my eyes at how beautiful they were and how amazingly she had captured their day. I knew that Emilie would be an amazing fit for our wedding and capture the feel of our day perfectly."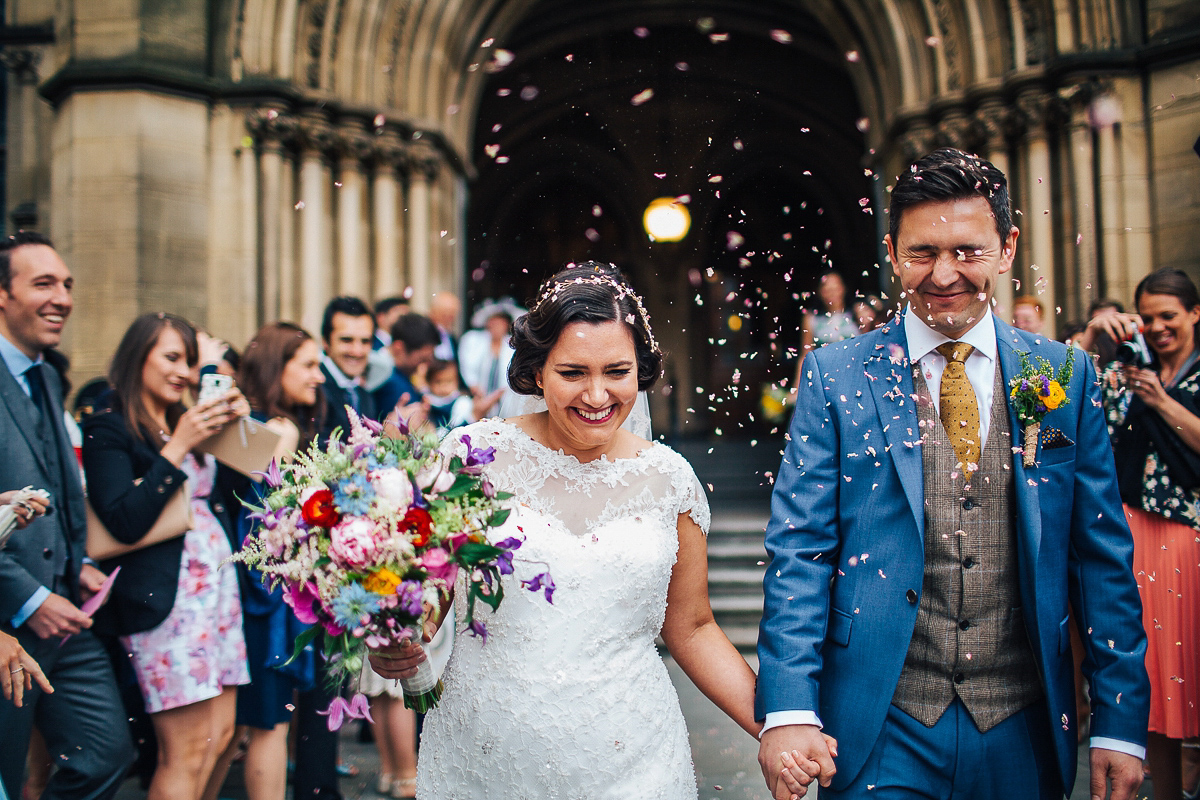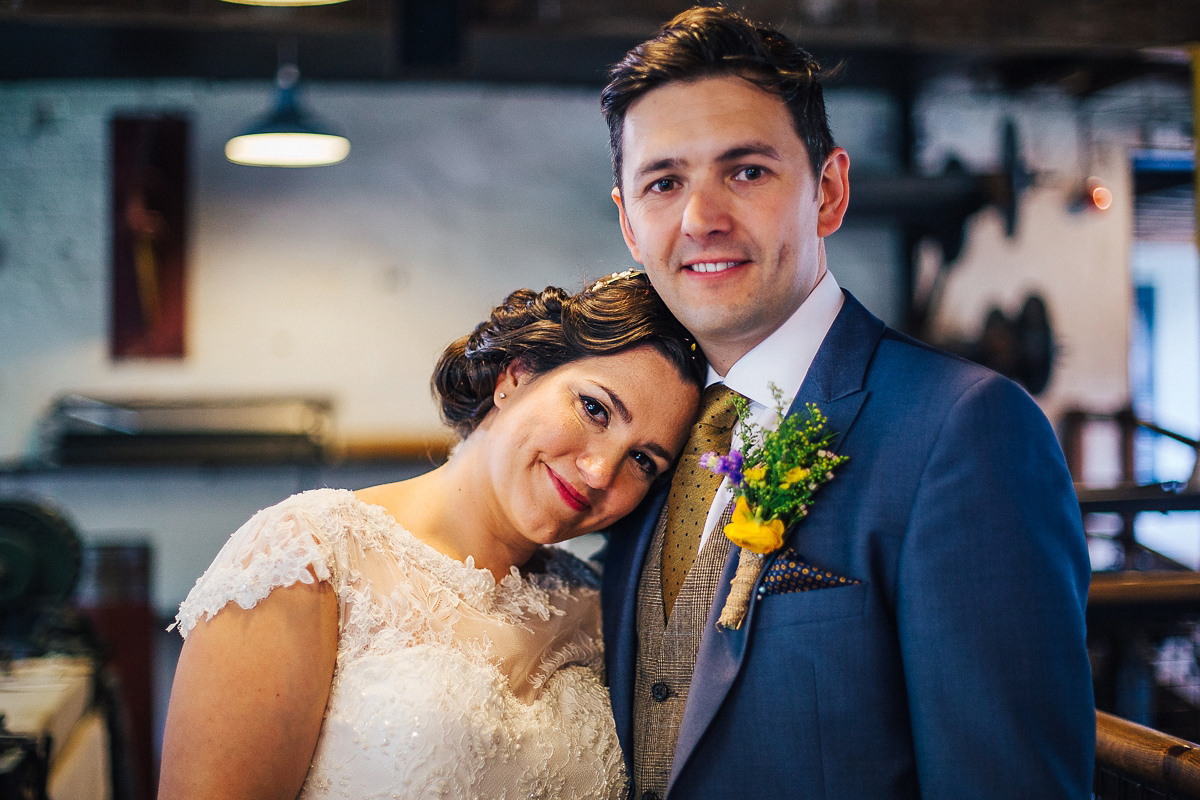 "We wanted to use somebody local and the people at Floral Affair in Chorlton were amazing in creating the arrangements that I had envisioned. I wanted seasonal flowers that had a natural meadow feel with beautiful vibrant colours."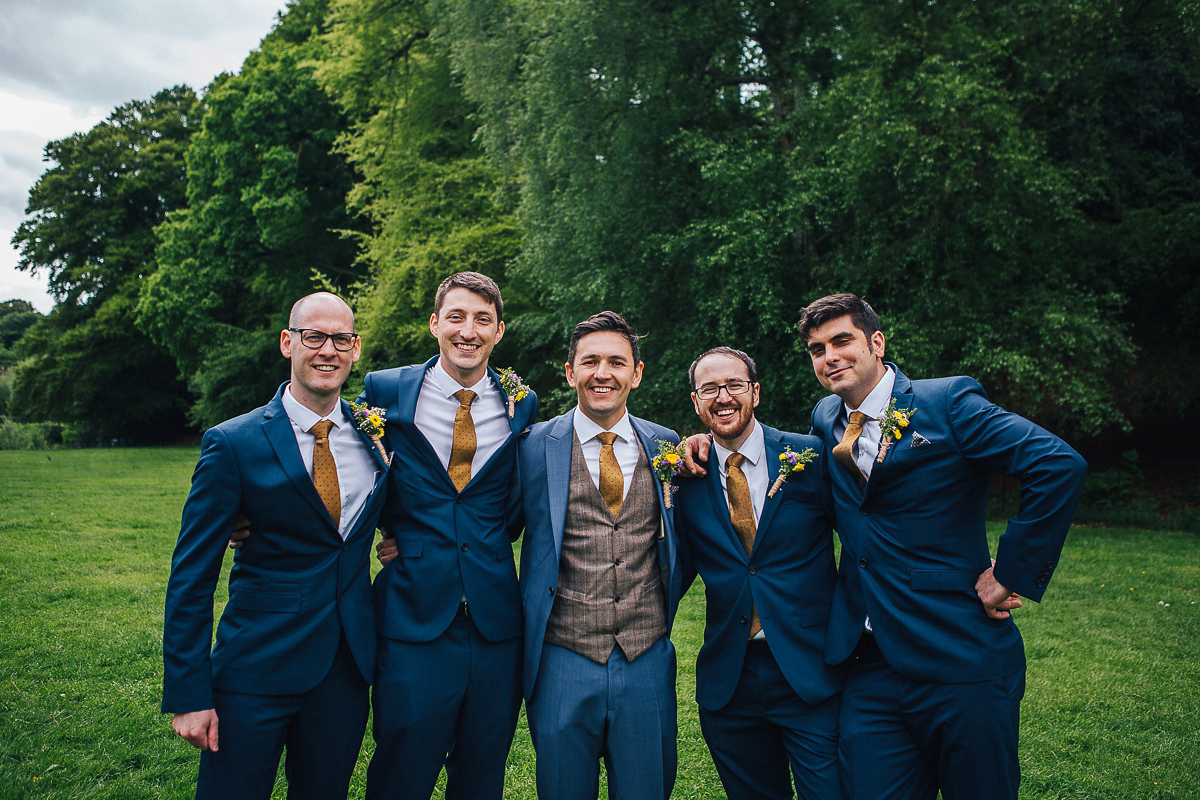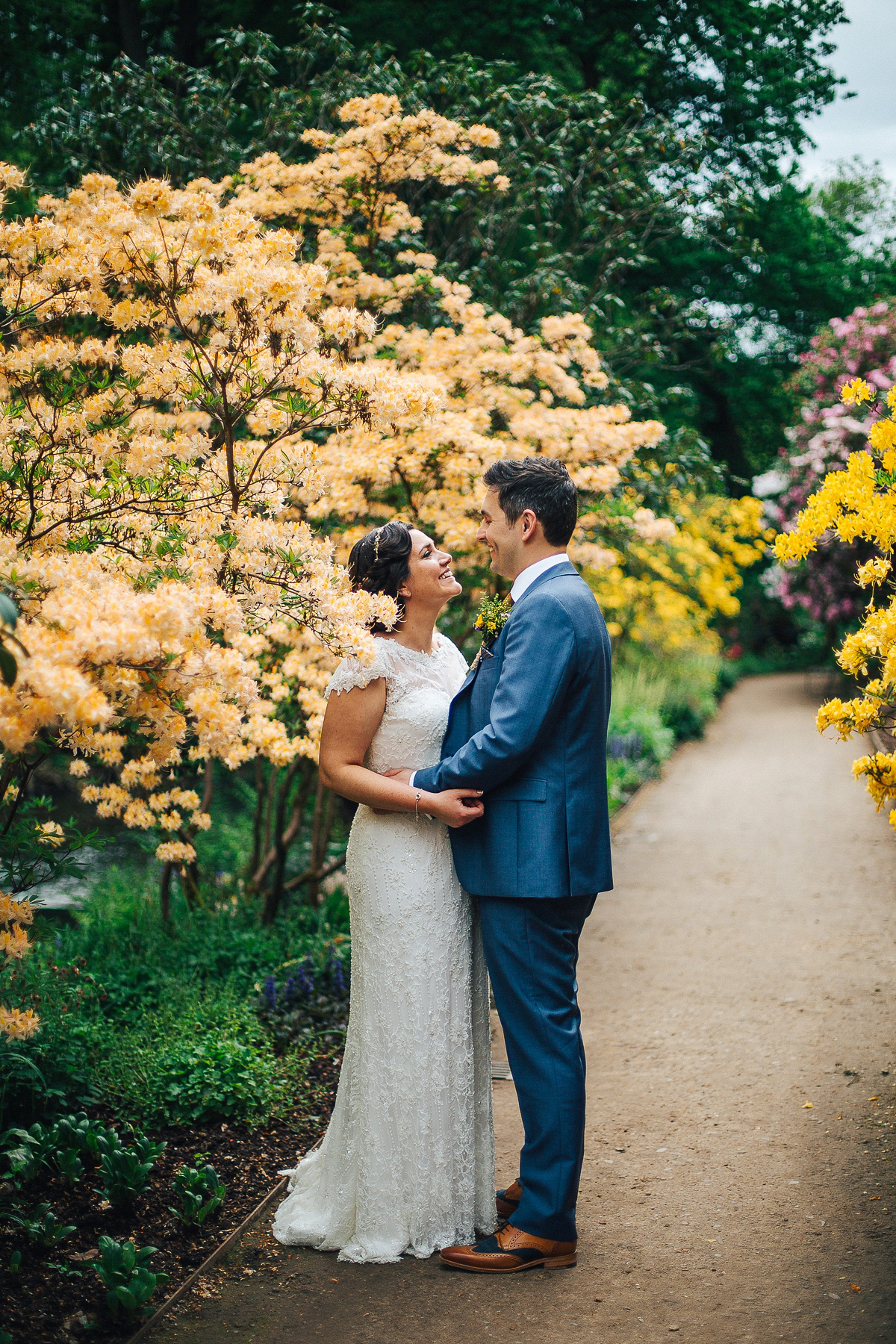 "To complement the Town Hall we decided to have the reception at Quarry Bank Mill. The building and grounds at the mill are so beautiful it would be hard not to fall in love with this venue. Both venues spoke to my heart, given the link to the industrial revolution and the textile industry, as my degree and career is in clothing."
The very creative bride designed all the stationery and save the dates, with help from her friend Francesca. I adore the guest favours – and the decor for the tables are simply divine and make me want to scour vintage shops for teapots!
"We had wooden slices cut to make an individual coaster for everyone and a packet of wild flower seeds for bees as the worker bee is the symbol of Manchester. Each coaster had each name hand printed on to them in our colour palette."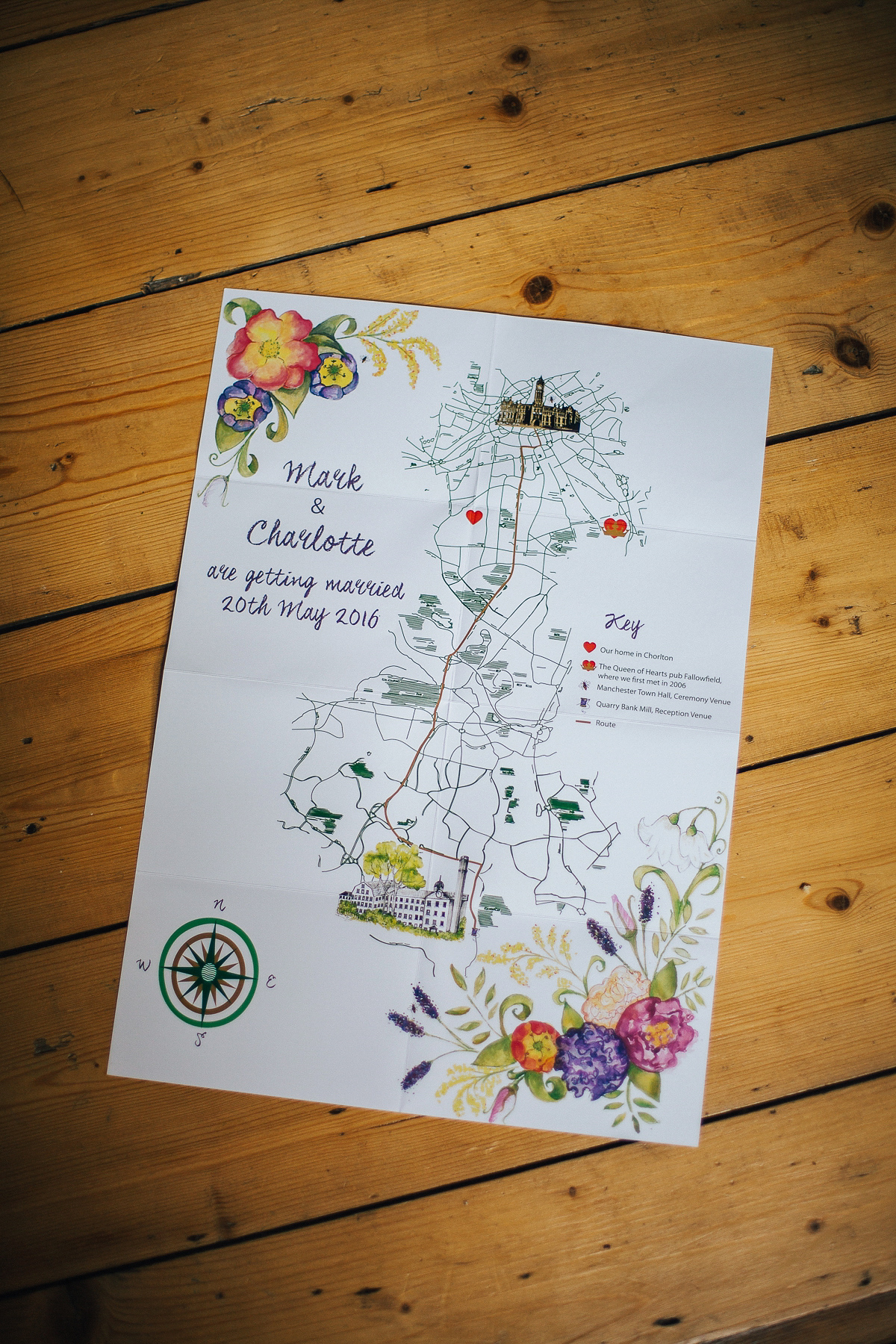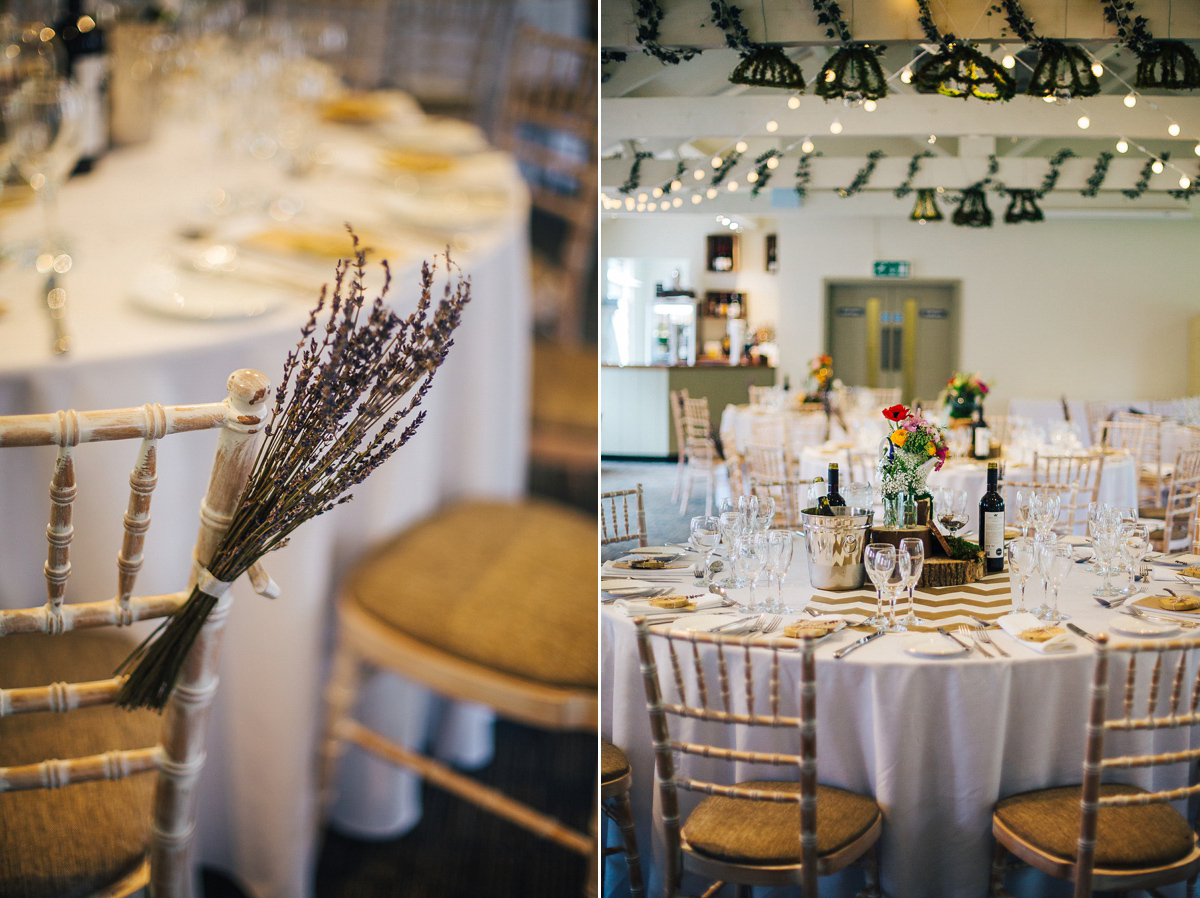 "We built the centre pieces ourselves from wood slices covered with moss, vintage teapots to match the colour palette and sourced vintage bottles and babycham glasses. The table plan was positioned on vintage wooden ladders that we had cleaned and painted and covered in handmade paper flowers. We also had a room divider that we painted and hung Polaroids of all our friends and family from."
The couple had a cheese and pork pie cake from The Church Mouse near Kirkby Lonsdale, with one of the cheeses being Mrs Kirkhams Lancashire Crumbly – Mark's favourite from his hometown… Nom nom nom.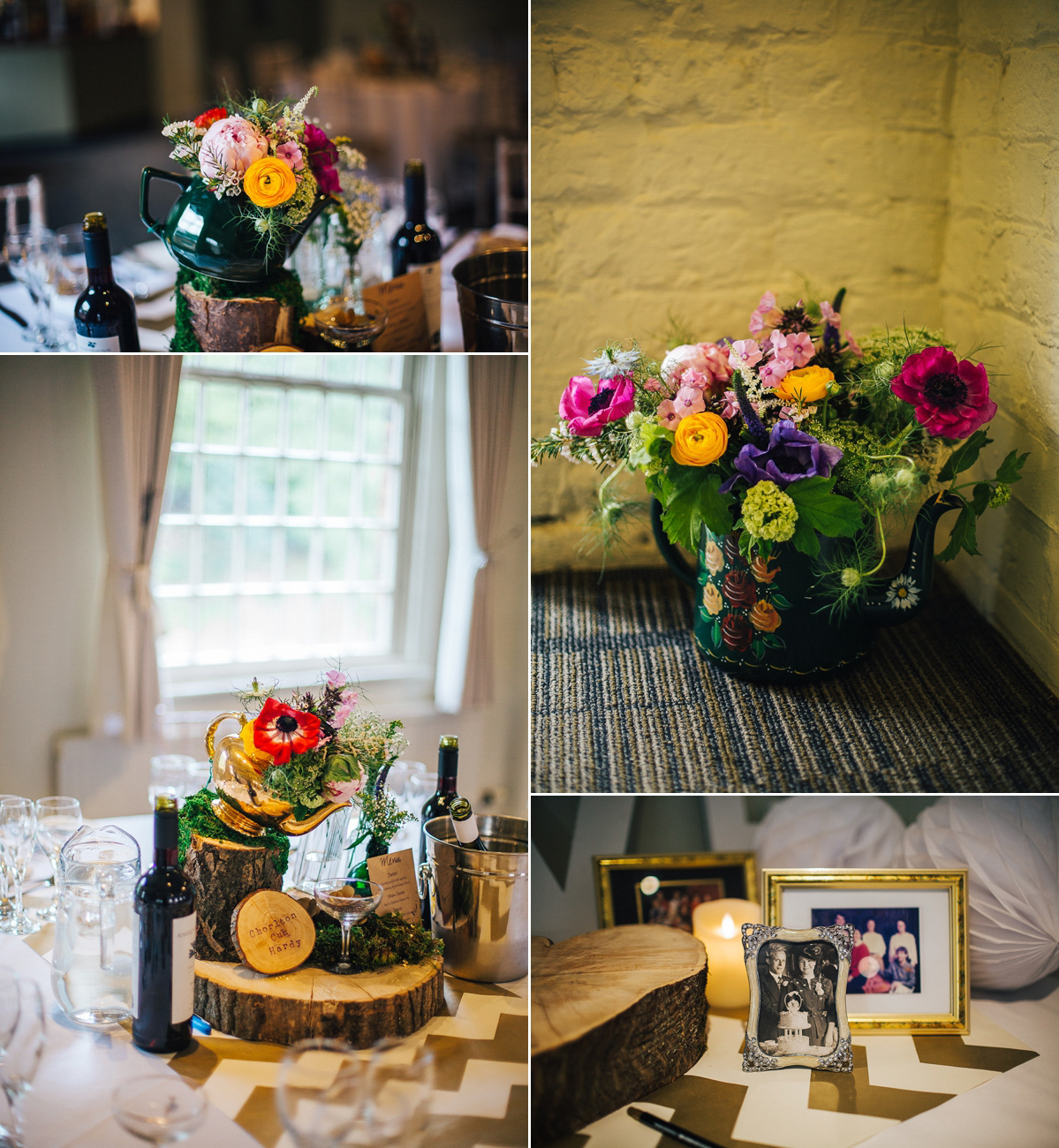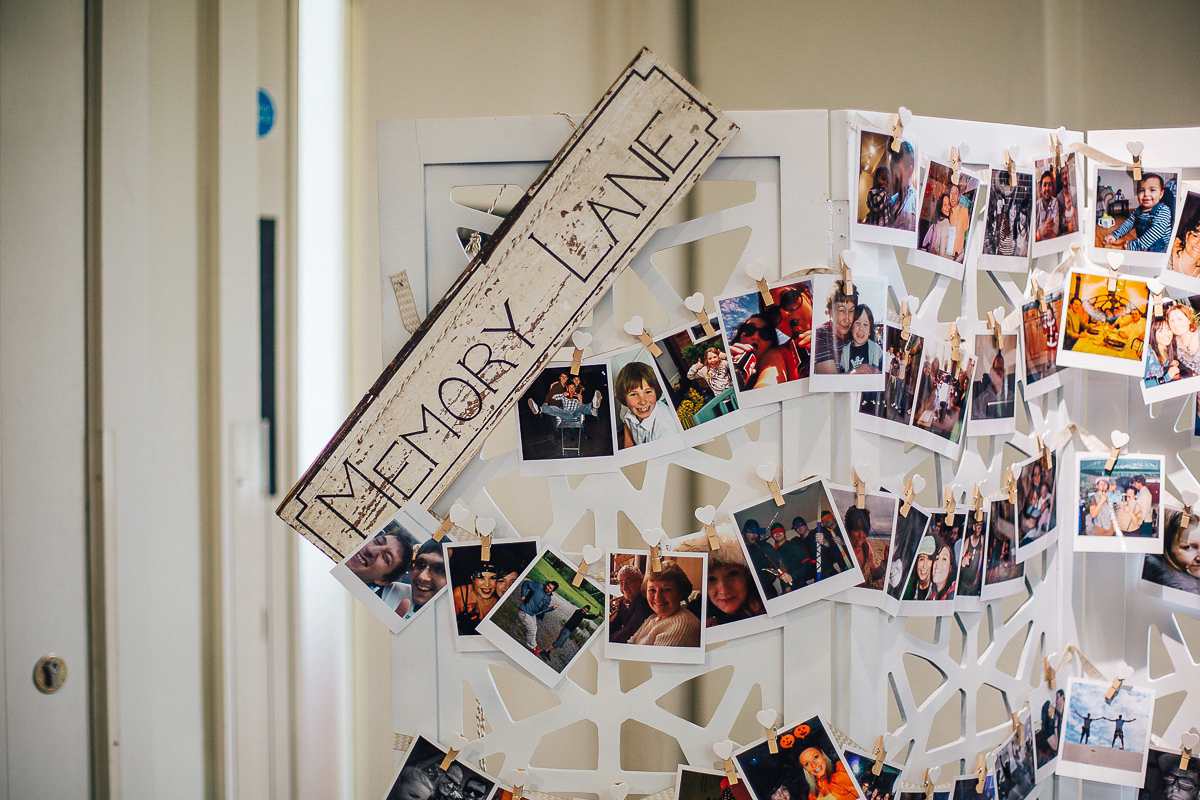 A photobooth from vintagebooth.me kept the guests entertained and the Jukebox Band played funky tunes, including the couple's first dance song.
"We chose Elbow's 'One Day Like This' – we met in Manchester, live in Manchester and married in Manchester. We couldn't think of a better band or song that summed up our life together here in this wonderful city. We have so many memories that surrounds this song and no matter how many times I hear it, I still get goose bumps."
Words of Wedded Wisdom
"For the wedding you plan everything down to the finest details and you want everything to go perfectly. My advice would be to forget this on the day; sometimes no matter how much you plan, things don't always go exactly how you want and on the day no one will notice if a flower decoration is missing or the playlist has not been played in the correct order of songs. The most important part of the day is that you have married your love and are surrounded by your friends and family. All those people who you love most in the world are in one room. This doesn't happen very often and when it does it is one of the most amazing feelings in the world, to have everyone laughing and smiling around you both. Everyone is there to celebrate with you and have a wonderful time. So on the day, take a moment to look around the room at all your loved ones and enjoy that lovely warm feeling you get."
"If there is anything I could have done differently, I would have liked to have been more prepared the night before. I didn't really sleep and I hadn't packed my suitcase that I needed to stay over in the hotel so it was very rushed in the morning. We got married at 11am which was great to have the full day with everyone, however it would have been nice to have more time in the morning to try and relax and get ready more slowly.
I love to read on Love My Dress about the real weddings and what vintage details other people have added to their day. I love that the website is divided by era and this helped me to search for certain vintage details."
This is such excellent advice – there really isn't any other time when everyone you care about is all together in the one place, so be sure to live it up on your wedding day lovelies.
Happy 1st anniversary to Charlotte and Mark – thank you for giving us a sneak peek into your beautiful day and I hope you have something exciting planned!
Love Jo -xo-