There's something about a short wedding dress that feels daring, don't you think? We're so used to seeing beautiful, long dresses on brides that it's hard to imagine that it hasn't always been the norm but rewind back a few years and it's a different story. Carli, an actress and writer, and her now husband, Ed, a tutor, were very much inspired by the simplicity and charm of the sixties for their August 20th wedding at Friars Court in Clanfield, Oxfordshire. I'm totally in love with her simple,  Pronovias dress and the laid back feel of the day which Harriet of Weddings Vintage has captured to perfection.
"We wanted the wedding to be very laid-back, colourful and natural with a bit of a festival vibe. We also both love everything about the sixties – the fashion, colours, music, literature and so on – so this ended up becoming a bit of a theme."
Photography by Weddings Vintage
Carli looks amazing in her off the shoulder Pronovias dress (did you see our feature on the new Atelier Pronovias 2018 collection yesterday?). I also love how she didn't compromise on shoes, wearing a pair of flat cutout Oxfords by Anna Field. This is a bride who looks comfortable and happy.
"I really struggled to find my dress. I knew I wanted something relaxed and informal and had seen pictures of short dresses with sleeves that I loved but I couldn't find one for ages. I tried on longer dresses but I always felt a bit like a little girl trying on her mum's clothes. Finally my mum and I found the Pronovias Mijas dress. It was very nearly perfect, I just had to have it altered a little to suit.""I'm lucky enough to have the brilliant hair and make-up artist Alice Howlett as one of my oldest friends and so she did the honours on the day. Getting ready for your wedding is such a personal thing and I knew I'd be nervous so it was really lovely and relaxing to have my makeup done by a friend.
I wore a headband that my mum made for me using hemp ribbon and dried flowers from her garden. I wanted something quite organic and she somehow managed to make exactly what I had been imagining in my head, I couldn't believe how perfect it was. All of my jewellery was from Etsy. I wore a couple of simple gold and pearl bracelets with pearl dewdrop earrings plus a little fish-shaped earring in my second piercing to honour my new surname."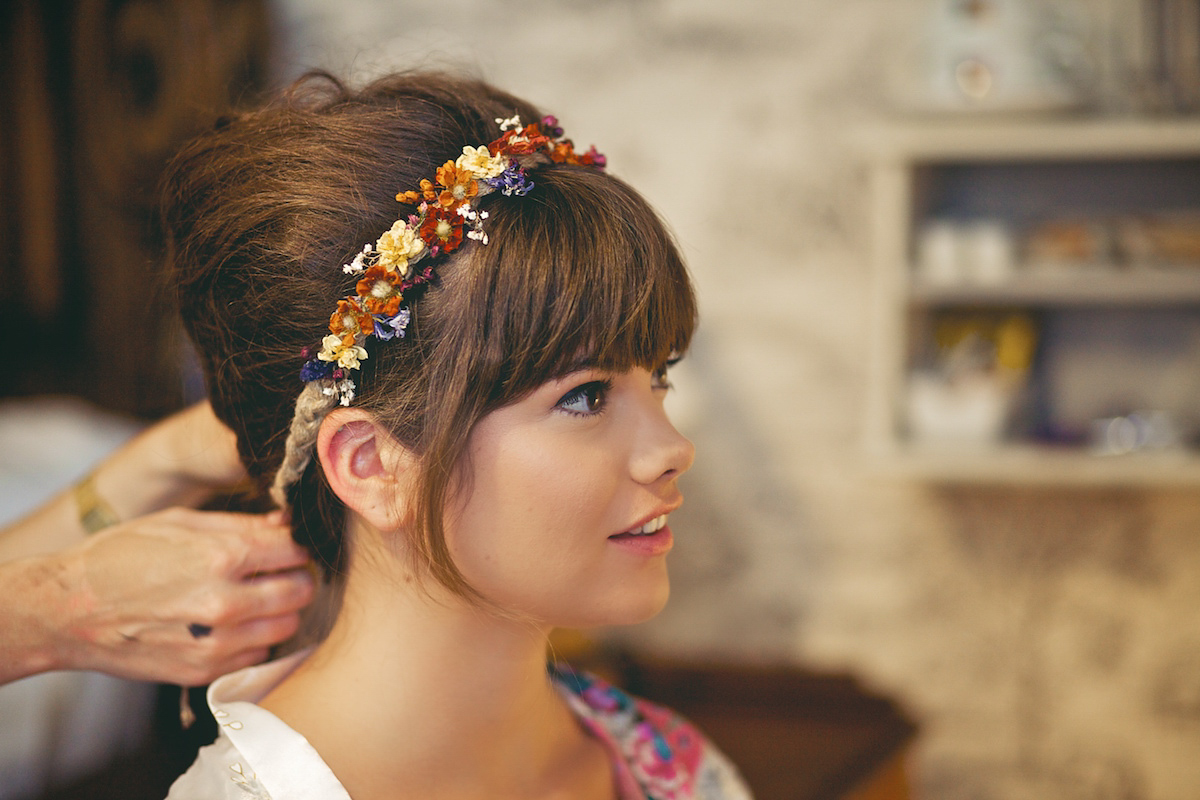 "I'm rubbish in heels and thought walking down the aisle was probably a bad time to try to perfect this skill."
"My bridesmaids wore floral tea dresses from Lindy Bop. I wanted something colourful and floral to offset my white dress and to match our decorations and these were perfect. Plus they looked amazing on everyone."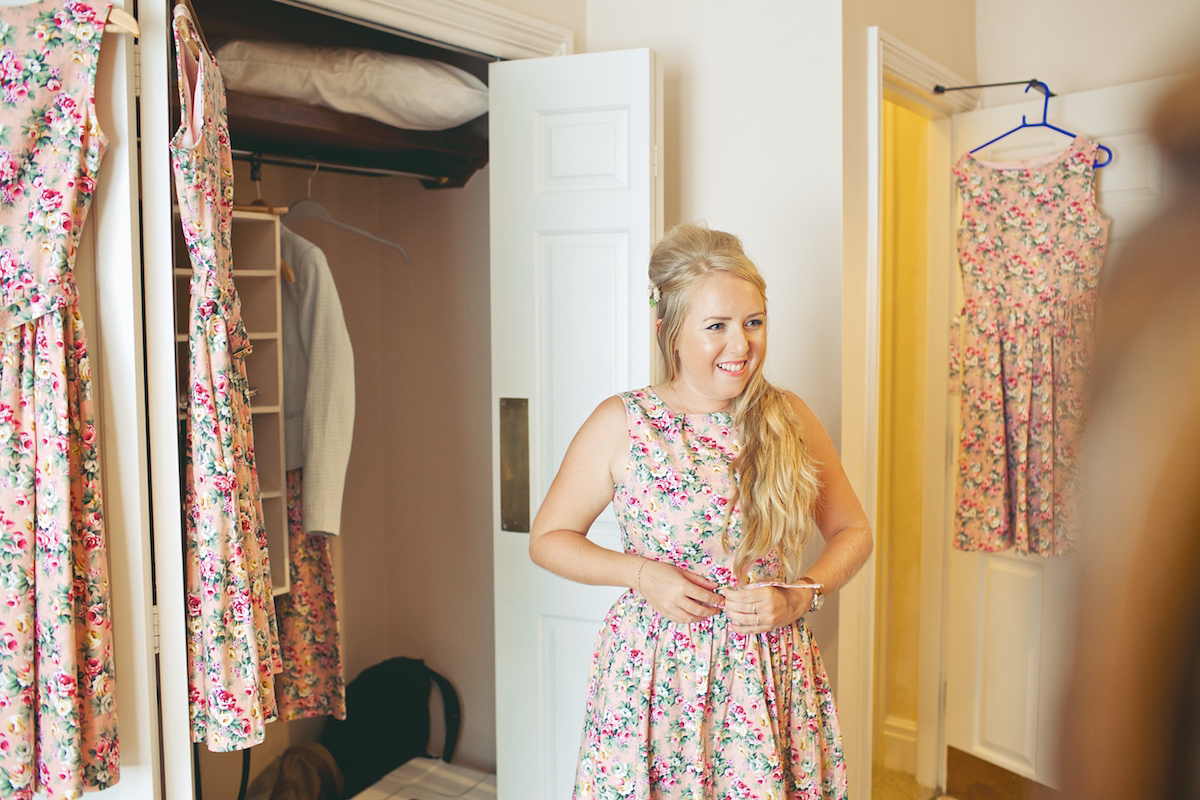 "We chose Penguin Classic themed Save the Date cards and invitations from Feel Good. Ger and Amie were really helpful when it came to perfecting our design and we got everything really quickly. They also donate money from each sale to Macmillan Cancer Support."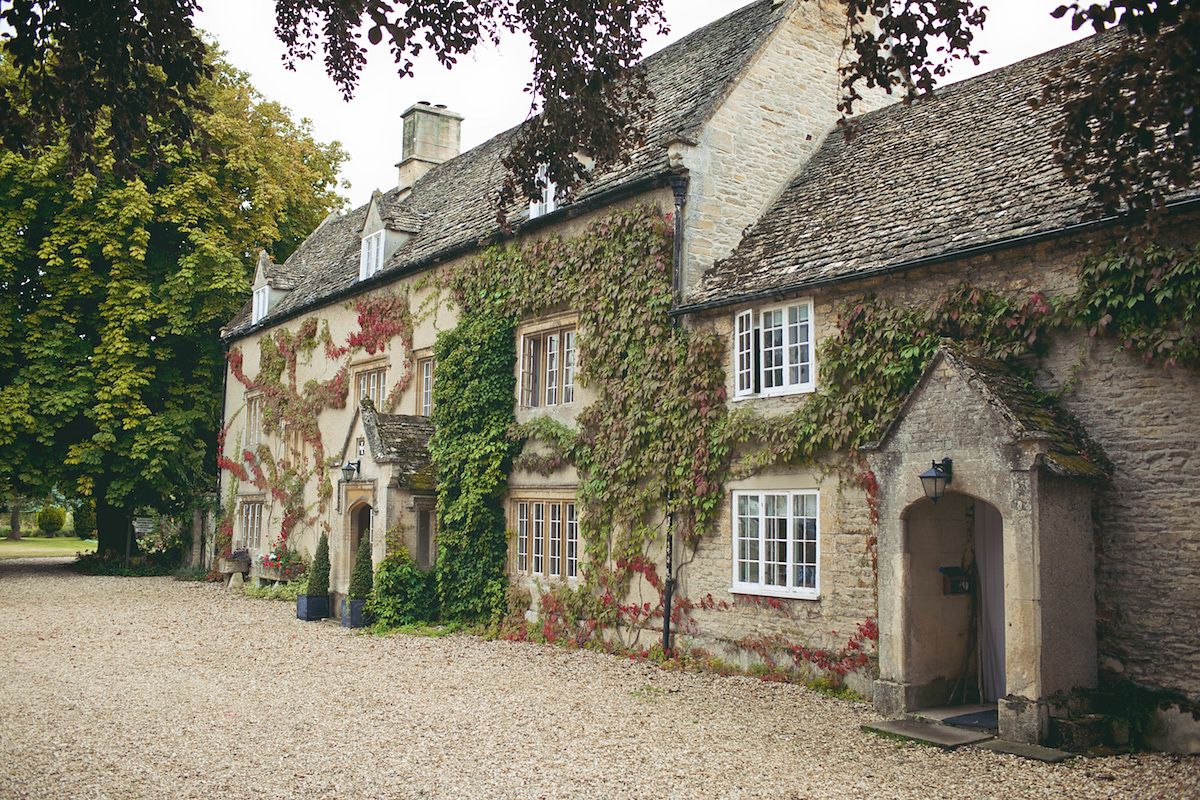 Ed's suit was by Gibson London and his bowtie from SunLondon on Etsy. Ed's best men and groomsmen all wore floral ties from Frederick Thomas.
"We fell in love with Friars Court as soon as we saw it. It was the perfect mix of beautiful, natural, vintage, and rustic all in one. It allowed us to have an outdoor wedding (although August drizzle put paid to that on the day) and has a warm inside space with facilities for older guests."
"Meeting and discussing our day with the hilarious (and almost magically helpful) Jeffrey of Silver Pear Weddings sealed the deal. He was a godsend and I lost count of the amount of times he stepped in when I was worrying about various details. I can't recommend him highly enough."
"Ed and I met on the Isle of Wight ferry heading to Bestival. After three years we moved onto a narrowboat and after four years Ed proposed on a rowing boat at the beautiful Finn Lough resort in Northern Ireland. You could say we quite like boats."
Carli and her dad were sung down the aisle to 'Moon River' by Hannah Robinson and Scott McKeon of Laurel Canyon.
"Hannah is a friend as well and has the most beautiful soulful voice. We felt incredibly lucky to have them both play at our wedding."
"That first hug with Ed when I reached the end of the walk down the aisle was lovely. We don't normally spend that much time apart so not seeing him the night before and day leading up to the wedding had been really stressful. It was good to be back together again."
"Neither of us are particularly effusive and we were more excited about the dinner and dancing part of the wedding so the registrar kept the ceremony short and sweet. Ed did surprise me with a sneaky romantic speech later though."
"My bridesmaid Harry is a craft queen and had recently begun making her own jewellery so she ended up helping us make our own rings. We carved them out of wax before Harry took them off to a jeweller to be cast in gold. The carving process gives them a really raw finish that we loved."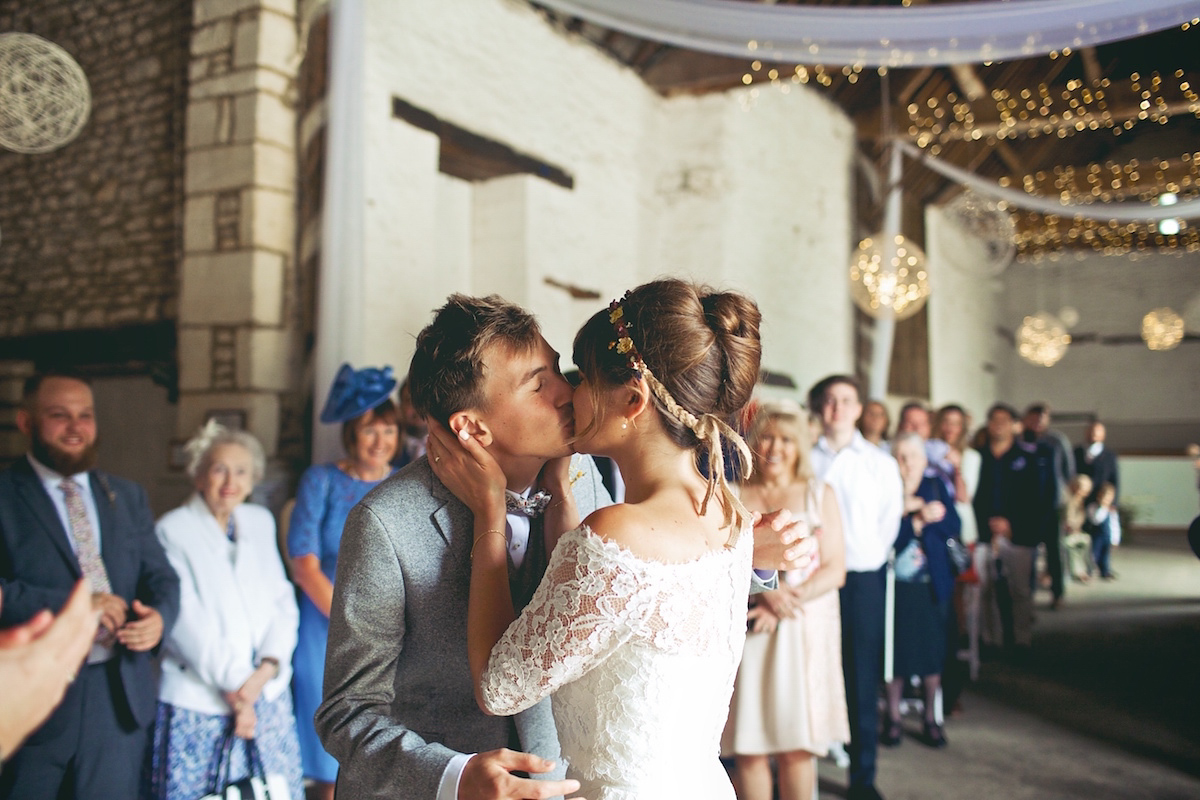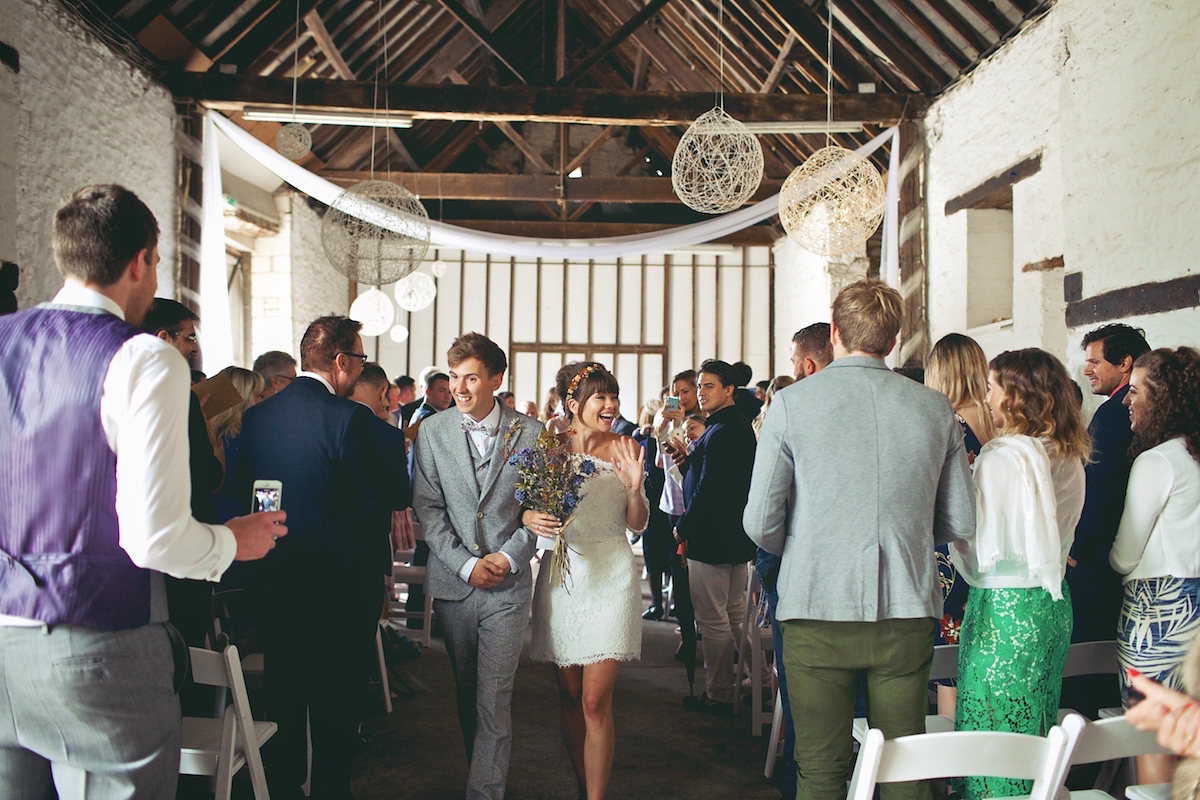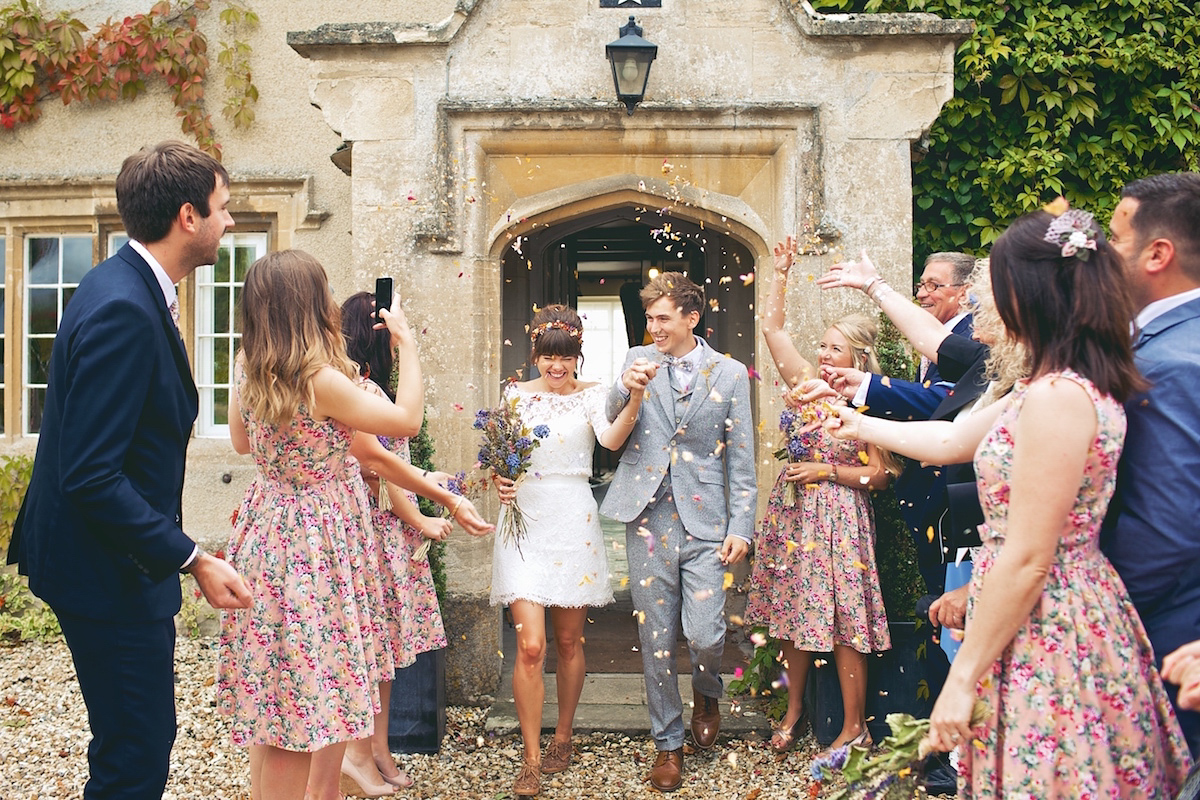 "Our long list of talented friends includes a lot of musicians so we had jazz at our reception courtesy of the brilliant Joe Perkins and Amy Hollinrake."
"For the dinner and dancing we made a Spotify playlist of our favourite songs. This worked really well and saved us a lot of money, though creating the playlist took forever."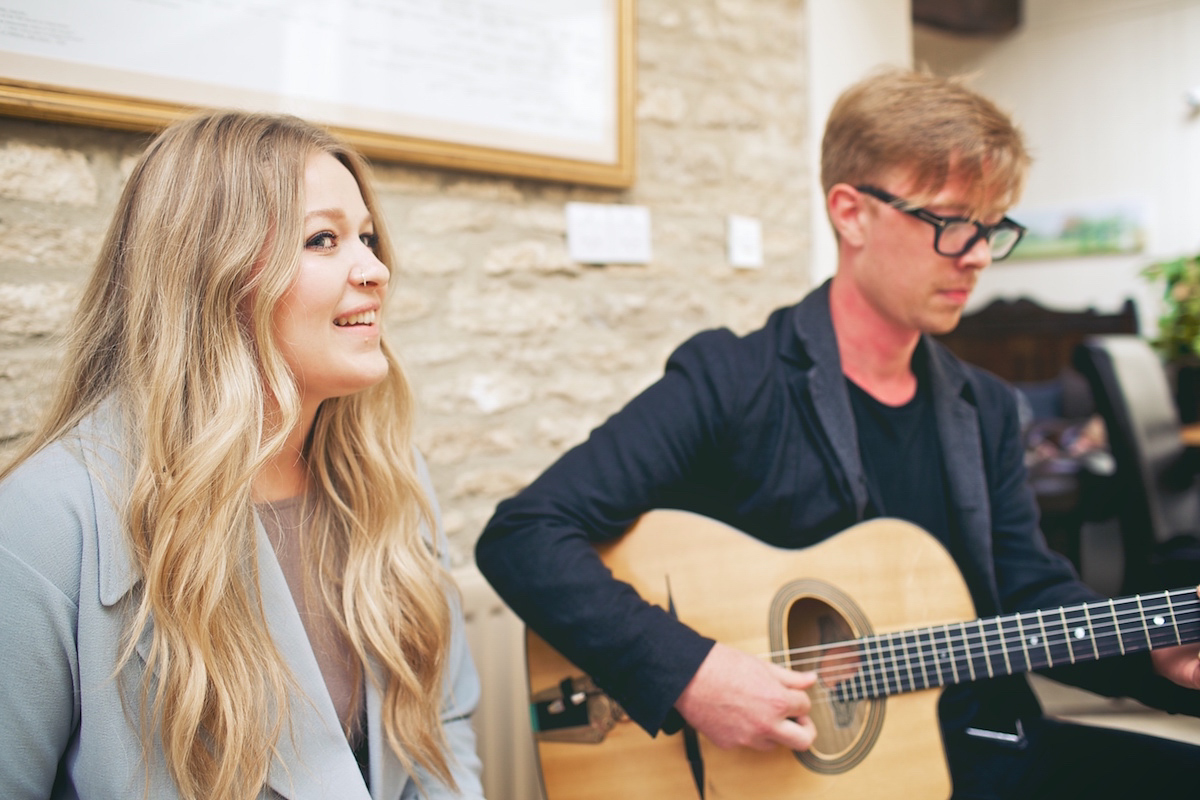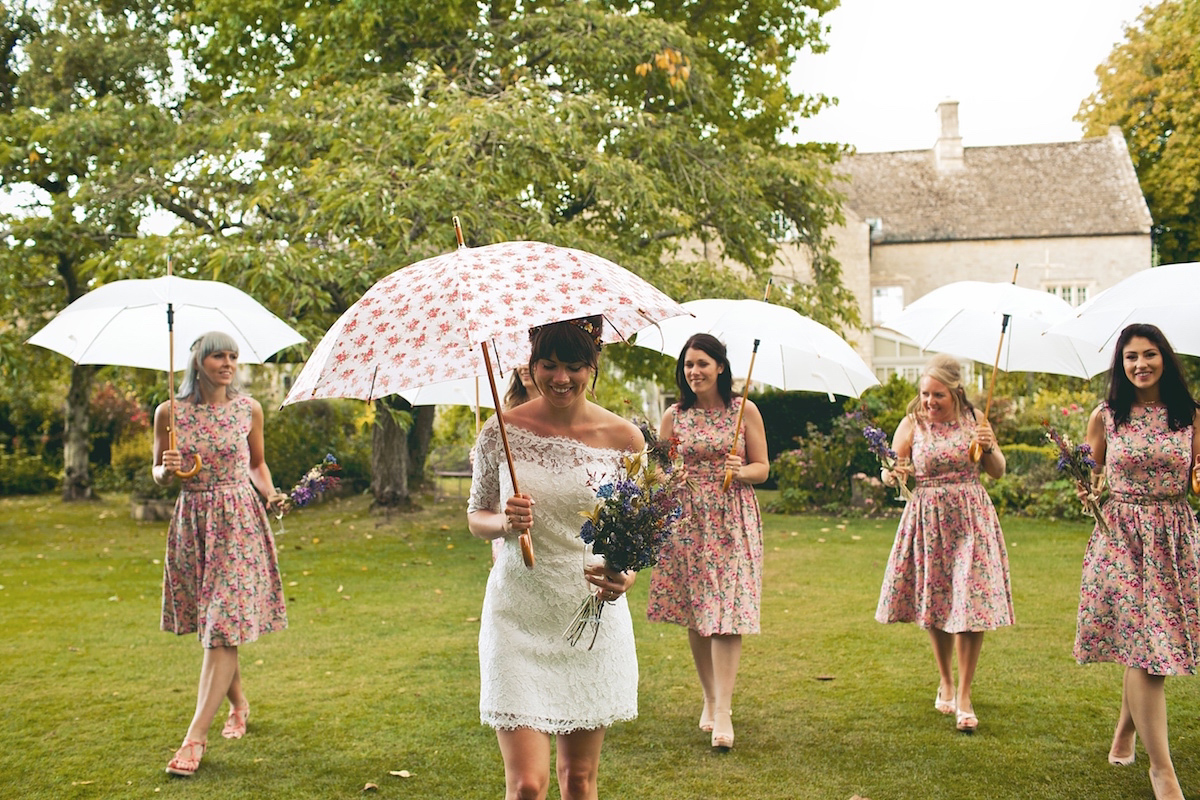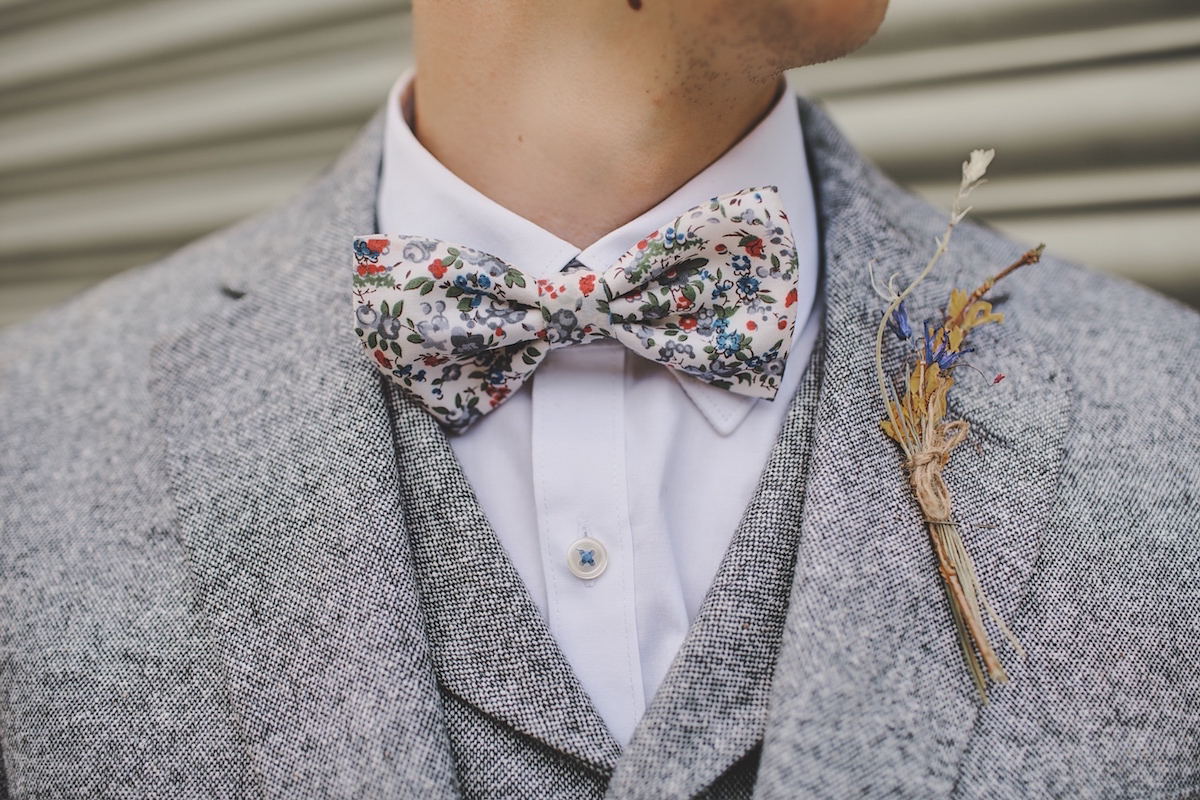 The couple chose the fabulous Harriet from Weddings Vintage to be their photographer.
"We loved Harriet's vintage style and her knack for capturing candid and quirky moments. She was so easy-going from the outset that it was like having a friend around while I was getting ready and she made us feel so relaxed for our couple shots. She also captured some of my favourite funny moments from the wedding and all our guests commented on how lovely she was. We were blown away by our pictures in the end, I love them all. The photo package Harriet sends you after the wedding is also awesome."
"Since the rest of the wedding was quite simple and rustic we opted for mixed wild and English country garden flowers, supplied in buckets by Babylon Flowers. Juliet sent the perfect mix of flowers at a really quite incredible price, we were lucky to find her."
"We were also lucky that my mum is a dab hand with decorating and soon got herself a crack team of flower arrangers to get the marquee into shape the morning of the wedding. She also made my bouquet, the bridesmaid's bouquets, and the boys' button holes using her dried flowers."
"We had our marquee on the front lawn and our ceremony in the old barn. Luckily the couple who had got married in the barn the day before us had excellent taste so it already looked beautiful."
"We decorated our marquee with mismatched wooden folding chairs, vintage cushions, bunting, fairy lights, and whitewashed trestle tables scattered with dried flower petals from my mum's garden (my mum spent roughly eight months drying flower petals on her AGA)."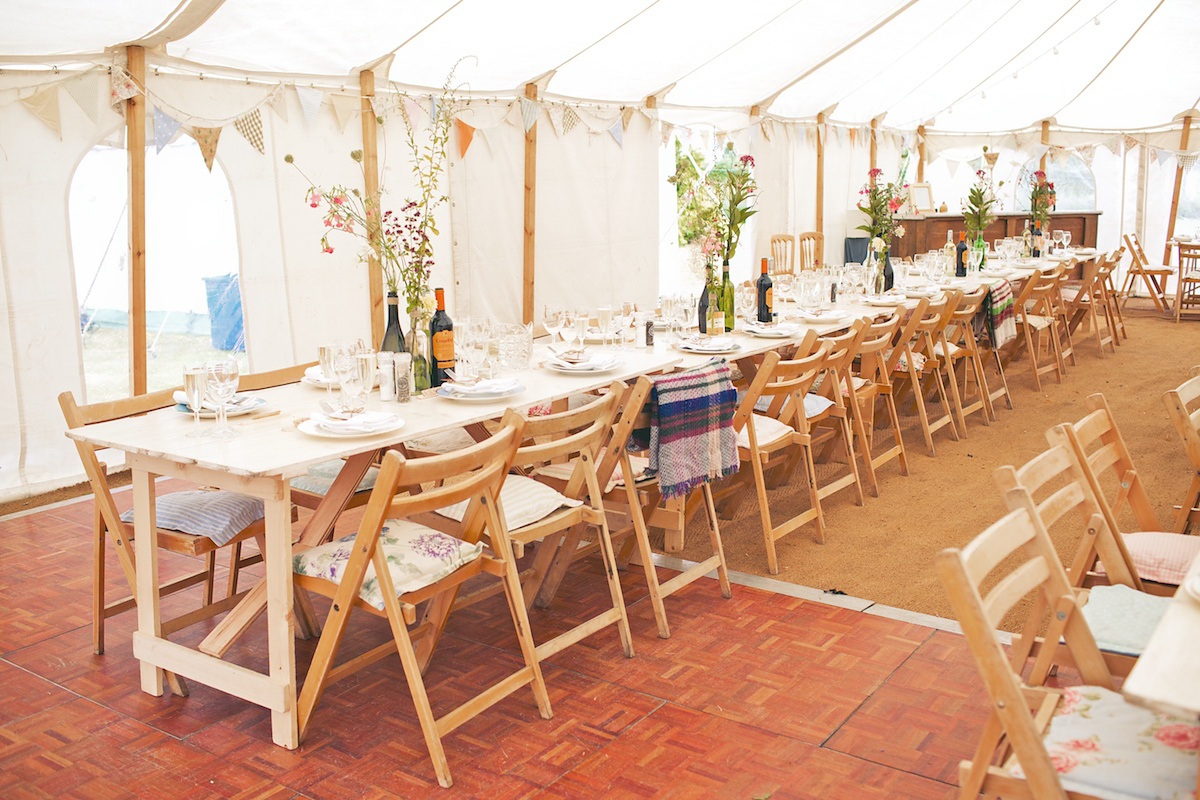 "Each table had an assortment of jam jars and bottles we'd collected over the year and filled with tea lights and flowers as well as vintage crockery and cutlery wraps made out of paper doilies, twine, and dried lavender. We also wanted to have something boaty at the wedding so we brought the traditional watering can from our narrowboat to fill with flowers."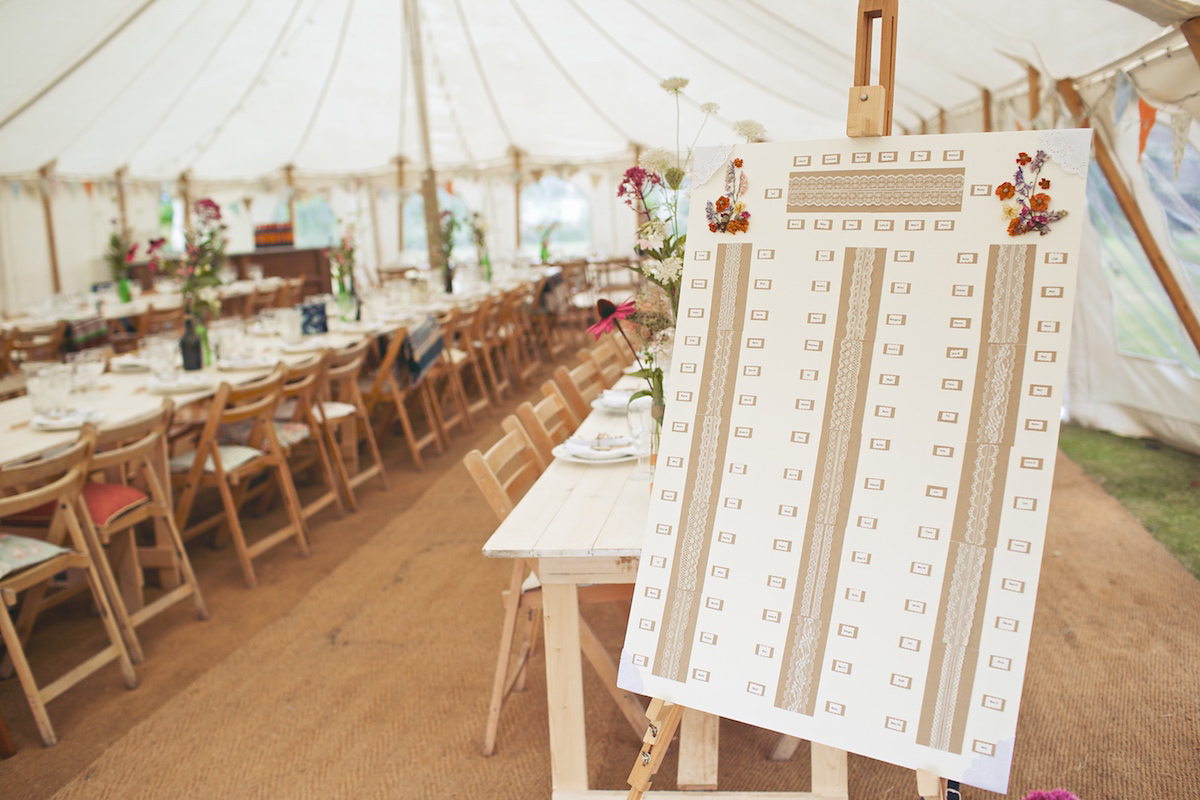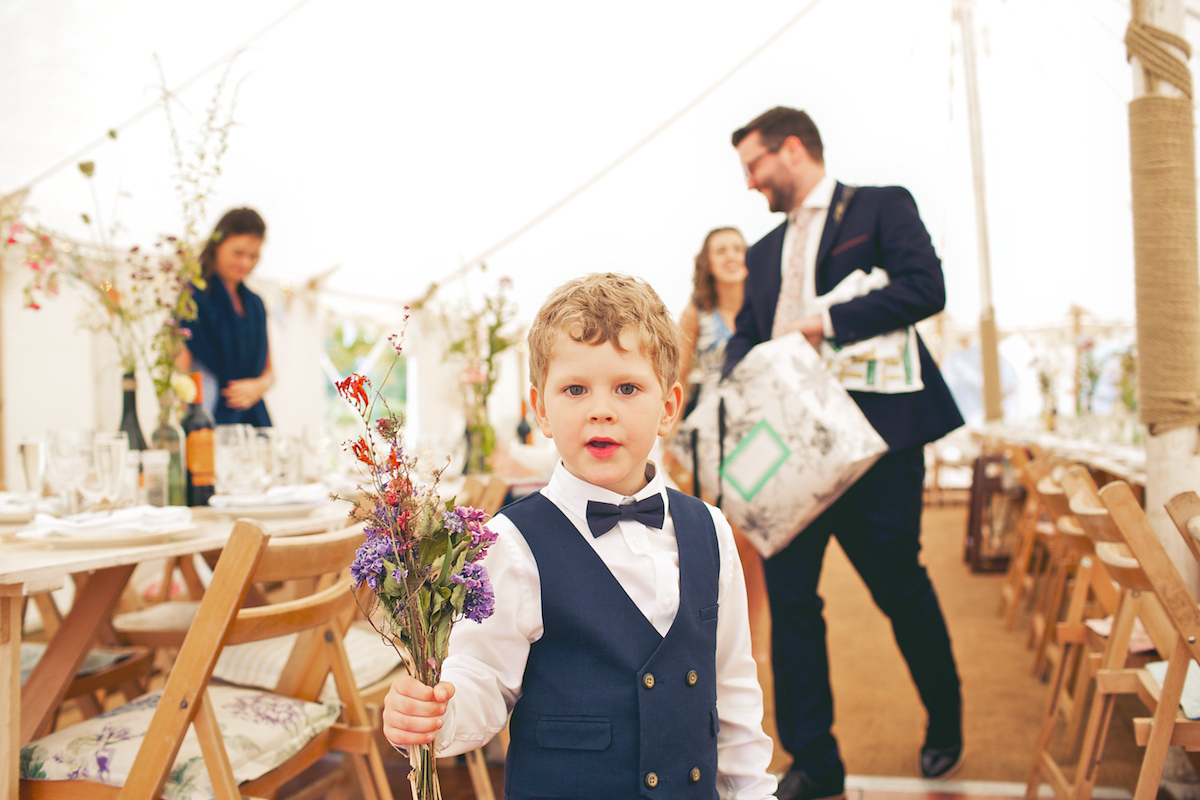 "For our favours we chose scratch cards from Willen Hospice. They had cared for my granddad towards the end of his life and we thought it was a nice way to remember him and raise money for charity at the same time. We also made each guest's name out of Scrabble tiles as a place holder."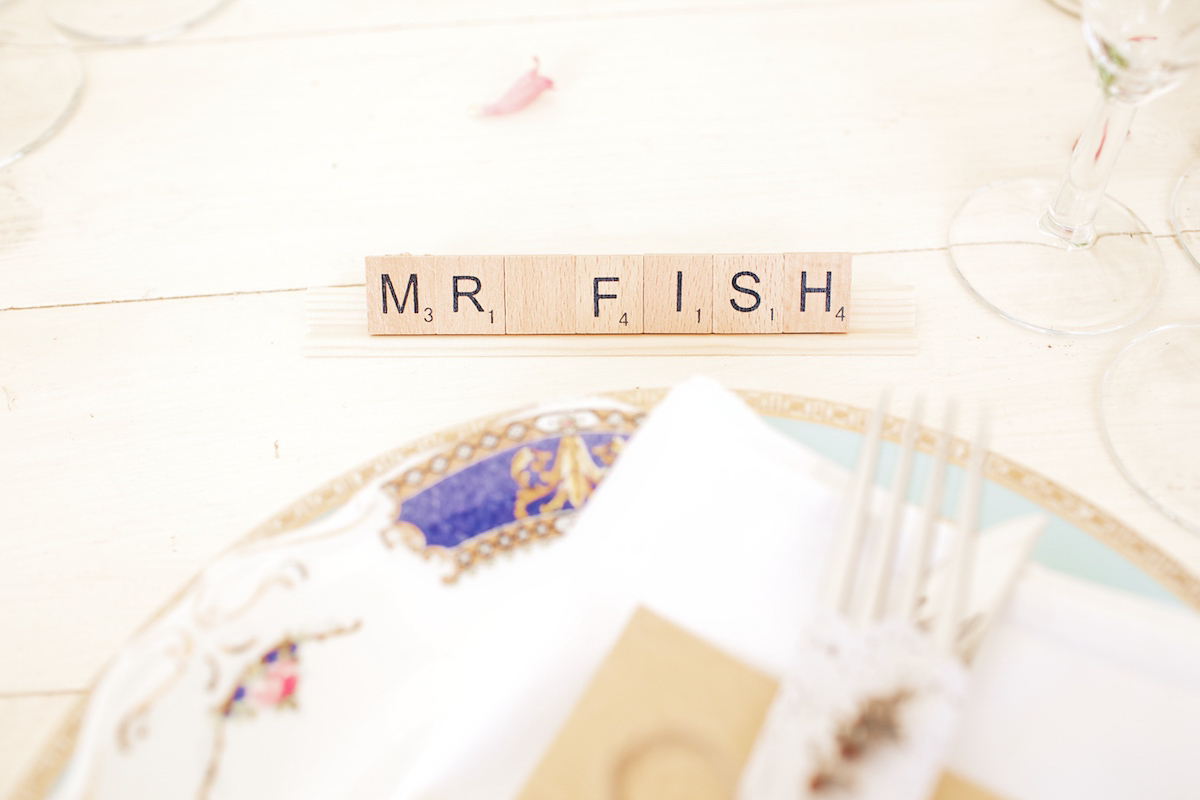 "Luckily for us, Ed's dad is an extremely talented cake maker. The finished result was a beautiful mix of simple white icing and sugar craft wildflowers that Terry had made by hand. We'll get him on the 'Bake Off' yet. Terry also loaned us his naval officer's sword to cut the cake, which we ended up having quite a lot of fun with."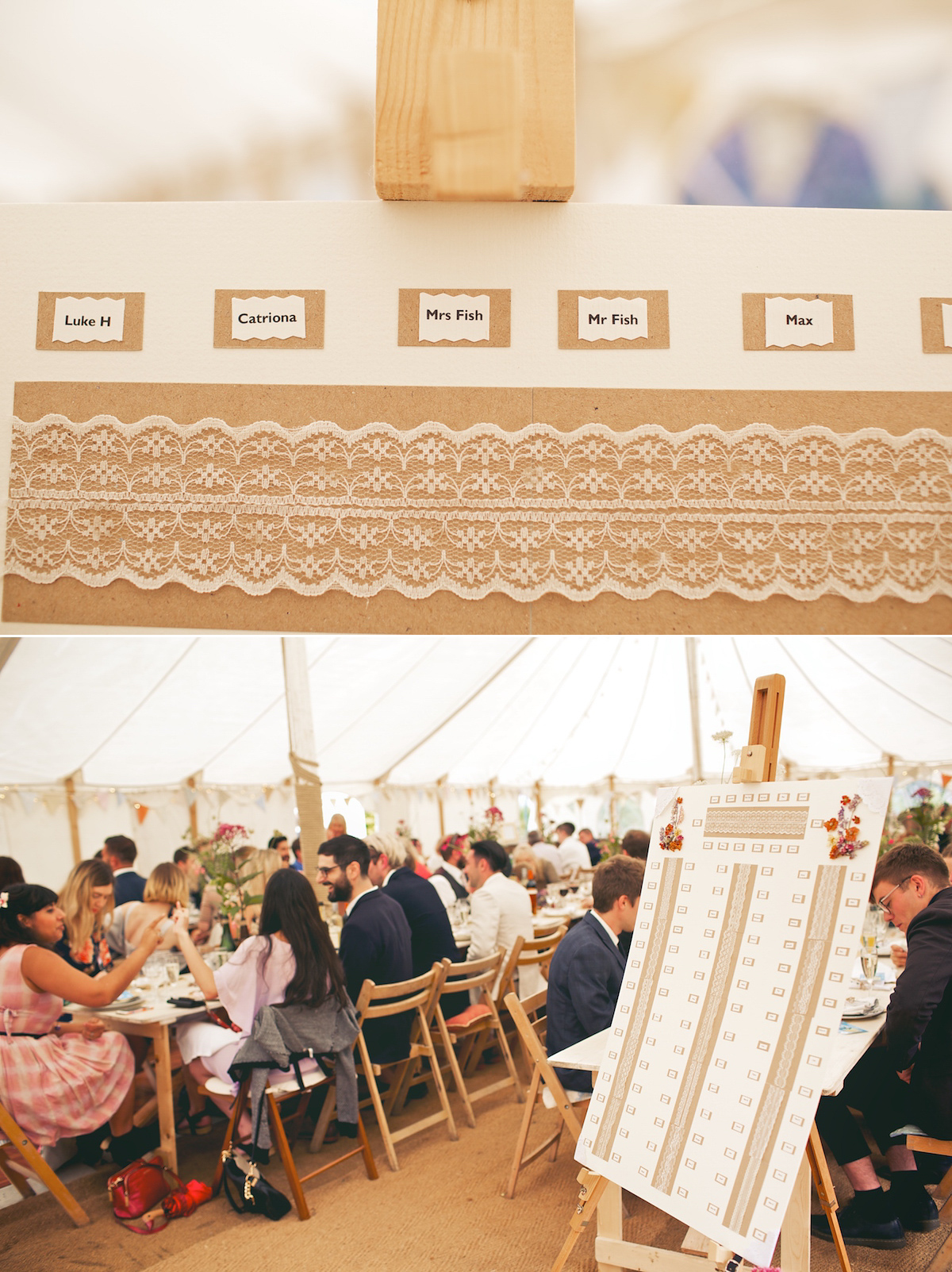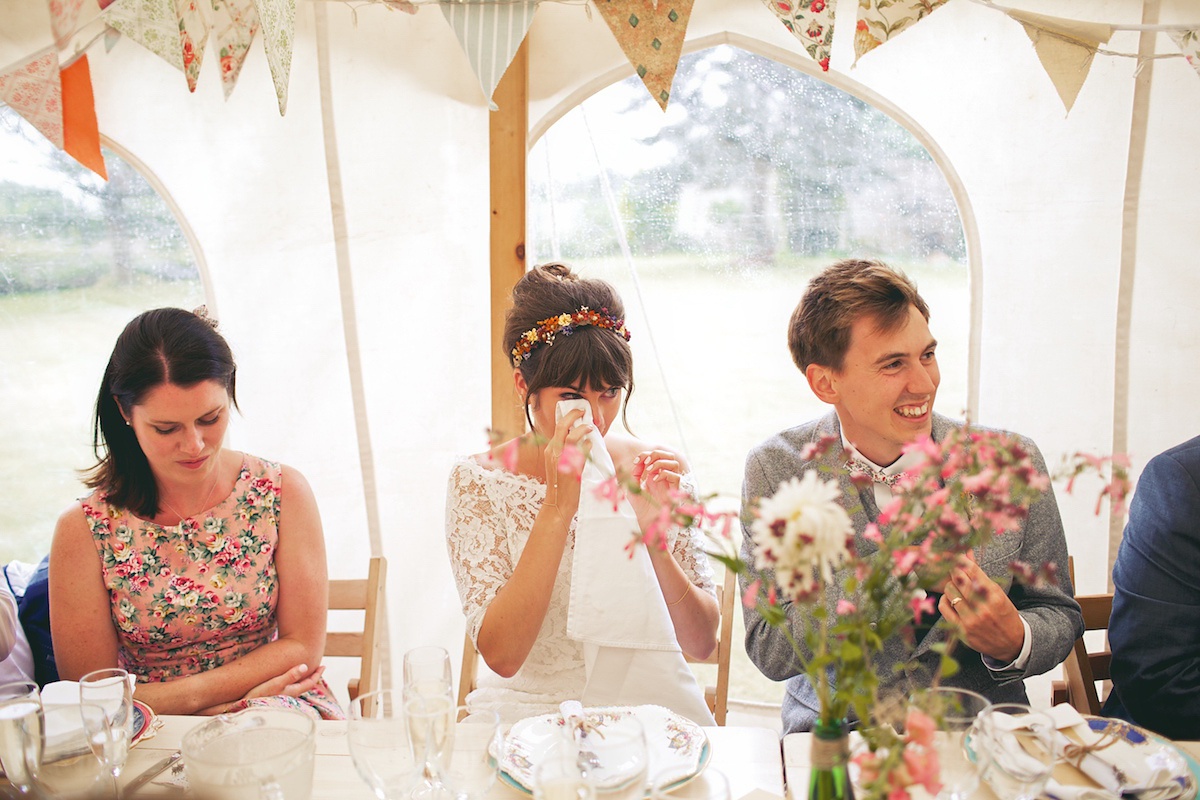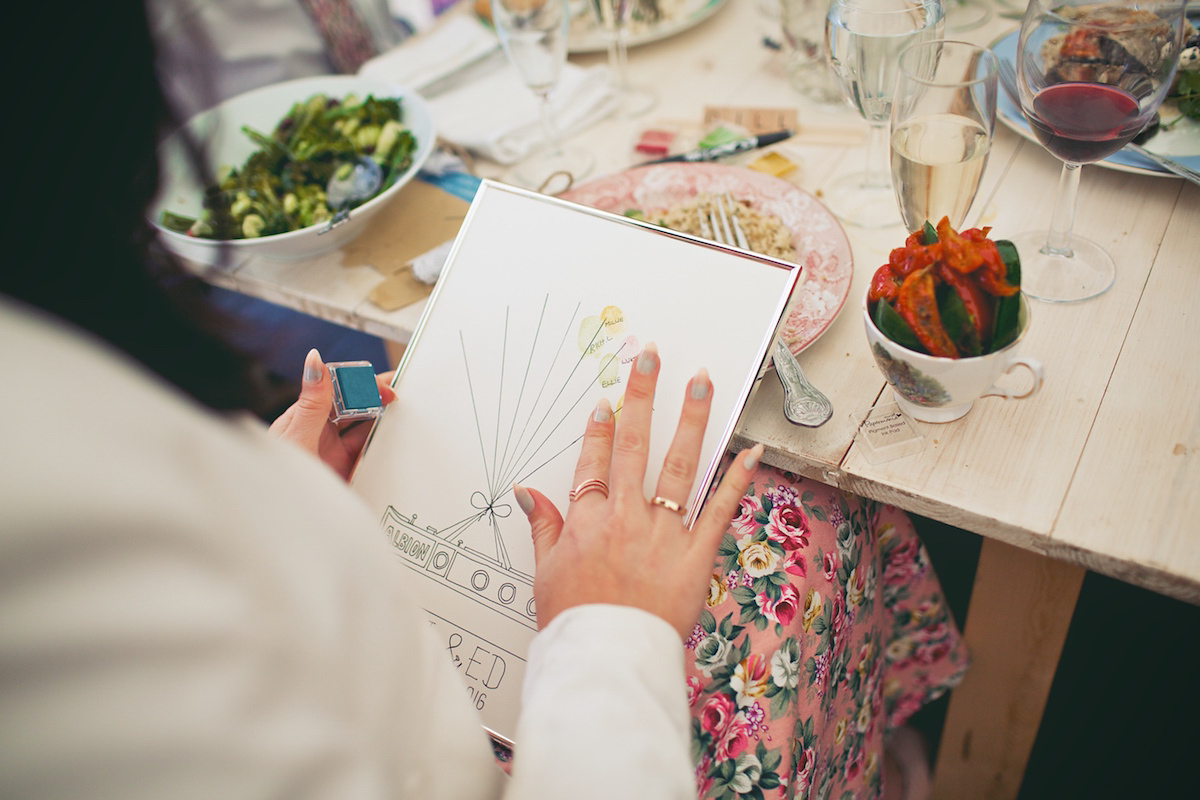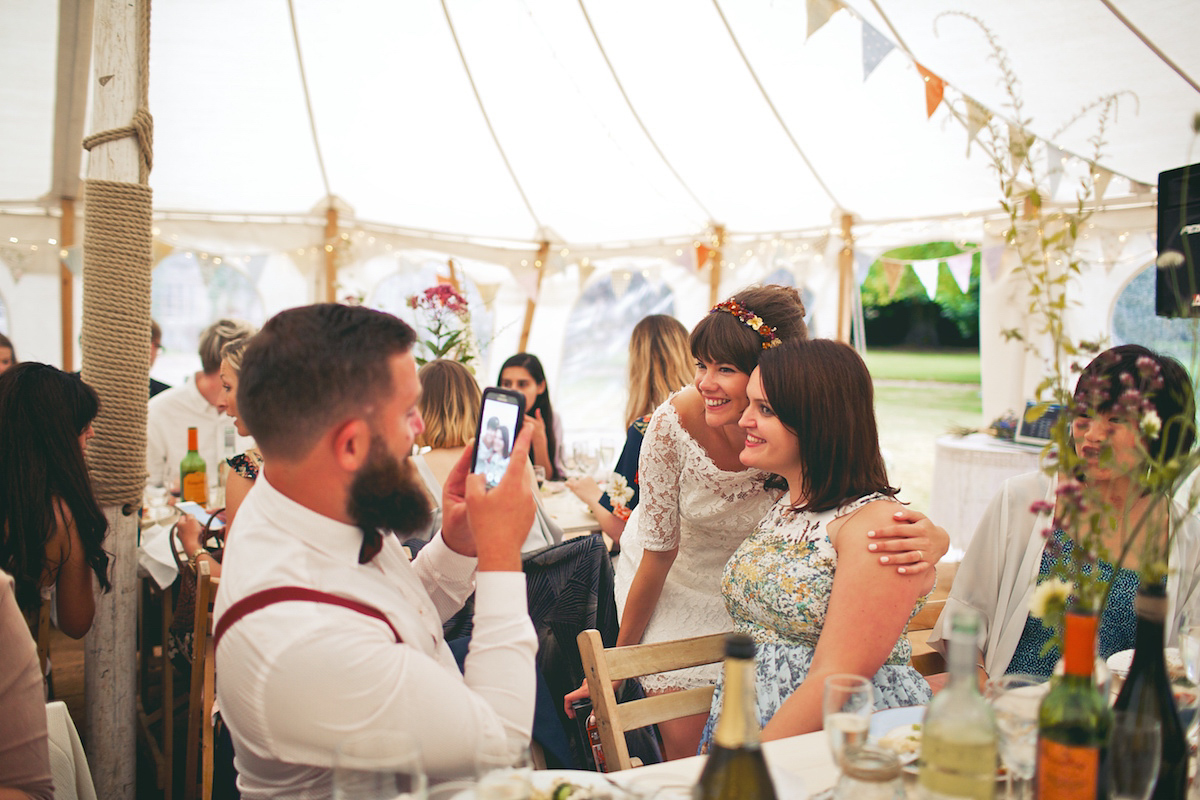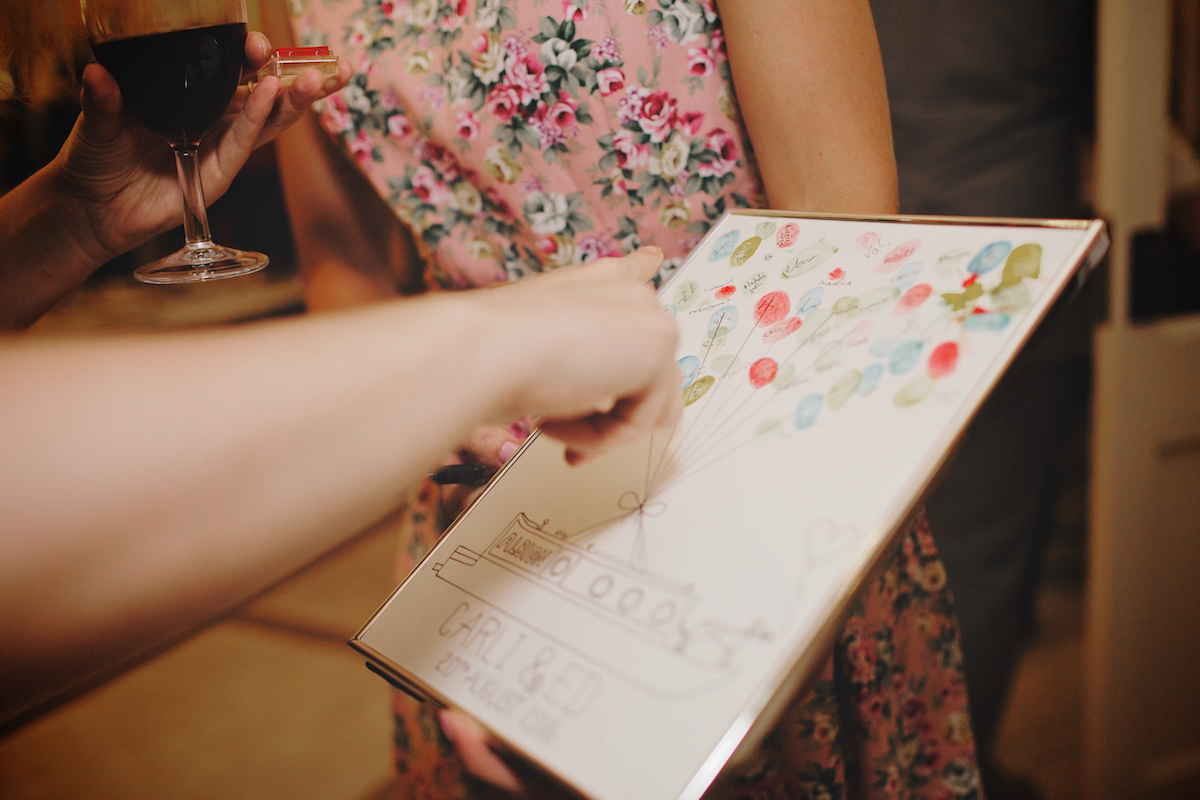 "Our first dance was 'Dream A Little Dream Of Me' by Ella Fitzgerald and Louis Armstrong, a song we always listened to while boating."
"We followed it with 'You Never Can Tell' by Chuck Berry because most of the suppliers we'd met leading up to the day thought we were a teenage wedding."
"There were so many wonderful moments; getting ready with my bridesmaids – they kept me calm by making me laugh. Seeing the way my mum had decorated the marquee for the first time on the day, my dad's speech, when my mum's partner gave us a tiny replica of our narrowboat that he'd made by hand (complete with a mini bride and groom and a mini version of our dog), dancing with our favourite people – some of whom had come from whole different continents to be with us."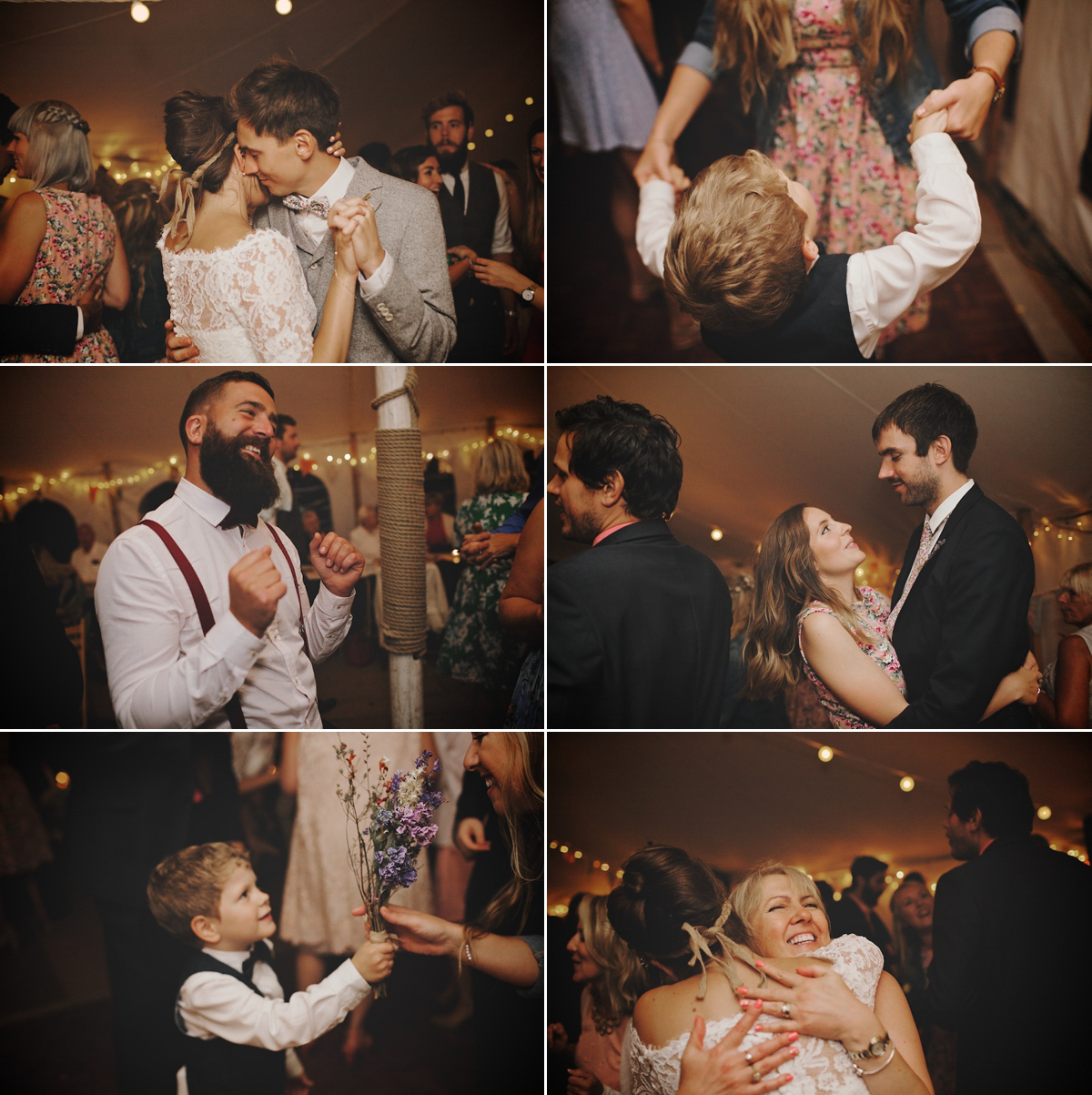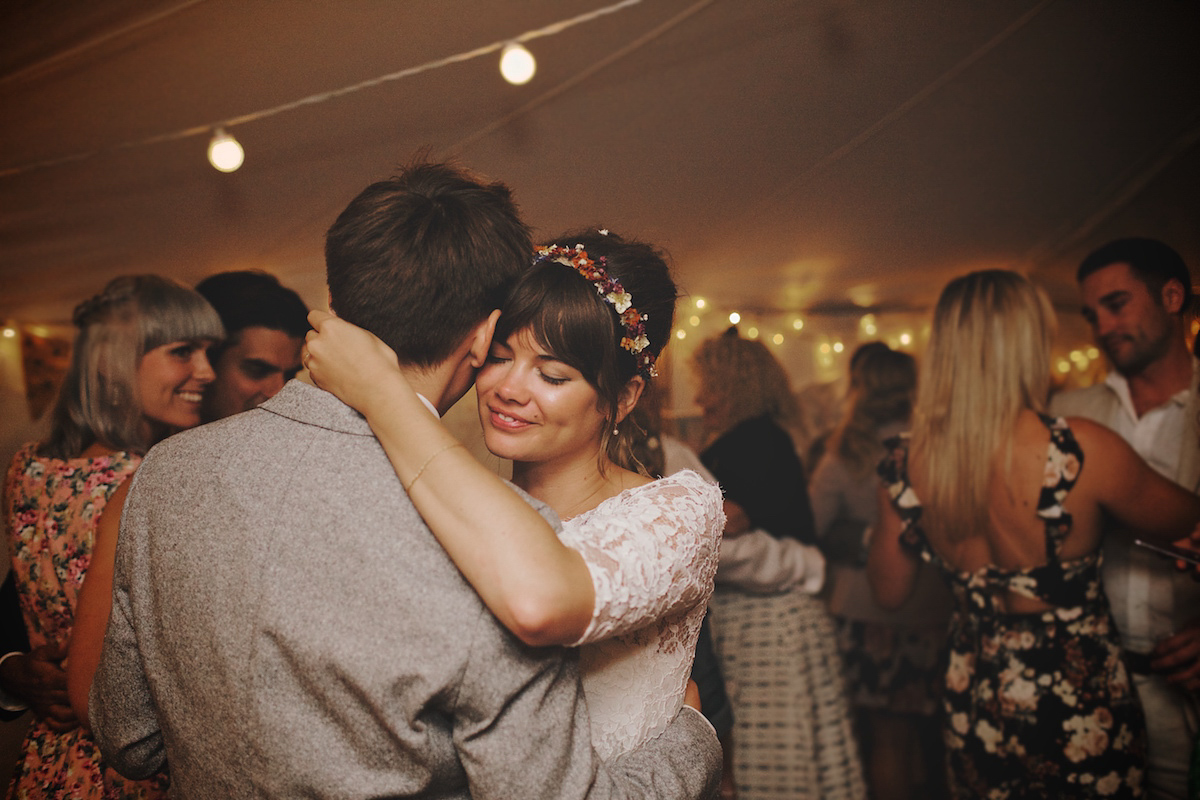 Words of Wedded Wisdom
"It's the good advice (that I just didn't take) but try not to worry too much. Don't worry about the weather – it rained on our day which was the worst case scenario for our outdoor summer wedding but it was all fine in the end. The ceremony in the barn was beautiful and our umbrella pictures ended up being some of my favourites. Don't worry about the details either – leading up to the wedding I was stressed about so many tiny things that ultimately I barely registered on the day.
In the end we realised that all that mattered to us was good food, drink, and music so pick your priorities and everything else will fall into place. Also, delegate. Our parents, family, and friends all helped out in various little (and massive) ways and the wedding would have been impossible without them."
Thank you very much Carli and Ed, I have loved sharing these gorgeous images by Harriet of Weddings Vintage. If Carli's beautiful dress has you pondering a mini, look no further than our archive of brides in short dresses.
Love Caoimhe xx