Hello everyone, and happy almost-the-weekend! I hope you all had a lovely week, and enjoyed the warmer weather that May has brought. If you've got wedding planning on your list this weekend and are looking for a bit of inspiration, then it's a joy to introduce you to today's couple. Lorna and Si, who married on 17 September 2016, cleverly wove forest-inspired elements into their very modern city wedding at Belfast City Hall and The Muddlers Club, tucked away in Belfast's Cathedral Quarter.
Despite choosing two city venues for their ceremony and reception, the couple were keen to bring the outdoors in, inspired by their love of the outdoors; the local Belvoir Forest and the Mourne Mountains, in particular. They carried the theme through the entire day, from the gorgeous stationery, to the handmade floral crown, deep-green bridesmaid's gown and greenery which festooned The Muddlers. Just wait until you see the incredibly creative favours which the couple dreamt up. Lorna and Si had a clear idea from the beginning about what they wanted their day to be like, using Pinterest and Instagram to help them choose suppliers.
"We love the outdoors, especially Belvoir Forest (because it's so close to our house) and the Mournes (any time we have enough time for a proper hike), so we wanted to bring those into our day as much as we could."
Photography by Chris Copeland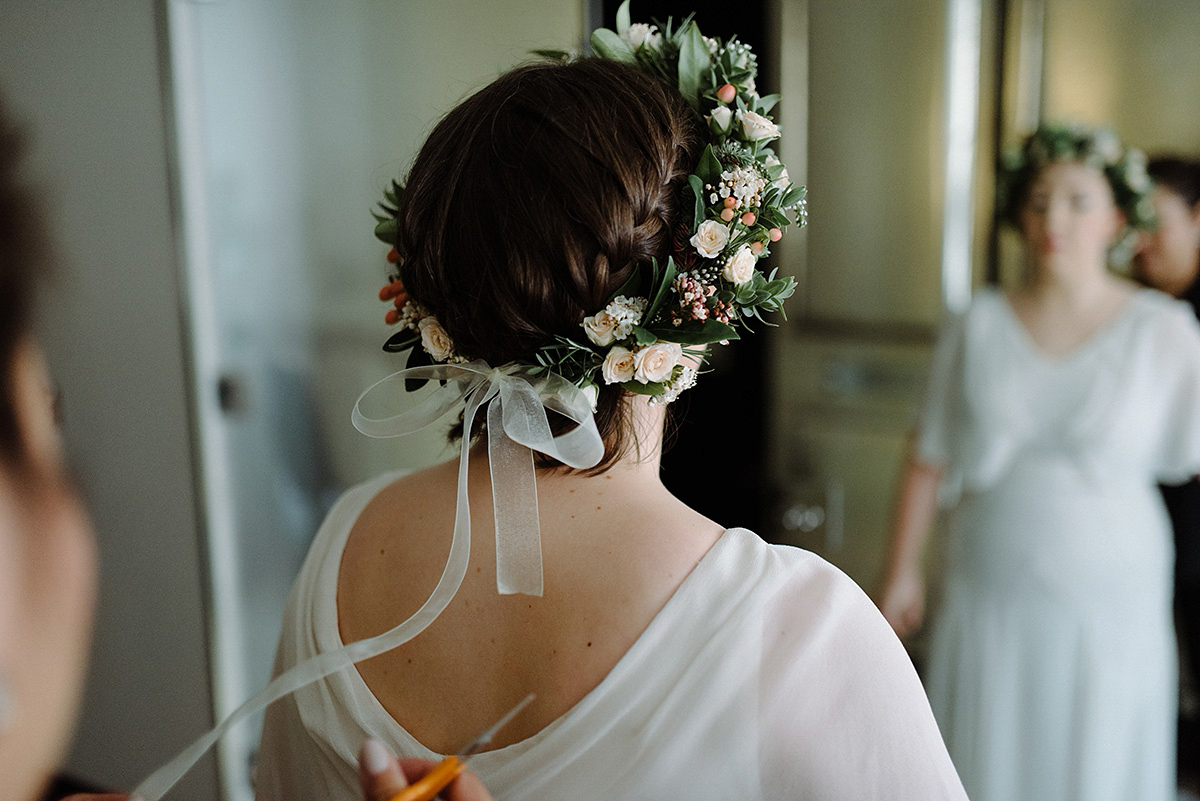 Lorna chose a figure-skimming, vintage Ghost gown, chosen at Archive 12 in Conway Mill. I adore its batwing sleeves, off-white diamond panels and cinched-in waist accentuated by a satin sash, also from Archive 12.
"I can't recommend Claire highly enough. She has a very carefully curated collection of dresses, all beautiful. I tried on three but it was immediately very clear that this dress had been found for me. I've never been so happy (and relieved). The minute I put it on I knew it had to be mine;  it fitted perfectly and I loved the style."I love Lorna's silver hand-made Mina Shoes leather brogues. Not only do they look so special, they also look super-comfortable. Lorna added only her engagement ring and a floral crown, made by her mother and sister the previous afternoon. It looks so lush with deep-green leaves, touches of orange and creamy flowers.
"I opted to go for a wild and natural style of bouquet and Caitlin let me to choose my own blooms at the flower market (which was so much fun) to make sure she made just what I wanted."
Simply beautiful, it pairs so well with her forest-inspired bouquet, created by Caitlin of Best Buds. Lorna and Caitlin chose her flowers at the market together, which sounds like the perfect way to achieve the look you want. The whispy greenery, soft whites and corals really do evoke the fresh feel of a forest.
Lorna is lucky to have a beautiful hour-glass figure, which was emphasised with a custom body-suit by Sioda Lingerie.
"Mary from Sioda Lingerie made me a custom bodysuit that made me feel like a million dollars. She completely changed my mind about how I would look; I can't recommend her highly enough if you need a confidence boost. She also made me a sneaky little garter."
Lorna and Si live in Belfast, and work together in their  film and photography studio, TACA. They met at a Build Conference, and were engaged for nine months before marrying.
"A mutual friend of ours had invited me up to the conference and then had to go abroad so introduced me to some friends of his in a tweet. One of them was Simon! We ended up bumping into each other in Le Coop on Hill Street and then got chatting again in the coffee queue in the MAC the next morning."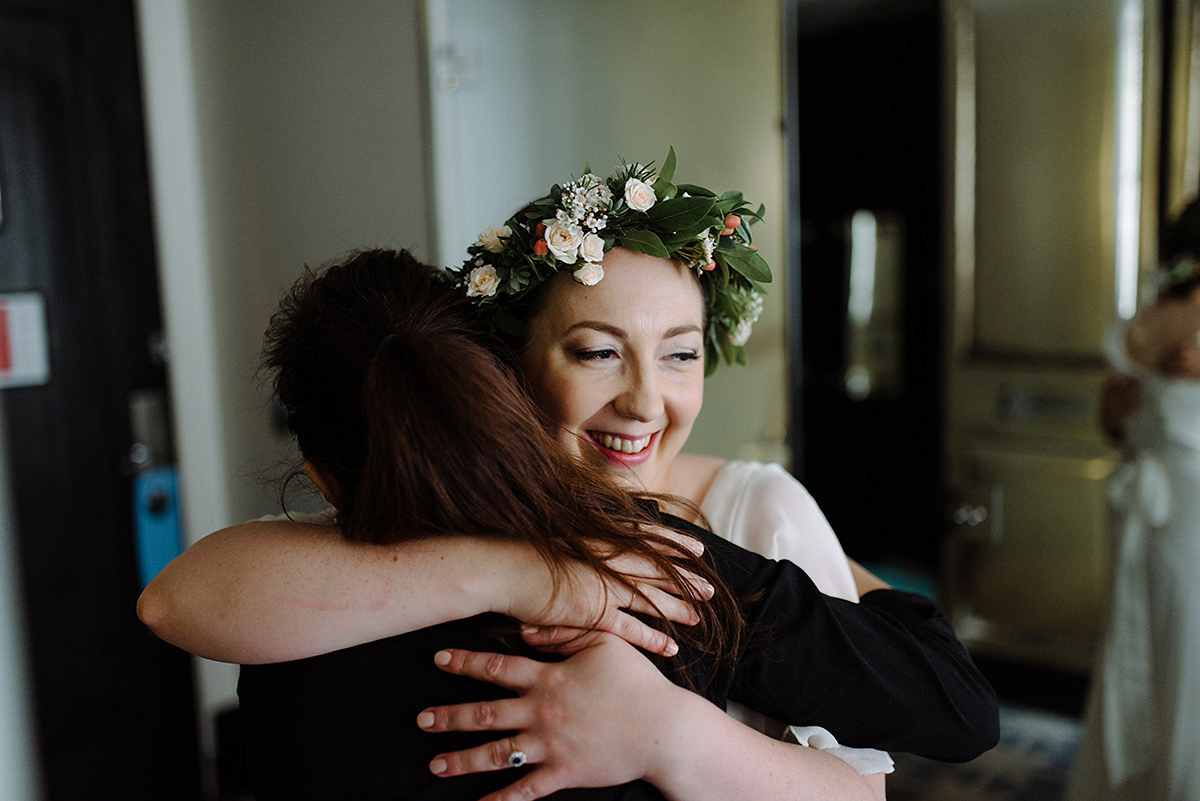 "After Build was over we met up a few times before finally kissing on New Year's Eve. We went to a beautiful cottage in Fintown, County Donegal for our anniversary last year."
"I thought he was acting a bit shady on New Year's Eve but certainly didn't suspect a proposal. When he started to speak I immediately knew what was coming. It was perfect."
Now, about wedding transport. Lorna was lucky enough that her sister Helen is the owner of a magnificent Morgan, and they travelled through the Belfast streets together towards the City Hall.
Lornas bridesmaid wore a deep-green Blush Fashion wrap dress with a pair of Jenny Packham silver satin embellished heels for a classic and elegant look.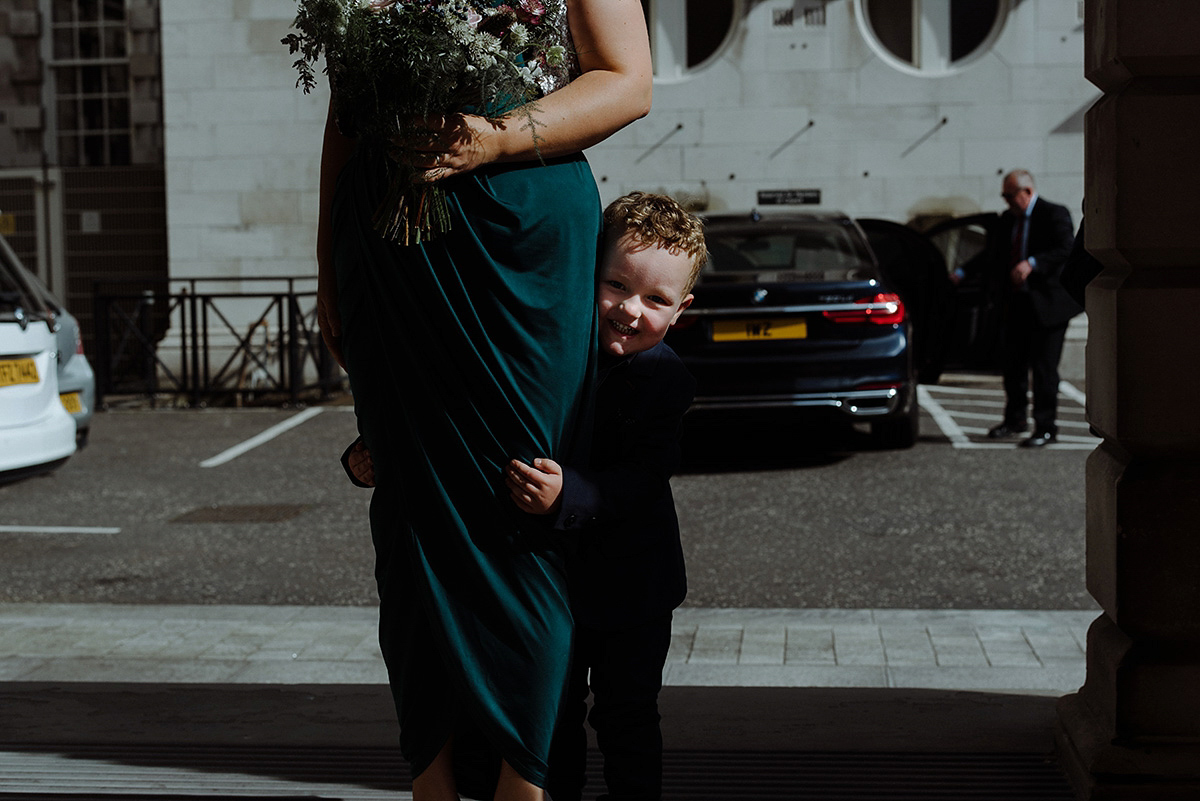 The guests enjoyed acoustic music played by their friends Shane and Mark, aka ' The Tiny Lions', and Lorna walked down the aisle with her father to a beautiful version of 'I Don't Want Love' by The Antlers.
They had a very traditional ceremony, accompanied by a reading of 'I Carry Your Heart' by E.E. Cummings from her sister Helen.
"We all teared up a little bit. I love poetry so much; it's something that's a part of my everyday life, but this poem really resonates. When we were thinking about a reading we struggled for an evening wondering what we would choose but then I suddenly remembered this one and we knew it was the one."
Their rings were handmade by Cyril from Belfast's Ember Jewellery.
"He designed and made my engagement ring so it was a natural choice. He created my wedding ring to fit perfectly under my engagement ring. Simon opted for a thicker hammered gold band."
Si looked wonderful in a kilt in Wallace Muted Hunting Tartan that he's had since he was 21 worn with a new Magee jacket and waistcoat from Richard Hare Kilts and a Noble shirt from Reiss.
To complete his traditional style, he wore a sporran, Sgian Dubh stashed in his kilt hose and a Wallace crest kilt pin. Mark (Simon's best man), his father Eric and his friend Bruce (the ushers at City Hall) all wore their own kilts.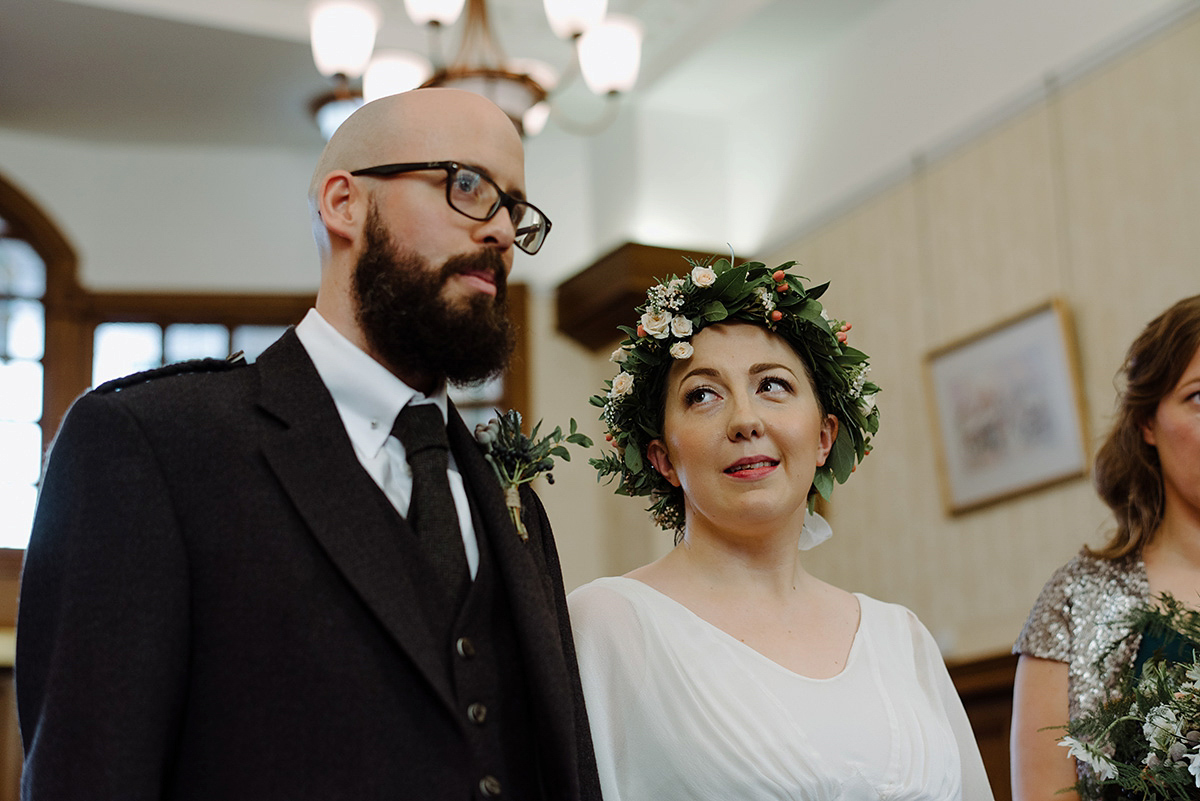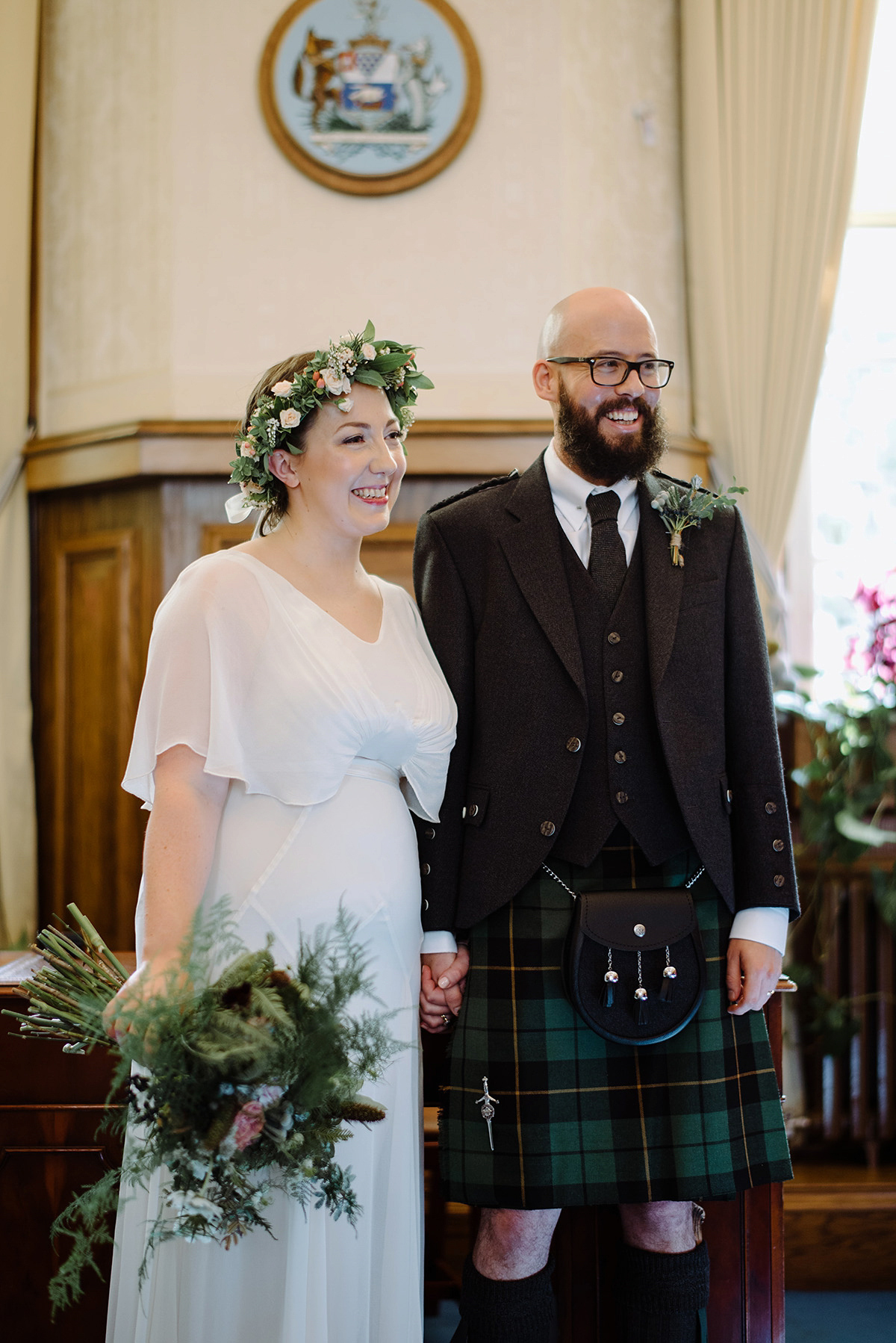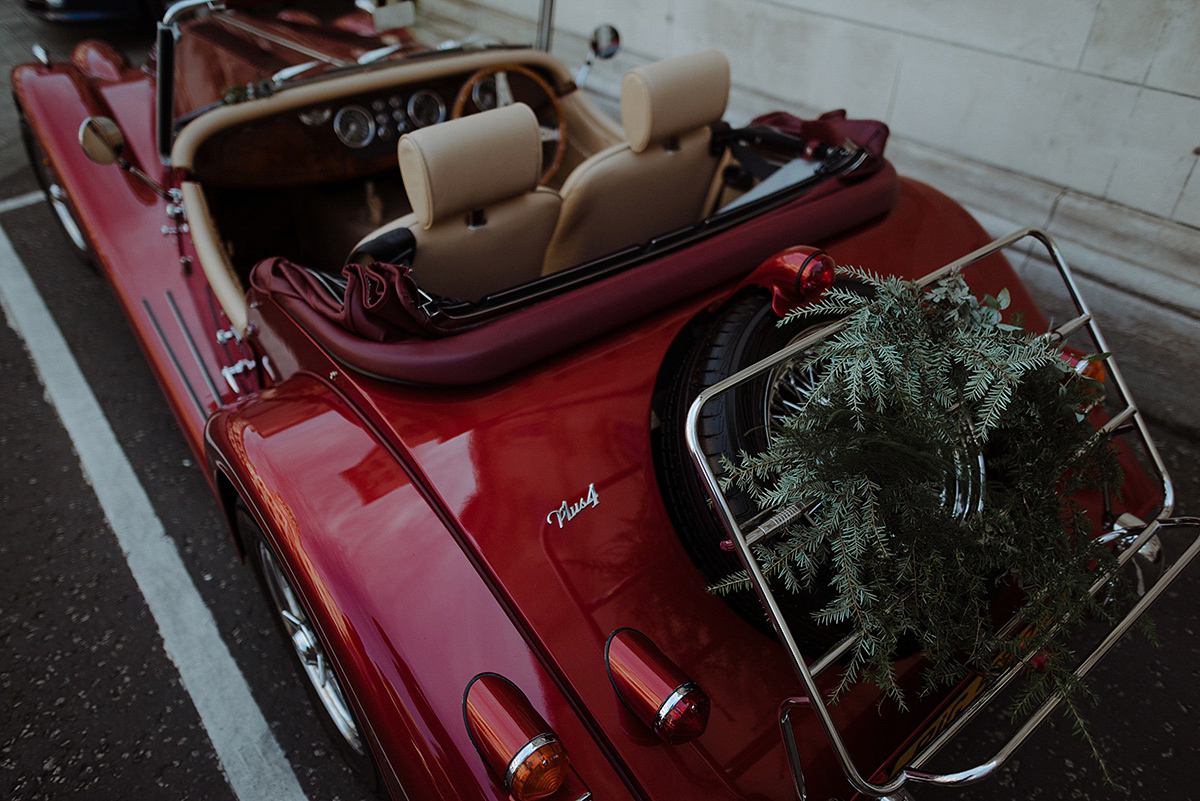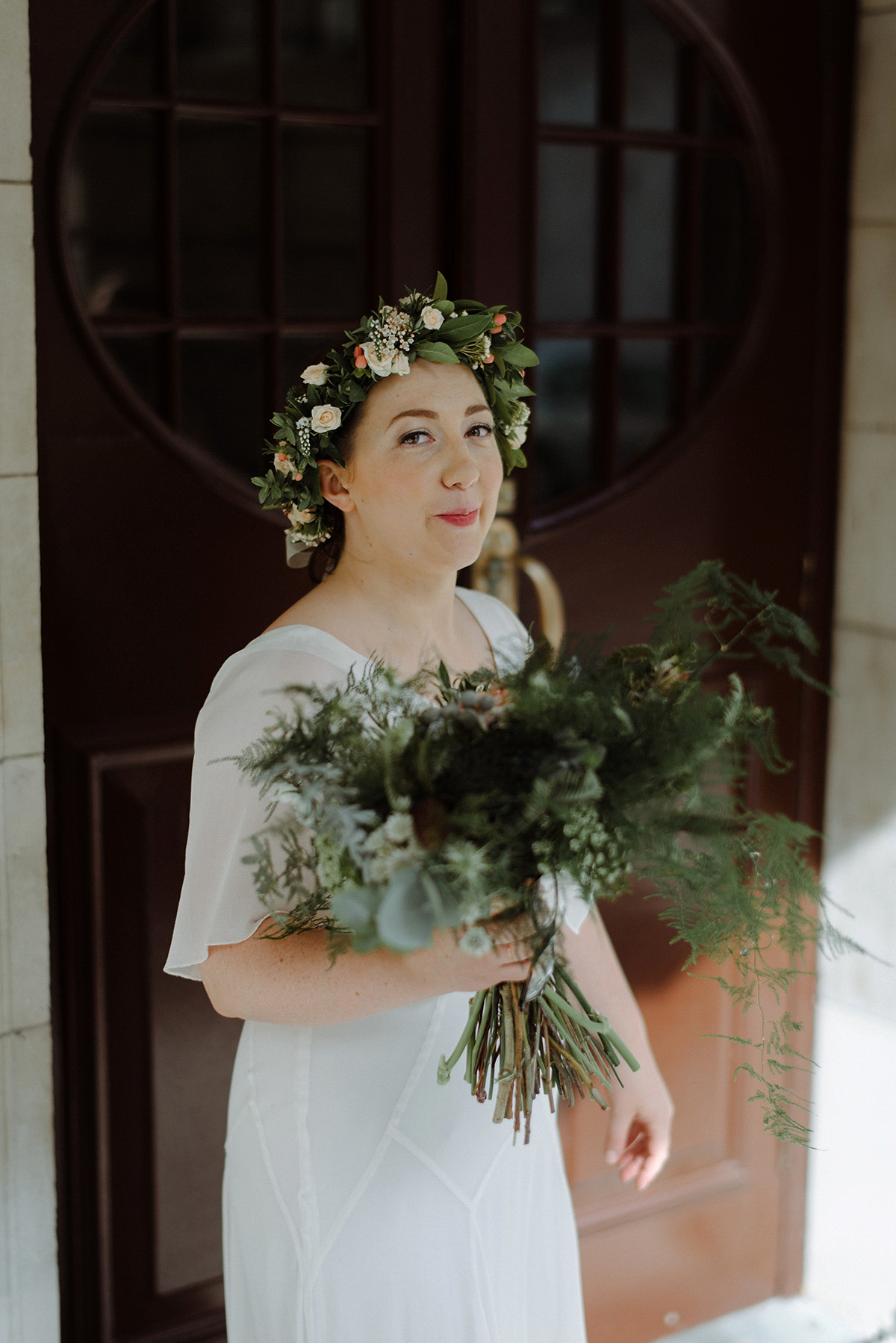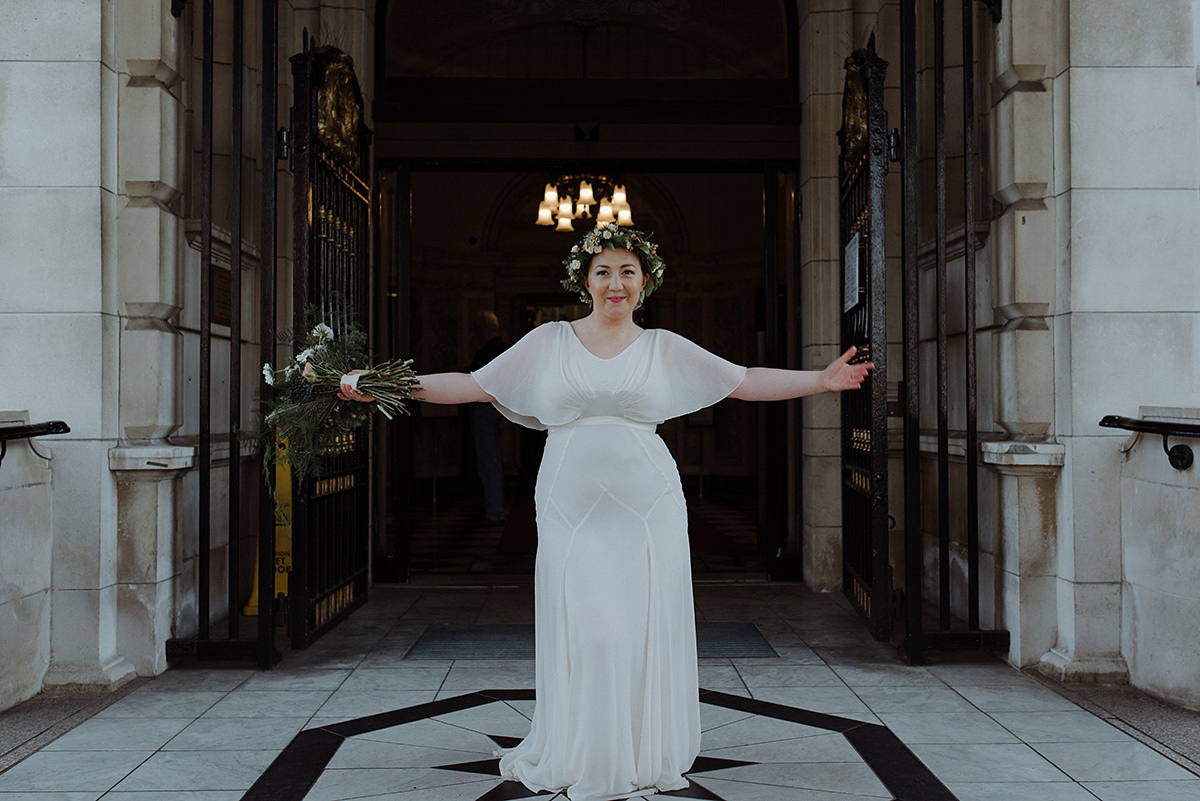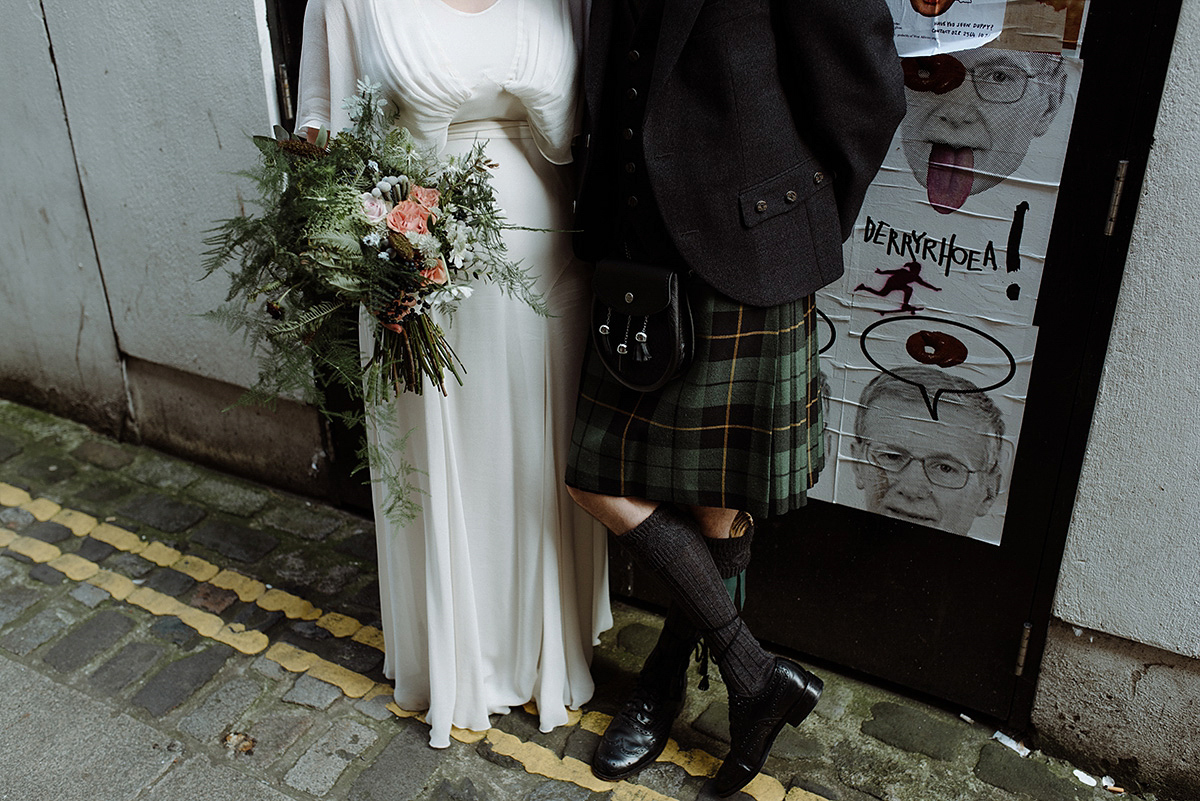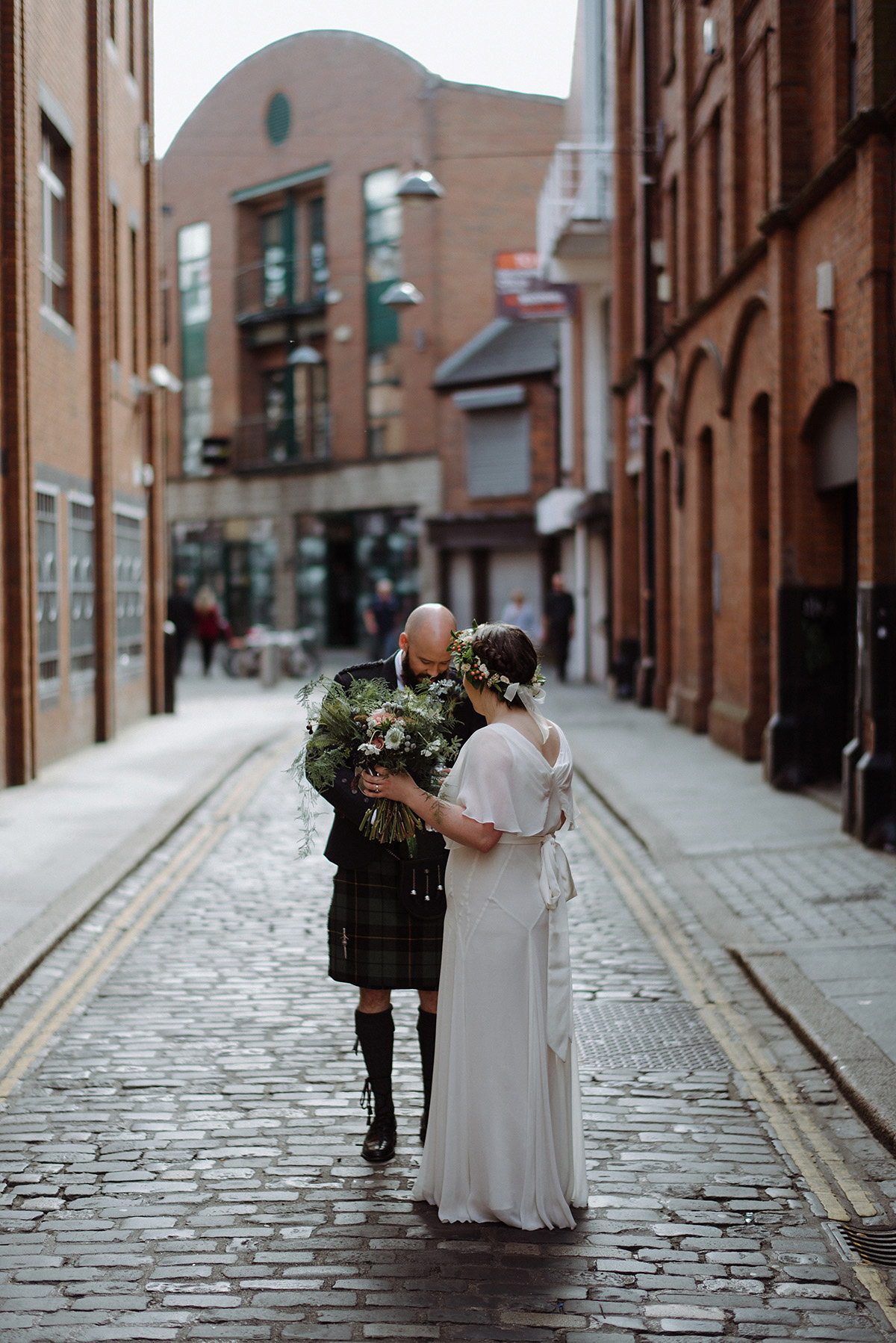 These beautiful images are the work of photographer Chris Copeland.
"Chris is such an amazing photographer; he managed to get photos of little moments that we missed and captured the feel of the entire day perfectly. We couldn't recommend him enough and so many people have commented on how beautiful our photos are. We're so happy that we chose him, and that we have managed to lure him and his fiancée Coleen into a permanent friendship with us by the sheer power of vegan food that they don't have to cook themselves (and possibly our good banter)."
The couple took a few moments away from their guests and the city streets for photos in nearby Belvoir Forest. These photos are so beautiful with the sun streaming through the tall pines; how lucky they are to have this natural space on their doorstep. Lorna and Si chose this time as one of their favourite parts of the day.
"We planned our ideal day with all our favourite folks and managed to pull it off without a hitch. Seeing each other for the first time was one of them but also wandering through Belvoir Forest was the perfect breather in the middle of the day."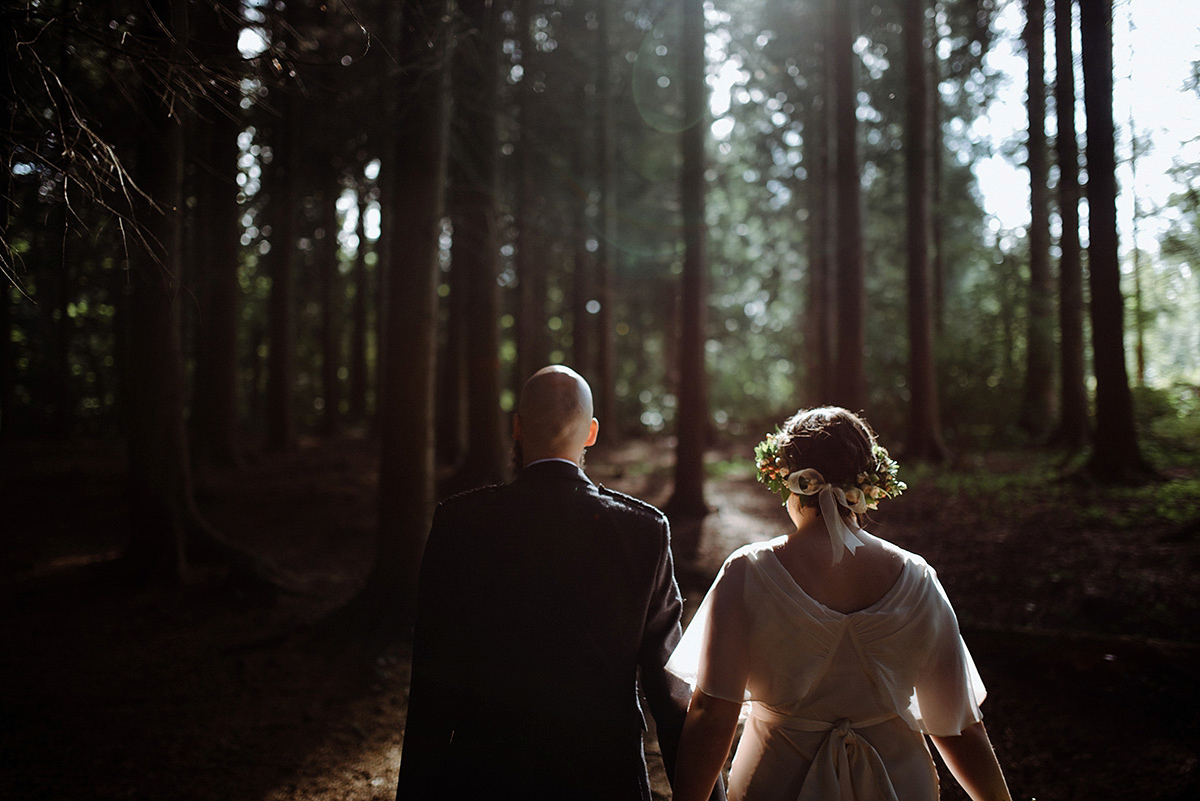 After the ceremony the reception started at The Muddlers Club, chosen in part for its outstanding food. The couple dressed up this modern, industrial-style venue with beautiful greenery and really well thought-out touches to lend it a softer feel, full of personality.
"We chose The Muddlers Club because we have been blown away by their food since they opened and the staff are always so welcoming. On our wedding day they pulled out all the stops and astounded us all. Gareth and his team in the kitchen really outdid themselves with a five-course meal, with a special menu for our vegan guests. Barry and all the front-of-house staff could not have been more accommodating for every need we had, often anticipating it before we asked. We wish we could do it all over again."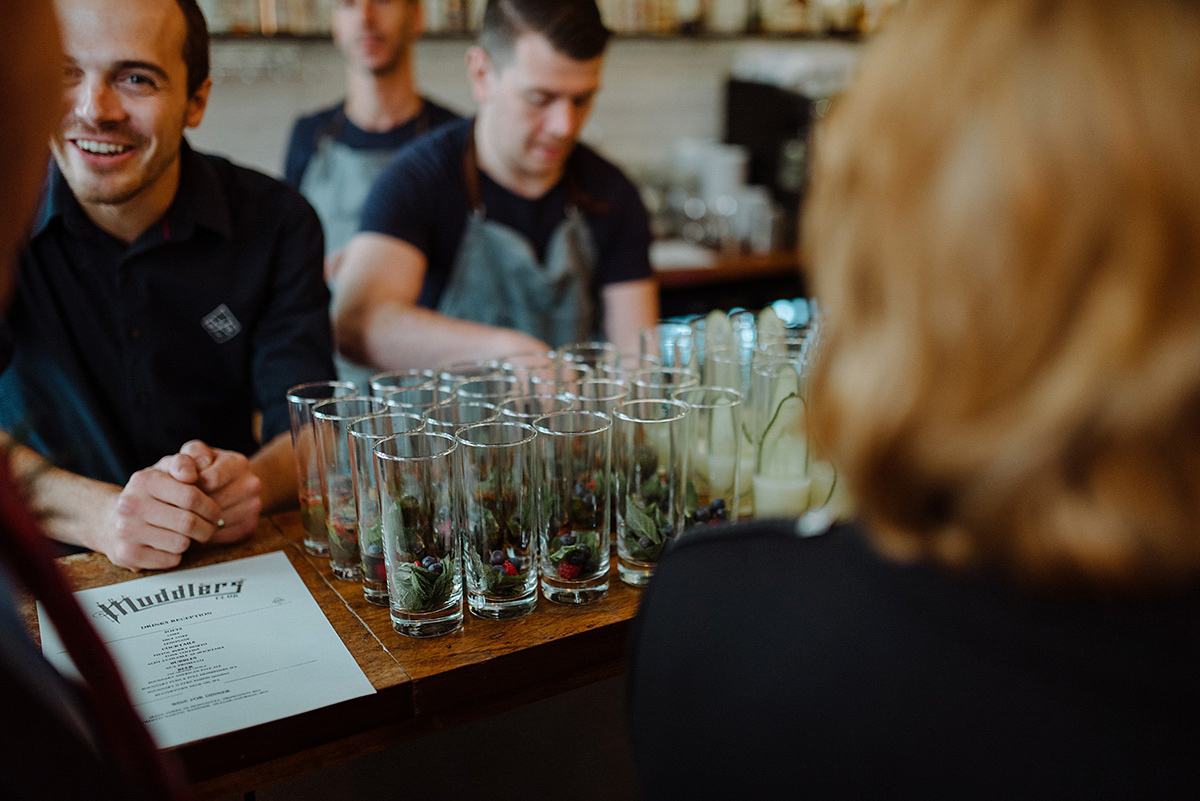 Earlier on I mentioned the forest-inspired wedding favours, and am blown away by what Lorna and Si created with the help of Edinburgh chocolatiers Edward and Irwyn.
"I wanted to incorporate the forest theme into the favours and was searching for someone who could make pine chocolates when I remembered a pine hot chocolate that I'd drank at Lost and Found cafe in Coleraine. It was from Edward and Irwyn, a chocolatier based in Edinburgh, Scotland. We went to visit them in July and they couldn't have been sweeter. They took the pine flavour idea to a different level – a pine and smoked salt caramel wafer truffle encased in dark chocolate and cocoa. They were phenomenal. They also made up some dandelion honeycomb for our vegan guests which was very well received. They arrived in tiny tissue paper lined kraft boxes. We stuck some Scots Pine cones (foraged from the woods at Mount Stewart) and wrote each person's name on top so they doubled as place name 'cards'."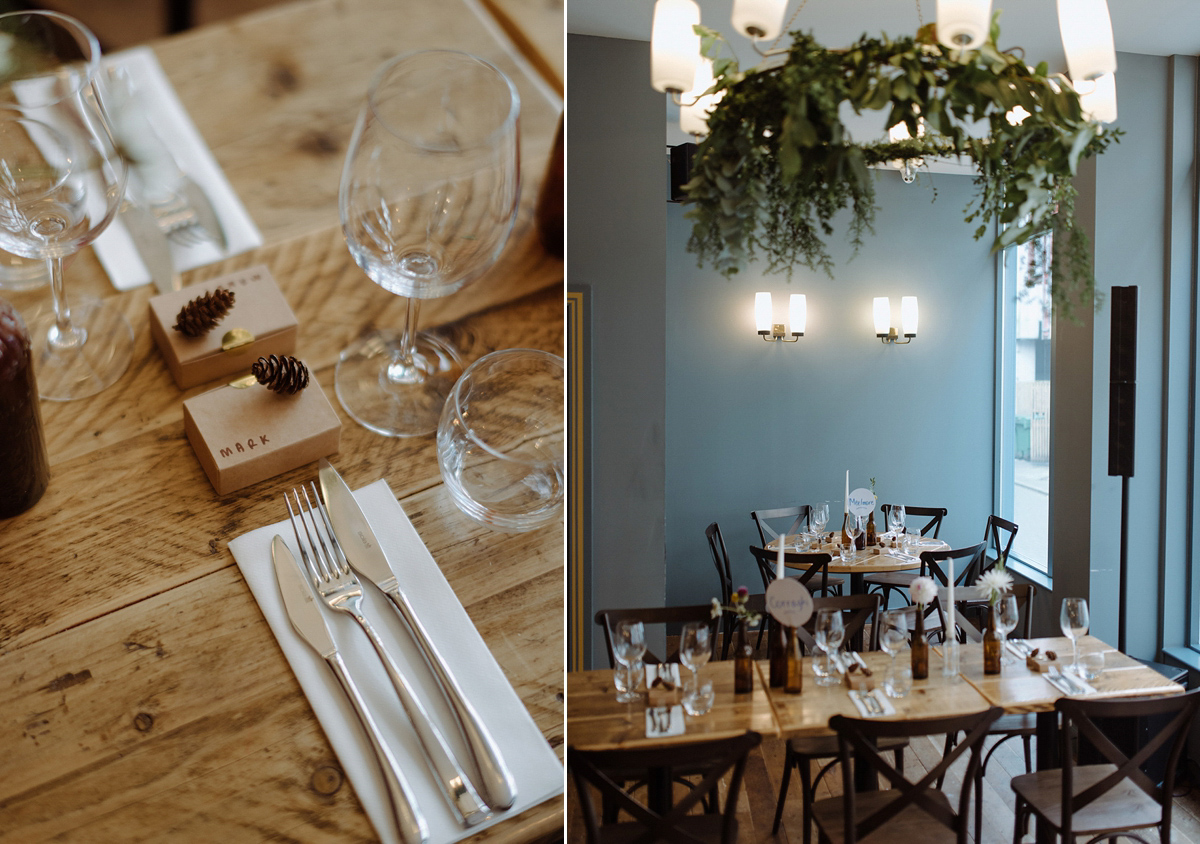 "The scent in The Muddlers Club when we arrived from the ceremony was amazing. Caitlin dressed the three chandeliers with foliage. She also made little bottle posies with brown bottles we'd collected over the previous months (and some precious ancient ones from my sisters), and made a beautiful arrangement for the seating plan table."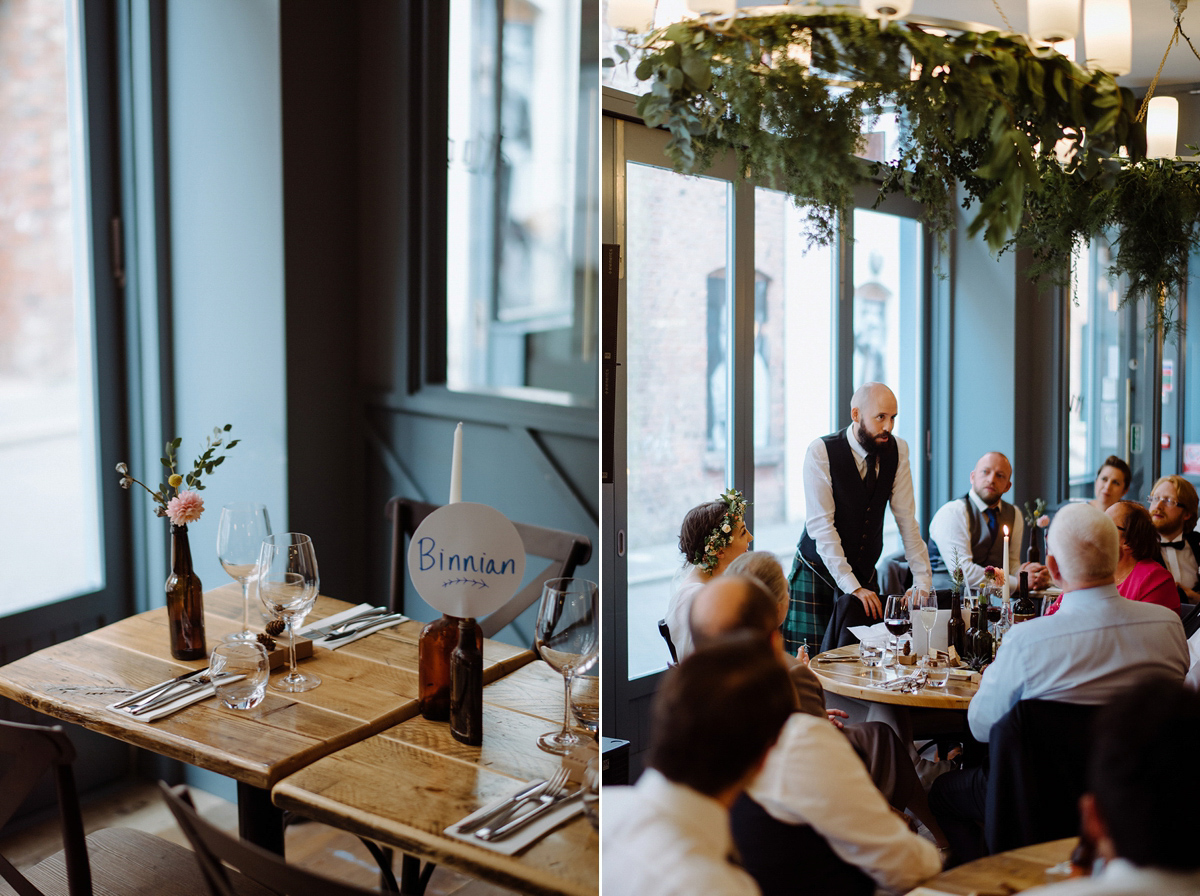 What strikes me about this couple is the appreciation that they have for their wedding suppliers; they are so passionate about the attention to detail and love which they put into their work.
"Alison Soye was the first vendor we chose. I had been following her on Instagram for a while and loved her illustrations. We met for a coffee in Town Square and immediately clicked. We told her what we loved to do and she came back with some designs which we absolutely loved. She had endless patience when it took us a while to confirm some details about the day and whipped up a last minute fairly elaborate map of the Mourne Mountains cum seating plan with absolute ease. I'm a little bit sad that I don't have a reason to email her any more – she's just a joy."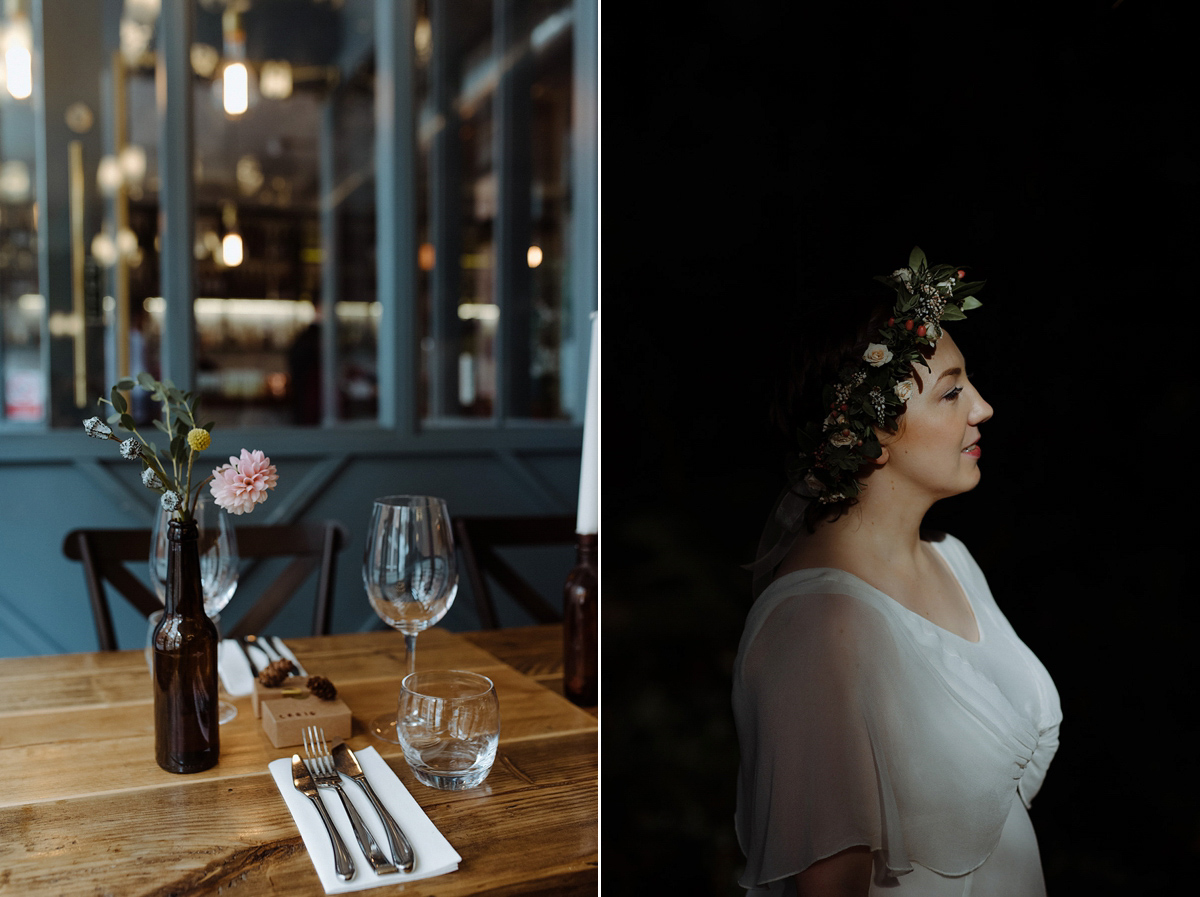 Creative Lorna chose to make her own wedding cakes. Don't they look wonderful, and sound delicious?
"I baked our cakes. Note to self: baking cakes for other people is not the same as baking your own wedding cake, but it was worth it in the end. We had a vegan chocolate cake, lemon and fennel cake and whisky salted caramel gingerbread cake."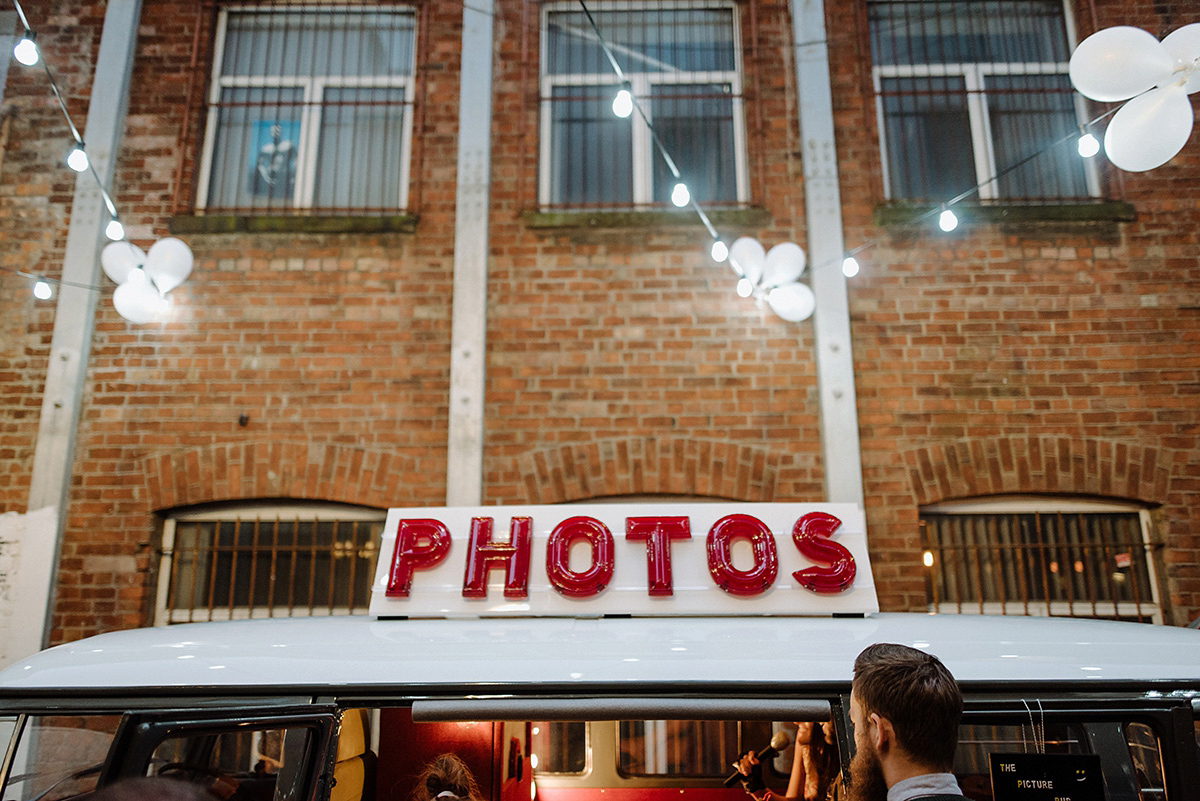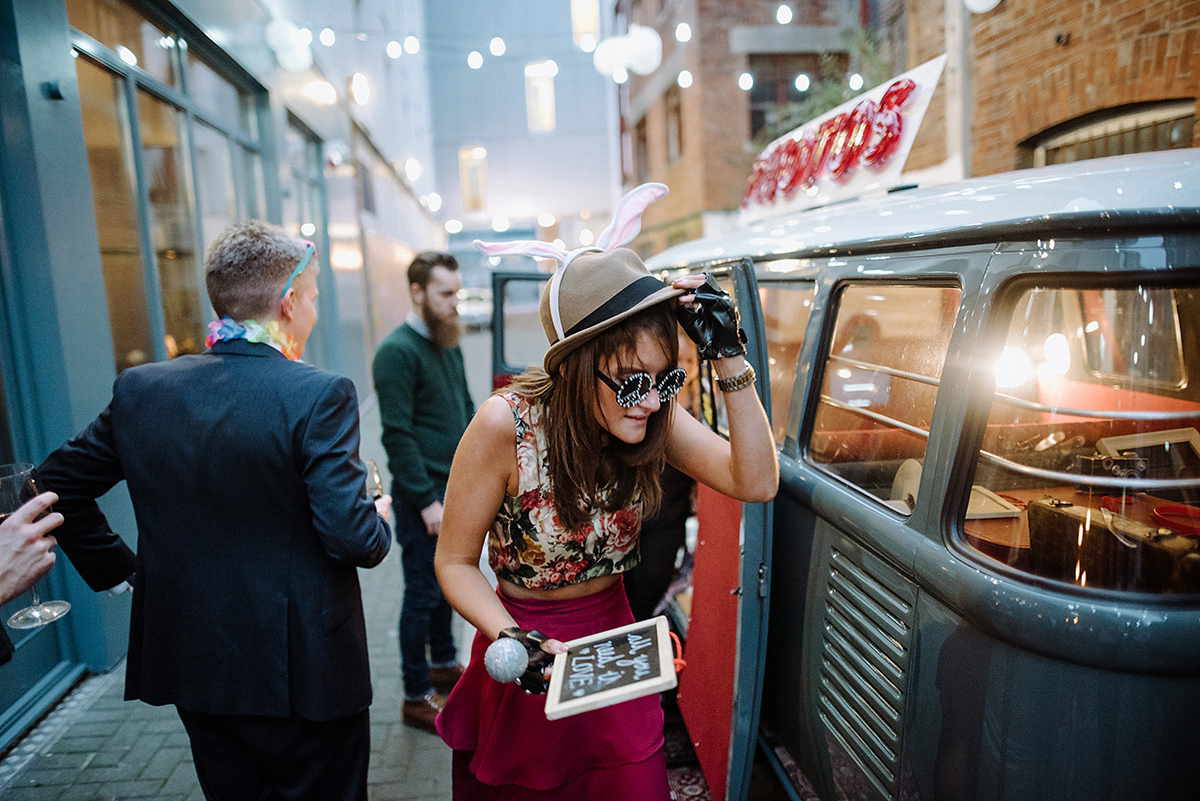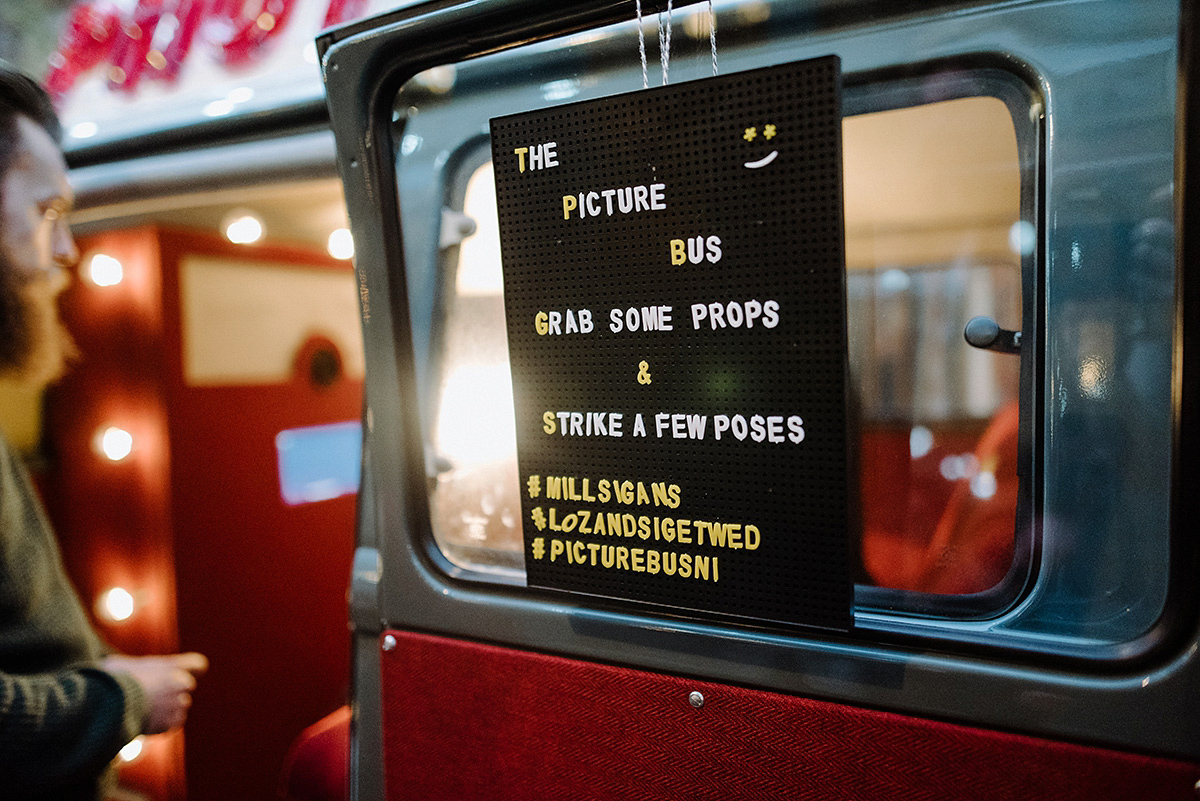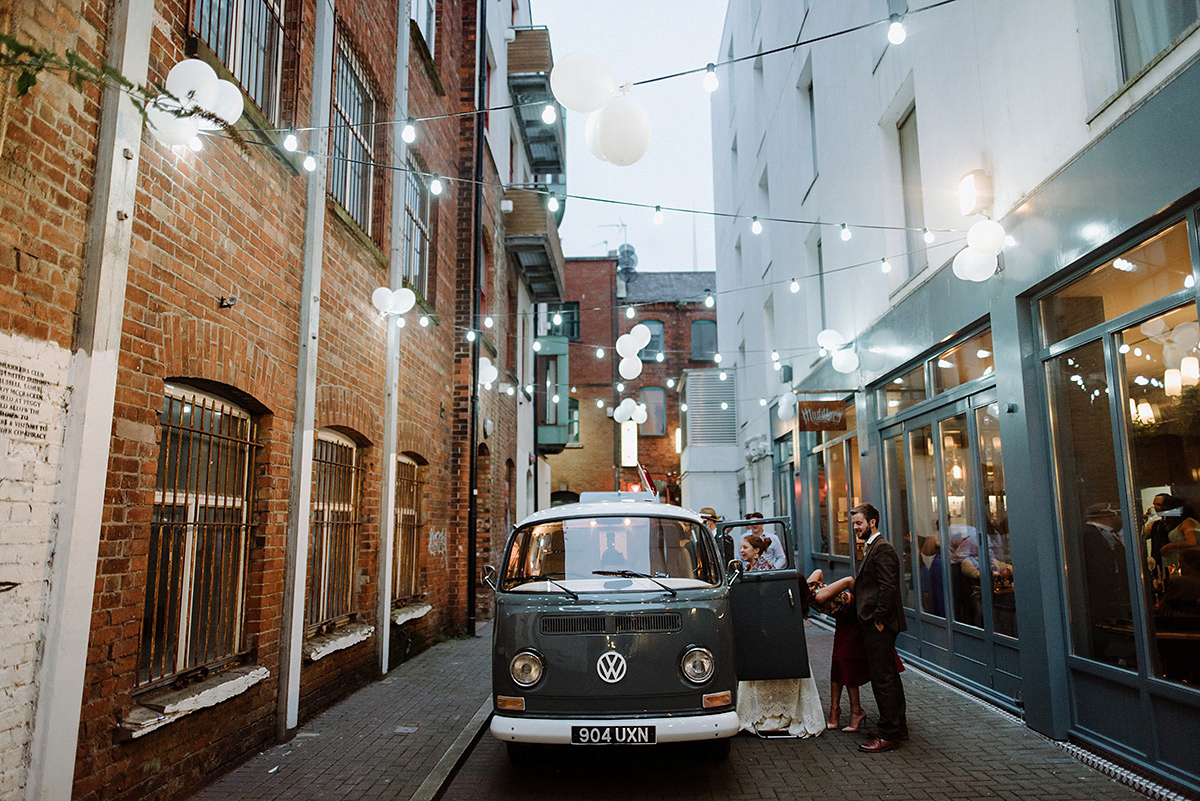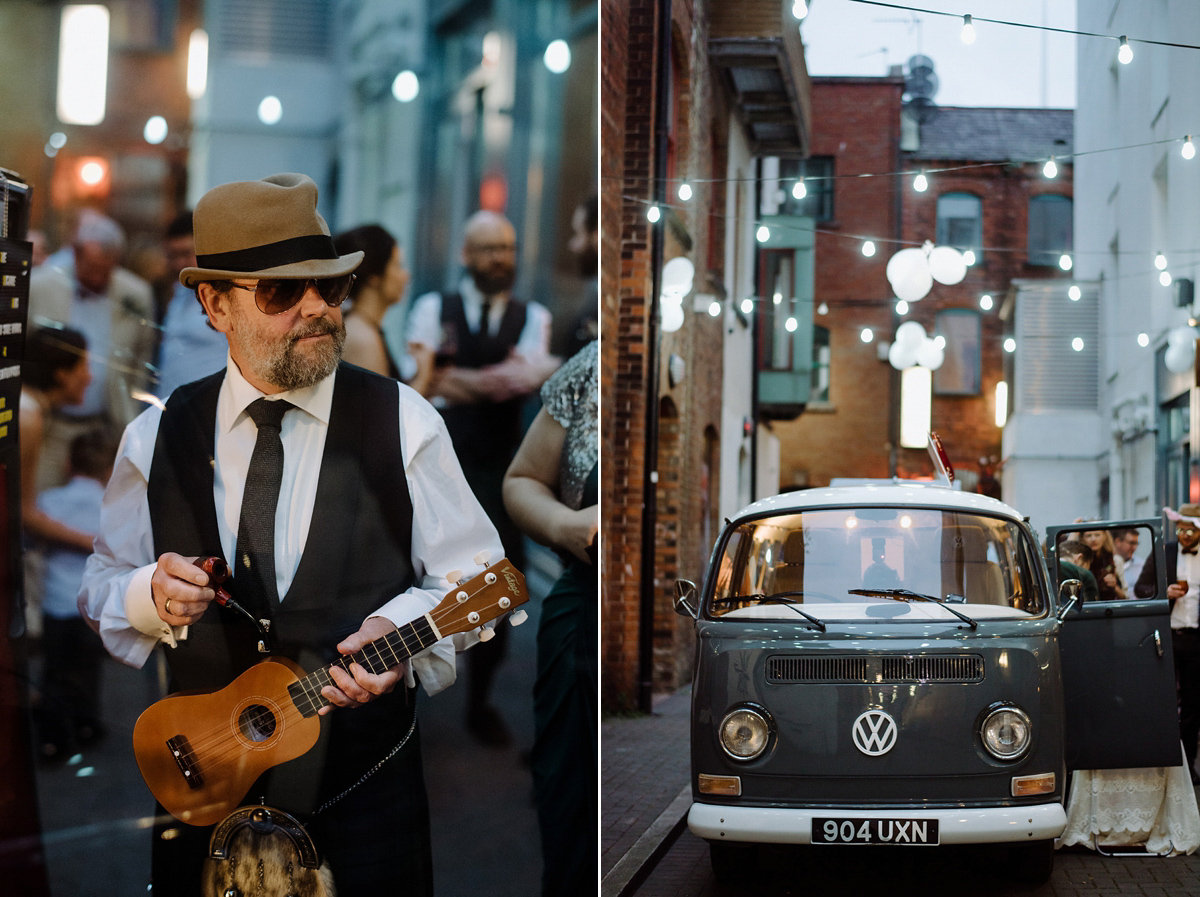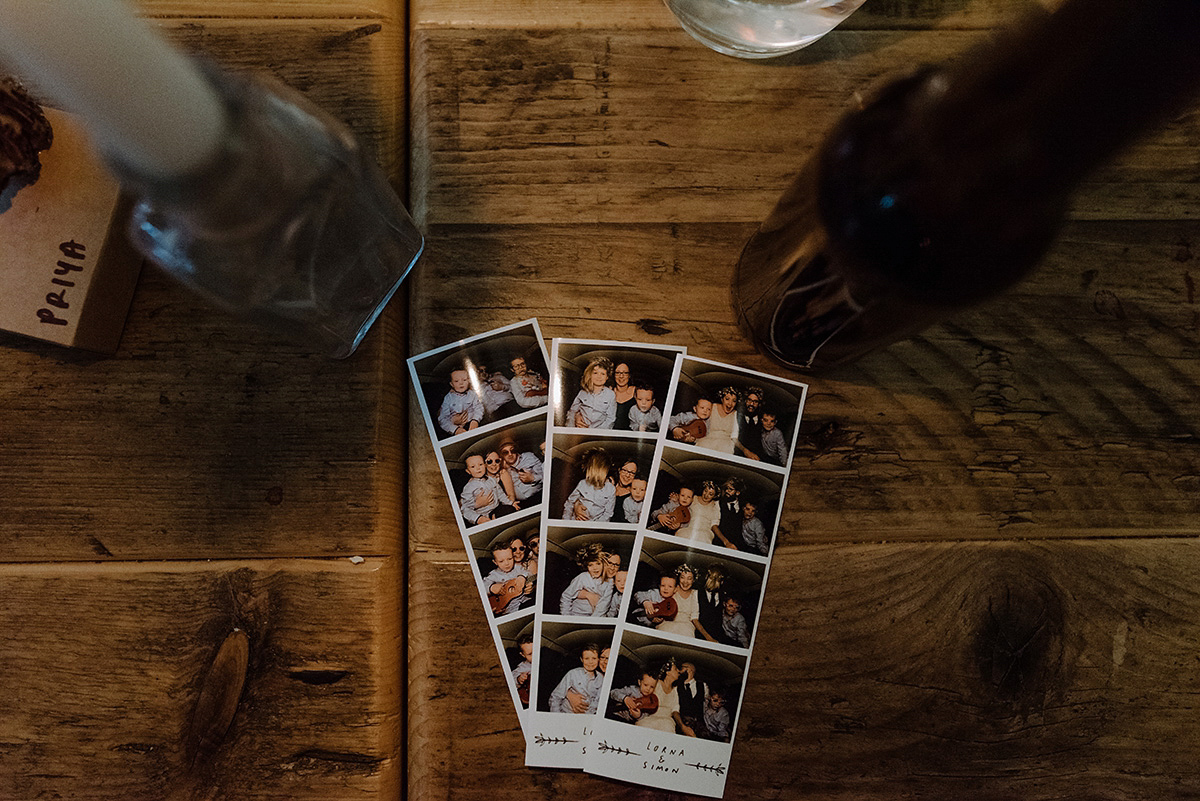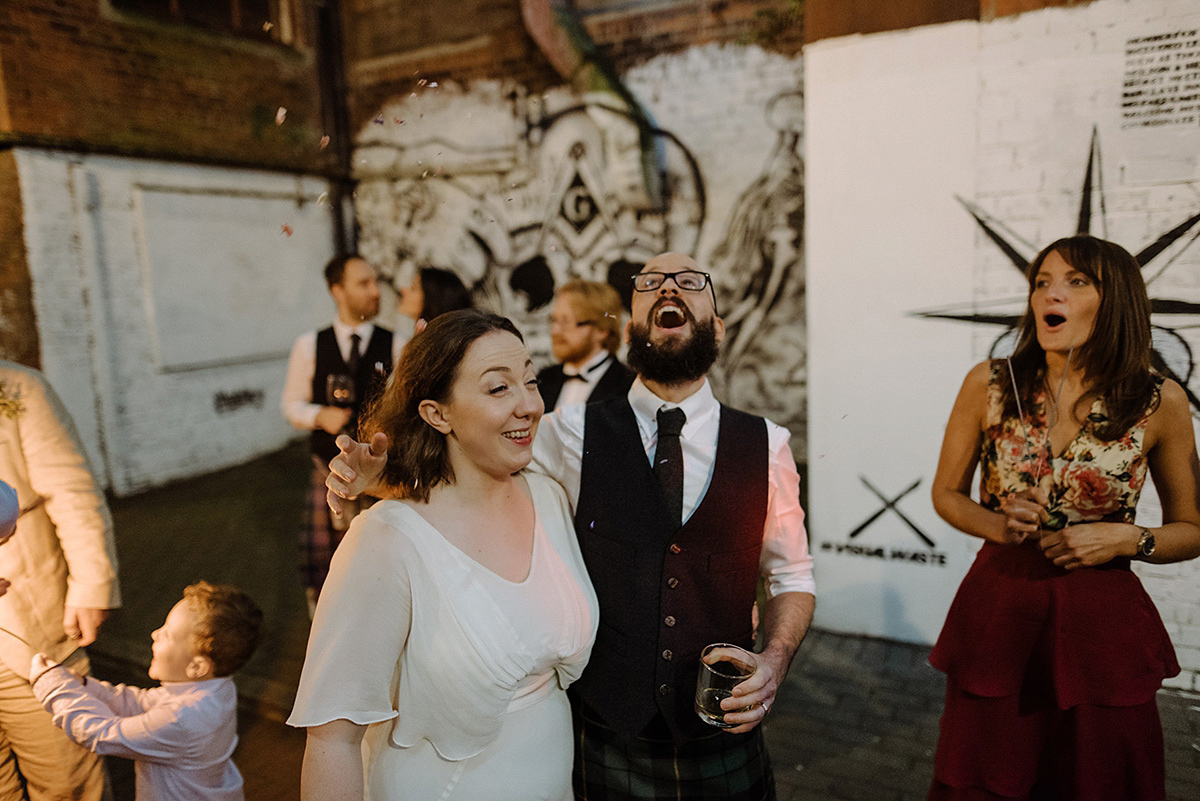 The party continued with music from DJ Claire Hall a.k.a Venus Dupree, and an unexpected first dance.
"We hadn't planned on having a first dance. We were doing a slow shuffle on the dance floor so Chris could take a photo and it became our first dance because everyone started cheering! Claire Hall kept our guests dancing into the night – a dream lady to work with and listen to, we were very happy when she said yes."
Words of Wedded Wisdom
"I recommend working out what you both want and then not letting anyone change it. There were times where we could have changed our minds or taken an easier option but we didn't and I'm so glad because it all worked perfectly. Also, remember you're doing this because of your love for each other – focus on the magic in the midst of the craziness."
Thank you so much Chris for sending in these beautiful photos, and to Lorna and Si for letting us share their day. If you love the greenery-look that they created, be sure to follow them on Instagram – Laura at @earlierthanthis and Si at @photosbysi.
Wishing you all a lovely weekend. I'm inspired to attempt my own whisky salted caramel gingerbread cake.
Ele xx