Happy Friday dear readers! I hope the bank holiday has some lovely things in store for you? We're on serious wedding countdown in the Deaman-Brown camp now, and trying not to check the weather forecast every five minutes ( which is pretty much impossible by the way). Today I have a gorgeously luxurious summer wedding to share with you all,  inspired by the couple's love of Provence.
Charlotte, a principal at an advisory firm, wed her dapper chap, Harry, an LPG broker on 18th June 2016 in Little Marlow, Buckinghamshire. Charlotte grew up in the area and knew she wanted to marry in the village church of St John the Baptist, followed by a marquee reception in her family's garden. Here one of our beloved Little Book for Brides suppliers came to the fore, as Charlotte and Harry chose a Papakåta Sperry tent for their evening celebrations. Let's start by taking a peek at the couple's wedding film by Fine Pair.
https://vimeo.com/176225621
"We wanted a relaxed wedding that still felt luxurious and a real treat for the guests. We love spending time in Provence so used that as inspiration – the wedding was mainly all white but with hints of provençal colours like pale grey and muted lilac. We also served rosé along with champagne to tie in the hint of Provence. Our priorities were the flowers, the food and booze and the band. My family are a less traditional bunch than Harry's so it was important to us to find the balance between tradition and informality."
Photography by Joseph Hall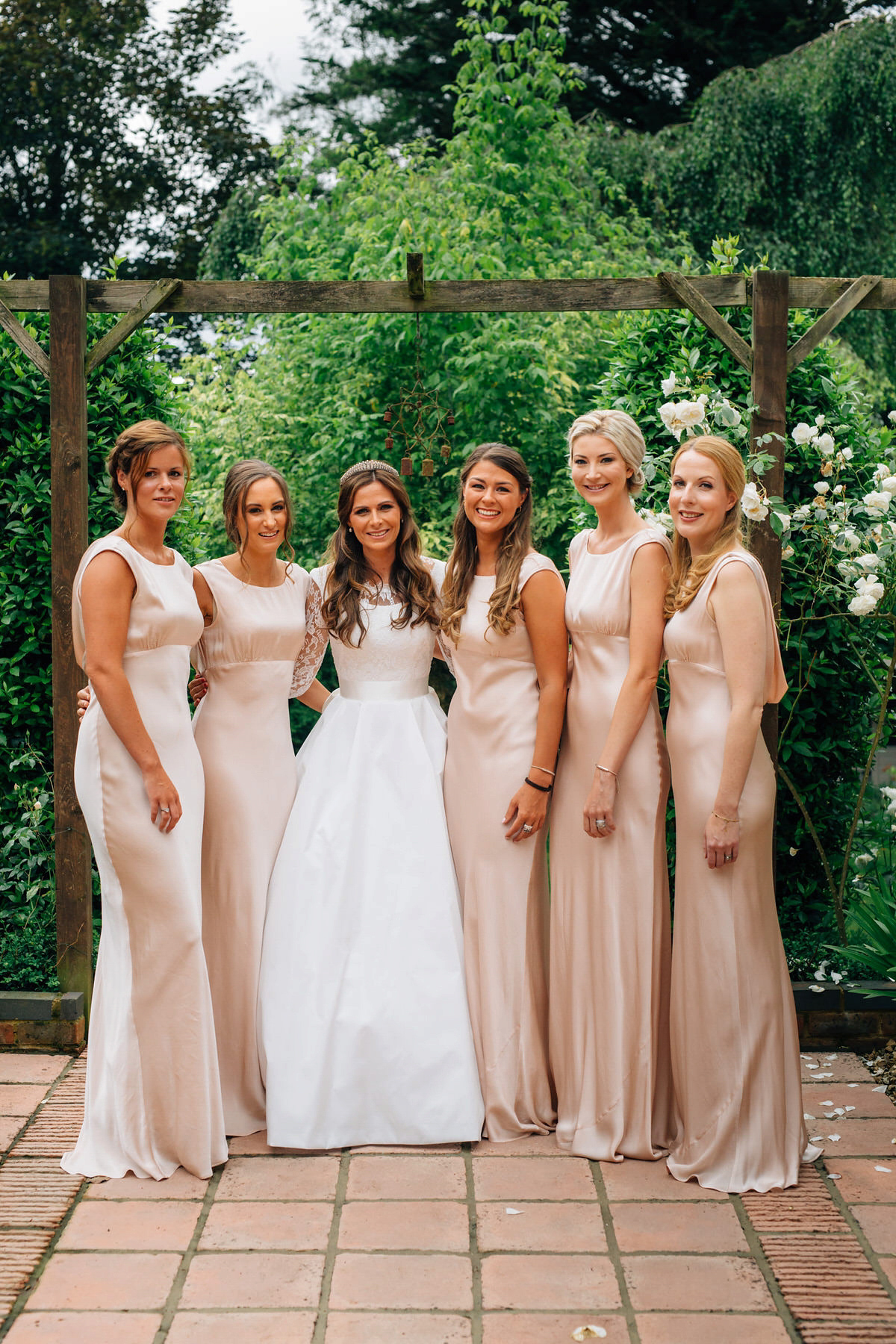 The unfettered happiness radiating from the pair and their loved ones was captured so sensitively by Joseph Hall Photography. I love the way their photographer has worked with the golden summer light to document a true atmosphere of the day.
"Joe photographed a family wedding in France in 2013 so after spending a weekend there with him I knew he was brilliant to be around and would make me feel totally relaxed on my own wedding day. His photography fitted exactly the profile we wanted – candid, not too formal but beautiful. He is not only a joy to be around, he delivered the most perfect photos, and a number of guests comment on how unobtrusive he was – we couldn't ask for more."
"We didn't think we wanted or needed a wedding video, but after seeing the video of a friends' wedding in December 2015, we were desperate for Cam from Fine Pair to film ours. Thankfully she was available and we were so grateful to her. I am obsessed with the film she made (although I do question how many times you can watch a film of yourself before becoming totally ashamed of yourself). A few friends who have seen it have either since booked her for theirs or tried to book but she is too busy."
Now I can't wait a second longer to talk about that full-skirted Suzanne Neville beauty. Charlotte chose a classic, timeless shape and with the help of the Suzanne Neville team, added some unique, bespoke touches to create her dream dress. She paired her gown with a Suzanne Neville veil, leather shoes by Gianvito Rossi and an absolutely divine tiara, which is in Harry's family.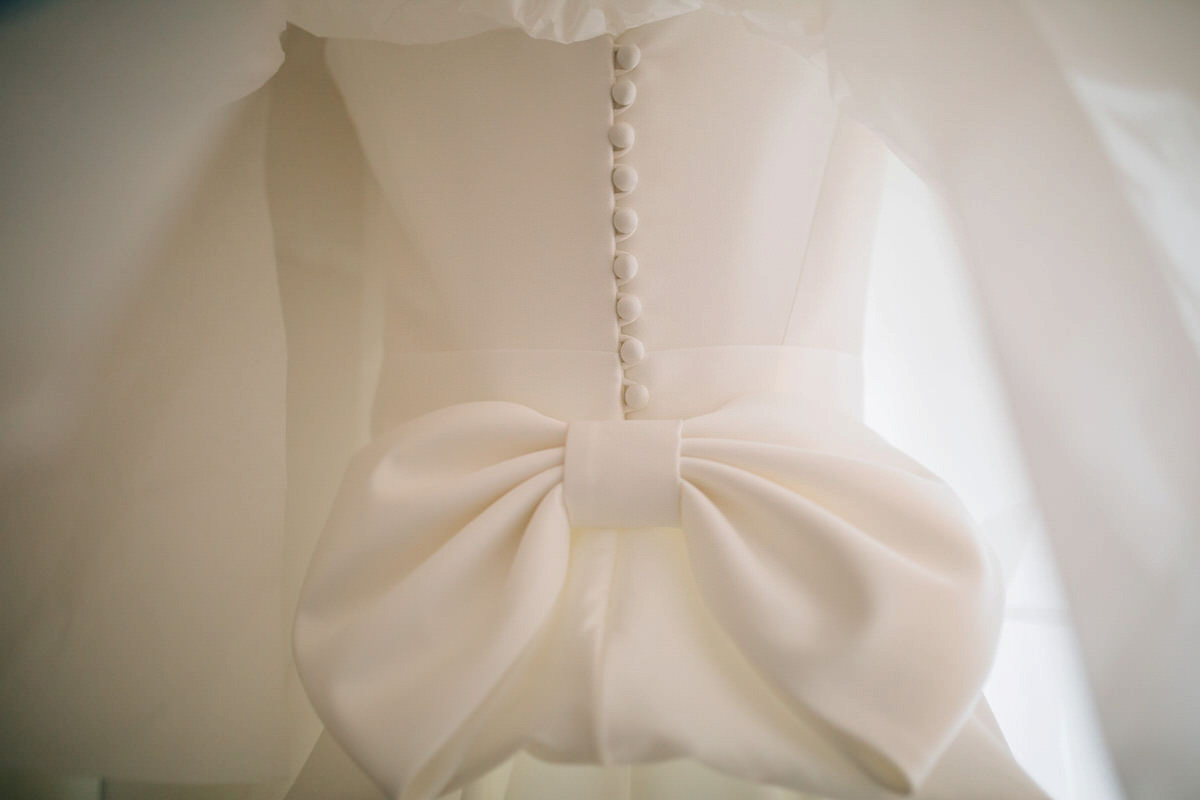 "We bought my dress from Suzanne Neville's boutique in Knightsbridge and Suzanne also made my mother's dress, so we had all of our fittings together, which was really special. I always thought I wanted something different as a wedding dress, something that would be very 'me' that you don't see all the time. I imagined slim fitting with a full sleeve, pure silk, with a long train making the statement. After trying on a million dresses I couldn't find the one, although the more dresses I tried on, the more into being a bride I became so by the time I went to see Suzanne, I was excited about the prospect of a more traditional shape."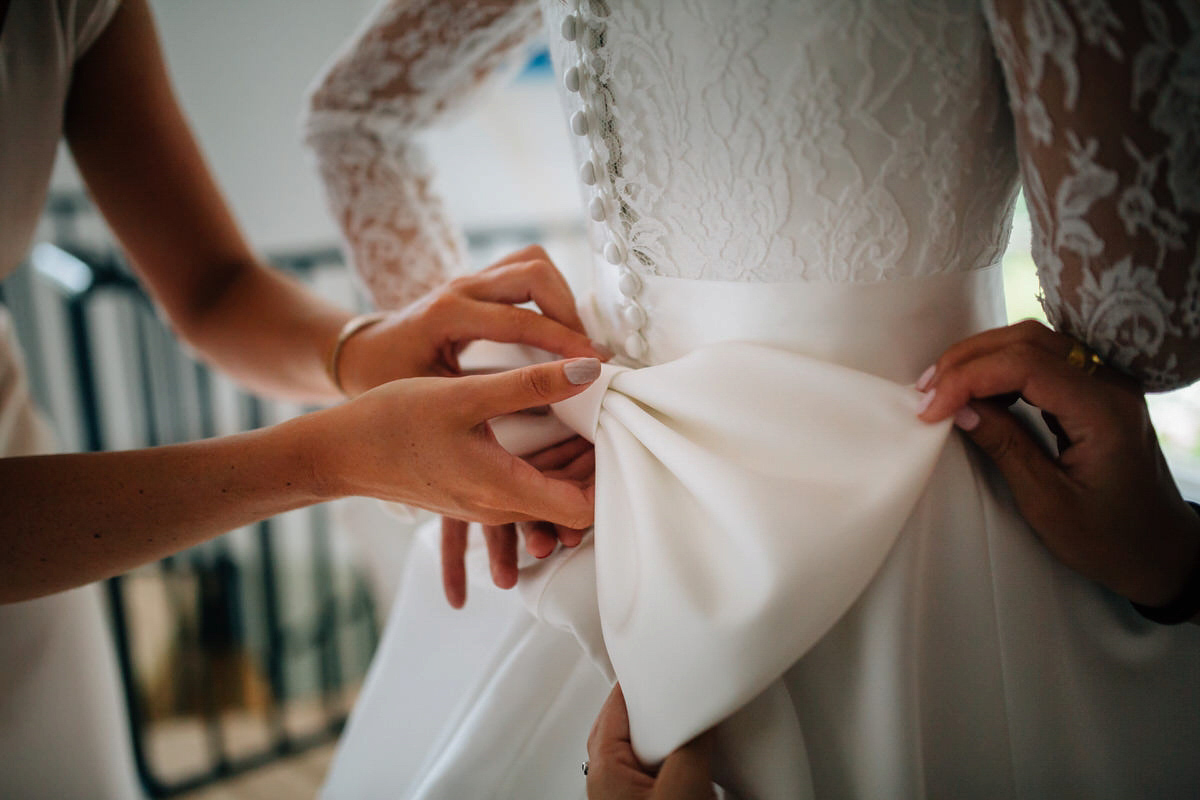 "My dress ended up being based on the 'Lady' style. I tried it on and fell in love with the shape – a tiny waist with a beautiful big skirt, but still incredibly simple as it is pure zibeline silk. It wasn't perfect for me though as it sat off the shoulder and had no sleeves. I also wanted a bit more 'drama' at the back of the dress, figuring that was what most people would see a lot of in the service."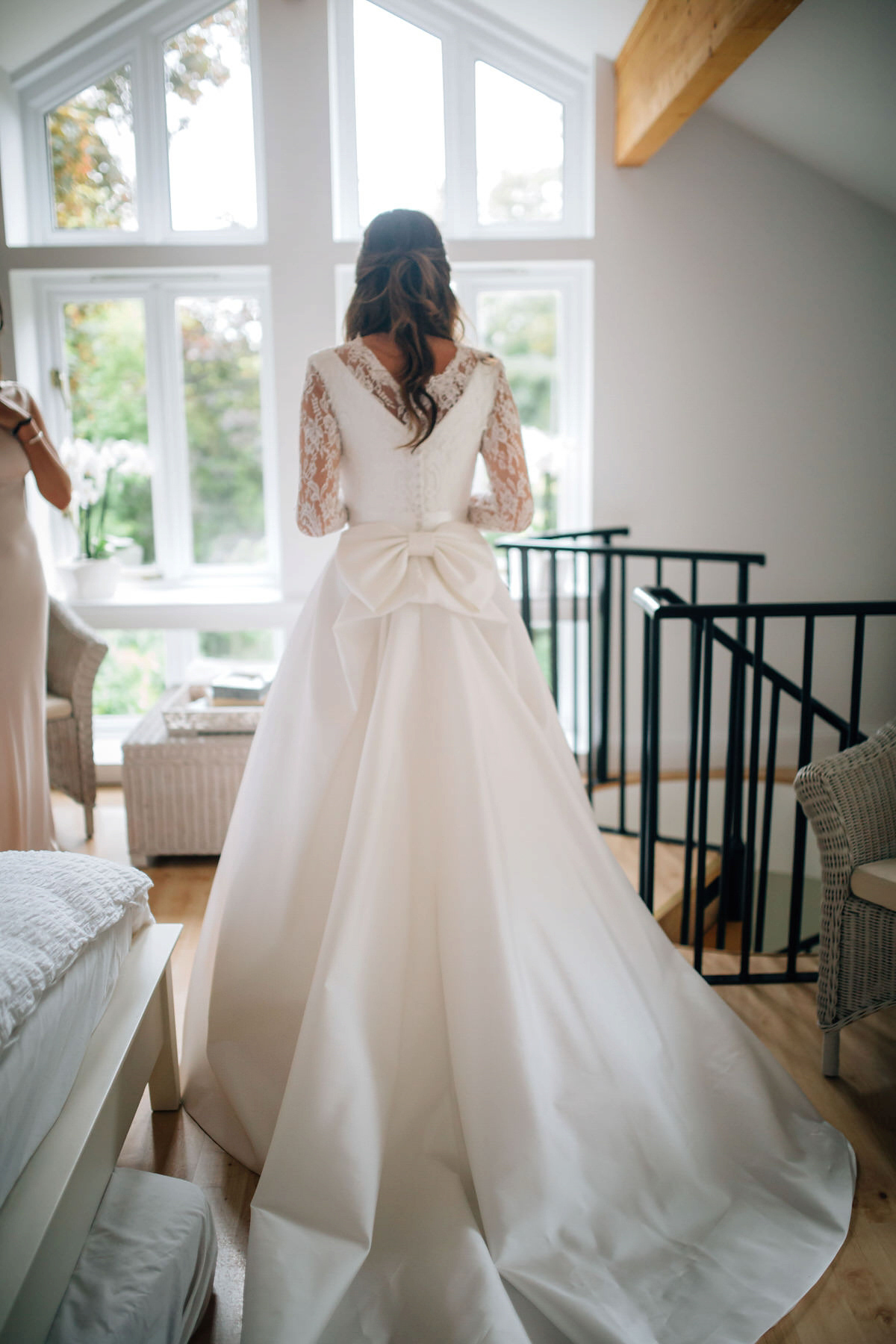 "Suzanne and Lottie were amazing, and suggested they make a lace top with long sleeves to sit over the bodice, that would give me the option of taking it off in the evening. At the toile fitting they brought the shoulders up for me and made a huge bow for the back which finished the dress off perfectly in my eyes."
"The result was I had something semi-bespoke which meant so much to me and I also had two dresses in one. I wore the lace during the day and took it off before our first dance."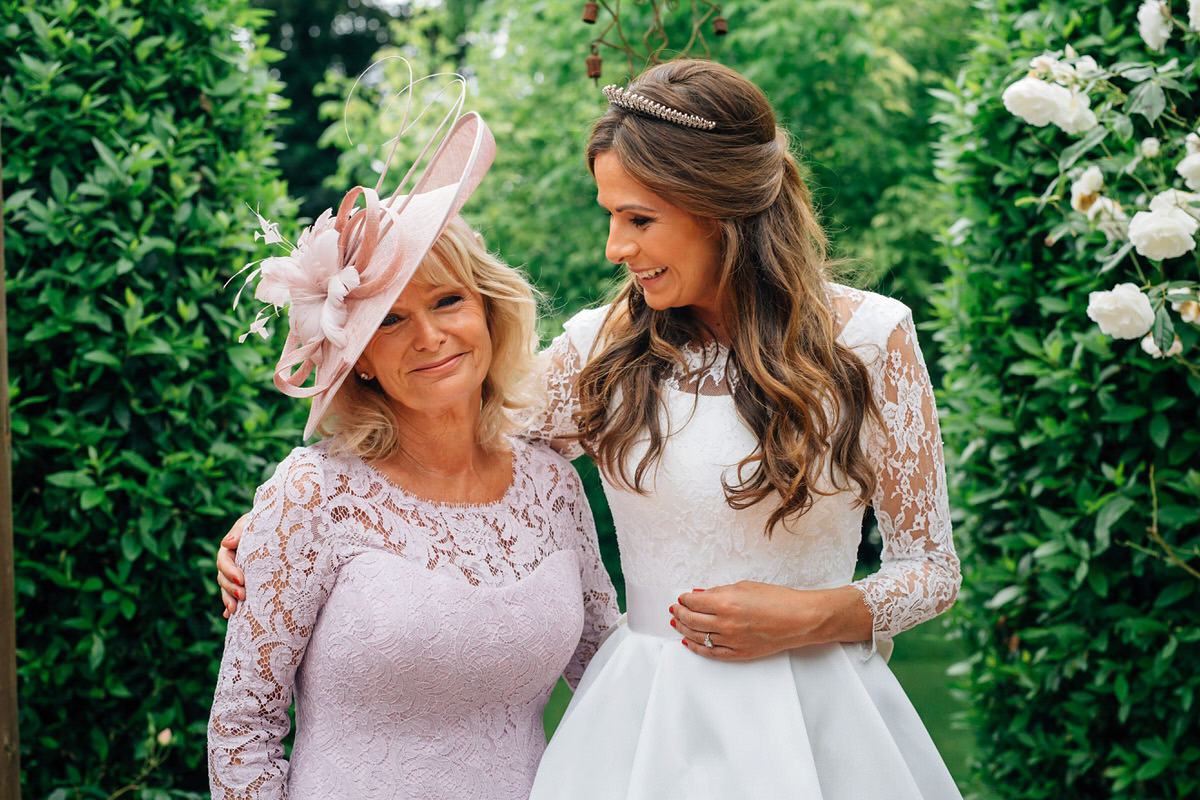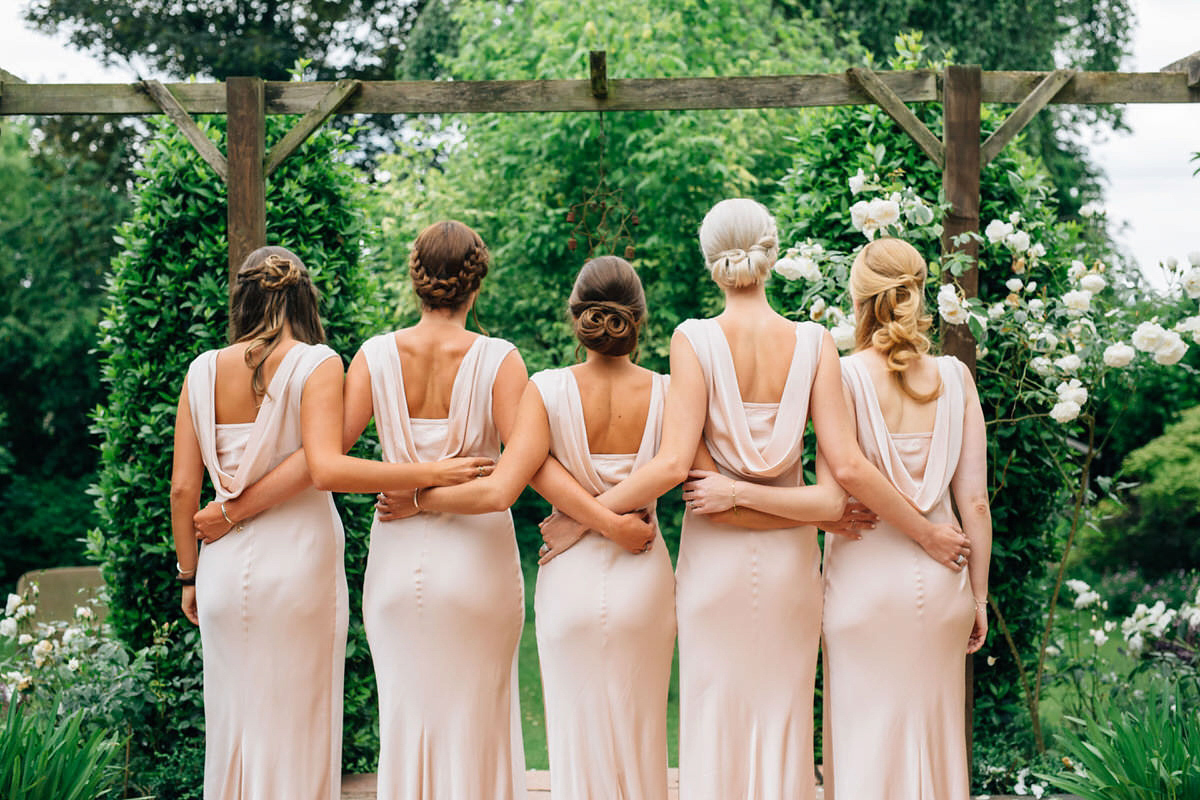 Vickie Ellis took care of our bride's big day beauty, coiffing her flowing dark locks into tumbling waves. Charlotte went with her signature red nails on her wedding day as well as her everyday scent, Coco Chanel. She added diamond stud earrings with a pearl drop, sweetly gifted to her for the occasion by her mother-in-law.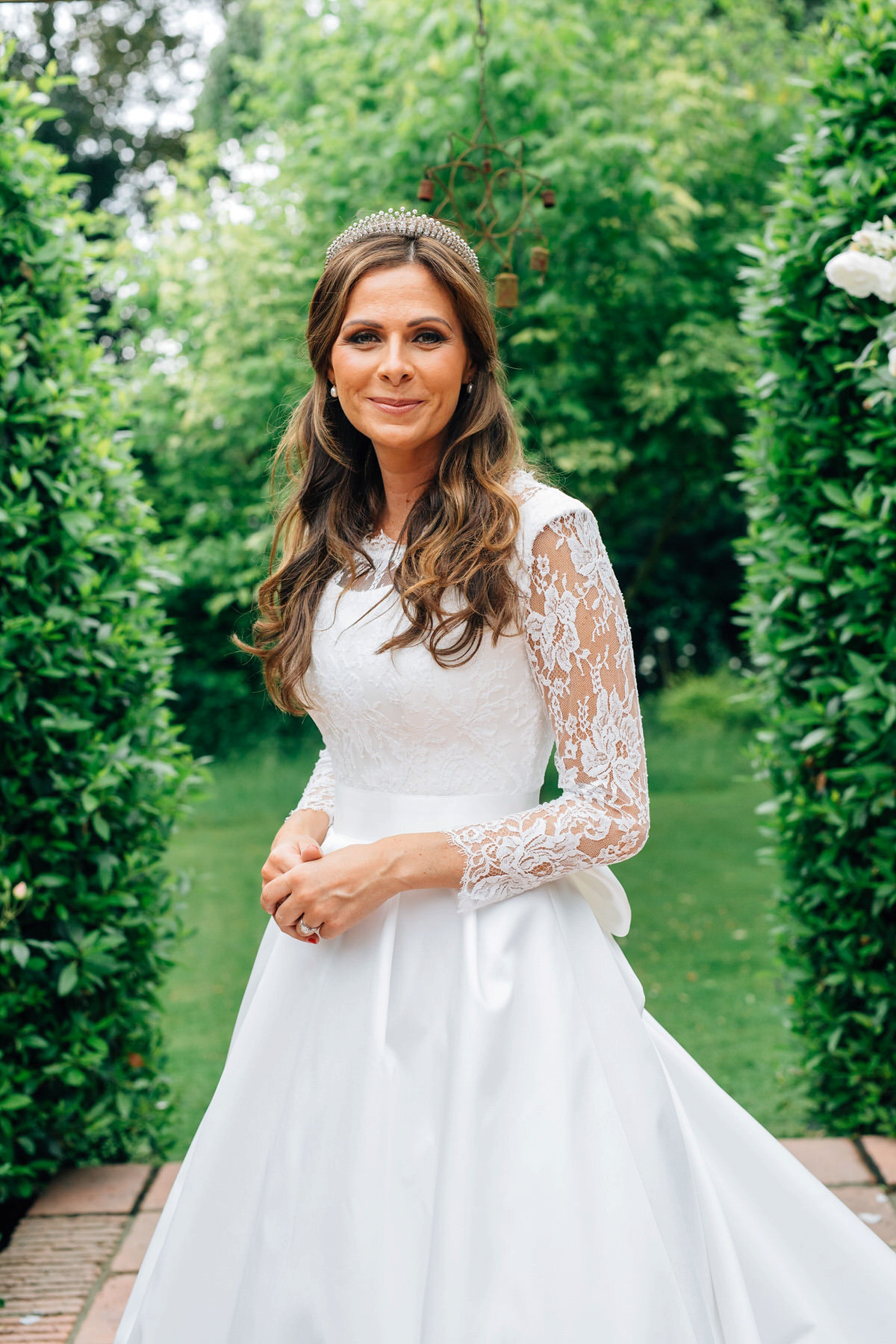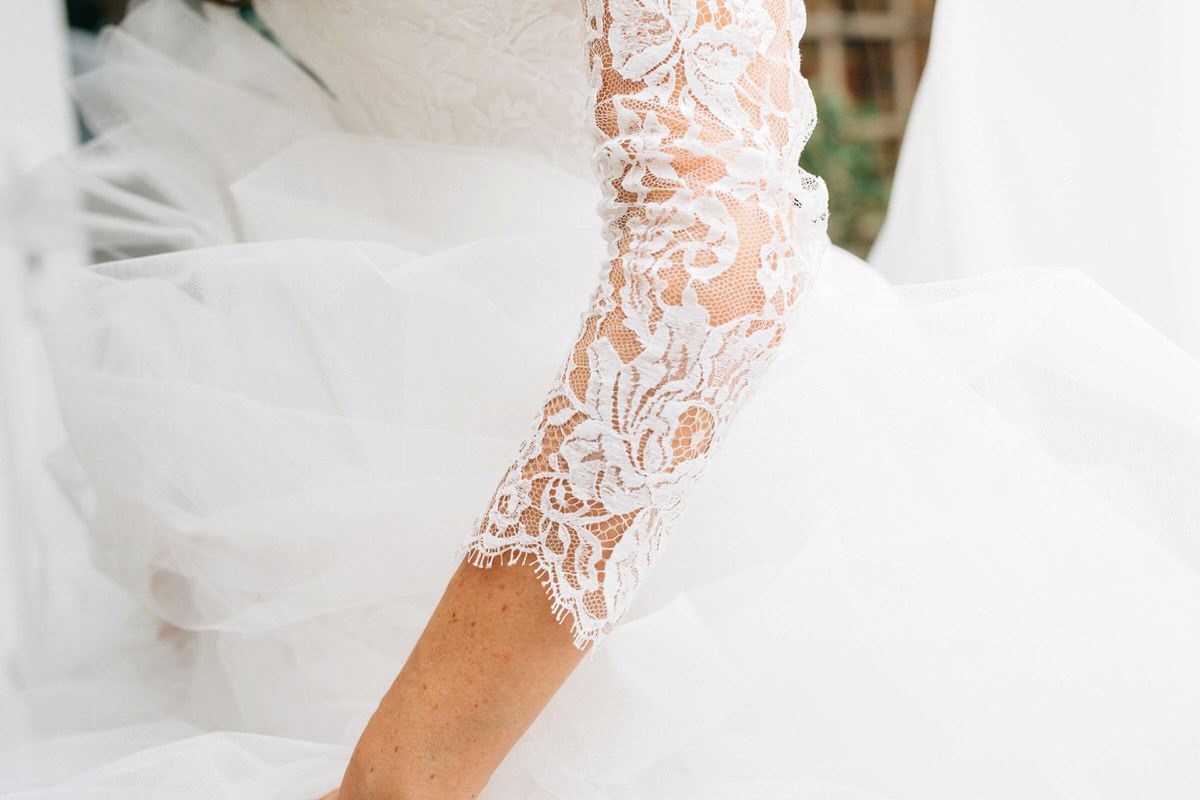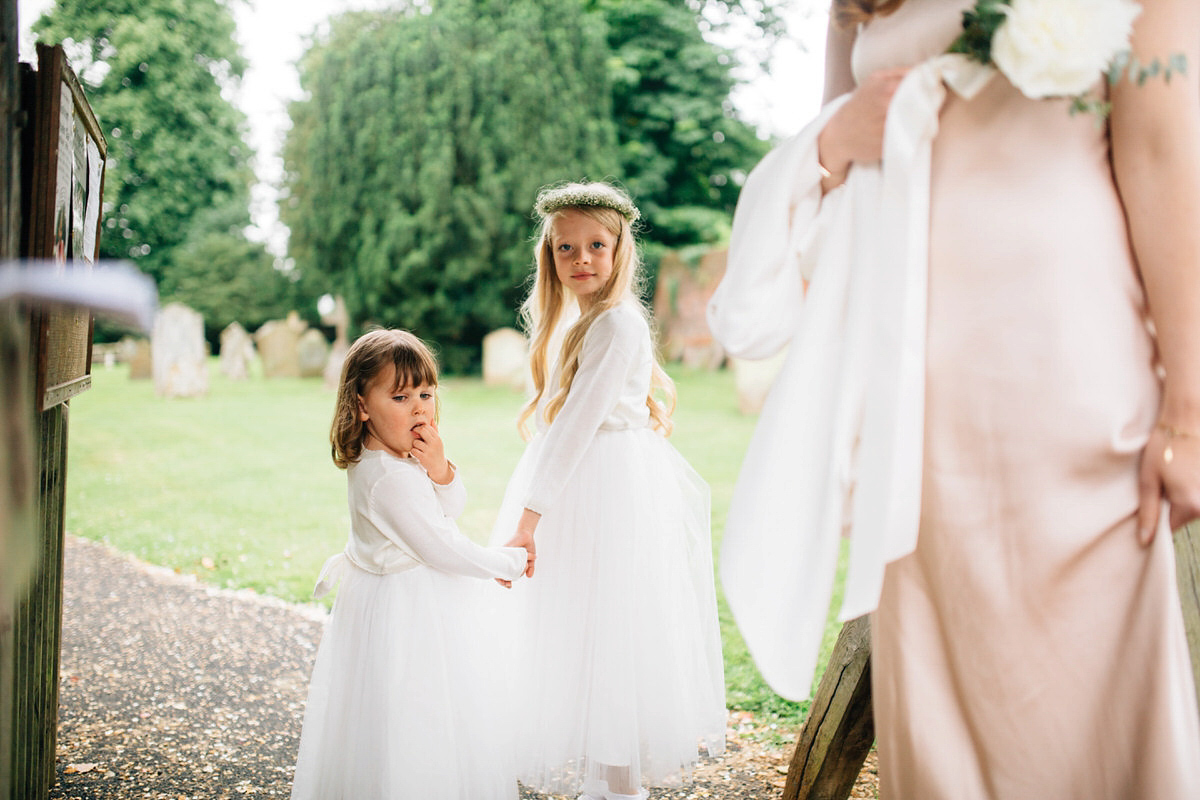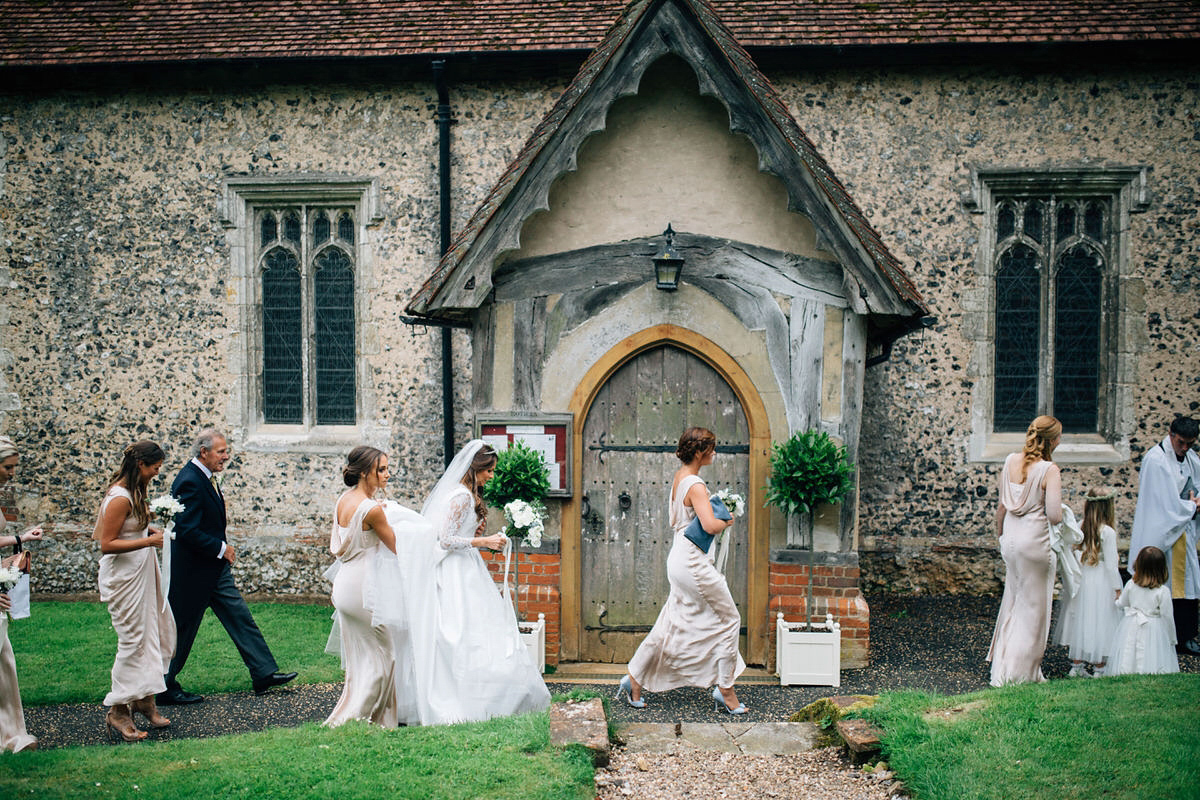 Harry was clad in a very smart ensemble from Favourbrook – classic and traditional and the perfect match for his beautiful bride. Charlotte's best girls looked simply gorgeous in oyster-hued 'Salma' dresses from Ghost, paired with their own shoes and a Monica Vinader bangle, gifted to them by the bride on the morning of the wedding. The 'Ivory' dress by Gilly Gray was flower girl perfection.
"Harry and I met in 2013, had our first date in Clapham, and moved in together six months later. We talked about marriage and our future from very early on, and I knew it was important to Harry and something he would take seriously, so when he proposed it was a surprise because I thought he might wait a bit longer. He proposed on the August bank holiday of 2015 – the morning after a rosé fuelled night out with friends, so I wasn't feeling my best!"
"I was in bed, and he came in with a cup of coffee and a box and went down on one knee beside the bed. The box contained a gold bangle (I have an obsession with gold bangles but this one was perfectly chosen to be different to any other I have) which became by 'engagement bracelet' as he knew I would want to help choose my ring. We went to a jeweller the following week to start designing it. We were married nine months later in June 2016."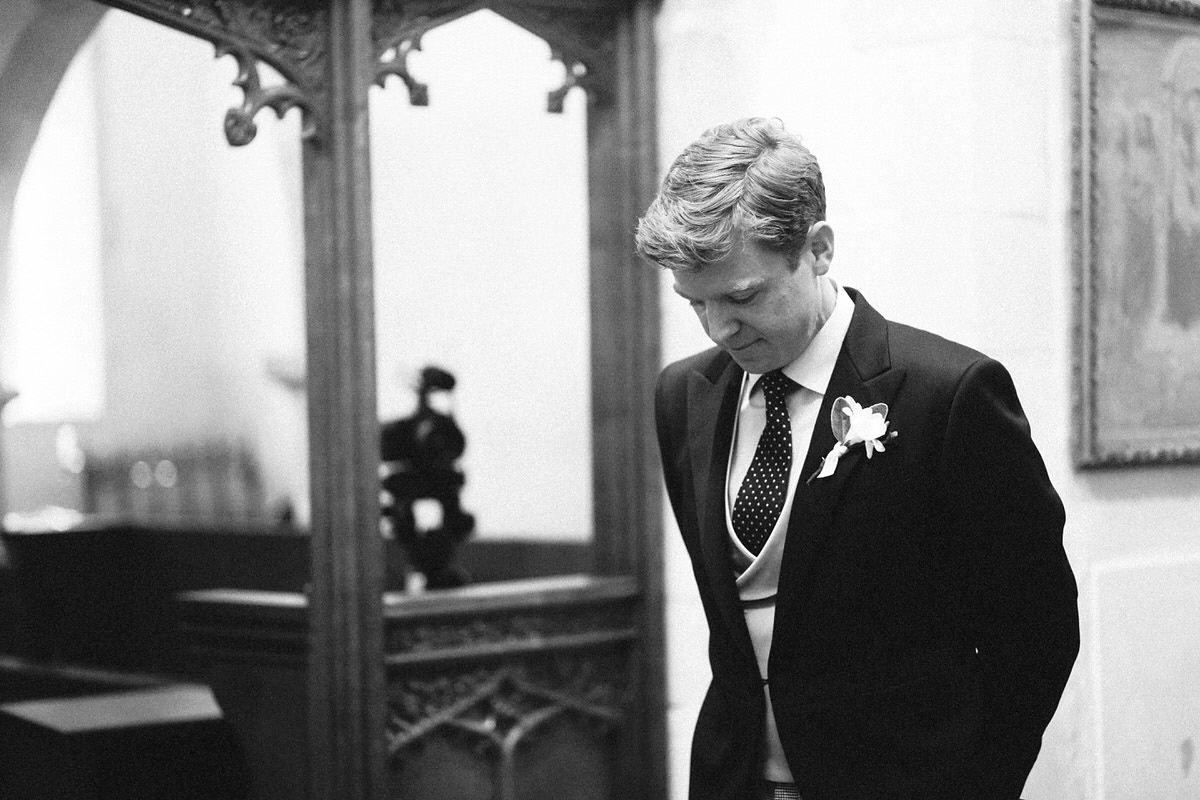 Stepping out of her beautiful classic car at the church of St John the Baptist, Charlotte walked down the aisle on her father's arm to the 'Spring' concerto from The Four Seasons by Vivaldi. She and Harry followed the traditional wedding vows (but opted to leave out the vow to 'obey') and chose three readings for their ceremony; Cloths of Heaven by William Butler Yeats, Scaffolding by Seamus Heaney and an extract from a love letter written by Leo Tolstoy in 1856. Inside their order of service, the couple printed the words, 'Ever mine, ever thine, ever ours,' taken from Immortal Beloved by Beethoven.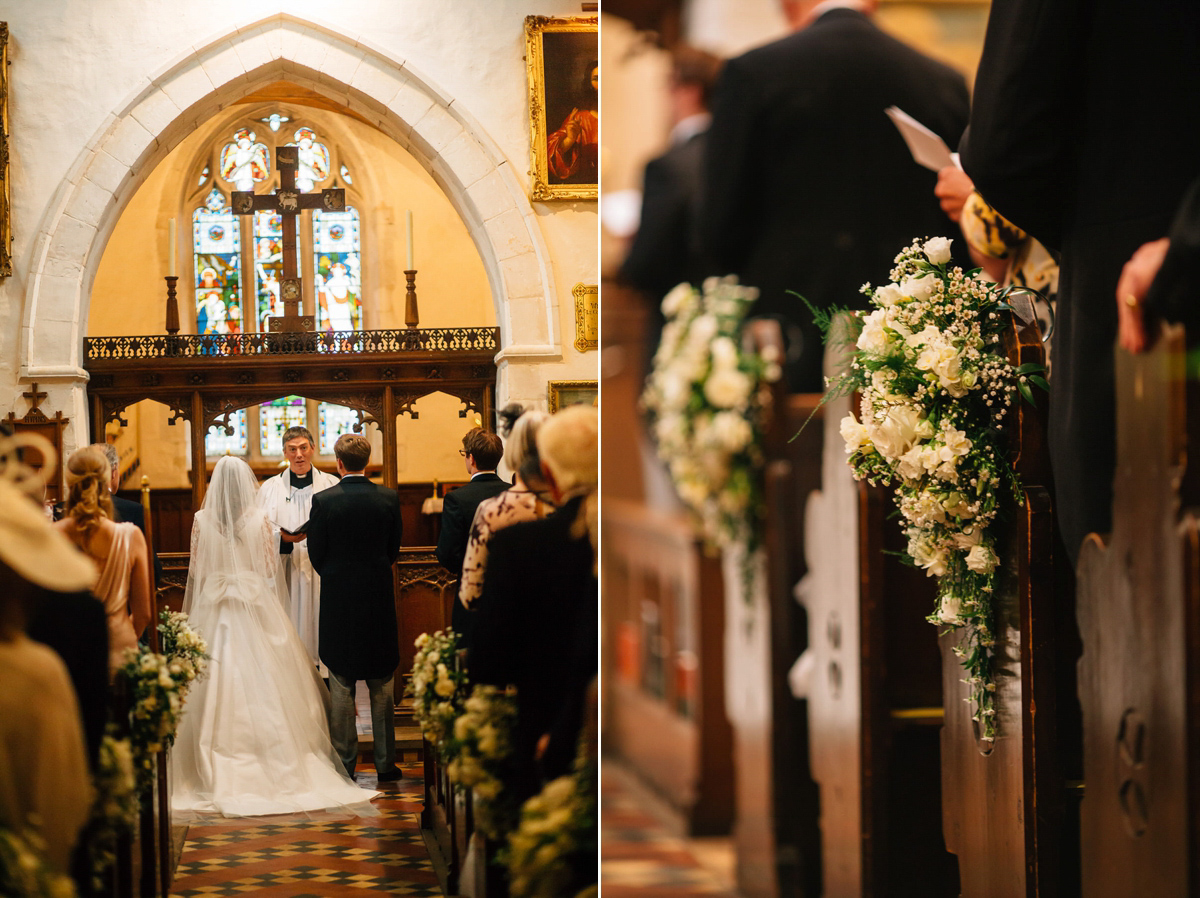 "Neither of us wanted anything too obvious or something we had heard repeatedly before. Harry's mother loves Cloths of Heaven so we let her choose that, but the others are poems or extracts from letters we have read and just felt represented us and what we wanted to say about our relationship. We felt they were honest and real."
The newlyweds exchanged rings purchased from Lawrence Blunt, where they designed Charlotte's engagement ring, and after the ceremony bundled joyfully into their waiting blue Jaguar to be whisked away to their reception.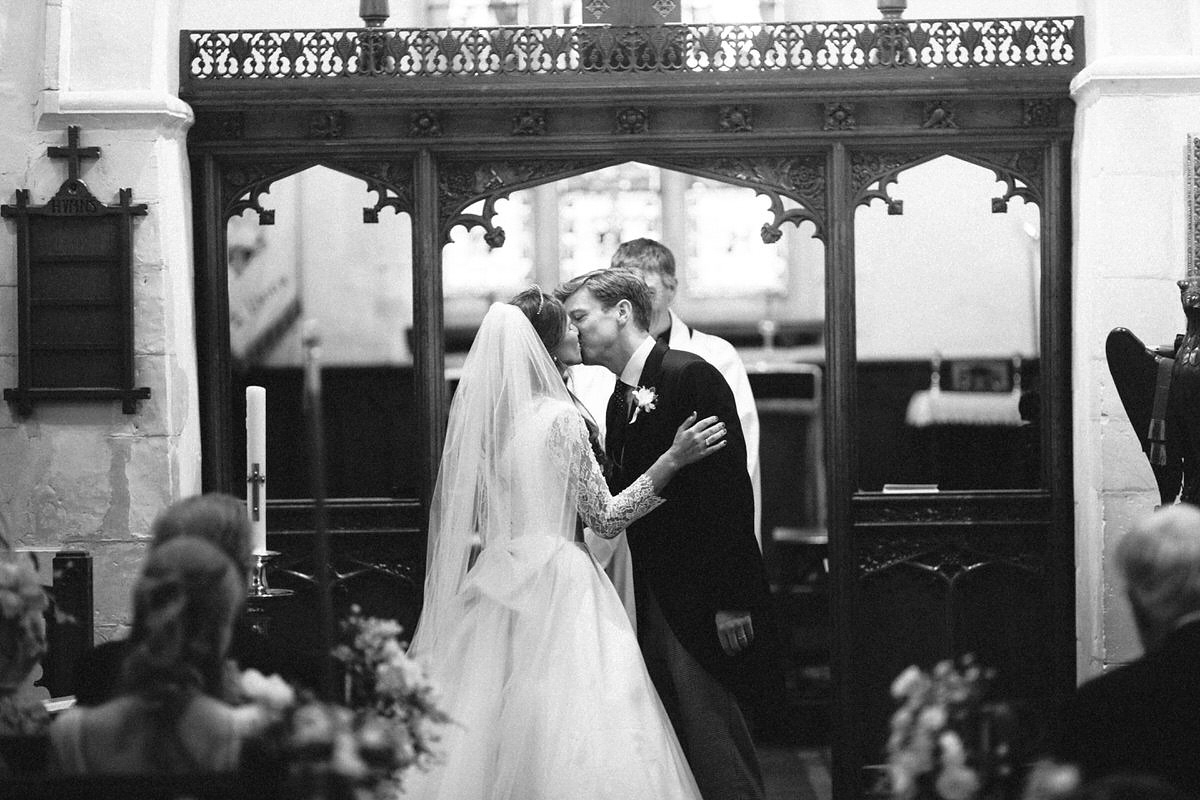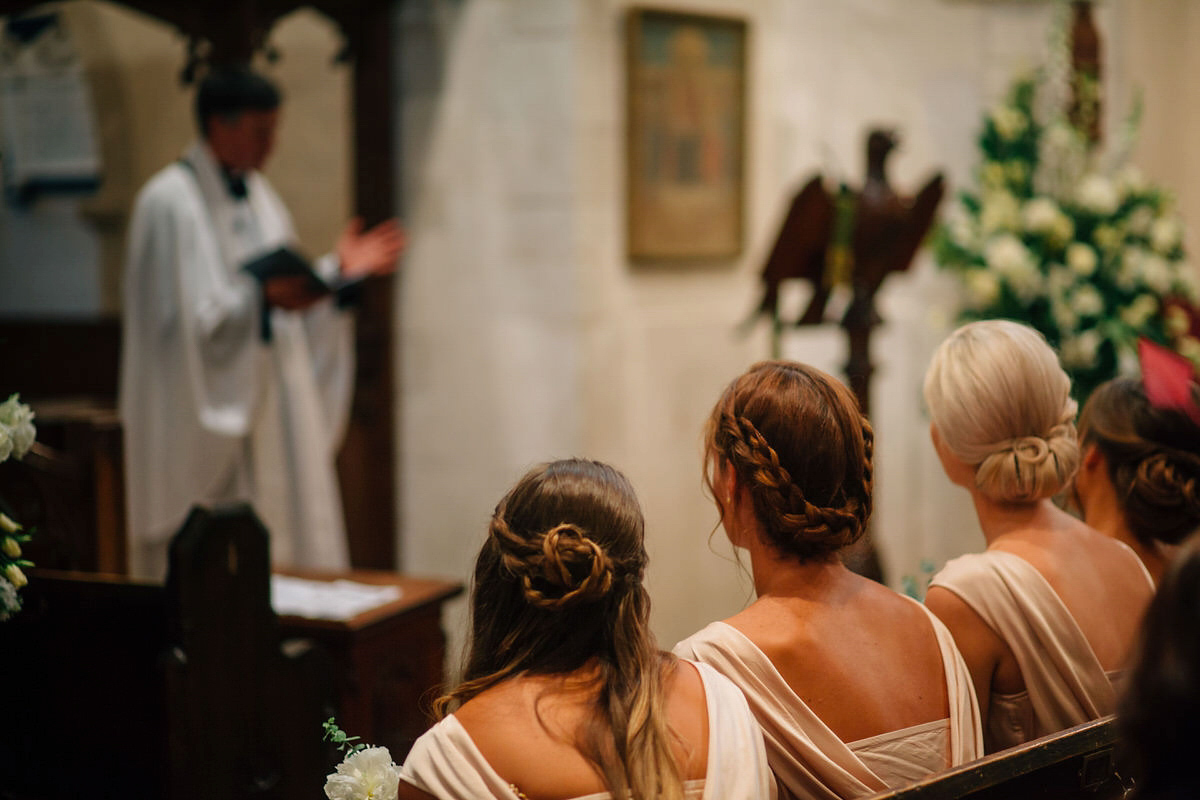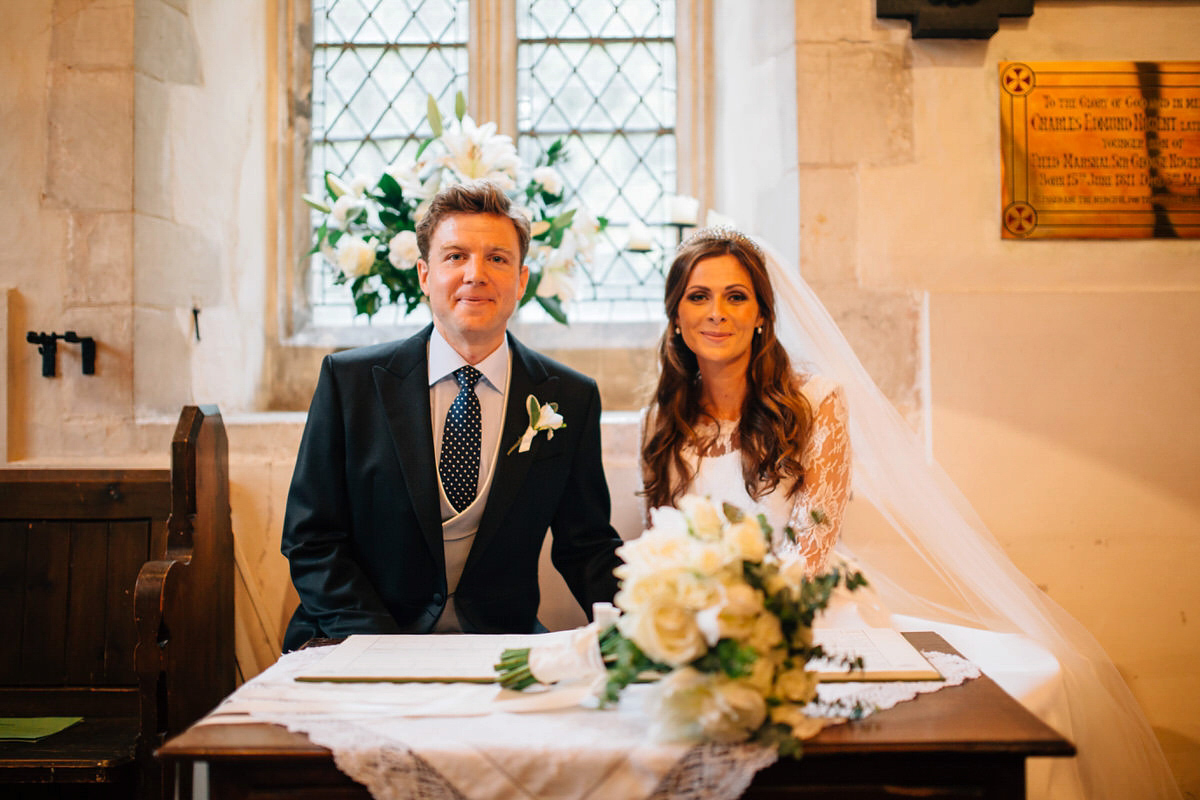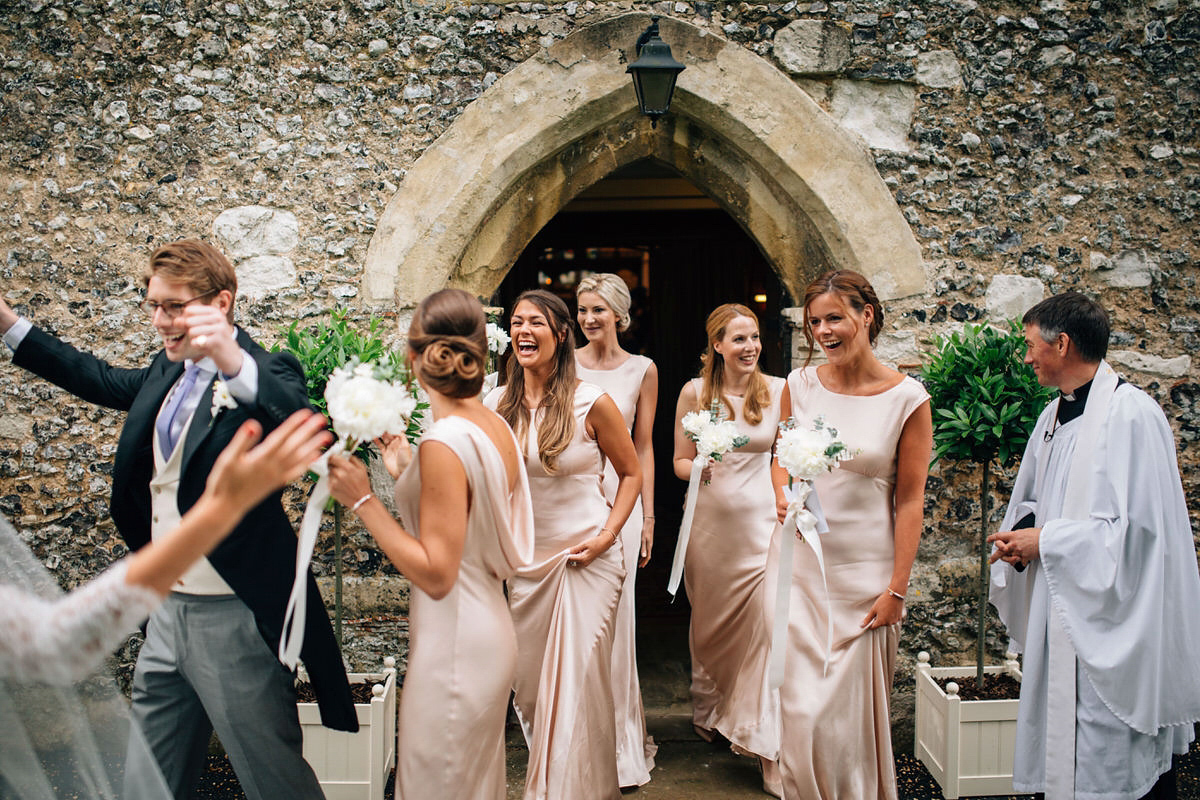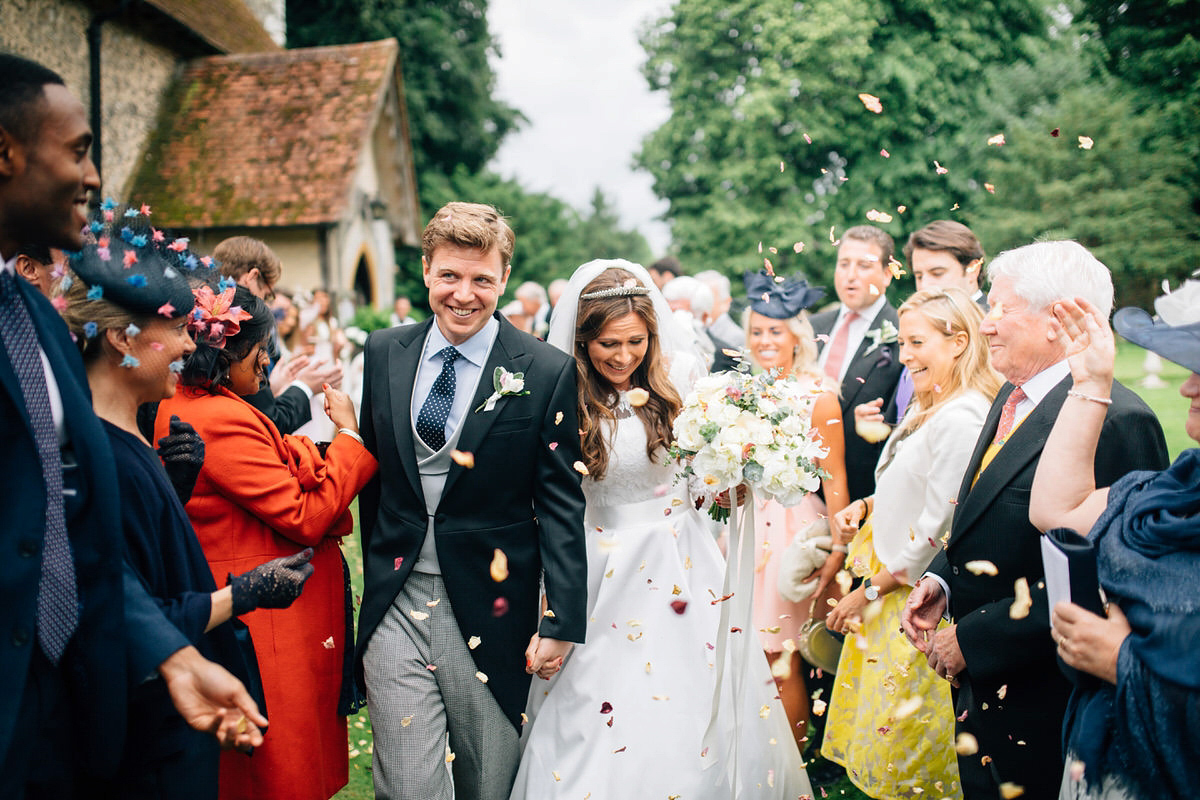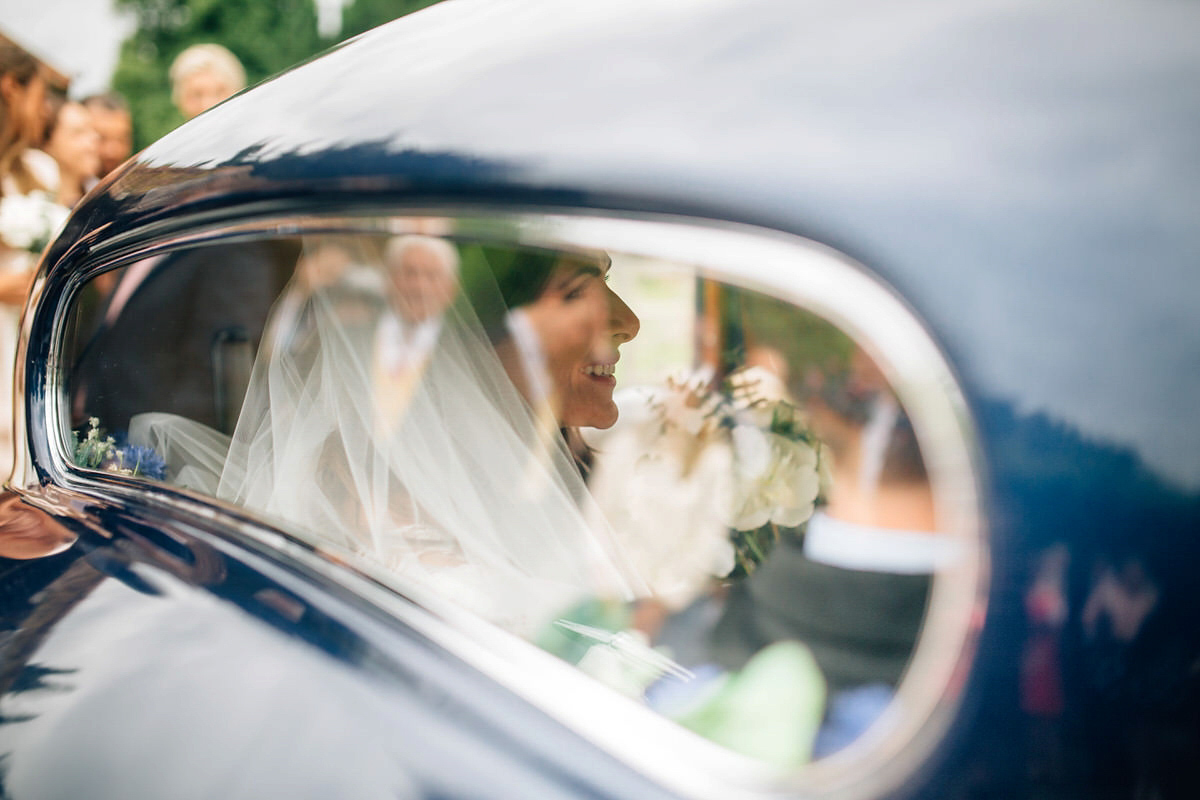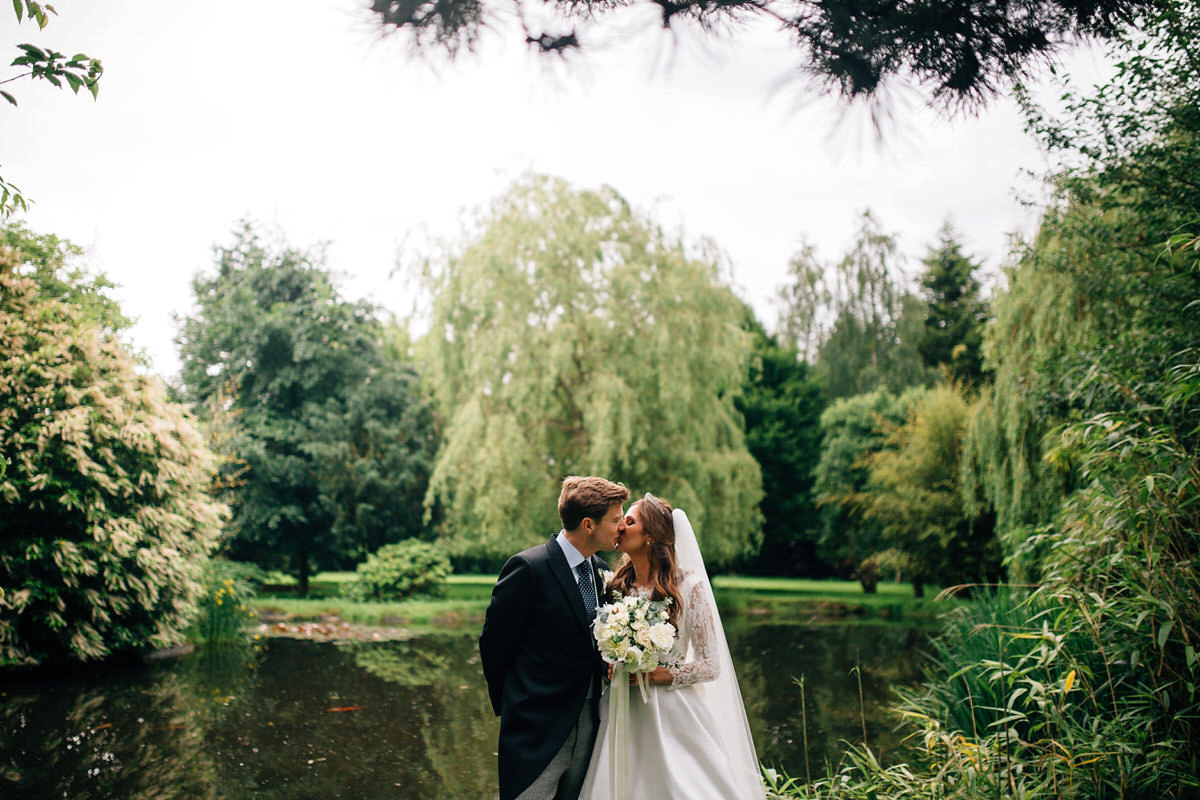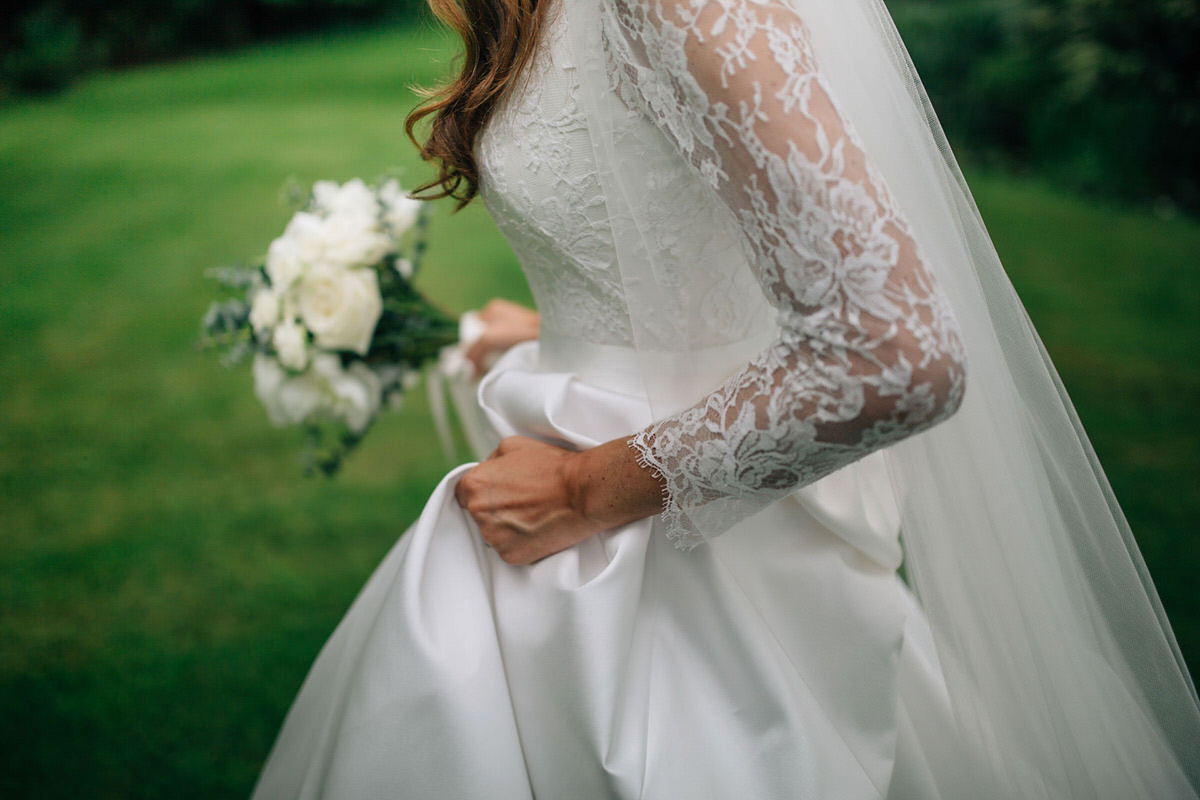 "Sam Sidders at 81 Events catered a wedding my parents had been to a year before ours and as soon as we got engaged my mother insisted we work with Sam. We even checked he could do our proposed date before booking the church. We are so pleased we did, he and his team are so talented. The food was perfect and he also event managed the day and co-ordinated it all, which meant my parents could relax and enjoy."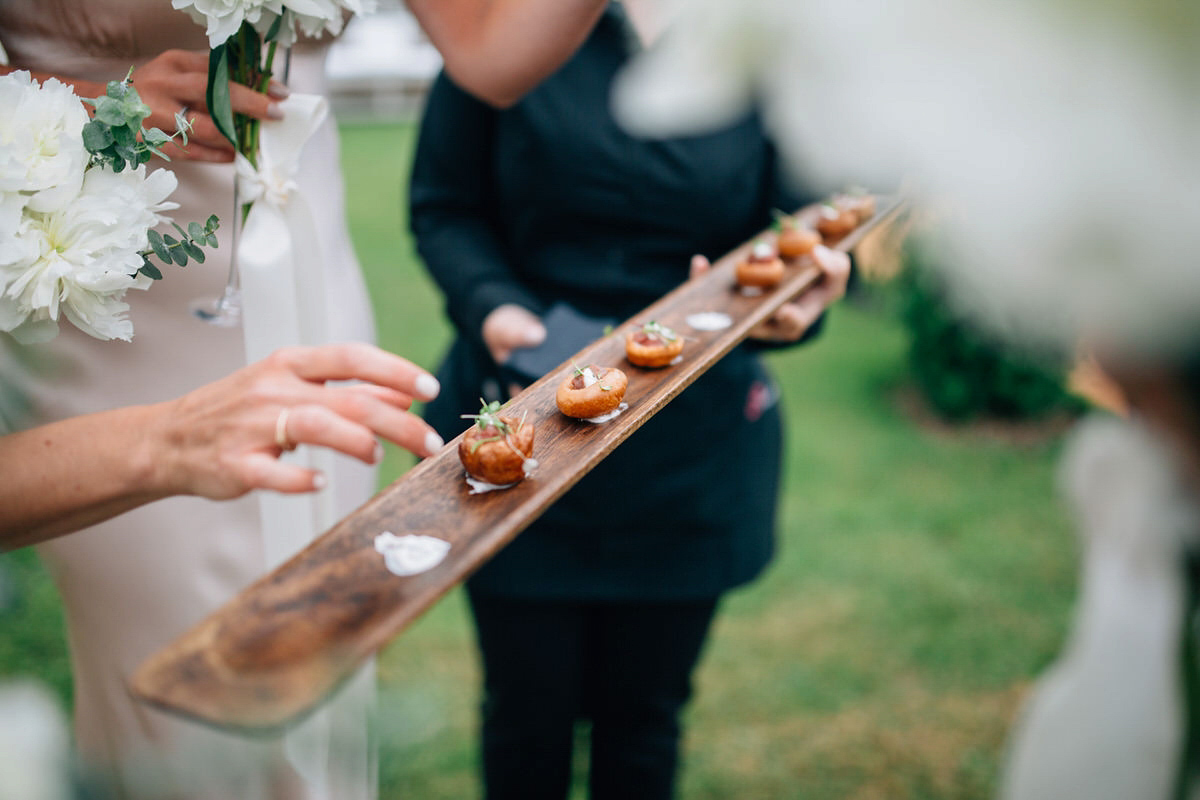 Flowers were an intrinsic and very important part of the decor for our bride, and the gorgeous fresh summer blooms supplied by Sue Barton were complemented by lanterns and flickering candle light dotted along the tables and also filling the garden and the walkways. 81 Events catered a delicious wedding breakfast and also oversaw the timings and logistics of the evening, allowing the wedding party to truly relax and enjoy the celebrations.
"Sue and Lucy are local to us, based in Marlow, and came highly recommended as two other friends have used them previously. We didn't have a specific view other than we wanted lots of white, lots of volume and foliage, and lots of hydrangeas and peonies (my favourites), rather than something more traditional like roses. I wanted lots of flowers to make a an impact. They were super, made my imagination come to life and even convinced me to add some muted grey and lilac coloured flowers on the tables to break up the white, which was absolutely the right thing to do. They nailed it and worked tirelessly – the floral crowns in the Sperry took hours to hand build the day before the wedding, they must have been exhausted."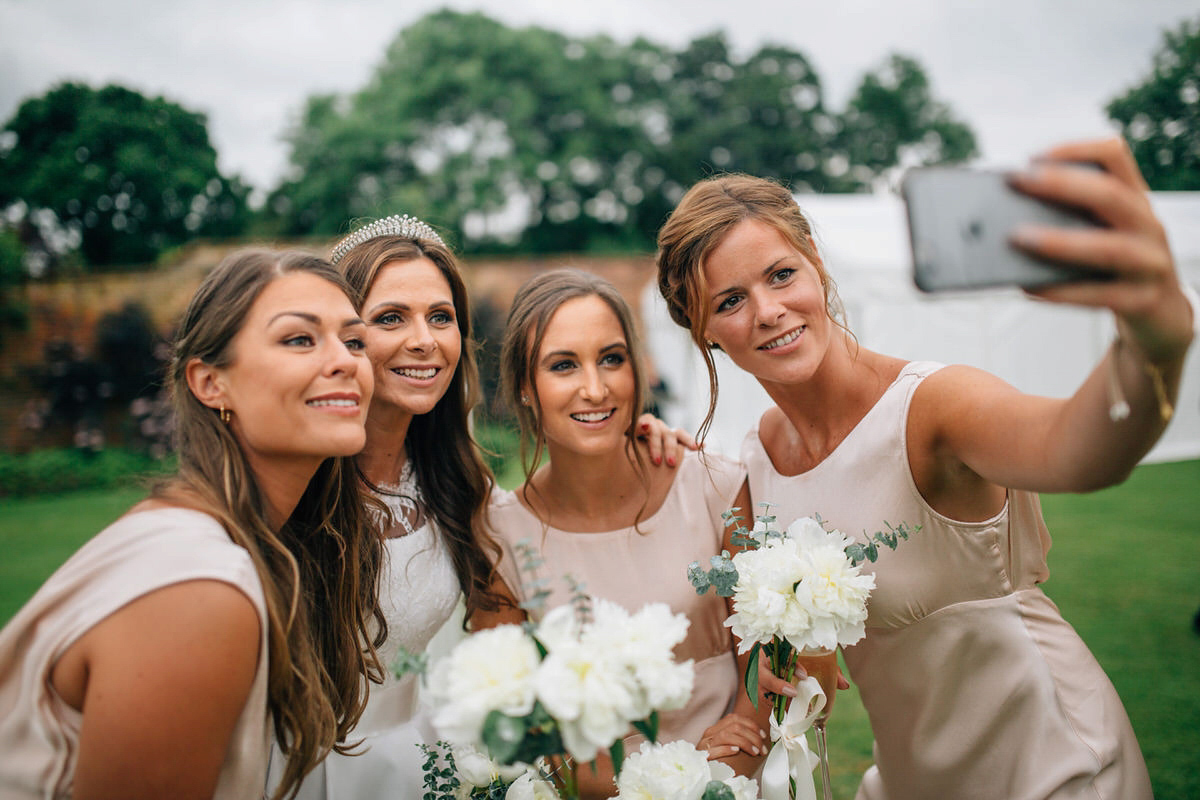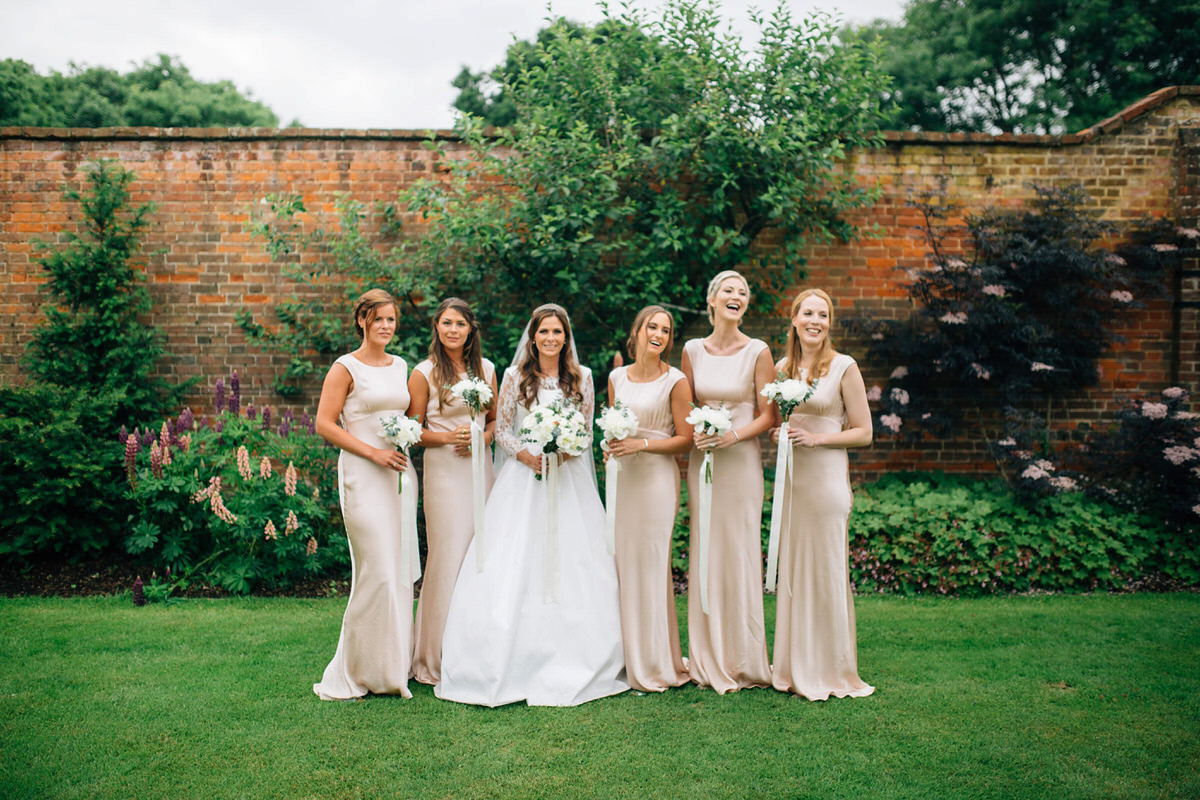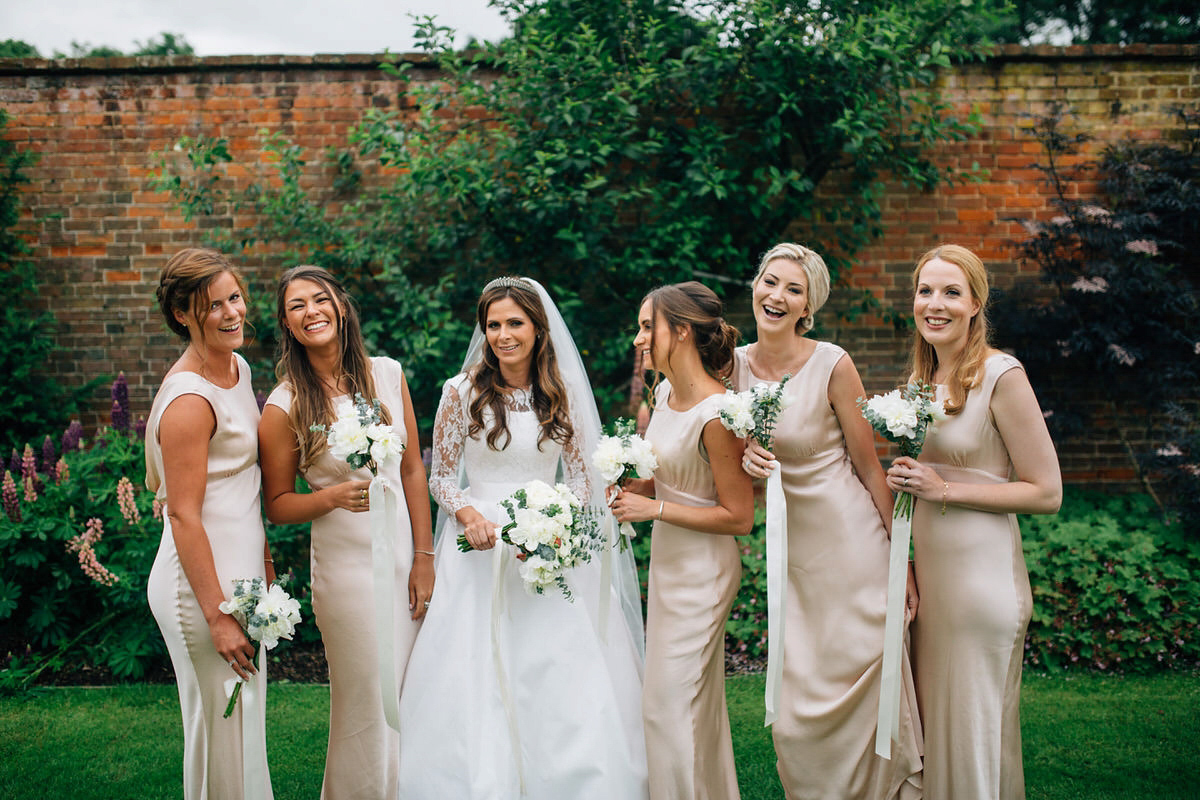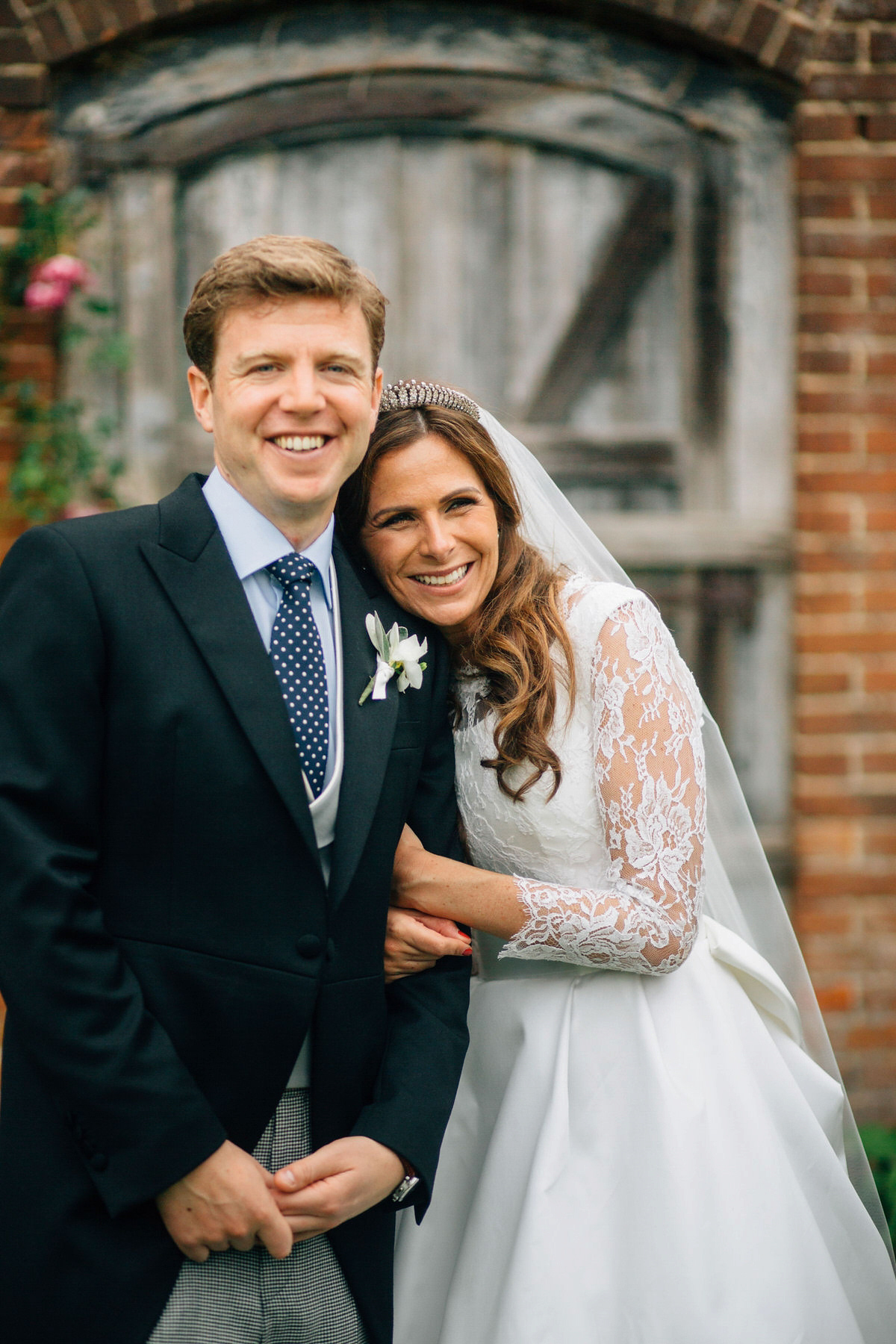 Charlotte and Harry knew they didn't want a traditional marquee so hunted around to find something a bit more stylish. They wanted something very light and spacious, that would allow them to bring the garden 'inside' – making the most of that gorgeous outside space and creating an environment that wasn't too formal.
"I was recommended Papakåta by a friend and fell in love with their Sperry tents. It was perfect for us, stunning to look at in itself but also a blank canvas to make our own. We chose a circular bar in the middle to bring everyone together, we had floral crowns around each pole in the peaks of the Sperry, and a string of lighting around the perimeter, which created the most incredible atmosphere at night. Papakåta were fantastic throughout, we can't recommend them highly enough."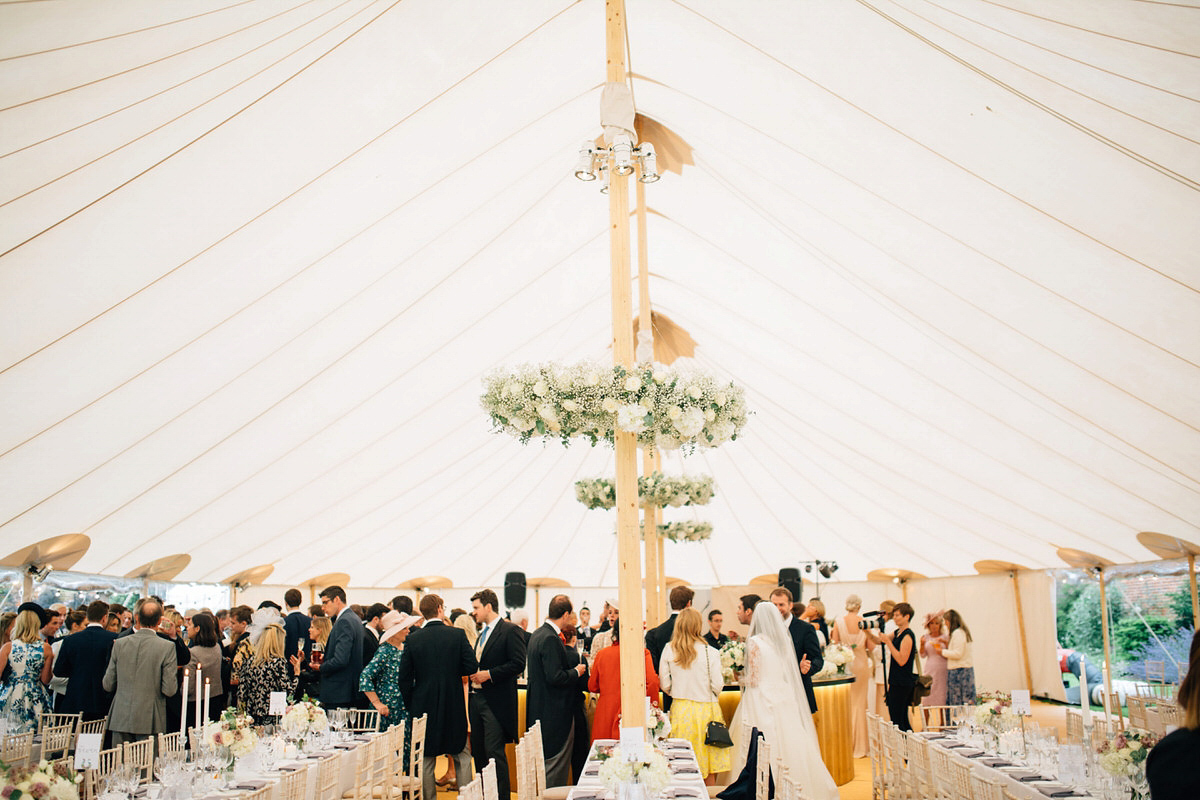 Another Little Book for Brides darling was chosen to craft much of the luxurious stationery for the day – Project Pretty provided beautiful name cards, menus and a table plan, while Charlotte and Harry used Gee Brothers for their invitations and order of service. I think it might be a little bit unhealthy how much I love stationery!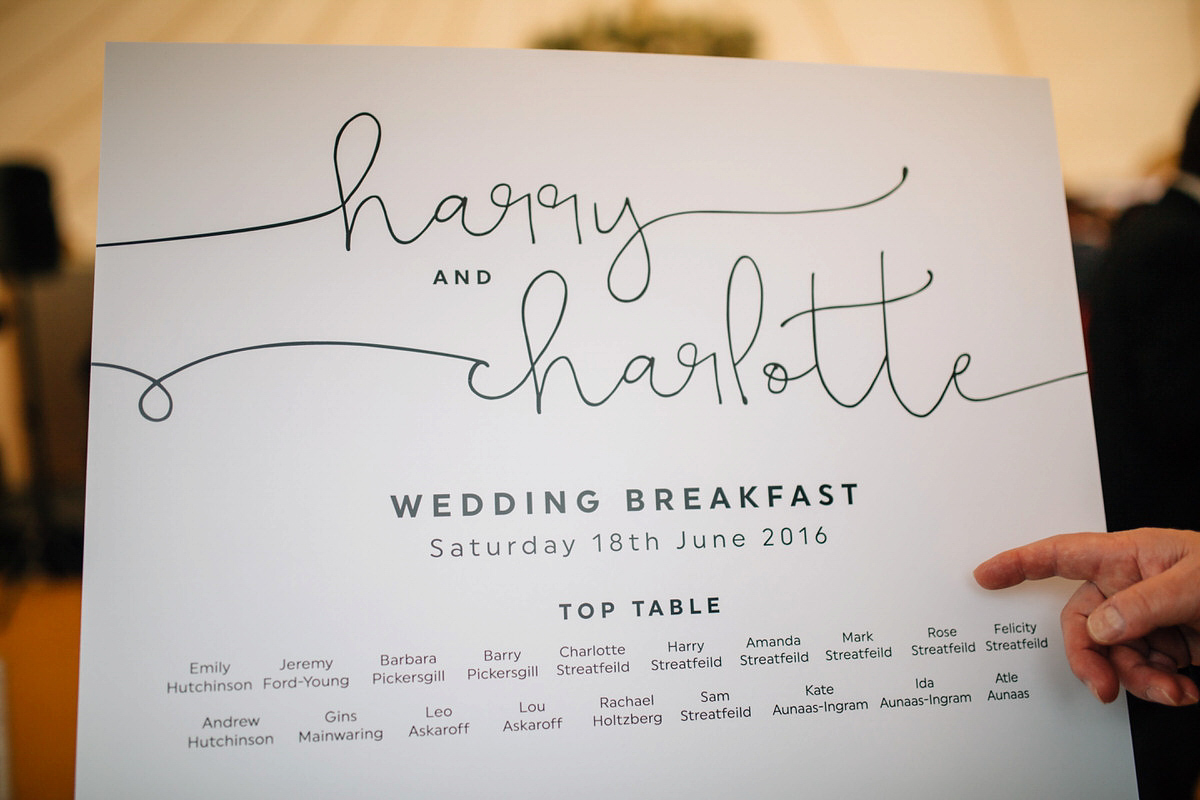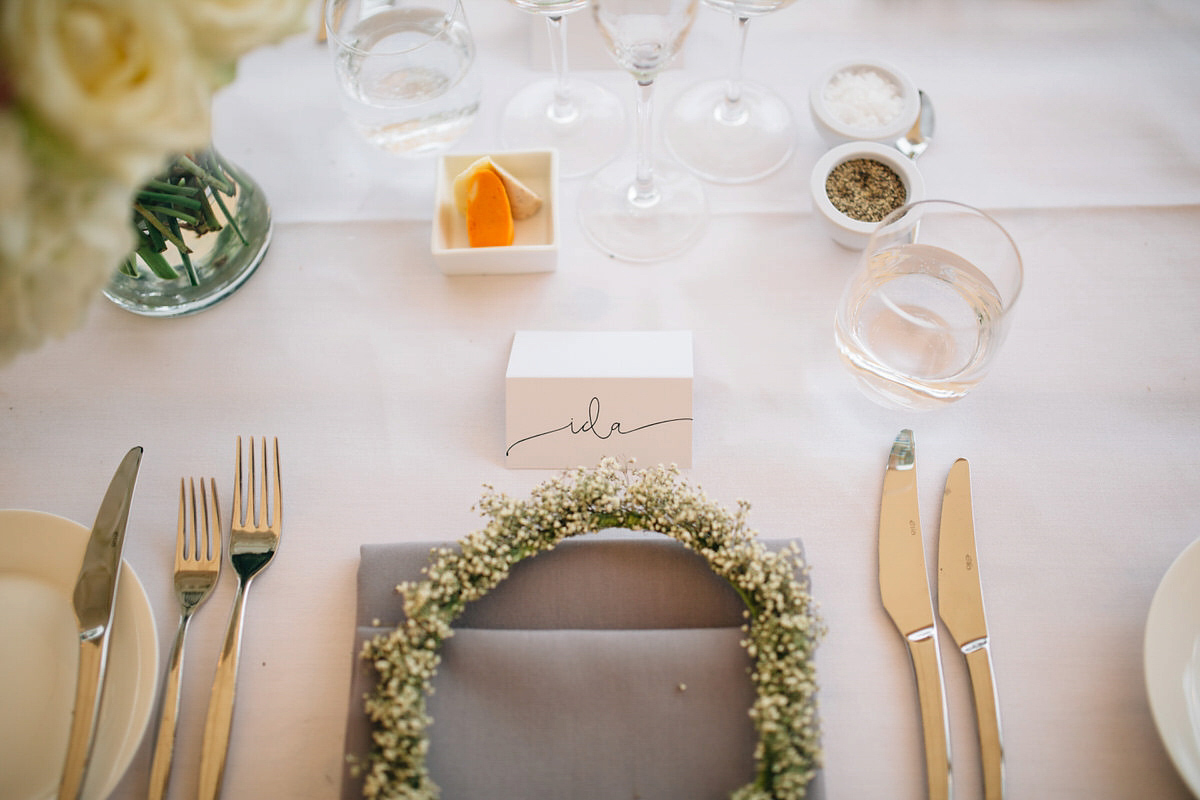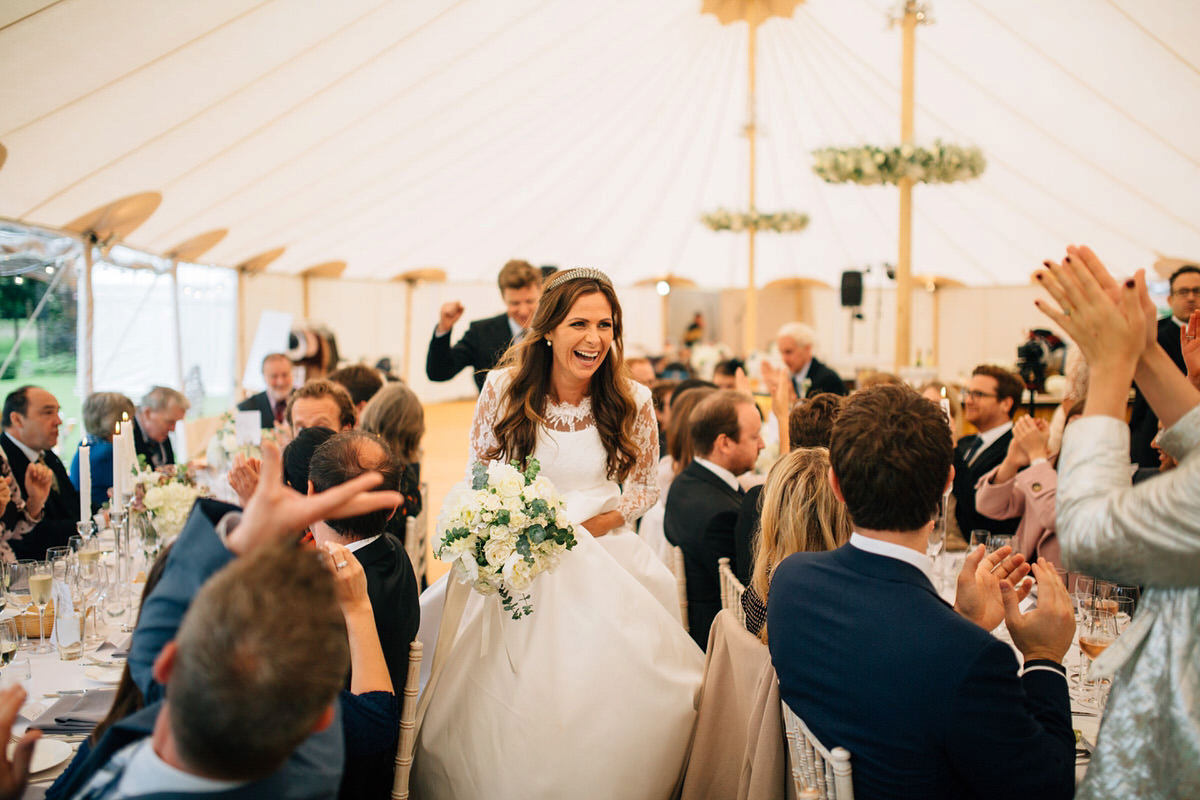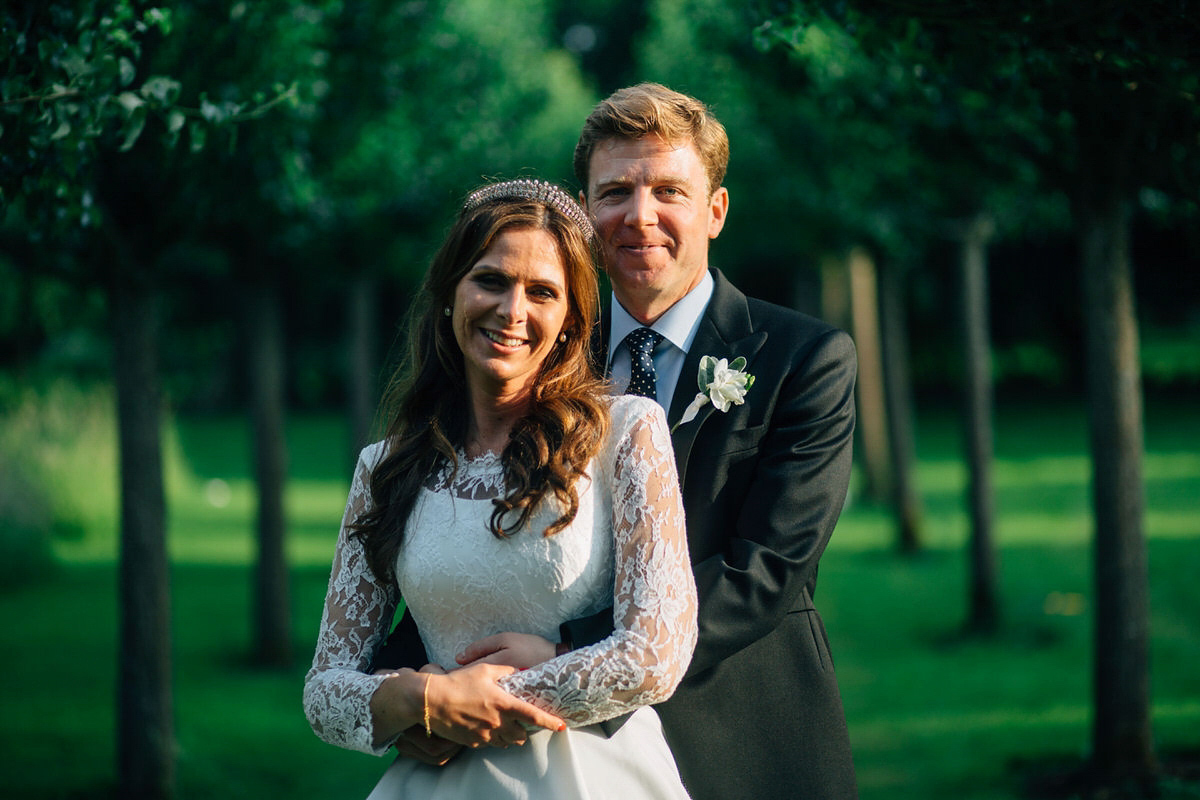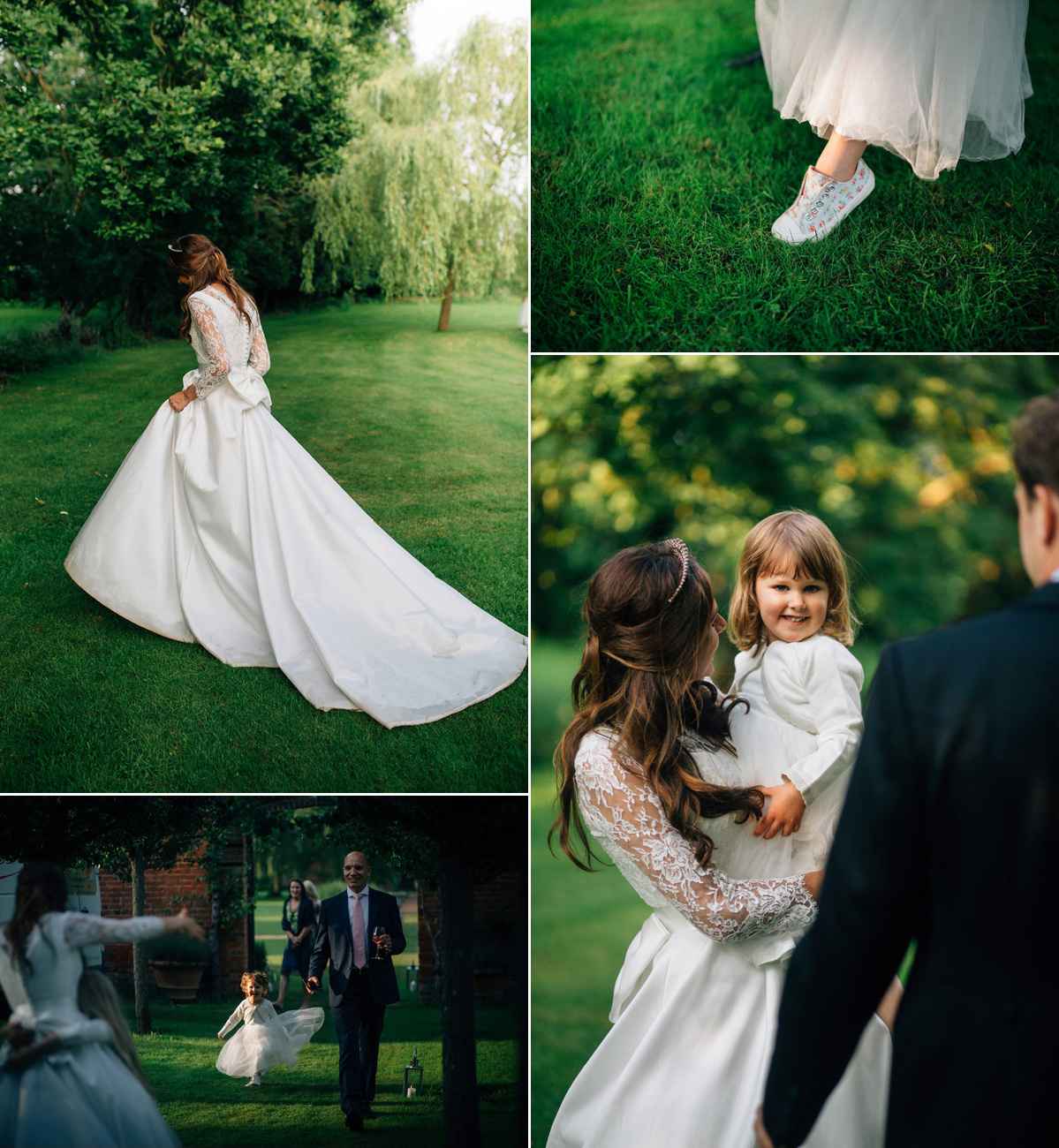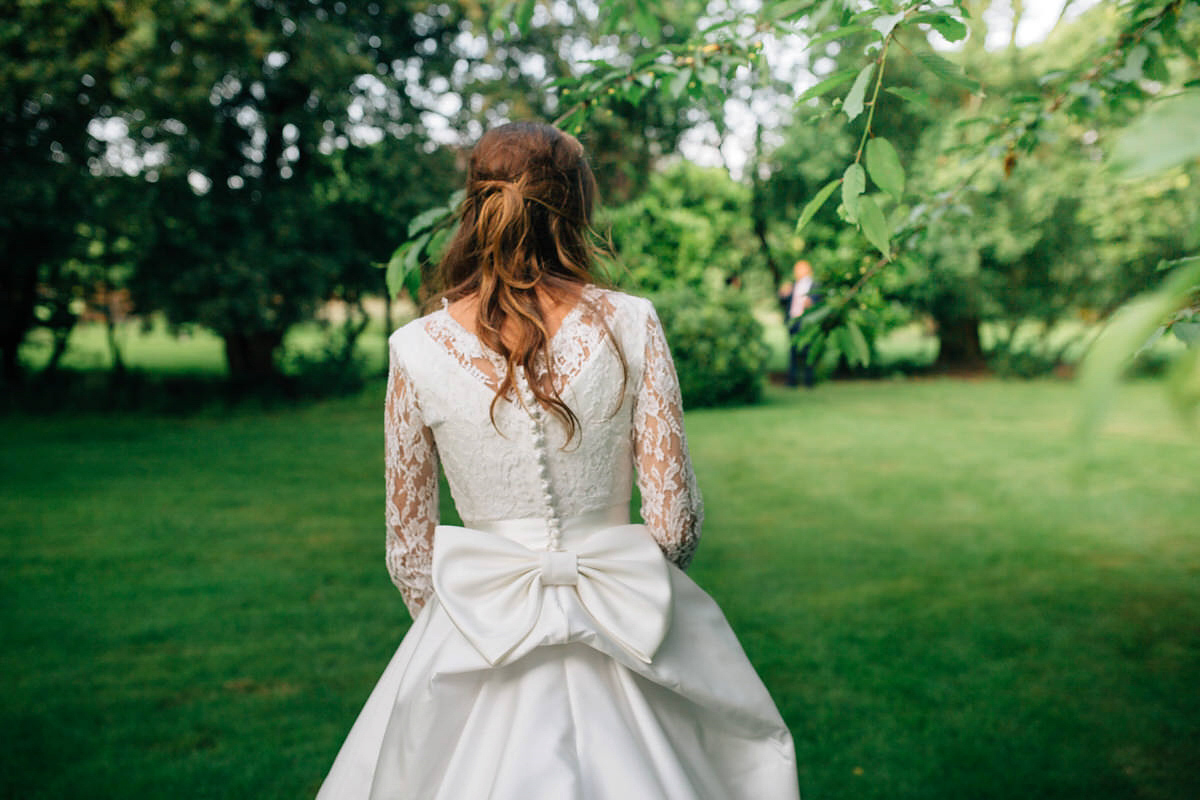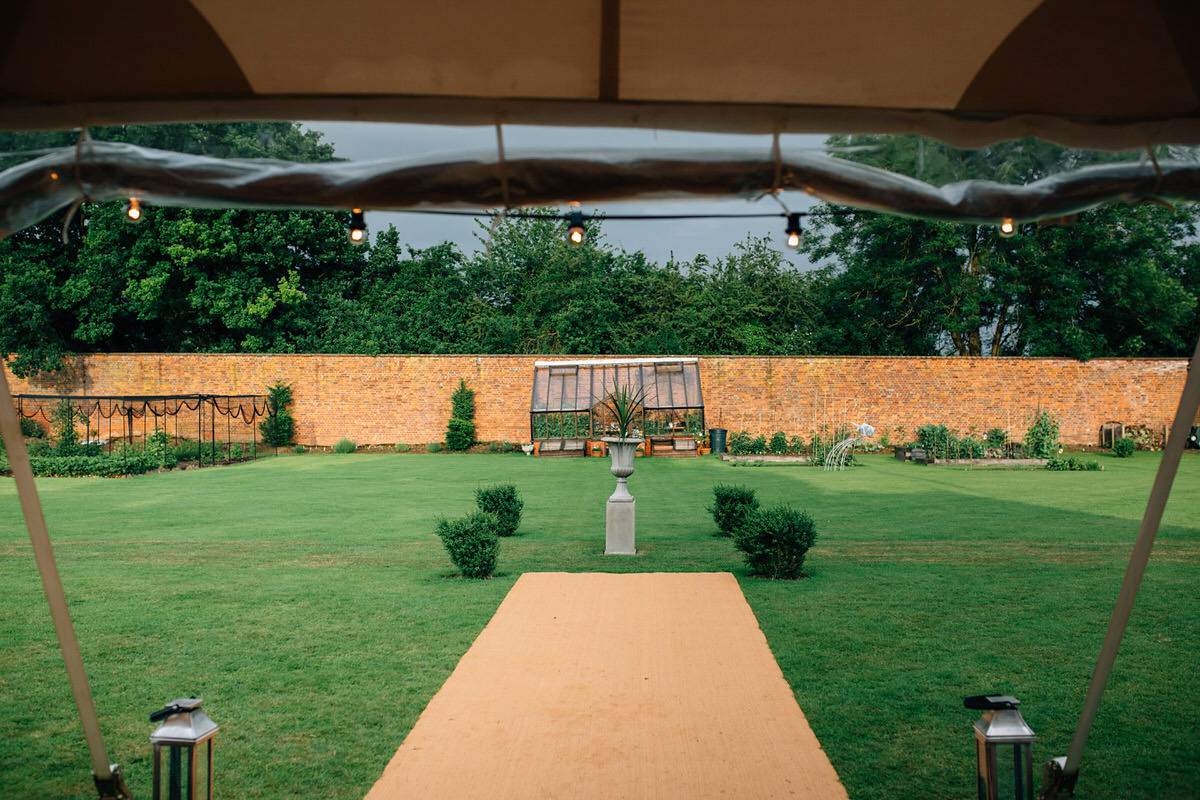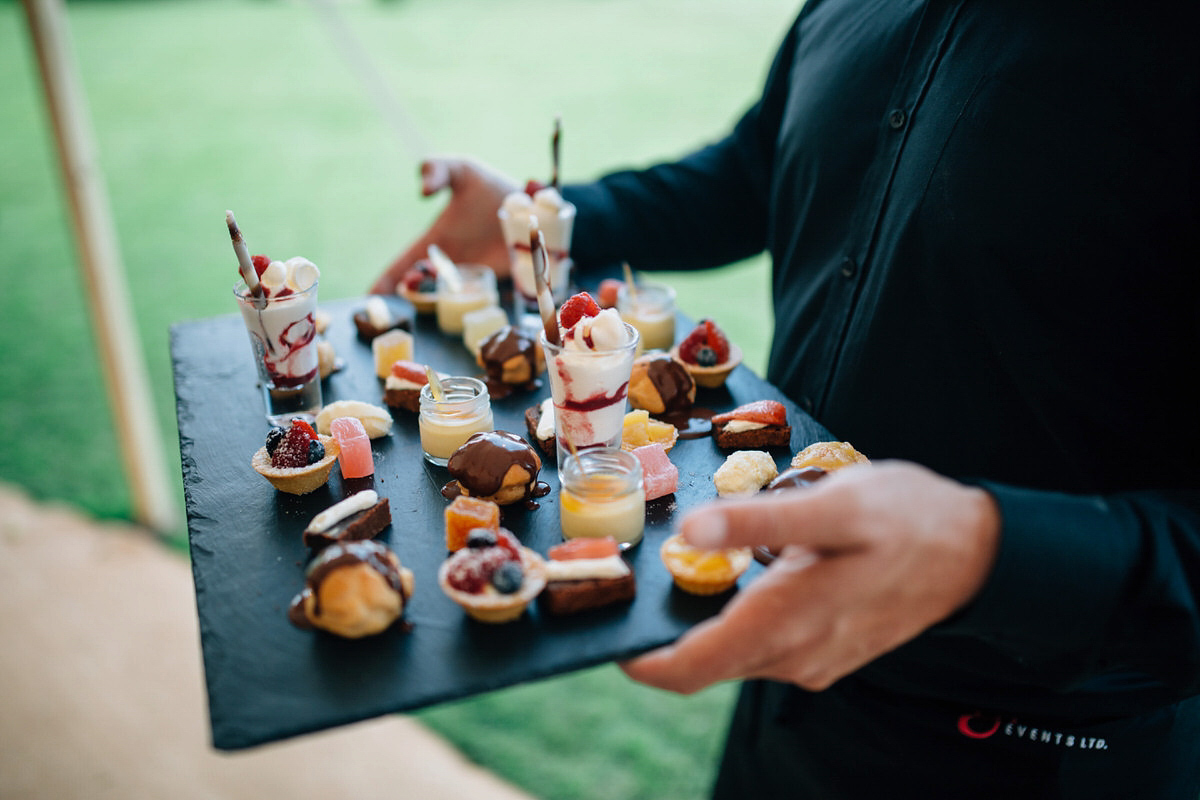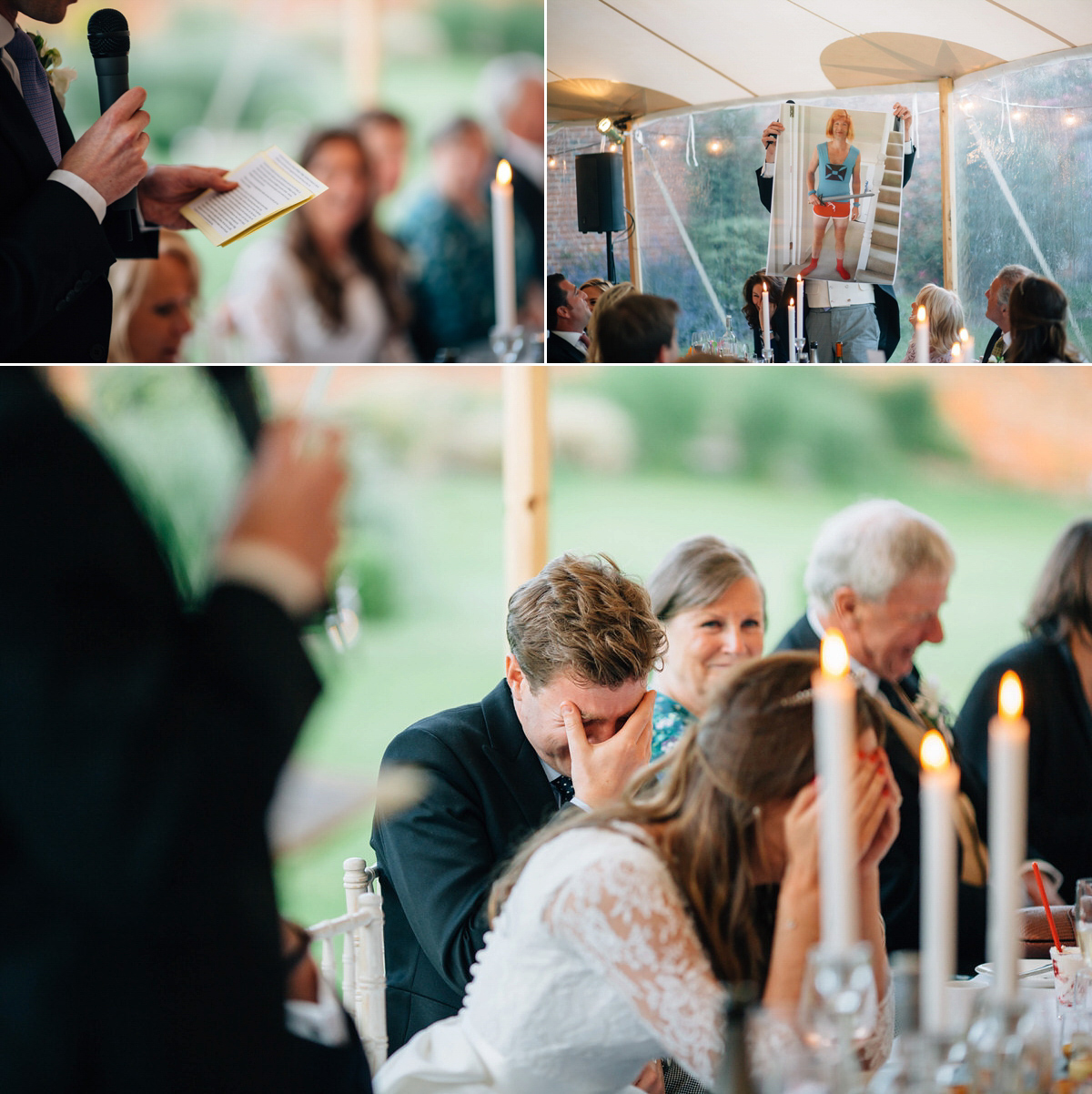 Charlotte and Harry weren't too bothered about a cake, so chose a simple white-tiered creation from M&S, which was decorated by their florist with with fresh hydrangeas.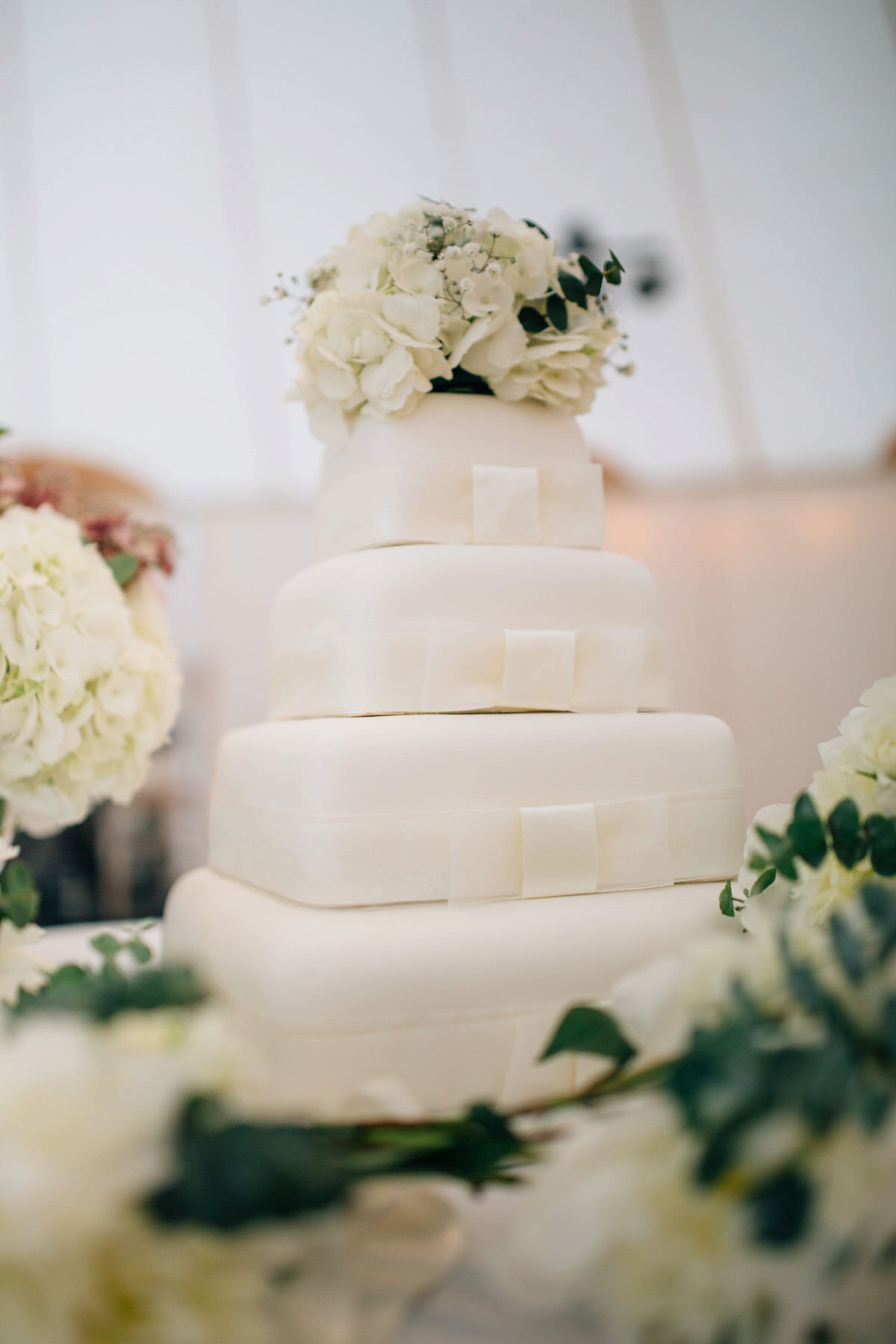 After their wonderful, joy-filled speeches, the new Mr and Mrs took to the dance floor for their first dance to 'You Got The Love' by Florence and the Machine. I do so love that song!
"I loved it all. We had the best day, didn't stop laughing, it was so full of joy. The speeches were a highlight – we were lucky as my father, Harry and his best man are all confident speaking in public and they did a great job. One of my bridesmaids also did a 'best girls' speech which went down brilliantly."
"Our friend Nick runs Meet & Jam so rather than hire a band, we asked him to put together a band made up of singers and musicians he worked with. We trusted him implicitly to put together a great band and choose the playlist, and they were brilliant. We had a packed dance floor all night."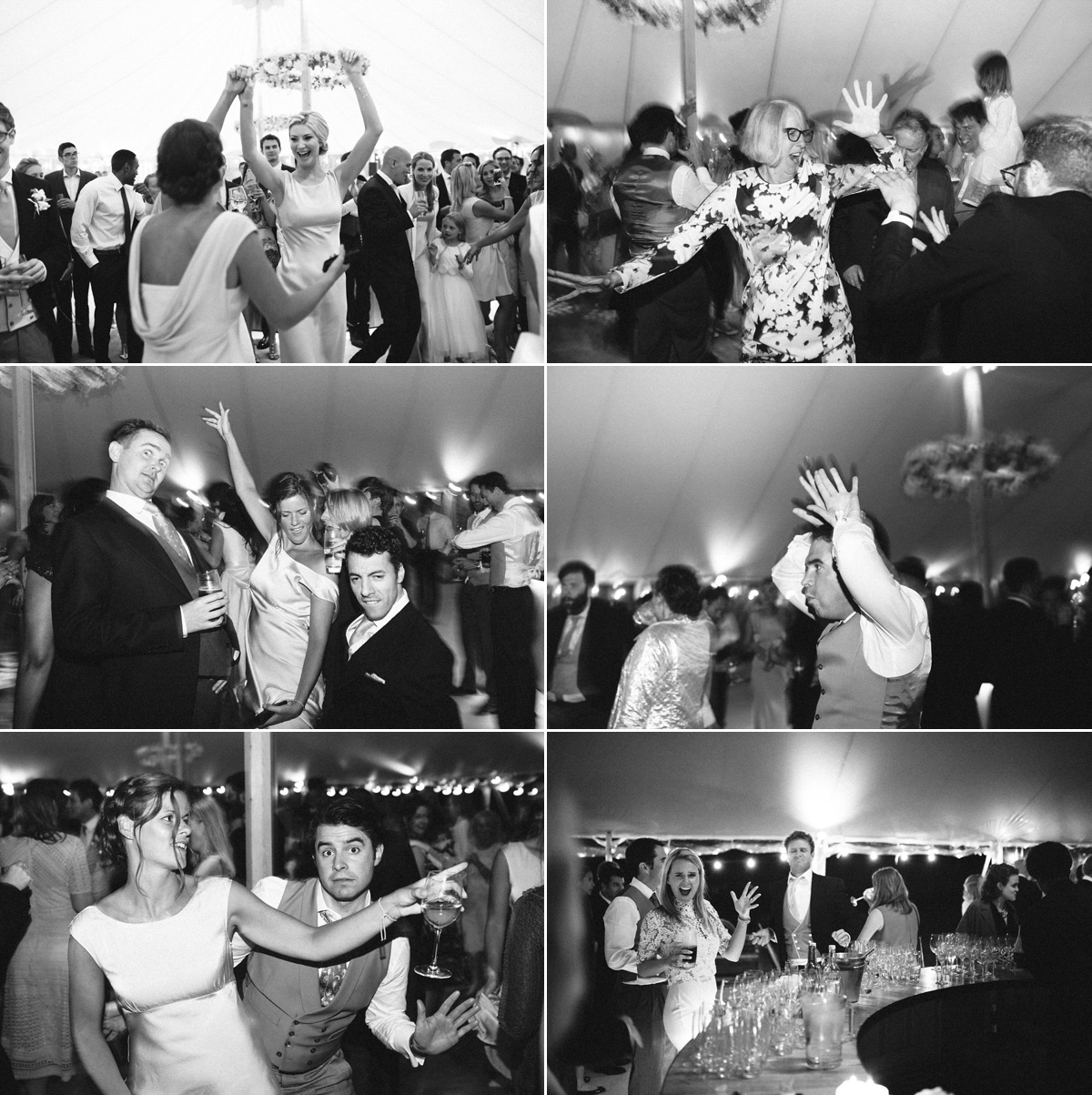 Words of Wedded Wisdom
"Try not to get hung up on the little things. All any of your guests want is for you to have a wonderful day and if you are happy and relaxed, that feeling will spread and you'll all have the best time."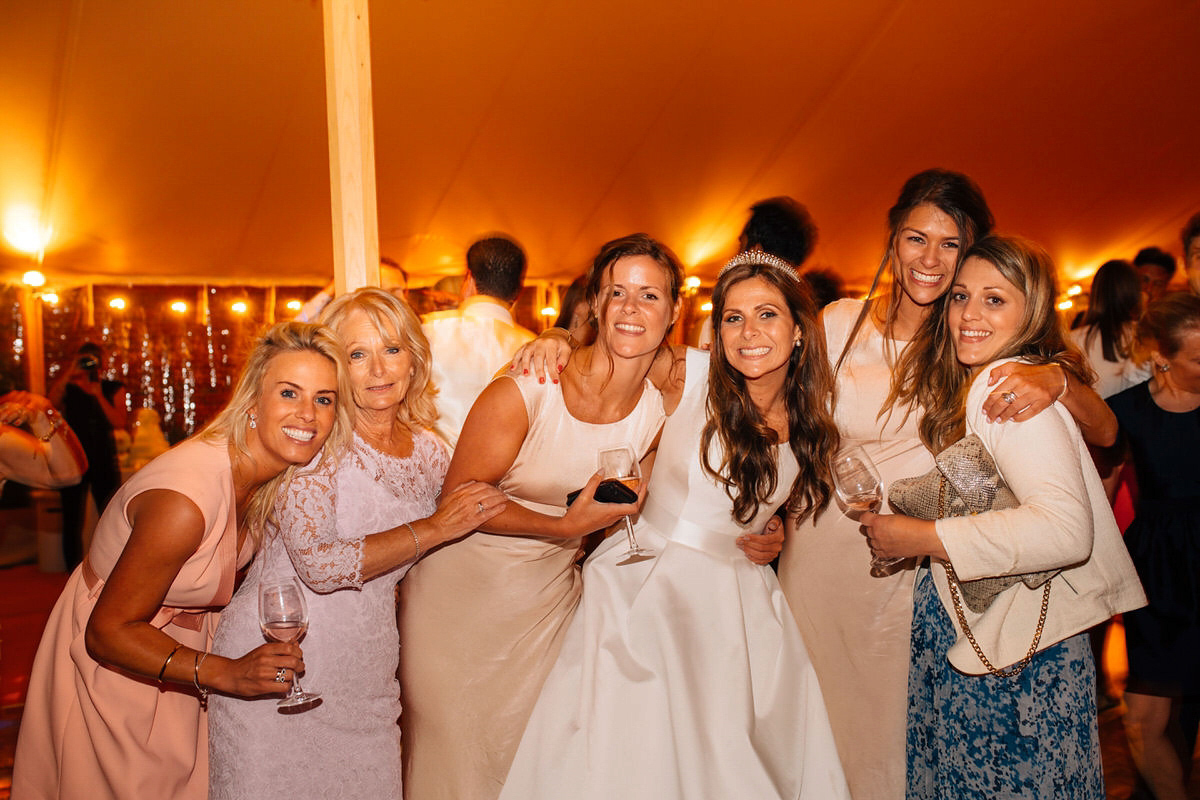 That just leaves me to say a huge thank you to Charlotte, Harry and Joseph Hall Photography – I've so enjoyed sharing a little insight into this gorgeous celebration. The couple created a hashtag for Instagram (streatwed) if you're after more candid snaps of this lovely day.
With love, Em x