Love, laughter and a whole lot of glamour and elegance were in the air on the 18th of July 2023 as Jess and Dan tied the knot at the magnificent Gleneagles hotel in Scotland in a day full of classy style and modern romance.
Nestled in the heart of breathtaking Perthshire, the venue played the perfect backdrop to the couple's black tie wedding. The bride wore a contemporary gown by renowned British couture designer Suzanne Neville and the couple appointed the lovely and talented Carole-Ann if Harper Scott Photography to capture these beautiful images. We're delighted to recommend Carol-Ann if you're looking for a wedding photographer for your own Scottish wedding. Find out more here.
Bridal Beauty & Accessories
I work in makeup, so I did my own on the wedding morning. I blocked out an hour of the morning when I had my hotel bedroom to myself to concentrate. I put on my favourite music and really enjoyed that hour!
For my hair, I used Gleneagles in-house salon for a blow dry on the wedding morning. I didn't bother with a trial as it didn't seem a necessary trip to Scotland and I wanted a relaxed and undone style anyway. Not having a very definitive picture in my mind helped me feel more relaxed on the day, which was more important to me than my hair. I pondered over wearing a black velvet headband as it really suited the 80s vibe, but ultimately worried that might be a trend I'd regret and kept the hair down and simple.
I bought Jo Malone's Body Cream in Velvet Rose & Oud and love how long it lasts on me compared to a cologne.
My budget had run out by the time I got to jewellery, I spent it all on my shoes and don't regret it! In lieu of having genuine Chanel vintage clip-ons, I got some of a similar style from Revolve. Any bride who is looking for a similar aesthetic should look at Susan Caplan though. Like with most other design processes, you really have to pick your splurges.
My shoes are from Alaia and I am in love with them. The best thing about having black shoes is that I can wear them lots again!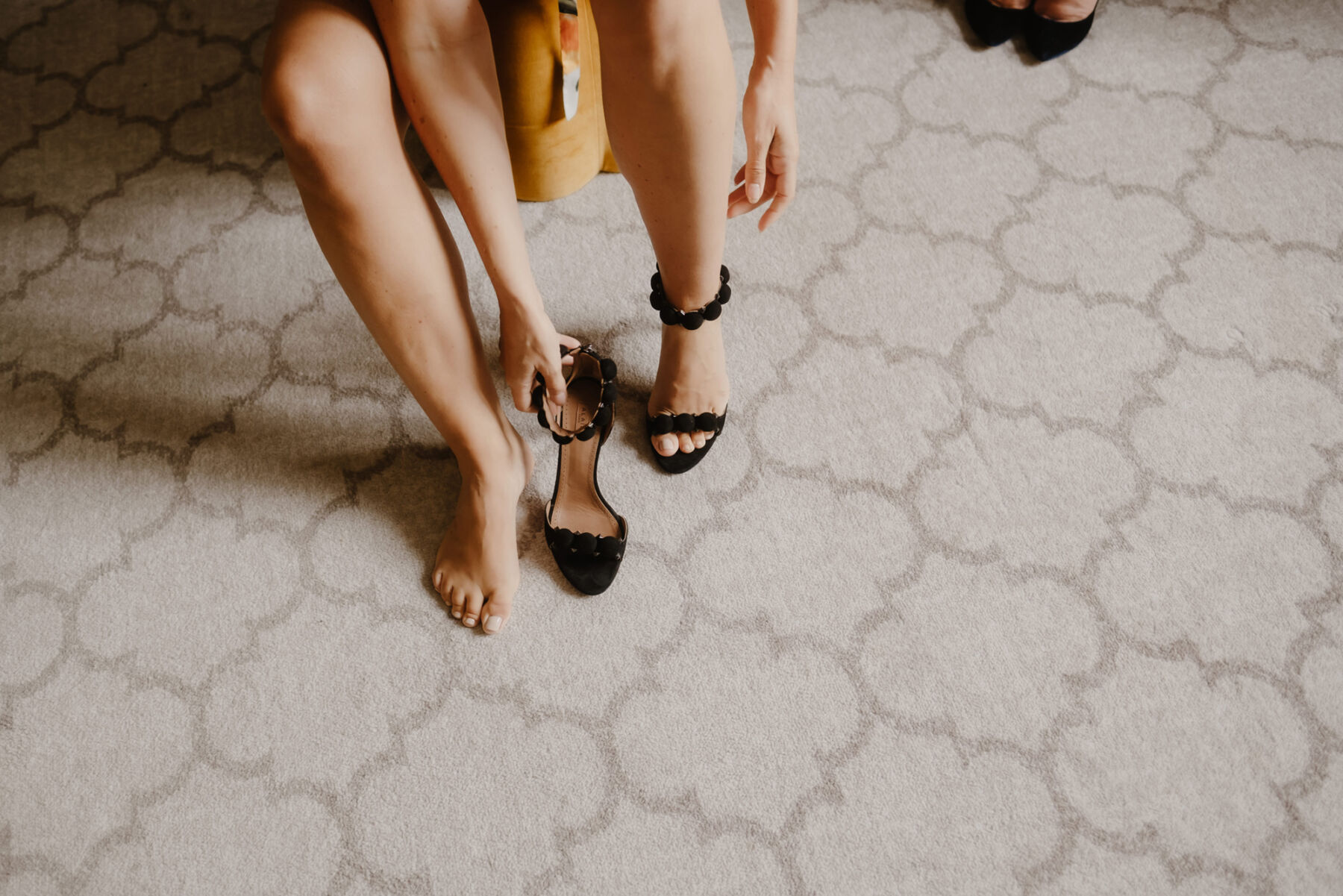 The Dress
---
I wore a Suzanne Neville dress, from Suzanne's flagship store in Knightsbridge. I didn't shop around! This was the first and only store I went to- I tried on three dresses and loved all three so much.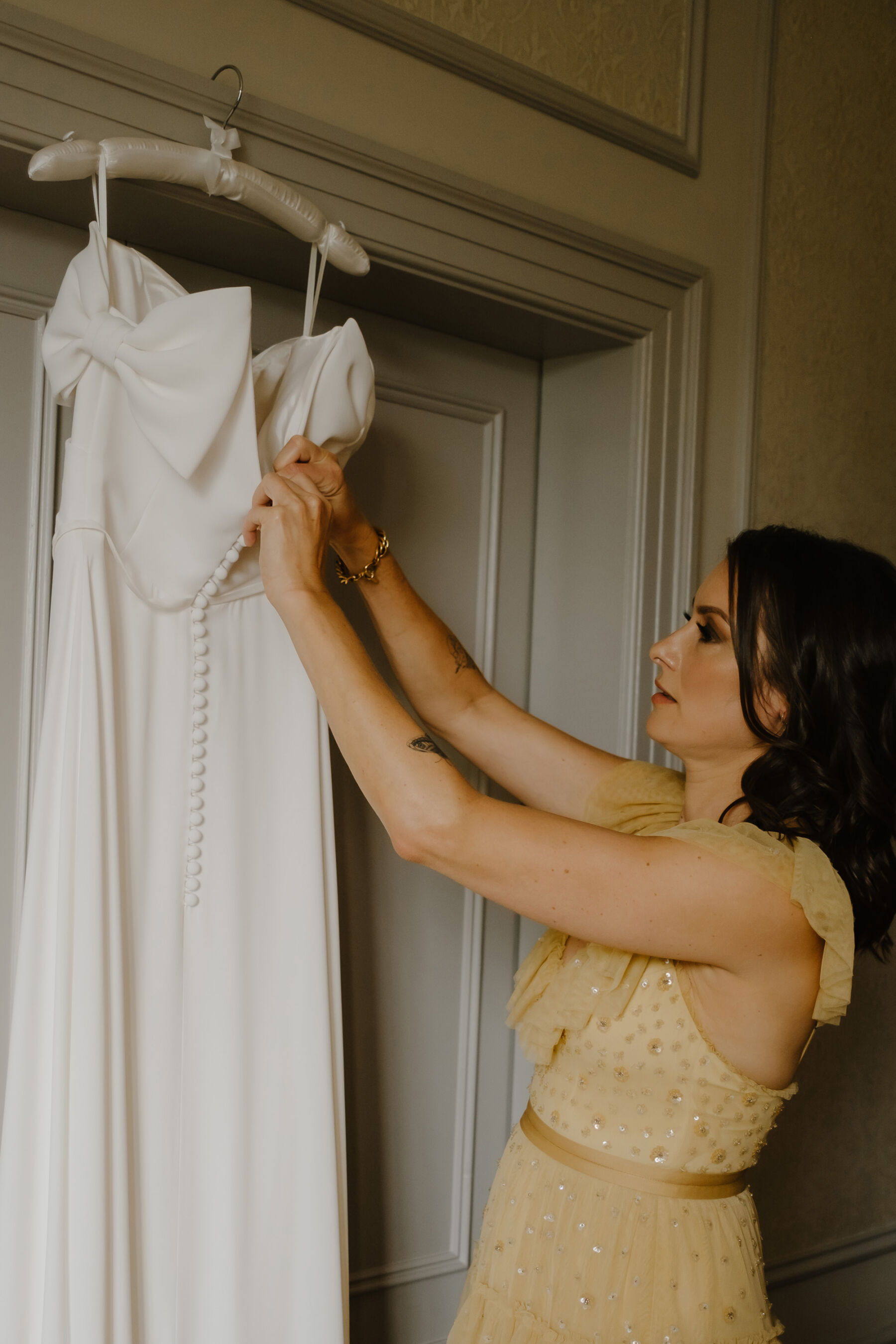 They were quite different but I couldn't imagine better quality classic designs elsewhere. Jess was very helpful in offering advice and feedback and took lots of photos for me so that I could make a more considered and informed decision at home.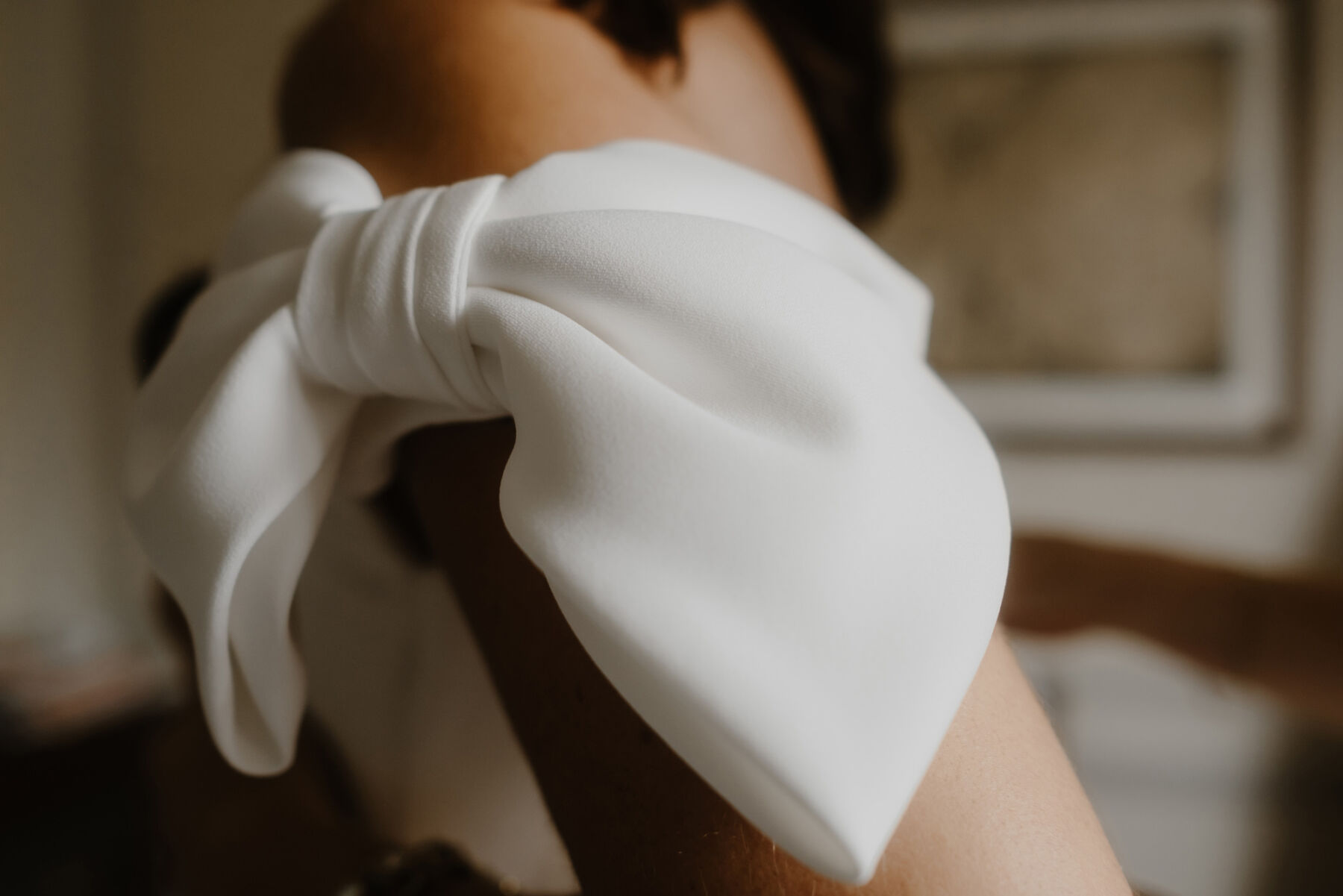 They are very happy for you to customise your dress which added another level to my decision making process but I'm so happy I went with the Felicity dress with no customisations.
I knew I wanted a classic and timeless style, avoiding any trends that I might regret in the photos years down the line. I used Pinterest for ideas and channeled some vintage Chanel vibes into the overall aesthetic – black shoes and vintage 80s earrings. I took all the balayage out of my hair to keep things classic too.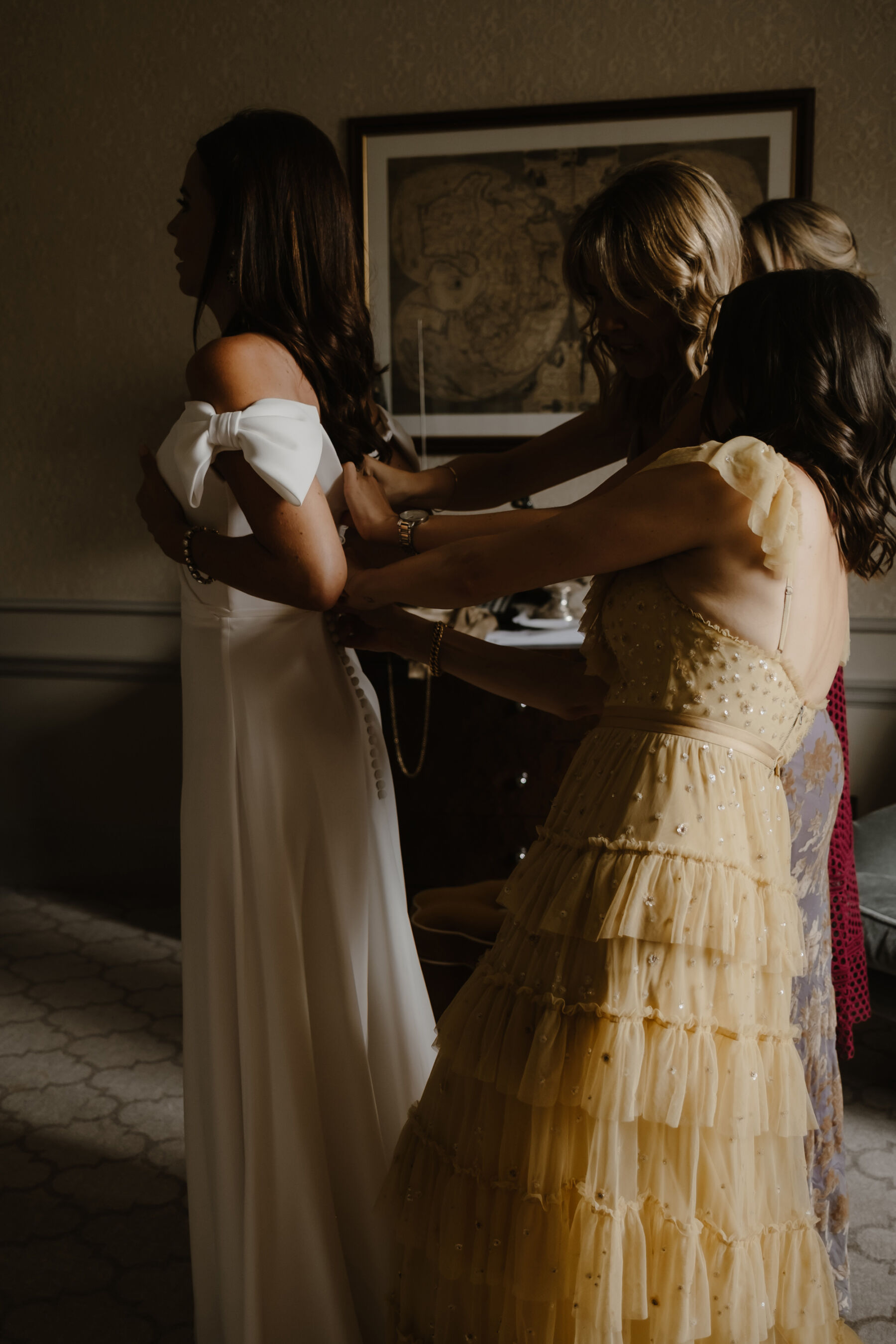 We used Gleneagles' in-house florist Lyn. I knew Lyn was talented just by looking at the fresh flowers she arranges daily around the hotel. The flowers were one area that I had a clear vision; Black tie can be associated with winter weddings but the flowers could be used to keep it more summery.
I really wanted white anemones which have beautiful and bold black centres. Unfortunately they were out of season so we sourced some faux silk ones from Etsy and I don't think anyone was the wiser!
The Groom
We went to Harrods to look for a suit for Dan and he got some great styling advice inside Tom Ford. They only stocked the O'connor suit there in navy so we headed around the corner to the flagship store to get it in black. Having a black tie wedding was a fantastic excuse for Dan to get a new tuxedo that he will be able to wear again.
Dan's three sons bought tuxedos from Mr Porter's own brand, Mr P in the sale. They were great value.
The Ceremony
My dad walked me down the aisle. We had dodgy weather in Scotland and had to make a call about whether the ceremony would be held outdoors, as planned, that morning. Luckily the rain kept away and just as we opened the doors the gardens the sun came out and stayed for the duration of the ceremony – it was quite special.
We were preceeded by my 5 year old twin boys who held hands and also wanted to hold a bouquet of flowers each.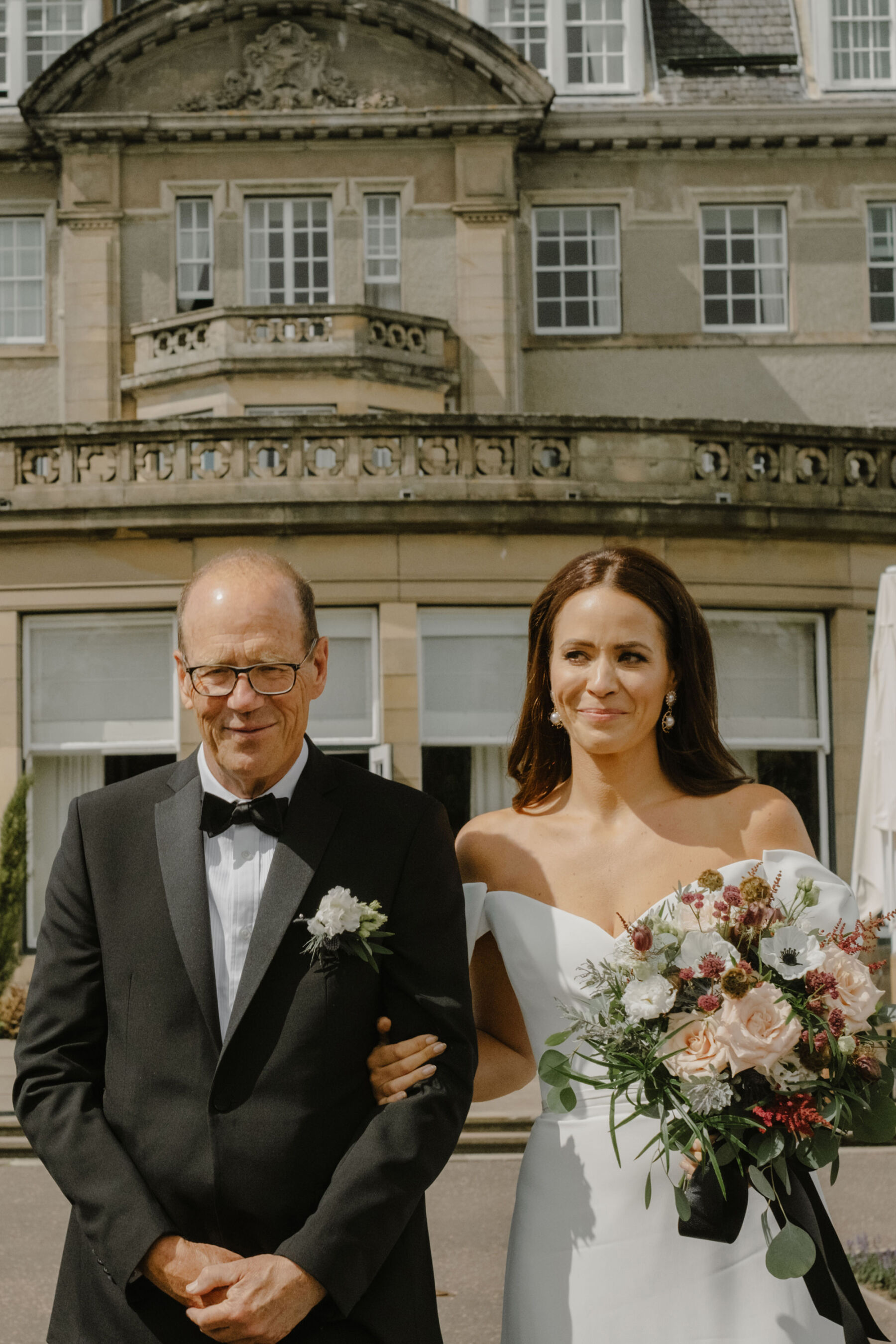 Pachabel's Canon, played by a string quartet. The string quartet learned to play the Succession theme tune especially for the wedding which was a surprise for our guests. They did a brilliant job.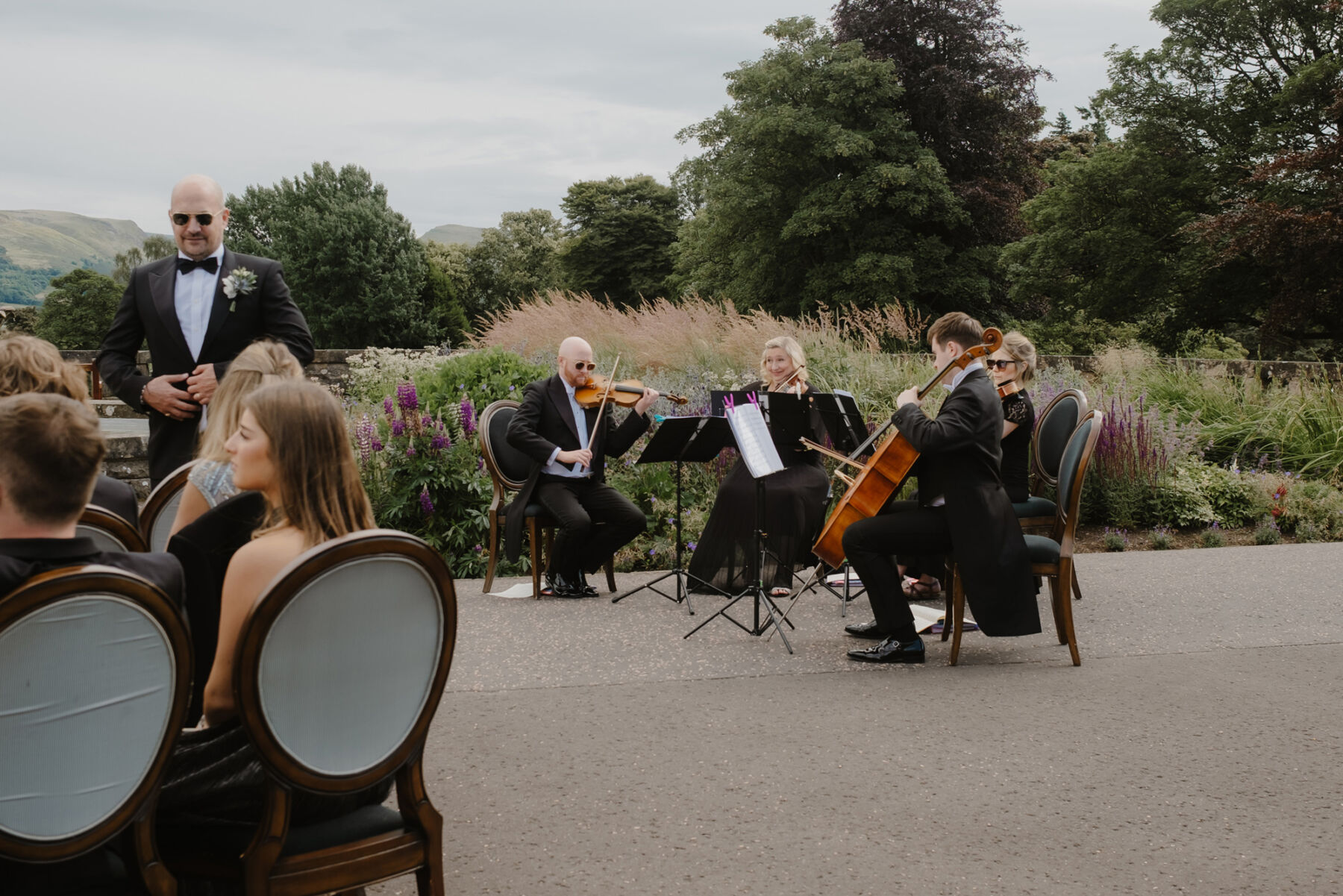 We had a humanist ceremony, officiated by Fiona Bennie. There were a lot of things I had worried about going right on the day, but the ceremony was not one of them.
Fiona was always two steps ahead, made us feel so well prepared and offered such great advice whilst planning our service and really took the time to learn about the two of us in order to make things personal.. I highly recommend her to anyone wanting a humanist ceremony.
The great thing about humanist ceremonies is that you can include a mixture of different traditions to make it more personal.
Dan's family Jewish so we included breaking the glass, but we also did handfasting (tying the knot) and drinking from the quaich, which are two lovely and symbolic Scottish traditions.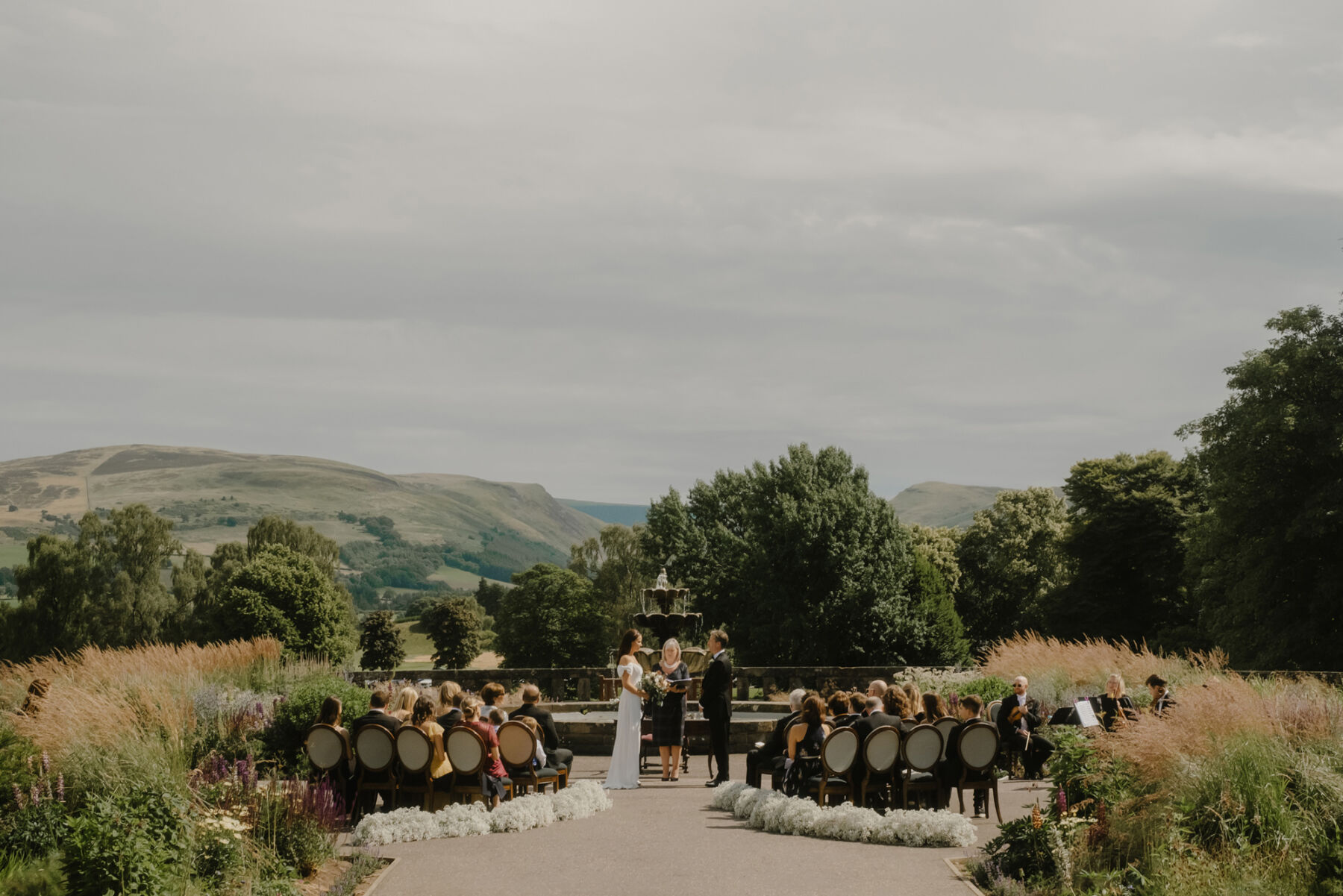 Dan's sister read The Priest's Speech from Fleabag. It starts 'Love is Awful!'. It is a funny and yet totally honest and moving speech. We also both loved that TV show. My twin nephews read a poem called 'On your wedding day' (anonymous) reading alternate lines. They did a fantastic job.
After Dan proposed he let me choose my ring. I had always loved champagne diamonds. My Mum has one and the colour is stunning and goes with everything so we got an Asscher cut one in Hatton garden and made a solitaire. My wedding band was from jewellery designer Jennifer Meyer and adds some very complimentary sparkle.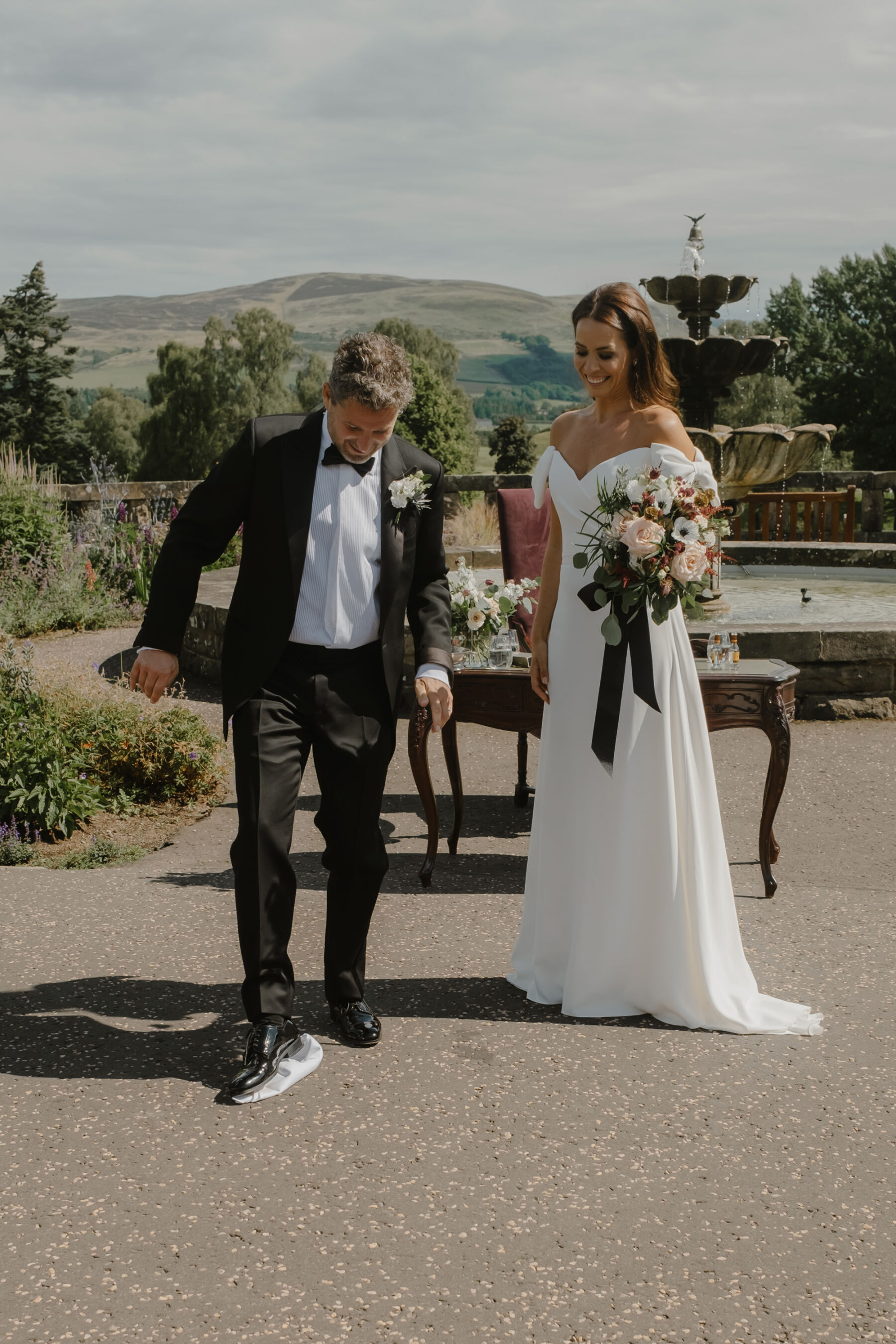 We wanted a hotel in the UK that offered activities for all ages. Gleneagles is beautiful, has lots of options for weddings and an in-house planner. It will be a lovely hotel to return to for anniversaries.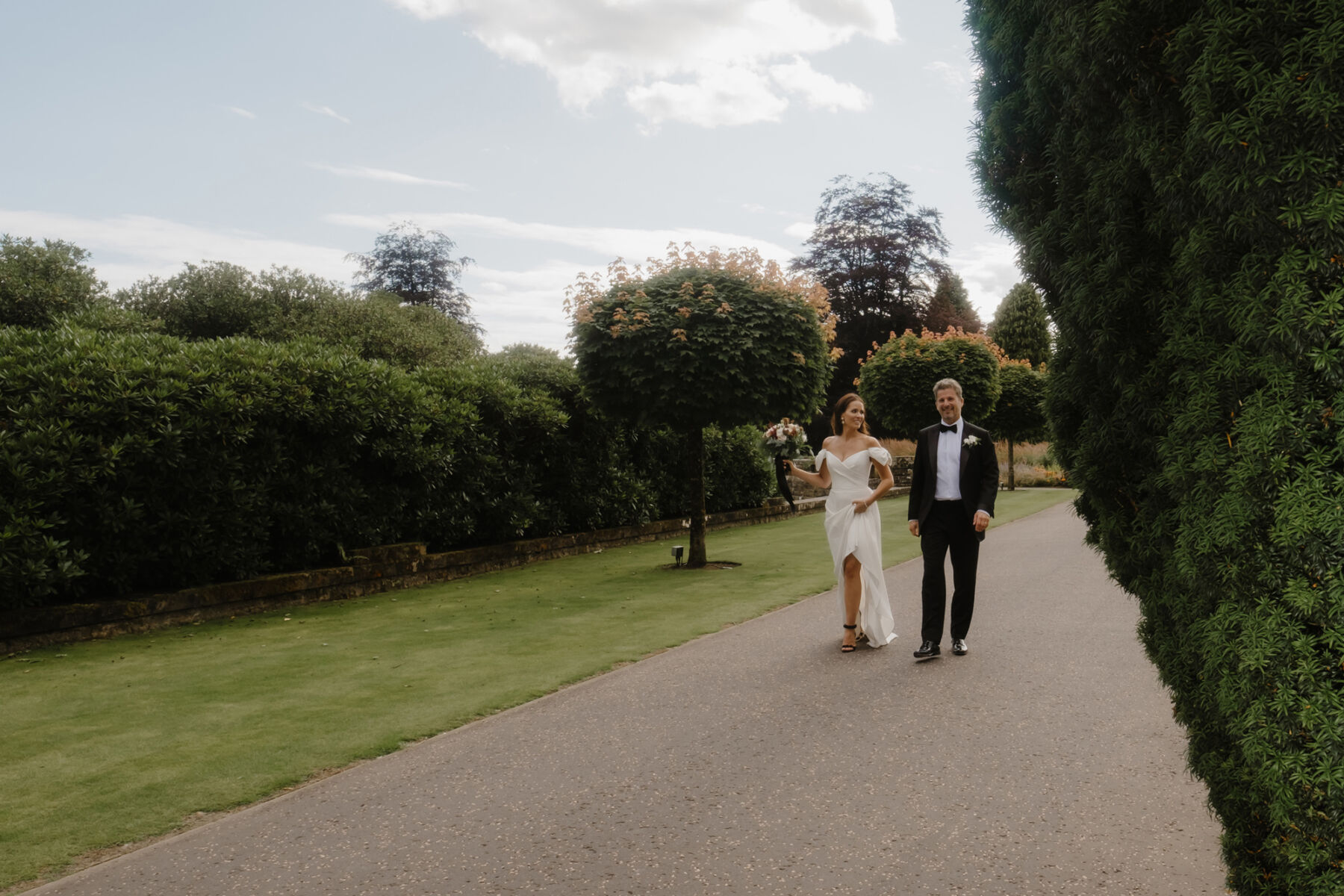 The Wedding Photographer
I came across Carol Ann of Harper Scott Photo when looking at previous weddings at Gleneagles on the Internet and knew that she had the style I was looking for.
She has a great eye for light which is obviously important, but on top of that she has a fresh and playful approach and has made even the formal photographs look fun and a bit rock and roll.
She's also just a lovely person and my whole family enjoyed her company. Within minutes of getting everyone together for a group shot she'd created a scene that looked like it belonged on the cover of Vanity Fair – a brilliant mind.
The Bridal Party
The flowers were fairly monochrome and would have gone with anything and I let the bridesmaids wear whatever they wanted without coordinating.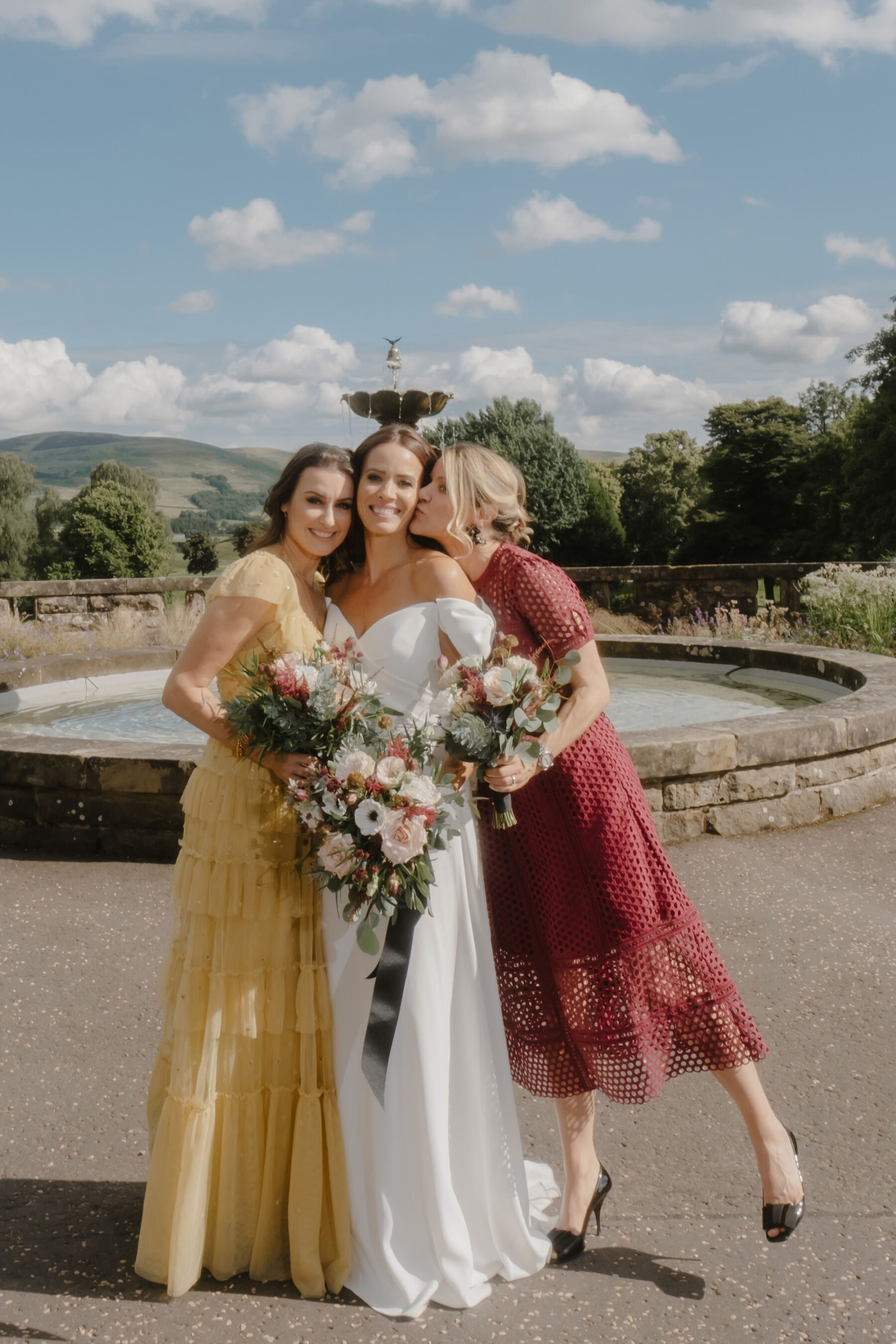 I'm really pleased we did this as it makes the photographs look more informal, less contrived and means everyone was happy and had a dress they would wear again.
My twin sons and twin nephews all wore navy velvet 3 piece suits from Romano, ordered through Children Salon. They loved wearing them. I felt they were more likely to keep a waistcoat on than a suit jacket.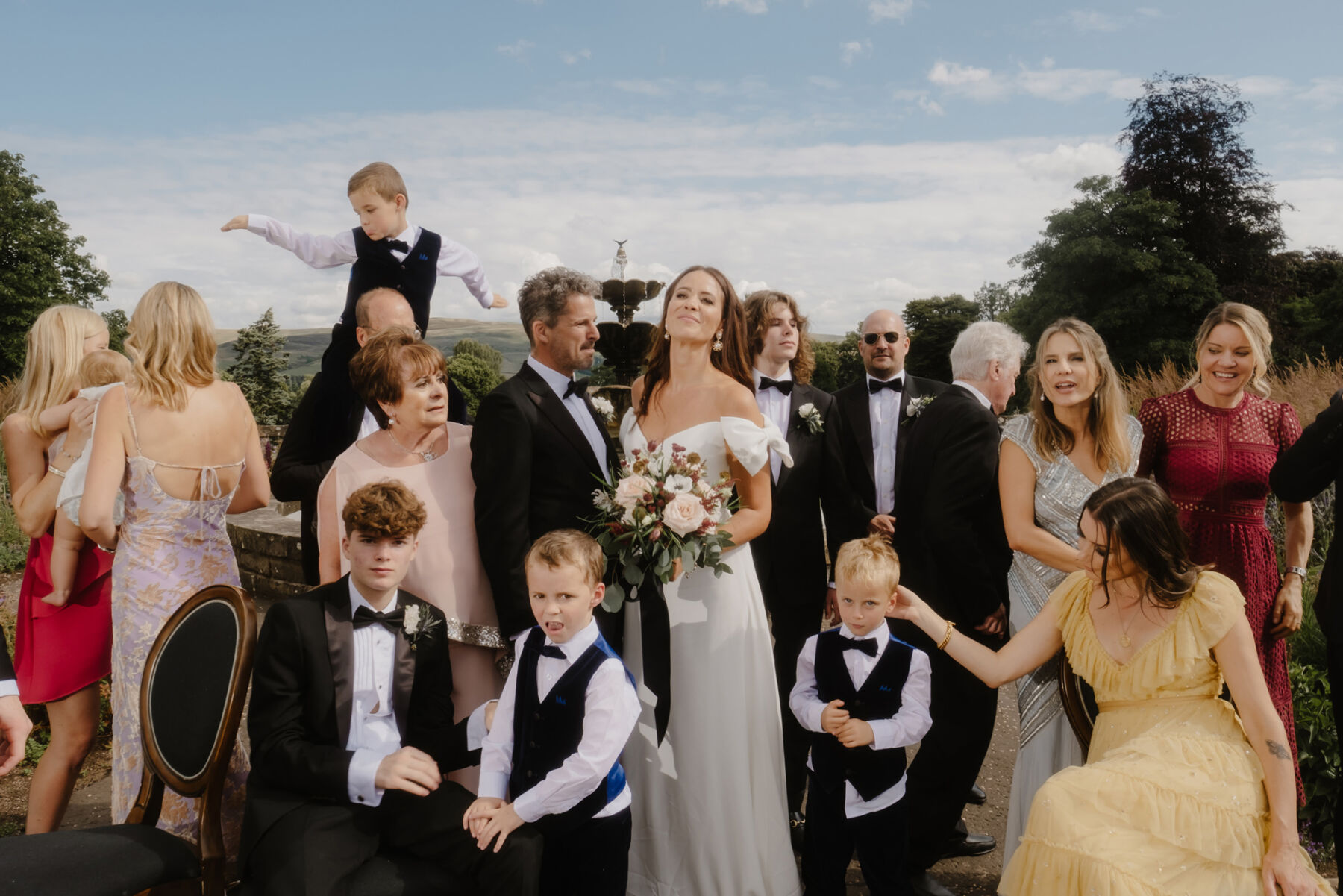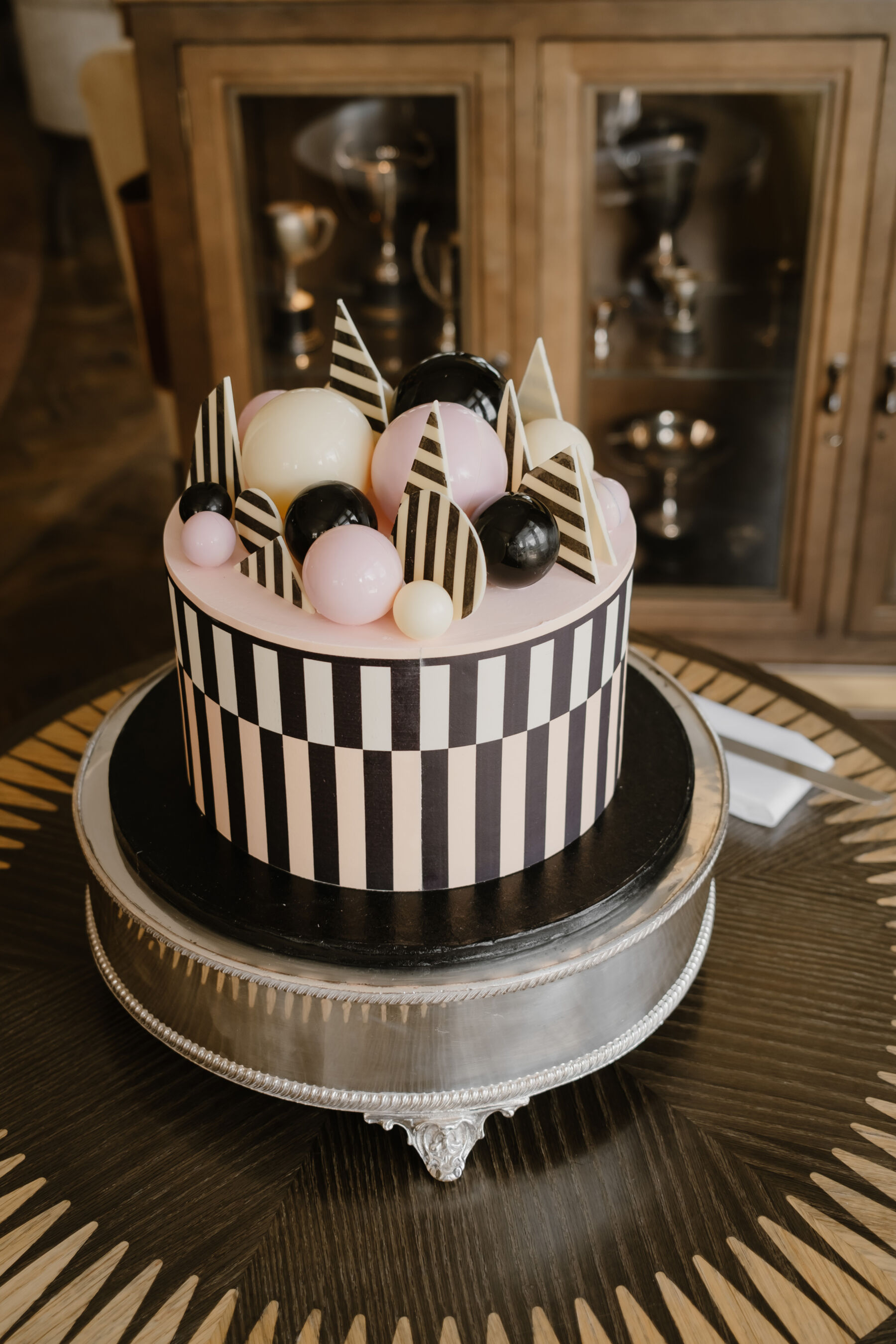 The Reception
---
I came across A.R.D Bakery on Instagram and fell in love with their cakes. It's run by Alison, who was a fashion designer in London, turned baker in Glasgow and she draws inspiration from bold retro graphics.
If you're getting married in Scotland I highly recommend them as the cake was as delicious as it was beautiful.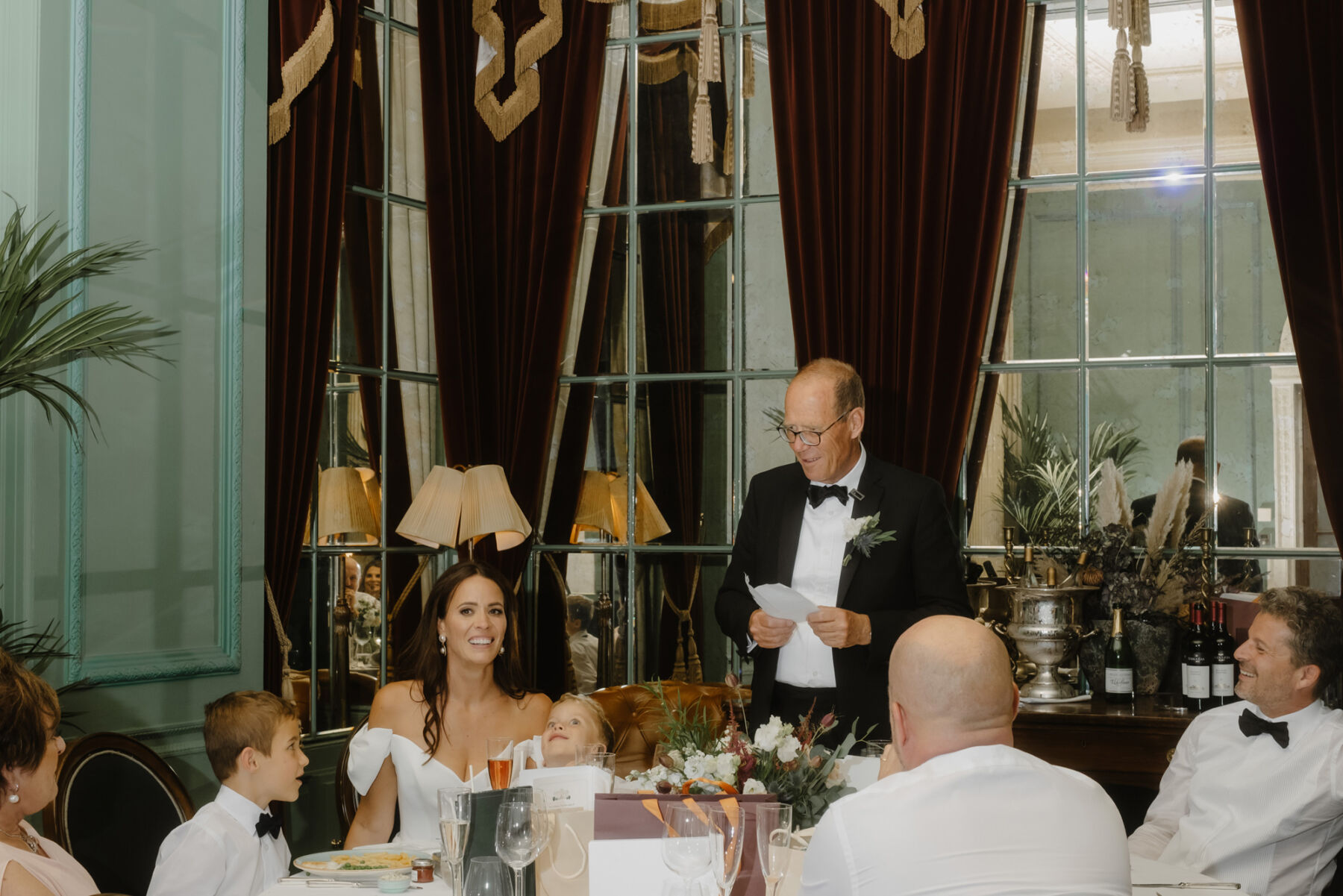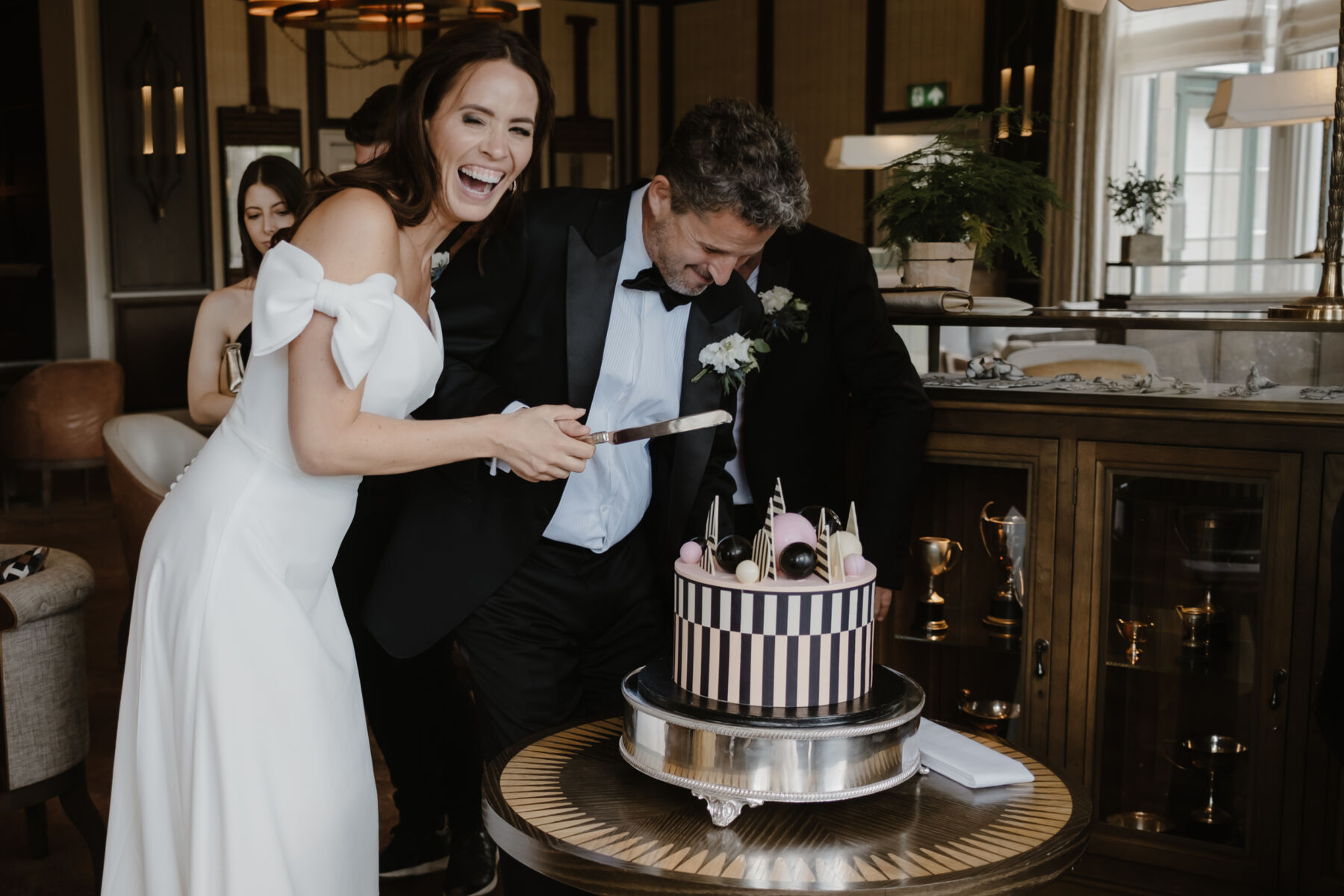 Words of Wedded Wisdom
Ultimately you want your wedding day to be a day to remember for the right reasons – you have to enjoy it. If you get overwhelmed easily, like me, consider having an intimate wedding for the formal marriage. The fewer people the less stress and the more you can focus on what is important. It was lovely to see our families bond for a few days – they had never met before.
We had a separate celebration with friends and no small children at Wilderness festival after the official wedding, where we really let our hair down. I'm so glad we planned the two events like this as we really did enjoy both, in different ways. I missed some of my girlfriends on the wedding morning but knew I'd get to celebrate with them soon.
The other thing I don't regret is bowing out of the celebrations the night before the wedding. Whilst our families were bonding at a BBQ we'd planned with a band at Gleneagles shooting lodge. I was so tired and frazzled that I missed the whole evening and went to bed at 8.30pm!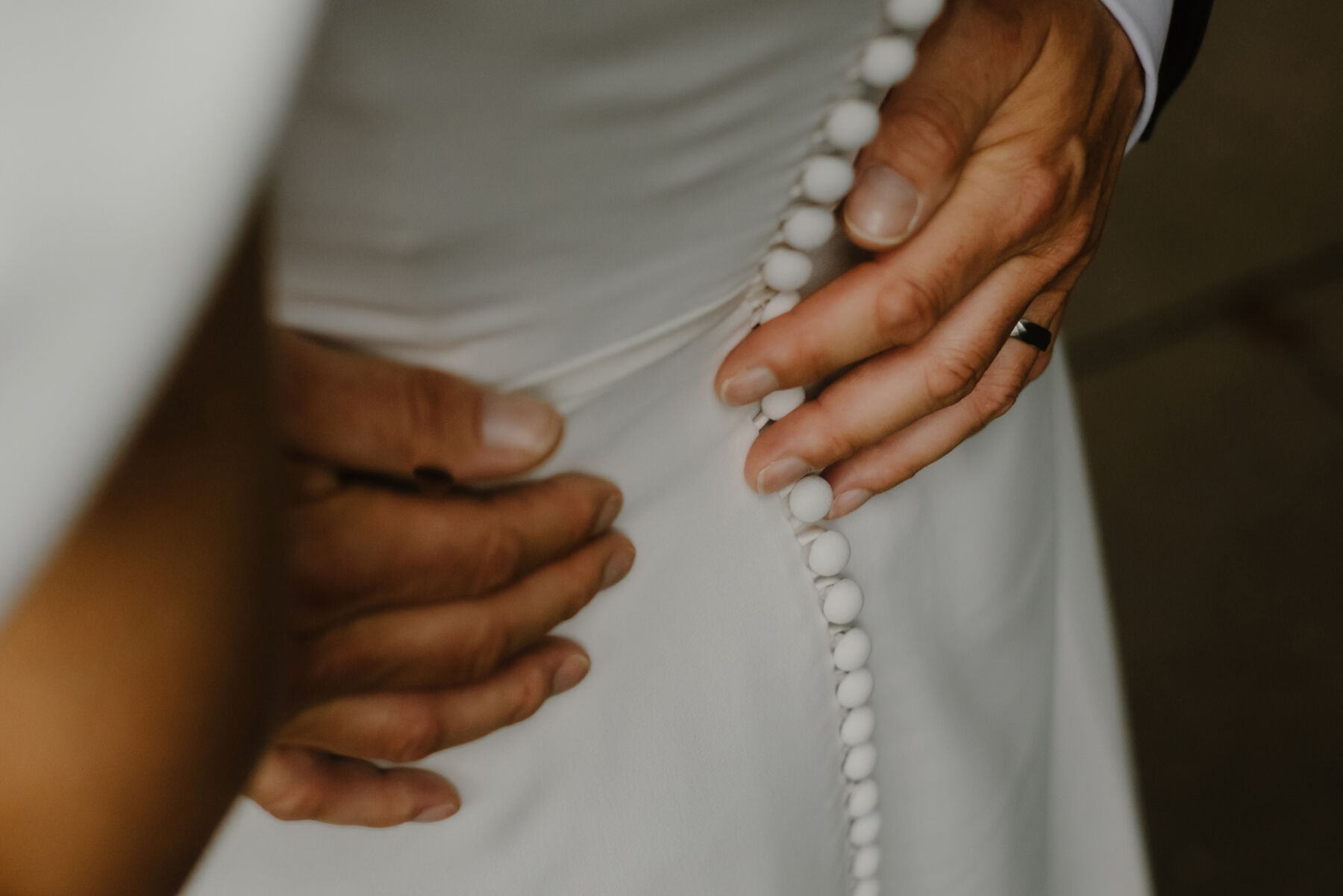 I was gutted to miss the fun but on reflection it was best the best thing I did as I woke up so rested and enjoyed the important part all the more for it.
My advice is don't feel any responsibility to do anything other than what you need to do before the wedding, or at least plan it so you have some time to yourself. Unfortunately, it can be stressful!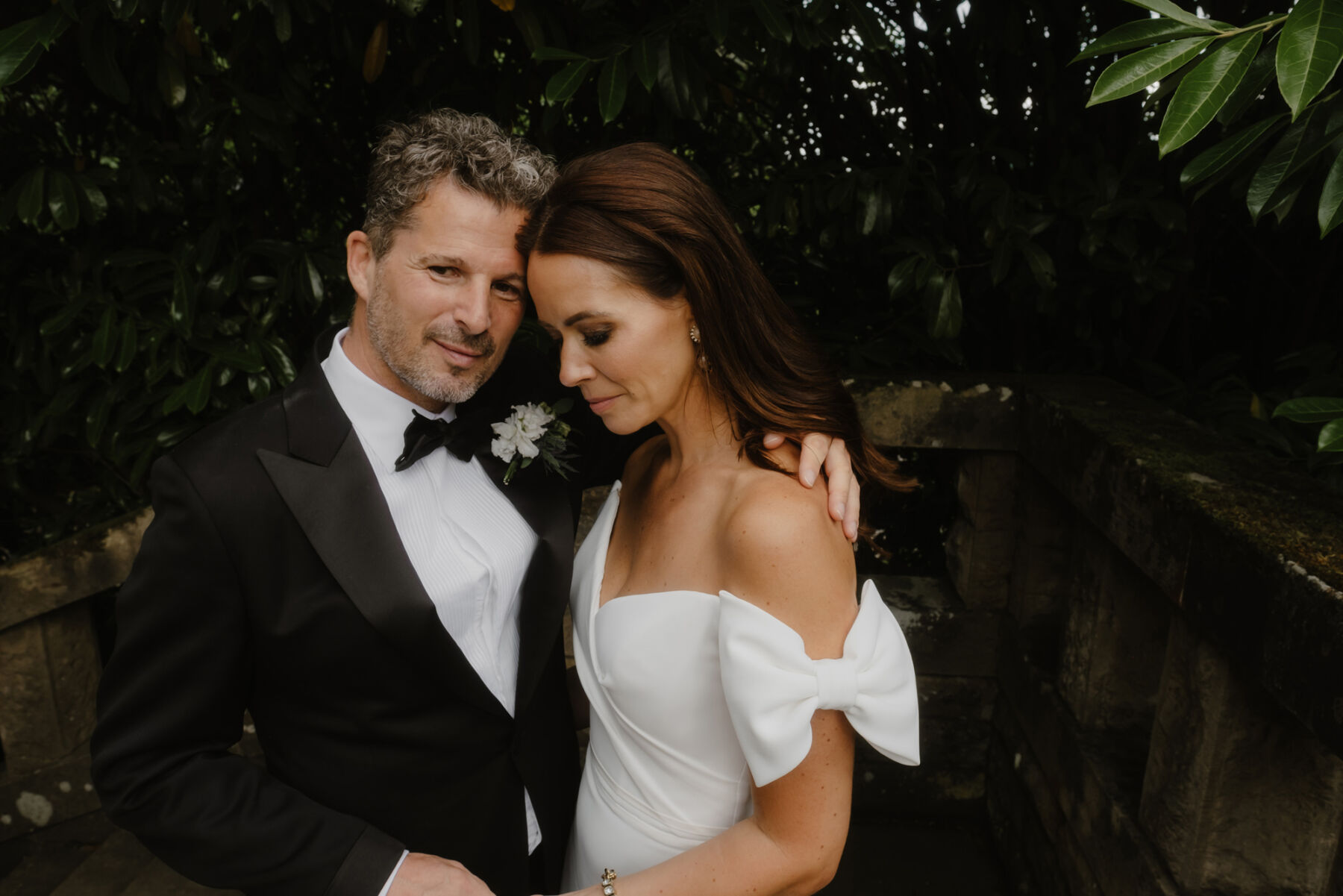 harperscottphoto.com