Meghan and Paul tied the knot on 4th March with the grand elegance of The Gleneagles Hotel playing backdrop to their beautiful day.
The bride wore a modern, minimalist, sculptured bridal gown by British bridal couturier, Phillipa Lepley and Love My Dress recommended wedding photographer, Harper Scott Photography, captured these images.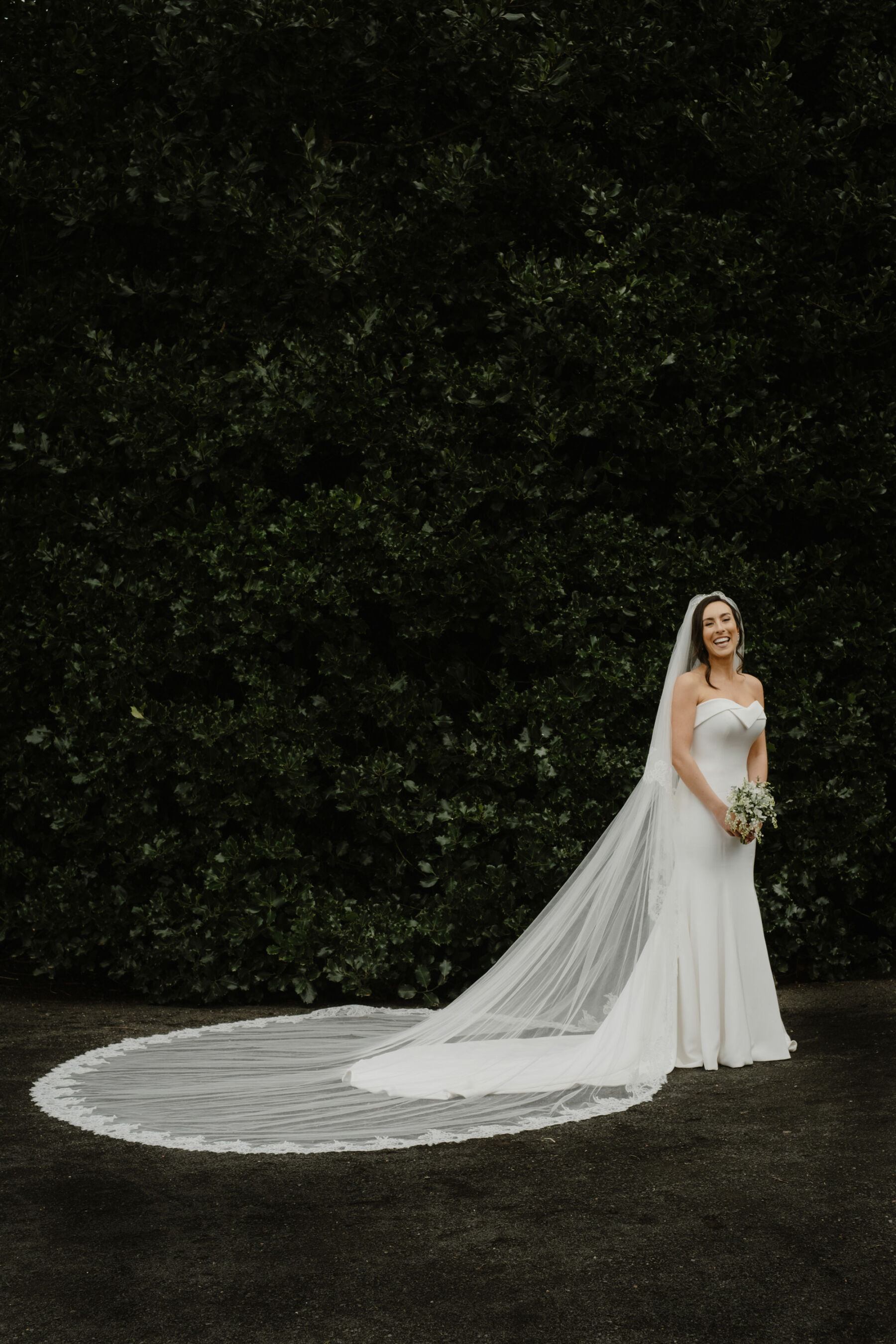 The Venue
After having to re-schedule our wedding date thre times and change our reception venue due to the pandemic, one of the biggest learnings was that we needed to have a venue that could flex both up and down when it came to guest numbers.
We picked The Gleneagles Hotel which has a real place in our hearts, as it's a venue that we have celebrated so many special occasions over the years as a family and is such a happy place for Paul and I. We also knew that every little detail would be taken care of to an impeccable standard and with a personal touch.
The Dress
Phillipa Lepley
---
My wedding dress was bespoke designed by Phillipa Lepley and her fabulous atelier team. I was blow-away by the attention to detail on elements which were invisible to the naked eye and how the team championed me to be able to make decisions on every aspect of my wedding dress.
No matter how tricky something was, there was no compromise required, the team would always explore every avenue possible to make the dress 'just perfect'! My fittings were so personal and played a key part in my wedding day build up.
The team almost became confidents not only advising me on my wedding dress but also sharing knowledge and experience on what they felt complimented the dress design which led me to select my wedding shoes, design my floral bouquet and even advised my mum on her hat choice! Whether you're looking for a bespoke wedding dress or not, I would recommend Phillipa Lepley's boutique a million times over.
My history with Phillipa Lepley goes back to when I was 16 years old and I was fortunate enough to be a wedding guest at my neighbours' daughter's wedding. Caroline wore a Phillipa Lepley wedding dress and I distinctly remember as a young 16-year-old girl being in complete awe and fascination of her wedding dress as she walked down the same church aisle as I did.
From that moment on, Phillipa Lepley always remained etched in my memory and fast forward 13 years later when I started searching for my own wedding dress, I knew that I had to pay her London boutique a visit.
Being 5″2 and petite, I always knew that I didn't want a wedding dress to wear me but instead wanted to feel like my dress was a second skin that was moulded to my frame. I loved the fact that my wedding dress design truly celebrated and framed my shape, subtly accentuating my waist and bust line with its sweetheart neckline at the top of the bodice and clean crisp lines to highlight my collar bones.
The minimalist yet sculptured and fitted finish which was all down to the incredible seamstresses who painstakingly pinned the skirt to my every inch, which gave me height and created an understated glamorous silhouette.
Bridal Beauty & Accessories
As my church had an aisle that felt like it went on forever, I knew I wanted a cathedral veil for impact. Therefore, Phillipa's team made sure my veil was the 'piece de resistance' of my dress design. I was utterly enchanted by the ethereal, almost mystic femininity of it.
Paul and I both wore the same scent on our wedding day which to some may be unusual. But it's unisex and has always been our favourite – Silver Mountain Water – Creed.
I wore my late grandmothers diamond tennis bracelet which was particularly sentimental as it made me feel like she was with me throughout the day.
My shoes were by Emmy London and my hair accessories were from Hermione Harbutt.
My bridesmaids wore dresses from TH&TH. They each wore their own shoes and accessories.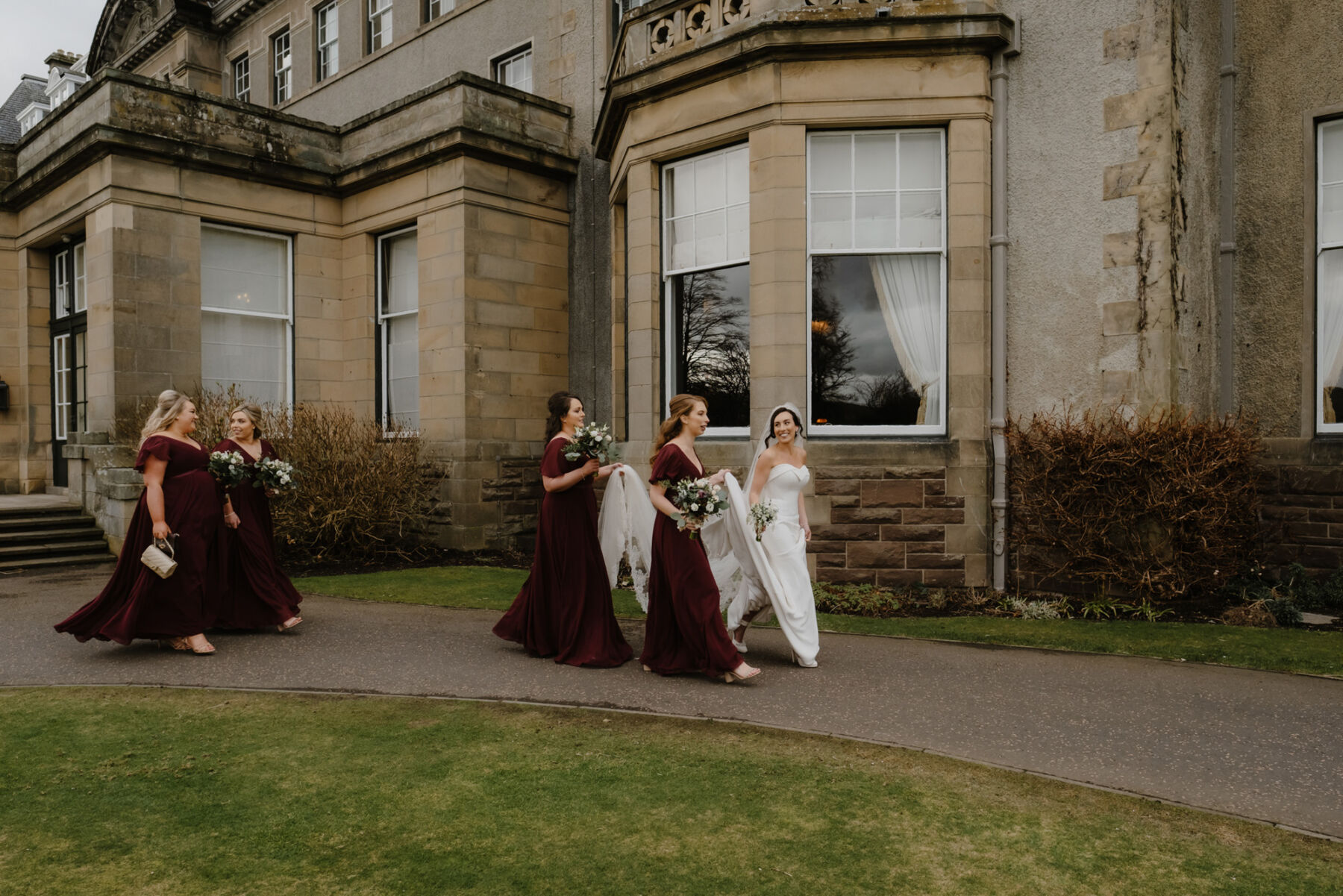 The Ceremony
---
I was never a bride who had an already planned her wedding day in her head before getting engaged. However, the 1 thing I knew that was important to me was getting married in my local church. Not for religious reasons necessarily, but because it's a place that grounds me and it just so happens to be the most exquisite, venue to get married in, with an aisle which feels like it goes on forever.
Our ceremony was held at St Michael's Church in Linlithgow. I walked down the aisle with my dad to our favourite piece of music 'I Giorni by Ludovico Einaudi' being played by our string quartet – it is is a moment which I will cherish forever.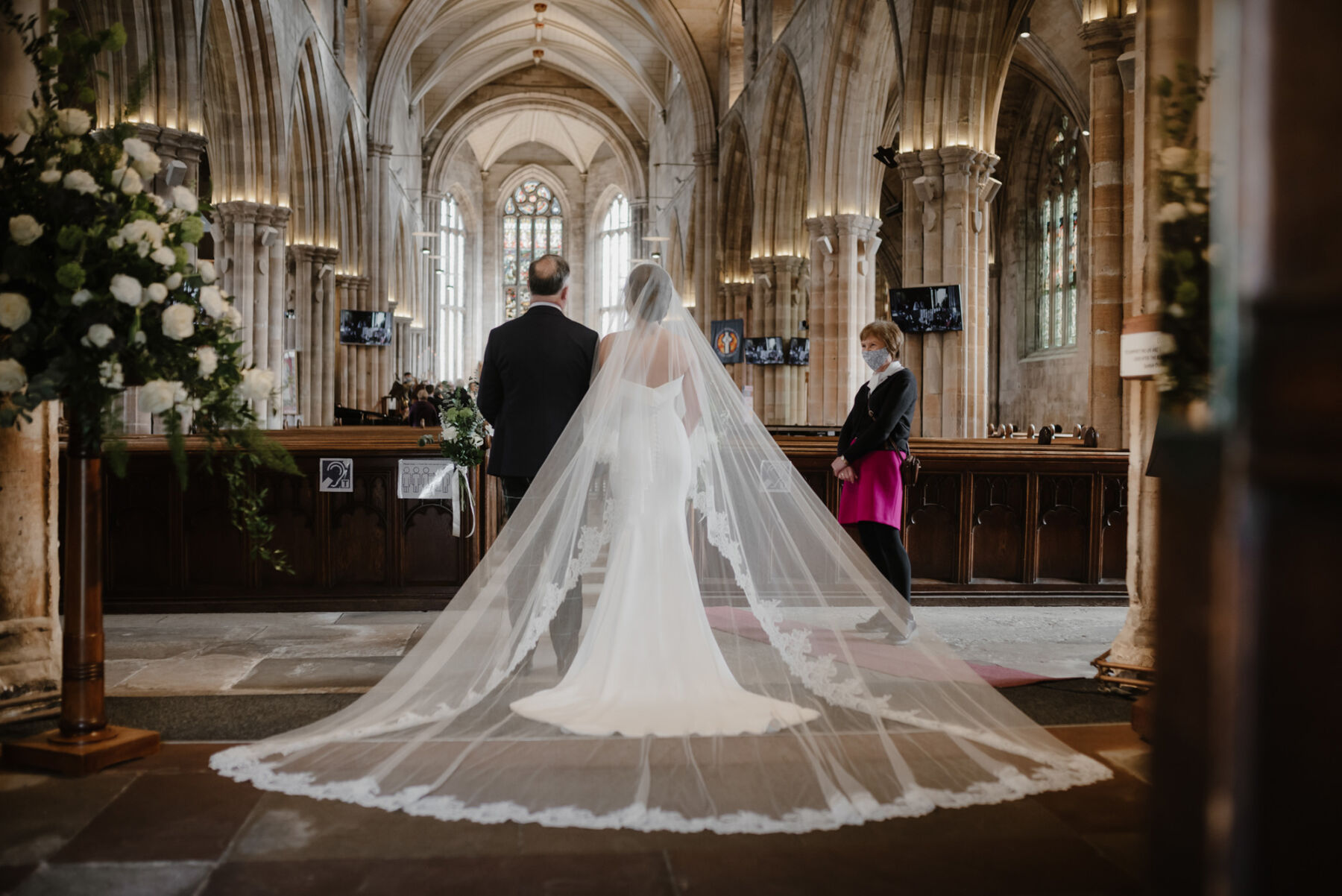 The Reverend Thom Riddell, Minister at St Michael's Church, lead our service.
Ceremony Flowers were designed and arranged by my mum, her dear friend Sandra, myself, my auntie Susan and my grandma the day before the wedding. It was such a lovely way to unwind and take my mind off the wedding nerves with my favourite people!
Our first ceremony reading was The Art of Marriage. Our second was an extract from Captain Corelli's Mandolin.
We hired the Capella Glasgow string quartet to play during our ceremony.
Our rings were from Love for Diamonds, Glasgow. Paul worked with Love for Diamonds to source and design my engagement ring. They made the process so personal and fun so it only felt right to work with them to design our wedding rings as well.
Photography & Videography
I have known Carol-Ann of Harper Scott Photography since I was 14 years old and when it came to our wedding day, I couldn't think of anyone better to capture the best day of our lives.
There is no truer saying than 'a picture paints a thousand words' and Carol-Ann captured exactly that in our wedding photos. She captured everyone and every special moment, both big and small beautifully. She transported us right back to our day, to re-live every emotion again!
She listened to what was important to us on the day and made sure it happened. Kept us relaxed and comfortable but also whipped us into shape when we needed it!
Her photographs are just incredible and we can't recommend her enough!
How They Met
Paul and I first met when we worked together at BP in 2014, however our paths didn't cross again until 2018 when our mutual best friend Colin set us up on a date. Fast forward 1 year (August 2019), Paul proposed at St Andrews beach on a gloriously sunny day and surprised me with my dear friend and talented photographer Carol-Ann Harper to capture the moment.
Our original wedding date was 20th August 2020, however the pandemic had other plans. Three wedding dates and two years later we finally got married!
Like many our wedding was impacted by the pandemic and as a result we had to reschedule 3 times and also change our wedding reception venue. We were extremely fortunate throughout the journey that we managed to maintain almost all of our original suppliers and each one of them were so flexible and fantastic.
Albeit the pandemic brought a lot of additional wedding stress, we look back on it and recognise that it provided us with one of the biggest gifts in life; time. It gave us time to really think about what was important to us, what kind of wedding we wanted, challenge ourselves on who we felt was important to share it with and enjoy the planning process.
Reception
---
We chose a 4-tier wedding cake, by Liggy's Cakes Edinburgh, which was ivory, minimalist and utterly delicious!
Our stationery was by 2Flux Stationery.
We provided homemade tablet which my father in law made and also made a donation to the 'Mind' charity which is close to our hearts.
Evening & Entertainment
Our first dance as to 'Whole of the Moon', by The Waterboys. I have a real fascination with the moon, particularly full moons and every trip we went on before we got engaged, there was always a full moon. It kind of became our thing! When we were in Venice, Paul played 'Whole of the Moon' while we watched the full moon and it became 'our' song.
During our drinks reception, we had Rusty's Piano Bar perform and in the evening, Killer City Sound band entertained our guests.
Words of Wedded Wisdom
As much as I was beyond excited for our wedding day, I was also incredibly nervous at the thought of all eyes being on me while I walked down the aisle. I knew if I could just focus on Paul, I would be ok. So, I asked Paul to clock eyes with me the whole way and he truly kept his promise. Walking down the aisle to meet Paul is a a that still gives me goose bumps and I'll remember it forever. In hindsight, I wouldn't have worried so much about the small, minor details as on the day you don't notice them.
One of the positives of having our wedding day postponed due to the pandemic was that it gave us time to really pause and reflect on what we wanted for our special day. We kept on coming back to timeless, so decided to almost buck the trends and go with a minimalist and classic theme which oozed from our church and my wedding dress.
In terms of planning, trust your intuition and don't sweat the small stuff as it will all come together on the day.
On your wedding day, take a moment together at some point and just watch it all unfold around you because it's the quickest day and the chances are you will never have all of your favourite people in one room together like that again.
Remember time is one of life luxuries, you don't get it back so use it with intention and have a whale of a time!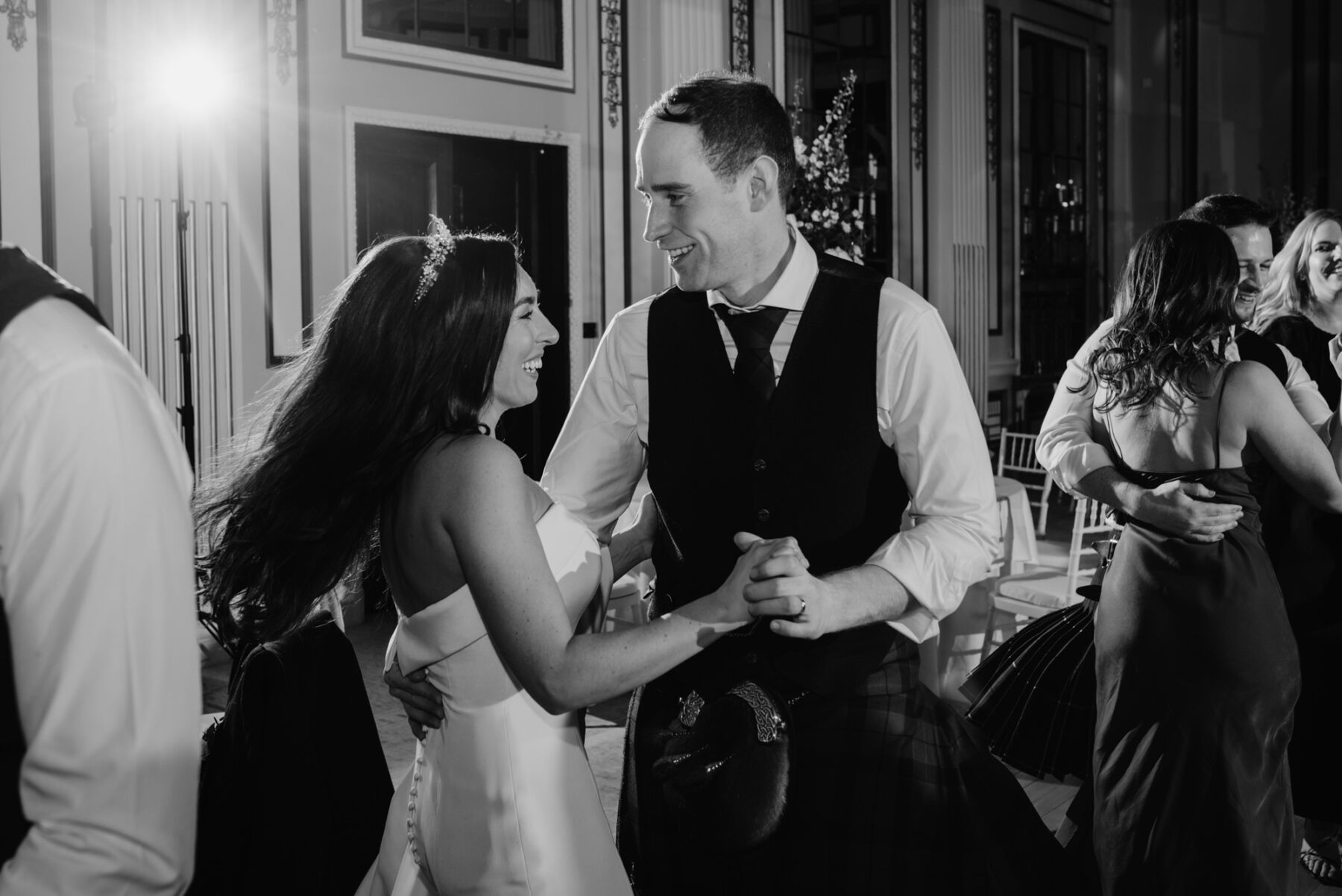 Recommendations?
Explore Our Directory