I'm whisking you away to Italy, our most popular destination wedding location this evening, for the most dreamy and romantic of Italian destination weddings. Sophia and Nick tied the knot on 28th August 2022 at the exquisite, 16th century Castello Marchione, in the beautiful Southern Italian region of Puglia.
The bride wore the most breathtaking Oscar De La Renta gown and the couple wanted to embrace a sense of classic, timeless, Italian elegance in their day. Their photographers, The Ferros, did the most sublime job of capturing their vision and the mood of the day.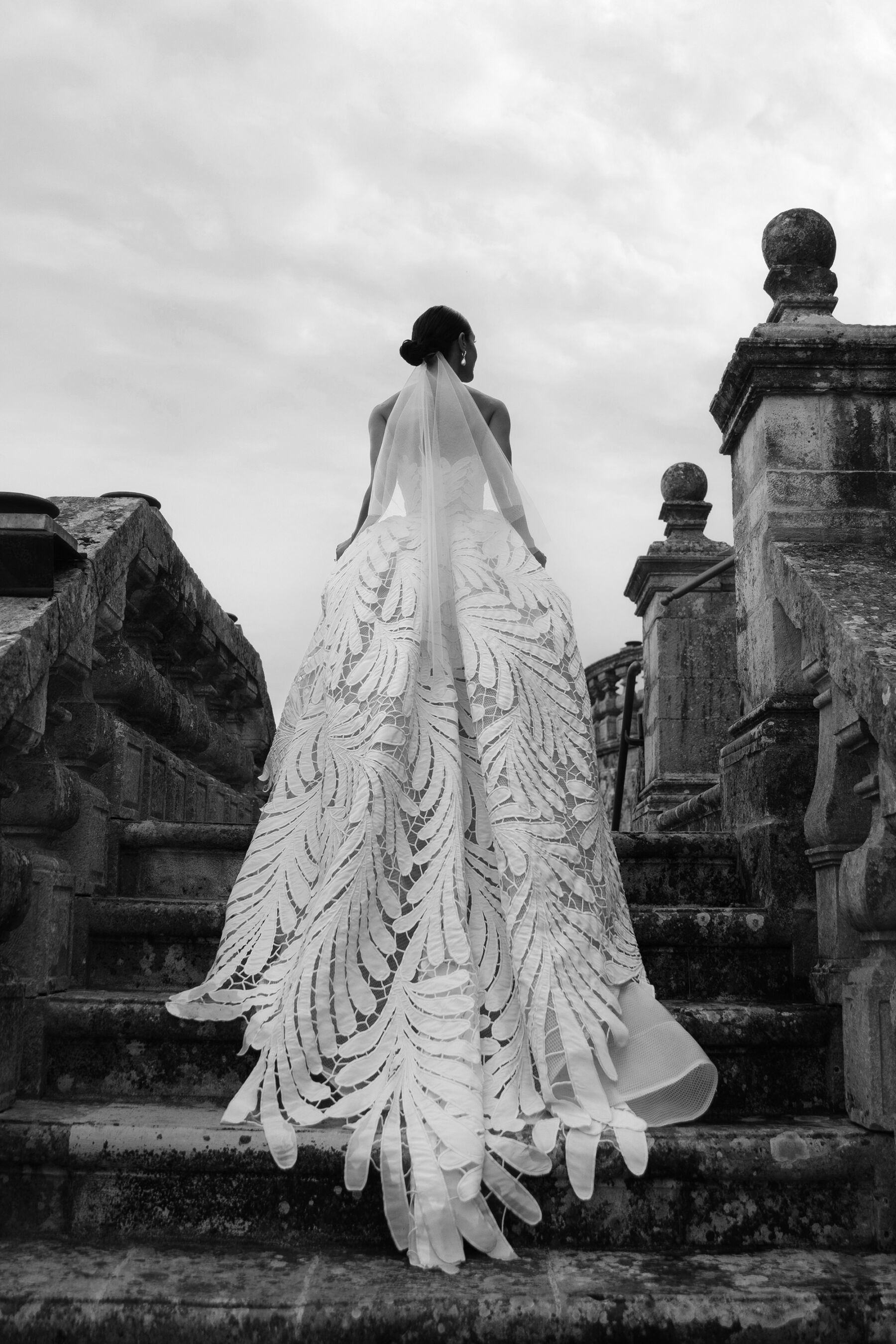 Beauty & Accessories
I did my own bridal makeup with the help of my sister.
I wore an ivory finger length waterfall veil from Etsy and my perfume was Do Son by Dyptique.
I wore a pair of Oscar de La renta pearl drop earrings.
How They Met
We matched on Raya (an exclusive invitation only dating app for creatives and media personalities) in 2017, and our first date was at Milos Greek restaurant in St James, London.
Nick proposed at the Ecolodge Barbados in September 2021 and we were engaged for 11 months.
Oscar de la Renta Wedding Dress
I wore an Oscar De La Renta wedding dress, from Oscar de la store in London, which I loved. It was the first dress I tried on.
My shoes were by Giuseppe Zanotti. I did my own bridal bouquet and bridesmaids flowers on the morning of the wedding. Our wedding planner, Sara D'Errico, created the wedding arch and table decorations. The bride
The giant fern leaf pattern immediately reminded me of Henri Mattise's papier cut out artworks which I love. My dress had a classic, timeless appeal. It felt like a piece of art. The Bride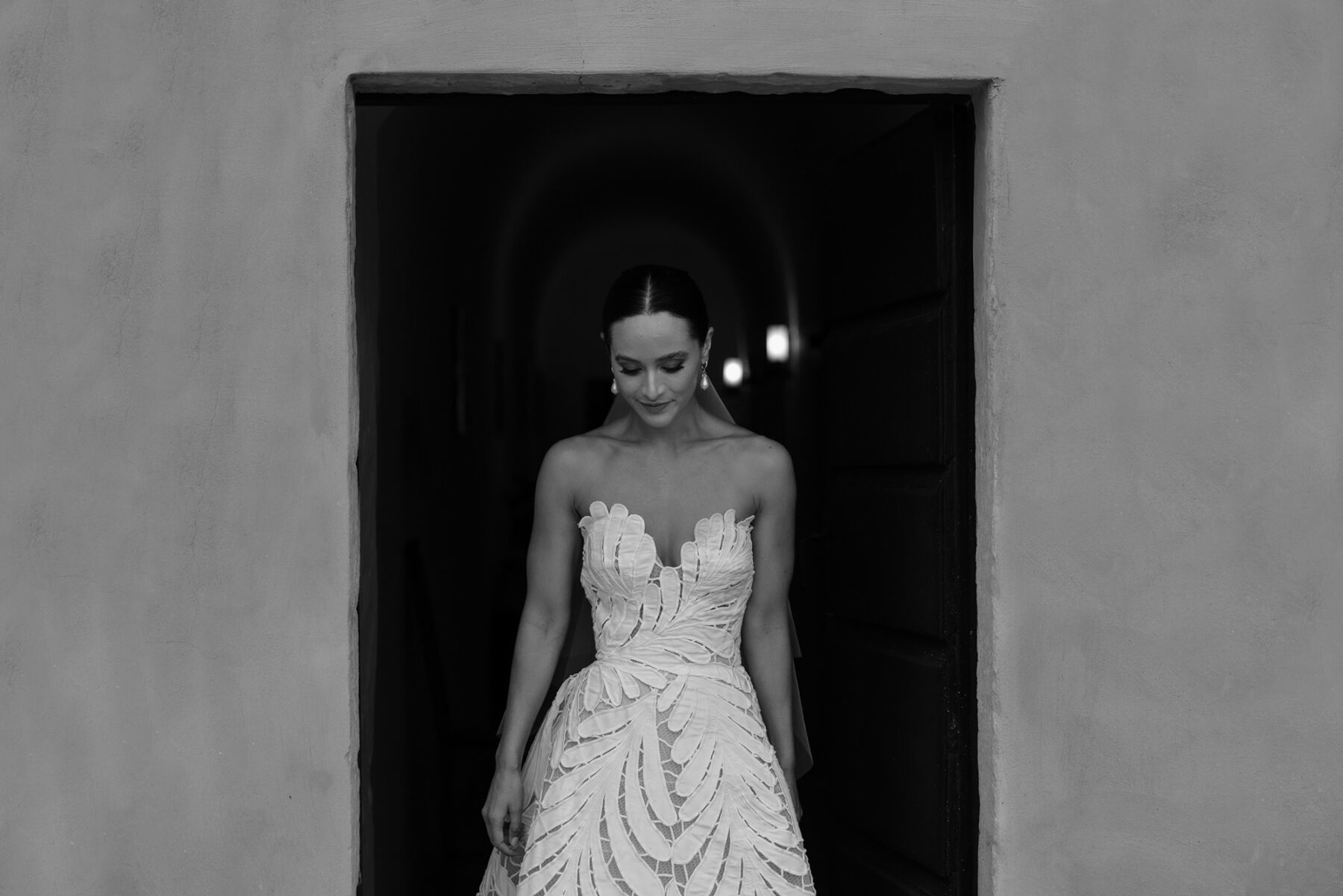 The Ceremony
We did a legal ceremony in London the week prior to our Italian wedding. Our friend Kevin 'unofficially' officiated our Puglia wedding ceremony.
I walked myself down the aisle because as Nick quite rightly said, "Sophia you're the most independent woman I know. I don't think anyone needs to give permission or give you away. You're you're own person."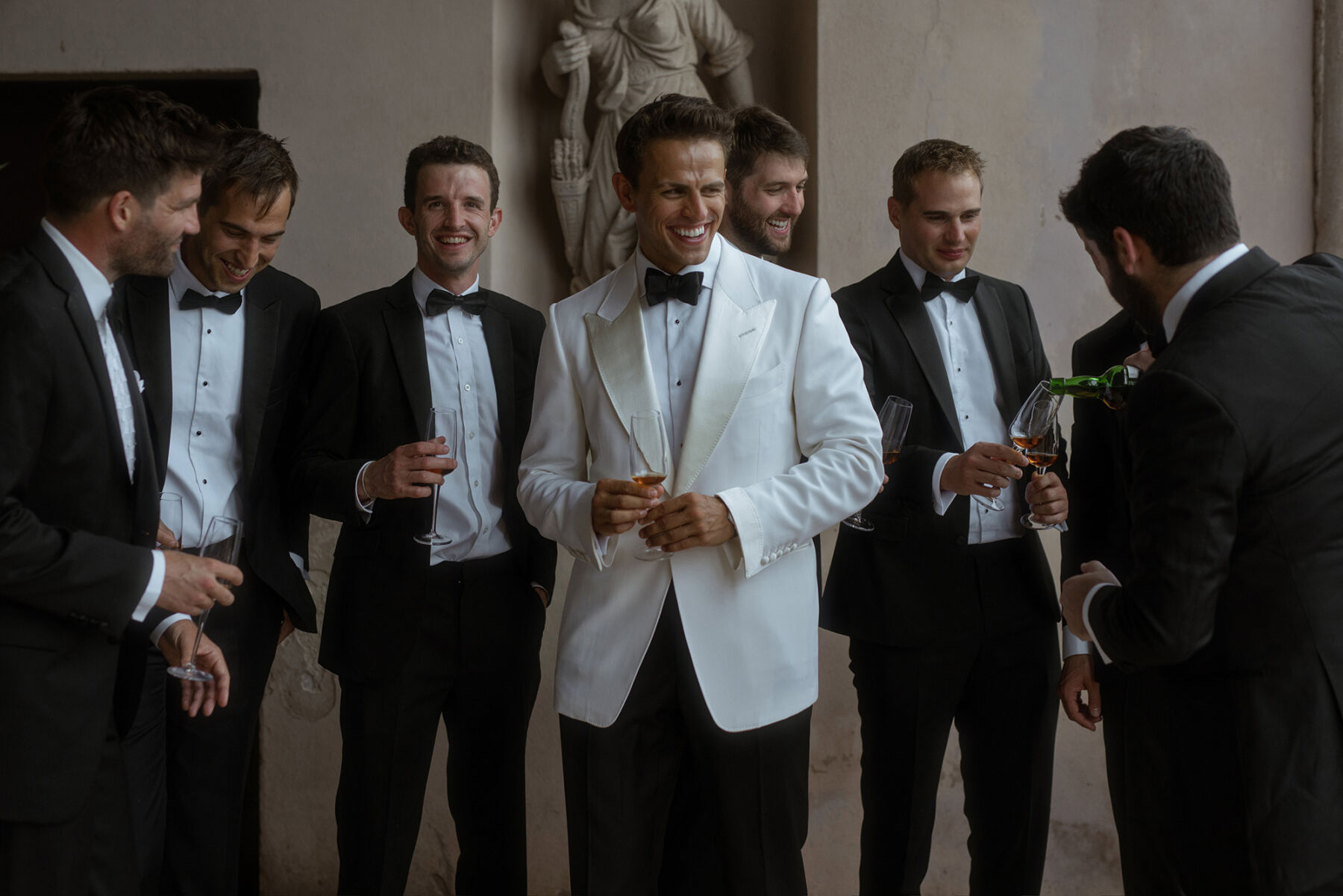 We loved our local string quartet who accompanied our ceremony entrances. Bridesmaids walked down the aisle to 'Uptown girl' and "Here Comes The Sun', Then I walked down to Pachabel's Danon in D Major (the same as my mother). After the ceremony the quartet played "L-O-V-E" by Nat king Cole.
Our rings were by Vow Jewellery London. Nick designed everything himself.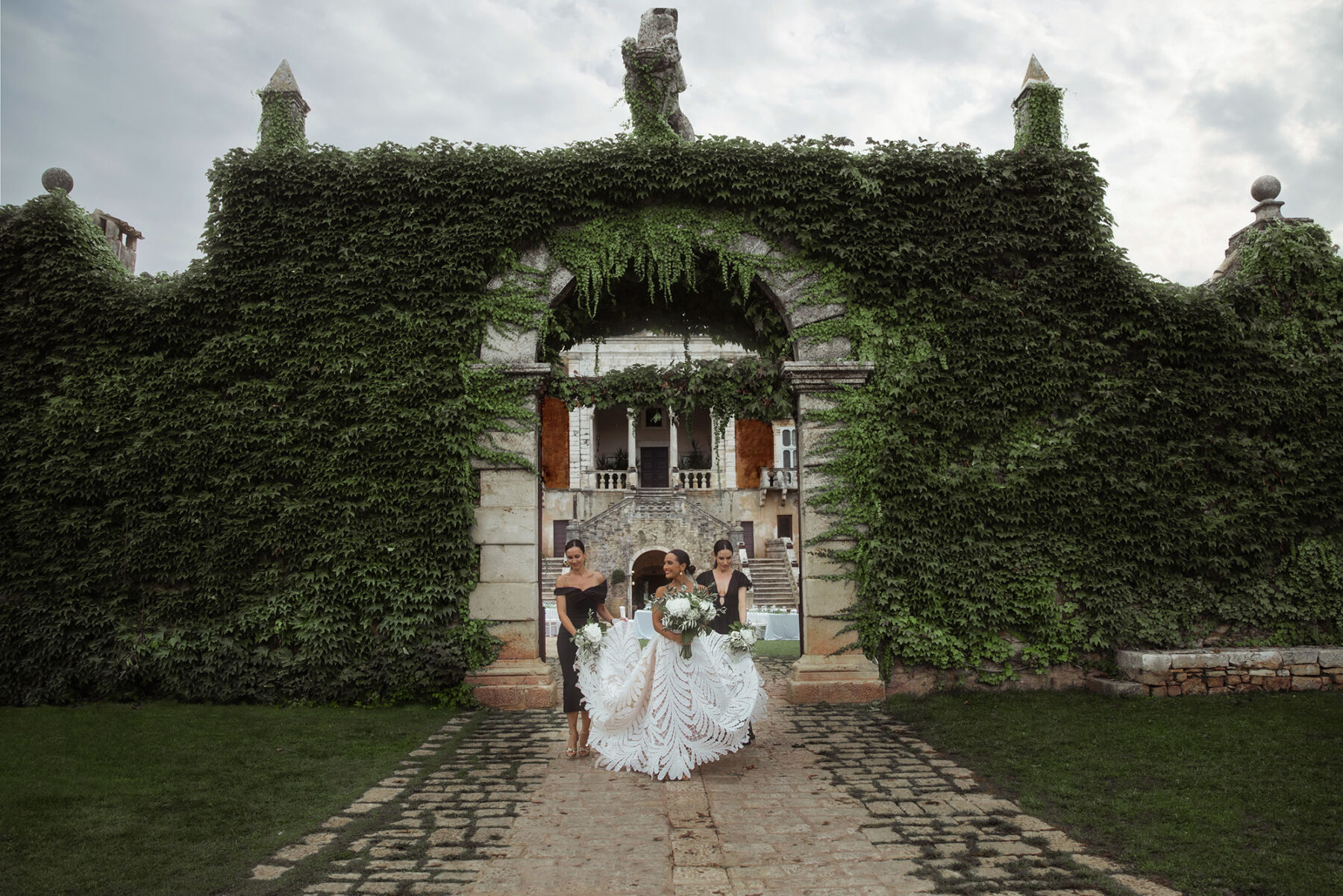 We're not practicing Jews, but to mark our Jewish heritage, we stomped on champagne glass and guests shouted Mazel Tov at end of ceremony. Our friends also hoisted us up on chairs and danced to the Hora during the dance party.
I knew I had found someone special in nick very early on, so I wrote him a letter six weeks after we met, but never gave it to him. On our wedding day I read it during our vows.
Following our ceremony, we had biodegradable olive leaf confetti.
Photography
Our photography was by The Ferros. Their's is beautiful, beautiful emotive timeless style! They create cinematic memories.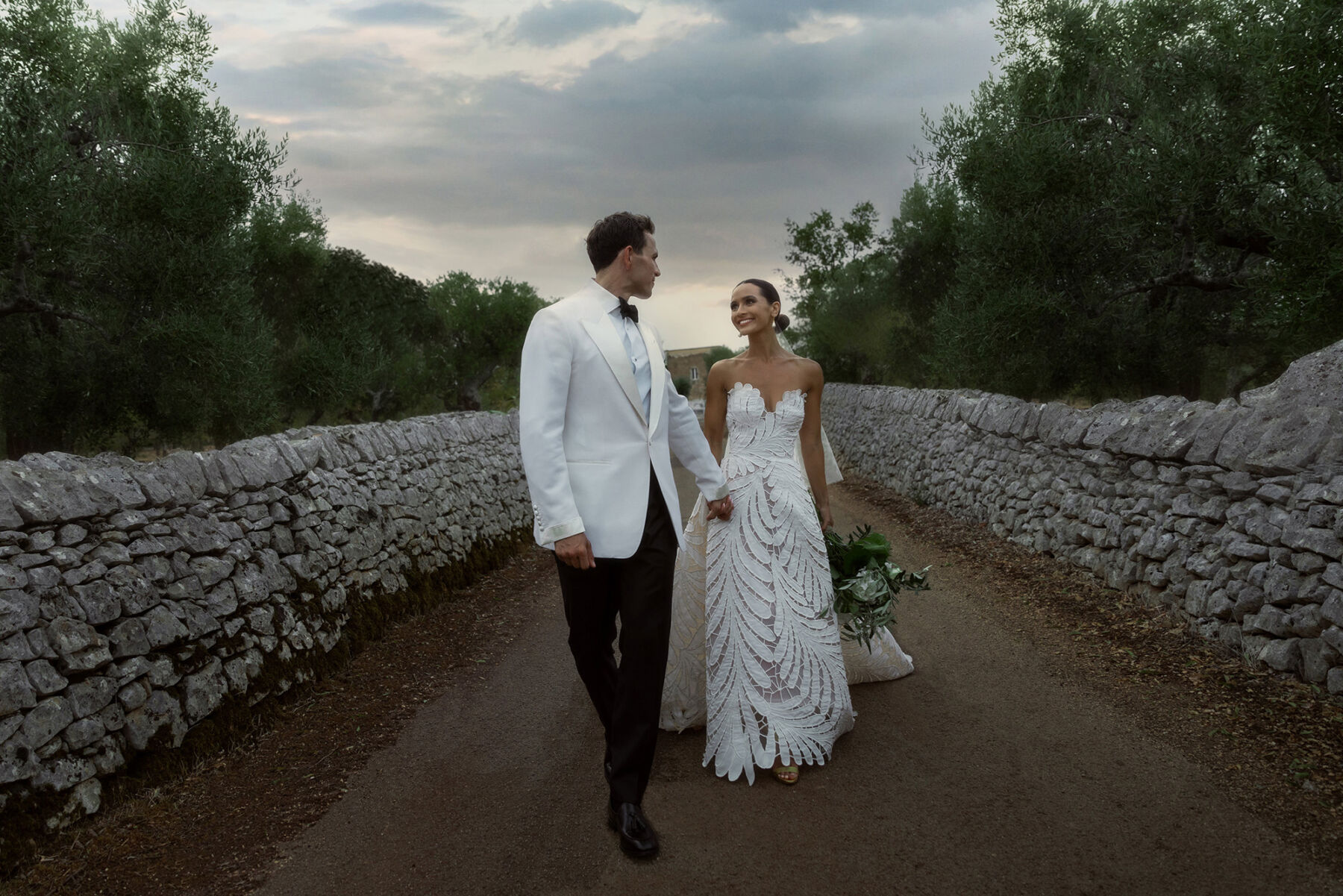 A Romantic Reception
Our ceremony was very low light and lots of candles.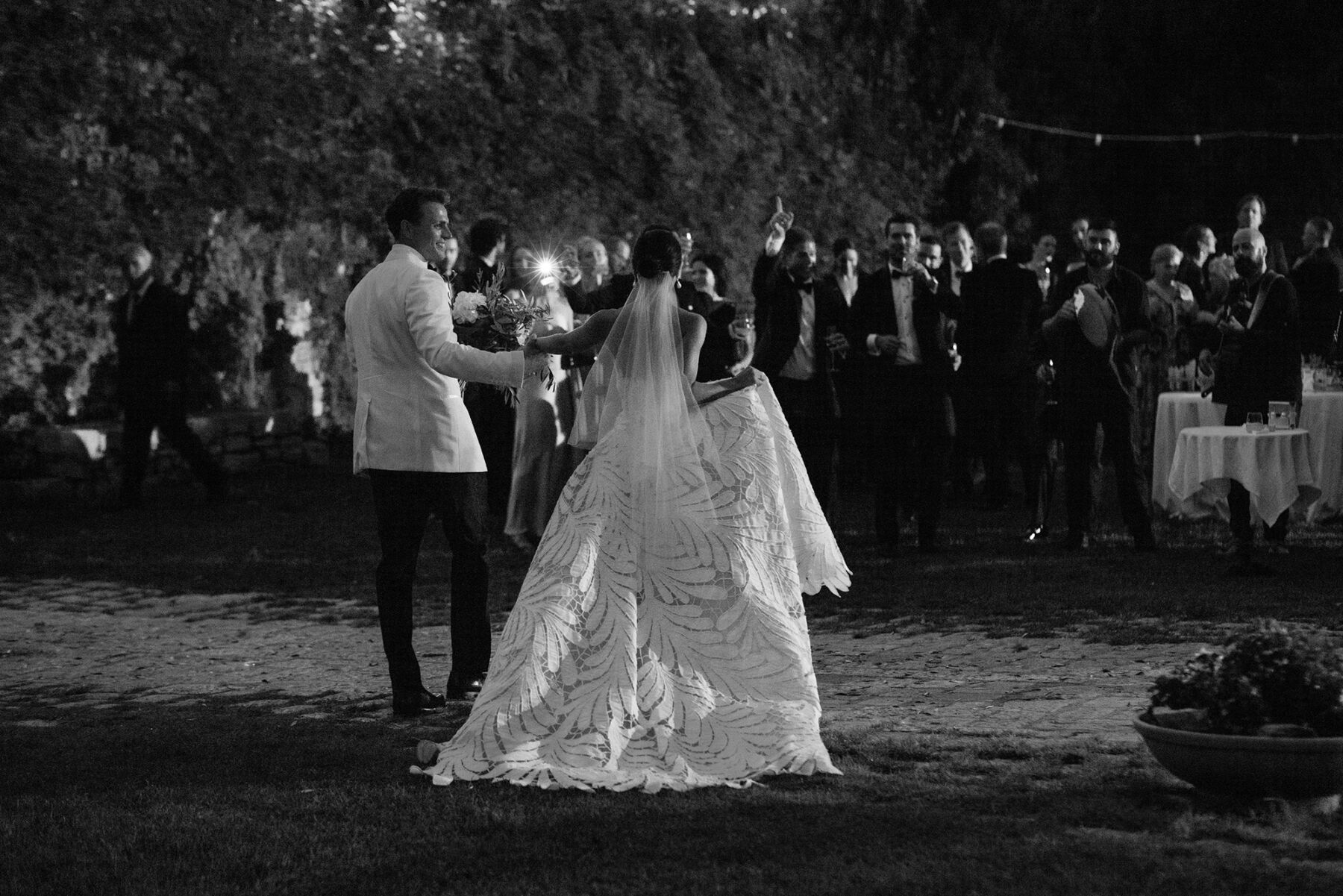 We had a pistachio white chocolate cake, created by the pastry chef at Castello Marchione.
Nick designed our stationery and each design was based off of Henri Mattise's paper-cut out series. He didn't know at the time that the stationery all matched my wedding dress. It was a surprise on the day!
We spend a lot of time in Greece and many of our friends have visited us in Crete over the years, so as 'favours', we served little bottles of Greek raki (which were all drunk at the wedding).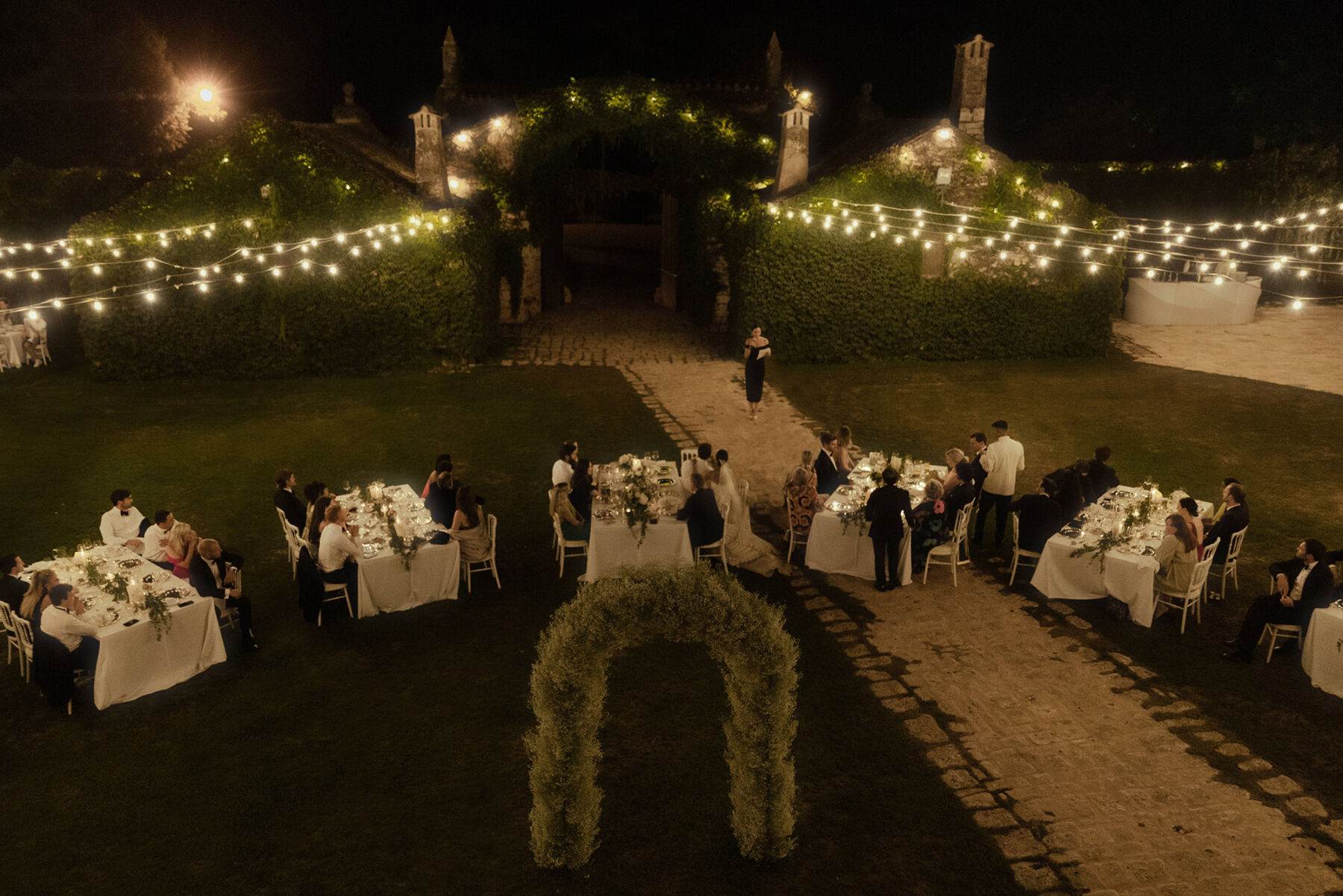 Evening & Entertainment
We danced our first danced to Nina Simone's 'Nobody better' – from the James Bond movie.
We hired DJ Glitzy Von Jagger for dinner and dancing – and we danced non stop all night long. Our dance floor was insane! Despite having a relatively small wedding with under 80 people; every single person was so full of joy and love and we all danced non stop until after 2am.
Not one person sat down and took a breather. It was the best wedding dance floor I've ever experienced.
Words of Wedded Wisdom
We loved doing a beach day and then a welcome drinks event at a terrace bar overlooking the beach the night before the wedding at Fly cala Porta in Putignano a mare. We booked the whole place, had loads of food and drinks and it was a perfect sunny introduction to Puglia.
The day after the wedding we did a big pool party at our villa (villa trulli terra viva) and hired a gelati cart with all our favourite flavours, as well as lemon granita; and a pizza maker with a portable wood oven; and set up a self serve bar with loads of rosé, spritzes and beers.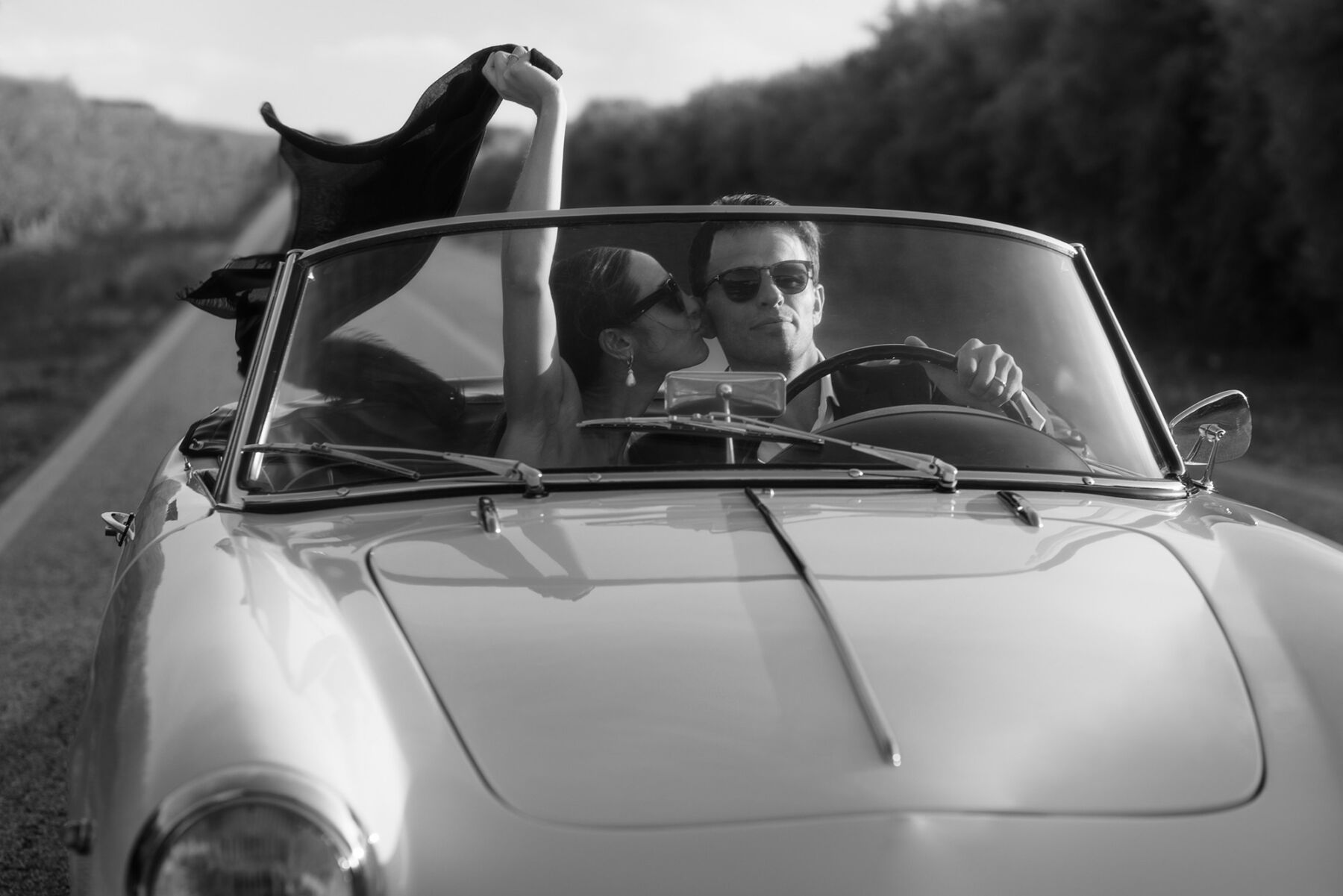 Explore our directory