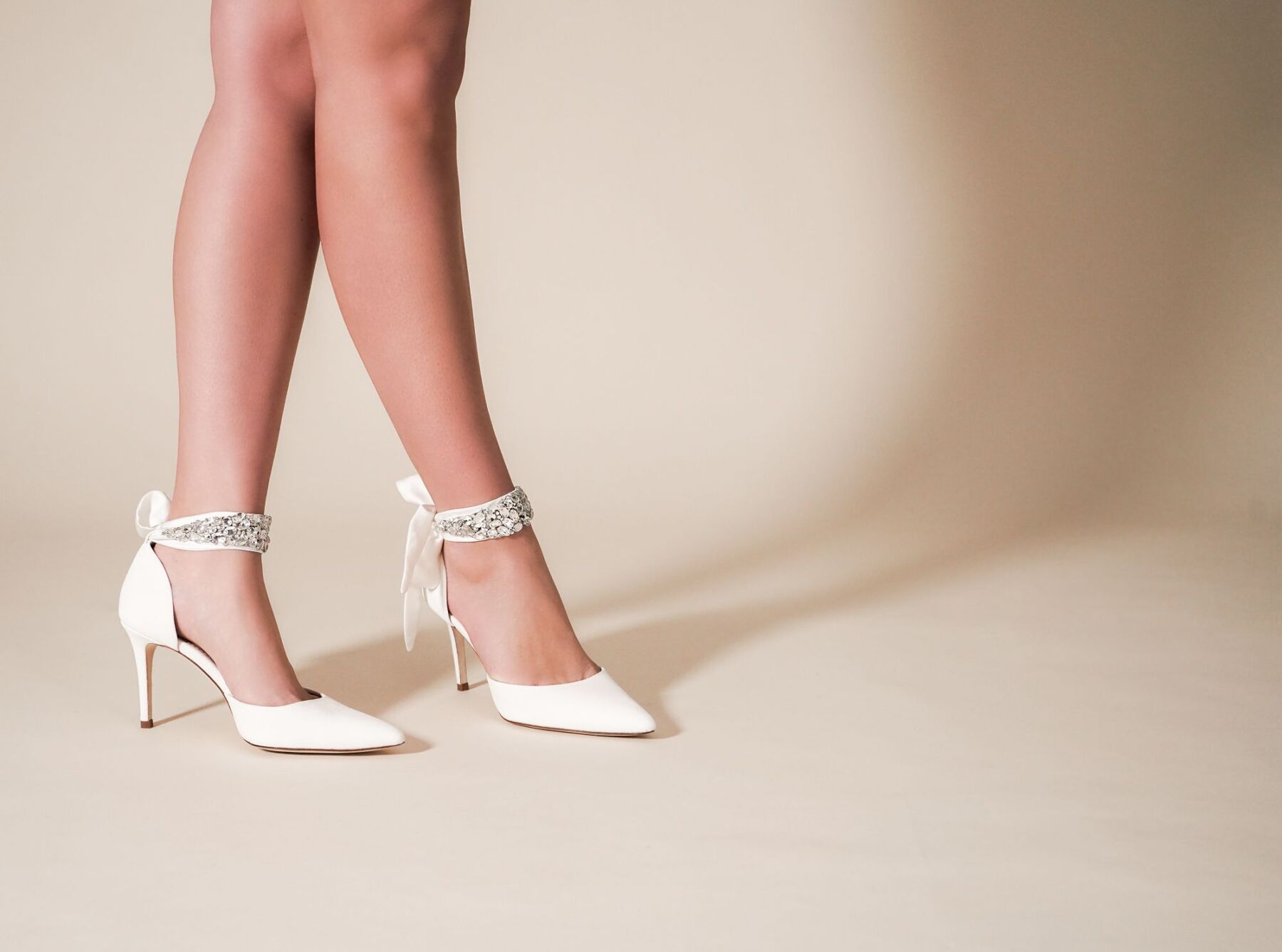 About Emmy London
Emmy London create luxurious bridal shoes, bags and accessories. Emmy London shoes are both breathtakingly beautiful and and incredibly comfortable. Vegan wedding shoes available.
Handcrafted Wedding Shoes
Established in 2004, Emmy London has earned the reputation as the go-to brand for forward thinking feminine designs that encompass undeniable beauty, bespoke craftsmanship and complete luxury. Every pair of Emmy London shoes are made by hand, one by one in Emmy's dedicated workshop. Shoes are designed with equal emphasis on beauty and comfort. Emmy London is regarded for her exquisite, classic silhouettes with modern styling and intricate details.
Comfortable Wedding Shoes
Combining the finest handcrafted techniques with luxury materials and detailed embellishment is what sets Emmy London apart. With a focus on innovation the brand continually strives to offer something unique whilst staying true to the core value of expertly pioneering the balance between comfort and beauty. Expertly designed by a women for women, Emmy Scarterfield creates the ultimate fit that ensures complete comfort and confidence time and time again.
Emmy's iconic signature hand beaded decorations add a touch of decadent luxury. Swarovski crystal, Mother of Pearl shell and silk satins are used alongside a romantic colour palette to create intricately embellished shoes, accessories and clutch bags. Fully embracing top to toe styling to create a flawless finished look.
Each shoe is hand finished with Emmy's gorgeous branding and a Swarovski crystal on the sole, Shoes and hair decorations are packaged like presents with Emmy's signature ribbon and crystal boxes, with a shoe bag and care card included to help you keep your shoes looking perfect for years to come. Attention to detail is at the heart of everything that Emmy represents and what has captured the hearts of fans from near and far.
Alongside the bridal and Ready To Wear collections, bespoke plays a key role in the brand's offering. Available in-store and online, the bespoke shoe design service allows brides to choose a design they love and customise it. Working closely with the Emmy London styling team customers can select their bespoke heel height, fabric choice and embellishment to create something truly unique for their big day to be treasured forever.
With its flagship store in the heart of the Bridal Quarter in Chelsea, the boutique is perfectly positioned for modern, stylish brides. The collection can also be shopped online and via Virtual Appointment.
Virtual appointments are the perfect opportunity to have the Emmy London experience from the comfort of your home. The process is split into two stages. Firstly you will chat directly to Emmy where you will discuss the look and style of your choose shoes. The next stage is 'the feel', here you will be sent colour swatches, sketches and shoe samples to try on at home. The perfect way to co-create your dream shoes!
Vegan Wedding Shoes
Our beautiful new 100% vegan weding shoe collection has been designed by Emmy, placing an emphasis on bringing beautiful bridal shoe options to environmentally conscious brides.
Boutique
Emmy London, Fulham Road, London, UK
Videos
Reviews
A few weeks later when we had set up the date, I was able to do a video call with Emmy. I even was able to have my mother, sisters and future sister in law on the video call as well. It was the most incredible experience! I could not believe how kind and down to earth Emmy was! She took a lot of time to listen to what I was envisioning and then to go over every detail of the shoe for me to make it exactly what I wanted! She showed me different examples, took notes, and then sketched my very own shoe while we were watching! It was really something!! Within days, the Emmy London package arrived with the pair of shoes for me to try. They were so beautiful! Along with the shoes came different swatches of different colours/styles of the embellishments/beading/etc, along with a hand-written note from Emmy, herself! Emmy handled all of my needs from beginning to end. I truly could not have felt more taken care of or happier with this experience. I would very highly recommend the bespoke service with the virtual appointment with Emmy. She is literally the best! Not only did she end up helping me create and identify my perfect dream shoe, she also ended up making a custom head piece for me to wear on my big day as well! I really could not have felt any more special throughout this entire process, and I know how special I will feel walking down the aisle in my Emmy London shoes! Which, by the way, are my something blue. Thank you so much, Emmy and team! You are so wonderful, and you really helped bring something extra special to a day I will never forget!
Ashley Leakey
I used the bespoke service for my shoes for our wedding in July 2019. I friend of a friend had Emmy London shoes for her wedding and as soon as I saw them in the pictures, I knew those were the shoes I wanted when I got married! I went into the store for a bespoke appointment over a year in advance of our wedding to select my shoes and actually picked the shoes before I picked my dress. My engagement ring is an emerald so I wanted emerald green shoes to match my ring and bring a touch of colour to my outfit. It was great fun looking at the different colour swatches to see which matched my ring the best and selecting the different leather and crystals to make up the rest of the shoes. I also had a blue crystal in the sole, which was my something blue for the day. I chose the Cinderella mid-heel style and they were super comfortable - I only took them off right at the end of the night. I also got a matching clutch bag and am looking forward to wear the shoes and use the bag on future occasions. I love that they are completely unique and very "me"! My maid of honour liked the shoes so much, that she has also selected some Emmy bespoke shoes for her big day!
Erin Bargate
I had been hunting for my dream wedding shoes for some time and just couldn't find exactly what I had in mind. I came across the Emmy range and loved the Penny Ivory but the heel was just too high for me as there are a lot of cobbles at our wedding venue. I saw Emmy did a bespoke service so contacted them. They were so helpful and helped design my dream shoe based on the Penny Ivory with a smaller kitten heal. They were a pleasure to deal with and highly recommend them.
Jo
I have a south asian wedding with a red bridal dress and could not for the life of me like anything I found online. The colors were always wrong or the style just didn't fit. I happened upon this website and decided to try them out. It was the best decision I ever made! From start to finish Emmy's process is seamless and incredibly accommodating to your needs. She personally helped me pick out styles to fit the embroidery on my dress and sent me swatches of colors to match, and even helped me decide on heel heights to fit my comfort level. I was blown away by the customized experience at a price that was incredibly reasonable for the service she provides. My shoes came in and I couldn't be happier with them! They're exactly what I envisioned, beautiful, unique and comfortable! Thank you so much for such a wonderful experience!
Mehnoor Durrani
Frequently Asked Questions
I'd like to go for the Bespoke service, how long does it take and what is the price range?
The service takes 10-12 weeks and prices start at £595 with an average price of £600 - £900, the sky is the limit!
My wedding is in 10 months, but my dress fitting is in 1 month, which I need my shoes for, can you help?
We certainly can! Our bridal range is held in stock so you can take your shoes home straightaway. If you opt for our bespoke or made to order we can lend a sample pair of shoes for your fitting.
I would love to speak to a stylist but cannot make it to the boutique. What other options are there?
We offer virtual appointments with our friendly stylists from the comfort of your home. The process is split into two parts. The 'look' is what we do over the screen, we will have a relaxed chat about your event, outfit, and the kind of styles you like. Your stylist will show you styles, colours, heels, and details over the screen to help you visualise the perfect shoe for you. We then tackle the 'Feel' part by sending samples to your home for you to try on and test the fit and heel height, plus a sketch and swatch for you to keep. So, we are not expecting you to commit to every element of your order (especially sizing) until you have seen and felt them in real life.
Can I dye my Emmy London shoes?
You can dye the suede and satin parts of your shoes to create the perfect wear-again style. We recommend a company called Hoxton Shoe Repairs.
Articles featuring Emmy London