We are proud to support some incredible wedding venues here in the UK, but one of the venues I'm most proud to partner with, is the divine RSA House.
RSA House played backdrop to this effortlessly glamorous editorial that I'm so delighted to share with you today. Word below are by wedding planner and stylist, Lucy Meehan.
"With many weddings having been altered and postponed this last year, I wanted to create a simple yet glamorous design that could work for couples, no matter what the season."
"The colour palette was going to be key for illustrating this concept. I needed a palette that could be used in different spaces with different seasonal florals to bring it to life. I wanted to include a traditional and romantic bridal palette of blush and ivory, but with accents of caramel and berry."
"The flowers were inspired by the simple elegance of the Edit by Mary Jane Vaughan – their new ready-to-go way of ordering their fabulous designs and created for busy and stylish brides in a natural and sustainable way."
"Mary Jane and her team really brought this colour palette to life using roses (named quicksand, majolica and cappuccino) as well as burgundy scabiosa black knight, and other flowers including Ranunculus, Asrantia and Fritillaria."
"The floral choices and loose, airy arrangements perfectly encapsulated the concept, being able to highlight the beauty of the colour palette through seasonal flowers."
"Helen Warner is a Fine Art Wedding photographer, known for her light and airy style. Sometimes associated with mid-Summer and outdoor sunny locations, this style of photography can be just as well suited to London city interiors and transitional seasons, as there is always some natural light, if your photographer knows where to look."
"Her unobtrusive style allows Helen to focus on the emotional connection between couples and having chosen a real couple for the shoot she was the perfect choice. Together with her attention to the beautiful styling details, Helen's photography is full of romance and joy."
"RSA House was the host venue for the styled shoot. This award-winning London wedding venue was voted one of London's best wedding venues by the Evening Standard and for me it was the natural choice."
"I wanted to choose a venue that had a variety of different spaces, that can be used flexibly by couples. I also think it's important to support venues whose profits from such hires help to fund charitable work and the RSA put their profits towards programmes around the Future of Work, Education and Learning and Sustainability."
"Steeped in history, with its graceful Georgian architecture, stunning interiors and stylish spaces, RSA House is the most utterly gorgeous venue for a quintessential City wedding. Our ceremony set up took place in the romantic and candle-lit, exposed brick Vaults."
"The lavish intimate dinner was hosted in the bright, modern and chic Benjamin Franklin Room. We used the same colour palette and florals throughout both spaces, showing the understated glamour and adaptability of the design."
"I chose to work with Suzanne Neville dresses as I just love their simple glamour. There is such variety in her designs that you can find a dress to suit many different shapes, sizes and styles."
"We luckily had four incredible dresses for this shoot, provided by The Bespoke Wardrobe. The first look for Sarah was created using the incredible Operetta dress."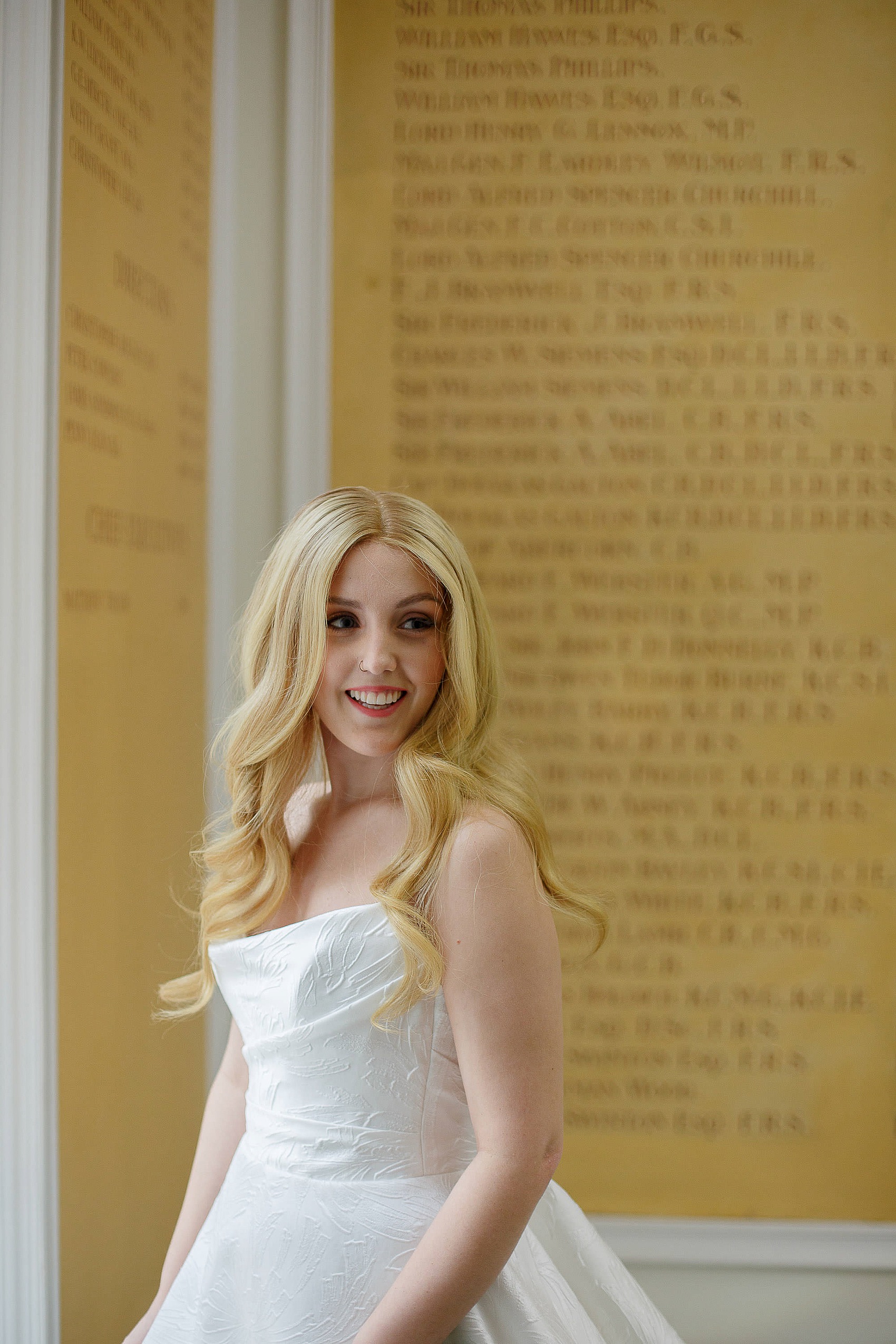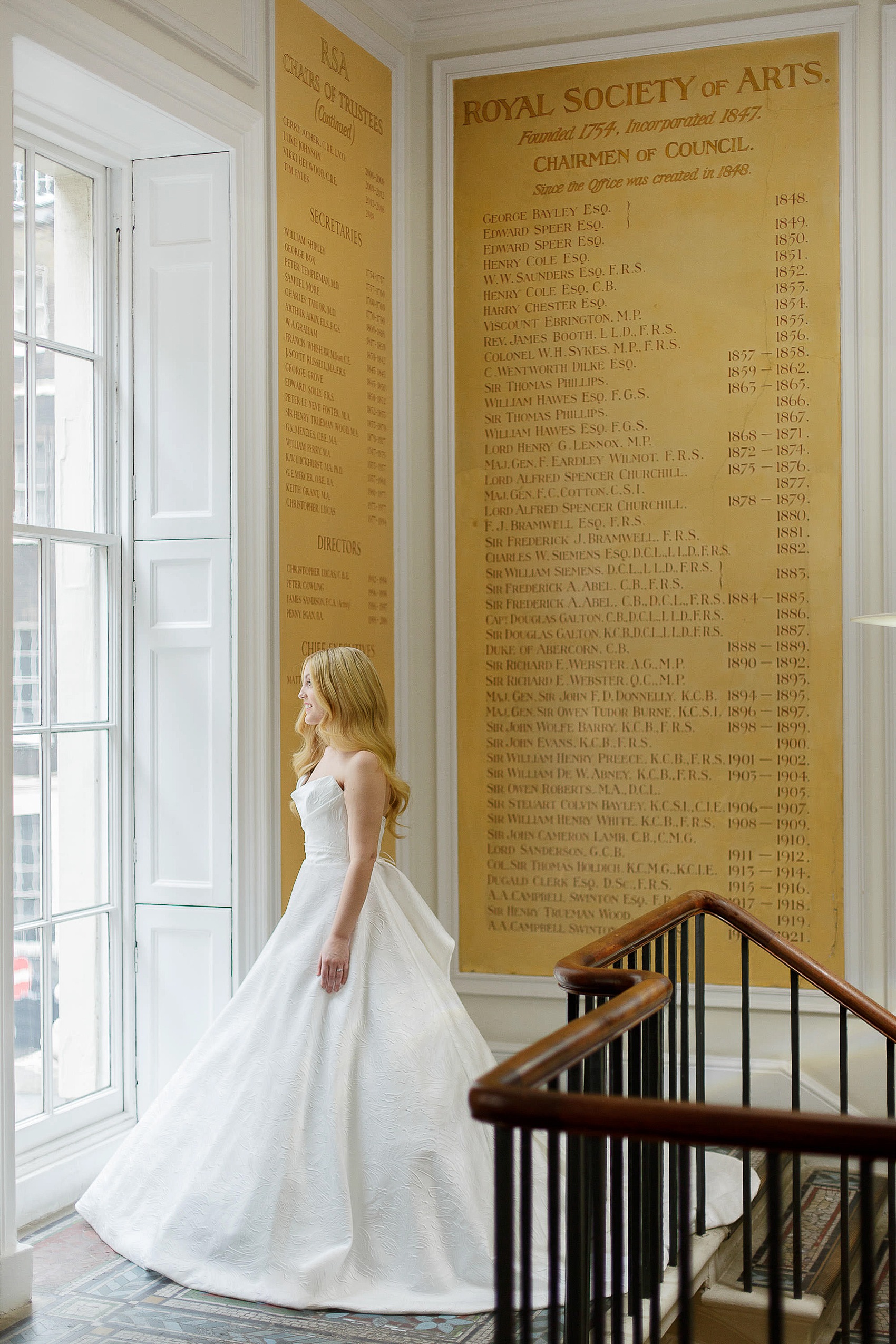 "The detail in this dress is stunning and with such a full skirt it was a natural choice for the glamorous shots that we wanted to get, using the venue's beautiful architectural features as the back drop."
"Sarah's partner Rachel wore the incredibly sleek and sexy Sentiment dress which, although in contrast, complimented the Operetta magnificently."
"The second look for the couple gave us another opportunity to showcase the variety in Suzanne Neville's collection. Sarah wore the stunning Giovanna dress with simple fitted bodice and stunning pleated skirt detailing."
"Rachel wore the very elegant Kassia, a full lace dress with a deep v-neckline and incredible fishtail skirt."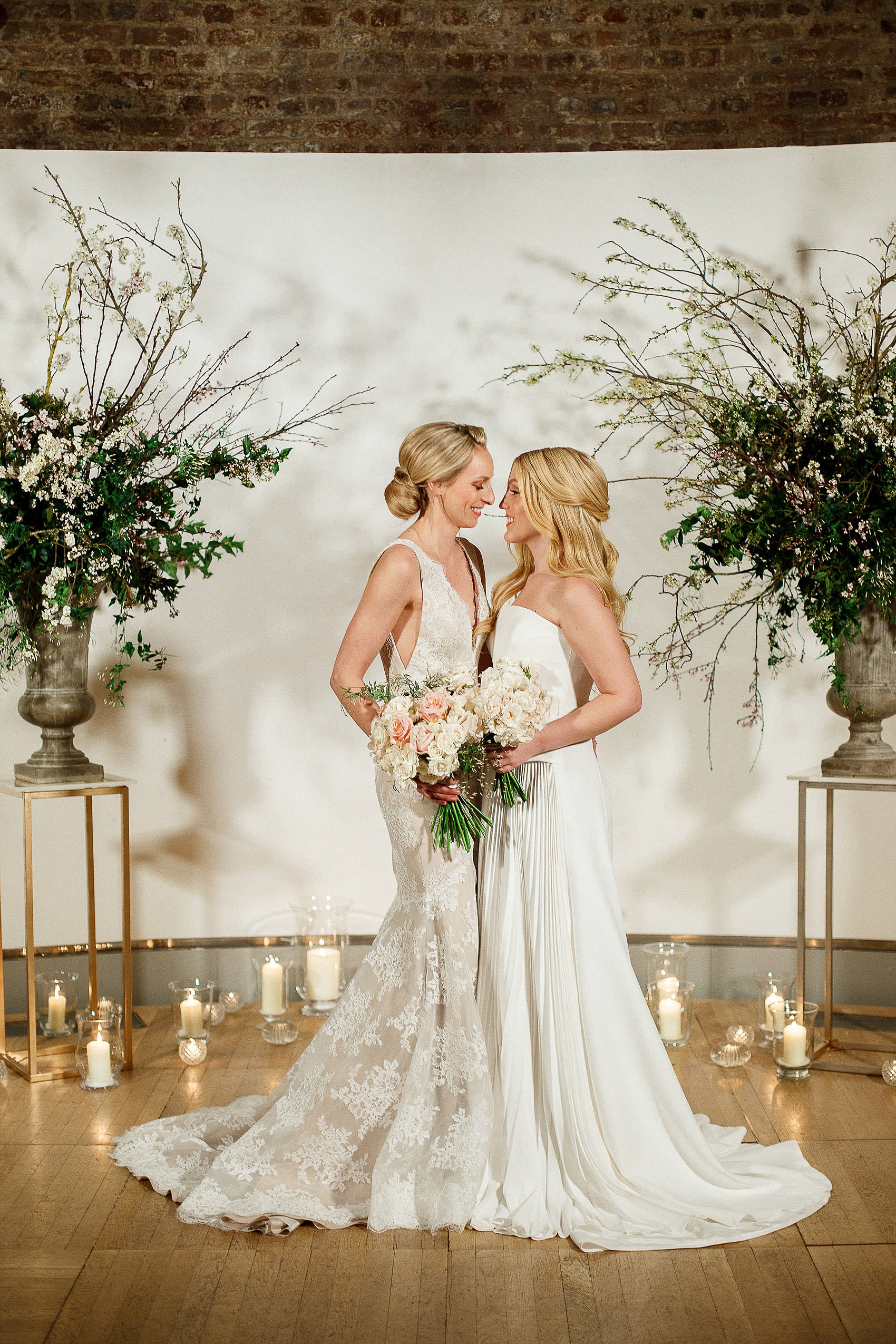 "Keeping to the style of the shoot, the very talented Sylwia Kunysz and Agata Julia gave the ladies beautifully simple yet glamorous hair and make-up.
"Shoes and rings were provided by Emmy London and for four different dresses we had to have four different pairs of shoes! We used the Swarovski embellished Gabriella, the Olivia ivory pointed court shoe, the beautiful Florence with satin bow and the simple Darcey ivory suede sling backs."
"Stationery was provided by Millie Stone who not only gave us a wonderful invitation suite but also gave us feather resin discs that she engraved, providing us with a stylish and keepsake alternative to place cards."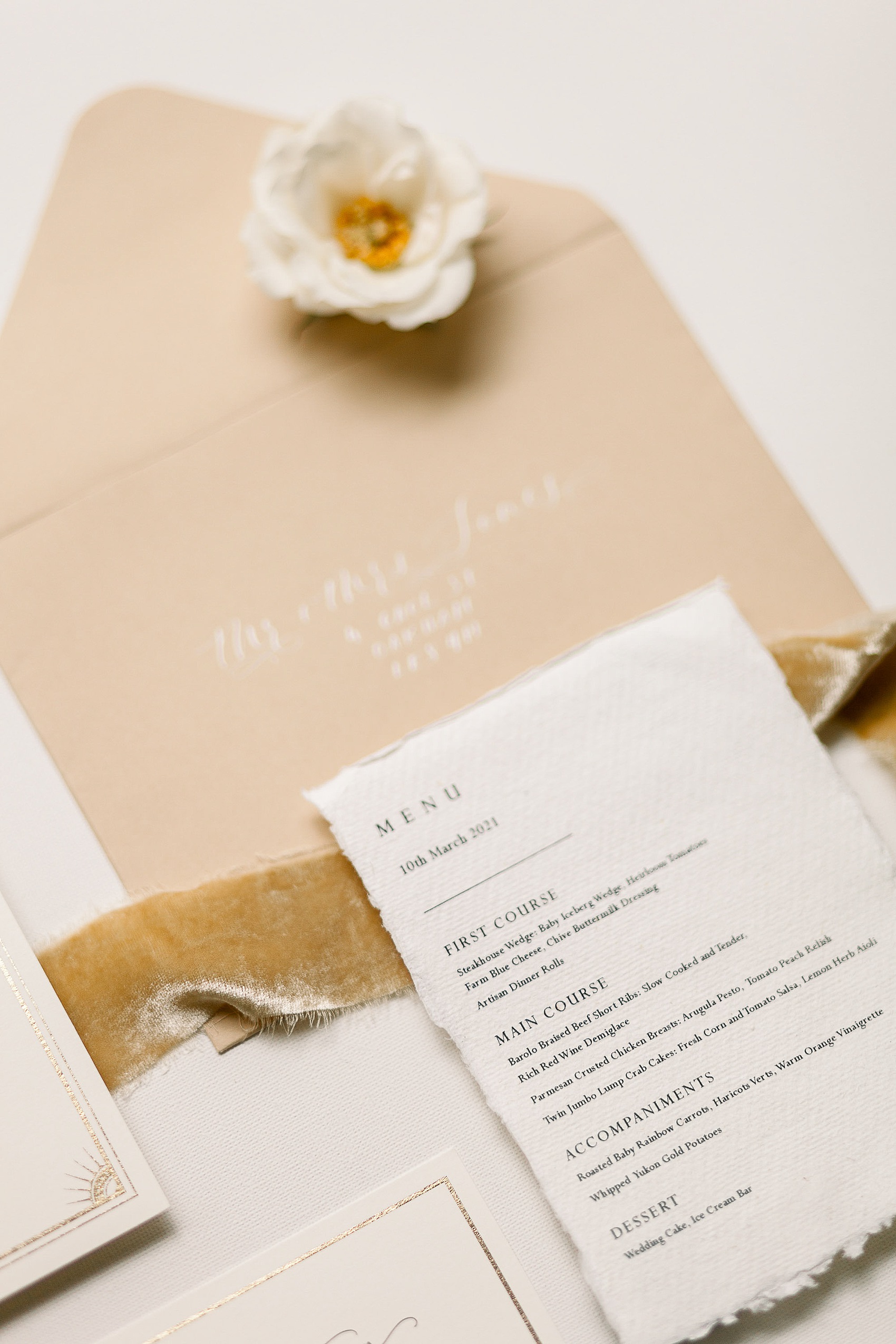 "What wedding would be complete without cake? Melissa from Thirty One Cakes gave us a classically simple two-tier cake adorned with sugar flowers in keeping with the colour palette."
"She also provided individual cakes complete with gold foiling and ribbon from Lancaster & Cornish. These individual cakes show a wonderful and luxurious alternative for intimate weddings."
"I am thrilled at what we were able to achieve through this collaboration of incredible suppliers. The style and concept of the shoot was understood and translated through everyone's hard work and after a very tough year it was an absolute joy to work with such wonderful people."