Oh, 'The Secret Garden', one of my favourite books as a child and one which has influenced my tastes ever since – I adore a walled garden, or a hidden little space outside.  Clearly I'm not the only one to find this idea magical, as today's gorgeous garden day, full of sparkle and sunshine, certainly proves.
Meet Rhys, an analyst, and Victoria, a management consultant, who celebrated their marriage at the Secret River Garden on the banks of the river Thames, Twickenham on the 13th of August 2016.
"There was a temptation to go all floral and rustic as we were in a meadow, but I'm like a magpie and love sparkles and wanted to reflect the sparkle of the water as well as having lots of flowers (including edible ones) to make the most of our 'secret garden' element.  We wanted an informal day where the focus was on relaxed fun, which included drinking champagne and dancing on the tables."
Photography by Natalie J Weddings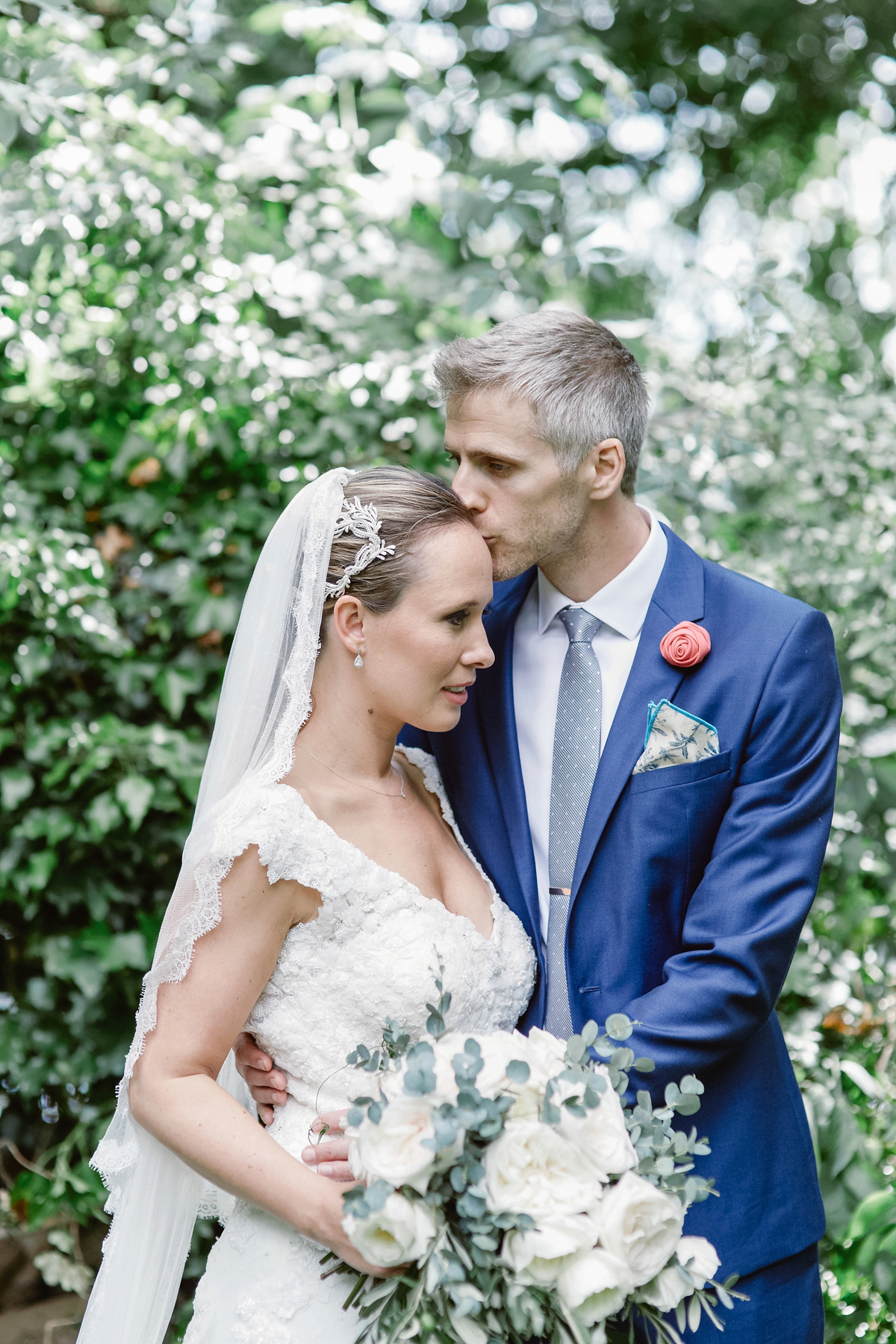 Today's gorgeously summery photos are the work of NatalieJ Weddings, while to film the day, Victoria and Rhys chose Gione da Silva.
"Choosing Natalie as photographer was one of the best decisions we made for the wedding.  The second was doing a engagement shoot to get used to direction.  On the day we felt so at ease with Natalie and it was easy and quick to take direction.  The photos are beautiful and caught all the moments and details and was Natalie was amazing with the kids.  If you have any doubts don't- just book her."
Stationery was designed by Stephanie Gill and produced (including embossing) by the bride and groom with printing by EKA Services.  As favours, secret garden keys were sent with the invitations- what a lovely idea.
Hair styling and makeup was provided by the wonderfully talented Carolanne Armstrong.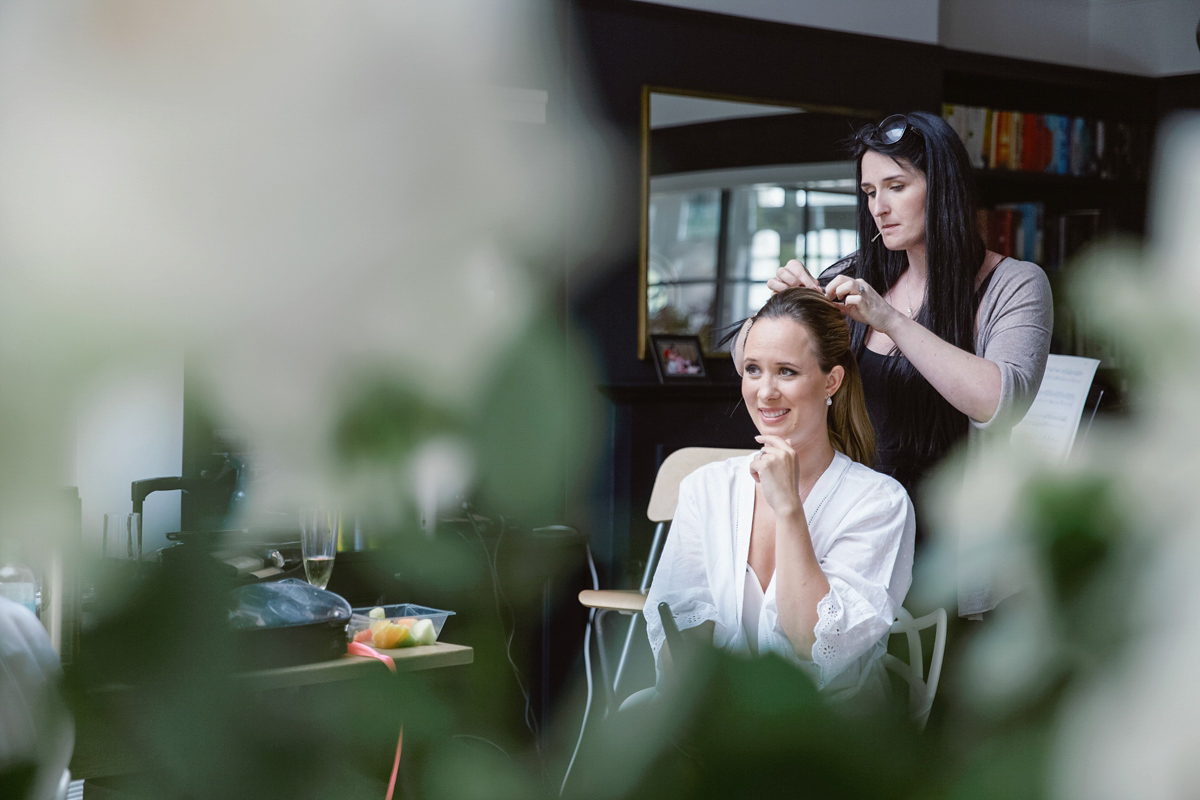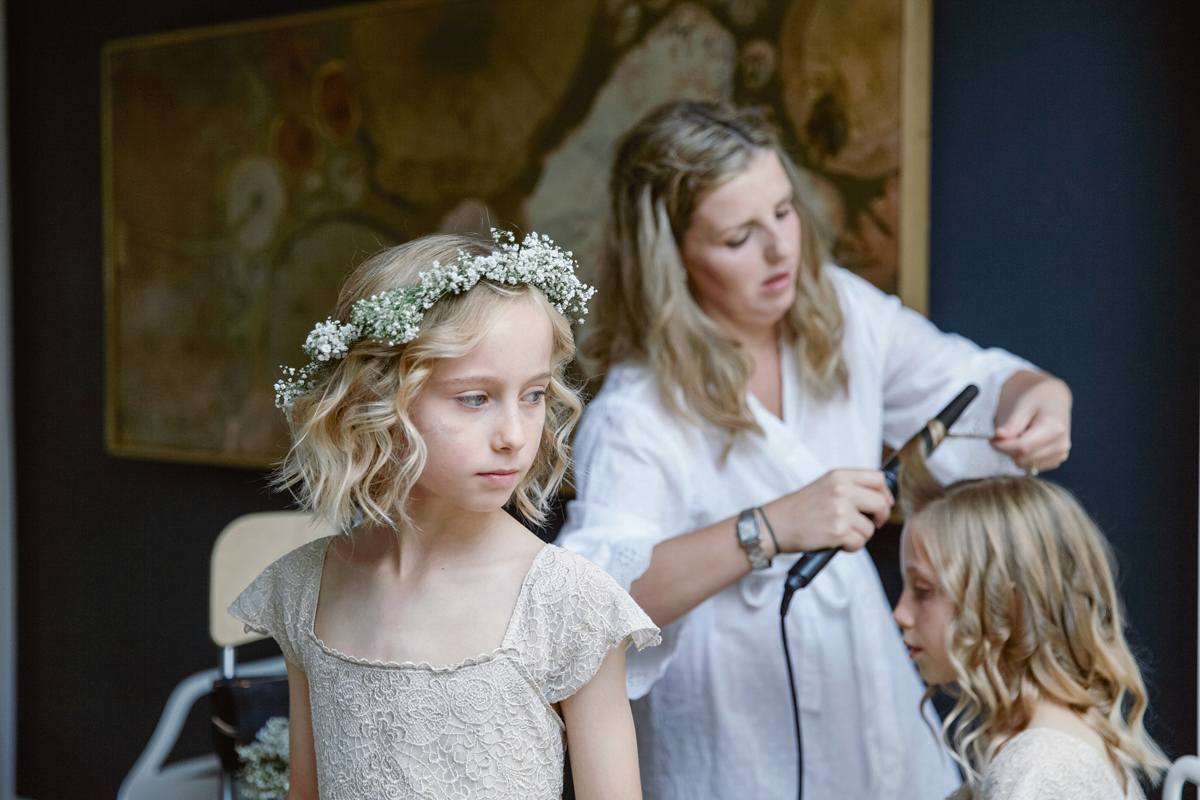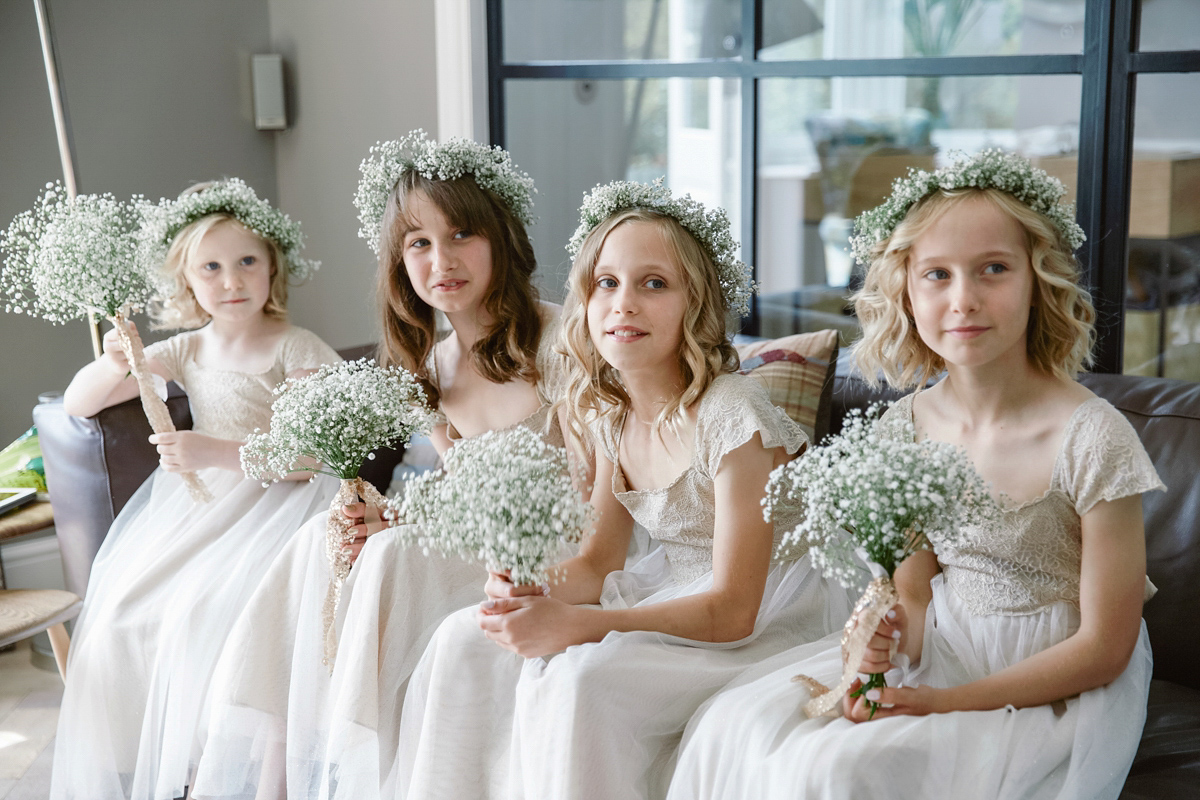 The bridesmaids looked wonderfully summery in pink sequin gowns from David's Bridal, worn with shoes from Very, hair accessories they made themselves and rose gold stud earrings from John Lewis
The bevvy of flowergirls looked gorgeous in dresses from Monsoon, with gypsophila flower crowns, while the pageboys looked smart in Marks and Spencer.
Victoria looked beautiful in an incredibly elegant Annasul Y gown, which she purchased from Teokath of London.
"There are so many lovely dresses on the market, however the big skirt ones made me feel like a kid dressing up.  I had actually given up and was going to get a pure sequin dress (quite 1920's and more awards dinner than wedding dress) but then my sister picked this dress out for me to try and I loved it.  I felt the dress worked with my curves, with the low cut back and the sequined detailed overlay smoothing my silhouette.  If you look closely at the dress the detail is matt-sequins which went with the sparkle theme of the wedding."
Victoria's classic waterfall bouquet was by The Bloomery, while the flowers on the tables were bought from New Covent Flower Market and arranged by Victoria herself, with help from friends and family.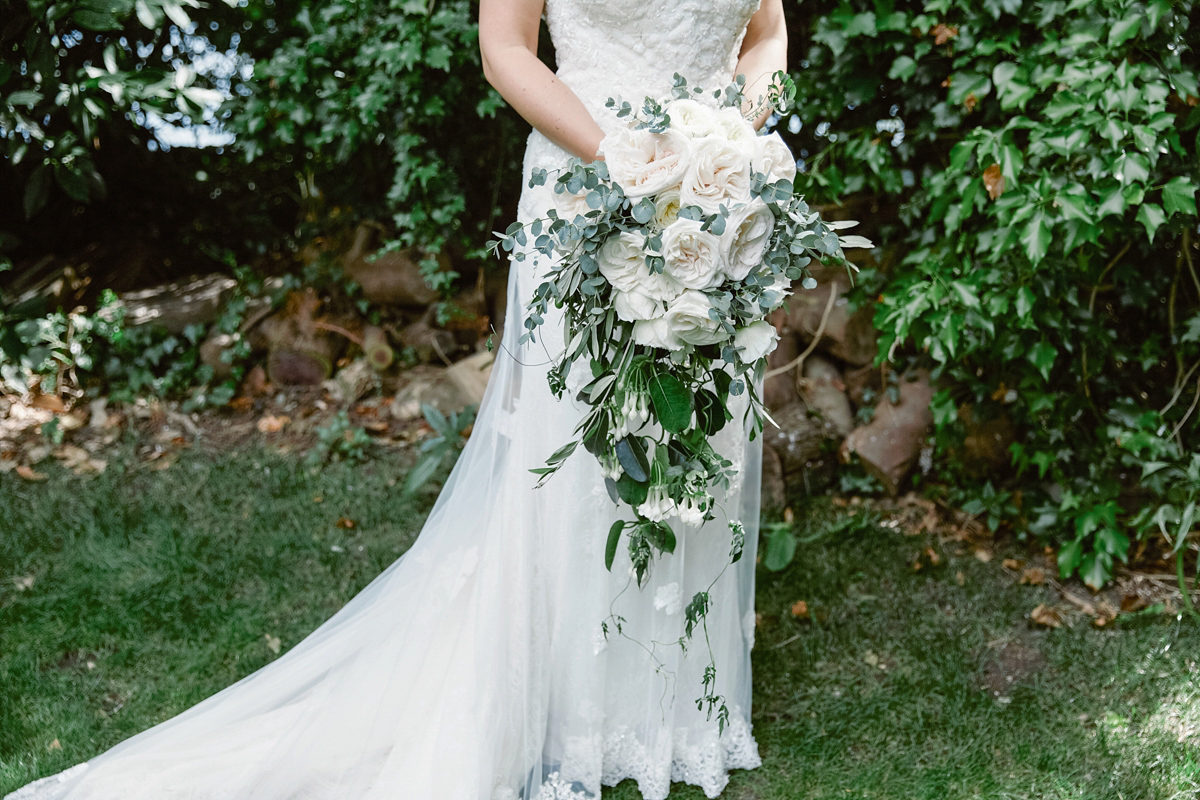 Victoria's veil was borrowed from her sister, while on her feet she wore a pair of blue Manolo Blahnik heels.  Her hair accessories were from Liberty in Love (whose customer service she tells us was amazing) and for scent, she chose Peony and Blush Suede by Jo Malone, which seemed rather fitting for a meadow reception.
For jewellery she wore a V diamond necklace from Liberty London which was given to her for her 30th birthday by her sister, which she wears every day.  Her earrings were from Liberty in Love.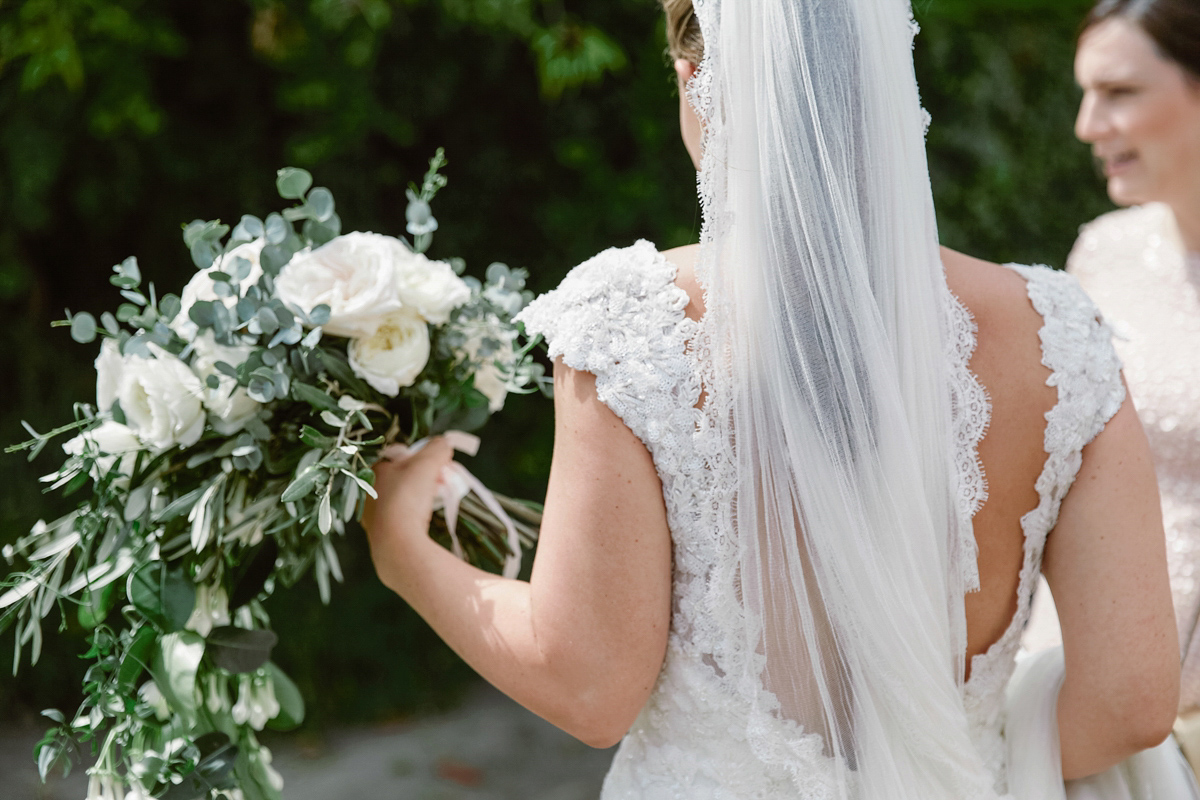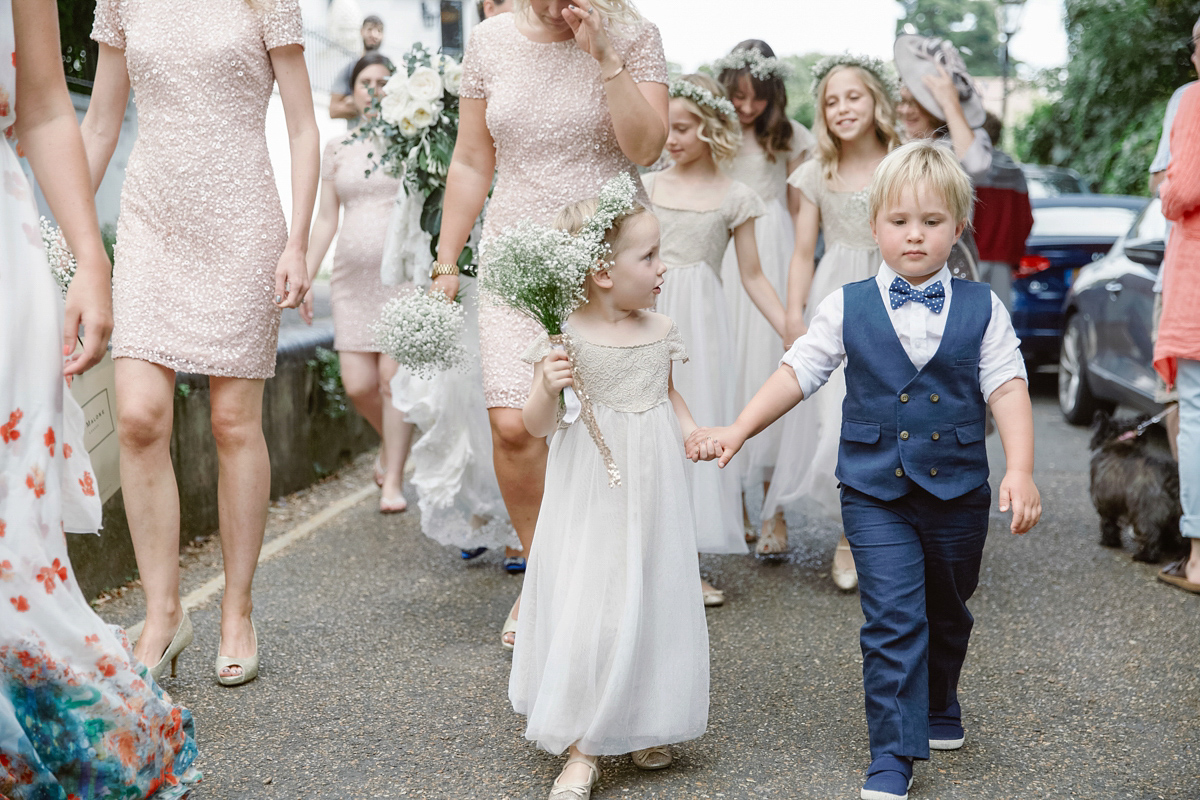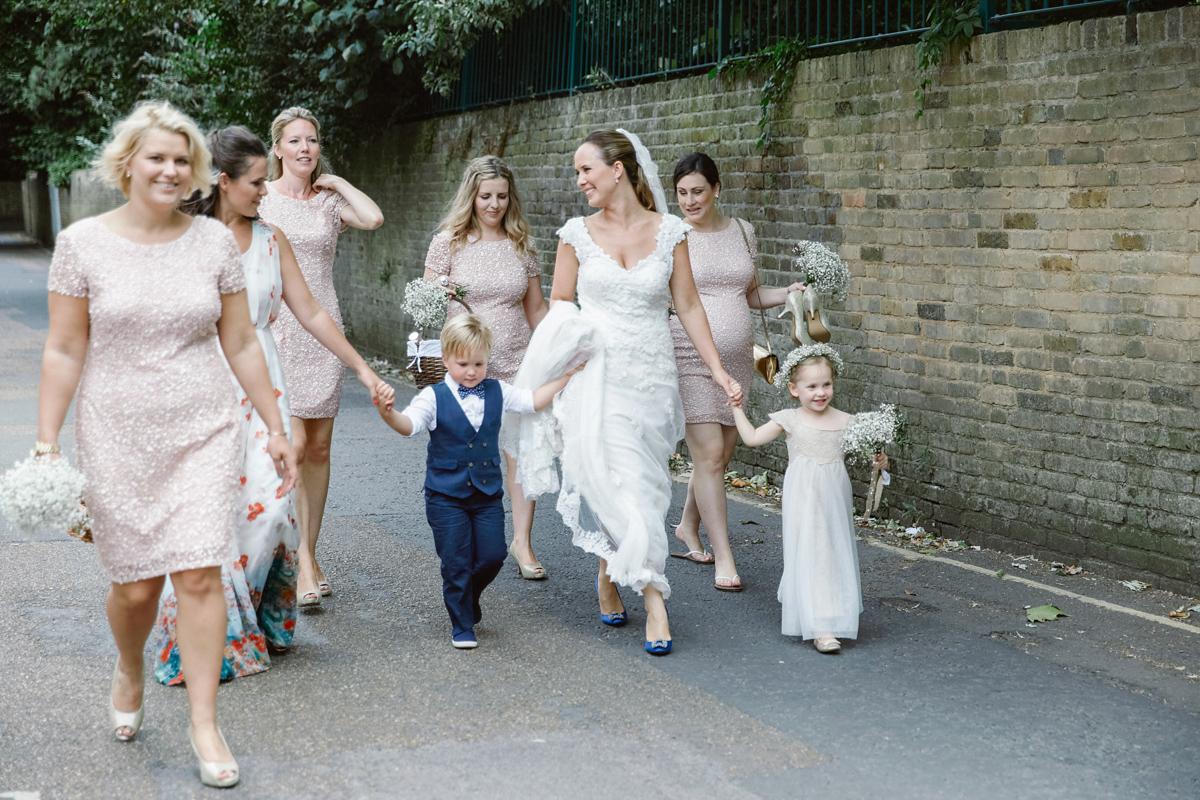 Victoria was accompanied down the aisle by her mother, to the Bridal March by Wagner- I absolutely love the photo of the two of them squeezing hands before they began the walk together- so lovely.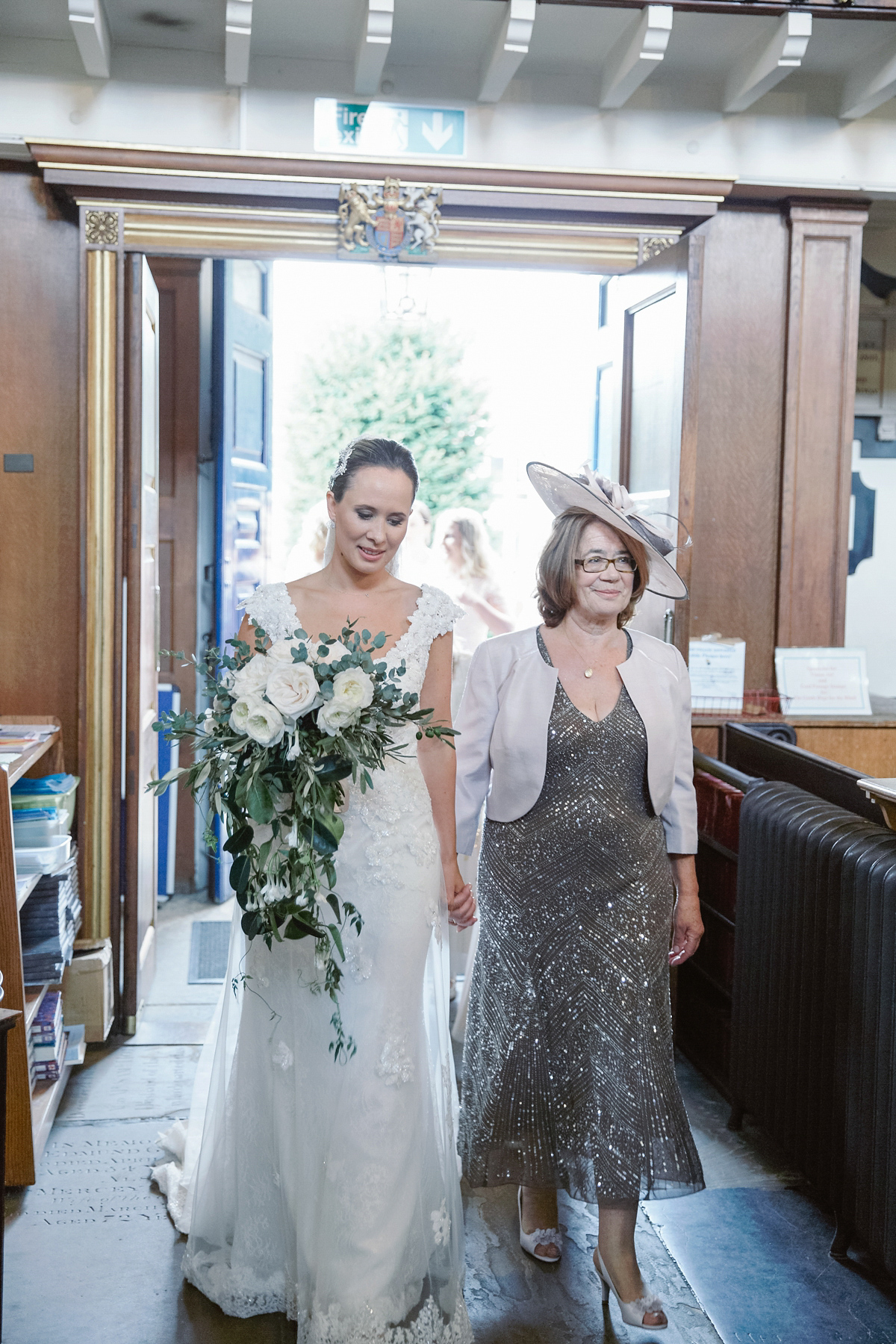 "We met in the London Celts Rugby ball at Wandsworth Town Hall.  I had just returned from China and Rhys was living in Cardiff at the time, so it was perfectly aligned. We continued with the long distance relationship for three years, until Rhys moved to London.  We got engaged in Venice and Rhys proposed on the Grand Canal at the Hotel Gritti's waterfront bar, setting the precedent to return to both Venice and the Gritti for our mini-moon."
Rhys and Victoria spoke the traditional vows (minus the 'obey' part) and their priest (who was also Welsh) added a few jokes and a personal sermon about them both.
"Knowing the vicar was lovely as he understood us and also took the mick out of us which made everyone laugh and us at ease"
For readings the couple chose 'A love poem between two lovers' (Songs of Solomon, chapter 2 verses 10-13 and chapter 8 verses 6 and 7) and 'The Future' by Emma Stone.
"The 'Love Poem between two lovers' is a less common reading, and the language is extremely powerful.  We chose this as is was read in Welsh by Rhys' sister and the Welsh wording for the first chapters flow particularly well.  The imagery in our second reading resonates strongly with us as it captures so many aspects of us within it.  This was read by my friend Sarah who travelled all the way from Australia for the occasion."
Rings were by Paul Granelli (Victoria) and OriginHG, via Etsy (Rhys).
Rhys looked very smart in a suit from, appropriately, Reiss, with accessories from Suited Man and shoes from Paul Smith.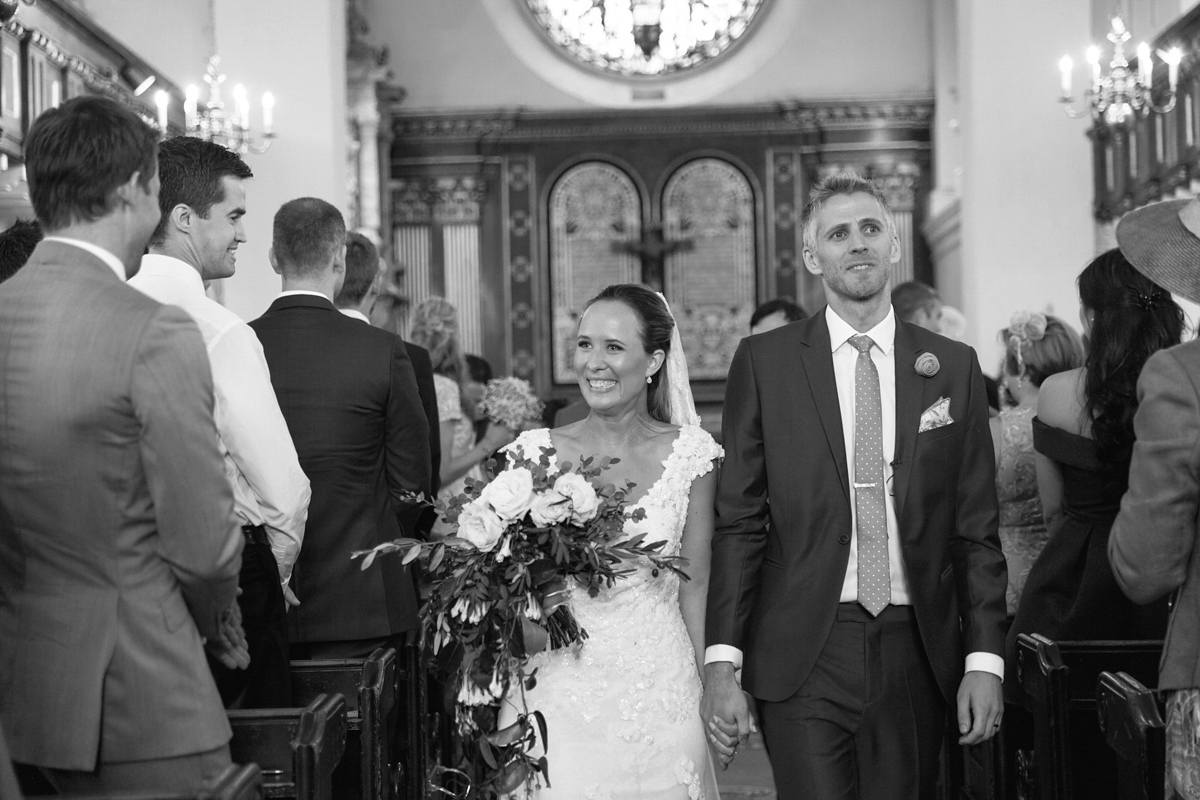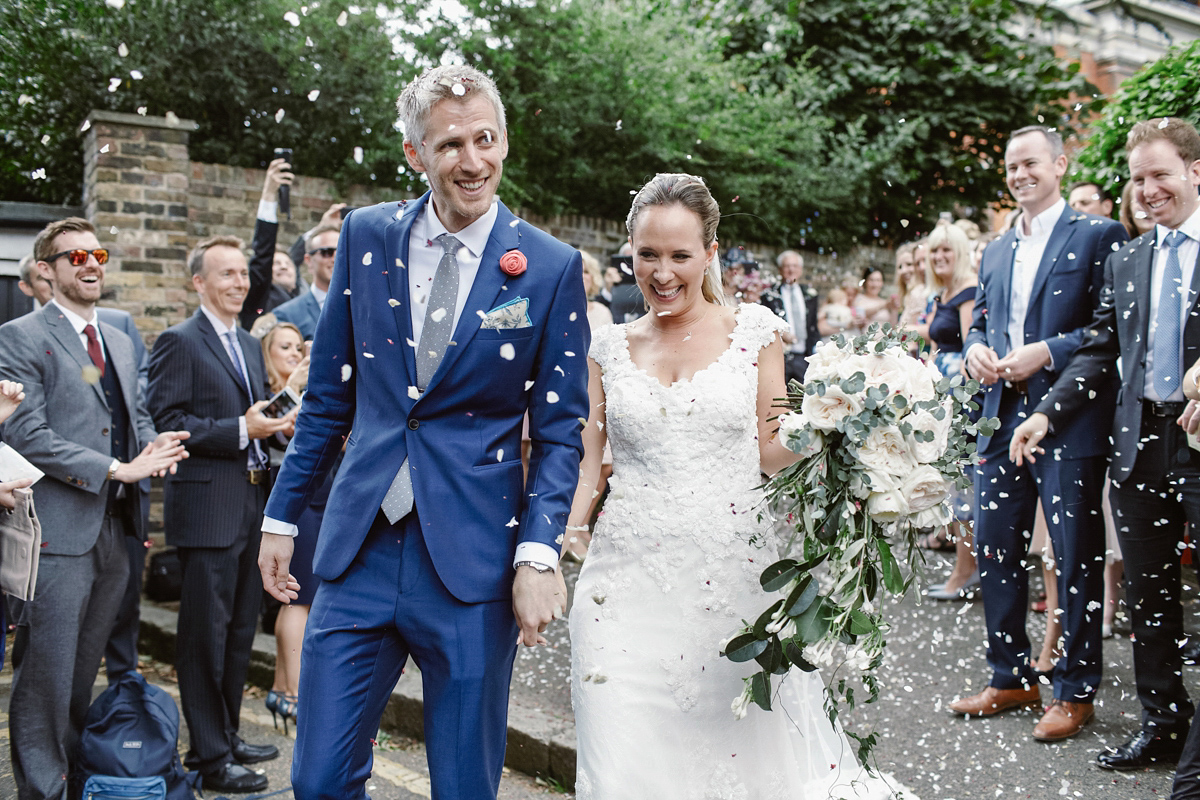 After the ceremony the wedding party and all the guests walked the short distance from St Mary's Church to the Secret Garden and Victoria's sisters surprised the couple with a banner detailing their logo used for invites, save the dates, menus and orders of service hung on oars borrowed from Twickenham rowing club.
"It was tremendous fun walking past the annual raft race at The Swan pub with everyone cheering and congratulating us.  One of my favourite quotes from one of the flower girls is, 'this is like being a princess'."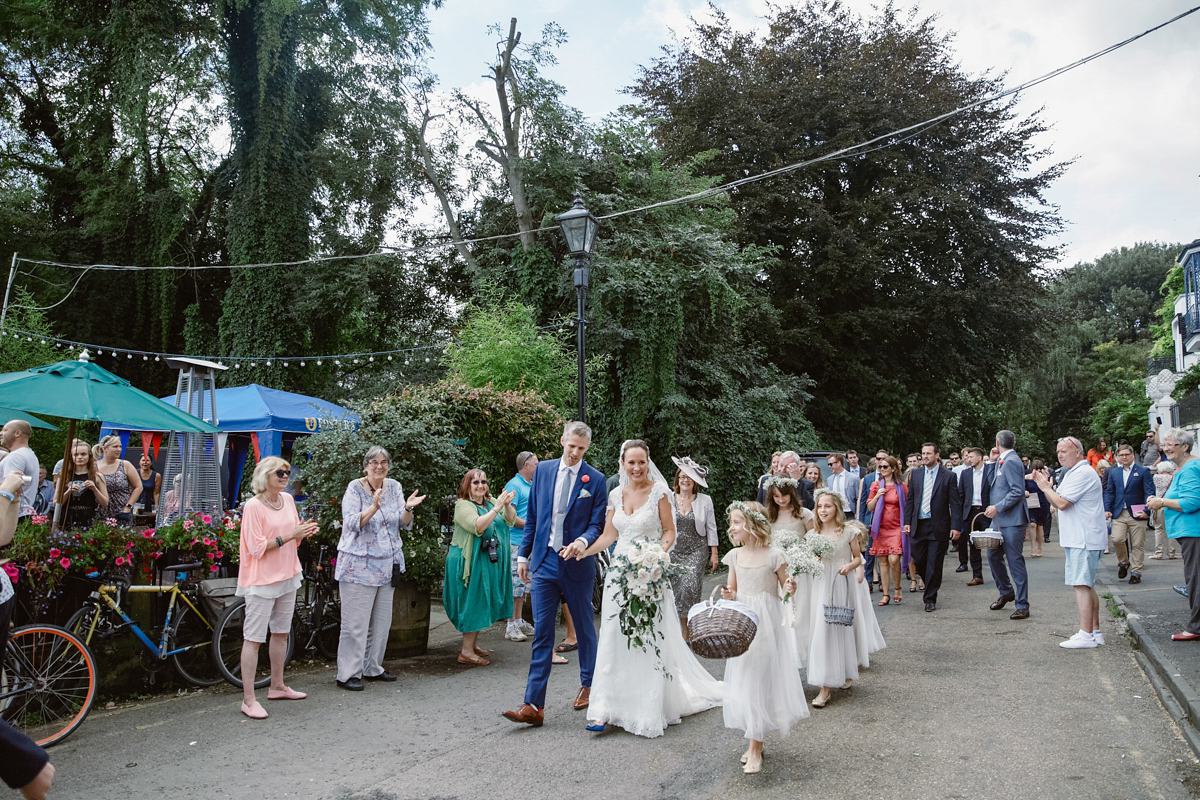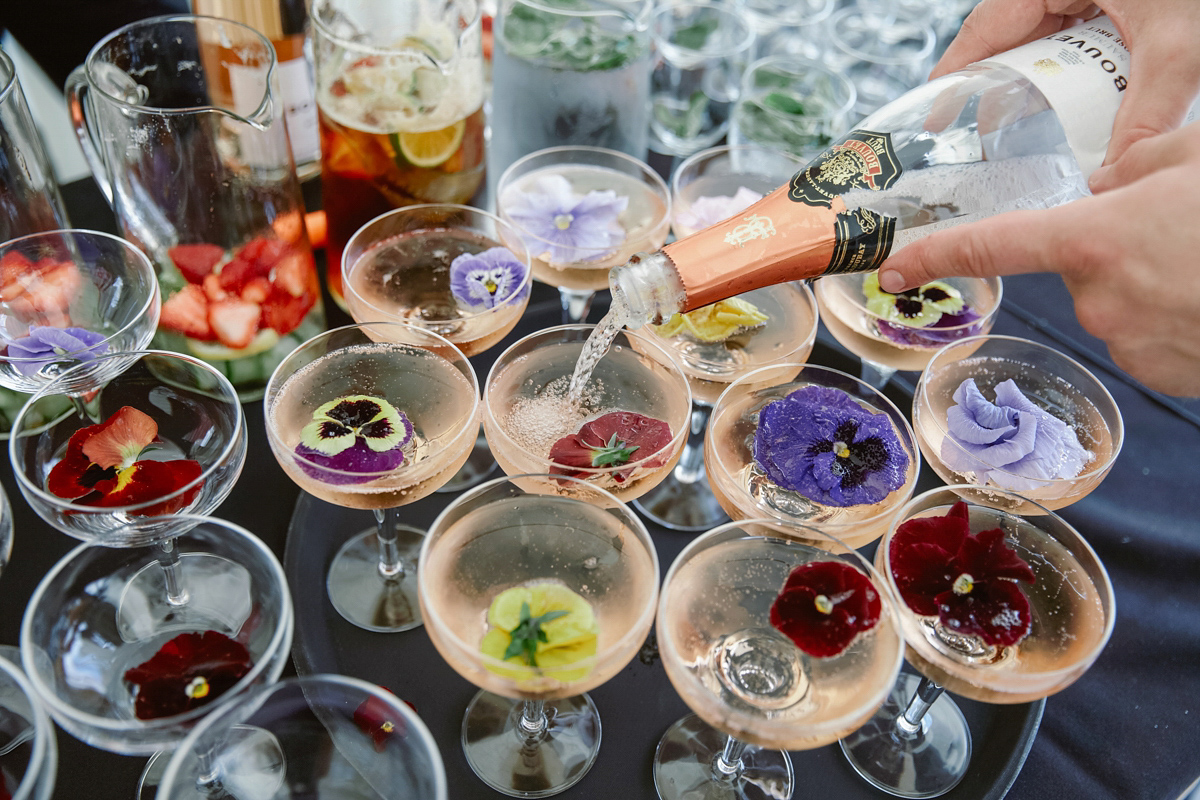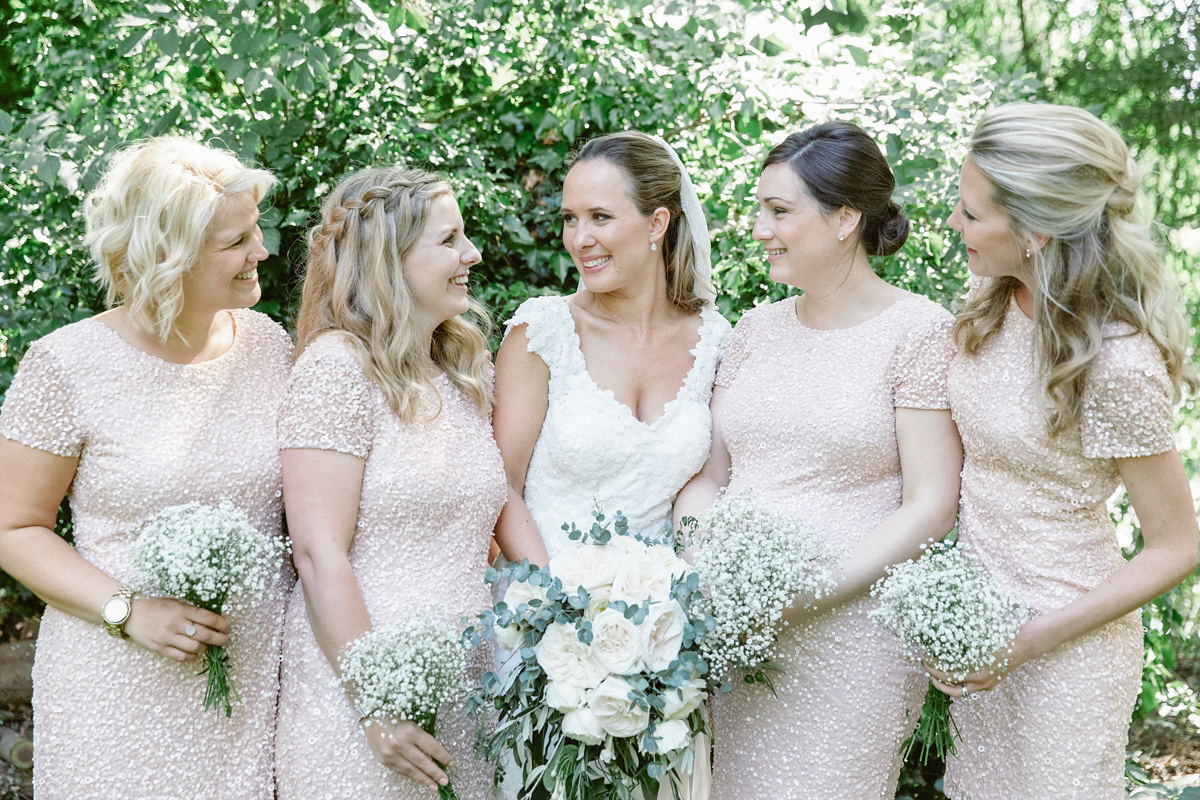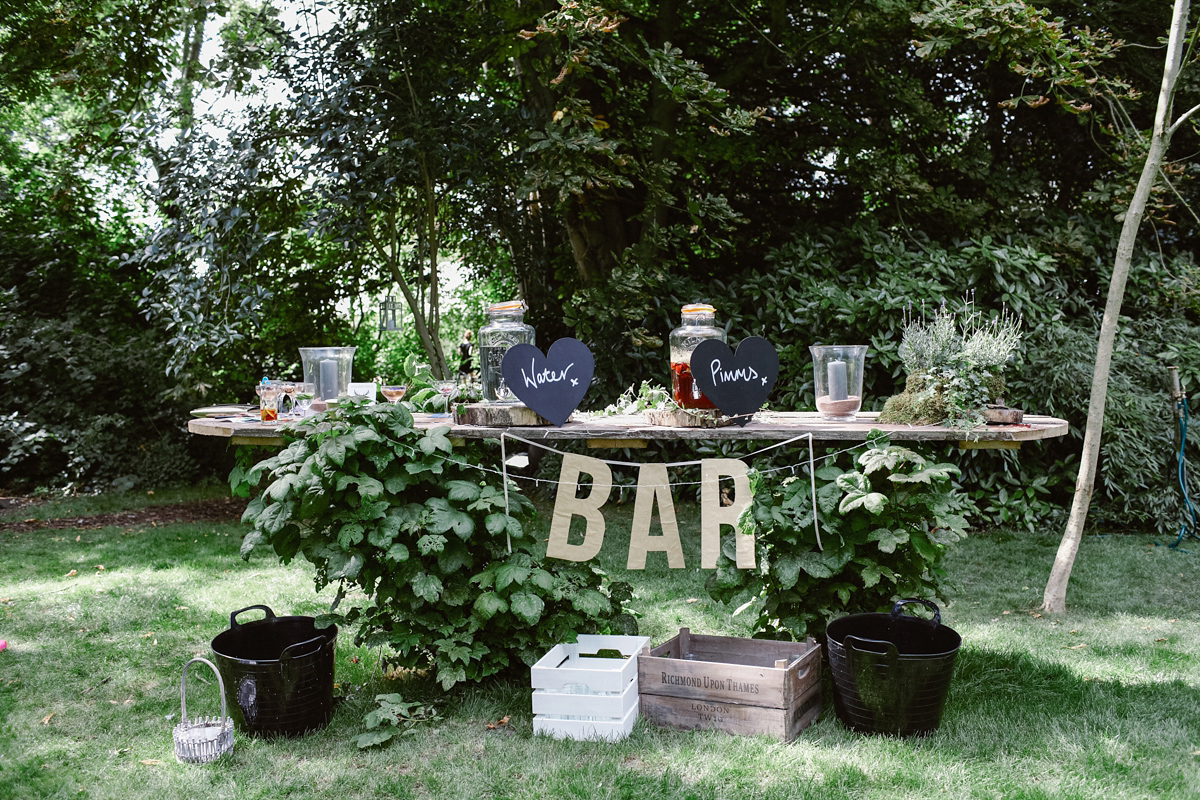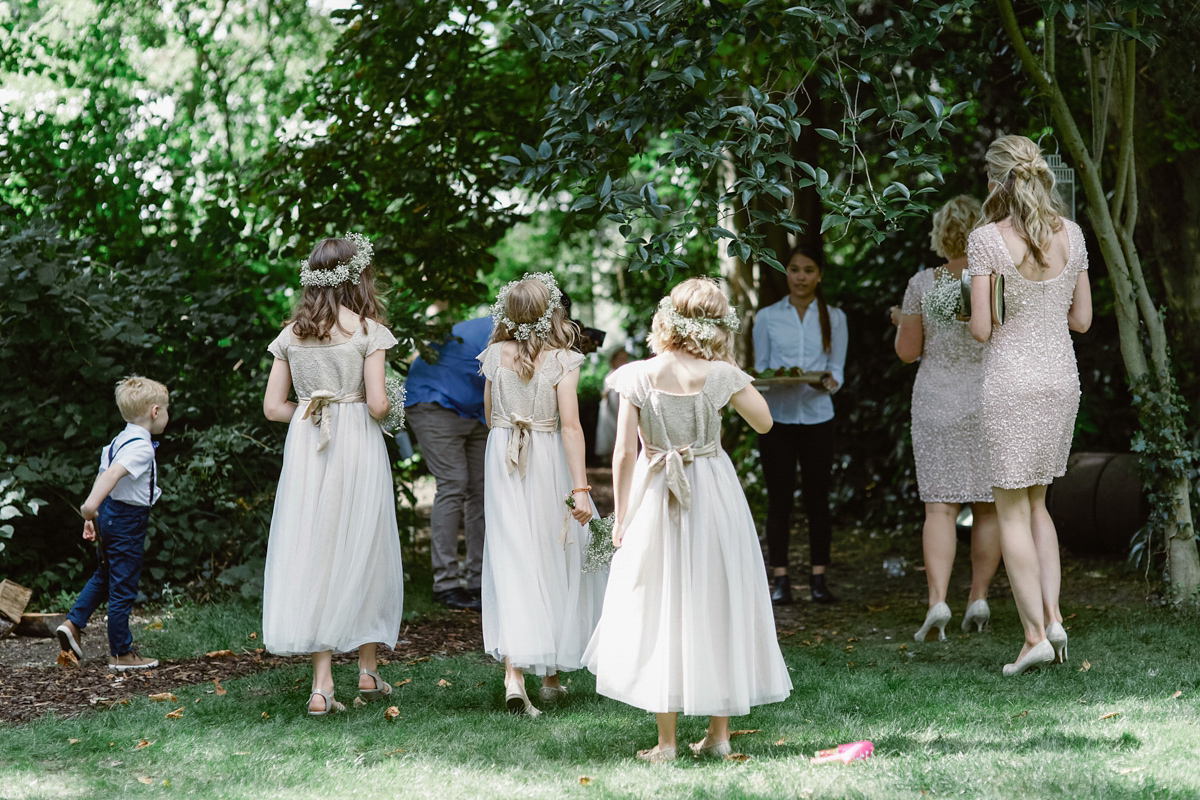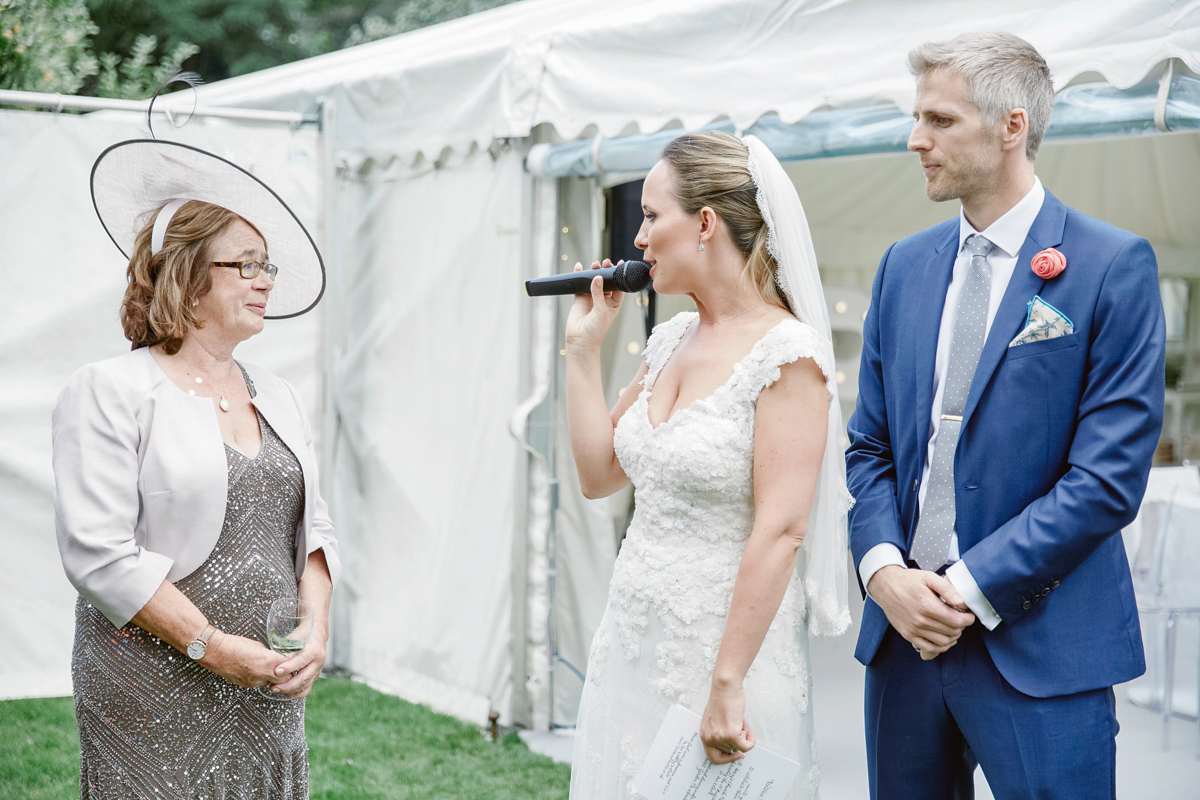 The fabulous-looking catering was the work of Jimmy's pop-up.  The brief was 'sparkles and edible flowers' and edible glitter was used to decorate plates.  For the main course the couple chose lobster and chips, served in copies of the Financial Times (as Victoria works in finance).
"The Secret River Garden is located not far from where we live.  Victoria also grew up in the area, so it had personal significance and it also provided a unique space which was a blank canvas for us to plan every aspect of the day."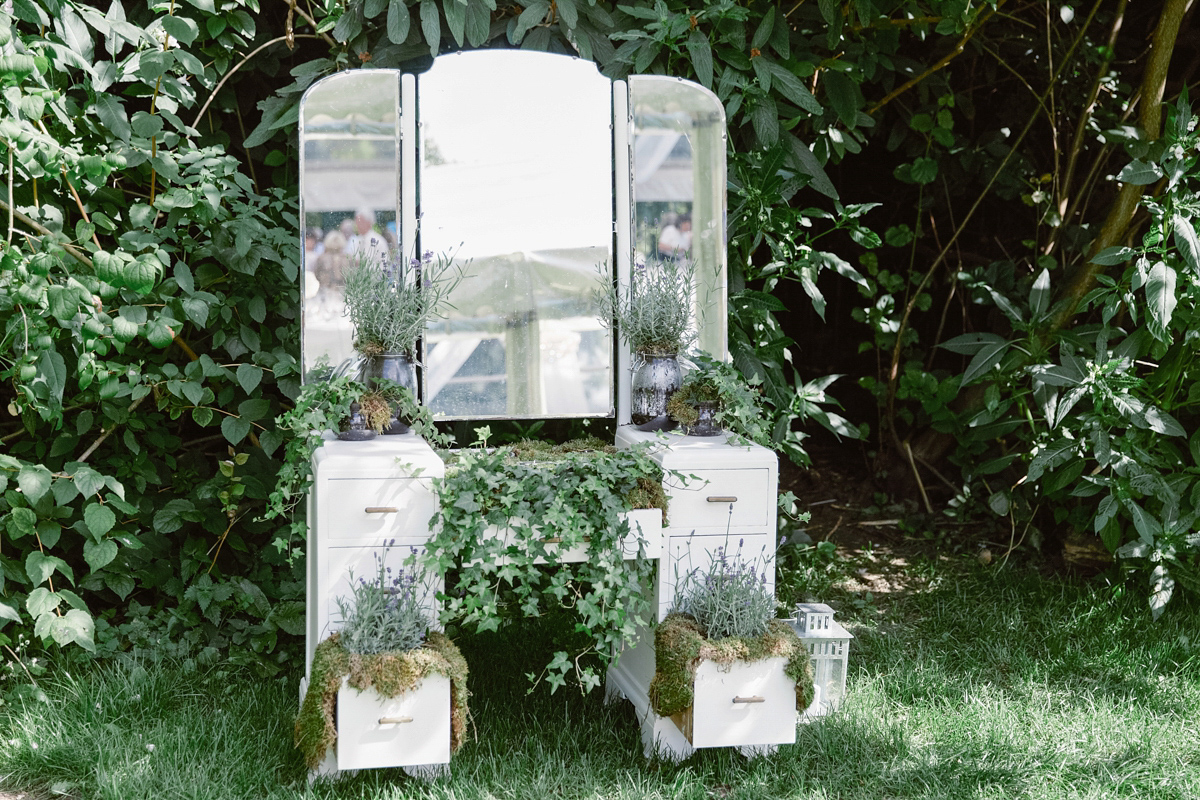 To decorate the venue Victoria and Rhys sourced sequin table covers, candelabras (found on eBay and spray painted) lots of mirrors, and a fantastic dressing table from eBay which was then painted and planted with lavender by Victoria herself.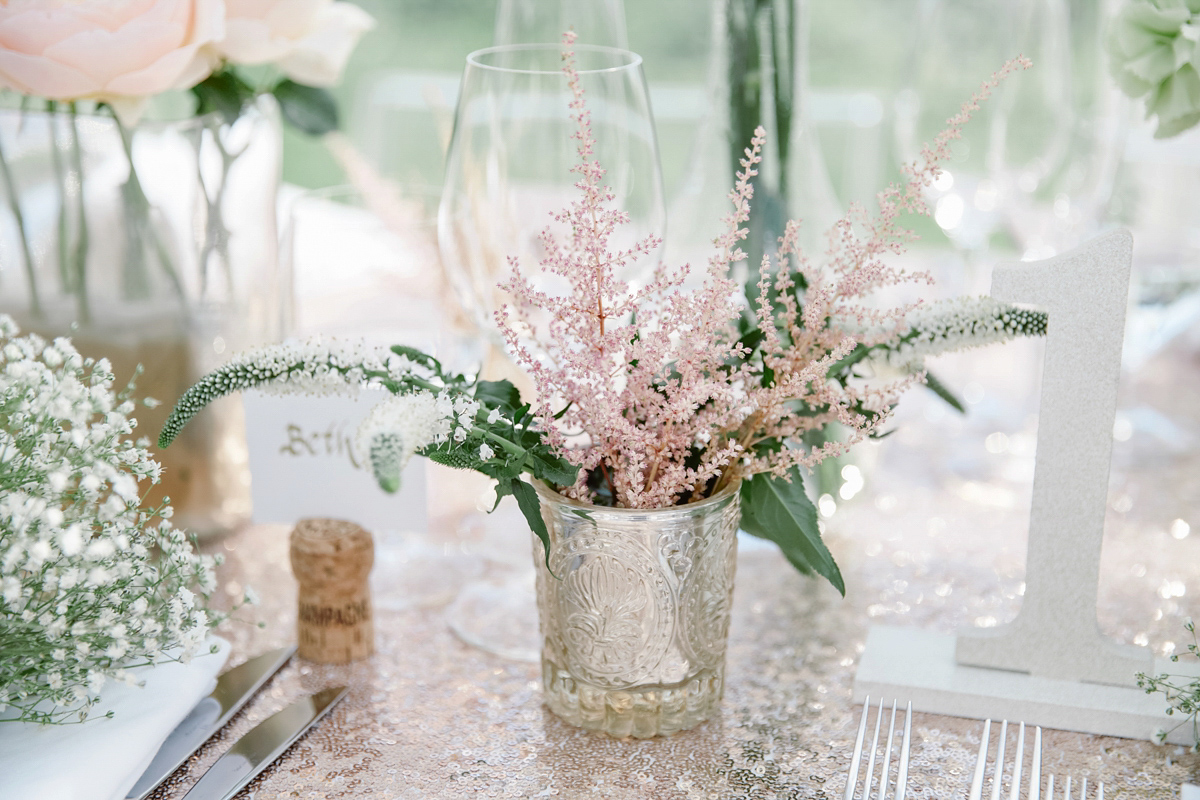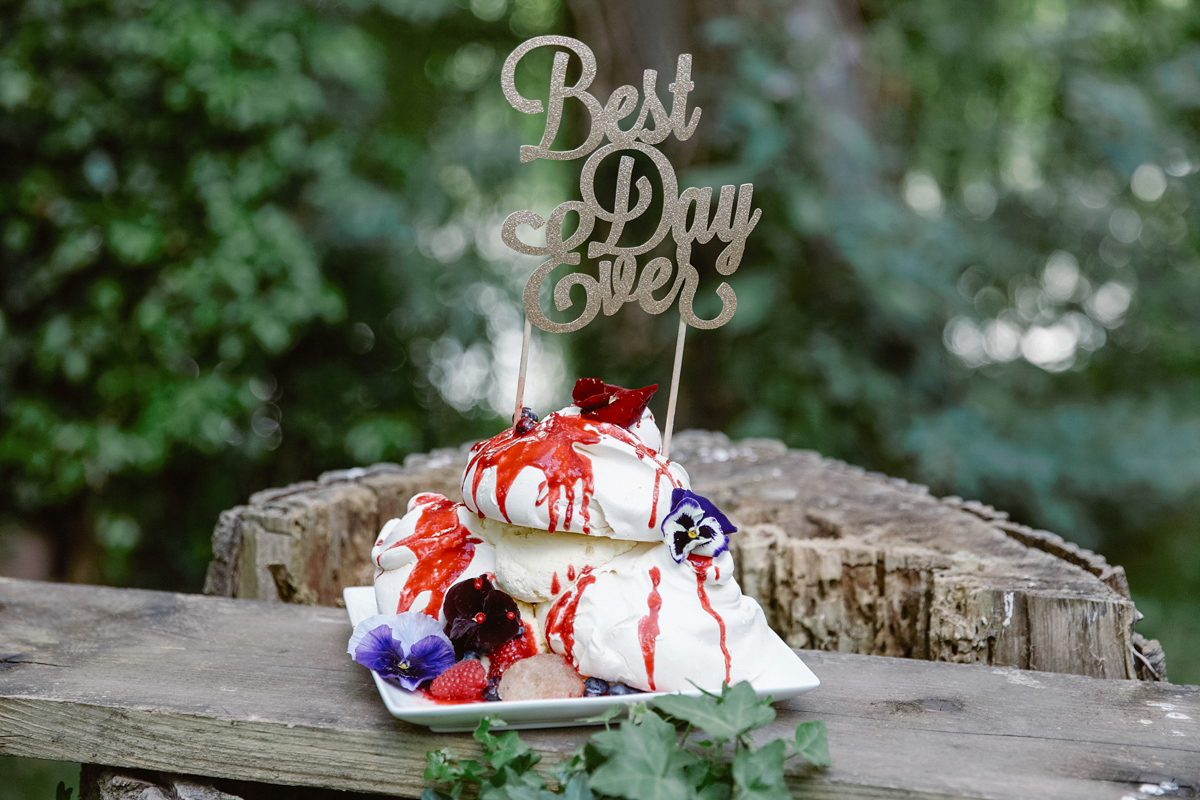 "It's difficult to pick out one favourite moment, but if forced to, it was sitting outside in the venue after everyone else had left, looking up at the stars and simply absorbing the day. It flies by so quickly, that we remember the moments where we consciously stepped back."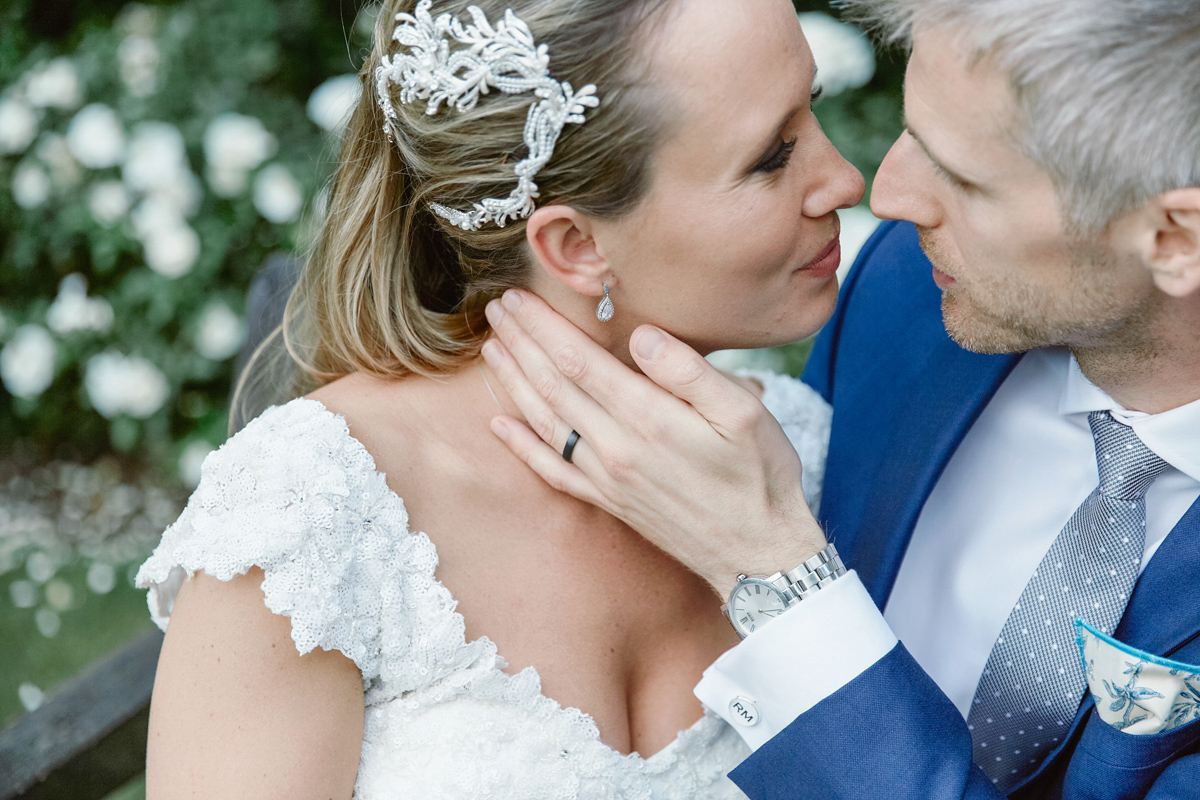 Words of Wedded Wisdom
"Every one of our married friends either recommended getting a videographer or expressed their regret in not getting one.  We were close to cutting it from the budget to avoid going over but the day whizzes by so fast, and whilst wedding photos capture moments we've found ourselves watching the video of the day as often as we flick through our photos."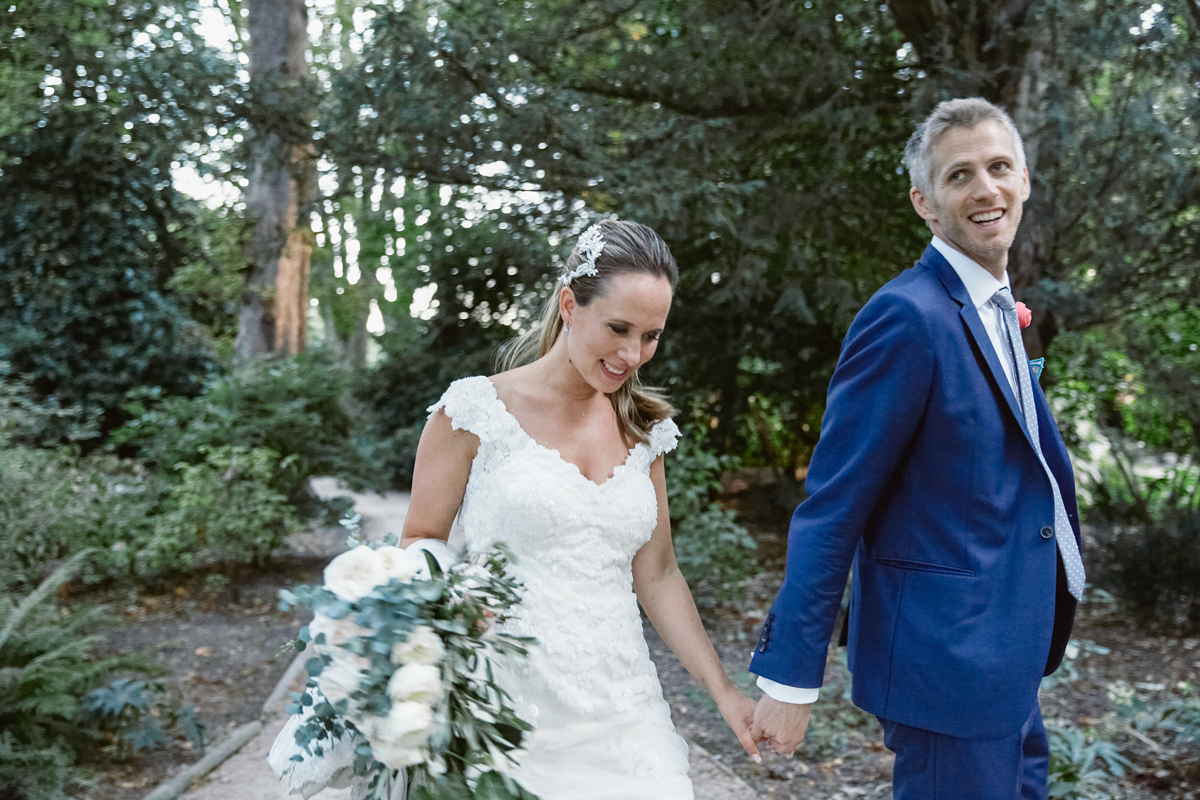 Huge thanks to Victoria and Rhys.  Does a garden wedding fill you with delight?  Take a peek here for many many more (get a glass of something- perhaps elderflower fizz seems appropriate?) and enjoy.
Love,
Shona x