Morning everyone – we send our love today out to all who may have been impacted by the dreadful and tragic events at the Grenfell Tower in London. There is a Just Giving page that has been set up for those outside of London who may wish to donate financially to help the victims and their families who have lost everything – their homes and treasured possessions, loved ones and family members. Our heart truly goes out to everyone impacted by this devastating incident.
The bride in this mornings sweet, Welsh wedding is Steph – a recruitment consultant, who tied the knot with hydrologist Tom at Nant Gwrtheyrn in North Wales on 11th of June last year. The couple hired photographer Andrew Keher to capture the spectacular raw beauty of the North Wales coast which played backdrop to their day. I hope you enjoy.
"We wanted our day to be a 'very Welsh wedding', as we are both proud of where we are from. The scenery and history (and singing!) is very impressive here in Wales and we wanted our friends and family to see how beautiful it is."
Photography by Andrew Keher Photography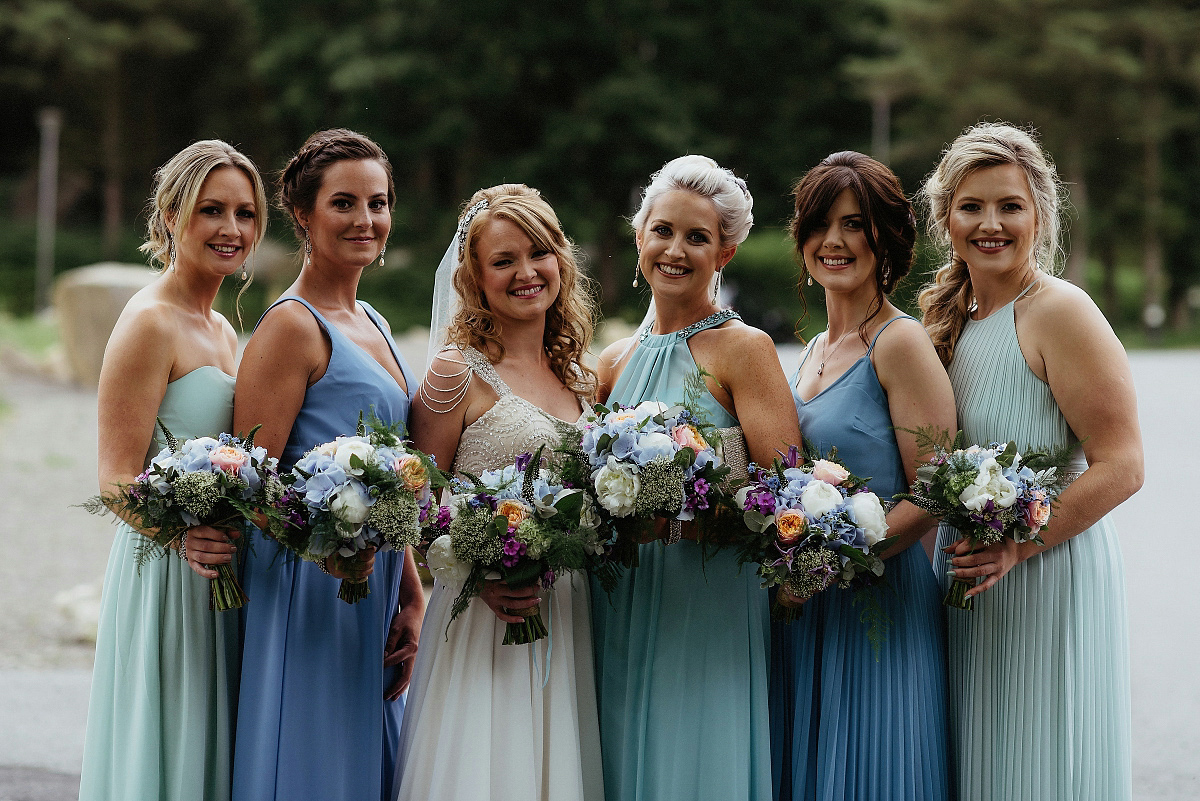 Steph wanted her bridesmaids to feel comfortable so chose different dresses for each of the ladies from ASOS, Jarlo and Debenhams. They also chose different hairstyles but she did buy them the same bracelet and earrings from Accessorize to wear on the day.
Steph wore a beautiful Willowby by Watters skirt with a bespoke top beaded with pearls and sequins. She added a gorgeous pair of stone embellished sandals from No.1 Jenny Packham.
"It took me a long time to choose my dress. I wanted quite a floaty boho dress with a touch of sparkle but it took me a long time to find what I wanted. The skirt was just so pretty, floaty but still quite full at the same time. My top had quite a vintage feel, with its champagne colour and draping pearls to the sleeves. My bridesmaid Katie made my veil for me."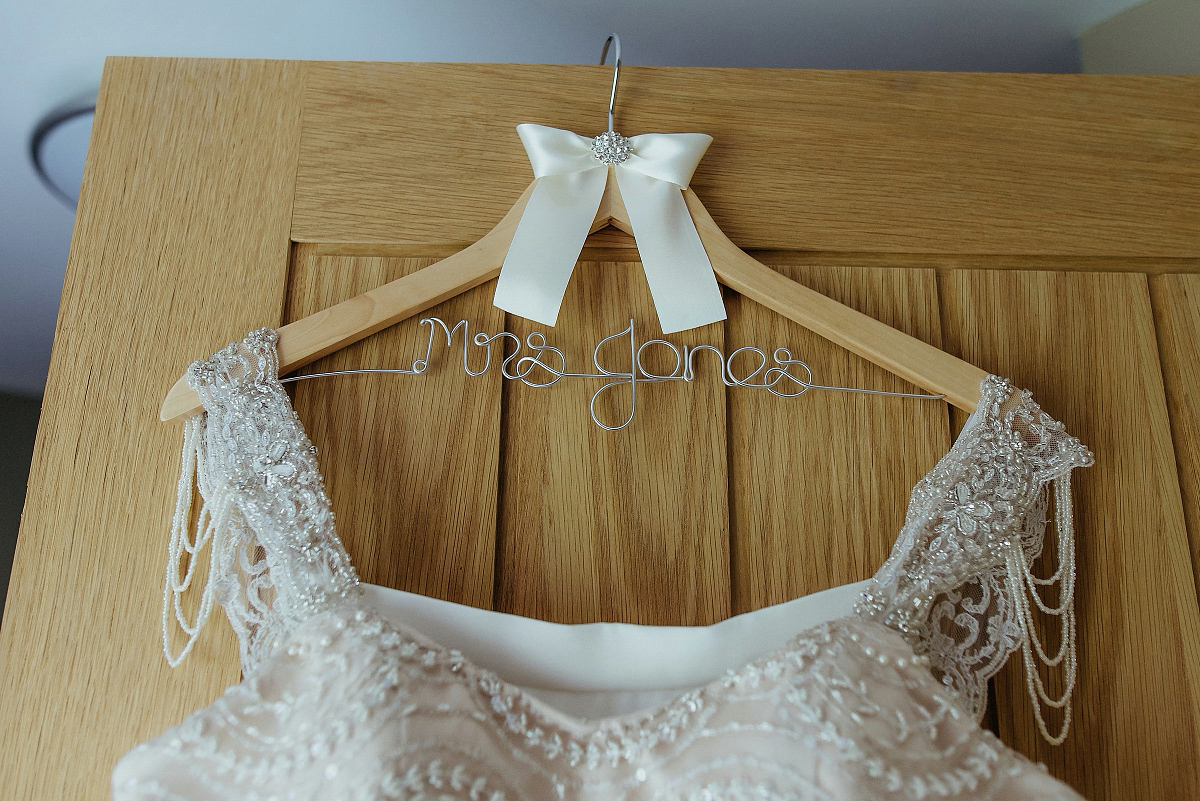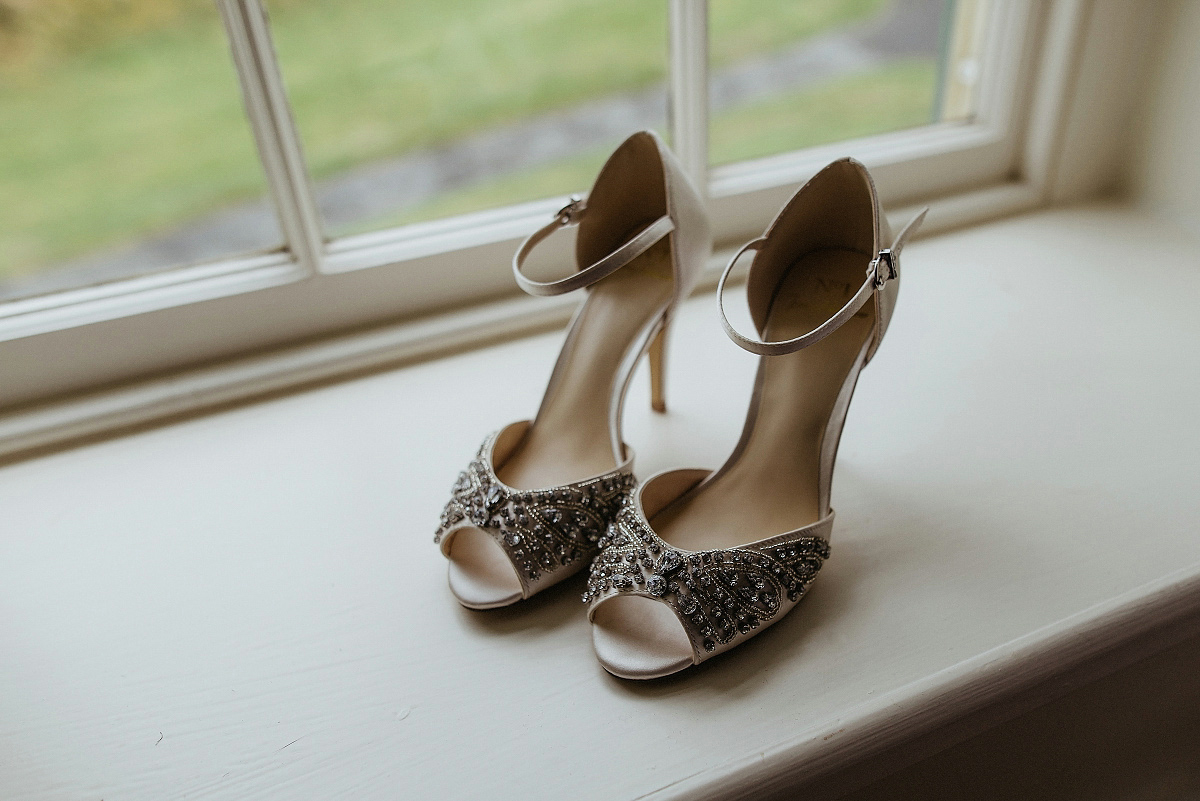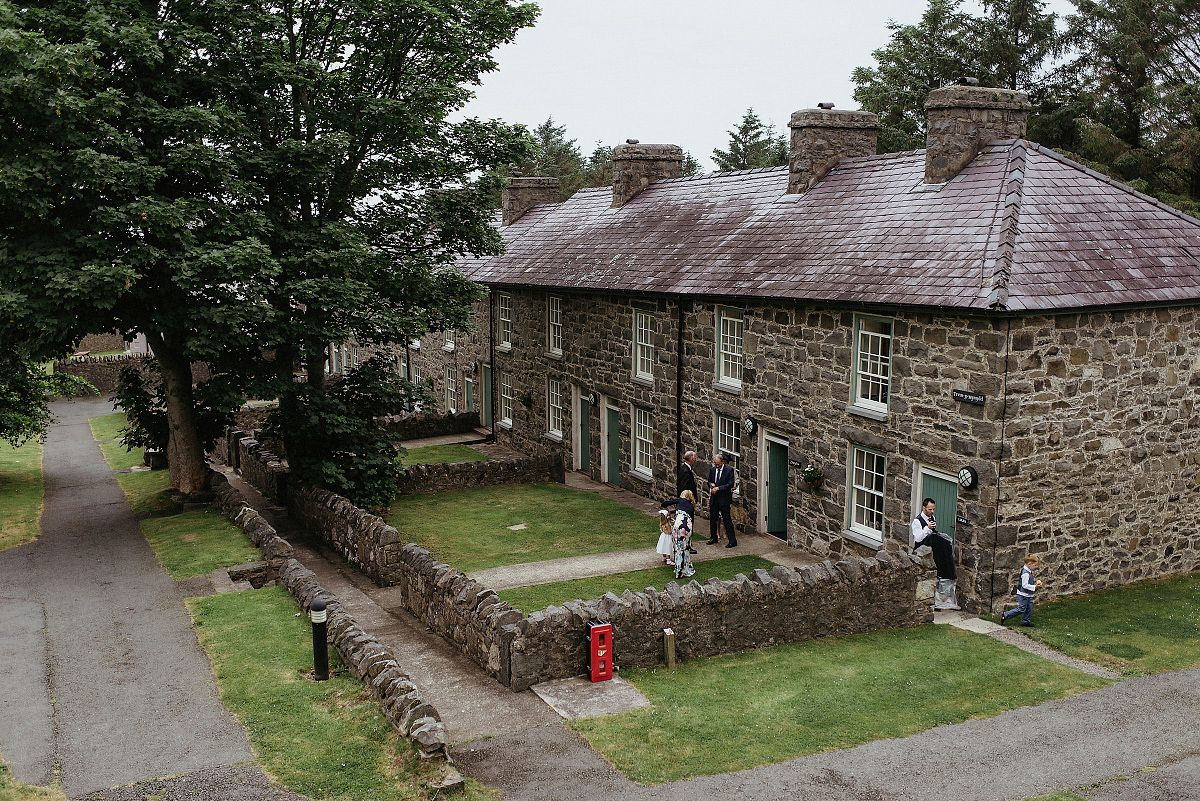 Steph wanted the flowers to have a summery feel, highlighting the colours of the sea near Nant Gwrtheyrn.
"Acacia did our flowers. I was quite indecisive with the flowers but Carol really helped, letting me try lots of combinations. She added a pink and orange rose which gave the bouquets and table flowers a real pop and I loved the final result."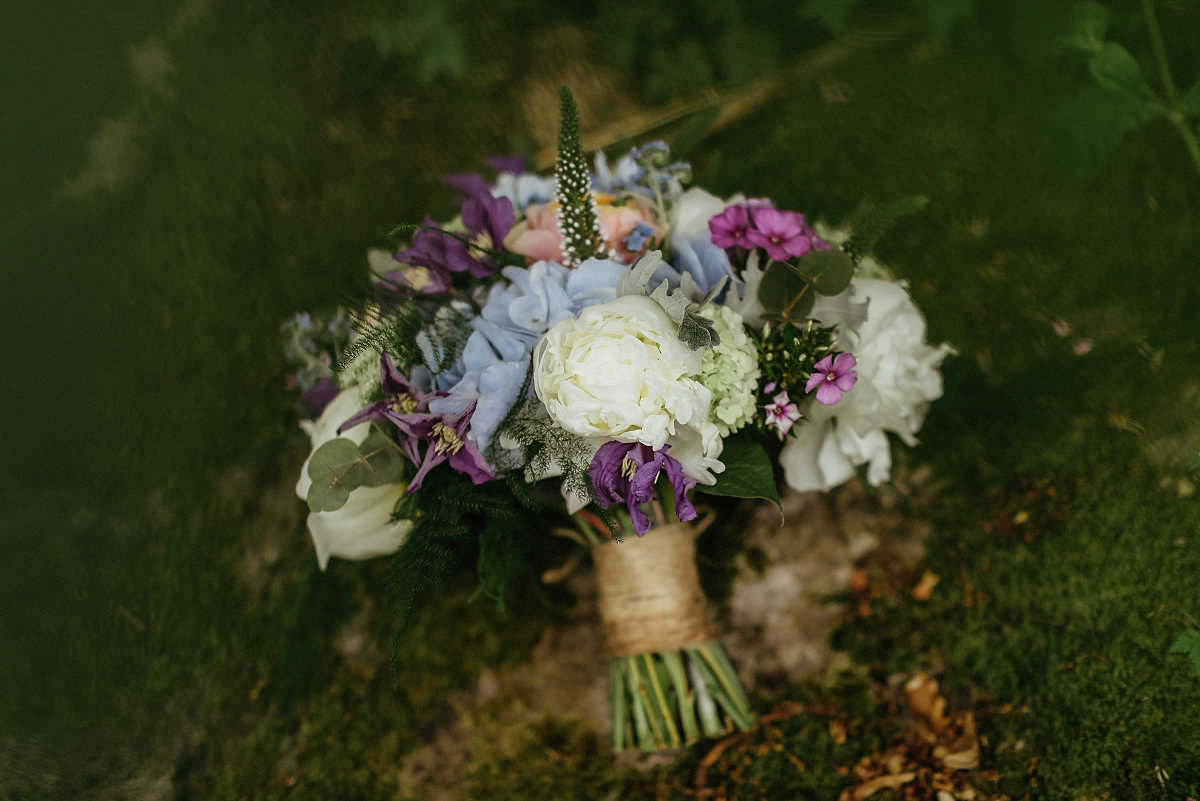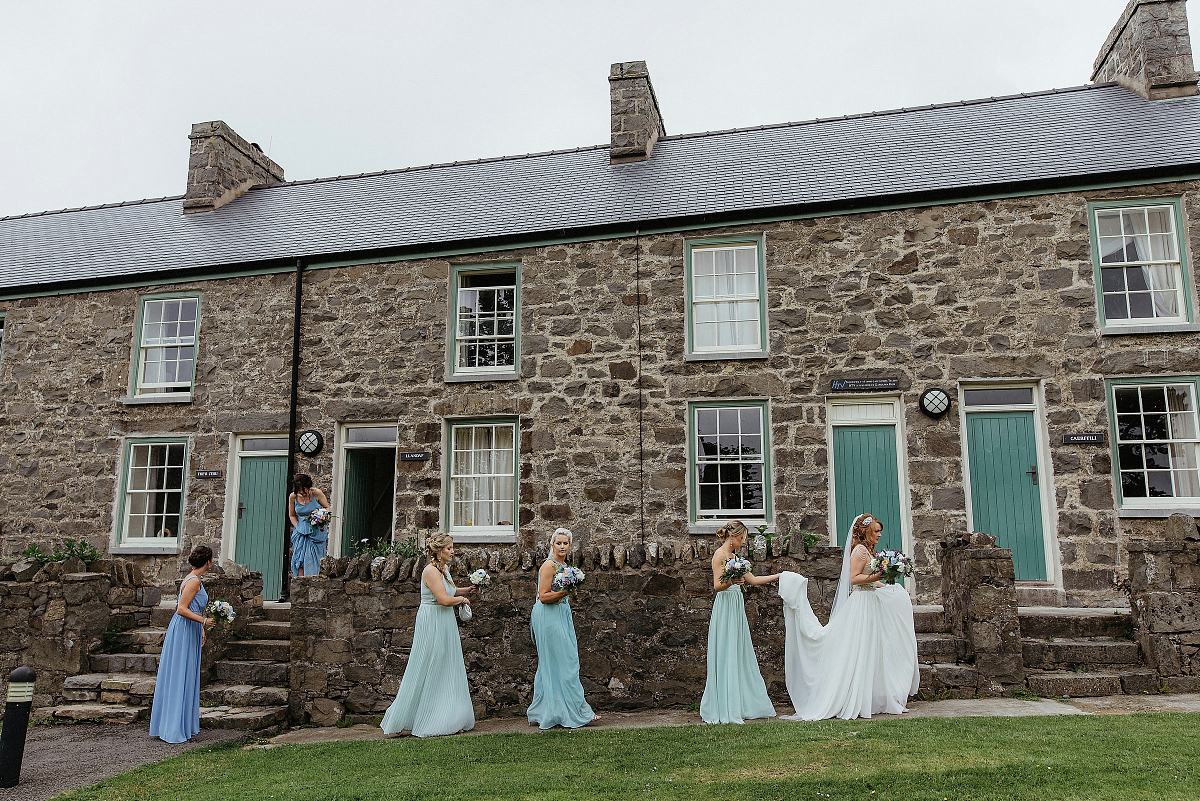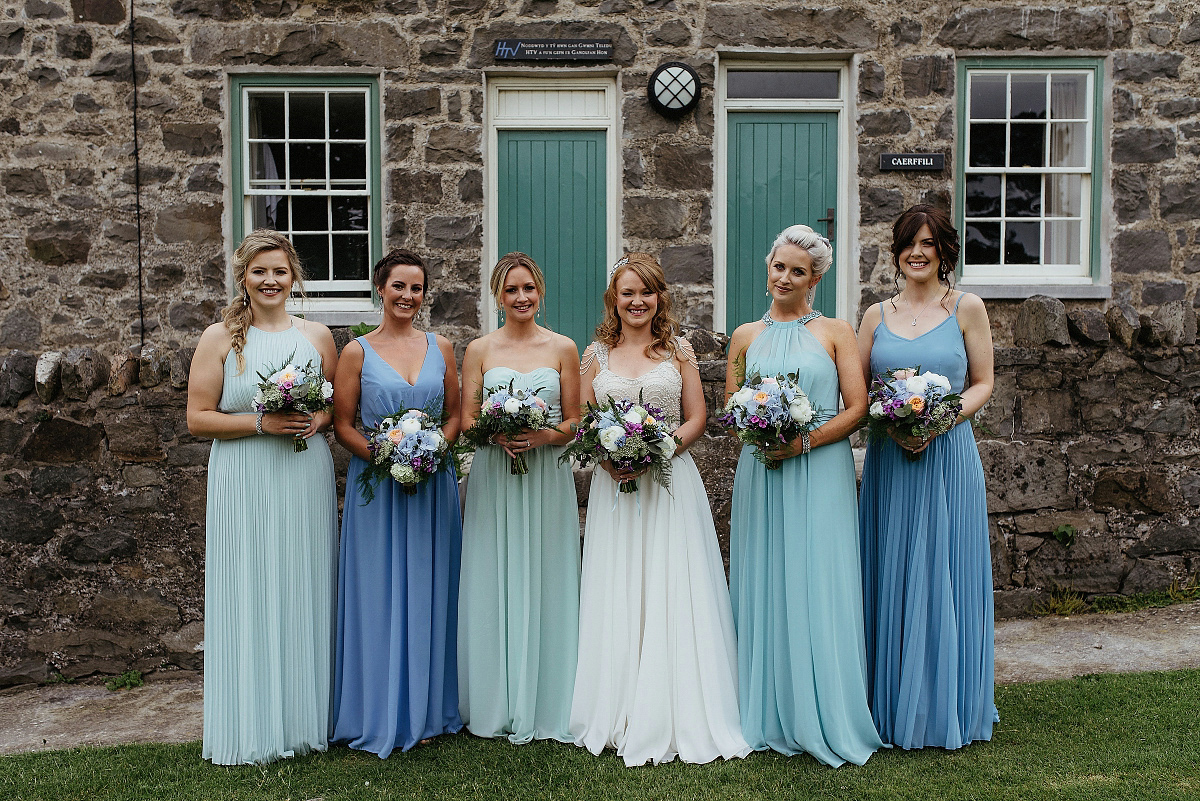 "I love vintage cars and my uncle started doing up an old Morris Minor a year or so before the wedding. It became his mission to finish it before the wedding day, and be the chauffeur!"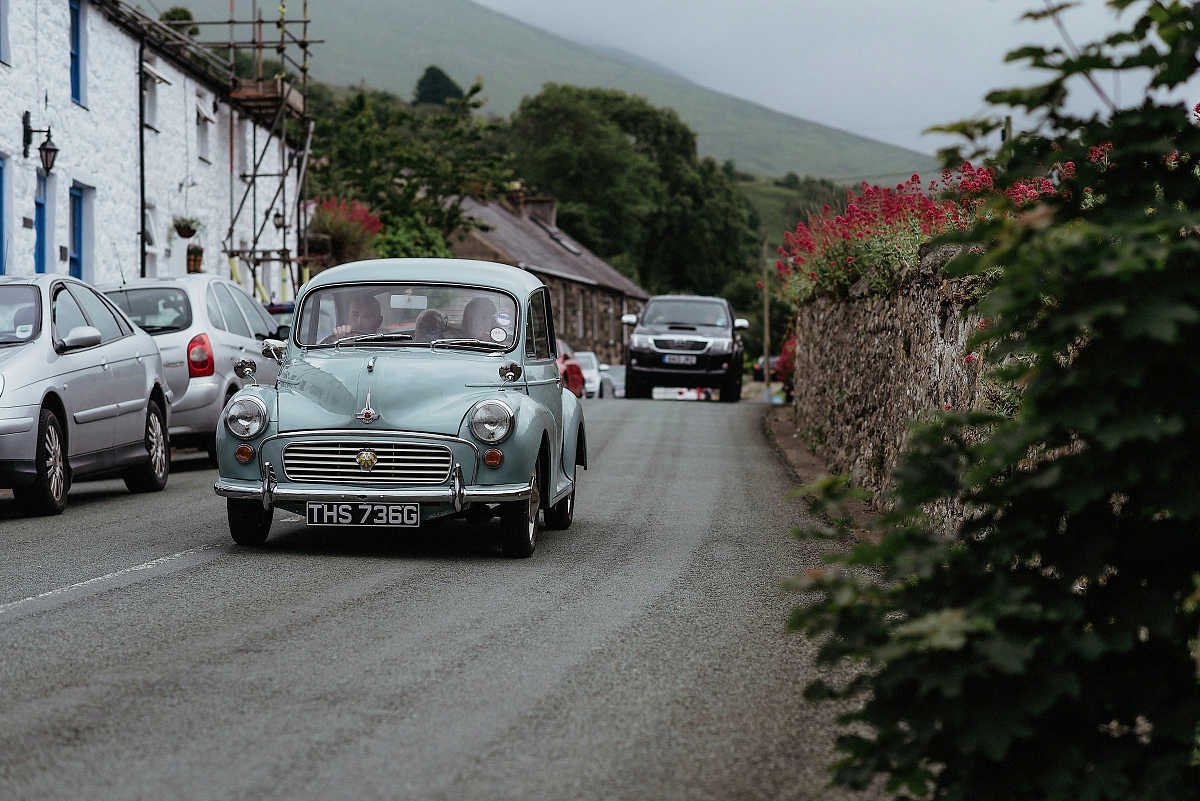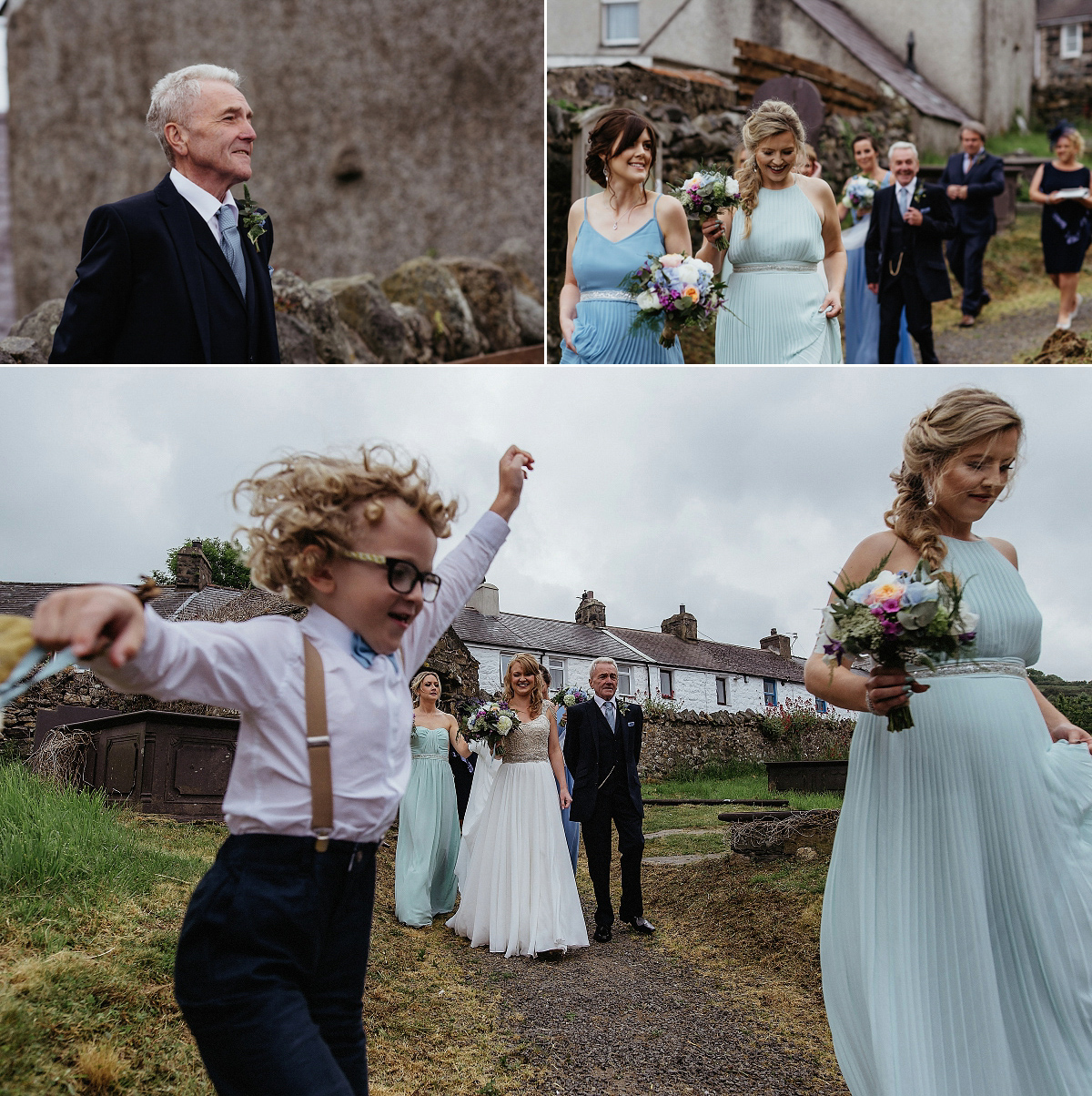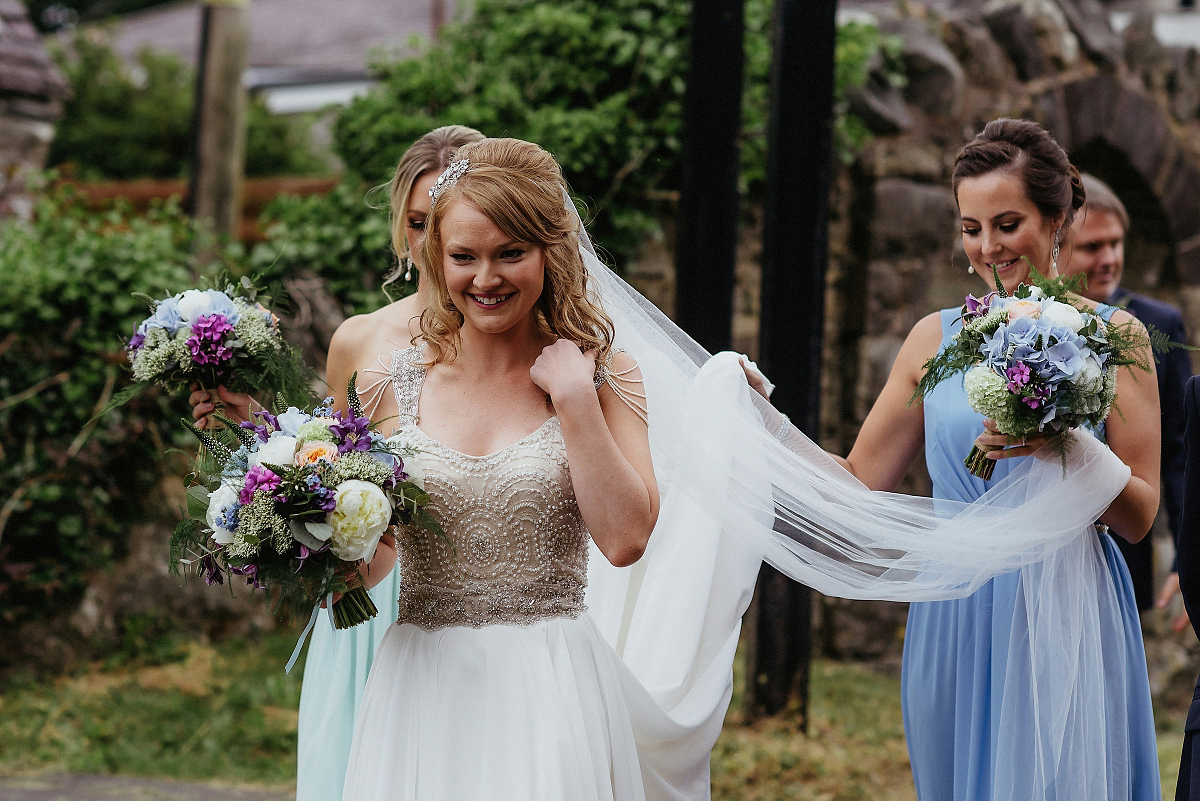 "We met at the start of secondary school and became part of the same group of school friends but didn't actually get together until we were 24. We got engaged in New York. Tom knew how much I loved Central Park and was trying to find somewhere quiet to pop the question but there were people everywhere."
"I had an inkling he was going to propose and when he looked so disheartened at it being so busy, I suggested we hired a boat on the lake. He perked up instantly and said "isn't this romantic?!" and that's when I knew! We were engaged for 21 months before the wedding day. We really wanted to enjoy the engagement period and wedding preparations."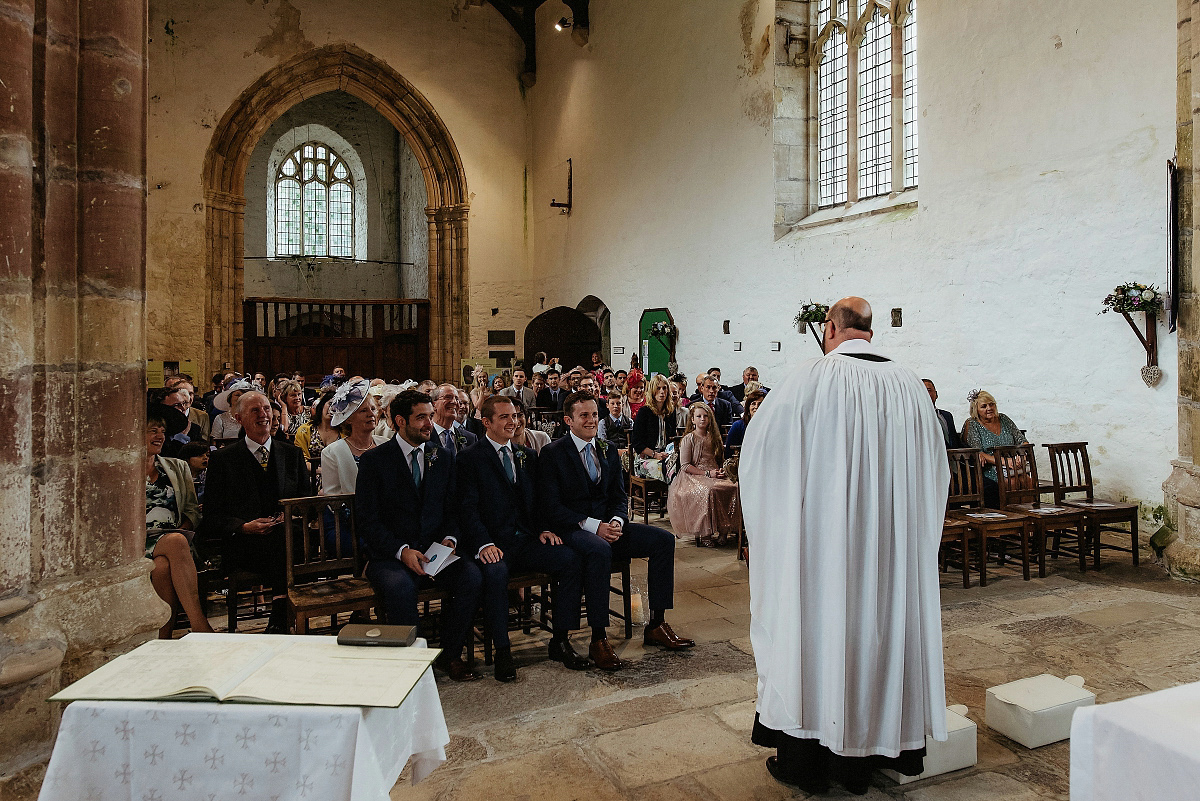 "My bridesmaid and oldest friend Catherine designed our wedding stationery and has now set up a business called Lovely Lovell's Wedding Stationery."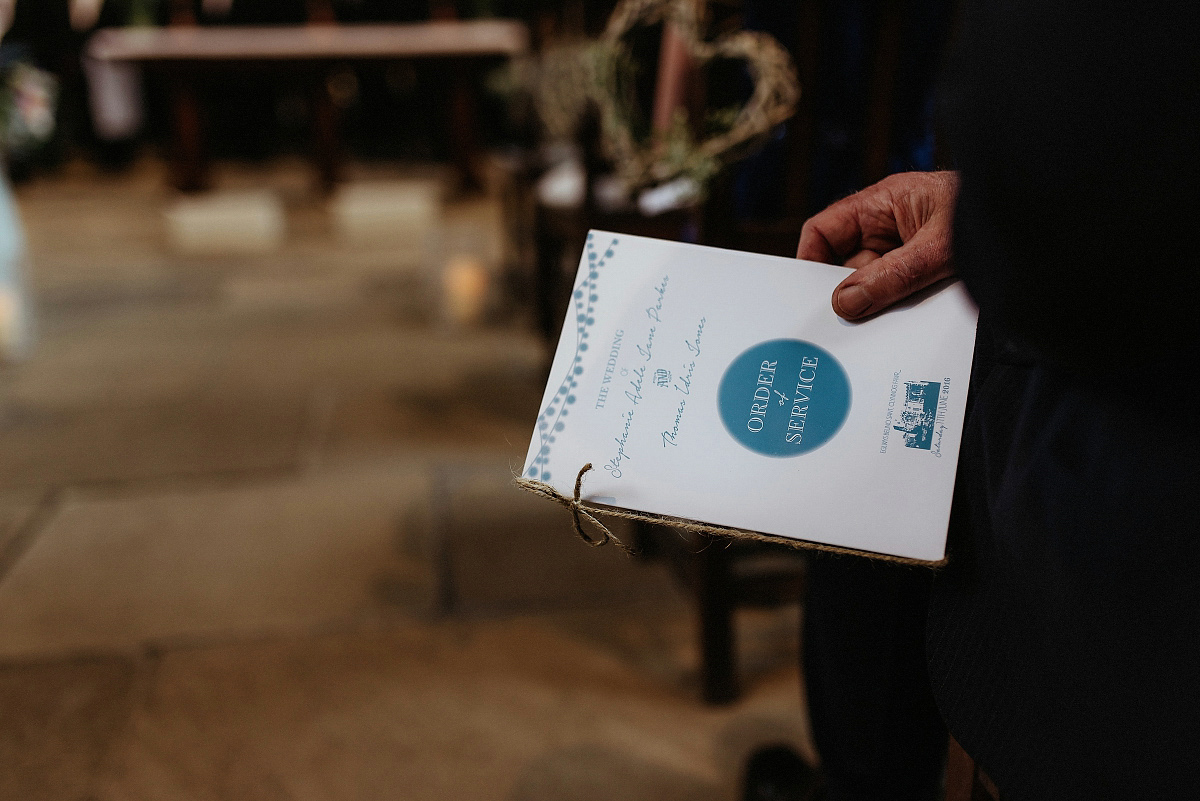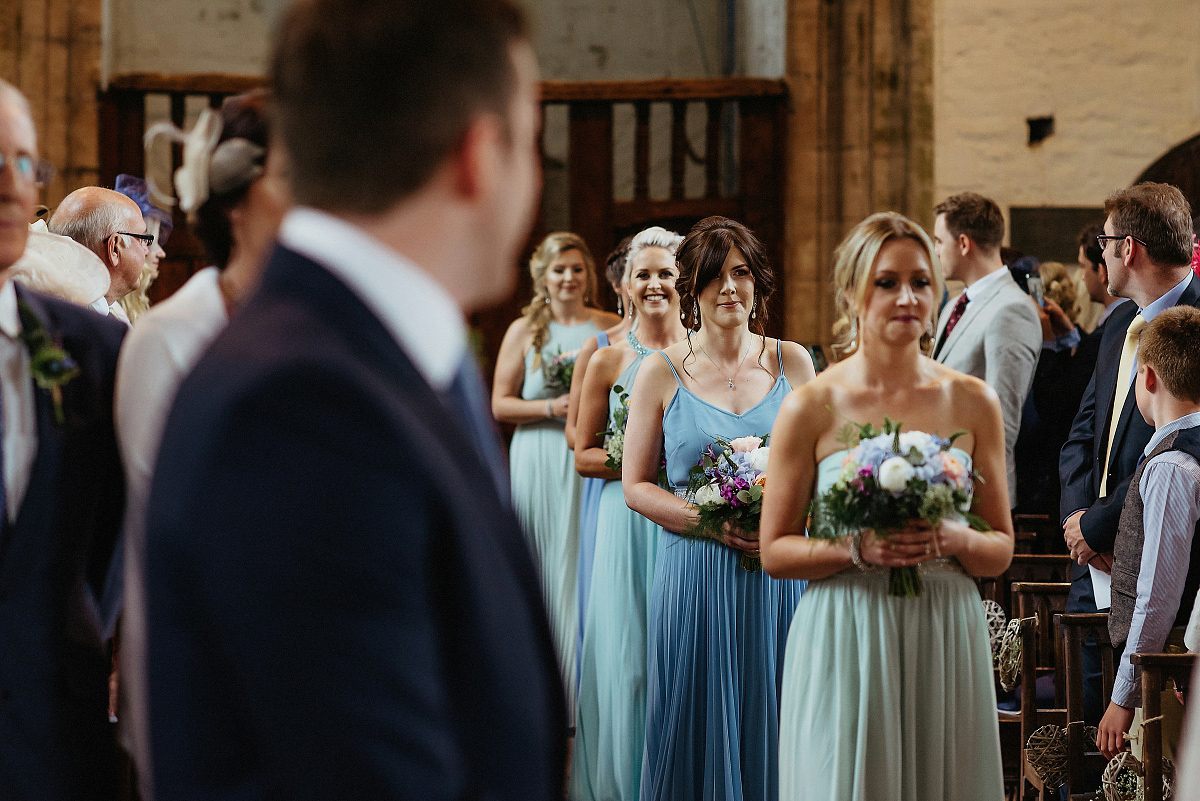 "My dad accompanied me down the aisle to 'Here Comes The Sun' by The Beatles. We both share a love for their music, along with my mum who passed away five years ago. What made it more special was that my 14 year old nephew played it on the guitar, and spent months beforehand learning the song. He did an amazing job. Stood outside the church hearing the song start was one of the most emotional parts of the day for a number of reasons. I was so excited about seeing Tom but the music also reminded me of my childhood and my parents. Plus it was such a huge job for my nephew to take on with 120 people sat in the church listening to him."
"We had two readings. Laura, Tom's sister read Corinthians, the words are so beautiful, and Andy, my brother in law read 'Union' by Robert Fulghum. 'Union' talks about being many things to each other – friend, dancing partner, teacher and lover – it felt true to us."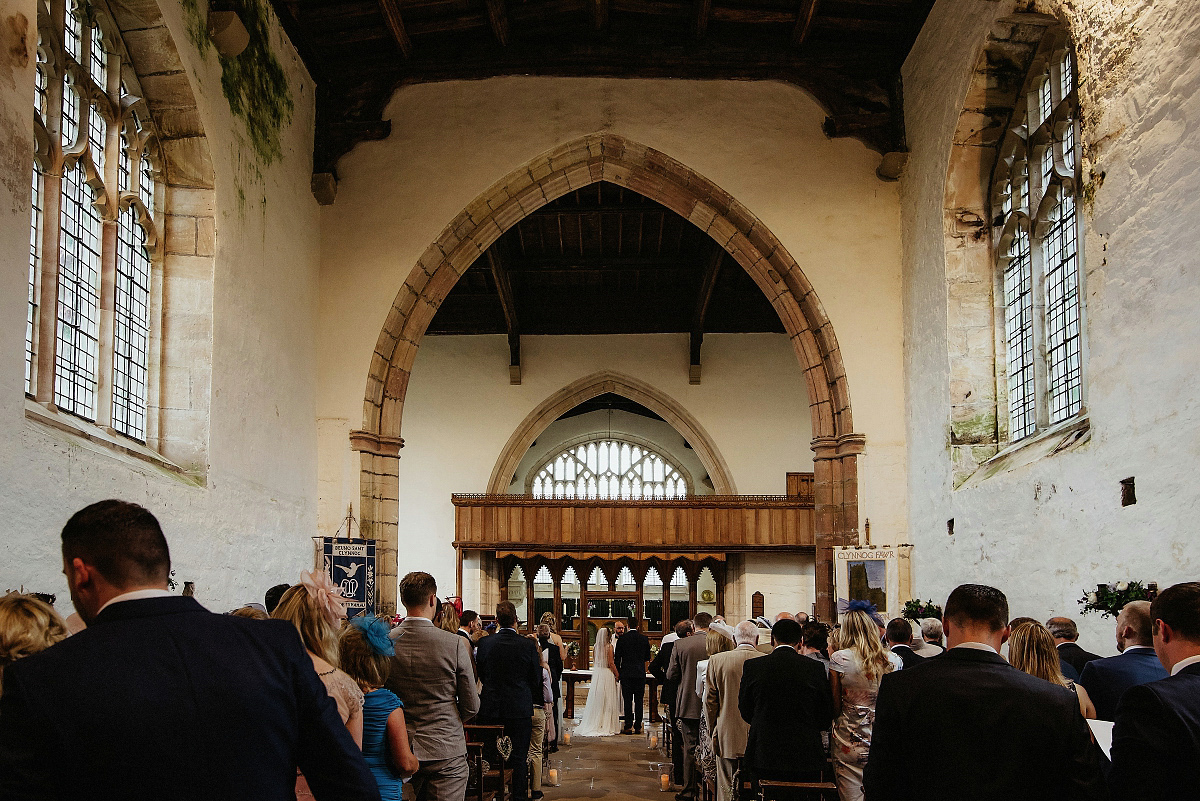 The bride's nephew George took on pageboy duties in navy shorts, a white shirt and cream braces from Next with a pale blue bow tie.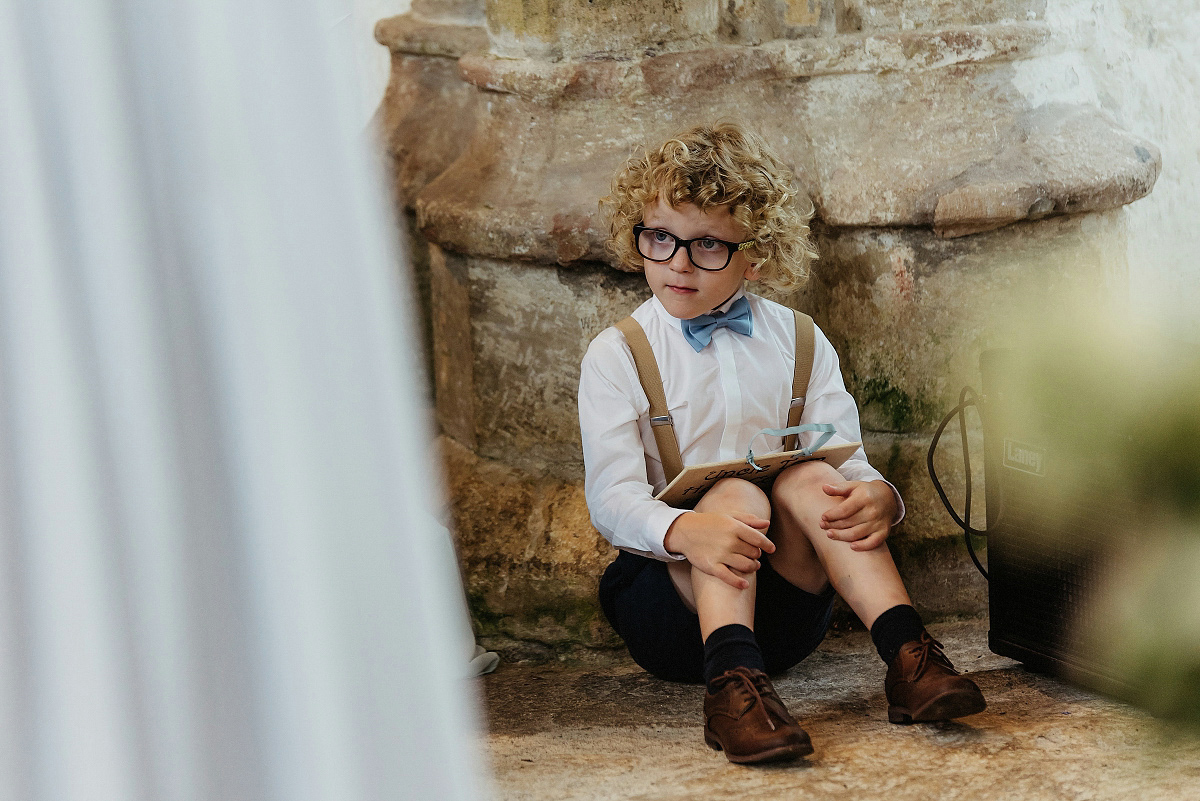 Groom Tom looks very handsome in his navy three piece suit from Moss Bros. He added a pale blue tie and pocket square to match George the page boy, and Charlie, the youngest mini usher's bow ties. The rest of his groomsmen wore green ties and pocket squares as they weren't keen on being too matchy.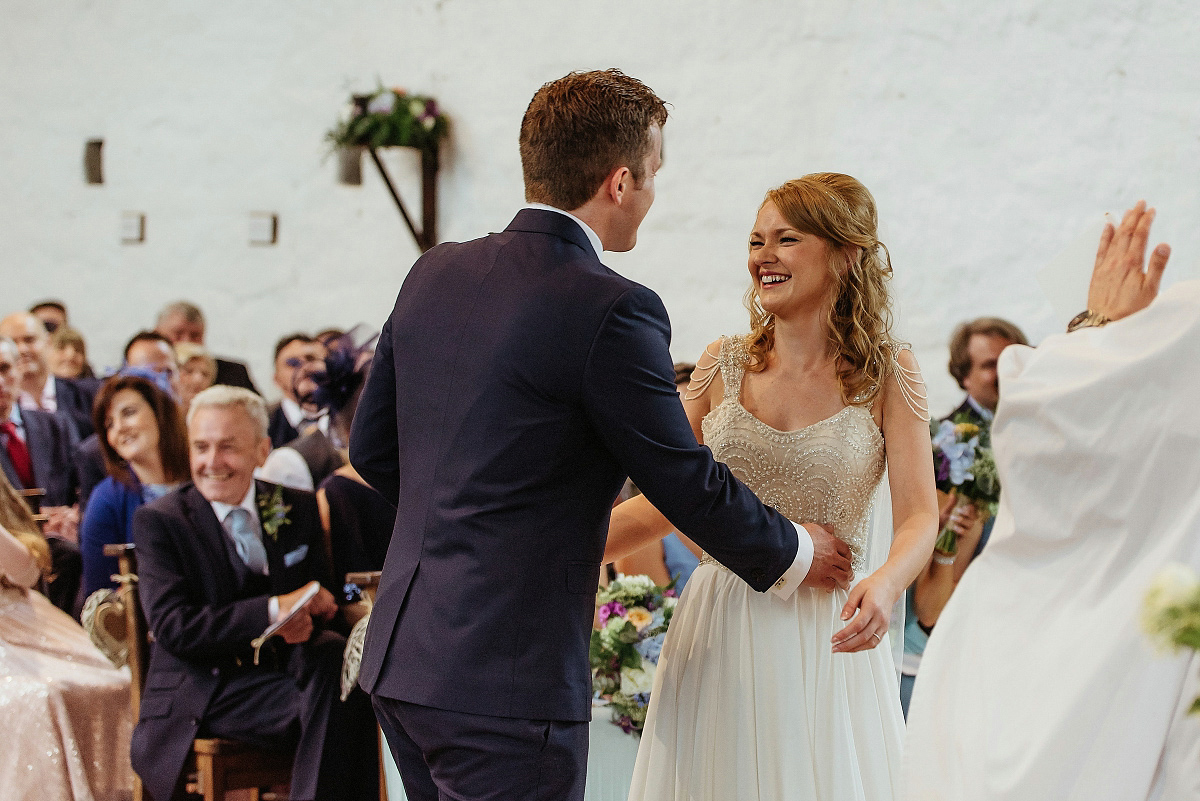 "The church ceremony was my favourite part of the day, from my nephew William playing the guitar to the male voice choir singing during our signing of the register and of course, saying our vows."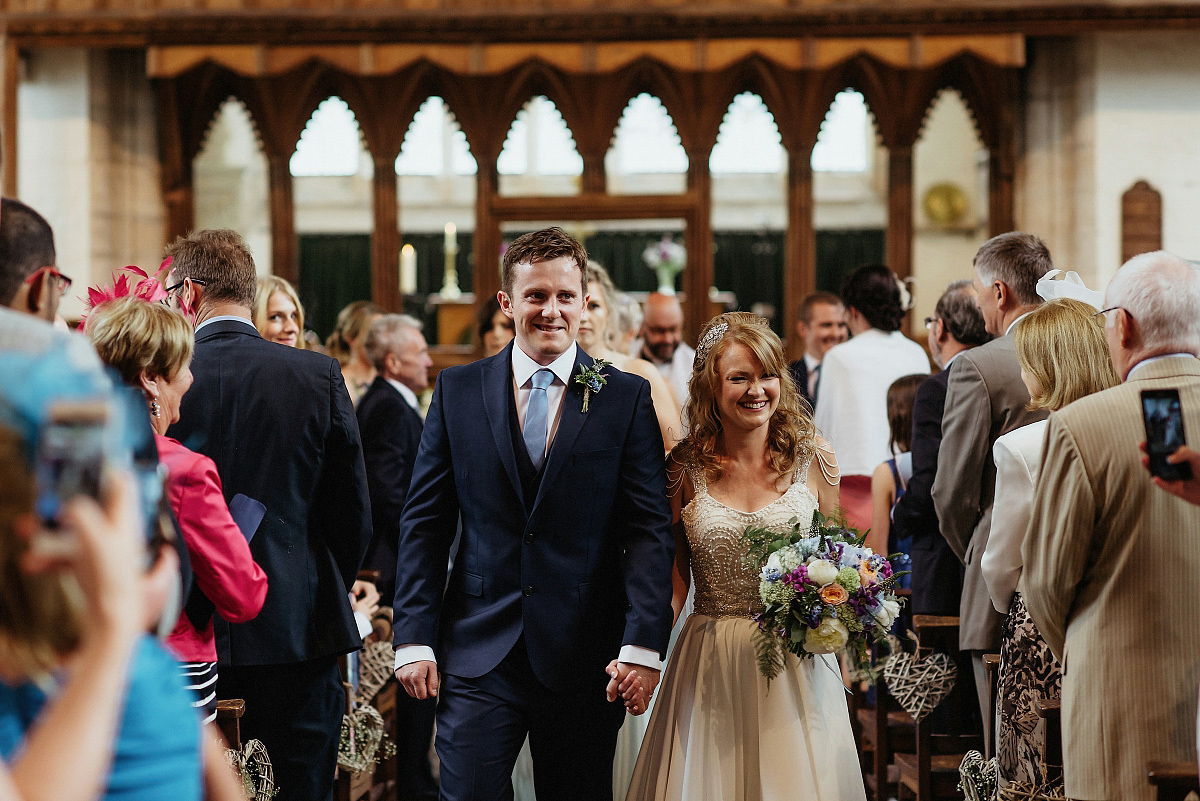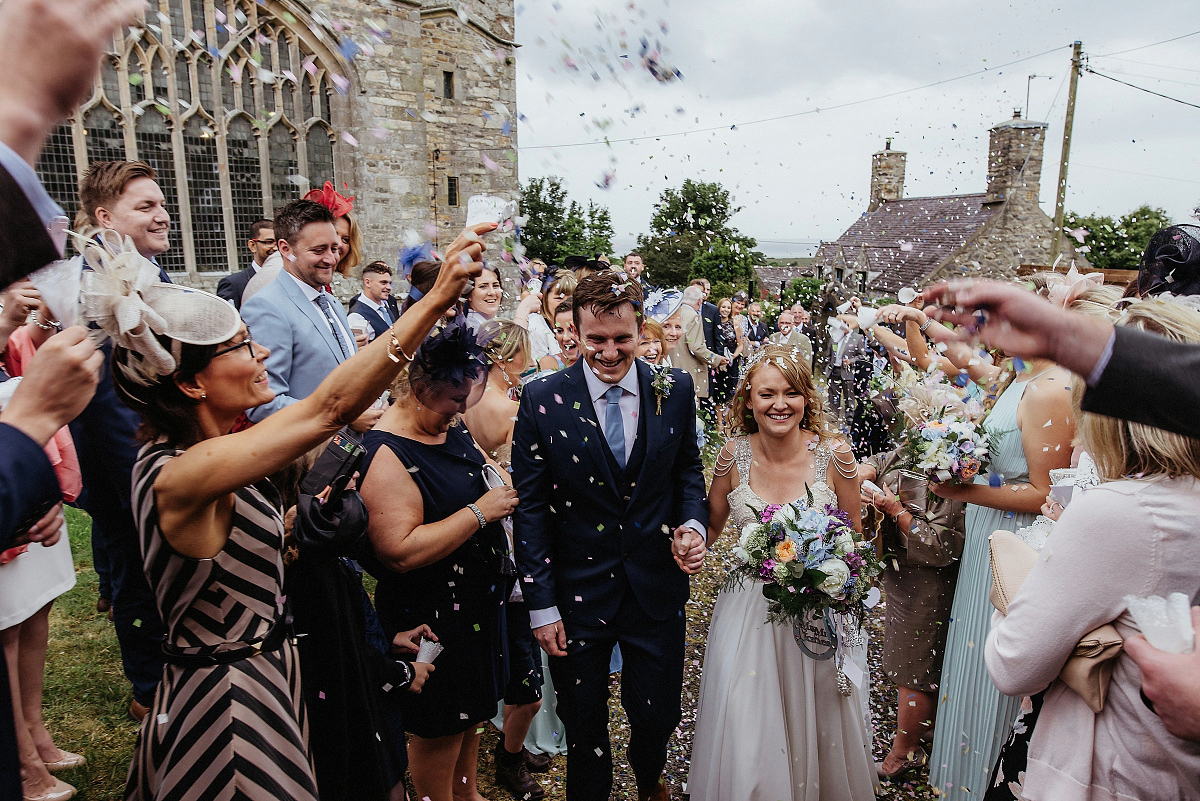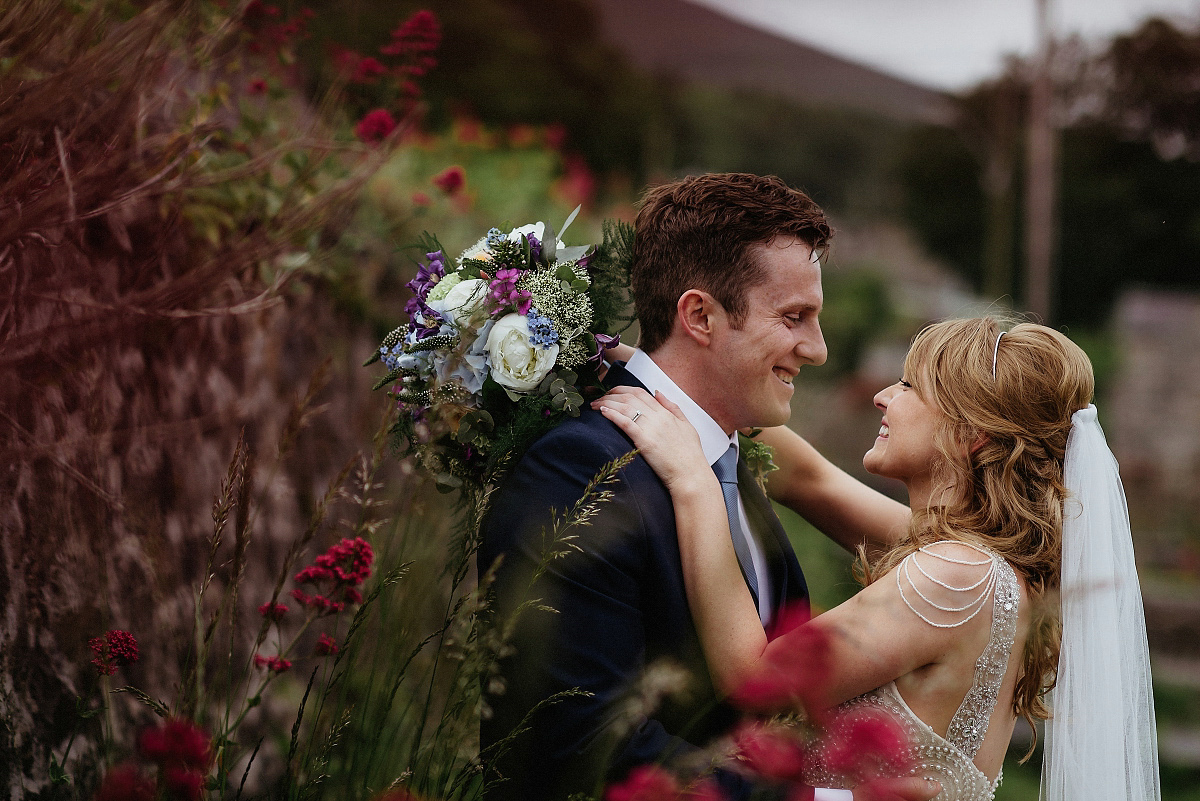 We went to a wedding at Nant Gwrtheyrn a few years ago and thought it was stunning. Tom actually said at the time that this is where he wanted to get married (even though we weren't engaged at the time). We didn't hire an event planner but my sister Charlotte was my unofficial wedding planner."
"We opted for the blues and greens from the natural beauty surrounding the venue in our flowers, bridesmaid dresses and stationery. The view from the venue really inspired us."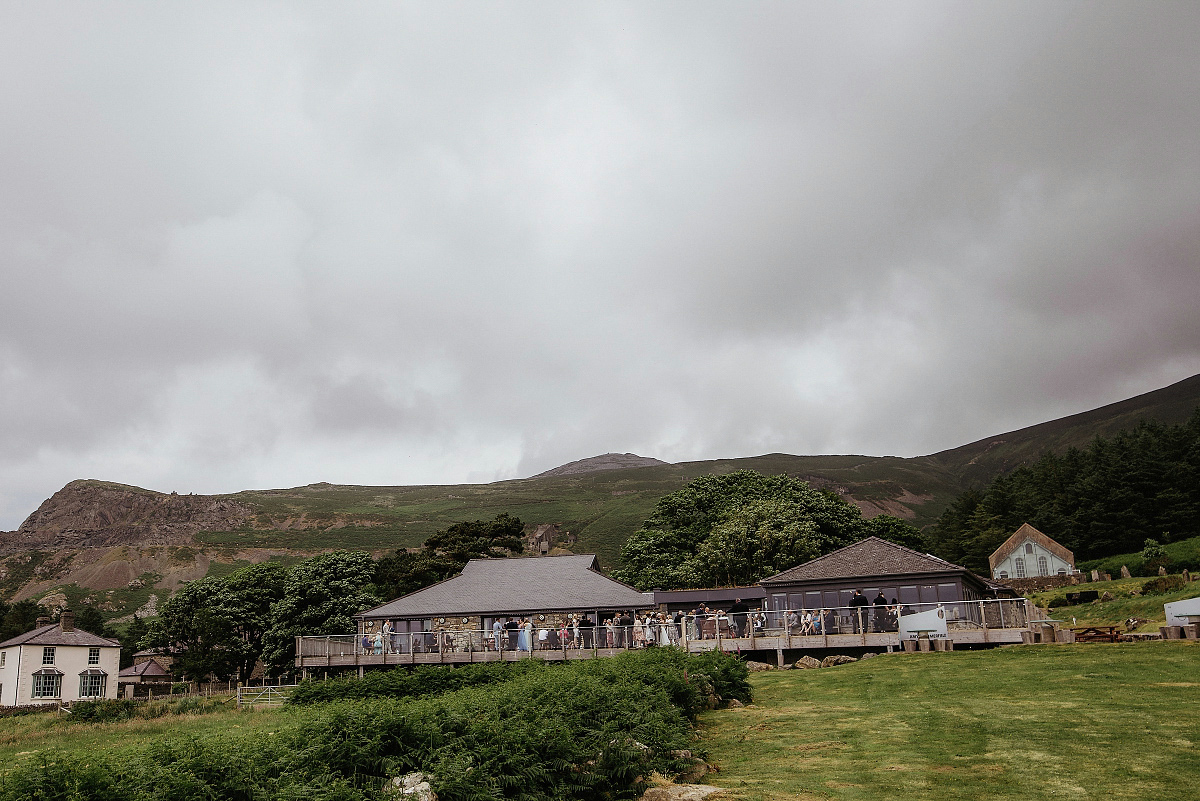 "We decorated the venue with fairy lights, bunting made by my bridesmaid Sarah, a picture board of our story so far and photographs of our parents on their wedding days. We also hired chivari chairs as they looked more summery than the chairs already at the venue."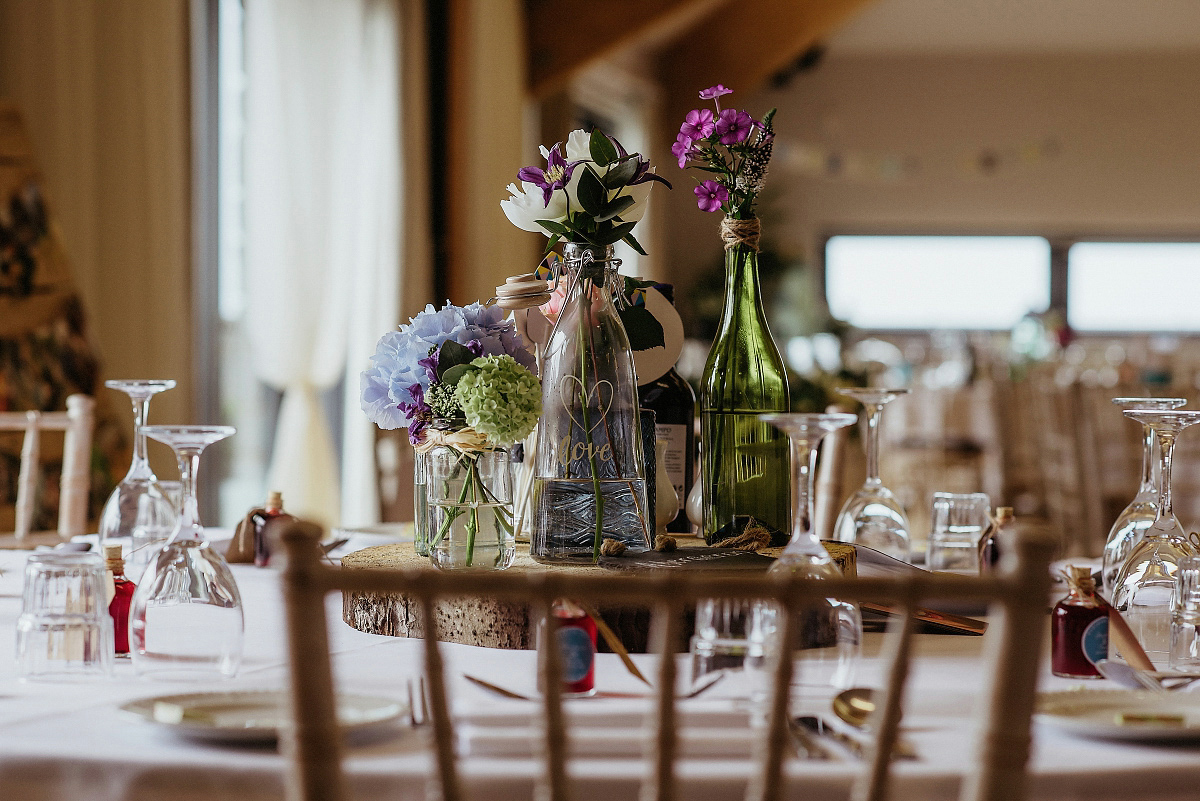 "My mother in law made sloe gin and I made homemade limoncello for our favours. The children got a beach bucket filled with personalised shortbread, disposable cameras with an 'I spy' list, playdough, Kinder eggs, pencils, crayons and activity books."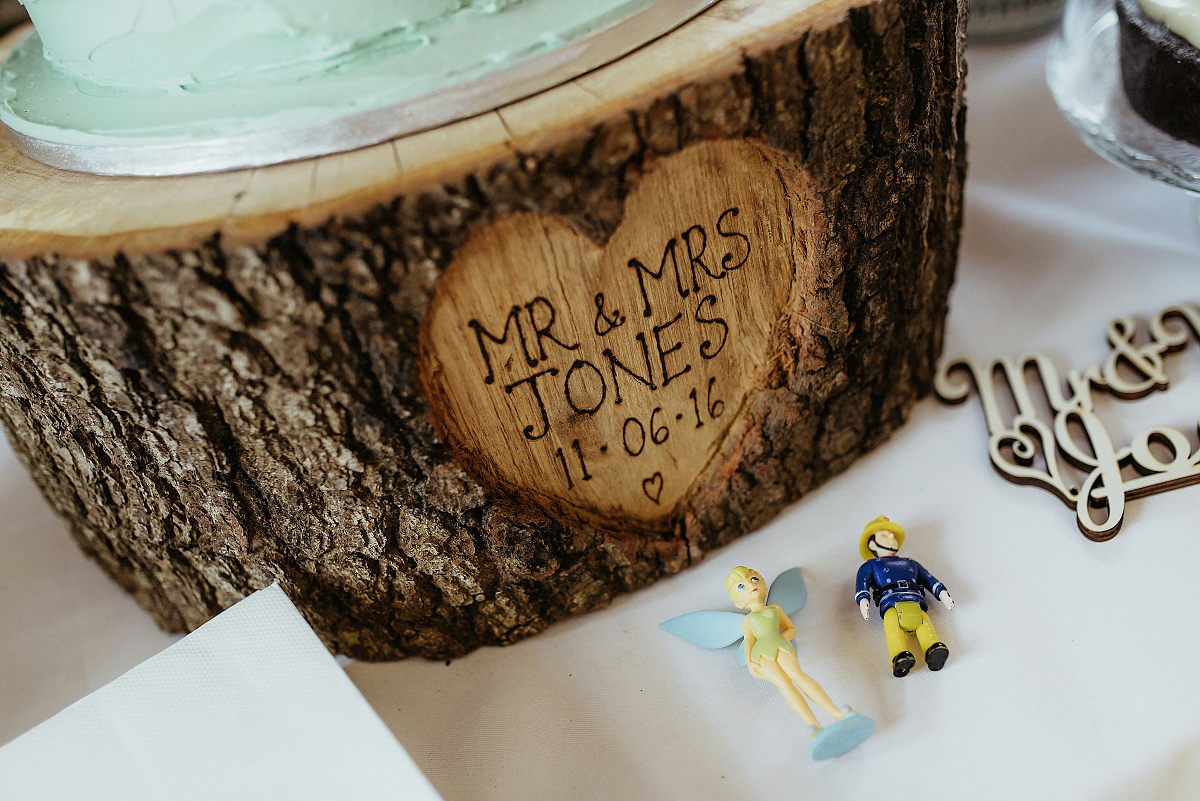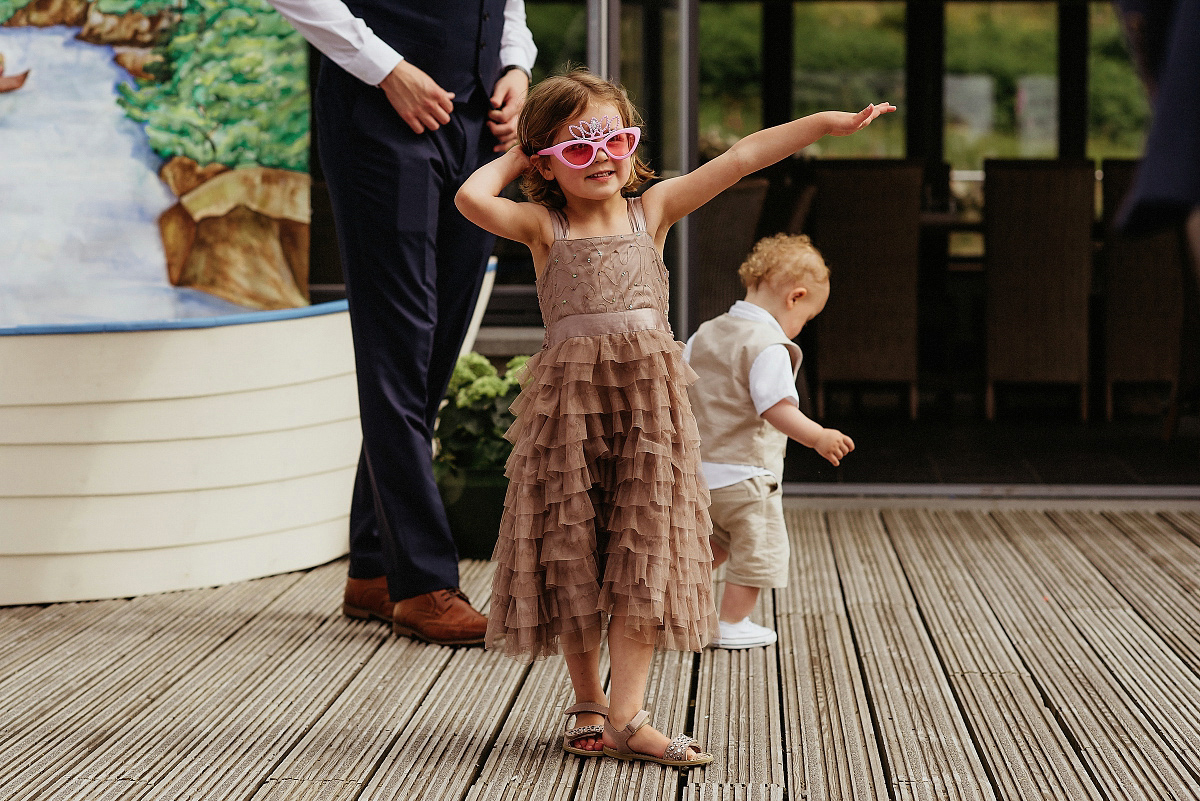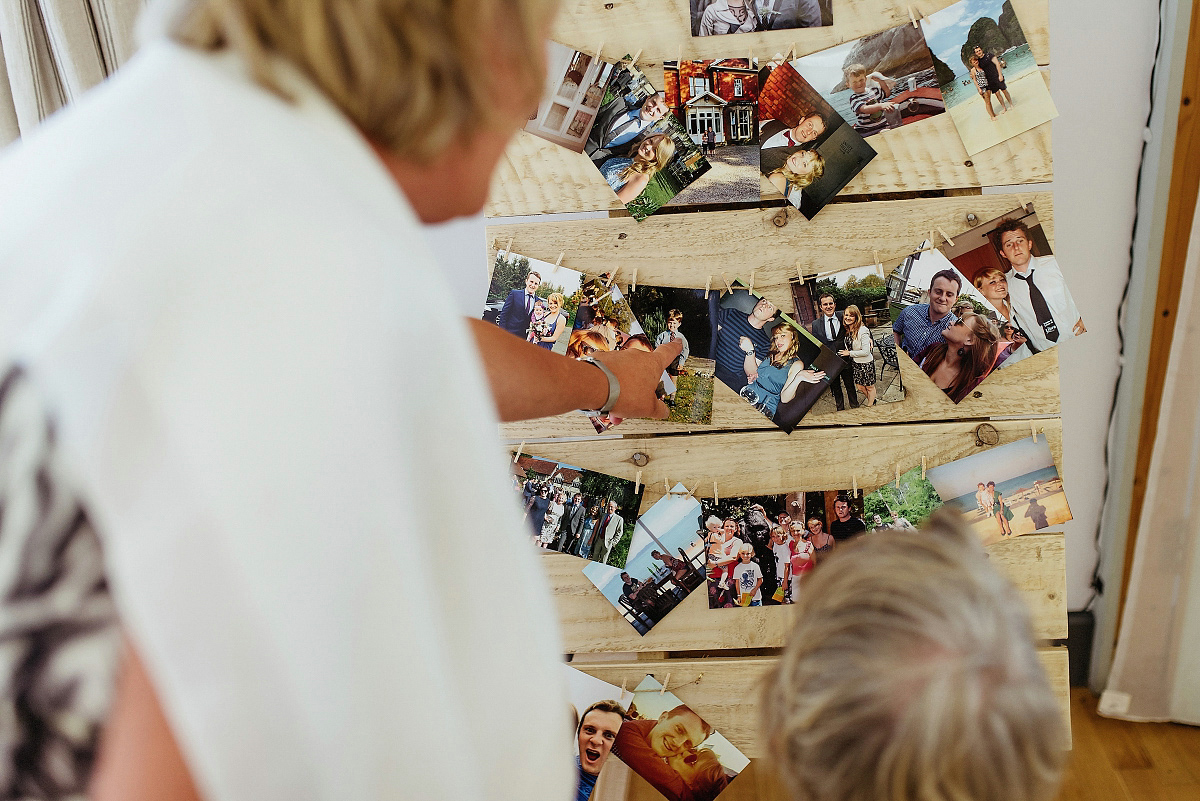 "David Sharpe, a family friend, made our wedding cake. He has made all of our family's cakes since I can remember. I was so happy with the result, and the layers of vanilla, red velvet and lemon tasted so good."
"We also had a wedding cheese which I felt was a highlight at the end of the night when everyone had the midnight munchies."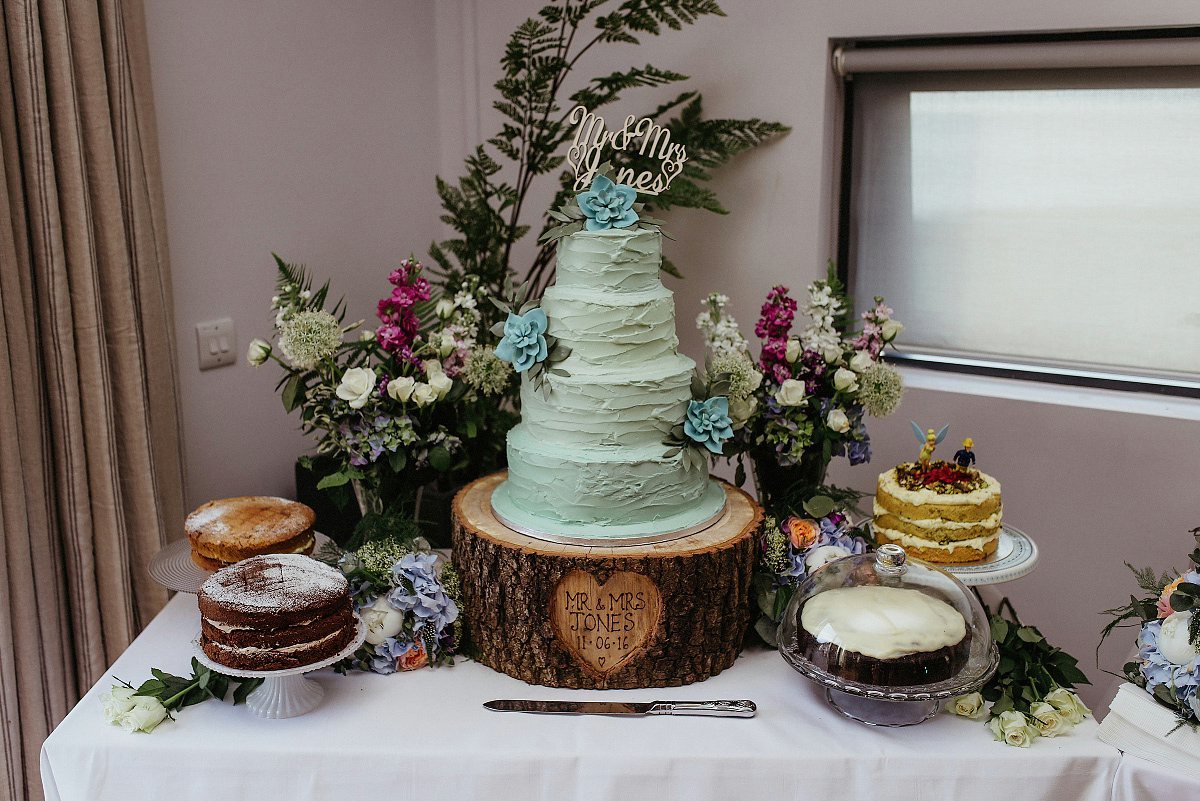 "My bridesmaid Sarah and her carpenter fiancé Matt made us an amazing photobooth. As we got engaged in a boat in Central Park, Matt built a boat from scratch with three stools to sit on which Sarah covered cushions for. Sarah also painted the backdrop of Central Park lake. I am so lucky to have such creative friends!"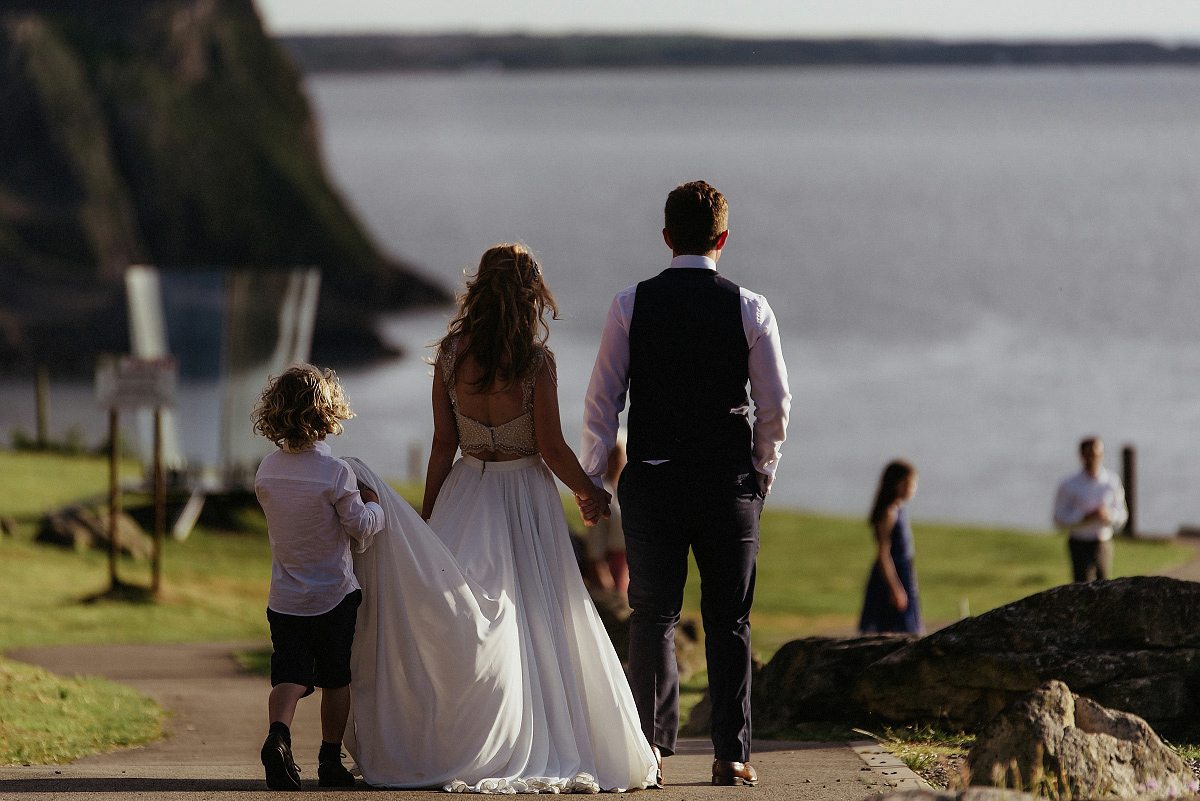 The couple chose Andrew Keher Photography to photograph their day, choosing him because of his bold images and attention to detail. I absolutely love the images of the couple on the rocks with a backdrop of the sea.
"It took us a long time to find the right photographer but we were so happy when we found Andy. The colours in his photos are so striking which we thought would work really well with our venue. He also took a lot of really great landscape shots. He worked so hard on the day and got some amazing action shots which we really wanted."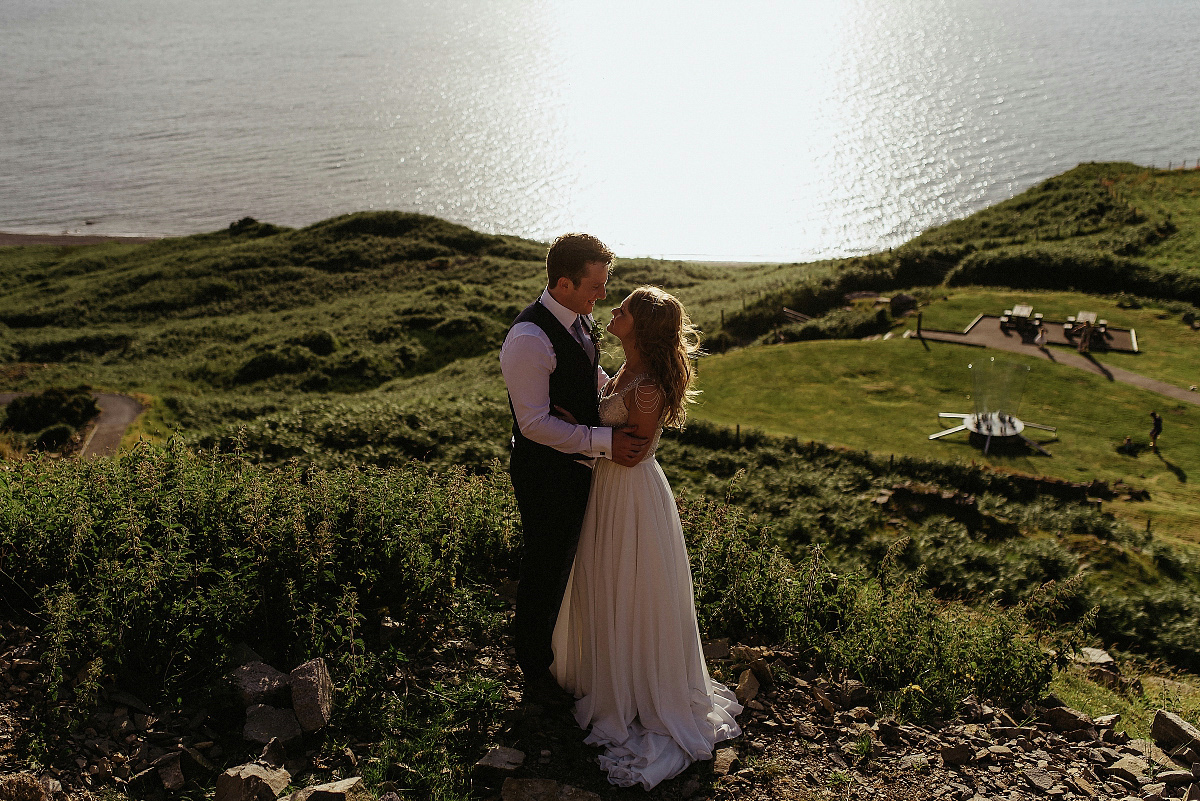 "Our band the Jim Jams Band were amazing, Everyone was talking about how good they were the next day."
"We had 'Budapest' by George Ezra as our first dance song purely because we both love the song."
Words of Wedded Wisdom
"We did exceed our budget and there were a few things that went wrong on the day but we just didn't care. It was definitely the best day of our lives. Having all of your family and friends in one place is amazing but also a little difficult as you feel like you should spend time with them all, plus you must make time to spend time with each other."
"I was very glad that quite a lot of our guests came to stay at the venue the night before and had dinner at the venue. It meant we got a chance to sit and chat to a lot more people."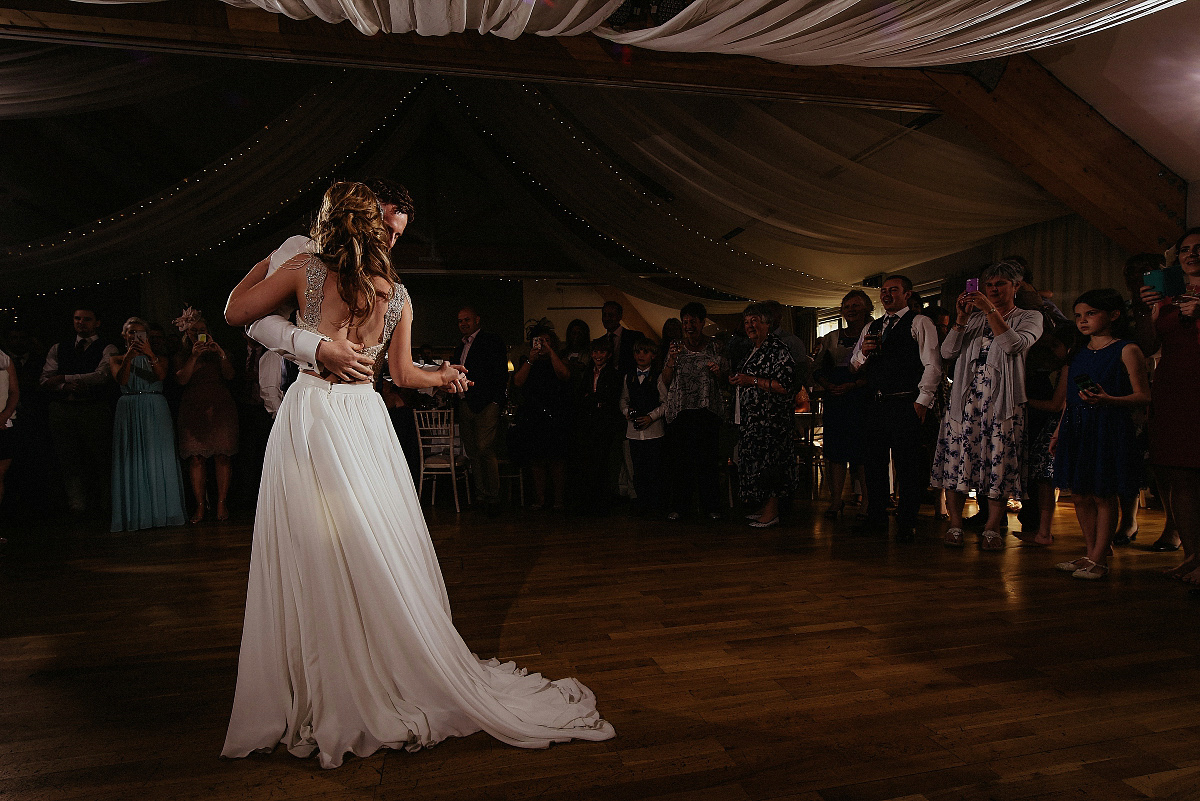 Congratulations to Steph and Tom, who have just celebrated their first wedding anniversary, thank you for sharing your lovely day, and thank you to Andrew Keher for the stunning images.
Love Caoimhe xx