I hope this week is  travelling along well for you lovelies. Do you find yourself staring at a computer most of the day for work, then glued to your phone in the evening, like me? This year I made it a goal to literally stop and smell the roses more by taking breaks from my hectic daily schedule – and last weekend headed for a wee cabin in the mountains, just hubby and I, for a proper 'digital detox'.
No computers, no phones, no wifi, no Instagram or Facebook distractions; just us, our books, a woodfire to snuggle up by, and a massive spa bath with a view of scribbly gum trees and the majestic Blue Mountains before our eyes. It was total bliss and I highly recommend it – as a nature-loving hippie at heart, I have to switch off from the real world regularly. After the last few days of catching up on work, I now wish I was right back there, but this most lovely heartfelt wedding, with images by Jessica Williams Photography, is helping to relive the relaxing weekend that was.
One thing I've discovered from preparing features on the incredible weddings that grace this beautiful blog is the inclusion of little touches that are so personal to the couple. Rey and Jack who are featured here organised their big day by themselves, with the help of fab friends on the morning of, and included lots of elements that signified the two of them for their celebrations at the Round Chapel in Hackney, London.
Photography by Jessica Williams
"Our story began at Glastonbury and the rest is history. Our engagement was very 'us': low key and personal. The wedding was held on fireworks night – the 5th of November 2016 – which has always been my favourite day of the year. We styled our day based on things that we love and would choose for any average day. We both love plants and greenery, lights and colour. In 2014 we travelled 5,700 miles across America by car and passed through 16 states and so we named our tables after each state for the dinner. I am half-Turkish and so we had some Turkish touches to the day too."
"The wonderful Linda Brooker made my dress. I tried on lots of dresses before but nothing felt right or it was just too expensive to justify. I wanted a dress that I could have fun in and that wasn't going to mean I couldn't drink and eat as much as I wanted to."
"I worked together with Linda over a total of eight sessions from start to finish and we created my perfect dress. She is hands down the most talented, genuine and kind person. Linda was so patient with my indecisiveness at times and I had so much fun working with her. Every stitch was sewn with care and the dress couldn't have been more perfect. It was the dress I had always dreamed of but EVEN better!"
To her stunning ensemble, Rey added some beautiful jewellery pieces that meant the world to her.
"Sadly my 94-year-old grandmother was unable to attend the wedding as the journey would have been too far for her, so I wore a Victorian bracelet that she had given my mother when she graduated from university. I also wore a sapphire and diamond ring that was given to me by a very dear friend who was also unable to attend the wedding."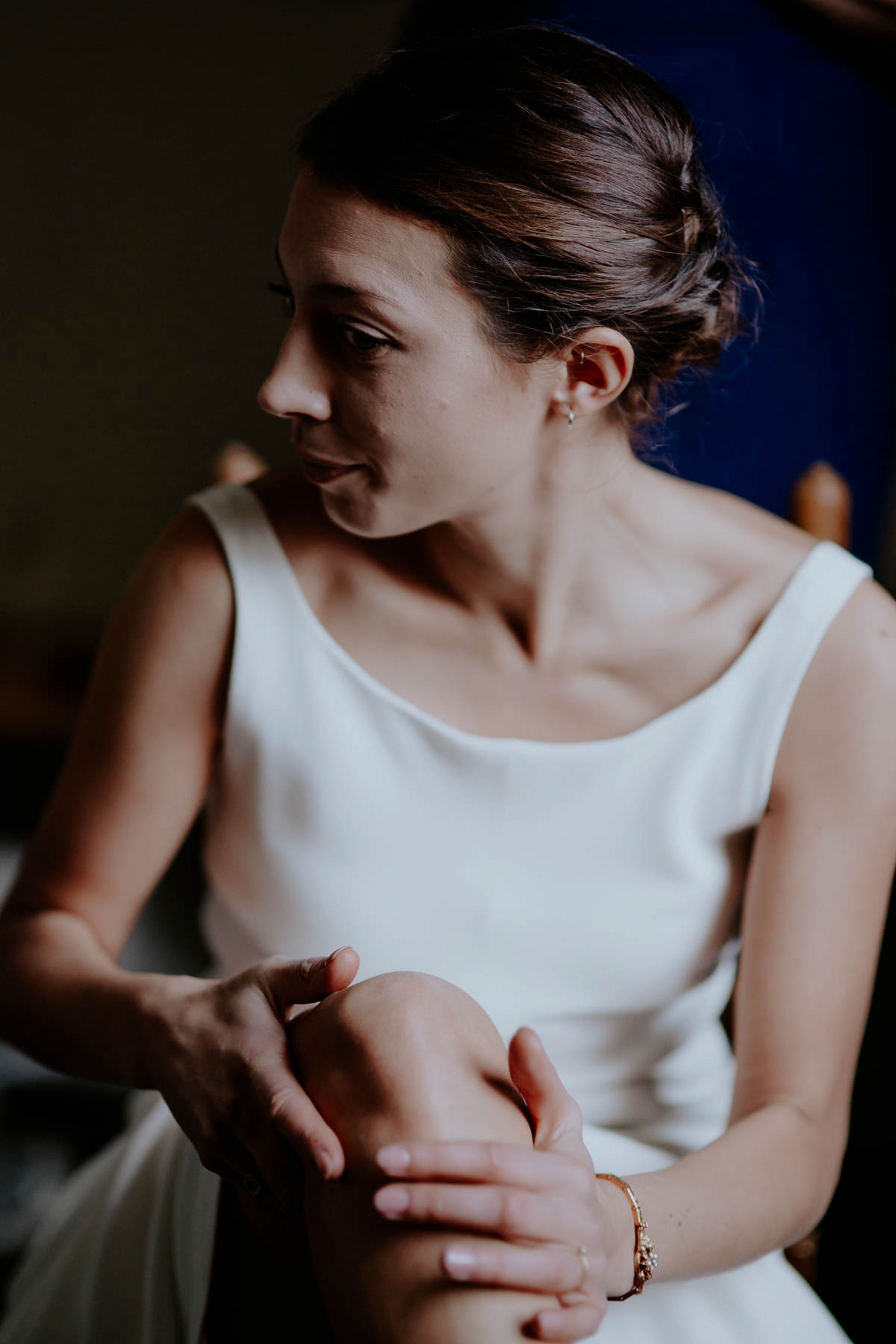 Are you struggling with finding the right shoe for your upcoming nuptials? I ended up getting three pairs and found the decision of which one to go with one of the hardest, as comfort was key, but style important too (by the end of the night, I ended up barefoot on the dance floor, so needn't have worried one bit!). Rey found her shoe-shopping tricky too, but finally found a pair that were just right.
"I tried on every shoe out there but nothing looked or felt quite right. In the end I ordered a pair from Boohoo that arrived the day before the wedding and they were exactly what I'd had in mind! I managed to wear them for the whole evening without my feet hurting."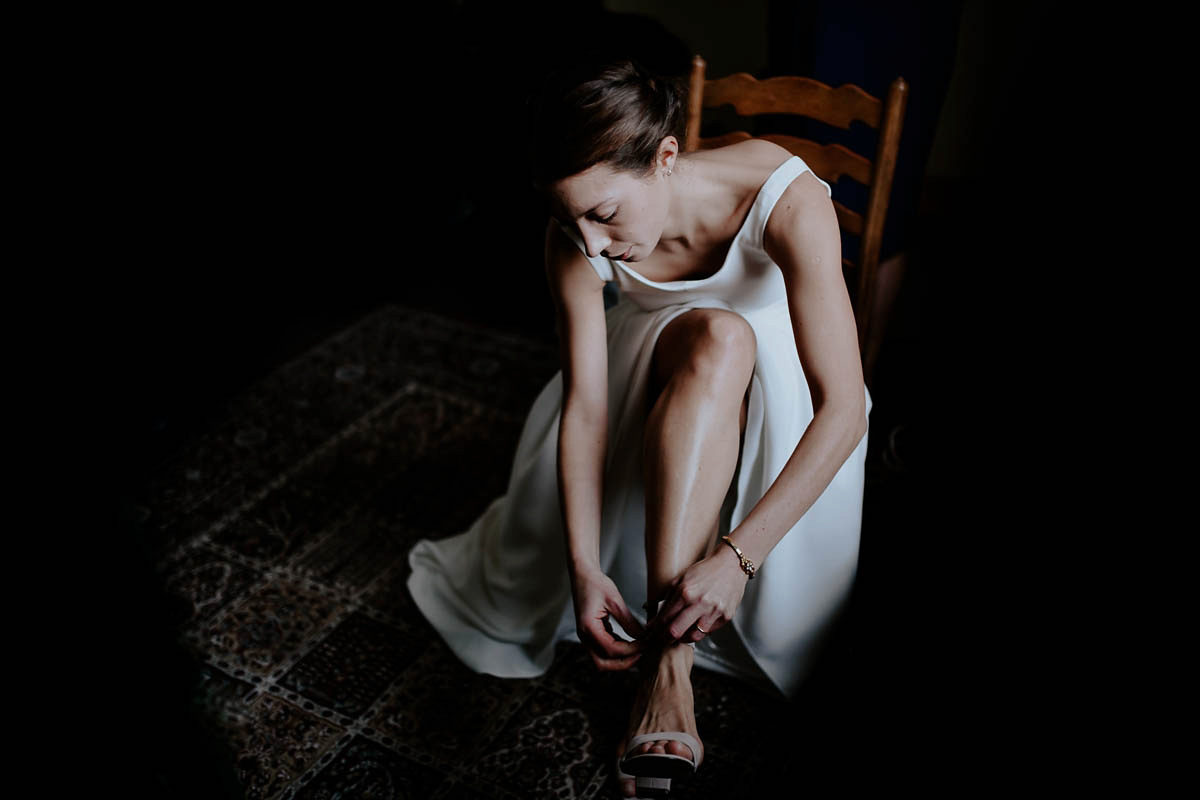 "My lovely friend Maisie kindly offered to do my hair. On the day I suddenly changed my mind about the style and she was incredibly patient and created exactly the style I was after. I did my own make-up, as I don't usually wear it and wanted to ensure that I looked as natural as possible. I wore BB cream, mascara and some lippie and felt confident and true to my usual style."
The groom surprised everyone with his green fingers and made all of the bridesmaids' bouquets and the boutonnieres for the groomsmen – a handy talent!
"We wanted a lot of greenery everywhere and so we woke up at 5am on the day before the wedding with cash in hand and filled the car up at New Covent Garden Flower Market. We opted for eucalyptus leaves because they look and smell amazing, baby's breath, lavender, and thistles in honour of Jack's roots in Scotland."
"My grandmother gave me some money for my bouquet and so I went to Grace & Thorn in Hackney and ordered a bunch of flowers which were beautifully put together and loosely arranged just as I had asked for. They looked beautiful and I dried them the day after the wedding and they are now hanging in the kitchen in our flat."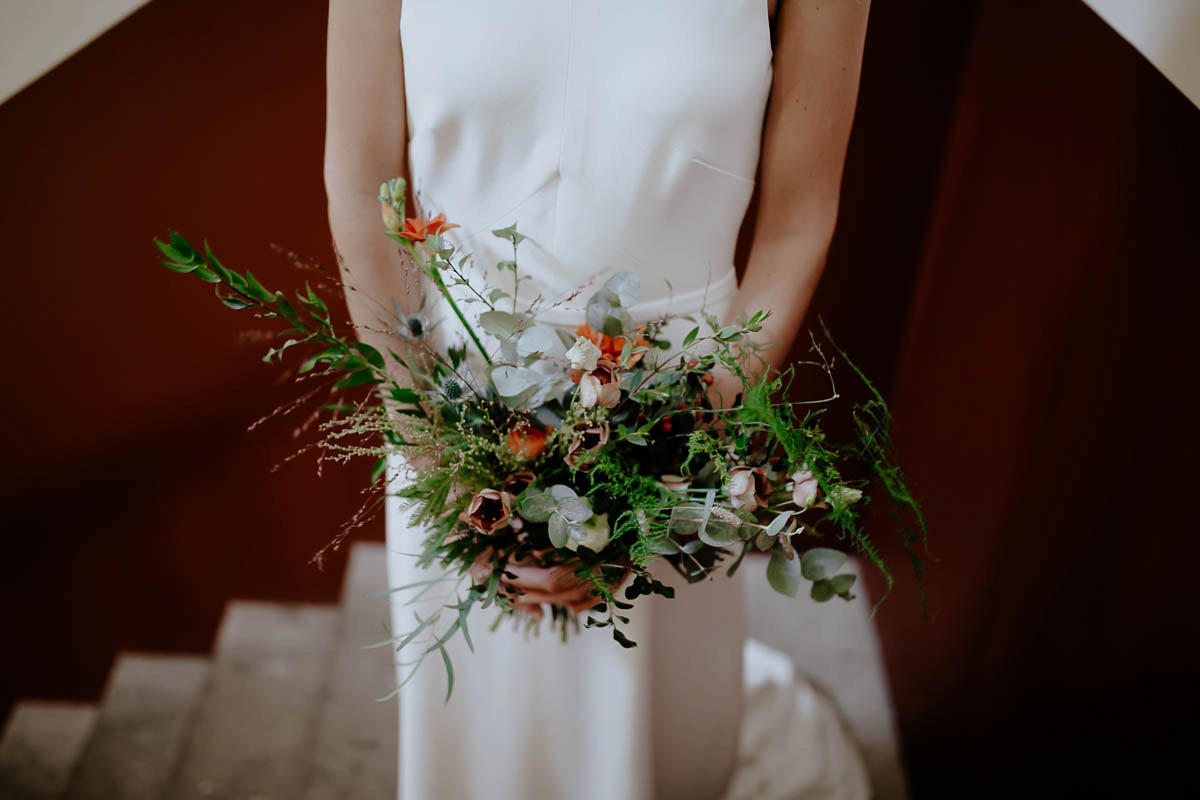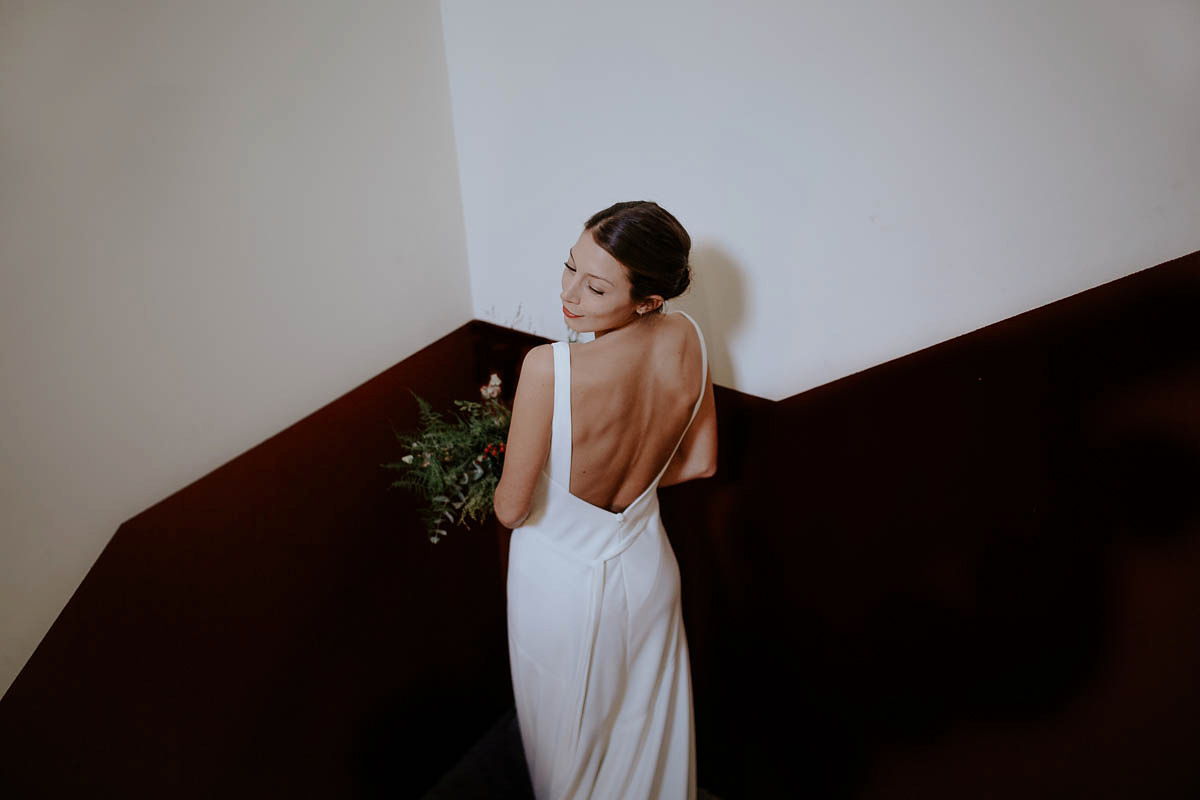 "All of the bridesmaids wore their own shoes and dresses which were an assortment of items from ASOS, & Other Stories and other high street retailers. I asked them to wear either blue or green and they all wore dresses and shoes that they already owned and they looked like total babes."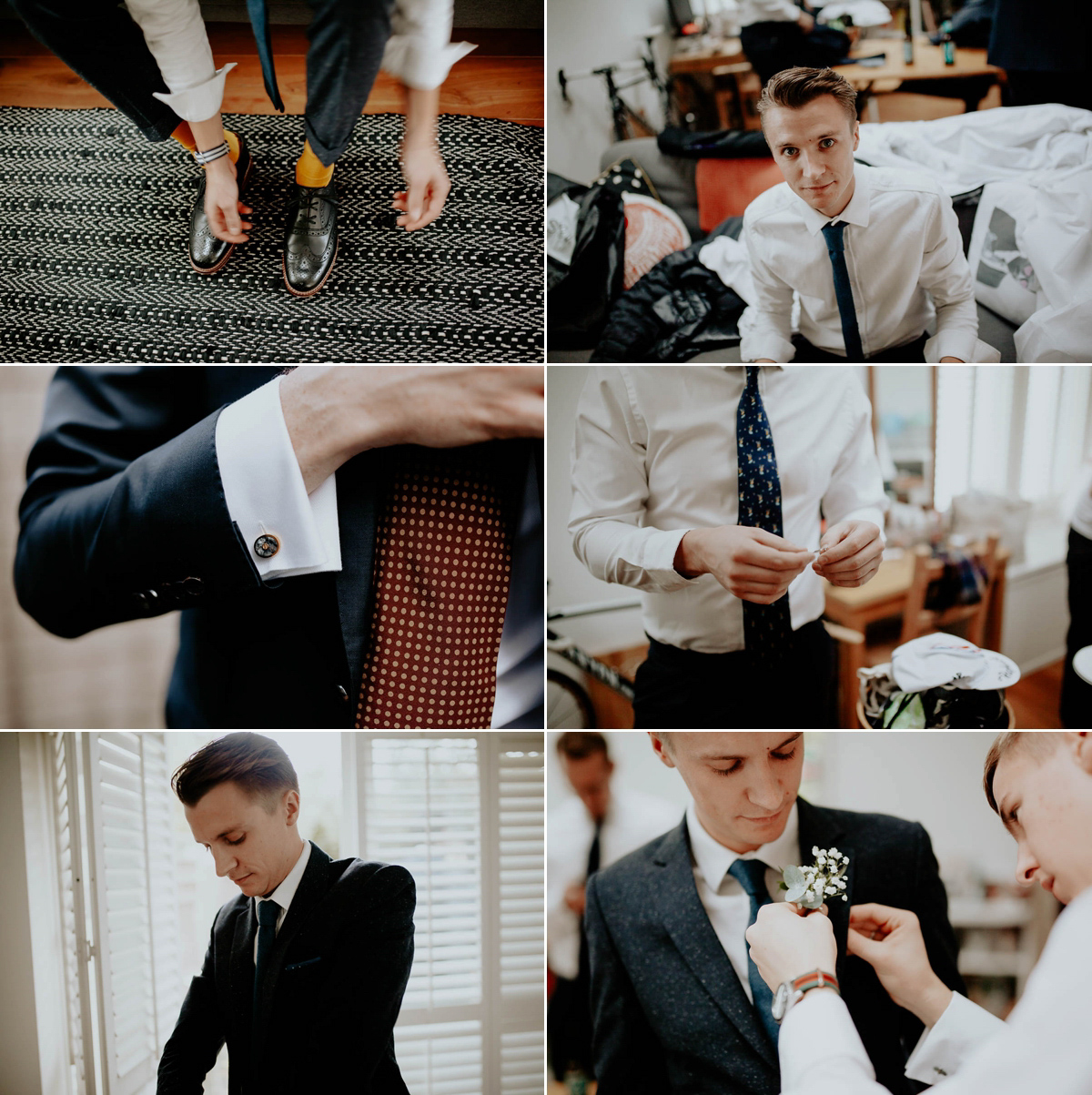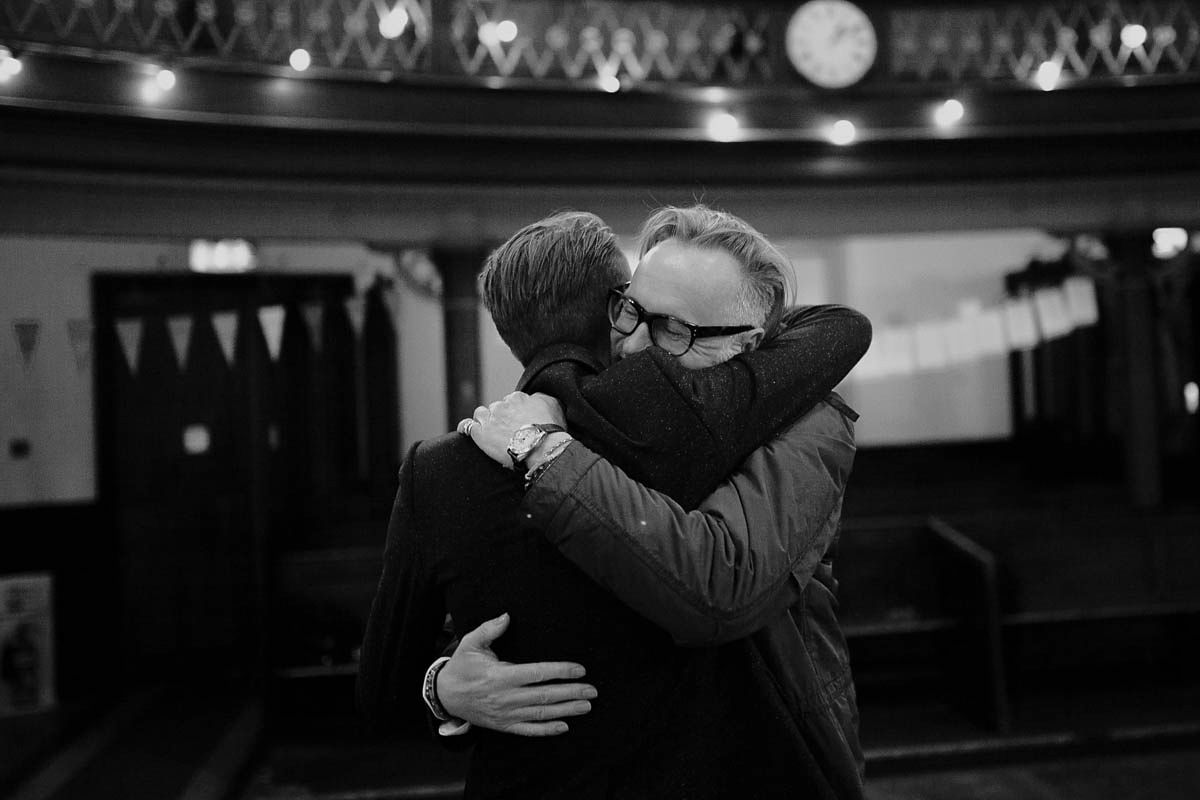 In keeping with wanting something personal to them, Rey and Jack chose to have a humanist ceremony, writing their own secret vows and had a fantastic choir perform three of their favourite songs.
"We had a humanist wedding that was completely personal and unique to us. We worked very closely with our celebrant, Rupert, who told our story so beautifully. Rupert took the time to get to know us well and he was utterly fabulous on the day, blowing us all away with his skill of storytelling and fantastic voice."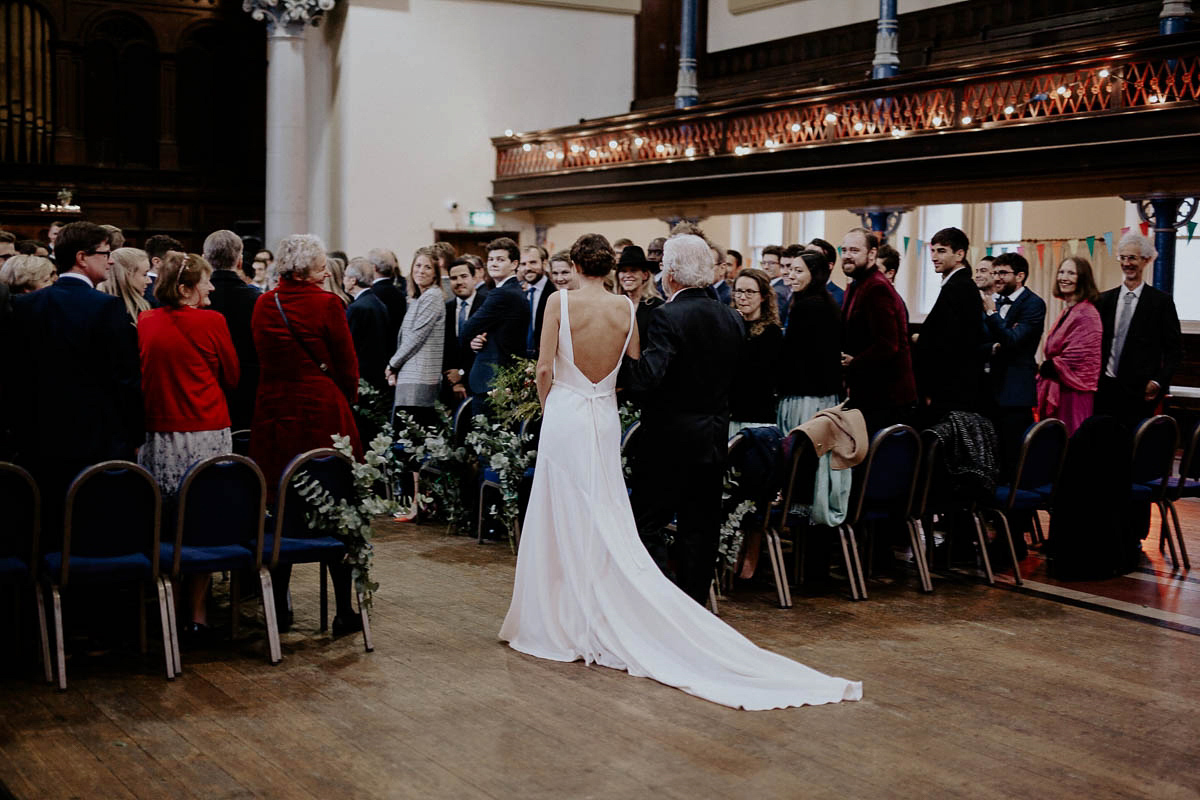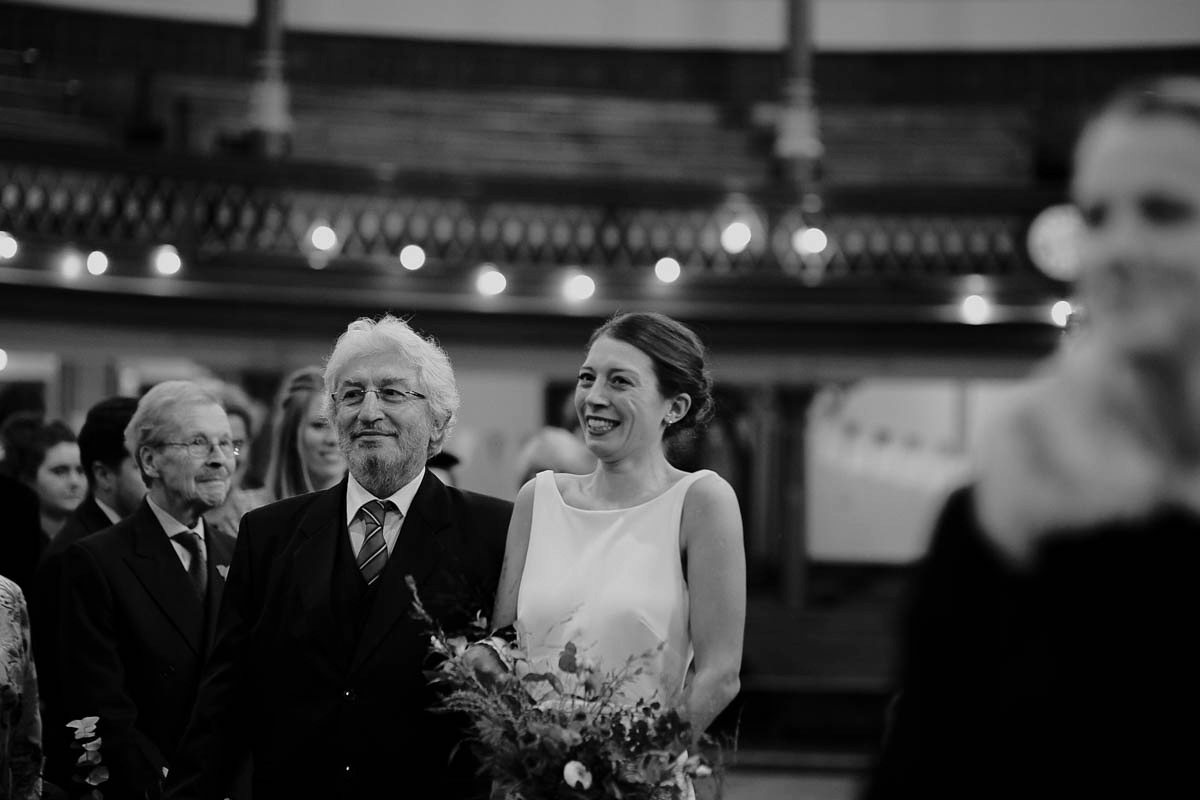 "We wrote our own vows, which we kept secret from each other until we read them out on the day. We loved this part, although it was obviously very emotional. We surprised ourselves (and guests!) with how similar our vows were to each other and it was wonderful to be able to write our own."
"During the ceremony we had readings from parents and Jack's brother. The London Humanist Choir performed three songs at various intervals throughout the ceremony, which was a big highlight of the day for both our guests and us. All of us were in tears throughout. The choir are fantastic and our guests loved it when Rupert, who is also part of the choir, nipped in to perform with them as well as being our celebrant. We chose the three songs that they performed – 'Africa' by Toto, 'One Day Like This' by Elbow and 'Everywhere' by Fleetwood Mac – as they were part of the soundtrack to our story."
"My engagement ring was custom made by Mikala Djorup who has lovely, minimalistic and beautiful rings. For our wedding bands, we heard about Leila Swift through a friend of a friend. She was lovely and great to work with."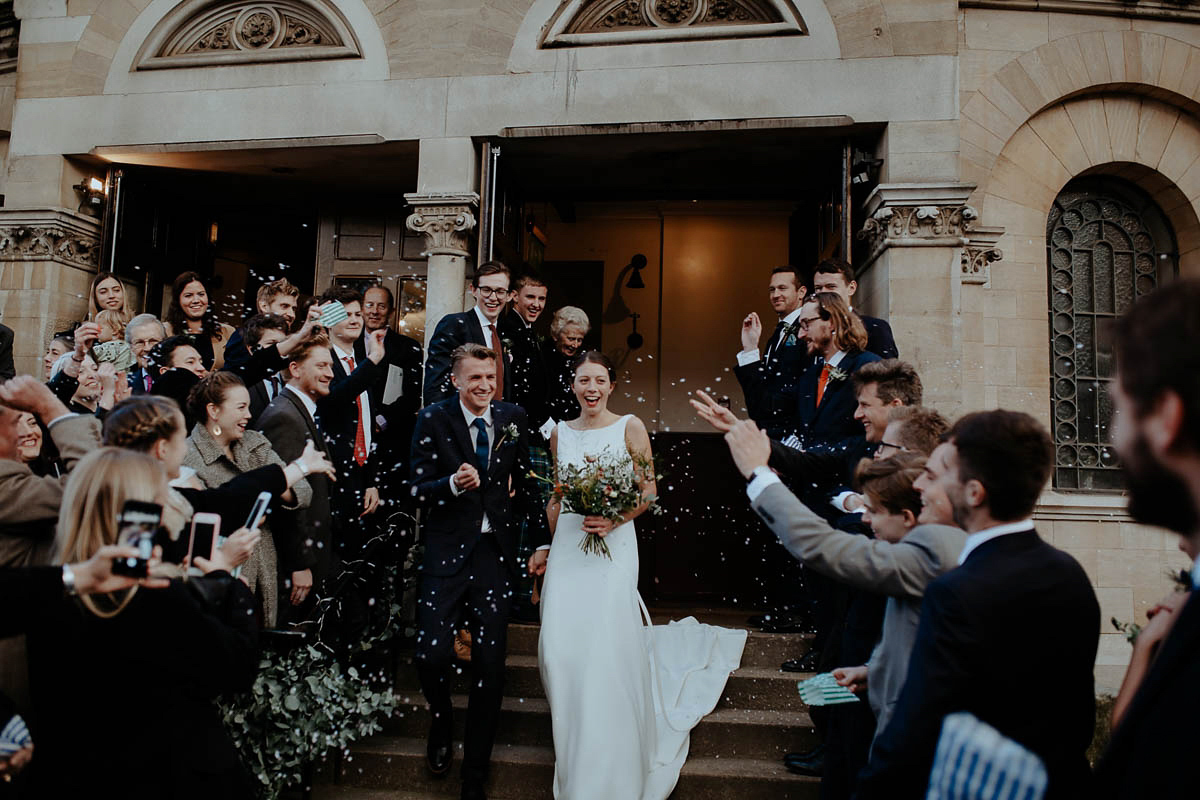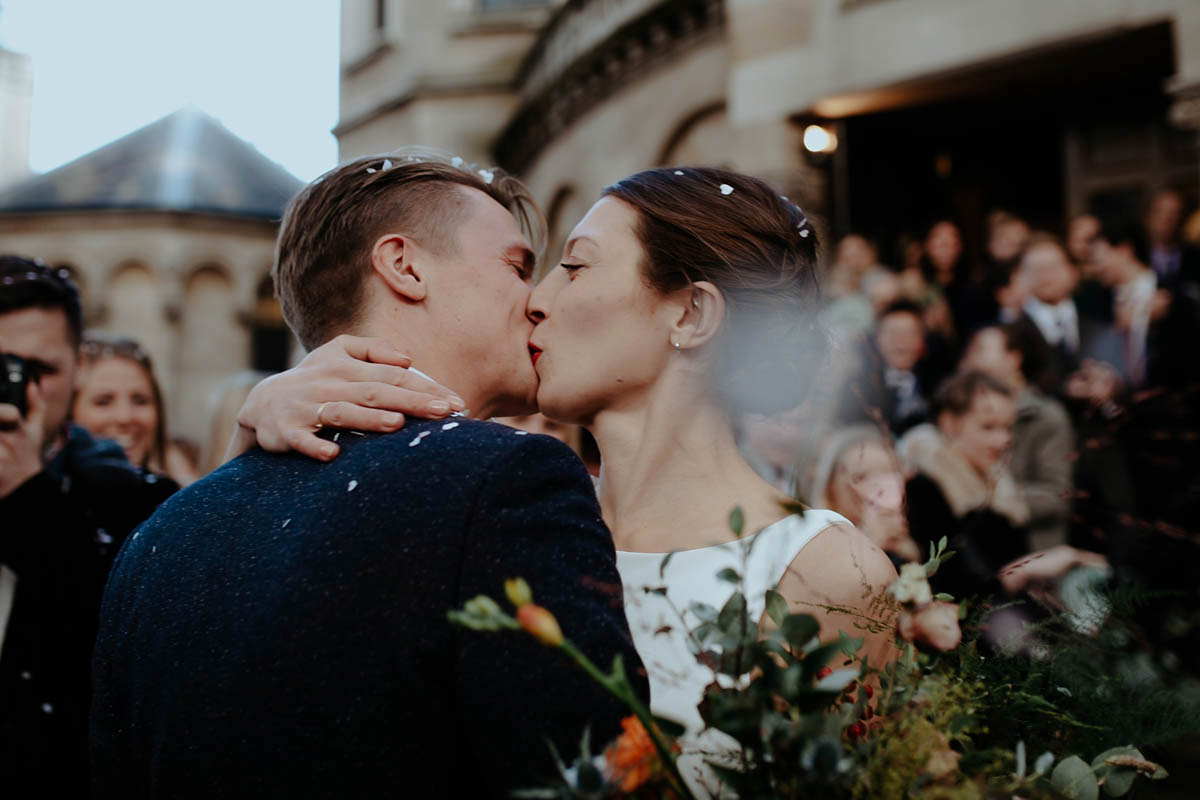 Jack's suit was made by Cian and Eddie at Beggars Run and he paired this with Grenson shoes, a tie from ASOS, an Orlebar Brown shirt, and a handmade pocket square. His groomsmen were given the same brief as the bridesmaids – and I love this eclectic mix, especially the best man's chosen attire!
"The same brief went for the boys too: to wear a blue or green suit that you already own. Some did take this as a chance to invest in a new suit though, also from Beggars Run. Jack's best man was his 16 year old brother, Felix, who rocked up wearing trousers made of the family's tartan and purple socks."
"We have fantastic friends and so we roped them all in to help with setting up on the day. One friend was at our flat with a pick-up van at 7.30am on the morning of the wedding and most friends were in the venue with us by 8am, working solidly through until it was time to get ready!"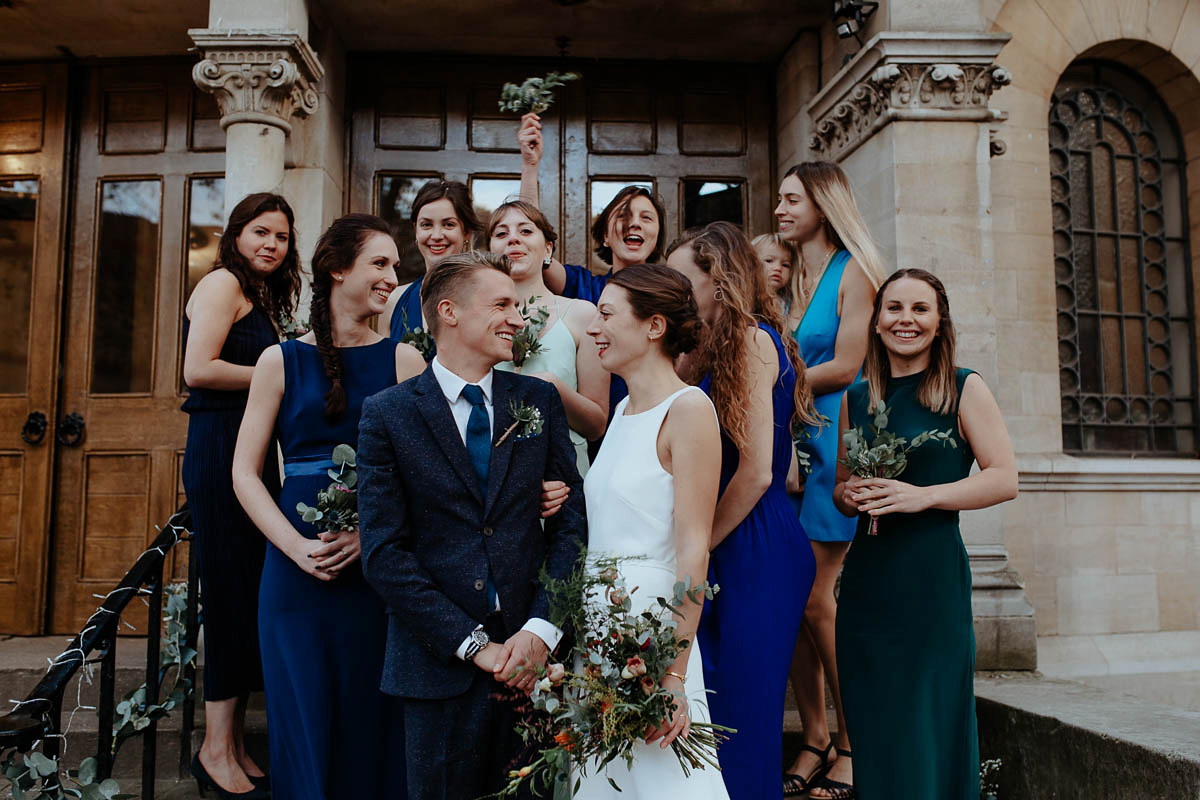 The couple had an engagement shoot with Jess and James from Jessica Williams Photography – a brilliant way to get to know your photographer before the main event.
"Jess is a lovely, bright, enthusiastic, energetic and talented photographer. She is friendly from the word go. We were lucky enough to have her husband, James, assist her on our wedding day (and engagement shoot) and they have such good energy and made us all feel completely at ease. Jess and James took us to Birling Gap for an engagement shoot so that we could all get to know each other and we had an amazing day and felt like we had made friends, rather than just securing a photographer for our wedding day!"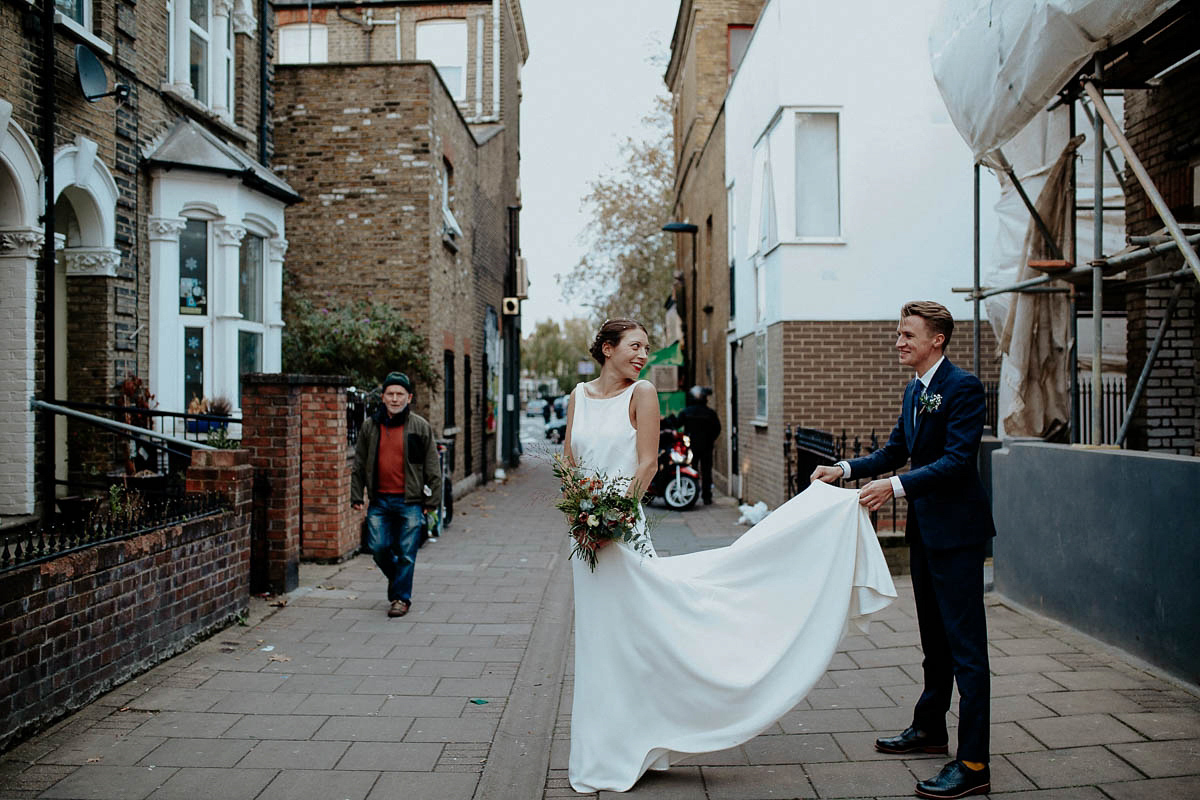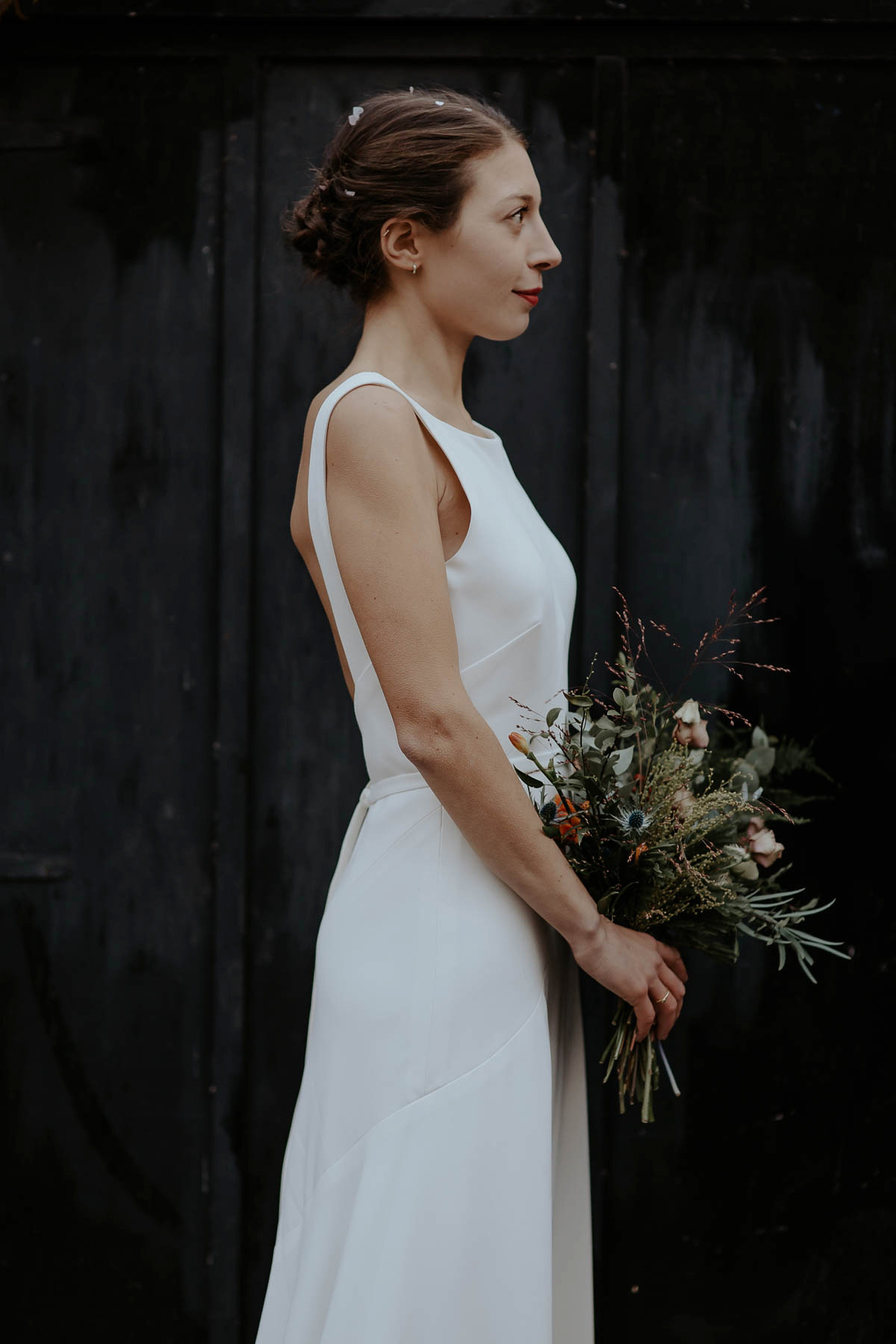 David Darmanin and Thomas Fletcher provided the tasty cuisine, preparing a vegetarian feast for the guests to delight in, whilst the couple bought a range of beverages for everyone to enjoy.
"These guys are great and each have their own projects going on. We created a simple menu together which was well within our budget. They were incredibly well organised and so friendly. We had an all-vegetarian buffet style dinner with vegan and gluten free options. We met up with David several times to go through all of the details and him and Tom were always professional and a pleasure to work with. We bought all of the drink which included prosecco, red and white wine and Turkish beer, all from Aldi and Makro."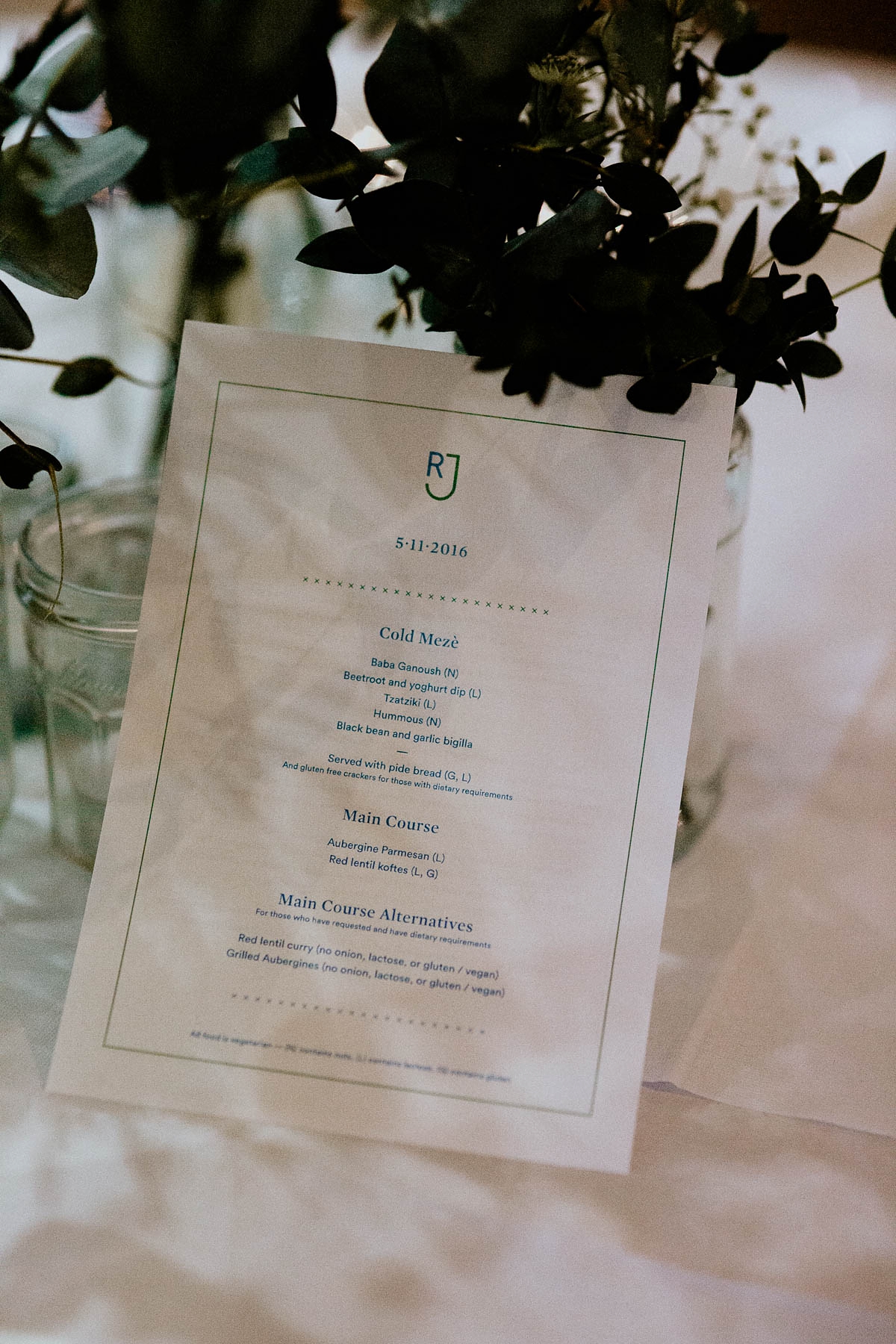 "We loved the venue as soon as we walked in. We loved that it was in Hackney, and that there was a Dominos Pizza opposite and that it was a gem along a stretch of a classic Hackney neighbourhood and it was just down the road from where we live. The venue is beautiful from the outside and breathtaking when you walk in. The large space meant that we could hold both the ceremony and the reception there, which was a huge plus for us."
"We gave all of our guests favours of wildflower seeds in small brown envelopes which we personalised using a custom made stamp."
"We danced the first dance to 'Can't get enough of your love babe' by Barry White because it's one of our songs and we knew it would get everyone else dancing too."
"We bought two Harrington bomber jackets from Brick Lane that we hand-painted with different messages on the back. We put these on when we were heading out for the fireworks display and for dancing, much to everyone's enjoyment."
"We loved every single second of the day. It was a long day as we were in the venue from 8am setting up with all of our friends and didn't get home until 2am. The best part of the day was taking in the fact that there were 145 people there who had travelled from across the country and across the world (including from Amsterdam, Turkey, Vancouver, Montana and Miami!) to be there with us and that meant the world to us."
"We sat facing the congregation during the ceremony and it was wonderful to watch everyone's emotions – without sounding super cheesy, you could really feel (and see) the love. We were so happy that we managed to create a day that was truly in line with what we wanted and it was amazing to organise something that was so undeniably 'us' through and through."
Words of Wedded Wisdom
"I think the most important thing is to make sure that it is your day, which I think everyone says. It's easy to get influenced by others and there's lots of pressure and traditions. We kept the details of our day very secret and all of our families were bowled over with the entire day and the effort that we had gone to, and it was a wonderful surprise for them all. There's lots to consider but at the end of the day, it's about the two of you and not what about other people expect."
Thank you for these very wise pearls of wisdom Rey and Jack and I'm so thrilled to have been tasked with sharing all the delights of your simply stunning day. A big shout out to Jess too for capturing the very heartfelt, personal moments of the lovely couple's beautiful humanist wedding.
Have a groovy rest of week everyone – and be sure to bookmark this link if you want to get further inspo on how to make your wedding day an eco-friendly one.
Love Jo -xo-