Anyone who knows me is aware of my love of London, it's just so diverse in every way. Take the 'London wedding' – it's as much an East End pub as it is a wedding in an historic house and everything in between.
I'm not sure where on that scale this wedding comes but it's most definitely on it. The Royal Botanic Gardens in Kew must be one of the most unique places in London. Parks aren't exactly a novelty but Kew is in a league of its own and how lucky Louise and George were to be able to hold their humanist wedding there on the 27th of May 2016. Ali Paul was the lucky photographer who got to capture the day.
"Kew Gardens has such beautiful buildings and plants that you don't need to do much decorating or styling, which suited us well. Essentially, it was personal and simple, with a bit of a botanical theme. We asked all guests to wear something floral, either a flower, flowery tie or dress etc. This made everything really colourful which was great fun."
Photography by Ali Paul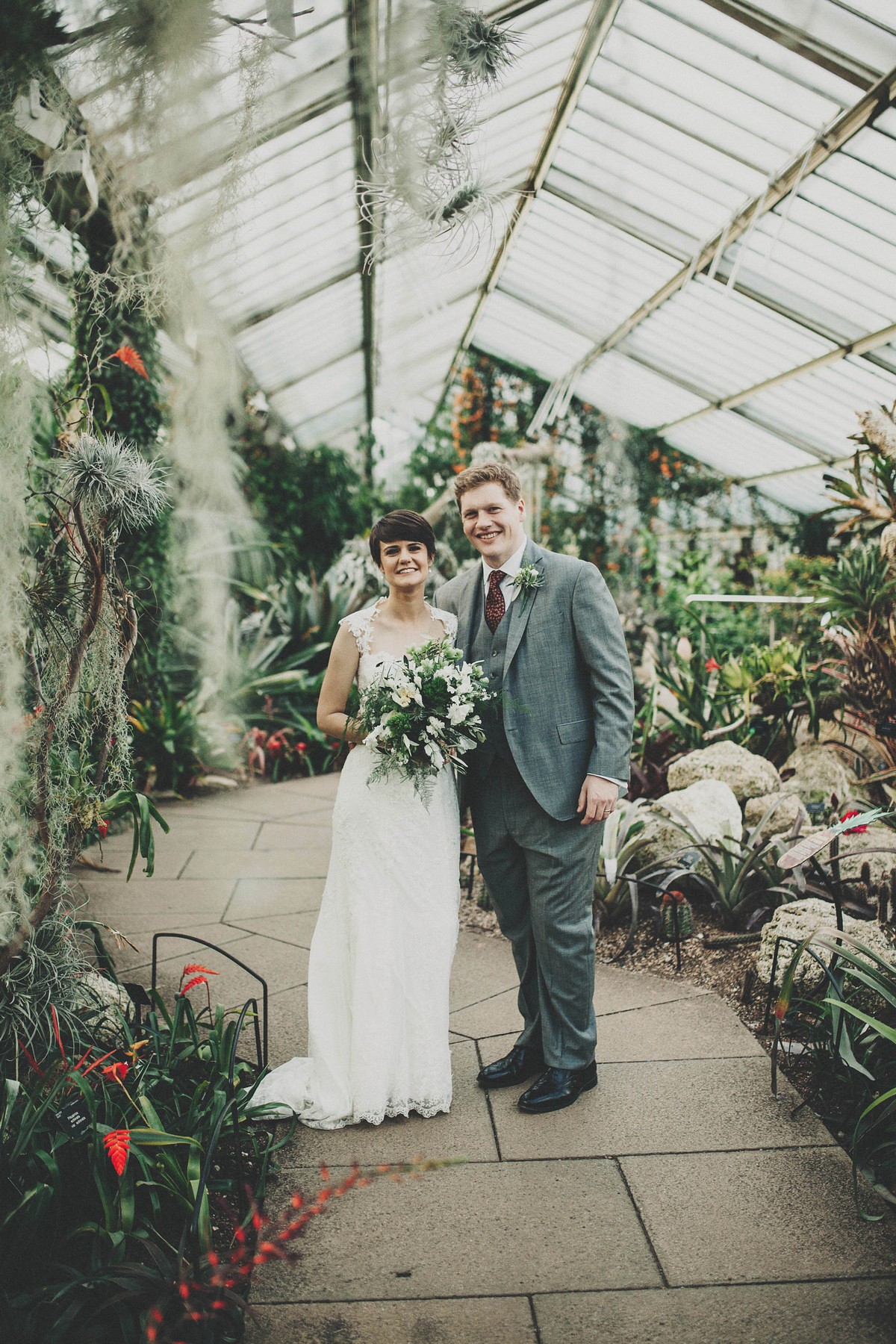 The couple have very high praise for their wonderful photographer Ali Paul.
"We would highly recommend Ali, his photos are amazing -modern and very stylish. He was lovely to work with and met up with us before the wedding twice which was great, as well as staying all night. He made us feel very relaxed for some couple photos, and has a great eye for getting a photo where someone is laughing or smiling really naturally."
Louise's bridesmaids wore glamorous full length night navy dresses from ASOS with ivory shoes from Pink by Paradox London.
I adore Louise's choice of dress, it's so elegant and falls beautifully around her frame. She also has the perfect short hairstyle to show off the detailed neckline and her Argent of London pearl drop earrings.
"I found that anything too 'princessy' or childlike looked really out of keeping with my hair style – a bit like a boy in a dress! So I knew I wanted something simple but dramatic, angular rather than overtly girly. I went for this Sincerity Bridal dress because it had a 'Queen Anne' neckline which works really well with short hair. It had a pretty simple lacy front and then a very striking mesh back with a line of buttons down the spine. I loved it."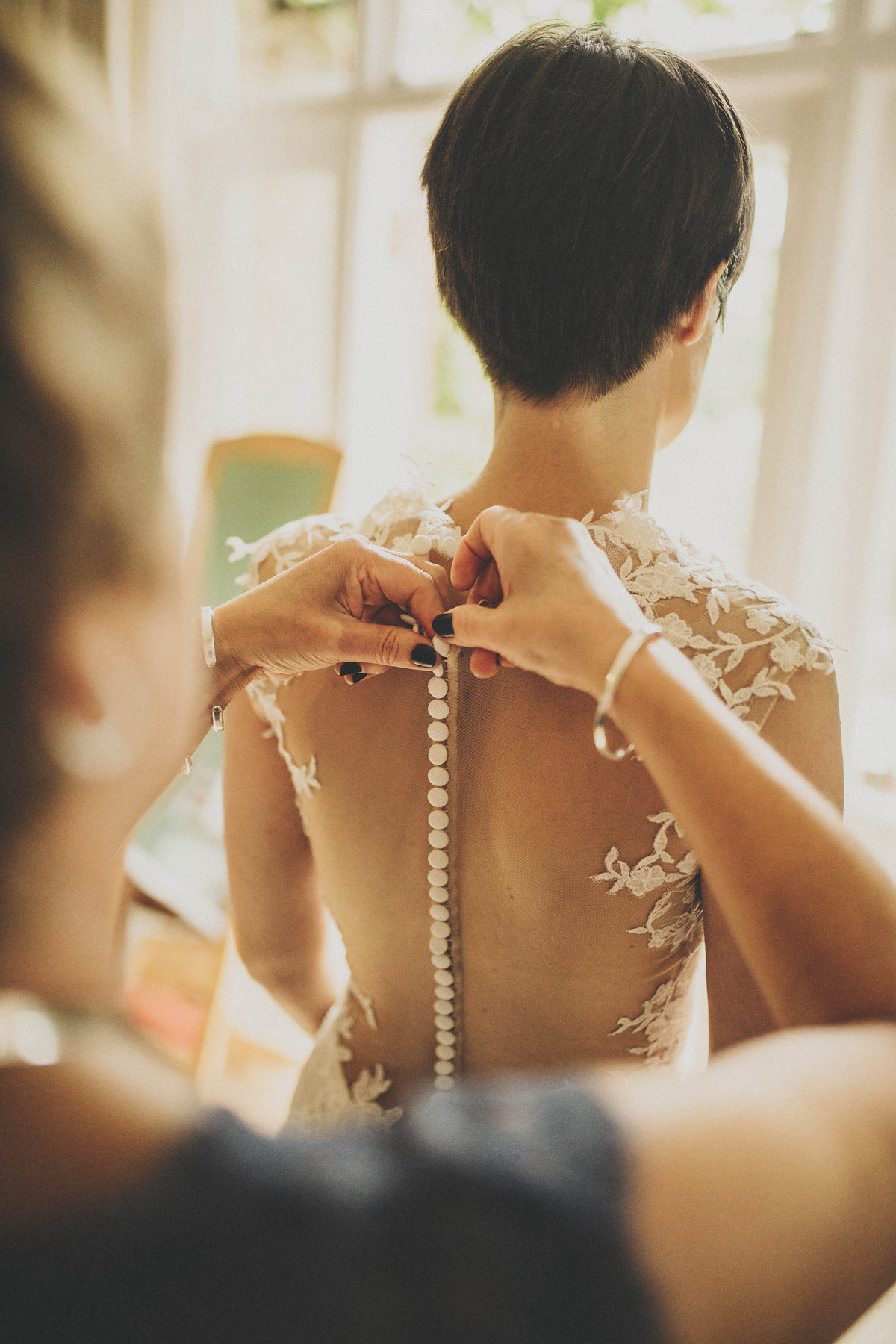 "S B Jewellery made my engagement ring which George designed, so we went back to them for our wedding rings. We also had the date of our wedding engraved inside."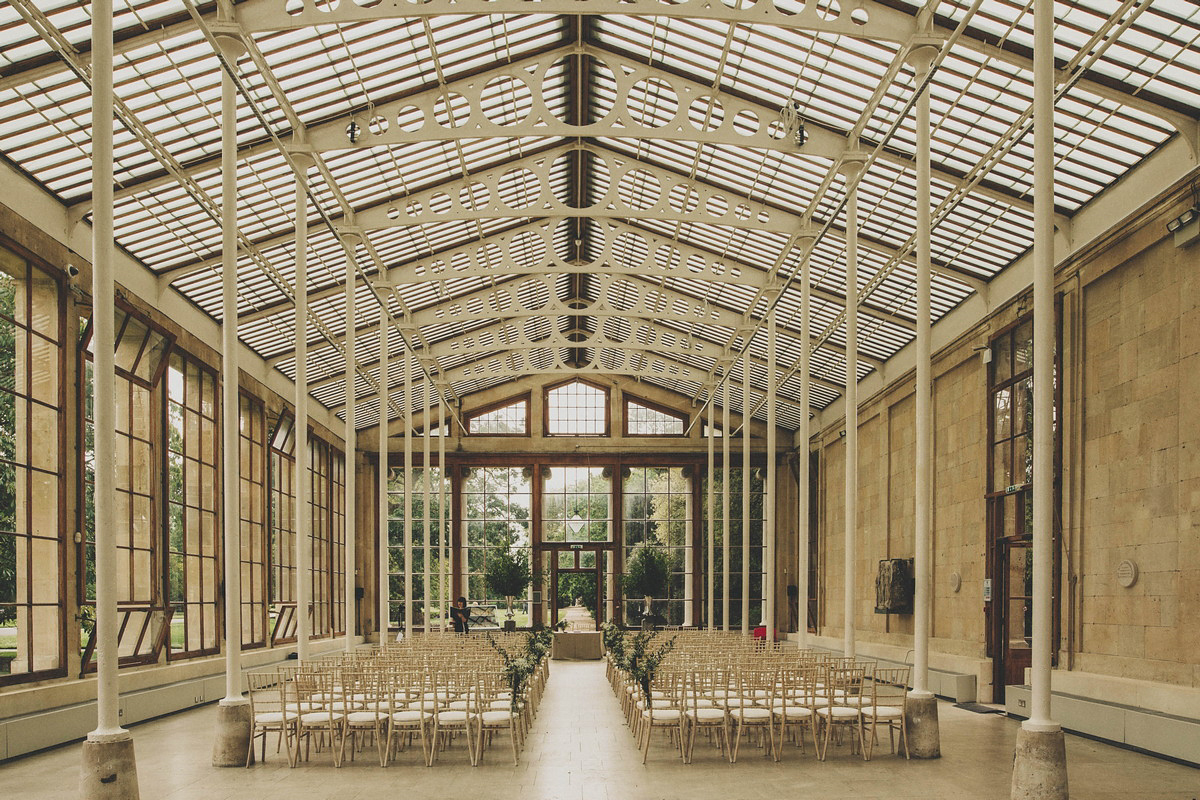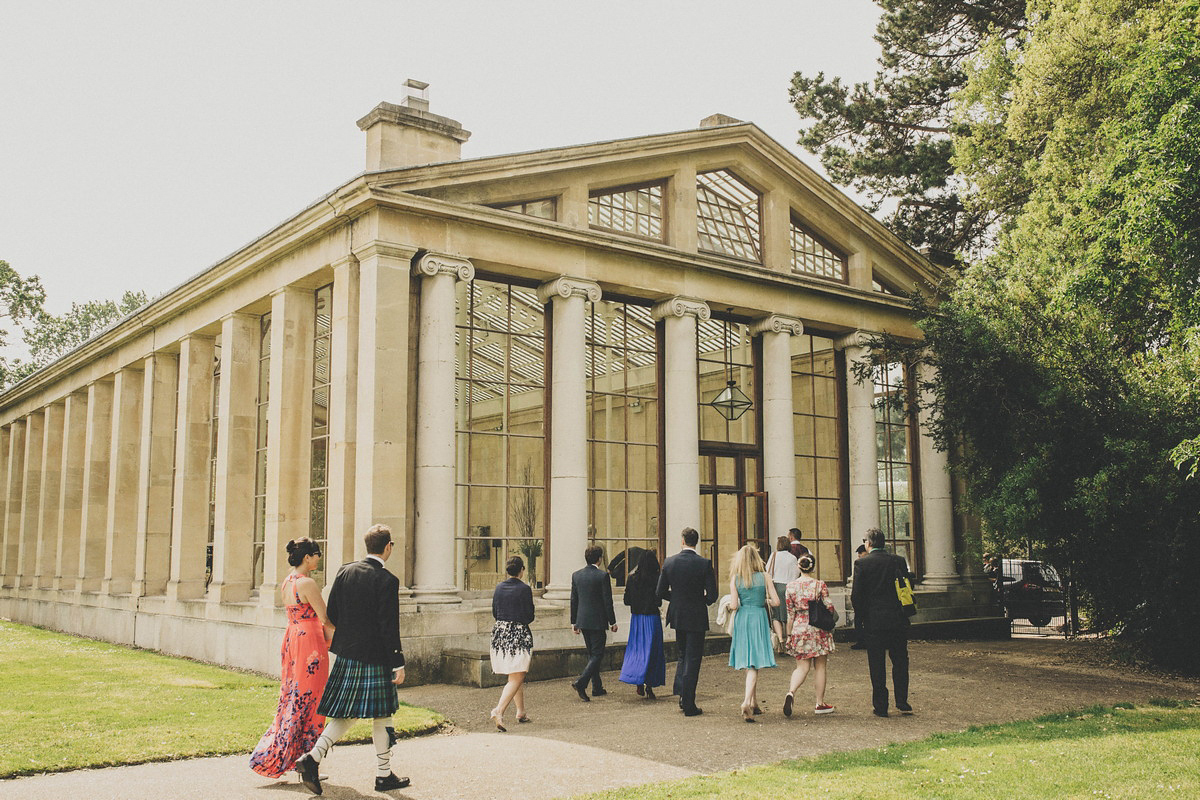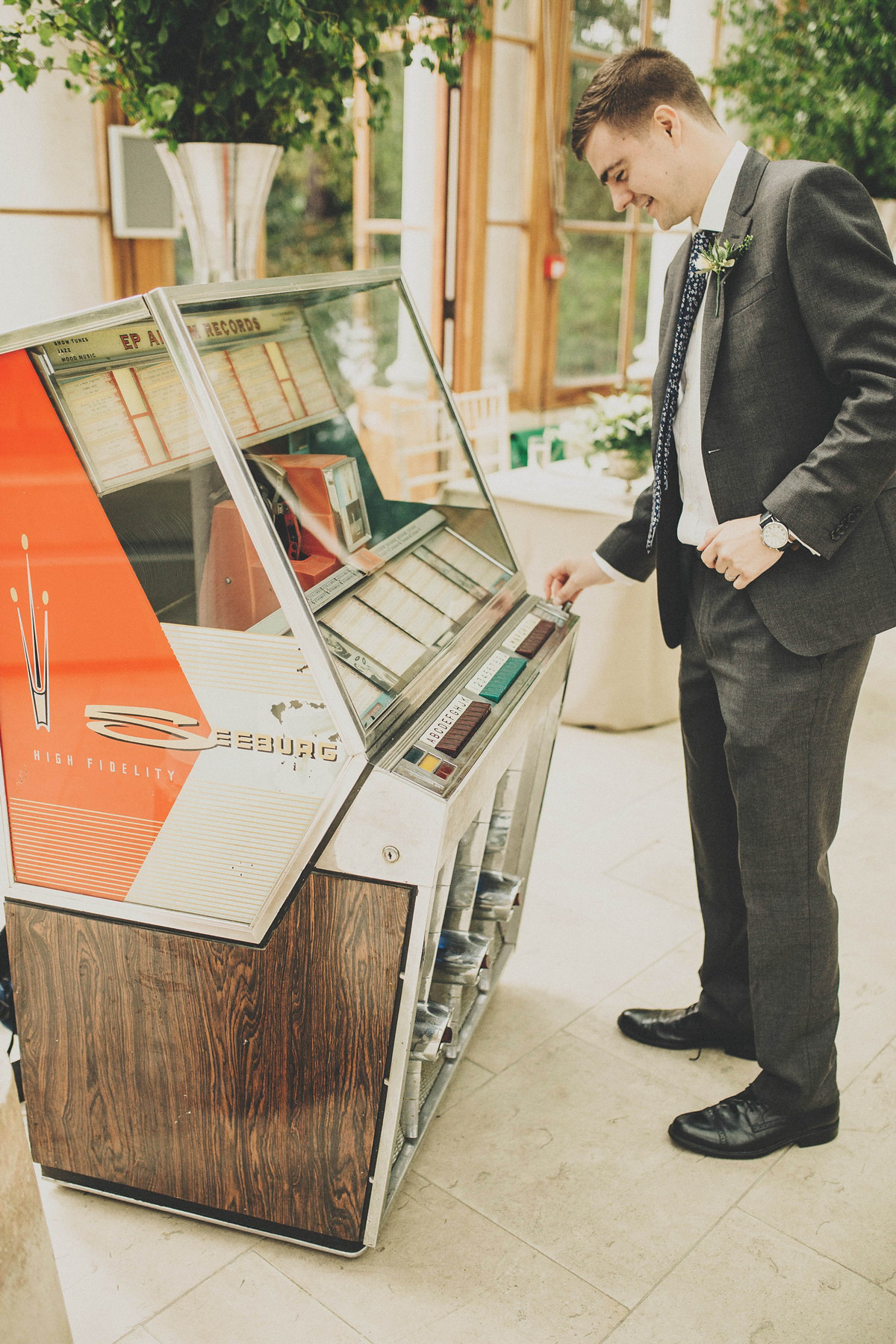 "We met through friends in Bristol. George had been living there after studying at the university and I had moved to the city for a job. We got engaged on a holiday in Iceland in October 2015, and got married seven months later."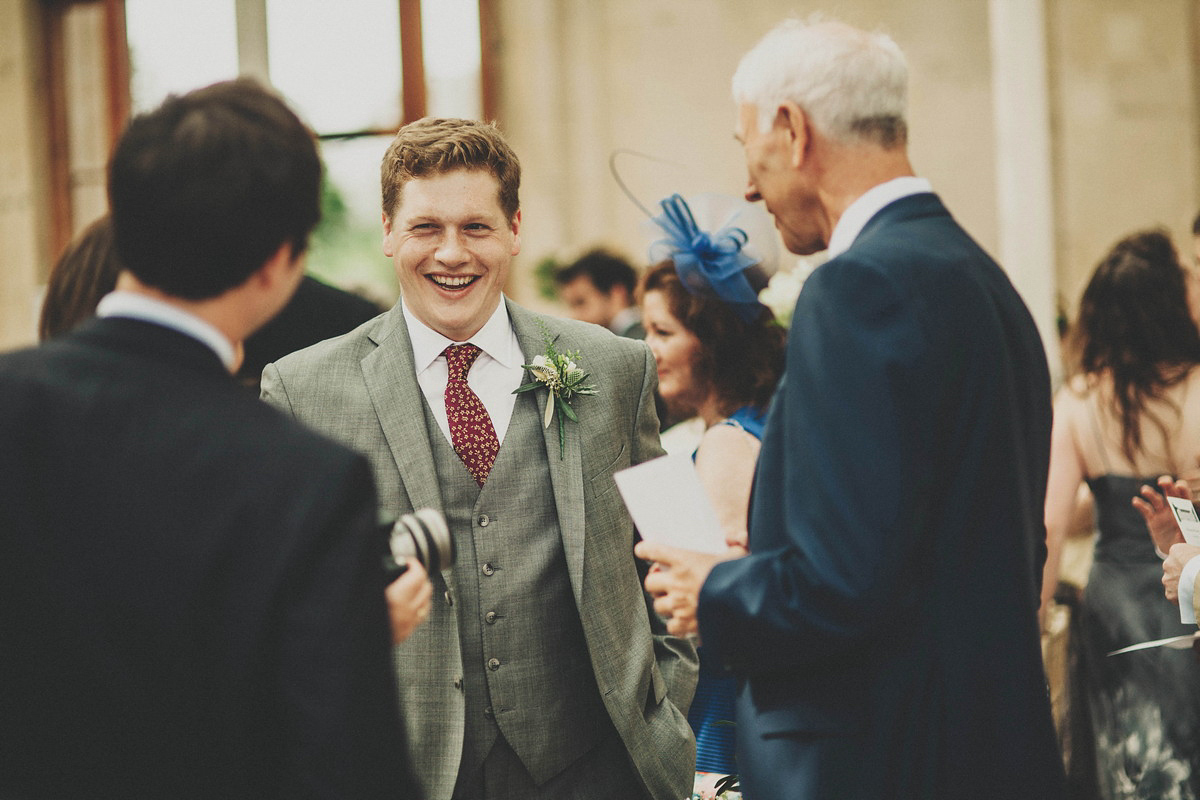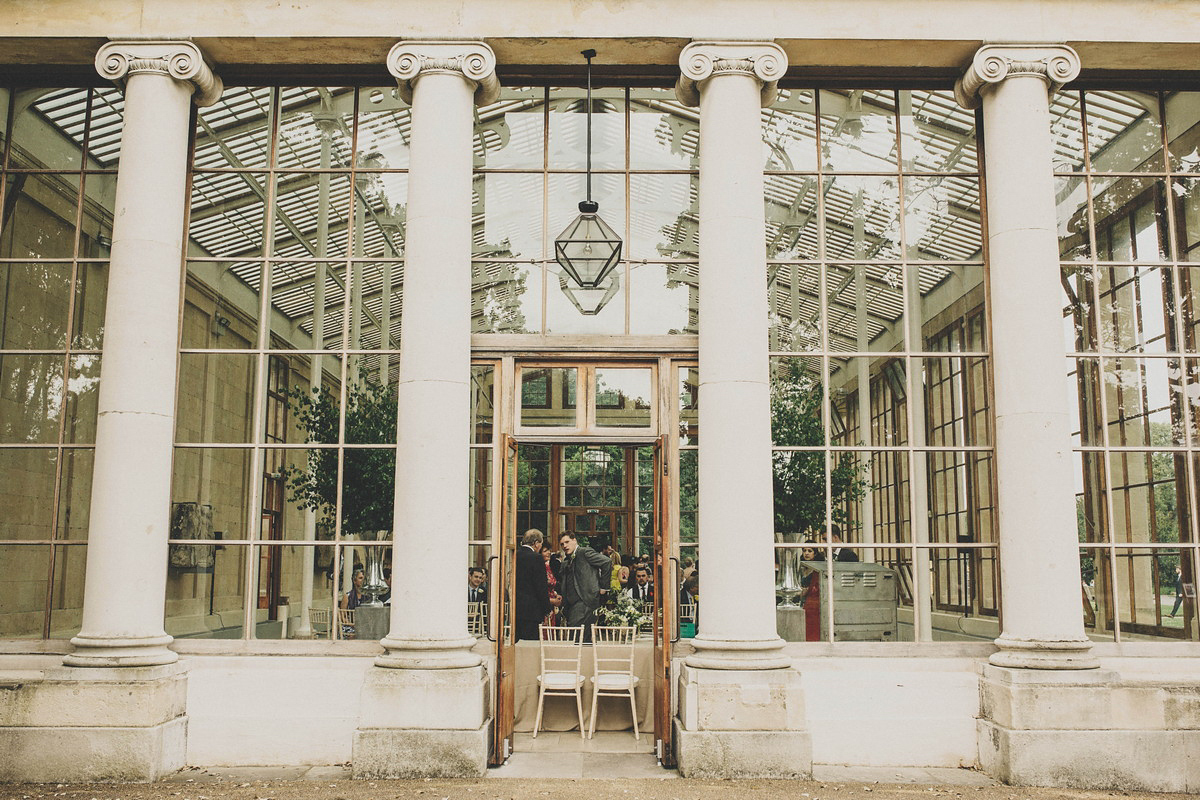 Louise's dad accompanied her down the aisle while 'It Must Be Love' by Labi Siffre played.
"We adapted Church of England vows, removing the God bits. We liked the vows but aren't religious. We also had individual vows for each other. We had three readings; lyrics from 'I Hope You Dance' by Lee Ann Womack, one of Louise and her mum's favourite songs, a reading adapted from Charles Darwin's thoughts on marriage in his journal, and 'A Lovely Love Story' by Edward Monkton."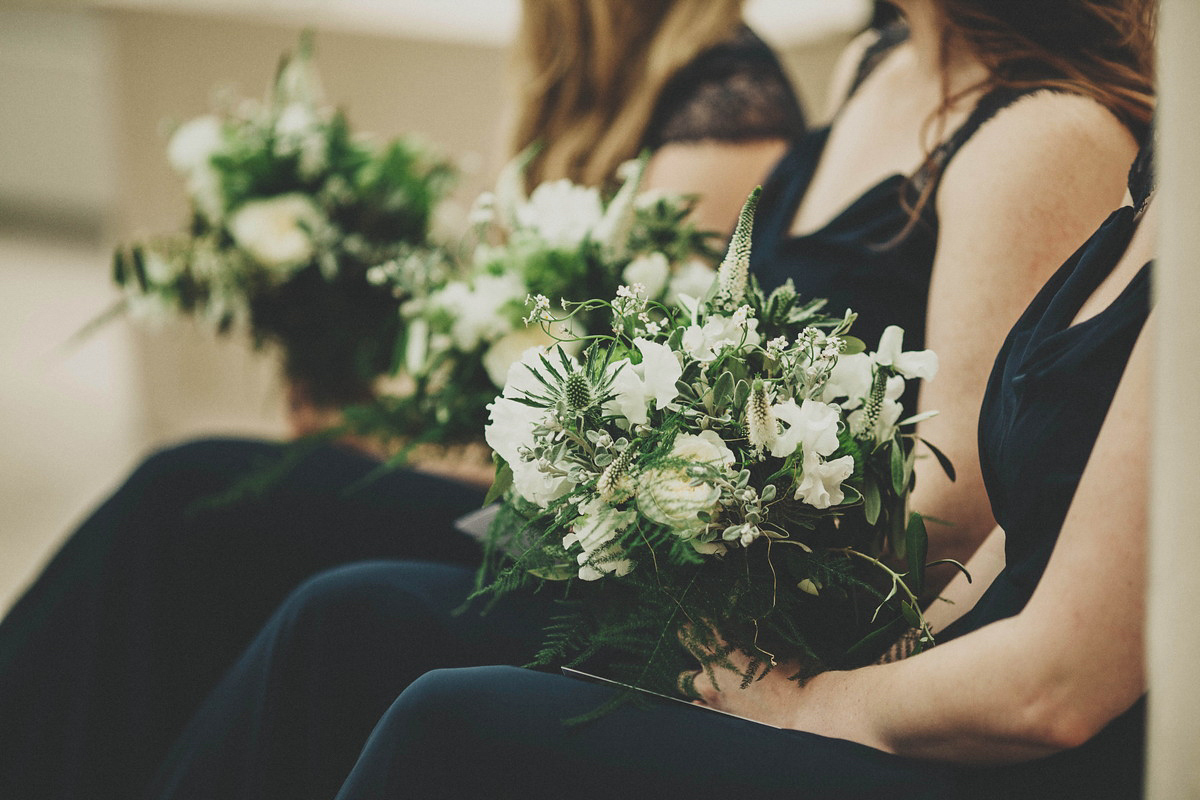 George wore a light grey three piece suit from Hackett with a burgundy floral tie and monogrammed cufflinks from Aspinal of London, a present from Louise. His groomsmen and Louise's father also donned floral ties.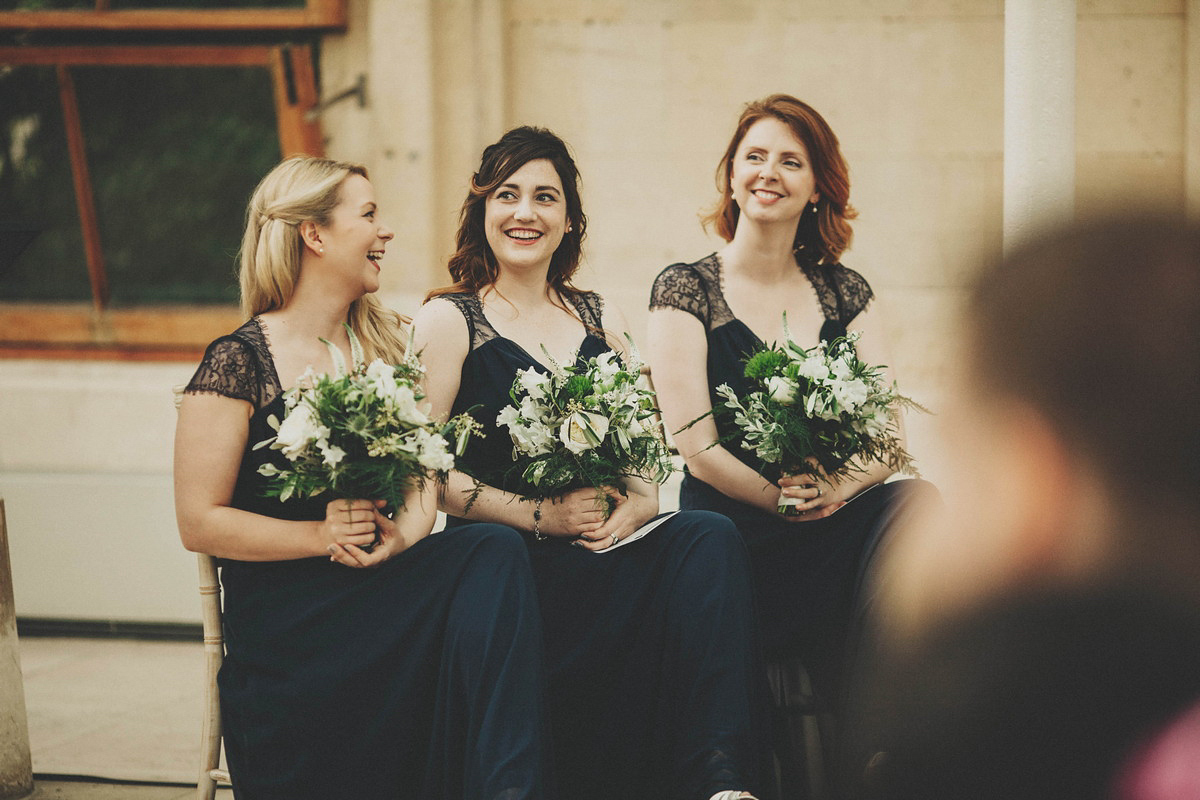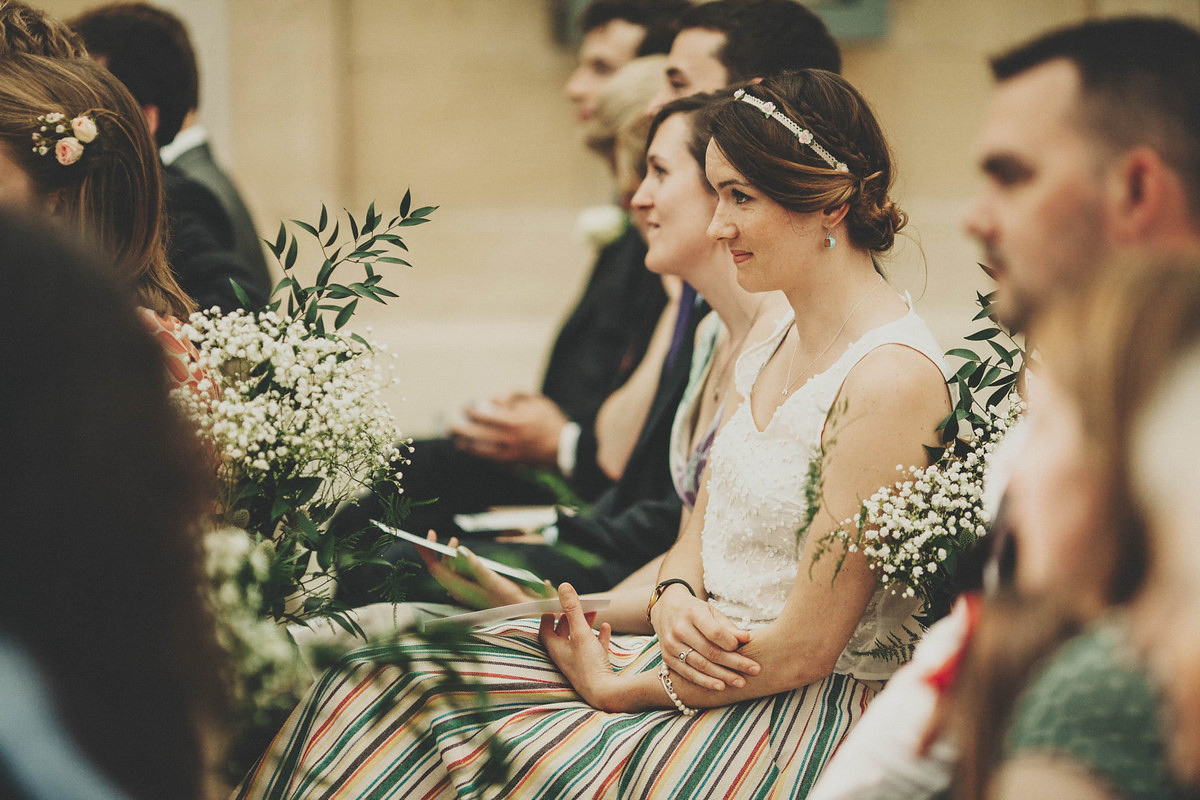 "We had a humanist wedding ceremony so we met our celebrant Zena Birch, got to know her and she created the ceremony based on what we told her about our relationship, friends and family. This was the heart of the day."
"Zena is a legend and put together a sweet, moving and really personal ceremony for us that we hope gave the guests some good insight into things about us they might not have known, as well as really including them, for example, we faced outwards at our guests throughout the ceremony."
"We told her about our plans for marriage, what it meant to us and we also separately wrote our stories of how we got from meeting to getting married. Zena then wove the different perspectives together during the ceremony."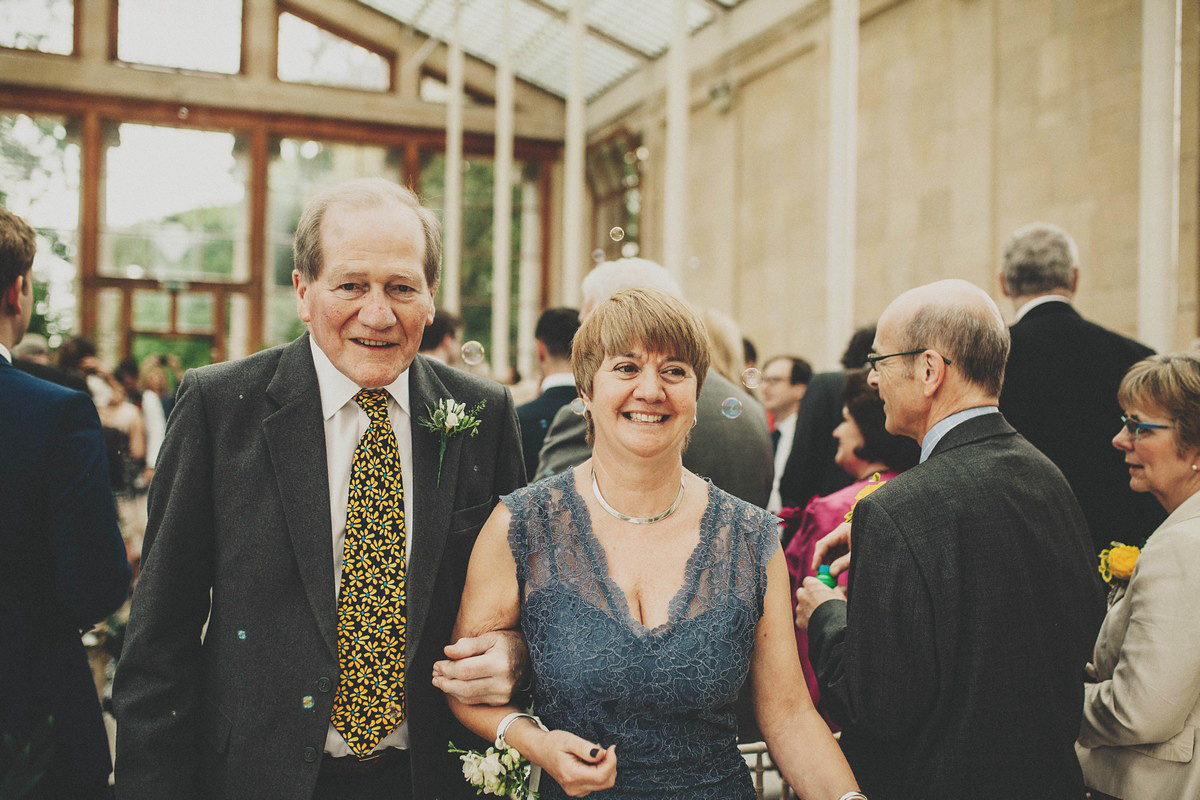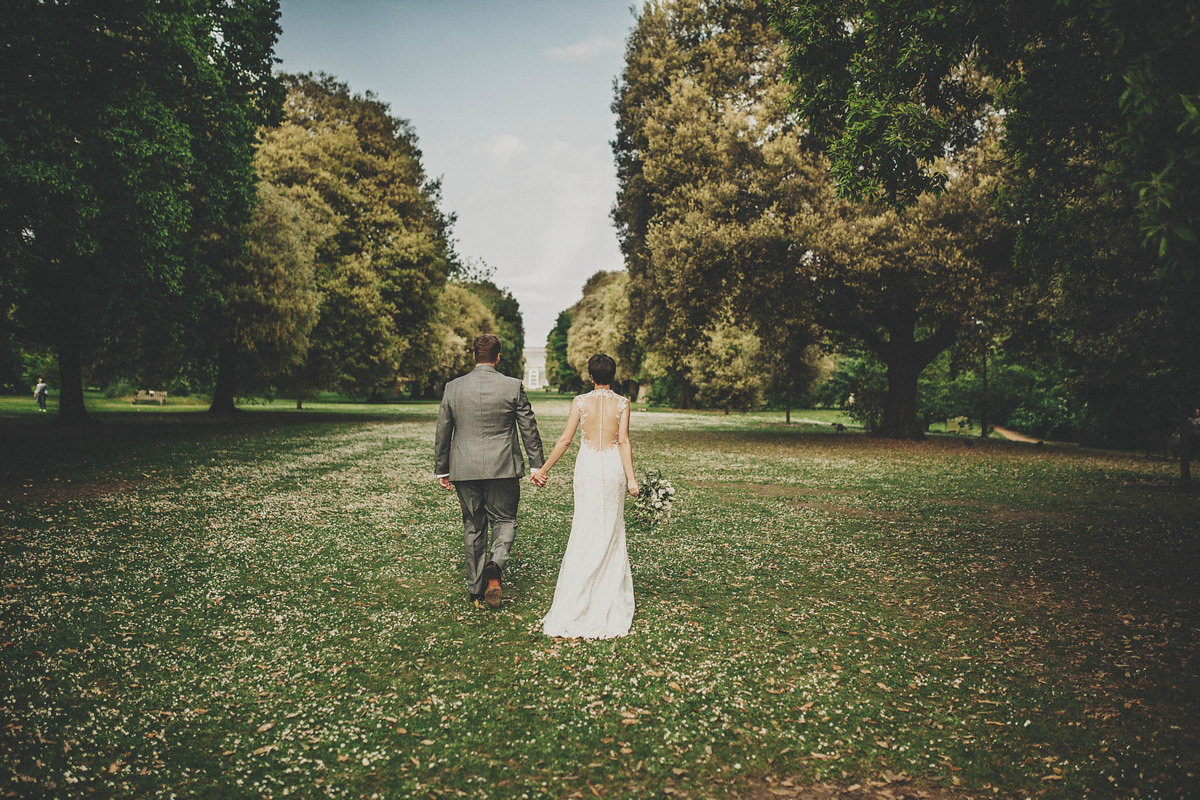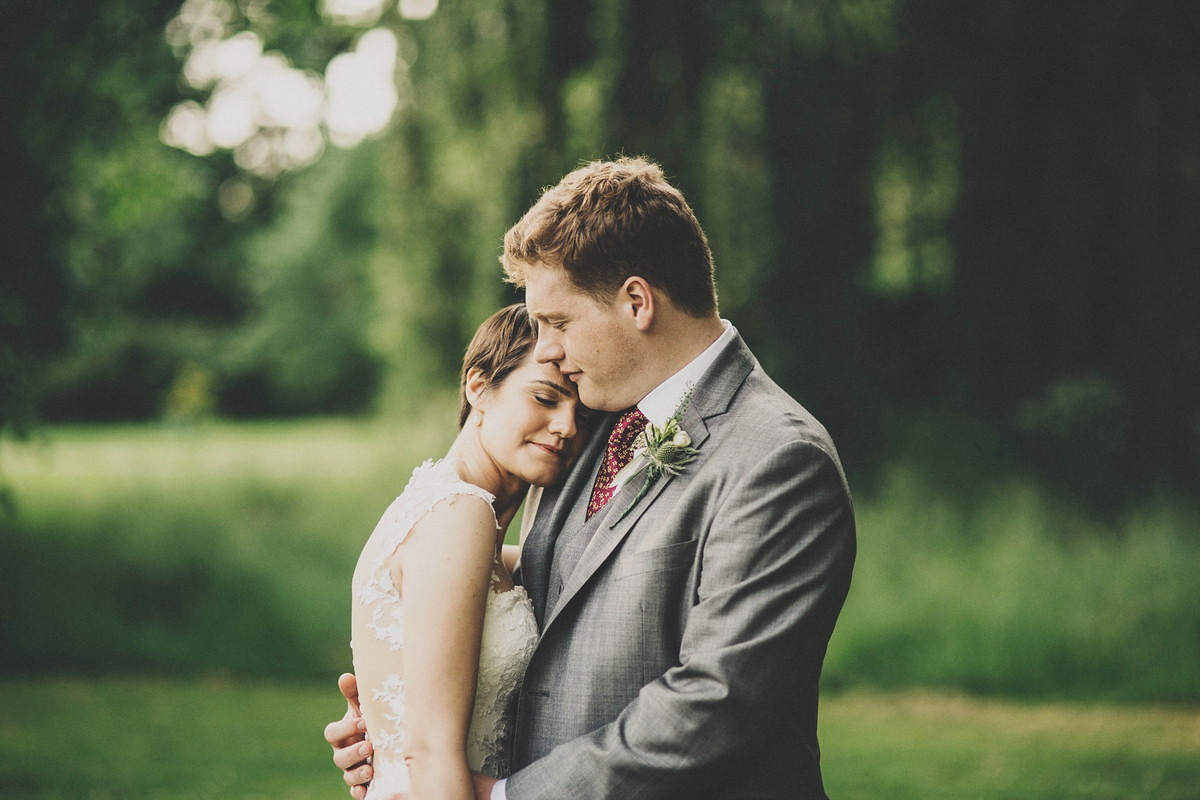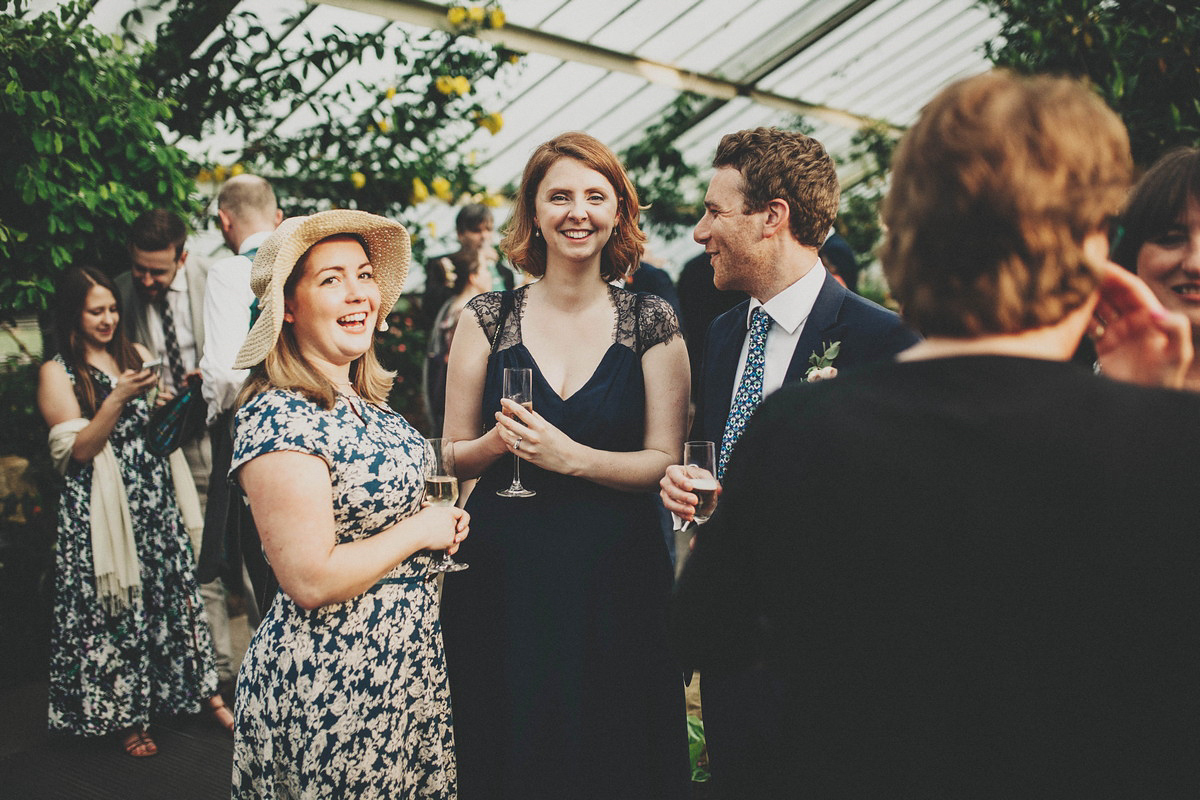 "The buildings in Kew are amazing, as are the gardens around them. We were hoping to have a venue that was impressive but not too stuffy, with lots of natural light and plants, and Kew was exactly that."
"We had both spent time at Kew in the past and live in London, as do many of our friends and family, so that was great as well."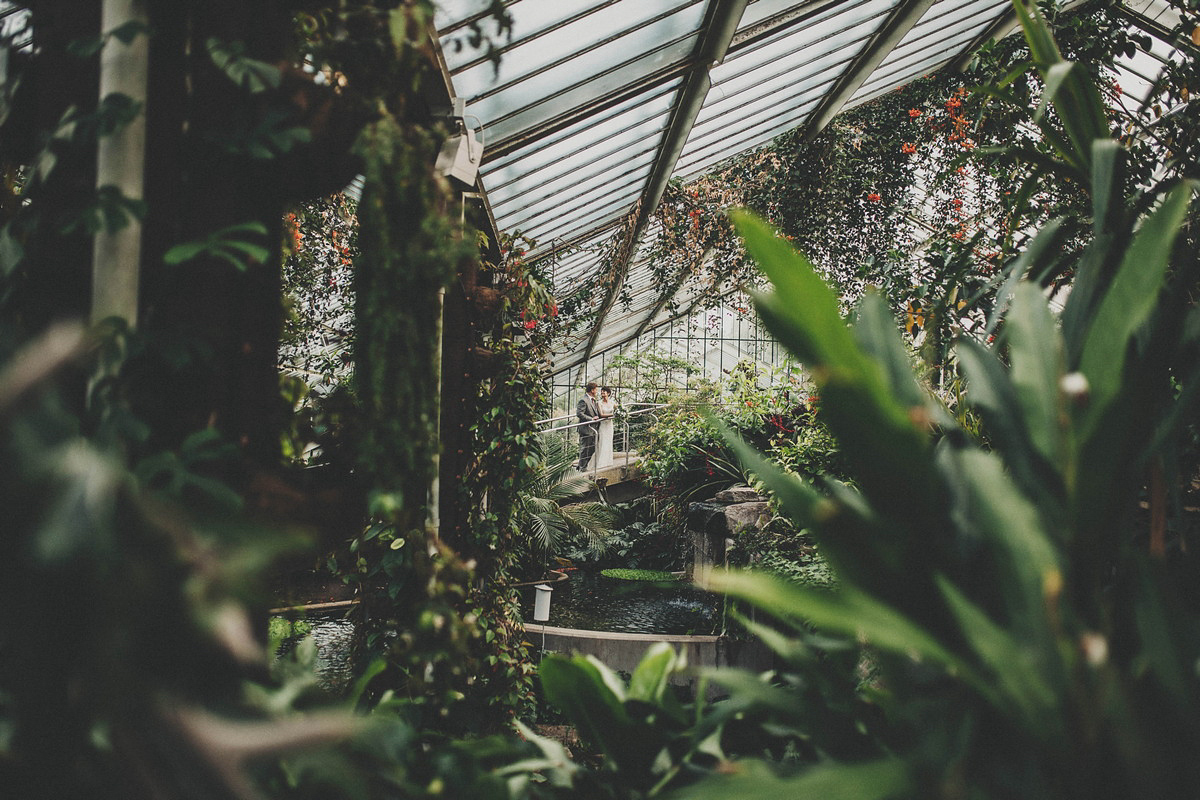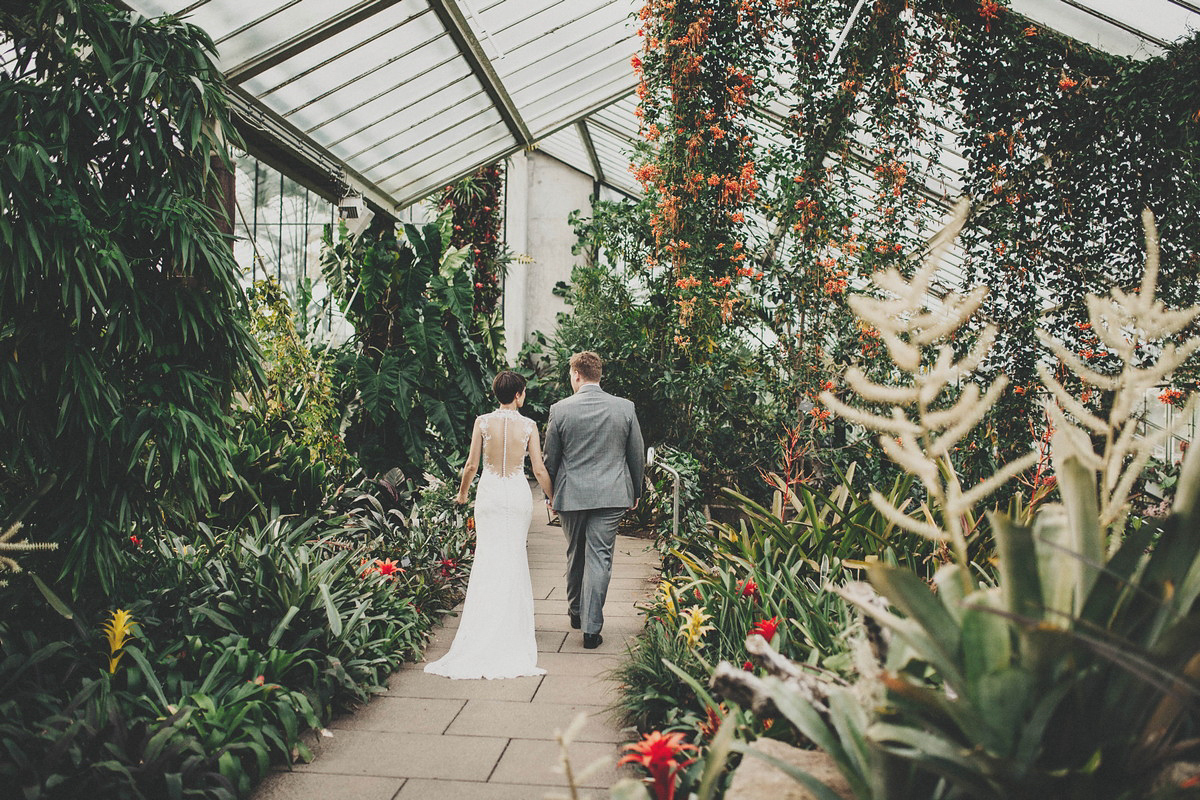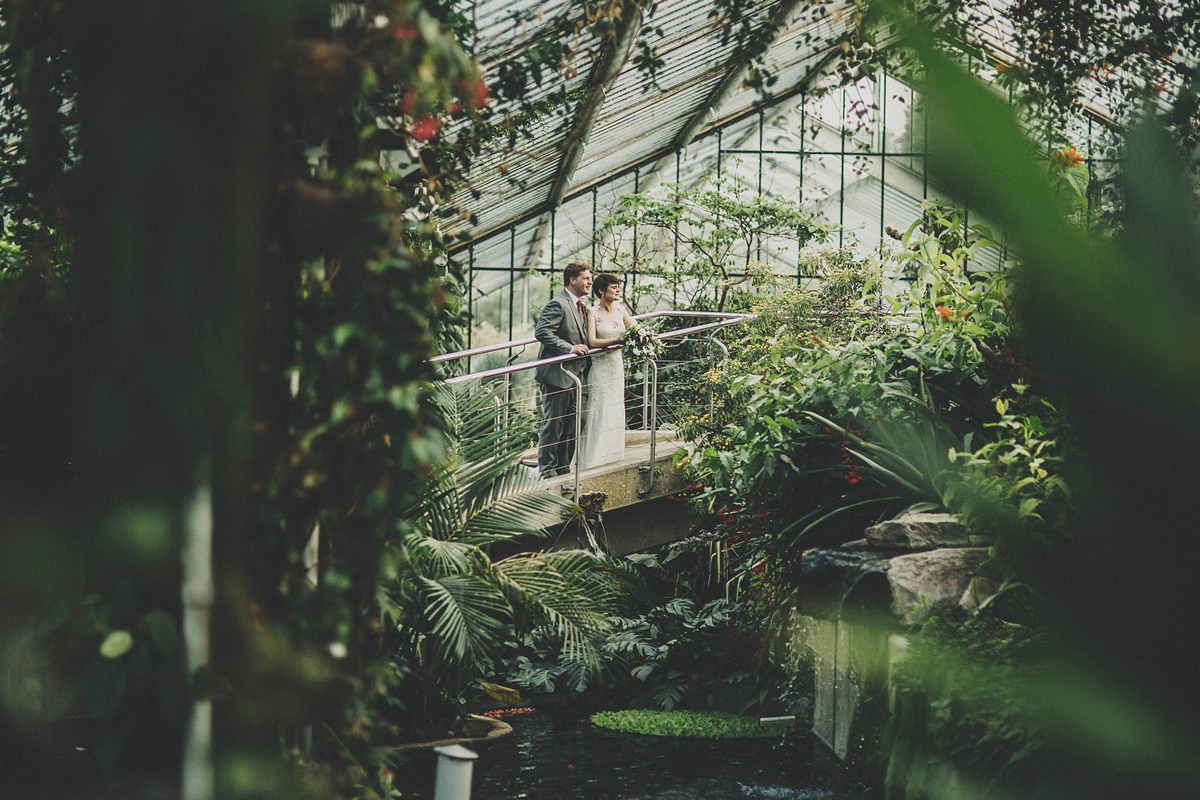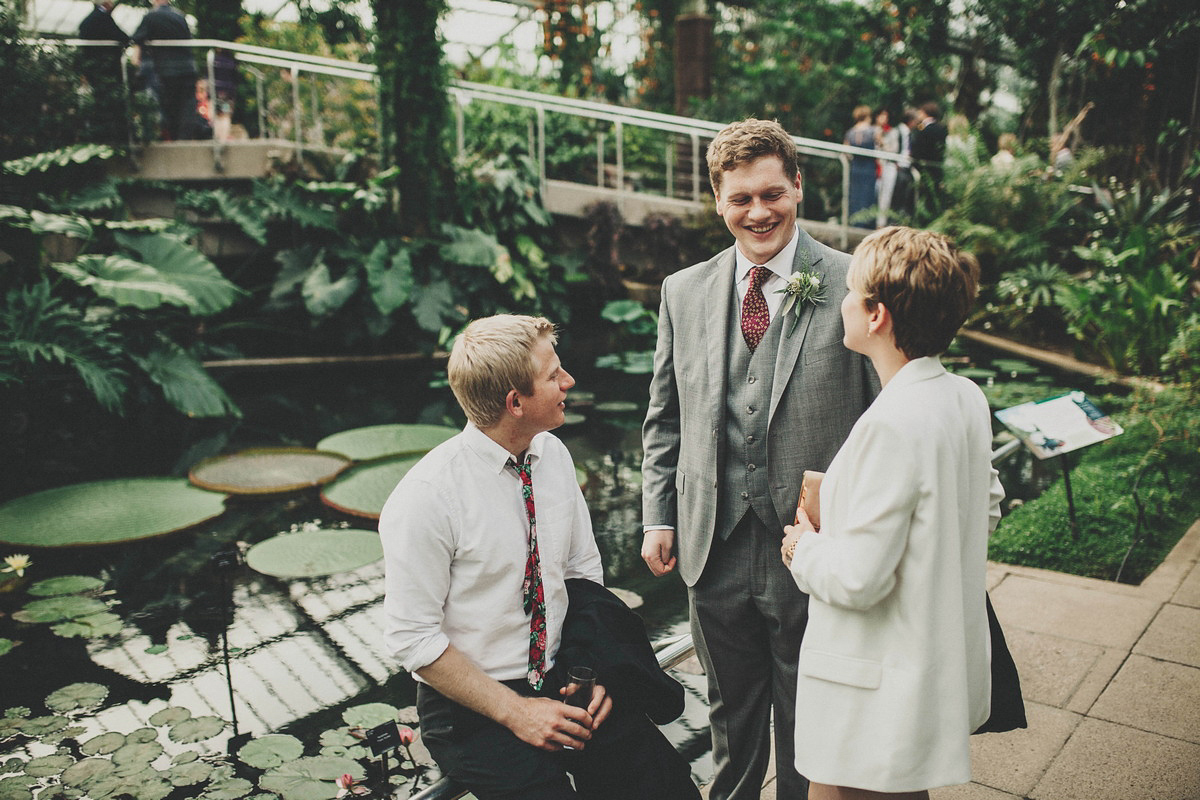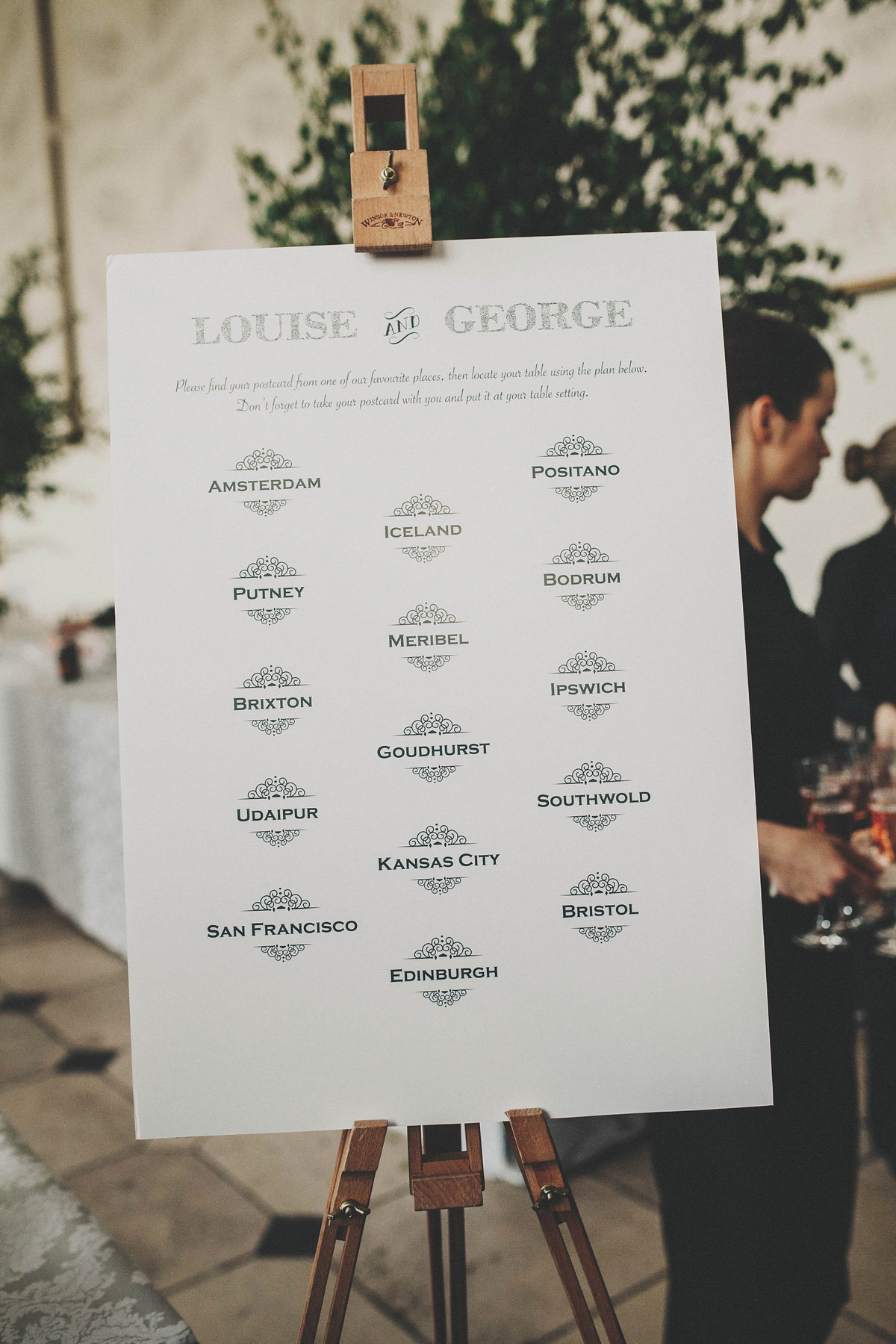 "We added some personal elements like pictures of us as children and a family juke box which we took to the venue to play music during the ceremony."
"We also gave each guest a postcard which was how they found their place at dinner – the postcards were all from places we love and each one had a handwritten note to the guest thanking them for being there or being part of our lives."
"Blue Strawberry catered the wedding. Their food and attention to detail is utterly brilliant. We loved working with Georgina, who was very patient and organised. We'd recommend them highly."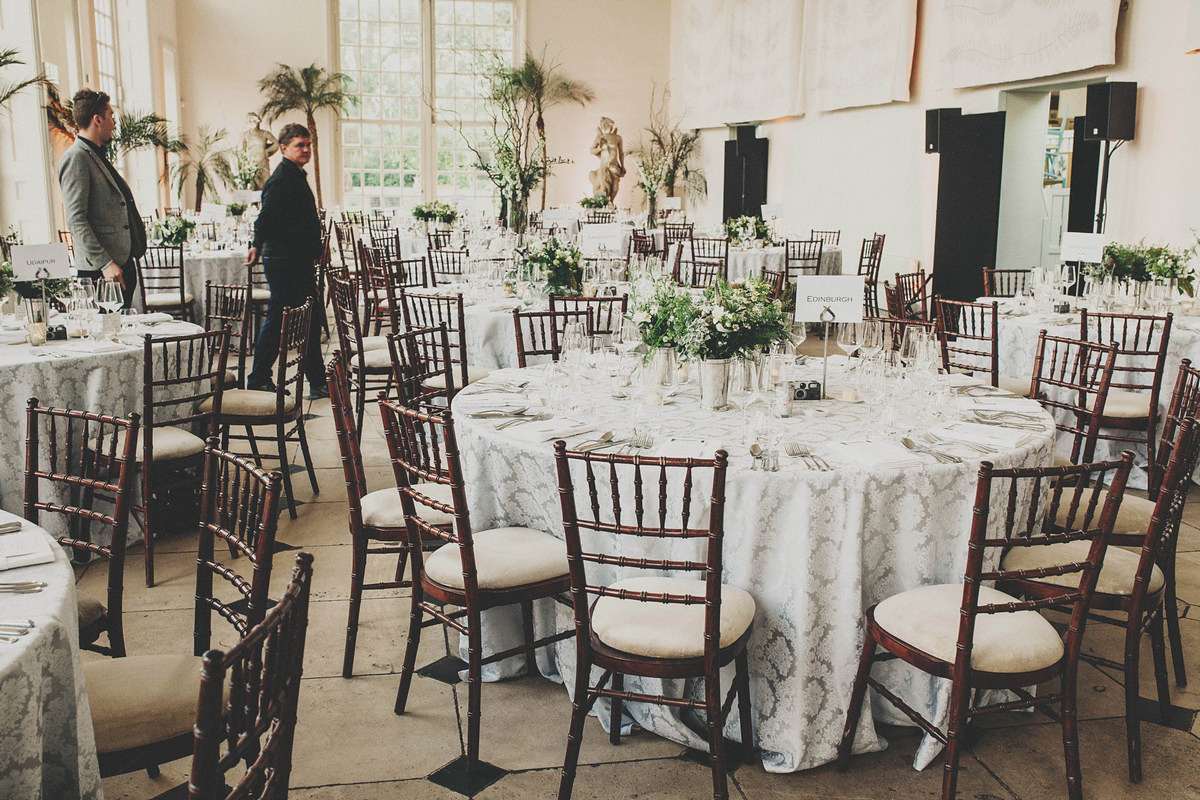 With such a stunning setting, the couple kept the flowers simple and fresh with a mixture of wild white flowers and green foliage. Katja from Bergdorfs also used twigs and branches on the table to compliment the nature outside.
"Katja was wonderful and knew exactly what she was doing, so we trusted her to put together some lovely flowers which she did. We chose white flowers as we knew the guests would be colourful."
When I was looking through the images of this wedding the gorgeous cake caught my eye. Not only does it look absolutely delicious but it's decorated with….popcorn!  One of my favourite snacks. 'Eat Your Heart Out', a chocolate and salted caramel cake, from Cutter and Squidge was actually a Valentine's day cake but Louise and George loved it, so decided to order it for their wedding.
The cake wasn't big enough for everyone so they actually had four different flavoured cakes with a lucky dip as to which people got to taste.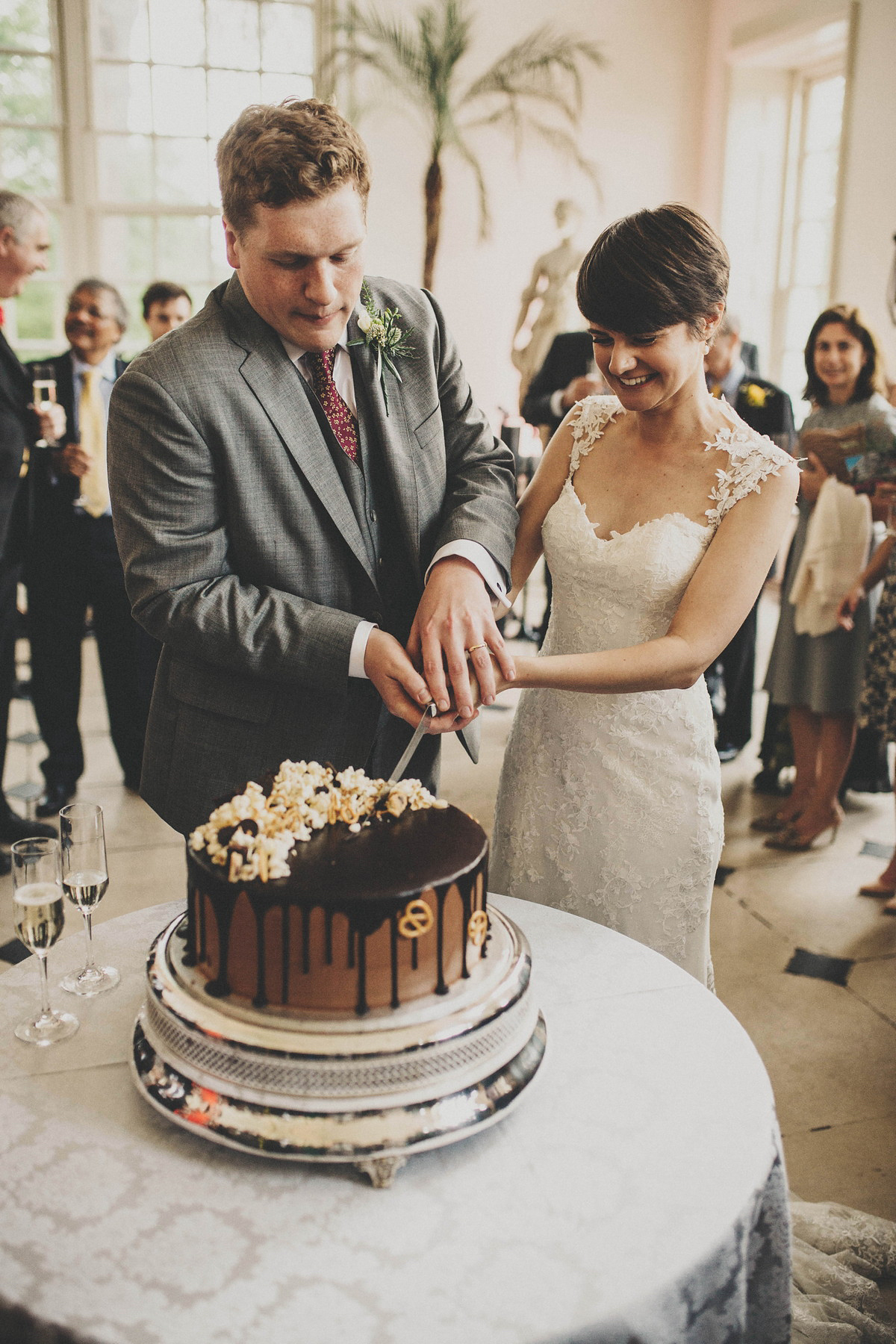 The newlyweds had their first dance to 'Tiny Dancer' by Elton John.
"We loved the whole day. Our highlights were the times when everyone did something together – like our guests blowing bubbles when we went back down the aisle and the sparklers at the end of the night."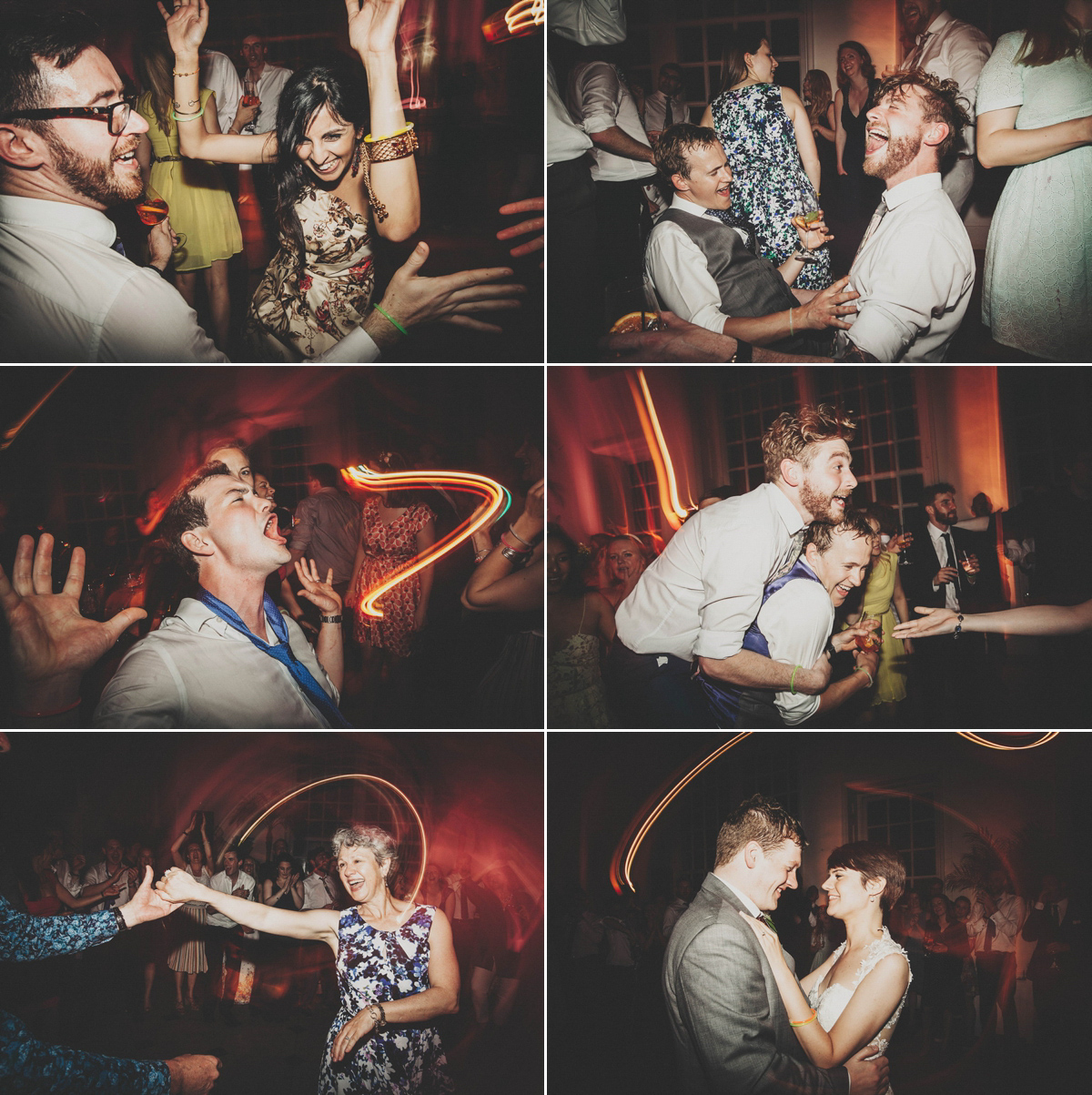 Words of Wedded Wisdom
"Don't get bogged down by details if they aren't important to you – there is nothing that does or doesn't need to be in a wedding. It should just be whatever you want it to be. Remember the marriage is much more than one day and this is just a party to celebrate."
Thank you so very much Louise and George. Your wedding is utterly gorgeous and captured beautifully by the wonderful Ali Paul.
Love Caoimhe xx