Now if the title of this feature hasn't made you stop what you're doing then my goodness, what's wrong with you?! Today, we're absolutely thrilled to bring you a very special competition from our friends at The London Victorian Ring Co who are offering you the wonderful opportunity for you to win your wedding rings…
We introduced you to The London Victorian Ring Co last year here on Love My Dress and we know that lots of you fell for their beautiful vintage inspired pieces, many of which are based around original period designs. If you've not yet taken a look at their delightful jewellery, you can here.
The gorgeous Art Deco, Edwardian and Victorian style wedding rings that make up the wedding ring collection are all carefully crafted by this fourth generation family business that has been making exquisite vintage style rings since 1890.
If you're the lucky winner of this competition, you'll be able to select your wedding rings from their collection up to a total value of £500. Choose an engraved wedding ring, diamond band or a more simple style. The vintage style wedding rings from The London Victorian Ring Co look fabulous next to both modern and antique engagement rings!
The expert team at The London Victorian Ring Co would love for you to visit their showroom in London's historic Hatton Garden so that you can try on the designs and select your ring (or rings!) in person at your appointment. If you can't make it to London, then they'll spend plenty of time working with you via email or over the phone to help you find your perfect ring.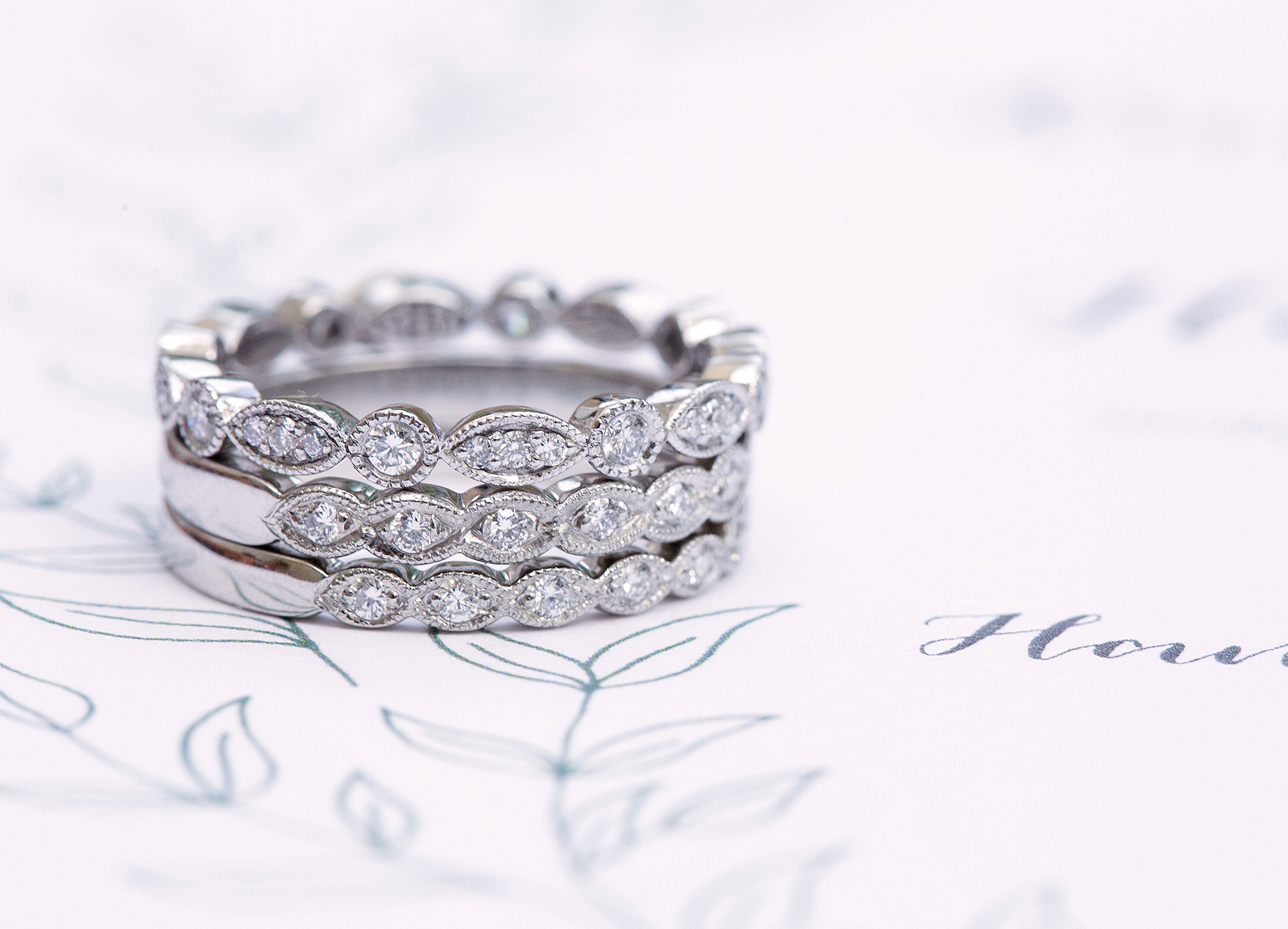 You've got complete freedom to choose from the wedding ring collection – you can select the style, metal and ring size of your choice and then your rings will be made especially for you in London by true craftspeople. Might you go for a platinum ring or one in 18ct yellow, white or rose gold? If you'd like to add a diamond to your design then The London Victorian Ring Co will guarantee that your stones are conflict free.
To be in with a chance of winning £500 worth of wedding rings from The London Victorian Ring Co, all you need to do is follow them on Instagram and tag one friend as well as completing the entry below before the closing date of midnight on Monday 3rd July. It really is that simple so, once you've read the terms & conditions below, pop over to Instagram right away and enter just as soon as you can.
Good luck to all the entrants in this brilliant competition and we can't wait to see what our winner will choose (and we promise we'll try not to be too jealous!)
Wedding rings from The London Victorian Ring Co range in price from £280 up to £1,400 with the price depending on the style of ring you choose. Engagement rings start from £1,200. You'll find The London Victorian Ring Co at 100 Hatton Garden, London, EC1N 8NX and their showroom is open by appointment only. To arrange a time to visit, simply contact the team on 020 7193 4412 or via [email protected]
There are no photos with those IDs or post 681459 does not have any attached images!
The London Victorian Ring Co also offers a bespoke jewellery service and they can offer expert advice in the custom design and making of bespoke engagement rings, wedding rings, earrings and pendants.
If you'd like to find out more about The London Victorian Ring Co and view more of their fabulous designs, do take a look at their website.
Love,
Tamryn x
Terms & Conditions
This competition is open to all readers around the world.
Only one entry per person/couple.
Love My Dress and The London Victorian Ring Co will retain the email address of all entrants for their general communication database only. Email addresses will not be shared with any third party.
All entrants must follow The London Victorian Ring Co Instagram page and tag one friend. The winner to agree to be featured on the blog and social media channels of Love My Dress and The London Victorian Ring Co, including Twitter, Facebook,
Pinterest and Instagram. We may ask for verification that the follow and tag have been made before we confirm the winner.
This competition will open on Monday 19th June and close at midnight GMT on Monday 3rd July 2017. The winner will be announced via Love My Dress social media channels the following week. The winner will be notified directly via email.
The winner will be able to spend £500 against the full cost of one or two wedding rings of their choice from our wedding rings collection for women and men, providing that the order is placed by Monday 19th July 2017.
The winner may add ring(s) to their order that exceeds this value, but will need to pay the balance in full before the ring(s) can be shipped.
Alterations after the purchase will be chargeable.
Ring(s) will be shipped four weeks from the client signing off their chosen winning order.
The voucher cannot be exchanged for cash and has no value outside of this competition.
Returns and refunds will not be allowed.