Good morning everyone, welcome to our beautiful wedding blog, and hooray that it's Friday today! This morning's wedding is a celebration of our capital city, which, following the events of this week, seems fitting.
The couple, Ele and Matt, tied the knot on 11th March this year at the beautiful St Peter de Beauvoir church and celebrated in style with a ridiculously cool and modern 'jungle and geometrics' inspired reception at Old Finsbury Town Hall.
"The decor and colour scheme of our wedding were my favourite part of planning! I knew I wanted the scheme to reflect the gold and opulence of the inside of the Old Finsbury Town Hall yet to remain modern so it developed into gold and green quite early on. I didn't think that rustic or country styles would work in the space and I loved the images I'd seen of huge jungle leaves so started to mix in geometric shapes and marble textures. I loved putting it all together, sourcing all the stationery and props and then finally seeing my vision come together on the day. Whenever anyone asked what we were planning we had nicknamed it 'jungle geometrics' which always was met with a few surprised looks!"
Photography by We Heart Pictures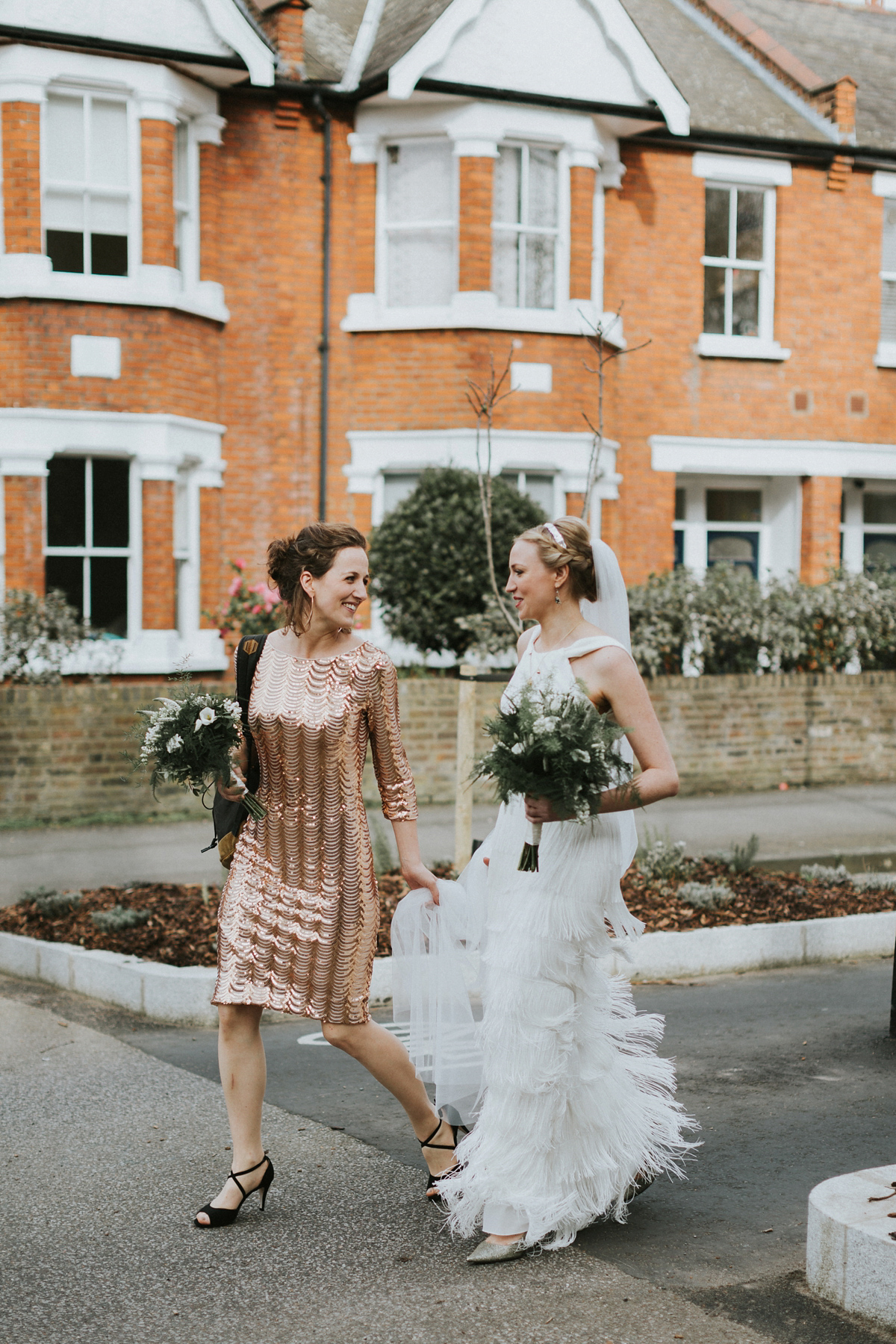 Ele's utterly gorgeous tasseled gown is by Charlie Brear – look at the movement in that image above!
"I knew from the beginning I didn't want a traditional gown. I had seen the Isere skirt online and despite hours of scrolling through Pinterest, looking for alternatives, knew it was the one. I visited the Charlie Brear store in central London and after trying it on knew it the was perfect alternative to a traditional gown. The top was trickier – they didn't have the top in their range when I first visited and when I went for my fitting could only try on the one and only sample that had been made. I had complete faith in them though and when the finished top arrived I fell in love with the whole outfit."
"The bridal party fashion was all about sequins! Dresses were surprisingly sourced from the websiteSimplybe.com, as the sequin colour was a perfect fit and they had sleeves in case the march weather was a little chilly."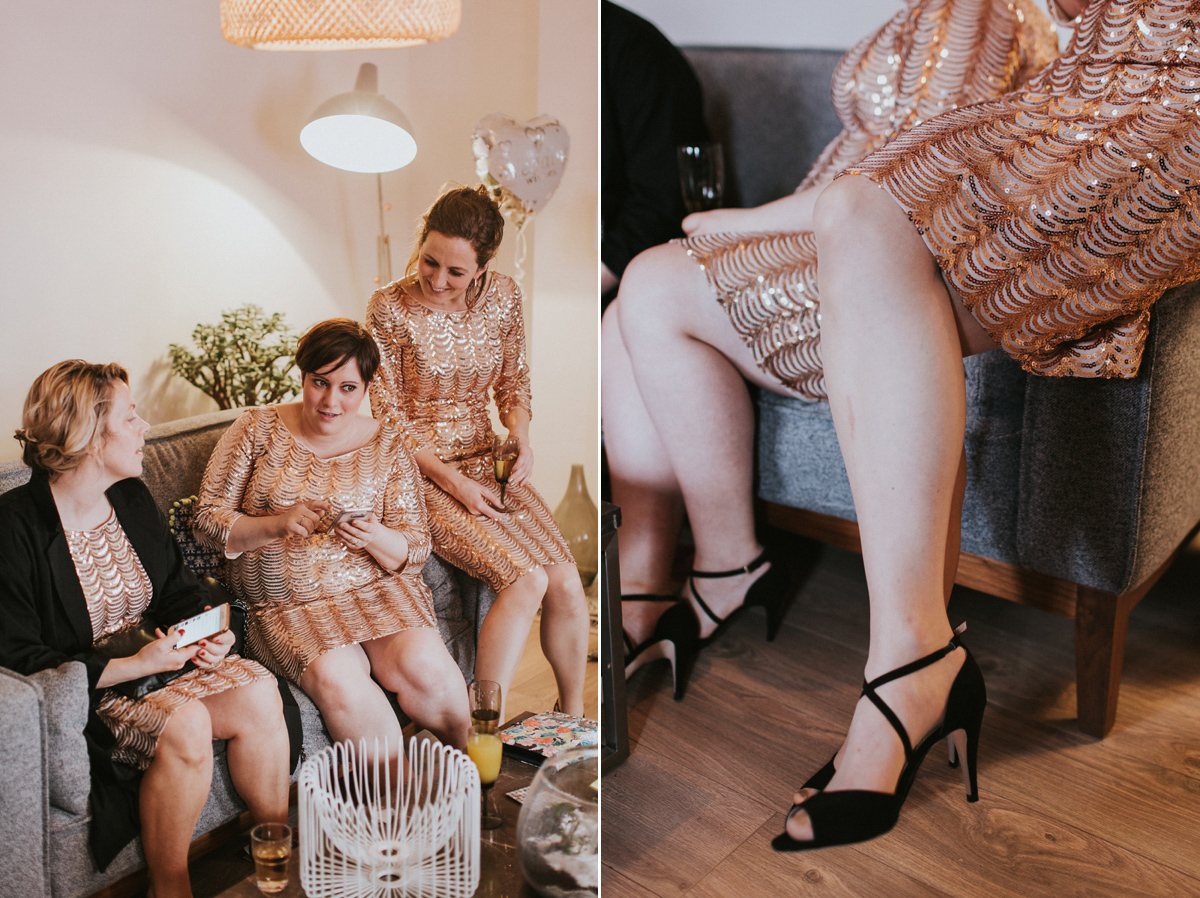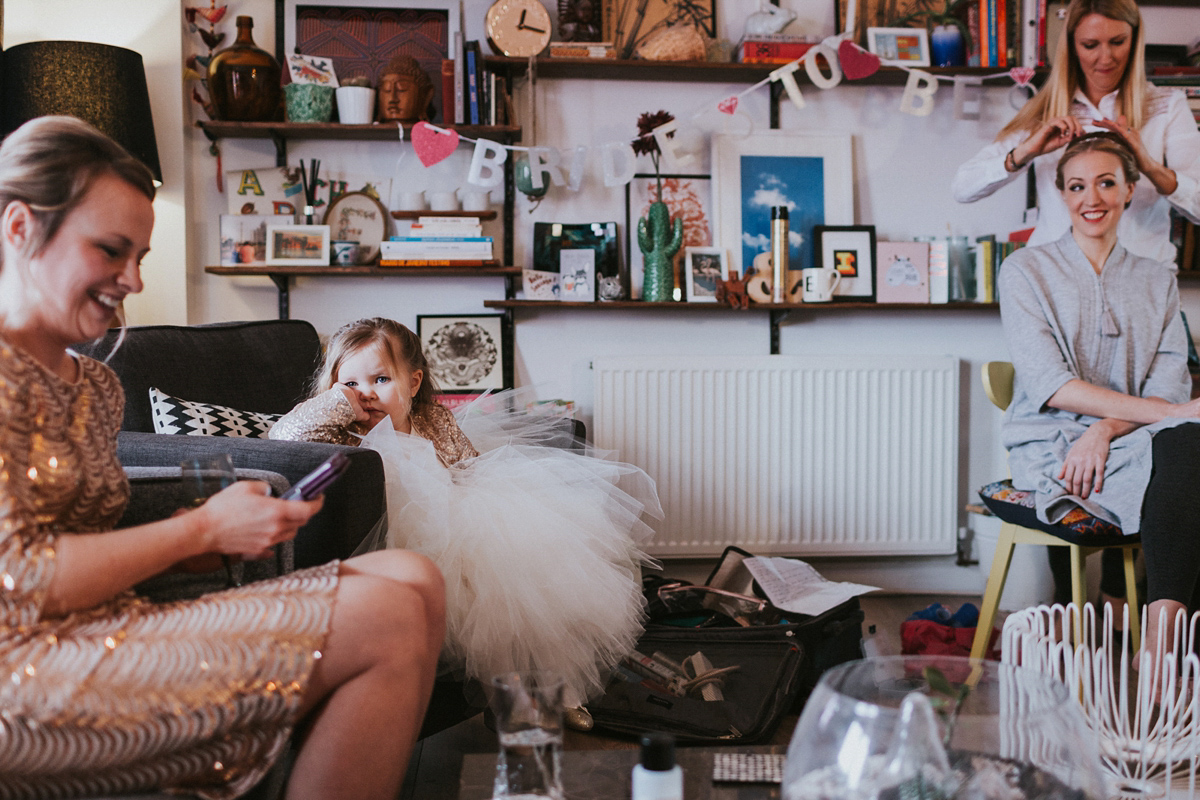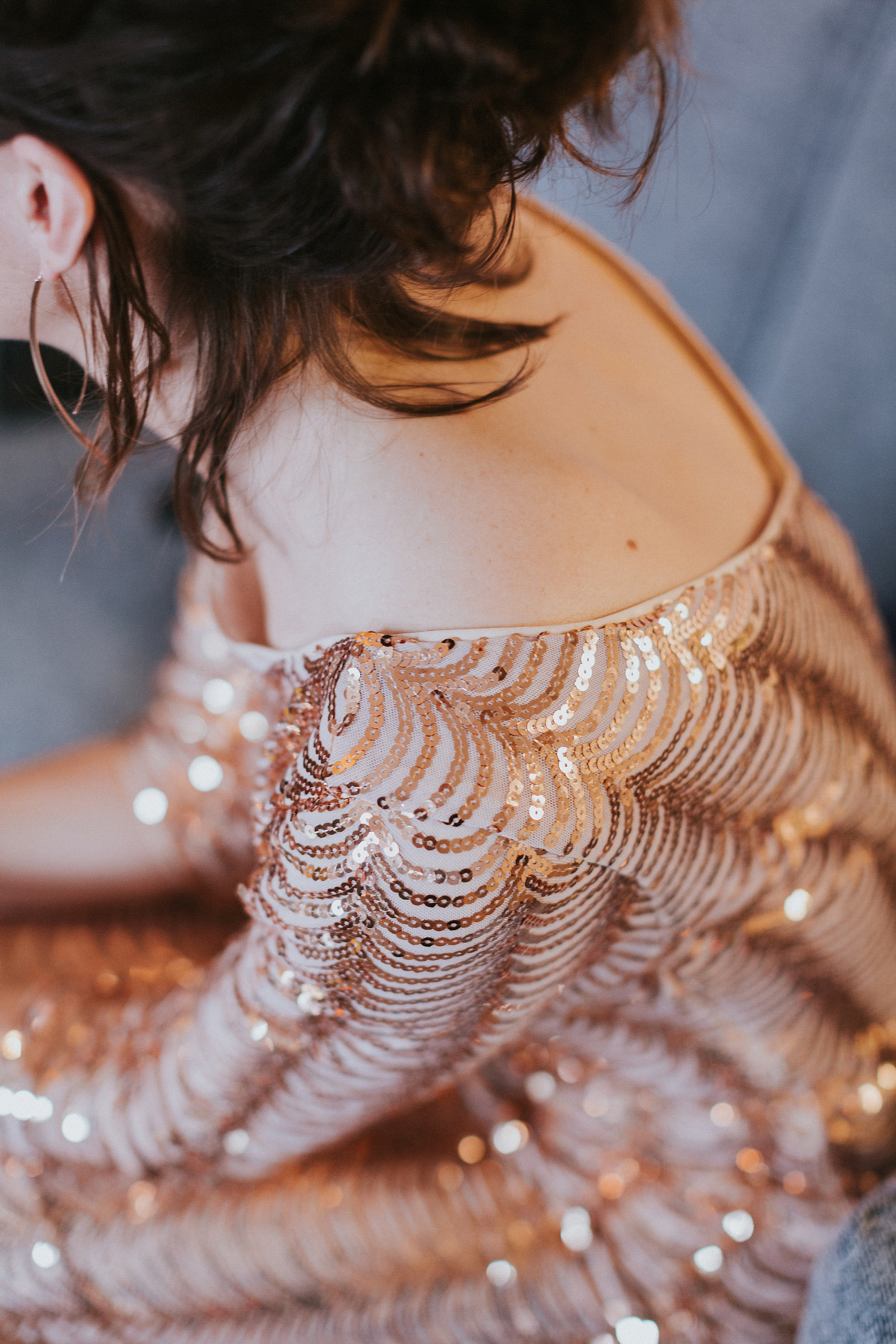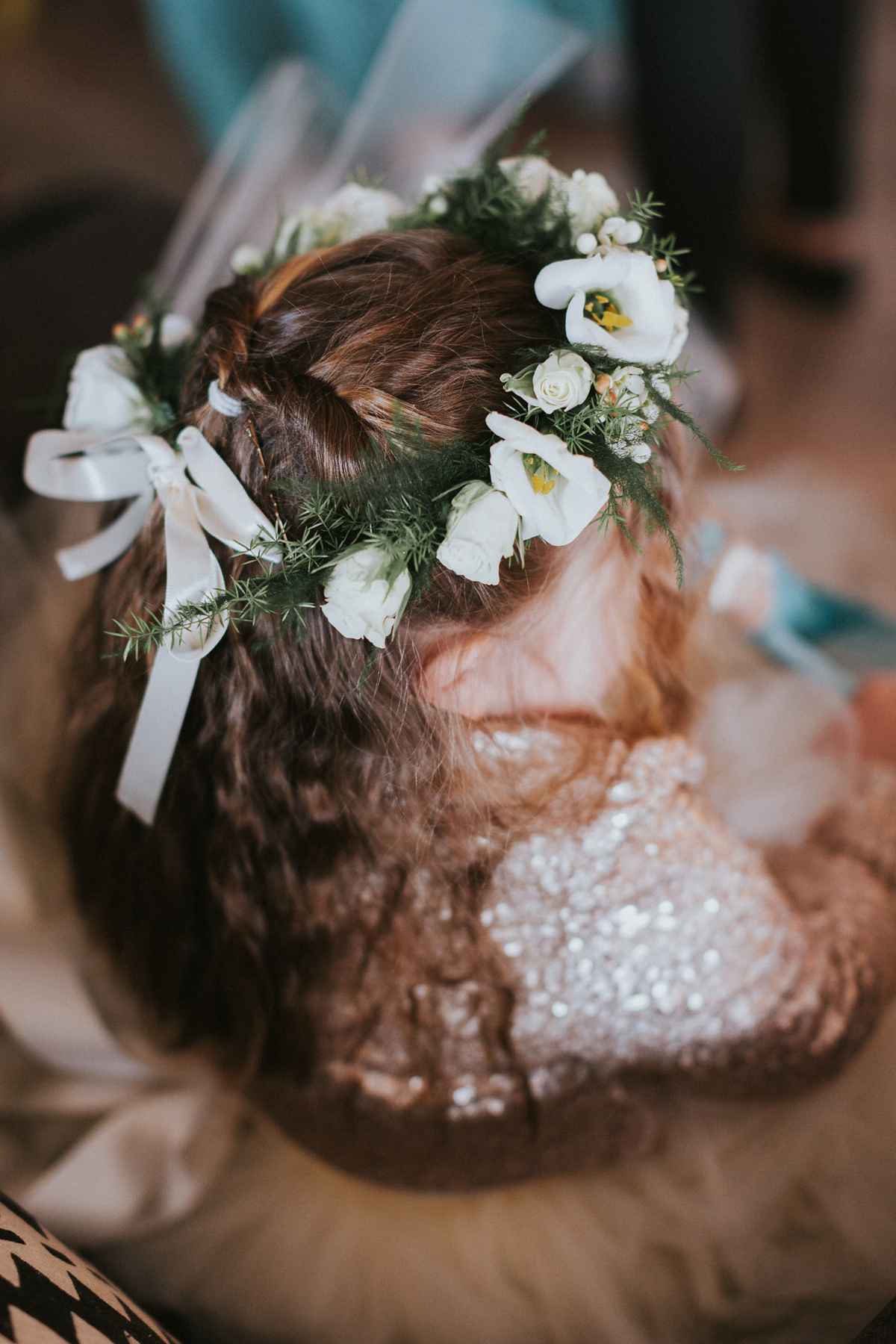 Ele wore a variety of beautiful and meaningful accessories. They included an Anna Sheffield ring, earrings by Alexis Bittar and her grandmothers charms for her necklace.
"My necklace was really special to me, my grandfather bought my grandmother a charm on every holiday they went on for fifty years. She passed away the year before the wedding, and with our day being on her birthday it felt special to walk down the aisle wearing her favourite pieces of jewellery."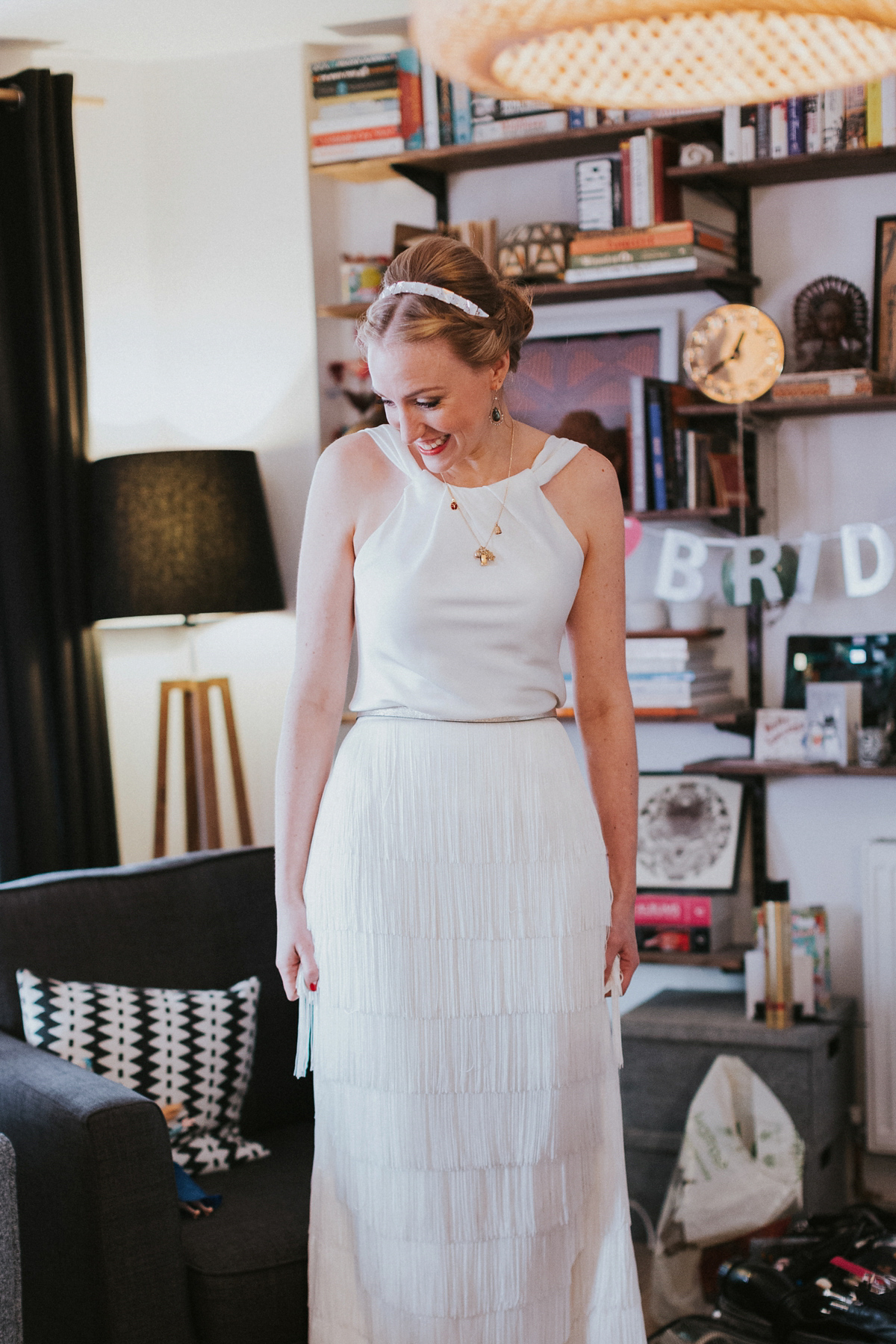 "I had always wanted a black diamond engagement ring and knew of Anna Sheffield from a trip I had taken to New York. Matt conspired with a close friend to propose with a one of her rose beautiful gold and black diamond hazeline rings. My wedding bands were part of the same range, I love the idea that I can keep adding with the rest of her stunning collections."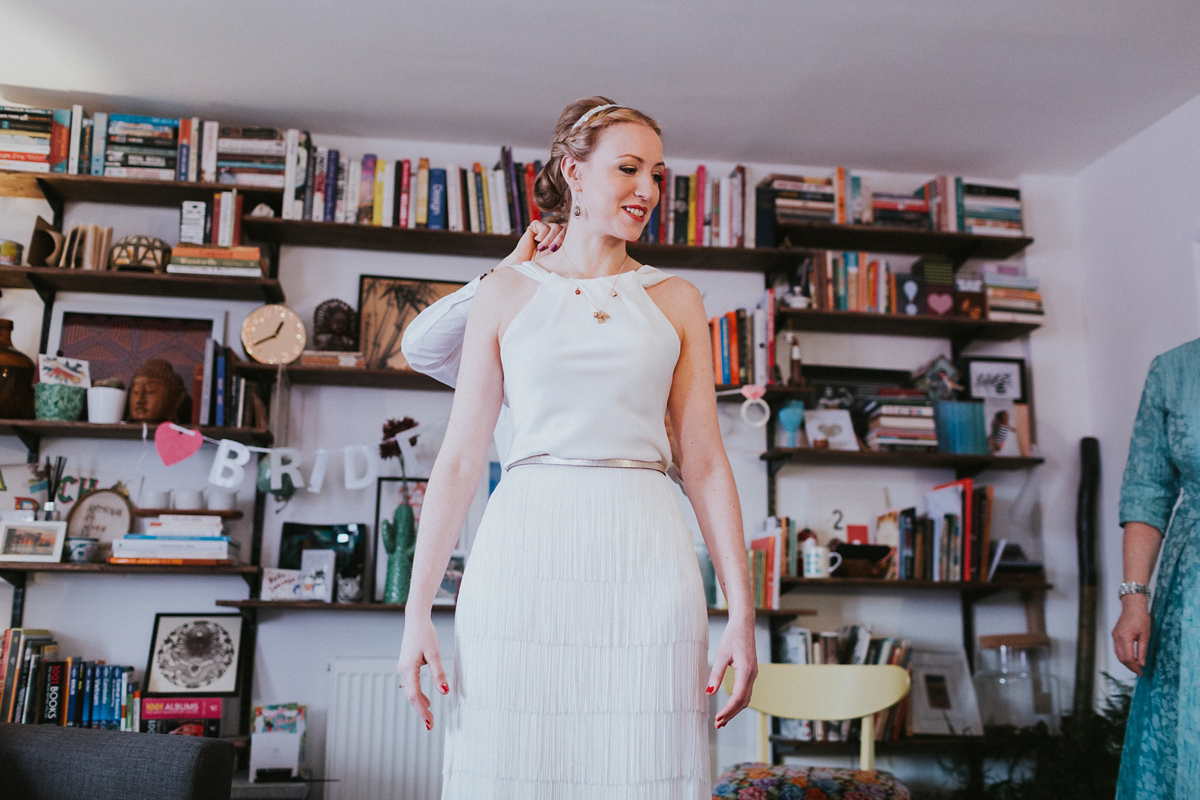 "My niece was our flower girl, her tutu was made by Nicola Langdown of 'Flowersandconfetti' on Etsy, we added a sequin cardigan and glittery shoes from John Lewis – I'm not sure judging by her face in the photos of her walking down the aisle that she was overly impressed with her outfit despite everyone else thinking she looked great. As soon as we reached the Old Finsbury town hall she changed into her super hero costume that she was desperate to show us and then kicked started the dancing in her mask and cape!"
"My veil was a very last minute addition made possible by i-do-bridalcollection, a shop on ebay, who made and dispatched my order in a day so i'd have it on time! The hairband I made."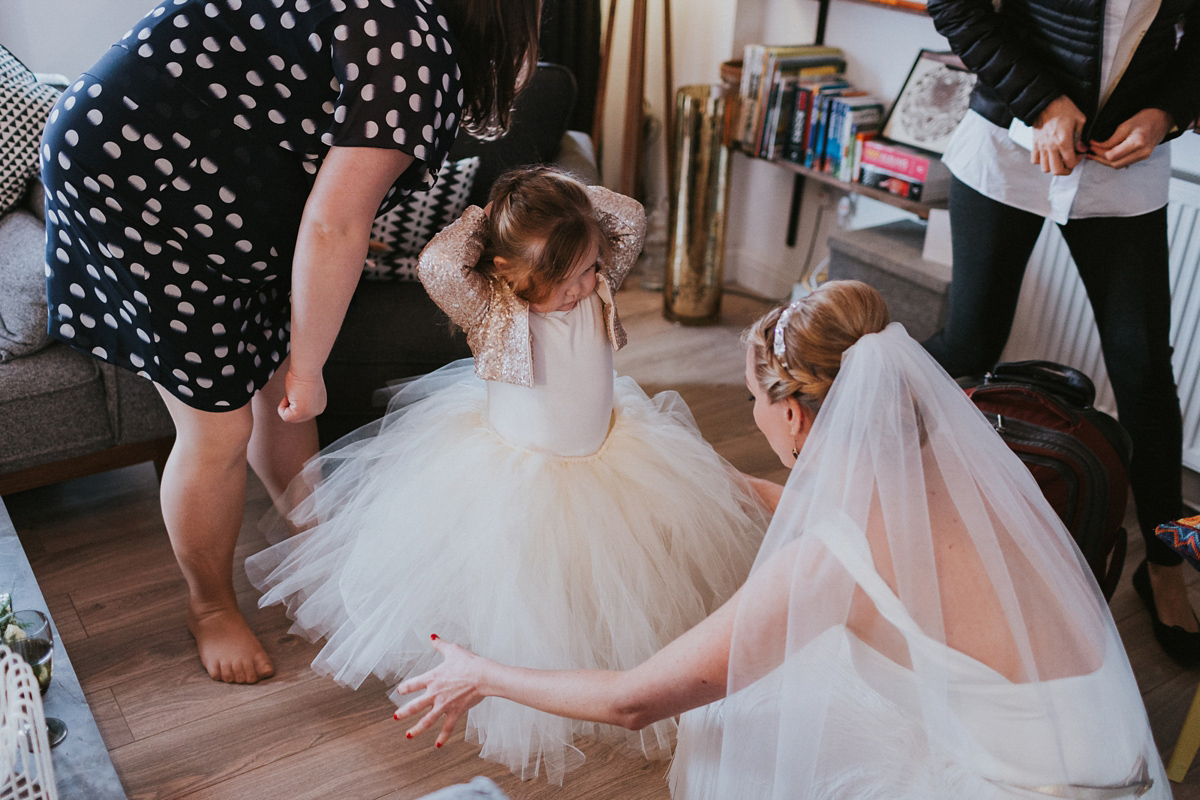 "We decided not to have a florist for the venue as I wanted to do it all myself – the vendors at the New Covent Garden Market couldn't have been more helpful with how to organise everything and you tube was invaluable for 'how to's' on flower arranging."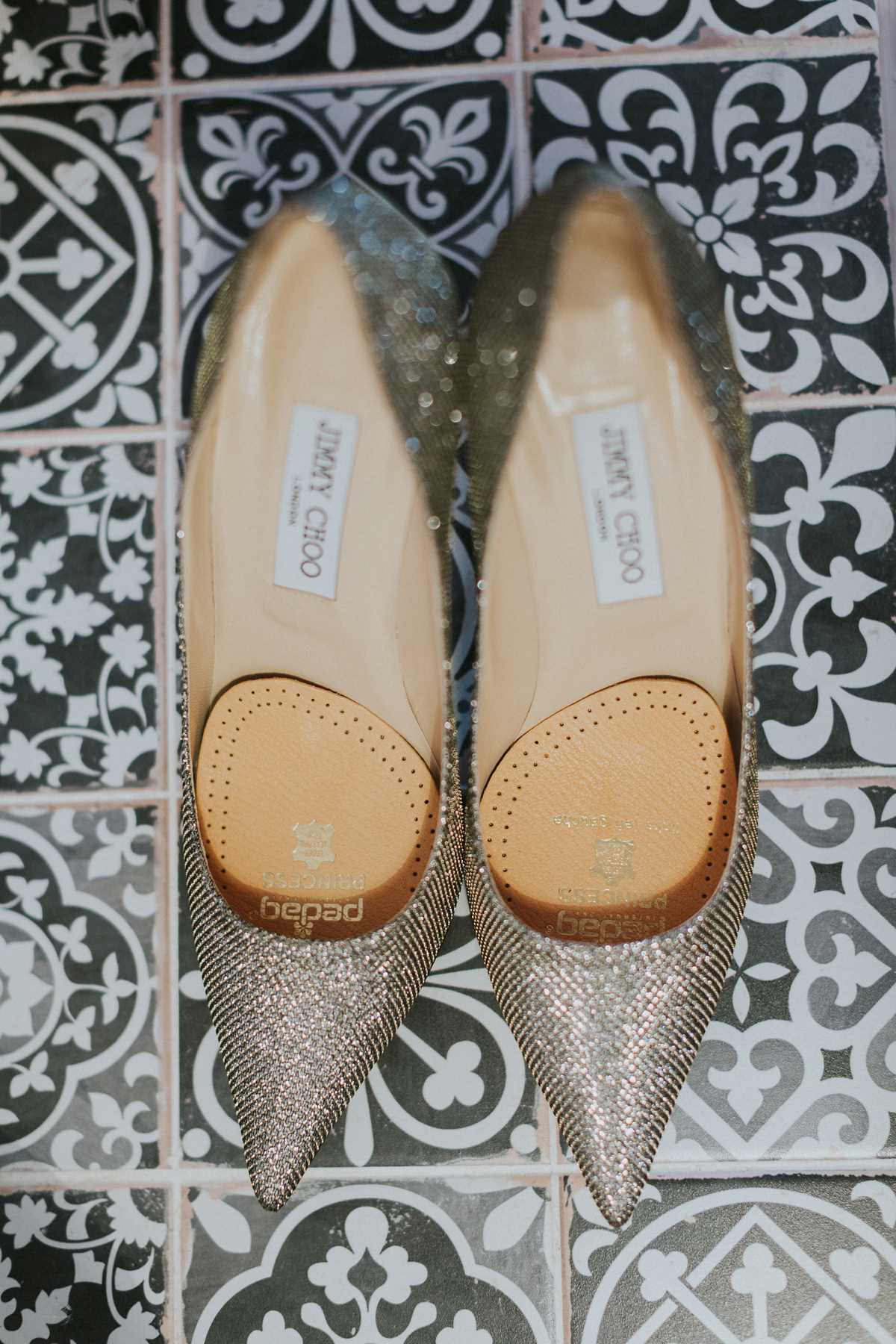 The beautiful bouquets and buttonholes were supplied by London florist, Wild About. All other floristry was styled by the bride herself, using produce from New Covent Garden Flower Market.
"Mine and my bridesmaid's bouquets and the buttonholes were made by Wild About which co-ordinated with the greenery and flowers I'd chosen at the market."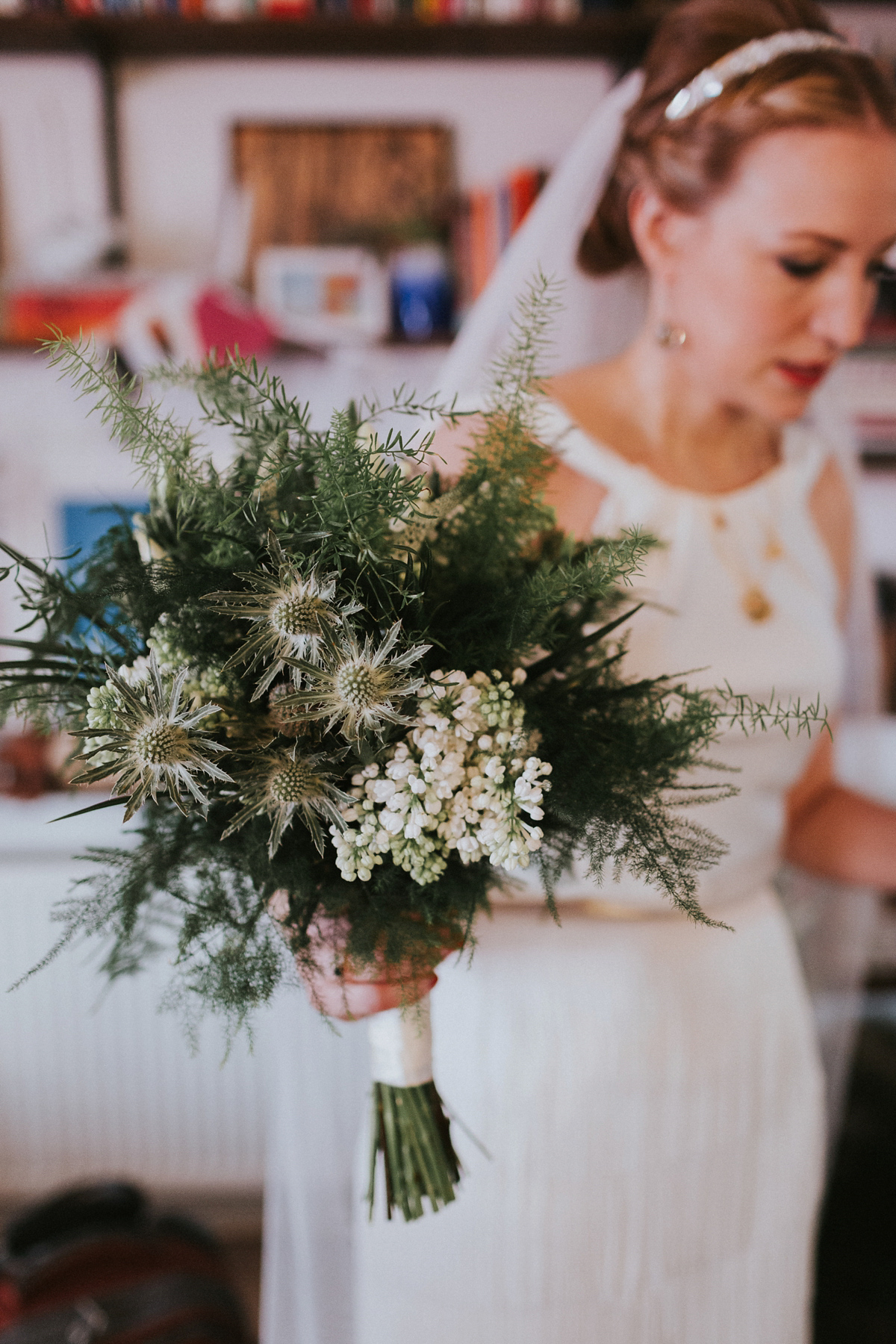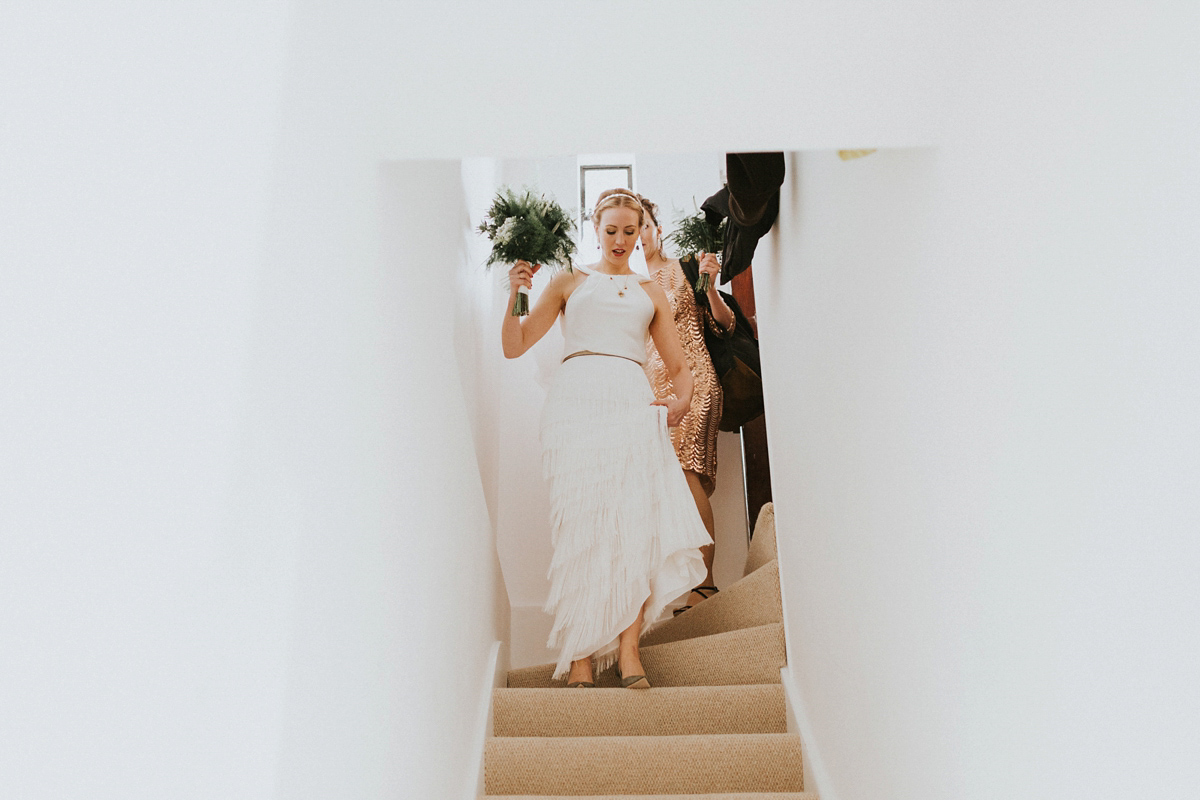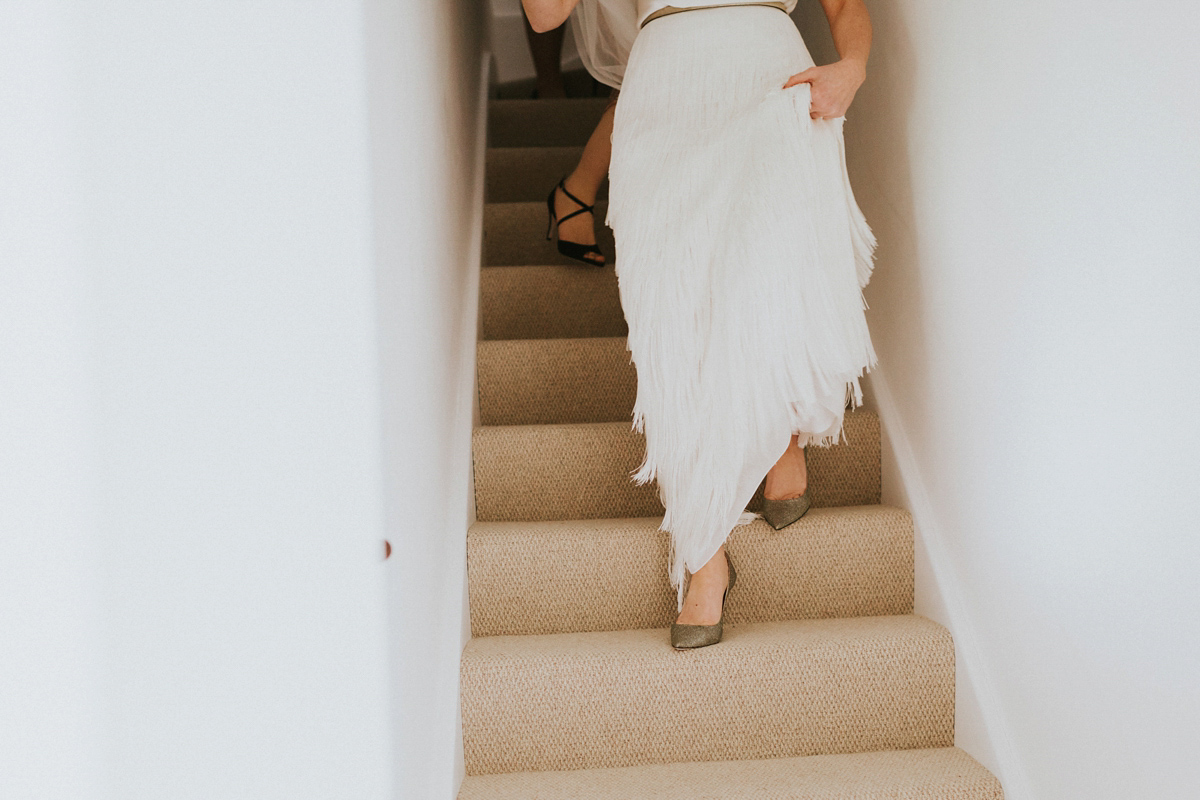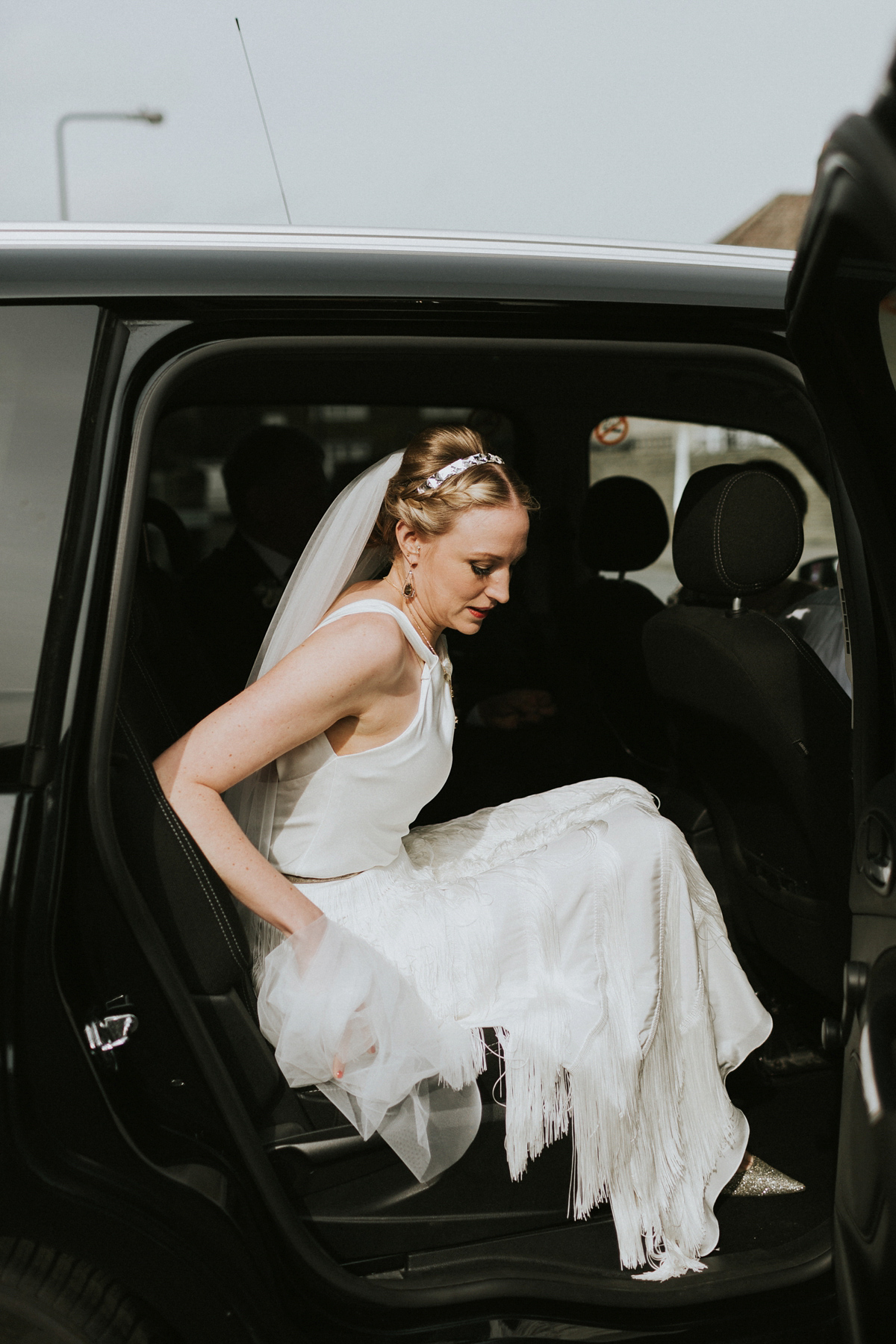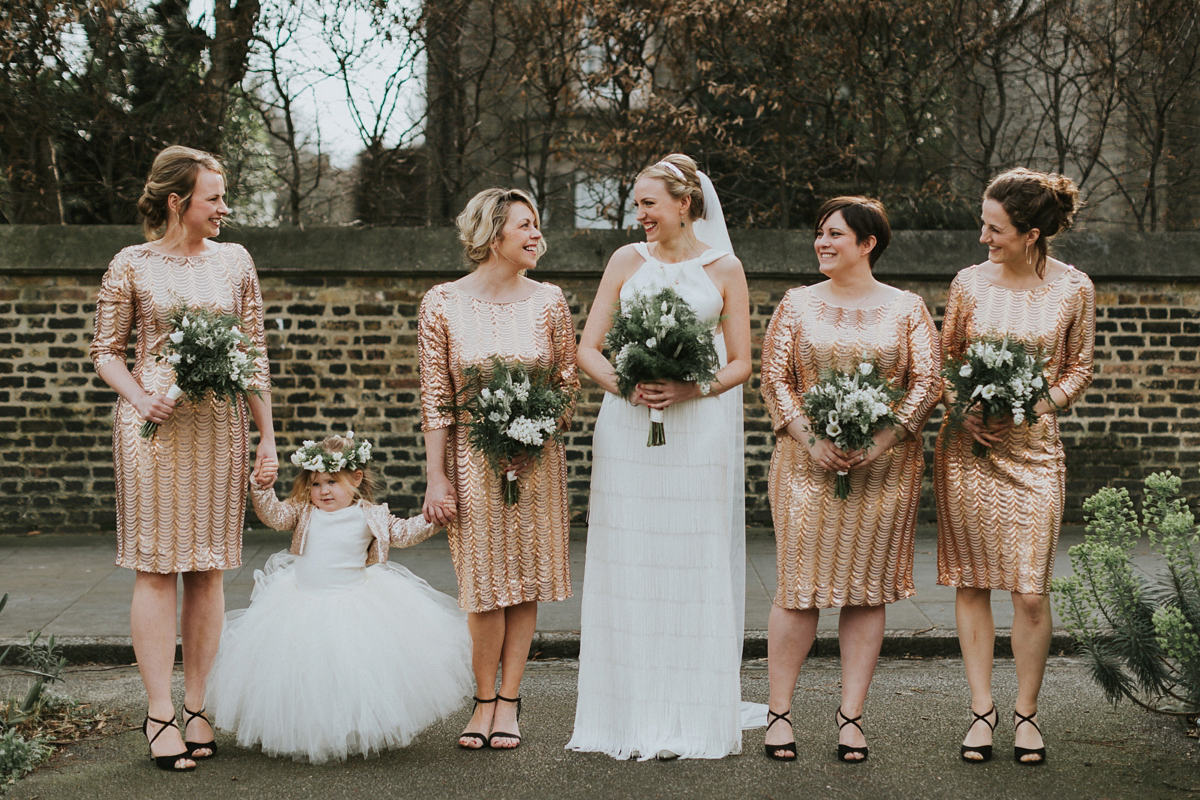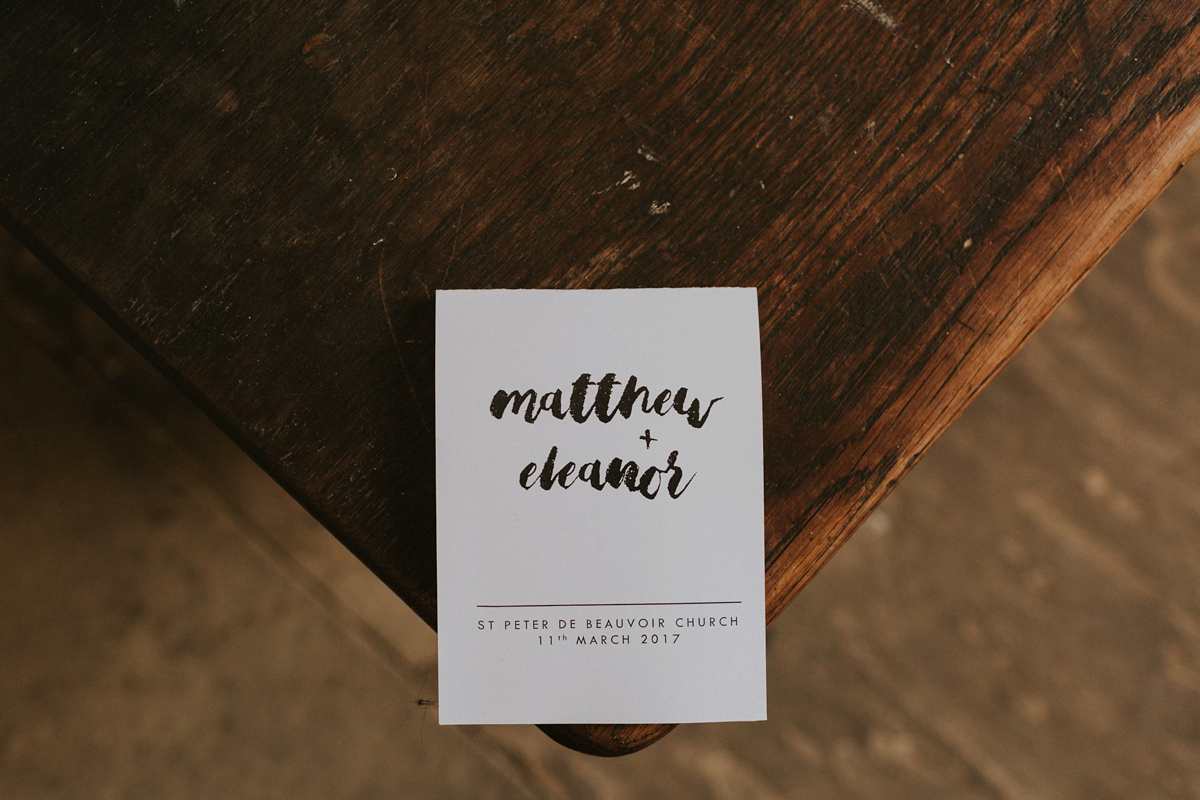 "We had the London Contemporary Voices sing during the church service instead of hymns – their acoustic sound is incredible and was a brilliant surprise as our guests weren't expecting to hear me walk down the aisle to The Turtles – Happy Together or hear Queen and Stevie Wonder during the ceremony. Readings were chosen by two close friends and we had our siblings act as our witnesses."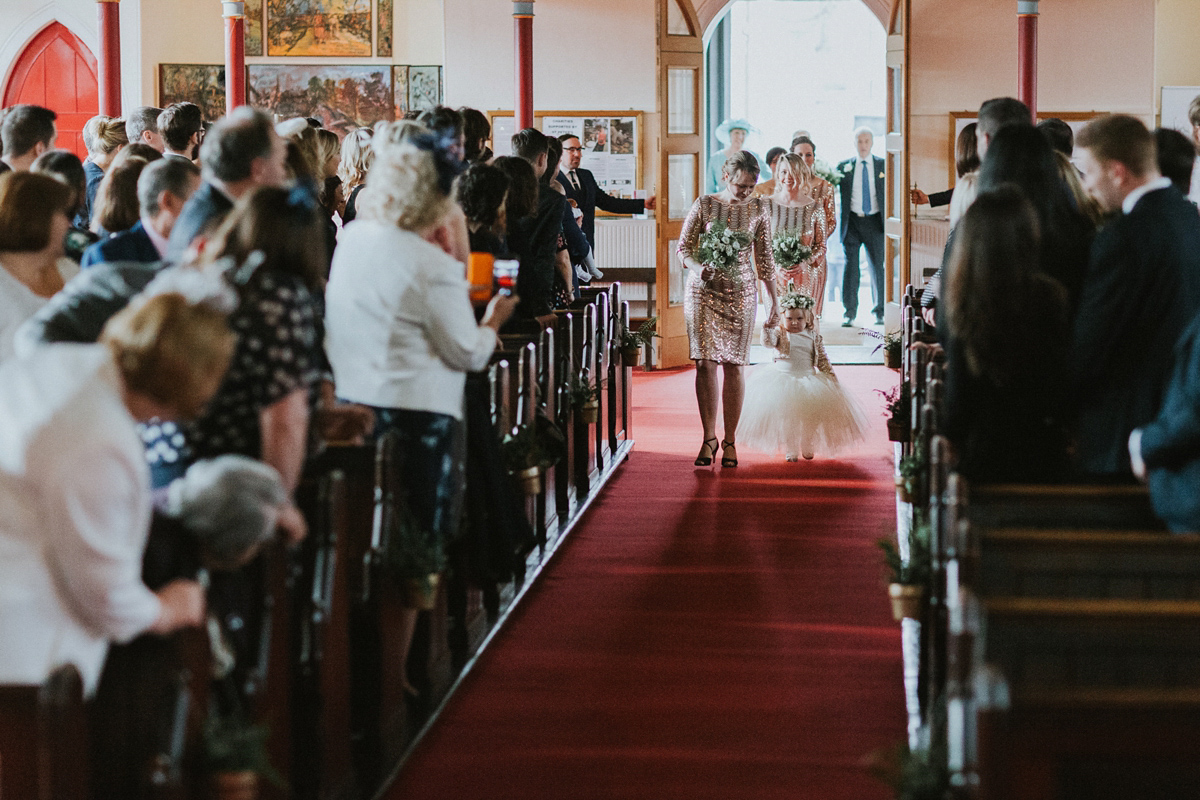 "When Matt and I first moved to London, we lived in De Beauvior just off the Kingsland road in East London. We loved this area and so there was no question that St Peter's church that used to be at the end of our road was where we would have our ceremony."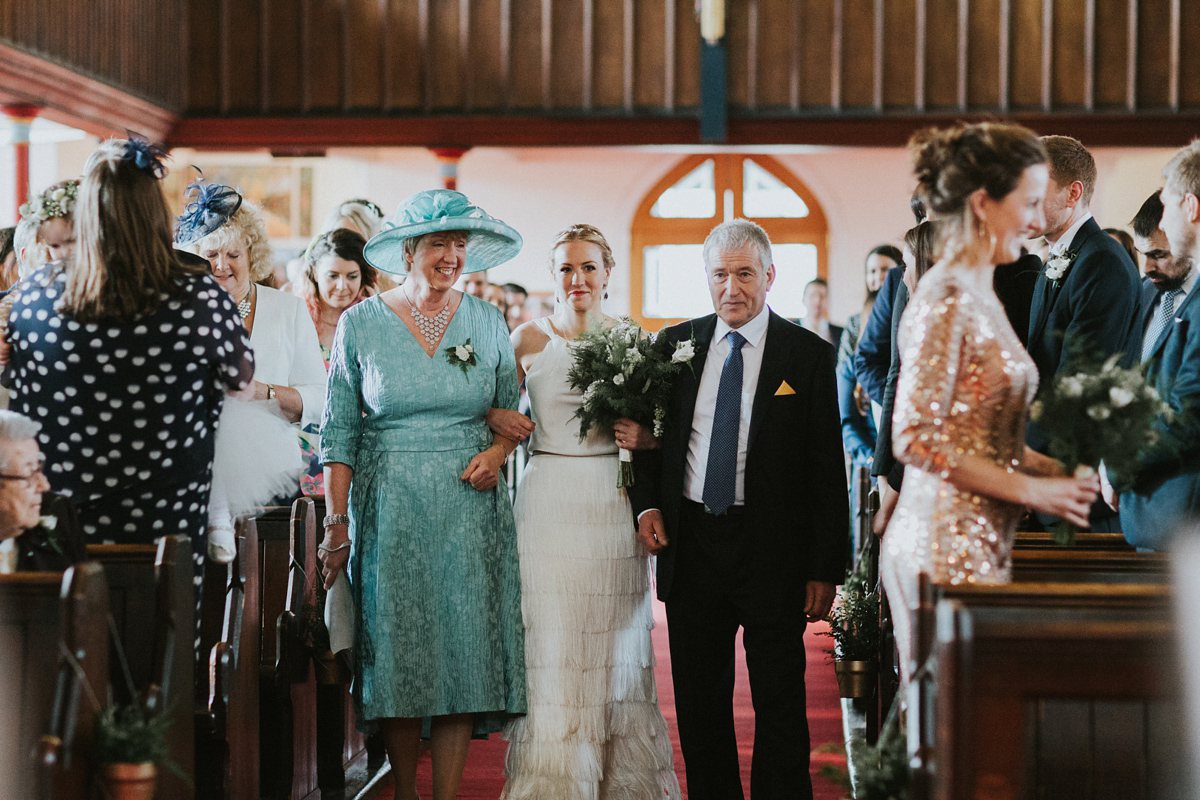 "Matts suit was from Marks & Spencer as they cater for longer length jackets and trousers, he had some adjustments made by an alterer to make it a perfect fit. Shoes were a classic style from Russell & Bromley."
"Ties' and pocket squares were from Reiss and his cufflinks were Hugo Boss . His ring was from a store in Brighton which could custom make a titanium ring in the exact width/ weight and finish he wanted."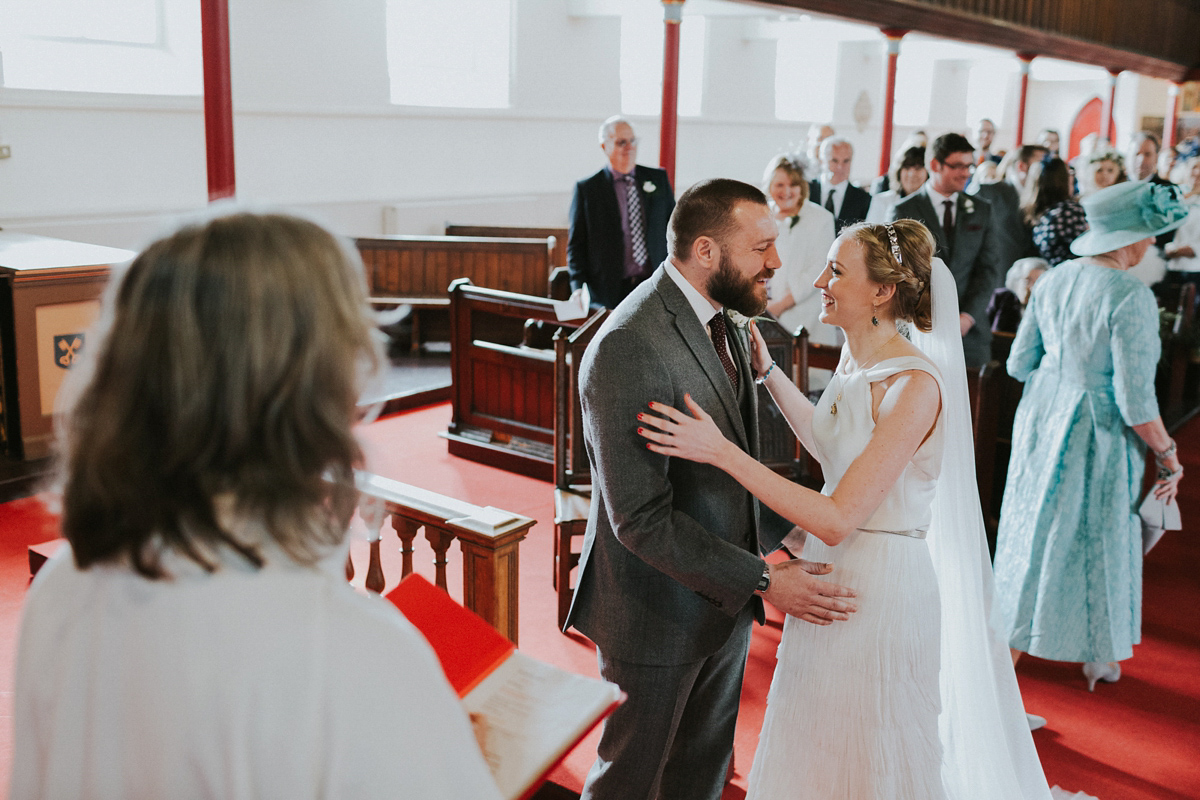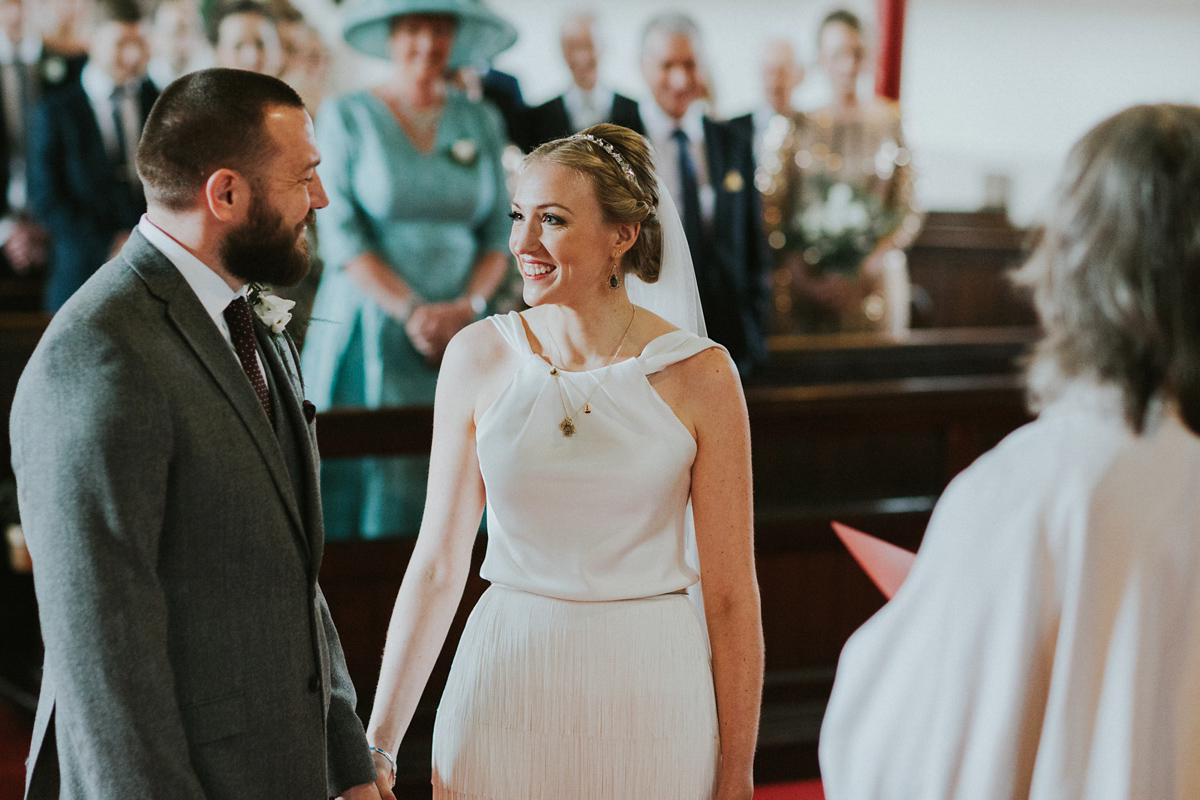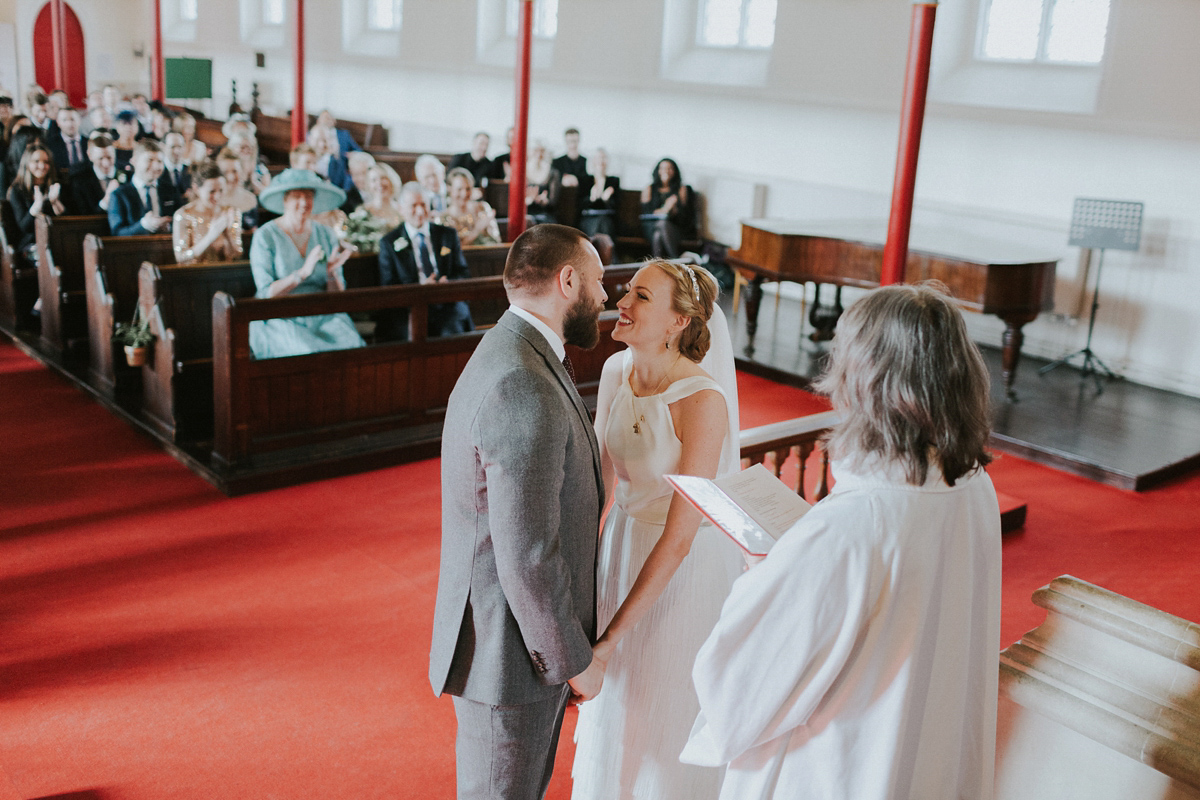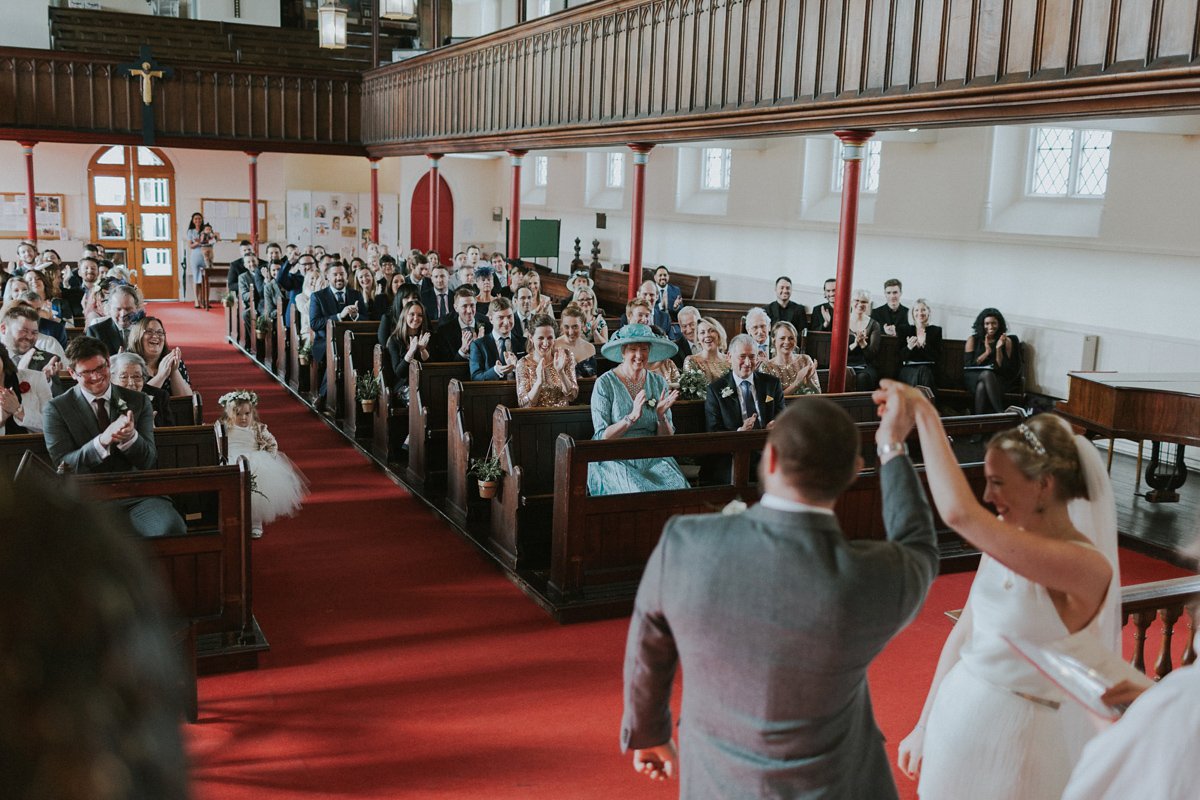 "Our church decor was simple as our wedding date was during Lent. I had planted ferns in pots, added jungle leaves and made the 'order or services' with confetti for everyone to throw at the end."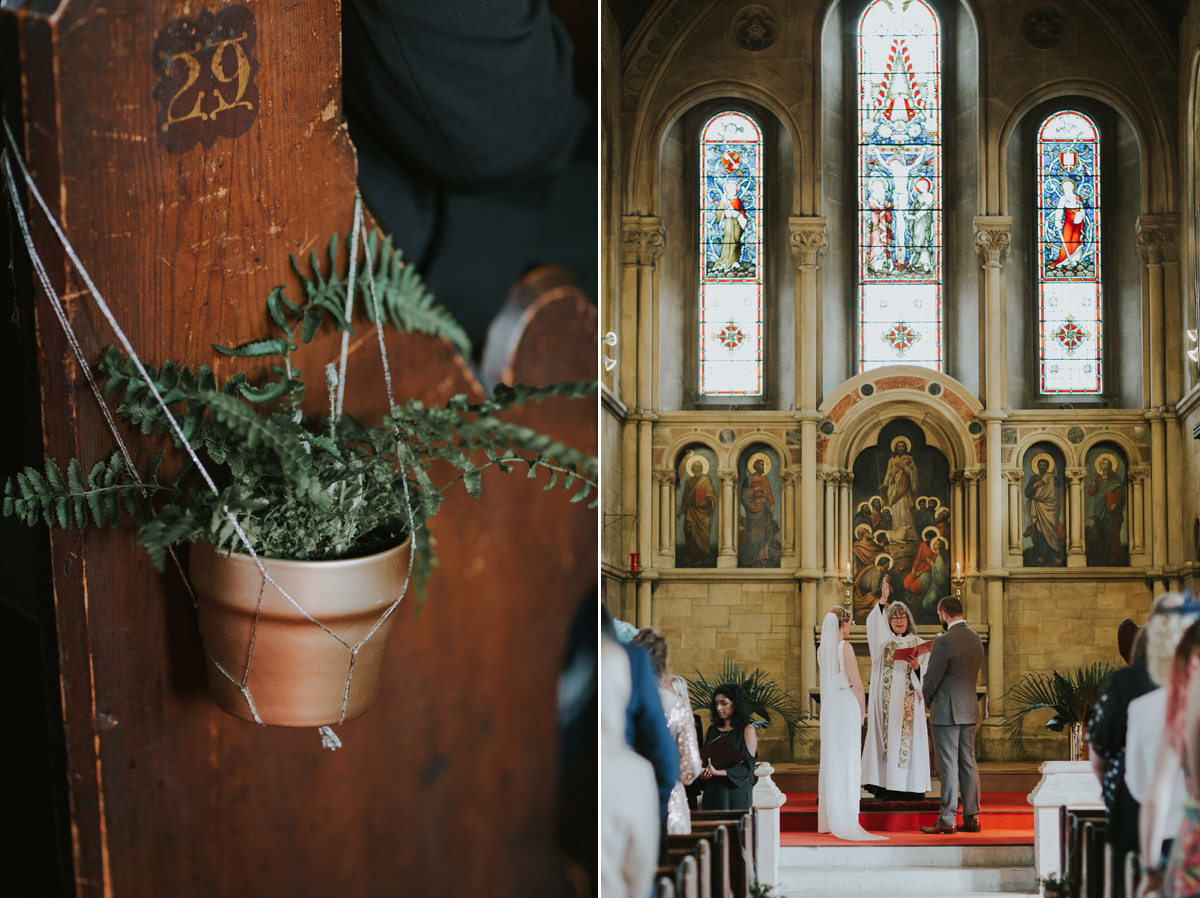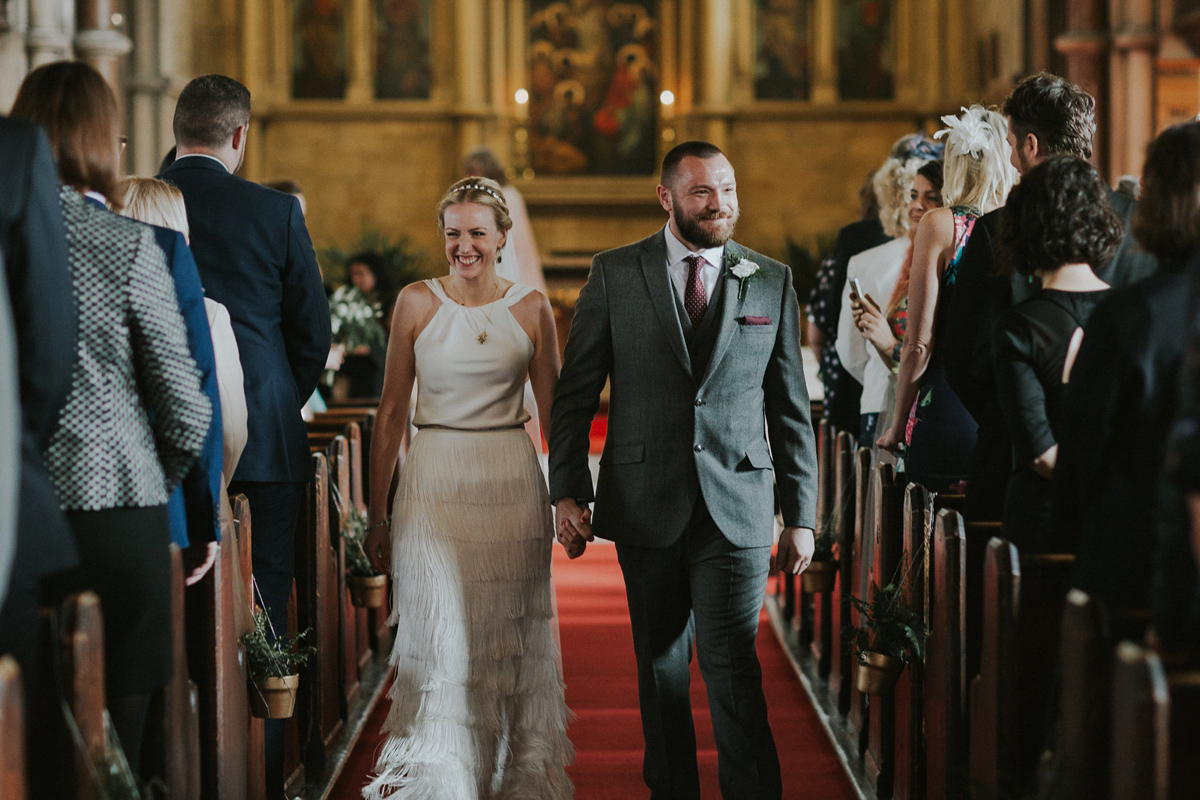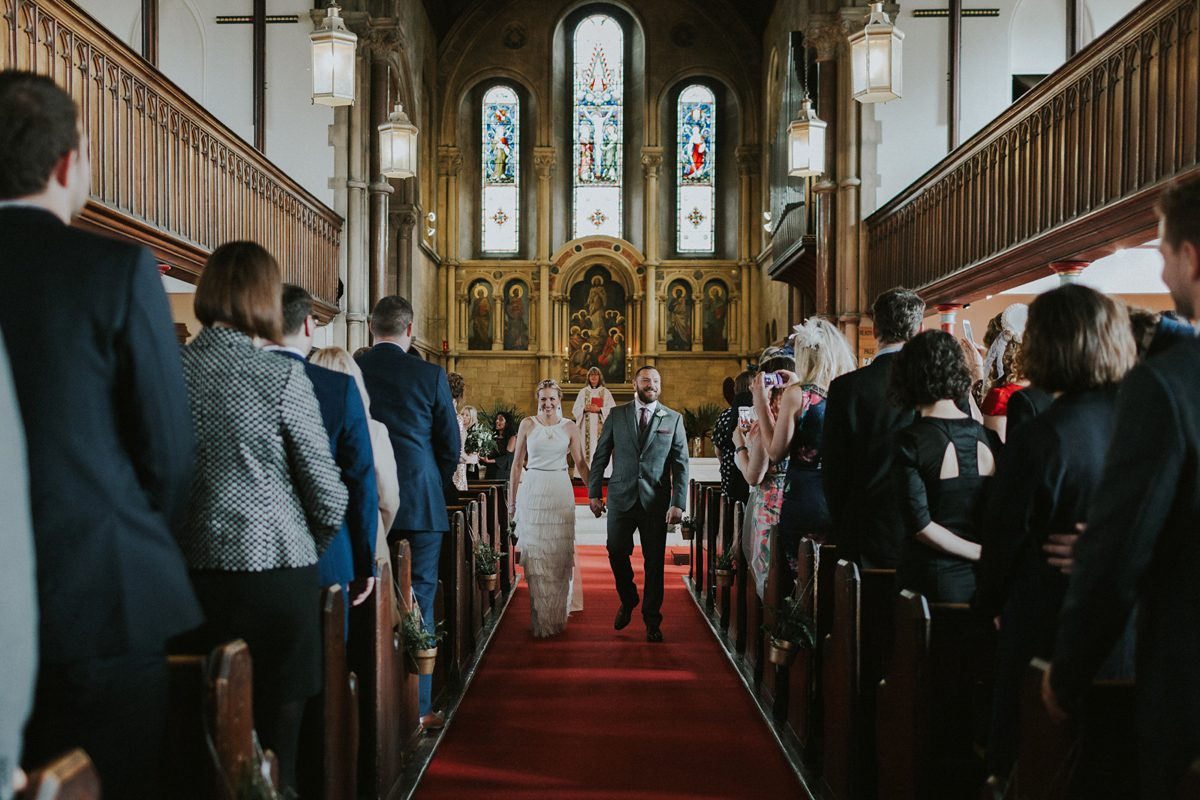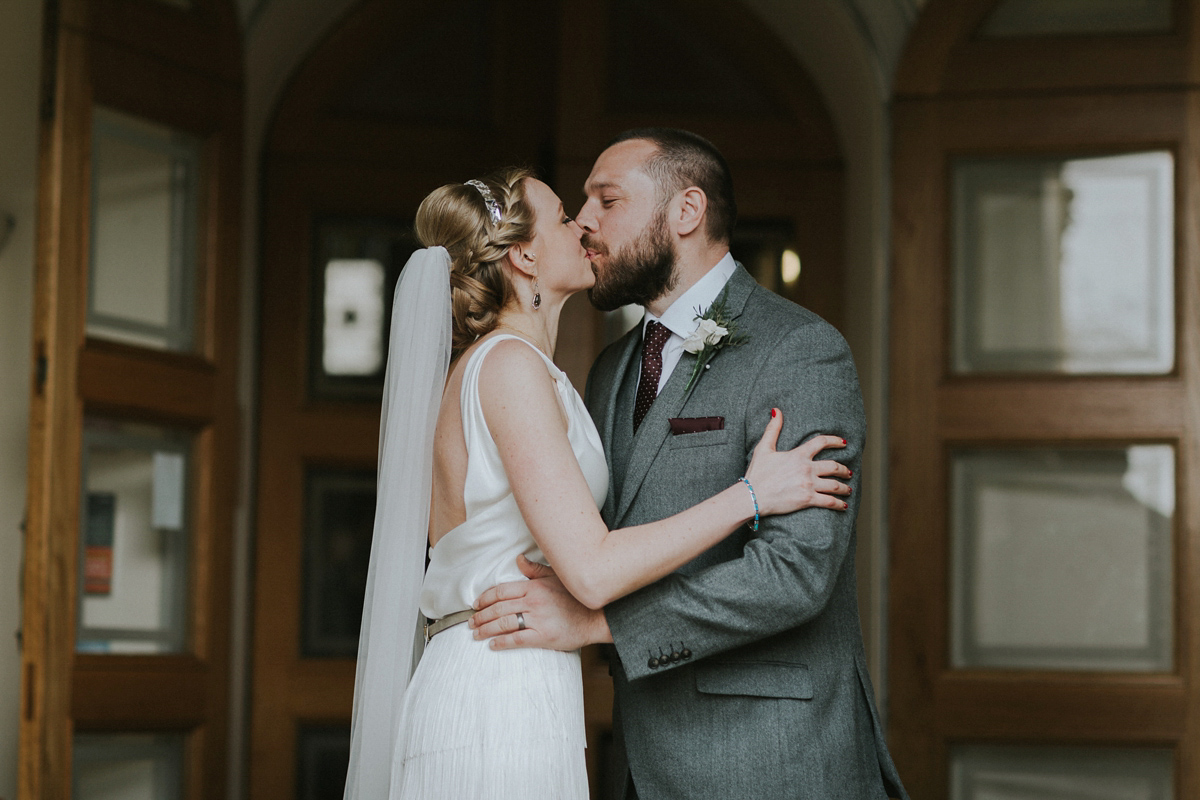 "After the ceremony we hired traditional routemaster buses via Ensign Bus Hire to transport guest to the reception venue just off exmouth market."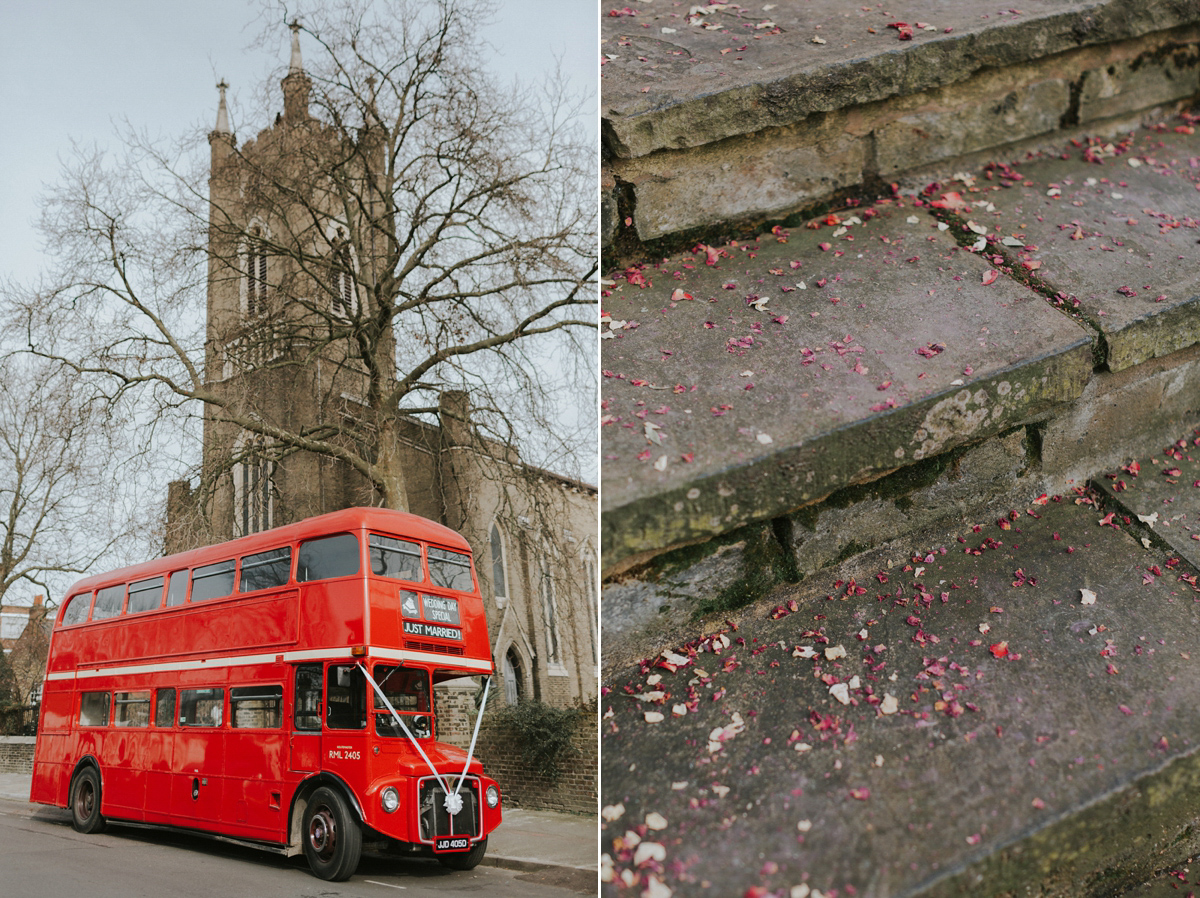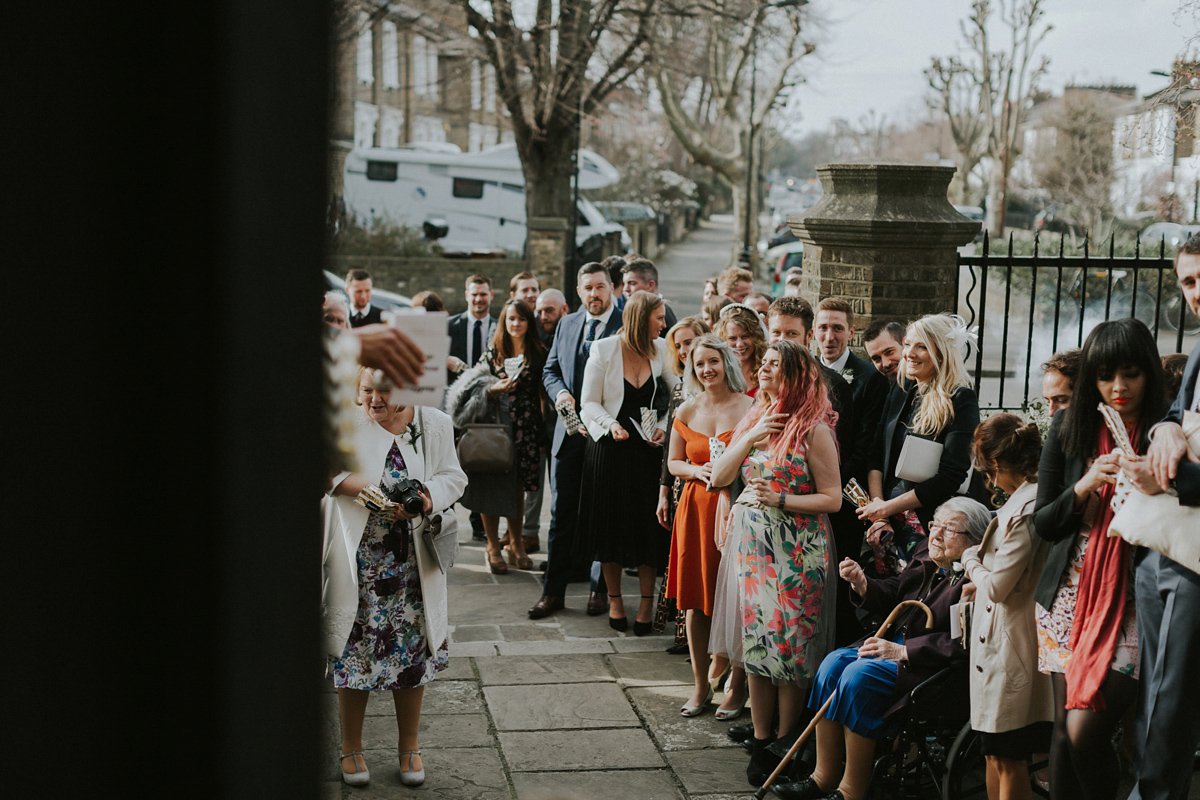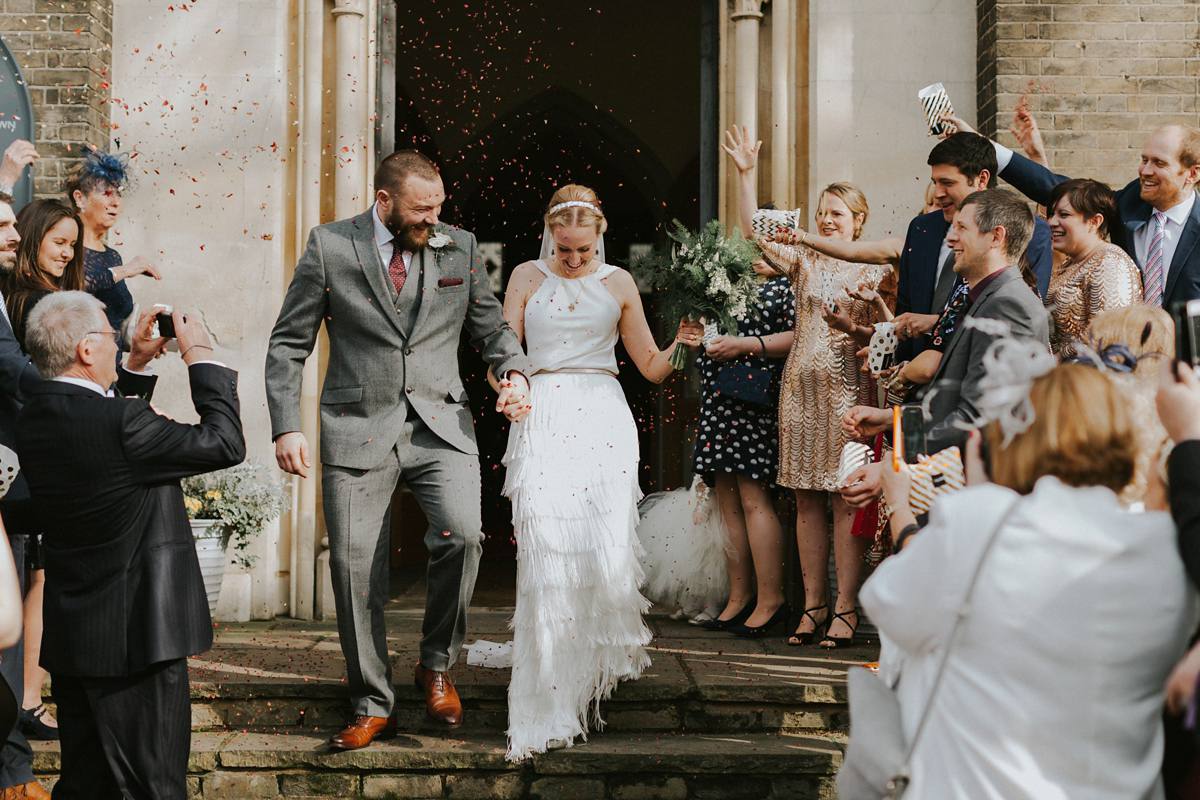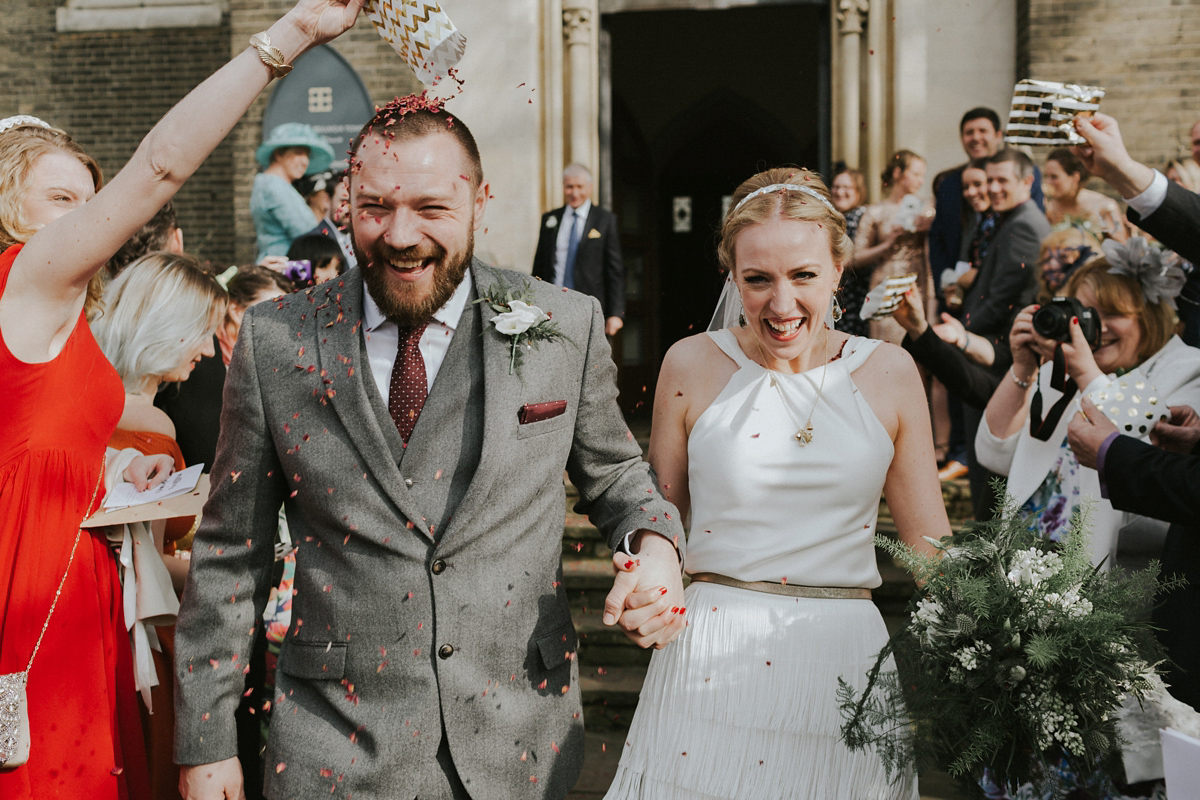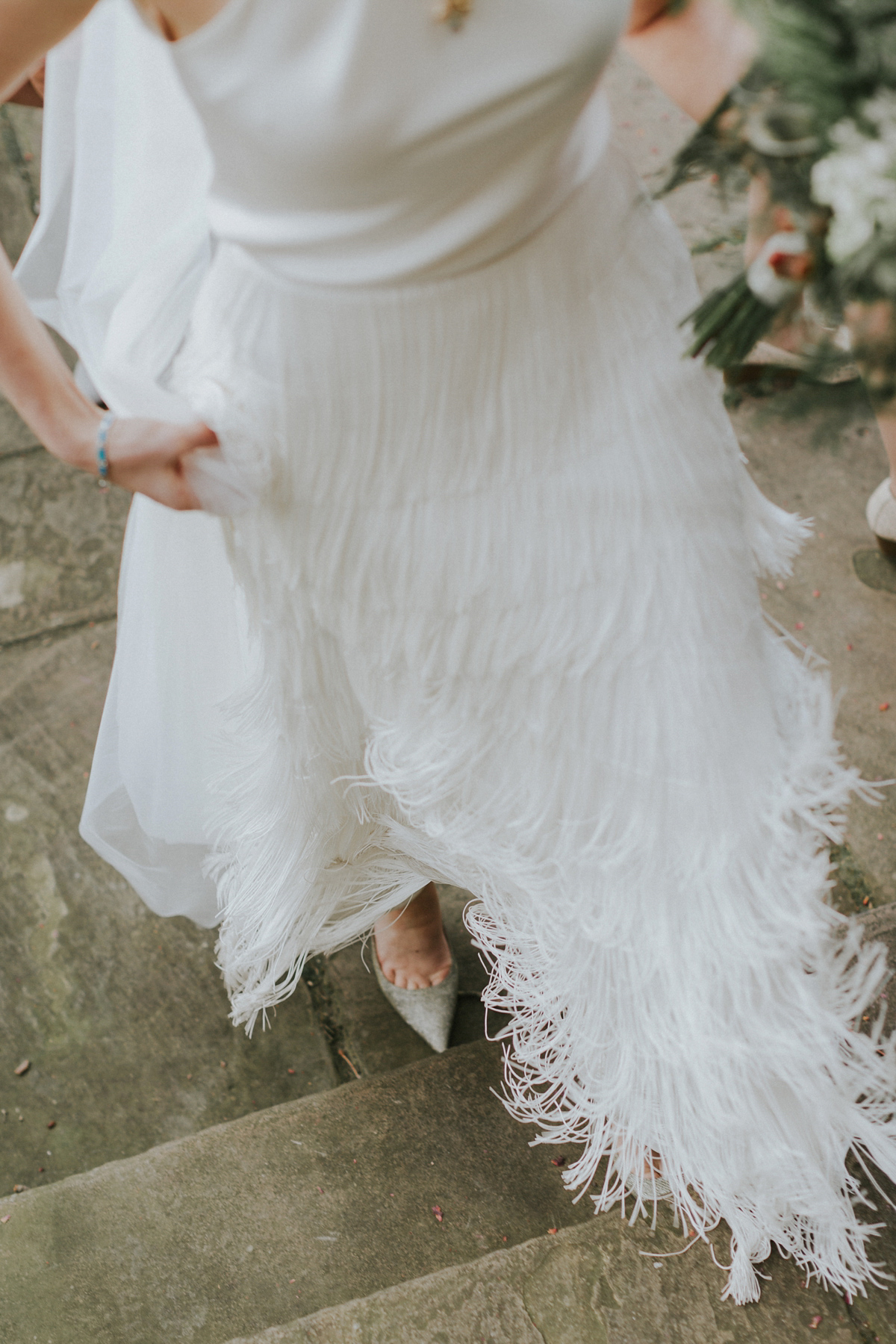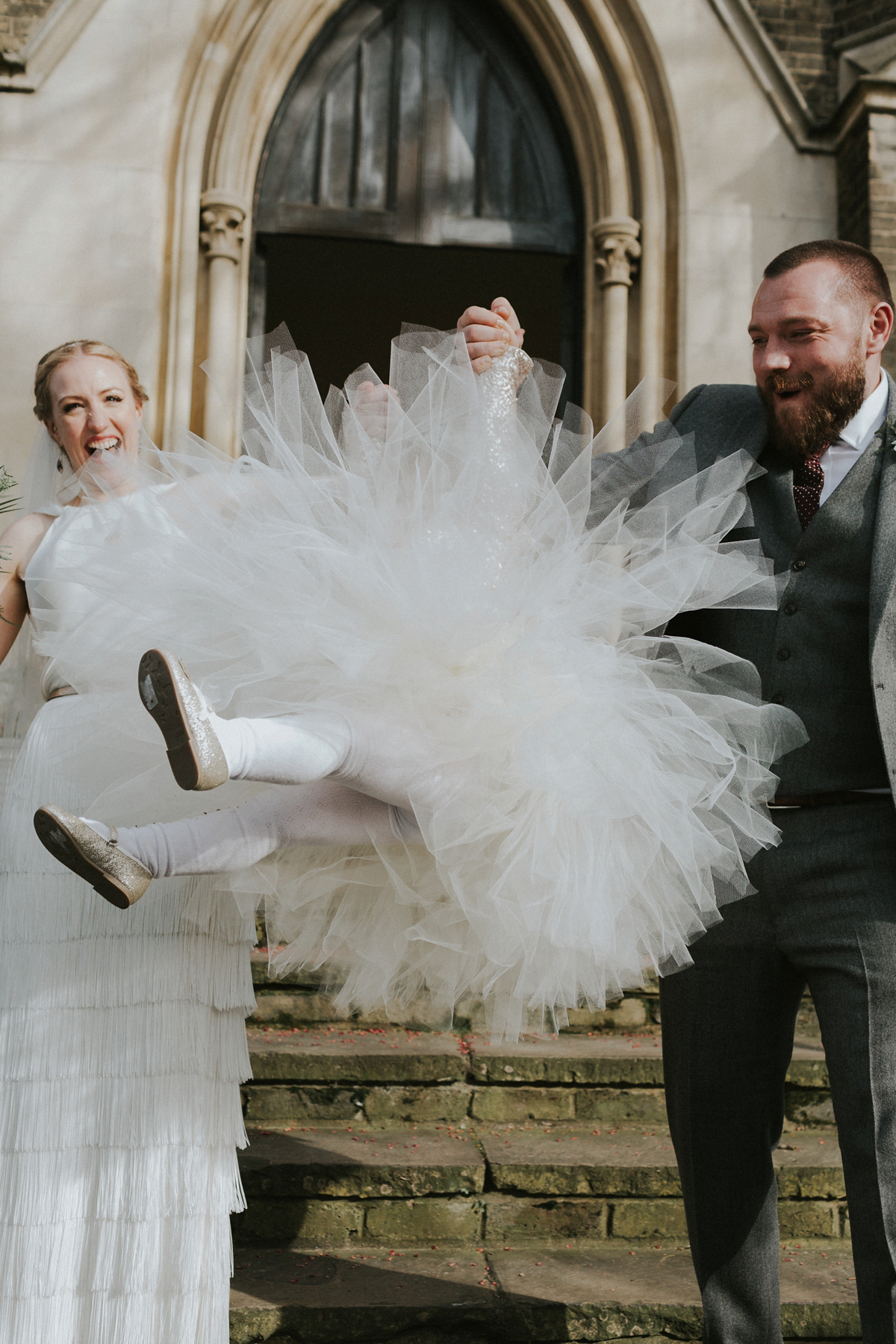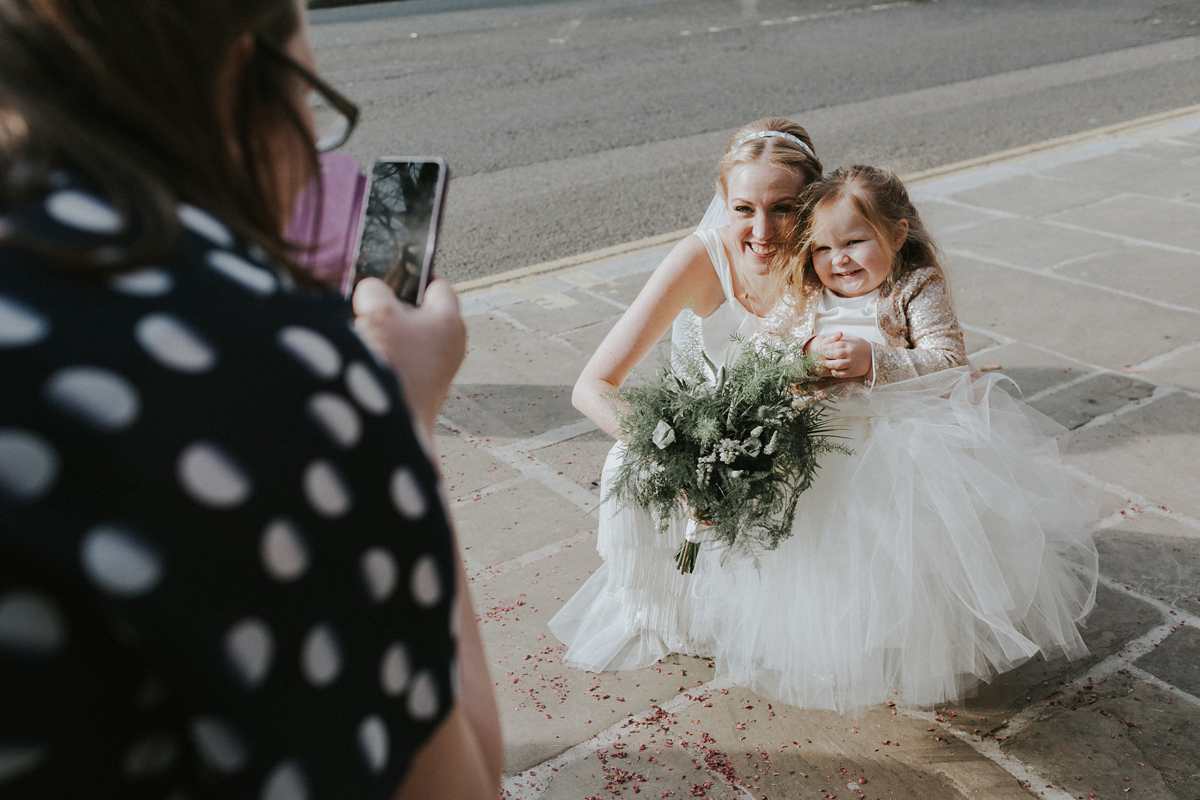 "We Chose our photographers, We Heart Pictures, for their fantastic take on alternative wedding photography and their eye for photographing the day from so many different angles. Hector absolutely captured every part of the day with his signature relaxed style over formal wedding portraits."
"We couldn't be happier with our photos. We're still struggling to make an edit of just a few to print off to put up in our flat because there are so many that are so wonderful!"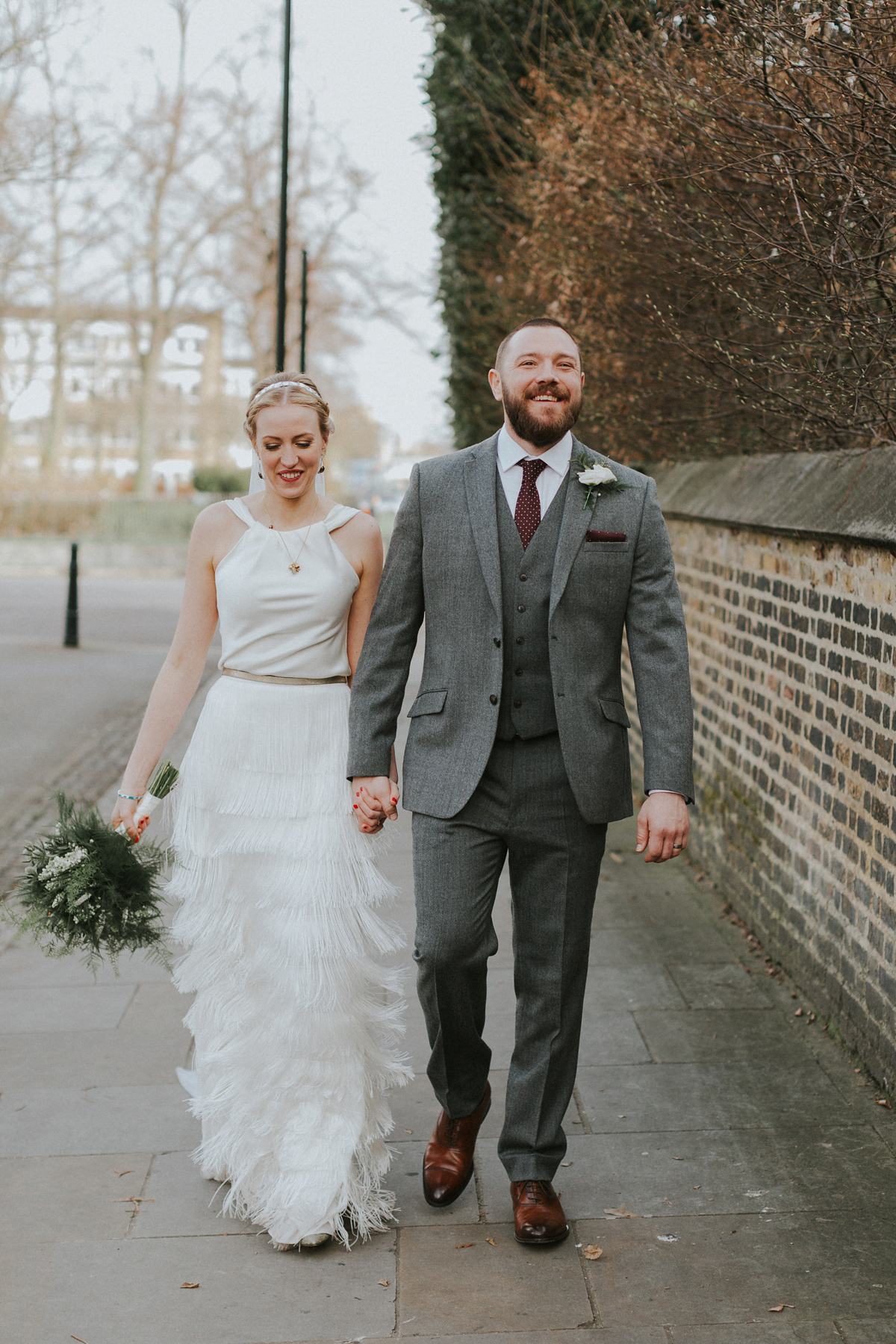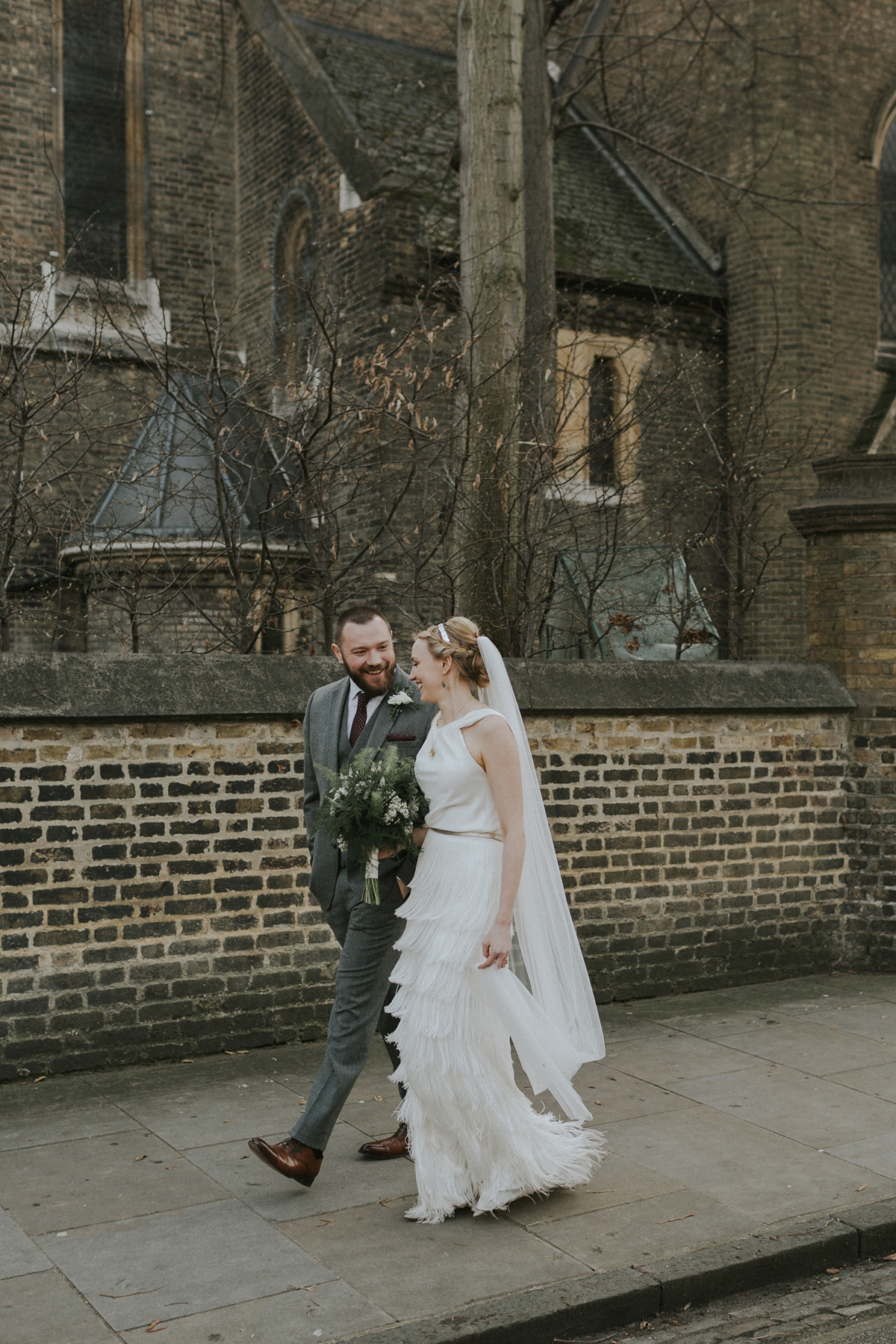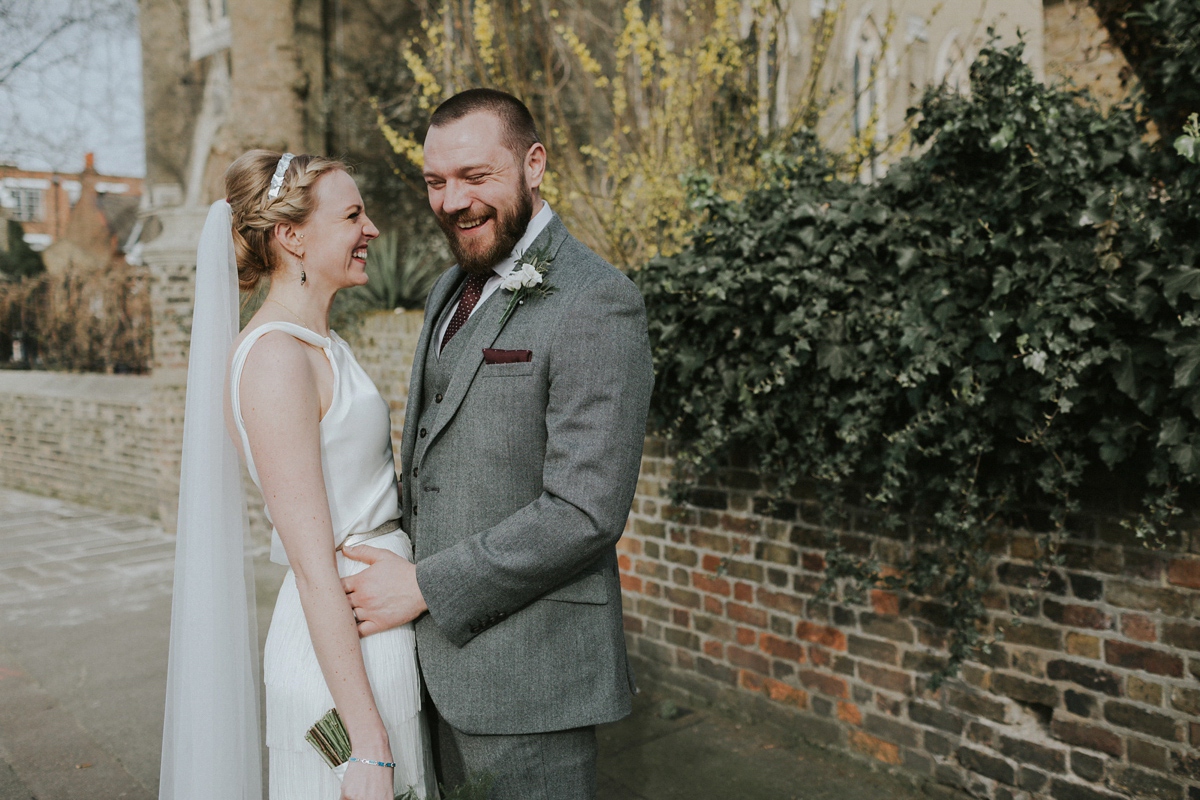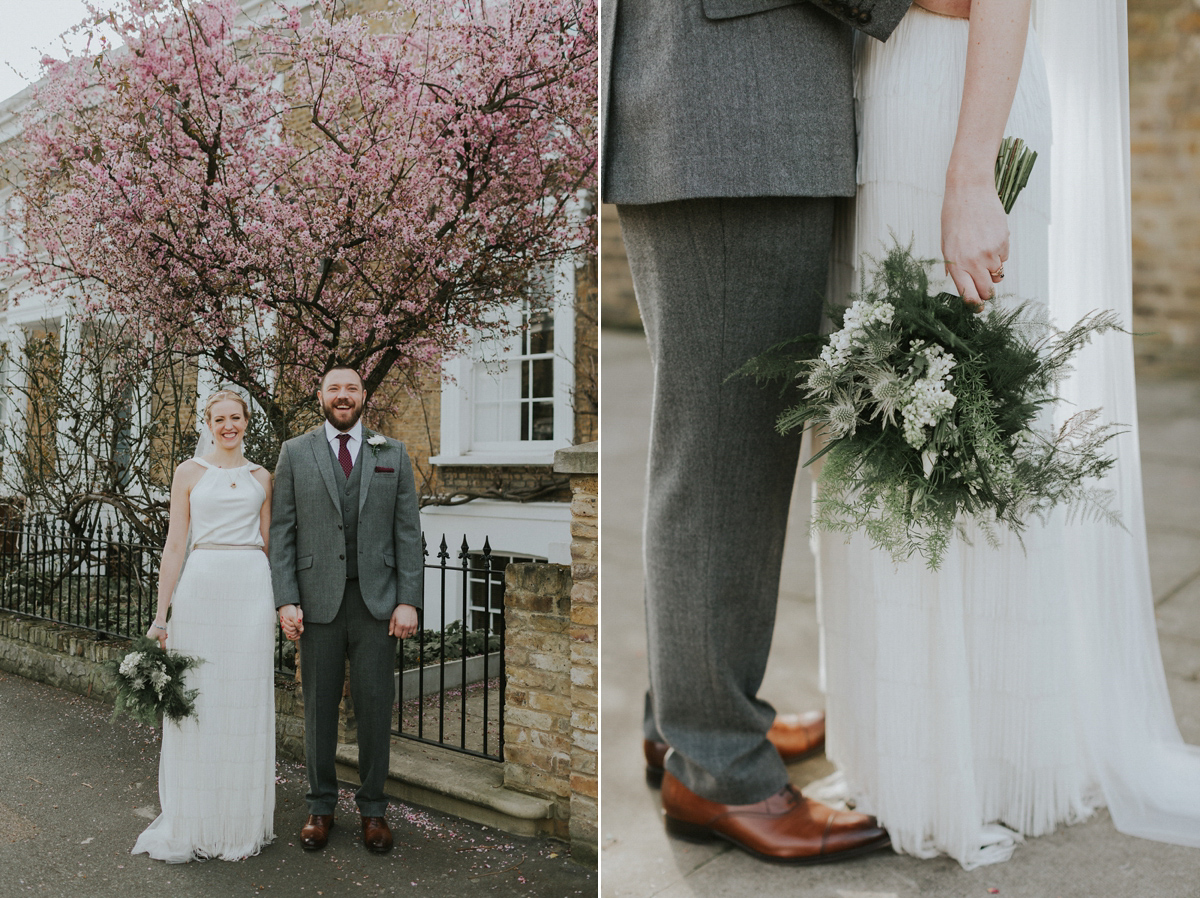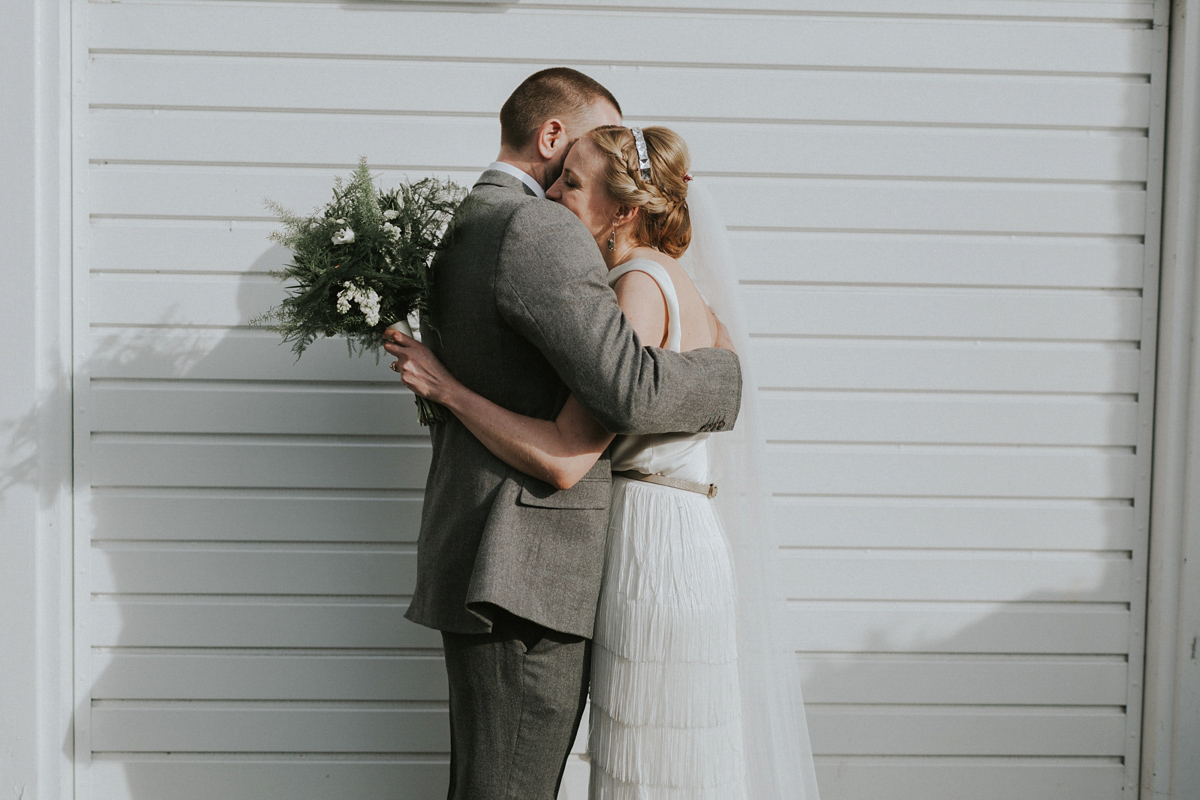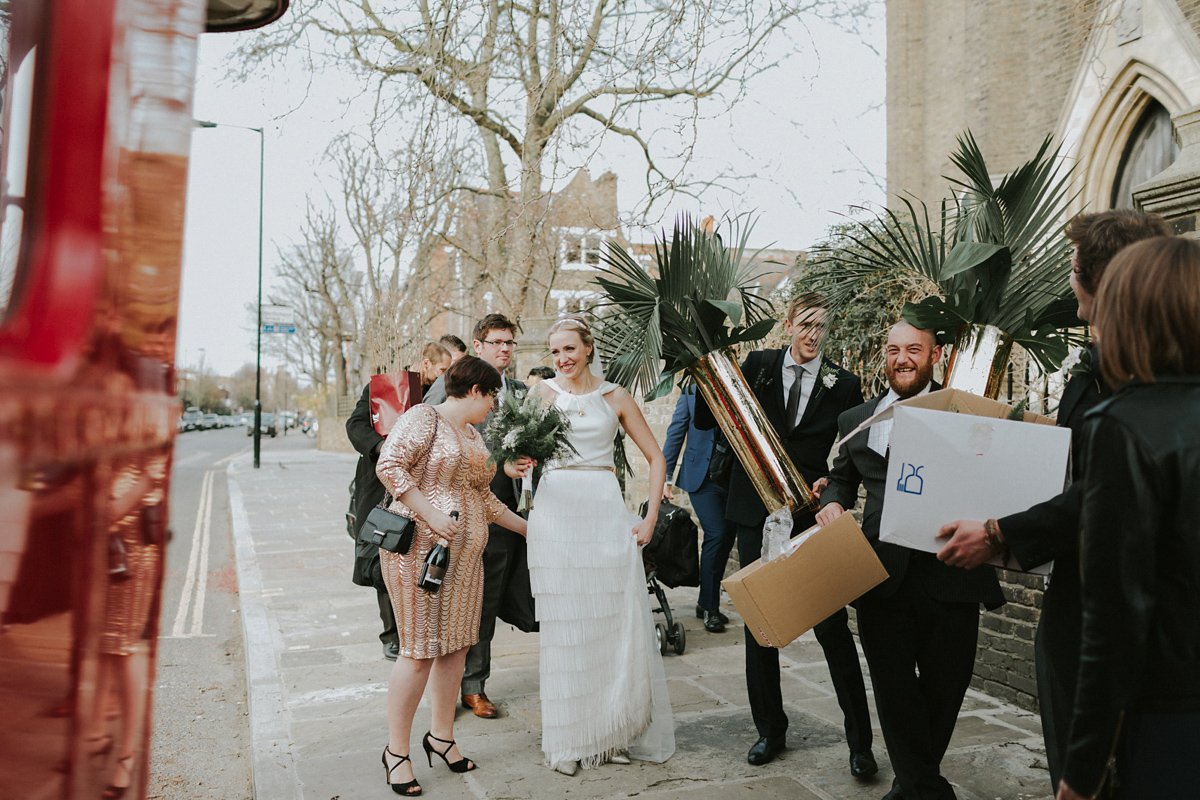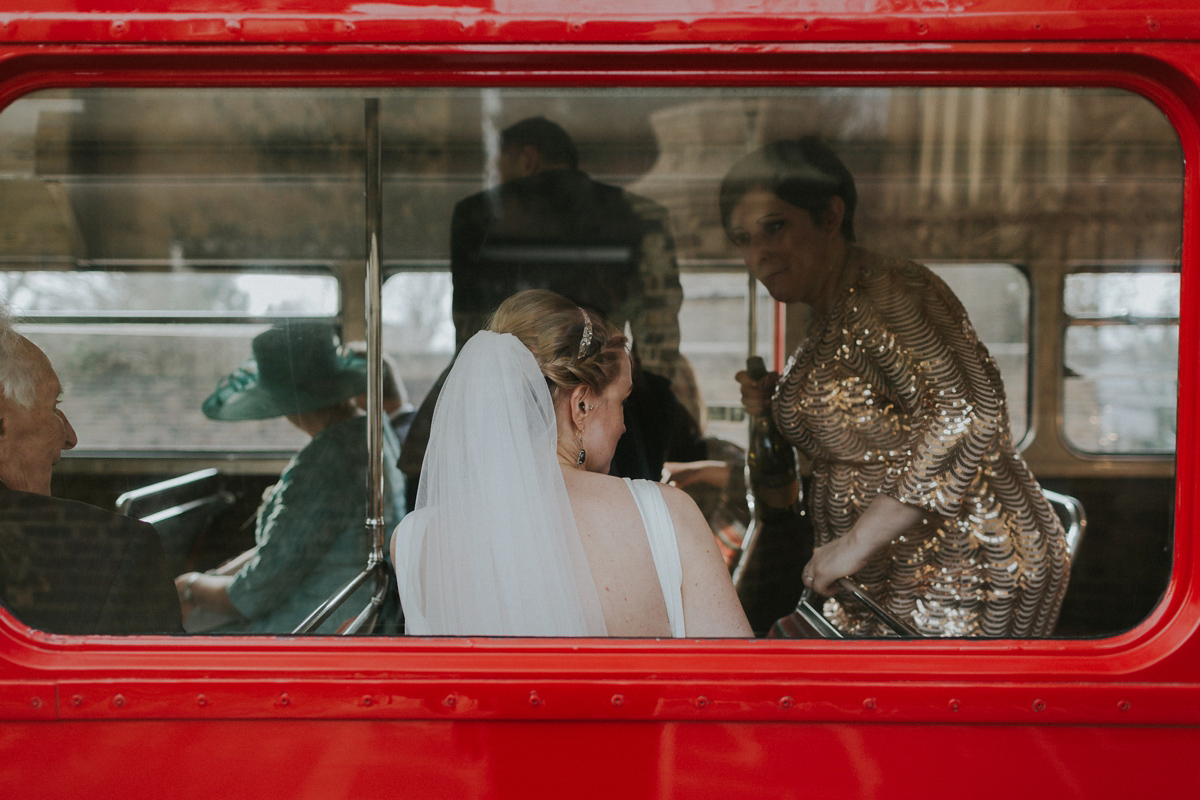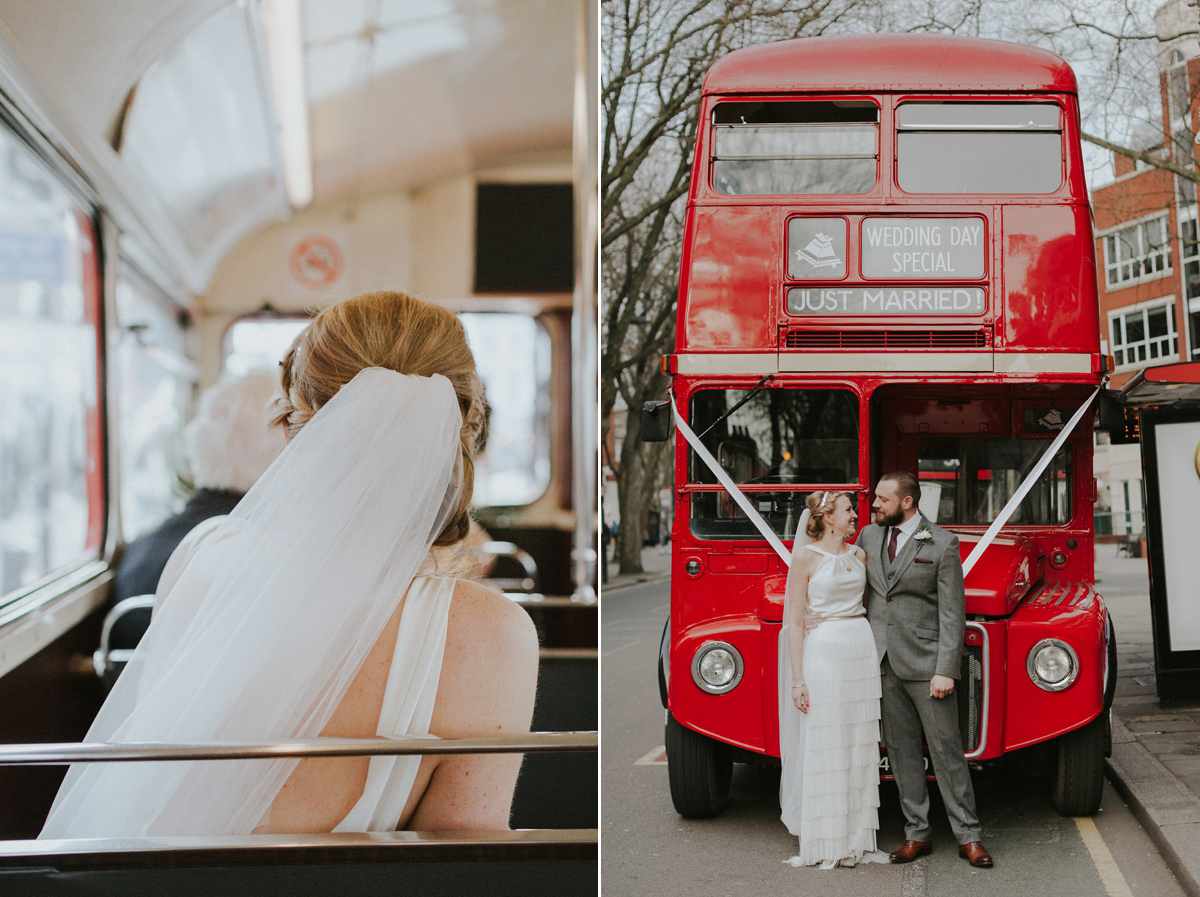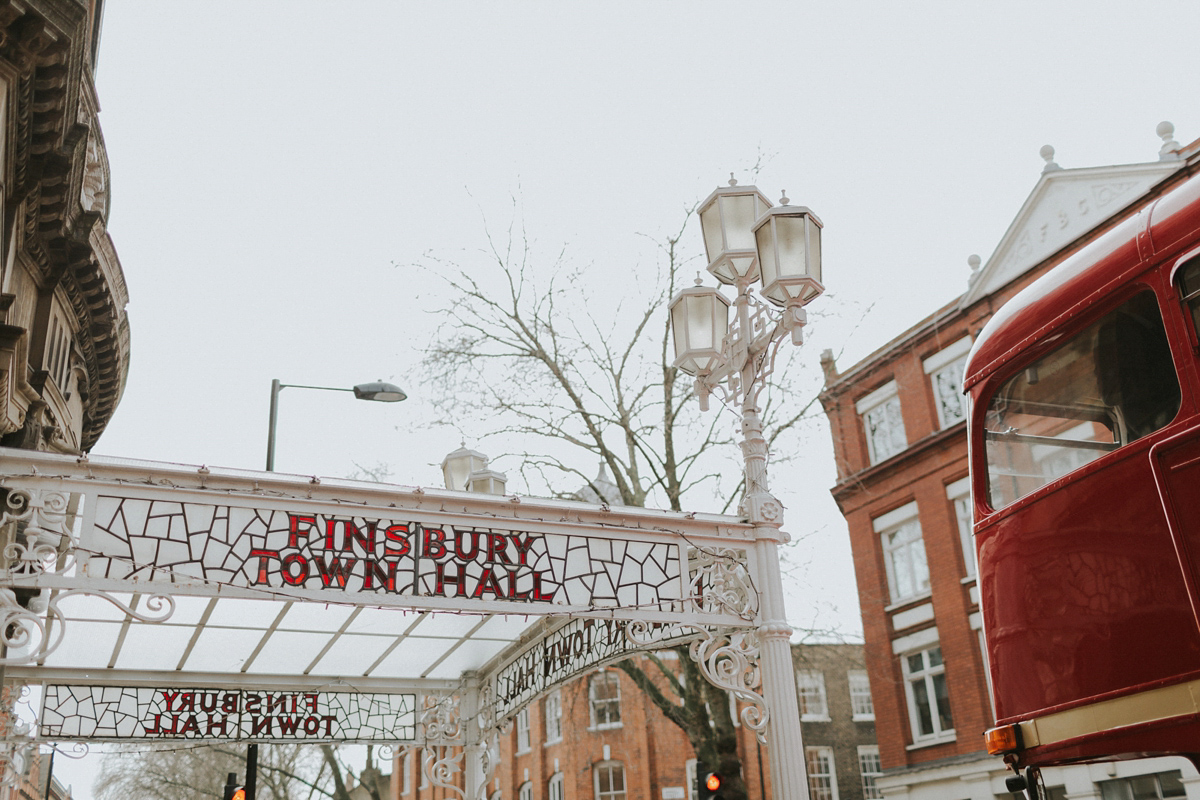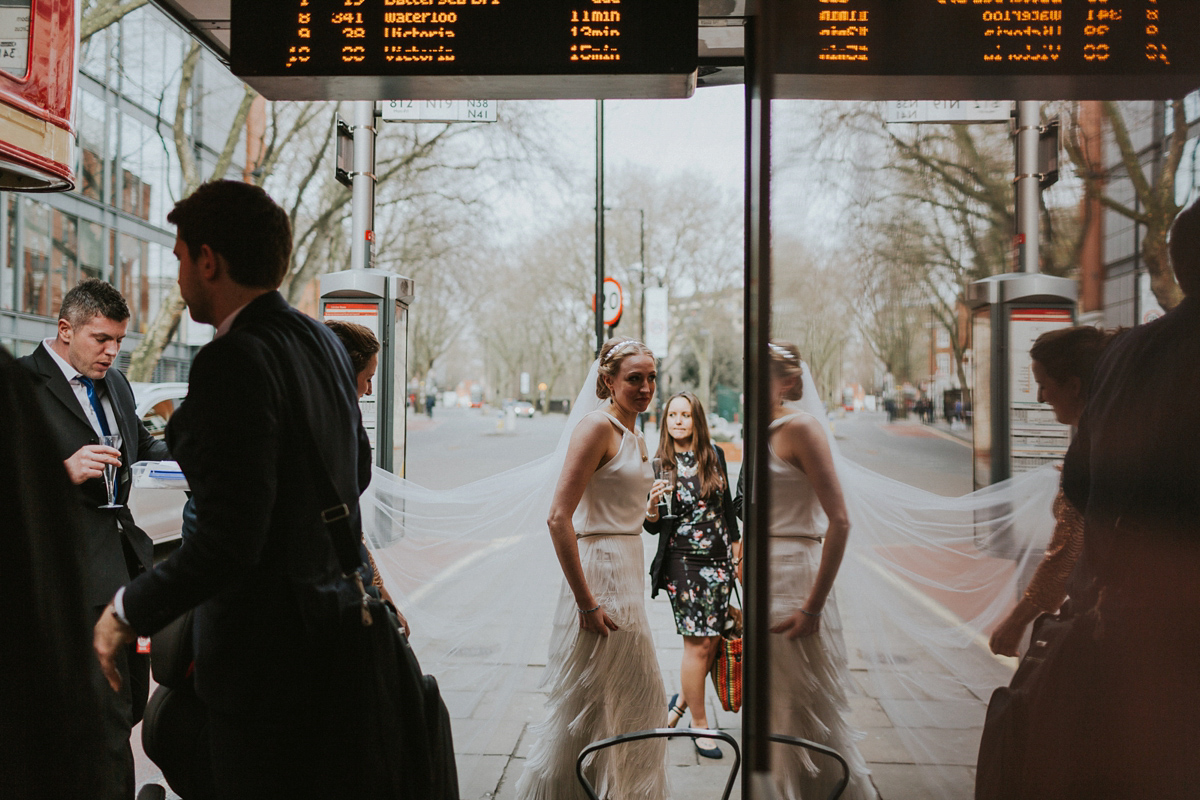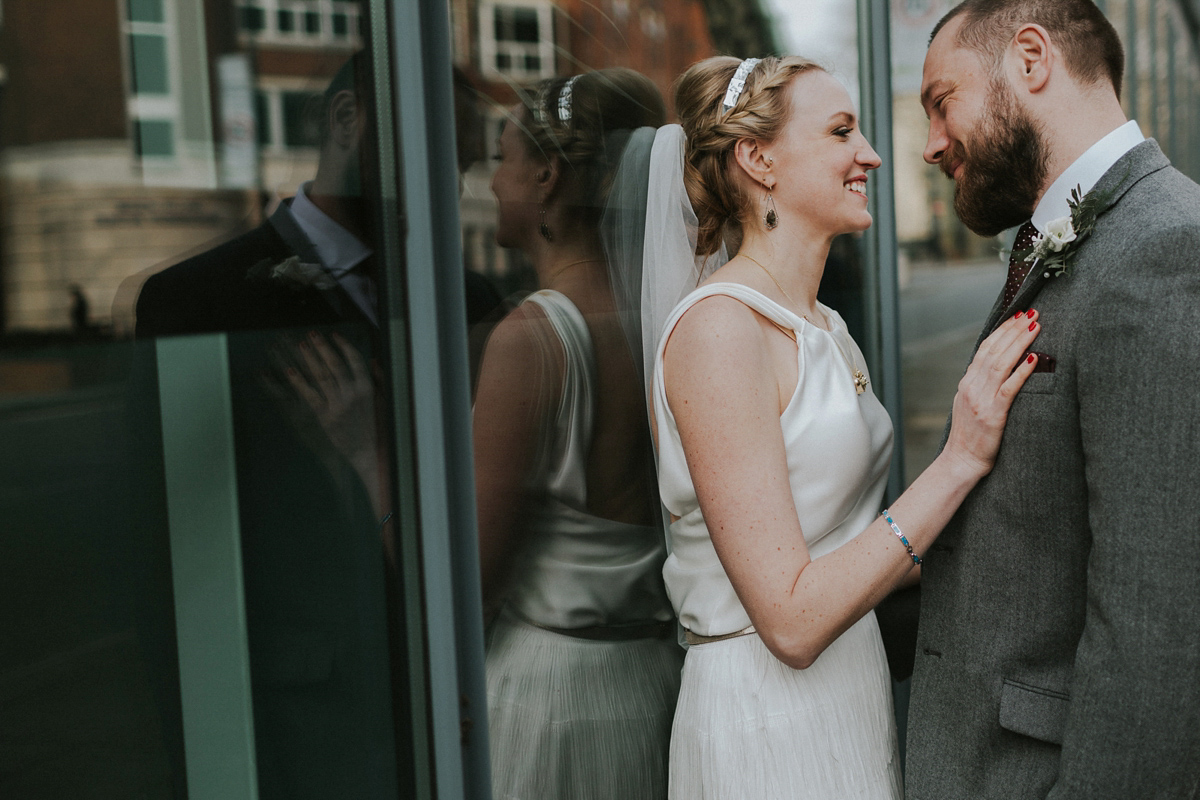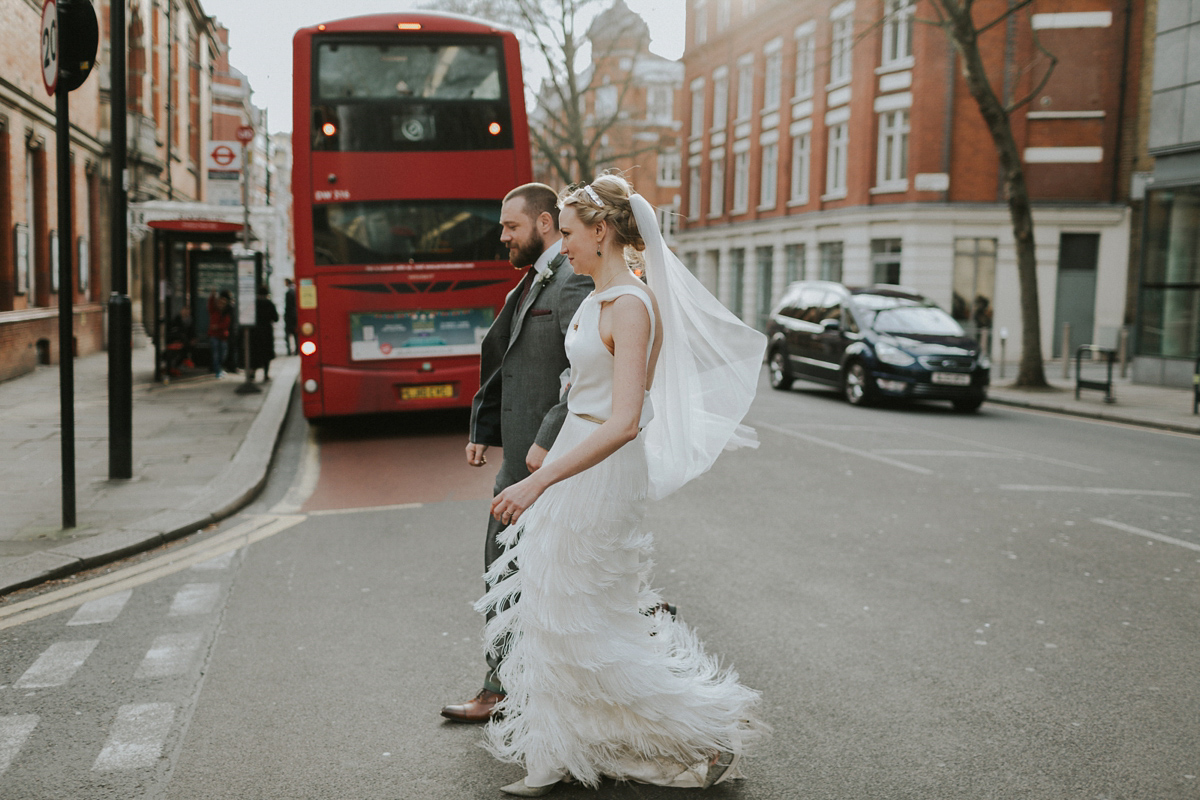 "Having a London Wedding was an absolute must and with our large day guest number made for a tricky find! Matt found Old Finsbury Town Hall on a blog and we only needed to take one step inside to know it was perfect. It is such a great representation of London. I'd walked past the unassuming standard London exterior everyday for a couple of years on my way to work at one point with no idea how magical it was inside! It was also great to know that the proceeds from our day go towards the students who study dance at the Urdang academy based in the building."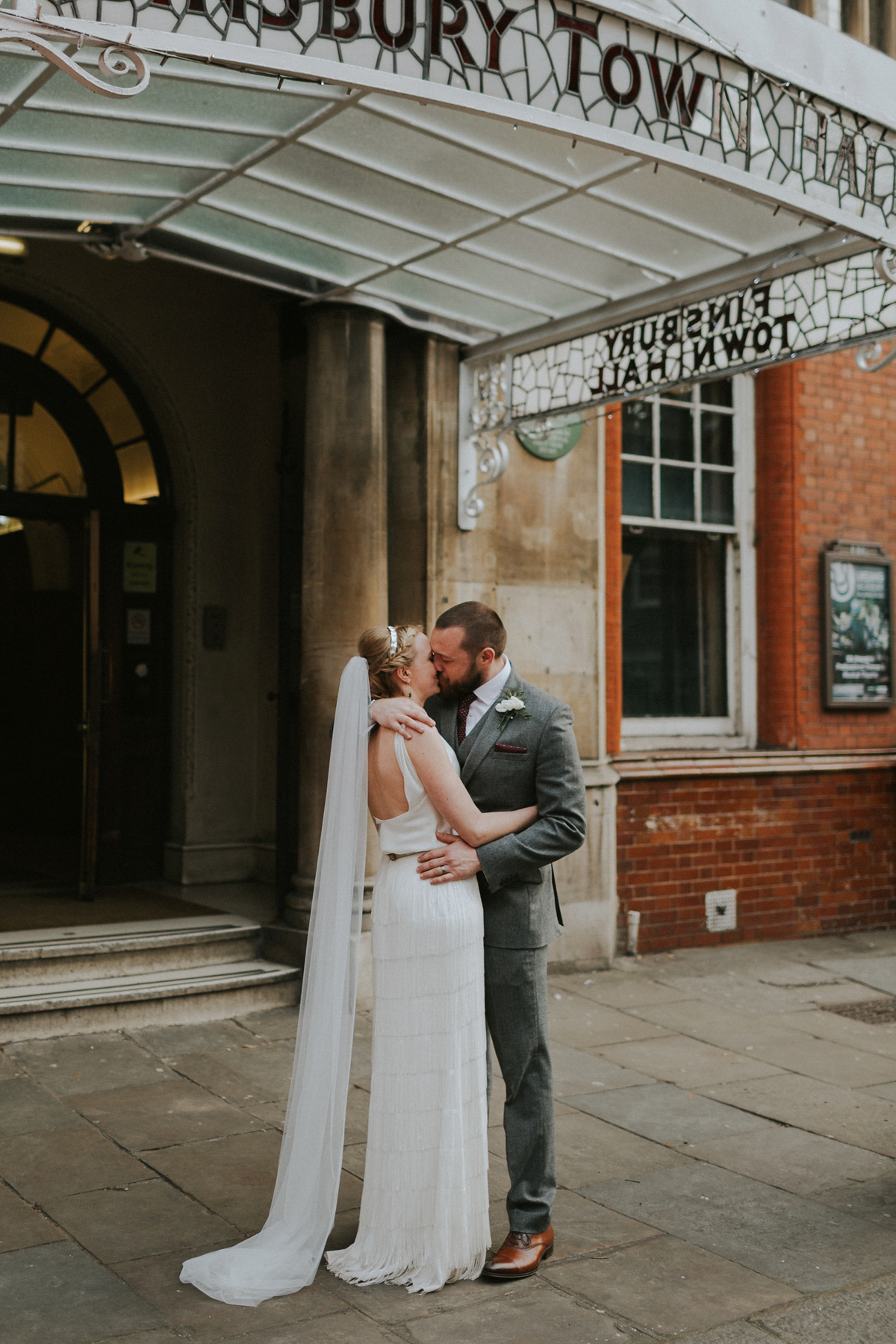 A variety of vases and glass cake stands were sourced from various charity shops. Candleabra's, candlesticks, tea lights, lanterns and other items were purchased from Sainsburys, Wilkinsons, Tesco and Ebay.
"The place cards were marble bathroom tiles with gold letters which I'd stuck on, the tea light holders were themed around geometric wire work shapes, each table had pots of ferns and spider plants grown by my mum and sprayed gold by us a few days before. I bought old vintage postcards of places that Matt and I had travelled to together which we used as table names stuck into the plant pots."
"Finally I added in gold geometric lanterns filled with wire string lights and made our own hexagonal gold table confetti with a hole punch I found on ebay. Each place setting was finished with a Monstera leaf."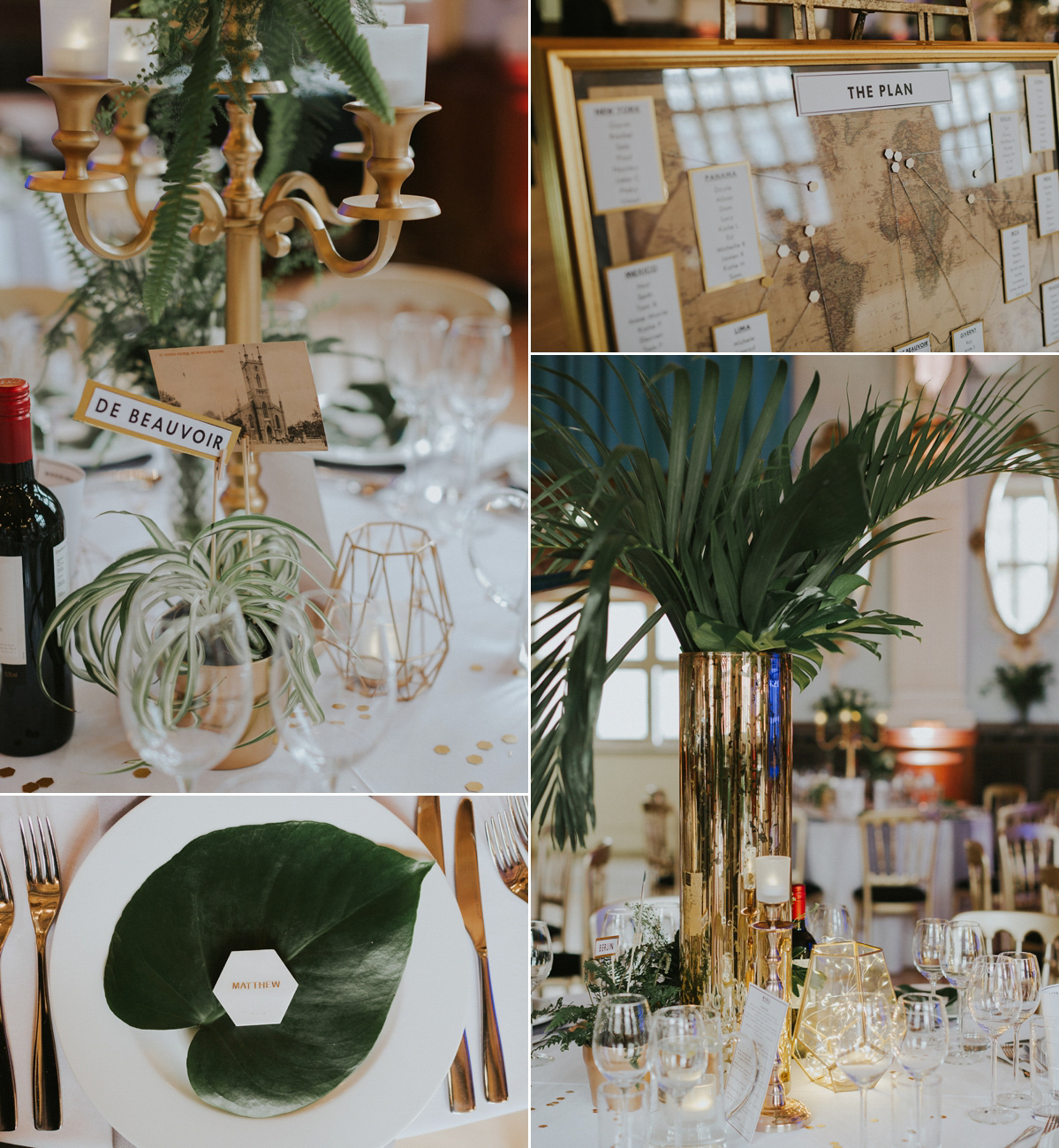 "Our venue didn't allow any flame candles so I had to work out how to use LED tealights without them being too obvious. I'm quite creative and so everything was sourced and made by myself with help from my mum. The flowers were bought directly from the New Covent Garden Flower market, I chose large jungle leaves – Kentia, Monstera and Asplenium, for the centre pieces and sharon ferns, feather ferns and small white flowers such as veronica, lisianthus, lilac and garlic for the smaller vases."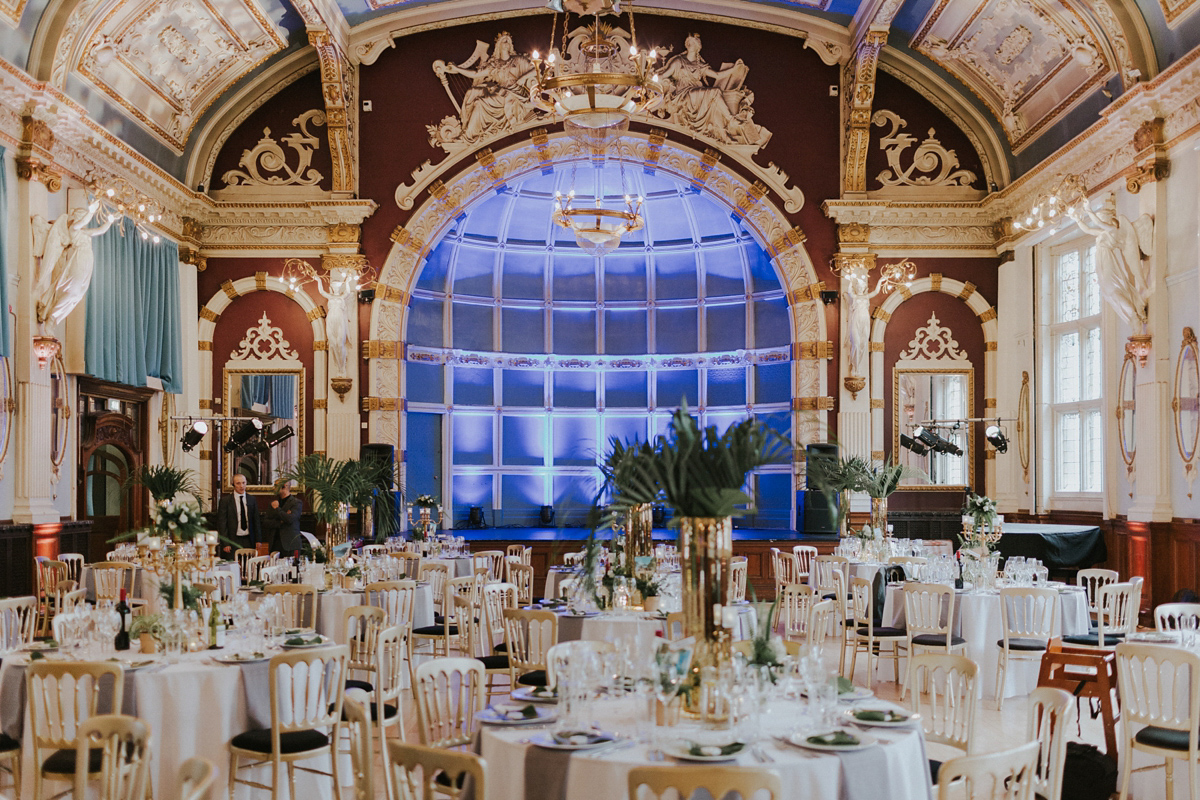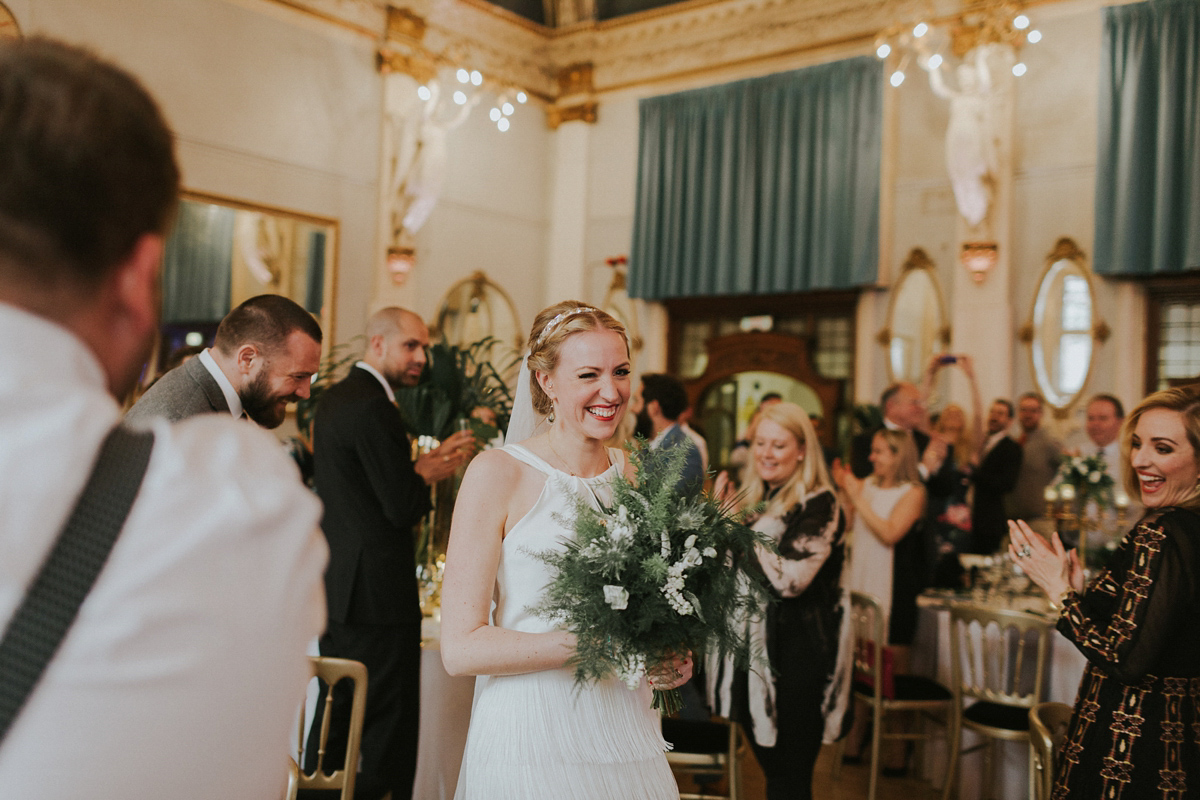 "My mum had scoured every charity shop in Dorset for the glass vases in the months before and I had sourced the candelabra on ebay. A friend lent us her incredible gold vases for the table which gave the tables just the right height given that the venue was such a big space. We did all the flower arranging together on the Thursday and Friday before the wedding. I'd had a couple of practice runs on arranging the candelabra and together we managed to get it all done in plenty of time!"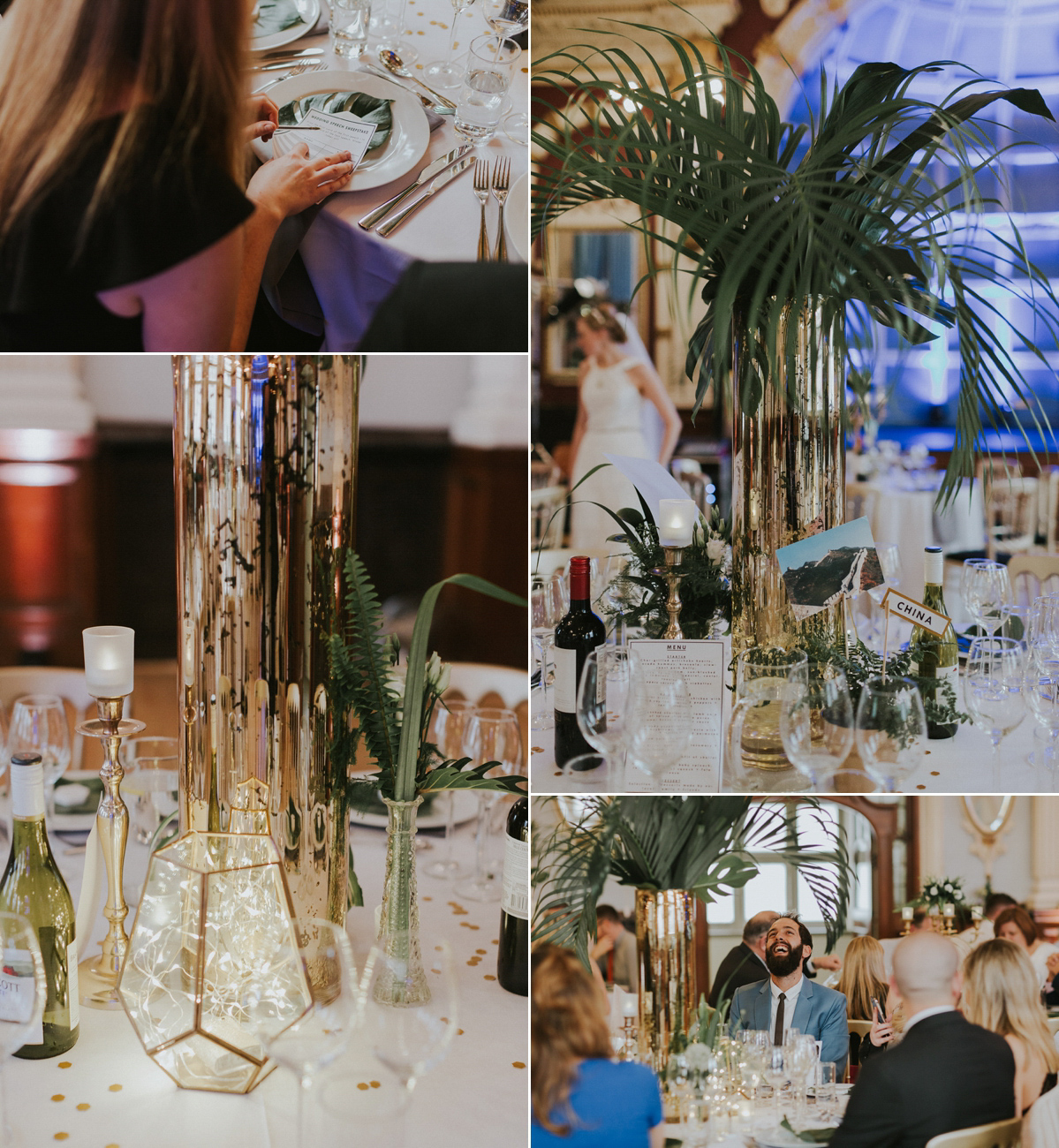 "Our caterer for the day was Boulevard Events, they were able to create the sharing plates style that we wanted as opposed to a more formal plated service. We went for canapes and bubbles as our guests arrived, antipasti starters and a selections of mains that could be shared across the tables. Desserts were made by our lovely family and friends. They also made pies for late night snacking."
"The food was an absolute highlight of the day with all our guests telling us how fantastic it was! Our cake was a stack of cheeses as this is hands down my favourite food – Matt's mum is a superb chutney maker and made several flavours which went perfectly with the cheeses we had."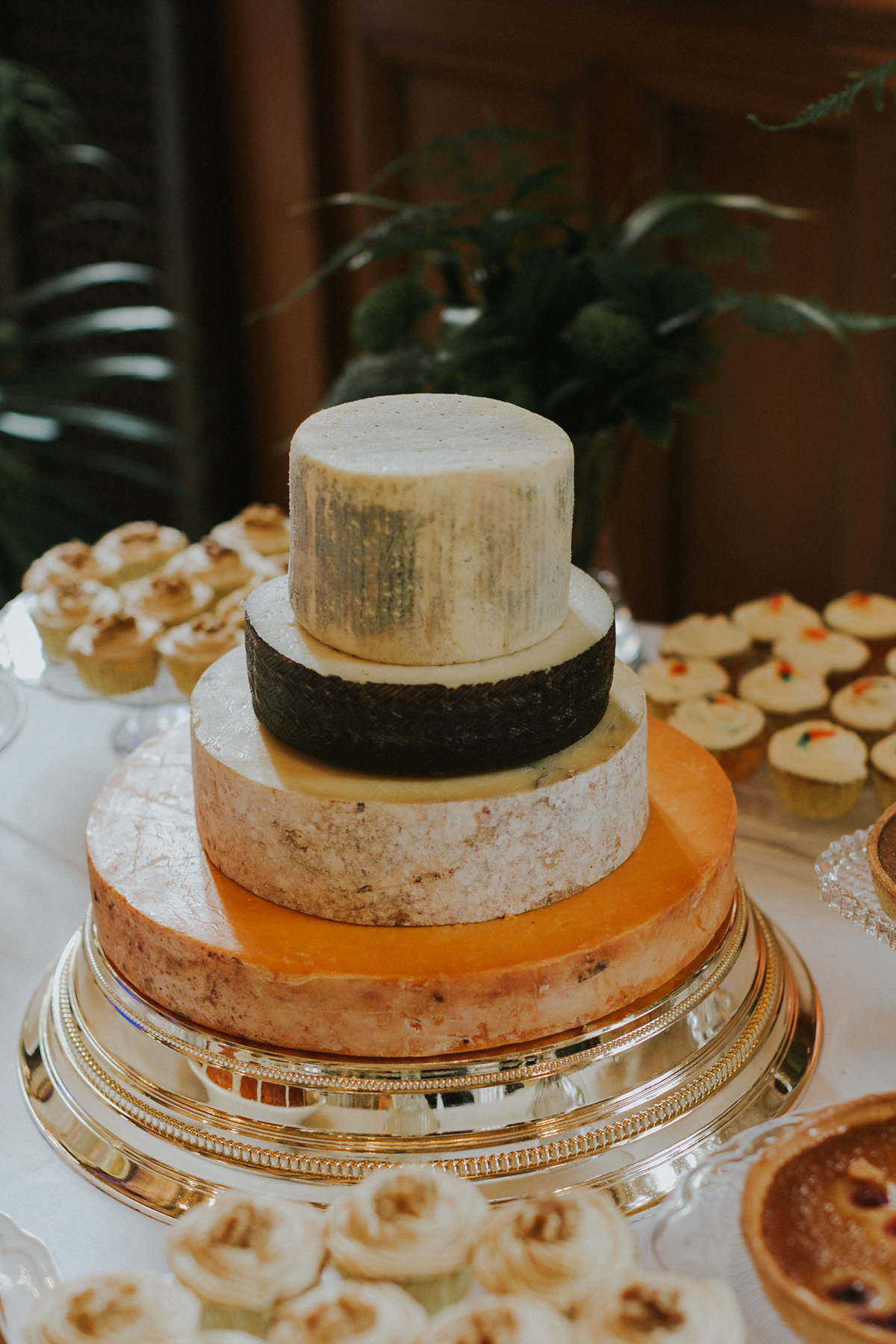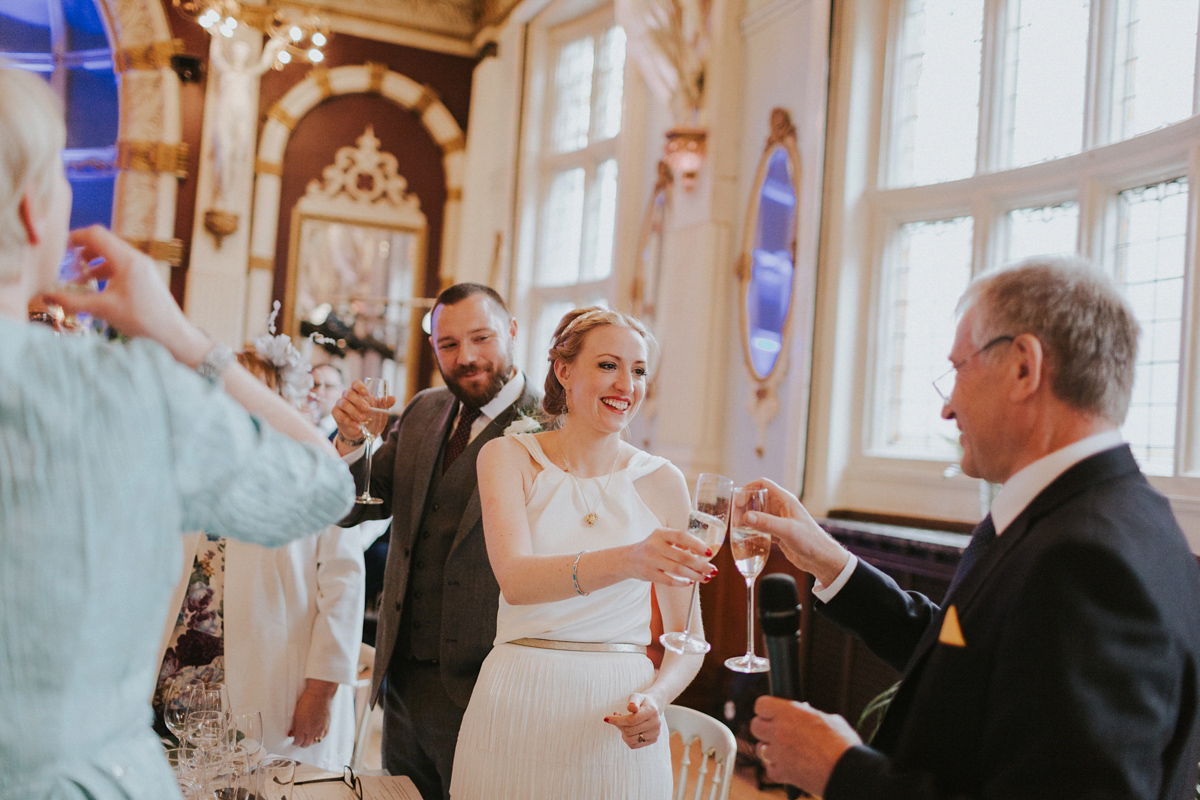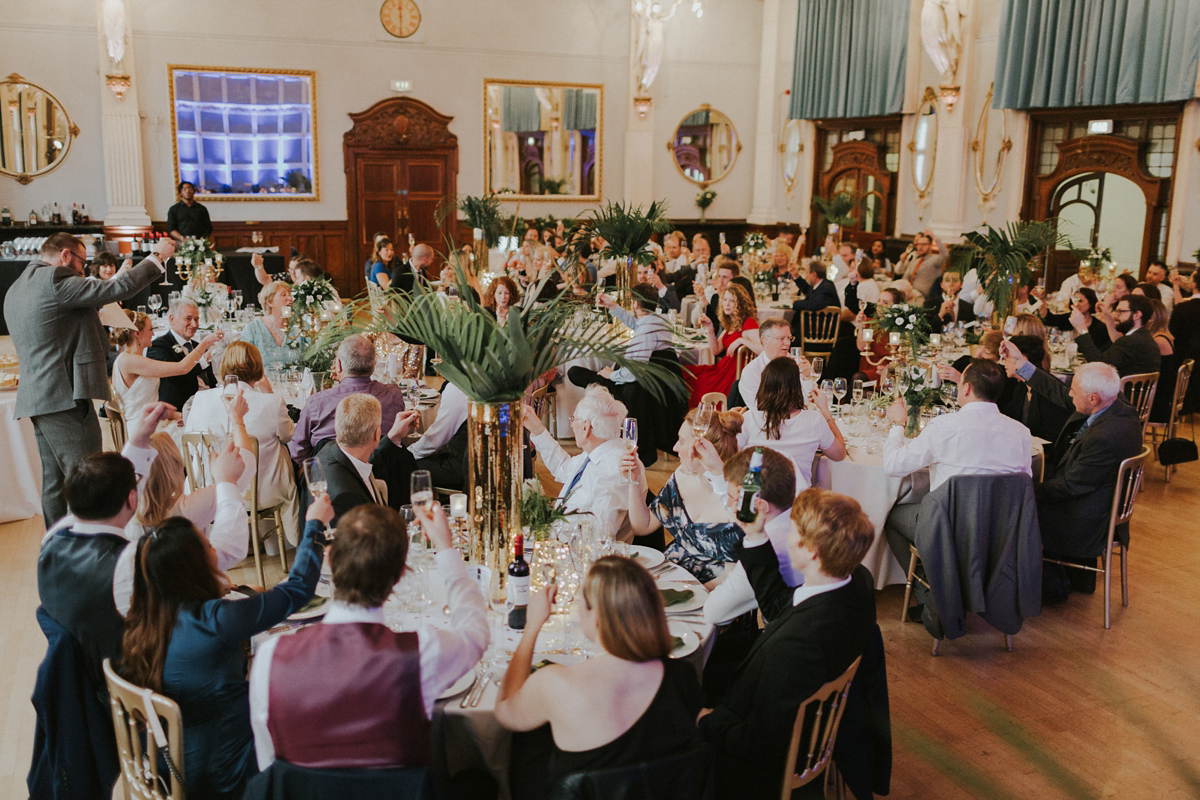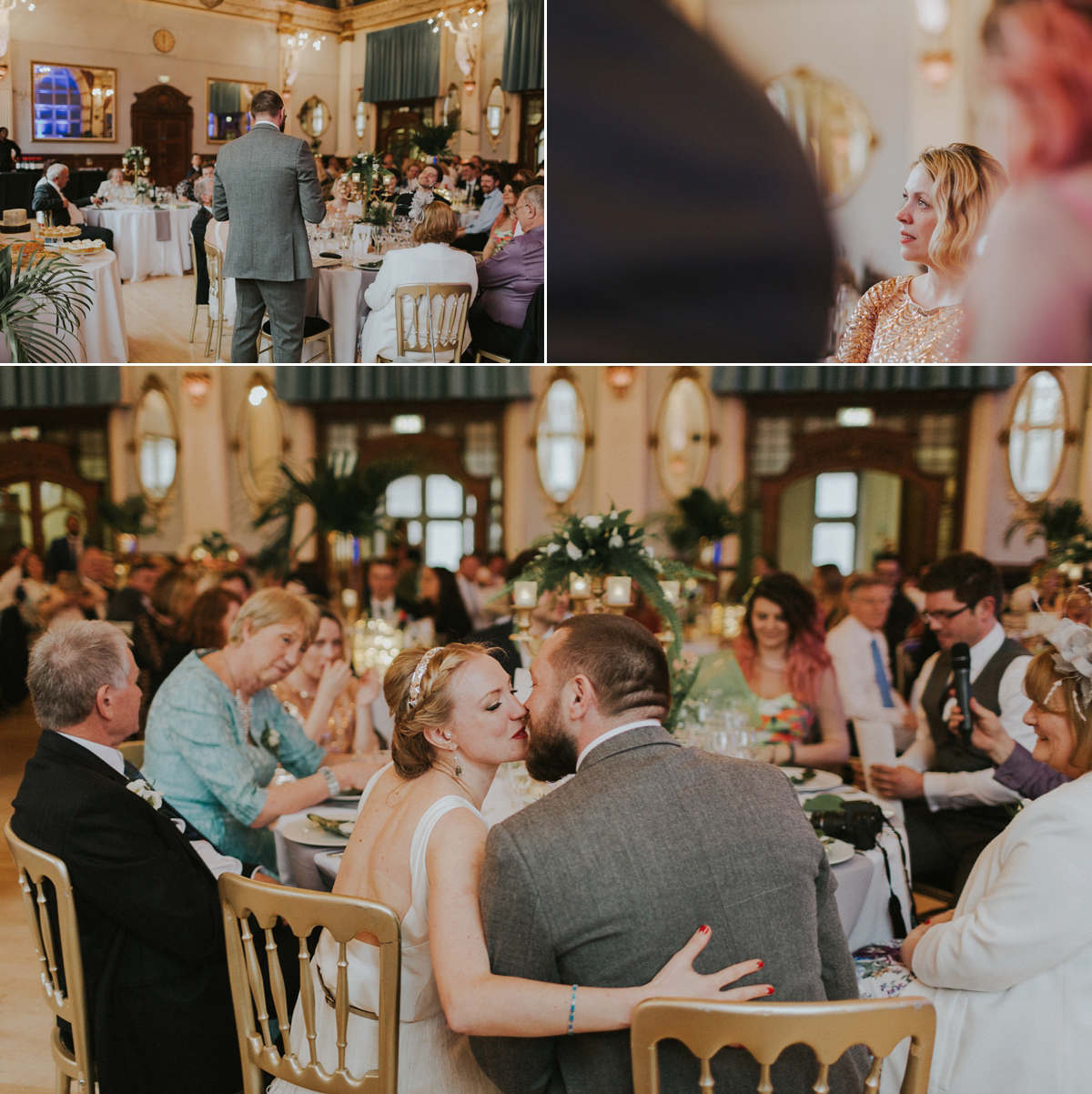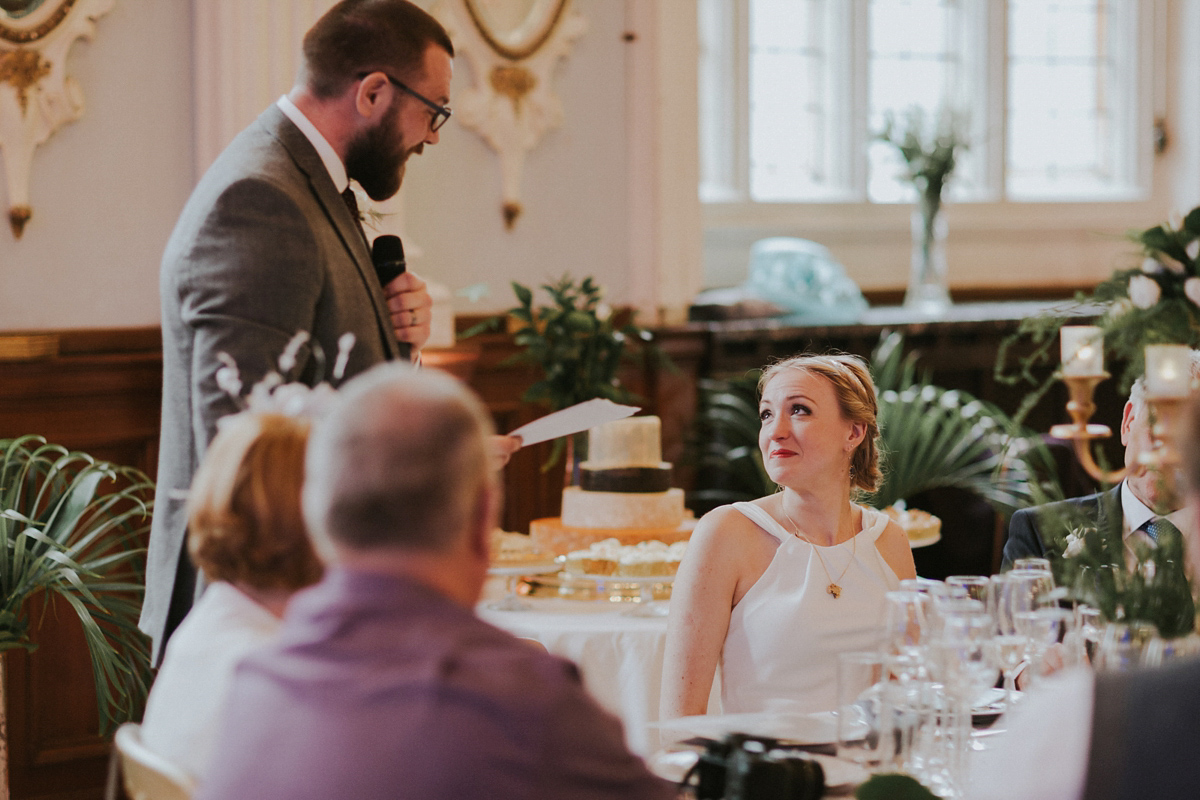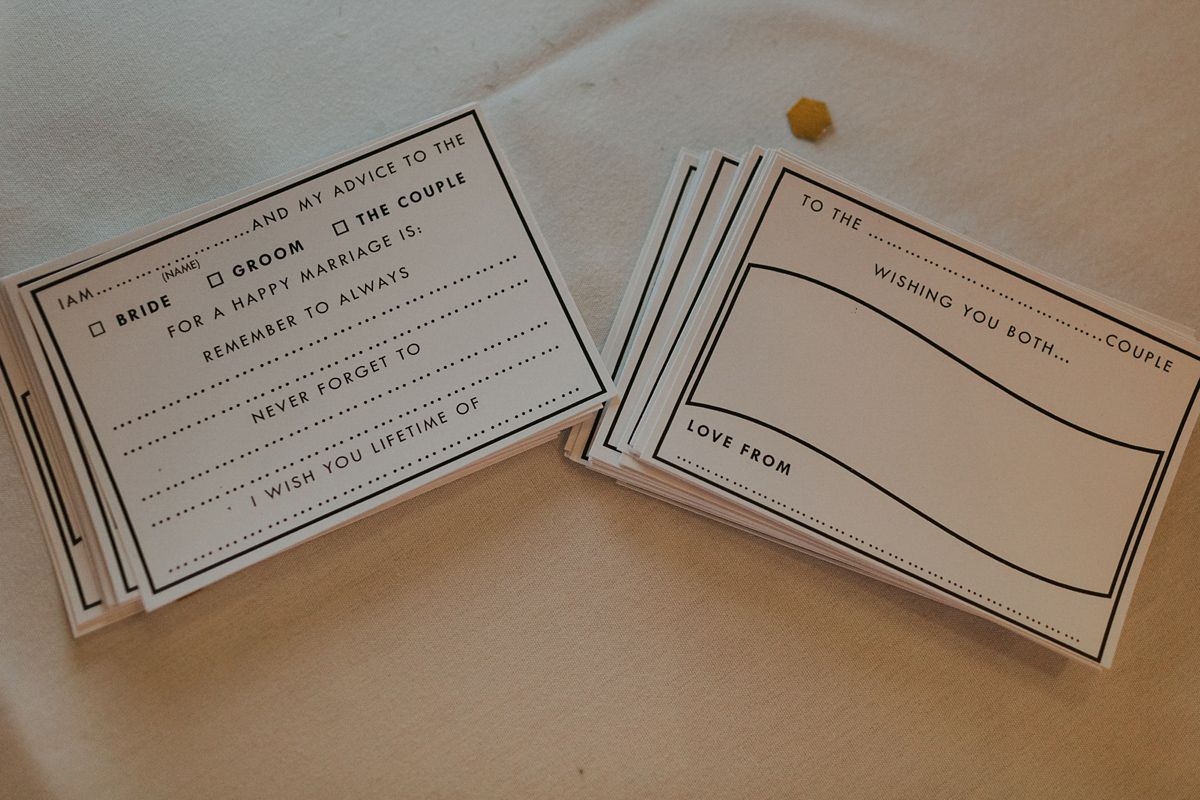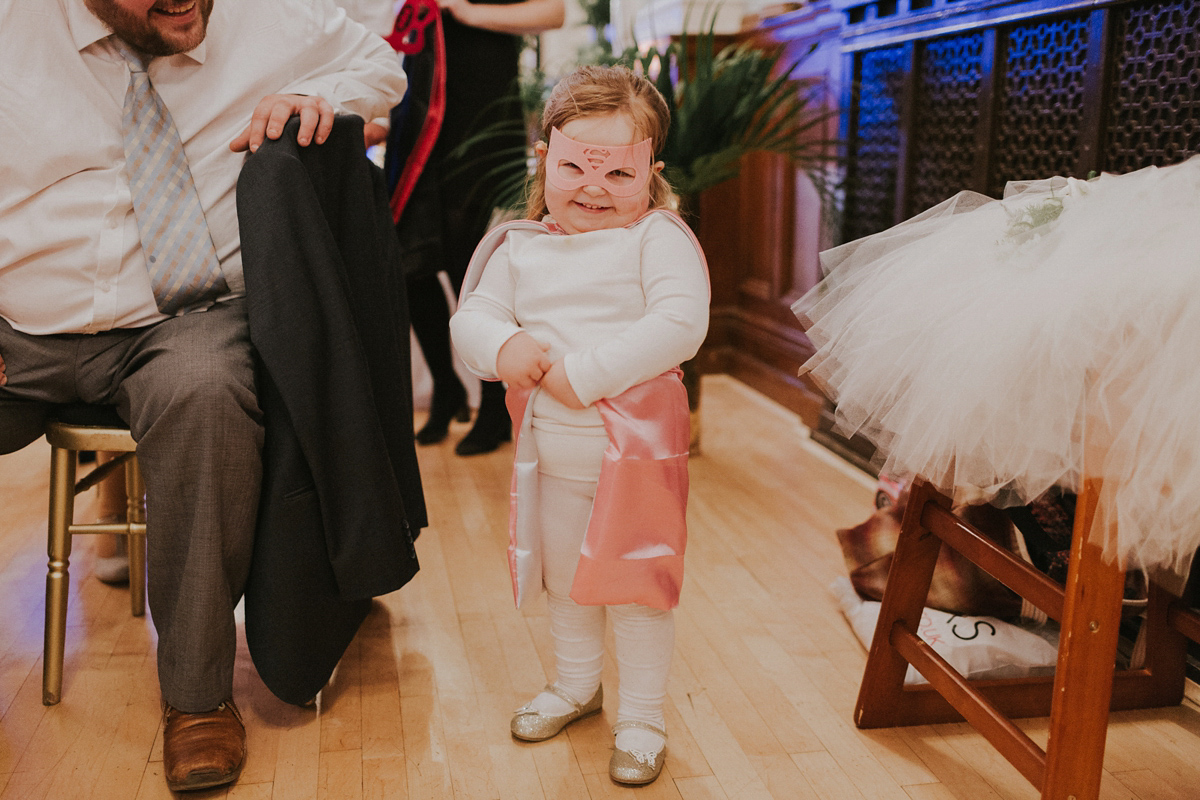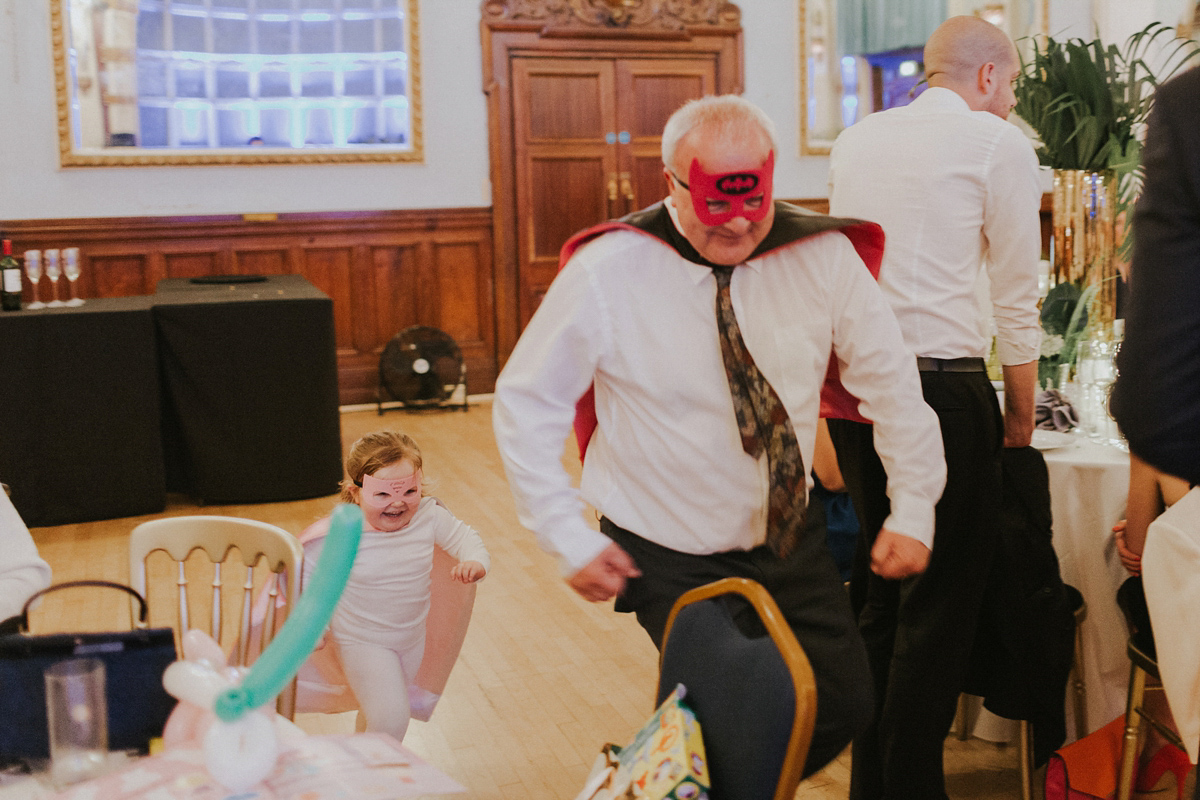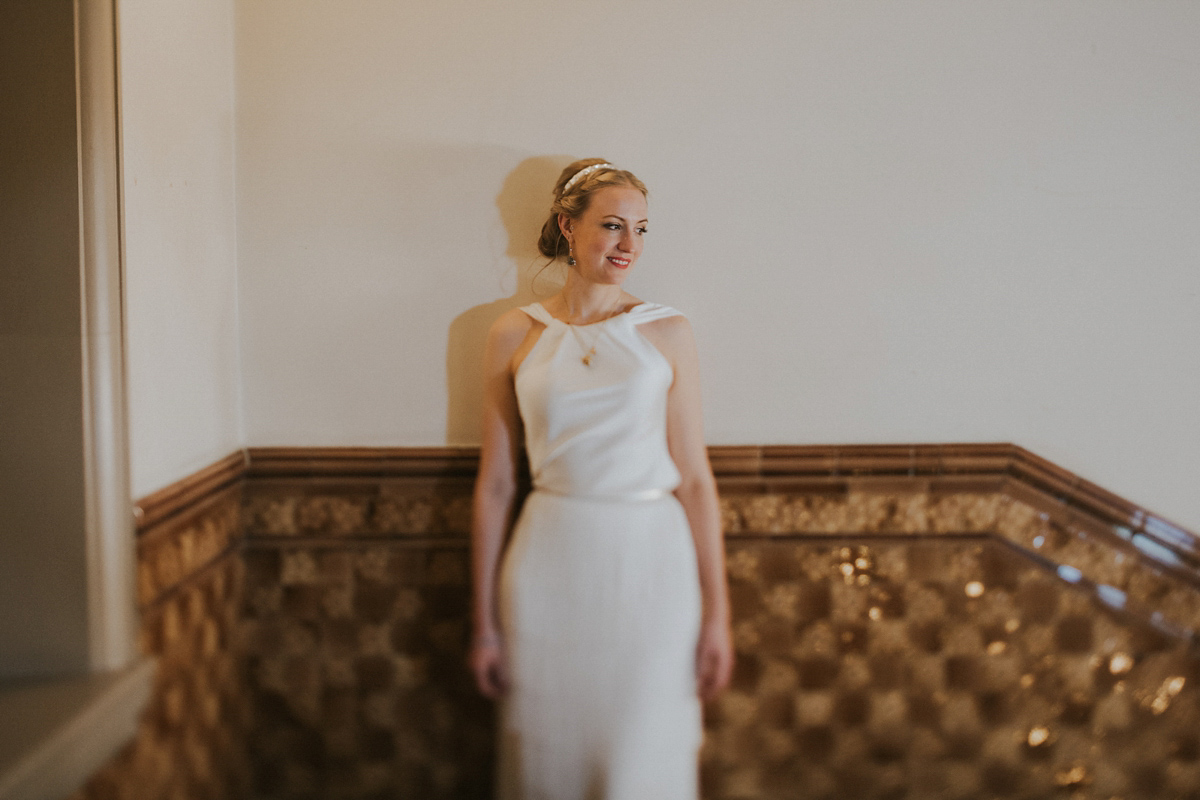 "We hired The Launchers, a 7 piece Ska band which had everyone up and dancing from start to finish! No one wanted them to leave at the end and they did several encores might to everyones delight!"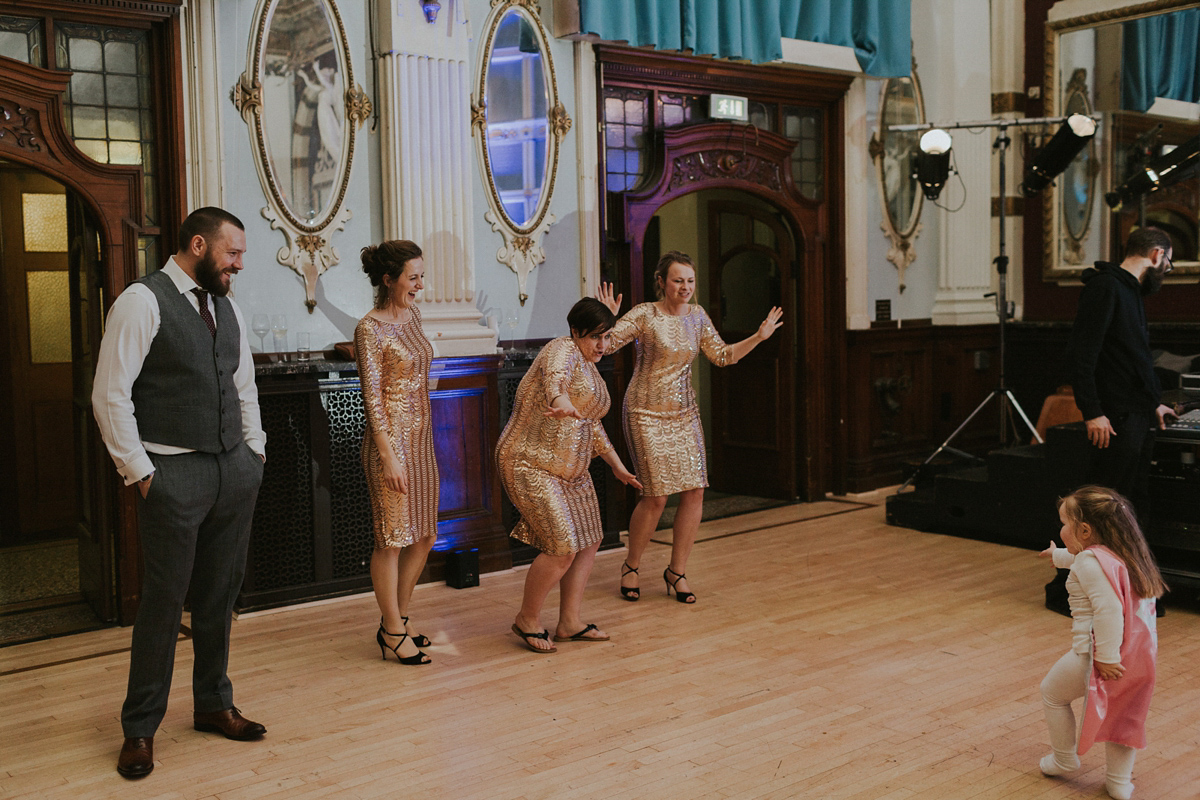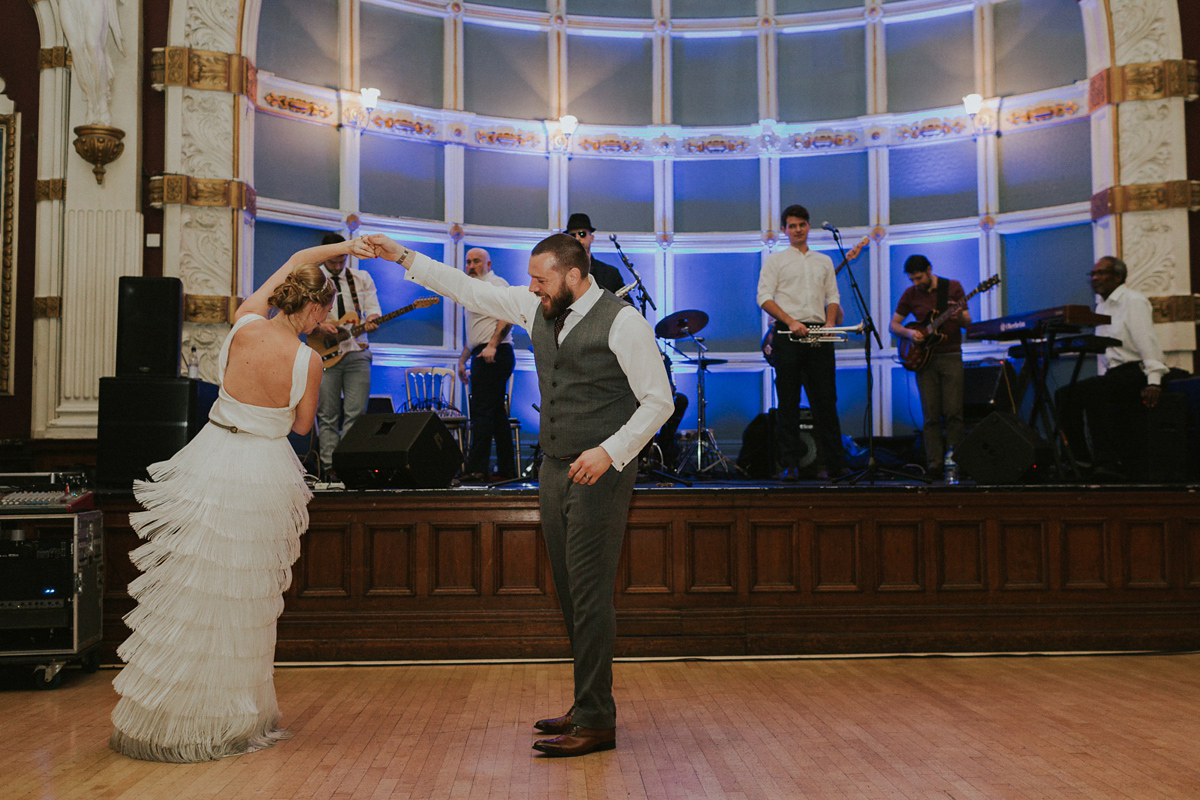 Words of Wedded Wisdom
"Don't get caught up in Pinterest. Choose your theme and stick to it, make sure it compliments your venue. Once I'd decided I edited and printed out my images to keep me focused and to stop me getting sidetracked by new themes or ideas.
Think about scale, our venue had high ceilings and so I made sure that the table had some height to them to prevent the room looking too flat. You can use anything to add drama and interest."
"Shop around but don't forget to shop local. I've sold nearly all our wedding decor on our local Walthamstow SoS site, its great to know that everything we sourced is going to be part of other couples big days. Our cake stands are even going to make an appearance on the next series of Call the midwife.
Try not to get overwhelmed and don't be afraid to ask for help – we could't have done it without our friends and family.
On the day the tiny details don't matter, stop at each point and take in having all your fabulous friends and family around you. Its the best feeling."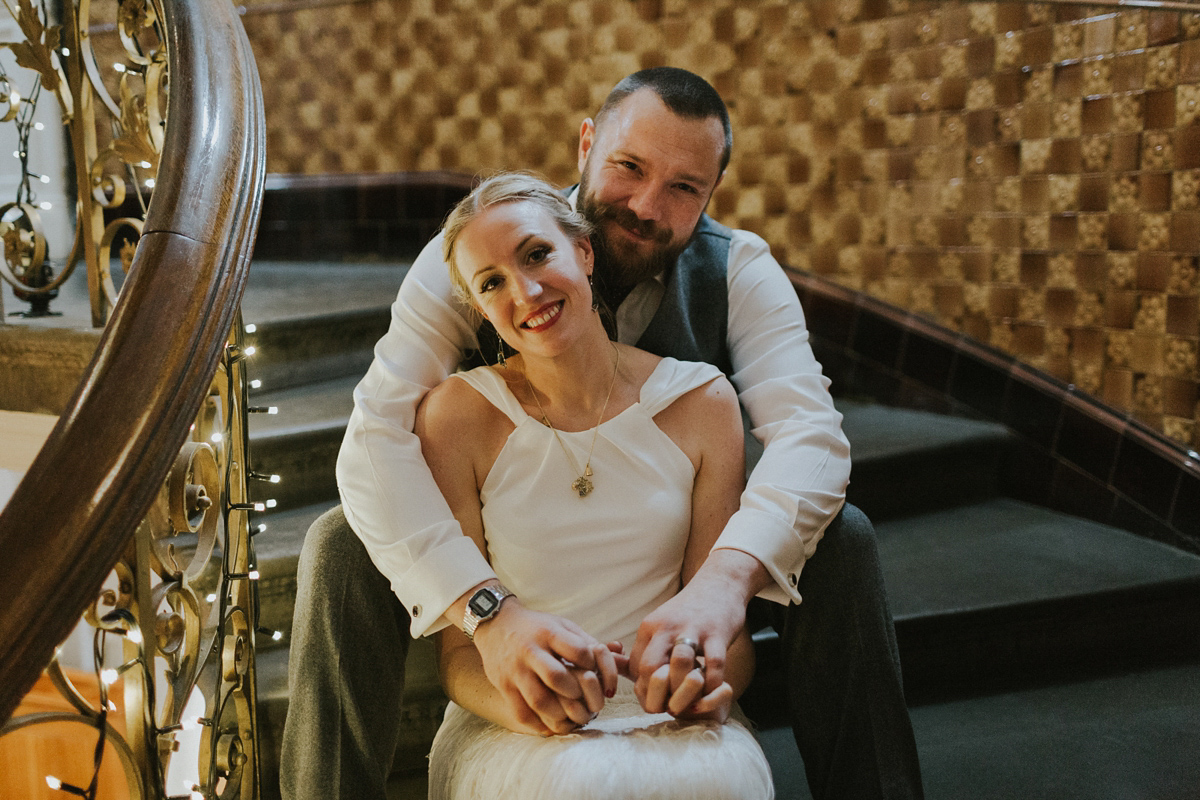 What a beautiful day – my love and thanks to photographers We Heart Pictures and to lovely bride Ele too for sharing so much inspirational and helpful information. Please use the tags below or our super duper new search facility (look for the little magnifying glass icon) to find much more inspiration.
Love Annabel x