When I married my husband in Northumberland 2013 there simply wasn't such a thing as a 'barn venue' (unless you were able to rent an empty barn and do the whole thing yourself). Had there been, I would have been there to visit right away. I'm so pleased to see that there is now and delighted to share it with you today.
Meet Ian, a forensic accountant and Emily, Head of English at a prep school, who married on the 16th July 2016 at Doxford Barns in Northumberland.
"I always knew I wanted a whimsical, laid back wedding and I wanted to be surrounded by flowers and ideally be as 'outside' as possible.  I wanted blush colours, pastels and a pretty country garden feel.  We aren't religious and so we wanted a civil ceremony in as beautiful a place as we could."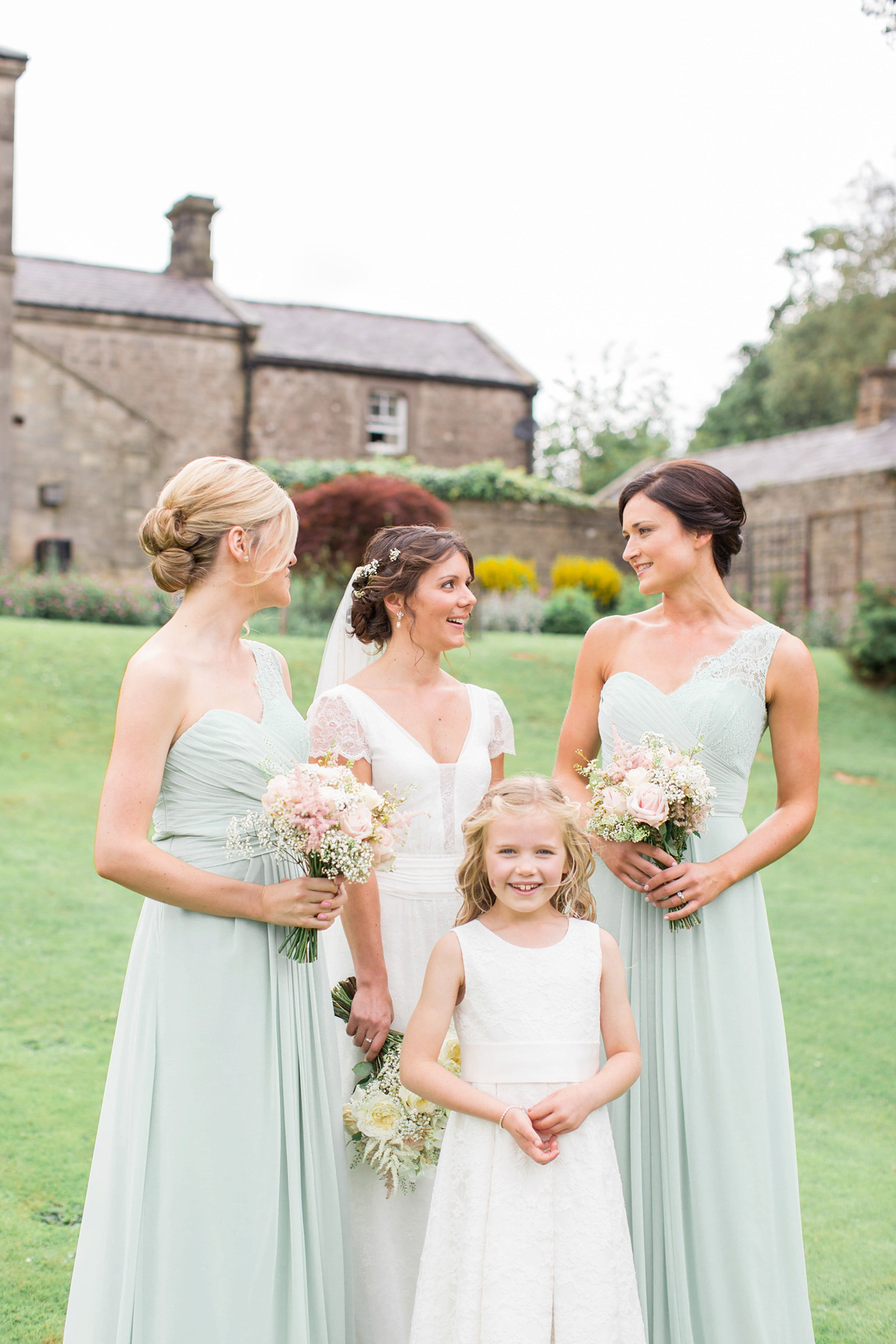 The talent behind the lens today was Amy Lou Photography.  I love the amount of light and warmth Amy has captured in these photographs.
"Amy was simply incredible – I cannot rave enough about her skills and how she totally 'got' our want for an informal, candid shoot.  What I did want was natural light and photographs that reflected the whimsical, romantic nature of our day.  She was so professional and lovely and I couldn't be happier with her pictures, and the resulting stunning album."
Hair was by Carolyn Clayton (who Emily would like to describe as a 'wedding hair genius') while make up was the work of Dani. MUA.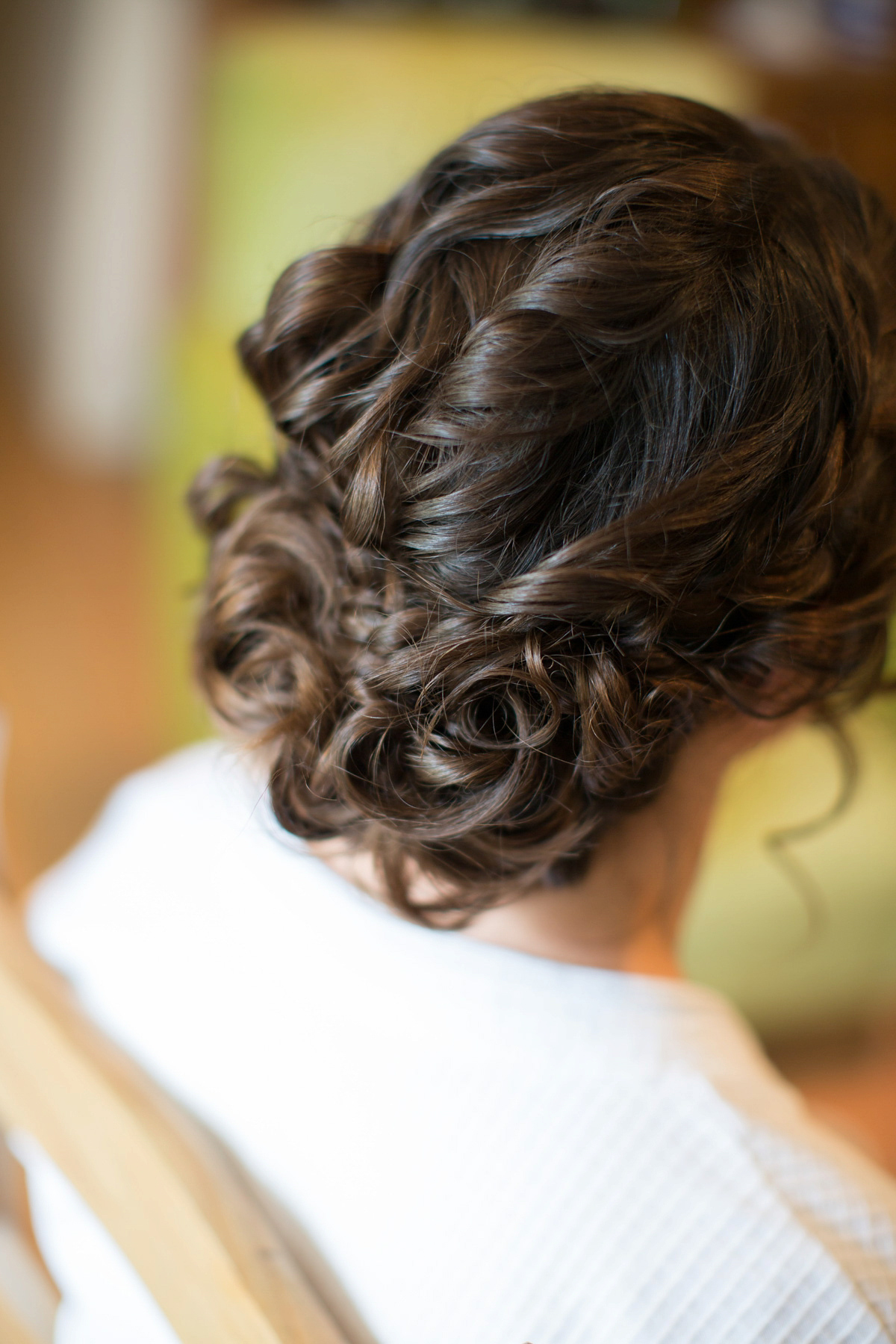 Emily wore fresh flowers in her hair and for scent she chose Jo Malone, wearing a mix of Nectarine Blossom and Honey with French Lime Blossom for the perfect fresh scent with a hint of sweetness.  She also chose a veil from The Wedding Veil Shop which she personalised with extra sparkle.
"After lots of umming and ahhing and trying things out, I thought the neckline on the dress was too pretty to distract from with a necklace so settled on simply a pearl bracelet and earrings set from Cadenzza."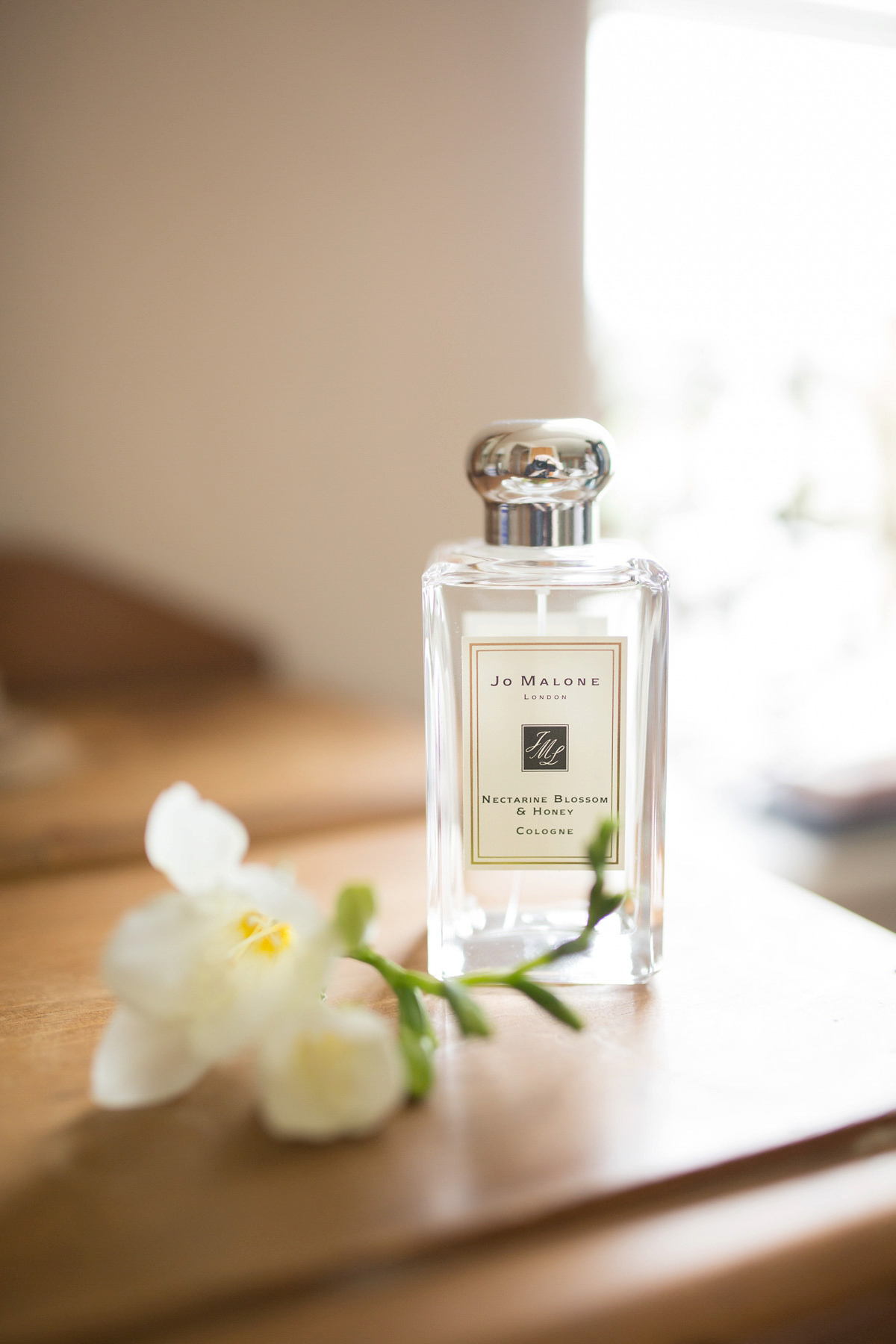 "Recommended by our photographer, Elaine at Pure Ground Flowers is so passionate about what she does. When I went to pick up the lavender she'd prepared a few days before my wedding and saw some of the flowers she was going to put in my bouquet I actually burst into tears.  I have never been so blown away by flowers in my life."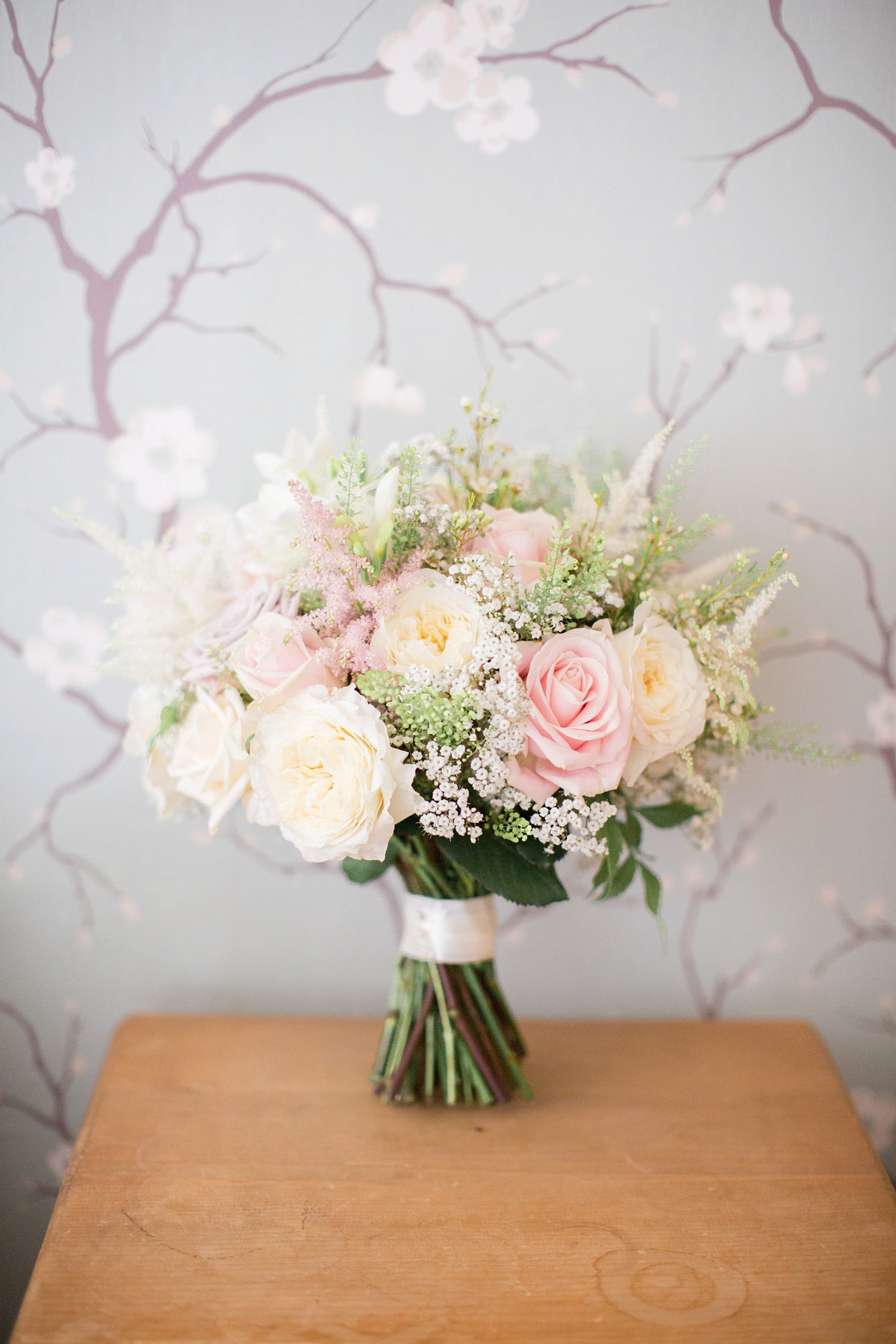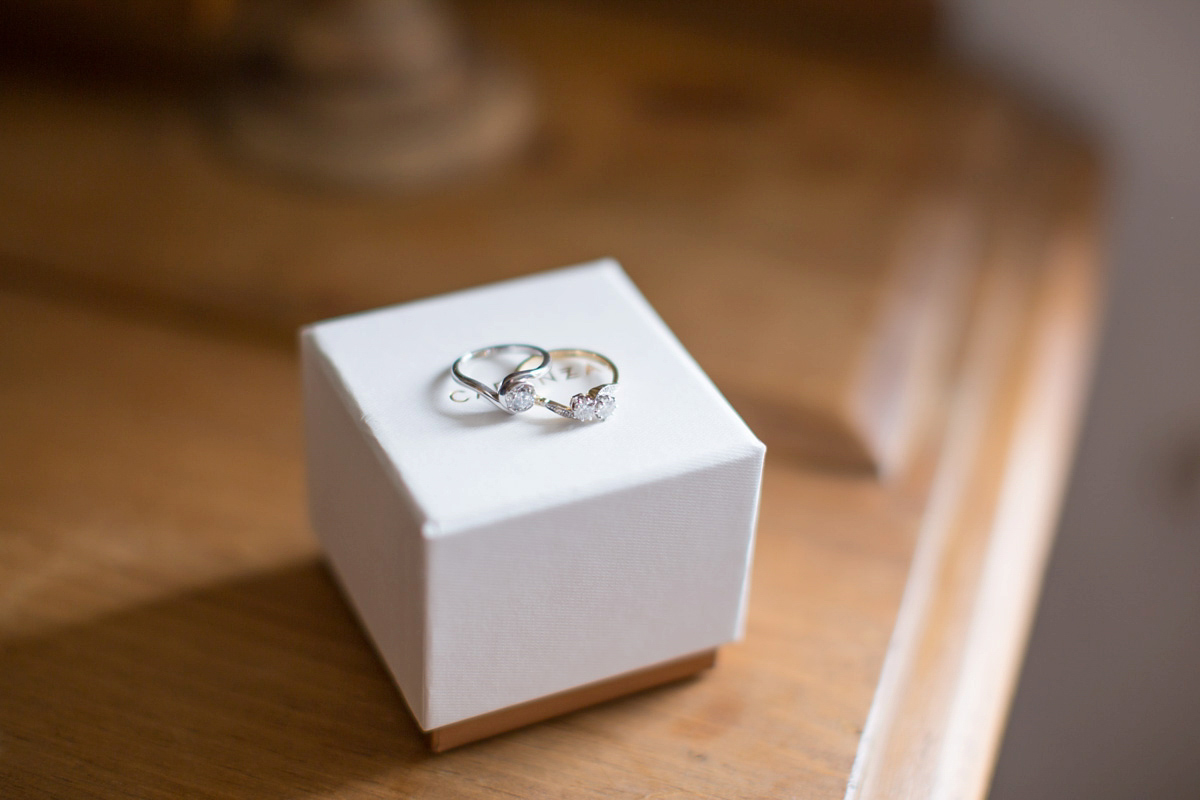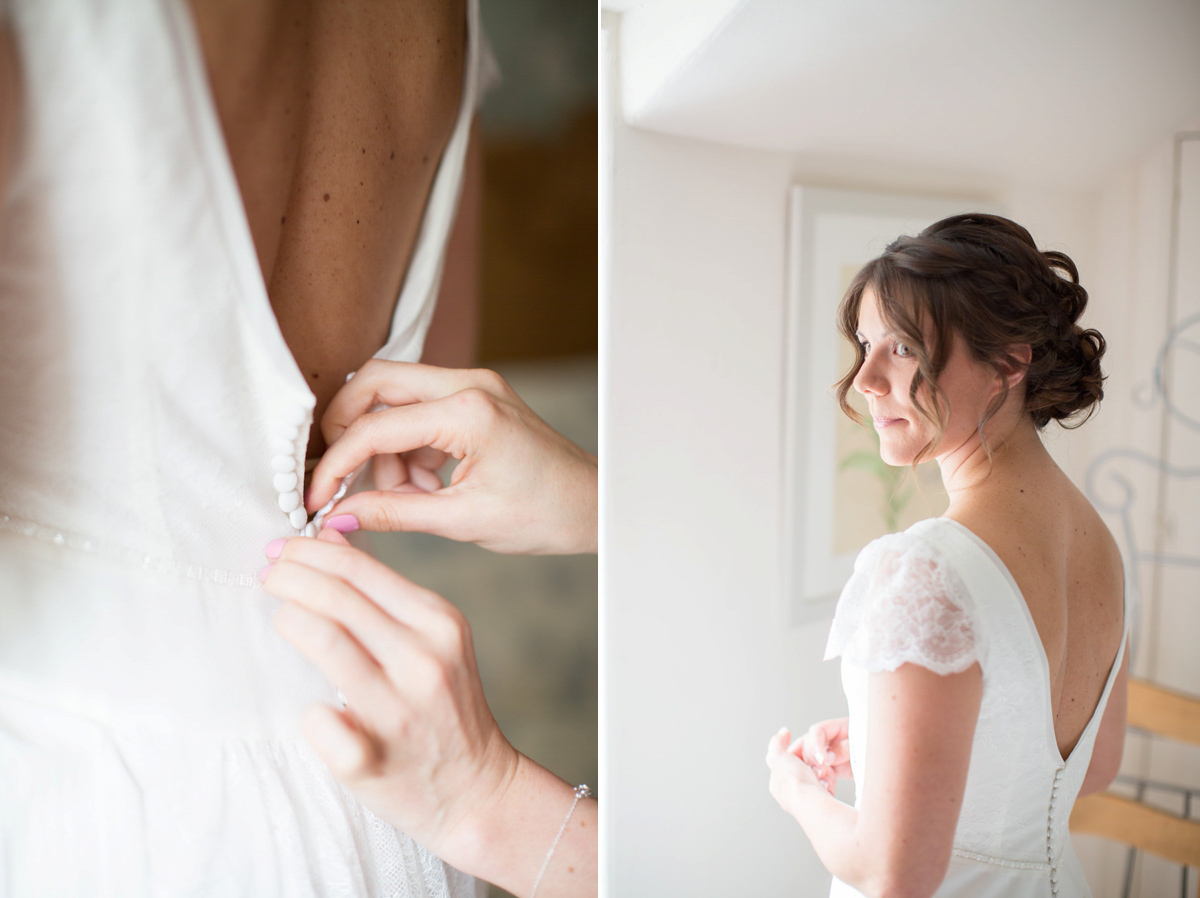 Emily looked beautiful in a simple but very lovely gown by Rembo Styling, which she purchased in Angelica Bridal, Islington.  The floaty sleeves are sublime and the fabric is gorgeous.
"The more dresses I tried on in the style that I thought I wanted – big, traditional A-line gowns- the more I realised they simply swamped me.  At 5"3 I'm not blessed with height and when I tried on my Rembo Styling dress, it suddenly hit me that the boho romantic style was so much more me.  It was light and floaty – ideal for a country wedding, and gave the illusion of height.  What blew me away was the sumptuous, delicate lace.  I wanted a lace dress but was worried about heavy old fashioned lace – this dress was divine."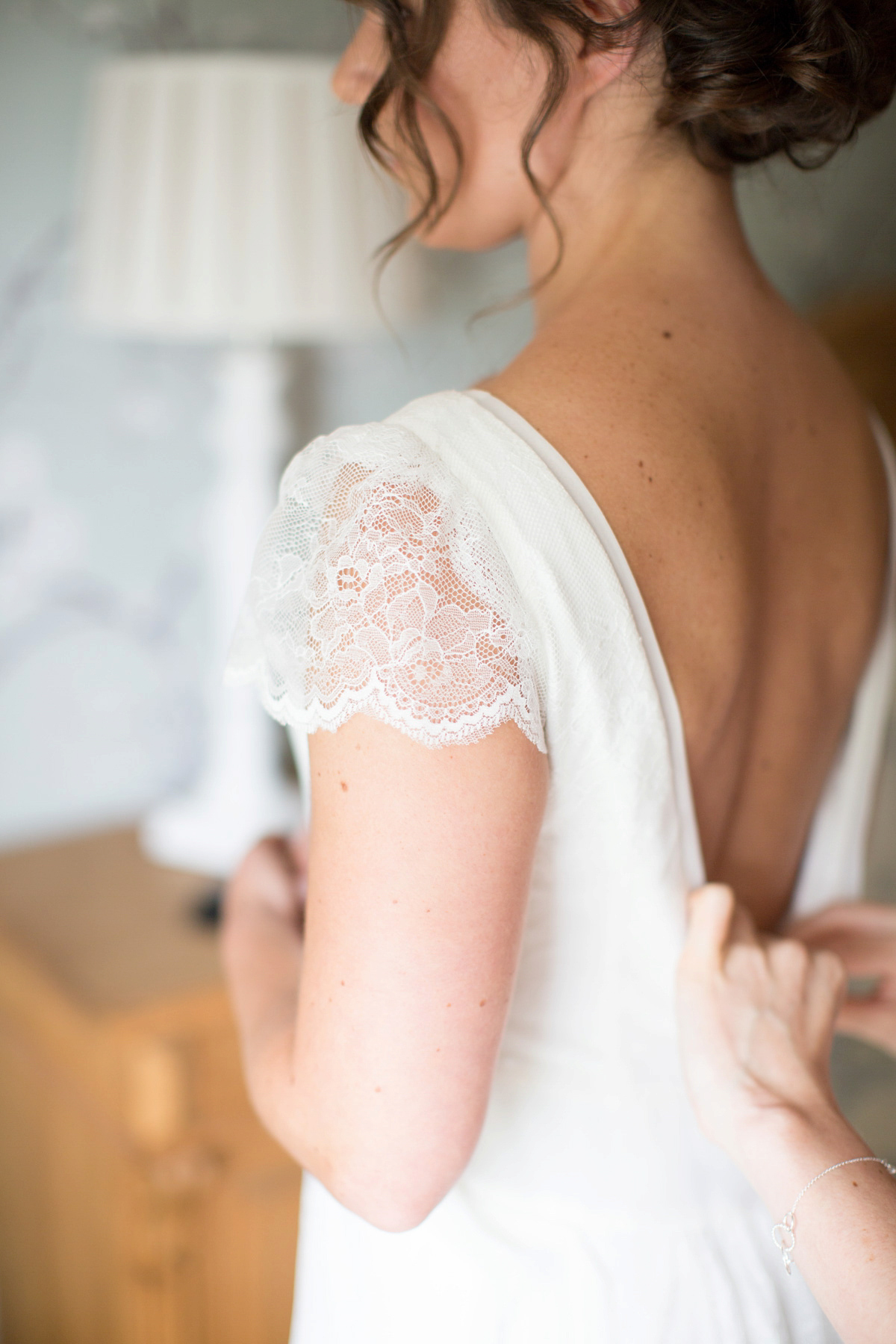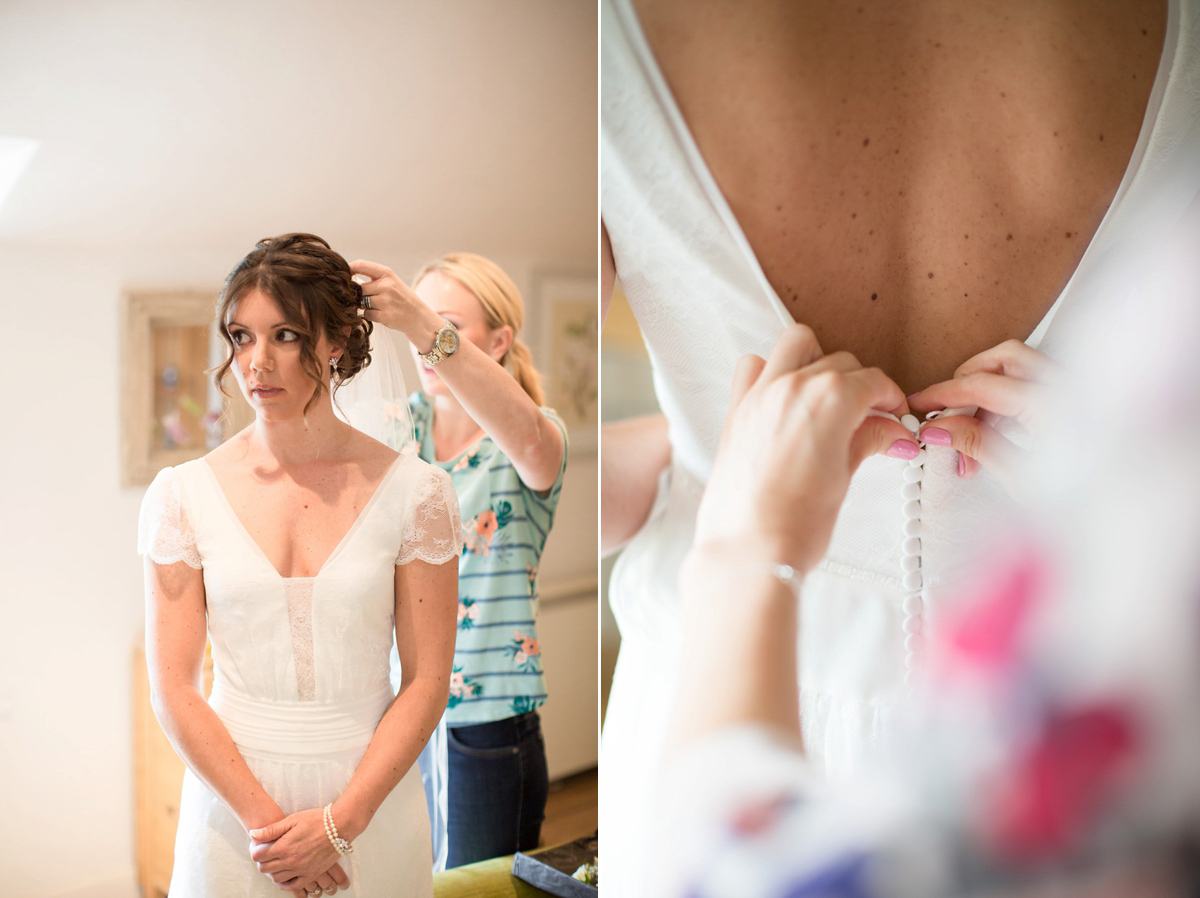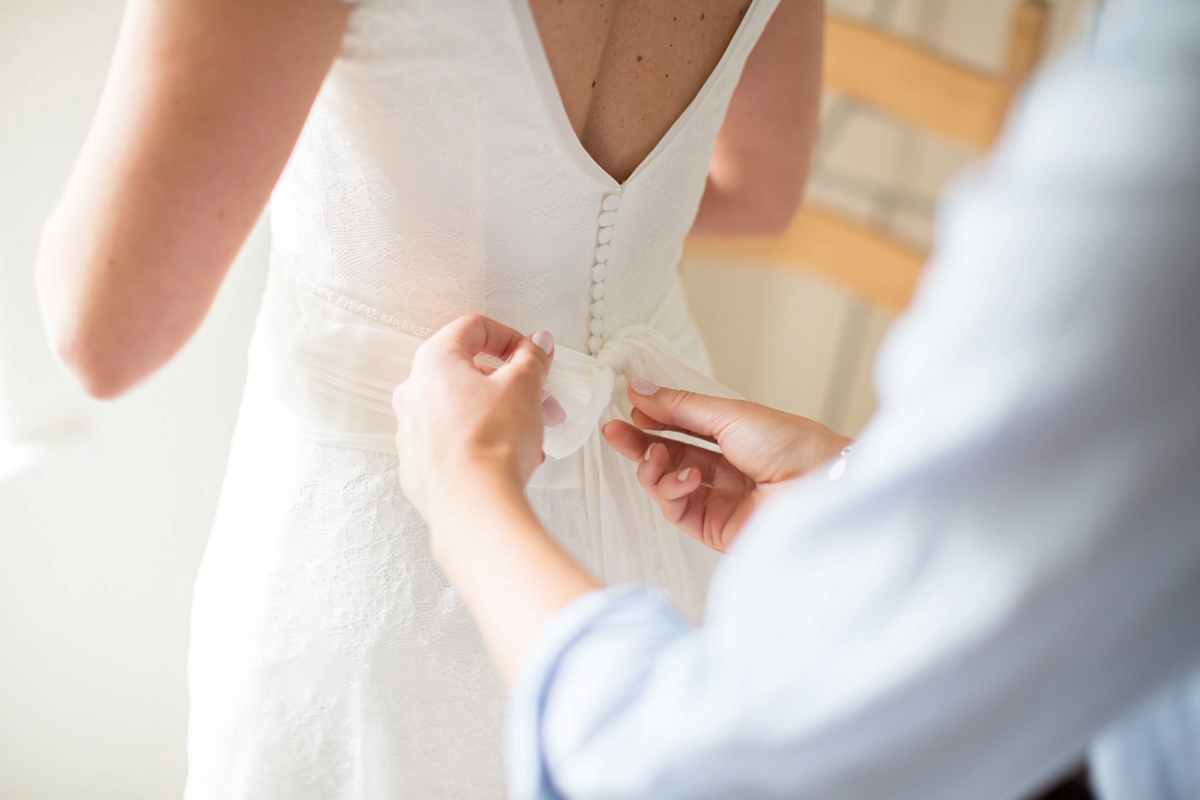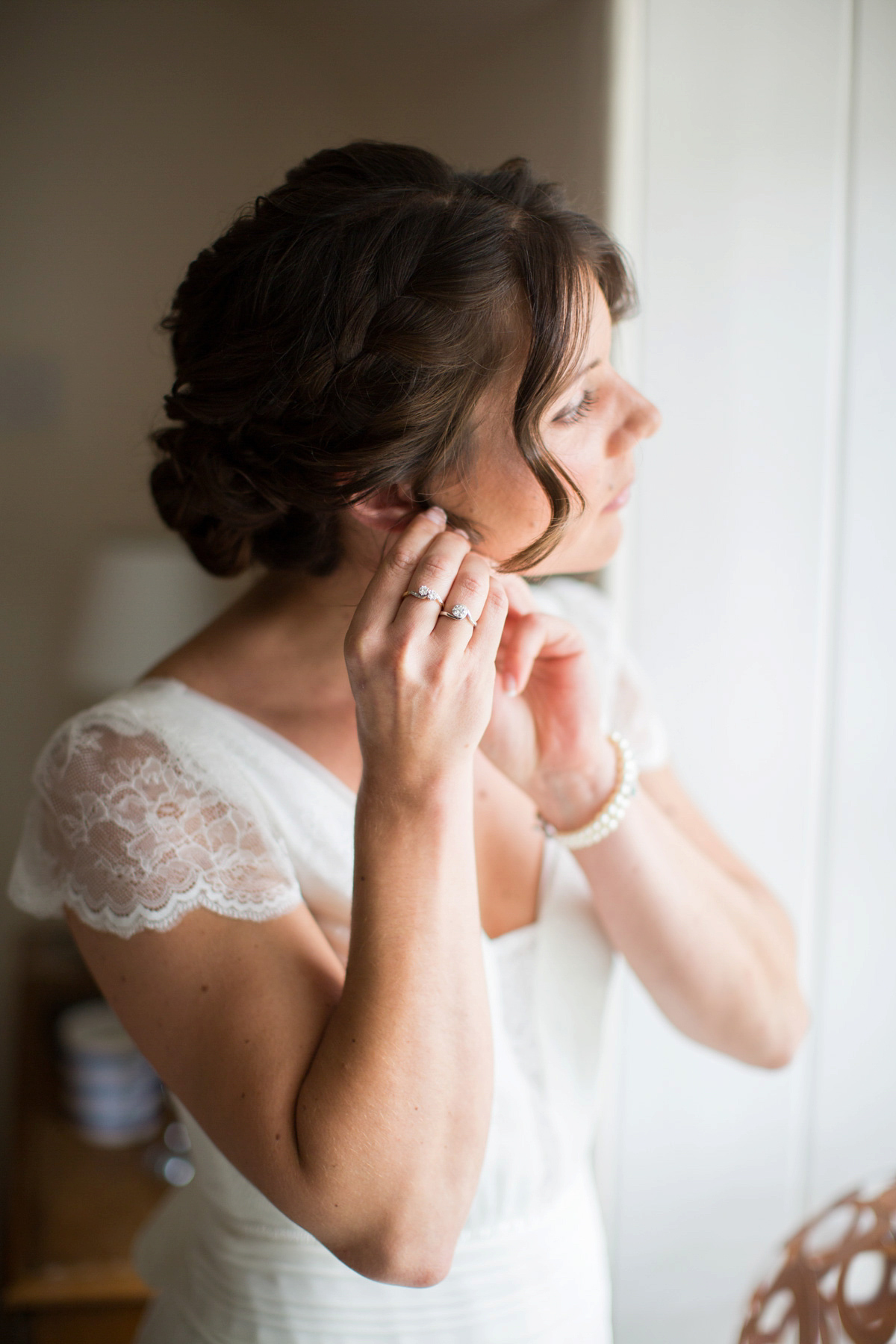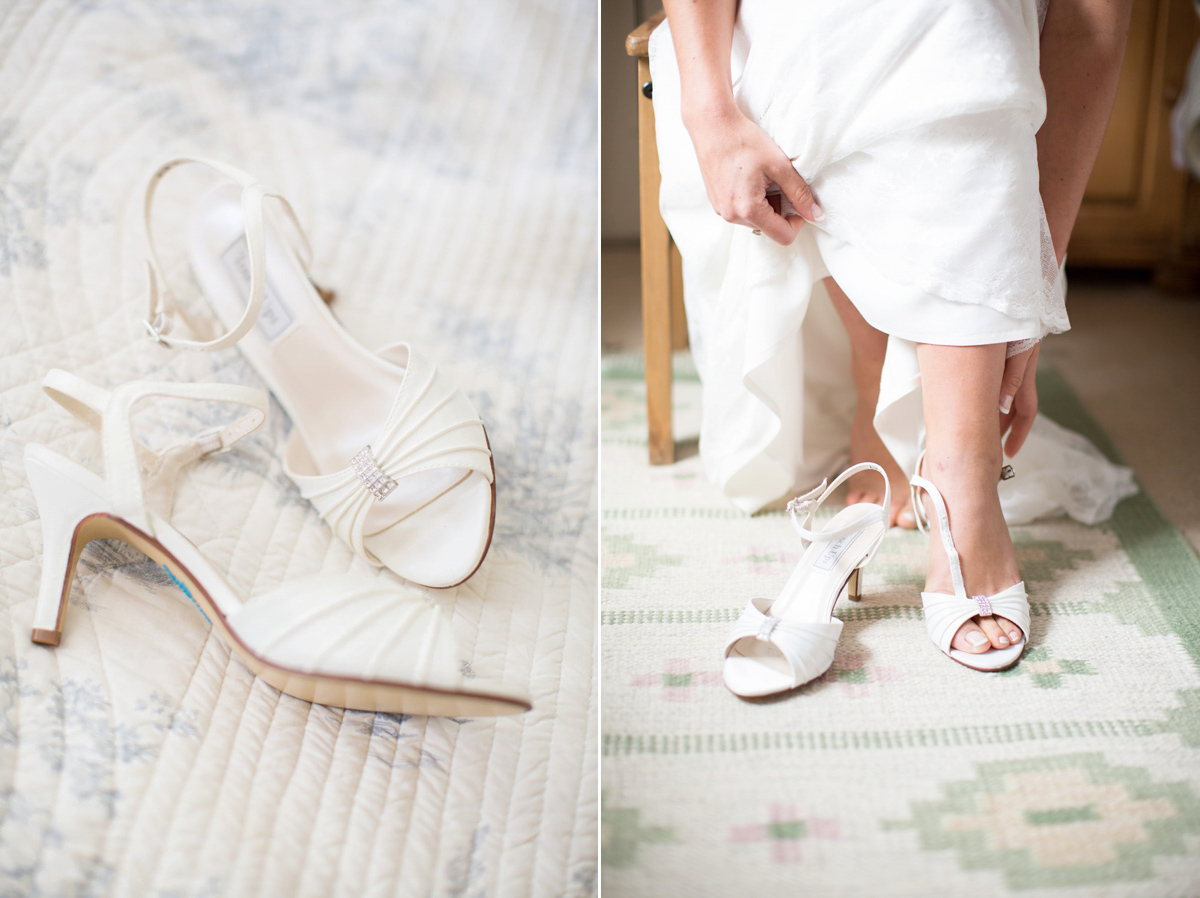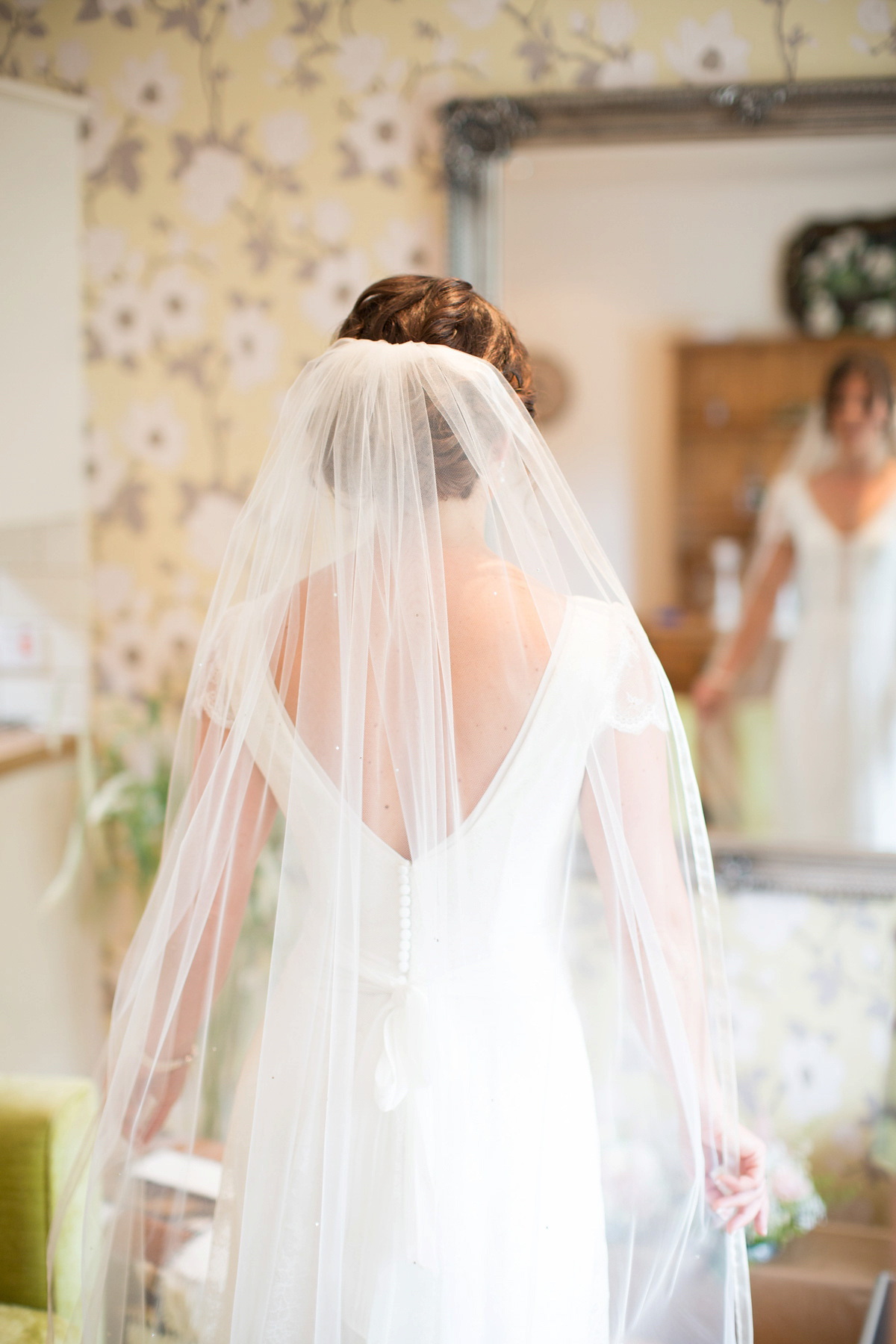 The bridesmaids looked beautifully summery in one-shoulder dresses by Mark Lesley, bought from Mia Sposa in Newcastle Upon Tyne.  For accessories they wore bracelets from Oliver Bonas.  Meanwhile the flower girl looked sweet in a dress from John Lewis.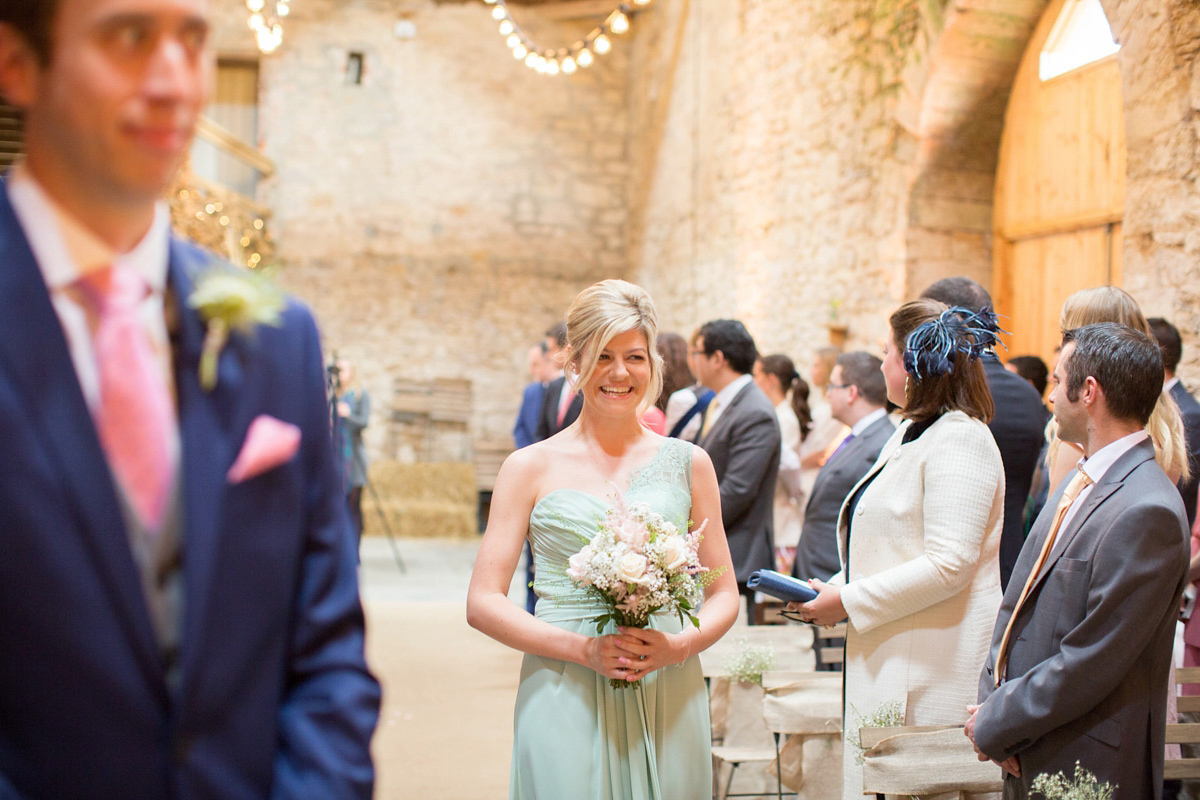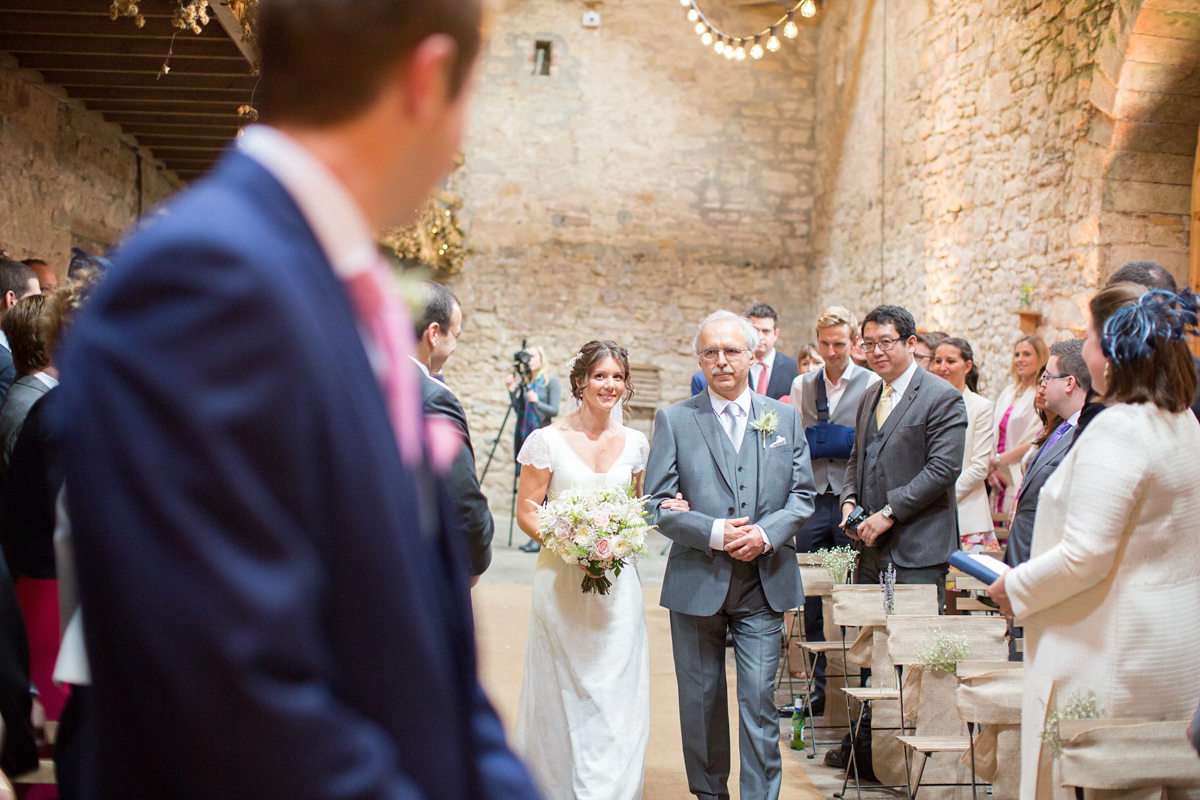 "Ian and I met at our local climbing gym.  A love of rock climbing united us and even filtered into the wedding with rocks as centre pieces and a couple climbing the cake.  After a whirlwind romance of climbing holidays, moving in together and sharing tons of adventures, we knew we would never want to have an adventure with anyone else but each other – after a year and a half, Ian whisked me off on a surprise weekend up to one of my favourite places in the world – my mother's hometown and my university city of St Andrews.  On the beach, with views back over the stunning cathedral and university chapel, he got down on one knee and proposed."
"I had recently fallen badly and had to have ankle reconstruction, so high heels were a definite no-no.  I needed a comfortable low heel, and wanted open toe to reflect the relaxed dress .  Elegant Steps were amazing for the variety of shoes they offered. I went with Touch Ups which are the most comfortable heeled shoes I've ever worn.  I wore them all day, including dancing, despite having emergency flats to hand."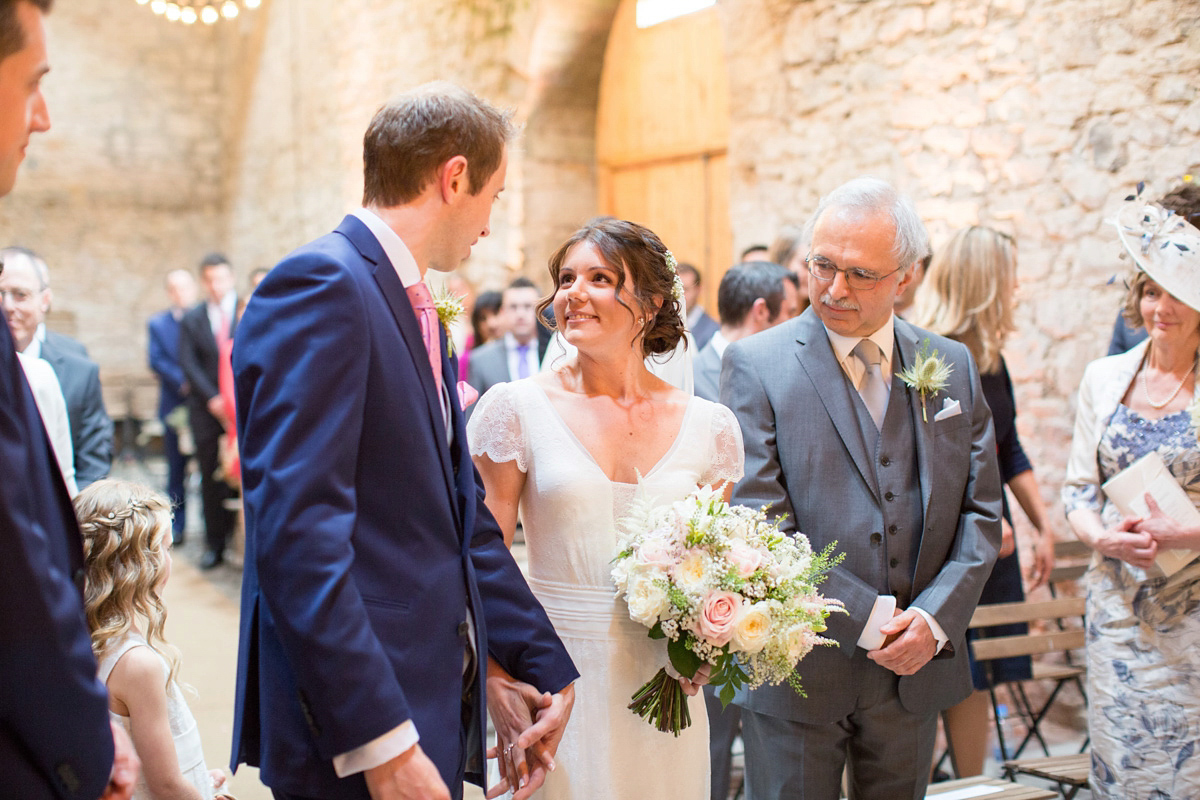 Emily walked down the aisle with her father to Pachebel's Canon in D played on acoustic guitar by Paul Martin, wedding guitarist, who also played the guitar during the drinks reception.
"We wrote our own vows, based on the guidelines for the civil ceremony.  It felt more personal and I couldn't read through them before the wedding without crying – luckily I managed to hold in the tears on the day."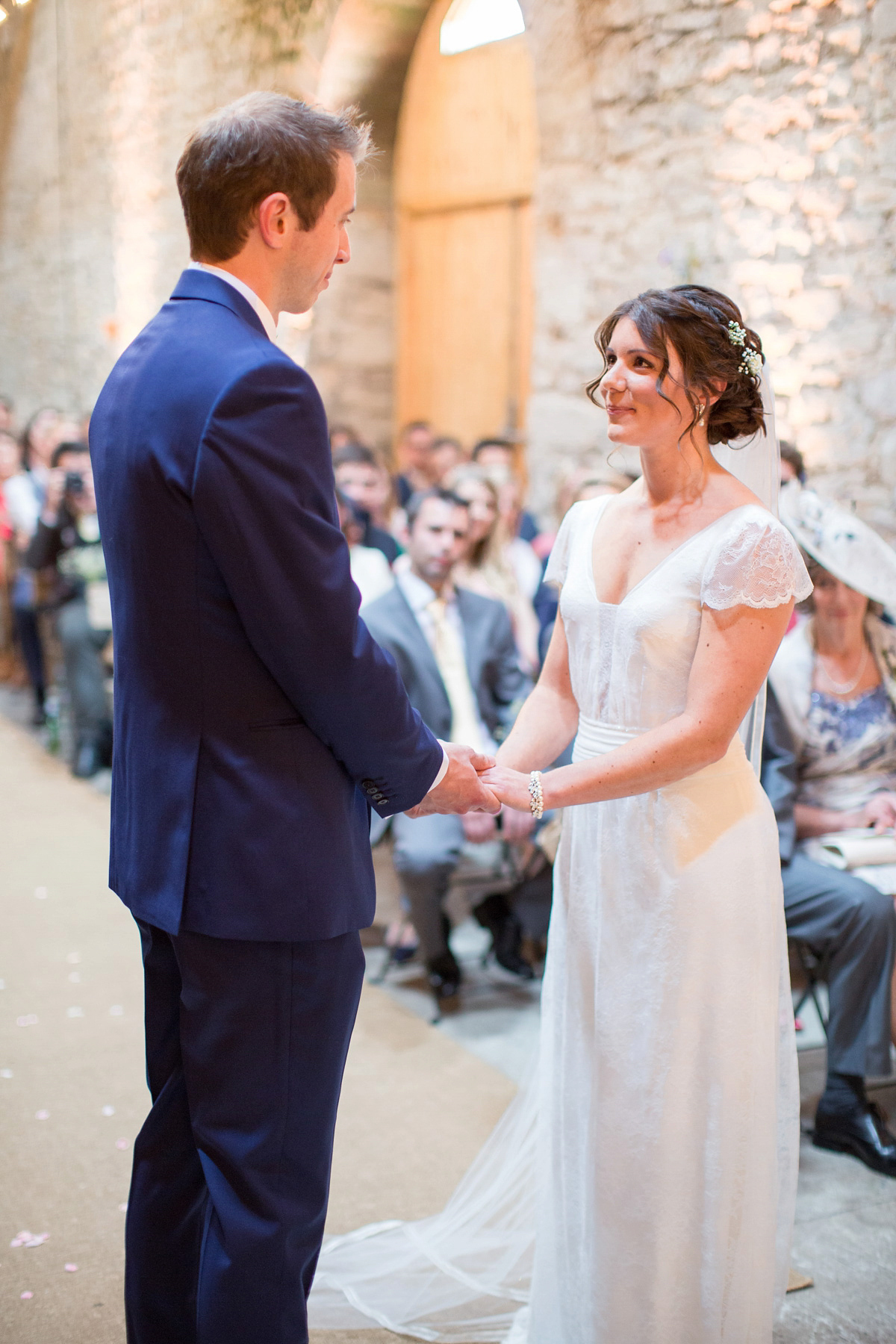 "We chose readings that referred to the great outdoors to reflect how we met and our love of the natural world, the first was the 'Apache Wedding Blessing' and the second 'Blessing for a Marriage' by James Dillet Freeman." [An extract is below- I think this is just beautiful.]
May you always need one another – not so much to fill your emptiness as to help you to know your fullness. A mountain needs a valley to be complete; the valley does not make the mountain less, but more; and the valley is more a valley because it has a mountain towering over it.  So let it be with you.
Rings were from Alexis Jewels in Hatton Garden.
"Ian had a recommendation for Chris at Alexis Jewels as he wanted to design the ring himself to represent a wave, as he knows how much I love the sea."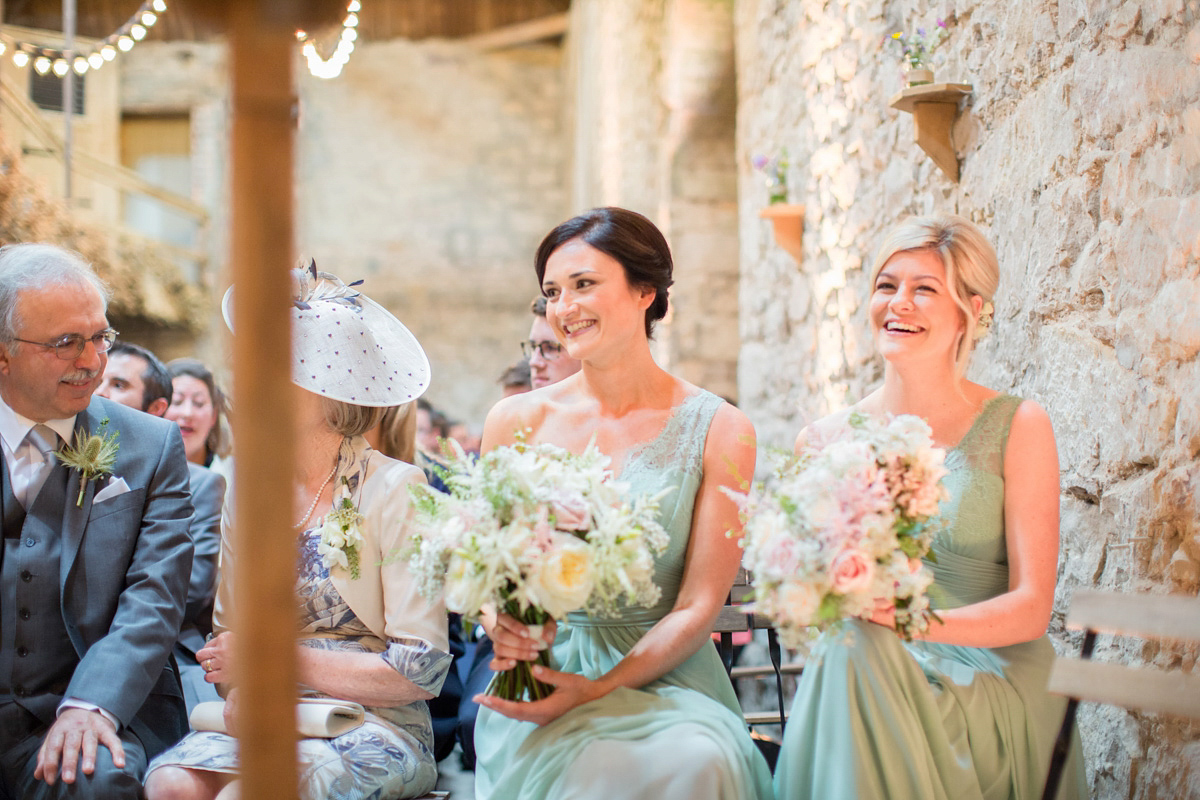 "The ceremony was my favourite part of the day- walking in and seeing all my friends and family's smiling faces and seeing the man of my dreams gazing adoringly at me from the other end of the aisle.  I wouldn't have done a thing differently as the day was perfect (apart from not throwing a glass of bucks fizz down my dress ten minutes before the ceremony, but panic free bridesmaids, tissues and a hairdryer ensured a stain free dress!)"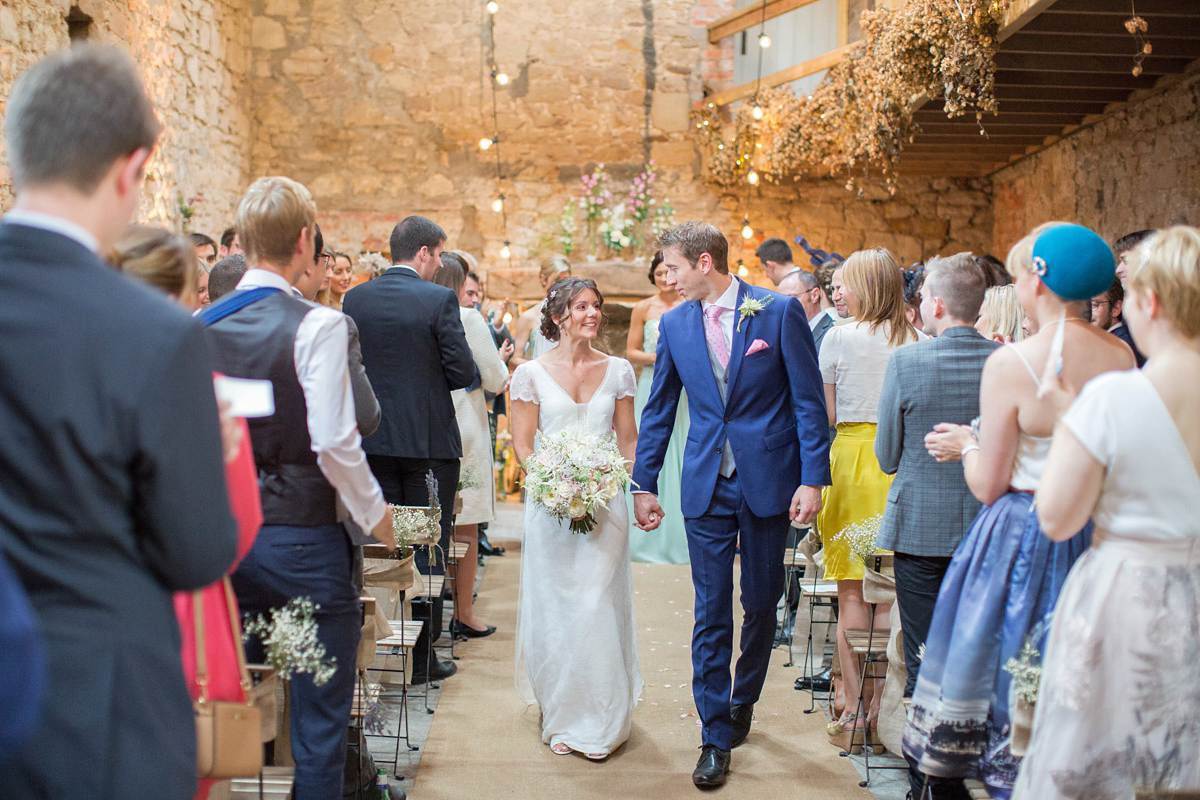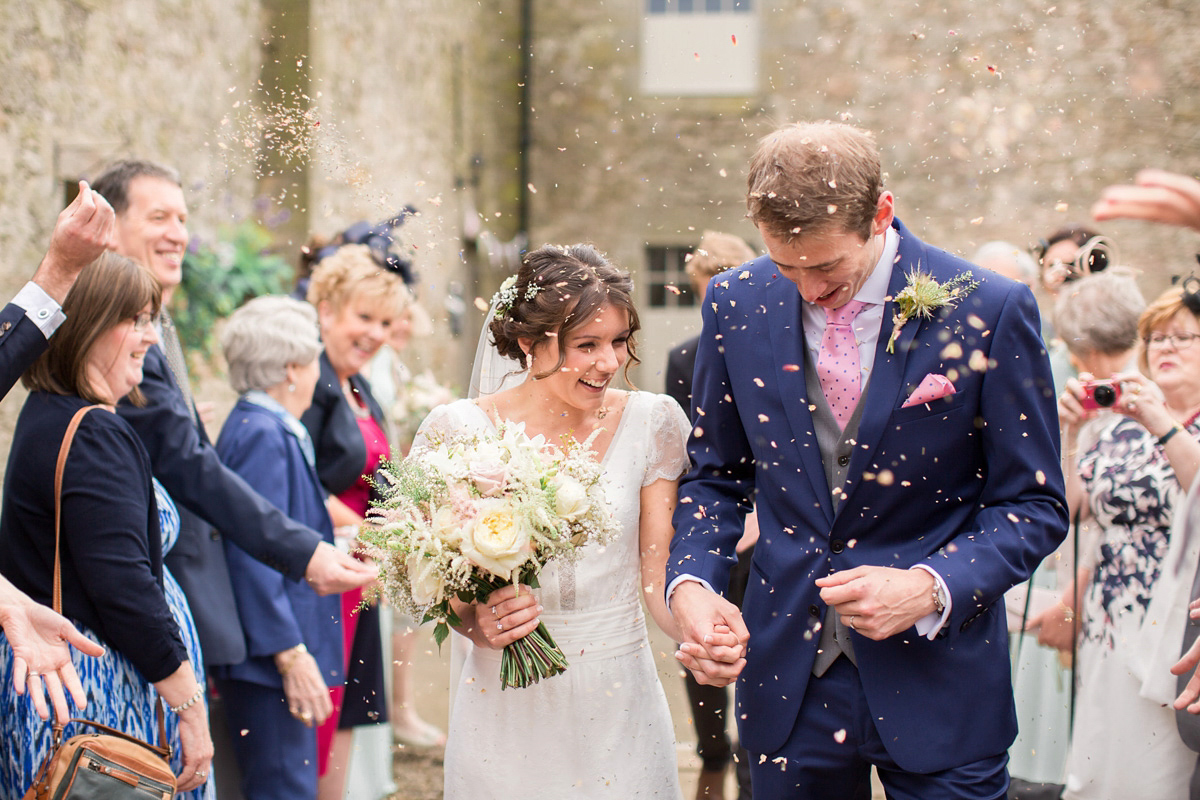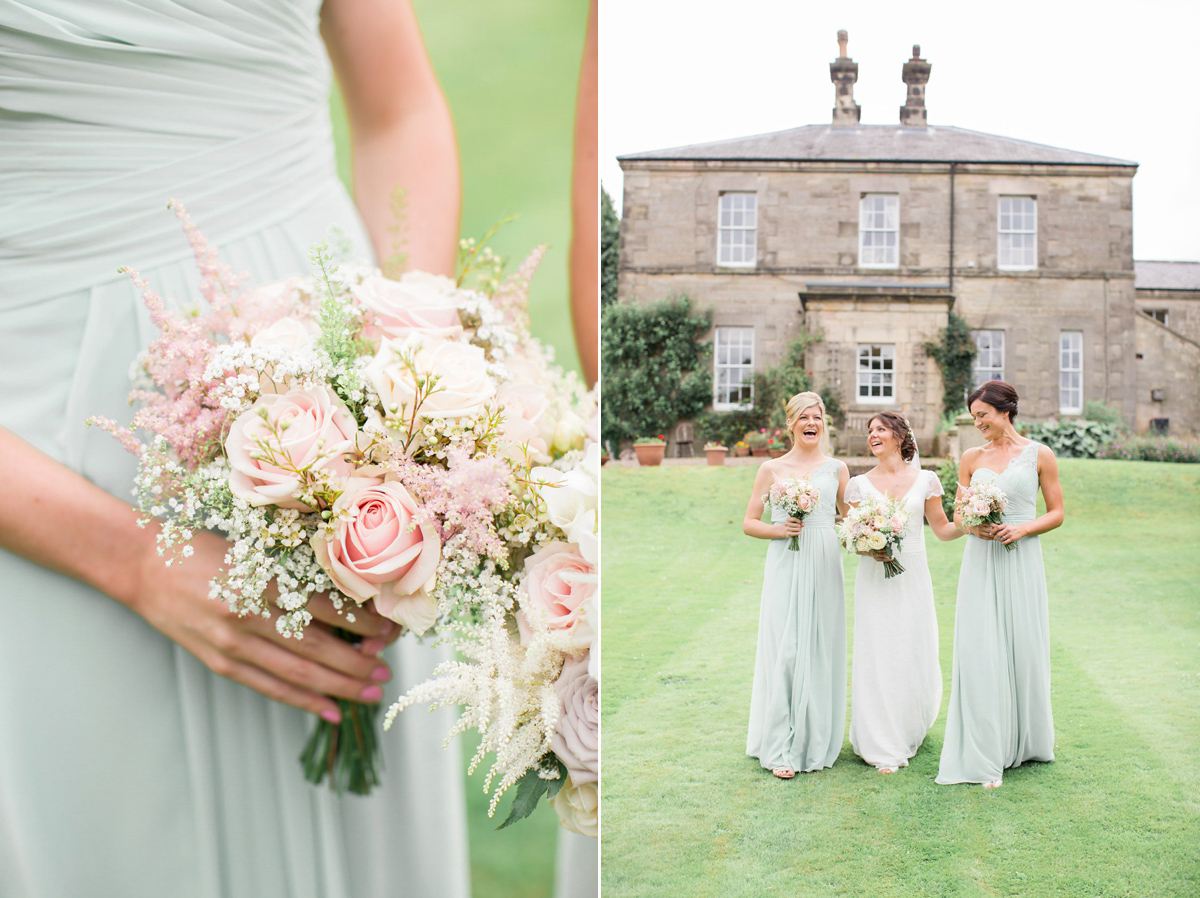 Ian looked very smart in a blue three-piece suit with grey waistcoat and pink tie from Charles Tyrwhitt.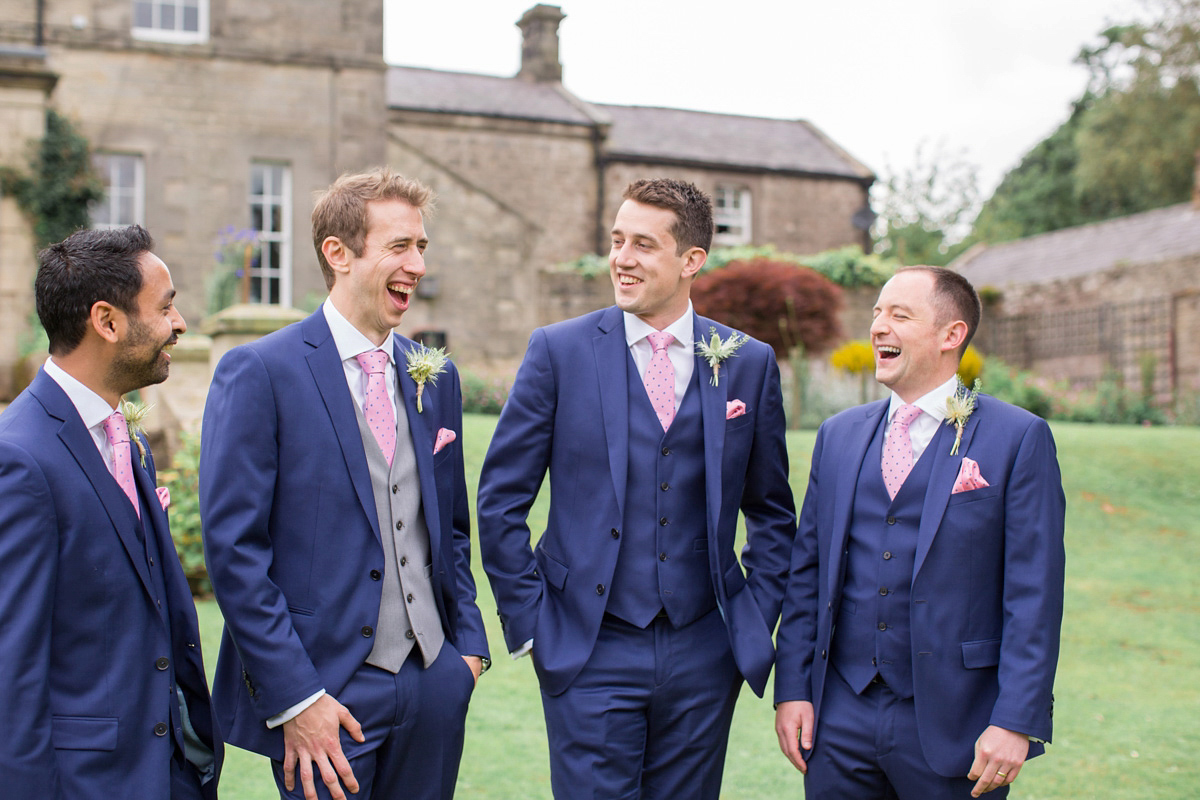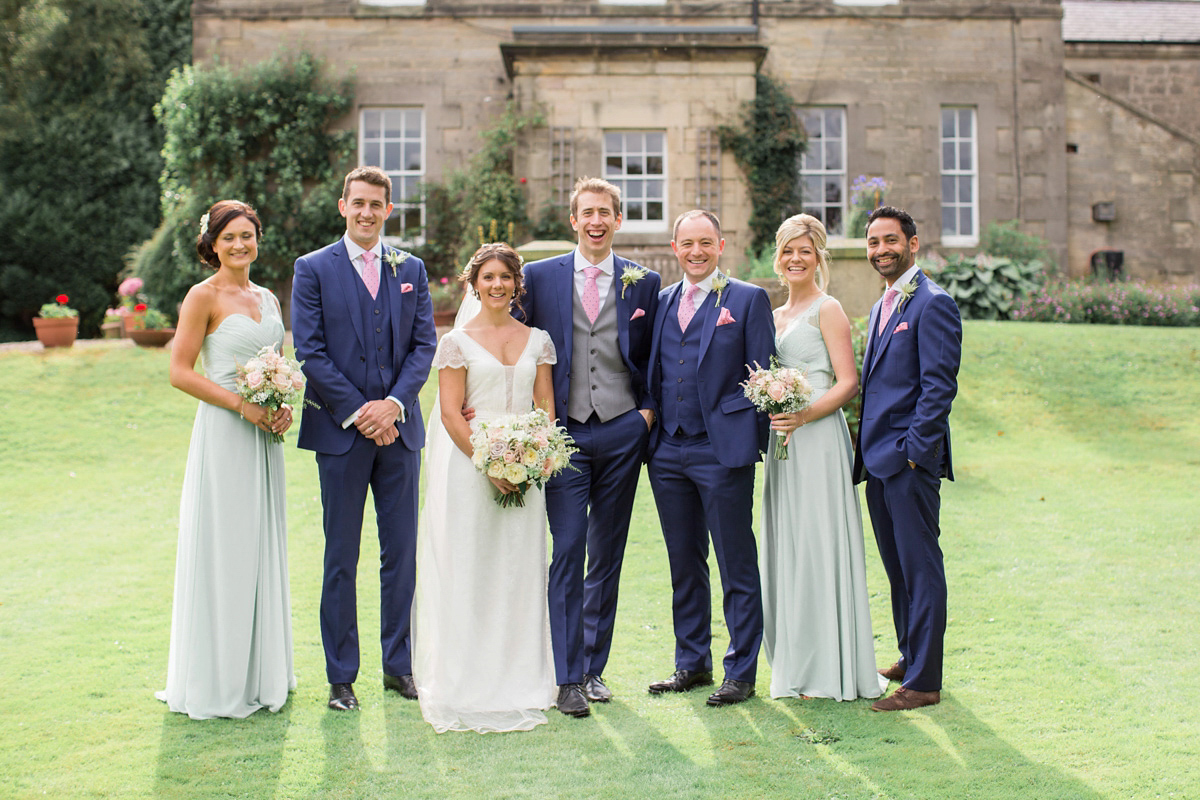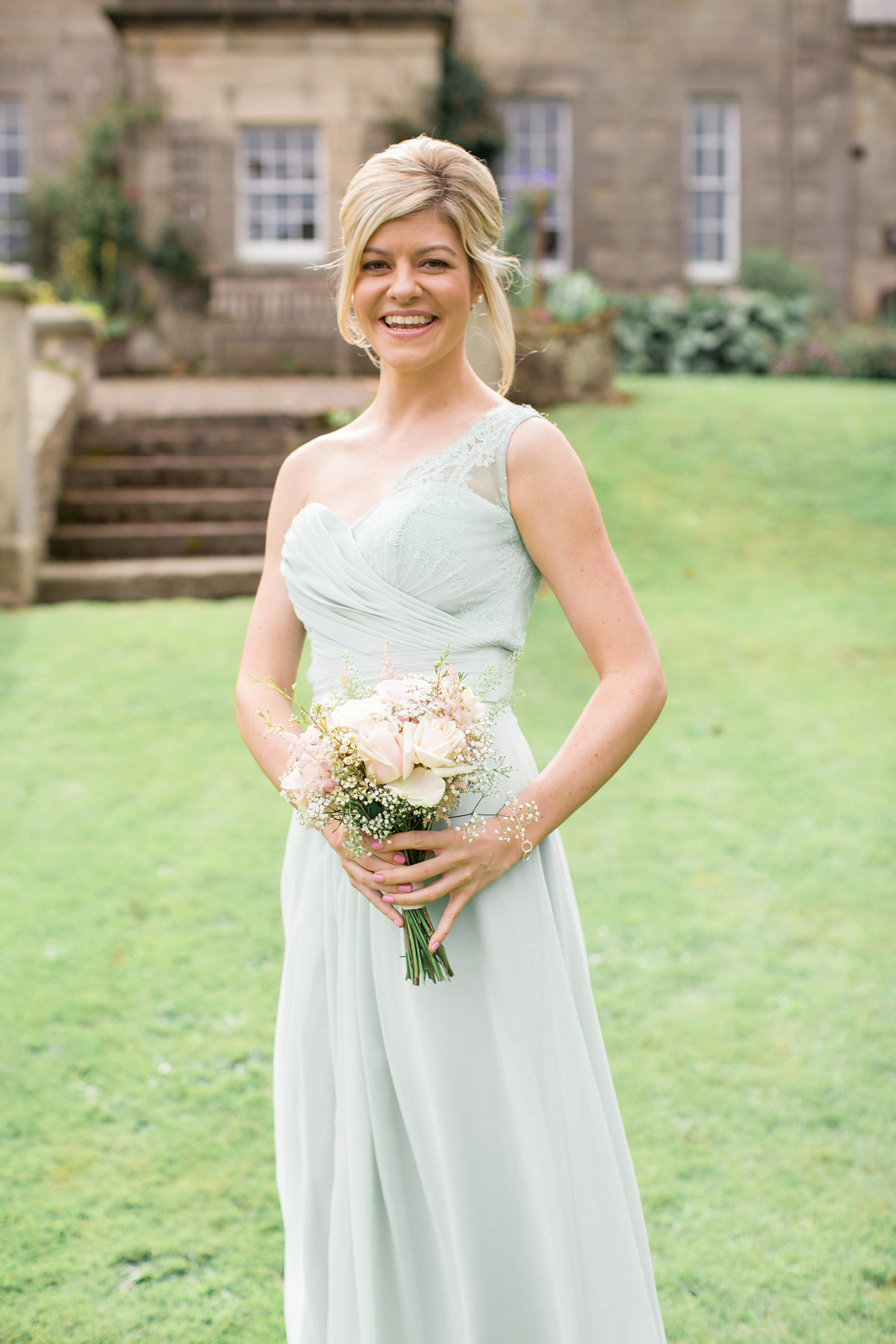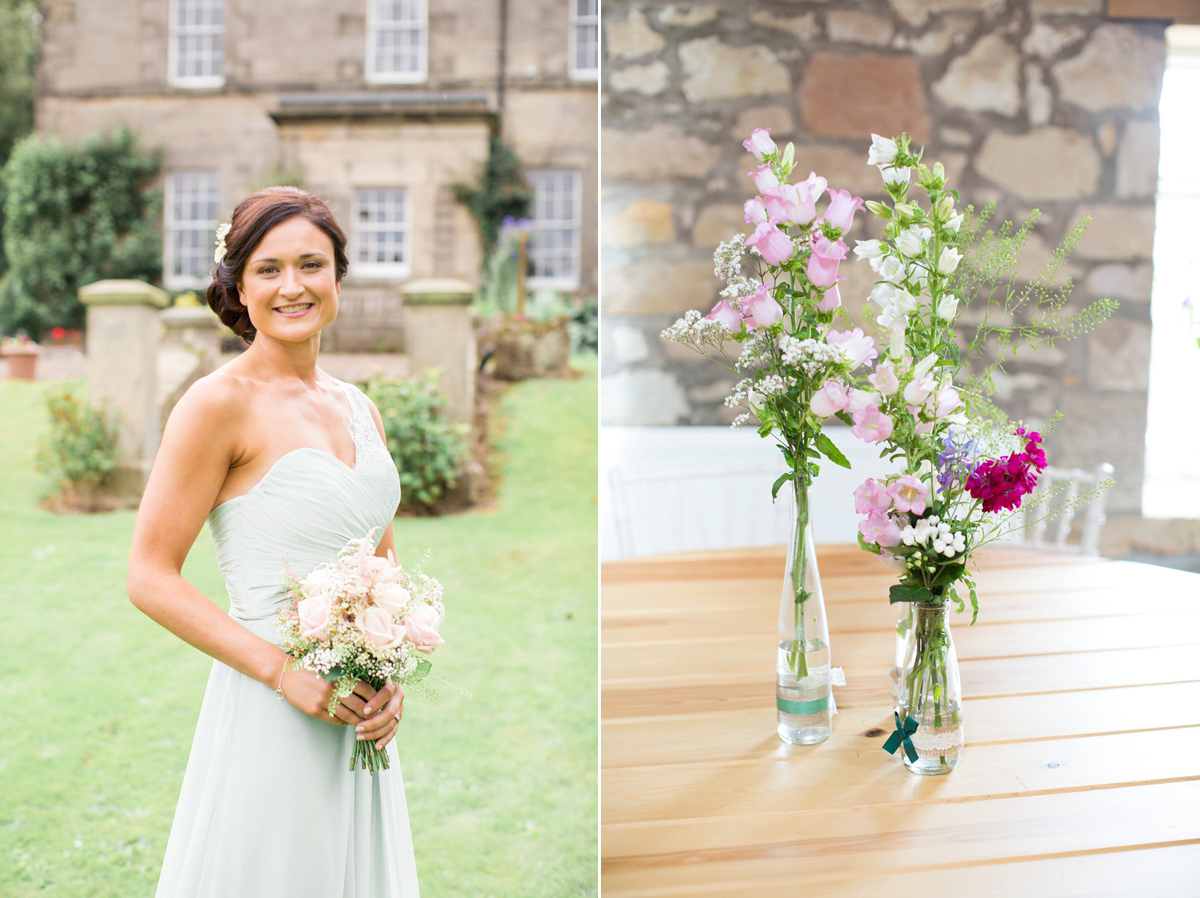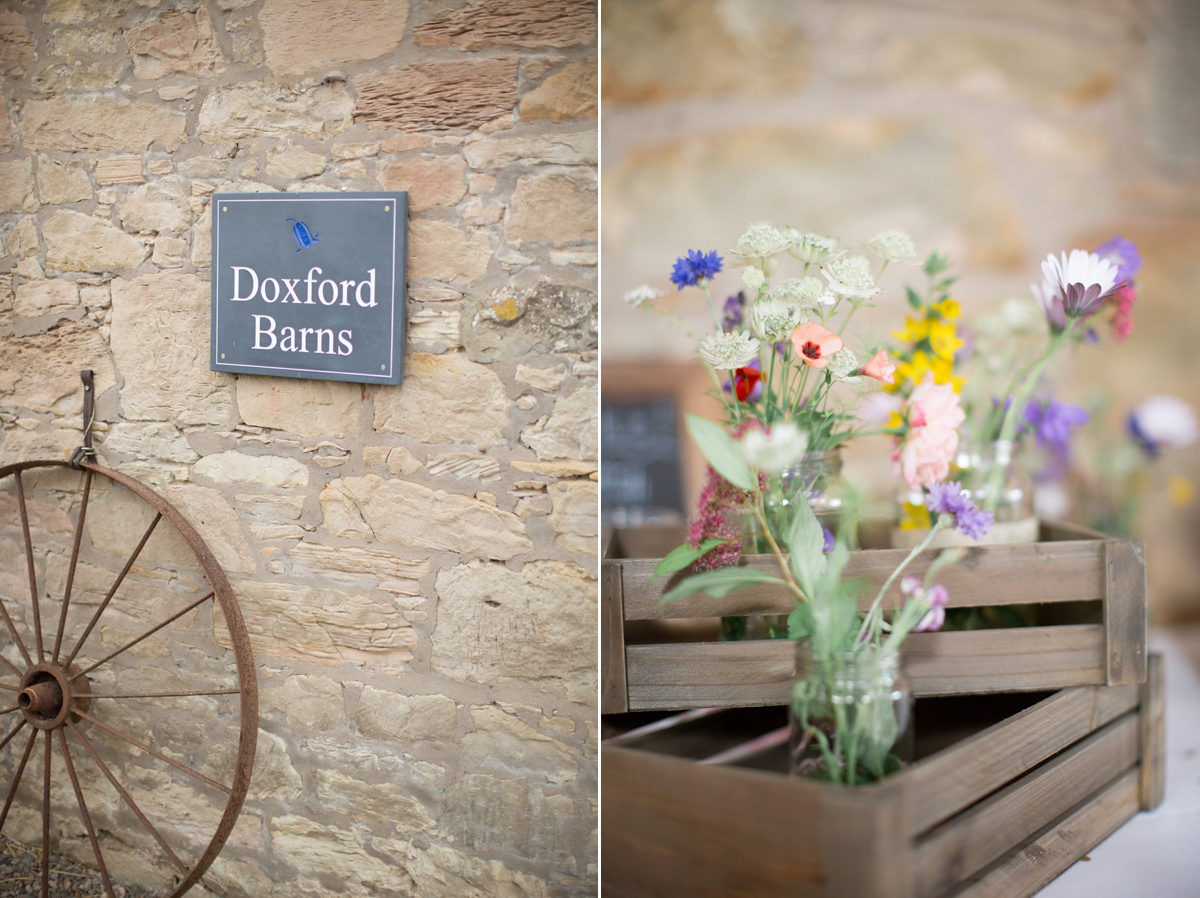 "We chose Doxford because it was the perfect barn venue with on site accommodation, close to Emily's childhood haunts in beautiful Northumberland."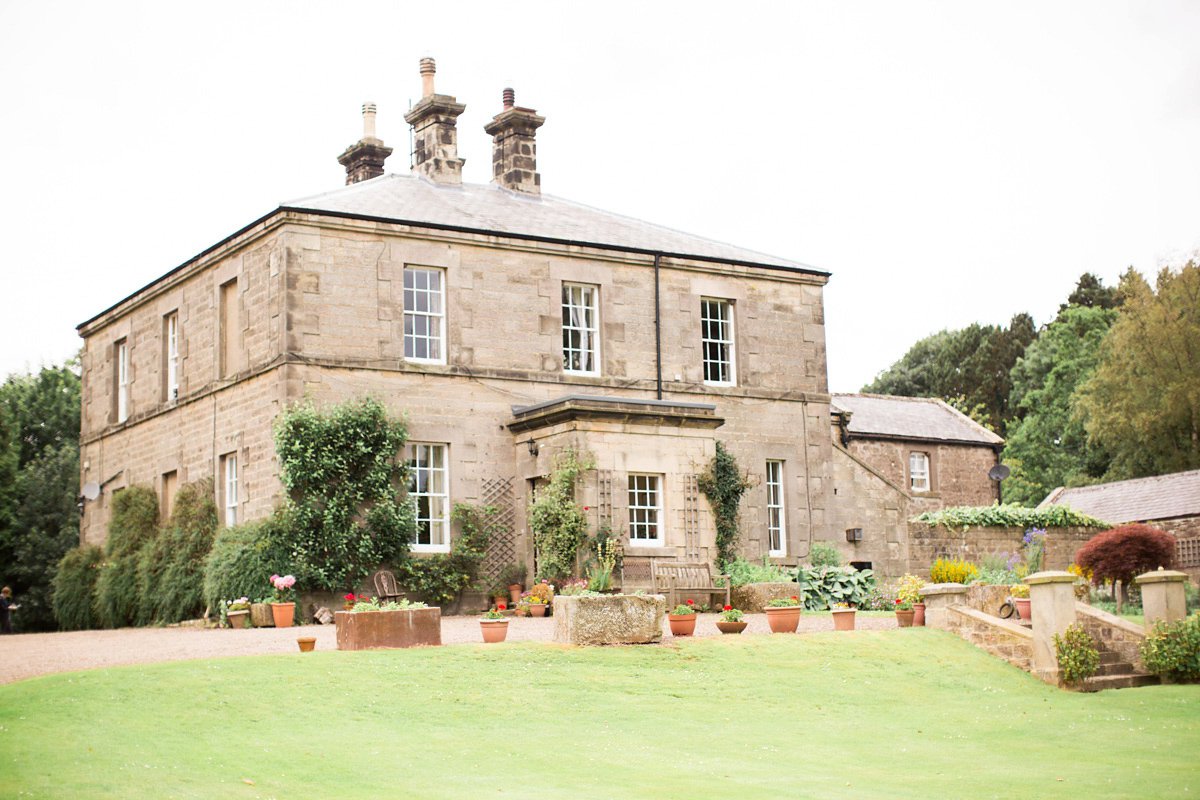 For decor, my bridesmaid made the bunting and we sourced lots of bottles and jars from World of Bottles and filled with tons of wildflowers from my mother's garden and our florist.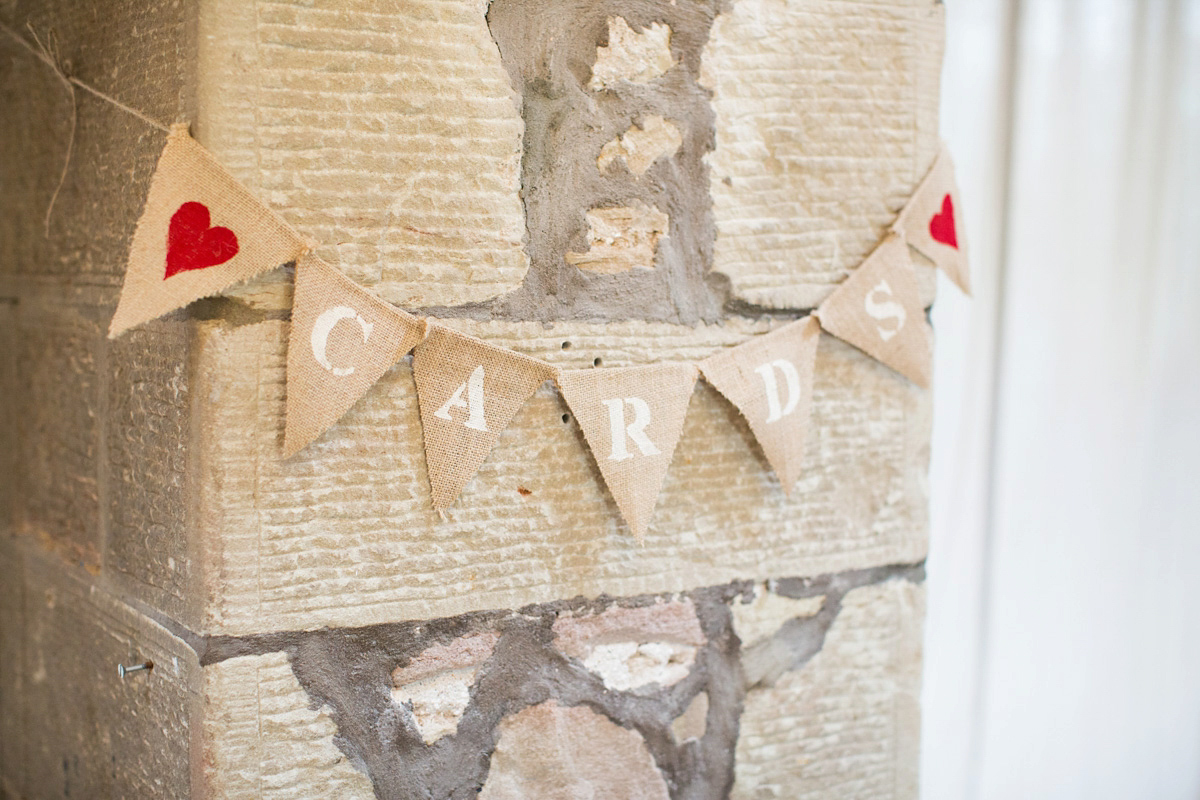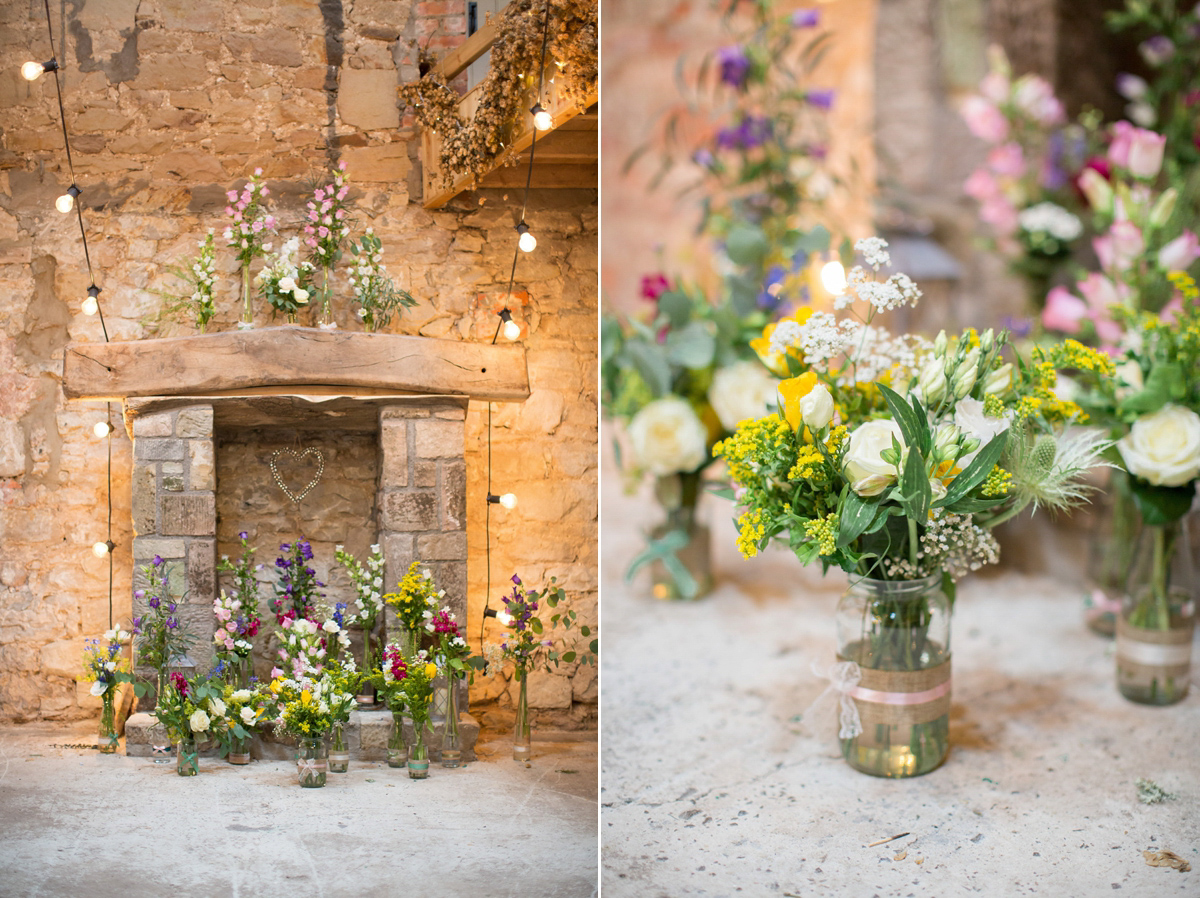 "I made a donation to Cancer Research UK and chose packets of wildflower seeds that you could personalise with your names and wedding date for favours, along with mini packets of love hearts."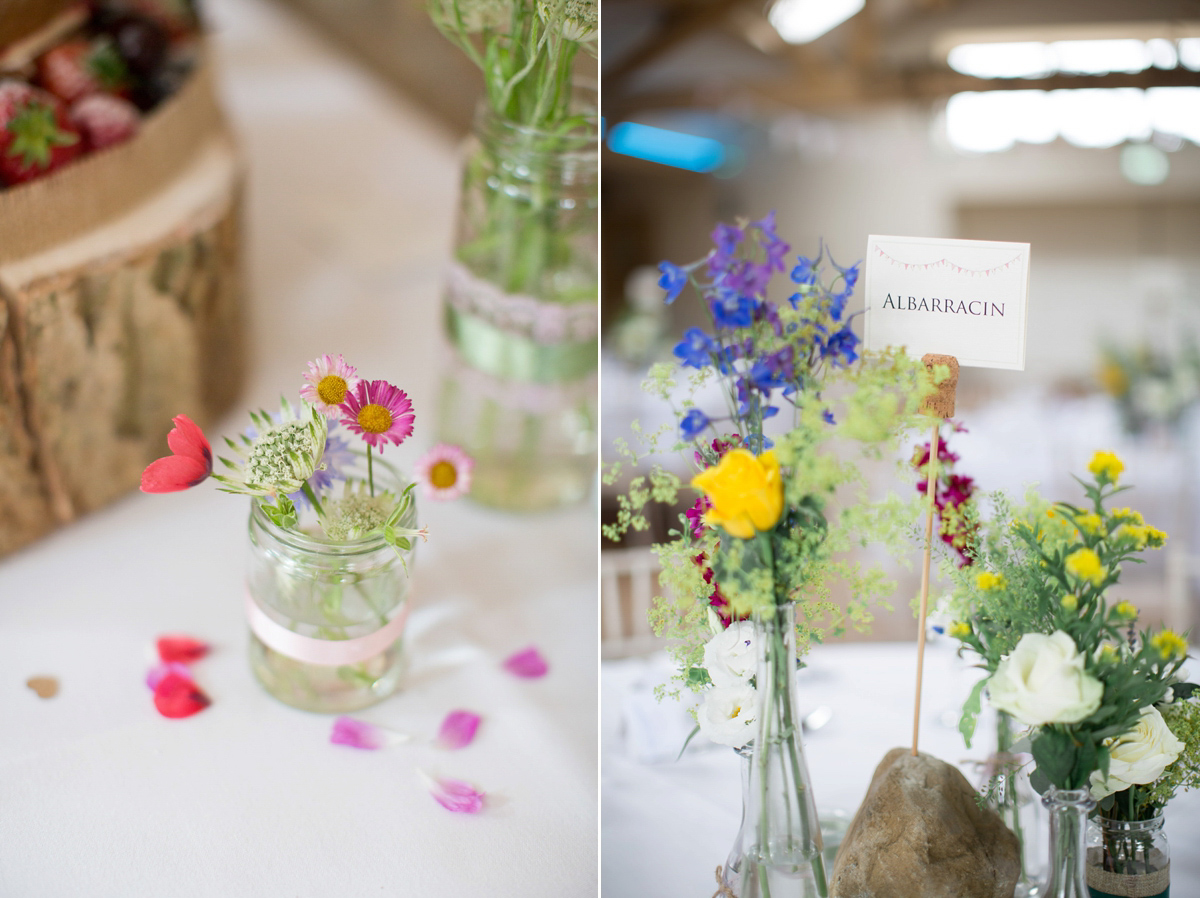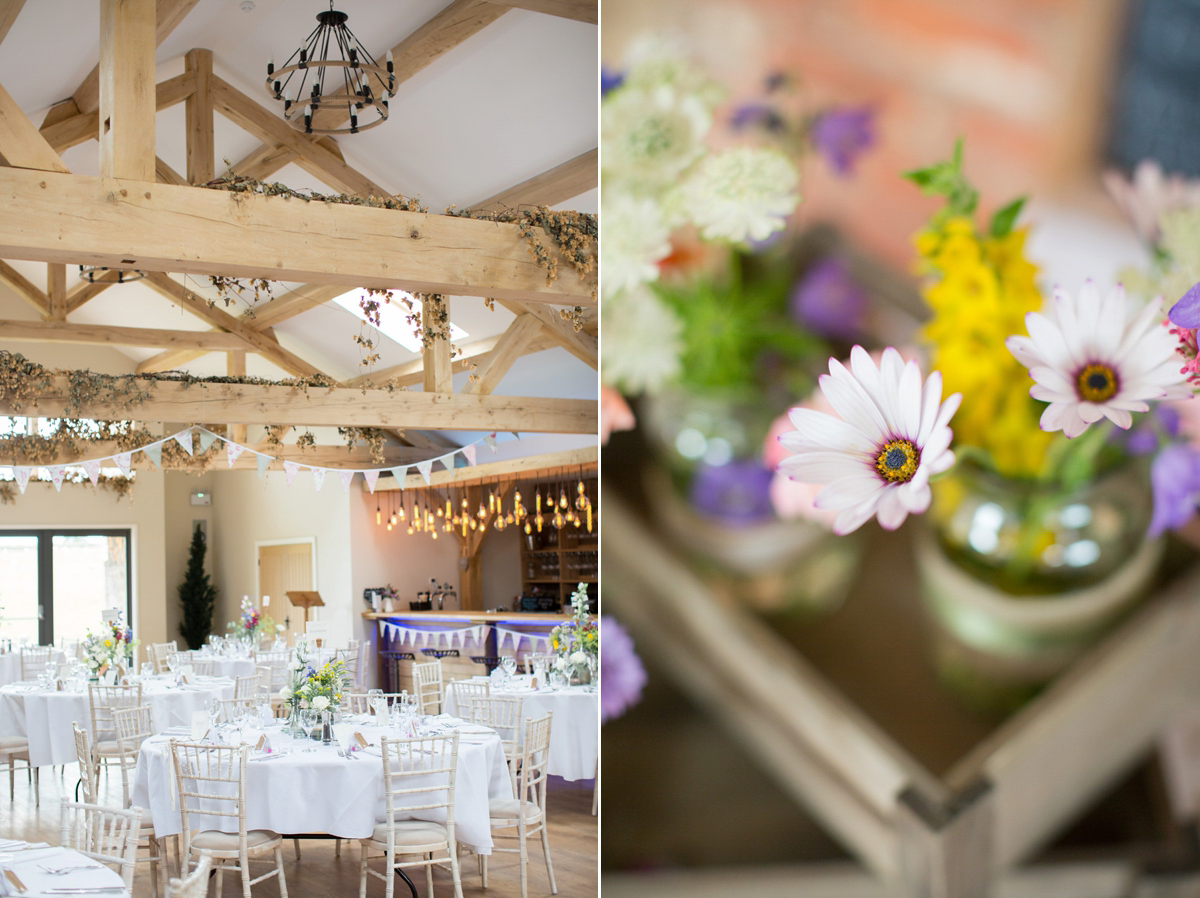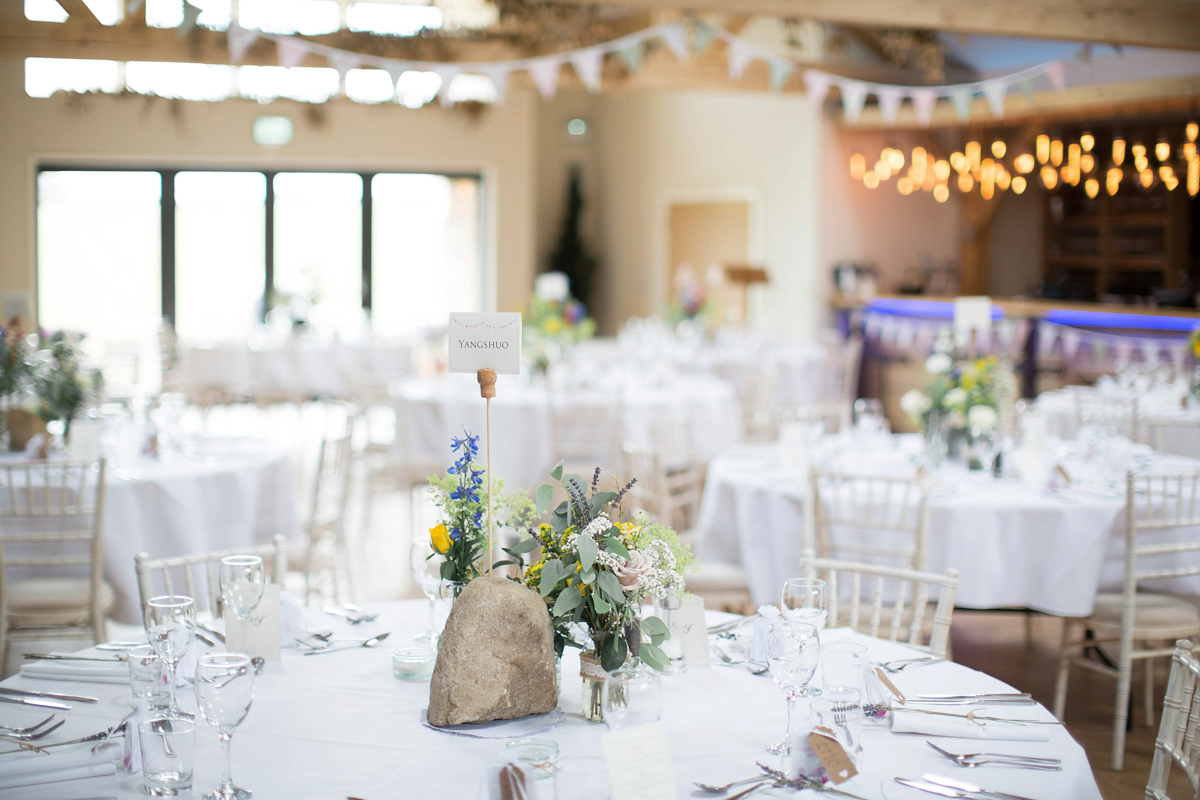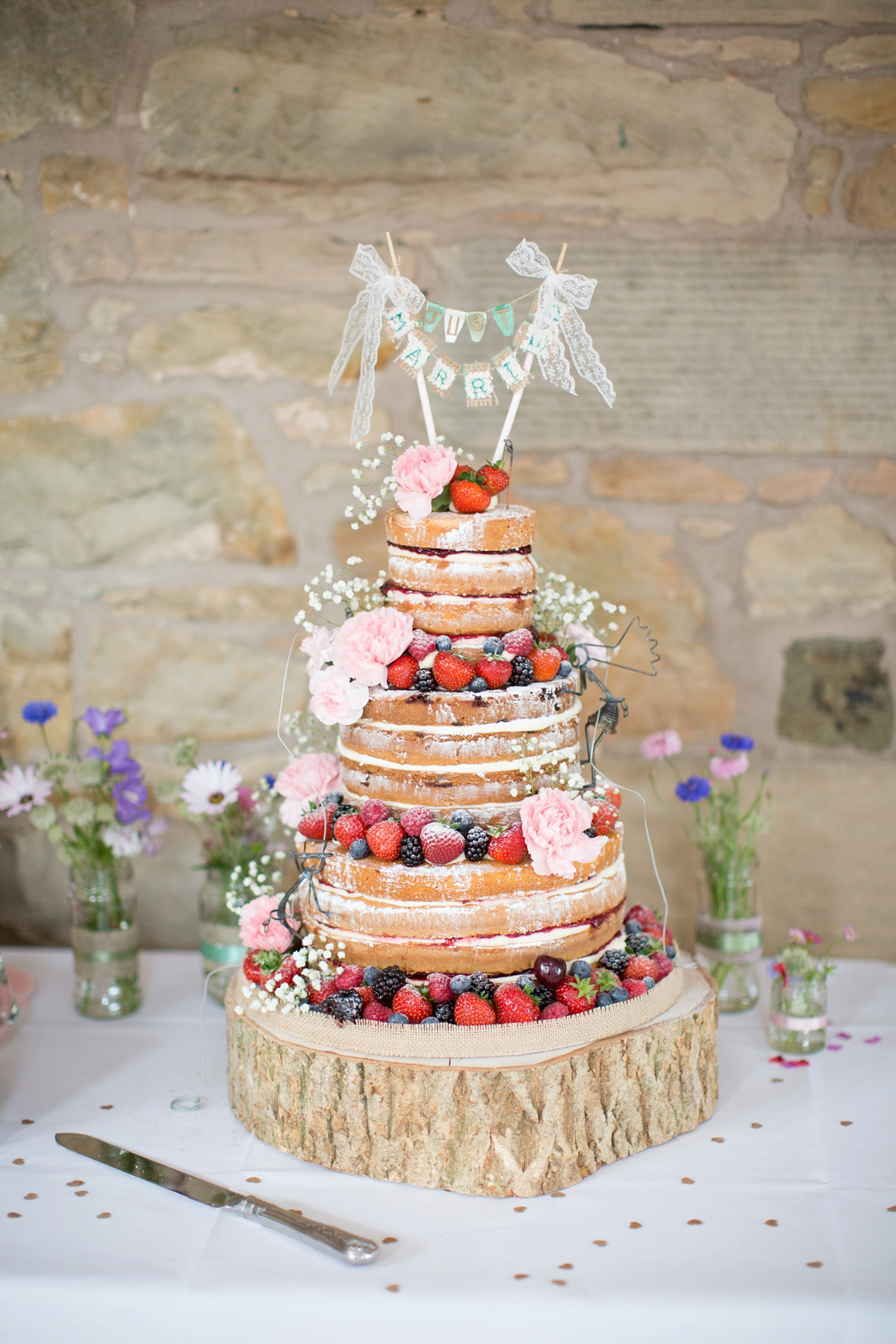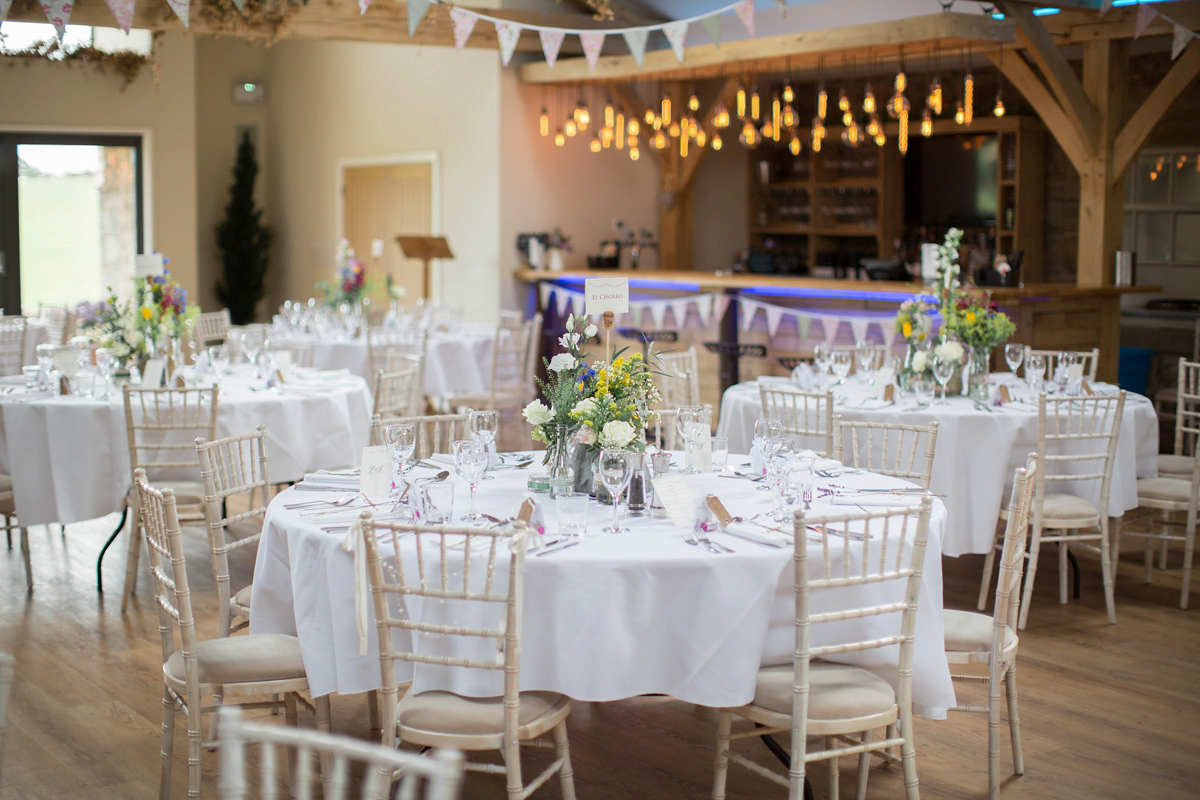 "Our wedding cake was quite simply the best thing I've ever tasted.  Each flavoured tier – vanilla, lemon, and almond bakewell – was stunningly delicious.  Sandy from The Cake Garden produced the exact naked cake that I'd imagined and I can't rave enough about it."
"We designed and produced all the stationery ourselves, buying card and envelopes from Cards and Pockets.  This is an American company so to avoid costs, we had them sent to a friend in the US and picked them up when we went on a weekend to NYC" [Emily, this is the best way to 'save money' I have ever heard!  I love it.]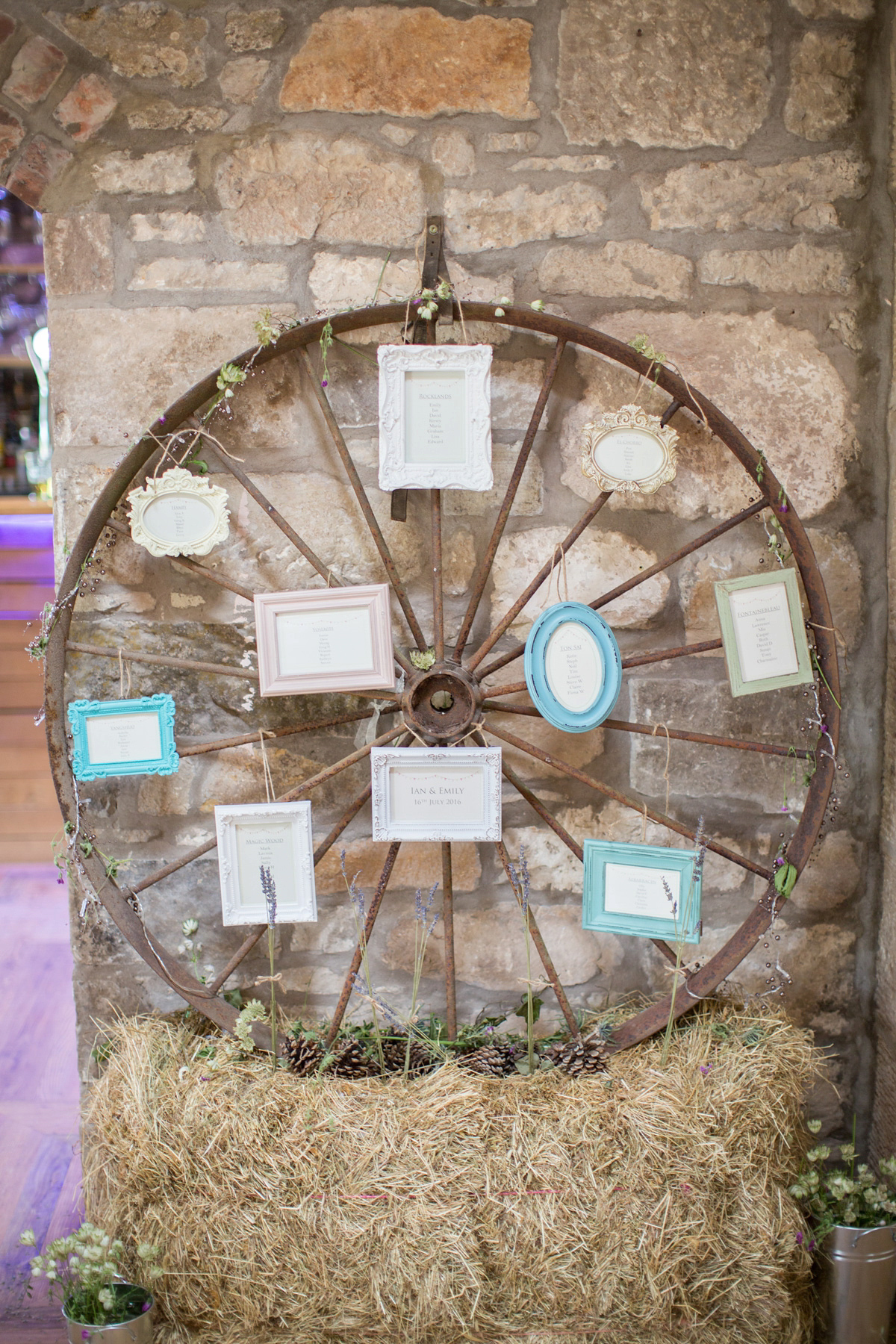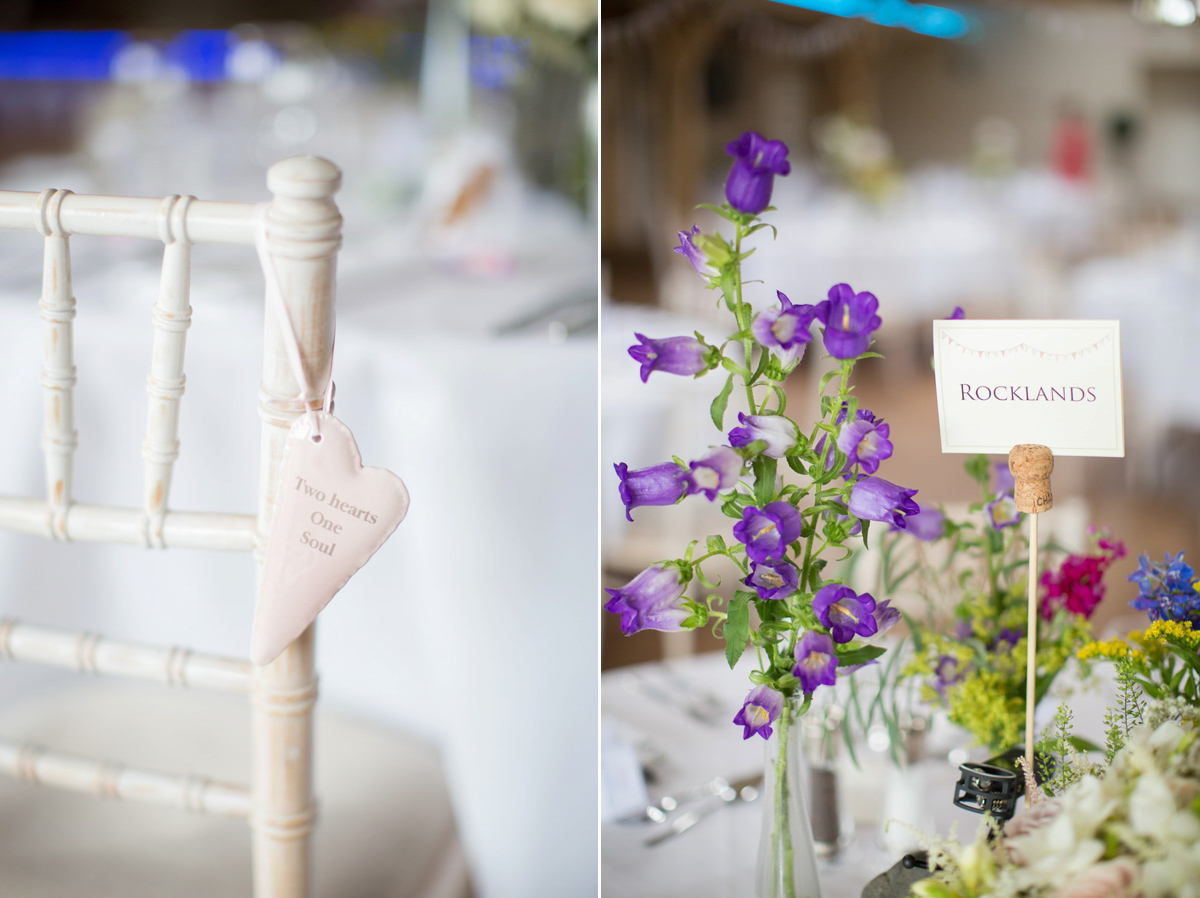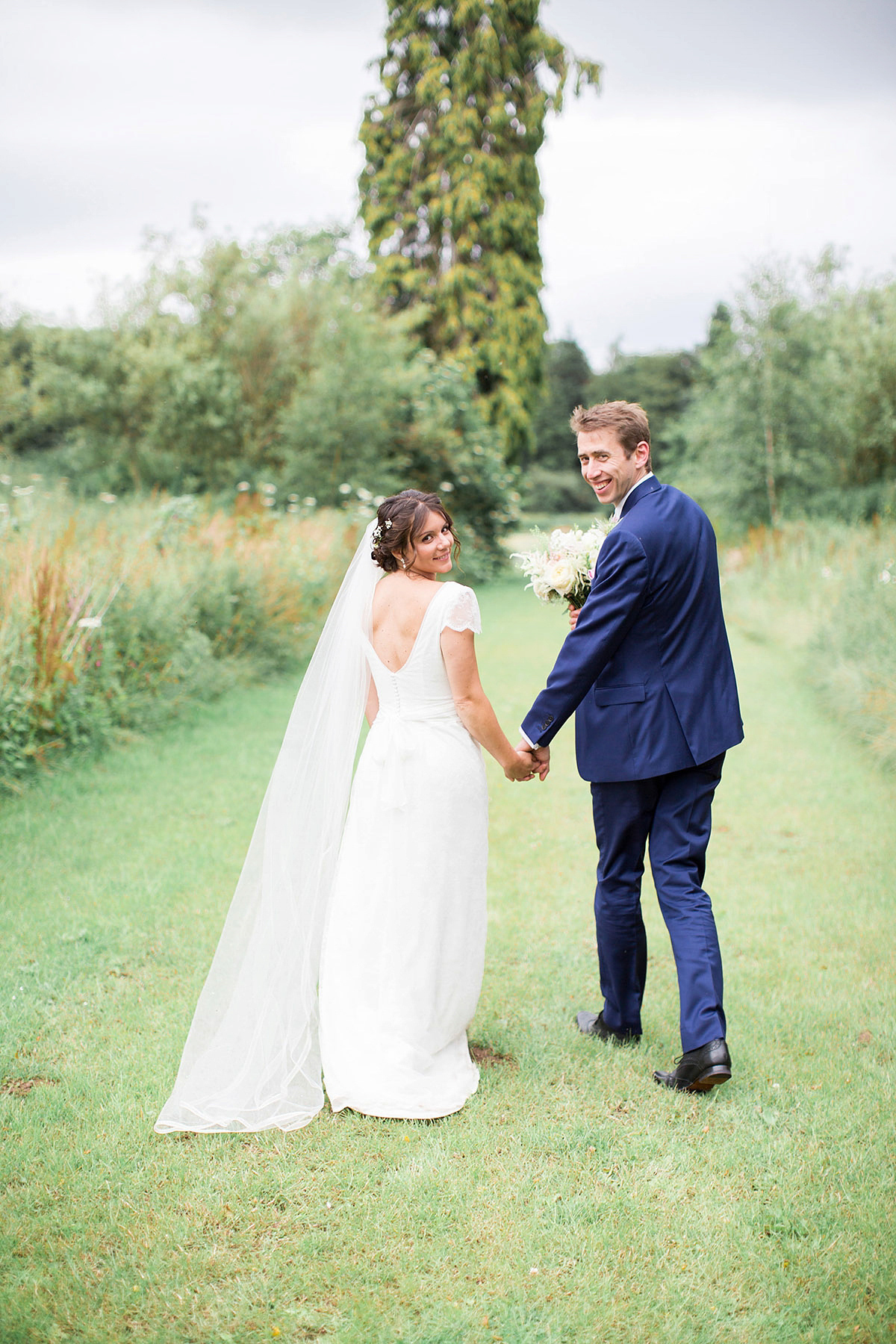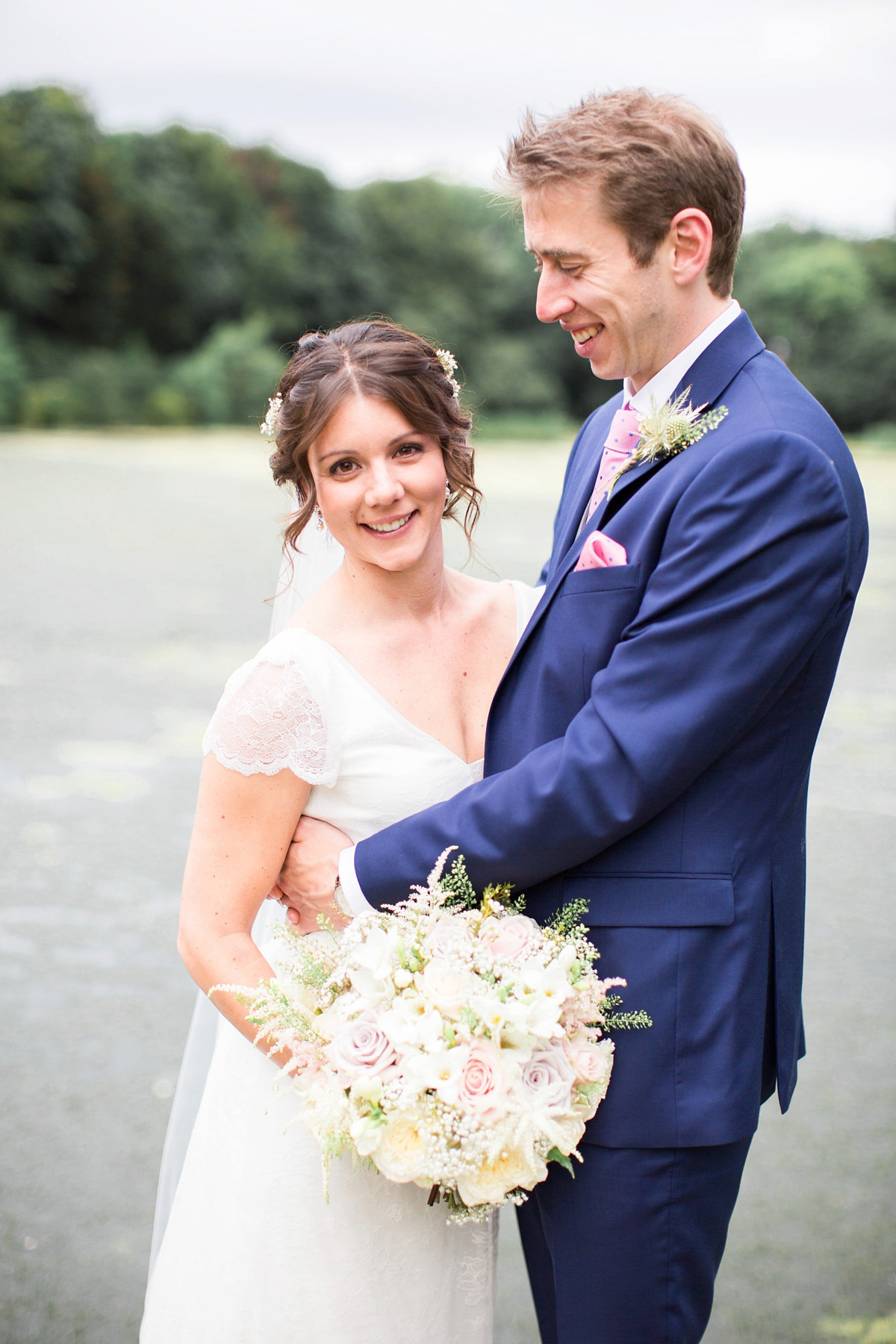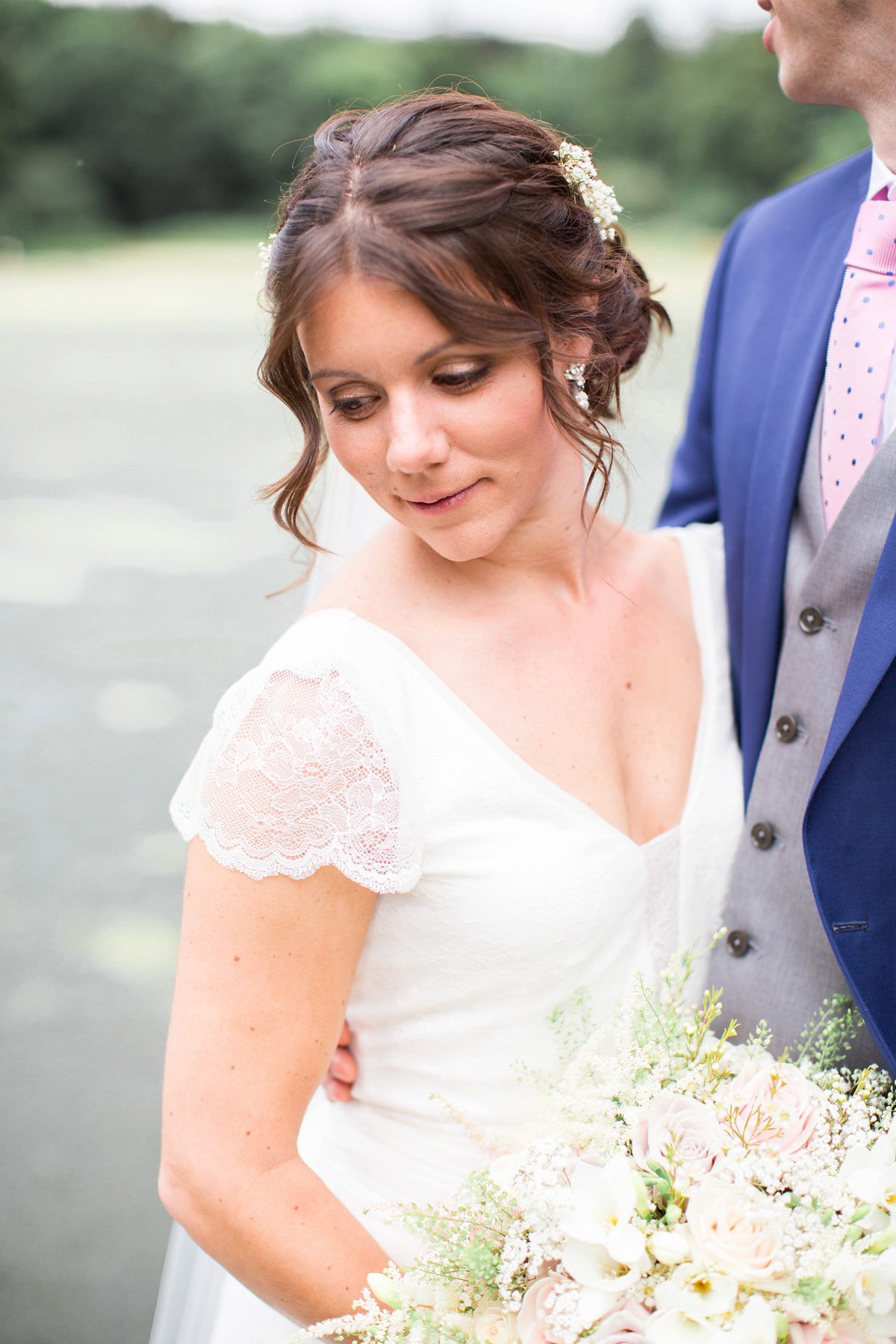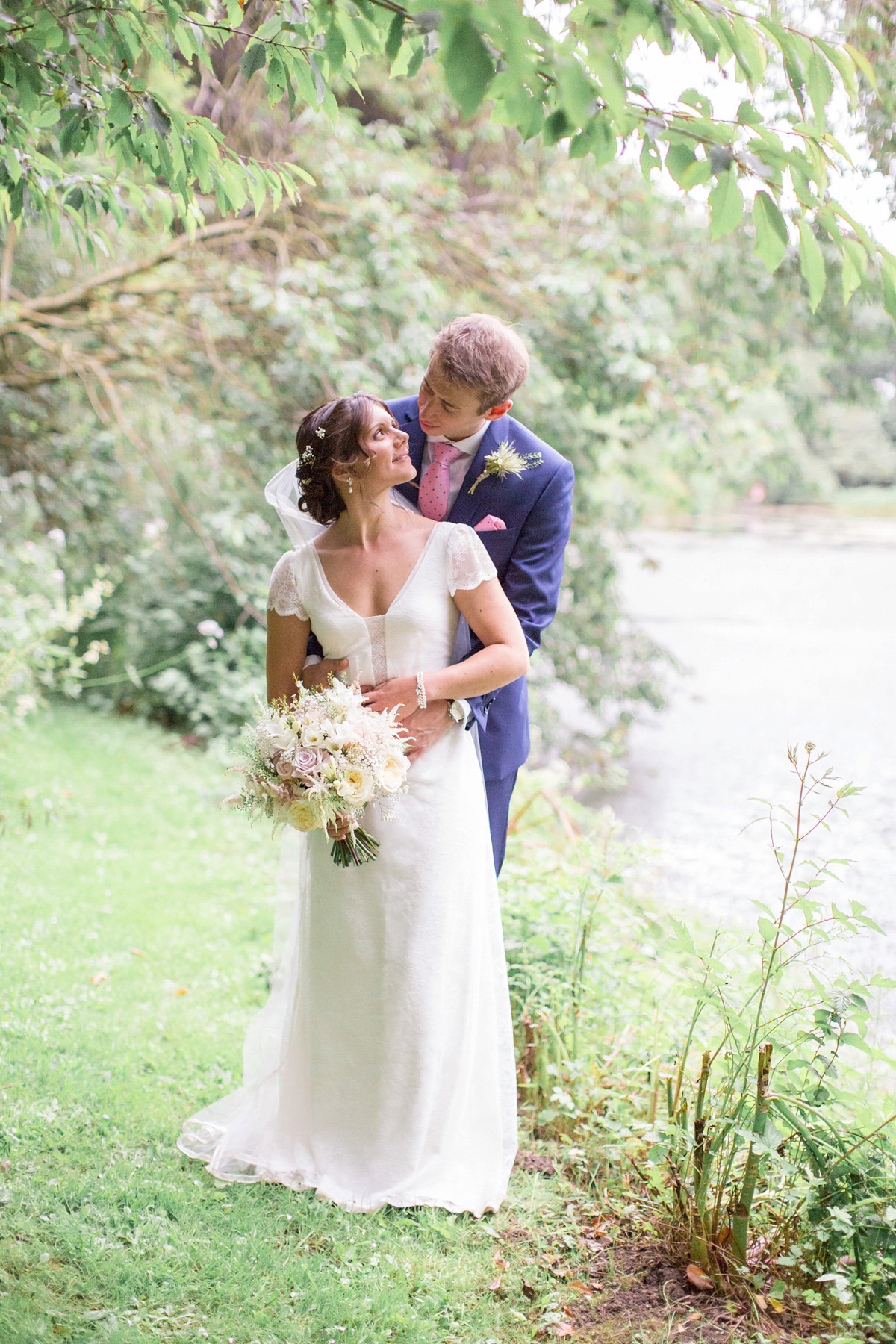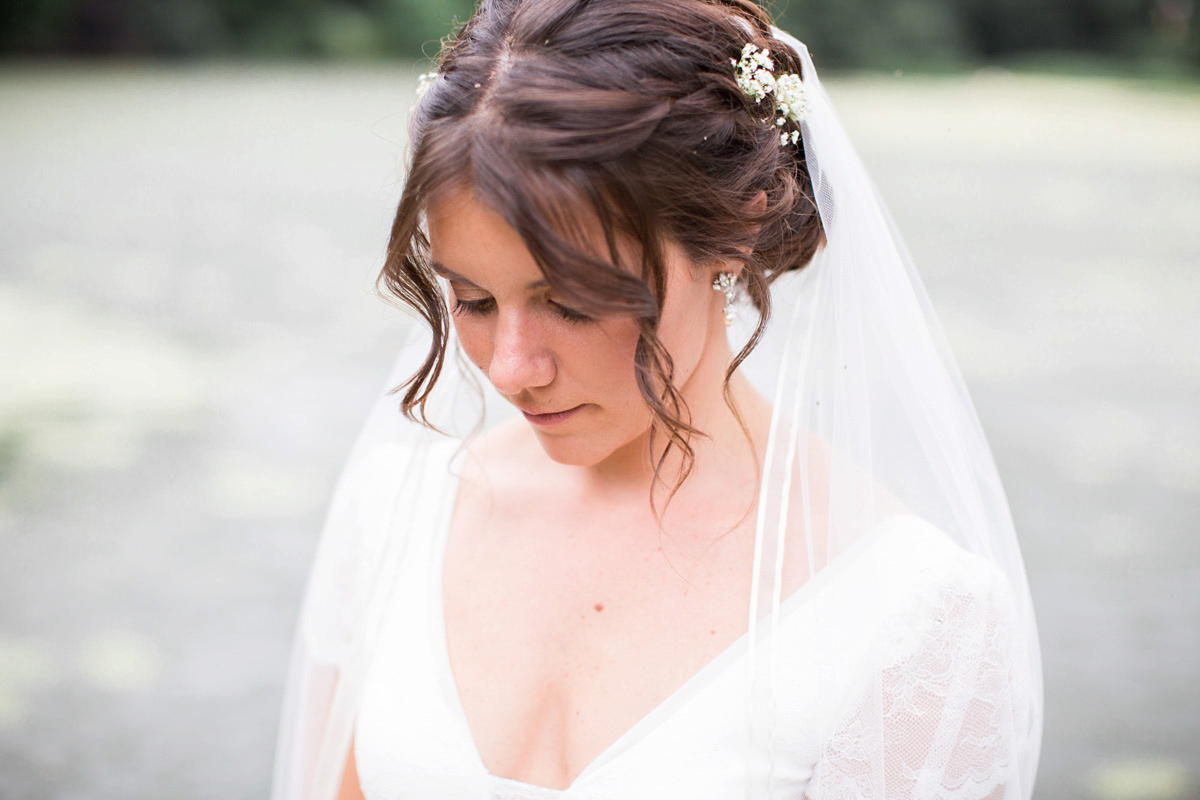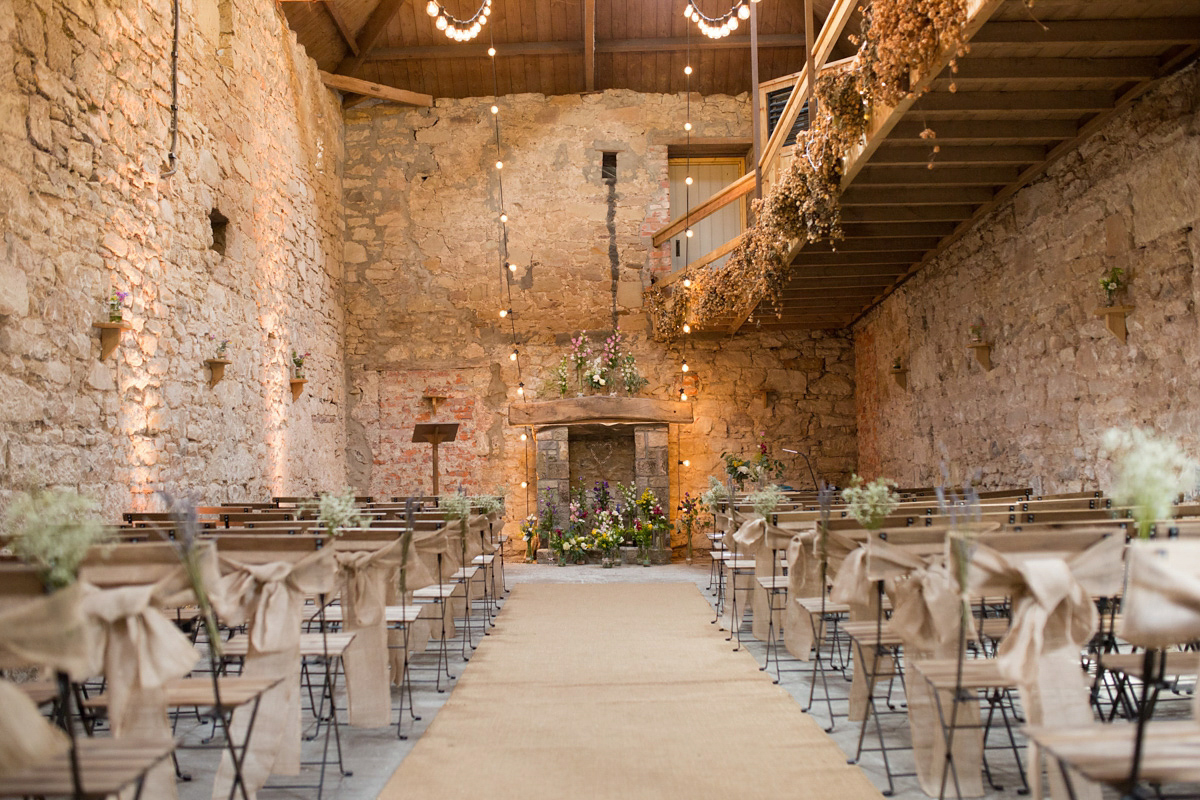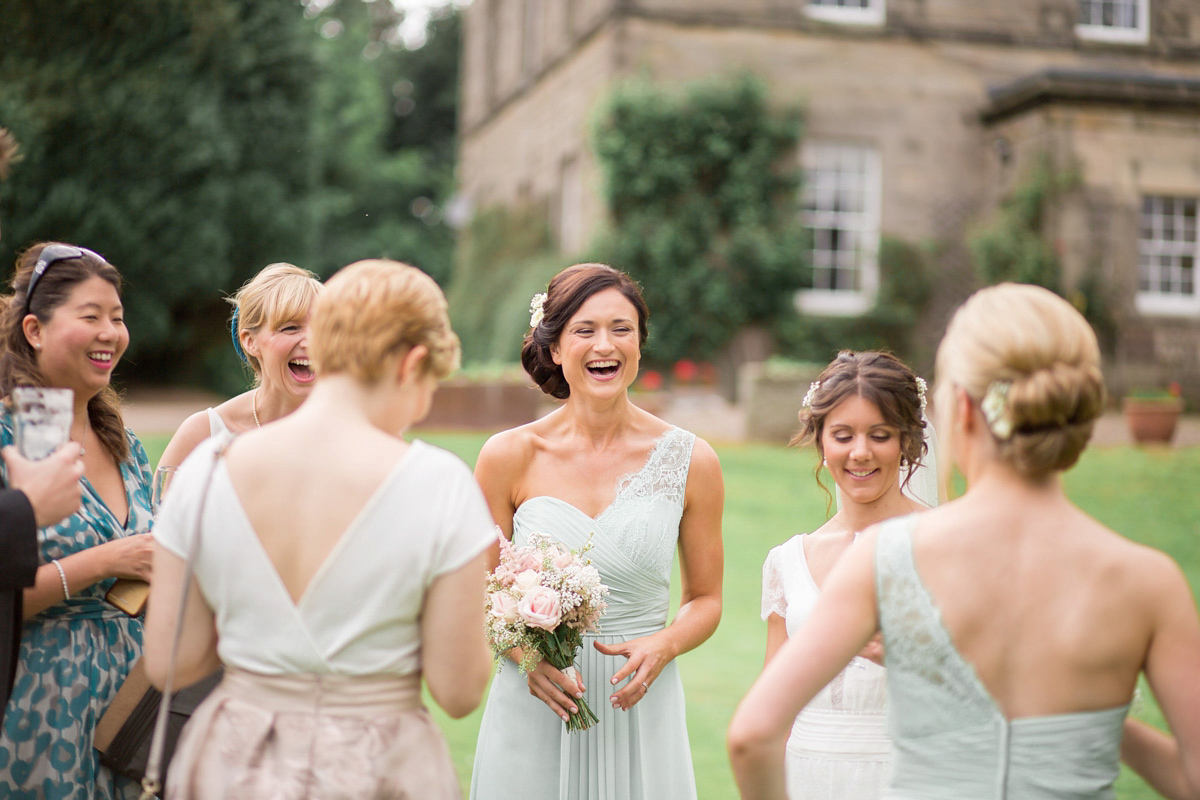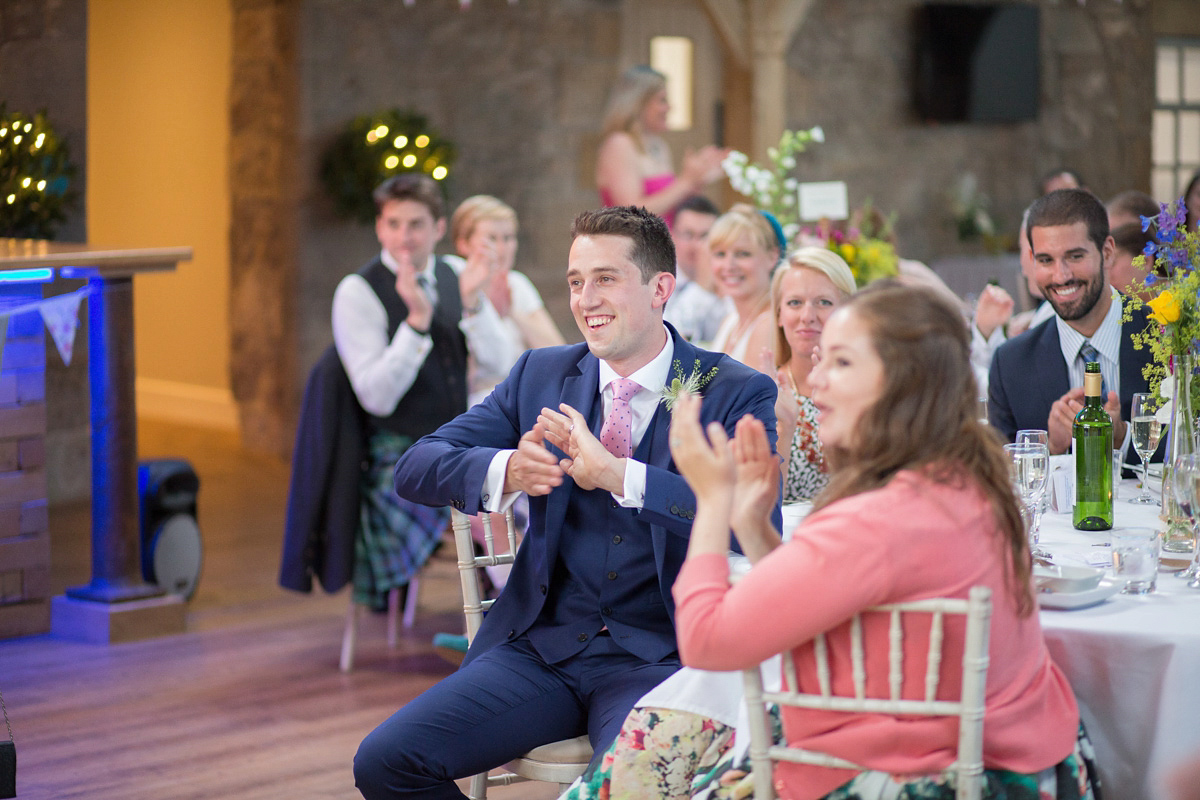 Words of Wedded Wisdom
"Don't sweat the small stuff, or spend too much money on it.  People will probably end up throwing your save the dates and invitations in the bin and they won't notice intricate table decorations or if the bridesmaids' shoes match."
"What they will remember is how fun the dancing was, how nice the food was etc."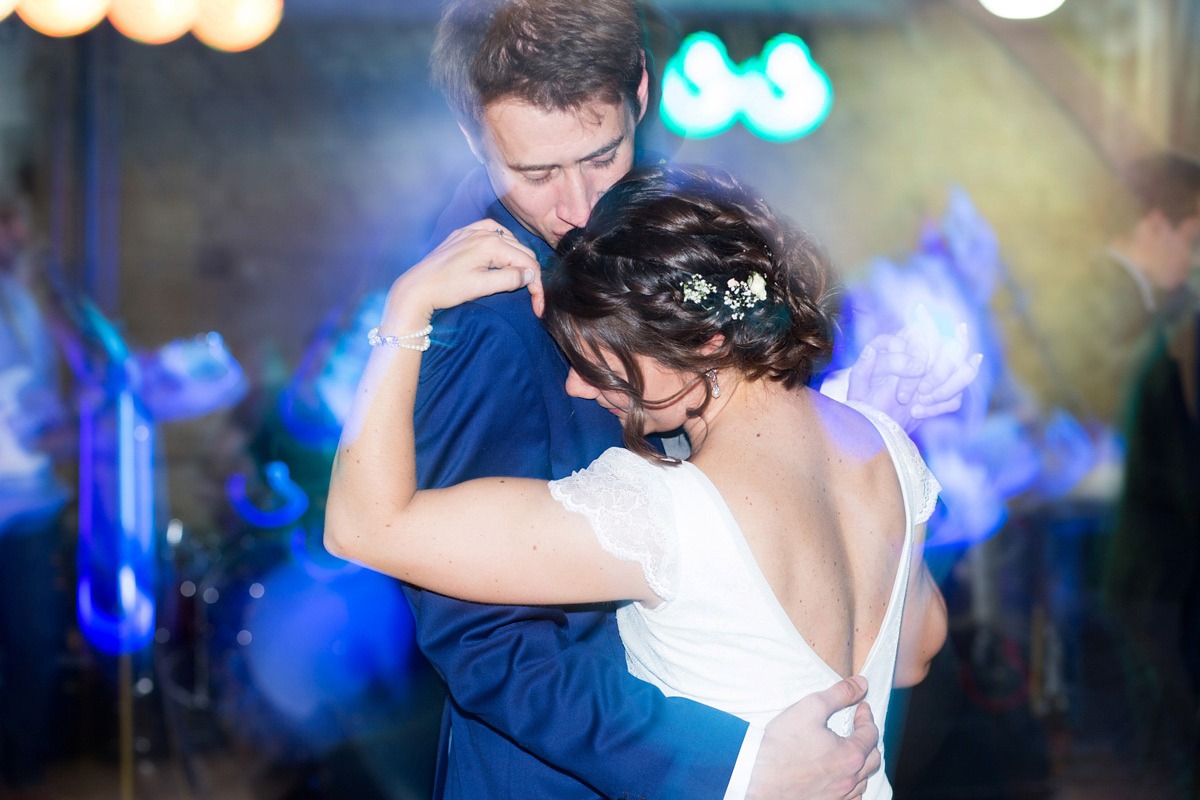 So many thanks to Emily and Ian.  Do you love Emily's beautiful Rembo Styling gown?  Take a peek here for more dresses by the same designer.  Love Doxford Barns?  Take a peek here for some more weddings in this lovely venue.
Much love,
S x