I'm off from everyday work this week and so I am writing this from a beautiful little cottage by the Welsh coast- the weather is standard British June weather (i.e. damp and cool) but the scenery is beautiful and I love being away from the city for a while.  That said, today's wonderful London wedding reminds me exactly why people are so fond of urban spaces, with a gorgeous city-based wedding full of Japanese hints, at Asylum at Caroline Gardens Chapel, London, followed by a reception at Brunswick House.  Meet Gaby, a junior doctor and Shun, who works in media sales, who married on the 7th October 2016.  The couple met playing rugby and Shun proposed on their four-year anniversary with a treasure hunt ending in gig tickets and a beautiful ring.
"We wanted our wedding to be fun and unique and because Shun is Japanese we wanted to ensure we respected his heritage as well as bringing in humour from our love of rugby.  In Japan, it is meant to be lucky to hand make 1,000 paper origami cranes and this provided the backdrop for our exchanging of vowels.  We used cherry blossom as inspiration for the colour scheme, and added lots of personal touches with the décor."
Images by Blondie Photography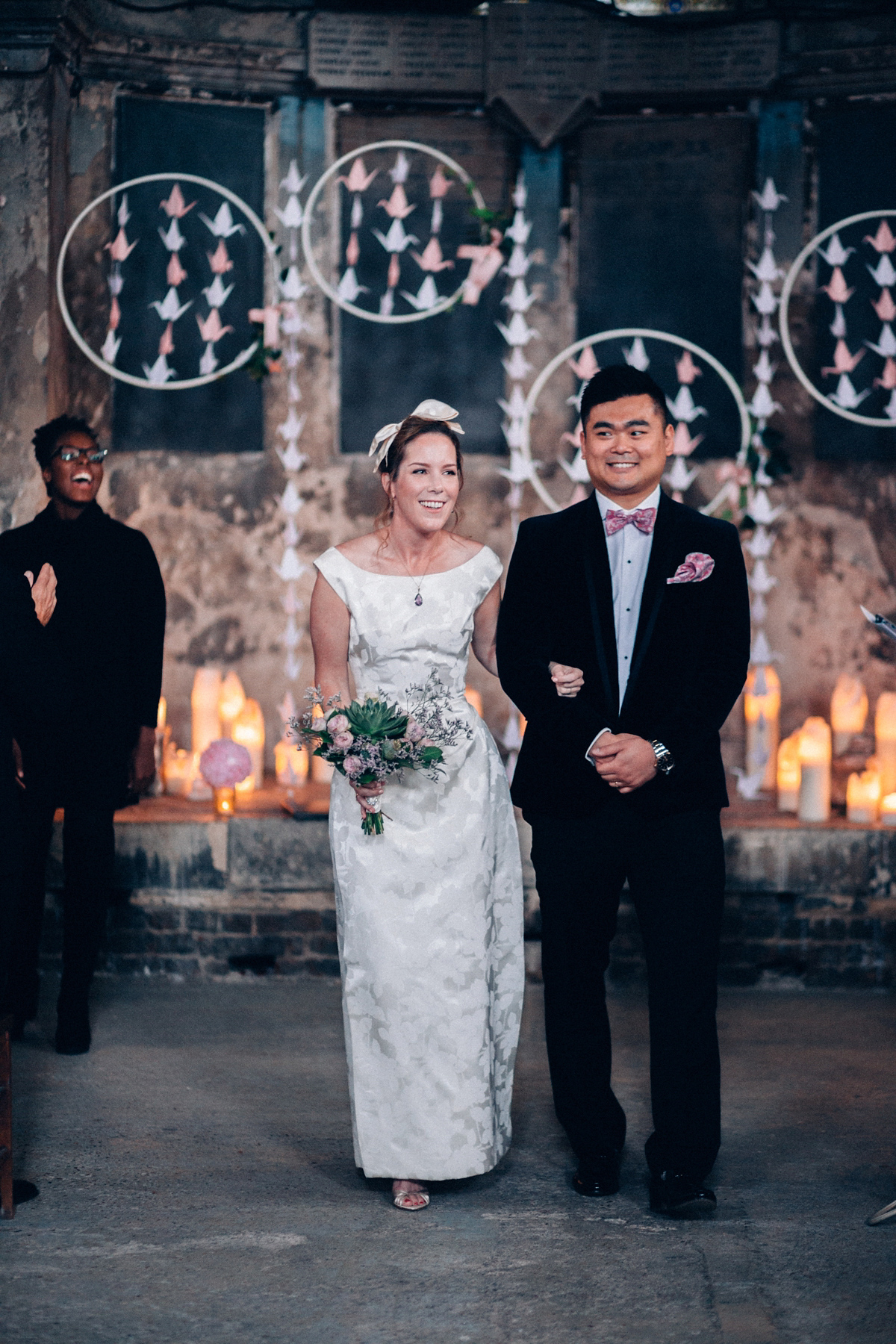 The talent behind the lens today was Tim of Blondie Photography, a London-based photographer who specialises in telling stories through his images.  Some of my favourite pictures are of Shun and his friends setting up the venue before the ceremony- a real team effort.
"Shun and I absolutely love Tim's work.  He has a unique ability to capture beauty in every shot and was so patient with us both on the day."
Gaby looked gorgeous in two different dresses, one for the ceremony and the other for the reception, both of which were vintage and purchased from House of Vintage, Shoreditch.
"I couldn't decide between the two dresses but one of my bridesmaids helped me justify getting both as they were so different and also fitted the change of venue perfectly.  The first dress reminded me very much of Japan (kimono style) with heavy silk embossed roses (my maiden name) throughout.  I loved the low back with bow detail and chose my headpiece to compliment this.  The second dress was much more sophisticated and befitting of an evening event, especially as we had asked our guests to wear black tie."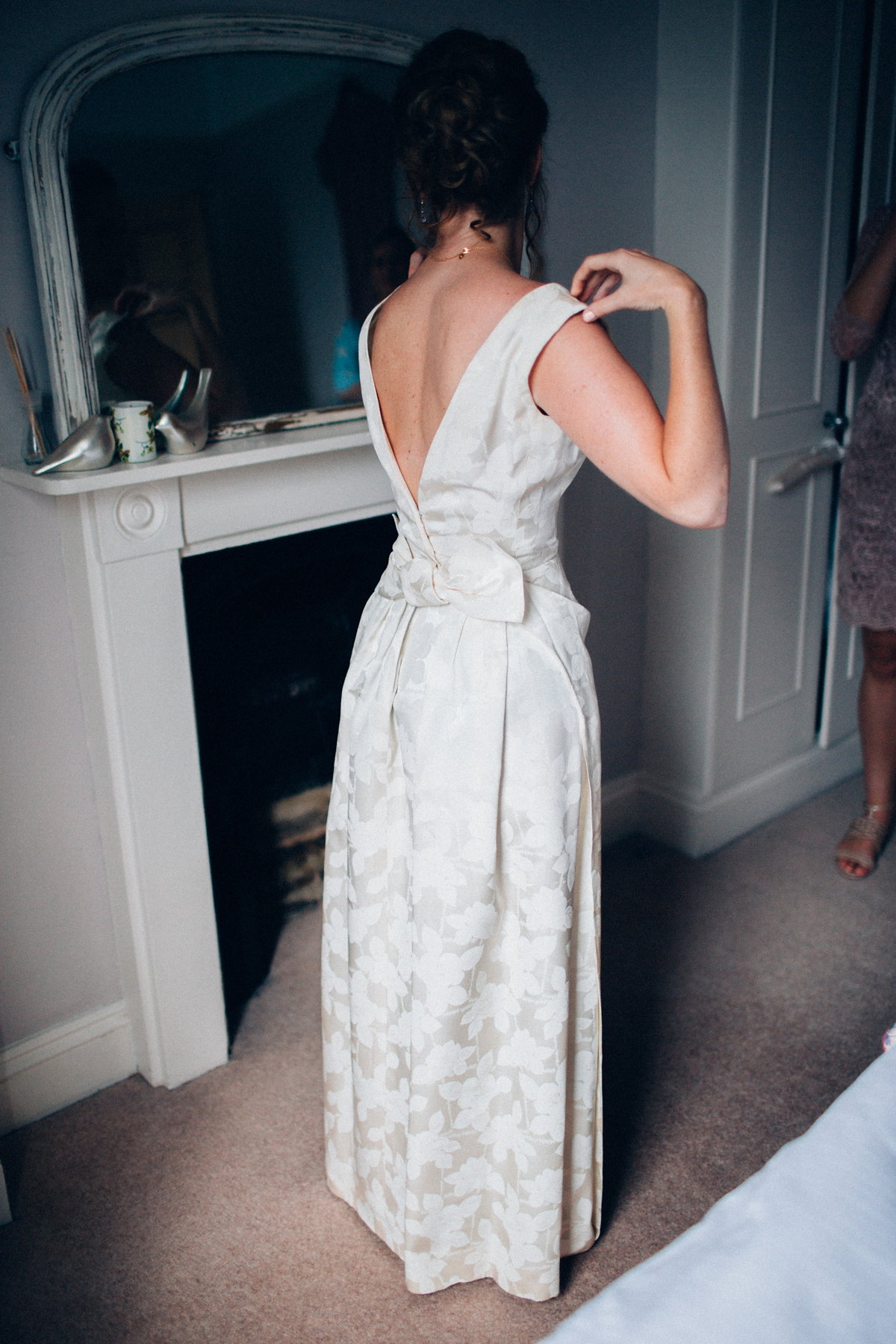 For footwear, Gaby found a bargain pair of second hand Jimmy Choos on eBay that matched both dresses perfectly, while for jewellery she wore an amethyst pendant that had belonged to her Grandma (something old) and Shun surprised her with an antique pair of earrings to match.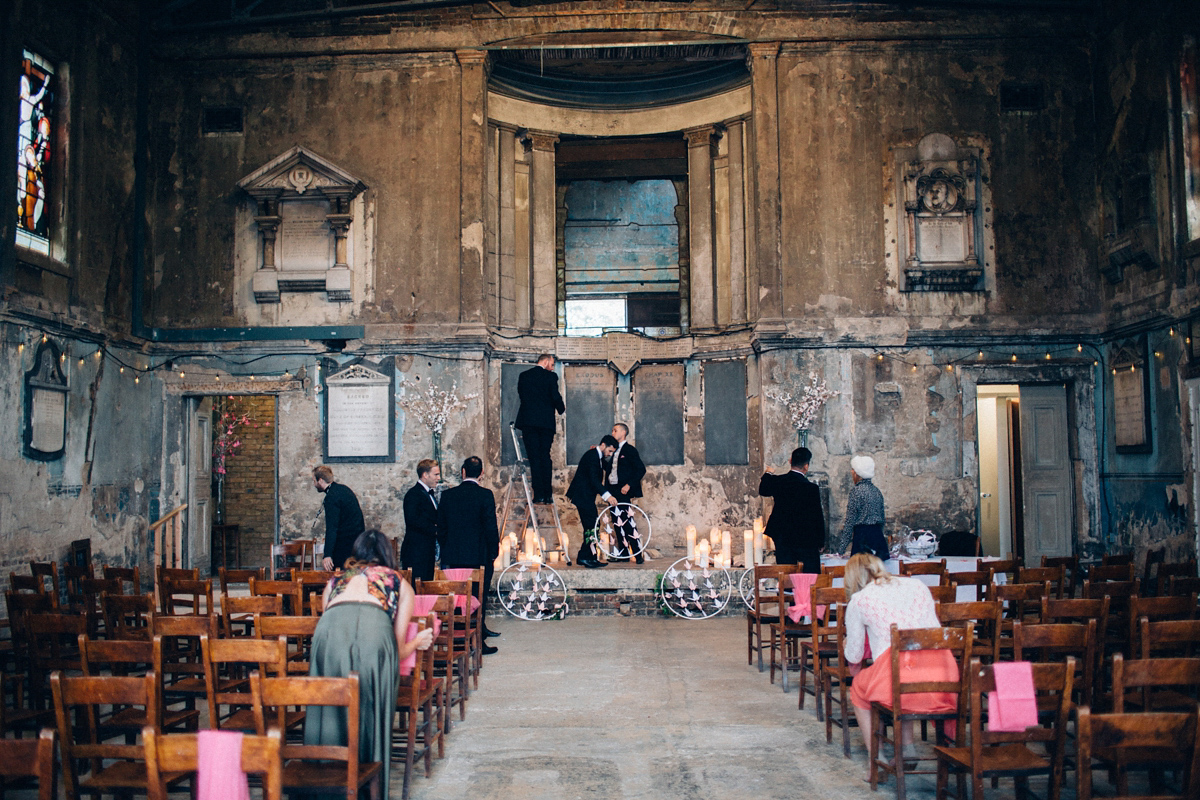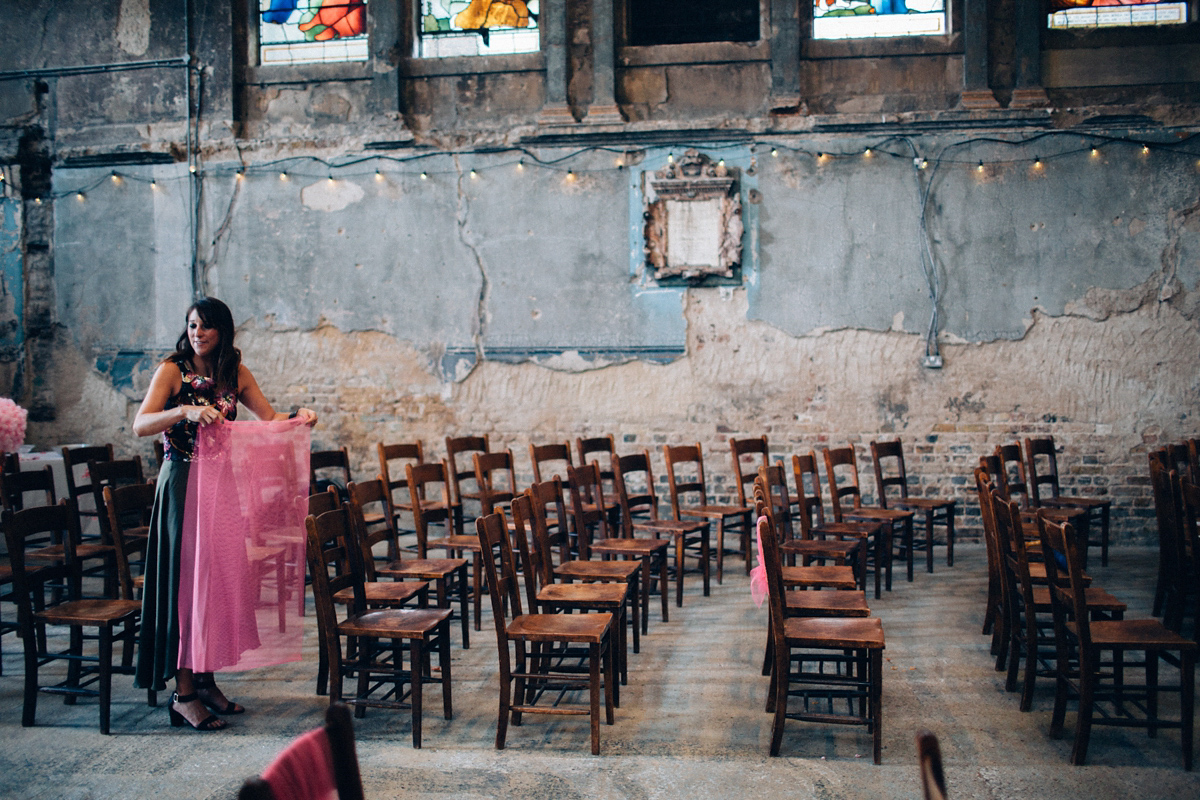 "We sourced cherry blossom and pussy willow branches for the chapel and placed them in vintage spaghetti jars either side of the altar.  My mum and I covered large polystyrene balls with cherry blossom petals, and supported them on top of frosted Bonne Maman jam jars with LED tea lights inside, to be in both venues."
"I painted lots of gold framed chalk boards to introduce guests to the chapel and we suspended handmade origami paper cranes within painted hula hoops from the ceiling of the chapel."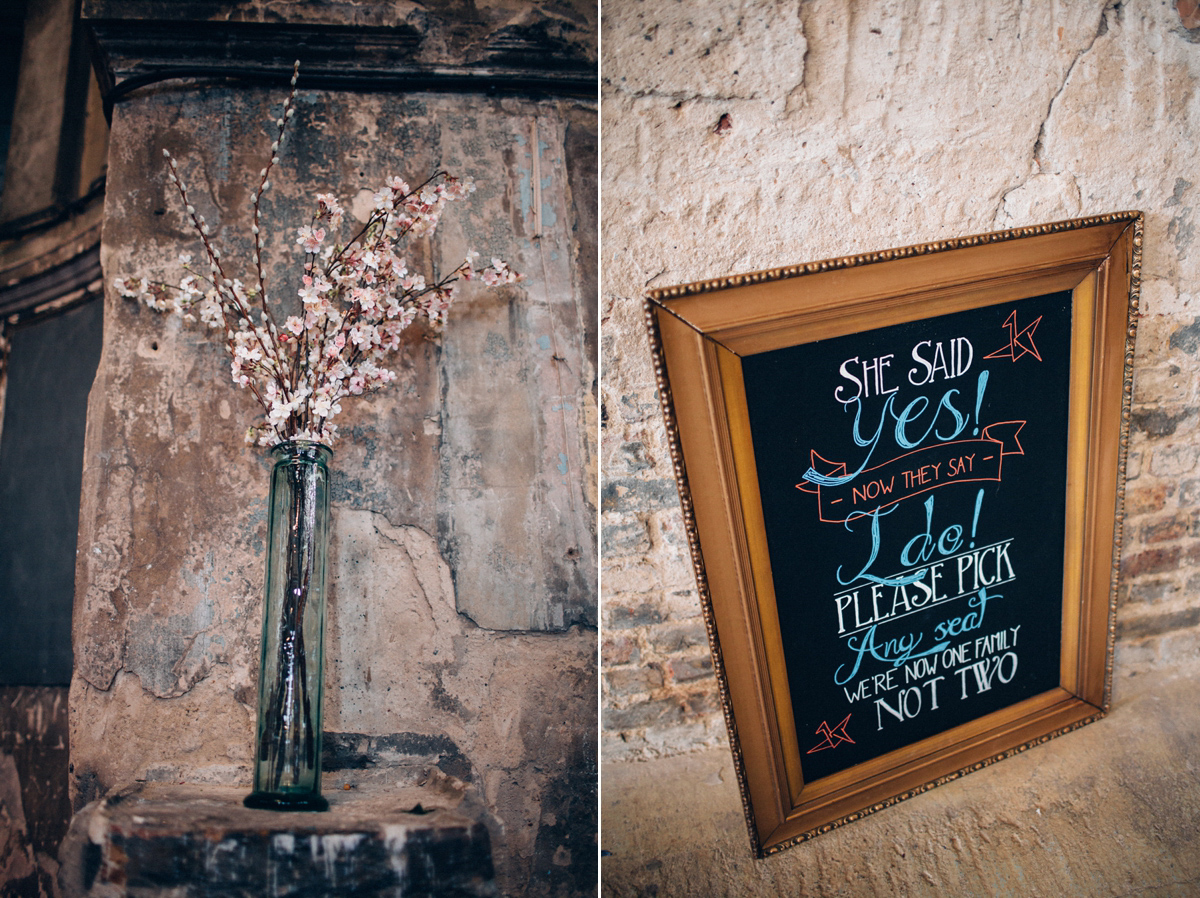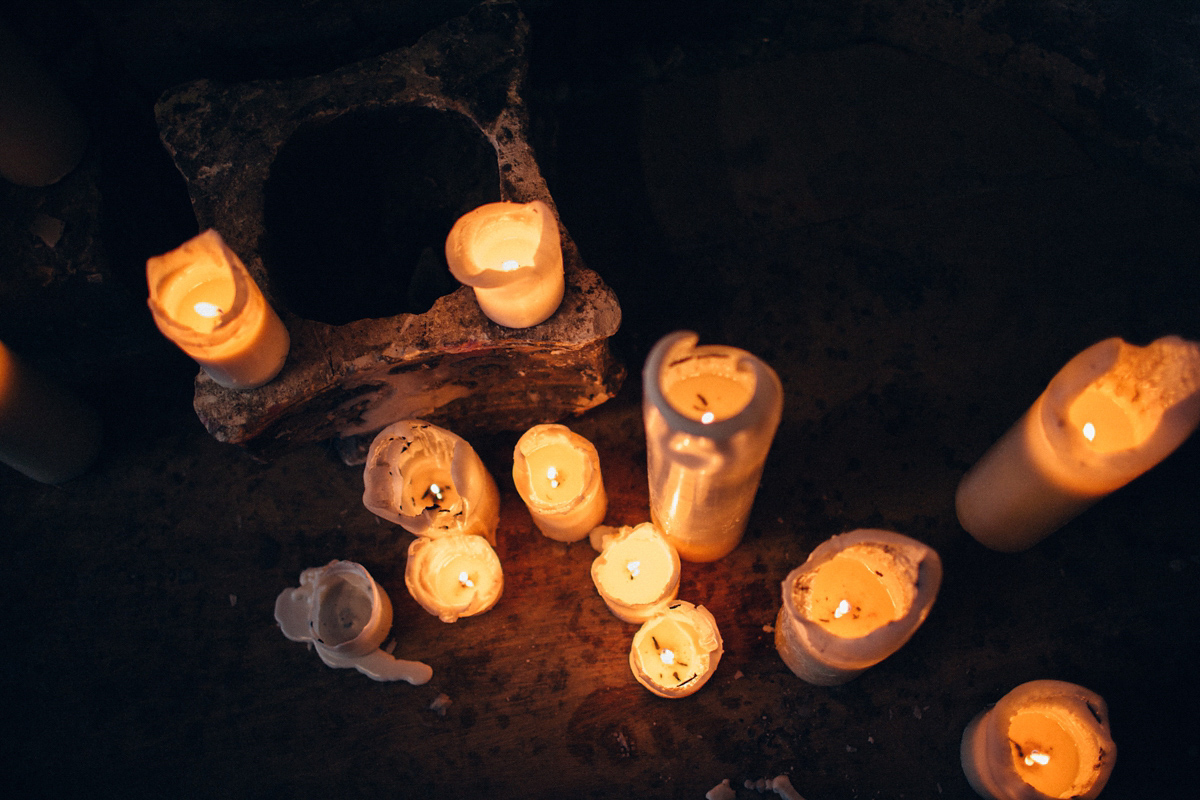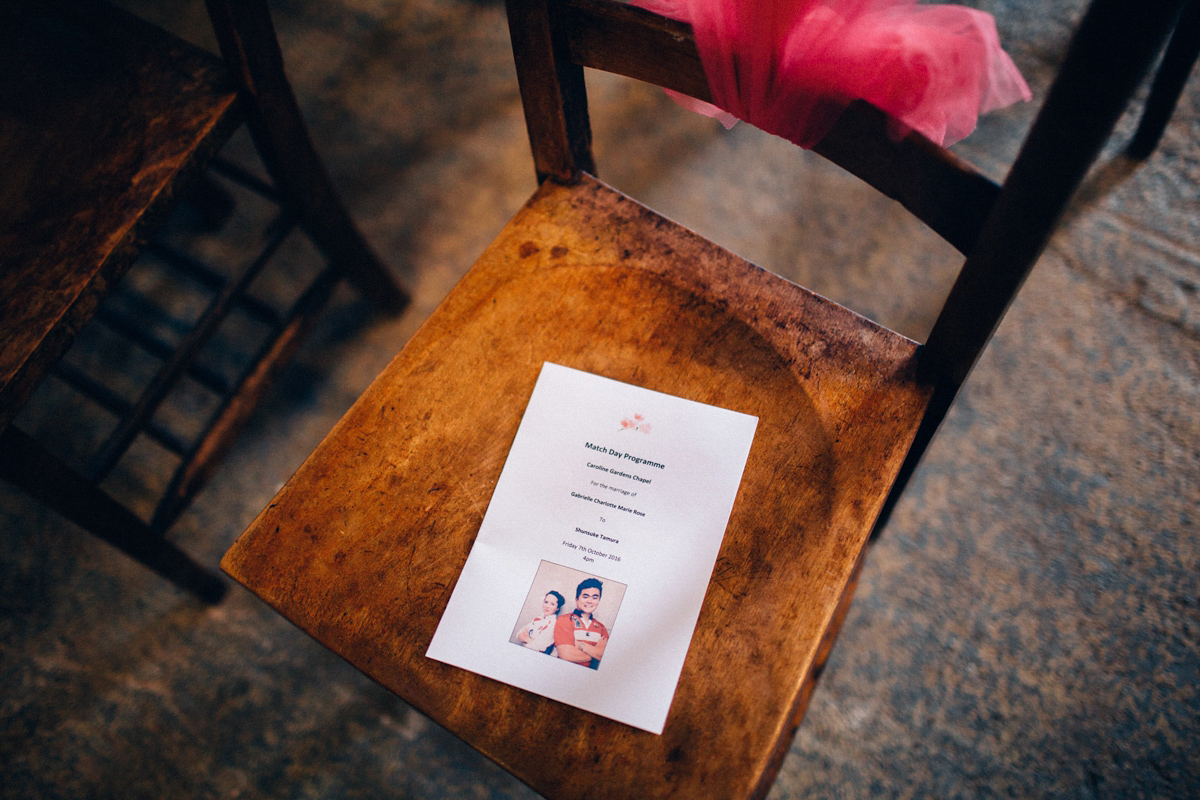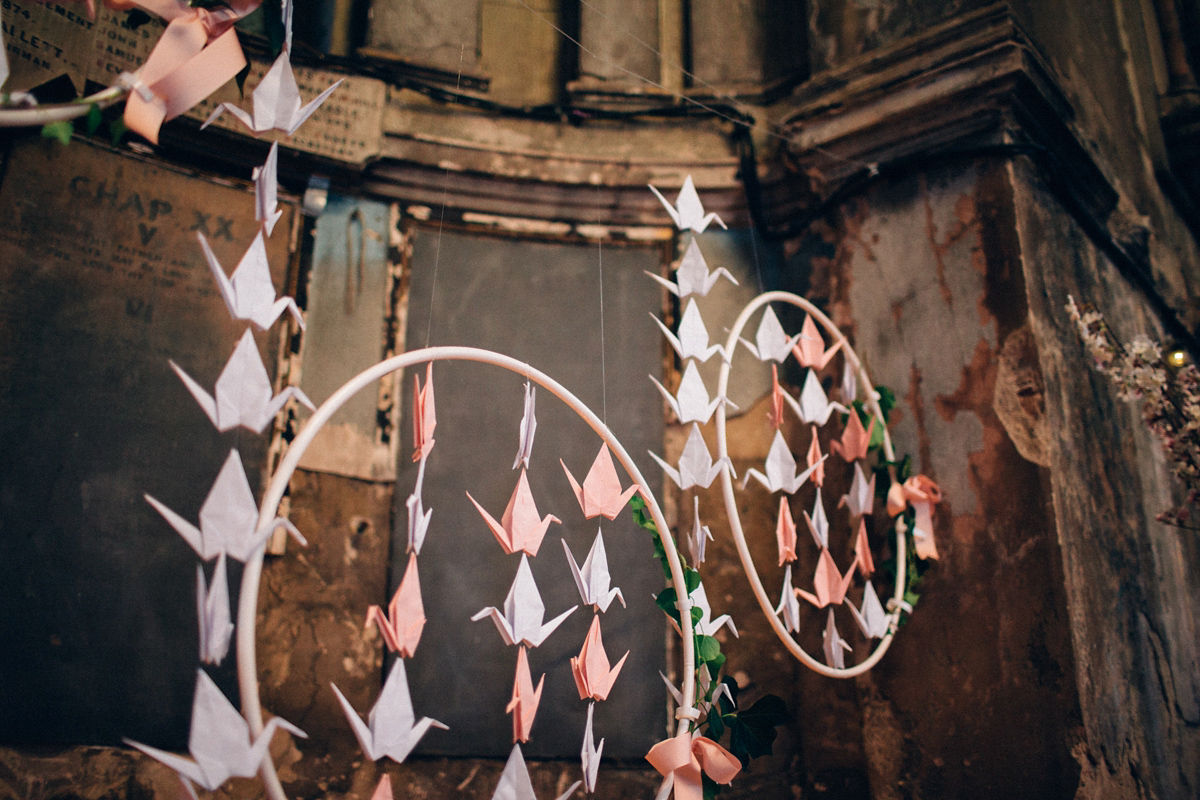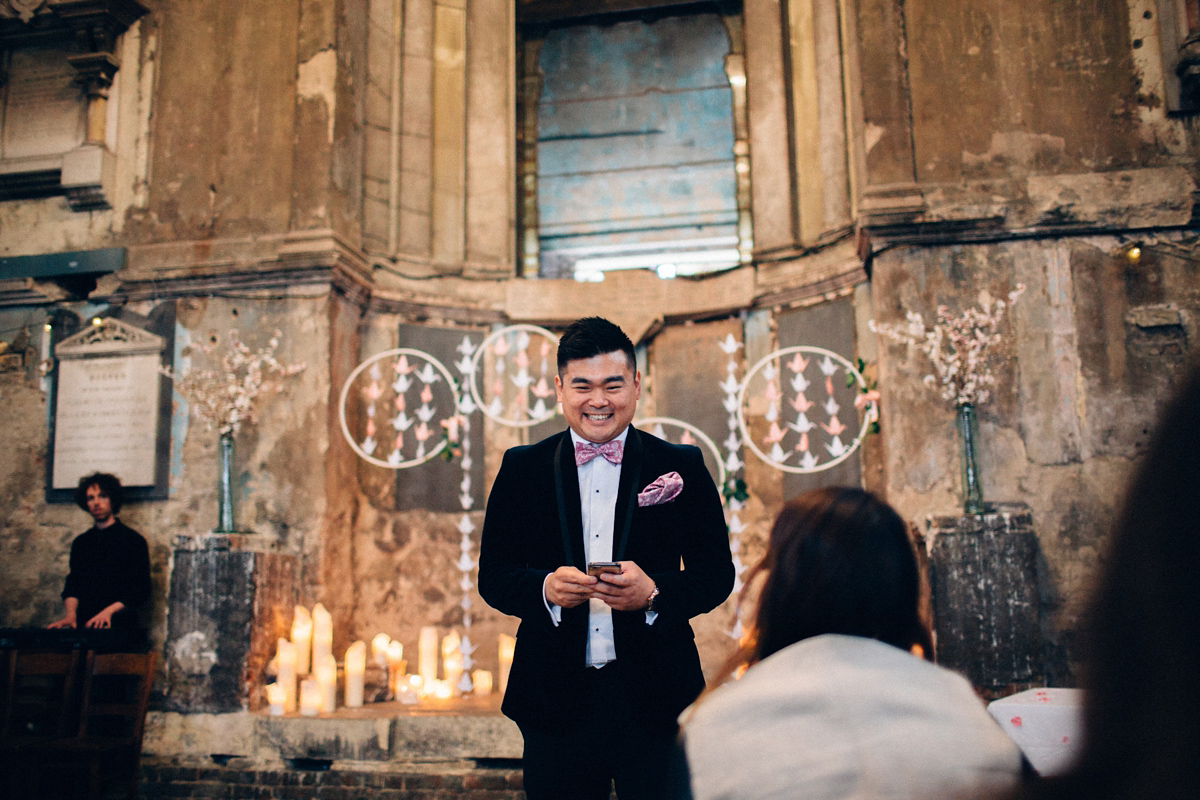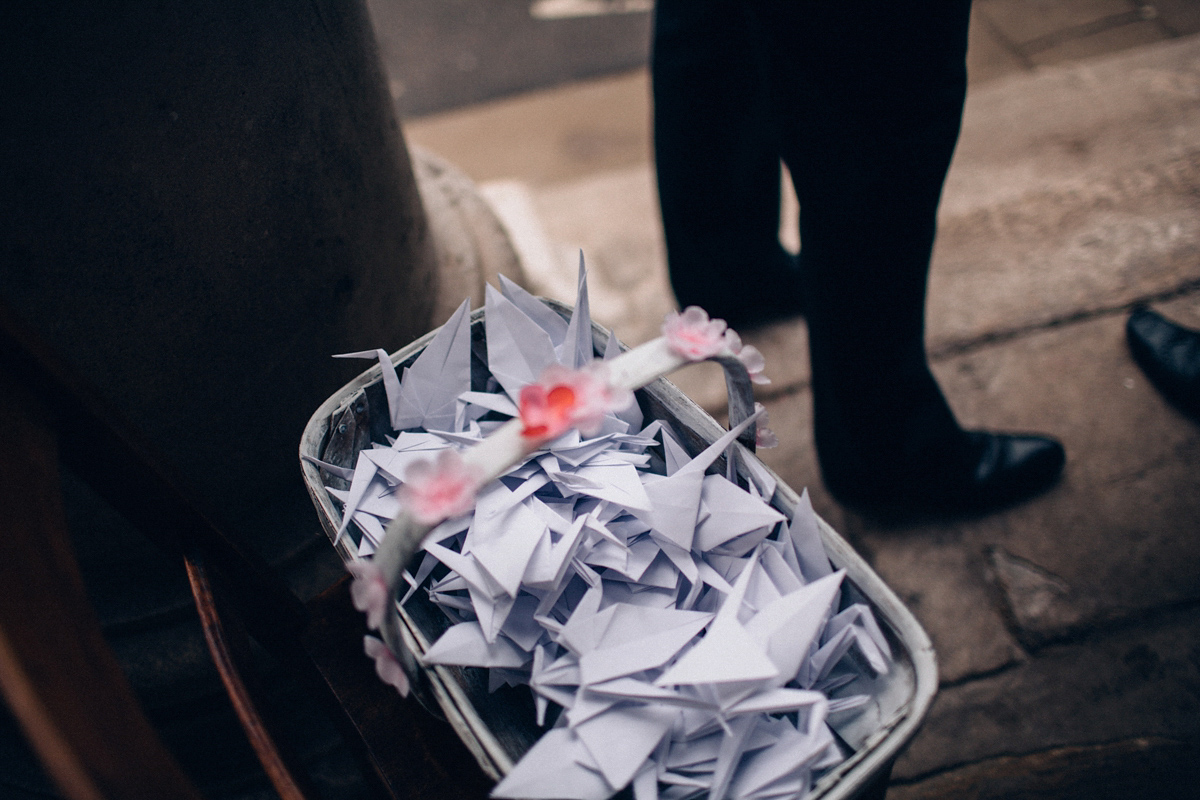 "I fell in love with the chapel immediately.  It reminded me so much of the venue where Ross and Emily married in Friends, plus had the vintage feel I was hoping for.  Also, one of my favourite photographers, Tim Walker, did an iconic photo shoot of Lily Cole in a beautiful turquoise dress trailing down a spiral staircase against a backdrop of a run-down venue in India, which we have hanging in our sitting room and looks very similar to the surroundings of the chapel."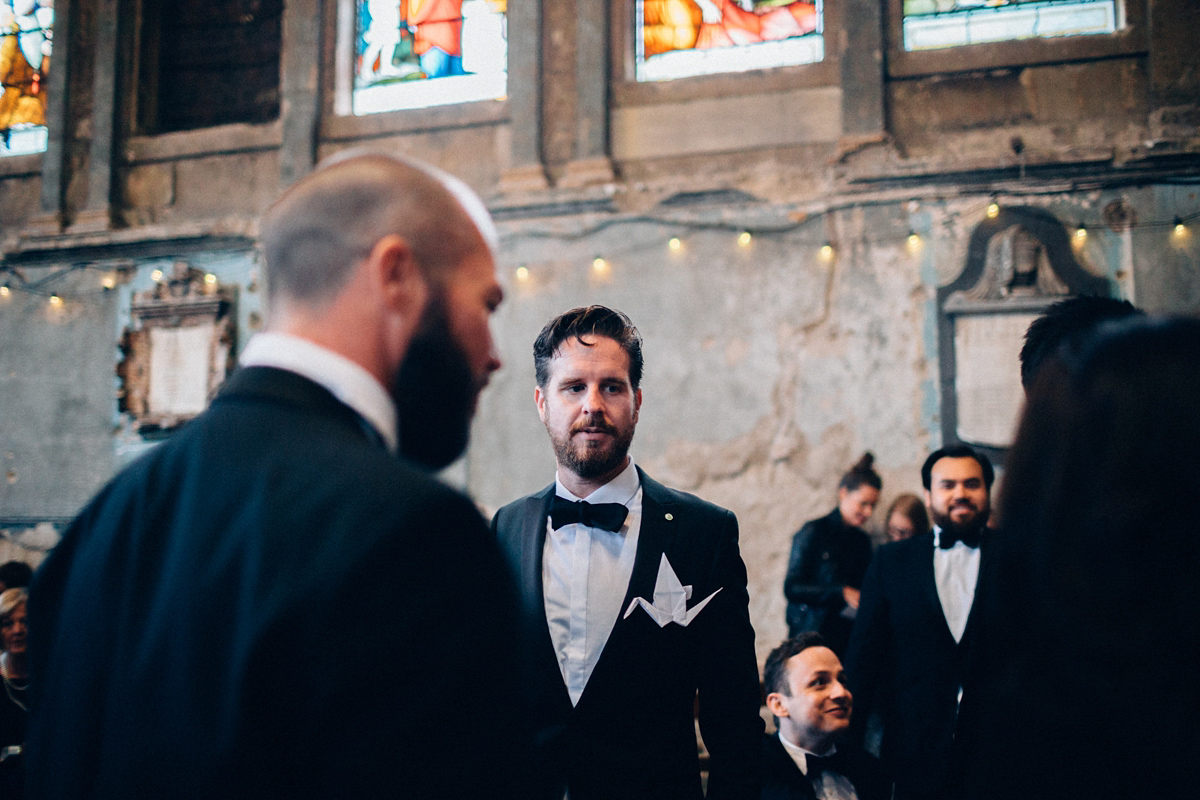 The fabulous flowers were the work of Lara at Darling and Wild.
"I wanted my bouquet to be unusual and fell in love with the idea of having a succulent as the central piece, surrounding by pink roses.  I absolutely loved what Lara created and gave it to one of my bridesmaids at the end of night who had kindly shared her birthday with our wedding."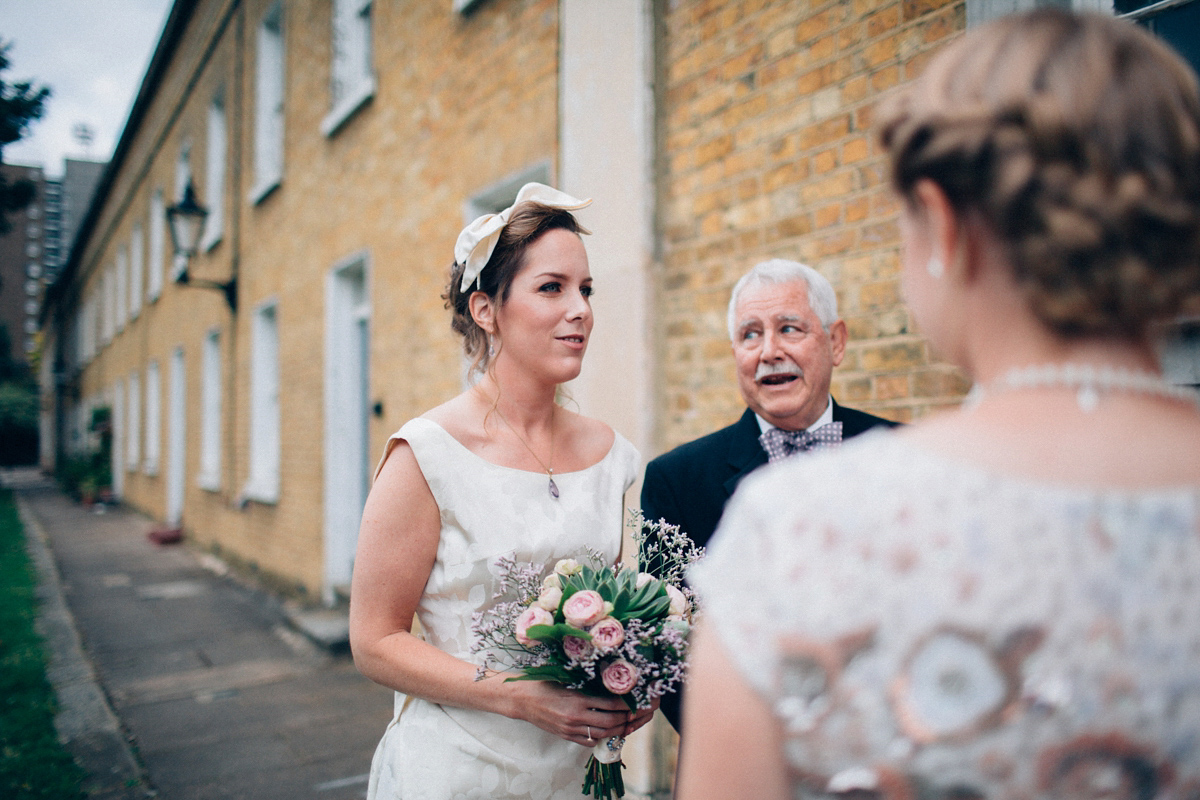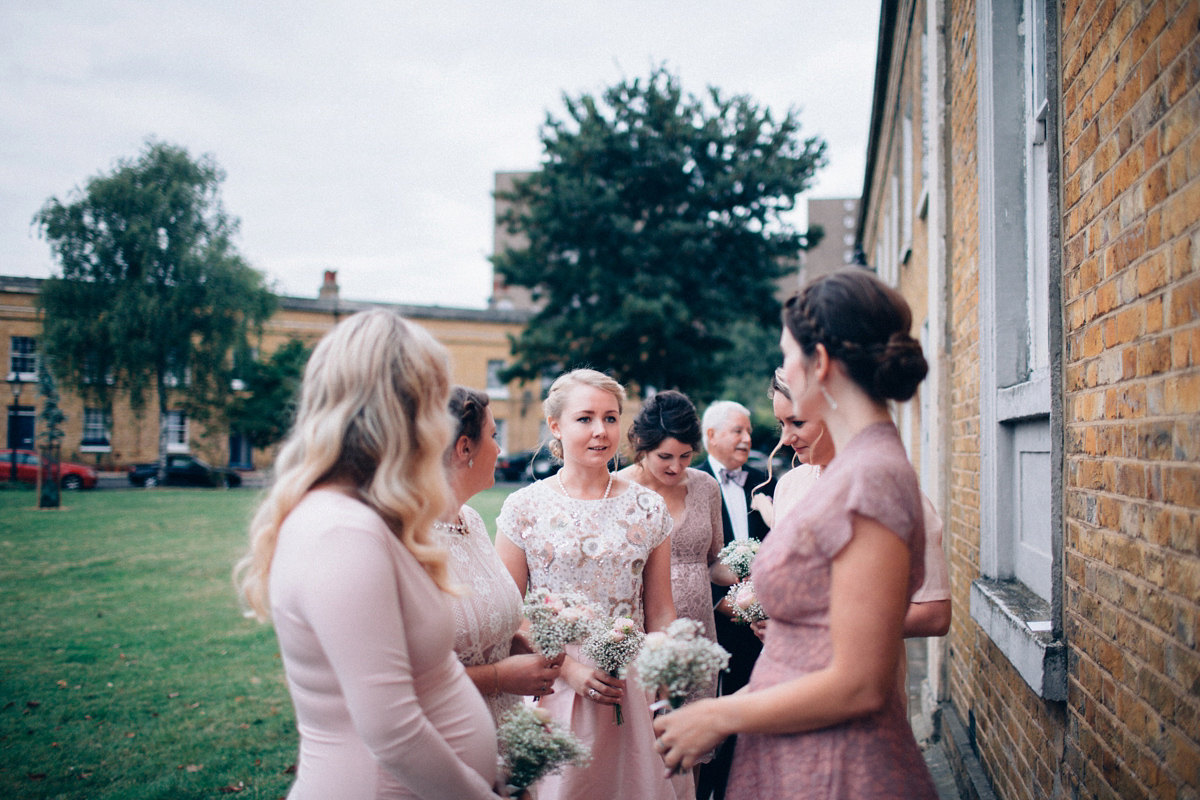 "I was fairly relaxed about what my bridesmaids wore but had guided for metallic shoes if possible.  As two of my bridesmaids were heavily pregnant it wasn't practical to try and have them all wear matching dresses, plus I wanted them to have the opportunity to wear what they wanted and express themselves. The only criteria I gave them was to wear a shade of pink (to replicate cherry blossom) and they all looked absolutely amazing."
"I gave each of my bridesmaids a hand painted card by Shun's grandma (who sadly couldn't make the journey from Tokyo) as thank you gifts for supporting me on the day."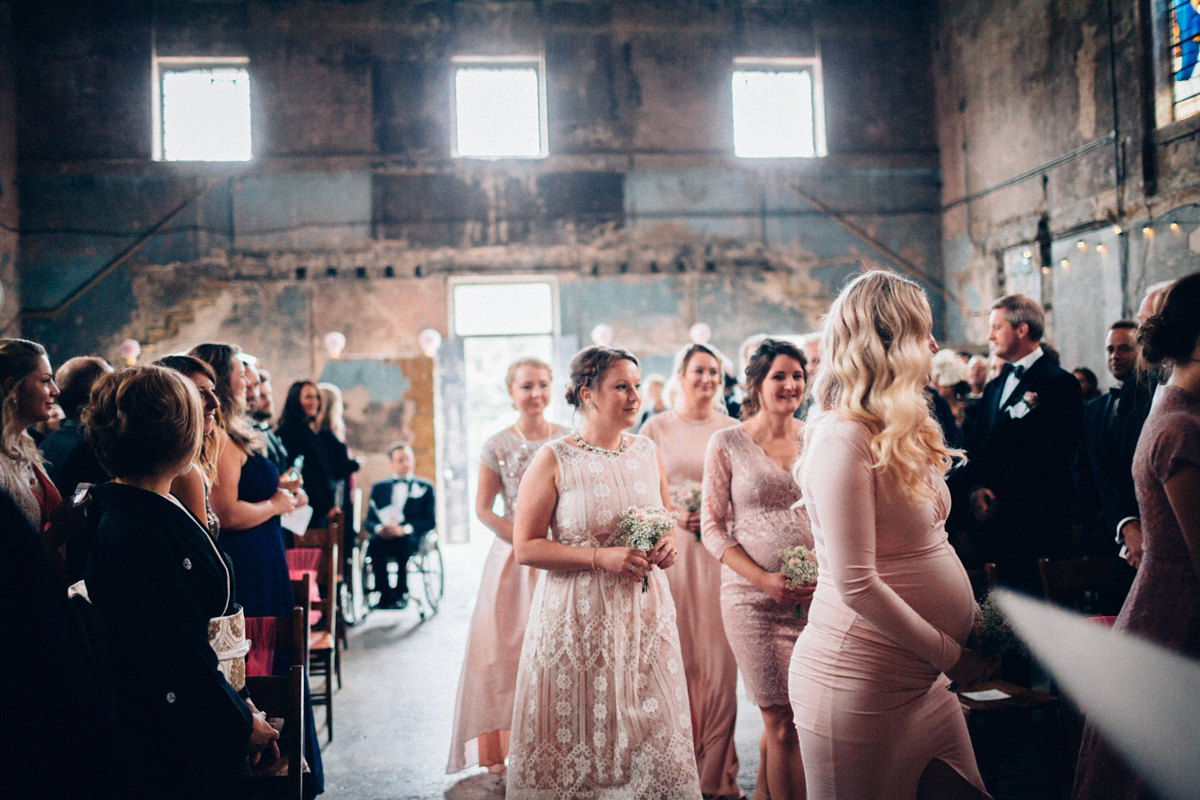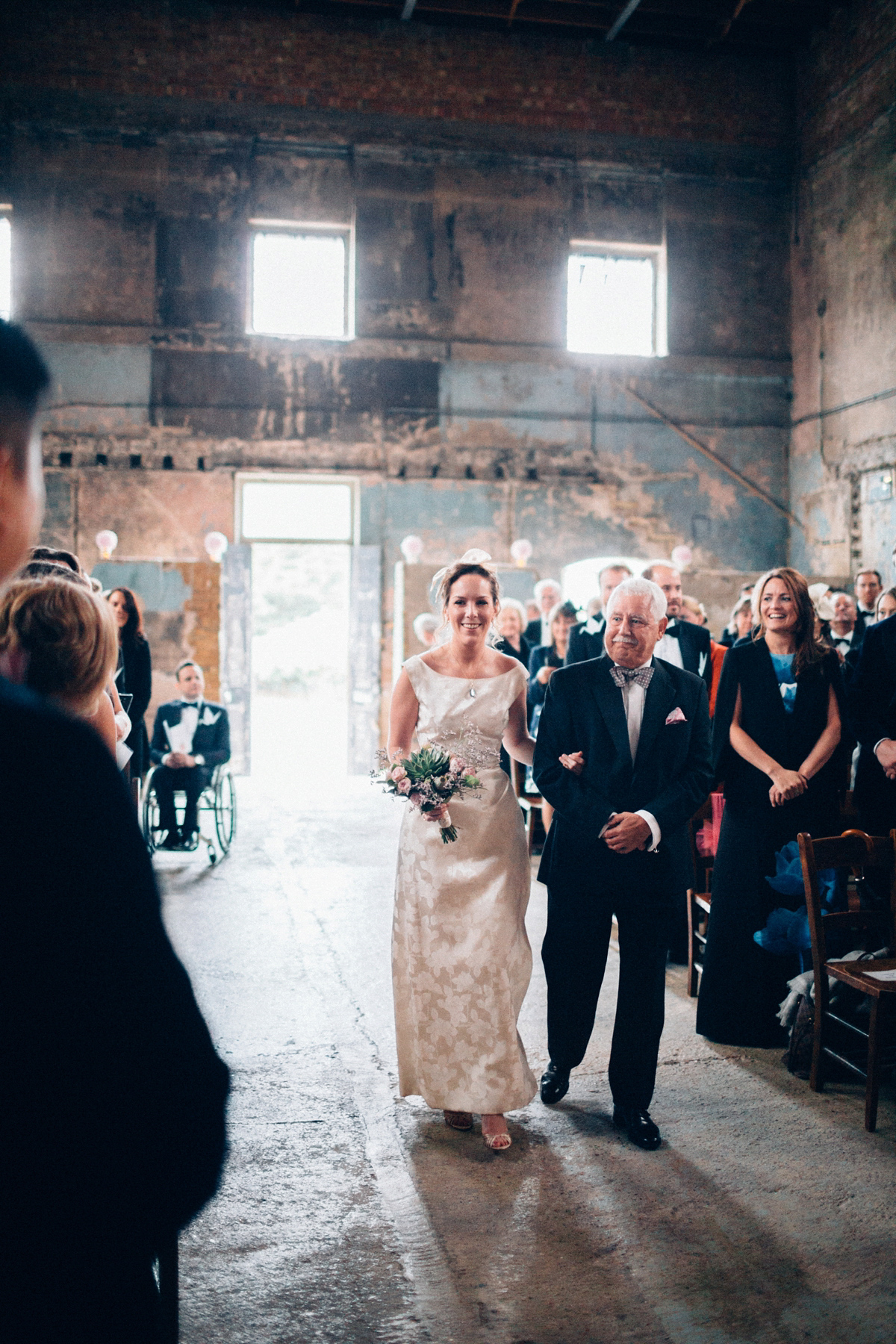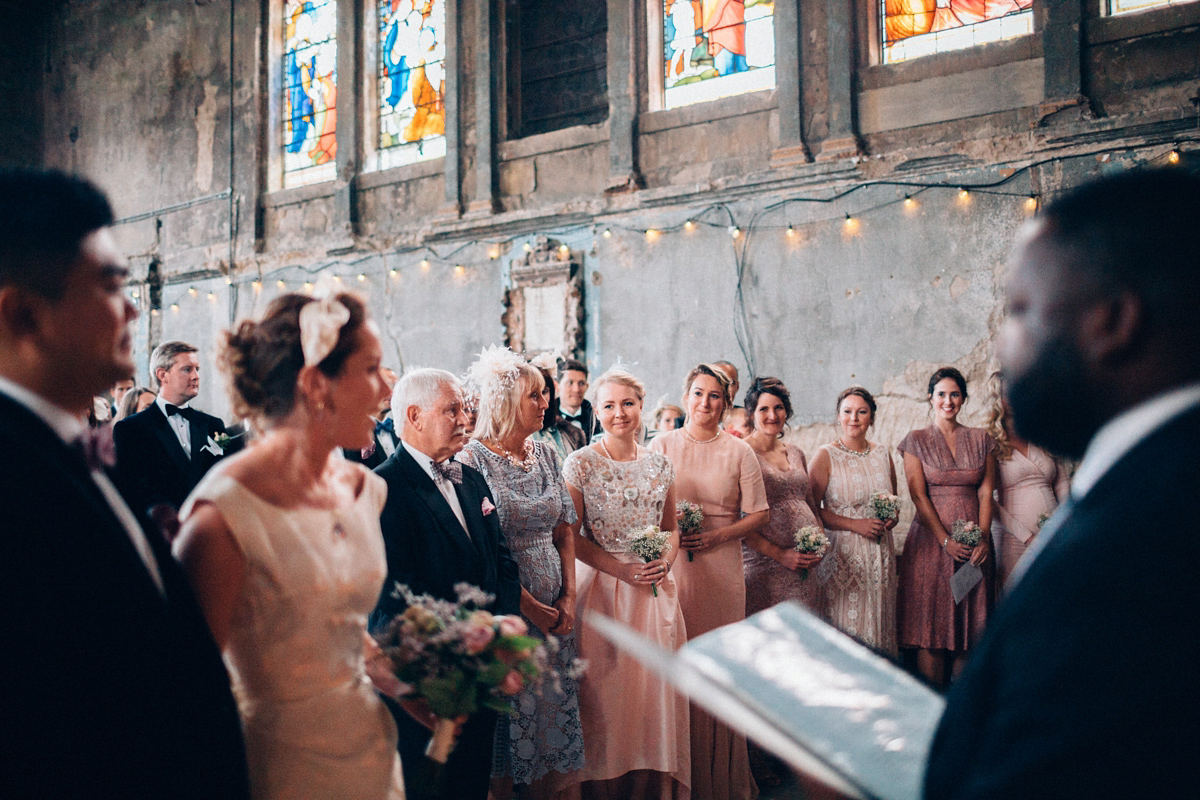 Shun looked super smart in a bespoke velvet blazer, monogrammed shirt and black tie trousers by Hackett, paired with a pair of cufflinks made out of old watch timepieces from Gaby, to match the watch she bought him for his 30th birthday.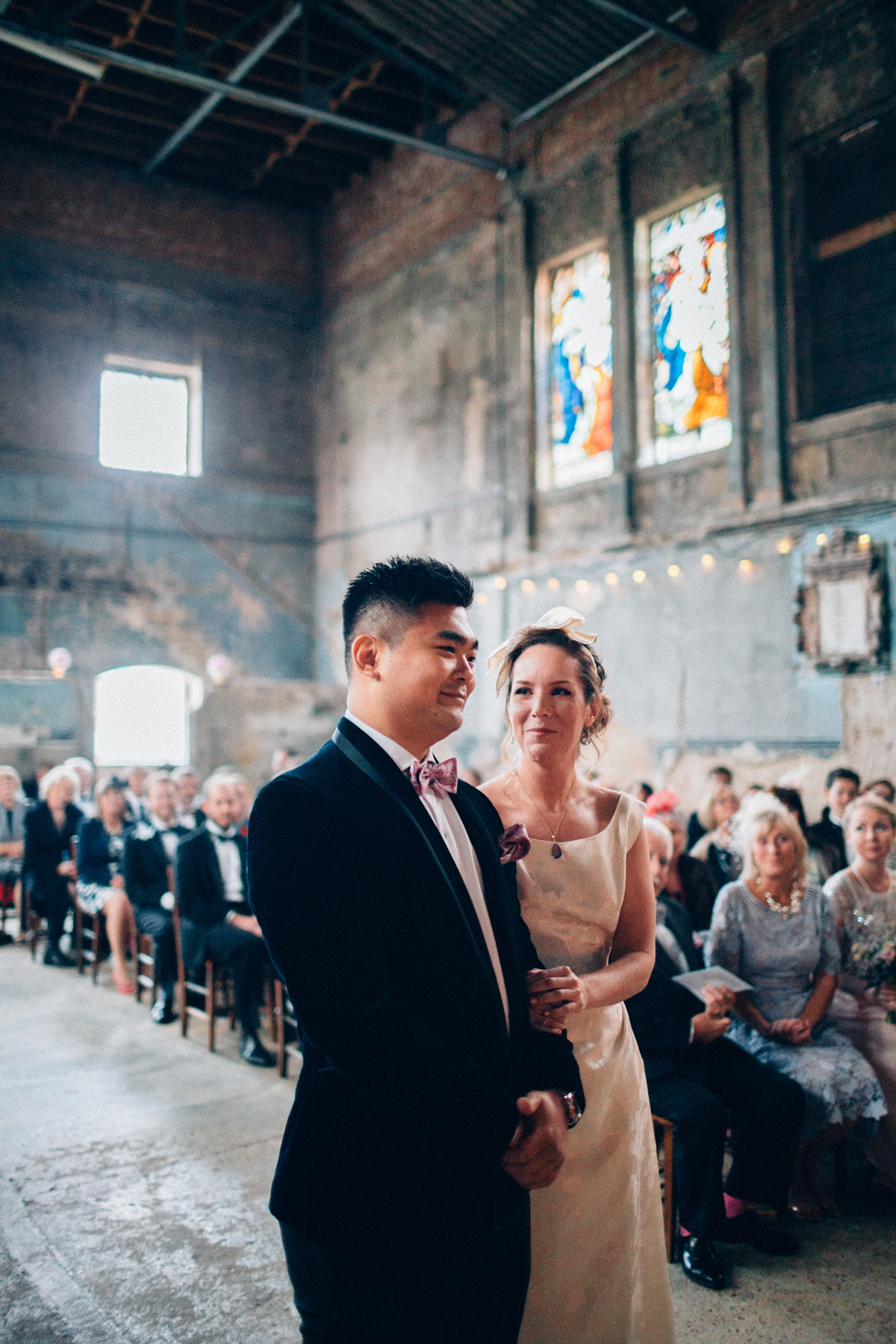 Gaby walked down the aisle with her father to "Everybody's Free" from Baz Lurhmann's Romeo and Juliet, sung by the Some Voices choir, who also sang another three songs during the ceremony.
"We fell in love with them when we saw them perform a live soundtrack to the screening of Romeo and Juliet in a church in Marylebone."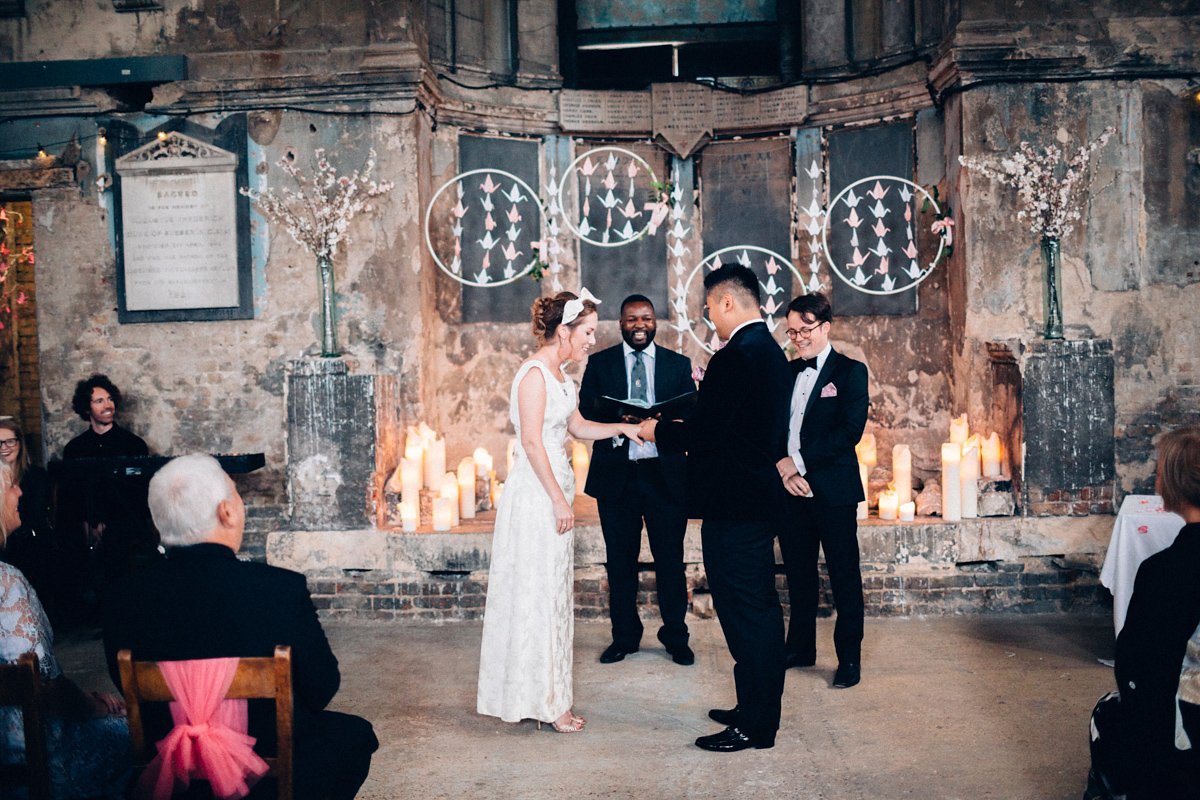 For readings, Gaby and Shun picked two unusual but lovely choices- Carrie's Poem, from 'Sex and the City' and an extract from 'Beauty and the Beast' by N.R. Hart.
His hello was the end of her endings
Her laugh was their first step down the aisle
His hand would be hers to hold forever
His forever was as simple as her smile
He said she was what was missing
She said instantly she knew
She was a question to be answered
And his answer was "I do"
After exchanging vows, the couple swapped rings, Gaby's an antique ring purchased in Hatton Garden and Shun's a rose gold band from Grey's Antiques in Mayfair.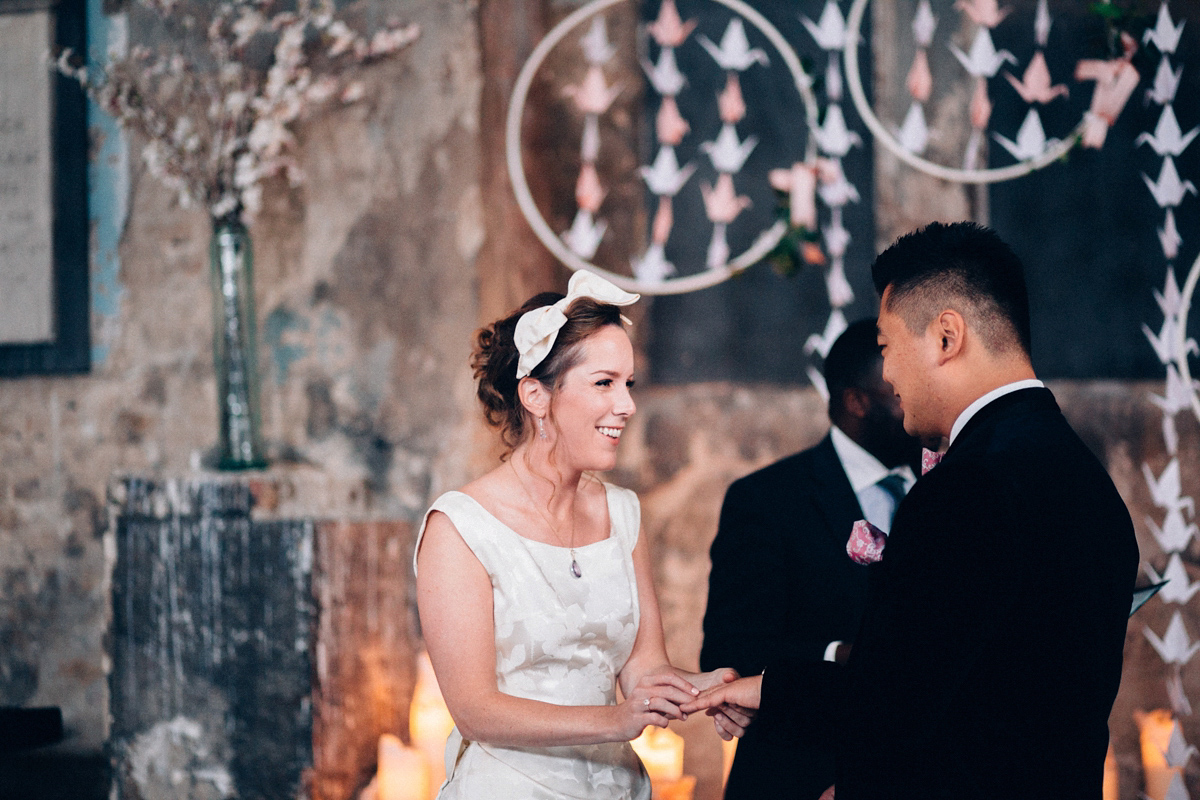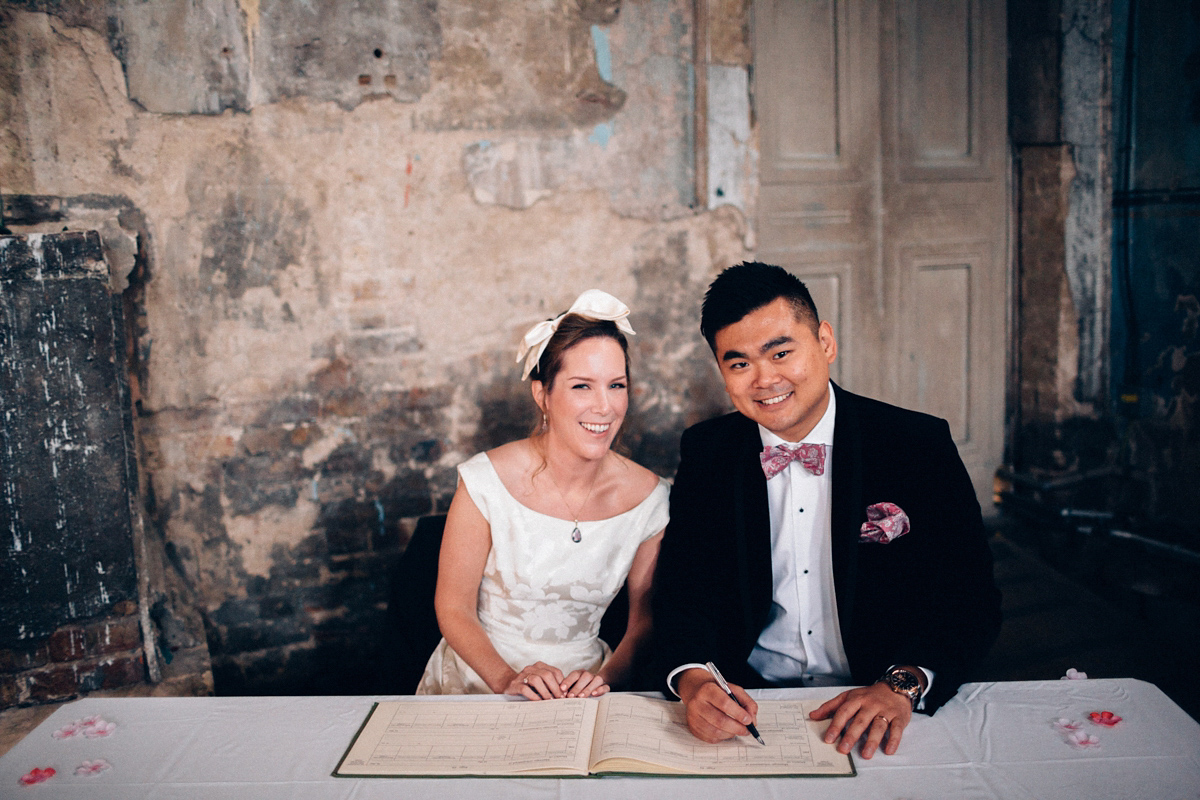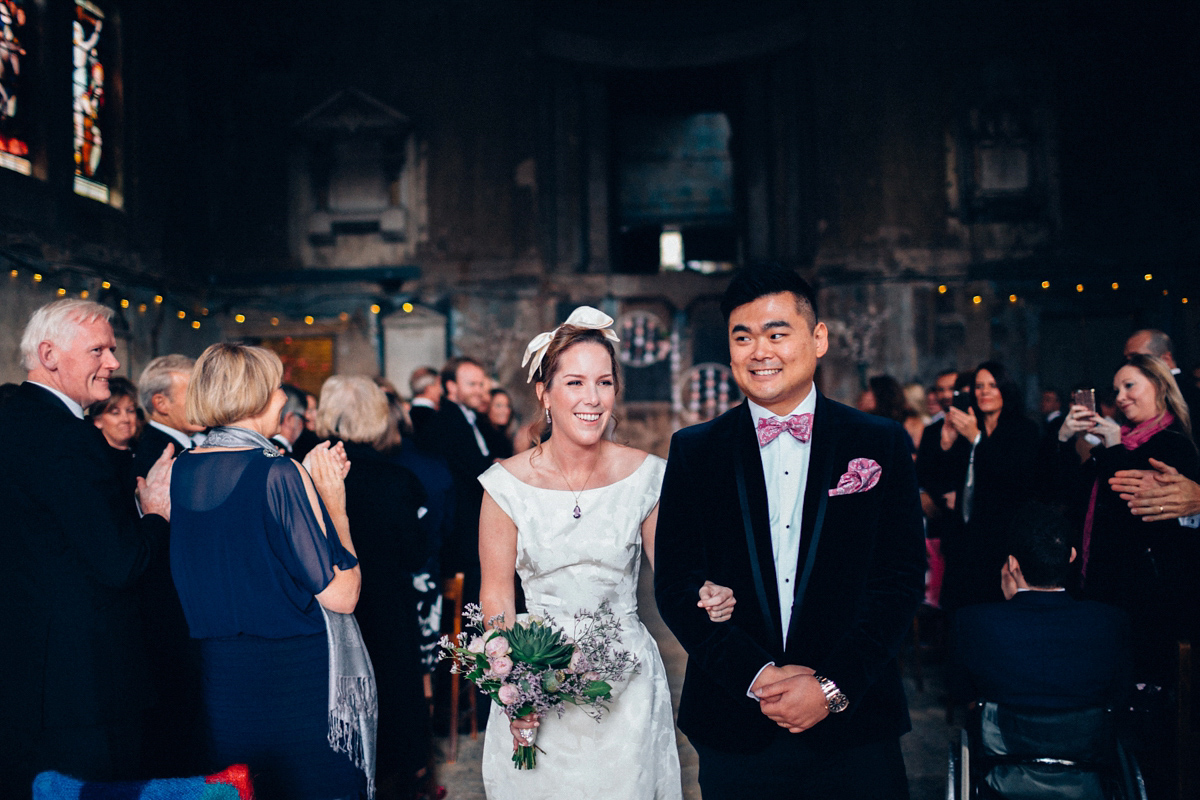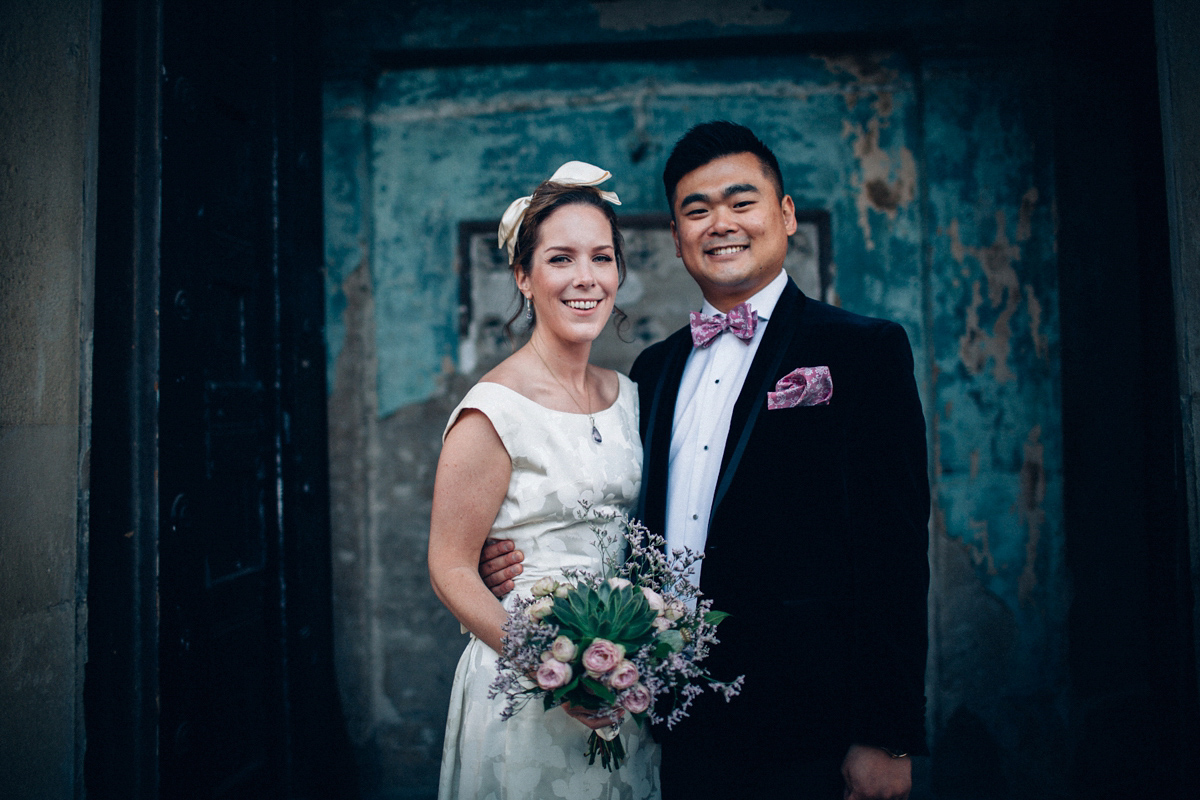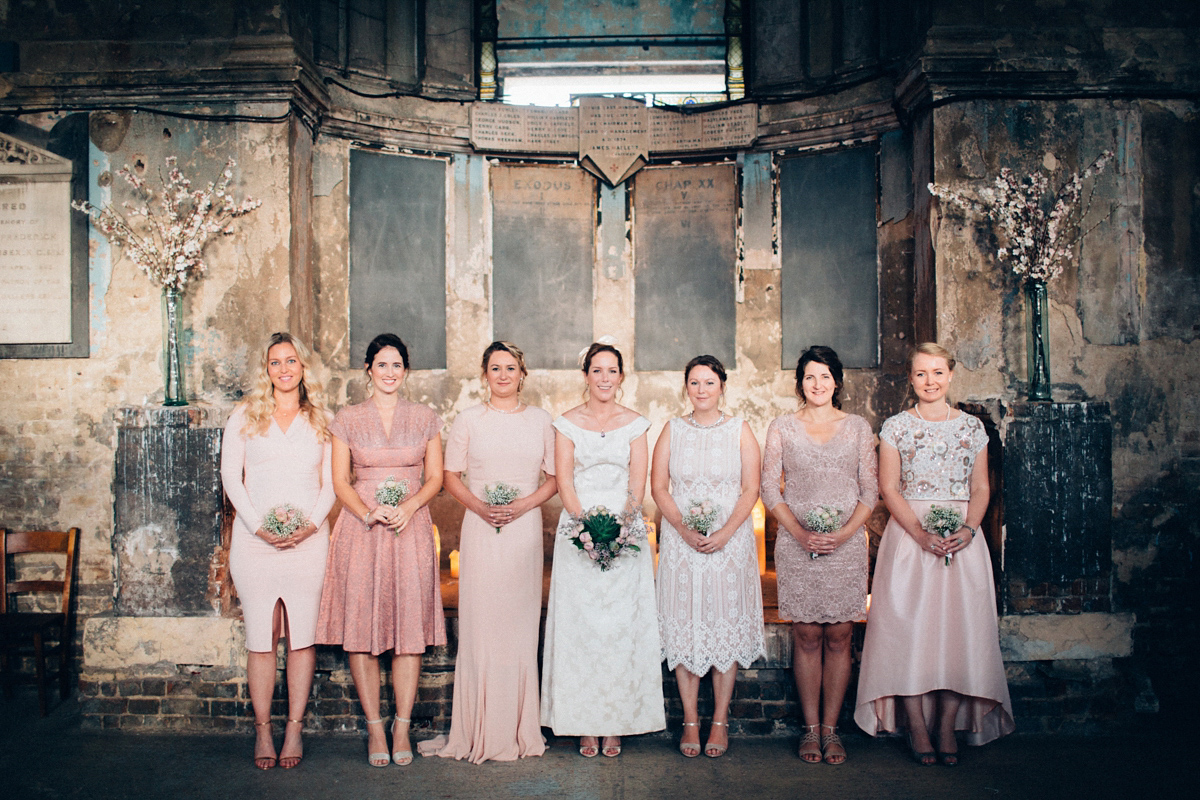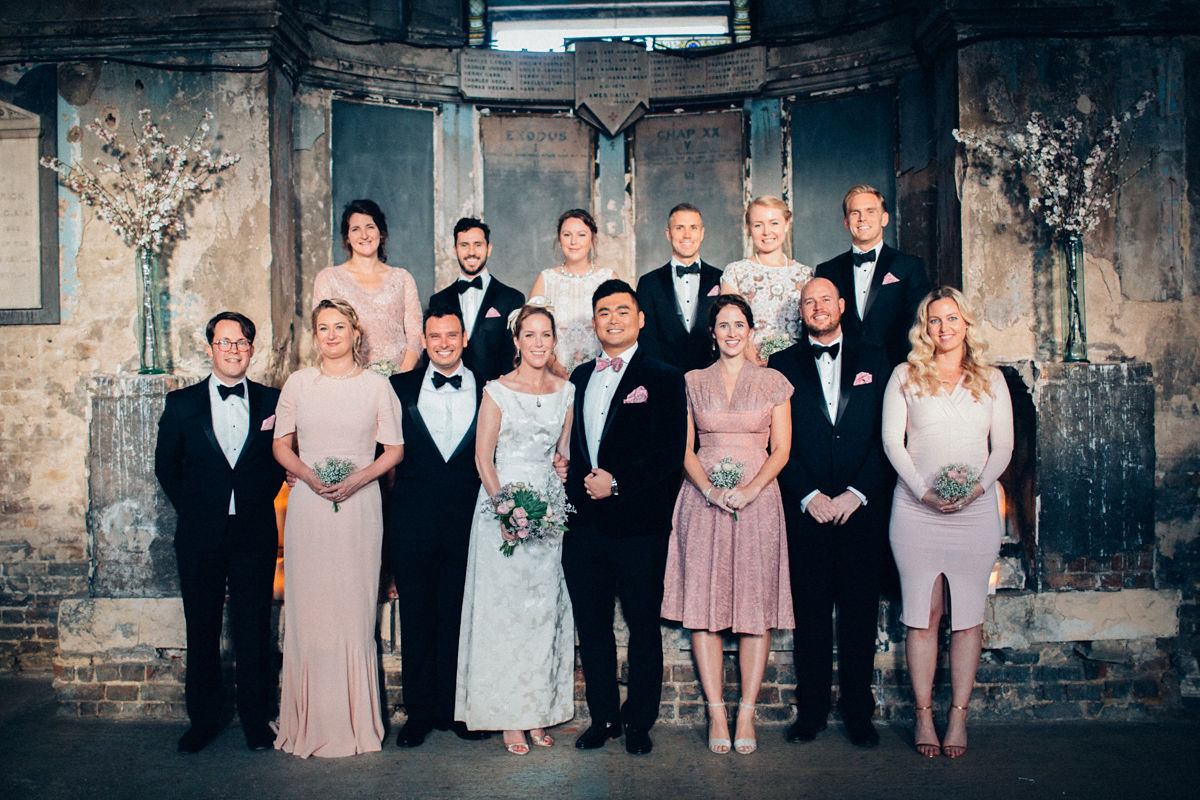 "Shun completely surprised me with a horse and carriage ride between the two venues – we rode through Peckham which was most surreal.  He had asked them to give the horses pink feathers to match our colour scheme."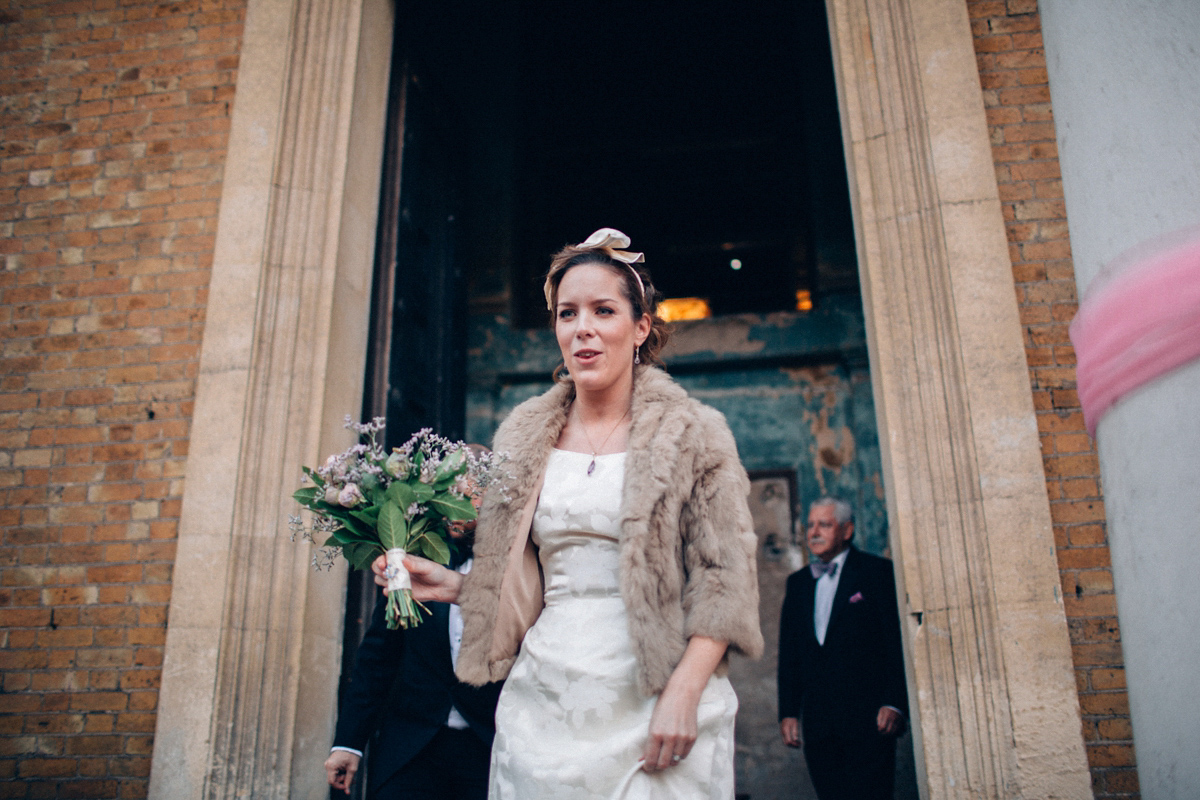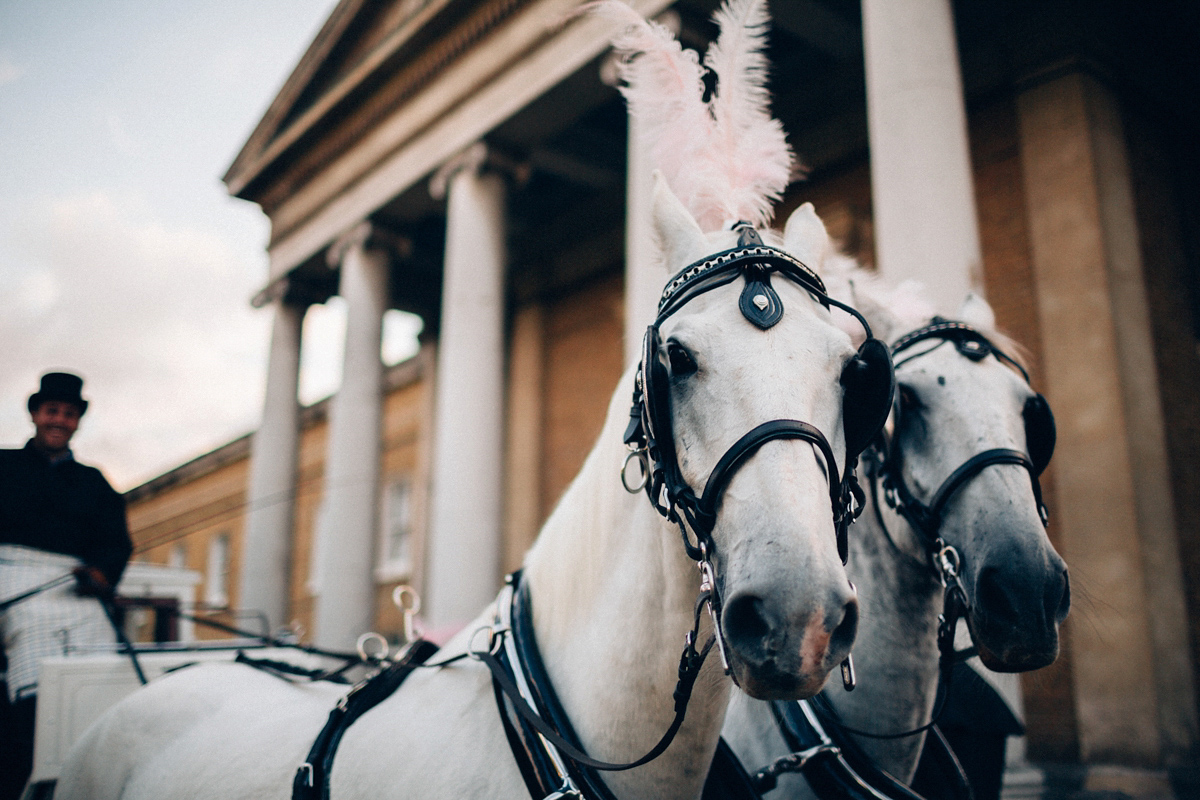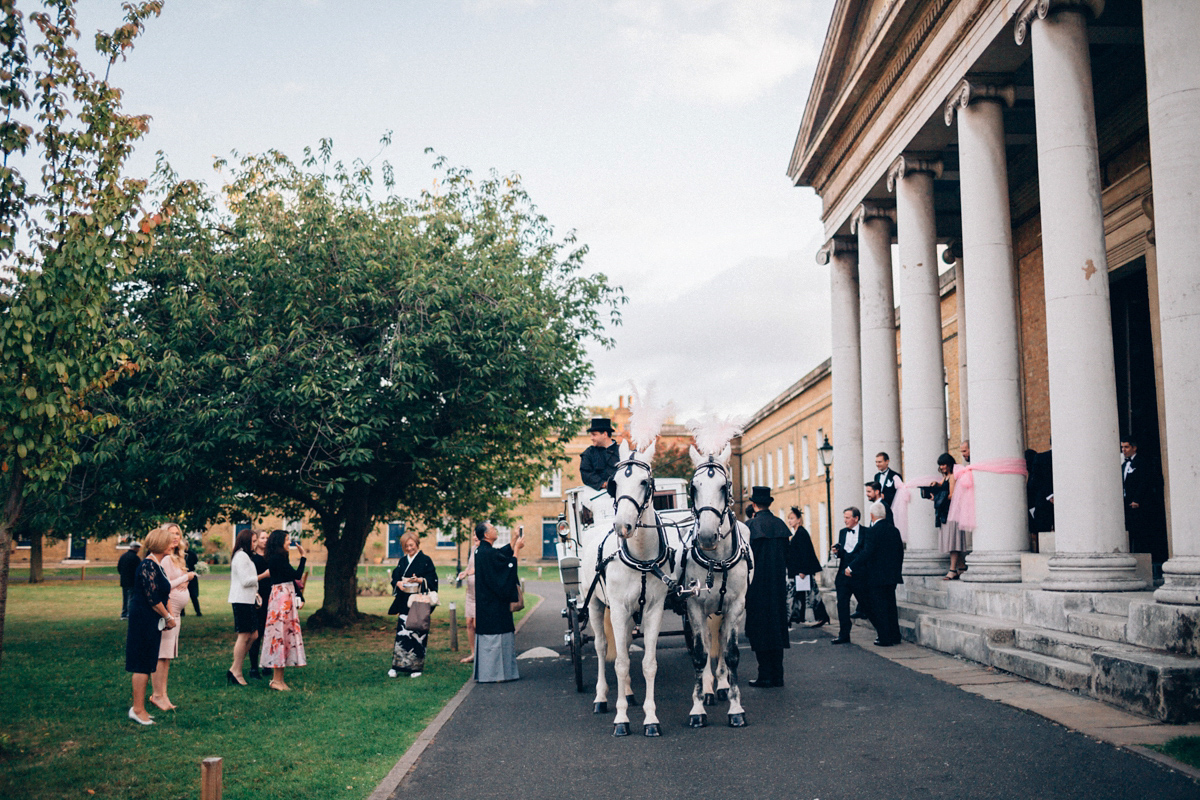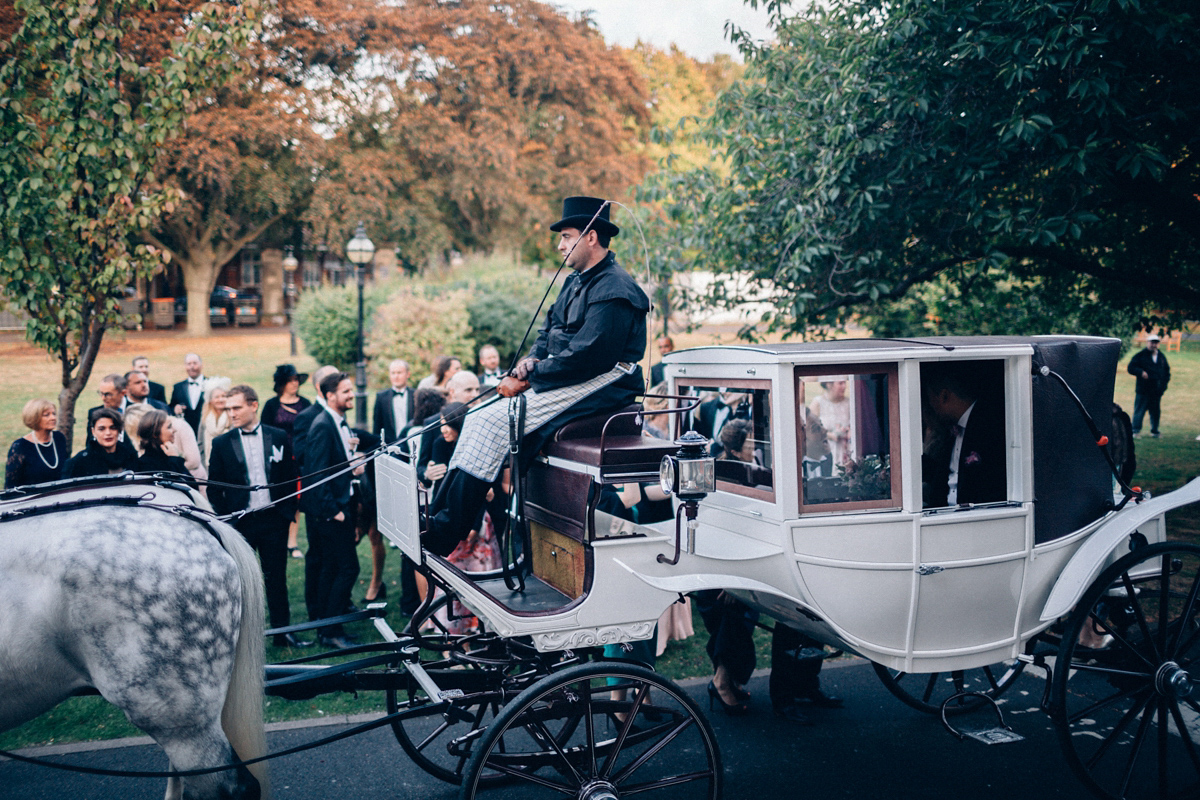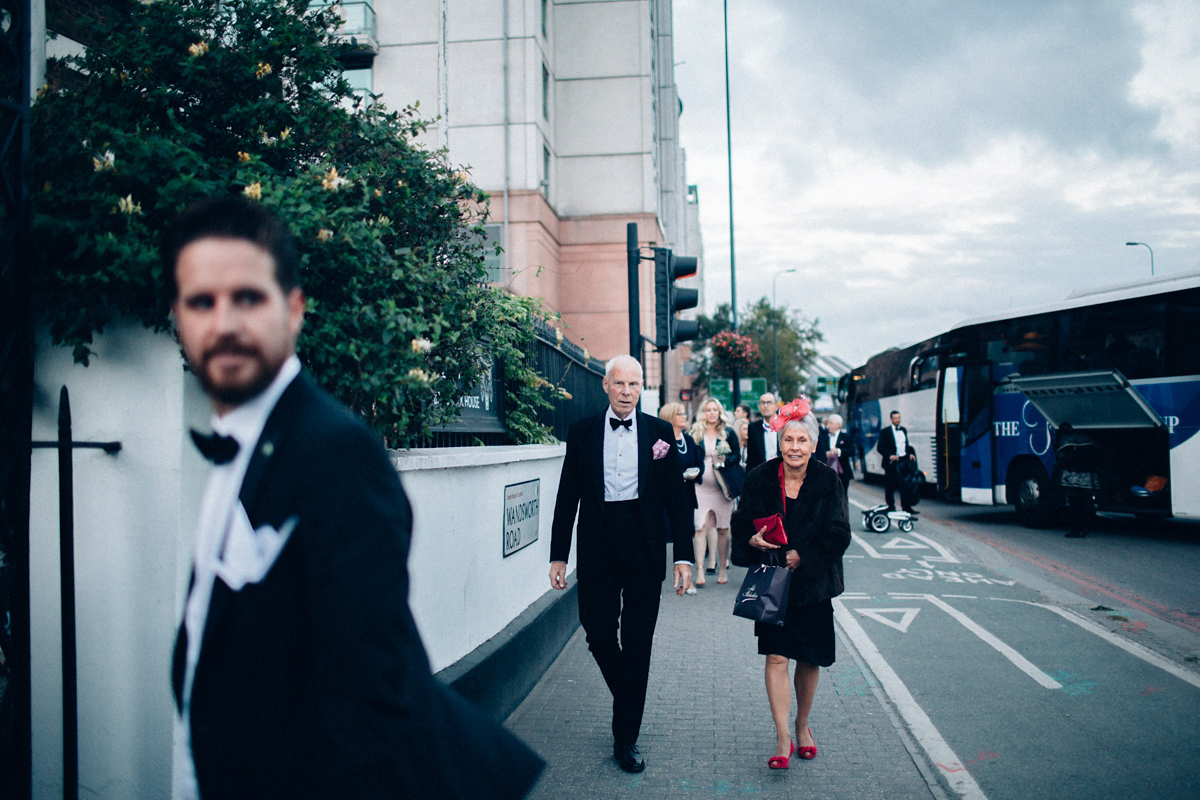 "Brunswick House perfectly matched the theme we were going for.  We are both avid lovers of all things antique and vintage so the venue being an active reclamation yard was perfect."
"Jo Auger, the coordinator of the venue, was so accommodating and really supportive of our vision."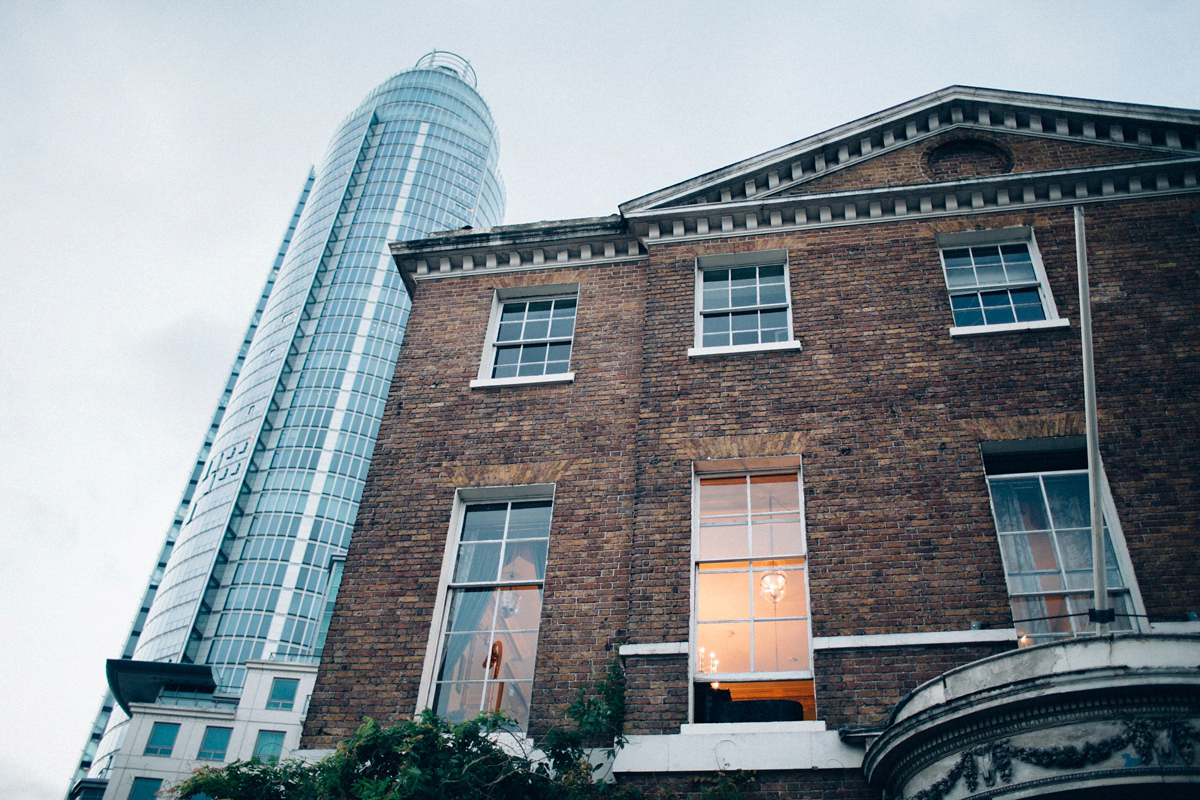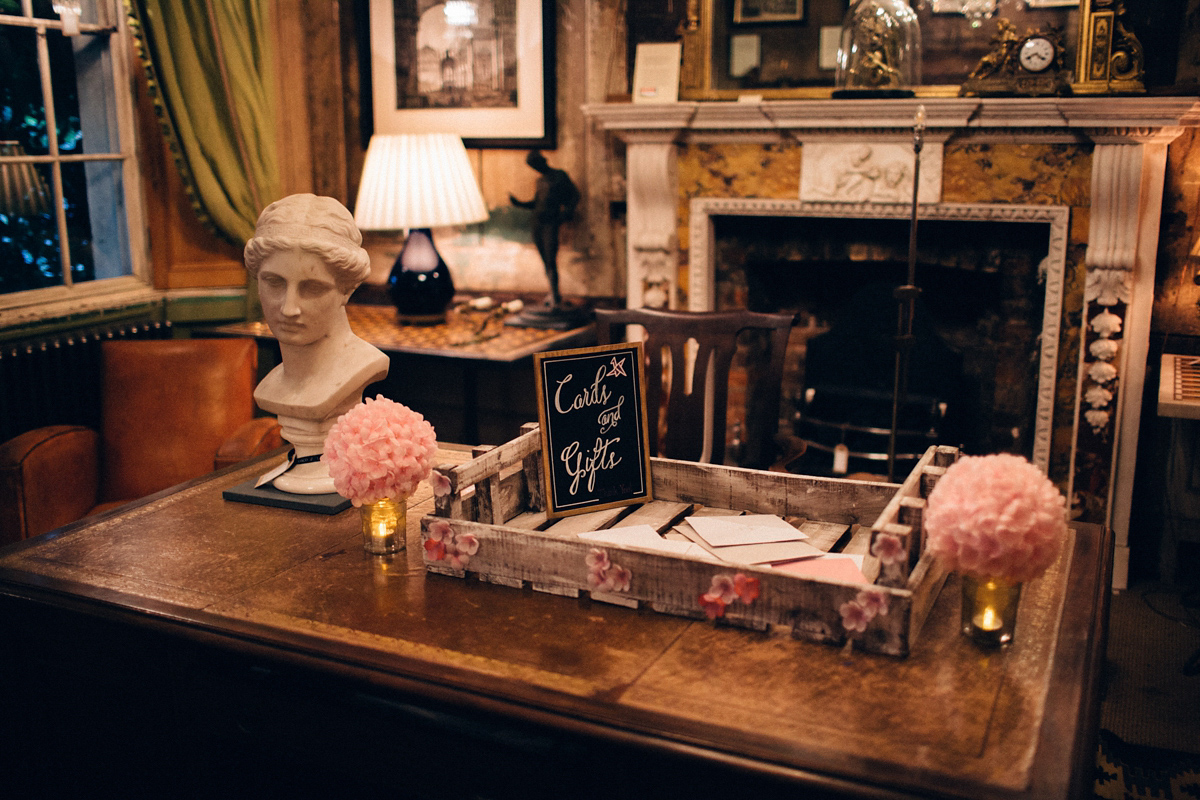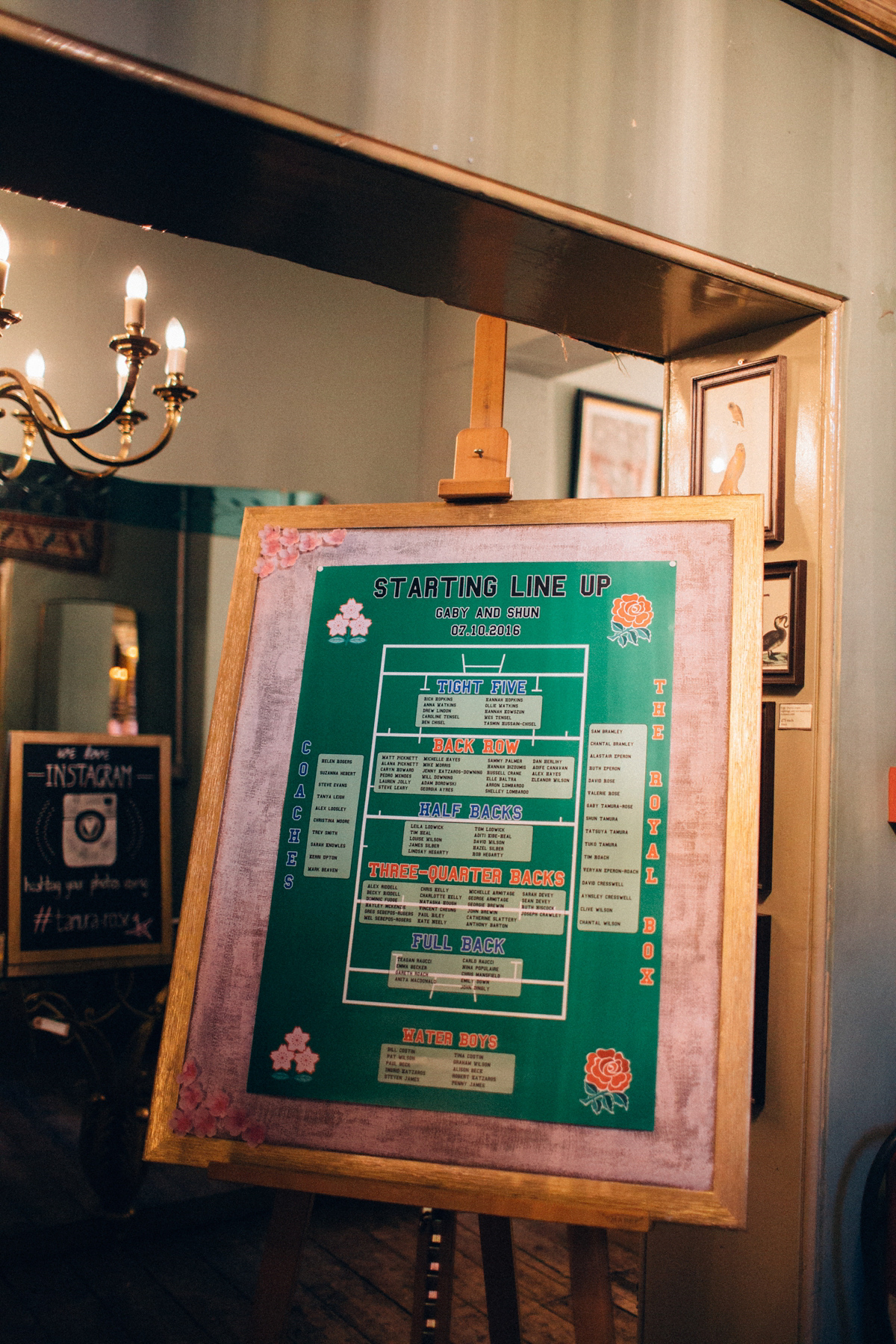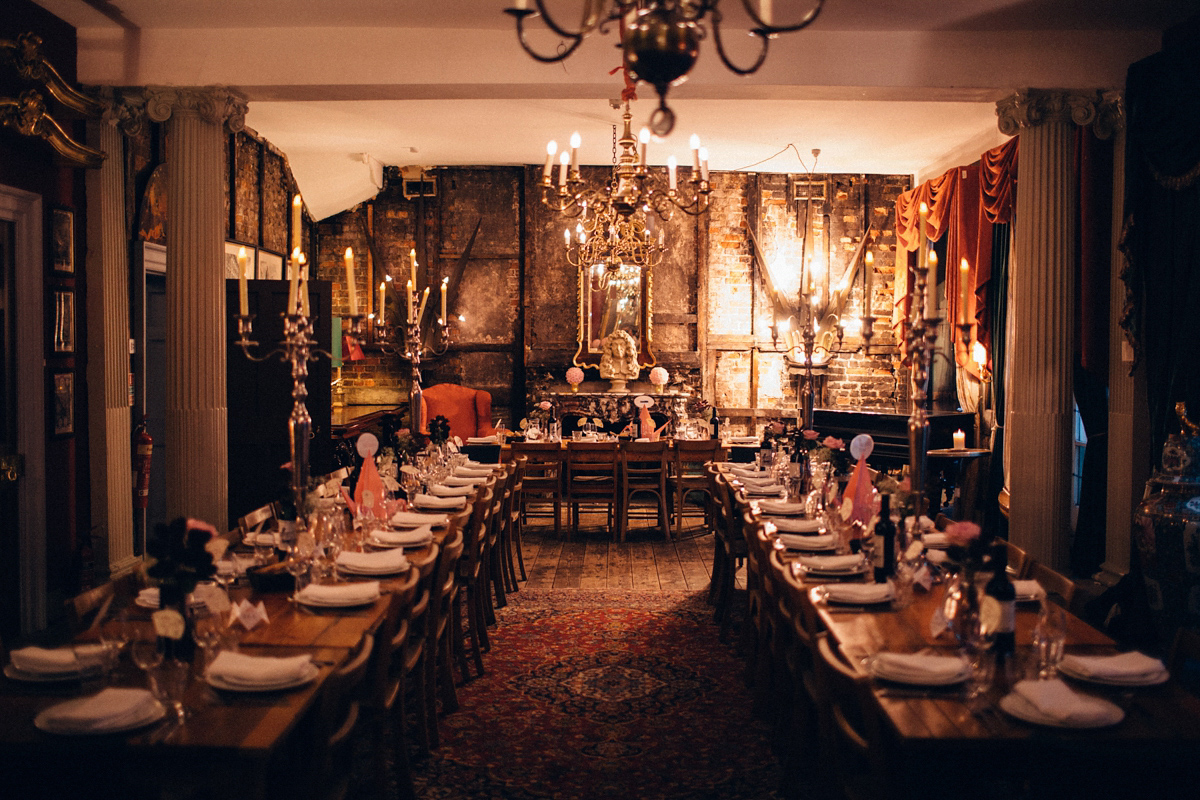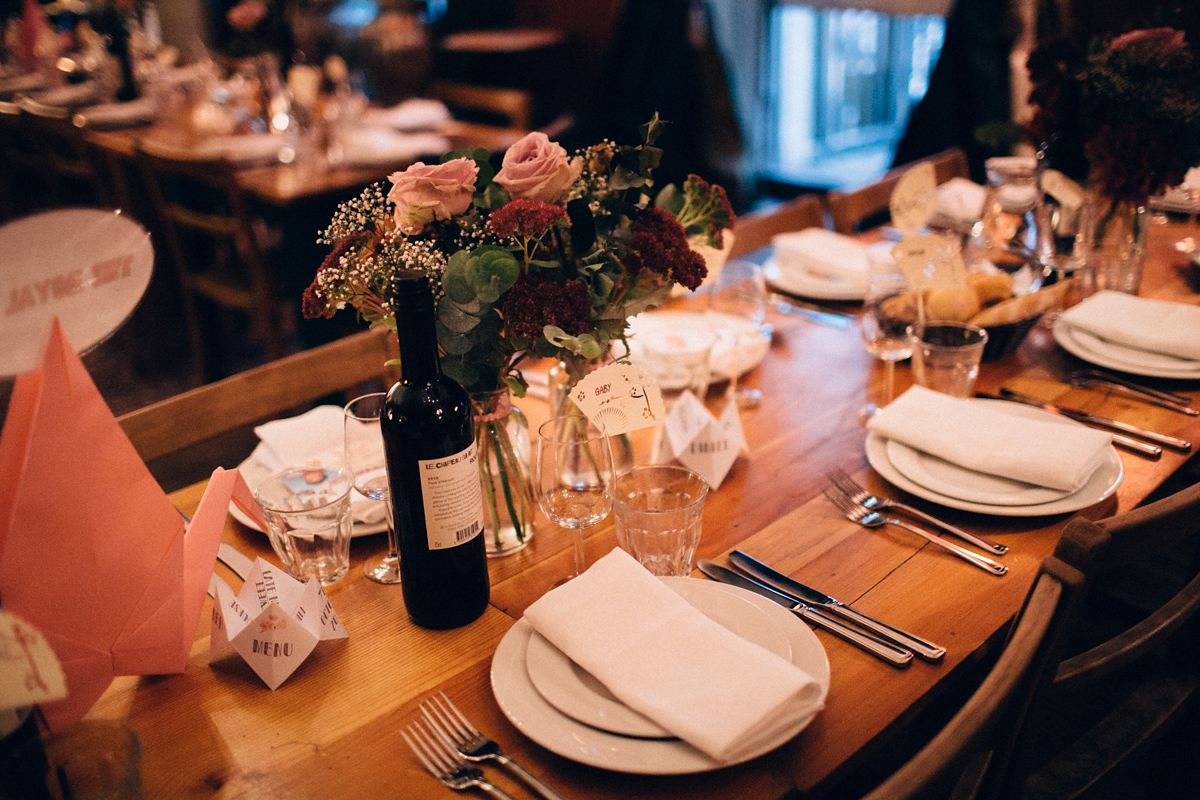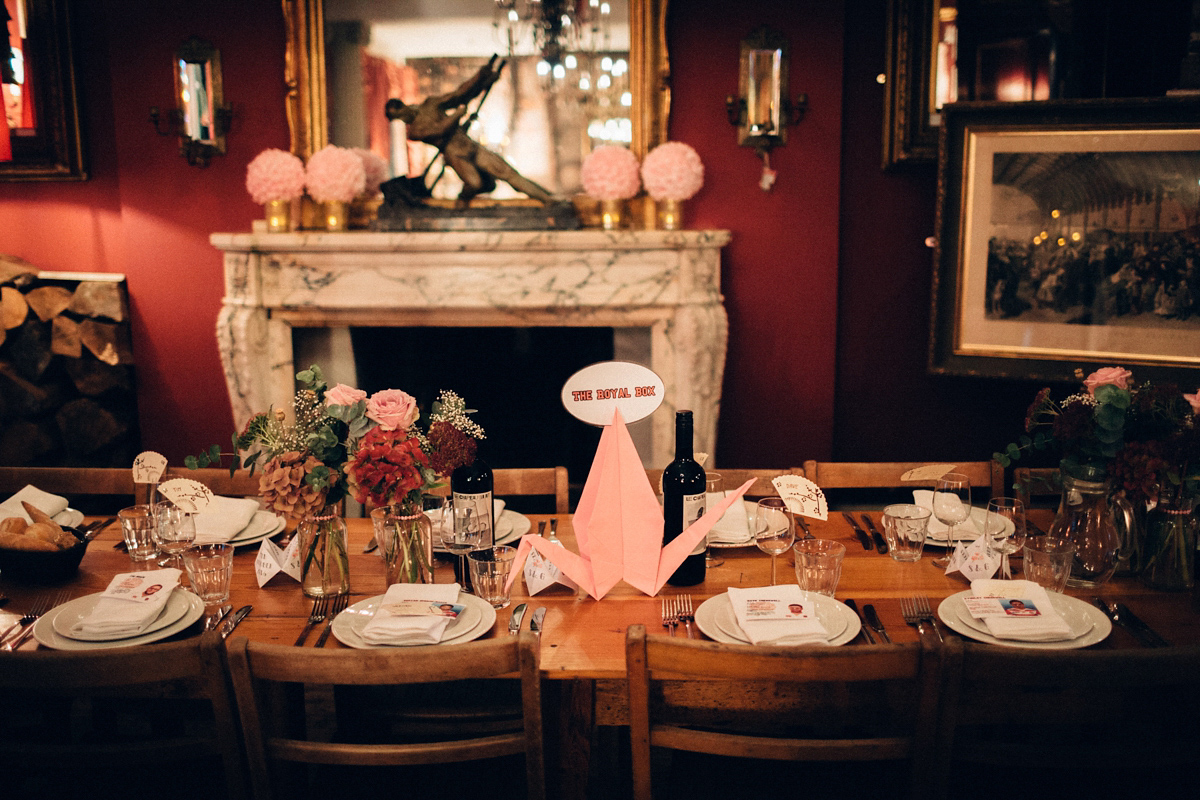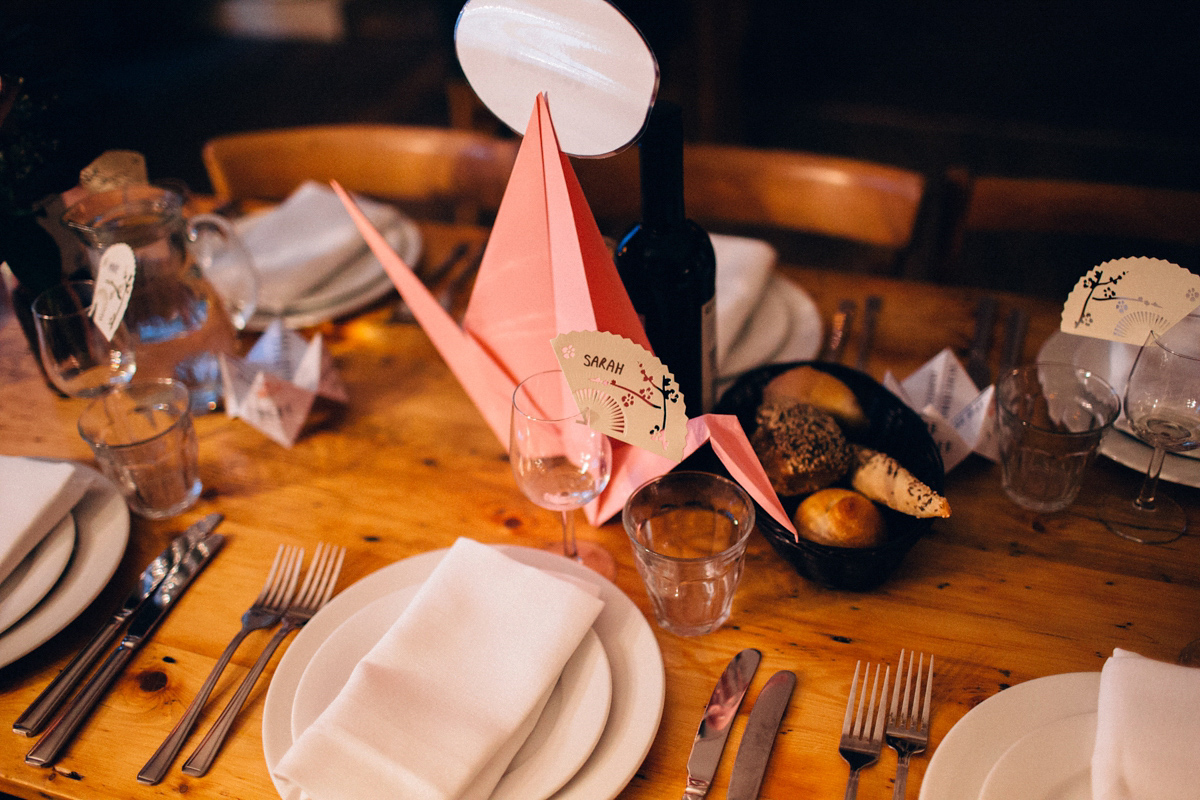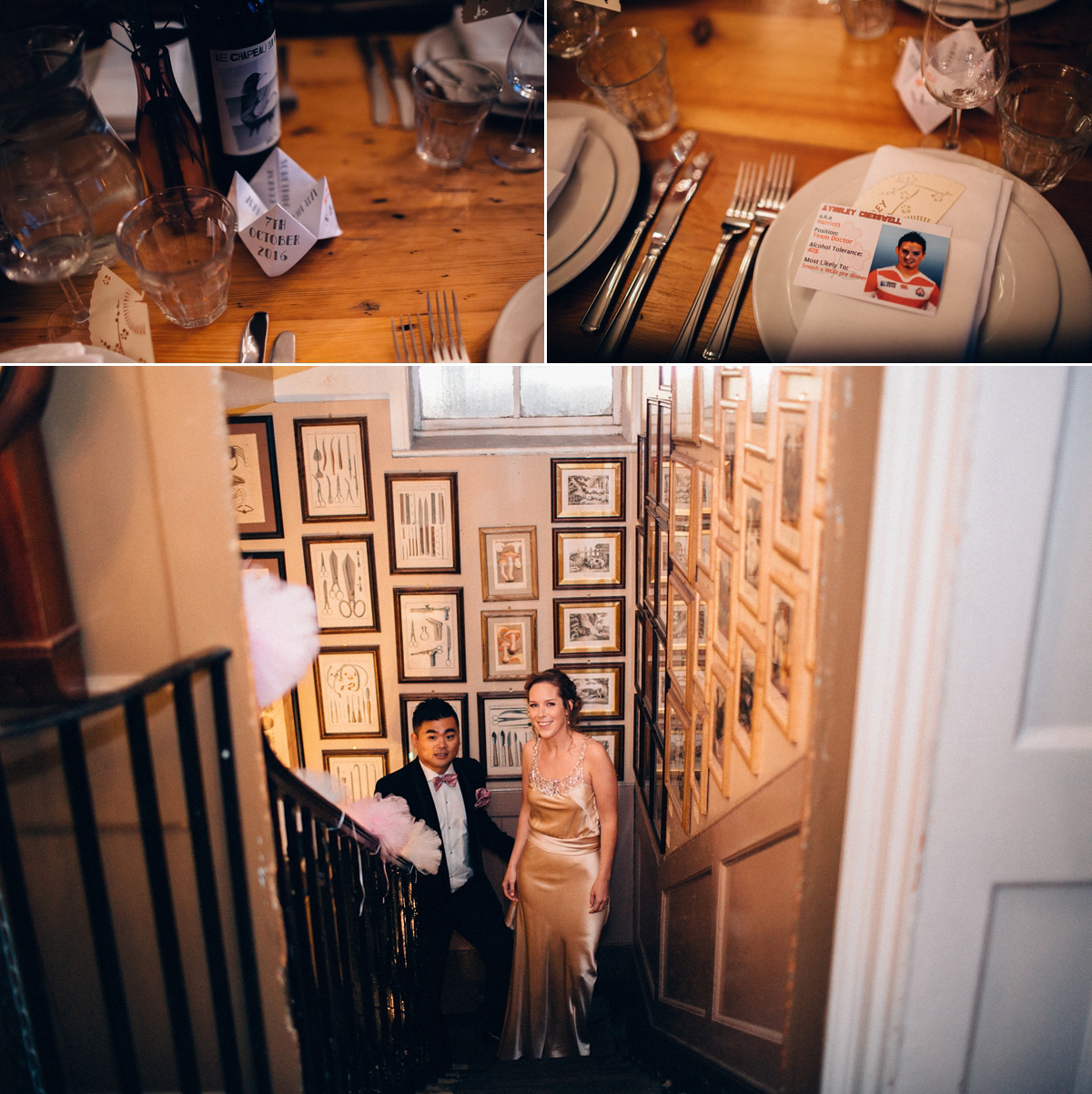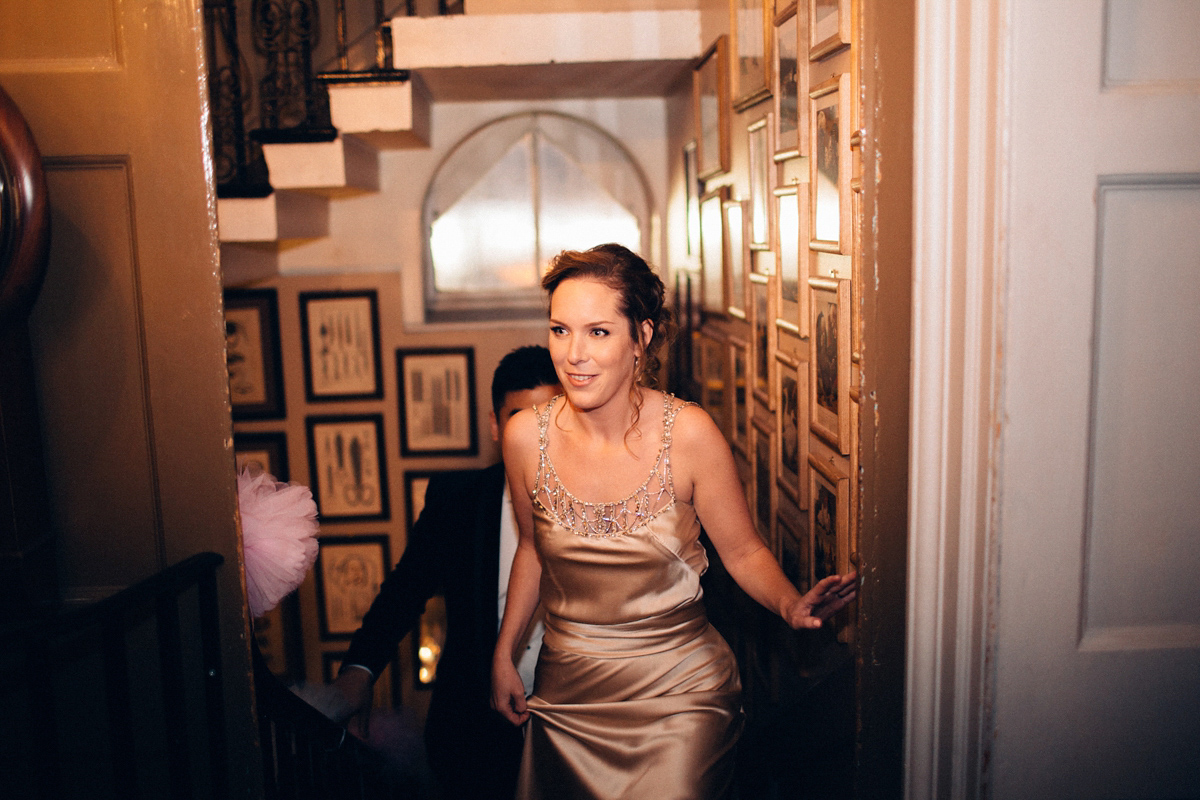 "Shun created 'player profiles' for all of our guests.  He photoshopped their face onto a selection of Japanese or English rugby player head shots and we created statistics of 'most likely to', 'alcohol tolerance', 'AKA', and placed them underneath guests plates for some fun during dinner.  We also gave the male guests origami cranes to put into their button holes."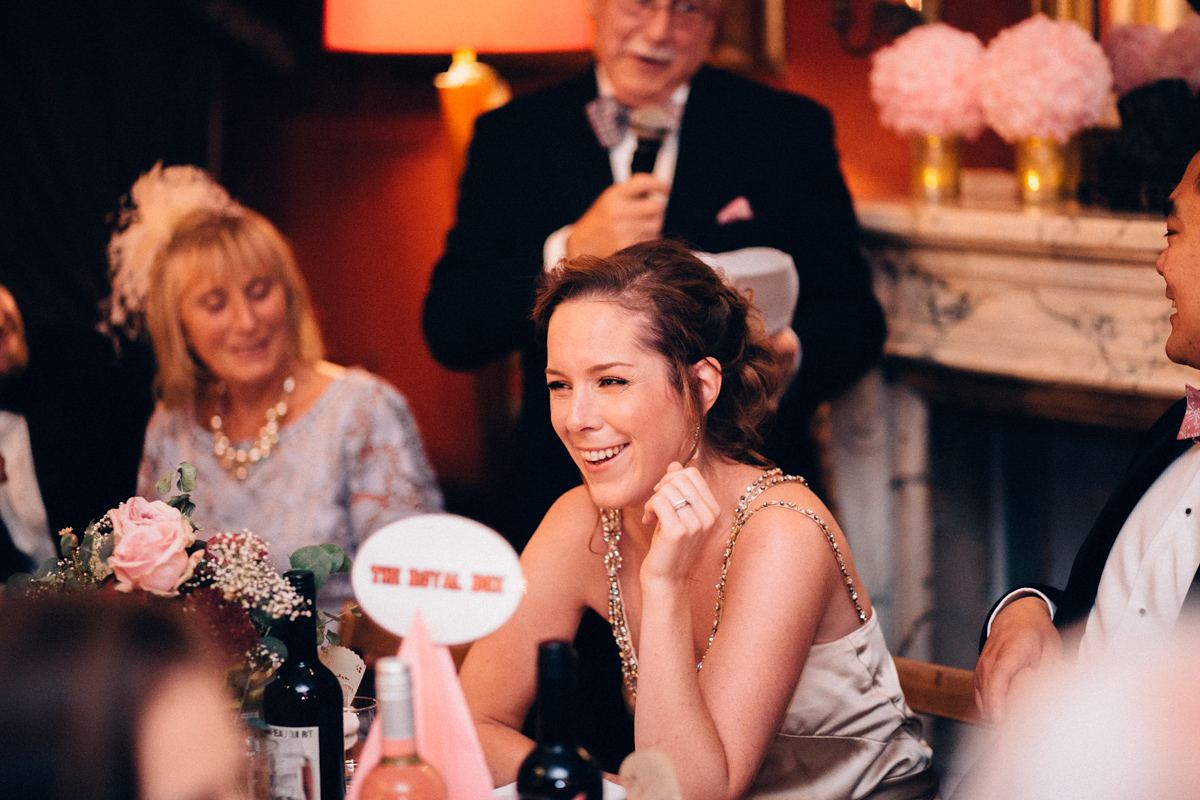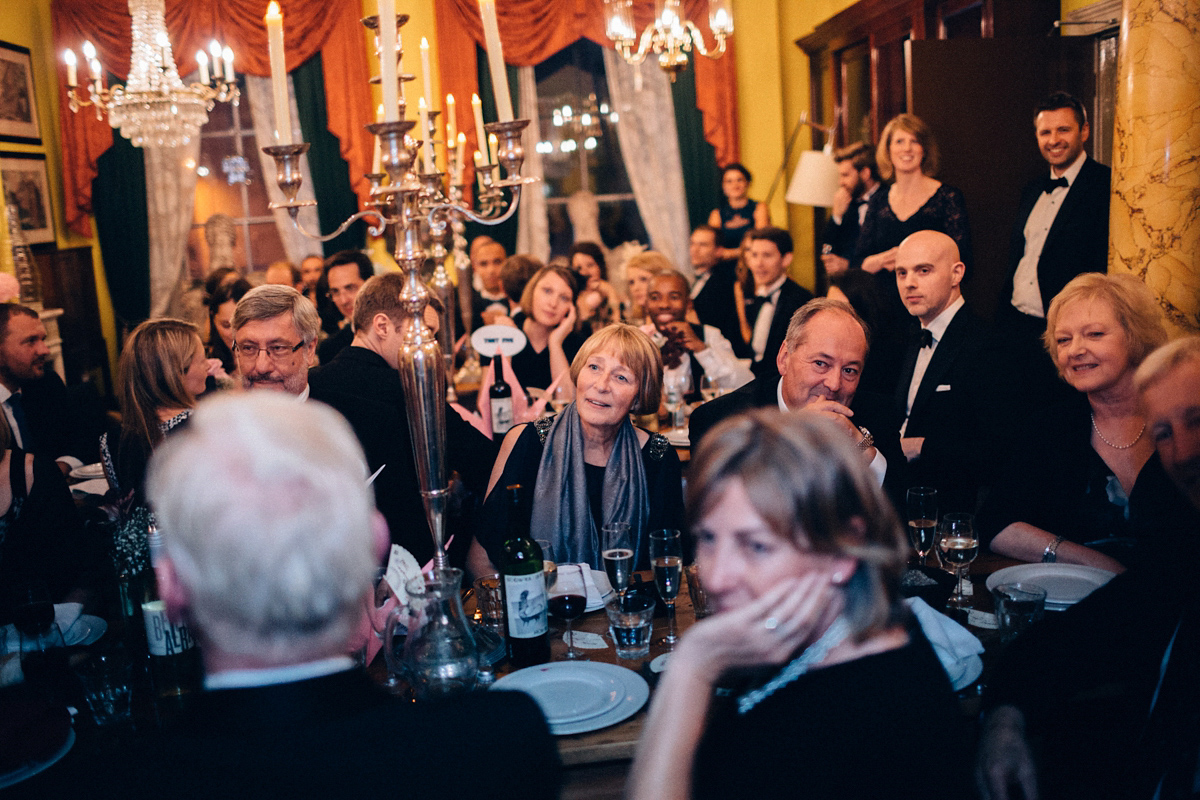 "Our favourite cake is red velvet so we splurged and went to the best, Hummingbird Bakery, for 100 mini cupcakes.  In Japan, it is traditional to break open a barrel of sake to mark your wedding, so we chose to focus on this instead of cake cutting."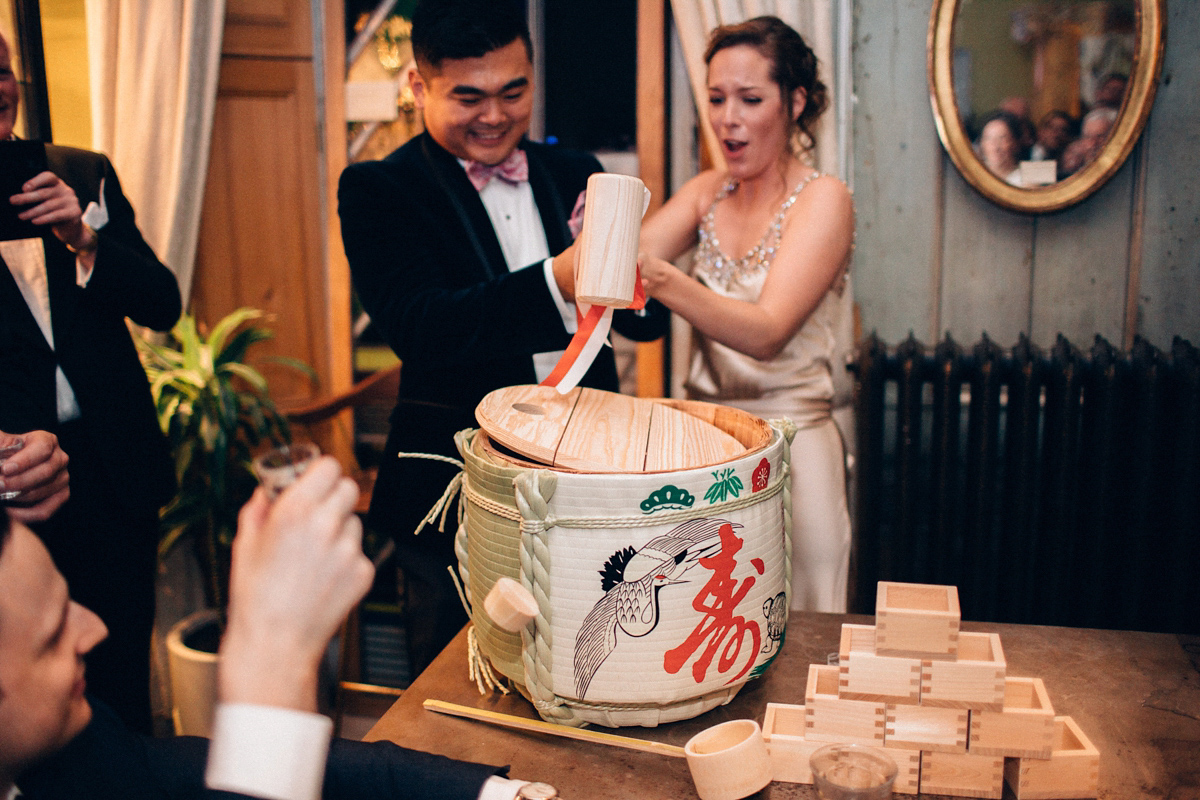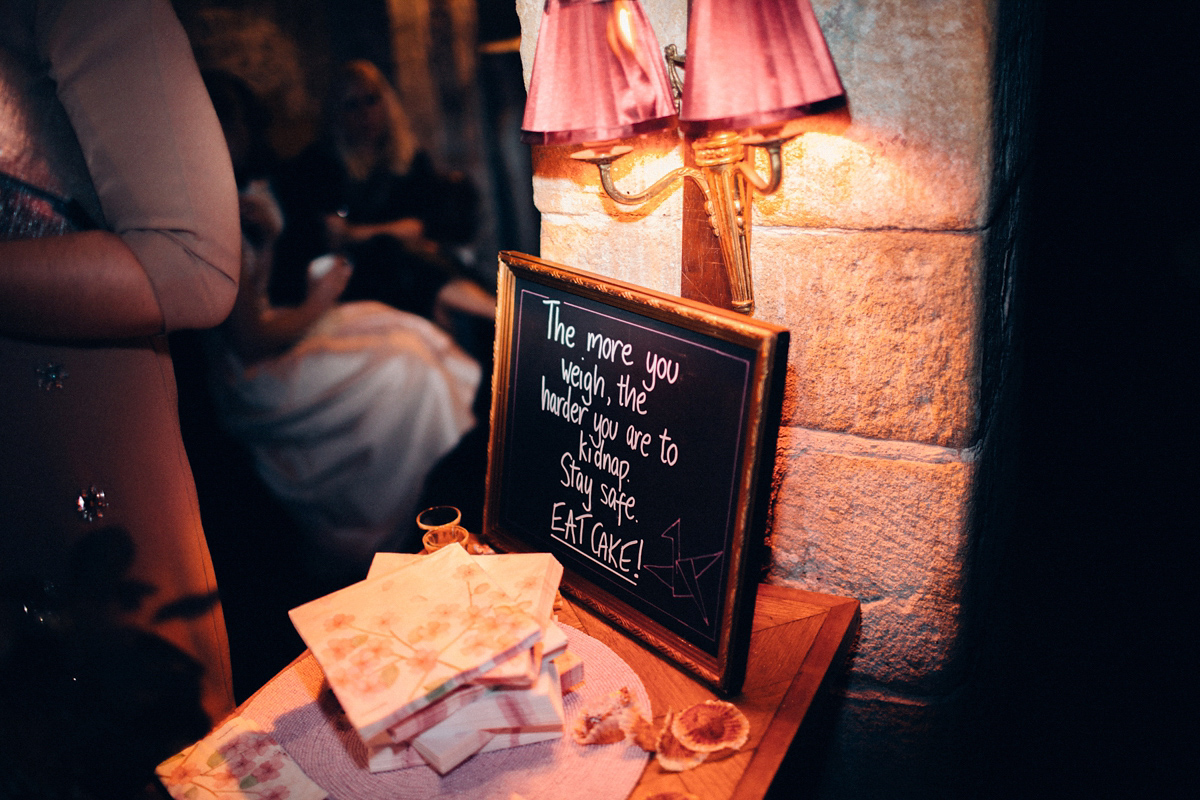 "My favourite part of the day was Shun carrying me across the threshold to the fancy hotel suite he had booked for us and us changing into hotel dressing gowns with a cup of tea knowing we had just had the most magical of days."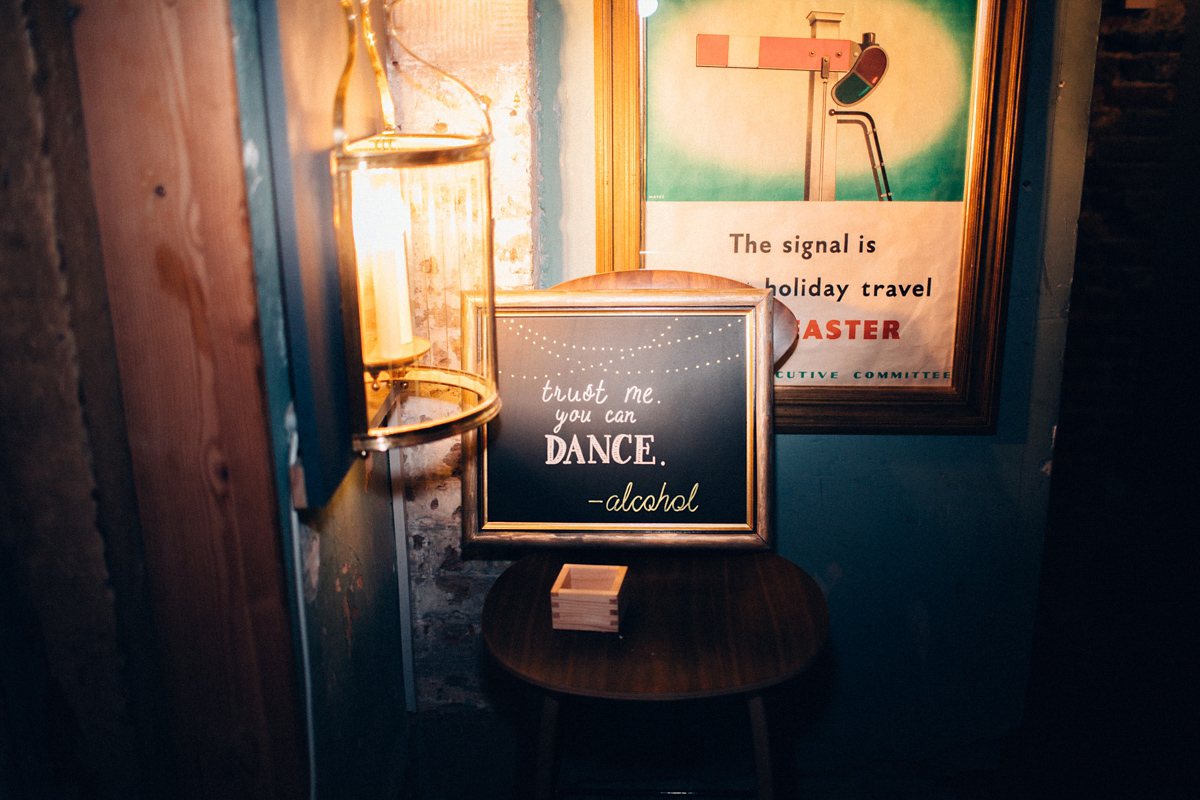 Words of Wedded Wisdom
"Enjoy every moment!  One of my friends gave me some advice from her father who is a vicar – pause at the start of the aisle before you walk down to meet your partner and just take a moment to soak it all up."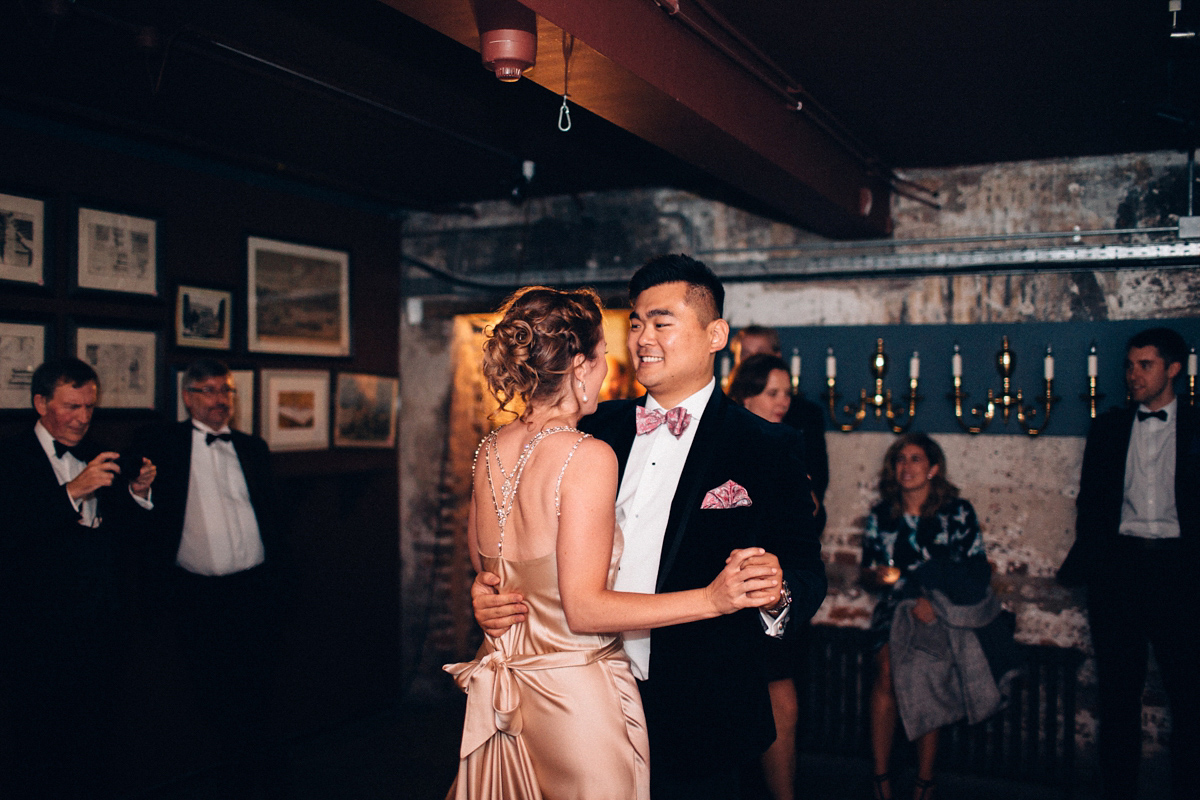 So many thanks to Gaby and Shun for sharing this beautiful and unique day.  I love this venue and love seeing how every couple makes it 'theirs' and decorates differently.  To see more weddings at Asylum, take a look here.
Love,
S x