I absolutely love reading about how couple's describe their wedding style.  Bride Celia's description of this gorgeous wedding as 'decaying, grand Dutch still-life meets cosy shindig in a pub' is utterly wonderful and I can see entirely what she means.  Intrigued?  Read on.
Video producer Celia married her political pollster love Glenn on the 11th March 2017 at Asylum, Peckham, followed by a reception at The Easton pub in Clerkenwell.  The London base of the day reflected the roots they have put down in the city as a family and their small daughter Margot was a major part of the day.
"We wanted it to feel urban, relaxed, intimate, have a real sense of place, and capture some of the crumbling history we tend to take for granted in London. We also knew that an early March wedding could mean anything from snow to springlike weather, so we needed the colour scheme to feel warm and welcoming but not too heavy. That translated into rich, saturated shades of berry and teal green, with lighter pops of blush and cream, lots of brass and gold accents and as much candlelight as possible."
Photography by Emma Boileau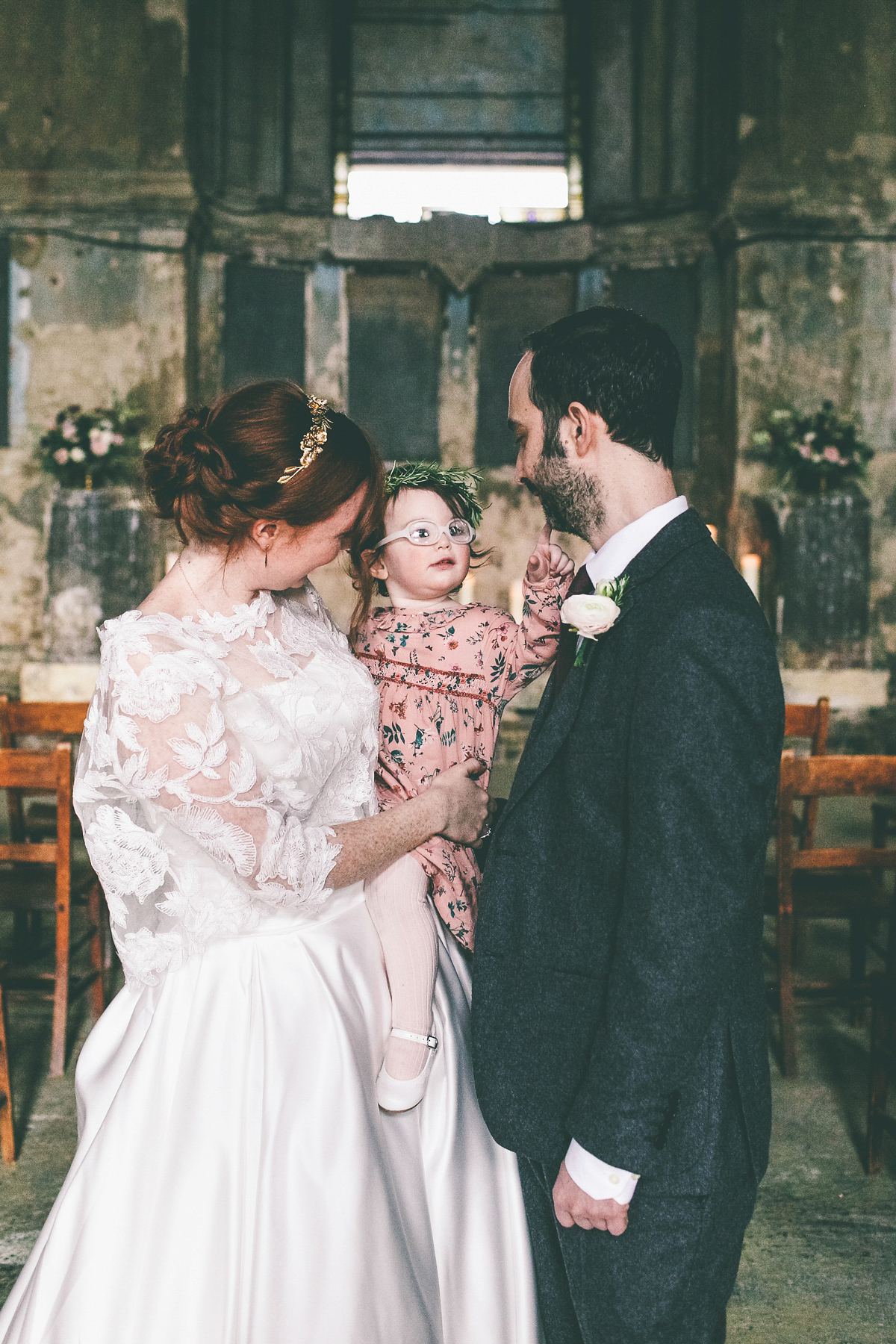 Celia looked wonderful in 'Marsala' by Herm's Bridal, which she purchased from Brides of Berkhamsted.  She teamed the dress with a Tadashi Shoji topper which she purchased online from BHLDN.  I adore how the two pieces work so beautifully together.
"I started dress shopping when our daughter was six months old, which was tricky on a few levels as it was logistically tough leaving her for long enough to visit boutiques and I wasn't feeling particularly body confident. I almost bought a high street dress, but on a trip to Brides of Berkhamsted, I was tempted by the simplicity and amazing fabric of Marsala.""The inbuilt corsetry meant that I felt held in in all the right places, but not constricted, and the exaggerated silhouette made my waist feel tiny. It actually comes with a different bolero, which was very beautiful but felt a bit classic for me, so I hunted around until I found one with a more modern, graphic lace pattern that felt less formal.  Seamstress Dawn worked her magic and turned it into exactly what I imagined."
Celia sported rose gold heels from River Island, while in her hair she wore a gold floral headpiece which she found on Etsy via Avigail Adam.
For scent she layered Jo Malone's 'Blackberry and Bay' and 'Wood Sage and Sea Salt', and for jewellery she chose a pair of vintage earrings borrowed from her mum.  Finally, she wore a a gold heart necklace from Posh Totty which was a wedding day present from Glenn.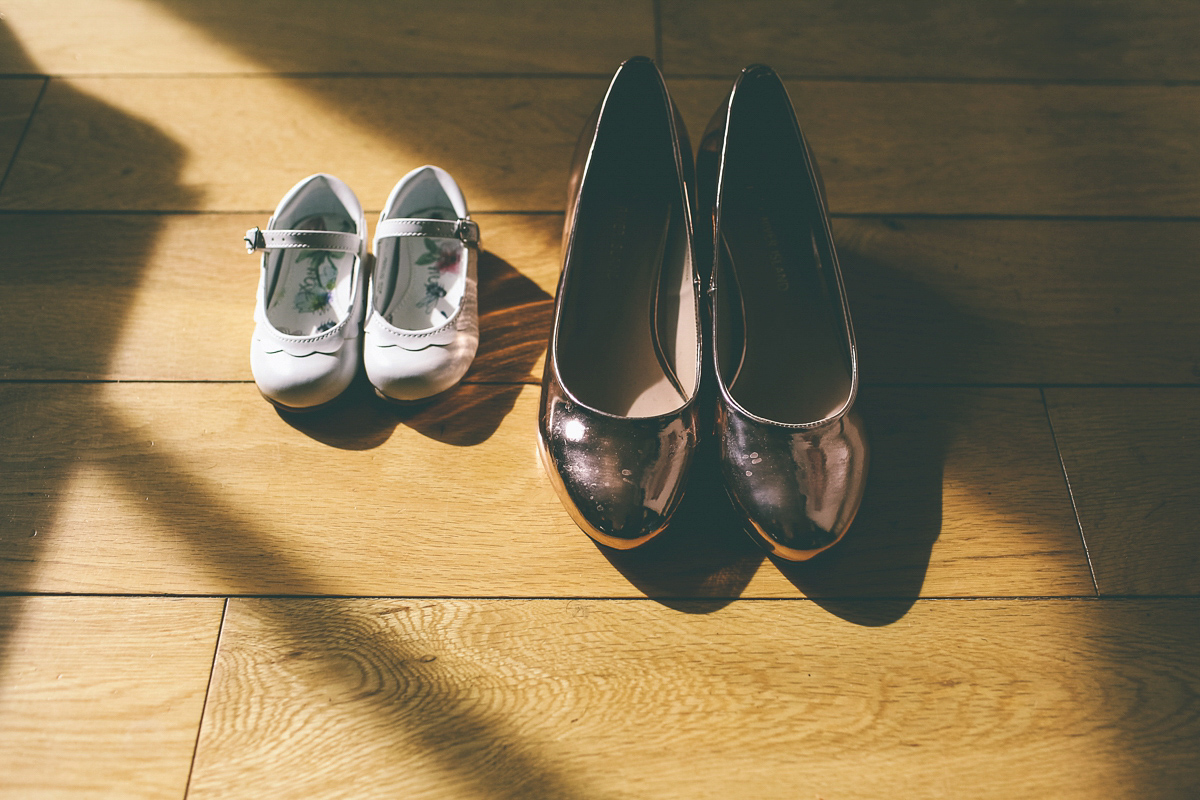 "After a disastrous hair and make-up trial six weeks before the wedding, I was frantically left hunting for someone very late in the game, and found my replacement, Kate Tighe from The Bridal Stylists, through Little Book for Brides."
"She did a brilliant job and was so lovely to have around whilst we got ready."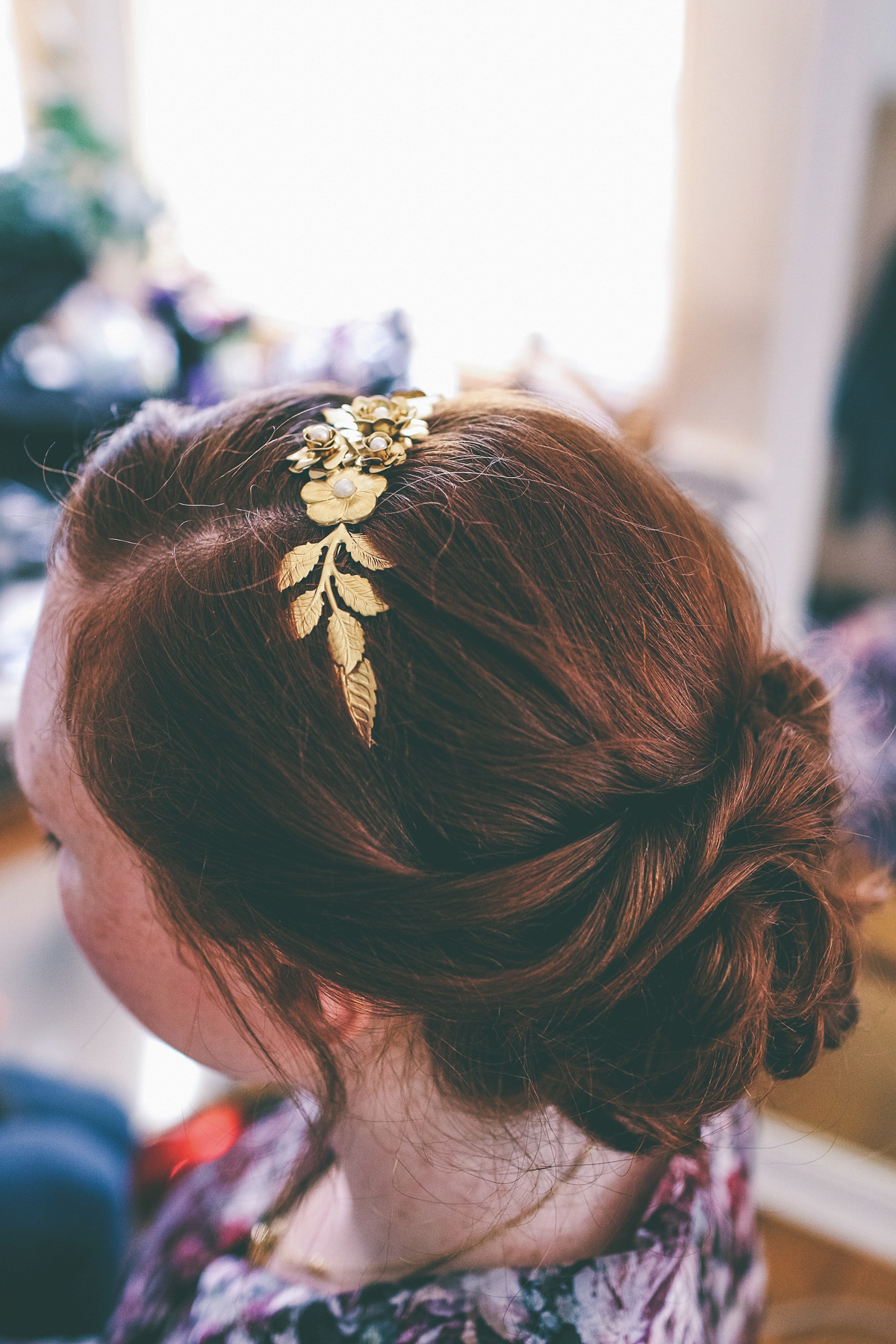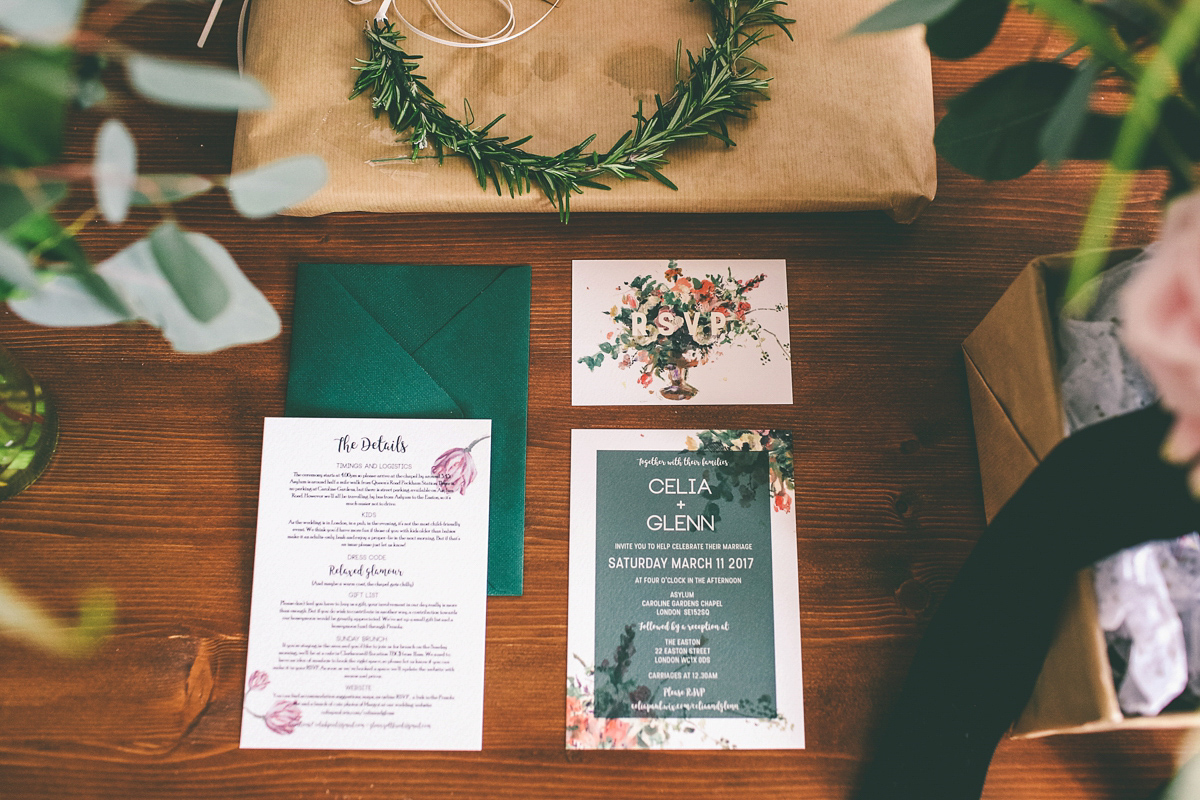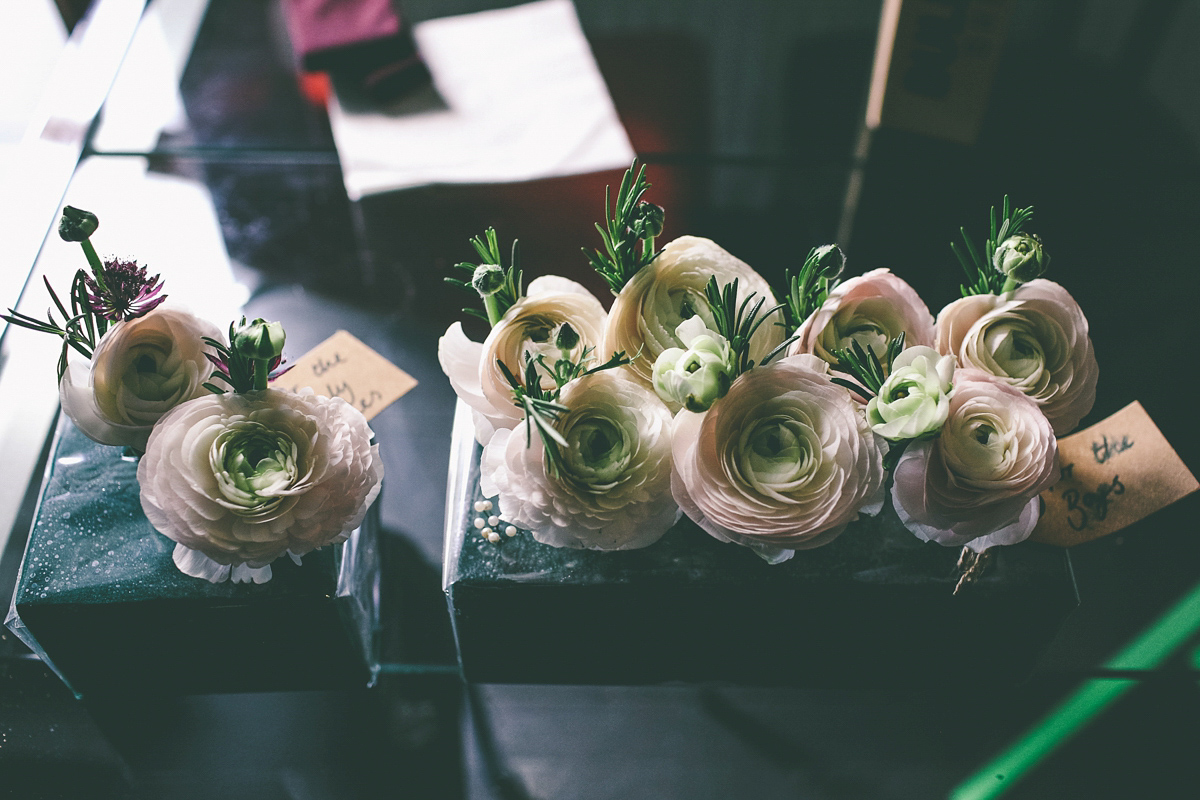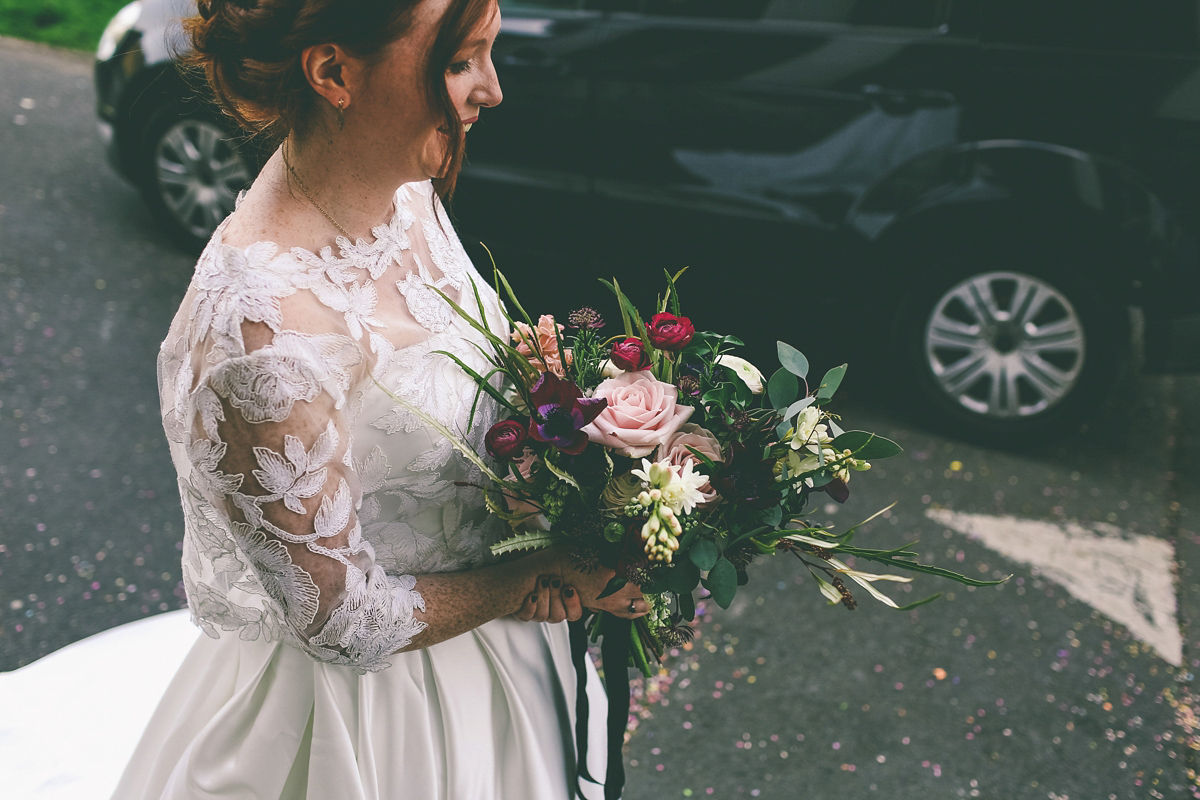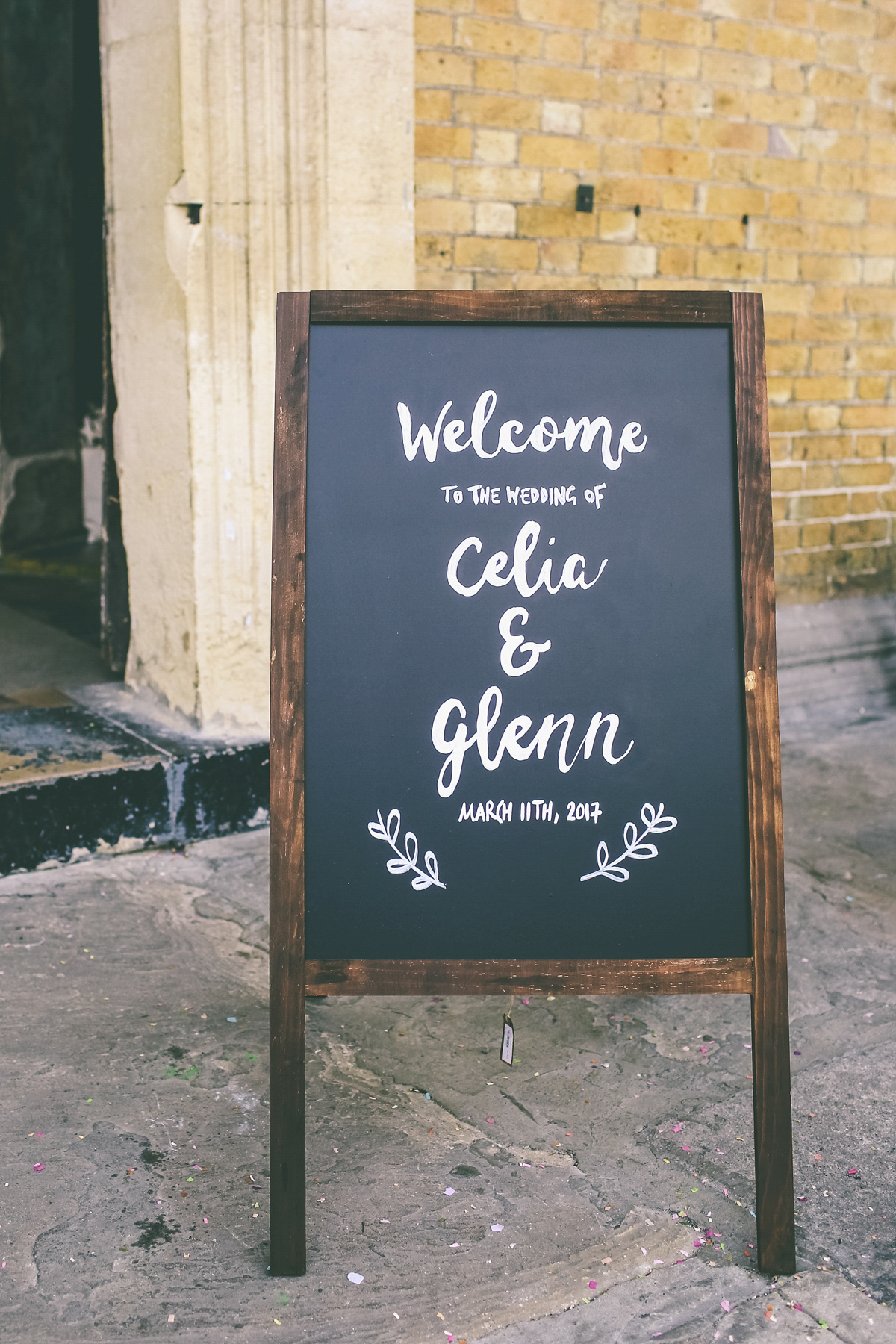 I love the fact the couple shared an intimate 'first look' with their little girl shortly before the ceremony.
"Glenn isn't a huge fan of shopping and eventually, with time running out, I sent him into central London with strict instructions not to come home without a suit!"
"Luckily he found the perfect three-piece Donegal wool suit in House of Fraser at a bargainous sale price, which he wore with a burgundy wool tie from Marks and Spencer and brown brogues."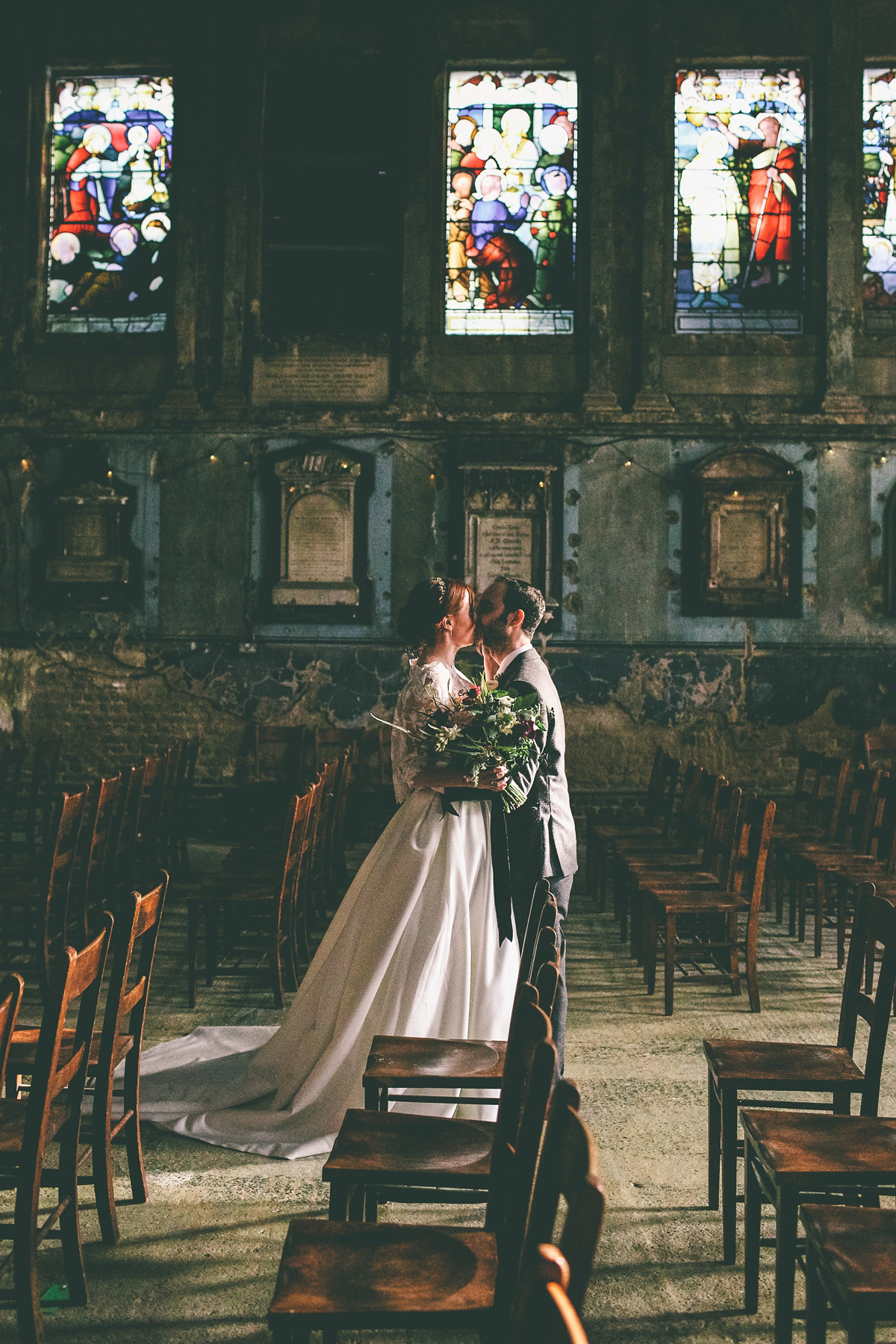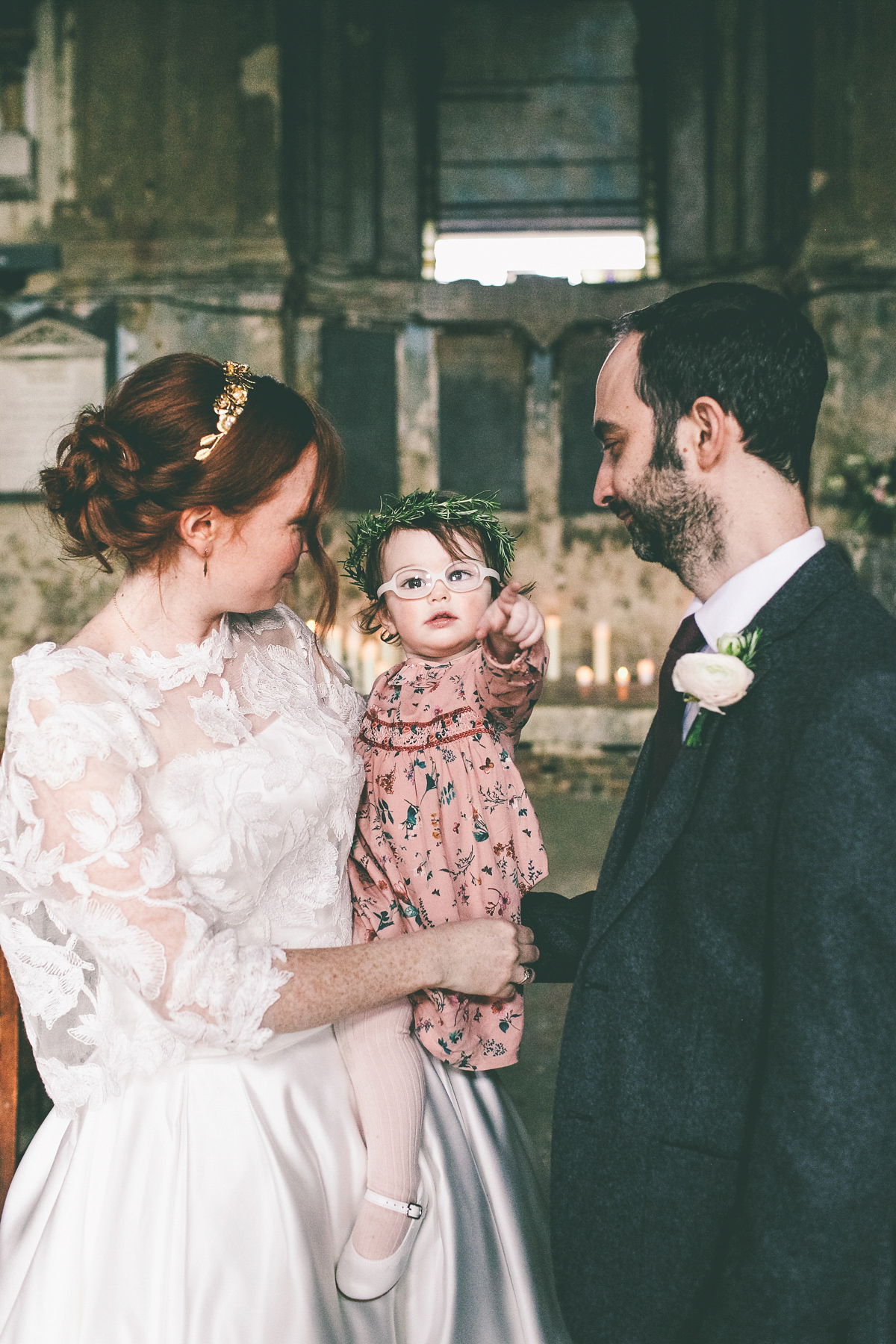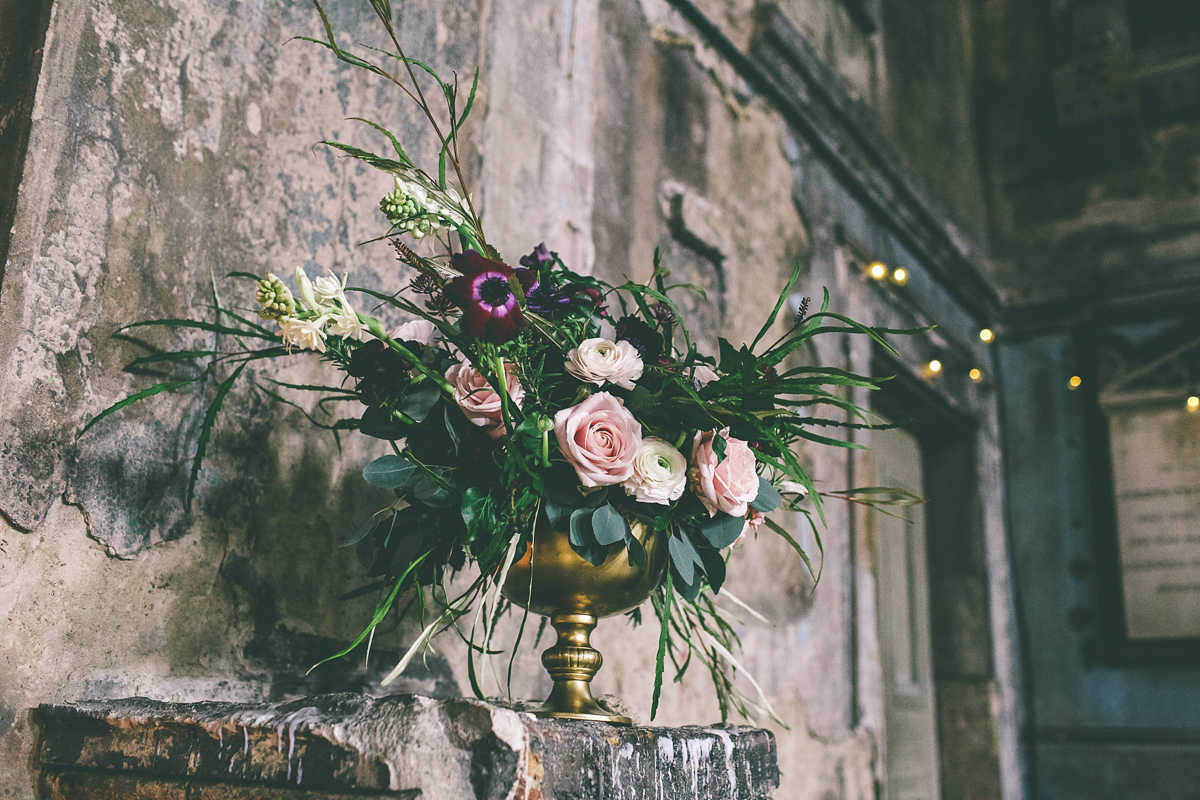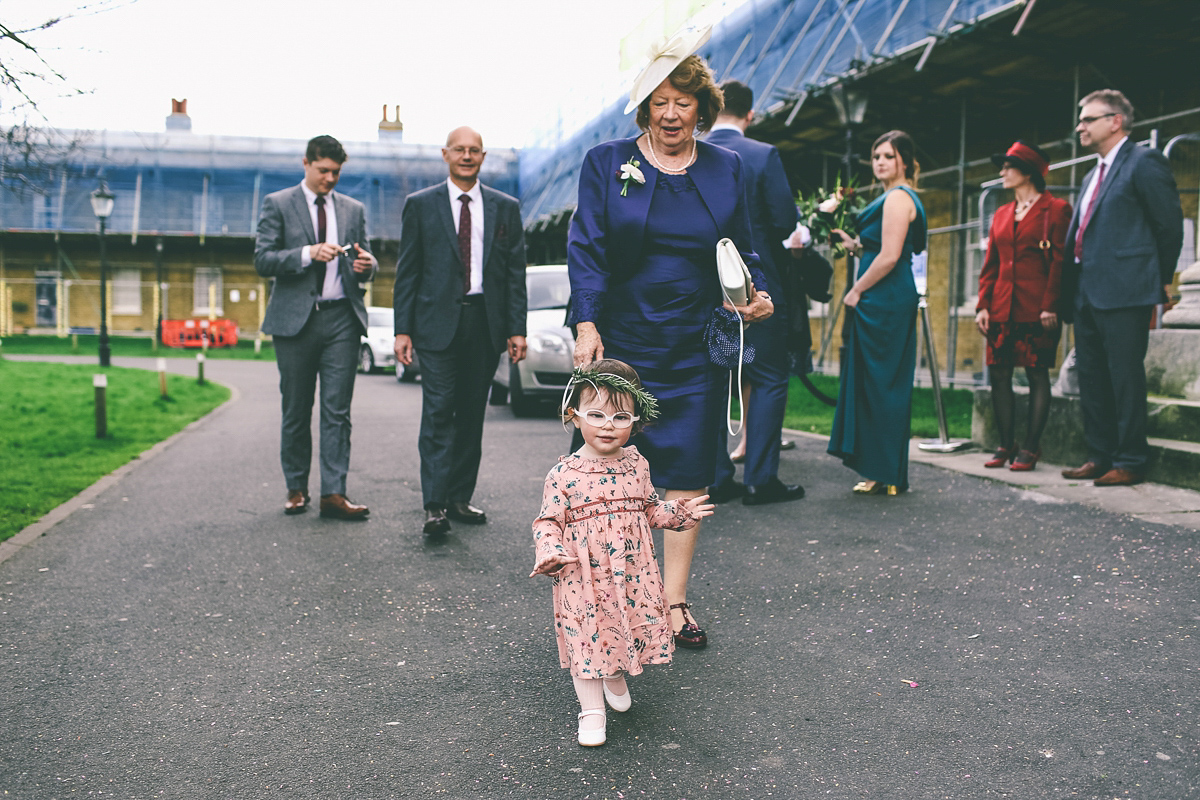 The two bridesmaids looked lovely in fabulous teal gowns from John Lewis, worn with gold leaf necklaces from Etsy and gold clutch bags from Katie Loxton.
Little Margot looked just gorgeous in a shirred floral dress and white shoes, both from Next and a herb crown made by Miss Victoria's Floral Emporium, who also did all the fabulous bouquets, buttonholes and arrangements for the chapel.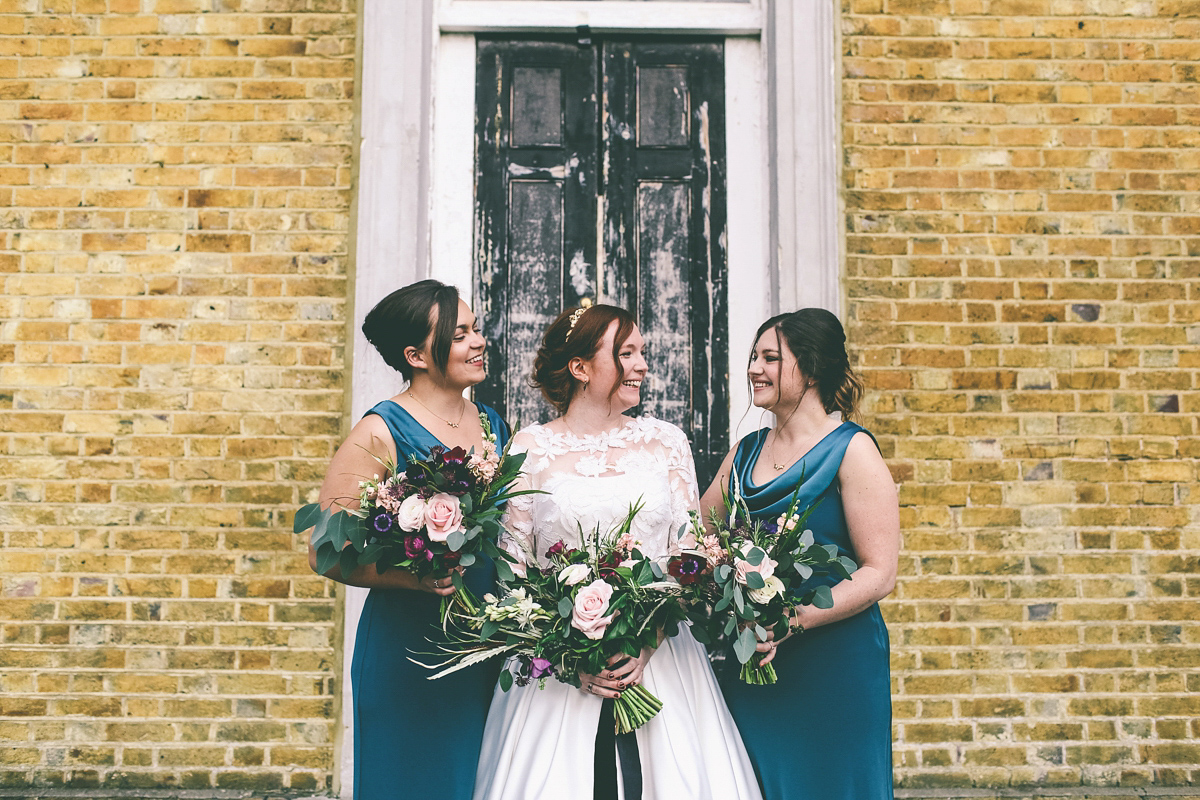 "Neither of us are religious, so a church ceremony didn't feel appropriate, but we really wanted a space that felt special and atmospheric – Asylum was the perfect choice.  Finding the right reception venue was trickier but we eventually discovered the Easton."
"The owner, Andrew, was so professional and helpful to work with, it's such a cosy and welcoming space and most importantly for us, the food is delicious.  It's also just around the corner from Exmouth market where I used to hang out when I first moved to London to study journalism, so it felt a bit like coming full circle."
Celia's Dad accompanied her down the aisle.
"My friends Natalie and Sarah are both beautiful singers and very kindly agreed to sing Cat Power's version of Sea of Love as I walked down the aisle, accompanied by our friend Ben on the ukelele.  Ben then sang and played during the signing of the register as well."
Celia and Glenn chose three readings; 'Wild Awake' by Hilary T Smith, 'Let Me Put It This Way' by Simon Armitage and a letter from John Steinbeck to his son about falling in love. Celia and Glenn chose three readings; 'Wild Awake' by Hilary T Smith, 'Let Me Put It This Way' by Simon Armitage and a letter from John Steinbeck to his son about falling in love.
The last line is wonderful – 'Don't worry about losing. If it is right, it happens. The main thing is not to hurry. Nothing good gets away.'
"I think the best word to describe our ceremony would be 'chaos'.  Our daughter insisted on being held all the way through, and when we got to the exchange of rings she thought Glenn was trying to take her away and started screaming and hitting his hand away."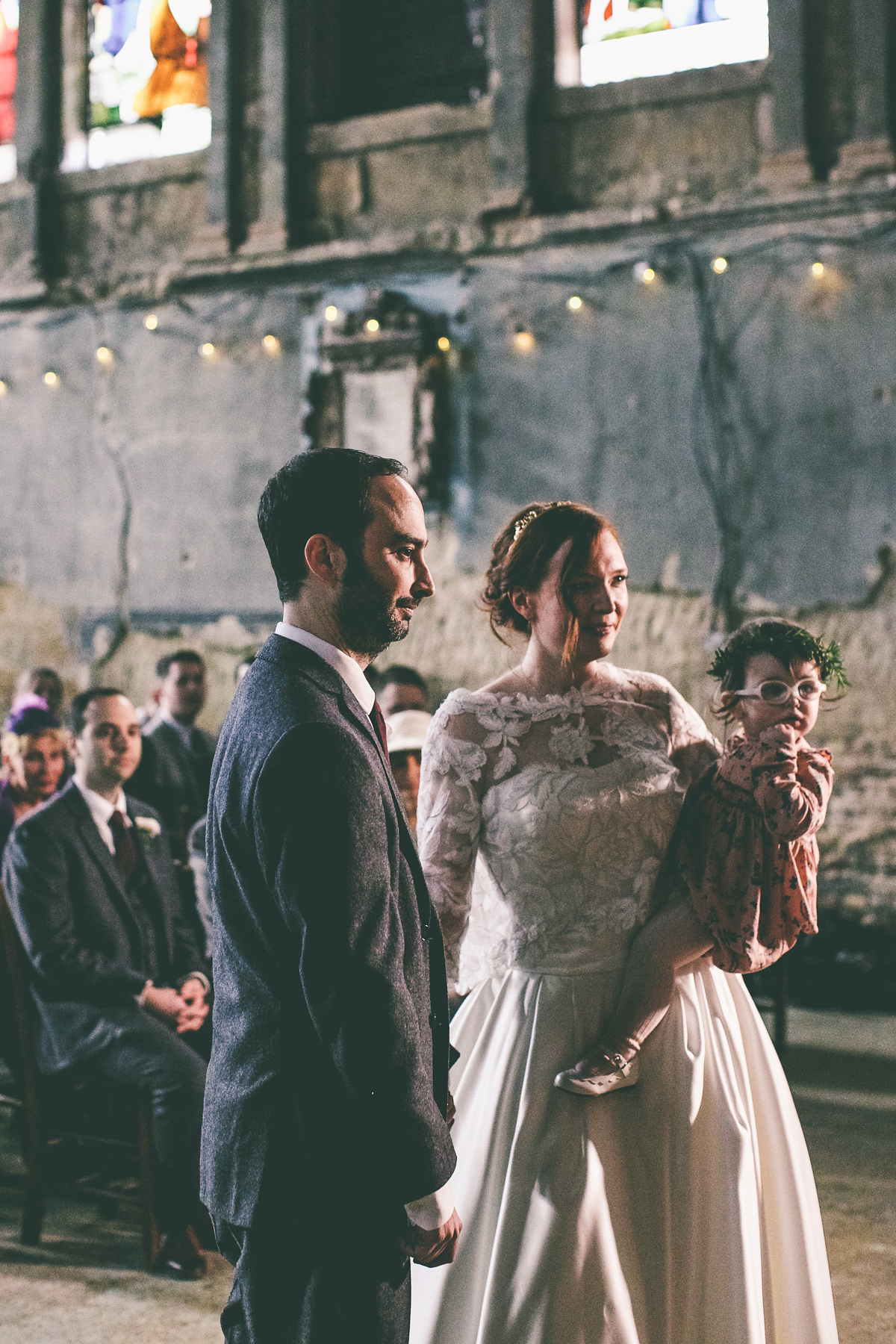 "We got so flustered he started trying to repeat my vows and we ended up giggling like crazy.  It was certainly memorable and I wouldn't change it for the world, but we're planning a child-free, romantic vow renewal on a beach somewhere at some point so we can really take in the words."
Today's incredible photographs come to us courtesy of Emma Boileau, whose gorgeous style has graced our blog pages a number of times before.
"We had a very specific style of photography in mind as we were looking for someone that would work with the dramatic lighting at Asylum and have an almost painterly style.  We found that in Emma and also found the nicest, most unobtrusive and hardest working photographer possible."
"We feel very lucky that she agreed to come down from Manchester and document our day, complete with toddler meltdowns, messy flats and overrun timings."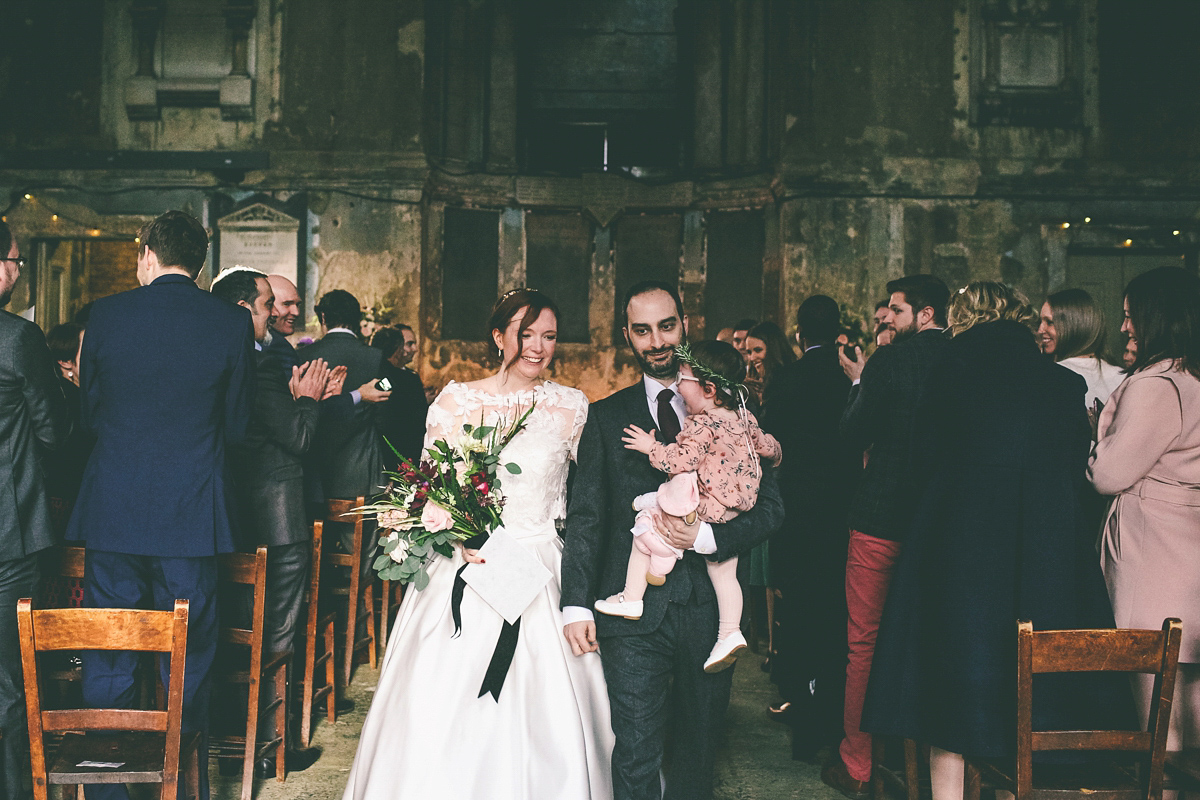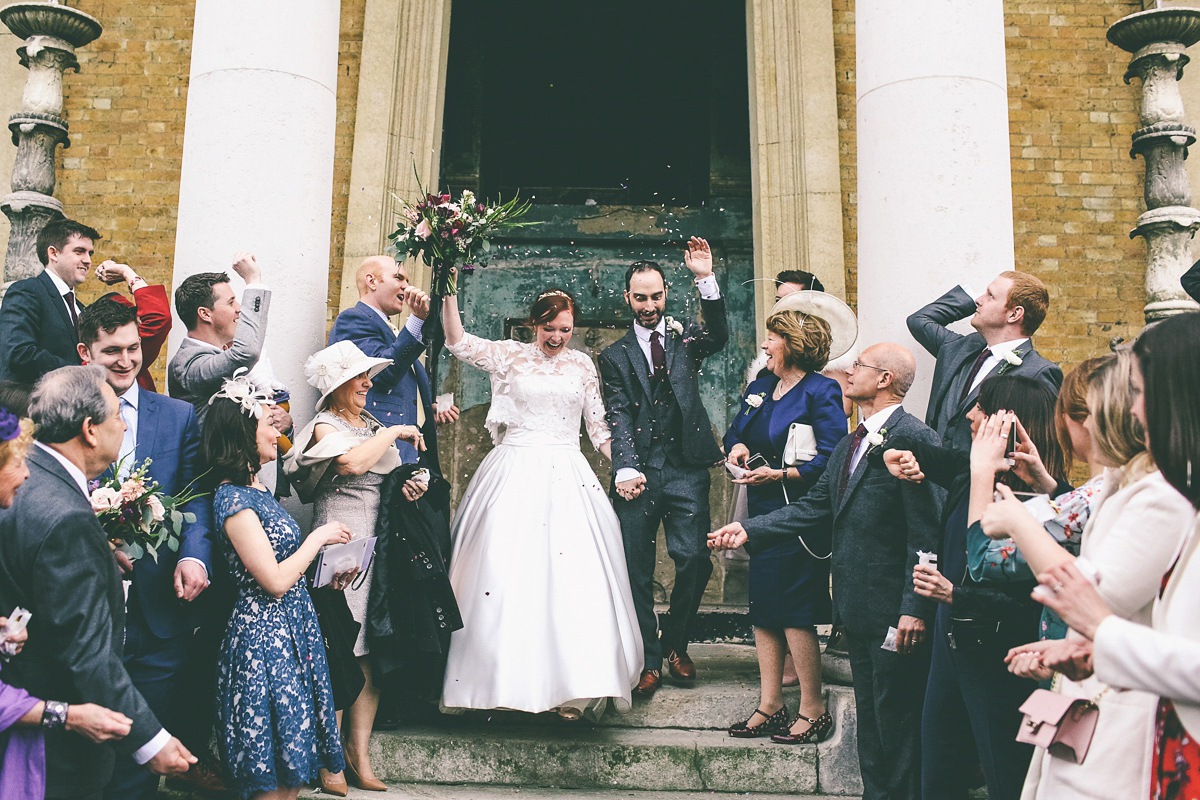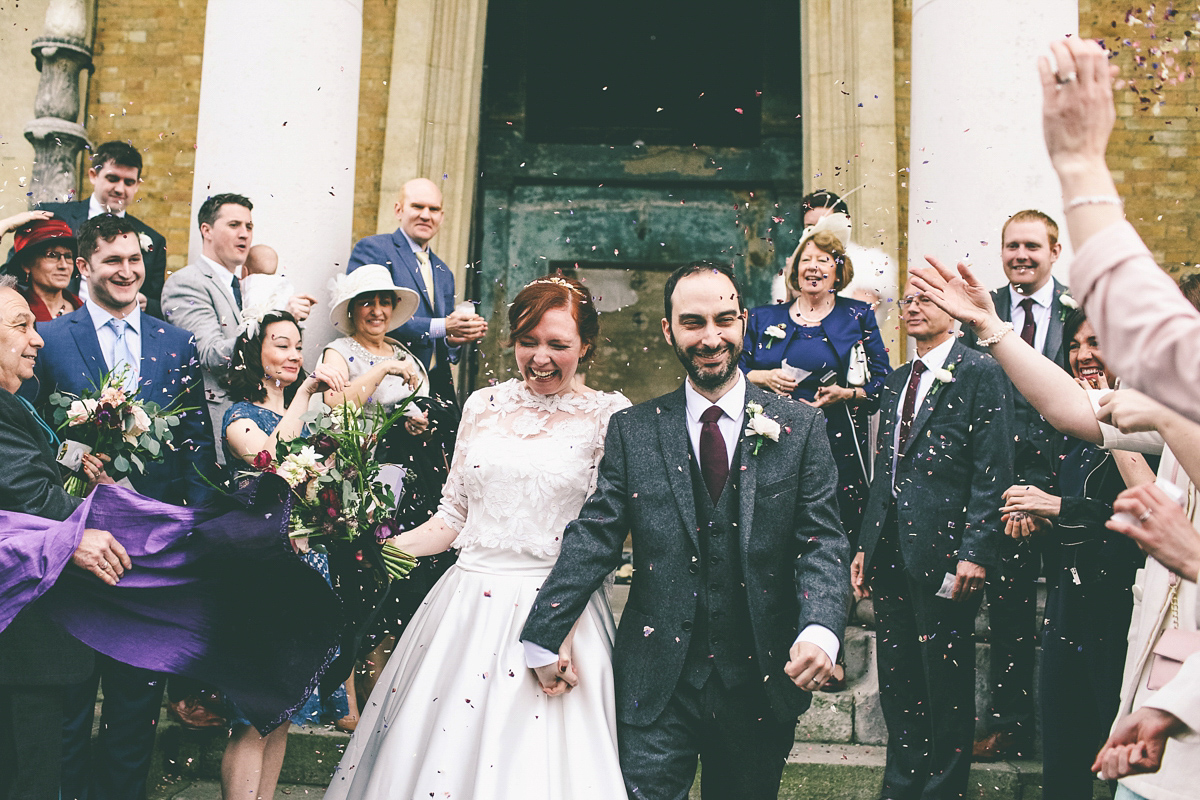 After the ceremony the Travelling Gin Co. served prosecco and rhubarb Collins from their vintage bicycle on the steps of the chapel, including Adnams gin which is made not far from Celia's childhood home.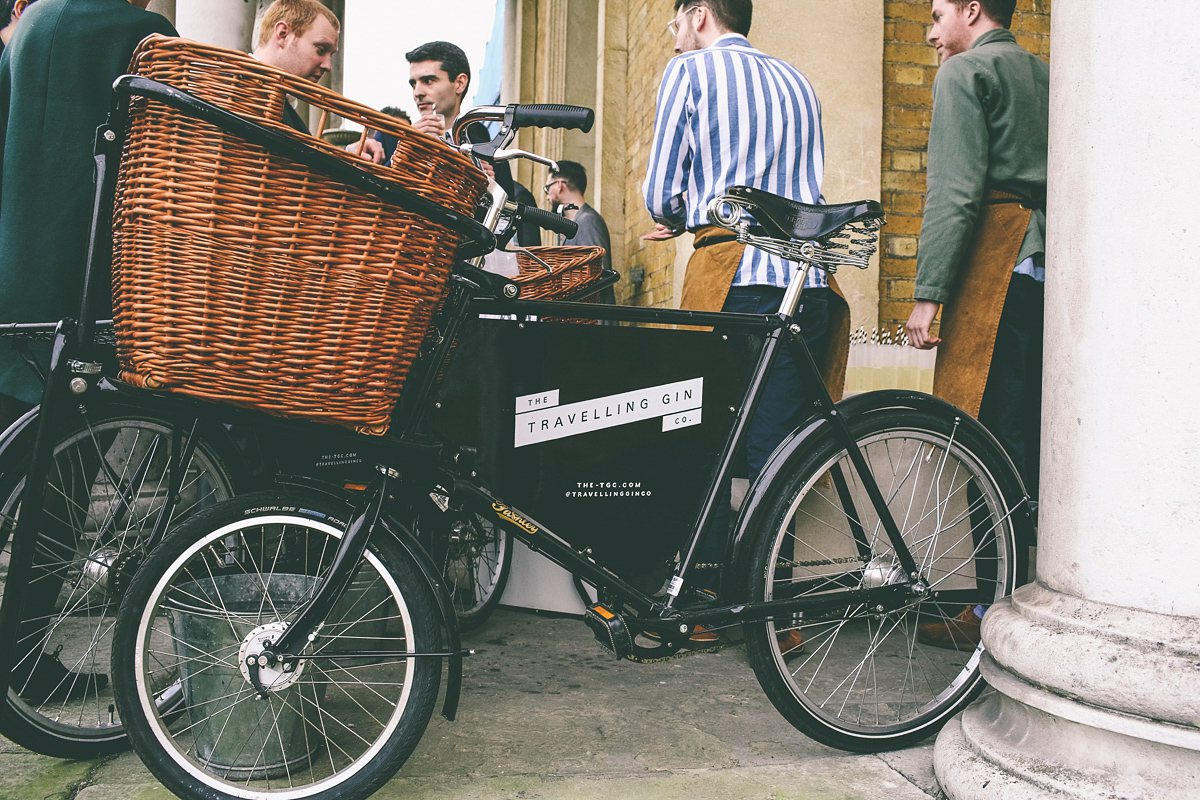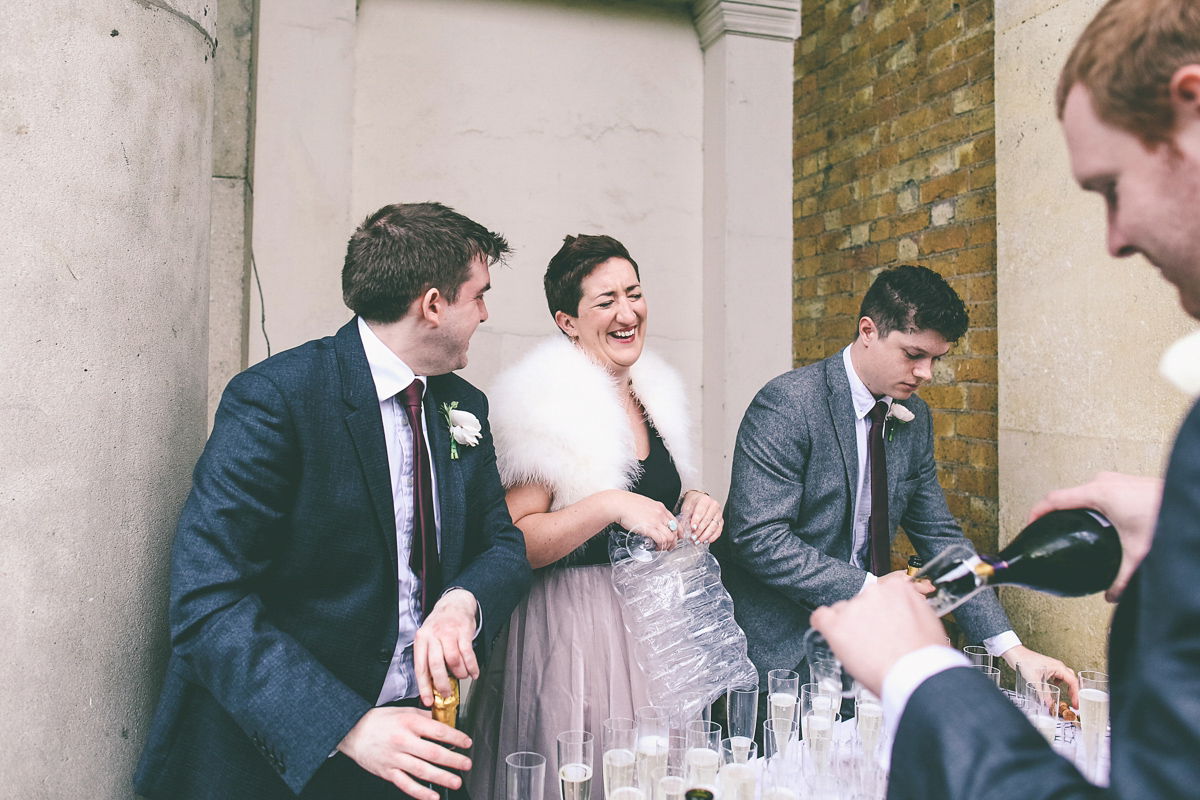 Guests were transported from Asylum to the reception venue in a vintage Routemaster, hired from Traditional Travel.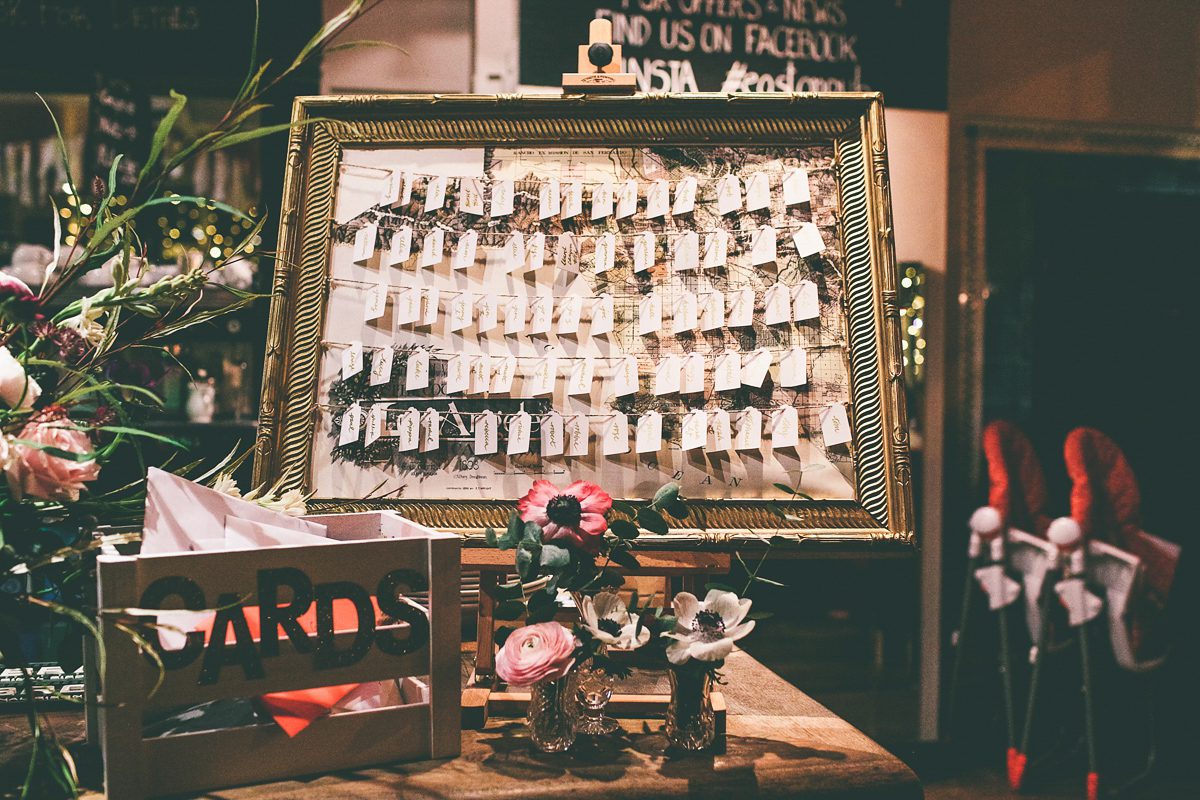 "I made a hanging fabric garland for the ceilings and trawled charity shops and eBay for dozens of brass candlesticks and vases, and mismatched gold frames. We used gold table runners, then arranged clusters of candlesticks with burgundy candles and flowers along each table.  The windows of the Easton are decorated with strings of fairy lights which made the whole space feel warm and cosy."
The table names were iconic LA street names, in tribute to Glenn's Californian heritage and the years Celia spent there as a showbiz reporter, while the table plan was a vintage map of Los Angeles.
"If I had to pick an absolute favourite supplier it would probably be our cake baker, the lovely Gabi Marx, who created the most amazing two-layer, gold decorated cake for us – lemon with lemon curd and limoncello, and Glenn's absolute favourite, chocolate and peanut butter.   Gabi was so hospitable, professional and downright kind and the finished product was so beautiful I was almost reluctant to let anyone cut into it."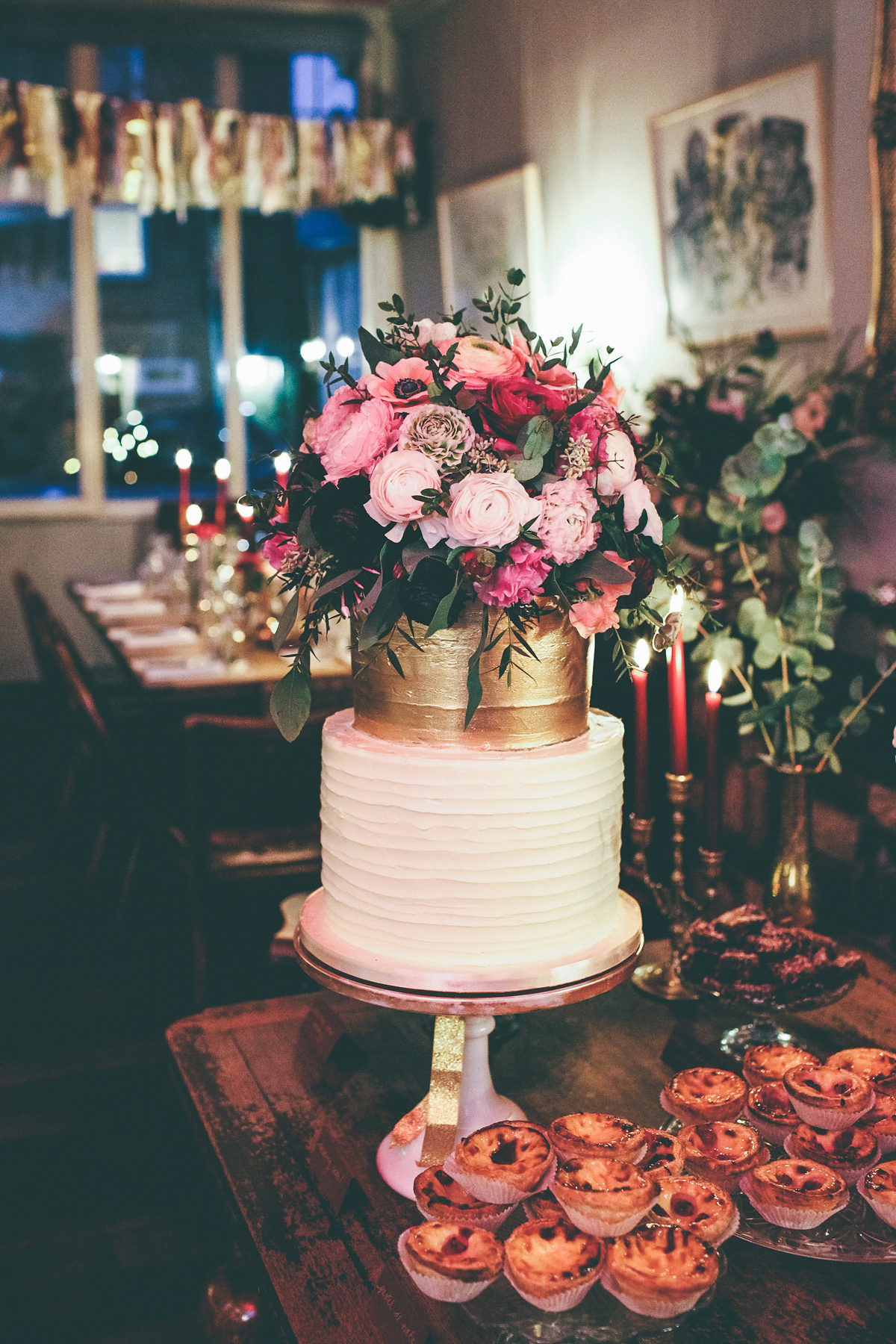 "For dinner, we served big, hearty sharing platters of food, while our evening food was our dessert table – the incredible wedding cake, pastel de natas from our favourite stall at Herne Hill farmer's market, Galeta, and a few dozen chocolate chip cookies I made the day before the wedding."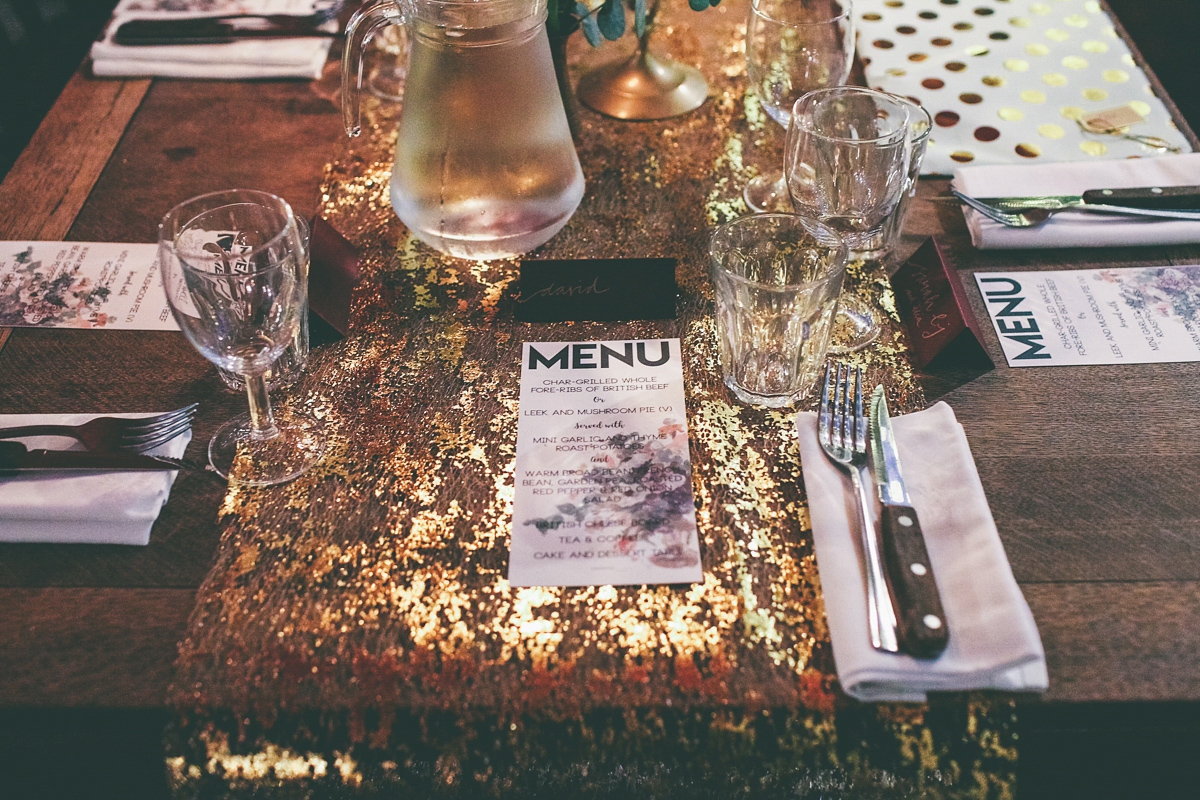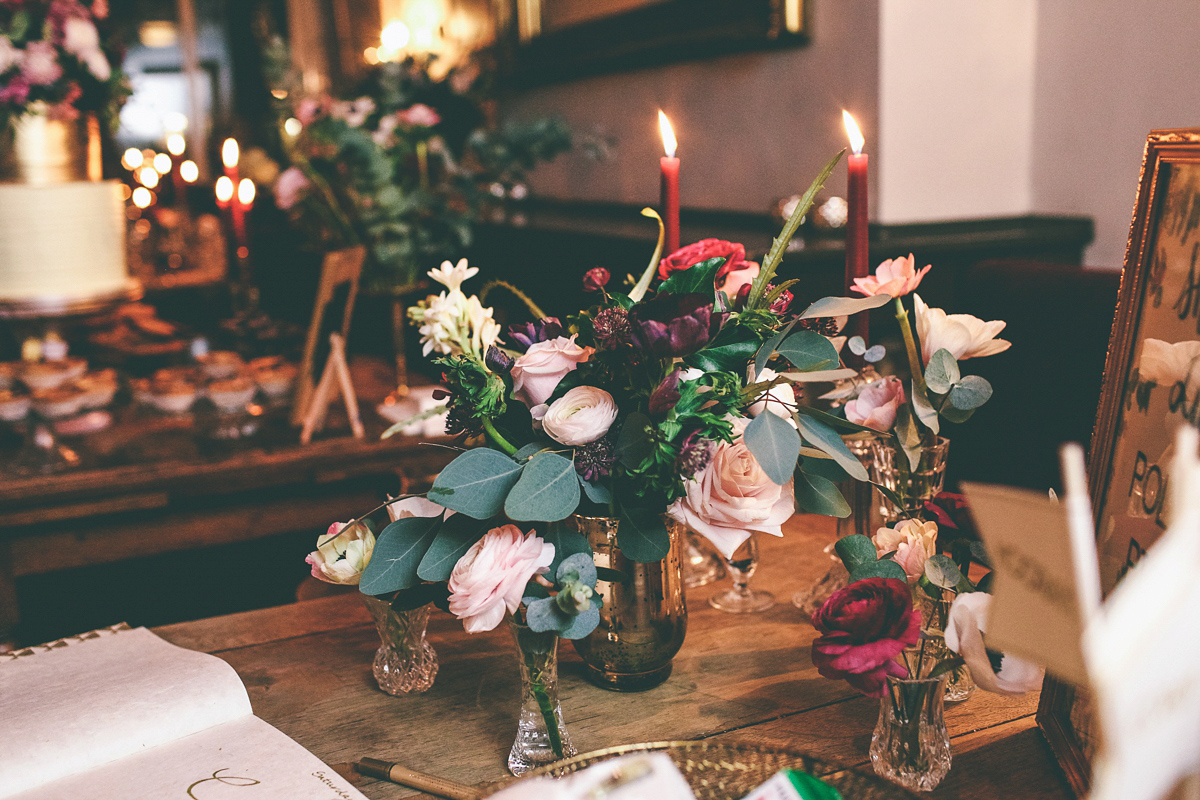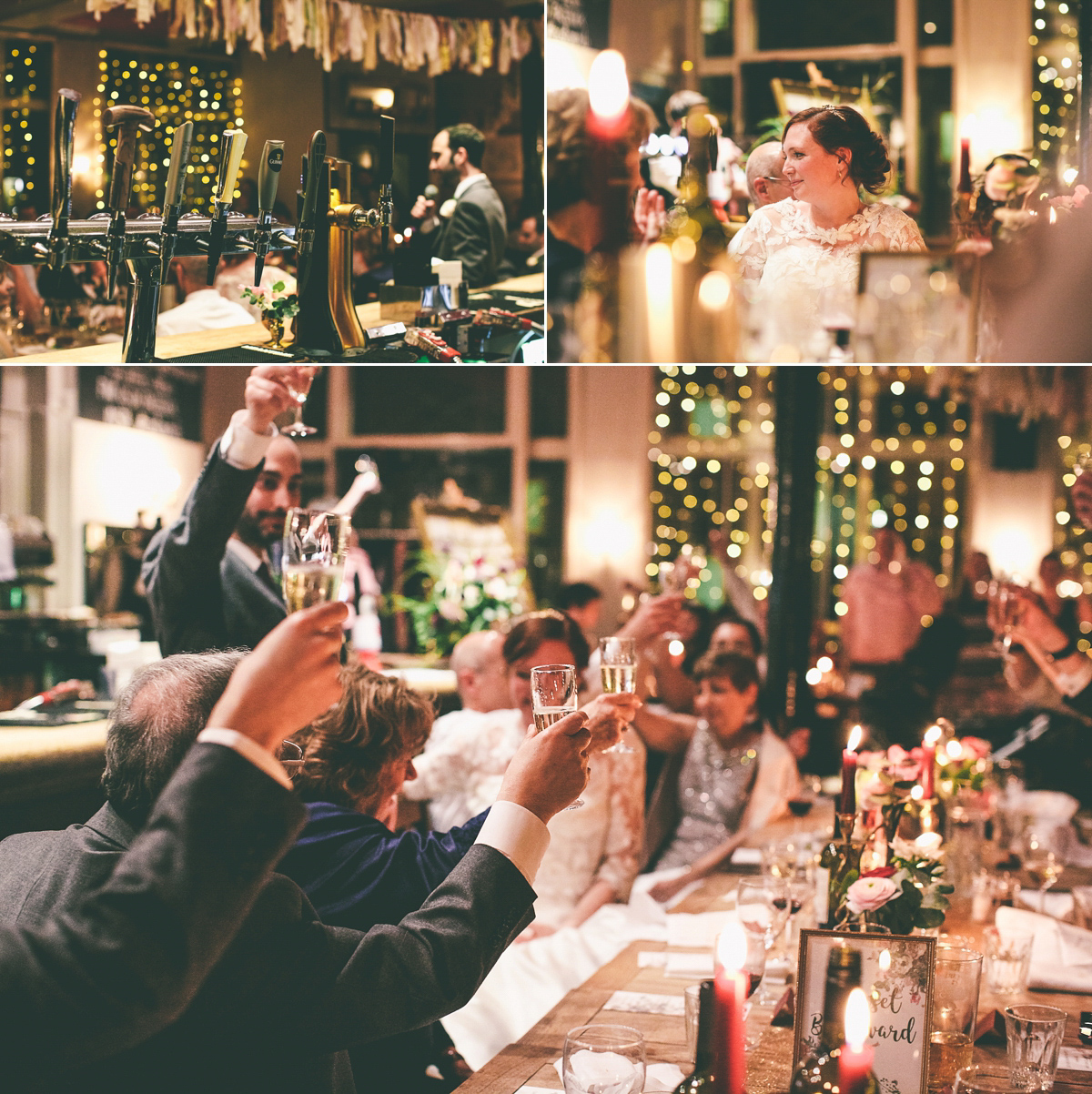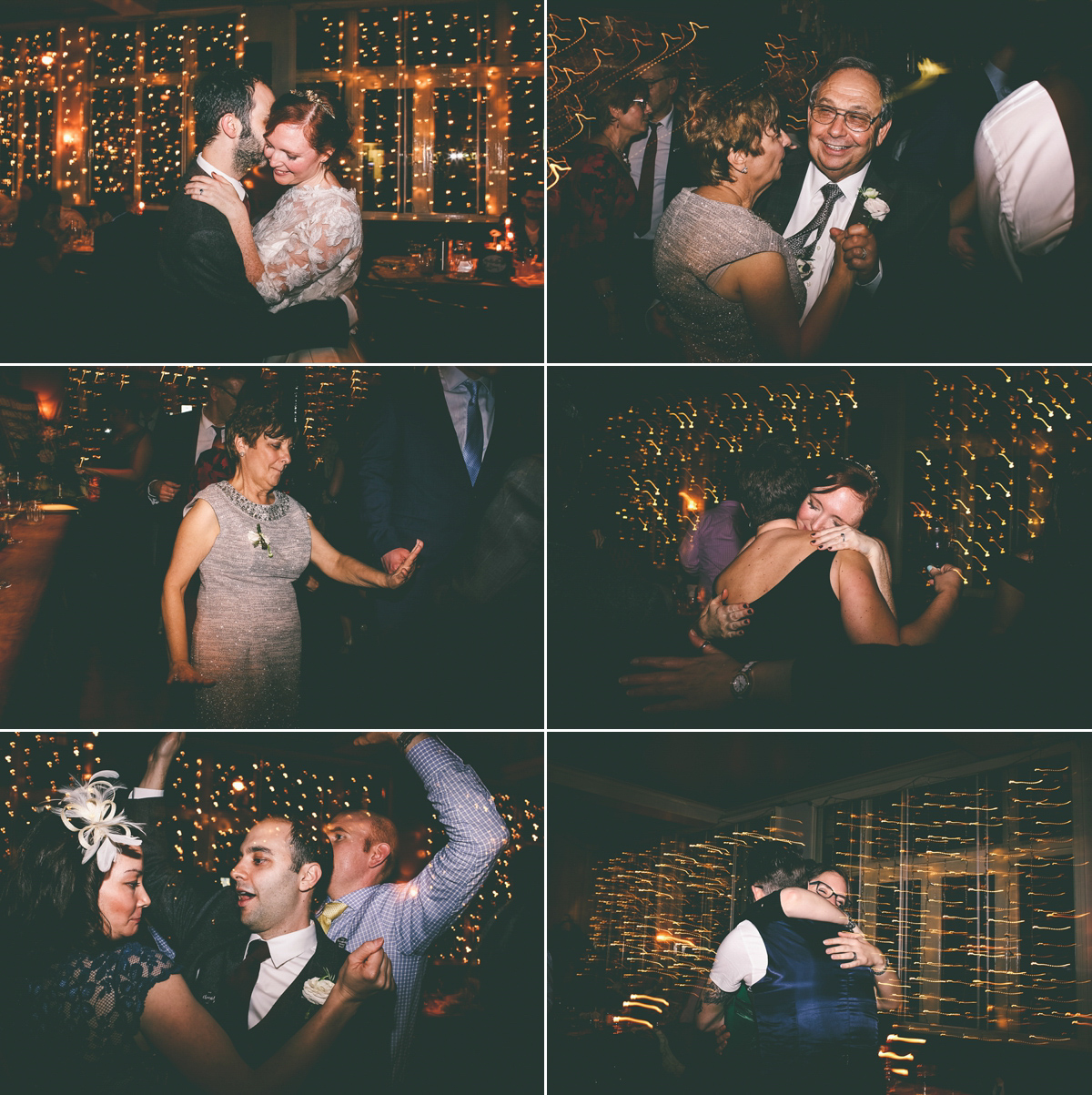 Words of Wedded Wisdom
"My advice would be to take as much enjoyment from the process of wedding planning as possible. It can't all be fun, but it's a unique time in your life, so make the most of the bits that make you happy, and take advantage of opportunities to do things as a couple.  
Our wedding day wasn't perfect, but it was a reflection of the little family we've made and the amazing people who support us every day.  The only thing I would have done differently with hindsight (and a bigger budget) is have a pre-wedding shoot so we could get used to having natural photos of ourselves taken before the big day."
"One other practical tip – make individual itineraries and lists of contacts for every member of the wedding party – they cut down wedding morning stress massively!
I read Love My Dress throughout my engagement, and my absolute favourite thing about it is that you let the individuality of each wedding and each couple shine through.  Weddings are about more than just pretty flowers and I love getting a glimpse into people's lives as much as I love the beautiful images.  I also adore the warm, welcoming Love My Dress Facebook community; it's a haven during wedding planning."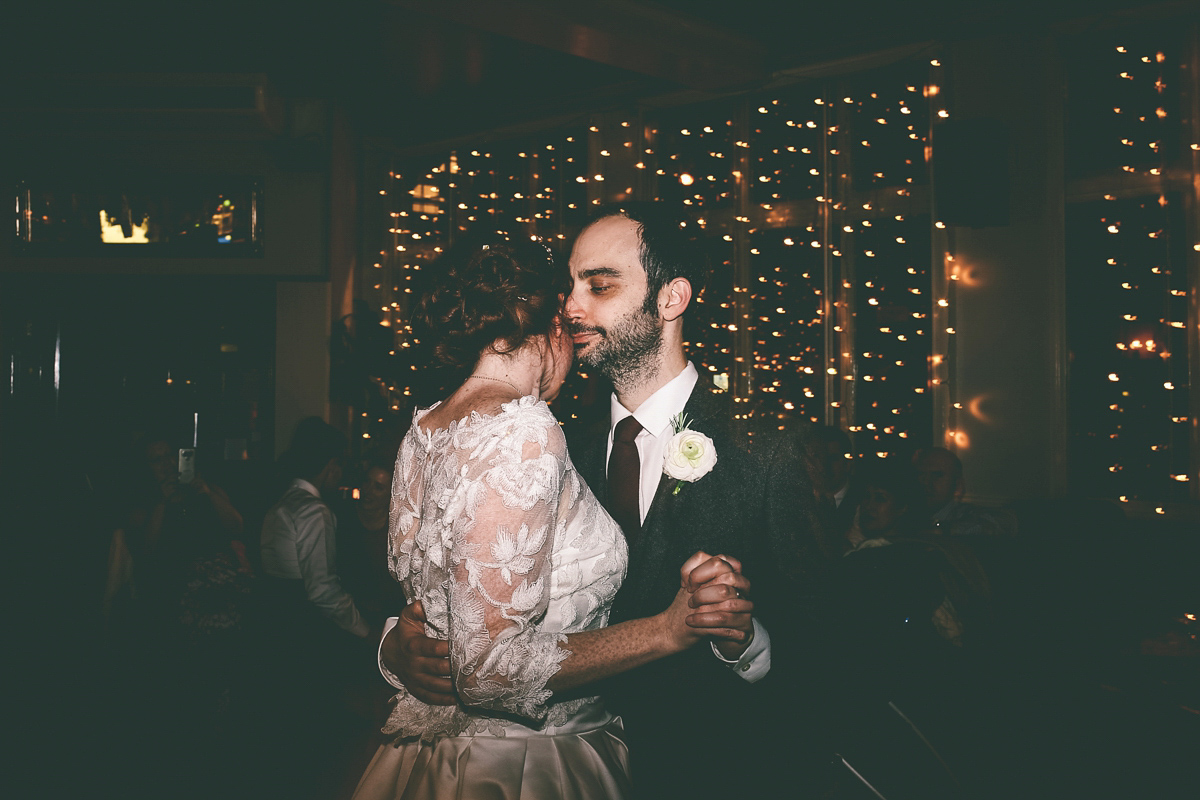 Huge thanks to Celia and Glenn for sharing their gorgeous day.  Take a peek here for other Asylum weddings we've featured.  I just adore this venue.
Much love,
S x