Last night I returned home from three glorious weeks teaching Pilates by the Ionion sea in Greece and so today, with its mundane tasks of unpacking and washing, has left me feeling rather, well, flat. Being asked to write about this wedding, with its era-inspired elegance and sparkling glamour, was just the tonic to pick me up and inject some fun into my day. So please, sit back and enjoy Catherine and Edd's wedding, captured brilliantly by Matt Parry Photography.
If you love old Hollywood glamour then I'm sure you'll adore the Gatsby-inspired details of Catherine and Edd's day, which was on 31 March 2016. After marrying at St Peter's Church, Marlow, a glittering reception was held at Stoke Park Hotel, near Windsor. The hotel was dressed with twenties-style gold elements and Hollywood styling to create a glittering, luxurious feel. Catherine and Edd chose Stoke Park as their venue as it was here that the couple celebrated Catherine's thirtieth birthday, when Edd proposed. A subtle twenties-vibe runs through the entire day, from the sparkling embellishments of Catherine's Jenny Packham gown to the bridesmaids' headdresses, the Hollywood cocktails to the wedding cake topper.
"We were inspired by old Hollywood glamour and a Gatsby vibe too. We tried to keep as much as possible to these eras and the gold accents that ran through our wedding were born from this."
Photography by Matt Parry Photography
Paired with Jenny Packham at Debenhams shoes and a sculptured silver headpiece by her uncle and milliner Philip Treacy, the bride looks elegant, classic and timeless. Wisely, she chose to let her gown and headdress shine.The three grown-up bridesmaids looked beautiful in different gowns in soft pastels. The birdcage headdresses they wore are also the work of Philip Treacy, and I love how they reflect that worn by Catherine.
'Two were from the Jenny Packham diffusion line at Debenhams and one from Coast – a lilac jumpsuit. Each bridesmaid had a different dress to best suit their body and personal style. I wasn't keen on matching dresses or colours as these can be unfavourable for some poor person sometimes and I had three very different and beautiful bridesmaids. The difference in dresses also added a touch of uniqueness to the styling on the day too."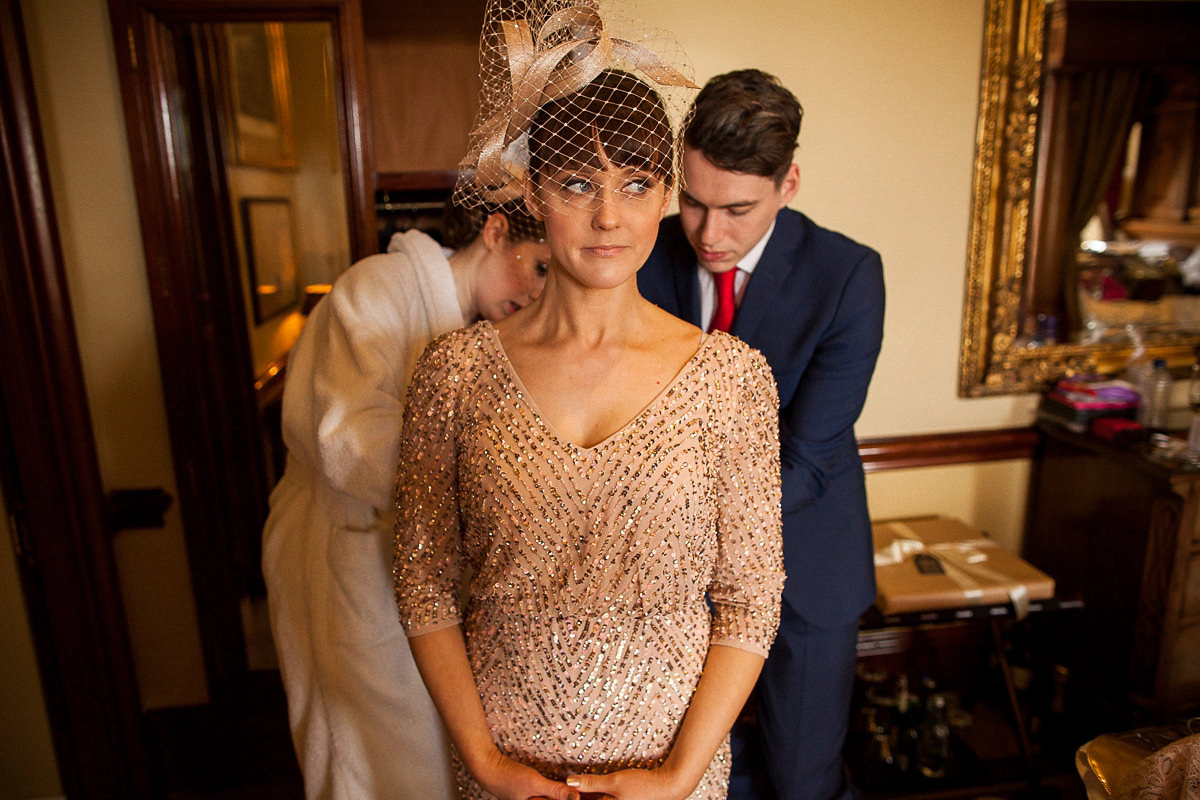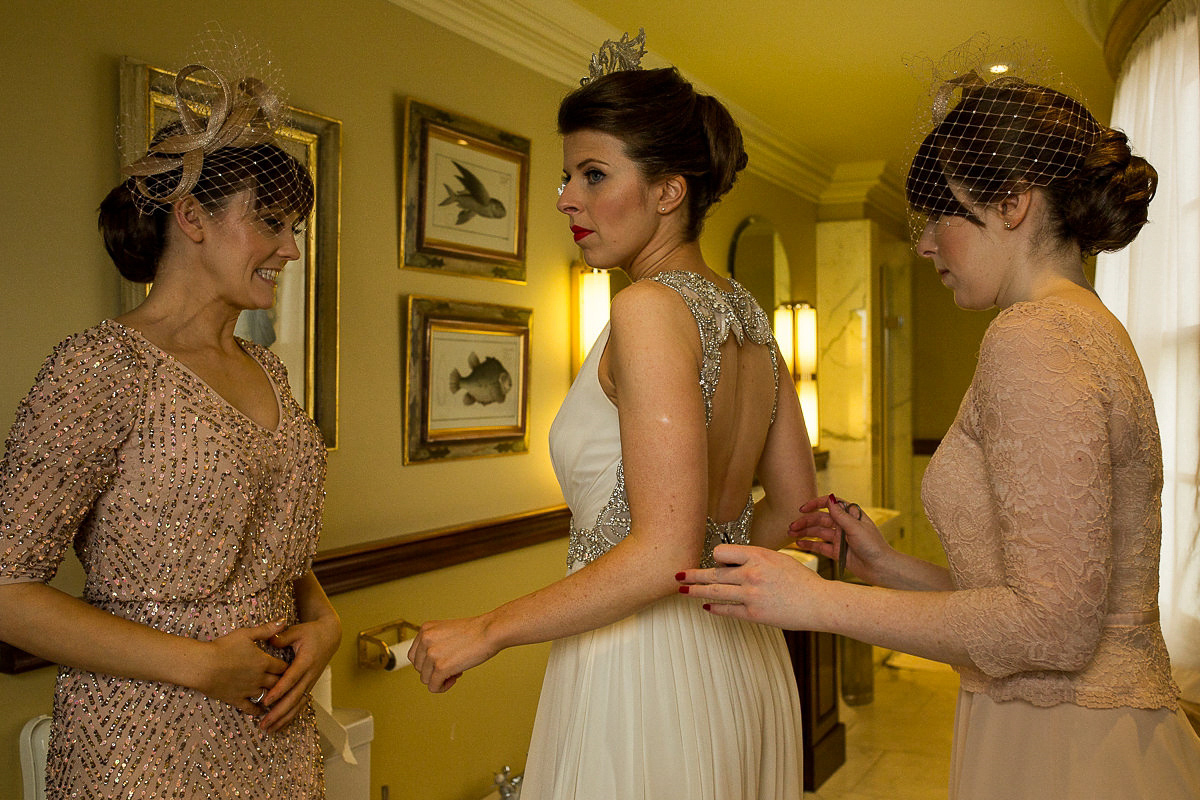 Catherine's Jenny Packham gown, with its gorgeous beaded straps and sash detail and dramatic open back, was found at The Bride in St Albans during a sample sale.
"I have always loved Jenny Packham's style and always look out for her collections. I loved the Grecian, whimsical vibe that the dress had and I liked that the open back was different from any other dress that I had ever seen."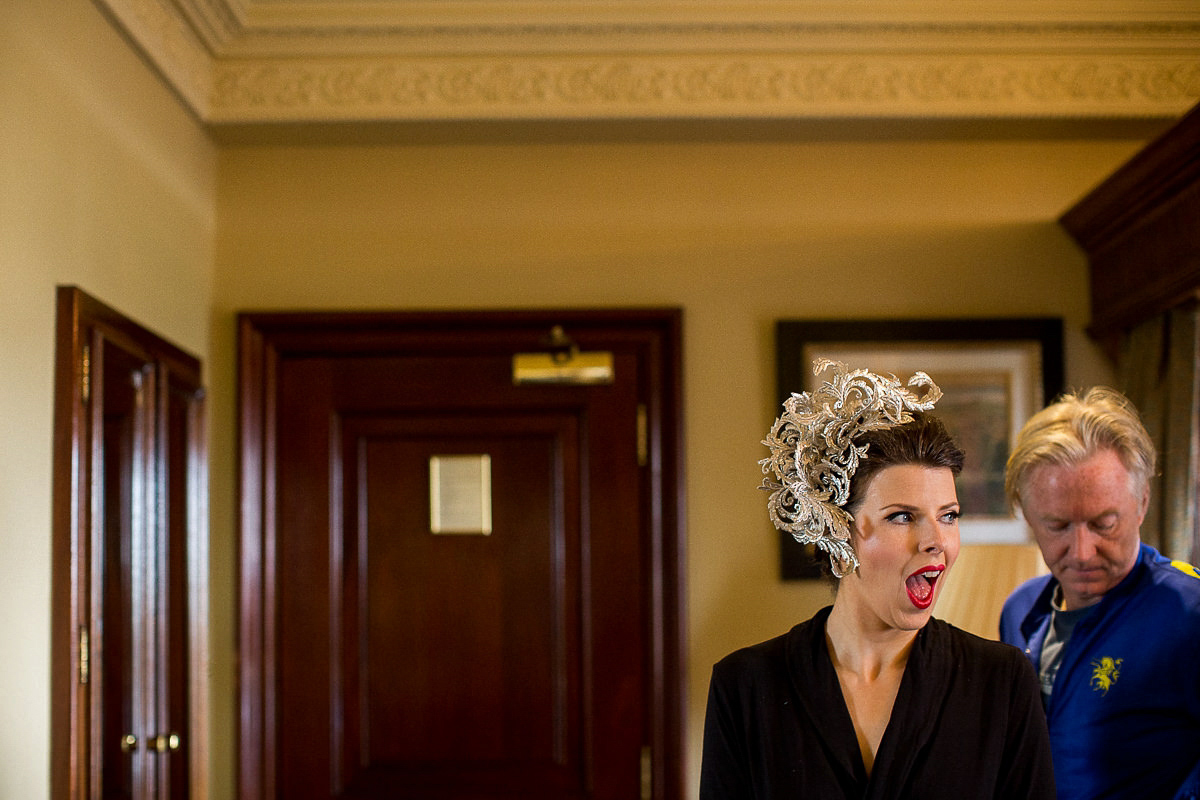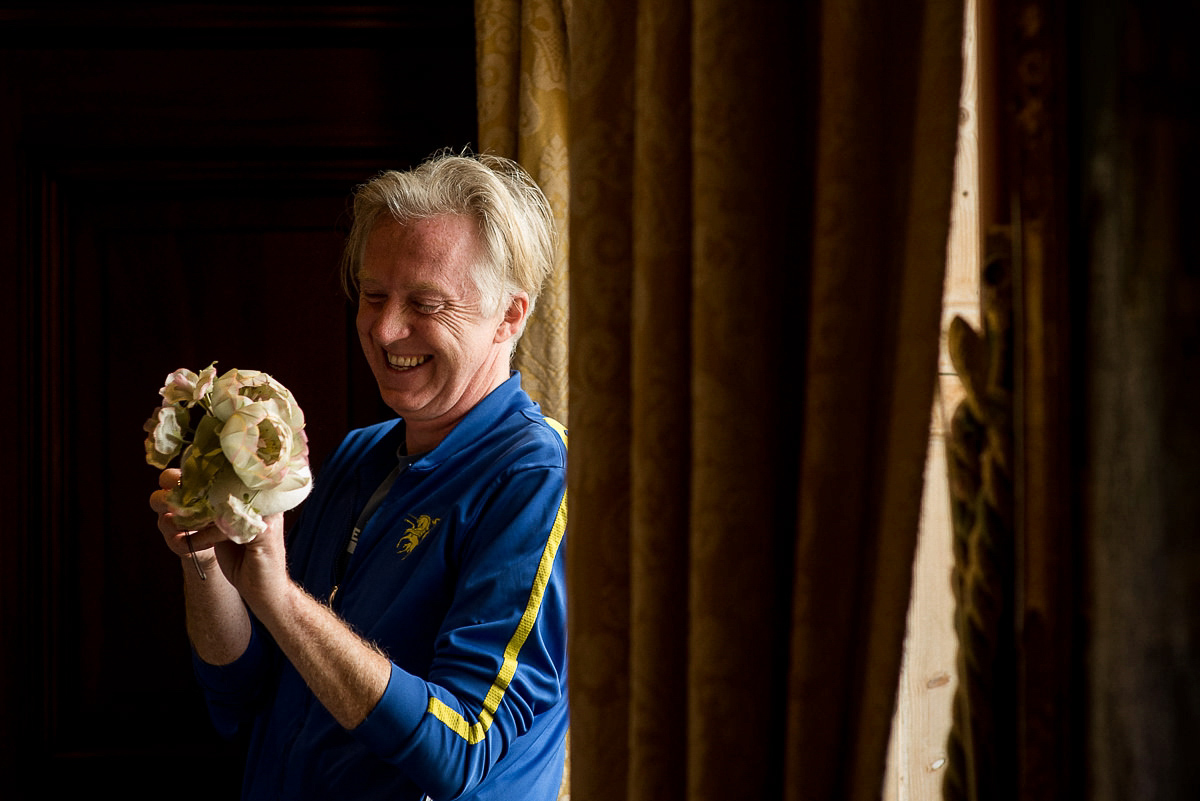 The bride carried a simple but colourful spray of roses by Jane Keogh.
"Jane is a very talented florist who is also a good friend's mum! I have long admired her exquisite taste and natural flair for interior design as well as her floral creations."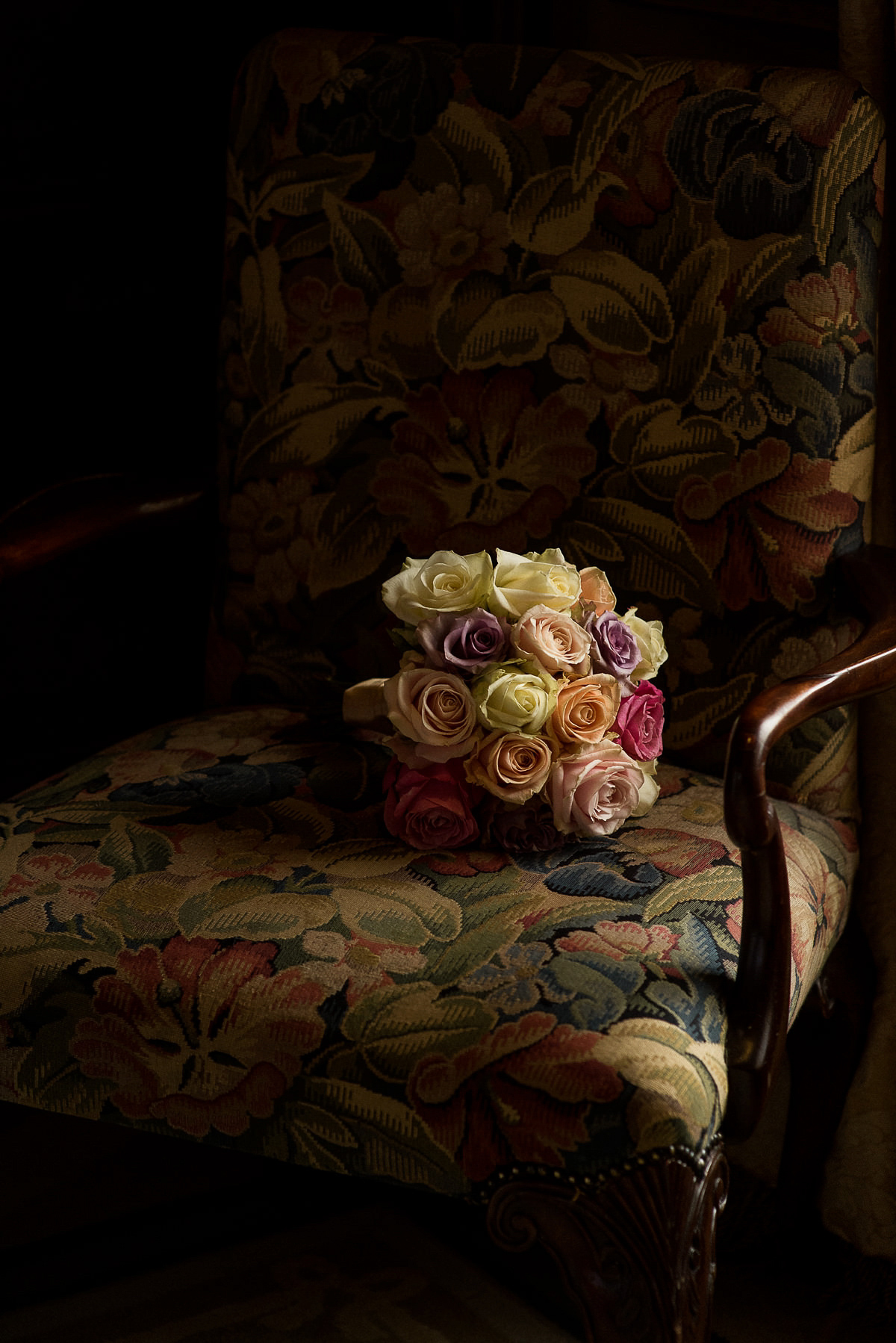 Catherine's make-up was dramatic; a strong twenties influence with its cat-eye and strong red lipstick. She wore her favourite perfume, Dior Addict.
"I wore it the day we met. I love that it perfectly fits day and night settings."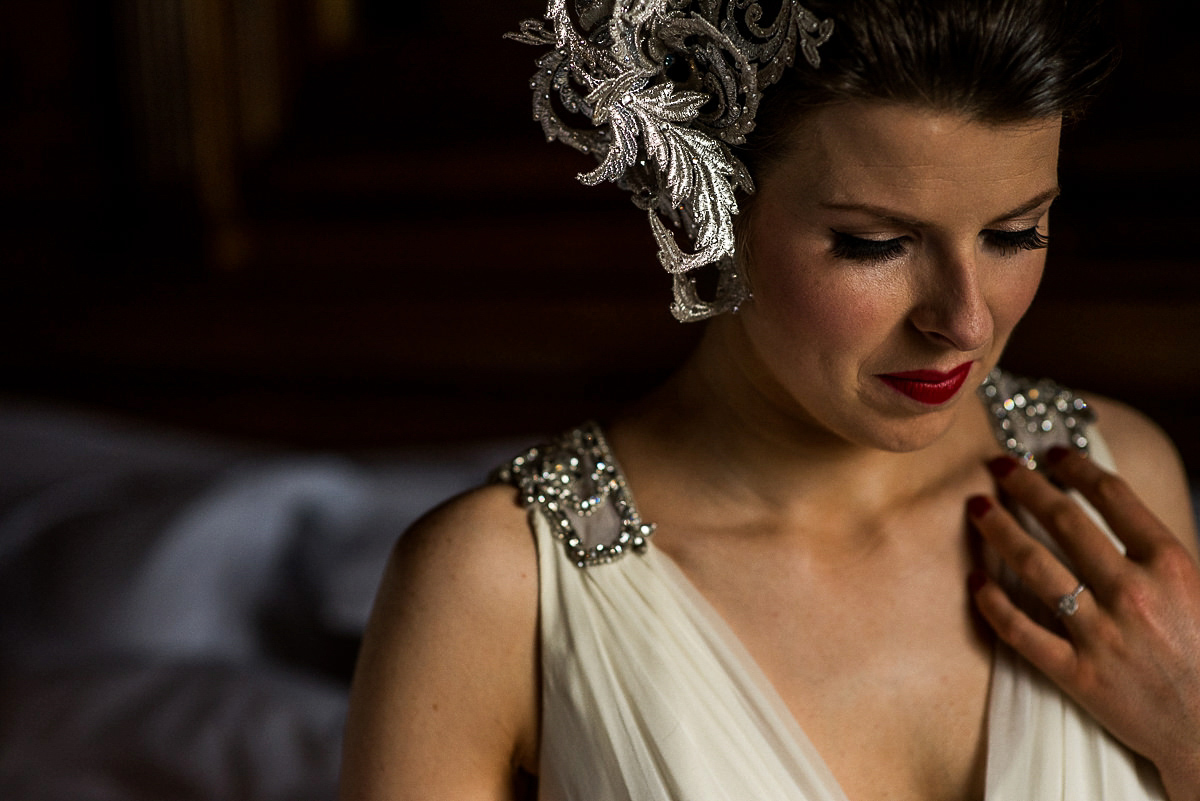 "I only wore very simple stud, diamond earrings (a Christmas gift from Edd a few months before our wedding) and my engagement ring and wedding ring. My dress and headdress were very ornate so it was definitely best to be simple with the jewellery."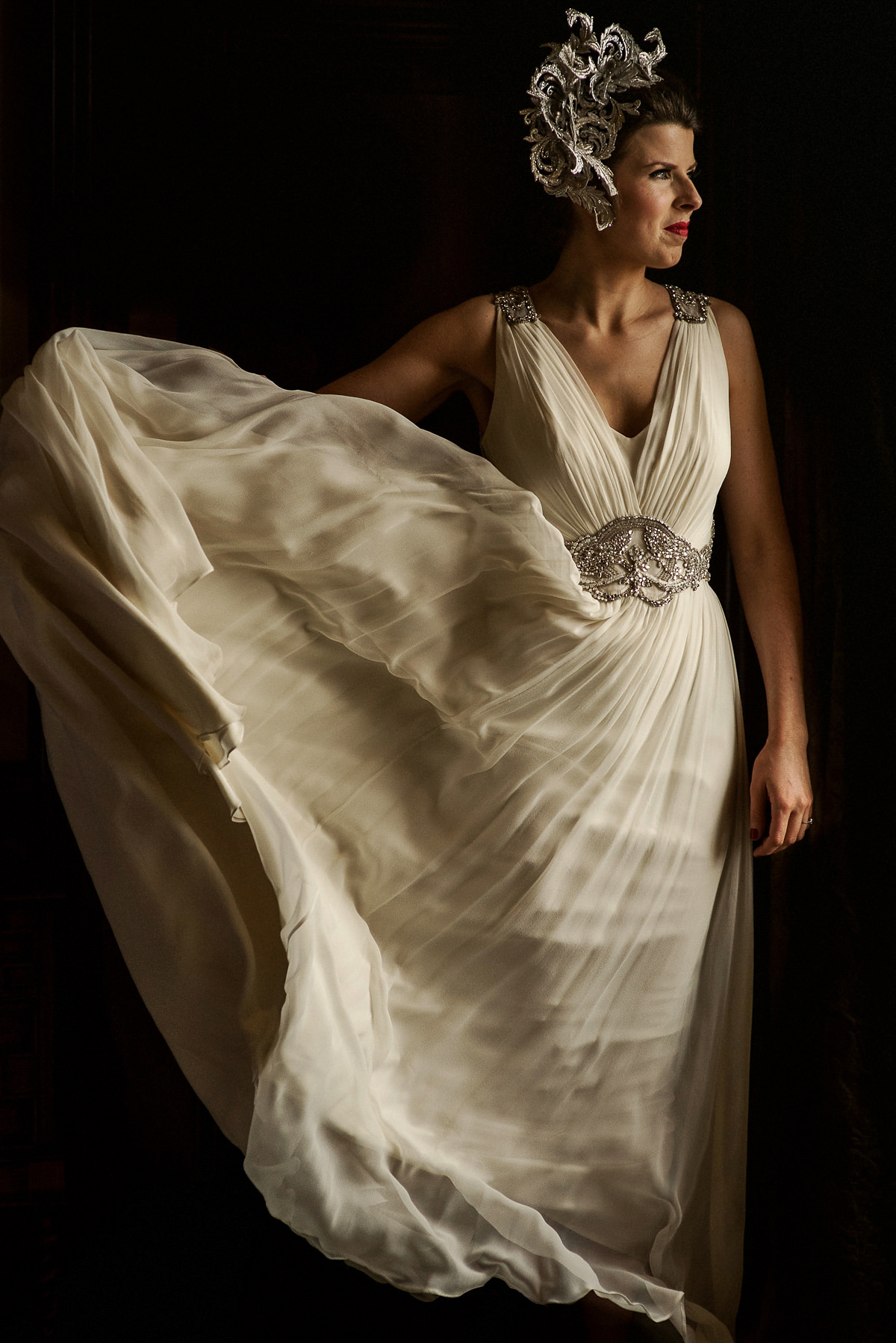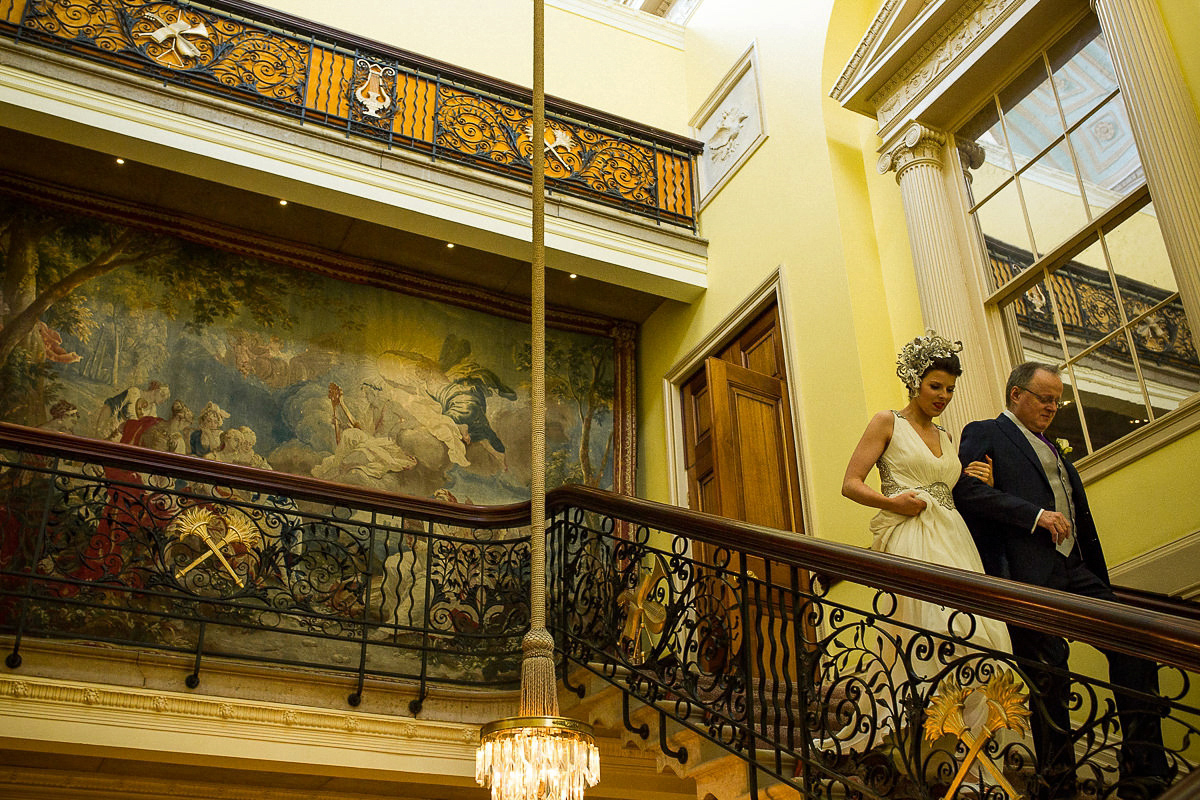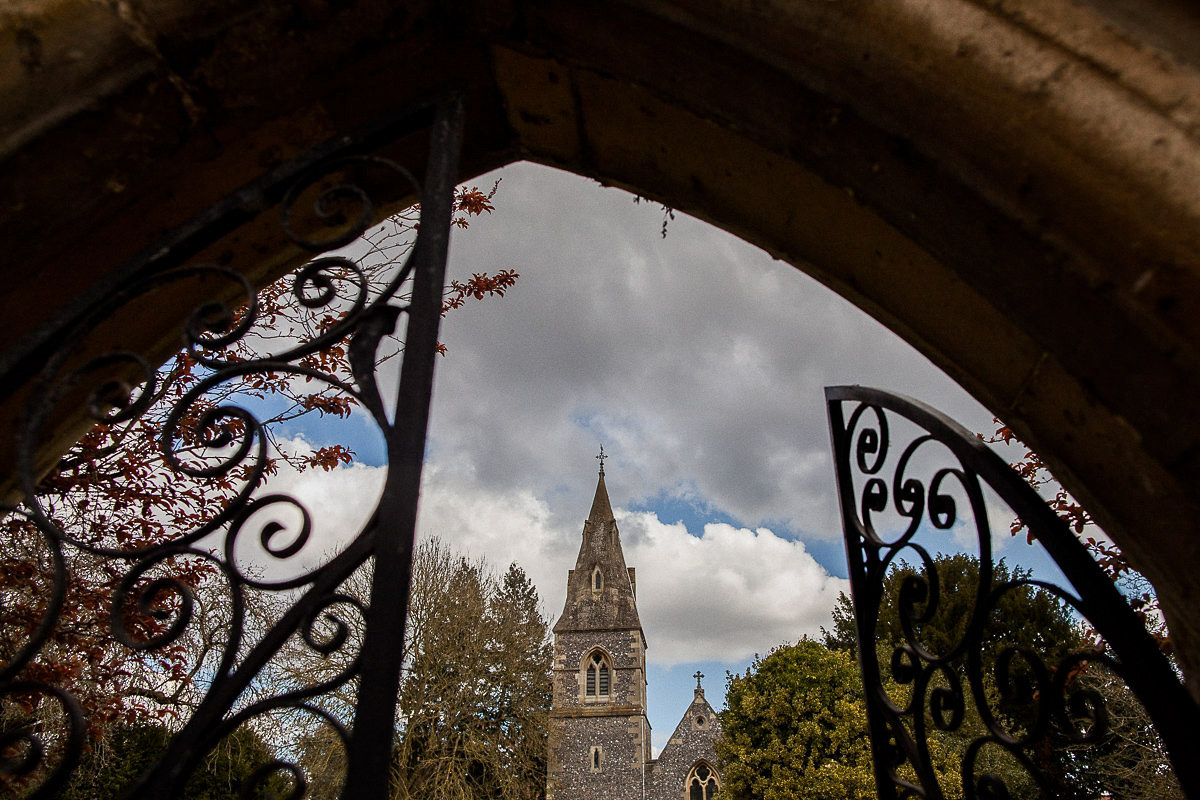 Meanwhile, her groom and his groomsmen prepared for the wedding ceremony. Edd donned a Gieves and Hawkes suit and Harvie and Hudson shirt, a patterned Hermès tie, cufflinks from Dunhill and Crockett and Jones shoes. His groomsmen wore gifted silk ties and pocket squares from Harvie and Hudson, which tied together their outfits despite being different colours.
"Edd gave the groomsmen and best man their ties and pocket squares as thankyou gifts. We chose each tie and pocket square combo to suit their personality and colouring; there was no matching at all."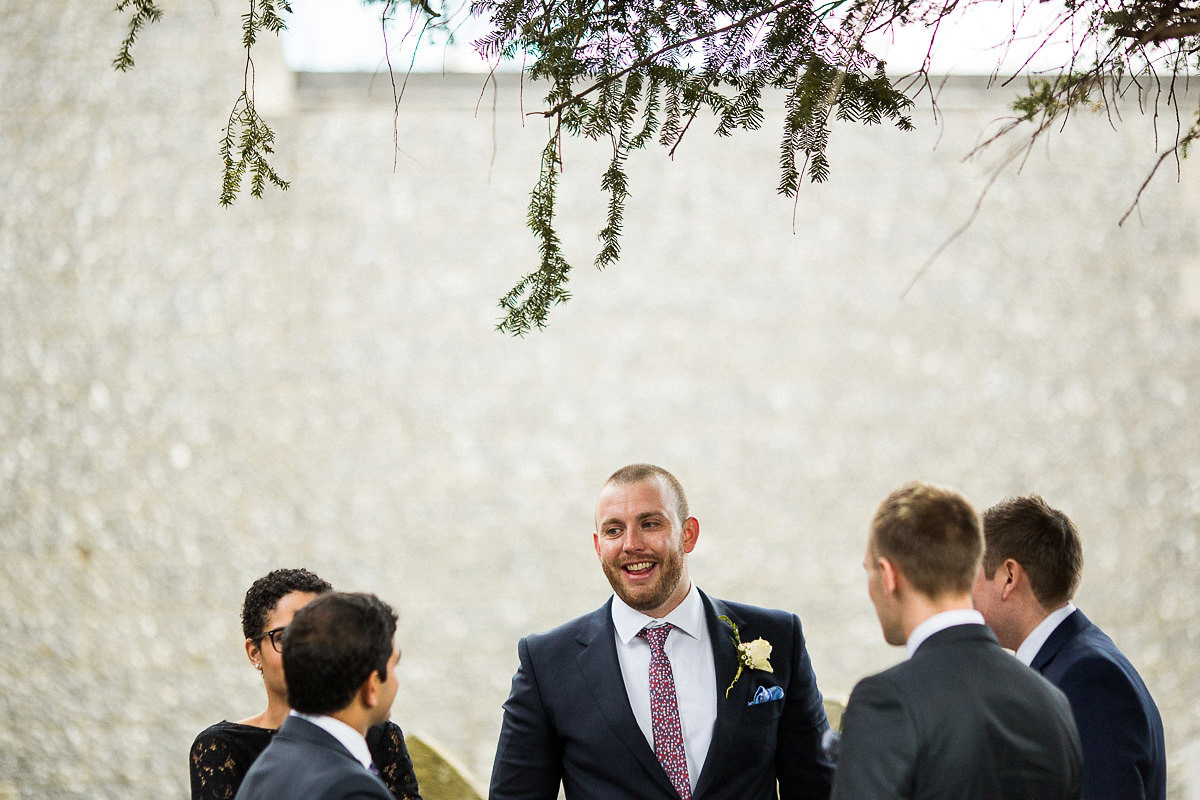 Edd, a management consultant, and Catherine, an RE Teacher, have been together for five years, and were engaged on Catherine's thirtieth birthday eighteen months prior to their wedding day.
"We met at a mutual friend's wedding. Edd was the best man and I was a guest. We met for a drink the next week and that was it, together ever since!"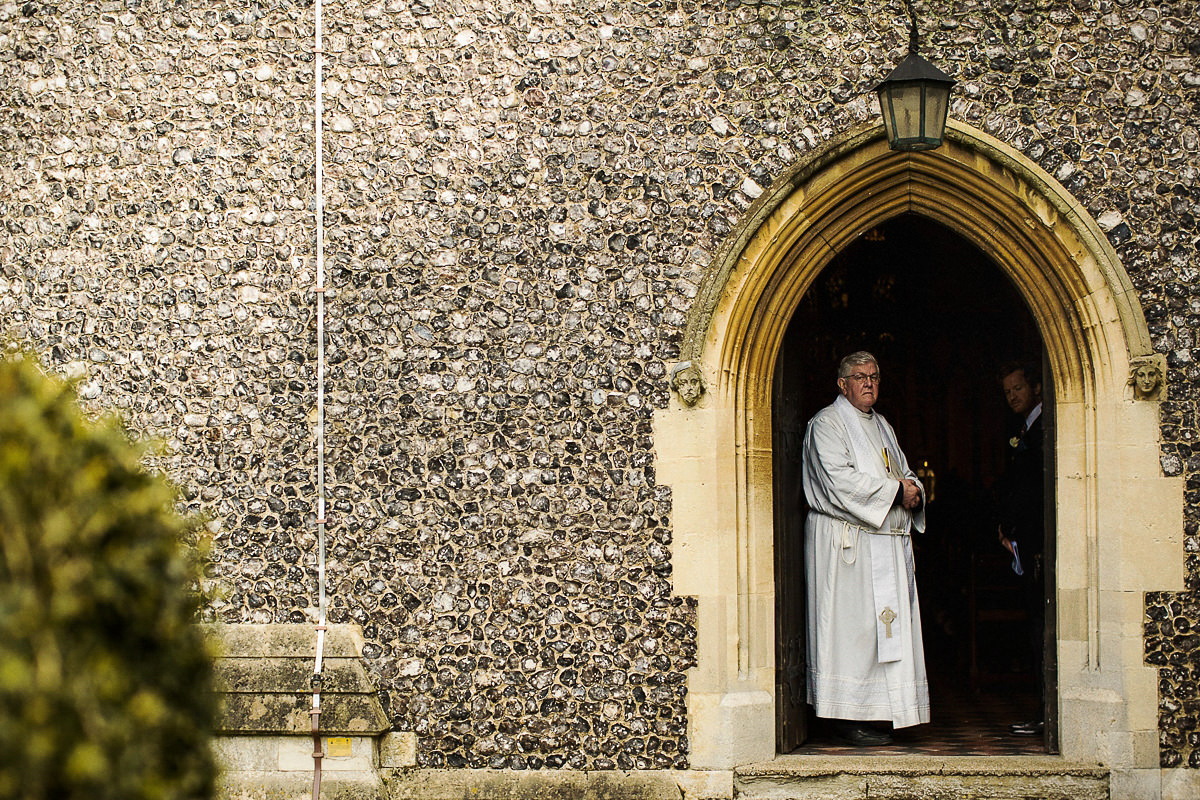 Catherine travelled to the church in a Rolls Royce Silver Cloud from Allied Wedding Cars – the perfect transport for a Gatsby-inspired day. For Catherine, a church service was important, and it is so lovely that the Catholic church where the couple married was on the same road as that in which Edd's parents had married forty years earlier.
"I am Catholic so getting married in a Catholic church was very important to my family and I have a large Irish family and Edd's family are English, so we incorporated both English and Irish hymns into the wedding service to honour both heritages."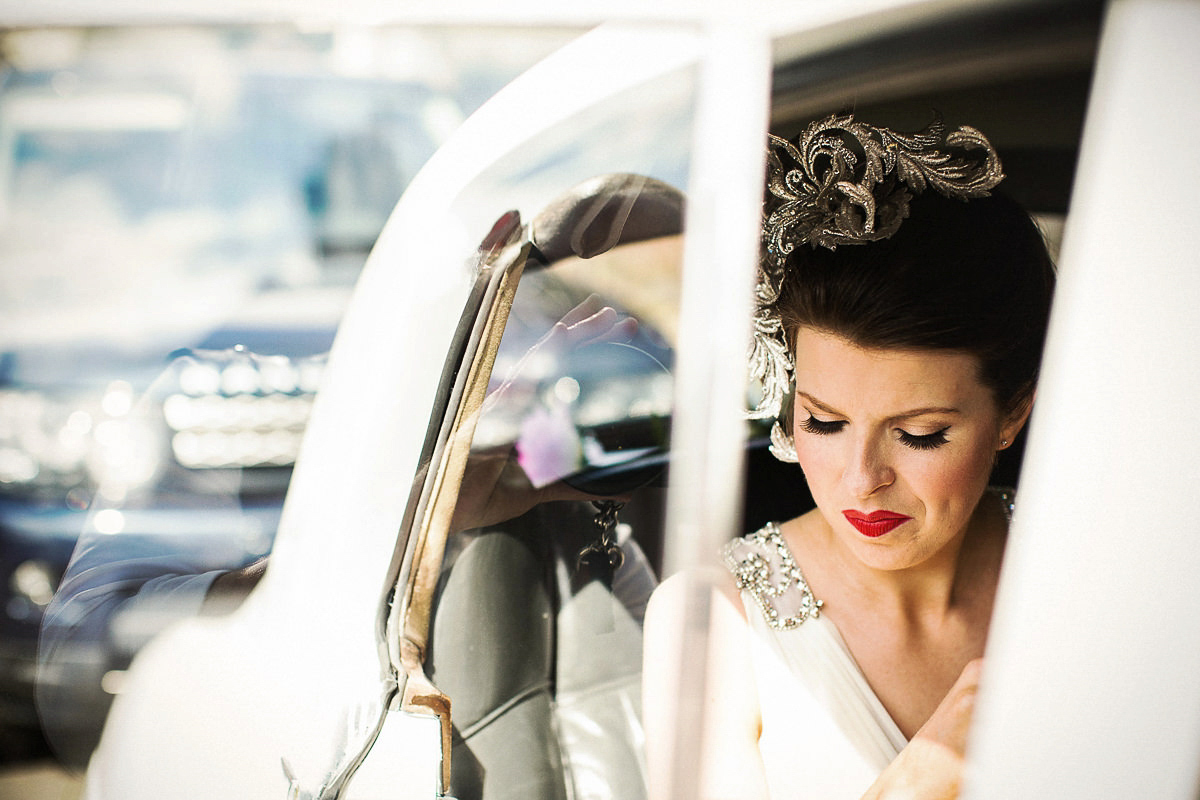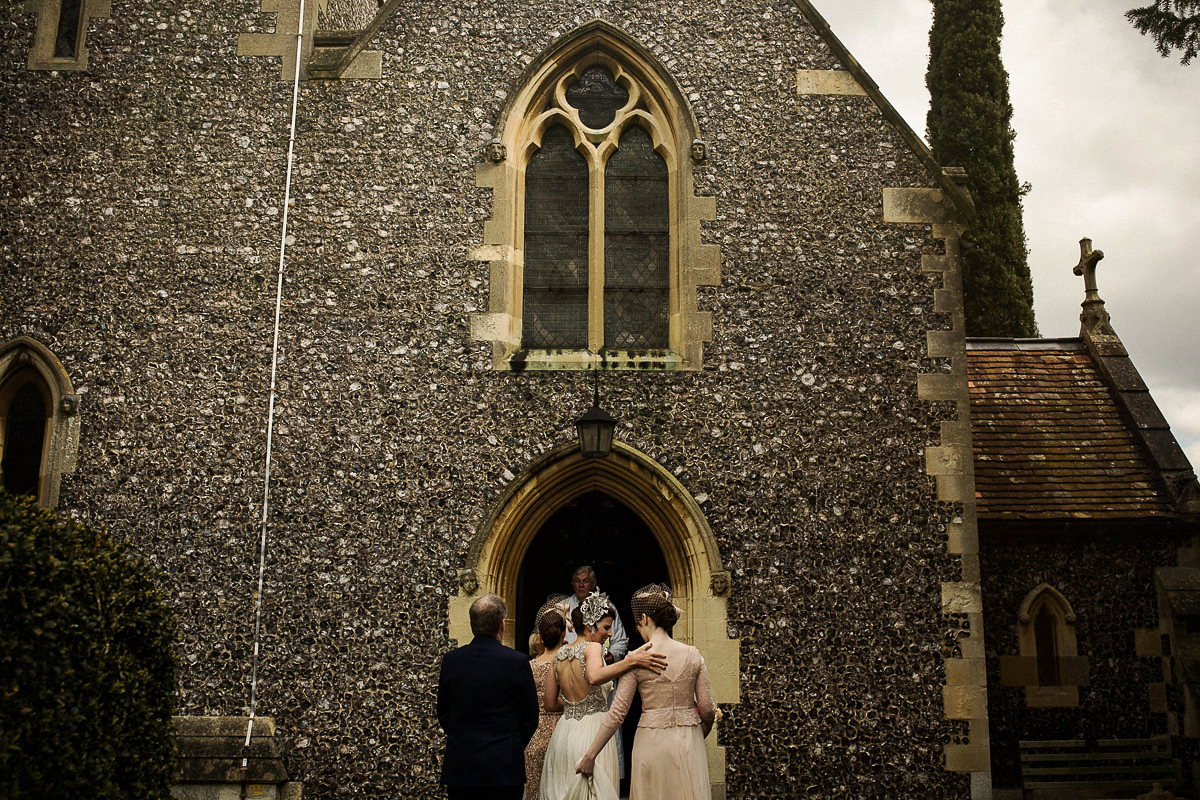 Catherine walked in to the church on the arm of her dad to Wagner's "Bridal Chorus" before exchanging traditional vows with Edd.
"My favourite part of the day was the actual ceremony. I will always remember walking through the church-yard, entering the church and walking down the aisle towards Edd. Standing there, next to each other at the top of the aisle and joining two families together was amazing. Edd and I both relaxed as soon as we saw each other and really enjoyed the ceremony."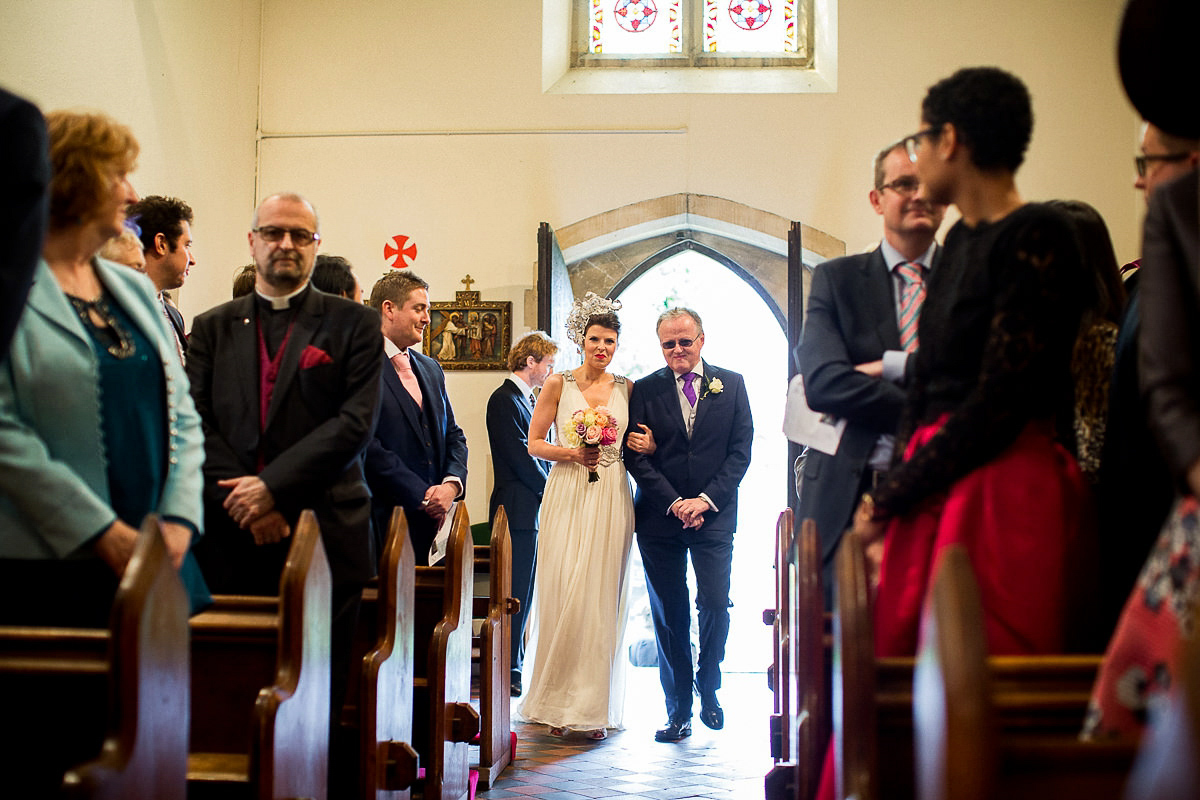 "I am an RE teacher so the readings were very special to me. I did not want the generic, go-to readings that are often read at weddings so I spent a considerable amount of time on this. The second reading was a favourite of mine as it illustrated so many shared values between Edd and I."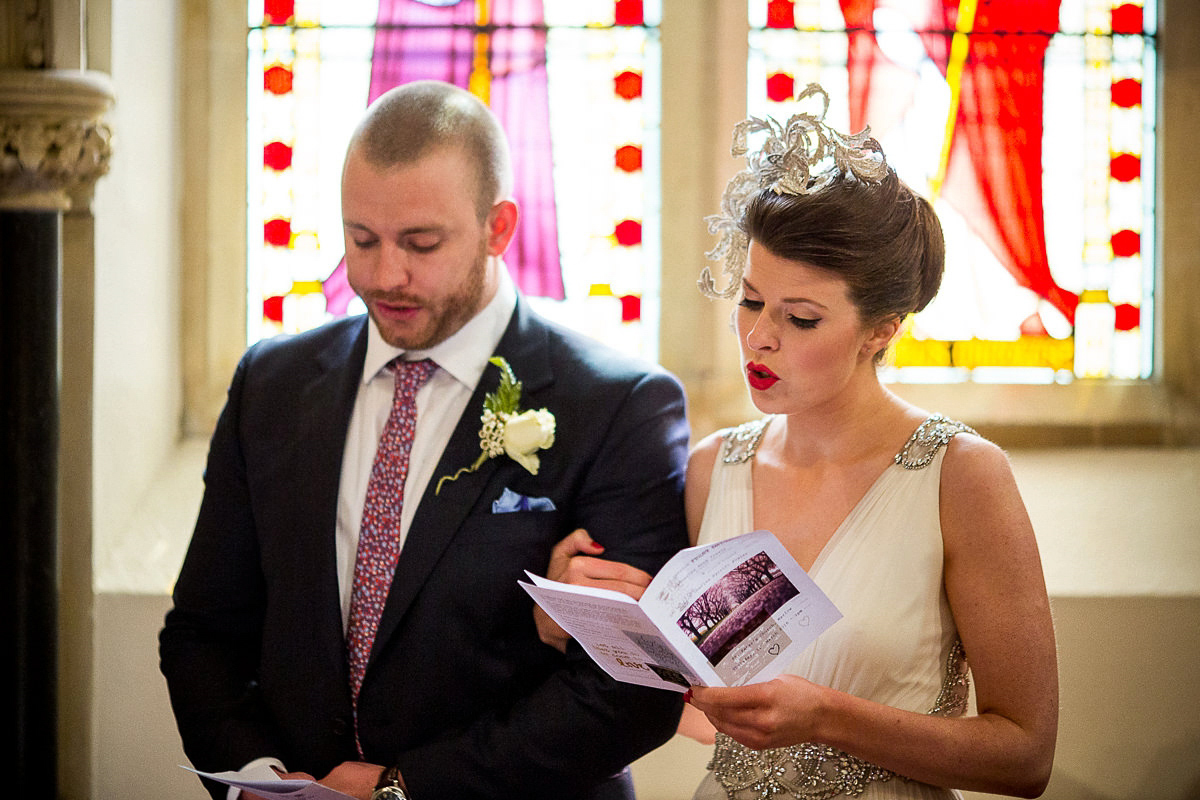 "The Gospel reading (A reading from the letter of St. Paul to the Romans) is how we try to live our lives amongst our loved ones and the world. I searched high and low for a poem that spoke to me and really invoked the essence of our love; and then I found 'Union' by Robert Fulghum."
"We were allowed one secular reading and this was perfect. Simple, classic and genuine, it perfectly encapsulated how we feel about each other and our feelings about getting married."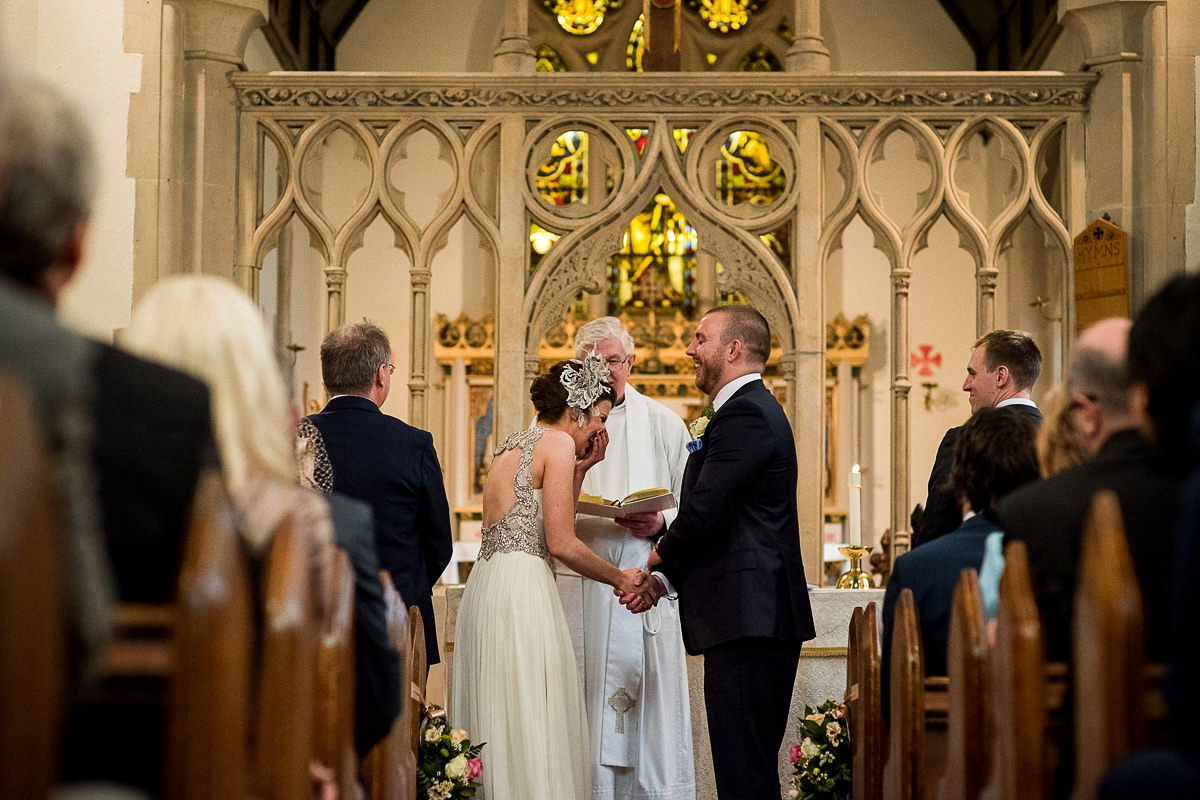 Catherine and Edd's beautiful rings were chosen to reflect their own personal styles. I really admire Catherine's grounded and sensible approach to her wedding planning, as she describes here.
"Our rings do not match and we were happy with that. They match our personal styles and the symbolism of both wearing a ring binds us together in marriage wholeheartedly anyway. I went to Fraser Hart in Brent Cross as I was searching for a band that matched my engagement ring but also fit underneath the stone."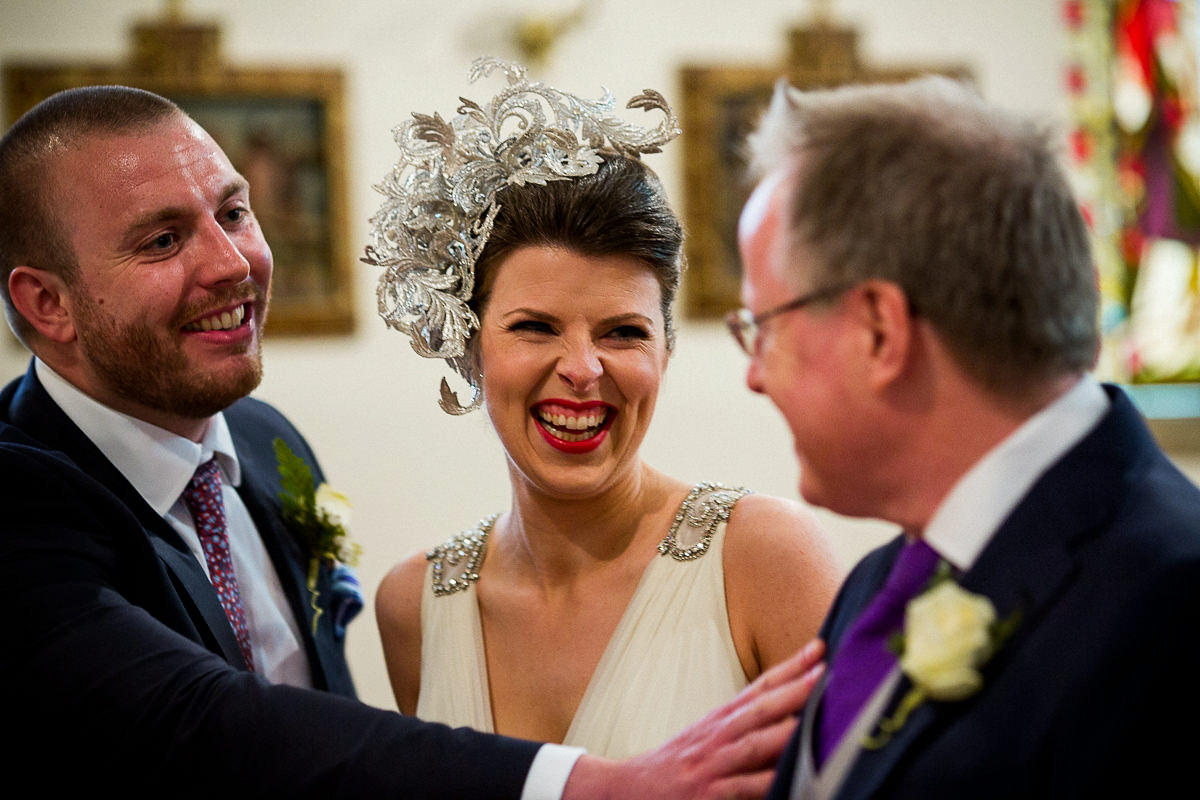 "They did a 0% payment plan too – very useful when you have so many costs coming in at once. They also offer a free cleaning service every six months, which is very useful and as it is a local jeweller I can utilise this often! Edd bought a simple gold band from Cartier and had the date – 31st March 2016 – inscribed inside. Edd chose Cartier as he liked their style and wanted a high quality and classic band. Their customer service was exceptional too."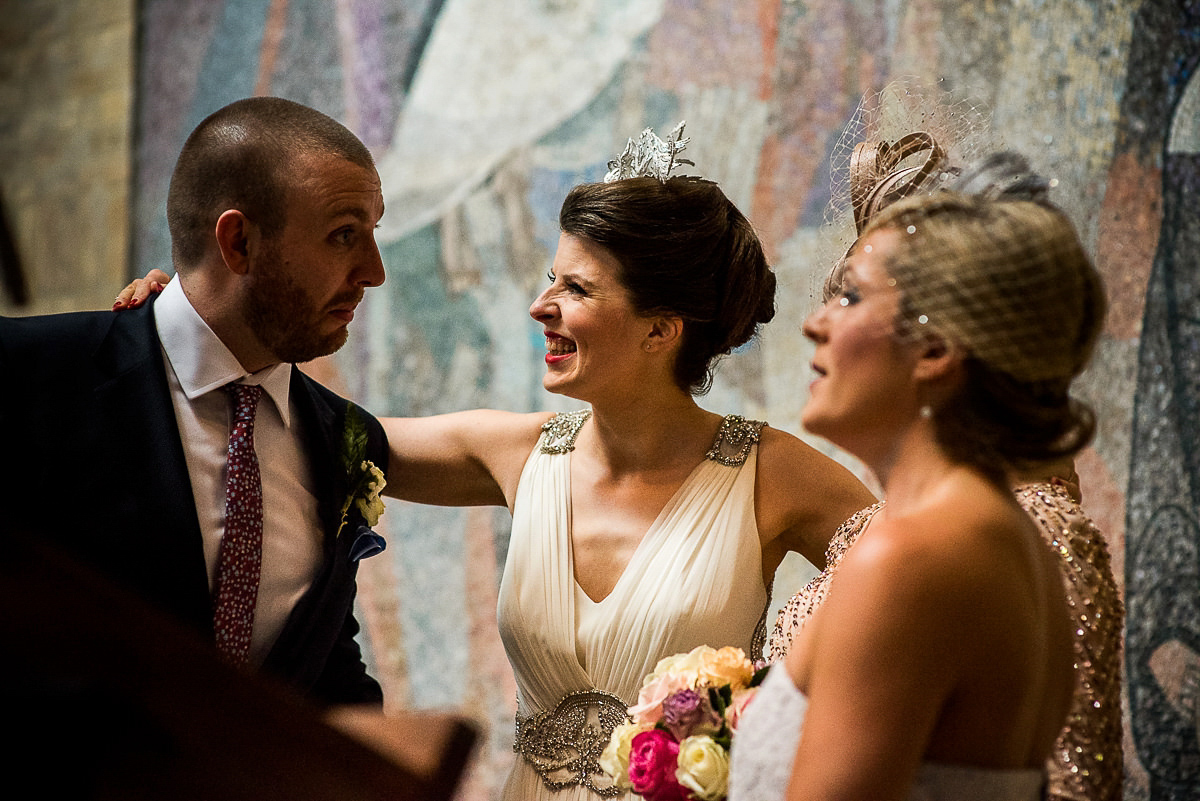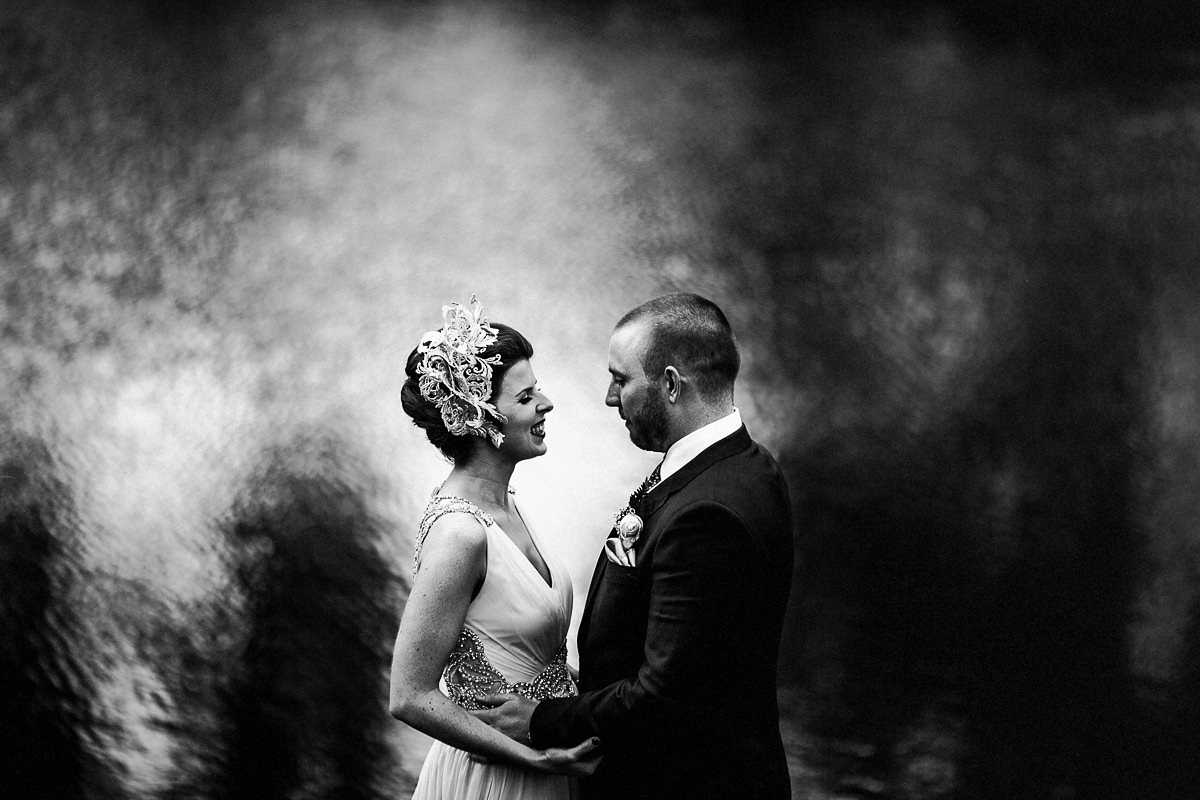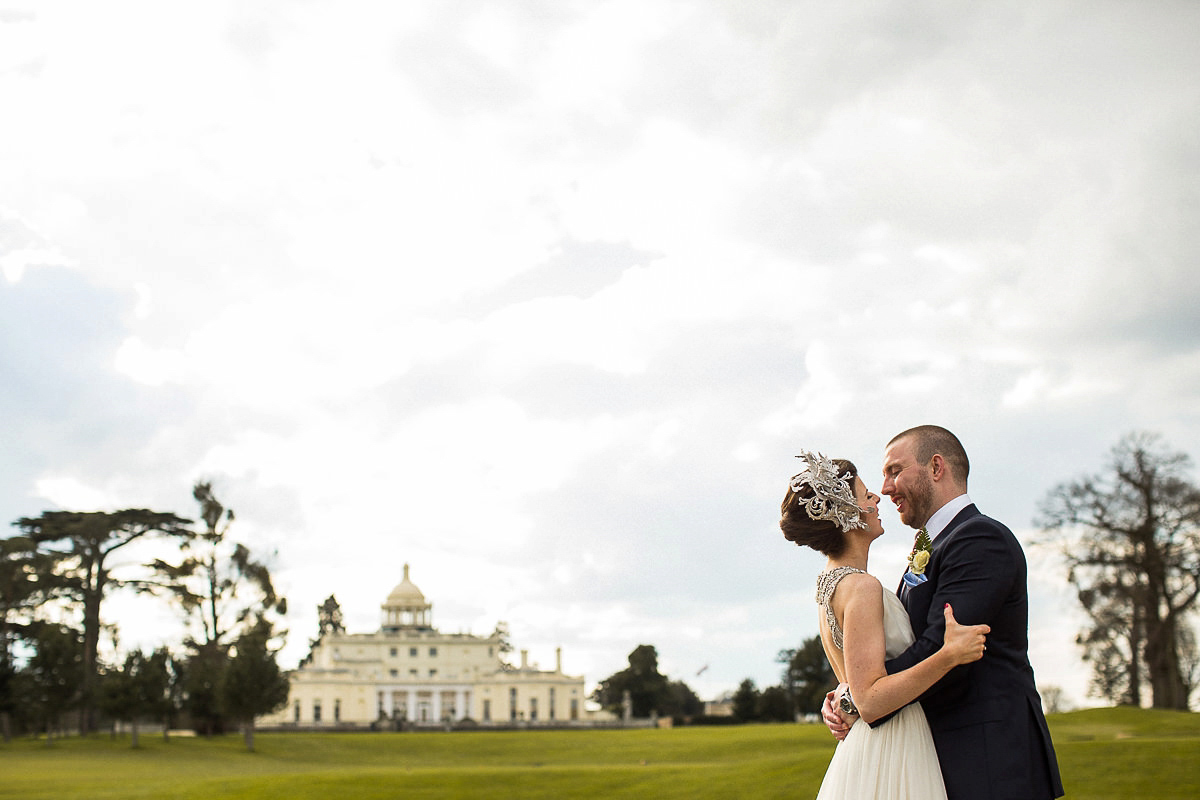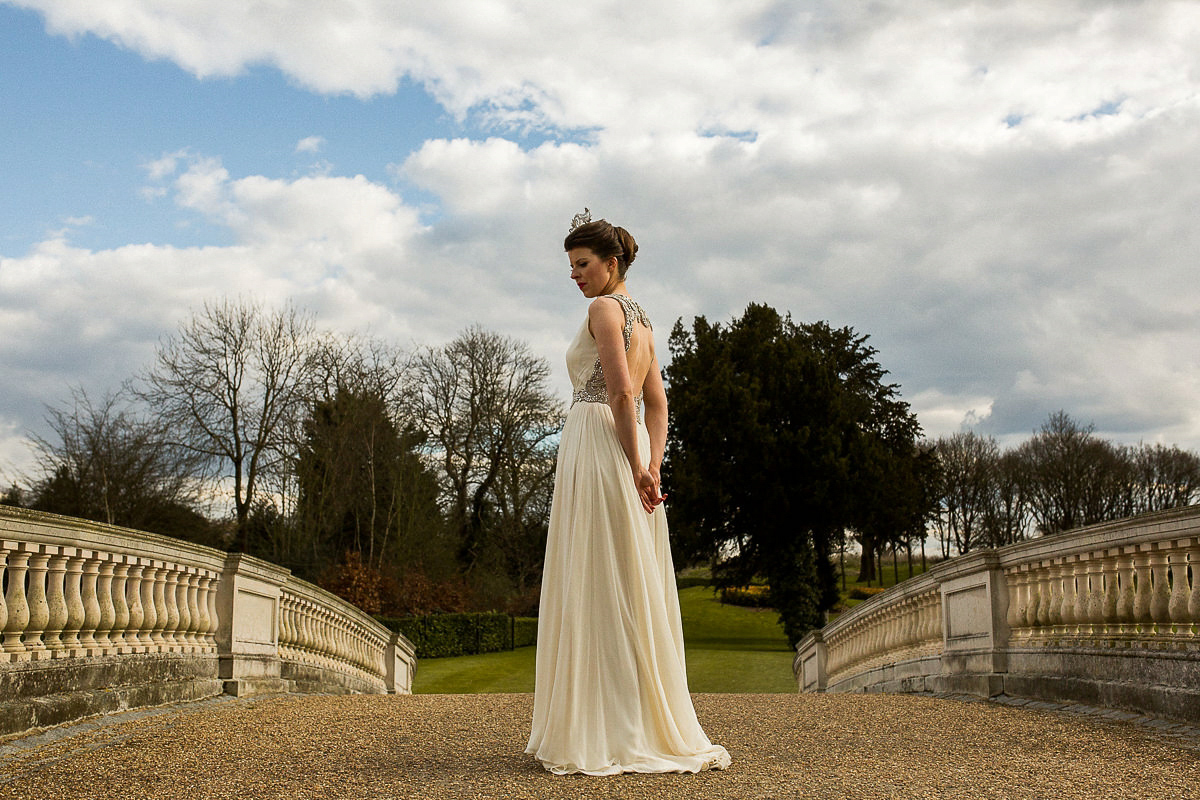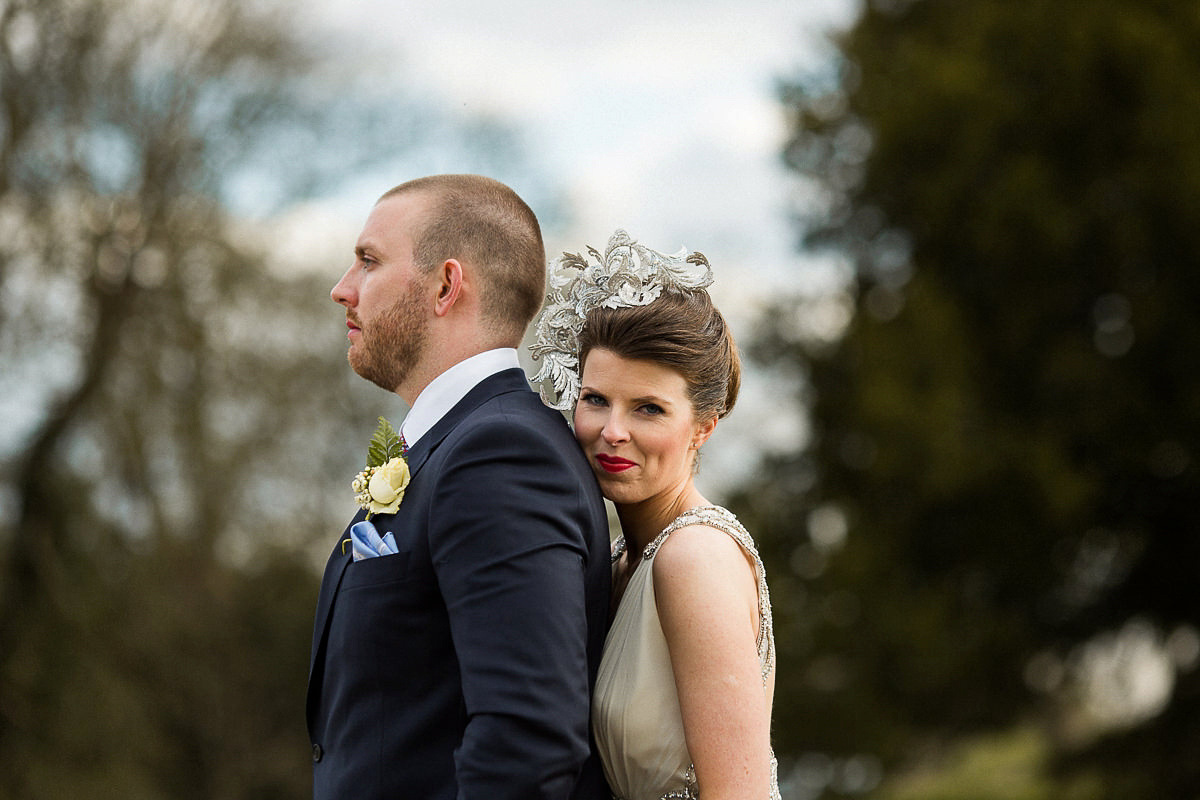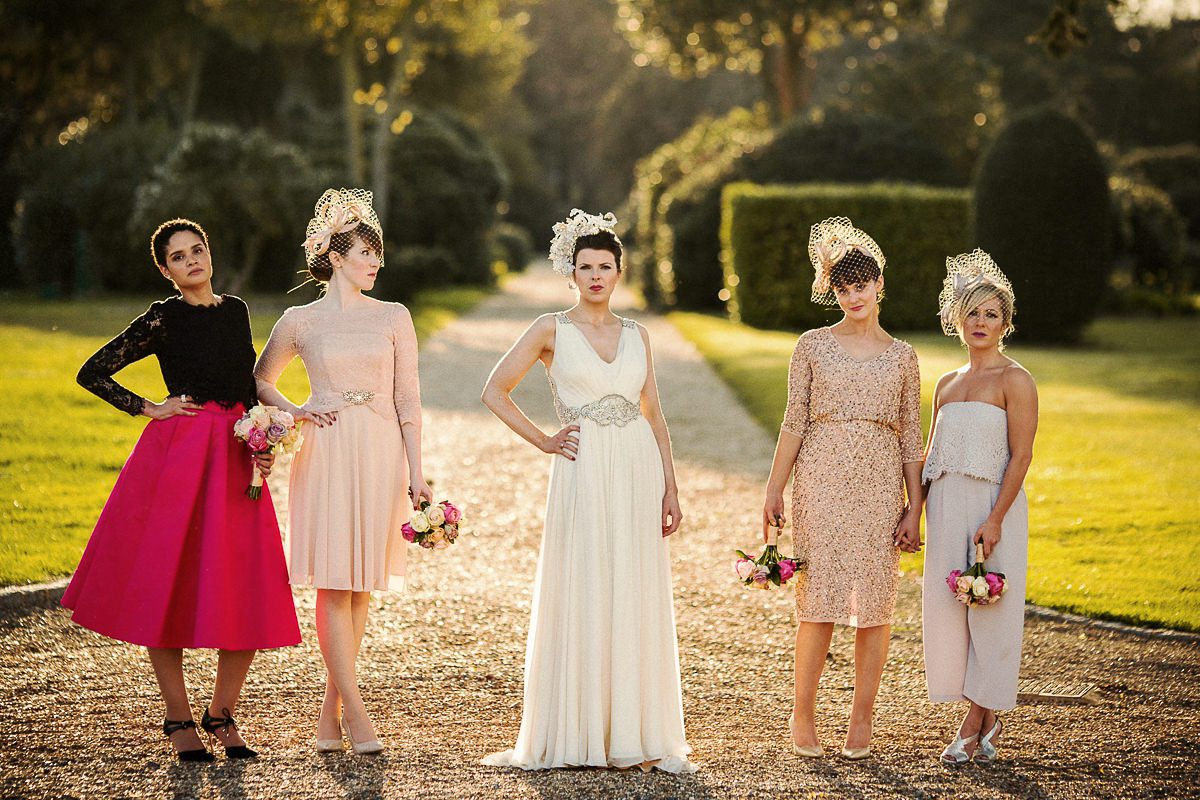 Now, isn't Stoke Park Hotel absolutely beautiful? Photographer Matt Parry with Shelly Montovani has captured its splendour perfectly, and picked up on the creative styling elements that the couple worked so hard on. I'm particularly fond of the portrait shots of the newlyweds in the country estate – so beautiful.
"Even though we styled our wedding on old Hollywood glamour, we definitely wanted an artistic and relaxed approach to the photographs. We were adamant that we wanted a documentary style photographer who captured the true essence of the day, those magic moments that maybe no-one else sees but nonetheless make the day what it is. Matt and Shelly absolutely did this and so much more."
"The soul of our wedding most definitely lives on in the photographs and we are fully transported back to the day with even a single shot. The best bit was that Matt and Shelly were such lovely, chilled and decent people who obviously love their craft and put Edd and I completely at ease. It made the whole process so much more enjoyable – especially as I usually hate having my photo taken, especially in formal shots as random angles can be very unforgiving! So much love for Matt and Shelly!"
The venue is stunning by itself, but the addition of a few Hollywood-inspired gold touches transform it into a Gatsby dream. The table names bought on Etsy, for example, have such a dashing style. The tables were simply but effectively decorated by the creative bride.
"I ordered small heart-shaped cards from Gudzy on Etsy saying "Catherine and Edd, 31.3.2016" with a gold trim as table decorations – along with white rose petals and gold hurricane stem candle holders from M&S. I bought gold patterned bunting from My Mind's Eye and gold and white twisted straws from Tiger that we cut in half for the welcome cocktails that were served in cocktail glasses."
"We had a photo frame in lieu of a guest book and put a photo of us that one of my bridesmaids took of us together when we had just met. Guests signed around it – we love it! It's much more modern and far less laborious than having to ask someone to go round and ask people."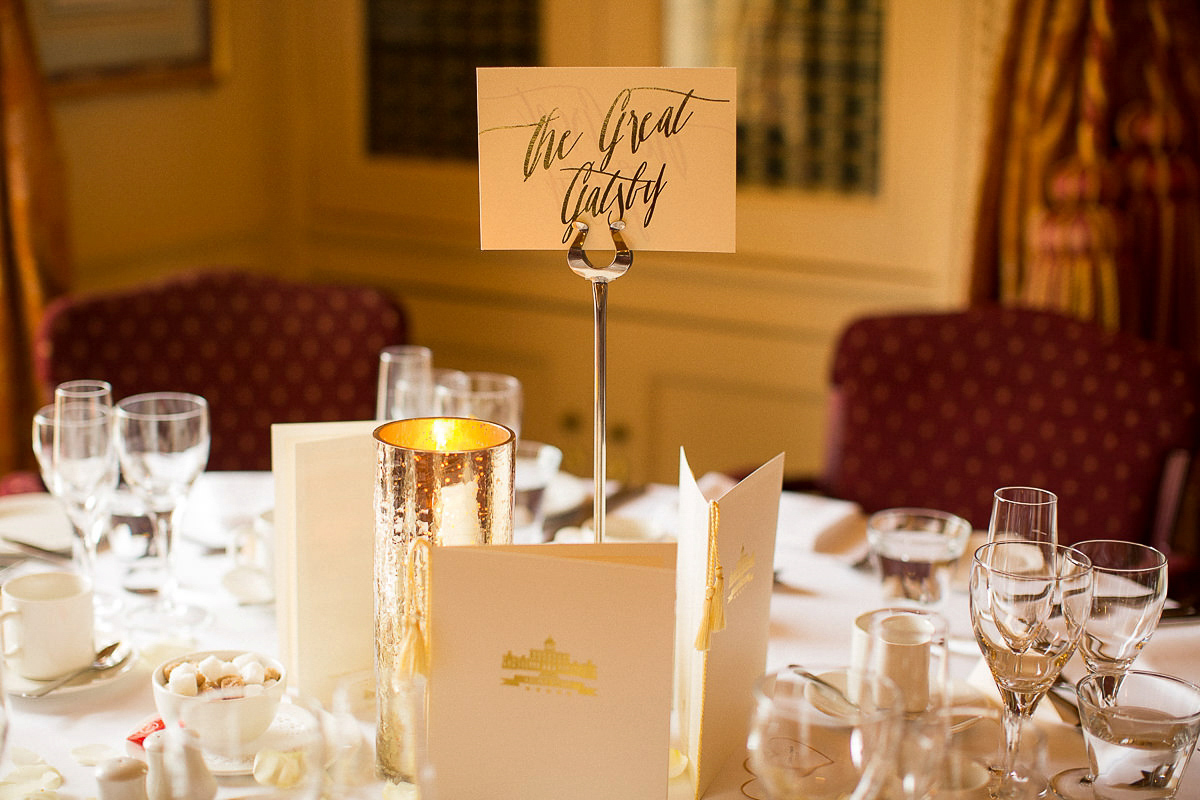 The delicious-looking wedding breakfast was provided by the catering team at Stoke Park, who also created this magnificent layered naked cake.
"It was a three-tiered naked cake – essentially a big, delicious Victoria sponge cake. We had a traditional wedding in some respects but did other aspects very differently, like this. We were so happy we went with this, it was really enjoyed by all and looked so fresh and delicate. It was also just what we wanted, we did not want a formal fruit cake with icing that could get left behind! I custom-ordered a beautiful cake topper in a Gatsby-style of a hand-painted cardboard cut-out of a man and woman with the Eiffel Tower. Our first holiday together was to Paris as was our mini-moon."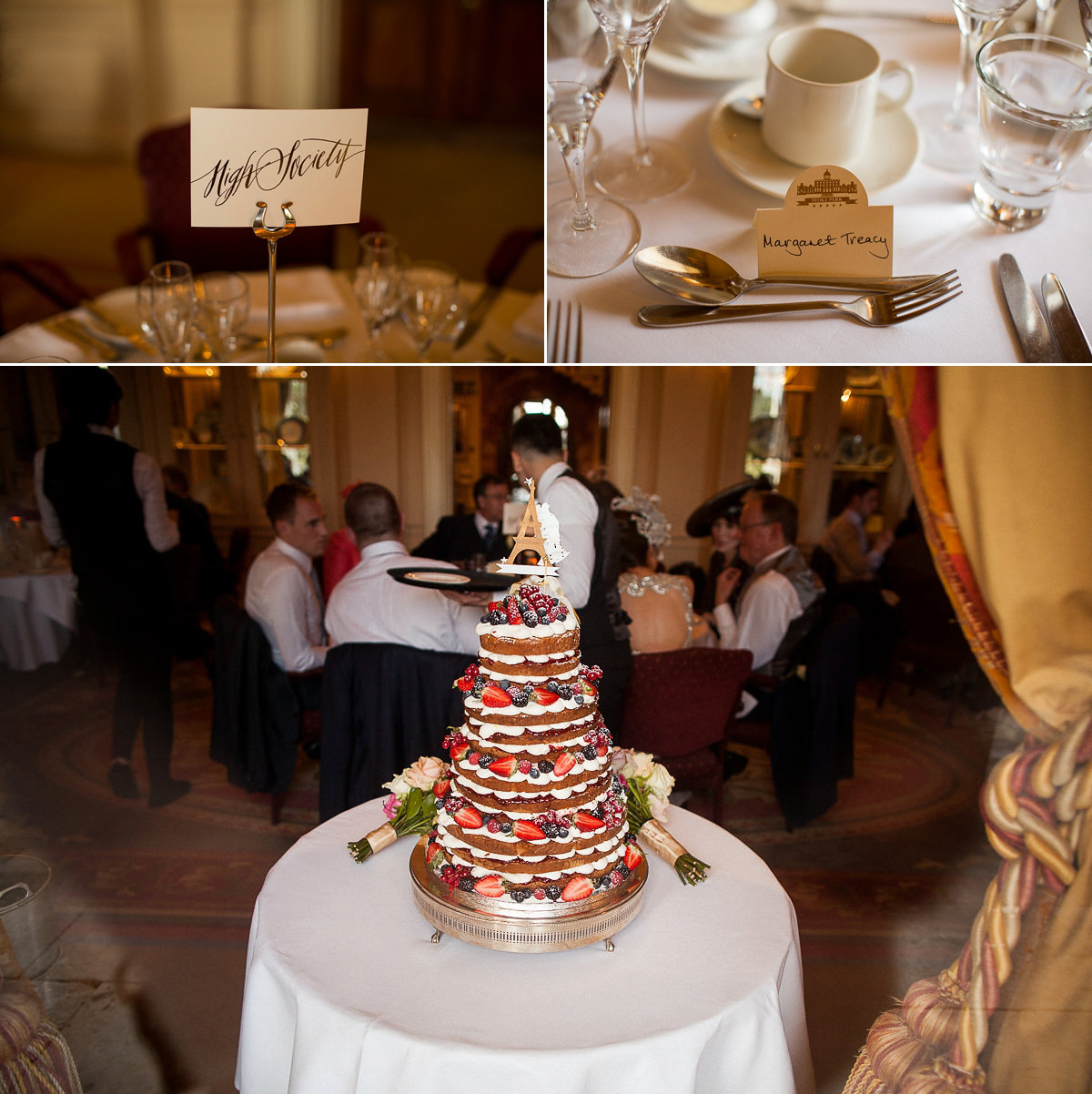 "We had both of our parents' and grandparents' wedding photos displayed on either side of the photo guest book to ensure that the recent weddings that lead to our wedding were represented. It was also our way of bringing our grandparents into the day as they are all no longer with us, our only sadness of the day."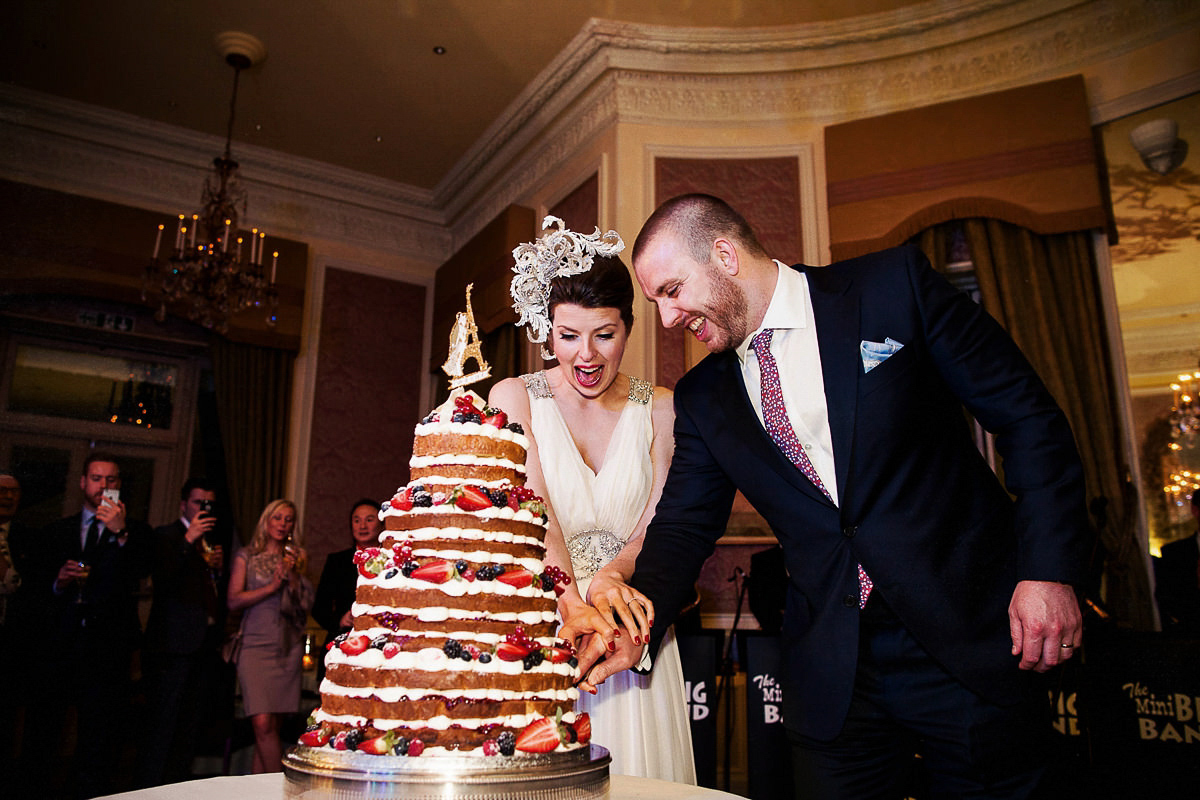 The bride decided to do a speech as well as the groom, and has some great advice for brides thinking about doing this too.
"I would have got a lot more aspects completed way ahead of time such as the order of service (this took me ages as I designed it myself and chose all of our readings) and my speech. I wrote this the night before as there was so much else to get done and I kept thinking, 'I must do this, I must do this, there will be loads of time'. Just sit down and do it – stop thinking about it! I am normally a very organised person and I wish I had sorted that sooner. I am really glad that I did speak because a wedding is about two families joining together and two people being united as equal partners."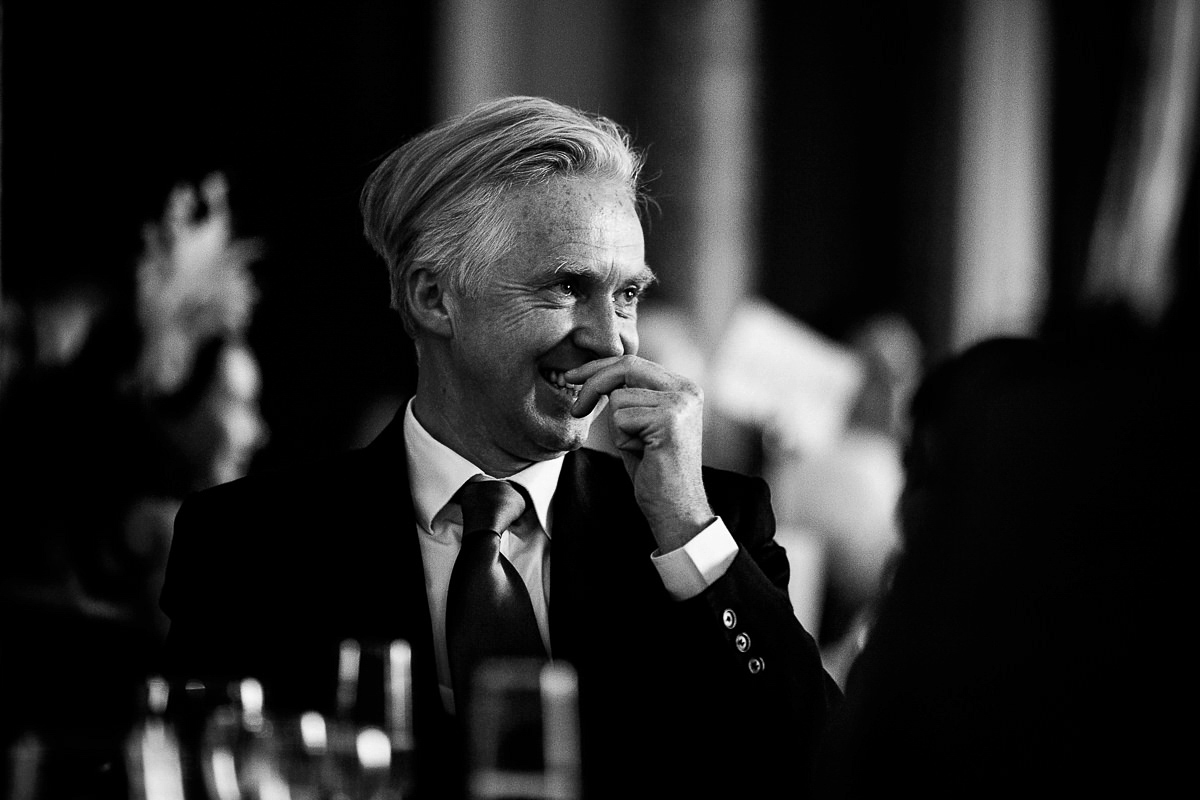 In keeping with the era-inspired day, the couple hired The Mini Big Band to provide vintage-inspired entertainment and play the music for the first dance, 'I've Got You Under My Skin' by Frank Sinatra.
"Edd is a big Sinatra fan and this song describes how we felt about each other from the moment we met. It was off the beaten track of classic first dances too, which we liked. We also wanted to choose something that the big band could play live for everyone."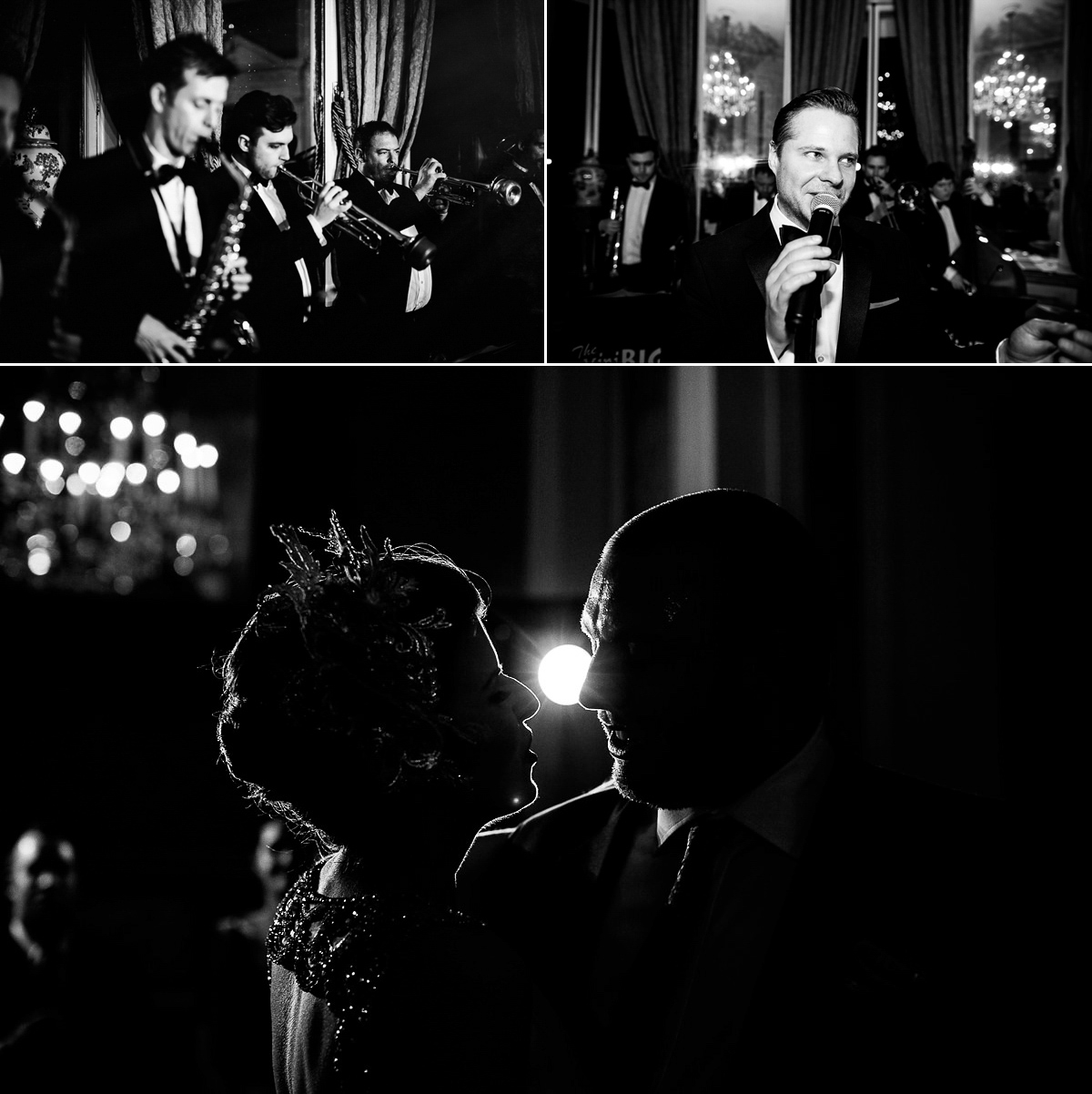 Words of Wedded Wisdom
"Have a winter wedding – these are typically weddings between October and March. The weather can be really beautiful in October and March especially. We had glorious sunshine on 31 March. I have been to many summer weddings with unfavourable weather, which would have cost considerably more.
Consider marrying on a weekday – again cheaper. We got married on a Thursday as the next day was 1 April – a summer wedding and more expensive!
Use Etsy for unique and beautiful decorations, cost effective too!"
"Have Prosecco and not Champagne – we saved £930 doing so and no-one noticed.
TK Maxx is your friend – we found stunning bunting and decorative fans to use as decorations for the reception. Elegant, unique and can be kept and used again.
Think creatively about what you want and source items carefully. Remind yourself regularly to focus on what is actually needed for the wedding and what is superfluous.
What will you and your guests actually remember about the day? Spend money on memories not items and touches that are overlooked and meaningless to you both.
Consider having candles for your centrepieces instead of flowers. We had candles as centre pieces and I scattered white rose petals around this with the heart-shaped cards with our names on. We had eleven tables and were quoted £55 a table for floral decorations, which would have depleted our funds. The candle holders doubled as gifts too."
"Ask for a discount on everything – we were able to obtain this because we got married outside of wedding season. This allowed us to have more money for the important parts in our eyes!
My dress was bought in a sample sale and I had it altered slightly. A fraction of the Jenny Packham price.
Take advantage of department store offers – 20%, etc – I waited to order the bridesmaids' dresses until they had their discounts.
Decide what is MOST important to you – it was food, venue and music for us so that is where the money went. We made big compromises elsewhere so that these aspects of the wedding were guaranteed for us.
Make sure that you invite the guests that you want, not what your family or friends want/expect?"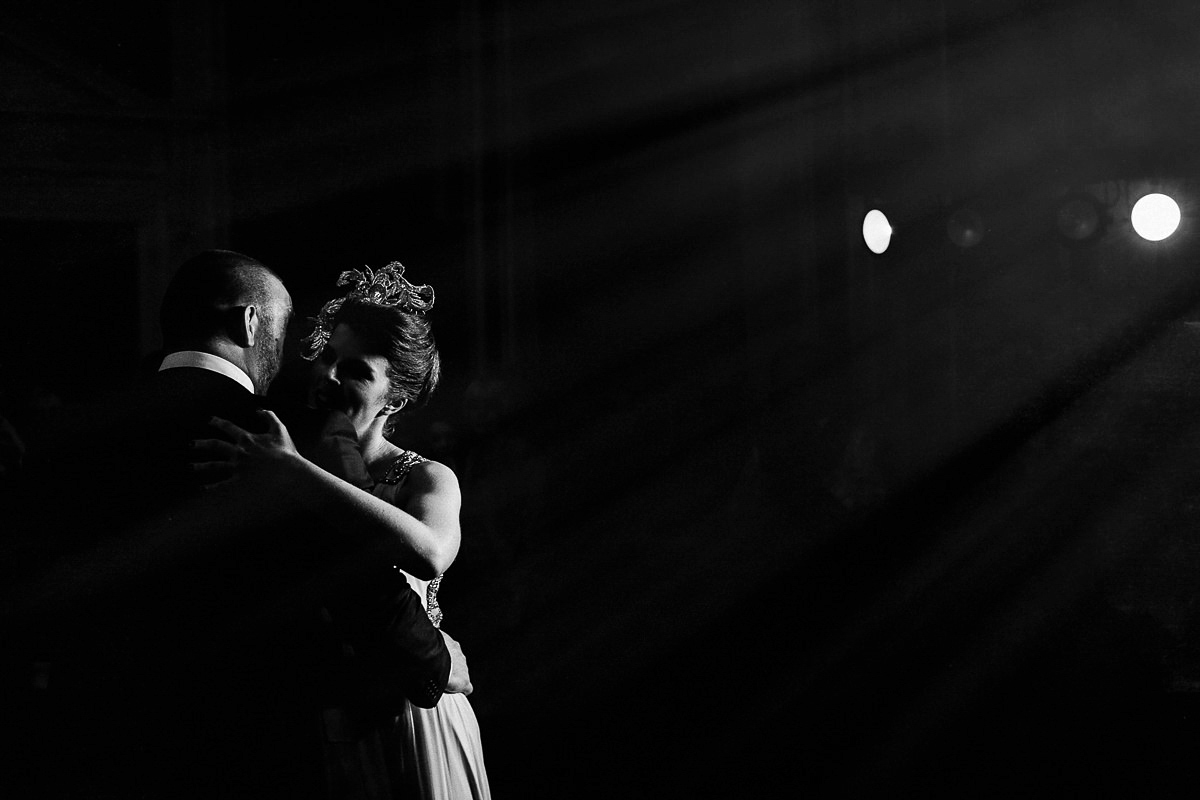 Catherine and Edd, thank you so very much for sharing your beautiful day with us all. So chic, I adore your creativity and sense of style. Thank you also for your useful advice and money-saving tips. Much gratitude to Matt Parry for your lovely, cinematic work. I've thoroughly enjoyed these beautiful photographs.
Wishing you all a great rest of week.
Ele xx