It's been a little while since we reviewed a travel destination here on Love My Dress, but thanks to a wonderful opportunity that arose last month, we're excited today to invite you over to the sun-drenched and peaceful lands of North Africa – Marrakech to be more precise.
We're handing over to Claudia Rose Carter for this feature, whose name some of you may recognise, for she is responsible for all of these beautiful wedding photographs (and these images, which went viral!). Claudia was lucky enough to be a guest, on behalf of Love My Dress, at the beautiful Le Palais Paysan. Here, she shares her experience of this romantic Moroccan getaway and destination wedding venue.
Photography by Claudia Rose Carter
I was lucky enough to be guest at the beautiful Le Palais Paysan last month, for Love My Dress – a stunning, modern, stylish and yet comfortable, relaxed and beautiful hotel, that is set amidst striking Marrakesh desert surroundings.
The land the hotel occupies, 7 hectares in all, was bought by owners Phillipe and Horst back in 2007. Building works took five years to complete, and Phillipe designed the aesthetic of the hotel right down to every last tiny detail, using the natural surrounding environment nature as his inspiration.
One of the first things that stood out, aside form it's minimalist, modern inspired beauty, was the dedication of the hotel to supporting it's local environment – this is a hotel with a social conscience, if you will. In fact, 70% of the hotel restaurant's produce is either grown on site or supplied via local farms, and the majority of the 32 individuals who staff the hotel reside in the local village.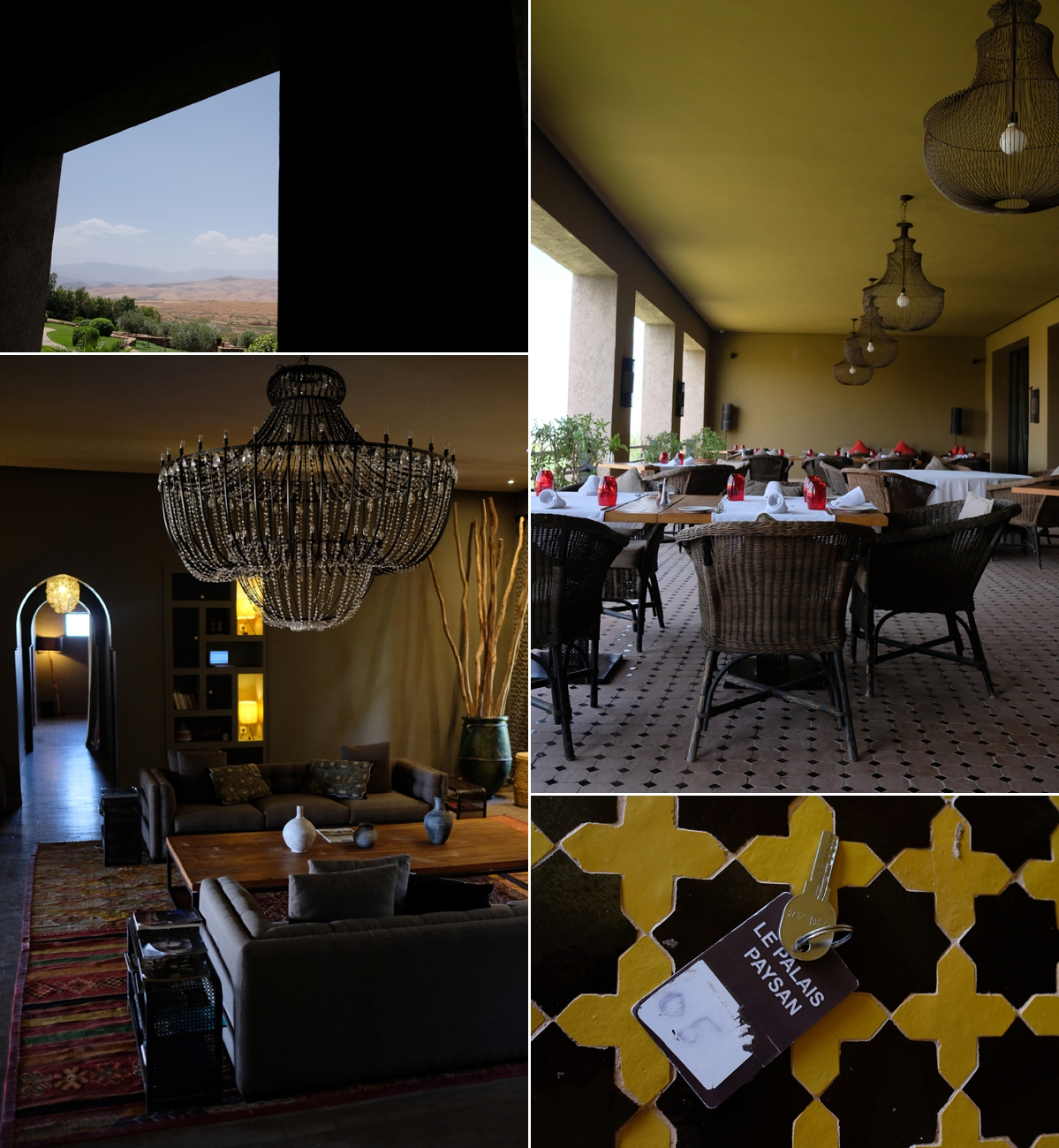 The room furniture and decor is all as local as it can be to Marrakesh – beautiful tiling and architecture that is tasteful to the natural surroundings welcomes you and immediately helps to generate a sense of peace and calm. The colours throughout the hotel are inspired by the surrounding rolling hills that go on for as far as the eye can see.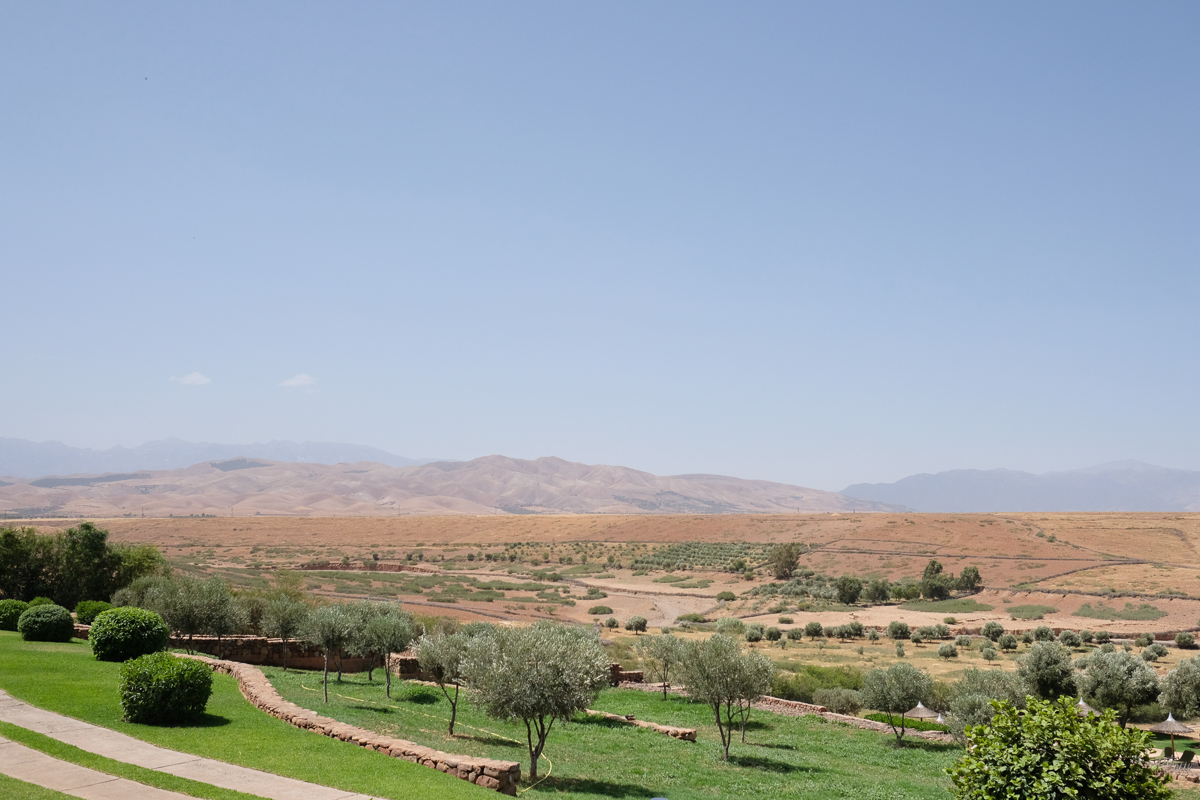 Everything about this beautiful space feels natural and inspired by nature – even the products used in the spa are all natural, holistic and plant-based.
The hotel is located 25km from the airport and the journey there will take you on a sensuous Moroccan adventure through the local village. Many of the big hotels outside the centre of Marrakesh are walled off, creating a sense of divide from the locals, but the owners of the beautiful Le Palais Paysan wanted to keep their hotel open.
Every one of the peaceful bedrooms are south west facing. The sun rises beautifully in the east from the extraordinarily stunning Atlas mountains, and sets in the west.
The space, vibe and hospitality provided by this gem of a hotel are all perfect for couples seeking a romantic getaway. I was thrilled to discover that the venue also host weddings and in that respect, their approach is incredibly flexible. There is a choice of many beautiful open air spaces that can host a ceremony.  Ceremonies usually commence around 6.30pm in the evening, due to the heat in the daytime (when naps in the shade by the pool are thoroughly encouraged!).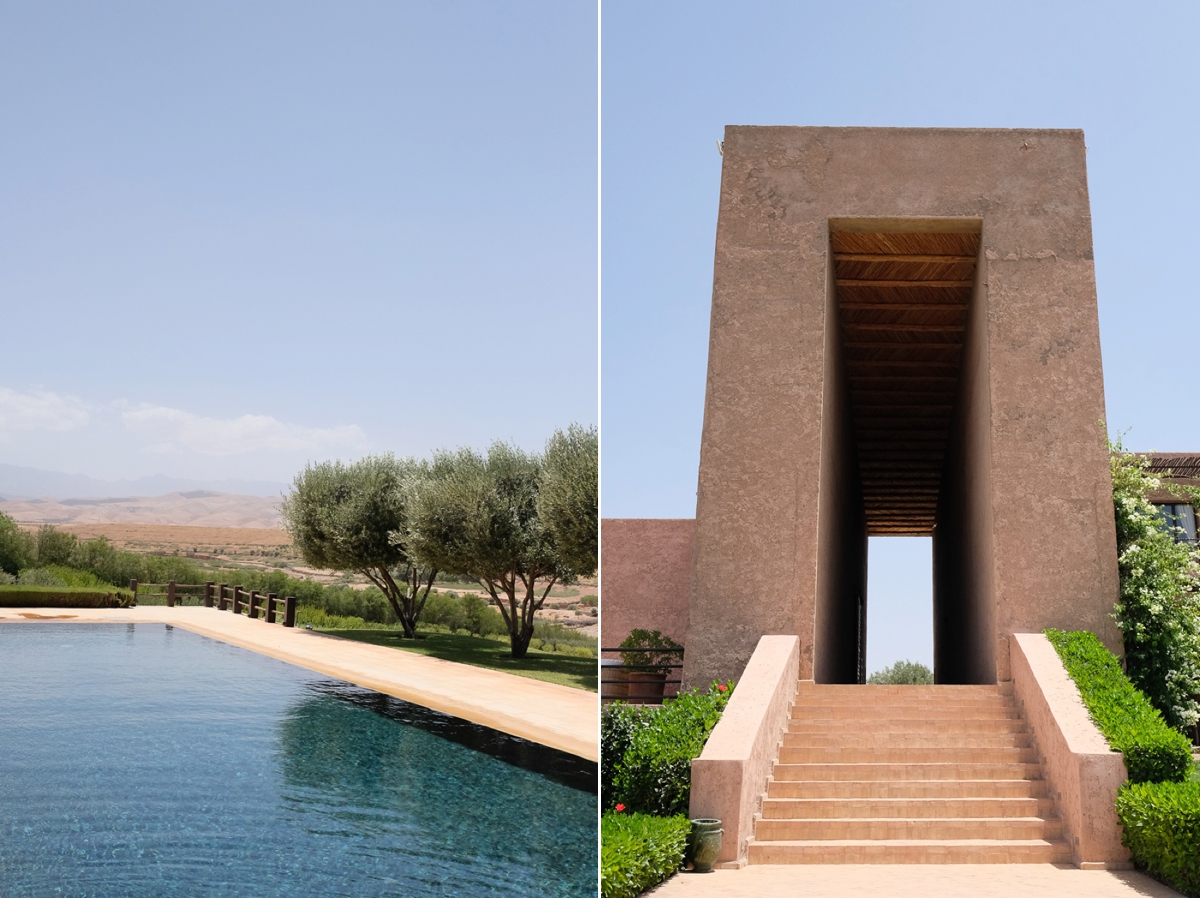 The hotel utilises the surrounding land for drinks receptions and dinner is normally set alongside the chic and elegant pool.
Amenities wise, the hotel can be hired out on an exclusive basis for weddings. There are 18 rooms in all, sleeping 36. Each room has a king size bed. There is also a jacuzzi and spa (with two separate massage rooms and a hot room for massages), a pool with a bar, a restaurant and shop that sells local gifts and produce.  The owner himself has a guest house right next to the hotel which can be vacated if required to create an 5 additional guest rooms. In fact, during my visit, the hotel were preparing to host a wedding with 45 guests.
The restaurant itself has peaceful and ambient arabic music playing in the back ground. There is a beautiful terrace overlooking the landscape and Atlas Mountains in the background, from which you can sit and dine whilst enjoying the view and hearing the birds and crickets.
The extensive gardens contain aloe vera plants, olive groves, a vegetable and herb garden and even a farm. The water is all recycled to feed the soil in the fields.
There is a strong ethos of quality over quantity at Le Palais Paysan. The restaurant can cater for up to 350 with the space, but prefer to adhere to maximum numbers of 150 so that they can provide the very best food service possible. There are six potential dining spaces in all, adding further to the choice of flexibility. The food is incredible by the way – senses overload in terms of aroma and taste. The hotel kindly provided a sample menu and sample wedding plan for me to share with you too;-
Do take note that weddings are limited in number – the hotel prefer to work with only 15 couples each  year to ensure their full attention and best possible service can be provided for each occasion. If you are thinking of enquiring about a date for your own wedding, my recommendation is to do so soon.
In terms of entertainment, traditional Moroccan belly dancers, fire dancers, Berber boys (acrobats with music), traditional local bands and, Marionettes (large puppet acts) can all be supplied to entertain your guests.
Excursions into the Atlas Mountains (via the easy route or more challenging route for those who are up to it) can also be organised. There are also the spa facilities for those who would like to fully relax and be pampered, cooking classes, falconry lessons, arabic choreography classes and even calligraphy classes!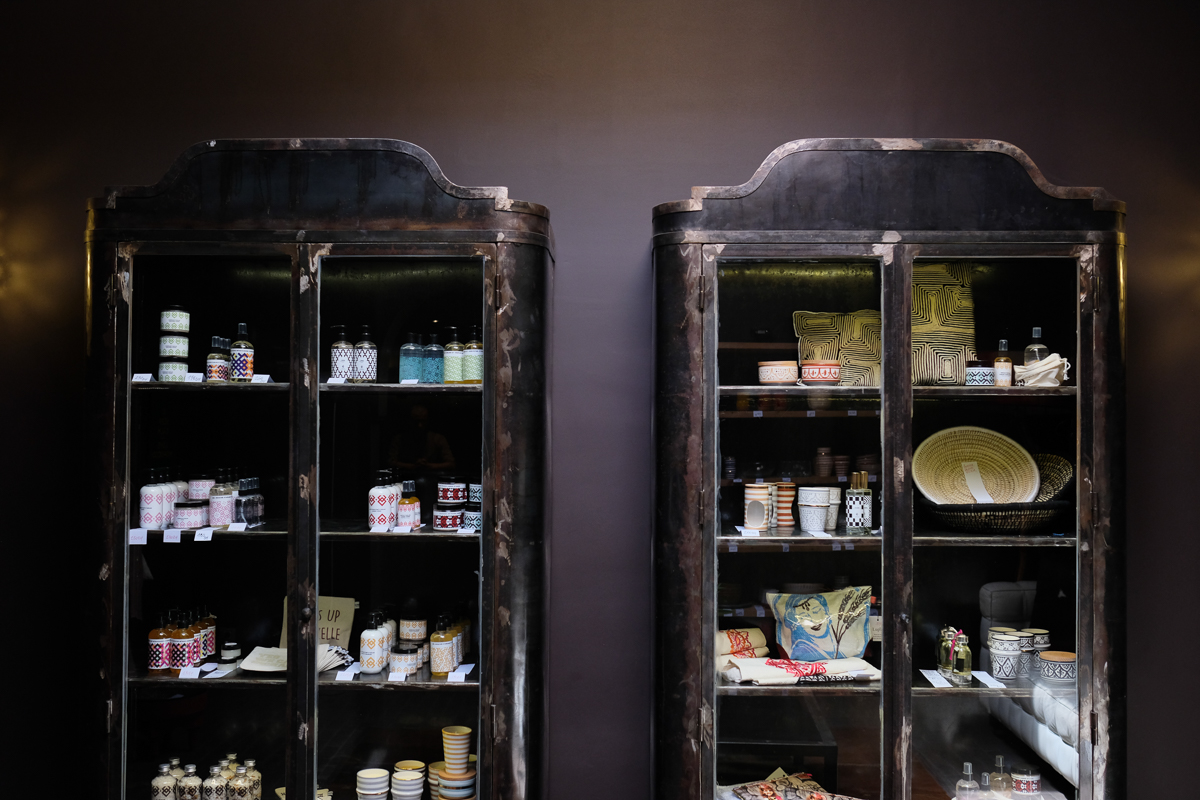 I mentioned the hotel's social conscience earlier – I was delighted to discover that the owners of Le Palai Paysan have built a school in the local village, that they kindly organised a visit to. The school is now in it's eighth year and was built as a way of giving back to the community. It offers pre-school education for 4 and 5 year olds. The hotel even contribute towards transport to take the older children to the neighbouring 'big' school, some 3km away. I was heartened to see how dedicated the hotel is in supporting the local environment and those who live there.
I loved my short stay at this gorgeous hotel and came away with a real sense of zen.
It's a beautiful space for a relaxed week away with the people you love!
To find out more, visit lepalaispaysan.com. You can also connect with the hotel on Instagram, Facebook and Twitter.
Claudia x
There are no photos with those IDs or post 681456 does not have any attached images!