I've written many times before about my love of travel, both abroad and in our lovely British Isles, but one of my very favourite places is Wales.
Today's barn wedding is set in one of the most beautiful parts of a very lovely country- the Brecon Beacons.  Katie and Marcus tied the knot at St John The Baptist Church in Newport, followed by a reception at the Sugar Loaf Barn near Abergavenny on the 10th September 2016, surrounded by family and friends. Katie wore a gorgeous soft gown by Jesus Peiro which she purchased from Morgan Davies Bridal, London.  I especially love the embellished overlay.
"My Jesus Peiro gown was the first dress I tried on that made me feel like me.  My bridesmaids described it as 'like clothes you already own but much nicer'.  The material was so beautiful– layers and layers of light, free-flowing material with a beautiful lace on top – completely different from most of the dresses I'd tried on.  I cried, my mum cried, my sisters cried.  It was such an easy choice and it was perfect for a barn wedding too as I could dance and sit on a hay bale without feeling awkward or squeezed."
Photography by Eleanor Jane Weddings
"We started with the idea of a country fete wedding with lots of hessian and hay, but after trying a few ideas out, we decided to throw in some bold colours as well for a fun, summer feel.  Sisters, cousins, parents and family friends all pitched in to help.""Our wonderful photographer was Eleanor Jane.  Eleanor was fun, friendly and put everyone at ease.  She caught some really beautiful, natural shots, particularly during the speeches and dancing, and we would highly recommend her photobooth – the kids loved it, as did our friends.
The latter had posed for loads of photos by the end of the night, each batch more amusing than the last as more raspberry vodka was devoured."
Make up was the work of Jenna Bloomer while Morgan Cullimore styled everyone's hair.
"Both ladies were really fun, were completely open to suggestions and made us all feel lovely."
"My earrings were a gift from my mother, who in turn had received them from her mother.  It really meant something to wear them that day with both wonderful women there with me."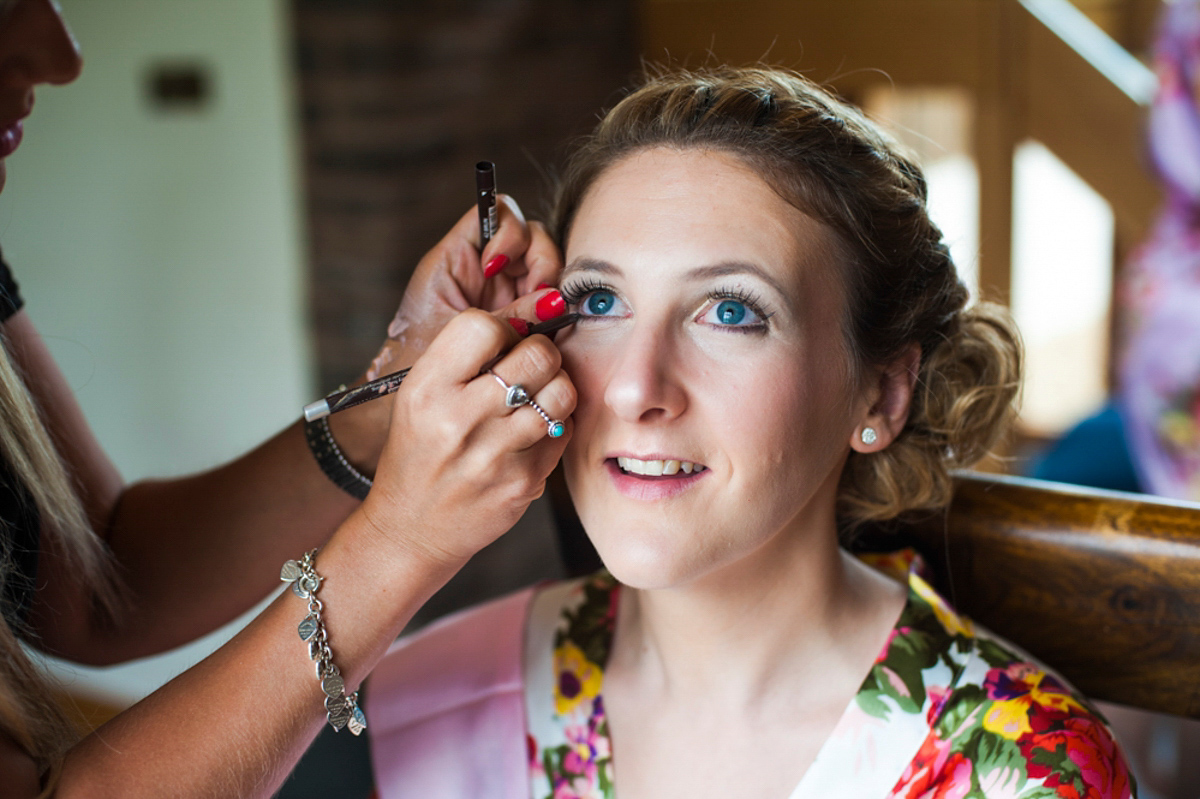 Katie wore a fabulous pair of shoes by Jenny Packham, while for scent she chose Clinique Happy, as it always makes her smile.  Her earrings were a family heirloom.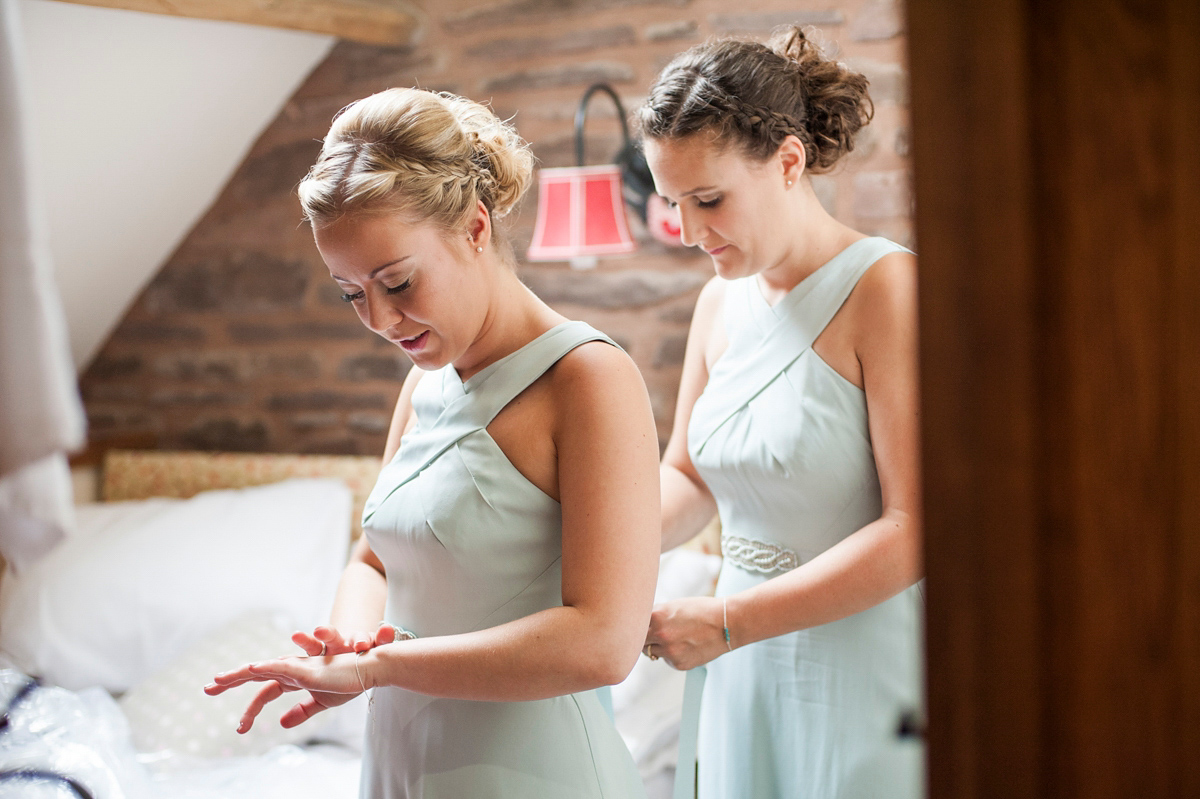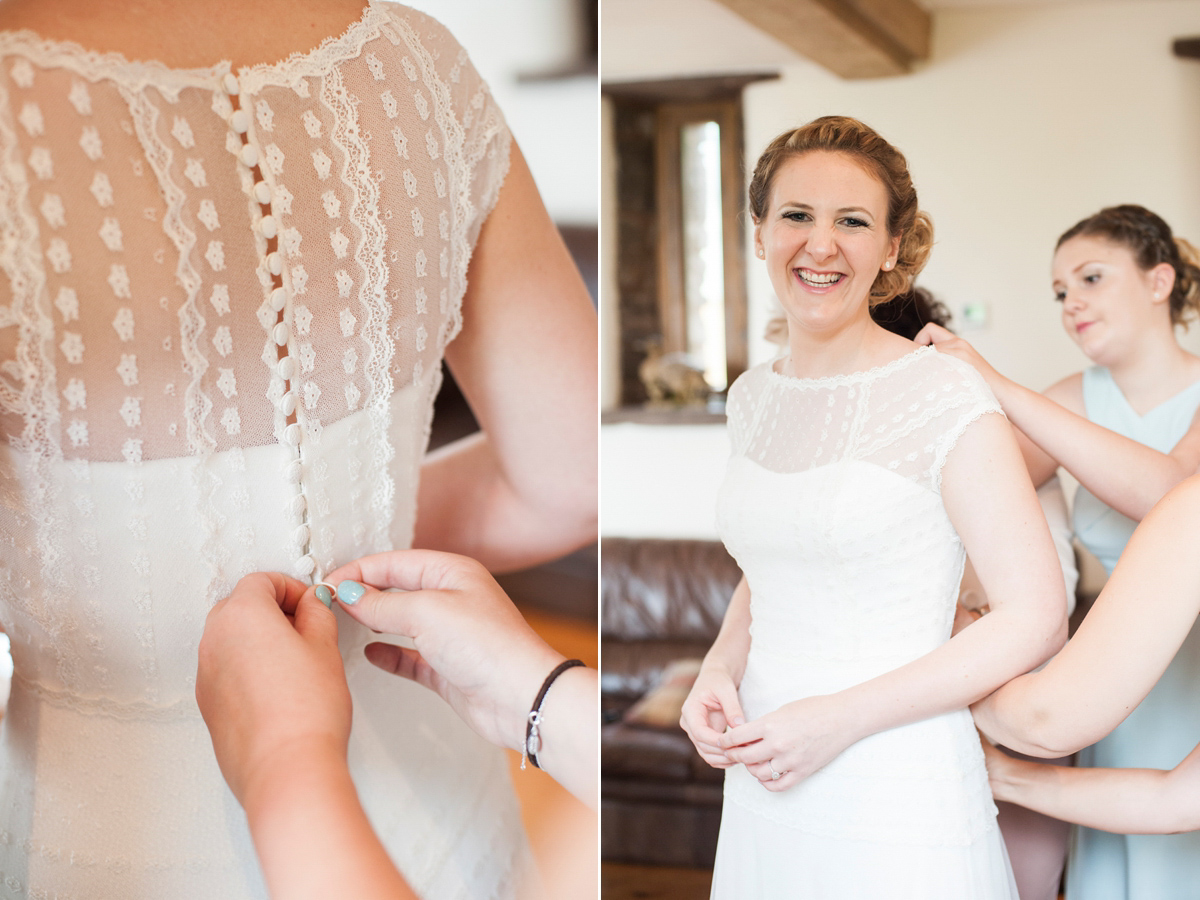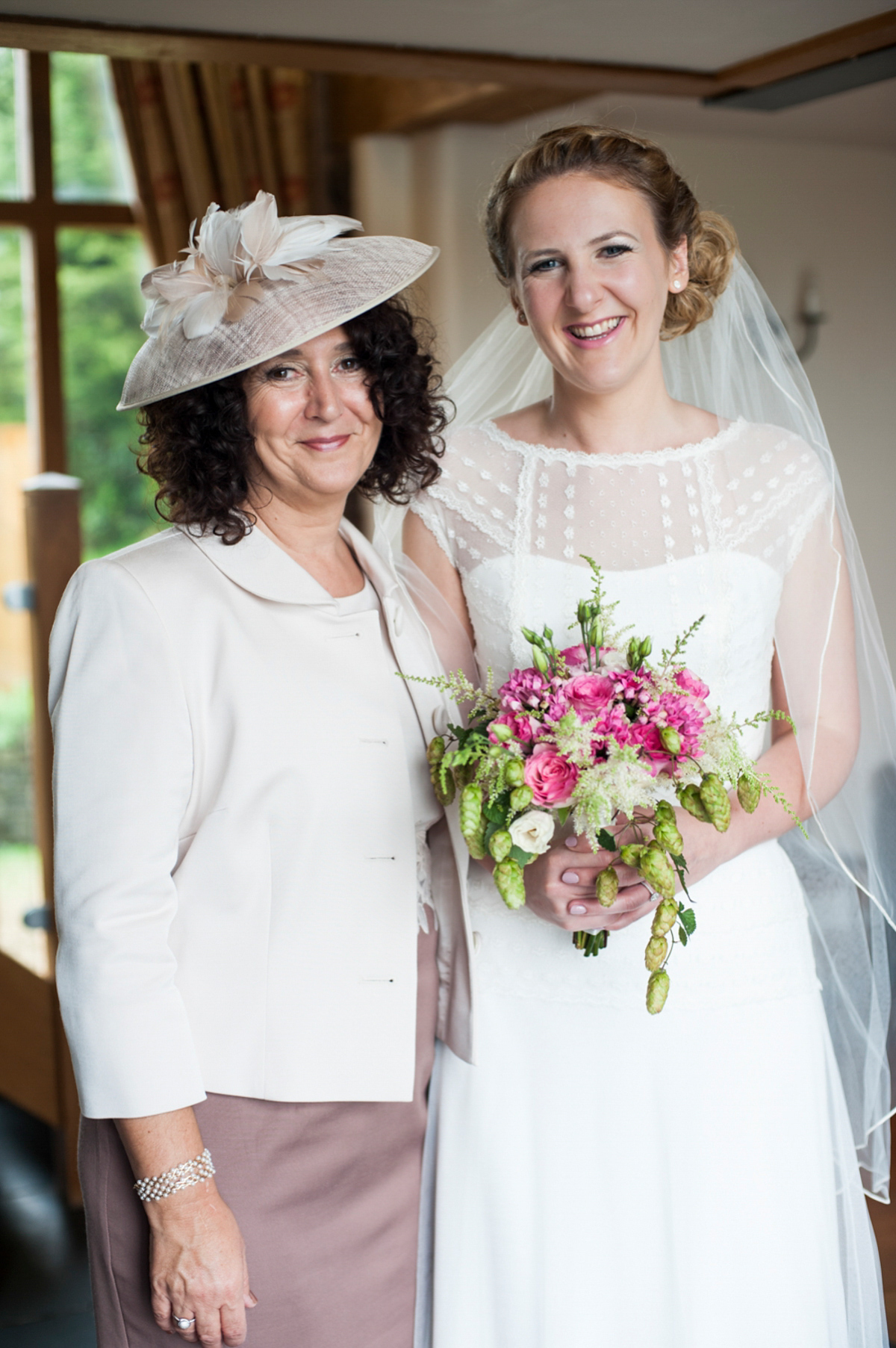 The bridesmaids looked lovely and fresh in mint green dresses from Monsoon, each worn with a bracelet from Oliver Bonas.

The little pageboy looked super sweet in a shirt and waistcoat from Next, paired with trousers from Marks and Spencer.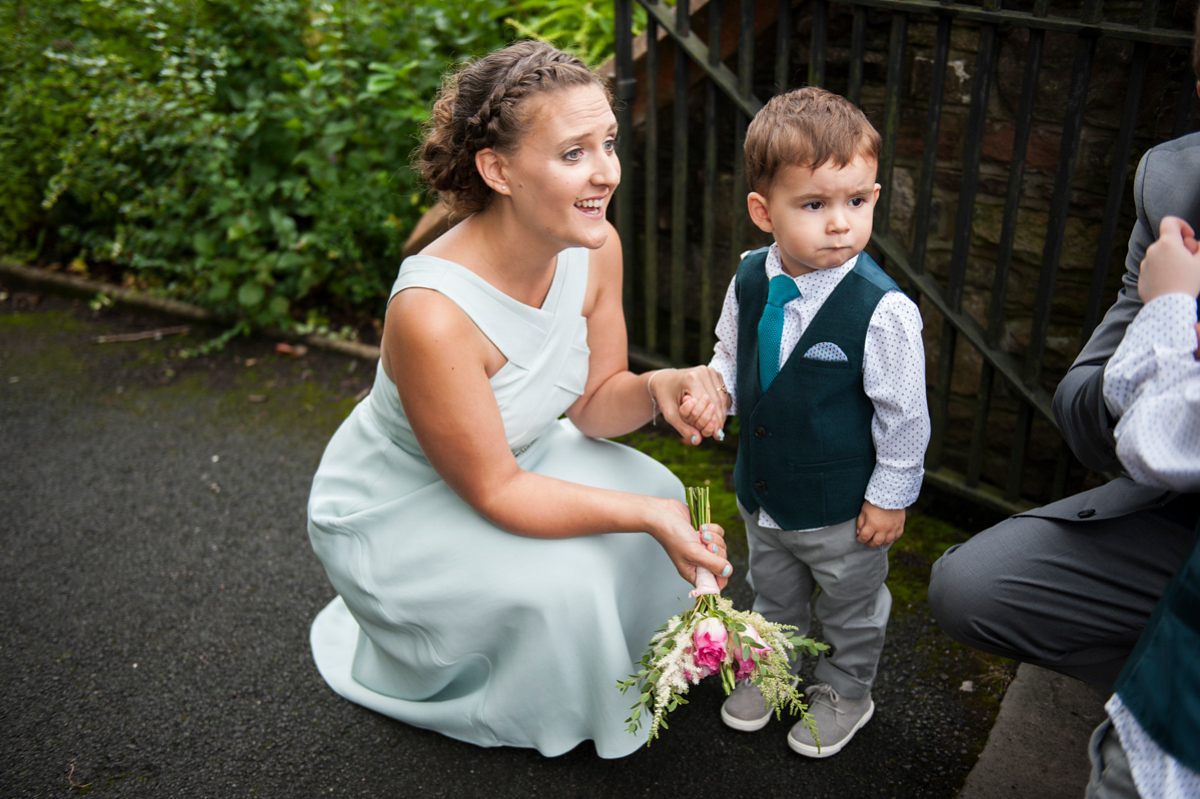 Marcus looked very smart, suited and booted in a charcoal three-piece by Hugo Boss paired with a mint green tie and pocket square from Moss Bros.  His ushers dressed to match.
"One pocket square had to undergo a last minute operation to split it in two after we realised we hadn't bought enough!  Thankfully Marcus' mum is very calm under pressure and an excellent seamstress so sorted this out."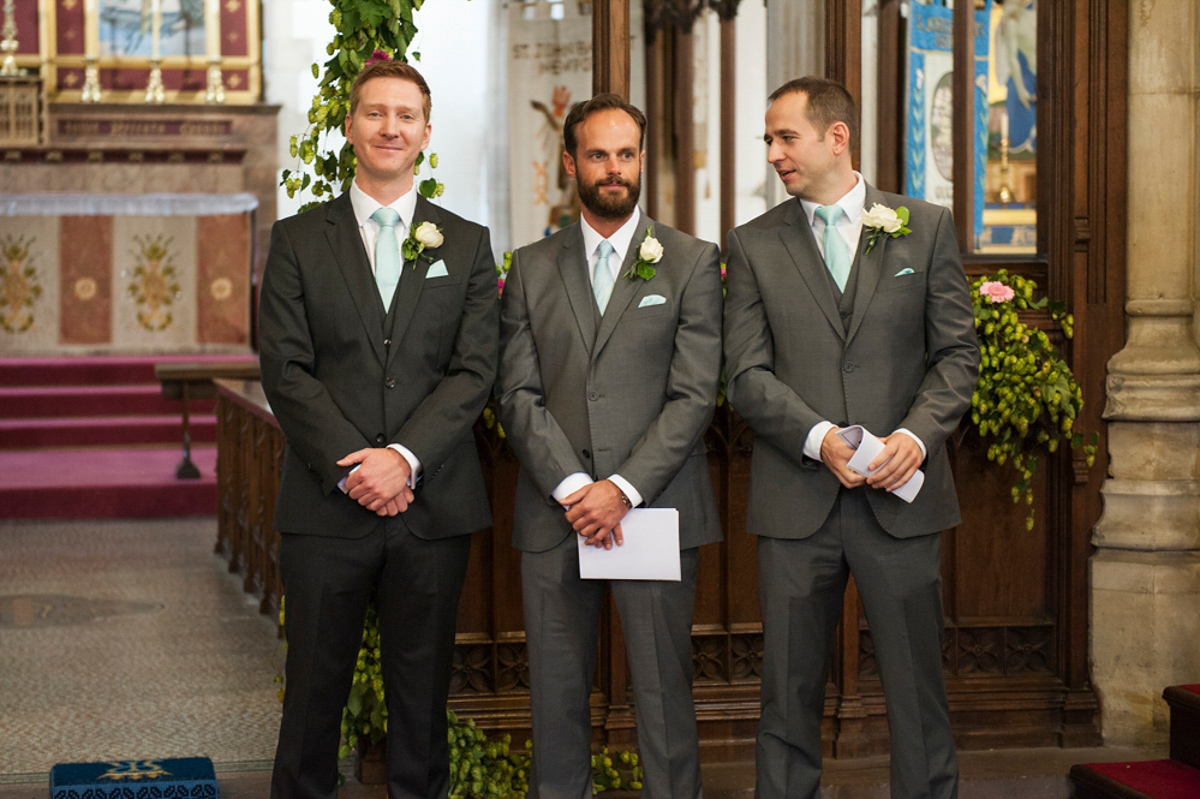 "Our lovely family friend Jacqui decorated the church and the reception venue with flowers.  The hops around the church pillars were so striking.  Jacqui took me to a flower market the Thursday before the wedding so I could choose the types of flowers I wanted in the bouquets so they really were just what I'd envisaged. We chose so many varieties of flowers for the tables and to wind into the hops too – really bright pinks to light up the barn and church."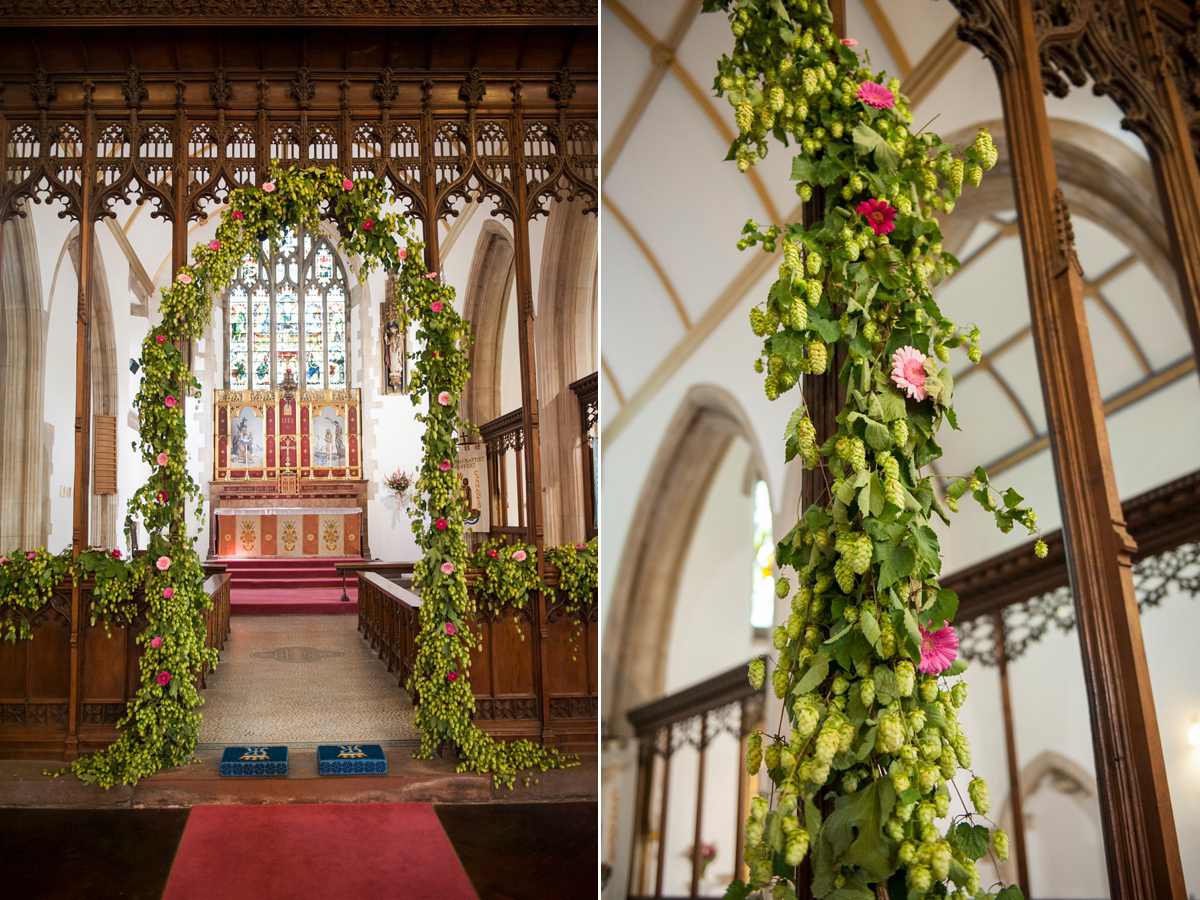 Katie walked down the aisle with her Dad Martyn to the classic wedding music of Pachelbel's Canon and the ceremony was led by family friend Revd Colin Westbrook.
"My favourite moment was seeing Marcus for the first time as I walked in the church (I've started filling up again whilst writing this) and also saying my speech – I wanted to make sure that someone said something lovely about Marcus and I actually really enjoyed doing it."
Katie's best friend and bridesmaid, Louise, wrote a poem based on the Emily Bronte line: 'Whatever our souls are made of, his and mine are the same' but re-titled it 'Whatever their souls are made of, his and her are NOT the same'.
"It was a funny, sweet poem describing how very different we are but showing how our relationship wouldn't function any other way."
Other readings were 'Song of Solomon', read by Marcus' sister and Colossians 3:12-17 read by Katie's uncle.
"Our rings were purchased from E Katz & Co. which is the oldest shop in Hatton Garden. We bought my engagement ring from there together and the staff were so friendly and put us completely at ease that we didn't hesitate before going back for our wedding rings."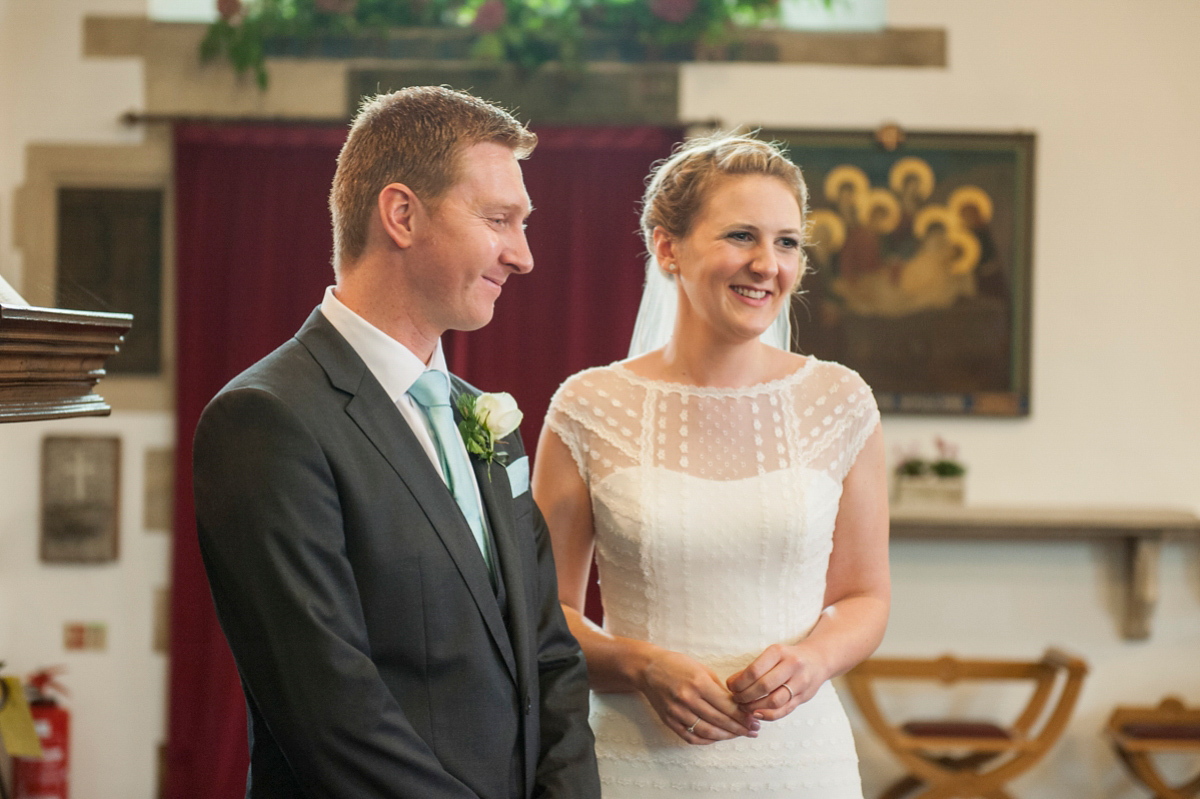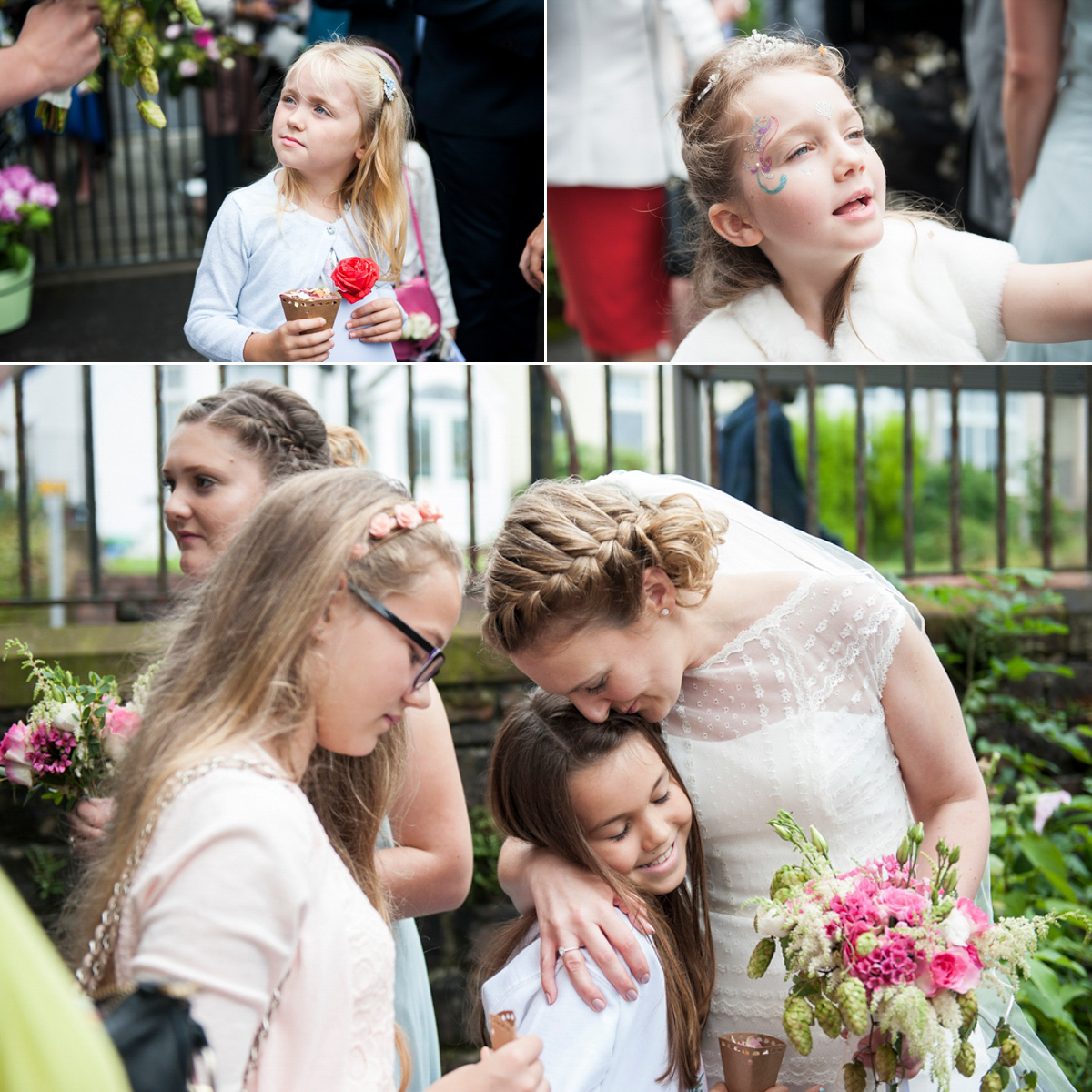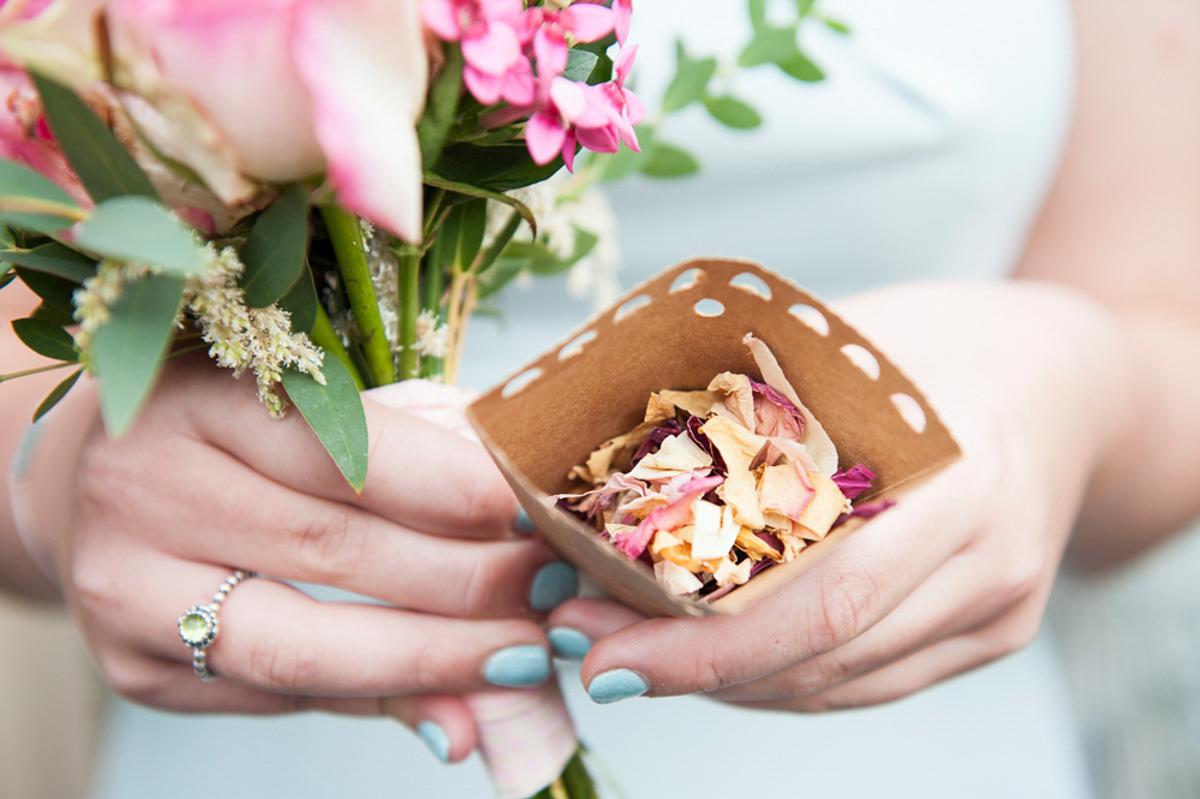 Guests were transported up to the barn for the reception on a trailer pulled by a tractor and treated to a BBQ by Food St Caterers Cardiff.
For favours, guests received Welsh cakes made by Katie's cousin and pots of chutney made by family friends.
"We made the decision to hold our reception at the Sugar Loaf Barn after less than ten minutes of wandering around.  The views from the barn were spectacular, the enthusiasm of the farm owners infectious, and the ability to decorate it as we pleased just made the choice so easy."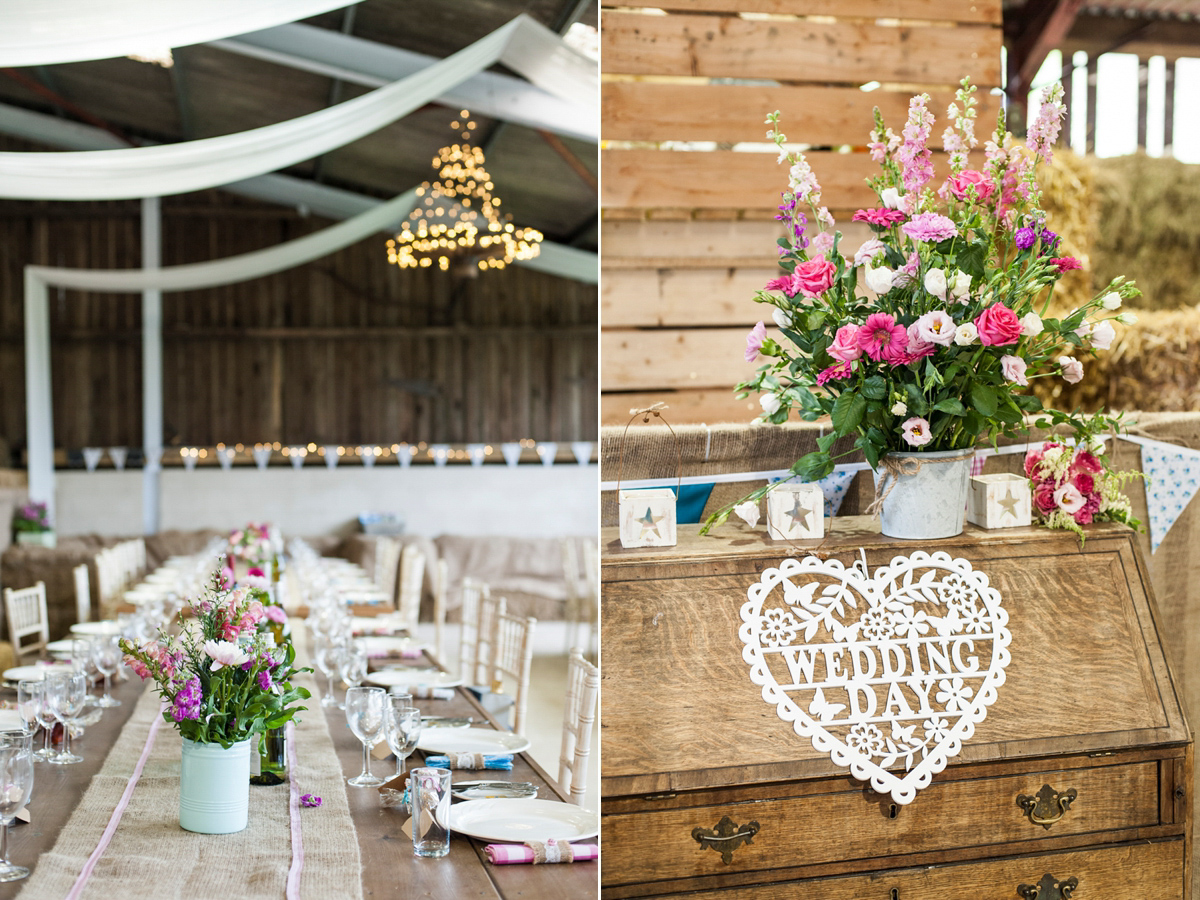 Decorating the barn was a true family effort. Team work!
"The younger ones decorated the hanging lanterns, the grownups tied ribbon to the jars of homemade chutney, bunting was sewn and hung, my (Katie's) brother-in-law Nathan made rope sheep for each table (including a mini bride and groom and our lovely friend Jacqui filled the barn with bright, beautiful flowers and draped hops from all of the window sills."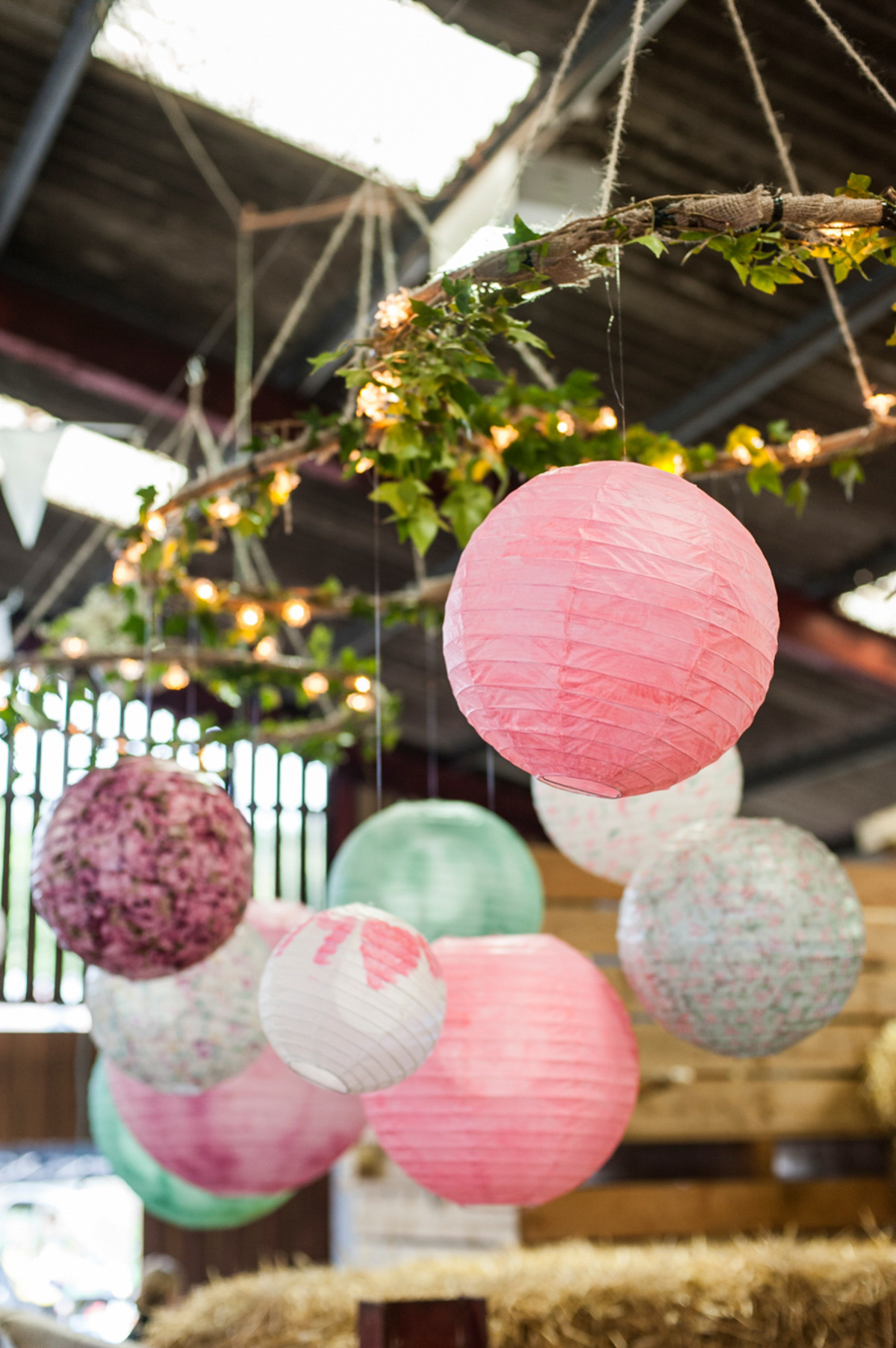 "My sister made raspberry vodka for guests to add to fizz or drink neat. If we could do the day again, we might've explained the concept of neat vodka to elderly relatives beforehand (although we've never seen them dance so much before, so perhaps not…).  We also decided to move house a couple of months before the wedding- I would advise against this!"
Wedding invitations came in the form of maps from Cute Maps which showed the two venues, the Brecon Beacons and directed those from London over the Severn bridge.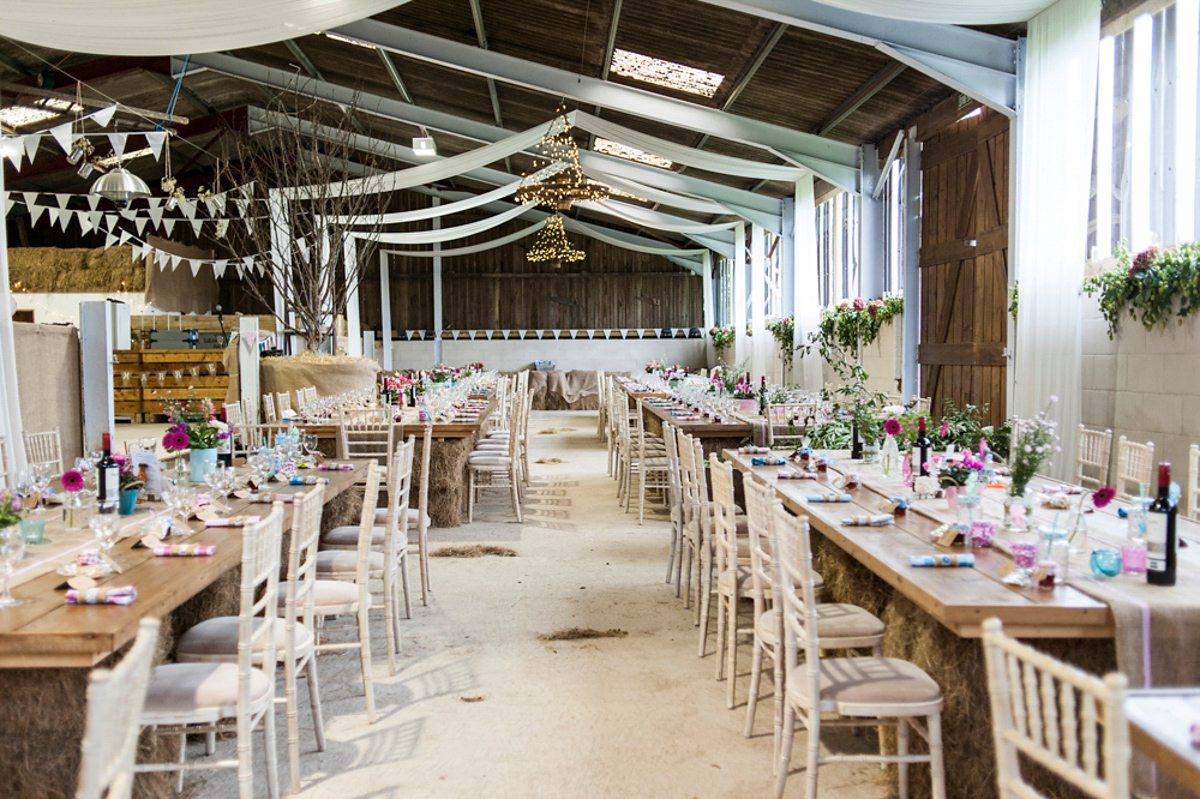 The cake was made up of a selection of Welsh cheeses sourced from Caws Cenarth and there was enough leftover for the picnic Katie and Marcus hosted the next day as well.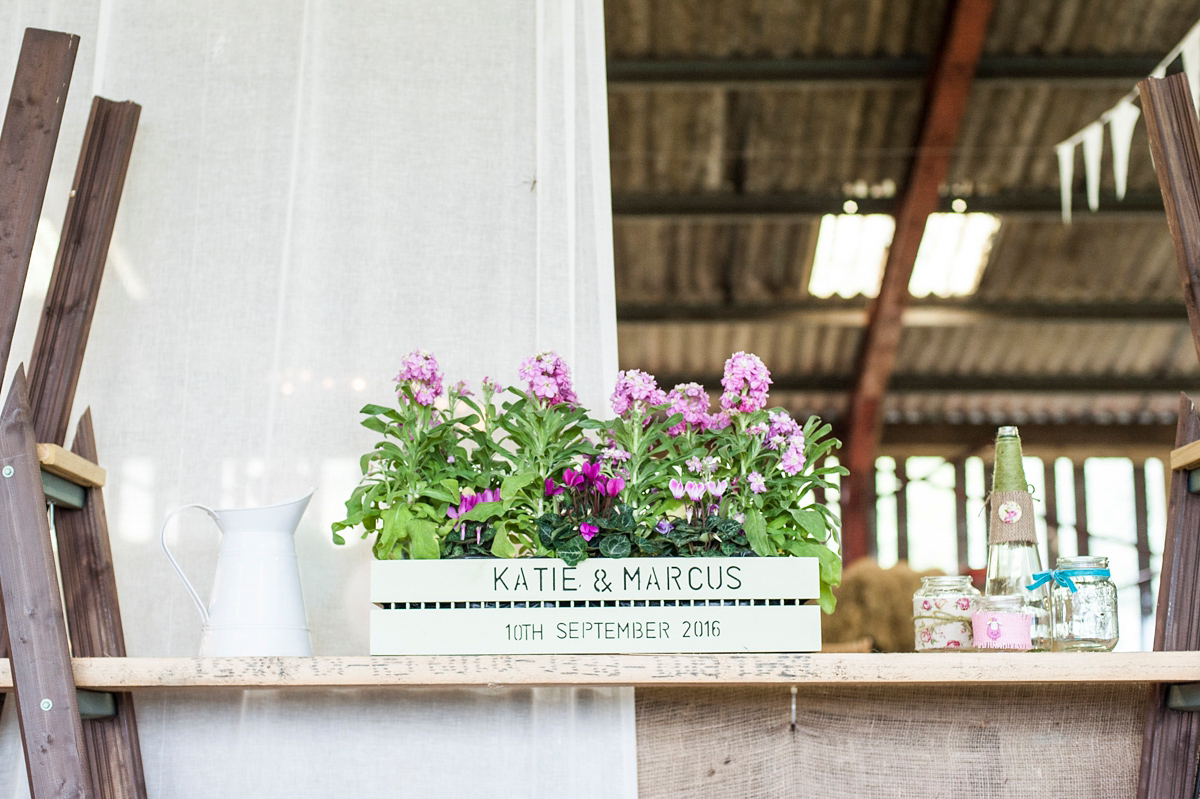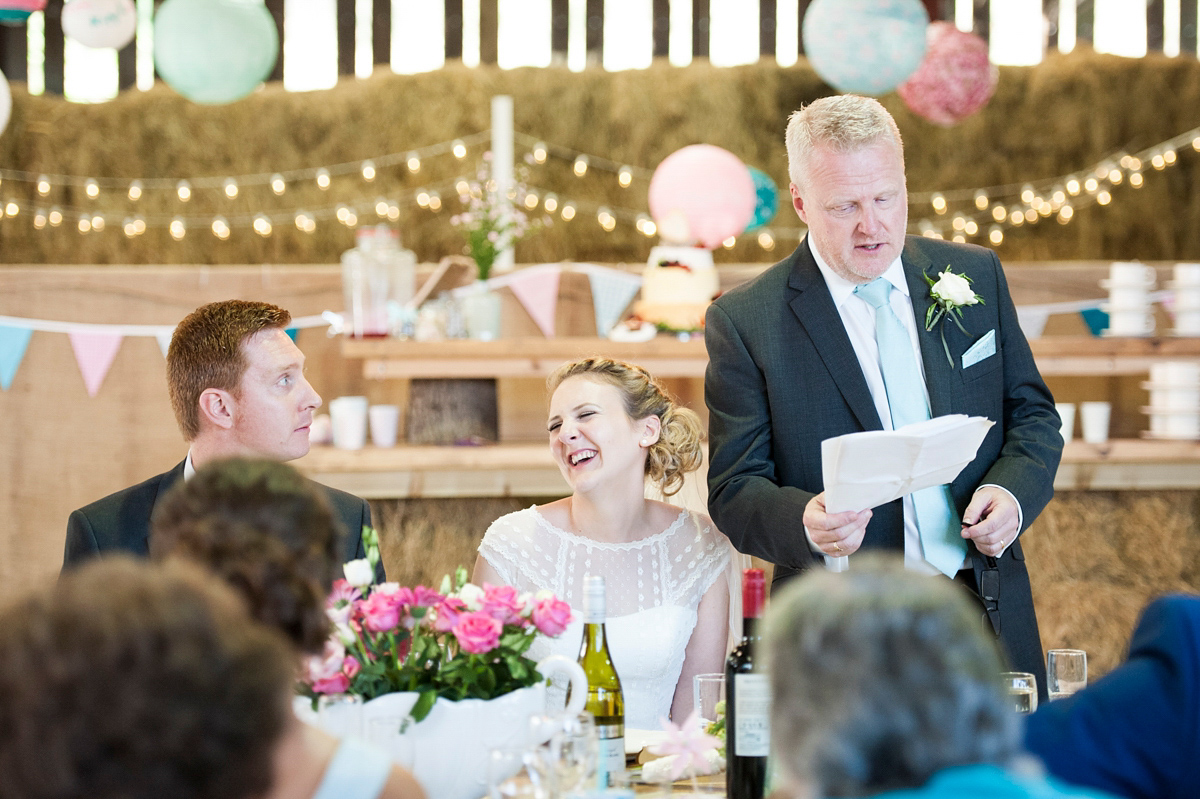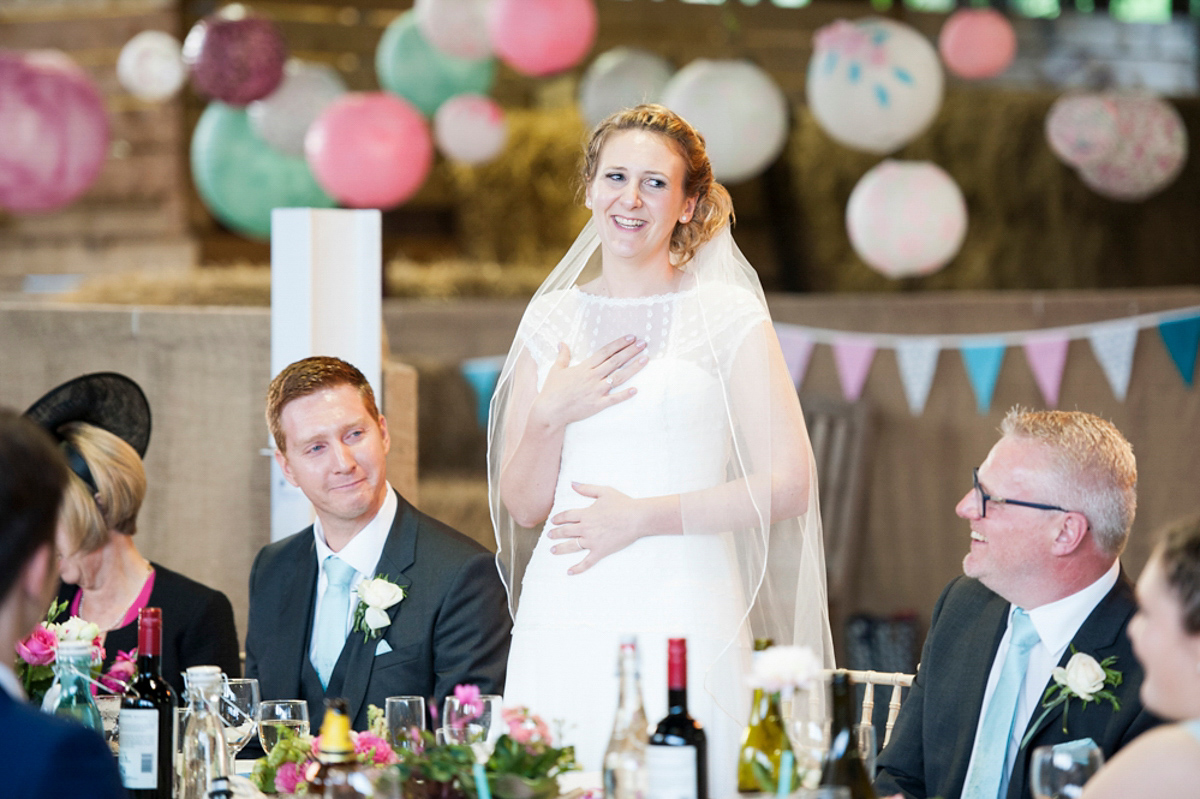 The Brotherhood, featuring Tay Cousins made sure that the dance floor was kept full and the newlyweds shared their first dance to 'Just Say Yes' by Snow Patrol.  Katie and Marcus saw Snow Patrol play in Hyde Park on the night of the London 2012 Olympics opening ceremony so as well as the sentiment in the lyrics, the song also reminds them of a wonderful evening together.
"The dance floor was packed, people were singing along from the tops of hay bales and even the grandmothers got up to join in."
Words of Wedded Wisdom
"Remember that it is your day. We spent a lot of time agonising over whether people would like our ideas for the day before realising that it didn't matter as long as we did.  It was just really, truly fun and we would both do it all again in a heartbeat."
Huge thanks to Katie and Marcus for sharing this fun, friends and flower filled day (I do like a bit of alliteration).  Has this wedding sparked your interest in a barn wedding?  If so, have a look here at some of the other barn weddings we have featured- without exception they're beautiful and full of fun.
Much love,
S x