Hi lovelies! It's so good to be back! If I seem exactly the same, but somehow a totally different person, well that just about sums up the first two weeks of marriage. It's a wonderful, exciting, crazy whirlwind that's somehow also safe, warm and familiar. We had the most incredible day, surrounded by the people we love and it was also more fun than I could have ever imagined.
Well I'll stop hogging the limelight! Today I'm honoured to be sharing with you the delightfully wintery wedding of Tom, a consultant, and Danielle, a clinical trials manager, who wed on 3rd December 2016 at the stunning, Southwark Cathedral, followed by an après-ski inspired party at Trinity Buoy Wharf.
"With it being winter and close to Christmas, we wanted a hint of that, but not for it to be the overriding theme. In the end we just went for Christmas trees; I had grand plans of making wreaths but just ran out of time. There was also a nod to our ski season throughout the wedding. The table names were either bars, ski runs or chalets in the three valleys. We had jagerbombs as Tom's toast drink and raclette as our late night food."
Photography by Kirsty Mackenzie
I'm more than a little besotted with Danielle's divine, figure-hugging Delphine Manivet gown, which she purchased from The Mews of Notting Hill. I adore the way the sumptuous fabric pools behind her and the delicate straps criss-cross her back under her veil, a David Fielden beauty borrowed from her sister. All that was left to add was a pair of shoes from Office, Jenny Packham hair grips, pearl earrings and an absolutely heavenly sequinned gold jacket for the journey to the cathedral to wed her love.
"I tried on a LOT of dresses. I narrowed it down to four, and when I put this one back on it just felt right. It wasn't too 'bride-y,' I still felt like me in it (in fact I am getting the train removed so that I can wear it again!) The simplicity, the cut and how it showed off my figure was amazing, and this dress had the low back that I wanted. It was also the only one my mum saw me in and cried. Mum knows best."Danielle and Tom met on a coach to France to start their ski seasons on 3rd December 2009, serendipitously seven years to the day before they wed. Our lovely bride took the initiative to sit next to the dashing man on his own, and the rest is history.
"It was fitting that Tom proposed to me on a skiing holiday in the three valleys, which is where we did our ski season. He faked a 'sore boot' half way down one of the runs and so pulled off to the side of the piste. I stopped behind him to see what was wrong and he popped the question. It was one of those gorgeous clear blue sky skiing days, perfect. We were engaged for 21 months."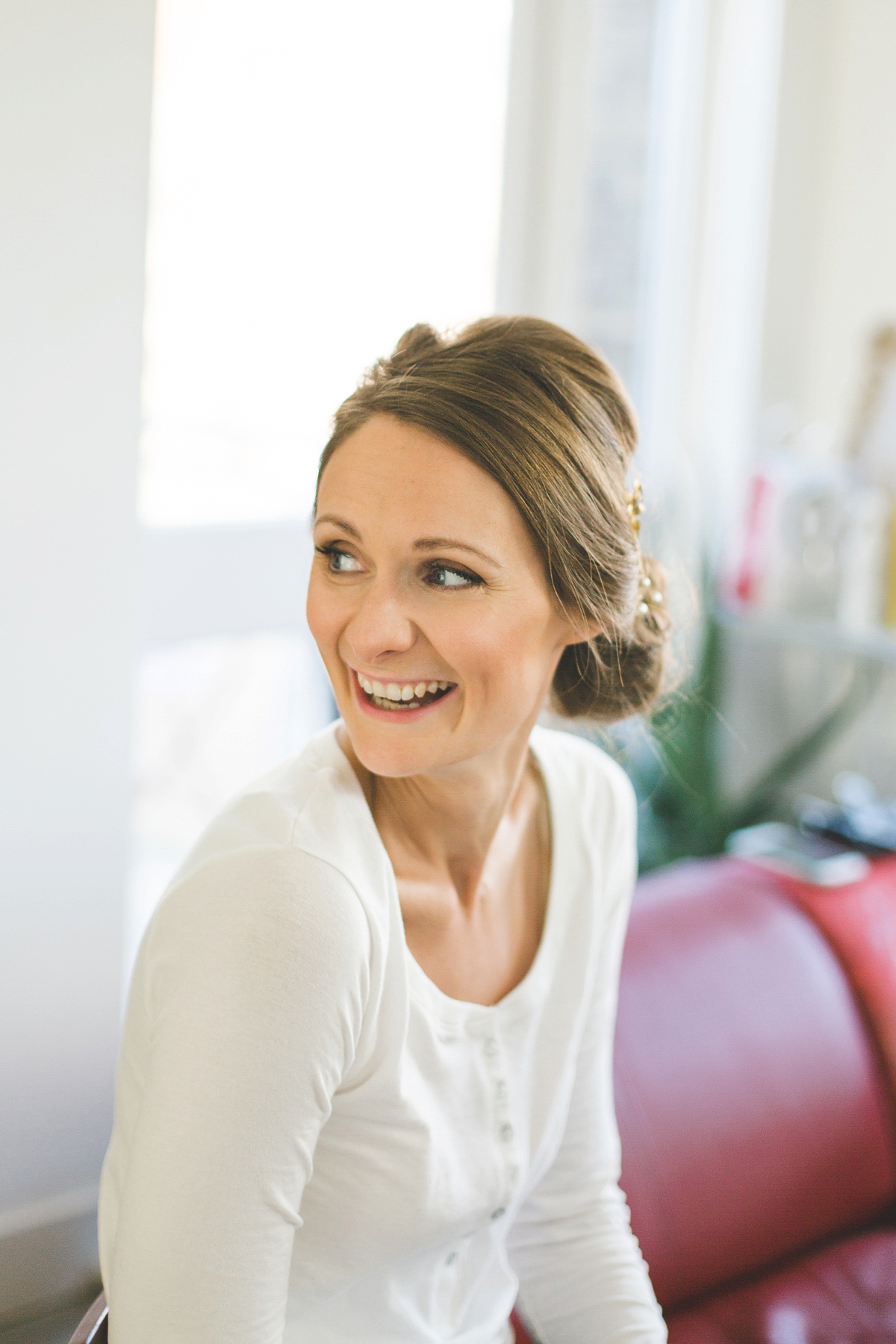 "Our colour scheme was neutral, predominantly white and green. The table flowers tied in with the bouquets, which linked with the bridesmaids ASOS dresses. Our florist created white berry and foliage grips for them and they wore their own jewellery and bought their own shoes; a combination of New Look, Topshop and ASOS."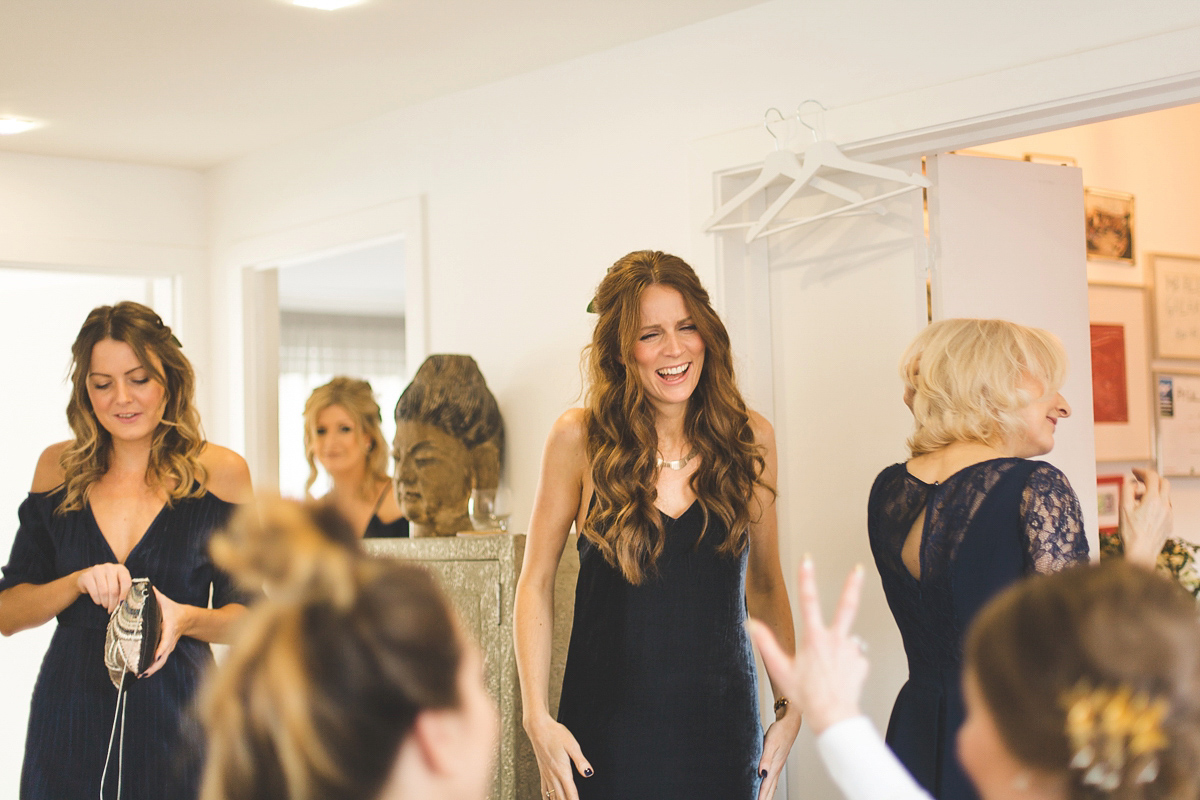 Philippa Blake was responsible for our bride's chic up-do and classic make-up. Danielle's make-up didn't budge all day and our bride was particularly in love with her sculpted brows and bold red lip.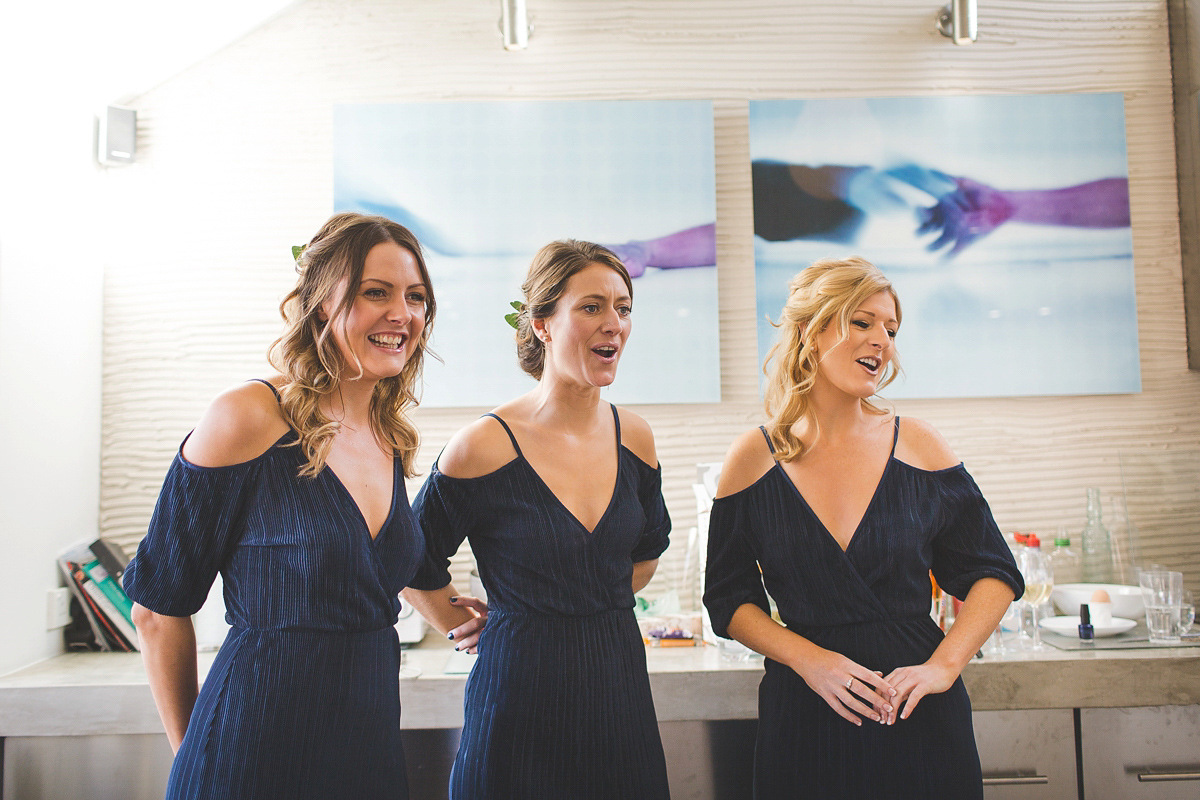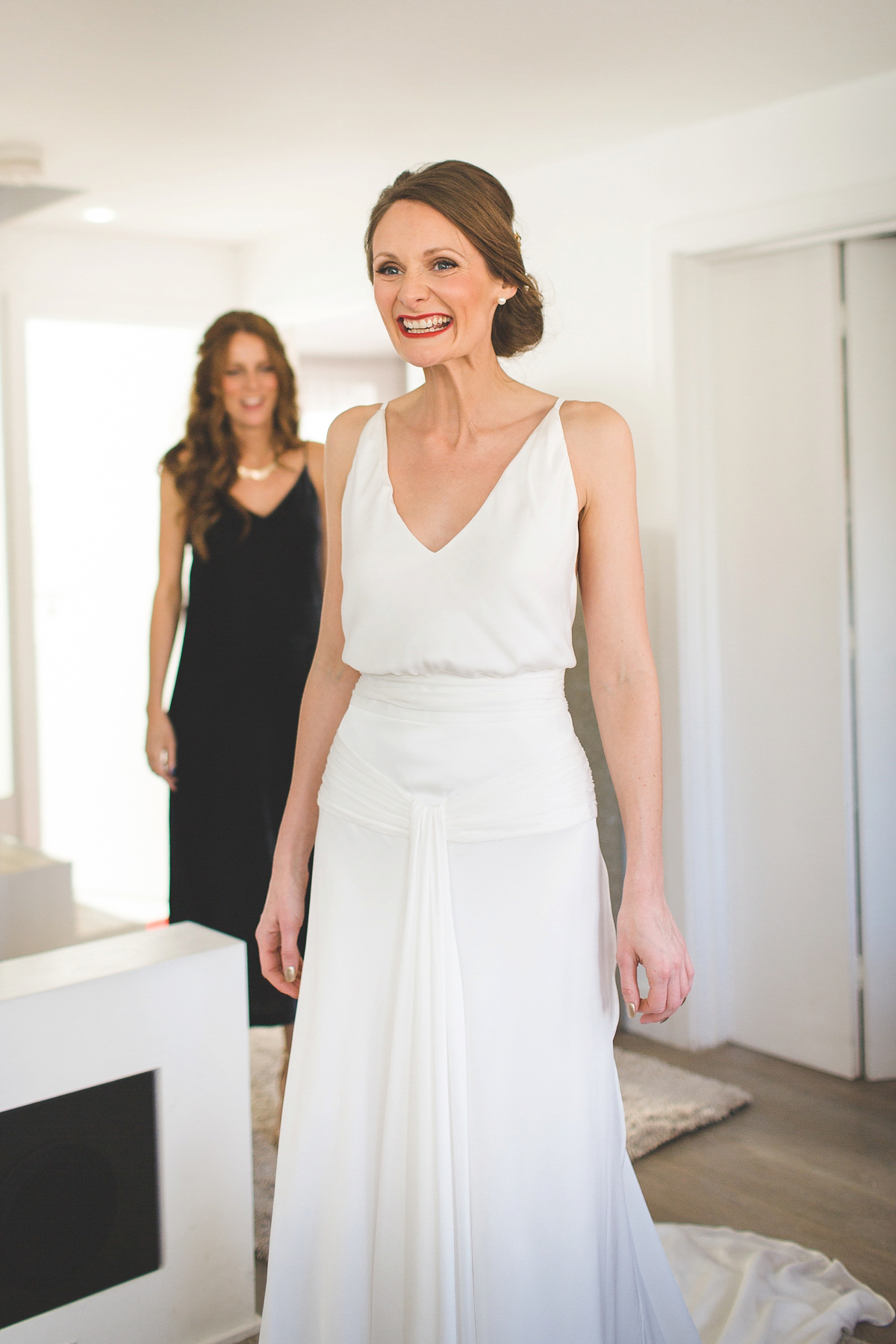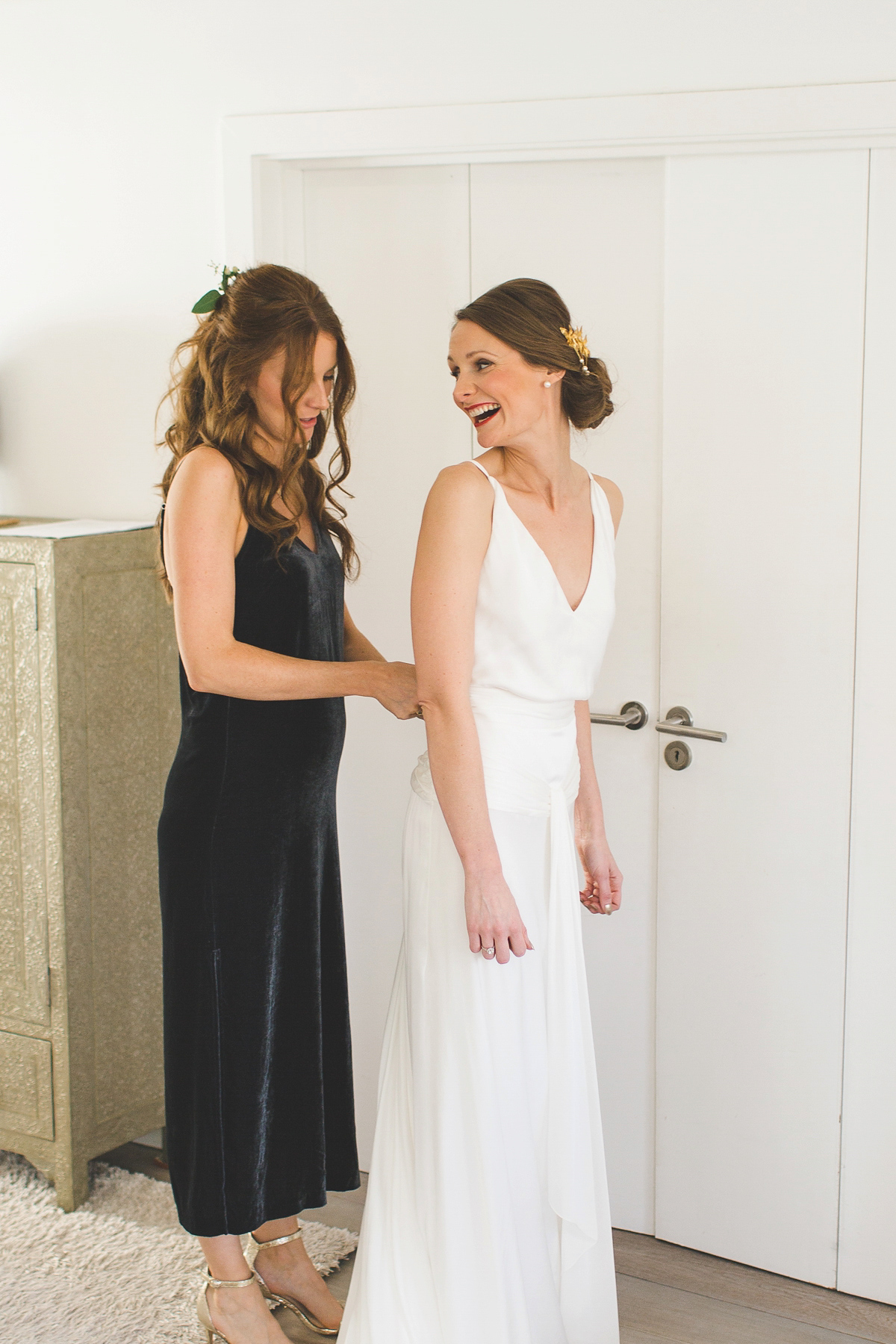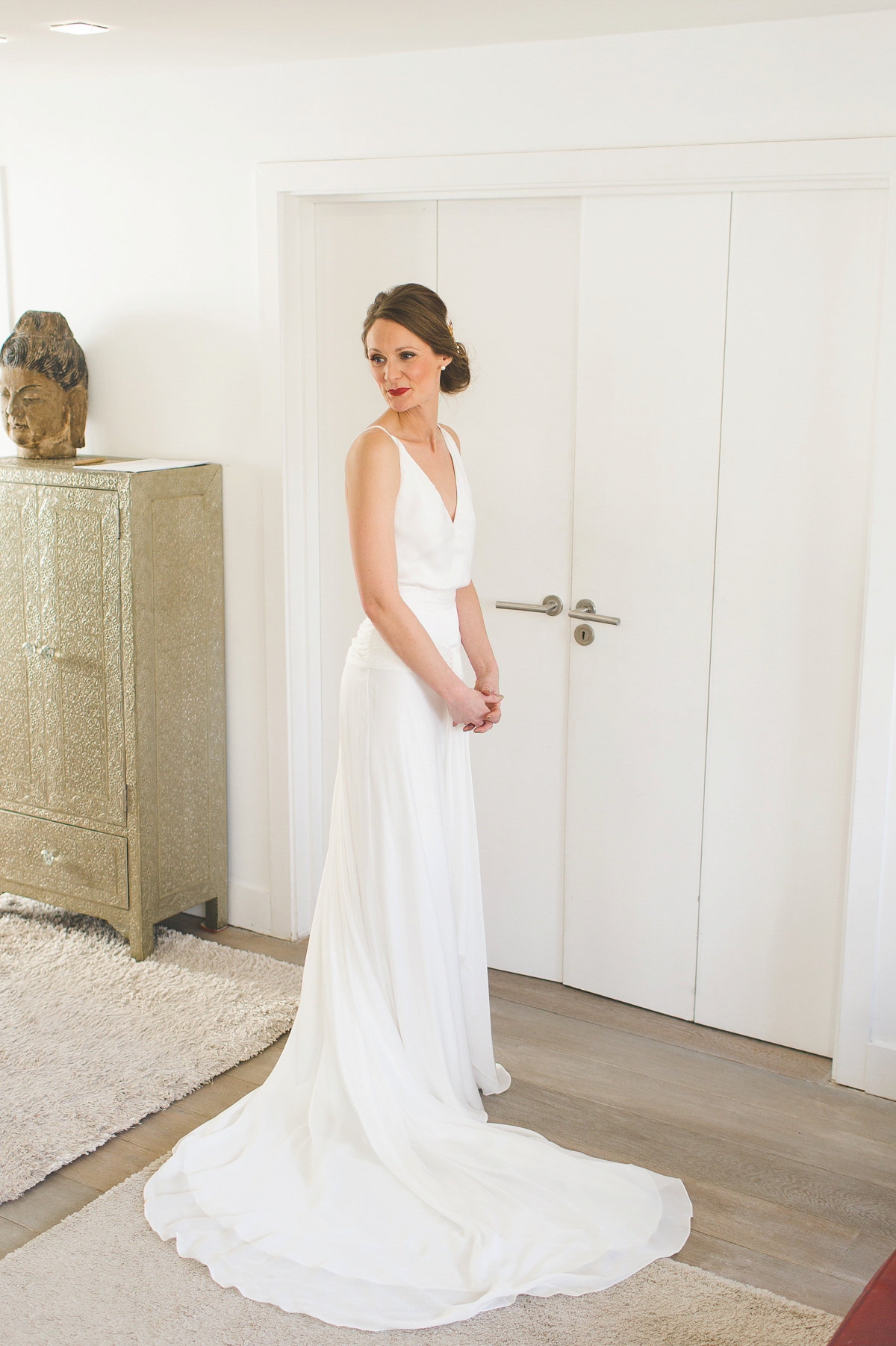 "Beverley Hornby Smith was our florist. She is my friend's mum and a superstar florist, she took my vision and made it reality. I love flowers and follow so many florists on Instagram and found I was always drawn towards big, heavily foliaged bouquets. I like the 'thrown together' look and I described this to Bev and she just created my dream bouquet. With the bridesmaids bouquets, I wanted them to be a hint towards mine, a bit wintery and to tie in their dresses."
"A special and important accessory was my 'something old' attached to my bouquet, which was my dad's wedding ring. He passed away 27 years ago so it was important for me to have a part of him there with me on the day as I walked down the aisle."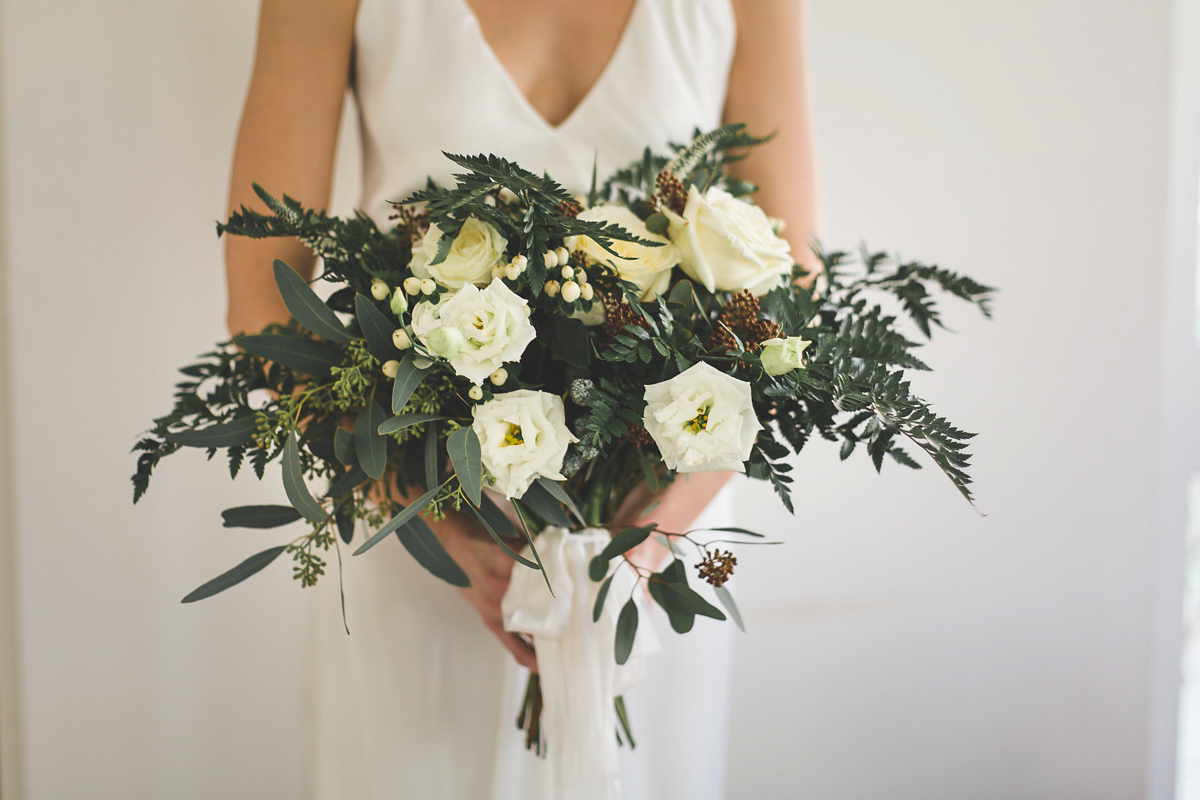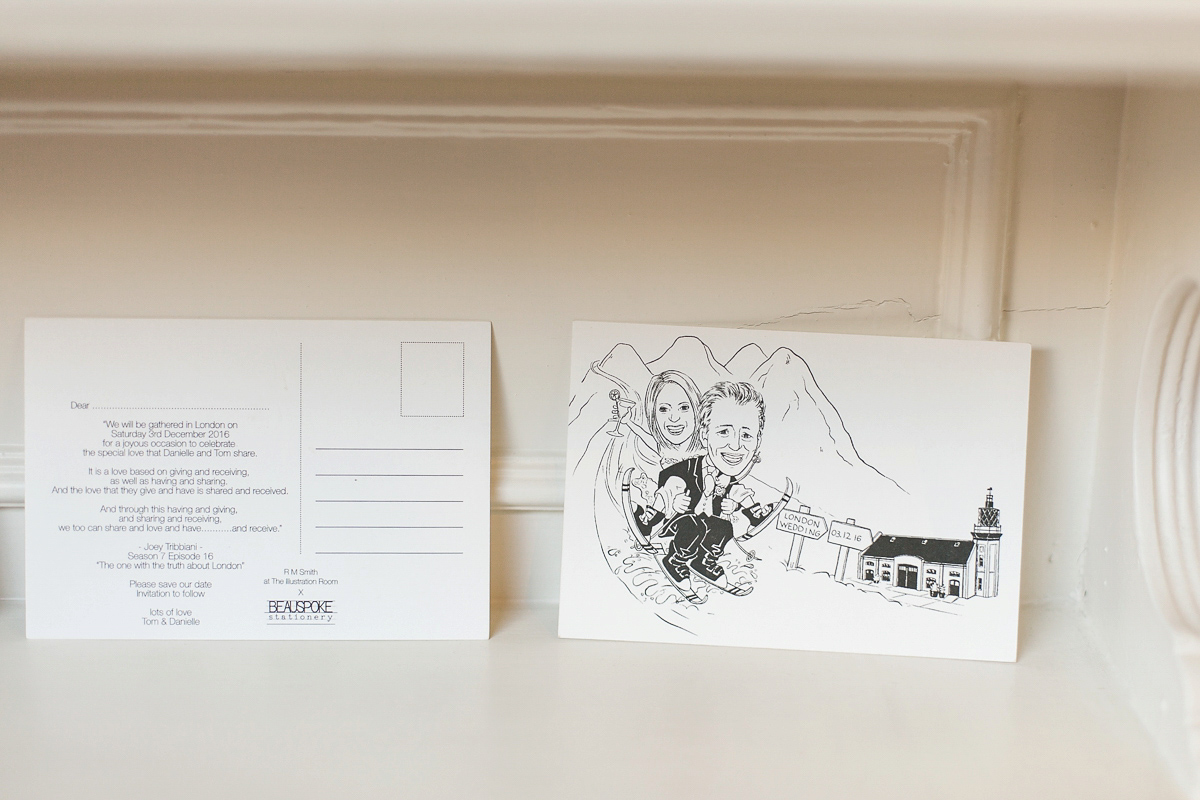 Danielle's sister, who set up her business Bespoke Stationery last year, transformed the couple's stationery vision into a perfect reality. The invitations featured hand drawn images, wonderfully echoing the caricature they commissioned for their save the date, drawn by Ron Smith.
Danielle and her best girls made their way from their airbnb accommodation in Borough Market to the cathedral, allowing their photographer Kirsty Mackenzie to capture some vibrant, unique shots.
"Kirsty is so very talented, she takes stunning photos and she captured our day just as we wanted it. We didn't want to spend our day standing around having posed shots taken, which fitted with how Kirsty works too. We discussed the shots we did want, and then the rest was captured as the day unfolded."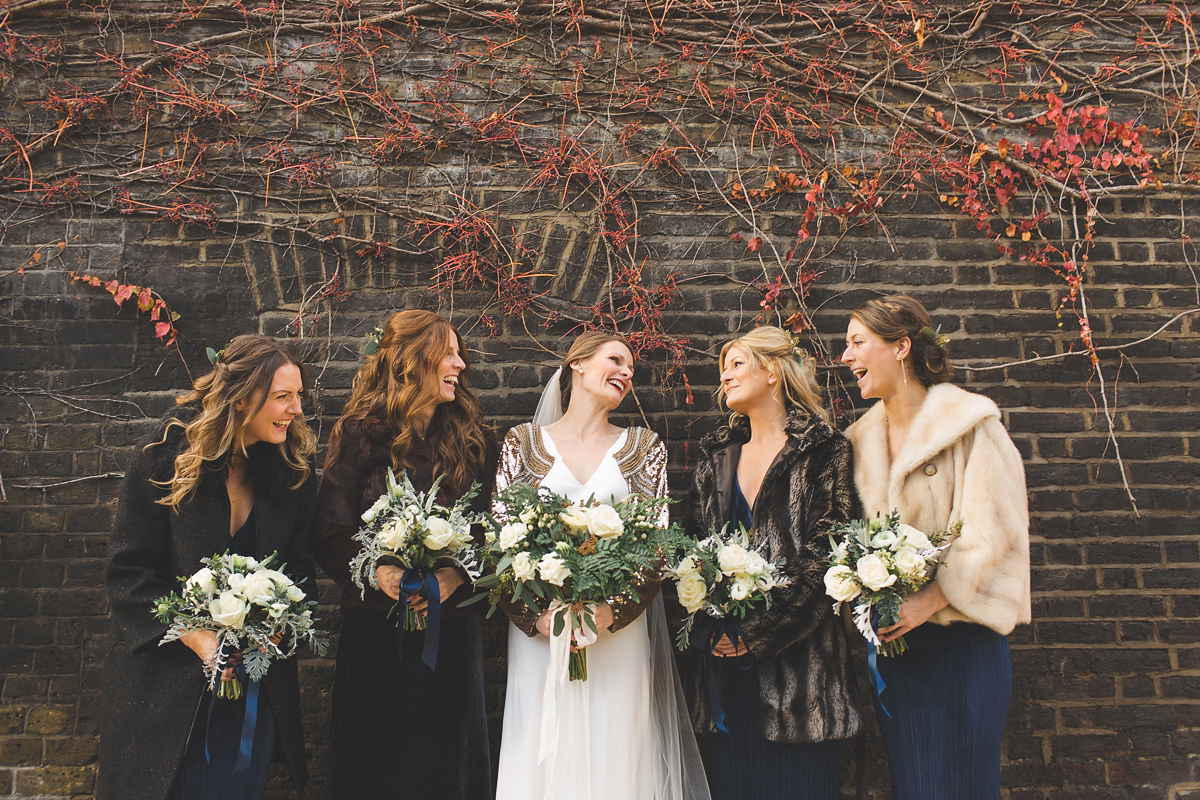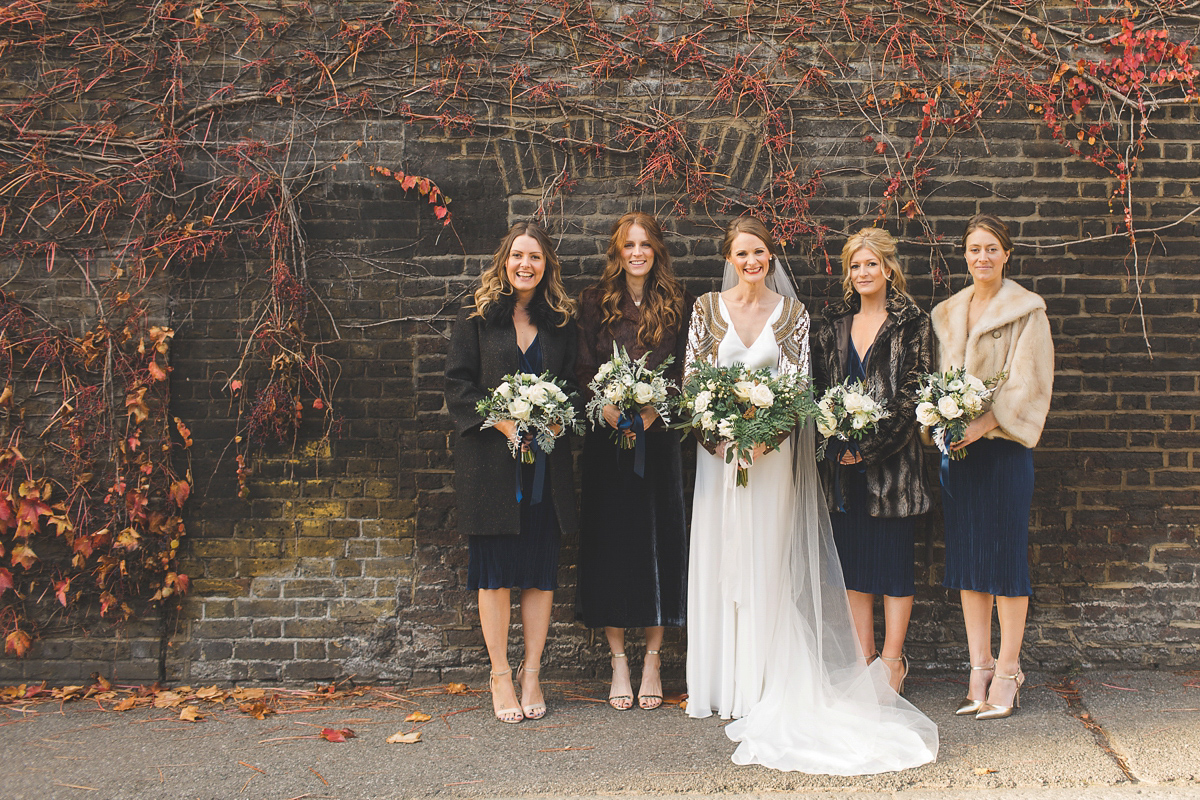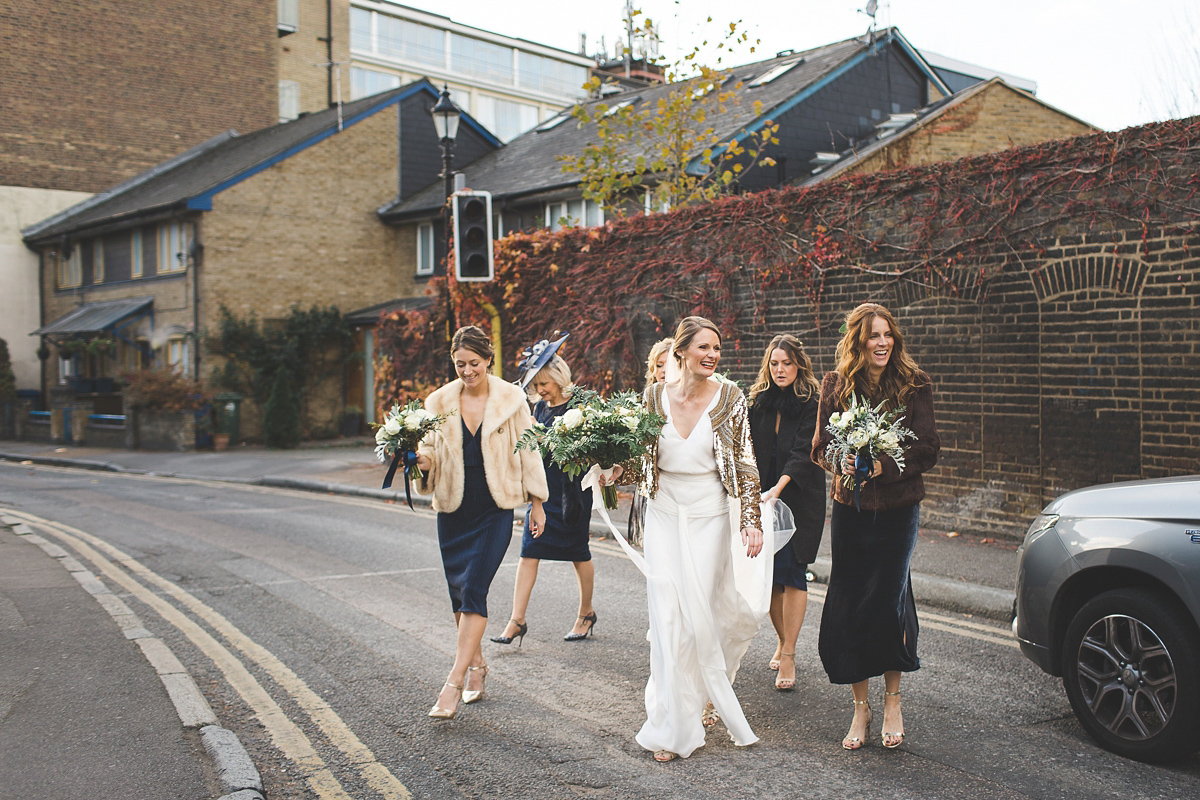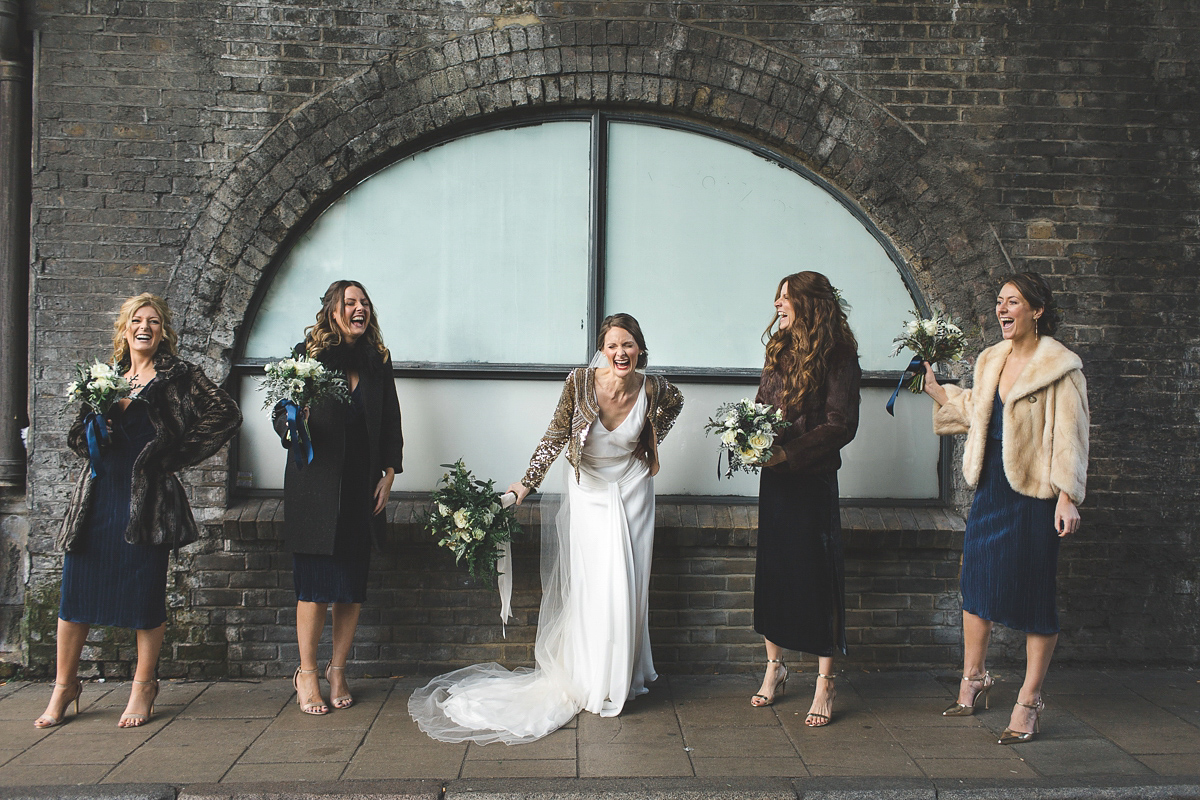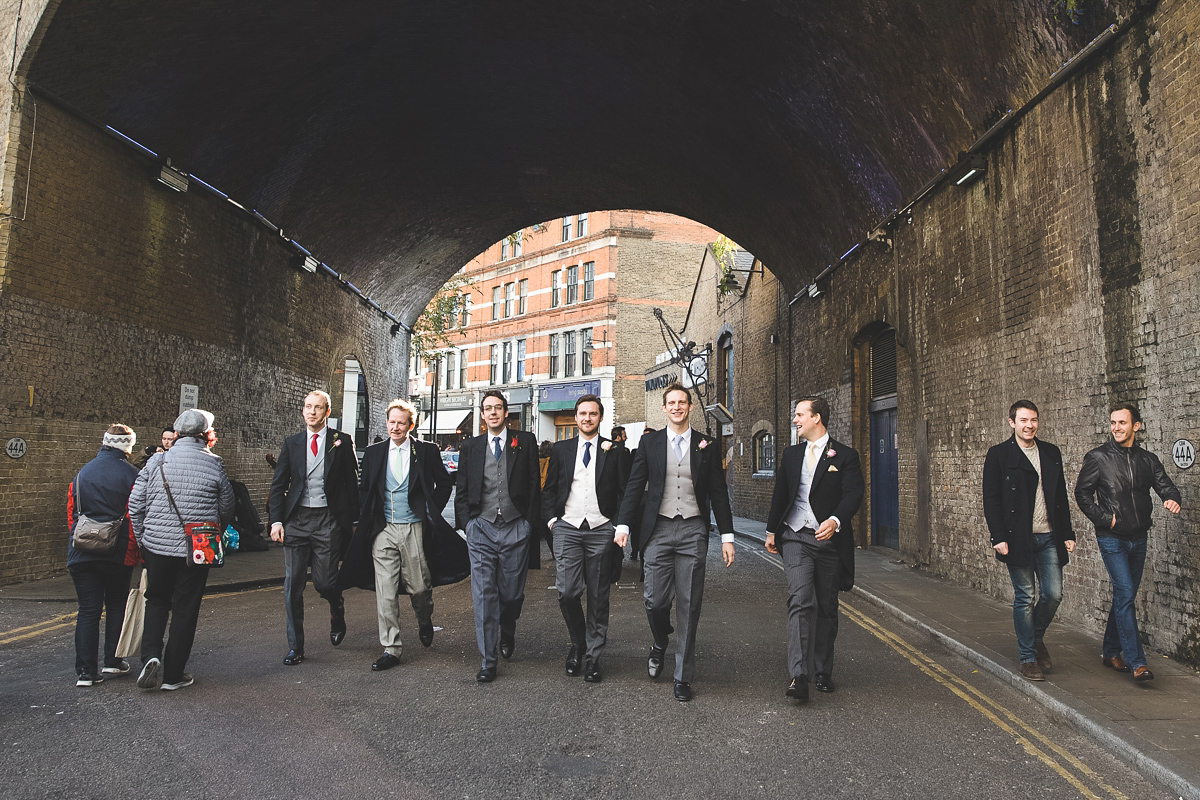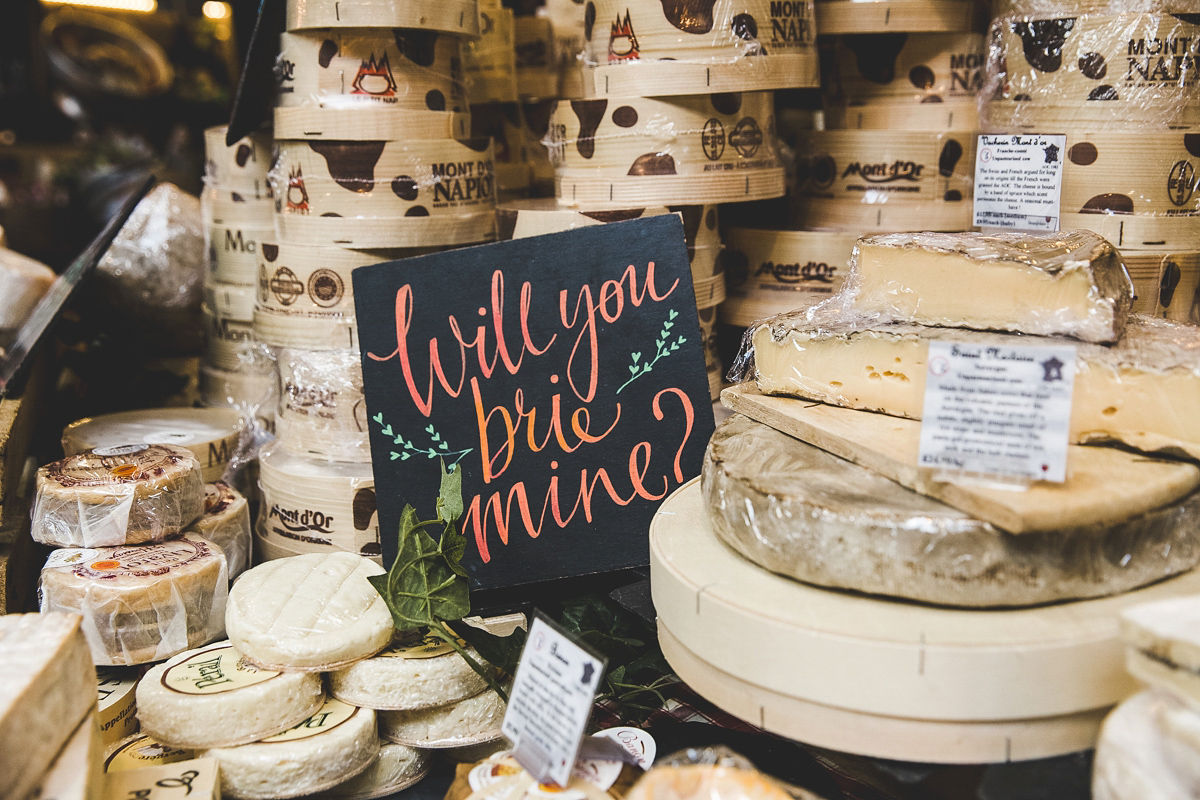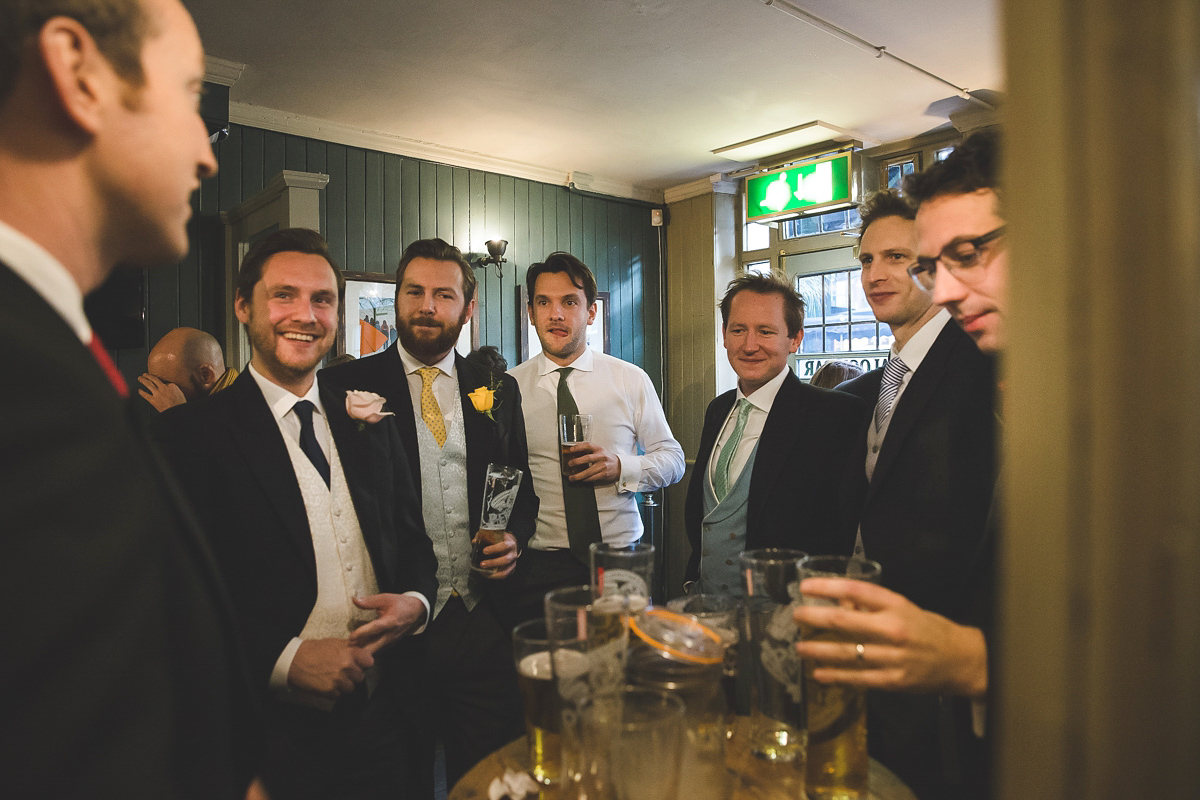 "My mum walked me down the aisle. My dad passed away when I was seven, and there was never any doubt in my mind that it would be my mum who gave me away."
"It is a long aisle in Southwark Cathedral – we were both a bit daunted by that. We walked in to Hornpipe by Handel; the music felt like it fit with my personality."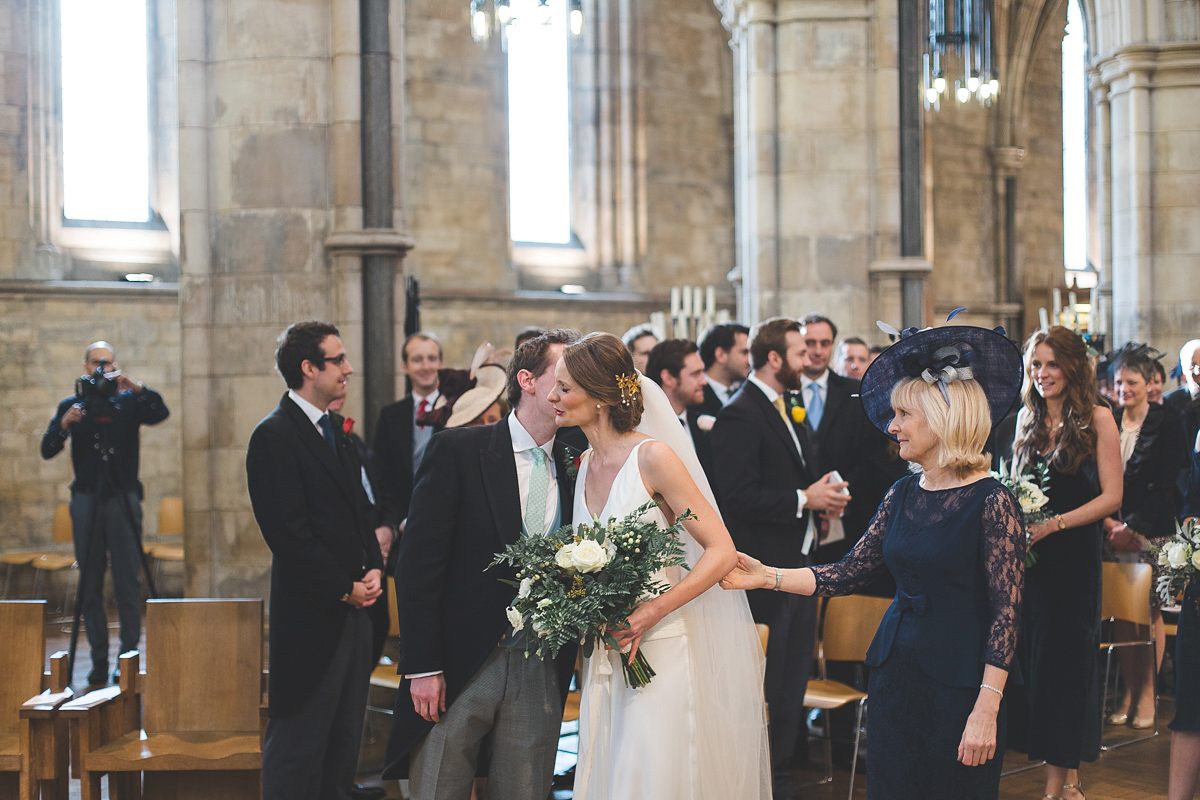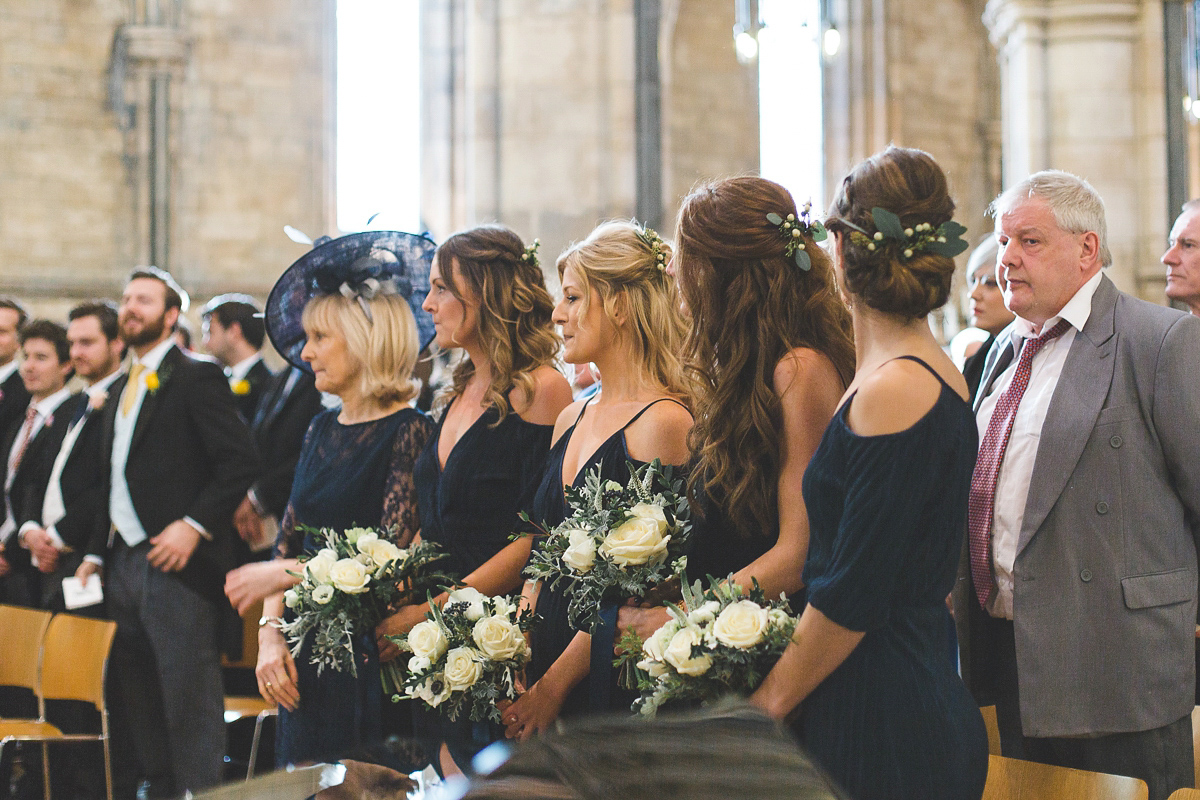 "Every love, every relationship is special and unlike anyone else's, and it became apparent as I was researching readings that it was important to me that our readings reflected that. I stumbled across our first reading, One Fine Day by Ben Hirons. There are many gorgeous parts of this reading, but the ending is particularly great:"
That's why we are here
to bask in the glow of this love
this love we will never feel
because this is theirs and no one else's
and we could never understand
but we can enjoy it, marvel at it, and celebrate it
and hope that we may be so lucky to enjoy a love such as this, one fine day.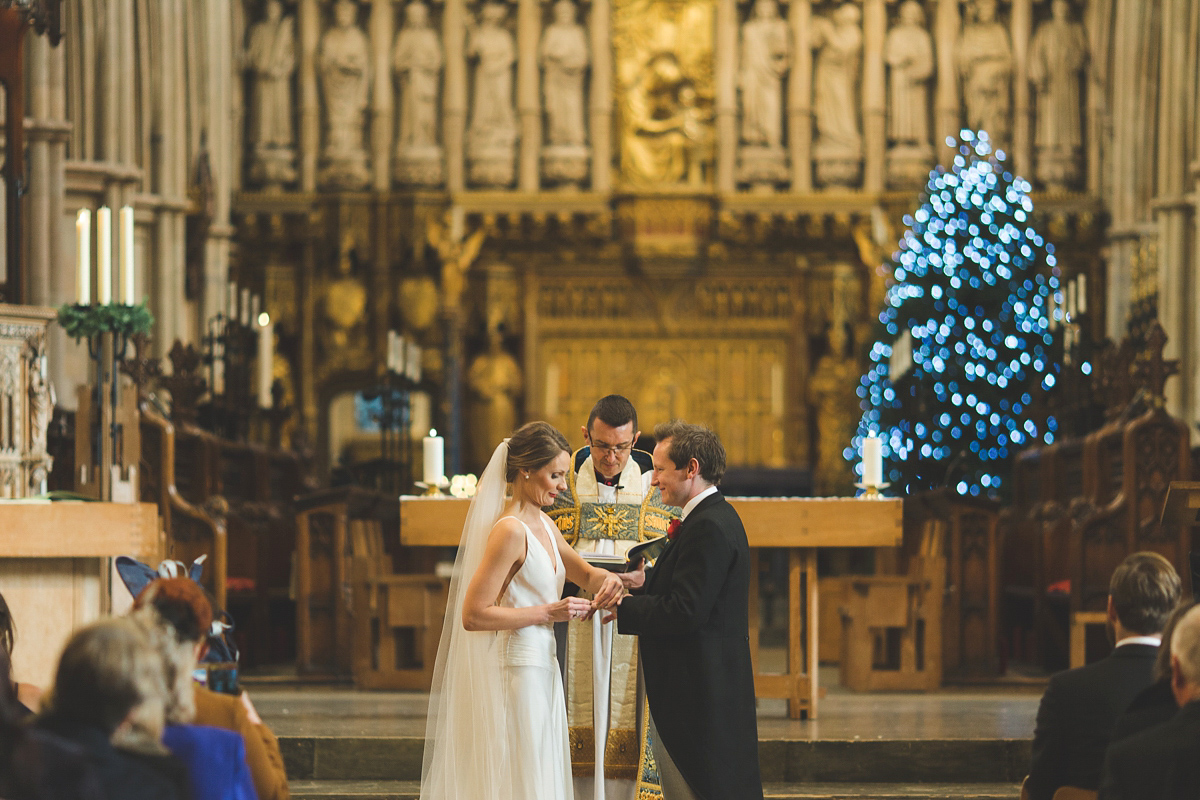 The couple also chose an extract from Wild Awake by Hilary T. Smith and opted for a biblical reading from the Song of Solomon before exchanging rings from the same shop on Hatton Garden where Tom bought Danielle's engagement ring. The newlyweds then made their jubilant way through a confetti storm to the waiting 'River Princess,' ready to sail them away to their Docklands reception venue.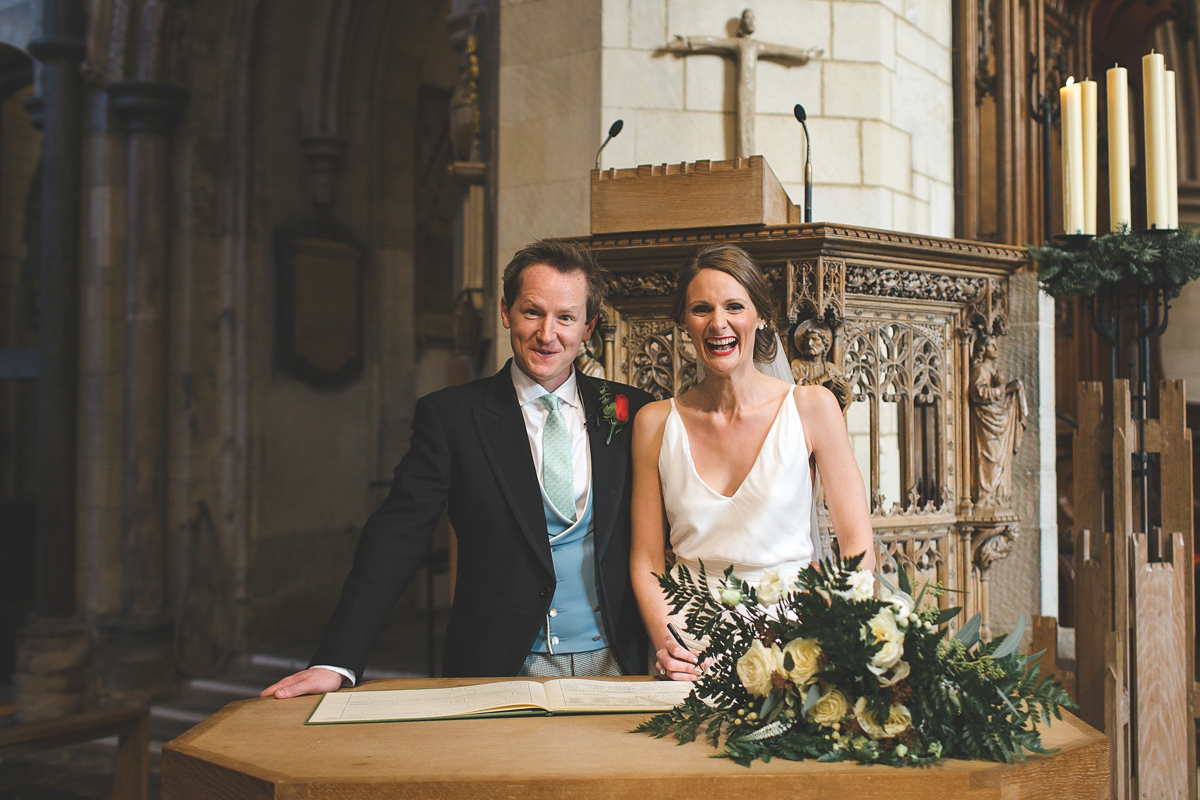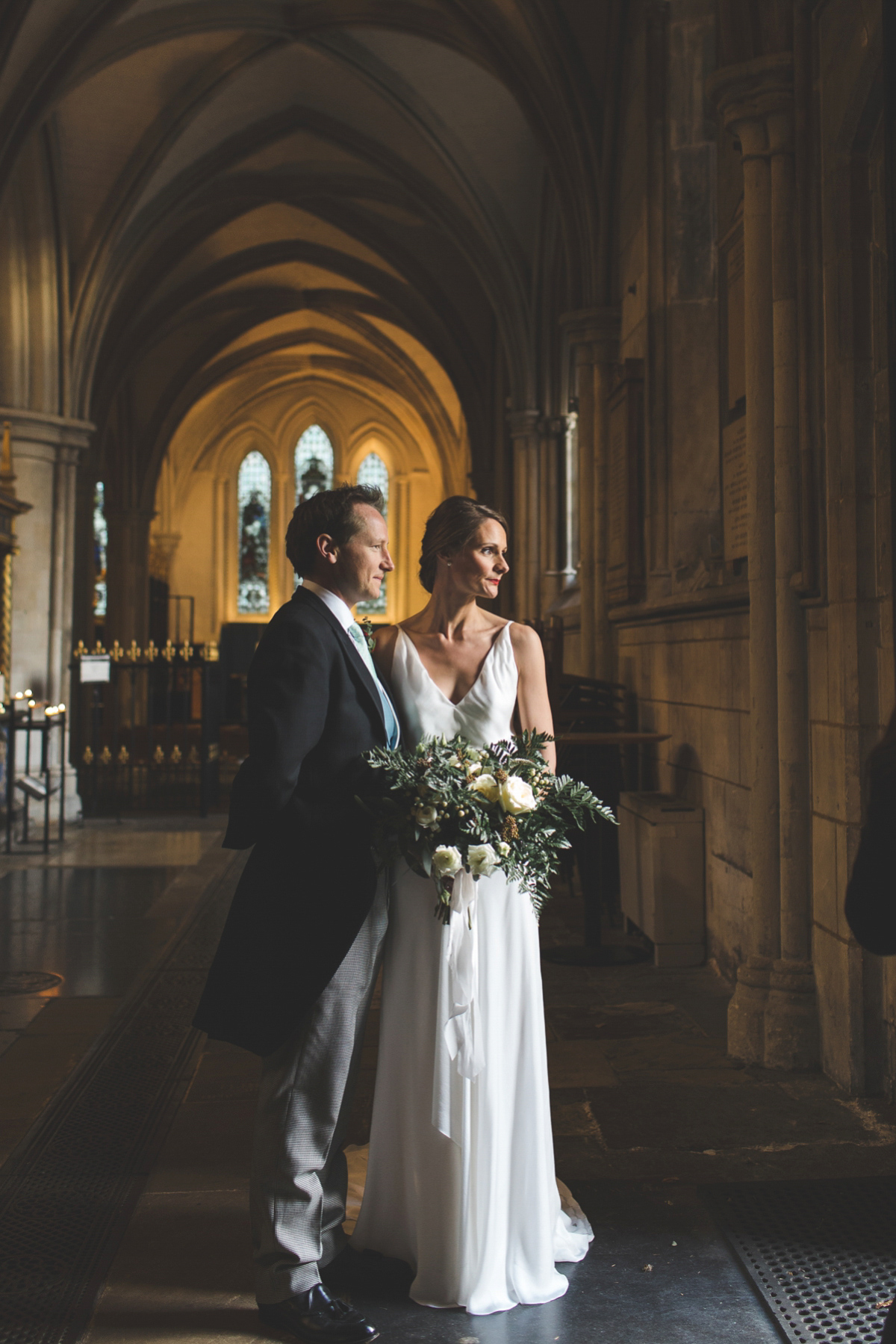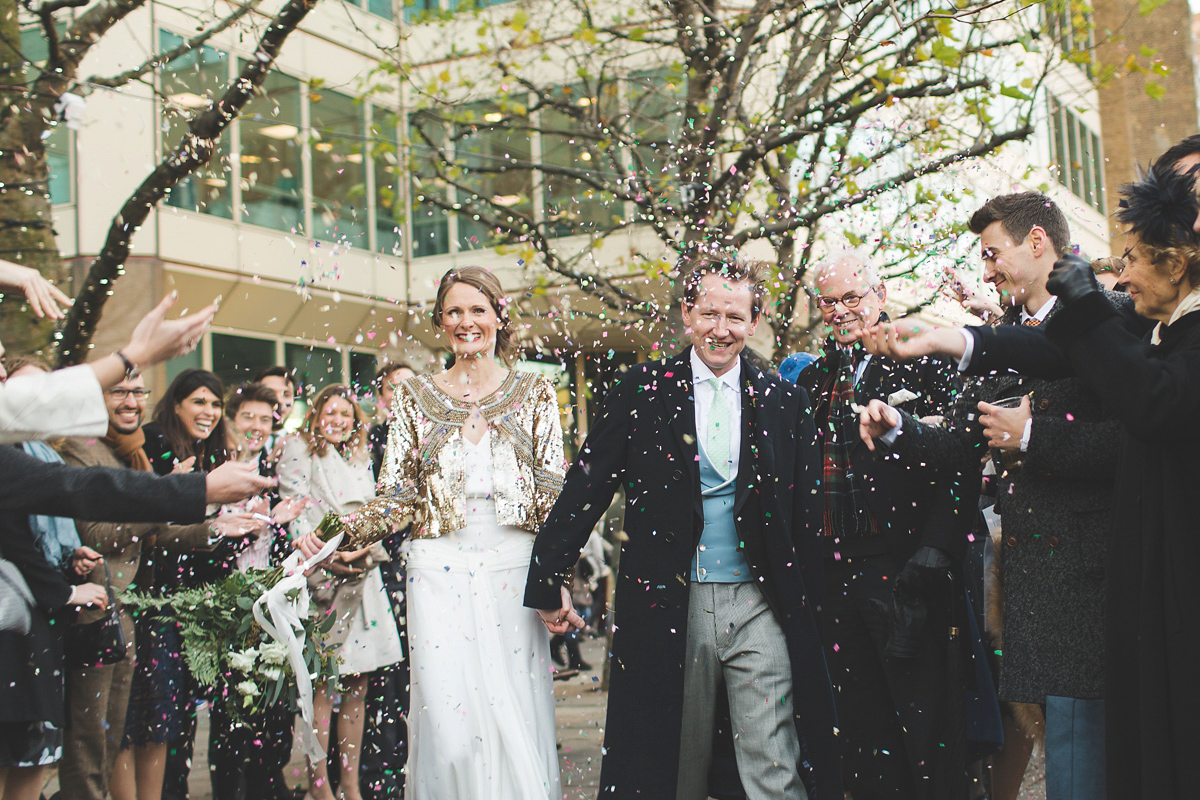 "We hired a boat, The River Princess from Thames Cruises to transport our guests from the church to the venue."
"Whilst we did this as it was the quickest way to get guests from the cathedral to the venue, without making everyone get on the tube, we also thought it would be the most memorable. We had the most magical sunset, we were very lucky."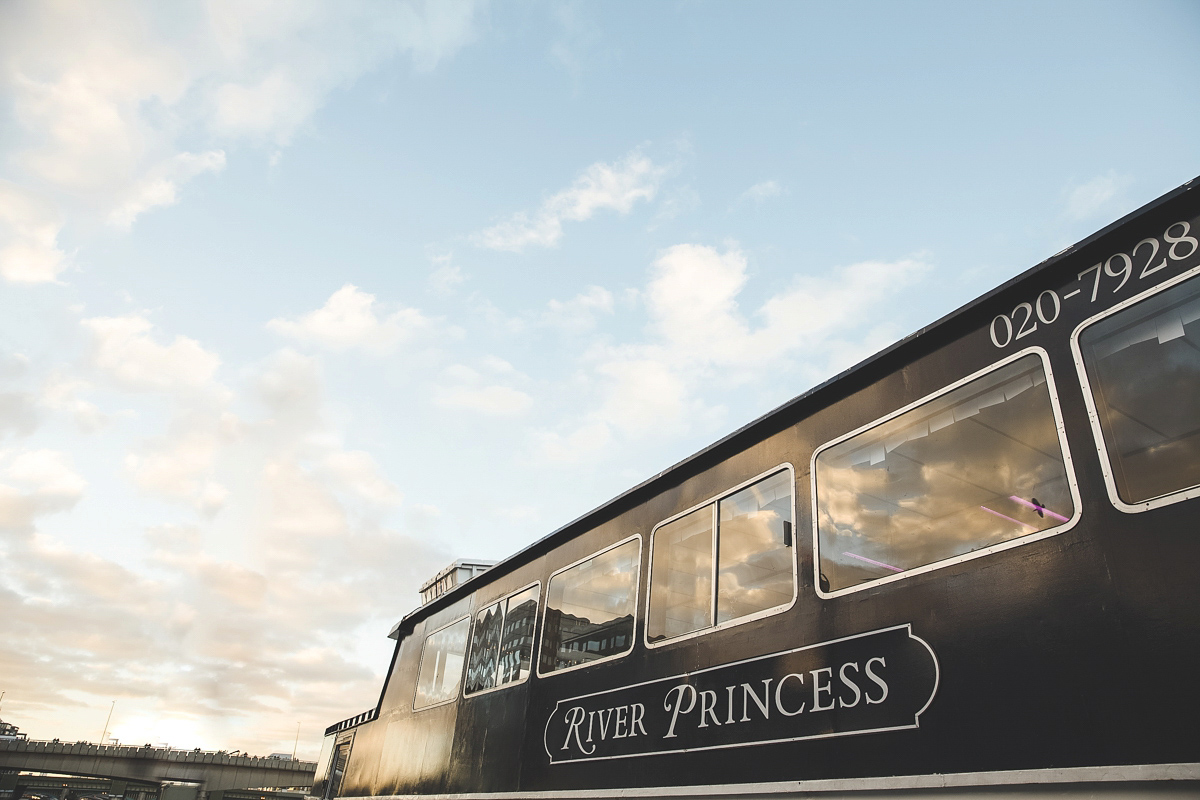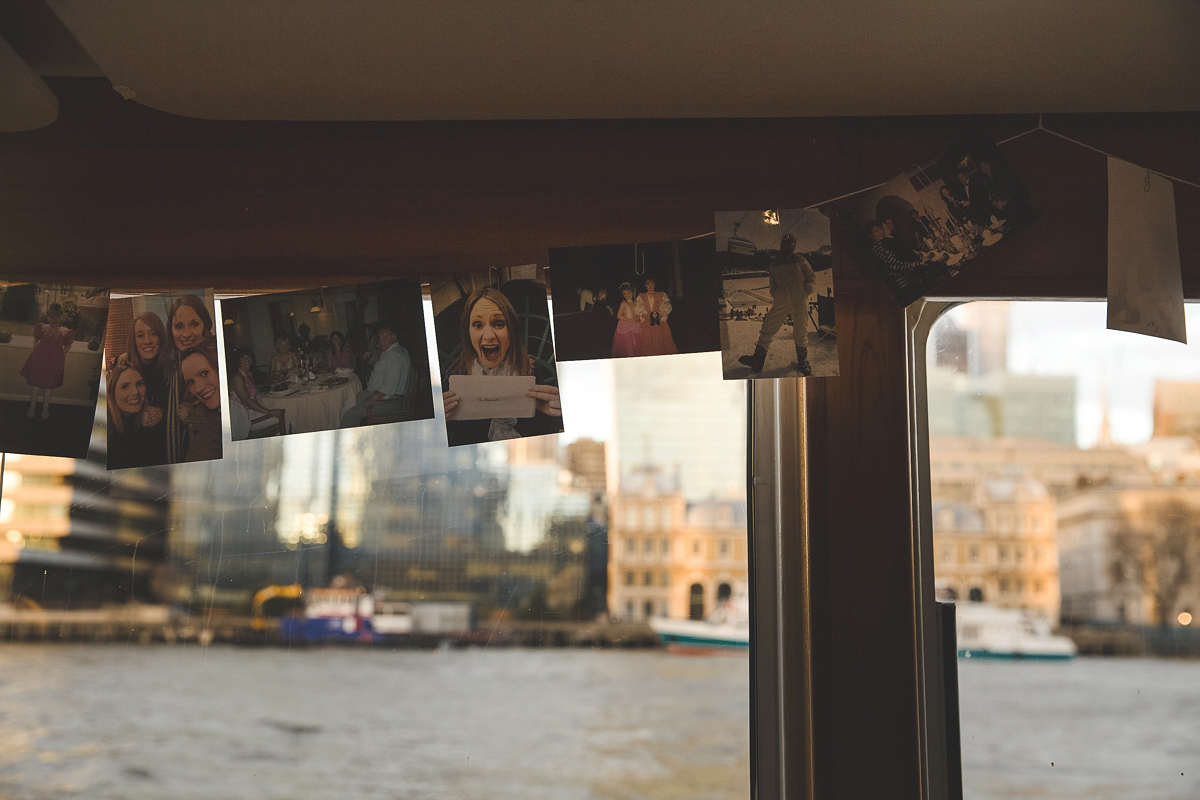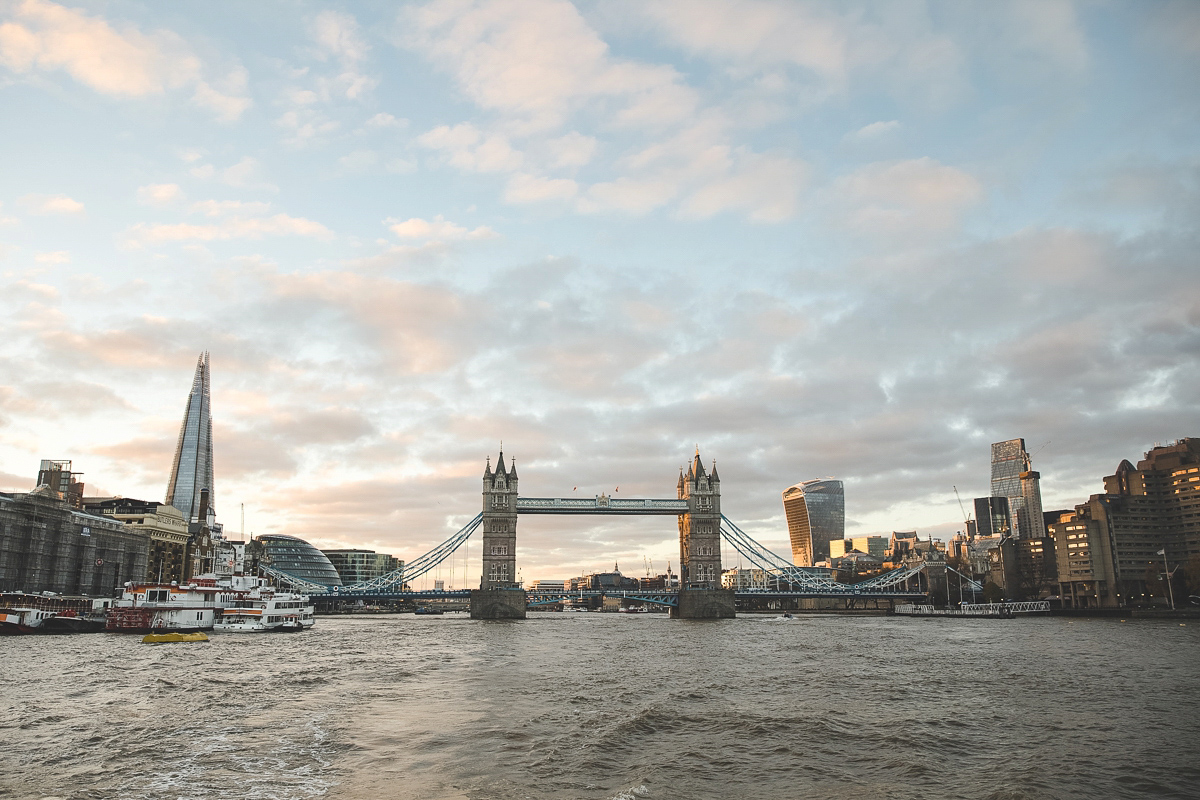 Trinity Buoy Wharf felt like the perfect choice for the couple's London reception, with views of the city skyline they call home – Canary Wharf and the O2 both landmarks on the horizon.
"Trinity Buoy Wharf was the perfect space. It is such a beautiful building from outside, a blank canvas inside that speaks for itself with lovely high ceilings, wooden beams, arched windows, and a disco ball! I wanted to keep everything quite simple. I felt that a lot of what made the venue so great was the lighting so I just wanted lots of candles and tealights to complement the festoon lights and the uplighters already there."
Danielle and Tom chose Jimmy Garcia to cater their wedding breakfast, a chef they've been a fan of for a number of years. Jimmy and his team not only provided delicious sharing platters, they also helped the couple every step of the way in their wedding planning journey.
"We have been eating at Jimmy's pop-ups for a few years now, mainly The Lodge which is a fondue place (it is ace – go!). A friend recommended them following a wedding she went to and thank goodness she did. We cannot thank these guys enough for everything that they did for us. Jimmy and Anna from start to finish were incredible, so helpful, with such great ideas and enthusiasm for our wedding and creating the perfect day for us."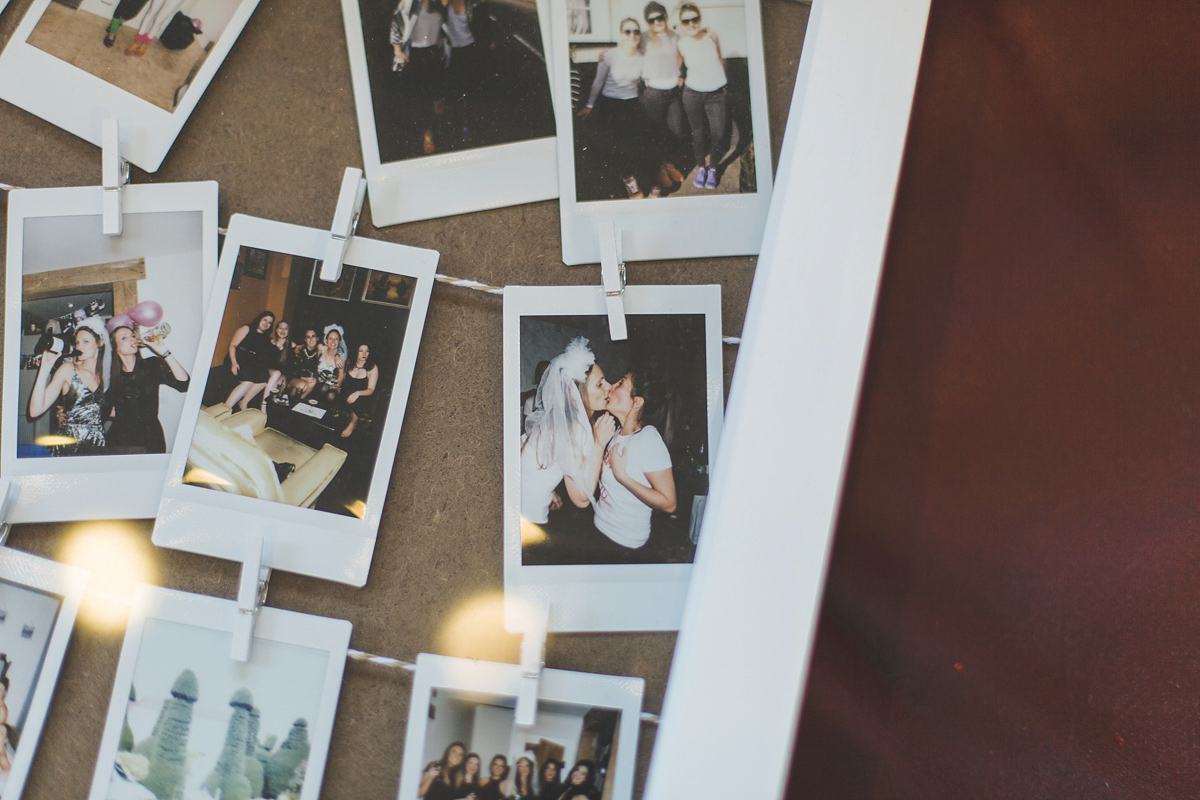 "We had always known that we wanted a 'sharing type' wedding breakfast – big plates in the middle of the tables to pass around. We did meats and baked camembert for starter, surf and turf for main, and an ice cream factory for dessert. And Raclette for late night food (as we obviously hadn't already had enough melted cheese!)"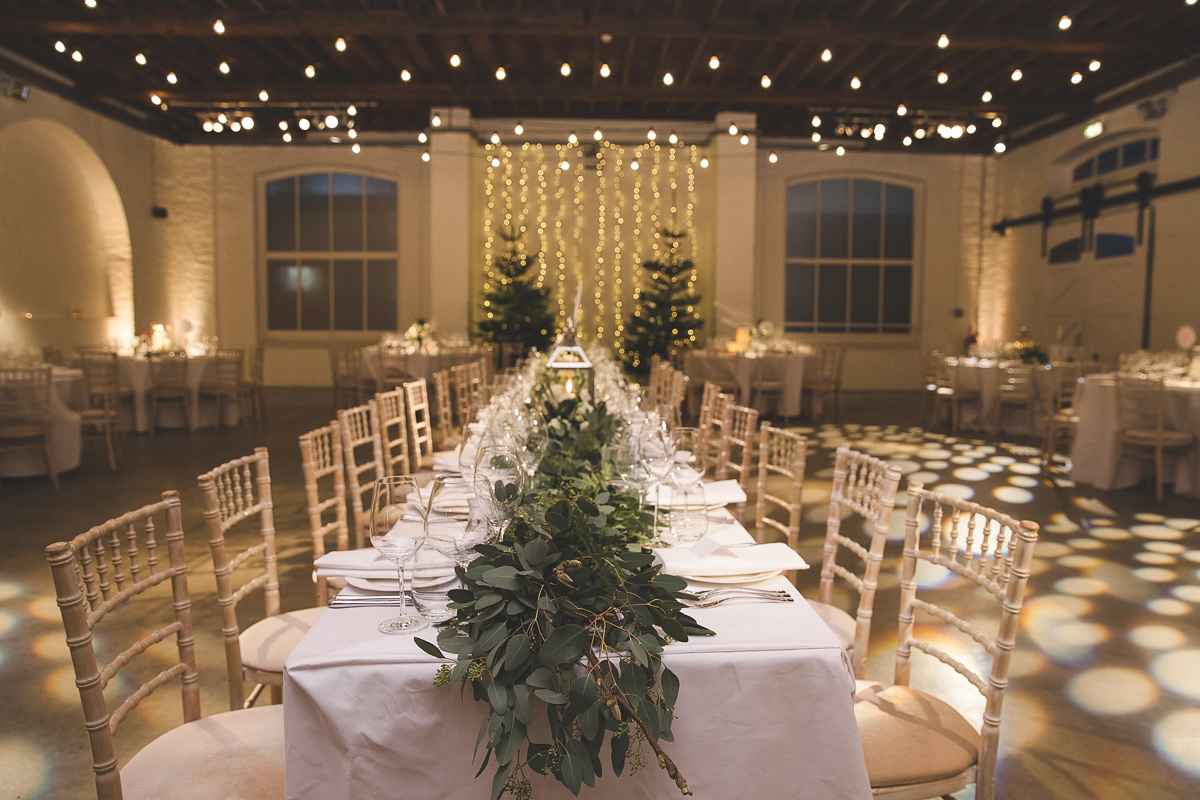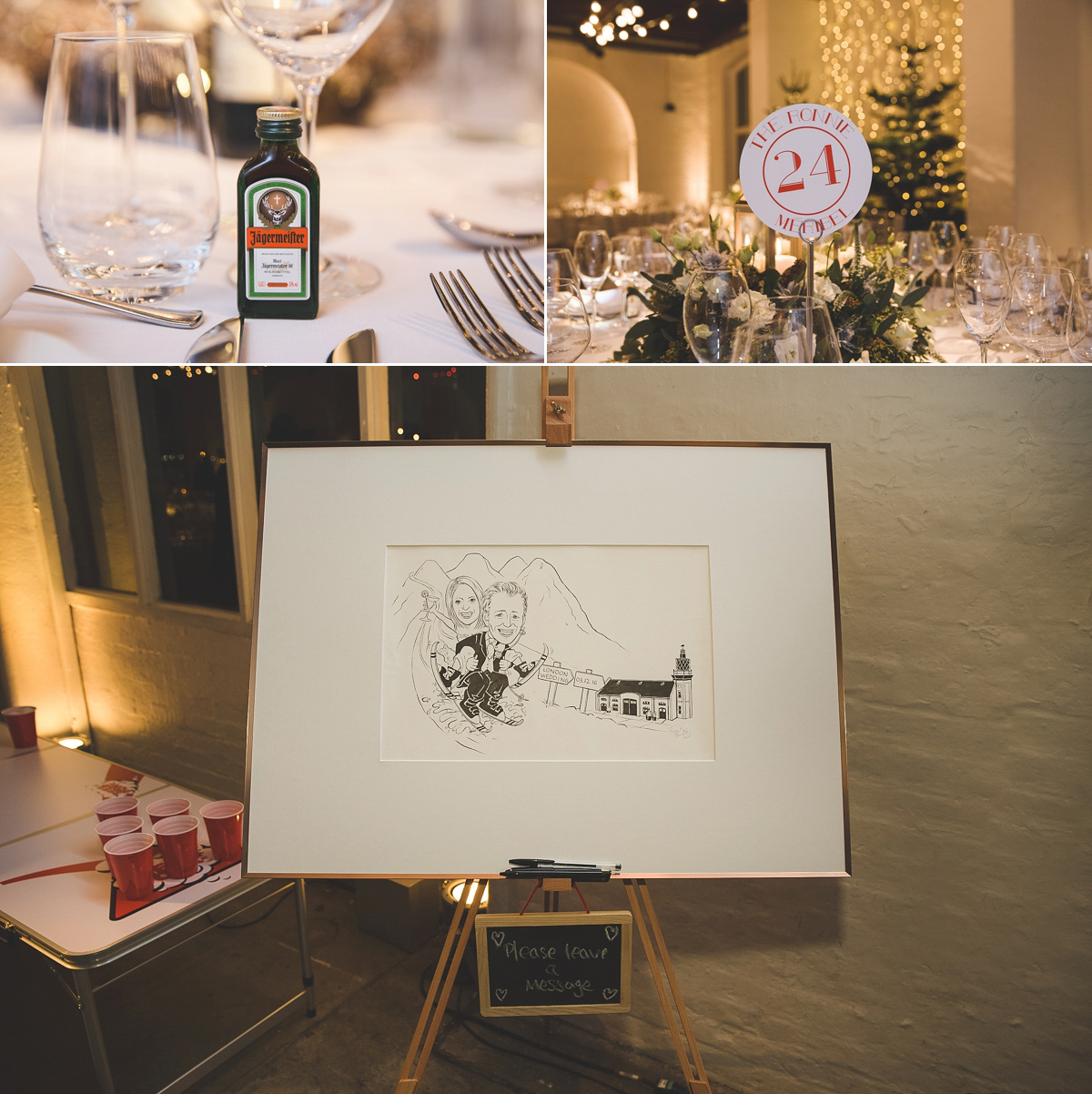 "We really wanted to have espresso martinis for when guests arrived off the boat – our favourite cocktail – but were a bit nervous it wouldn't translate easily on a large scale. With a bit of encouragement from Anna, we went for it and needn't have worried, they were great."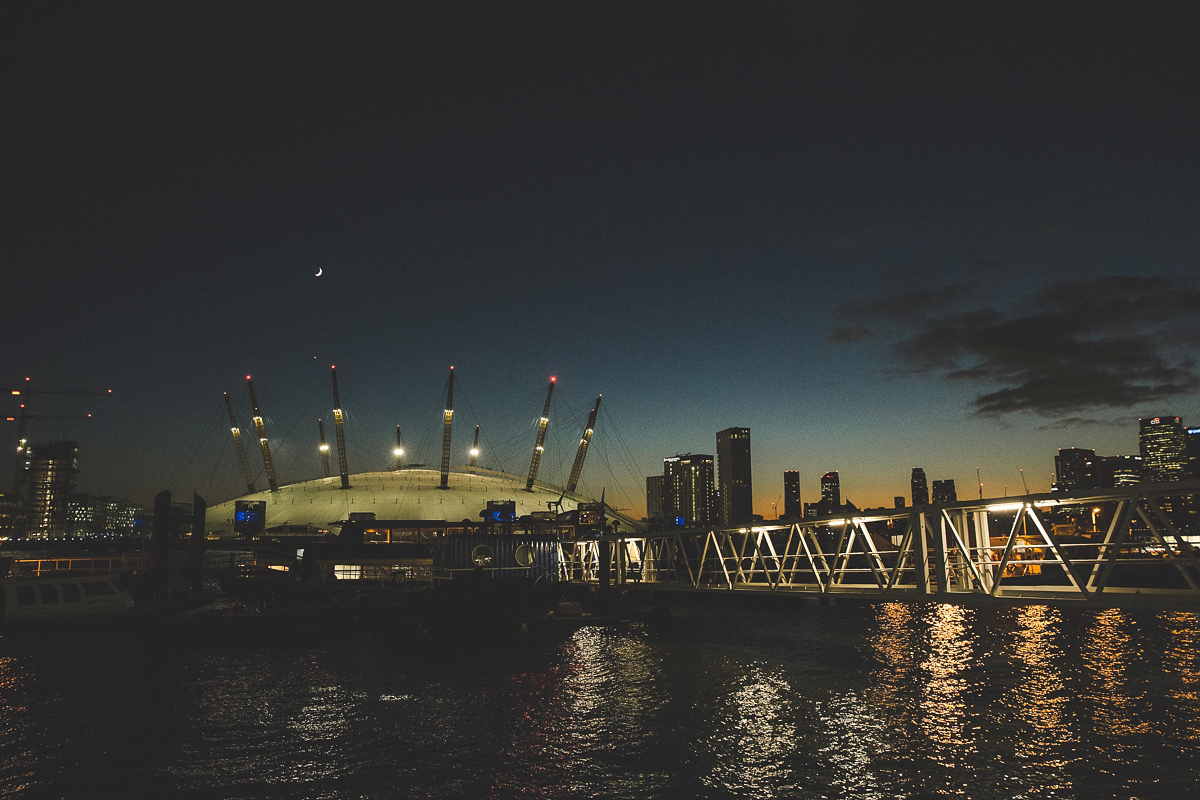 The speeches were the newlyweds' favourite part of the day and both Danielle's mum and Tom ensured there wasn't a dry eye in the room. Danielle was blown away by her new husband's speech and was so thankful to have captured all the wonderful words on film, so those precious memories will never fade.
The couple chose to have their day documented professionally by videographers Minty Slippers.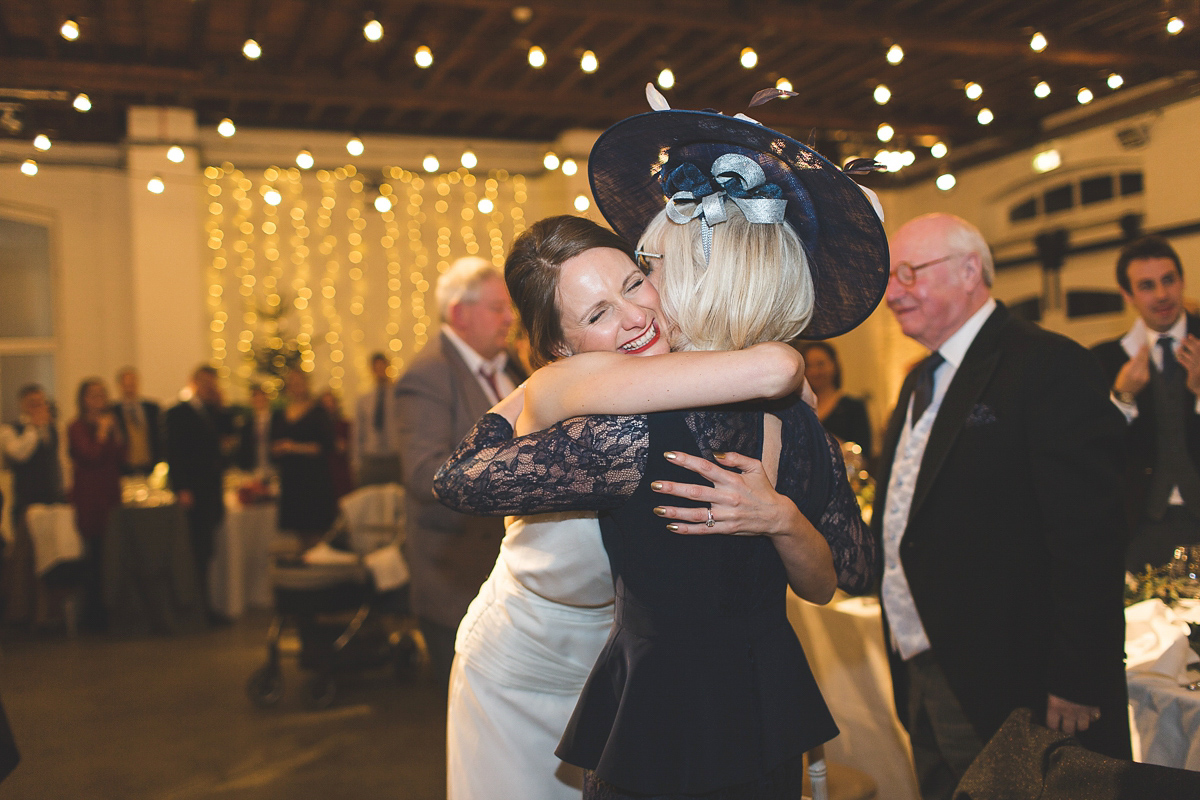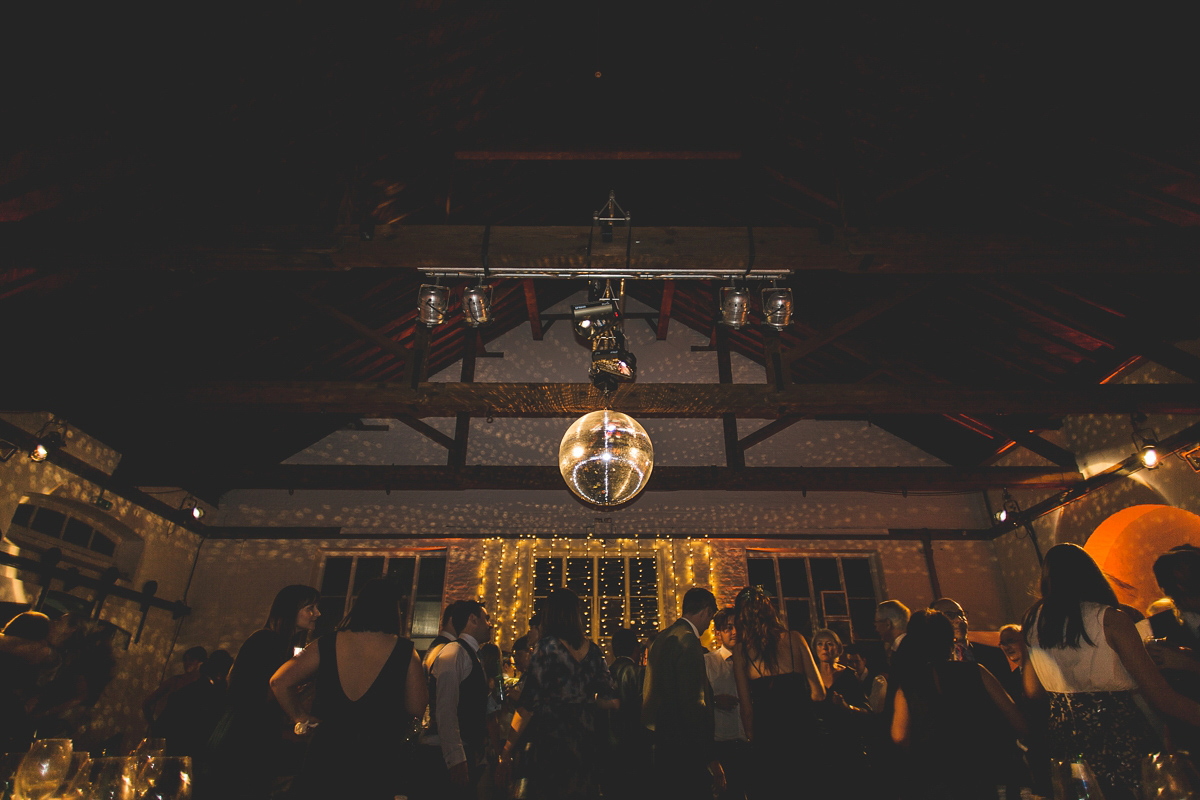 "The Sparks provided our entertainment. I really wanted a band with an après-ski vibe as I know how much fun après-ski is, and these guys were ace, they had everyone on the dancefloor all night. It turns out a couple of my friends knew the lead guitarist from our ski season in Courchevel so my wish actually became a reality."
You Got The Love by Florence and the Machine provided the anthem to Danielle and Tom's first dance – for the couple the lyrics just say it all and they both love the musical arrangement.
"Two nights before the wedding I was at the O2 with my bridesmaid Ruth to see Pete Tong playing with the Heritage Orchestra. Candi Staton who originally sang You Got the Love was a special guest. She sang the song live on stage with the full orchestra. It was meant to be."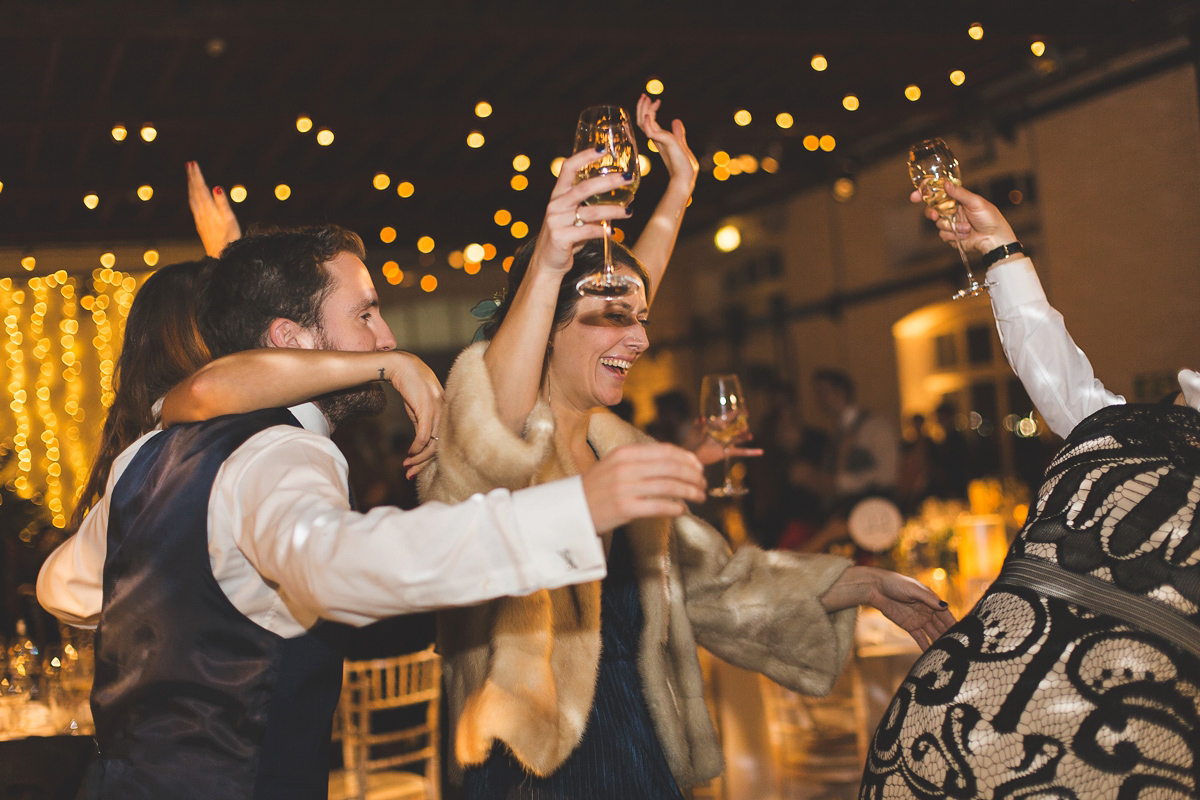 Words of Wedded Wisdom
"It is so easy to become bogged down in the detail, and so hard to pull back and see the bigger picture. Planning your wedding is something that occupies so much of your mind for so long that if it doesn't end up how you envisioned it, it can seem like the end of the world. I had a meltdown two days before the wedding because I had only bought twelve table number stands and I needed thirteen. I freaked out when one was going to be different to the others."
"But did it matter? No, of course it didn't, I was being so ridiculous. Everyone is there to share your day with you, to celebrate with you. My guests did not care what my table stands looked like. It's all about keeping things in perspective, and remembering what's important is that you are making a commitment to the person you love in front of all your nearest and dearest."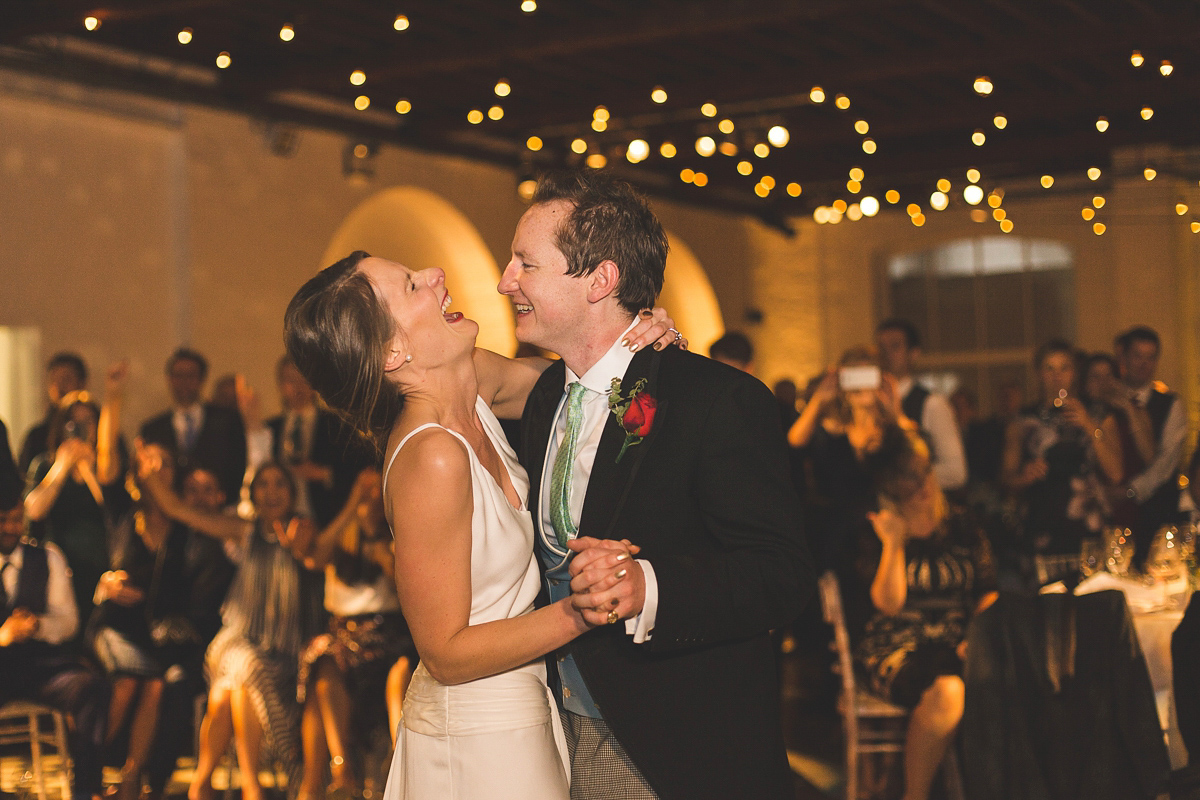 Thank you so much to Danielle, Tom and of course to Kirsty Mackenzie Photography for sharing this wonderful winter's day with us all. I'm so grateful to our lovely bride for sharing these very wise words of advice with us, perspective certainly is key – I remember so clearly the feeling of all those insignificant concerns simply falling away the second I saw my husband (still weird and totally awesome to be able to say that) at the top of the aisle waiting to marry me.
Sigh, I don't think I'll ever stop reminiscing about that day. Our day.
With (big soppy, emotional) love,
Mrs Emily Brown x