Happy Thursday lovelies – not long now until the weekend. We've shared some utterly gorgeous weddings so far this week – you can explore our full archive of real weddings here.
This mornings wedding blog nuptials are full of jewel colour florals and delightful DIY detail. Emily and Tim tied the knot on 9th September 2016 with a ceremony at Lillibrooke Manor in Maidenhead.
"The barn at Lillibrooke Manor set the foundation for our style on the day; the inside of the barn was rustic and open with high ceilings so we didn't need much as it presented itself beautifully. The outside areas were framed with dark red bricks and thick green ivy, and we wanted these rich and vibrant colours to be pulled into our flowers and decorations for the day."
Photography by Frances Sales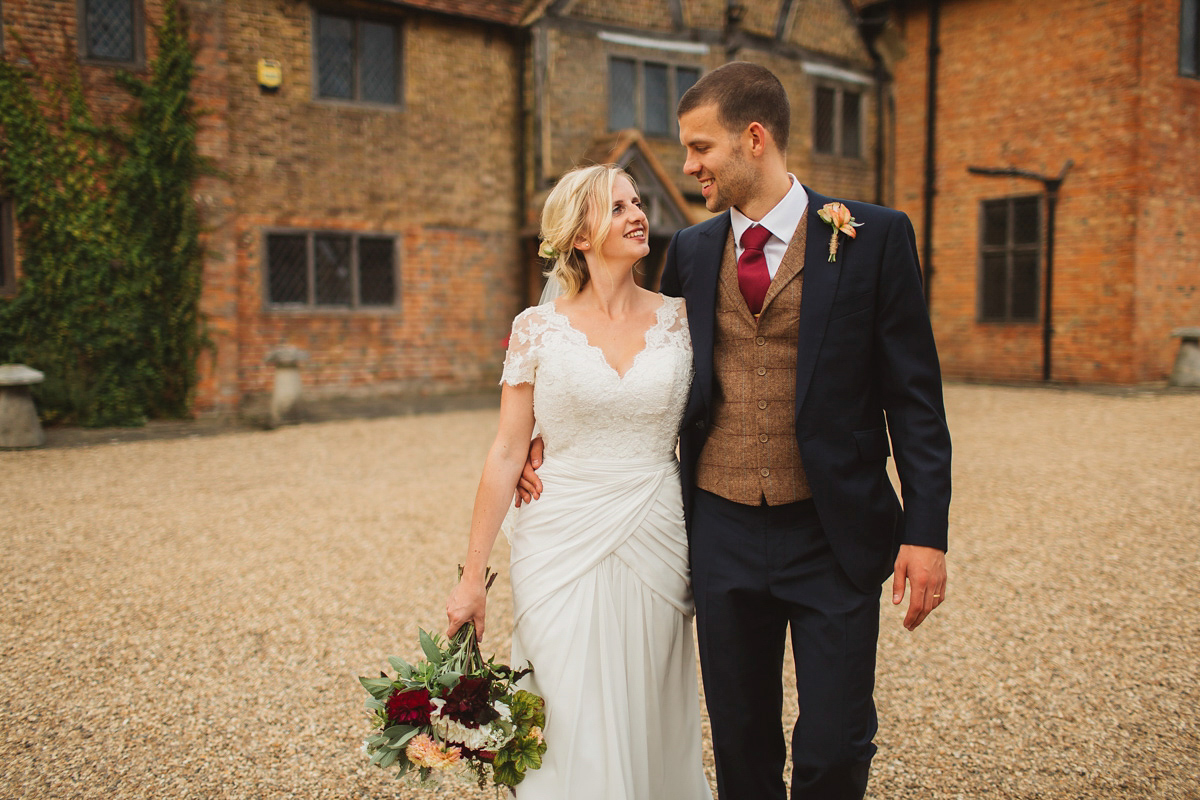 "My bouquet was a contrast of deep merlot dahlias and green herbs, with lighter whites and pinks plus soft foliage, which complemented Tim's red tie perfectly. Elsewhere we used jewelled colours such as purple, magenta, gold and emerald for details like the backdrop to the sweetie table, pompoms on the kid's tee-pee and in the place setting menus.""I, very luckily, won my stationery in a Love My Dress competition and was put in touch with the wonderful Nikki at Knots & Kisses. She designed our invitations, plus our menu place-names for the reception too."
"My shoes were Jenny Packham No. 1 from Debenhams and were to die for. Cream satin with a peep toe and t-bar, covered with a smattering of sparkles on the top. I did actually consider having two pairs of shoes for the day, but loved these ones so much I didn't want to take them off! I had a few flowers pinned into my hair where my veil was tucked in."
"My hair was styled by Aaron Fawcett, a local hairdresser who came recommended and was fantastic. One of my best friends has an amazing interest and talent in makeup, so I asked her to be there in the morning so that she could share a glass of fizz with us whilst using her skills."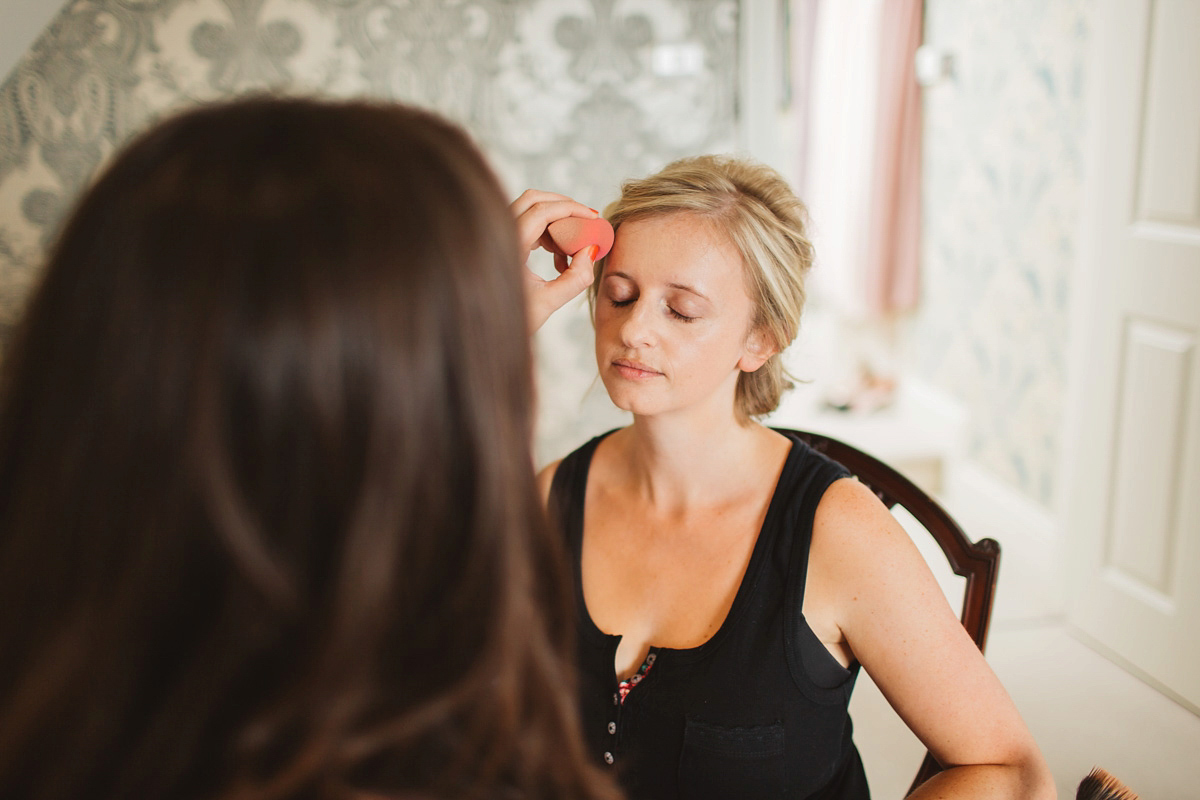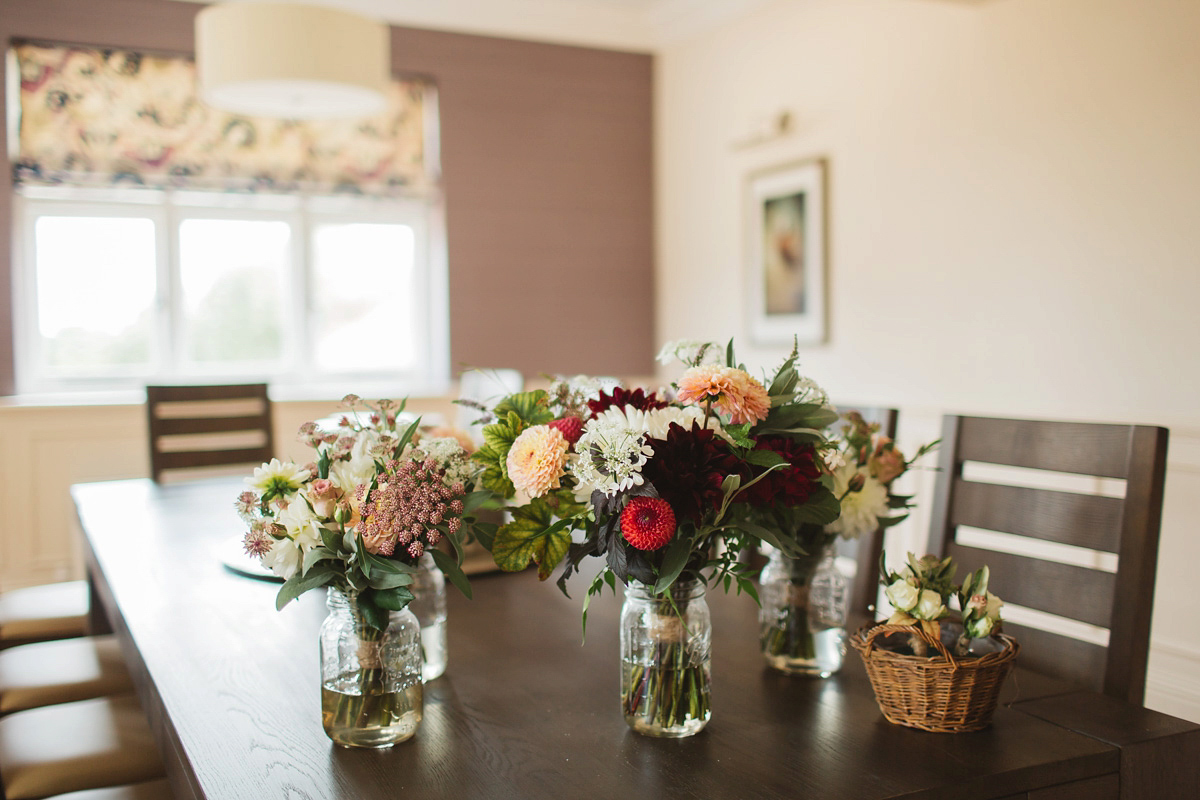 "For scent, I wore 'Chloe', my usual scent which all my friends and family associate with me, so I didn't want to change that."
"Tim had bought me a pair of diamond studs for Christmas the year before so I wore these, paired with a silver bracelet."
"I find that I have a difficult shape to fit as I am short and top heavy so I was nervous about finding 'the one', as I thought it would be impossible, but my dress flattered me in ways I have never been flattered before! (What a shame I can never wear my dress again!?).
I loved the delicate lace across the bust and cropped sleeves of my Mggie Sottero dress. I also loved how the Grecian skirt skimmed my waist and fell gracefully to the ground. It was simply gorgeous."
"One of my favourite moments of the day was actually getting ready in the morning with all of the special ladies in my life. (Is it odd to choose this moment given that Tim wasn't a part of it!?). The whole morning was charged with this wonderful energy and excitement that banished all nerves."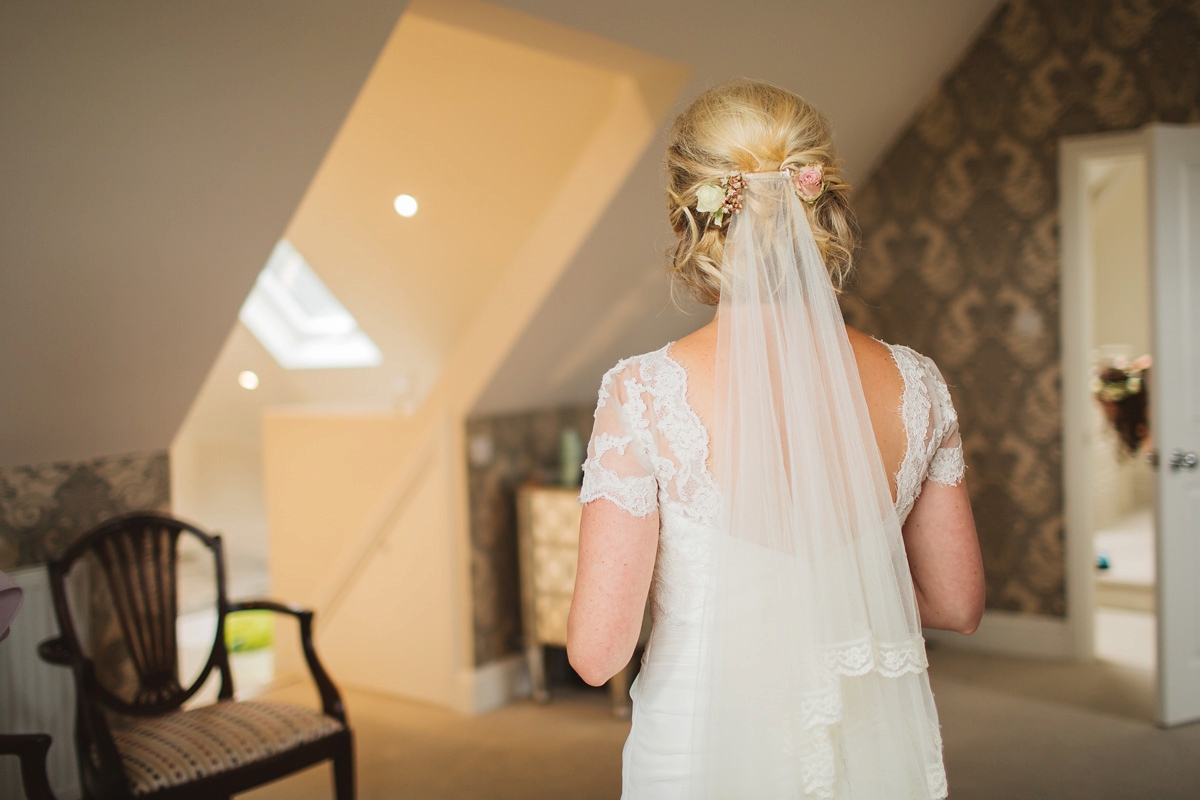 "On seeing my Mum looking beautiful in her 'mother of the bride' outfit, my stunning bridesmaids getting their hair adorned with wreathes, the flower girls dressed up like princesses and my Nana having her face powdered, I had this calm, warm appreciation that they were all doing this and being here for me and Tim."
"This made me feel so incredibly grateful and loved, and I couldn't wait to walk down the aisle to see Tim waiting for me in front of even more people who loved and supported us and our love."
"My veil was my Mum's on her wedding day, so it was my 'something old' and 'something borrowed'."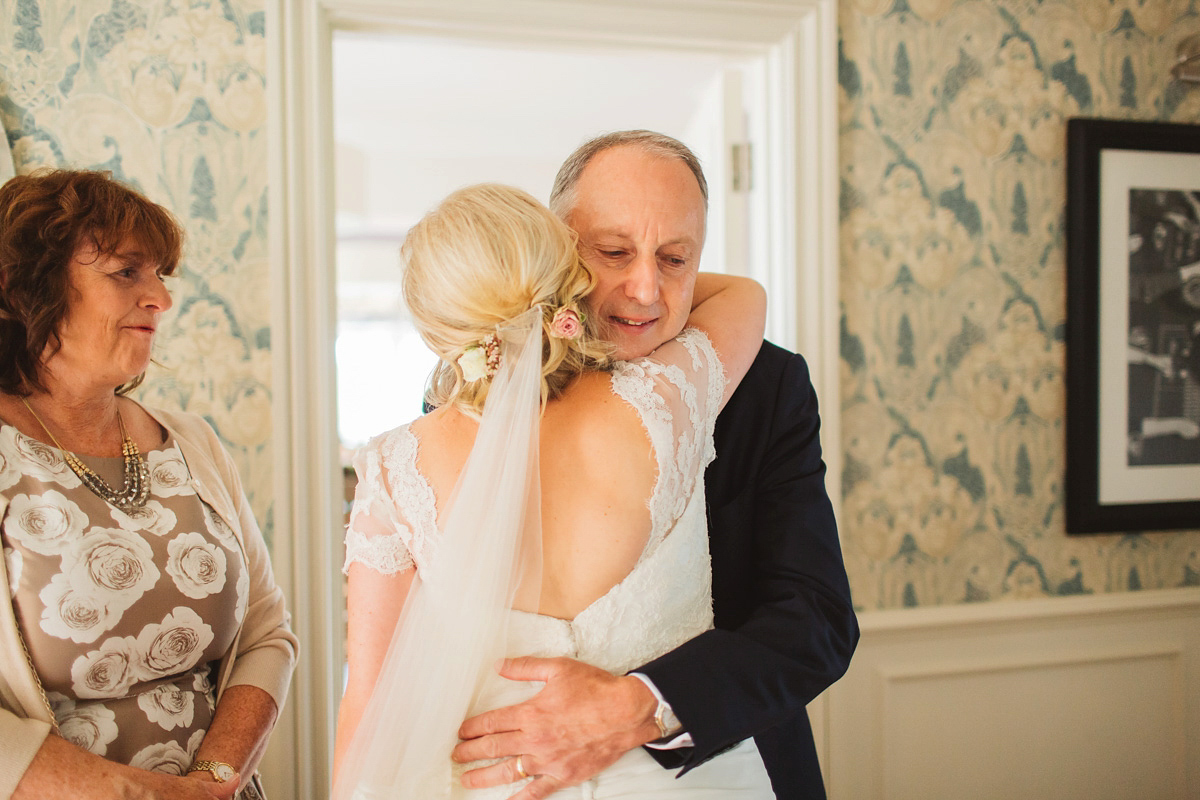 "We knew that we wanted a barn or venue with a rustic and relaxed feel from the start. Lillibrooke Manor was actually the first venue that we visited, but we went with the age old 'don't buy the first house that you see' and thought it best to suss other venues out, but nothing compared to Lillibrooke Manor, so we knew it was the venue for us."
"Tim and I met through mutual friends – his best friend met my best friend at university and moved to London from Peterborough to be with her; I met Tim at their various parties and get-togethers but one or the other of us always had a partner at the time."
"When Wills & Kate got married, my best friend had a Royal Wedding party and coincidentally Tim and I were both single. It was very much a "Oh, there you are. I've been looking for you" moment, and things just fell into place."
"Tim wore a suit from Robert Goddard.  I bought Tim a personalised pair of gold cufflinks for the day from a local designer on Etsy, plus a matching tie pin. Tim's tie also matched the flowers in my bouquet whilst the other groomsmen had navy ties."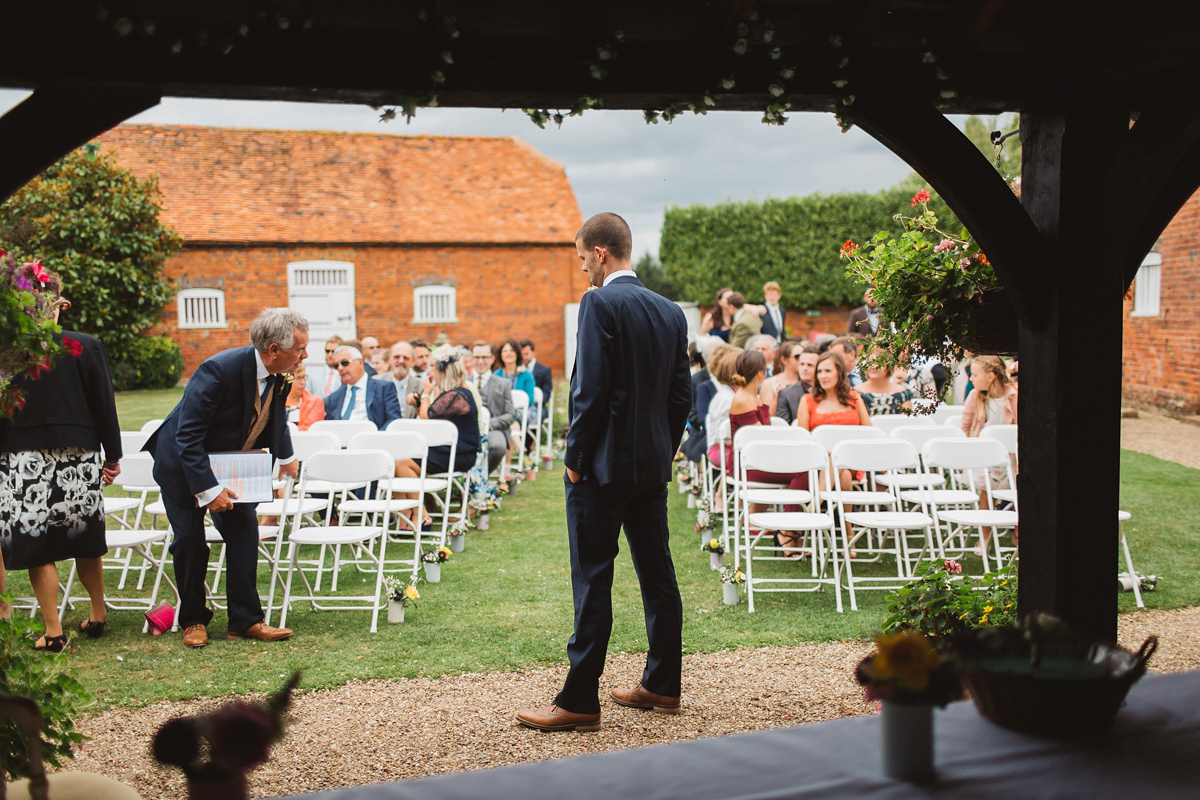 "We got engaged in Tuscany in June 2015 when we were on holiday with my family – Tim always knew that I would want to celebrate with them immediately as we're so close, but he chose a moment when we'd made separate plans for the afternoon so we were alone."
"He proposed at a secluded viewpoint, looking out over a tiny Tuscan village which perched on the edge of Lago di Vagli and then we drove back our villa to be greeted with champers and tears from my family – they were all in cahoots and I hadn't noticed a thing."
"I'd always thought I'd be able to guess what Tim was up to as he's a bit of a 'dropper' when he's nervous, but he didn't even flicker an eyelid out of line so I really had no idea."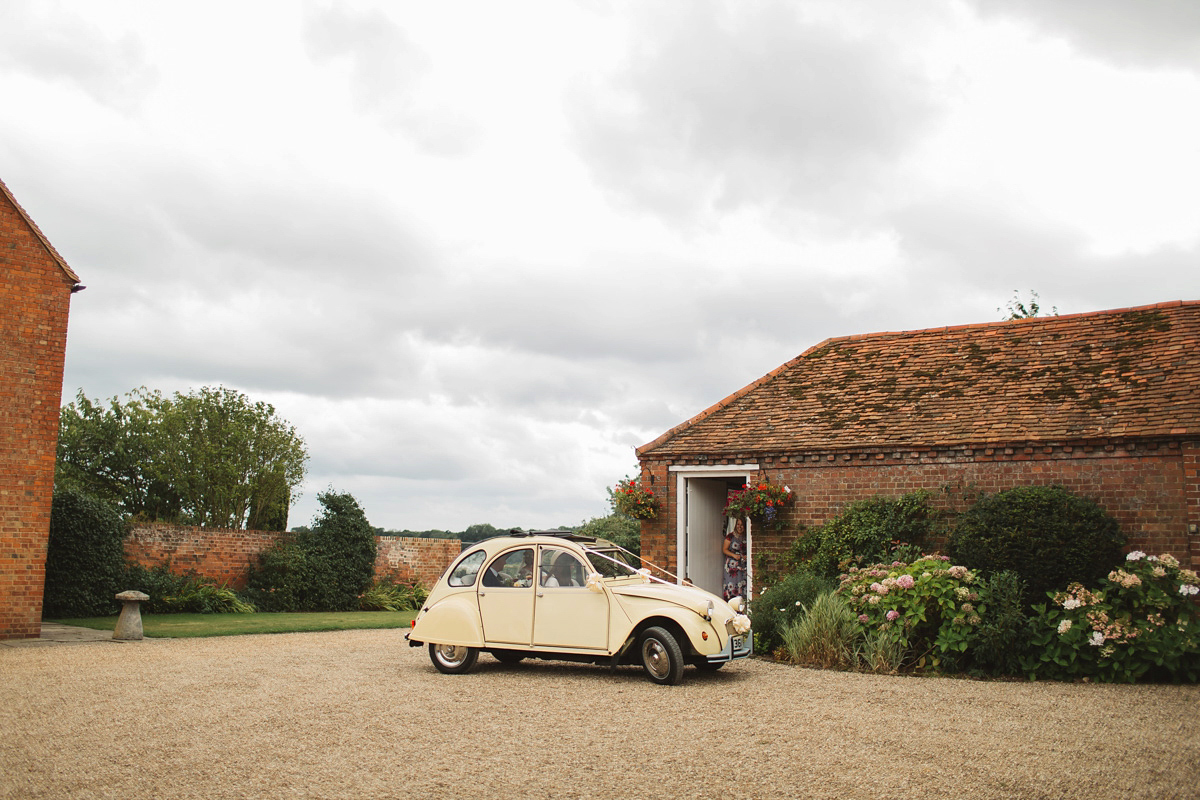 "I had a vintage Citroen 2CV (called The Colonel, from 1984!) in buttermilk colour to drive me and my Dad to the venue."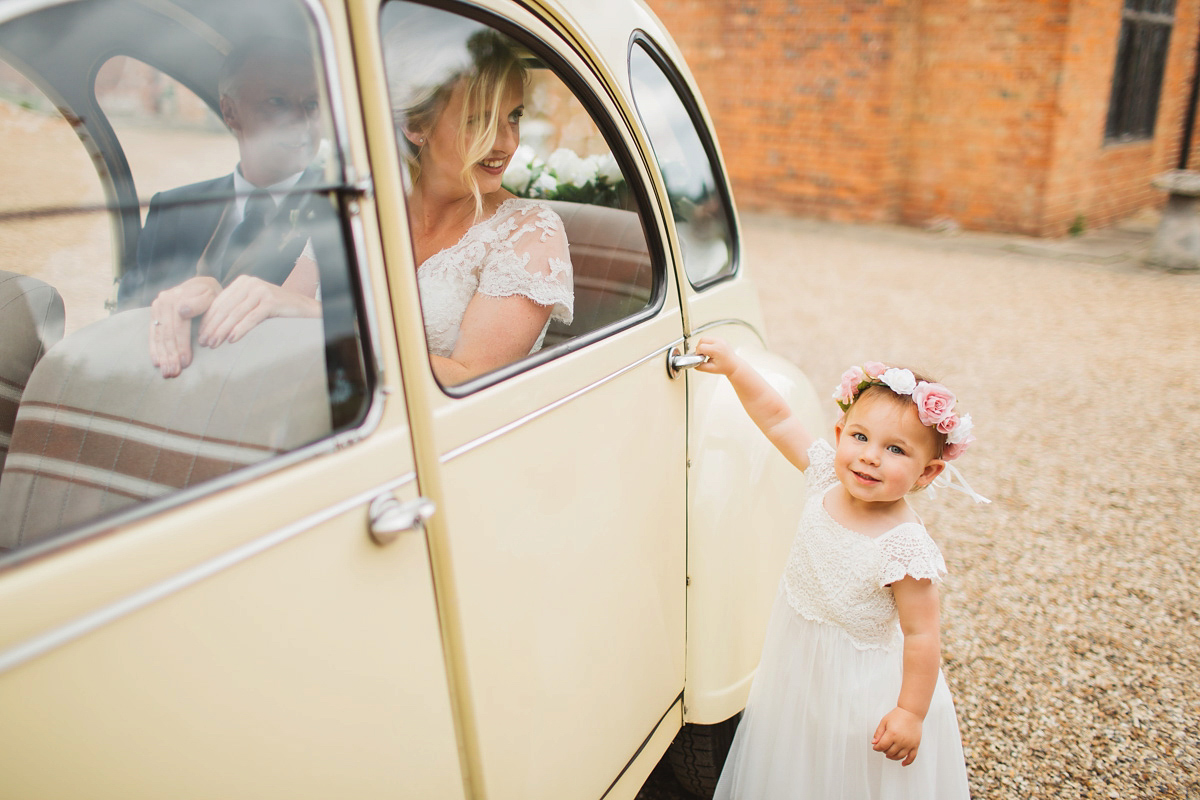 "I found Alice at Lock Cottage Flowers after a lot of research on Pinterest and Instagram, and she was another one of my favourite finds. I knew in my mind that I wanted my flowers to look 'undone' and relaxed, almost wild, and I also knew what sort of colour scheme I'd want but wasn't sure how to bring it all together."
"Alice's love of flowers and her enthusiasm for the personal details of my day made every penny worth it – she grew the majority of all flowers in her back garden (amazing!), and even invited me to spend an afternoon with her to see how my flowers were coming along a few months prior to the wedding, then making small posies and hair wreaths together.
We clicked straight away and loved each other's vision and I would have her again in a heartbeat."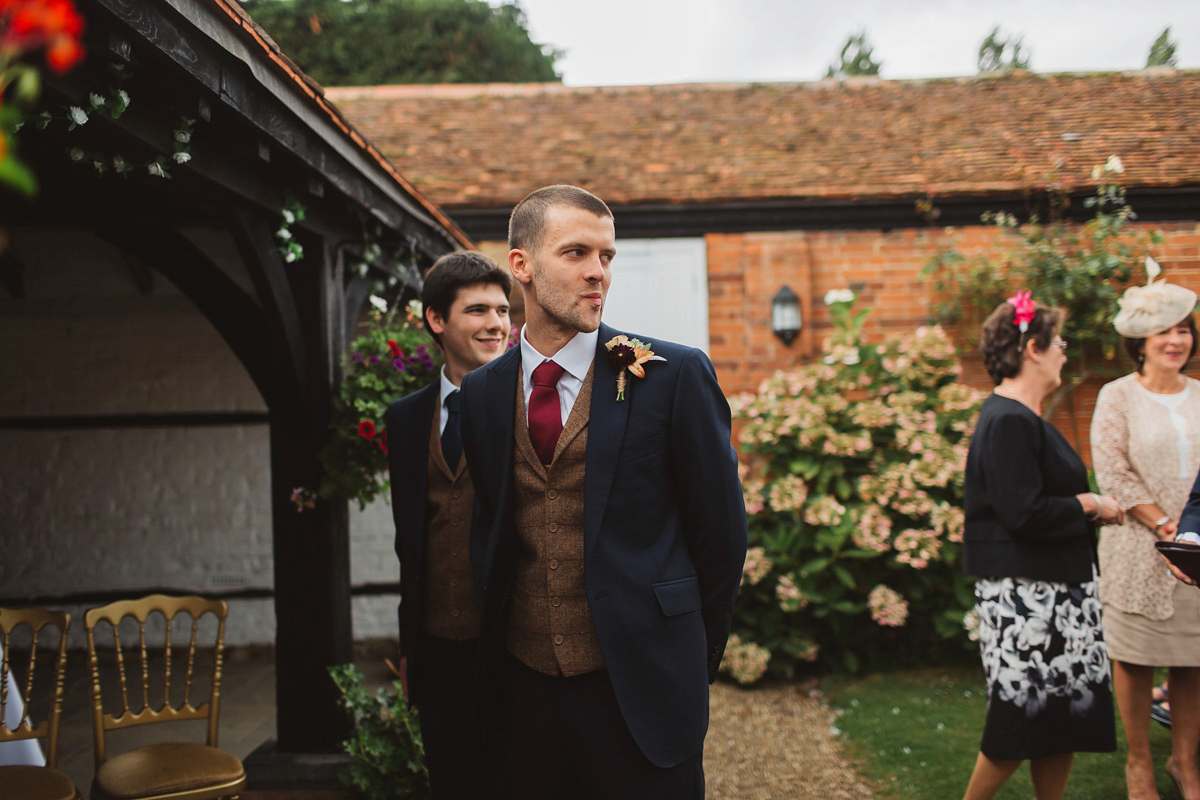 "My first love, my daddy, accompanied me down the aisle, to the sound of 'Marry Me', by Train."
"We didn't tailor our own vows (I was far too worried about sobbing my way through them!), but we did have the registrar read something personal out to our friends and family which was a very special moment for us as it involved all of our loved ones in our big moment at the ceremony. It read…"
Before I pronounce you married partners, I have just one more thing I want you to do. Your wedding day is one that seems to fly. It's a day filled with emotion, friends, rings and dances. Many people here will remember how fleeting their own wedding day was. So I want you, all of you, to take a few seconds to look in to each other's eyes and think about the happiness you're feeling in this place, in this moment. Really let that feeling register in your heart and your mind. Now, I want you to think about your life together in 20 years. Where are you? What are you doing? We all know that your visions of the future are not identical but always complimentary. John Lennon once said "A dream you dream alone is only a dream; a dream you dream together, that is reality". That new reality starts now for Emily & Tim.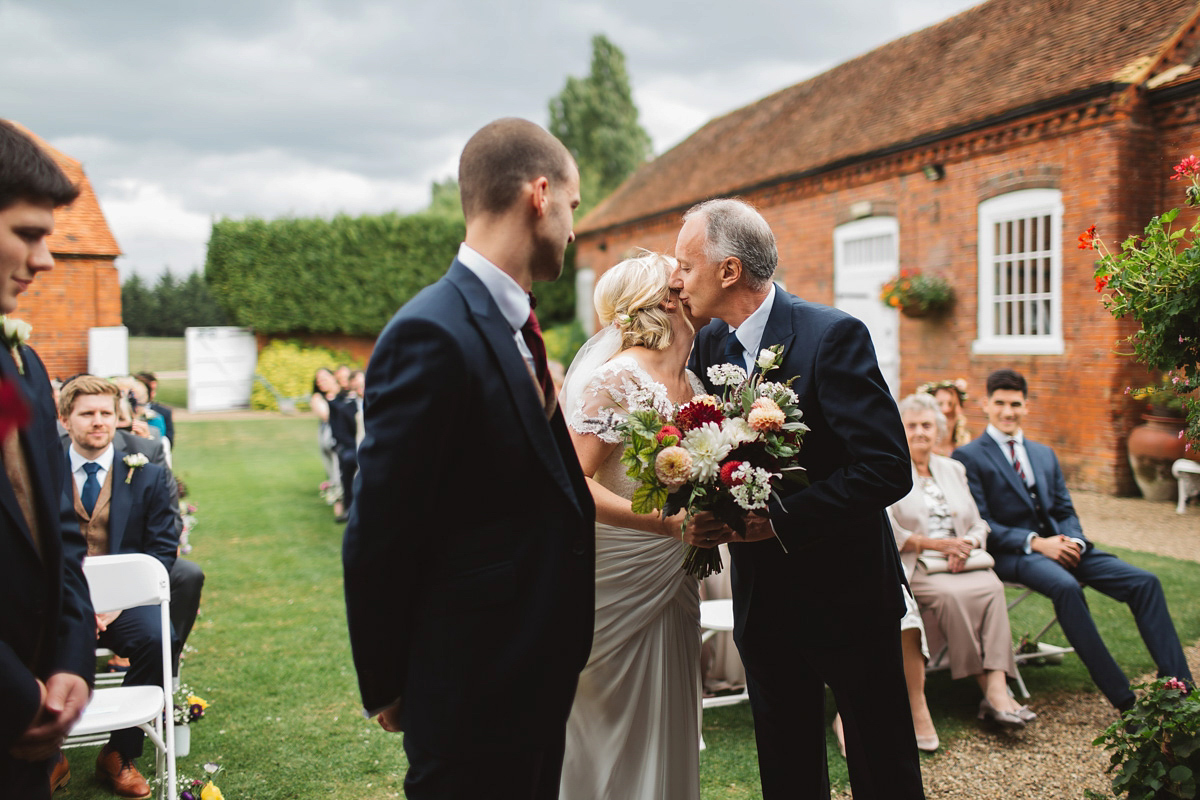 "Tim's Dad read 'The Lovely Dinosaur' – a reading he chose himself, as it's fun and light hearted, just like him, but has a lovely meaning behind it and he tailored a few of the lines too. We also had 'Sometimes', read by one of my closest friends which was a reading she and I had always cooed over, so it seemed the perfect fit to have her read it to us on our day…"
Sometimes you meet someone and it's so clear that the two of you, on some level, belong together. As lovers, or as friends, or as family, or as something entirely different. You just work, whether you understand one another or you're in love or you're partners in crime. You meet these people throughout your life, out of nowhere, under the strangest circumstances, and they help you feel alive. I don't know if that makes me believe in coincidence, or fate, or sheer blind luck, but it definitely makes me believe in something.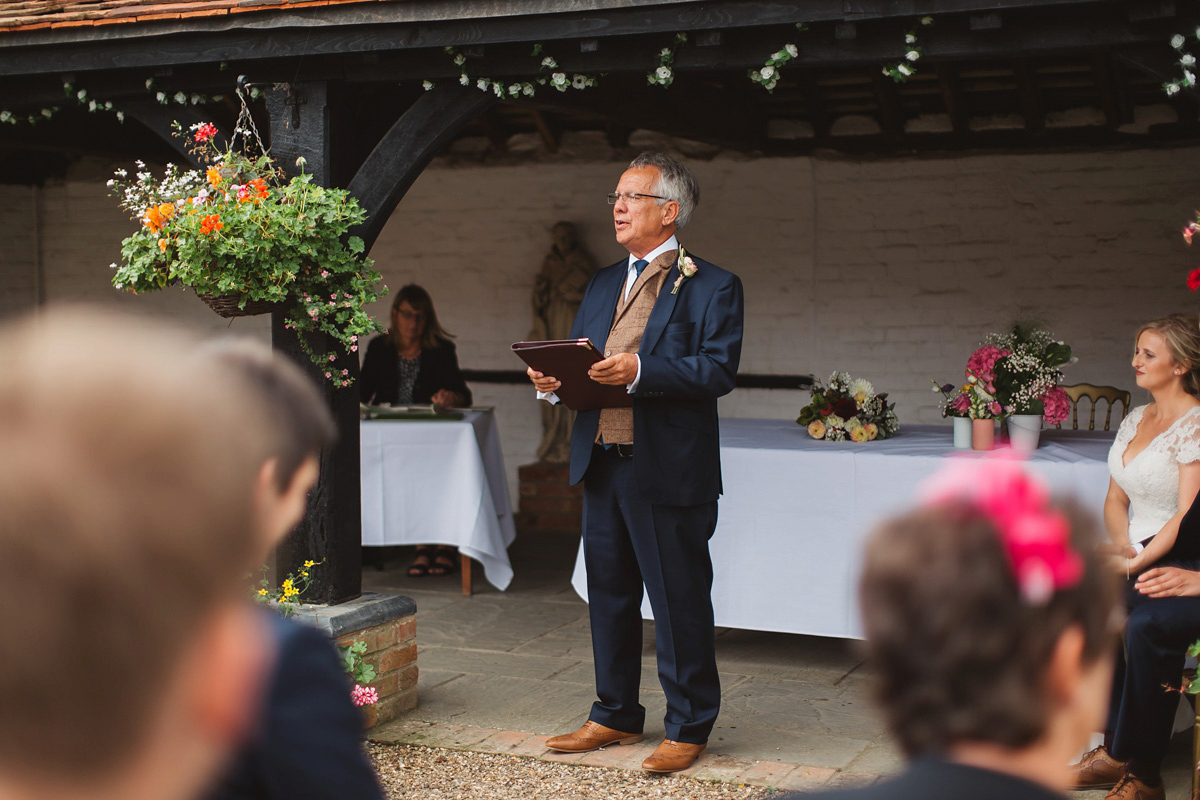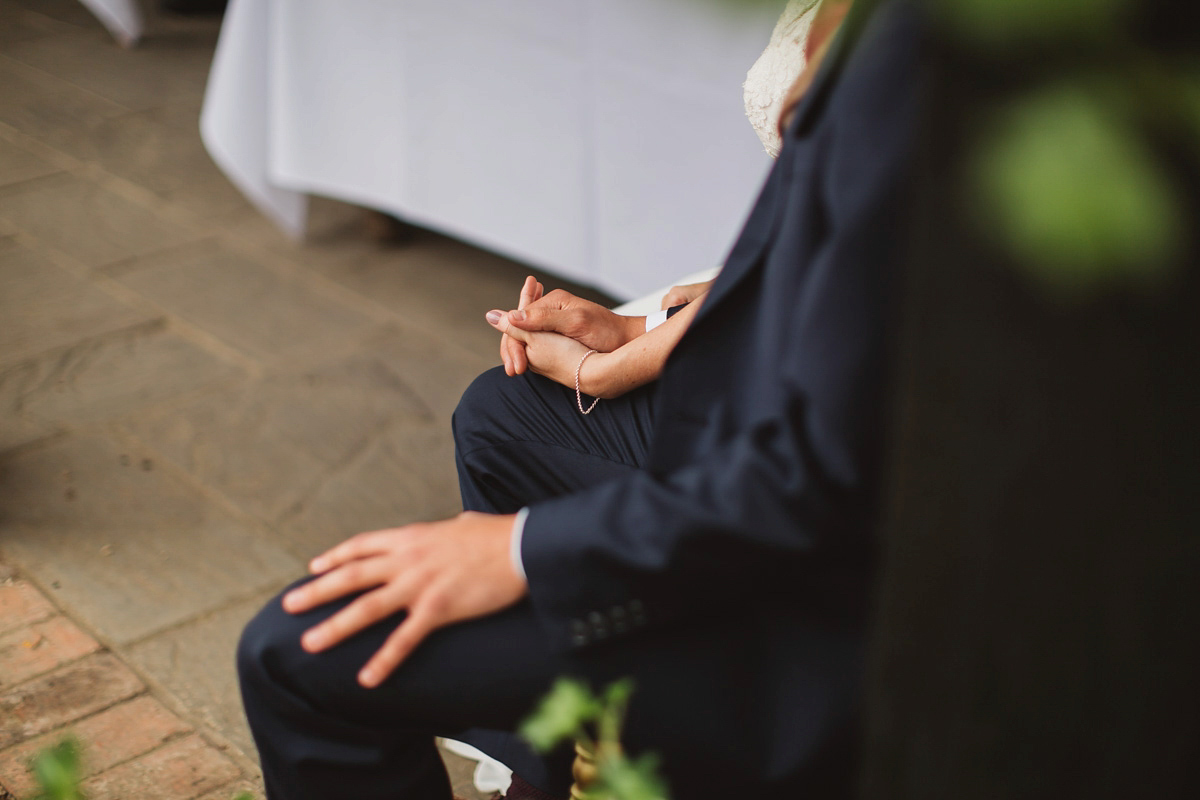 "Tim bought my engagement ring from Fine Jewels in Hatton Garden, so it was a natural choice for us to go back given their fantastic and helpful service."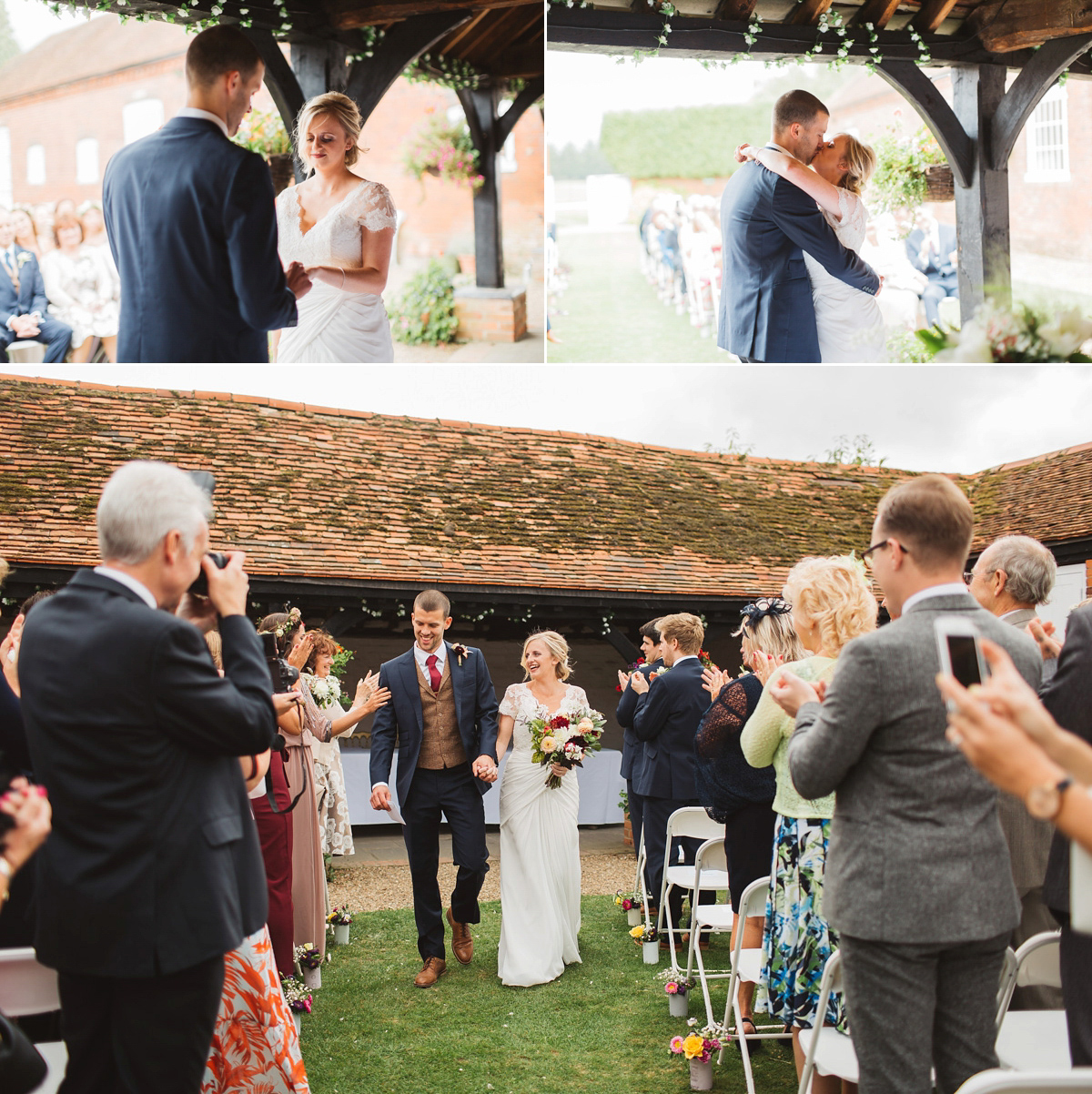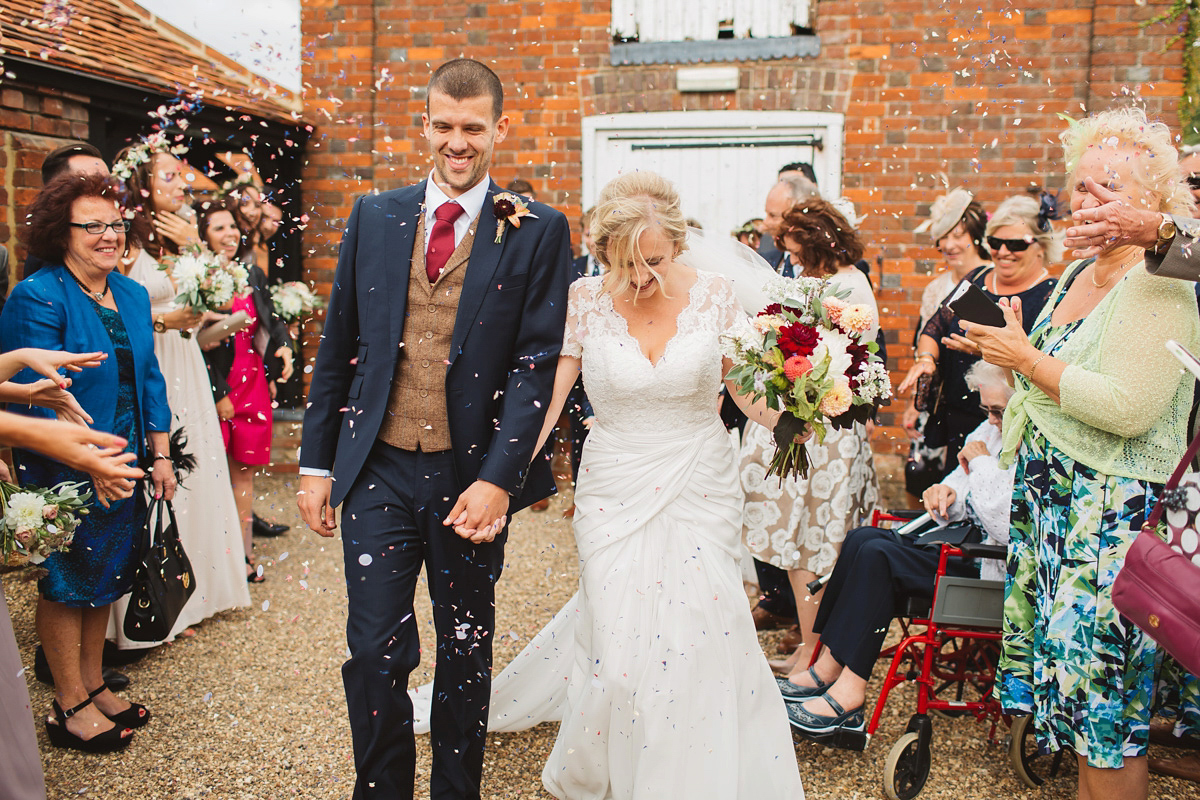 "During the drinks reception we had a surprise Mariachi band which was fabulous, if just to see the reaction on people's faces as we had kept it a secret from almost everyone!"
"The band secretly started singing round a corner then slowly walked down the driveway towards the reception, so people could just hear the strumming of a guitar and acapella tunes but couldn't work out what it was, and when the penny dropped it was priceless. Everyone was in such high spirits, it was a brilliant way to get the party started."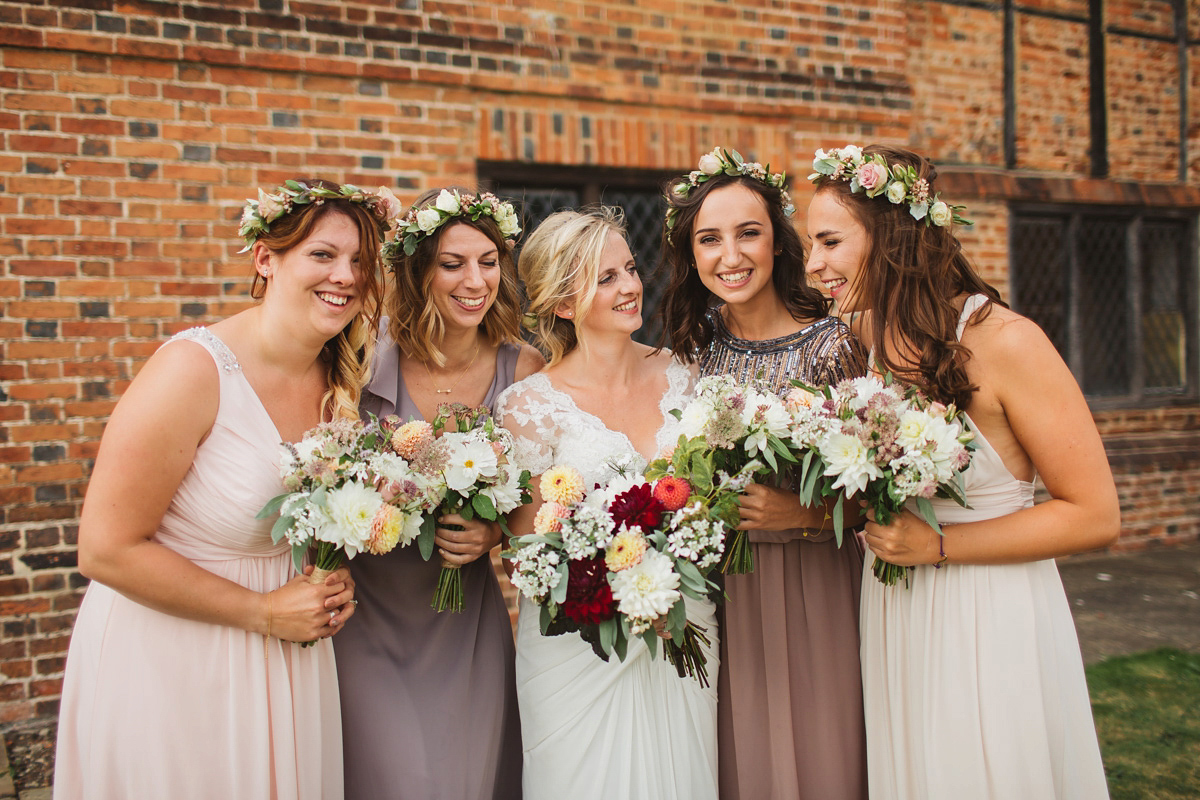 "My bridesmaids wore dresses from various sources; a pale pink draped dress ASOS for one bridesmaid, a warmer pink with sparkles from a local bridal store for another, a lilac silk wraparound maxi from Monsoon for another, and a dusty pink/brown covered in sequins from House of Fraser for my sister."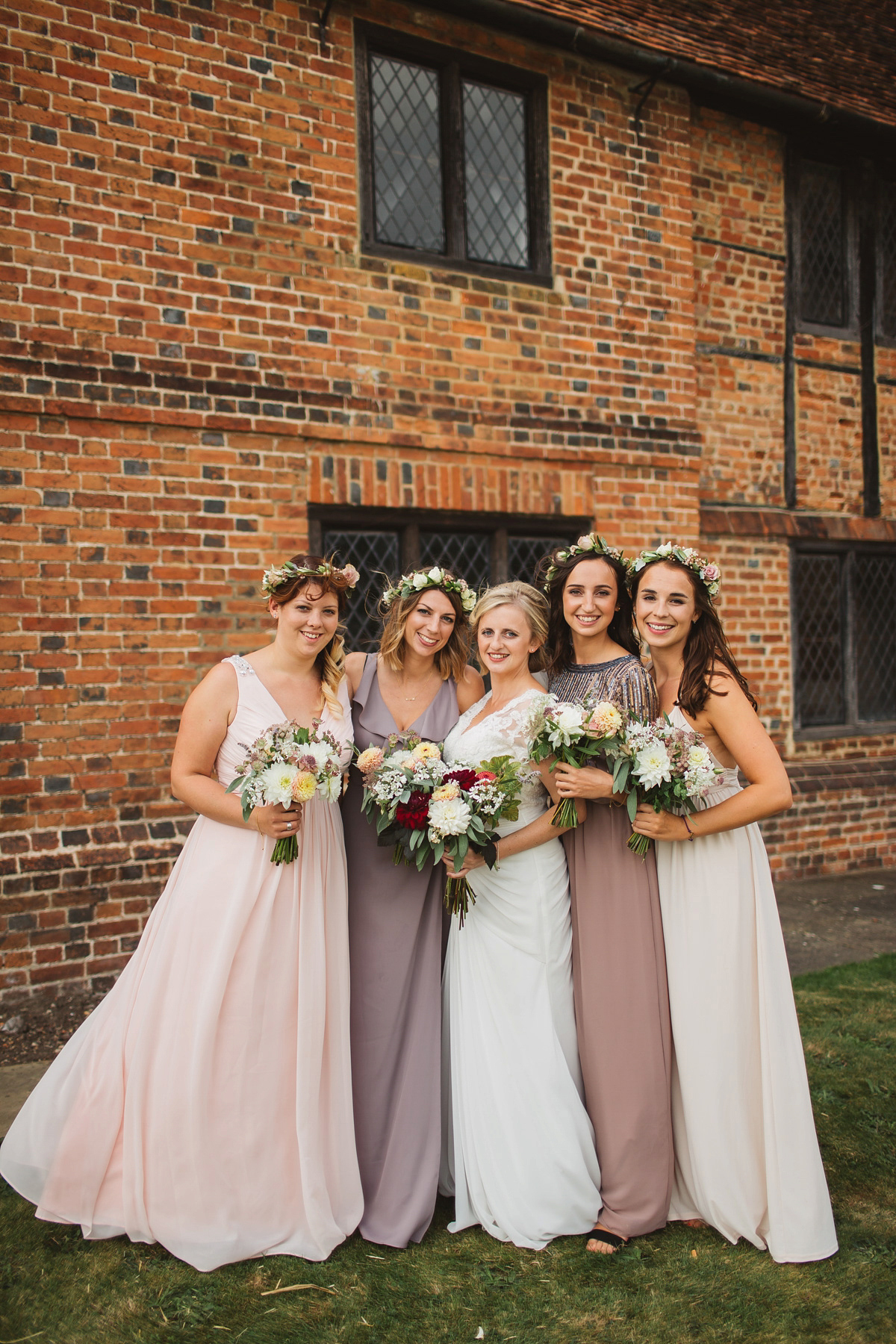 "Photographer Frances Sales was one of my favourite finds when planning our wedding; her style was absolutely perfect for us as we wanted to capture little forgotten moments at the wedding like people's reactions to our Mariachi band, laughing at the speeches, the kids playing etc and Frances did this perfectly.
She was so warm and friendly too, and incredibly discreet at getting all the photos we wanted."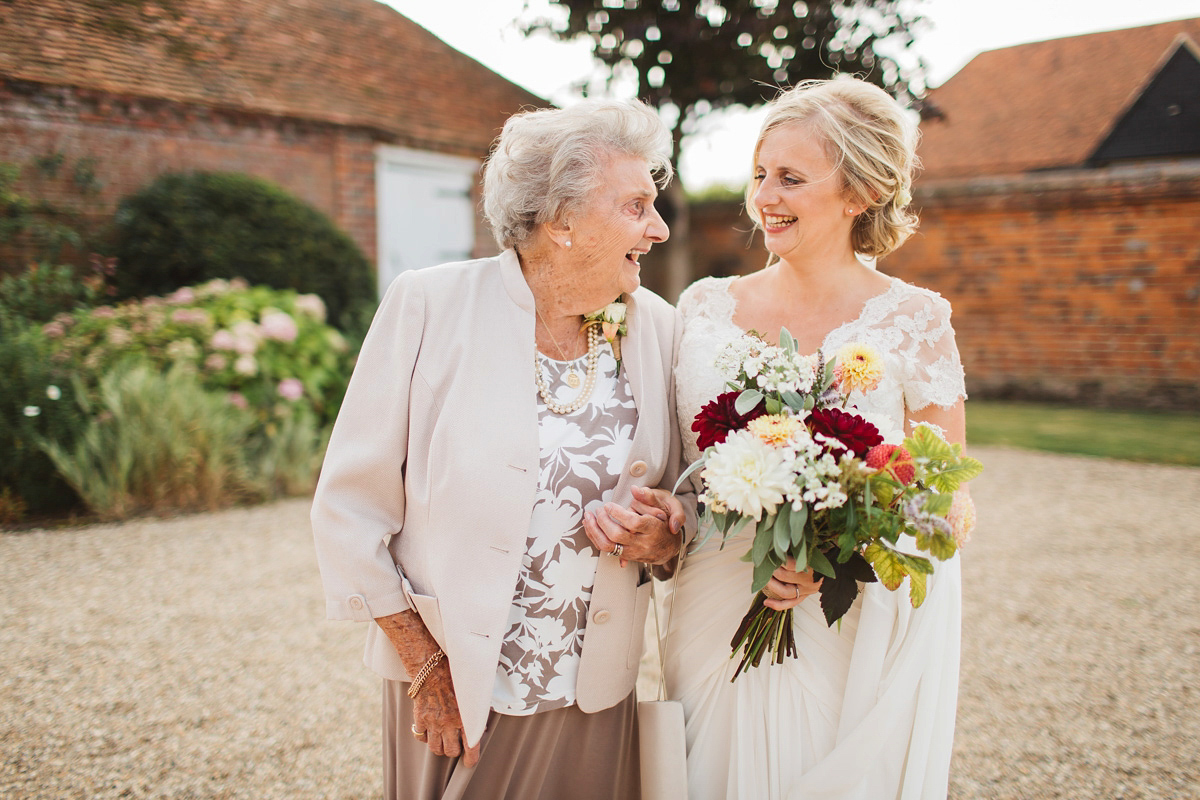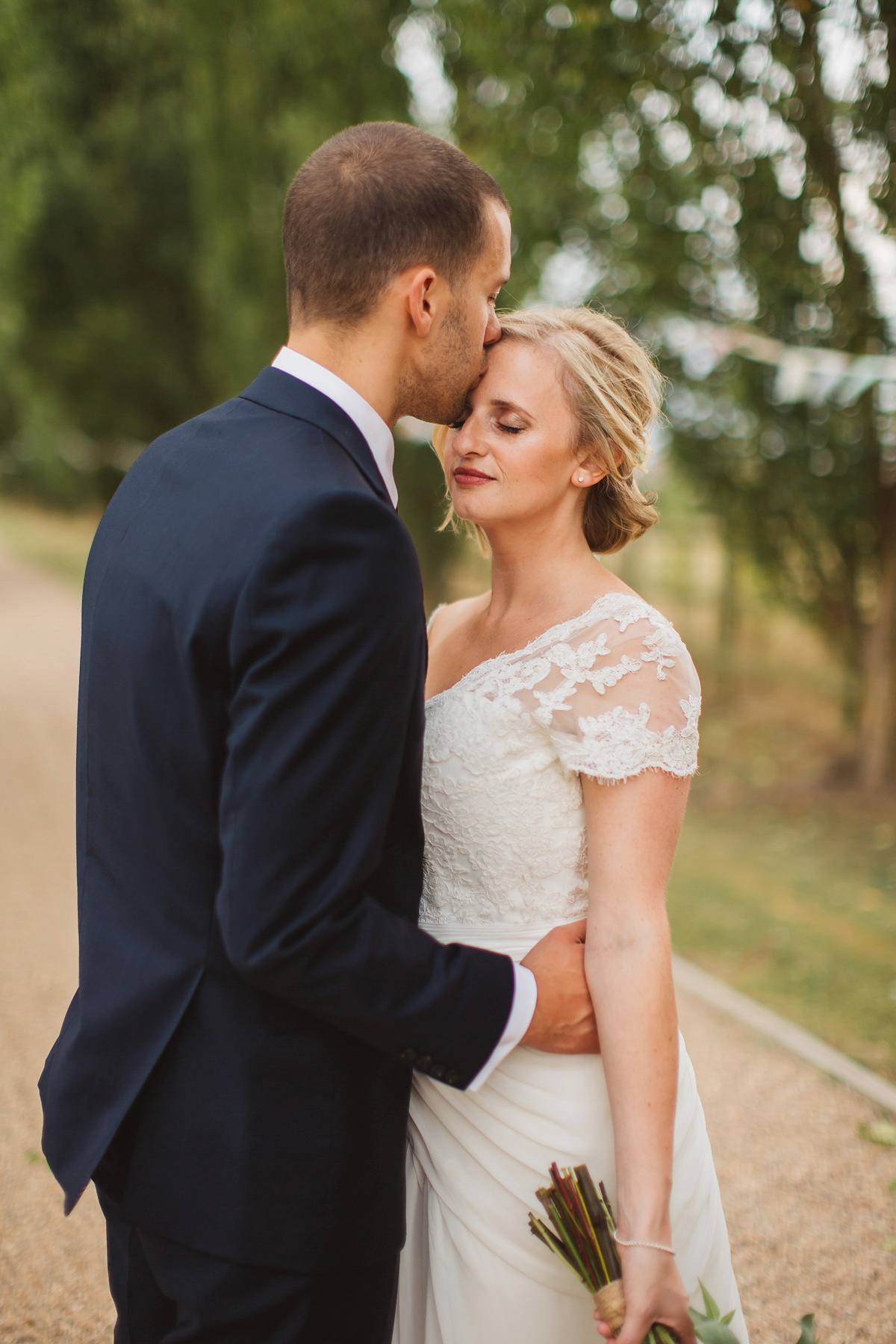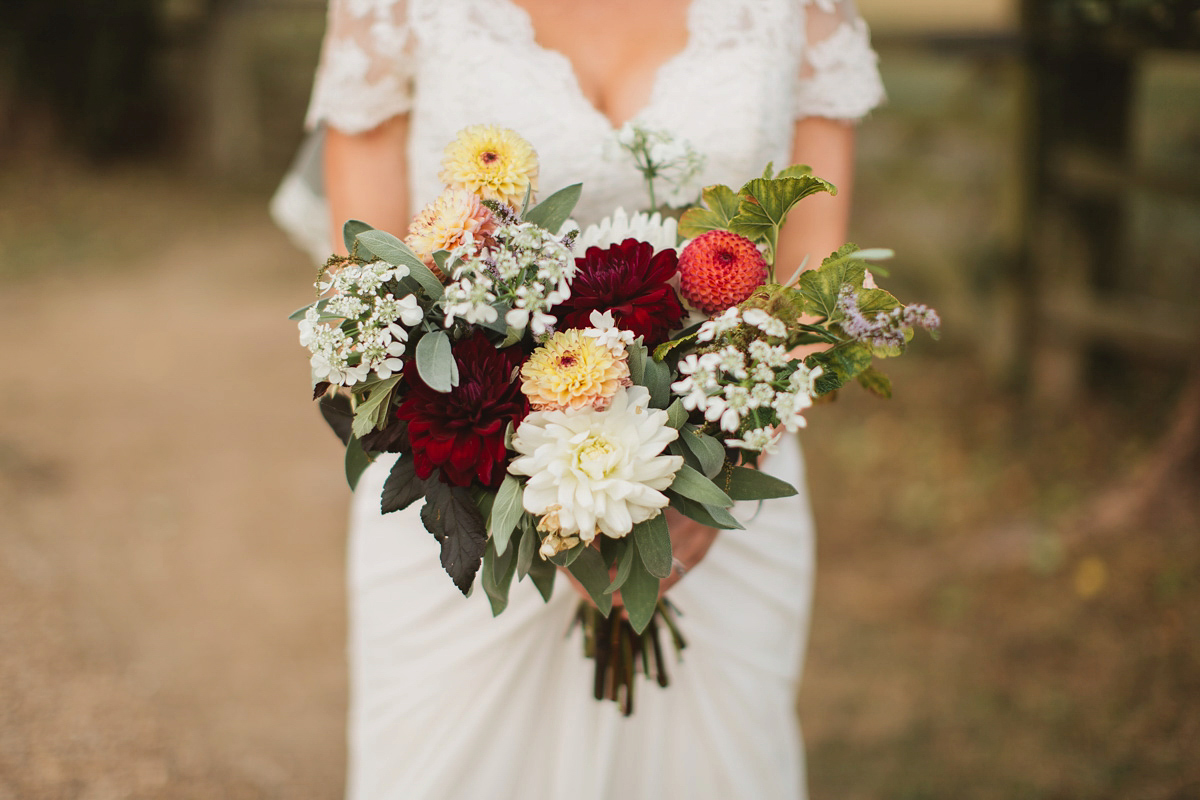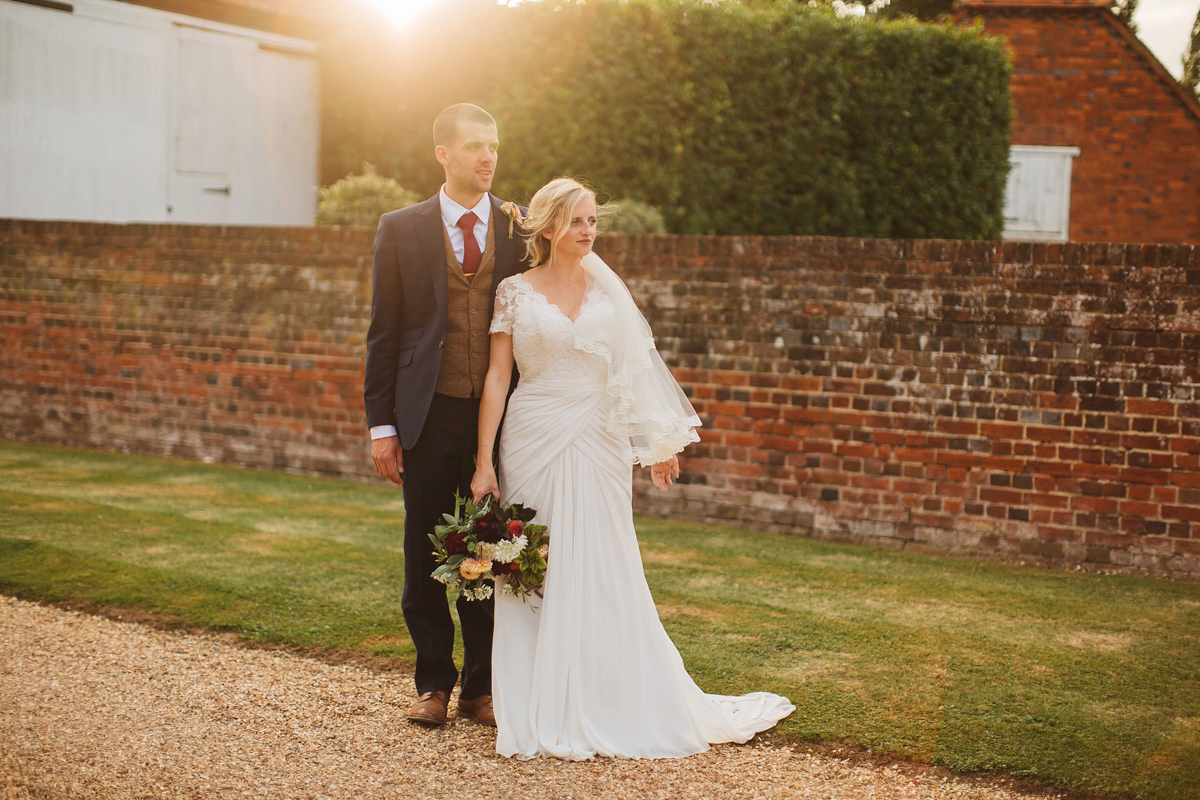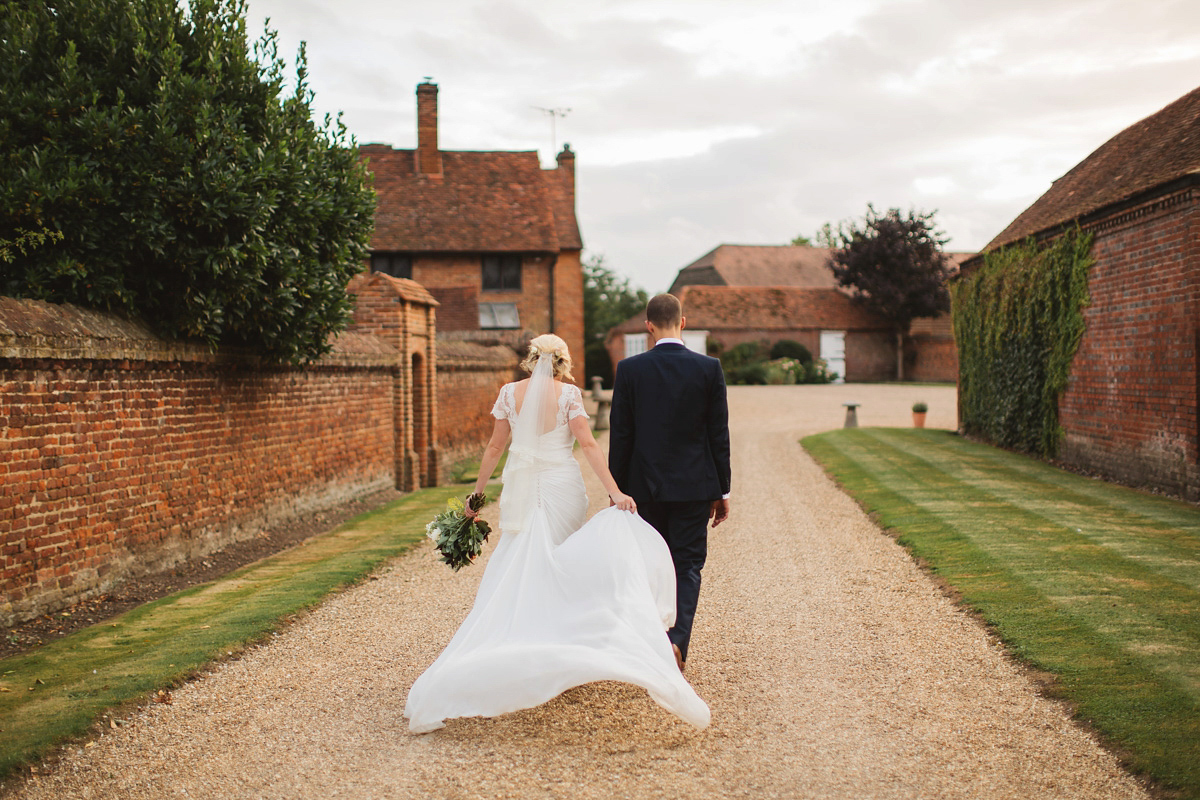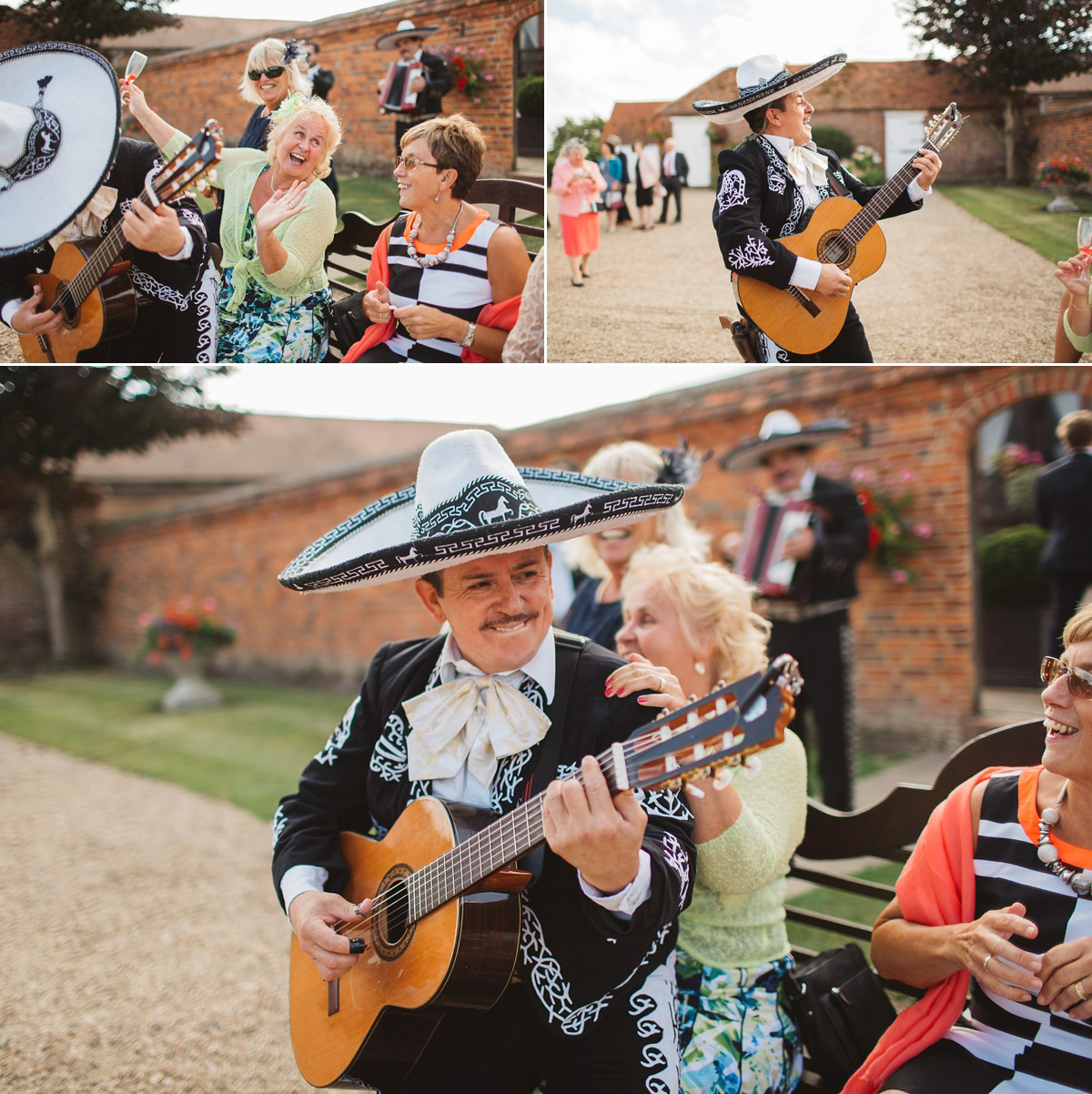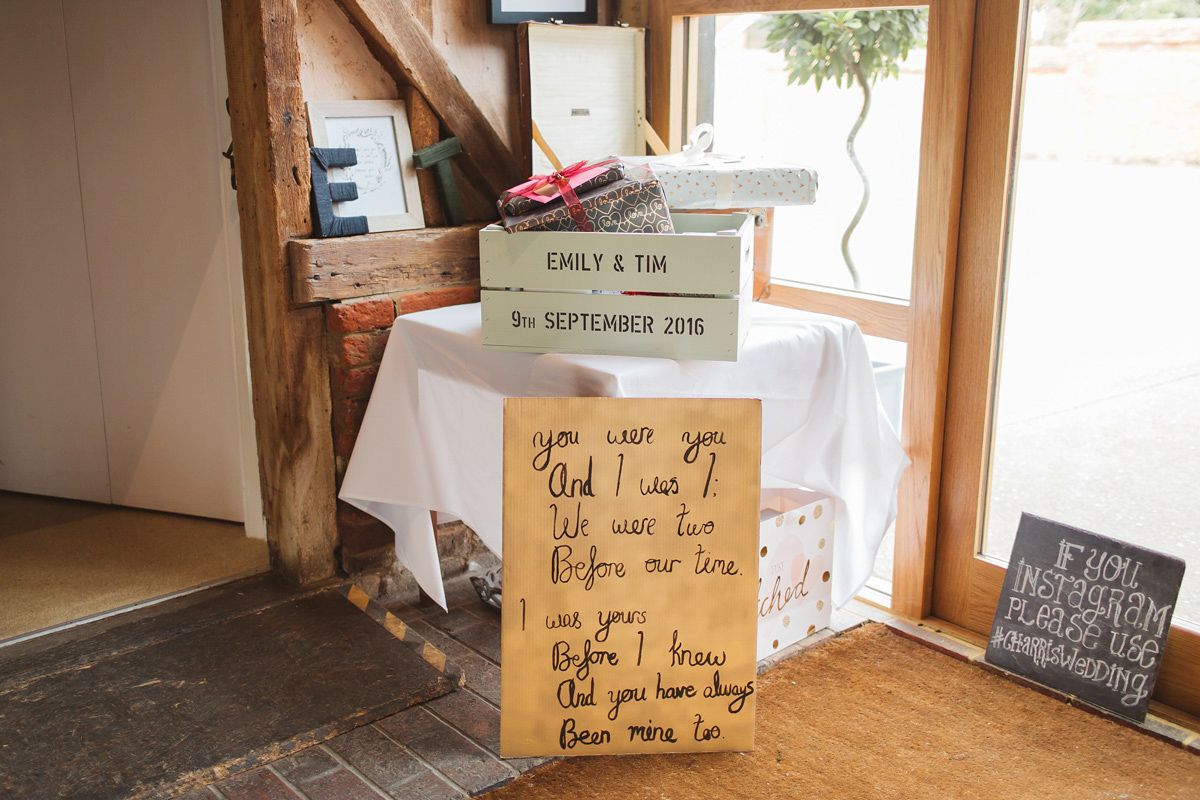 "We hired festoon lights to decorate the inside of the barn plus a few on the outside in the garden too. We also hired a handful of haybales for relaxed seating in a side room and outside."
"Tim borrowed a short tennis net from his tennis club which provided some great entertainment for the kids (and adults, of course)."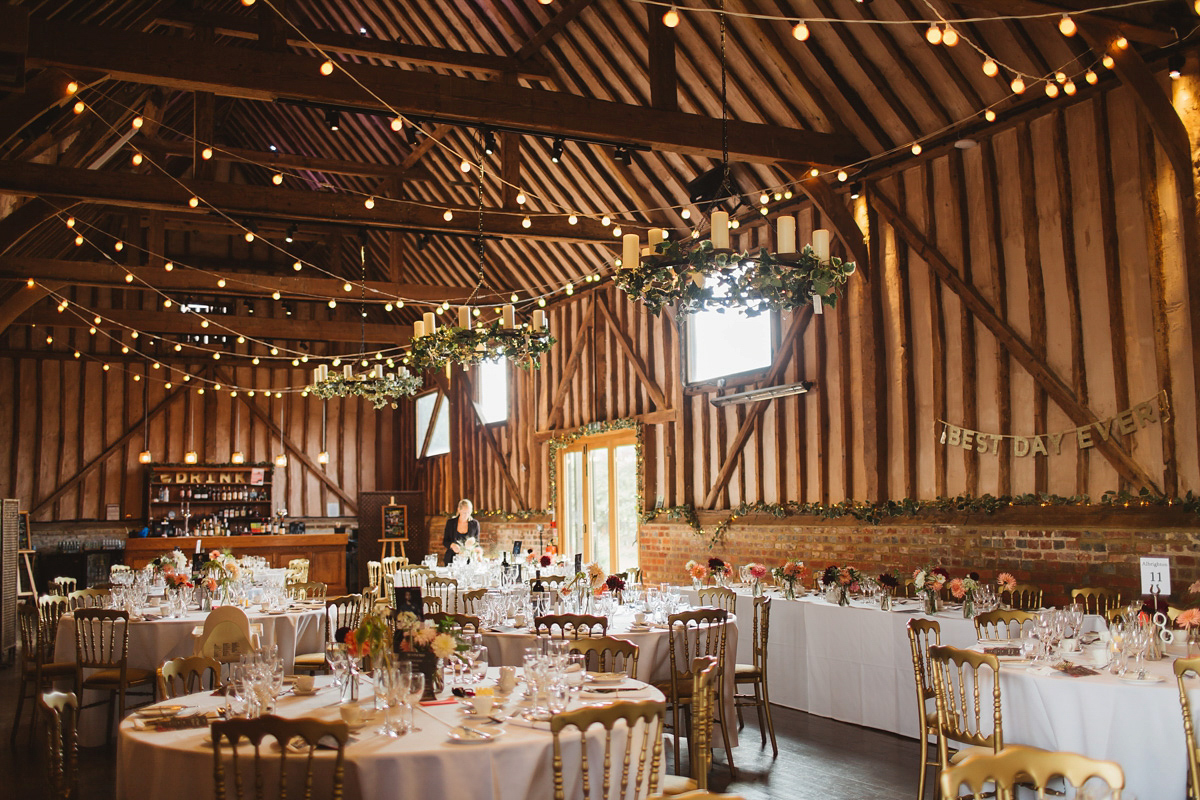 "I love crafting and making things, so a lot of the decorations I made by hand. A homemade tee-pee was put up for the kids to play in which was adorned with handmade pompoms and filled with comfy cushions and blankets.
"I absolutely adore love poetry and quotes, so we had a number of romantic quotes around the venue which I cross-stitched, painted, wrote on chalkboards and had friends paint some too to incorporate their skills into the day."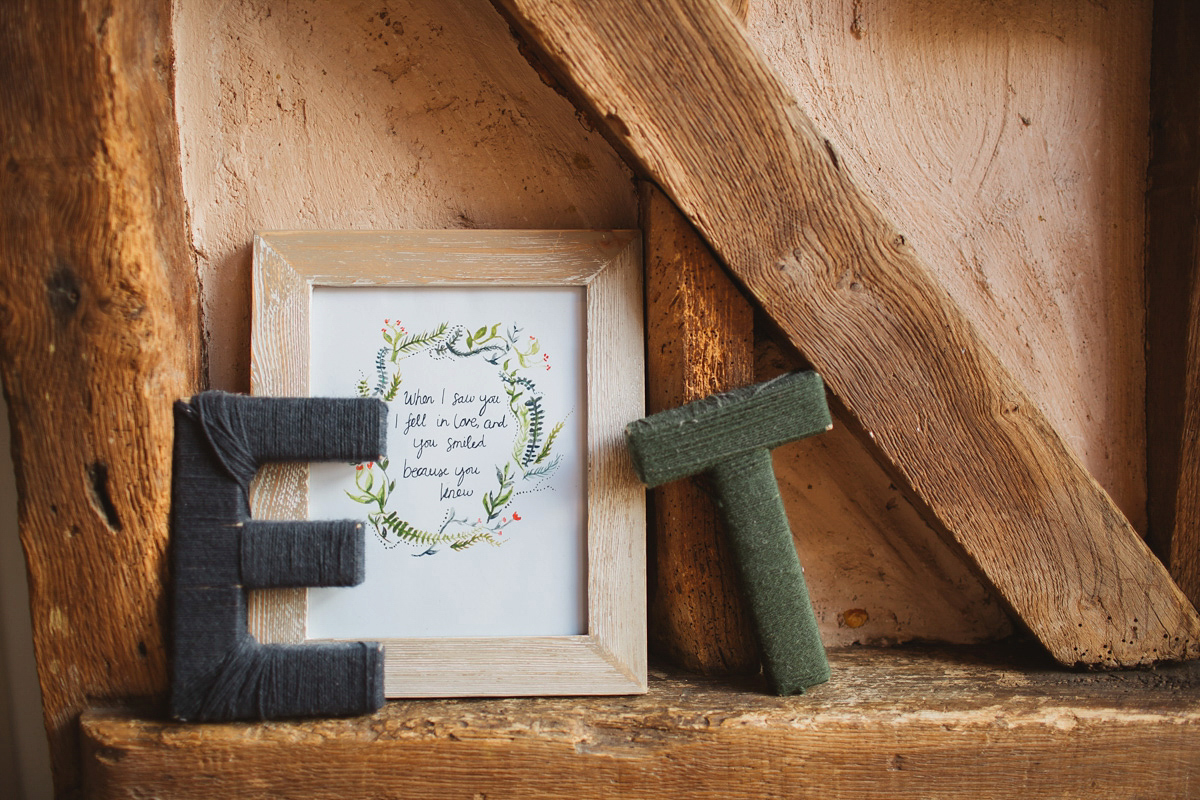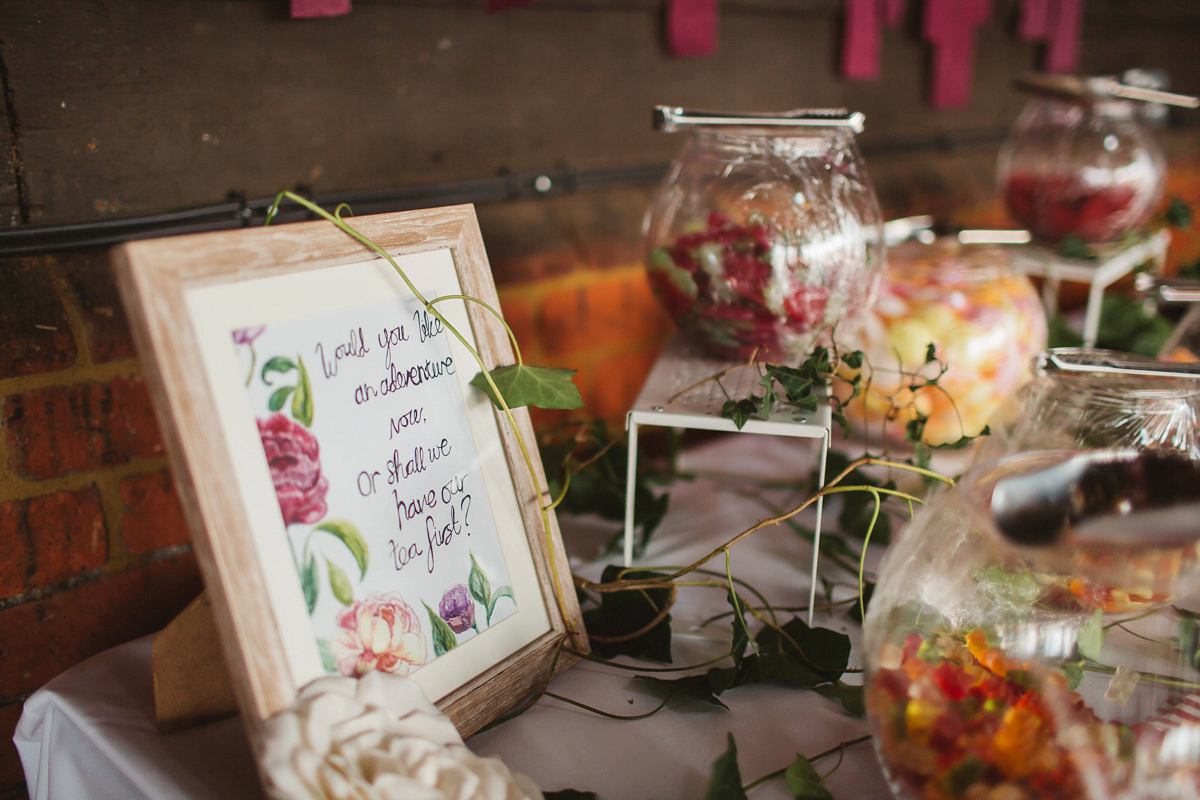 "A table next to the front door of the barn had the tableplan on it, which I made out of an old wooden apple crate, and this was surrounded by old photographs of our parents and grandparents on their wedding day plus a number of alter candles which twinkled all night long."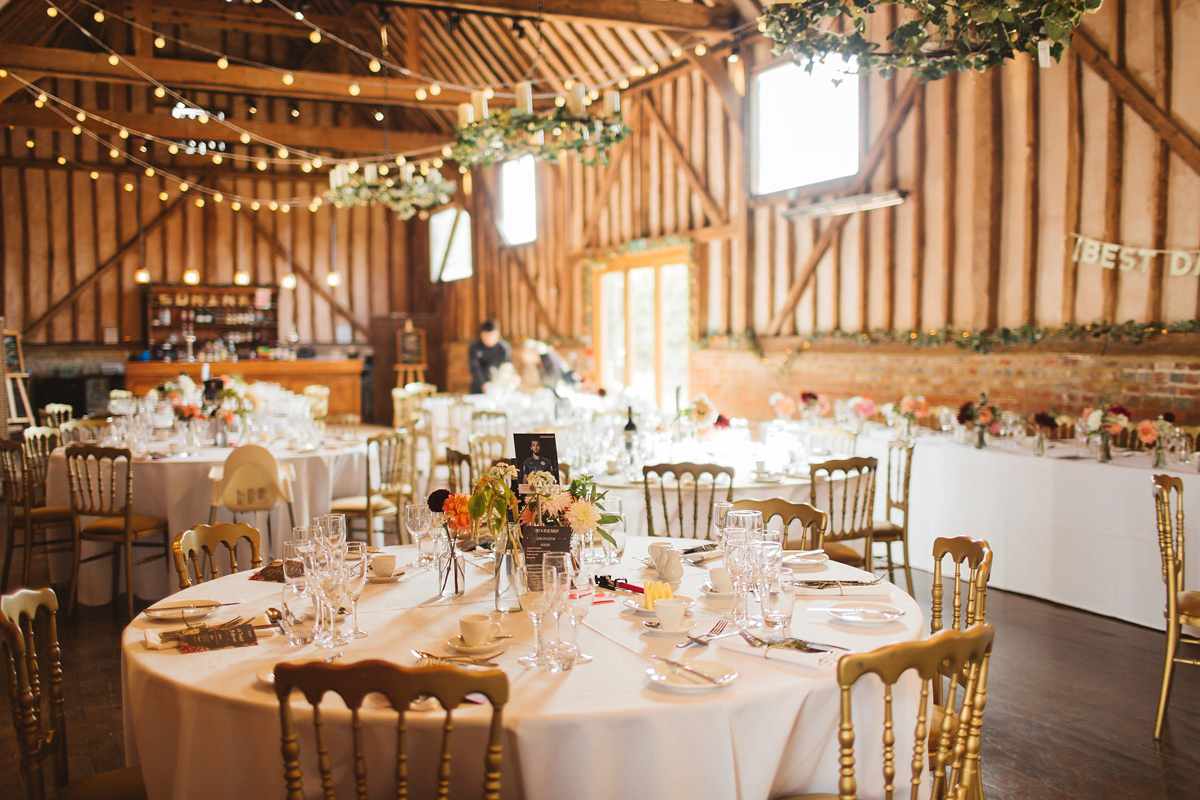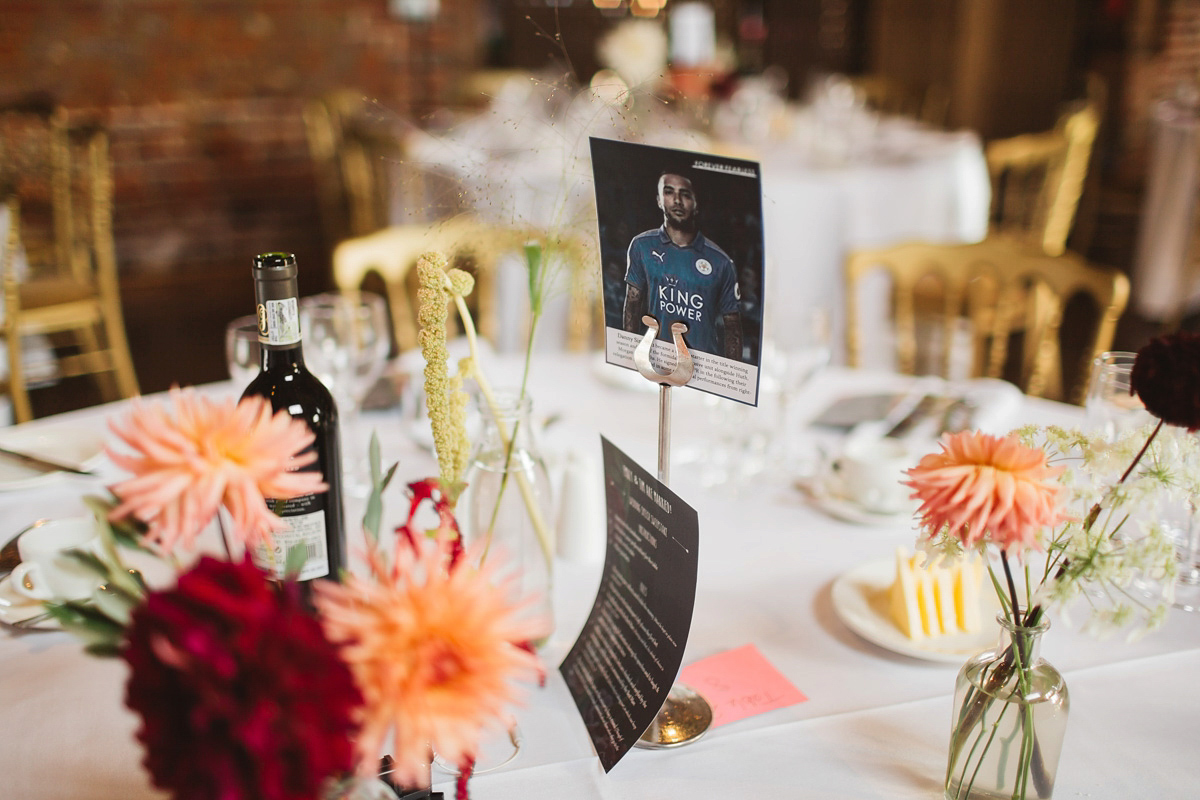 "Lou Lou Jane's in Lingfield was a natural choice as one of my best friends is the owner! We had lemon sponge in a tall one-tier design, with iced drips running down the side of the buttercream topping and a few flowers decorating the top.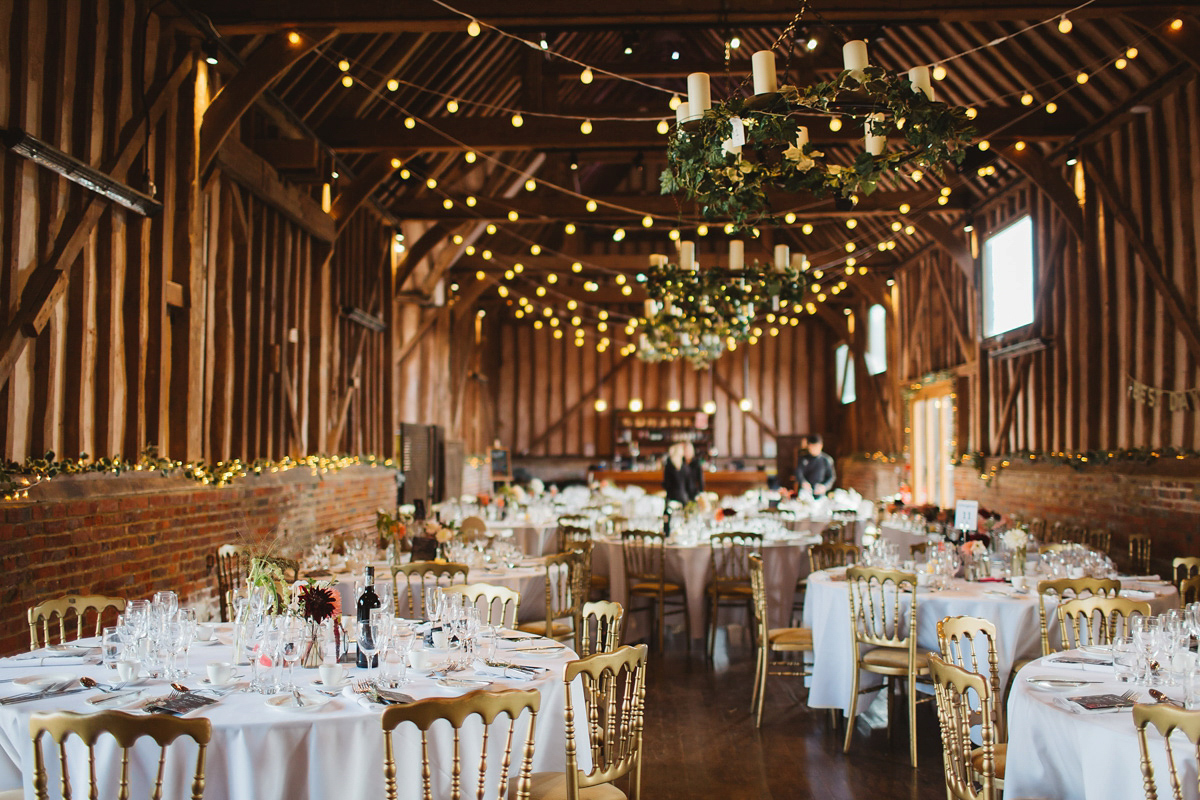 "Our first dance was to 'A Thousand Years' by Christina Perry – this was something we had always danced to in the kitchen and sang along to in the car, so there were no other contenders! Our band sang their own version of it which was just perfect."
"We had The Mad Hatters Tea Party wedding band entertain our guests in the evening. I actually had quite a few complaints from people during the night, who said that they were so tired from dancing but every time they tried to sit and rest, another amazing song came on and the band rocked it so they just had to keep on dancing!! What an amazing 'complaint' to have, and definitely a sign of how fantastic the band were."
"We didn't want favours in the traditional sense as far too many times have I seen them left on the table at weddings, so instead we had something we knew everyone would definitely want. When the band finished and lights came on, everyone was offered a 'late night favour', in the form of mini bottle of water, packet of crisps and some paracetamol tied together with a thank you note.
Needless to say, everyone took one home!"
Words of Wedded Wisdom
"Pinterest will either be your best friend or your worst enemy; some people, like myself, love it for inspiration and help. Others can find it incredibly overwhelming and it doesn't help to focus their attention – do what is right for you. And that rings true for so many aspects of planning; unfortunately, you will find that people want to force their opinion on you and meddle or try to suggest you do things that in their mind would work.
But remember, this day is yours and you will look back on it for years to come, so make sure that the whole day reflects you and your fiancée, and who you are and what you love."
"Oh and also: try, try, try to find budget for a videographer! It's the one regret I have from our day as we didn't have one and I would love to re-watch our day when we are old and grey. I think it is so worth the money!
We'd hoped the day would come in around £20k and our wedding came in just over £21k."
"One of my best finds through Love My Dress was the closed facebook group full of bride-to-bes and recently wedded brides. It was simply fantastic to have a platform to voice our worries, questions, ideas and thoughts onto and receive genuinely helpful advice. Many a bride had a wobble, but all the other brides were there to cheer her along; it was brilliant. 
What a beautiful day – thank you so much Emily and Tim for sharing your most beautiful day. Readers, you can see more Maggie Sottero brides here.
Love Annabel x